While shopping for the perfect Halloween costume and often even when checking school supplies off the list, Christmas decorations are already lining the aisles of your retail store. A holiday season like no other, Christmas exudes a warmth and love that is hard to beat. A festive force to be reckoned with, Christmas fills our world with wonder starting in the privacy of our own homes. To bring this magical spirit to life, we know the typical items on the list- tree, lights and cookies; however, a Christmas throw pillow is a great and easy way to add a little extra comfort to your family and friend's holiday happiness.
29 Comfy Christmas Pillows to Complete Your Holiday Decor

Whether adorning the cozy chair of your reading nook or lounging along the comfy couch, this best Christmas cushion invites family members and party guests to stay a little longer. And today's online hub filled with artisans and specialty crafters makes finding the perfect pillow as easy as sipping eggnog. There are designs and motifs for most every decorating taste and theme. Some popular of-the-moment looks include vintage appeal, bold buffalo check and rustic nature vibes. Displaying a portion of your favorite Christmas carol or a scene featuring an old truck hauling that live tree back to your home adds an element of the home owner's personality into their holiday decor without breaking the bank. Images of deer heads, outlines of Christmas trees and festive green and red infused plaids are seen everywhere. Buy one or a pair for yourself or cross that hard-to-buy-for friend off your list with a set of Christmas throw pillows.
1. Nutcracker Ballerina Winter Time Favorite Whimsical Throw Pillow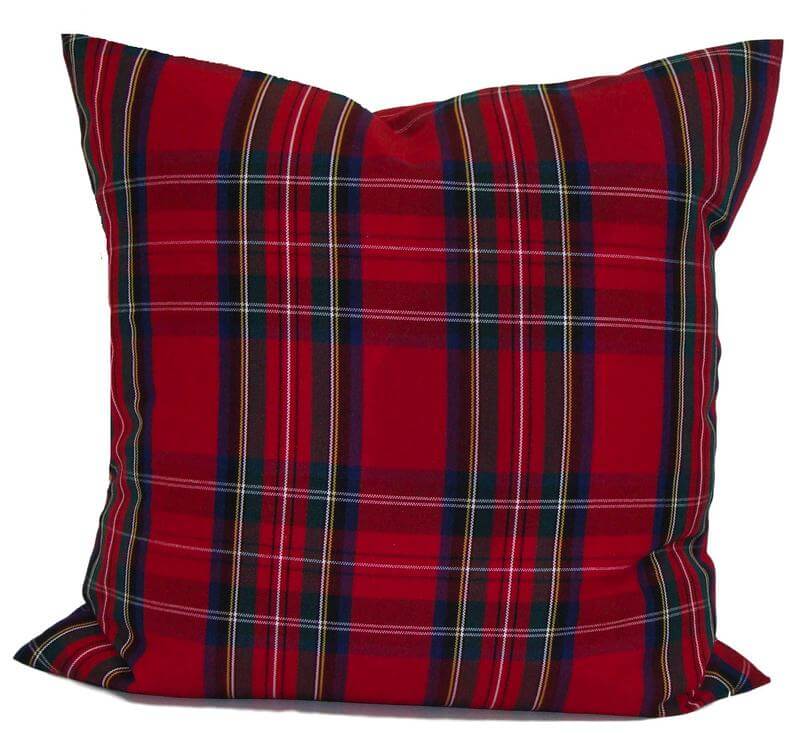 Complete with the Mouse King, two nutcrackers and ballerinas, this majestic throw pillow hints at the holiday season without over doing it. Perhaps this would be the perfect addition to your niece's bedroom as she is an avid dancer and dreams of dancing in this show one day. Or imagine giving this to your daughter followed by tickets to the show. Either way, any little girl is sure to love this whimsical masterpiece displayed in pillow form.
2. Special Chair for Loved Ones in Heaven Christmas Pillow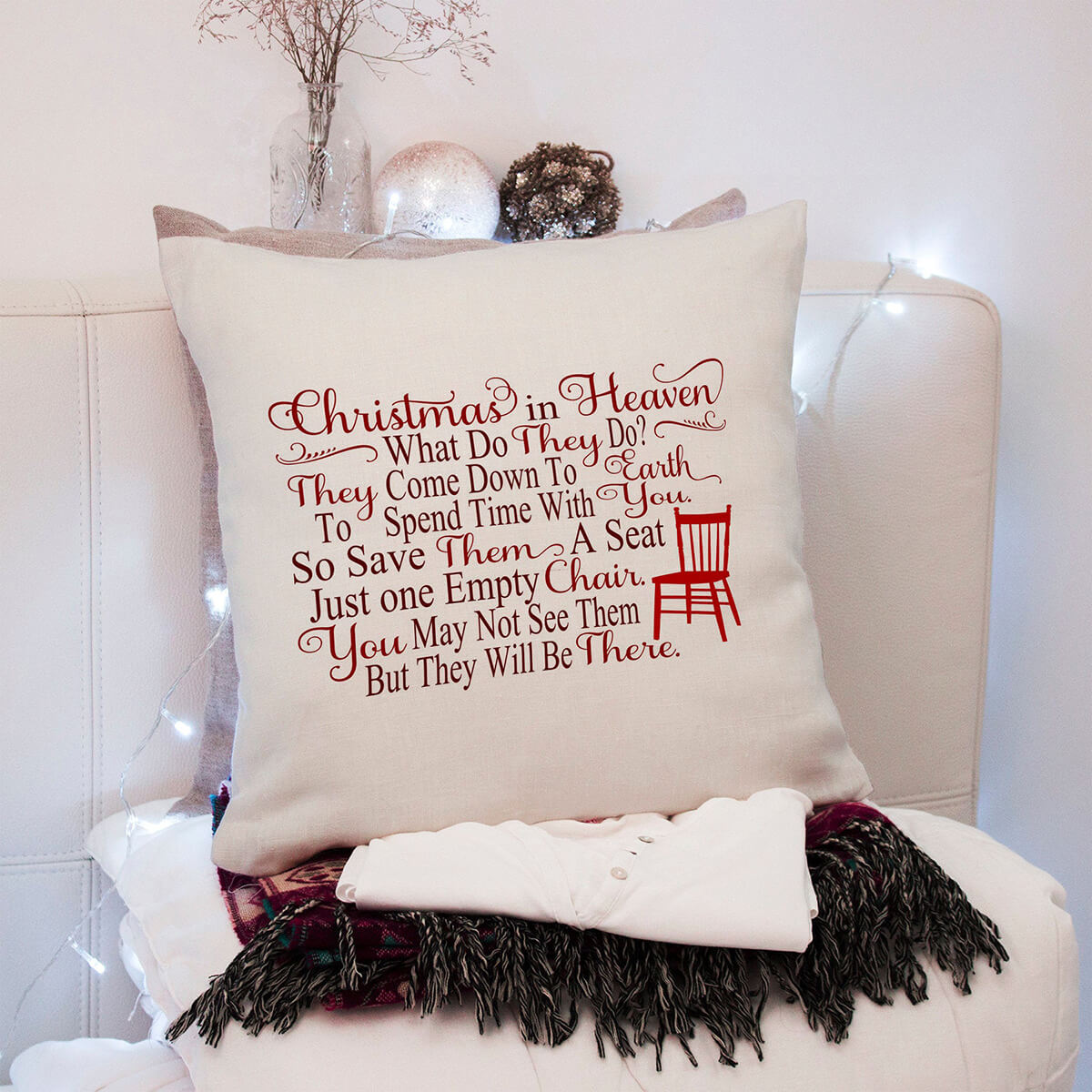 While the loss of a loved one is never easy, it is often most difficult during the holidays. It's that special time of year when everyone makes it home for Christmas, so why not keep that never forgotten loved one alive by pulling up an extra chair just for him or her? And if you're short on space, this Christmas pillow featuring this exact message will get the job done! The rich red tones come to life against the soft cream background. Written in a beautiful manuscript, this favorite sentiment provides comfort for both the soul and body. Gifting one of these personal Christmas throw pillows would be a much appreciated and personal gift for someone still very much experiencing the loss of a dear loved one.
3. Have Yourself a Merry Little Christmas Accent Pillow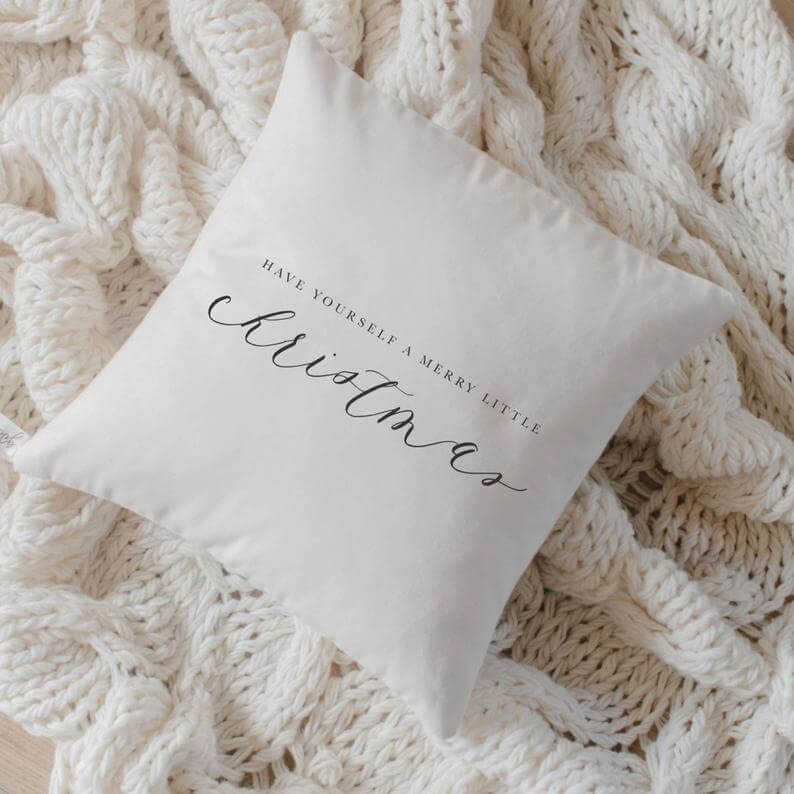 Written in a delicate and elegant font, this is one of the best Christmas pillows to incorporate into the holiday decor of a modern and neutral color palette. The black writing eases onto the white background making this throw pillow ideal for any space. Imagine the corner nook of the room. There is a perfect view of the twinkling tree lights and you are curled up underneath a camel or beige crocheted blanket with this pillow under arm as you slowly sip your favorite latte. It would even transition easily after December 25 since the plain back reverse side could take center stage. And who doesn't have a spouse complaining about all those pillows piled high on the bed? Add this simple piece to the pile and extend the holidays into the master suite.
4. Burlap Winter Snowflake Spectacular Rectangular Throw Pillow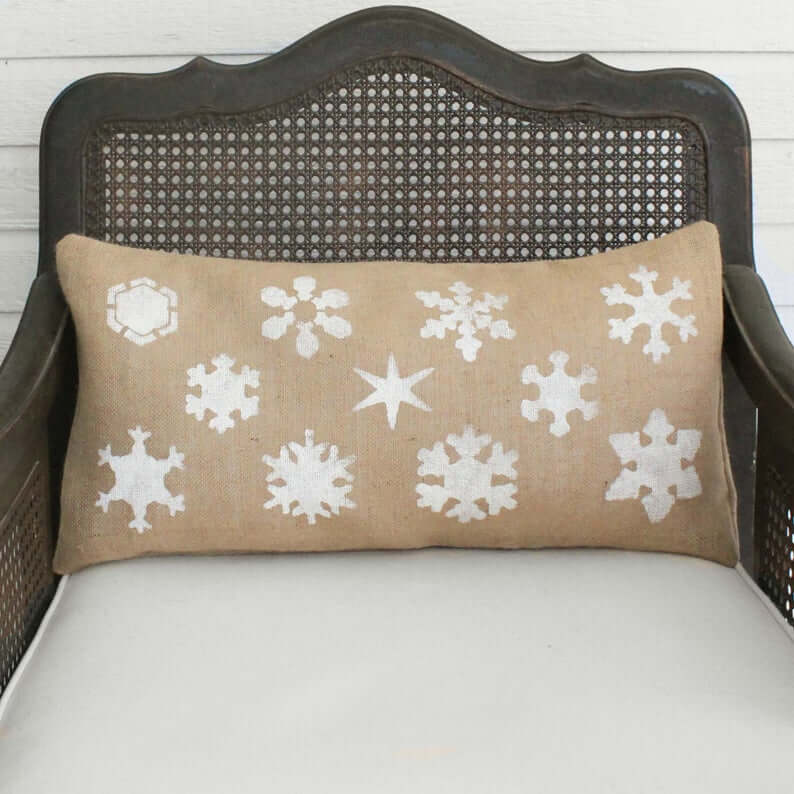 When shopping for Christmas decor ideas, finding a few pieces that speak more winter than specific holiday help to continue the holiday spirit into the new year. Snowflakes are the perfect example of this since they are equal winter time mascots and Christmas decorations. Add the element of texture into any design and take your overall look to a whole new level. The use of burlap in this pillow does just that! Where the market is flooded with soft and cuddly pillows, this burlap design adds a unique and rustic interest to the room. The warm texture and tone of the burlap also creates an ideal backdrop for the ultra white snowflakes. And speaking of snowflakes, just like people there are no two alike and this is evidenced in the variety of shapes seen in the pattern of this rectangular snowflake throw pillow.
5. Favorite Christmas Melodies Burlap and Red Decorative Christmas Pillow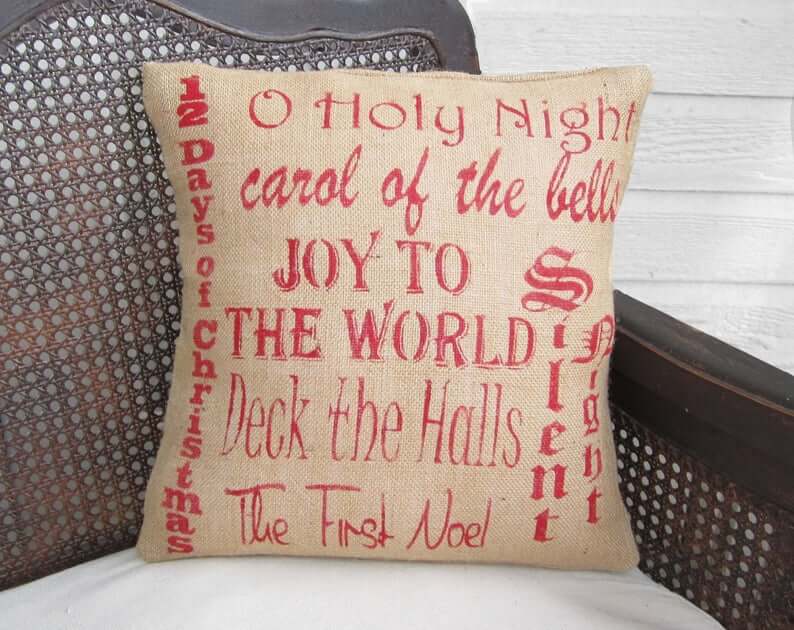 Some of the most beloved and popular melodies of the season are featured on one of the best Christmas pillows to tickle the ear this holiday. Whether you enjoy counting down with the "12 Days of Christmas" or a more spiritual sound in "O Holy Night," the collection of seven well-known tunes will be music to the ears. The vibrant red lettering makes a powerful statement set upon a textured warm brown background of burlap. From primitive and rustic to modern farmhouse, this is one of those Christmas throw pillows that blends seamlessly into your home's existing decor.
6. Whimsical Green Water Color and Checkered Winter Trees Pillow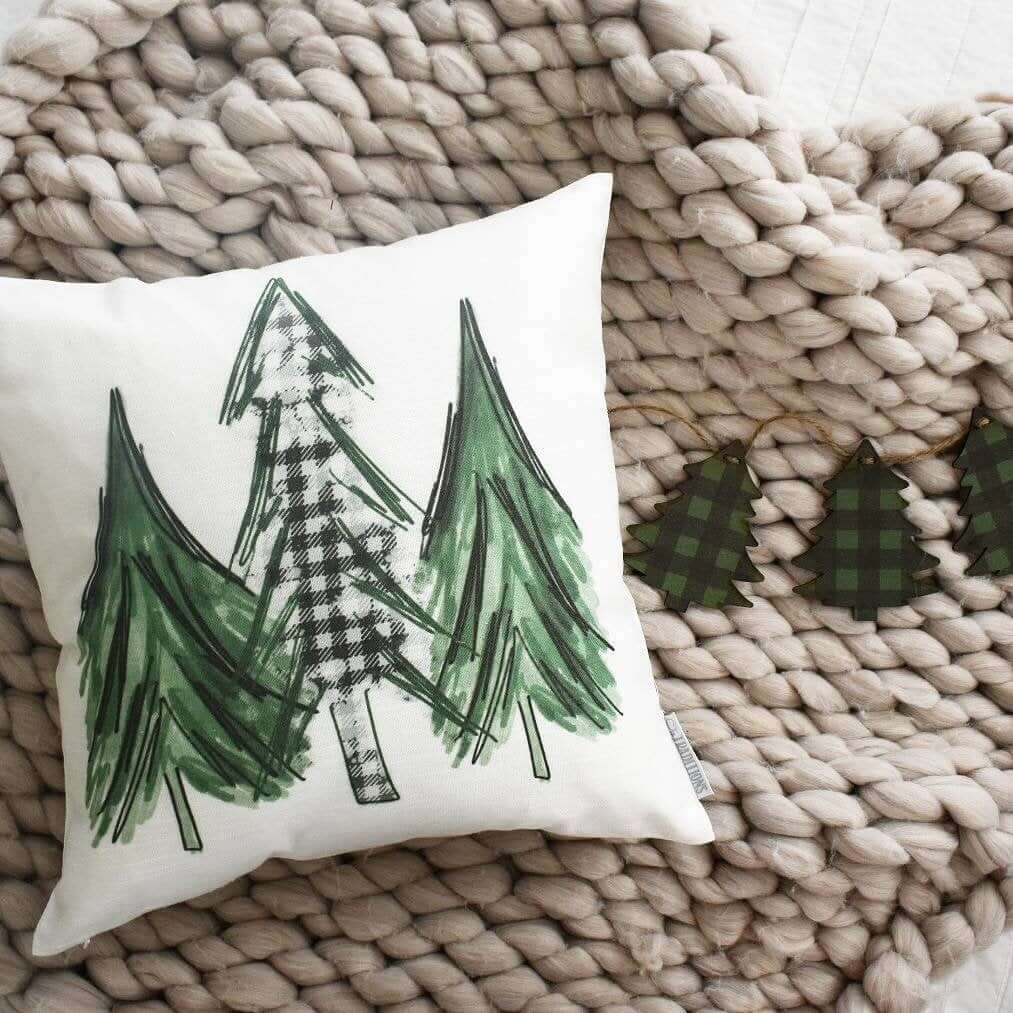 Amid a pristine white background sets a trio of winter time trees. This could be one of the best Christmas cushions with its combination of soft water colored greens and black and white checkered vibes. For a neutral decor, the strokes of green are subtle enough to work in the space and yet it would also ease comfortably into a bold color palette of contemporary modern design. This would be a great addition to a child's room or play area to add a little holiday spirit into their personal living space. And it doesn't have to simply be used for the holidays as it would work well in the confinement of a wild boy's wilderness themed bedroom accompanying bears, deer and other woodland creatures.
7. A Merry Little Christmas Red and White Holiday Pillow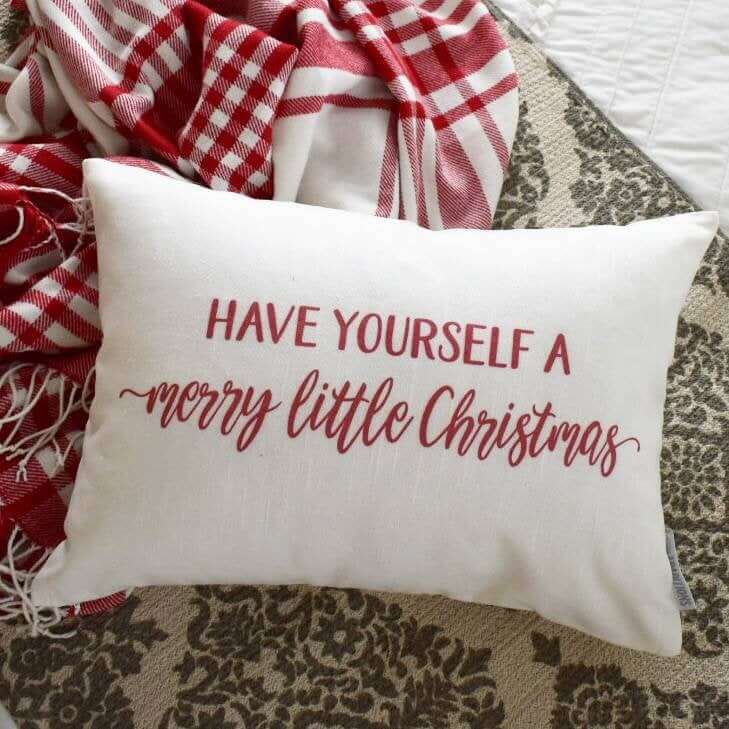 Just a simple phrase with such a warm sentiment. The Merry Little Christmas message displayed in beautiful red lettering makes a bold statement on the white throw pillow. Its rectangular design would work well on the family sofa, but also as an element of interest resting upon the mantle. The shape and size is also a nice fit in the recliner for Dad or Grandpa to use as a cushion when they are merely resting their eyes.
8. Personalized Santa's Nice List Christmas Throw Pillow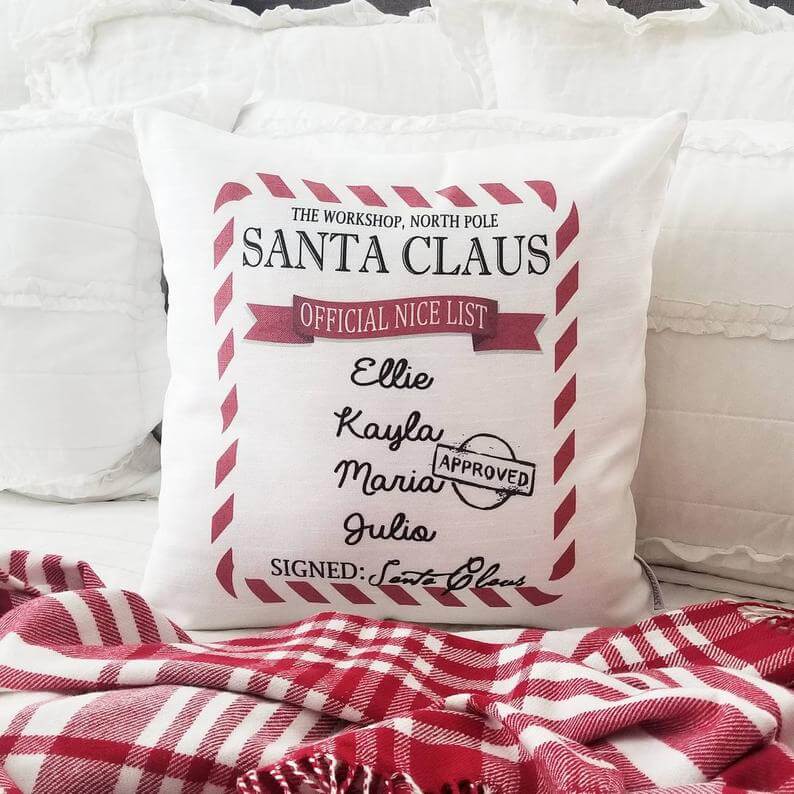 It's that time of year where Santa is making a list and checking it twice. And who doesn't want to make it to the top of the nice list? Make your children, nieces and nephews proud when they find their own names on this nice list pillow. The candy cane striped border securely houses your choice of names to be displayed on Santa Claus's official nice list coming straight from the North Pole! And it would be even more fun to have a set of these fun decorative pillows with two different sets of names. Maybe one of the littles in your family has a little more work to do in order to be taken off the naughty list. Provide that extra motivation with a second pillow bearing this little one's name that you can change out after some noted impressive and wonderful behavior.
9. Rustic Farm Fresh Trees and Checkered Black and White Pillow Pair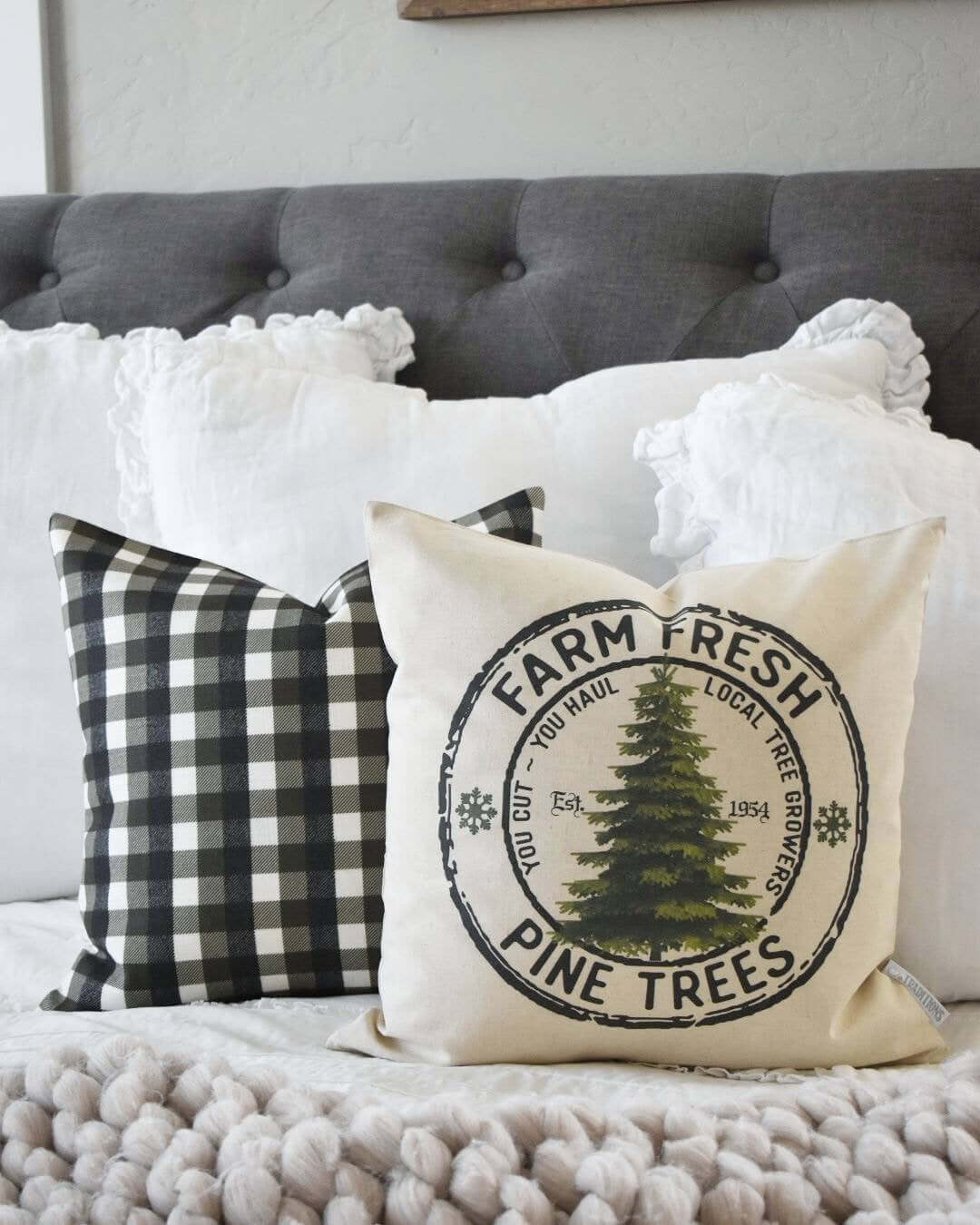 Channeling your inner Clark Griswold doesn't have to mean trekking through uncharted snow mounds to find the perfect pine. This set of two pillows comes with one featuring a stamped emblem of farm fresh local pines in black and green paint. Paired with the black and white checkered throw pillow, this dynamic duo warms any room in your holiday home. All the beauty of the pine without the sap and needles, this comfy pair are the perfect addition for your Christmas decor ideas.
10. Dreaming of a White Christmas Magical Throw Pillow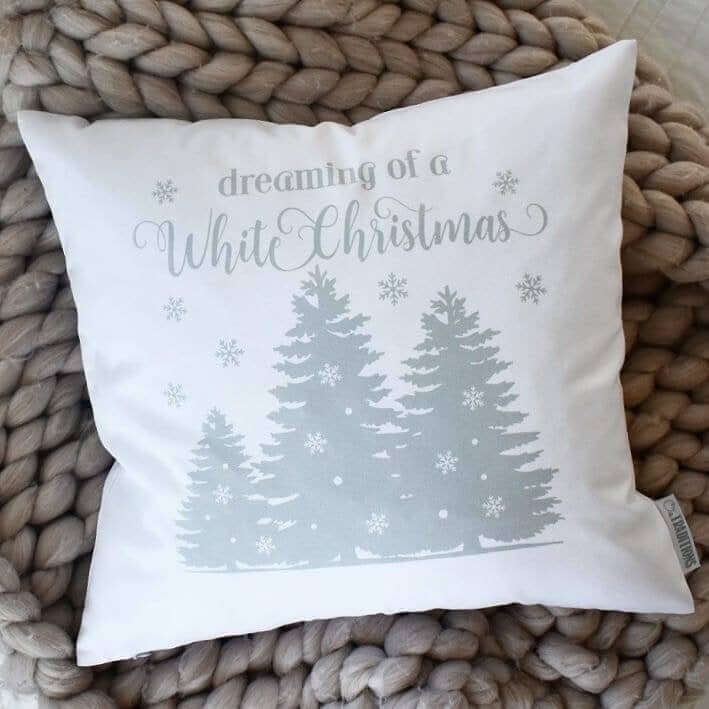 When most businesses are closed and there is a quietness filling the air, we often dream of that magical white Christmas. From the frolicking in the snow as a young child to the pretty night time glow, a lawn filled with this white wonderland has the ability to stop time if only for a moment. With this Dreaming of a White Christmas pillow, there is an ambiance in its visual display of white whimsical letting set upon a pristine white background. The snowflake detail is an added design element that works well around the lettering and within the trees.
11. Plaid Scarf Wearing Deer Head on Cream Canvas Pillow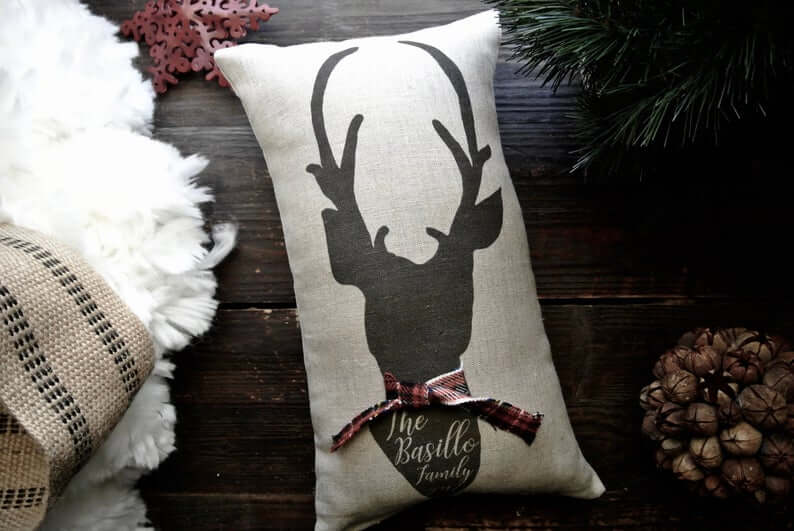 Textured materials like canvas incorporate an embellished element as an added bonus to one of the cutest Christmas throw pillows. This warm and earthy brown deer head is accented with a family name personalized near its neck and is fondly accessorized with a pretty plaid miniature scarf. Masculine meets modern with this ever-popular pattern gently hanging on the deer's neck just above the family's surname. What a perfect house warming gift in the winter months or as a small gesture in thank you to this year's holiday party host or hostess.
12. Deerly Beloved Family Personalized Holiday Throw Pillow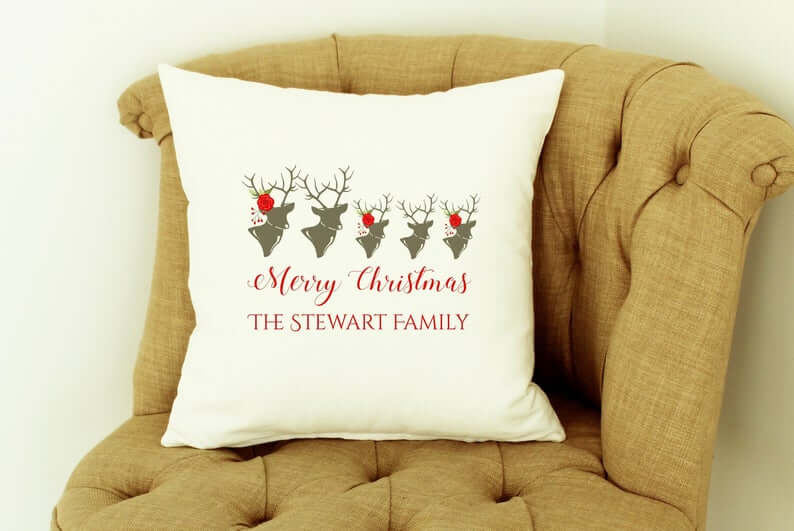 Everyone adores the special feeling from a personalized gift. And since it's truly the thought that counts, what better way to touch the heart of each family member with this Deerly Beloved deer family pillow? Customized to showcase each family member complete with Mom, Dad and all the little ones, this cute and fun pillow makes a great couch companion or gift. One sweet touch is the added rose bud featured on one antler of each female deer in the family. Create a soon-to-be family heirloom with one of the best Christmas pillows in the specialty crafter's market.
13. Vintage Old Truck Christmas Tree Decorative Pillow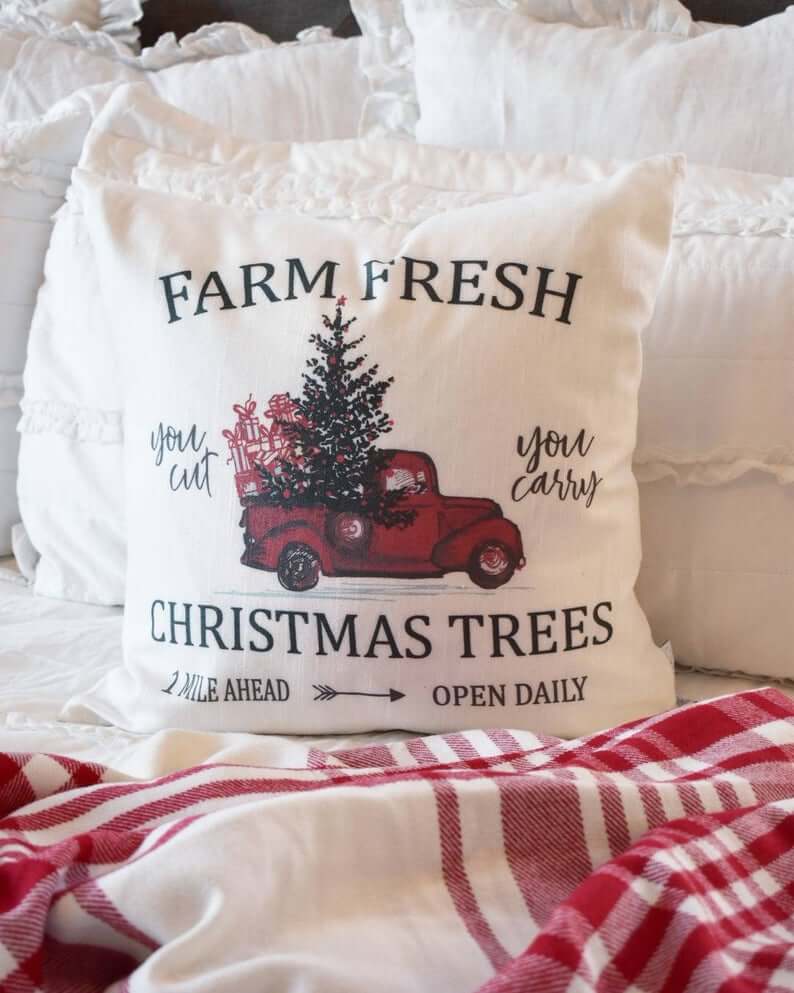 Haul your farm fresh Christmas tree to the comfort of your own couch with the red vintage truck on this decorative Christmas pillow. With these antique and timeless red trucks seemingly in every store these days, add them to your existing decor and keep the trend alive. Sparking memories of chopping down the tree or wandering through the downtown pop-up tree shop, the image of the tree strapped to the vehicle has a special place in the hearts of most thirty-somethings today. With hand-drawn red packages nestled beside the tree, there is little Christmas magic to be seen.
14. Very Plaid Christmas Set of Five Cozy Pillows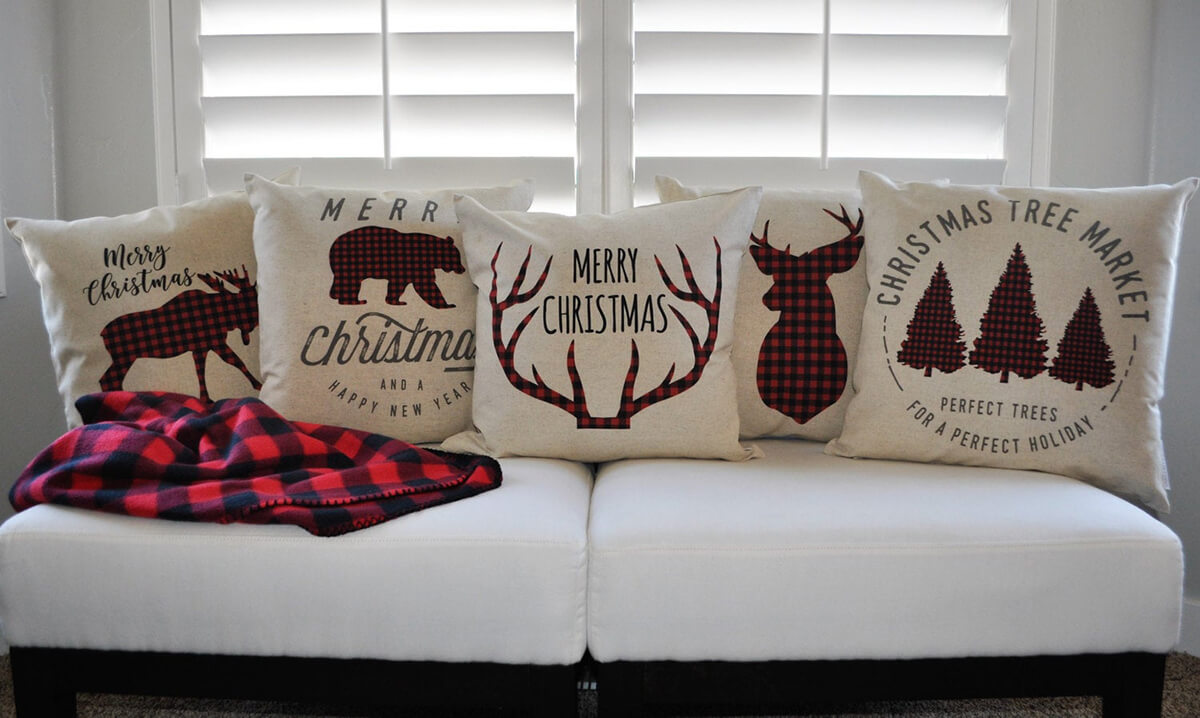 Feature your favorite winter scene with this collection of five plaid Christmas throw pillows. Traditional pine trees, grizzly bear, moseying moose, set of antlers or the mounted deer head provide a perfect option for the plaid pillow finalist earning top honors of front row seat on the couch. The red and black buffalo check plaid pattern is one of the season's hottest looks and works great with the neutral white background. Display them separately or together to achieve the look you want.
15. Painted Reindeer Friend Santa's Helper Christmas Pillow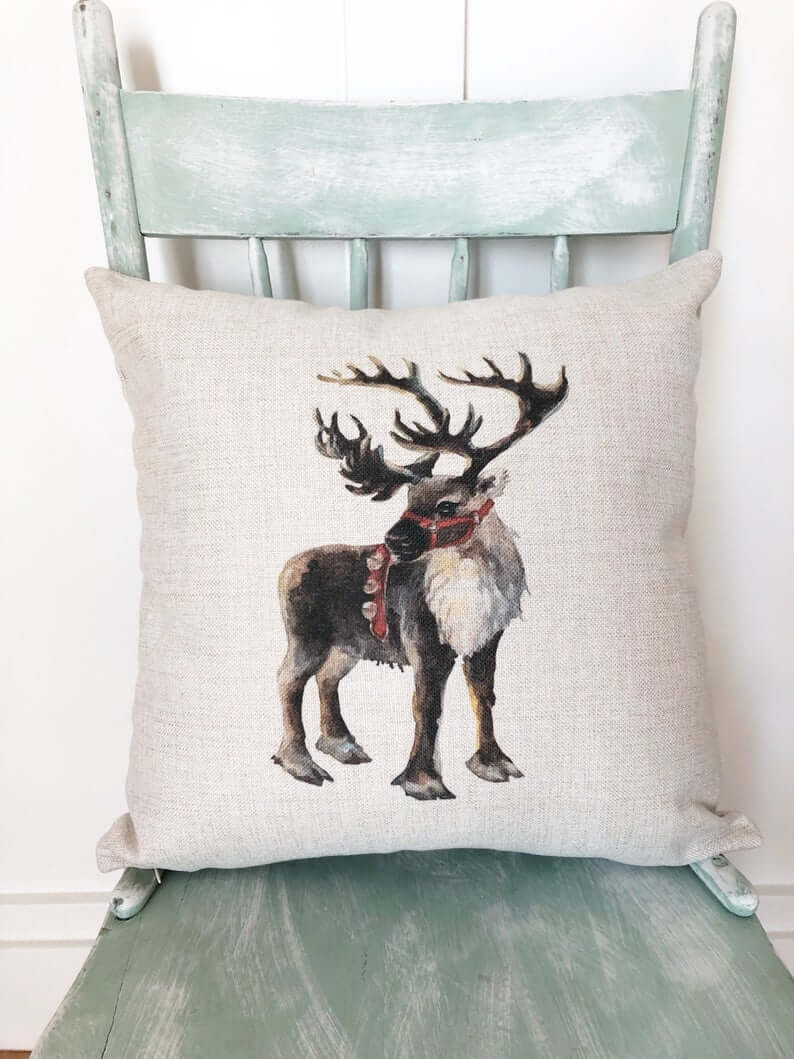 While Santa Claus is the one children flock to each year for a picture and opportunity to declare their wish list, we all know Santa couldn't do his job without his reindeer. Adding a little whimsy and fun, this cute and happy pillow might be the best Christmas cushion in your home. From his beautiful white and furry chest to the intricate red and gold bells on his harness, this holiday creature is sure to make your house guests smile. While this little reindeer is adorable it would also feel right at home in a young man's townhouse or grandfather's retirement home.
16. O Lovely Plaid Christmas Tree Ruffled Pillow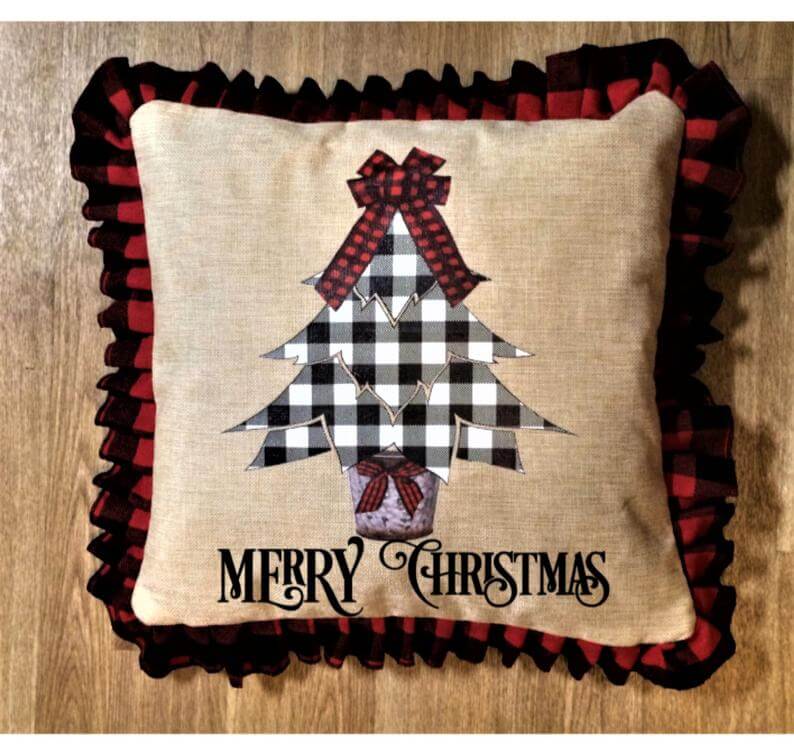 O Christmas tree, o Christmas tree, how we are in love with your plaid madness! This timeless ode gets a modern update with a black and white plaid pattern tree accented with on-trend red and black buffalo check ruffled detail. The big bow booming from atop the tree along with the dainty bow hugging the tree stand, such use of buffalo check and plaid are perfectly paired in this soft and frilly Christmas decoration. Stuck in the corner of your favorite side chair, this charming pillow adds a rustic feminine feel without all the fluff.
17. Merry & Bright Pretty White Christmas Throw Pillow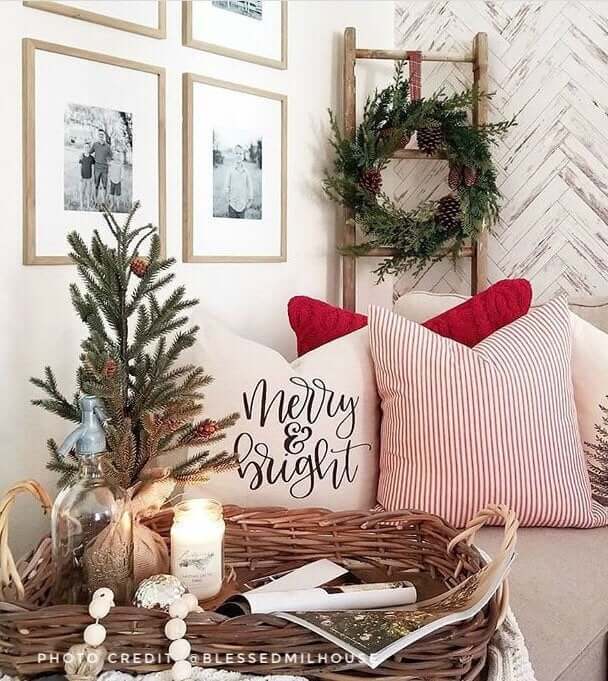 During the holidays and all throughout the year, send out warm wishes to those you love with special thoughts and messages. This white Christmas throw pillow features a beautifully written message of "Merry & Bright" as in wishing those you love the best holiday yet. Such a simple slogan is a nice touch to add to existing Christmas decorations. The plain white and black throw pillow blends seamlessly into any color of decor and style of the home.
18. And to All a Good Night Rustic Christmas Accent Pillow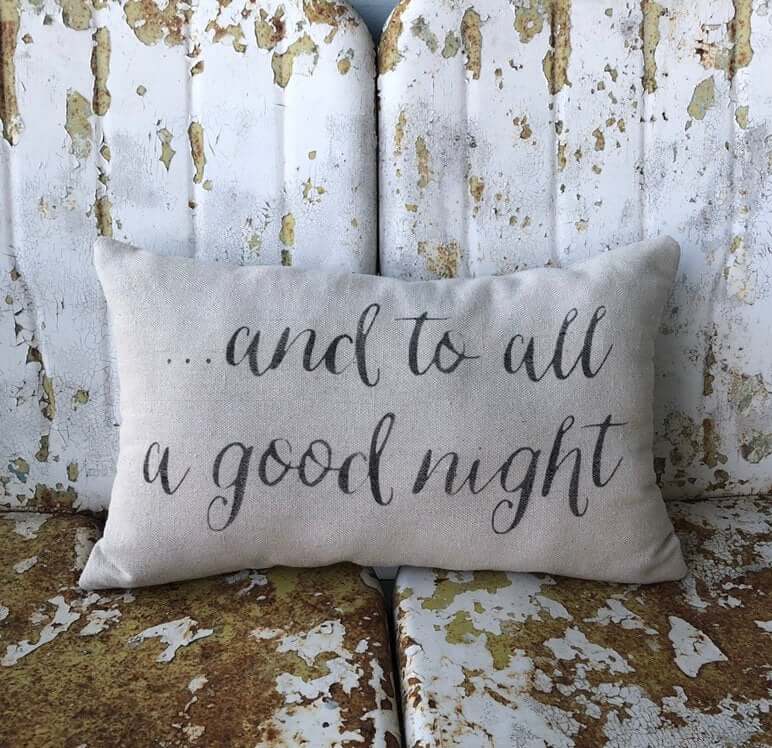 Some stories stand the test of time and are eagerly passed from one generation to the next. Such is true with the traditional story of the night before Christmas. Most folks can recite all or part of this beloved holiday poem and certainly recall the final phrase. Include a part of this family favorite poem as part of your Christmas decor idea by placing this compact rectangular pillow in the love seat or above the home's hearth.
19. Red, Green or Black Plaid Miniature Christmas Tree Pillows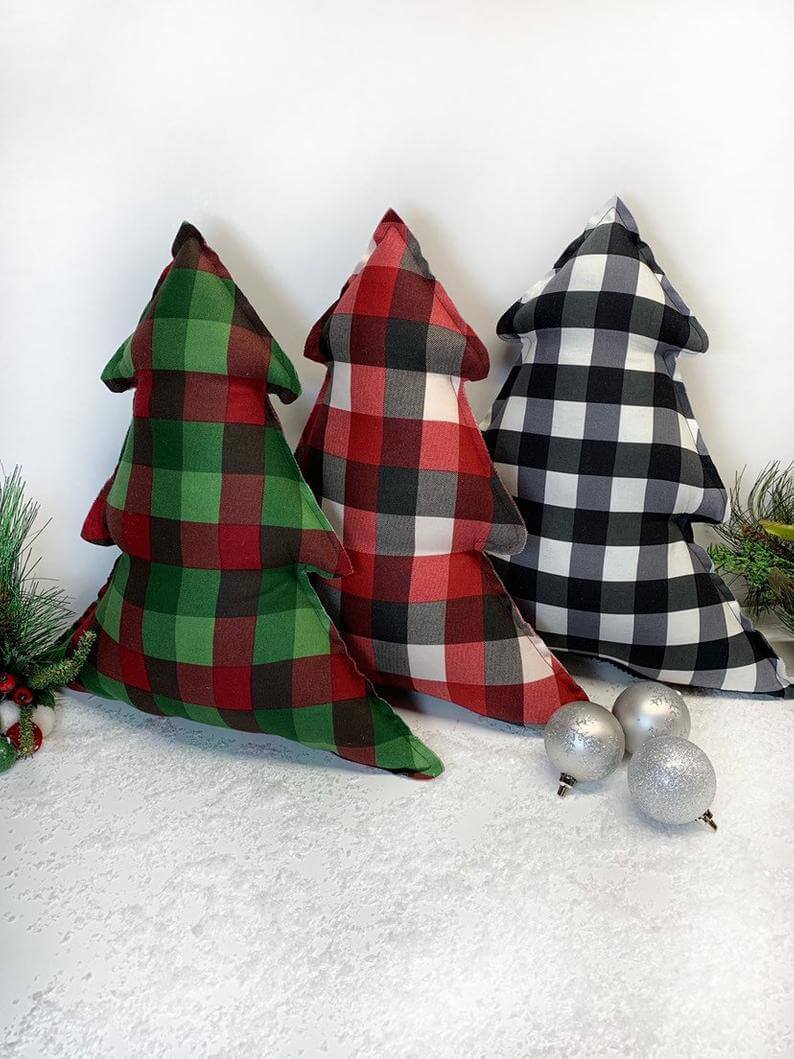 Grouped together for extra interest or individually to accompany a mantle hung with stockings, the plaid fabric Christmas tree pillow adds a warm touch to the home's Christmas decor. With a modern take on a primitive design, these miniature pine trees are super soft and cuddly and will be a perfect addition to any holiday decor. Spread them out through your house for added effect. What better way to give the kids a special Christmas decoration to place on their beds. And all family pets and toddlers will be fighting over their soft and cuddly easy-to-handle bodies.
20. Rustic Pine Cone in the Wild Wilderness Throw Pillow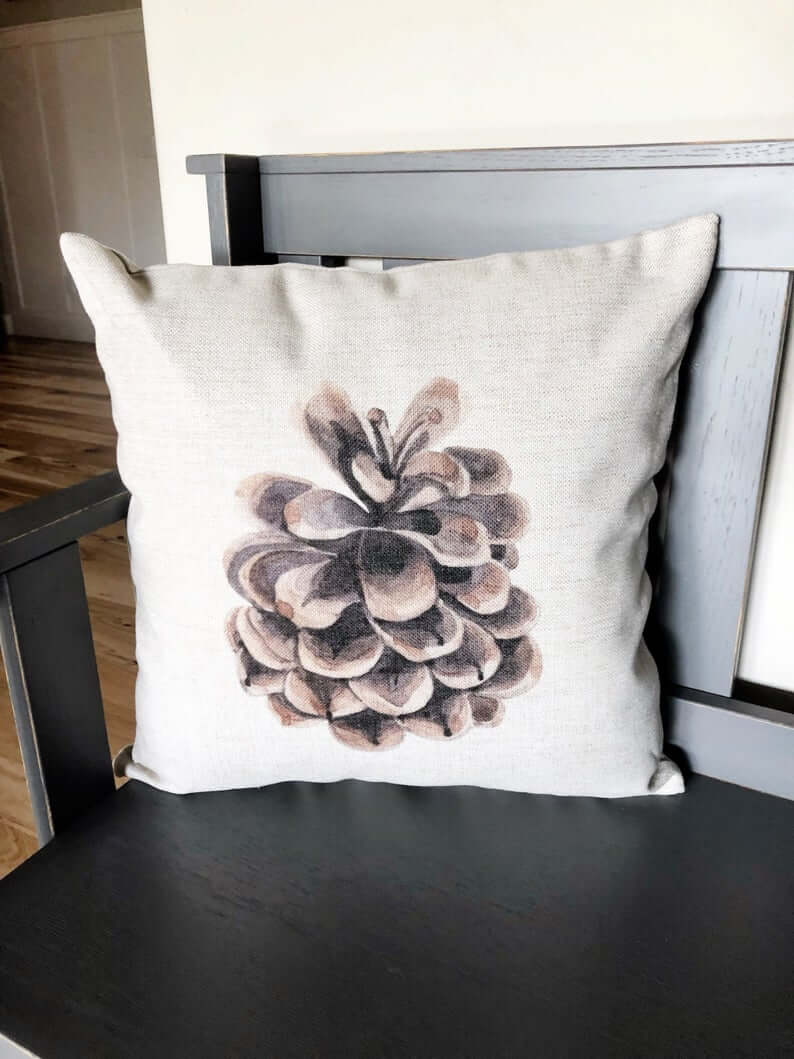 Continue the woodland theme with the addition of this no-frills, rustic pine cone pillow. Perfect for everyday in your cabin in the woods or as a part of your Christmas decor ideas, this popular forest novelty brings the outside in without all the mess. Cuddle this pillow next to a stuffed moose or deer to make any mama bear happy with the holiday spirit. A woodsy guest room would be the perfect space to house this rustic pillow whether tossed onto the bed or cuddled in the corner rocking chair.
21. Count Down with Plaid Christmas Pillow Trio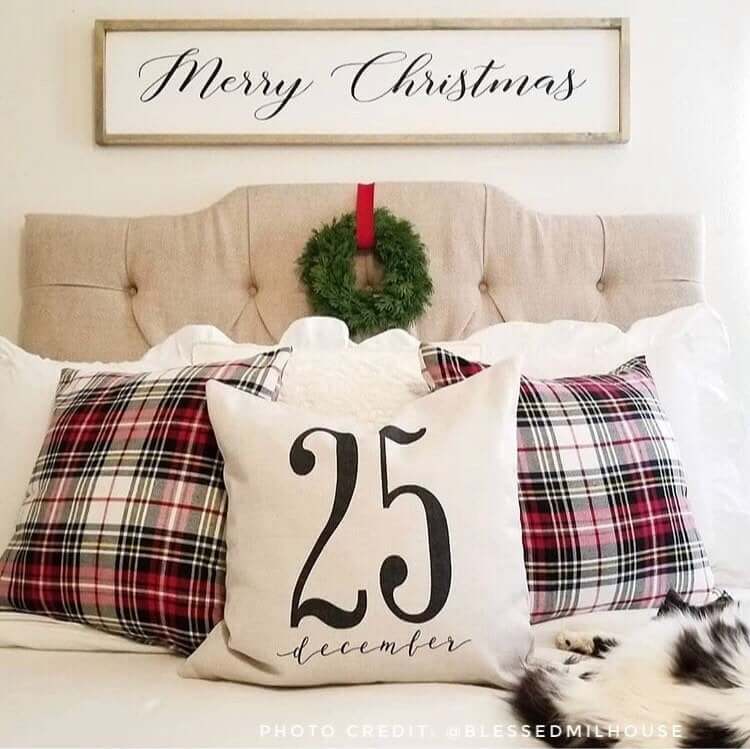 There's a kid in every one of us and what child doesn't take thrill in the anticipated countdown to Christmas day? With this set of Christmas pillows, that special day is on display! Proudly boasting of arguably the greatest holiday on the planet, this white pillow makes a short statement with just the month and day. Nestled between two plaid pillow pals, it creates a great look for your family room complete with ornament-filled tree or resting at the head of your master bed. Either way, this pillow marking this spectacular day should be included as one of the best Christmas cushions in everyone's holiday decor.
22. Burlap Embellished Plaid and Bells Round Ornament Pillow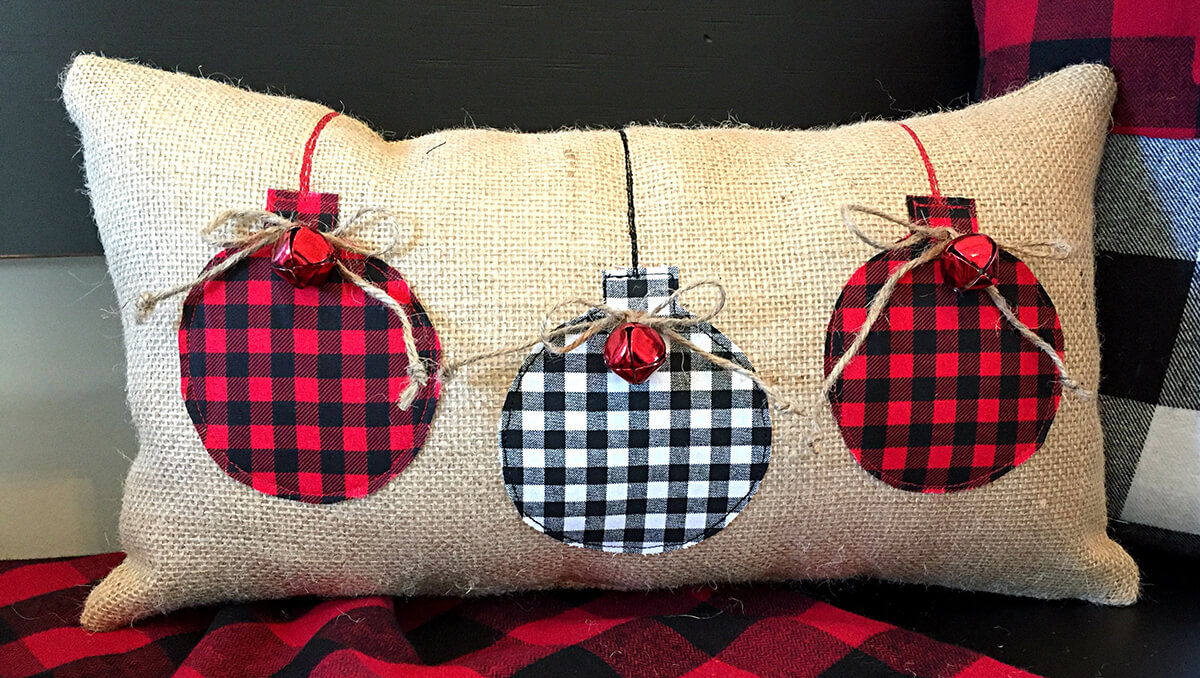 Things are better in a group of three and this is positively displayed in the pretty plaid trio of Christmas ornaments pillow. Constructed on a burlap backing, the three ornaments take center stage with their red, black and white plaid fabrics that are embellished at the top with a shiny red bell. A subtle touch of the twine string bow is added for extra visual and textural appeal. The arrangement of the checkered bulbs adds a sense of motion taking it up a notch from a mere 1 dimensional piece. With the attention to detail in this fun Christmas pillow, it can easily stand on its own as a featured piece on the favorite lounging spot in the living room.
23. Burlap Feed Sack Reindeer Grains Christmas Pillow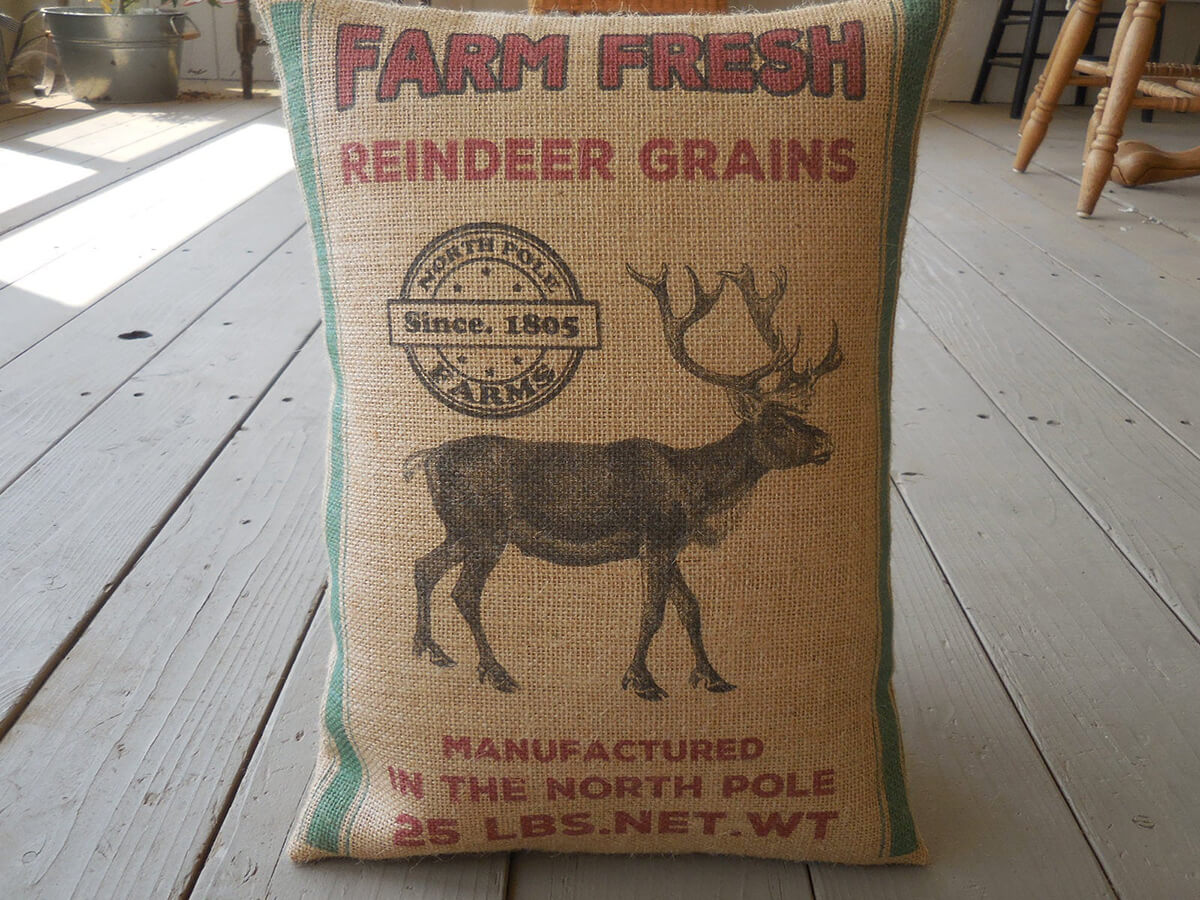 Who would've ever believed one of the best Christmas pillows was formerly a feed sack? Well, here it is to put the proof in the pudding! Maybe it wasn't ever actually used as a feed sack, but it sure has all of the original and rustic charm. This over-sized burlap pillow features a side profile of one of Santa's finest helpers. And while most look for the proudly made in the U.S.A. sticker, this great grain sack boasts its North Pole beginnings. Add this Christmas pillow to the front porch lineup this holiday season propped up beside the door or lying next to the sleigh. This burlap feed sack pillow adds a special touch for your country Christmas decor.
24. Merry Christmas Mini Trees Cozy Holiday Pillow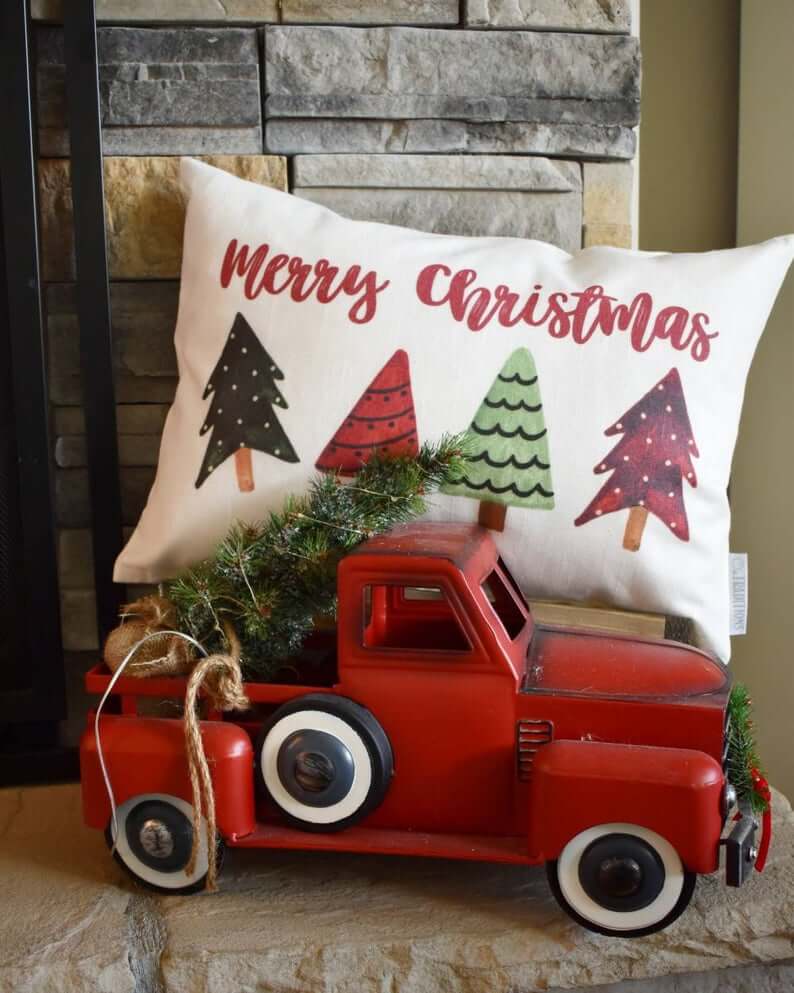 This oblong white holiday throw pillow is full of cozy charm. With the four featured pine tree friends, there is a variety of colors and dots to transform them into the tree of the season. From red and green to dotted ornaments and lines of garland, the whimsical trees add an element of fun to this Christmas pillow accent. Above the tree quad is the hand-written message wishing everyone a "merry Christmas."
25. Bold Red Plaid Traditional Christmas Throw Pillow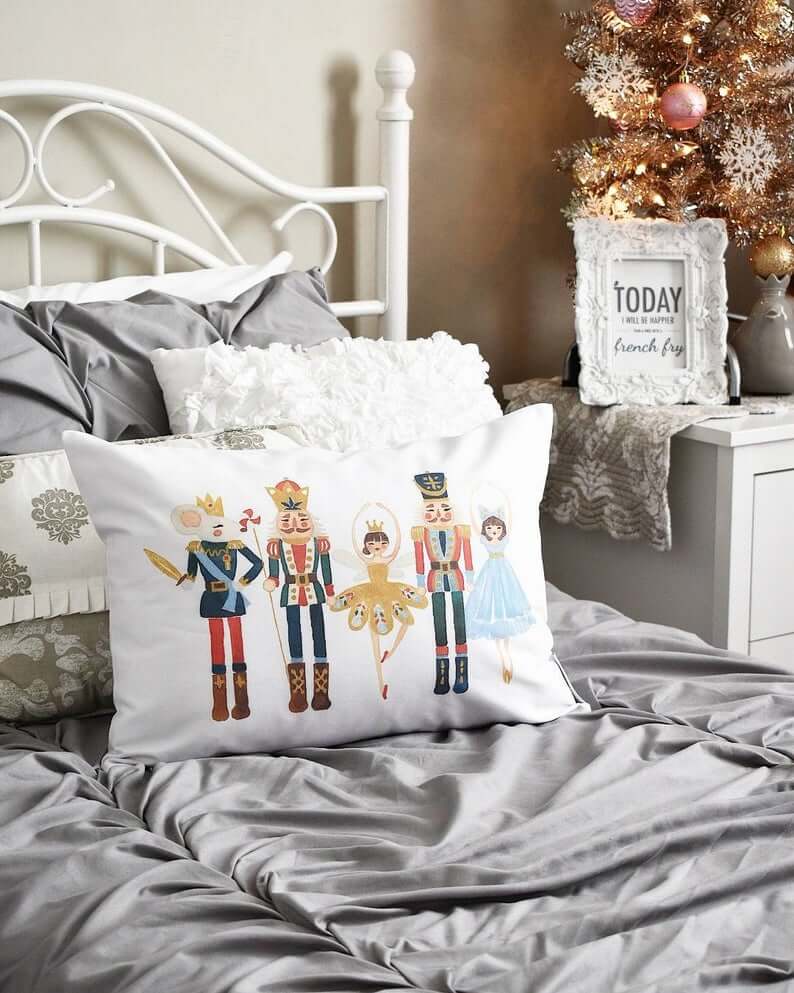 Constructed with a modern throwback feel, this red plaid pillow may be the best Christmas cushion around. With the flexibility to transition into an everyday living space, this pretty plaid works well in both a family and masculine space. Imagine the warm glow oozing from the fire place as you nestle your head into this comfortable cushion and listen to your child read "Twas the Night Before Christmas." Or maybe your industrial loft in the city needs a little pop of color during this holiday season, so the bold plaid makes a statement without cramping your style.
26. Bold Red Let It Snow Christmas Pillow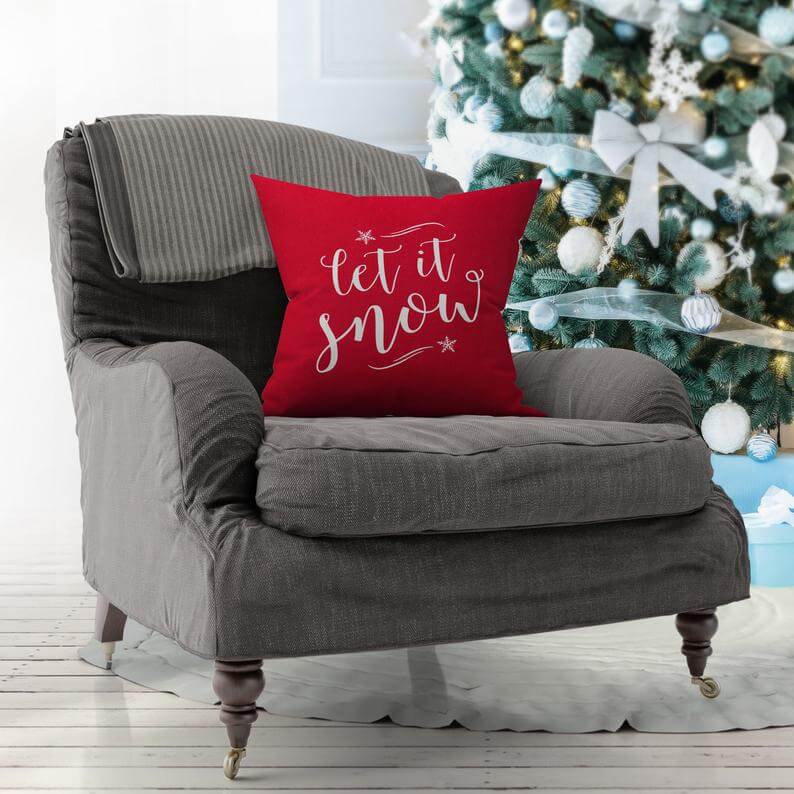 Make a statement in any room with this vivid red pillow! Telling the famous words we all long to hear during the holiday season, this Let It Snow pillow adds a punch of fun and color to your already existing household decor. Whether jazzing up the dorm room of your favorite college guy or gal or resting gently on Mimi's couch, the rich red of this throw pillow is the perfect accent in any traditional red and green holiday scene.
27. Rich Red and Embroidered Gold Merry Christmas Pillow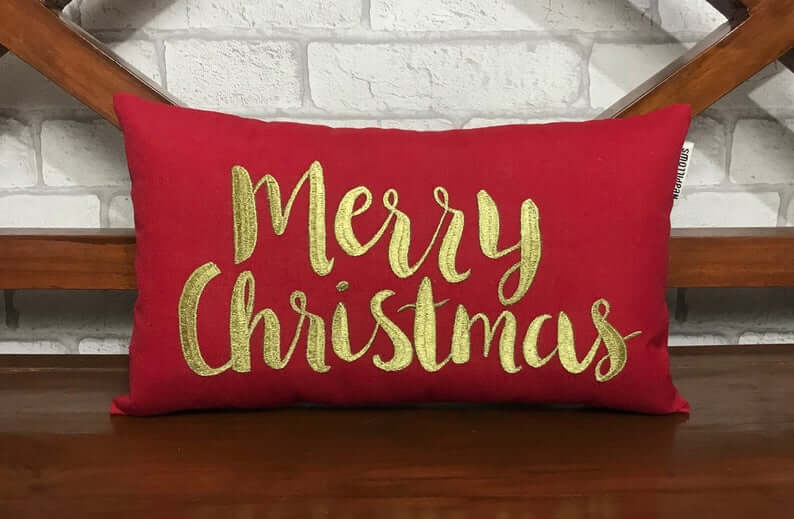 It's hard to say Bah Humbug with this beautiful and cheerful Merry Christmas pillow in your presence. From its deep red fabric to its intricate and sparkly sheen of gold embroidering, this showstopping accent pillow is a great accessory for decorators in the holiday spirit. The color combination adds a touch of elegance and sophistication with the popping gold lettering. Toss it on the bed or the chair to bring a little spark to the room.
28. Jolly Old Saint Nicholas Vintage White Pillow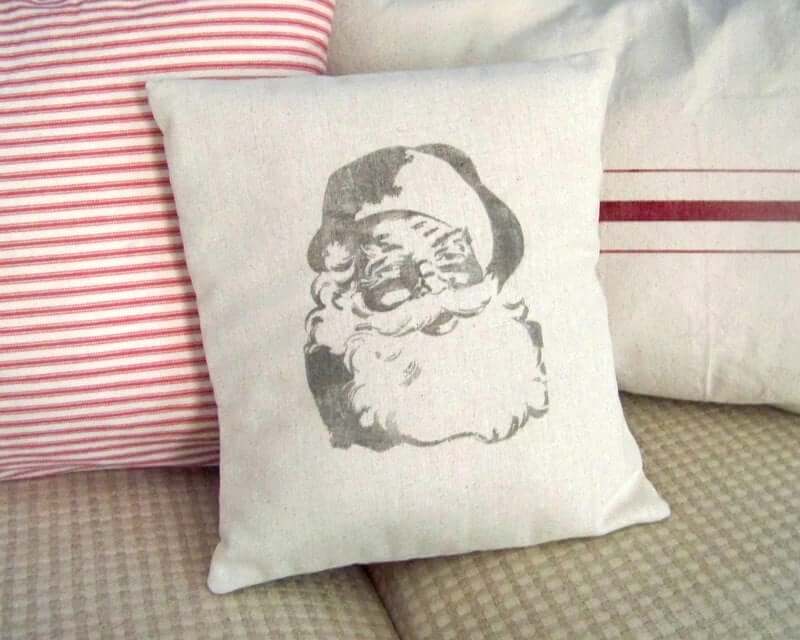 When the feelings of nostalgia hit, bring home this vintage inspired Saint Nicholas Christmas pillow. Screen printed on a white background, this antique picture of Santa Claus speaks to a more simple time of holiday cheer. One where kids were allowed to be kids and parents were more concerned with their families than keeping up with the Joneses. Include a throwback to the good old days with this Jolly Old Saint Nicholas neutral Christmas pillow featuring a vintage head shot of the gift-bearing beard-wearing man in the red suit.
29. Holiday Ho Ho Ho Primitive Button and Stitches Pillow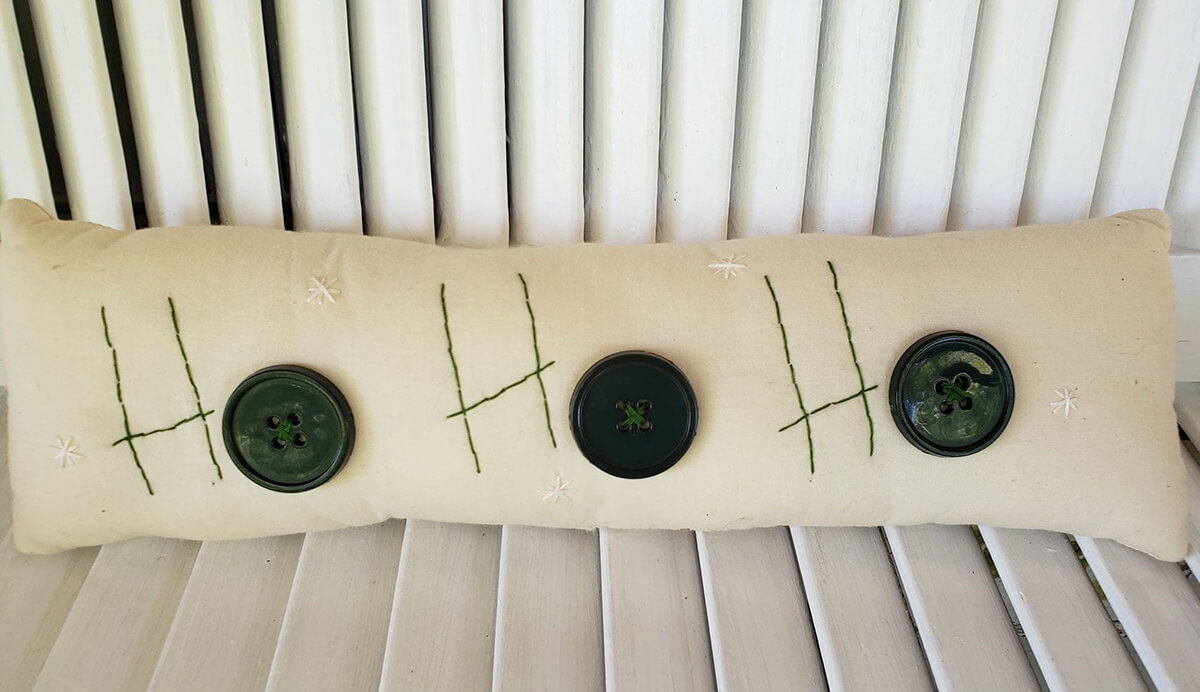 Channel that deep and warm voice of Santa with the Ho Ho Ho Primitive Button pillow. Made with love in every stitch, this accent pillow stands out with its button o's and white strategically placed stitched snowflakes to make it a fun piece for the primitive decorator. While the green adds a bit of color, the piece still has a neutral and calming vibe.
29 Cozy and Festive Christmas Pillows to Get Your Couch into the Holiday Spirit
With all of the new holiday decorations hitting the store shelves even as we speak, you can't go wrong with your choice of any of the best Christmas pillows detailed above. No matter if neutral black and white is your cup of tea or you prefer a rustic feel, there is one or two to meet your needs. Simple lettering or detailed stitching provide the options of holiday pillows to turn the heads of minimalists and cozy homemakers alike.
Arranging a collection of Christmas pillows in a gallery style display on the couch or tossing one in the seat of your comfy and beloved chair, these perfect Christmas pillows are sure to suit your needs. Making the perfect gift for friends or family, a special throw pillow can be enjoyed from all walks of life working with toddlers and teenagers to grown-ups and grandparents. As a house warming gift or thank you for holiday party hosting, it's a good idea to have an extra Christmas pillow on hand for that last minute gift idea.
Many transition quite smoothly into everyday decor as the woodland and rustic design elements are evident in the deer, moose and pine tree designs. Check out this collection of Christmas throw pillows for the perfect addition to your existing holiday decor or as a sweet gift idea.