The holiday season is coming up fast. There are so many different ways you can decorate for Chrismtas, from bright and cheery to cute and playful to chic and modern. If you are going for a more natural, country, or shabby chic look, you're in luck! Fill your home with the holiday spirit with this list of 38 rustic farmhouse Christmas decor ideas.
38 Fabulous Rustic Farmhouse Christmas Decor Ideas to Festive Up Your Home

There are inspiration, and projects for every room in your house. Delight guests at your big holiday meal with one of our pretty centerpiece projects. Greet loved ones at the door with one of our festive outdoor porch displays. This list of rustic farmhouse Christmas decor ideas also includes gorgeous Christmas tree decorating schemes. For just a small touch of the holiday spirit, try one of our signs, wreaths, or miniature displays.
We even have some projects for those who love to upcycle! There is something on this list for every side of the rustic look. Whether you like red and white or black and white, plaid or wood, evergreen branches or birch logs, your home will look festive and fabulous. Keep reading to learn more about all 38 rustic farmhouse Christmas decor ideas!
1. Country Christmas Mud Room Decor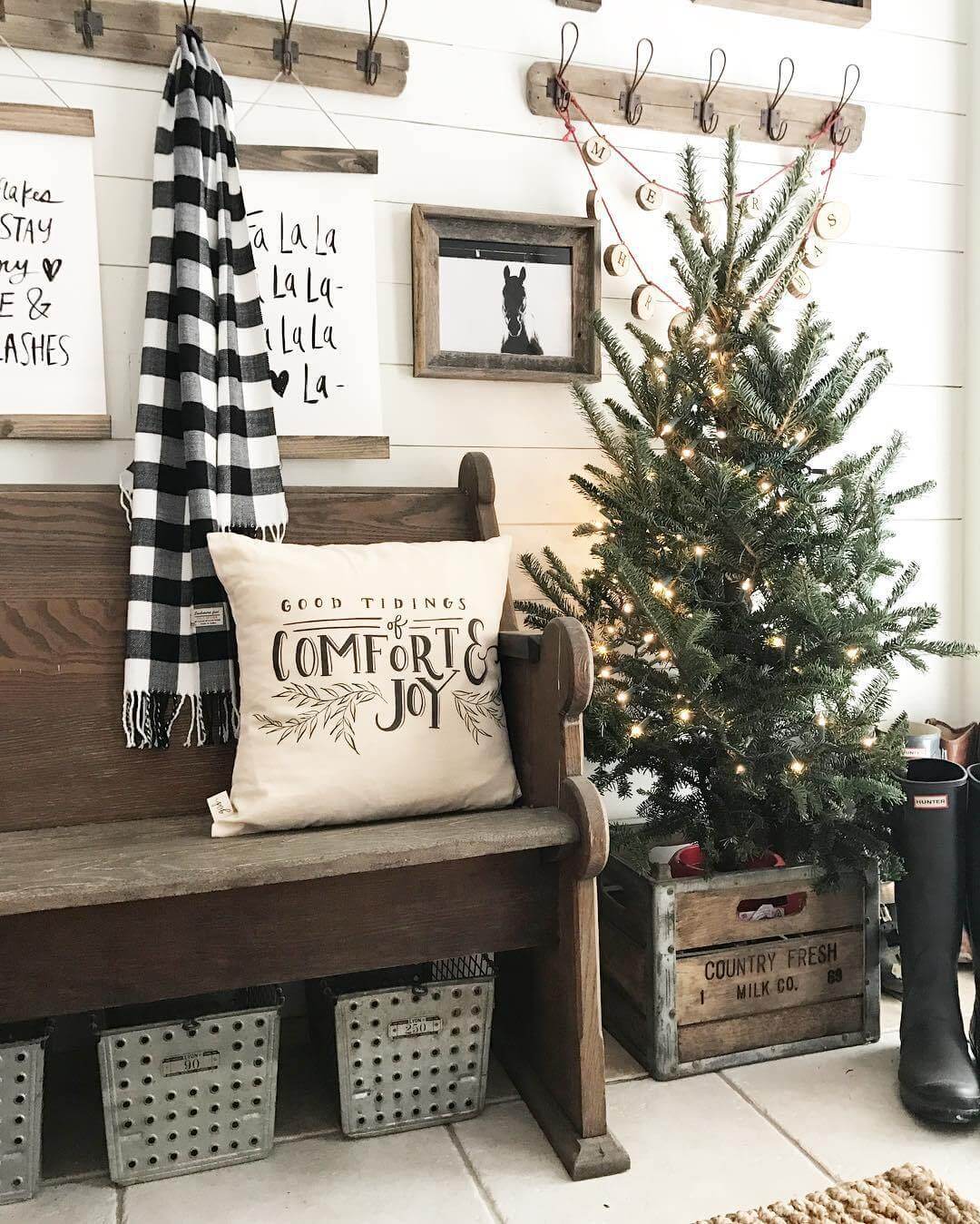 It's not much of a farmhouse Christmas without decorating the mud room. This area doesn't even need much as the small tree with just a few decorations speaks loud enough.
2. Rustic Winter Lazy Susan Centerpiece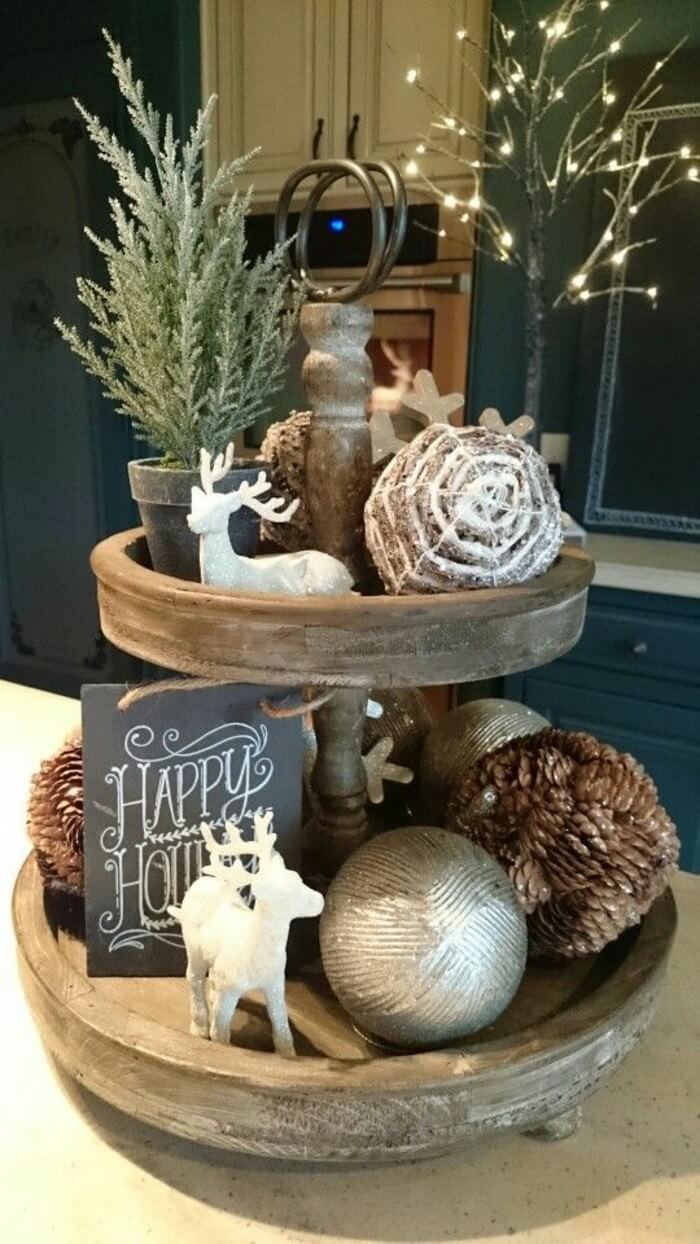 A lazy Susan is the perfect way to add numerous decorations in a single spot without it looking cluttered. The neutral coloring is ideal for the theme at hand, but there is enough contrast throughout to keep the eye moving from one spot to the next.
3. Antique Window With Holiday Wreath Porch Display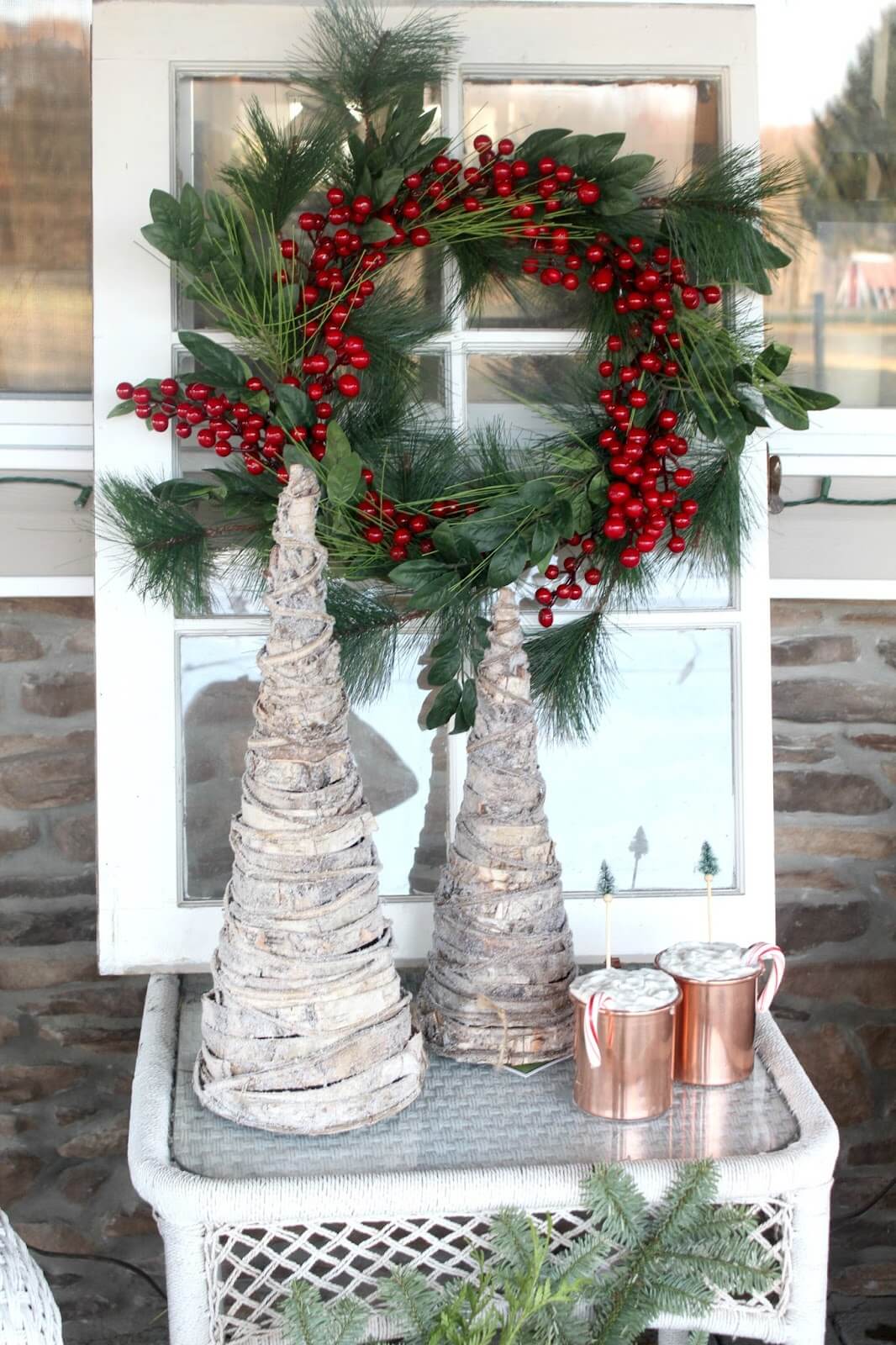 An antique window is always fun to play around with when decorating with a rustic theme. It's a great piece for your porch or deck too as it gives you another area to hang up a holiday wreath. The wreath itself adds a nice pop of color too.
4. Birch Log and Pine Branch Centerpiece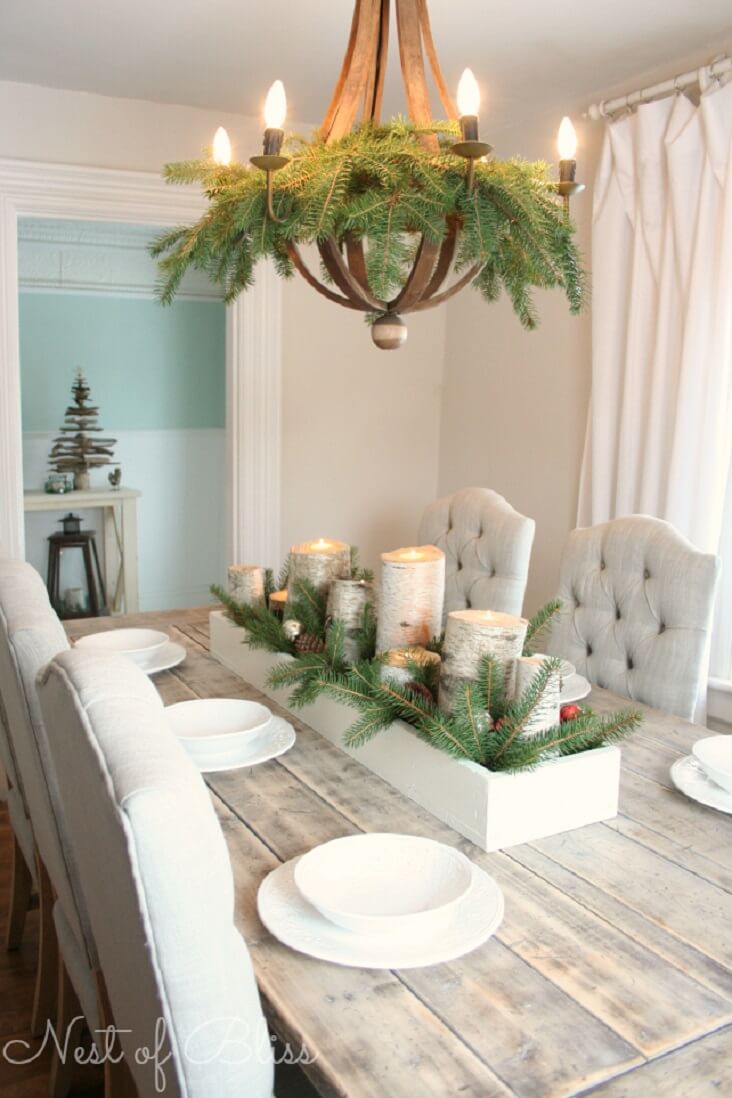 When you need farmhouse decorating ideas for the dining room, a centerpiece is a good place to start. Aim for features like decorative logs to keep up the rural vibe in the room while adding in some greenery to cement the holiday feel.
5. Snowflake Wood Block Project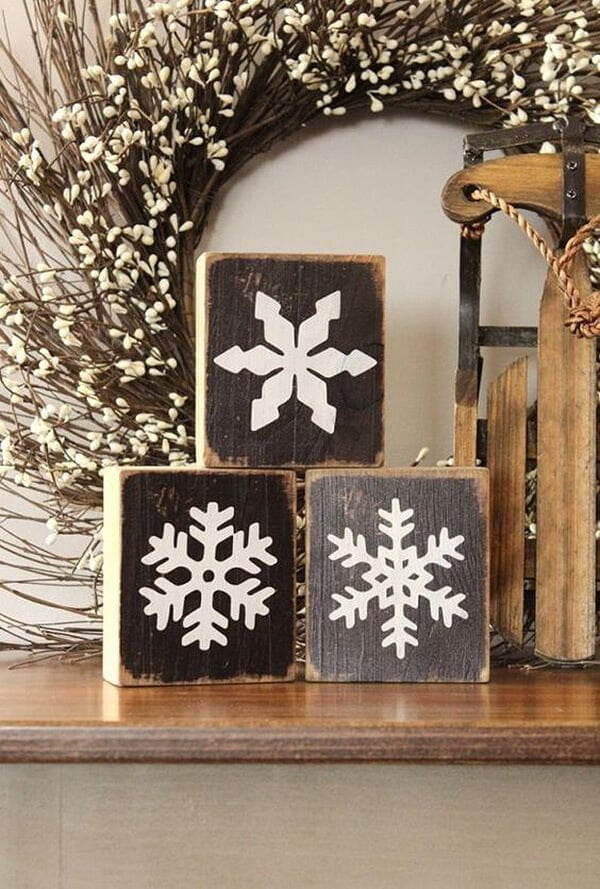 Fitting for a country-styled Christmas, these wooden block snowflakes are unique decorating ideas in every way. Of course, the snowflakes themselves are distinct as they should be, easily capturing attention no matter where you set them up at.
6. Festive Holiday Ladder Porch Display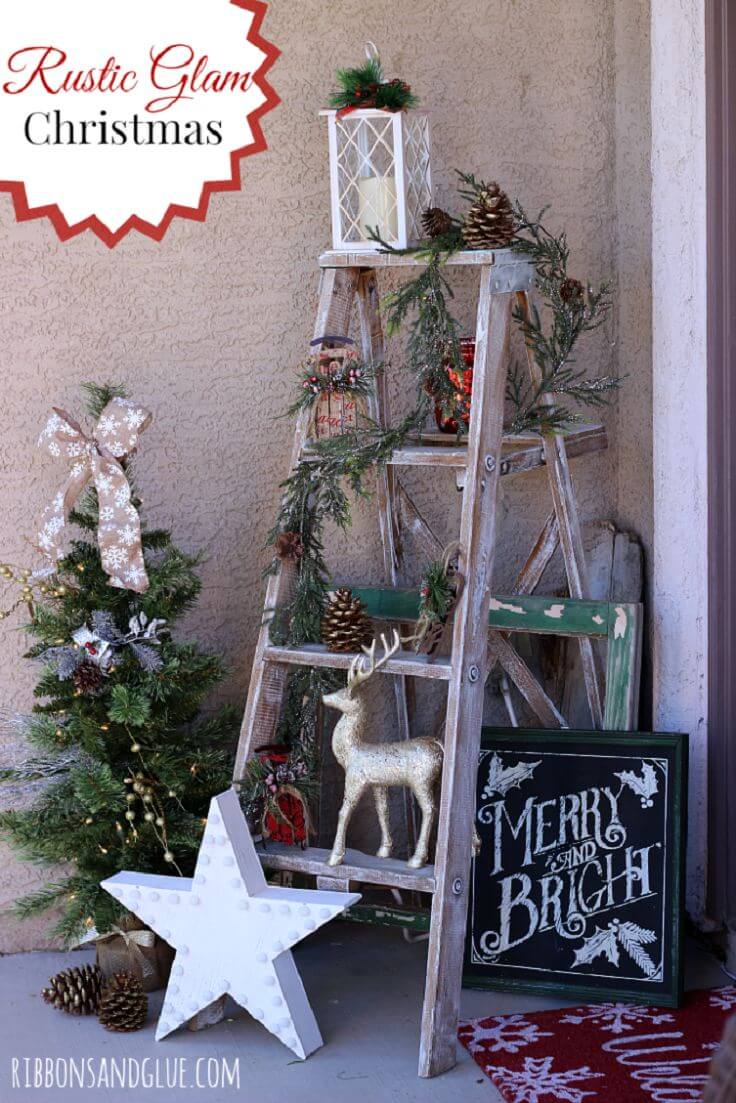 Whip out that rustic ladder as it's a wonderful go-to decorating base for your holiday décor. This looks just as good outside as it does in your living room too. It's also a perfect area to bring color into your decorating.
7. Pine and Berries Milk Can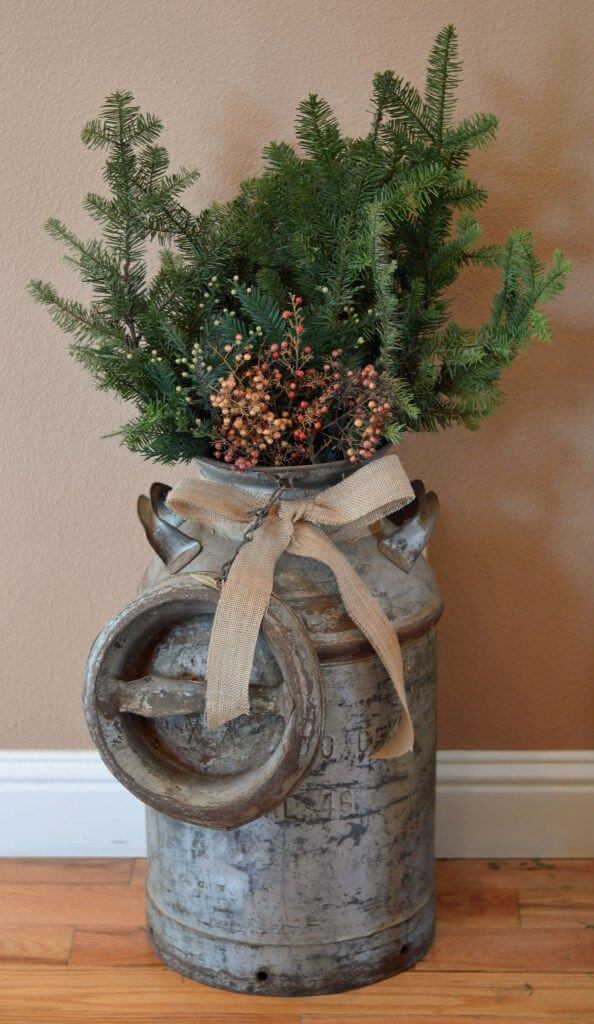 A cool way to decorate your farmhouse-styled home is using something vintage like a milk can. They are the perfect size to create mini Christmas trees and set up all around your home.
8. Rustic Christmas Grapevine Wreath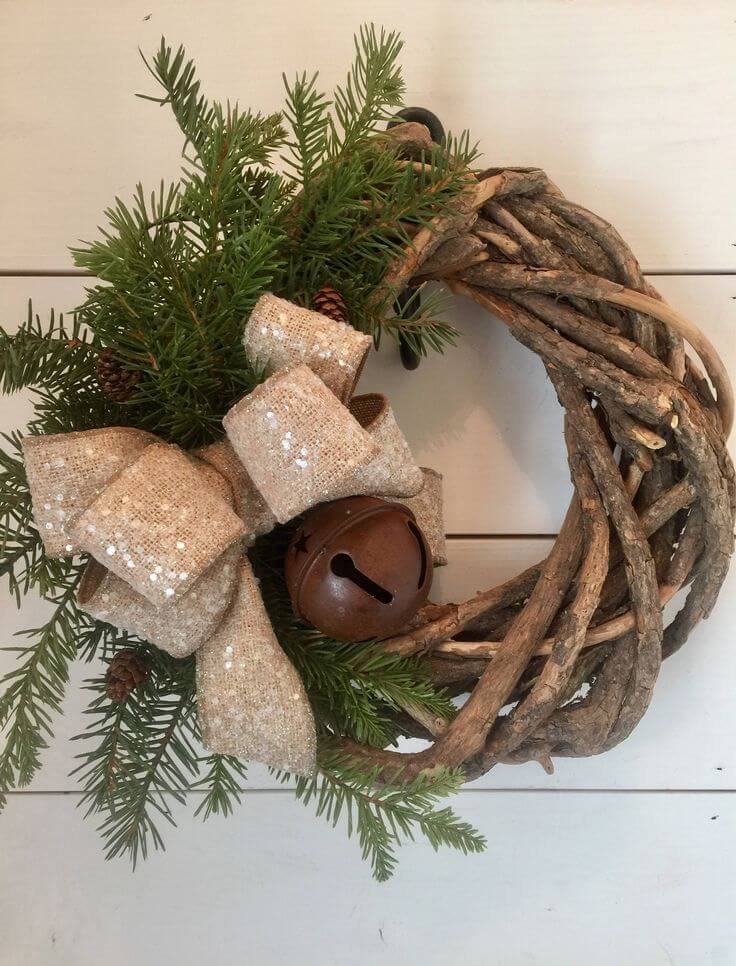 The grapevine wreath is always a pleasant route to go down for that vintage, down-to-earth holiday décor. This one in particular has a nice thickness to it, giving the wreath even more dimension. The theme is aided thanks to the burlap bow.
9. Pretty "Joy" Christmas Stair Sign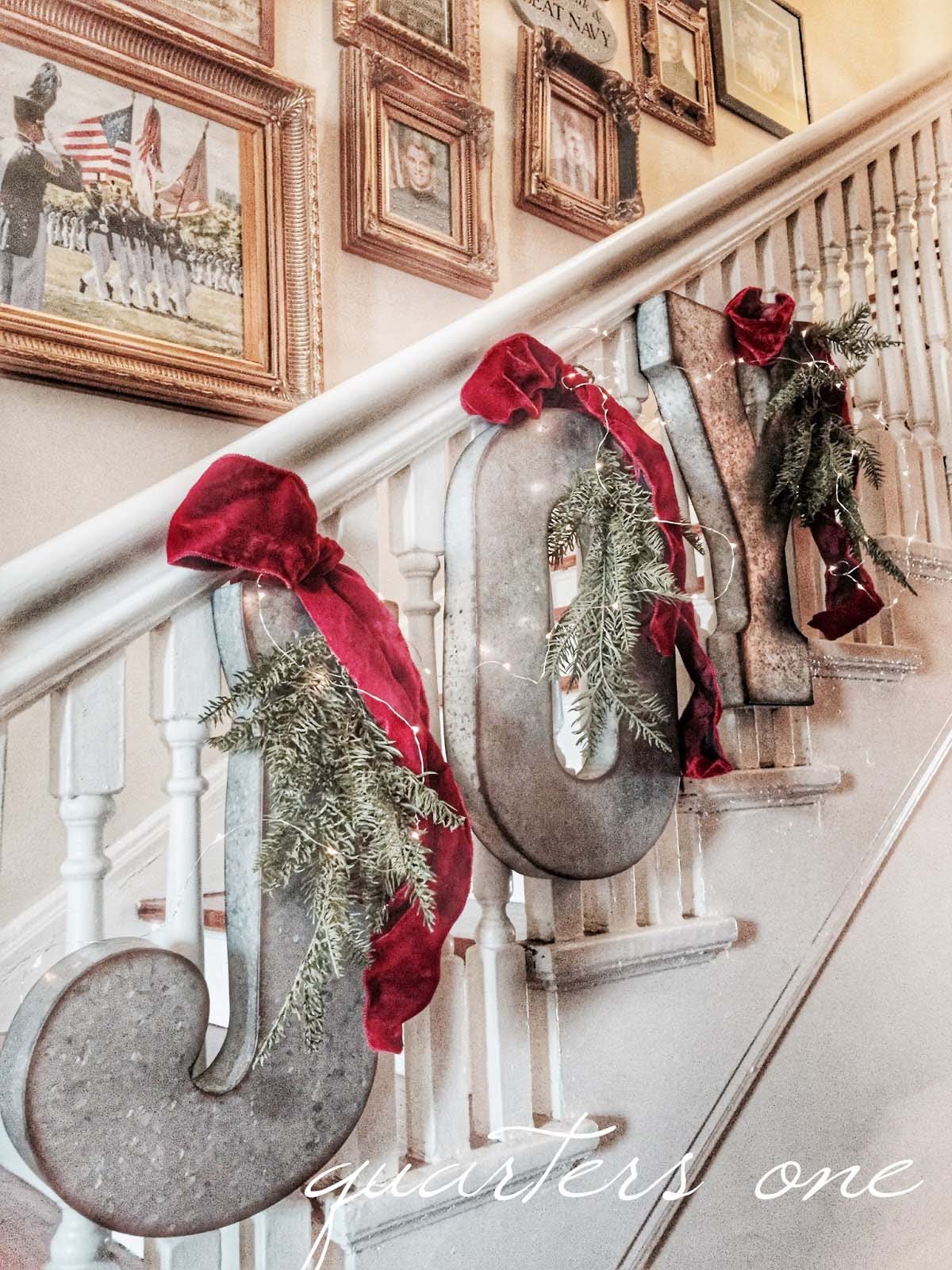 If you need an area to decorate that's not quite the living room, aim for the stairs instead. This "joy" sign is stunning, yet it still has an old-school look and feel, that makes it fit in a farmhouse home.
11. Wood "Noel" Sign With Grapevine Wreath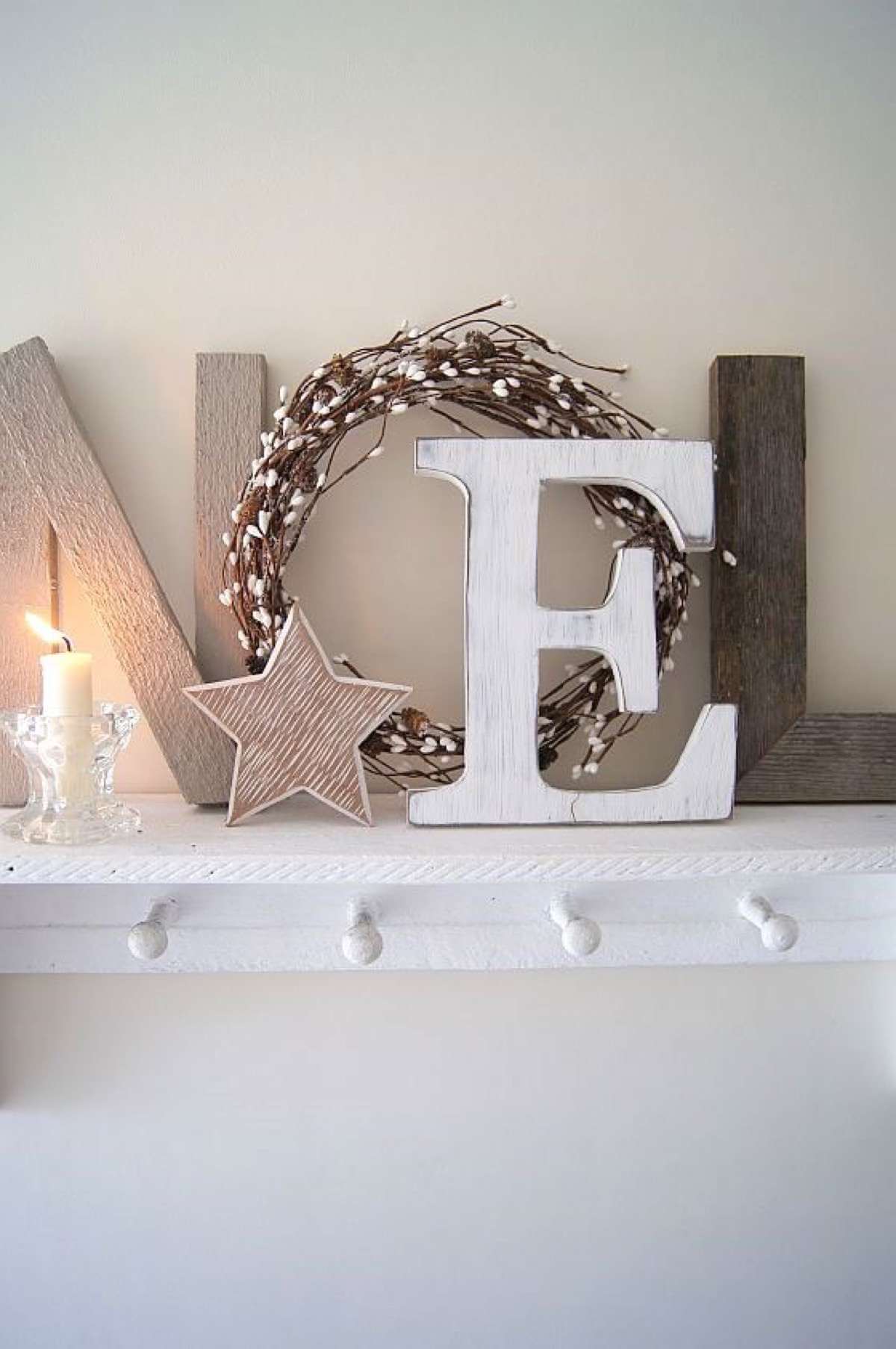 A grapevine wreath isn't just used on a door or a window. Rather, you can bring it into another room like the living room to create a unique decorative piece. The neutral color theme is warm and inviting still, capturing the heart of the holidays.
12. Black and White Christmas Fireplace Inspiration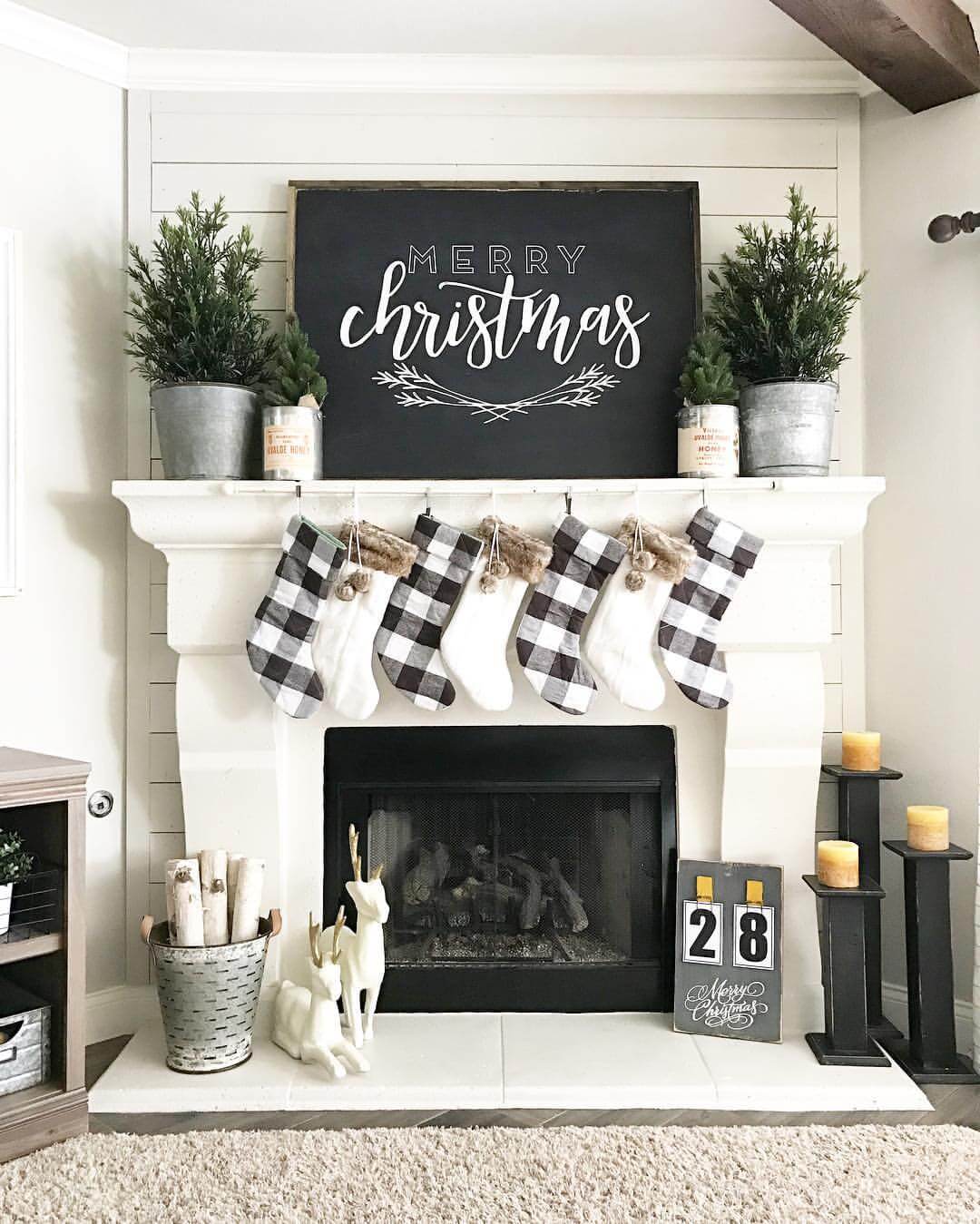 A black and white style isn't just used for contemporary homes. Rather, this color layout easily supports a farmhouse Christmas too as it's paired with the adorable little Christmas trees in silver buckets. Those alone add a nice vintage touch.
13. Wood Board Christmas Tree Signs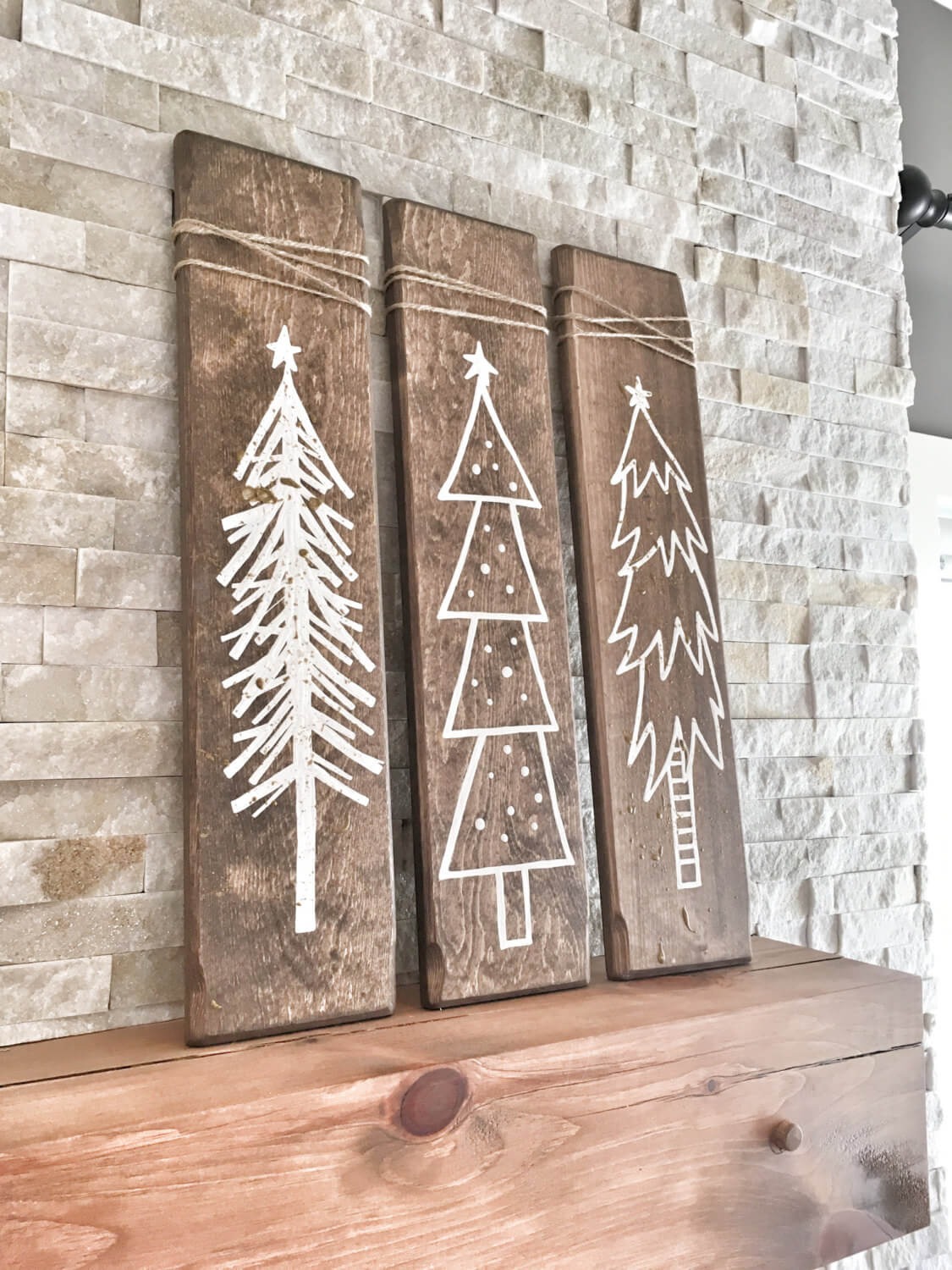 Who says your Christmas trees need to be real or artificial? These painted trees on wooden boards can still help you show your love for the holidays in a more unique manner. You can paint different types of trees too to give them more personality.
14. Winter White Pine Cone Christmas Tree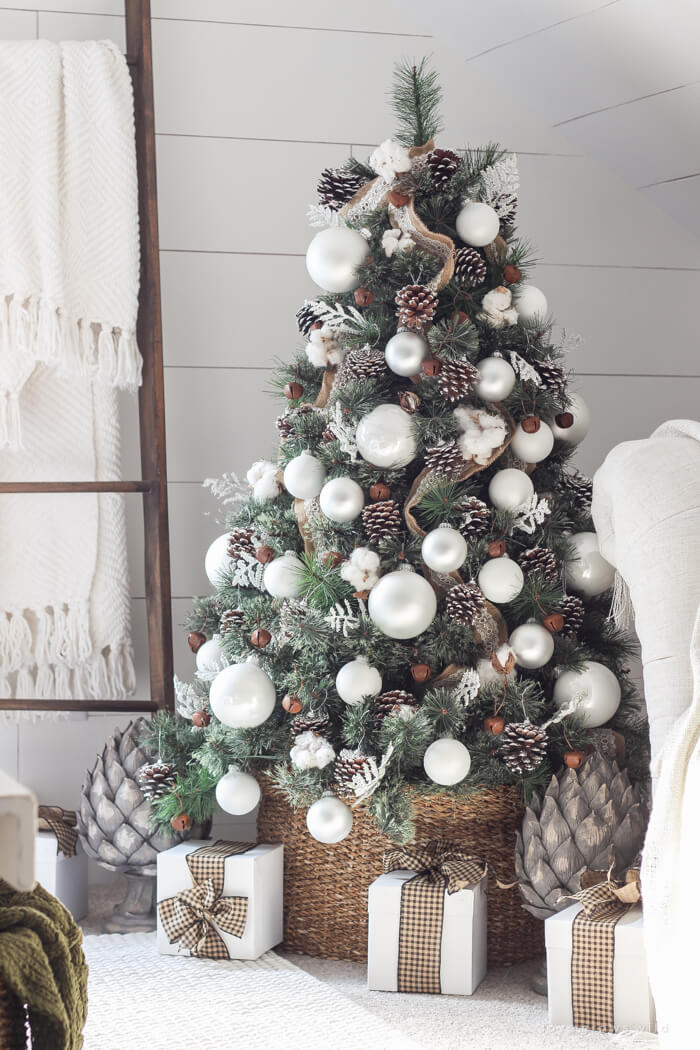 Pinecones just seem so perfect when looking for decorating ideas for a farmhouse home. They look incredible on the tree, providing some nice contrast throughout while helping you stick to your room's theme.
15. Buffalo Check Mason Jars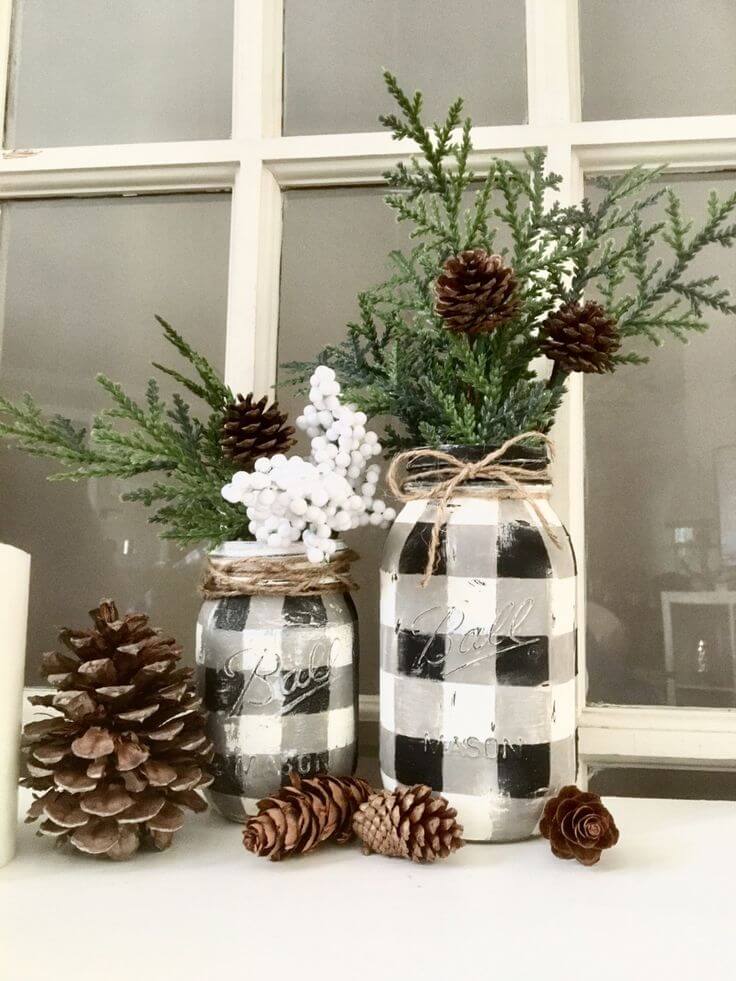 Need some tiny decorating ideas to spruce up your home? Then try out these adorable mason jar Christmas designs. The buffalo check pattern pairs effortlessly with the natural theme. Plus, you can set these up with ease alongside other decorations.
17. Rustic Birch, Pine, and Berry Lighted Display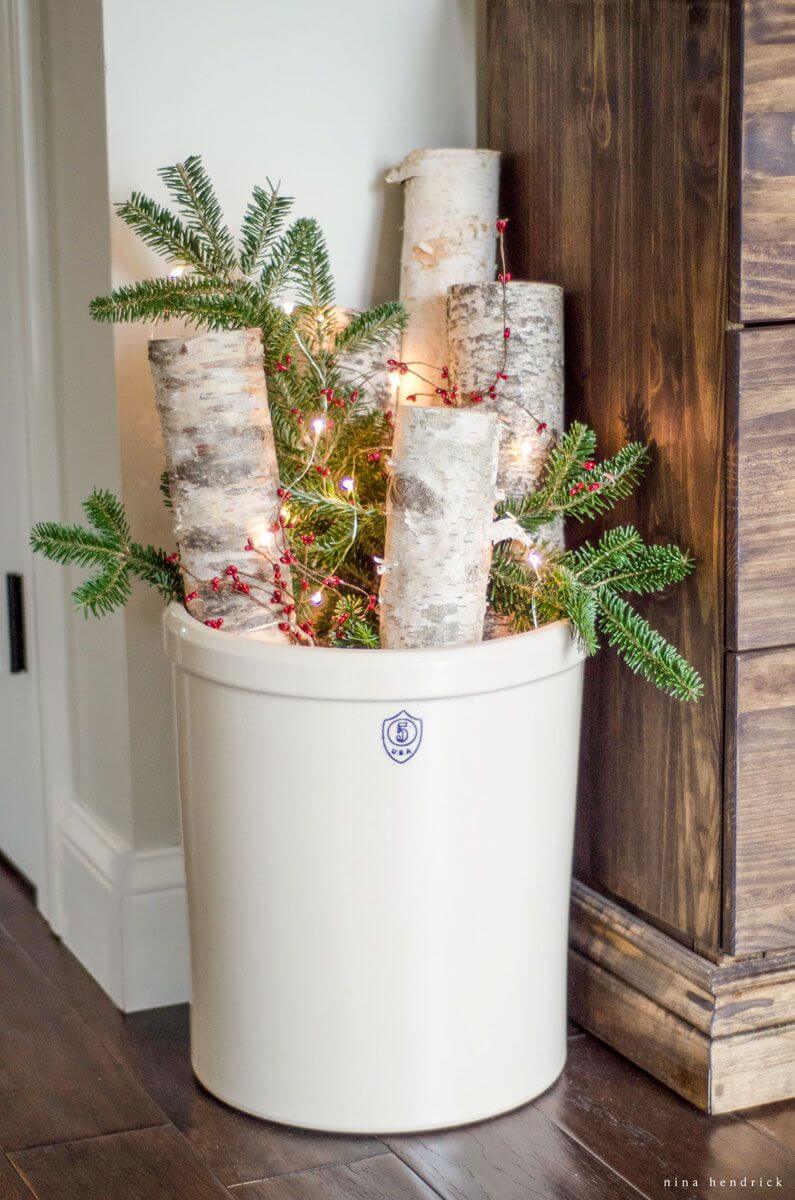 Diversify your living room décor with this incredibly distinctive lighting display. The wooden logs work hand-in-hand with the greenery. Meanwhile, the fairy lights provide a hint of something whimsical and peaceful.
18. Cranberry and Pine Mason Jar Centerpiece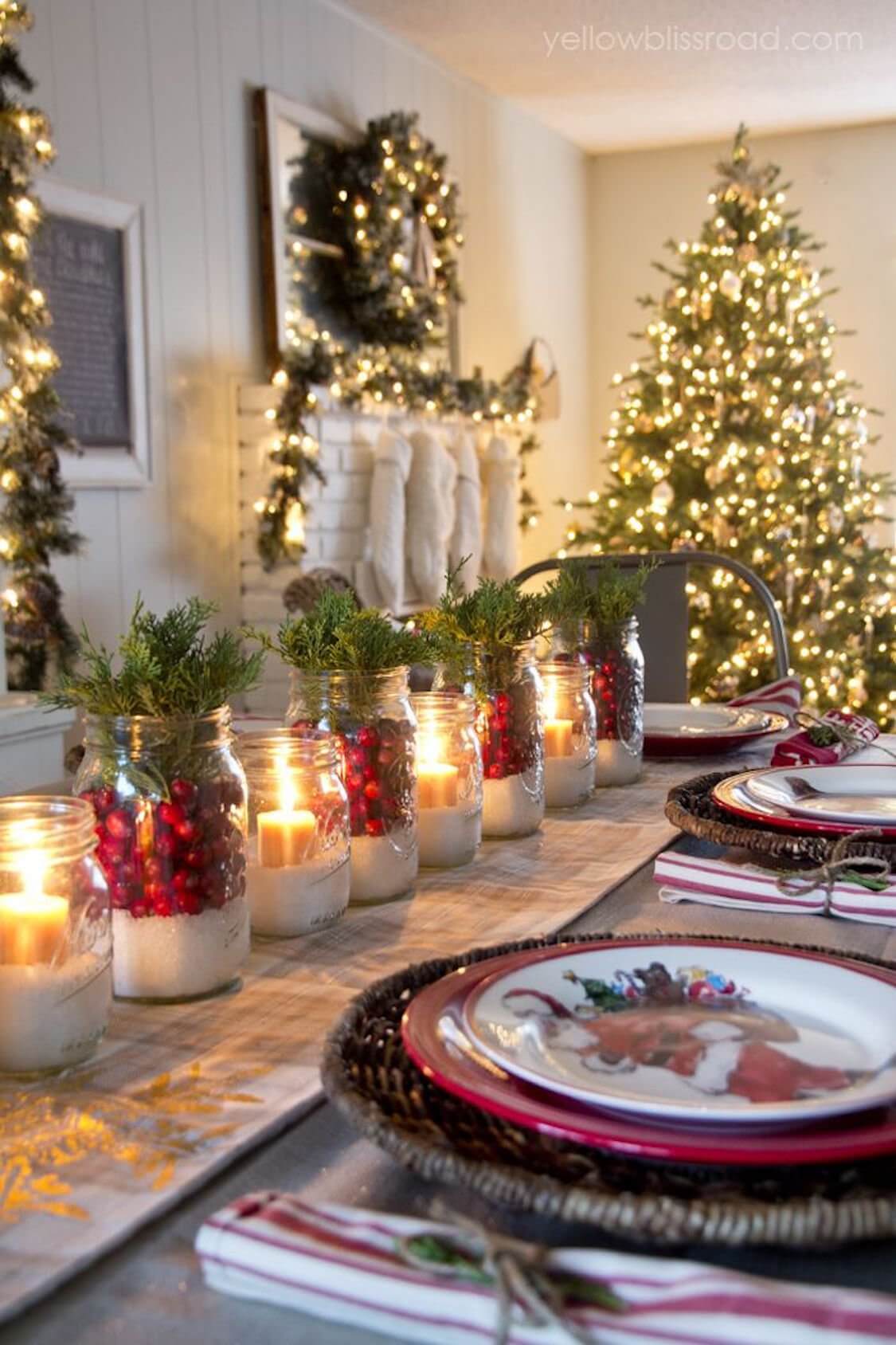 A gorgeous way to elevate a traditional farmhouse setting is with these beautiful centerpieces. Thanks to the clear jars, the red from the cranberries instantly stands out against the greenery. It's a lovely balance of color to breathe new life into your décor.
19. Faux Birch Log Candle Holders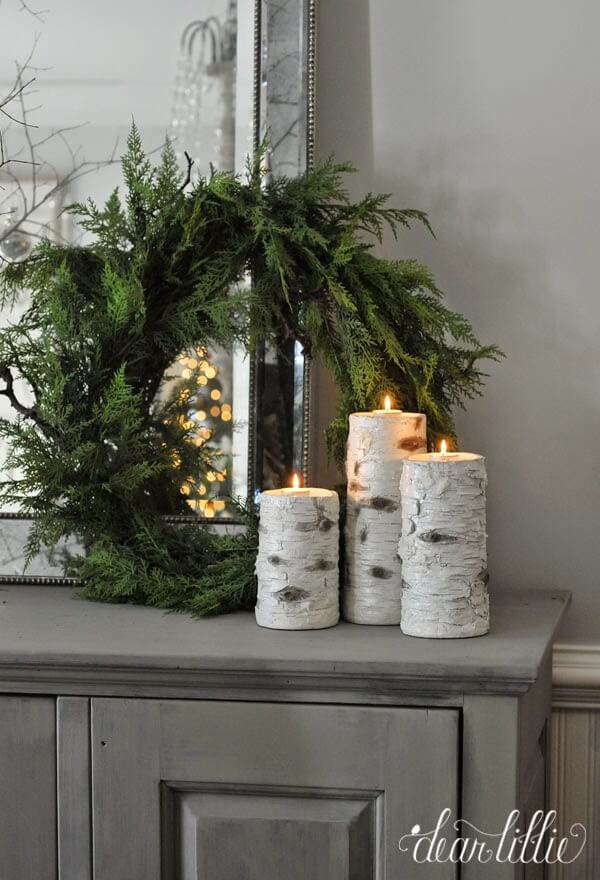 When you want to add some modern style to your farmhouse Christmas décor, consider this lovely setup with faux logs. As they're candle holders, you can build up a particular ambiance when decorating.
20. Shabby Chic Wood Christmas Tree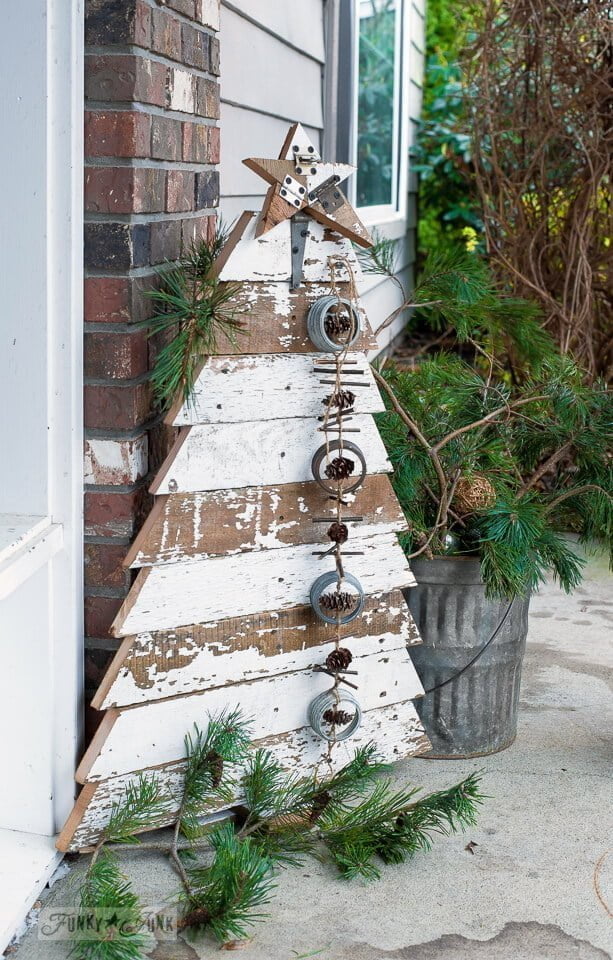 Take the use of a faux tree to new levels with this charming wooden Christmas tree. It looks perfectly weathered, fitting for the overall style. Also, this is a good way to show off your personality before anyone ever enters your home.
22. Mini Rustic Potted Christmas Tree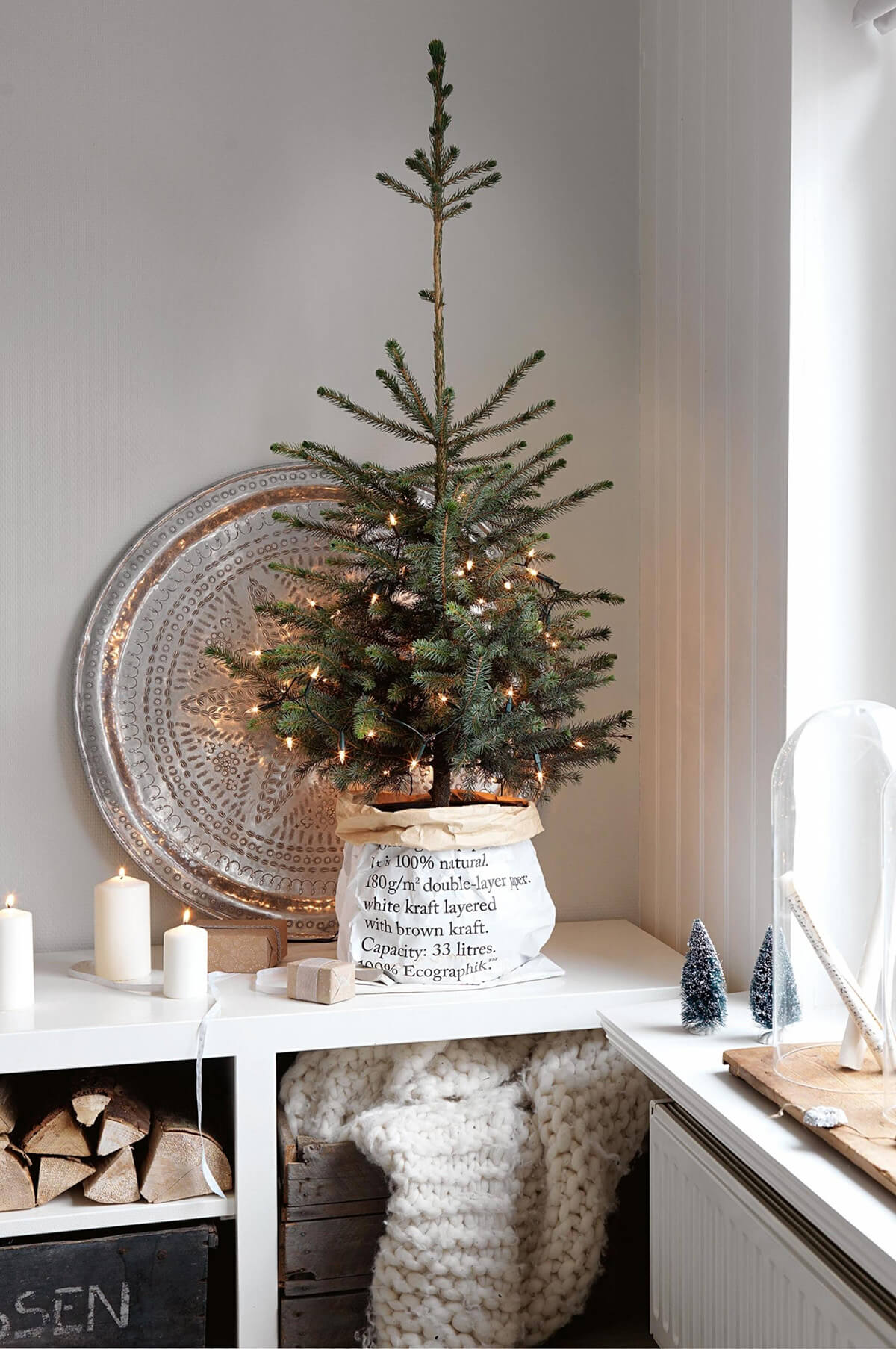 A small Christmas tree isn't just adorable, it is perfectly space-saving, making it a must-have. The way it's potted helps it lean more toward that farmhouse look as well.
23. Red Christmas Tree Truck Centerpiece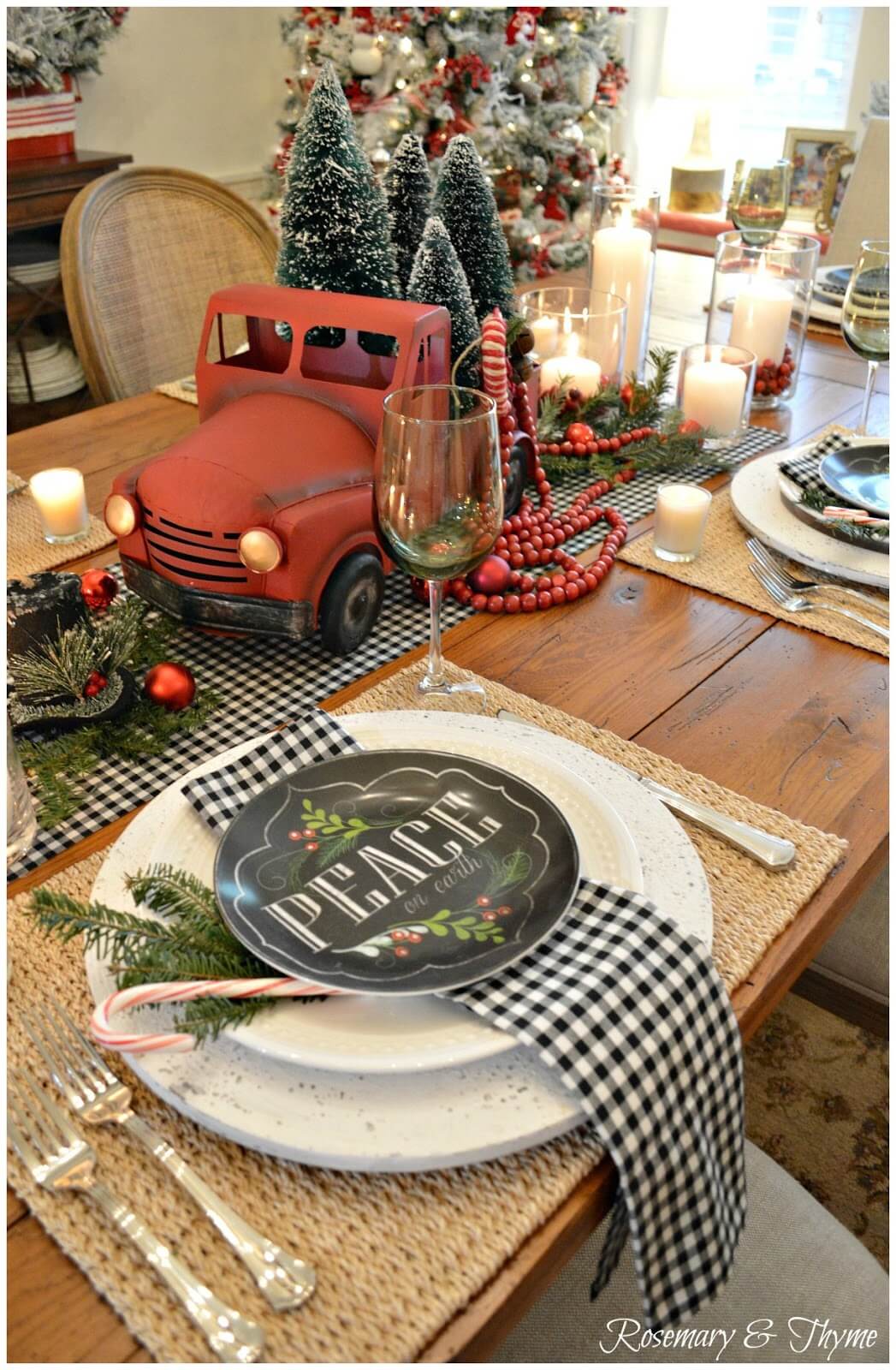 That red truck with a tree in the back is a staple Christmas image. You can bring that into your home as well with ease as you can use it for a centerpiece. Feel free to add multiple Christmas trees to the truck design to make the setup appear larger and eye-catching.
24. Snowy White Christmas Tree Inspiration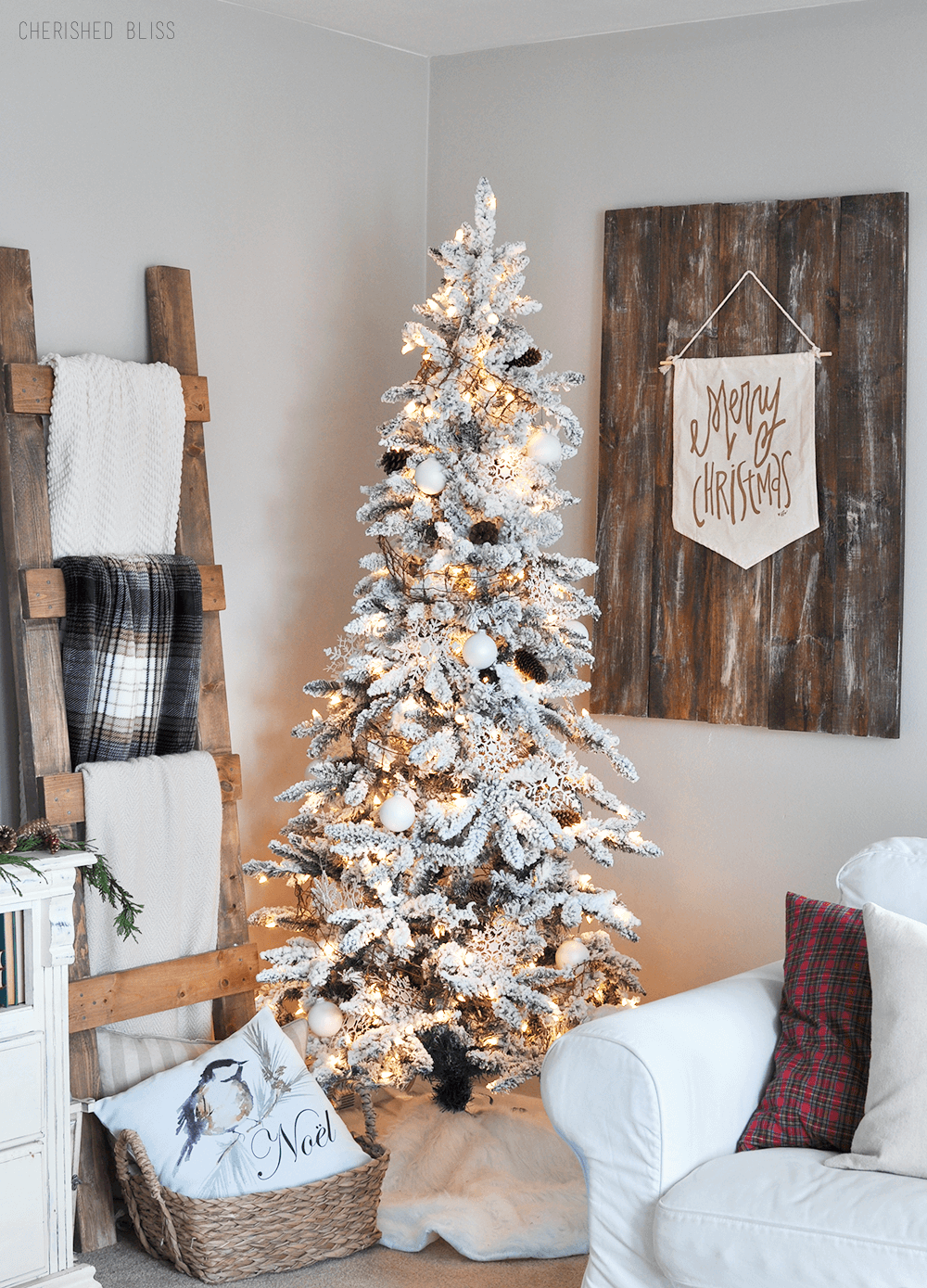 Snow-covered Christmas trees are an absolute gem to work with. They are bright and bold, and the natural look about them makes them most fitting to align with the farmhouse theme on the app.
25. Framed Indoor/Outdoor Chalkboard Project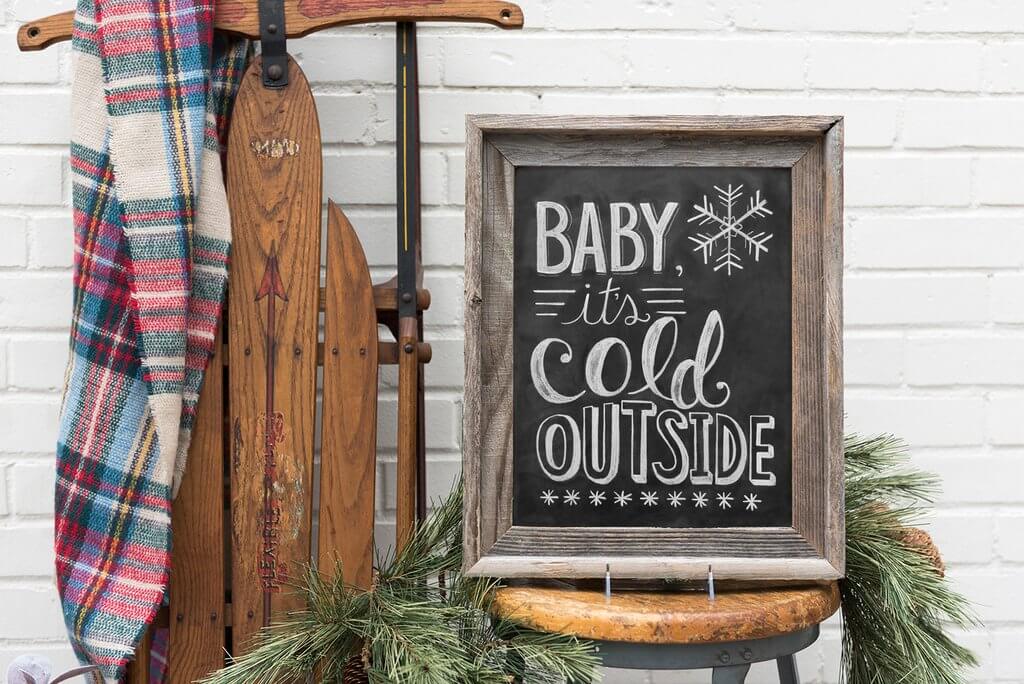 Unsure of what to put in your living room for the holidays beyond a tree? Well, this beautiful sign is your go-to solution. The wooden frame helps it blend in with the theme as well.
26. Mini Customizable Christmas Tree Planters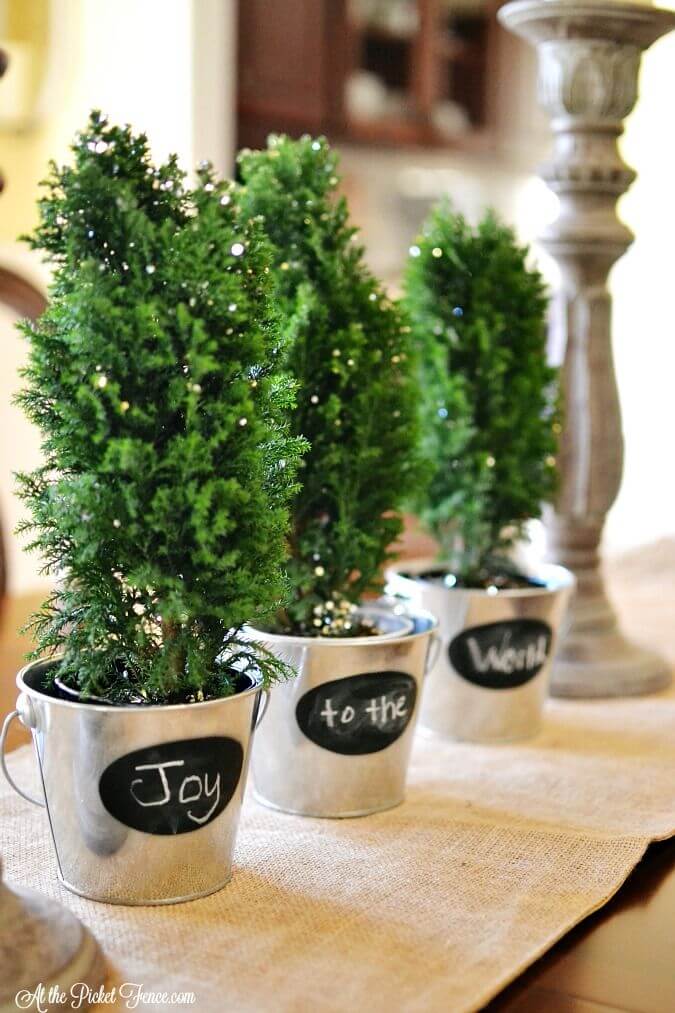 What is as adorable and pleasing as these tiny tree decorations? They work great when you don't have the room, but they are exceptionally well for younger kids who may want to help you get your décor into the holiday spirit.
27. Red, White, and Wood Holiday Decor Inspiration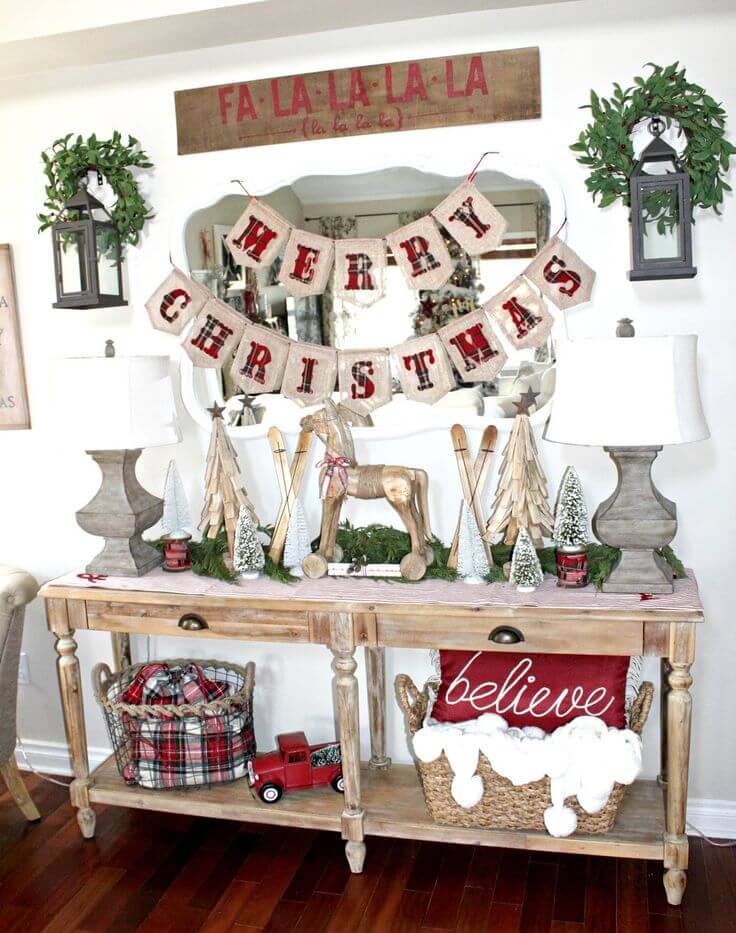 When it comes to decorating ideas, not many people think to pair up a variety of colors around your holiday décor. The red in this case looks vibrant and full of life and energy. It stands a little off of your living room, but it comes first regardless.
28. Antique Book Page Holiday Banner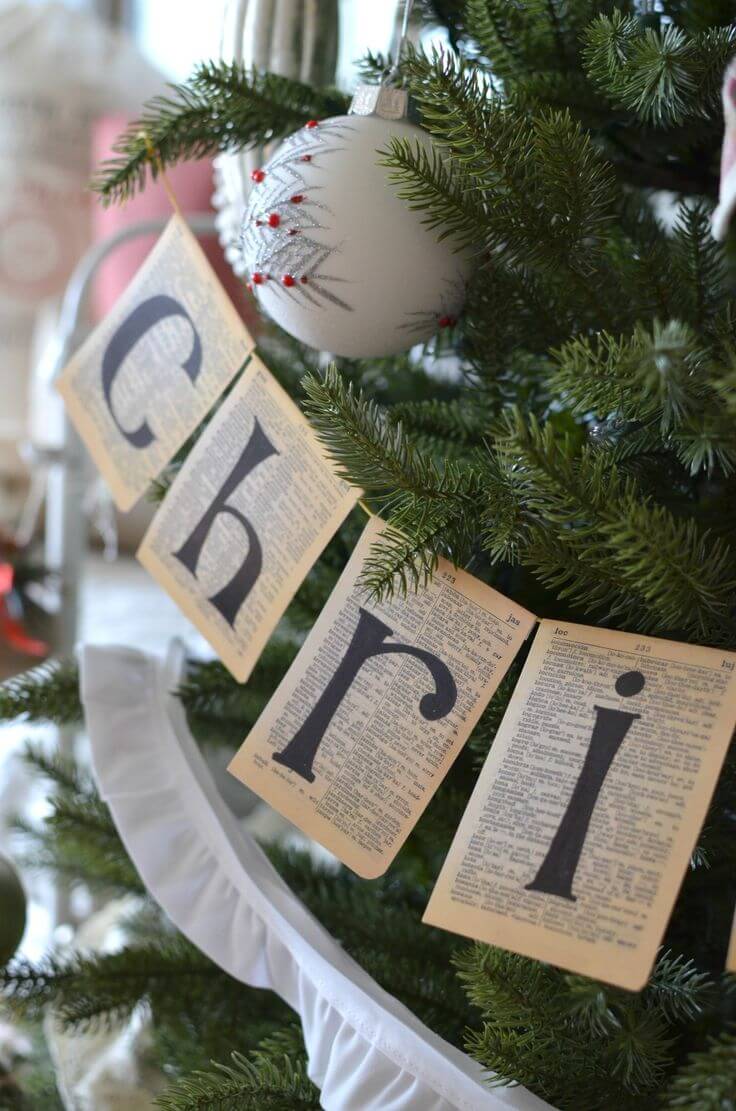 A holiday banner can overhaul the way a Christmas tree looks. Rather than a standard store-bought one, you can use old book pages to create your banner. This leans heavily into the vintage idea.
29. Pine Cone Holiday "Tree"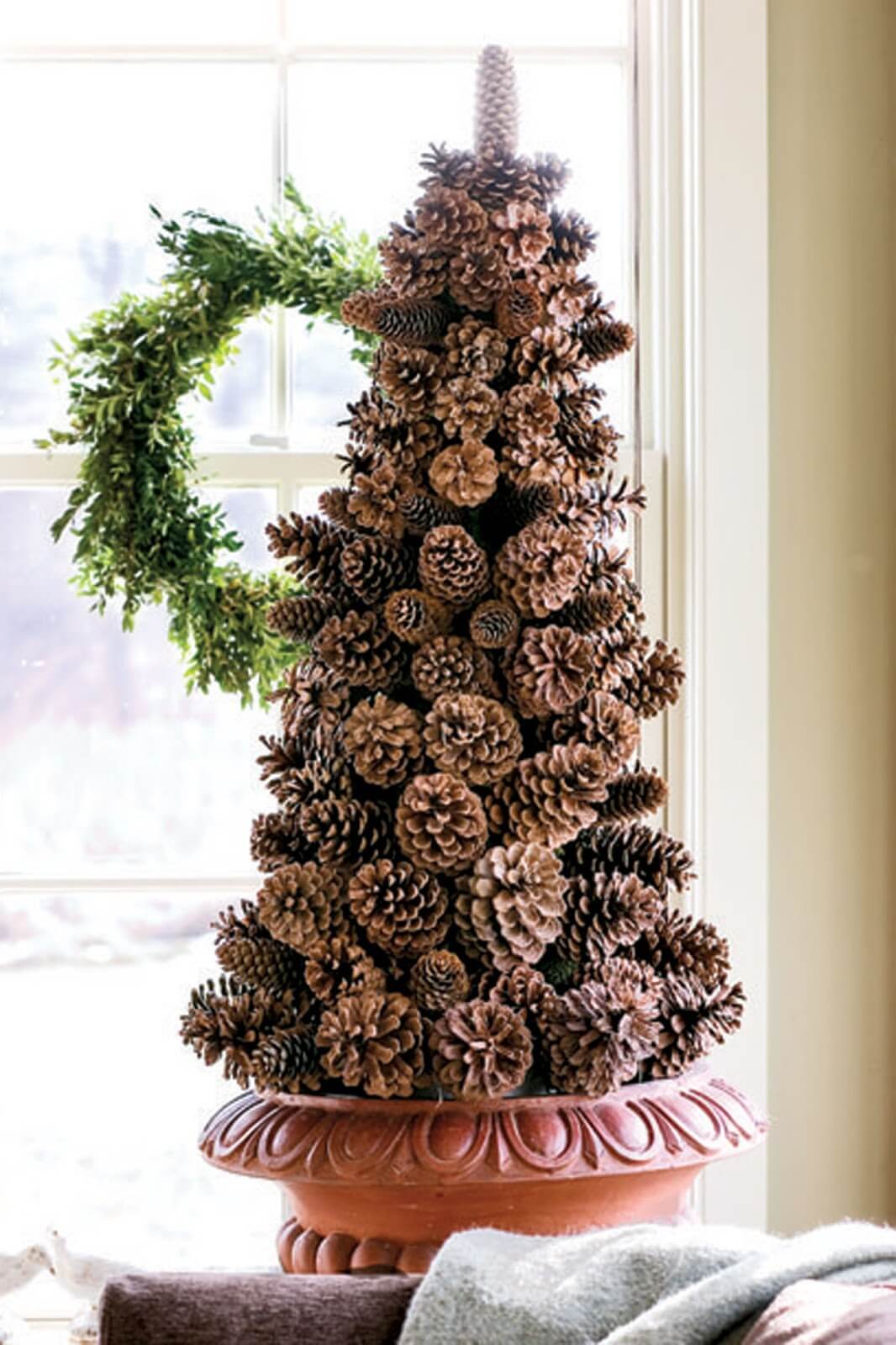 There is an admiration for pinecones thanks to their versatility when it comes to decorating with them. In this case, nothing but pinecones are used to create a visually appealing tree.
30. Rustic Evergreen Christmas Decor Inspiration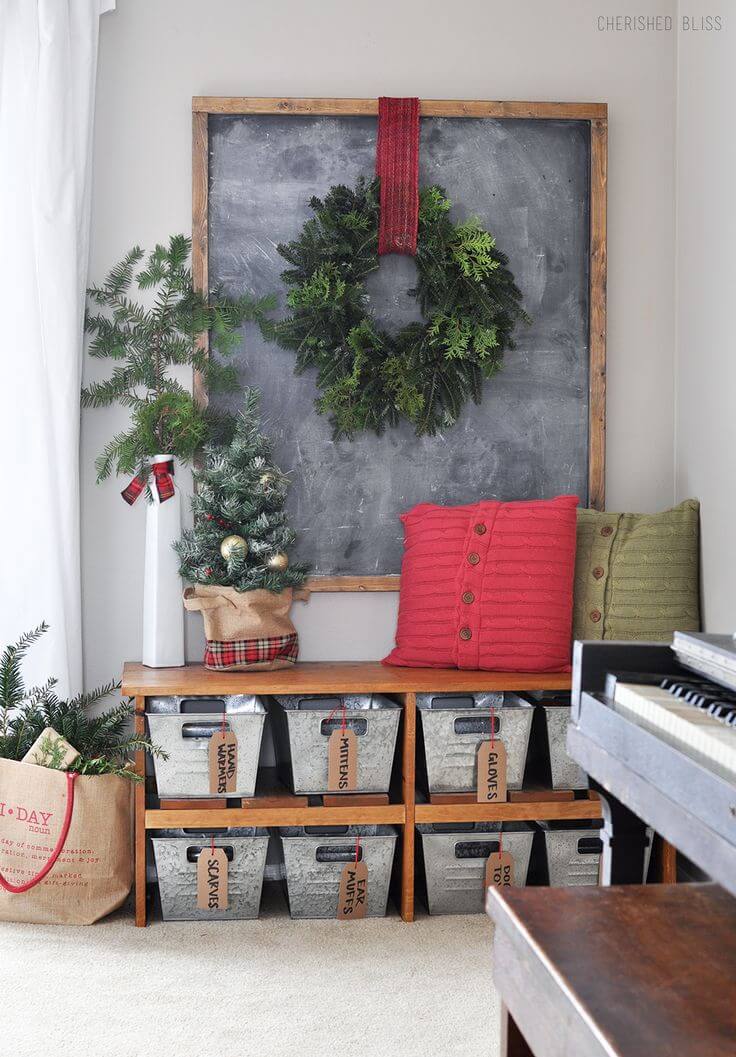 If you have the space for it such as in or around their living room, this holiday set caries the farmhouse theme well. There aren't too many colors so nothing clashes, and there is just enough types of items used from the wreath to the mini tree to promote the holidays.
31. Cozy Pine and Candle Display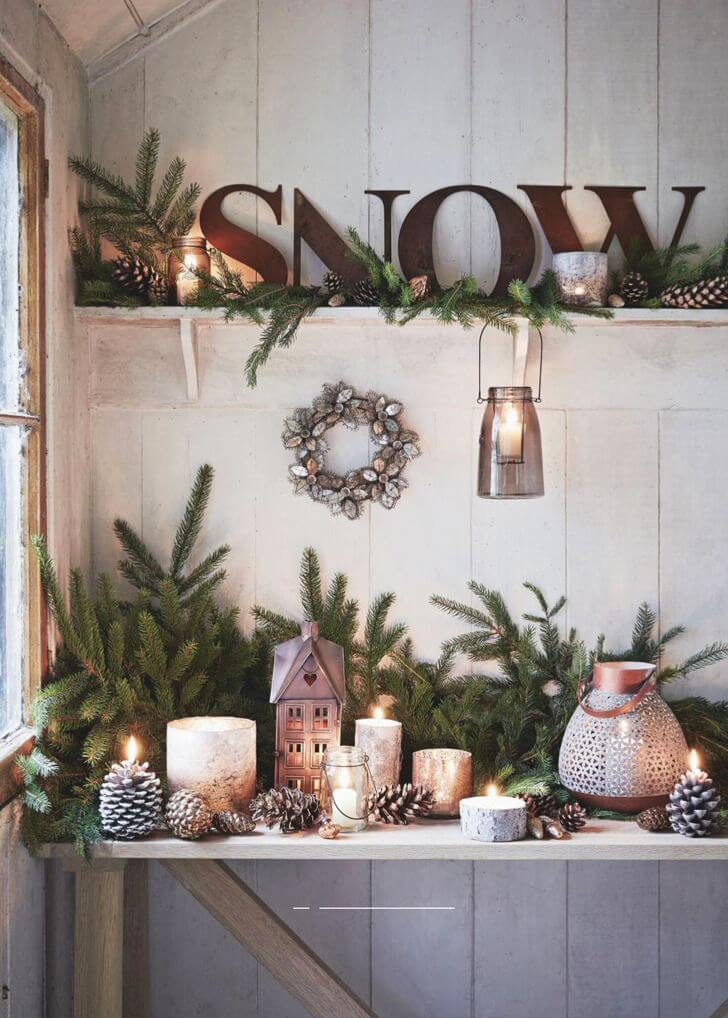 The holidays are about feeling cozy and warm too despite the winter raging outdoors. This setup featuring pinecones, greener, and some wood sells that warm theme. The area looks inviting, if not completely relaxing.
32. Log Candle Holder Centerpiece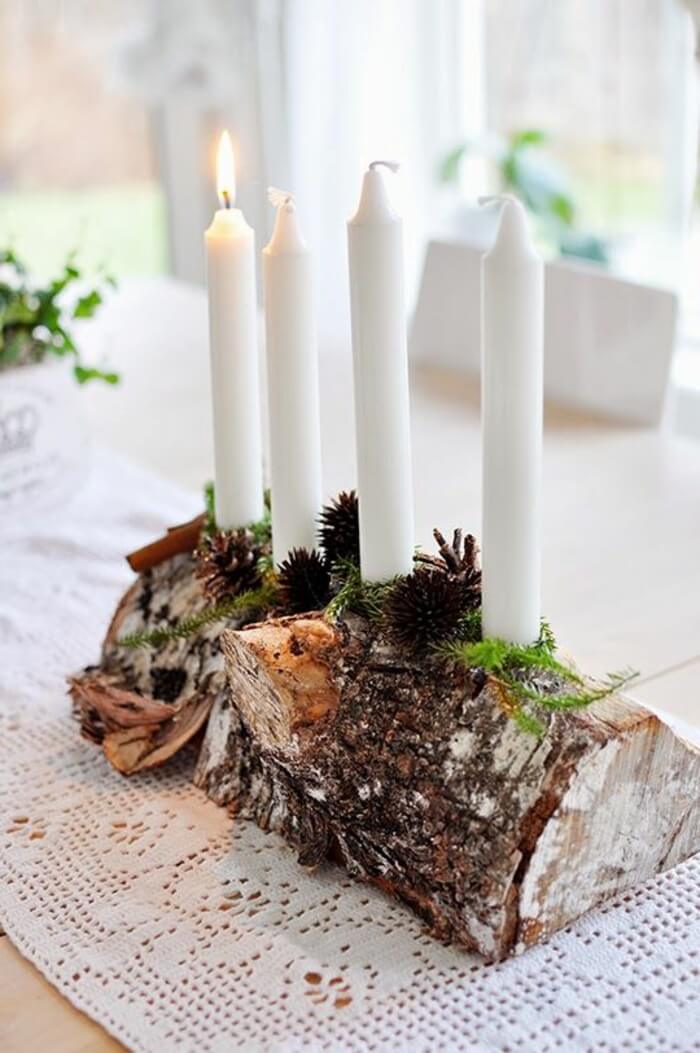 Need a small centerpiece for your dining room farmhouse table? This design has a small footprint yet a large personality. The wood offers a much-needed touch of the outdoors so that it fits the rural theme well.
34. Christmas Sheet Music Gallery Wall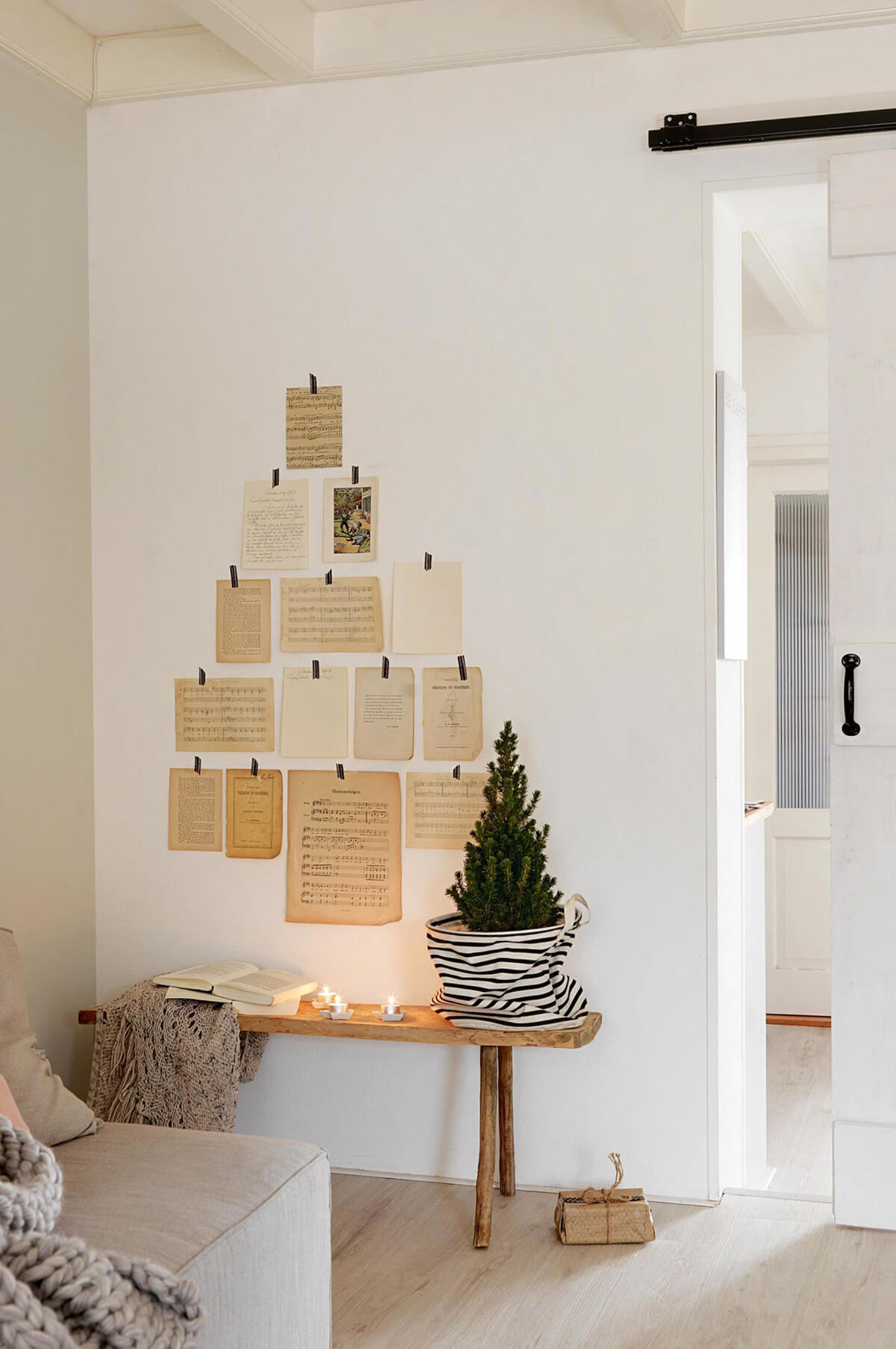 Some of the best decorating ideas involve something truly unique. Take these music sheets, for example. They are even applied to the wall in the shape of a tree. The décor around it merely serves to elevate this stunning design.
35. Red and White Throw Pillow Inspiration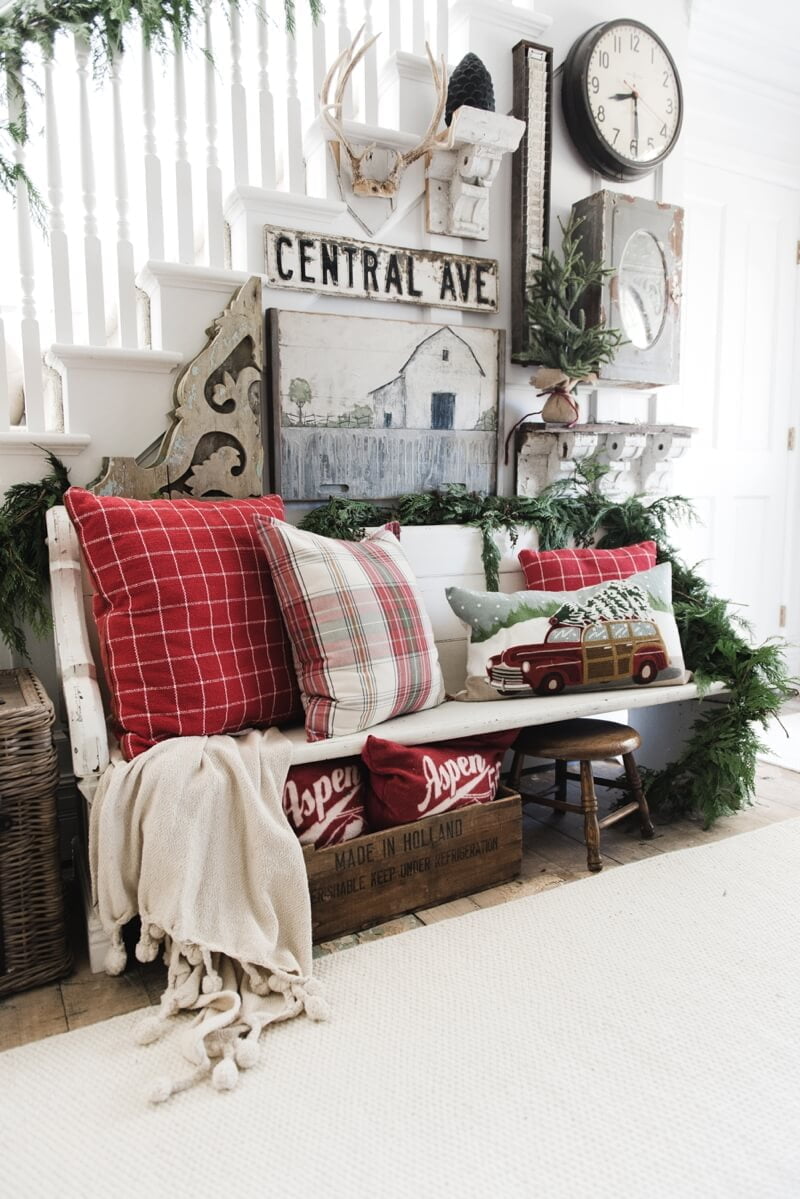 For decorating ideas that add some color to your farmhouse-styled home, use red and white as they pair well. The oversized pillows are a perfect addition to an empty bench, while the use of some greenery offsets the main color theme to provide the area with a more natural look.
36. Winter White and Silver Decor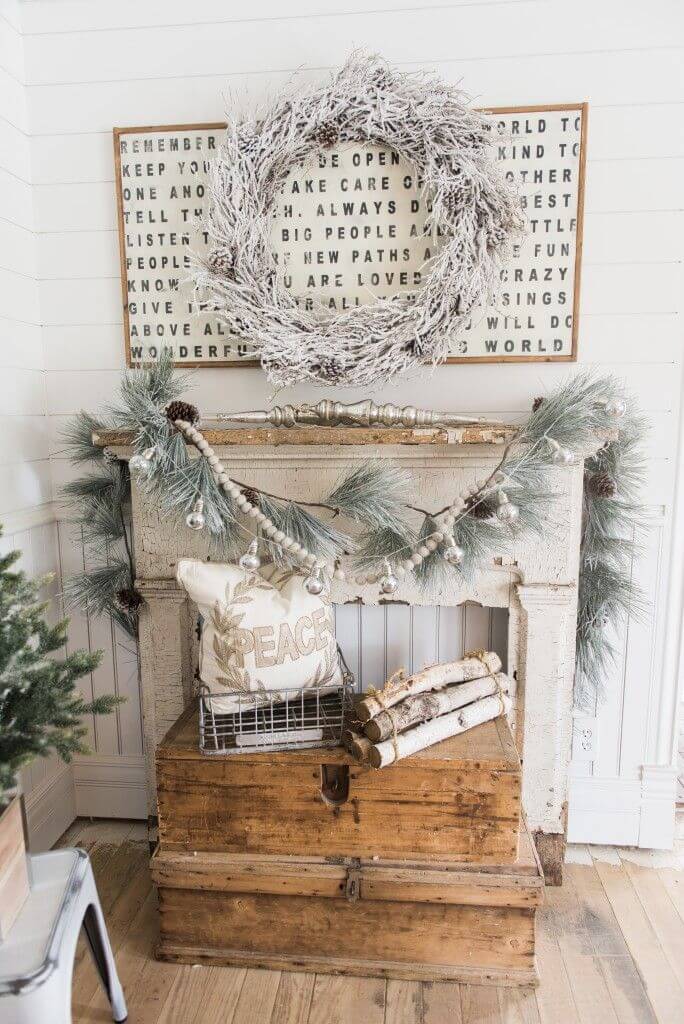 If you need décor in your living room that stands out, then consider the white and silver approach. This color theme gives the decorations the appearance as if they were snowed on. It's a great way to bring the outdoors inside.
38. Giant Quote Christmas Ornaments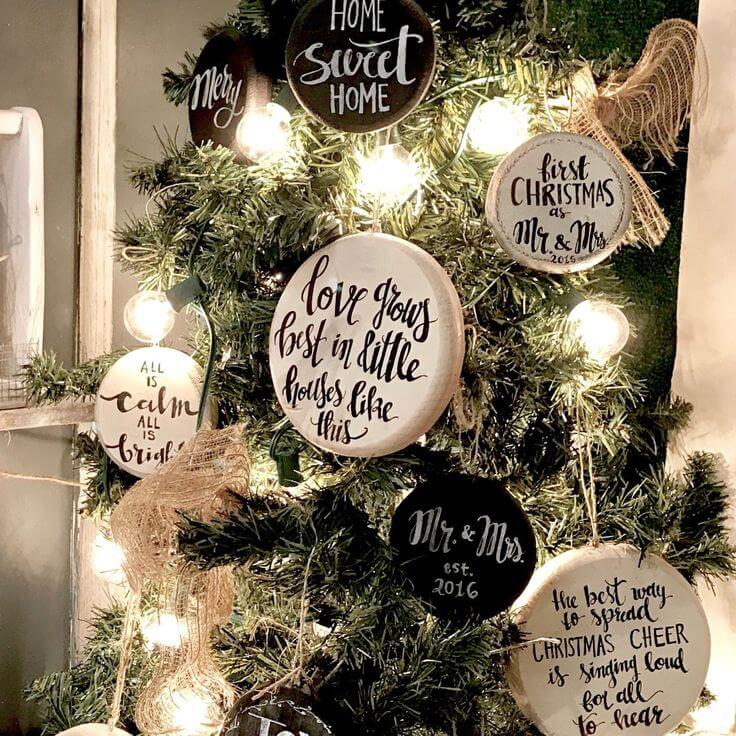 Want decorating ideas that the whole family can join in on? These oversized ornaments are perfect for the job. They use a neutral coloring to adhere to the farmhouse style, while their size of them makes them easy to spot at a distance.