The holidays are the most anticipated time of the year for children and adults alike. When the temperature drops, hearts warm up with the joy and excitement of the season. Christmastime is also a wonderful opportunity to unleash your creativity and express yourself through the creation of all sorts of wonderful decorations. Trimming the tree and hanging up lights are holiday decorating staples, but there are so many more fantastic Christmas decoration ideas that you can use to truly personalize your home this year. These fun ideas can also be used as handmade gifts to bestow upon your loved ones all season long. The following 50 Christmas decoration ideas have been handpicked to help you find a project (or 10!) that will inspire you to embrace your artistic side this winter. And since the holidays are all about family and friends, all of these projects offer a great opportunity to gather groups together and create magical wintery memories that will last long after Christmas has come and gone.
Check Out 50 Inspiring Ideas for Christmas Decoration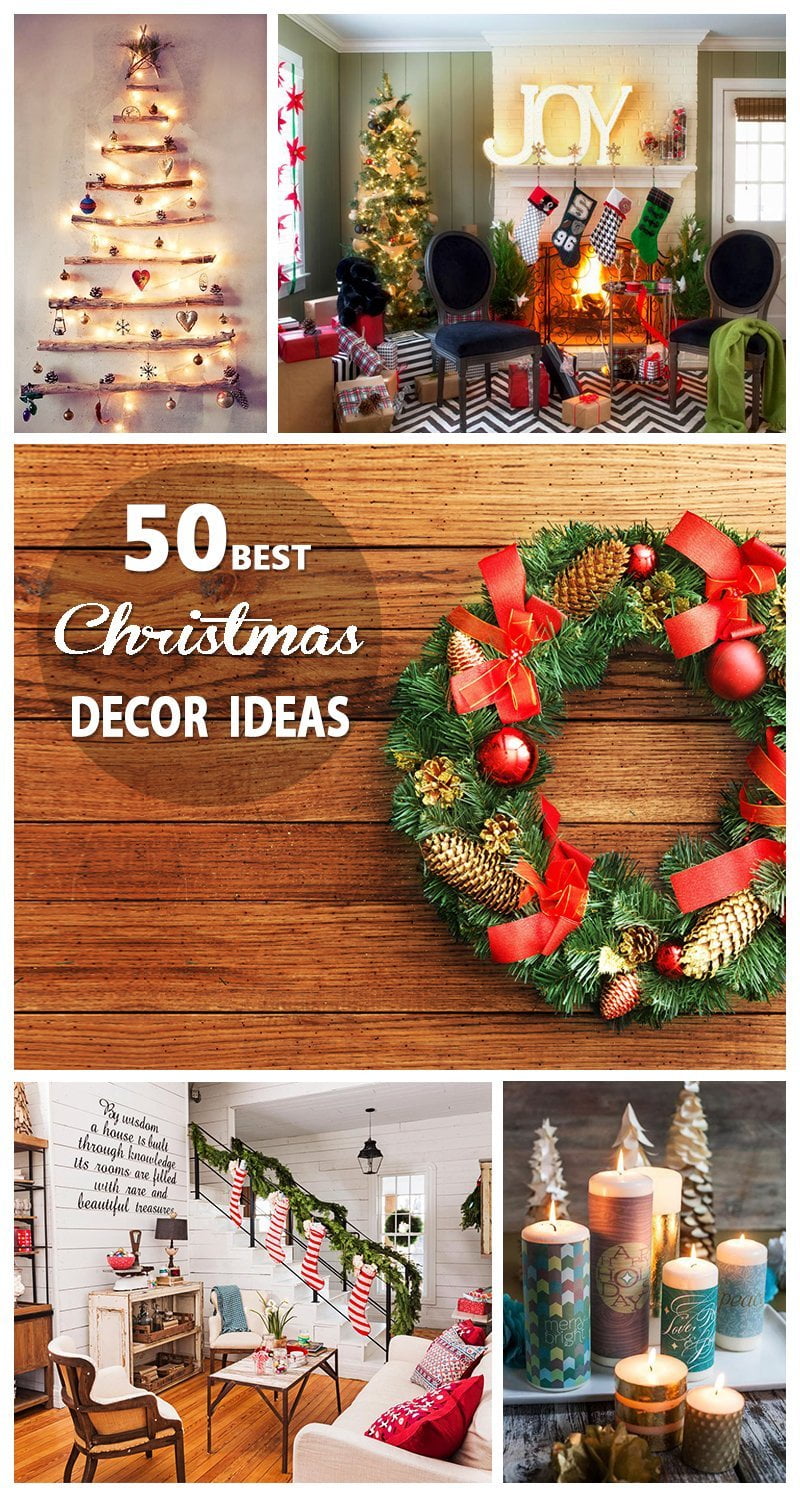 The secret to the best Christmas ideas is simplicity. While longer projects may offer a chance to work on something over a period of time, even the grandest of Christmas decorations ideas should be easy to follow, affordable and most of all, fun to create. The next 50 ideas will help awaken Christmas cheer no matter what your style or how you like to decorate for the holidays. From do-it-yourself advent calendars, homemade Christmas ornaments, bedroom decor, Christmas dinnerware, stockings and candle displays, this season is all about embracing what the holidays signify for you and immortalizing it for all your guests to see through the adornment of your home.
1. Do-It-Yourself Advent Calendars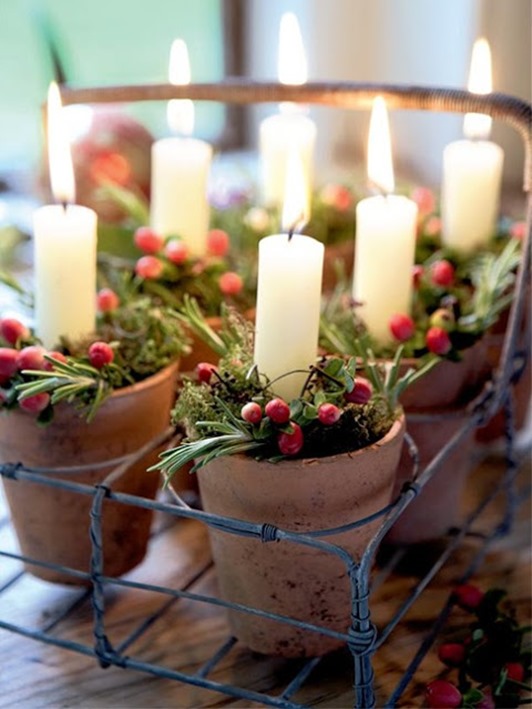 Advent is a Catholic practice that involves lighting a candle every night from December 1st through the 25th. However, this fun countdown to Christmas can be performed in a variety of ways and adopted by families who personalize it with their own unique traditions. Whether you want to set up a thematic magnet display on the fridge that's easy for the little ones to access, create small gift bags labeled with each day of the month and hand them out to family or assemble a merry candle display in seasonal colors, an advent calendar is a great way to foster family time and build up excitement for the big day.
2. Christmas Dining for Any Occasion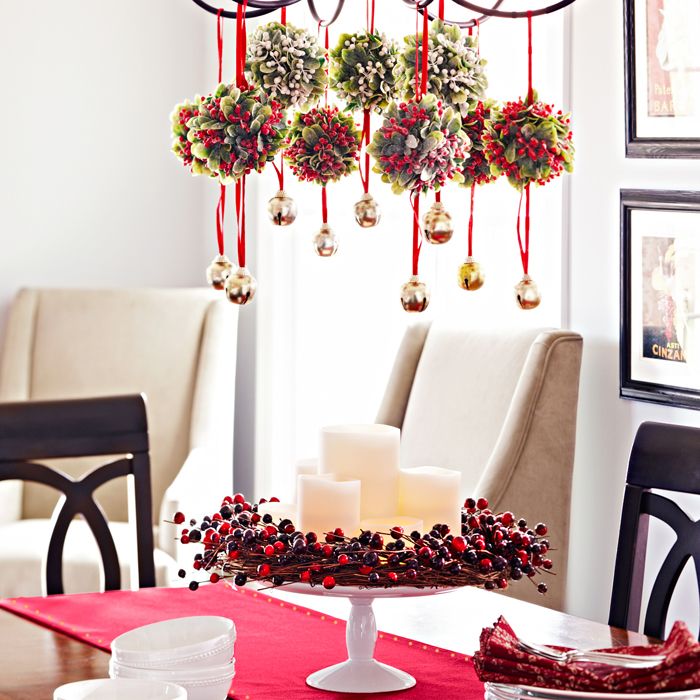 The best type of decorations are as eye-catching as they are functional. It's easy to craft your own handmade Christmas ornaments and spruce up your dining room so it's festive for every meal. Balls of holly and mistletoe accented with shiny gold jingle bells on a Santa Claus-red ribbon can be hung from a chandelier or any curved light fixture. A simple wreath made of twigs and ruby red decorative berries add a cozy touch to any table and make the perfect holder for a thick vanilla or your favorite holiday-scented candle. To finish the look, dress up your go-to plates with elegant holiday napkins made from an rich red fabric and held in place by golden napkin holders atop a matching table runner.
3. Rustic Winter Wedding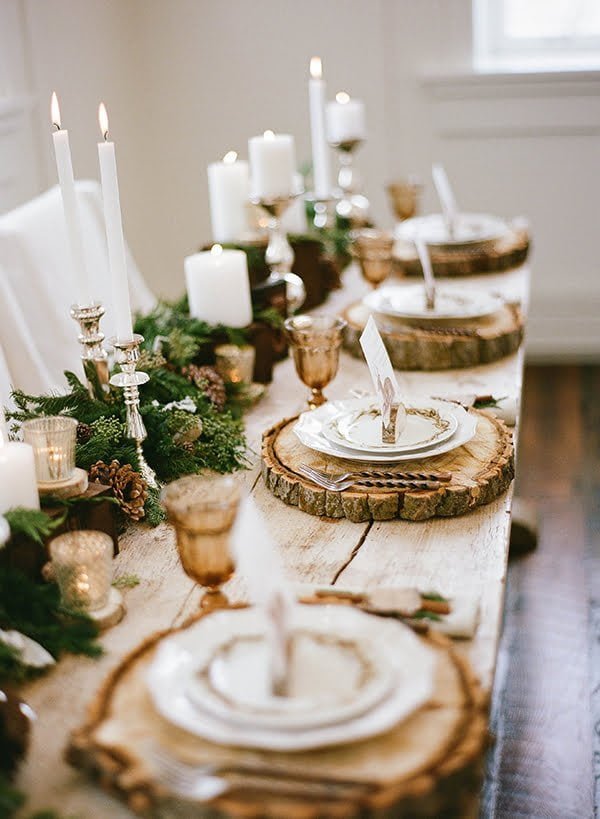 Few things are as romantic as a white winter wedding. A rustic theme rich with wood details and neutral shades is a perfect complement to the raw natural beauty of the season. The crisp light of a woodland wedding and the glow of fresh snow makes the perfect setting for decorations like green fir garland running along a bare pine table, amber glassware, tall cream candles in golden sticks and rustic accent such as wood slab placemats and a white antler chandelier.
4. Festive Floral Arrangements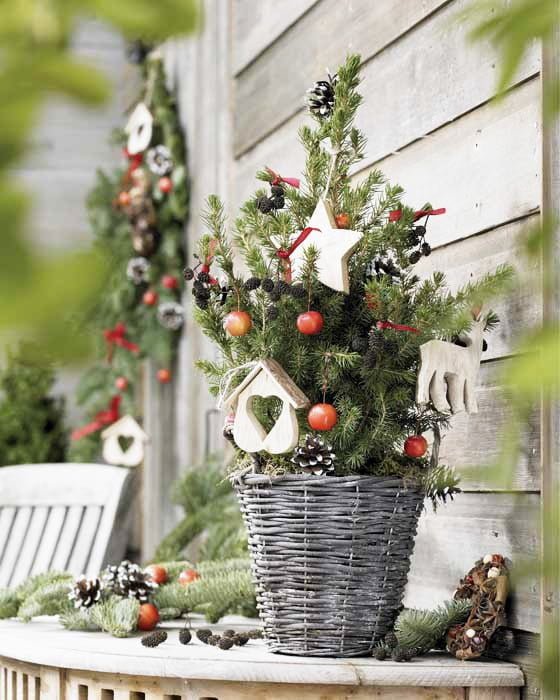 Flowers are a wonderful way to bring new life into your home, and the holidays have such a vibrant color palette and wonderful scents that truly revive any space. Christmas is about simplicity, so sticking to the Earth's natural tones and rough woods are the best idea. Poinsettias and holly may be holiday staples, but there's actually so much more to work with. A simple pine plant can be decorated with wooden Christmas trinkets and ribbons and placed on the porch. Bold-red amaryllis secured with silvery bows make wonderful lively centerpieces, and red-and-white amaryllis can be incorporated into a candy-cane motif. Fresh evergreens and moss paired with thick-petaled flowers such as anemones and peonies make wonderful wedding bouquets for Christmas brides.
5. Highlighting Your Home with Warm Accents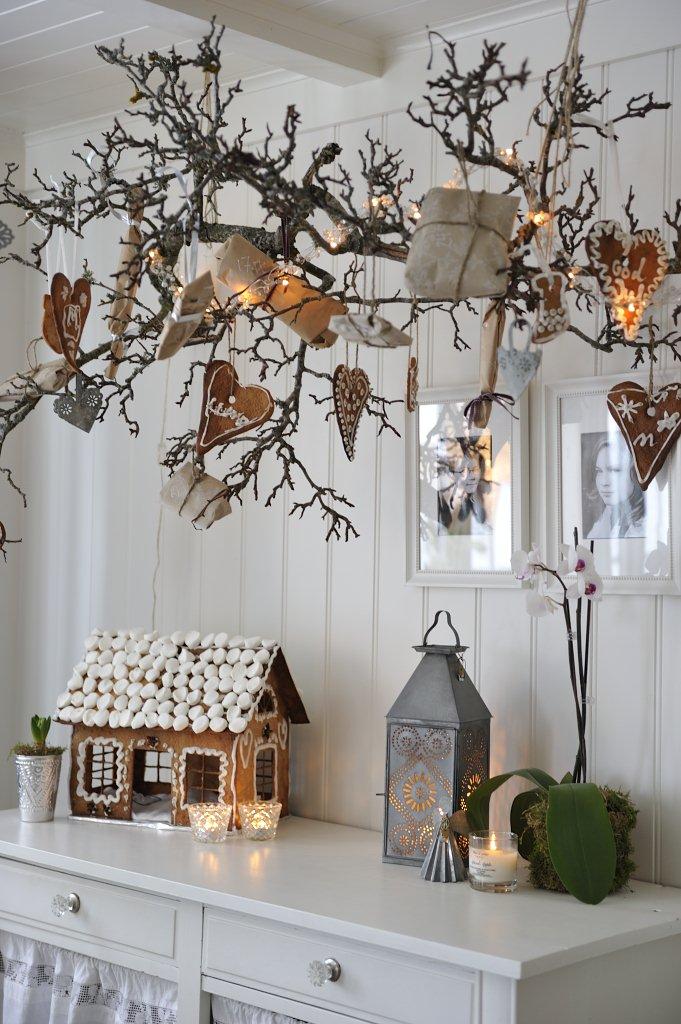 The dark, rich colors of the woods are a perfect way to bring some wintery woodland joy into your home this holiday season. To emulate the wilderness, invest in a plush, snow white faux fur throw that can be draped across your bed, over the back of your couch or taken along for warmth during a sleigh ride or wintery picnic. Desks and tabletops can be decorated with indoor metal lanterns, gingerbread houses and handmade ornaments that serve as a heartfelt reminder of what the holiday is all about. The best part about some of these simple but attention-grabbing accents it that they can be repurposed and used to add a dash of Christmas cheer to your home all year long.
6. Modern Decor Delights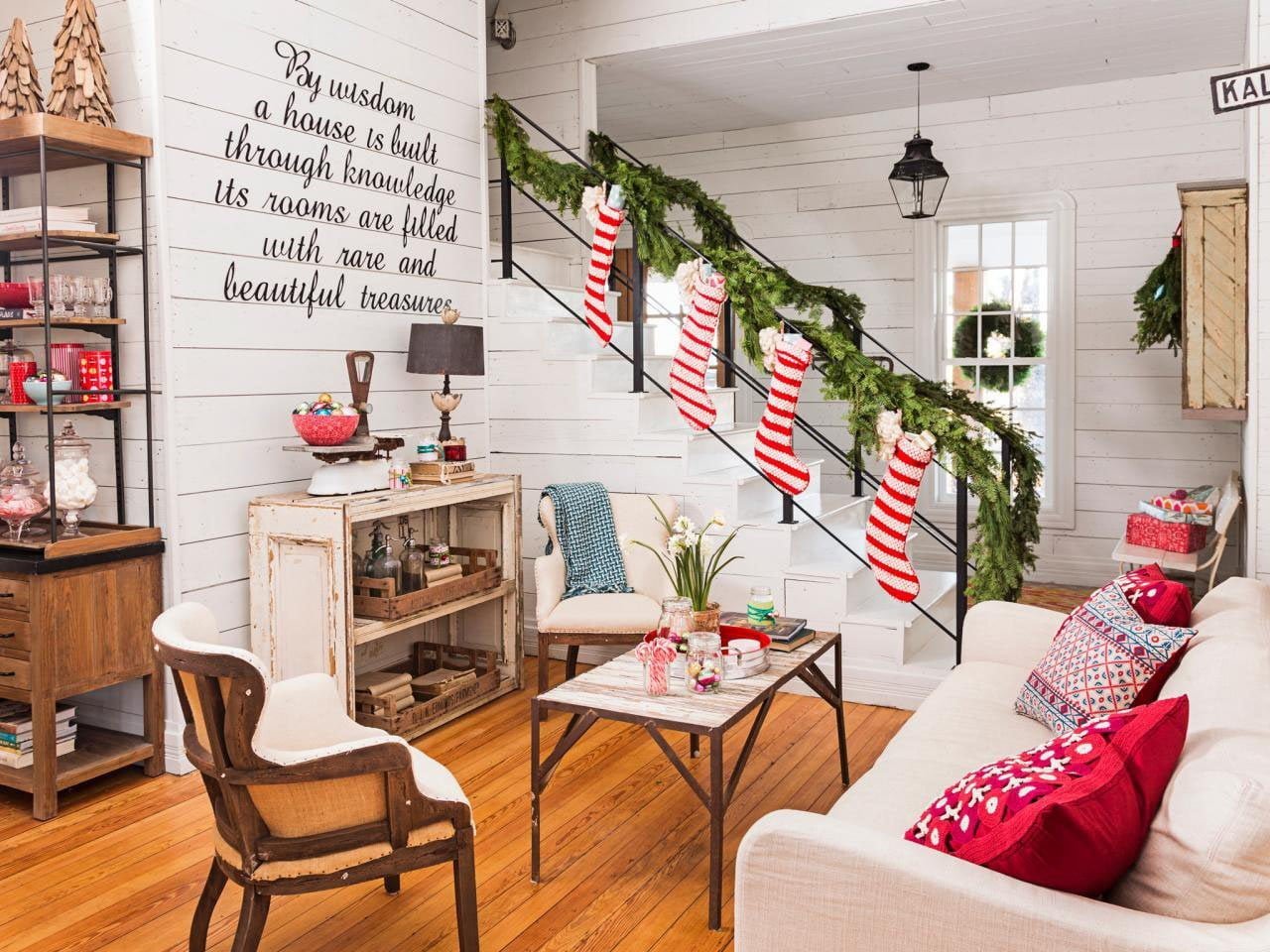 While wooden accents, thick garlands and candles may be traditional to the season, it's not everyone's go-to style. If you prefer more modern and upbeat Christmas decor, then these whimsical Christmas ideas will surely strike a chord. Instead of relying on the standard red and green, why not try a monochrome Christmas? Or perhaps a vintage style holiday with winter greenery strung along the bannister and thick knit stockings hung from the railing? Toss a couple of handsewn Christmas pillows (available at most department stores during the winter season) onto the couch and bring in a warm furry rug and you'll have yourself a merry retro Christmas the whole family will love.
7. Personalized Christmas Wreaths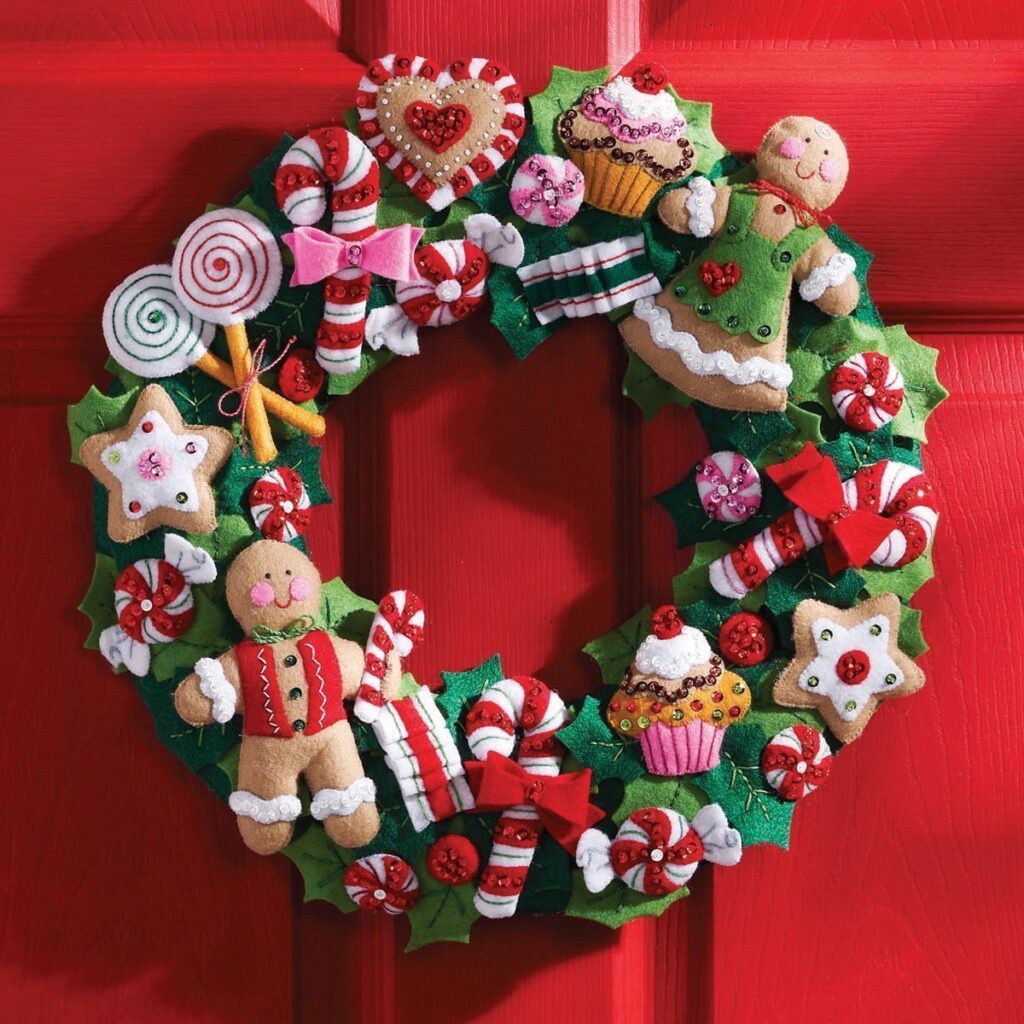 A Christmas wreath is a declaration of the season. Hanging one on your door to greet visitors and welcome them into your home is a wonderful way to show off your Christmas cheer, and a homemade one is also an opportunity to demonstrate your craftsmanship. Christmas wreaths can be done in dozens of different styles, from the traditional vibrant evergreen that's topped with a big red bow to a holly jolly wreath adorned with colorful Christmas baubles. Wreaths can also be strung with lights to illuminate the night and compliment your outdoor display.
8. Mini Mittens for Family and Friends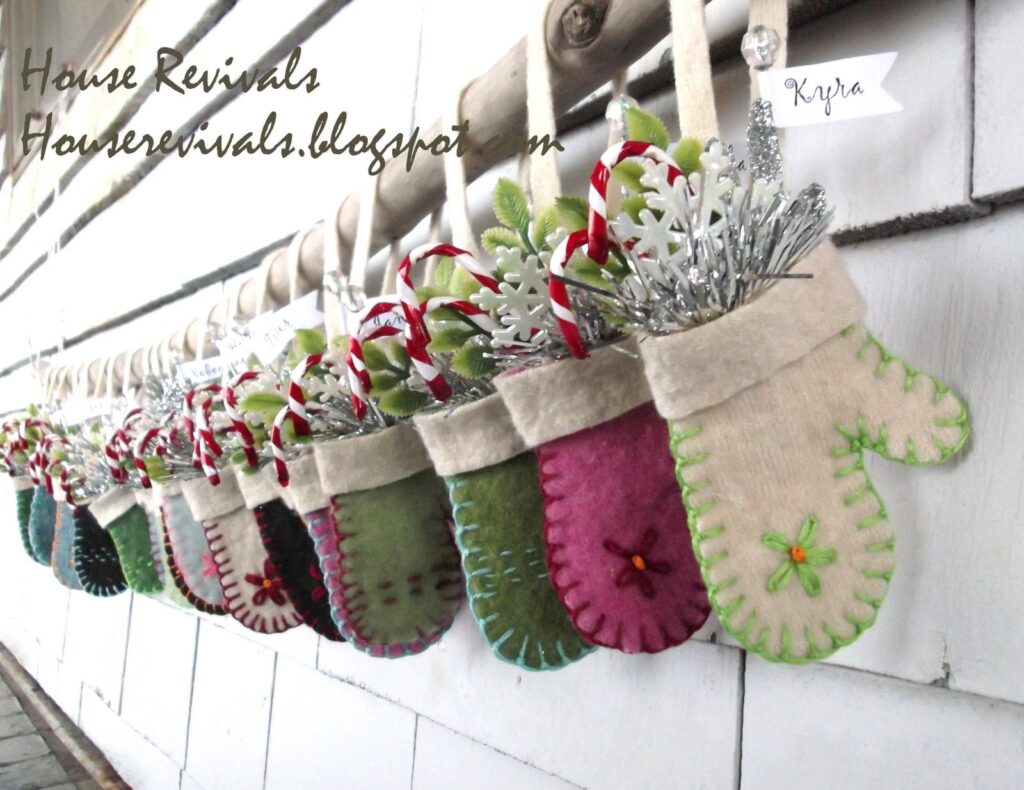 You can remind those you cherish most that you'll always be there to lend them a helping hand and a warm place to stay with these customized mini mitten ornaments. Using a simple template, you can craft them from colored felt and cuff them with a strip of wool. These adorable pieces can be hung from doorknobs, placed on a tree or off the mantle with a hook. They're perfect Christmas crafts for kids young and old and can be made even more memorable by inscribing the recipient's name and the year in a sparkly ink along the cuff.
9. Christmas Kitchen Makeover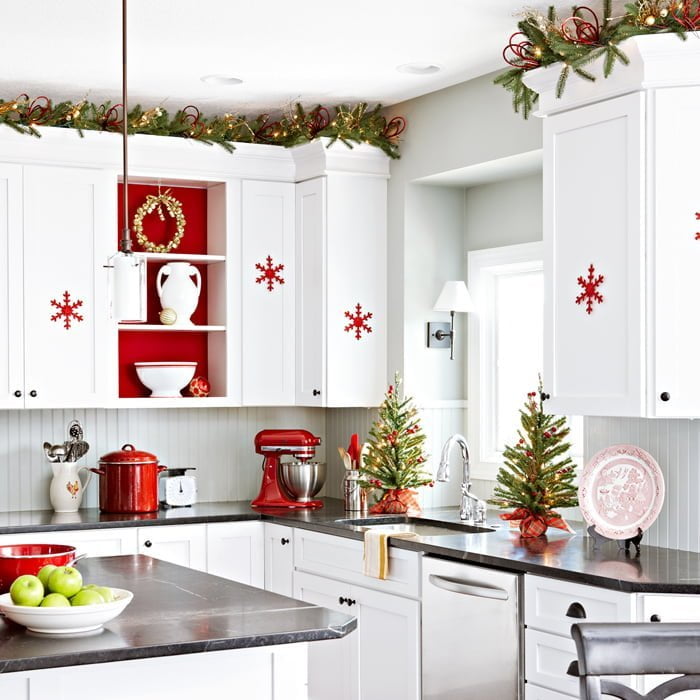 Source: Pinterest
The food and holidays go hand-in-hand, so don't skip your kitchen when it's time to decorate for Christmas! You don't need a big budget to transform your cooking area into a winter reprieve. Dish towels and oven mitts can be swapped out for Christmas-themed counterparts purchasable at any home goods store, and a rich evergreen garland decorated with red bows and twinkling lights can be laid across the top of cabinets, wrapping around your kitchen and giving it a cozy cabin atmosphere. Red or white snowflakes can be drawn or printed and cut out to adhere to cupboard doors. Decorative mini trees or nutcrackers can be nestled perfectly on countertops and in corners.
10. Color Pop Christmas Decor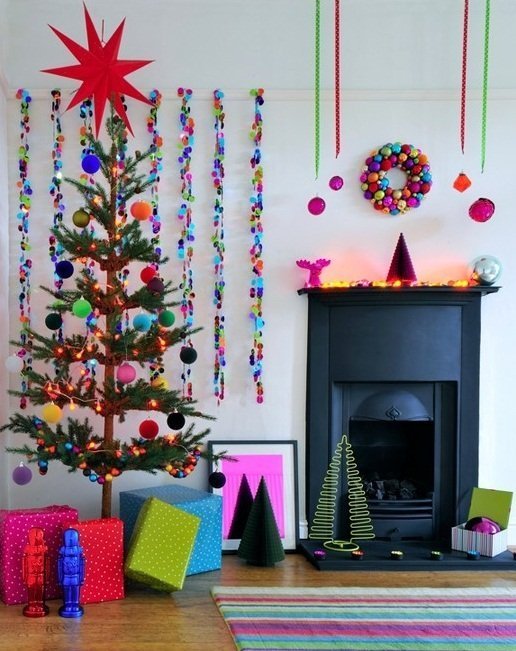 Source: Pinterest
If you have a black mantle or any dark signature pieces in your home, the best Christmas decorating should revolve around adding bright bursts of focused color in order to make your dark mantelpiece or furniture stand out without offsetting the theme. A colorful wreath made of Christmas bulbs can be hung above the fireplace or on the wall, while Christmas streamers fashioned from patterned paper or ribbon can also be hung, and the tree should sport bright decorations with large bulbs and a bold topper.
11. Holiday Tabletop Accents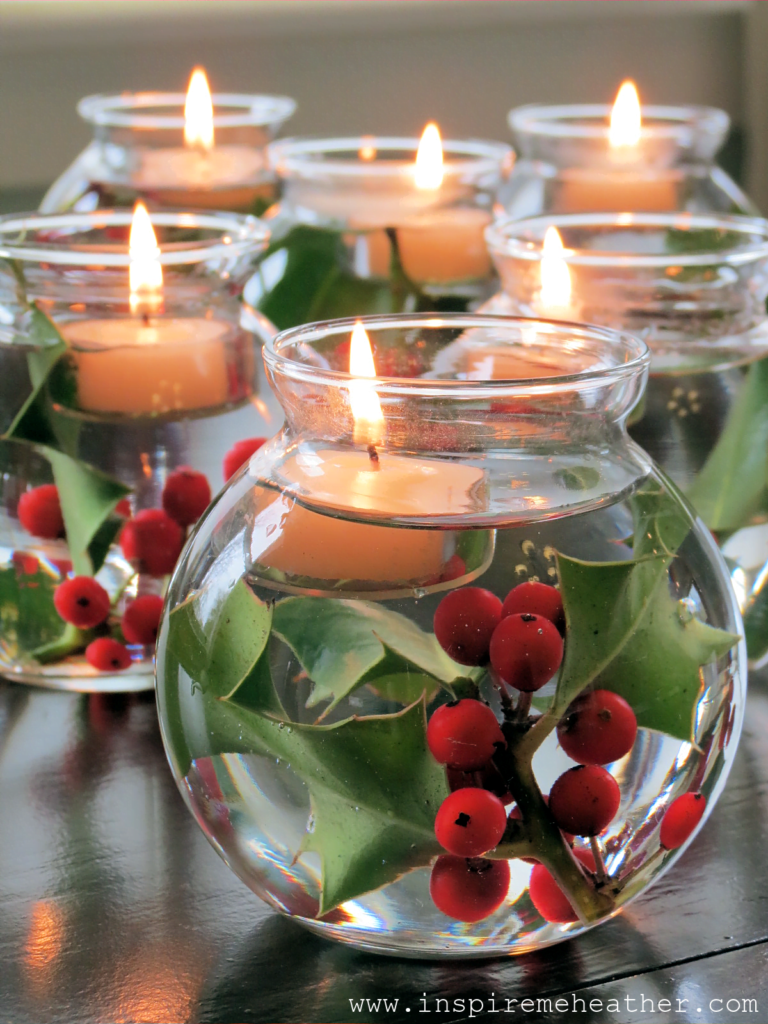 The Christmas table isn't just about the delicious meal you've worked so hard preparing. It can also be a way to surprise guests with some fun decorations and set the tone for a lighthearted and jovial dining experience. Festive decorations for the dining room can include placeholders made from ornaments that guests can take home as party favors, glasses with ribbons and tiny decorative bulbs tied around the base, a clear lantern filled with colorful ornaments that match your holiday color scheme and floating tea candles in miniature glass vases or mason jars with sprigs of holly. Most of these offer a nice token of appreciation for the guests to take home with them and incorporate into their own Christmas decor next year.
12. Handmade Christmas Ornament Wreath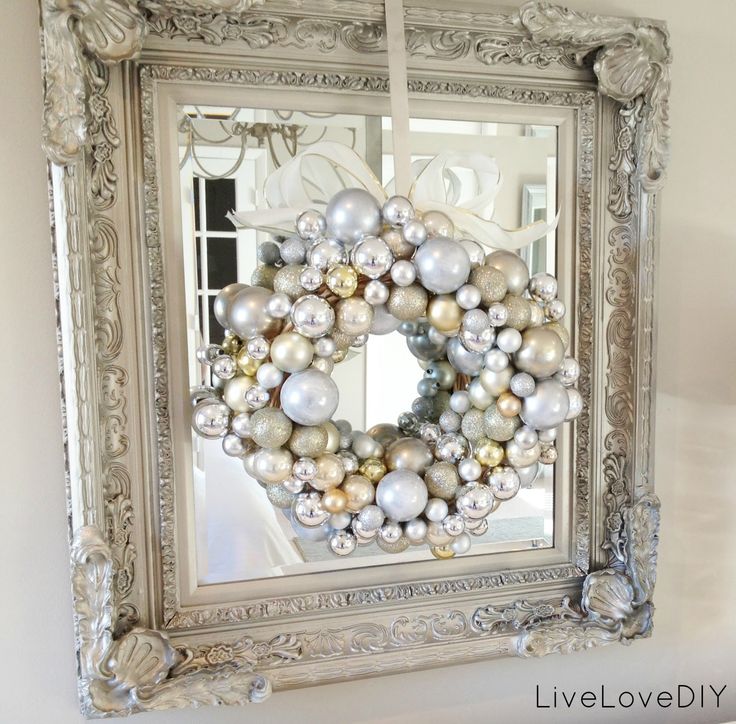 Ornament wreaths are versatile pieces that can be hung indoors or outdoors, and the best part about crafting your own is that you can scale it down to whatever size you want and design it to fit your particular Christmas decoration theme. Christmas ideas are a springboard for your own creativity, and the term "Christmas wreath" gives you the liberty to design everything from a colossal and regal white and silver wreath for the front to a tiny but unmistakable colorful wreath in your child's favorite color's to hang in their room. You can even swap ornaments for colored jingle bells and hang on the doorknob for a jolly way to announce arrivals.
13. Christmas Front Door Decorations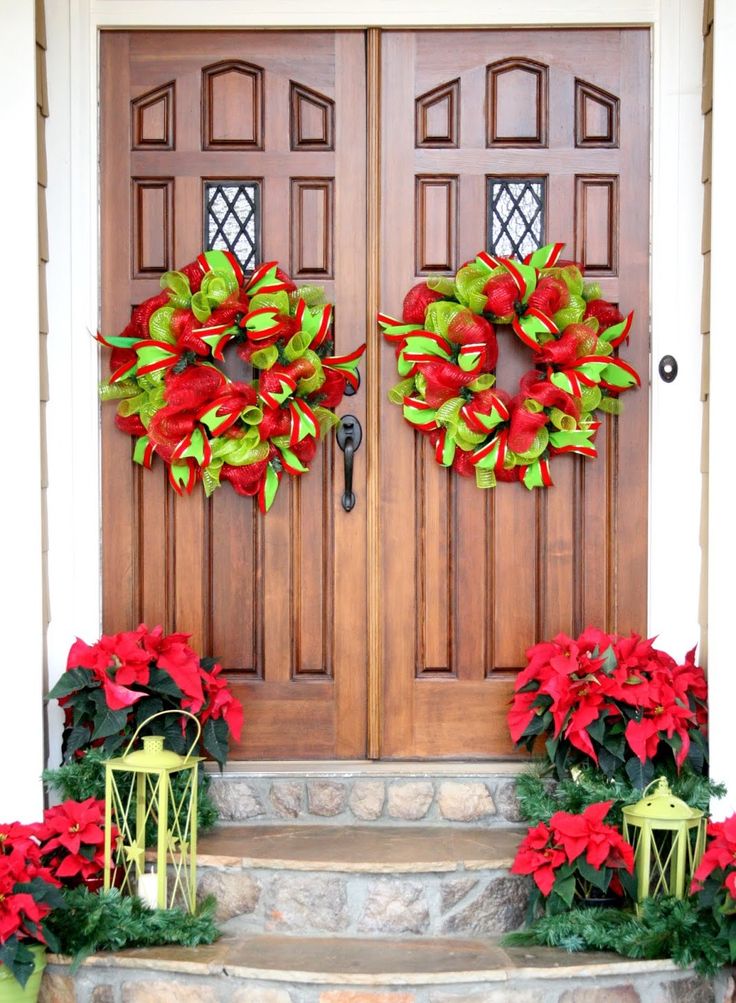 Source: Pinterest
Bid all who visit you during the season good tiding and cheer with gleeful decorations on your front door. Lights that line the house and wrap around the railings of the porch are a great start, but the front door where every guest will knock is the ideal template for your best and brightest Christmas decorations. Poinsettias and lanterns lining the pathway and sides of the porch, a fun doormat and big wreath in your favorite colors and design will surely make even the most short-term visitor feel right at home.
14. Labeled Christmas Candles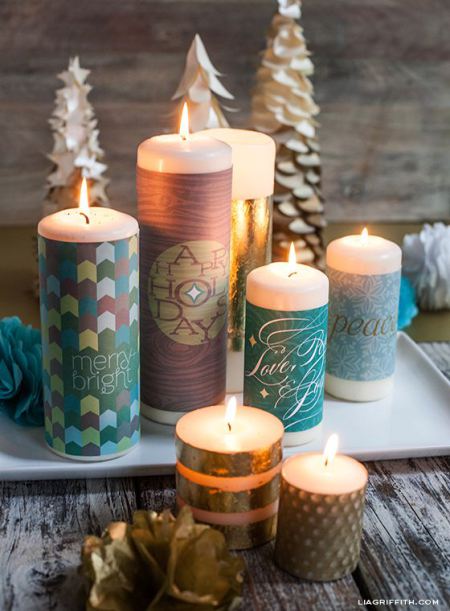 These make both wonderful gifts and fun ways to infuse your holiday decor with an even more personal touch. Labeling companies have plenty of designs that can be tailored to suit your desires, from "Seasons Greetings," "Joy", "Merry Christmas" and more. You could also make your own at home by measuring the width of a glass holder and designing your own label in Photoshop or your preferred editing program, then using transparent glue to apply the label to the glass holder. A special set lovingly crafted and designed with a personal label or pattern in mind make a fantastic gift for family and friends that they can reuse again and again.
More Christmas design ideas on the next page…