The holidays are the most anticipated time of the year for children and adults alike. When the temperature drops, hearts warm up with the joy and excitement of the season. Christmastime is also a wonderful opportunity to unleash your creativity and express yourself through the creation of all sorts of wonderful decorations. Trimming the tree and hanging up lights are holiday decorating staples, but there are so many more fantastic Christmas decoration ideas that you can use to truly personalize your home this year. These fun ideas can also be used as handmade gifts to bestow upon your loved ones all season long. The following 50 Christmas decoration ideas have been handpicked to help you find a project (or 10!) that will inspire you to embrace your artistic side this winter. And since the holidays are all about family and friends, all of these projects offer a great opportunity to gather groups together and create magical wintery memories that will last long after Christmas has come and gone.
Check Out 50 Inspiring Ideas for Christmas Decoration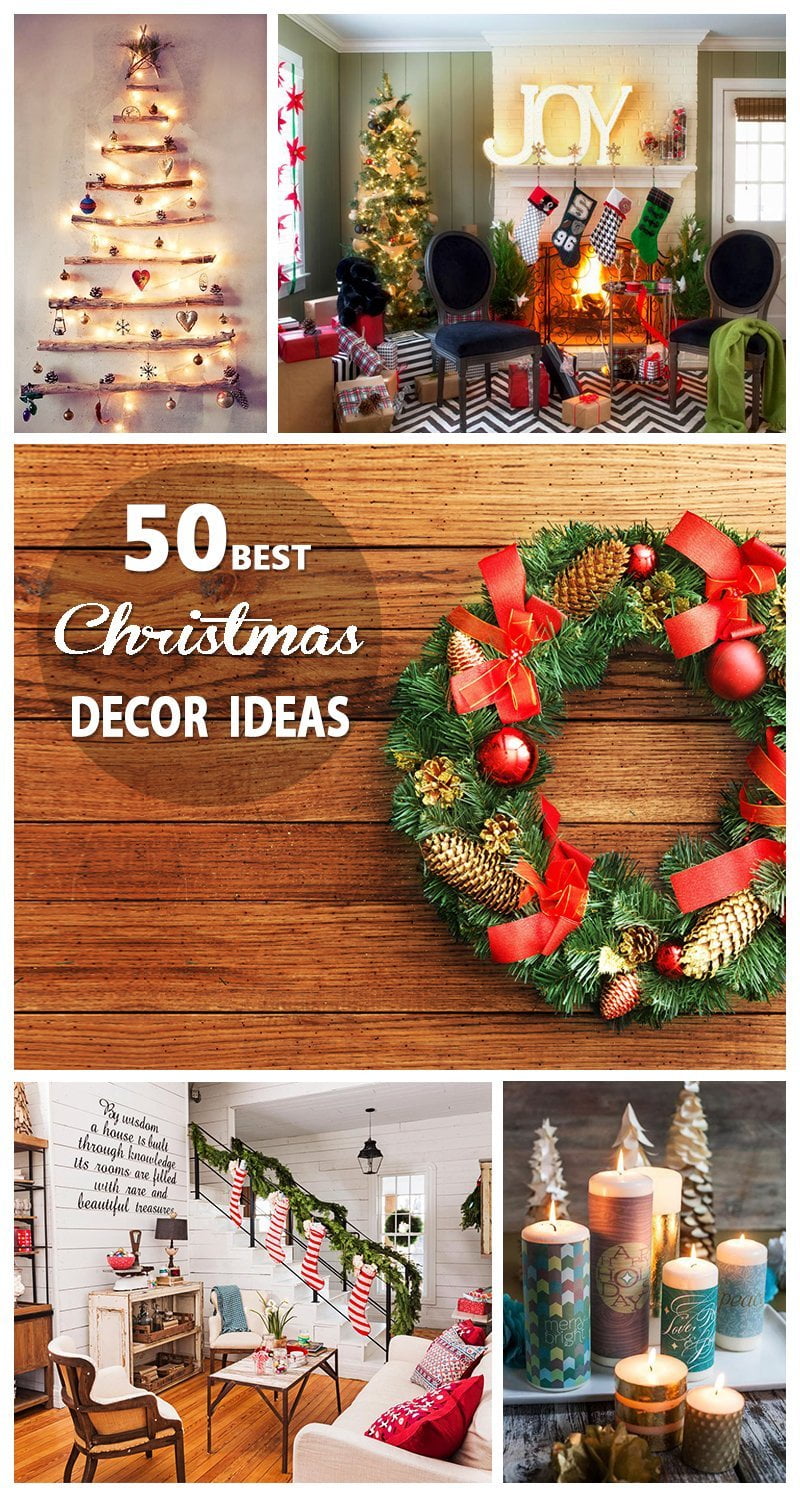 The secret to the best Christmas ideas is simplicity. While longer projects may offer a chance to work on something over a period of time, even the grandest of Christmas decorations ideas should be easy to follow, affordable and most of all, fun to create. The next 50 ideas will help awaken Christmas cheer no matter what your style or how you like to decorate for the holidays. From do-it-yourself advent calendars, homemade Christmas ornaments, bedroom decor, Christmas dinnerware, stockings and candle displays, this season is all about embracing what the holidays signify for you and immortalizing it for all your guests to see through the adornment of your home.
1. Do-It-Yourself Advent Calendars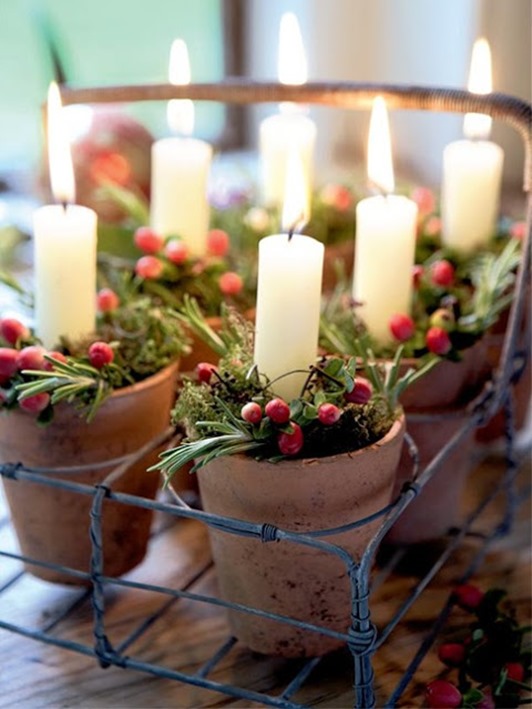 Advent is a Catholic practice that involves lighting a candle every night from December 1st through the 25th. However, this fun countdown to Christmas can be performed in a variety of ways and adopted by families who personalize it with their own unique traditions. Whether you want to set up a thematic magnet display on the fridge that's easy for the little ones to access, create small gift bags labeled with each day of the month and hand them out to family or assemble a merry candle display in seasonal colors, an advent calendar is a great way to foster family time and build up excitement for the big day.
2. Christmas Dining for Any Occasion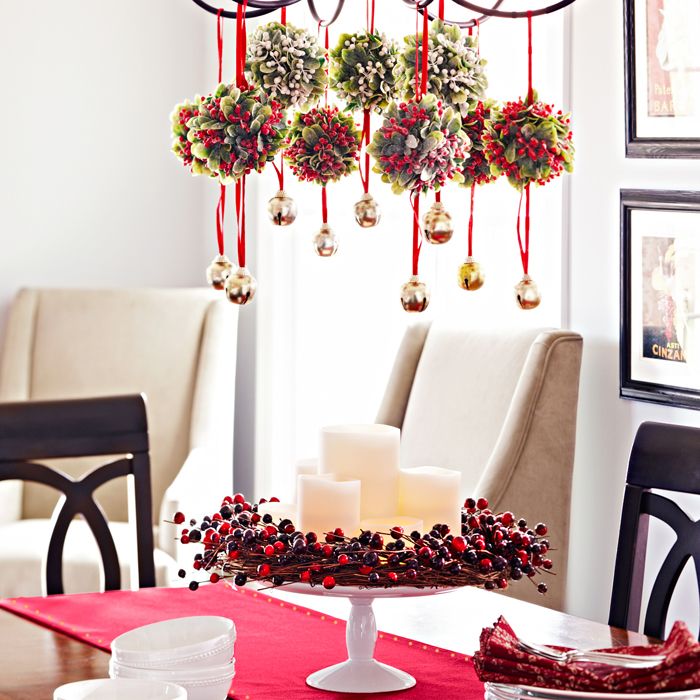 The best type of decorations are as eye-catching as they are functional. It's easy to craft your own handmade Christmas ornaments and spruce up your dining room so it's festive for every meal. Balls of holly and mistletoe accented with shiny gold jingle bells on a Santa Claus-red ribbon can be hung from a chandelier or any curved light fixture. A simple wreath made of twigs and ruby red decorative berries add a cozy touch to any table and make the perfect holder for a thick vanilla or your favorite holiday-scented candle. To finish the look, dress up your go-to plates with elegant holiday napkins made from an rich red fabric and held in place by golden napkin holders atop a matching table runner.
3. Rustic Winter Wedding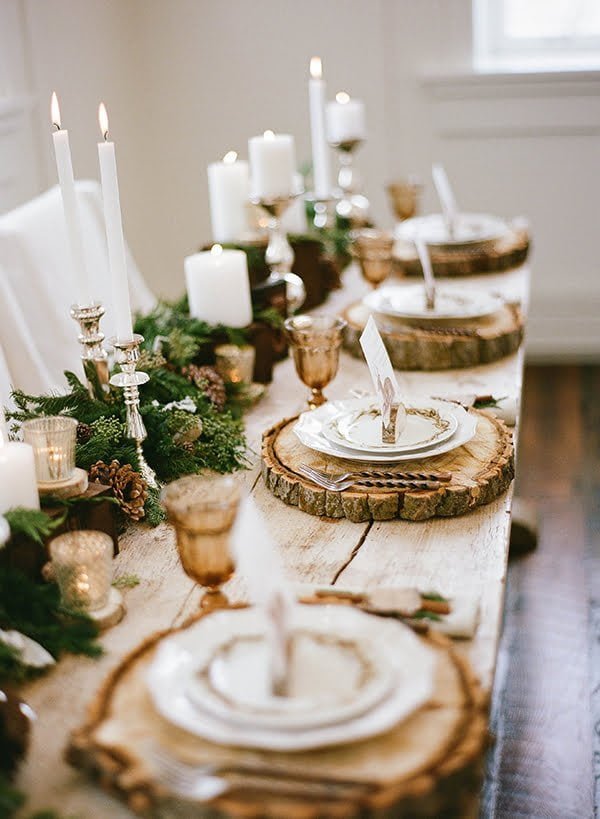 Few things are as romantic as a white winter wedding. A rustic theme rich with wood details and neutral shades is a perfect complement to the raw natural beauty of the season. The crisp light of a woodland wedding and the glow of fresh snow makes the perfect setting for decorations like green fir garland running along a bare pine table, amber glassware, tall cream candles in golden sticks and rustic accent such as wood slab placemats and a white antler chandelier.
4. Festive Floral Arrangements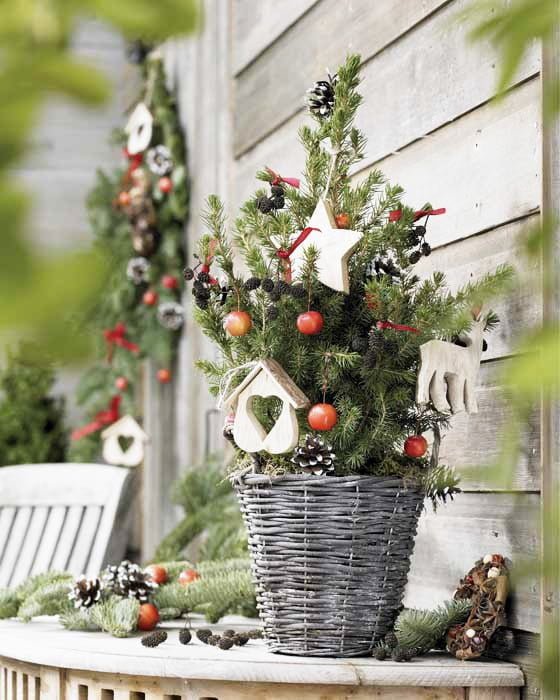 Flowers are a wonderful way to bring new life into your home, and the holidays have such a vibrant color palette and wonderful scents that truly revive any space. Christmas is about simplicity, so sticking to the Earth's natural tones and rough woods are the best idea. Poinsettias and holly may be holiday staples, but there's actually so much more to work with. A simple pine plant can be decorated with wooden Christmas trinkets and ribbons and placed on the porch. Bold-red amaryllis secured with silvery bows make wonderful lively centerpieces, and red-and-white amaryllis can be incorporated into a candy-cane motif. Fresh evergreens and moss paired with thick-petaled flowers such as anemones and peonies make wonderful wedding bouquets for Christmas brides.
5. Highlighting Your Home with Warm Accents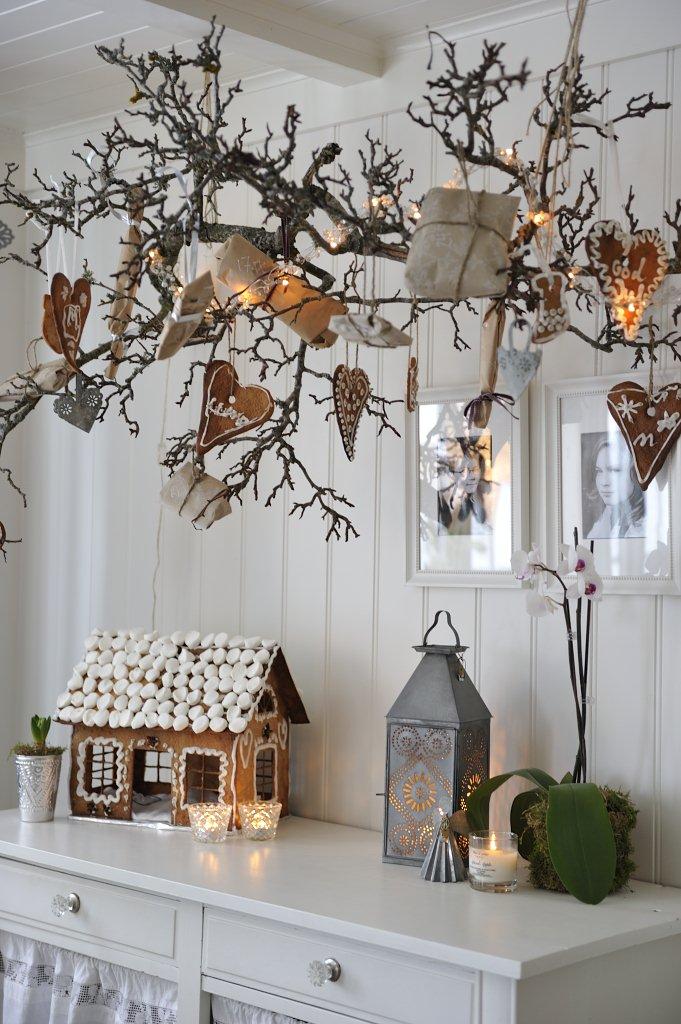 Source: The original source is not available anymore.
The dark, rich colors of the woods are a perfect way to bring some wintery woodland joy into your home this holiday season. To emulate the wilderness, invest in a plush, snow white faux fur throw that can be draped across your bed, over the back of your couch or taken along for warmth during a sleigh ride or wintery picnic. Desks and tabletops can be decorated with indoor metal lanterns, gingerbread houses and handmade ornaments that serve as a heartfelt reminder of what the holiday is all about. The best part about some of these simple but attention-grabbing accents it that they can be repurposed and used to add a dash of Christmas cheer to your home all year long.
6. Modern Decor Delights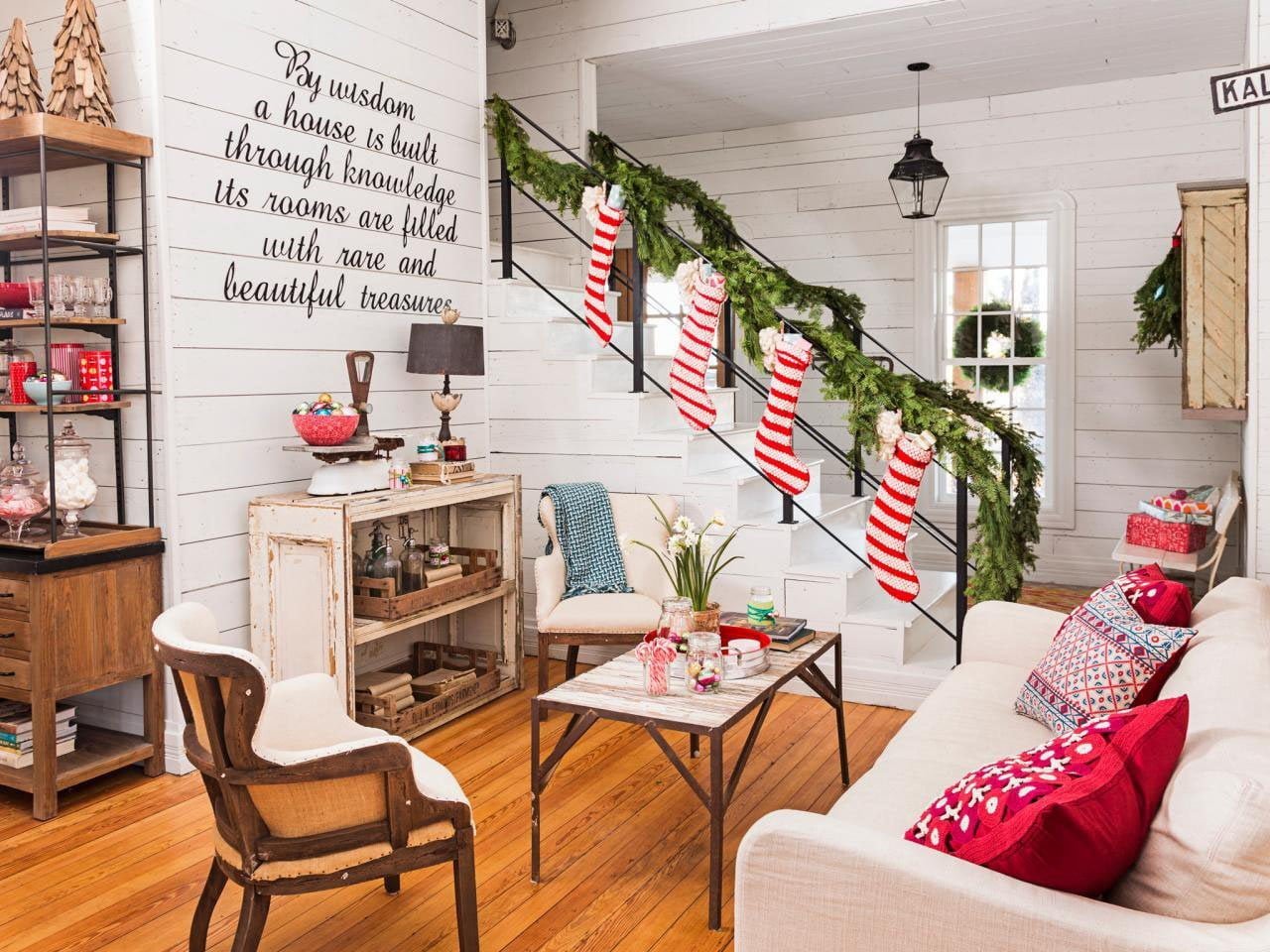 Source: The original source is not available anymore.
While wooden accents, thick garlands and candles may be traditional to the season, it's not everyone's go-to style. If you prefer more modern and upbeat Christmas decor, then these whimsical Christmas ideas will surely strike a chord. Instead of relying on the standard red and green, why not try a monochrome Christmas? Or perhaps a vintage style holiday with winter greenery strung along the bannister and thick knit stockings hung from the railing? Toss a couple of handsewn Christmas pillows (available at most department stores during the winter season) onto the couch and bring in a warm furry rug and you'll have yourself a merry retro Christmas the whole family will love.
7. Personalized Christmas Wreaths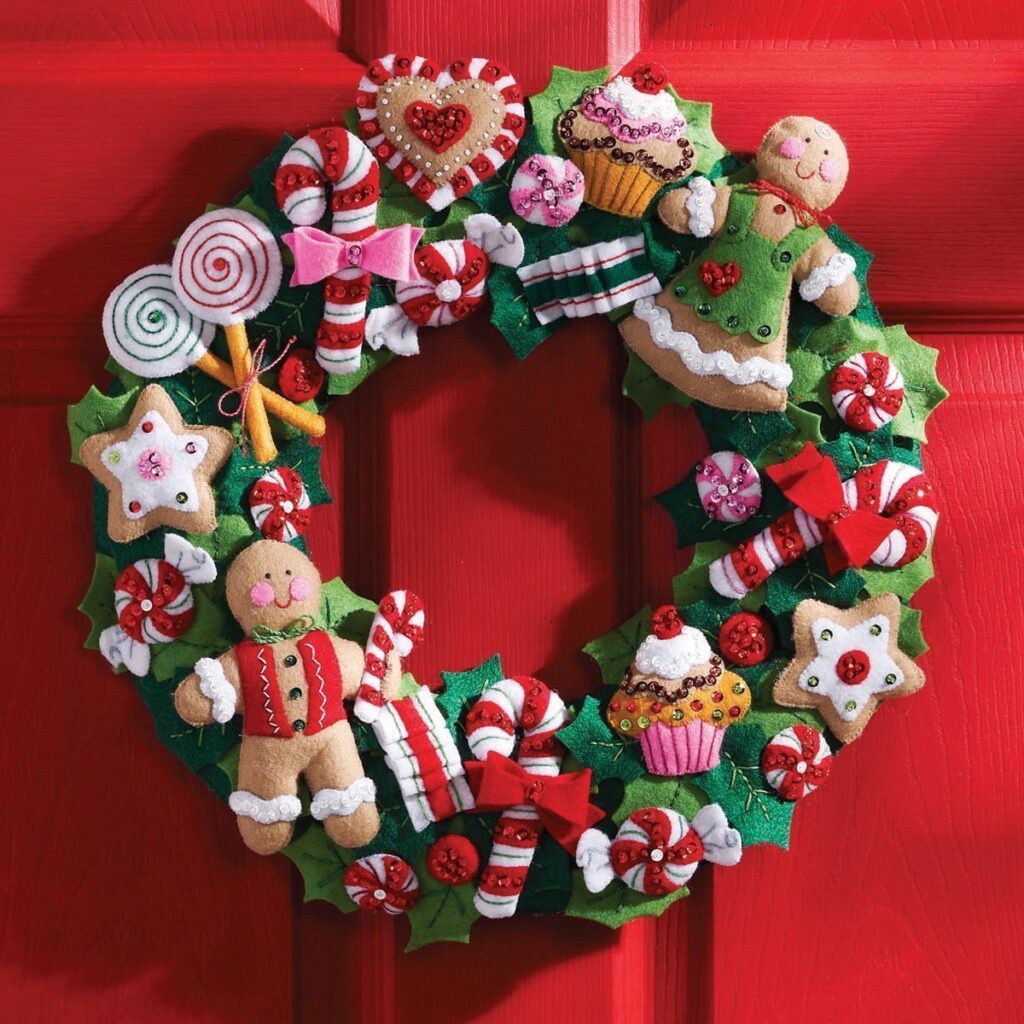 Source: The original source is not available anymore.
A Christmas wreath is a declaration of the season. Hanging one on your door to greet visitors and welcome them into your home is a wonderful way to show off your Christmas cheer, and a homemade one is also an opportunity to demonstrate your craftsmanship. Christmas wreaths can be done in dozens of different styles, from the traditional vibrant evergreen that's topped with a big red bow to a holly jolly wreath adorned with colorful Christmas baubles. Wreaths can also be strung with lights to illuminate the night and compliment your outdoor display.
8. Mini Mittens for Family and Friends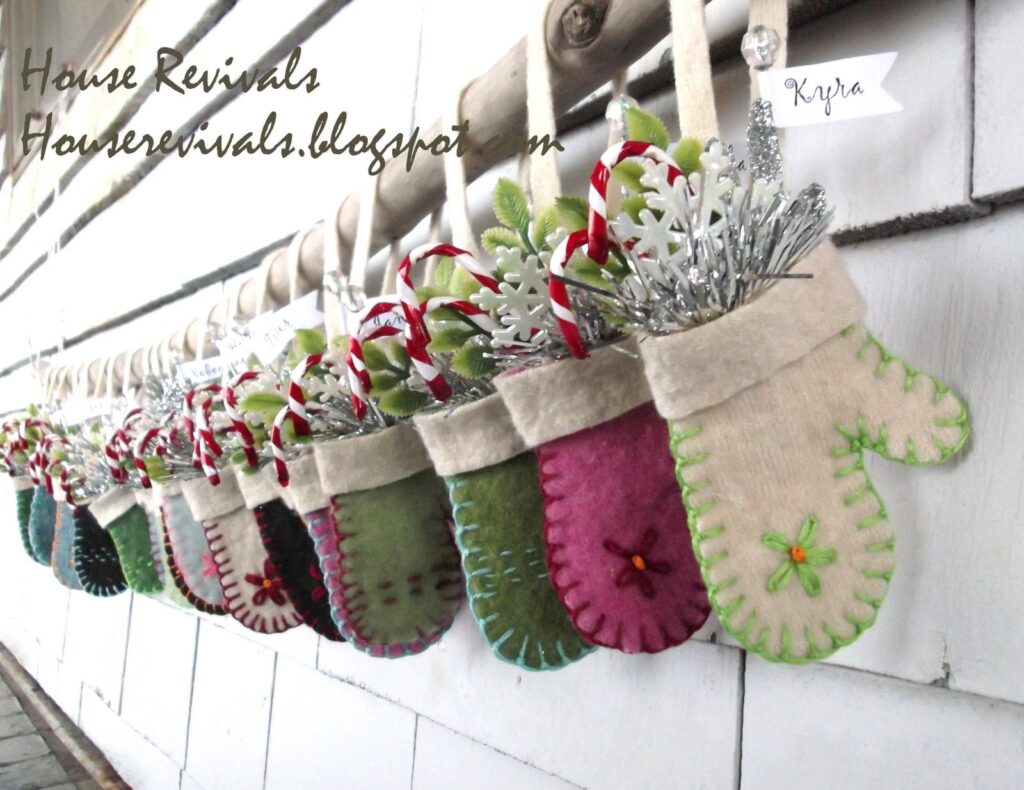 You can remind those you cherish most that you'll always be there to lend them a helping hand and a warm place to stay with these customized mini mitten ornaments. Using a simple template, you can craft them from colored felt and cuff them with a strip of wool. These adorable pieces can be hung from doorknobs, placed on a tree or off the mantle with a hook. They're perfect Christmas crafts for kids young and old and can be made even more memorable by inscribing the recipient's name and the year in a sparkly ink along the cuff.
9. Christmas Kitchen Makeover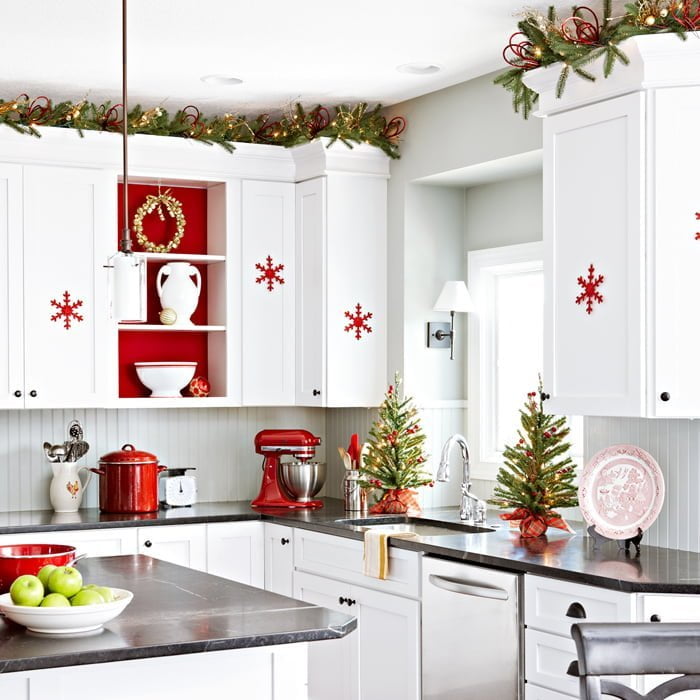 Source: The original source is not available anymore.
The food and holidays go hand-in-hand, so don't skip your kitchen when it's time to decorate for Christmas! You don't need a big budget to transform your cooking area into a winter reprieve. Dish towels and oven mitts can be swapped out for Christmas-themed counterparts purchasable at any home goods store, and a rich evergreen garland decorated with red bows and twinkling lights can be laid across the top of cabinets, wrapping around your kitchen and giving it a cozy cabin atmosphere. Red or white snowflakes can be drawn or printed and cut out to adhere to cupboard doors. Decorative mini trees or nutcrackers can be nestled perfectly on countertops and in corners.
10. Color Pop Christmas Decor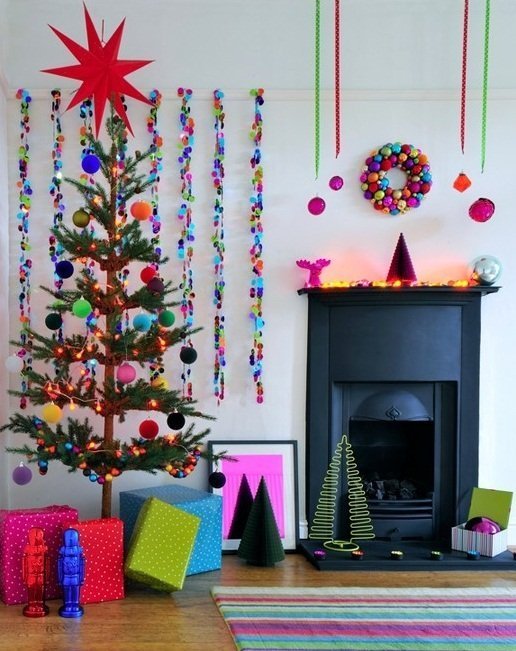 Source: The original source is not available anymore.
If you have a black mantle or any dark signature pieces in your home, the best Christmas decorating should revolve around adding bright bursts of focused color in order to make your dark mantelpiece or furniture stand out without offsetting the theme. A colorful wreath made of Christmas bulbs can be hung above the fireplace or on the wall, while Christmas streamers fashioned from patterned paper or ribbon can also be hung, and the tree should sport bright decorations with large bulbs and a bold topper.
11. Holiday Tabletop Accents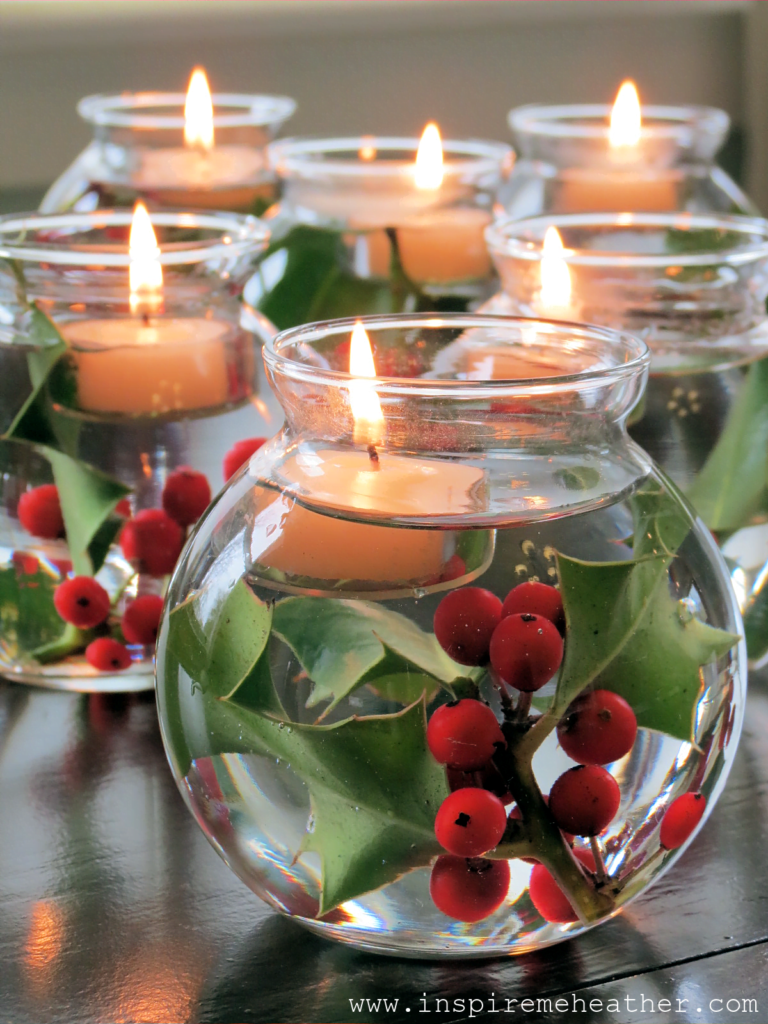 Source: The original source is not available anymore.
The Christmas table isn't just about the delicious meal you've worked so hard preparing. It can also be a way to surprise guests with some fun decorations and set the tone for a lighthearted and jovial dining experience. Festive decorations for the dining room can include placeholders made from ornaments that guests can take home as party favors, glasses with ribbons and tiny decorative bulbs tied around the base, a clear lantern filled with colorful ornaments that match your holiday color scheme and floating tea candles in miniature glass vases or mason jars with sprigs of holly. Most of these offer a nice token of appreciation for the guests to take home with them and incorporate into their own Christmas decor next year.
12. Handmade Christmas Ornament Wreath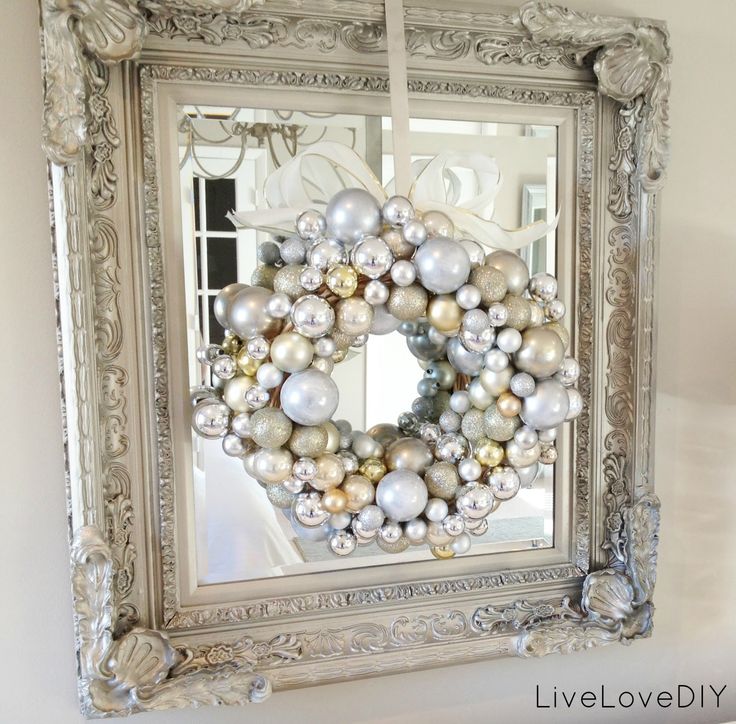 Ornament wreaths are versatile pieces that can be hung indoors or outdoors, and the best part about crafting your own is that you can scale it down to whatever size you want and design it to fit your particular Christmas decoration theme. Christmas ideas are a springboard for your own creativity, and the term "Christmas wreath" gives you the liberty to design everything from a colossal and regal white and silver wreath for the front to a tiny but unmistakable colorful wreath in your child's favorite color's to hang in their room. You can even swap ornaments for colored jingle bells and hang on the doorknob for a jolly way to announce arrivals.
13. Christmas Front Door Decorations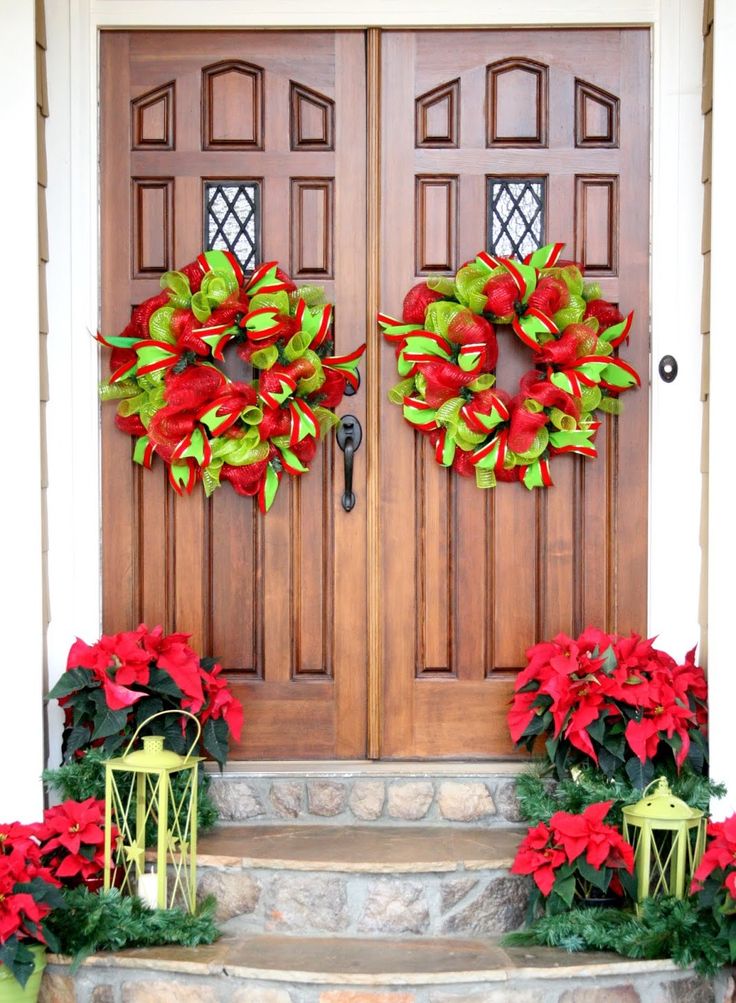 Source: The original source is not available anymore.
Bid all who visit you during the season good tiding and cheer with gleeful decorations on your front door. Lights that line the house and wrap around the railings of the porch are a great start, but the front door where every guest will knock is the ideal template for your best and brightest Christmas decorations. Poinsettias and lanterns lining the pathway and sides of the porch, a fun doormat and big wreath in your favorite colors and design will surely make even the most short-term visitor feel right at home.
14. Labeled Christmas Candles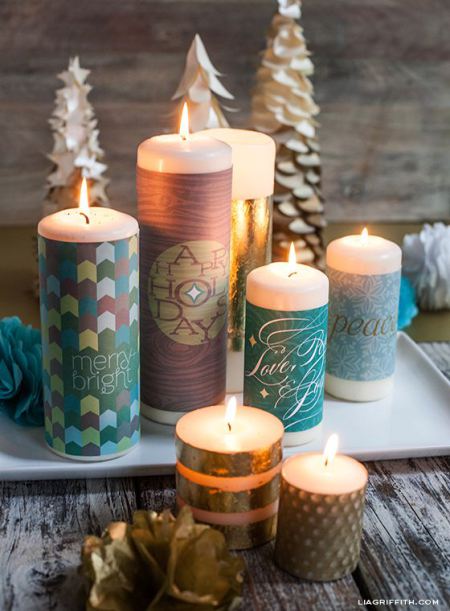 These make both wonderful gifts and fun ways to infuse your holiday decor with an even more personal touch. Labeling companies have plenty of designs that can be tailored to suit your desires, from "Seasons Greetings," "Joy", "Merry Christmas" and more. You could also make your own at home by measuring the width of a glass holder and designing your own label in Photoshop or your preferred editing program, then using transparent glue to apply the label to the glass holder. A special set lovingly crafted and designed with a personal label or pattern in mind make a fantastic gift for family and friends that they can reuse again and again.
15. Have Yourself a Handmade Christmas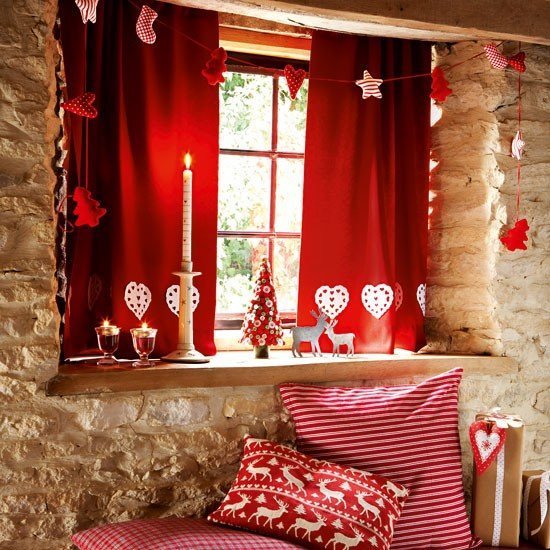 Maybe you've recently moved and don't have any go-to decorations of your own. Or you've embarked on a new chapter of your life and wish to start from scratch. Whether you're a seasoned pro or just starting out, homemade Christmas ideas are fun for all and craft wonderful memories when done alongside loved ones in addition to giving you one-of-a-kind decorations. Holiday cookie cutters and stencils can be used to create outlines from felt or Christmas curtain fabric which can be sewn and stuffed with polyfill stuffing and hung on the tree or given curled wire hangers. Cutouts can also be used to hot glue onto a new red stocking, making a customized and heartfelt gift or memorable family activity.
16. Candy Cane Wreath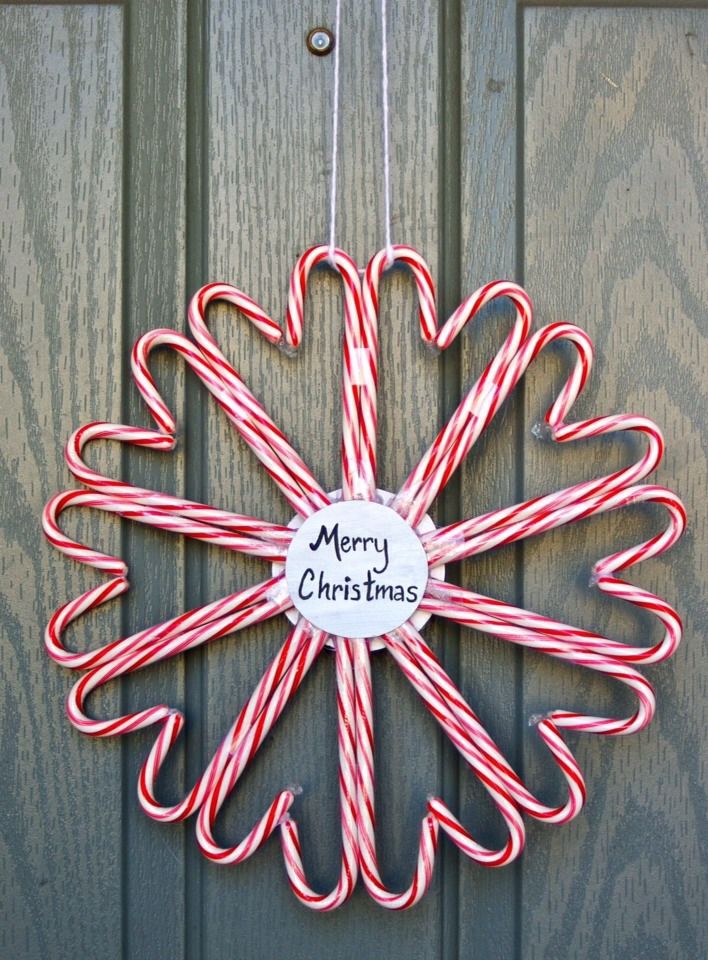 Who doesn't love Christmas decorations you can eat? A sweet candy cane wreath not only boasts the snowy white and jolly red of the season, but is a traditional Christmas treat that's as delicious to suckle on as it is a classic decoration. Hung from trees or on sticking cuffs may be the traditional means, but you can use simple clear Scotch tape to form a wreath. The meeting curved tops will form hearts, and the wreath can be completed with a circle cut out of paper and taped to the middle, bearing a cheerful holiday greeting.
17. Dreaming of a White Christmas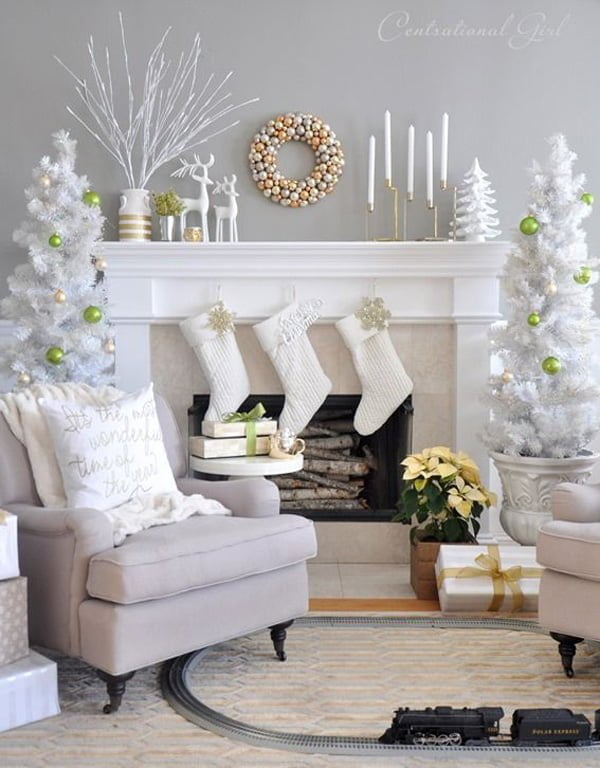 It's elegant, easy and works in just about any home. All white Christmas decorating ideas evoke soothing images of new-fallen snow and the magic and wonder of the season. Most white Christmas decoration themes are done with variants, such as creams and ivory to add depth and warmth to the space. Oatmeal wool stockings, twinkling star-shaped lights and a white tree embellished with small glittery ornaments and topped with a bright ribbon for contrast is one crisp, minimal way to decorate your home this Christmas.
18. Space-Saving Christmas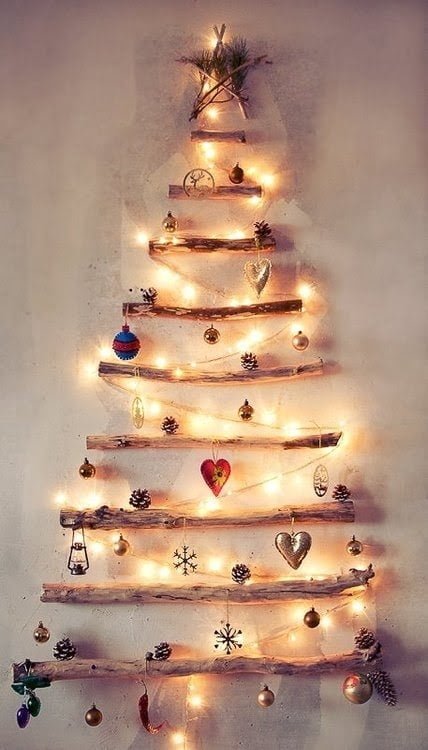 You don't need a six-feet tall evergreen to enjoy the holidays. If you live in a small space and need to conserve as much room as possible this year, there are plenty of ways to do so without missing out on the fun of Christmas decorating. Small halve trees are sold at vendors like Target specifically for apartment dwellers, but there are also non-traditional ways to add a tree to your space, like arranging a string or two of lights on a wall to form the shape of one, adorning fresh evergreen branches in festive vases with ornaments, attaching branches of decreasing sizes with lights to the wall, or even arranging all those books collecting dust on your shelf into a literary tree and topping it off with dazzling white lights. You can also hang lights across the ceiling and cut out paper snowflakes to stick to the windows to give your living space a wintery flare.
19. Sweet Dreams in a Christmas-Themed Bedroom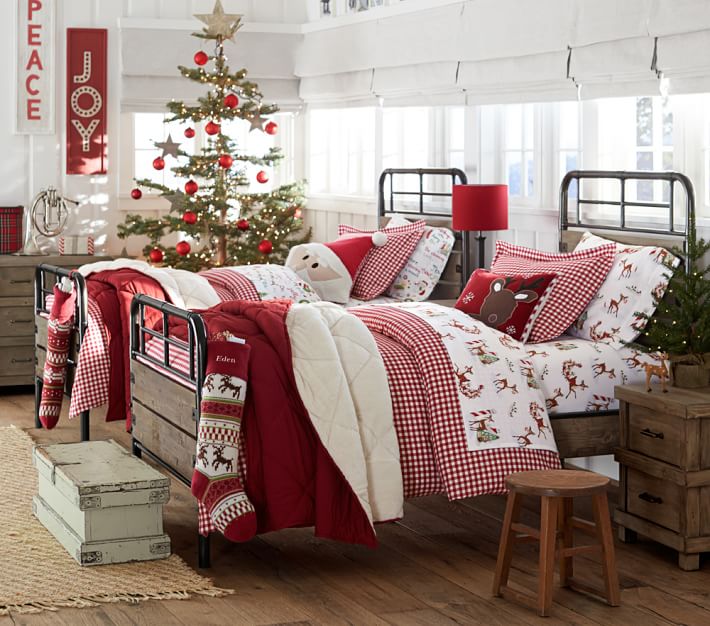 Give yourself a merry place to let visions of sugarplums dance in your head by swapping out your typical bedding for a festive alternative. Swap out the summer's light cotton sheets for heat-retaining wool or cotton ones. Matching sets in holiday prints like classic red and white Norwegian Christmas patterns can be purchased for nearly any bed size and design. Add on fur throws or fuzzy decorative fleece holiday blankets, and top with playful pillows shaped like Santa, reindeer and other familiar faces celebrating the holidays. This new set up won't just keep you snug and warm, but it will also create a sense of magic and wonder that carries on after you've dozed off.
20. A Kid-Friendly Christmas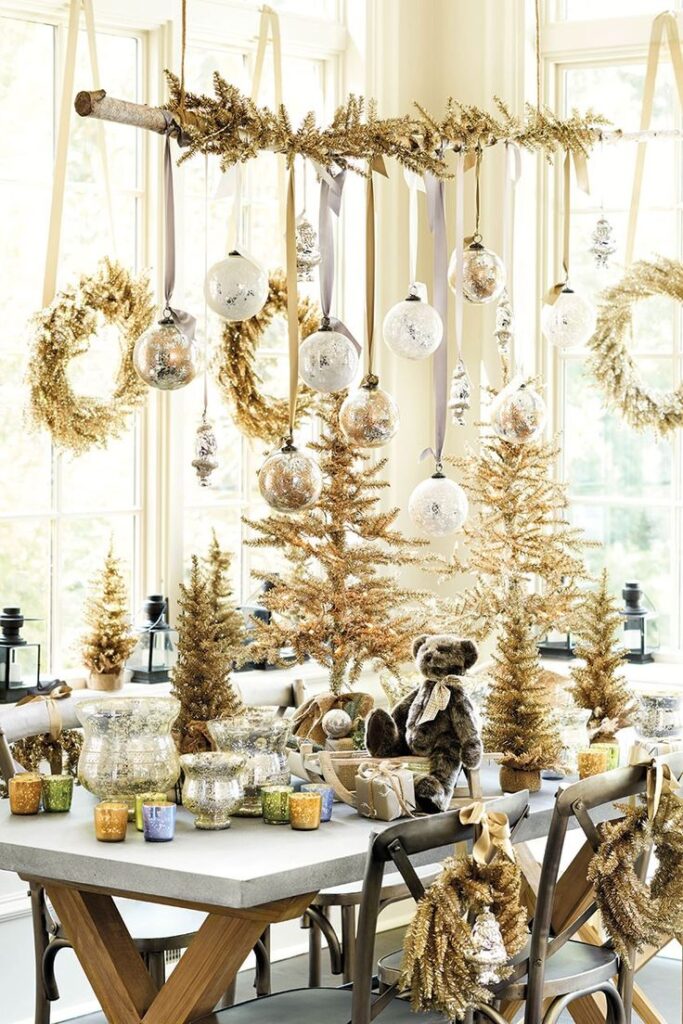 A lot of ideas for decorating seem to advanced or have end products that wouldn't earn a parent's seal of approval. If you have a family with little ones or anticipate many eager little hands to be exploring all your hard work during the holidays, search for ideas that aren't just child-proof, but ones that let them get in on the action without losing any elegance. The key terms for Christmas decorating with kids to keep in mind are "Boldness", "Playability" and "Durability. Stock up on plain plastic ornaments that won't shatter when dropped and let the kids help roll them in glitter. Swap glass candlesticks and vases for colorful metal, and accentuate with lots of pillows, wonderfully wrapped stacked boxes, holiday teddy bears and other large, gleeful objects that are interactive and will make your home shine.
21. Kid's Christmas Candy Cottage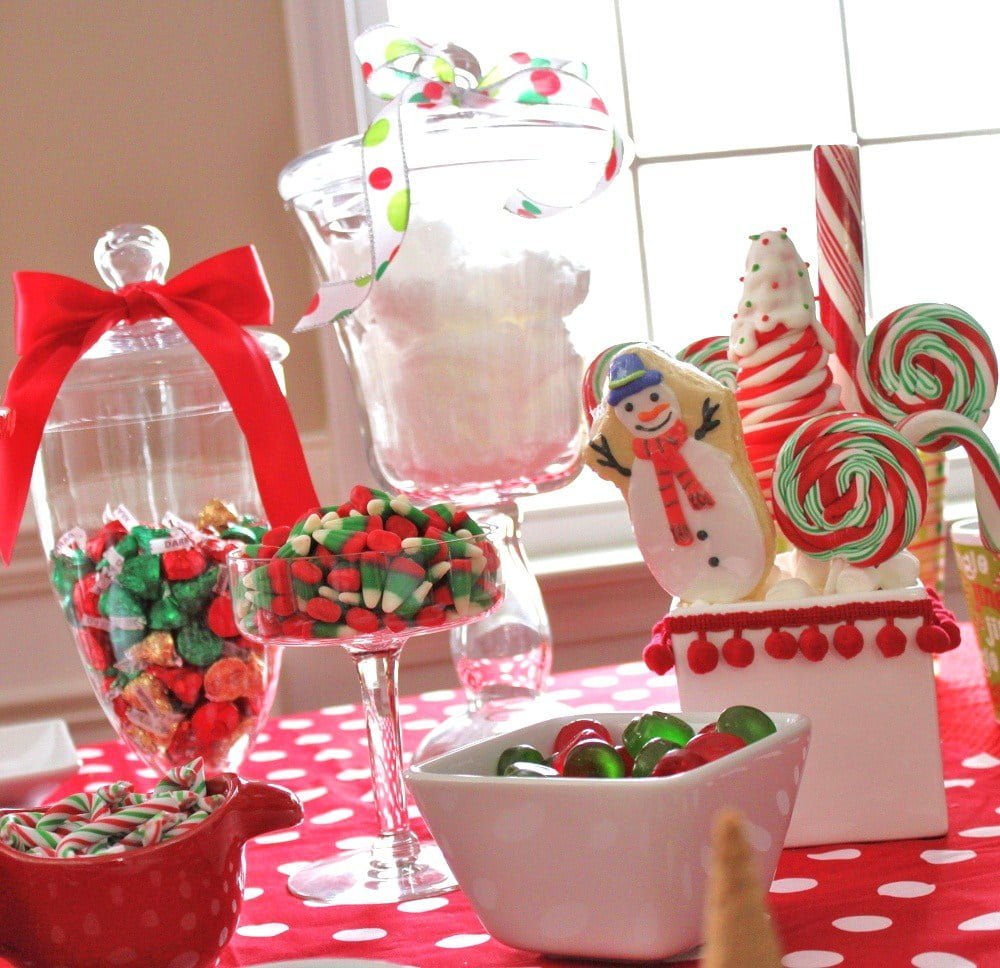 Whether you have a birthday party to throw or just want to make Christmas at your house extra fun for the younger members of the family, a colorful surprise kids are guaranteed to love is a Christmas candy buffet spread. A holiday tablecloth, clear jars of varying heights filled to the brim with Christmas sweets and tied with bows are sure to delight. Kids will love the treats, and their parents will be in awe of the whimsical and energetic display. It's also a nice way to treat yourself to a little something sweet after all you're hard work putting it together.
22. Easily Extravagant Cottage Christmas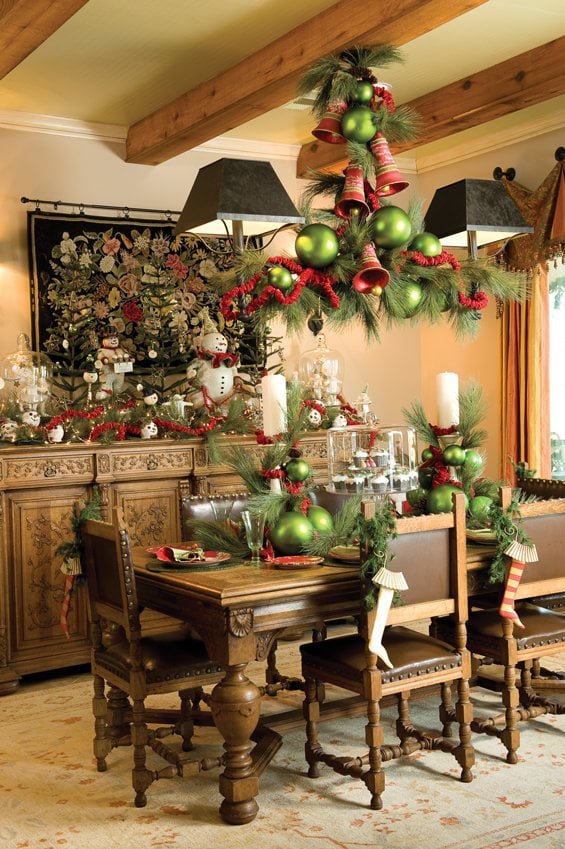 Source: The original source is not available anymore.
You may not live in a sprawling cabin in the Alps, but that doesn't mean you can't capture some of that mountain winter magic in your own home. It doesn't require six figures in the bank to achieve the same opulence either! When going for a luxurious cabin style, the trick is to stick with the classics and focus on the details. Surfaces lined with garland and tall, thick candles attract attention, while commanding and festive centerpieces arranged throughout and the swapping of chair cushions, table runners and new tableware in the colors of the season will help establish a sense of continuity and immersion.
23. DIY Cinnamon Christmas Candles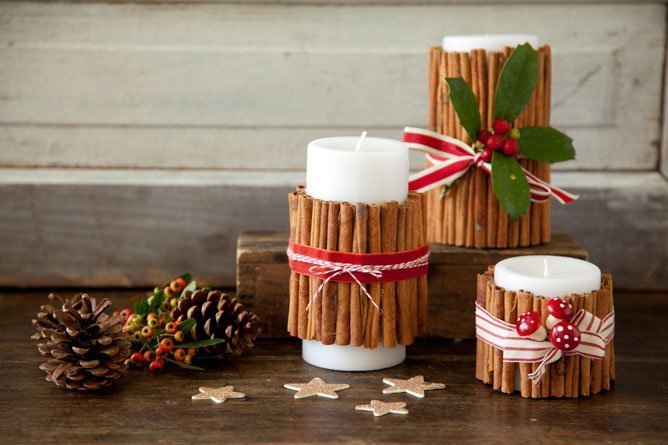 Cinnamon and vanilla are two of the Christmas season's signature scents. You can embrace them both with a set of affordable homemade candles. This DIY project will take you less than an hour, but leave your home smelling festive and fresh all winter long. Nearly all fond holiday memories are intertwined with unforgettable comfort of a sweet and spicy scent. Custom made cinnamon stick candles like these will take you right back to the best Christmas' of your youth and surely become a staple on your DIY Christmas To-Do list for years to come.
24. Modern Christmas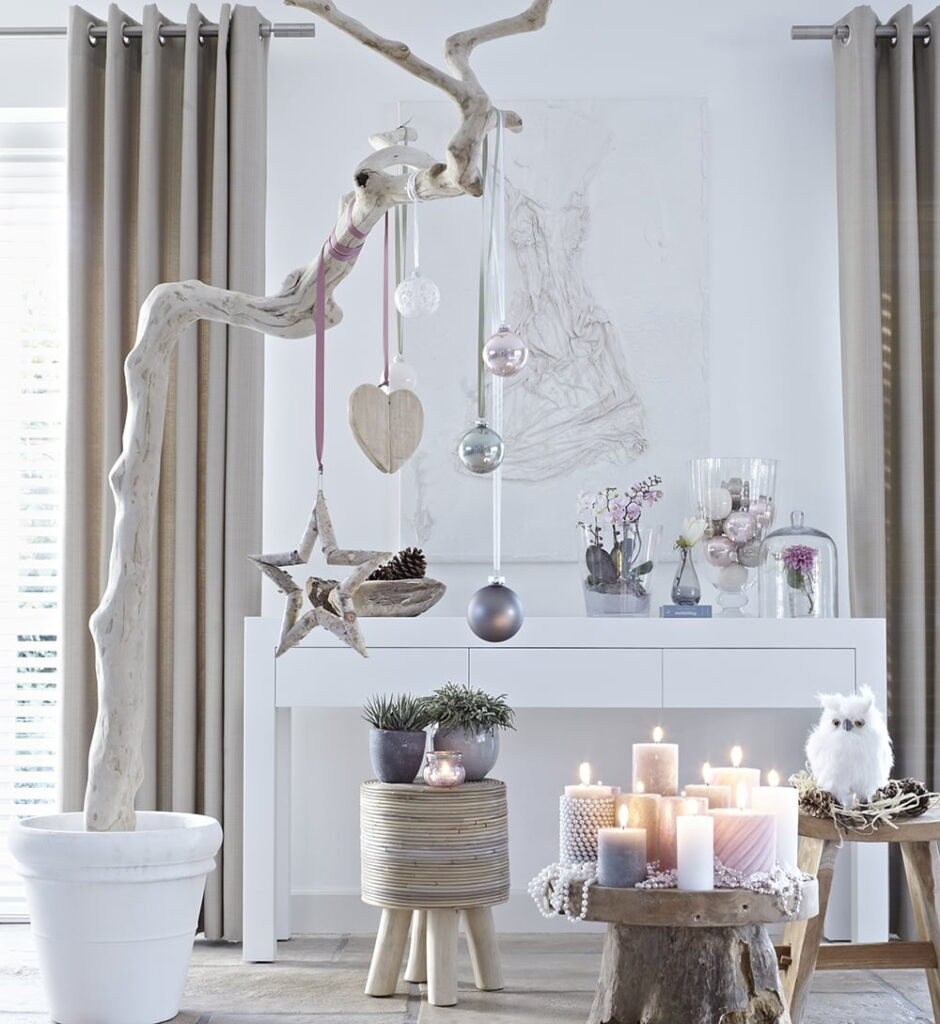 If classic Christmas decoration ideas aren't your thing, than perhaps some of the emerging modern trends will suit your style. Disco balls? Check. Silver star balloons and thick strands of LED lights in unexpected colors like hot blue? Check. Modern decorations are sleek, simple and in many areas, forego traditional altogether in favor of something more chic. Christmas tree made from crisp white birch branches, anyone? Ornaments can be suspended from thick cuts of silver and white ribbon, and subtle woodland accents will anchor the look to winter.
25. Front Door Christmas Decor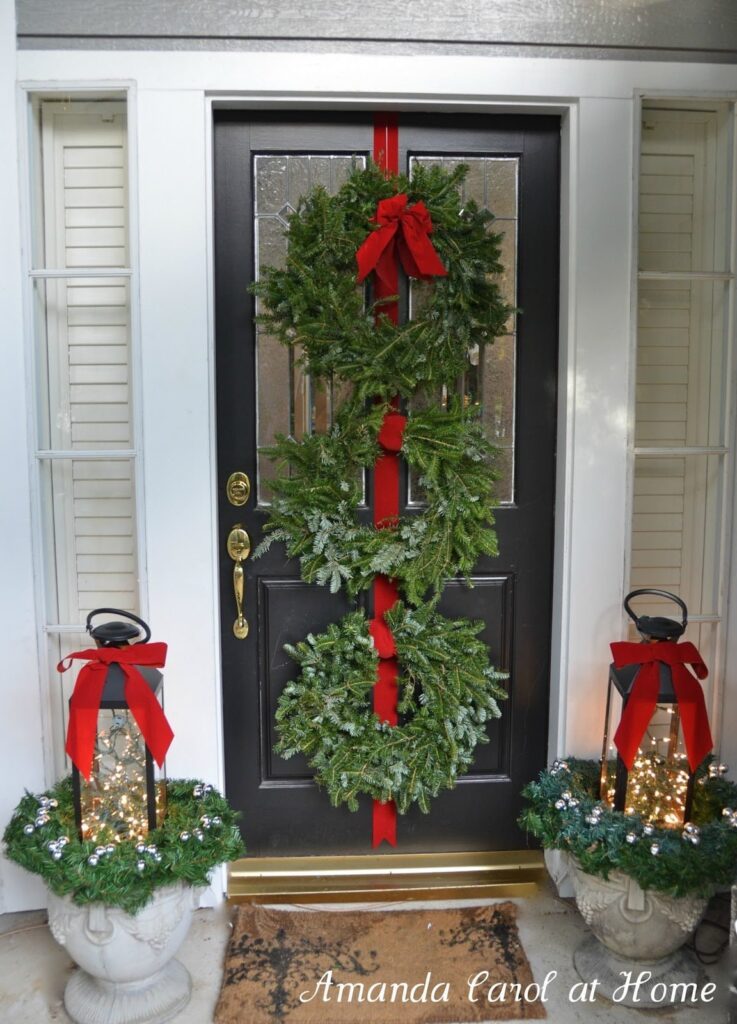 Wreaths are great, but why stop at just one? If you have a large front door, why not stack three together and create an eye-catching display? And there's no need to stop where the guests come knocking. Windowsills can be fastened with wrought-iron baskets, filled with decorative evergreens and red ribbon. Instead of just storing your extra lights, curl them in a glass lantern and disguise any extra cords and wires with a fresh wintery green garland. Taking Poinsettias from standard containers and arranging them in old wicker wine baskets will infuse your porch with a delightful downhome touch that makes guests feel welcome before they've even stepped through the front door.
26. Decorative Noel Letters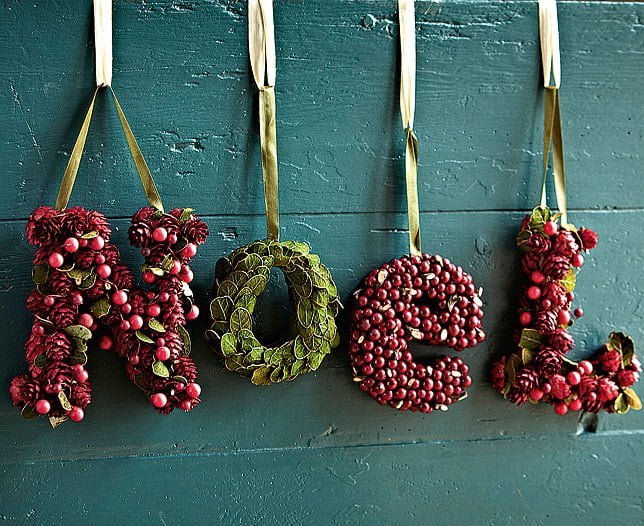 Spread Christmas cheer and good holiday tidings to all who pass by hand-crafted Noel letters. The essence of the season is perfectly captured by creating each letter in its own unique color and texture, from rich brown pine cones, crisp evergreen foliage, silver and white birch twigs and deep red faux berry accents for a lovely natural contrast. These letters can be hung in front of a window, a door, above a mantle and anywhere else people will pass and be able to receive the message of joy and peace.
27. Fancy Christmas Kitchen
Source: The original source is not available anymore.
Old style accessories can infuse your kitchen with a vintage trend that makes it the perfect winter repose from the often frenetic pace of the season and our day-to-day lives. Kitchens big and small must be centered around three things: function, amusement and comfort. Even if you live in an apartment and your kitchen space is limited, wreaths, wall ornaments and other simple holiday kitchen accessories can turn your space into a warm and inviting place to savor all the sweet flavors of the season and lovingly prepare your holiday meals.
28. Christmas Deer Pillows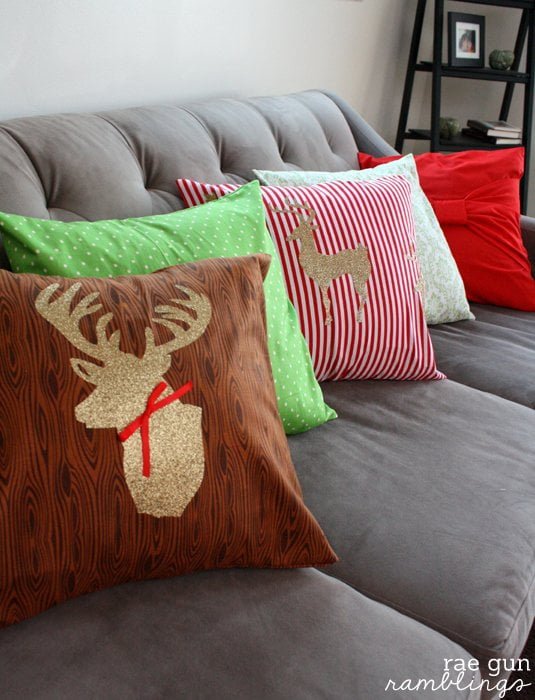 Depicting one of Santa's hooved helpers on a pillow is a wonderful way to add some holiday cheer to your sofa or bedroom. The rustic-inspired wood fabric pays homage to the animal's woodland roots, while a glitter application of the deer itself is both festive and stylish. The base fabric can also be striped or candy-cane themed for a dash of extra gleeful winter whimsy. Children are bound to love a snuggly pillow to cuddle up to, and it's even more special since its handmade. A Christmas deer pillow can even be used as a base for other designs that reflect your favorite symbols of the season.
29. DIY Christmas Pinecone Projects

Pinecones are available out in the wild for free or at any local craft store. Many even come scented with cinnamon or other holiday odors, which adds a nice finishing touch to any project you craft with the pricky Christmas symbols. Pinecone Christmas decorations ideas can be adopted as new traditions by parents, make a fun party activity or even incorporated into the classroom for daycare and elementary school teachers. Whether it's glittered tree ornaments hung from silky satin ribbons, pinecone reindeer with adorable googly eyes and red cotton ball noses, pinecone-carved mice or a unique pinecone Christmas tree, nature's winter wonders are a must-have for any crafter's project list this season.
30. Pretty in Pink (and purple!) Christmas Decor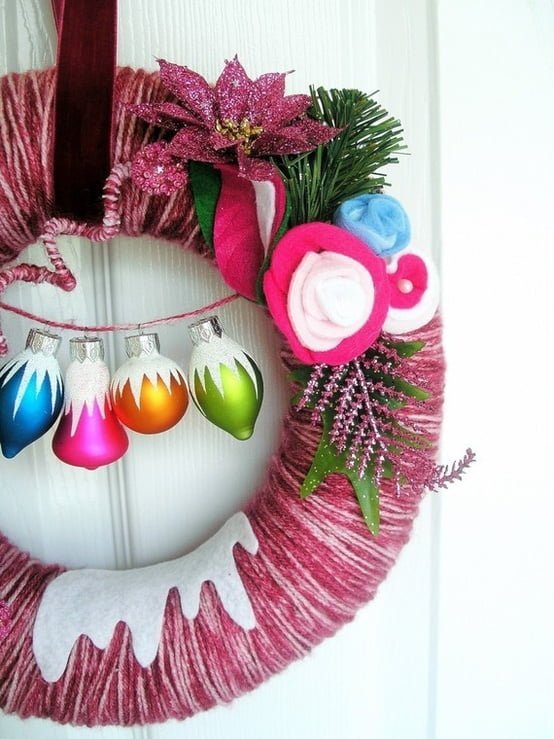 One favorite alternative Christmas color palette for decorators is pink and purple. These feminine colors are whimsical and fun, and usually call upon the use of plenty of candy-themed ornaments, glittery oversized bows, twinkling lights and loads of pretty wrapping paper. Christmas trees done in large decorations and even made with pines that are pink or purple instead of the classic green or white are reminiscent of whimsical places such as Lewis Carroll's Wonderland or, more recently, New York's famed Serendipity restaurant. If you want to embrace your inner diva or have a little girl that is in a pink craze, turning to the rosy side of the color spectrum for Christmas inspiration is one way to truly personalize your Christmas.
31. DIY Christmas Mantle Hanger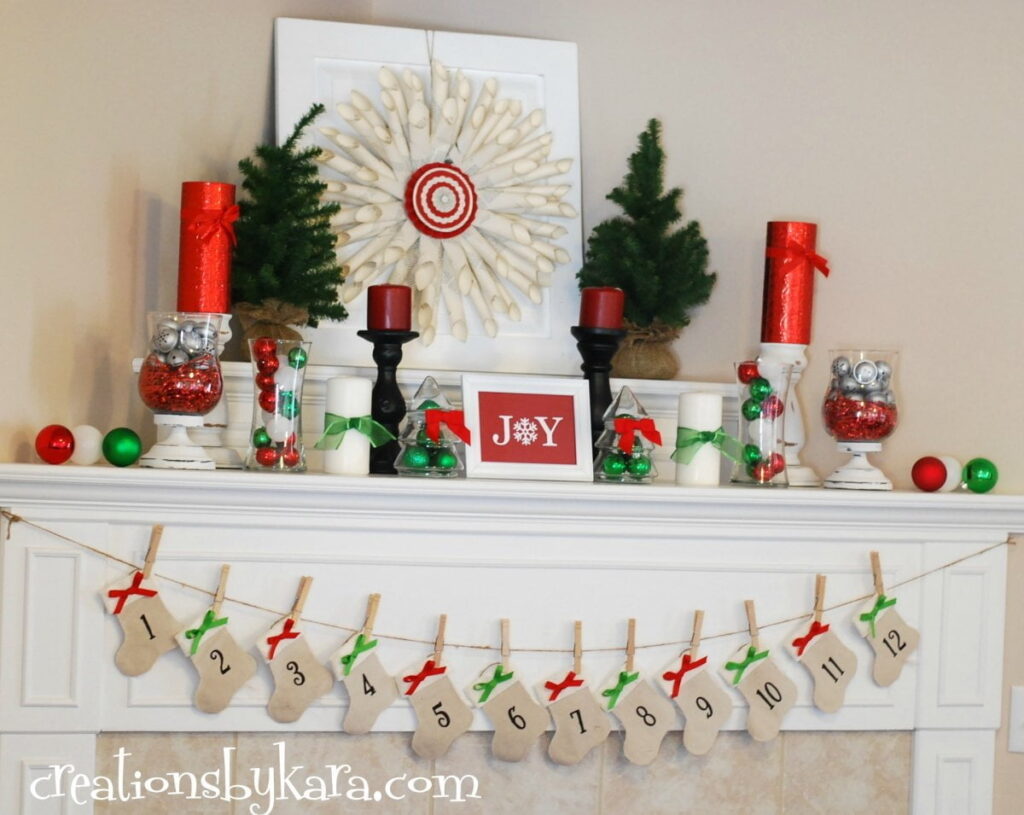 Source: The original source is not available anymore.
Stockings aren't the only decorations you can have above a roaring fireplace. The mantle is a wonderful way to express your creative side, in addition to being a perfect place to showcase all your favorite decorations. While miniature Christmas figurines, gingerbread houses, garland, snow globes and more can be placed on the mantle itself, strung across can be your own custom-made Christmas countdown chain. Paper socks numbered 1-25 in cheerful red and green paint or makers can be secured with clothes hooks along a string to create a laundry-line effect that lets you take down a sock each day that passes and brings you closer to Christmas!
32. Christmas Decorating Ideas for Staircases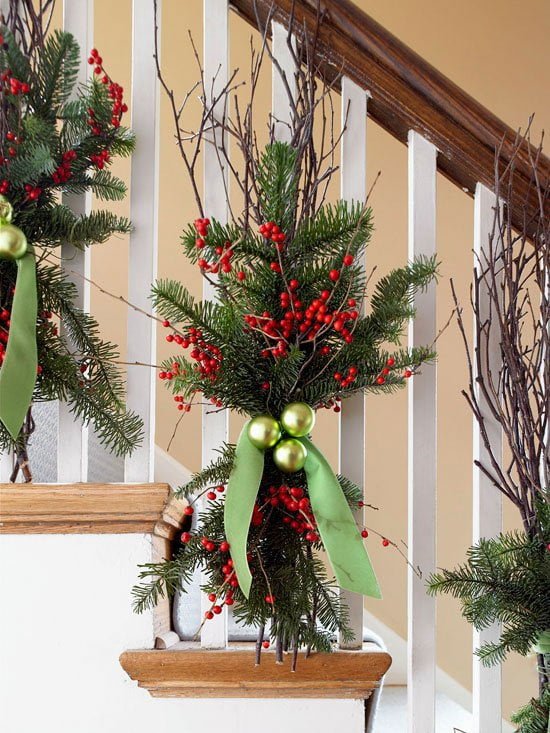 Home owners may have one single, narrow set of stairs, while others may be faced with a winding grand staircase that encloses a foyer. Regardless of architecture, all can agree that staircases are bases just waiting to be adorned with the seasonal decor. However, there's no need to stick to evergreen garland and tinsel. Christmas decorations can turn a staircase into a work of wintery art, and a few unique embellishments are all it takes to transform your bannisters and brighten your entryway for Christmas. Bows, bushels of greenery secured to railing posts, ornament garlands and even stockings are versatile and easy ways to dress up your staircase this season.
33. Peacock Christmas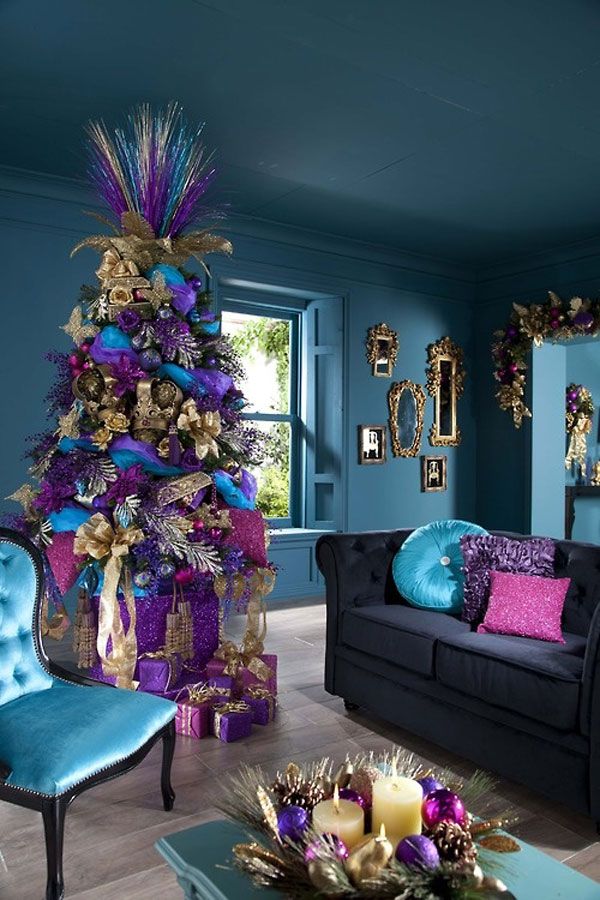 Source: The original source is not available anymore.
The magnificent colors of a peacock's tail are a fabulous inspiration for a unique, colorful Christmas. Turquoise and other variants of blue, magenta, purple and gold can be applied to decor throughout the home A tree can be festooned with gold ribbons and beads, and topped with an eccentric display of feathers. Faux foliage spray-painted gold can be fashioned into door-framing garlands and centerpiece wreathes to hold candles. To finish off the look, swap out your standard pillows for bright alternatives in various shapes, sizes and textures. If there is one that is sequined or sparkled, even better. This is a colorful and enticing theme for all the decorators who are wild at heart.
34. Country Christmas Decorations for Everyone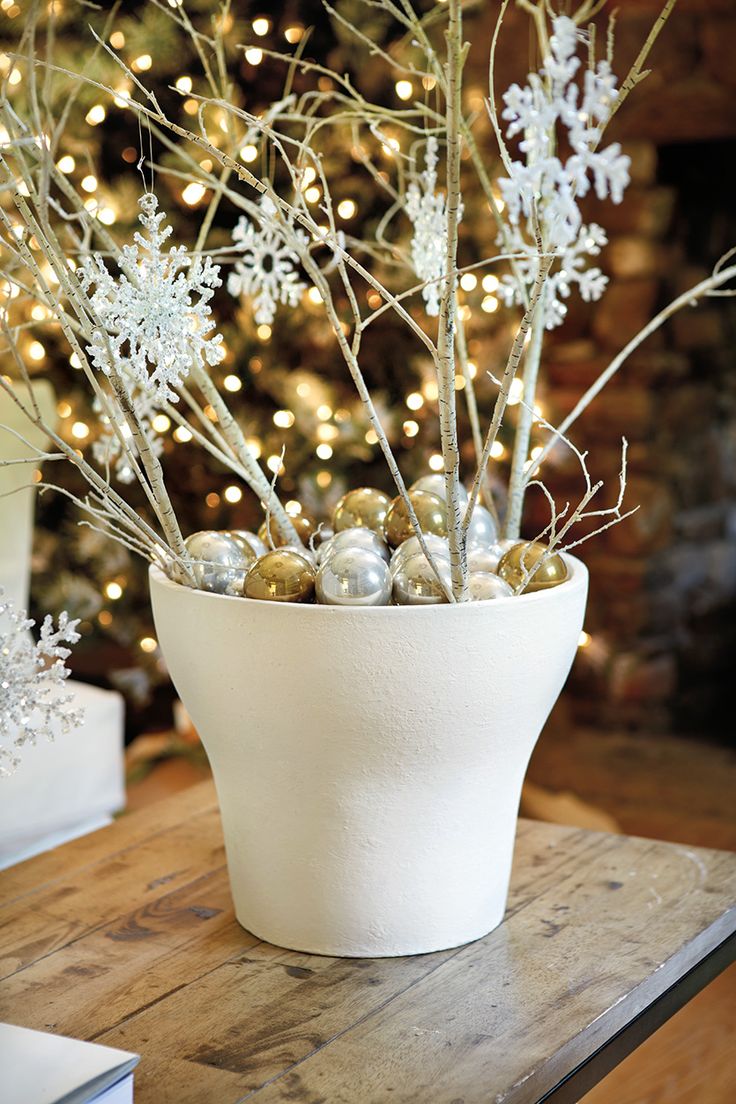 While bold displays of plaid and wood furniture may not be your style, the idyllic simplicity of a country Christmas can be captured with a few simple pieces that can be tied into any home this holiday season. Birch branches, for example, are thin and function well as either small decorative pieces or adorned with ribbons and ornaments and placed at the center of the room. Oatmeal-colored bears with tartan plaid ribbons can line windowsills and shelves, and the petite size of most holiday-themed decorative bears make them all the more endearing. Snowflake chains are quaint and cozy, and for some extra pizzazz, you can swap out paper or cloth cutouts for ones coated in glistening silver and white glitter.
35. Cheerful Christmas Entryways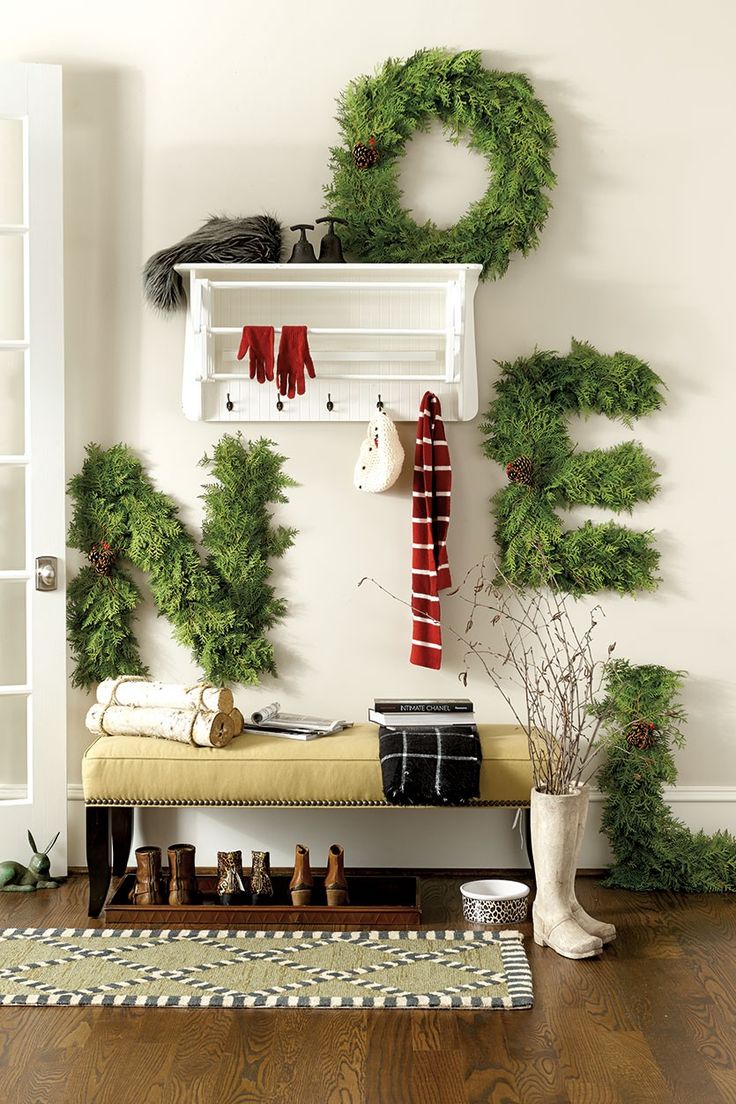 Christmas decorations ideas don't need to be fixed to one part of the house. Although the area near the tree is where the most decor is found, your entire house can be dolled up for the winter, including your entryway. This is a particularly fun area to design as it can be done in so many different styles and will be one of the first things everyone notices when they visit during the holidays. A spirited doormat is a great way to start, and inside, gold metallic coat hangers and side tables add a festive touch and can be used all year. A festive indoor/outdoor rug, drying rack for scarves and boot tray will add some finishing touches that also enhance the area's functionality.
36. Oranges and Cloves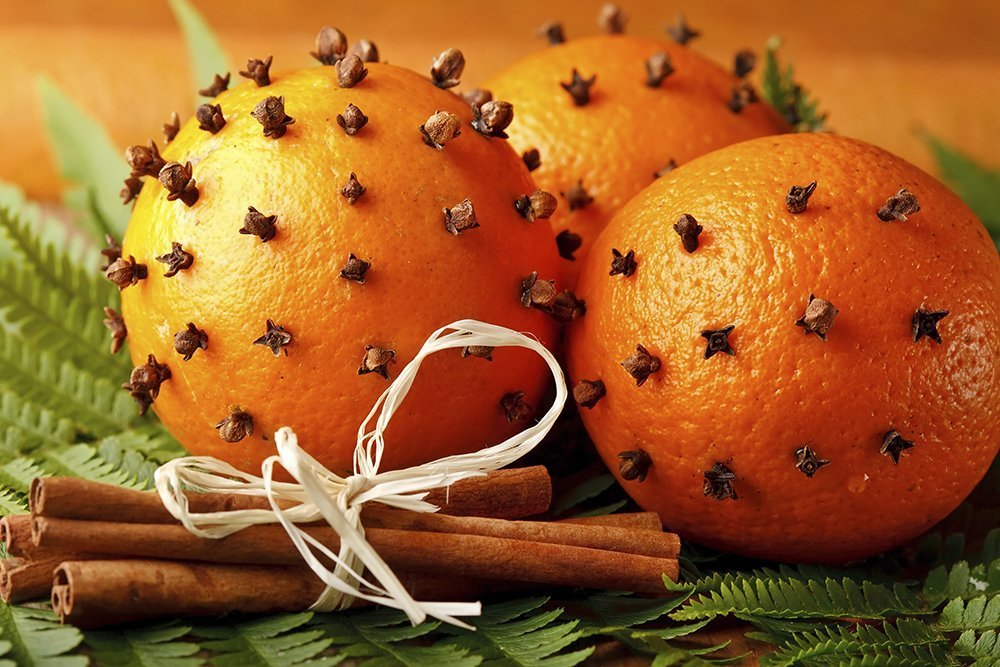 Source: The original source is not available anymore.
Christmas oranges and cloves decorations, also known as Pomanders, are an old tradition that dates back to the Middle Ages, but didn't take on its holiday significance until the 1830s. These Pomanders are easy to make and smell fantastic, evoking powerful holiday memories and creating an atmosphere that is undeniably "Christmas." All it takes is a trip to the supermarket to stock up on supplies, and you can craft dozens of these classic holiday items in a variety of different patterns and designs for you and your loved ones to fill their home with the scents of the season.
37. Lost and Found Christmas Tree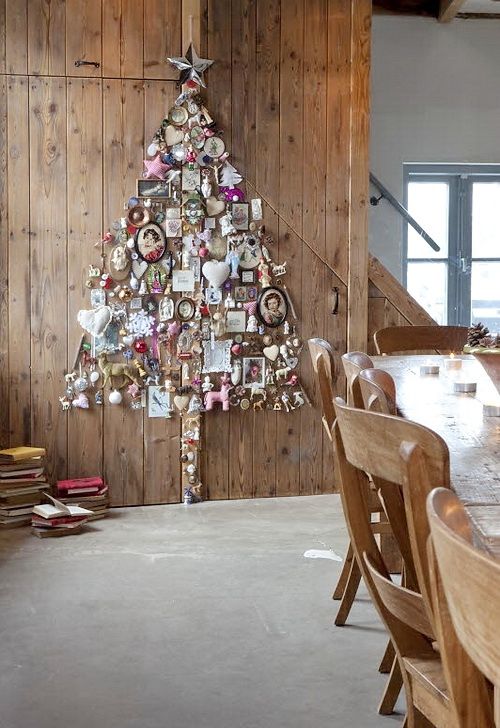 If you are someone who wants to design their own Christmas tree and also has an affinity for unique vintage finds and plenty of trinkets lying about, this may be the idea for you. A found objects Christmas tree involves assembling a collection of knickknacks, preferably related to the season in some fashion, and adhering them to the wall in a way that's easy to remove. For this reason, you'll want to go for lightweight objects that can be hung with a thumbtack of even one thin nail. This is a pieces that looks art-gallery worthy and is especially appealing on wood-paneled walls or surfaces. You can top it off with a large star or bow you craft yourself, and swap out pieces throughout the year to correspond with the season.
38. Modern Holiday Mantle Decor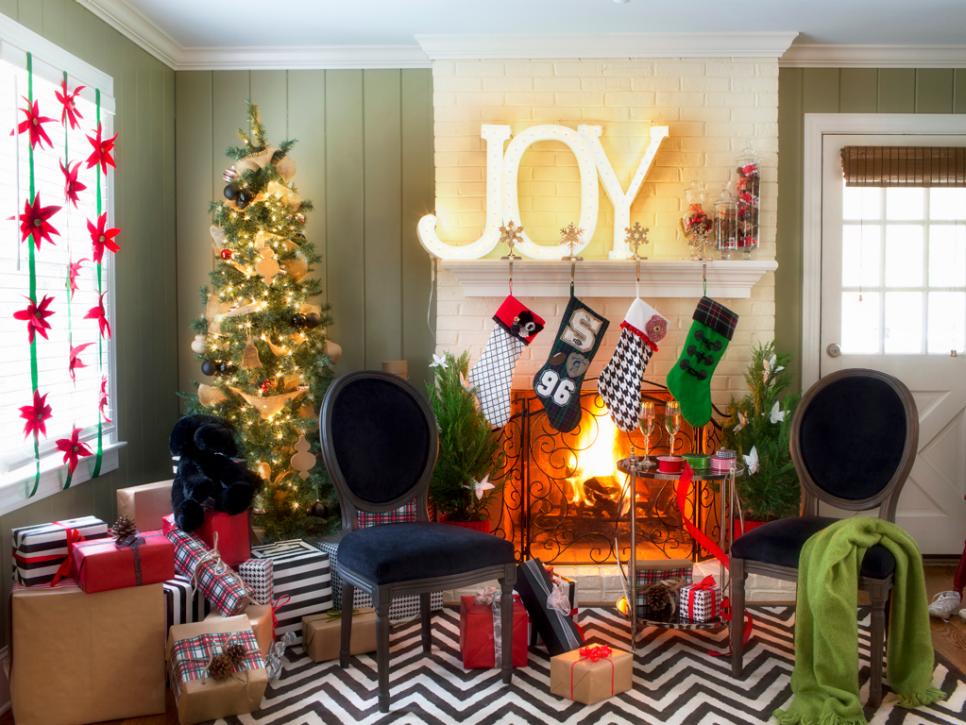 If your home has a traditional fireplace, you can still spice things up with some modern decor and take it into this century. Instead of selecting a modern motif and figuring out ways to distract from the mantle, use it as the focal point of the design and top it with a large accent such as glowing Christmas letters, and compliment it with stockings or a thin garland. Handmade stockings or glasses of Christmas bulbs are a great way to add a burst of color to a classic piece and make it stand out.
39. Scandinavian Style Christmas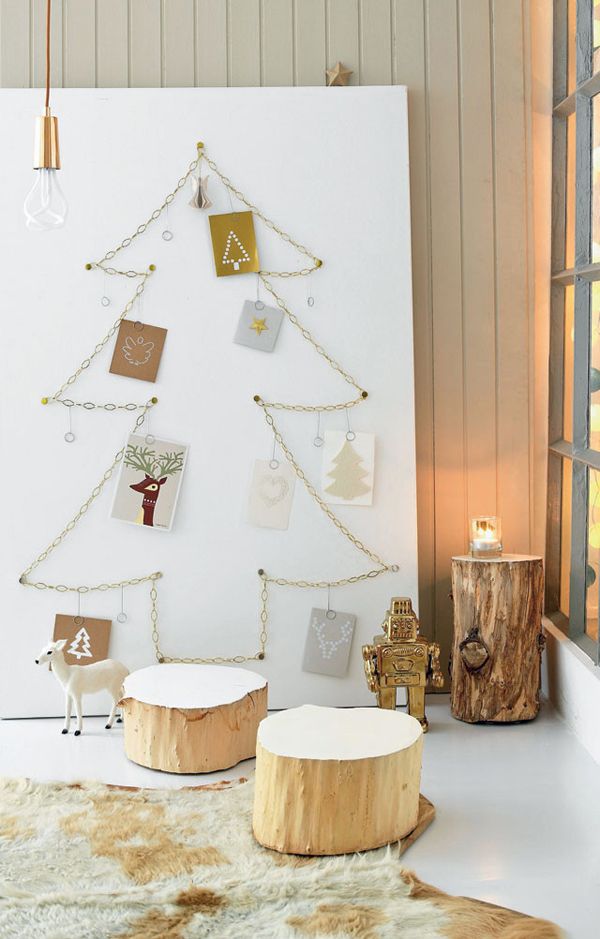 Even if you've never been to Europe, chances are you've encountered some Scandinavian-inspired decorations, and possibly already use some yourself. This style of holiday decor is simple and chic, with minimal patterns and instead large focal pieces such as reindeer and snowman figurines, tree log centerpieces fashioned into candle holders and brightly wrapped gifts piled under a tree. More modern renditions involve alternative trees that play up the minimalist side of the design, with trees being crafted from birch branches in large vases, wire coil trees and lights arranged on a wall in the shape of a pine.
40. Christmas Candle Centerpieces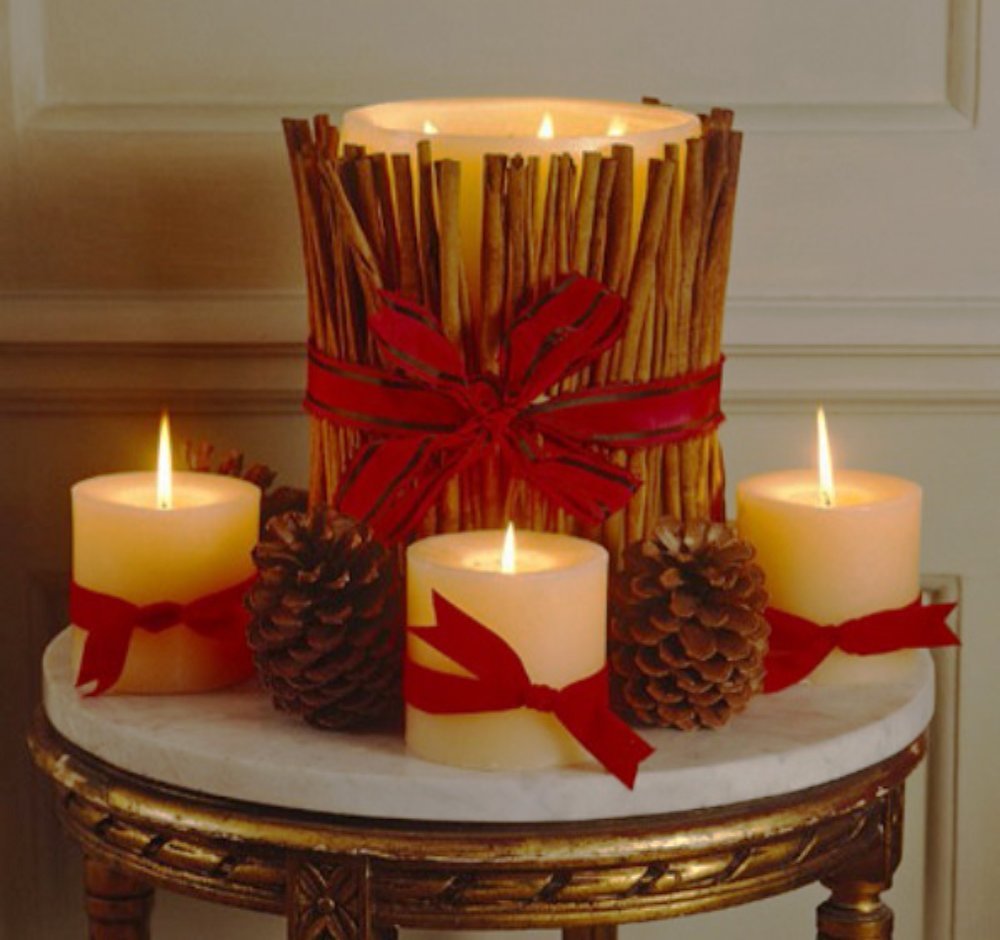 Source: The original source is not available anymore.
Candlelight is warm and inviting, so it's no surprise that people flock to pick up as many as they can when winter rolls around. If you have extras at home or are planning a trip to the store, why not turn some holiday candles into your Christmas centerpiece this year? Cinnamon sticks attached to a large candle and secured with a bow is the focal piece, while the display is finished by adding several smaller candles of the same size decorated with simple red bows. You can change the color of the ribbons to match your own palette, but don't forget the pinecones to place in between the candles!
41. Creating a Timeless Christmas Tablescape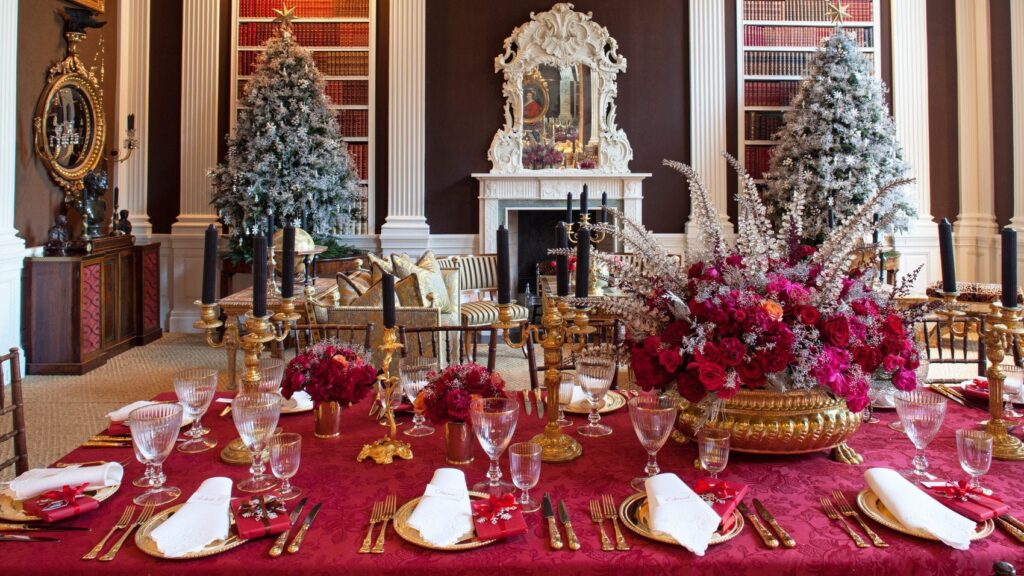 So many memories are shared around a good meal during the holidays, so why not make your table just as special and intricately decorated as the Christmas tree itself? A good holiday tablescape is best done in deep jewel tones or season colors to create a sense of tranquility and comfort. Traditional holiday tableware with a modern twist like white porcelain plates with a tartan plaid trim or thick glasses accented by a red jewel at the neck are great starters, and will match any accents you add. Some recommendations include bounty garlands with evergreen and pine, three flame candelabra, rich red fabric napkins and gold dining utensils.
42. DIY White Christmas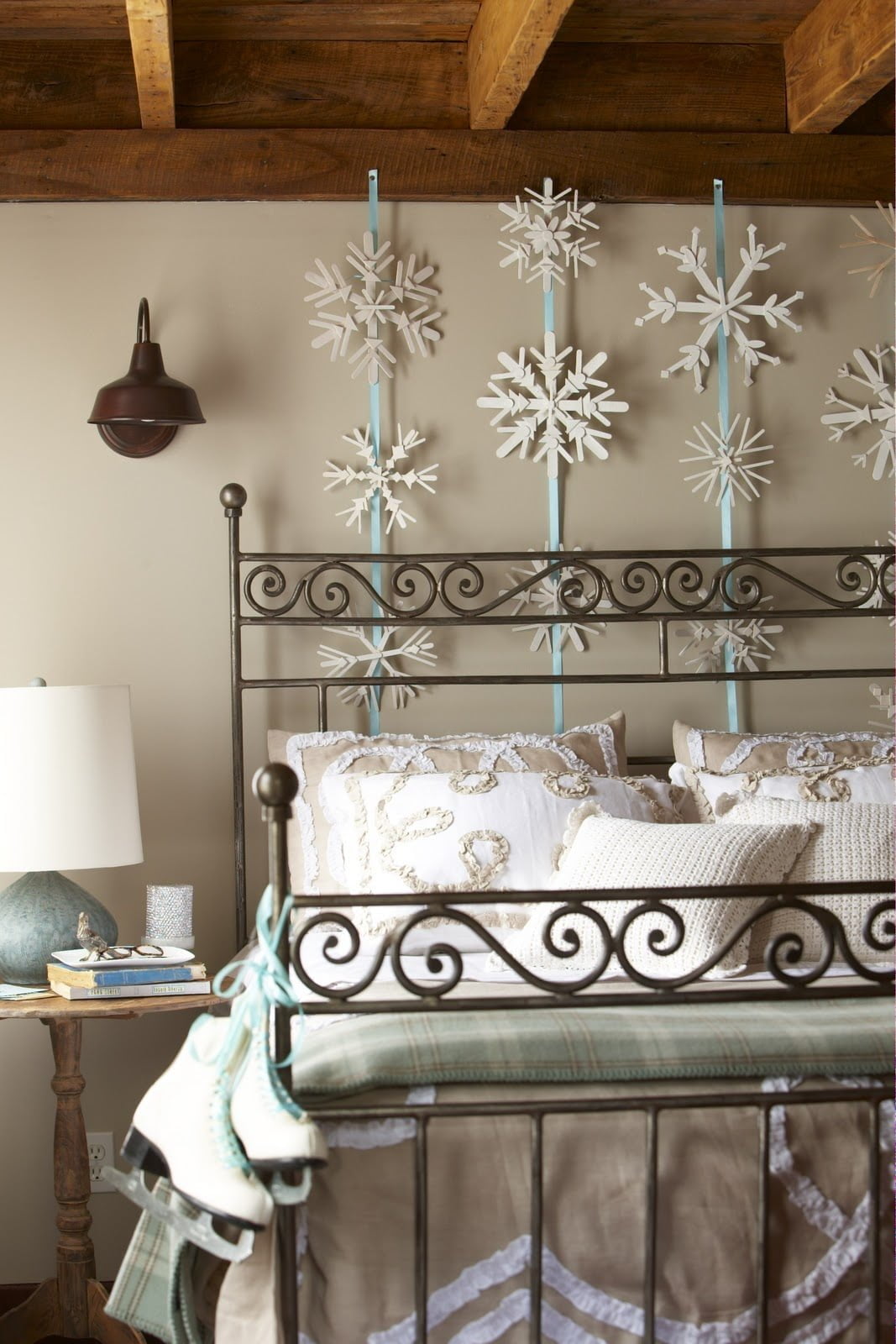 Snowflake themes are classic, and you can create your own to decorate the house for the holidays with just a few simple items. Snowflakes can be applied to doors and banisters, but also look lovely when hung above a headboard. The snowflakes can be hung from a thin string or a more festive ribbon to suit your taste. This style is soothing and unimposing with just enough pizzazz to brighten up your space. The snowflakes above your bed can serve as a winter dream catcher of sorts, serving as a gentle reminder of the season's tranquility and timeless beauty.
43. Christmas Lanterns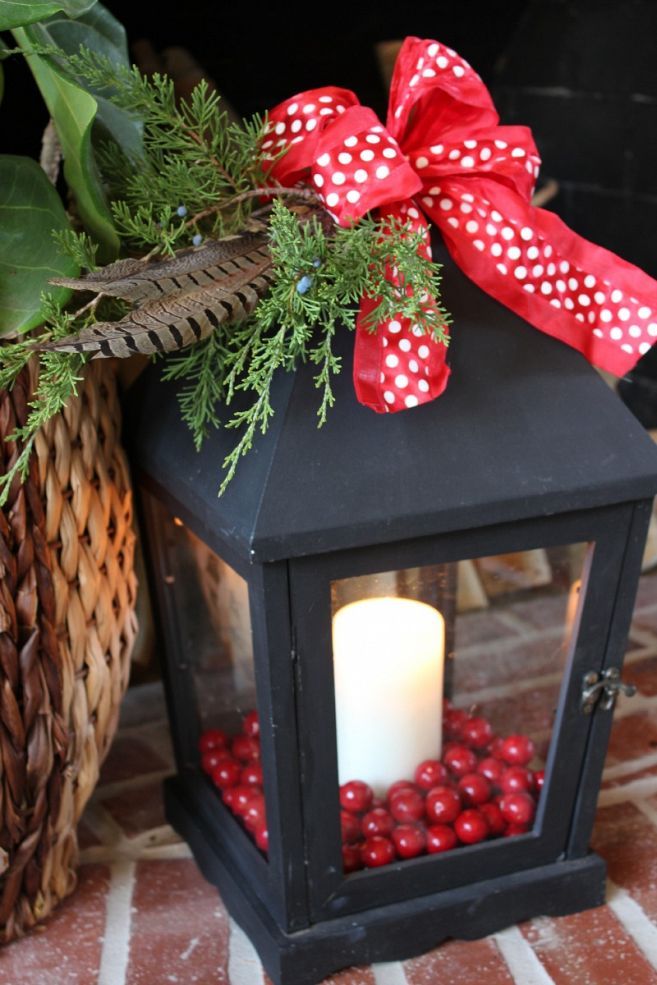 These lights can be placed indoors or outdoors and scaled to size to suit your needs. There are many ways to fill them too, but all are fun and Christmas-inspired! You can take a classic approach and add in some faux berries and a candle (electronic candles are even better since you don't have to worry about fire hazards). Embellish with a red ribbon and some greenery for a finishing touch. You can also decide to go a more whimsical route with colorful ornaments arranged inside with a string of Christmas lights woven in to add extra sparkle and shine! Lanterns with a side door are best, since they can be turned upside down and easily filled or have their contents swapped out as you get more ideas throughout the season!
44. Jul Star Ornaments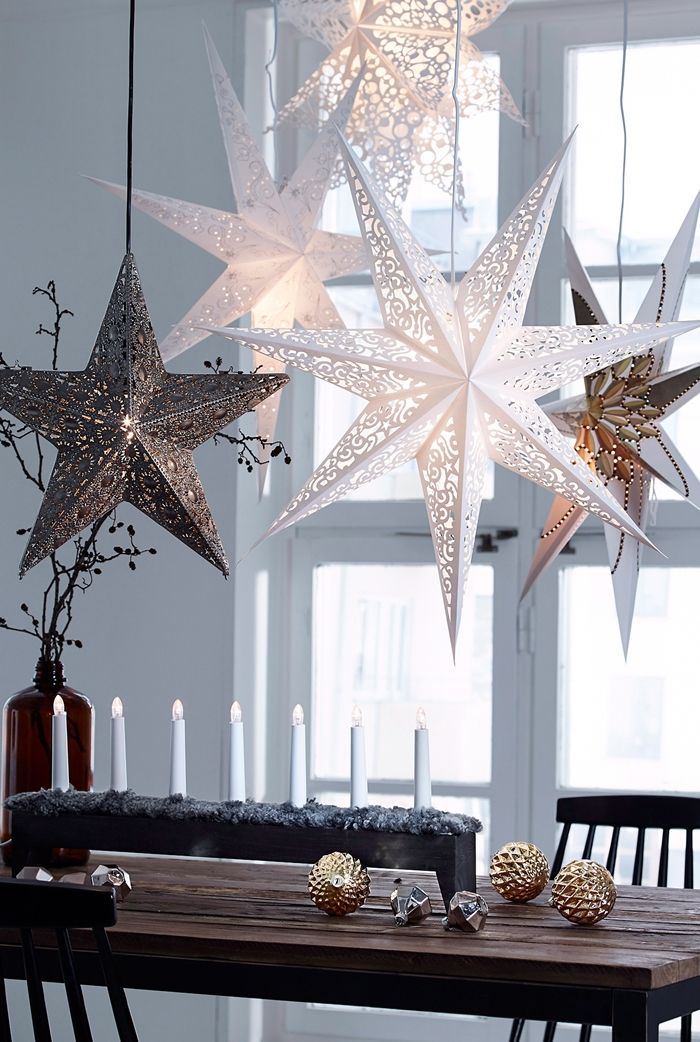 Source: The original source is not available anymore.
Classic hanging stars make great additions to any holiday display. Some are easy to make at home, but other hanging star lamps can actually be purchased and used throughout the year. Whichever route you decide, these stars can be hung above a dining room table at varying lengths, creating a focal point that you can accent with a simple centerpiece and muted tableware. If you're just wanting to add a simple star to your space, settling for one or two smaller ornaments and hanging them above the bed or framing the fireplace are two options worth considering.
45. Make Your Mantle Glow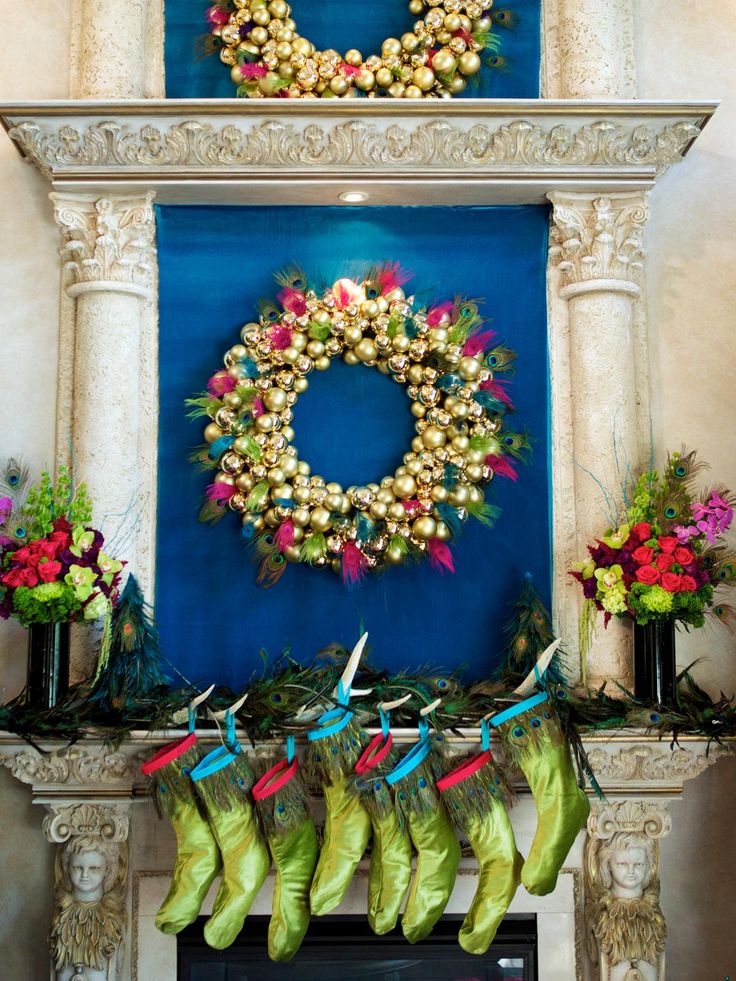 Since the mantle has been associated with Christmas for centuries, it's a great spot to focus on during your decorating. No longer used to keep warm and hang stockings, a mantle is now a blank canvas for decorators to capture the essence of the holidays and draw family and friends close to laugh, chat and stay cozy. Wreaths and garlands are go-to toppers, but you can also choose to top your mantle with gleaming candle displays, tiny toys and vintage pieces or a black-and-white snow scene mounted above and complete with a rich garland and lights for a rustic-chic design.
46. Happy Holiday Luminaries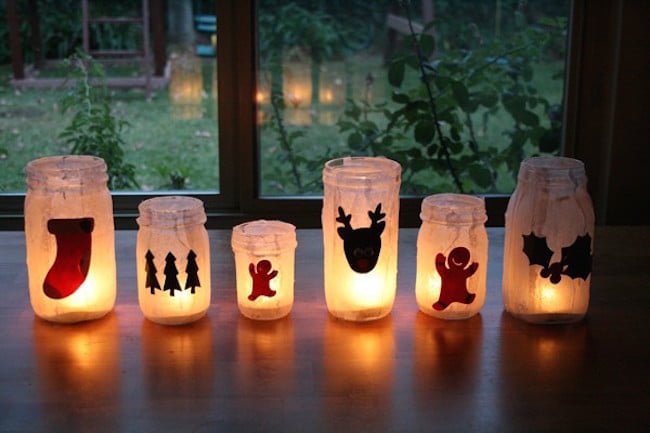 If you want to have a spirited Christmas design but also want to avoid too many open candles due to children and pets, then these festive Christmas jars will be perfect. Mason jars of varying sizes are wrapped in a tissue paper, as its thin texture allows the candlelight within to shine through. Children can help make their own, cutting out holiday designs from felt or standard construction paper and sticking them to the front with a mod podge. The color scheme is totally up to you, but don't forget to finish each jar off with a tin ribbon across the top before you display them for all to see.
47. Tasteful Cluttered Christmas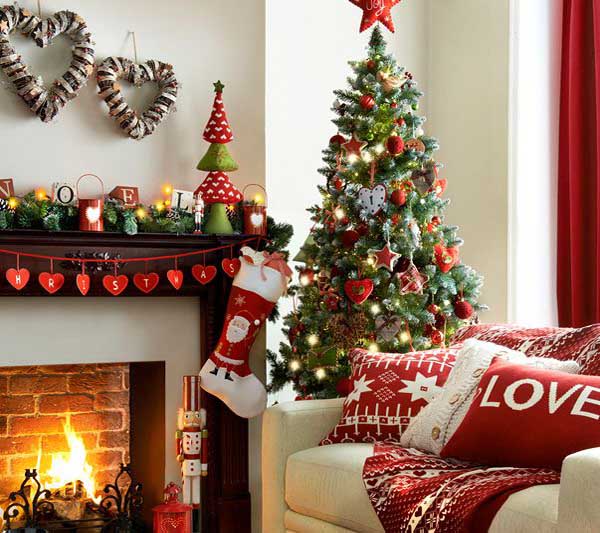 Source: The original source is not available anymore.
This vintage style is great because it's easy to pull off and can really only improve as more is added to it. You'll want to start off with some holiday handstitched pillows, either ones you make yourself or buy at the store. Red and oatmeal colored with season's greetings pop the most. Then you'll want to add a throw blanket in knit or wool. This will make your couch plush and inviting; the perfect place to snuggle up next to the tree. Stick to tones of red and white, with variants of green and gold dispersed throughout for embellishment. Cute and cuddly work well with this theme, so break out the mitten ornaments, plush bears and any other soft decorative piece you have to create a comfortable and kid-friendly Christmas.
48. Nature-Inspired Holiday Dining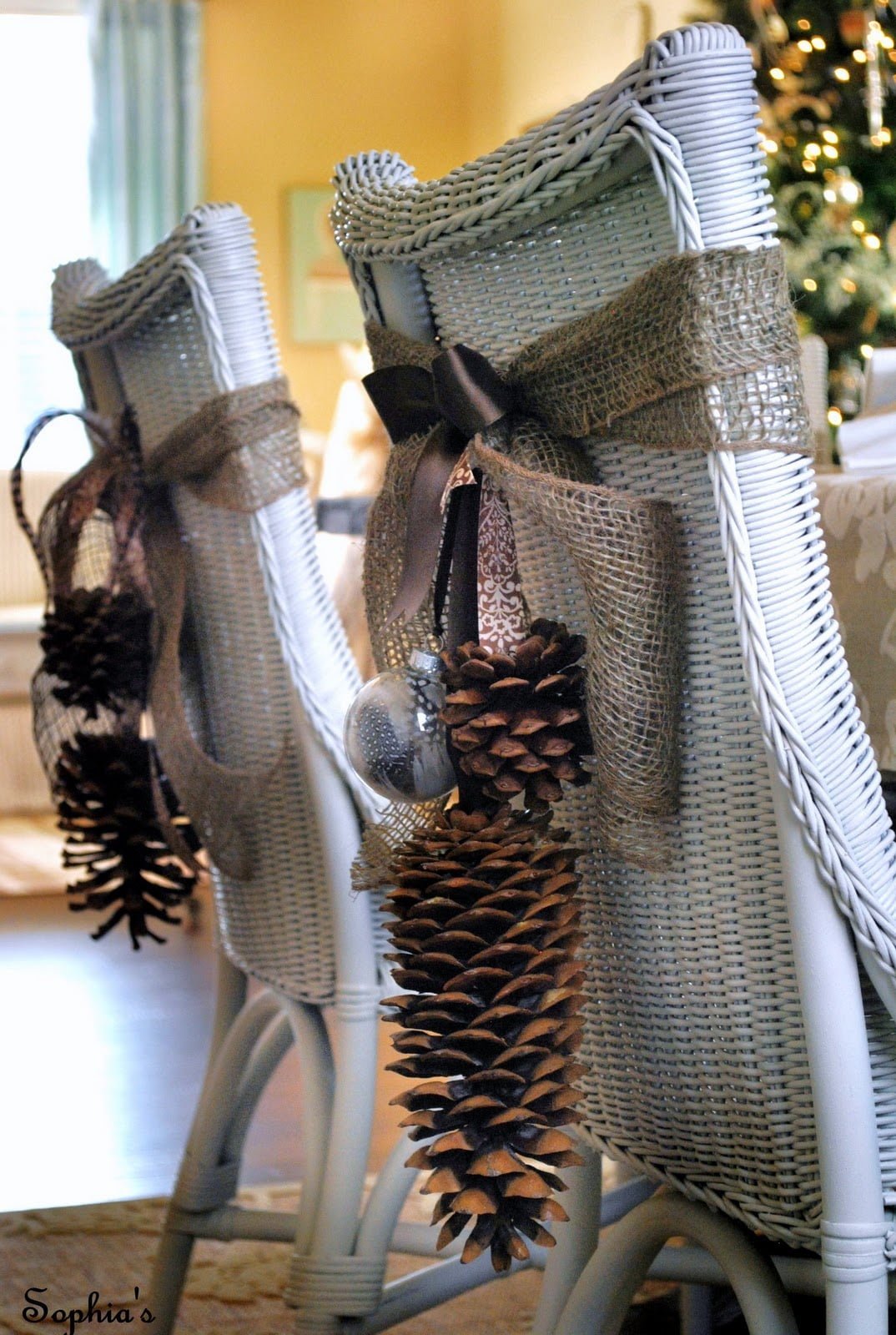 You can add some small but noteworthy touches to your dining area this Christmas season by turning to nature for inspiration. Snow, pine and greenery all make wonderful starting points for design. Start candle sticks in either a rustic metallic or actual wood. Thick dishes with rounded corners or some type of nature design work well, in addition to adding a simple plastic ornament with a tag attached as a placeholder. Feathers, a light sprinkling of silvery glitter and chair covers secured with sheer brown ribbon and pinecones will tie everything together.
49. DIY Christmas Window Decorations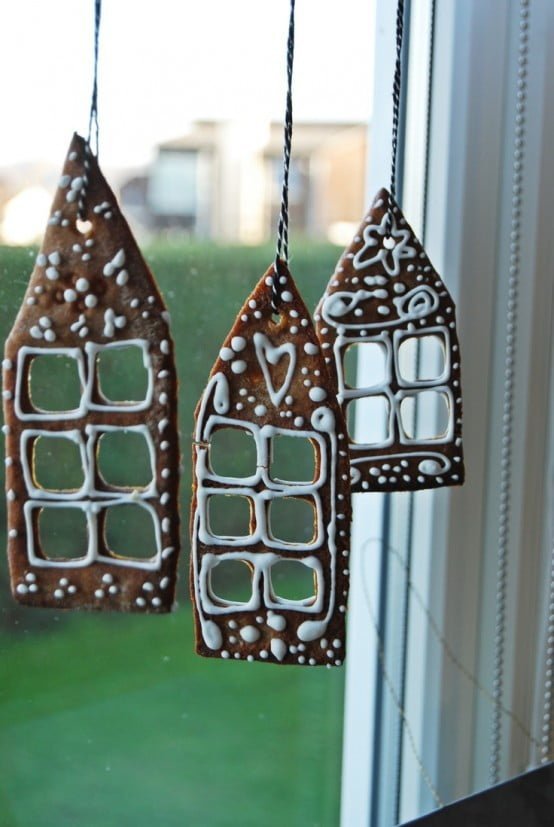 The plastic adhesive stickers you can buy at the supermarket might be fun, but there are plenty of other creative ways to deck out your windows for Christmas. Ornaments suspended by multicolored ribbons, handmade garlands from string and paper cutouts, branches covered in lights, decorative icicles or wooden decorations in the shape of hearts or gingerbread houses add so much light and personality to a space, even if the window you're working with is a small one. If you're on a tight budget, you can simply recycle extra Christmas decorations you have around the house; Hanging a few strings of lights vertically is flashy, simple and doesn't cost you any extra money.
50. Modern Christmas 2018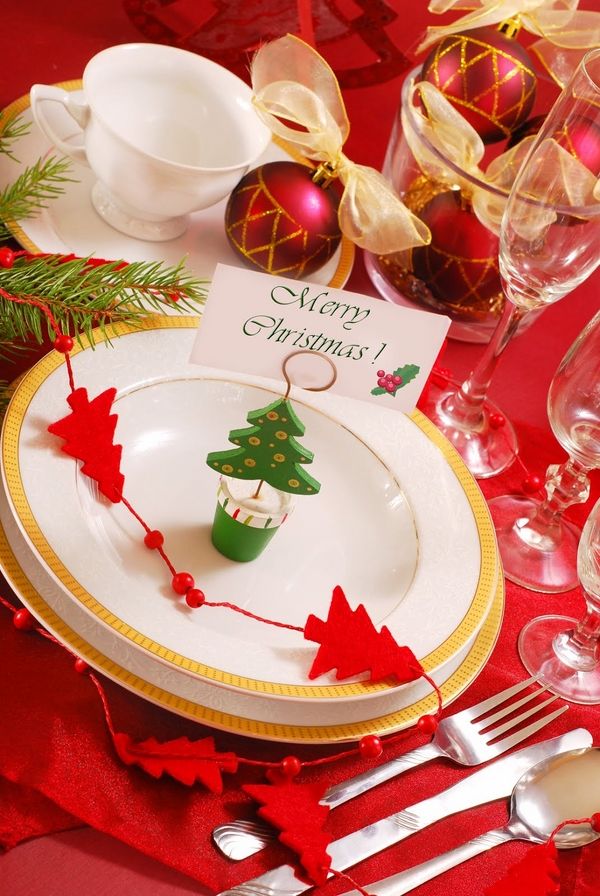 As the millennium approaches its sixteenth year, there's no denying that styles have changed. The latest trends revolve around complex simplicity, i.e. minimalist design without sparing any of the attention to detail that traditional decorating styles emphasized. The majority of modern Christmas styles in 2015 still incorporate the classic traditional colors of red and green with accents of gold, though the execution is less cluttered. Instead of a large tree, for example, many have tried out alternative trees from branches or lights. Glass containers filled with ornaments and stringed lights, beads and white ornaments on the tree and simple pops of color.