"Attention Holiday Readers!" One of the best ways to get into the holiday spirit is to bedazzle your home for the holidays with Christmas decor. Many of you spend a great deal of time and effort decorating the inside of your home for the holidays, well, this article seeks to encourage you to expend the same amount of effort and time decorating the outside of your home. This is going to show you how to make Christmas decorations to complement your home's natural aesthetic. Whether you delight in purchasing handmade Christmas decorations, or enjoy DIY Christmas decoration ideas, there is a project featured here for you.
Spread Christmas Joy Throughout Your Neighborhood With These 50 Outdoor Christmas Decorating Ideas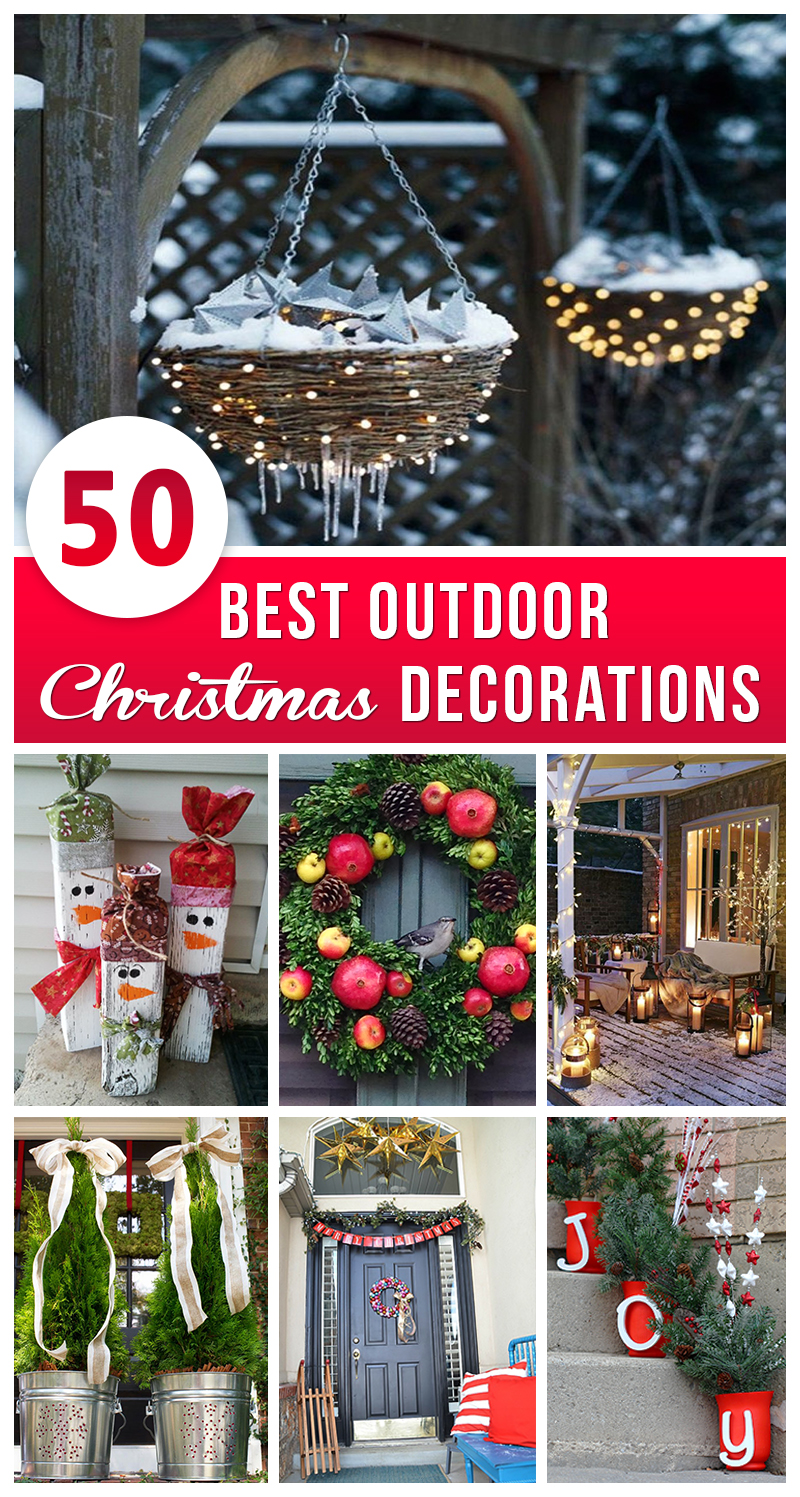 Whether your entryways are in the front, back, or side of your house, you are sure to find great ideas that will light up your home and invite your guests in. Long gone is the simple idea of just stringing outdoor Christmas lights on your bushes, trees, roof, and the windows; this list will give you 50 phenomenal outdoor Christmas decoration ideas that will help you expand your creativity far beyond lights and standard displays.
1. Mini-Christmas Tree On Stoop Or Entryway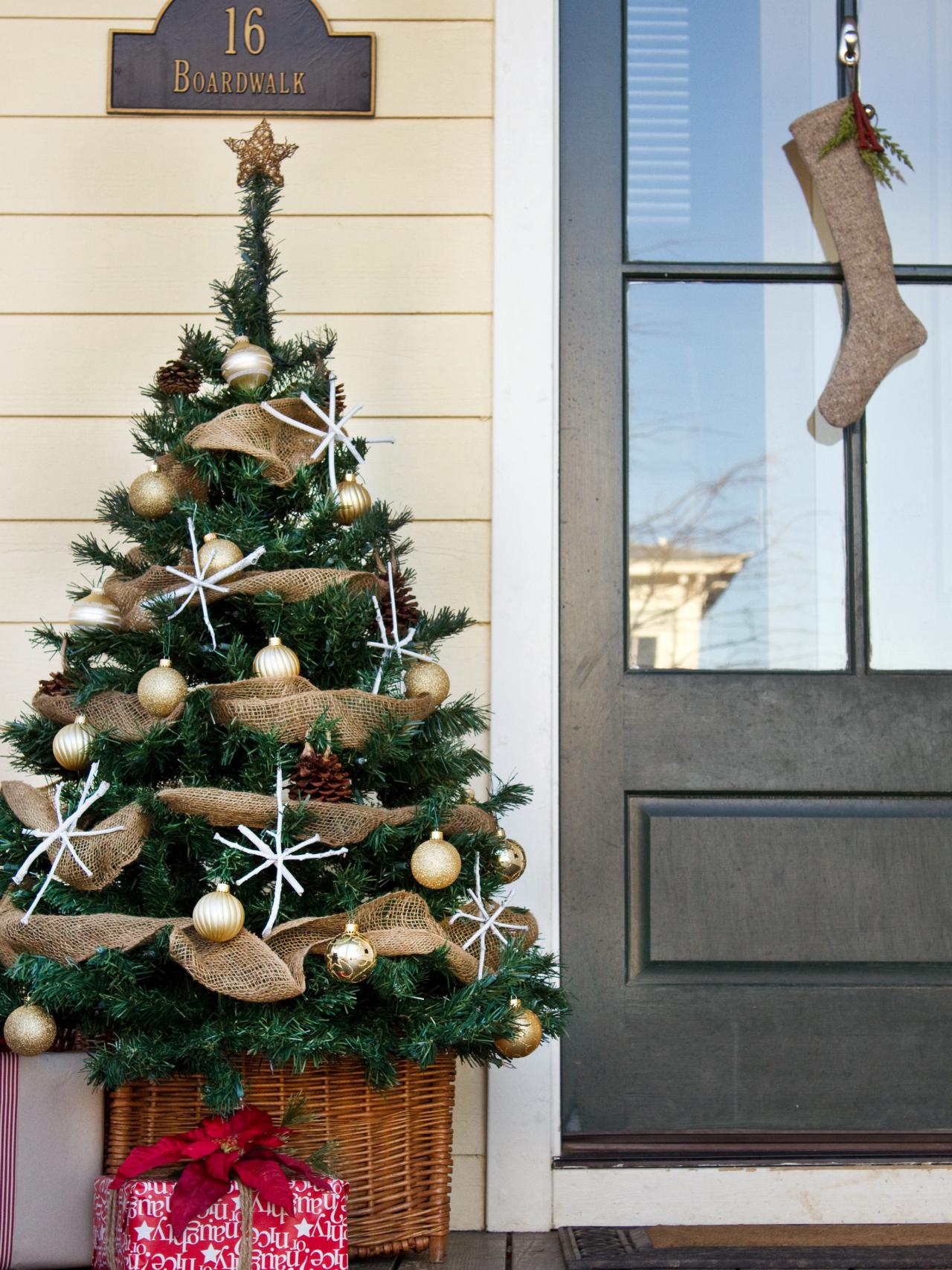 Source: The original source is not available anymore.
Decorated in luscious green and sparkling gold, this idea brings the inside outside, by featuring a mini-Christmas tree as it appears inside the home. The mini-Christmas tree is decorated with golden ornaments, gold ribbon, pine cones, and white stars made from rope. Place the mini-Christmas tree in a wicker basket and add a couple of gift wrapped boxes under it, to complete the mini-Christmas tree motif. Don't forget the door. The golden stocking, with cinnamon sticks, a bell, and some green leaves ties complements the mini-Christmas tree linking both looks together.
2. Hanging Lighted Flower Baskets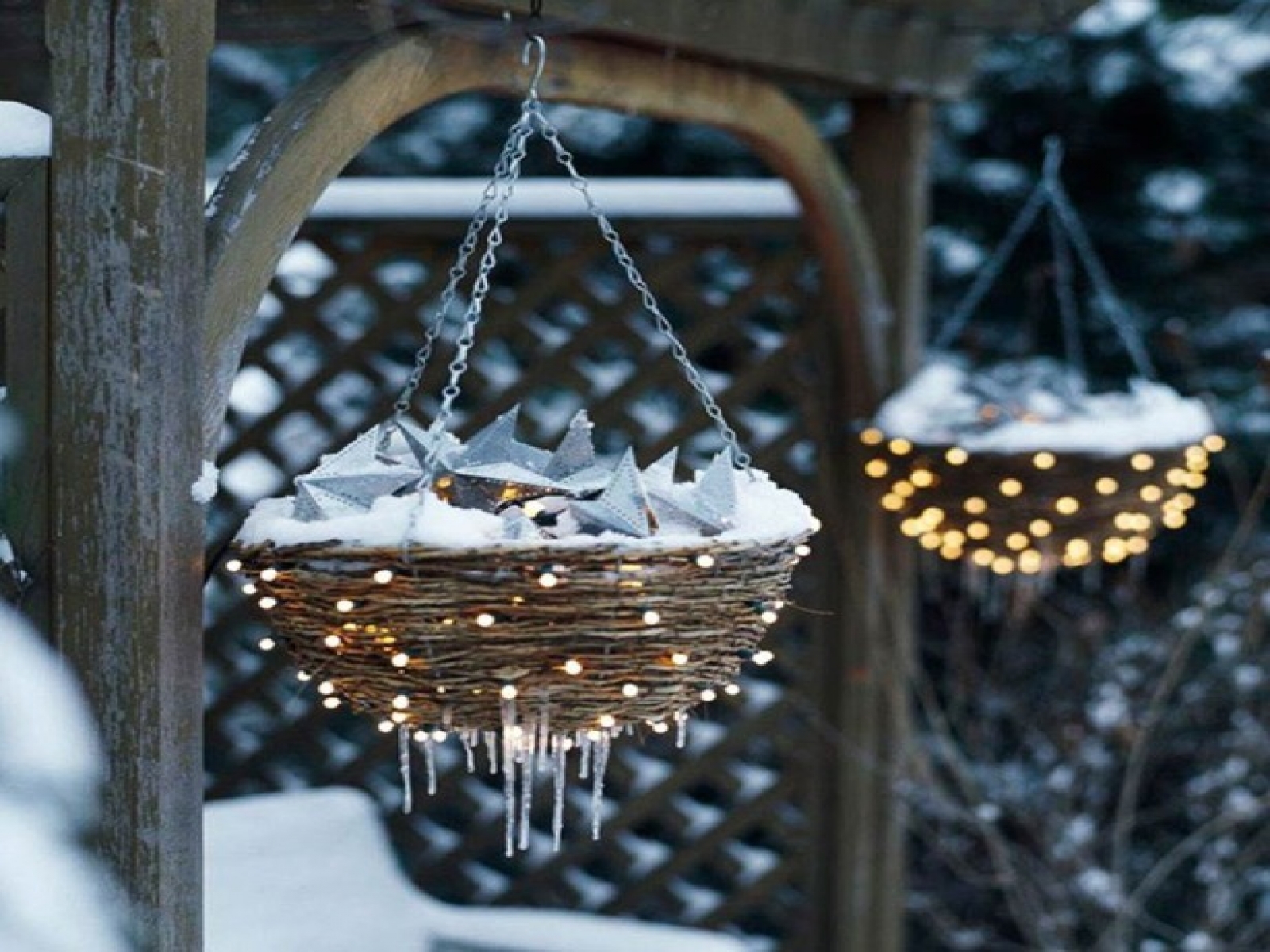 Source: The original source is not available anymore.
Ever wonder what you can place inside a hanging flower basket when the weather gets cold? A novel idea is to decorate your hanging flower baskets by adding lights to the bottom of the basket and filling the inside with a holiday symbol, like silver metal stars, as shown in the accompanying picture. This idea can be used in as many hanging flower baskets as your porch, balcony, deck, or patio can handle. By using existing baskets you save money and they that can be easily adapted to accommodate your spring plantings once winter ends.
3. 4×4 Snowmen Christmas Decoration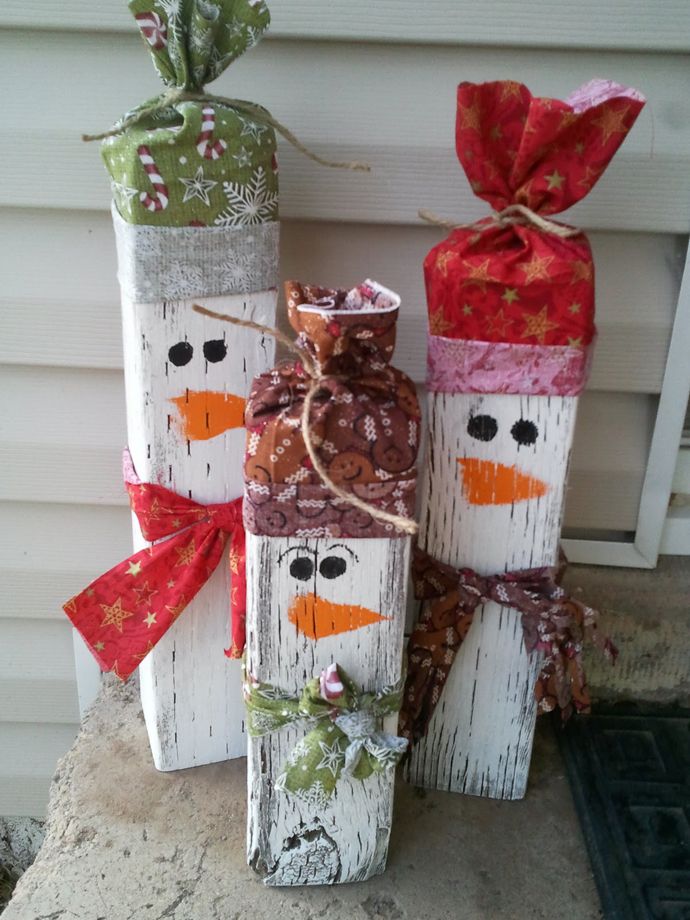 Source: The original source is not available anymore.
Like the three kings, snowmen should be displayed in a set of three. These snowmen are made from repurposed 4X4s painted white, with painted black eyebrows, eyes and even an orange carrot shaped nose. Adding visual interest and tying into the Christmas theme nicely, the snowmen hats are made from three gift bags, tied with ribbons on top and wide ribbons posing as scarves. Great for stoops or small entryways, this Christmas decorating idea does not need electricity. Make sure you cut the 4X4s in different sizes to give each snowman his own distinctive style and personality.
4. Outdoor Living Room Or Patio Area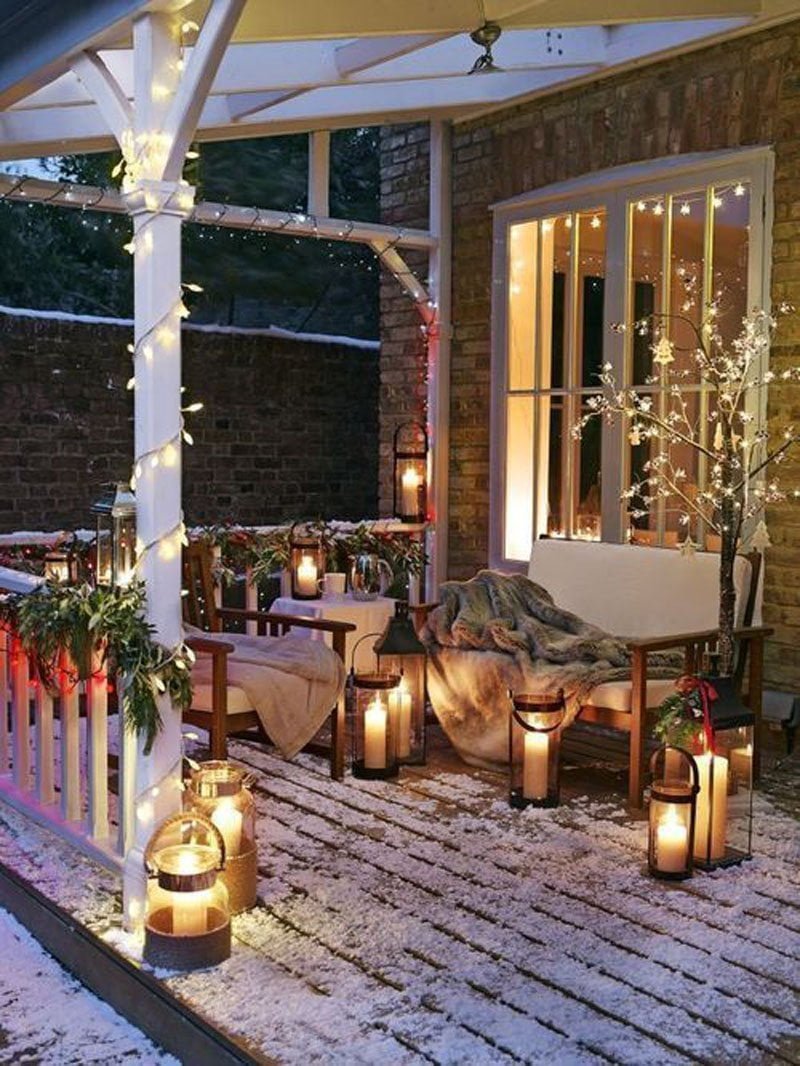 Winter proofing your outdoor furniture does not mean that you cannot decorate outside seating areas. For a dramatic effect, especially at night, arrange throws on covered outside furniture, hang outdoor Christmas lights around posts, shrubs, or plants, and place a dozen candles in glass containers in assorted shapes and sizes – rectangle, round or square shapes – around the seating area. The candles can be a single color or multiple colors. Many craft stores sell battery operated lights that can be used instead of lighted candles to keep the area safe for children and pets.
5. Pair of Boxwood Globes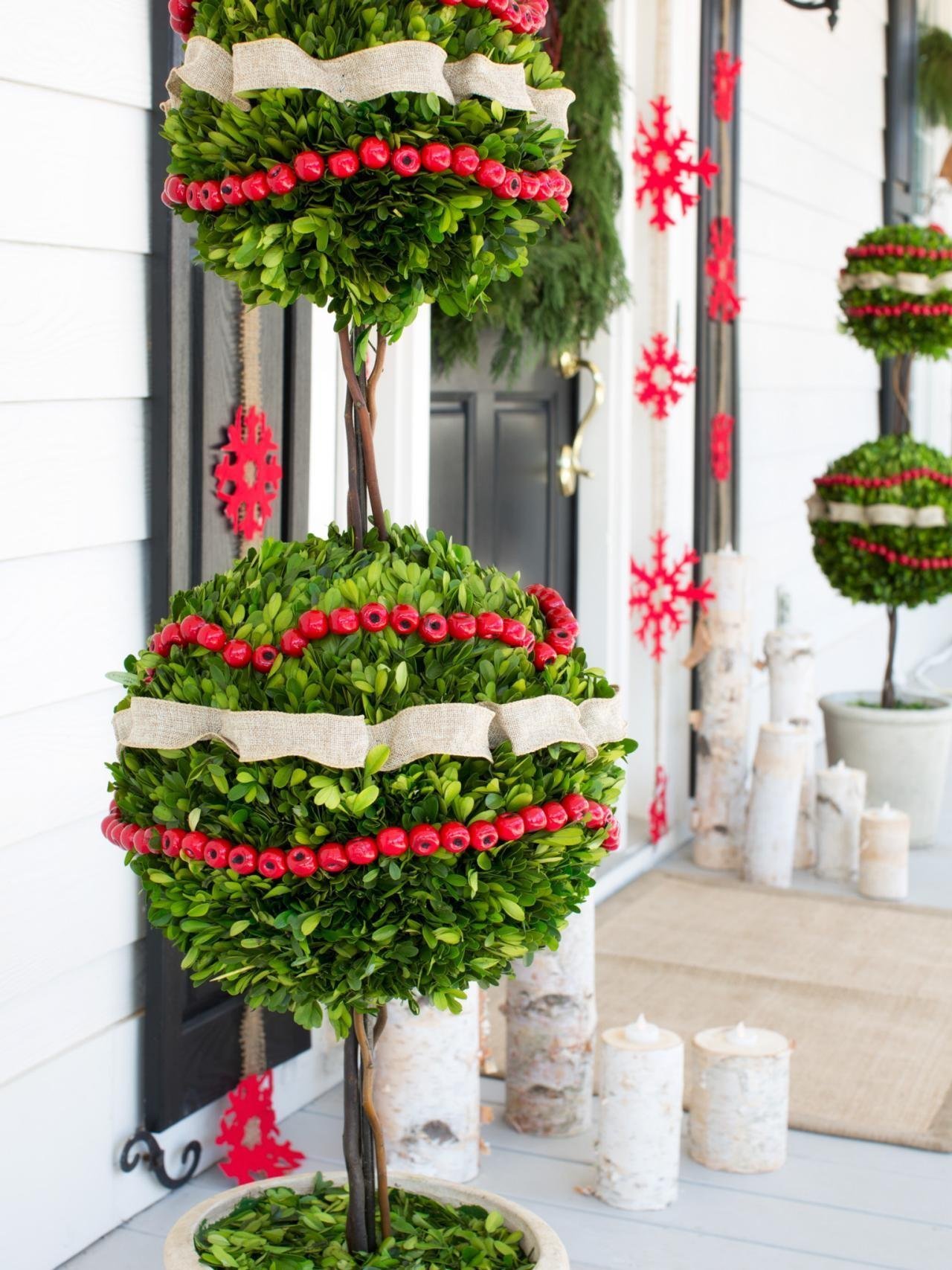 Source: The original source is not available anymore.
There are some evergreens, like boxwoods, that maintain their leafy green hues throughout the winter. In this example, the two entryway pieces are decorated with ribbons made of cranberries and cloth. This is an inexpensive and low tech way to add a holiday theme to your entryways. The matching red hanging snowflakes, that mimic falling snow, is a nice touch and can be made from felt or rubber to bring out the red cranberries in the boxwood planters. Placing the fallen leaves at the bottom of the pot help keep the area neat and green.
6. Leafy Green Doorway and Wreath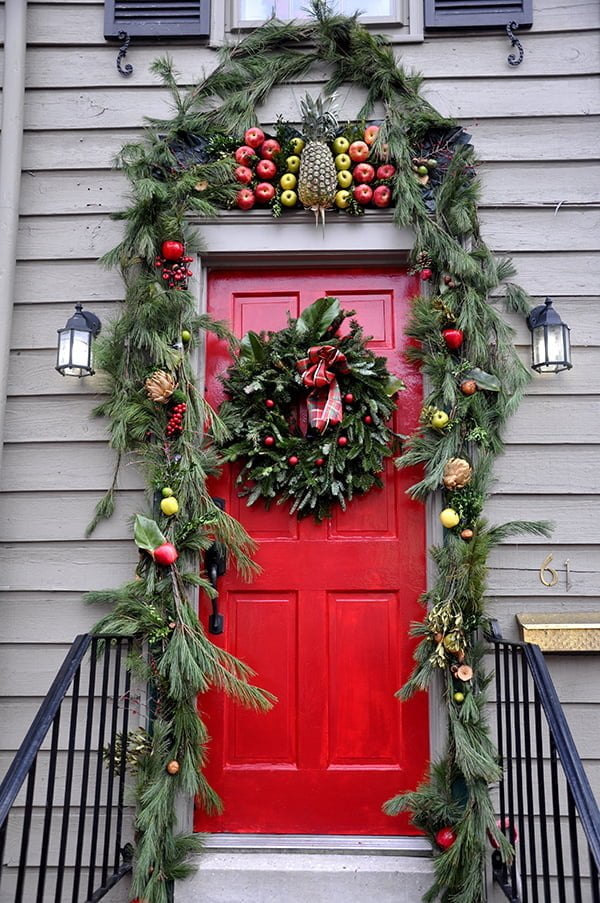 This is a great project for a patient person. The leafy pine leaves that adorn the doorway are hung in an upside down "U" and match the green leaves in the wreath. Displayed against the backdrop of the bright red door, the fresh leaves will provide the area with a fresh pine scent. Add plastic fruit ornaments like red and green apples, pineapple, cranberries and dried artichoke to the door decoration, remembering to bring over some cranberries to the wreath to tie the two decorations together. Don't forget to add a festive holiday bow.
7. Holiday Welcome Bench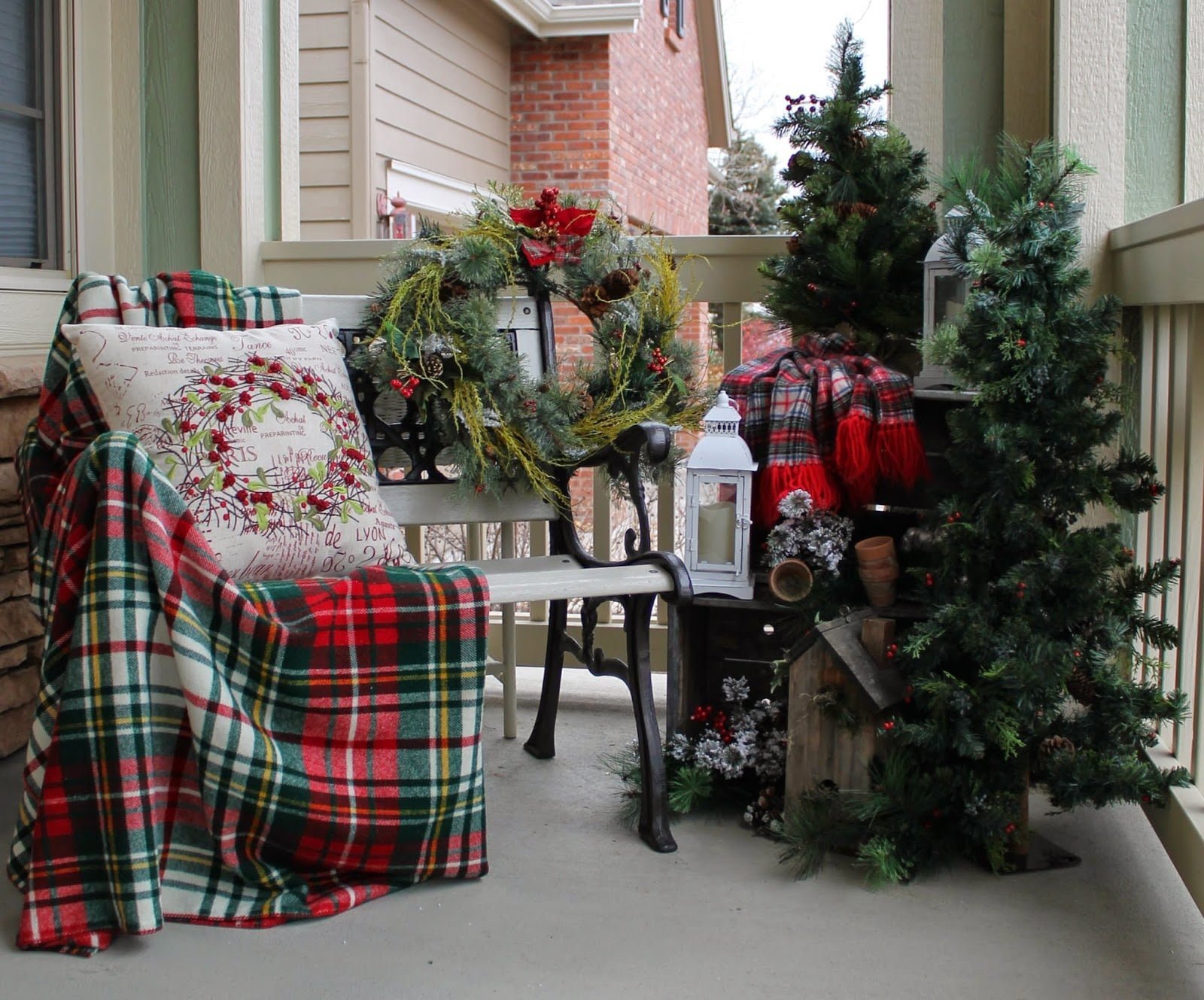 Decorate an outdoor bench or porch seating area by laying a cozy and colorful plaid caftan and seat cushion on the bench. If space permits, place a wreath at the opposite end of the bench. Delight your seated guest with a decorated wooden shelf. In this idea, two Christmas trees act as the "bookends" to the wooden shelf. The shelf contains lanterns with candles, flower arrangements which can be natural or plastic, and even a birdhouse. The Christmas trees are minimally decorated with red berries highlighting the red color of the caftans and tree skirt.
8. Snowman Buddies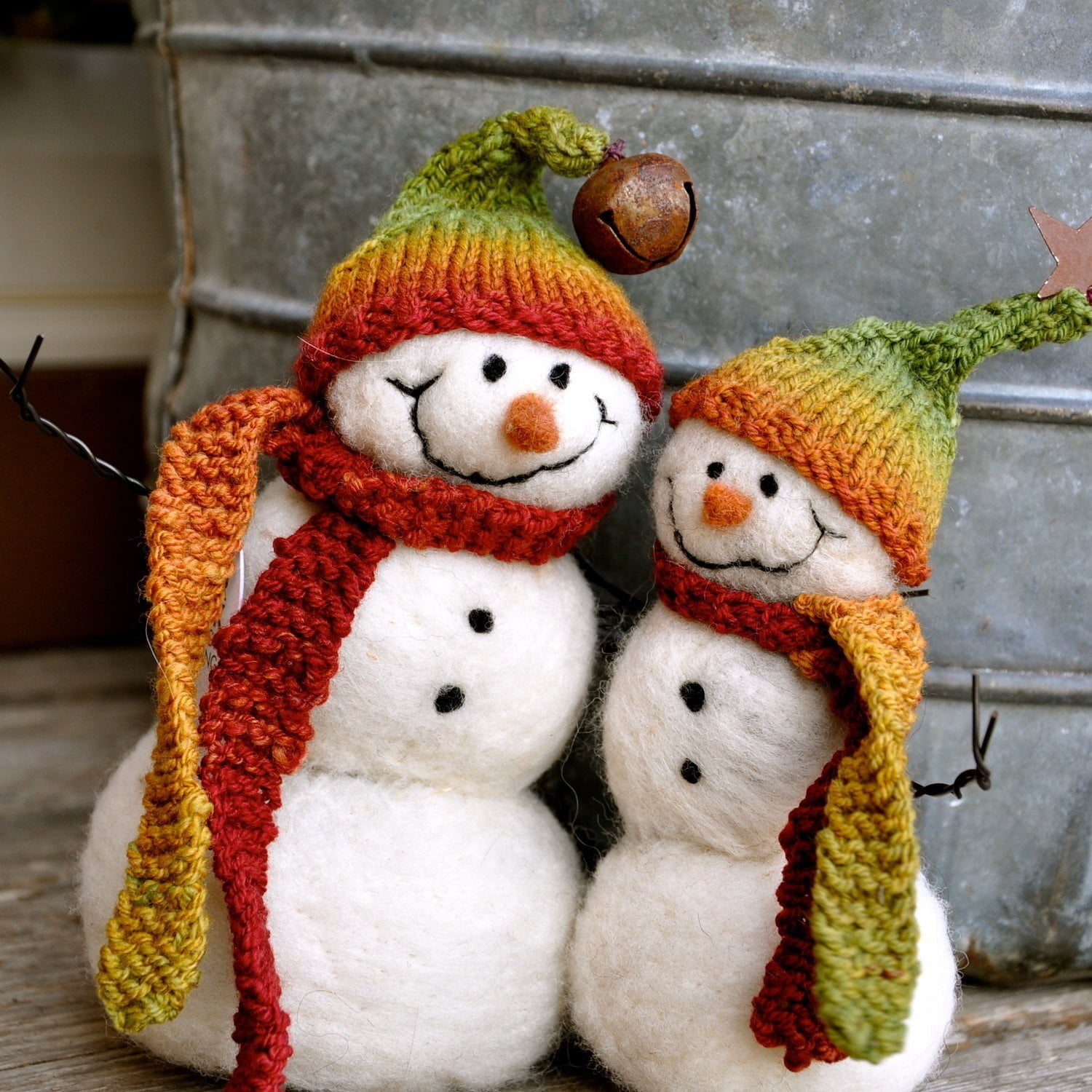 This pair of friendly snowmen look like they are posing for a picture or leaning in to talk with each other. Made from large cotton balls, the size of a grapefruit, orange, and lime, the snowmen pair are wearing knitted scarves and hats with a copper bell and star ornament at the tip. The eyes, mouth and chest buttons are made using black yarn. The nose is an orange yarn. For arms twist wires and leave ends open, like a hand. Place the arms in the middle ball and place the hand of one snowman around the other.
9. Lighted "FAMILY" Sign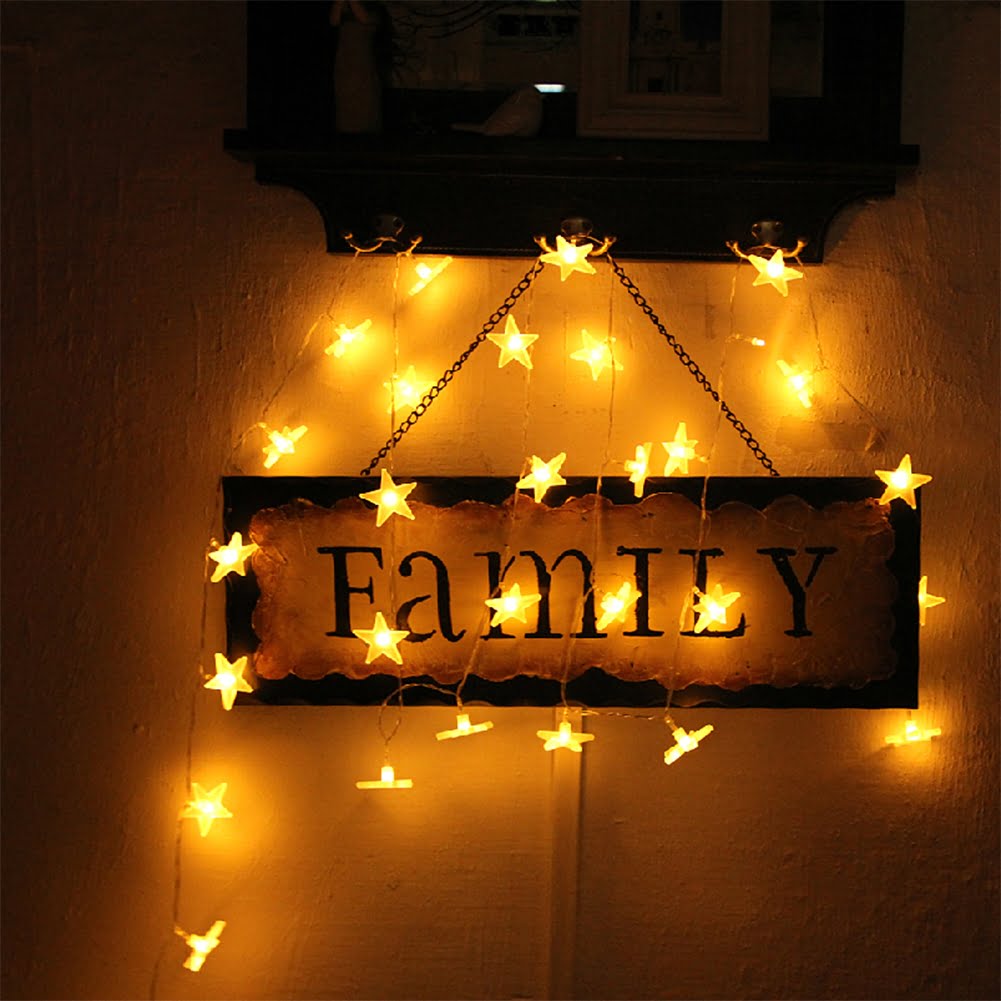 Source: The original source is not available anymore.
A nice way to display a holiday message is to hang it in a framed sign outside your home using lights. Since making a sign out of electric lights is difficult, and the mission here is to discuss DIY Christmas decoration projects, you will need to resort to the low fidelity splendor of electric Christmas lights to create the lighted portion of this project. Like in this idea, find festive electric lights you can drape around a framed sign with a holiday message. Here the message FAMILY is featured with star lights hung beneath a window.
10. Joyful Steps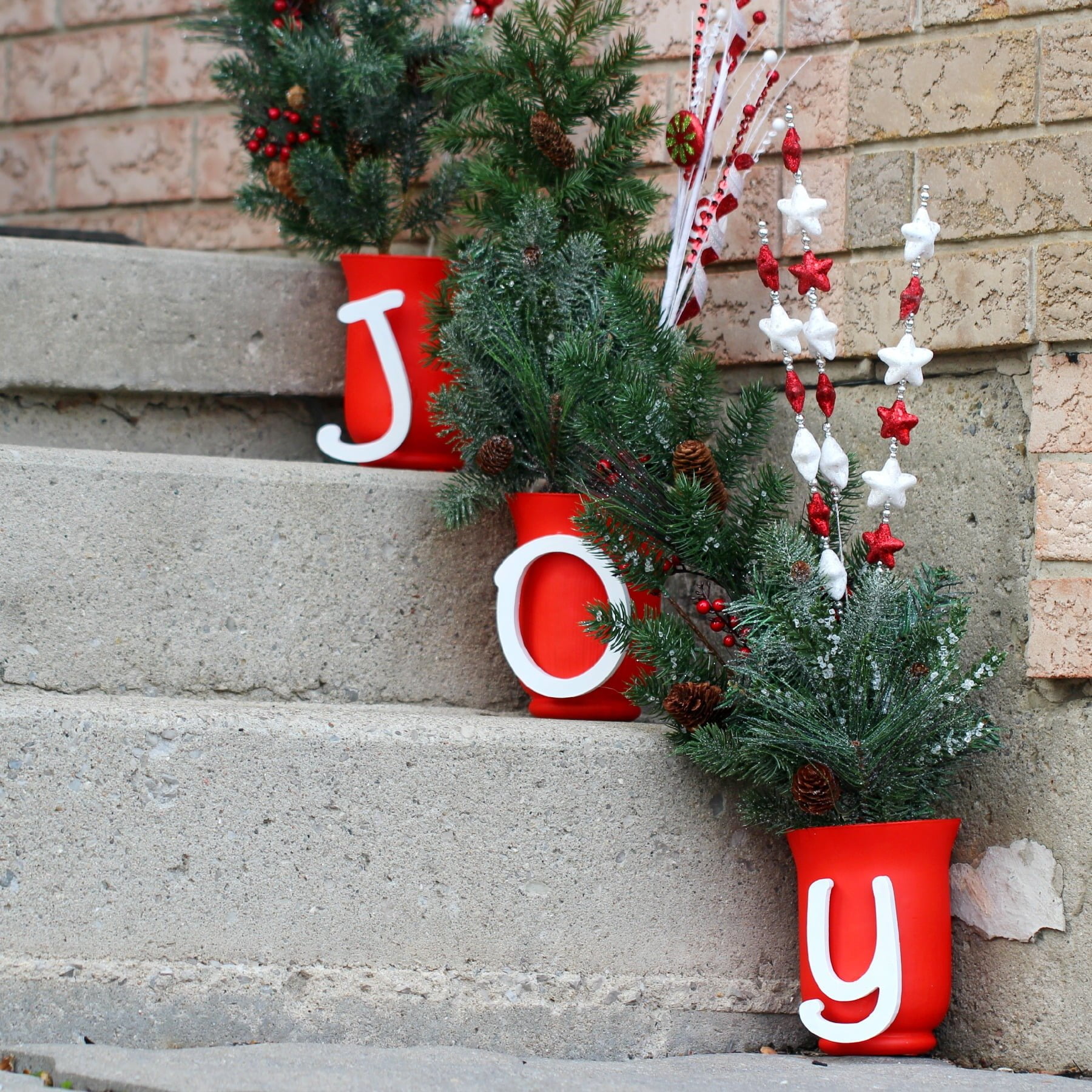 For those of you that do not have a porch but rather stairs that lead into your home or landing decorate the entrance by placing a message up the steps for your guests and family to enjoy. These steps are decorated with three red potted plants placed on each step and ornaments and decorative features in red and white to bring out the lush green of the plant foliage. The message of "JOY" is displayed by placing one letter on each of the potted plants in white. The touch of cranberries and pinecones offer a joyful touch.
11. "FA LA LA LA LA" Sign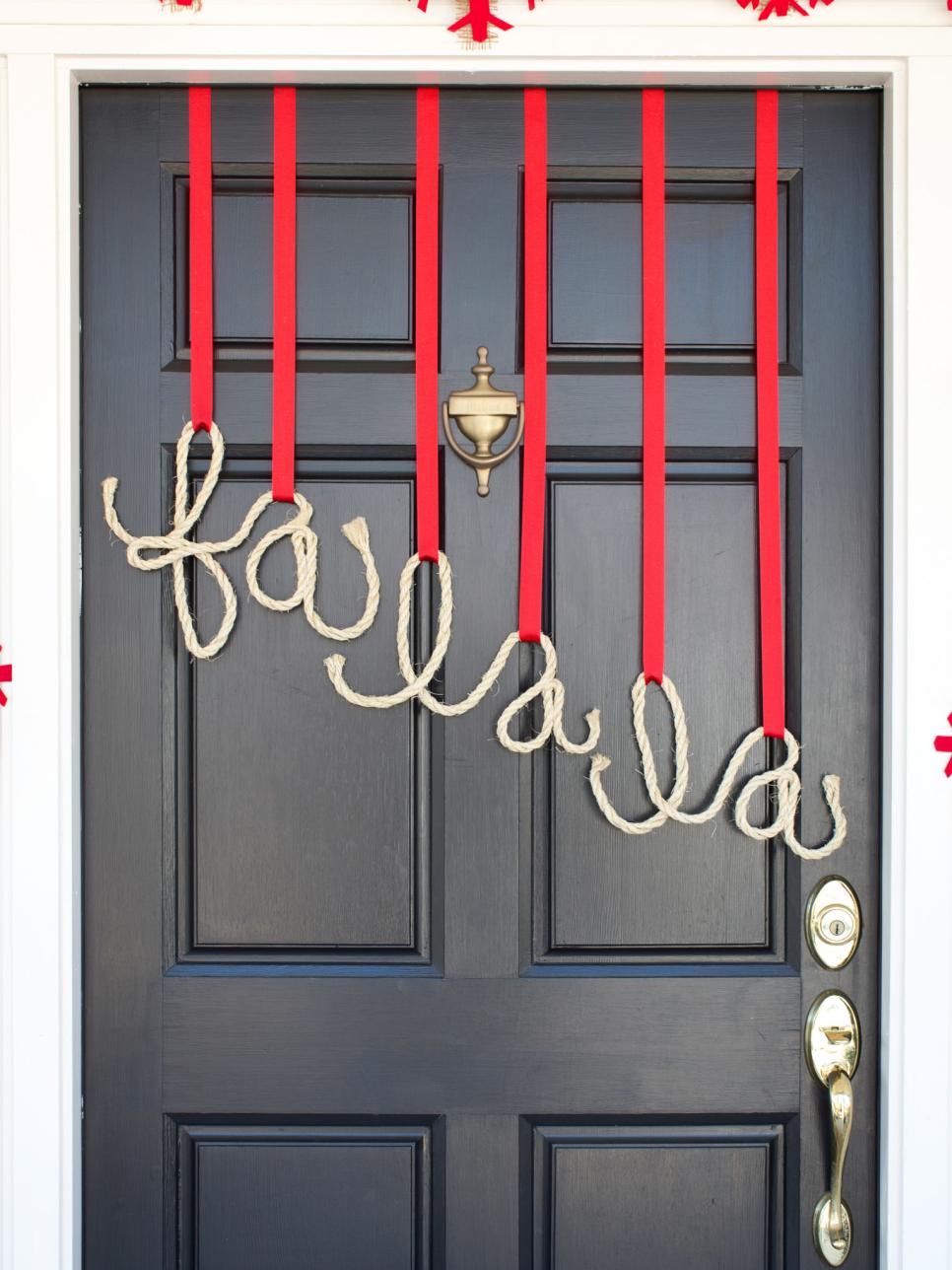 This is a great decoration idea for an apartment door or person who lives in a brownstone or row house with a stoop for an entryway. Take musical note sounds and string them up with bright red ribbons. Hang them over your door and display a holiday message while invoking a beloved Christmas Carol. In this Christmas crafts idea, each letter is made with a rope and featured in a scripted pair but hung individually and secured on the inside of the entry door. The combined letters say "fa la la."
13. Spread Wreath Love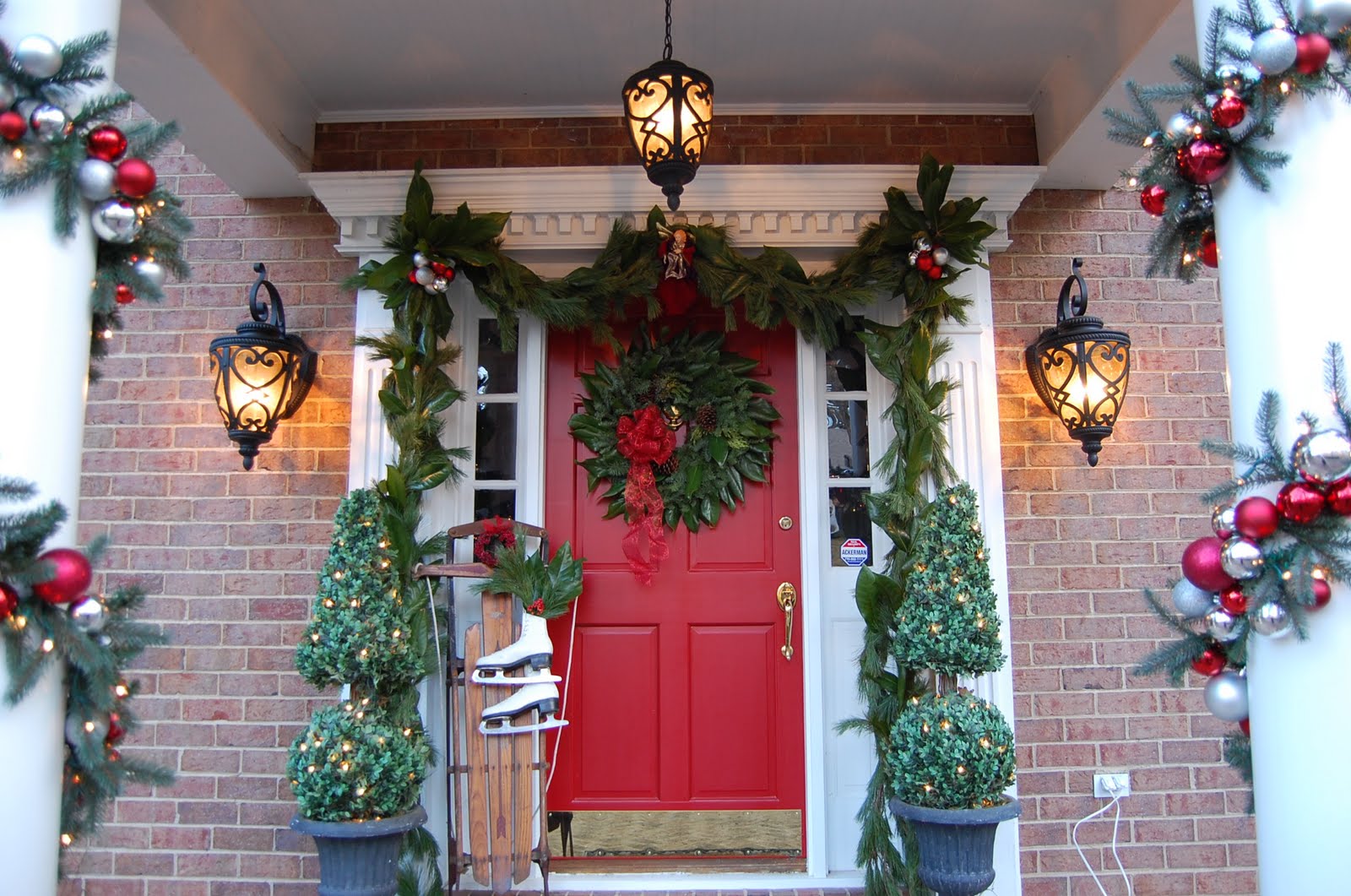 Source: The original source is not available anymore.
This Christmas decor idea works best with large entryways or covered porches. It decorates the door, door frame, and porch columns. The sled and attached ice skates focus attention on two great winter or holiday activities: sledding and ice skating. The door wreath, porch column decorations, and doorframe decorations use the same greens and are minimally decorated. The wreath has a big red bow while the doorframe decoration contains two red and silver globe ornaments on each side. The columns go a little wild with red and silver ornaments running the length of the wrapped column.
14. Winter Directions Signs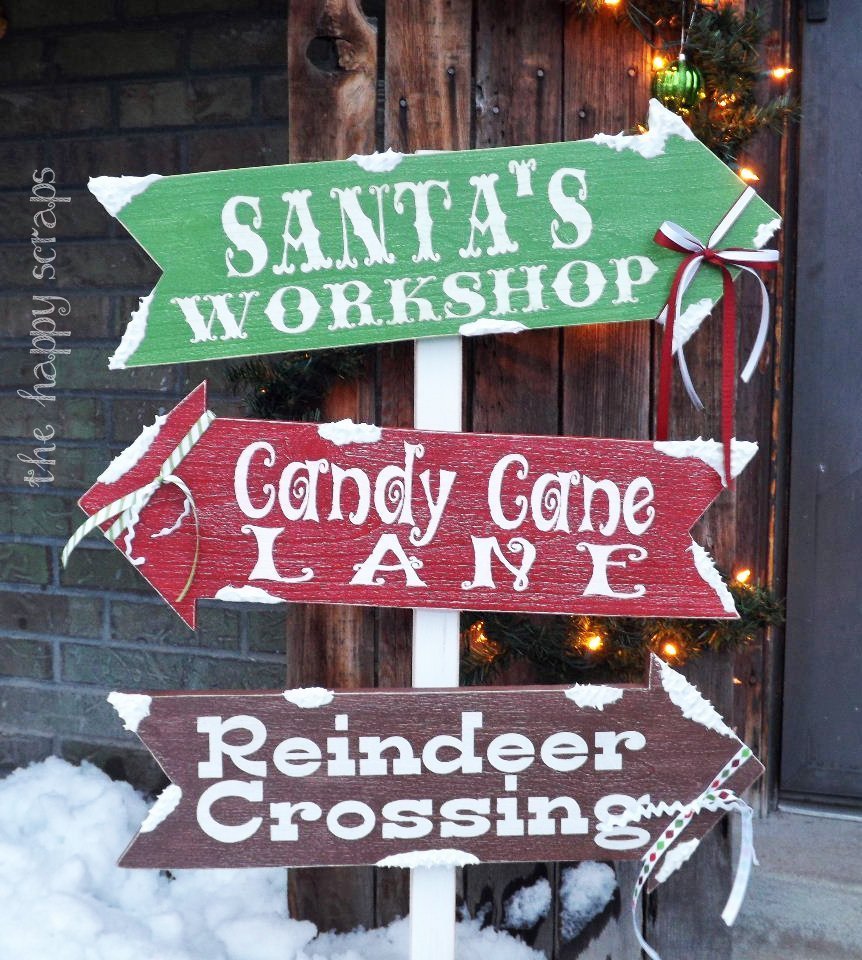 These three signs use red and green colors with white lettering to list key holiday destinations. The wooden signs shaped like an arrow point people in different directions and contain the phrases "Santa's Workshop," "Candy Cane Lane," and "Reindeer Crossing." Help holiday goers get to their destination by placing these outdoor Christmas decorations on your lawn or main house entryway. Add ribbons and strings to the signs to bring attention to them, making it fun to read by your children and neighbors. And in case Santa gets lost, your signs will point him in the right direction.
15. Yuletide Votive Logs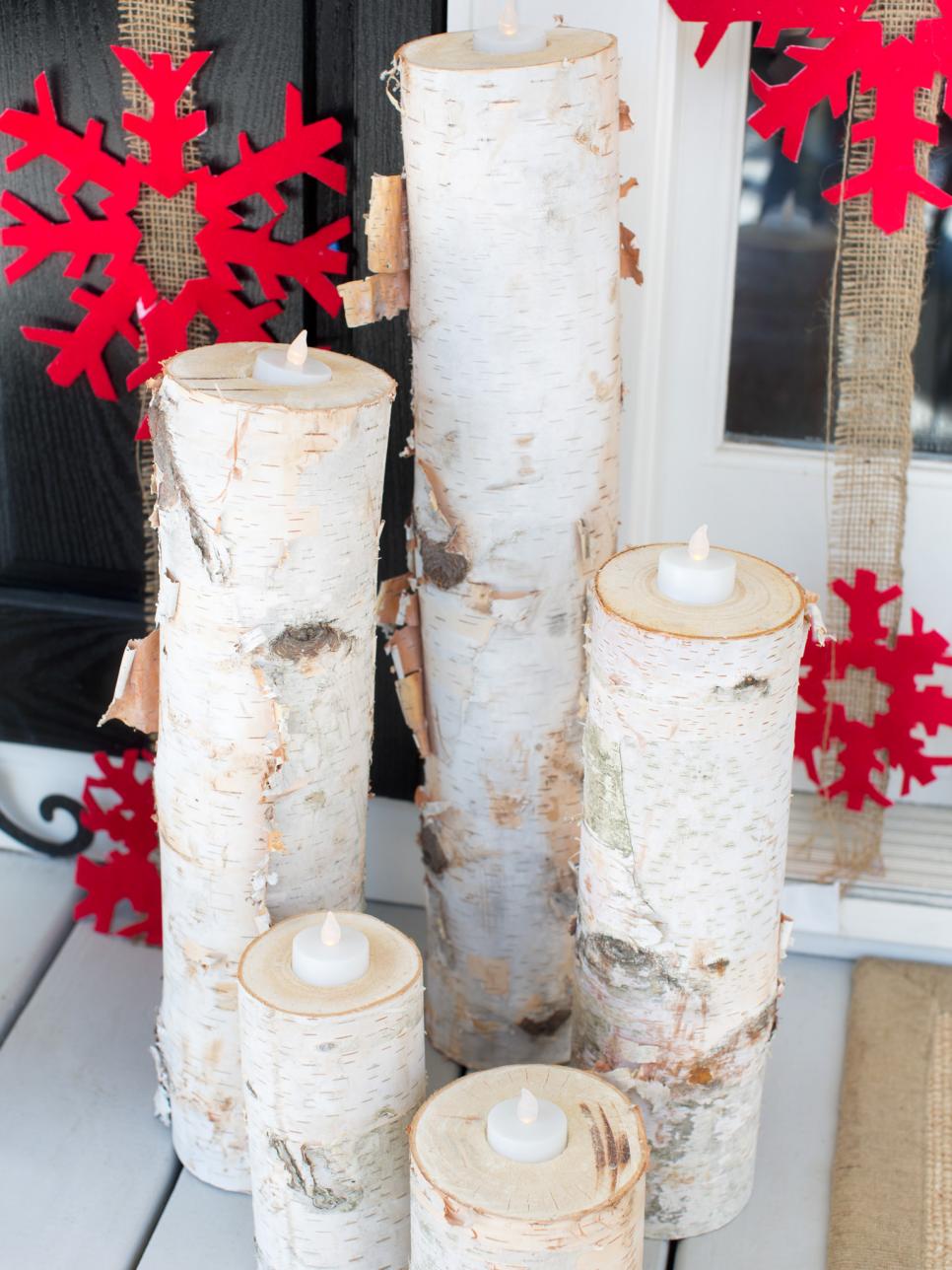 This idea uses logs found in your fireplace or outdoor log storage area to create a lighted Christmas decoration. Carve out holes on one side of the log and place a votive candle in the middle of it. The candles can be the same color or various colors. They can be lighted with matches or to protect your children and pets battery operated. Simply slide the switch and illuminate your entryways with these holiday lights. This decoration can stay out past Christmas and be a winter decoration. Once finished, the logs can be recycled.
16. Poinsettias Galore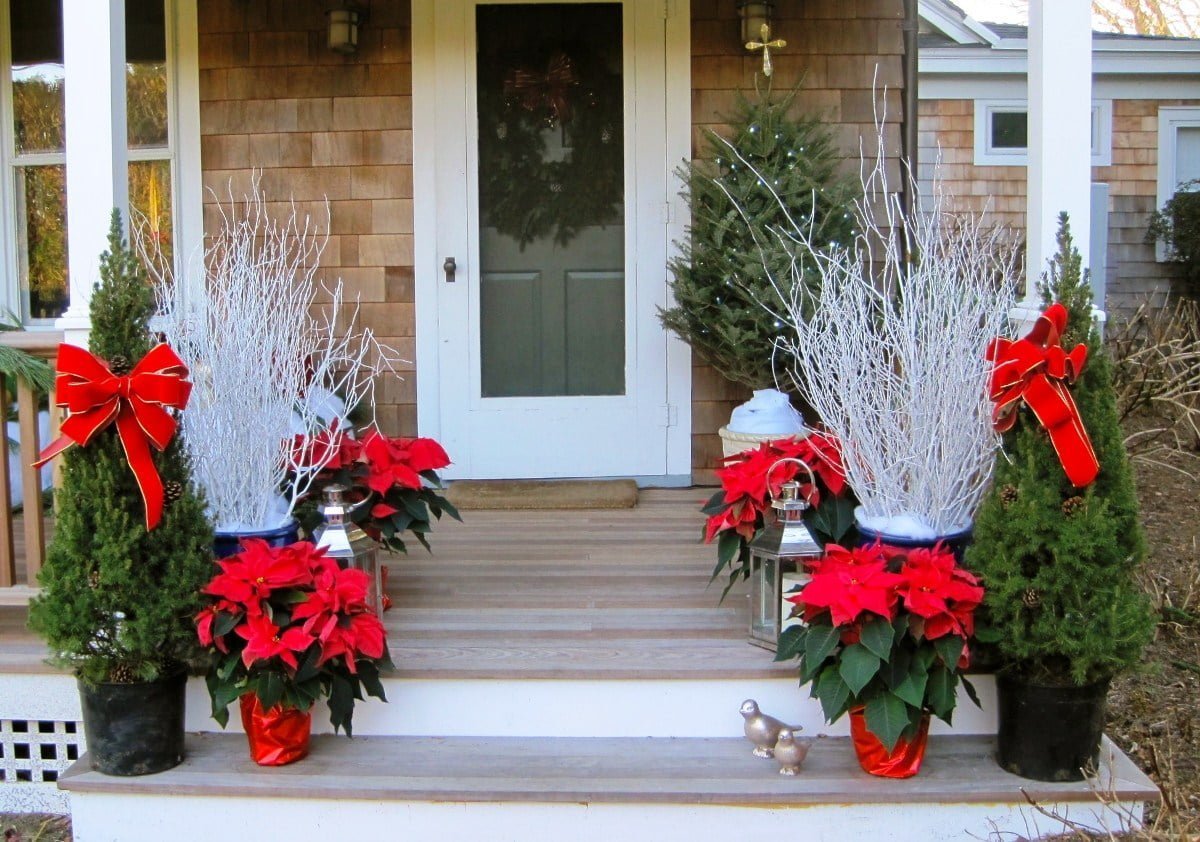 Source: The original source is not available anymore.
These Christmas outdoor decorations combine many elements to illuminate and decorate steps leading into your home. In this idea, the outdoor Christmas decorations come in pairs – the boxwood trees, the white branches, and the glass lanterns are displayed on each side of the staircase. Since the focal points are the bright red poinsettia plants, place four of them on the steps, two on each side. Tie your looks together by placing red bows, the same hue as the poinsettias, to each of your boxwood trees. You can spray paint the branches white to create the look featured.
17. Framed Entryways Outdoor Christmas Decoration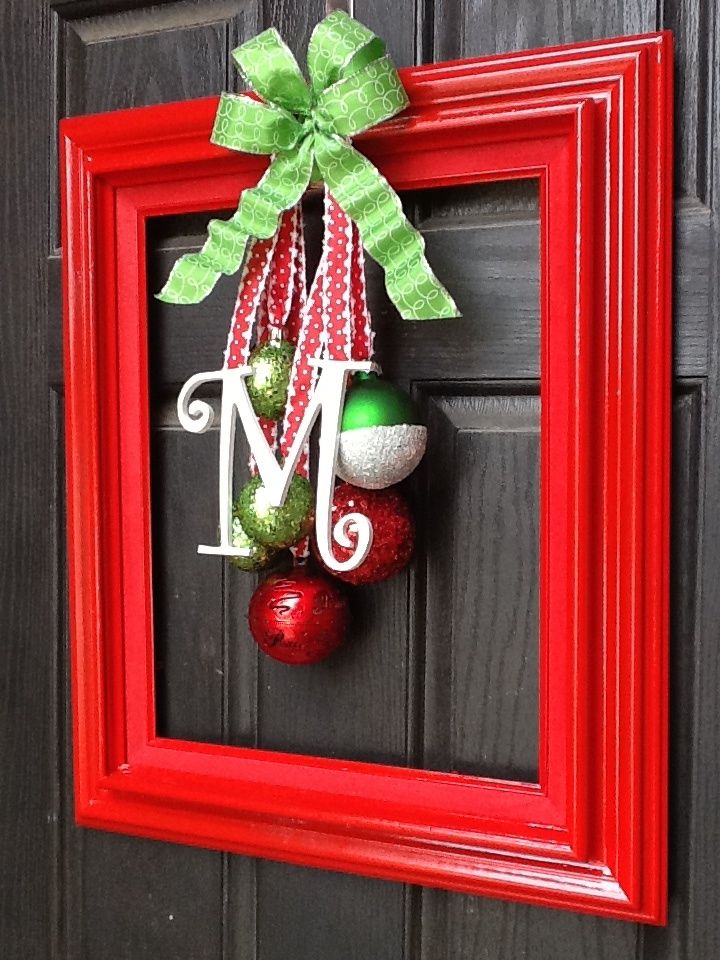 Source: The original source is not available anymore.
For those looking for an idea to mix up the traditional hanging of a wreath on their home's entrance door, hang a frame in place of a wreath and adorn accordingly. Find an old frame at a garage sale and paint it bright red. This will function as the wreath frame. While the idea features a square frame, you can use a circle or oval shaped frame. In the middle display a green bow and hang ornaments down the middle of the frame with bright red and white ribbons. Add your monogram to complete the look.
18. Oh Starry Lights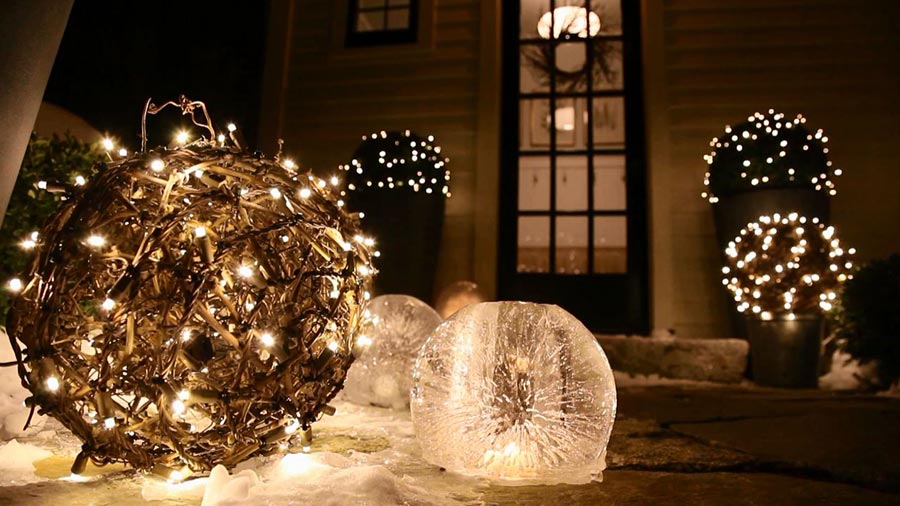 This idea uses objects found in your entryways and then adds several more objects using a similar theme to illuminate dark areas, complement starry skies, and connect you with the winter season. Here, the three planters contain round topiary or shrubs that are decorated with clear lights. Grouped close to the home's entry way the spheres are the shape to follow. The yard contains a large sphere made of twigs that has electric lights strung all over it and two large clear balloons with electric lights inside that create the illusion of large illuminated ice cubes.
19. Cinnamon and Pine Needles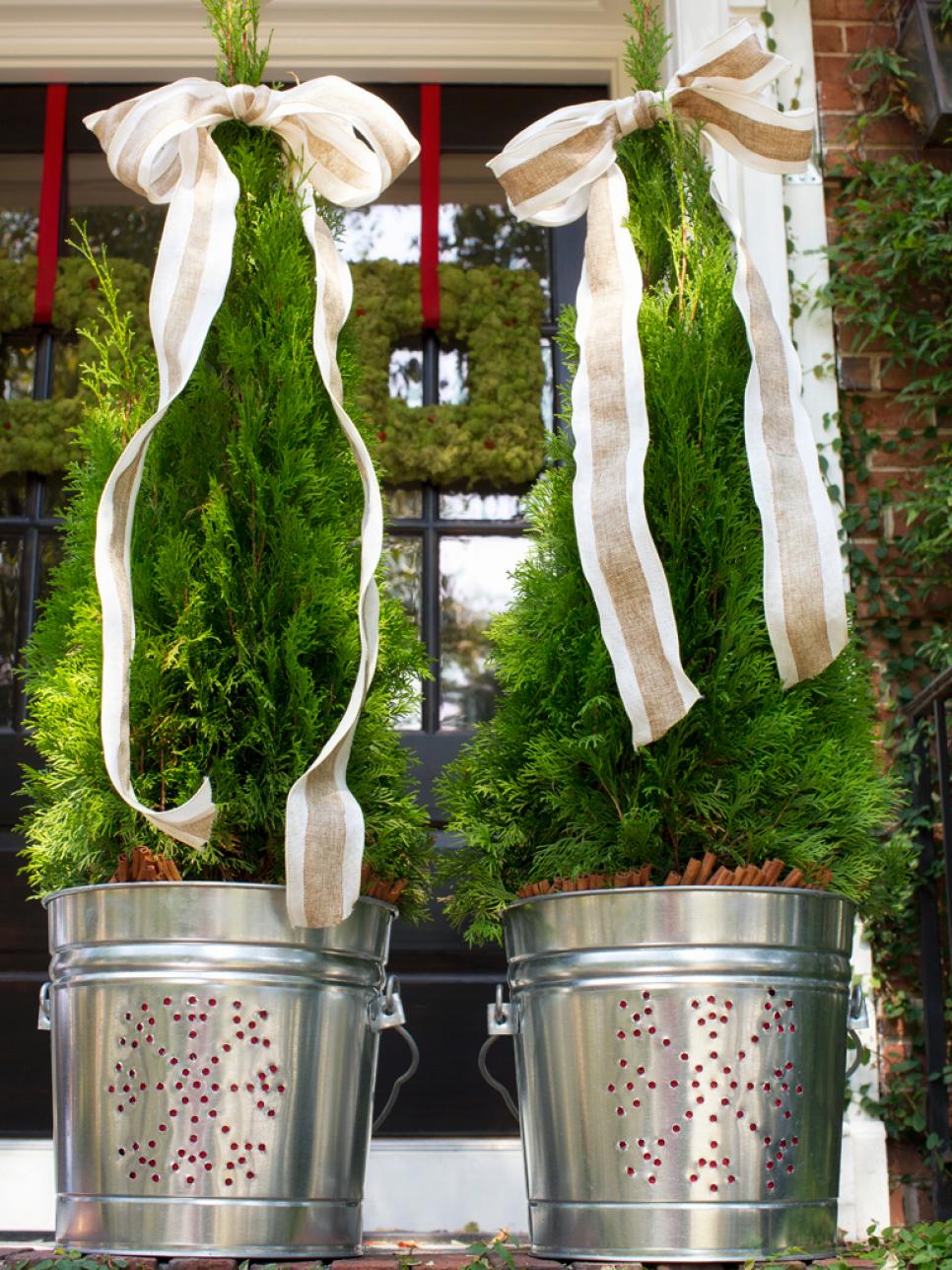 Nothing says Christmas like the scent of cinnamon and pine needles. This decorative touch adds both sensory and visual appeal to your homemade Christmas decorations. From a distance the idea highlights two pine trees, simply decorated with a tied bow and white ribbons hanging down the length of the tree. The trees are placed inside silver metal buckets. Upon closer inspection however, the buckets contain holes punched out to form the image of a snowflake and the top of the bucket is lined vertically with cinnamon sticks, lending a unique sensory appeal to the decoration.
20. Chalkboard Reindeers Christmas Decoration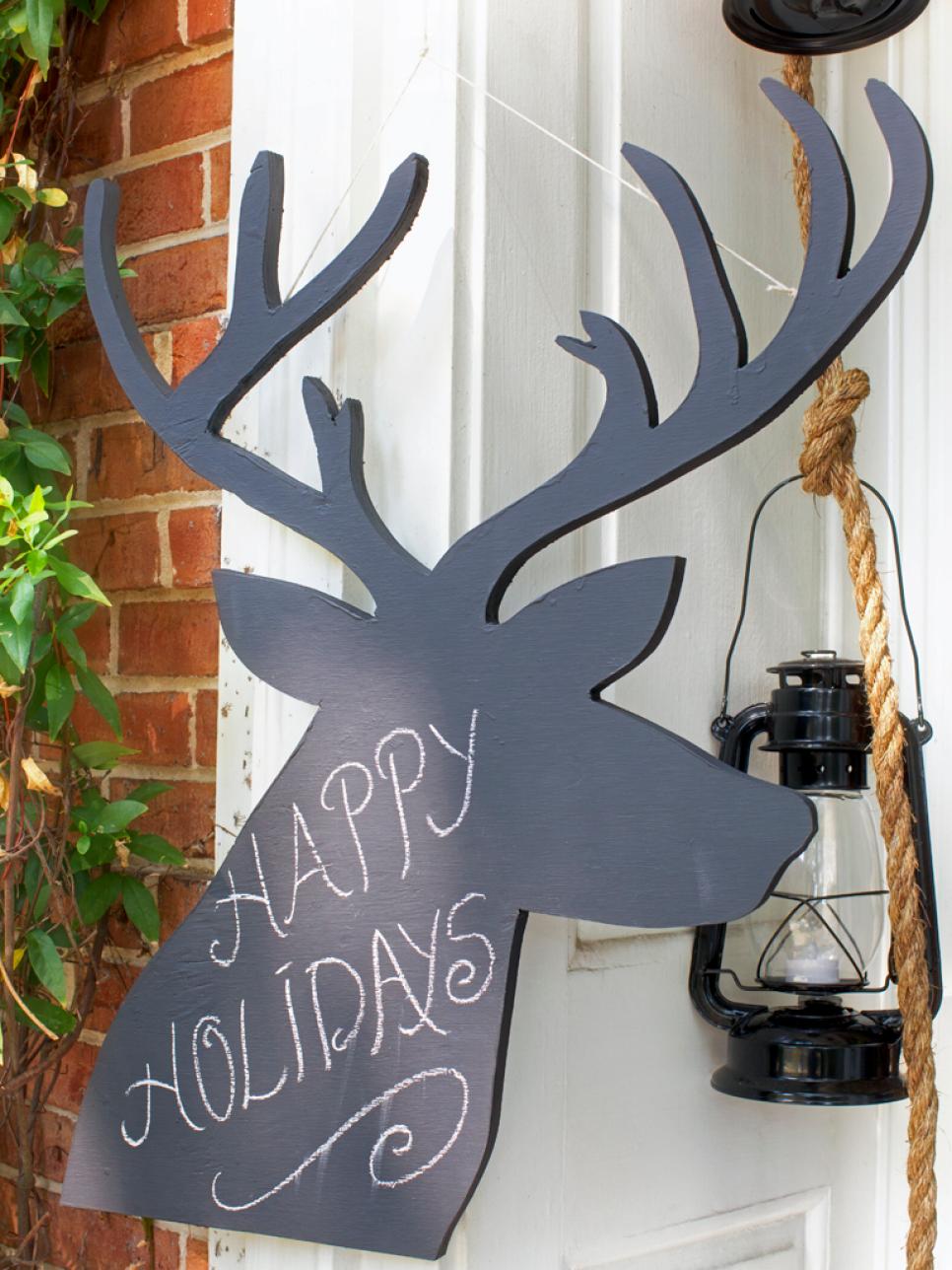 Chalkboards have seen resurgence in home décor. Usually found in kitchen command centers, this idea takes an inside decorating idea and places it outside. You can write a holiday message for your friends, family, and neighbors using chalk. Don't worry though you will not need to lug slate around to make this holiday idea. The chalkboard effect is made by a paint color called chalkboard. Cork, poster board, or cardboard are painted using this paint to create the chalkboard surface. The image comes from a stencil and is carved out using a paper cutting tool or box cutter.
21. Christmas Lights Fantasy Decoration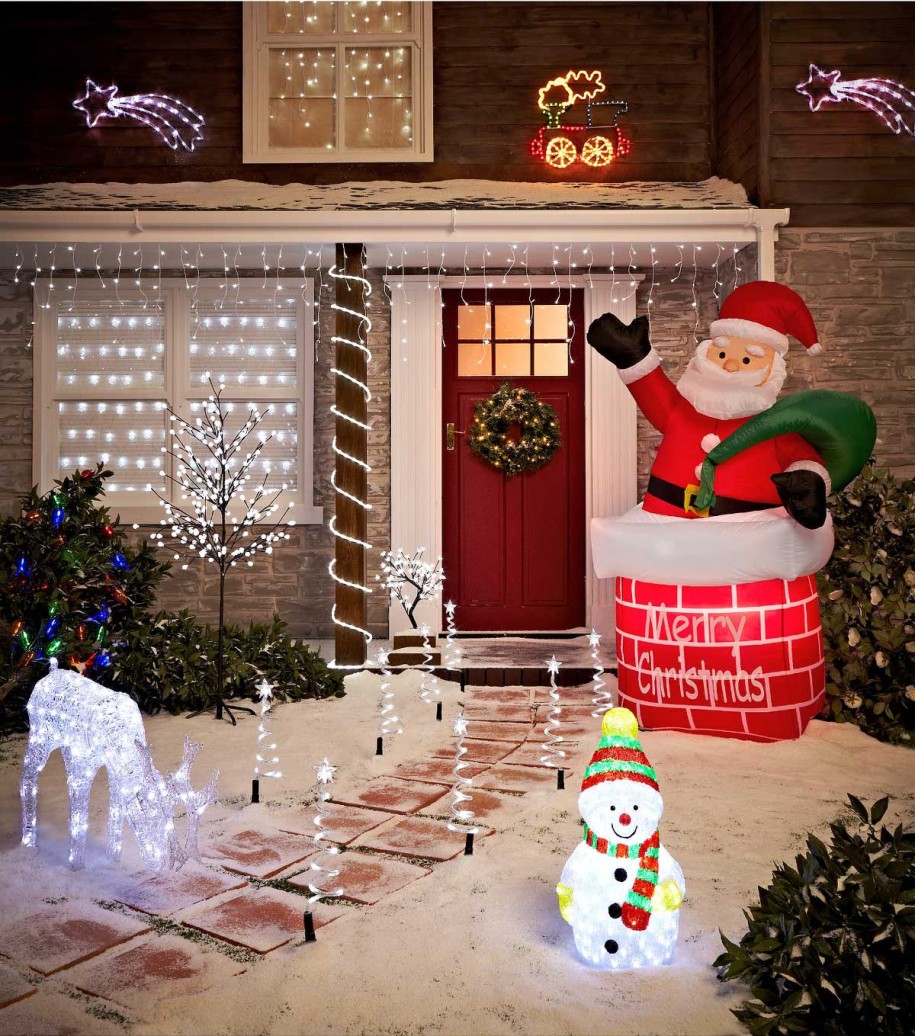 Source: The original source is not available anymore.
One of the neatest things about this idea is that this decoration is premade and lighted Christmas decorations. Your job is to place the decorations in your yard or on your house to create the desired theme. Here the idea is a collection of holiday images, a deer, snowman, sparkly lights on you walkway, and Santa coming down the chimney with a bag full of gifts. Multiple rows of traditional electronic Christmas lights illuminate the windows and columns of the house. The shooting stars and train along with the icicle lights complete this Christmas lights fantasy.
22. A Countdown to Christmas Décor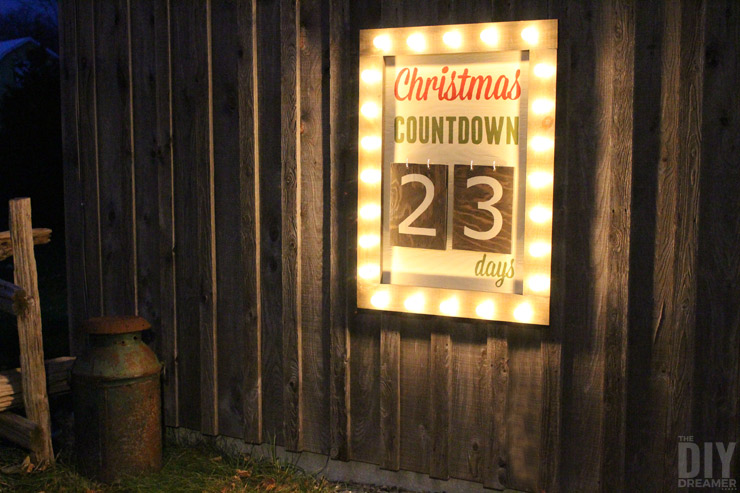 Many of you like to countdown the days until Christmas. This sign is illuminated and framed for display outside. The letters are in traditional green and red, while the numbers are in white with a black background. Make numbers for all the days you are tracking and then remove one of them daily until Christmas Day. You can make the sign using an old frame and adding electronic Christmas lights for night time illumination. A poster attached to heavy cardboard or cork board can be used inside the frame to display the words and numbers. Enjoy!
23. Christmas Wreaths Fence Décor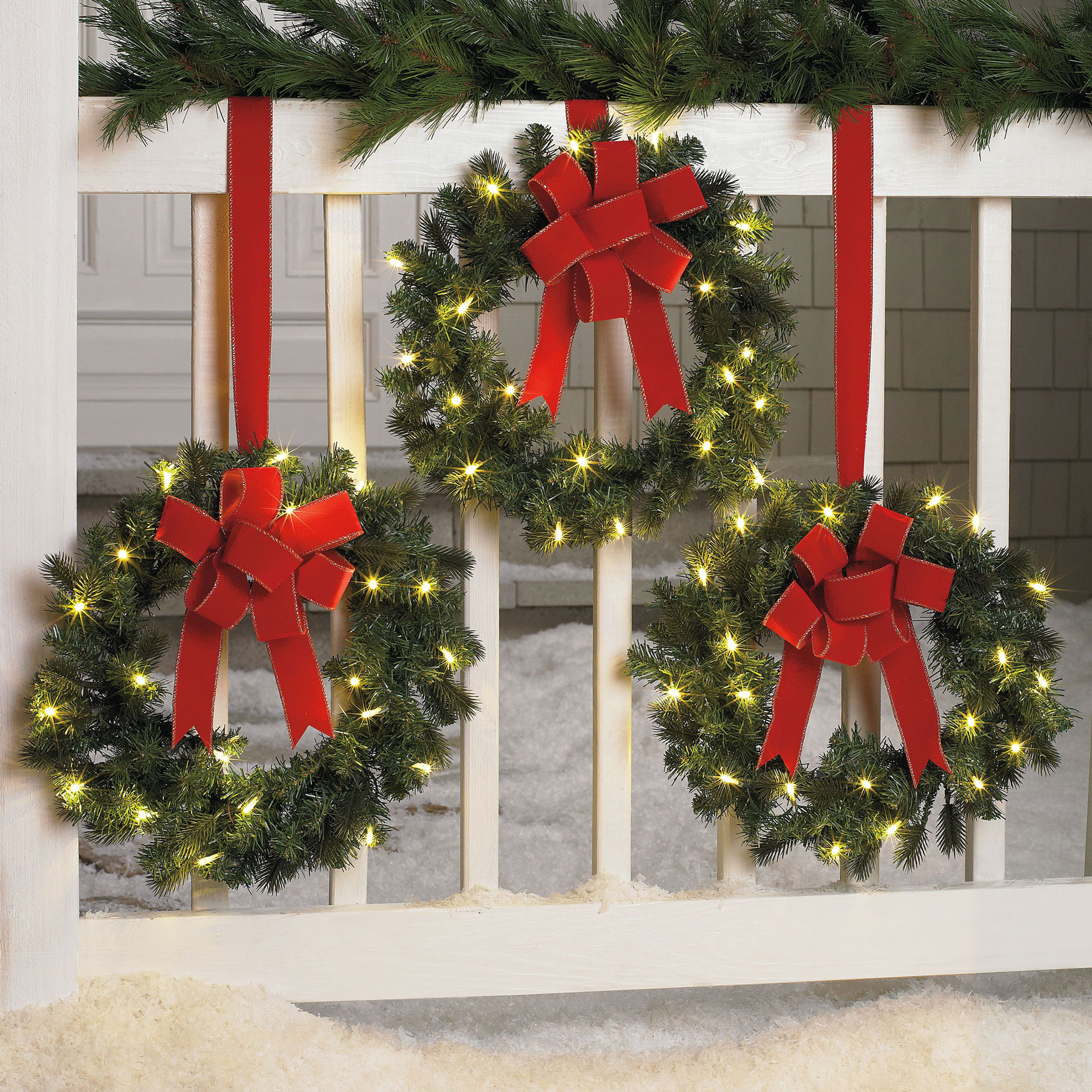 Source: The original source is not available anymore.
Many people hang wreaths on doors and windows, but would you consider hanging wreaths on your fence in your yard or the fence that wraps your balcony? This is a fresh idea for hanging wreaths. This trio of wreaths is simply decorated with plastic wreaths and electric lights for night time illumination. The bright red bow matches the ribbon used to hang the wreaths. Hang at different lengths to create visual interest. Cover the top of the fence with green garland. This idea can also be used to decorate a gate or large doors in yard.
24. Gingerbread Family Outdoor Christmas Decoration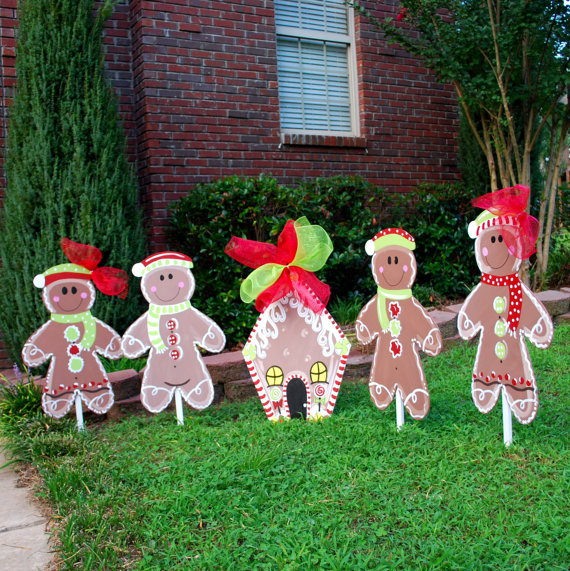 Source: Pinterest
There are plenty of holiday cakes, cookies, and desserts baked and distributed around the holidays. This gingerbread family is a calorie-free delight. Made from cardboard attached to a stick that is pinned into the ground; decorate your gingerbread people to reflect the composition of your family. Use paint or other objects, like candy and ribbons to style your gingerbread and identify your family members. This example shows mom, dad, and the two kids. The gingerbread house, long associated with the holiday, is a treat. Add other family members, pets and friends to create a perfect family.
25. Planter Full Of Christmas Ornaments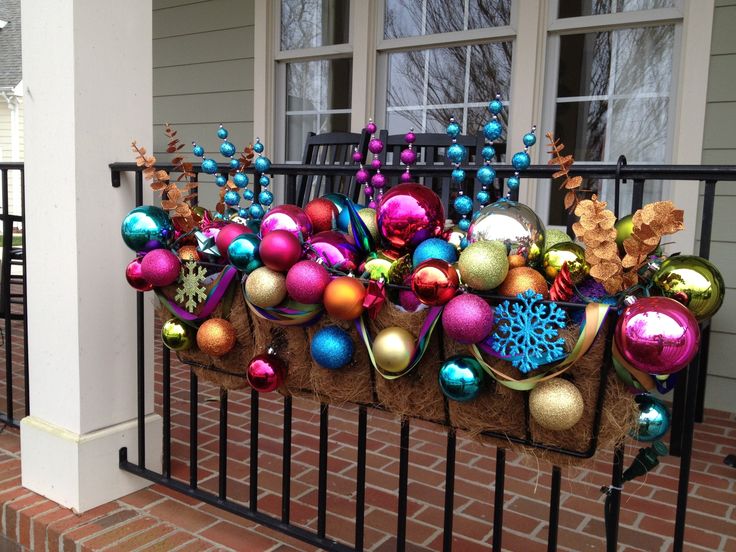 Source: The original source is not available anymore.
Normally, at this time of year, the flowers in a planter would be dead from the cold. Here they are full of life with colorful Christmas ornaments arranged like a gorgeous hanging flower plant display. Place Christmas ornaments in different shapes, sizes and colors inside the planter to fill it and create the illusion of hanging flowers. The top of the planter is filled with ornamental shrubbery giving the display much needed height. Simply glue the ornaments together to create this sculpted look. Use plastic ornaments or shatter-proof materials to avoid messy and dangerous cleanups.
26. Deck The Doors NOT The Halls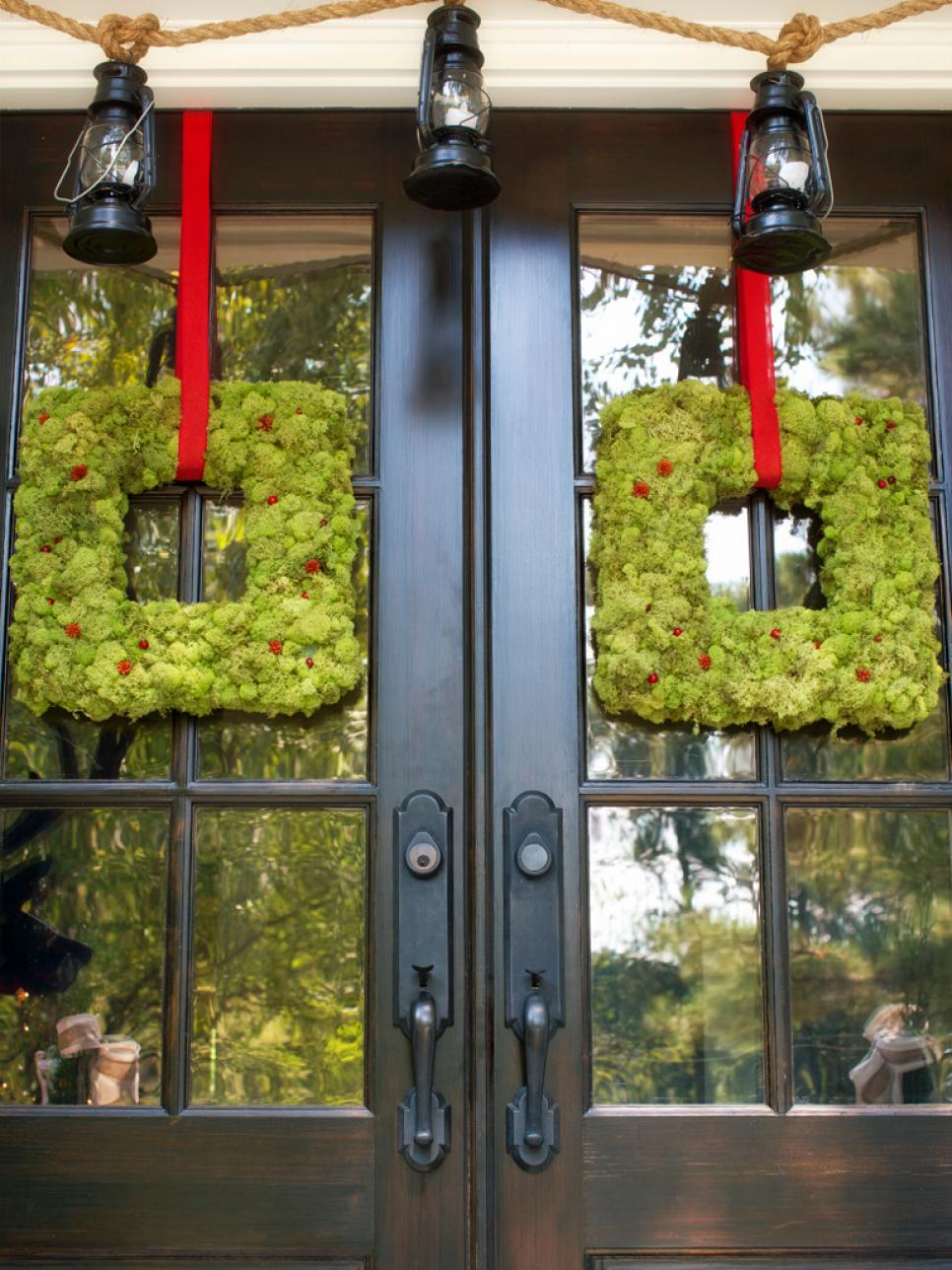 Source: The original source is not available anymore.
These uniquely shaped square wreaths use moss as the green element in this classy interpretation of a pair door wreaths. Particularly in areas with moderate winters or temperatures, the moss plant is easy to maintain. Simply water the mold and re-hang. The festive red ribbon is used to hang the wreaths and as decoration – secured safely on the inside of the door. The ribbon can be any color that puts you in the holiday spirit. The three lanterns hanging over door frame are a nice touch providing extra illumination and placing a spotlight on the wreaths.
27. Repurposed Wood Shavings Wreaths as a Christmas Decorating Idea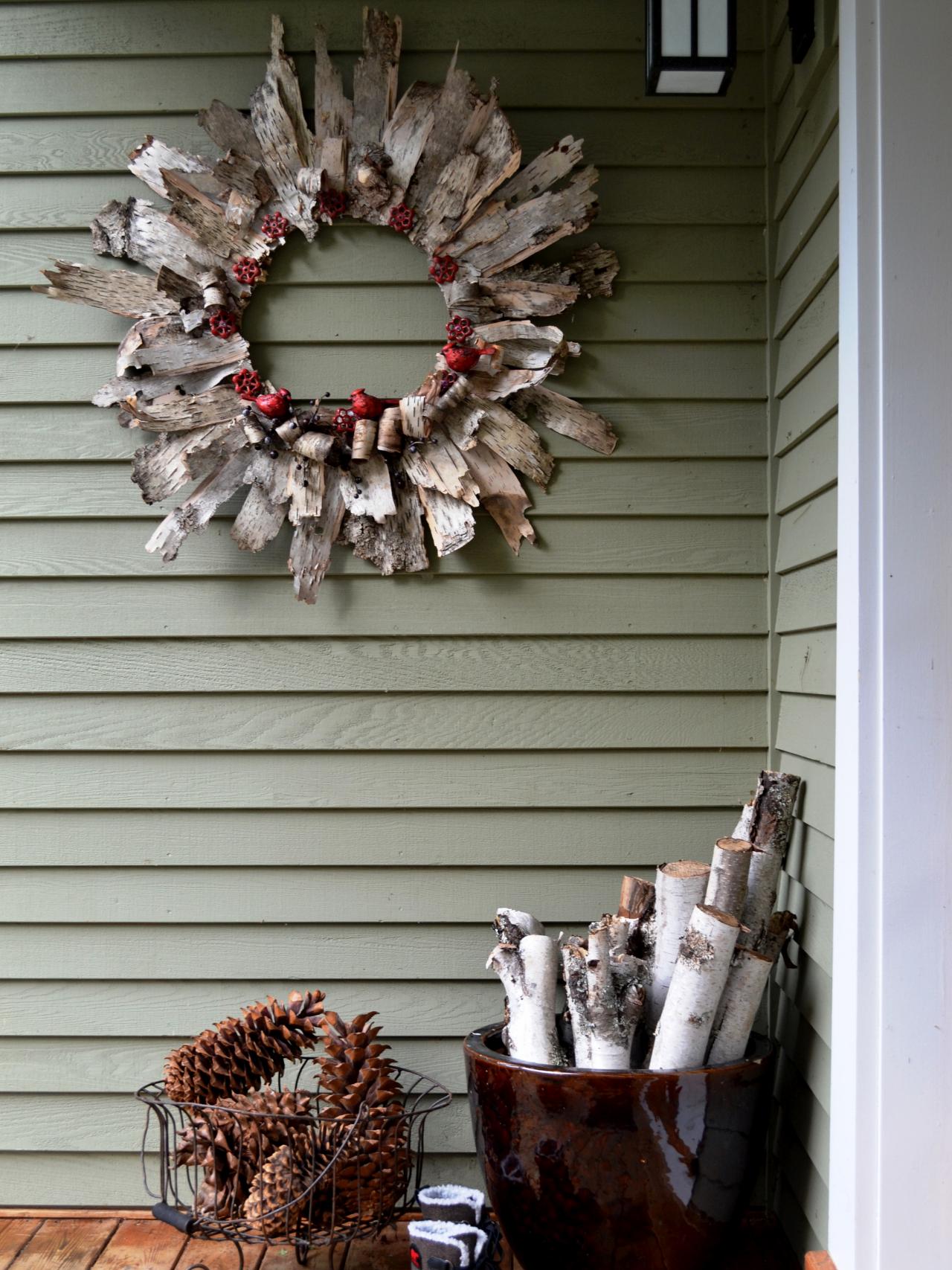 Many of you collect logs to use in your fireplaces over the winter. Displaying the logs pose a design challenge – because of the function the logs serve. In this example, the logs are collected and placed inside a large ceramic pot by the door. Style and function merge. Some of the logs produce wood shavings naturally. You can take the wood shavings and place them around a wreath ring and add cranberries and bells to complete the wreath. The wire basket of large pinecones connects the three Christmas decorations to create a repurposed holiday display.
28. Potted Christmas Boot Plants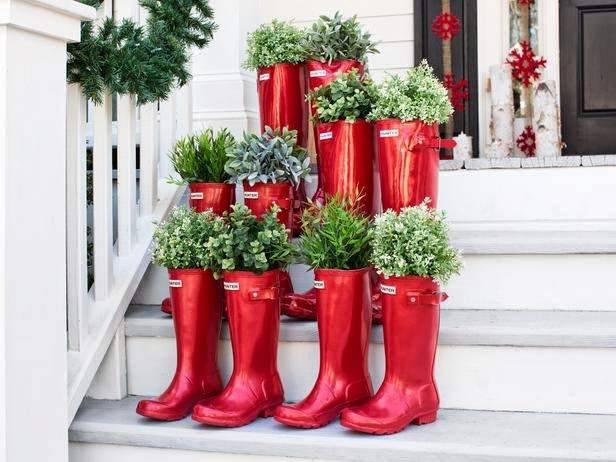 Source: The original source is not available anymore.
These homemade Christmas decorations use red rubber boots as the pots to display seasonal plants. Grouping the red rubber boots together on the entrance steps creates a lively display. Like an ink-blot test, if you look at the display long enough, you will see the outline of a Christmas tree. Simply place two boots on the top step and four boots on both the middle and bottom steps. Mix the boot sizes up and fill it with seasonal green plants. To elevate plant and hide pot, place a tall box or cans inside the boot.
29. Paper Bag Lanterns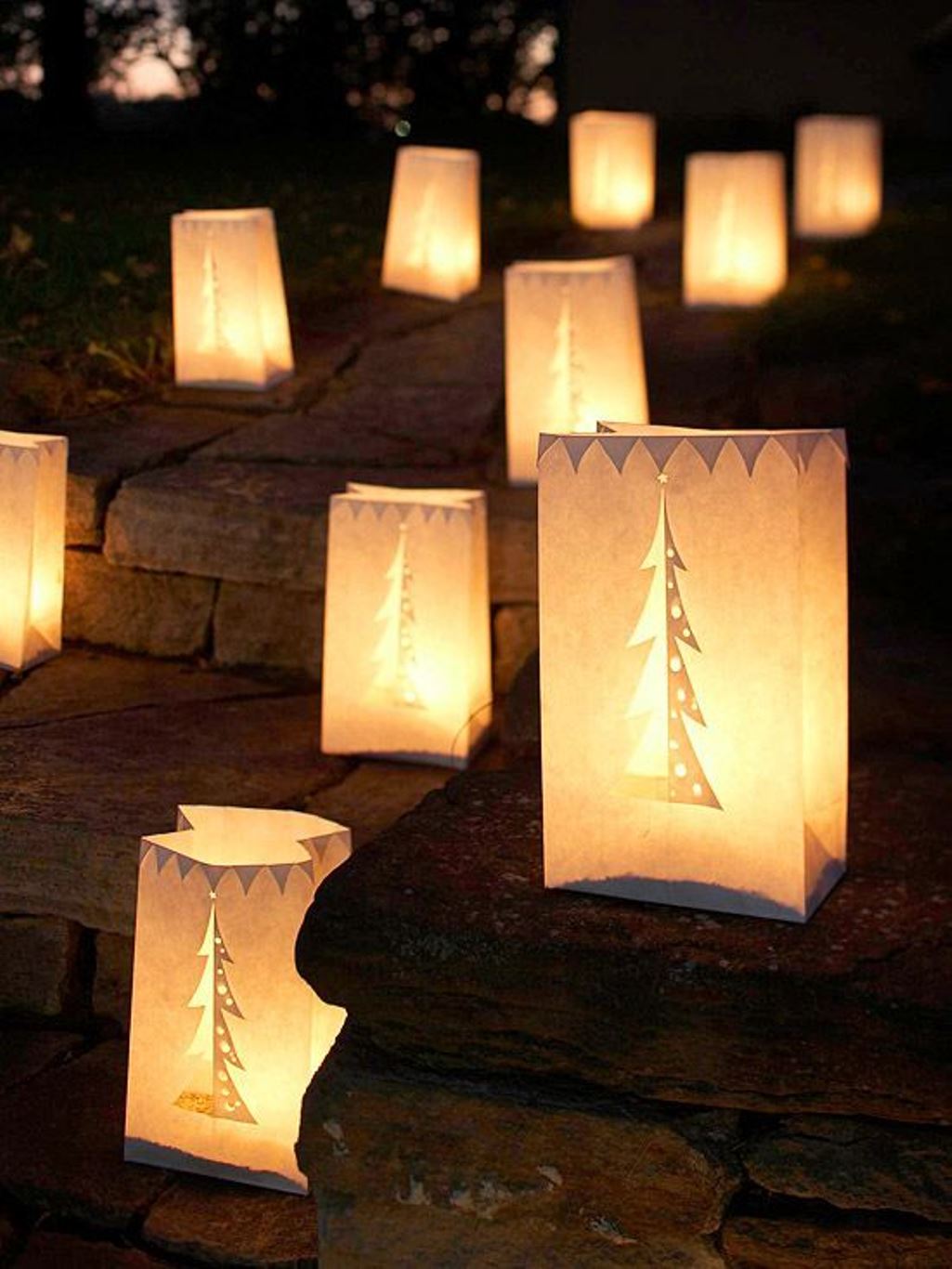 Source: The original source is not available anymore.
Providing nighttime illumination is a great way to keep the spirit of the holidays alive. Because the sun sets earlier in the day during the winter months, by the time you return home from work or errands, it's dark outside. This idea helps keep you in the holiday mood by illuminating your home's walkway. Simply decorate brown paper bags with a favorite holiday image, like a Christmas tree as seen in this idea, put a battery operated candle inside the bag, turn the candle on, and place bag on the ground. Voila, a paper bag lantern!
30. Snowman Wreath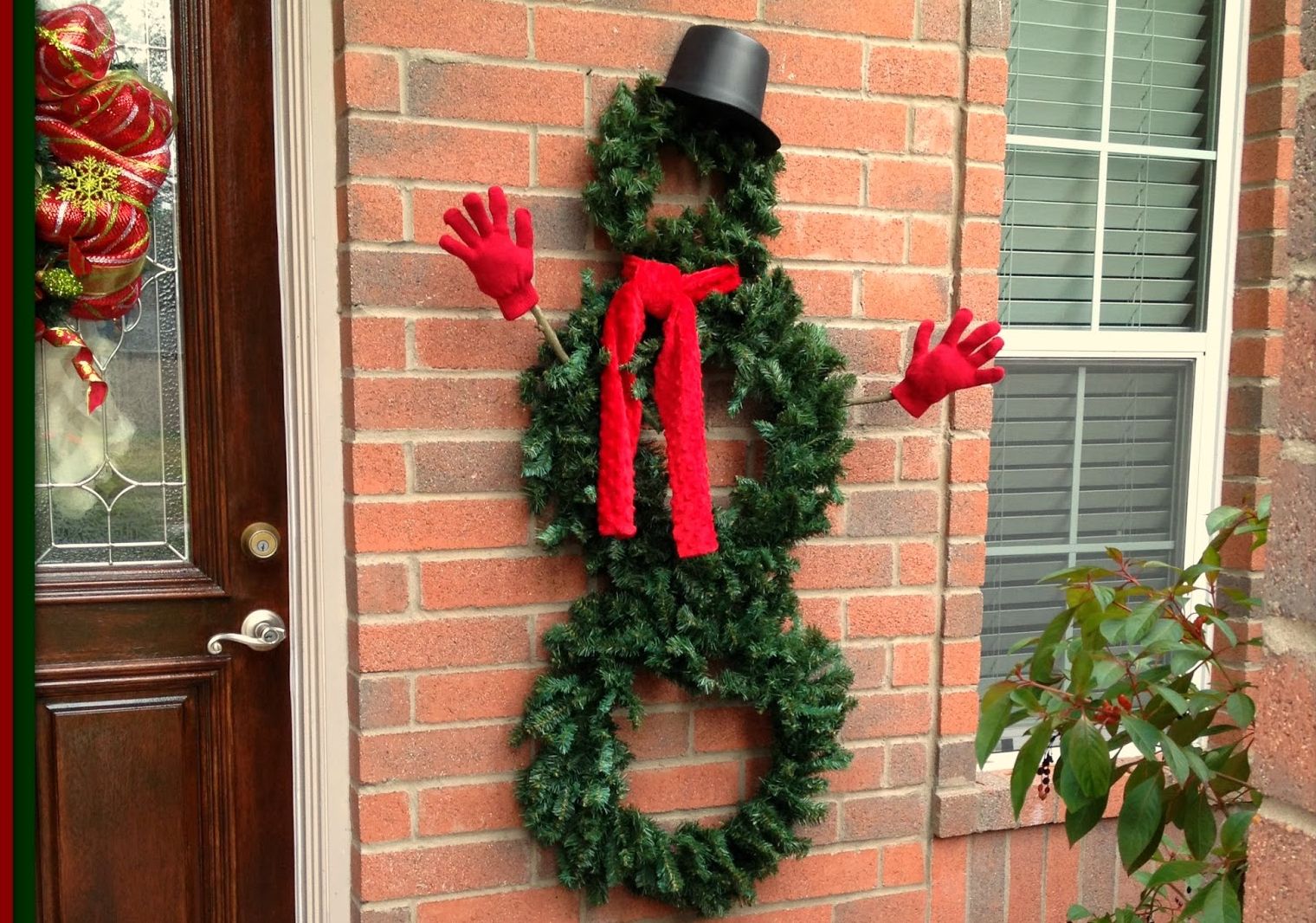 Source: The original source is not available anymore.
Incorporate this snowman in your Christmas decor. To make this DIY Christmas decoration collect three wreaths in two different sizes. Use one size for the head and the other size for the snowman's body. Arrange the wreaths vertically with smallest wreath on top followed by the larger wreaths. Make sure your snowman stays warm by placing a scarf around his neck and gloves for his hands. Simply take two sticks, put gloves on, and secure in the middle part of the snowman. Complete the snowman's look with a classy top hat easily available in party supply stores.
31. Grand Holiday Entrances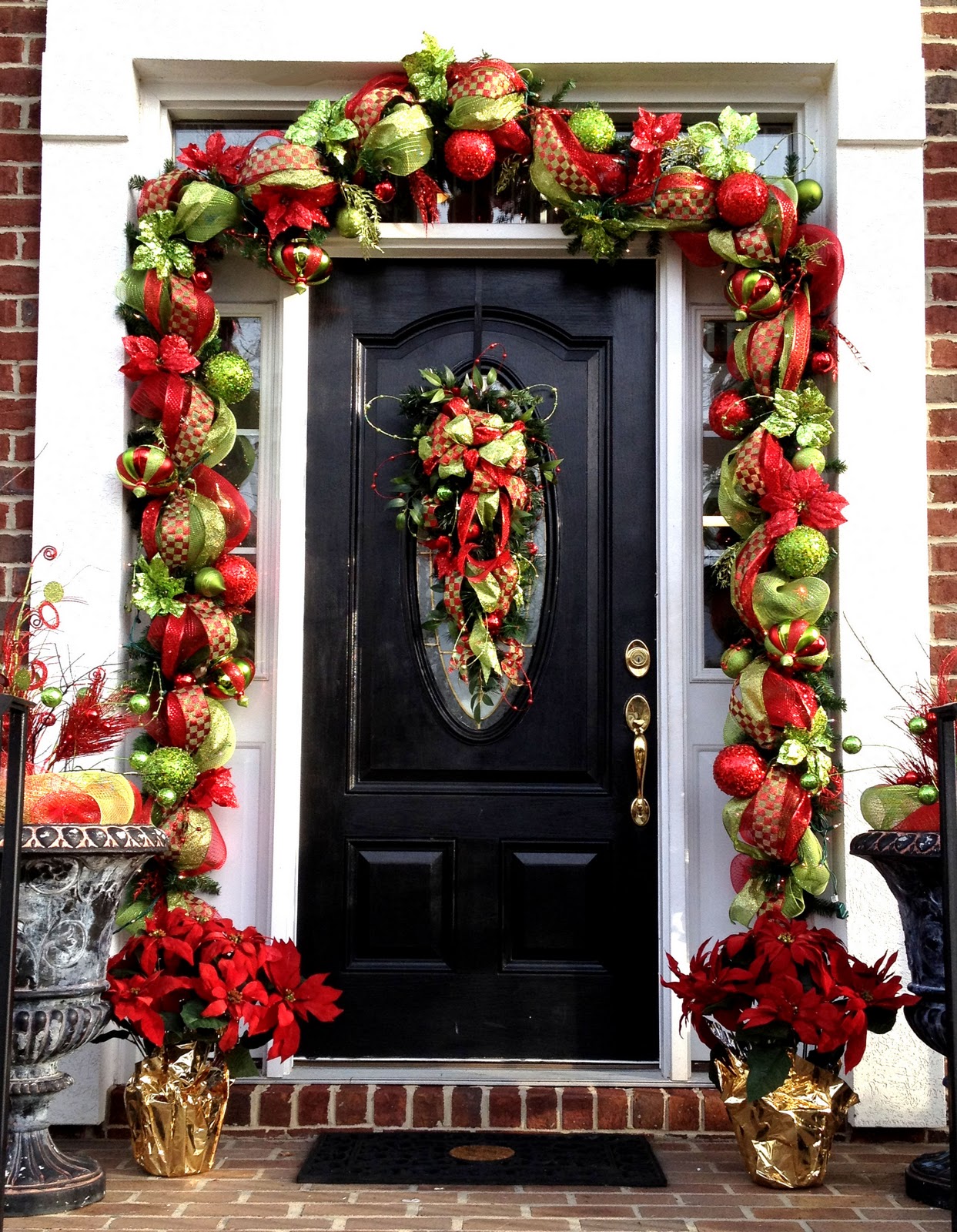 Source: The original source is not available anymore.
The entrance into this home is grand and sophisticated. This idea uses several outdoor Christmas decorations to complete the overall look. First, the garland on the door frame is made using multiple holiday ornaments in various shapes and sizes held together by an equally colorful assortment of holiday themed ribbons. The garland perfectly complements the display on the door embellishing the wreath with the matching ribbons and color schemes. The pair of urns by the door are filled with holiday fruits and ornament. The poinsettia plants in front of the door complete this Christmas holiday look.
32. Potted Pine Comb Glory
A wonderful craft idea is to fill large dormant planters with seasonal items. Make as many arrangements as you have pots. In this DIY Christmas decoration idea, pine combs, green pine tree branches, and red shiny ornaments are placed inside the potted plants. Particularly if the pots already have dirt in them, you will not need many materials to complete this holiday decoration idea. All of the materials used in this idea can be found in your home. Simply scour the yard for pine combs and pine tree branches and use old Christmas tree ornaments.
33. Winter Elegance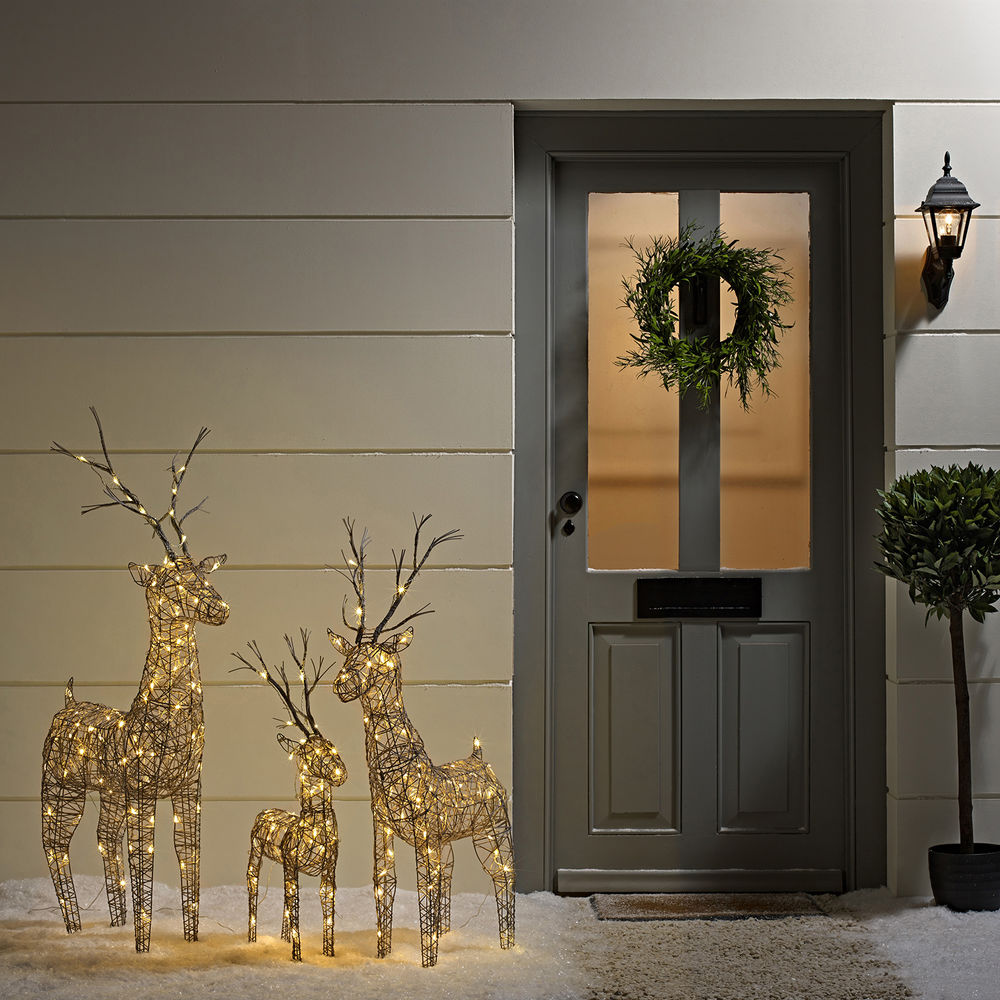 This understated holiday decoration combines various holiday symbols to create an overall story. The lighted trio of deer brings a calming atmosphere to this serene entrance. Continuing the minimalist theme of the house, the simple wreath and globe topiary, bring a touch of nature to the scene. Combined with the illuminated deer, these decorating ideas help create the overall look of this serene Christmas holiday scene. You can substitute the deer with any other grouping or lighted figurines. Similarly, the wreaths can be larger and topiary adorned with lights to promote the illuminated theme of the décor.
34. A Rustic Christmas And A Happy New Year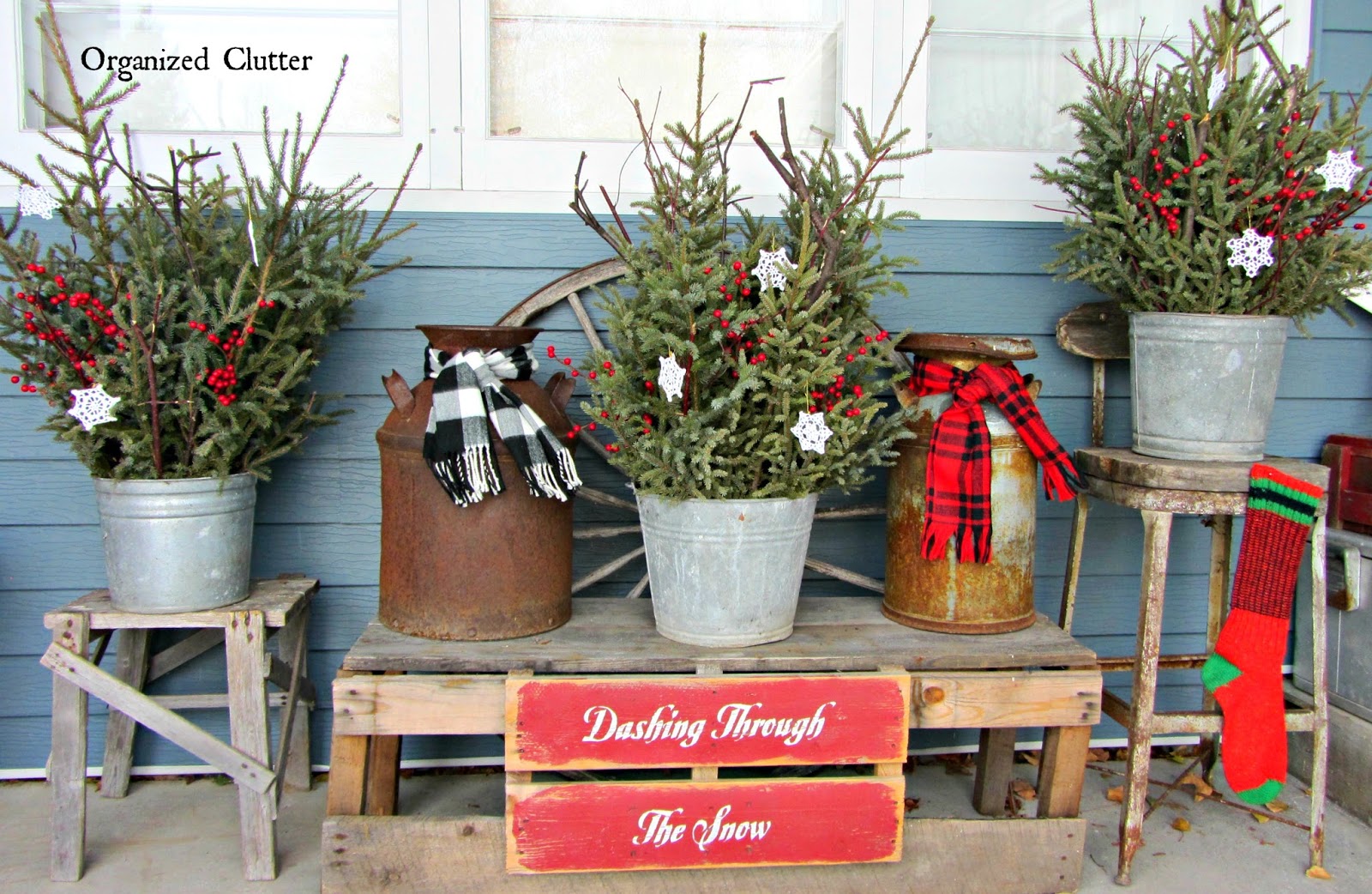 This scene is good for backyards or garage areas that use items found around the yard for holiday inspiration. In this idea tin buckets and pots are placed on various tables and chairs to display collected pine tree shrubs. Jazz up the shrubs with cranberries or plastic ornaments, scattered about the shrubs. Place old scarves around the top of the tin to bring in the element of winter. Tie the whole look together with a painted sign highlighting a personal holiday message. Ask your family to choose the saying.
35. Cardboard Lanterns Outdoor Decoration For Christmas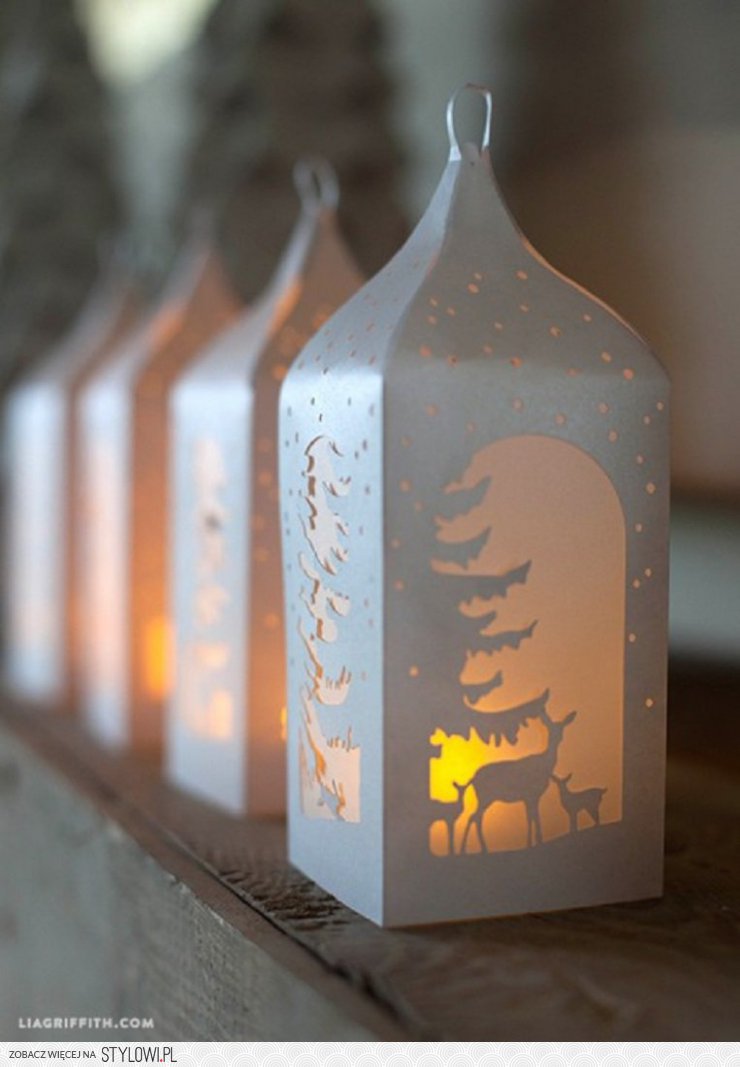 Join the ranks of Henri Matisse and make your own lantern cutouts with a personal holiday theme. Here's a great Christmas craft project you can get children involved in and prepare during the holiday season. Look for a holiday scene, trace it on old gift boxes, and cut out the image to create the cutout effect. Place vellum or parchment paper to mimic glass and create the lantern effect. Place a battery-operated candle inside the box for illumination and top it all off with a metal clip to resemble a Christmas ornament. Make in multiple sets.
36. A Mailbox For Christmas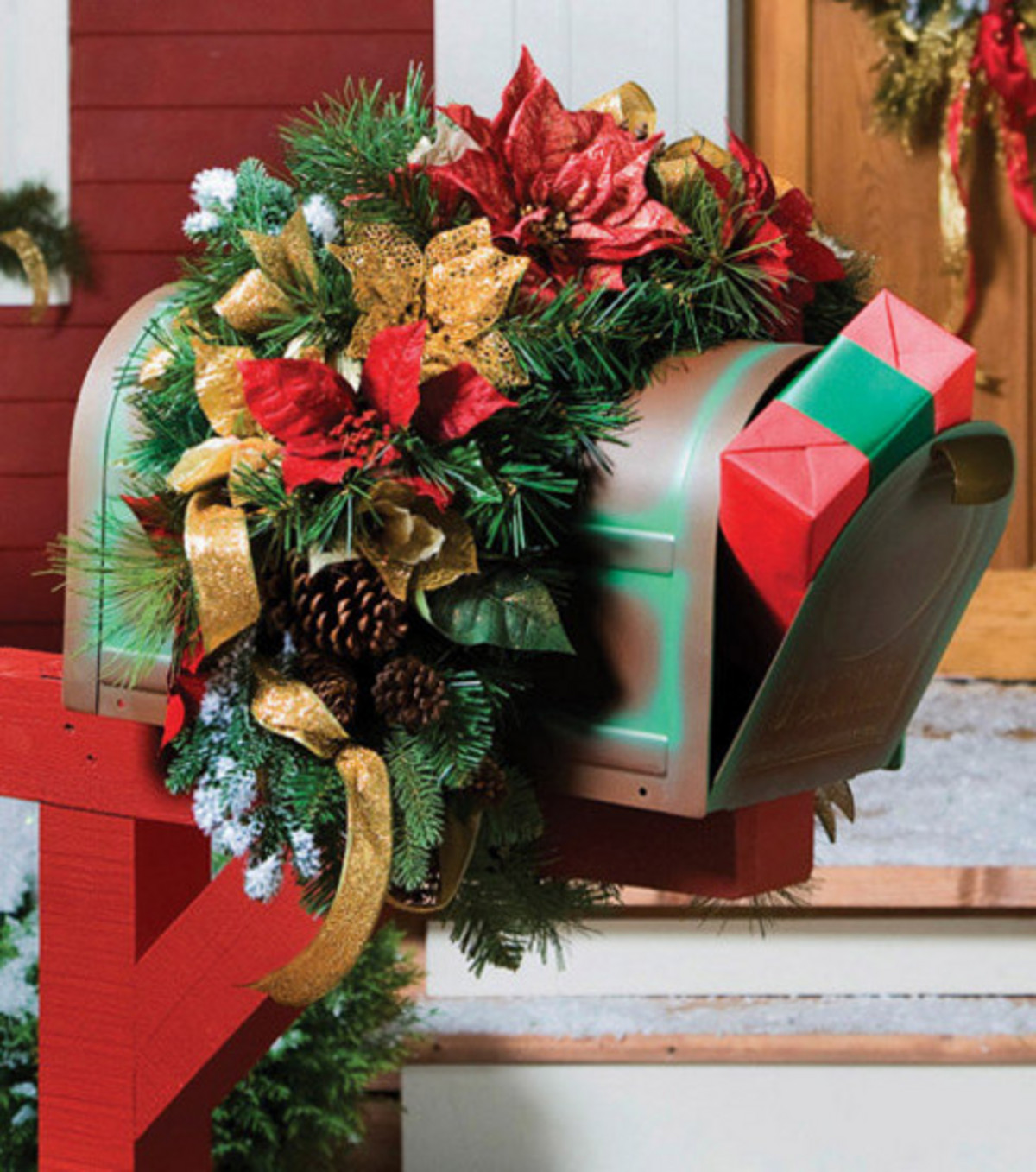 Put your high school crafting skills to use by bedazzling your mailbox. Look for holiday cards and gifts in this 'merry' Christmas decoration. An added benefit is that it greets your mail carrier daily as he or she delivers your mail. In this simple arrangement, poinsettia flowers, pine combs, baby's breath, and ribbons are intertwined and placed on green garland to create this decoration. The garland is then placed around the mailbox and secured with wire. Use the same color scheme as the ribbons used in your door wreath to tie these decoration ideas together.
37. Winter Wonderland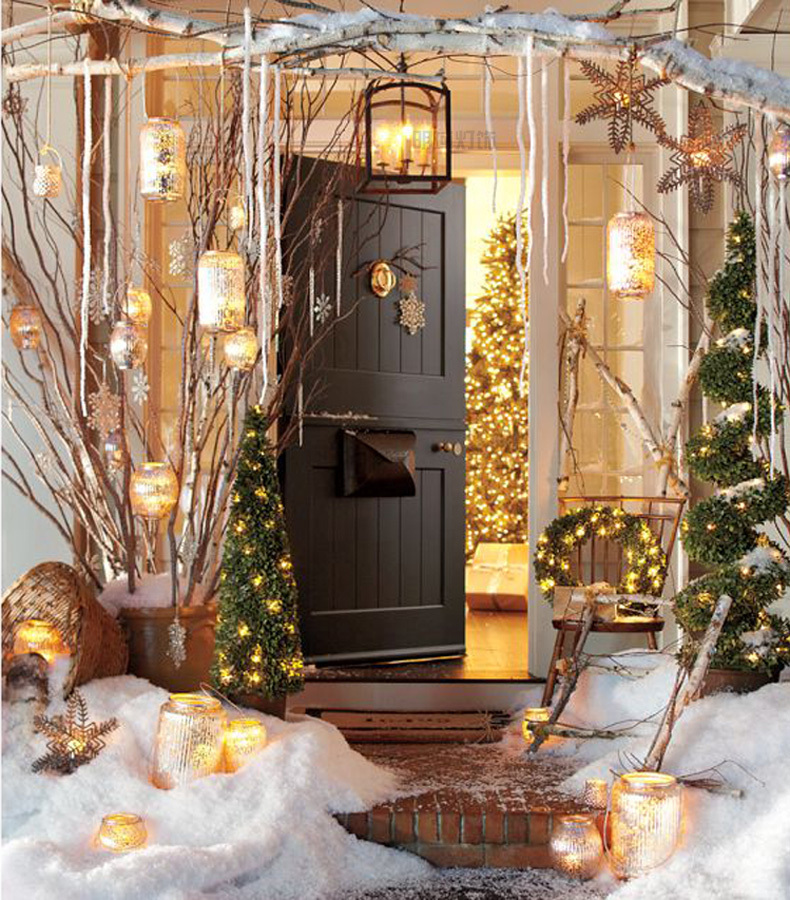 Source: The original source is not available anymore.
Christmas outdoor decorations are best when they tell a story. In this winter wonderland scene, traditional symbols of the holiday season are grouped together to create an unforgettable entrance. This intricate project consists of many elements and tying everything together is illumination. You can use fake snow to create the landscape and then add golden lanterns, vases, and containers to hold candles and provide illumination. Place branches and twigs in planters and frame around the entryway for additional spots to hang your lanterns. Adorn plants and wreaths with electric lights sprinkling snow inside the pots like fallen snow.
38. Let It Glow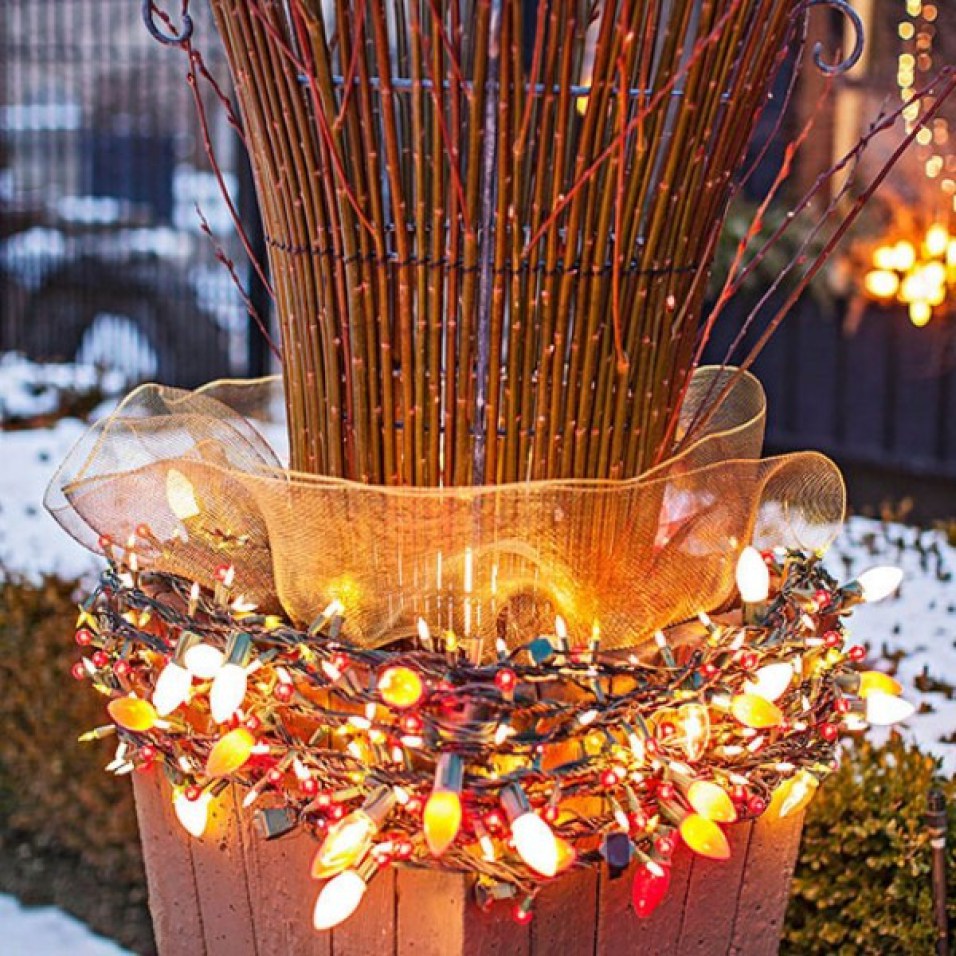 Source: The original source is not available anymore.
This Christmas craft reminds the viewer of Christmas at grandma's house. The electric lights, in colorful old-school bulbs, are simply wrapped in multiple layers around a planter found in the yard. The tulle or wide ribbon in holiday gold adds a festive touch to the display. Collect tall bamboo or other branches and arrange in the planter, keeping the branches in place with wire. Decorate one or multiple planters like this and arrange them in a sequence to light your house walkways or entryways. It is also a good way to use old electric Christmas lights.
39. Holiday Balconies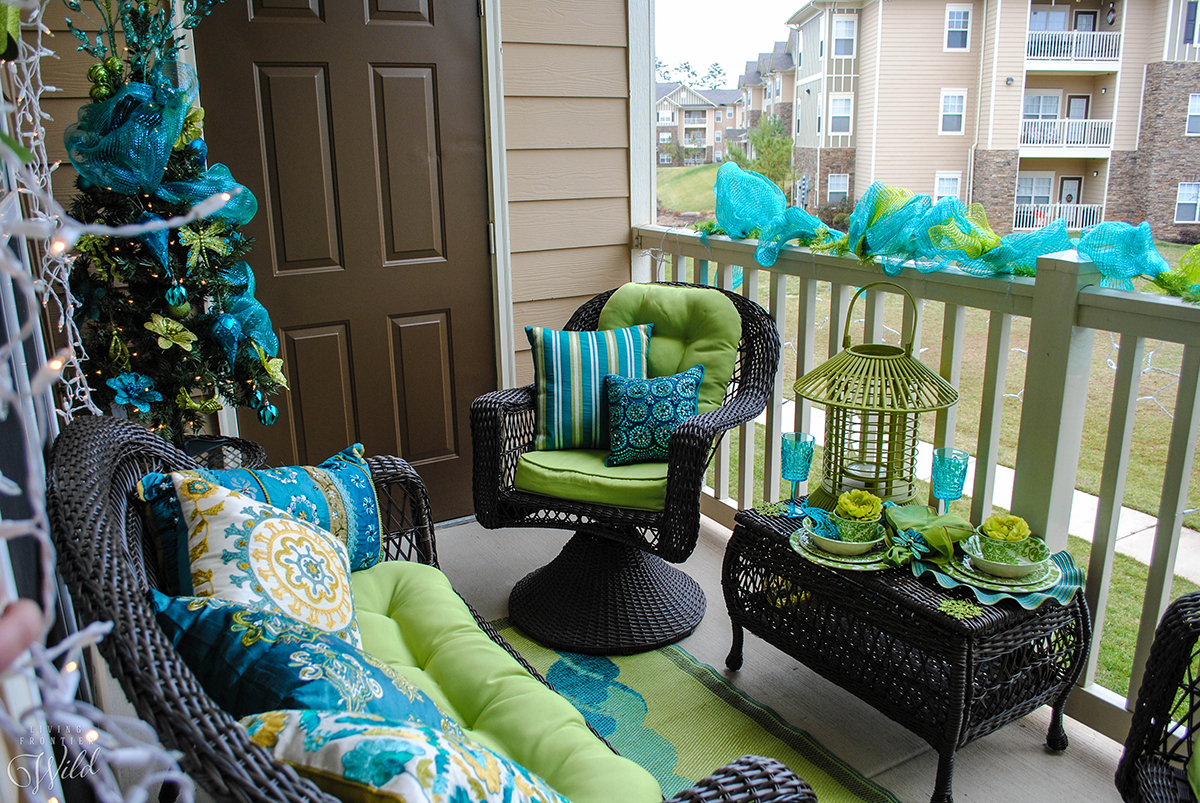 Source: The original source is not available anymore.
These Christmas outdoor decorations will be the talk of your apartment complex community. Well-suited for a small outdoor space, like a deck or balcony, with outdoor furniture kept outside during the winter. The key here is the color theme. Play-off the colors of your existing outdoor furniture to complement and adorn your small outdoor space. Add a Christmas trees with ribbons. Add ribbons and lights to your windows and fence. Particularly if you live in a warm climate, sitting outside during the Christmas holiday will bring a smile to your face and your neighbors. Merry Christmas, indeed!
40. "NOEL" Wooden Christmas Trees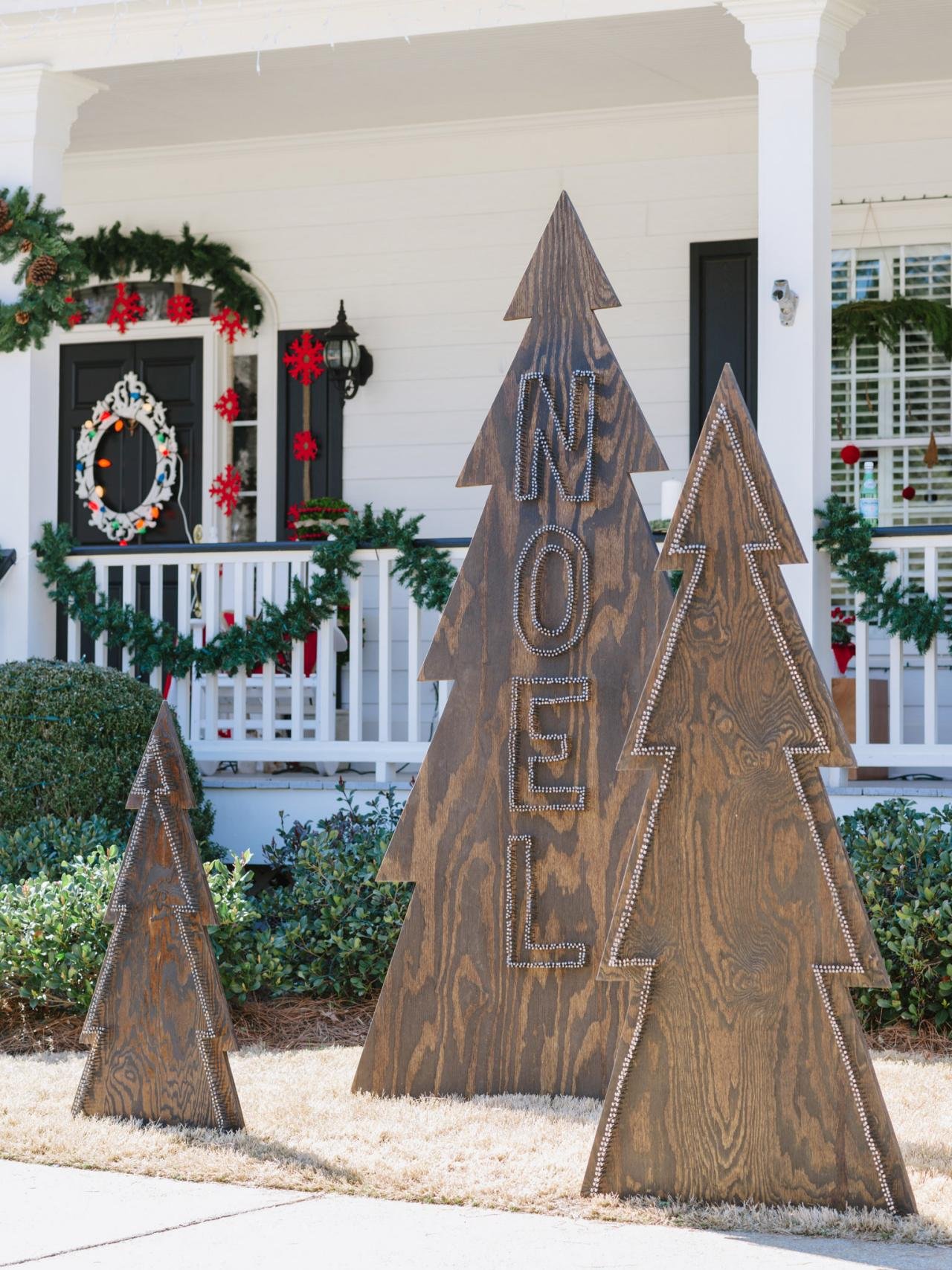 This DIY Christmas decoration project allows you to use your wood shop skills or at least look for someone to help you. Take old plywood and cutout a trio of Christmas trees. For the tall tree use a larger piece of wood. Attach the trees to a sturdy post and nail it into the ground. Next, embellish your tree with a holiday saying and decorations. In this idea, the trees are embellished with electric lights and the center tree contains says NOEL. This will bring a smile to your neighbors and spread the holiday cheer.
41. Winter Holiday Planter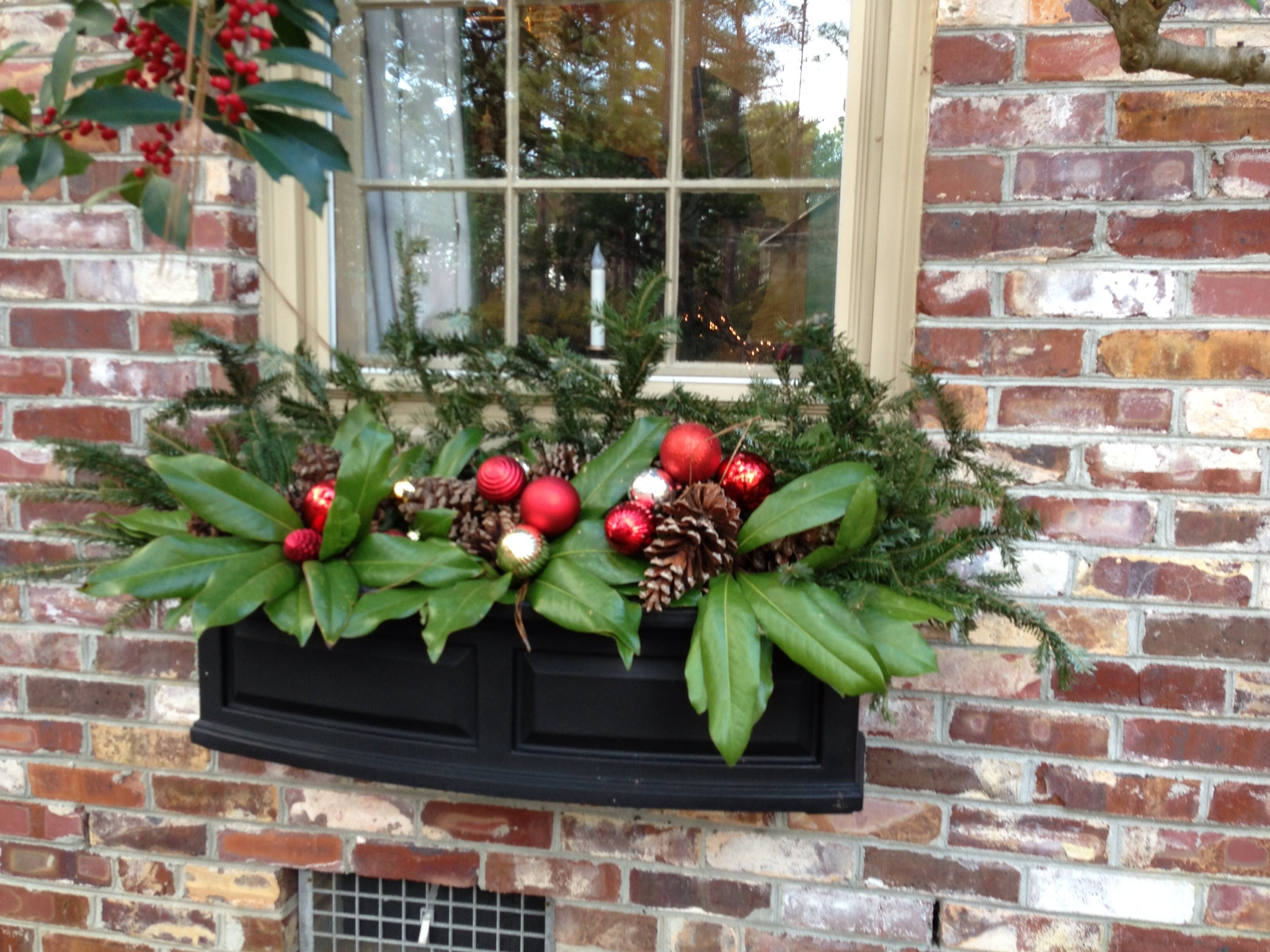 Source: The original source is not available anymore.
Winter arrangements are a great way to use empty window box planters during the winter months. Add small to medium sized plants inside the window box planters, taking care to keep the pot portion of it out of sight. Next decorate the arrangement, with larger green leaves and embellish with festive holiday ornaments. You can add ribbons, plastic plant or flower fillers, and cloth flowers to fill up your window box planters. Some season vegetables like purple cabbage add visual interest to this decorating idea and is a nice way to incorporate holiday color schemes.
42. Low Tech Sparkle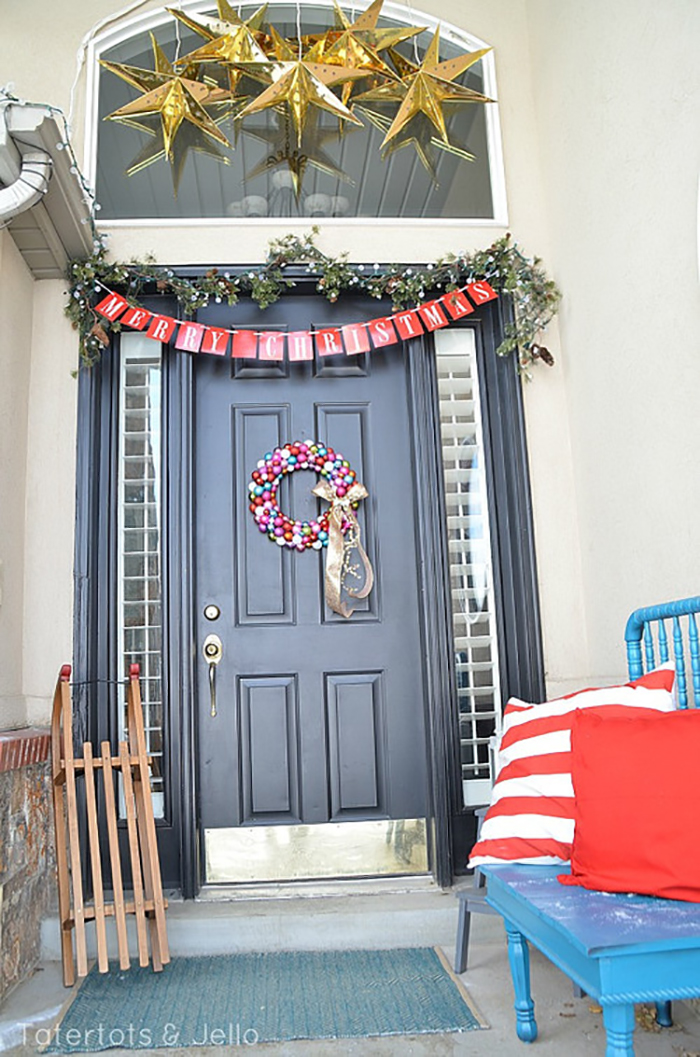 An energy efficient low tech way to make sparkling Christmas outdoor decorations without utilizing electricity is to buy paper lanterns shaped like stars and hang them over your door. Available in a variety of colors and patterns on matte or glossy finishes, the paper lanterns used in this idea are shiny and bright gold stars. Below the shiny stars is a simple green and white garland that sits on top of the door frame followed by a paper sign. Add decorative pillows and a sled to any existing benches to complete this low-tech Christmas design.
43. Starry, Starry, Wreath!
Source: The original source is not available anymore.
Help the star shine bright with this Christmas décor idea best used on peaked or thatched roofs. The wreath fits nicely in the peaked roof occupying the entire space for optimal display. The trim is adorned with electric Christmas lights and lighted snowflakes. The centerpiece of the design idea is the lighted star. Don't worry about running more electric lights, they now sell battery operated timed ornamental decorations to make illumination simple and effortless so you only need to pull out the ladder twice – when you put up the decorations and when you take them down.
44. Bright Shining Christmas Lights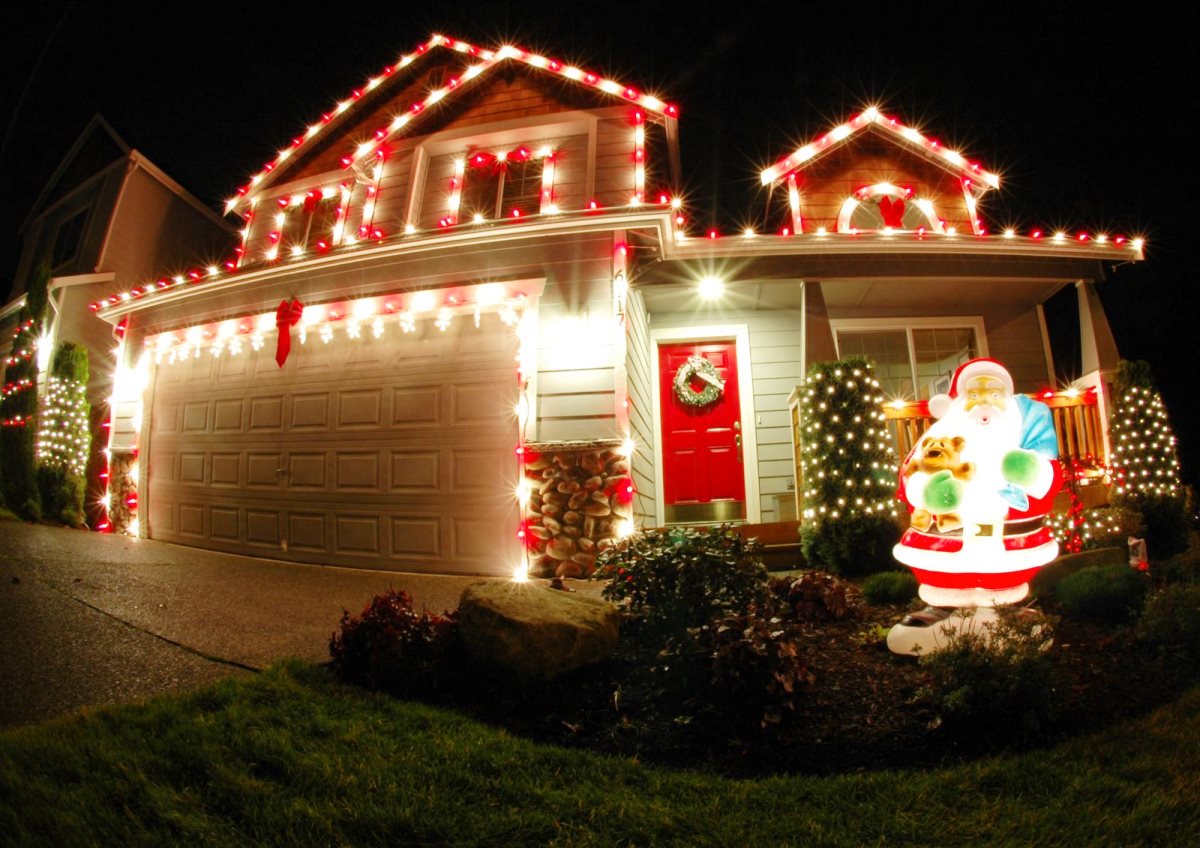 Source: The original source is not available anymore.
For many of you, nothing symbolizes the holiday season like electric lights. Electric lights are a necessary and wonderful addition when you prefer nighttime holiday decorations. Stringing lights is awe-inspiring and a magical way to express the Christmas spirit. Use the frame of your house as a guide and apply lights on the moldings. The lights can be a single color, multiple colors, or as is the case here, two colors – red and white. Complete the light show by adorning bushes with clear lights and placing an inflatable lighted Santa in center of the yard.
45. Jingle Bells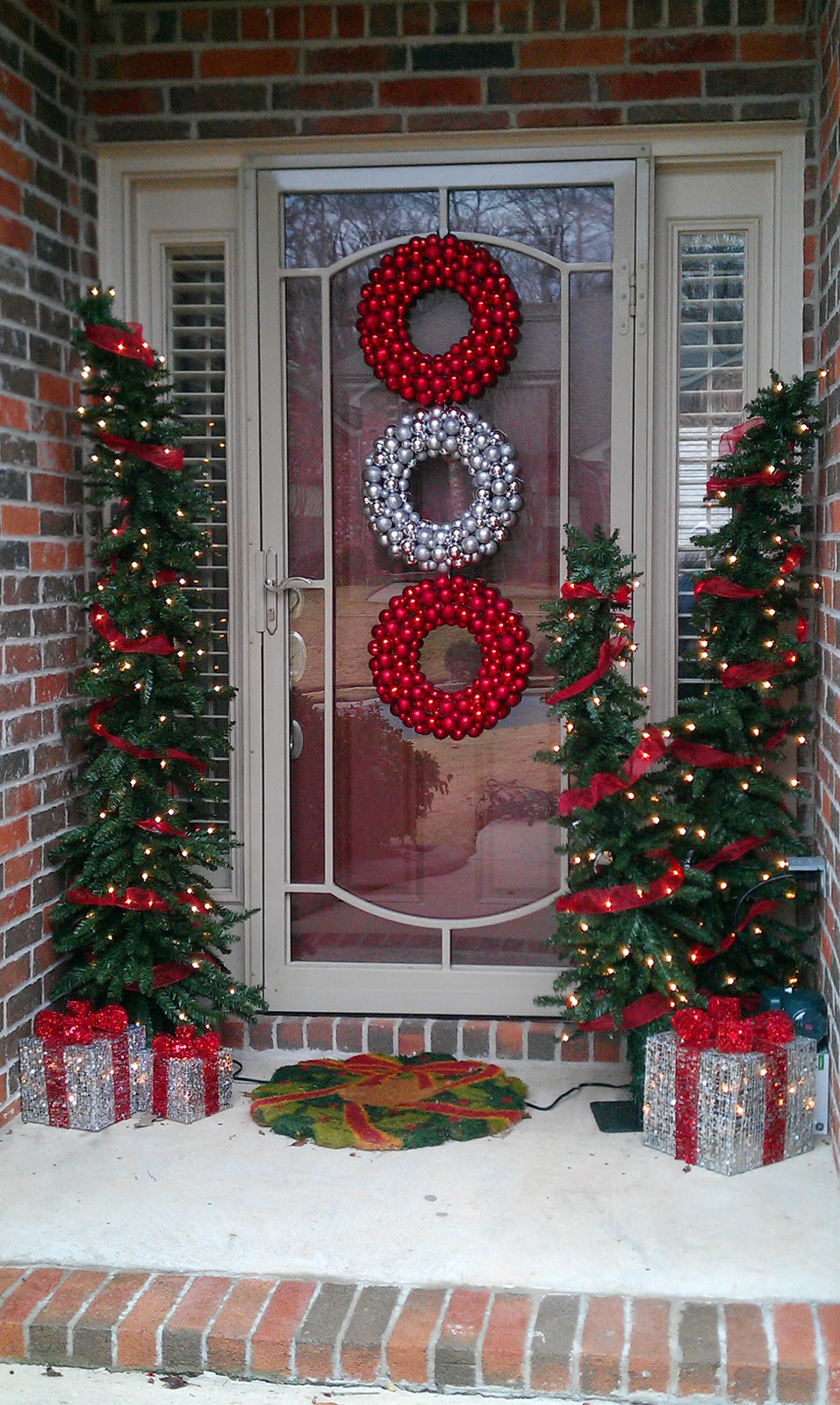 Source: The original source is not available anymore.
These homemade Christmas decorations are a great way to unleash your inner creativity skills during the winter holidays. This holiday decorating display uses various Christmas crafts ideas to help complete the overlook look shown here. The wreaths are made from lively metal jingle bells, placed one beneath the other in multiple colors, for an audible and visual delight throughout the festive holiday season. The pine tree plants on either side of the door are decorated in lights and red ribbons and are anchored by lighted gift boxes with red bows on top, similar to your indoor tree.
46. Holiday Elegance White Cranberry and Ivy Wreath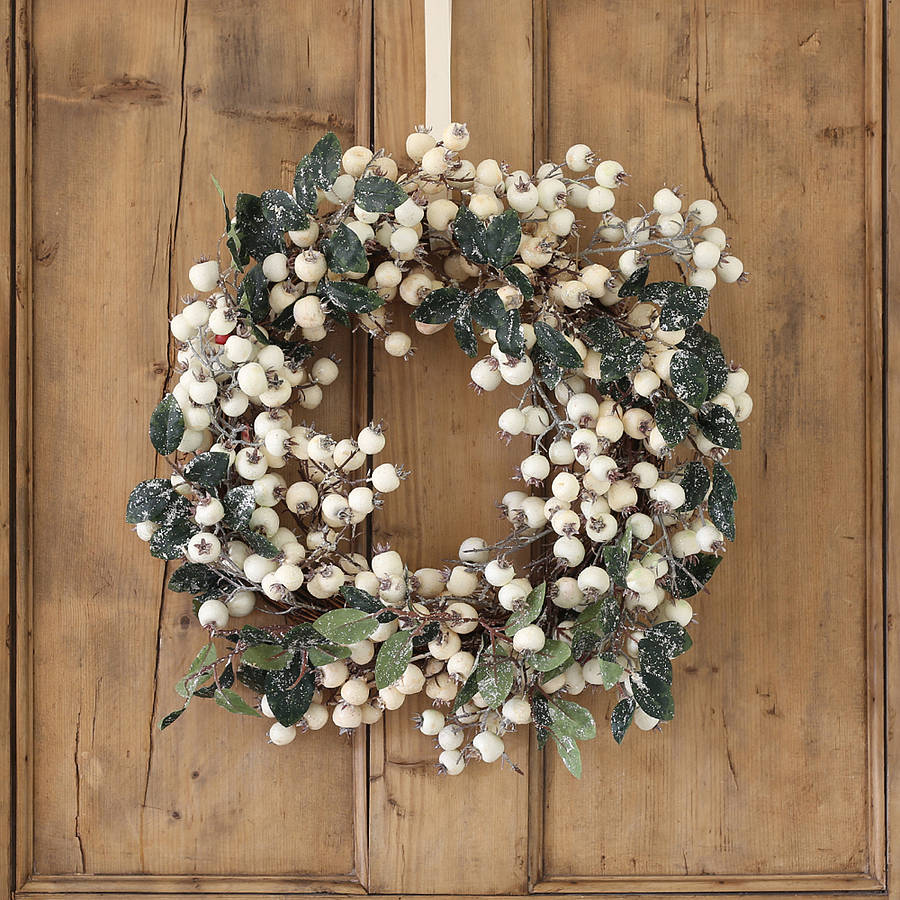 Some of the best holiday ideas come from and are inspired by nature. In this elegant idea, a medium sized wreath is adorned with white cranberries around the wreath ring. You can use dried cranberries or buy cranberry branches to place around the wreath. Ivy, which stays alive in all weather environments or any other leafy evergreen, is then placed around the cranberries to add some color, depth, and embellish the wreath. This inspiring elegant idea can stay hanging up year round by simply replacing the ivy leaves or adding colorful ribbons.
47. Hanging Lanterns of Babylon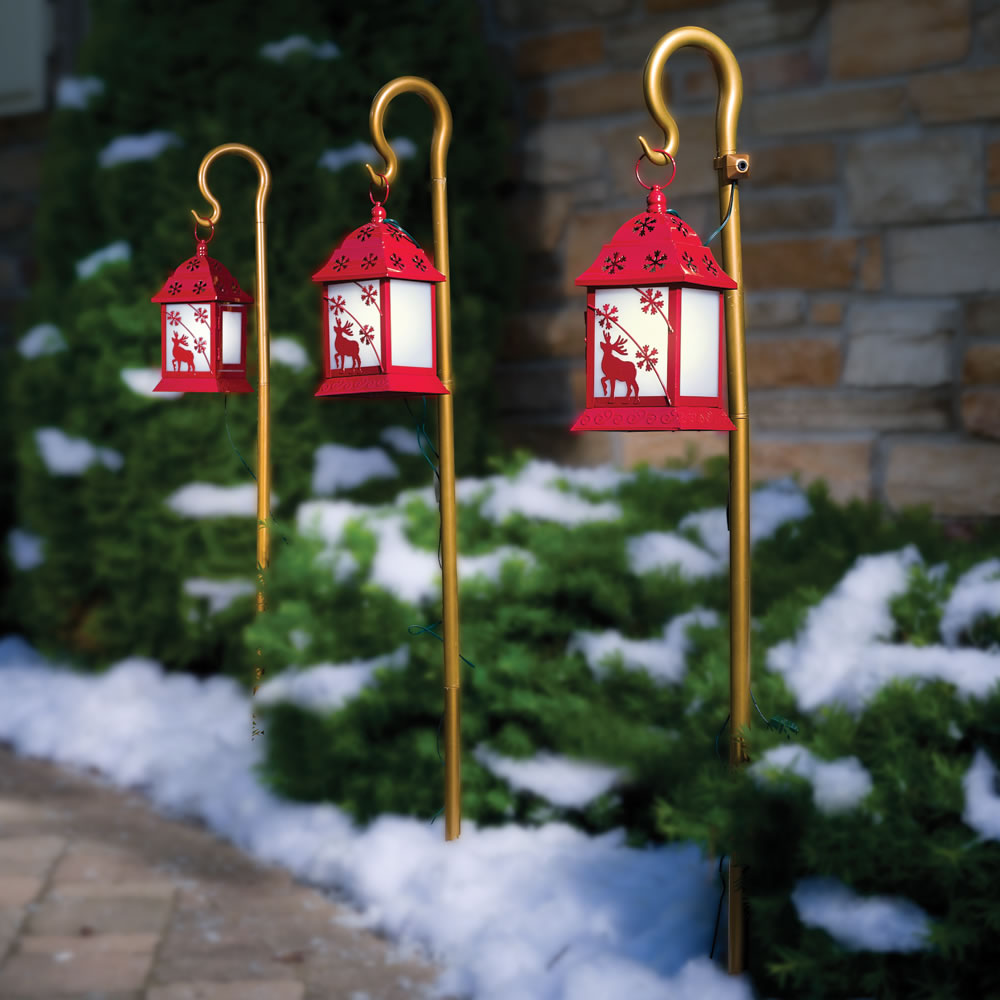 Source: The original source is not available anymore.
Paper lanterns are so much fun to create. They are especially fun to make with children. Create paper lanterns using scenes from the holidays and colorful paper to hang by your walkways. The scene can be the same or different. A bonus is that you can use hooks to hang flower arrangements in the spring. Add electric candle lights to show off your design cut outs at night and to light the way into your home. These homemade Christmas decorations are a fun way to involve the whole family in Christmas crafting and keepsake making.
48. Drawers Full of Holiday Joy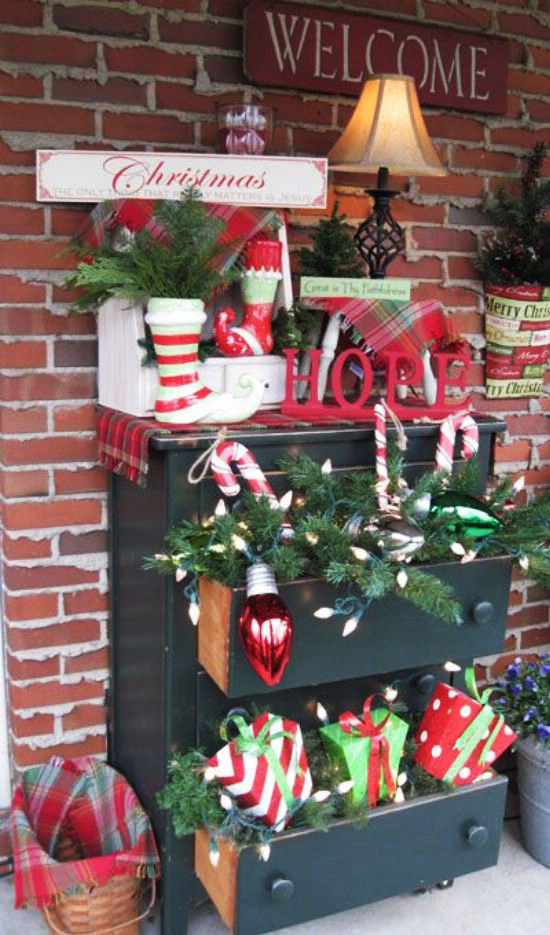 The focal point of this decorating idea is the old dresser full of drawers. This is a Christmas decorating idea that involves the entire family. Start with a wooden dresser that you can paint hunter green or red, as shown here, and fill the draws up with holiday decorations, symbols, and messages. Here you find green garland, electric lights, signs with holiday messages, elf shoes, an old lamp, throws, wrapped gifts and candy canes. There is something for everyone in this display. Open the draws and stuff them full of holiday joy.
49. No One Has To Know You Made This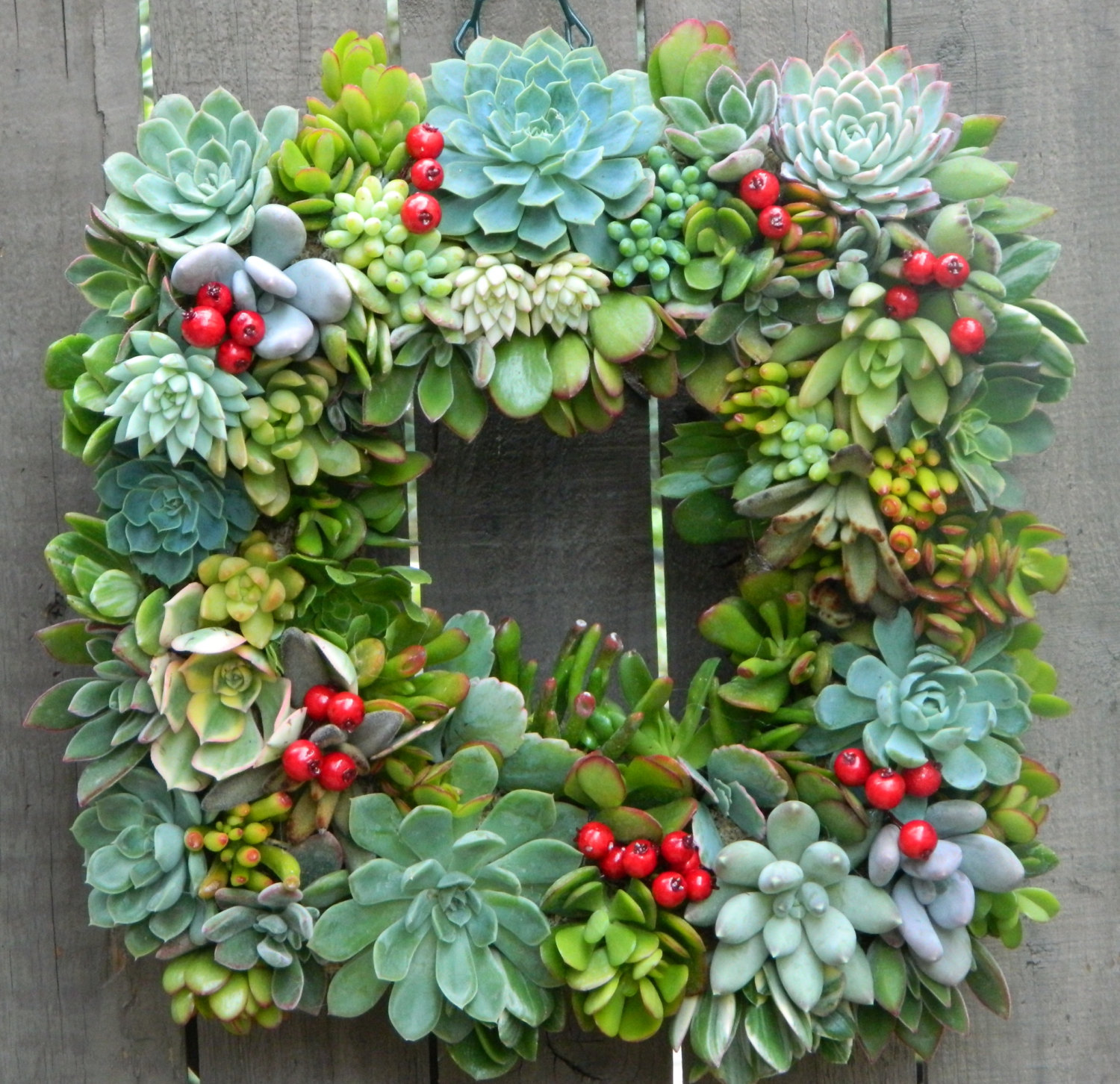 This beautiful square wreath, looks professionally designed, and is made from luscious succulents – a living wreath. Place the plants on plant foam, readily available in craft stores or at your local florist shop. Remember to water regularly by removing wreath and soaking foam in water. Pick plants in various shapes and sizes and arrange around the square ring completely covering the plant foam base. The plant foam base is available in green to keep the minty green color scheme or blend in with your plant base leaves.
50. A Global Affair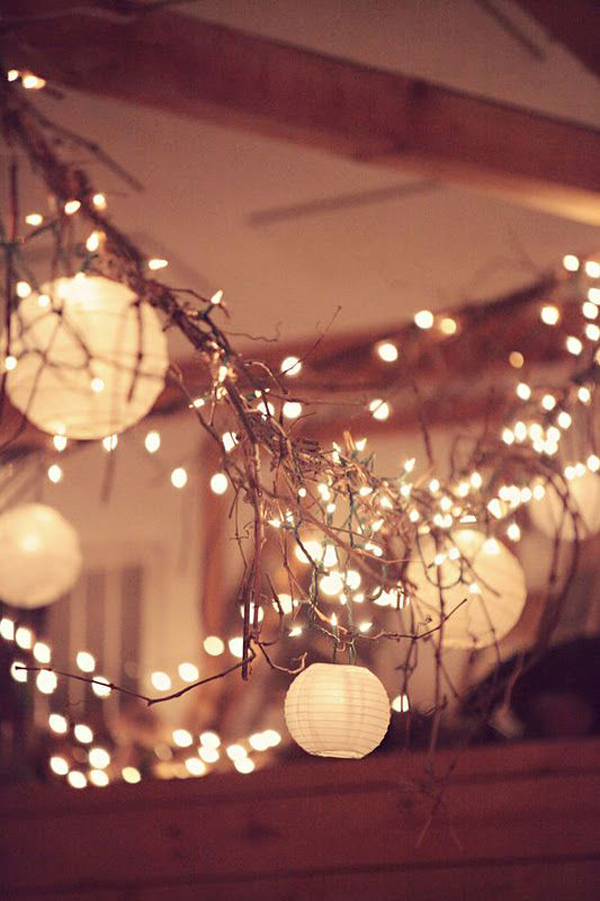 A wonderful way to end this outdoor holiday decorating ideas feature is to pour yourself a glass of champagne and sit under these bright lights. There is something magical about hanging paper lanterns and Christmas lights. Ideal for use in a patio, deck, balcony, or outside seating area, this decorating idea uses twigs as the garland. The lights are strung around the twigs which follow the outdoor frame. Lighted paper lanterns are then hung throughout the frame to create this grand atmosphere. The white paper lantern color brings an understated air of elegance and makes your outdoor seating area sparkle.
Be Merry And Bright This Holiday Season With Outdoor Christmas Decorating Ideas
As you can see from the ideas spotlighted in this article, the possibilities for outdoor Christmas decorations and Christmas crafts are only limited by your imagination. From the complex adorning of the entry doorway with holiday greens to the simple lighted signs with holiday messages next to your home entrance – there is something for every taste here. Homemade Christmas decorations are a wonderful way to get in the holiday spirit. You can get help from elves or your friends, family or children, to execute some of the grandest of ideas. Outdoor Christmas lights, Christmas decor, and Christmas craft ideas are all in your holiday decorating toolbox.
Use these Christmas outdoor decoration ideas for your home or as gifts for your friends and neighbors. Not only do they make great gifts that can be used for years, but they are also sure to light and sparkle your Christmas outdoor decorations.
Don't worry about the Christmas theme. Many of these ideas will outlive the Christmas holiday season and can be continued or modified for display for the rest of the winter season. Remember to think big, even if you live in small spaces like an apartment. All of these ideas are scalable and adaptable for small, medium, large, and extra large spaces.
Lastly, some of these Christmas crafts can be made by children and their friends in their school, church, or neighborhood group activities to help share the decorating tasks. Have your children or nieces and nephews help come up with the DIY decoration project you will utilize. Creating DIY Christmas decoration projects is an activity all can share for creating lasting family memories.