"Attention Holiday Readers!" One of the best ways to get into the holiday spirit is to bedazzle your home for the holidays with Christmas decor. Many of you spend a great deal of time and effort decorating the inside of your home for the holidays, well, this article seeks to encourage you to expend the same amount of effort and time decorating the outside of your home. This is going to show you how to make Christmas decorations to complement your home's natural aesthetic. Whether you delight in purchasing handmade Christmas decorations, or enjoy DIY Christmas decoration ideas, there is a project featured here for you.
Spread Christmas Joy Throughout Your Neighborhood With These 50 Outdoor Christmas Decorating Ideas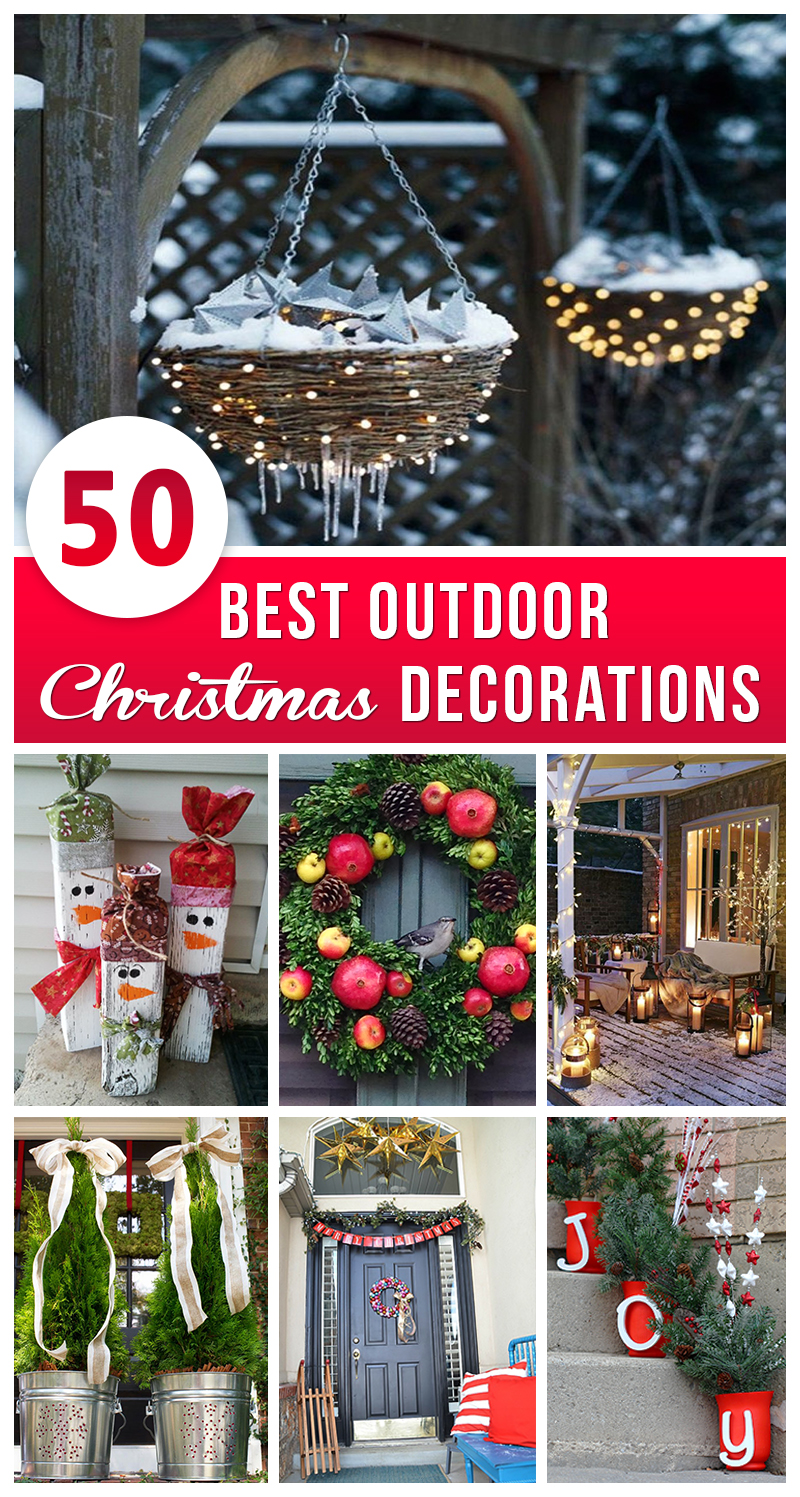 Whether your entryways are in the front, back, or side of your house, you are sure to find great ideas that will light up your home and invite your guests in. Long gone is the simple idea of just stringing outdoor Christmas lights on your bushes, trees, roof, and the windows; this list will give you 50 phenomenal outdoor Christmas decoration ideas that will help you expand your creativity far beyond lights and standard displays.
1. Mini-Christmas Tree On Stoop Or Entryway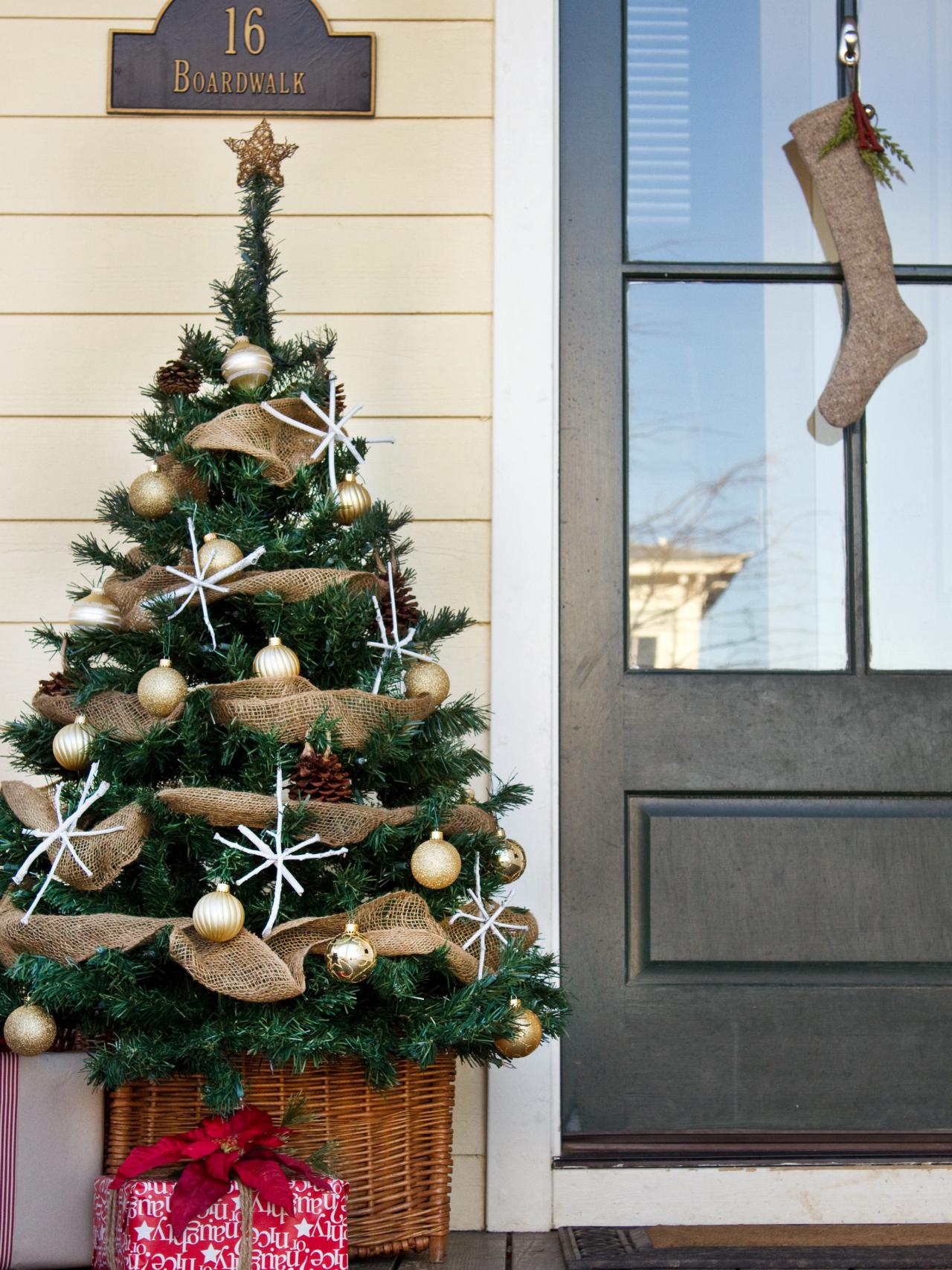 Source: Pinterest
Decorated in luscious green and sparkling gold, this idea brings the inside outside, by featuring a mini-Christmas tree as it appears inside the home. The mini-Christmas tree is decorated with golden ornaments, gold ribbon, pine cones, and white stars made from rope. Place the mini-Christmas tree in a wicker basket and add a couple of gift wrapped boxes under it, to complete the mini-Christmas tree motif. Don't forget the door. The golden stocking, with cinnamon sticks, a bell, and some green leaves ties complements the mini-Christmas tree linking both looks together.
2. Hanging Lighted Flower Baskets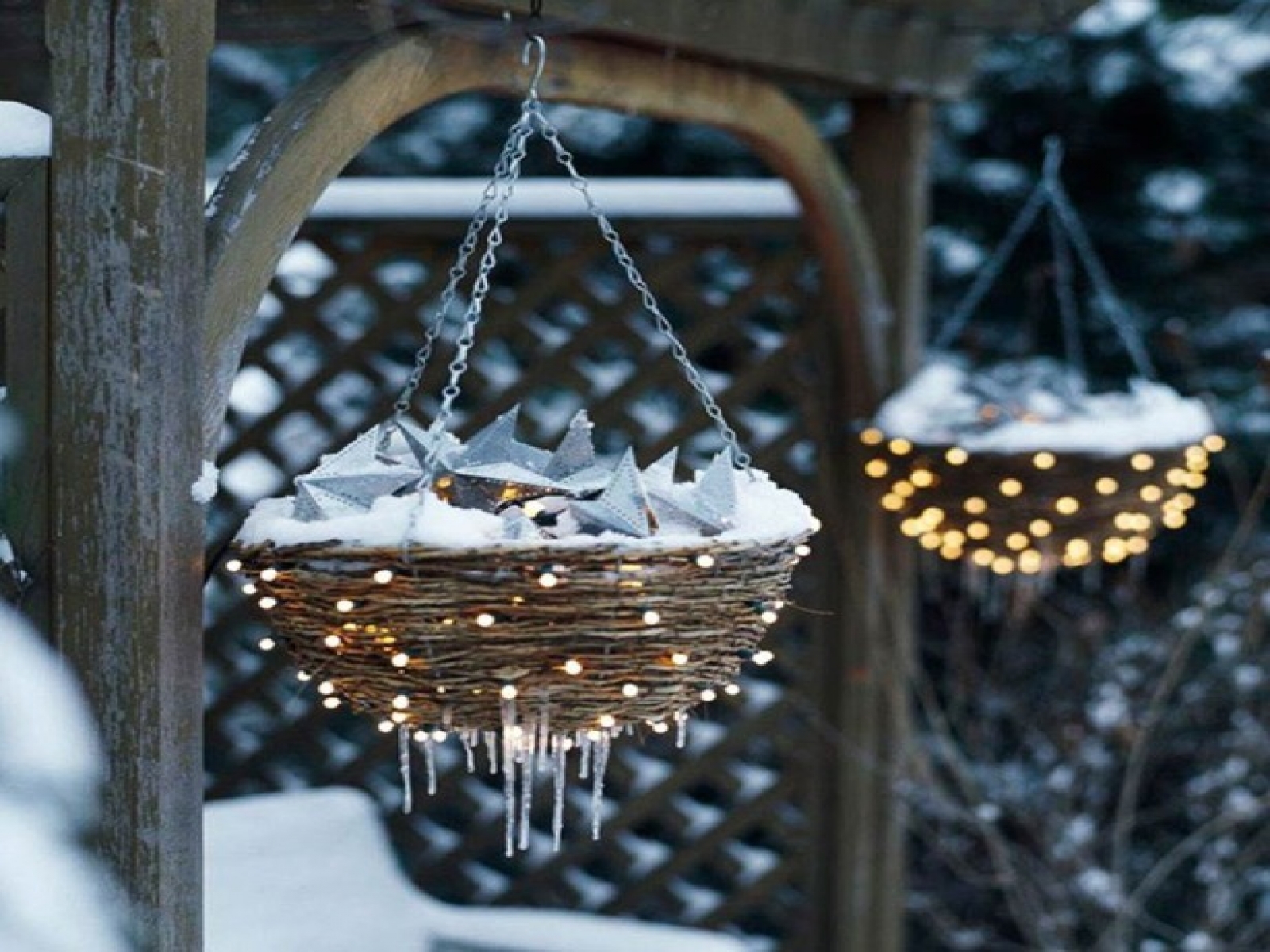 Ever wonder what you can place inside a hanging flower basket when the weather gets cold? A novel idea is to decorate your hanging flower baskets by adding lights to the bottom of the basket and filling the inside with a holiday symbol, like silver metal stars, as shown in the accompanying picture. This idea can be used in as many hanging flower baskets as your porch, balcony, deck, or patio can handle. By using existing baskets you save money and they that can be easily adapted to accommodate your spring plantings once winter ends.
3. 4×4 Snowmen Christmas Decoration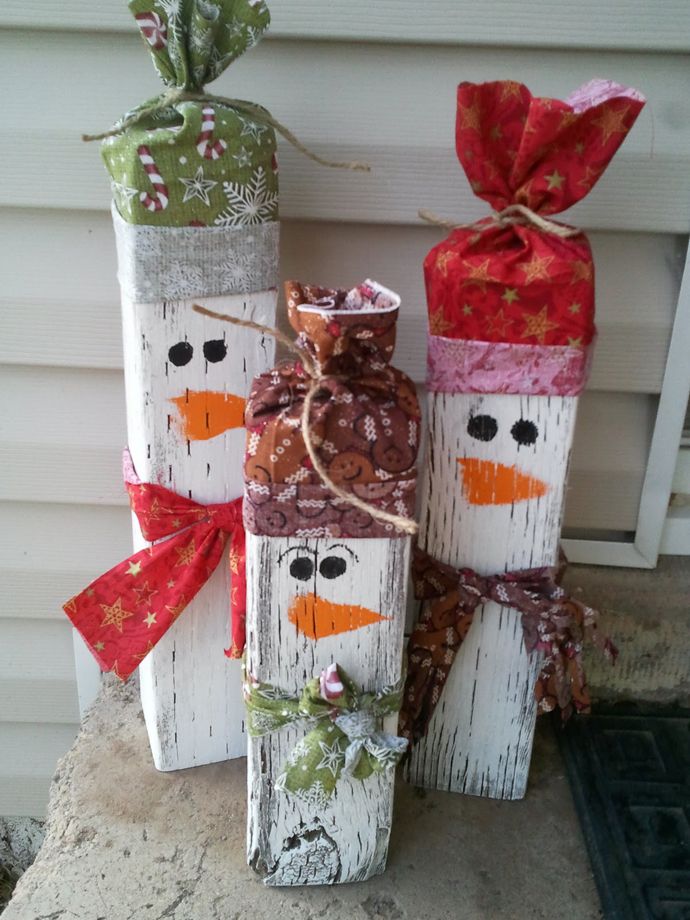 Like the three kings, snowmen should be displayed in a set of three. These snowmen are made from repurposed 4X4s painted white, with painted black eyebrows, eyes and even an orange carrot shaped nose. Adding visual interest and tying into the Christmas theme nicely, the snowmen hats are made from three gift bags, tied with ribbons on top and wide ribbons posing as scarves. Great for stoops or small entryways, this Christmas decorating idea does not need electricity. Make sure you cut the 4X4s in different sizes to give each snowman his own distinctive style and personality.
4. Outdoor Living Room Or Patio Area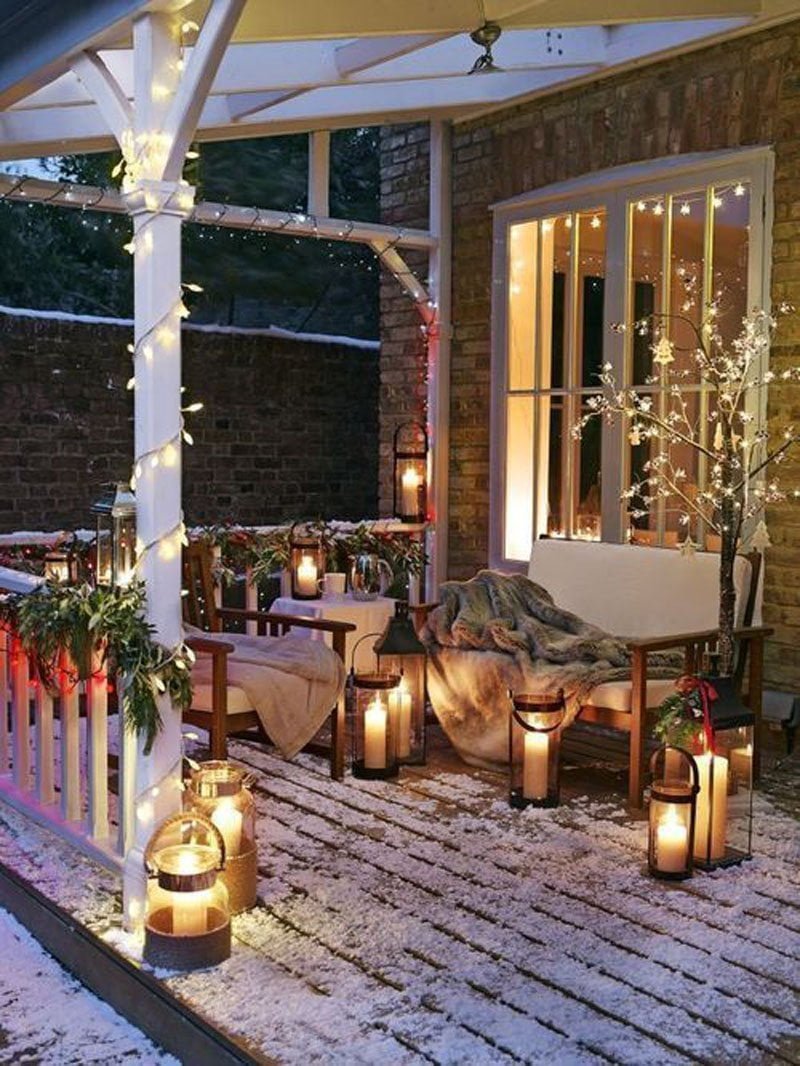 Winter proofing your outdoor furniture does not mean that you cannot decorate outside seating areas. For a dramatic effect, especially at night, arrange throws on covered outside furniture, hang outdoor Christmas lights around posts, shrubs, or plants, and place a dozen candles in glass containers in assorted shapes and sizes – rectangle, round or square shapes – around the seating area. The candles can be a single color or multiple colors. Many craft stores sell battery operated lights that can be used instead of lighted candles to keep the area safe for children and pets.
5. Pair of Boxwood Globes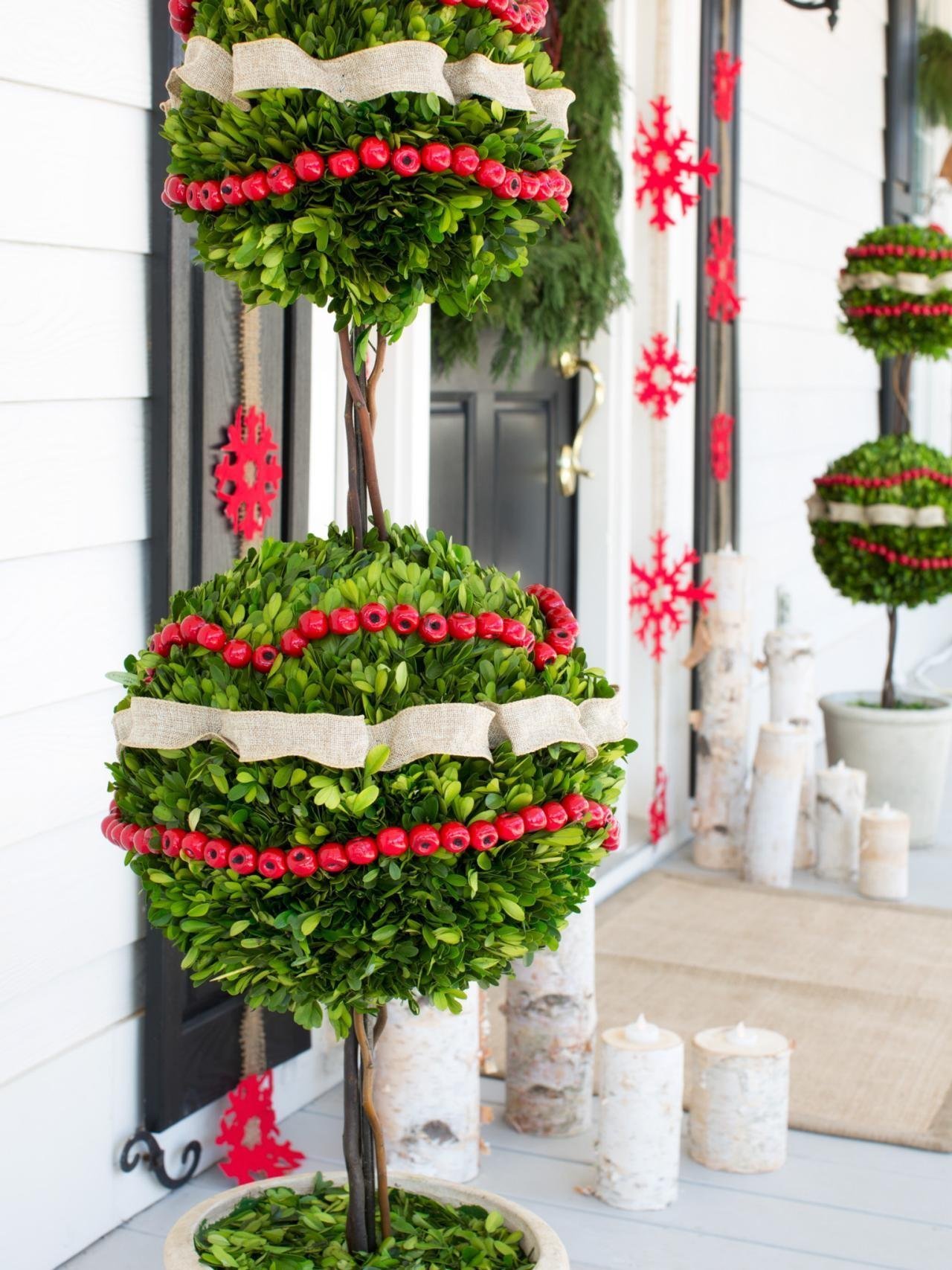 Source: Pinterest
There are some evergreens, like boxwoods, that maintain their leafy green hues throughout the winter. In this example, the two entryway pieces are decorated with ribbons made of cranberries and cloth. This is an inexpensive and low tech way to add a holiday theme to your entryways. The matching red hanging snowflakes, that mimic falling snow, is a nice touch and can be made from felt or rubber to bring out the red cranberries in the boxwood planters. Placing the fallen leaves at the bottom of the pot help keep the area neat and green.
6. Leafy Green Doorway and Wreath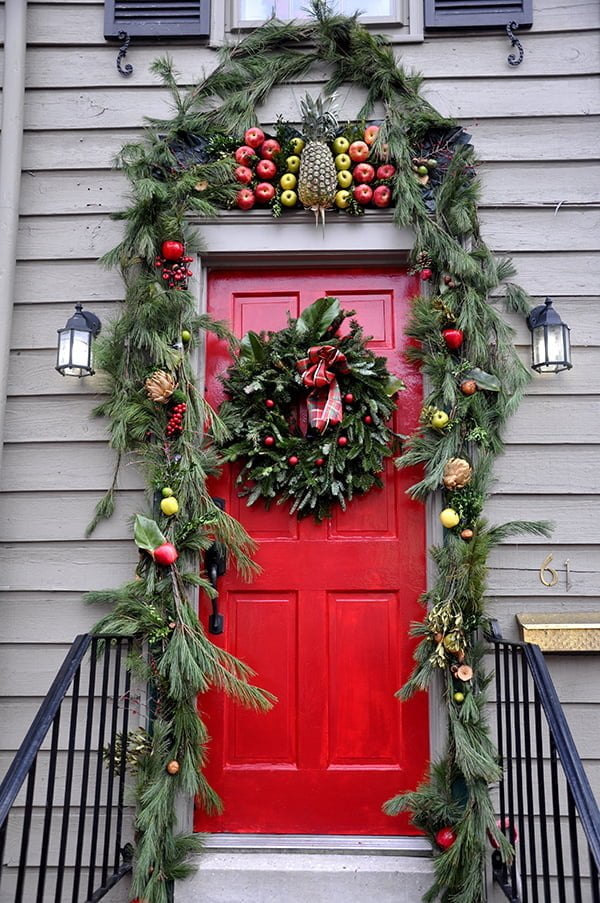 This is a great project for a patient person. The leafy pine leaves that adorn the doorway are hung in an upside down "U" and match the green leaves in the wreath. Displayed against the backdrop of the bright red door, the fresh leaves will provide the area with a fresh pine scent. Add plastic fruit ornaments like red and green apples, pineapple, cranberries and dried artichoke to the door decoration, remembering to bring over some cranberries to the wreath to tie the two decorations together. Don't forget to add a festive holiday bow.
7. Holiday Welcome Bench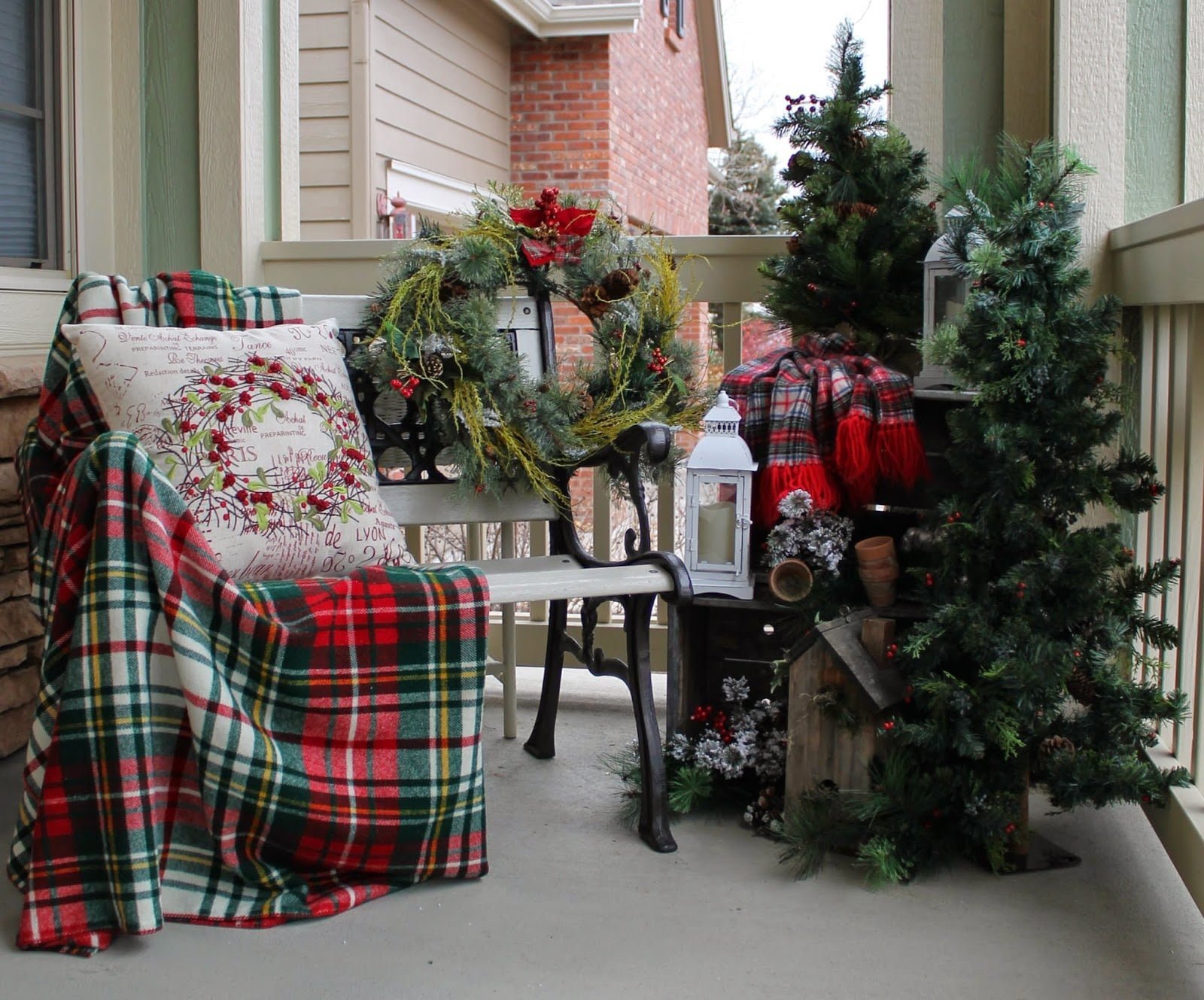 Decorate an outdoor bench or porch seating area by laying a cozy and colorful plaid caftan and seat cushion on the bench. If space permits, place a wreath at the opposite end of the bench. Delight your seated guest with a decorated wooden shelf. In this idea, two Christmas trees act as the "bookends" to the wooden shelf. The shelf contains lanterns with candles, flower arrangements which can be natural or plastic, and even a birdhouse. The Christmas trees are minimally decorated with red berries highlighting the red color of the caftans and tree skirt.
8. Snowman Buddies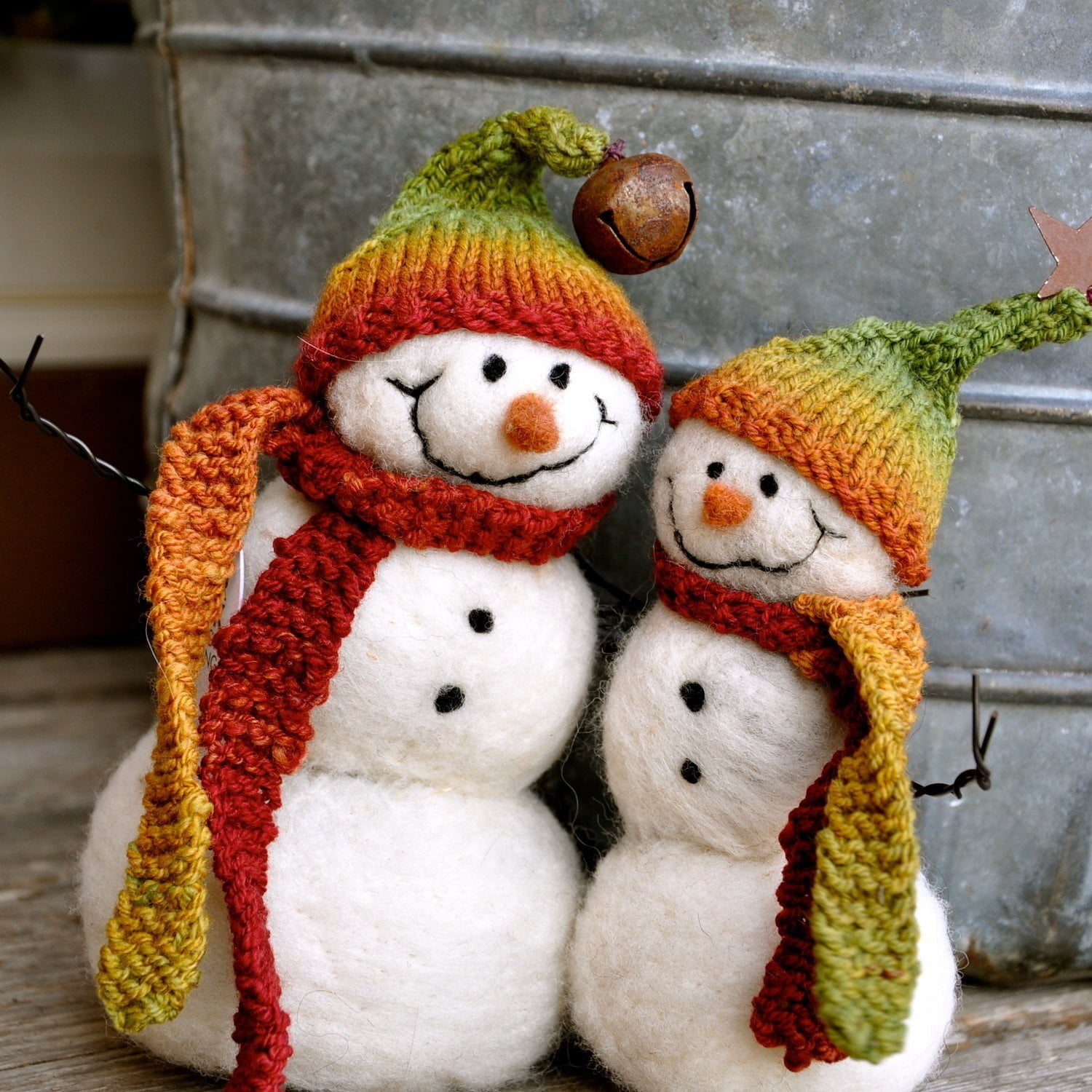 This pair of friendly snowmen look like they are posing for a picture or leaning in to talk with each other. Made from large cotton balls, the size of a grapefruit, orange, and lime, the snowmen pair are wearing knitted scarves and hats with a copper bell and star ornament at the tip. The eyes, mouth and chest buttons are made using black yarn. The nose is an orange yarn. For arms twist wires and leave ends open, like a hand. Place the arms in the middle ball and place the hand of one snowman around the other.
9. Lighted "FAMILY" Sign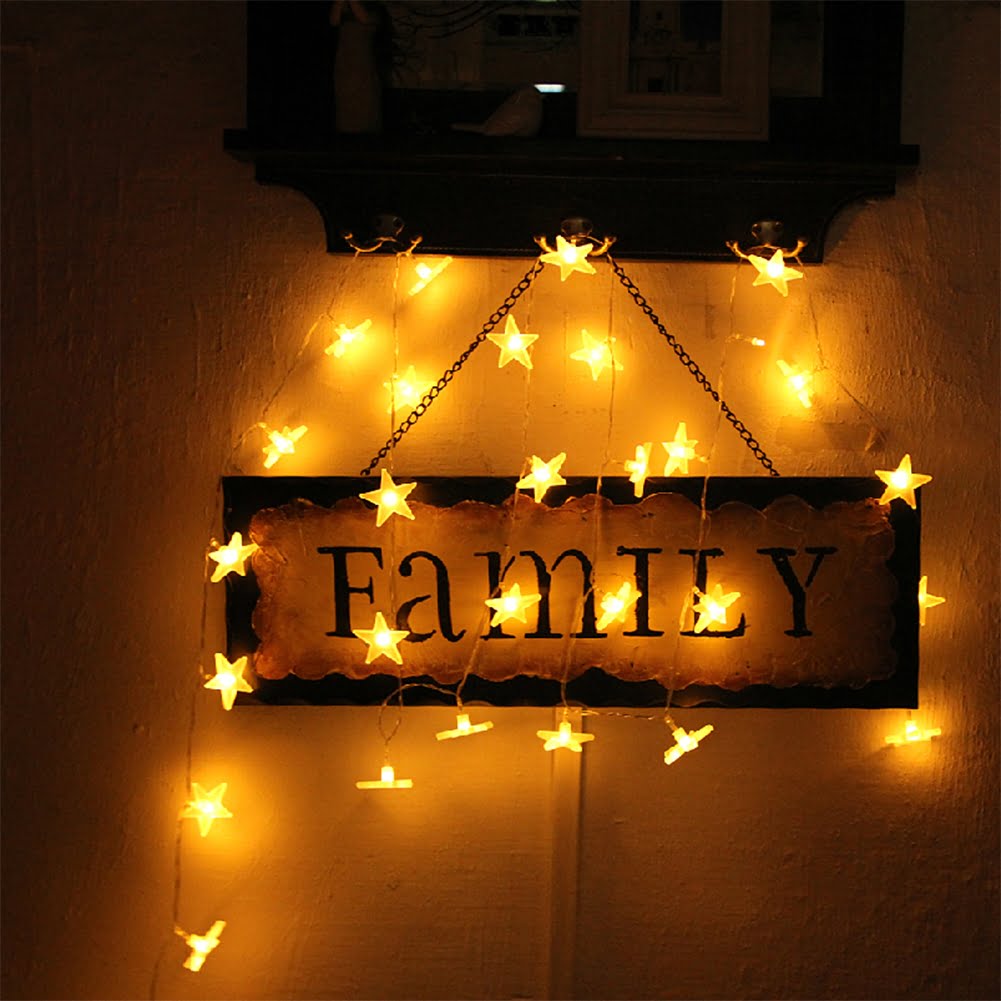 A nice way to display a holiday message is to hang it in a framed sign outside your home using lights. Since making a sign out of electric lights is difficult, and the mission here is to discuss DIY Christmas decoration projects, you will need to resort to the low fidelity splendor of electric Christmas lights to create the lighted portion of this project. Like in this idea, find festive electric lights you can drape around a framed sign with a holiday message. Here the message FAMILY is featured with star lights hung beneath a window.
10. Joyful Steps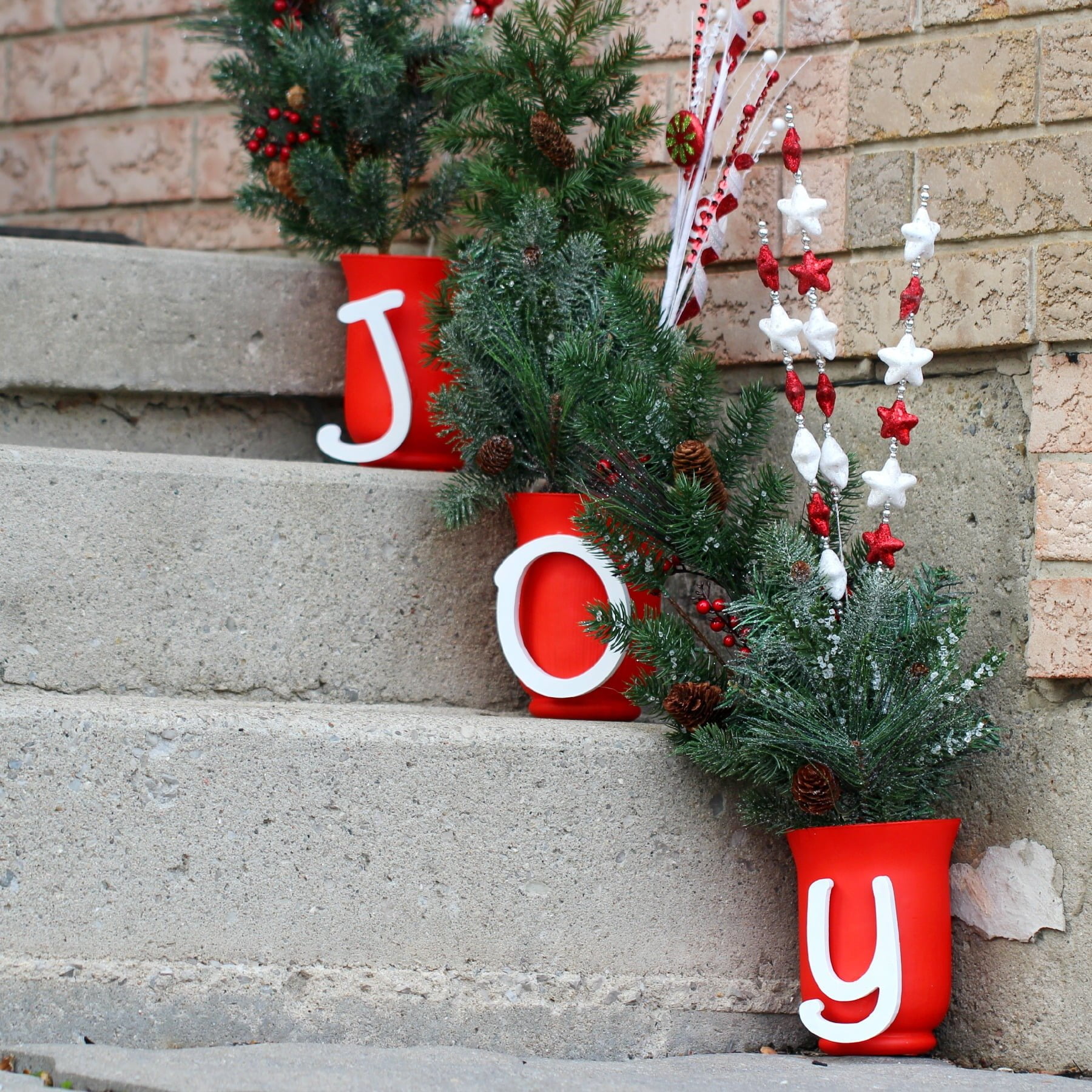 For those of you that do not have a porch but rather stairs that lead into your home or landing decorate the entrance by placing a message up the steps for your guests and family to enjoy. These steps are decorated with three red potted plants placed on each step and ornaments and decorative features in red and white to bring out the lush green of the plant foliage. The message of "JOY" is displayed by placing one letter on each of the potted plants in white. The touch of cranberries and pinecones offer a joyful touch.
11. "FA LA LA LA LA" Sign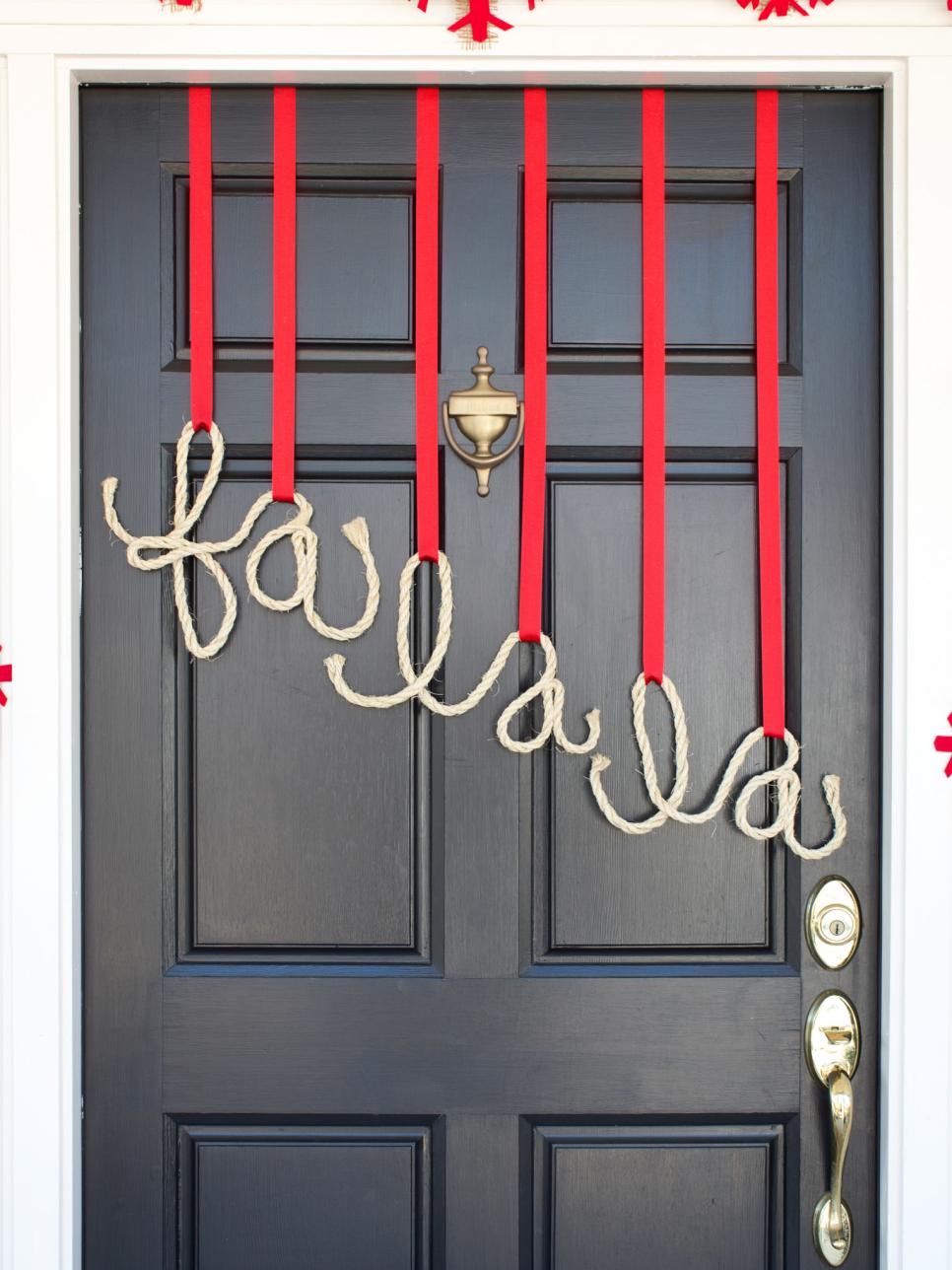 This is a great decoration idea for an apartment door or person who lives in a brownstone or row house with a stoop for an entryway. Take musical note sounds and string them up with bright red ribbons. Hang them over your door and display a holiday message while invoking a beloved Christmas Carol. In this Christmas crafts idea, each letter is made with a rope and featured in a scripted pair but hung individually and secured on the inside of the entry door. The combined letters say "fa la la."
13. Spread Wreath Love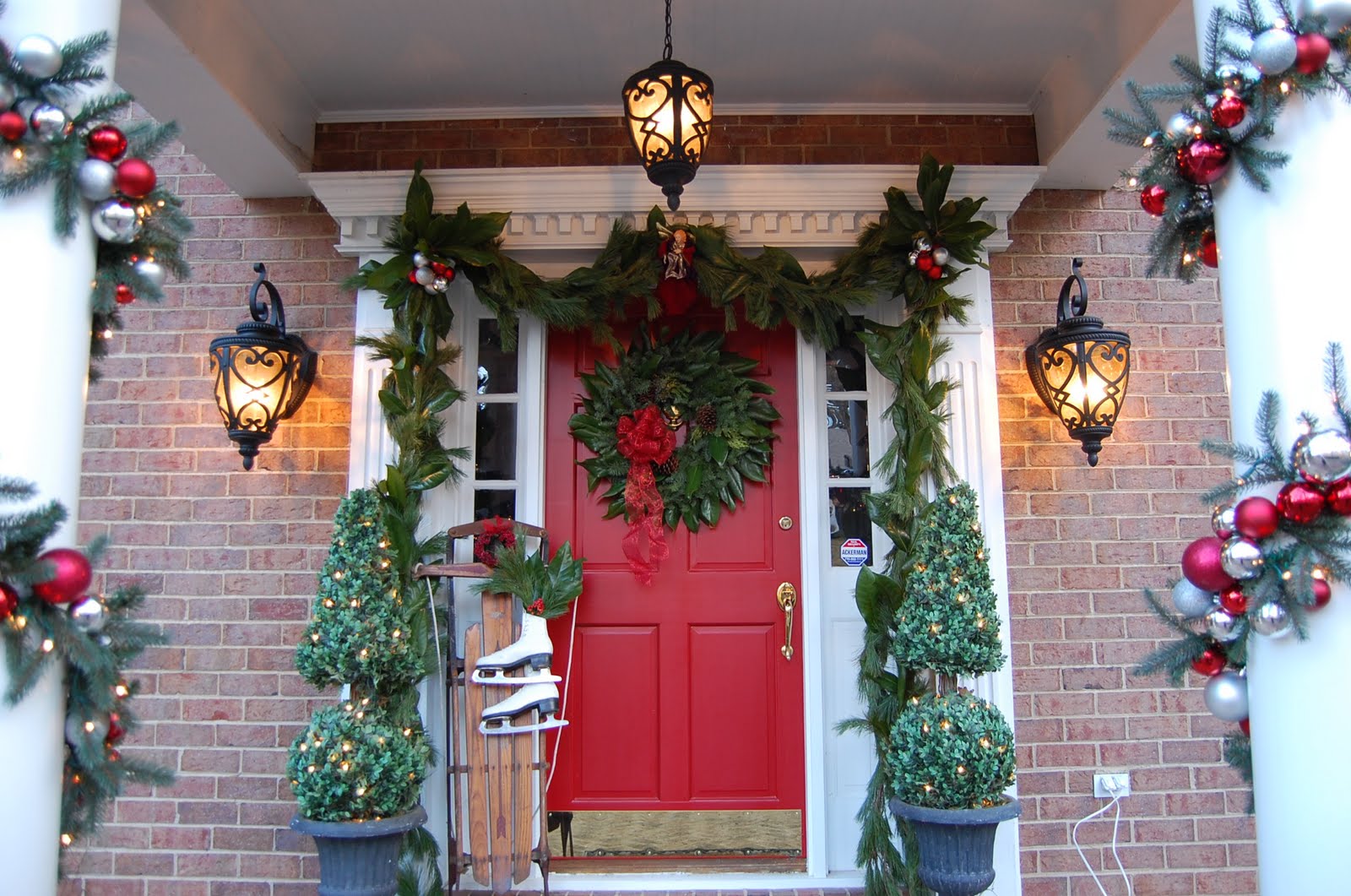 This Christmas decor idea works best with large entryways or covered porches. It decorates the door, door frame, and porch columns. The sled and attached ice skates focus attention on two great winter or holiday activities: sledding and ice skating. The door wreath, porch column decorations, and doorframe decorations use the same greens and are minimally decorated. The wreath has a big red bow while the doorframe decoration contains two red and silver globe ornaments on each side. The columns go a little wild with red and silver ornaments running the length of the wrapped column.
14. Winter Directions Signs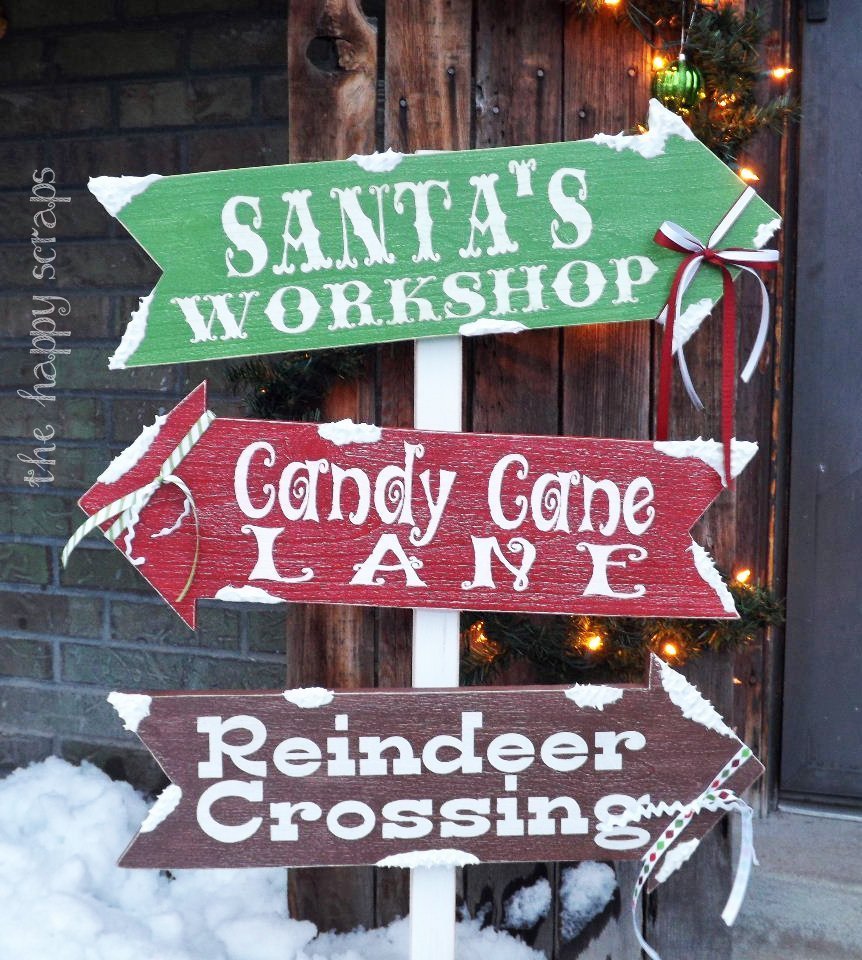 Source: Pinterest
These three signs use red and green colors with white lettering to list key holiday destinations. The wooden signs shaped like an arrow point people in different directions and contain the phrases "Santa's Workshop," "Candy Cane Lane," and "Reindeer Crossing." Help holiday goers get to their destination by placing these outdoor Christmas decorations on your lawn or main house entryway. Add ribbons and strings to the signs to bring attention to them, making it fun to read by your children and neighbors. And in case Santa gets lost, your signs will point him in the right direction.
More outdoor Christmas design ideas on the next page…