The best Christmas stockings are one part of creating Christmas morning memories that will be cherished forever. Your family may have an established Christmas stocking tradition, in which case you probably know what you are looking for in a Christmas stocking. If you are wanting to begin a special memory each year, starting with something small like matching stockings is a great start. Stockings are a great way to match your family's unique identity.
26 Eye-Catching Christmas Stocking Ideas That Will Last Generations

After considering your family's personality, the next step is to compare them to your space. What kind of decoration already exists in the room you would like to display them? Different room decoration styles call for different stocking styles. For example, geometric stockings would look cool in modern or industrial spaces. However, rooms are rarely tied to one decoration theme. Many rooms are combinations of recognized themes like farmhouse, industrial, mid-century modern, and coastal, meaning that some stockings would look perfect in more than one theme.
Of course, there are other important considerations like what other Christmas decorations you are planning to display as well as evaluating the size and shape of the stockings. It is an awesome idea to coordinate your stocking colors with other holiday decorations you are planning on displaying. Looking at the anatomy of different stockings is also important when determining the best Christmas stockings for your family. Some stockings have toes pointing to the right, while others have toes pointing to the left. Which will look better in your space? Big fluffy cuffs may be better than barely noticeable cuffs. Most importantly, how large the stocking is will determine if gifts are completely hidden.
Choosing the right stocking for your family is an important task. Every family changes, so versatility in stockings is often highly valued. Whatever your priorities, this list of Christmas stocking ideas will get you started.
1. Traditional Red, Green, and Ivory Hand-Knitted Stockings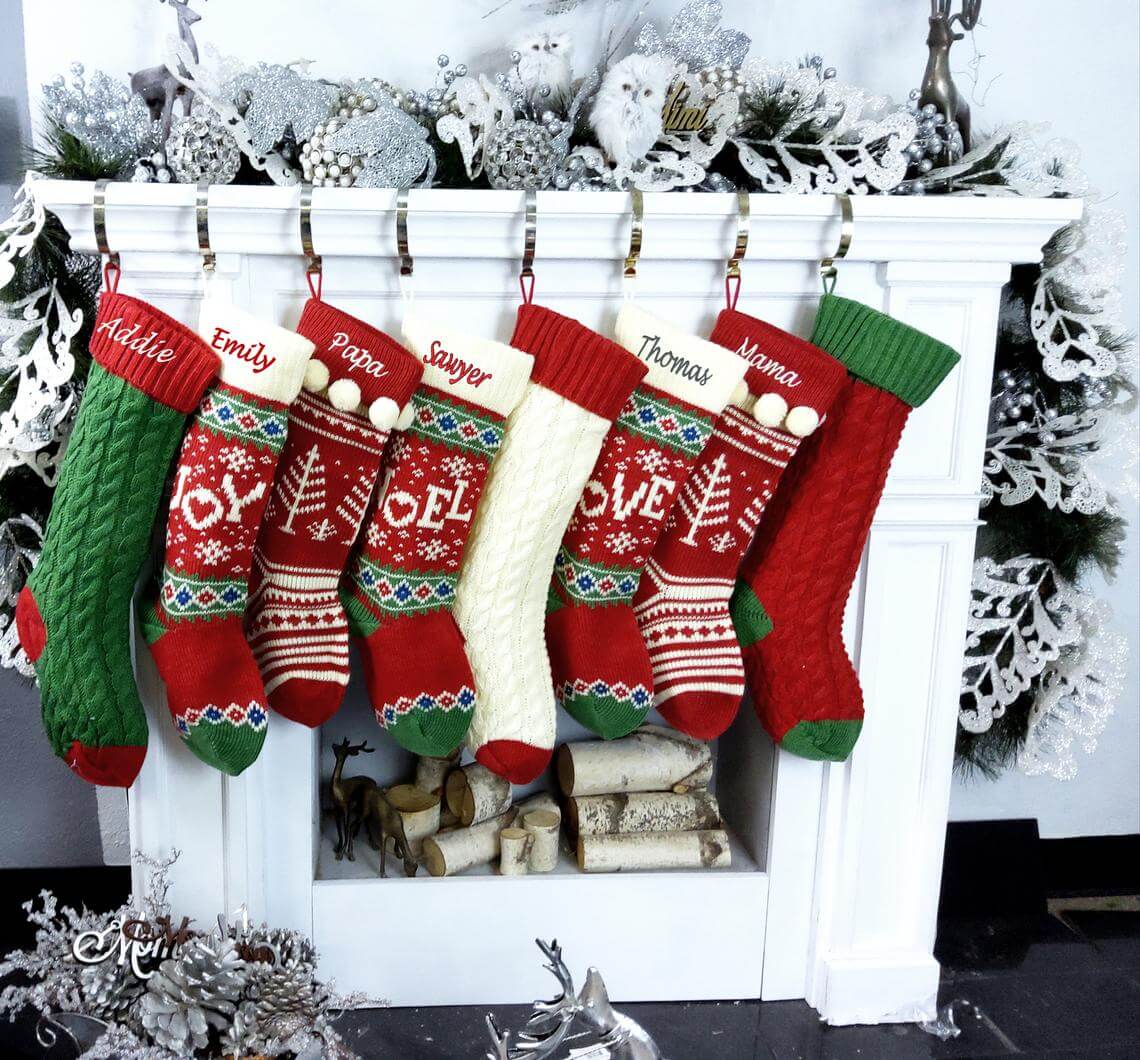 The first stockings hung by the chimney with care were probably similar to these stockings. Because these stockings are unlined, gifts placed inside will bulge. This adds a dimension of guessing fun! Each person's name is embroidered on the stocking's cuff. If your family grows, blank stockings can be shipped back to the shop and the new family member's name will be embroidered for free. Stockings designed for pets are even an option. These feature adorable pockets holding a bone for canines and a mouse for felines. If you want a traditionally-themed Christmas, these stockings are perfect.
2. Faux Fur with Name Personalized in Wood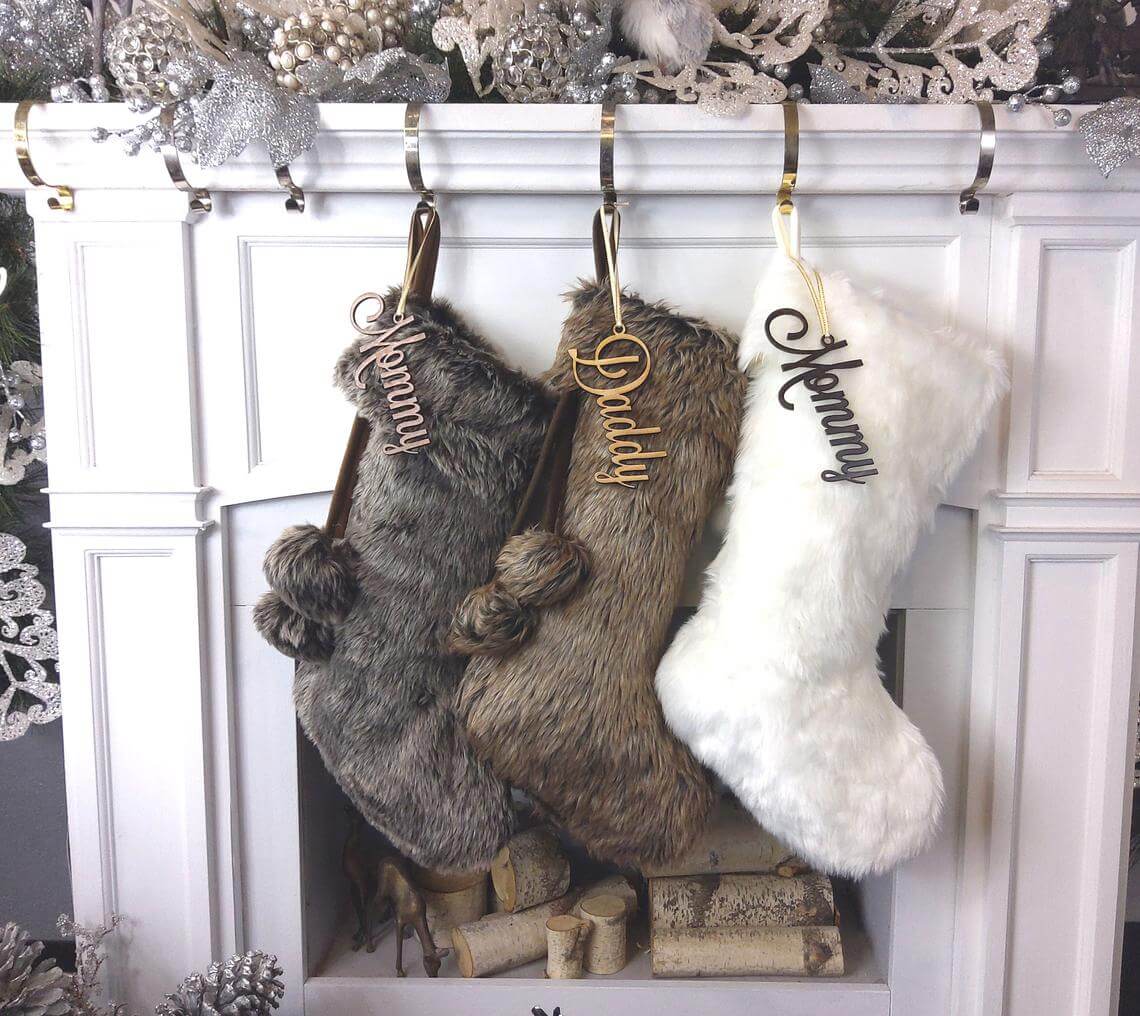 For a luxurious, nontraditional vibe, these fur stockings are marvelous. Because the stockings come with six color options and the wooden name tags come in eight finish options, these are sure to complement any room's color palettes. These stockings would look best in a lodge or rustic theme. However, choosing all cream or all dark gray stockings could be eye-catching in either monochromatic or modern rooms. These stockings are lined, meaning the treasure inside remains a mystery until it is removed. One drawback to the wooden name tags is that they are limited to names with only one word.
3. "Sweetie" with Stars Burlap Christmas Stocking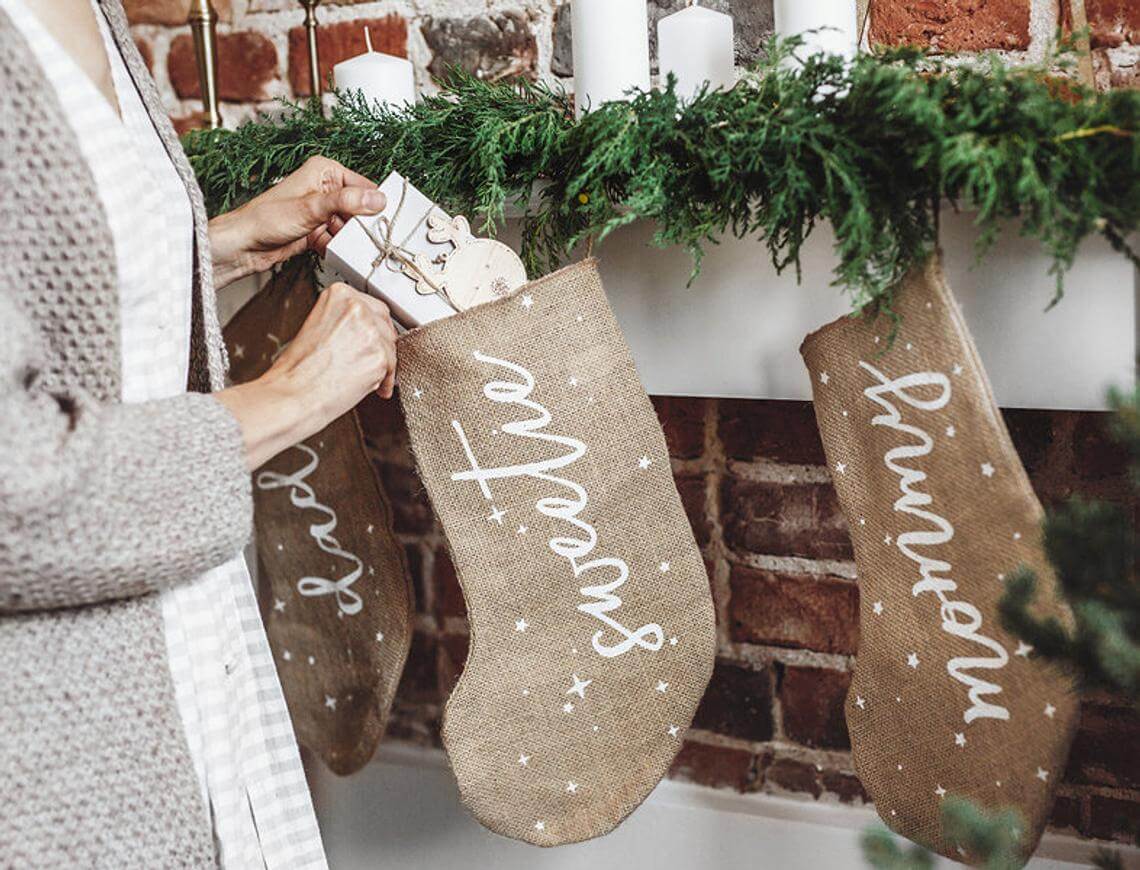 It almost goes without saying that this stocking would work in the farmhouse home decor scheme because that theme loves all things burlap. However, the unfinished material in combination with the simple blunt-toed shape makes this stocking a good choice for industrial living spaces. The jute's natural color and white stars would look good in a coastal theme. As warm earth tones in home decor grow in popularity, this burlap stocking will continue to offer a very versatile piece. The loose, cursive font chosen for the word "Sweetie" adds some free-spirited flair. The natural materials make these awesome Christmas stocking ideas.
4. Personalized Buffalo Plaid & Sherpa Stockings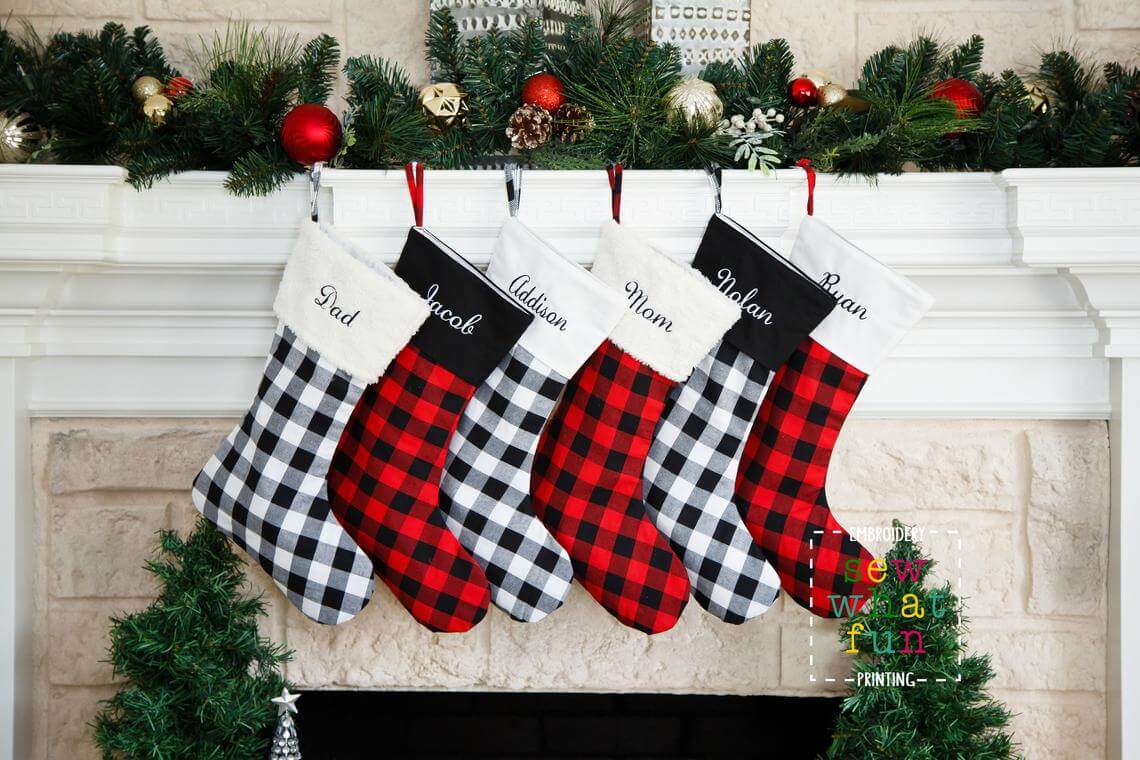 These stylish buffalo plaid stockings have many options to best match your family's personality and decor. With a paw print shaped stocking, even fur babies are included. The paw pad and cuff show the buffalo plaid pattern to complement the rest of the family's stockings. Because buffalo plaid is a classic pattern, it will always be in style and looks good in a wide variety of spaces. These stockings are available in black and red in addition to black and white to best match your holiday decor colors. The sherpa texture gives an unforgettably soft experience on Christmas morning.
5. Rustic Crocheted Stockings with Greenery Included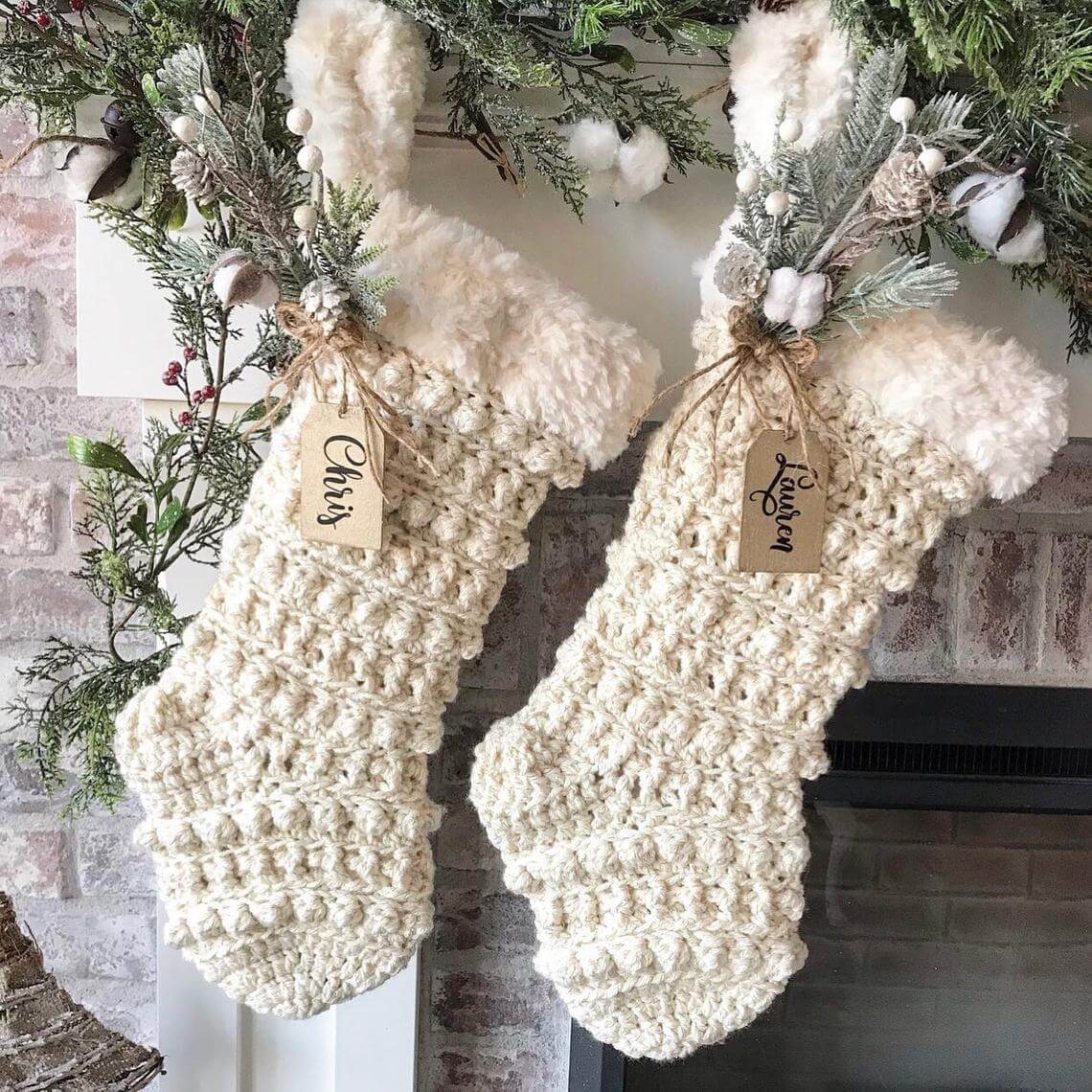 To add some delicious texture to your holiday decorations, choose these hand-crocheted stockings. Made from soft yarn and faux fur cuffs, they are a tactile delight. Sprigs of greenery are included, although they can differ slightly depending on what materials are available. This greenery gives these stockings that extra magazine-worthy pop. To prevent presents from falling through, there is a cloth lining that features dancing snowflakes. Wooden name tags attached with twine make these stockings work in a variety of rustic or farmhouse rooms. The recipient's first name or monogram can be featured on the nametag, which does add a little versatility.
6. Red & White Stockings with Personalized Glitter Names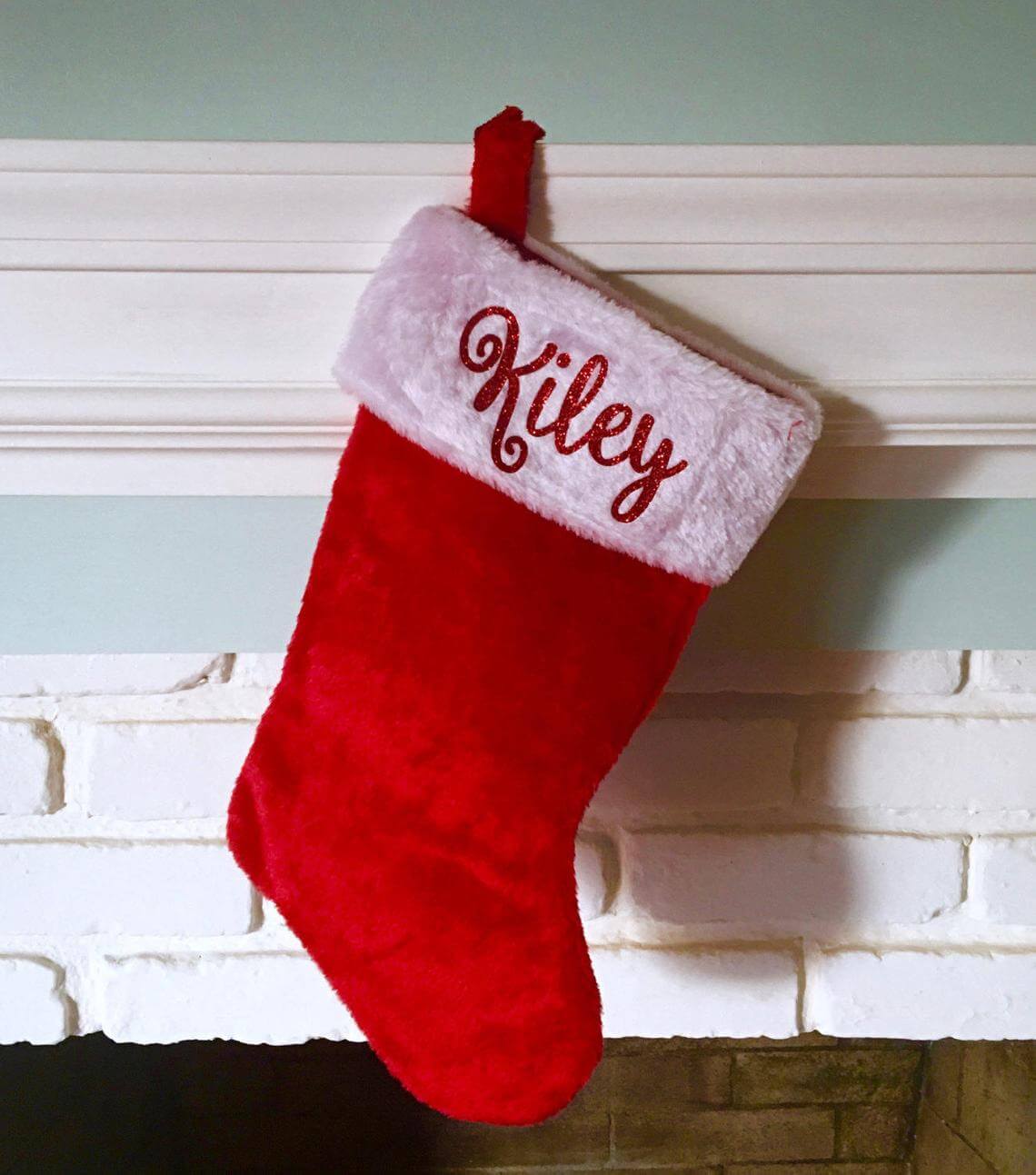 When I think of stockings, the first thing that comes to mind is a crimson stocking with a white fur cuff. These stockings are exactly that with the addition of the recipient's name in glitter. For the glittering name, there are five color options. The font is also customizable. Made of sturdy material, these stockings will last for years. Because they are the traditional picture of a stocking, they will fit in any holiday decor scheme, as long as the decor includes bright red. Beyond holding presents, these stockings could even be used as decorations with phrases like "Merry Christmas" emblazoned in glitter.
7. Soft Burlap Stockings with Customizable Name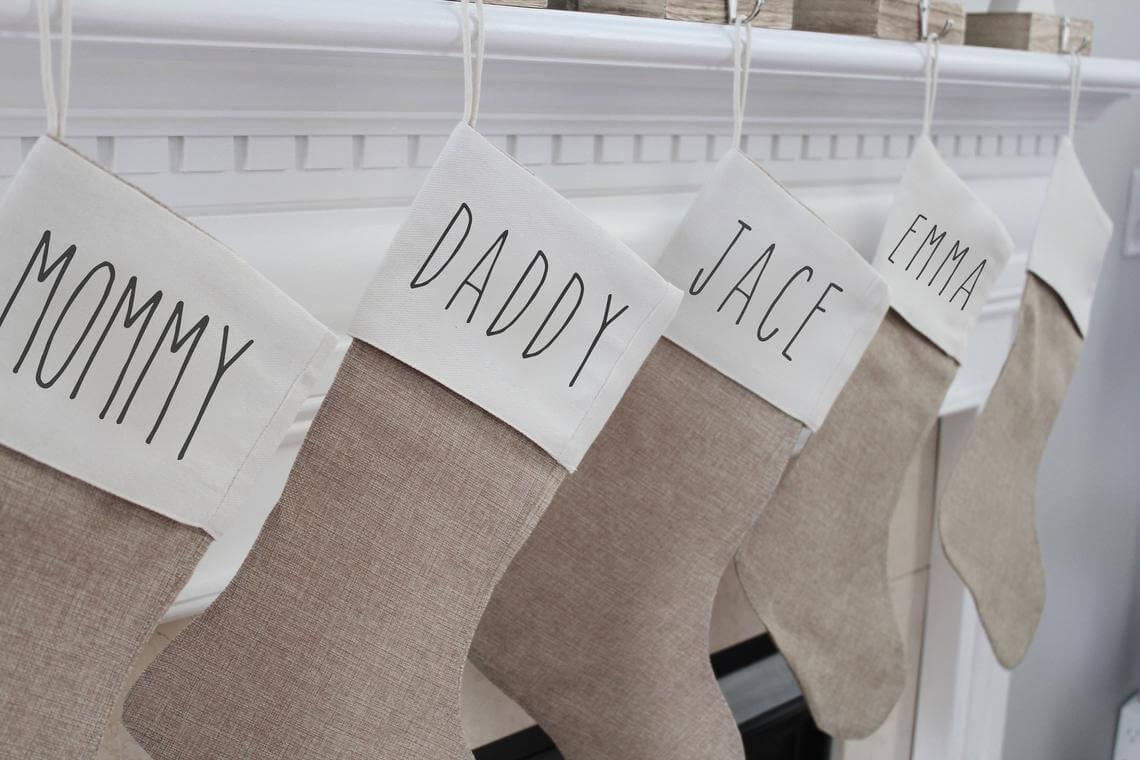 Burlap has a reputation for being rough. Made from a mixture of cotton and burlap, these stockings feel surprisingly soft without giving up any of that iconic rustic appearance. Most stockings are shaped like a stylized foot with a short, stubbed toe. However, these stockings are actually shaped like a foot. A highly legible sans serif font spells names in black on a white cuff, making everyone's name visible from across the room. Burlap is a versatile material that works with most decor themes. That means that these stockings will look marvelous no matter how you mix up your home or holiday decor.
8. Cozy Cable Knit Personalized Christmas Stockings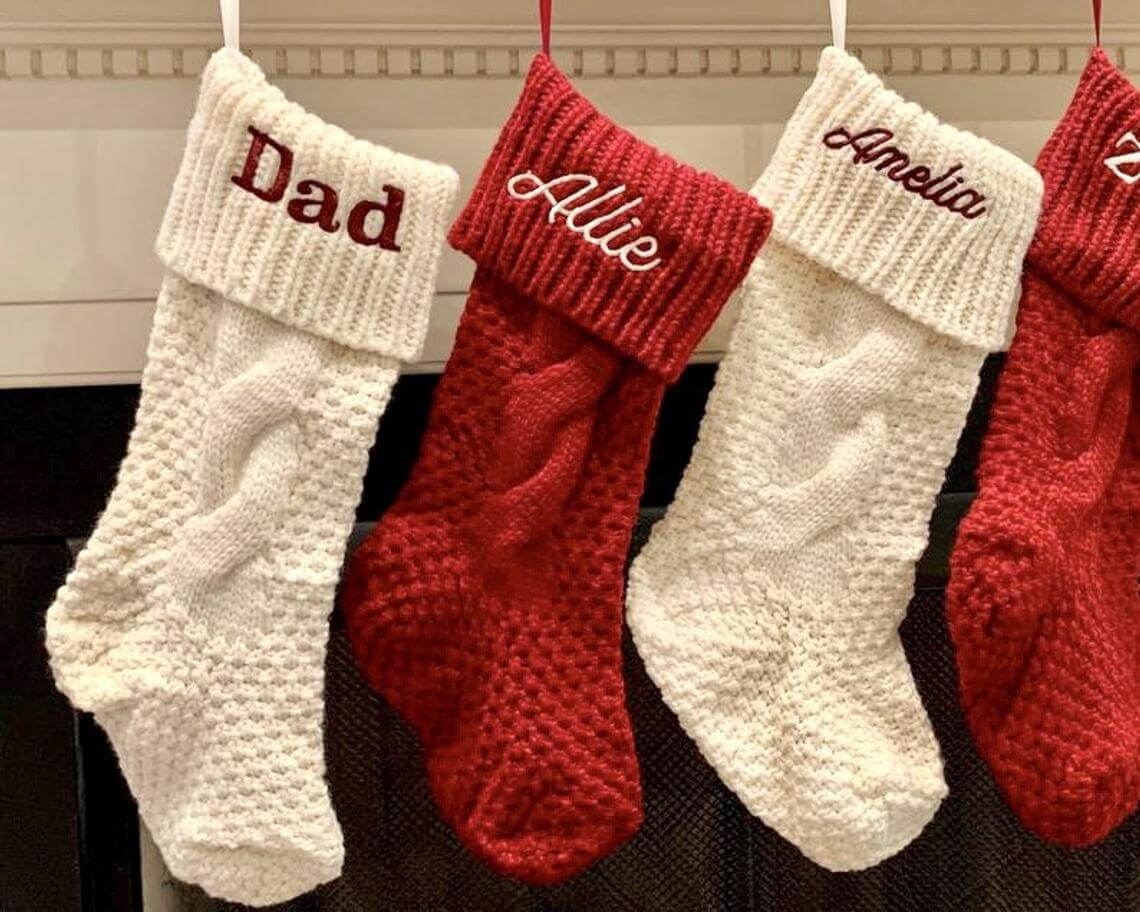 Nothing says cozy like knit and a fireplace. With a single cable to serve as a focal point, these cheerful stockings are sure to be a conversation piece. These are perfect for any decor theme that is thirsting for more texture. Four colors are offered including the rarer options of gray and green. For holiday decor schemes that do not include red, these cable knit stockings are an excellent choice. Two font options allow you to help match the stocking's personality with the recipient's. Because the knitted texture is classic, these stockings are a great addition to most holiday decor themes.
9. Glamorous Red Velvet and White Fur Stockings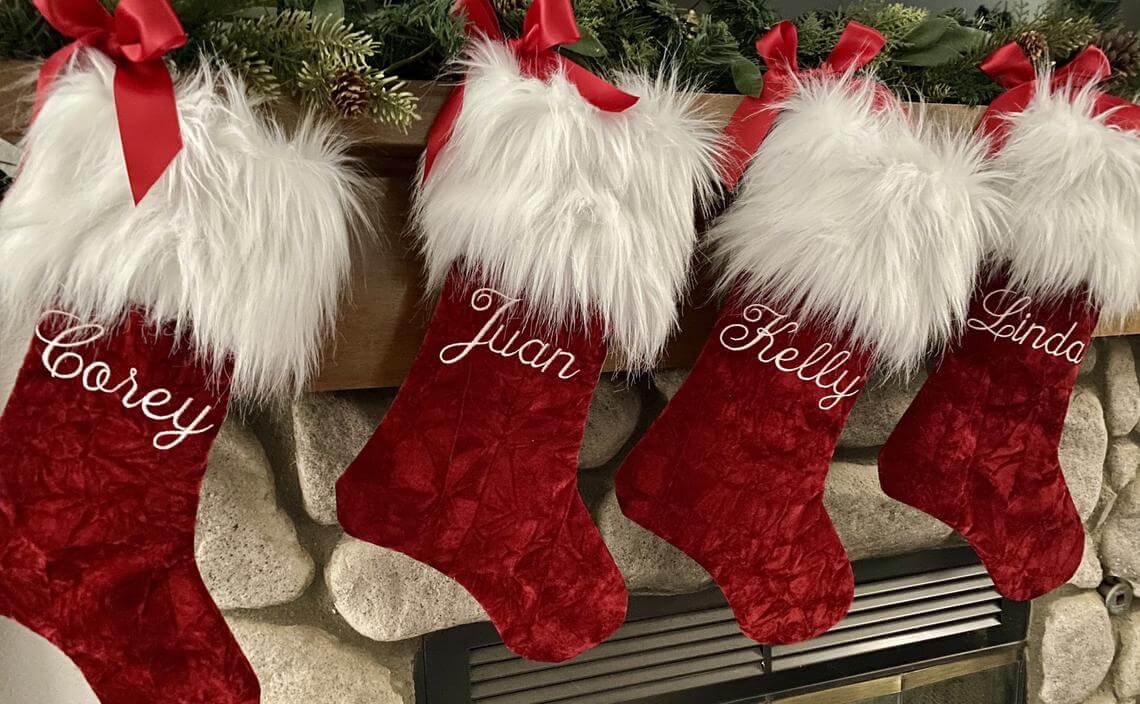 If your holiday style is big and bold, these show-stopping stockings are an awesome idea to spice up your decorations. These stockings take the traditional red and white socks a big step further. Crushed velvet material catches the light for a subtly interesting effect. Oversized cuffs with soft, white fur make these stockings a definite conversation piece. Not only do they look good, but they are also constructed from quality material to last for years to come. There are lots of different font options, and these stockings even give the option to have the toe pointing left in addition to the more traditional right.
10. Coordinating Burlap, Plaid, and Quilted Stockings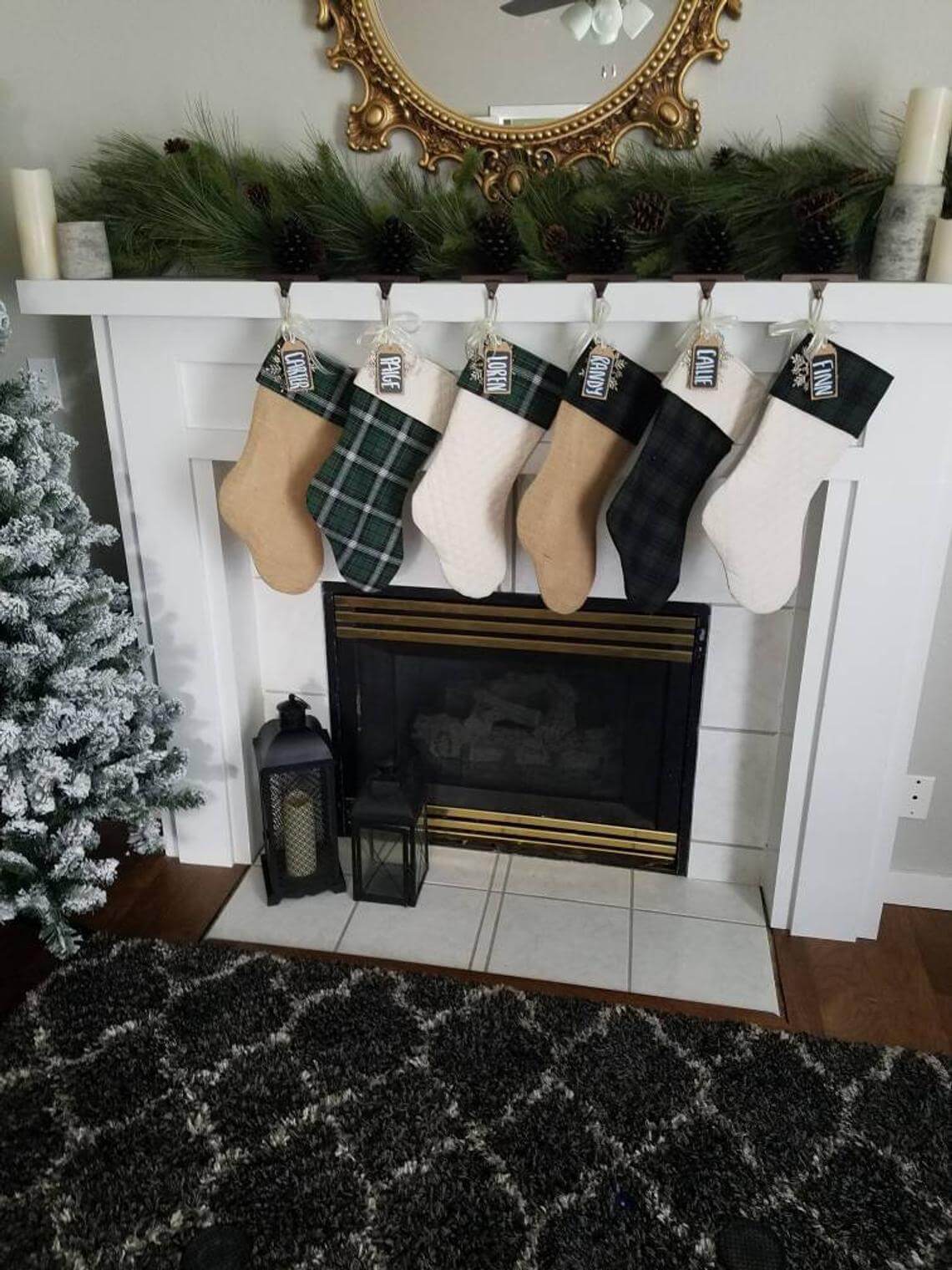 Coming in burlap, quilted cream material, and three different varieties of green plaid, these stockings are perfect for large families. They are also good if you have a large fireplace and like to mix things up. The different textures and colors are interesting to look at and fit in any home decor scheme that could benefit from a touch of homey comfort. A sparkly snowflake is included with a chalkboard name tag, to give each stocking a special pop of something extra. A cool forest palette with warm cream and burlap means lots of versatility for many years of holiday decorating.
11. Handcrafted Black and White Mudcloth Stockings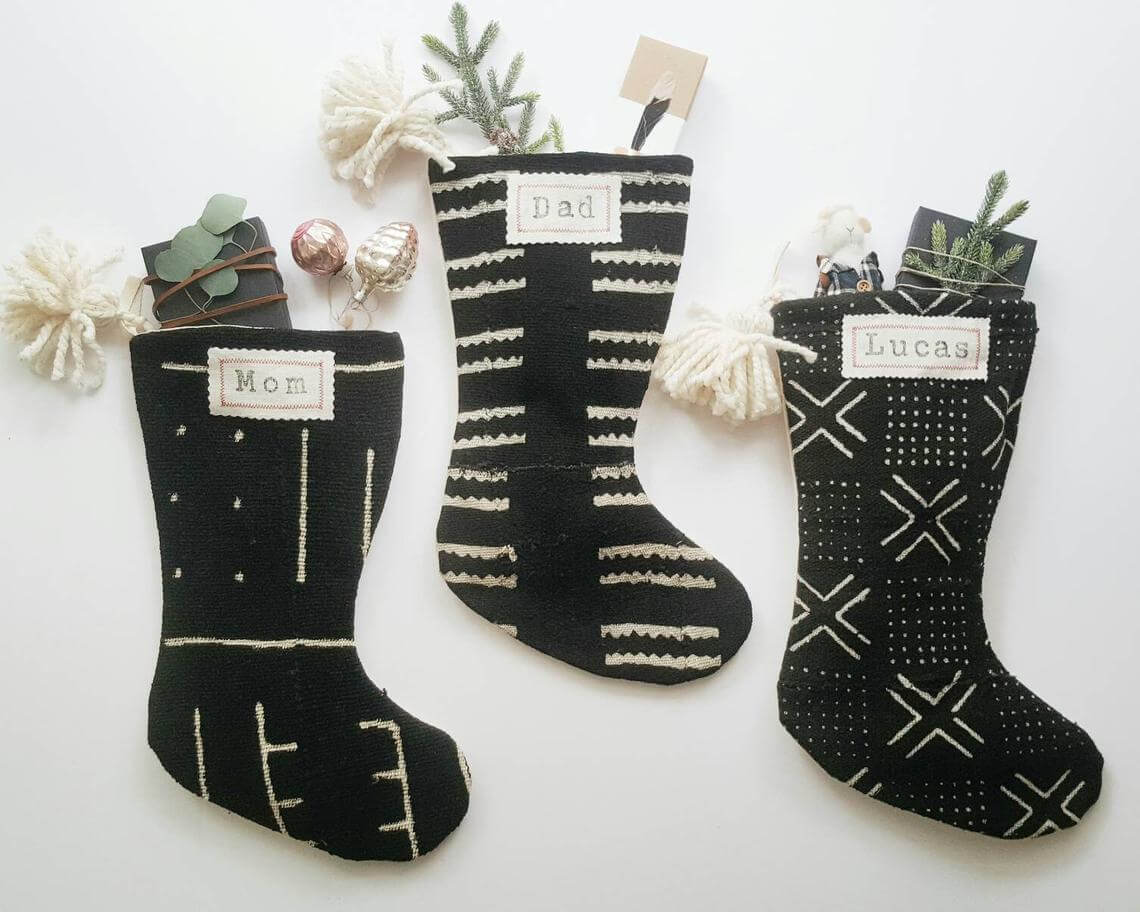 Each of these stockings is unique, as the material is hand-woven in Mali. Black and white looks good with every palette, so they will most likely look excellent in your home. Options for a white pom-pom and a primitive name tag are the little details that make these stockings even more unique. The inside is lined with sturdy muslin, and these are very durable stockings. The best Christmas stockings look good in any room with any decor as well as holding lots of fun Christmas treats. With distinct patterns for everyone, these mudcloth stockings will receive lots of compliments.
12. Whimsical White Velvet Stockings with Glitter Embellishments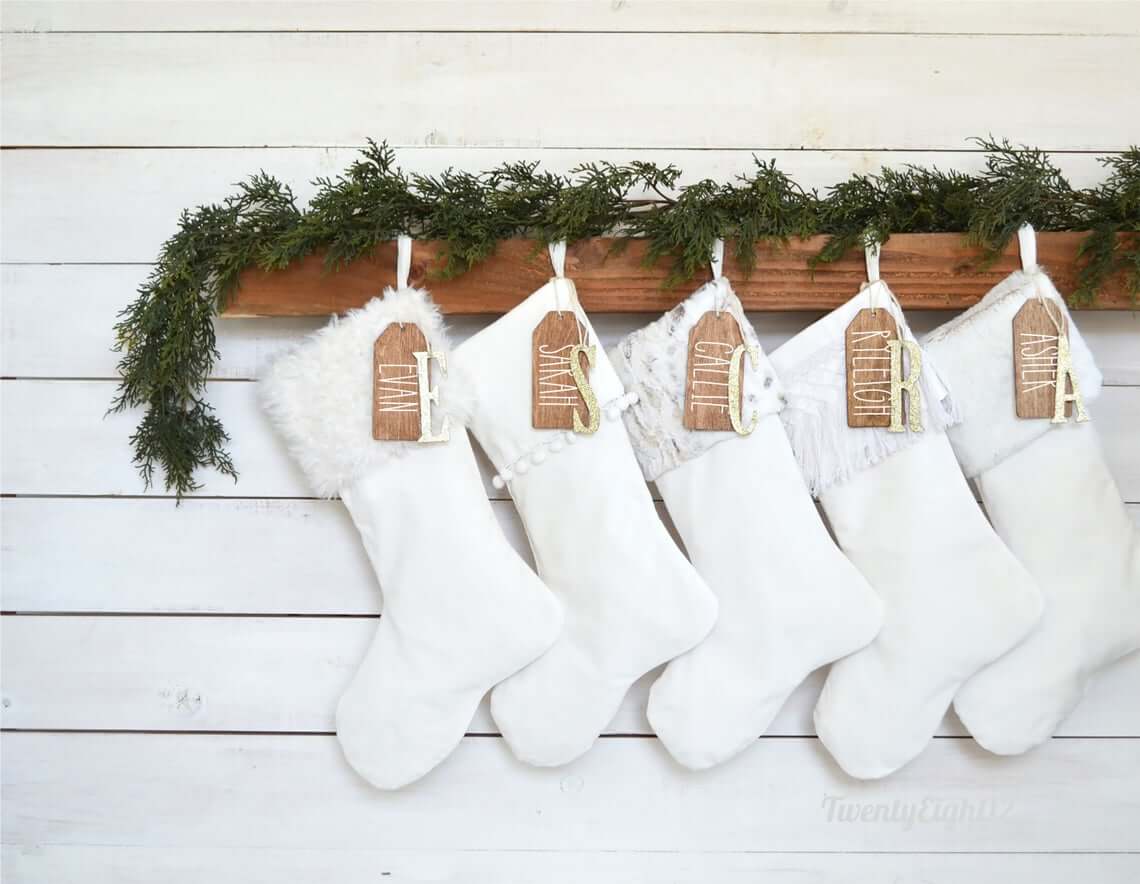 These white stockings add lots of textural interest without adding color overload. You have the option of choosing among five cuff options including ivory faux fur, miniature pom-poms, natural faux fur, white fringe, and white faux fur. The stocking portion is made of soft, white velvet. You are able to choose the color of a glitter letter embellishment affixed to the wooden name tag. White works with many decor themes. These stockings almost seemed designed to complete Bohemian or eclectic living space. However, they would also look at home in a farmhouse, lodge, or coastal room as well.
13. Coordinating Neutral Stockings with Shell Button Embellishments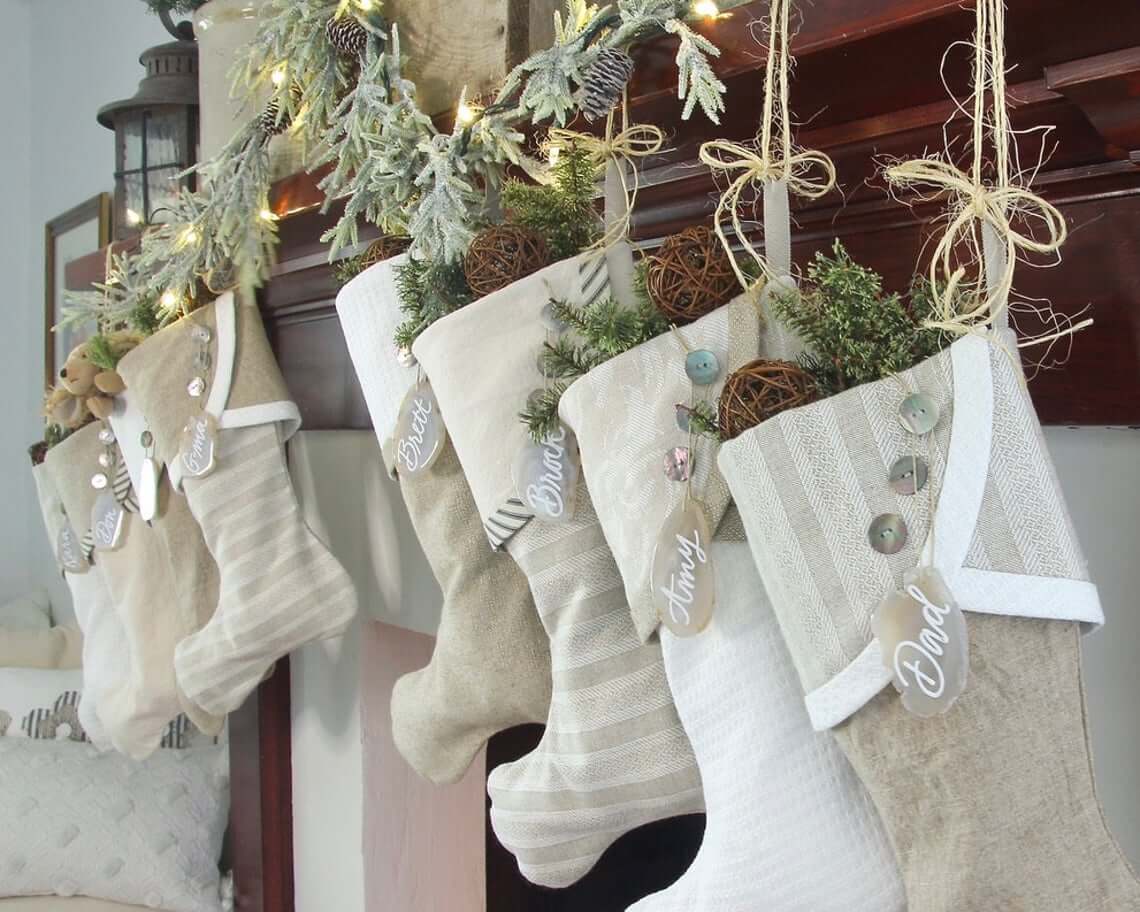 Some of the best Christmas stockings available for farmhouse decor, these coordinating stockings are a blend of lovely neutrals. Iridescent shell buttons add a pop of visual interest. Subtle patterns in the fabric make these interesting to look at, but happy to let the tree or other decorations take center stage. The contrasting cuffs transform these stockings from plain neutrals to understated chic class. In addition, the shape of these stockings features an extra-large toe — perfect for stashing that last treat. These stockings are a solid choice for versatile stockings that are durable enough to remain perennial favorites.
14. Personalized 3D Cartoon Stockings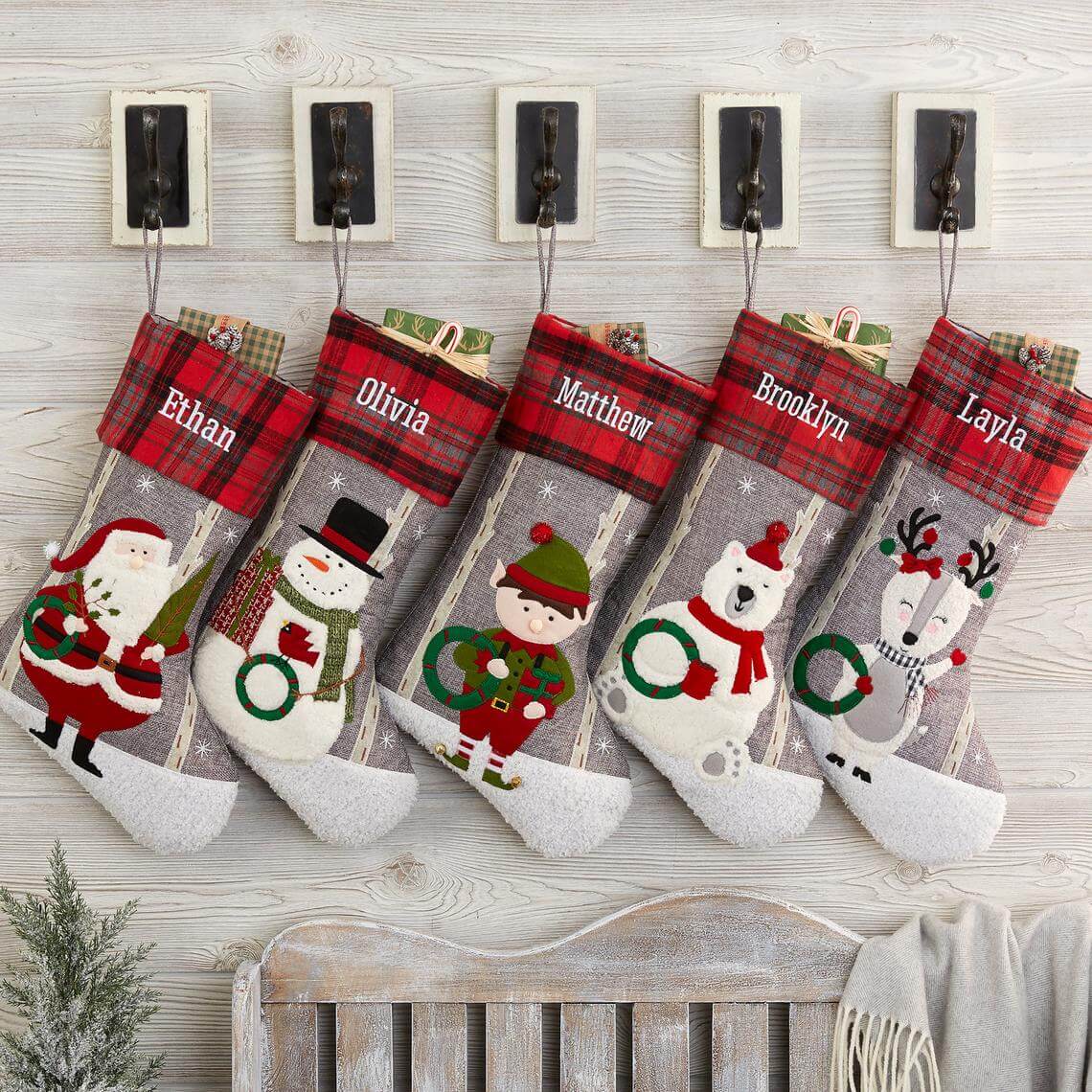 With options for playful characters of Santa, a snowman, an elf, a polar bear, and a reindeer, these stockings are perfect for either small kids or anyone who is young at heart. Each figure includes 3D features like noses, beards, pom-poms, bells, and fur. The color palette for these stockings is gray, white, red, green, brown, and black. With that many colors, these will fit into several different color palettes but would fit best in cool color schemes. The characters on these stockings are sure to bring smiles and would be a big part of those special Christmas morning memories.
15. Hand Knitted Vintage Character Stockings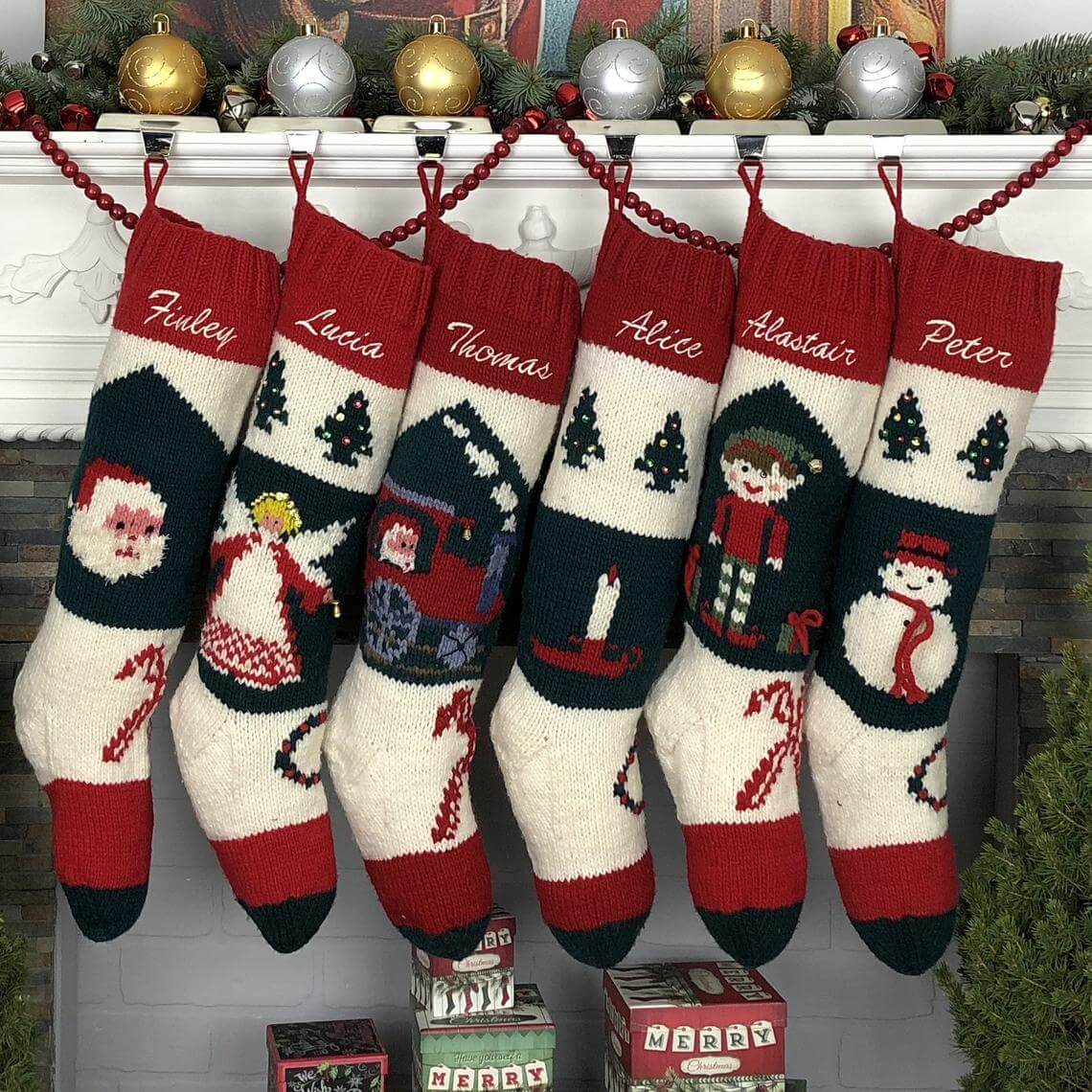 Great for mid-century modern decor, these vintage stockings offer handcrafted charm. Many have inherited handmade stockings like this from their family, but families grow. These stockings offer a rush of nostalgia for those adding to an older stocking set and offer the promise of that nostalgia for anyone starting a stocking collection. Embellishments like bells, beads, and sequins add that extra something special. Each person's name is embroidered just below the cuff. To best match your holiday style, there are two font options: script and typewriter-esque block letters. Gold, white, and green are the embroidery color options to tie into your holiday decor.
16. Coordinating Gray Stockings with Embroidered Name Tags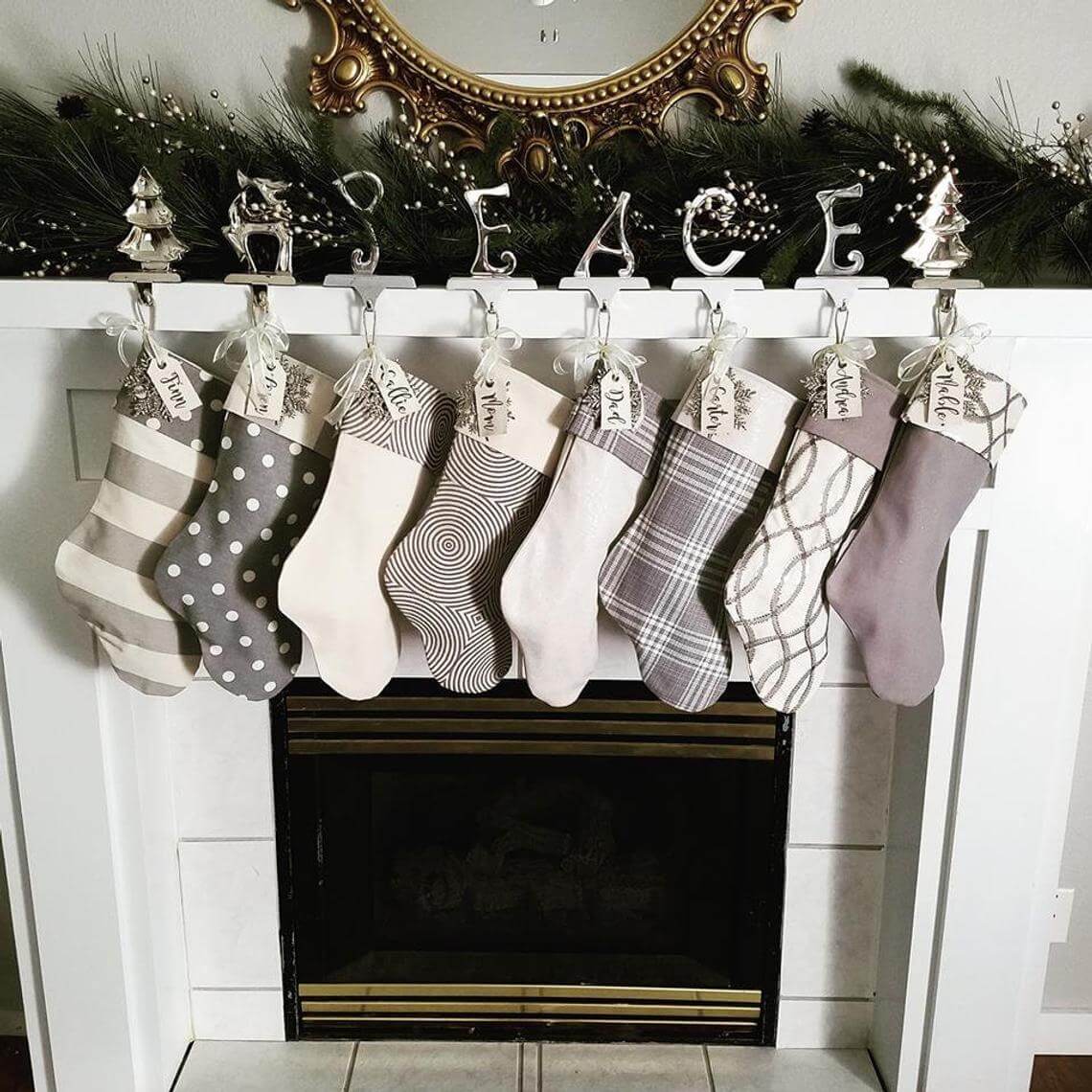 Polka dots, stripes, swirls, plaid, and sequins are all options in these coordinating gray stockings. The gray and white colors make these great personalized Christmas ideas compatible with many decor themes. Depending on which patterns you choose, they can work in industrial, farmhouse, modern, and even Bohemian spaces. The embroidered name tag is a great touch. There are several font options to ensure that everyone's personalities can be matched. In recent years, gray has been one of the most popular interior paint colors. Not only do these gray stockings coordinate with each other, but they will also coordinate in rooms that follow this trend.
17. Minimalist Linen Stockings with Custom Name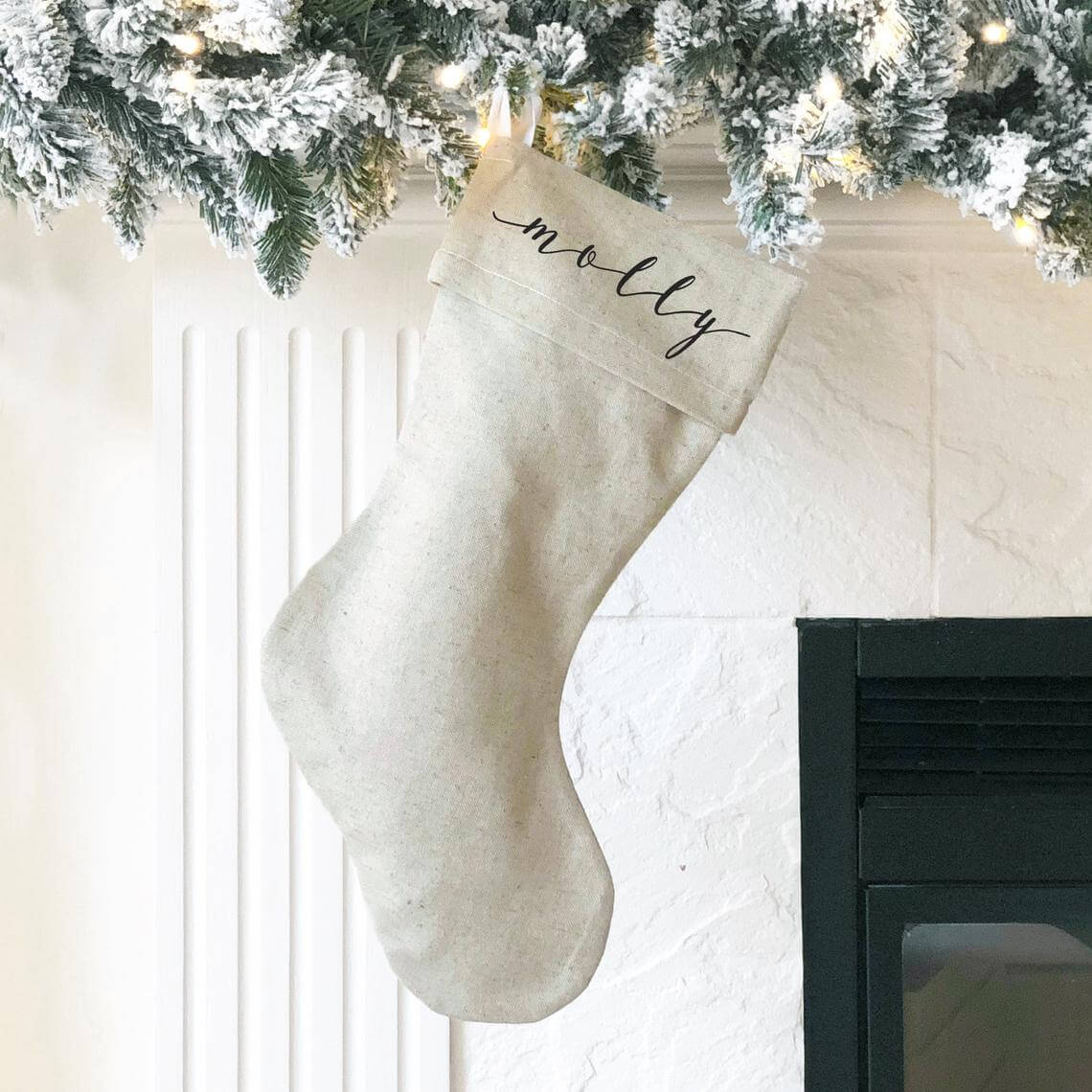 Chic in their simplicity, these are some of the best Christmas stockings. Because they are made from sturdy linen, they promise to bring joy for many Christmas seasons to come. Names are printed on the linen, and there are four font options. The linen and cotton blend complements almost every home decor theme: minimalist, industrial, farmhouse, rustic, cottage, and coastal. Linen is like the grown-up burlap, and these stockings add an adult appreciation for the simple. With their minimalist design, these will not compete with your other holiday decor. These stockings will do exactly what stockings are supposed to do: hold Christmas treats in a special way.
18. Heirloom Red and White Wool Stockings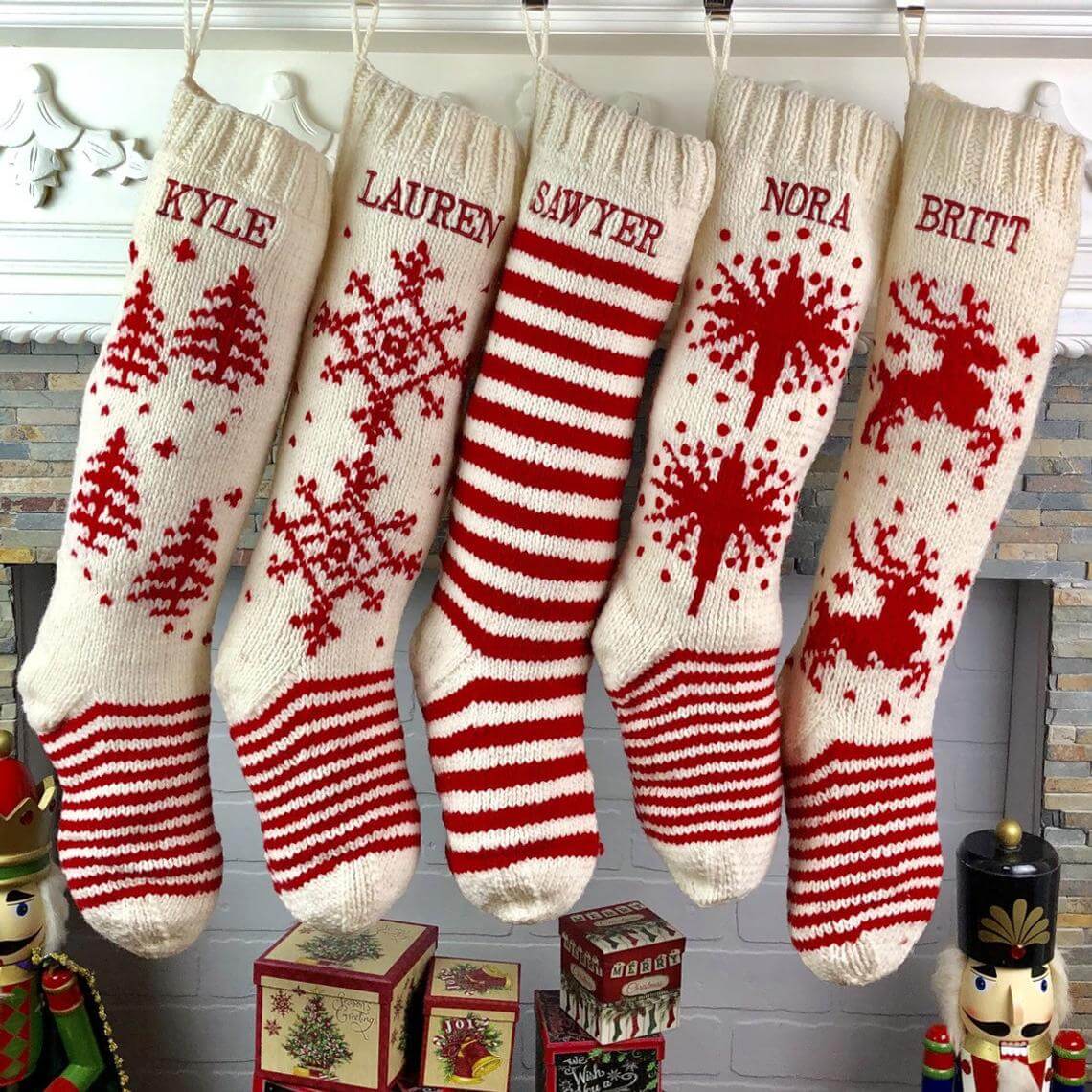 Authenticity never goes out of style. These unique hand-knitted stockings almost look like they could be taken down from the mantle and worn. If you are looking for personalized Christmas ideas, these vintage-inspired stockings are an awesome idea for a gift. They come in classic Christmas motif patterns including pine trees, snowflakes, stars, reindeer, and candy-cane stripes. Names just below the cuff can be in flowing script or legible block letters, to best match your family's personality. For a beautiful reminder of times past, these stockings are a fantastic option that is sure to be a favorite for generations.
19. Red, White, and Olive Cable Knit Stockings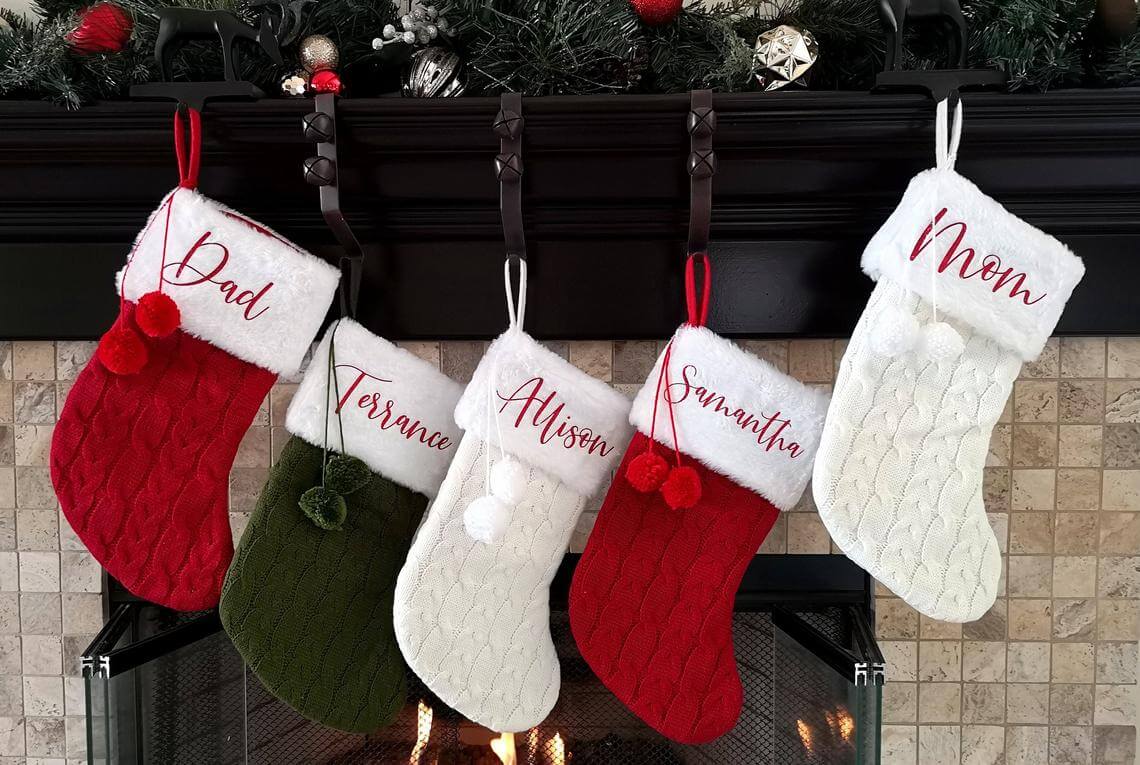 Each of these cable knitted stockings comes with a faux fur cuff and delightful pom-poms. Because these stockings use a more stylized shape with a snub toe, gifts are not likely to get wedged in a narrow toe. Cable knit gives a subtle, interesting texture that complements most home decor. If your holiday decorations include olive green, finding an olive green stocking to match can be challenging. Six glitter options for the name listed on the cuff give the cable knit stocking a modern twist. When hunting for versatile stocking ideas, these cable-knit stockings are the perfect mix of classic and modern.
20. Regal Silk, Velvet, and Sequin Stockings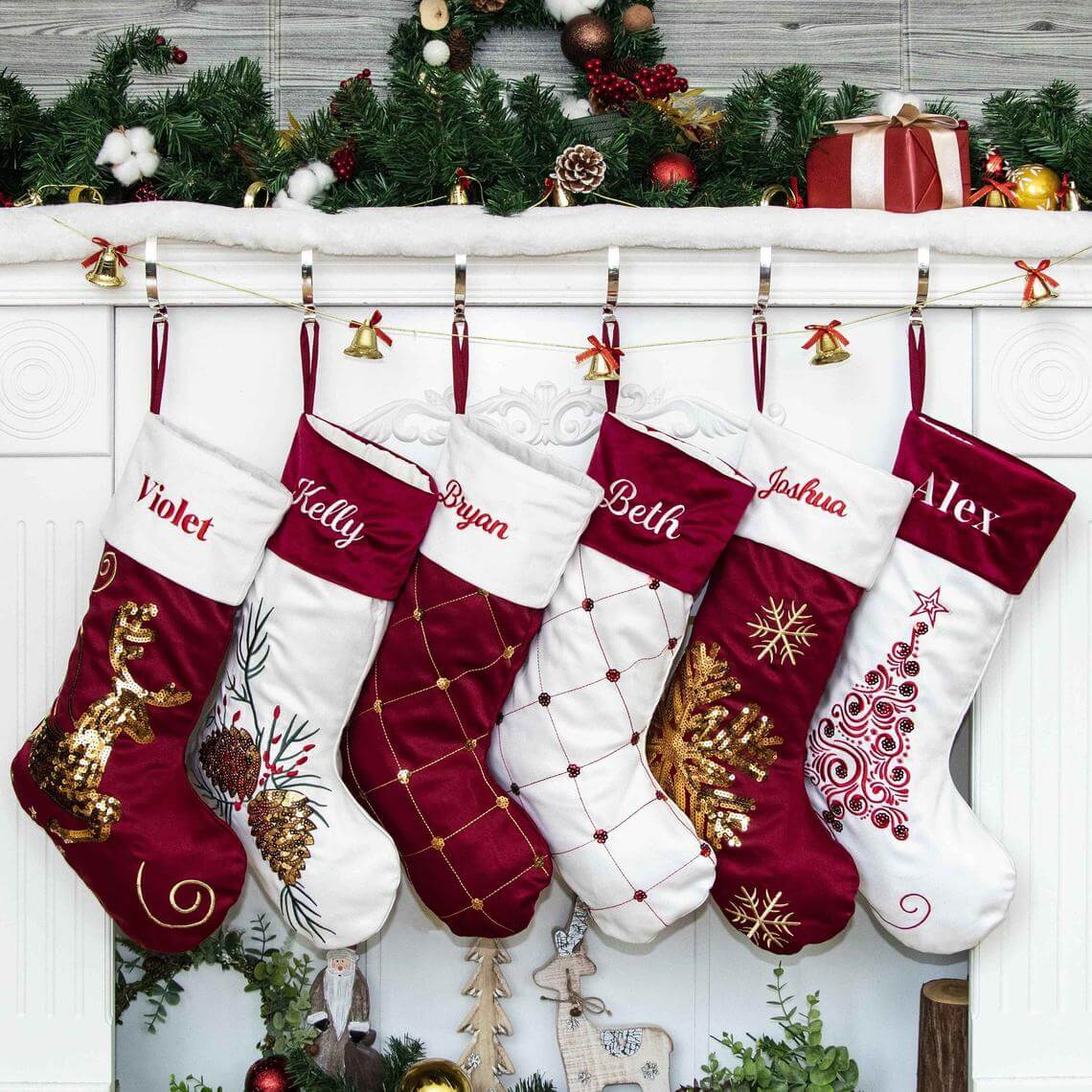 Treat your fireplace like royalty with these white, burgundy, and gold stockings. The cuffs are made of velvet and the remainder is made from durable silk-like polyester material. The combination of materials makes these stockings visually interesting, and the sequins add some sparkle. Flashier, sequin-filled patterns include reindeer, pinecone, and snowflake. More subtle patterns include a Christmas tree and diamonds in both red and white. Each person's name is embroidered on the velvet cuff, and there are four font options. If your holiday theme is elegance, this silk and velvet coordinating set are among the best Christmas Stockings.
21. Refined Gold and Red Stockings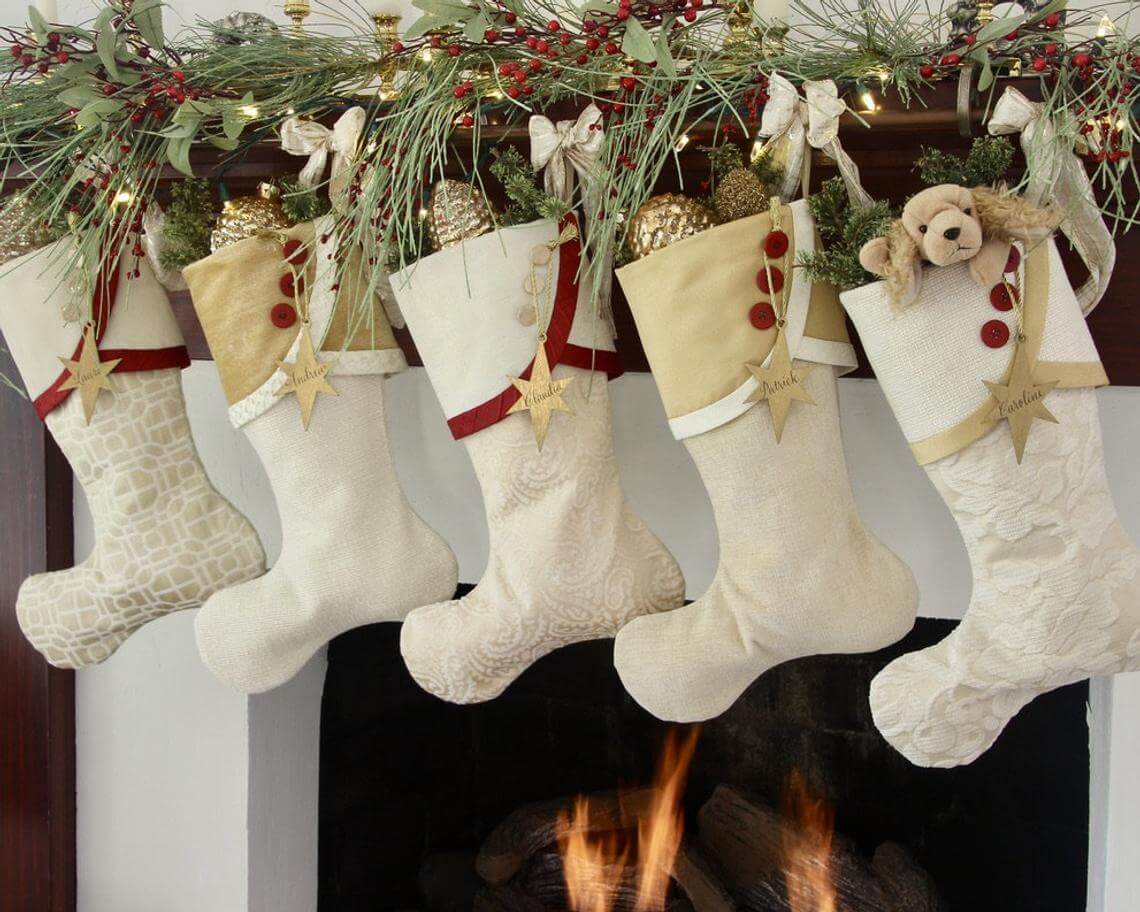 Made from luxurious fabrics like velvet, damask, and chenille, these stockings offer the perfect combination of demure maturity and childlike fun. Each stocking is constructed from cream, gold, and white materials with a rich red accent. One of the best things about these coordinating stockings is that they offer a variety of patterns that look good when used in several home decor themes. A subtle damask would look fantastic in an old-world room while the geometric pattern would work wonders in industrial or modern spaces. For unique stockings that tie well into most Christmas decoration themes, these elegant stockings are sure to excite.
22. Buffalo Plaid & Burlap Personalized Stockings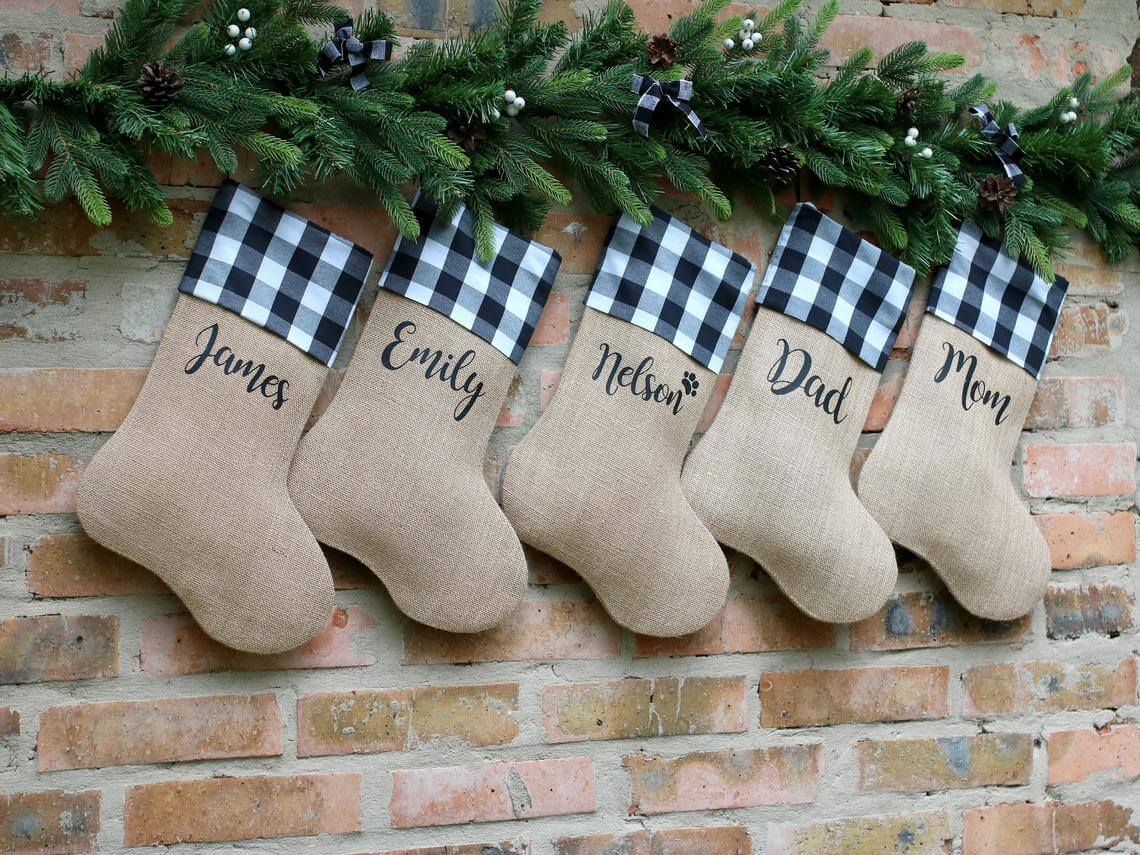 These simple stockings would look at home over any fireplace. Buffalo plaid and burlap pair in delightful harmony to create stockings that would work in the industrial, farmhouse, or rustic rooms. Both these fabrics have roots in rough, hard work. However, they can now be paired seamlessly in sophisticated spaces. The customizable names are heat-transfer vinyl, so everyone has his or her own stocking for the holidays. Pets even have the option of a special paw print next to their names! The stocking shape is generous all over, so there will be no problems fitting larger gifts inside.
23. Tantalizingly Tactile Stockings with Tassels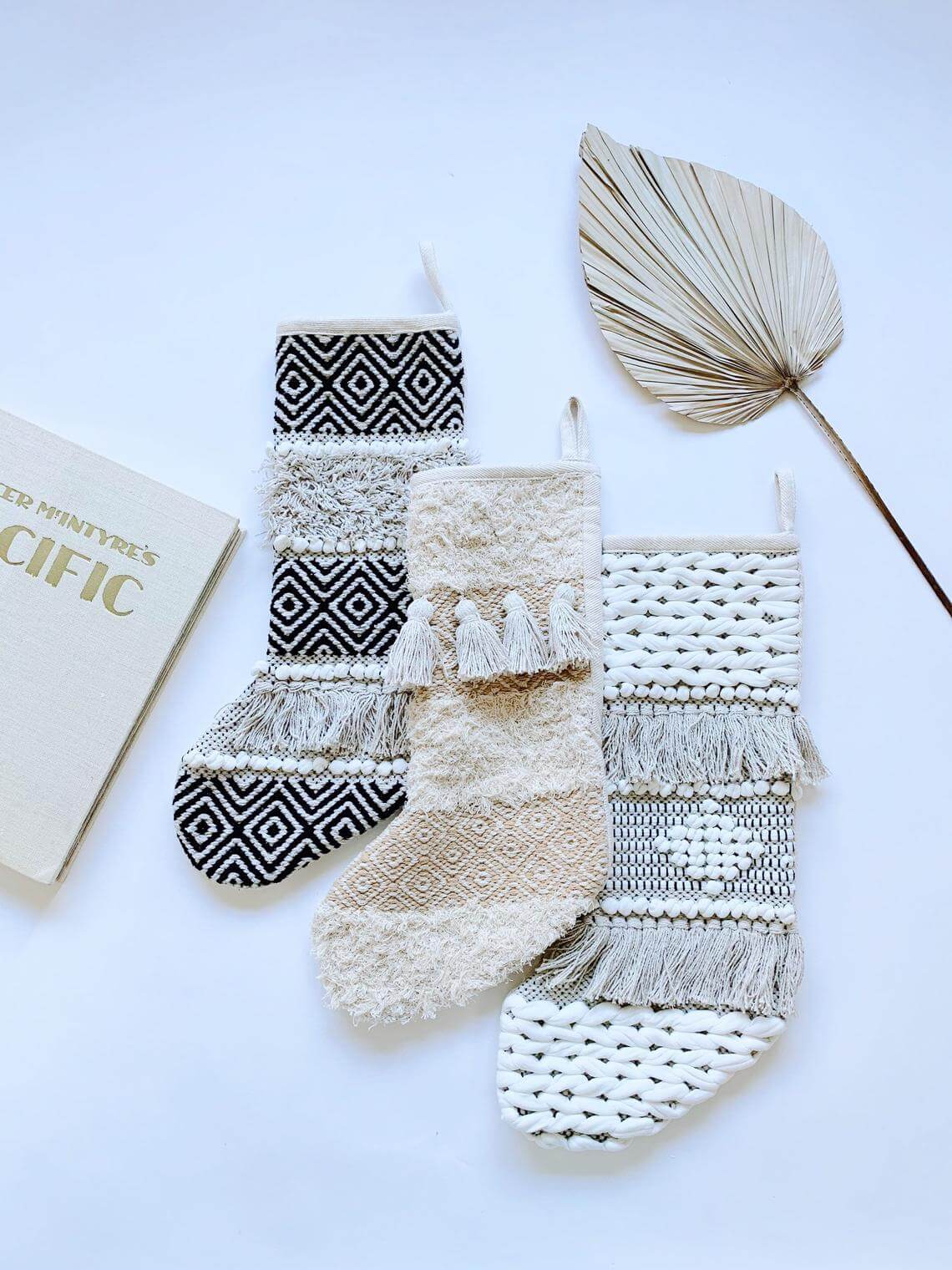 If you feel like all that glitters is not gold, these might be the stockings for you. Chunky yarn, tassels, mini pom-poms, and different weaves give these stockings plenty of visual interest. The different materials on each stocking will have you excited to take these off the mantle on Christmas morning just to feel the different textures. These would look appropriate in Bohemian, modern, and Scandanavian themes. If you choose the nude color, they would certainly be a conversation piece for a coastal living space. For a bold, untraditional stocking that highlights the world's woven textures, these are the best Christmas stockings.
24. Personalized Stripes in Black, Blue, Gray & Red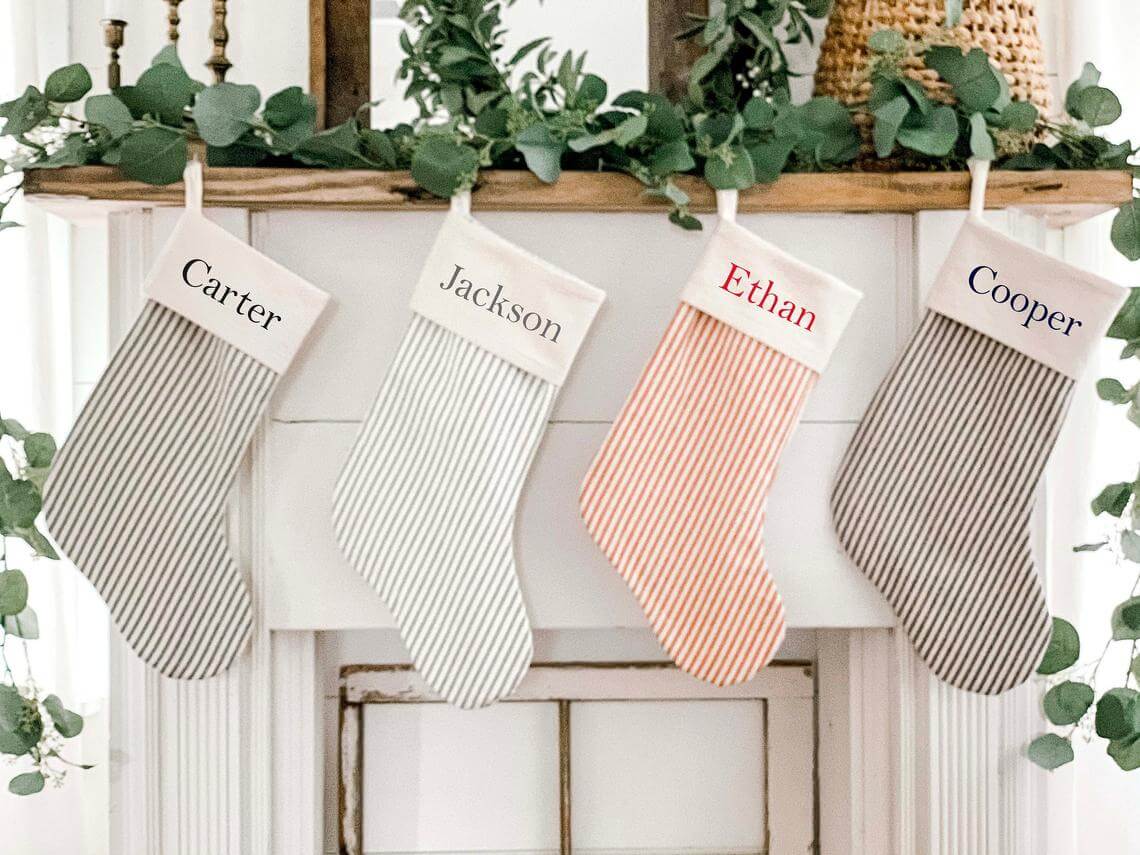 Finding Christmas stocking ideas that work with blue holiday decor can be quite a challenge. These striped stockings include a blue option but also come in black, blue, grey, and red. They are interesting enough to not get boring if several of the same colors are hung in a line. Because they are handmade, no two stockings will be 100% identical. The name is inked onto the cream cuff to provide a unique handmade effect. Stripes are a classic geometric design element and would fit in almost any home decor theme. As far as shape, these stockings provide a good toe to foot ratio.
25. Rainbow Pom-Pom Stocking with Choice of 44 Embellishments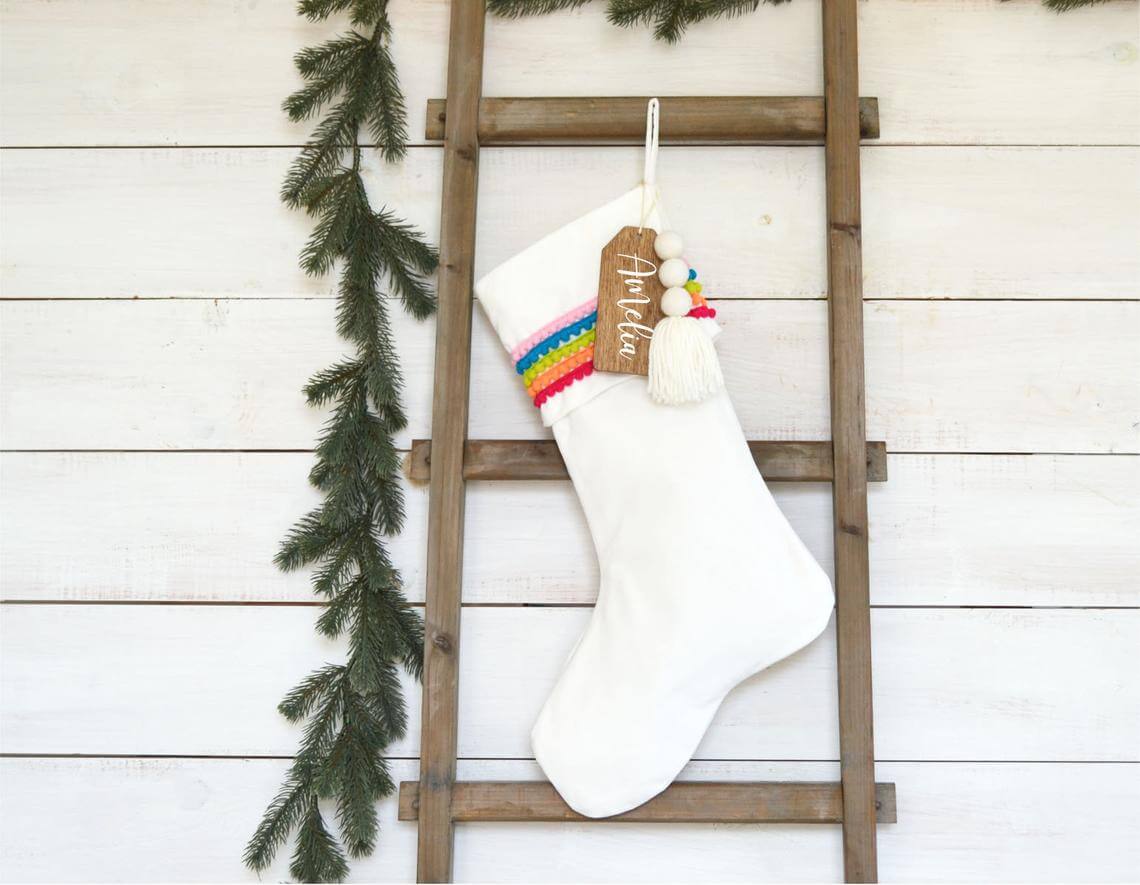 A cheerful pom-pom rainbow trims this white stocking for exuberant energy. If you are trying to find personalized Christmas ideas, there are 44 embellishment options including glittery snowflakes, glitter letters, seahorses, trees, and tassels. For fur babies, there are embellishment options of bones for canines and fish for felines. If your family has experienced a pregnancy loss and are now expecting a rainbow baby, these are the best Christmas stockings. The cheerful rainbow and bright color show excitement for the baby to come, and the embellishment can pay tribute to the baby who you were never able to meet.
26. Oversize Linen Stockings with Fringe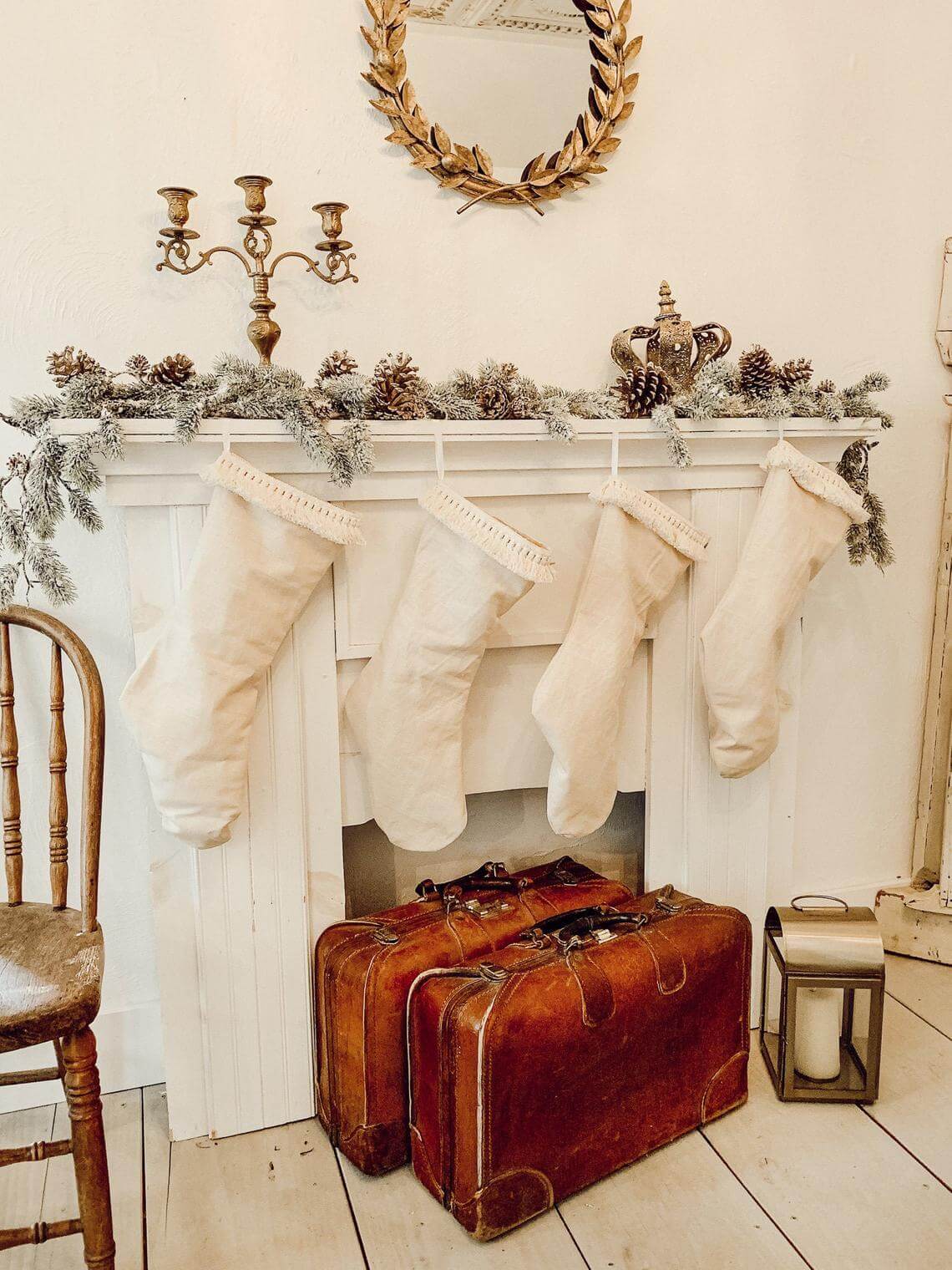 At a whopping 22 inches, these stockings are the largest on this list. If you are looking for stockings that will fit lots of Christmas presents, look no further. Constructed from naturally-finished linen, these stockings are a harmonious addition to almost any home decor. Great for a farmhouse, industrial, Bohemian, Scandanavian, and even some modern rooms, these stockings will work in your decor for years to come. If you have an exceptionally large fireplace or are looking for a decoration for a large space, these stockings are perfect. The Etsy shop does not offer personalization options. If you are crafty, that is easily remedied.
26 Unique Christmas Stocking Ideas Perfect for Every Home
These Christmas stocking ideas take you from the ostentatious to the unobtrusive with a stop at every level in between. Choosing which set is right for your family is as easy as figuring out which complements your home's decor, your holiday decor, and your family's traditions. It is important to recognize that each family has its own style. That style is often a mix of several themes such as farmhouse, rustic, coastal, industrial, and mid-century modern. Finding the right stockings for your family depends on what your family's style is.
Name tags and embellishments on these stockings are some of the personalized Christmas ideas that help make a new set of stockings become a new family tradition. If you want to start a tradition of guessing which gifts are inside the stocking by looking at the bulges, an unlined stocking will be right for you. Another tradition is to present each new family member with a stocking bearing his or her name. One awesome idea is to stash one last surprise in the tip-toe of each stocking.
Whatever holiday traditions your family is about to begin, the right set of Christmas stockings can turn good memories into great memories.