When looking at some of the best coastal bedroom ideas of 2020, it's important to create that serene, laid-back environment we all know and love. Whether you are looking for a bright pop of color, sea-inspired decor, an eye-catching retreat or a natural getaway, you're sure to be inspired with our coastal bedroom designs and ideas.
16 Coastal Decor Ideas to Bring the Beach to Your Bedroom

Even if you live far away from the beach, the relaxation you can achieve by having coastal bedroom decor is undeniable. It's natural, casual, carefree, majestic and very in tune with nature all at the same time. It's no wonder why so many people are gravitating towards those cool blue tones, the impressive nautical charm and the coastal comfort this style of home decoration brings.
Since there are no hard rules for a great beach design, an in-home beach retreat often presents the same overall nautical-nature vibes. It usually means a causal and peaceful feeling with plenty of oceanic colors, vintage furnishings and motifs that suit the theme. Decorations often include (though certainly aren't limited to) nautical rope accessories, the traditional navy and white stripe, distressed wood, bold pops of color and sea life accents to bring it all together.
A must-have if you are considering this awesome coastal bedroom decor is wood with a distressed finish. This gives your furnishings a sort of worn look as if it's spent time in the waves. Distressed wood, seagrass, bamboo and rattan are all great beach-inspired furniture for your coastal bedroom. When thinking about a color scheme, the sky (or ocean rather) is the limit. Touches of coral and red are wonderful accents along with greens, blues and pops of yellow.
Let's dive in and check out some of the most fabulous, relaxing and best coastal bedroom ideas to achieve that in-home beach retreat. Soon, your bedroom will be the exotic getaway you've been longing for, except this time it'll be awaiting you as soon as you walk in the door.
1. Calm Blue Wallpaper for a Bold Statement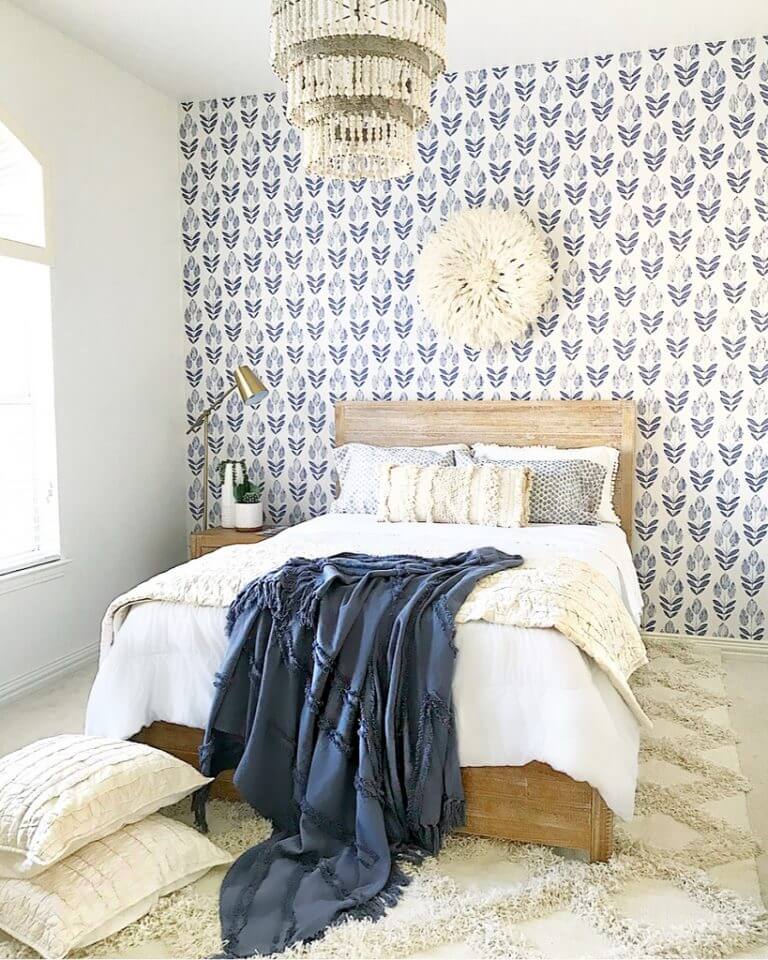 It's amazing how just by simply adding wallpaper to an accent wall can really spice up a room with pattern and texture. Rather than just a plain flat surface, this calm blue wallpaper truly brings out the natural feelings of a cool comfort coastline. The wooden furniture, bed frame and white bedding keeps things simple and allows the wallpaper to really be the star of the show. Add layers to your beachy oasis with accents like a textured rug, decorative tassel and pom pom throw pillows and a frayed blue throw blanket to complete the look. This cute coastal bedroom is definitely giving off those cool, calm and relaxing vibes we're looking for.
2. Ocean Tones with a Minimalist Vibe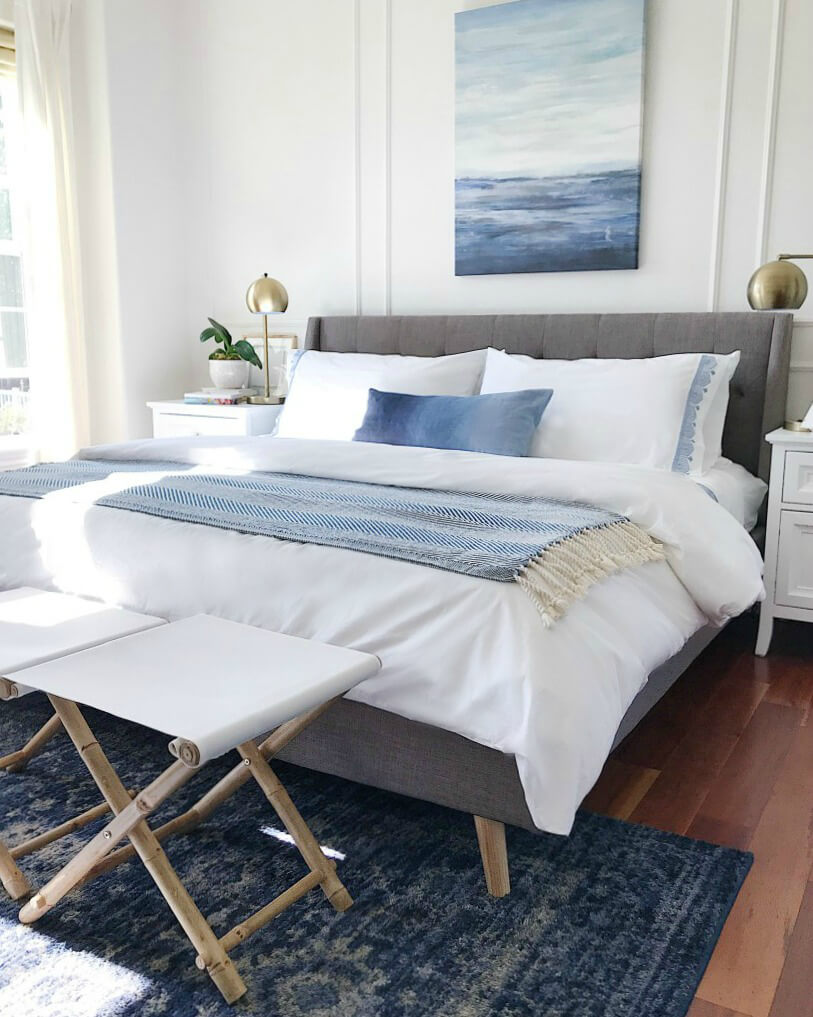 Design your bedroom as if it's a cozy getaway that makes you feel like you're steps from the beach. Coastal artwork and blue hues are the perfect way to achieve that oceanic feel. The sea-inspired artwork above the bed draws in your attention and really sets the theme of the room. Add in a pop of blue with a throw pillow, textured blanket, and rug for a soothing effect that mimics the water. The minimalist décor and clean lines make this coastal bedroom feel spacious and airy just as if you were right on the beach.
3. Neutral Tones with Sea-Shell Inspiration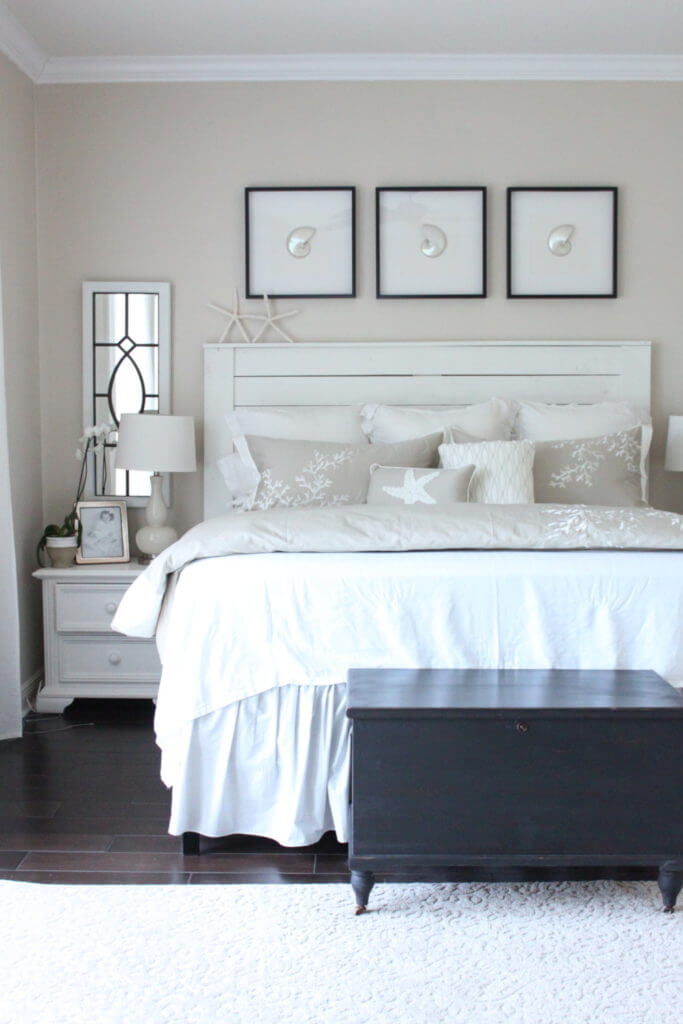 This is a lovely coastal bedroom design that provides simple comfort. The casual, yet comfortable décor will make you feel like you're staying at a seaside resort. The set of seashells framed in black above the bed really provides a simple, minimalist look while the white bedding with subtle starfish detailed pillow coverings provide an airier feel. The vertical framed mirror above the nightstand replicates a window and almost makes you feel like you can look right outside onto the sandy beach. I love the added trunk at the foot of the bed for a vintage, treasure chest look to really tie the whole coastal bedroom design together.
4. A Pop of Color to Brighten the Coastal Feel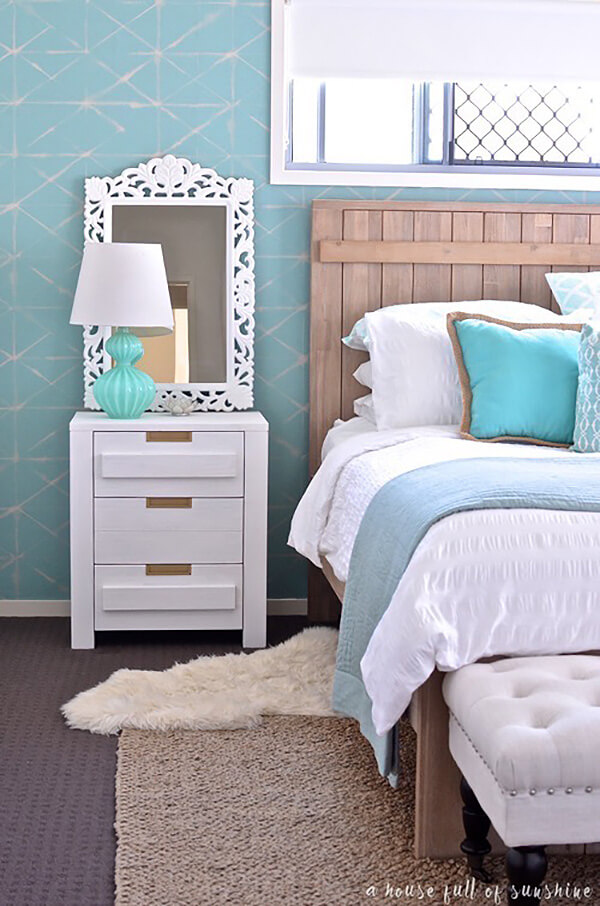 Create a relaxing paradise in your bedroom with a pop of pastel blue and simple accents. The beechwood bed frame against the blue aquamarine wallpaper is absolutely gorgeous and well-curated. With bright pops of color, it's important to keep the bedding simple. This crisp white bedding creates a light and airy feel with a touch of texture. The carved wooden mirror frame gives this space a feminine feel, but also gives off a coral reef feel in this coastal bedroom. A coastal bedroom makeover doesn't mean you have to replace all your furniture either. Add a coat of fresh paint and you'll be surprised at how easily you can completely transform your existing furniture. The carved wooden mirror frame gives this space a feminine feel, but also gives off a coral reef feel in this coastal bedroom.
5. A Playful Minimalistic Coastal Bedroom Idea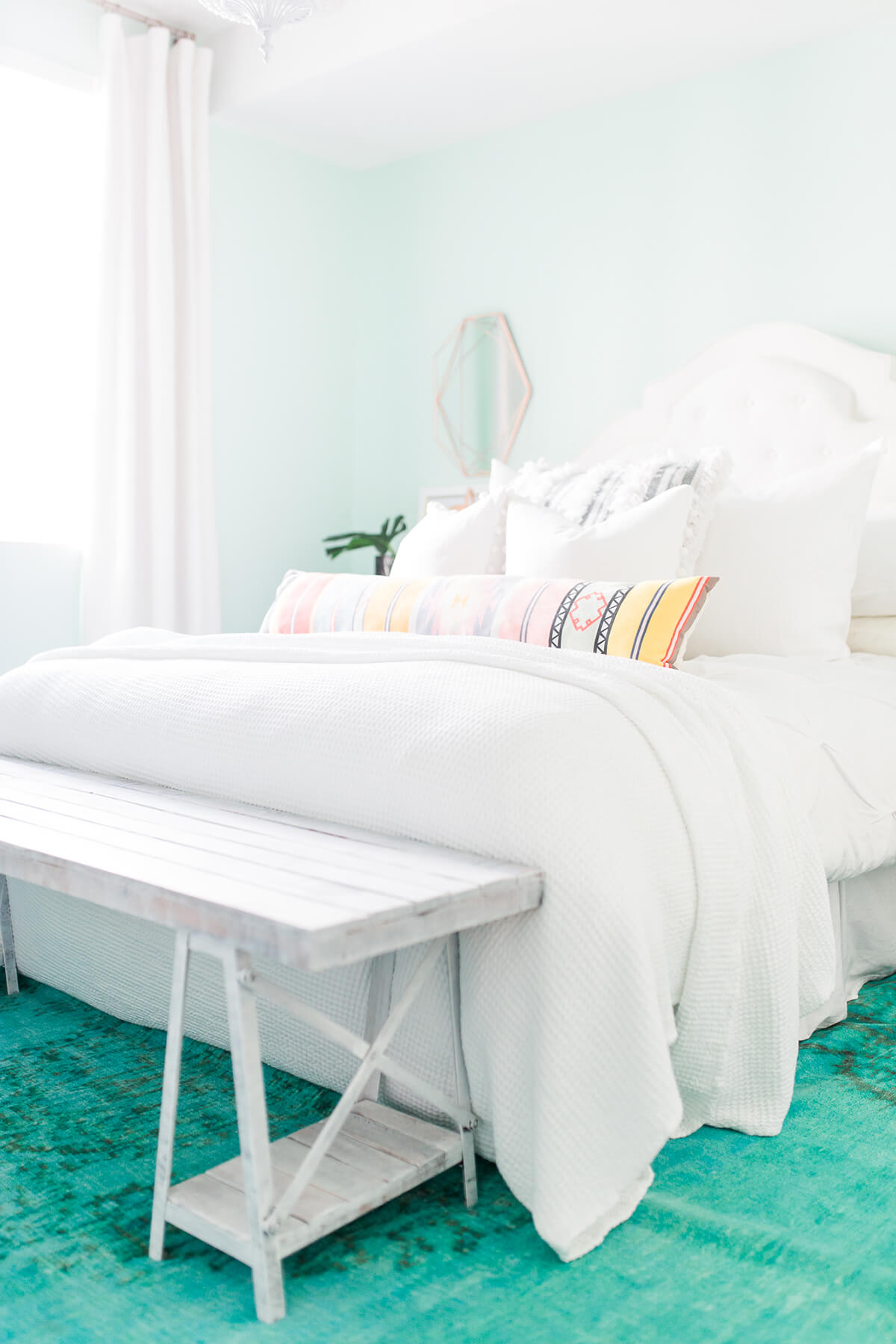 Create a playful space in your bedroom with a vibrant hue like this turquoise rug. Deciding on a color scheme is a great place to start when it comes to making over your bedroom. Start with a neutral color palette and then incorporate two or three pops of color to tie the space together nicely. This minimalistic coastal bedroom features a bright white and airy palette with a bold rug and a southwest-inspired throw pillow. The pillow itself reminds you of the beautiful sun setting above the ocean and the bed being the main furniture piece in this space almost makes you feel as if you're on a boat in the ocean. So dreamy.
6. Beach-Side Treasures Displayed Perfectly in Your Bedroom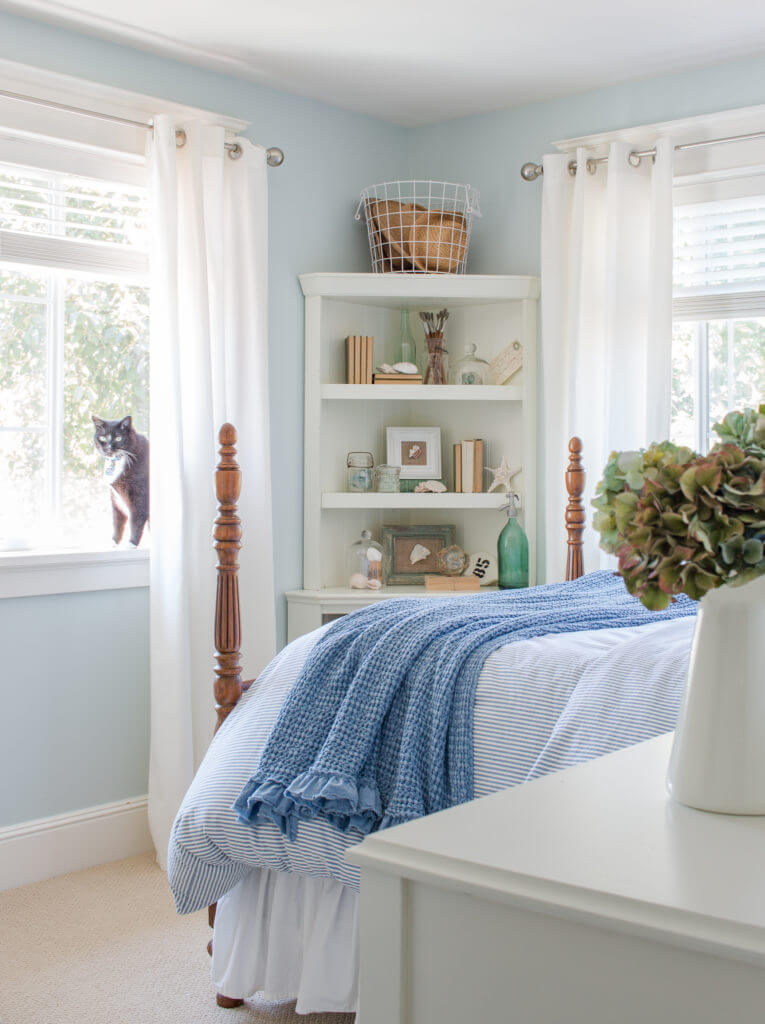 There's a reason you've been saving all those sandy treasures from your beach vacations and travels. With a coastal bedroom theme, now you can add in all those precious finds and collections throughout your home decoration. A corner shelf, dresser or nightstand serve as the perfect place to display your memorable pieces. This sophisticated refuge primarily features earth tones with a simple pop of blue using a throw blanket. The seashells, starfish, sand jars and message in a bottle displayed on the shelf are the perfect accessories to make this space feel like a beachy retreat.
7. Feel the Waves with Bold Bedding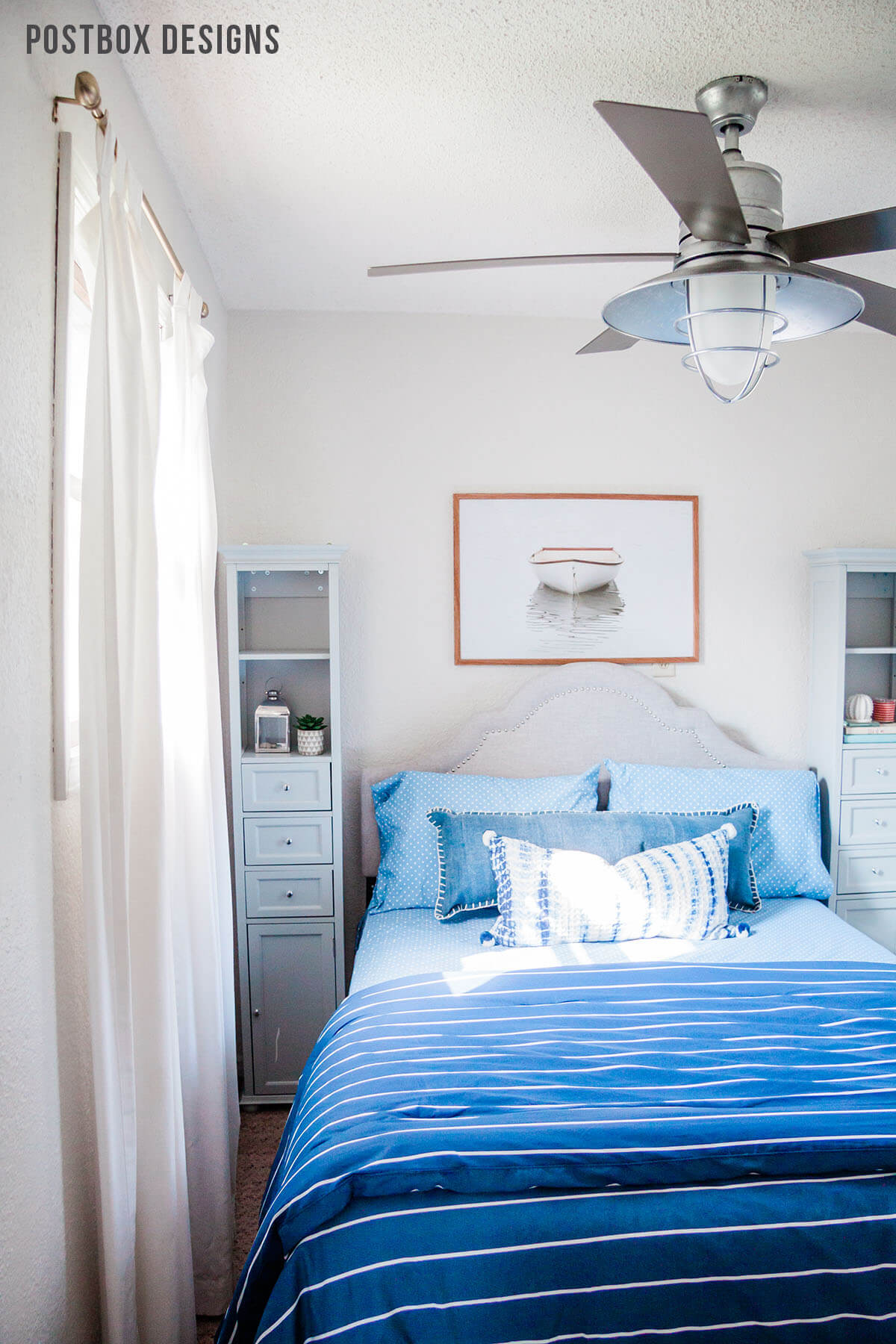 The coastal bedroom décor in this space is unquestionably inspired by the sea. The ombre blue bedding gives this space a playful feel that really draws in your attention. Blue is an awesome idea and a great color to add in your bedroom as it is considered beneficial to the mind and body. It's strongly associated with calmness and tranquility which is just what every coastal bedroom needs. Adding above the bed artwork like this simple boat in the water painting will make you feel especially close to the sea. This is the perfect space to wind down after a long day.
8. A Cozy Natural Getaway Steps Within Your Home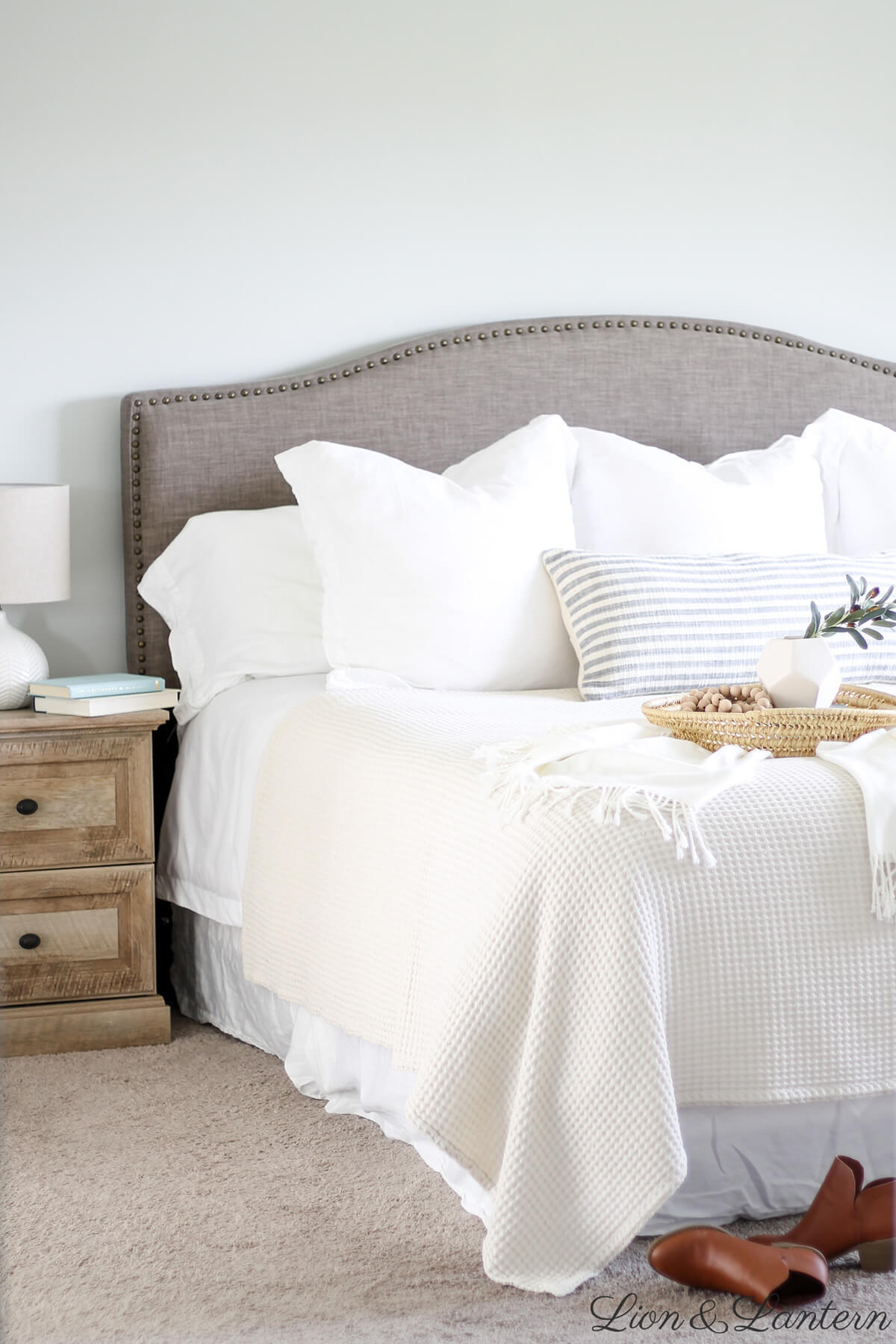 This simple bedroom design may not feature the traditional ocean blues or sea-inspired accents, but it does still provide that calm, relaxed and airy feeling. It's as if the windows are opened and you can feel the breeze from the ocean while staying warm and cozy bedside. The linen waffle throw blanket in this space really brings in that sweet texture. This space makes you feel like you're in a hotel on the beach where you can bundle up with your throw blanket and stand on the patio soaking in all the sunshine and ocean vibes.
9. Two Peas in an Oceanic Pod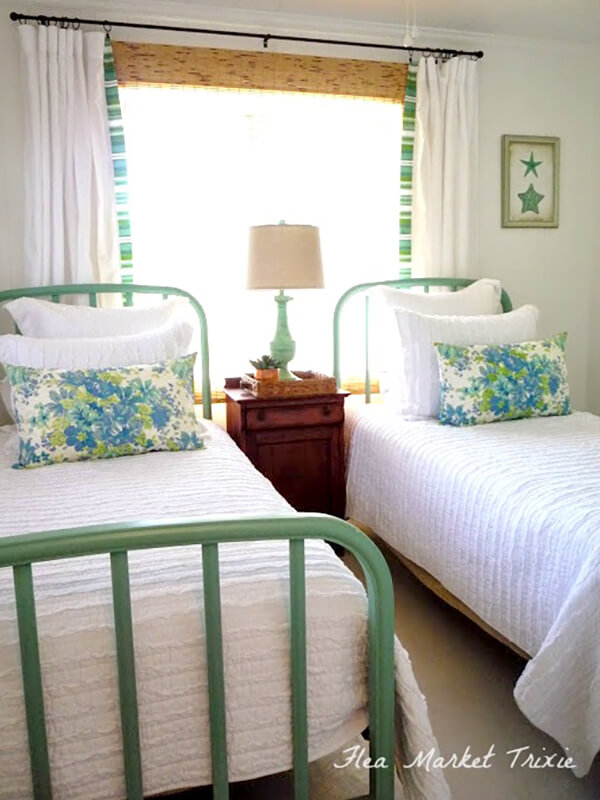 There's room for everyone in this unique coastal bedroom. This space looks like a room you can find in a beach house where there's plenty of sleeping space for guests and young children. This room also gives off a cottage comfort feel with the beds side by side, vintage-inspired accents and soft blue tones throughout. I love the unexpected pastel pink lamp shade that makes this space feel sophisticated, yet old fashioned and lively. Whether you're making over a guest bedroom or your own master suite, adding these cozy oceanic elements will make your guests feel welcomed and have you more relaxed.
10. Distressed Wood Meets Sandy Shores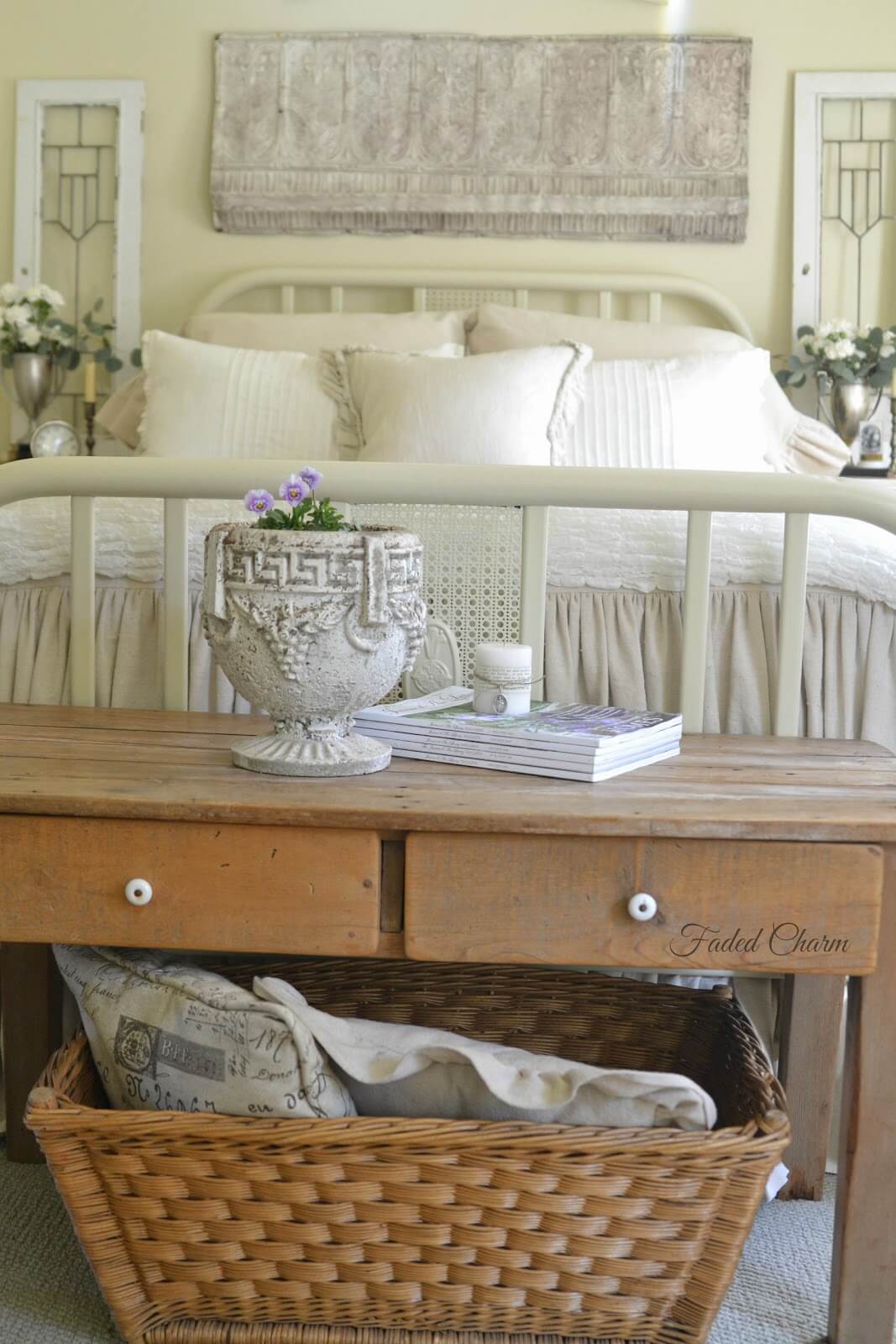 This gorgeous bedroom boasts rustic charm while still maintaining a natural coastal feel. Layers and texture are prominent in this beautiful space and makes you feel right at home. Having these layers and textures in your space is especially important in coastal décor since a real beach offers so many different things to touch and feel like the sand, water, shells and driftwood. The raw distressed wood in this space from the vintage shutters to the wooden desk and woven basket, gives us all the comfort, rustic charm every coastal getaway needs.
11. Blue and White Buffalo Plaid for a Cool Coastal Vibe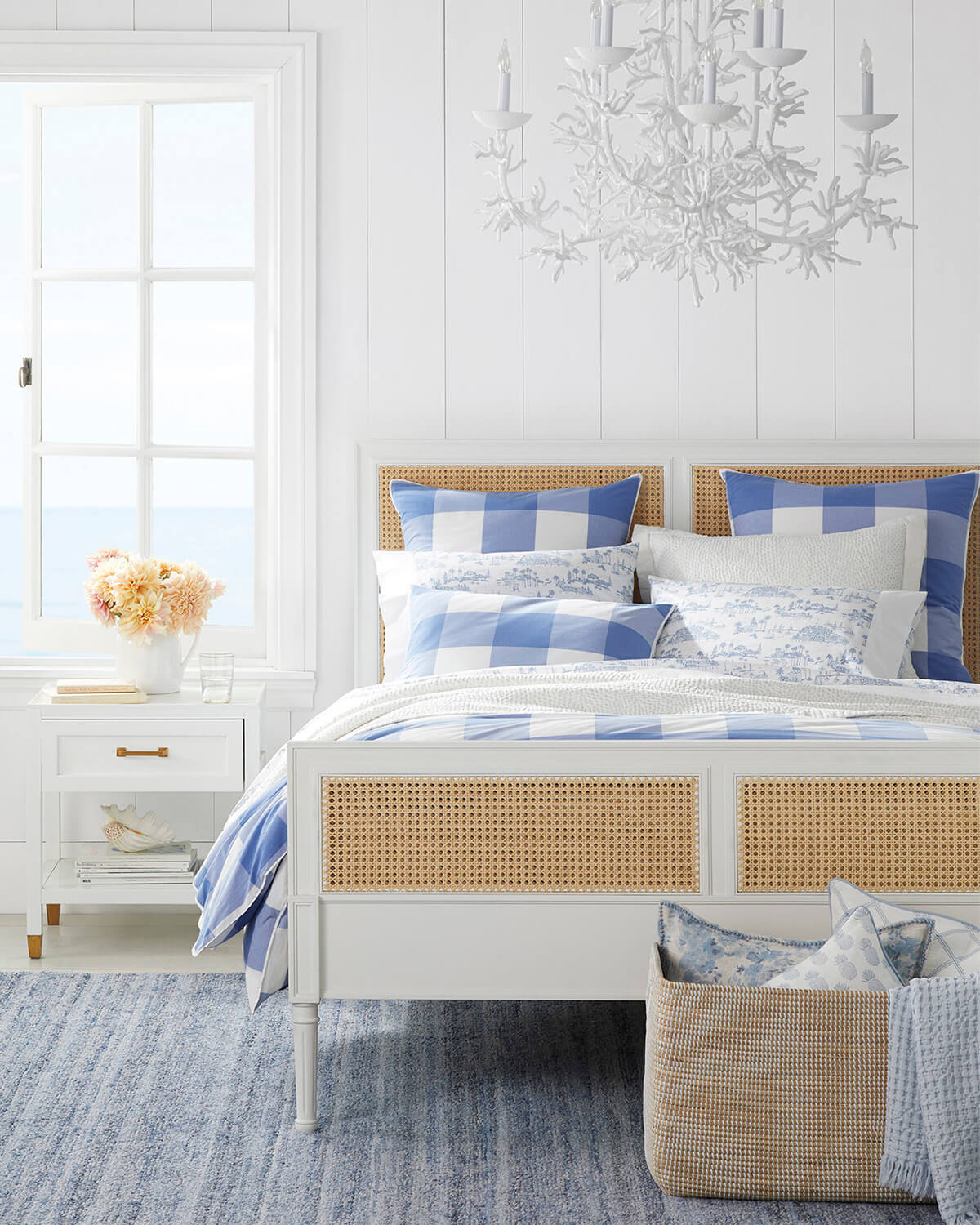 The bedroom is a fun place to experiment with non-traditional home decoration and accents. The blue and white buffalo plaid bedding and pillows brings a sense of calmness and tranquility to the space. The blue and white pattern paired with the shiplap walls and other natural accents offer a breezy style that's perfect for a coastal oasis. With the furniture at a minimum, having a dramatic chandelier above the bed is stunning and eye-catching. Add a fresh bouquet of flowers bedside and you'll instantly feel relaxed, refreshed and ready to take on a new day.
12. Frame the Ocean for a Seaside Escape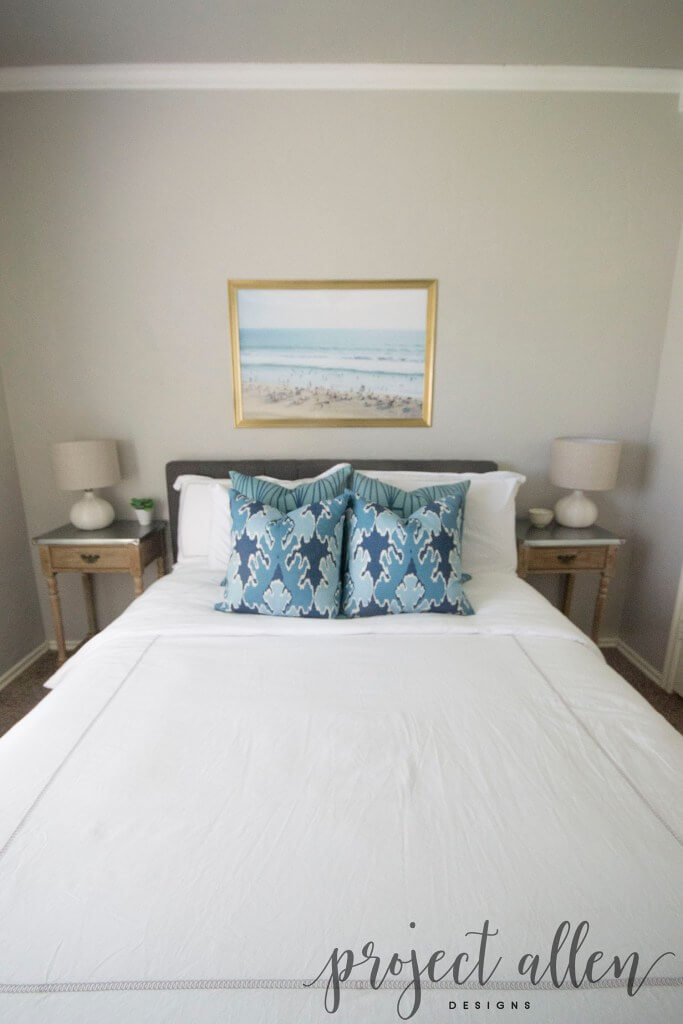 This coastal bedroom offers just a hint of the beach. Since there are no rules when it comes to creating your perfect seaside escape, you don't have to decorate in ocean colors or feature beachy accents throughout. By showcasing a few touches of the ocean like a framed ocean photo above the bed and a couple of blue throw pillows you can still offer that coastal feel. Everything here is symmetrical which is ideal for small spaces such as this. Both end tables mirror one another to keep things simple, cute, casual, and comforting.
13. Fall in Love with Pops of Blue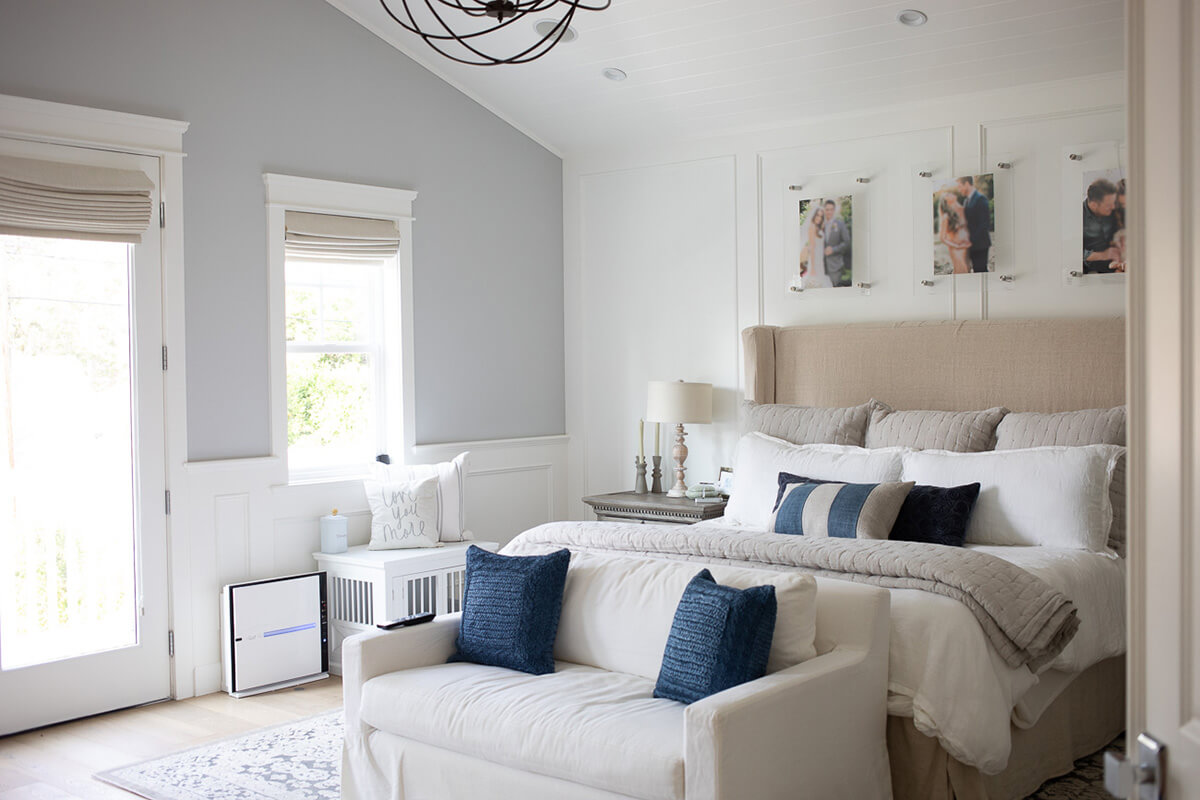 The soft gray and navy-blue color combo make a lovely statement in this master suite. The contrast of colors mixed with the soft fabrics and textures makes this space feel calming and cozy. Even though this bedroom doesn't offer the traditional ocean vibes, it still provides an airy feel with loads of natural lighting. The navy accent pillows, and nautical striped throw pillow is the icing on the cake for this coastal retreat. If your master bedroom is extremely spacious like this one, consider adding additional furniture like a small sofa, desk or nesting chairs. There's plenty of room for relaxing and unwinding here.
14. Bring the Beachfront Suite to Your Bedroom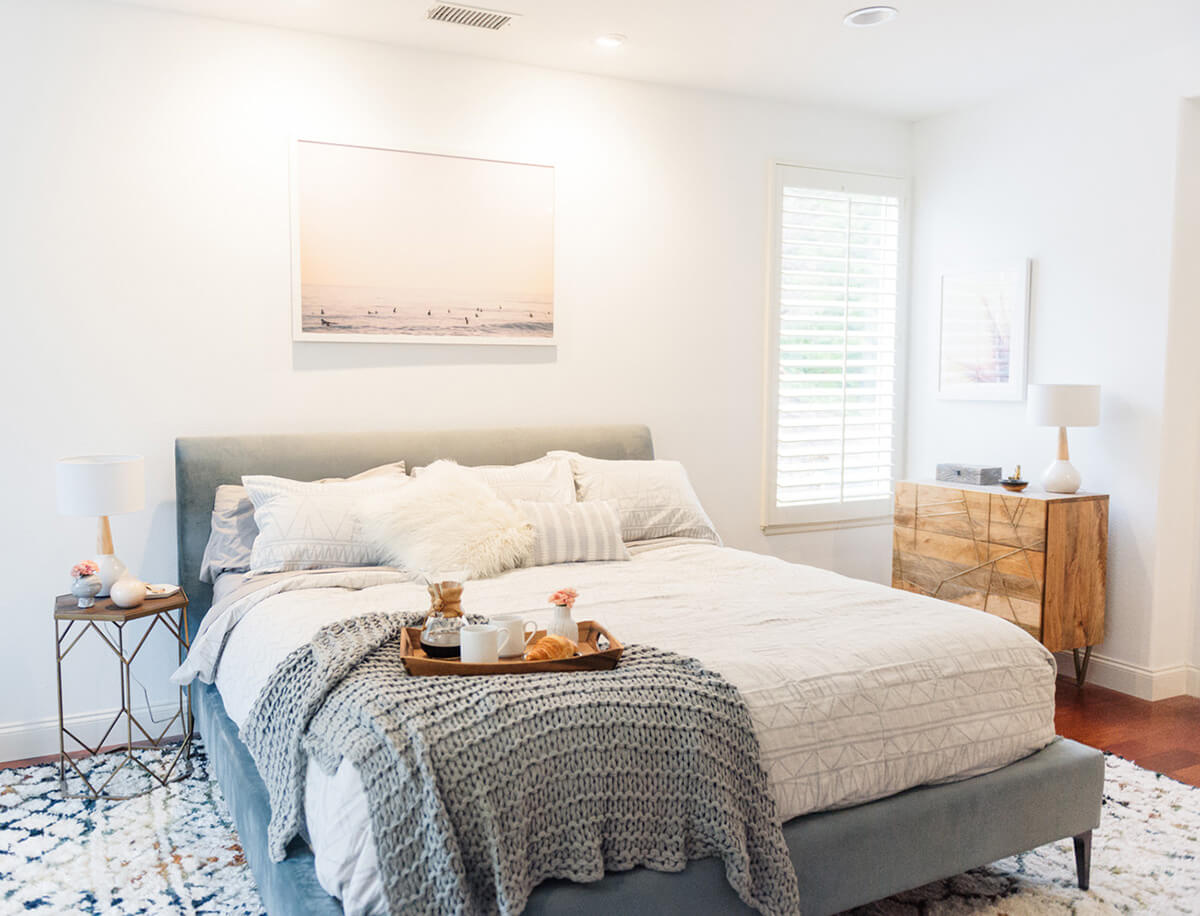 This light and breezy space will make your bedroom feel like an exotic beachfront suite. The colors in this space are neutral giving it that sandy, earthy touch. The timeworn wood dresser, ocean motif above the bed and crushed velvet headboard and bed frame bring those coastal vibes to life in this space. The textured throw blanket with the breakfast tray really provides that luxurious beach hotel feeling. All the small details that went into this space is so serene. I'd give this room five stars!
15. A 70s Inspired Beach Makeover You'll Love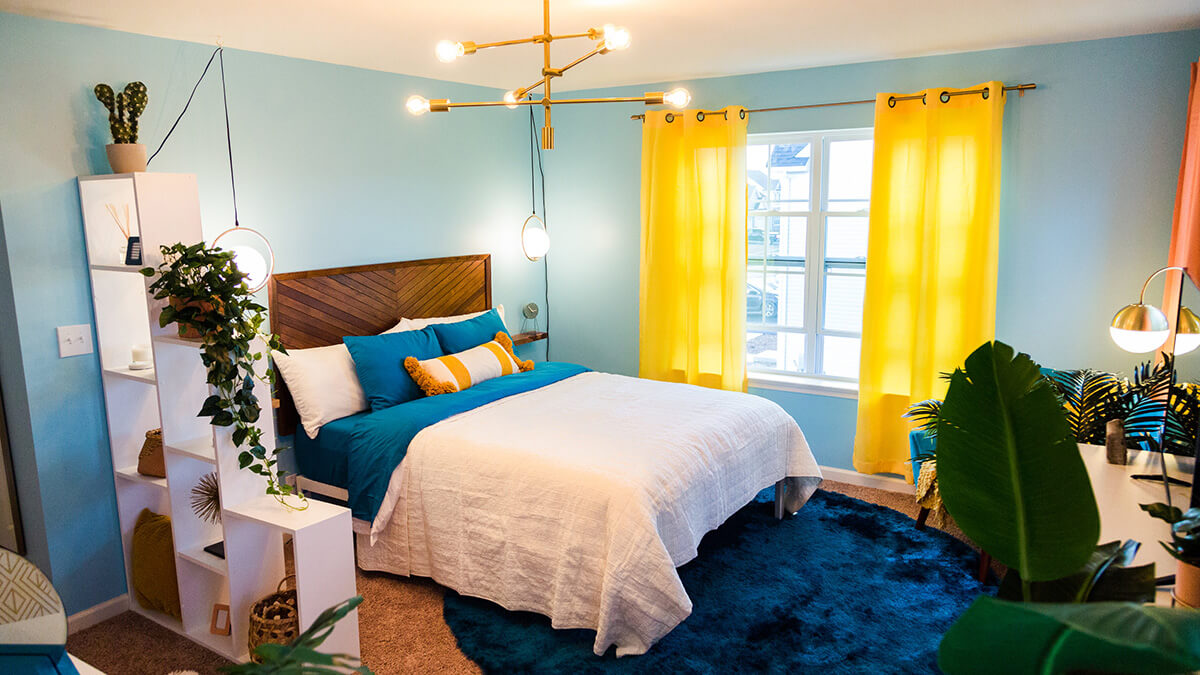 Go back in time with this 70s inspired awesome idea of a beach bedroom makeover. This 70s surfer beach space features exotic pops of color, loads of natural elements and a unique layout. The bold colors in this room are sure to make anyone who enters feel happy with a big smile on their face. All the bright colors, dynamic patterns and placement bring this room to life. There are tons of natural elements despite the bold colors like several plants and wooden accents to make you feel like you've just stepped out of a 70s beach shack.
16. A Quaint, Eye-Catching Retreat with a Modern Touch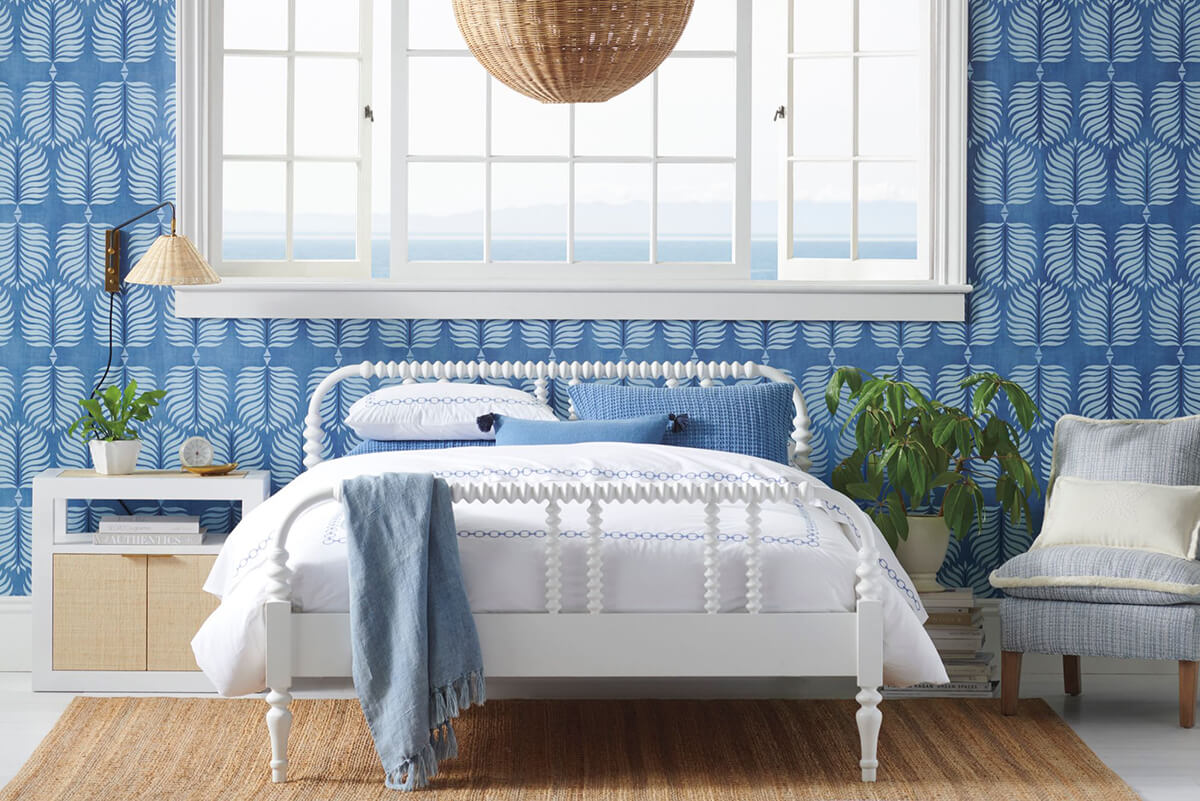 Coastal bedroom decor can be as subtle or as bold as you'd like which is the beauty of designing your own little oasis. This absolutely stunning bedroom features a bright bold leaf printed wallpaper as the main accent wall, fluffy blue chain linked detailing on the bedding, a jute rug for added texture and a quirky bed frame that you simply cannot miss. Let's not forget the added plants that give this space a breathe of fresh air. This gorgeous bedroom showcases the perfect beach-retreat color scheme.
16 Coastal Bedroom Ideas that will be Trendy this Summer
Sometimes, all you need is a good bedroom makeover to start feeling more relaxed, refreshed and rejuvenated. Creating a bedroom space where you feel comfortable and at peace is not only important but can also feel like an actual get away from the daily grind. What better place to unwind than the beach?
Nearly every beach themed bedroom you see takes on the ocean color scheme. For a more modern chic look, find ways to incorporate fresh white or beige natural tones like the sandy shores along with a touch of blue to really soak in those ocean feels.
Incorporate those subtle touches of blue with wallpaper accents, a throw blanket, pillows or even paint your ceiling blue. If you'd rather have the full-out traditional ocean oasis, choose bold pops of color and sea-inspired accents and accessories for a complete beach feel. You could even paint your bedroom door blue that will suddenly transform your bedroom into a private seashore escape.
Now you can bring in all those coastal vibes with any of the ideas and inspirations I've shared above. Which one is your favorite? Which one would make you feel the most relaxed and refreshed?
Our Favorite Farmhouse Furnitures to buy on Amazon