If you love going to the beach and having that feeling of tranquility flood over you, then you will love these ideas for DIY coastal home decor and crafts. The sound of the rolling waves, the salty breeze and the warmth of the sun seem to penetrate all of the senses and pull you out of your daily stressors for awhile. Would you love to recreate that feeling to have at home every day? It would be awesome if your home could be a place to help you forget your worries, relax and unwind.
18 Fun DIY Coastal Home Decor Ideas to Create Your Own Oasis
You may not be able to have the ocean in your back yard, but you can still create a similar atmosphere at home with these coastal decorating ideas. Color affects many people, so simply having those coastal hues will help. White, aquamarine, turquoise, teal and tan are the most popular coastal colors. Combinations of these colors are calming and relaxing. Chalk paint is a great way to incorporate these colors because it paints over any surface and it has a soft matte finish.
You can also bring in the beach vibe with seashells, starfish, sand dollars, driftwood and coral. You can even add a little sand here and there in a shadow box or with some plants. There are so many fun and easy ways to bring the outside into your home. All of these different items help to create that coastal vibe that will help you to relax and enjoy home life so much more.
We have a collection of the best DYI coastal home decor ideas for you here. Enjoy looking through the tutorials, learning new things and choosing your projects. You will find that there is something for every room. You will learn some new techniques that can be applied to other projects as well. Have fun and enjoy creating your own coastal oasis.
1. DIY Coastal Wreath Beach Home Decor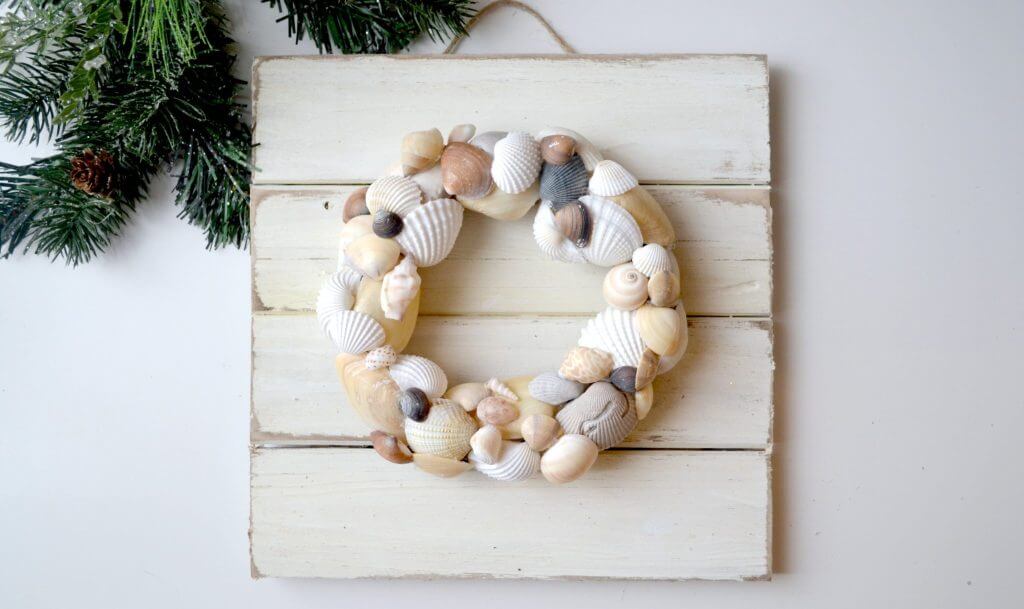 Bring the beach indoors with this cute seashell wreath. This DIY project is simple, fun and makes a big statement. The wreath is small, but it is attached to a wooden sign to really make it pop. The wreath is made simply by attaching seashells to an existing grapevine wreath. The step-by-step directions are easy to follow, and there is no doubt that you could make this in an afternoon. Keep the colors cool and calm like the example, or go bold by painting the background a different color. You could even paint the seashells different colors for a really unique piece.
2. Ampersand with Seashells Home Decoration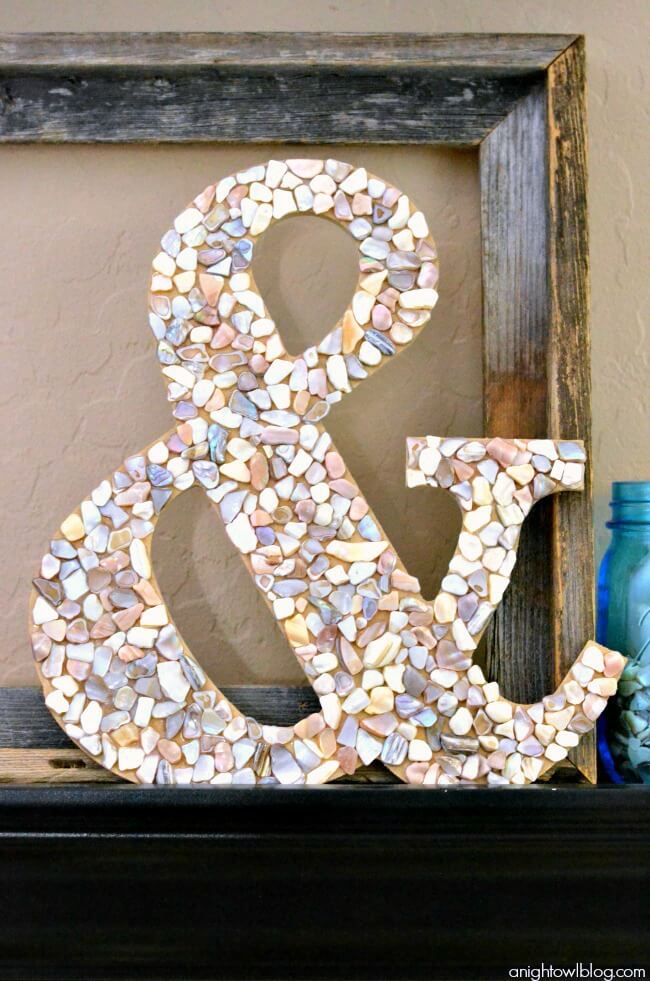 Signs are a huge part of trendy home decor, and this ampersand sign is perfect for our coastal decorating ideas. This is a wonderful DIY project with easy directions. The best part is that you can make small changes to personalize it to match you personal style. If your style is more natural, then make it as is, with the natural wooden background with white and sand-colored seashells. If your idea of coastal decor leans more toward the aquamarine and teal colors, then consider painting the wood first. Perhaps use only white seashells so the background color will pop.
3. Coastal Inspired Candle Holder with Seashell Embellishments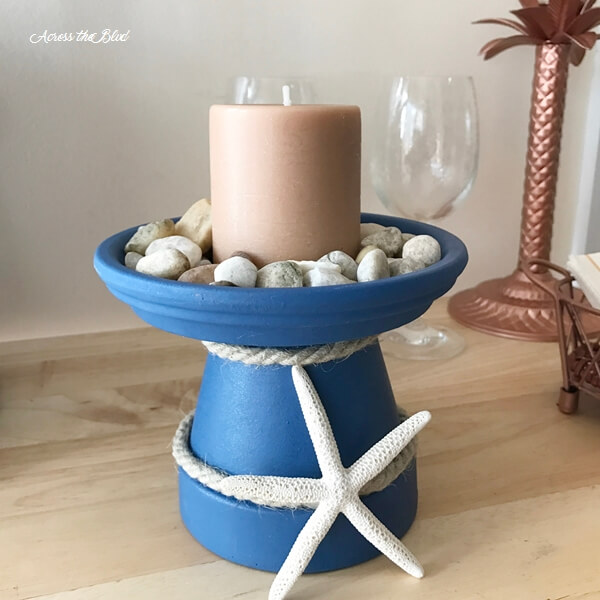 Turn your ordinary terra cotta pot into a beautiful coastal candle holder with this simple DIY project. Choose a paint color to compliment your other coastal decor. Be sure it is different enough from your seashells that they will still show up. By turning the pot upside down and putting the dish on top, you can create a nice elevated candle holder. Add seashells all the way around the candle for that coastal vibe. The finishing touch is the rope and starfish. This looks absolutely fabulous as is, but remember that you can always add your own touches too.
4. Seashell Wall Hanging with Succulents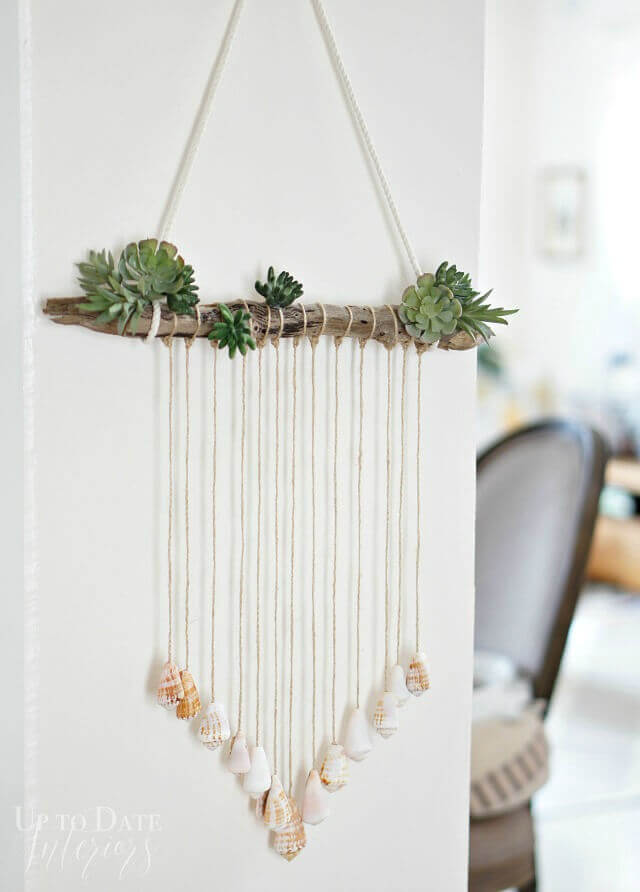 Succulents are all the rage right now, so why not add them in with your coastal decor? The pops of green go great with coastal colors. They also add life to any decor. Scour the beach for some small seashells and a piece of driftwood the width that you want your wall hanging to be. Simply tie on the seashells at intervals according to the simple directions. Succulents are tucked in all around the top giving this wall hanging beauty and balance. You could change this up a bit with different colored string or by painting the driftwood if you wanted to make a bold statement.
5. Seashell and Satin Ribbon DIY Wreath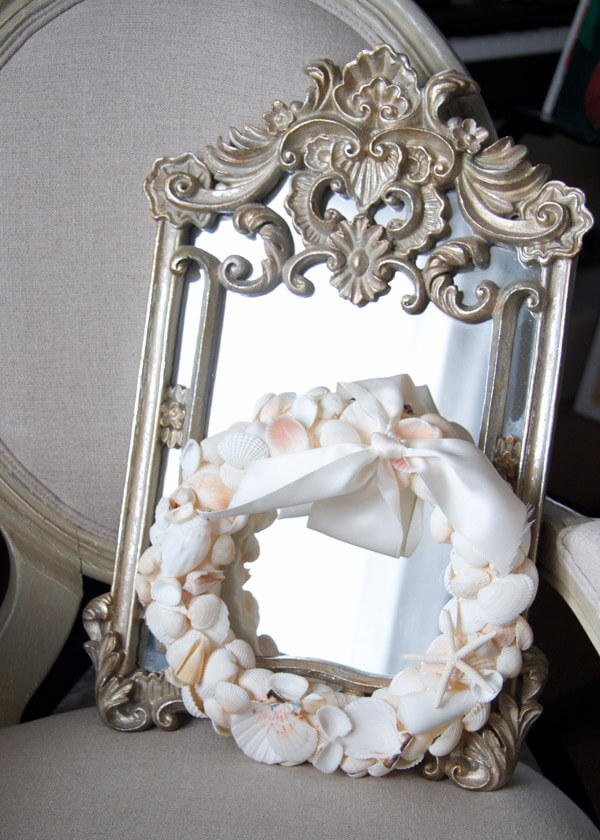 This wreath is simply gorgeous. White seashells and white satin ribbon cover the entire wreath. There is so much texture and richness to the look, even in all white, that you will surely want this hanging among the rest of your beach home decor. The softness of the ribbon combined with the harsh edges of the seashells certainly catches the eye. You can make this yourself following the simple tutorial. It goes together quickly and only requires a few materials. You will only need a foam wreath form, seashells, satin ribbon, floral wire and a glue gun.
6. Coastal Style Round Jute Throw Rug DIY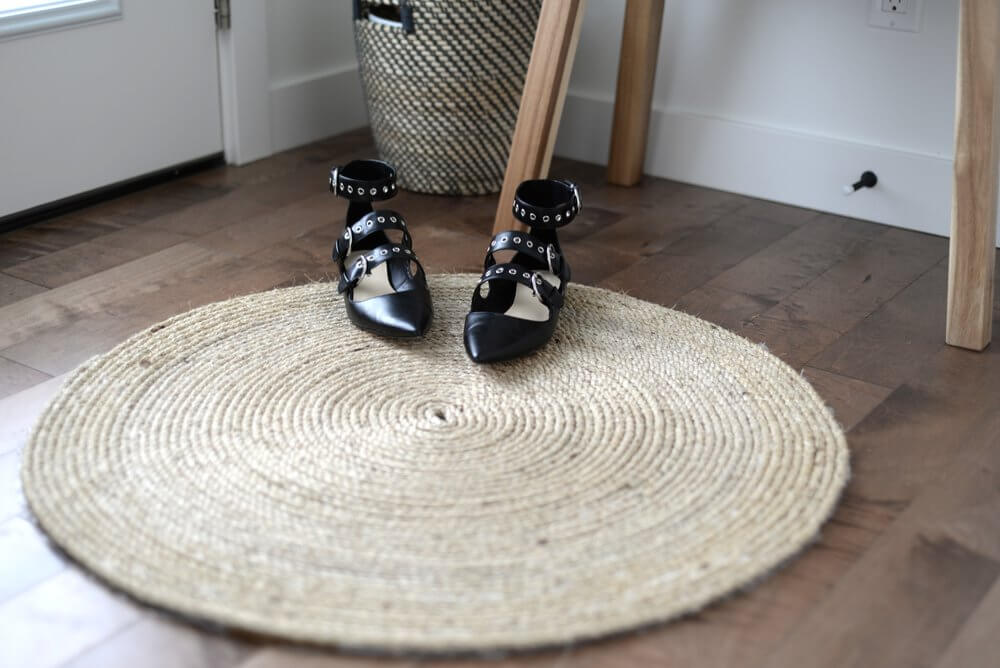 Jute rugs are super stylish right now, but they are not super cheap. Why not make your own? It is so simple and requires very few supplies. In fact, you will only need the jute, some glue and some plastic. Be sure to check out the tutorial for exactly what kind of glue you will need. You will also find step by step pictures there. You will learn how to make the rug and keep it held together as you go. This is an awesome idea that will get your creativity flowing. Soon you will want to make rugs for every room in your home.
7. Beach Home Decor Shadow Box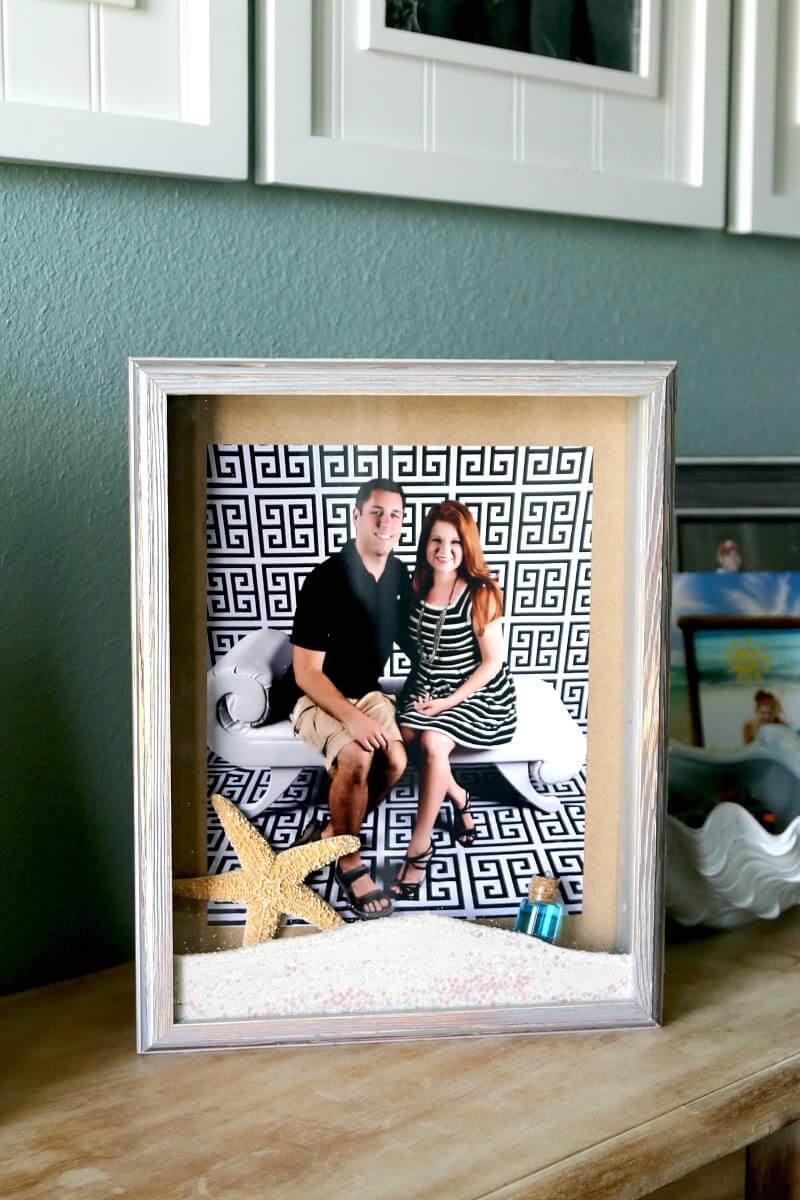 Bring a little bit of your beach vacation home with you to treasure forever. With this beautiful DIY shadow box, you can frame a favorite vacation photo and also add some souvenirs. While you are at the beach, collect some small seashells. Look for other interesting items like sea glass or starfish as well. Scoop up some dry sand and keep it in a baggie or container that will definitely stay closed. Take a little bottle to gather some ocean water in as well. Simply follow the directions in the tutorial and have a great memento of your trip.
8. Coastal Dining Decor Starfish Napkin Ring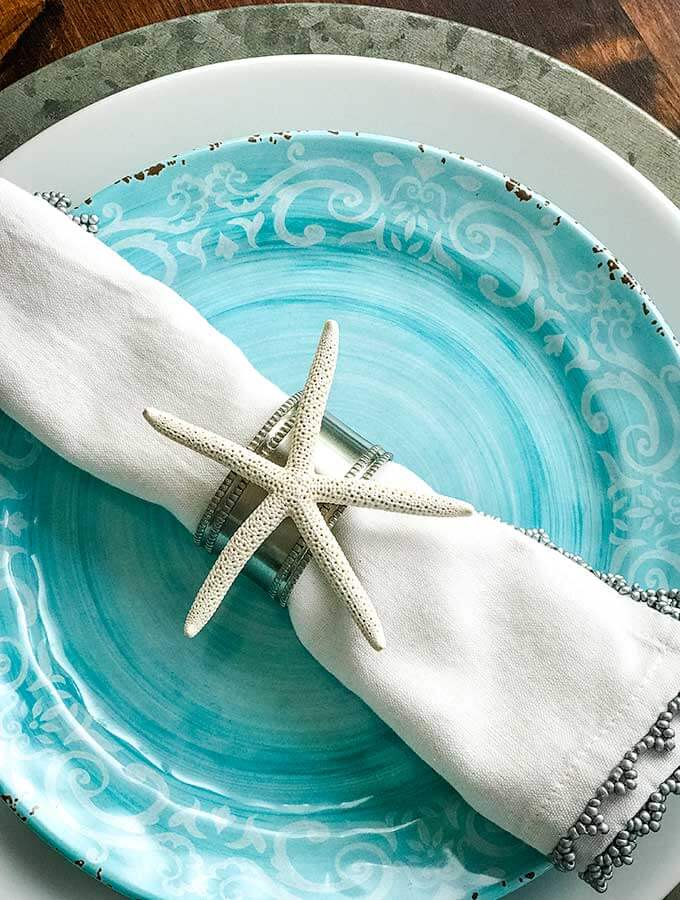 One of the best DIY coastal home decor ideas is also one of the simplest to make. This napkin ring brings so much more interest and joy to your table than a plain napkin ring. With the simple addition of a starfish, you have suddenly turned a boring napkin ring into a themed display holder for your napkins. Choose starfish that are similar size if you would like them to look the same, or choose all different sizes for a more eclectic look. Simply glue them on, following the easy step-by-step instructions. Your guests will certainly feel special when they sit down to eat.
9. Sisal Lamp Shade Beach Home Decor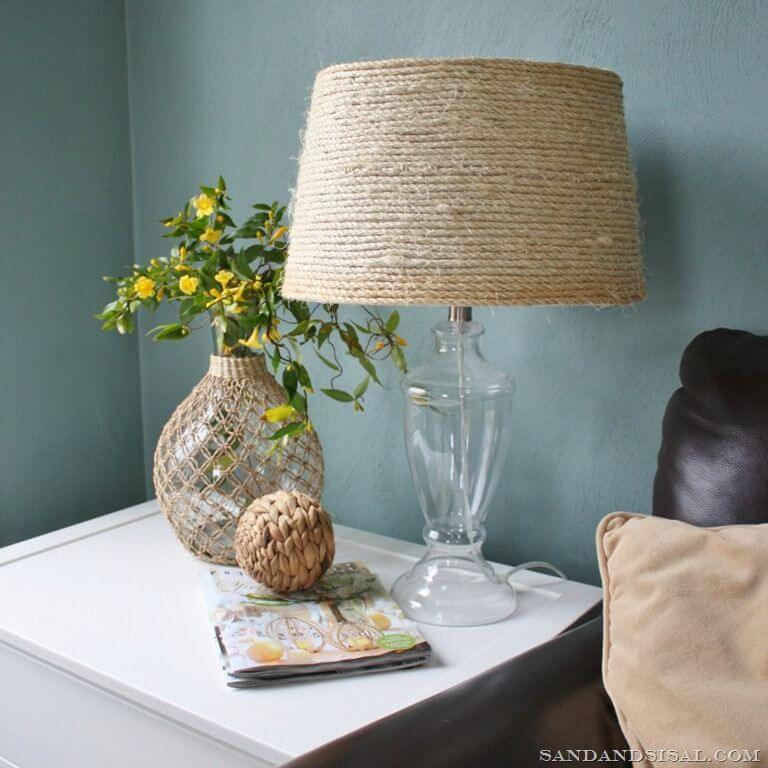 There are so many fantastic coastal decorating ideas available, but this one is super easy and will make a huge impact on the coastal vibe in your home. It is really very simple to make, and it only requires a handful of supplies. You can turn your current lamp shade into this beauty with some sisal rope, a glue gun and glue sticks. Once you learn the technique in this tutorial you may just find yourself wanting to turn everything into a sisal rope masterpiece. You could easily adapt this awesome idea to a cup to hold pens or a vase to hold flowers.
10. Coastal Basket Planter with Seashells and Rope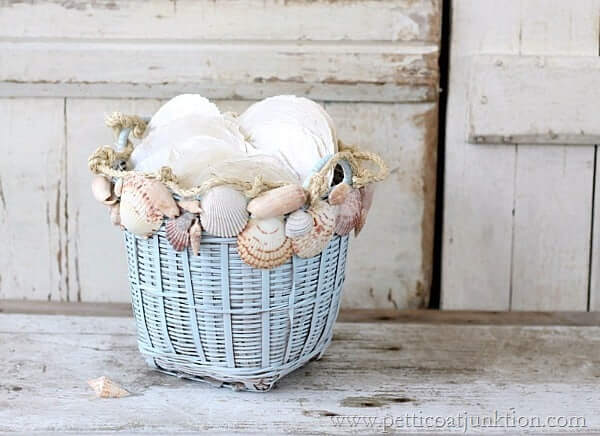 You really do not have to spend a lot of money to turn your home into a coastal oasis. Seashells and rope go a long way in helping you to transform your current decor into beach decor. The best part is that it is easy and inexpensive compared to buying commercial products. This basket planter was spray painted in a light blue for a beach look. You could leave it natural or spray in any coastal color like turquoise, aquamarine or white. Add some seashells and weave some rope through them. Add a plant and enjoy the coastal vibe.
11. Coastal Art Wall Hanging from Pallet Wood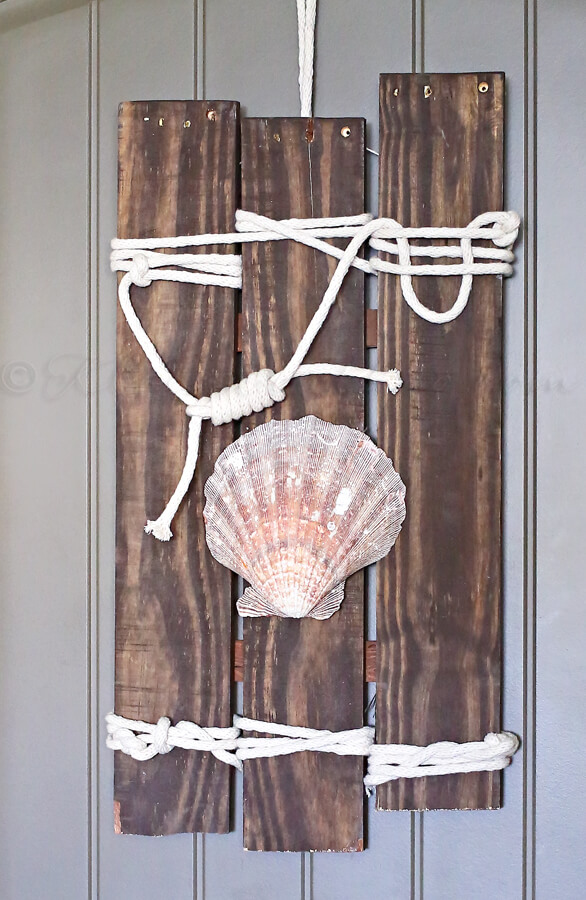 This unique piece would look great on a door, as part of a gallery wall or simply hung by itself. The pallet wood gives the idea of planks on a pier. The pieces of wood were cut down and staggered so they are not straight across the top or the bottom. They are tied together with layers of rope with lots of interesting knots. The front is adorned with one large seashell. It is simply beautiful like this, but if you did not have one large seashell, you could use a collection of shells. A starfish, sand dollar or some coral would also look nice.
12. Coastal Decor Seashell String Lights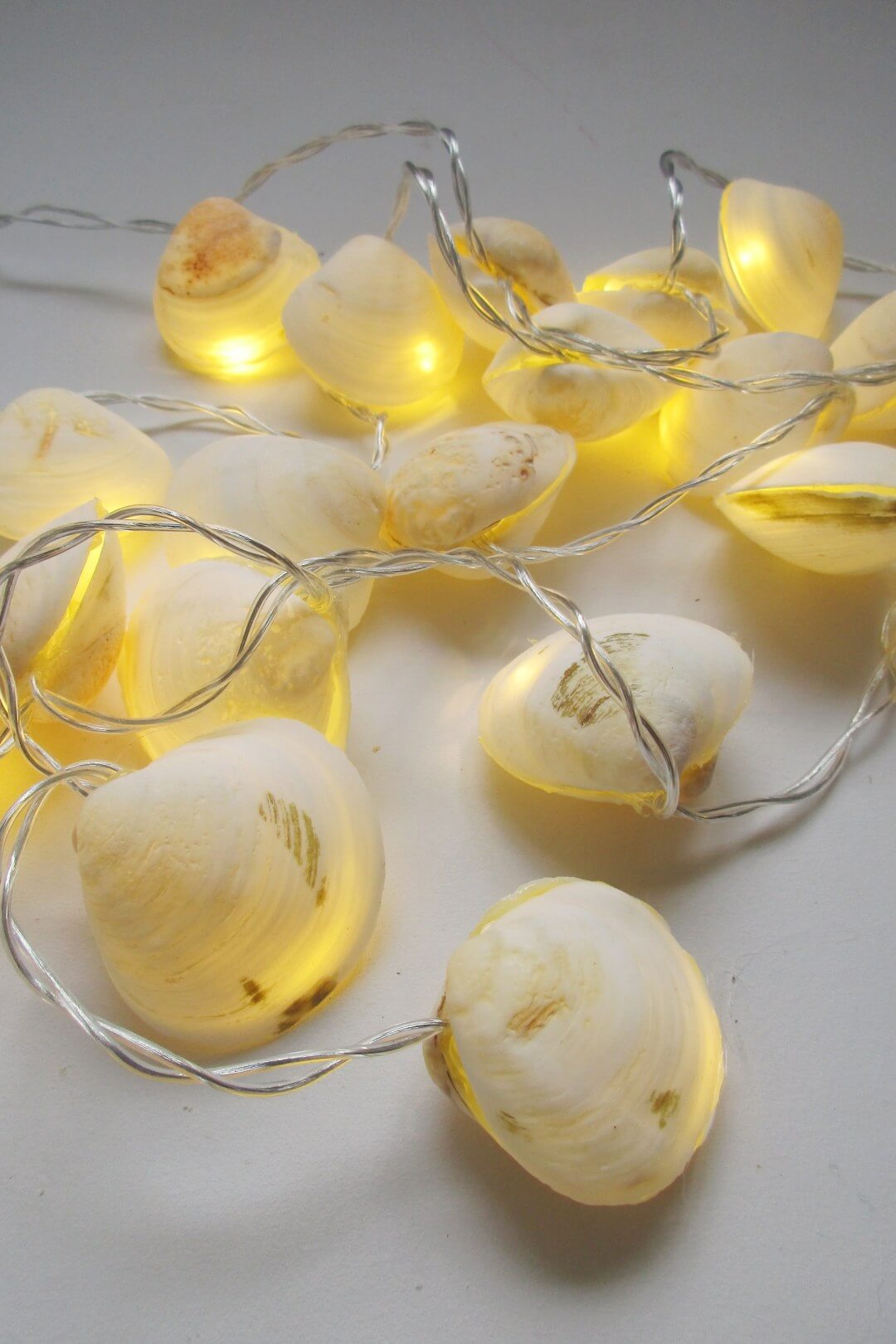 Another one of the best DIY coastal home decor ideas comes in the form of seashells. They really do add an instant coastal feel. They are also inexpensive at craft stores and perhaps free if you find some on the beach. As mentioned earlier, you can add them to almost anything for an instant beach vibe, but have you ever thought about adding them to your lights? This is an awesome idea, and it is so easy. Simply glue shells around the light bulbs on a string of white lights. Add them to a wreath or hang them around a mirror.
13. DIY Sea Glass-Look Upcycled Jars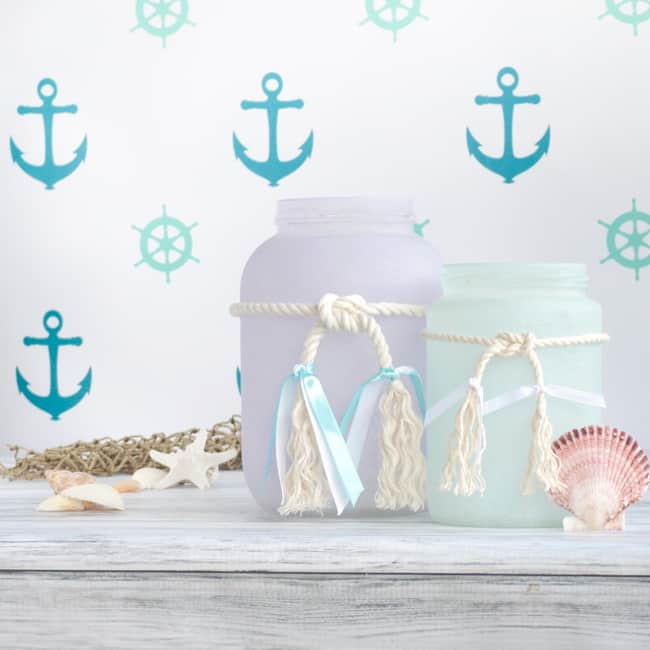 Do you just love the look of sea glass? It has such a unique quality with its hazy, soft look. Just gazing at sea glass often gives people a calm and peaceful feeling. Why not bring this feeling into your home? You can transform an ordinary glass jar into one that looks just like sea glass. There are special paints available to give your jar this look. Some are simply frosted paint and others will have the name "sea glass" in them. Check out the tutorial for more details on the paint. Once the paint dries, add some rope to give it that coastal vibe.
14. Cool Ocean Waves DIY Modern Wall Art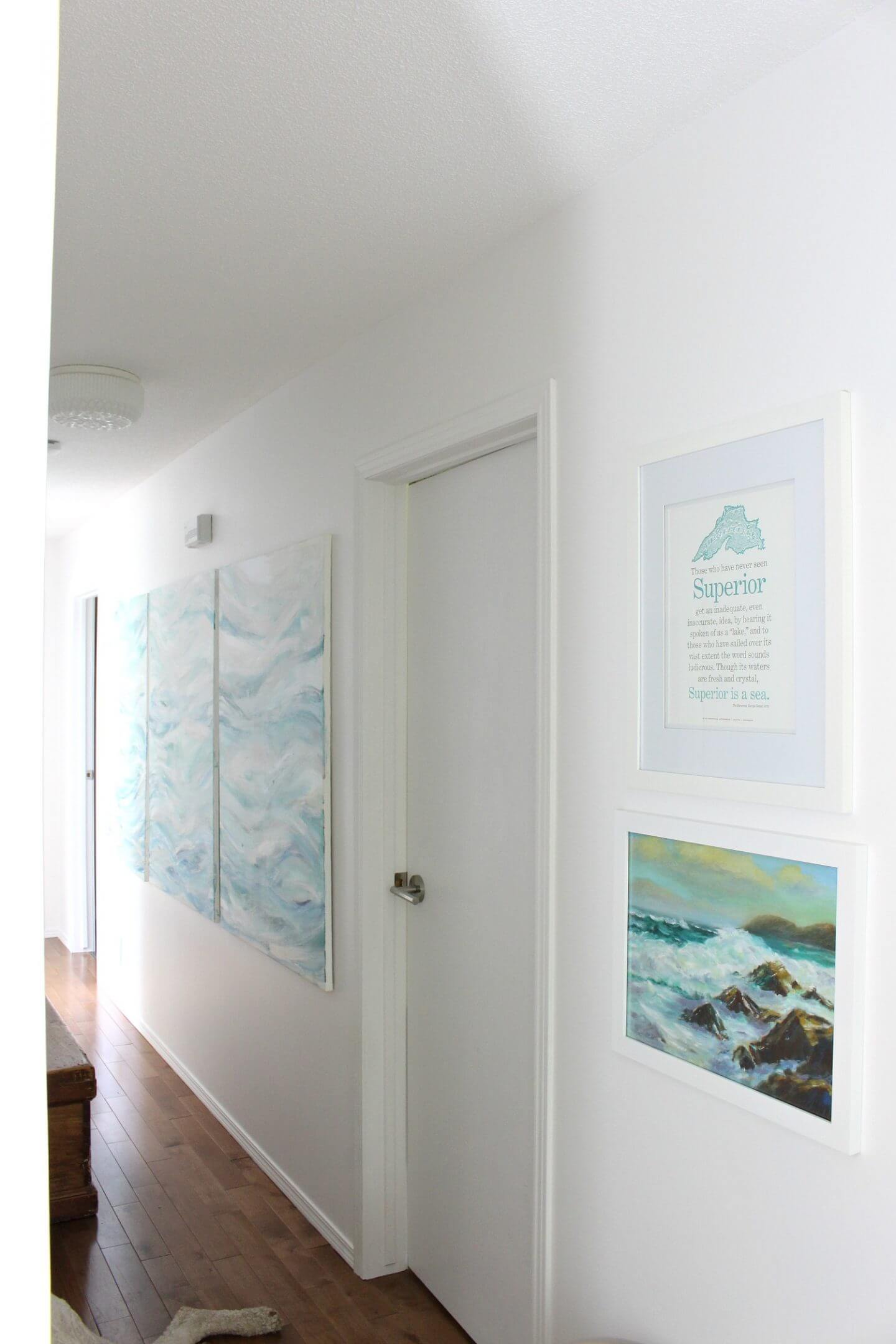 This wall art looks spectacular. It is calming and soothing, and it will definitely make guests feel relaxed and welcome in your home. Even if you have never painted anything before in your life, you can create this art. The tutorial shows you step-by-step instructions for creating this set of three pieces that resemble rolling waves. By adding layers of paint in different colors, sweeping across all three canvases, you create a unique piece that you can be proud of. These are perfect for lining a hallway, hanging over a sofa or even a bed.
15. "Home is Where the Beach is" Sign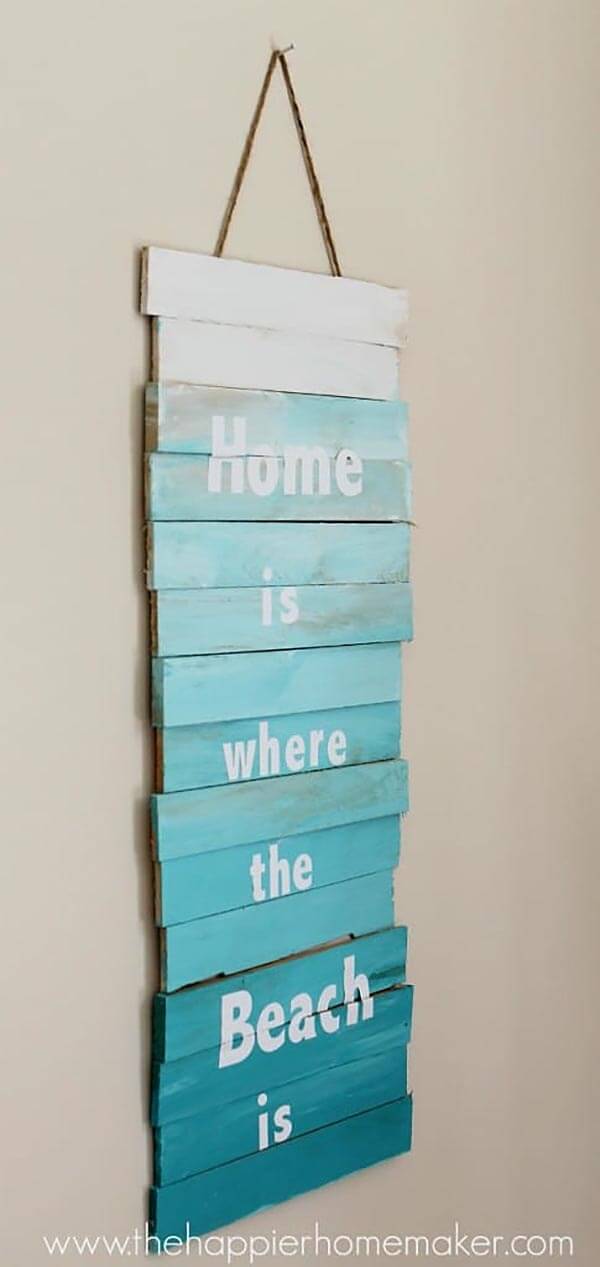 Wooden signs with saying are totally in right now, but they can be so expensive. This tutorial gives you easy directions to make a super affordable, trendy sign at home. You can make this sign using an inexpensive pack of shims, some paint, scrap fabric, hot glue and vinyl letters. The shims will be staggered to add interest and depth to the sign. They will be painted using only two colors, but will create many shades with a beautiful ombre finish. The vinyl letters are added to show that "Home is Where the Beach is" and to make a beautiful addition to your home.
16. Seashell Show-Off Bags for Vacation Collections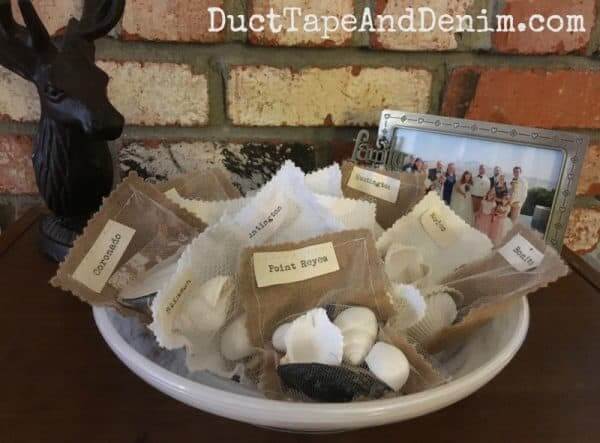 Do you have seashells from a vacation that are just gathering dust? Why not show them off with these cute little bags? Each bag holds the seashells with see-through netting in the front so friends and family can move it around and see all of the different seashells without removing them. The bag keeps them protected and is also a trendy little decoration. You can also add the name of the beach to each bag that you collected the seashells from. It is fun to compare the seashells from the different beaches as you add new bags to your collection.
17. Aloha Wooden Sign Home Decoration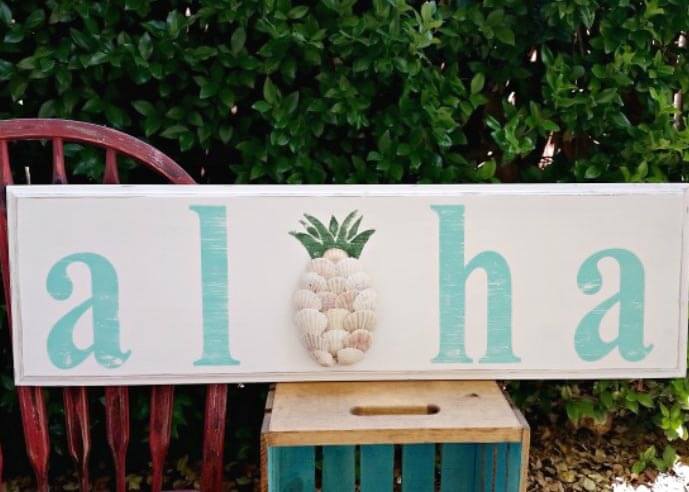 Get the island vibe going with this awesome aloha wooden sign. The "o" is made out of a pineapple. The pineapple is made out of overlapping seashells and some green paint for the leaves at the top. This sign would look great anywhere in your home and is sure to make guests feel welcome as soon as they see it. The background is white chalk paint and the letters are stenciled on with a cool, light teal color that screams coastal decor. Follow along with the tutorial, and you will have this amazing sign done in no time.
18. Saltwash and Chalk Paint Upcycled Headboard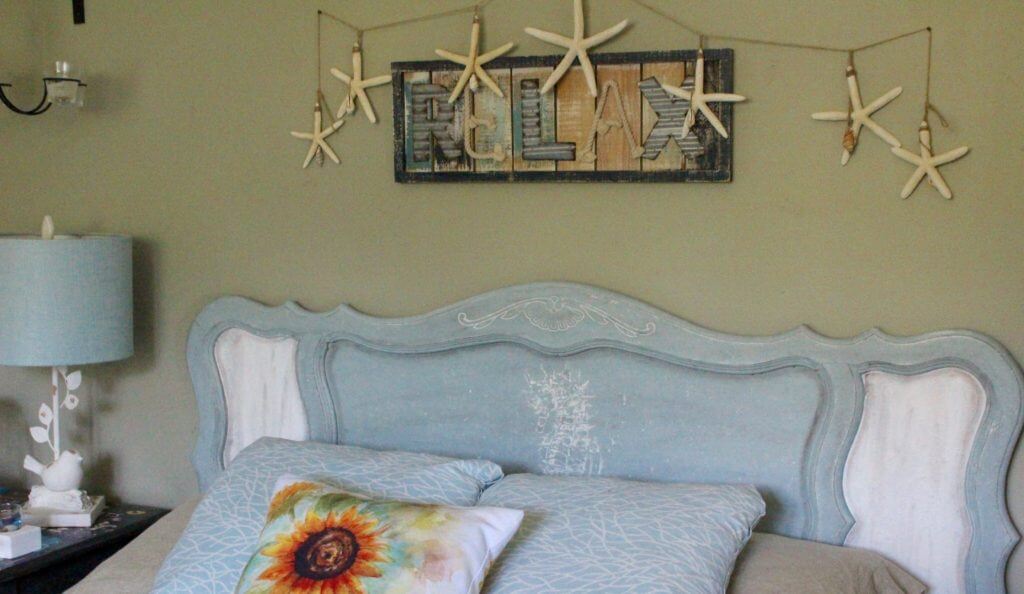 This is one of the best DIY coastal home decor ideas you may ever find. You will save tons of money by making over your current headboard. Also, you can choose the colors and design that best suit your coastal style needs. Using chalk paint and a saltwash, you will be able to bring out the beach vibe in no time. You can also use a stencil, along with some plaster, to create a focal point in the middle. Learn how to accomplish all of this with the easy tutorial. Add some of the items from above and you will soon have your own coastal oasis at home.
18 Inexpensive DIY Coastal Home Decor Ideas to Add Tranquility to Your Home
This amazing list has tons of the best DIY coastal home decor ideas on it. Which one will you choose to start first? If you want to make a big impact, perhaps start with the three-piece wall art. If you want to keep it subtle for now, then begin with a small wreath or floor mat. Many of the projects use jute or another type of rope, so if you are trying to be cost effective, purchase one large roll of jute to use on all of them. It is okay if the size is a bit different from the examples. Using the same roll will save money and will create cohesiveness in your design.
Gradually add pieces as you are able and soon you will see the transformation begin. Perhaps add some throw pillows in coastal hues or change out your curtains for something with a coastal vibe. Over time you can keep swapping out old pieces for new ones or upcycling items that you already own. Keep these ideas saved so you can keep coming back to choose new projects to work on. With a little bit of time and very little investment, you can create a wonderful coastal feel in your own home.