Coastal décor recreates the light, airy, laid-back feel of life on the beach. He look combines marine colors like aqua, tints of light blue, and white. Wood or tile flooring replicates the deck of a ship, a boardwalk, or the floor of a cabana. Lightweight curtains that blow in a breeze stir thoughts of sea breezes. Coastal décor furniture is made of wicker, rattan, weathered wood, or wood resembling ship timbers. Wall treatments include painting, shiplap, tiling, or thematic wallpaper. Including ropes, fish net, or rope netting adds more of the beach house touch. Décor can include seascapes, images of seabirds and marine life, beach scenes, shells, starfish, driftwood, lighthouses, and nautical items. Using clear or blue-tinted glass resembles water and reflects light, creating a brighter note.
20 Summery Coastal Kitchen Design and Decor Ideas to Update Your Kitchen

Incorporating these elements to create a coastal kitchen can range from easy switches to larger projects. The complexity of a switch depends on the elements that comprise your kitchen to start. If you already have flooring or cupboards that coordinate with coastal decor, then the transition us easier, quicker, and less expensive. Of course, a little creativity can help blend in some less coordinated elements.
1. Blue and White Kitchen With Plank Flooring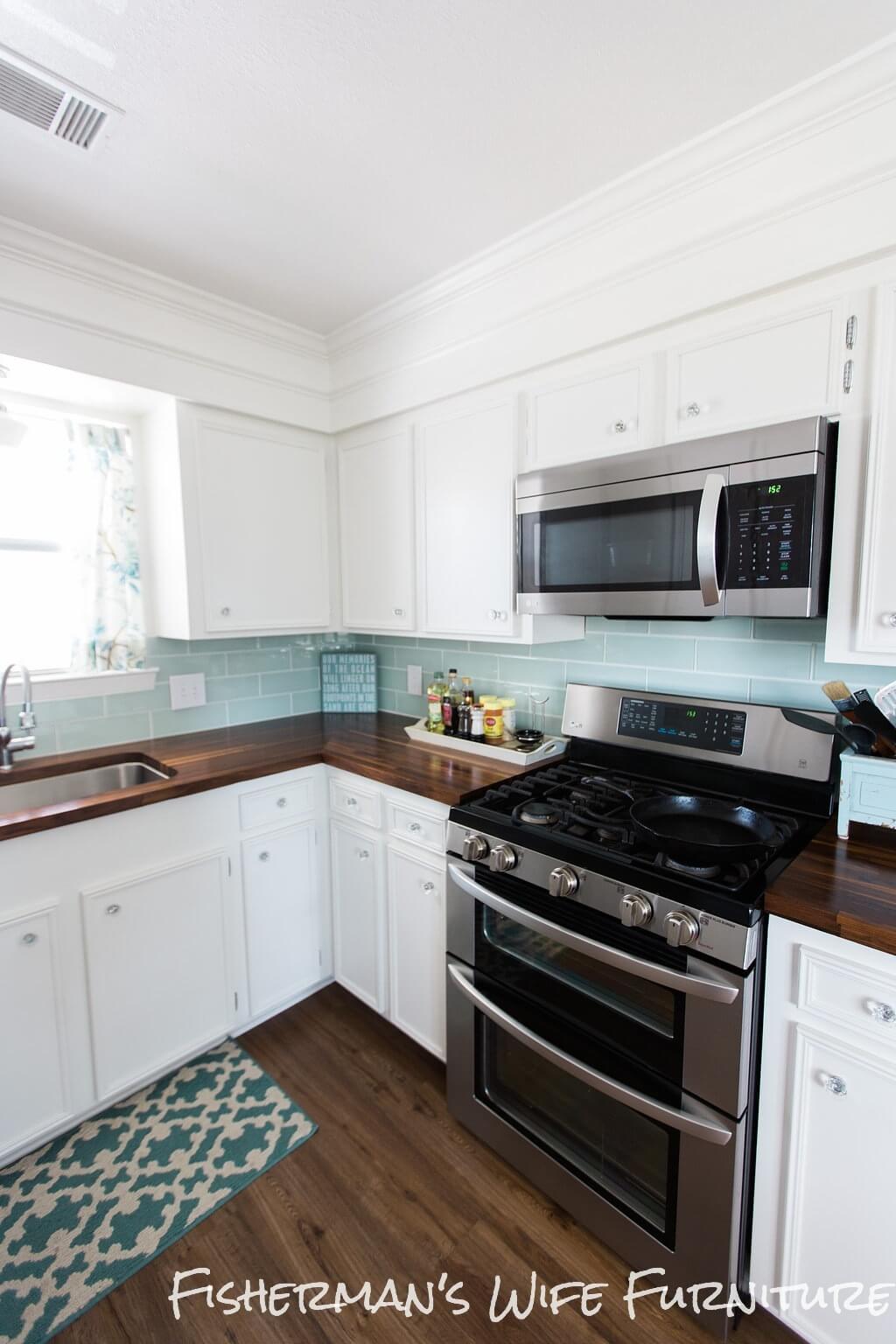 Light, airy coastal kitchens can make small kitchens feel larger. Refinishing traditional brown wood cupboards by painting them white is the fastest, easiest way to do this, and it makes your kitchen look more up-to-date. Add touches of aqua and light blue, lightweight curtains, a glass top table, and a few theme-related decorative pieces, and you have changed the personality of your kitchen.
2. Easily Converting to a Coastal Kitchen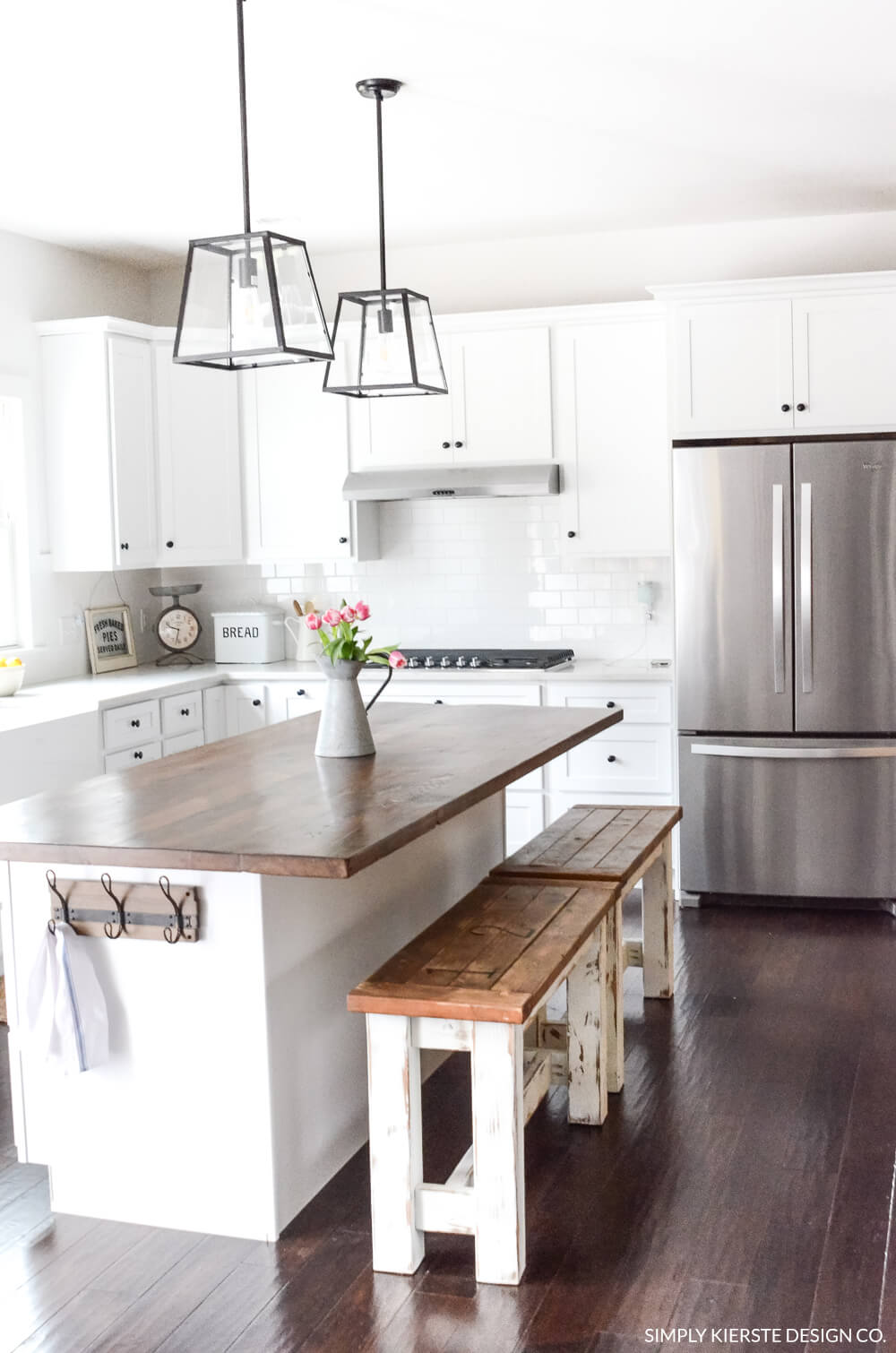 White cupboards make converting from a farmhouse kitchen to a coastal kitchen can be so easy that you might consider having a warm country kitchen for fall and winter and a light, airy coastal kitchen for spring and summer. This kitchen with the distressed benches just needs the curtains and the decor on the countertops and walls changed to convert it.
3. Adding Accent Colors to Your Kitchen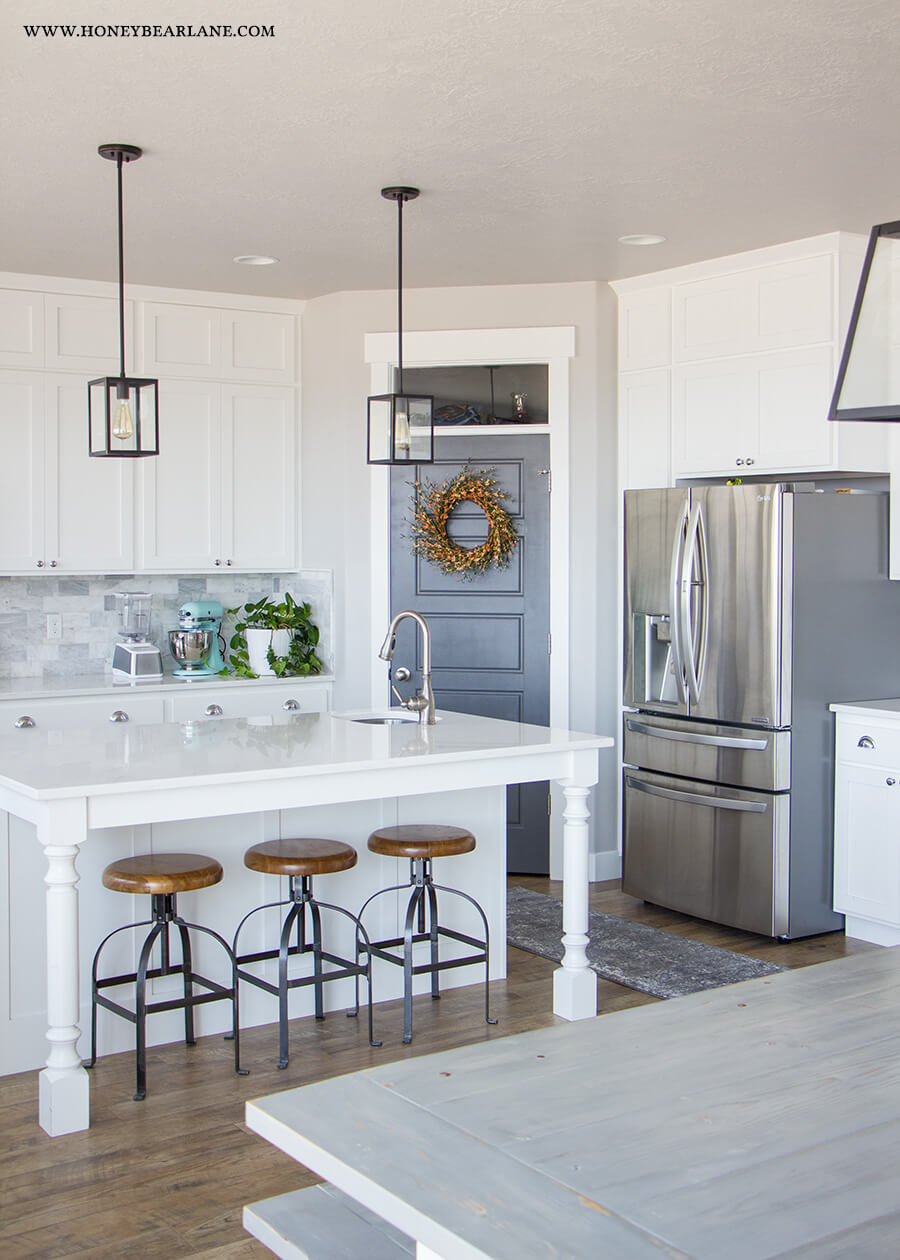 To create focal points in your kitchen use an accent color strategically. For this kitchen, the top of the picnic table, the top of the one bench, and a door were painted a gray to blue-gray. The gray was repeated in the splash guard, the countertop, and the side of the refrigerator. Carrying the gray accent around the room pulls a larger kitchen together.
4. Consider Accenting Unexpected Areas in Your Kitchen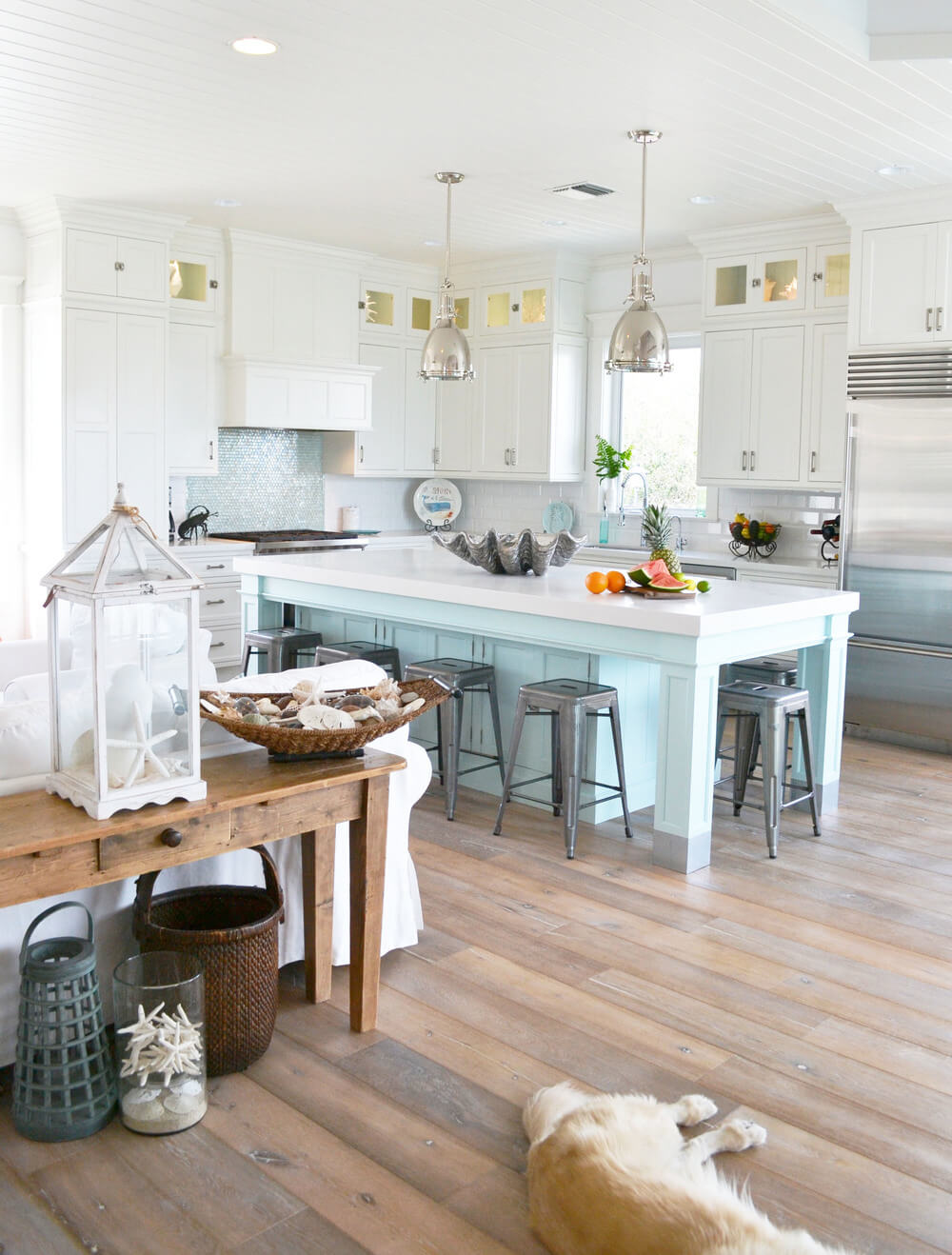 In this kitchen, the blue accent color was used on the base of the island and the backsplash behind the stove. Using the blue on the base of the island helps break up a large area of white that could make the room seem boring and sterile. Using it in the backsplash for the stove helps draw the eye to other areas of the kitchen.
5. Two-tone Cupboards Add Interest to a Coastal Kitchen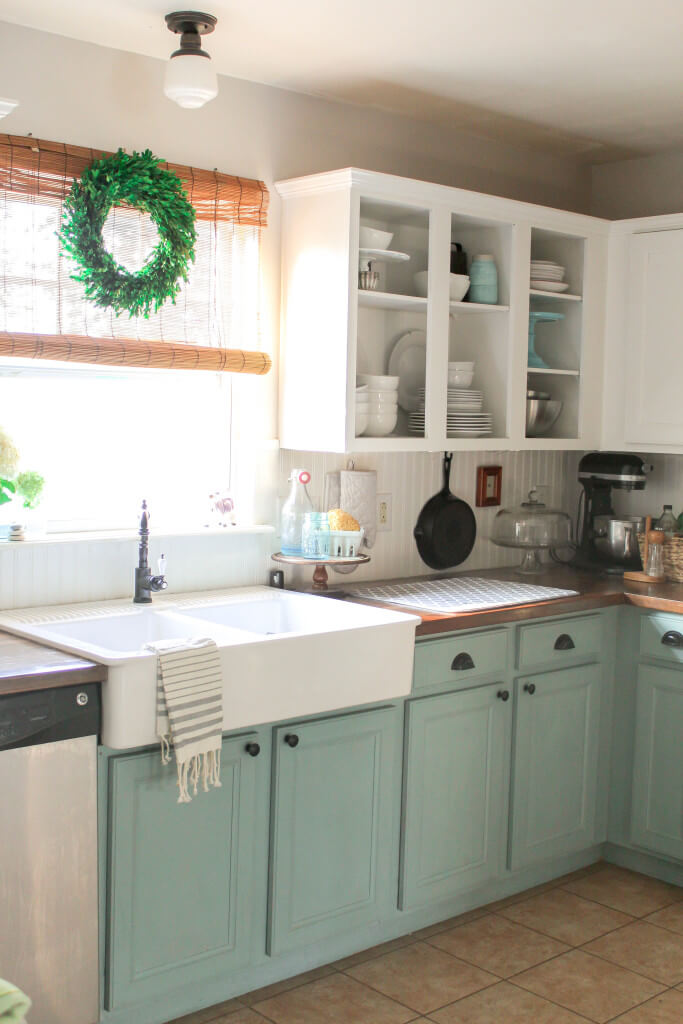 If you want the coastal but you don't want all white cupboards, you can try this idea. You can paint the base cupboards blue and the upper cupboards white as was done in this kitchen. This treatment also makes low ceilings feel higher. Using chalk paint gives the cupboards an aged and casual feel that fits with a coastal kitchen.
6. The Beauty of White Cupboards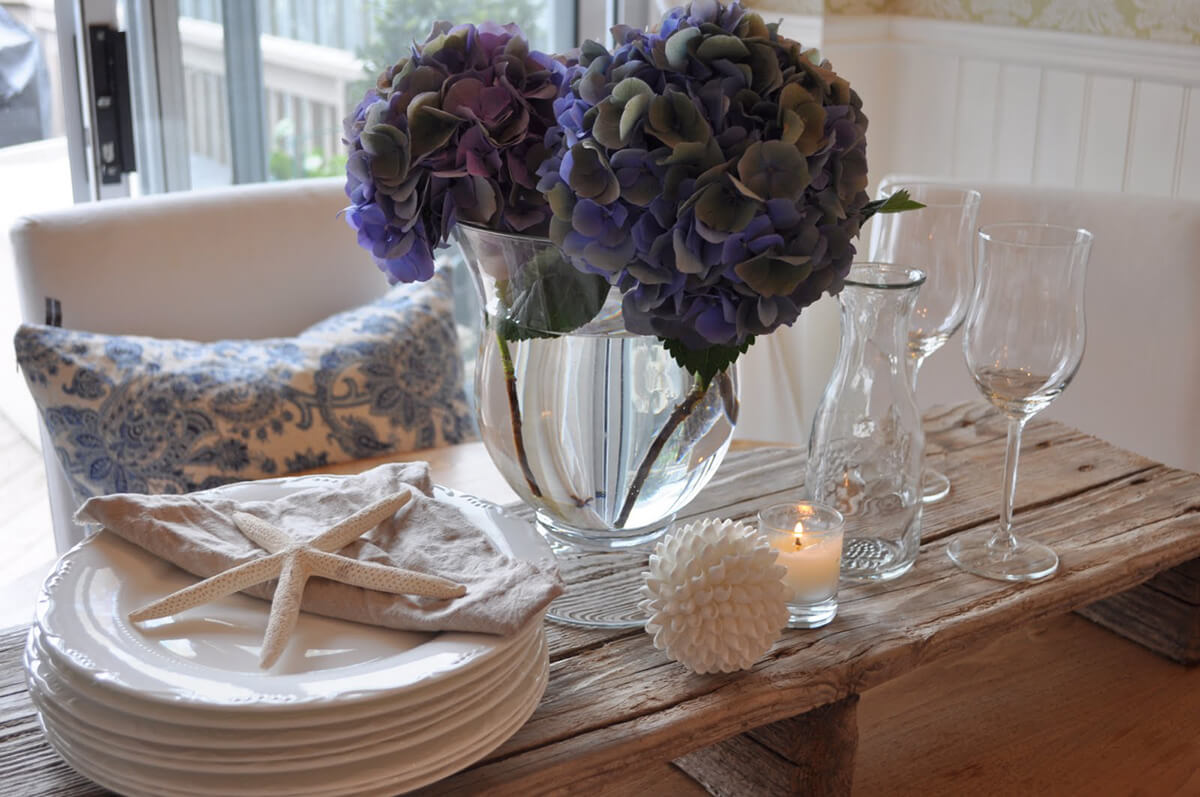 White cupboards provide an up-to-date background for a variety of decor styles. Creating a coastal feel only requires adding touches like the wood planks shelf and shells seen in this kitchen. Explore beside a lake, stream, or river for water-weathered items if you don't live near an ocean or visit a craft or home décor store. Just don't overdo it. Keep it light and airy.
7. A Coastal Kitchen With Brown Wood Cupboards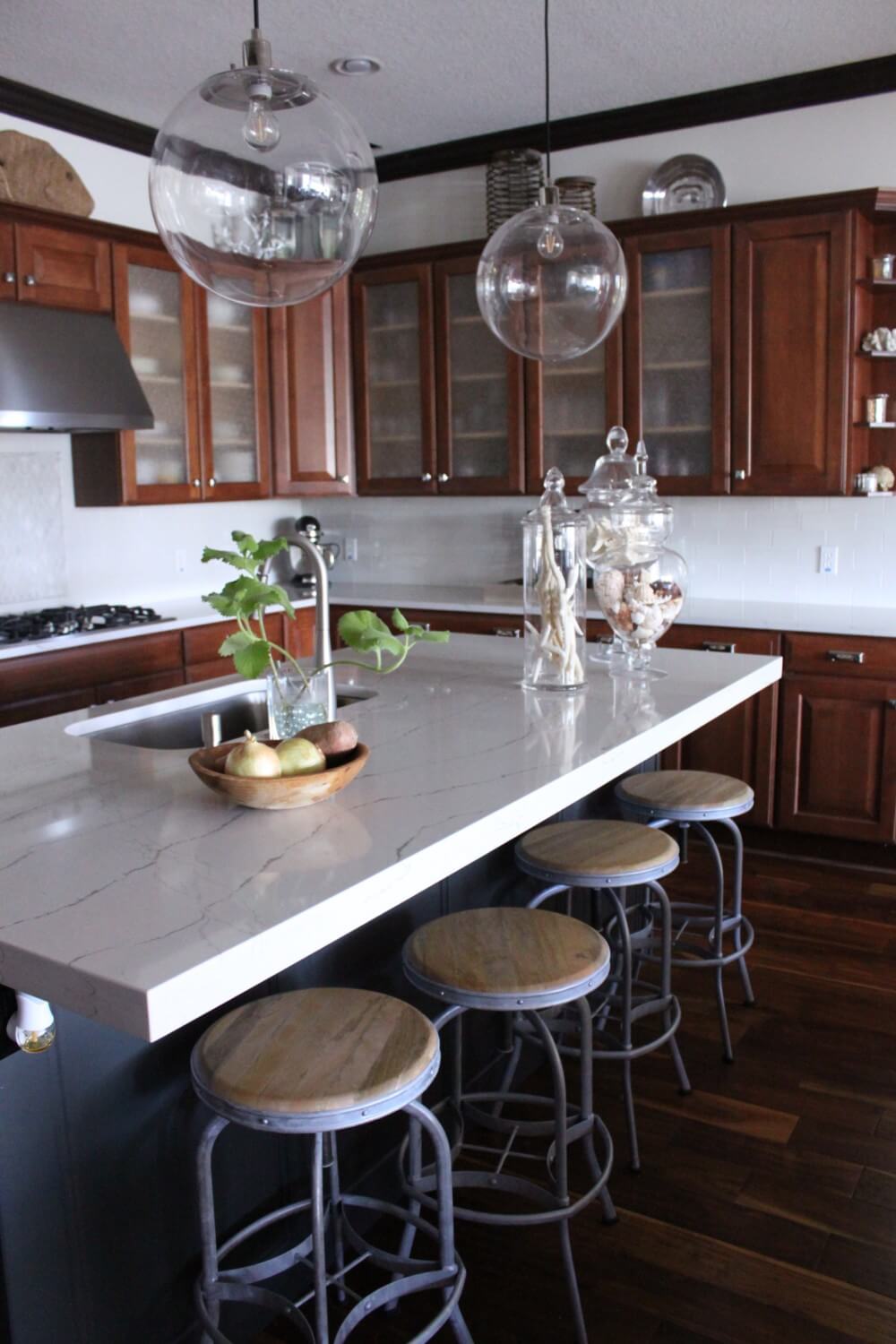 If you really love your brown wood cupboards, you can keep them if you want as long as there is enough light, light colors, and glass to maintain coastal's light, airy feel. This kitchen is well-lit, has light colored countertops, and lots of glass including in the fronts of the cupboard doors. You also could refinish your cupboards with a weathered looking wood stain.
8. Incorporating Coastal Decor in Your Kitchen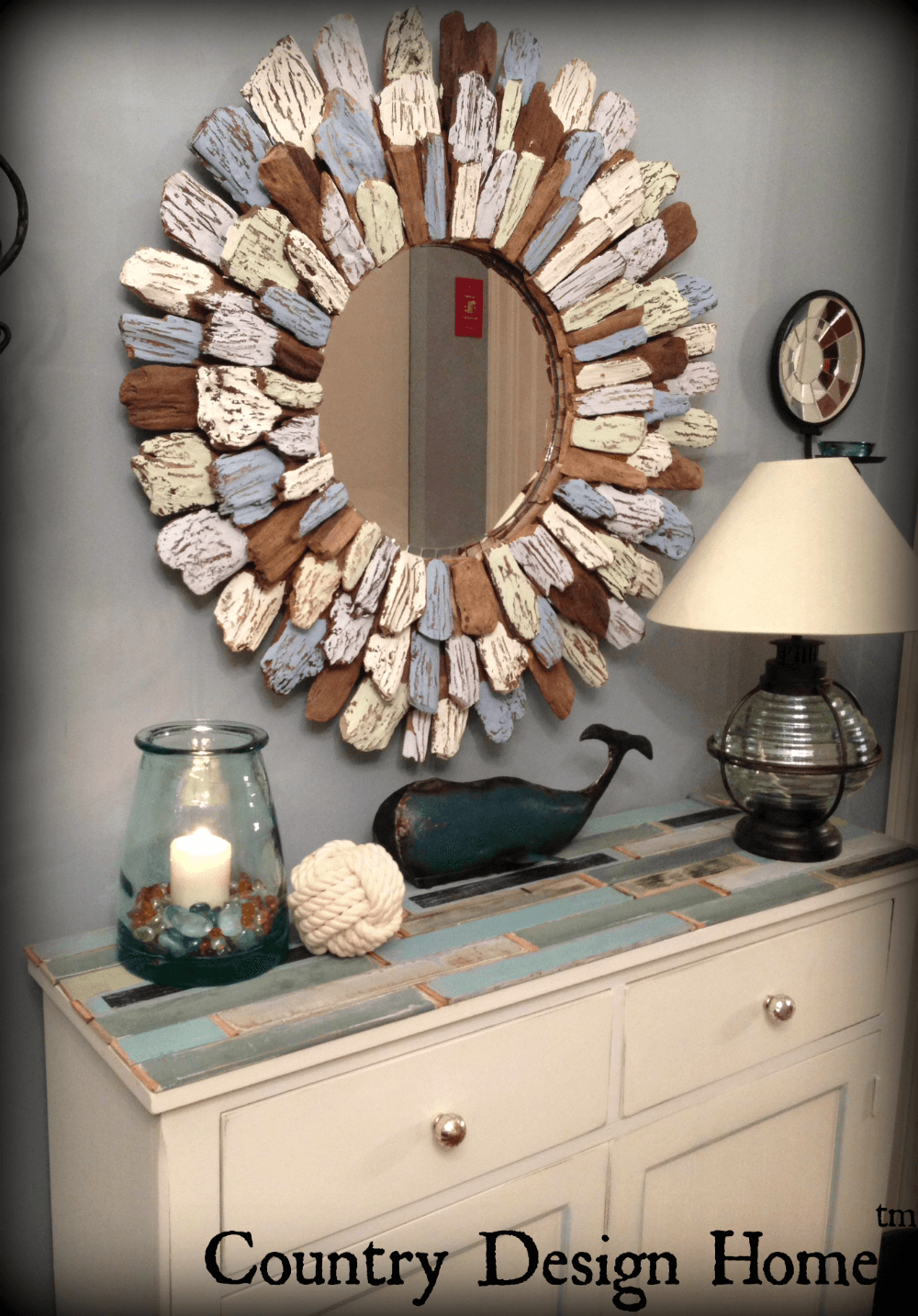 The area around this plank-topped cabinet shows how to add small items to create coastal decor. The focal point is the mirror above the cabinet that is encircled with broken bits of weathered driftwood. The mirror could also be encircled with shells, starfish, or knotted rope. On top of the cabinet is a whale, a rope ball, and a candle holder with shells.
9. Mixing Farmhouse and Coastal in Your Kitchen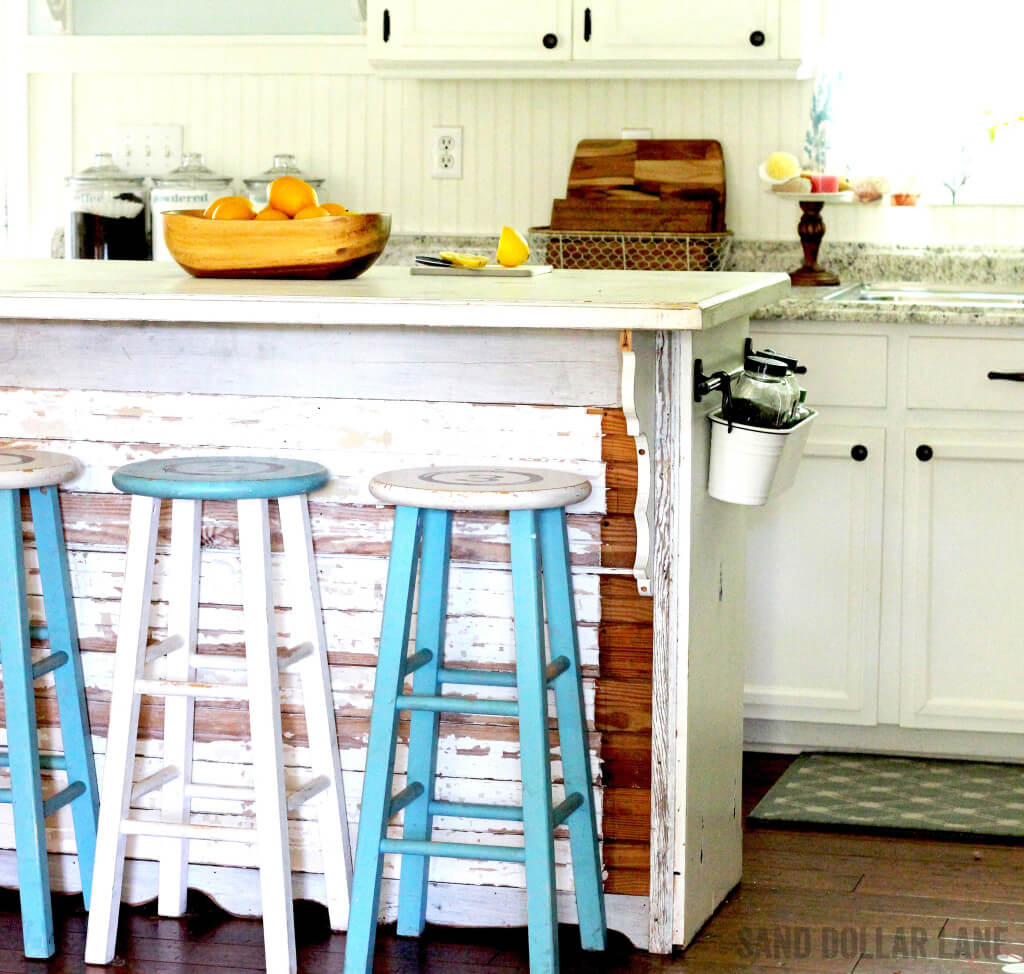 This image actually shows how close farmhouse and coastal décor are. Older-looking white cupboards and a weathered plank front on the base of the island provide a background while blue serves as an accent color throughout the kitchen. The drapes feature a tropical motif, and the baskets, bowls, and cutting board are made of tropical wood. A wooden whale above the window is the final touch.
10. Creating Coastal Decor With Beach Finds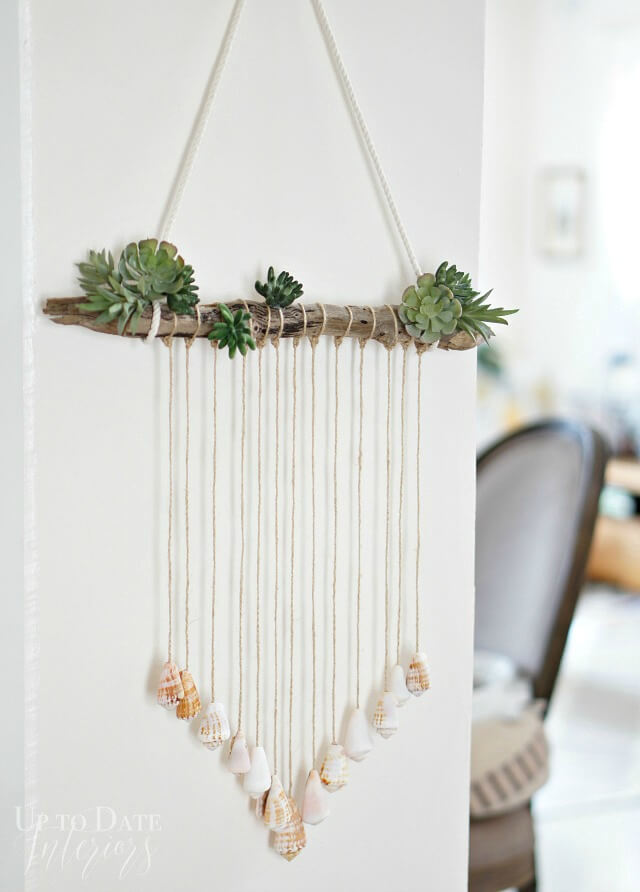 As mentioned earlier, your coastal decor can be inexpensive if you use items found along any shoeline. You can place them around your kitchen, or you can play around and create unique items for your walls and countertops. Using string, you can make wall hangings as in this kitchen. Hot glue will help you create items such as the driftwood mirror shown previously.
11. Capiz Shell Chandelier for Your Coastal Kitchen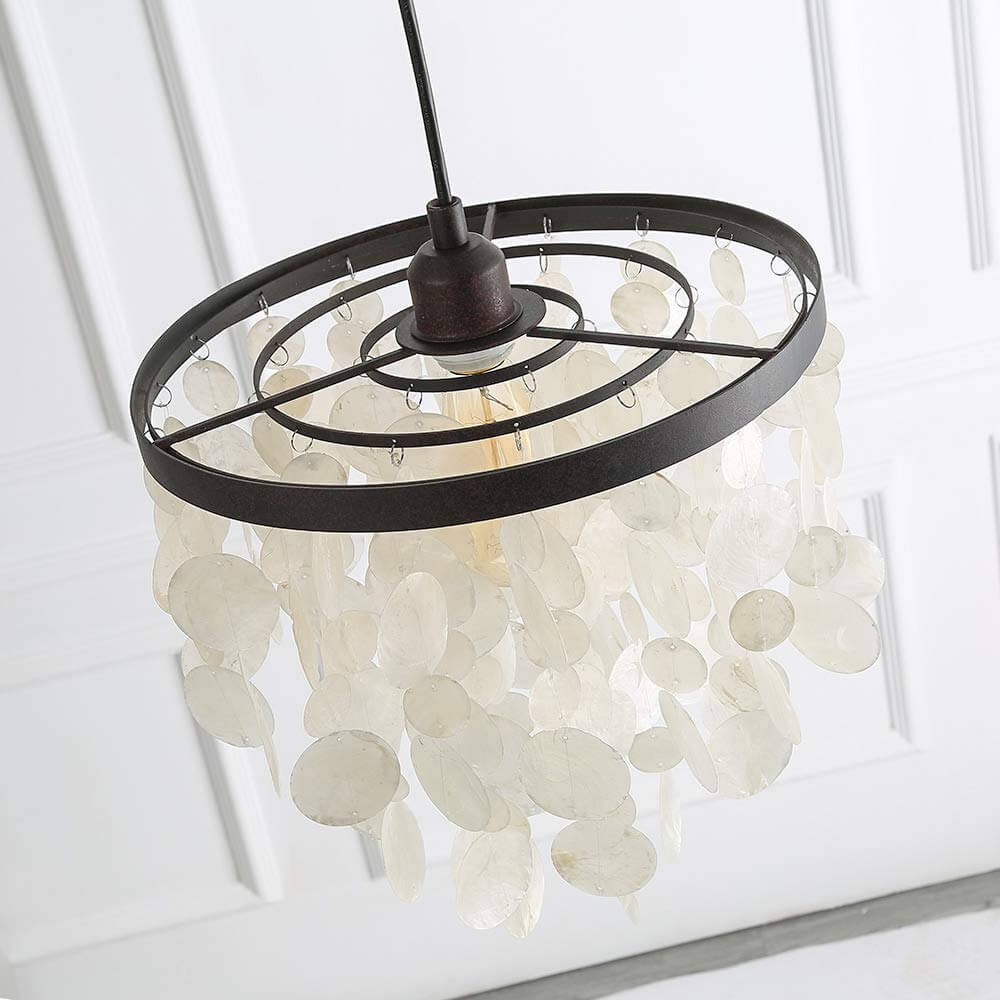 This Capiz Shell Chandelier provides an elegant, breezy, wind chime look over the island or table. Capiz shells are valued for their translucence and durability making them a lightweight substitute for glass drops. The chandelier measures 11.5″ diameter x 15″ long with a 59″ cord that's adjustable from 16″ to 75″. It is easy to assemble and install, can be used with a dimmer switch, and requires a 60W bulb.
12. Navy Blue Linen Kitchen Towel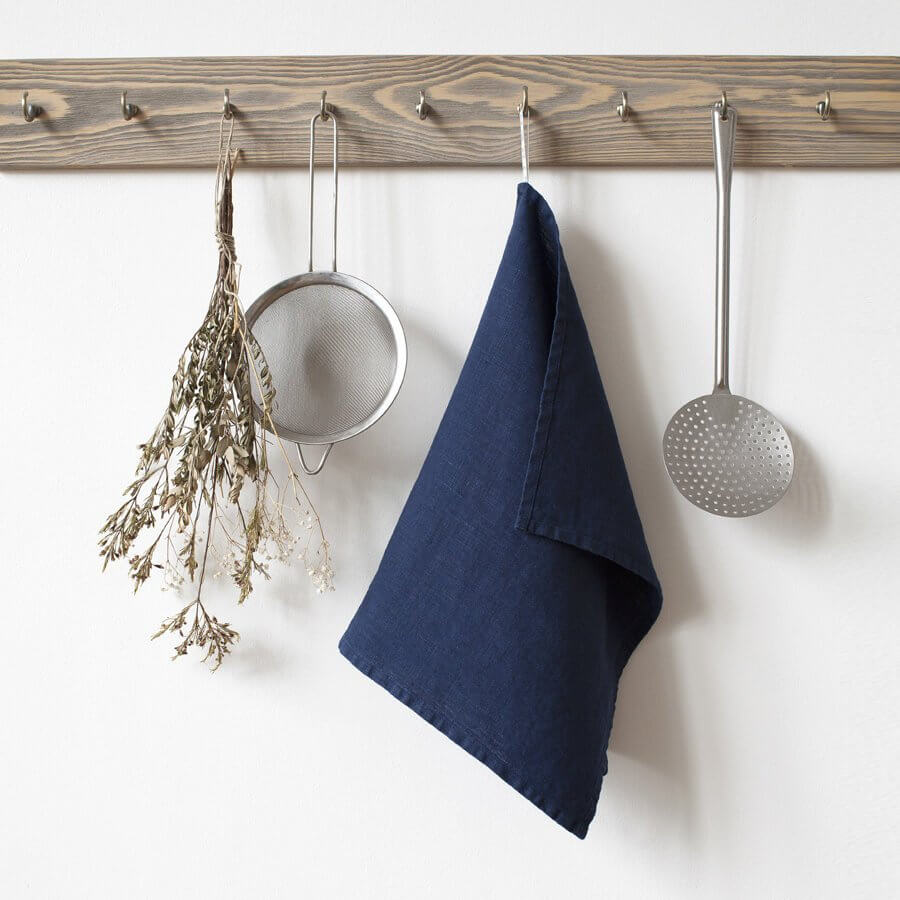 This navy blue towel is both decorative and functional. Hang it in a convenient place to dry your hands. Stack a few on the counter to use as hot pads. Place one under a bowl or basket for a counter display or a table centerpiece. The soft, durable, stonewashed, preshrunk, 100-percent European linen towel measures 18″ x 26″ is machine washable. Dried it on low.
13. Blue Wooden Crab Wall Decor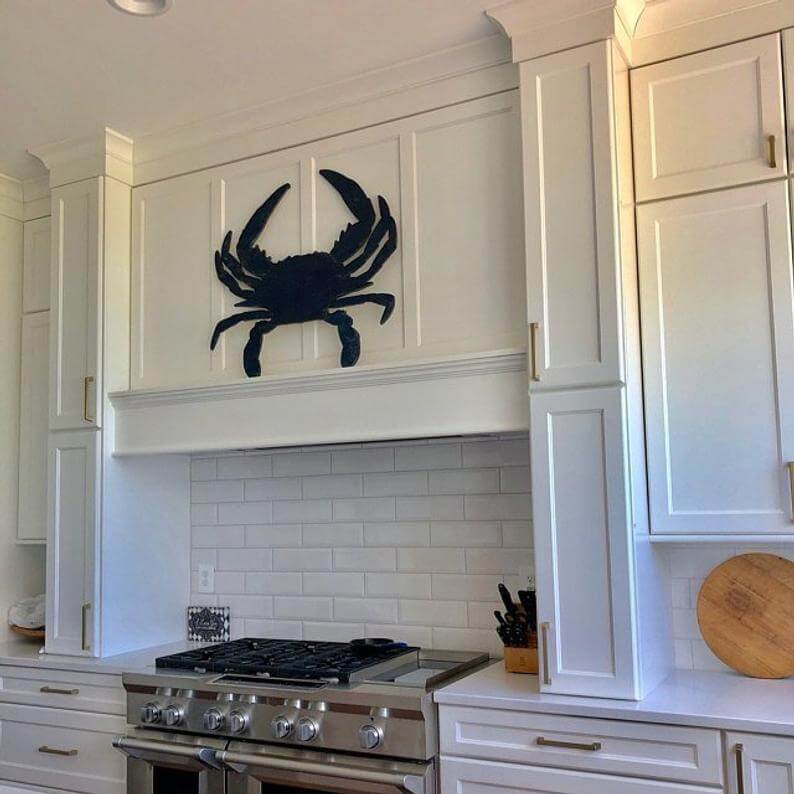 Available in both coastal blue and navy blue, this crab has a keyhole in each claw for easy hanging. It has a distressed look and can be personalized with your name or other text. The Crab is available in four sizes — 23″ high x 25″ wide, 32″ high x 33″ wide, 37″ high x 40″ wide, and 42″ high x 45″ wide.
14. Framed Metal Fork and Spoon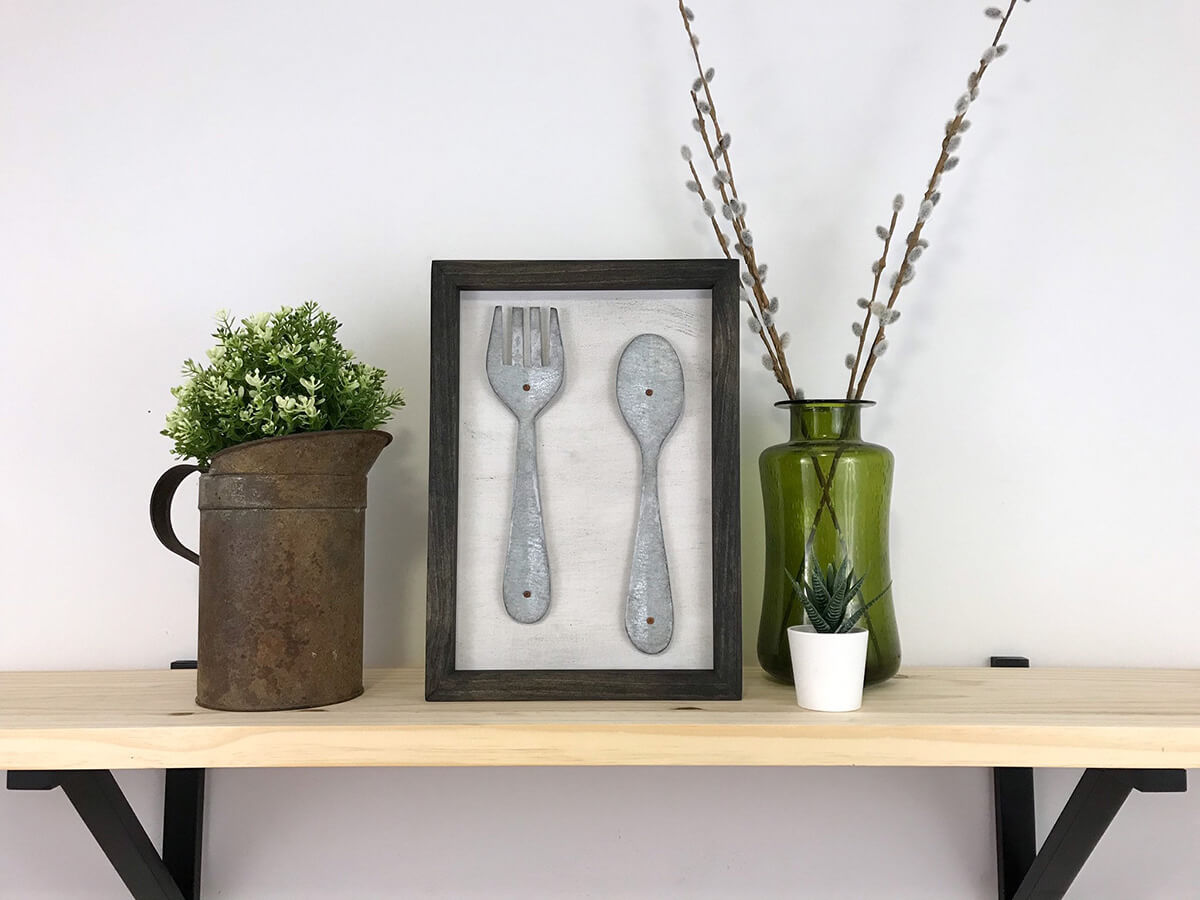 The hand cut fork and spoon have a tarnished look that will increase over time. They are mounted on a distressed board that's been painted with white chalk paint. The thick frame with the ebony stain gives the wall hanging a three dimensional. At 14″ high x 10″ wide, you can sit it on a shelf or use the saw tooth hanger to hang it.
15. Wooden Plank Beach Wall Decor
This weathered looking vertical wall hanging features an ocean view painted on reclaimed wooden planks. The image shows a sandy beach disappearing into the ocean where small waves head toward the shore. The ocean changes from a light to a dark blue ending in the palest light blue sky. Along the left side is the word "Beach". The wall hanging measures 31″ high x 12″ wide.
16. Beach Life Wooden Plank Sign
This horizontal sign features a cute little blue fish and the words "Beach Life" on an unweathered pine board. The sign measures 24″ wide x 5-1/2″ high, and it can be set on a counter, hung on a wall, or hung from the ceiling. Use this sign to designate your kitchen as stress-free zone.
17. Natural Texture for Coastal or Farmhouse Looks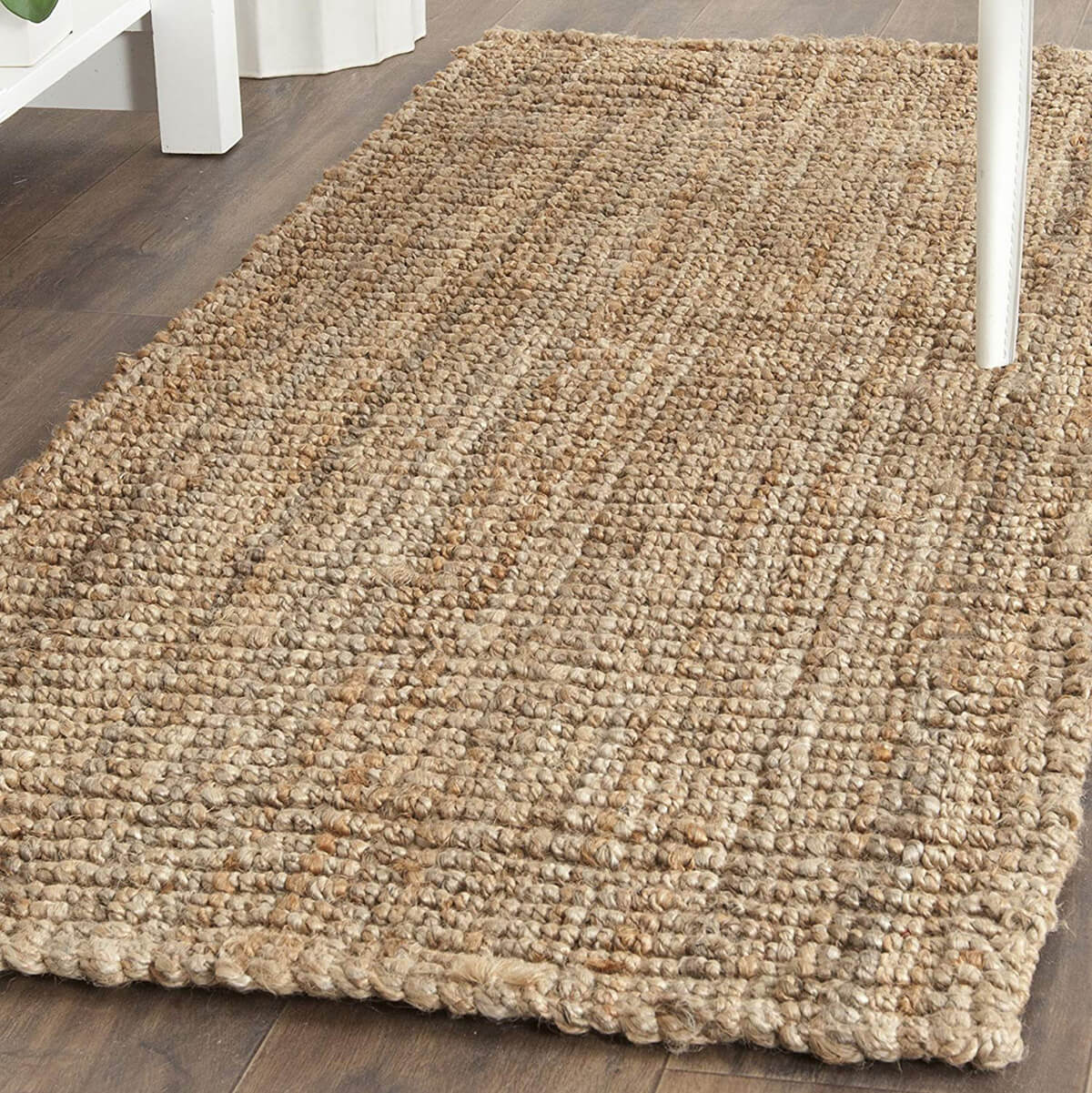 You won't have to change this durable, reversible, hand-woven jute runner at all if you want to do a seasonal switch from coastal to farmhouse. It blends well with many décor styles. Made of sustainable natural jute and available in multiple sizes, the runner is soft under your feet with a 0.5' pile height and adds an attractive texture to your room.
18. Starfish Coastal Window Treatment
Create coastal window treatment with just a valence or with a matching set of café curtains. The print features a child-like drawing of a starfish and shell in blue or coral. Made of 100 percent canvas, the valance measures 15" L x 57" W, and the curtain panels measure 24" L x 27" W. Machine wash on gentle in cold water, and tumble dry on low.
19. Navy and White Marine Life Kitchen Rugs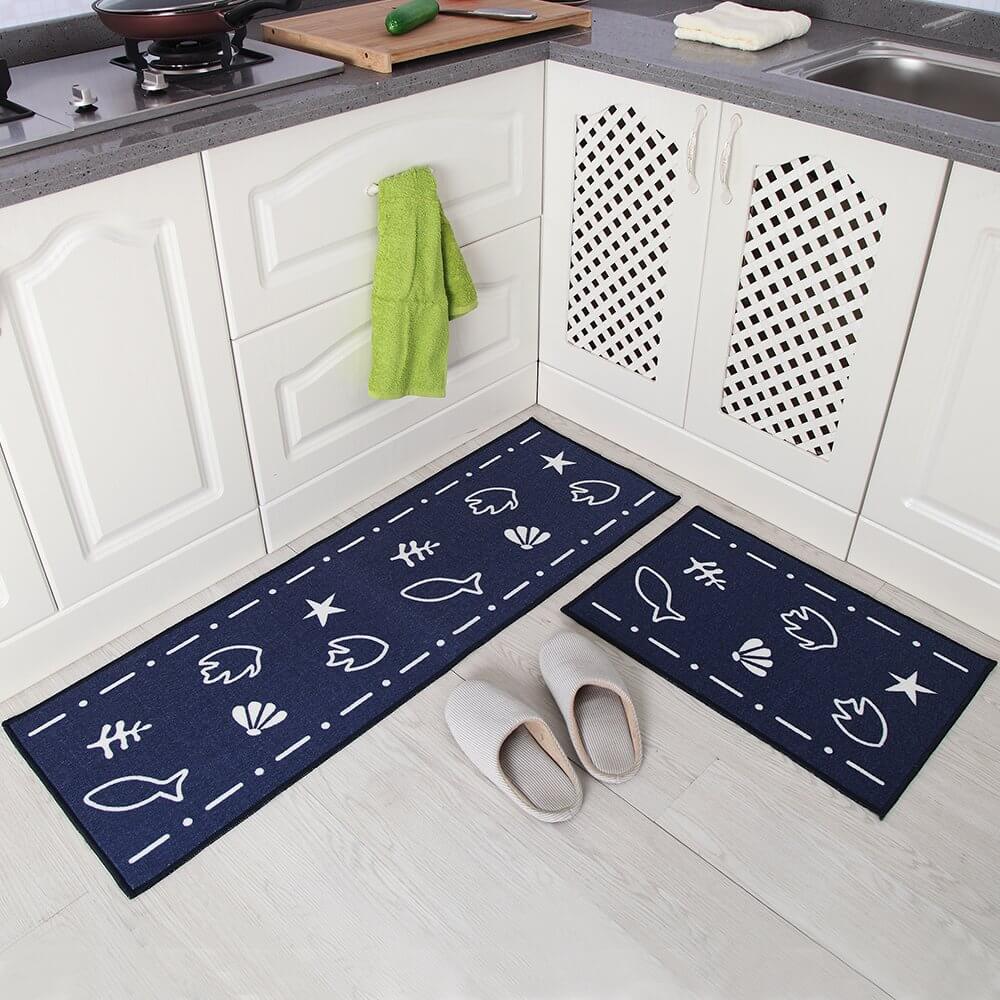 This two piece kitchen rug set features white line drawings of fish and seaweed alternating with solid white starfish and shells on a navy background with a white dash and dot border along each long edge. Made of 100 percent microfiber with non-skid latex rubber backings, the rugs absorb splashed water quickly. They measure 15.7" x 47.2" and 15.7" x 23.6", and they're machine washable.
20. Blue Distressed Starfish Beach House Sign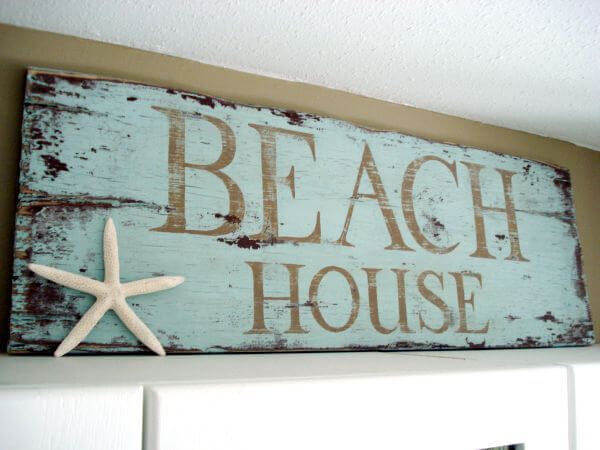 This blue starfish beach house sign is pure coastal décor. The background is a weathered plank with blue distressed paint. "Beach House" is painted in brown and is also distressed. A large starfish has been attached to give it a beach feel. This sign can be hung from the ceiling, hung on the wall, or placed on a counter.
Our Favorite Farmhouse Kitchen Decorations to buy on Amazon