When sprucing up your home it's fun to explore the best coffee bar ideas out there. A modern addition to any living space, a coffee bar can make a home warm and welcoming while offering some much-needed refreshment. Whether you choose to make the space formal or informal, having an area where people can appreciate a good cup of espresso together can make any household the favorite of the neighborhood.
28 Amazing Ways to Design an Inviting Coffee Bar

Coffee lovers are everywhere, and dedicating a space in your home for this beloved drink can be a real conversation-starter. For those true connoisseurs out there, a coffee bar can celebrate one's love of the beverage while creating a warm, inviting space to sit down and take a moment to chat with others.
For those who simply want to add a contemporary twist to their home décor, a coffee bar is the new answer to a breakfast nook or play space. It's a unique area that is usually near or inside a kitchen, though it can be moved to other parts of the home. However, it can also replace a traditional alcohol bar. For those who want to forgo the alcohol in favor of caffeine, a coffee bar is a stylish and tasteful choice.
The best coffee bars have a variety of styles and aesthetics that range from sleek modern décor to homey, bohemian flourishes. Whether you want to recreate a Moroccan fantasy straight out of an old movie or a hip cafe in New York City, coffee bar décor can run the gamut. It's all about putting your personal stamp on this cozy area of your home.
This article will give you some ideas on how to turn a bland corner of your home into the home coffee station of your dreams.
1. Exposed Shelves with a Modern Look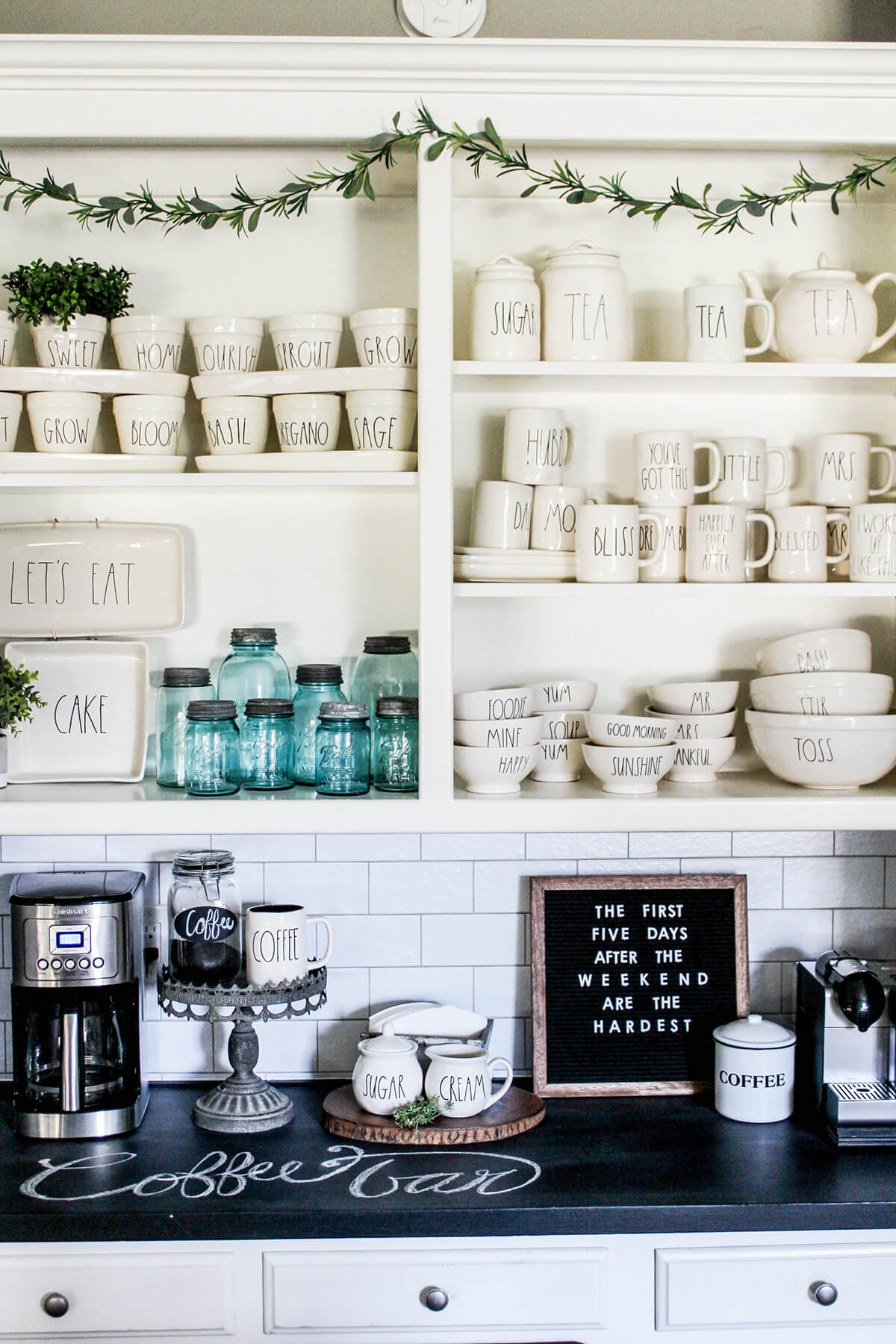 For fans of exposed shelves, this coffee bar has a beautiful, modern aesthetic. Great for word-lovers as well as coffee-lovers, this nook uses the height and openness of the shelves to showcase elegant labeled jars. A pop of color can be added with clear colored jars set in one area only for visual interest. To keep this space informal and inspirational, add a small message board that can be changed daily or weekly with uplifting words. A simple garland draped across the top shelves can add a homey element to the clean, crisp colors and lines of this space.
2. Mediterranean-inspired Home Coffee Station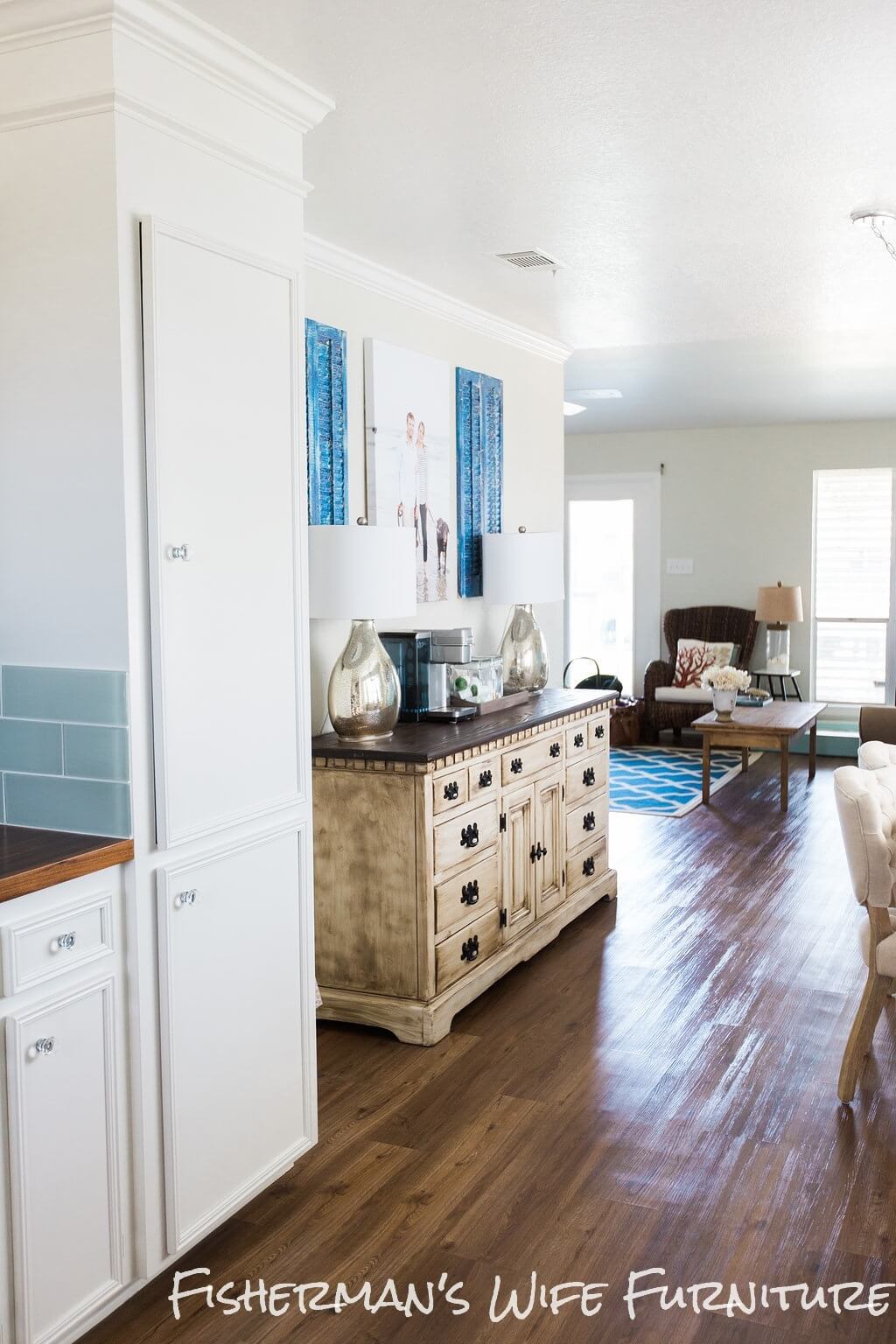 Get a whiff of sea air with this coastal, Mediterranean look. Combine a weathered and antiqued bureau with neutral accessories. Modernize your coffee bar with a single-serve coffee machine. Airy, antiqued accents such as two large matching frosted glass vases bring visual interest and soft curves to the space. Don't forget the color! Bright blue mosaics or paintings on the wall nearby tie everything together with a splash of color. All the drawers can keep coffee supplies neatly stowed away out of sight. This coffee bar idea is great for company or for private use.
3. Colorful and Whimsical Kitchen Coffee Nook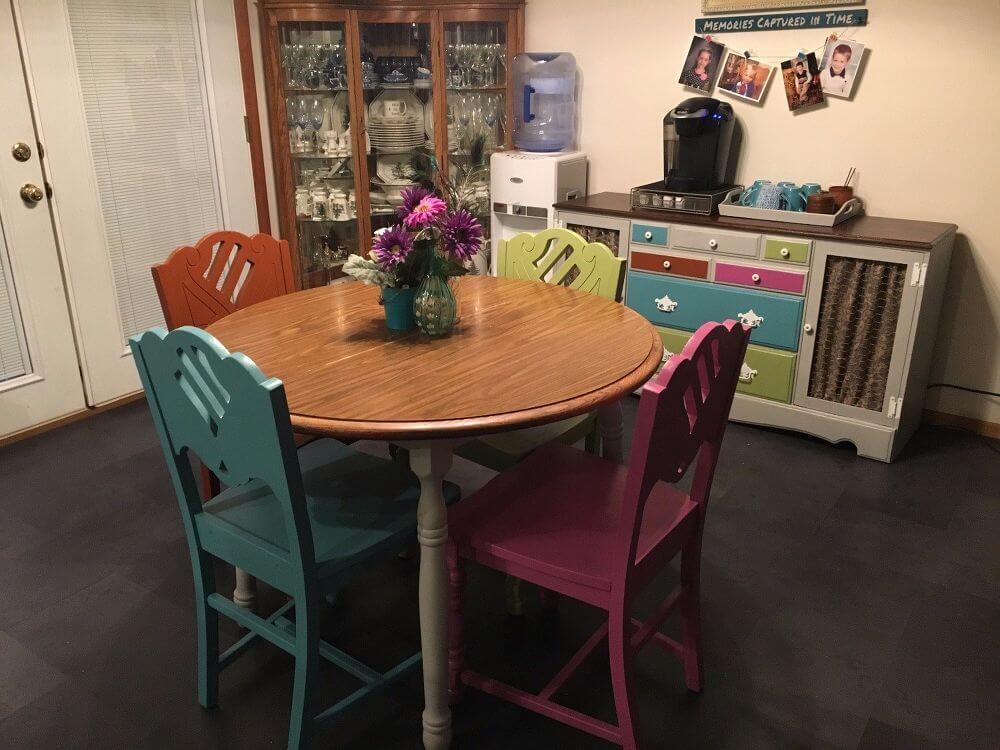 Great for kids or free spirits, this style incorporates a bright color palette with simple, down-to-earth flourishes. A nearby coffee station table makes an inviting place to gather round and enjoy a beverage or two as a group. The colors of the chairs match the colors on the coffee bar's drawers, which tie the whole look together. Loved ones enjoy sitting together and reminiscing, and a memory nook can enhance an already delicious cup of coffee. Pictures of time spent together can make the space welcoming and comfortable.
4. Making the Most of Above-Counter Storage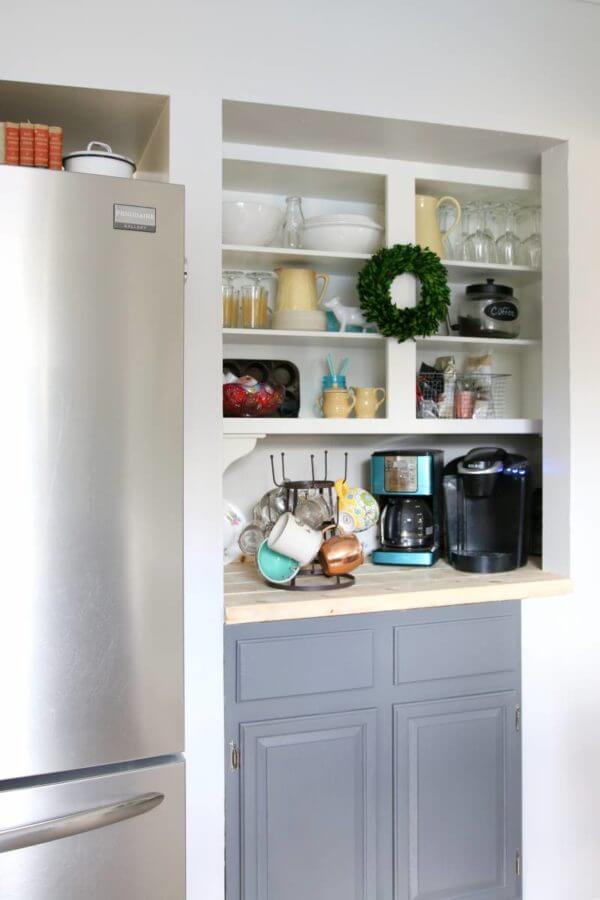 If you already have a dedicated space on your kitchen counter for the coffeemaker, think "up". The shelves above a kitchen counter can be used for dish storage, and to display items that may otherwise be shut away in a cupboard. Exposed shelving can make a kitchen or coffee bar feel bigger and more casual and welcoming. A clean white color scheme can keep things looking neat and tidy, but feel free to add some subtle color with a small wreath or other natural adornment. This look is more understated but remains inviting all the same.
5. Bohemian Flair in Coffee Bar Decor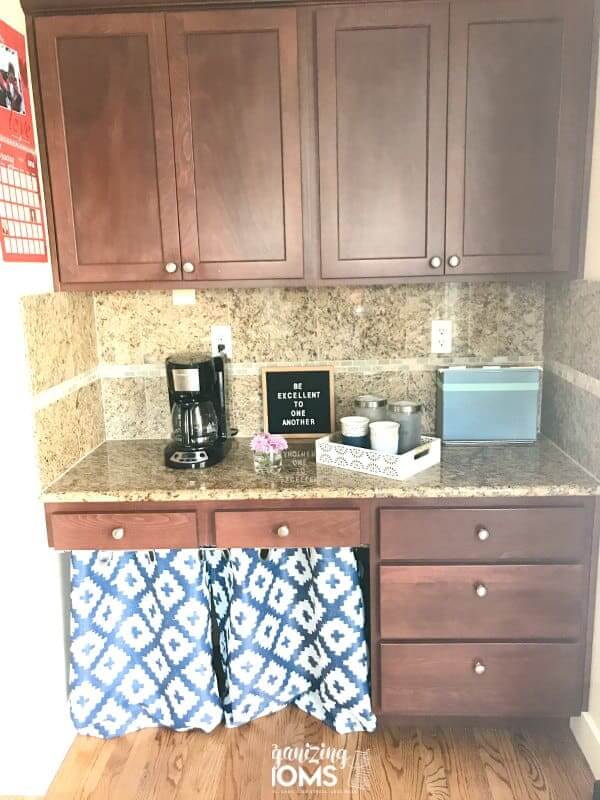 Sometimes a lack of space seems limiting, but there are several ways to make a small area feel large and welcoming. One of them is to get graphic curtains to add a striking design element to your coffee bar. Using fabrics instead of doors on bottom cupboards introduces different textural elements to the space while providing easy access to extras like cups, saucers or other dishes. A small felt message board can add some personal flair to the space, too, while inspiring anyone who reads it. A small coffee tray is a cute and functional addition.
6. Quirky Lettering with Antique Charm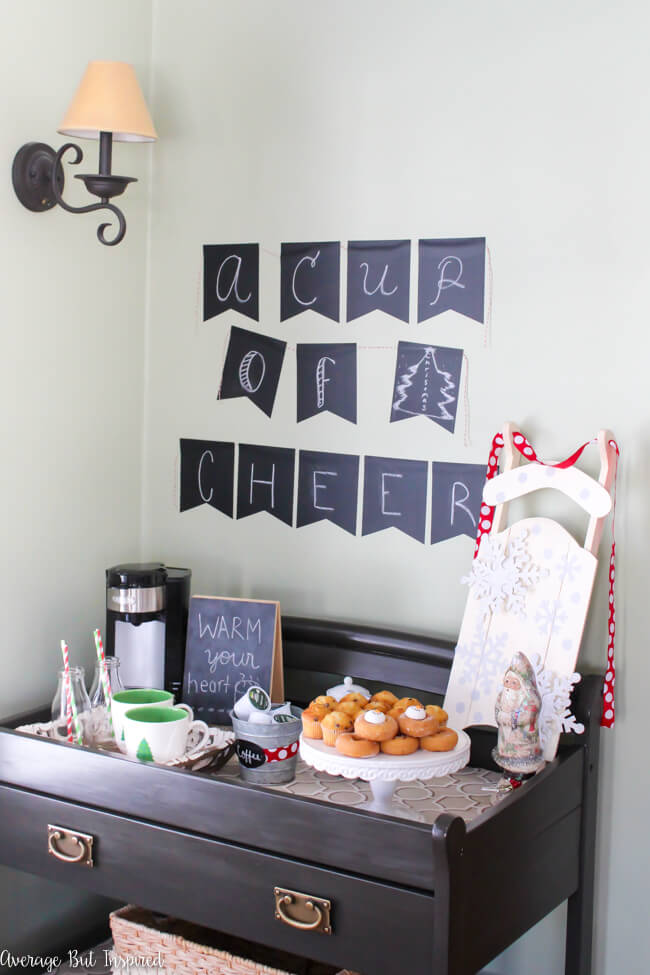 This coffee bar idea brings together old and new. The black banner with fun lettering in different fonts contrasts with the staid Colonial coffee station table below it. The pairing of old and new styles creates a casual area with a touch of elegance that will invite any coffee drinker to enjoy a cup at leisure. To make it more informal, try adding special flourishes like quirky decor and whimsical plates and cups. An antique sconce overlooking the scene will provide a hint of grown-up style while the rustic chalkboard with a fun message keeps things casual.
7. Minimalist Geometric Designs with Modern Equipment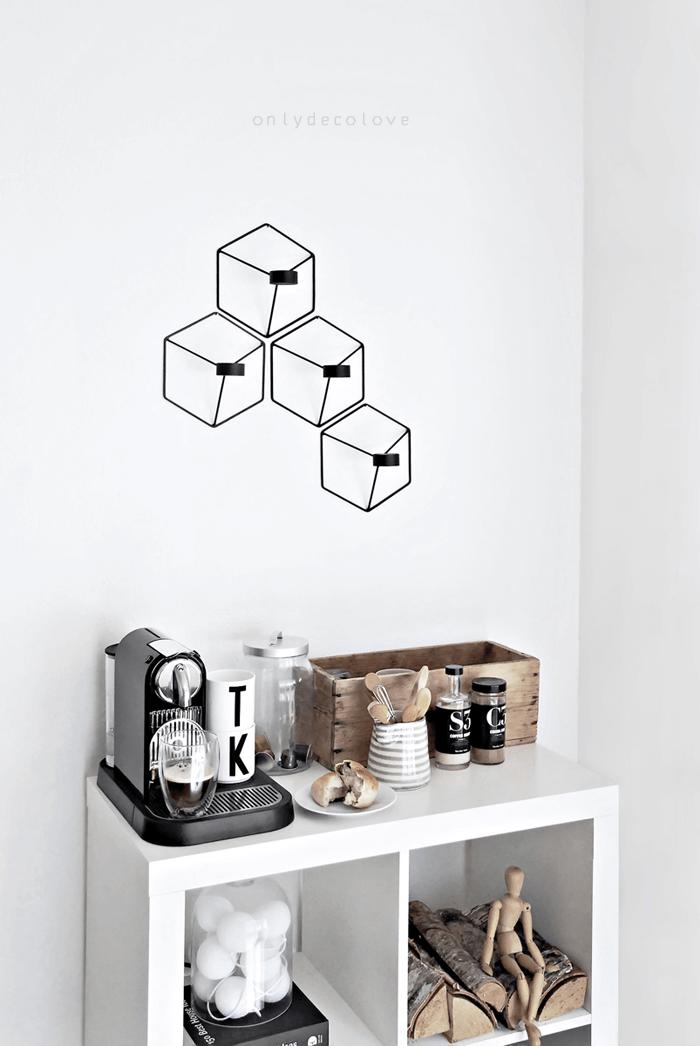 For those who prefer striking styles and clean lines, this look offers a minimalist approach to the typical kitchen coffee bar. This design has a masculine and spare feel to it and capitalizes on natural materials such as wood with rough finishes. While the color scheme remains black, white and brown, the textures of wood with shiny metals and modern materials keep this coffee bar contemporary. On the wall are geometric wall hangings that provide a simple yet captivating design element that will keep you coming back again and again for another cup.
8. Shabby Chic Kitchen Coffee Bar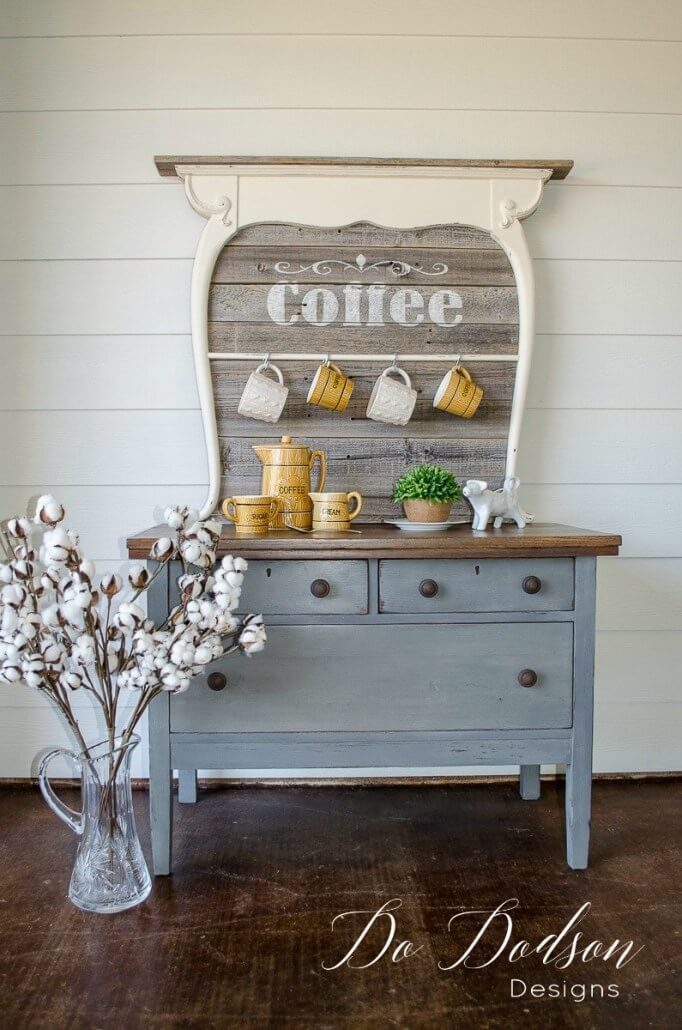 Everyone loves a little charm and comfort, and nothing says charm like a quirky shabby chic hutch. The curved shape of the backboard conjures images of an Alice in Wonderland adventure, and the stenciled lettering declares the space in the kitchen. Neutral, muted colors keep things from going on cute overload while keeping a homey, cozy atmosphere. Even the cotton stems in a large crystal pitcher highlight the comfort factor and adds some farmhouse and woodland charm. Rough-hewn wood floors go well with this look. Accent everything with a gentle animal figurine and some greenery.
9. A Coffee Cafe in Your Kitchen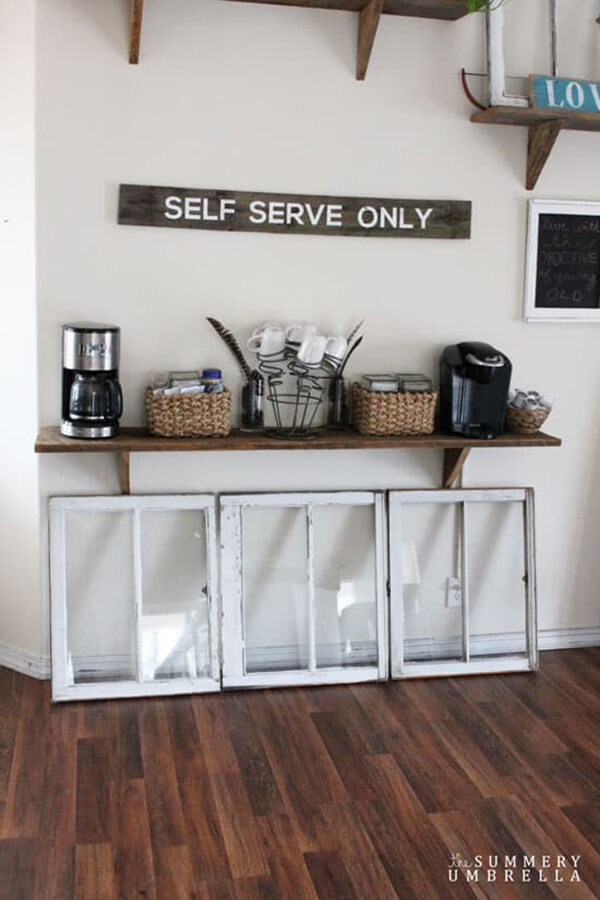 For those who love a high concept, try recreating a hip cafe right inside your home. A large wooden sign can announce a special spot near your kitchen or living room. A standalone shelf nailed to the wall creates a convenient space for your coffee bar without sacrificing space. Rough-hewed windows propped up against the wall underneath contribute to this modern hodge-podge of design while looking clean and neat. The cafe aesthetic can also be further celebrated by hanging a cheerful chalkboard with the daily specials nearby. For those who want to add a splash of personality, a spiral cup holder rack may be just the ticket.
10. Farmhouse Glamour and Beautiful Flowers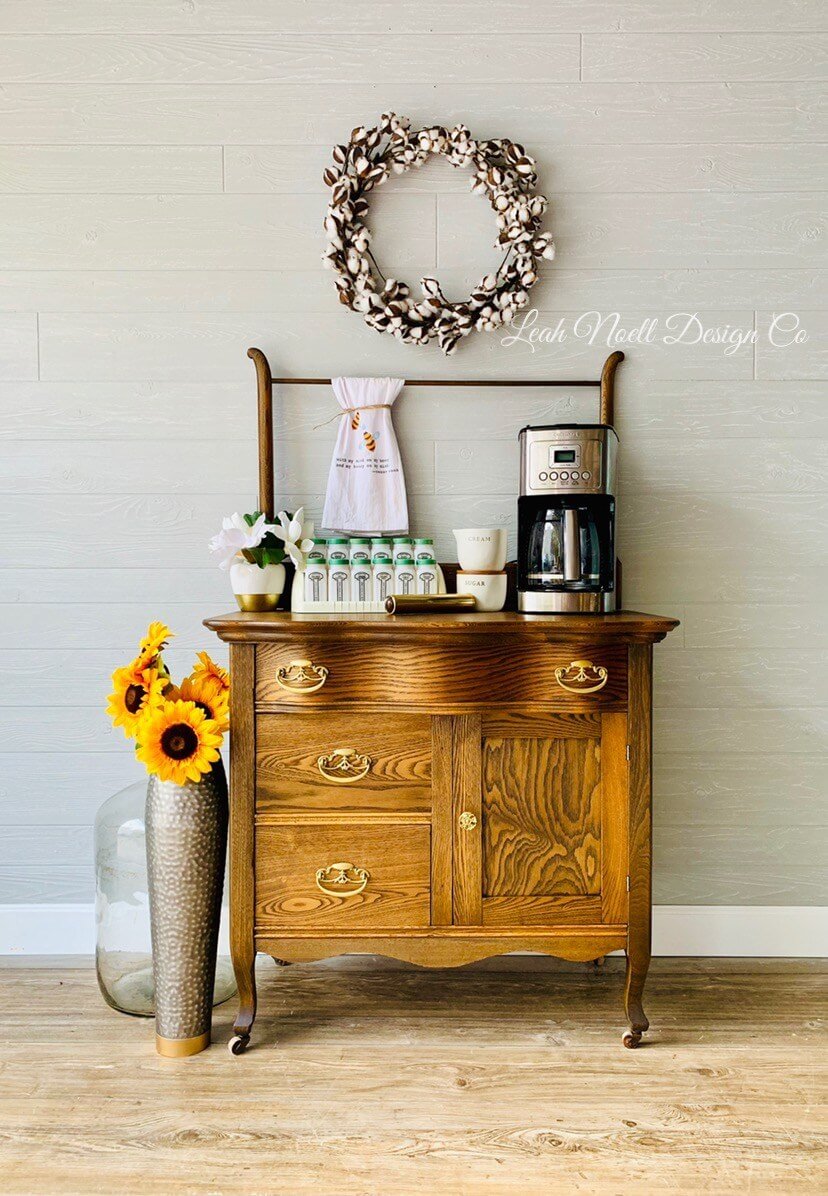 If you love all things antique, this coffee bar idea may be just what you've been looking for. Take an antique washstand, pair it with modern conveniences of a chrome coffeemaker and dish towel rack, add some brightly colored flowers, and you have a homey coffee station ready to go. Simple and elegant, this look is warm and inviting. The washstand enables most coffee accouterments to be hidden away so that the furniture and accents can shine. A modern nail head vase subtly complements and contrasts with the old-fashioned washstand, and beautiful sunflowers are suited for any season. A neutral-colored wreath adds an extra touch.
11. Functional and Sturdy with Style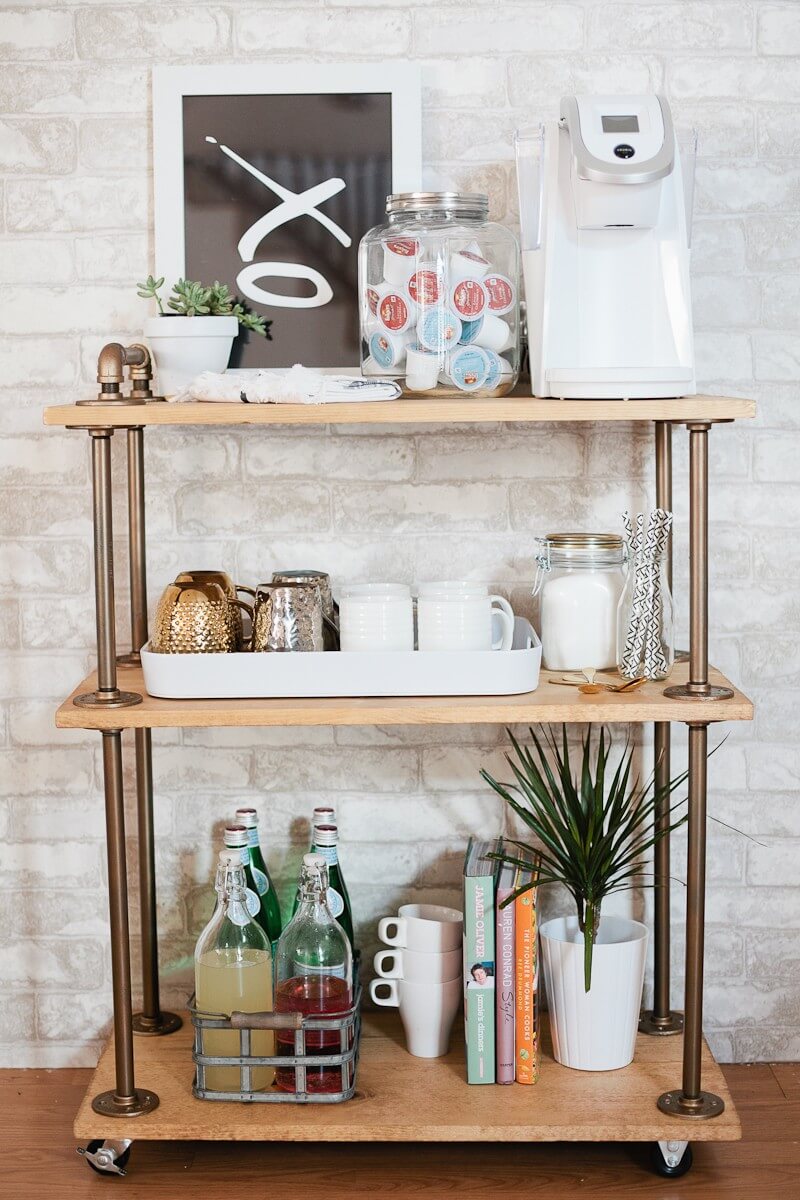 For those who love form and function, a sturdy metal shelving unit is a unique answer to a coffee station. With several shelves that provide storage and space, this item can showcase more than coffee and coffee cups. Try adding a structural plant like aloe or cactus to keep with the pared-down aesthetic. To prevent this coffee bar idea from looking too severe or industrial, a metal in a warmer color like bronze is useful. Other items of interest like picture frames, graphic details, and small textural dishes can also give a homier look to the area. If color is desired, try using wine or flavoring bottles to add some brightness among these functional items.
12. A Coffee Cart for All Seasons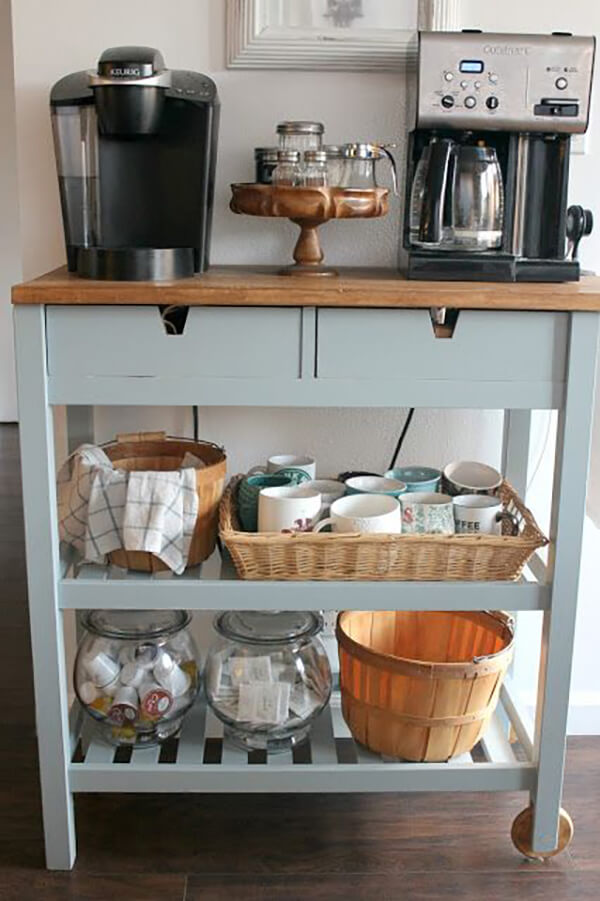 Sometimes fitting in an extra space for a coffee bar can be a challenge, but a coffee cart can solve that issue. A well-constructed wood stand with drawers and wheels puts function and style in the same arena. Open shelves at the bottom allow any coffee drinker to find what they need with ease, and there is enough room on top for not one, but two coffeemakers. A cute cake plate can be re-purposed to showcase sugar and creamer and to add an extra design touch to an otherwise simple layout. This little station maximizes its space and provides several options for serving that perfect cup of java.
13. Small on Space, Big on Style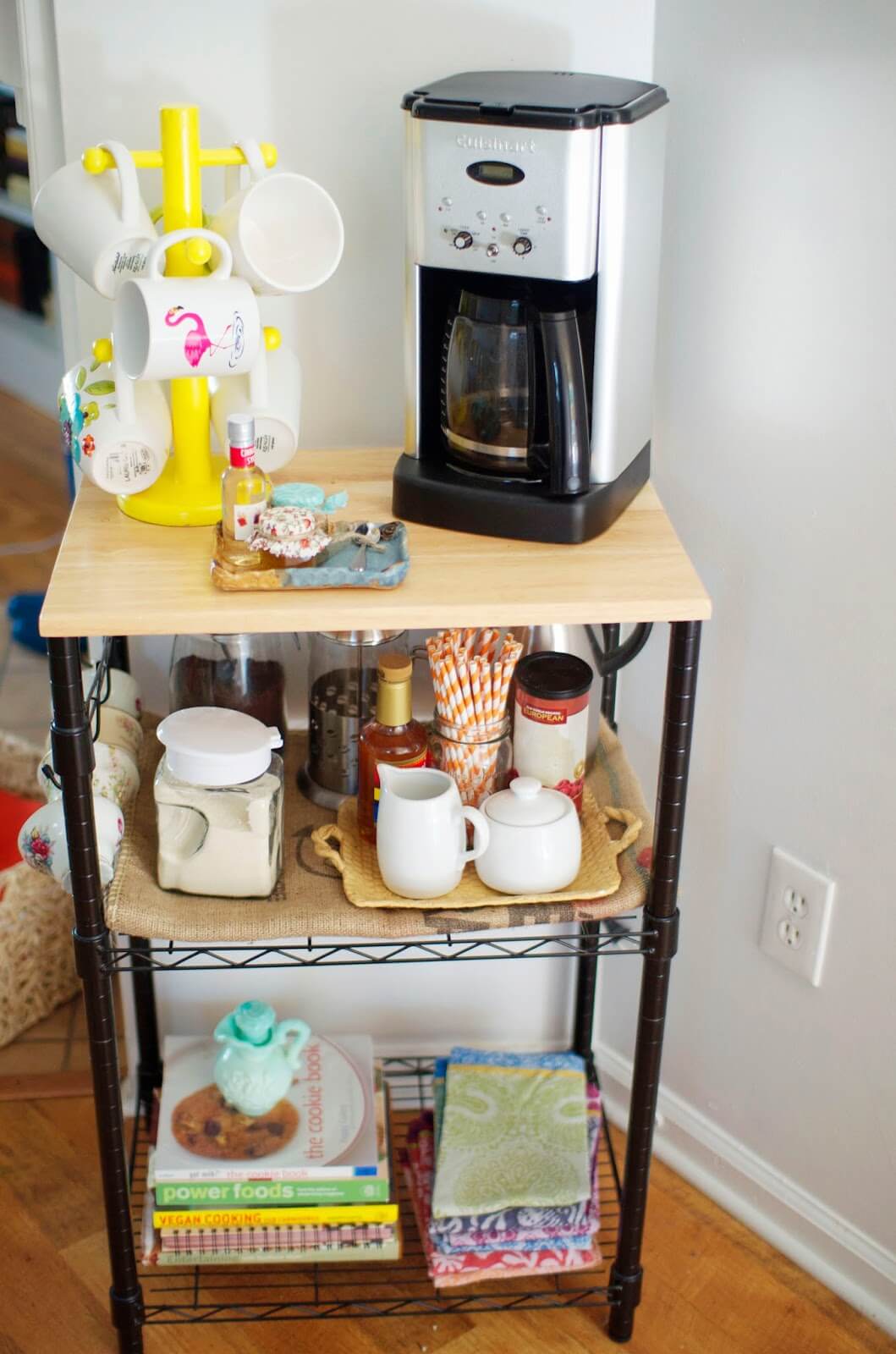 Even if you have a small kitchen or home and can only spare a corner, there's a way to make the most of your space. This small coffee station is a unique coffee bar idea by maximizing a small space. With three shelves to hold all your coffee items, you have all you need to make a cozy coffee pit stop. The metalwork paired with wood creates a practical and modern look, and a brightly colored coffee cup tree adds some flair and personality into the mix. This kitchen coffee station would be a great choice for kids and family to gather round in the mornings and catch up with one another.
14. Do Double Duty with Coffee and Bar Cart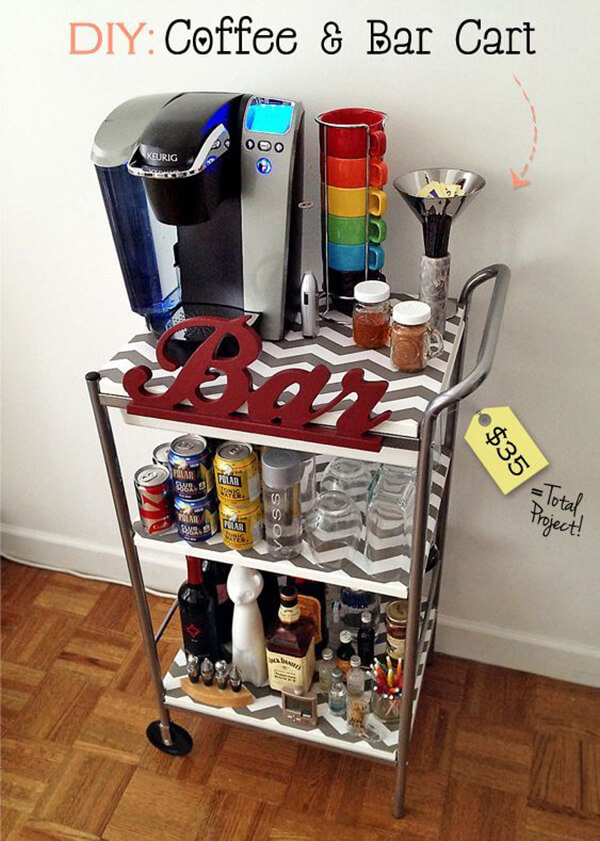 Another space-saving option is a stylish and portable metal cart that can be maneuvered anywhere in your home. Everyone likes a little whimsy in their life, and this cart can provide that with its dimensional lettering and graphic zigzag print. Whether it's coffee time or happy hour, this cart has many versatile uses in the kitchen and elsewhere. Ramp up the color variance with some rainbow colored cup and cutlery. These cheerful colors, along with the clever arrangement of coffee and kitchen extras, can brighten any morning or afternoon. When not in use this cart can either be tucked away or left out to be admired.
15. Windows for Cupboard Doors Plus Wall Art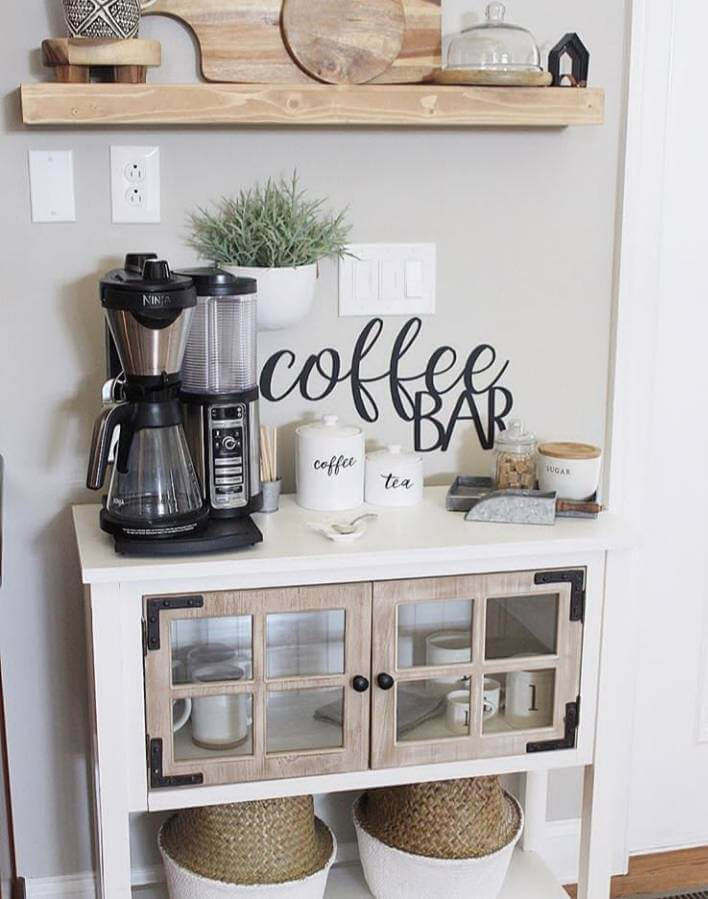 Consider using your walls to make the most of your coffee space. Decorative lettering is one aspect of coffee bar decor that is sometimes overlooked. However, uplifting or cozy sayings and titles can make a space feel more complete and homey. Also, re-purposing old windows for cabinet doors is one way to present a unique aesthetic while staying true to traditional themes. A light, white color theme with wicker accents can keep things feeling fresh and new no matter how many cups of coffee you drink. Adding some plant life can also increase a space's appeal and helps to make it look lived-in and welcoming.
16. Everything in Its Place Kitchen Coffee Bar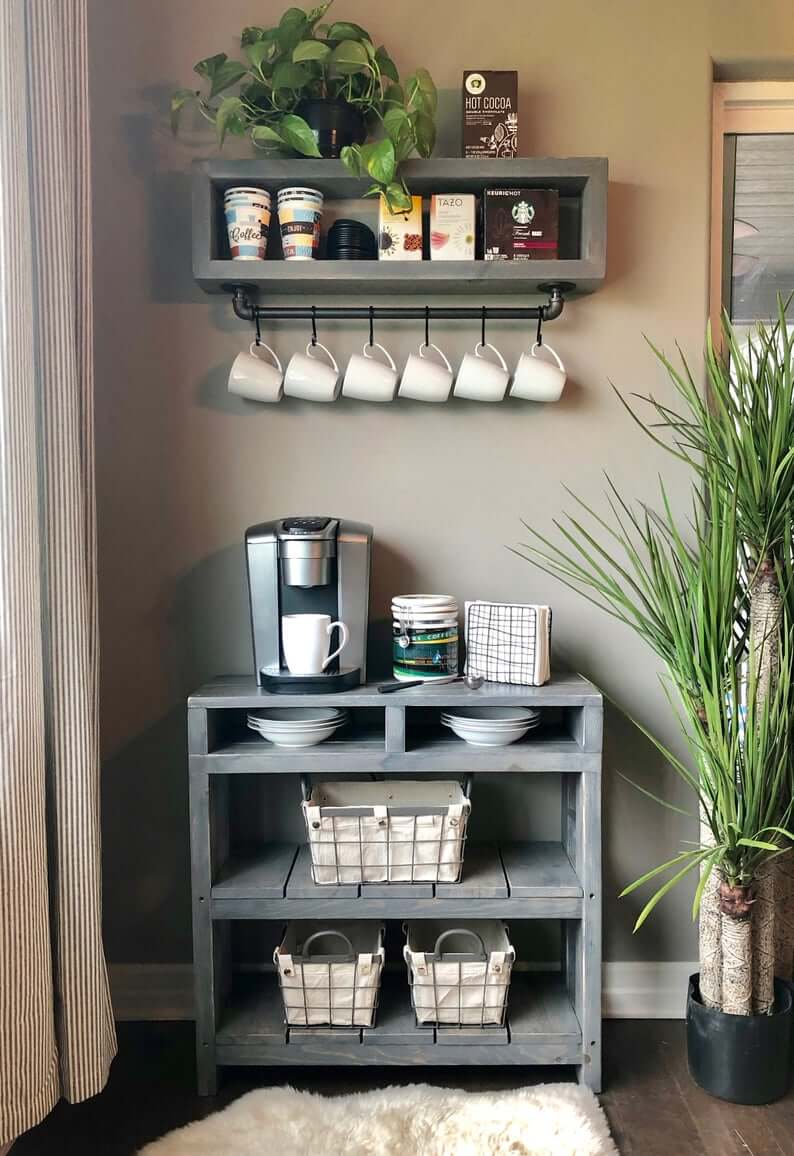 Lovers of order and clean lines can use this shelf and coffee station table for maximum impact. Both keep a theme of sharp edges and rectangles, but the muted finish of the wood and soft powder blue keeps them from looking too harsh. Simple white cups lined up perfect create a feeling of peace and calm. Wire holders with a waffle-weave design echo the rectangular edges of the matching shelf and table while keeping things casual. To really soften any rough edges, try putting a potted plant nearby or on the shelf with flowing, hanging leaves that offset all the hard lines. The end result is something strong yet comfortable.
17. Simple School Days Coffee Bar Decor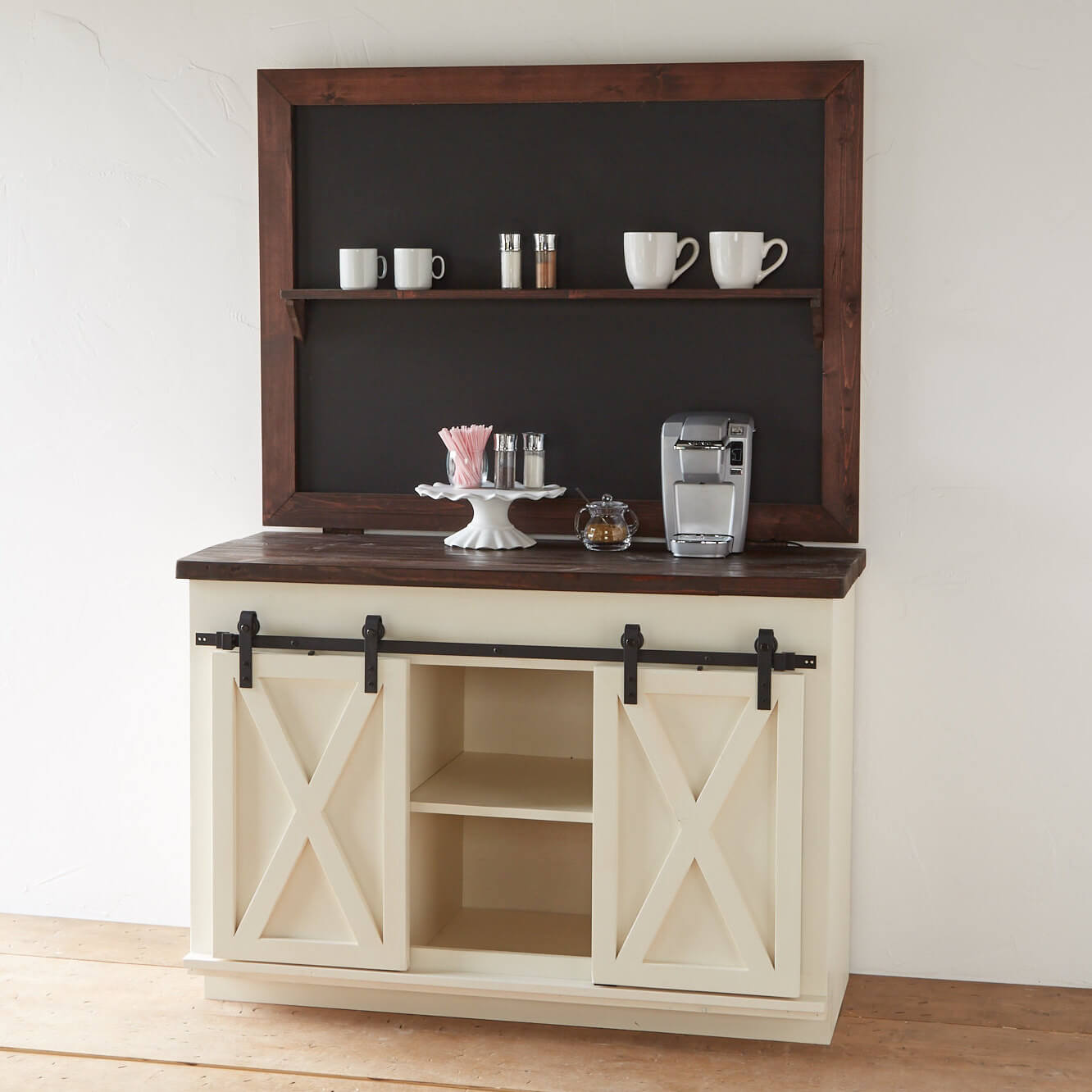 To make a statement while keeping things simple and pared down, try erecting an old fashioned chalkboard with a shelf against a sturdy farm-inspired hutch. The pleasant combination of black, brown, and white invoke autumn days and the bells of changing classes, all of which may make you thirsty for a nice hot cup of coffee. This striking design provides plenty of storage space underneath and on the shelf, and the chalkboard can be kept clean and blank or be filled up with fun phrases or words. This coffee bar idea would be especially fun for kids to maintain.
18. Large Mug Rack and Corner Table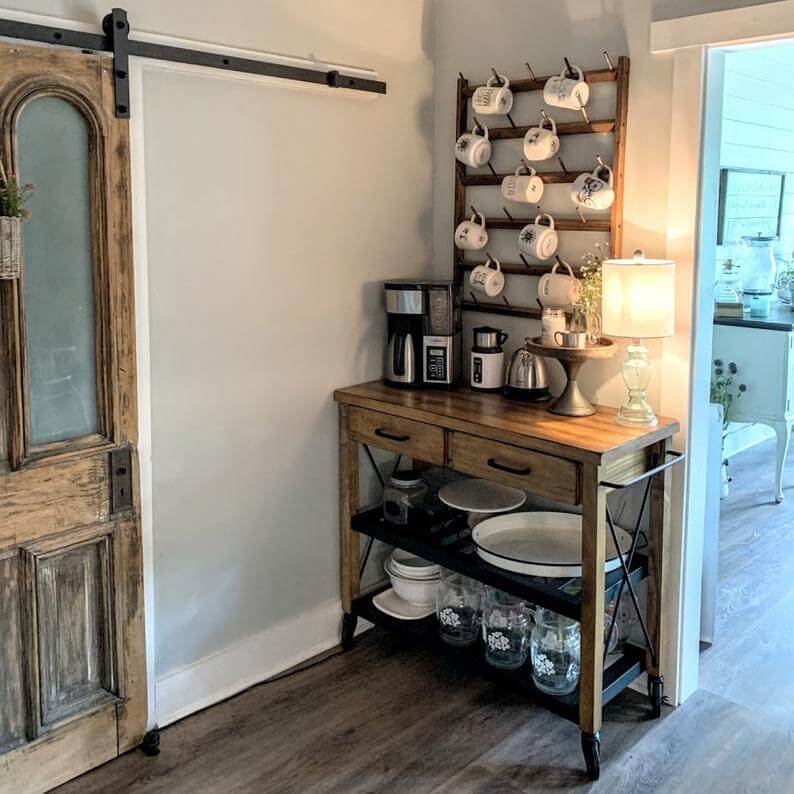 Another possibility when thinking about coffee bar ideas is this beautiful wooden mug rack and matching corner table. This mug rack is large enough to accommodate several large coffee mugs. Hanging them on this rack frees up so much space in your cupboards and cabinets, and it adds height and visual interest to any wall. Make the most of a small corner when executing your coffee bar ideas by placing a small matching table beneath the rack with a welcoming lamp. These items together invite everyone to take a look and have a cup of coffee in or out of the room. There is a lot of storage space underneath, as well.
19. Our Happy Place Coffee Station and Mug Rack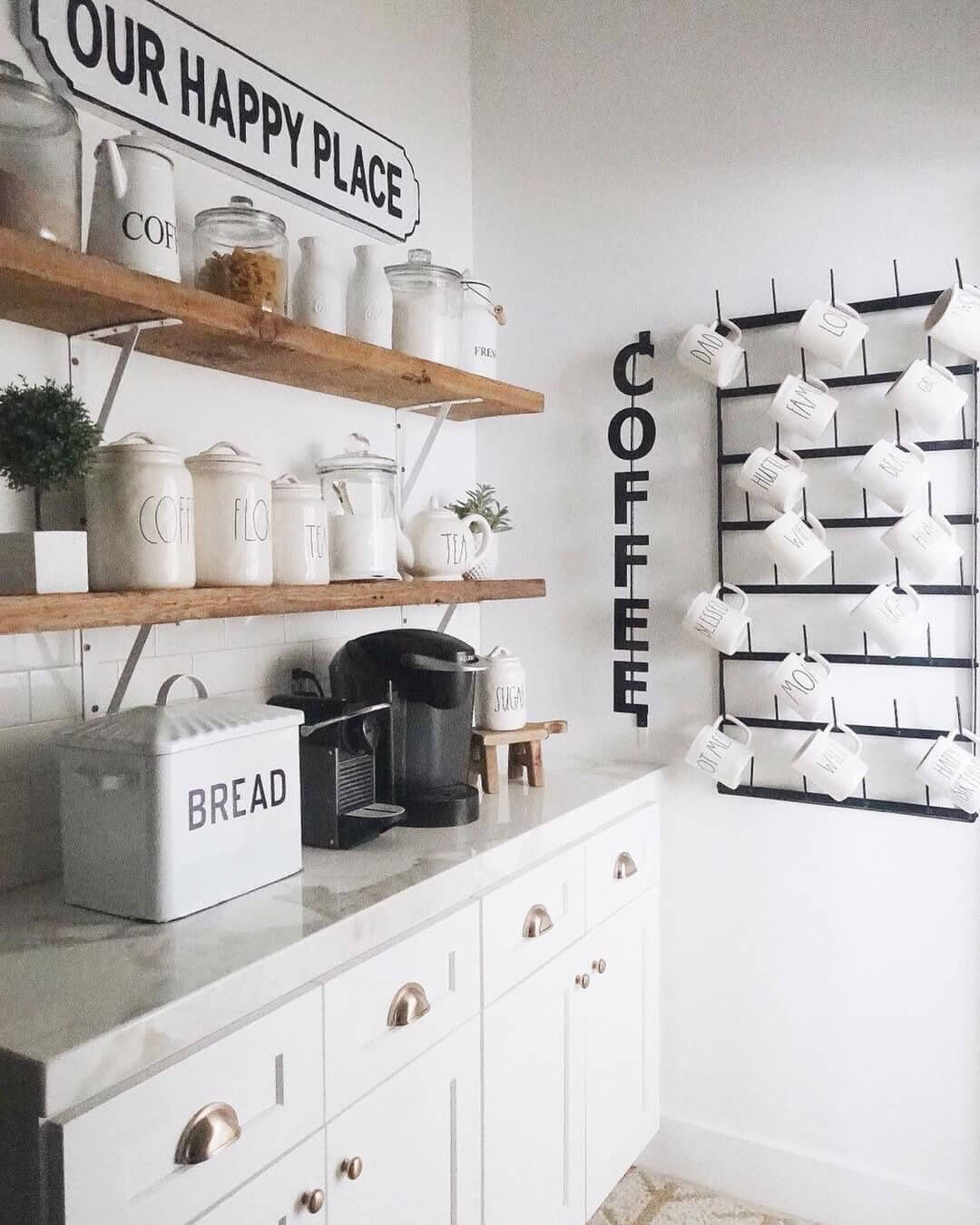 Those who enjoy tidiness and function will love this dark wire mug rack that can hold several large mugs at once. Not only does it look great on its own, but it complements other graphic elements of a small coffee bar, such as signage or lettering on the wall. An all-white color scheme adds to the feeling of neatness and cleanliness, and it makes the black coffeemaker pop. You can always soften any harsh lines with a small potted plant or wood shelves that have a country feel. These things can offset a starker and more modern appearance and make an area more inviting.
20. Spacious Two-Tone Cupboards and Cabinets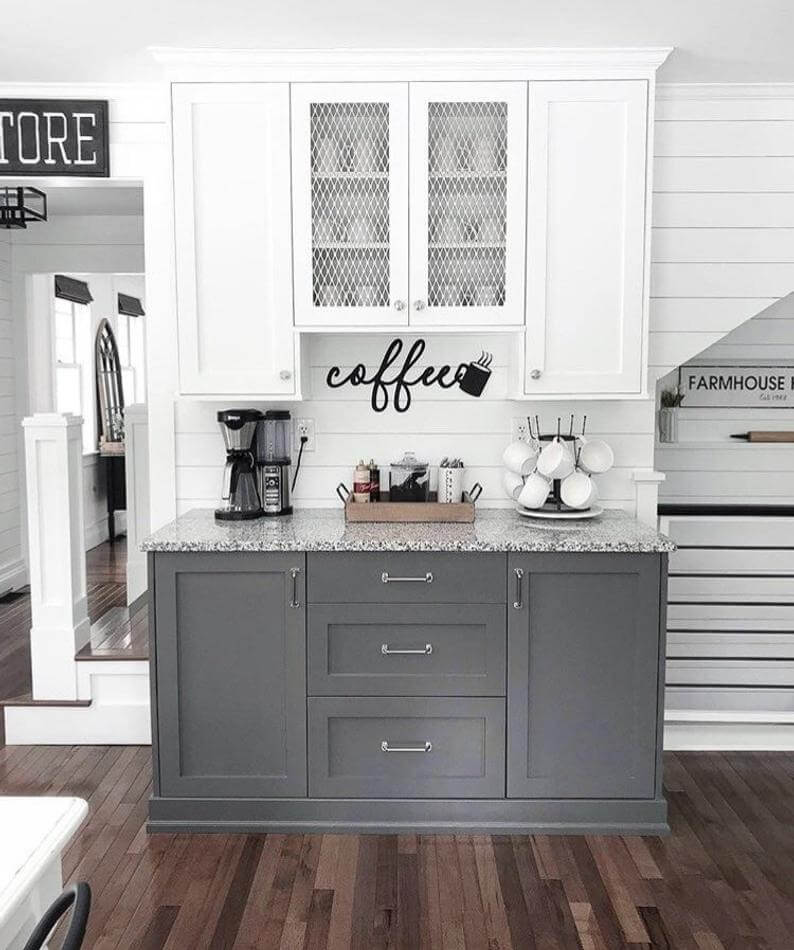 If coffee is a way of life for you, you will appreciate making the most out of a spacious area with these coffee bar ideas. White cabinets on top and gray cabinets on the bottom create an attractive contrast that makes the space welcoming. A granite counter top adds elegance and status to the area. Semi-transparent cupboards up top with a crisscross design are an understated yet unique visual touch to this otherwise traditional and elegant setup. Keep all clutter out of the way and inside the cupboards so that the beauty of clean counters can shine. A converted wooden crate to hold coffee items and a circular mug rack make this coffee bar impressive.
21. Rustic Farmhouse Glamour with Wire Storage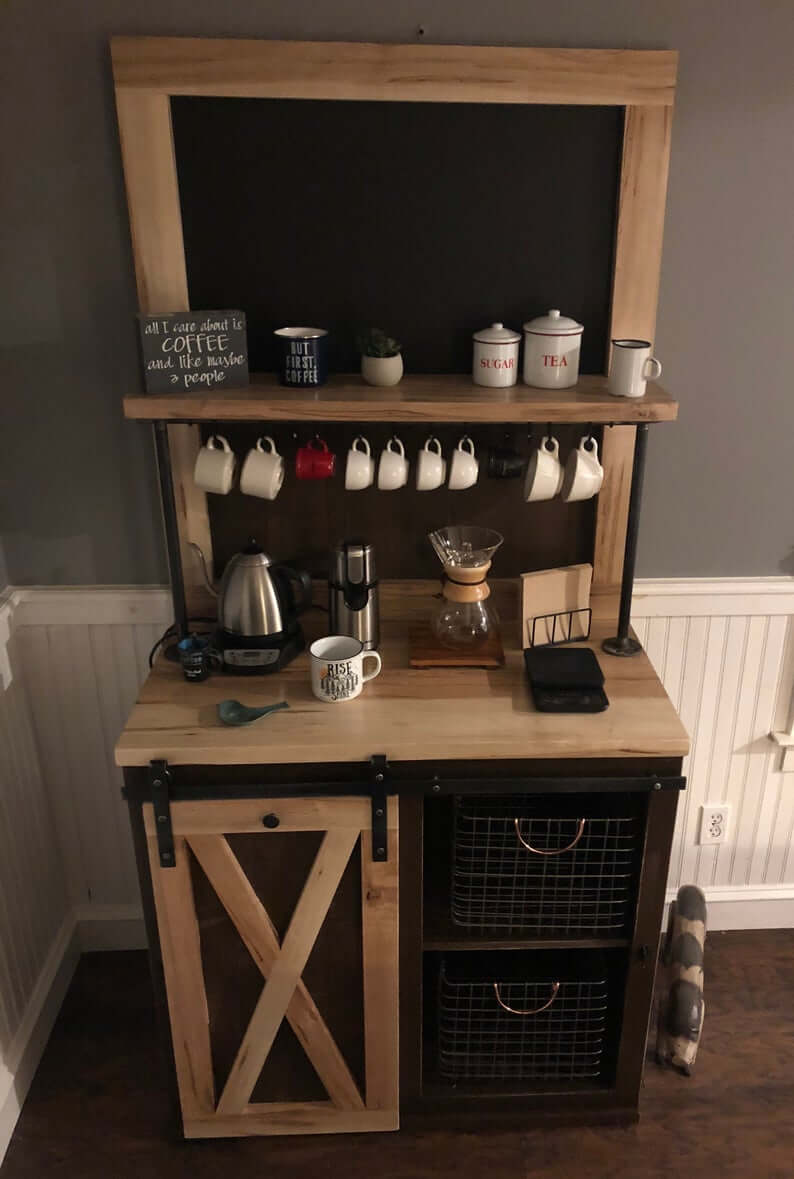 There's nothing like country living, and this is one of those coffee bar ideas that appeals to the rural citizen in all of us. With cabinet doors that mimic stable doors and rough-hewed wood trim, this coffee station setup evokes the barnyard in the most refined way. Wire storage racks fit perfectly and work as drawers. The advantage of the wire storage bins are their versatility and transparency. You can always get a clear view of what's in stock below. The backing to this table is a striking black and almost mimics a window. The shelf across the middle creates convenient cup storage and a down-home welcoming look.
22. Powerful Chalkboard Wall with Solid Wood Shelves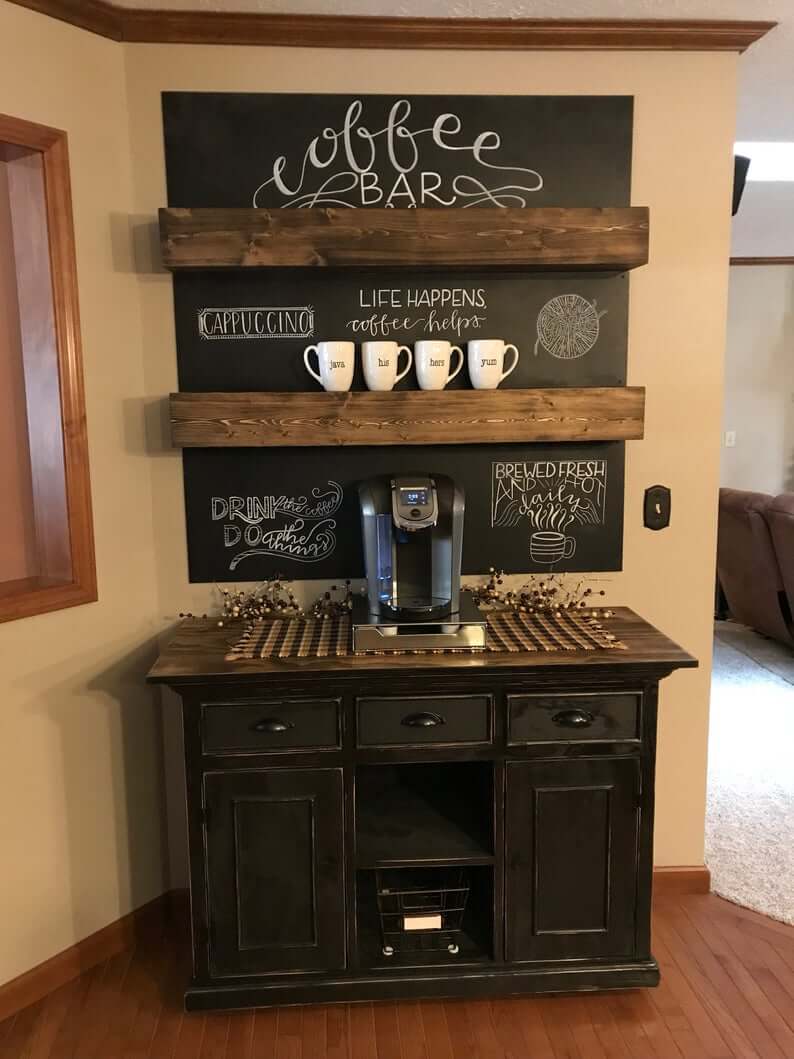 Indulge your inner designer with this bold look for your home coffee bar. A wall painted with black chalkboard paint enables anyone to draw or write until their heart's content, and the thick solid wood shelves create beautiful lines. The shelves and table top have a country finish, but the black cabinet below can fit in with almost any decor style from modern to vintage bohemian. The colors and strong lines create a powerful, masculine appeal to your coffee station, but small touches like a plaid place mat and inviting coffee mugs soften the overall look. Decorative berries or foliage can also add some country charm.
23. Simple and Inviting Kitchen Coffee Table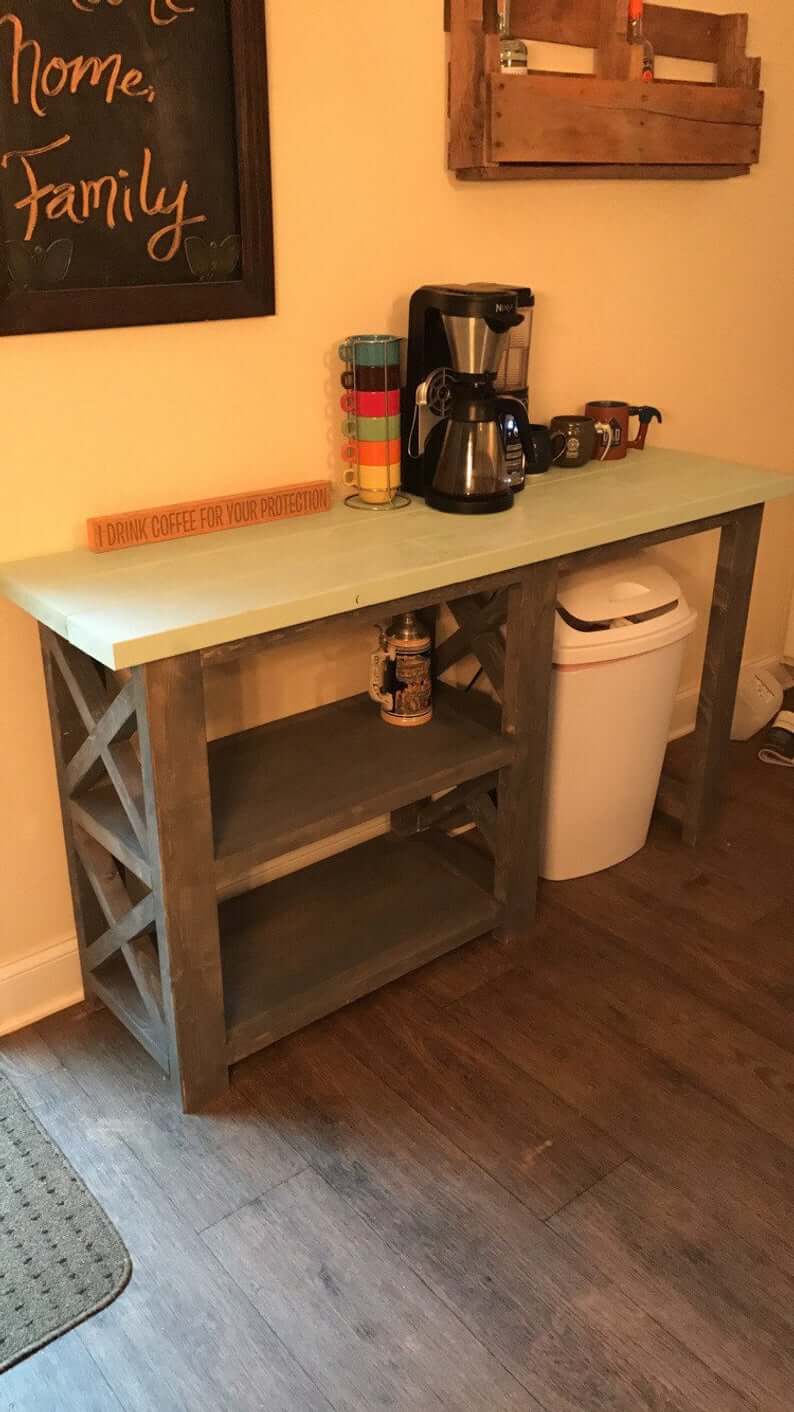 For those who want to keep things simple and casual, try this table with two large shelves that are finished with driftwood. There's even a place for a trash can which can be convenient and functional. To add a splash of color, try stacking cups up in a rainbow formation. Not only will this add some visual variety to your coffee bar, but it also reduces storage space. The mint green of the table top contrasts nicely with the rough gray wood of the bottom shelves.
24. Sophisticated and Upscale Coffee Bar Ideas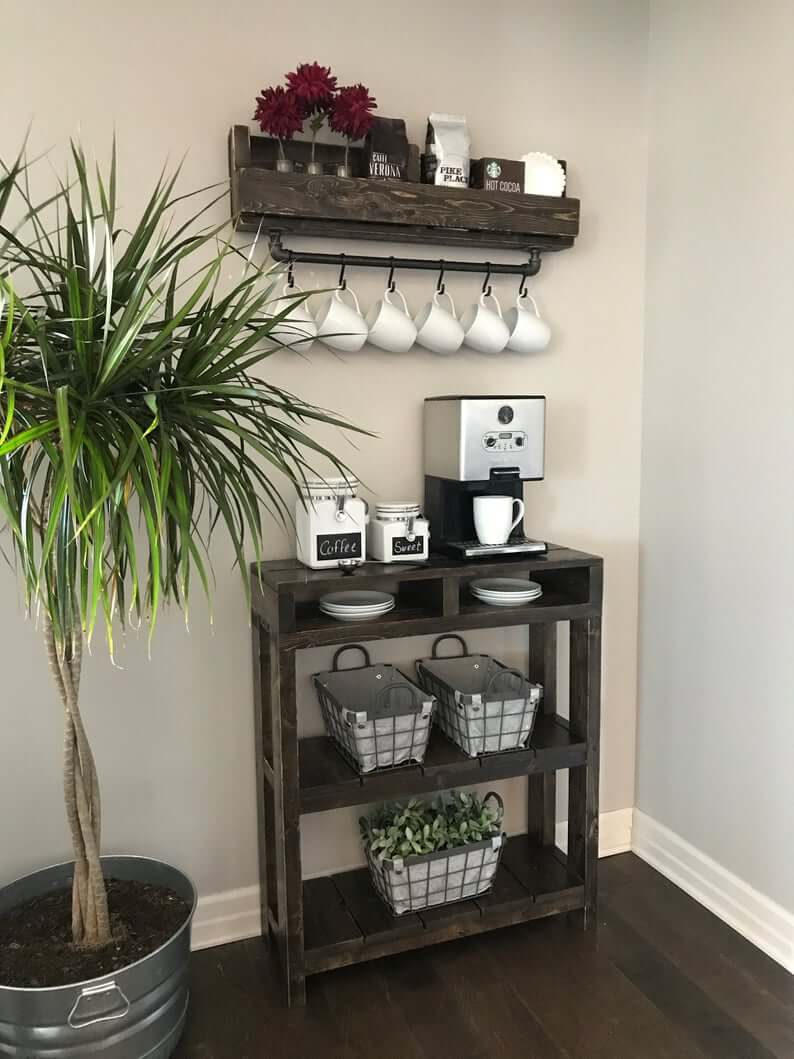 Minimalists will love this look. Pairing a dark gray wood grain with white cups is one way to make a coffee bar area look elegant and refined. Attractive wire storage bins with a white lining provide easy storage for all your coffee needs. If gray and white is too stark and cold a color combo for you, some small flowers in a bright contrasting color like red can add dimension and soften the space. Glass jars with fun labels keep things casual. A structural potted plant, like a parlor palm or cactus, can also add flair to the corner.
25. Coffee Trays on the Walls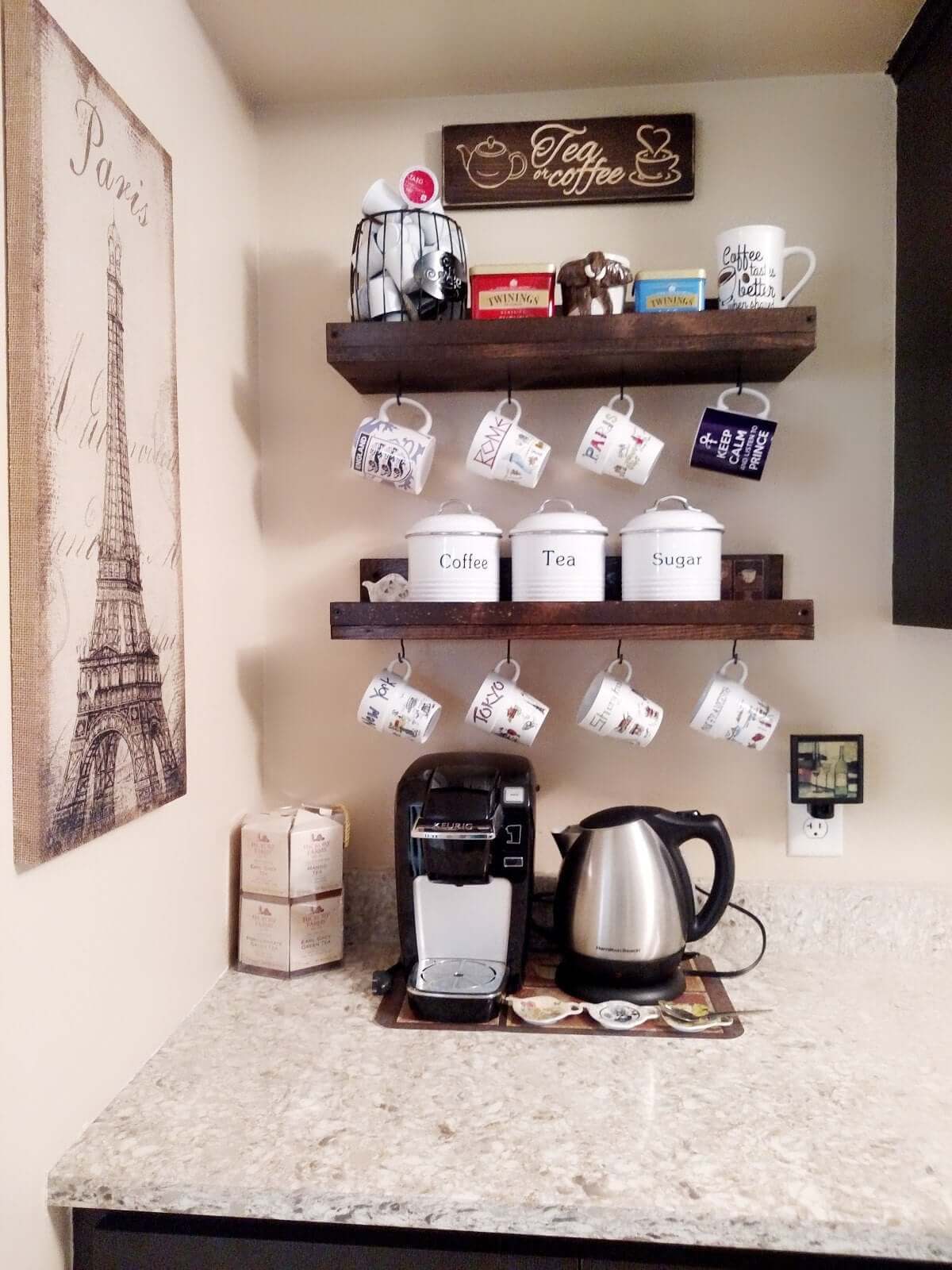 These unique shelves look like the typical coffee trays. They can be great additions to an existing counter top that you may want to turn into a kitchen coffee bar. A hand-lettered sign that announces what the area is for is also an attractive addition to the shelving units. Coffee cups look neat and tidy hung in a line along one of these shelves and really save on counter space. For international flair, a Paris, France print can be hung on the wall nearby. Some wire storage bins are also helpful in keeping counters clear from clutter.
26. Basket Chic and Leafy Wreathes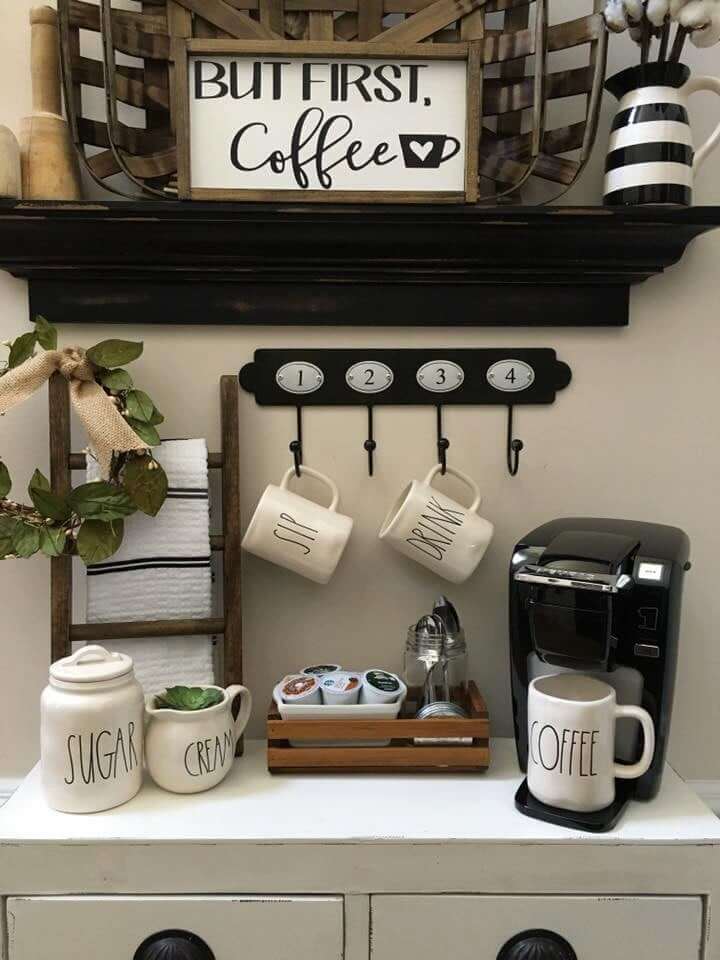 For an elegant look with a whimsical twist, try turning a large woven basket on its side to face outward. Not only does this create a convenient and unique shelf space, it can also offset a plaque with friendly lettering or an uplifting message. Striped coffee mugs and bowls also add personality, though keeping everything in neutral colors can keep things from getting too wild. White, black and brown are basic and solid colors that can be enriched with a leafy green wreath.
27. Coffee Bar Down on the Farm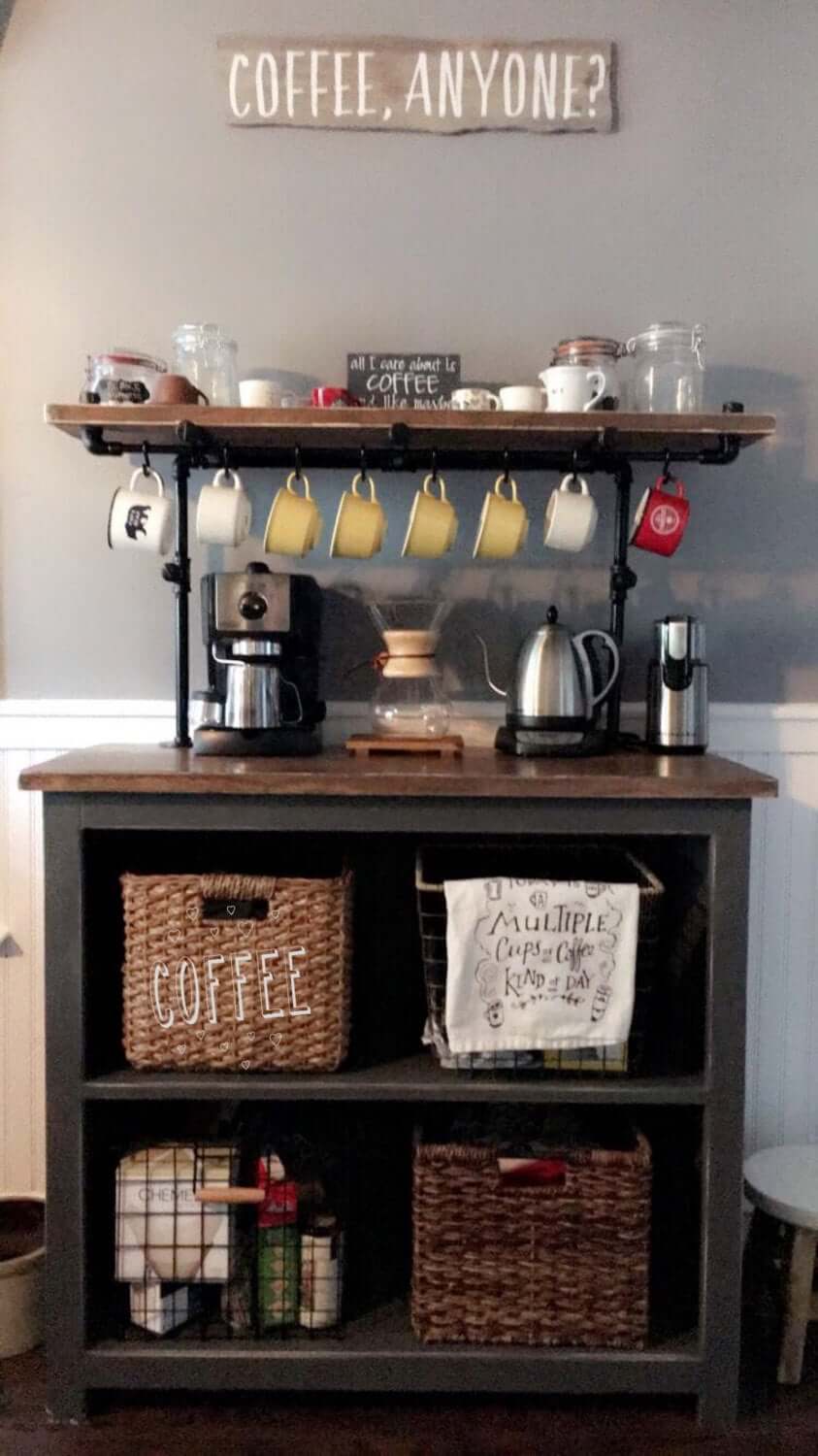 The wrought iron accents on this coffee bar table add so much personality to a small space. Keeping things simple with clean lines, this hutch and over shelf in gray and brown can make any home coffee station elegant and homey. A rough-edged wooden sign overlooking everything announces just what area of the house you're in while inviting any prospective coffee drinkers to the bar. Varying colors on the coffee mugs can keep everything from being too drab.
28. Farm House Blackboard Coffee Delight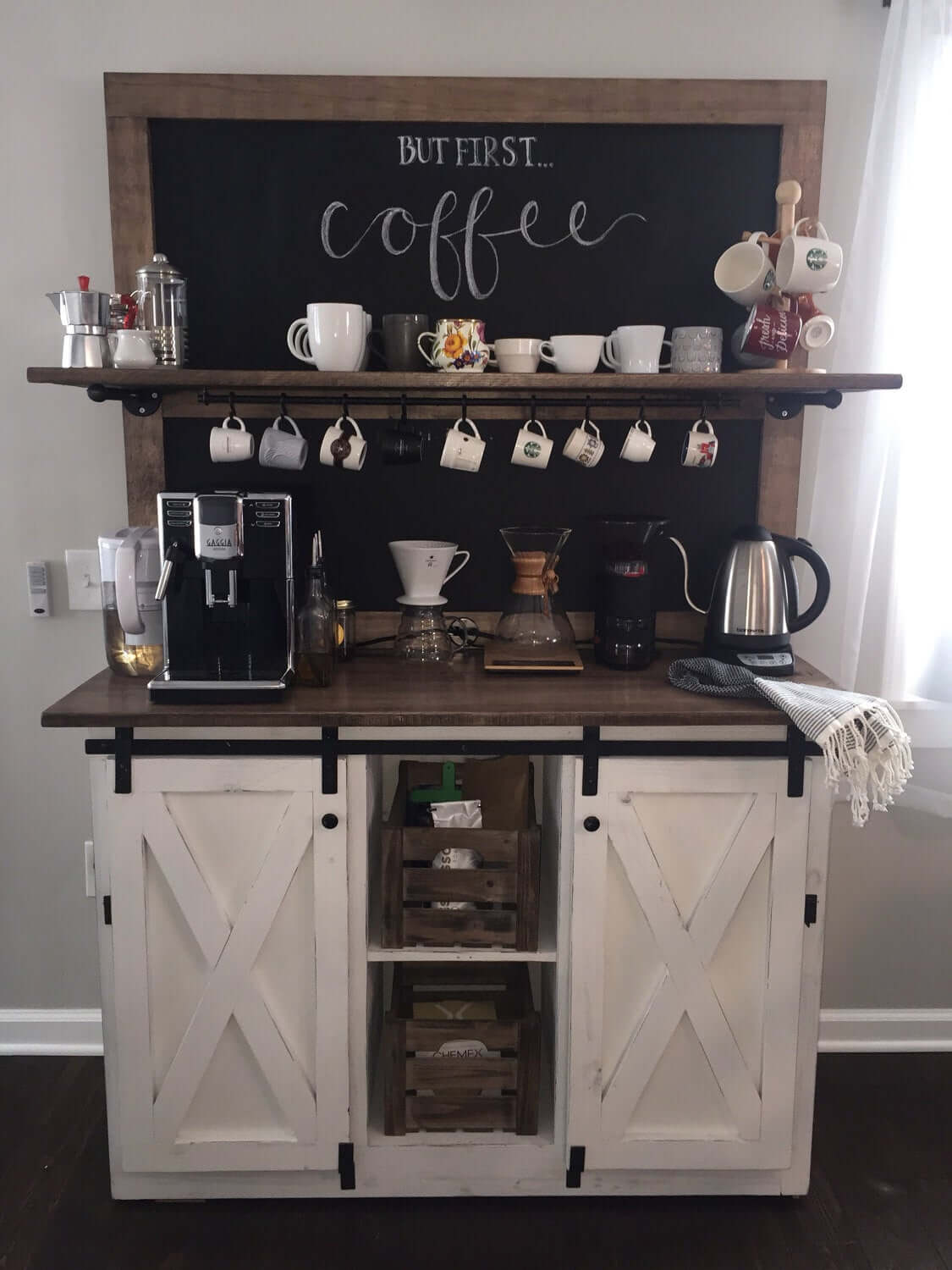 Invite people into your home with this luxurious coffee station table. It features a blackboard upon which you can write a new message or inspirational phrase each day to delight any coffee-drinking partners. White cabinetry with a crisscross door design create a farmhouse feel to the overall look, and homey touches like a mix of coffee cups and bowls make the space feel lived-in and welcoming. Rough wooden crates underneath create attractive, rustic storage space that offer immediate access too.
28 Cozy Coffee Bar Ideas to Kickstart Your Day
All in all, having a home coffee station can change the atmosphere and feel of a room. Whether it has elements like a table or counter, or whether it is a simple kitchen coffee station that has been elevated to a more stylish level, a coffee bar can be a great addition to any home décor.
The great thing about a coffee bar is that it can complement or contrast your existing décor. For example, if you have a more modern look in your home but wish to infuse some farmhouse chic, your coffee bar décor can accomplish your goals. Because it has the ability to be a whimsical space with endless possibilities, don't be afraid to explore the options out there.
Hopefully you now have a better picture of some coffee bar ideas that will work for your home. From cottage chic to minimalist, the style of a coffee bar can be versatile and wide-ranging. The sky is the limit. Even on a budget it's possible to create a warm and welcoming space in your home for the coffee lovers in your life. Perhaps your next cup of coffee will be enjoyed in a new space designed by you.
Our Favorite Farmhouse Kitchen Decorations to buy on Amazon