Whether you're using them for tea or coffee, hot cocoa or chai, or maybe just your favorite mug cake, chances are you've got more than a few mugs floating around your kitchen. Maybe they're taking up space in your cupboards or cluttering the counters, but wherever they end up, these notorious little space hogs are difficult to store. With a little ingenuity, though, you can create storage solutions that are both functional and decorative.
45+ Coffee Mug Holders That Will Declutter Your Kitchen

Simple hooks mounted under cupboards or shelves get mugs off the counter while keeping them easily accessible. A bank of wall-mounted cubbies becomes as much a work of art as it is storage, and if you're into DIY, it's an easy project to make yourself! If your collection of mugs isn't quite ready for its chance in the spotlight, or you'd rather have something ready-made, there are even handy brackets that will slide easily into your cupboards. These will let you hang or stack your mugs behind closed doors without taking up valuable shelf space.
If you're looking to make more of a statement with your storage solution, choose coffee mug holders that match your kitchen's decor style. You can create a homey, cottage chic look by incorporating reclaimed wood floating shelves or opt for an industrial look by using black pipe and heavy-duty S-hooks to hang your mugs. Ready to reorganize? Fire up your coffee maker and check out these 45+ coffee mug organization ideas!
1. Hand-lettered Wall Sign with Storage Hooks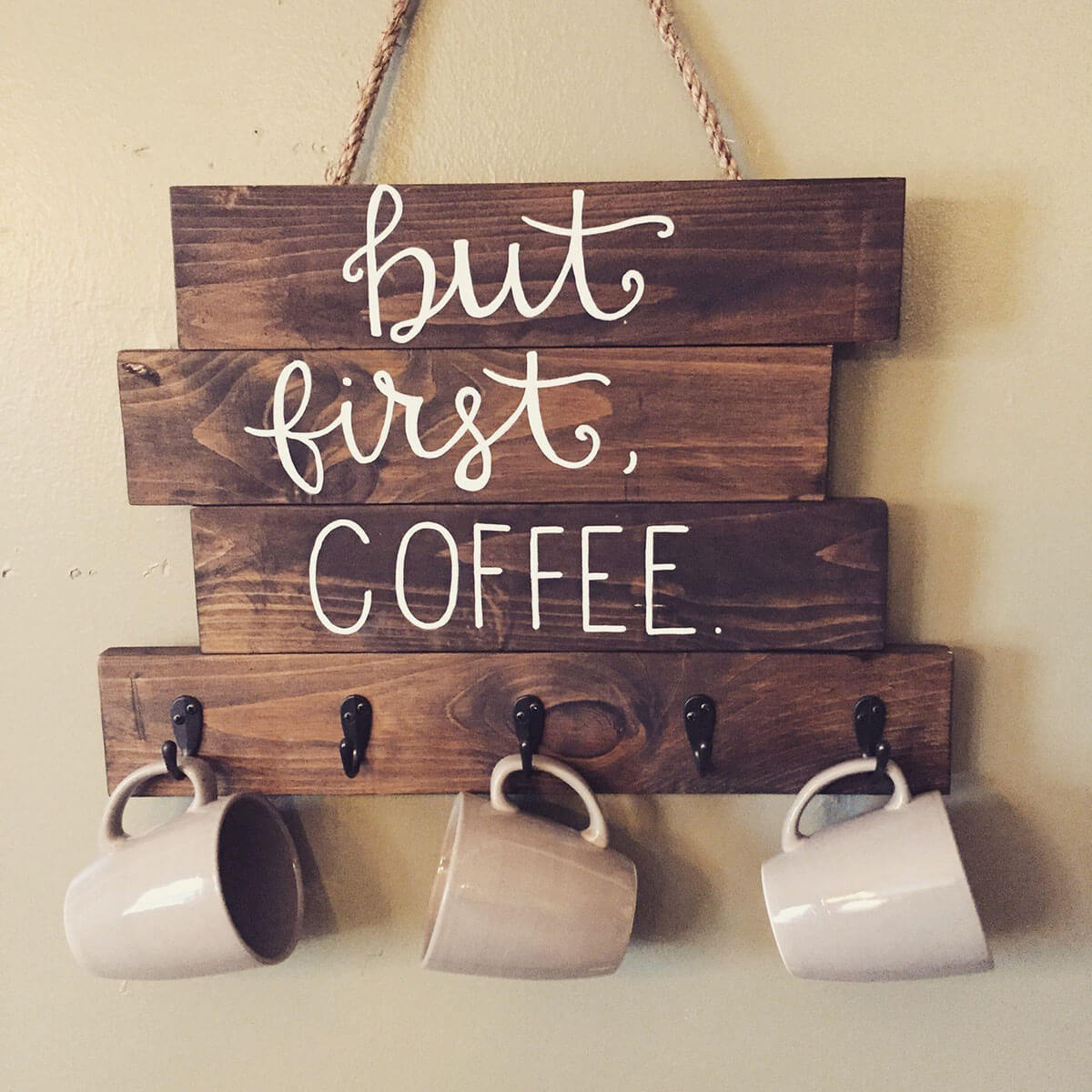 A coffee mug holder that hangs on the wall is a perfect way to organize your mugs and keep them within fast reach. Besides its functionality of it, the decorative writing gives it more personality.
2. Industrial Countertop Mug Organizer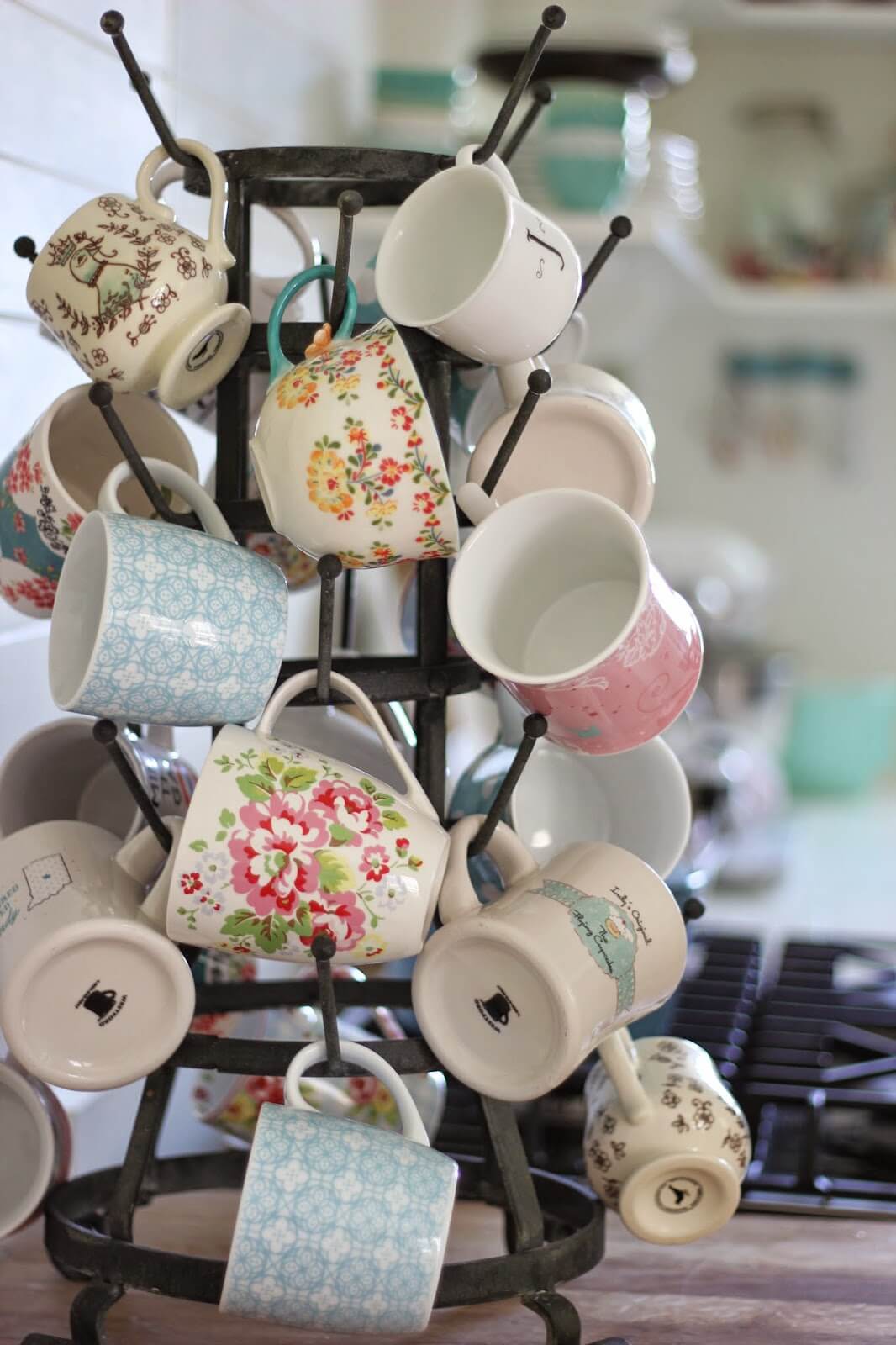 Your industrial kitchen deserves an industrial coffee cup holder as cool as this one. There is plenty of space too so that you can show off your massive coffee mug collection.
3. Wall-mounted Pipes with Mug Hooks and Storage Caddies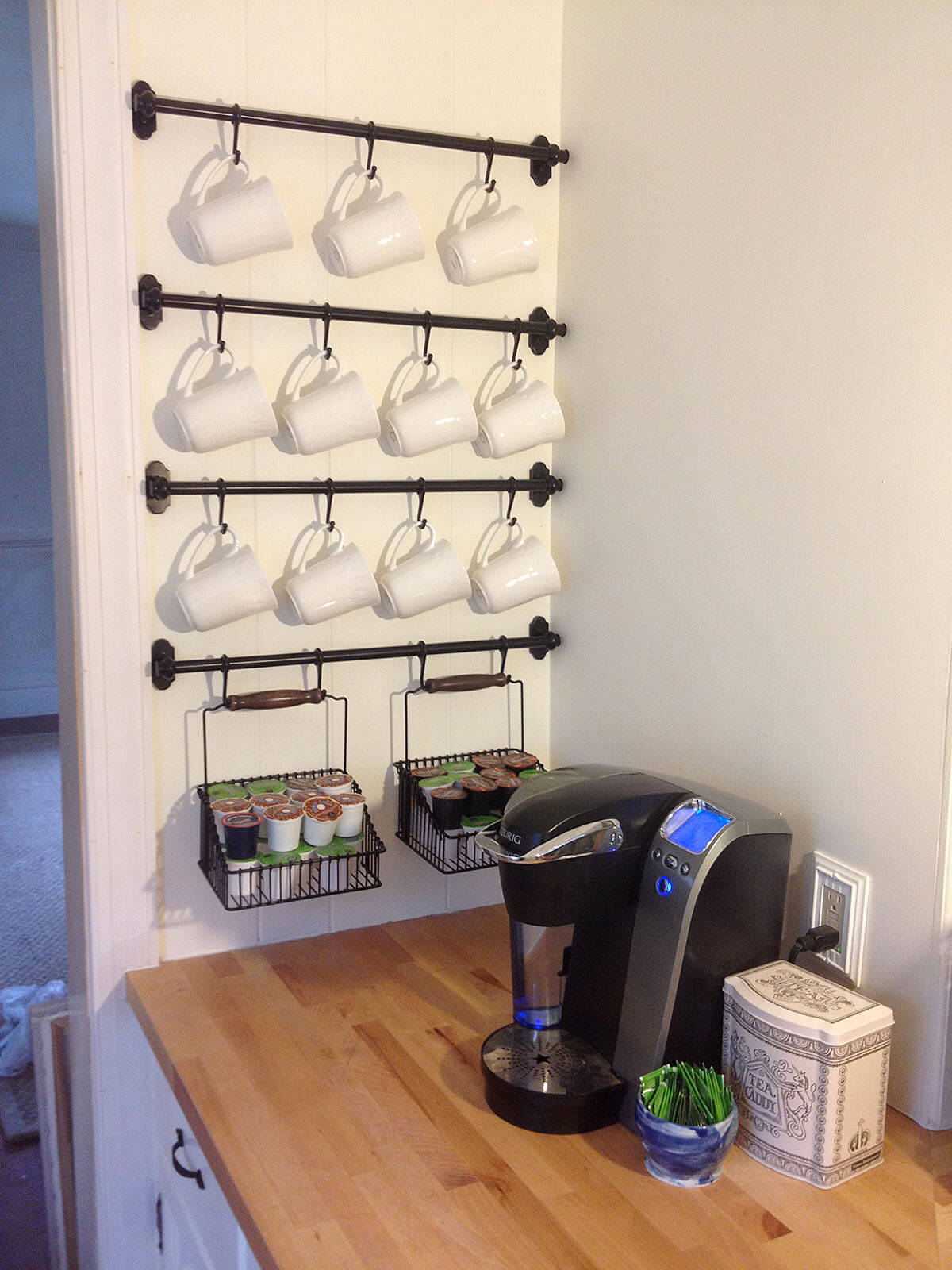 These wall-mounted pipes are a great place for you or guests to snatch up a coffee mug and quickly get your caffeine fix. It is an understated coffee mug holder that can easily go near the coffee maker.
4. DIY Mug Cubby Shelves

For a unique coffee mug rack, check out this incredible cubby wall shelf. It is distinctive with multiple shapes to support a variety of coffee mugs.
5. Reclaimed Wood Mug Hanger with Rustic Hooks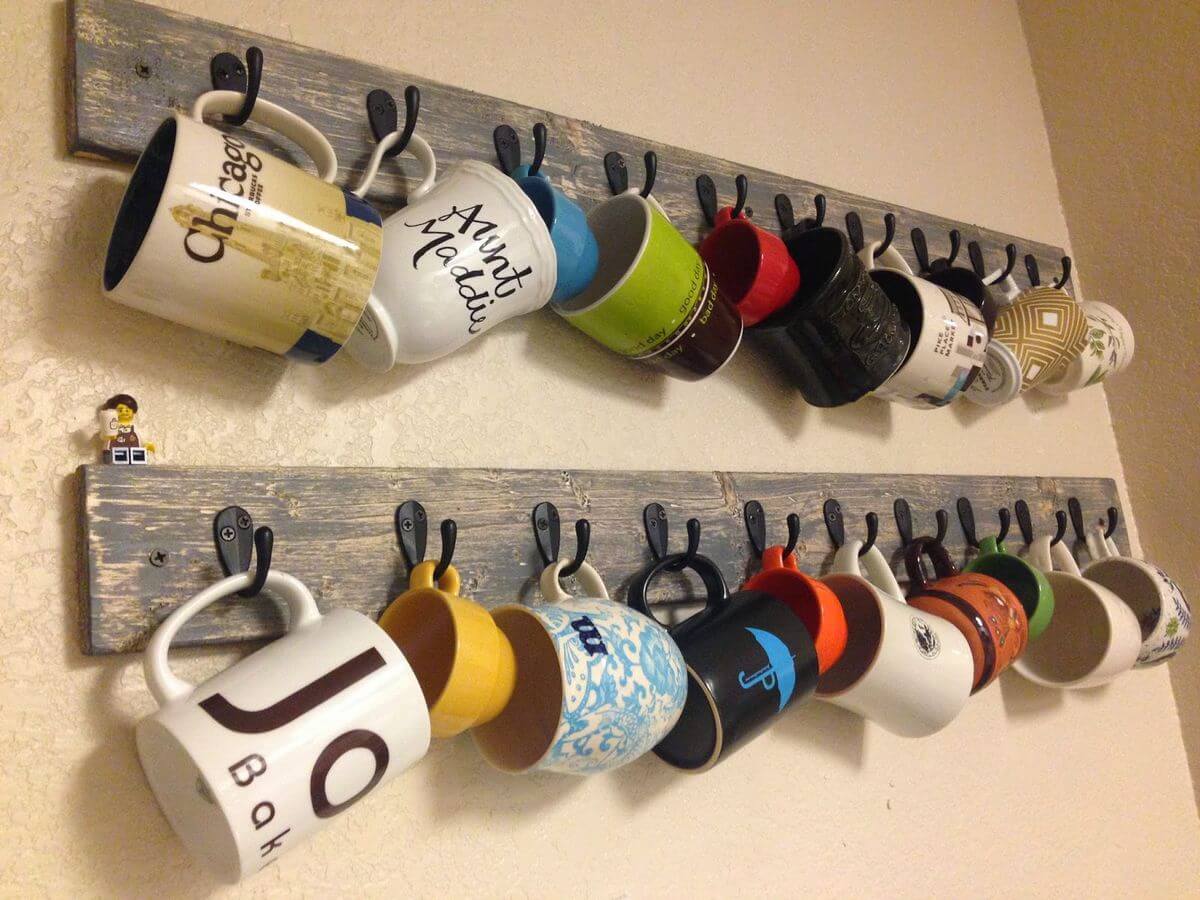 When you need your coffee cup holder to blend in your farmhouse-style kitchen, this is a lovely way to go. The reclaimed wood provides that rural theme while the hooks give the rustic style.
6. A-frame Mug Shelves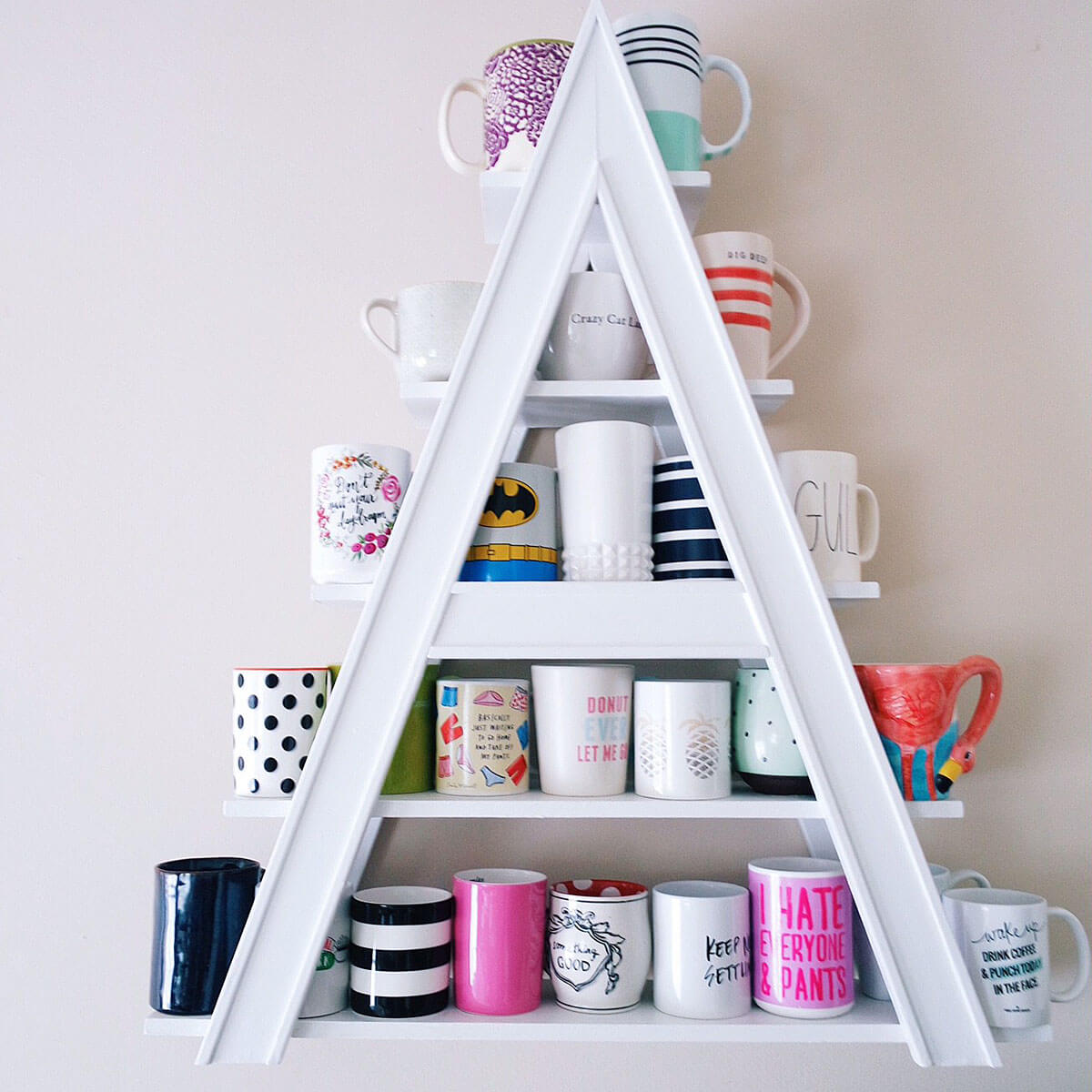 This A-frame coffee mug holder is a bold way to organize all your favorite coffee mugs. It allows them to become a part of the décor rather than be hidden away.
8. Coffee Command Station with Chalkboard Accents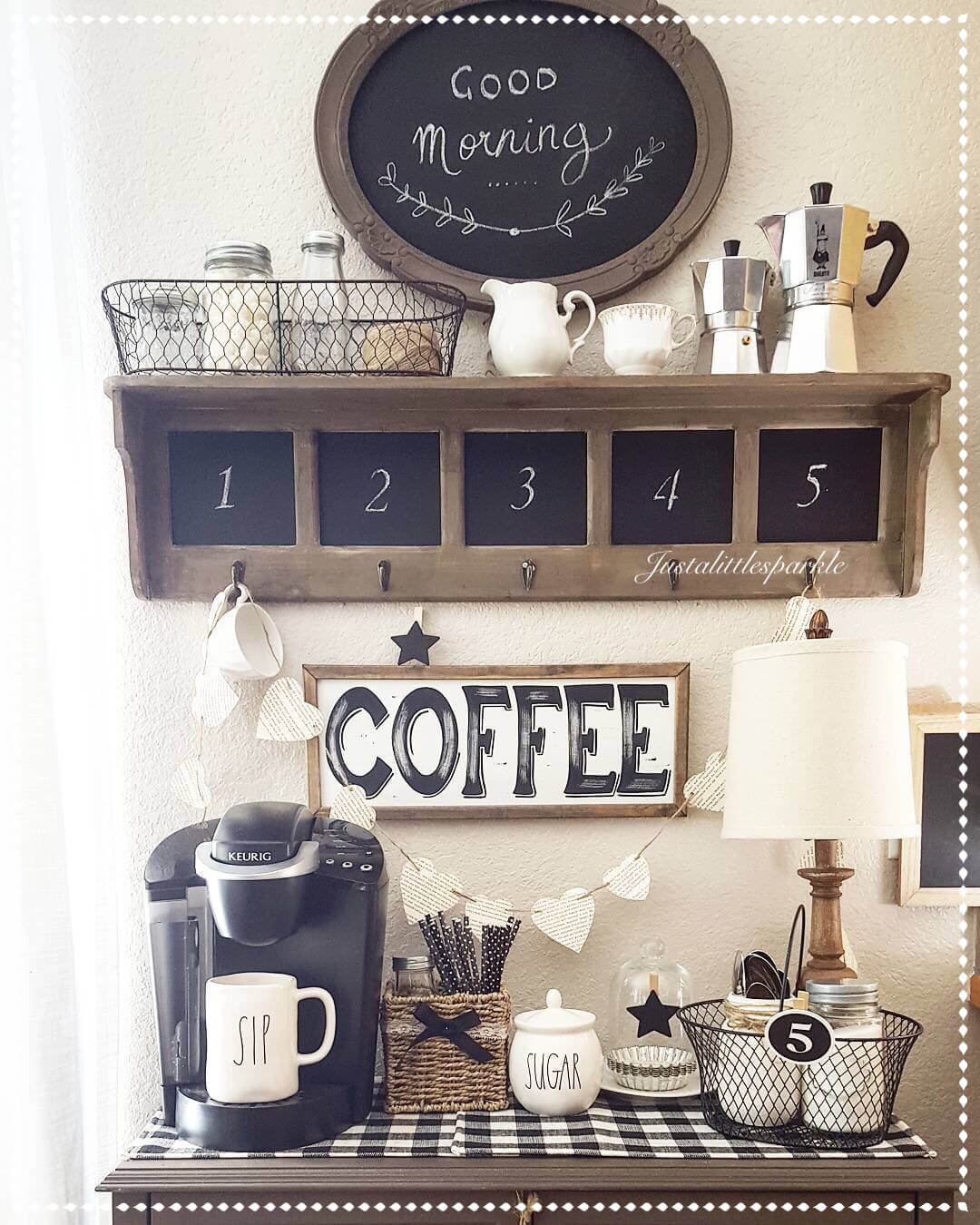 If you have the room in your coffee-making area, then consider adding this attractive wooden wall shelf. The top is great for all your extra accessories, while the hooks perfectly support your coffee mugs.
9. Oversized Rustic Wall Rack for Mugs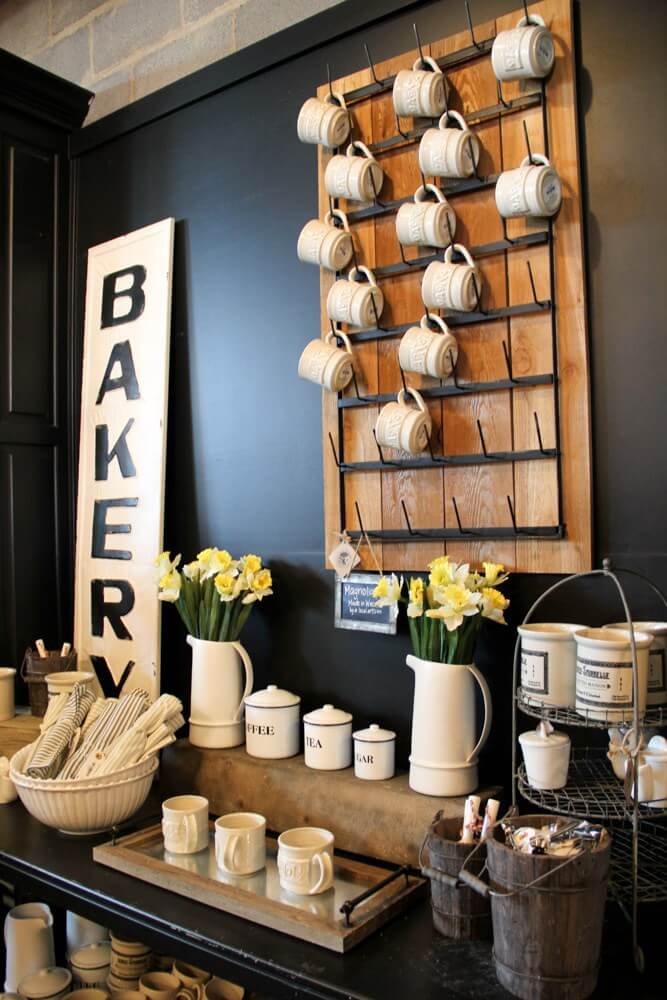 For those of you with too many coffee mugs to handle, you need this stunning wall rack. It is a coffee mug holder that is straightforward, yet effective for the rustic kitchen.
10. Pun-tastic Wineglass and Coffee Mug Storage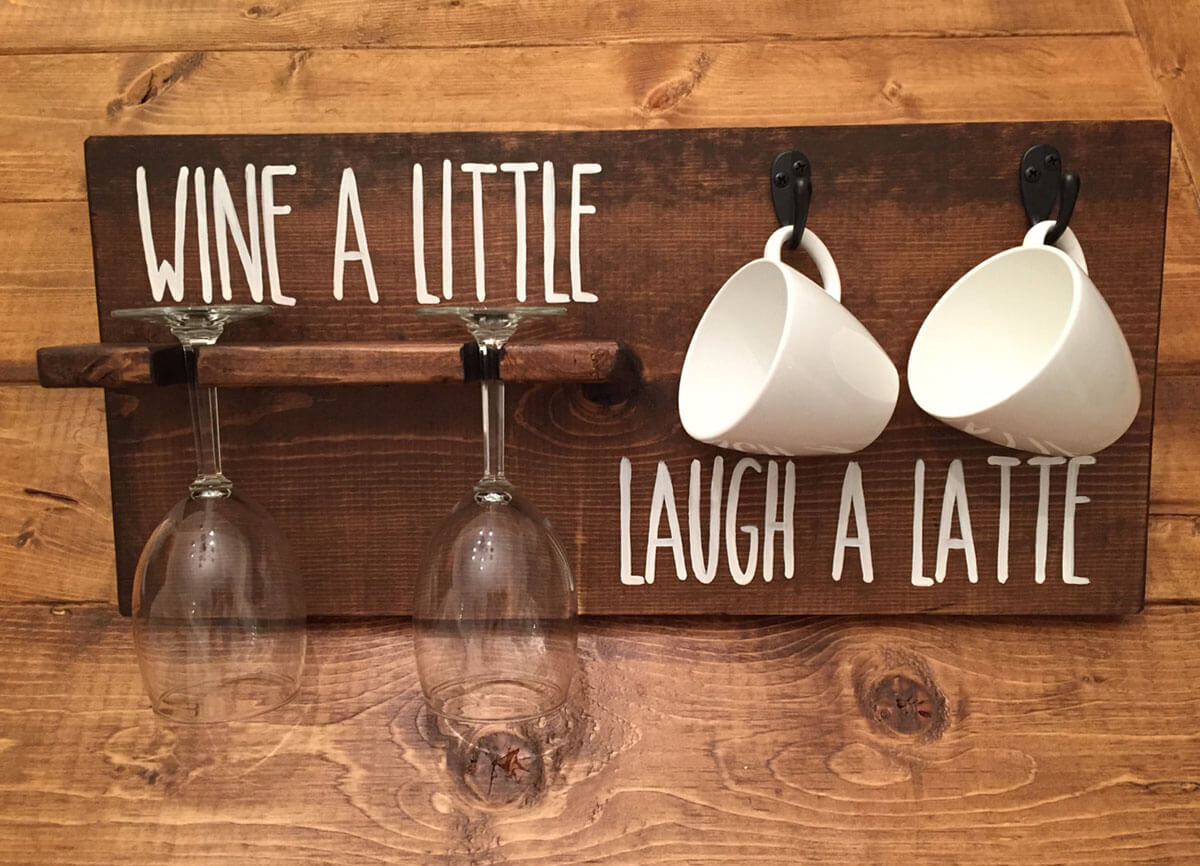 Do you love your wine glasses as much as your coffee mug? Then this versatile wall coffee cup holder is the best option as it effortlessly blends your two loves.
11. Repurposed Wire Spool Mug Rack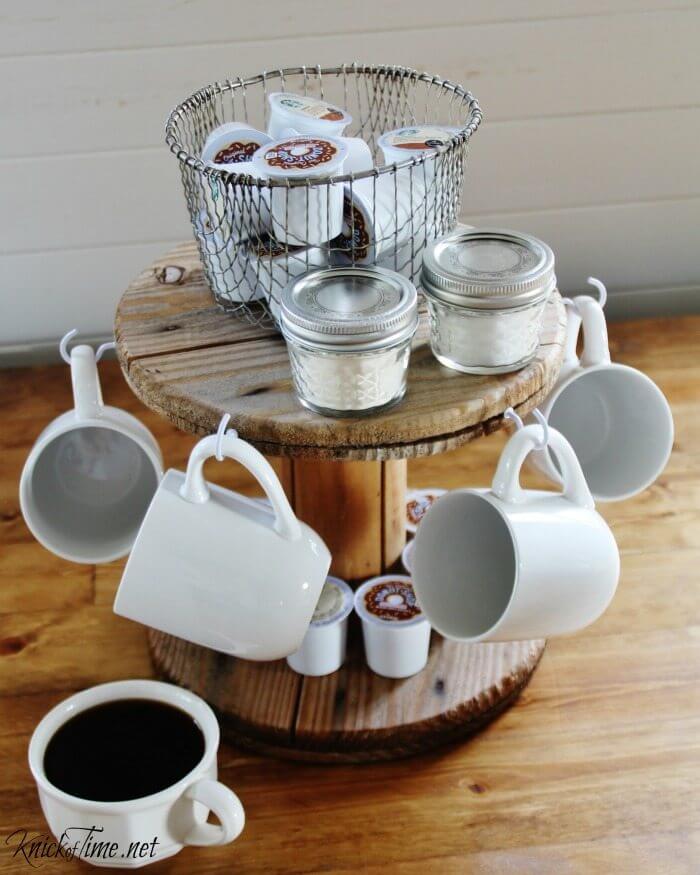 Sometimes the best coffee mug holder idea comes from something repurposed. In this case, a wire spool rack. It is simple, space-saving, and makes coffee life far easier.
12. Easy and Artful Pegboard Mug Hanger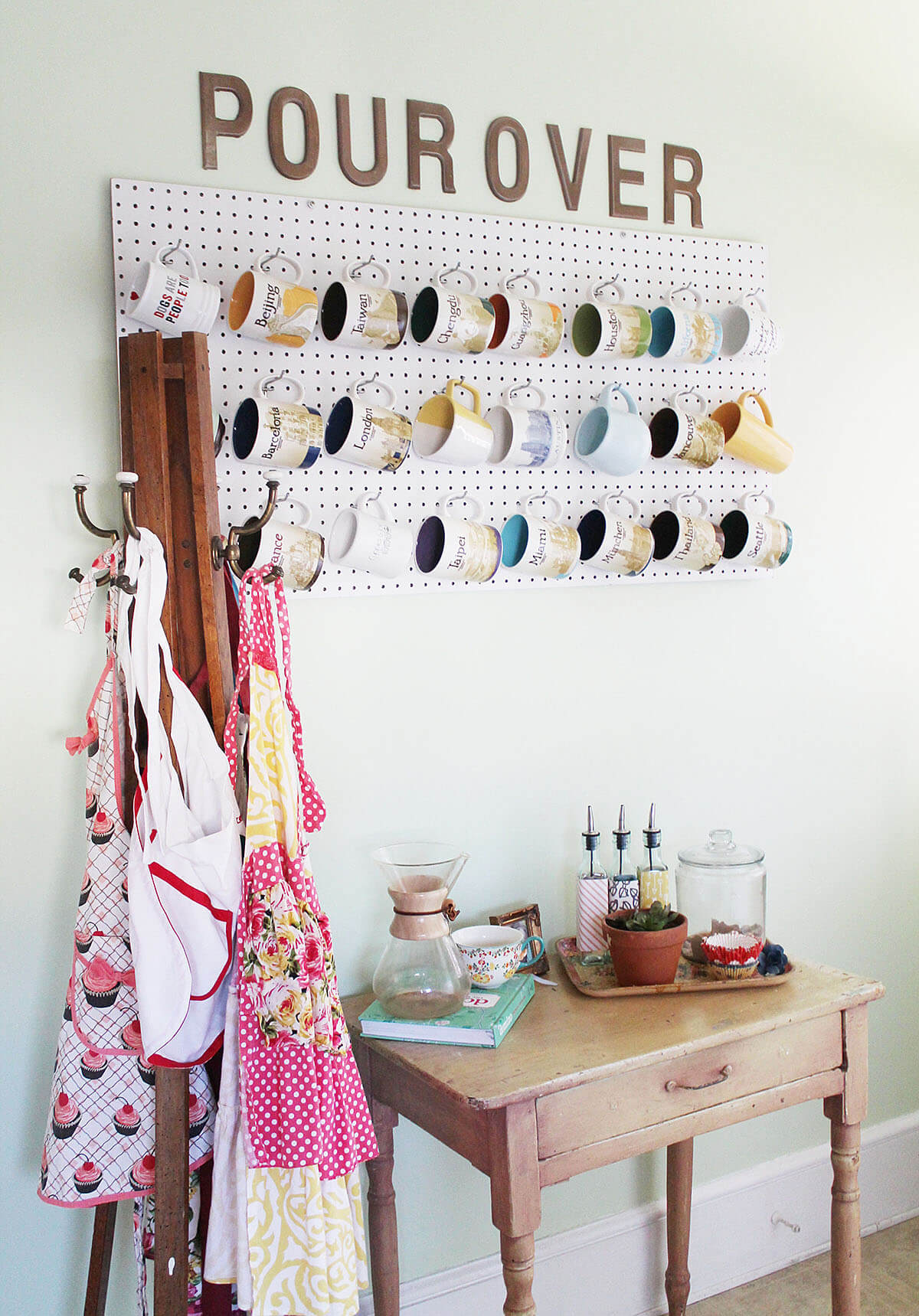 A pegboard is a wonderfully unique coffee cup holder. Depending on the size of your board, this can support several coffee mugs so you can save on space in your cupboards.
13. Modern Floating Shelf Storage with Chalkboard Backdrop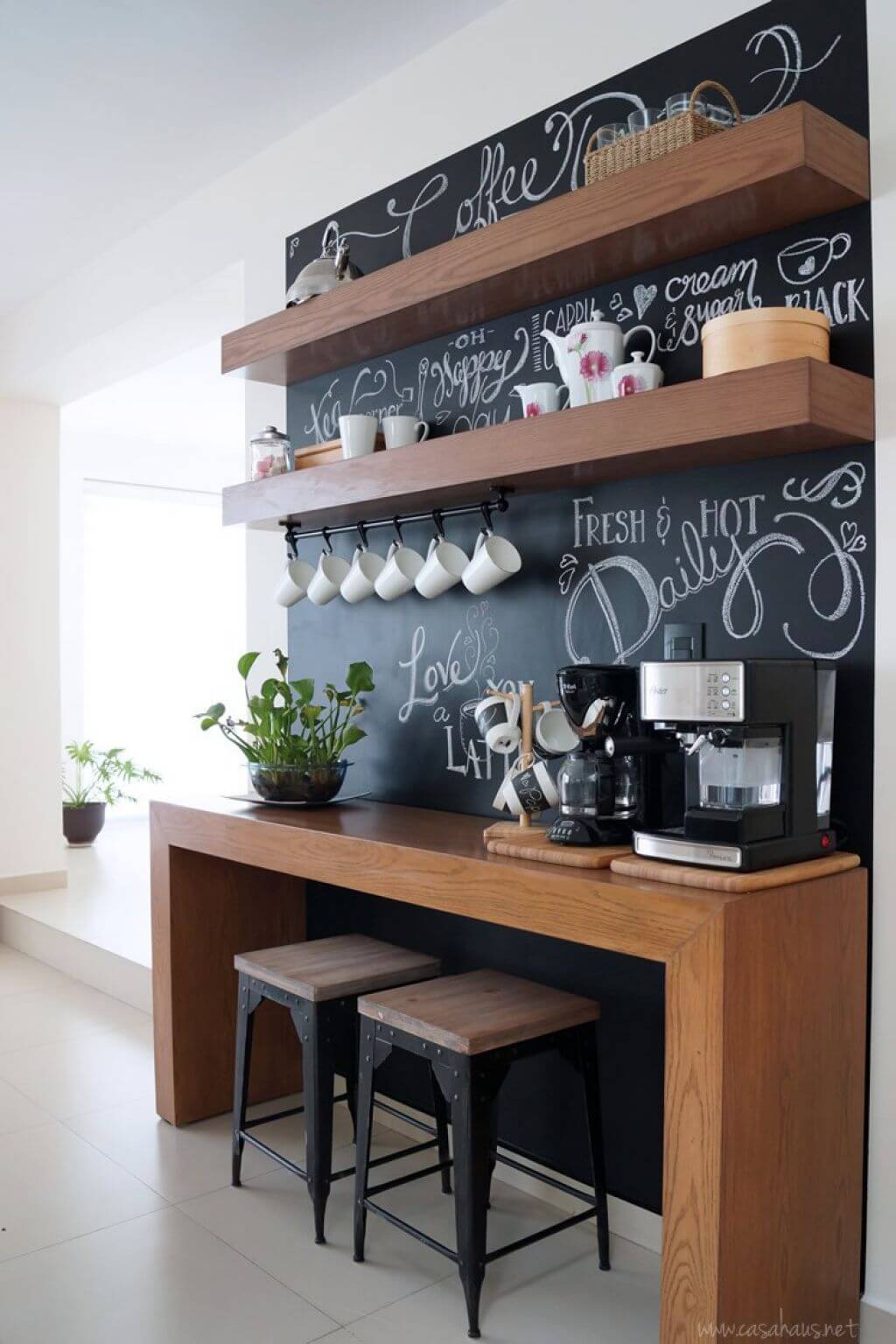 For the modern kitchen, floating shelves offer a great space for any coffee mug. You can hang them via the hooks or you can instead store your coffee mugs on top of the shelves.
14. Mug and Saucer Rack made from Upcycled Wood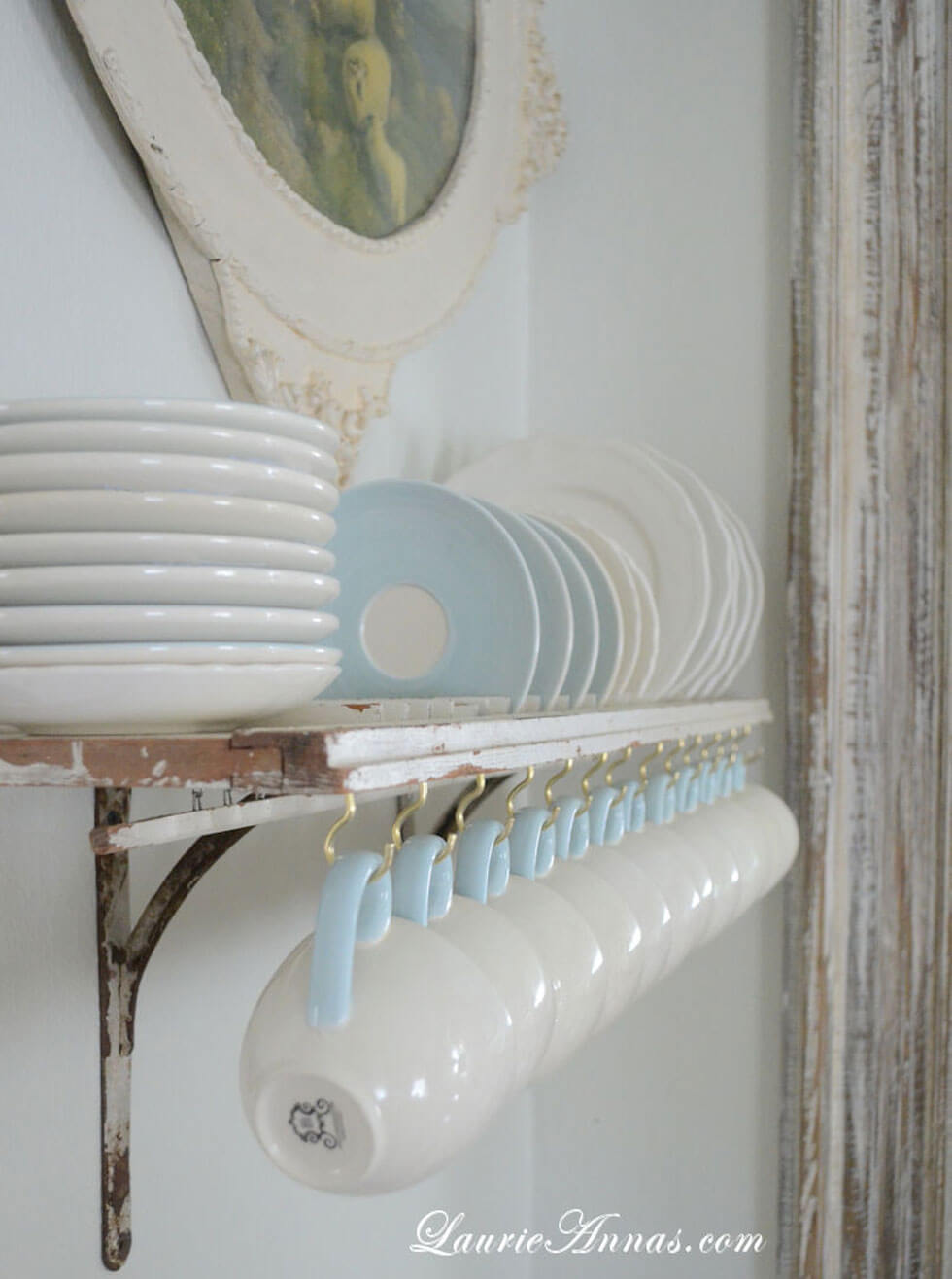 Upcycle some aged wood and transform it into a compelling, rustic coffee mug rack. Besides storing your coffee mugs, this helps you set aside other items from coffee accessories to plates and bowls.
15. Country-style Wire Storage Crates and Mug Hanger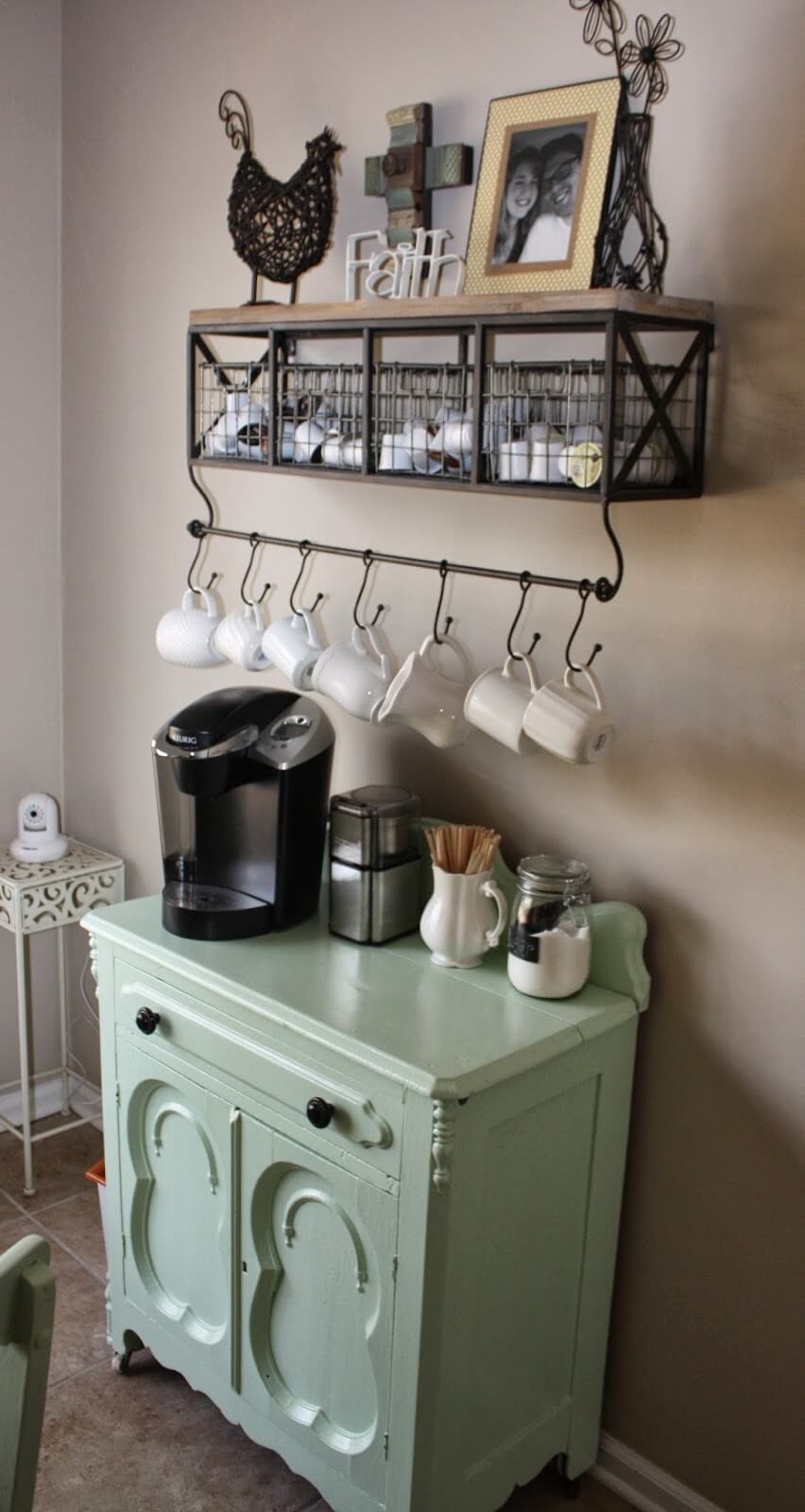 This coffee mug holder blends well into a country-style kitchen. The hangers are spaced apart to support multiple coffee mugs, while the top part of the coffee cup holder can handle the rest of your coffee necessities.
16. Mini-pallet Coffee Mug Rack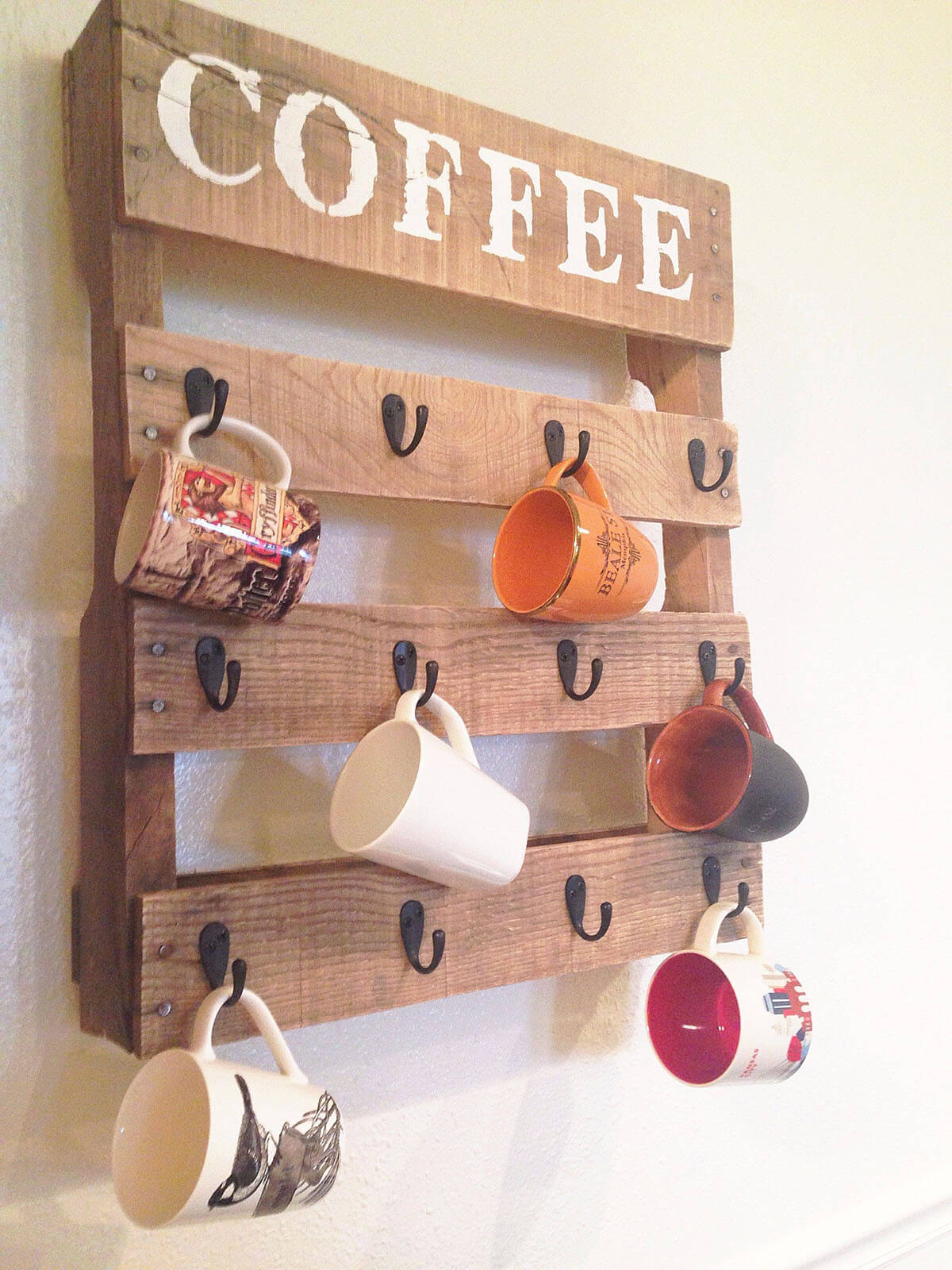 Who knew that pallet wood makes for an excellent coffee cup holder? Straightforward and reliable, this coffee mug holder will look good hanging in kitchens of various styles.
17. Minimalist White Mug Storage Shelves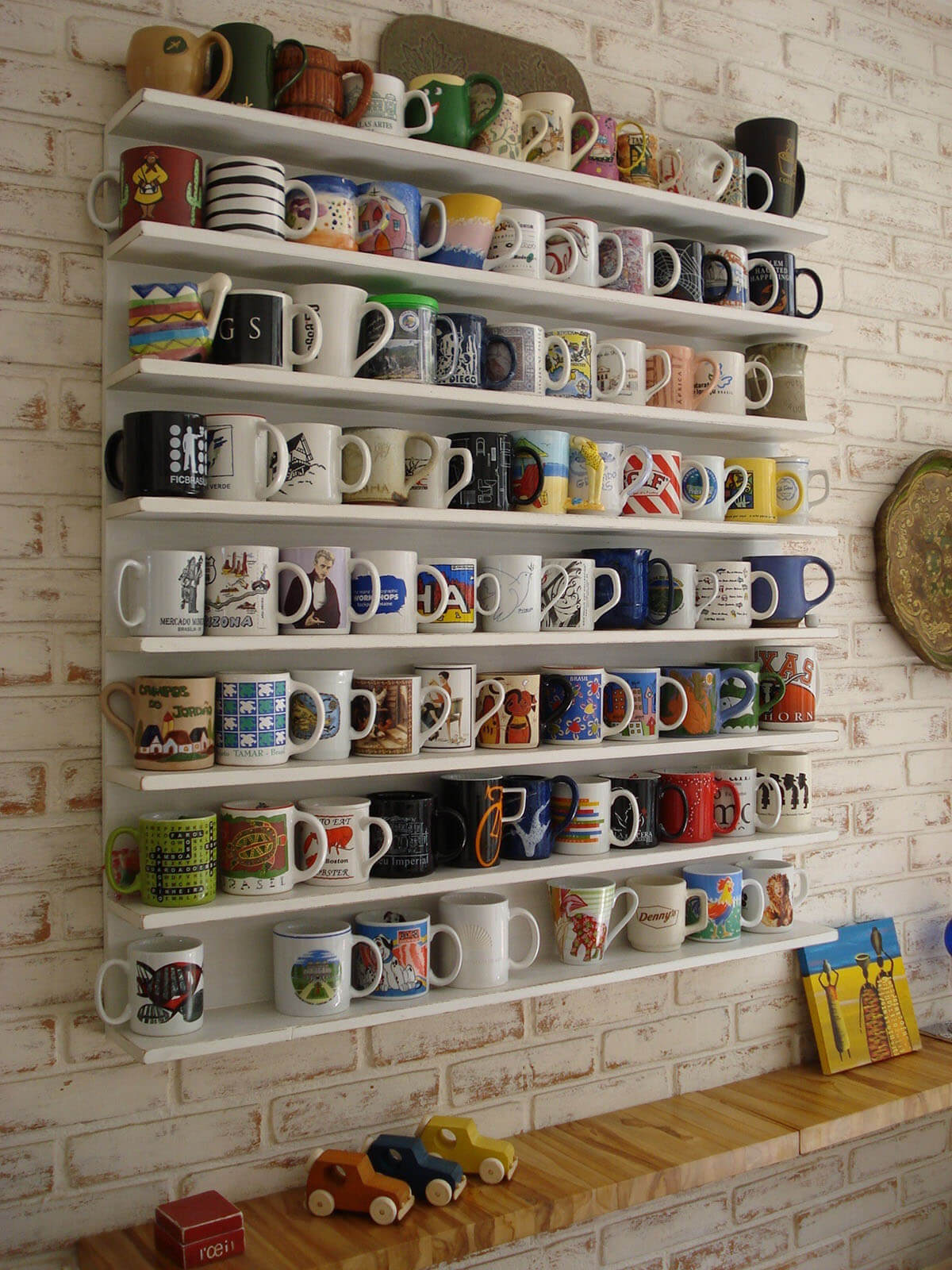 When you need a coffee mug holder that blends into numerous themes, this all-white storage shelf is a good route to go down. Plus, it can handle coffee mugs of different shapes and sizes.
18. Cupboard-shelf Mounted Mug Hanger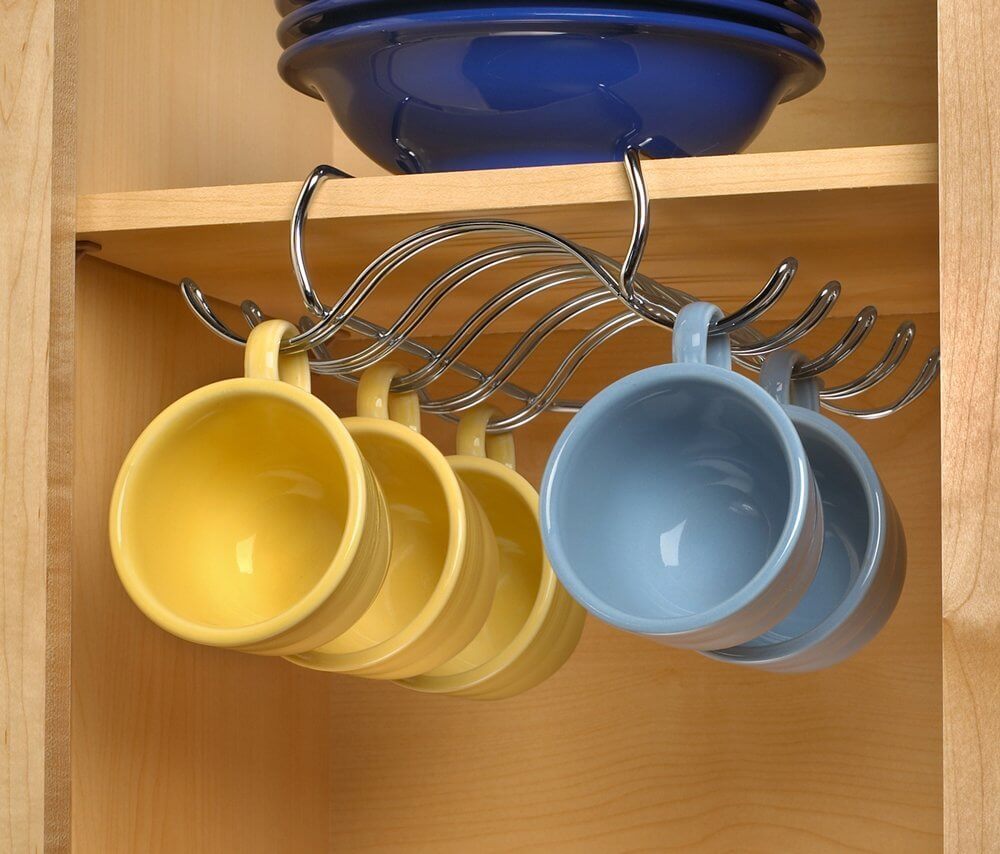 Perhaps you don't have room for a separate coffee cup holder. In this case, this cupboard shelf storage is a perfect solution to keep your coffee mugs within reach and out of the way.
19. Upcycled Wall-hanger with Mismatched Hardware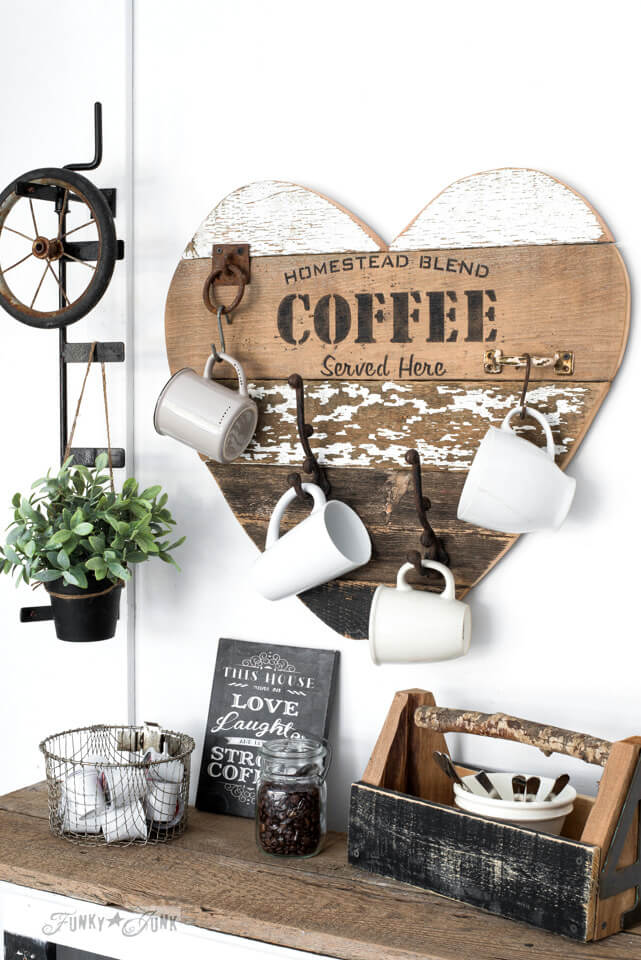 Connect with your vintage, rustic kitchen by hanging up this cool heart-shaped coffee mug holder. There are just enough hooks to show off your all-time best coffee mugs.
20. Kitchen Cupboard Bonus Shelf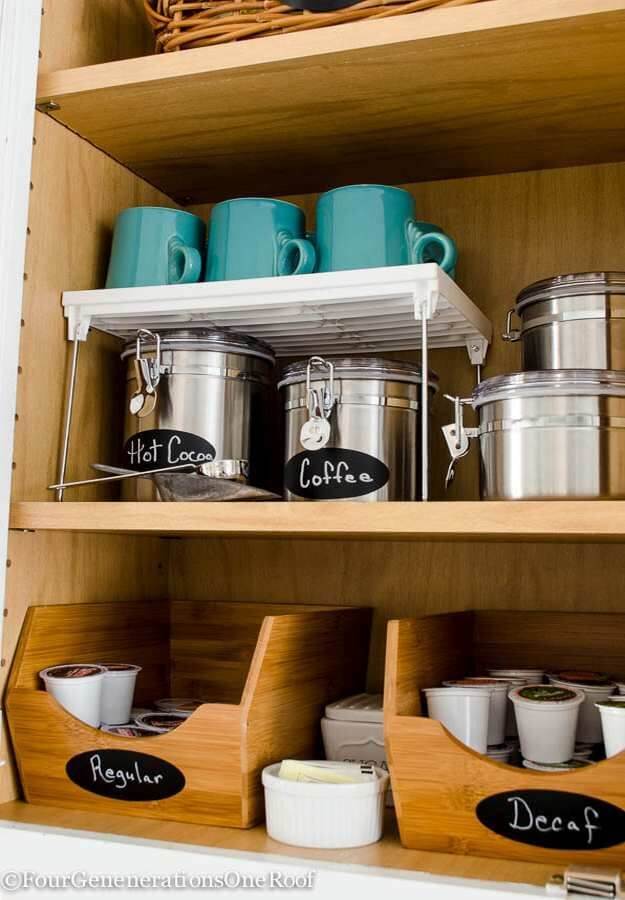 For small-space living, this bonus shelf inside your cupboard is an excellent coffee cup holder solution. Everything is still in a cupboard, but you have far more room to store other kitchen necessities.
21. Brushed-nickel Mug Hanger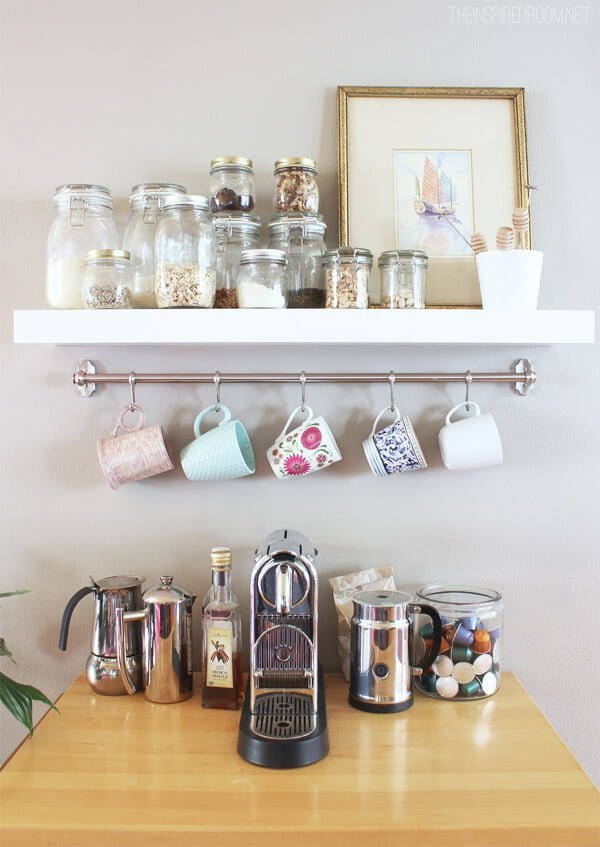 A sleek way to store your coffee mugs, this brushed-nickel bar is elegant and befitting for the contemporary kitchen.
22. Wall-mounted Dish Rack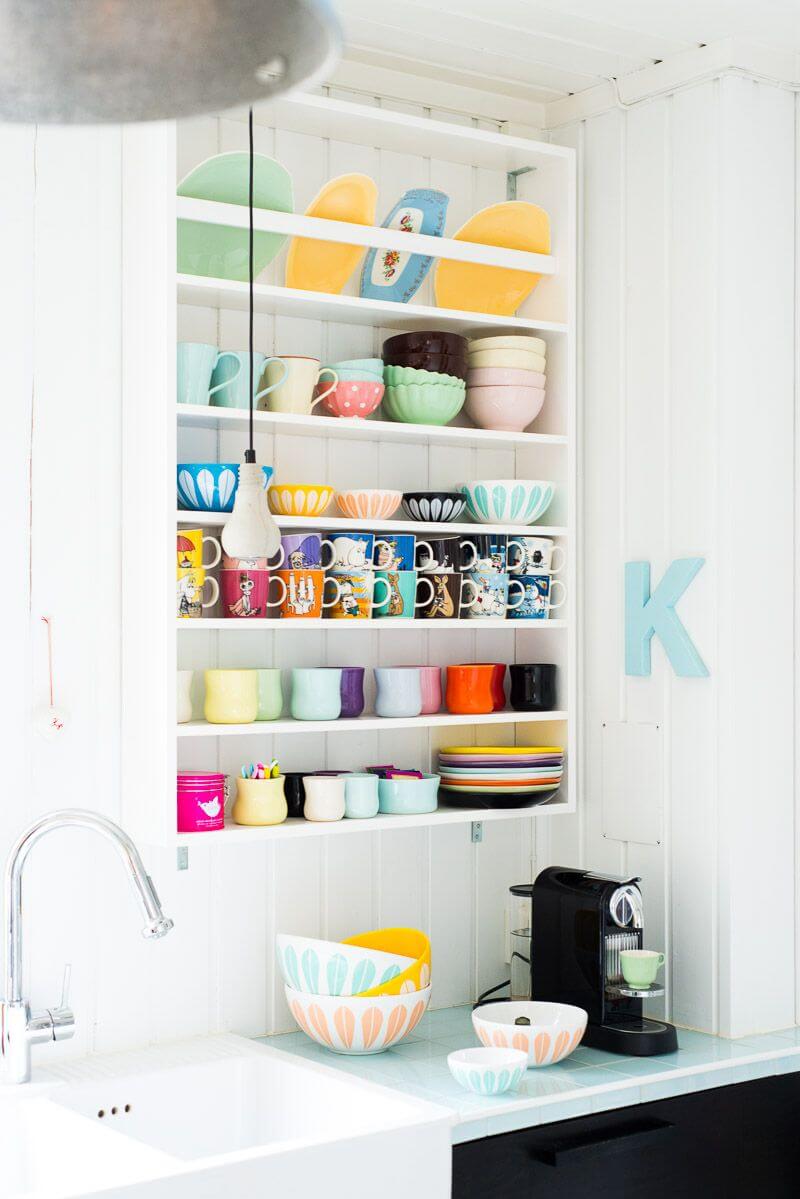 When you need a solution for your coffee mugs, consider this wall-mounted coffee cup holder. It is simple, yet it adds a layer of brightness to your kitchen.
23. DIY Dry Good and Dish Storage Shelf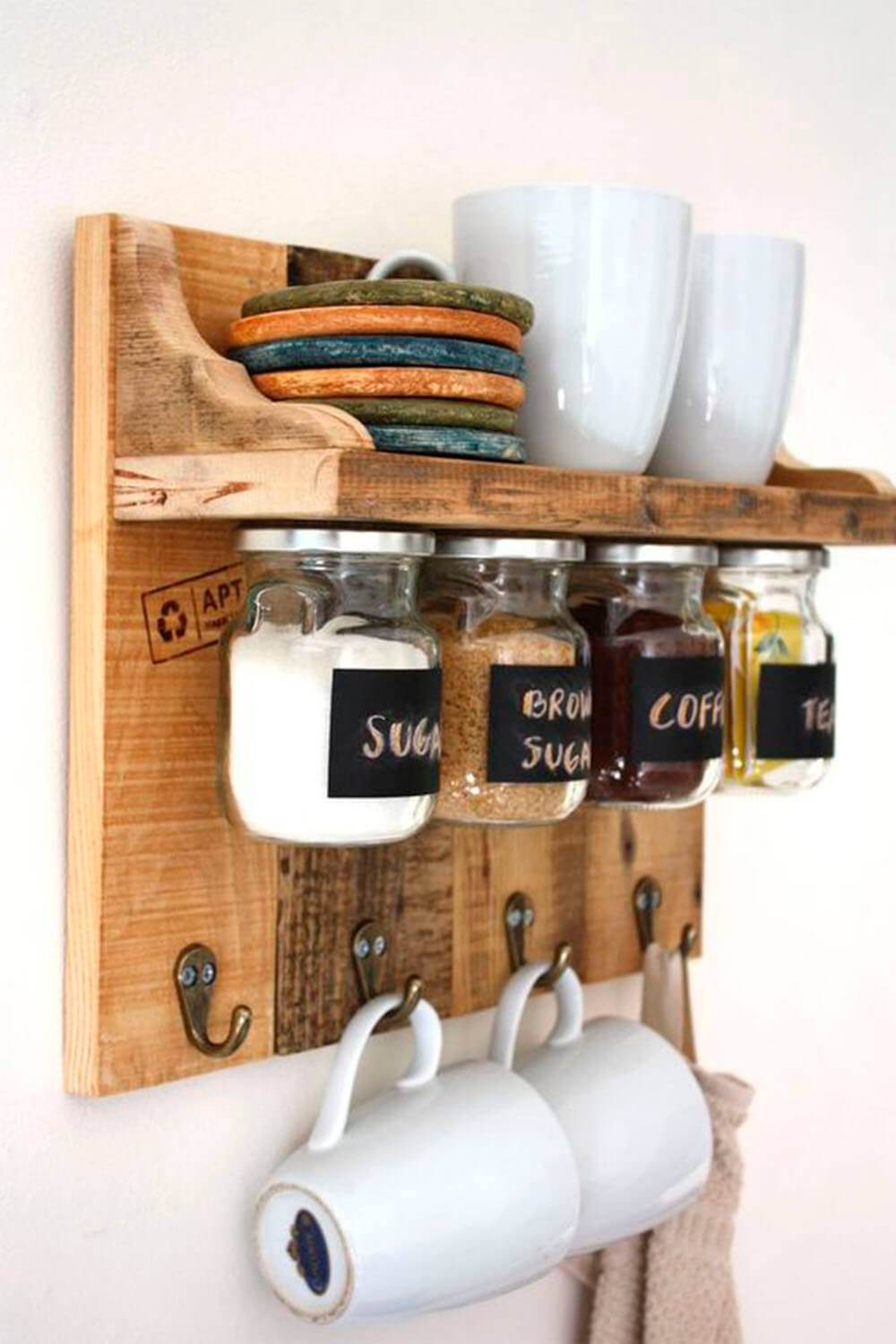 A cute way to keep your most used coffee mugs in one place, this wall-mounted coffee mug holder can only elevate the décor in your kitchen.
24. Lighted Wall Niche and Display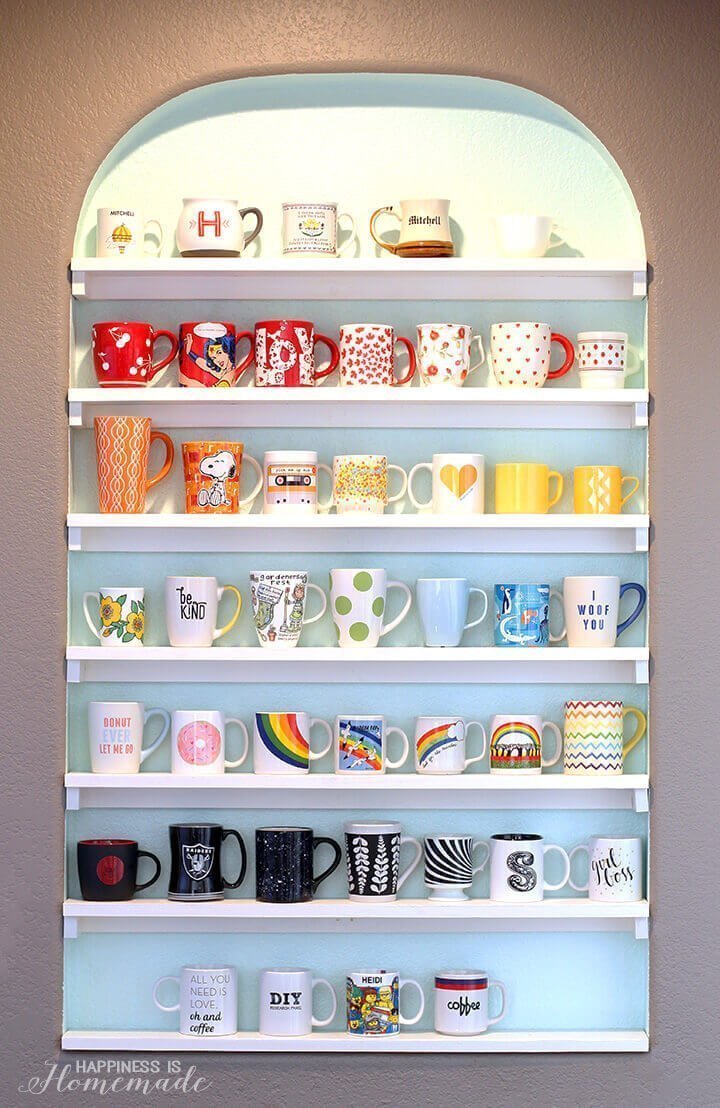 Do you have a little nook in your kitchen? Then it is the perfect place to tuck away some coffee mugs. This coffee cup holder is more effective too when it's situated near your coffee maker.
25. Metal and Wood Four Mug Wall Organizer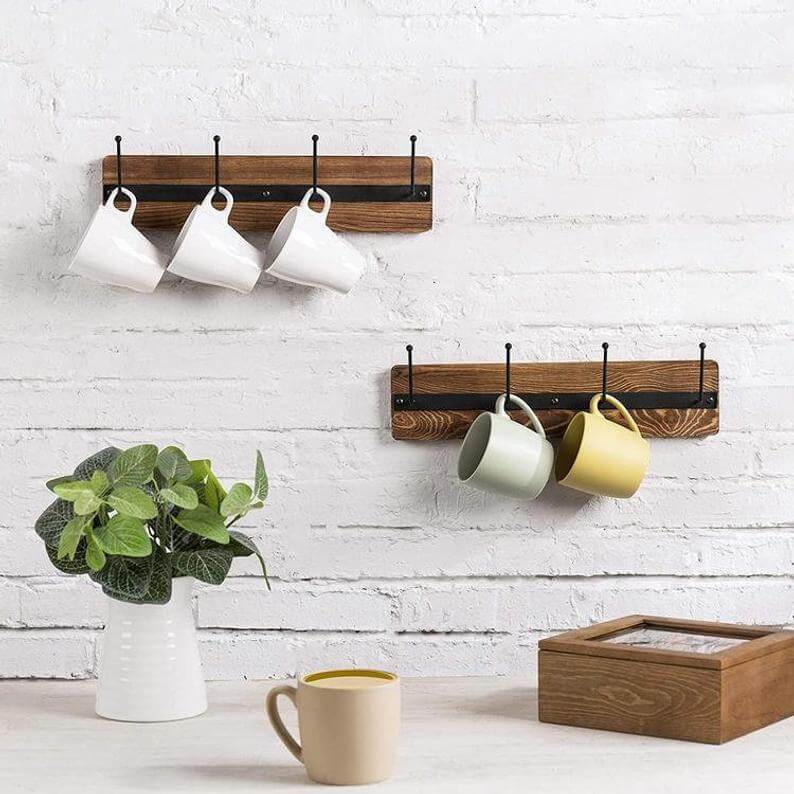 Give your coffee station a mug hangout that keeps the space clear on your tabletop. This set of two metal and wood mug organizers secures to the wall giving your mugs a place to rest while looking stylish at the same time. The gorgeous wood grains are the perfect complement to the dark metal hooks. This texture combination is a great modern look and feels for almost any space.
26. Gorgeous Geometric Hexagon Copper Coffee Mug Holder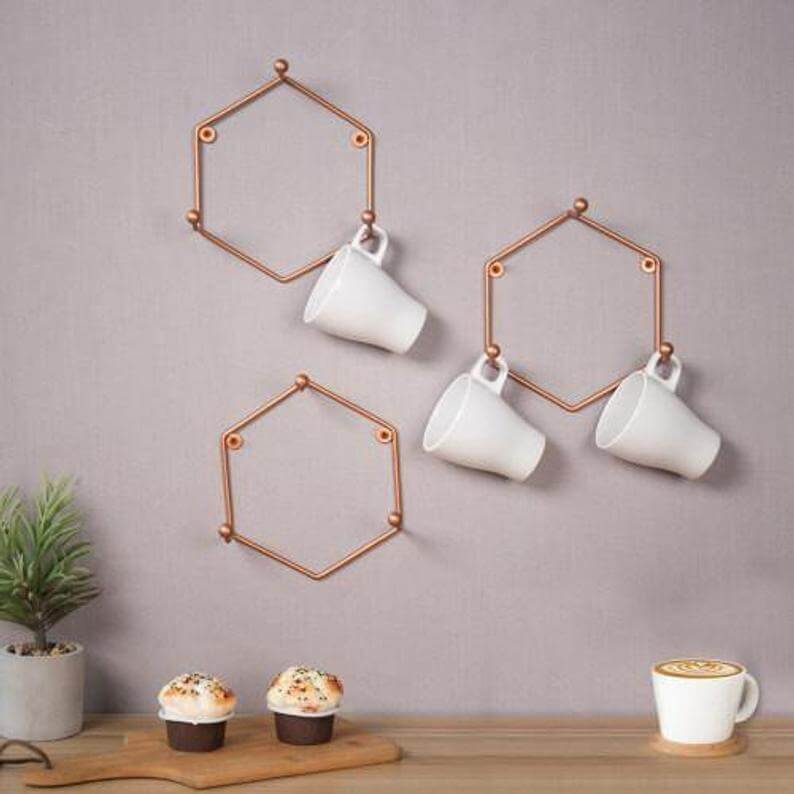 Check out the pretty copper tone featured in this coffee mug holder! The metal wraps into a hexagon or honeycomb shape to add some style to your coffee station decor while doubling as a useful component since it easily holds three mugs. Mount on the wall alone or in a trio for even more mug magic. Incorporating this unique shape into your coffee station adds a fresh and modern look with a purpose.
27. Under-the-cabinet Coffee Mug Holder with Industrial Hooks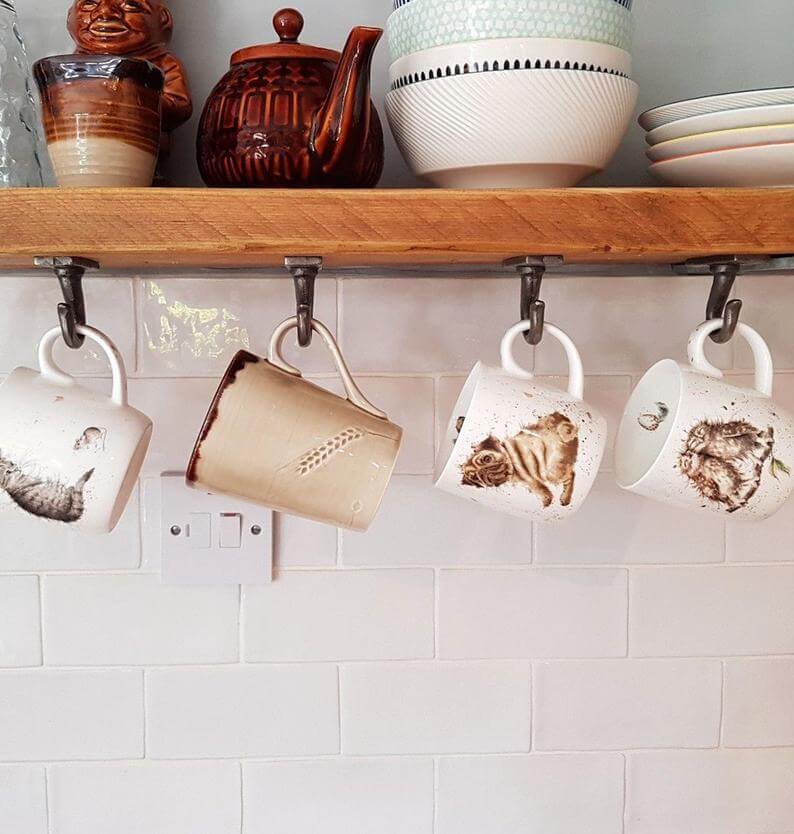 If you're tight on space, this concept is perfect! No need to clear out space on the counter or wall as these industrial hooks attach underneath your cabinets to give your favorite coffee cups a place to call home. Install them near your coffee maker and you're ready to enjoy a fresh cup of joe anytime. The simple design is a great idea for modern farmhouse decor and gives the function needed while sticking to a budget.
28. Decorative Boxed Shelf Coffee Mug Hotel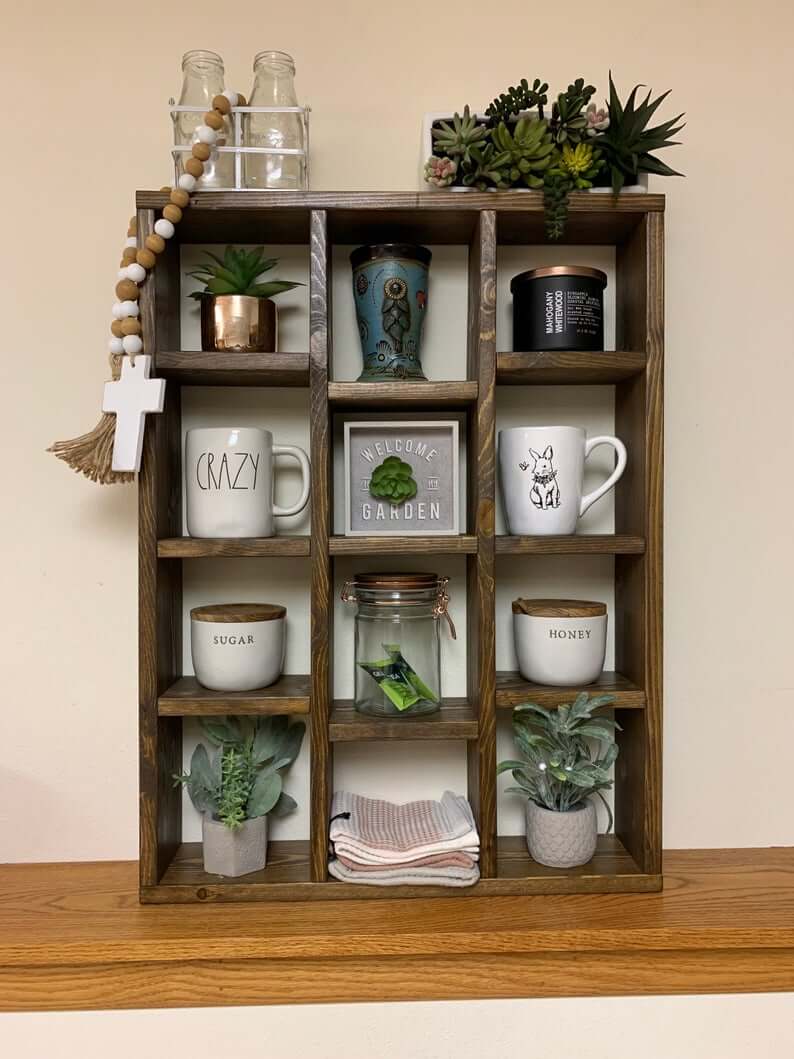 Here's an idea for housing your vast collection of coffee mugs. You'll enjoy this mug hotel that offers plenty of space with its 12 open squares to house all of your special mugs. It's easy to see what you have as each opening provides a full view of the mug. You may also wish to include a small succulent or decoration in a few boxes to add some style to your coffee mug organization.
29. Coffee Central Wooden Shelf with Hooks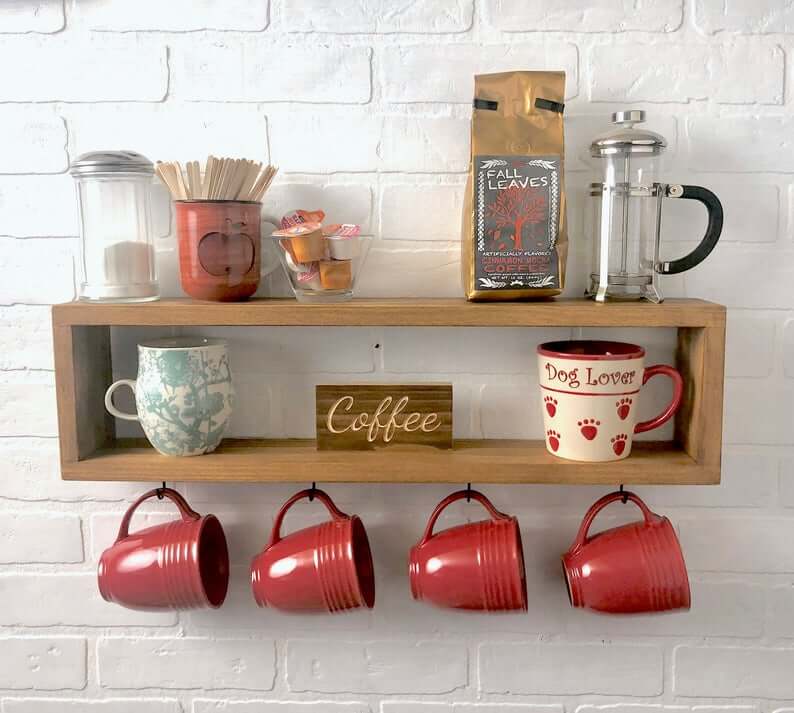 Have your cake and eat it too with this shelf that includes four mug-hanging hooks. Within the rectangular opening, you'll be able to store a few mugs as well as place them on top if you need the extra space. Additionally, the four hooks attached underneath provide cozy hangouts for your cups to finish off your newly constructed coffee station in a wonderful way.
30. Tabletop Wooden Mug Hangout with Wire Basket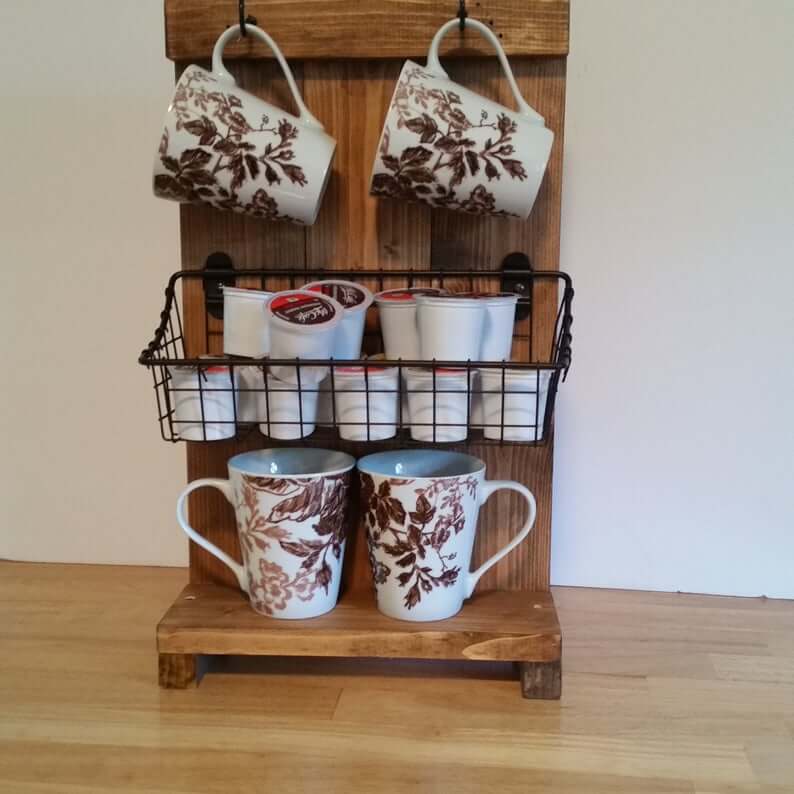 It's always a good idea to keep the actual coffee nearby your mugs! Make this an easy feat with this tabletop wooden mug hangout. The included wire basket comfortably holds your variety of single-use pods for brewing everyone's favorite beverage. Place this pint-sized organizer next to your machine and you'll have a stylish nook for brewing your go-to morning drink.
31. Vintage Red Wooden Shelf with Mug Hooks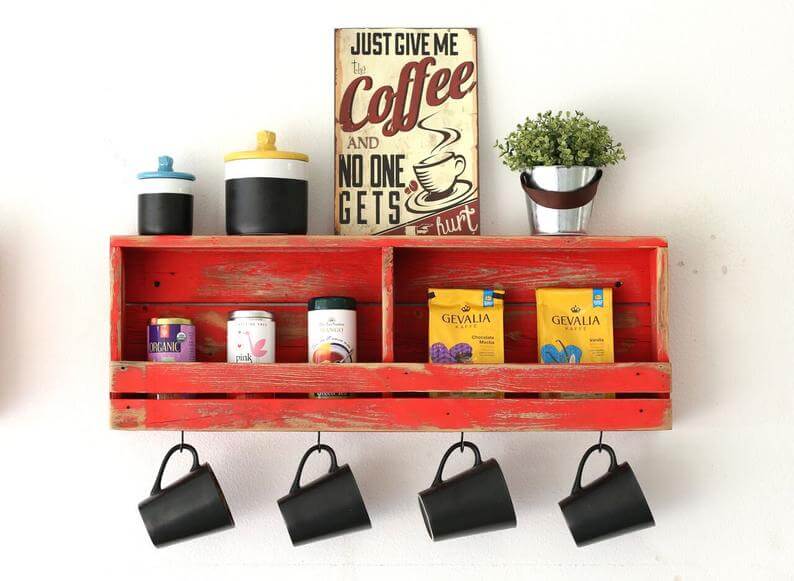 Add a vintage flair into your kitchen with this wooden shelf that's full of character and charm. The slats provide a nice nook for housing your coffee and creamers while the hooks below give your mugs a place to hang out. Don't forget to utilize the space at the top as it offers a great place to display a decoration or two and any extra coffee supplies and mugs you like.
32. Reclaimed Wood Custom Coffee Mug Cubby System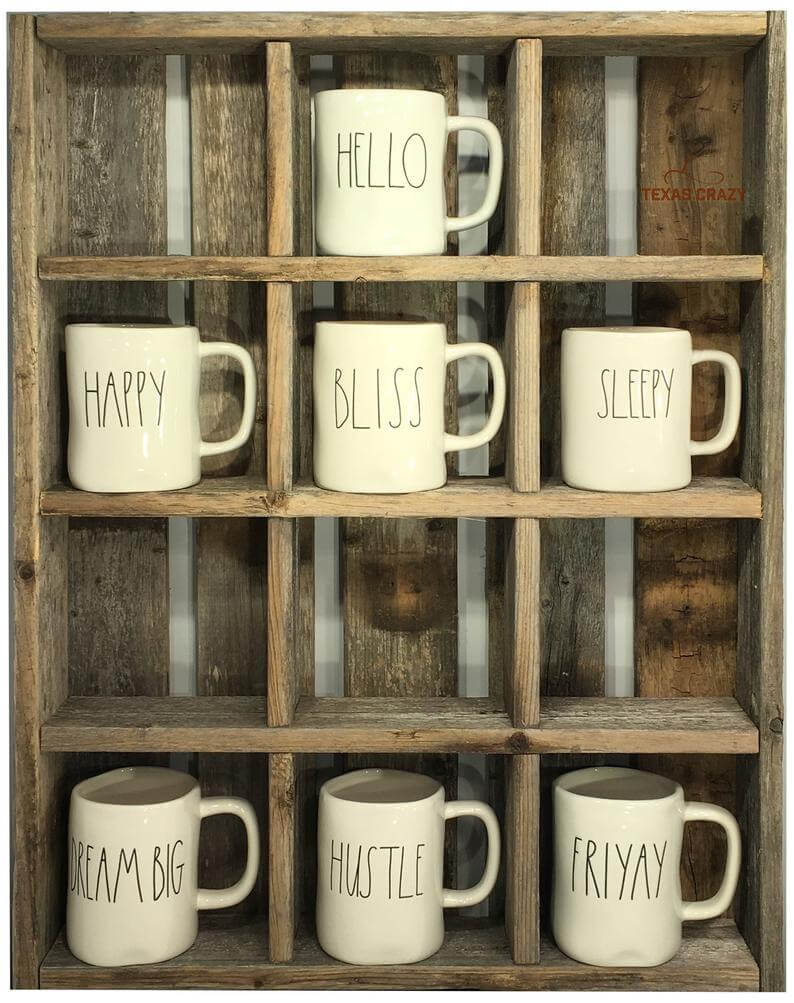 No matter the size of your mugs, this custom cubby system is right for you! Featuring a construction of beautiful reclaimed wood, each one is created in your desired measurements. Now you have a way to display all of your extra tall or wide mugs along with your traditional cups. Hang this in your kitchen as a great coffee mug organizer that doubles as a piece of gorgeous wall art.
33. Rustic Reclaimed Wood Traditional Shelf with Hooks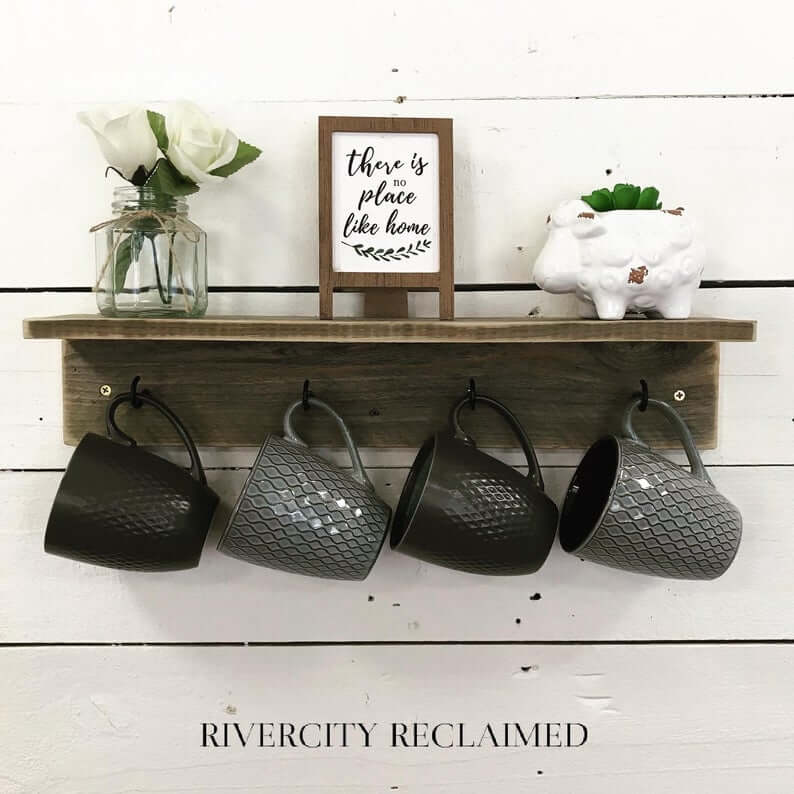 Add a classic wooden shelf with a set of four hooks to your home while providing a nice hang out for some of your most-loved coffee mugs. This reclaimed beauty provides a solid shelf for holding your extra coffee essentials. Underneath, the set of four hooks gives you extra space to show off some of your favorite or most-used mugs. You'll enjoy the organization and you'll love the rustic look and feel.
34. Funny Sign with Four Mug Hooks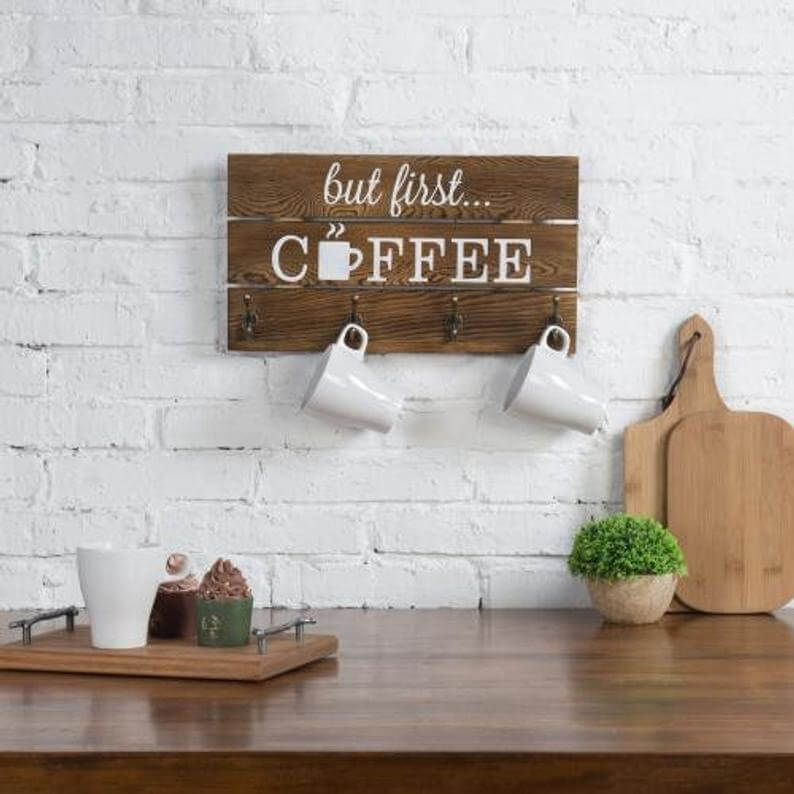 What do you get when you combine humor and hooks? A perfect place for adding some fun and organization to your coffee center. This wooden shiplap sign features a funny saying and includes a set of four hooks to carefully hold your treasured mugs. Using white lettering on the warm brown wood makes this sign really stand out and a perfect addition to your modern farmhouse decor.
35. Industrial Two-tiered Shelf with S Hooks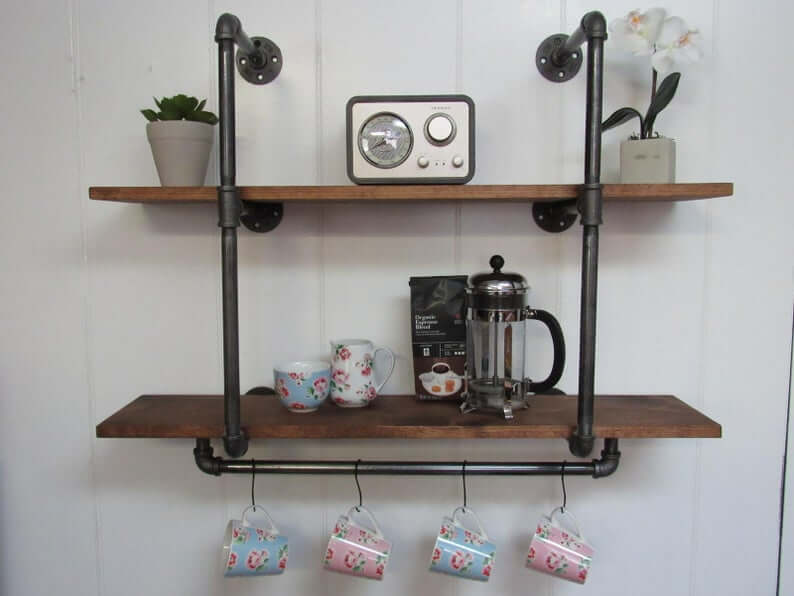 This two-tiered beauty shows off an industrial flair with metal pipe pieces that keep the wooden shelves in place. On the pipe bar at the bottom, s-hooks are used as mug hooks to ease in finding your favorite mug to start your day. Working together, the pipes and wood infuse a gorgeous urban look and feel to your space that works with almost any modern decor style. The two large shelves offer plenty of space to store your French press, coffee beans, and stylish coffee accessories quite nicely.
36. Rich Wooden Coffee Pallet Mug Holder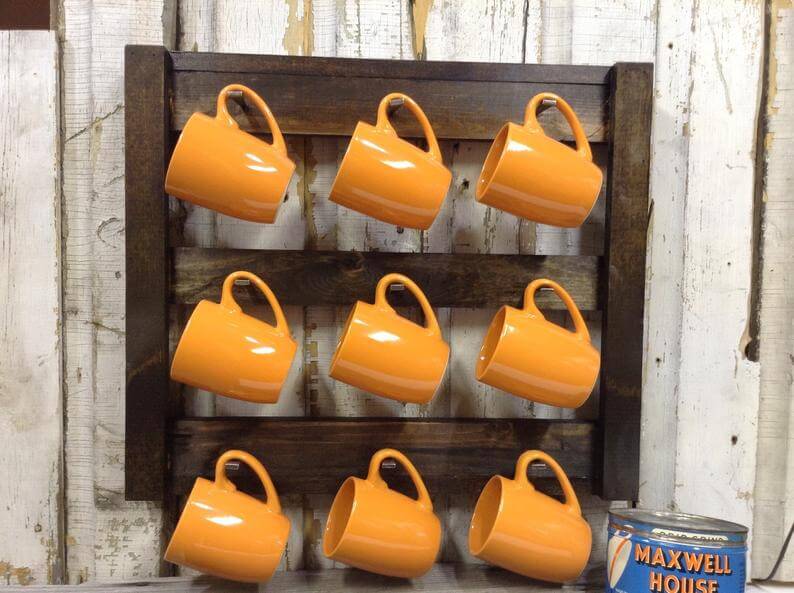 Continuing the trend of repurposing wooden pallets, this unique wall mug holder is created in nearly the same frame and style. Finished with a deep, rich brown stain, this wooden wonder looks interesting on your wall while giving you lots of hook-hanging ability. Display nine matching mugs or choose a variety that showcases your personality. Either way, this mug holder adds a charming organizer for your daily coffee needs.
37. Old Fashioned Soda Crate Shelf with Hooks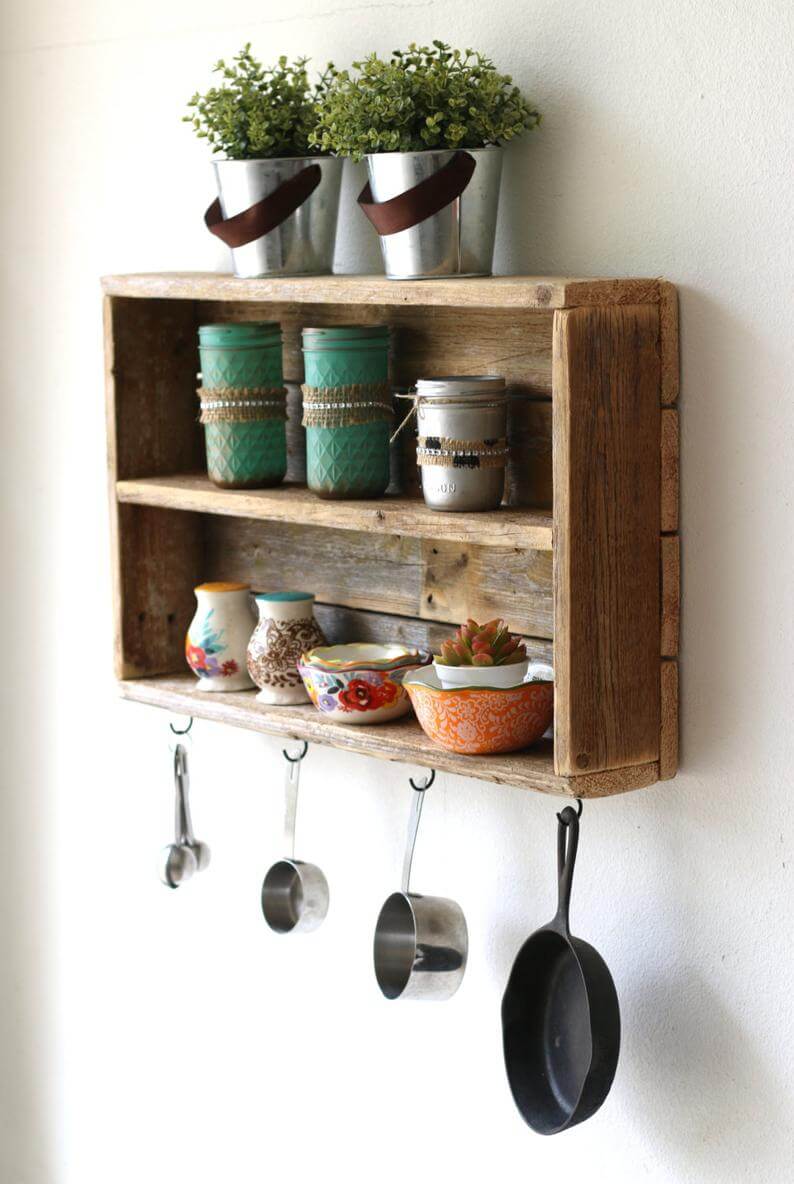 Repurpose an old-fashioned soda pop crate to give your home a unique coffee mug hangout. Hanging on the wall, this crate transforms into a beautiful wooden shelf system and includes four hooks along the bottom for extra organization. This is an amazing storage solution for your home that can be used for a coffee station or displaying handy everyday kitchen essentials.
38. Distressed White Coffee Sign with Mug Hooks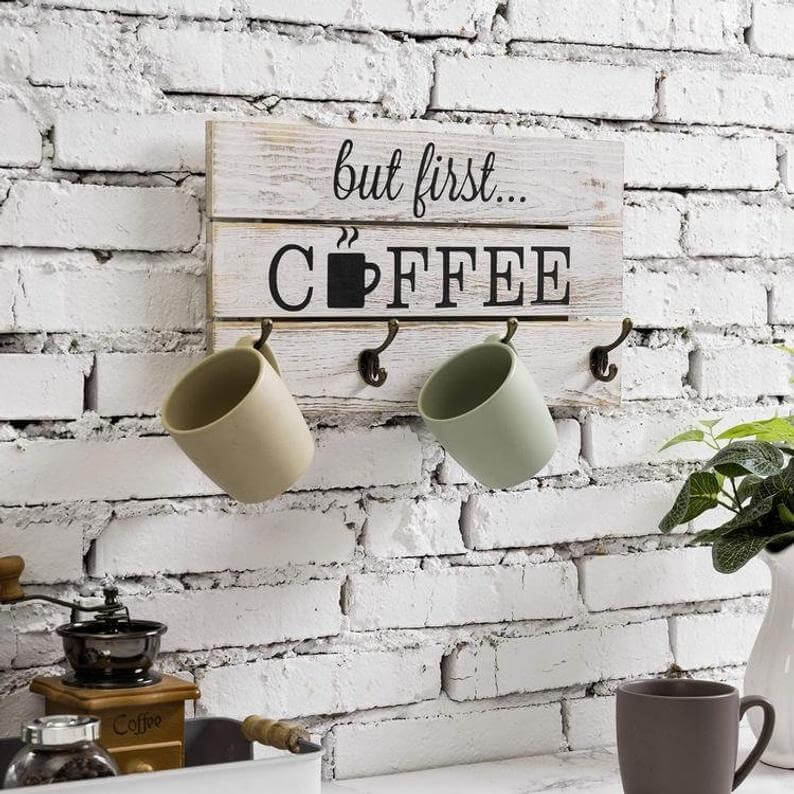 Forget the outdated mug trees and add a wall accessory that uses hooks to hold your favorite coffee mugs. Including a fun coffee-inspired sign as part of the details further adds to the character and charm of your home. This white background makes the black lettering pop and four sturdy metal hooks at the bottom give you all the mug hanging space you need.
39. Blacksmith Beauty Hand Forged Tabletop Mug Stand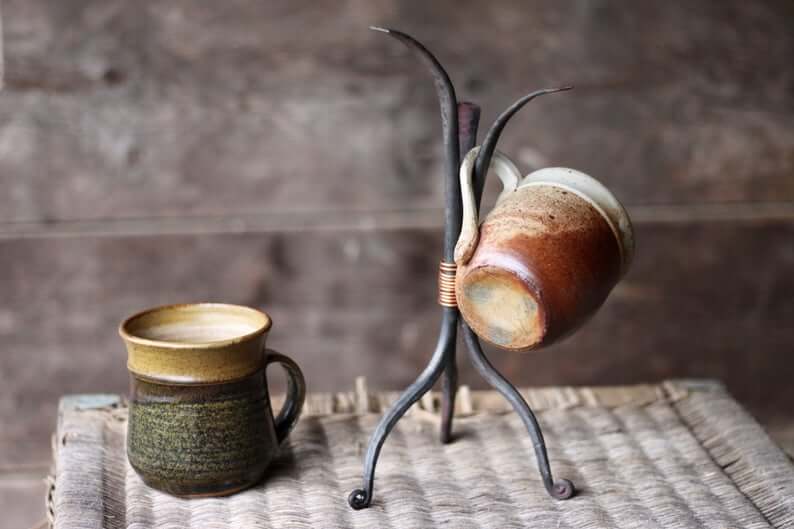 One-of-a-kind and simply gorgeous is the best way to describe this amazing and truly unique coffee mug stand. It takes up minimal space while housing up to three mugs on your counter. The detail and design add so much original, rustic beauty that's a perfect addition to your kitchen. This would make a wonderful gift choice as well since it's perfectly functional in a design that's a step off the beaten path making it great for those hard-to-buy-for friends.
40. Wood Pallet Strip Coffee Mug Display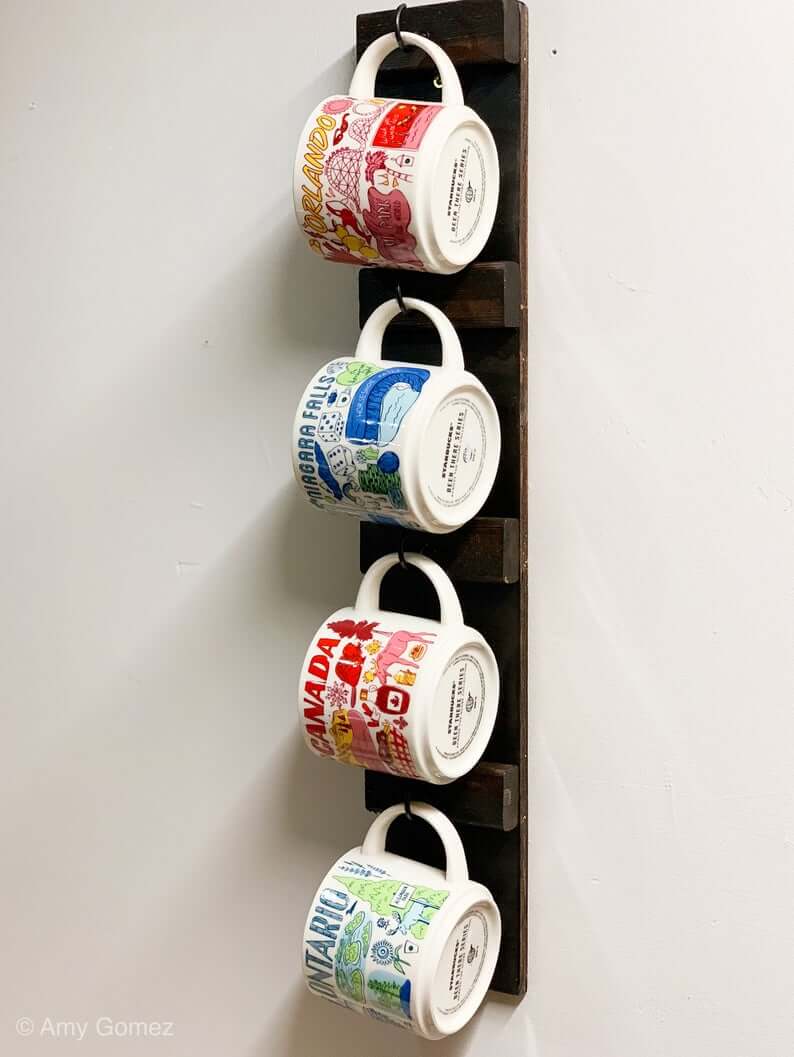 Hang some of your favorite coffee mugs that you've collected from your travels on this slim pallet strip display. Crafted from pallet wood, this repurposed piece exudes character and personal charm. You may wish to hang one or arrange a grouping of several depending upon the number of mugs you have accumulated. This is a great way to show off some of your coffee cups without taking up much space on your wall.
41. Mason Jar Vase Coffee Station Mug Holder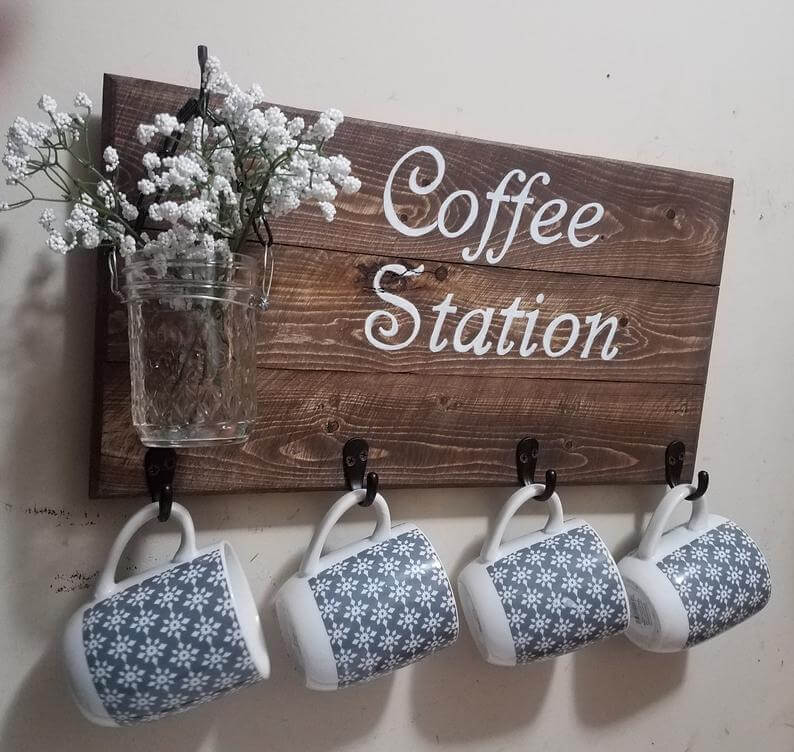 Add a pretty decoration to your wall and put it to work! This cute coffee station sign features four hooks for holding your coffee mugs and also includes a mason jar vase for a decorative touch. Keep a fresh bouquet of flowers for everyone to enjoy while they grab a cup of morning fuel to kick start the day!
42. Portable Tabletop Mug Hook Stand with Tray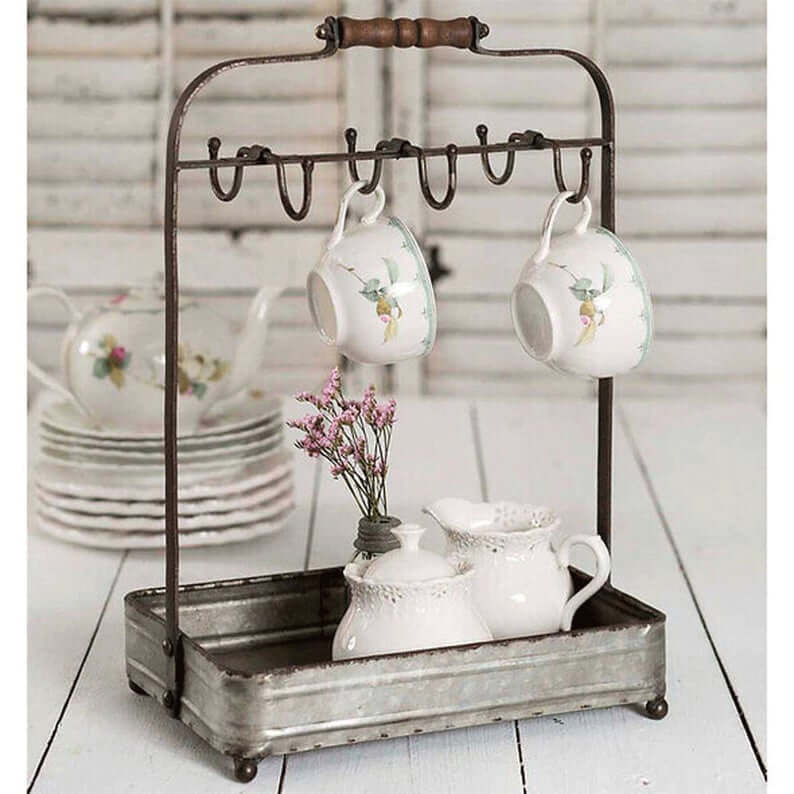 The love of modern farmhouse and rustic charm fill up your kitchen with this metal tray and mug hook station. Carry your goods from the kitchen to the table with this convenient coffee accessory that's on the small side, yet large enough to hold your mugs and coffee essentials. This would be a nice item for those who enjoy their morning coffee on the porch as well.
43. Rustic Pallet Pieces Wall Mug Display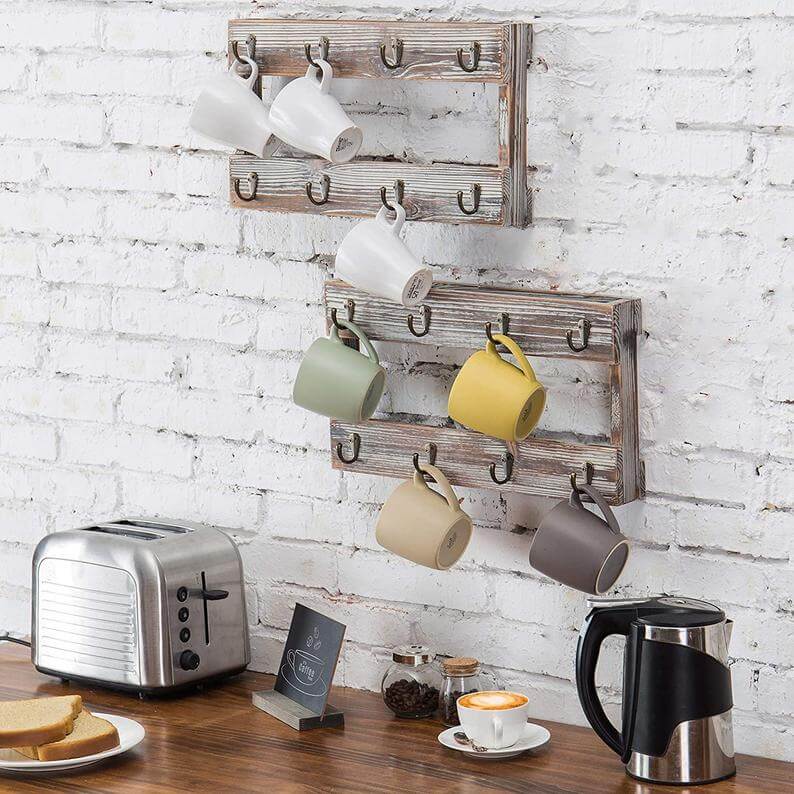 You'll enjoy the enormous amount of mug-hanging space you'll get with this pallet piece that's been reimagined as a wall mug display. Each unit offers eight hooks for holding your favorite mugs. Crafted in a distressed finish, each pallet piece comes with character and looks amazing in your modern farmhouse kitchen.
44. Stacked Block Rustic Mug Tree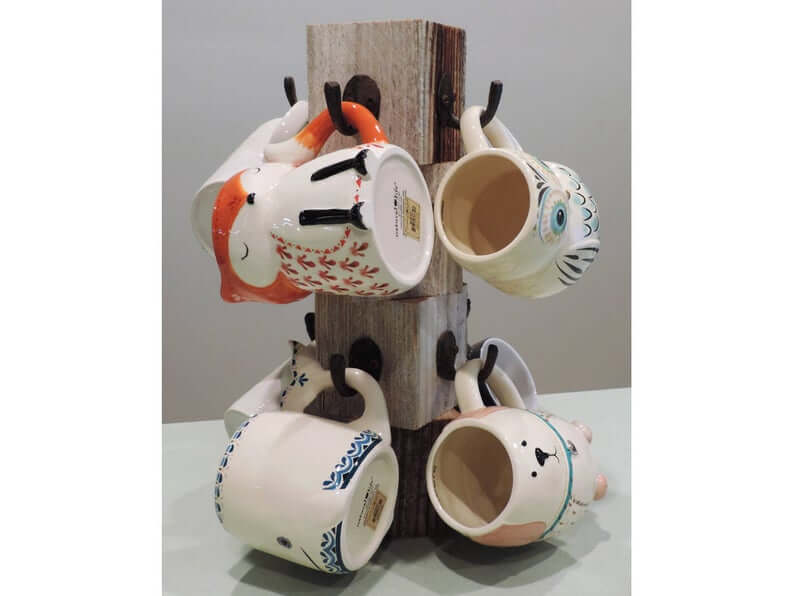 Add a decorative element into your coffee station scene with this interesting and unique stacked block mug tree. Taking up minimal space, this is a great option for your side table coffee center or on your kitchen counter under your cabinets. It has so much rustic charm while featuring eight hooks to comfortably hold all the mugs you need for your morning routine even when guests arrive.
45. Sturdy and Rustic Wooden Shelf Mug Holder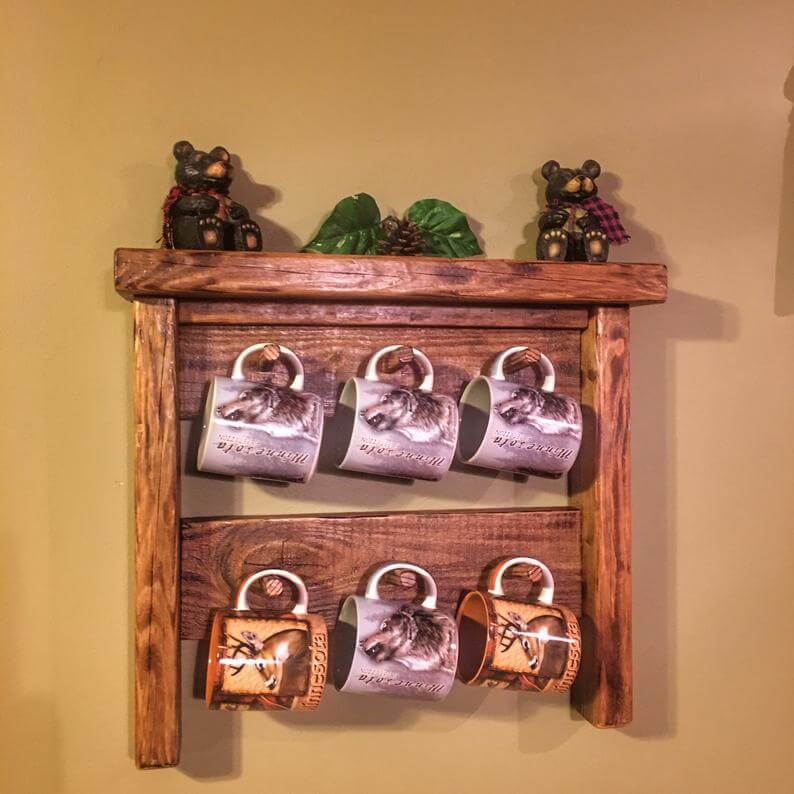 Every cozy cabin deserves a coffee station that blends into the rustic and forest-friendly surroundings. Give your mugs a place to call home with this rustic wooden shelf that features six hooks. The ledge above provides plenty of space for adding your own decorative touch while giving you the mug hangout you need below.
46. Distressed Turquoise Wooden Box Mug Holder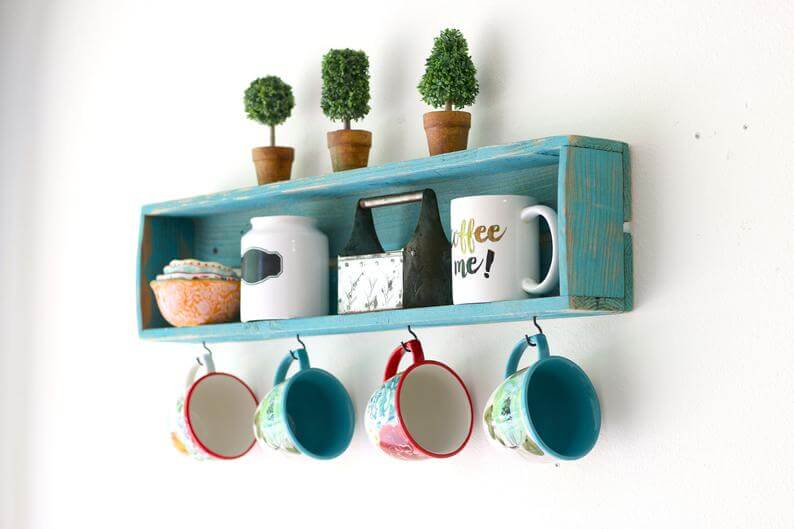 Think outside the box and reimagine the possibilities of a simple wooden crate. Add a new spark to yours by hanging it on the wall to give you a decorative shelving unit complete with mug hooks underneath. The bold pop of color will liven up your mornings as you enjoy your first sip of that warm liquid gold.
47. Modern Farmhouse White Pallet Mug Organizer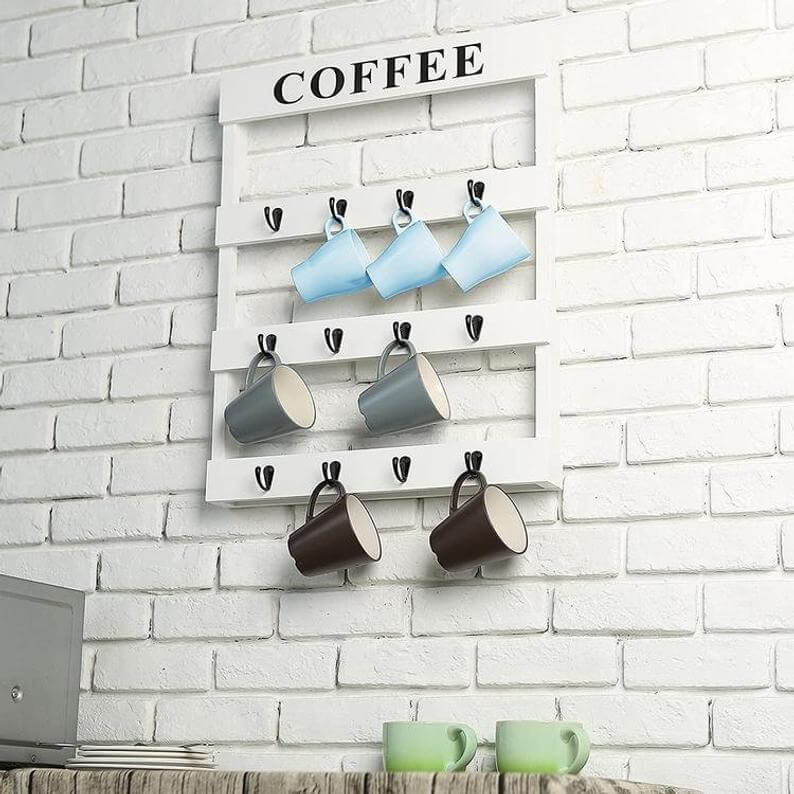 Before you fill up your cup, make sure you have enough room to organize them all. It's easy with this white pallet modern farmhouse mug organizer. The unit offers twelve handy hooks for holding your lovely coffee mugs and keeps them within reach so they are easy to use. At the top, a decorative touch adds the word "coffee" in distinct black lettering to give some character to this large wall unit.
48. Urban Loft Industrial Pipe Shelf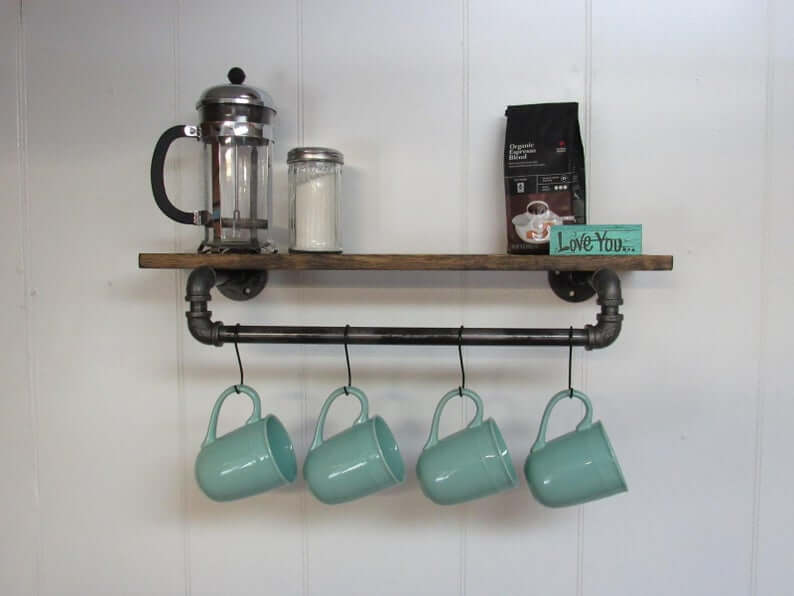 No matter if you enjoy urban or suburban life, this industrial pipe shelf has all the charm and function you crave! On the richly stained wooden shelf, you can place all of your coffee essentials and maybe even a funny sign or two. Below, the industrial pipe gives a nice space for s-hooks to comfortably hold some of your cherished coffee mugs. This is a great idea for a smaller-sized coffee station.
49. Long Wooden Shelf with Mug Hooks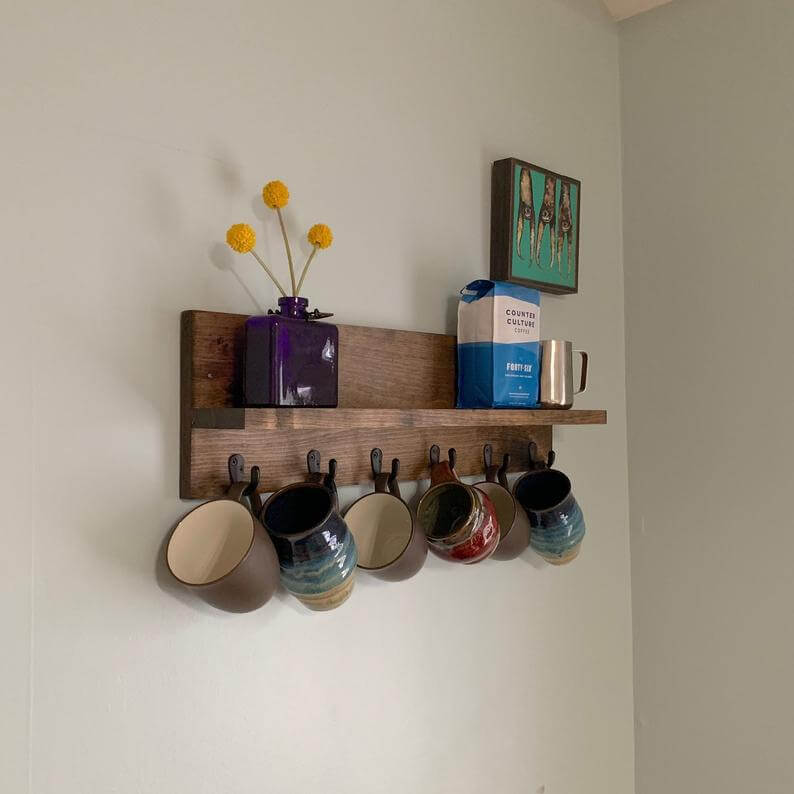 Consider adding this stout wooden shelf to your home as a way to add some decorative style and functional accessory to your coffee station haven. The sturdy shelf gives you a place to rest your coffee beans, creamer, and the like while the metal hooks attached below are a convenient place to hang your mugs. You'll keep your tabletop clear so you can begin your first brew of the day with all of your go-to items housed on this shelf.
50. Black Wrought Iron Simple Mug Tree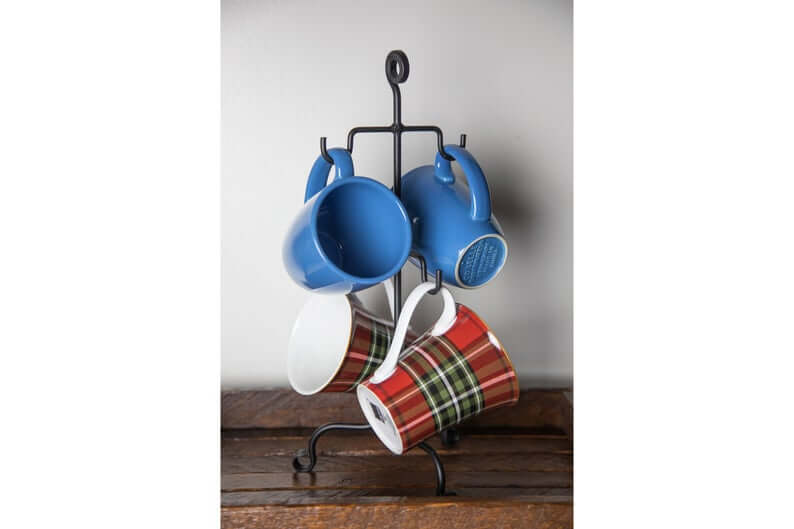 How simple yet sophisticated is this black wrought iron mug tree? It offers just enough mug holding capacity for four cups that should suffice in greeting your morning guests while taking up minimal space on your counter. Its classic black color makes it a perfect piece for any style of decor. Add one to your kitchen so you'll be able to start that first cup of java first thing in the morning.
51. Handy Wrought Iron Tea Time Caddy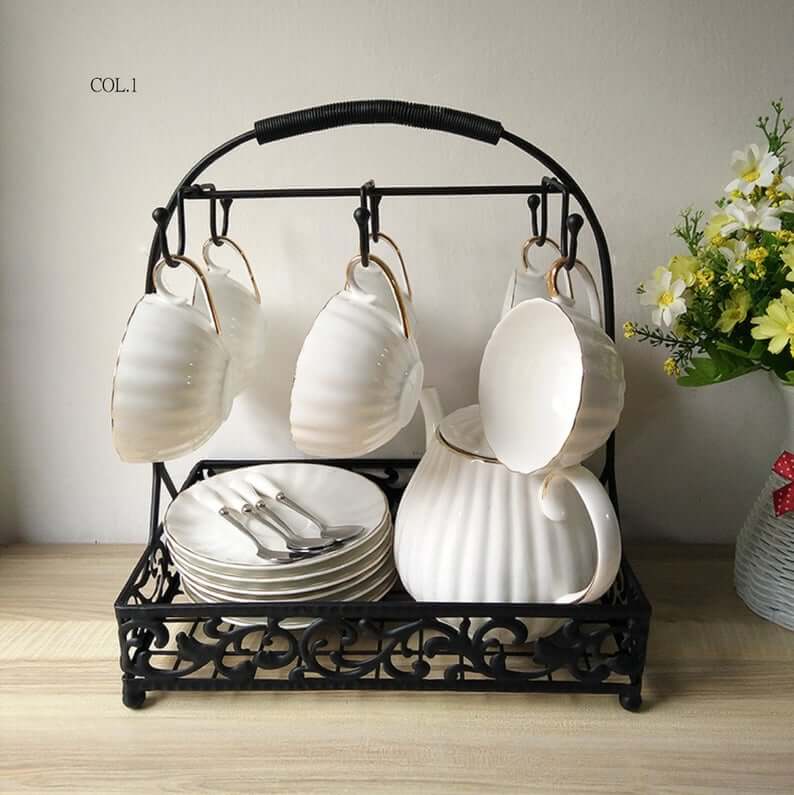 Here's a perfect place to stash your saucers and teacups for your next afternoon tea time. The lovely scroll on the sides of the bottom tray adds to the charm of this wrought iron design. With a handy holder at the top, it's easy to take this into a quiet nook of your home to enjoy with a friend or for an afternoon of getting lost in a good book.
52. Industrial Wood and Pipe Wall Mug Holder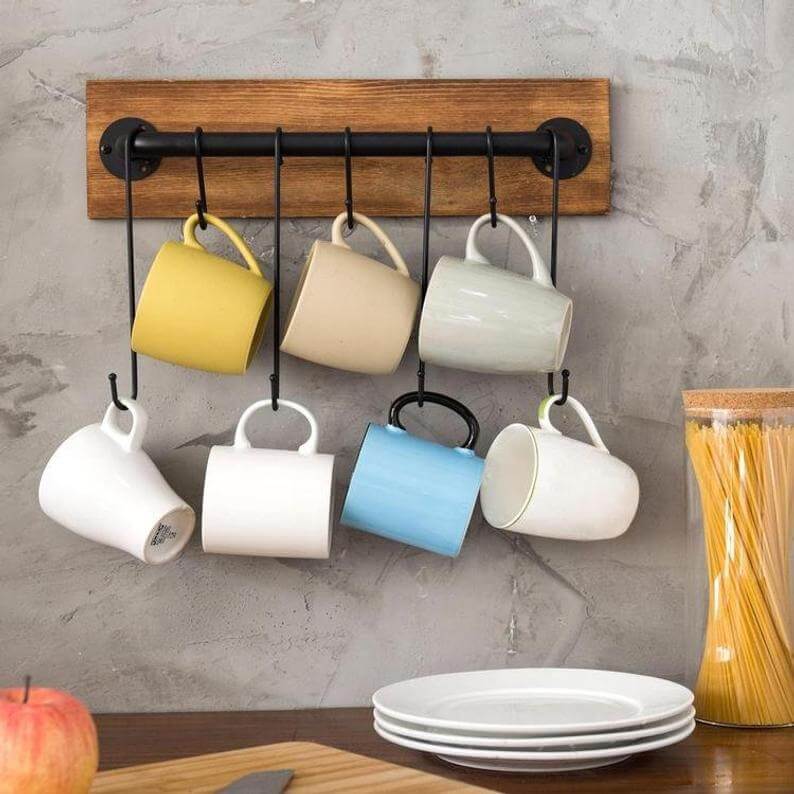 Using different lengths of s-hooks creates an interesting and amazing way to display a few extra mugs without taking up more space. This simple piece of wood features a thick piece of industrial pipe that serves as an ideal place to hang these s-hooks. You'll be able to easily fit seven mugs and will enjoy the ease in accessibility when brewing your next pot of coffee.

Our Favorite Farmhouse Storage Items to buy on Amazon