With the holidays rearing their formidable heads, you may be taking a look around your living room and noticing that your furniture just isn't up to par for its hosting needs.
While you may have plenty of spaces to sit down, you may find yourself having a significant lack of areas to place drinks and food. Outside of the holidays, this problem still exists whenever you have people over for parties or just simple get-togethers. Storage, as well as functional use, are two massive requirements for any practical coffee table. However, just because it's functional doesn't mean it has to be an eyesore either.
36 Beautiful Coffee Table Ideas to Dress Up the Living Room

For those who want a happy marriage between practical and aesthetically pleasing, you may want to turn to these coffee tables. Each one is completely unique and can fit into practically any surrounding aesthetic. Consider some of these coffee tables to use in your living room and watch it become its own trendy statement.
1. Rustic Pallet Turned Functional Coffee Table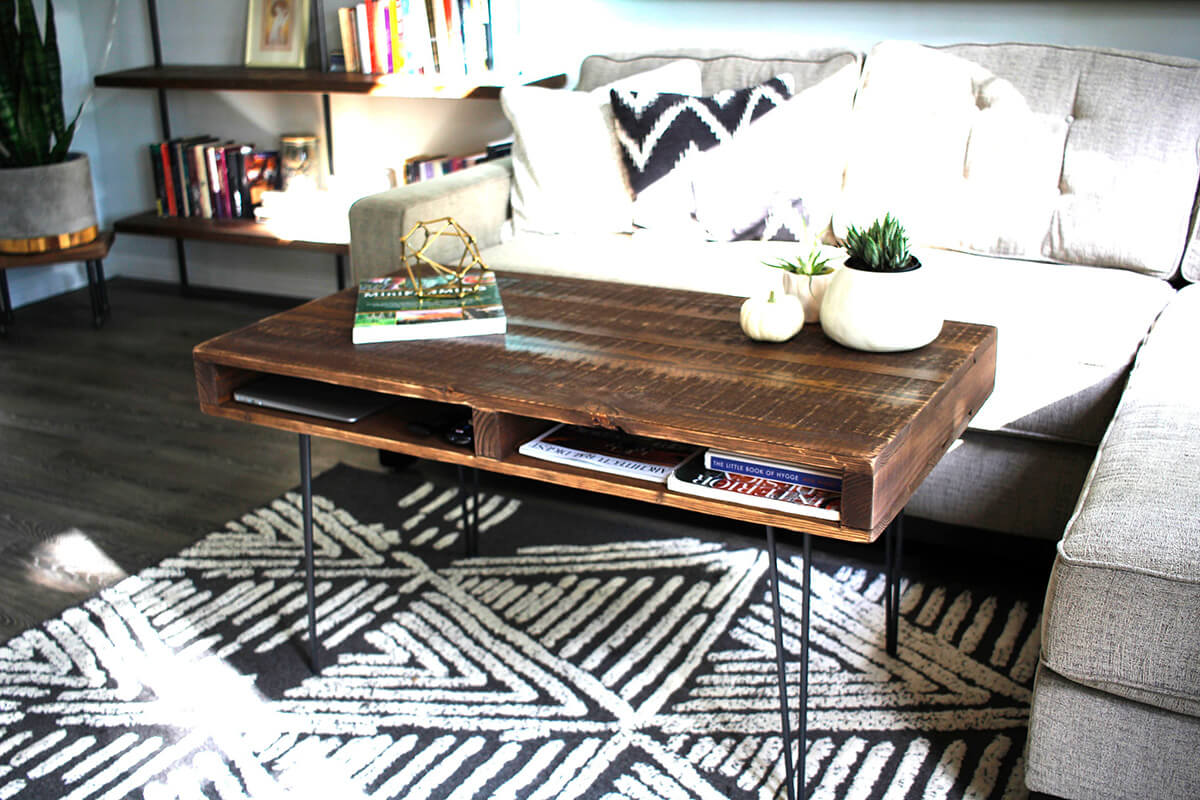 There is something to be said for those individuals who can take something and transform it into an art piece. Such is the case with this coffee table. Formerly a simple wooden pallet, the designer has cut it, smoothed it, and painted it to allow the rich deep wood color with all of its knot holes and saw lines state center-stage.
2. Mobile Vintage, Rustic and Beautiful Table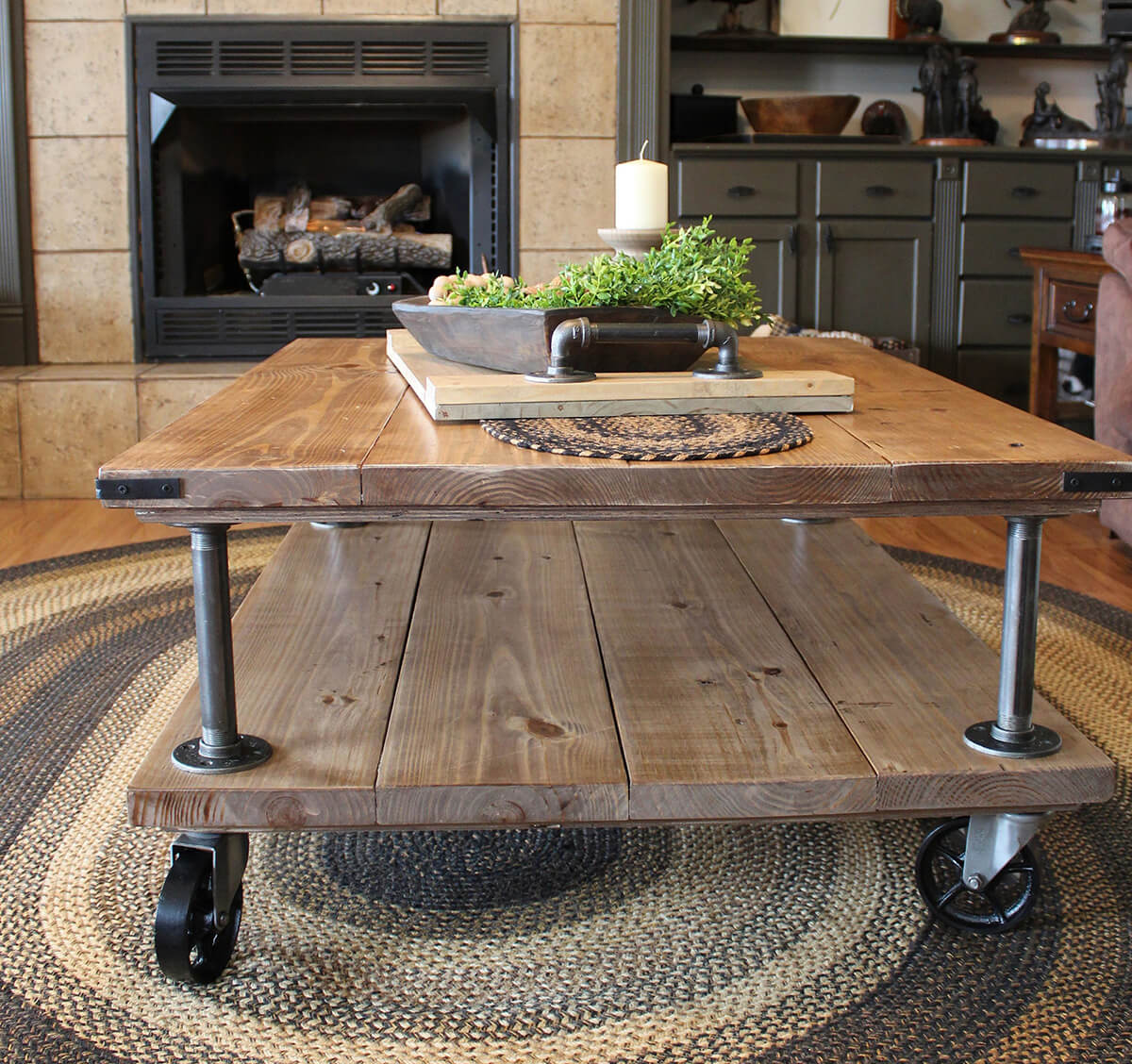 Why have a stationary table when you can have a table that can be easily moved throughout the room as your needs arise? That's what this elegant and rustic table provides. The vintage casters on the table allow it to be easily moved wherever you need it. The designer also offers a few different stains to ensure it matches your aesthetic.
3. A Slab of Authentic Walnut Wood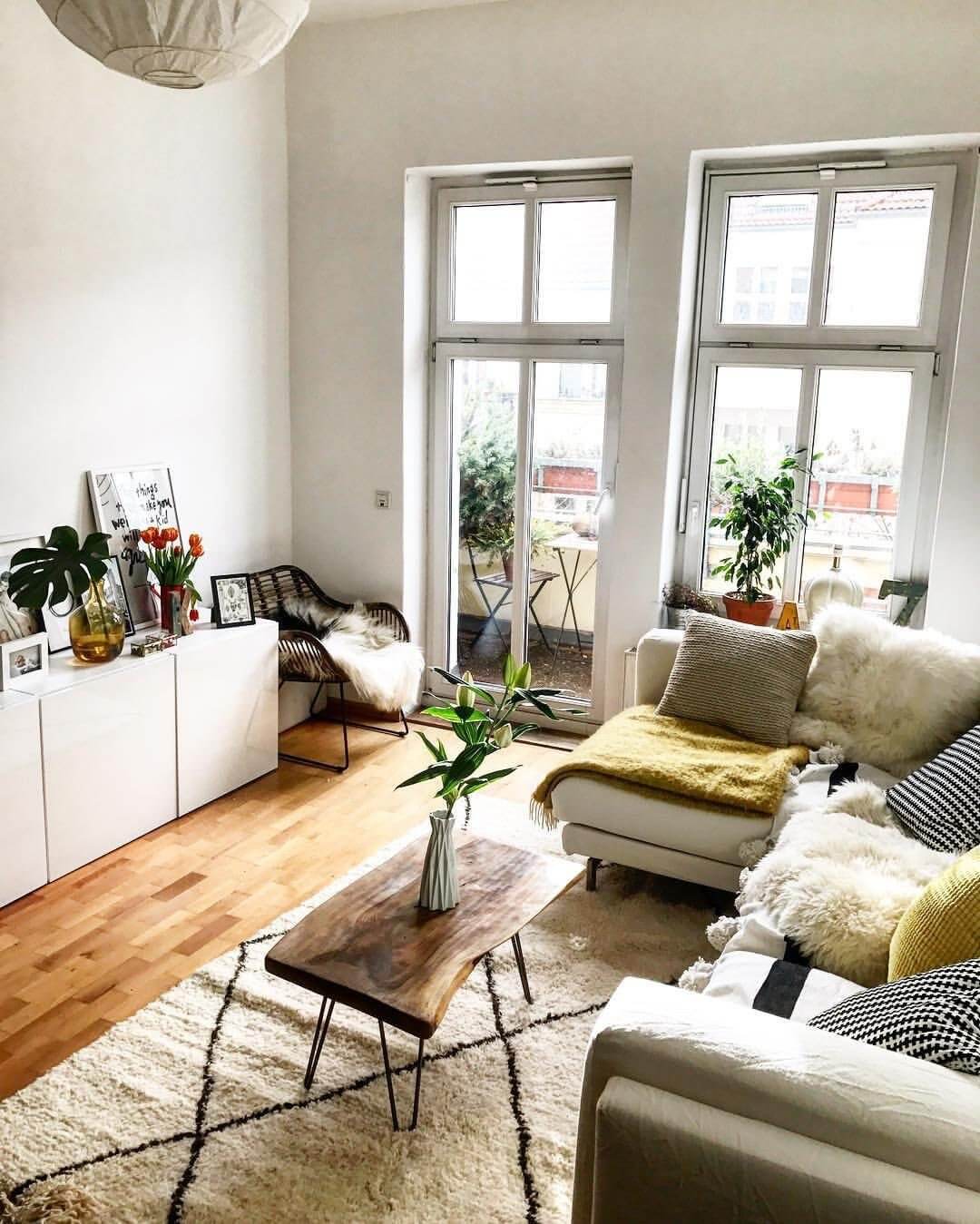 Who wants fabricated wood anyway? For those who want a real tree in their home, consider this slab that's been cut from an actual walnut tree. Its slightly asymmetrical design gives it a modern flair. The iron-cast hairpin legs also issue forth an industrial aesthetic. With all of these elements working together, this coffee table works in every kind of room.
4. Reclaimed Wood With Plenty of Storage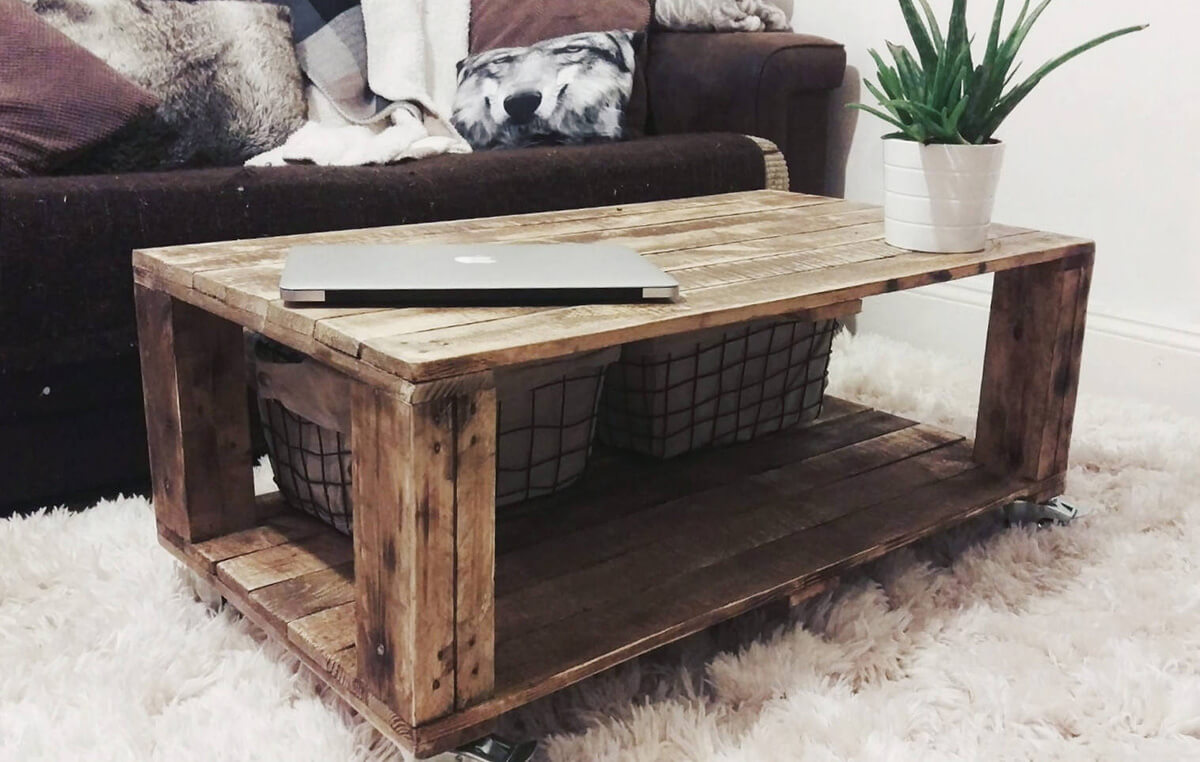 For those who want to make sure they have plenty of storage with their table, then consider this design. It offers a wide gap where you can easily store baskets or other storage devices within. The wood is reclaimed and given a roast coffee finish to really give the wood some character and narrative. This table is made to stand out.
5. X-Frame Makes A Rustic Statement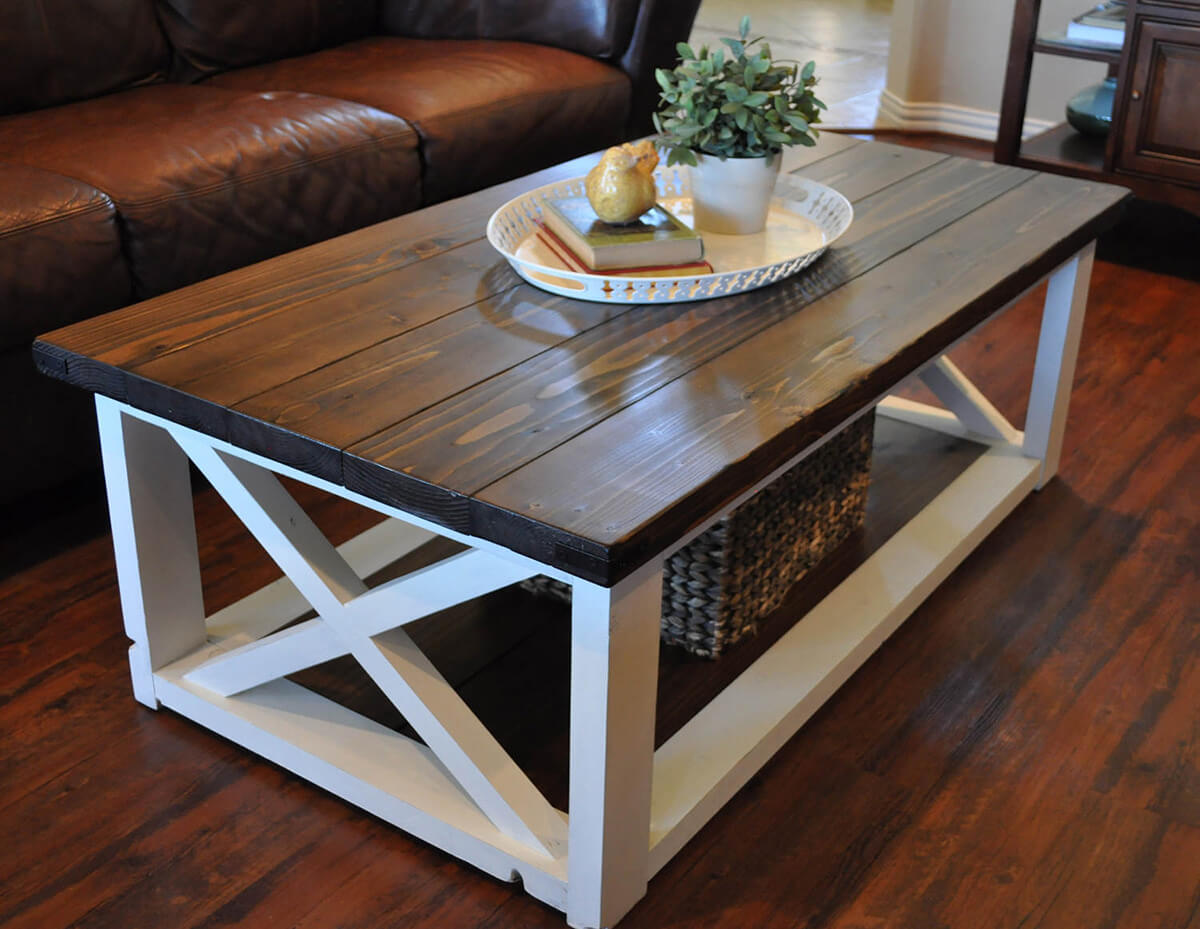 Besides just the storage space and lovely dark top of the table, this design also offers a unique frame. The X-shaped frame brings to mind the familiar white edges of a barn and can really bring home that rustic aesthetic you're aiming for. With plenty of space in the middle for storage, this table looks great and is wonderfully functional.
6. A Wide Plank Baluster Rustic Table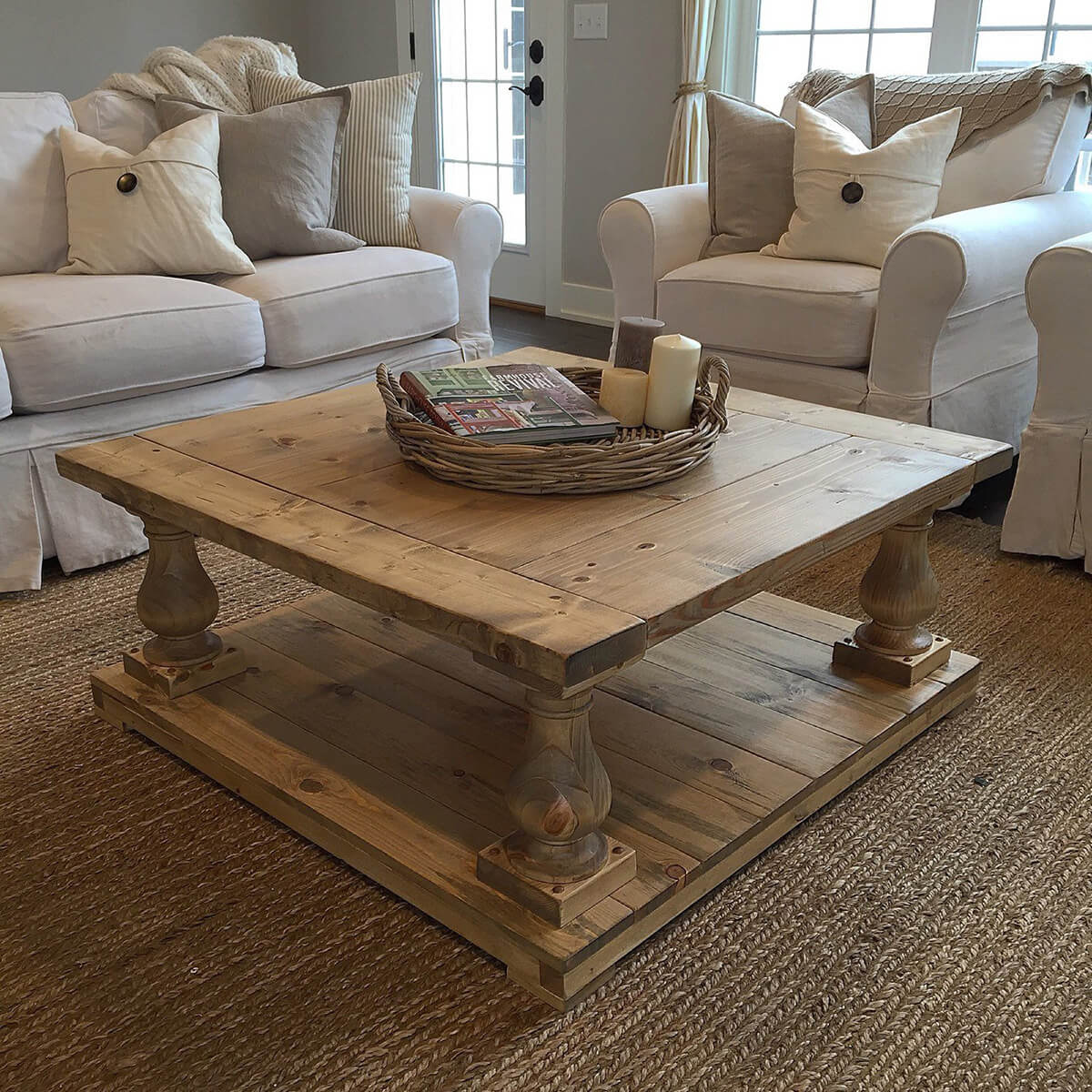 A table fit for the country kings and queens can be found with this design. It marries a unique blend of straight lines and edges with the wide surface with the beautiful curves of the balusters for support. With plenty of surface area to carry your decorations and food bowls, this table looks beautiful and provides excellent functionality.
7. Geometric Shapes With Wood and Brass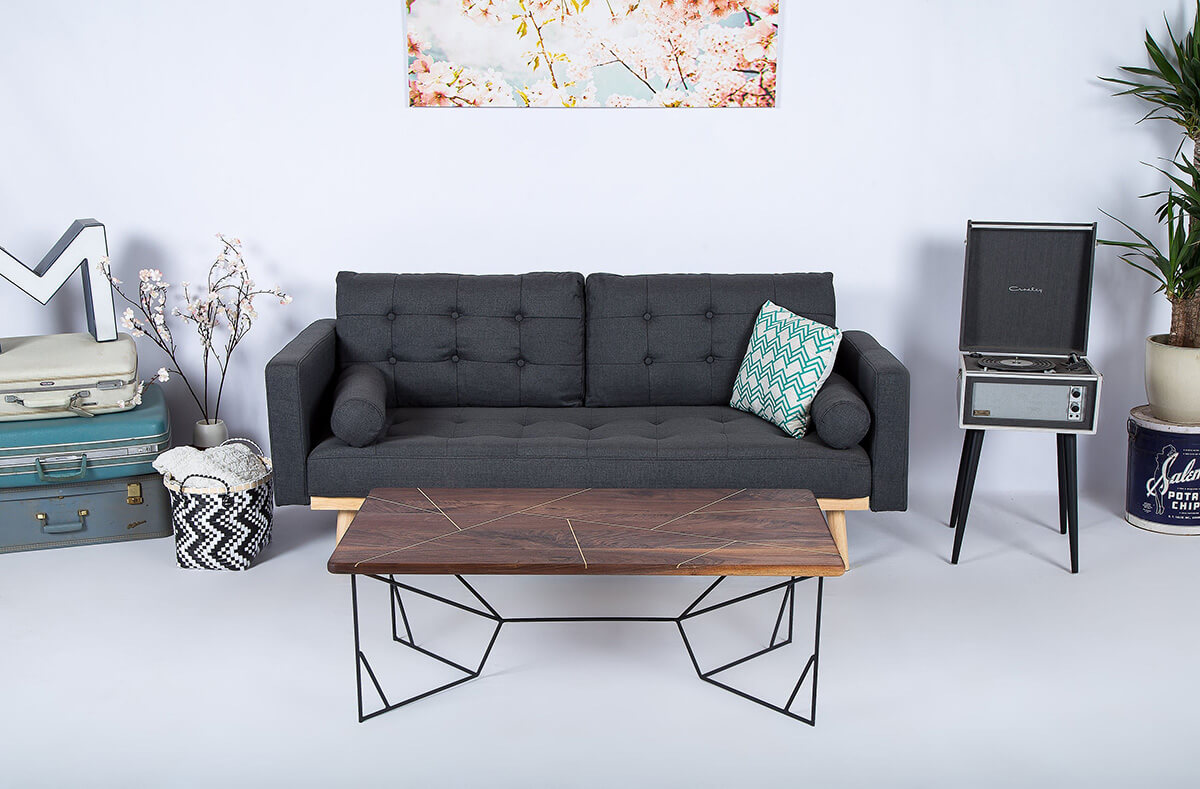 To bring in a dose of modernity to your living room, you may want to consider adding this incredibly original geometrically carved wooden table. The shapes are etched beautifully into the surface of the wood. The brass legs of the table are also shaped into unique geometric forms that brings the whole aesthetic together into an attractive and singular piece.
8. Classic Walnut Table with Sealed Grain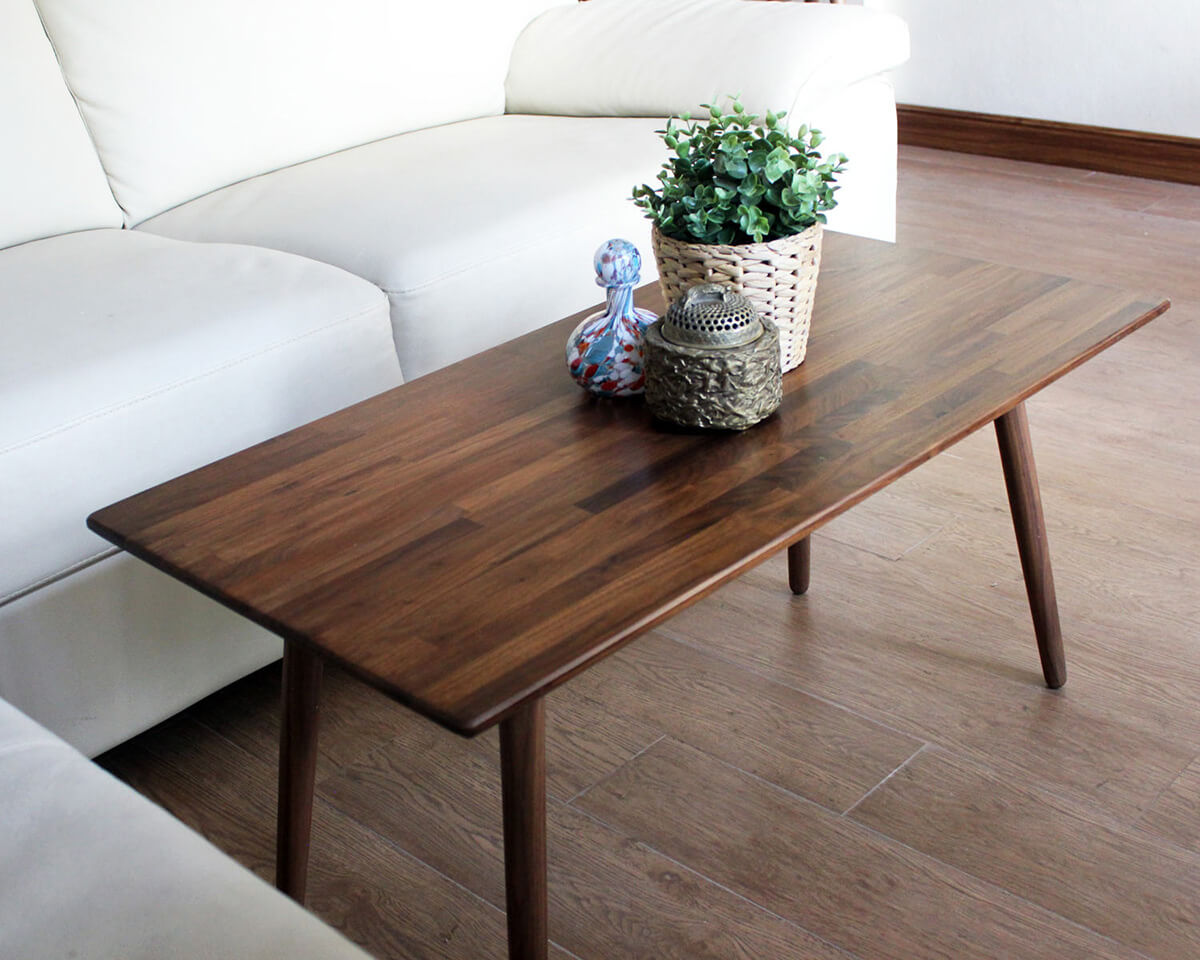 One of the most attractive qualities of wood is the grain. The rich lines of the wood provide almost a unique narrative that can delight the eye to read. That's what this table offers. A simple table in design and coloring, the table offers its authenticity for your delight. Easy to fit anywhere, this table is perfect for those who prefer rustic minimalism.
9. Pallet Wood in A Farmhouse Style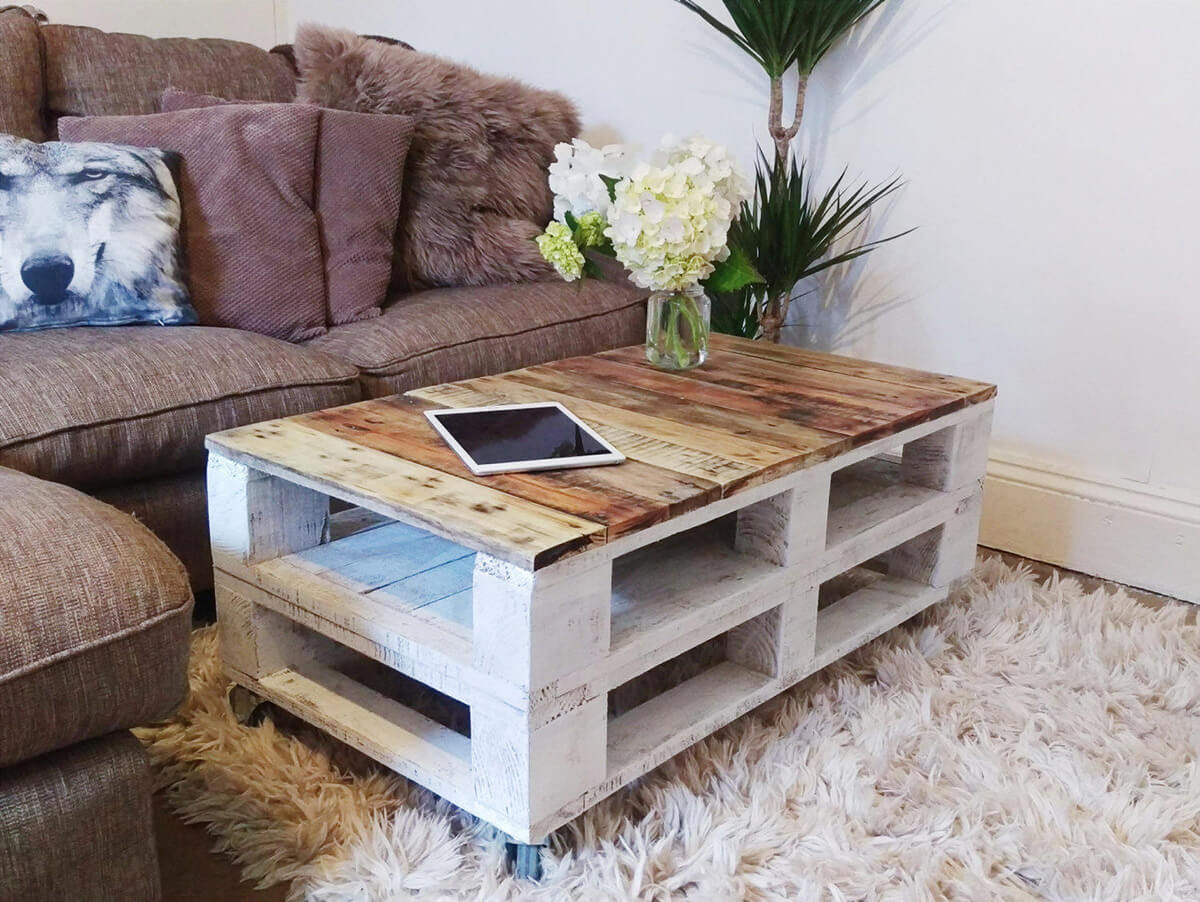 Pallet wood is perhaps one of the most favored kinds of wood to be used for a table. Not only does it offer a unique sense of storage, but the wood itself is grainy and stained and often splotched. This creates a unique blend for a table top for each individual. Your table will never look like anyone else's with this piece.
10. Unique Herringbone Design With Pallet Wood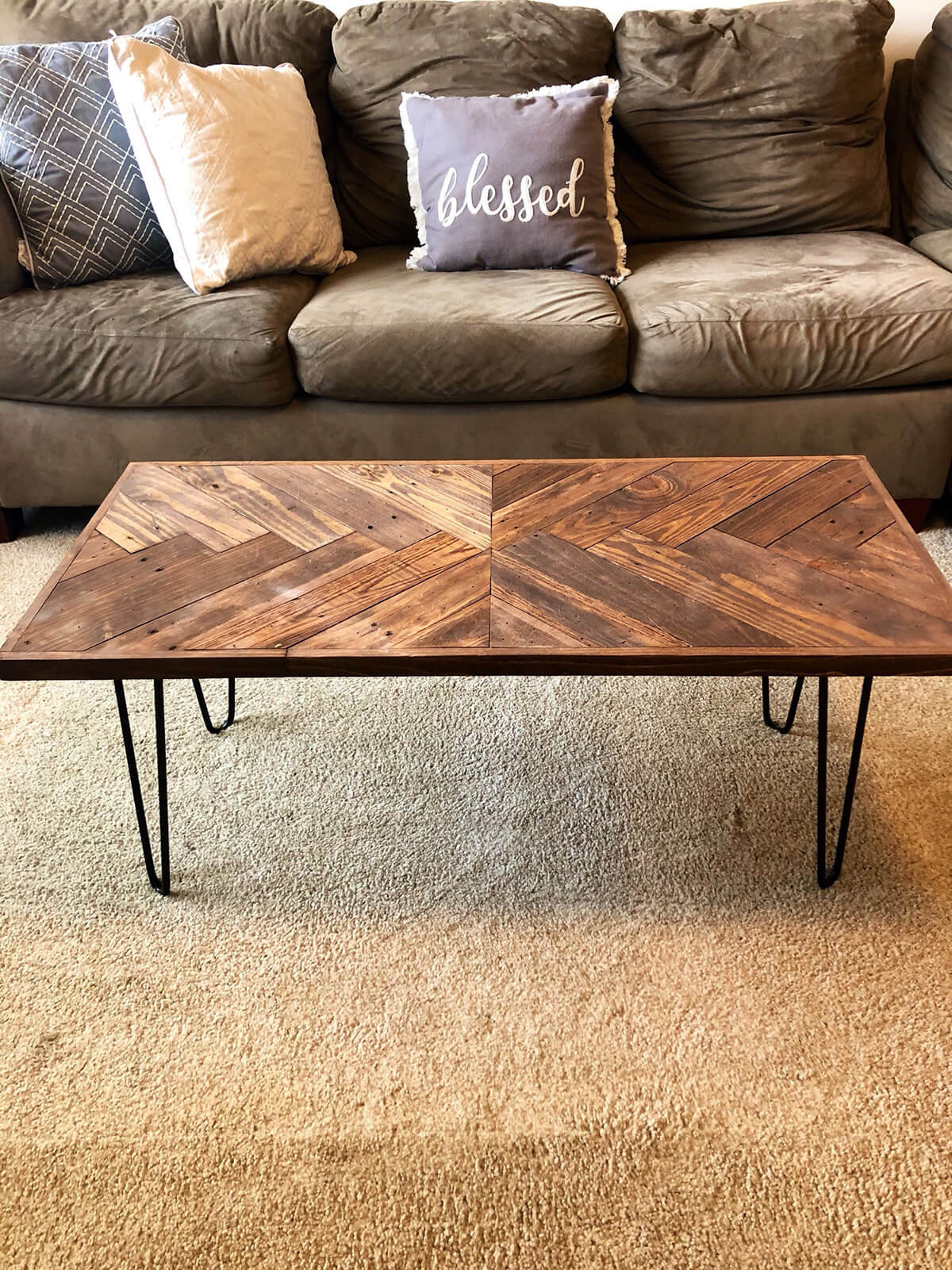 Reclaimed wood has become a beautiful means for homeowners to recycle wood and receive an original piece of furniture at the same time. This table offers the much-loved Herringbone style of wood made from pallets. The wood often contains holes, dents, and dings that all add to the character of the design. A careful sanding ensures the table is smooth.
11. Farmhouse Design With Thick Wooden Slabs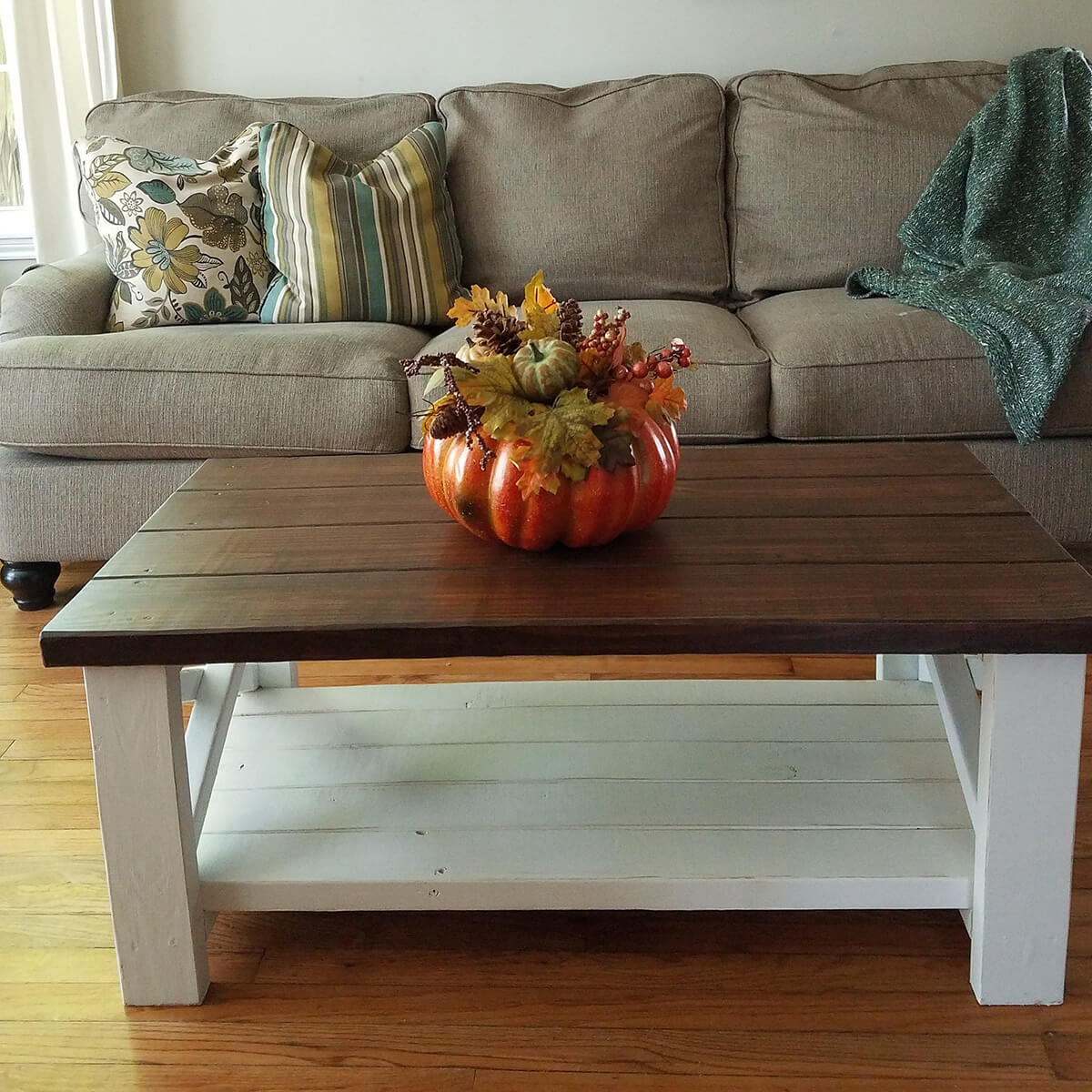 For those interested in a farmhouse design coffee table, then consider this one. The thick slabs of dark wood contrast beautifully against the painted white wood on the bottom. It offers plenty of storage space and surface area for your needs. Hand-crafted, this table is made with quality and durability in mind. The frame harkens the design of barns and farm fences.
12. White Washed and Simple Cube Table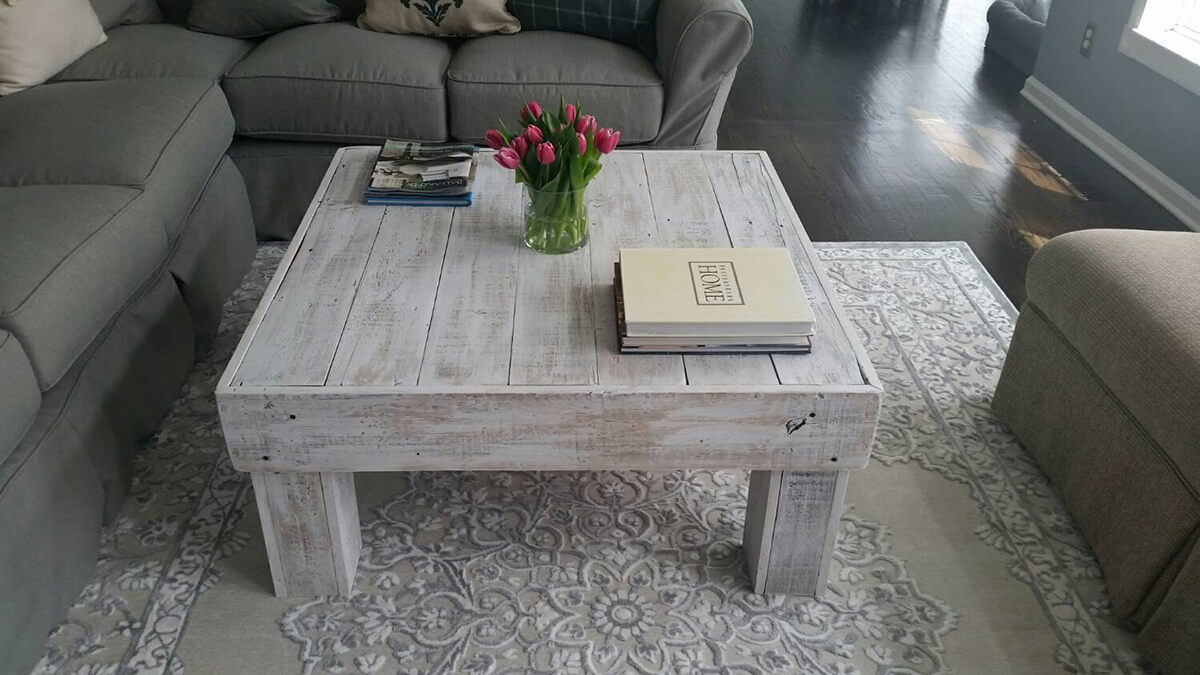 With the modern rustic style in full swing, this white-washed table can fit perfectly into the aesthetic. The almost messy form of paint makes it appear all the more rustic. With the cube-shape, the table can be easily placed in small spaces for those just want additional storage without compromising on space. The wood is reclaimed barn wood and looks ready for the beach.
13. Reclaimed Wood with Metal, Industrial, Legs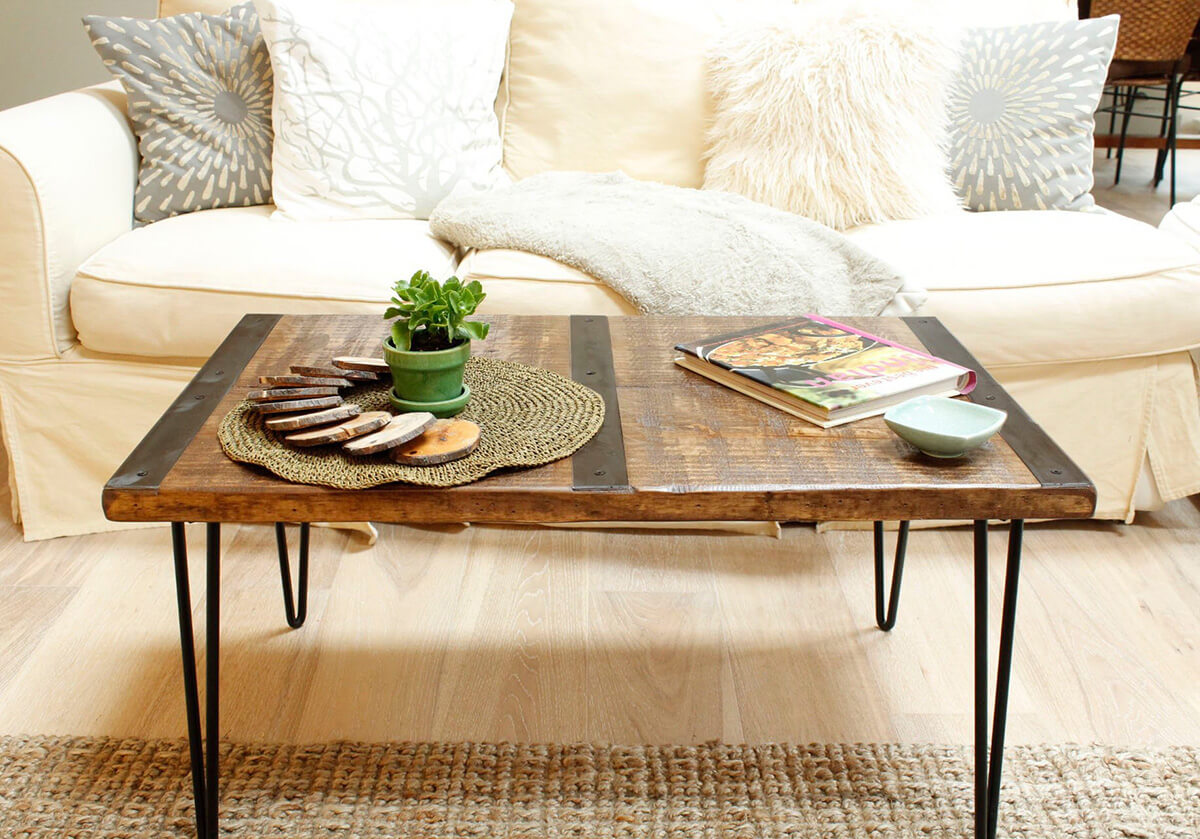 If industrial is more of the aesthetic that you're aiming for, then this coffee table is the perfect piece to include. It contains reclaimed wood for its surface. This keeps the table top unique to each individual buyer. The arms of the table are of a sturdy metal that lays flushed with the table to create a nice and even appearance.
14. Live Edge And Polished Wood Table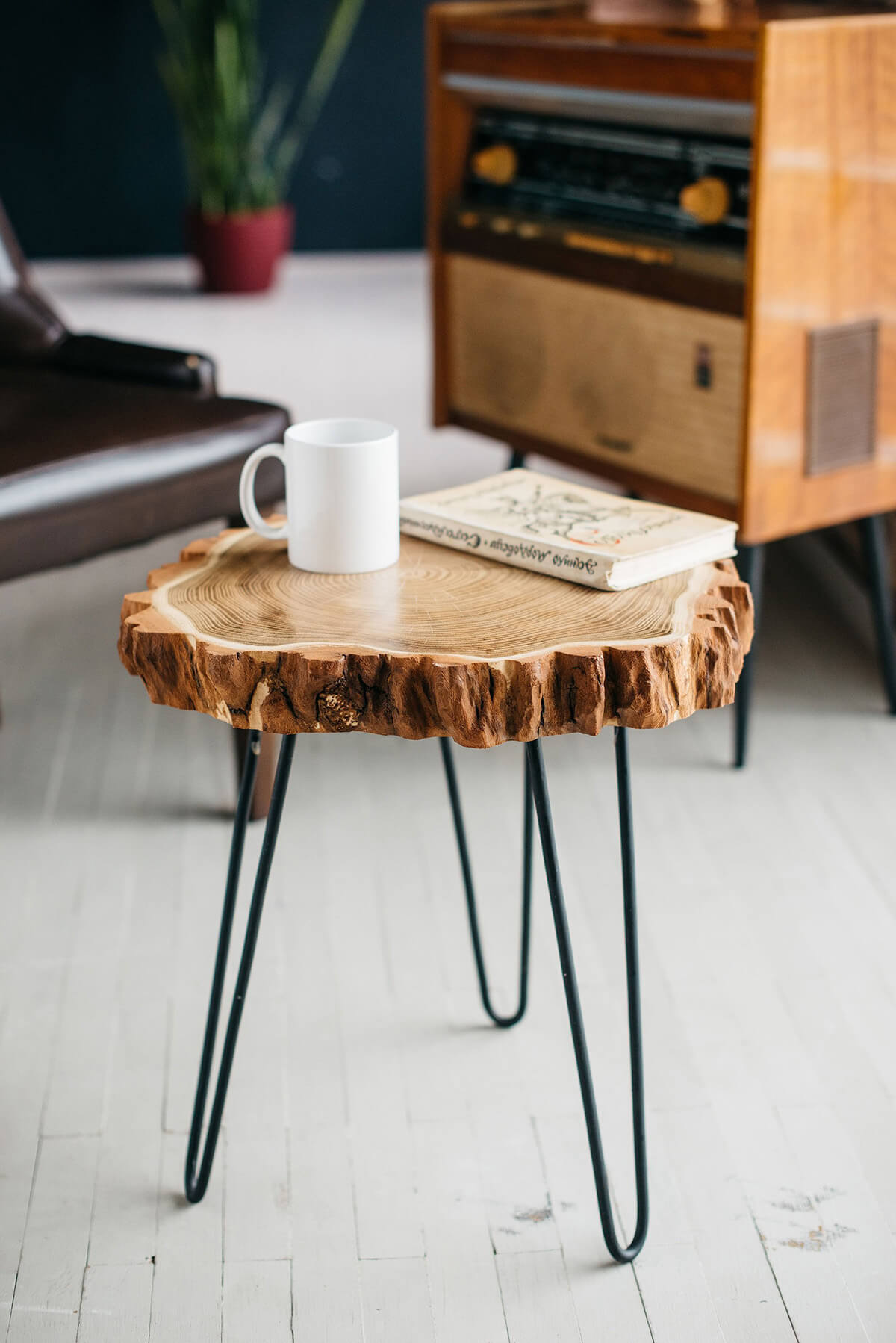 One of the most stunning pieces anyone can include in their home is a live edge table. This wooden slab takes the heart of the tree and its unique cut is beautiful to look at and admire every time. The hairpin metal legs finish the piece off to bring the wooden slab into the industrial age for the savvy aesthetician.
15. Distressed Railroad Cart of Yellow Pine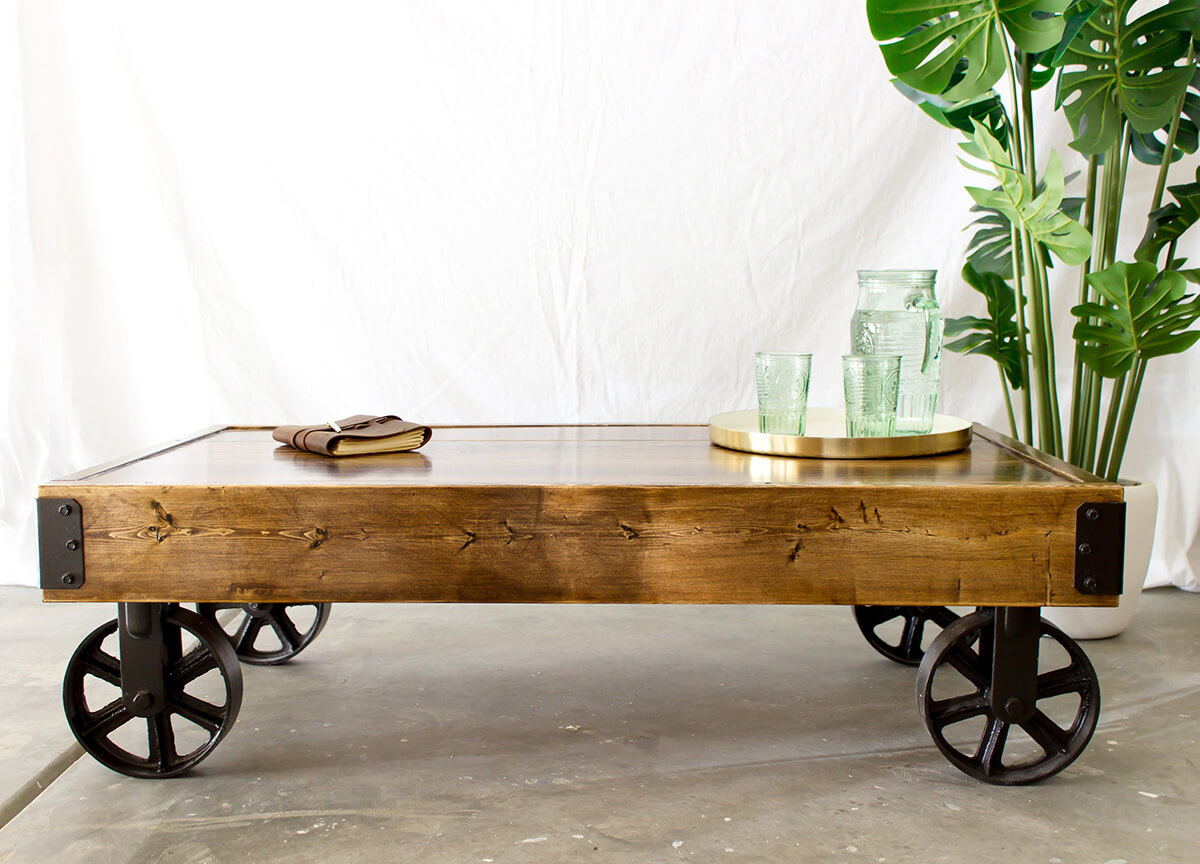 Reclaimed and refurbished, these railroad carts have been repurposed as a unique and stunning mobile table. Owners can enjoy owning a piece of North Carolina's industrial past all while putting it to good use. The low-to-the-floor table offers an original form of storage for the owner that many others won't have in their own homes. It makes quite the statement.
16. Unique Wooden Drawers for Maximum Storage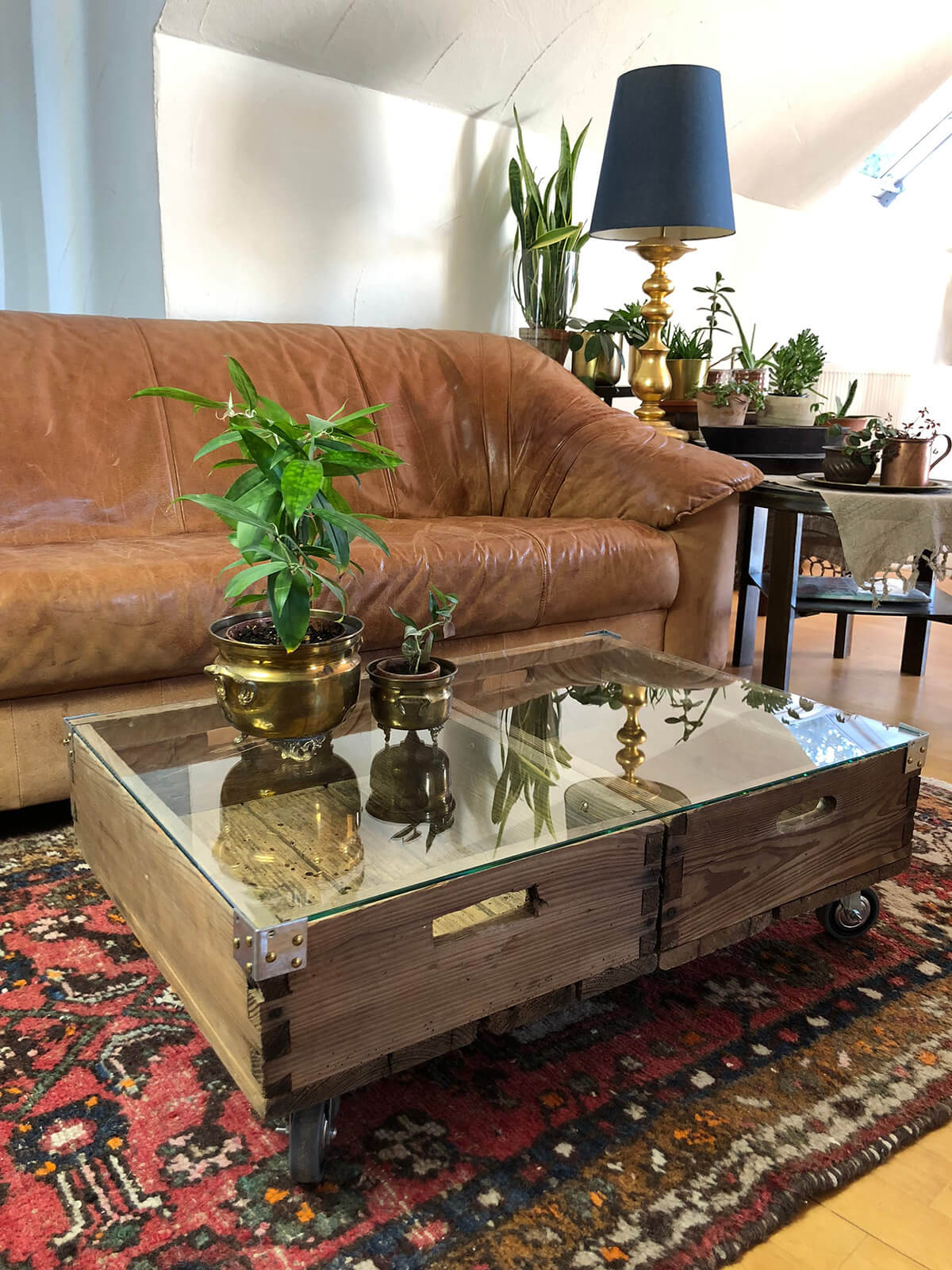 Need a lot of storage but don't want the typical kind of table or drawer? Then consider this piece from Etsy that marries the two designs together! Two large drawers are assembled together on top of a wooden slab to hold practically anything. A glass top is then adhered to the top to offer a touch of modernity to the piece.
17. 1950s Style 100% Walnut Wooden Table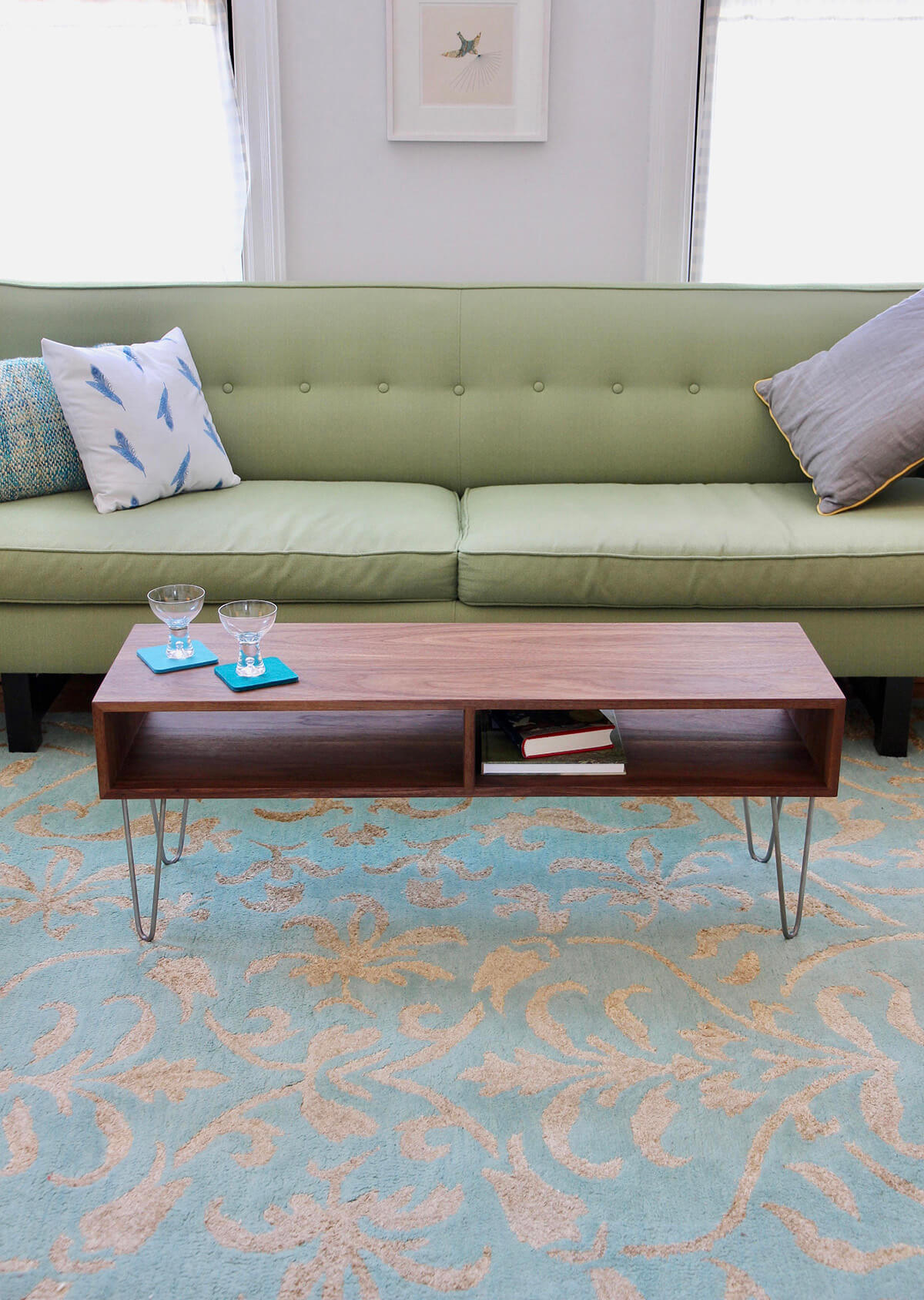 Some of the styles of the 1950s were pretty fantastic. You can harken back to those styles with this modern twist of the classic 1950s coffee table. Its sleek design fits any modern and post-modern aesthetic style. With small slots situated within the table, you can fill it with your books, magazines, or electronics. The hairpin legs finish off the piece.
18. Metal Surface With Unique Wooden-Tipped Legs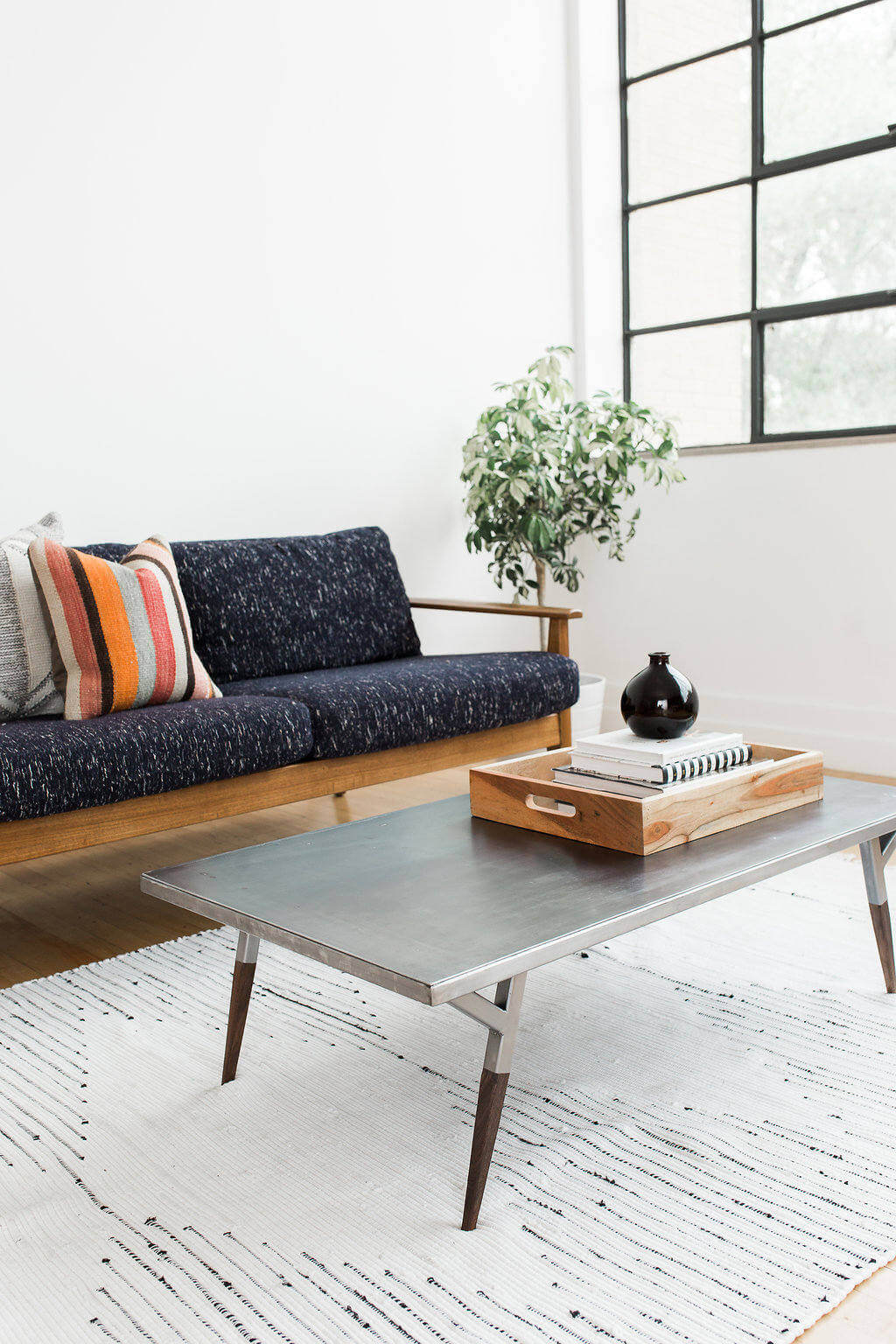 Another interesting take on the 1950s styles of furniture is provided by this piece. Using a metal surface, it easily brings the table into the post-modern world and industrial age. However, it is the use of wood in this piece that really makes it original. The very tips of the legs are crafted from walnut or oak wood for an attractive flair.
19. Industrial Table With Stylish Geometric Legs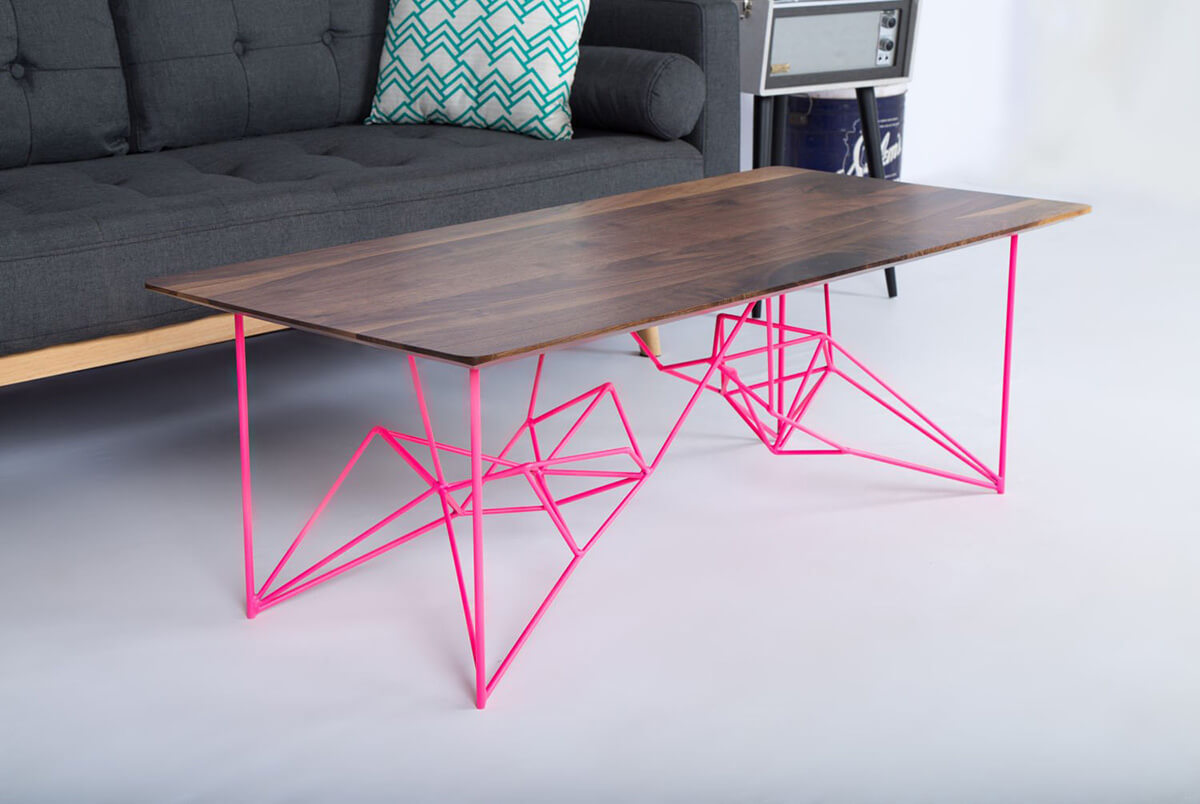 In your choice of either walnut wood or ash, this original industrial table can be assembled for a singular display. While the rich and powdered wood is certainly a factor in its aesthetic, the real story comes from the legs. With your choice of color, you can select an attractive geometric style of legs that make your table a trendy statement.
20. Factory Cart Turned Functional Coffee Table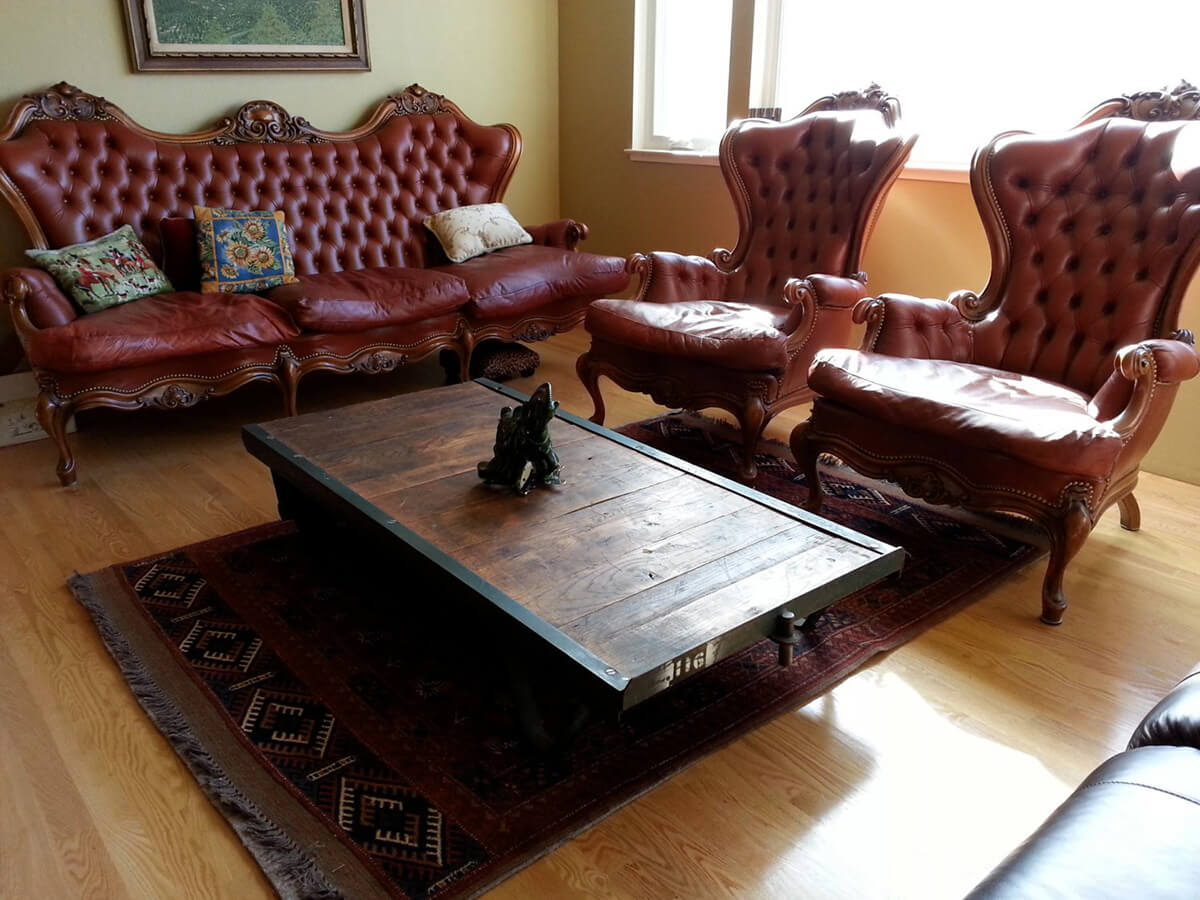 One of the coolest pieces that you can own is a repurposed item. This Etsy designer utilizes old factory carts, polishes them up, and then designs them into original pieces of art. However, these pieces of art can easily be used as a functioning table. The vintage style of cart looks great in a savvy office or living room.
21. Completely Unique Reclaimed Pallet Wood Table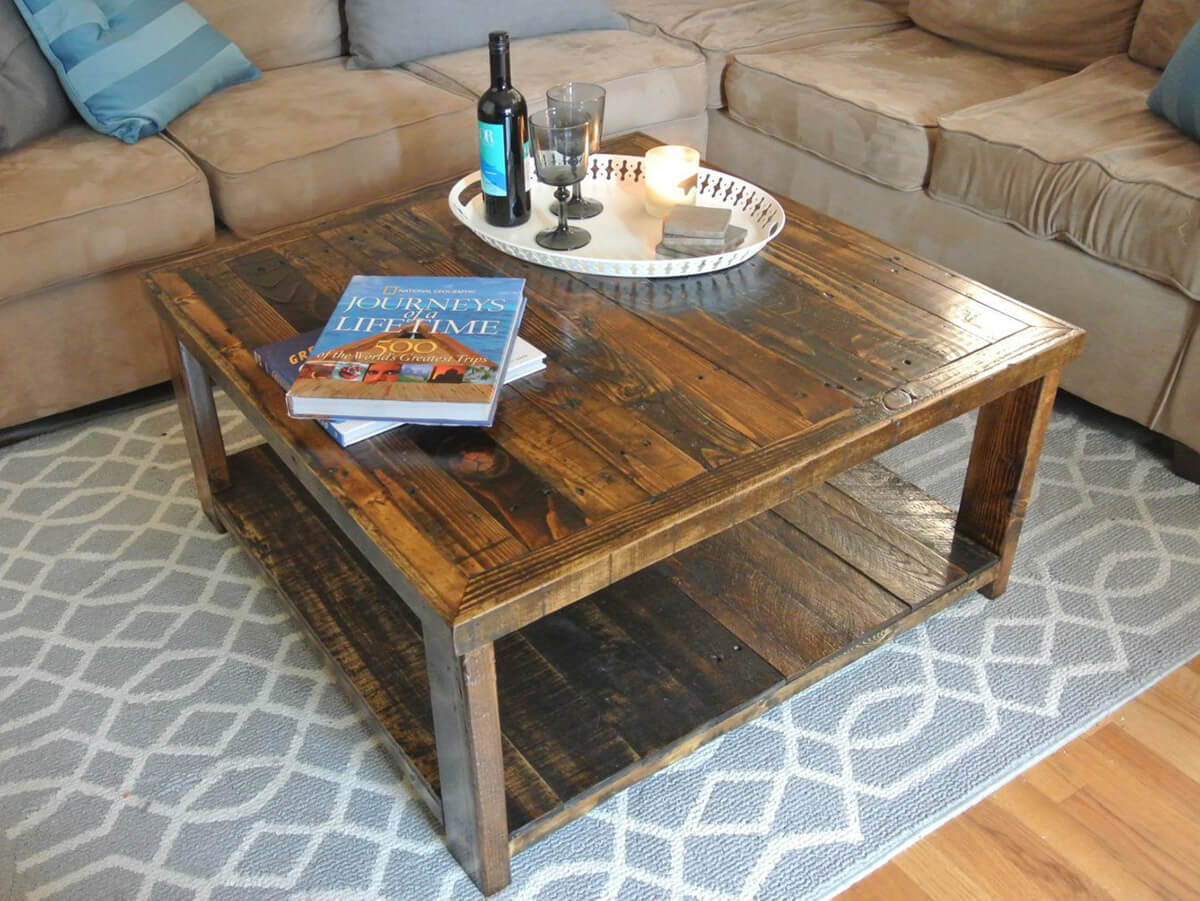 The builder and designer for this piece from Etsy are eager to use whatever stain finish that you desire. This can make this piece easy to fit into the overall aesthetic of your room. Each piece of wood is carefully hand-picked, so you can be sure that the table you receive is completely original. The pallet wood used offers unique grain and blemishes.
22. Vintage Wallpapered Steamer Trunk Turned Table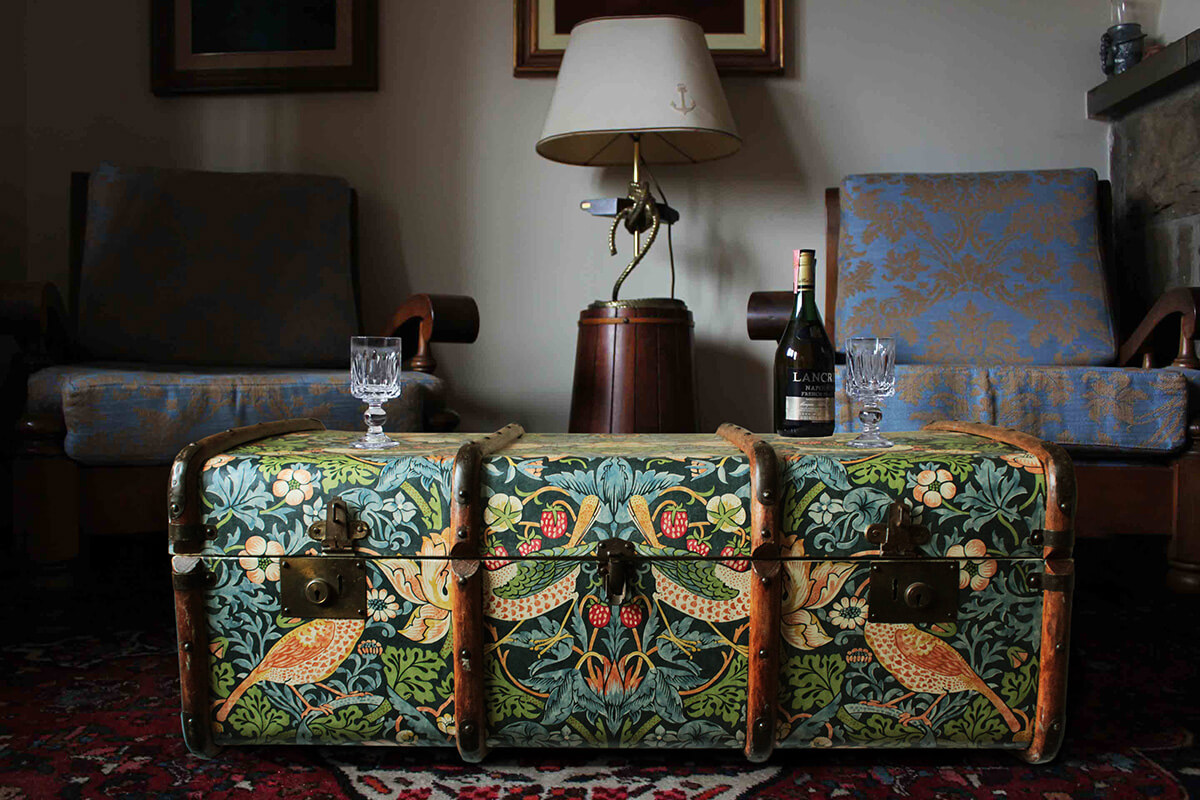 If you really want to have a unique piece as a table, then consider the awesome pieces this Etsy designer provides. Taking a traveling trunk, they have given it a vintage wallpaper coating and prepared it for use as a table. Each piece is handmade and thus it is entirely unique to the buyer. It looks incredible in any room.
23. Off-White Wood and Antique Weathering Table
In keeping with the beautiful aesthetic that reclaimed wood has to offer, this table also presents a weathered and off-white paint stain to make it appear older. This beaten-up look brings home the farmhouse style that many love to have in their home. The choice of frame design also brings to mind the thick fences that often populate a farm.
24. Reclaimed Solid Patagonian Cypress Wood Edges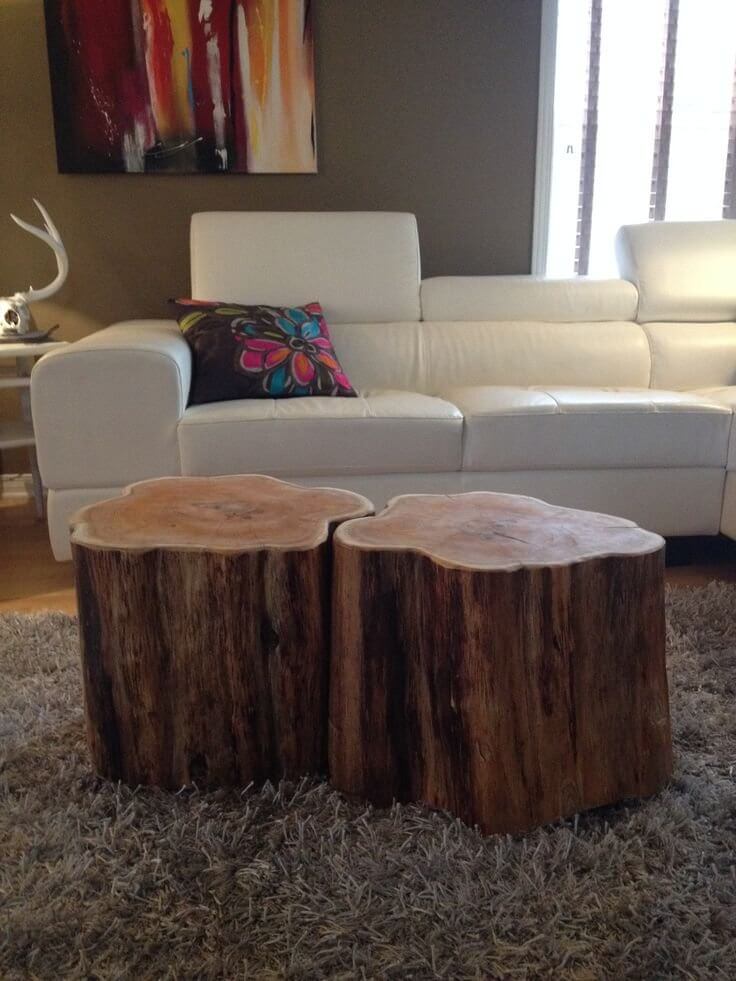 A beautiful side table to have in your home are these solid Patagonian Cypress tree slabs. Instead of cutting the tree down, they're reclaimed from logs that have fallen or been damaged naturally. They are then polished and given a clear lacquer to ensure they remain durable. The bottoms are fitted with a felt pad to ensure the floor's safety.
25. Gravity-Defying Table of Reclaimed, Distressed, Wood
Want to make your table look like it's defying gravity? This awesome Etsy designer made their reclaimed wood table do just that. With the distressed paint job to make the table more farmhouse appropriate, the table is fitted with iron hairpin legs that lift it off the ground. The legs are thin and easy to ignore, making this table look like it's flying.
26. Multi-Purpose Modern Wooden Table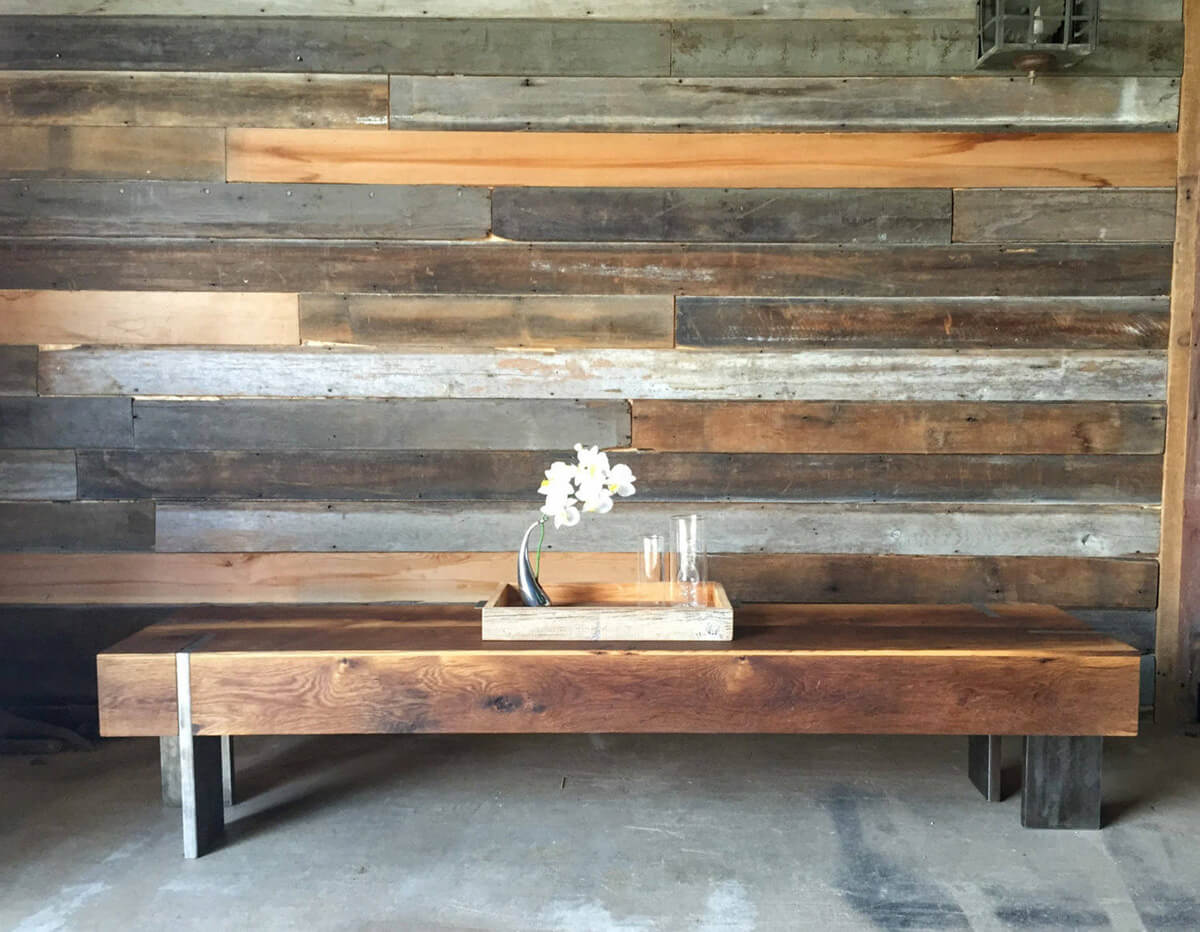 This long bench-like table could be just like that–a bench. However, it can also be utilized as a modern-styled table that can create an interesting look to the room it's used in. The reclaimed wood used to make the table is over a hundred years old, so you can be sure that the table has a soul in the grain.
27. Dodecahedron Geometrically Shaped Wood and Metal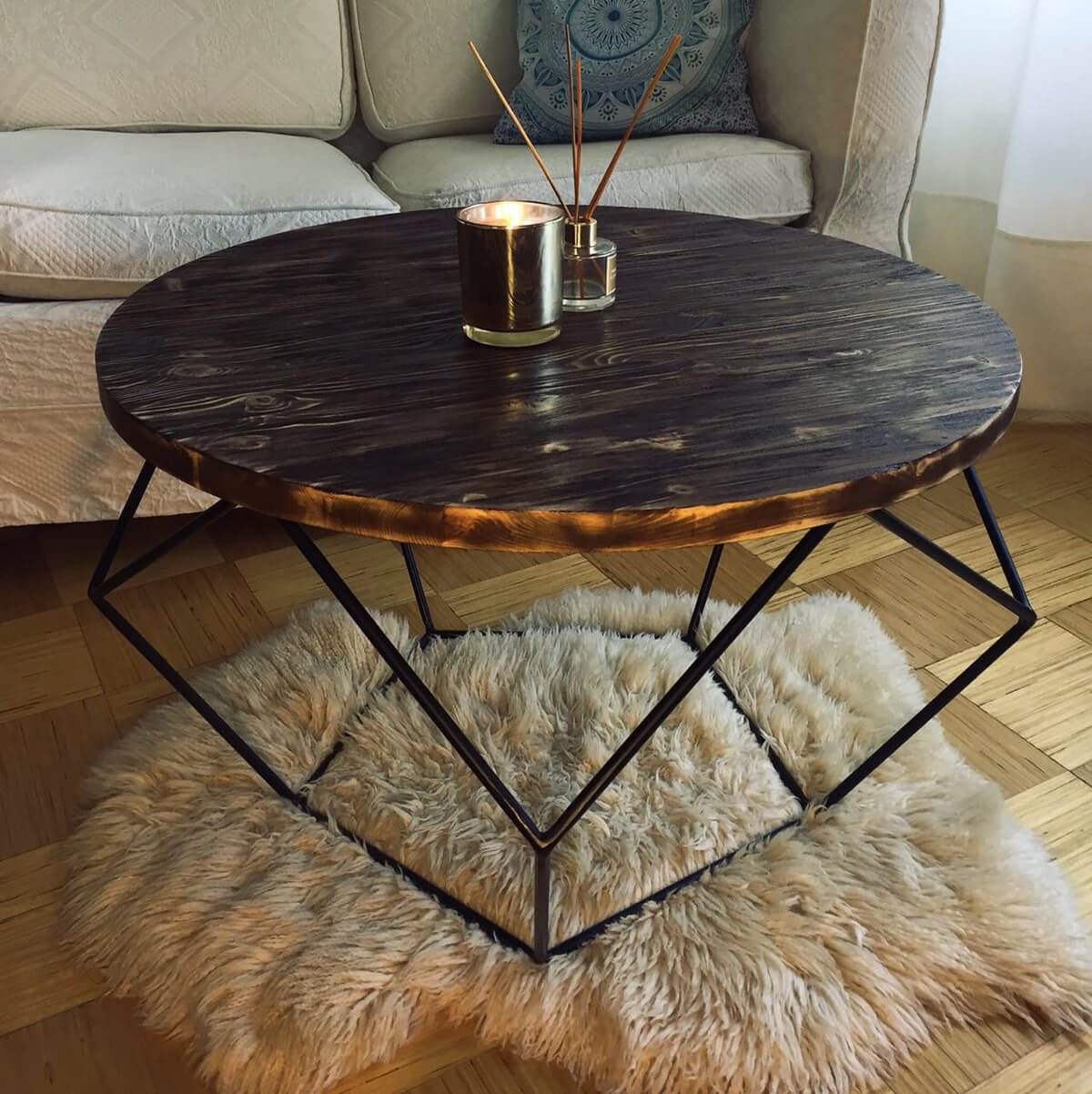 A perfectly circular table of reclaimed wood is used to craft the surface area of the table. It matches the dark metal legs quite well. The legs are set in a twisting geometric shape known as a dodecahedron. It provides a sort of grunge and industrial aesthetic to it which can make it easily blend in with varying styles.
28. Upscaled Round Marble Table and Steel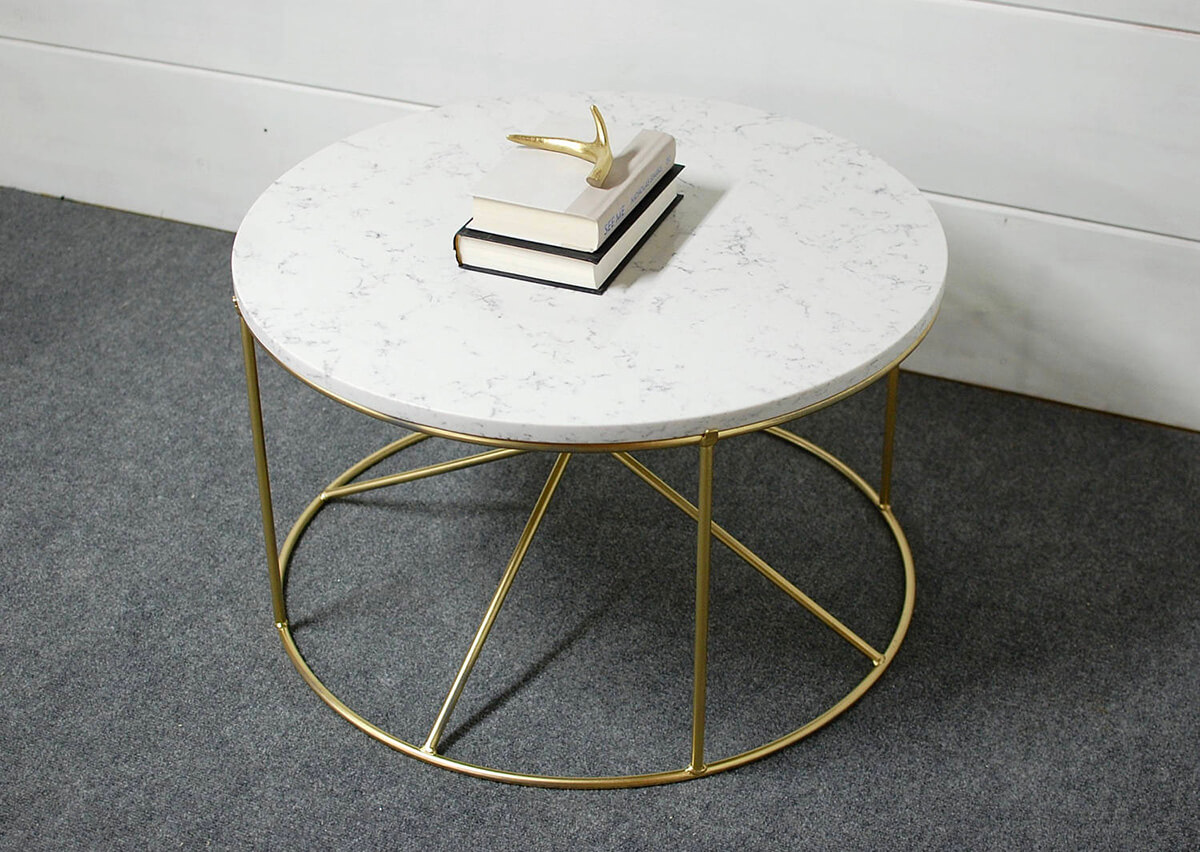 Want your table to be a conversation starter? Then jump on the marble craze and have it crafted as your very own small table. The beautiful circular cut offers the use of marble in a new way. The solid steel legs beneath the marble bring it into an industrial direction where marble doesn't always receive its due.
29. Extremely Cool Lift-Top Wooden Table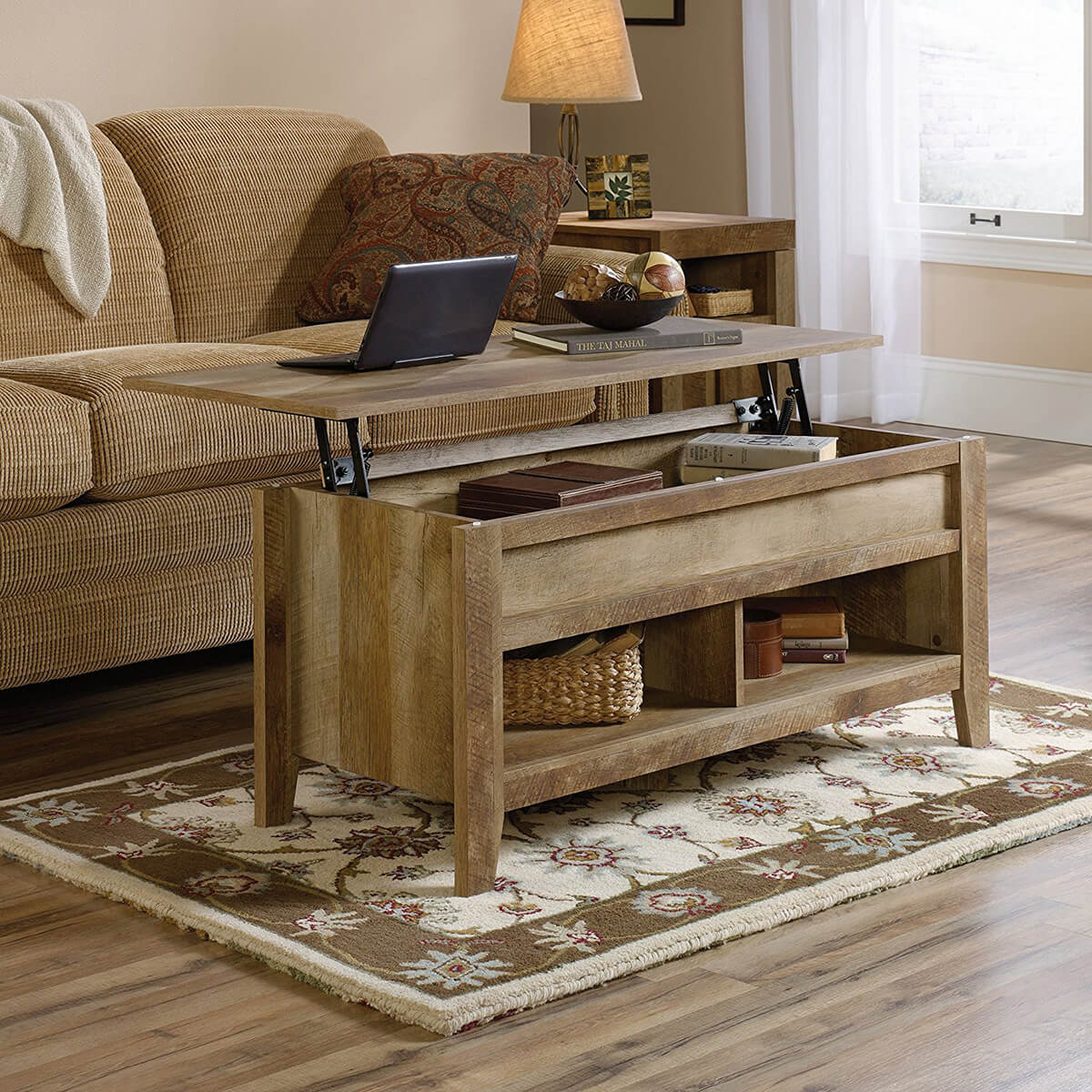 Besides looking fantastic, this table provides a unique feature many don't. The top can actually lift up and forward to better suit your posture and needs. It also provides additional storage beneath for those who want to make the most of their table. The oak finish of the table makes this table perfect for any room in the house.
30. Stunning Black and Grey Wooden Table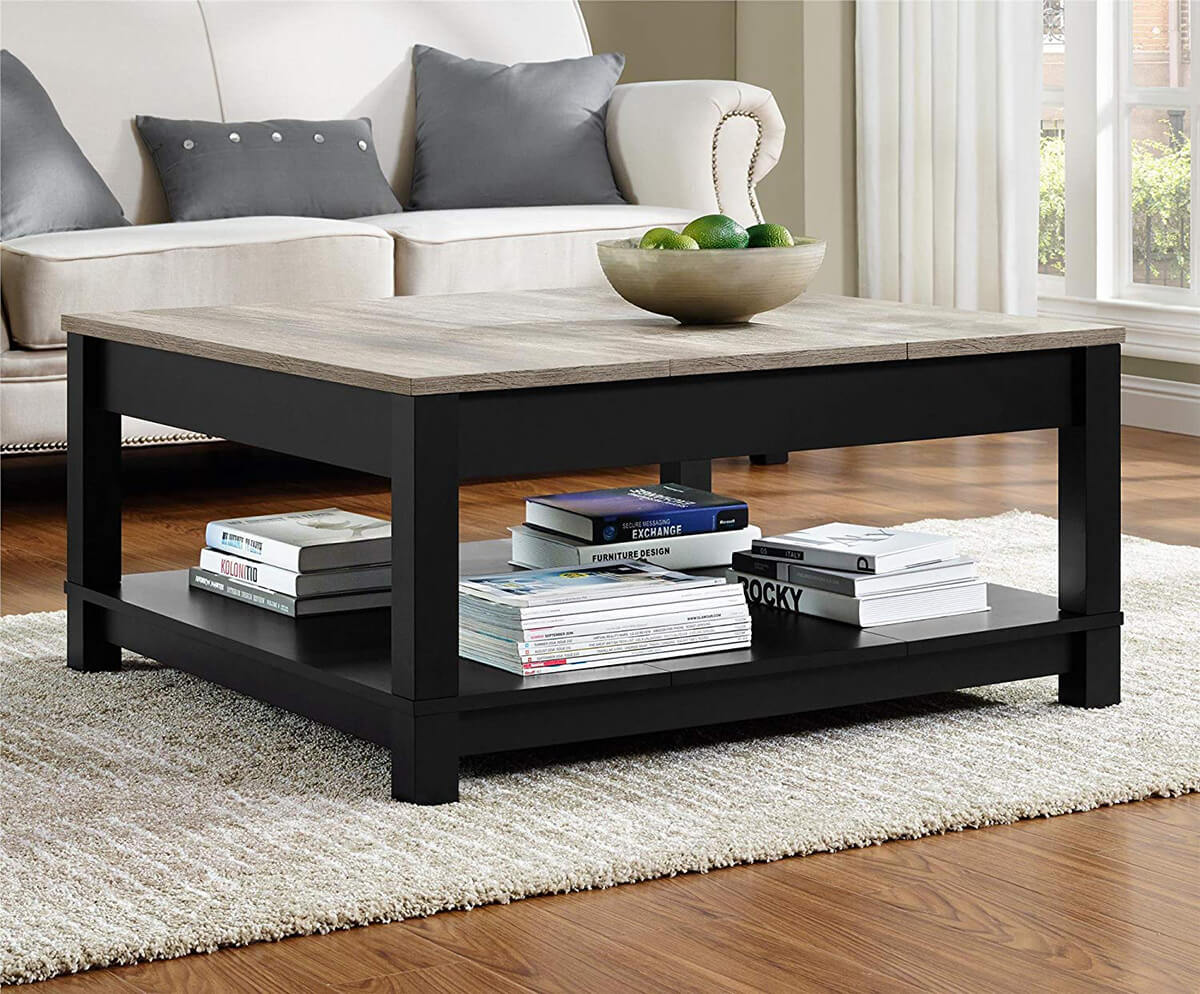 To receive a pleasurable play on dichotomy, consider this table that uses a bold black base with a contrasting light grey wooden top surface. It maintains plenty of storage space beneath the top surface as well as offering lots of table space on the top for resting your items and plates. The color scheme is modern and sleek.
31. Minimalistic Rectangular and Classic Brown Table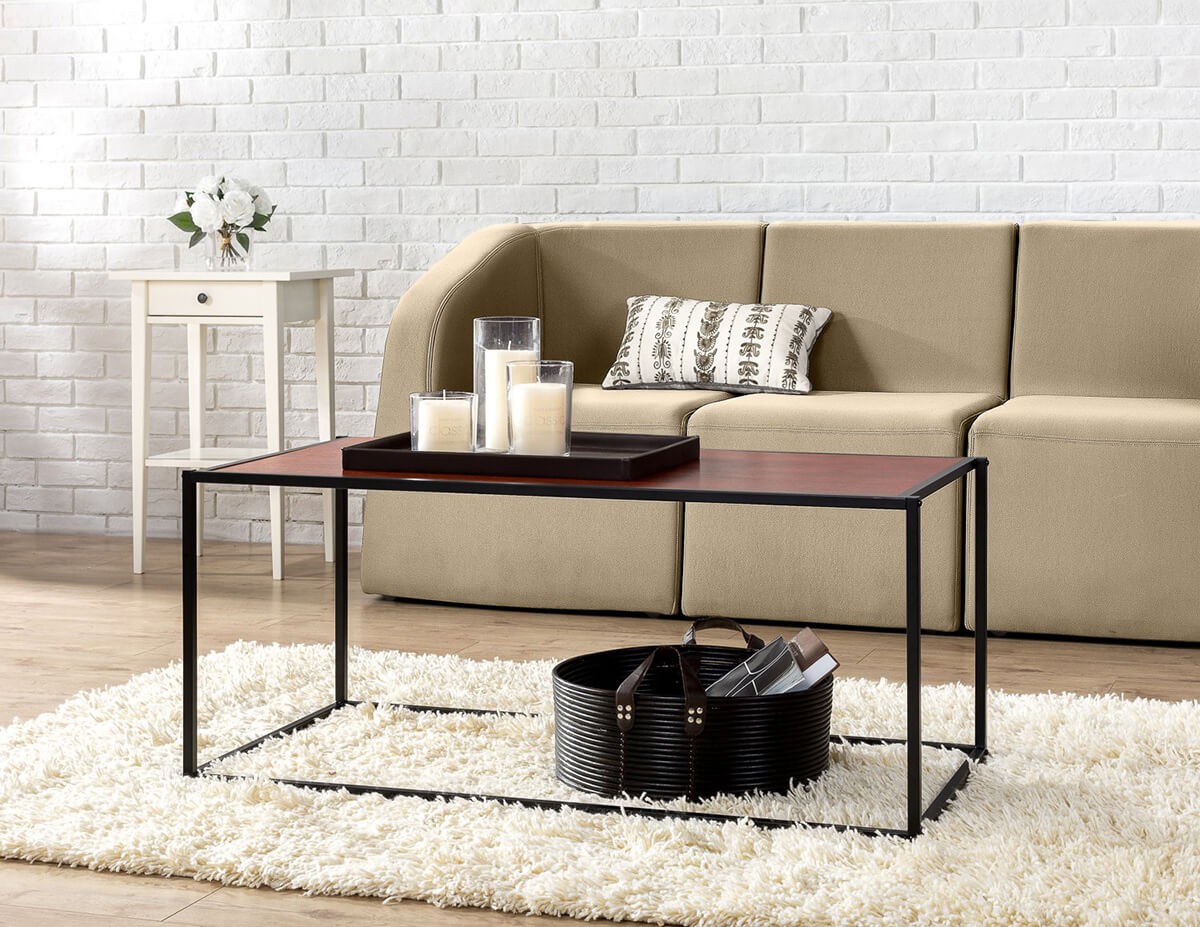 Minimalism has gained a lot of strength in recent years. This table is perfect for those who are fond of the aesthetic or just desire a table that provides function without taking up a lot of space. This table is high, providing plenty of leg room or space underneath to place other items. The brown surface gives it a modern touch.
32. Timeless X-Based With Bright Top Surface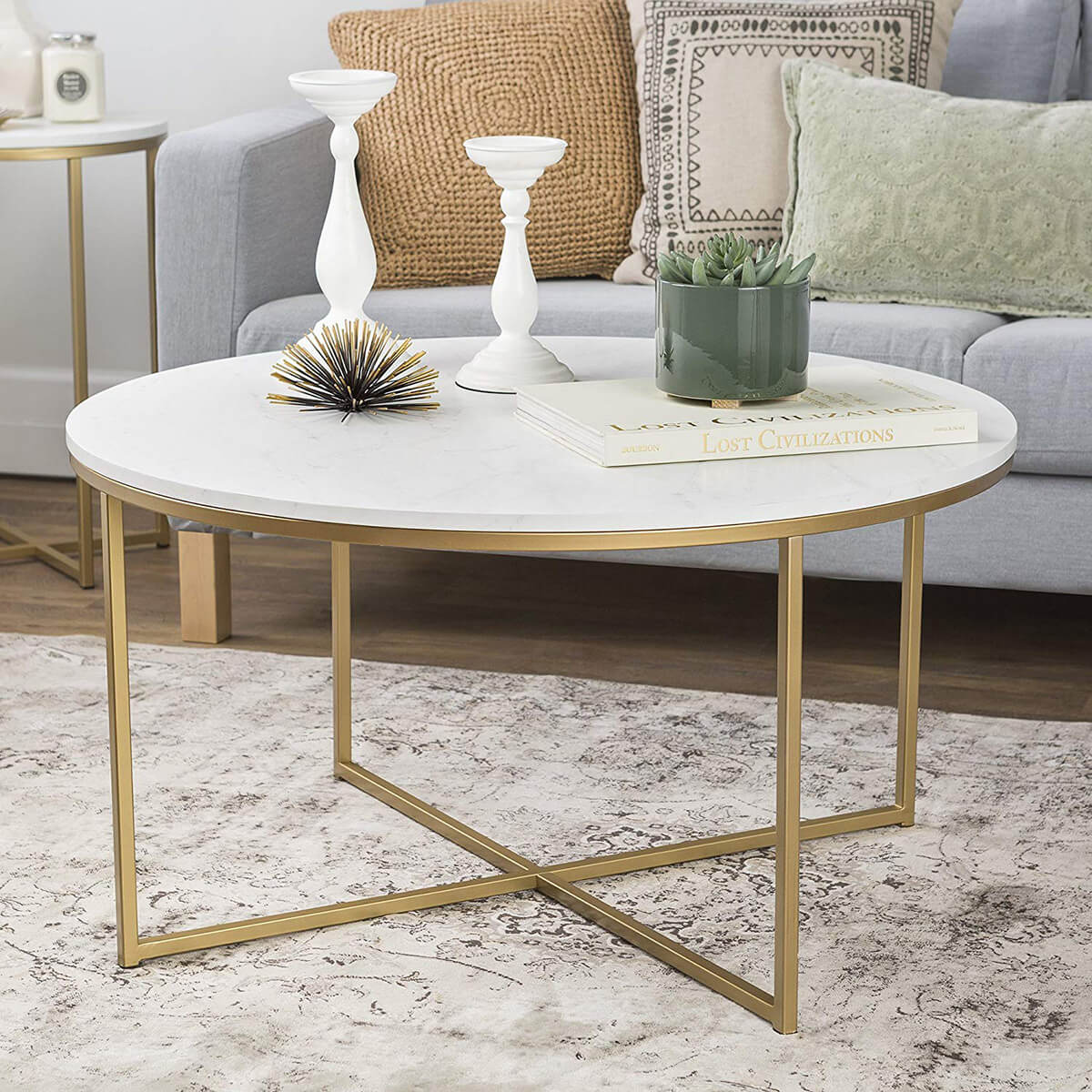 One of the sturdiest table designs can be found in the design that incorporates an X-design in its base. This table does just that all while keeping the look timeless with the use of bright colors for the table's top surface. While the marble and gold appearance made be faux, it looks gorgeous and authentic. This table is elegant and gorgeous.
33. Futuristic Glass and Oval Shaped Table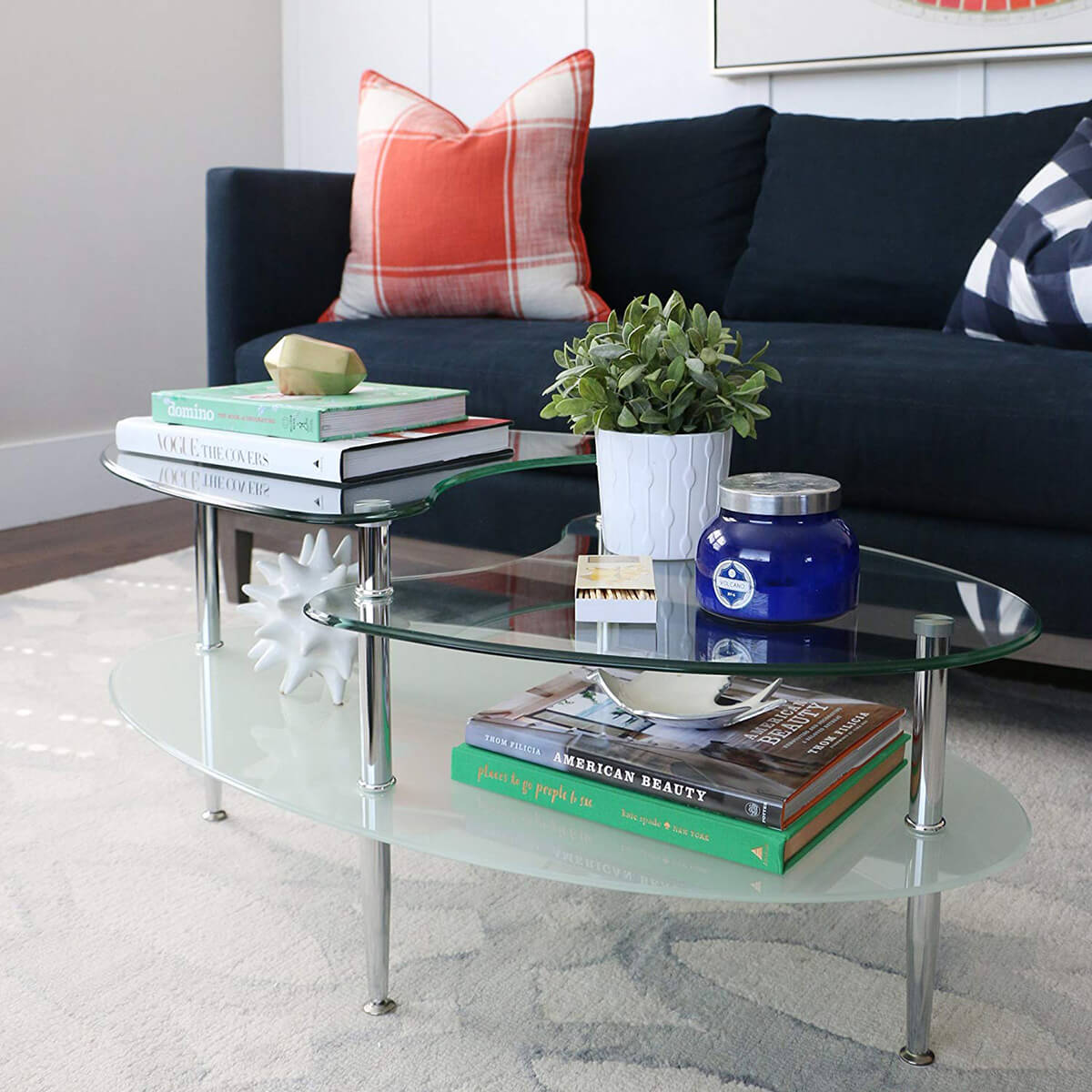 One way to take your table into the new age is to stick to the basics. Glass and steel go together extremely well and create an almost futuristic appearance when used. With interior design turning to transparency for many of their furniture and appliance pieces, this table will fit right in with the others. It offers space while looking as though it doesn't take up any room.
34. Simple and Small Naturally Rustic Table
Simplicity can go a long way. This rustic table utilizes a dark finish for the wooden surface area that makes the grain pop out and tells a story. The dark grey legs that are used allow for the table to be used in an abundance of different styles like modernism, industrial, and even post-modernism. The bottom shelf offers more storage.
35. Space-Age Glass Table With Steel Legs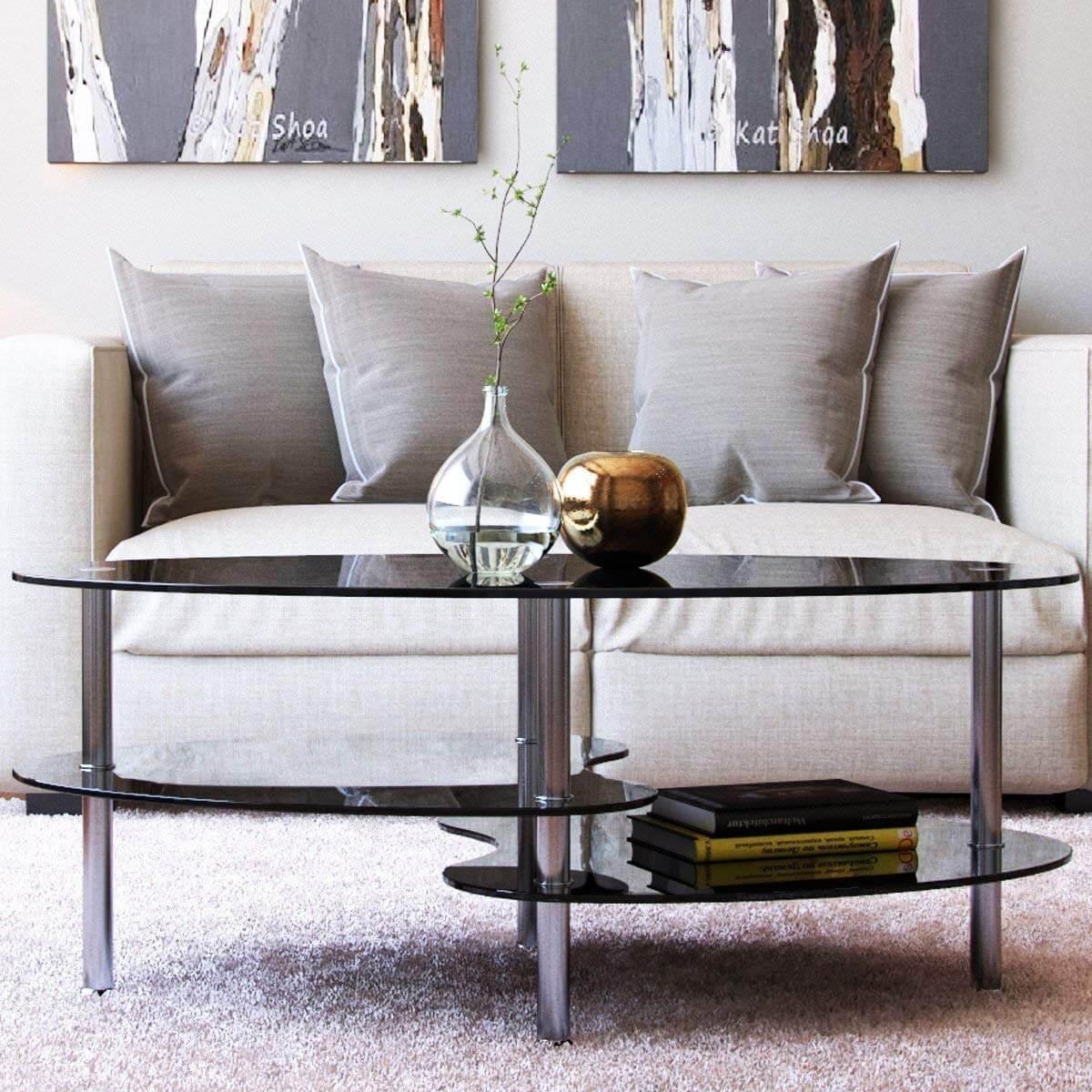 One of the coolest aspects of this table is the asymmetrical use of the shelves. It creates an interesting and fun twist on what shelves typically appear like on tables. The use of glass as the table's surface, as well as the steel legs, finish the piece off by sending it into the space-age or futuristic style of design.
36. Industrial Grated Base With Stained Surface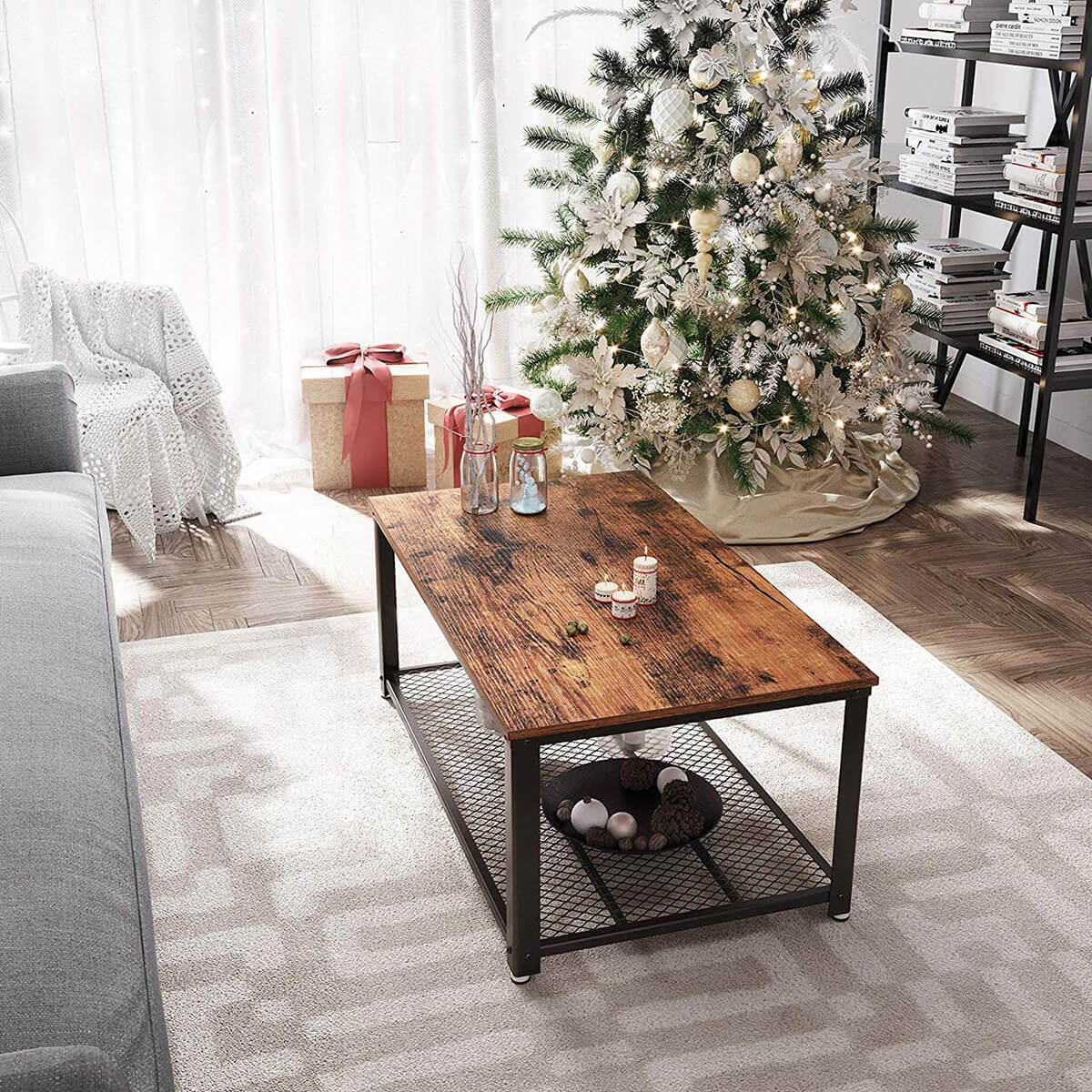 With a deep staining of the table's surface, all of the wood's beautiful flaws and blemishes are visible for the eye to enjoy. This almost harsh appearance performs well with the hard iron legs and grated base and shelf beneath the surface. It makes the piece industrial and perfect for any form of use like cocktails or tools.
As you can see, there are plenty of ideas out there that you can utilize to make your living room–or other spaces–just that much more pleasing. These tables all offer something different.
Since many of them are handmade, you can also expect to have a totally unique piece from anyone else. Reclaimed wood, especially, offers a chance to have an original piece with a lot of history to tell. With the right selection, you can make these pieces serve more of a purpose than just storage or to hold plates. They can become a statement themselves.