When thinking about console table decorating ideas, it is important to first consider your space as a whole and think about where this piece might best fit in. You can add a console table to an entryway, a bedroom, a kitchen, or any other room in your house where your décor is feeling lack-luster. Whatever you decide, a console is a perfect way to add both function and décor to space of any size.
12 Elegant Console Table Decorating Ideas for Any Room

A console table provides you with a perfectly level display surface where you can brighten a room with fresh flowers or show off your recent family portraits. It can add to a themed room, or help to tie a mismatched set together. You can use it for storage if you add drawers or bins, or as a way to greet your guests into your home.
Here are a few fresh ideas to get you started, and maybe help you come up with some fun and unique uses of your own. The options are abundant; all you need to do is decide what works best for you.
1. Cozy and Vintage Welcome Console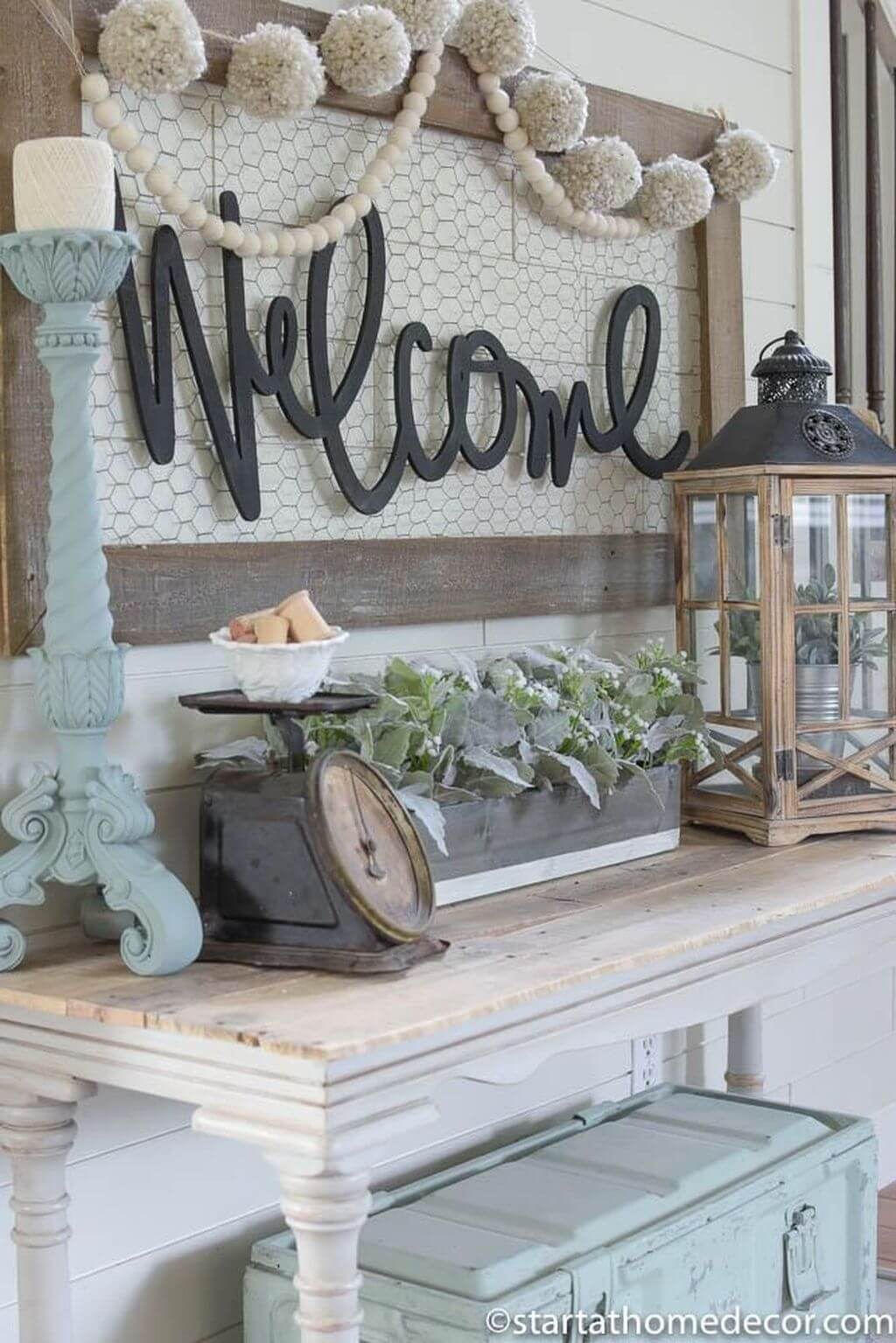 A beautiful nod to all things simple and romantic, this console incorporates antique pieces with warm and homey charm. A chicken wire backdrop adds an element of farmhouse chic, while succulents and small blossoms lend freshness and life to the look. String up some multi-sized garlands and you will have a complete and compelling look.
2. Romantic and Homey Vanity-Inspired Look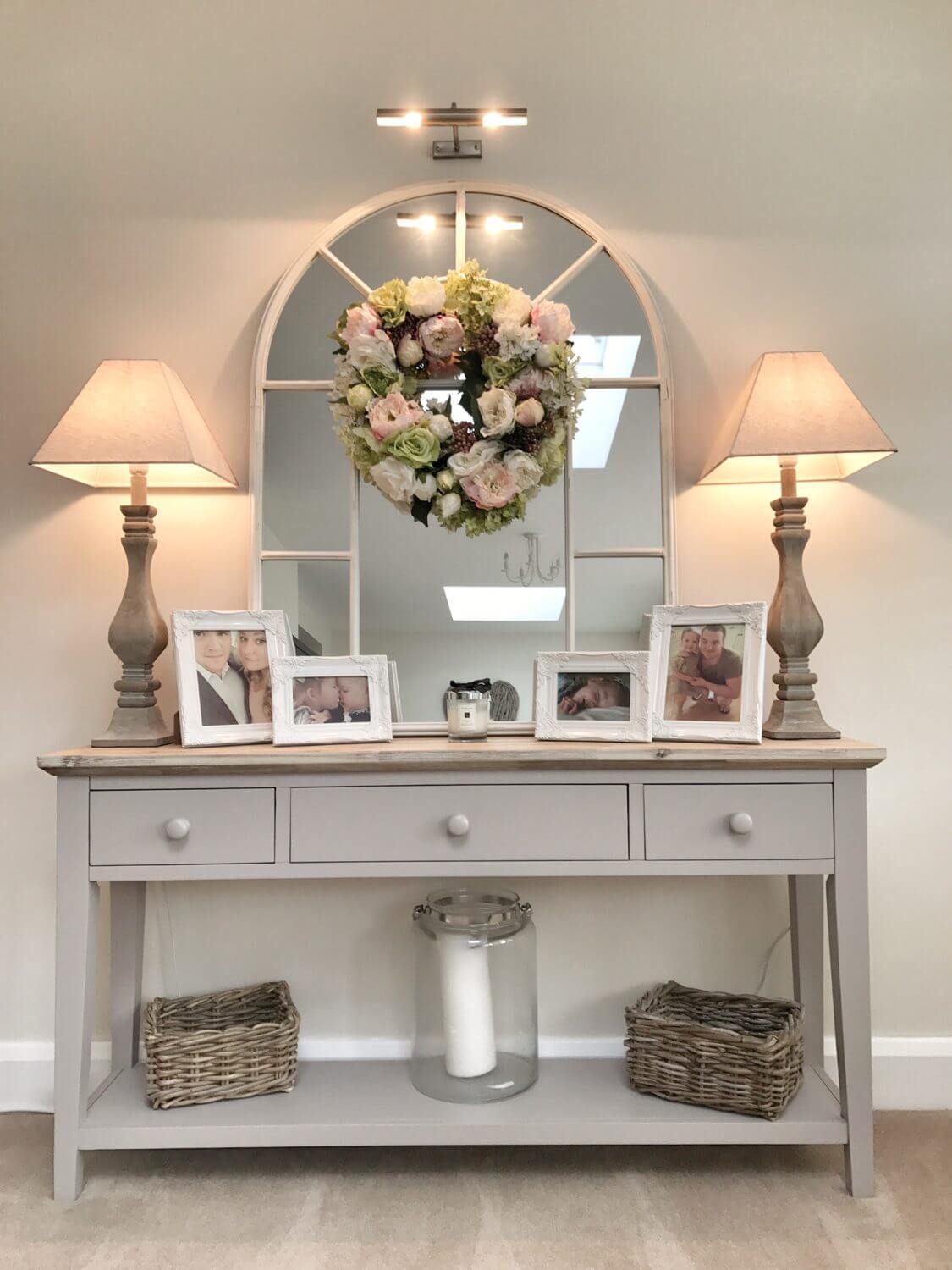 This piece exudes romance with its beautiful mirror and lush peony wreath. Throw in some cute family photos, warm lighting, and peaceful neutral colors, and this console will have guests "aw" ing with admiration. The two levels lend themselves to more storage or décor options, and the drawers add a practical element to this display.
3. A Petite Look with Big Impact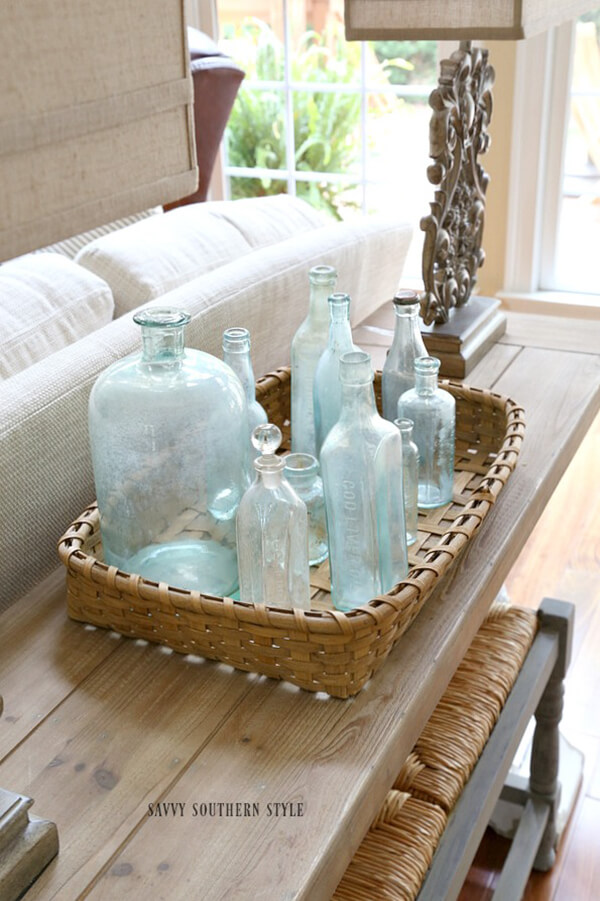 If you are looking for console table decorating ideas that will fit in your smaller space, then this elegant and slim design could be for you. Pairing the narrow table top with matching lamps stretches the look of your farmhouse table. To add to a farmhouse look, opt for the distressed whitewashed base, an antique basket of glass bottles, and whicker bench.
4. Smooth and Sandy Hallway Console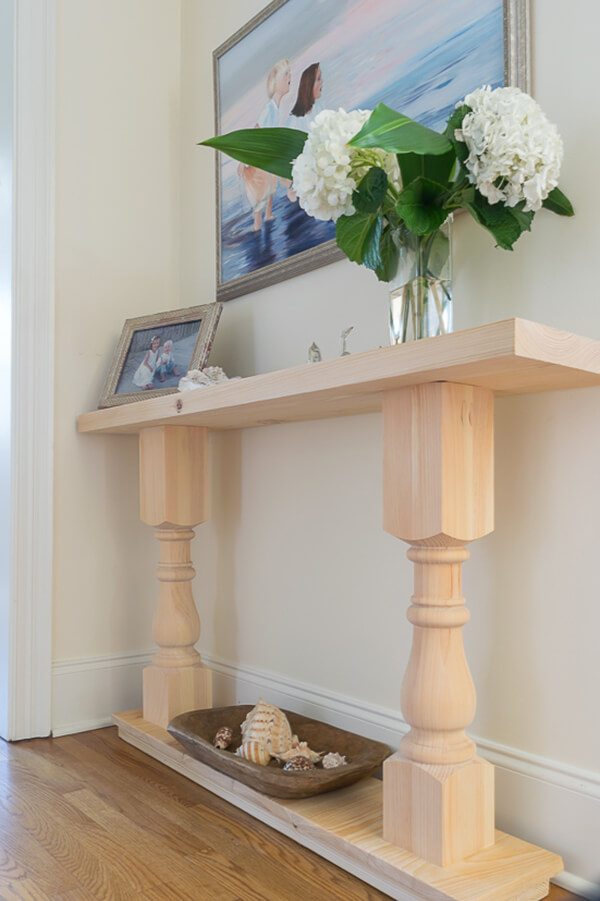 When you want to bring the beach home, consider this console look for an easy way to incorporate your favorite shells. With a light sandy color, your guests will be thinking of the beach as soon as they see this piece. Add in family photos and your favorite local blossoms to create a beautiful display for your beachy treasures.
5. Old-English Style Antique Window Display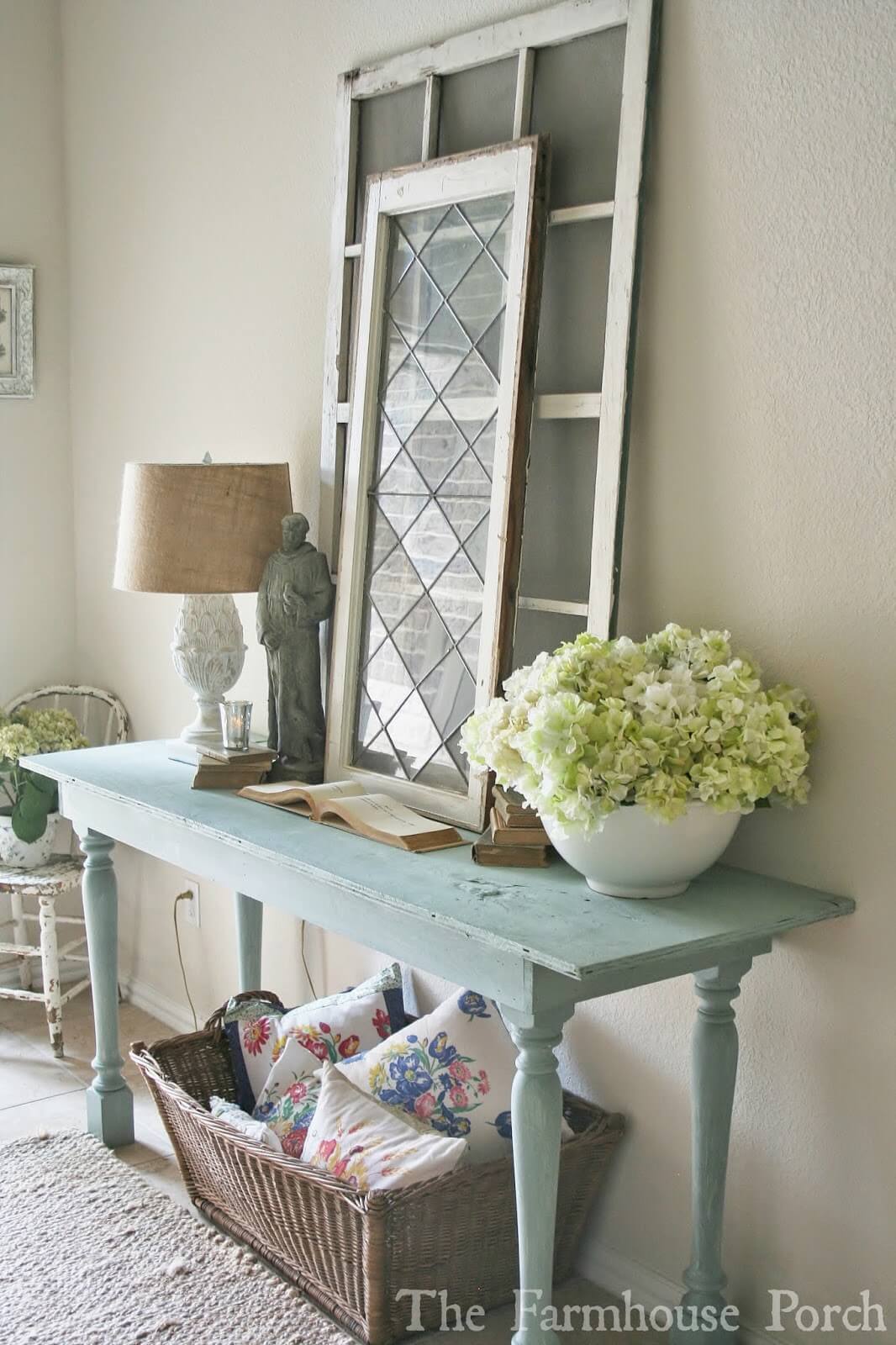 If you are a fan of simpler days characterized by farmhouses, candlelight, and reading as the primary form of entertainment, then this enchanting console is perfect for your home. Gather some antique books and window panes to create a look that could have come straight from Jane Austen. As always, a bowl of fresh flowers is sure to give your display a breath of fresh air.
6. Long and Narrow Natural Wood Console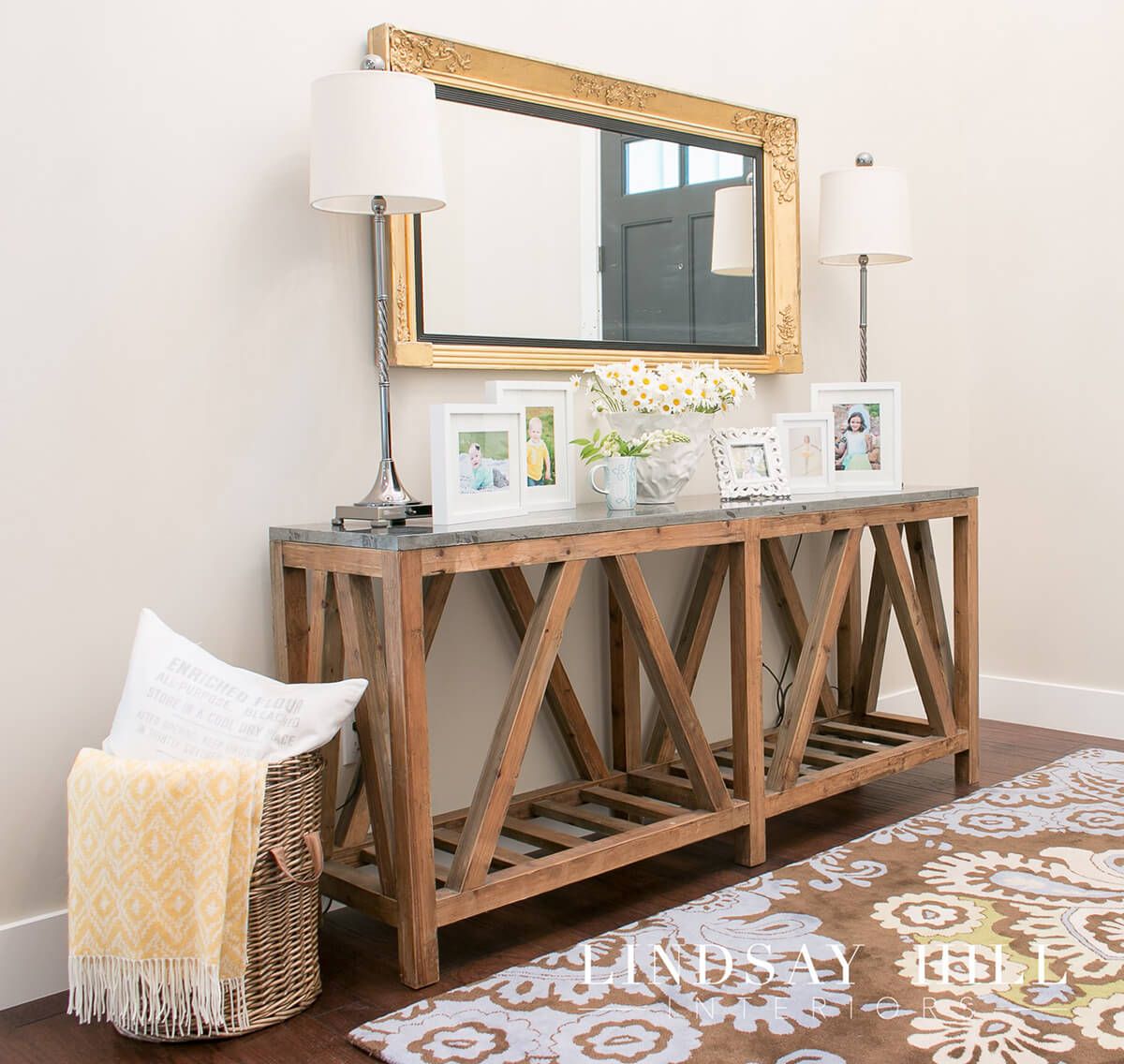 Sometimes finding a piece that fits your space perfectly can be difficult. That is why a lean and long console like this one can be a lifesaver. With just enough room for photos, lamps, and fresh flowers, you can't get a more functional yet unobtrusive piece. With beautiful natural wood shining through, this console should fit into any home.
7. Beautiful DIY Work Bench Style Console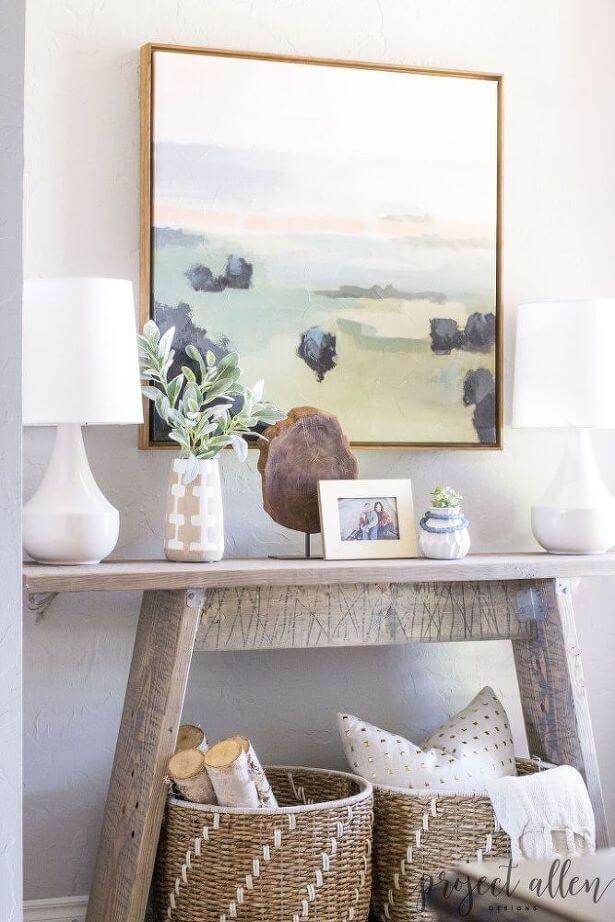 This handcrafted console is reminiscent of a well-used wood shop. With its distressed wood and metal brackets, it is a console perfectly indicative of its creator's home-made sensibilities. Make it as high or low as you choose, and customize your coloring to go with any room. Add natural inspired accents to bring out the chic stylings of this piece.
8. Modern Artistic Entry Way Table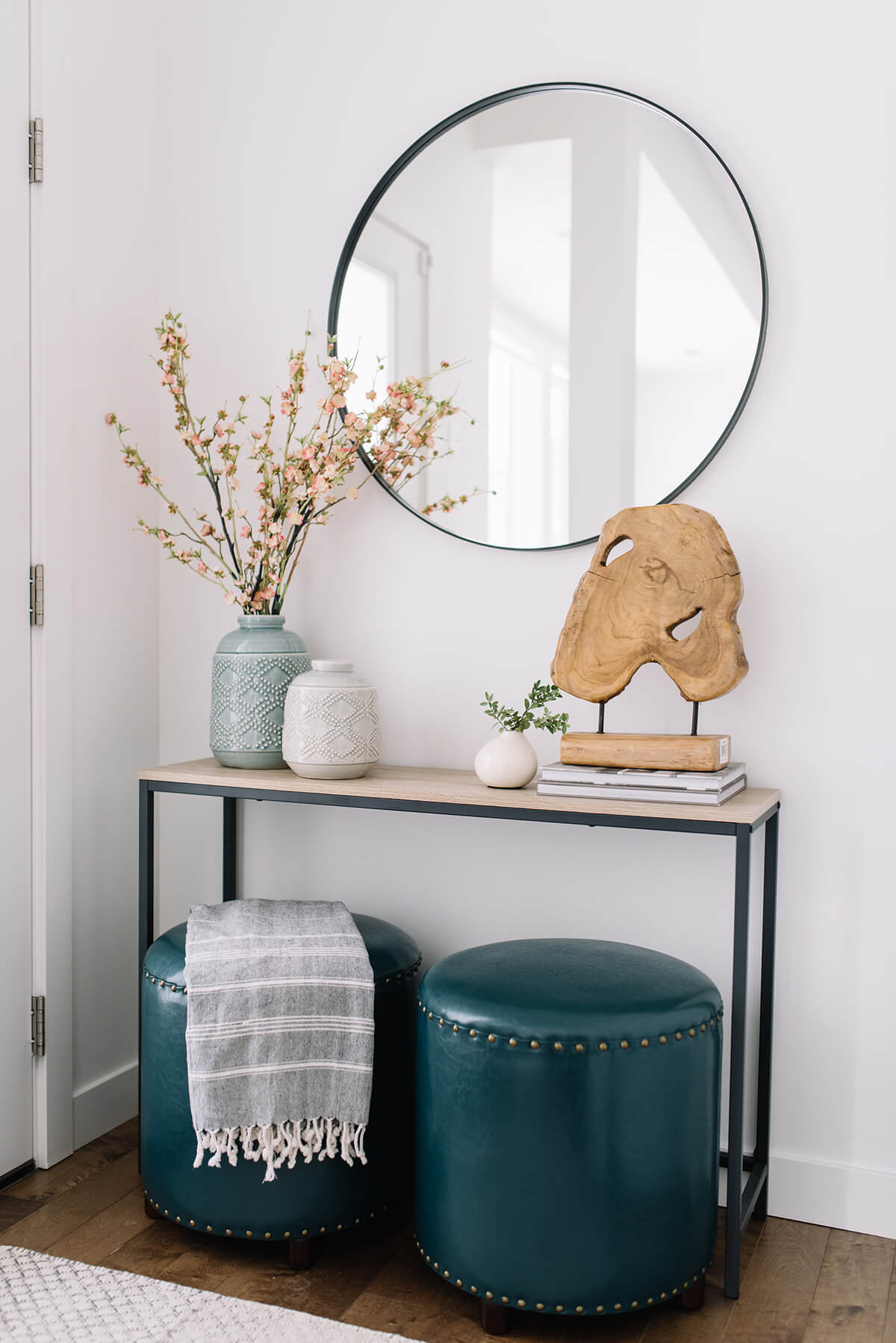 Of all the console table decorating ideas, this one's simplicity opens it up to so many possibilities. With a chic, clean, and classic black and light wood design, you are free to add elements of any color or aesthetic. Consider filling the space below the table top with ottomans, then add natural pieces of varying sizes on top to highlight a creative and modern look.
9. Freshen Up for Fall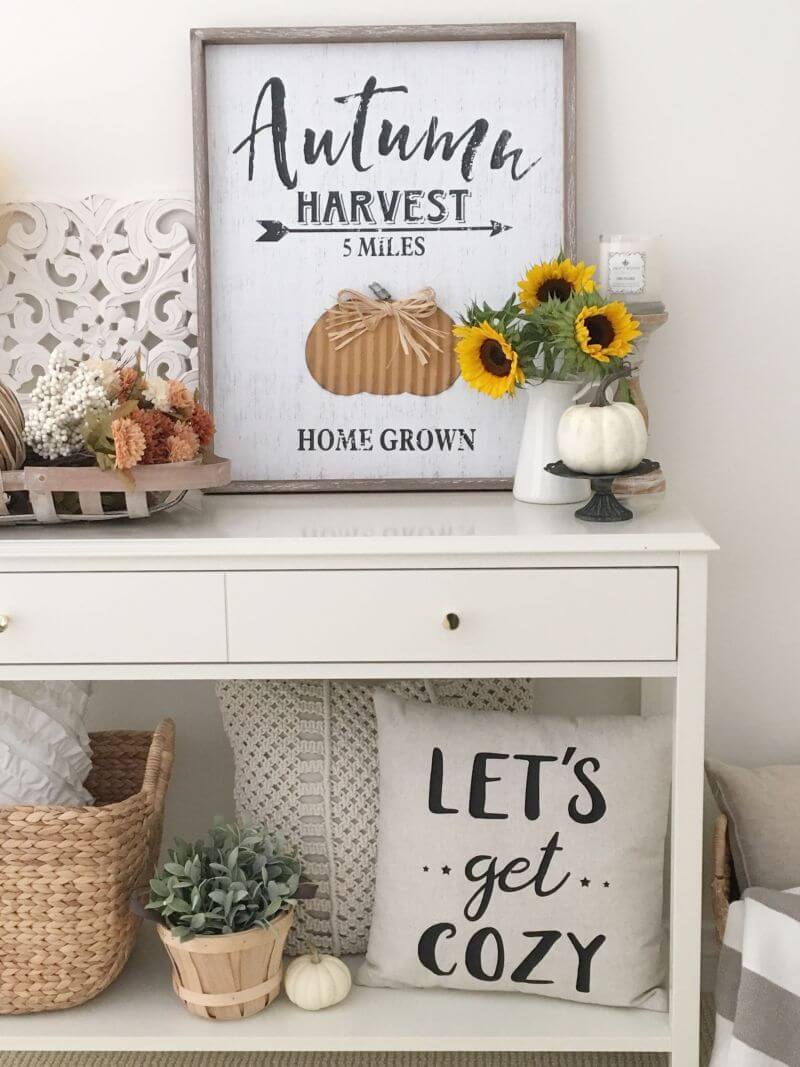 Rotating your console table décor for the seasons is a fun and simple way to add cheer and spirit to your home. A fall display adds a particular coziness with sunflowers, pillows, blankets, and art that makes people want to snuggle up. Incorporating different levels and height with multi-sized pumpkins is a great way to add interest to your look.
10. Clean Console Table with a Fresh Vibe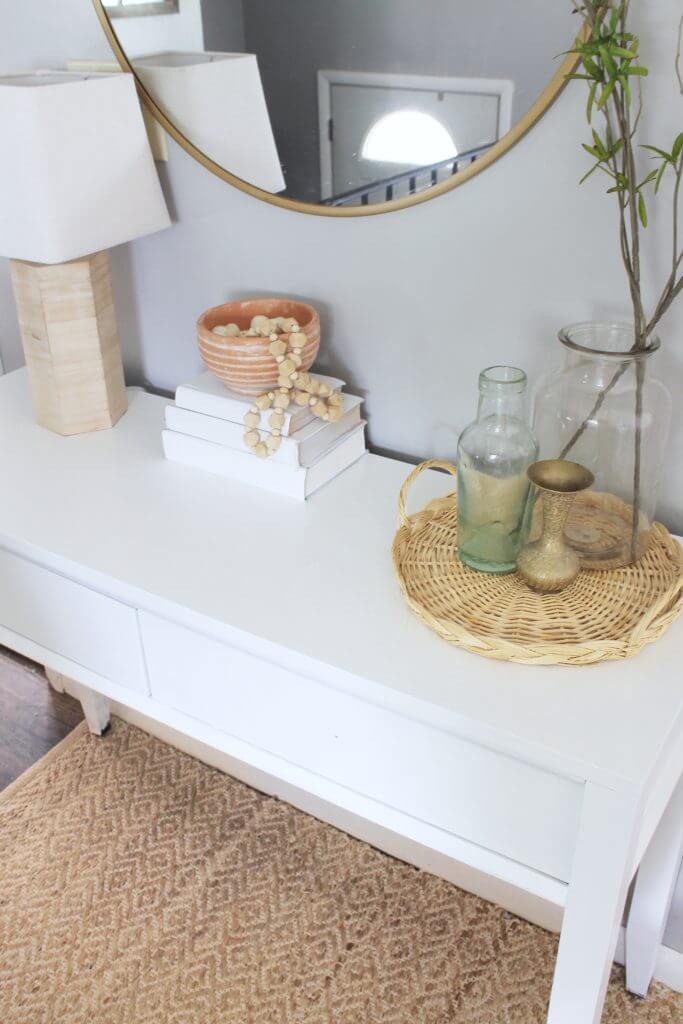 This console table uses its crisp white coloring to full advantage. With a blank canvas of sorts, you can add beautiful neutrals and simple antique pieces that are sure to pop with the fresh look of your display. A mirror above is a great way to add depth and interest while adding books will create an illusion of height.
11. Gothic-Inspired Autumnal Console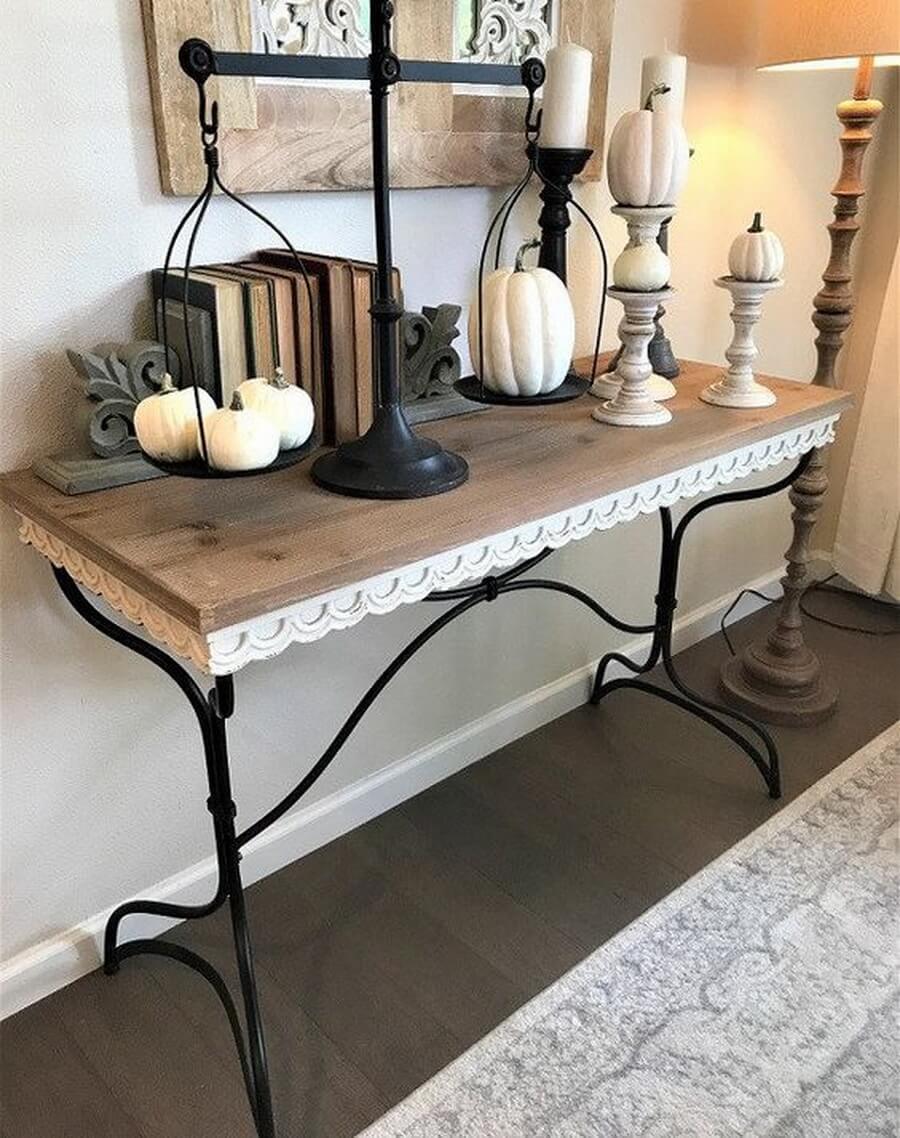 When decorating for fall, incorporating dark features can have a big impact. This wrought-iron based table utilizes both dark and light features to seamlessly transition from its black base to its white edging and natural wood top. The chunky black pieces against the multi-sized smooth white pumpkins create a spectacular look that will look great all season long.
12. Classy Console for a Chic Home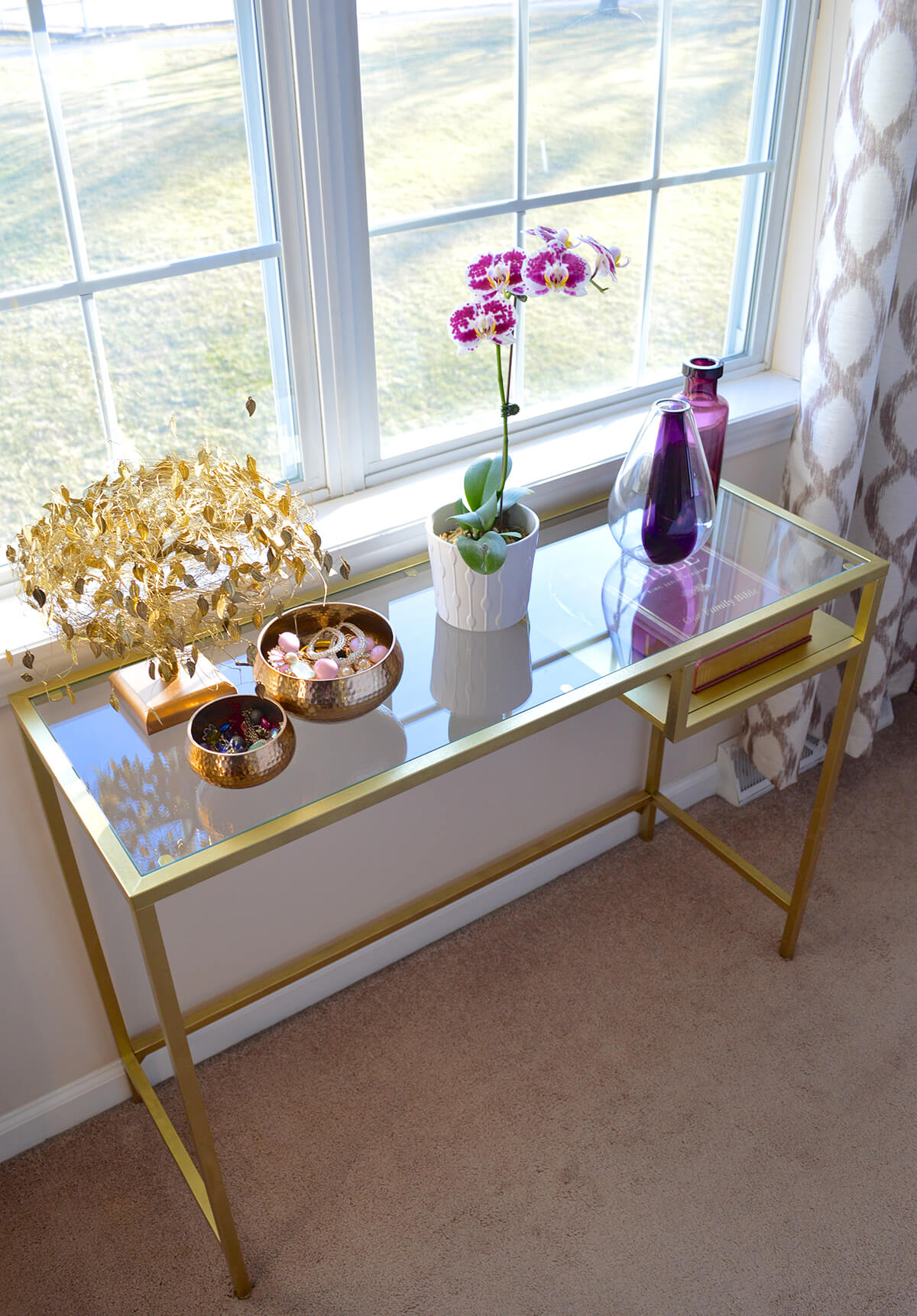 Glass and gold always make for an expensive looking combination. This elegant console table is no exception. When placed near any light source, your tabletop will reflect beautifully, highlighting whatever lovely pieces you choose to display. Consider keeping décor simple and elegant to take full advantage of this pretty design.