Who would have thought cool coasters would become a growing art form, and a sought after beverage accessory in this day and age? Most households in the past had maybe one or two sets of old clunky wooden, cardboard, or plastic coasters tucked away in a drawer or somewhere else where they were gathering dust and looking as though they never saw the light of day. If they were being used, they were dull and colorless or were frivolously used as mini Frisbees or playthings for kids instead of table or bar savers.
32 Cute Coasters that can Make any Space More Adorable

Today, the best cool coasters on the scene come in all shapes, sizes, colors and unique designs that are gracing lots of homes, eating establishments, private clubs, bars and businesses. Creating coasters has become a cottage industry and craft-makers on Etsy, from coast to coast, and across the world are delivering the goods with their design ideas and craftsmanship. Etsy artisans can take one awesome idea and turn it into an entire business.
Whether they're using wooden rounds, ceramics, fabrics, colored yarn, cork, pressed paper, pulpboard, cardboard, fiberboard, neoprene rubber, silicone, laminates, plastics and related materials, you'll find that Etsy experts come up with some of the best cool coasters that you'll ever see, and customers are loving their unique designs. Whether it's man's best friend, cats, sloths, rabbits, llamas, ducks, hedgehogs, unicorns, imaginary characters, yummy donuts, fruit or personalized coasters, talented Etsy individual artisans leave no stone unturned with coaster design elements.
The thing is, the best cool coasters can be more than just protection for a table or other surfaces where someone might set down a drink. Coasters can stop heat from scorching a countertop or prevent scratches, nicks and dents from damaging surfaces. They also help to absorb any moisture accumulation that may develop from a cold cup, mug or glass. You even see a coaster put on top of an open drink to prevent contamination from something in the air or to indicate that a drink is still in the process of being finished.
Coasters have also become home decorating items, design pieces, and other surprising and useful products. Depending on the material composition of a coaster, there are numerous design ideas that you can incorporate using the basic style and structure of a coaster. You'll see decorative and custom design items put to use in ways you may have never imagined. Thinking out of the box, you can picture coasters in hundreds of different usages. Here are a number of approaches where you can incorporate coasters in both decorative instances and everyday situations, events and processes.
1. No Sloughing Off with Super Sloth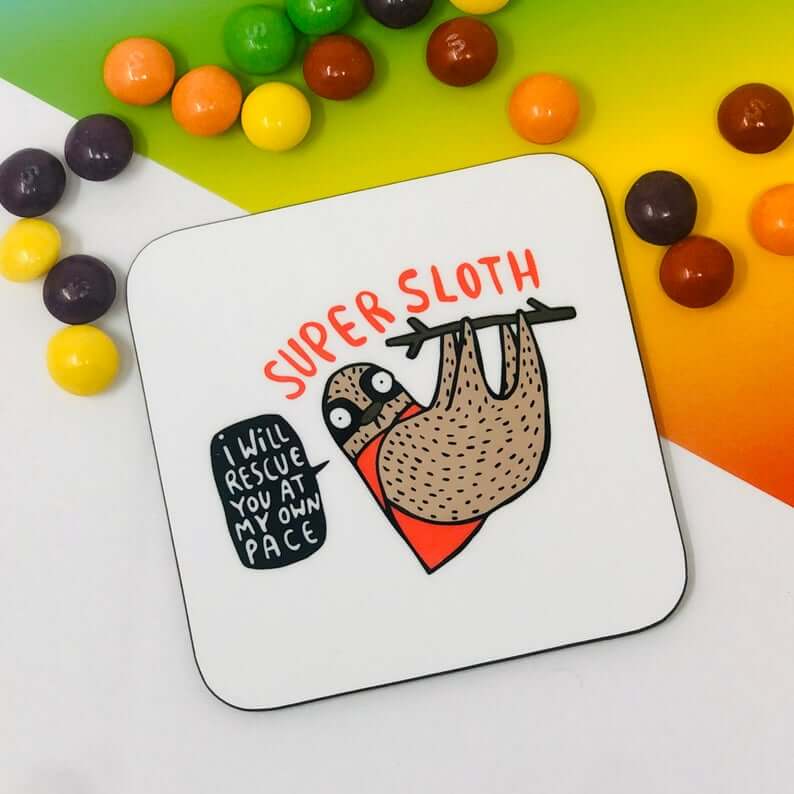 Sloths are popular animal characters on most any design, and coasters are no exception. When a sloth, especially a super sloth, gets ready to conquer the world, look out as he just might come to the rescue quickly enough to keep your coffee or beverage safe and sound. Our superhero sloth is not only cute in his hero cape but he is the perfect gift for any animal lover, teen or adult who wants to have a good time and a laugh or two with our slow moving animal friend. Super sloth is British made and available in 3.5 inches or 9 cm size squares with rounded corners that you can clean with a damp cloth.
2. Taco Cats can Coast and Salsa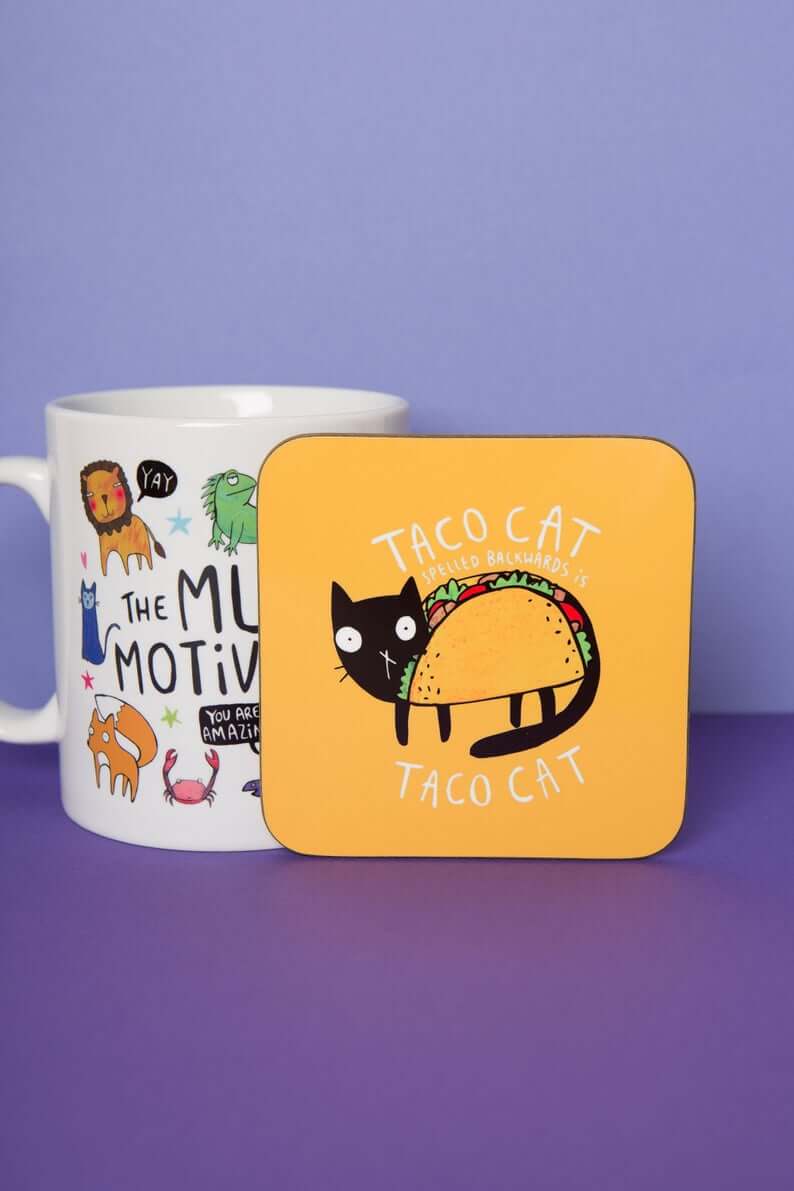 How can you not love a cool cat friend contained within a taco shell. Whether spelled forwards or backwards taco cat is ready for some added salsa to keep the heat up on your coffee or tea. If you love tacos and cats, this great quality and personally illustrated coaster is the perfect coaster for you. The coaster is 3.5 inch/9 cm in a square shape with rounded corners that's just the right size for your mug and is easily maintained with a damp cloth.
3. Boston Terriers Love Their Likeness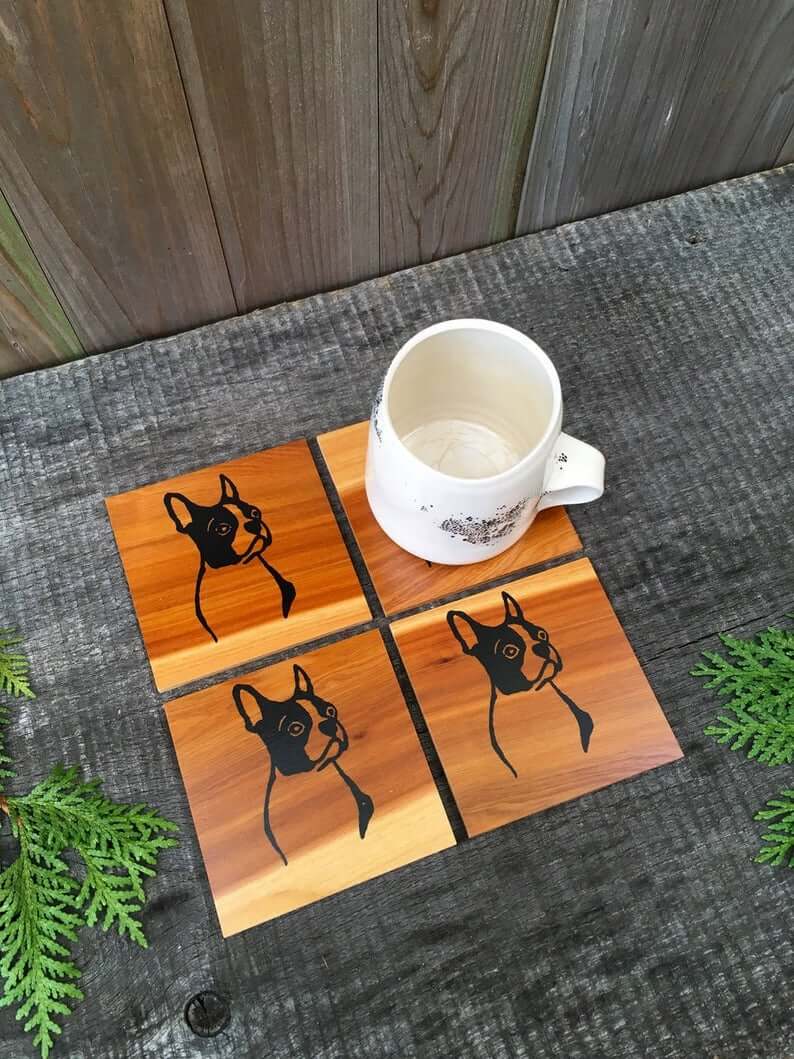 If you love your Boston Terrier, or know someone else who has one, you'll want these beautifully designed coasters for yourself or as a gift to a friend. The dog's impression is hand printed in black ink on light-colored maple, cherry, cypress or oak wood. The coasters are sealed for water resistance and cushioned with cork tabs on their undersides. They're easily cared for with a swipe of a damp cloth. This set of four makes a great gift any time of the year. Dog walkers, groomers and anyone who loves terriers will enjoy this classic coaster look.
4. Crochet Me a Cat Paw Doily Please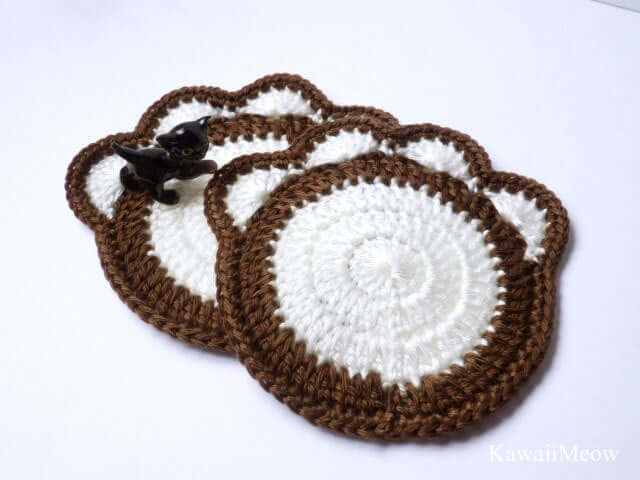 Cat lovers in general will enjoy using this 100% acrylic white cat paw design, doily coaster with brown crochet edging and white yarn filler. Cat paw designs are fun to have around to use with your favorite beverage, with or without your feline friend, and they make a cute coaster and a doily for display and placement of small ceramic cats or other figures. The doily is available in other colors and measures 4.3 inches by 4.3 inches or 11cm by 11cm.
5. Pachyderms Lining Up on Your Tabletop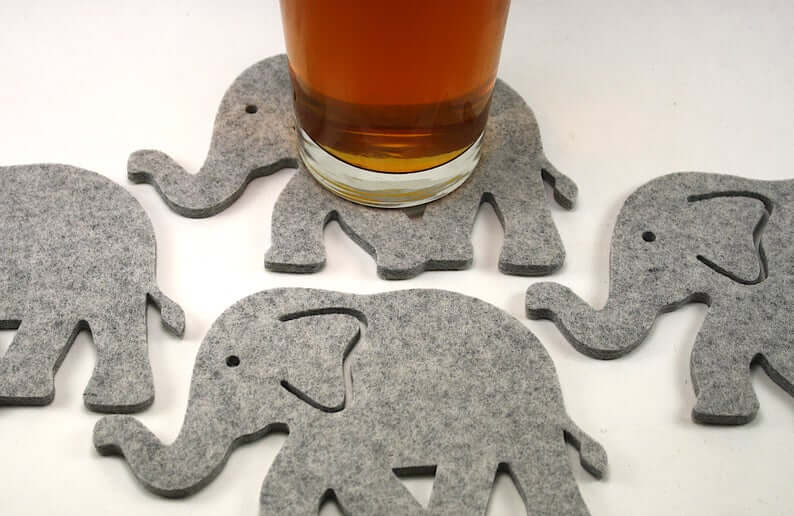 Elephants rarely forget, so you won't have to worry about your coffee, tea or other beverage being splashed or spilled on your table. There'll be no dents or dings with these lightweight, soft and 100% Merino wool felt elephant coasters as your surfaces will remain safe when using them. Elephant coasters are calming, cute and will grab the attention of your guests, plus they make great gifts. The coasters are available in sets of 4 or 6 in a rich, traditional gray/granite and an array of other colors, and they measure 4 inches by 5 7/8 inches.
6. Desert Cacti Quench My Thirst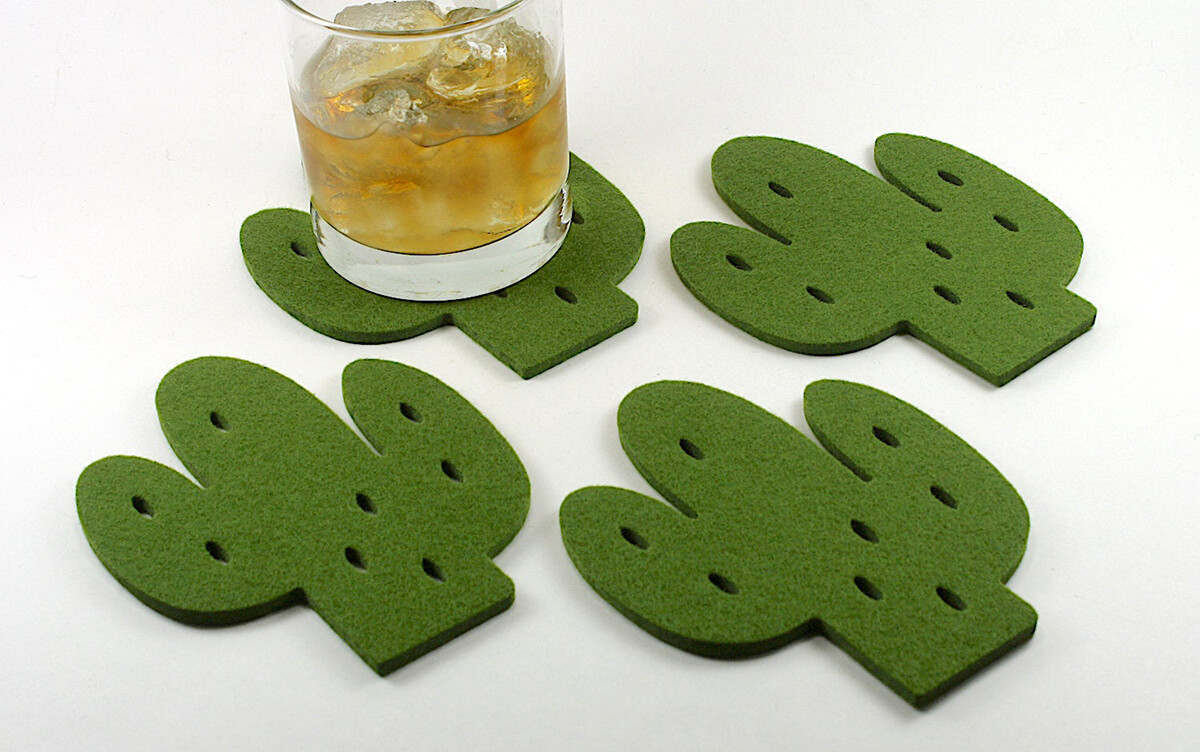 Southwest flavor characterizes these prickly cacti. Succulents are more popular than ever and people everywhere love the look of desert plants to enliven their home decor. Durable merino wool felt handcrafted in cactus form is light, soft and eco-friendly yet sturdy and absorbable enough to protect any table surface. A safety net with wool felt keeps moisture at bay and stops, scratches, dings and dents. The coasters measure approximately 4 inches by 5 7/8 inches and are some of the best cool coasters available because of their moisture catching capabilities.
7. Cats Love Cream and Coasters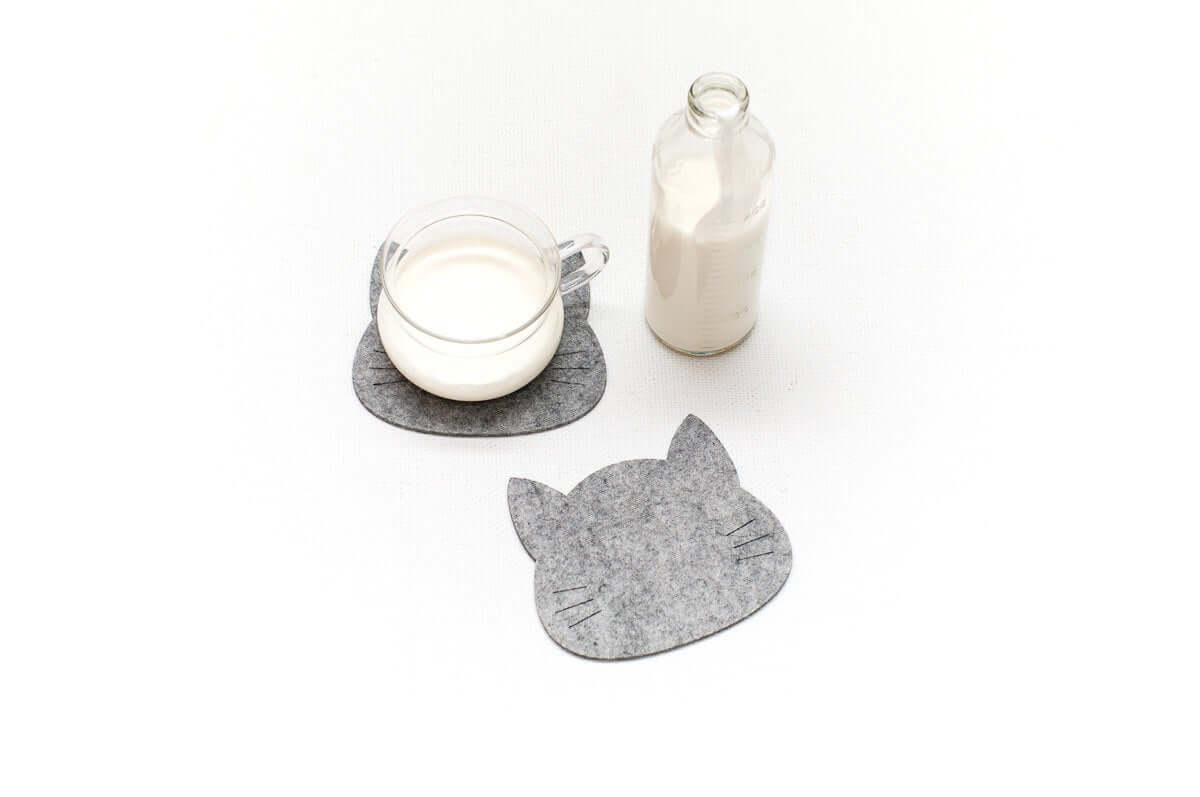 Cat lovers can take delight in this polyester felt (1/8 inch/3mm thickness) cat coaster design. Their color, depth and ability to absorb is amazing as is their larger size (4.7 inches by 4.3 inches – 12 by 11cm) that can accommodate almost any cup or glass. Your guests will love these cute cats with pointed ears and whiskers and if you want a lightweight gift for a cat loving friend, this coaster set would be ideal. The color choices in shades of gray and black provide a selection that coordinates with most anyone's decor.
8. Nibble & Sprinkle Donut Car Coaster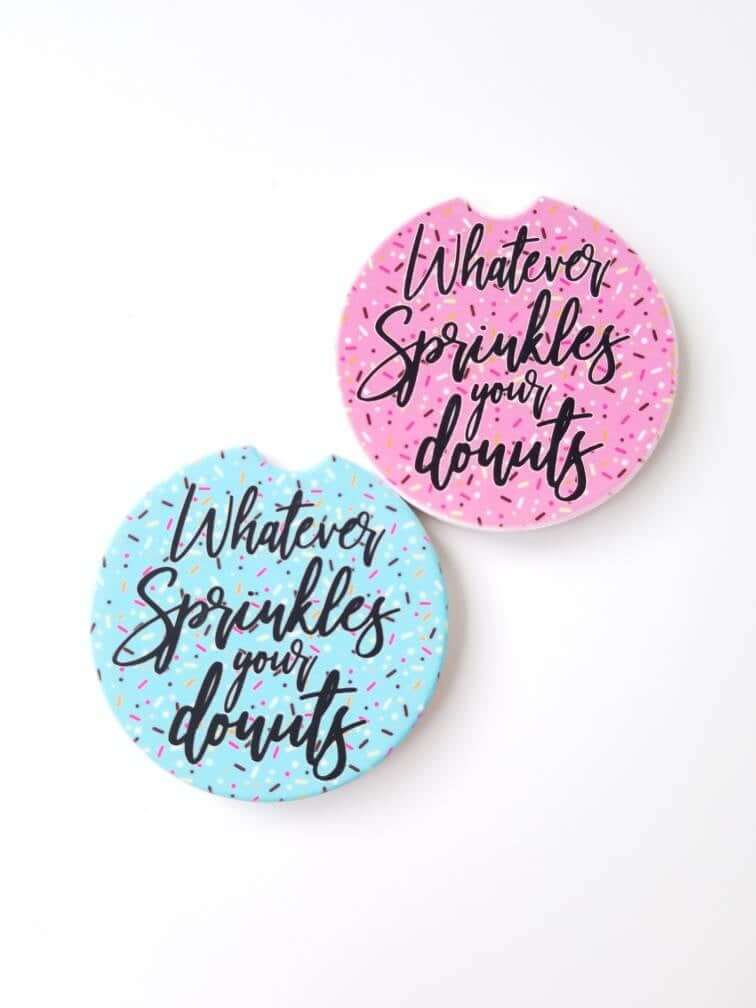 Whatever Sprinkles Your Donuts car coaster sets are handmade in a universal size to fit most car cup holders. If you have a donut lover in your family who wants to keep their car cup holder high and dry, these coasters are the answer to anyone's donut loving dreams. Made of sandstone, the "Whatever Sprinkles Your Donuts" ink infused design stays intact, so scratching and peeling is nonexistent. The coasters are round and measure 2.56 inches in size. Custom orders are available for this yummy donut design.
9. Puddin and Snow Frens Buddies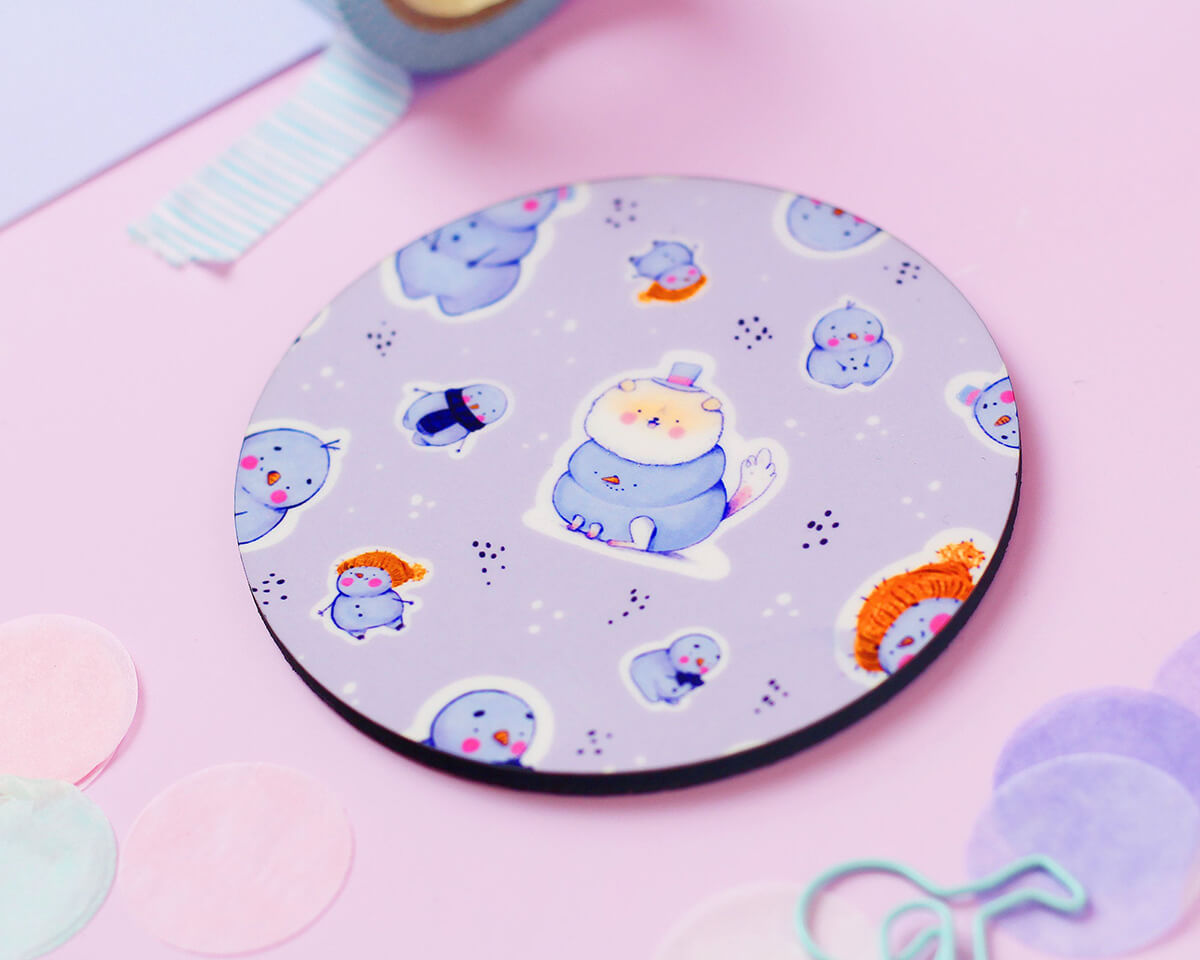 Beautiful pastel blue illustrated coasters with Puddin, and Snow Frens characters are just plain fun. Puddin the dog and his Snow Frens are hand printed by their Etsy creator in the Japanese art form "kawaii," which is the Japanese word for cute. They're all glad to be together to help you celebrate fun in the snow while having your favorite drink on them. These cute coaster characters find themselves on MDF (medium-density fiberboard) with a cork backing resulting in a total thickness of 4 mm or 1/8 inch for each coaster and 9cm or a little over 3 inches in diameter. Who doesn't like imaginary friends like these "kawaii"characters? Some of the best cool coasters have come out of this art form. Kids and adults love these bubbly shaped figures with their cute faces on coasters and anything else.
10. Bumblebees are Bee-utiful and Buzzin' Away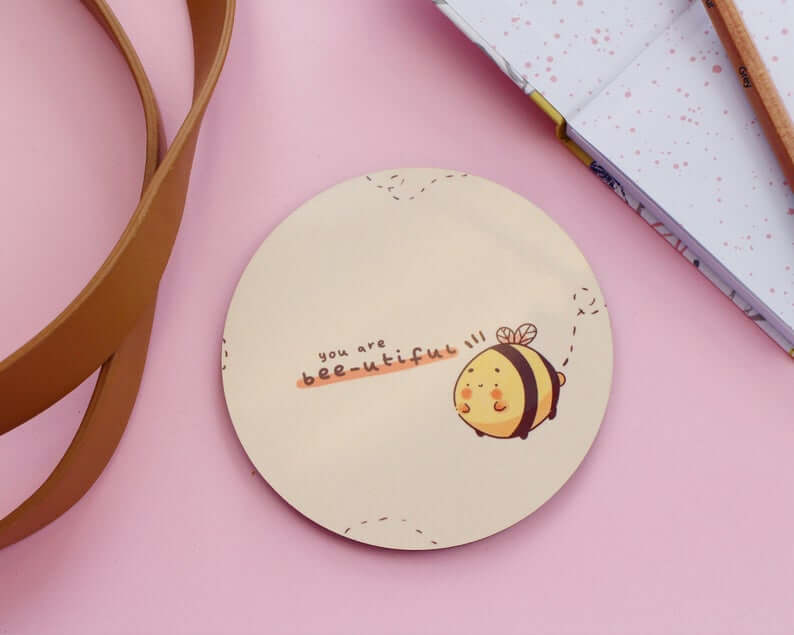 Here is another "kawaii" design with a bee-utiful bumblebee illustration hand printed by an Etsy artistic creator. This round, smiley and rosy-cheeked bumblebee is ready to buzz on around on an MDF (medium density fiberboard) background that has a cork backing. The coaster's thickness is around 4mm or 1/8 inch and its diameter is 9cm or a little over 3 inches. The Etsy seller provides a cellobag with logo for added protection of this adorable coaster design.
11. Bulbous Blobfish Goes Coasting in Pink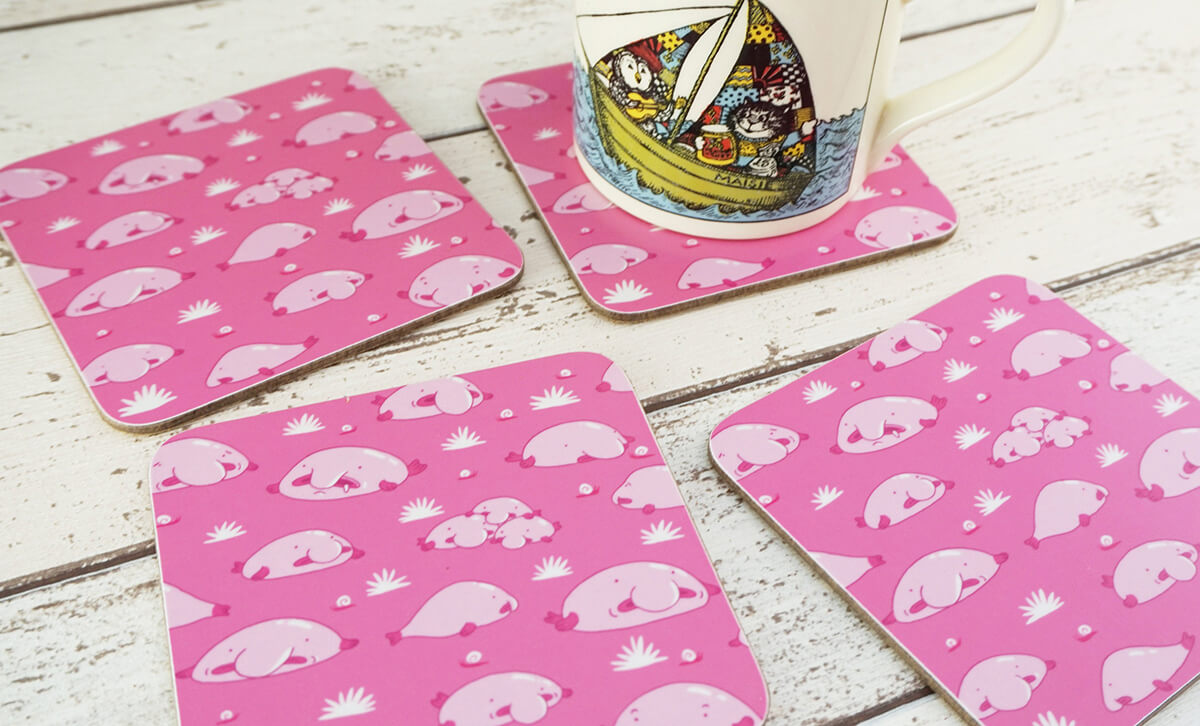 If you like a strange, funny and grumpy faced blobfish in pink array, you'll be pleased to add this bulbous character display to your coaster collection. Another Etsy artist provides this interesting and unique illustration in single coasters or sets of four. This square coaster with rounded corners has a melamine surface with cork backing that measures over 3 inches in size, or 98mm by 98mm. You can also use these durable coasters as pattern tiles to create a table design that keeps surfaces stain free and heat resistant. Animal lovers who like weird creatures will get a kick out of this blobfish.
12. Coastin' with My Cupcakes, Cookies & Yummies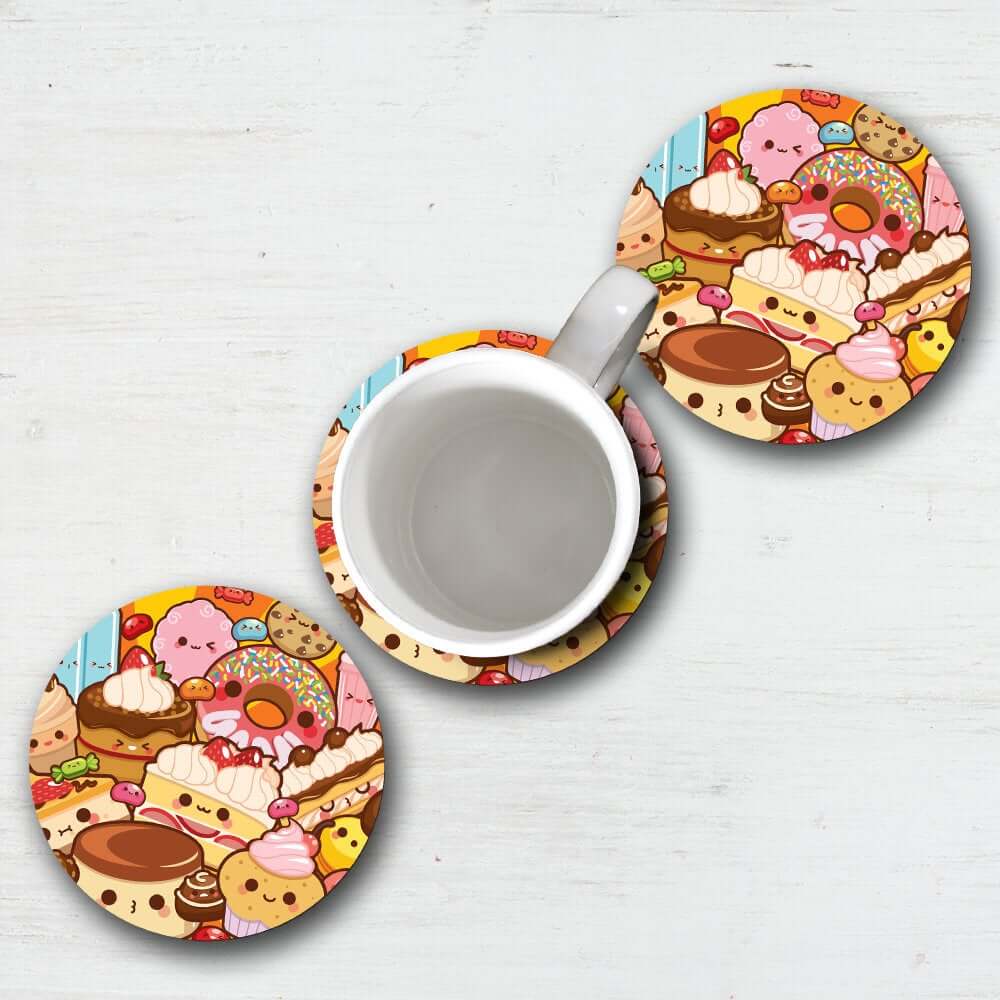 You can't ignore these sweet treat dessert coasters. Even though these yummies are in cartoon form, there is still room to drool over them while you enjoy your coffee or tea. You might have to run out for the real thing while you're sipping away on your drink. Bright and soft polyester fabric adorns these 3-1/2 inch wide and 1/4 inch thick round coasters with black neoprene padded undersides. This tasty sweet coaster comes in a traditional round shape that accommodates most any space, cup and glass size.
13. My Little Sloth Sloves Coaster Sitting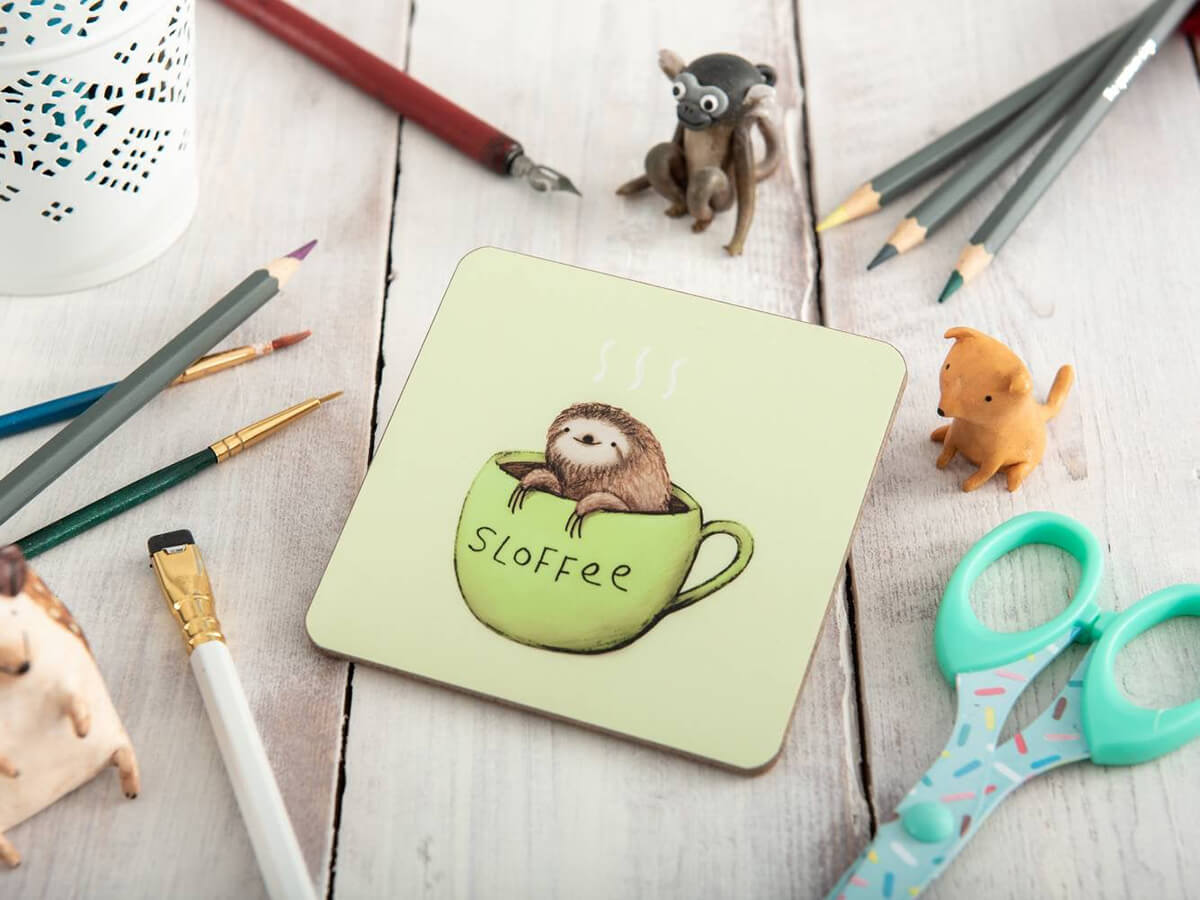 "Sloffee" is an Etsy original design, and this little sloth character enjoys the position he holds in his very own cup. He's placed on durable hardboard that has a matte laminate finish and a non-slip cork-backed underside. Sloths are on the scene with their incorporation in lots of decorative gift items and coasters are no exception. Your table or your friend's desktop might be the perfect place for Sloffee. The coaster measures almost 3 inches or 10cm by 10 cm in size with rounded corners.
14. Colorful Animal Friends like to Drink, Too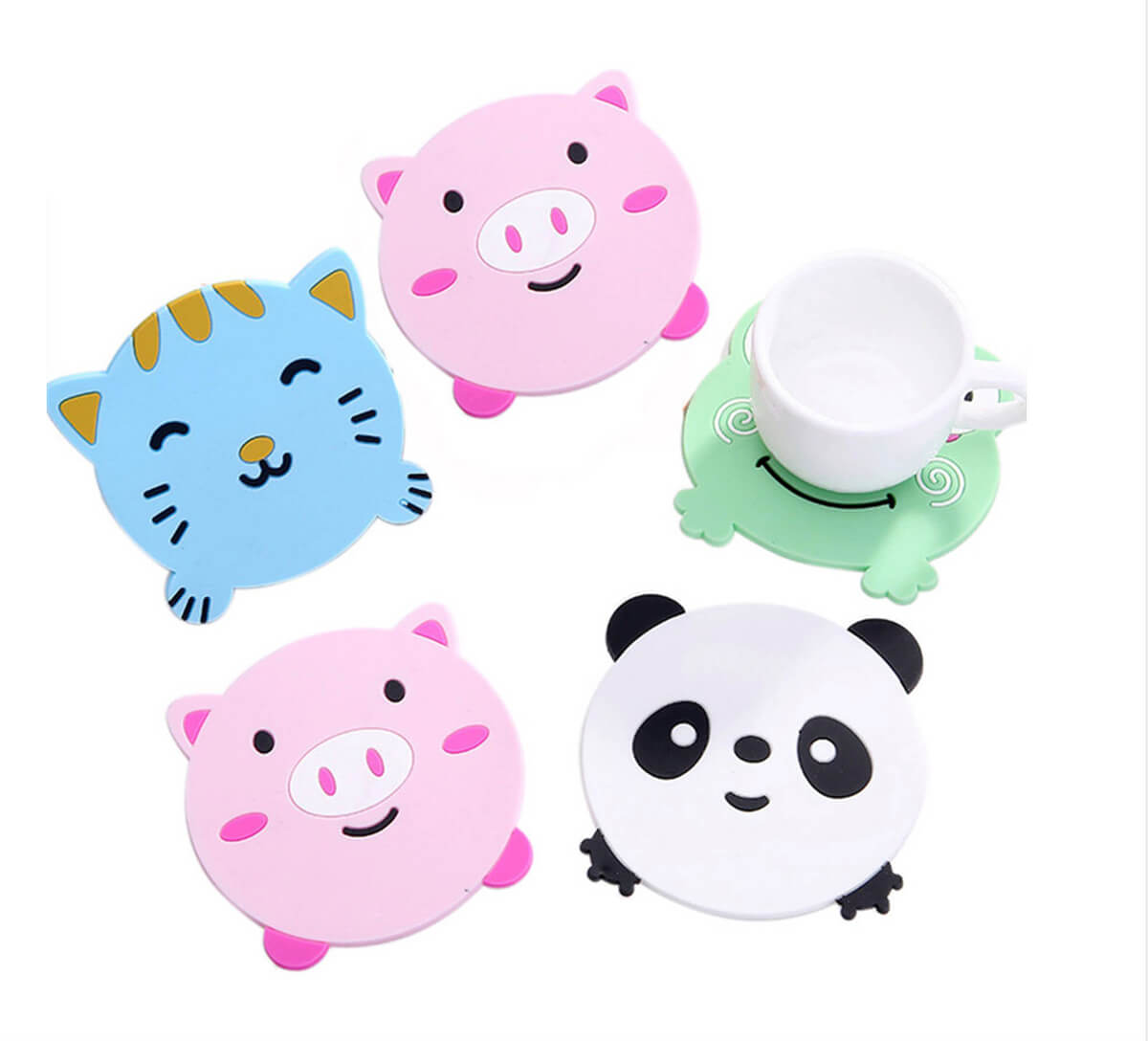 If you like all kinds of animals, you'll love the bright colors and happy expressions of the blue cat, pink pigs, white panda and green frog depicted on these coasters. They're great for everyday use or for gifts and they would be a smash at any children's party. The 5 piece set is made of non-abrasive upgraded silicone and is resistant to stains. Each coaster measures approximately 3-3/4 inches in diameter and are big and flexible enough to handle most any size cup or mug. They are protective of surfaces and can handle the heat and cold of most any beverage.
15. My Coaster Clouds of Blue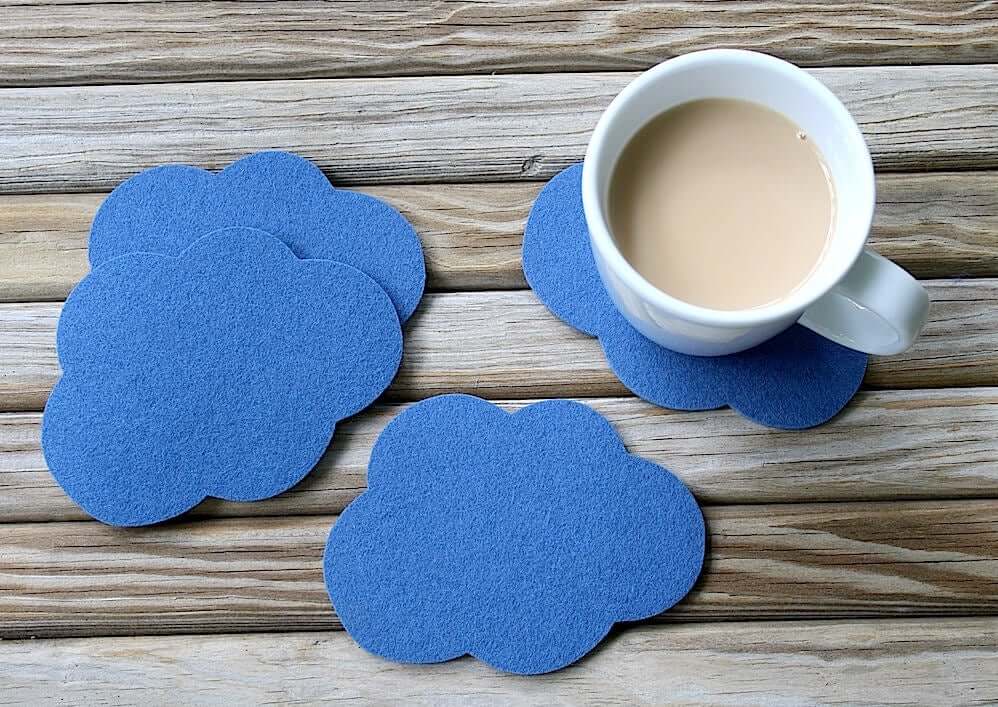 Clouds of Wedgwood blue felt coasters are realistic and designed to follow nature's natural curves. Constructed of 100% thick wool eco-friendly felt, this coaster will protect your tabletop from heat, cold and moisture buildup. Any condensation that develops won't soak through to the surface, so there is no mess, just a beautiful fluffy cloud. The clouds are available in coaster sets of 4 or 6 and other color choices. They measure 5-1/4 inches by 4 inches so there is ample room for most any size cup or glass. Our Etsy crafter recommends spot cleaning and cold hand washing of these fluffy clouds.
16. Dancing Unicorns Tapestry Magic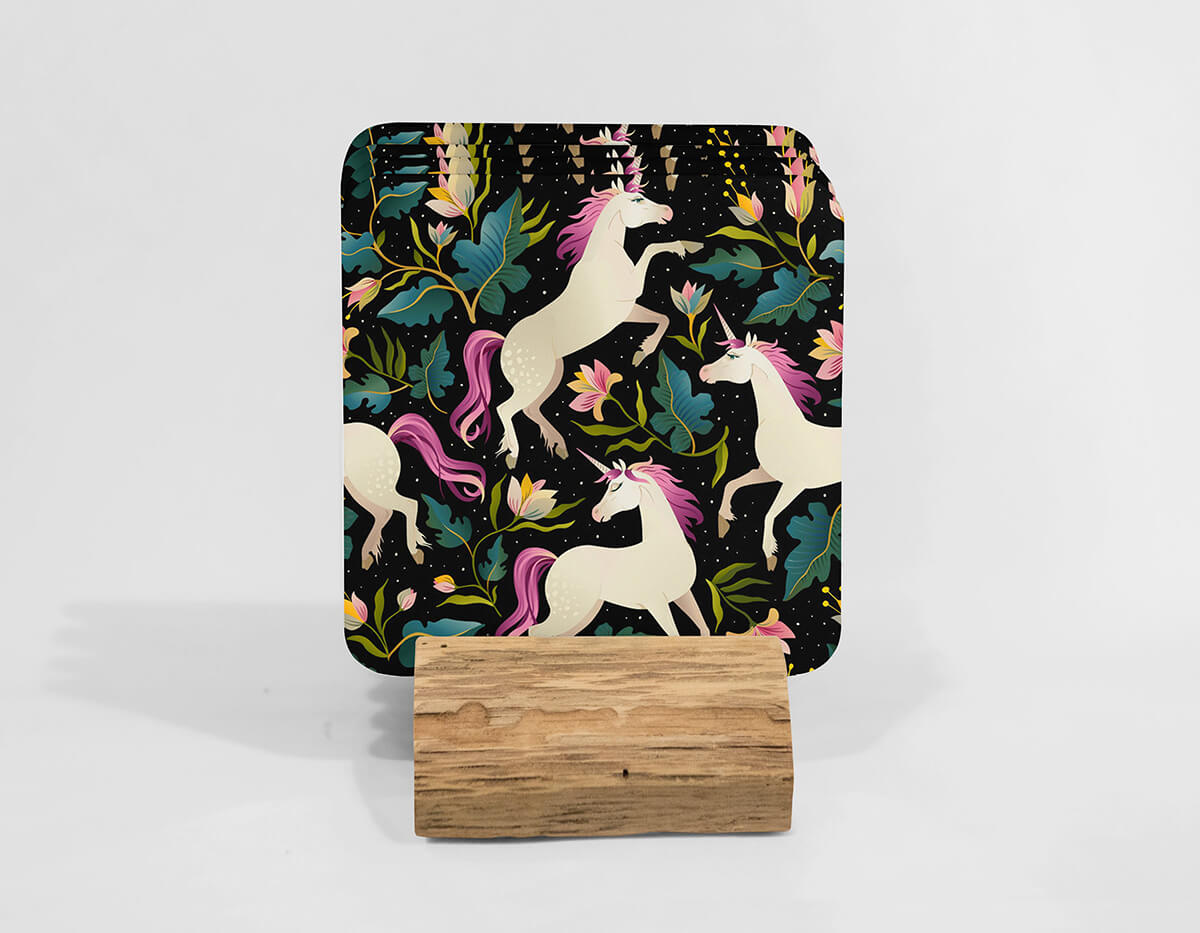 The mystique of unicorns never ends, and these dancing unicorns are continuing the tradition. These thick coasters are available in a set of four and are made of high end wood and ceramic. The tapestry background originates from a printed design that highlights the unicorns. These square coasters measure 3.9 inches and contain a hardboard gloss finish that makes them resistant to stains, mildew, heat and moisture. They are easy to clean. Rinse, drain and dry. If you want a sophisticated yet historical and fanciful look in coasters, this set is right for you.
17. Let Sleeping Dogs Lie on Coasters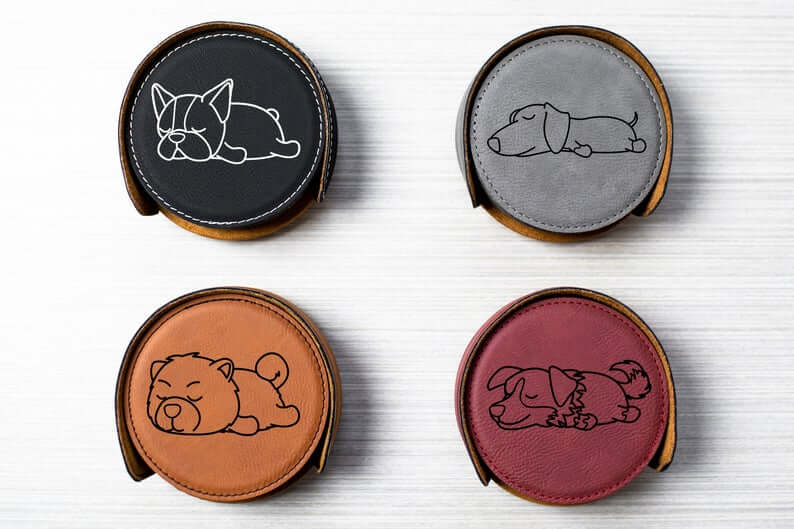 Another cute animal design features a set of four Vegan leather engraved dogs lazily sleeping the day away on these beautifully crafted coasters. There are four different designs from this Etsy crafter that feature sleepy dogs. Animal lovers will enjoy using these water-resistant and sturdy coasters as they protect most surfaces and countertops from moisture accumulation. The coasters measure 4 inches in diameter and can easily accommodate most any size cup or glass. The dog lover in you will want to give these sleepy pup coasters as gifts to other dog lovers. They're that cute.
18. Llama's Front and Center Coasters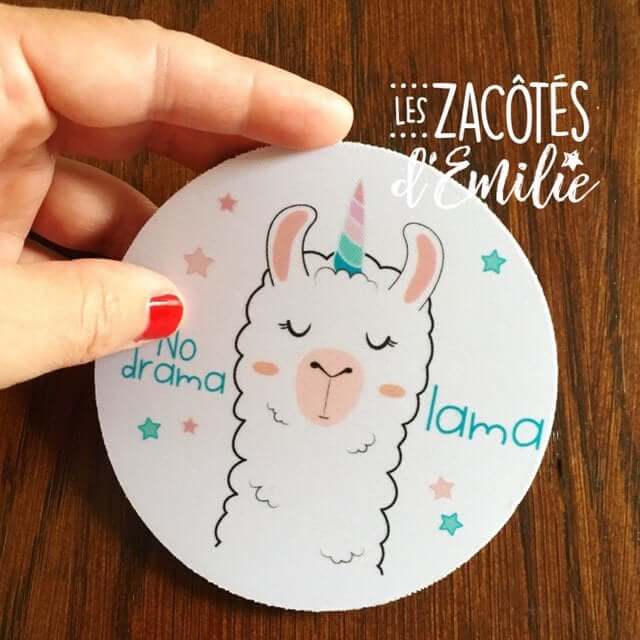 You've seen the phrase No drama lama on many a llama design and this cute handmade colorful llama with closed eyes is front and center on a waterproof rubber surface with the same inscription. There's no drama there, but the inscription is. This round coaster measures 4 inches in diameter and 1/4 inch inches thick, which makes it large and sturdy enough to handle the weight of most cups and glasses. This Etsy crafter offers the same llama decal to use on other surfaces.
19. Even Hedgehogs Want to Coast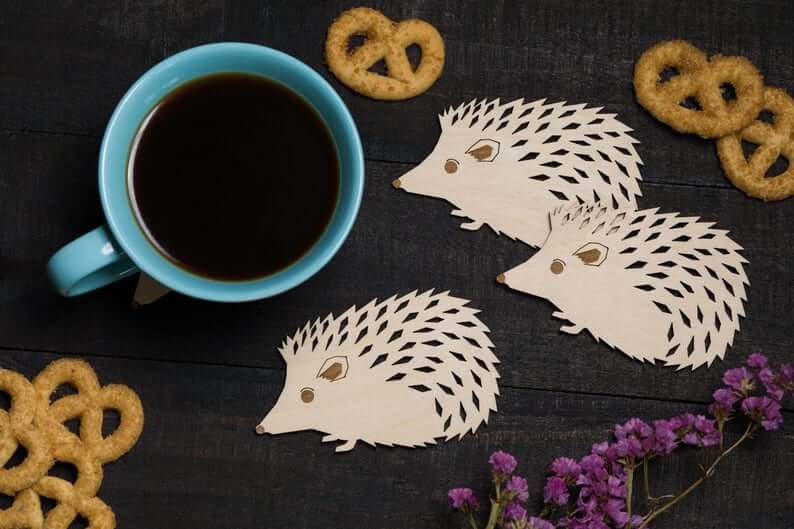 Hedgehogs are becoming as popular as sloths, dogs, cats and any other animal that can adorn the face of a coaster. These cute laser cut wood hedgehogs are strong, durable and as cute as any hedgehog can be. The coasters measure 4.3 inches by 2.75 inches or 11 by 7 cm. With hedgehogs being as popular as they are, any hedgehog coaster design is bound to be a gift that both family and friends would enjoy for years to come.
20. Duckies Love Water, Swimming & Coasters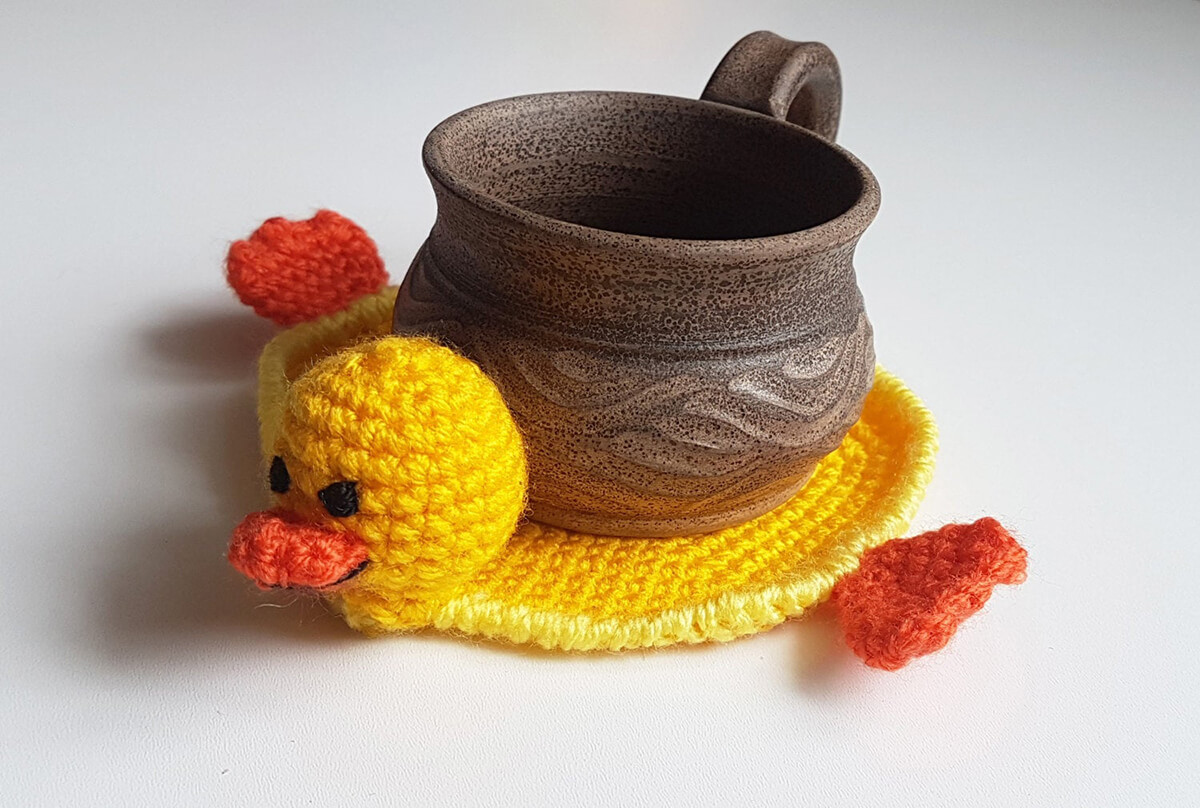 What's not to like in a cute rubber duck that reminds you of the rubber duck you played with in the bathtub or wading pool. This yellow crocheted duck is no exception in cuteness and usefulness for most any occasion, from baby and bridal showers to a child's birthday party. The duck is made of orange and yellow acrylic yarn and is stuffed with fiberfill. He's perfect for insulating both hot or cold drinks and can be used with smaller serving dishes to keep food warm. This cute duck would love to be part of your home whether used as a coaster, warmer or decorative piece.
21. Cork and Bunny Stamp Waitin'to Hop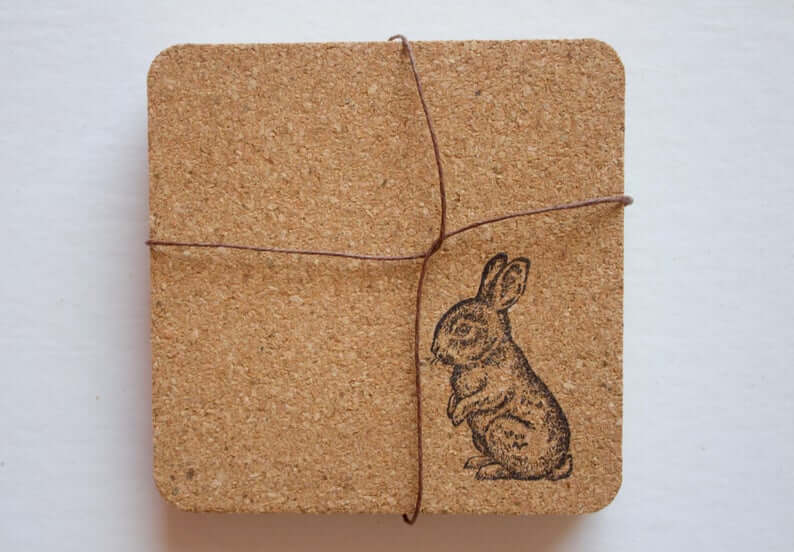 Who doesn't like a cute bunny rabbit hand printed and highlighted on one corner of a square coaster with rounded corners? No coaster is the same with this design, so each one is a unique, handmade coaster. Cork is an eco-friendly and sustainable material and no tree is destroyed in the cork's processing. The cute neutral color tie finishes the look of this coaster. If you're an environmentally aware individual, you'll love the natural touch this coaster set brings to your tabletop, counters and decorative accent needs.
22. Pink Hearts Crocheted with Love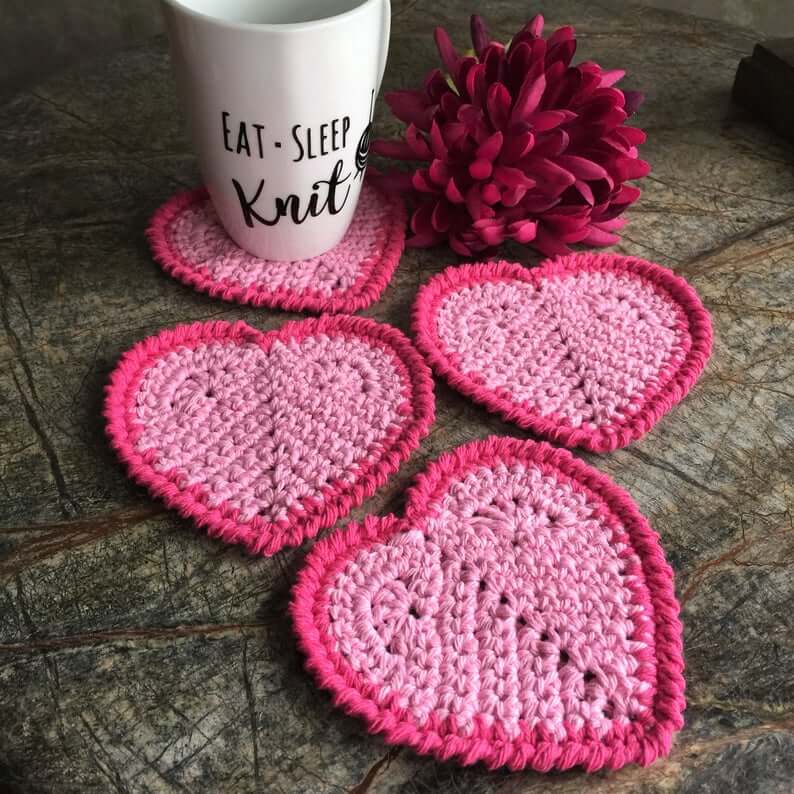 Nothing says love louder than a handmade and crocheted pink heart to use for most any occasion. Valentine's Day, engagement parties, weddings, anniversaries, tea parties and other events are perfect settings for using anything related to hearts. Crocheted hearts make wonderful gifts, and you can use them as small dish and wash cloths as well as other decorative accents. This darker pink edged heart with a lighter pink center measures approximately 4 inches by 4 inches and is 1/8 inch thick. The coasters come in a set of four and are machine washable. Lay flat and reshape to dry.
23. My Little Pastel Emoji Unicorn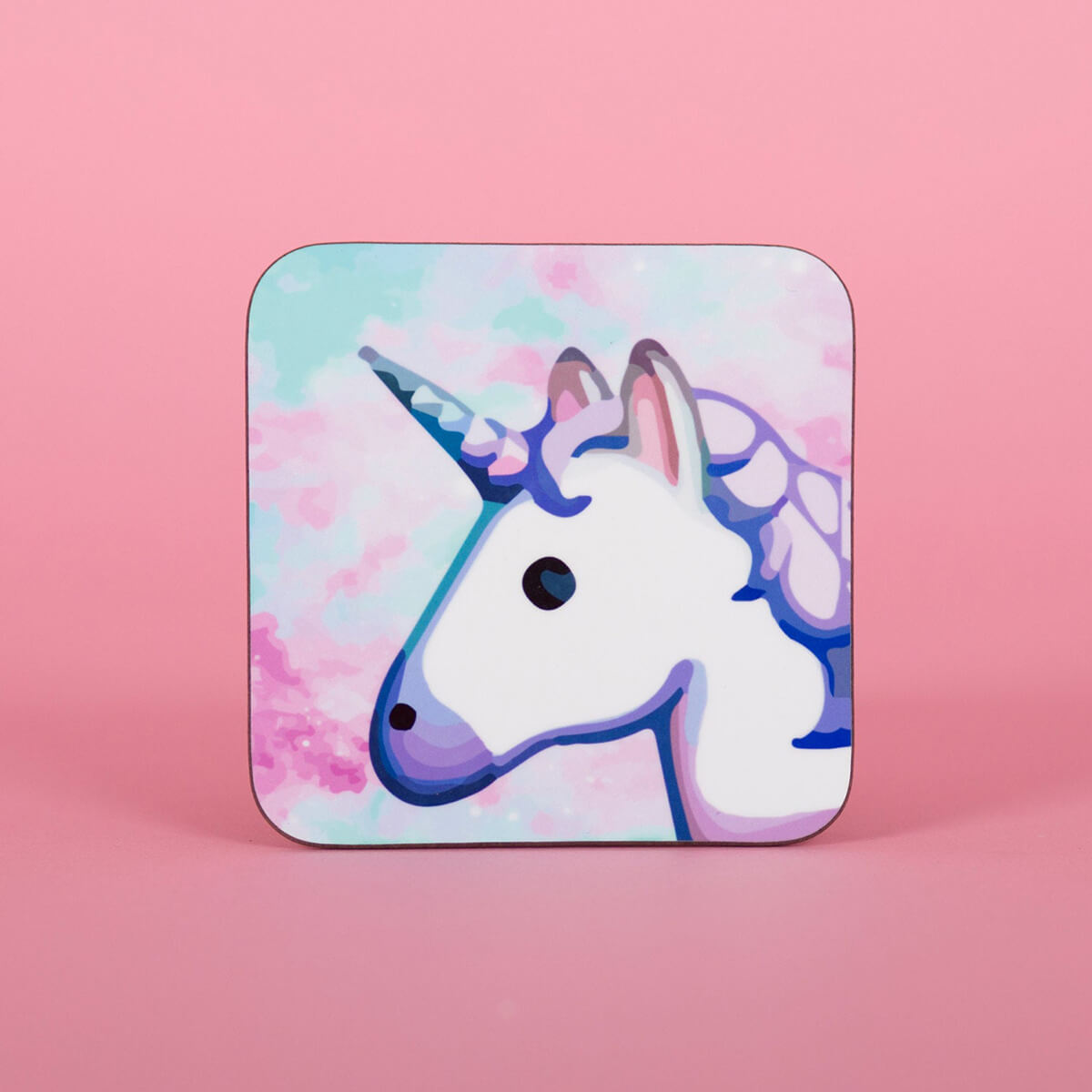 A pastel unicorn icon is a simple yet awesome idea for a coaster cover. This cute and child-friendly emoji in unicorn form is a handmade space rainbow coaster. It's a fun piece comprised of plastic with a gloss finish and wood backing that's square and measures 3.5 inches by 3.5 inches. The colors in this magical coaster make it a perfect favor for a children's party or a decorative piece for a child's room.
24. I'm a Water Color Corgi Coaster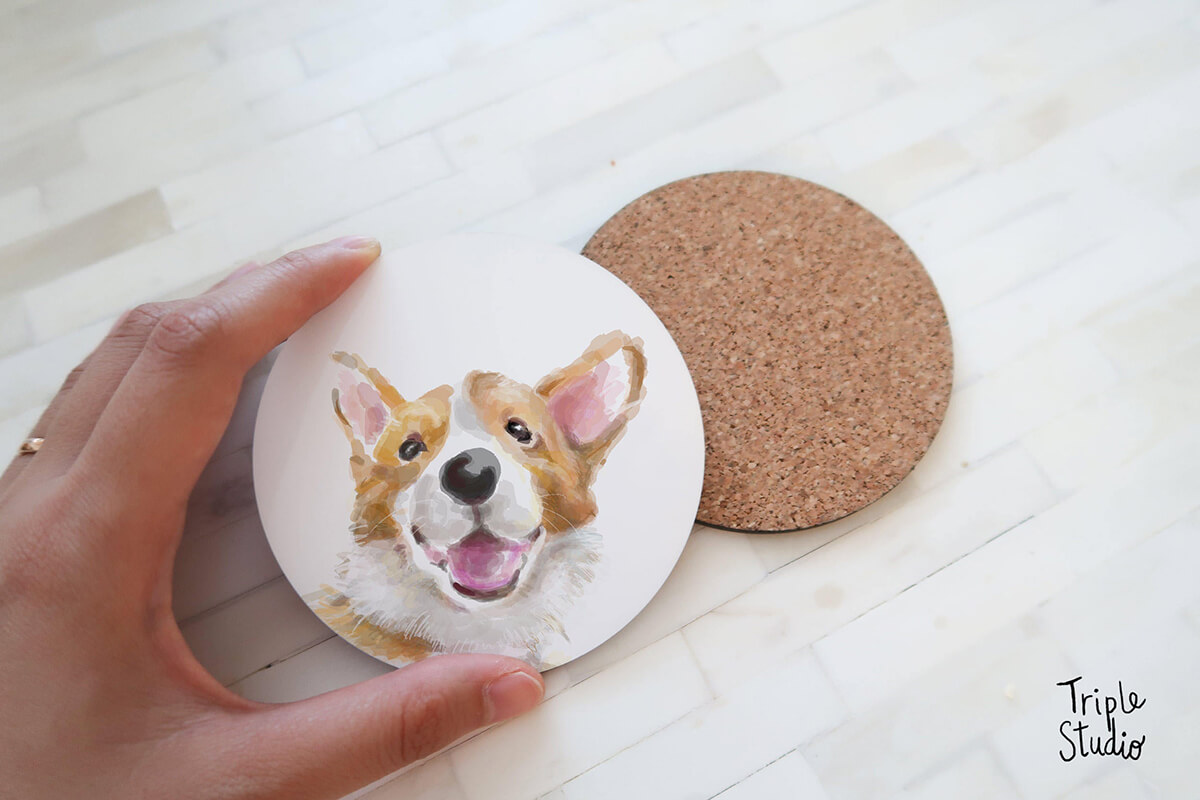 Welsh Corgi dogs are adorable and so is this beautiful watercolor rendition of this cute corgi. The coaster has a cork backing and a gloss finish on the front that makes this coaster durable and resistant to moisture, cold, heat and even scratches. It measures 3.75 inches in diameter and cleans easily with a simple wiping motion. This Etsy watercolor artisan offers the option of different animal choices on coaster sets.
25. You've Got to Love Watermelon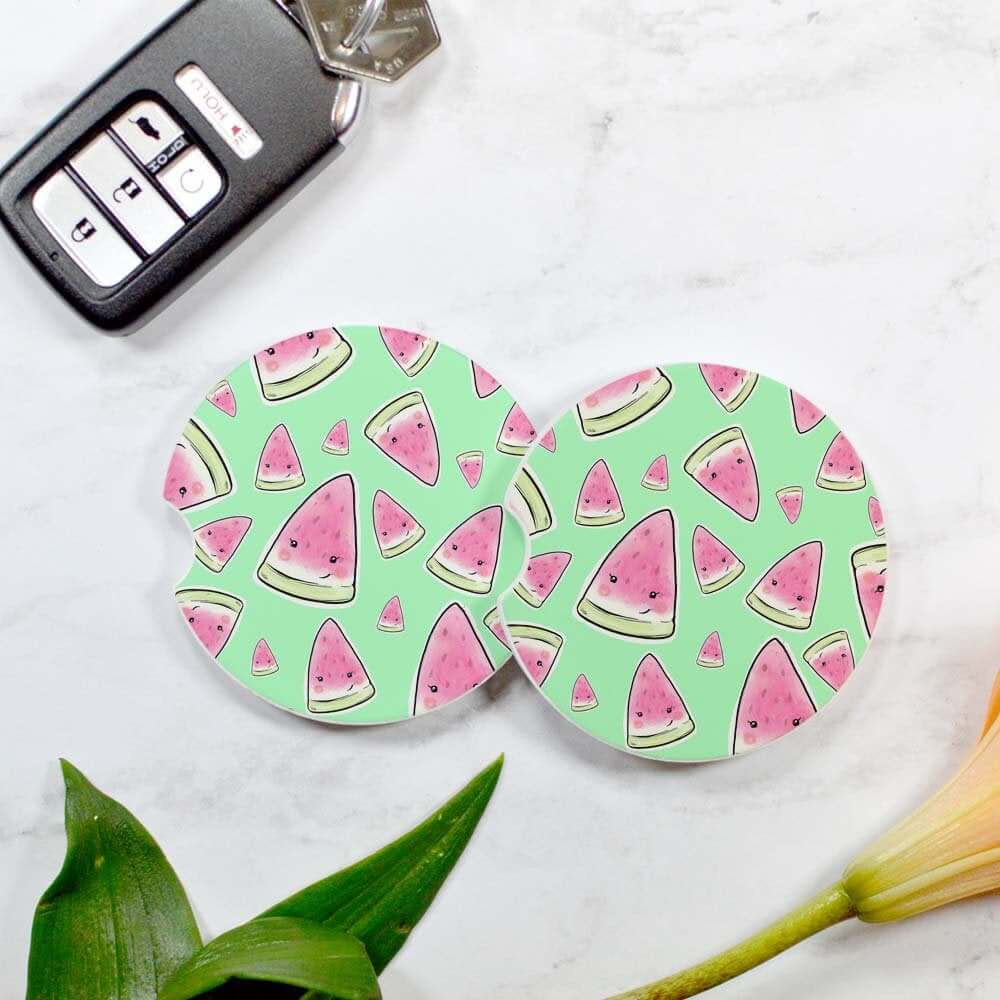 When you think of watermelon, it stirs memories of 4th of July, other summer holiday celebrations and picnic fun. A handmade watermelon car coaster can stir the same memories. The coaster is made of sandstone with watermelon images printed and pressed into the sandstone. Your cup holder will remain clean and dry with this cute watermelon design and it's sized to fit most vehicle cup holders. Each round coaster with divot measures 2.56 inches by 0.30 inches and comes as a set or individual coaster.
26. Sloth Among the Leaves & Blossoms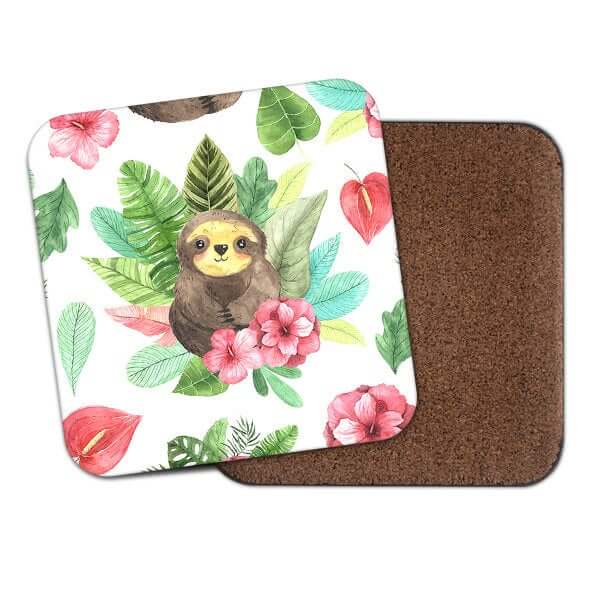 Here's another adorable sloth coaster to add to your collection of sloths and other animals. This cute critter has the sweetest facial features and is showcased in a centerpiece of beautifully multi-colored leaves and pink blossoms. Anyone who loves a sloth motif would like to have this animal friend coaster in their home or office. The coaster has a square shape with a wooden back and a gloss finish. It measures 3.5 inches by 3.5 inches and comes in a set of four.
27. Personalized Daddy Coaster of My Very Own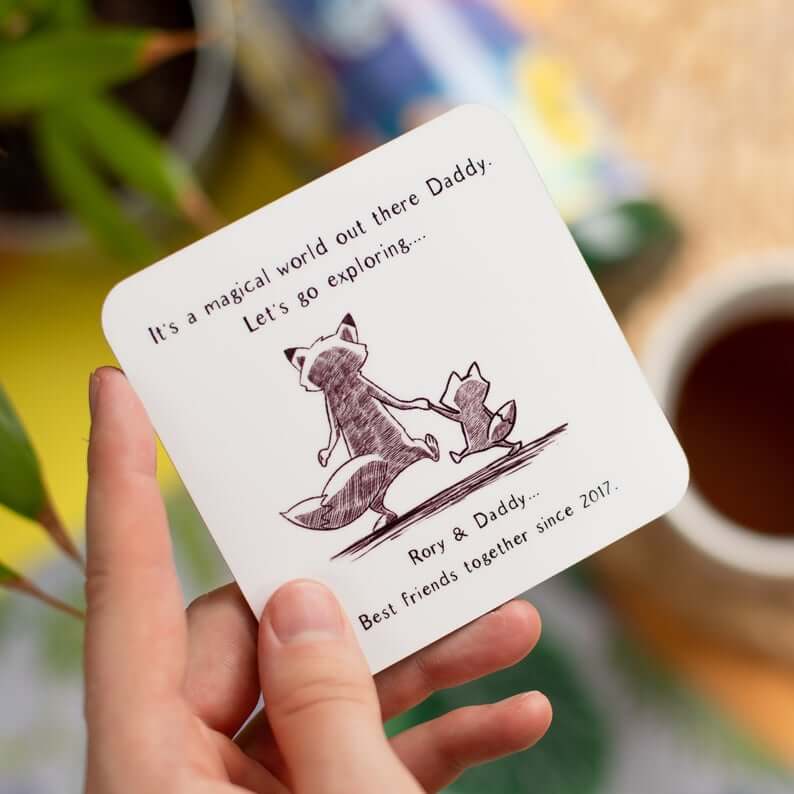 A personalized coaster is a keepsake, and this one for daddy is worth saving. Use it as a Father's day or Christmas stocking stuffer for dad, granddad or a step-dad. The personal message is touching and the coaster can be customized with the name of the recipient and the sender. The daddy fox and smaller fox cub or cubs are cute representations that a younger child or children would love to give to their parent or grandparent. This affordable coaster is made of MDF wood and is handmade in a black and white sketch format. It measures approximately 3-3/4 inches by 3-3/4 inches or 9.cm by 9.5cm.
28. Donut Coasters Can't Resist Coffee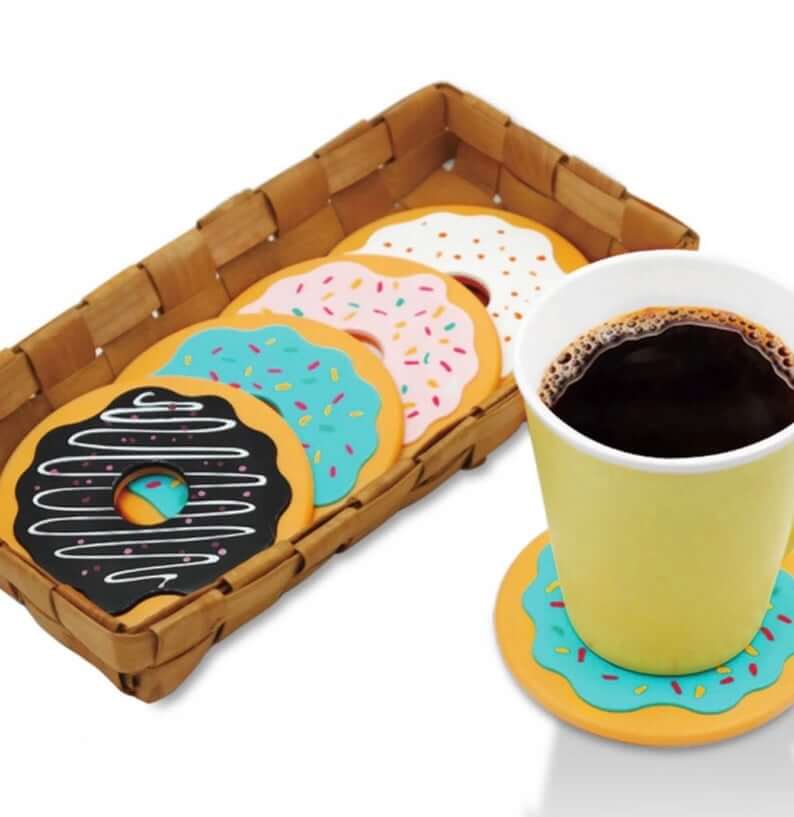 Who ever met a donut they didn't like? Well, this 4 piece multi-color donut coaster set won't resist tending to your coffee or tea in the best way. This made to order set is comprised of ABS (plastic material) and silicone. Each coaster measures a little over 4 inches in diameter or 10.5 cm. If you like donuts with your coffee, you'll love using these coasters.
29. Cat Lovers Love Cat Coasters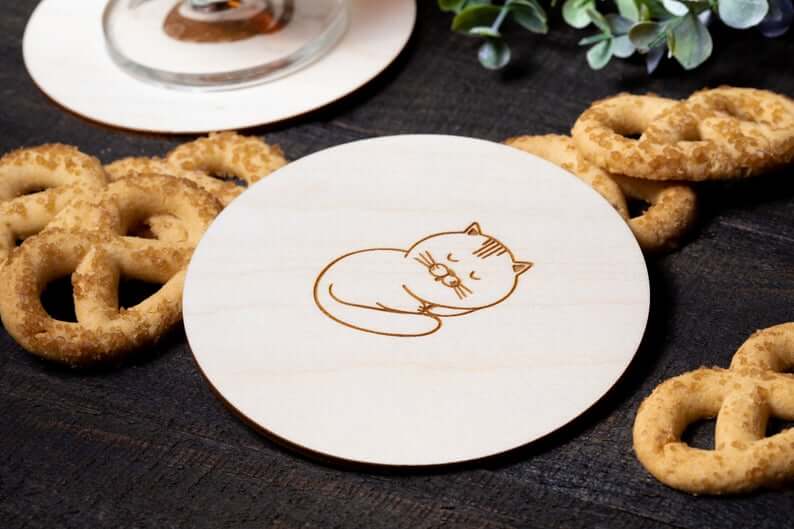 A cat coaster set of four would not be complete without at least one sleeping cat and three others ready to roam, jump and play. This strong and durable set of cute, lighthearted canines would thrill any cat lover. The set is handmade of wood and measures 3.9 inches by 3.9 inches or 10 by 10 cm and is 1/8 of an inch in thickness or 3mm. Surprise the cat lovers in your life with this whimsical set. It's a great gift item with lots of possibilities for not only beverages but decorative touches.
30. Toast and Juice was Never Better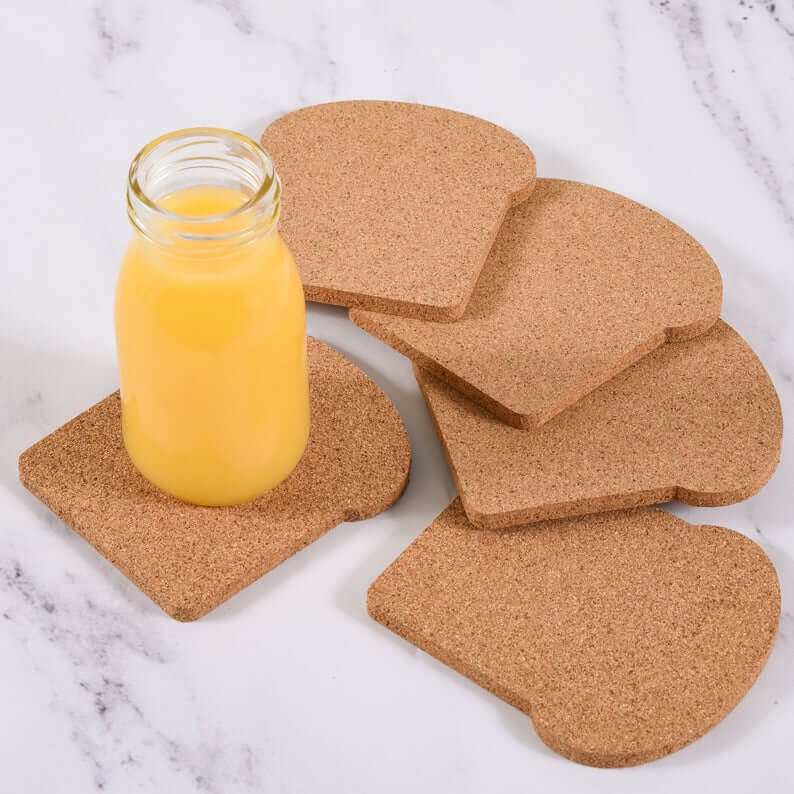 Using farmhouse toast coasters is one way to get a good cup of coffee and a wholesome breakfast. This set of five is the perfect accompaniment to your morning meal or brunch while they protect your breakfast nook or your kitchen table. You'll be glad you have these 100% non-slip cork coasters as they're absorbent, decorative, and eco-friendly. You won't have to worry about coffee rings anymore with these breakfast companions as they provide protection from moisture accumulation, coffee rings and spilled juice stains, and they protect your kitchen surfaces from scratches and scuff marks. They measure five inches and are the perfect companion to rustic or farmhouse decor.
31. I'll Have an Orange with my Coaster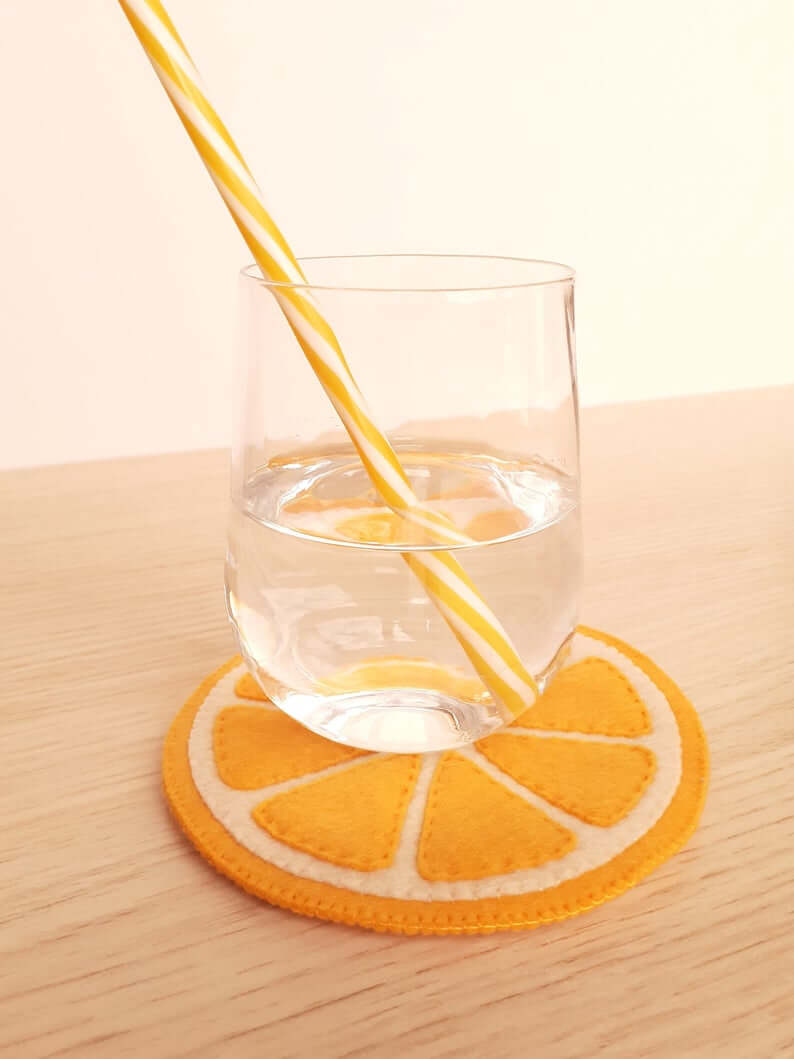 Fruit coasters are the perfect companion to any meal and this set of four fruit inspired coasters fulfills your daily fruit requirement. Included with this beautifully handmade set are an orange, watermelon, lemon and kiwi coaster. They are made of high quality felt and measure approximately 4-3/4 inches in diameter or 12 cm. They require hand washing with gentle soap and should be dried flat in a shaded area. If you love genuine looking fruit slices, you'll want to inspect these exquisite Italian made coasters. They're one of a kind coasters and make fine gifts for food connoisseurs.
32. Wooden Rounds Sittin' Comfy for Donuts & Coffee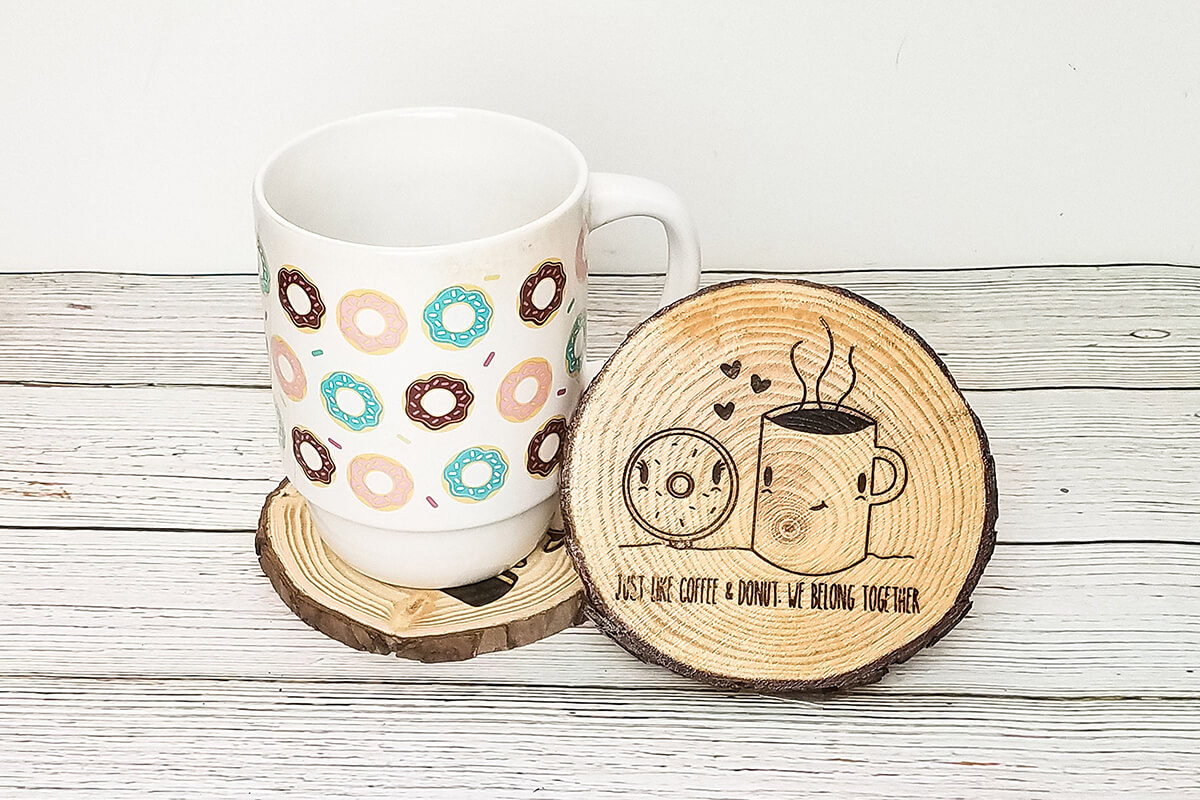 If you like the rustic, country or farmhouse look in coasters, you'll love these handmade wooden round slices and their cute and inspiring message, "Just like coffee & donut we belong together." This is a great set for coffee lovers and husband and wives who love to sip coffee together and maybe have a donut or two on the side. These slices are made of natural wood and are finished with a clear coat of shellac. They measure approximately 4.25 to 4.7 inches or 11 – 12 centimeters in diameter and 0.4 inches or 1 centimeter in thickness. Wood coloration can vary with these slices. They slices are available in large or small slices and square stained or natural choices.
32 Cute Coasters that will Immediately Add a Unique Touch to Your Home
The best cool coasters come in all shapes, sizes, colors, and styles and that's just what artistic and innovative Etsy crafters have in mind when creating their own unique designs. People in search of coasters love the idea of a myriad of selections to suit their tastes and whimsies. Choosing and finding just the right coaster for your favorite cold and hot beverage is part of the fun. A cute coaster can bring joy when you sit down with a hot or cold beverage while it protects and saves wear and tear on your table or bar. Coasters also offer design options and alternative uses beyond your dining or snack table. Out of the box thinking with coaster use brings crafting and designing with coasters to a whole other level. Crafters from Etsy have the right idea with their artistic talents and you can too with choosing what works for your table and decor. Try it yourself. You just might find the right coaster for your new world of fun in cool coaster use and activities.
Our Favorite Farmhouse Decorations to buy on Amazon