No more do you have to have plain cork boards taking up space in your home when you have the best cork board ideas at hand. Take a journey through 29 incredible handcrafted items that will take your functional decorating skills soaring to new heights.
Corkboards are one of the most useful things when it comes to organizing schedules, notes, or setting up small pictures when you don't have (or don't want to) use picture frames. They can even be used to hold numerous pins, which is cool for the collectors of the world. But sometimes, it is nice to have a board that isn't just large with a square or rectangle design and nothing else. Maybe you want the board to still fit in with the current decorating theme your room has. Or maybe you just want it to better capture attention.
29 Fun Decorative Cork Board Ideas that will Transform How you look at Cork Boards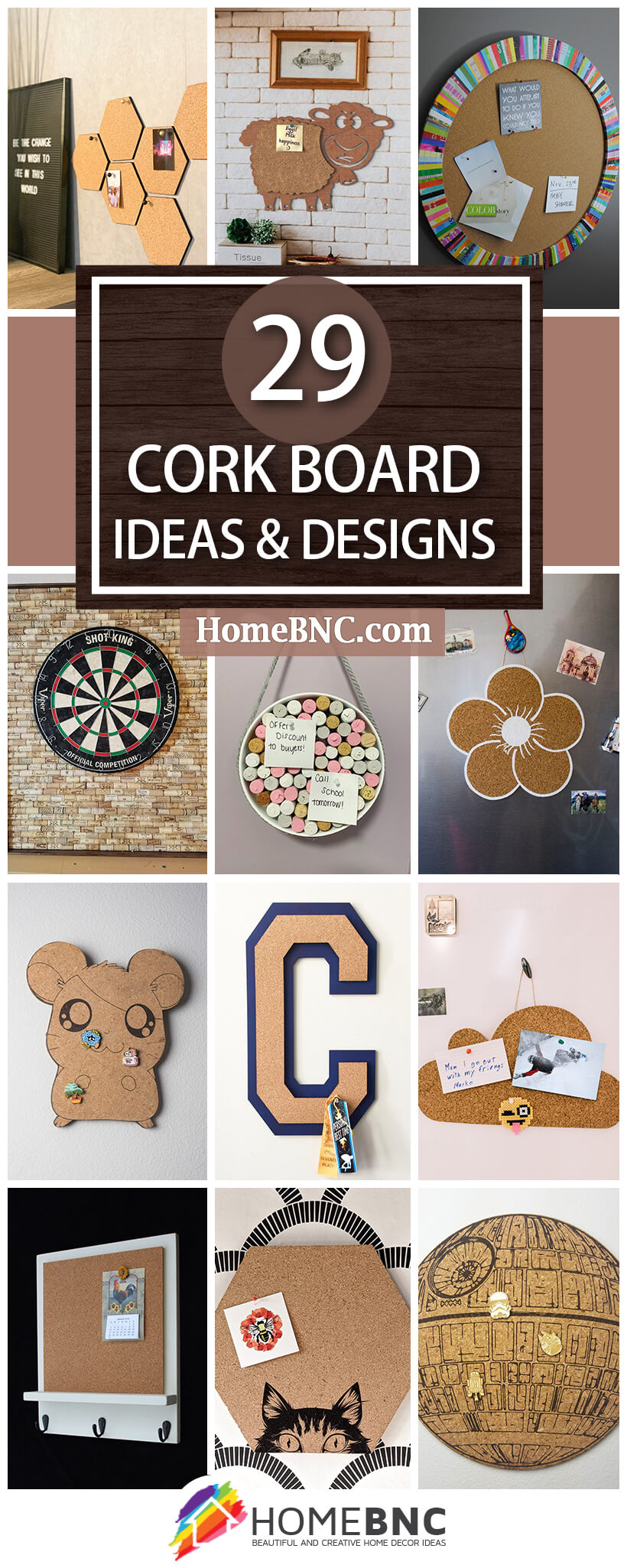 That is where creative cork boards come into play. They are remarkable and appealing, and they can come in various shapes, sizes, and colors. Some still go for the traditional cork board appearance while adding things to it like laser-cut custom names and artwork, or it may just have a high-quality frame attached to it. Boards large and small alike can add a distinctive touch to the decorations along your walls with many working out well in a kitchen, an office environment, or even a child's room.
There's no more time to waste, so let us take a look at 29 amazing cork board ideas that will capture anyone's attention.
1. Cute Bear Shaped Cork Board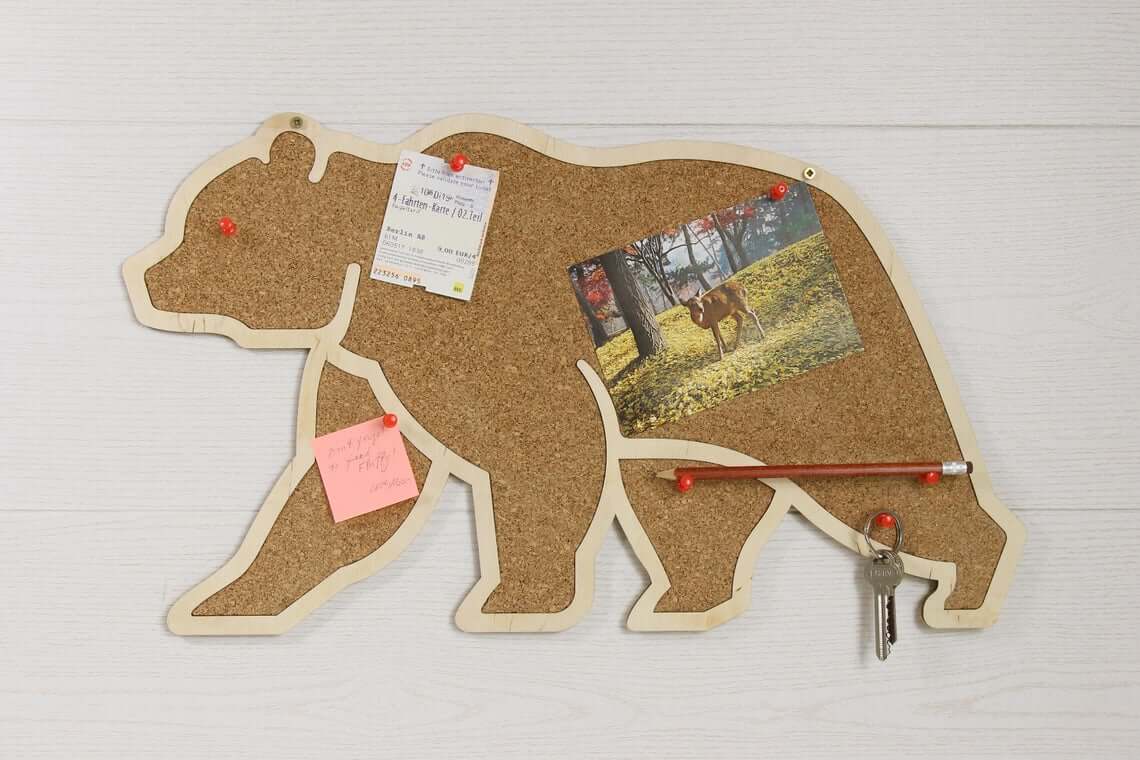 Let's move away from the standard square-shaped boards and focus on something unique like this bear-shaped corkboard. It is a popular addition concerning children and teens, but it is just as loved among adults. With such an interesting shape, this can instantly steal the show no matter what room it is used in. It's still made from reliable material so that students can use it to hang up important notes or their favorite pictures of friends and family. This has versatility too, so if it's hung in a bedroom for younger kids or even a nursery, it can function as cute décor instead.
2. Personalized Name Cork Message Board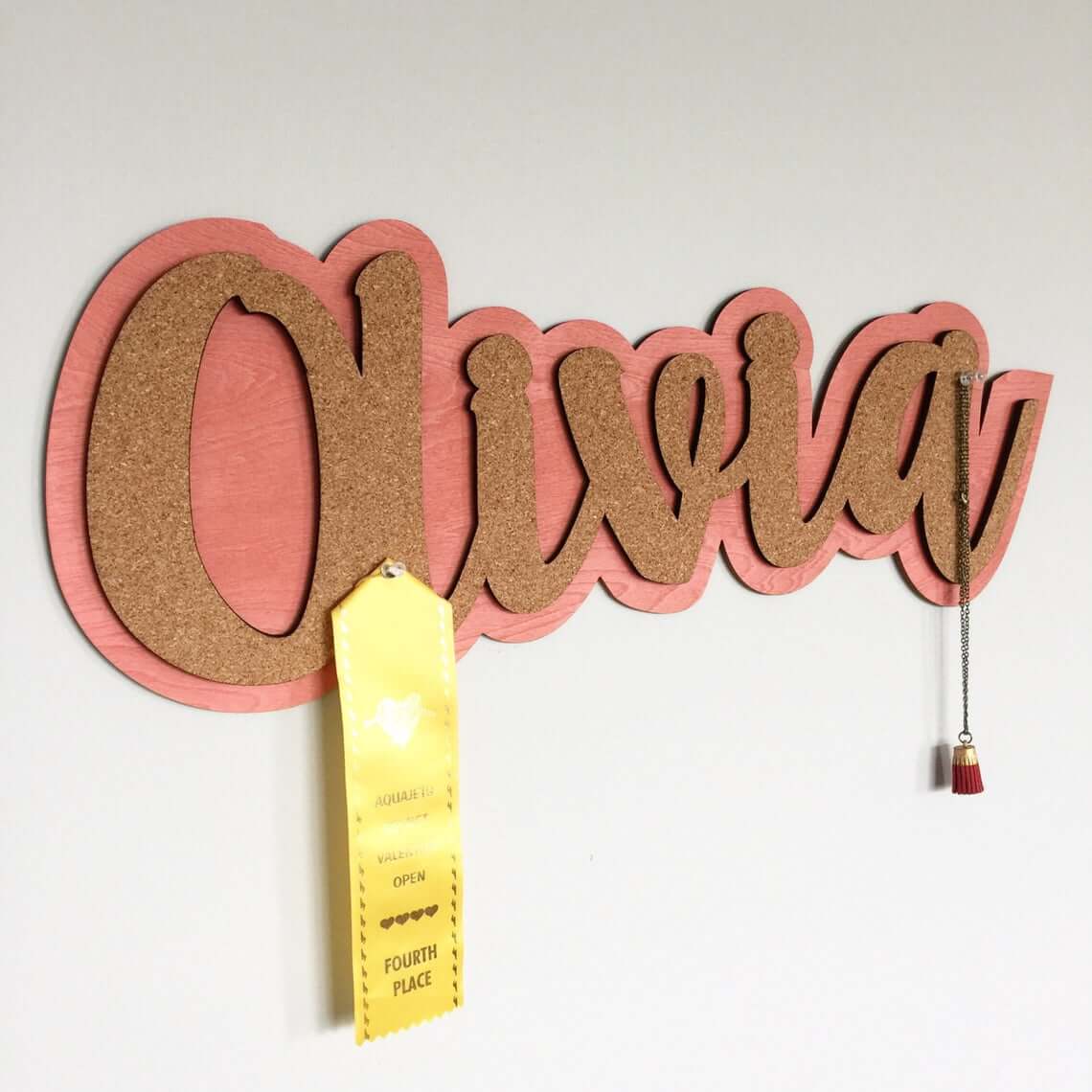 When looking for functional decorations, why not go for a more personalized corkboard? As far as creative cork boards go, this name-based one is a fun choice for a bedroom, dorm room, or even an office. This well-designed board is available in more than a dozen different background colors so that you may further modify it to fit your specific room. You may even choose how you want to hang it such as having it made with holes or without. How much room you have to hang things on depends on the name, of course, but there should be plenty of comfortable space to treat this like any other corkboard.
3. Cool Varsity Letter Design Cork Board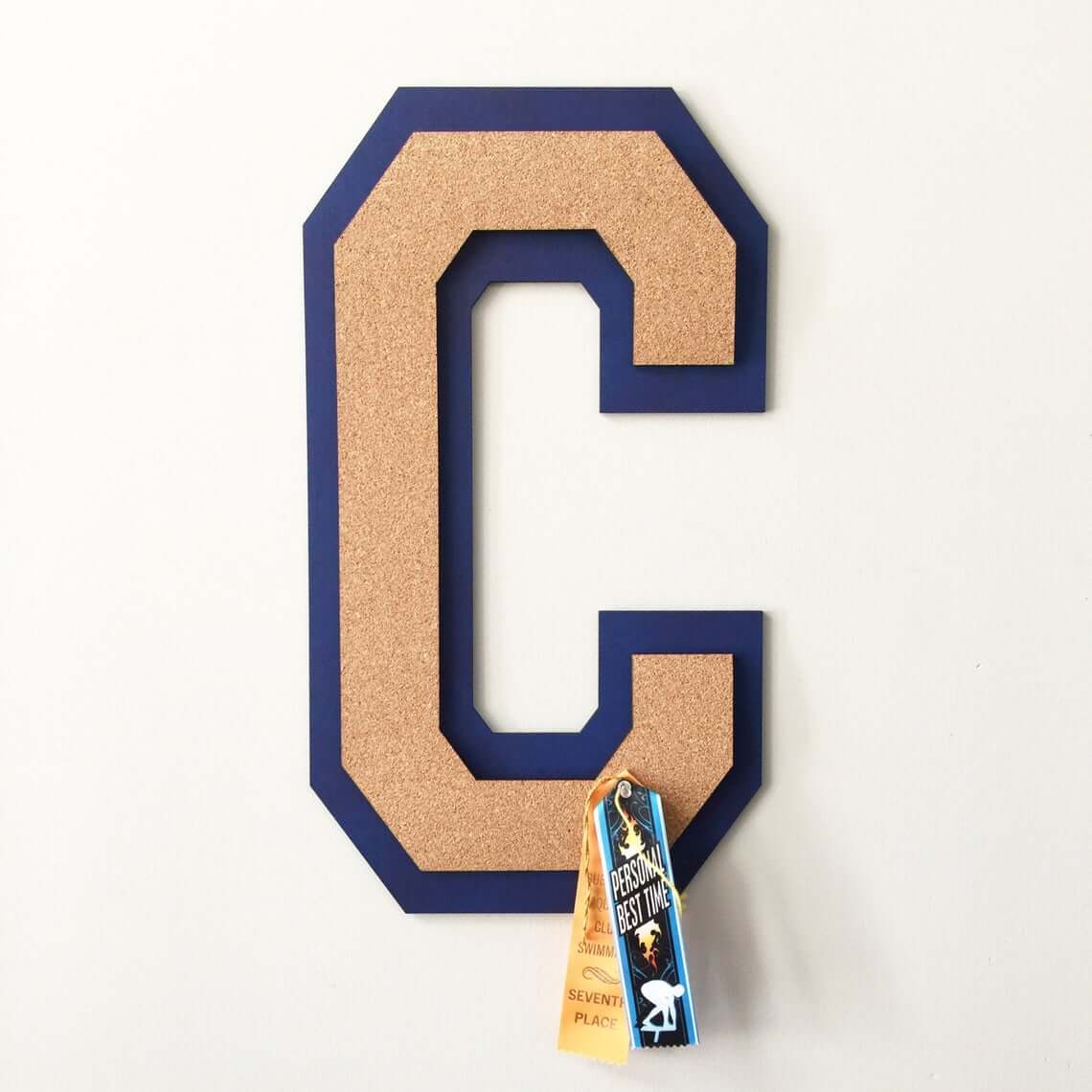 From bedrooms to living rooms, and college dorm rooms, a varsity letter can always be just the thing those bare walls need to liven them up a little. What is so incredible about this is that it can work whether you're in school or have long graduated and simply want to still show off your support. You can choose any letter in the alphabet too so that no college or high school is left out. Of course, if you don't want to use this for school spirit, you can opt for using it in place for a name initial and hang it up in a kid or teenager's bedroom.
4. Incredible Zelda Triforce Shield Board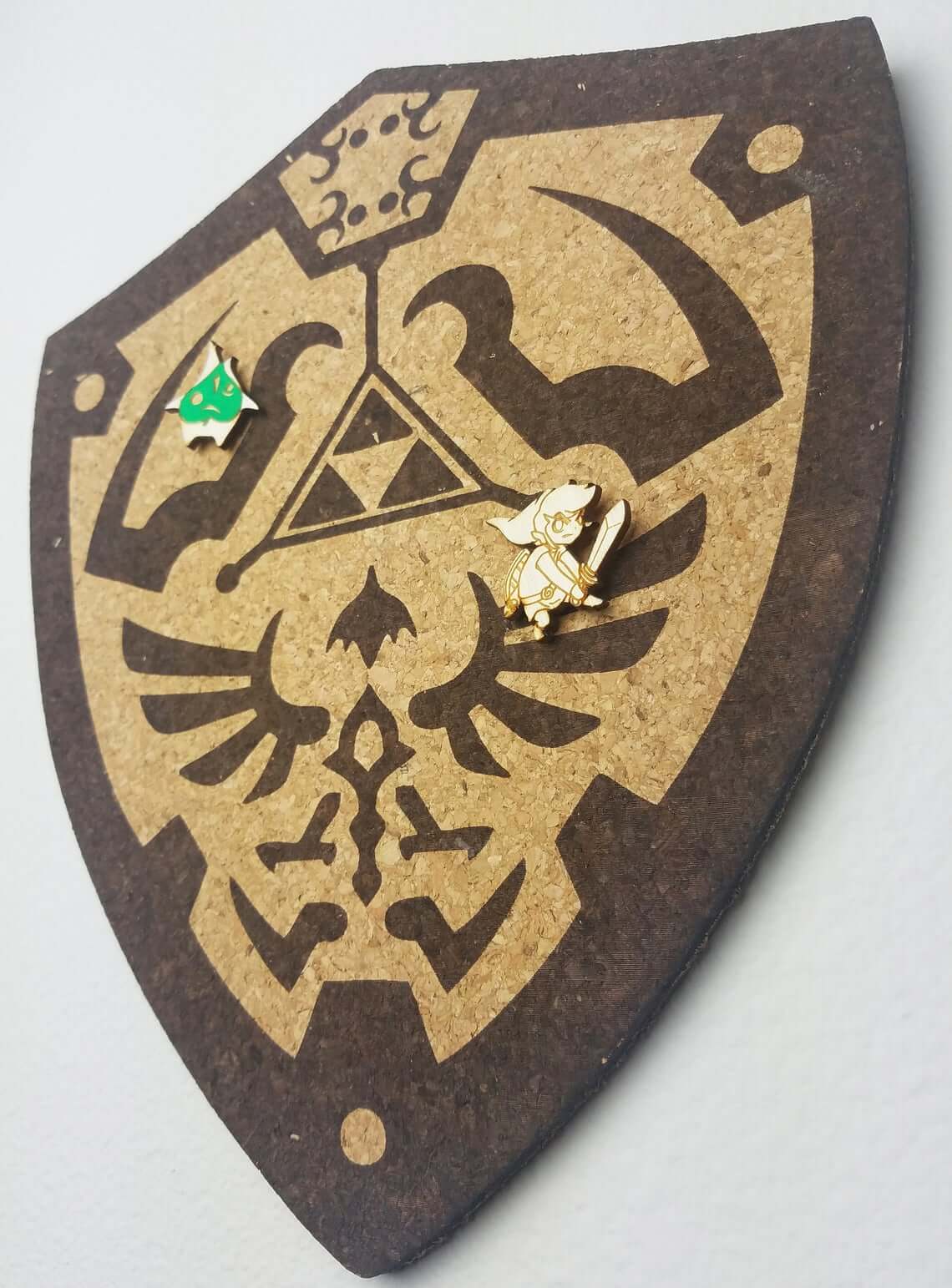 Do you have a Zelda fan in your life or are you that lifelong Zelda fan? With this Triforce Shield cork board, there is no denying the owner probably adores the always popular video game series. This is one of the best cork board ideas to decorate any room in the house, but especially for a collector to add something more distinctive to their collection. It is made from high-quality material, laser-cut to replicate the design of the in-game shield, and created in two different sizes so that you can find something that's just the right fit for your wall.
5. Intricate Star Wars Deathstar Cork Board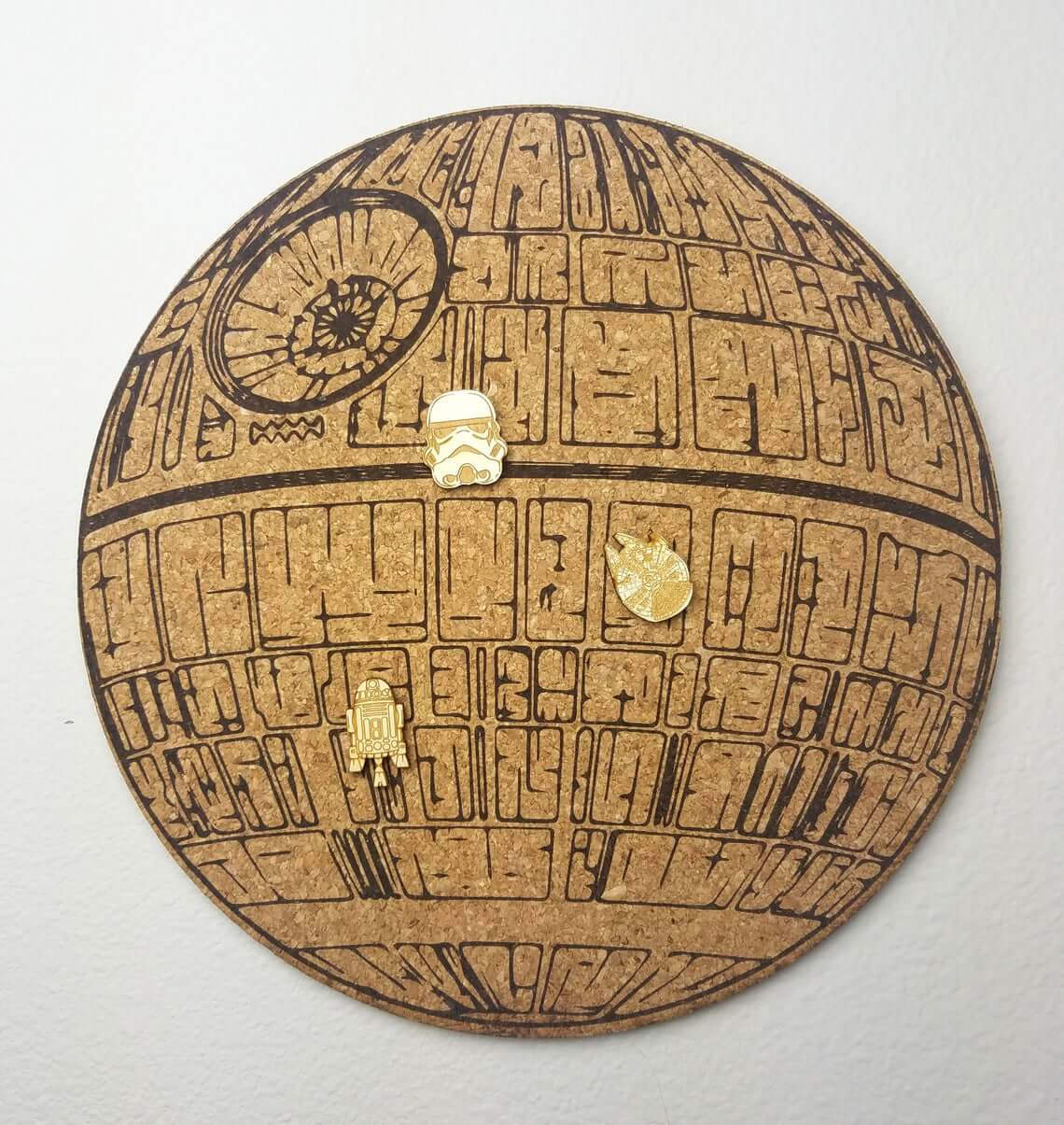 Any Star Wars fan will jump for joy at the sight of this beautifully constructed Deathstar corkboard. The laser-cut design is intricate and successfully manages to replicate the source material. Made in two different sizes, the board is heavy-duty with a good amount of thickness so that it can hold up well over time. There is plenty of space on the circular board, which any fan or collector would love as this gives them room to place a large number of character pins or hang anything Star Wars-related all over the board. Otherwise, you can simply use it for decorations without ever pinning anything to it.
6. Adorable Decorative Cloud Cork Board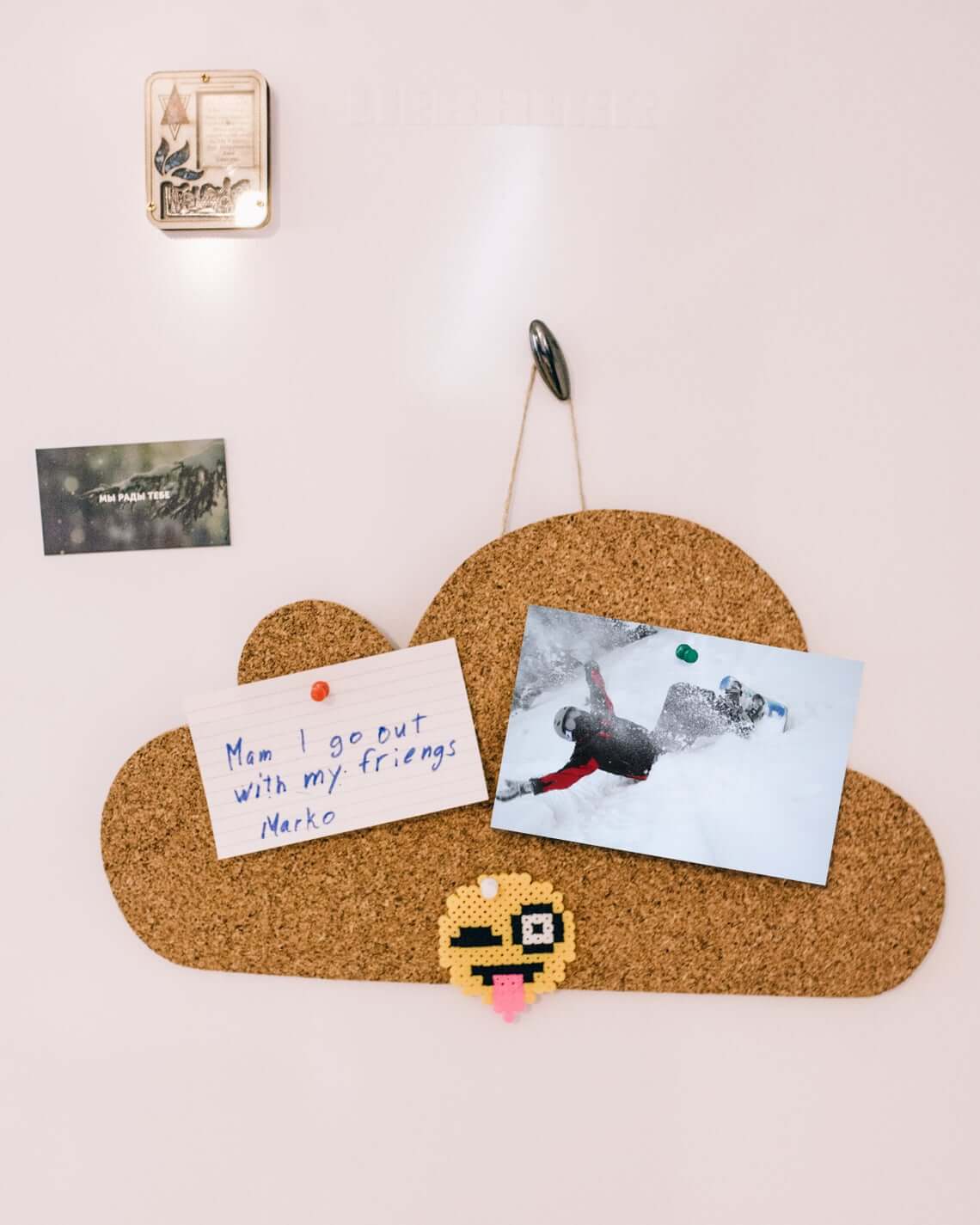 A simple, yet perfect, way to decorate a wall with a more interesting cork board design is with this cute cloud pinboard. It isn't overly big, made in three different widths, and it can seamlessly fit in just about any room throughout your home. Hang it up in the kitchen to store recipes or grocery lists, stick it in an office to brighten it up and hang important memos, or use it for a bedroom or nursery to attach photos. There are plenty of places to go with this, especially seeing as it is made either unpainted for the natural cork board appearance or painted completely in white to better resemble a cloud.
7. Decorative Personalized Name Cork Board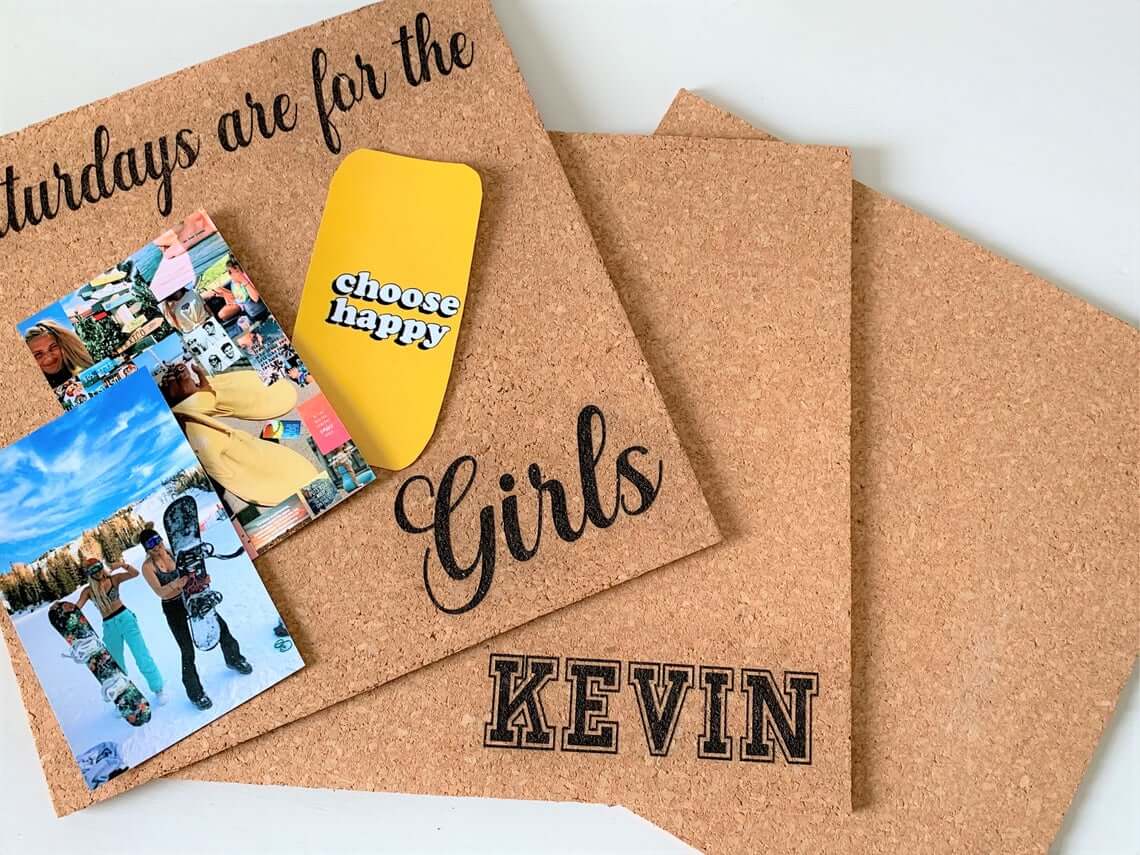 Although this is the typical square cork board design, adding a personal touch with a name is an awesome idea to elevate it. The simplicity is what allows the board to stand out, and it also makes it versatile so that it can be used by kids and adults. You don't even have to use it to customize someone's name. In fact, you can request just about anything to be laser engraved on the board. Show off your favorite quote, make it a holiday board with images from your favorite celebrations, or add anything else that may come to mind to make it as personalized and specific as you wish.
8. Beautiful Flower Design Cork Board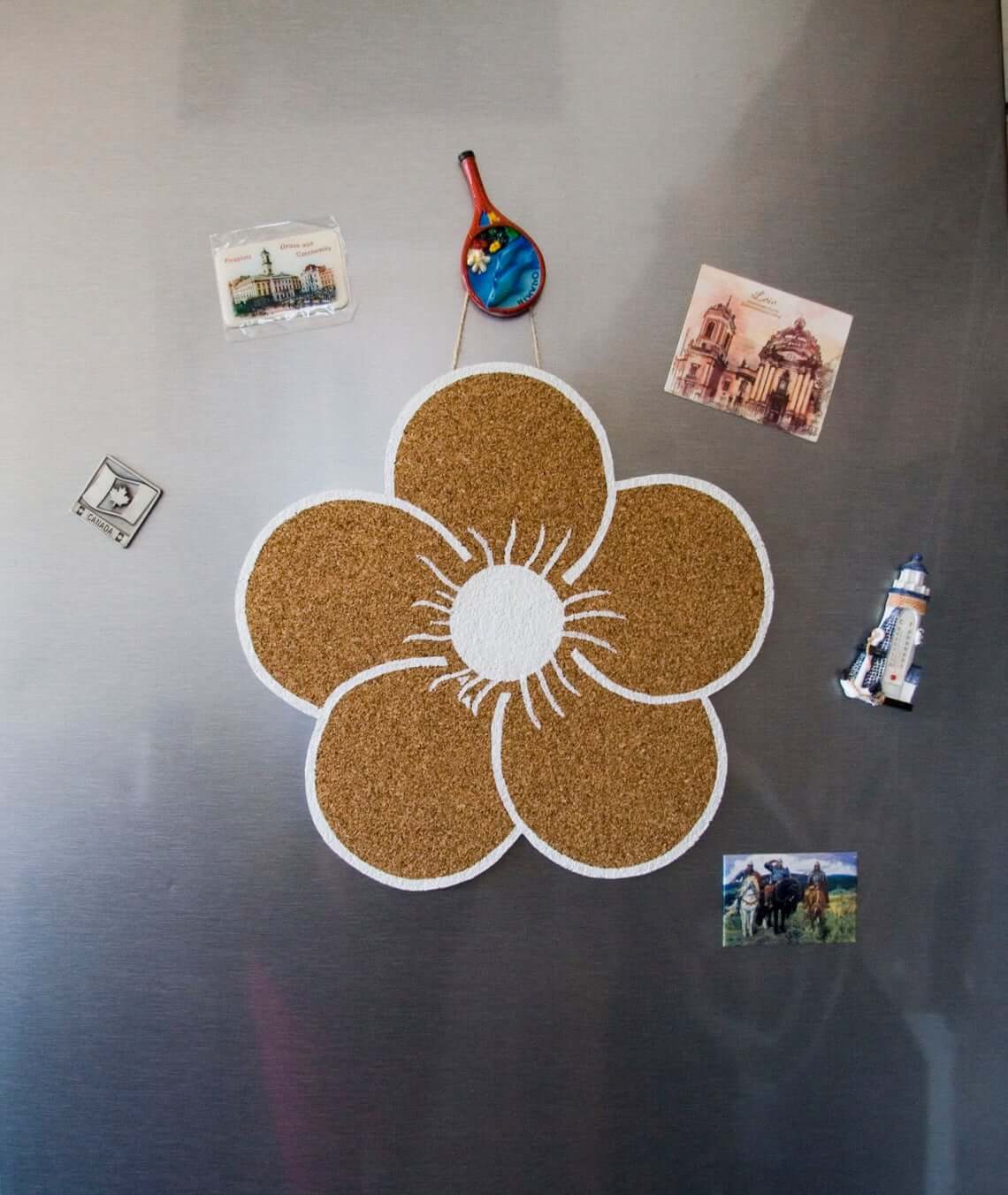 Are looking for something simple and cute to function as a pinboard? Well, take a look at this handmade flower corkboard. It is a great way to add creativity to the decorations in any room that also serves the purpose of holding various notes, photos, etc. This available in three different width sizes too so you can find the right one for a specific section on your wall. If you wish, you can have the corkboard made with white paint that adds more details to the flower. Otherwise, you can order it with the plain, unpainted corkboard style that still features the cute flower outline.
9. Rustic Wooden Framed Cork Board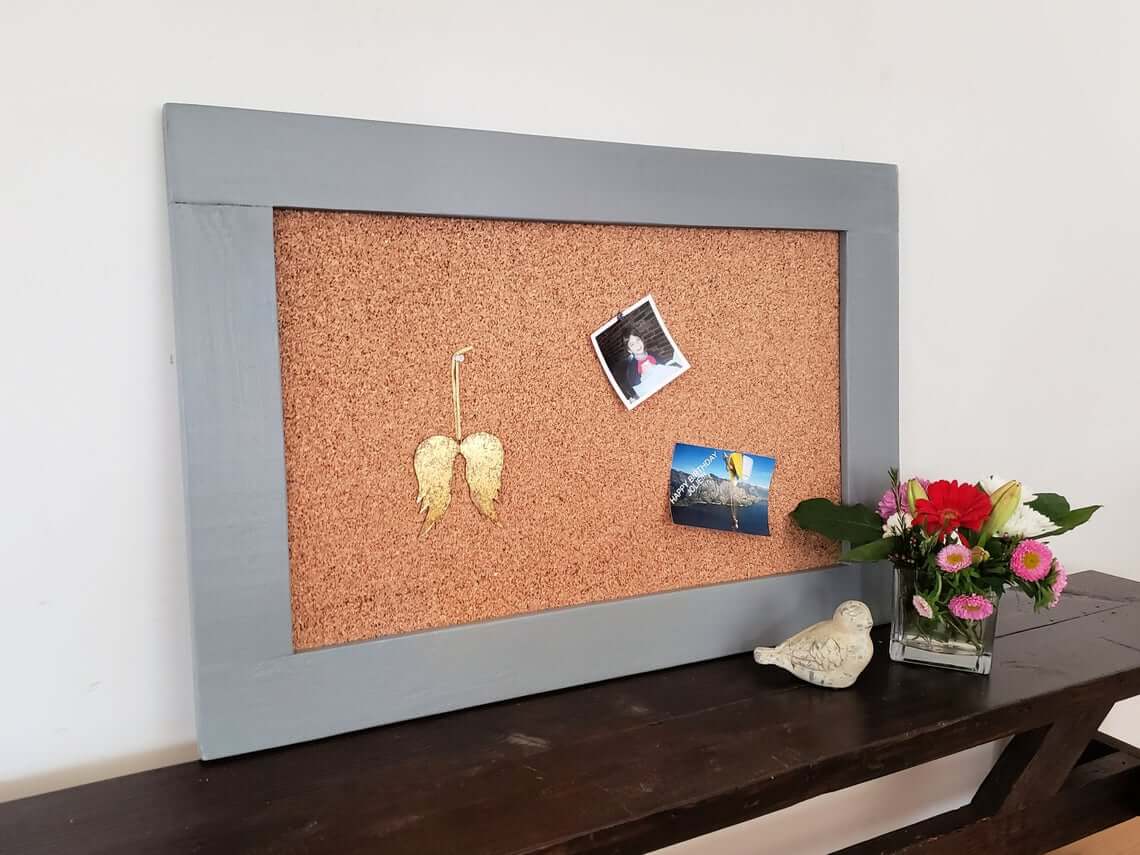 Some of the best cork board ideas understand that in many cases, less means more. In this case, all it takes is a wooden frame to take an average corkboard and add a creative flair to it. This is handcrafted from real wood, and it features a reliable build with a corkboard that has a good amount of thickness so that it's still easy to place pins in and out. It's a wonderful tool to make things look less scattered in your home. You can even order it in more than 30 different colors, and if you want, you can have a solid finish on the wood or opt for a distressed appearance for a more rustic appearance.
10. Amazing and Fun Wine Cork Dartboard Backer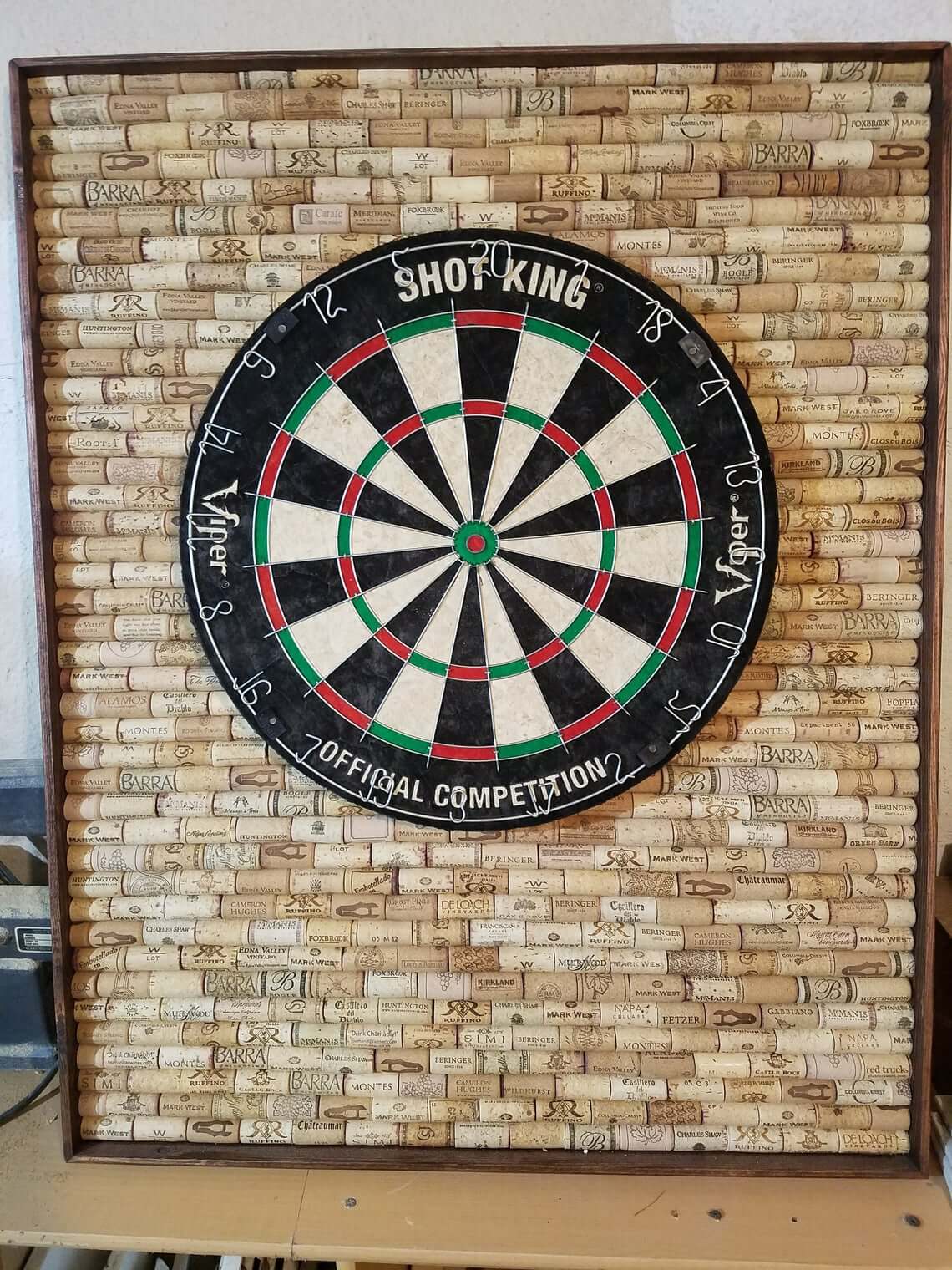 Who said a corkboard is only used to pin or hang up things like pictures and notes? This dartboard backer is a decorative cork board with the bonus of being fun since you can play darts on it. It is gorgeously made using more than 400 different wine corks, and you can order it with or without the dartboard if you already have one of your own to hang up. The frame itself can be made in five different finishes as well. If you don't want to hang anything else on the corks, they are always a safe backer to catch any stray darts flying around.
11. Sweet Handcrafted Butterfly Cork Board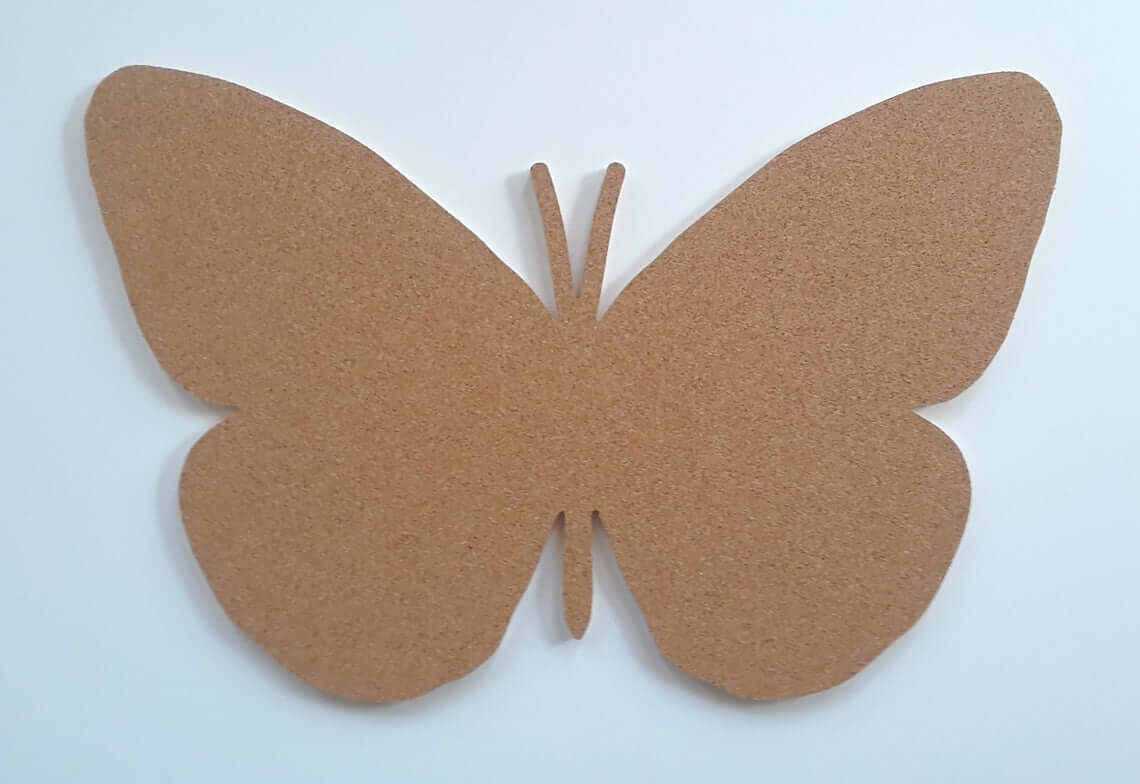 A charming way to spice up some bare walls is with this cork board shaped like a butterfly. No color is needed to get the full effect of this either. The butterfly is adorable enough on its own, and it is made in three sizes, all of them having more than enough room to hang up various items. It comes with brackets for hanging purposes so the board can be strung up without needing to use any additional tools. This quality-made butterfly is an excellent choice to add creative decorating to a child's bedroom, playroom, or nursery.
12. Stylish Customized Name Cork Board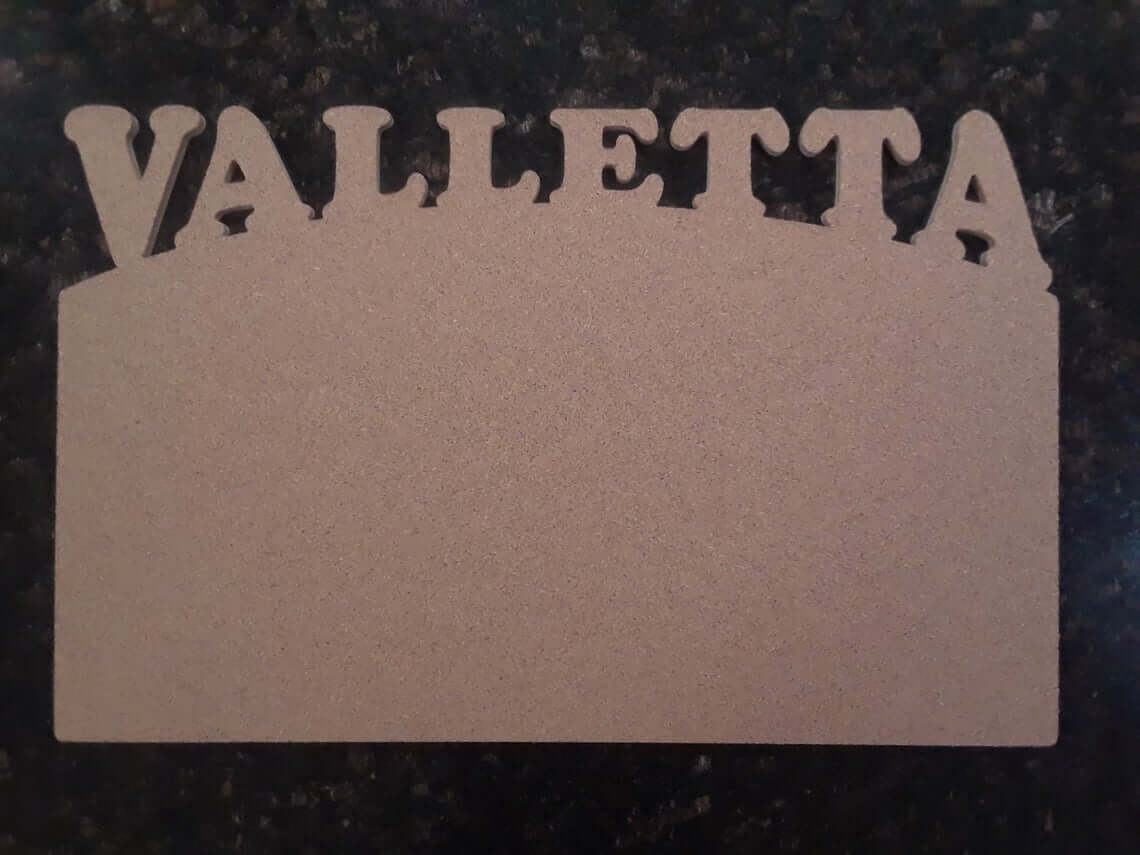 This customized cork board takes a unique spin on personalizing a board with a name. Rather than it being laser-cut into the board, the board itself spells out the name at the top. The letters are always in upper-case style, and there are nine fonts to select from. You can also have it made in several different sizes both vertically and horizontally, and with such customization options, you have ample room to hang this up alongside any other decorations on the wall. It's a comfortable thickness so pins can go all the way in without ever touching the wall behind it.
13. Detailed Engraved Football Cork Board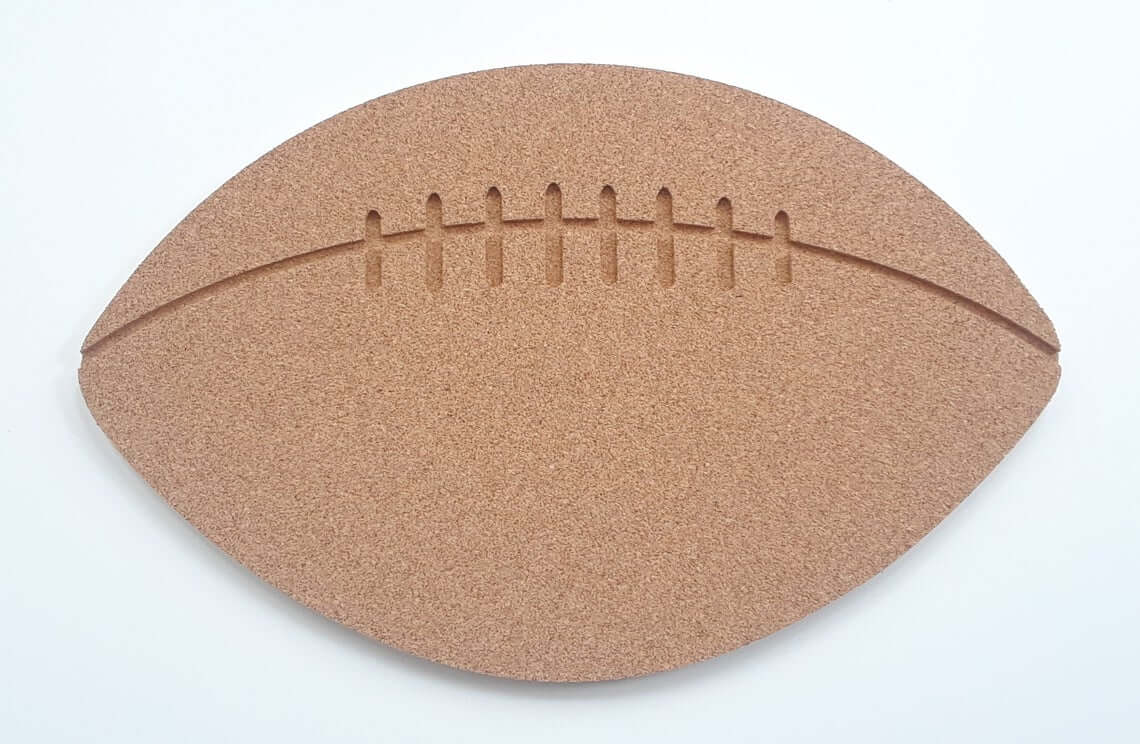 Have a football player or fan in your life? Consider this high-quality football corkboard. The durable board features detailed engraving to best resemble an actual football, more so as it makes good use of the natural brown coloring of the corkboard. There is even the option to have it engraved with a name, and you can order it with or without a name in various sizes. This can look just as good sitting on a desk as it does hanging up on a wall. Use it for decoration or hang medals, notes, pictures, and more on it.
14. Stunning Painted Mickey Mouse Cork Board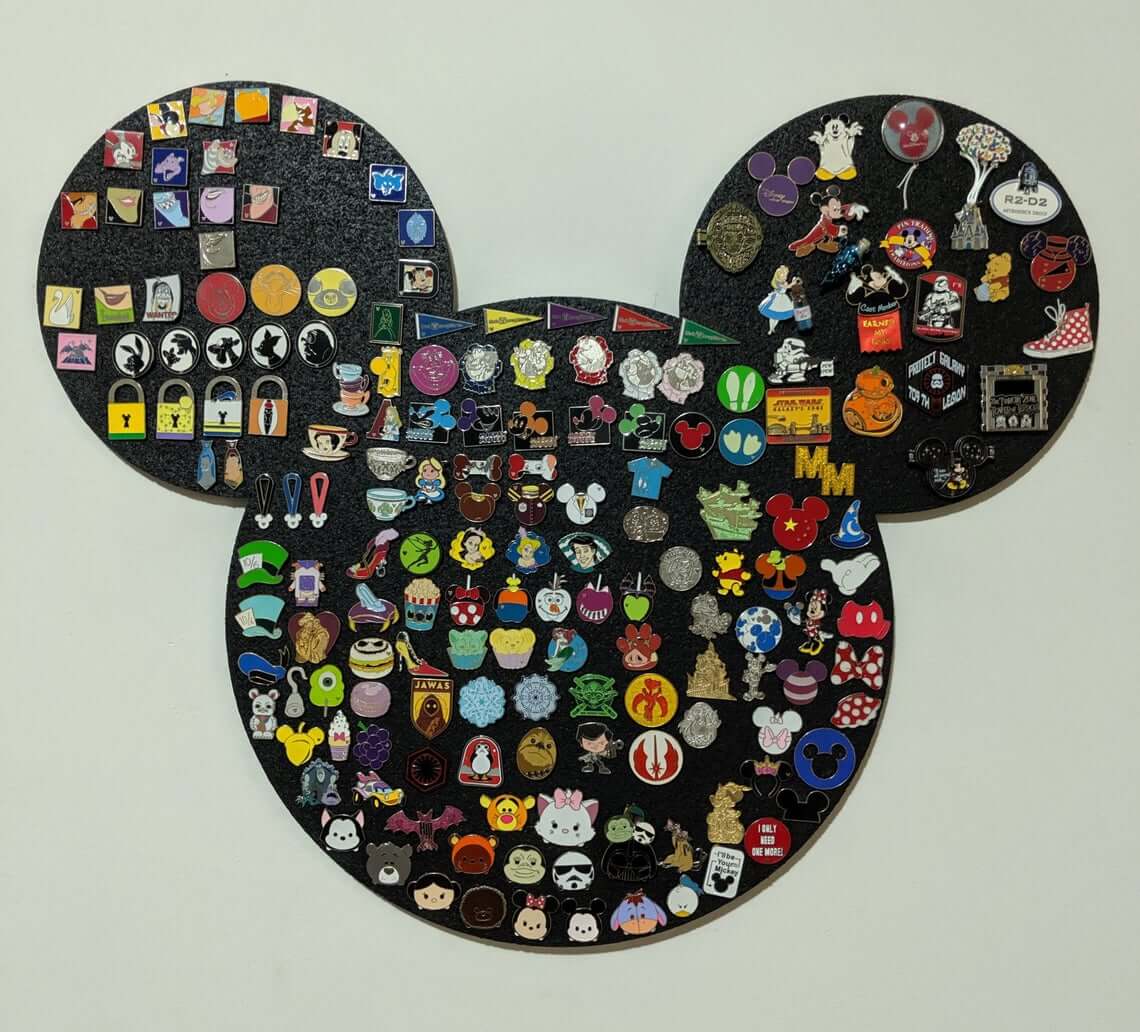 For all those Disney lovers out there, perhaps you have accumulated a lot of pins and other images of your favorite characters over the years. If you want to hang them all somewhere with a similar theme, then check out this decorative cork board styled in the outline of Mickey Mouse's head. This high-quality board comes along with brackets already so you can hang it up fast without using extra tools. There is plenty of space around the head, especially on Mickey's signature large ears, to hang up as many items as you wish from cute pins to beloved photographs.
15. Modern Push Pin USA Travel Map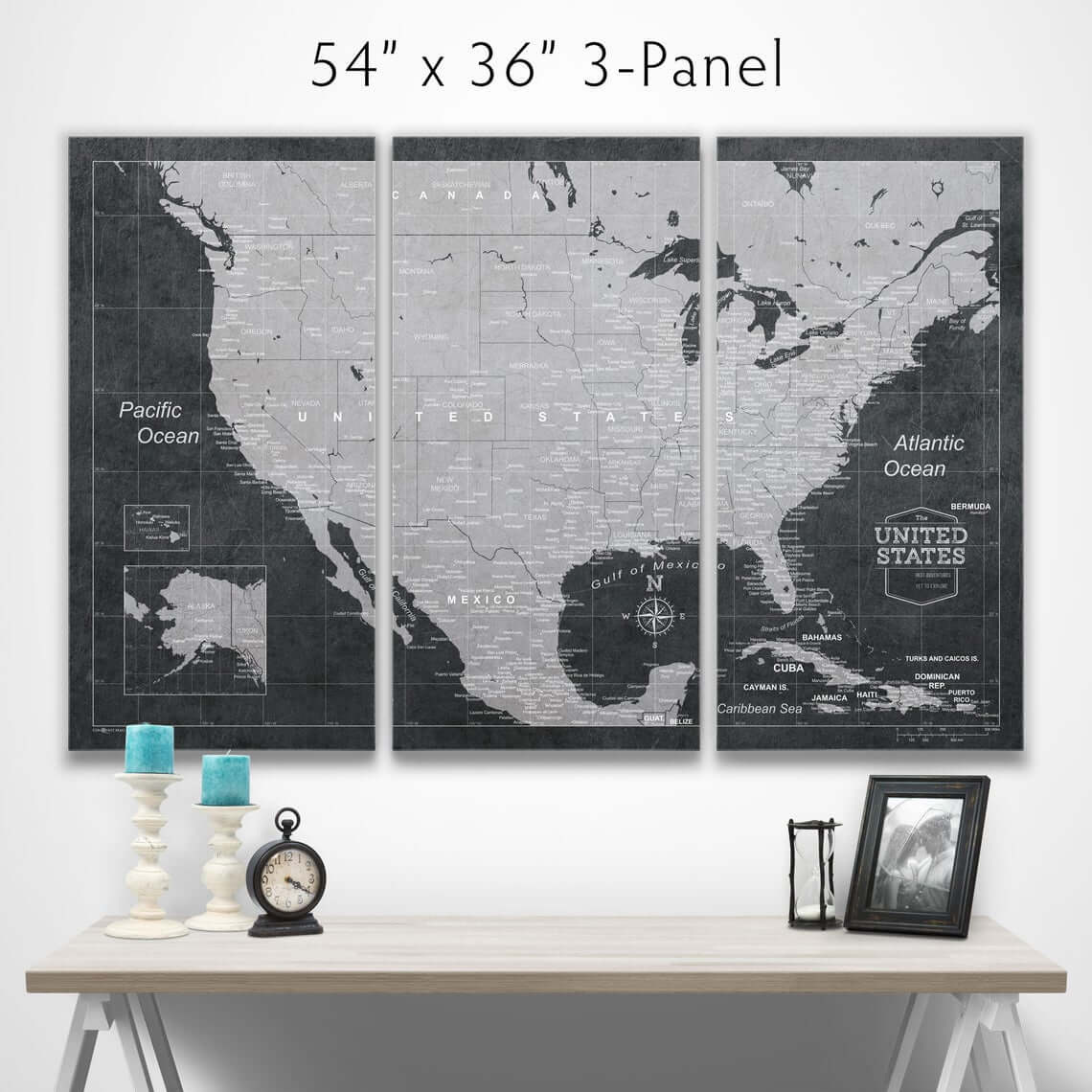 How incredible is it to personalize a travel map with everywhere you've gone or places you dream of visiting? This USA travel map allows you to do just that. You can personalize various texts on the map too so that it is truly a personal travel map fitting for you and your family. It comes along with color-coded pins as well, and you can request which two colors you wish to use. The map itself is beautifully designed, and it's an awesome idea to use as both décor and something functional since the black and white color style makes it wonderful artwork to hang in a living room or family room. It comes in four different sizes also.
16. Cute Hamtaro Ham-Ham Hamster Board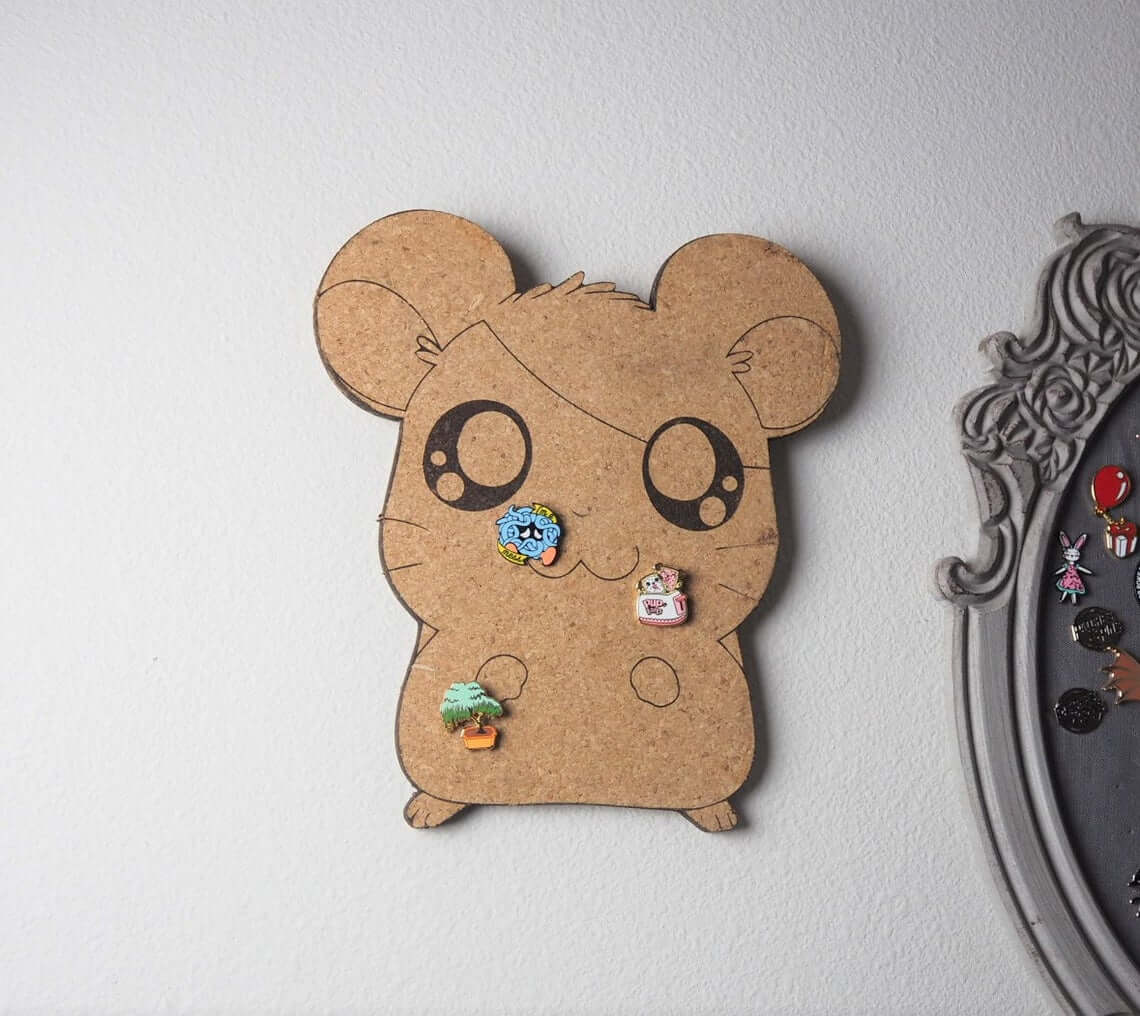 Sometimes all you need is something adorable and sweet to hang on your wall, and this Ham-Ham Hamster can instantly transform the atmosphere of any room. It features remarkable detailing throughout to capture the character design fully with the large dark eyes and cute whiskers. This cutout also provides you with a great deal of room to hang up numerous pins and pictures. You can have this made in either a 12in size or an 18in size, and the thick cork material adheres to an even thicker MDF backing so the pins will never touch the wall.
17. Framed Combined Chalkboard and Cork Board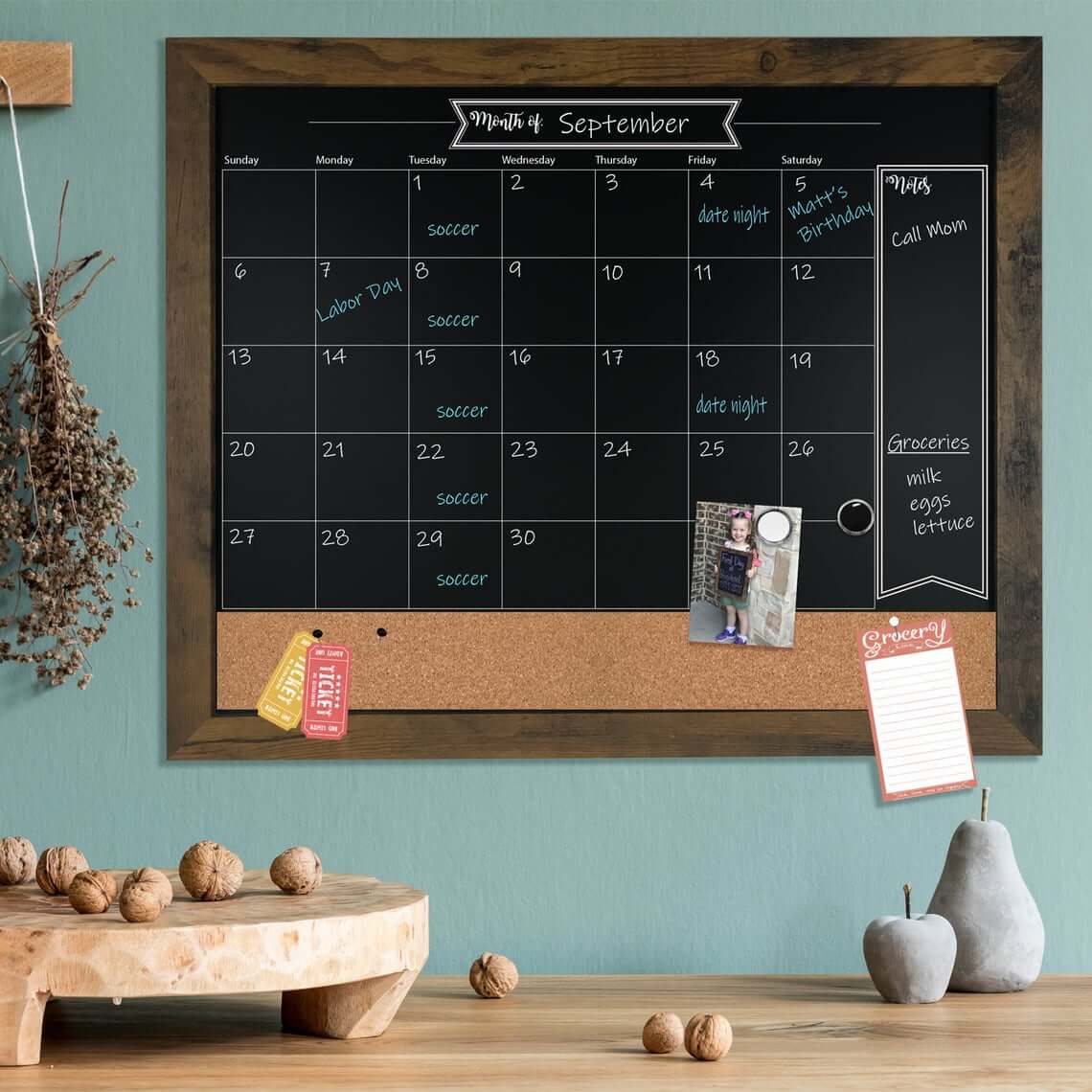 Why settle for choosing either a chalkboard to write on and erase or a corkboard to pin up important notes when you can have the best of both worlds? This combo chalkboard calendar and corkboard gives you the freedom to successfully manage your life without hassle. It features room to write down all of your important dates, and there is a side space for any extra notes like shopping lists. The corkboard is plentiful too so you can push in numerous pins to hang up other notes, receipts, or pictures. This even comes with magnets for more room to hang things. The framed combo board comes with hanging hardware so you can get it up right away.
18. Unique Upcycled Wine Cork Board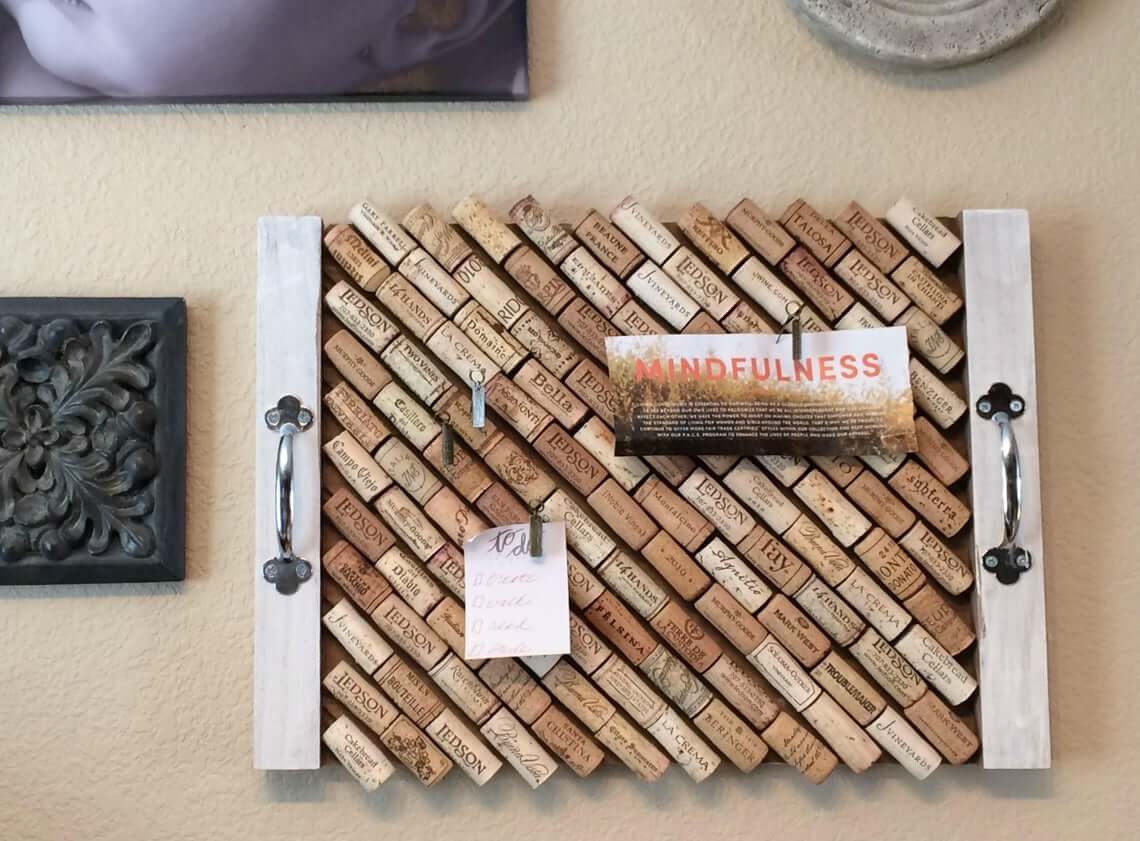 A wonderful way to get more use out of something old is to recycle wine corks and put them together to create a distinguished corkboard. This is known as the "ABC of Wines" since it features wine corks taken from around the world, and they are all laid out in alphabetical order. Besides that charming touch, this board can be used for a multitude of purposes. It can be used to pin various items like any other cork board, so you can transform it into an inspiration piece or something to show off images of loved ones. Or you can opt to use it as a serving tray of sorts since it can easily hold items like pitchers and glasses.
19. Adventure Theme USA Cork Board Map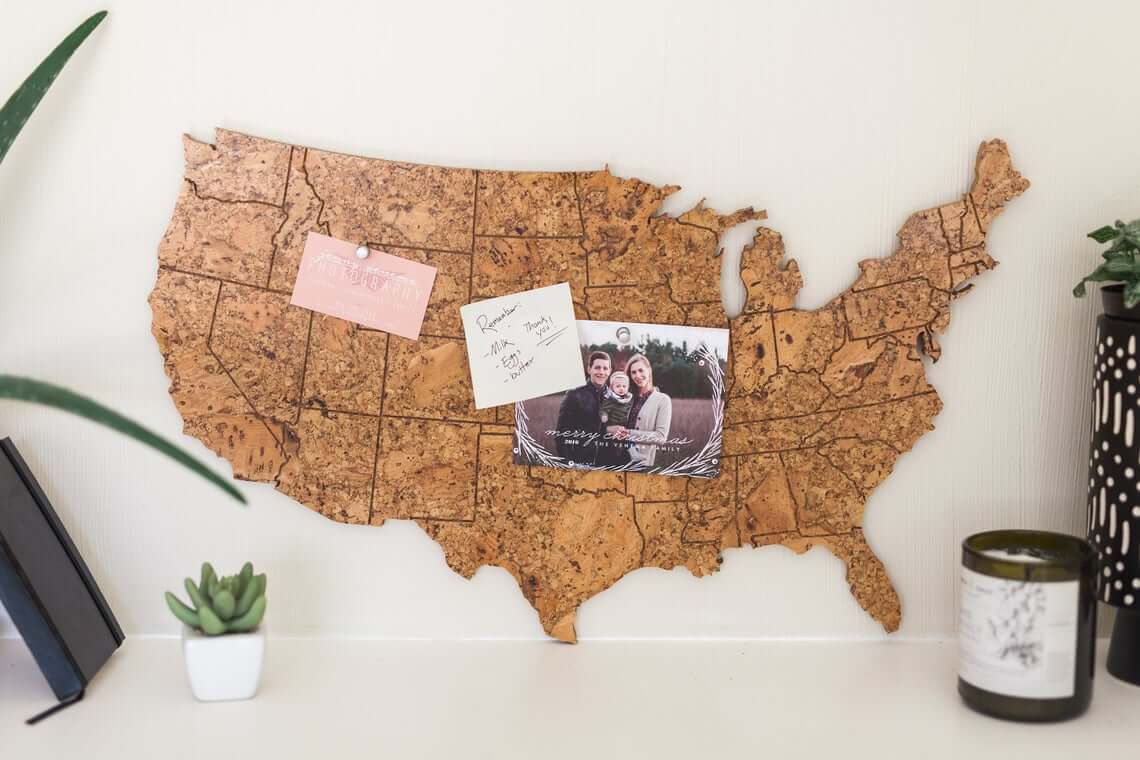 If you have an adventurous soul or know someone who does, this travel map is a wonderful gift idea. It's straightforward as it only features a map of the USA with the states clearly outlined. This has a more rustic, farmhouse-like feel to it so that it can work out perfectly in a home decorated the same way. Nonetheless, the map will still look great when hanging on any wall. Feel free to put pins in for places you've traveled to or want to travel to sometime in the future. You can even hang up photographs of important moments that happened in certain places so that you can think about that moment each time you look at the board.
20. Gorgeous Felt Flowers Cork Board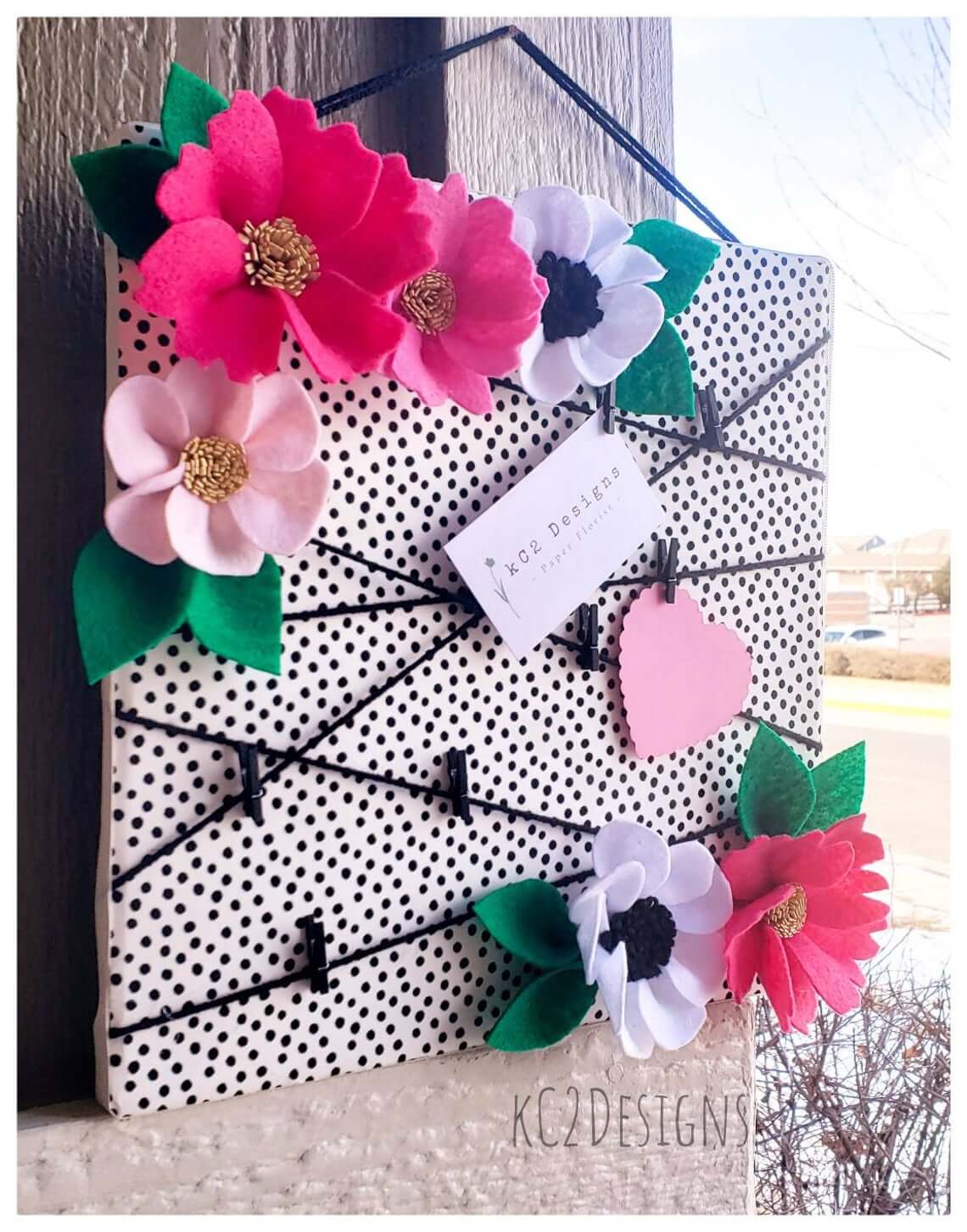 Inspired by Kate Spade, this stunning cork board features a felt flower design that can give any space a wonderful pop of color. The colored flowers are wonderfully offset with a bold black and white polka dot background. Unlike most common boards, this one utilizes black twine strung throughout that will hold onto your photographs and notes. It is the perfect way to put a spin on a common cork board and hang up messages and photos with more style than ever before. Since the twine is attached in various ways, you can mix up the layout of your hangings too so that they may stand out even more.
21. Awesome Key Hanger and Cork Board Combo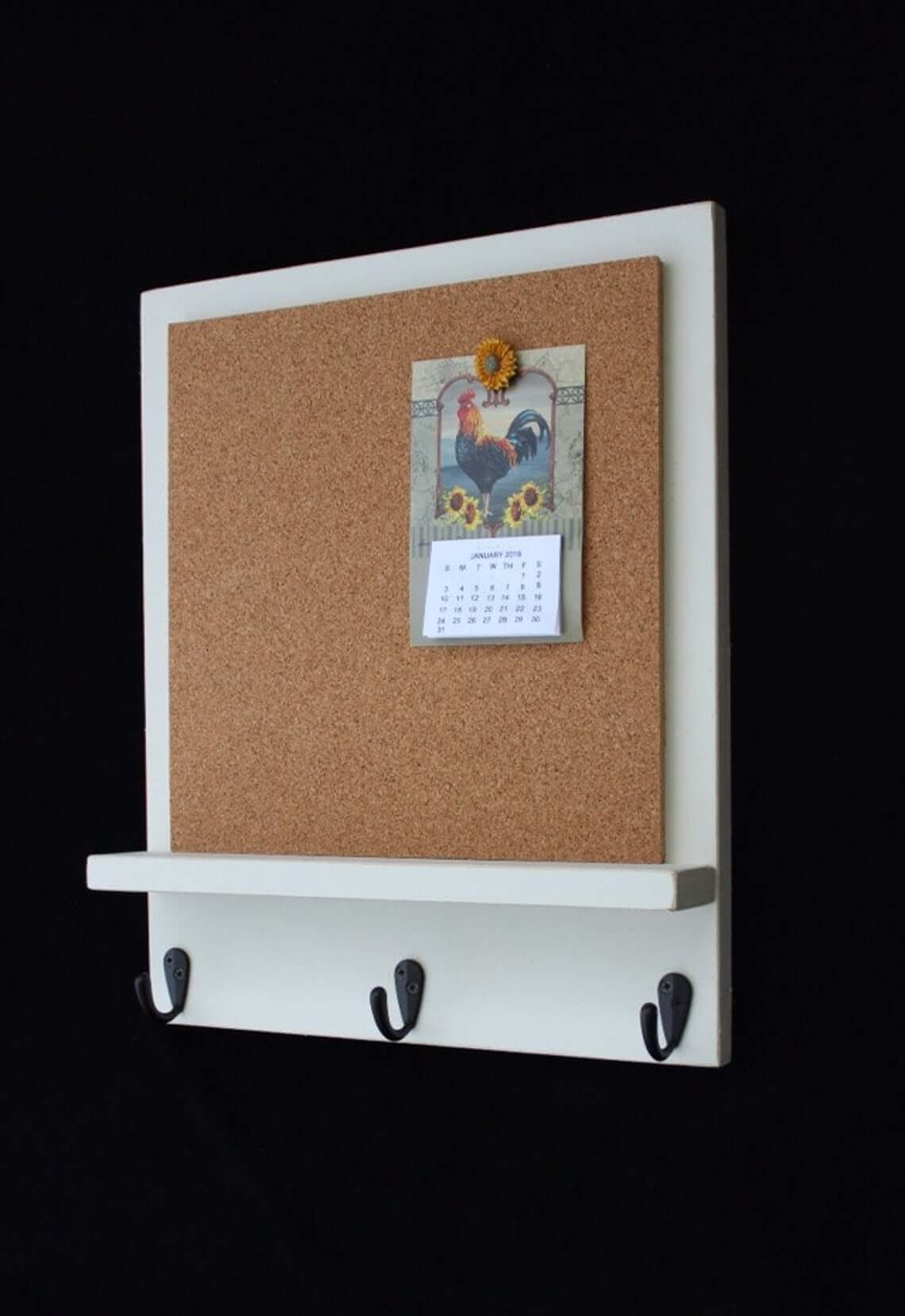 Having a spot for both notes and keys is a lifeline in many homes where keys get lost and unwritten messages get forgotten. Rather than get two separate pieces, this combo board provides you with both in a compact, functional style. Its size lets it sit on the wall in an entryway with ease, and there three hooks to use to hang up keys. The board has enough room to hang up small items such as brief, yet important, notes. You can always mix things up, however, and use the hooks anyway you'd like such as hanging jewelry on instead. Either way, they are reliable to support small items. This comes in several different primary colors as well as a solid or distressed finish.
22. Honeycomb Stylized Cork Bulletin Board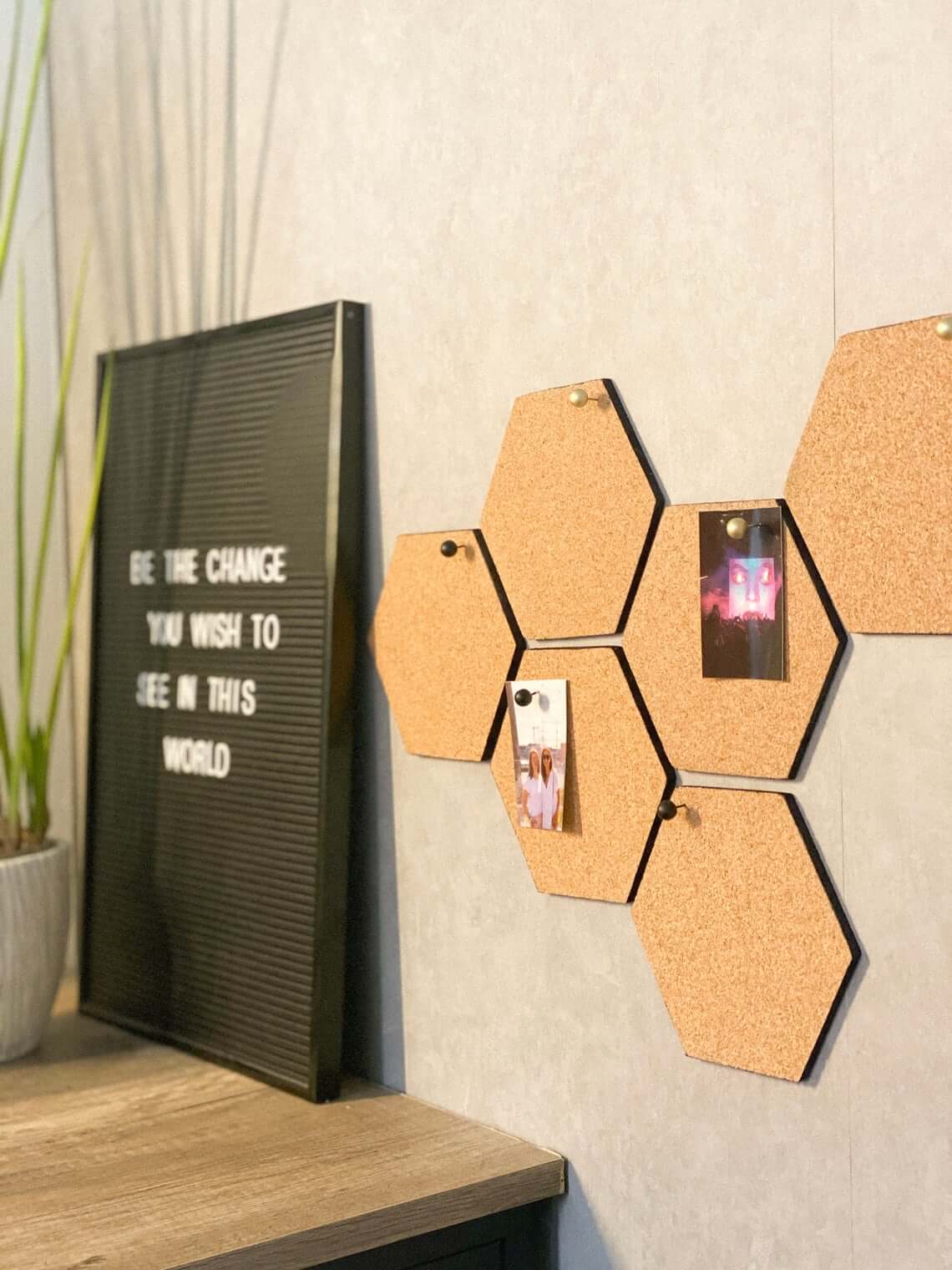 If you want to fill your walls with more geometric decorations for a contemporary pattern, consider this fun honeycomb styled corkboard. A single set has five hexagons, but you can always opt for more if you want to spread this board across a wall. It is self-adhesive so that it sticks to numerous surfaces from concrete to wood. Although it has a distinctive look about it, it can still fit well inside rooms of varied decorating themes. Hang it up in a kitchen, living room, or bedroom to give your décor a slight push in a more elevated direction.
23. Upcycled State Design Cork Board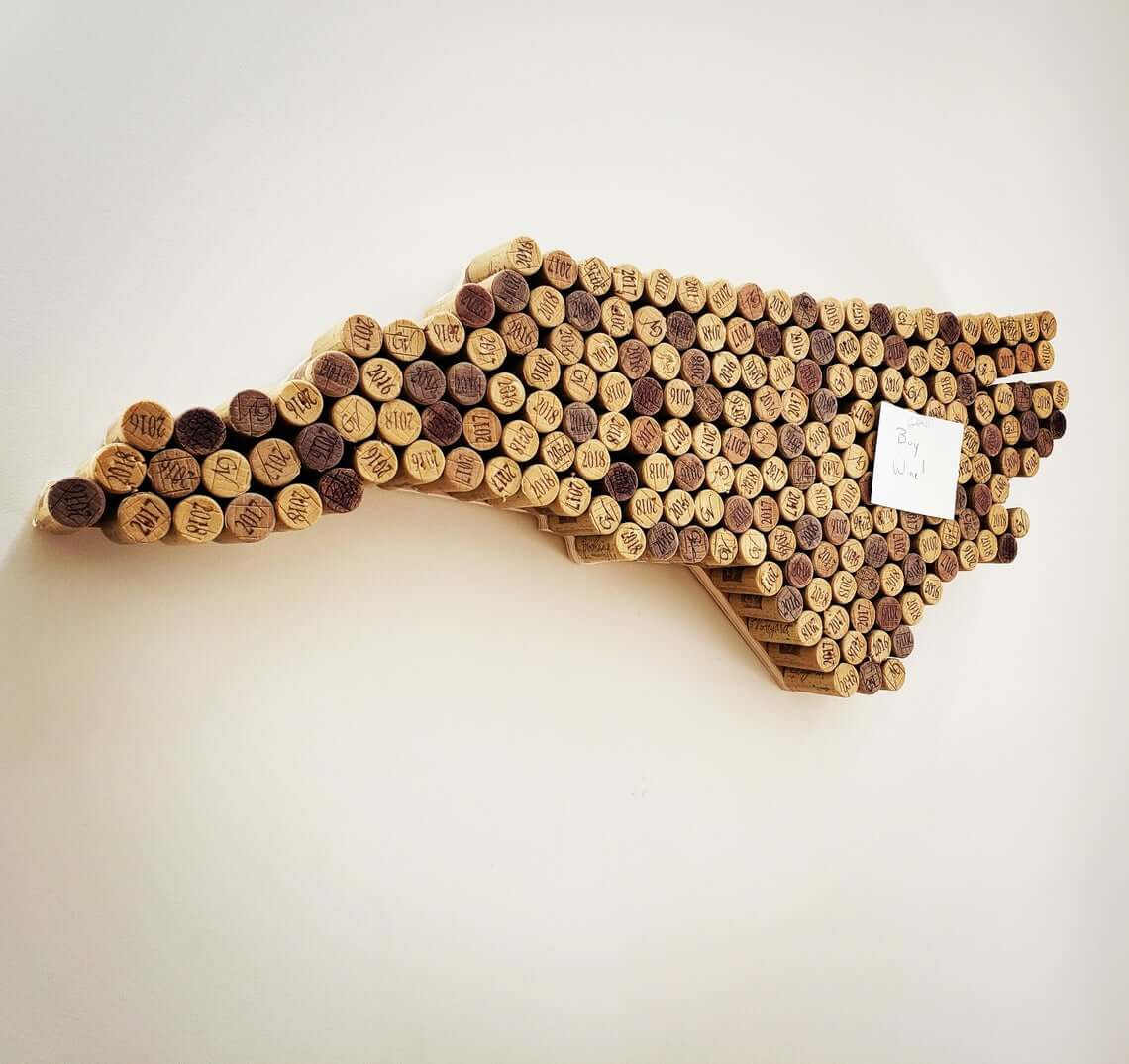 Looking for a way to represent where you live or where you come from that isn't so obvious or overused? Then this cork board made from recycled wine corks may be the best option for you. It is made to outline the state of North Carolina, and it only features wine corks that are only from the Grandfather Vineyard that is located in the state. This is something that can hang anywhere in the house, but it may look exceptionally well in an entryway, living room, or kitchen where everyone can see your love for your state.
24. Worldly Framed Wine Cork Board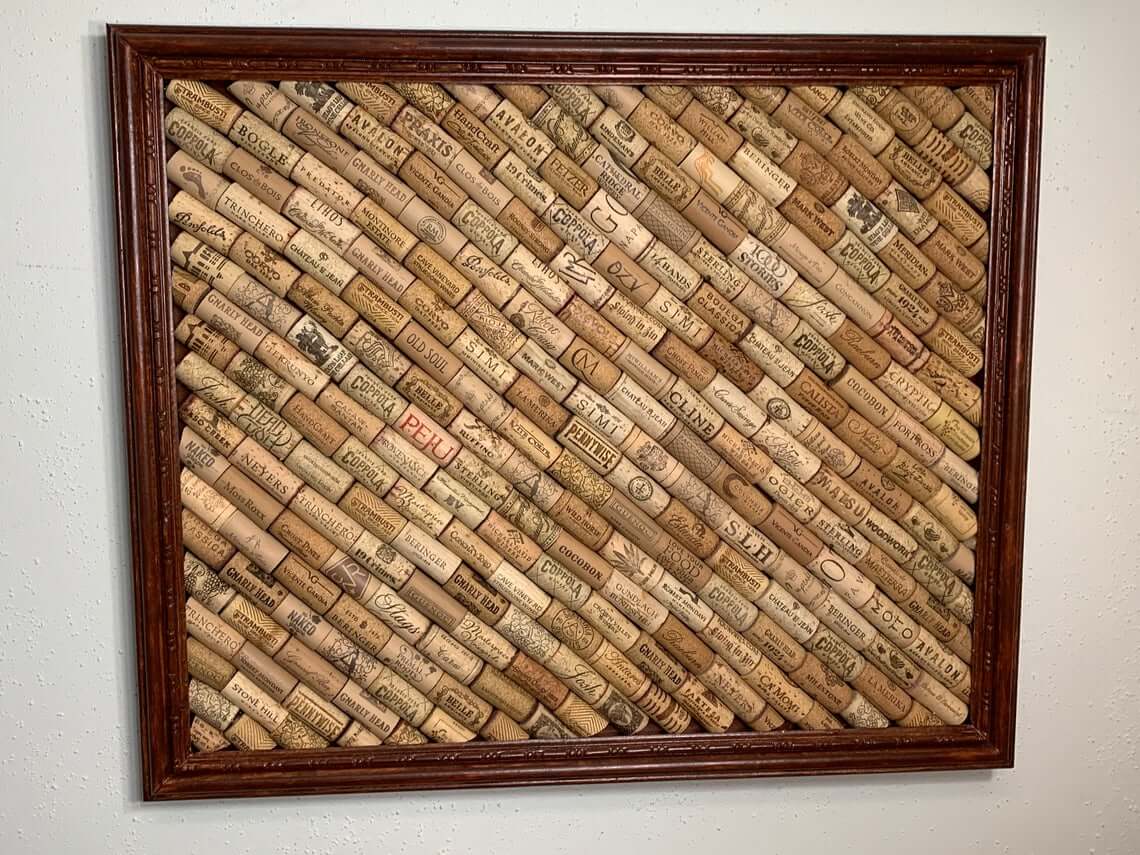 Created using wine corks from wines all around the world, this board is a beautiful and elegant touch to adding functional decoration to your walls. It is made with a solid wooden frame that makes it both reliable and even more appealing to admire. This has a single size of 20×24, and it features ample room to pin up plenty of items. If you don't want to use it for notes and pictures, you can always leave the board as-is instead. The board itself is a wonderful decoration and will be the talk of all your guests.
25. Fun Peek-a-Boo Cat Hexagon Cork Board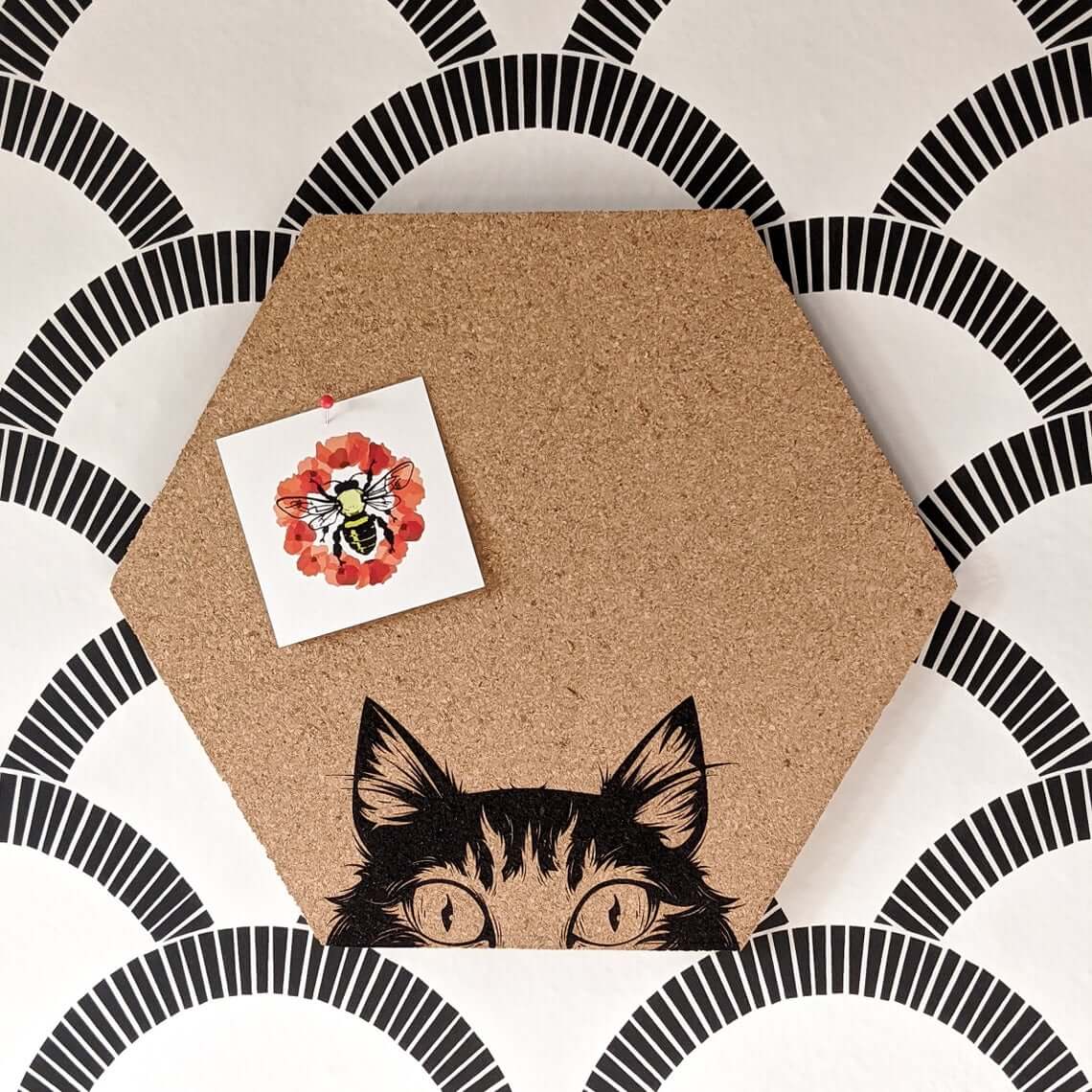 Corkboards don't have to be serious, you know? They can be fun and charming instead, and this peek-a-boo cat board freely embraces those feelings. It is a hexagonal shape, and although most of the board is a regular cork board coloring, at the very bottom is where you notice the amusing sight. There's a laser-cut drawing of a black cat peeking up at you every time you come to put something or take something off the board. The large eyes may be reminding you to remember to check on your messages.
26. Creative Sheep Themed Cork Board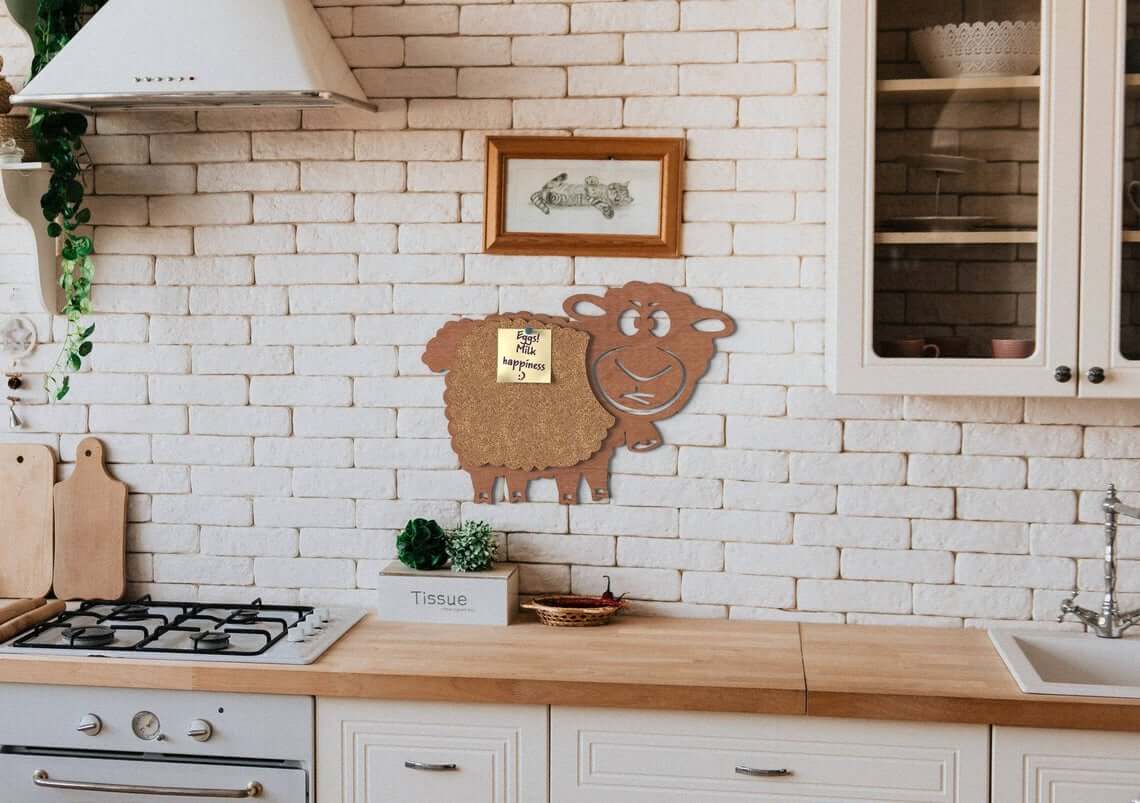 Handcrafted from natural wood and cork, this board will easily cause someone to do a double-take. It features a rather confused-looking sheep that stands out in any room you use it in. Hang it up in a kitchen to get a few laughs from guests, or stick it in a child's bedroom to further fit a farm-animal décor theme. This is also created in two different sizes to help it work in any room against any wall even if it already has decorations on it.
27. Trendy Fabric Covered Cork Board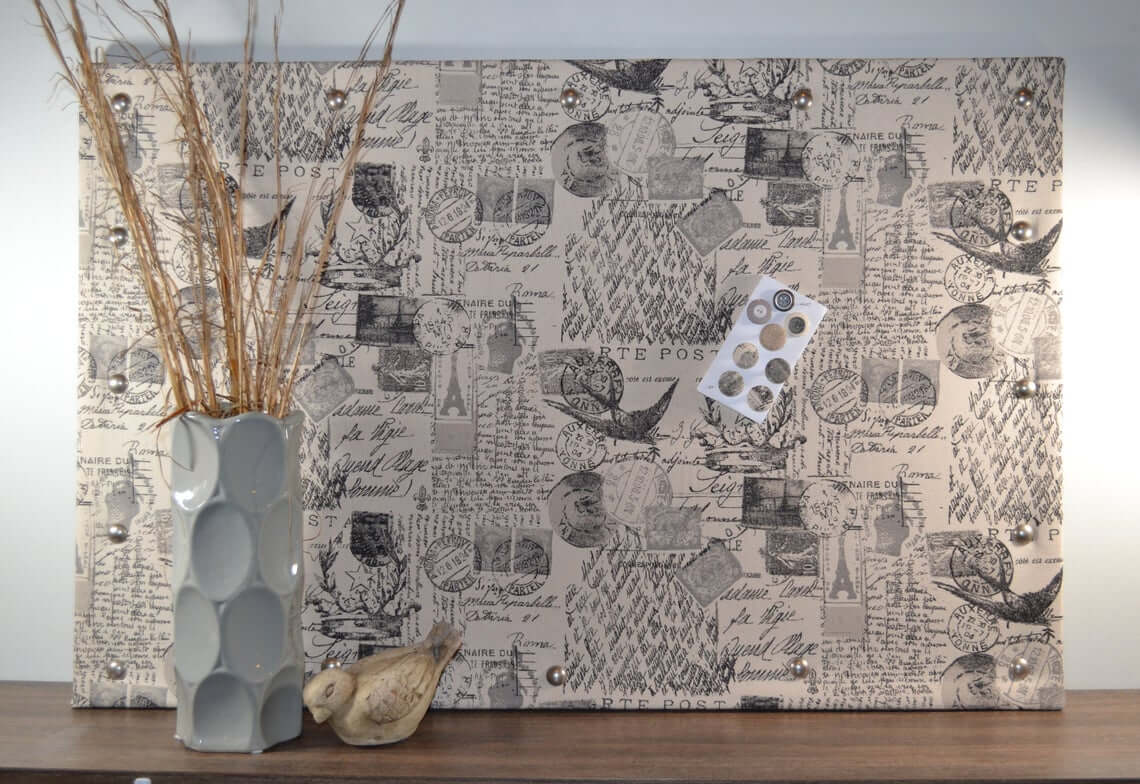 When you want a place to hang memos and pictures, but you don't want to sacrifice your style to do so, this trendy cork board comes in handy. This features charcoal-like coloring patterns with interesting artwork throughout that it may be mistaken for a painting of sorts at first glance. It is what makes it work out great for decorating purposes as well as being useful thanks to the corkboard itself. Feel free to place it alongside other trendy artwork around your home or use it to hang some of your favorite photos that can fit the overall theme of the board.
28. Colorful Recycled Magazine Cork Board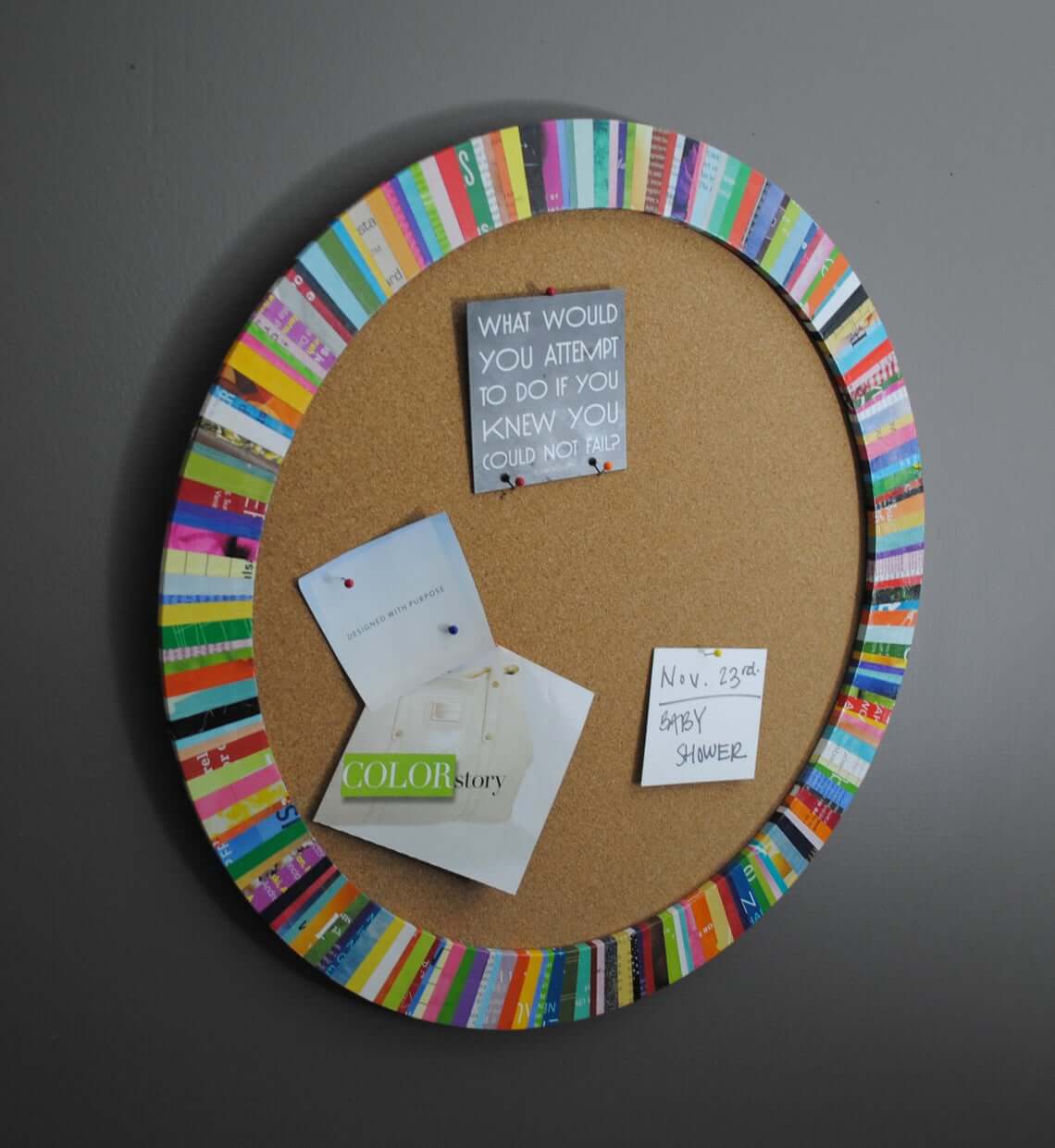 Not many think that magazines and cork boards go hand-in-hand, but this board proves that they can work together effortlessly. The circular cork board is surrounded by colorful strips of magazines that breathe new life into your standard board style. These colors work well against the bold brown cork background too so that they are the center of attention, so to speak. There are different color options for you to choose from as well so that you can better match the décor in the room you wish to hang this up in so you aren't limited in any way.
29. Hanging Colorful Wine Cork Board
Wine corks come in excellent use here with this simple, appealing hanging corkboard. It takes an even more creative spin on using wine corks as they can come in different colors instead of all being their standard brown or beige-like color. You are given full control to customize this too as you can request 3-5 colors to be used for the corks. Additionally, you can opt for a different color rope or dish, or you can simply use the gray rope and white dish that it normally comes with. It is a nice size to hang up anywhere, and it offers a pleasant, colorful spin on the typical cork boards.
29 Cork Board Ideas for Bedroom and Office Use
Corkboards are standard when it comes to hanging up important notes, pictures, or pins, but they don't have to always be basic. With the best cork board ideas, you can bring a decorative flair to something that is usually just meant to be functional. There are plenty of routes to take here as you can go simpler by finding a board with a nice wooden frame, or you can go all out with distinctive designs and laser-cut writing or artwork.
Take your time viewing the above list and think about the empty walls in your home. If anything here sparks some inspiration, you can start filling those walls with incredible cork boards in no time.