Were you thinking that corner shelves were a bit outdated? Think again, friend. These are a home decor trend whose time has arrived. Many of us live in small spaces or want to move away from large furniture that is less than functional. With so many style and finish options you are sure to find some shelves that you did not know you needed. Is your bedroom in need of a display area? Does your bathroom have an empty corner, but you don't have room to add bulky furniture? Corner shelves to the rescue! Have you been wanting to add a decor element to your husband's man-cave but are limited on space? Does your she-sanctuary long for some stylish, yet functional storage space? The corner shelf has your back! The right DIY corner shelf design is waiting for your mouse click.
26 Decorative Corner Shelves that will Save Space with Style

Modern shelves offer great versatility with wide-ranging styles sure to please any selective DIY designer. Is Boho chic your vibe? Check out the handsome Boho rustic shelf. Does your taste run to urban or industrial? Look at the Zig Zag or the square free-standing shelf. Maybe your screened patio needs a display shelf for small plants. An adorable and stack-able wire frame shelf could be just the fix.
The bonus with all the selections? Corner shelves are a DIY installer's dream project. Simple installation or no assembly (even better!), the wide variety of choices and sheer functionality means these shelves would be a perfect addition to anyone's sanctuary. Let us not forget budget-friendly! These shelving options are a purse-friendly choice that need serious consideration when updating your decor. If you have been mulling over a DIY corner shelf idea, then we have the list for you. Let's get started with 26 of the best suggestions to bump up your corner design game.
1. Zig-Zag Goodness 5-Tier Wall Mount Shelf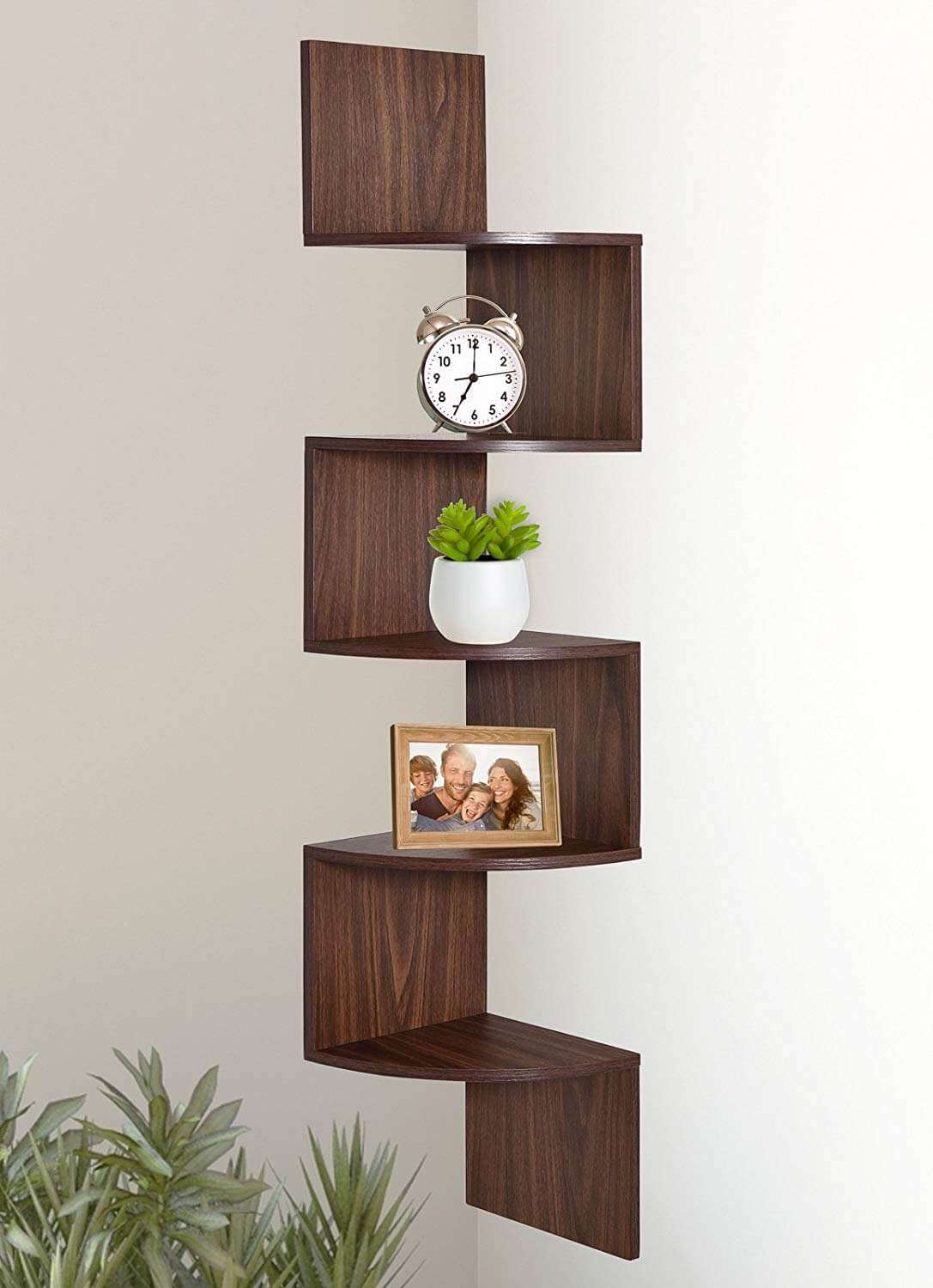 The sleek and unique design of these shelves with its combination of curved and square shapes, reminded me of a fun zipper. At home in either a rustic or urban room, this beautiful shelf unit has great versatility. Each piece is independent of the others, so the arrangement of the individual shelves can be tailored to your style. In a lovely medium walnut finish, this might be just the right choice for your unused corner. These shelves can be used in a bedroom as a wall-mounted night stand or in a bathroom for a decorative display. With great looks, this DIY shelf is quick to install for even the novice DIY-er.
2. Chic Freestanding Turn-N-Tube Bookcase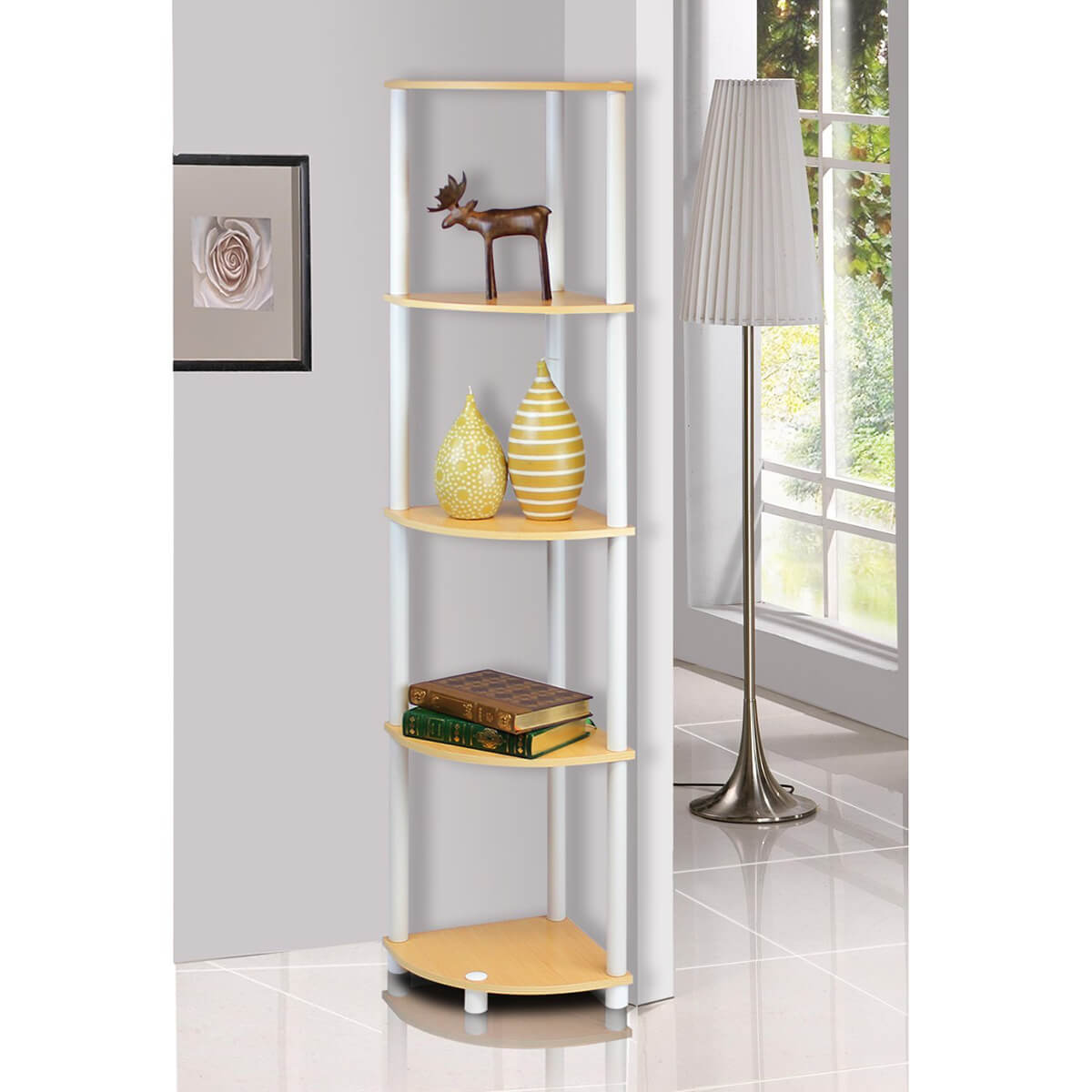 A great classic, 5-tier corner shelf, the sleek, rounded design elements should integrate perfectly into any style. This beautiful tower design is quite tall. Being freestanding allows you to move it where ever you need to make it a great choice for those frequent furniture re-arrangers. It can also be anchored to the wall. These shelves are light weight while quick and easy to assemble. There are many popular color options ranging from black/cherry to cream faux marble and white. The 3-tier option in light blue or pink would be fabulous for a kid's room.
3. Bamboo Chevron Space Saver Shelves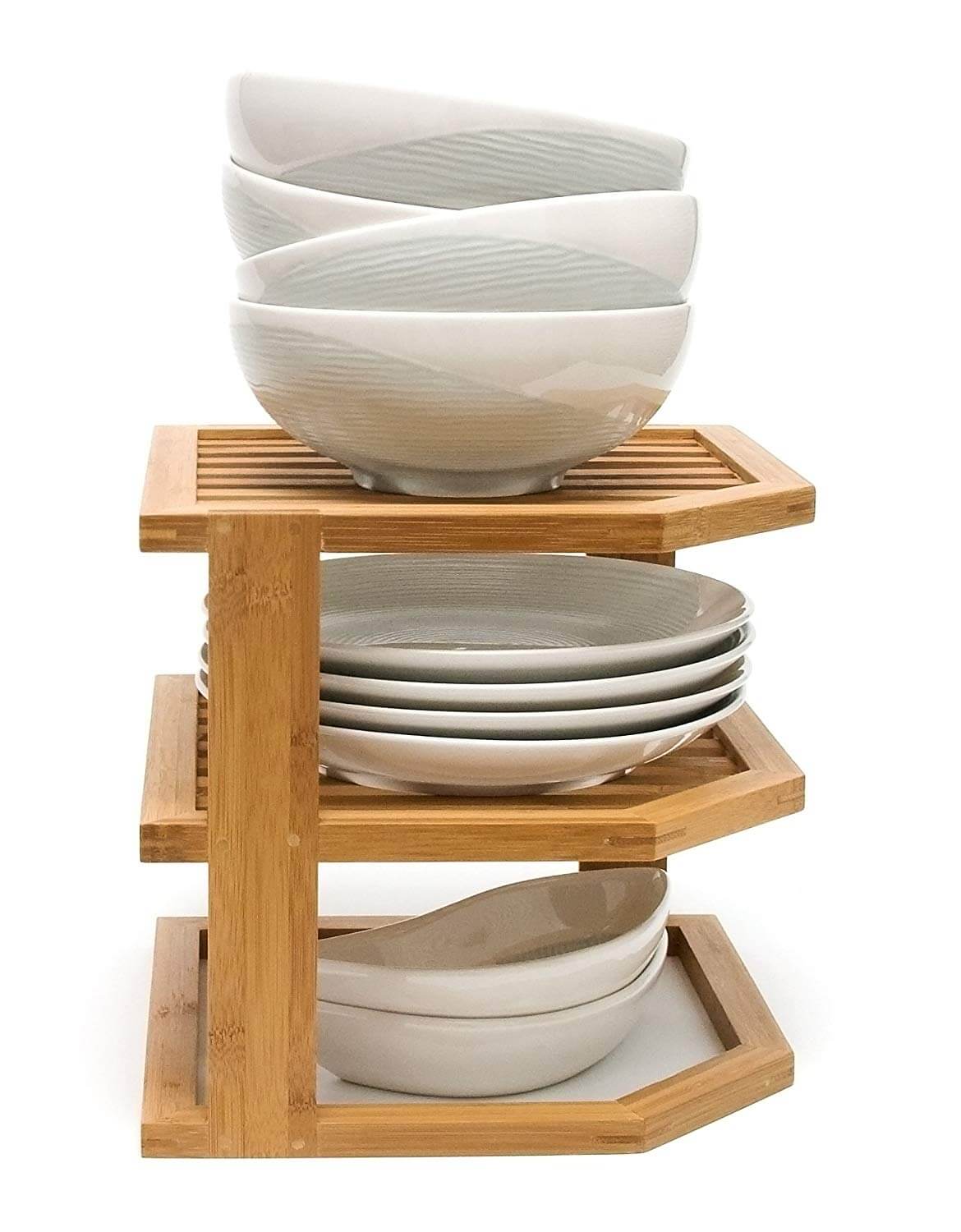 A bamboo shelf that is so budget-friendly, it could be called a steal! The warm and natural color would add style to any counter space needing some corner shelves. As towel or spice storage, the possibilities for this mini corner shelf are limited only by your imagination. This is a free-standing corner shelf designed for a counter and can be moved as needed. Extra bonus-no assembly required. This would be perfect for organizing the corner of an overcrowded kitchen or bathroom counter. Also, great for shelf organization in a bedroom closet or pantry. Consider using these as a plant stand or paper organizer on an office desk. Very user-friendly this is the perfect mini shelf for the beginning DIY designer.
4. Sexy and Square Freestanding Corner Shelf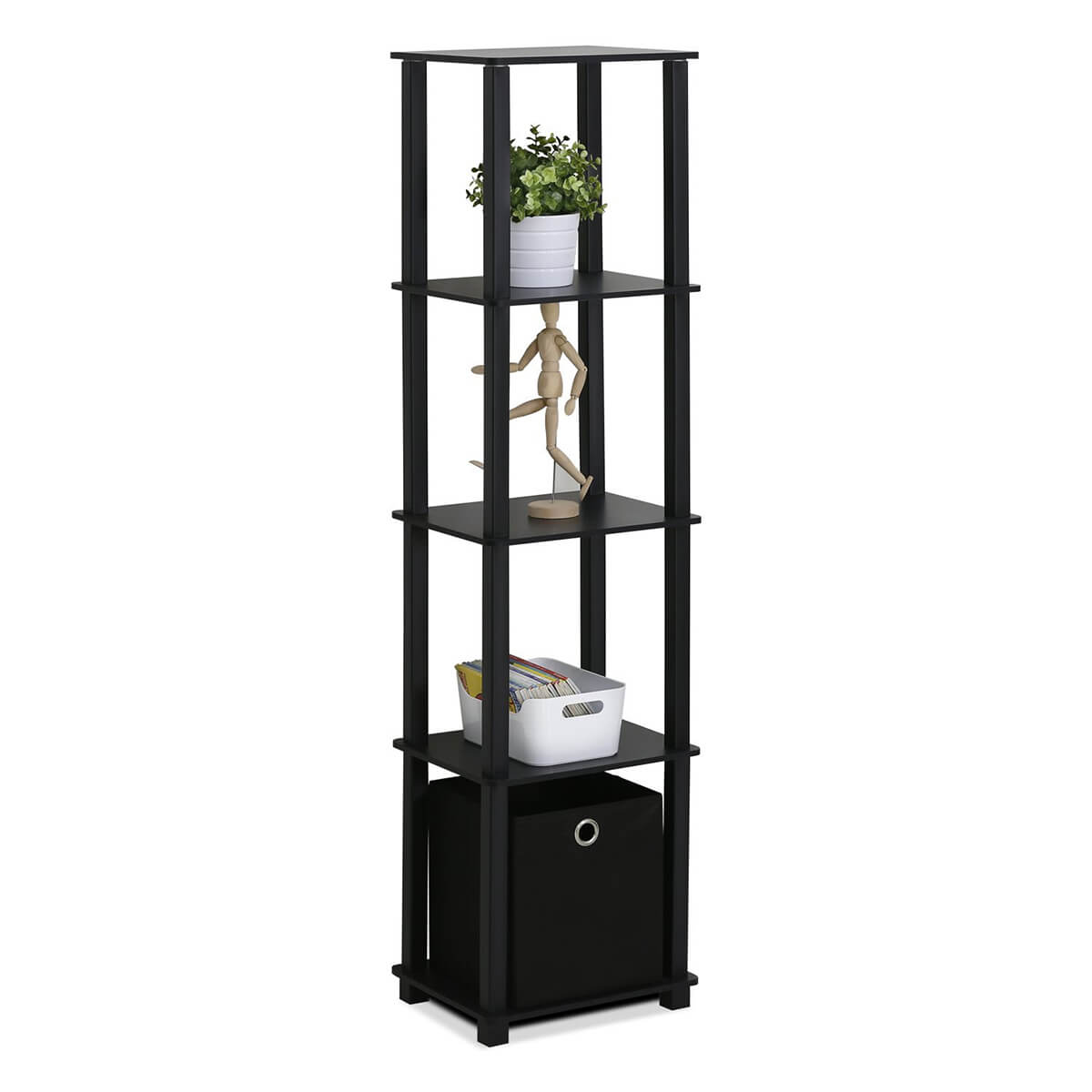 While square may not always be alluring, the beautiful symmetry of this DIY idea proves that not all corners have to be filled with triangles. A corner shelf simply needs to be in a corner, right? Perfect for the urban and industrial room, these shelves could really suit any style. Also, you cannot go wrong with black. How on magnificent would this be in a black and white room? Very! With the bonus of bin storage for those awkward items we all need to hide, win-win. Geared to small spaces, it delivers style and function. A little spray paint to further customize the shelves to any them, make the possibilities endless. Think outside the triangle for your DIY corner shelf design.
5. Rich Dark Wall Mount Shelf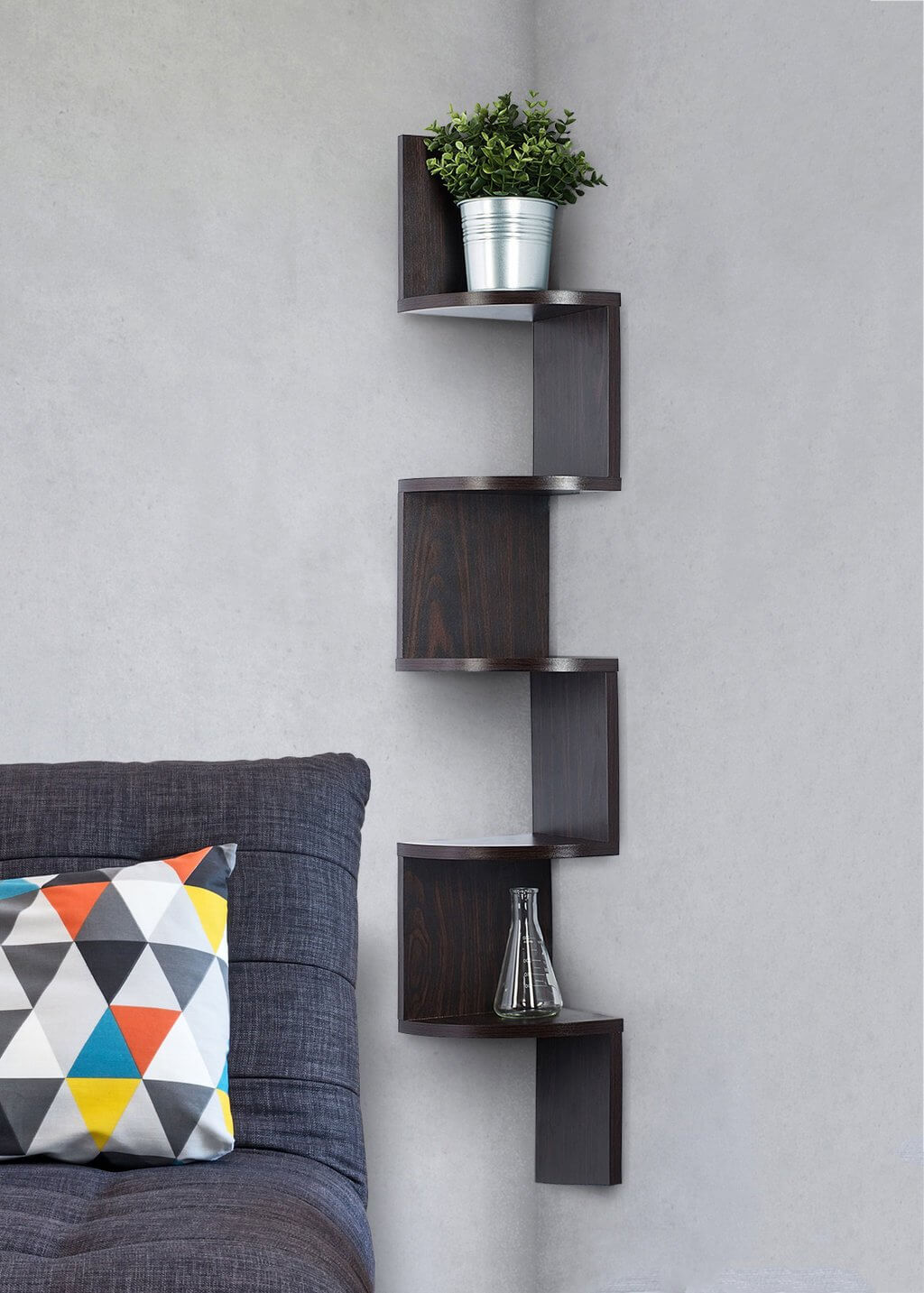 With a curved front to each tier, these dark colored shelves are alluring. 5-tiers allows for lots of styling options. Great for holding lightweight collections of DVD's or small collections, they can be hung using large, removable hook and loop strips. Renters concerned about a security deposit could consider this hanging option, making the installation even easier. Is your tween into sci-fi or steampunk and begging for a room makeover? Corner shelves in this rich color are the perfect addition for their storage or display needs. The rich deep color of these shelves would add the instant moody ambiance they crave.
6. Minimalist Floating Corner Wall Shelf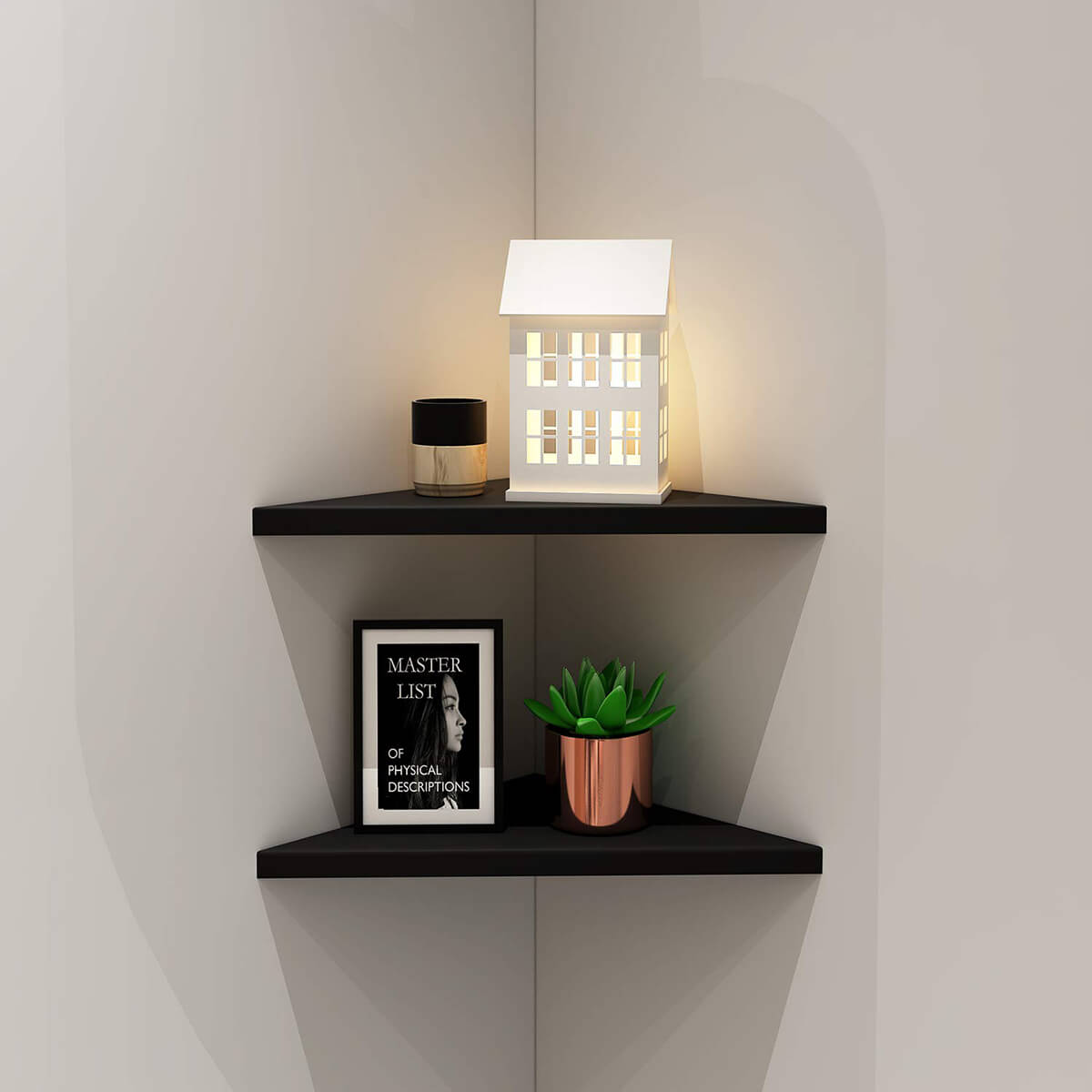 Are you looking for a stunning and minimalist floating shelf? This workhorse shelf can stand up to your storage or display needs. A pack of two shelves and several color options, you also have the choice between a right-angle, flush-to-the-corner shelf or a shelf that allows wires to drop through the back. So many options allow these shelves to fit into any design motif. Use these to hold speakers or books or add them to a corner community coffee bar at an office. They are sure to be a big hit. Easy, DIY installation make these the definitive corner shelf idea at a great price.
7. Wire-Framed Stack-able Corner Shelf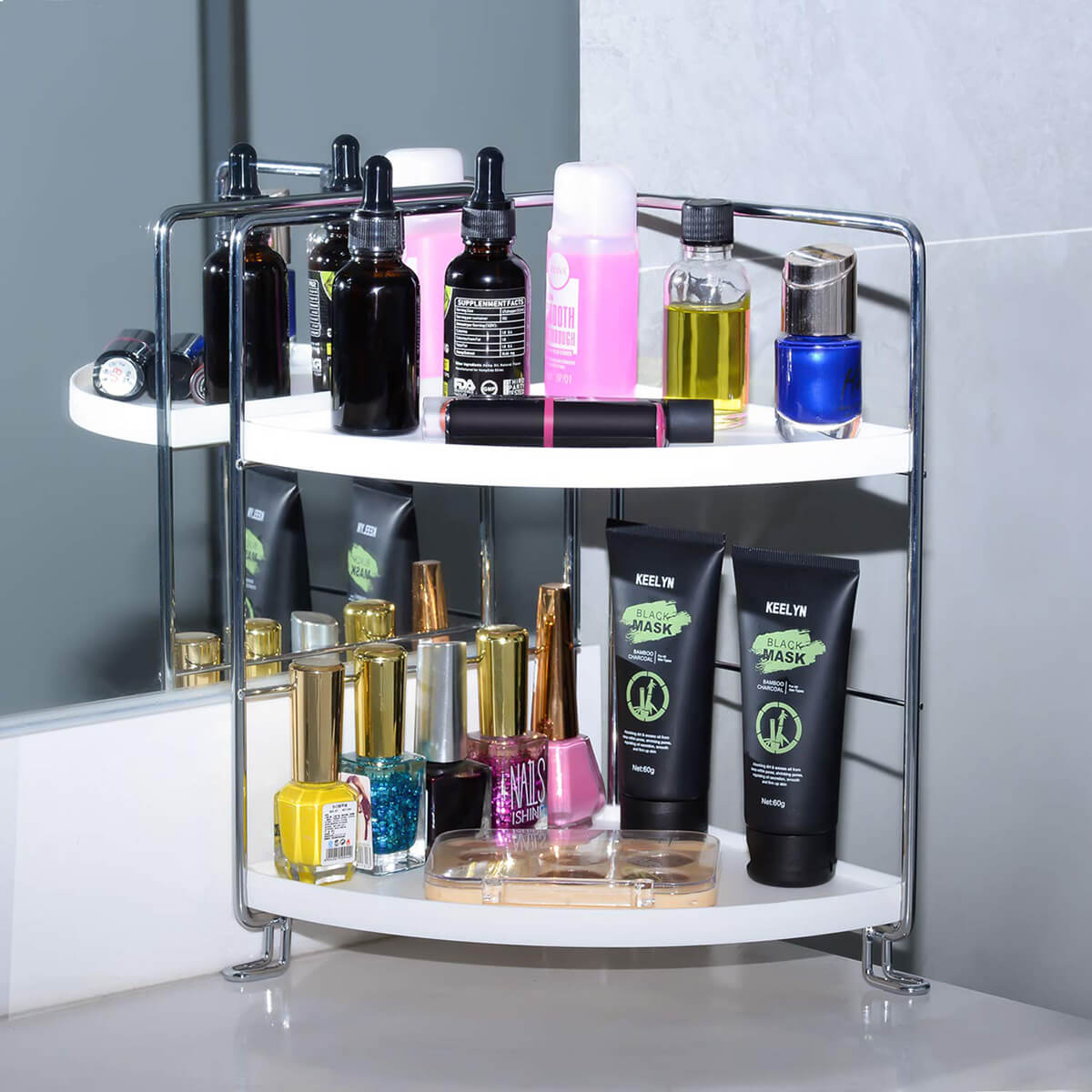 Designed specifically for cosmetics organization, these could be used in the kitchen for spices or the bedroom for jewelry storage. Stainless steel framing ensures sturdy durability while allowing for a sleek aesthetic. Did we mention stack-able? The feet of one set simply slide onto the top of another set. When using one set on its own the feet add an adorable European design element to the beauty of this two-tier counter shelf. Perfect for a Parisian themed dressing room needing a little ooo-la-la. Imagine these on a sun-room table filled with small succulents or serving sandwiches for tea. Luxurious but affordable these have a very simple snap-it-together assembly. A real must-have for anyone looking for a unique display solution.
8. Handsome Boho Rustic Wall Shelf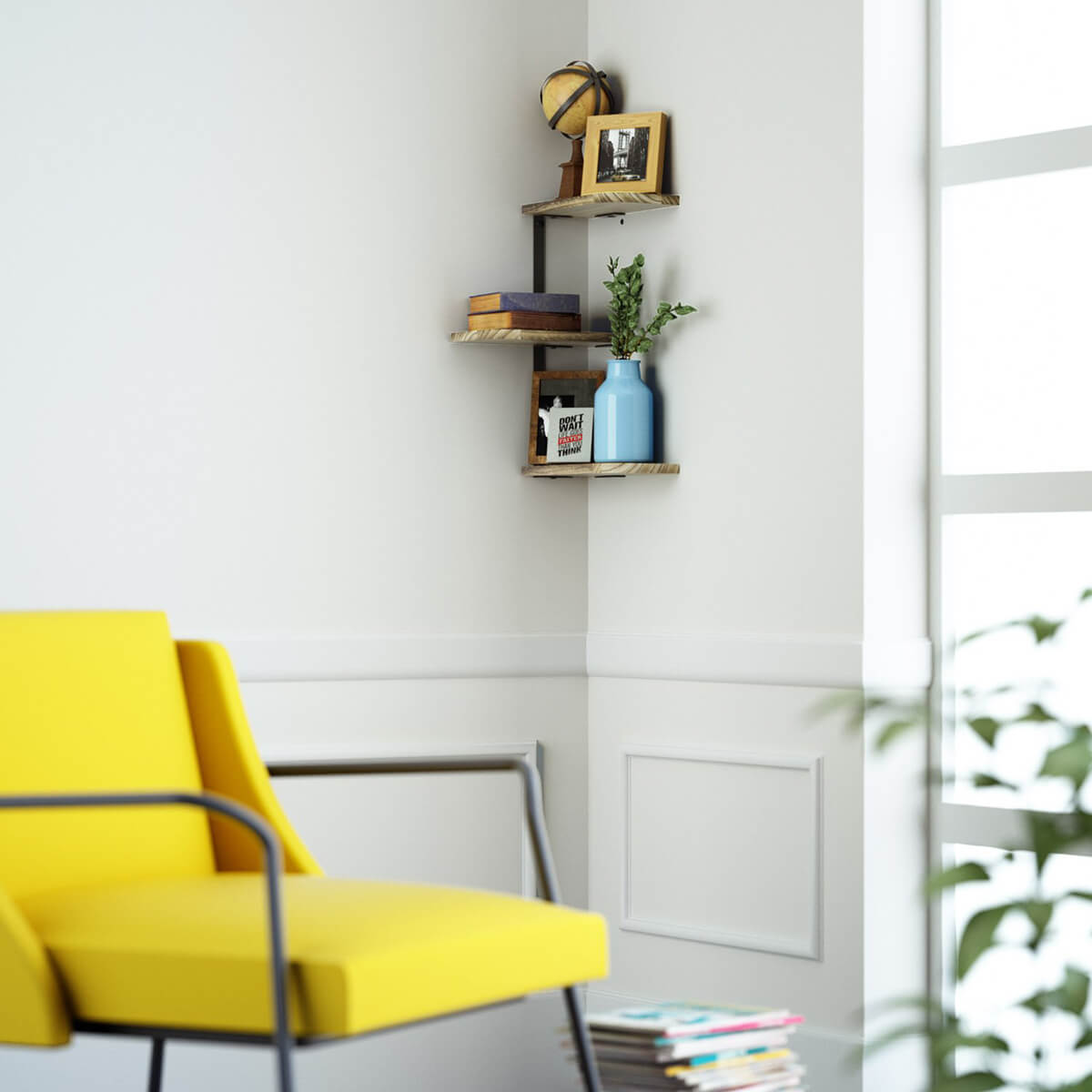 Rustic and beautiful go together very well. These shelves may indeed look rustic depending on which color you choose, but the beauty is evident. These are wall mounted corner shelves and can be hung in a variety of ways to suit your design taste. A longer shelf unit makes it a versatile piece. Three lovely color choices ensure that your corner display will nicely fit into your rustic Americana or Boho design. Consider more than one set to stack and the look would be fabulous. Assembly is a breeze and would be a perfect addition to any man cave or she-shed.
9. Diamond Solitaire Wall Mounted Corner Shelf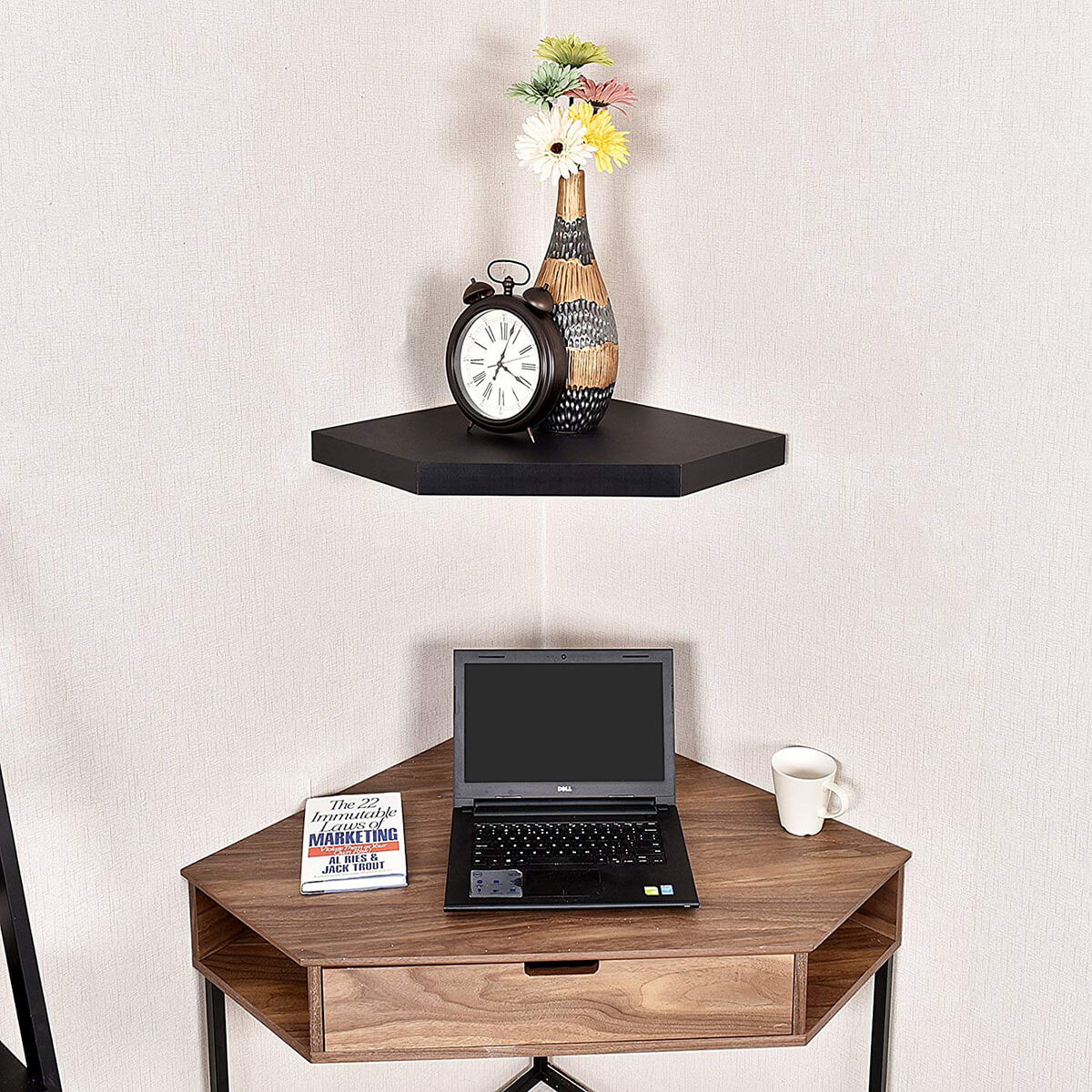 What a lovely and unique DIY corner shelf design. Think a diamond solitaire shape for that Boho chic vibe. When mounted the back allows for wires to pass through which is always a great feature on any shelf. The color choices are modern and continuous on all sides so the shelf can be hung high in a corner yet still be beautiful for display purposes. With ample room, when installed it is to look like it is floating which would make it an ideal choice as a wall mounted end table in a small living room space or studio bedroom.
10. Cute Cubicle Farm Corner Shelves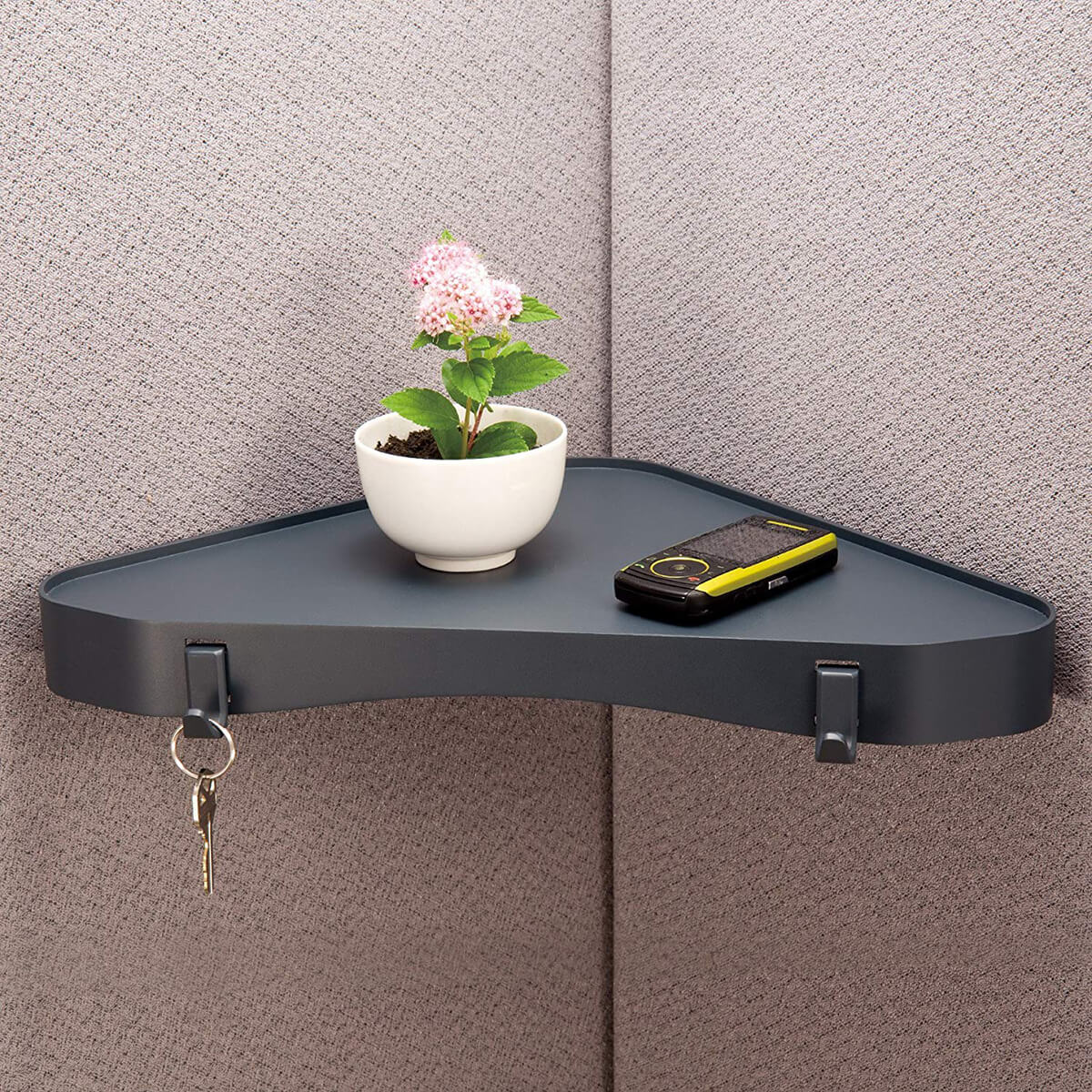 Office workers do not despair. Cubicles have storage accessories specifically designed to hang on cloth-covered partitions. Adorable and functional, these should win you compliments from your office mates. From decorative to functional, these lend themselves to a wide variety of uses-from plant holders to storage. With a puzzle piece shape and graphite color these cubicle wall shelves have a unique flair while helping you gain valuable horizontal desk space. Every inch of desk "real estate" is worth its weight in gold in a cubicle so when you can go vertical, you go vertical. These can be installed to a regular wall making them useful in the home office, as well.
11. Stunning Lego-Shaped Rustic Corner Shelf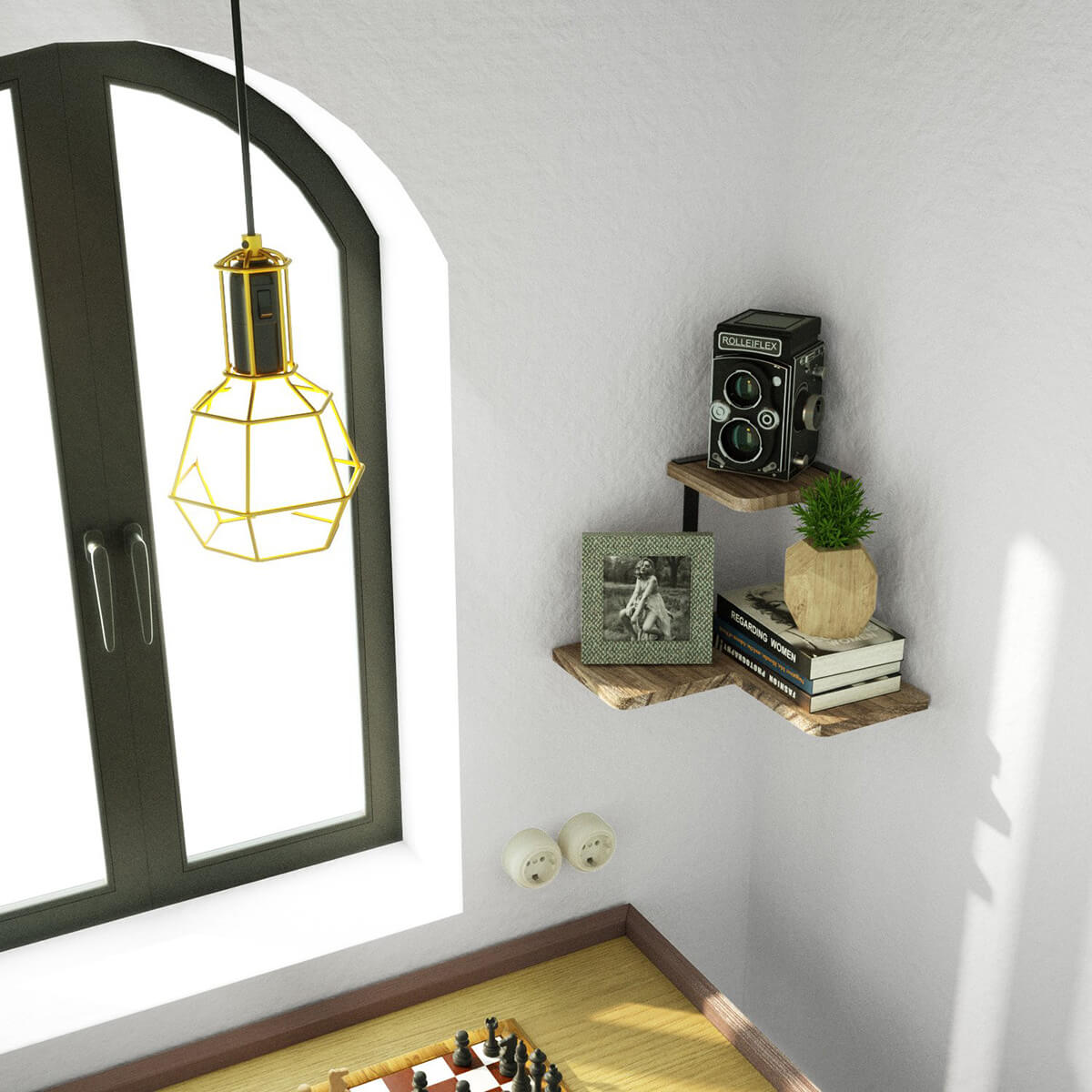 One word-stunning. The two-leg bottom tier topped by the single square top tier brought to mind Lego. Wood grain and black metal are swoon-worthy. With two color choices this shelf element would look good in any home decor. The unique shape of these shelves inspires a wide variety of display options. Surprisingly sturdy and easy to assemble make these shelves a DIY dream. From toddler to teenager, great for a boy's room and these shelves will grow with their changing design whims. Also, consider these for an upscale garage display for the guy who loves collecting vintage car memorabilia.
12. 2-Tier Zig Zag Floating Shelf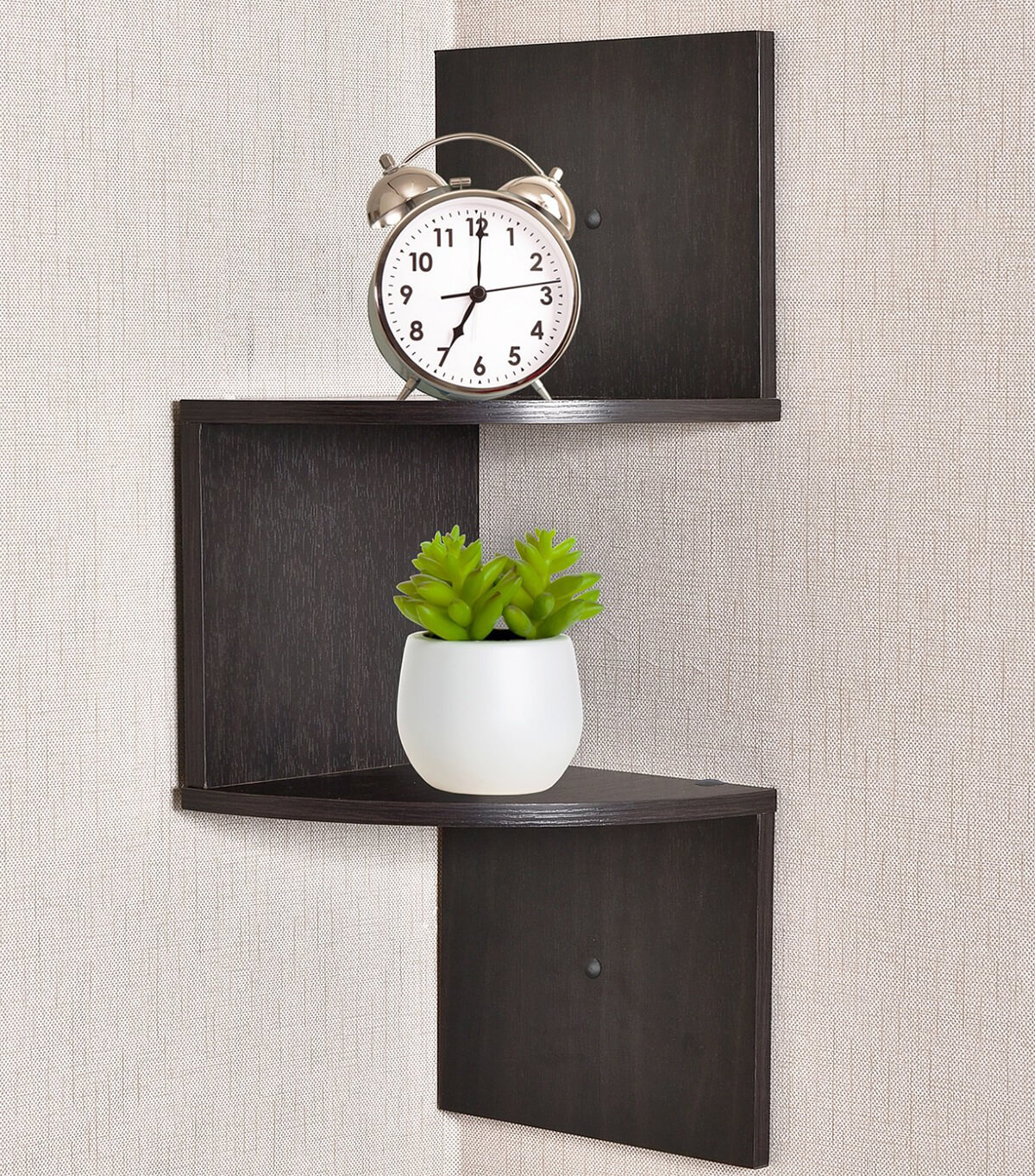 Are you looking for a smaller version of the Zig Zag corner shelf? These are perfect. Alone this is a great option for that short corner that needs some love. Easy to add to the side of a dark-wood kitchen cabinet for an open display of some special dishes. Consider stacking them with a 5-tier model in a living room or great room corner to give a floor to ceiling built-in look. Just as easy to assemble and install as the larger model, this 2-tier is great for renters as a wall-mounted end table or nightstand. Two of these on either side of a dark wood desk could be stunning.
13. Metal and Glass Free-Standing Shelf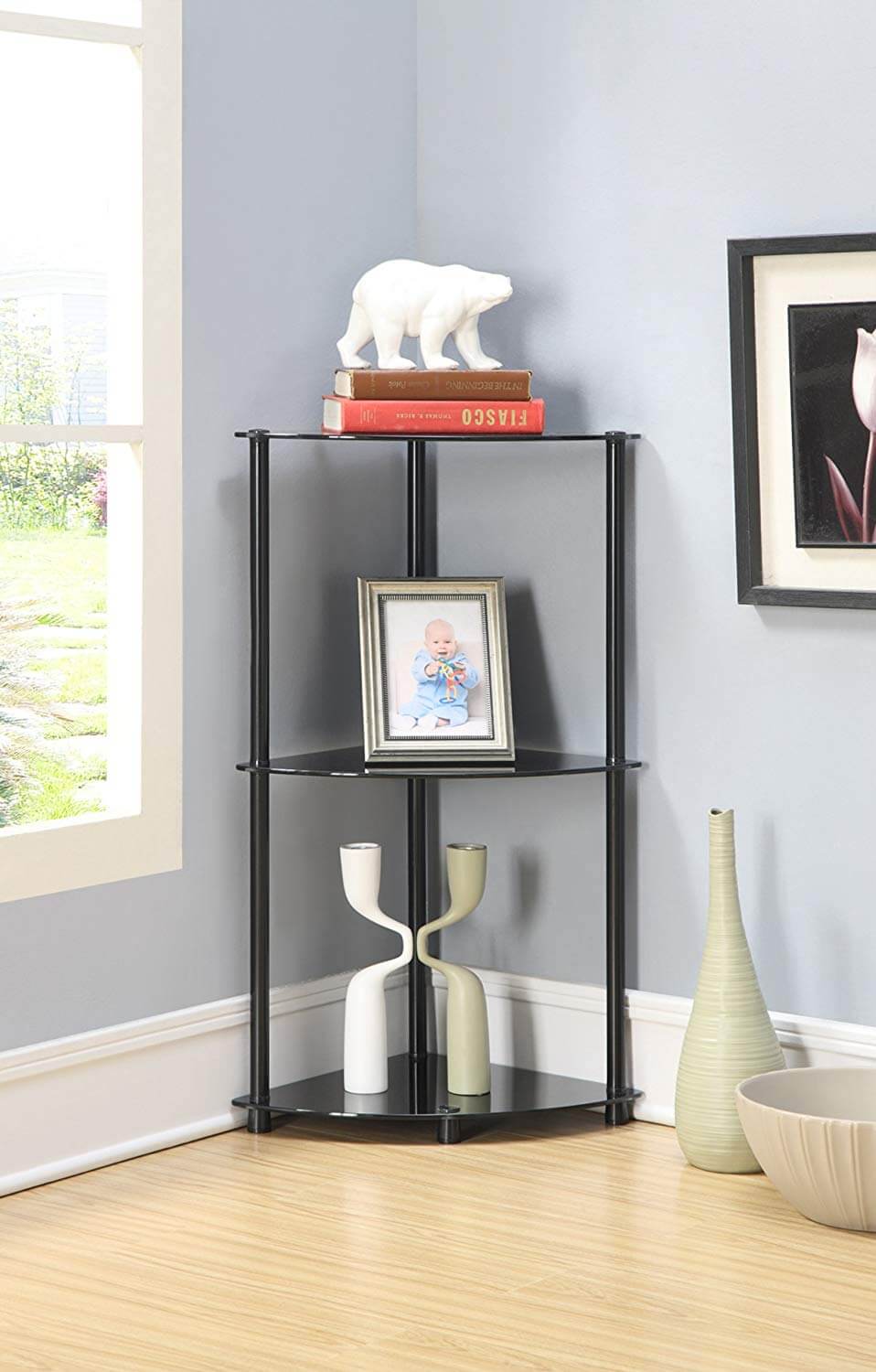 Simply exquisite. Sleek with a classic elegance, these corner shelves are perfect for any decor. Besides a corner, putting these on either end of a long white couch would be amazing. The black glass is that unexpected detail that takes a functional piece to the next level in decor. While great for bathroom decor, these would transform an upscale walk-in closet or dressing room. How about a teenage girl's chic modern bedroom makeover? Yes, please. The metal is stainless steel making it the perfect addition to a half bath or kitchen. Quick to assemble, these are a great option for the novice interior designer.
14. Vintage Old Hollywood Glamour Spa Tower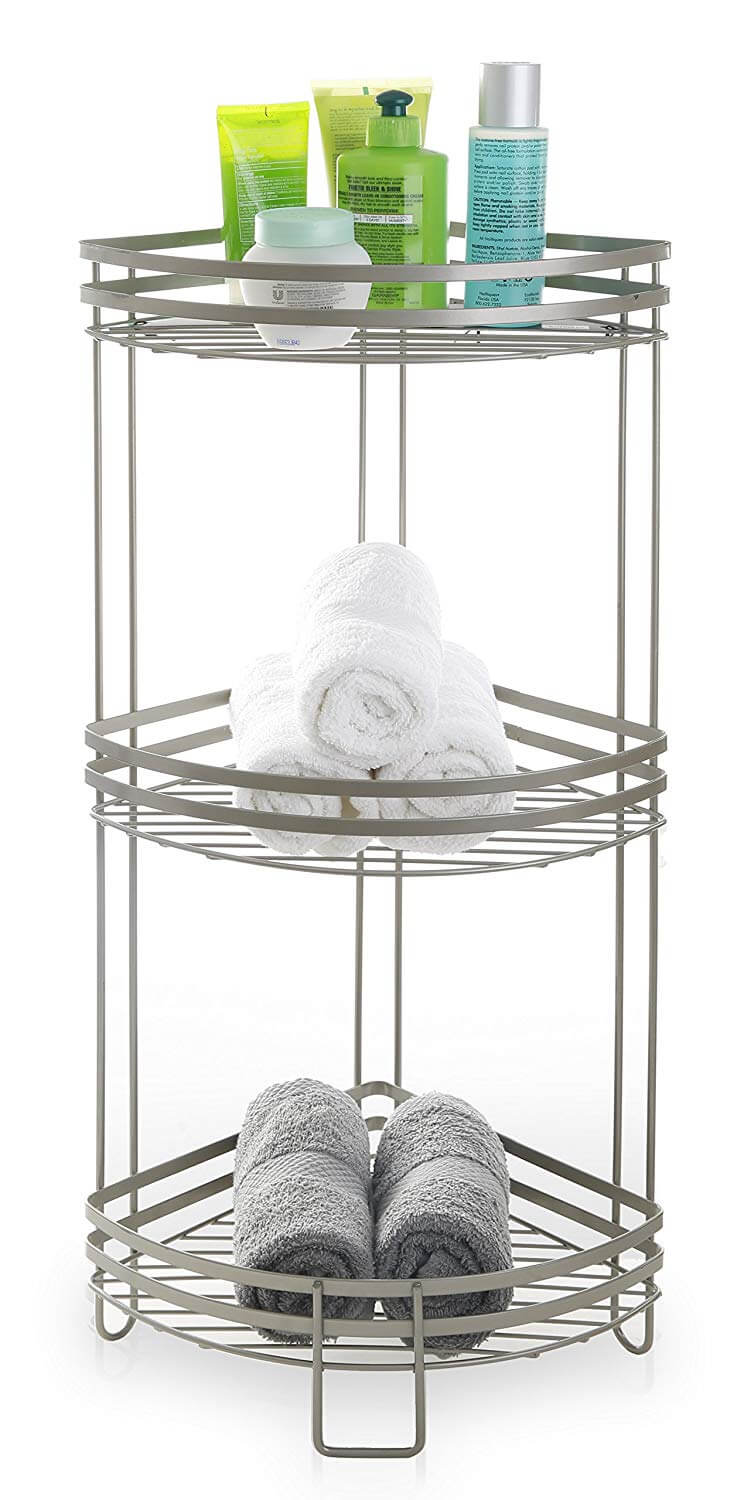 1940's Hollywood glamour-inspired 3-tier shower corner shelf. Reminiscent of vintage cruise ships, the curved, double-line metal frame is beautiful and would be equally at home in an industrial room. Very impressive style for a purse-friendly price. Stable and durable, the shelves are rust-resistant making these a perfect choice for a bathroom. Each tier has a metal mesh bottom which eliminates water pooling when used in a shower. If you like vintage without an obvious style reference these shelves would be just the ticket.
15. Unique Curved Ladder Bookcase Shelf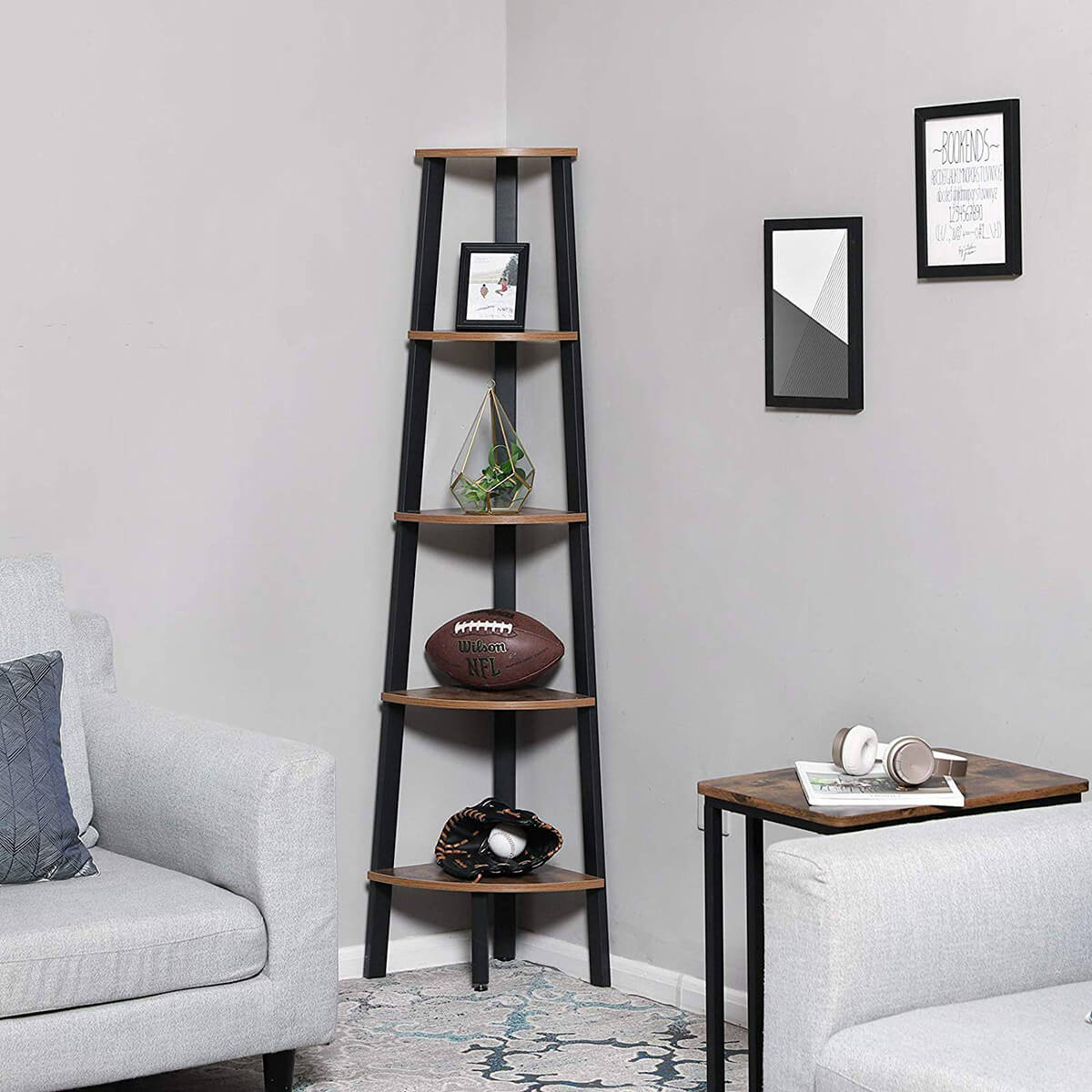 Different and striking this corner shelf is a new take on the ladder bookcase. The curved front of the tiers makes these shelves modern and sleek. Beautiful with great versatility, these shelves could easily be used for storage with the addition of some baskets or bins. Sturdy metal framing and wood-grain veneer tiers make an elegant choice for any room. These shelves would enhance any farmhouse chic, rustic Boho or Americana decor. Perfect for a study or an office, these would nicely display a collection of treasured books or collectibles.
16. Gorgeous Farmhouse-Chic Rope Detail Corner Shelf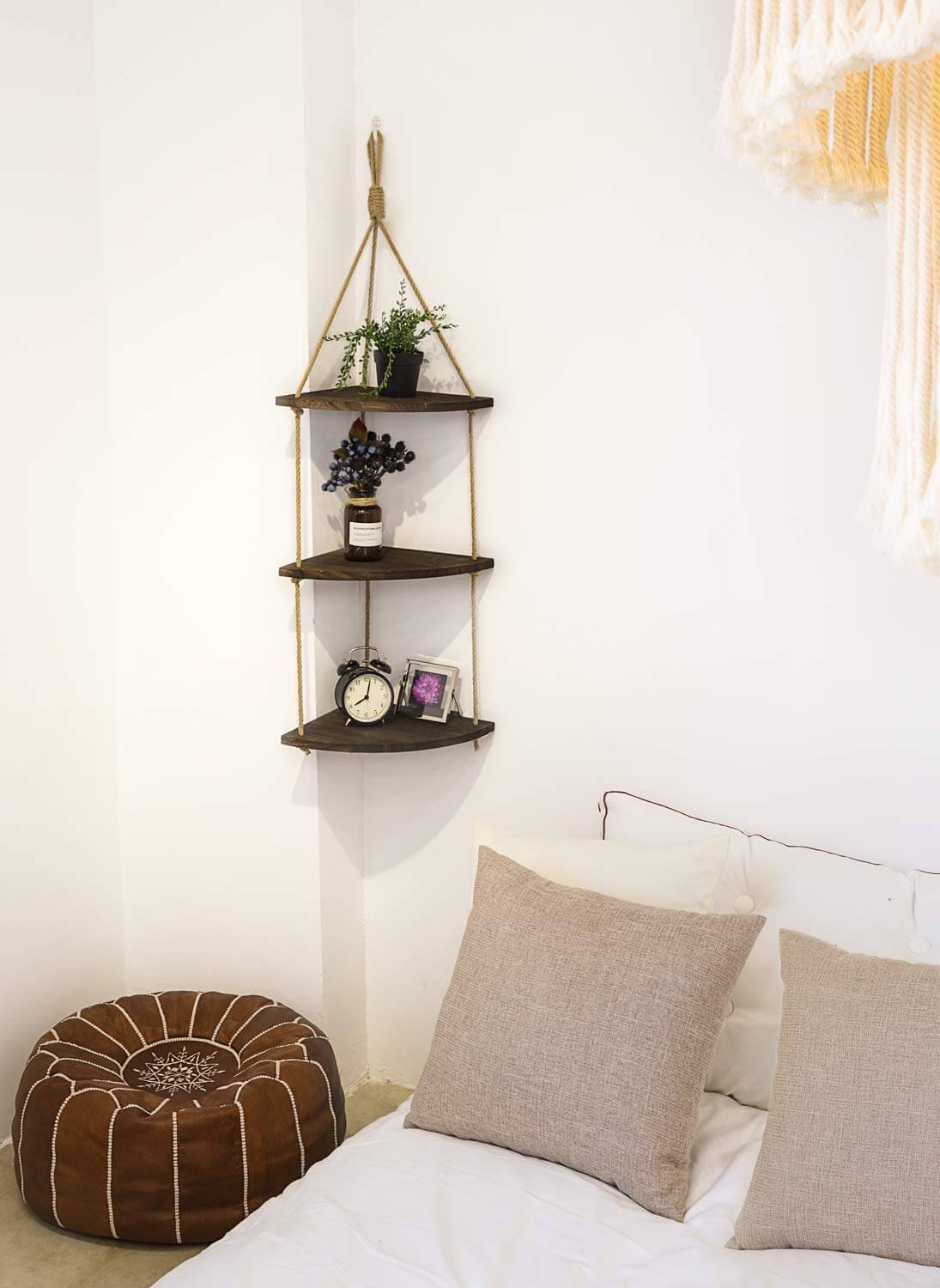 Gorgeous update on rustic plank shelves. 3-tiers are floated from natural rope and hung from the ceiling. A definite stand-out option, any rustic decor would be instantly transformed. Proving that simple materials can make a great style statement; these shelves are not your mother's corner shelves. Contrasting nicely with the dark wood, the natural rope gives a warm look to a functional piece. Easy to install and very versatile these shelves are truly lovely. These would be adorable in a baby's farmhouse nursery yet equally at home in a kitchen as a hanging plant stand.
17. Striking Curved Floating Triangle Corner Shelf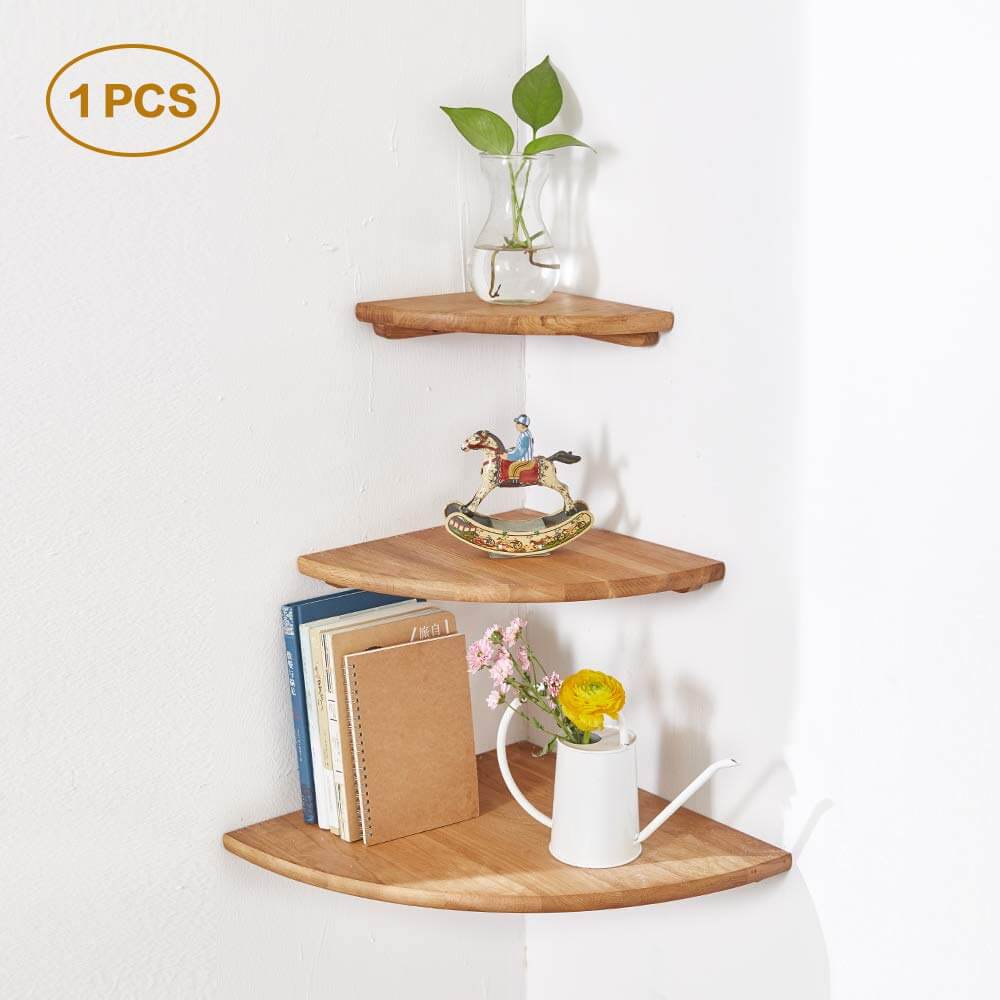 With graduated sizes, this is a corner shelf with tons of potential. Solid oak wood construction means years of reliable durability and long-term appeal. Easy to install, the imagination is the only limit to the versatility of this classic shelf. Use these for displaying books in a kid's room. Does your office need some more storage, but you want a more unique look? Stacking these in a corner in graduated sizes would be fantastic. A choice of light and dark stain makes these shelves a wonderful addition to any rustic or modern, industrial setting as a beautiful display or storage element.
18. Charming Metal Cubicle Corner Shelf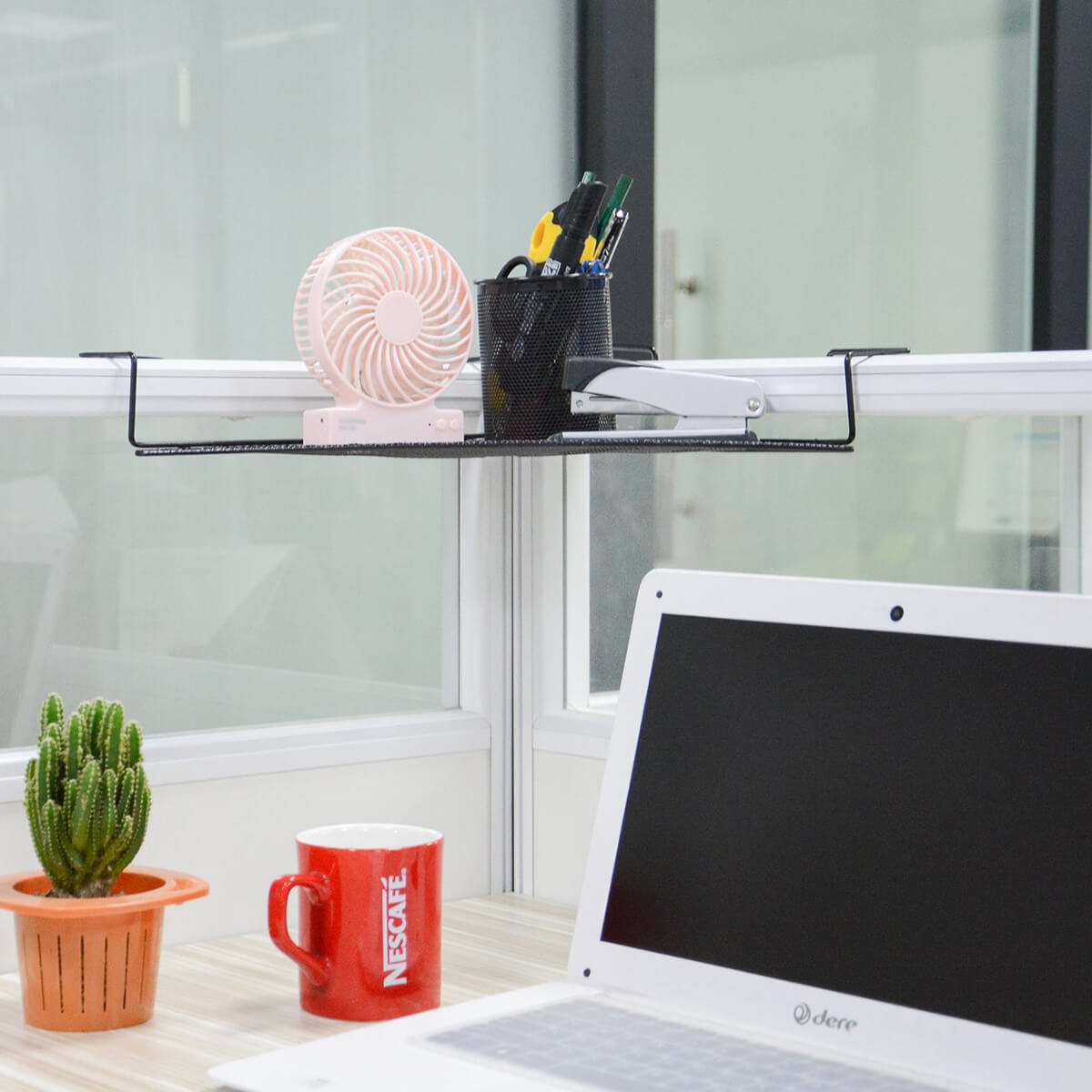 Add this cute metal shelf over the corner of your cubicle walls, place a small air plant or coffee mug from your last trip and, voila, instant upgrade. All desk space in a cubicle is limited so whenever you can take things off the desk and it makes for a good cubicle day. Be sure to measure the thickness of any cubicle wall because they are not all created equal. This little shelf is the shelf that could—hold some serious stuff, that is. Easily hang keys or lanyards from the mesh frame tier with small hooks. Reclaim some desk-top real estate by adding a cubicle shelf.
19. Elegant Graduated Solid Wood Corner Shelf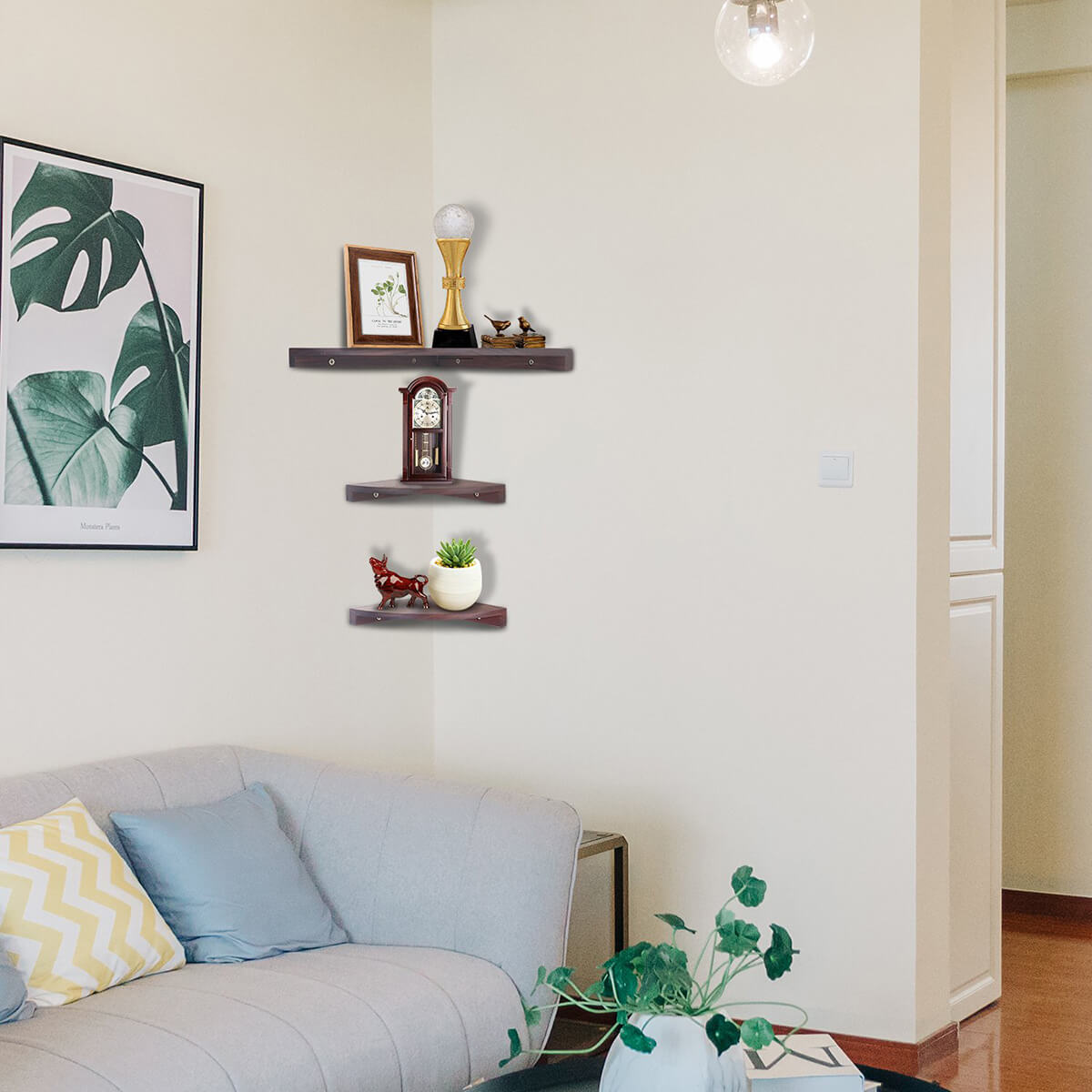 Well-crafted quality solid walnut shelves that are easy to install. Do you have a DIY corner shelf design idea in mind, but don't want to be limited to all the shelves being the same size? There is a solution! A set of 3 corner shelves in graduated sizes can bring a unique design flare to the floating shelf idea. Curved front triangles with a dark stain, these would be a stunning addition to any man-cave or industrial, steampunk vibe. Placing one small tier above and below with the large tier in the middle would make for a new twist on a classic shelf.
20. Sophisticated Ladder-Style Corner Shelf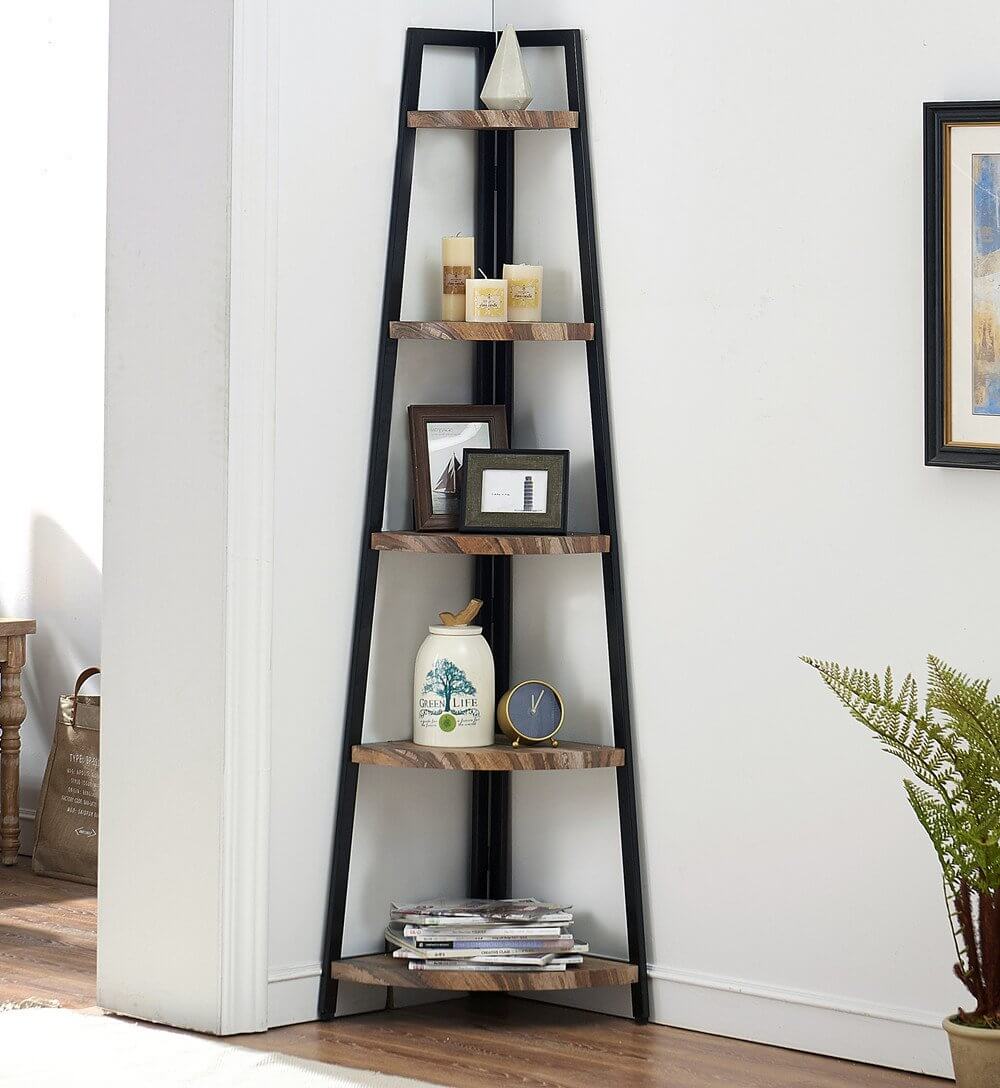 So sophisticated when assembled. Wood grain style tiers with a black metal frame gives this shelving element a wide appeal with many styling options. Industrial, yes. Modern, yes. Rustic, yes. This shelving component has 5-levels and can be assembled in less than an hour making them great for a simple DIY solution. The feet are adjustable which is great for floors in older homes that may not be level. Sturdy with a classic style make these ladder-style shelves an excellent choice for your unused corner space.
21. Sleek White Floating Triangle Corner Shelves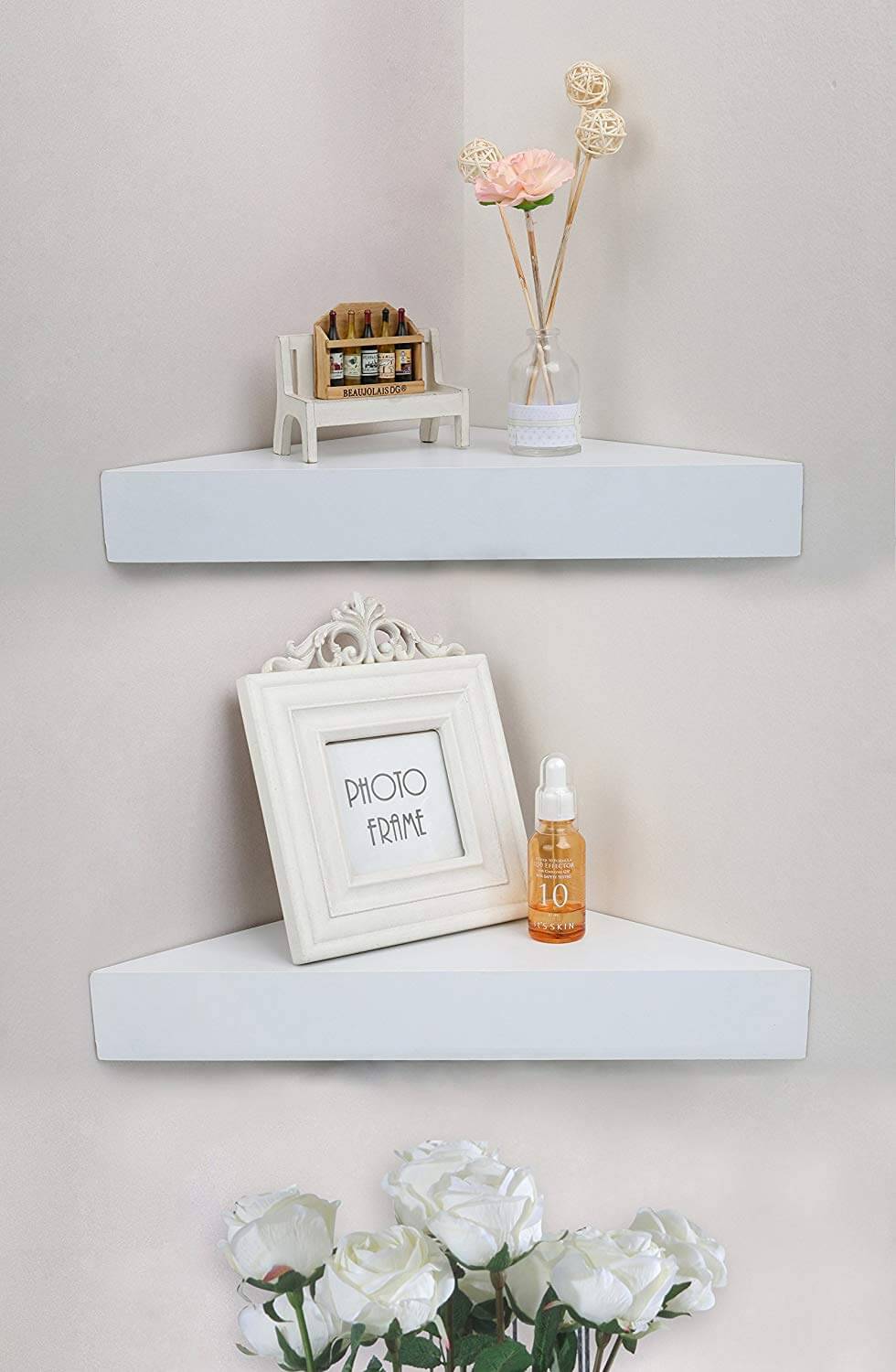 White walls can be made sleek and modern with the addition of these true triangle floating shelves. The white laminate finish of these shelves will give the illusion of a luxury built-in design element without the price. As a set of two, consider purchasing more than one of these budget-friendly shelves for stacking and take a simple DIY corner shelf idea to the next level in less than a couple of hours. Clean lines and modern flair make these the perfect choice for anywhere in the home from the mud-room to the baby's playroom. There is no way to go wrong with a classic.
22. Warm Floating Beech Wood Graduated Wall Shelf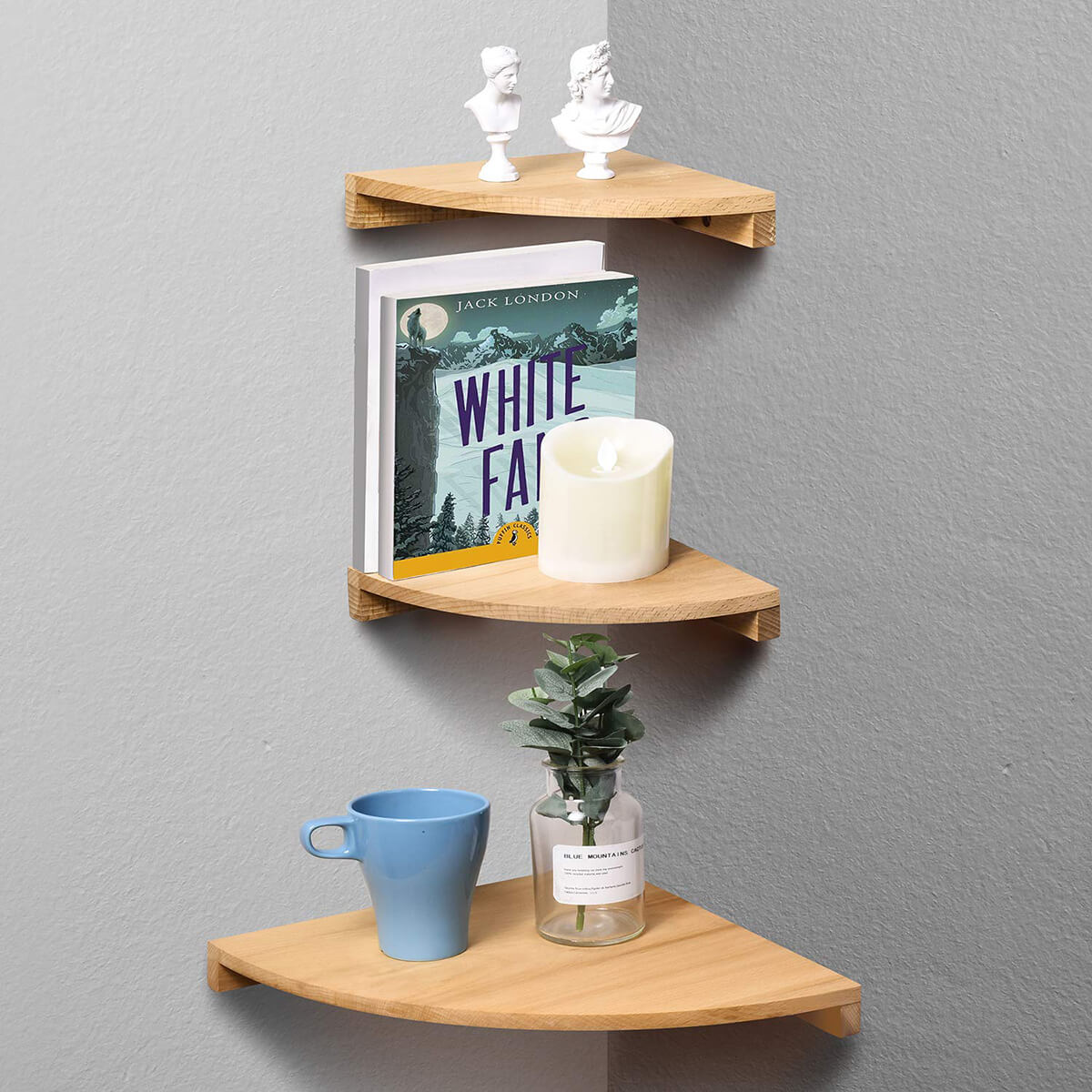 In a warm, natural wood finish these are solid beech-wood, in a set of 3 graduated sizes. With a classic radial curve in the front these would make a beautiful addition to any minimalist or modern interior. Light wood is always a good choice for a child's room as many of their accessories are brightly colored. In a farmhouse kitchen these would look lovely attached to light wood cabinetry for extra display space. A small patio always has room for a set of wall mounted shelves for hold beverages or snacks. Classic equals versatile and these shelves do not disappoint.
23. Modern White Zig Zag Wall Shelf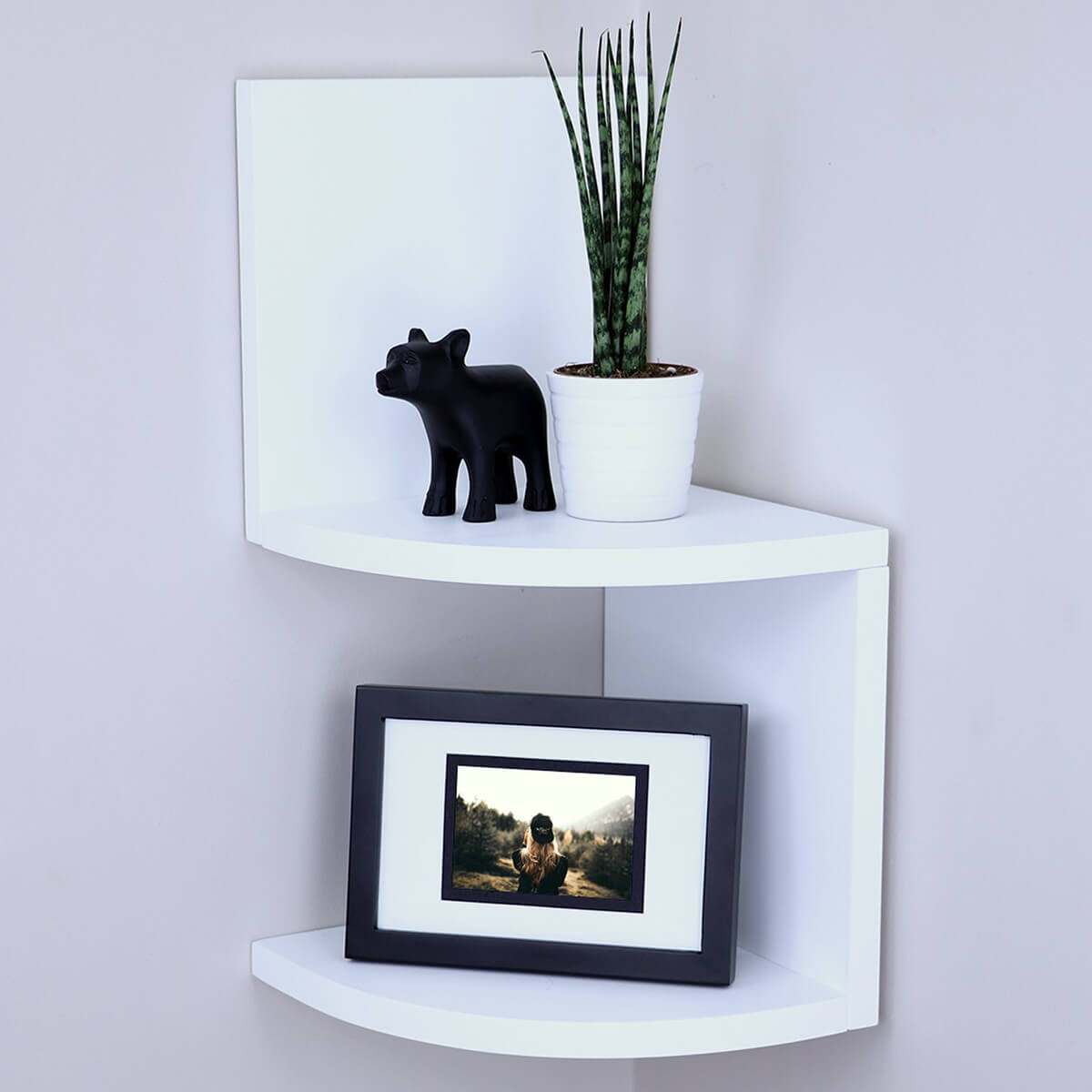 White is the perfect neutral and a classic design choice. White can allow special collections to sing. White does not get in the way of other colors. The shape of these white shelves bumps up the appeal and instantly give a new spin on the DIY corner shelf idea. Simple to install these would look chic and modern in a teenage girl's bedroom. Each shelf is independent so could be installed on either side of bed for a built-in nightstand. Such potential for these cute shelves in an office above a glass desk. Also, these would be adorable in a toddler's primary-color themed room. Clean, sleek lines give these shelves a beautiful look.
24. Classic Radial Triangle Corner Shelf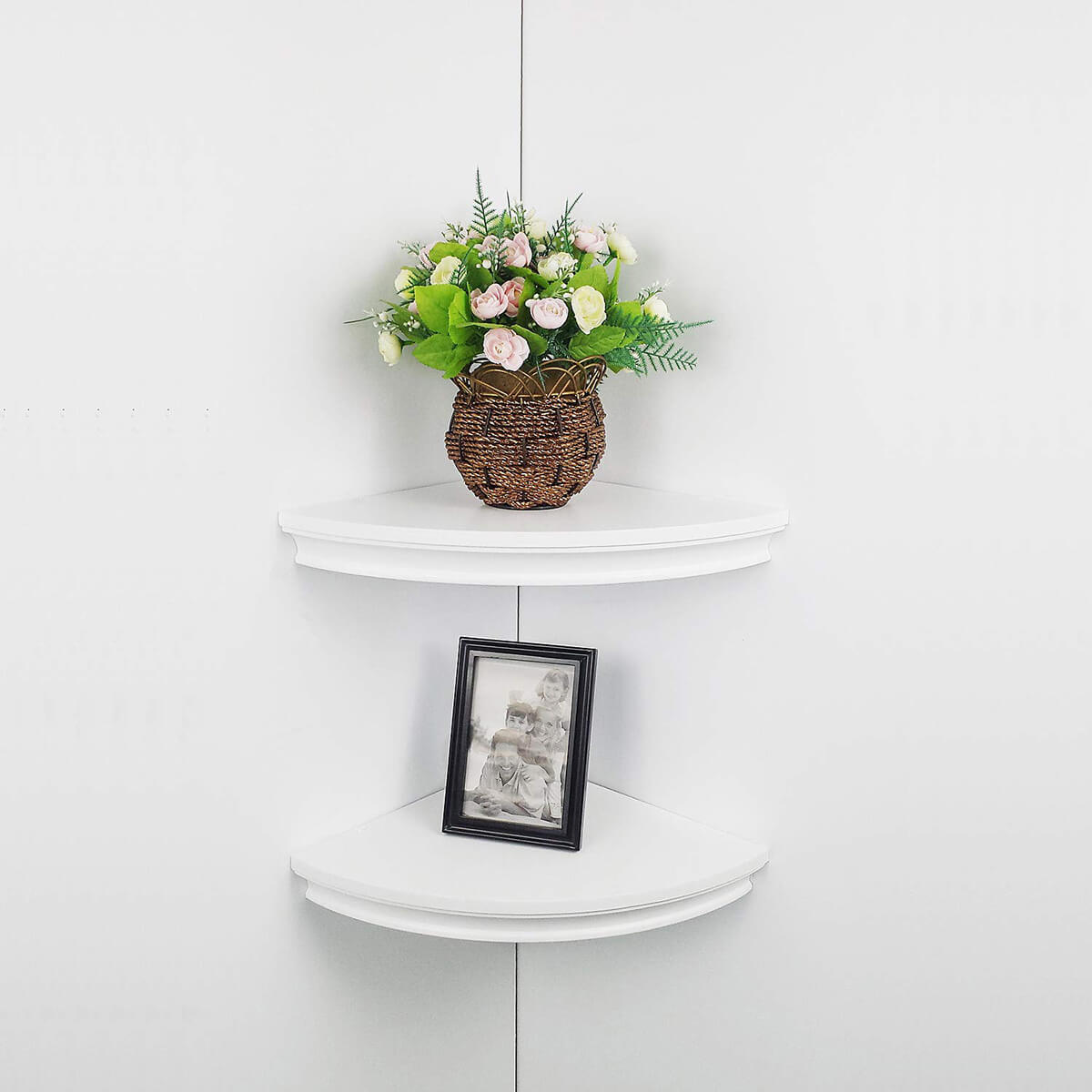 Classic style complete with a molding element, these white floating shelves would suit any traditional or modern style. Achieve a built-in custom look for a DIY price. Also available in 2 sizes you can purchase these in sleek design without a molding detail. Customers were thrilled with the ease of installation and quality of the shelves. Comes as a set of-2, these are great for organization or display purposes. Its hard to go wrong with this lovely, classic style. Images showed the units being used in kitchens, bathrooms, hallways-so the options are endless.
25. Polished and Unique Gold Frame Graduated Corner Shelf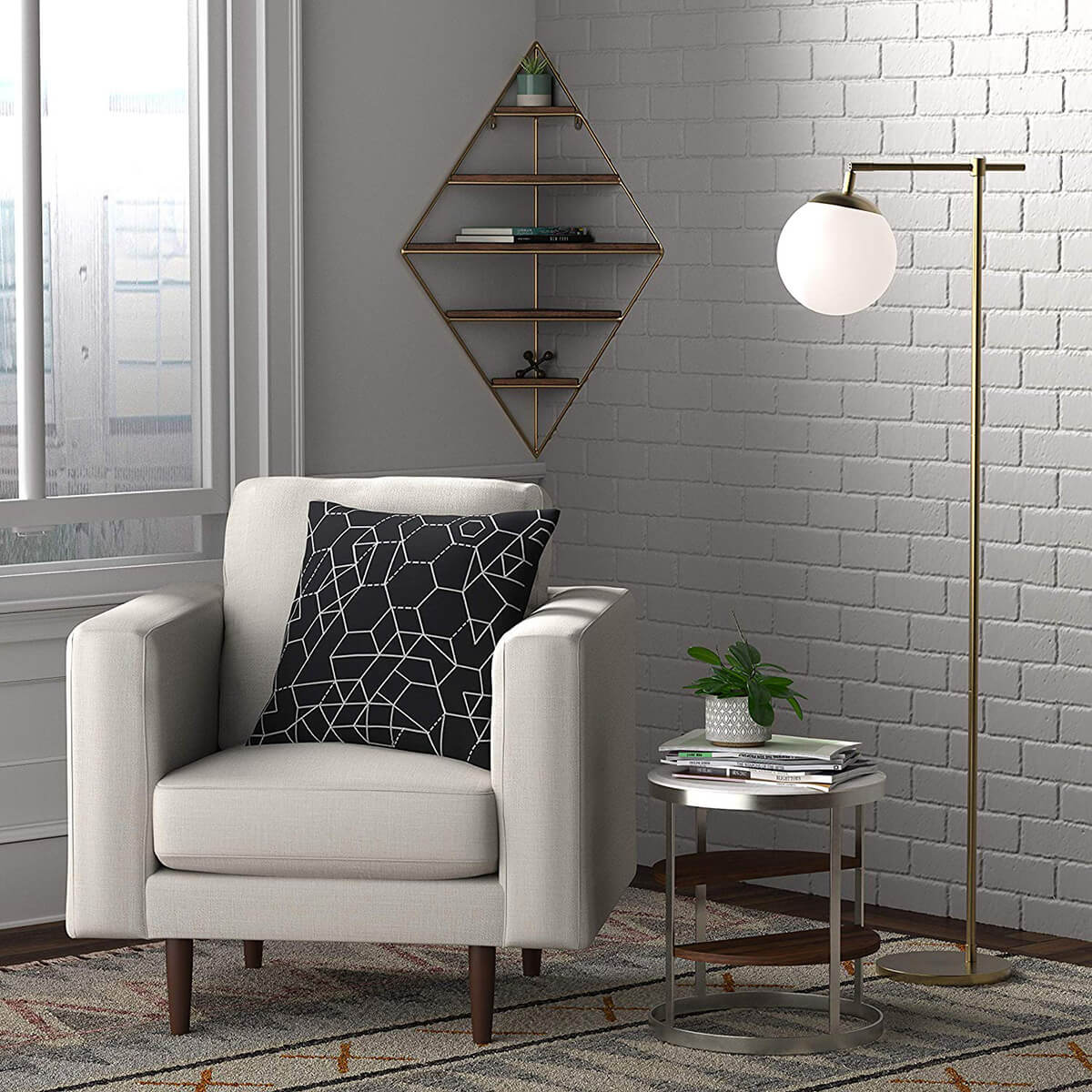 Customers said over and over that hands down these are one of the most unique shelf designs on the market. Lovely gold metal frame with medium wood grain-style finish, this shelving component would make a stunning addition to any modern design. Maybe your patio could use a little more elegance-the gold element in these shelves would bring a luxury vibe. Consider these shelves for a she-sanctuary or spa-style bathroom. Sleek and bold with that stand-out gold makes these the perfect choice for that DIY designer who craves the unusual. Does your teenage daughter have a talent for design? Help her hang this in a corner of her room to bring some zing to her hide-a-way. Best feature? They come ready to hang, no assembly needed.
26. Rustic 5-Tier Wood and Metal Bookcase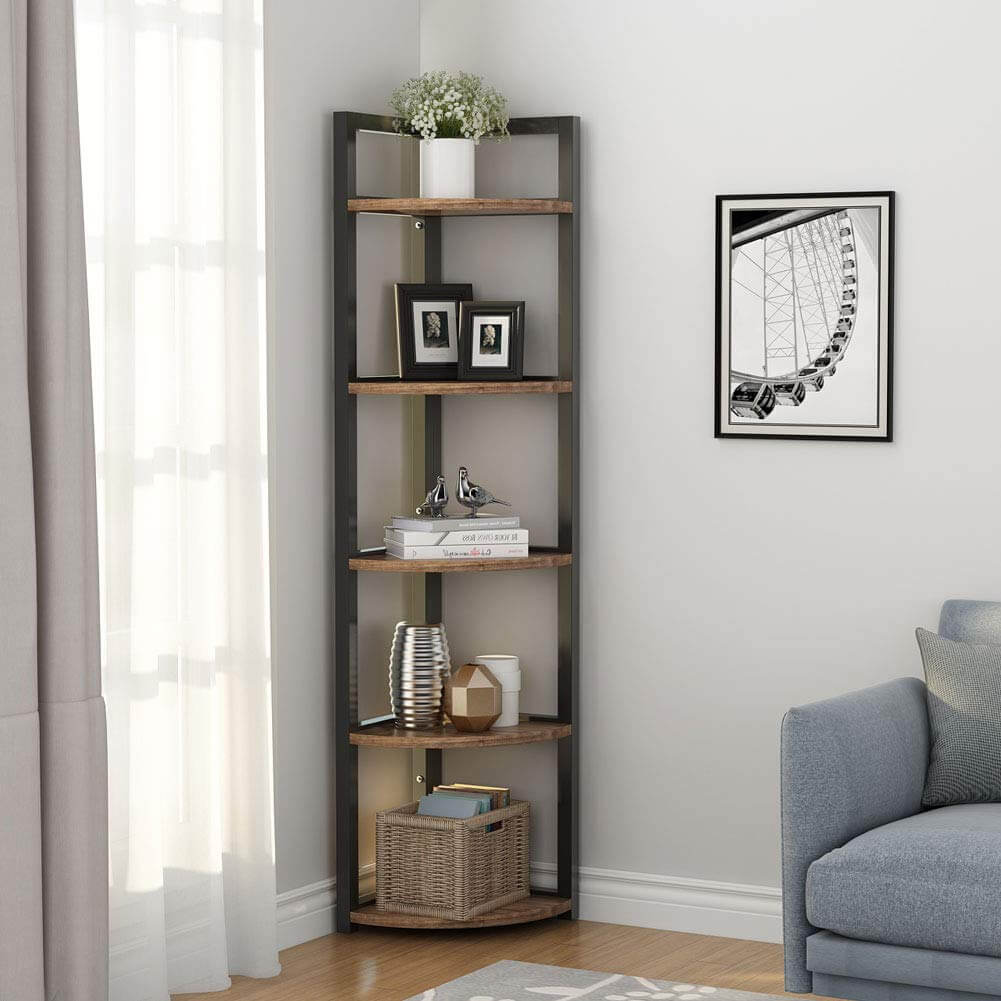 A classic corner bookcase with a twist: curved-front tiers. Handsome and masculine these would be perfect for any man-cave or boy's room. Dark metal and wood grain veneer give a rustic yet urban feel. Good choice for that rustic industrial chic lover. Perfect for a study or great room as a bookcase or display for plants or the family photo gallery. This shelving component would blend into any decor with a dark palette or as a contrast piece for lighter aesthetic. A great size for that corner that is hard to fit. Simple assembly makes this a great weekend project for the DIY home designer.
26 Stylish Corner Shelf Ideas to Organize Your Rooms in an Elegant Way
With such a variety of options, there are no limits to corner shelves and their design potential. Budget-friendly, shelves like these are a great option of the new homeowner who wants style without breaking the bank. When decorating a home, personal and unique touches make the interior speak for the people living there. Little details such as how collectibles are displayed, or photo arrangements make the difference between a generic room in a catalog and one filled with life and personality. Do you want visitors to know that you are minimalist? Sleek shelving details can help you achieve that look. Maybe you love classic and traditional styling. Details such a molding added to the front of a shelving tier gives that look.
Always remember, your imagination is your only limitation. If you want a rustic wood shelf in your bathroom, do it. While most home decor companies make suggestions for the best use of their product, that should never limit your statement. If you want to lay the zig zag shelf on its side on a desk, go ahead. If most of your home is rustic farmhouse but you love the urban wood and metal shelves, go for it. Urban farmhouse is real. Take a risk!