What better rainy-day activity is there than sitting down with your art supplies to create some of the best cotton crafts? Cotton crafts are so special because they can range from something you can make with your toddler to elaborate and high-end decorations. These ideas can give you inspiration to follow your own cotton trail to a great design for your home, or you can simply mimic them directly for a hassle-free craft night.
24 of the Most Adorable and Best Cotton Crafts and Storage Ideas to Try at Home

Another great thing about cotton craft decor is how easy it is to keep up with. If for some reason you need to refresh a patch of cotton balls, it is usually not more involved than popping on a few fresh ones. You can make these crafts last a long time or, since they make for fairly inexpensive home decoration ideas, you won't feel guilty about letting them go after just a few weeks or months of use. You can't say that about a lot of DIY projects. For many at-home undertakings, once you've acquired all the necessary supplies, you can find yourself pretty deeply invested and feel obligated to keep the thing on display till your grandkids go to college. That's just not the case with easy, cheap, and fun cotton DIY projects.
Getting the whole family involved with these best cotton crafts is fun and easy, and almost anyone, even toddlers, can help put together your cotton masterpiece. Cotton craft storage is also a cinch since cotton balls have many uses throughout the home besides art and craft projects.
Take a look at those cotton balls you've been using just for removing nail polish with fresh eyes and you will discover a whole world of crafting possibilities that span decorative genres and are perfect for the refrigerator or entryway. You could also consider crafting a special gift if you know someone would appreciate some fresh cotton decoration for their new home.
1. Super Cute Sheep Cotton Craft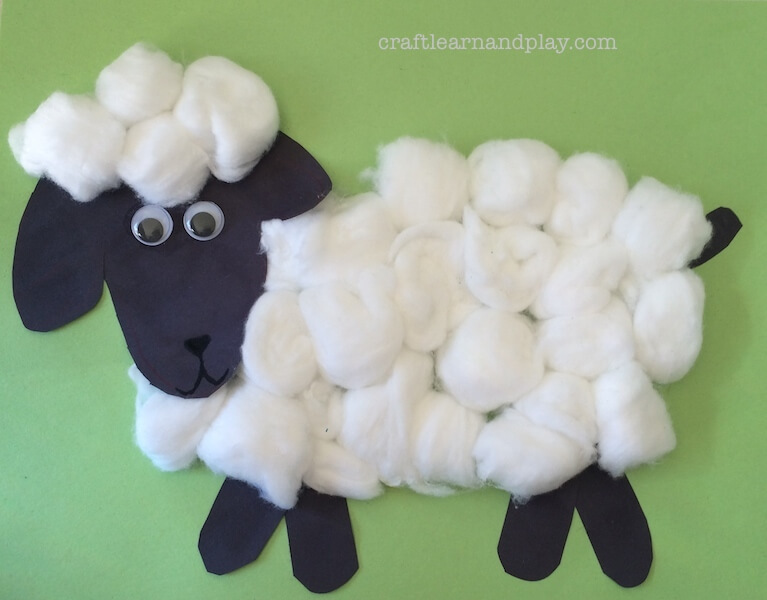 Although a sheep's fur may be wool and not cotton, these balls make nearly a perfect replica of a soft fluffy sheep. This craft is easy and fast and can be done by someone of nearly any age. All you need is some construction paper, googly eyes, glue, and as many cotton balls as you can squeeze on his little body. You can always take this beyond a fluffy white sheep and color your cotton balls or add glitter or decoration for a more festive or sparkly sheep. You can let the kids take the reins and they may surprise you by coming up with the best cotton crafts ever.
2. Cool Bright Rainbow with Cotton Clouds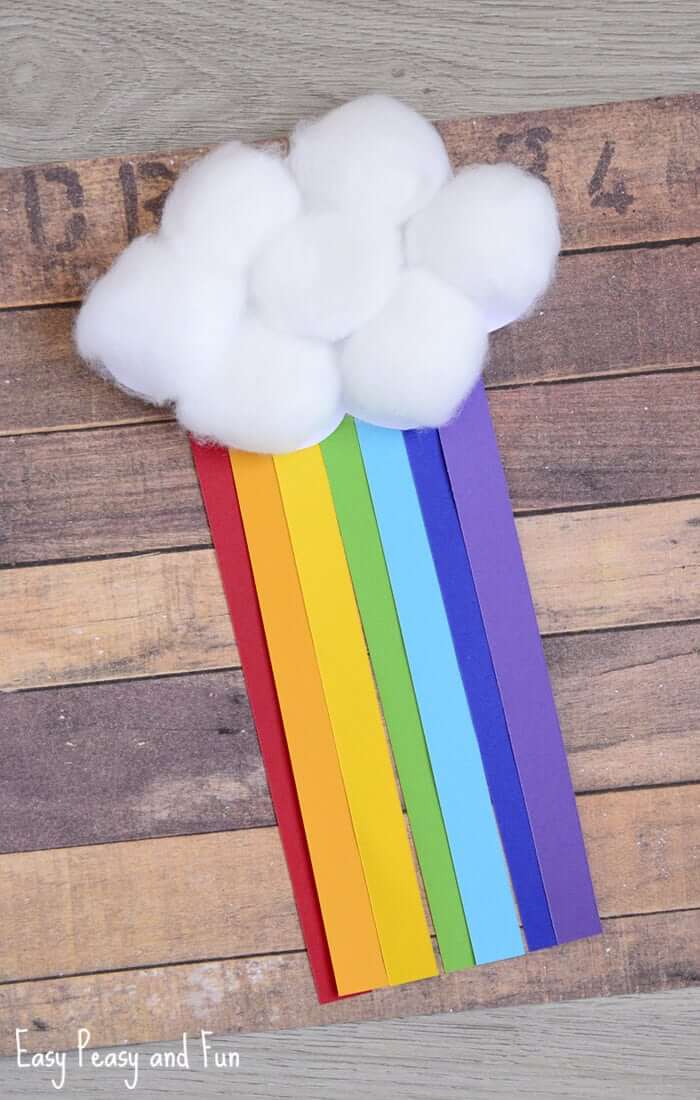 Almost all kids love rainbows. They are happy, bright, and colorful, and they exude feelings of cheer and goodwill. This craft is great because it uses a simple rainbow that is held together by a bright white and fluffy cotton cloud. This craft can help your kids work on their cutting and pasting skills, and it is also a good way to learn the colors of the rainbow. Consider using different materials for the rays. You can use colored paper, felt strips, or even colored ribbons to make this craft fun and unique to your family.
3. Easy and Effective Cotton Decoration Idea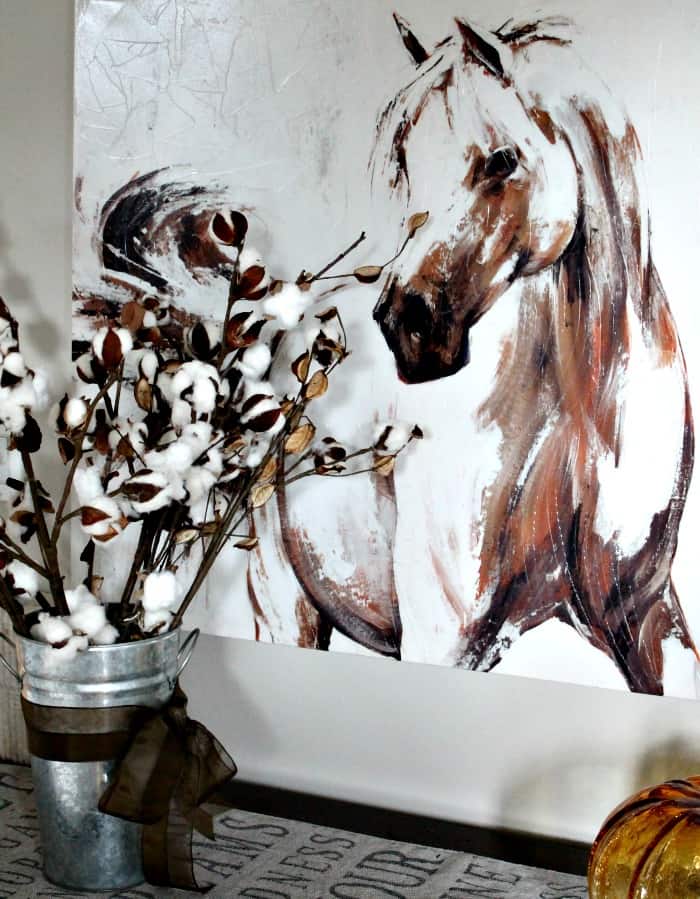 One of the most whimsical and simple ways to utilize cotton in home décor is by keeping full springs intact and placing them in a vase like you would a flower. You can do this with real or artificial cotton stems, and you can choose to keep them solitary or add other foliage. The vase choice here of galvanized steel is great for a farmhouse look, and the dark brown ribbon adds a romantic accent that ties in well to the dark stems of the plant. Be sure to consider your room's look when adding small touches like this.
4. Cotton Ball and Swab Fluffy Bunny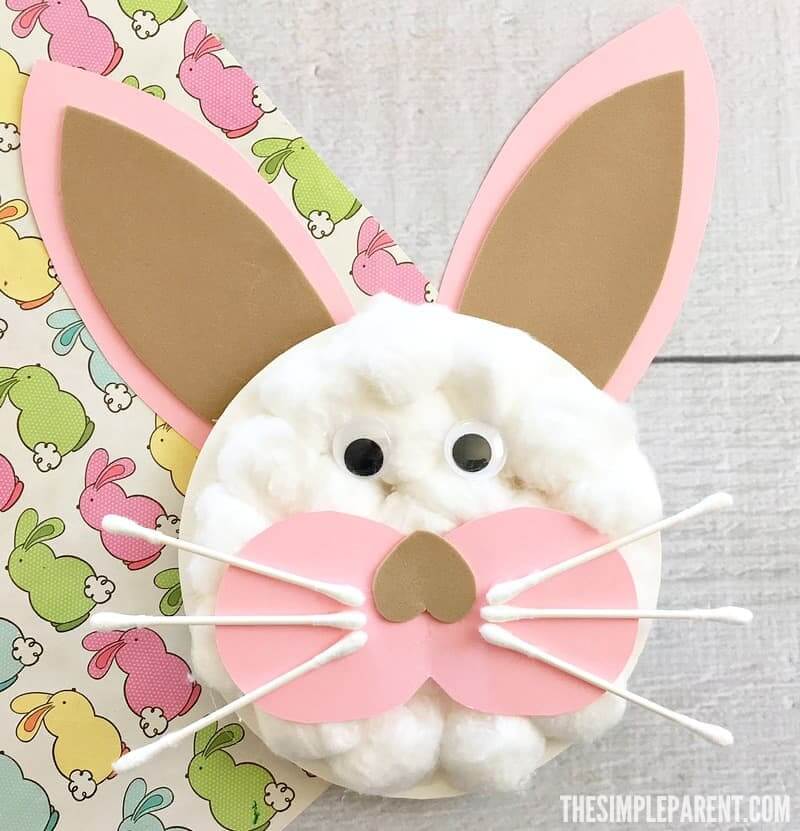 This craft is an awesome idea for the springtime or a great way to brighten up a cold winter day. These fluffy bunnies are so funny with their little cotton faces and whiskers. The kids will want to create a whole bunny family of their own. You can use different types of paper or cardboard for variety and can also add special eyes, colors, or decorations depending on your little bunny's unique personality. Have fun with the whiskers and see if you can think of any other fun ways to utilize the cotton balls or swabs for this or other animal designs.
5. Festive Cotton Wreath Snow Man Decoration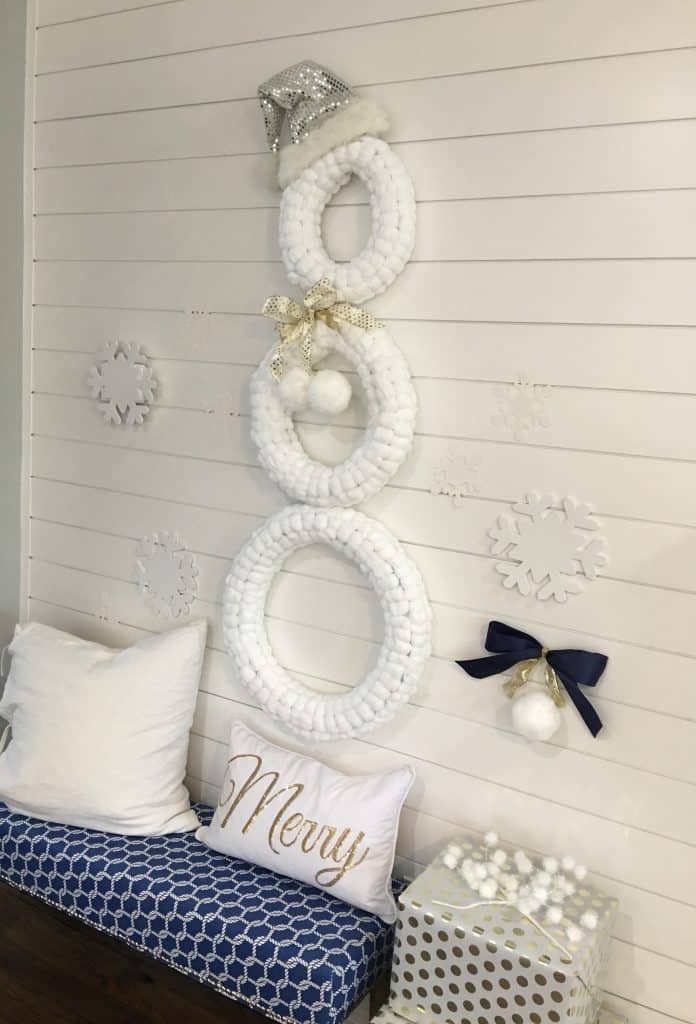 If you are hoping to create cotton craft decor that looks professionally made and lasts from season to season, this is a good option for you. This wreath-made snowman is as easy as pie and comes out looking amazing with a few additional touches. The wreaths bring two festive holiday décor ideas together, and the added hat and snowflakes make it a special display. Another excellent element of this one is that as far as cotton craft storage goes, it is as easy as it gets since you can simply put one ring inside the other to save space.
6. Cotton Ball Snowflake Strands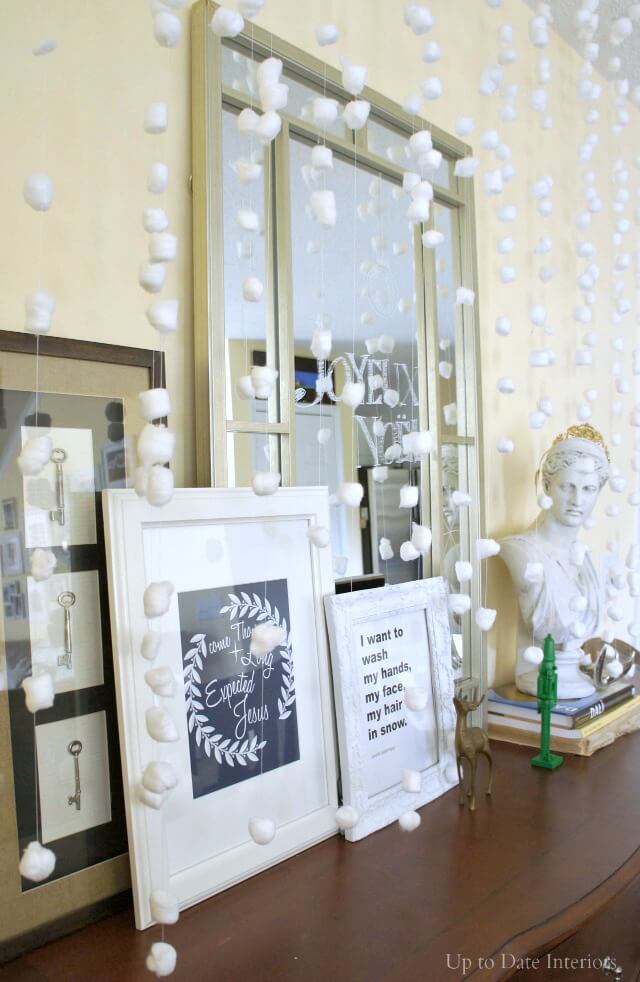 One the simplest and best cotton crafts are these pretty strands. Offering the same effect as fairy lights but without the cords and hot bulbs, you can create a winter wonderland landscape in any area of your home. These strands also bear a strong resemblance to gently falling snowflakes and really add a wintery effect. You can craft these strands simply using fishing wire and cotton balls, and you can make them as dense or sparse as you choose. You can keep it simple just using cotton balls, or you can add other decoration or colors to the strands for a stylized look.
7. Pretty Cotton "Love Lives Here" Sign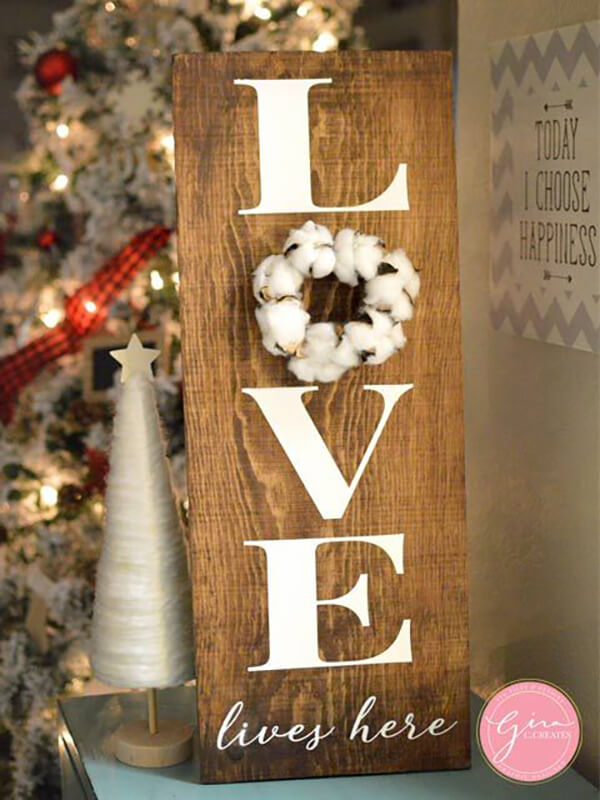 One cool way to seamlessly incorporate cotton into your home décor is to use it instead of an "O" in a sign. This is a fantastic example, where the artists have created a simple sign on a plain piece of sanded down wood and just replaced the "O" with a small wreath of raw-looking cotton. You could make a sign with this exact saying or consider other words that feature an "O" – another shape altogether. Using the same technique, you could also make your house number with it and replace any zeroes with the cotton circle.
8. Adorable Popsicle Stick and Cotton Santa Ornaments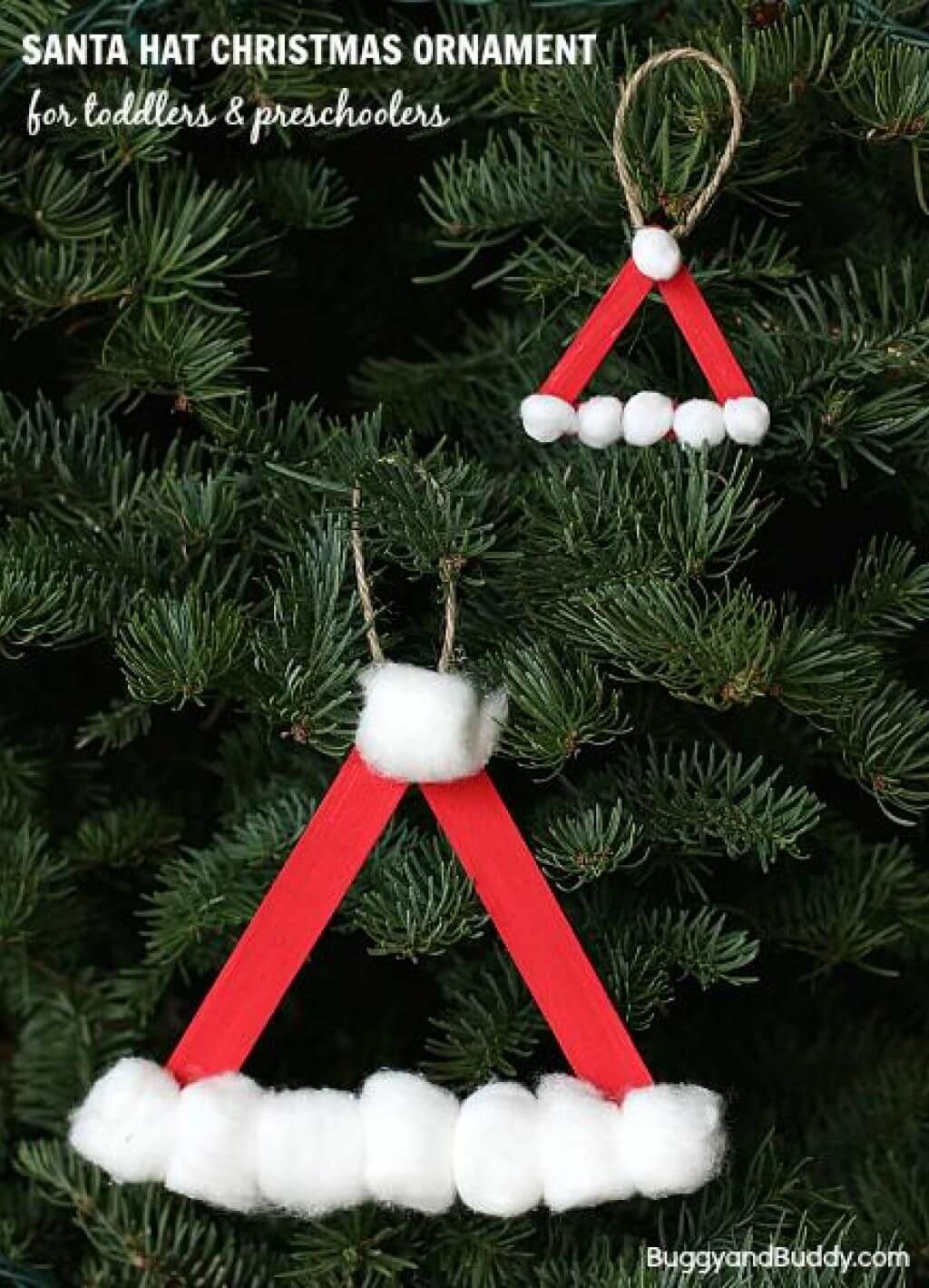 These Santa hats are good home decor items that everyone can help with around the holidays. Even if your little ones don't have a ton of patience, this quick craft is so simple that it will certainly keep their attention and make them feel special when they see their lovely creation decorating the holiday tree. Each hat is made from just three red popsicle sticks that you can either paint yourself or buy red, a bit of twine, some glue, and of course a bunch of cotton balls. Use different sized sticks and at different angles to make hats of all different sizes and shapes.
9. Mistletoe Style Hanging Cotton Craft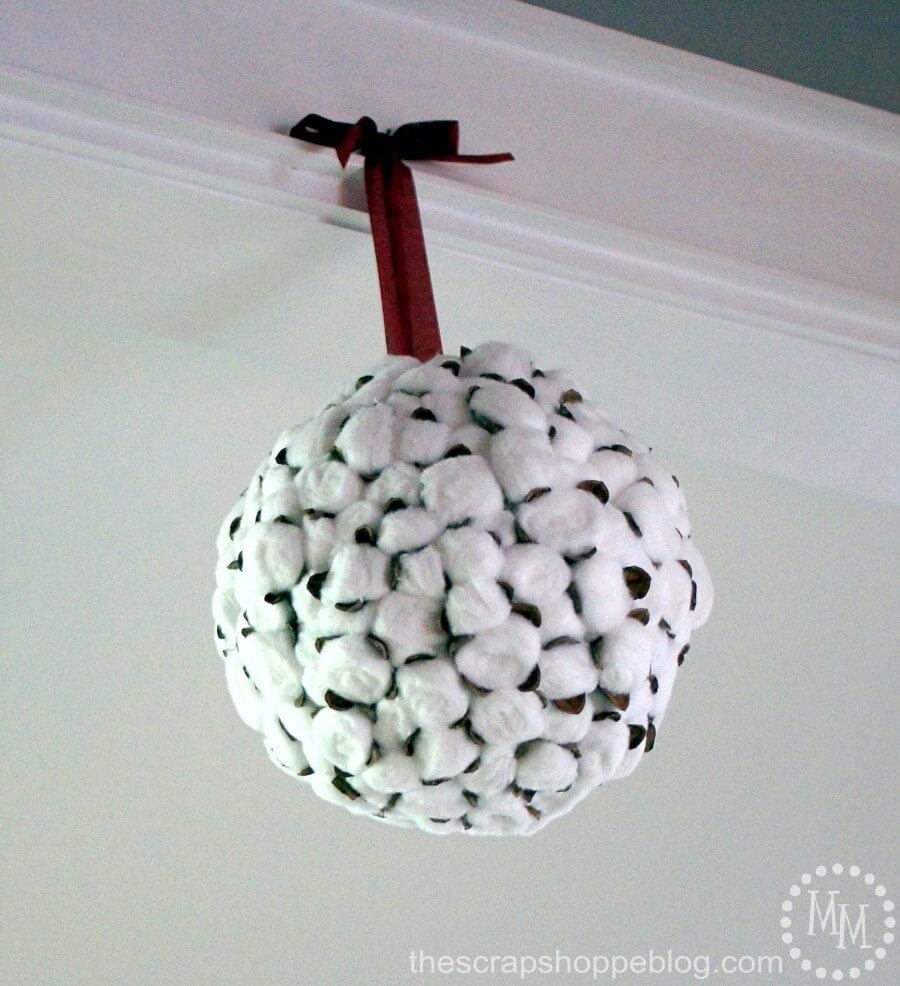 This beautiful hanging ball is a magnificent piece of cotton craft decor. It has a graceful and romantic quality and would look just as good as a stand-alone piece or lined up with a few other hanging orbs. You can choose to do these in plain white cotton or add leaves for a more natural look. If you are hanging these for the holiday season, use ribbons in festive reds or greens to tie them off. If you are decorating for a certain time of year or a wedding, pick a color that is cohesive with your theme and maybe throw in a few sprigs of flowers or leaves to add color.
10. Baa Baa Sheep Cotton Craft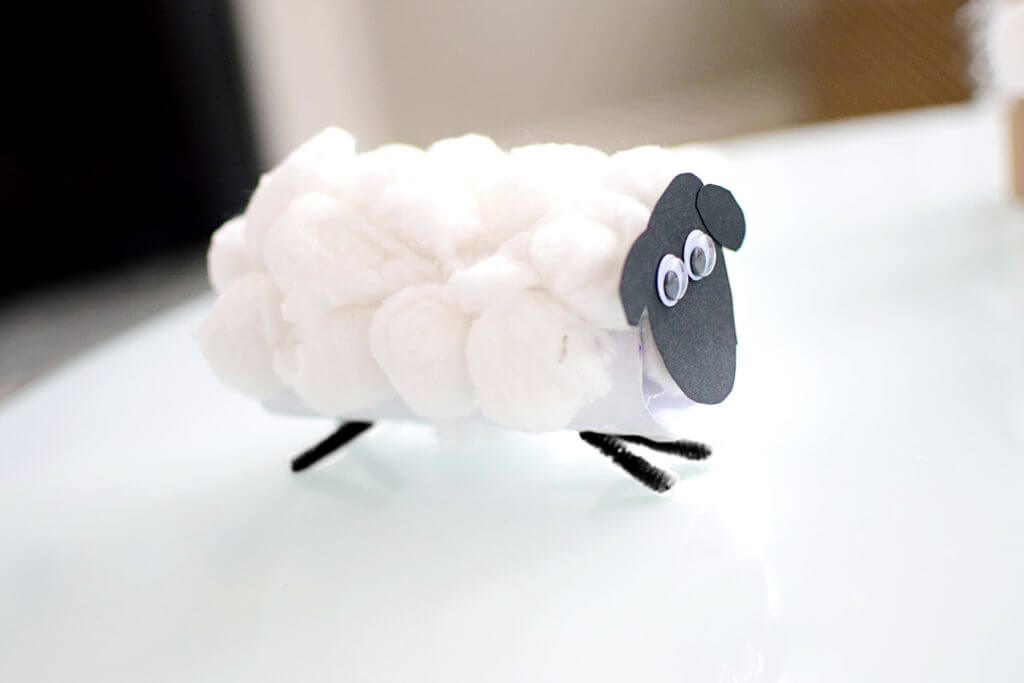 An awesome idea to get your kids away from their screens and at the table together to craft are these cute little critters. This sheep is made from a cardboard tube, cotton balls, pipe cleaners, and a few other crafty bits. The white fluffy cotton balls perfectly mimic the plush wool of a sheep, and the pipe cleaners allow it to stand so that you can make a whole flock. Paint your cotton balls different colors to make all shades of these classic farm friends. You can have black, brown, white, or even purple sheep!
11. Extra Large Cotton Ball Garland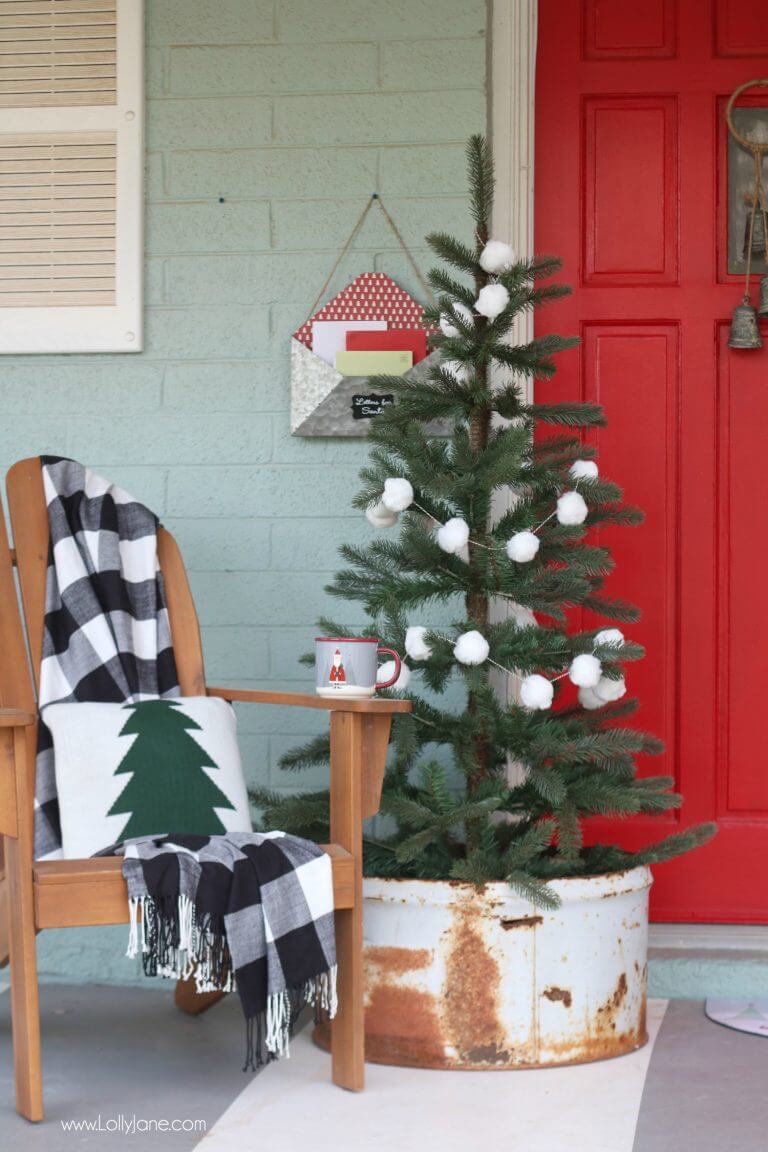 If you are looking for a home decoration idea that works just as well inside as out, this fluffy and fun garland is a strong option. Using extra-large white cotton balls, you don't need to string too many together before you have a fantastic and festive string. You can use this natural-looking decor on an inside tree or find your favorite outdoor plant to adorn it with some fine winter wear. No matter if this is the only decoration you use or if you choose to add it to a tree with lights and ornaments, it will look fabulous.
12. Perfect-Looking Cotton Dessert Treats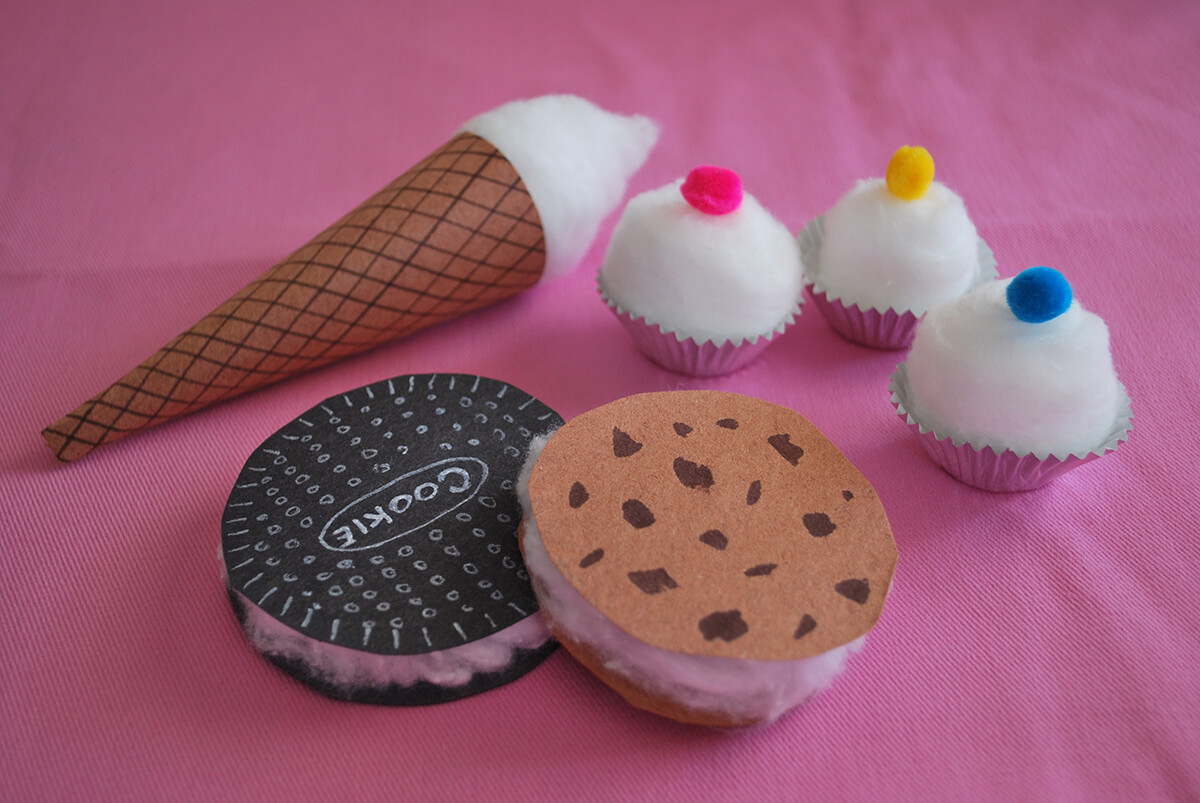 You will have to be sure to remember to stop your guests before they bite into one of these yummy-looking treats. Cotton, with its light fluffiness, creates a nice stand-in for ice cream or other whipped treat when you are making crafts that are designed to look like favorite desserts. You can make ice cream sandwich cookies, bon bons, ice cream cones, cotton candy, or any other treat that strikes your fancy. If you eventually need to find a way to save your creation, a go-to cotton craft storage idea is to use plastic food containers, which in this case work doubly well!
13. Gold-Lidded Dinosaur Mason Jars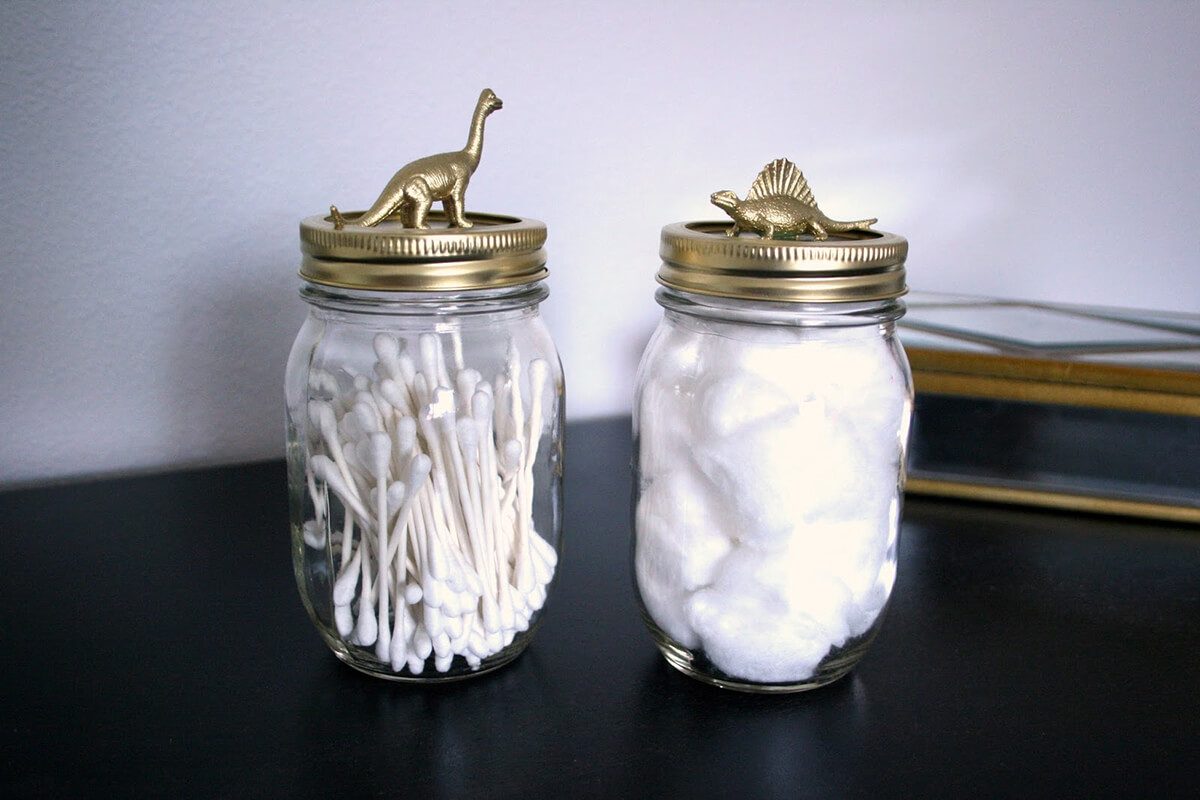 This is one of the best cotton crafts from a storage standpoint. Although no cotton is used in the actual design, the stuffed containers will look marvelous on any countertop and serve to highlight and show off the unusual and playful dinosaur toppers. For this, you just need to pick your favorite plastic prehistoric animals, find jars that have lids where the dinosaurs will comfortably fit, then glue and spray paint whatever color you like to make a cute and unique powder room piece. You can also do a similar design in other areas of the home with different toys on top.
14. Fancy and Feminine DIY Cotton Containers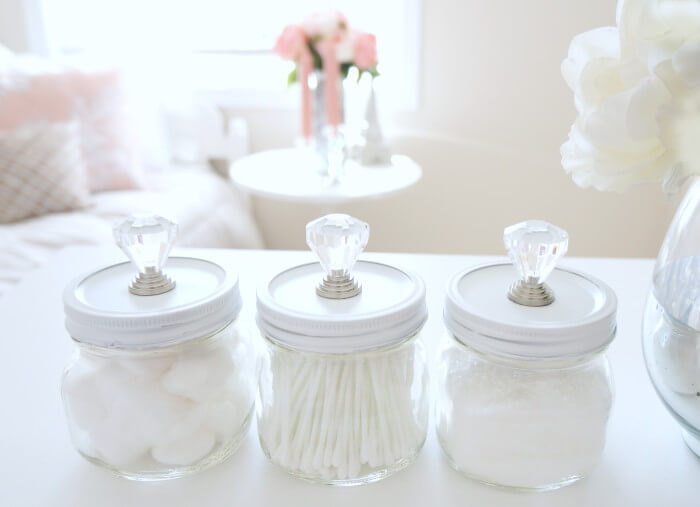 Lovely and delicate cotton-holding jars always make for wonderful home décor. There is something decidedly feminine about fluffy white cotton balls, which adds to the charm of a powder room or romantic bedroom. This design takes jars that at first may not have seemed very elegant and upcycles them into charming, display-worthy pieces. Add a bit of white paint and a repurposed drawer knob, and you have these adorable containers to hold whatever product best suits your needs. Of course, they look amazing with bright white cotton balls and swabs.
15. Retro Cotton-Inspired Home Decoration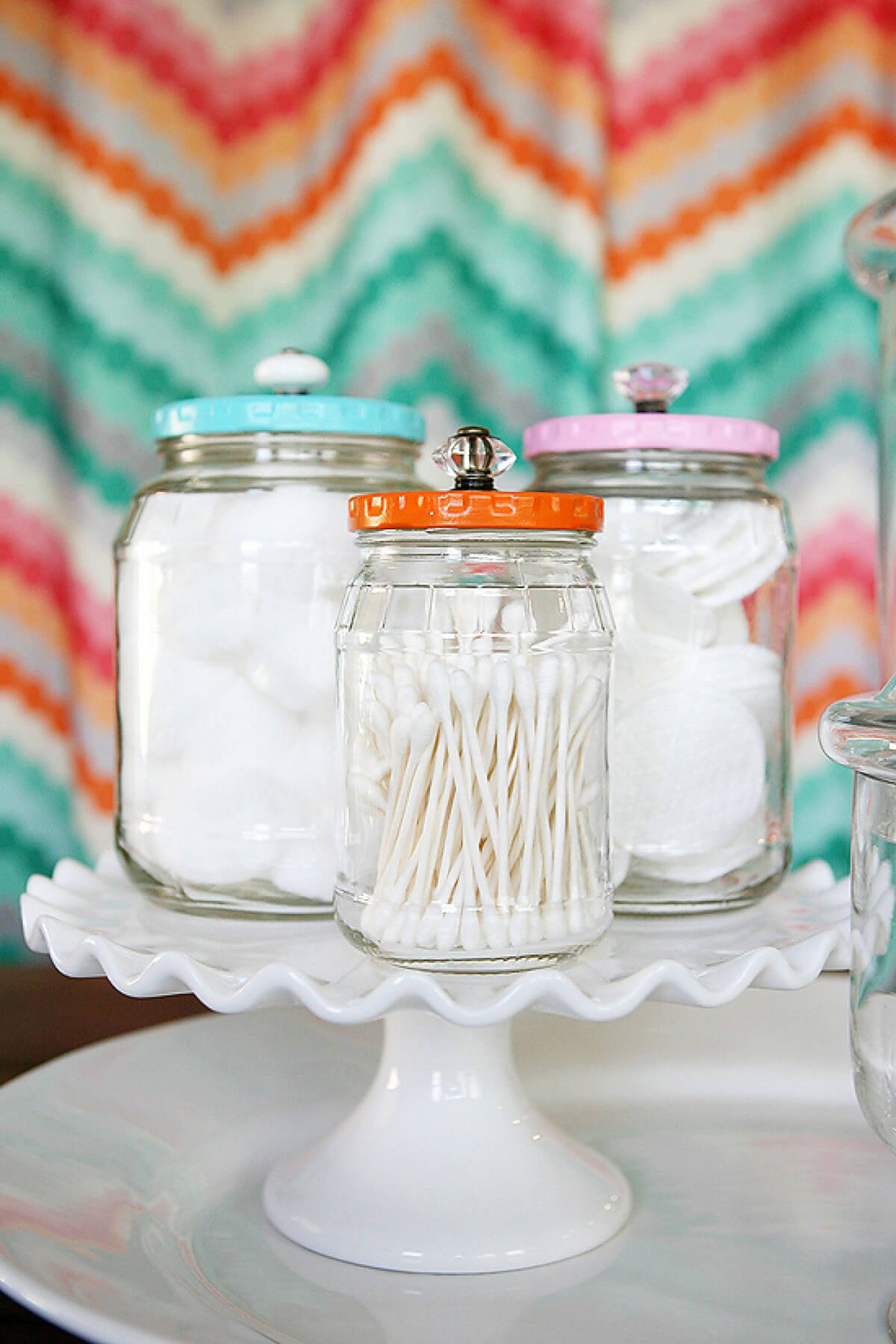 If you have some classic jars that you are dying to do something creative with, this cotton-filled option is a fun and flirty choice. The bright colors give great contrast to the soft white of the cotton. This look is so fun to make your own since you can go crazy with whatever colors you like, and you have the freedom to choose any knob as a lid that suits your fancy. You can find retro knobs at vintage shops, or you can opt for new options available at hardware stores. Either way, it is fun to get creative and mix up your colors and styles.
16. Magnetic Mason Jar Cotton Storage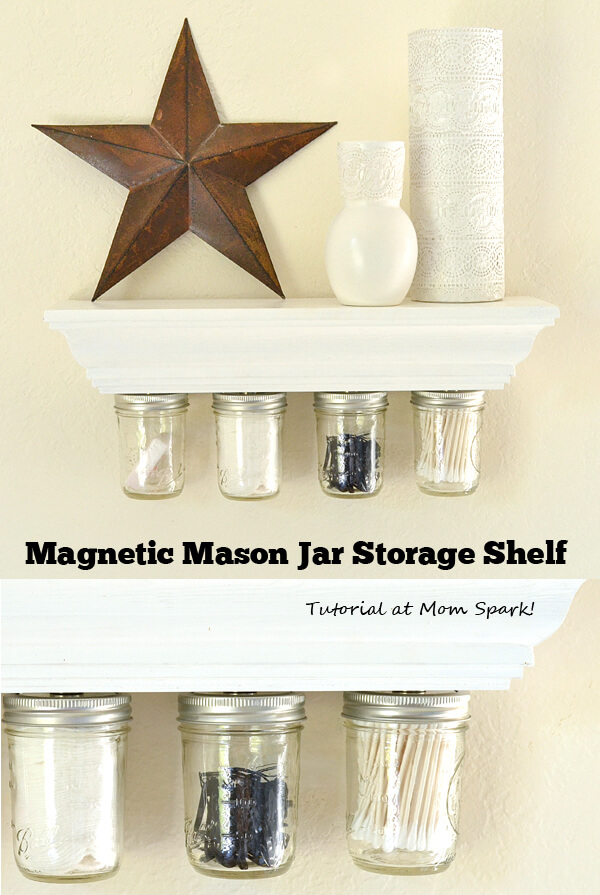 If you want to fill the tops of your shelves with fabulous cotton decoration, that doesn't leave much room for storage. This idea utilizes a space that often goes unused: the underside of a shelf. Using some small mason jars and some powerful magnets, you can create space for a few cotton-filled jars. You simply add the magnet to the bottom of the shelf and the top of the jar to create the connection. You can decorate the jars or keep it simple by leaving them as they are.
17. Rustic Natural Cotton Ball Orbs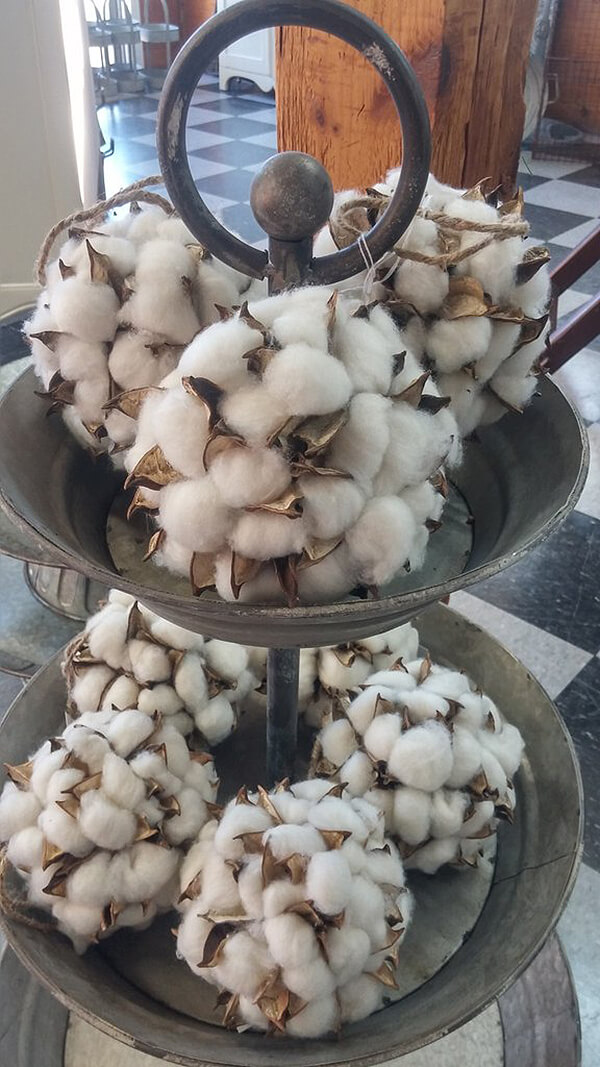 If you are searching for unique cotton craft decor, these balls are a superb choice. Made from multiple poms of cotton and a few dried leaves, you can craft or buy these beautiful creations for many different decorating options. As seen here, you can set them out on a tiered vintage farmhouse tray for a rustic homey look, or you could set them out in a decorative bowl for a smaller option. If you choose to craft these yourself, consider how many you would like to have and also how big you would like each one to be.
18. Sweet Little Holiday Cotton Cloud Angels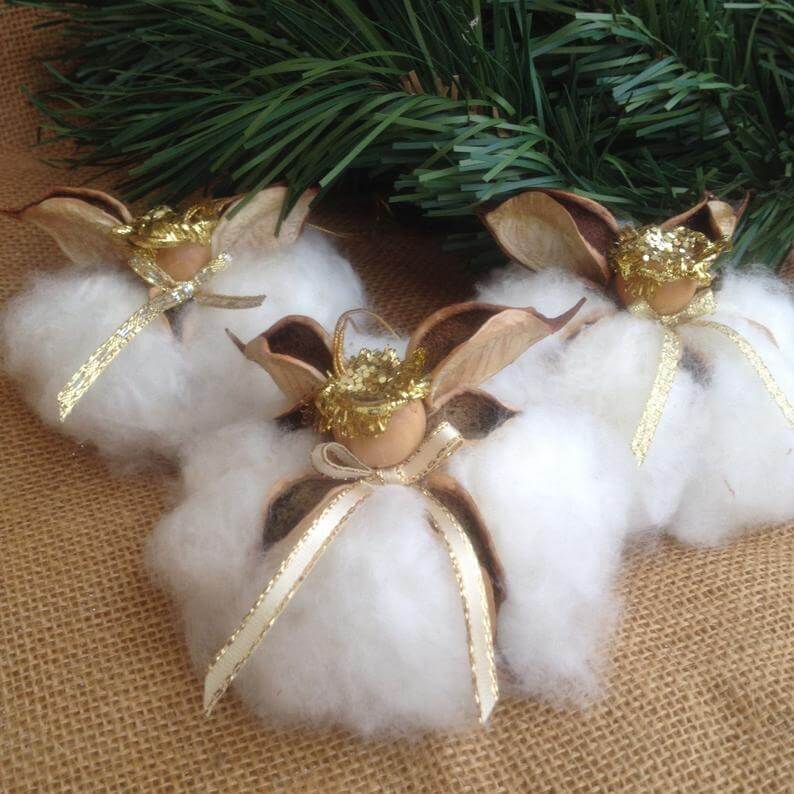 The best cotton crafts take a simple cotton ball and turn it into something magical. These little angles, made from small decorative odds and ends, sit atop a classic cotton ball with leaves still intact. The effect is ethereal and makes these cute little ornaments appear to be floating on the clouds. The natural dried leaves look like little wings, and the gold touches complement the bright white of the cotton. One fun thing to do with this craft is decide how fluffy or contained you want the cotton to appear. You can keep it tight for a more managed look or spread it further out for something fluffier.
19. Home Decor Centering on Cotton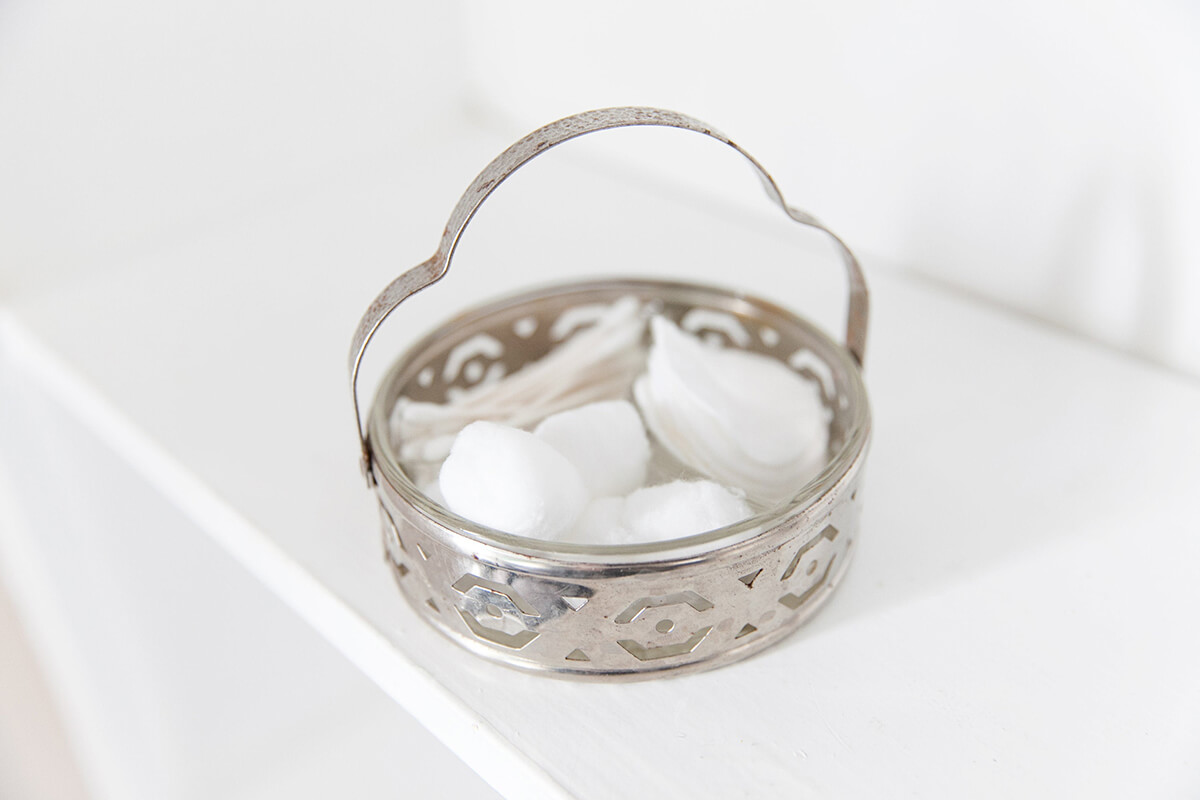 Although this lovely piece is not made from cotton, it is made for cotton. The small delicate silver tray is the perfect place to store your white fluffy cotton balls, swabs, and pads and will look lovely sitting on your vanity or bathroom counter. You can order this lovely piece from Etsy or keep an eye open for something similar at your local thrift shops or rummage sales. Pieces such as this often go with décor of most styles, but they work particularly well for a classic, feminine, and romantic vibe. Consider making it an accent piece or adding it to a collection of similar trays and accessories.
20. Best Crochet Bathroom Cotton Pad Holder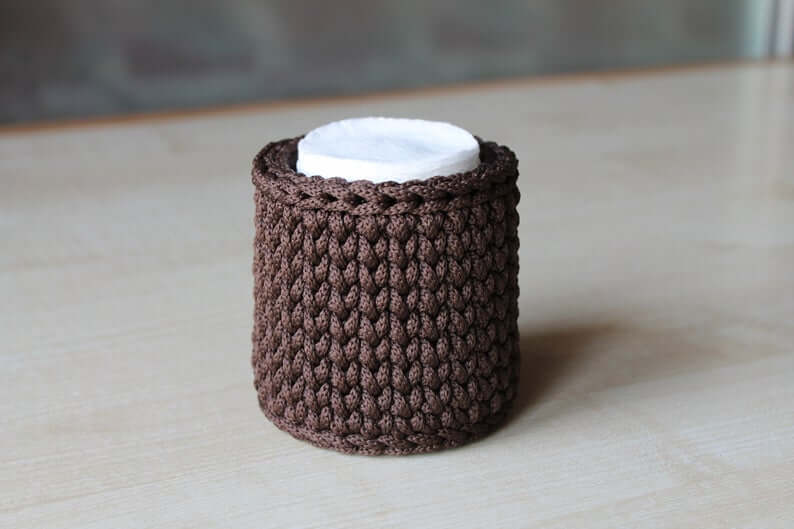 If you use cotton pads for crafting, makeup, or the other various home uses they are handy for, you should consider buying or making one of these adorable crocheted holders. This one, available on Etsy, comes in a lovely dark brown and offers both a round holder for the little pads and a square one for swabs. Of course, if you are a knitter or crocheter, you could pick up a spool of your favorite heavy weight polyester cord and create one for yourself. You could use any color or patterning you like depending on your skill level.
21. Double-Layered Cotton Ball and Swab Storage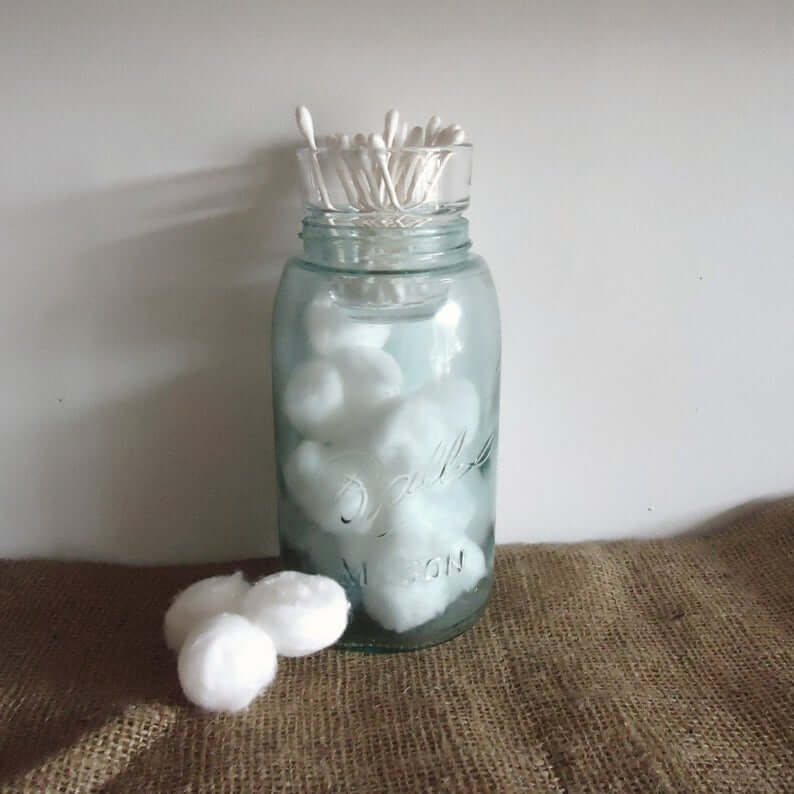 Some of the best cotton crafts actually center more on storage for the cotton balls instead of the craft itself. This one takes a pretty Ball mason jar and combines it with a perfectly sized cup for a stellar cotton combo storage solution. If you are crafting, you can keep this at your desk, or, if you use cotton more for cosmetic purposes, it would also look good on a bathroom counter or vanity. The convenience of combining these two holders in one is evident. Feel free to decorate or accentuate the jar or cup with paints, ribbons, or other elements.
22. Adorable Painted Glass Cotton Jars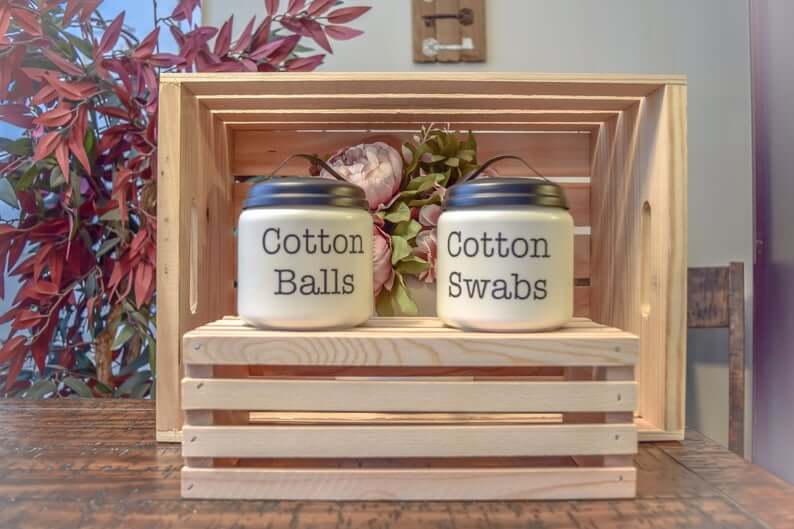 This piece of cute cotton craft decor is great for when you have a few jars lying around that you haven't come up with a good use for. You can also order these custom-made from Etsy, but if you have the supplies at home, you can attempt your hand at your own version. You will just want to ensure that your jars are large enough to hold the amount of cotton balls and swabs you prefer and then go to town selecting paints and finishing touches. If you have a Cricut, you can print yourself some precise letters, or, if you prefer to paint yourself, you can either use a stencil or even go free hand.
23. Two Clear Containers for Countertop Storage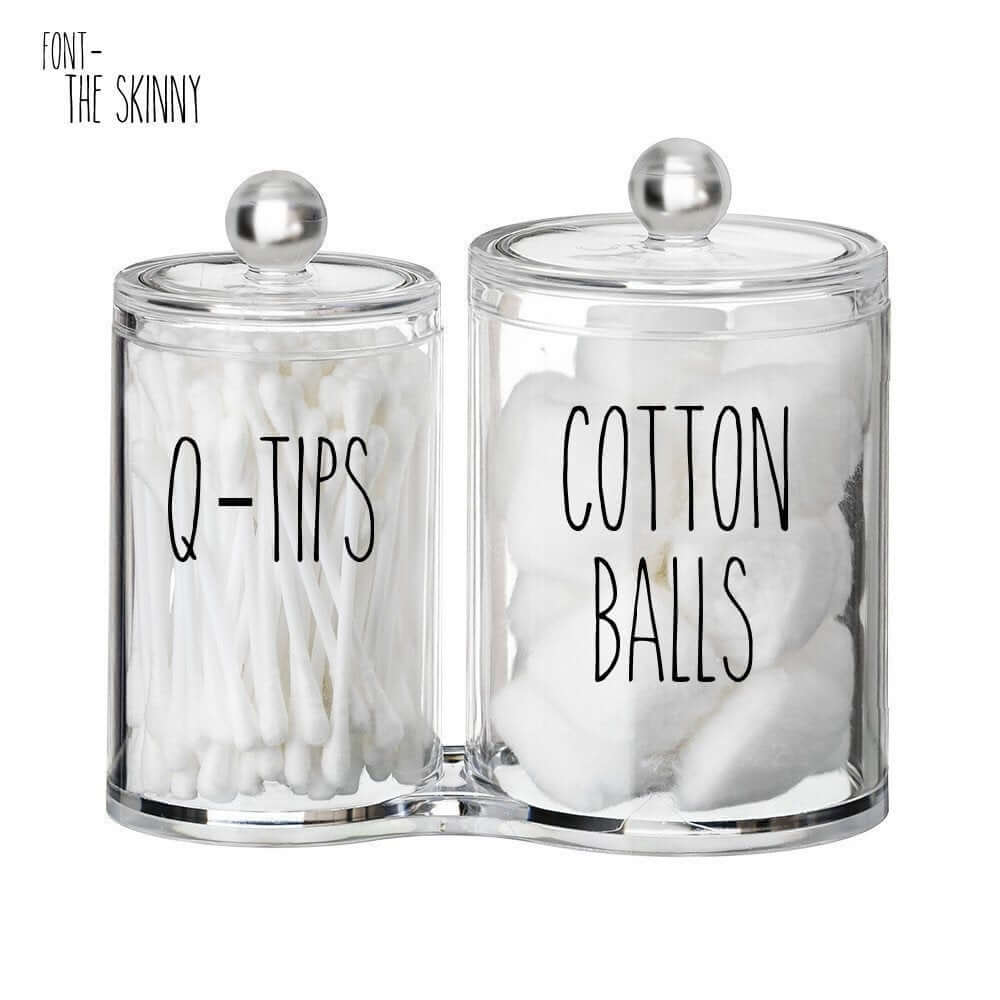 If you find yourself digging under your bathroom sink for your bag of cotton balls, it may be time to invest in a handy storage container like this one. You can find this on Etsy where you can customize font, color, and wording, or you could always pick up something similar from a local home goods store and create your own unique labels. Whether you decide to make your own or purchase one, this cotton storage solution is such a nice way to keep your swabs and cotton balls dry and easily accessible.
24. Two-in-One Cotton Ball and Swab Jar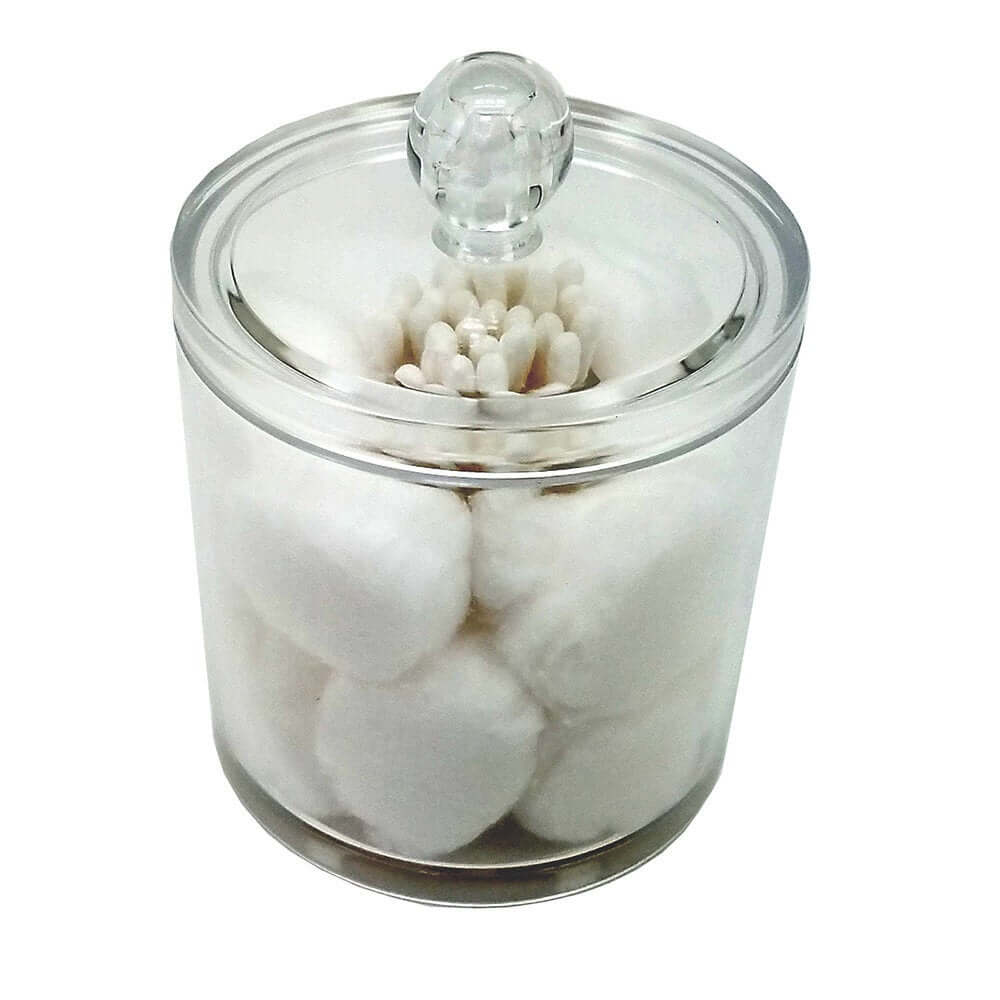 Often cotton balls and swabs are separate for storage purposes so that you don't mix them up and can easily find one or the other. This handy container creates a solution to this double storage option by putting both in the same jar, but with a smaller hidden jar to keep them separated. The pretty fluffy cotton balls get stored on the outer edge where they fill the viewable area with a pretty cloudlike texture, and the stiffer and less fun swabs get stored in the center so that you can still access them easily.
24 Cotton Crafts and Storage Ideas that will Make Your Home Cuter
The best cotton crafts are those that use the beauty of the cotton and that you can have fun playing with. There are so many good craft ideas out there that involve cotton, not to mention all the unique and creative storage ideas. Have fun coming up with the best cotton crafts for your family and situation.
If you are working with kids, be sure to think about some of the more family-friendly options that incorporate fun colors and art supplies. They may not last forever, but they will look awfully cute on your fridge. For these projects, an inexpensive bag of standard cotton balls from your local store will do just fine. If you are instead creating a decorative piece for your home or as a gift, consider investing in higher-quality cotton available at local crafting stores. It's durability and slightly less bright white coloring will greatly enhance the overall rustic aesthetic that cotton brings to the table.
Have fun crafting and don't be afraid to explore other options. You can use this list as inspiration for your next project or complete these crafts themselves step by step. Don't be shy to try new ideas – you never know what masterpiece you will come up with next!
Our Favorite Farmhouse Storage Items to buy on Amazon