Looking for the best countryside garden decor ideas to bring your landscaping to the next level? This curated list of brilliant ideas will help you on your way! From functional items like a hanging plant colander, to indoor decorations like a kitchen herb garden, these decor ideas might make you want to get outside and garden! When entertaining in the summertime, incorporating countryside landscaping can increase the aesthetic value of your outside space.
25 Garden Decorations that are Full of Countryside Charm

Giving your friends and family a pleasant outdoors experience is enhanced by decorations and thoughtful additions to your outdoor space. These additions can be big or small, and can include do-it-yourself features for added personality. To make your indoor and outdoor spaces as homey and inviting as possible, consider some of these great options for countryside garden decor ideas.
1. Useful Kitchen Herb Garden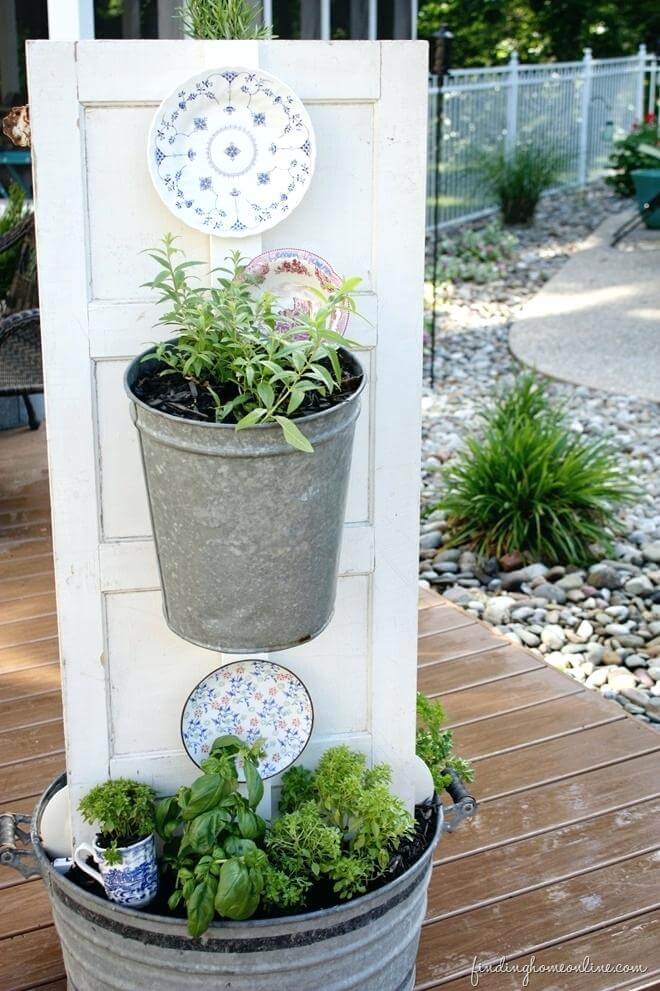 Bring a bit of spice and variety to your kitchen decor by adding a kitchen herb garden. These are becoming popular with those who like to add a bit of fresh herbs to their cooking. This is a great and functional countryside decoration, as you can grow herbs in it year round. Another benefit comes in the form of a reduced grocery bill. You can also put this kitchen herb garden together as a family, incorporating everyone's favorite spices.
2. Beautiful Hanging Glass Bowl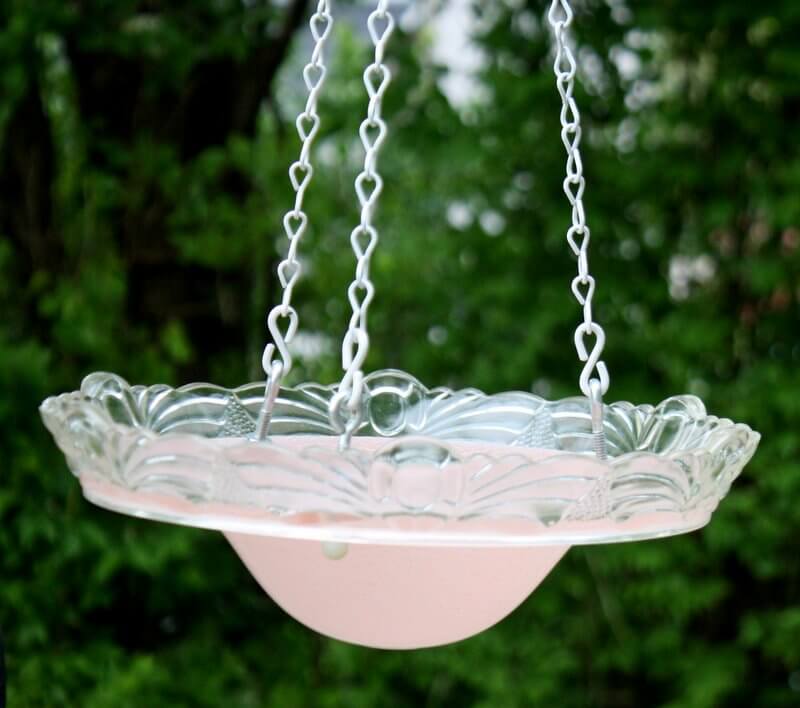 Looking to up your style in an outside space? Consider hanging a beautiful glass bowl or lampshade on some reinforced sectioned chain. You can use any type of sturdy lampshade in this project, however, choosing one made of glass with color incorporated can make this one of the most striking countryside garden decor ideas. This is a great idea for those who have a lot of extra pieces of lighting around and could re-purpose parts of the shade into decoration.
3. Lovely Hanging Colander Flower Pot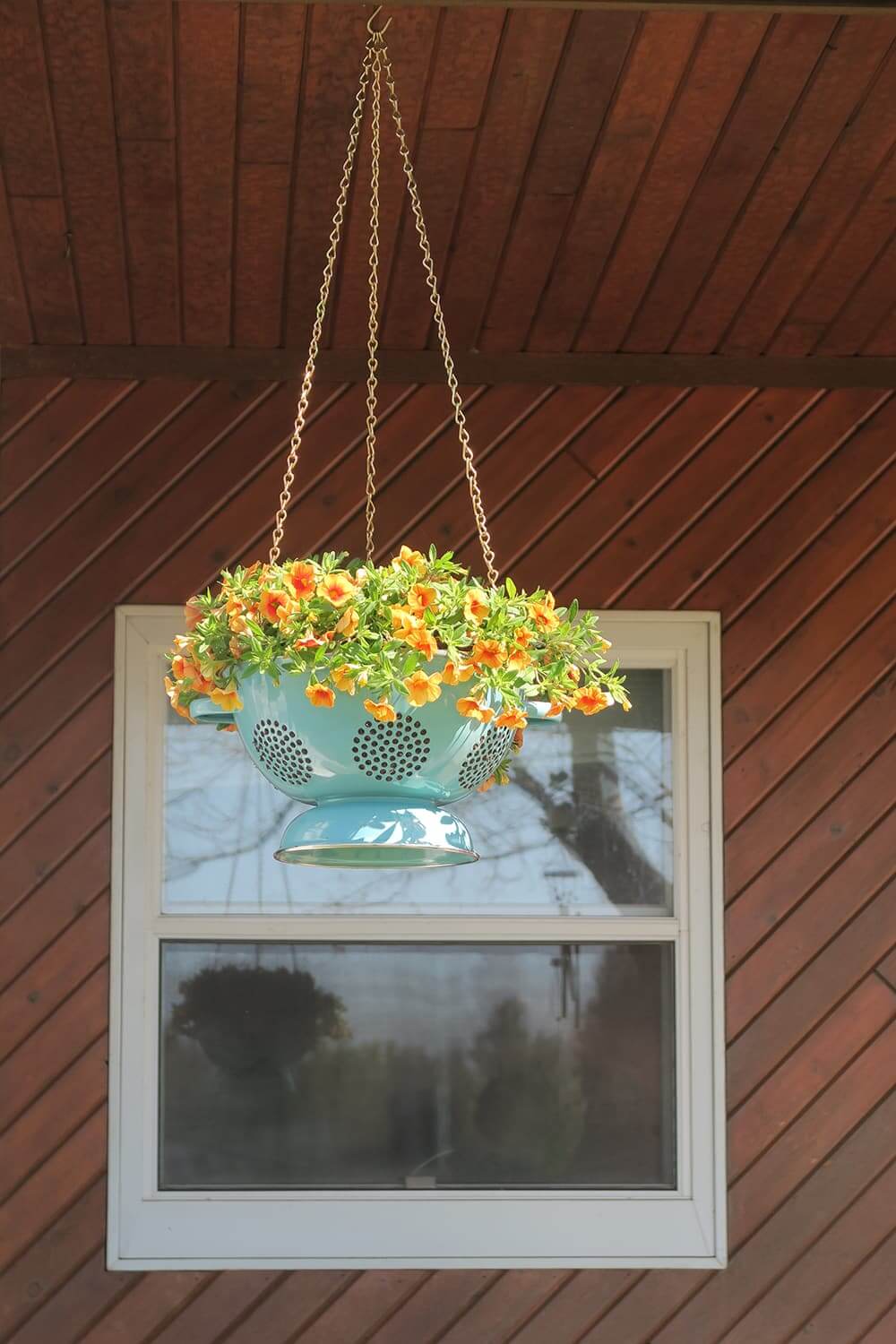 A bit of fresh color is a great way to add a bit of countryside garden decor to an outdoor patio or awning. Light yellow flowers in this display produce a fun atmosphere that's appropriate for spring entertaining. For those who want to spruce up their outdoor space with a touch of bright countryside decor, this hanging flower pot with a beautiful silver finish on the base might be a good choice. The added bonus of reusing an old metal colander means more storage space in your kitchen cabinets, too!
4. Quirky Garden Rules Sign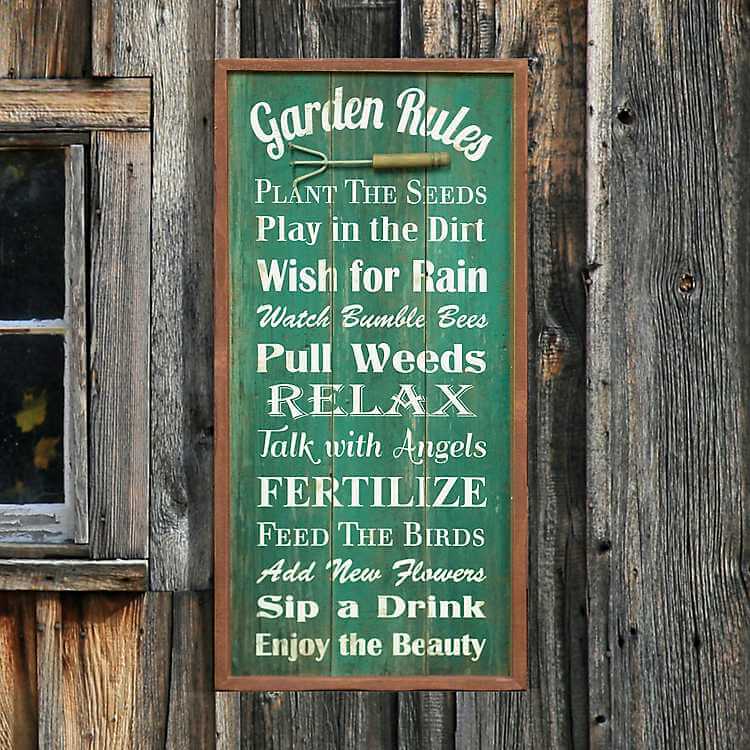 Looking for something fun and cute to remind the kids of how to properly care for a garden? Creating a garden rules sign on painted board is one of the best countryside garden decor ideas for this purpose. Using a bright, recognizable green paint for the base of the sign creates a fun atmosphere. Then, painting clear and functional rules for the garden along the sign creates a functional piece of decoration. A garden rules side can also be strategically placed outside and contribute to a beautiful countryside landscaping plan throughout your outdoor space.
5. Simple Stacked Bird's Nest Idea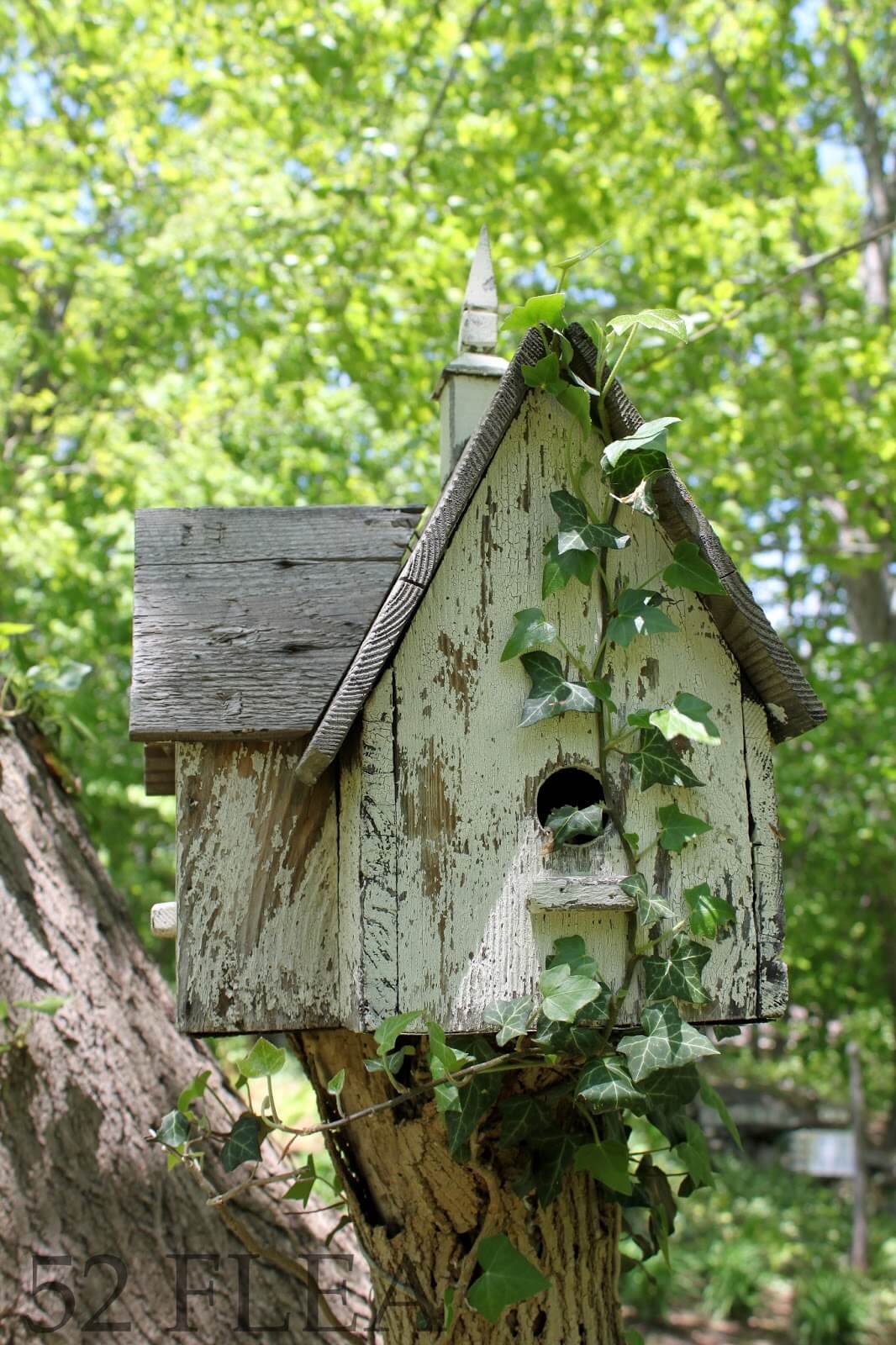 Looking for something cute and quaint, fit for a small area? This bird's nest inn and beyond uses multiple small, intricate products to produce a one-of-a-kind decoration. Using small items fit for fairy gardens, you can build a birdhouse that looks like a legitimate tiny inn. With small chairs, vines, a table and a beautifully painted sign, this bird nest idea is a great project for feminine children. You have to have a great deal of patience and eye for detail when looking to do this project yourself!
6. Upcycled Vintage Garden Decor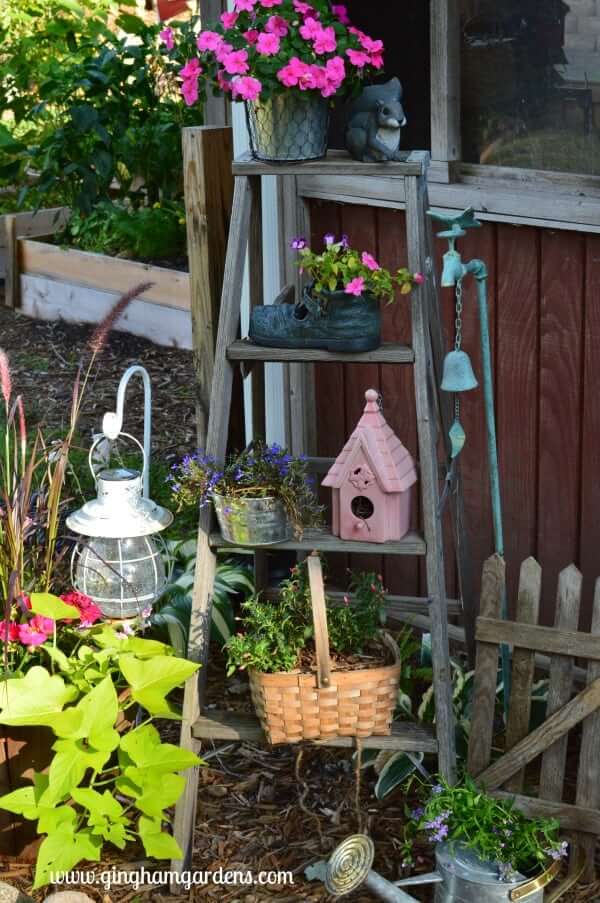 Using previously-discarded garden items to create a whimsical tone to your outdoor space is a popular choice for countryside landscaping. If you love to go antique shopping, this is a great choice for you! Using garden items, such as a wheelbarrow, hoe, wheel or wooden bucket to create decorations requires a bit of style. Create a space in your vintage garden items for some soil and plant a beautiful flower or herb garden. Then, use items like the hoe or wheel to create a backdrop. This facilitates a multi-level decorating feel to your decor, and adds that cute bit of whimsy to your outdoor space.
7. Rustic Old Pulley for a Vintage Garden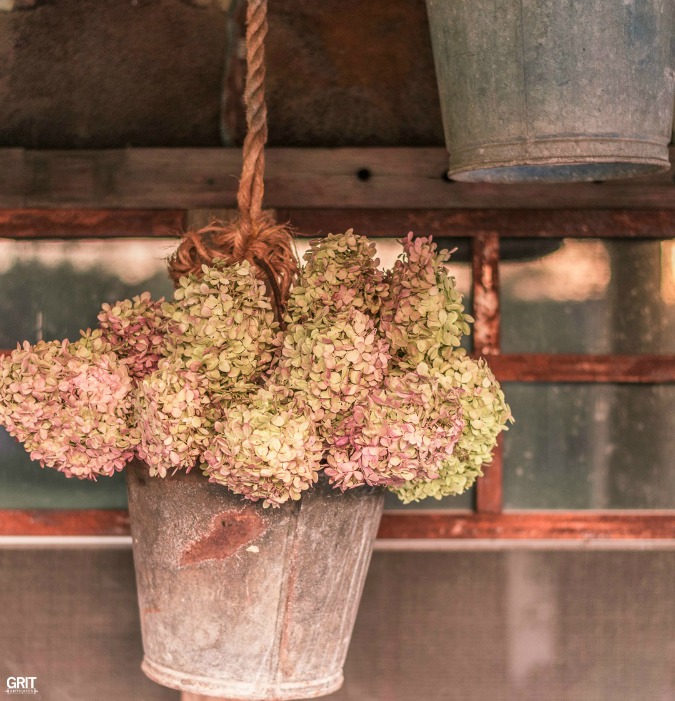 Place your hanging plants in style by using an old pulley to hold them up! An old pulley is commonly made of thick, textured rope and is designed to be secure. If you're looking for a quick and fun way to add a bit of style to an outdoor space, this might be a good project for you. Pair the old pulley and rope with a rustic, recycled flower container for a truly beautiful country look. This is one of the easiest and most effective countryside garden decor ideas.
8. Sweet and Cute Tea Pot Bird Bath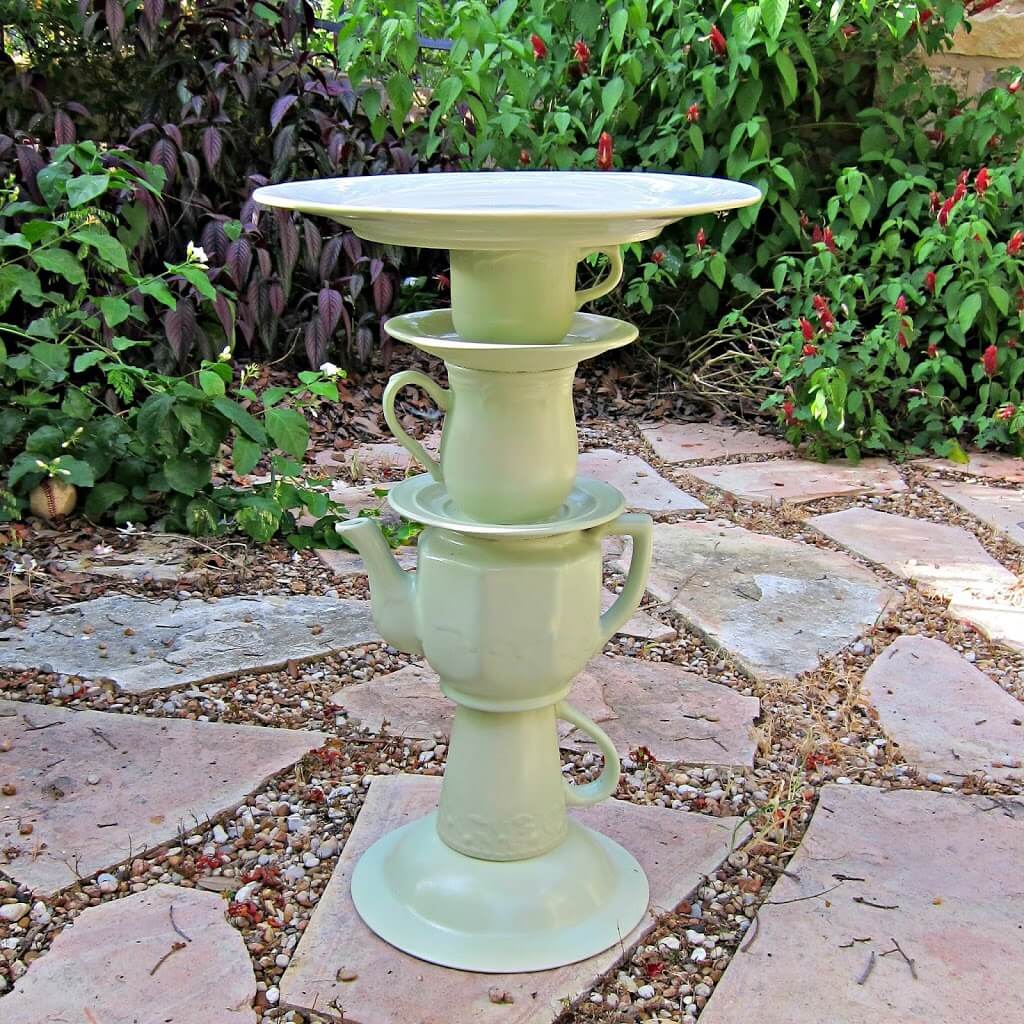 If you love tea time, this is a great do-it-yourself project for you! The tea pot bird bath is a cute idea if you need a bit of decoration to fit in a small place. All you need for this project is a bowl, tea pot, cups, large plate, ceramic glue and your choice of spray paint. Depending on the feel of your space, you can choose a bright-colored spray paint or something a bit more somber. As far as options for customization, you can truly make this project your own by choice of color. This is one of the best countryside garden decor ideas for young kids, because they can choose each piece and make it their own.
9. Versatile Mini Do-it-Yourself Farmhouse Ladder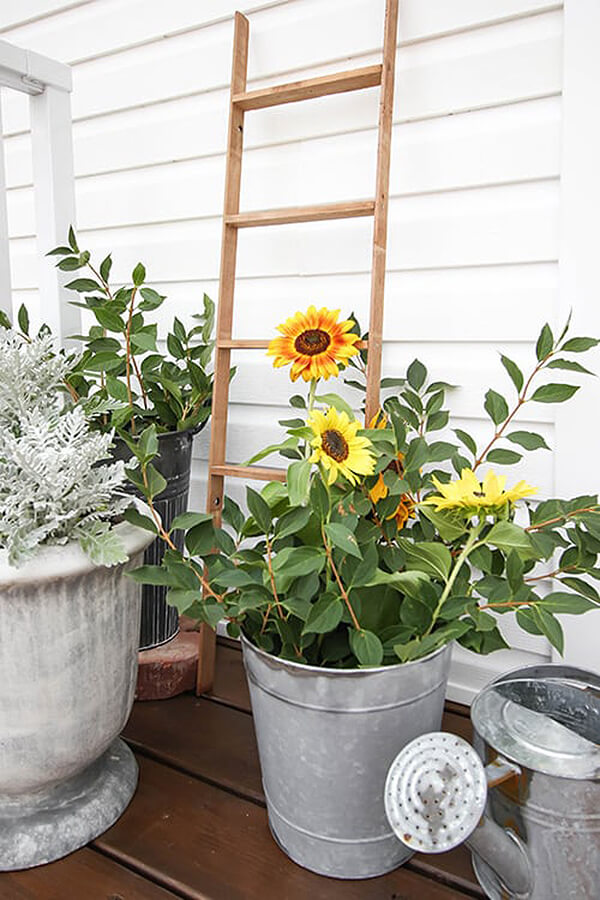 If you want a simple and striking addition to your outdoor space, consider a farmhouse ladder customized with vines and flowers. To add a bit of countryside flair to a patio or side of property, line your mini ladder with vines that wrap around the different parts of the ladder. You can create as little or as much space between vines as you like, adding to the unique look of your decoration. Then, you can put pots on the ladder to add in some festive flowers and small plants. This is a great idea for homeowners looking for a bit of fall decoration in their outdoor spaces!
10. Romantic Countryside Garden Decor Idea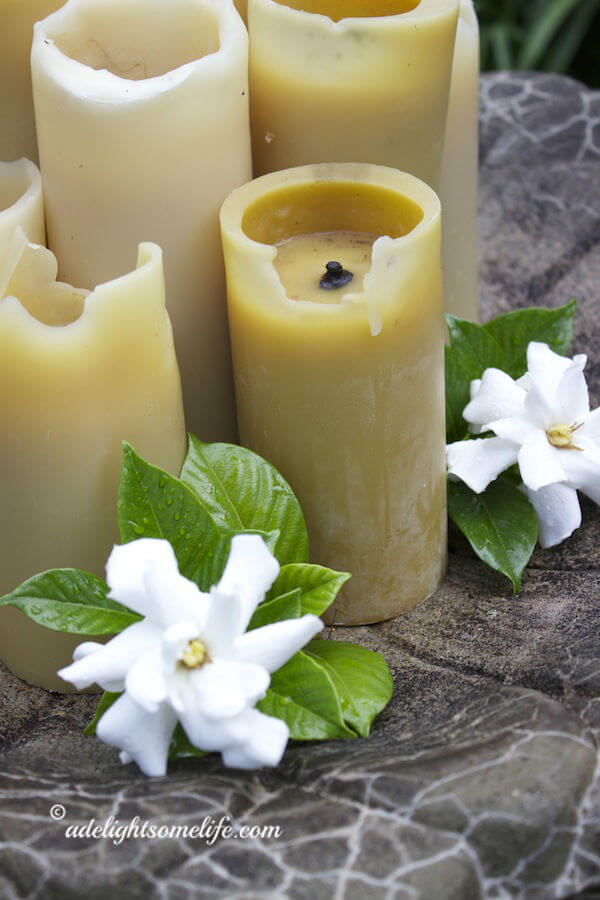 Decorating a birdbath with candles and gardenia flowers is a beautiful way to create a romantic, country-inspired feel to an outdoor space. Place your candles and flowers around the top of the birdbath, allowing the flowers to be the center of the show. Choose different sizes of candles to maximize the light effect of their flames. Taller candles will look better in the middle or back of your display, and shorter candles look clearer at the front. For anyone looking for a good anniversary idea, this might be a great way to set the mood.
11. Strikingly Simple Vintage Mailbox Planter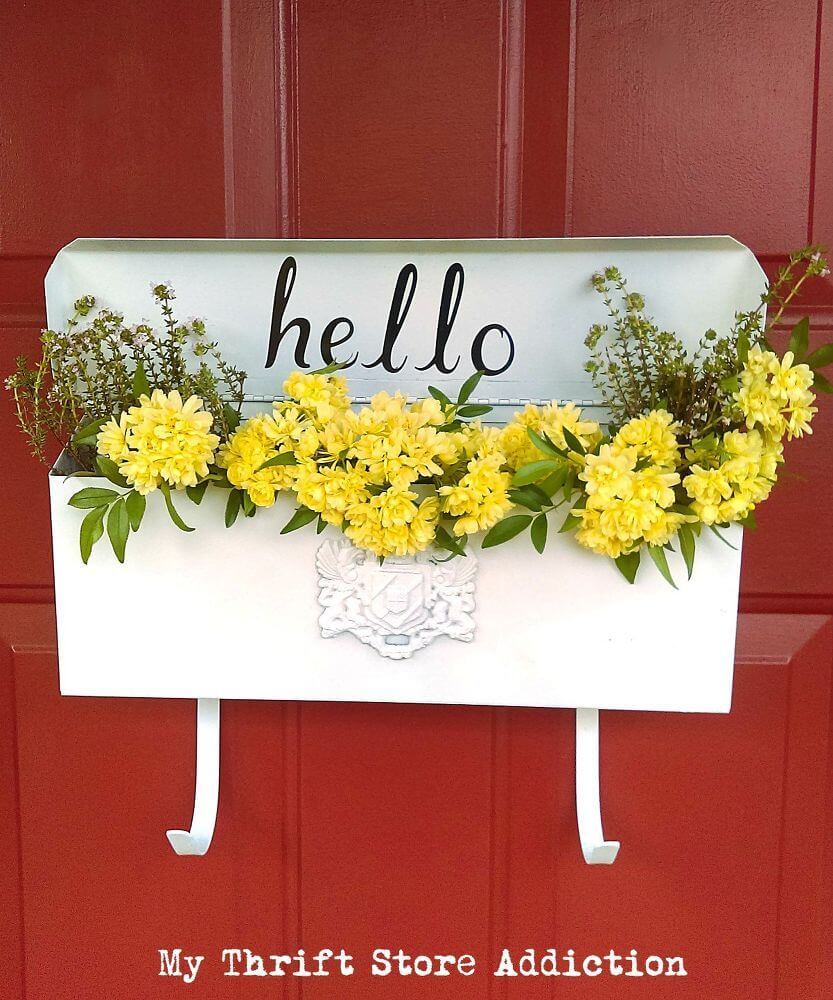 If you like antique shopping and often come across old metal mailboxes, this is the craft for you! Mailboxes that are attached to the front of a house are often metal, weather resistant and durable. They open on the top, which makes them a versatile product suited for repurposing! To create a vintage mailbox planter, spray paint your mailbox with non-corrosive paint, let it dry, add soil and then plant! It is recommended that you place seedlings in this container, so they get adequate sunlight.
12. Beautiful Butterfly Photo Display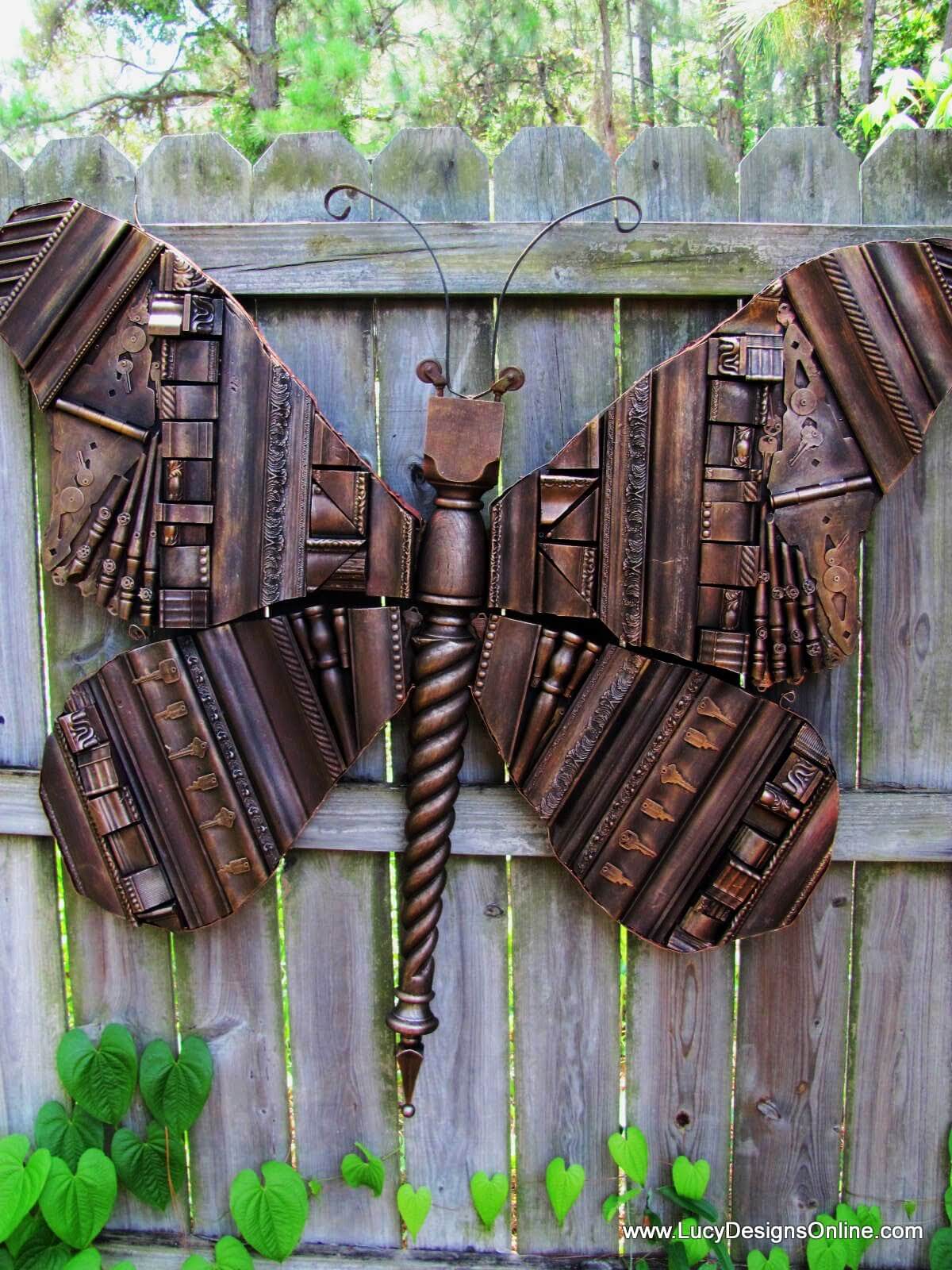 Do you have a lot of travel photo frames that you need to display? Do you have a family member who loves butterflies? If either of these statements are true, consider making a wooden butterfly photo display. This brilliant idea uses wooden frames, cut in all sorts of lengths, and positions them to look like a butterfly. You can then stain the pieces with wood stain to create a cohesive look to your piece of art. In this example, the painter used a metallic stain to add a rustic feel to the butterfly.
13. Flower-themed Rest Center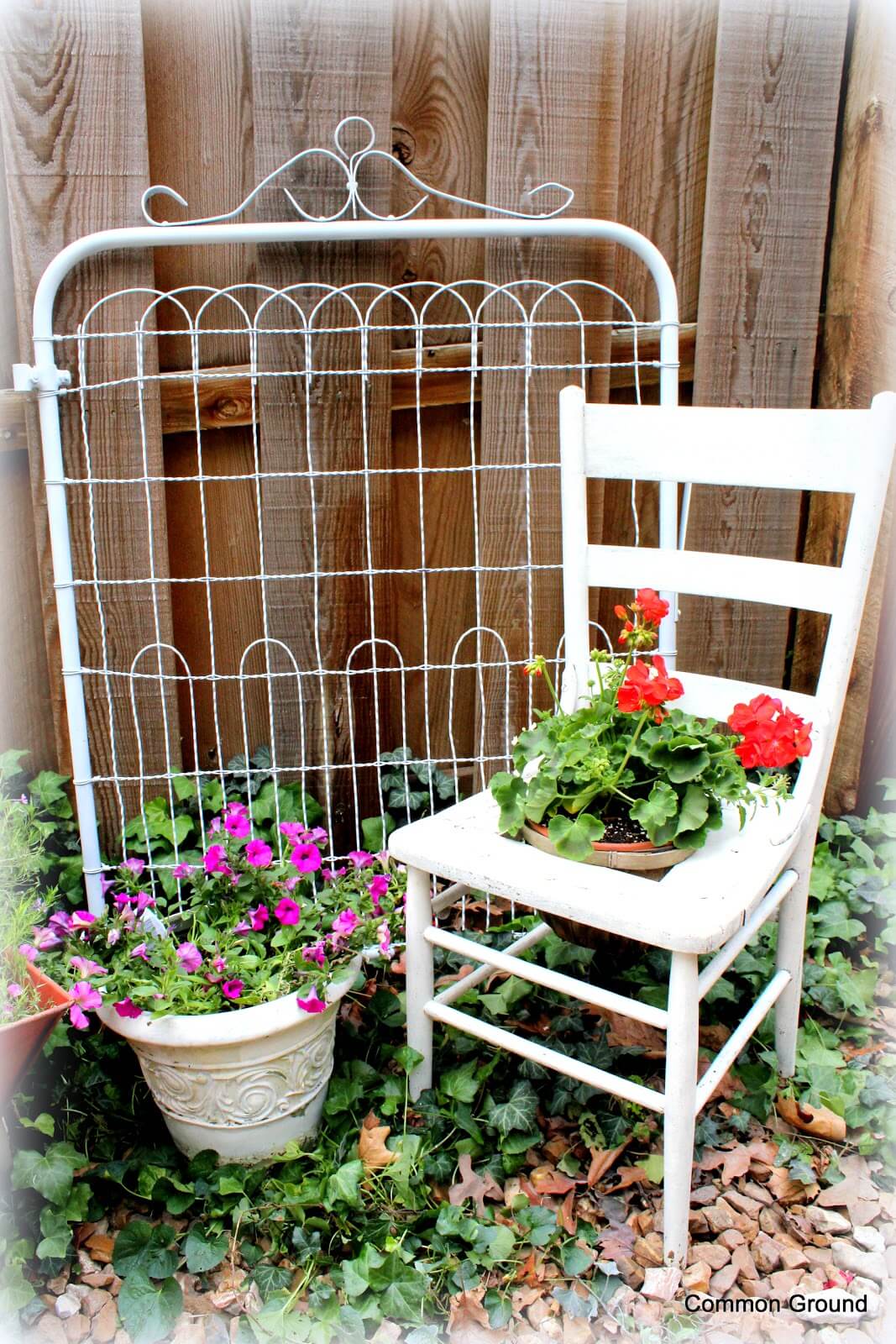 If you have extra pieces of junk floating around your yard, consider putting that junk to use! By laying down a fresh coat of paint and positioning items well, you can create a beautiful layout to your yard. With items like chairs and buckets, you can re-purpose these into planters that grow your favorite flowers or herbs. For metal grates or pieces of fence, these can be used to assist in the growing of bean plants and other vines. Create a flower-themed rest center in the corner of your yard by employing this cute countryside decor idea!
14. Wonderful, Musical Chandelier Wind Chime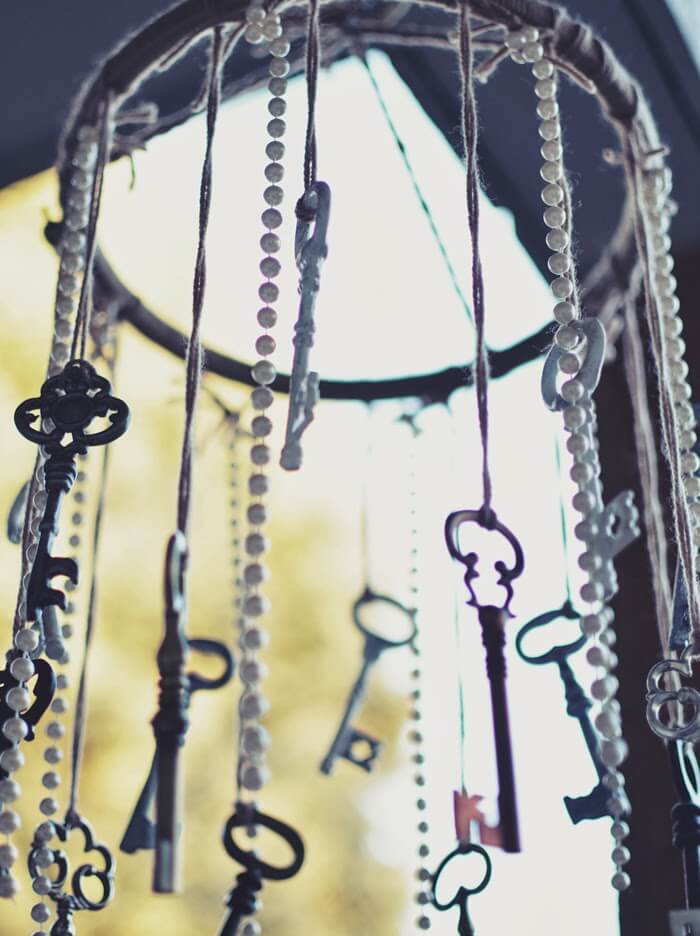 With a bit of twine, a metal ring and some recycled keys, this idea comes to life! Create a musical wind chime in no time by using old keys to create the music. Simply use twine to cover the metal ring, and then hang the keys by the heads with more twine. The wind will blow the keys and create a musical atmosphere in your space.
15. Quirky Lamp Garden Token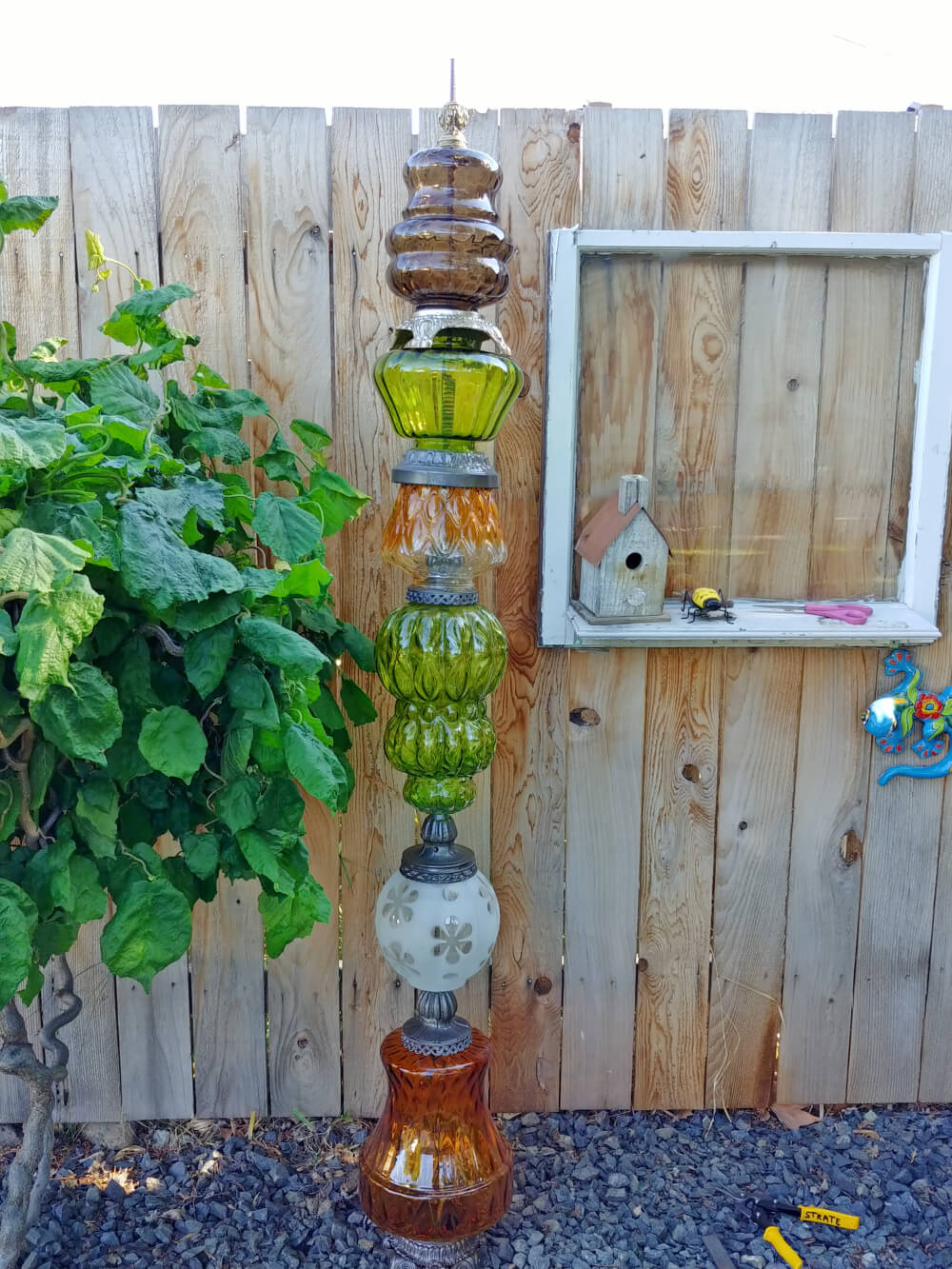 Looking for a quirky decor item for your outdoor space? This lamp garden token might be it! Gas lamps often contain a stained glass bottom to hold oil. This glass is stained in colors of green, blue and can also be clear. By removing the top and bottom of a lamp and staking them securely on a wooden pole, you can create a beautiful, multi-colored decoration. The largest lamp base can be used on the bottom of the piece, so it remains sturdy. If you're looking for an easy and fun way to enhance the feel of your outdoor space, this lamp garden token might do the trick.
16. Cute and Simple Vintage Wind Chime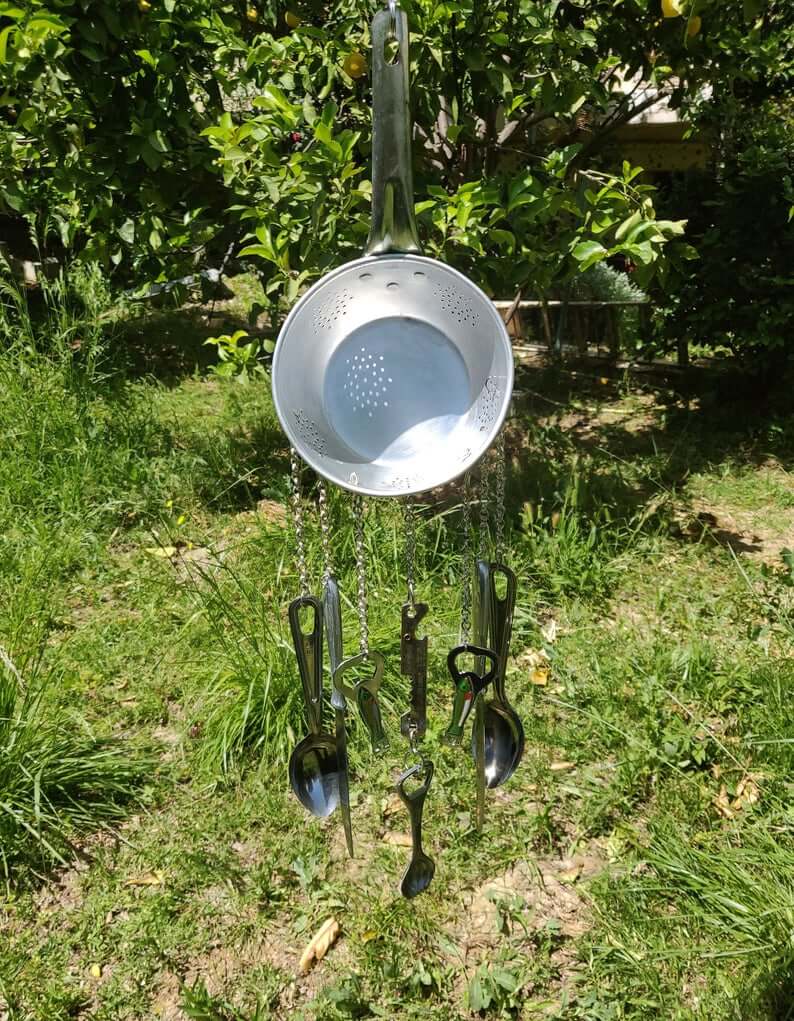 If you're looking for something simple and fun, a colander wind chime made with recycled materials might be what you need. Colanders are easy to make into a wind chime, because they already have mounting holes. Choose your desired noise-making instruments and your wind chime is made! The added element of music that wind chimes bring to the ambiance of your outdoor space helps create a homey and warm feel. If you want to increase the amount of sunlight that shines off of your wind chime, you can also choose to polish the metal. This will create a striking reflection of the sun's rays and increase the light content in your outdoor space.
17. Cute Ceramic Mushroom Yard Art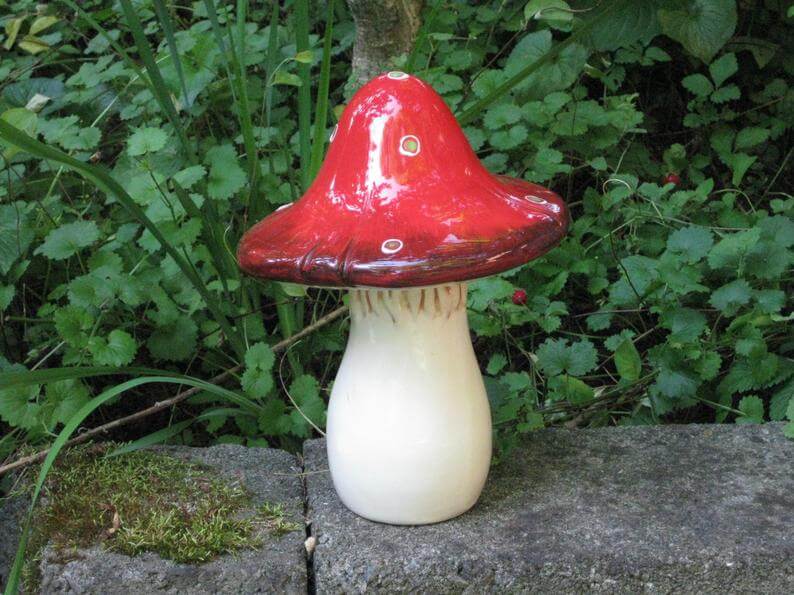 One of the more permanent ideas on this list, consider adding small ceramic decorations to your yard. This idea is a beautifully painted ceramic mushroom. Because green grasses can be rather mundane to look at, consider this countryside decoration idea to spice it up. The bright red color of the top of the mushroom will definitely stand out against the opposing green color of the grass. In addition, this is a great outdoor decoration idea for those who don't have a lot of time for yard maintenance. This durable ceramic decoration will stand the test of time and won't need to be moved to water the yard. It is a great choice for busy teachers or parents who would like to add a bit of beauty to their yard, without added maintenance time.
18. Great Wire Plant Display with Upcycled Animal Cage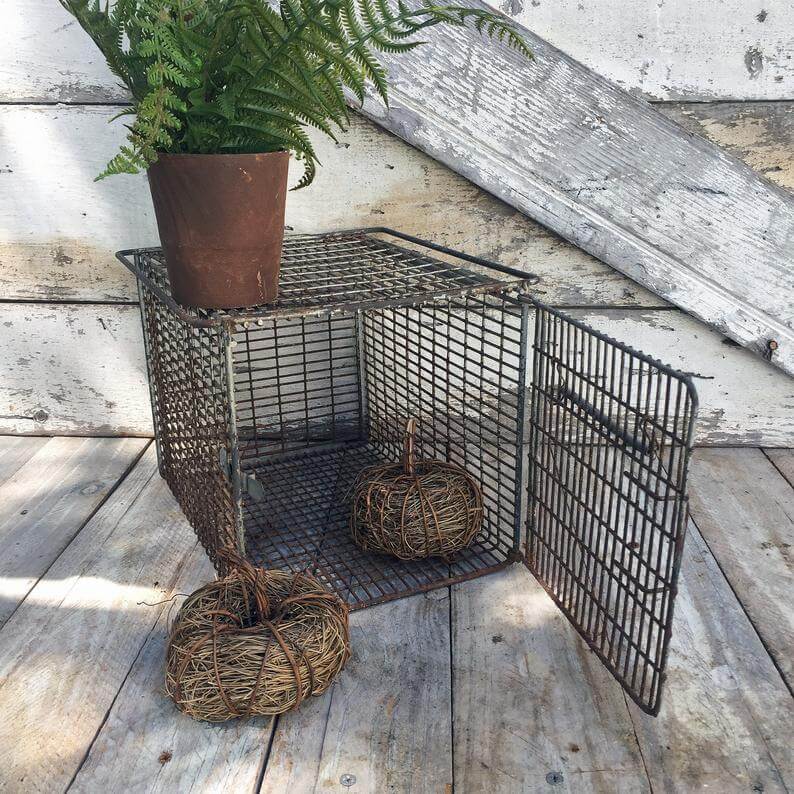 For those looking to create a safe space for their plants, consider this wire display idea. Using an old animal cage is a great way to create a good growing environment for your smaller plants. An animal enclosure is originally meant to keep animals in once trapped, however, the durable wire will also keep animals out. This is a great, functional countryside decor idea that produces growing space in your yard. If you have a large area of ground that's not being used and you'd like to try out small-scale gardening, the wire plant display is a great countryside garden decor idea for you. If you have a dog that tends to bother your potted plants, this is also a great idea for you.
19. Creative and Functional Metal Plant Stand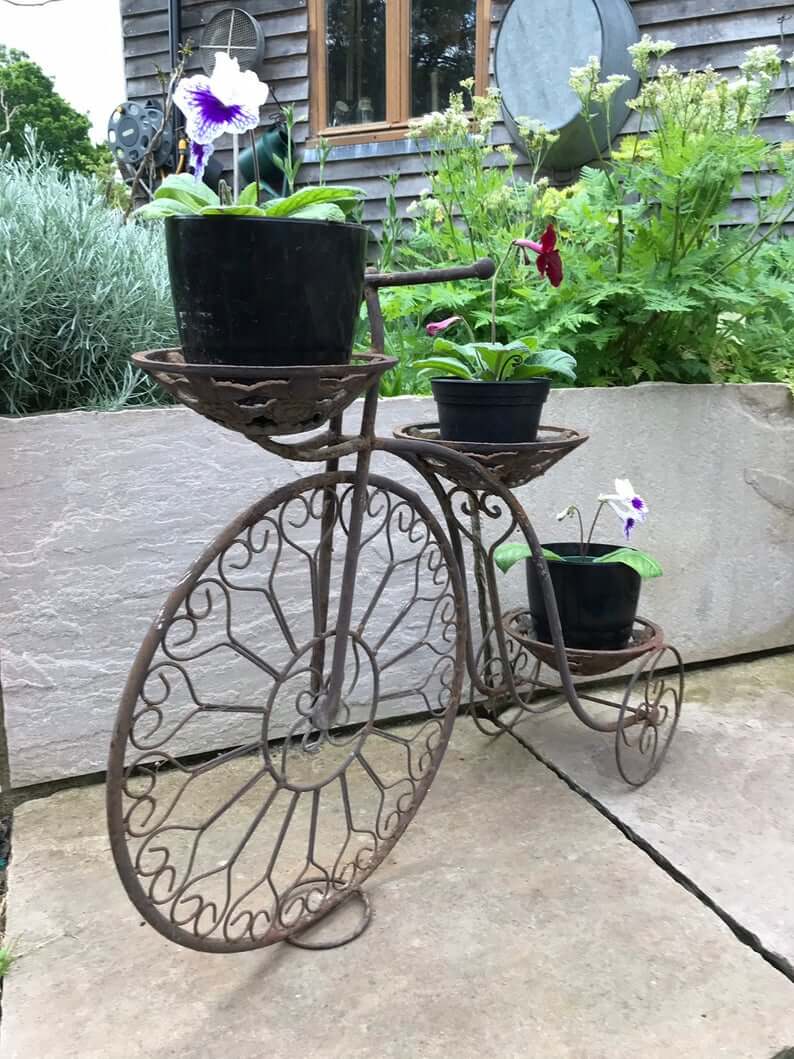 This creative countryside decor idea includes a cast iron plant stand made from a full-sized adult bicycle. It includes three shallow planter bowls that can hold pots and plant displays. The large front wheel of the bicycle has a support rod put in place, so it will be stable when standing. This is one of those truly versatile decorations, because the size allows it to be place indoors or outdoors. If you're a biking enthusiast who needs countryside garden decor ideas, this metal plant stand made from a bicycle might be perfect for you. There is also a romantic aspect to this piece of art, too, because the old-style of bicycle has metal hearts inside the wheels. This makes it a great decor idea if you need to put a little romance into your outdoor space.
20. Rustic Sailboat with Garden Bells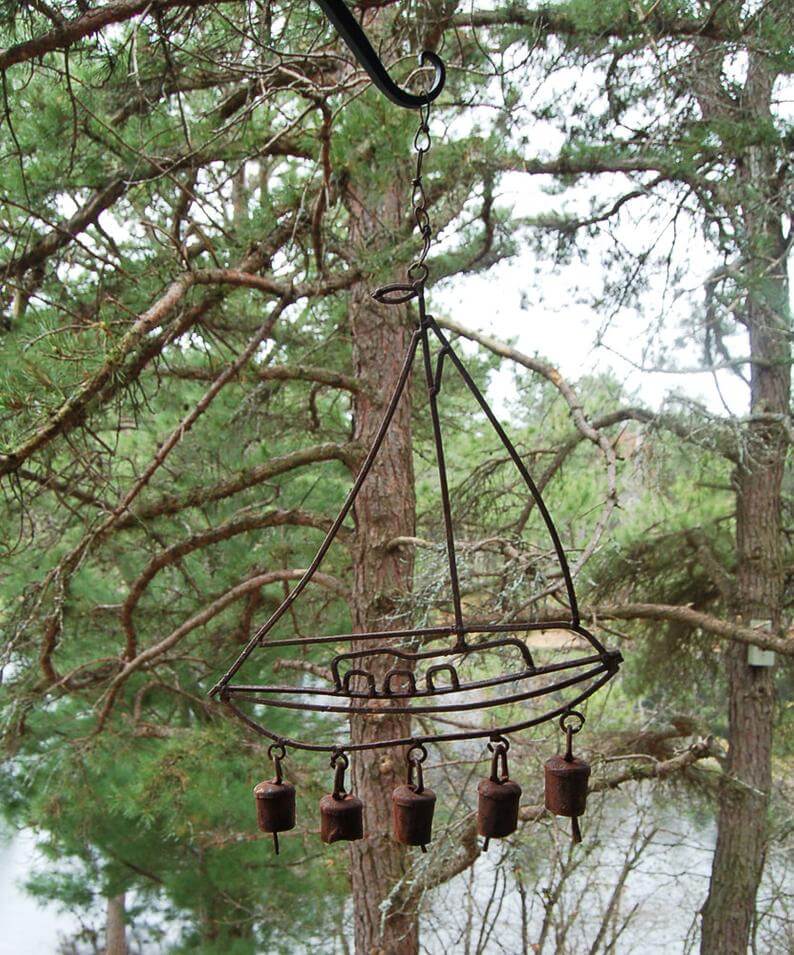 This is a beautiful piece of vintage decor that's perfect for any sailing aficionado. It features a sailboat and garden bells that has been weathered outside to create a rustic feel. The sound of the bells is light and refreshing, and can be heard for a long distance. The bells are hung on sturdy chains and are rusted as well. This simple, rustic piece is great for hanging in a small area outside. The light sound of the bells will allow those around this decoration to feel right at home when the wind glows. The sailboat and bells are a deep red and brown color, which pairs nicely with any rustic theme to countryside garden decor. If you need a small, simple and musical piece of decoration, this might be perfect for you.
21. Simple and Beautiful Galvanized Watering Can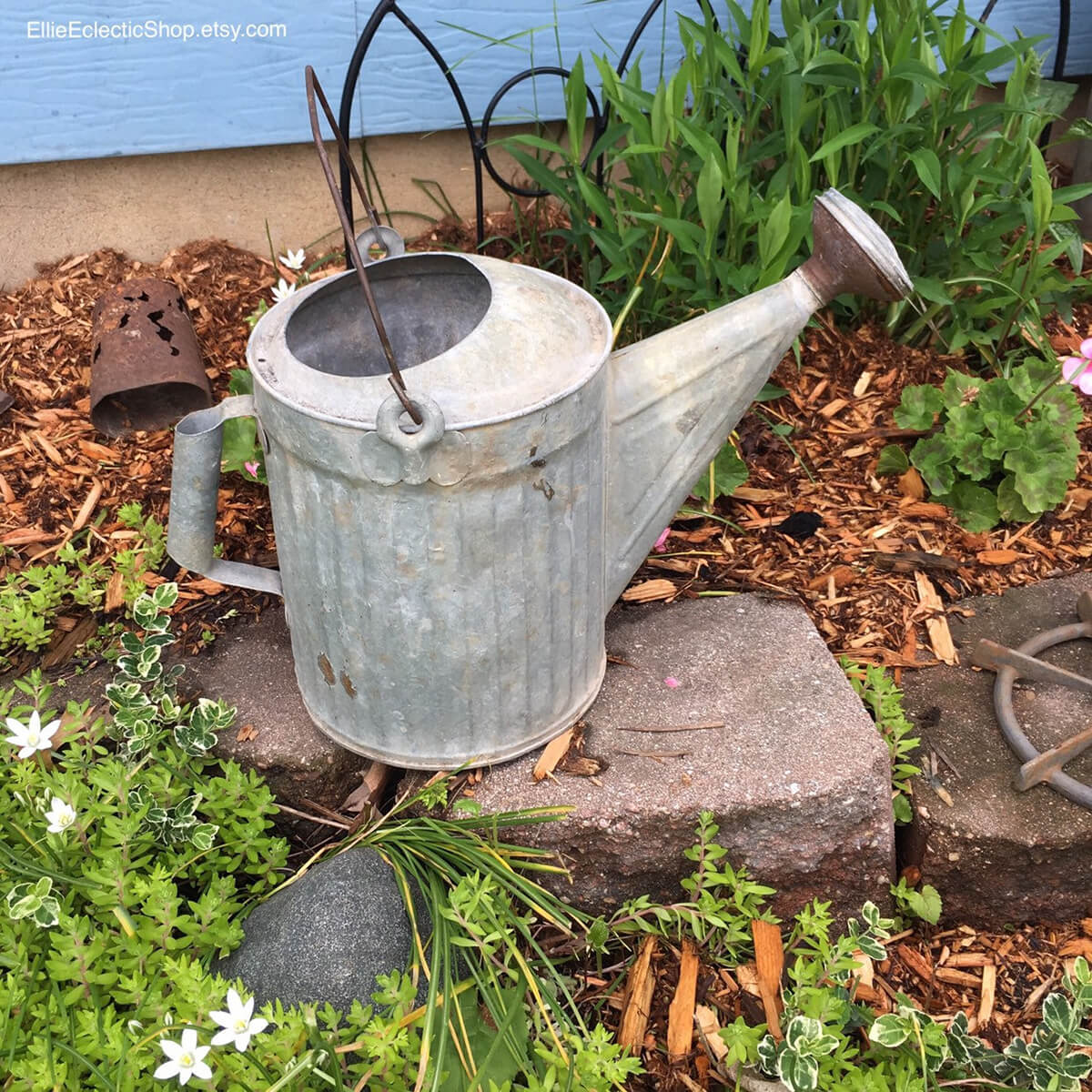 A watering can is a staple of any gardening decoration. This galvanized watering can has a beautiful and rustic coloring to it that produces a very homey feel. If you need something to spruce up a small patio space, this might be it. As a very small idea, this is a great decoration for those who live in apartments or town homes. A cute watering can is also a great way to create a bit of life in a small space. Watering cans make us think of healthy, thriving garden plants. During the heat of summer, a watering can as a decoration can also be a good way to remind you to hydrate well. This is also a very low maintenance piece of decoration that requires little to no upkeep.
22. Rustic, Earthly Wooden Garden Trug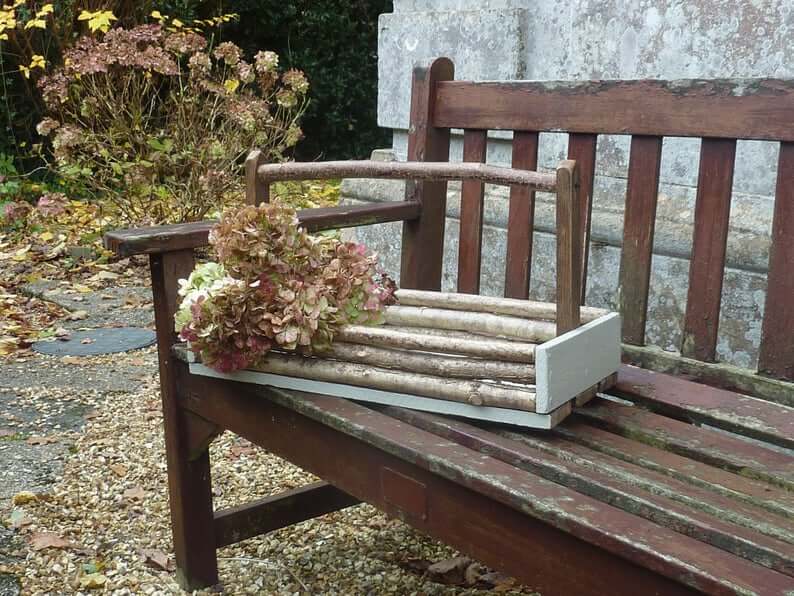 Looking for a good way to incorporate natural wood into your countryside garden decor? This rustic wooden garden trug, comprised of thick twigs, fits the bill. This small rustic piece of decoration makes you think of helping out in the garden when you were little. This can be a good accent piece to place decorative flowers or small garden tools. You can choose the best type of flower to create the ambiance you want to achieve, from lighthearted to romantic. Choosing a bushy flower will make the effect of this wooden garden trug more effective. If you want to put some garden tools in this trug, they'll have to be of a smaller size to fit. This trug could even be used to create a little fairy garden, which is a popular craft among kids and adults alike. Fairy gardens need a small, enclosed area to begin. Using a natural wood trug that was handmade and pre-used will give your fairy garden a rustic feel.
23. Unique Mid-Century Planter Urn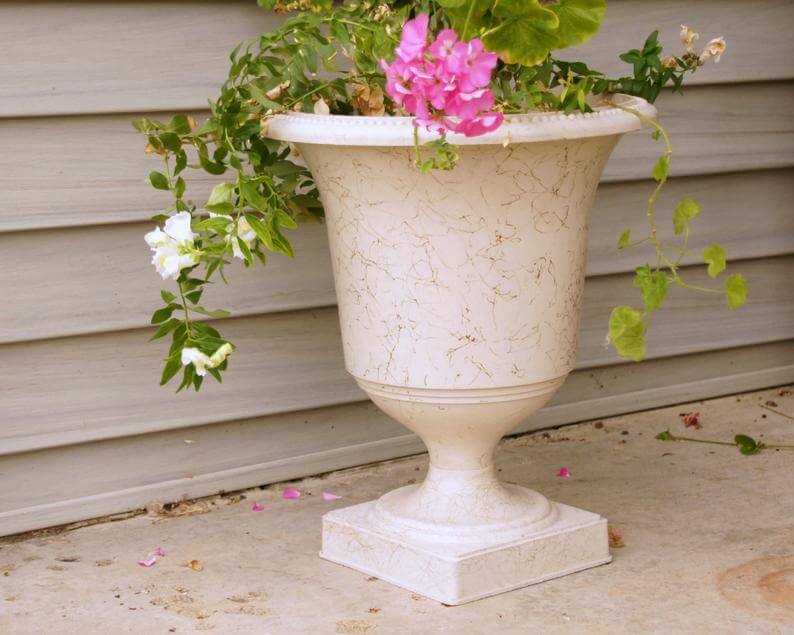 Consider the unique decorating idea of a mid-century planter urn. A large mid-century planter in the form of an urn is a great way to create a rustic feel in your outdoor space. This particular planter includes a beautiful drip pattern and is large enough to fit eye-catching plants. This planter is also an urn made about fifty years ago, and has a great old-time feel. If you're looking for a medium-sized planter to spruce up a small outdoor space, this cute planter urn might be good for you.
24. Creative Bottle Bush Yard Art
This quirky idea includes wires extruding from a base. After you get this contraption, you are meant to place glass bottles on the top. Then, the wires can be twisted into whatever formation you want. By incorporating your own style through your choice of glass bottles, you can create a truly eye-catching piece of yard art. If you want a yard display that suits the feel of summer, consider using brightly-colored bottles. Then, twist the wires into wacky, cross-over formations to indicate the bounciness and fun of summer. If you want a yard display that suits the feel of autumn, use brown-colored bottles and engage in a different wire formation. Whatever you choose, this countryside garden decor idea takes up a lot of space. Make sure you know where this piece of art is going to go in your yard before you invest in it. If you're looking for a countryside garden decor idea that you can customize time and time again, this wire bottle bush yard art might be a great fit for you.
25. Cute and Customized Spoon Herb Marker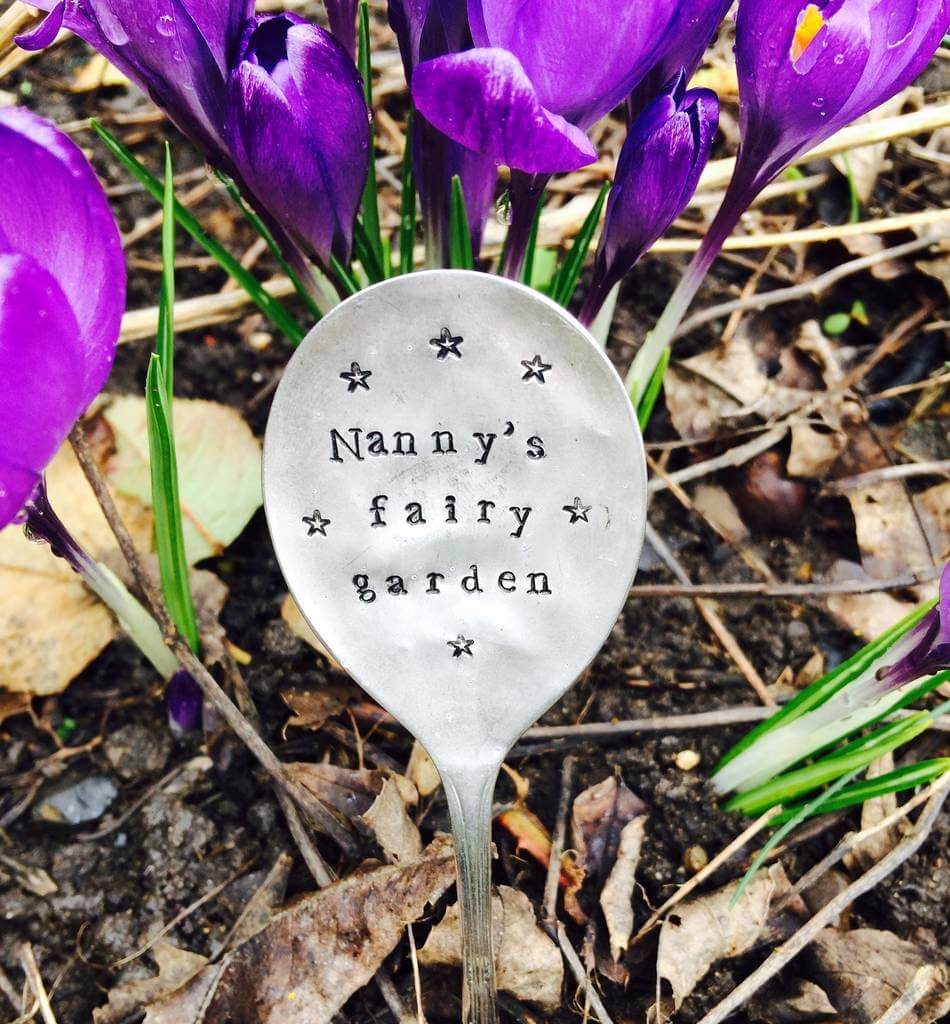 If you need something rustic and durable to mark the plants in your garden, consider a customized spoon marker. With this cute idea, you can get your herb stamped onto a spoon. You can incorporate other details, like stars and your name, added as well. This idea is great for those who are looking to add a bit of organization and fun to their garden atmosphere. In addition to accurately marking your herbs, this decor idea is durable and long-lasting!
Gorgeous Ideas for Countryside Garden Decor
We hope you found what you were looking for with this list of the best countryside garden decor ideas. Choosing between large projects like the flower candelabra to smaller projects like the bird inn, decorating ideas can fit into your desired storage space and create a fun outdoor atmosphere.
Outdoor spaces are important for entertaining, and can definitely be enhanced by country-themed decorations. Because many outdoor spaces require a fair amount of upkeep, you can consider maintenance in your decoration choices. If you would prefer to have a year-round decoration, consider the wind chime ideas available. Wind chimes are made of metal and are fairly resistant to outdoor corrosion. If you would like a seasonal decoration for autumn, consider the country ladder idea.
People who prefer do-it-yourself projects would benefit greatly from the kitchen herb garden or the upcycled vintage garden decor idea. The kitchen herb garden is a much smaller project and would benefit those with small children. Not only do you save on grocery money, but you get the added benefit of letting the kids help out with garden maintenance. The upcycled vintage garden decor idea will be for those who want a larger, more challenging do-it-yourself project. For centerpieces or large accent pieces in your countryside landscaping, incorporating this idea might be beneficial.
Our Favorite Outdoor Decorations to buy on Amazon