Have you ever gone to a friend's home; a place where you have never been and find it impossible to see the house number from the street? I have, and it makes it nearly impossible to figure out which house is theirs without calling them. Now that you understand how frustration this can be for someone make an effort to make your house number easy to read. Are you a creative person? Then, use your creativity to make a house number that will look great on the front of your house.
45+ Amazing House Number Ideas You'll Love

The best part is that you do not need to keep the house number on your front door. You can incorporate creative house number ideas into the flowers that are positioned on your porch. You can design a wreath to put on your door around the holidays that has your house number on it.
Your creative house number ideas can be as large and loud as you want them to be or you can keep them to a dull roar. This guide is designed to help you come up with unique house number ideas of your own. You can take the ideas listed and make them your own, or you can create something completely different that compliments the exterior of your home.
1. Simple & Easy DIY Address Sign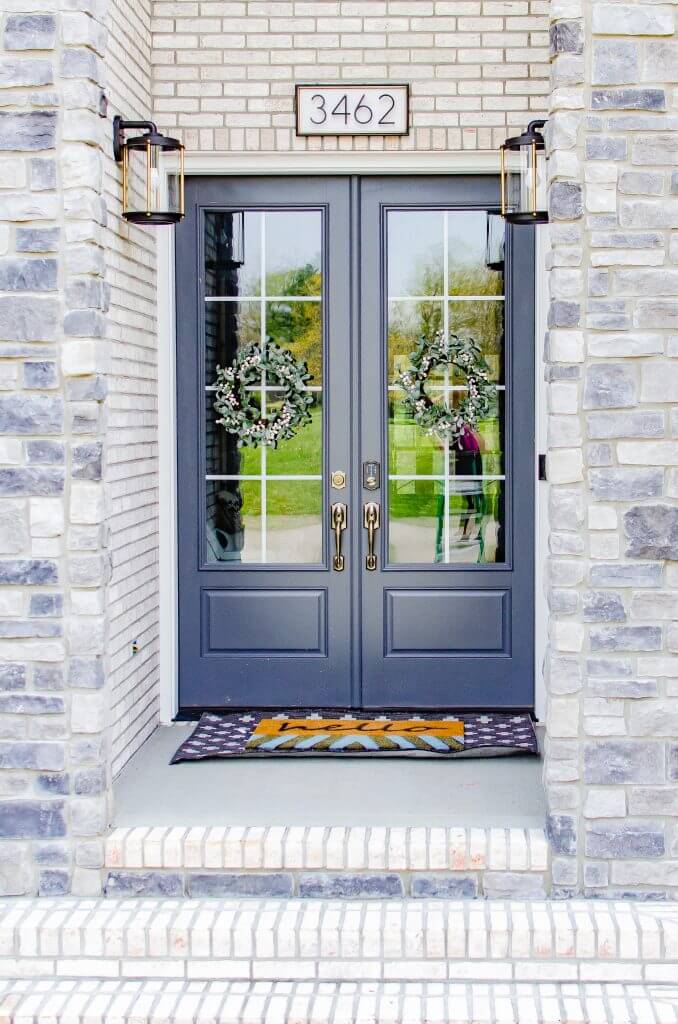 This is a great DIY project for those that want something simple and to the point. You can put it above the door like the photo, or hang it up on the side. You could even add a little light to ensure it can be seen during the dark. Use the colors and font you prefer to make the sign fit in with your other decor!
2. House Number Planter for Porch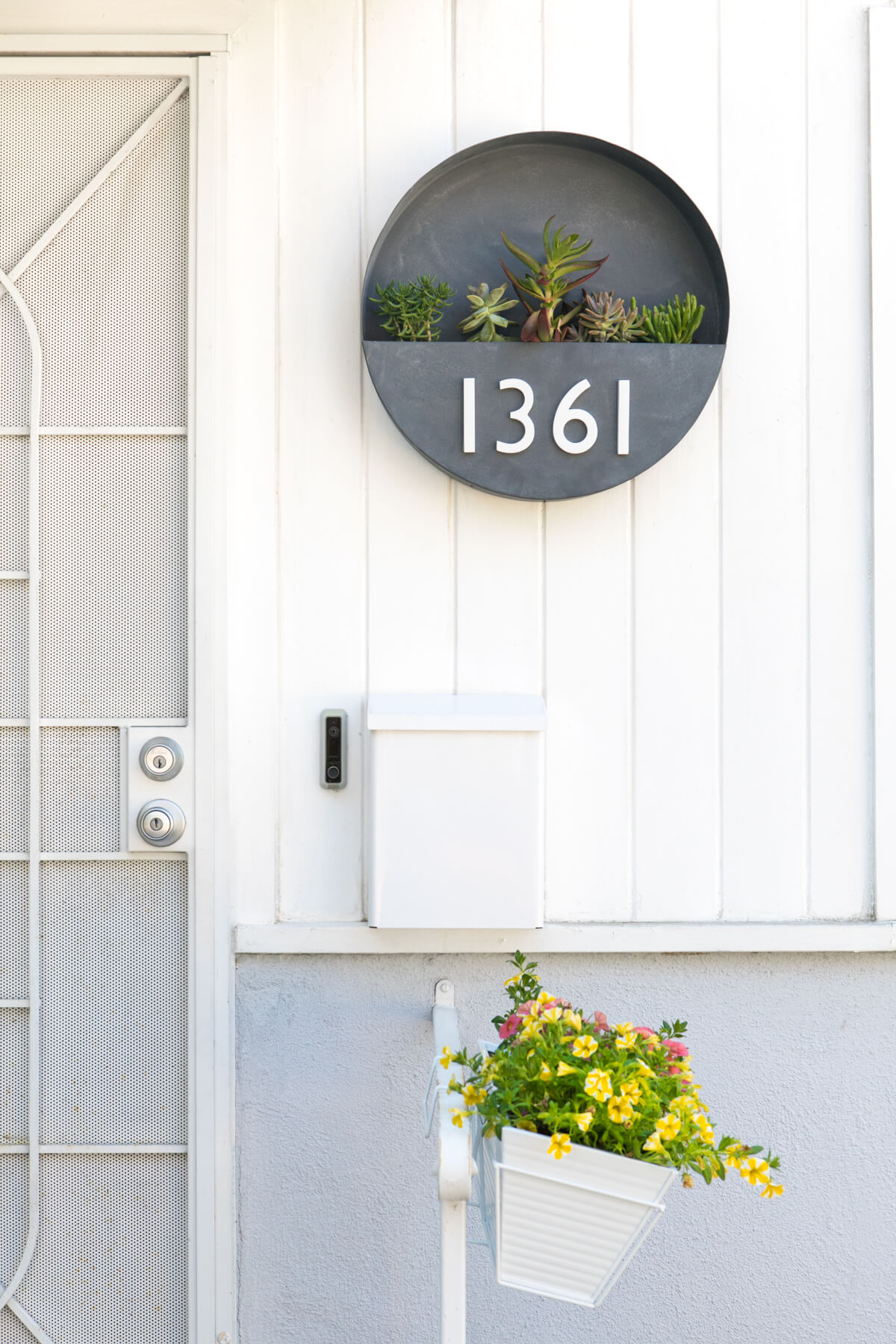 One of the greatest things about this address planter is that you only need to drill two holes into the wall, which makes it a great option for those that are renting. The extra-large galvanized circle planter will help make the space both modern and rustic, which happen to look great together. You can drill holes into the bottom to add soil and live plants or you can keep it simple by only using artificial options.
3. Simply Elegant Nailed House Number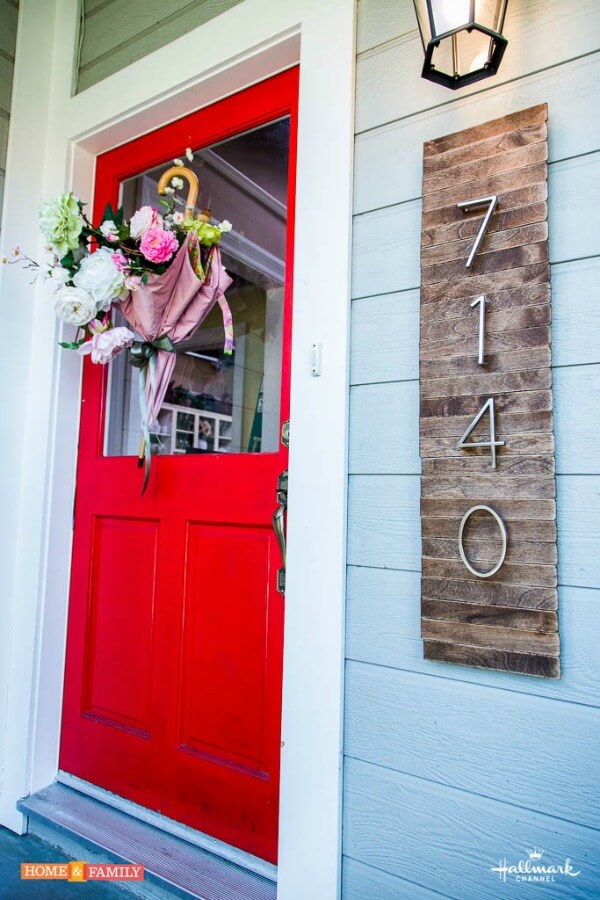 While basic, this house number sign definitely gets the job done. Not only is it super easy to make, but it won't break the bank! The wood part is made up of paint stirring sticks and cut plywood, while the house numbers can be found at most hardware stores. For color options, you could go simple and slap a coat of paint on or you can make it a little more elegant by giving it a nice stained finish.
4. Compact Rustic Style Address Planter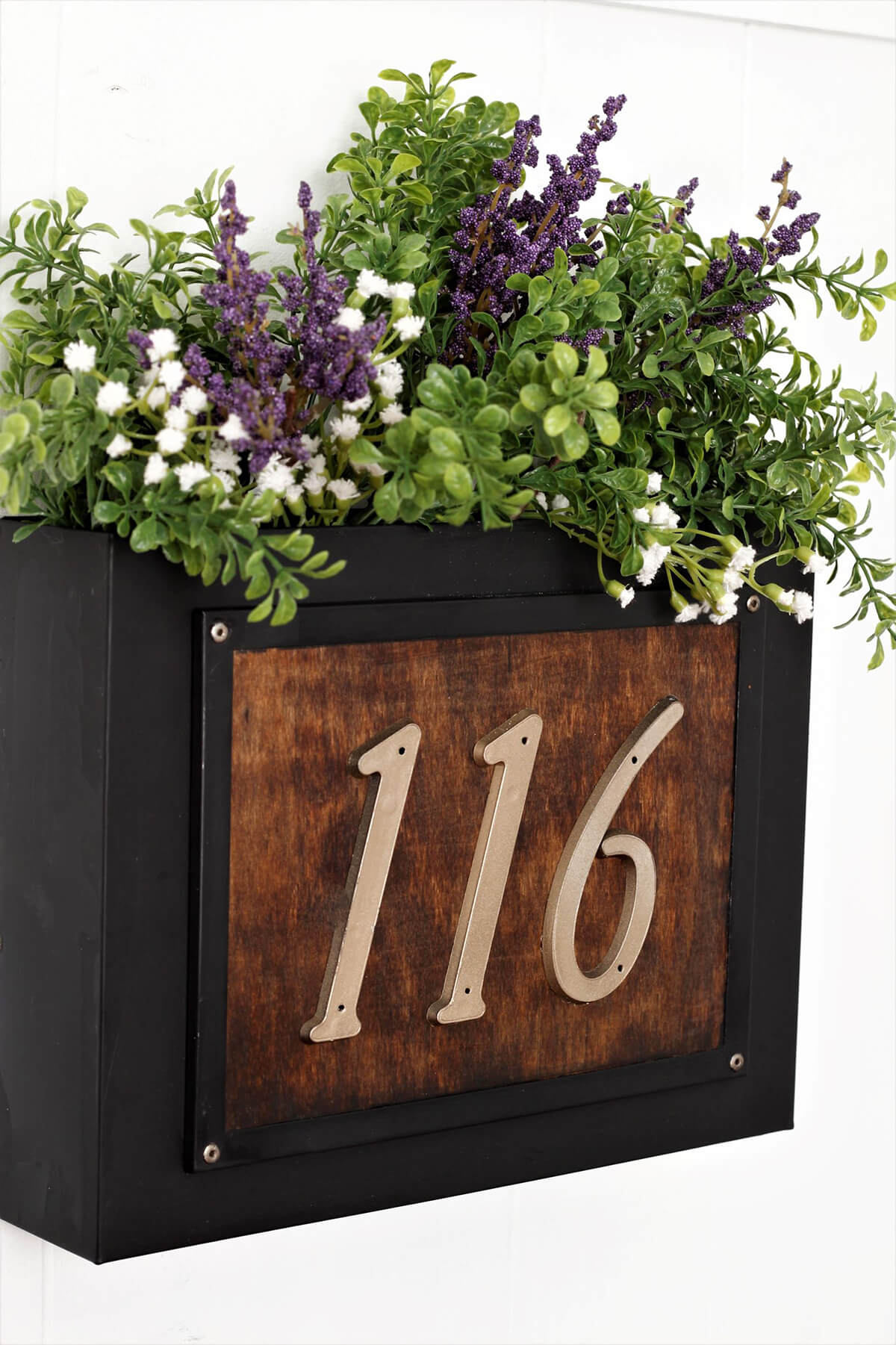 This sturdy rustic planter box is a great way to display your house number. You can use whatever flowers you like, including both live and artificial. The basic colors really bring the project together, but you could use any color you want. The good thing is that there are multiple ways to personalize the box, including numbers with different styles or fonts and different types of boxes.
5. House Number Pillar with Hanging Plant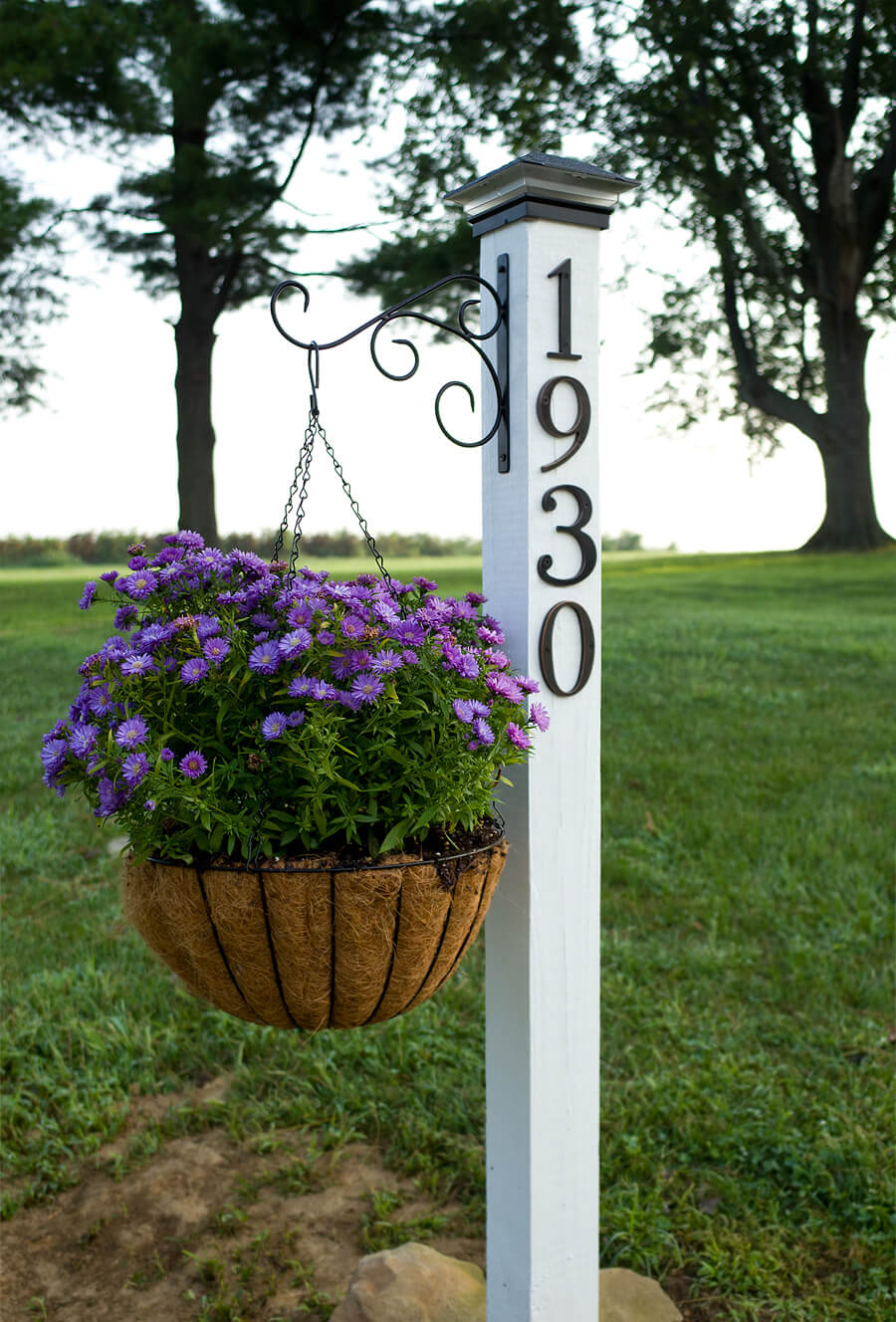 If you're looking for something that can have multiple uses, then this is a fantastic option. Not only will you be showcasing your house number, but you can hang one of your favorite plants too. You could even use the hook to hang other things, like flags or wind chimes. Not only do we love that the numbers are large enough to be easily seen, but the font is awesome too!
6. Illuminated House Number Garden Lantern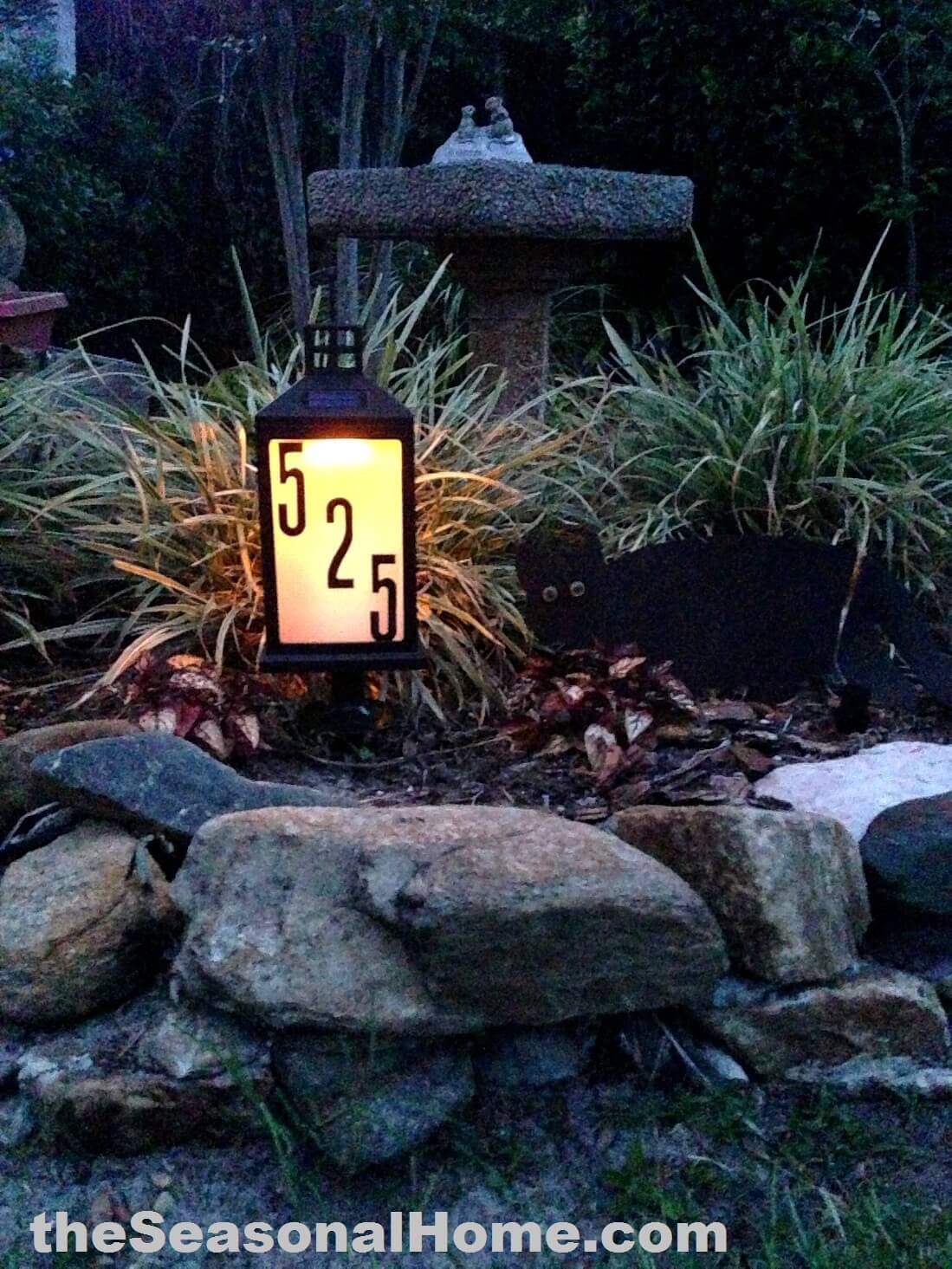 The look of this house number lantern reminds us of an enchanted forest. You can place it on the ground or have it hanging from a short post, depending on your preferences. The warm glow makes the lantern feel welcoming and you could add various cutouts to give it an even more magical feel. This project is easy to make, simple, and great at getting the job done!
7. Country Style DIY Address Sign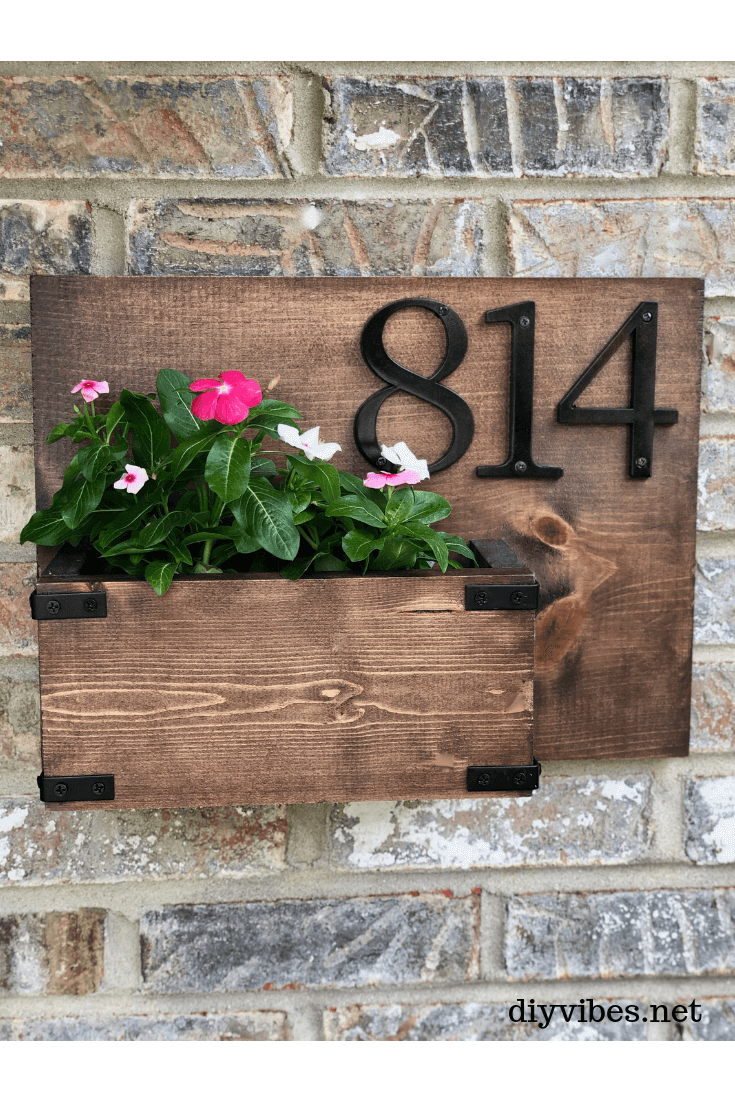 If you've been looking for something that can showcase both your favorite flowers and house number, while also being rustic, then you've found the perfect project. Not only does it have a separate box for whatever flowers you choose, but the remaining space is big enough to fit larger numbers that can be easily seen by your guests. It can be fastened or placed right on the porch, depending on your preferences.
8. Large Cement House Number Blocks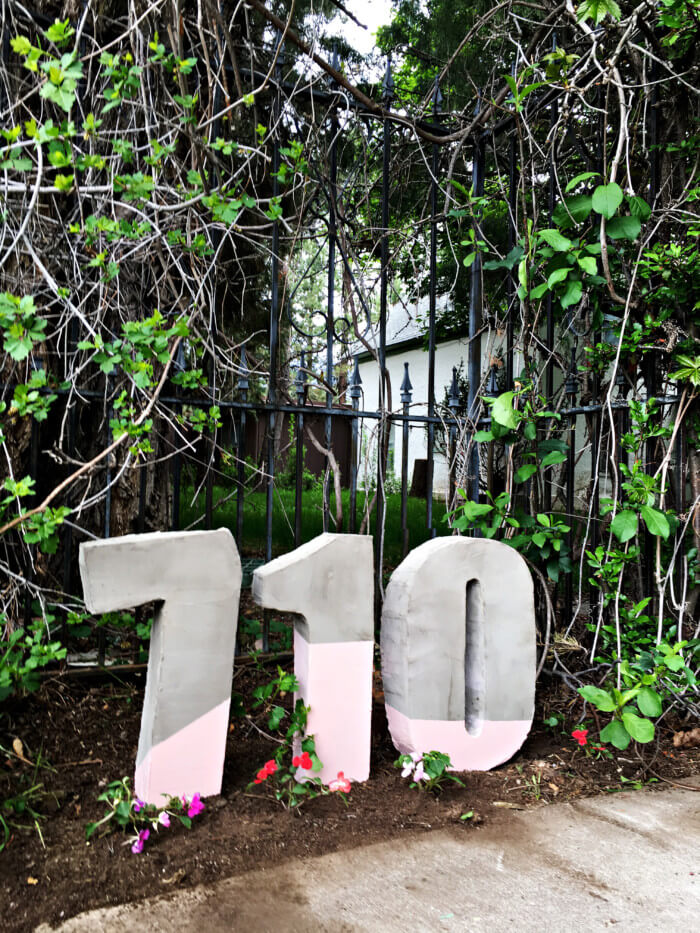 If your home is one of those that people always have trouble finding, then this is the project for you. These large cement numbers can ensure that your house won't be missed again! You'll use thick cardboard to make the cement molds and you can make them as big as you want. You'll put wooden dowels in the mold before pouring the cement to help keep them firmly in the ground. Apply your favorite paint or any other accessories to make it more unique.
9. Large Hanging House Number Sign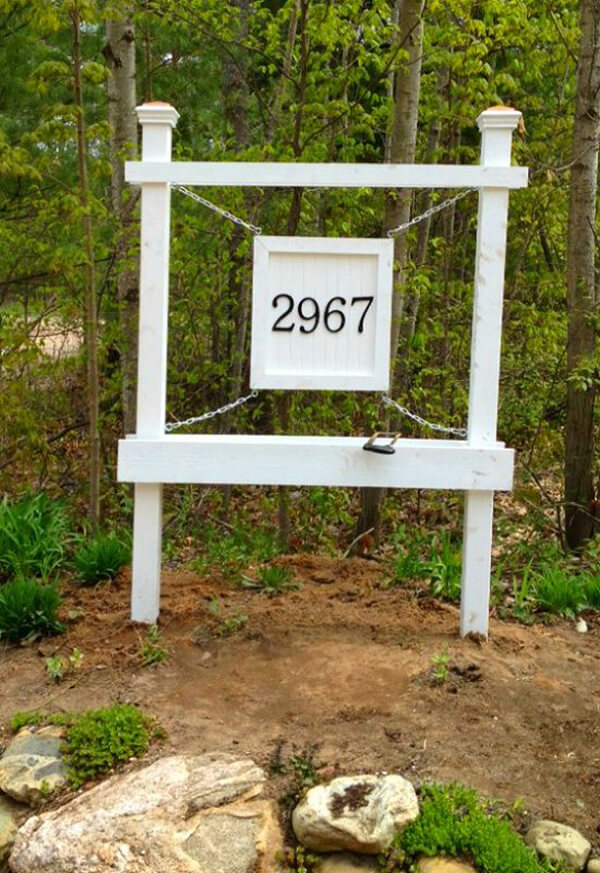 We really love the simplicity and look of this address sign. You can make it the exact size you need, which makes it a great option for multiple situations. You can use cement to help keep the sign in place and the thick wood can help the sign hold up for years to come. Stick with basic colors to keep the simplicity or use brighter ones to ensure your sign can be seen!
10. DIY Hanging Address Door Planter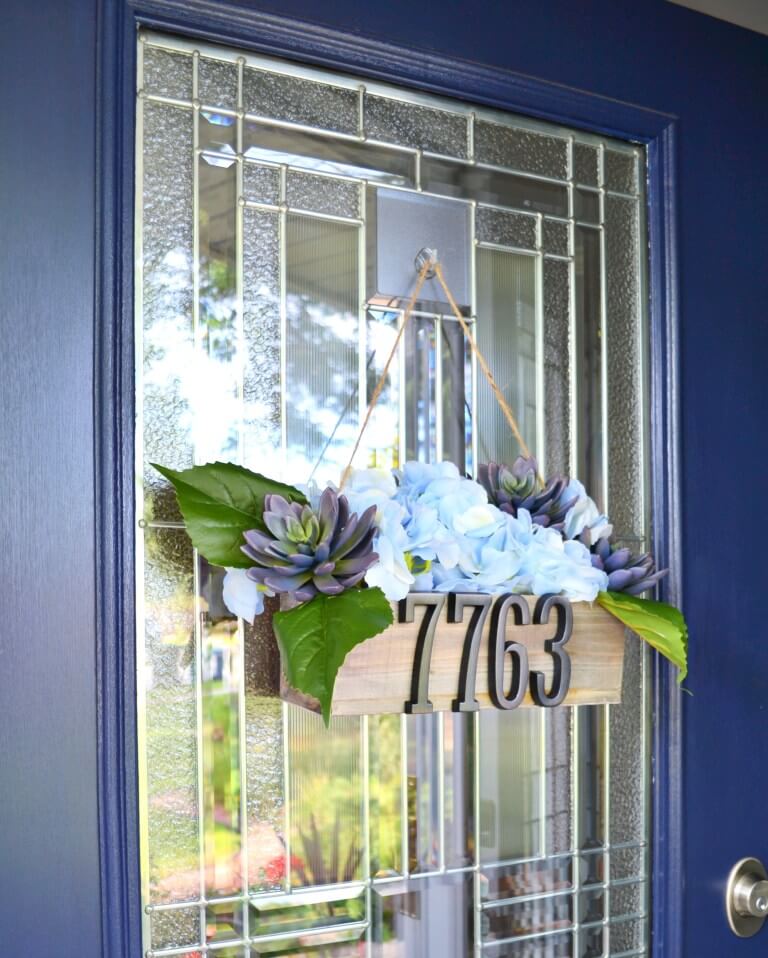 Looking for a simple project that you can easily hang on your door? If so, look no further! Not only does this planter box have your house number, but you can add flowers or other decorations that you love. You can add a little customization by incorporating your favorite flowers or type of wood. The photo has simple colors, but you can use whichever ones you like the best!
11. Modernized DIY Address Planter Box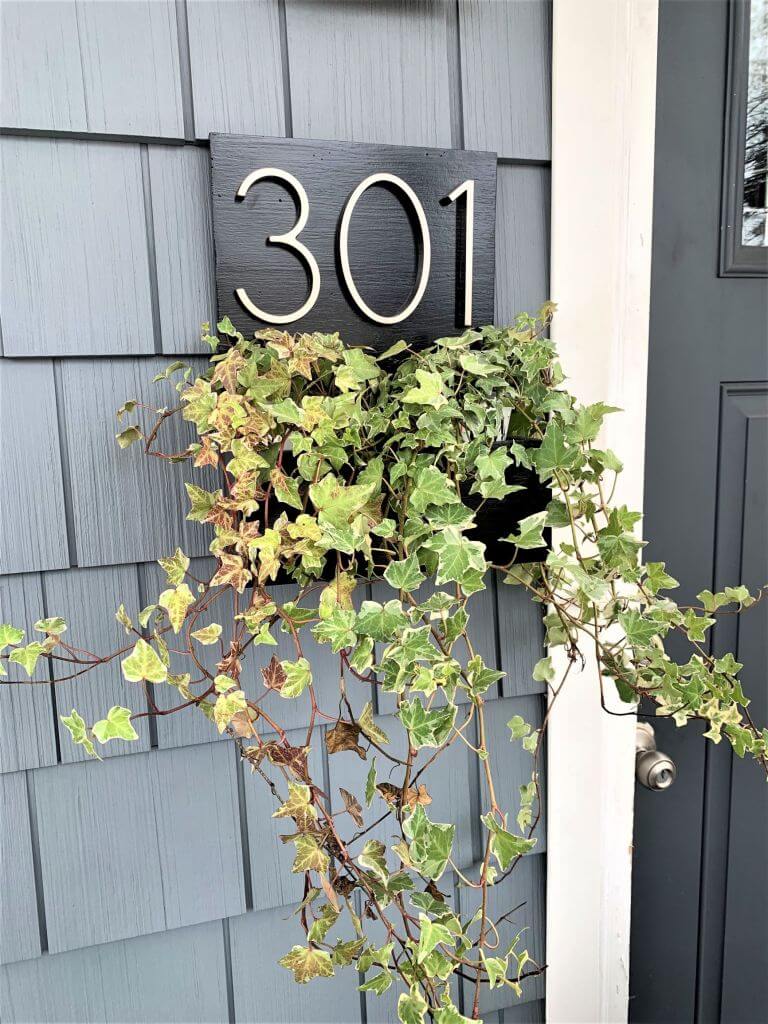 This sleek and modern DIY project only uses a few materials that many people already have on hand. You can stick with the simple black and white or use your own color choices to make it more personal. To make the project more unique, try changing the size of your materials or the style and font of the numbers!
12. Cute & Versatile House Number Planter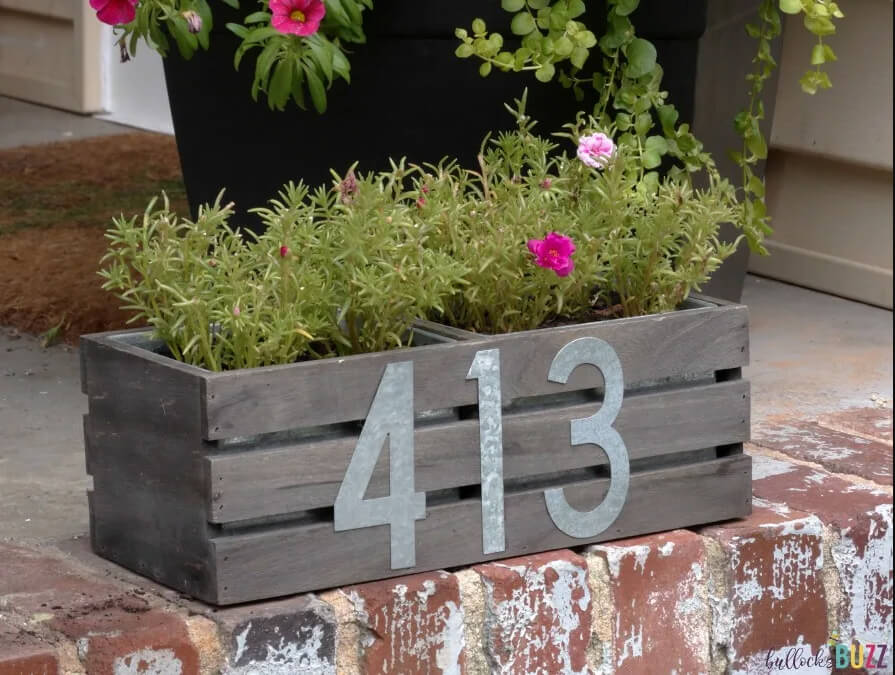 One of the best things about this project is that you can nail it to your house or put it right on your porch. You can paint the wood any color you want and the metal numbers add a rustic element. The two metal flower pans inside the box are great for both live and artificial flowers, depending on your preferences and area.
13. DIY Rustic Hanging Address Sign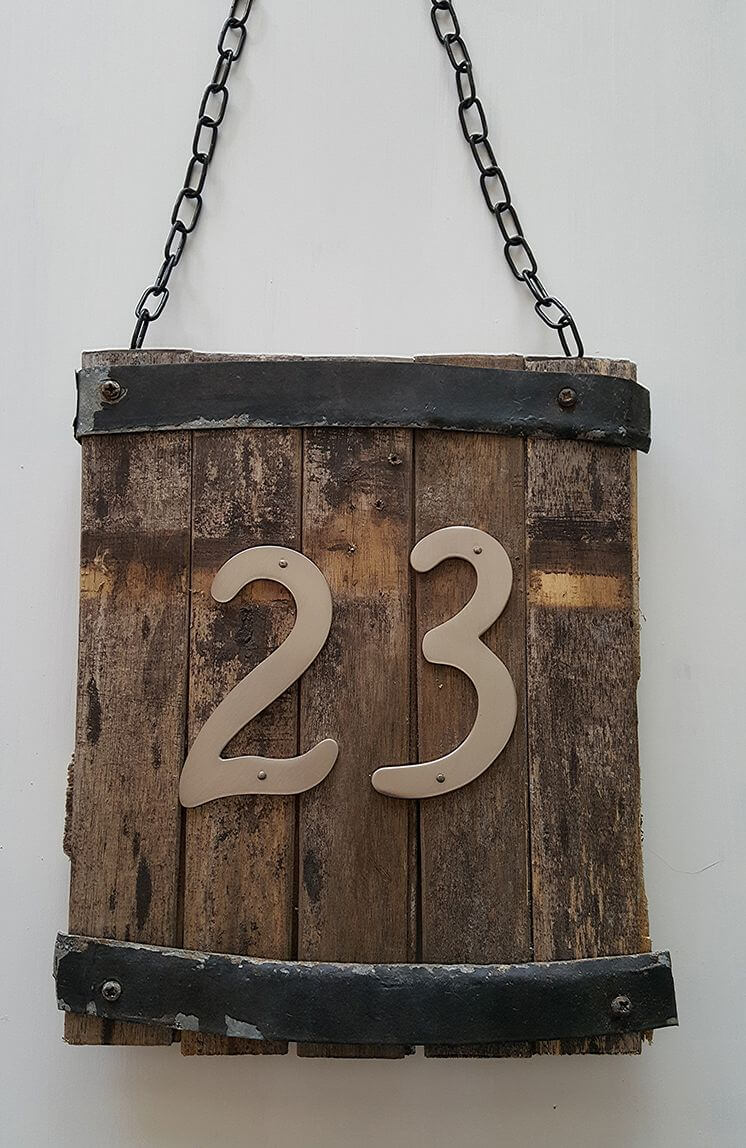 We love the rustic and weather-worn look of this sign. You can use old materials that came from worn-down items or you can buy new materials and make them distressed until they have the look you want. The black chain looks great, but you choose something that you like better. Use the chain to hang it next to your door, on your porch, or at the end of your driveway.
14. Stunning Dragonfly House Number Project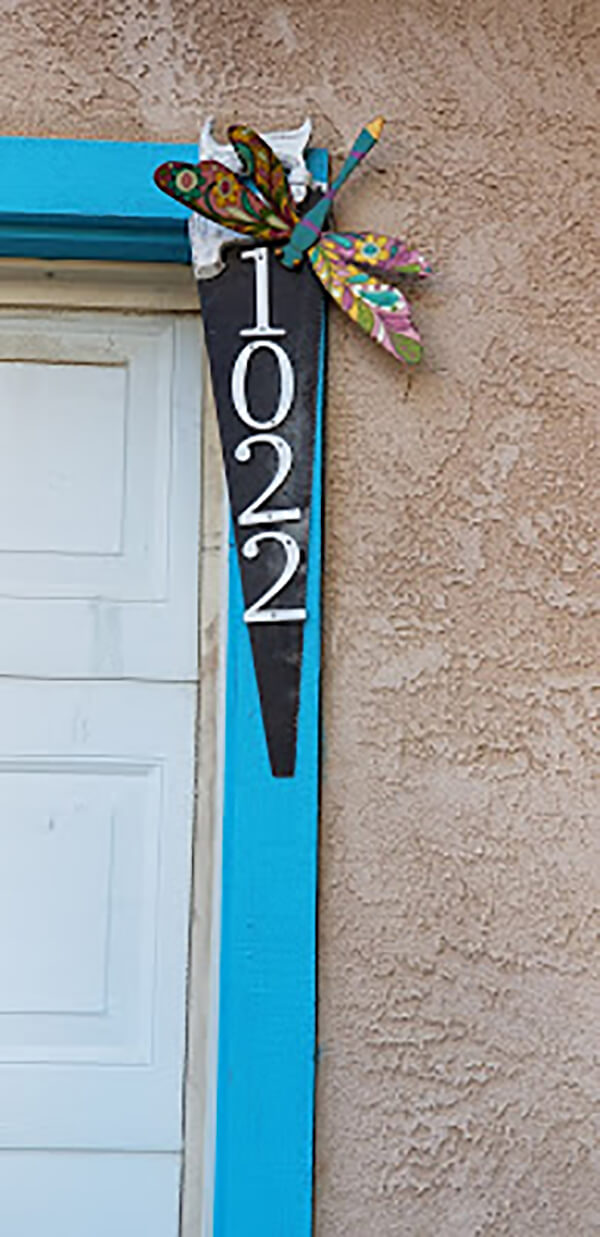 This is a great project for anyone that wants something that you don't see every day. The type of saw used can be found relatively easily and, depending on your preferences, you can either leave the teeth on or grind them down. Use your favorite colors and design the dragonfly any way that you want. Keep the numbers similar to the ones in the photo or position them horizontally to easily hang the sign above your door or window.
15. Cute DIY Address Number Plaque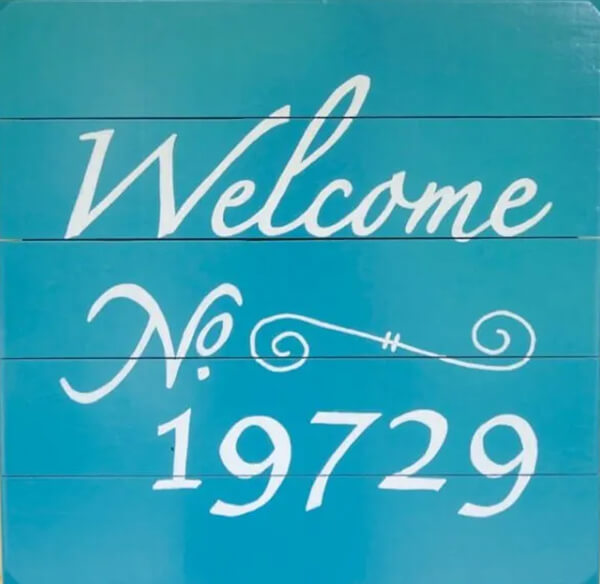 Not only will this plaque welcome your guests, but it can help those trying to find your house number. You can use and colors and fonts you want, which helps make it a little more personal. You can place it anywhere on your porch, but it looks especially good hung right by the front door. Seal it to prevent weather damage and you'll have a beautiful sign for years to come!
16. House Number Sign with Colorful Planter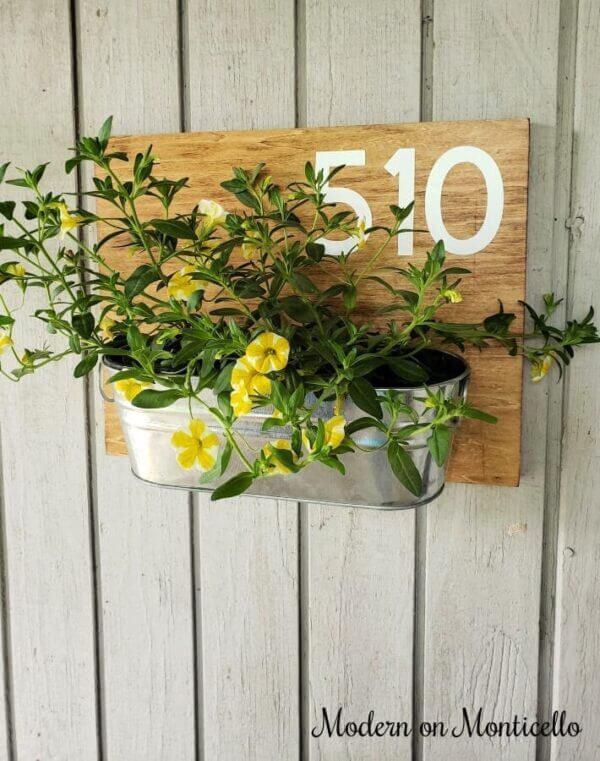 A nice way to spruce up your house number is with this modernized sign. The wooden background is straightforward but effective at allowing the large painted numbers to stand out more. Meanwhile, the planter is effective at bringing some color to the outside of your home. It is also another great way for the numbers to pop so anyone can read them at a distance.
17. Budget-Friendly Hanging House Number Sign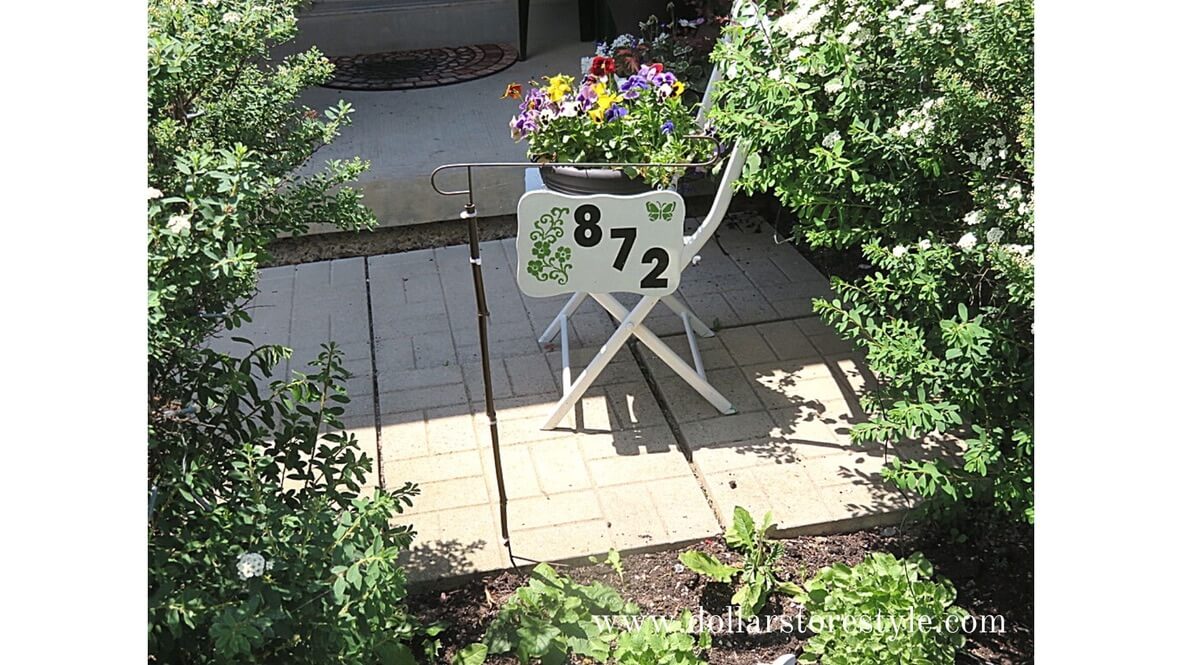 You don't need to spend a lot to make a creative house number sign. So, head over to your local dollar store as it should have all the supplies you need to get started. By the time you're done, you will have a remarkable, personalized house number sign that looks store-bought. Also, since it hangs upon a garden flag hanger, you can place it further away from your door to make it more noticeable.
18. Bold and Modern House Numbers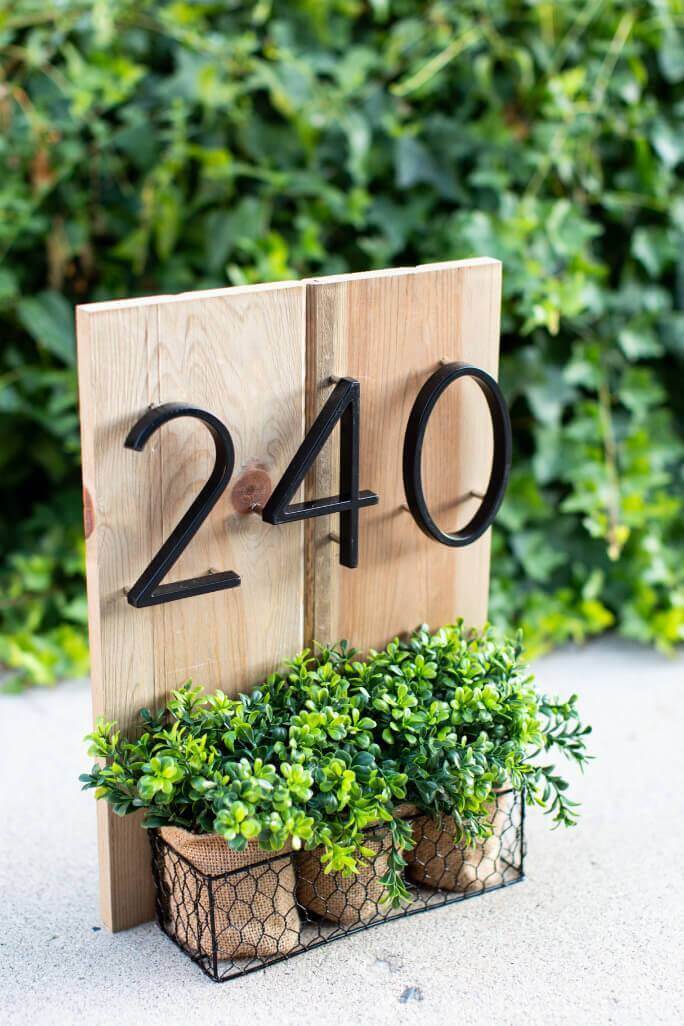 If you need something more contemporary, consider trying out these street number designs. The numbers come individually so you can get exactly what you need, and you can place them on different materials from a wooden plaque to a brick wall. It even comes with the installation items so you can get your numbers to sign up right away. The smooth black finish on the numbers resists rusting as well for a sleek appearance.
19. Cute Plank with Wreath House Sign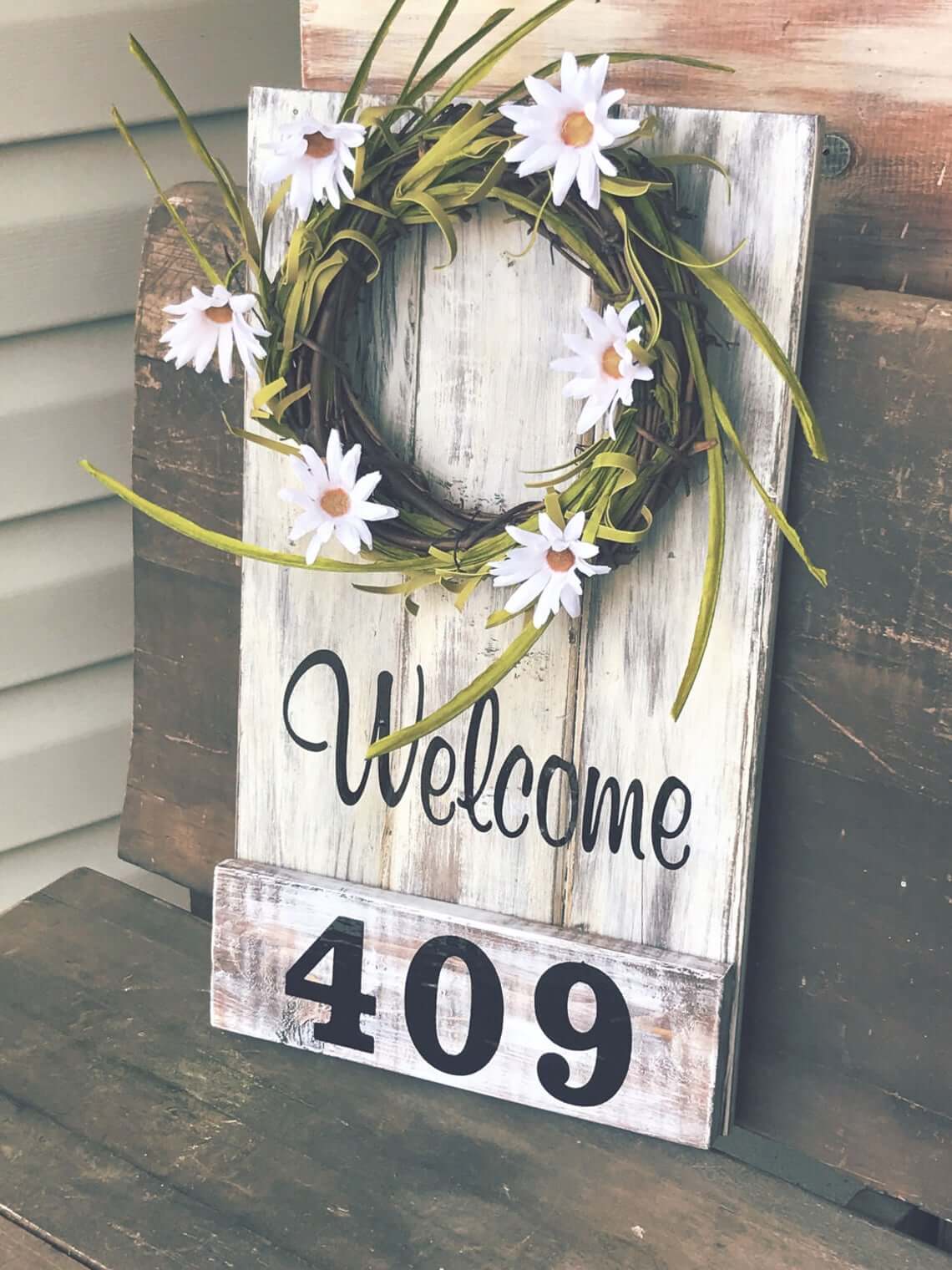 This address sign includes a beautiful daisy wreath, which can be removed if wanted. This means you can use any wreath you want or decorate according to the seasons and holidays. You can choose to have the numbers and words hand-painted onto the wood or choose a vinyl decal instead. Both of these will come with a clear coating on top, but you'll want to look every year to see if another coat needs to be applied.
20. Large Glowing House Number Decor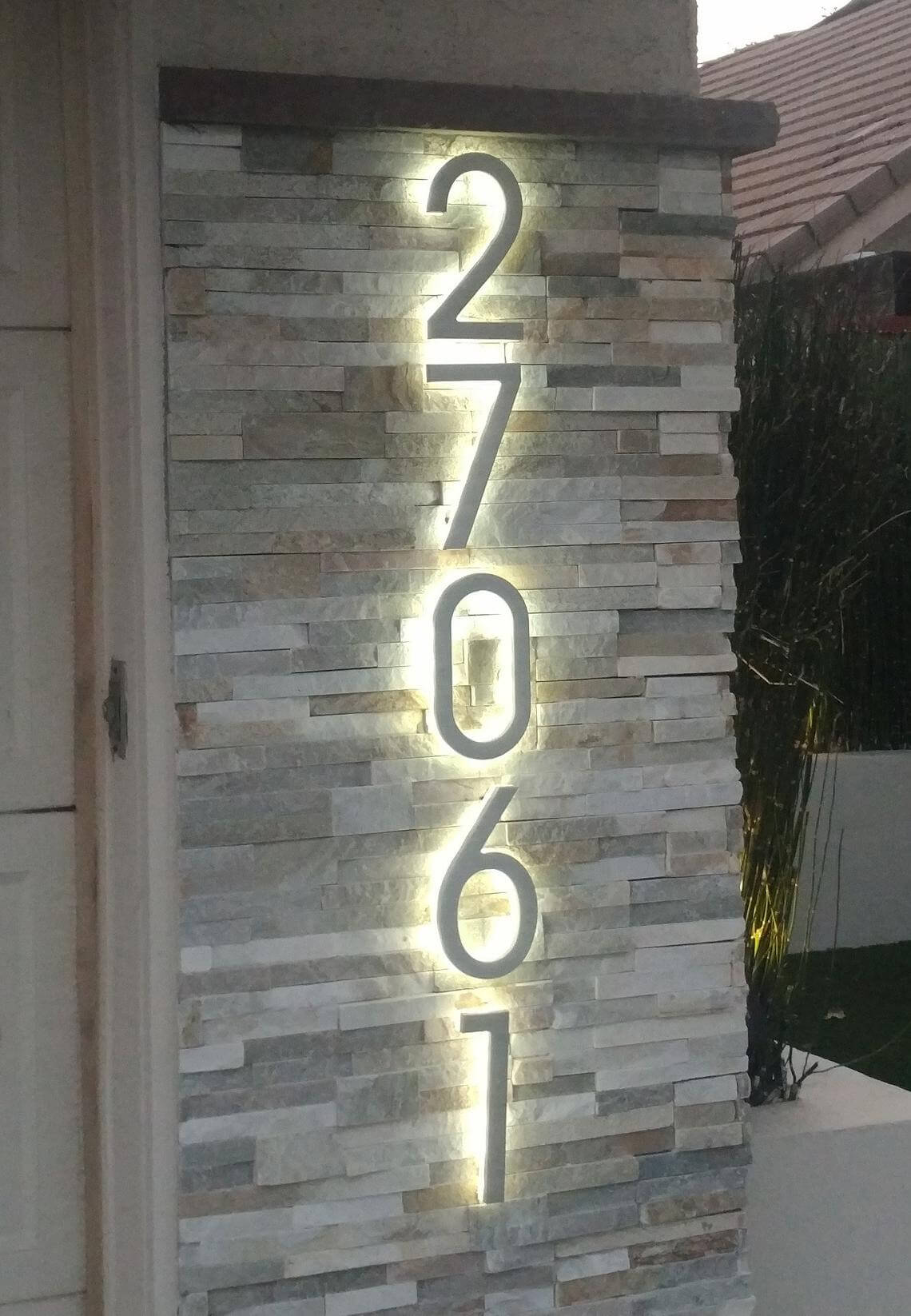 This sleek and polished number sign is one of our favorites. It gives the feeling of sophistication and the added light helps make it even more noticeable. In addition to having multiple power adapter options, this beautiful sign also has an auto dawn/dusk switch, which can be set to turn on and off automatically. All-in-all, it's a great option for pretty much everyone and can give your home that extra accent you've been looking for.
21. Bright Wooden House Number Block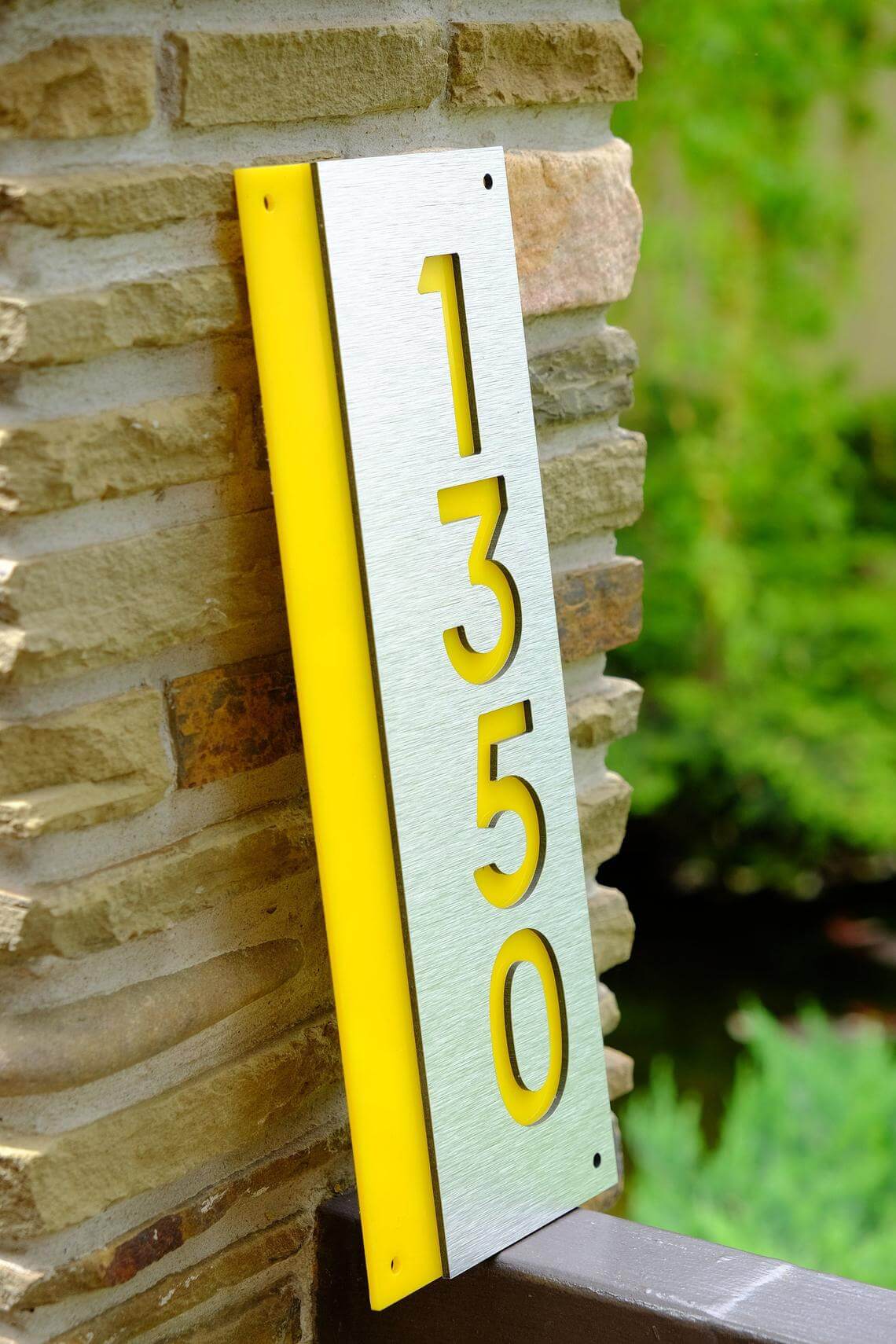 Looking for that extra bit of pop? If this sounds like you, then look no further! This sign combines both simplicities with bold colors, which makes it unique and head-turning. You can choose many different colors for the background, including red, green, and blue. The top part that has the actual numbers is made from aluminum, which means it'll hold up over time. You have the choice of multiple different sizes and you can have up to four numbers.
22. Fancy Hanging Driveway Address Sign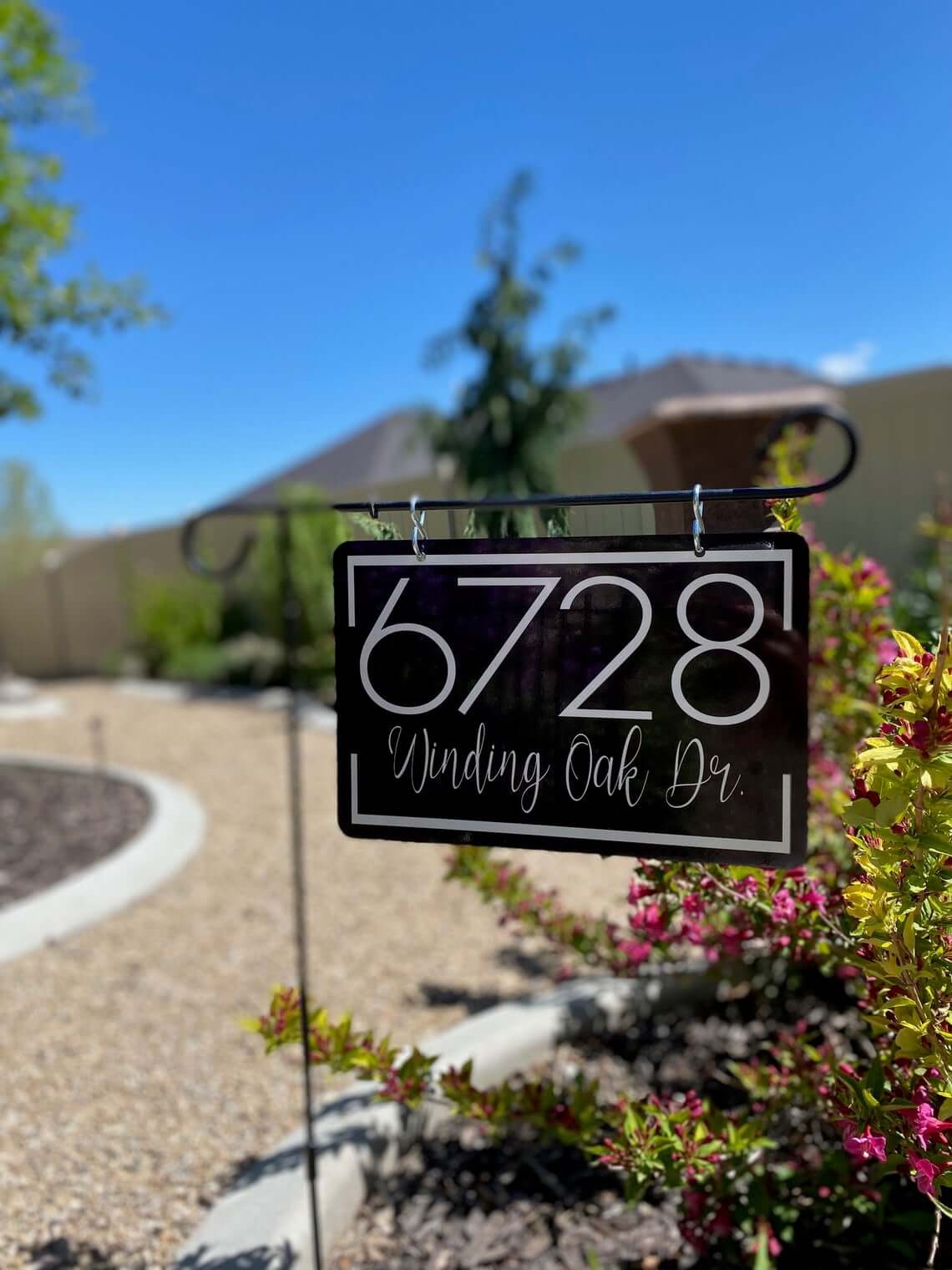 If you're looking for an address sign that can bring a bit of fanciness to your home, then this might be a great option. The sign itself is made from weather-resistant metal and has the same design on both sides. You can hang it from a flag stand, mailbox, or yard stake. The sign has sublimation ink that's been heat-pressed to ensure it stays in place.
23. Engraved Metal Address Number Sign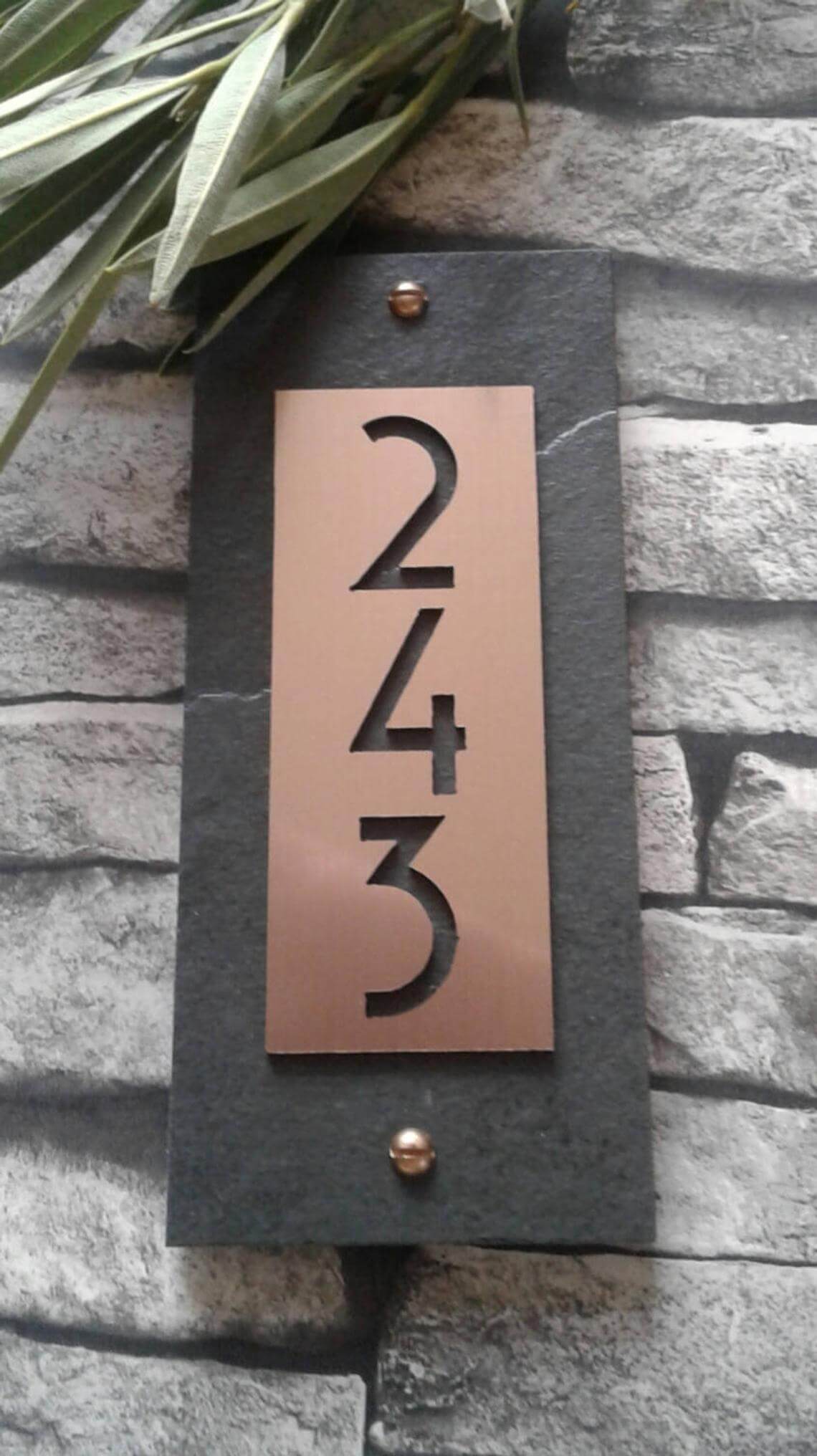 One of the things we love about this sign is that you can have up to five numbers, which is something you don't see every day. While there are only a few color options, all of the combinations look fantastic together. It's made from slate and rust-resistant metal, which means it should stand up through the years. It might look simple, but it can bring a beautiful look to your home.
24. Brown & Grey Address Number Sign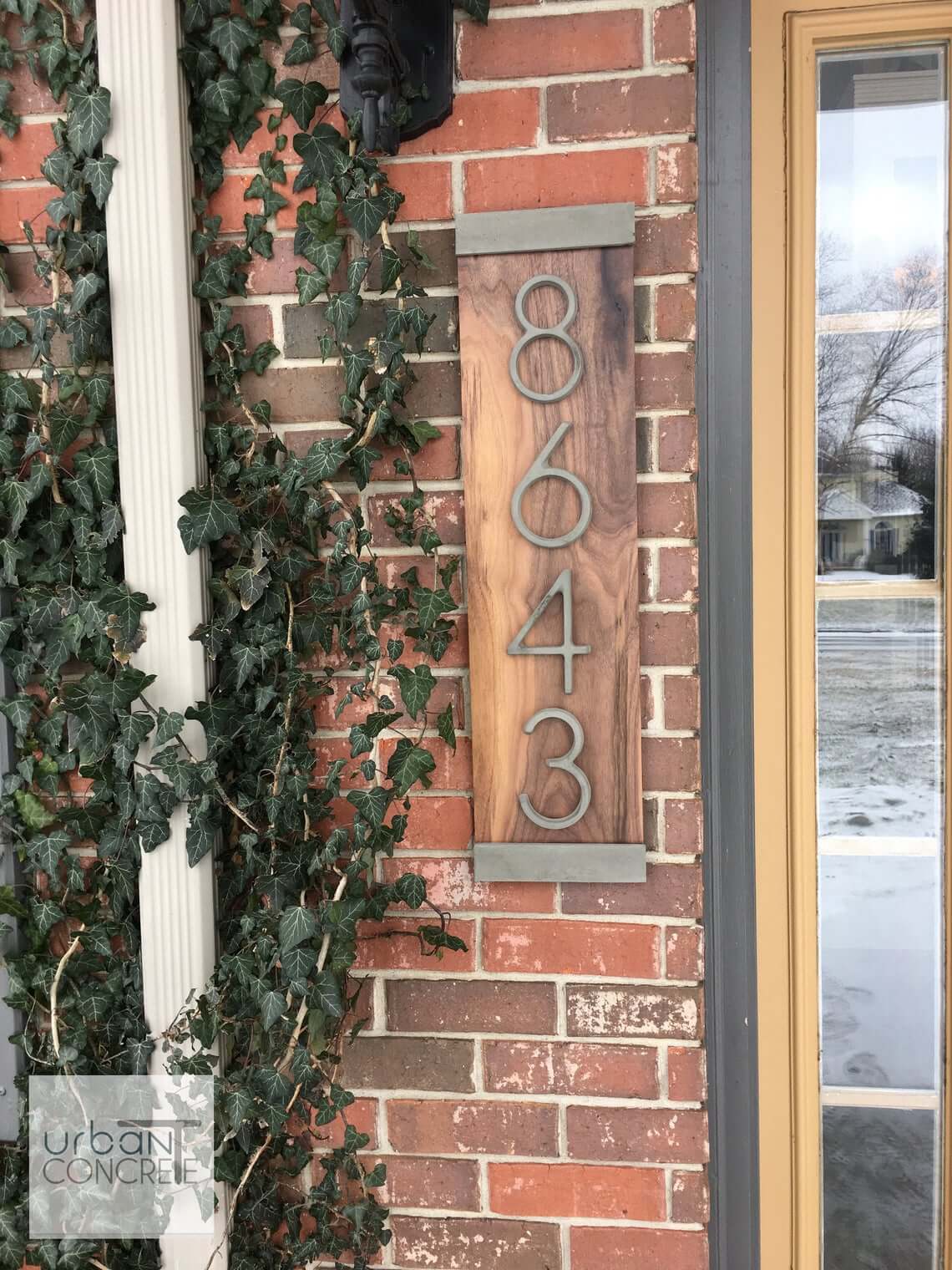 If you're looking for something modern and simple, then you should take a look at this sign. There are a few different natural wood options, which means you can go with the color and type that suits your home the best. Both the numbers and accents are made of CSA cement, which makes them both sturdy and lightweight. The included screw holes make it possible to have the sign hung up in a matter of minutes!
25. Beautifully Modern House Number Plaque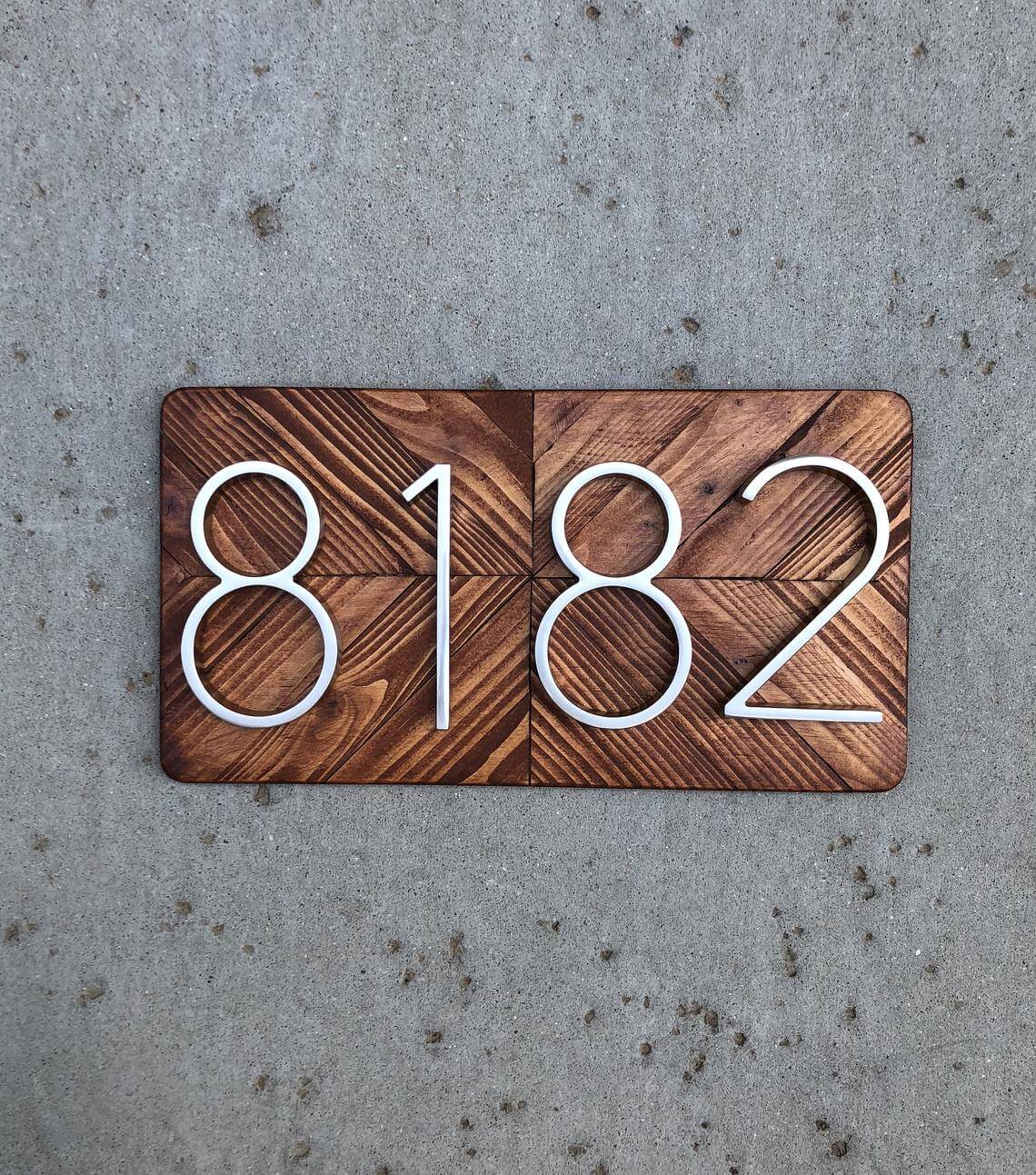 Measuring 14 inches by 8 inches, this sign can be easily seen by guests. Not only can you choose between wood and metal numbers, but there are several wood stain options, including both bold and natural colors. It comes with rings for easy hanging and would look great with most house styles. Every sign is sealed to ensure they stand up to most types of weather.
26. Wooden House Number Porch Decor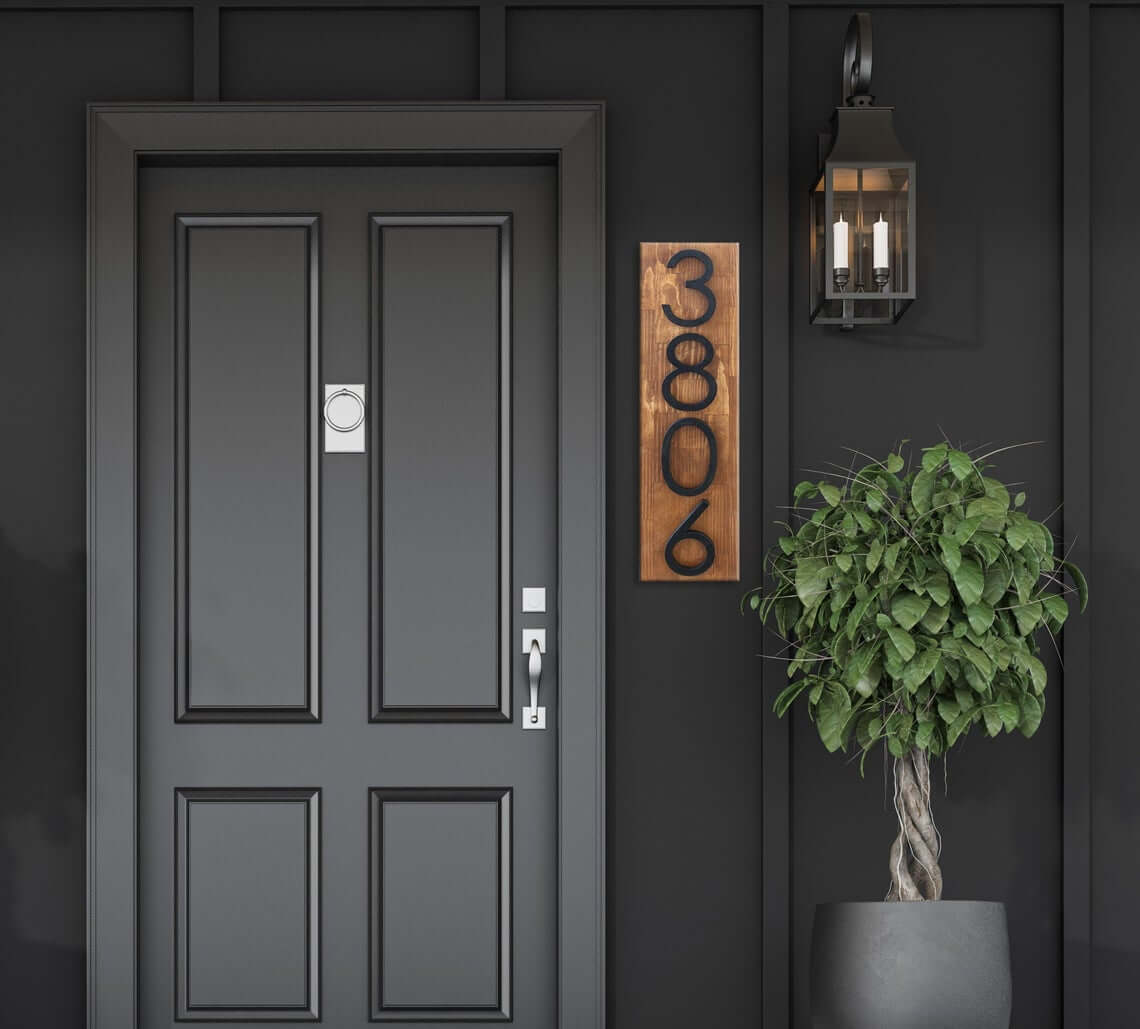 The design of this house number plaque makes it perfect for hanging right next to your door. You could also fasten it to your porch if you wanted to. There are a ton of wood and color options, which gives you quite a bit of flexibility. The wood and metal materials are both high-quality and are designed to hold up over time. All hardware needed is included and the sign should be ready to hang on arrival!
27. Personalized Metal Letter House Number Sign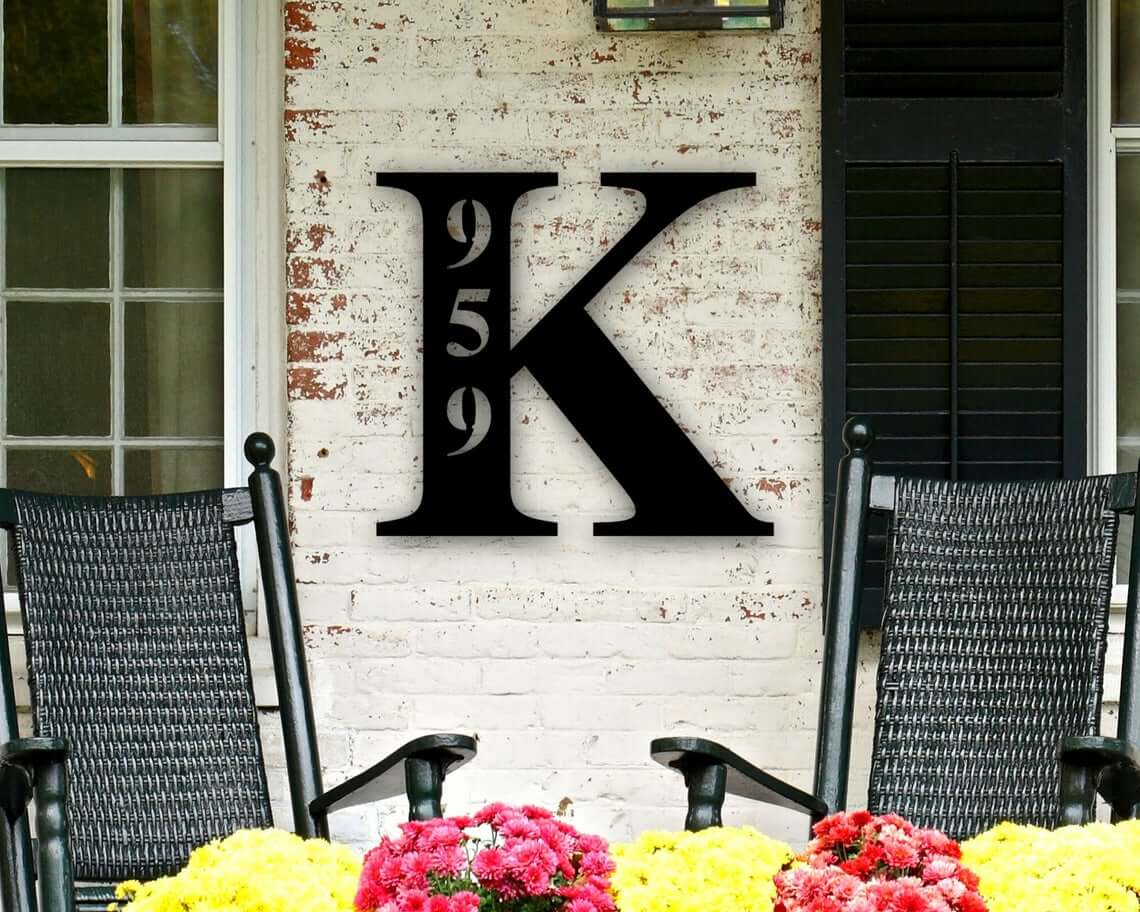 In addition to showcasing your house number, this sign can also be personalized with your monogram. You can use any letter you want and the numbers are punched right out. There are multiple color options and you can choose from a few different sizes. The signs powder-coating helps increase the durability and you'll have a beautiful custom sign that can make your home even more stunning!
28. Cute Personalized House Number Pillow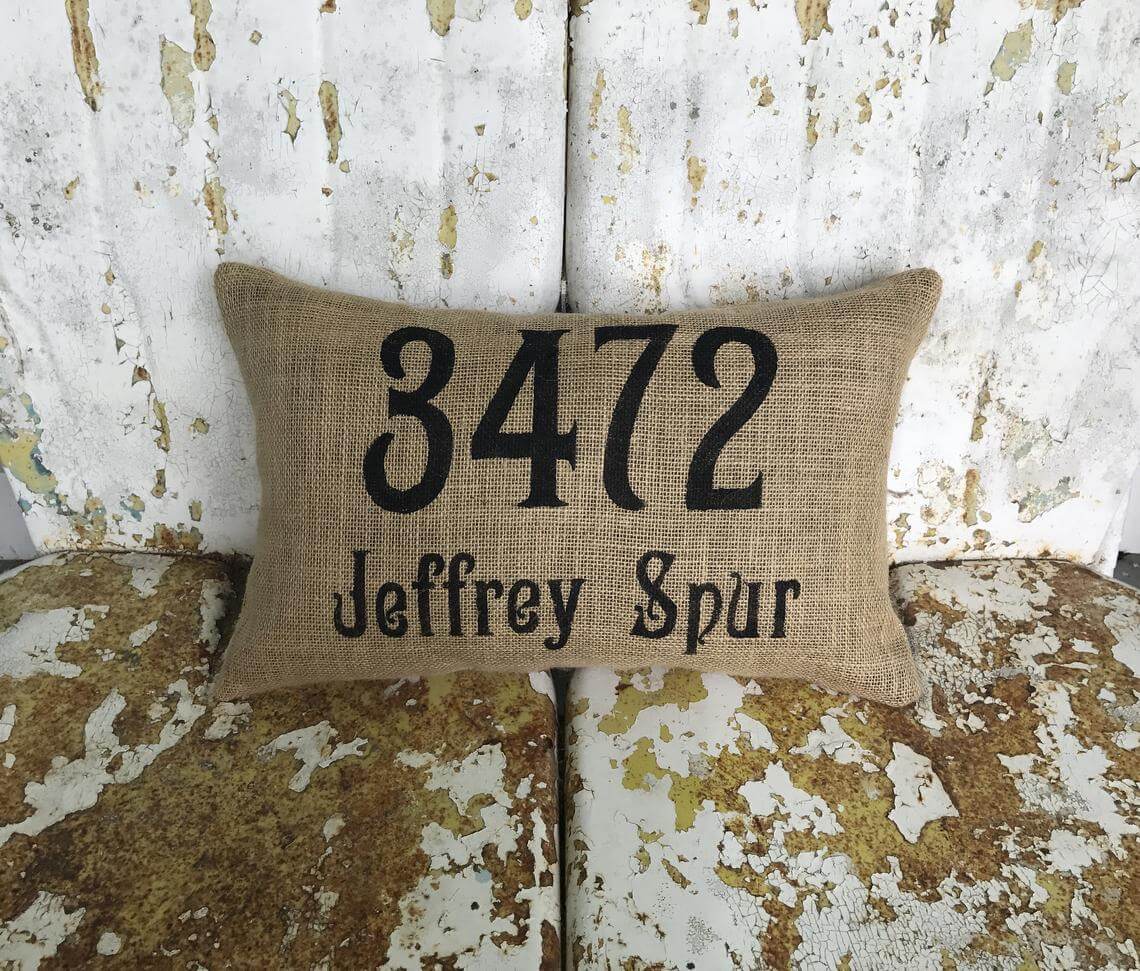 Some people want something out of the norm and isn't being done by everyone else. If this is you, then take a look at this cute number pillow. Not only does it have your house number, but you can add your own words too, such as your last name. There are a few different pillow materials to choose from and you can also specify the color of the numbers and words. Set it on your porch furniture, so it's one of the first things your guests see!
29. Elegant Metal House Number Sign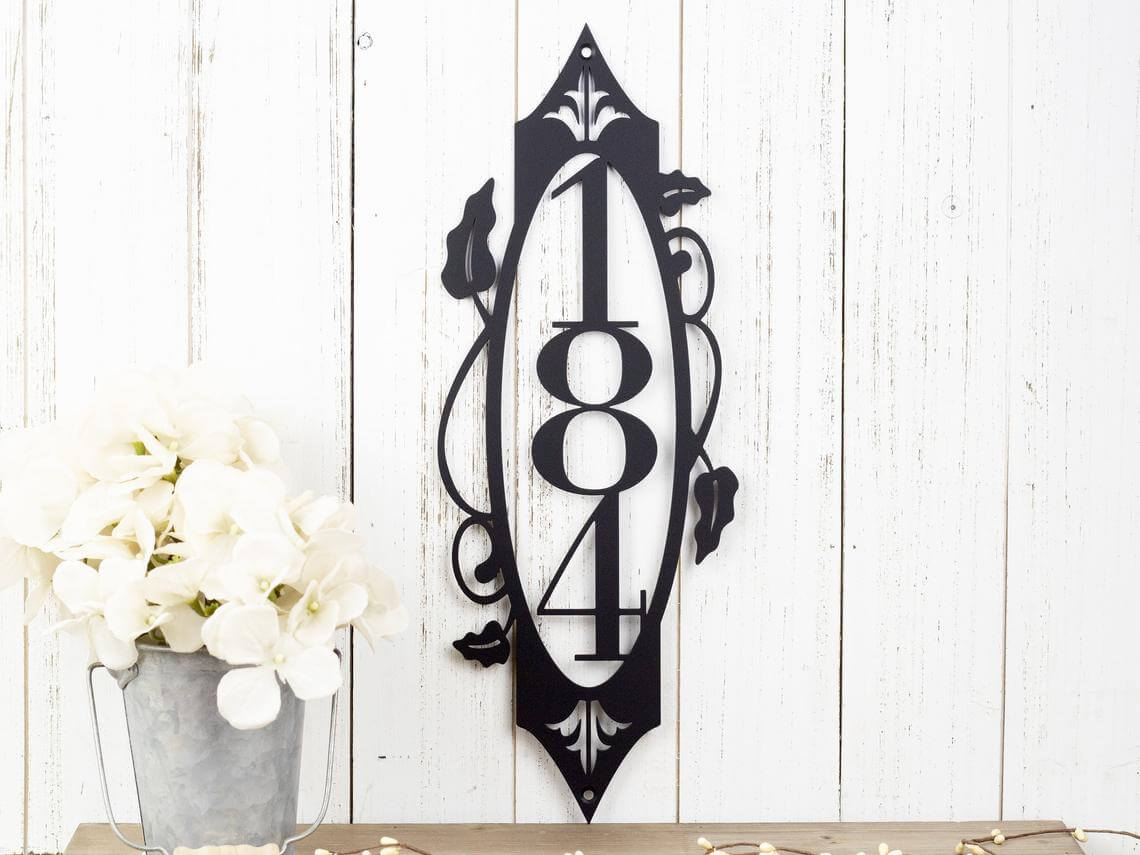 We really love how elegant and beautiful this sign is. You can choose a few different material options, but all of them are high-quality metals that are designed to last. Some of the options are also powder-coated, which protects them from rust. You can fasten the sign with two screws, which can be found at almost any store. It's a great addition to any home, regardless of the style or location!
30. Cute Mosaic House Number Decor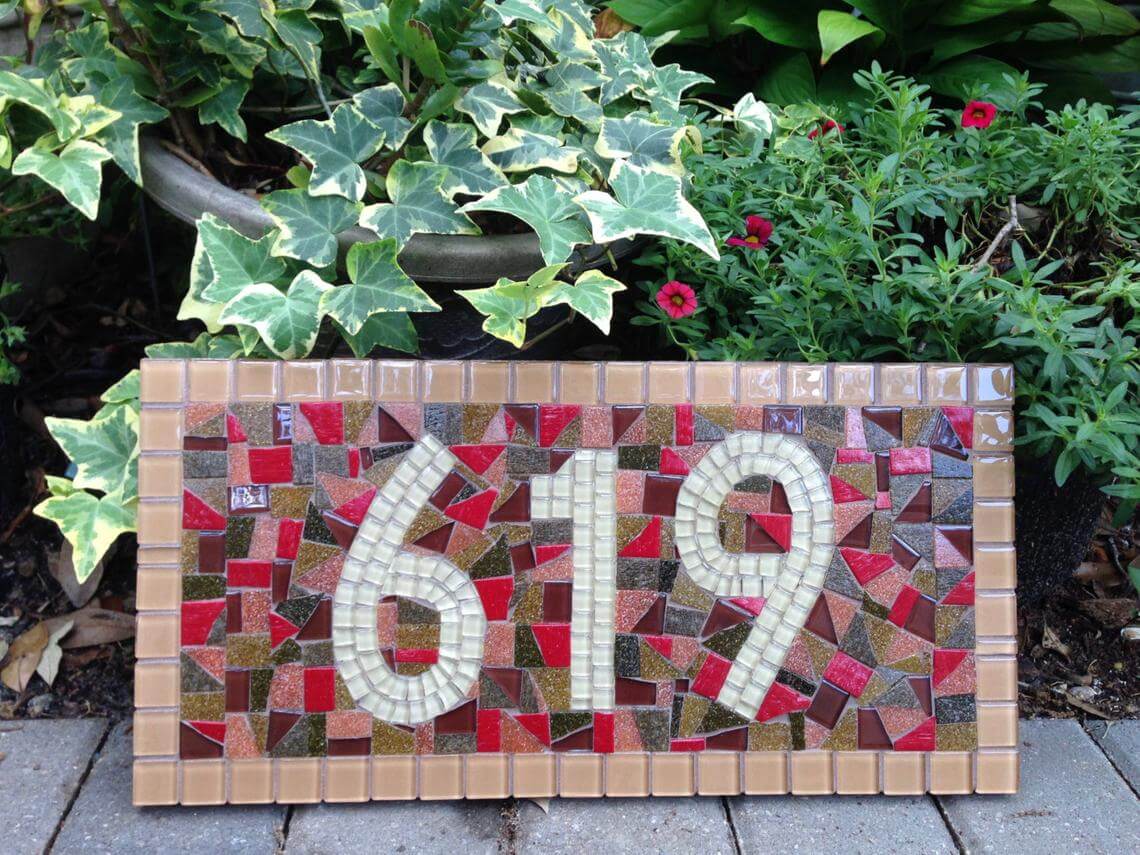 The earthy tones in this mosaic sign are stunning and would be the perfect addition to most homes. You have a few options for displaying the sign, including fastening with screws, adding something for hanging, or simply adding it to your garden area. While the earthy tones are used, every plaque will be different and you'll have something that's both beautiful and unique!
31. Metal House Number Garden Decor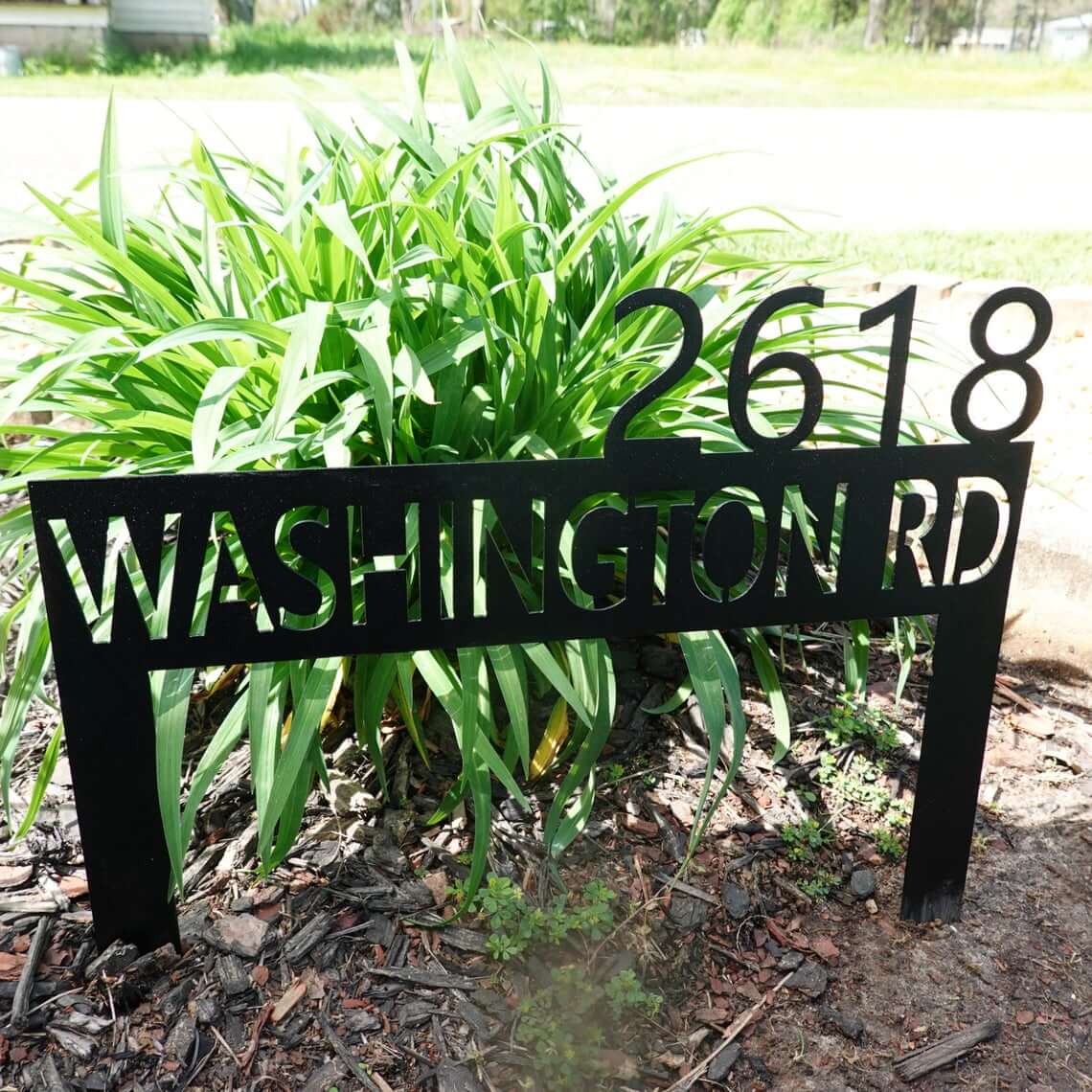 Made with powder-coated stainless steel, this sign should still look great for years to come. There are multiple color options and it has built-in stakes that are sturdy enough to keep the sign exactly where you place it. You can choose to put it at the end of your driveway or add it to your existing garden. It's large enough to be easily seen and adding a little spotlight can illuminate it during the night.
32. Elegant Floral Address Number Glass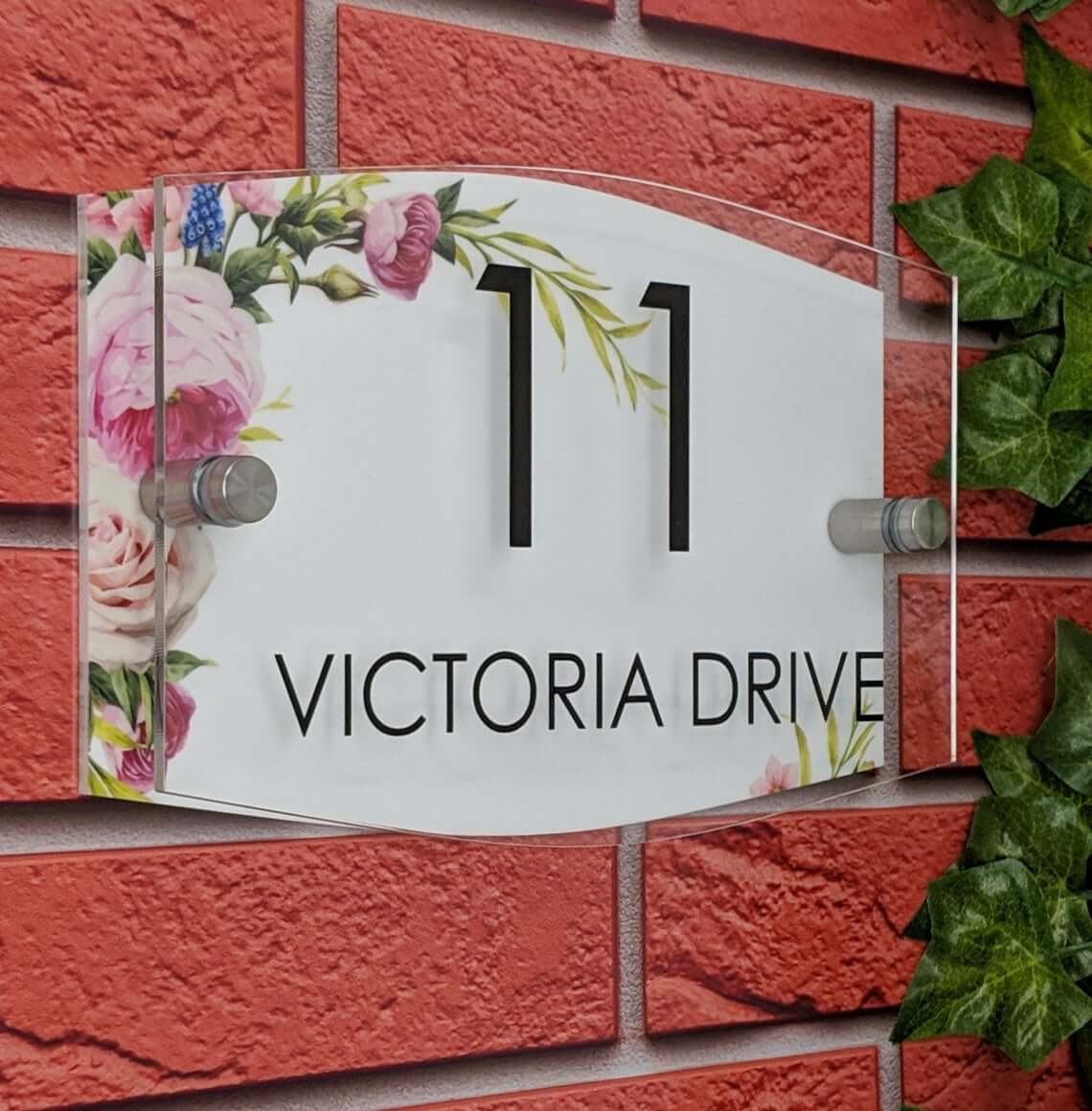 Not only does this sign have the house number, but it'll also showcase the street name. Having these together can help ensure that your house is easy to find. In addition, you can add things like your last name to make it even more customized. It comes with all of the hardware needed to fix the sign into place and it's a great way to add a little extra beauty to your home.
33. A Wooden Plaque with a Succulent Planter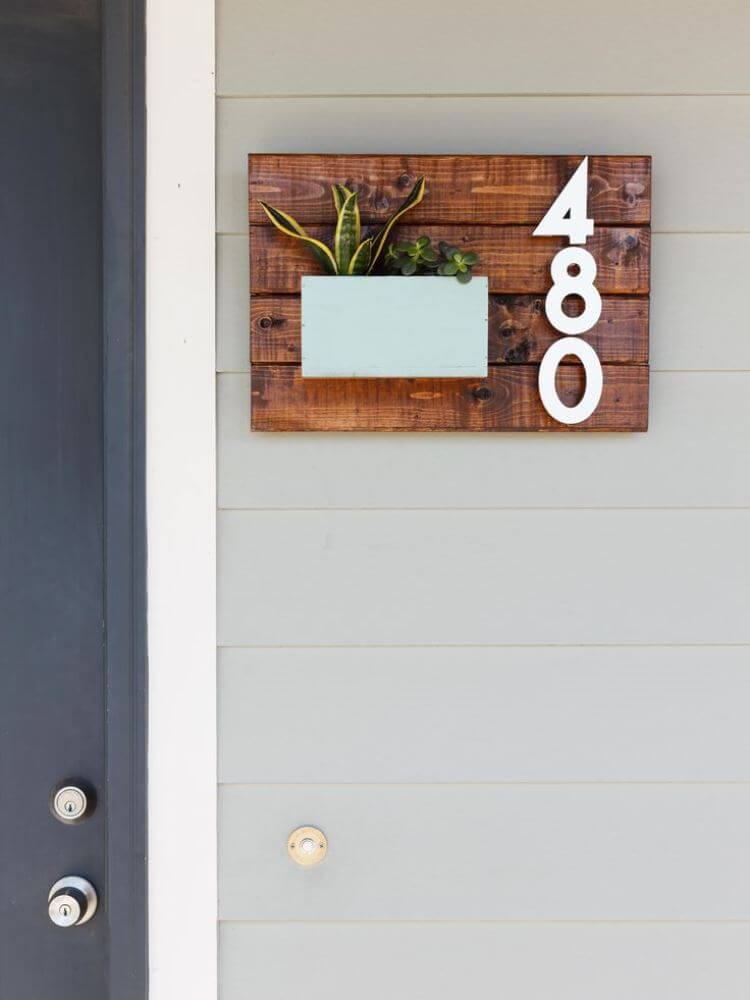 34. A Flower Pot Tower with Polka Dots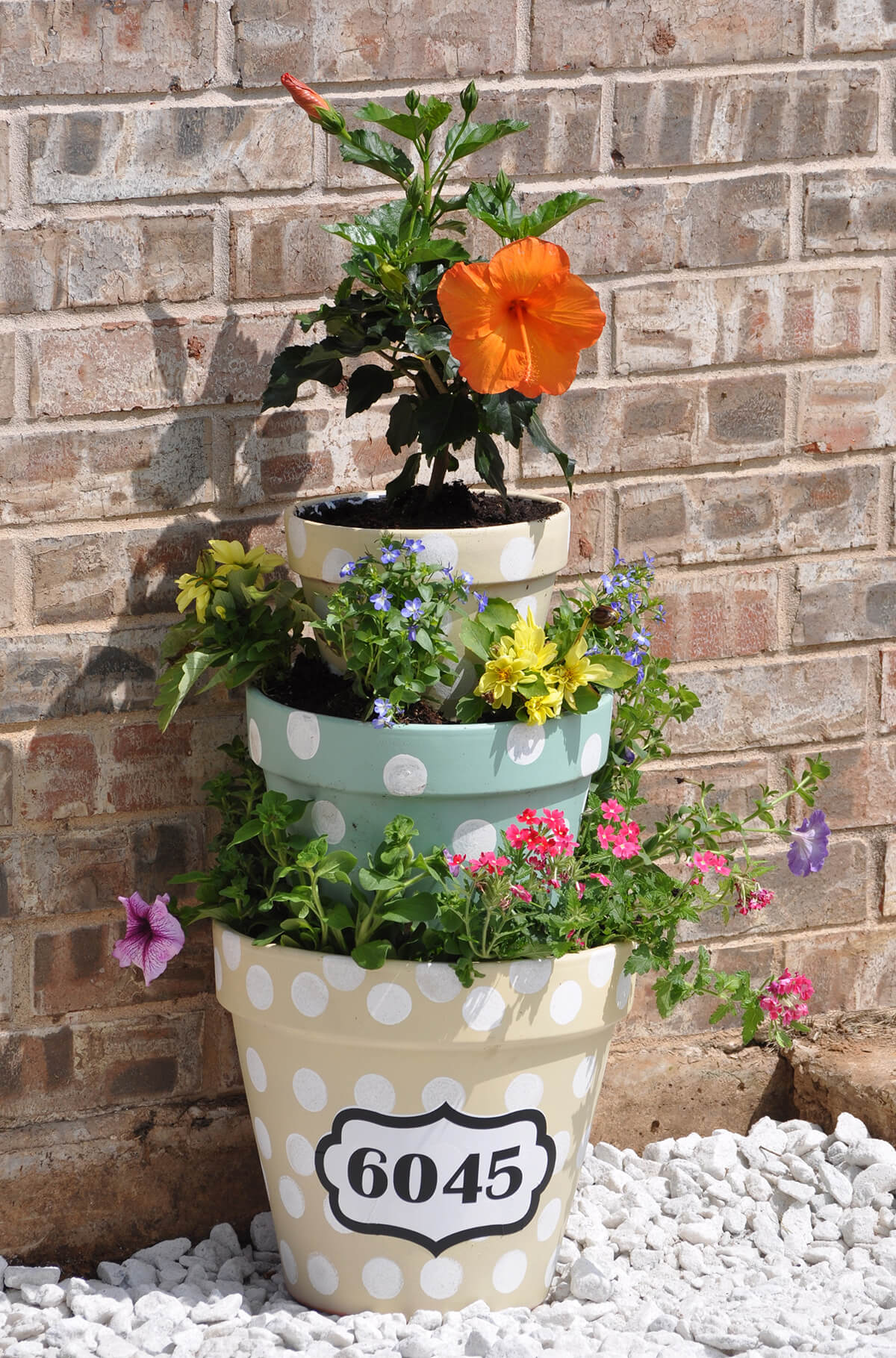 35. Creative House Number Ideas with Family Initials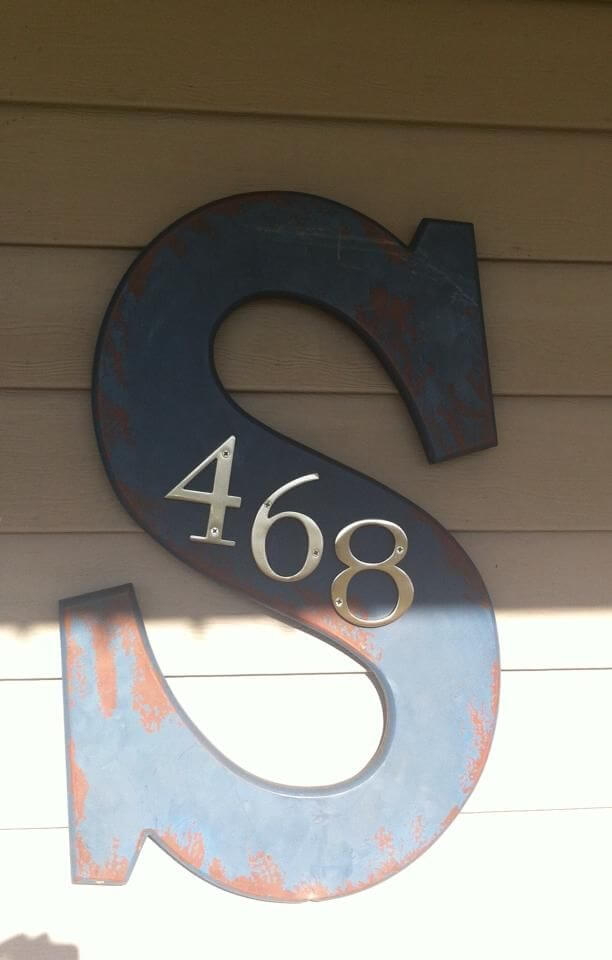 36. Lush Garden with Numbered Flower Pots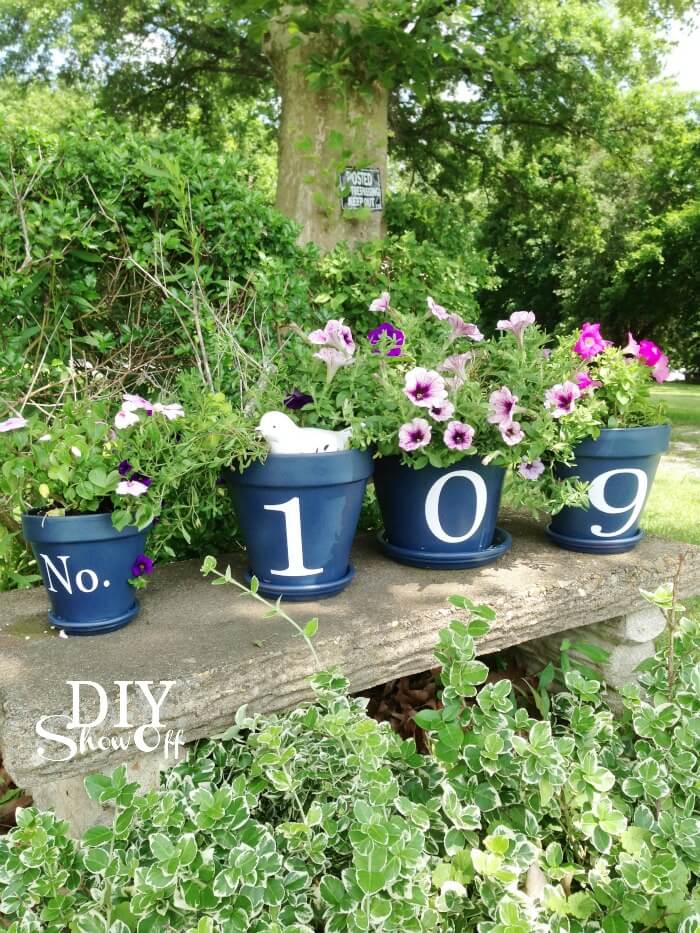 37. A Milk Jug Creation For Your Porch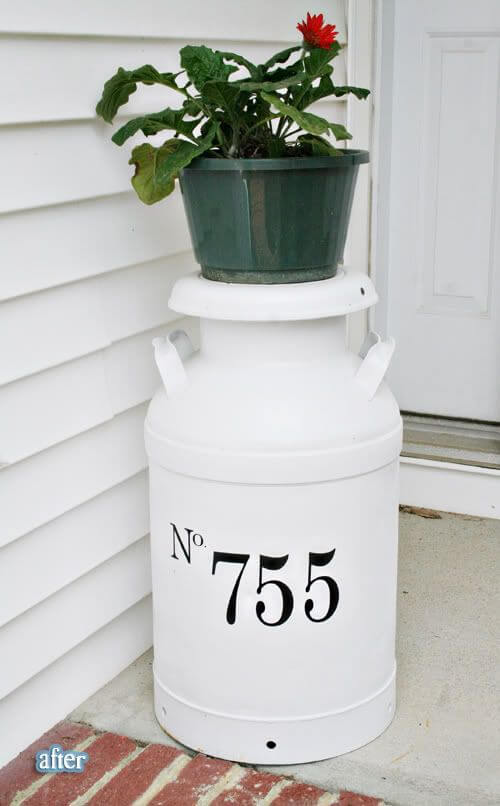 38. Sage and White Wreath for the Winter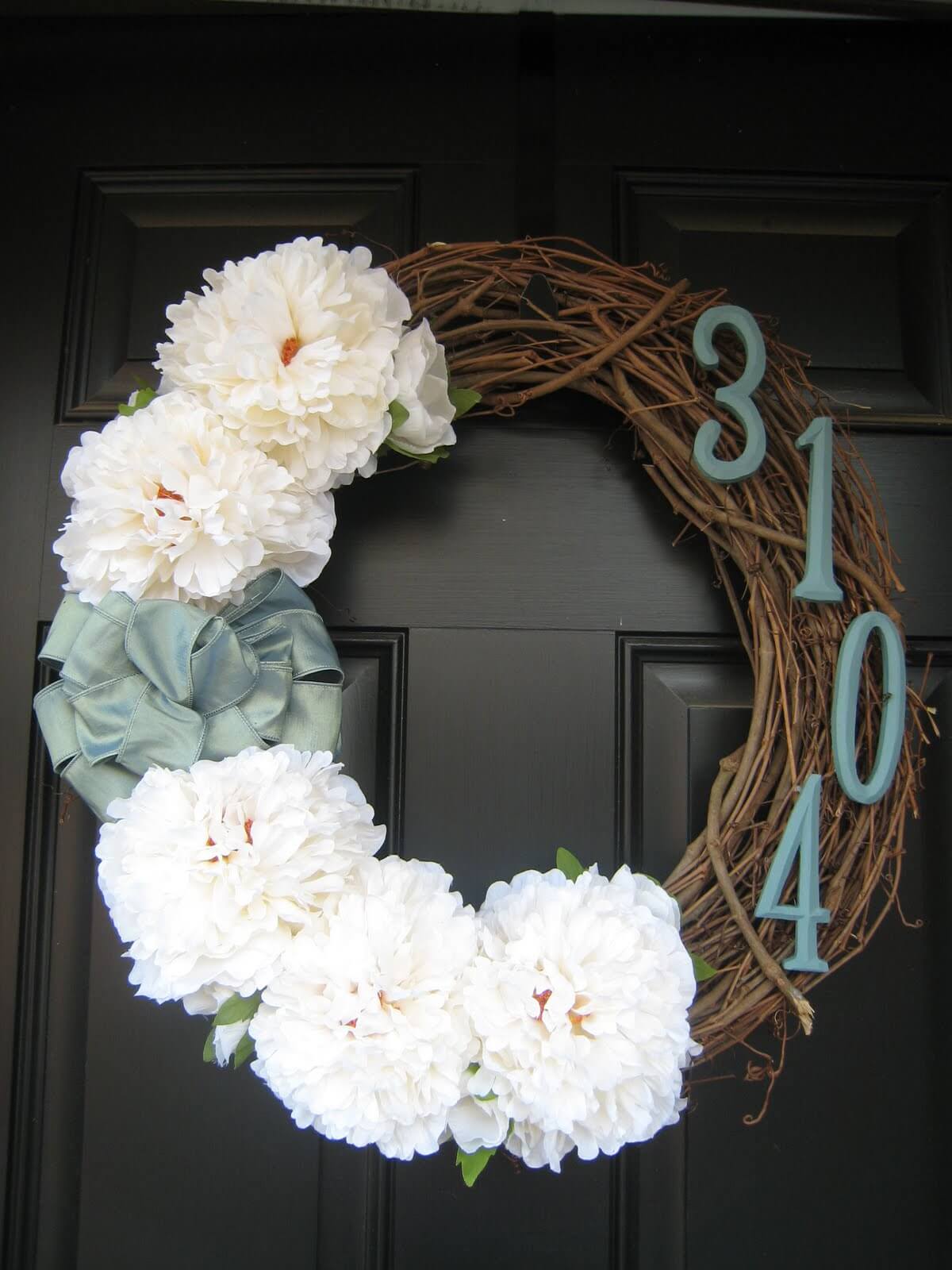 39. Colorful Number Creations for Your Siding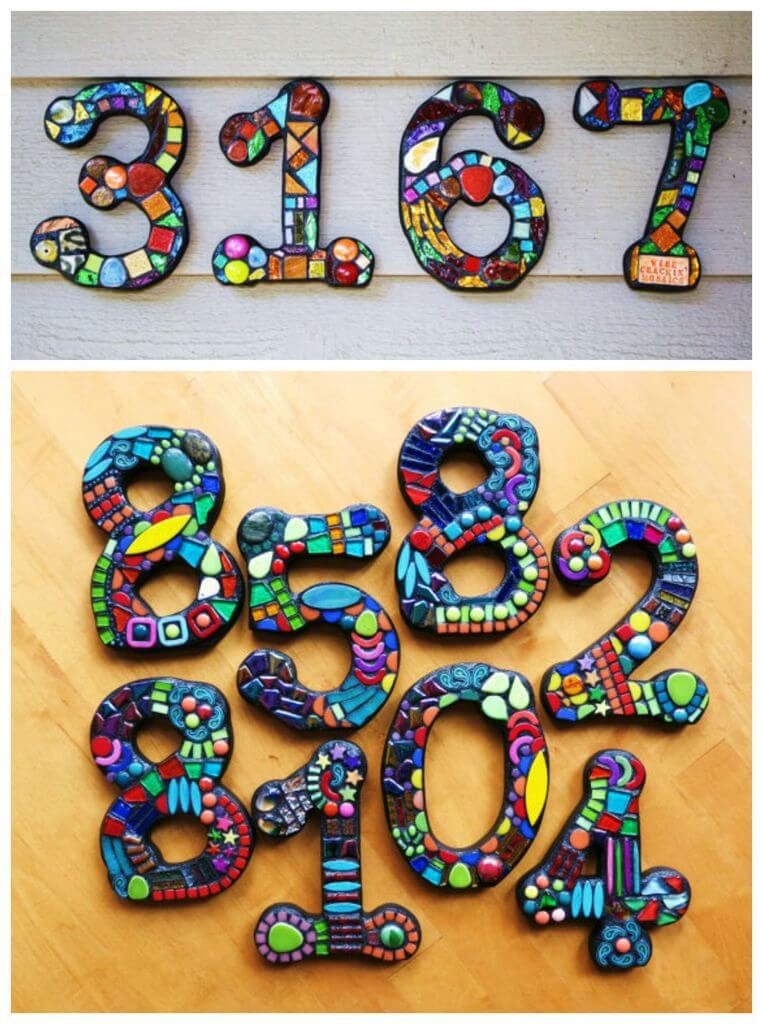 40. Rock Display in a Lovely Flower Garden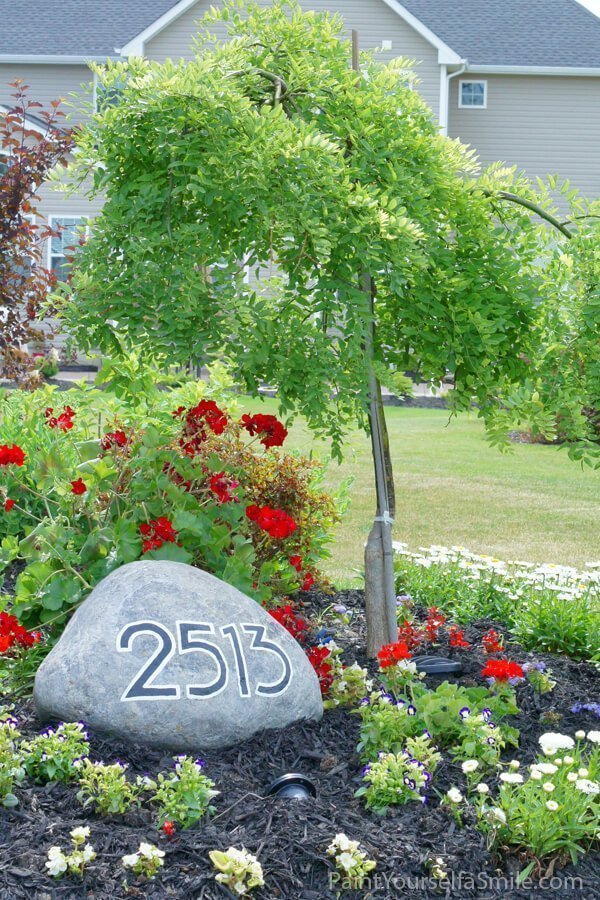 41. Vertical Wooden Panel for Your Porch Post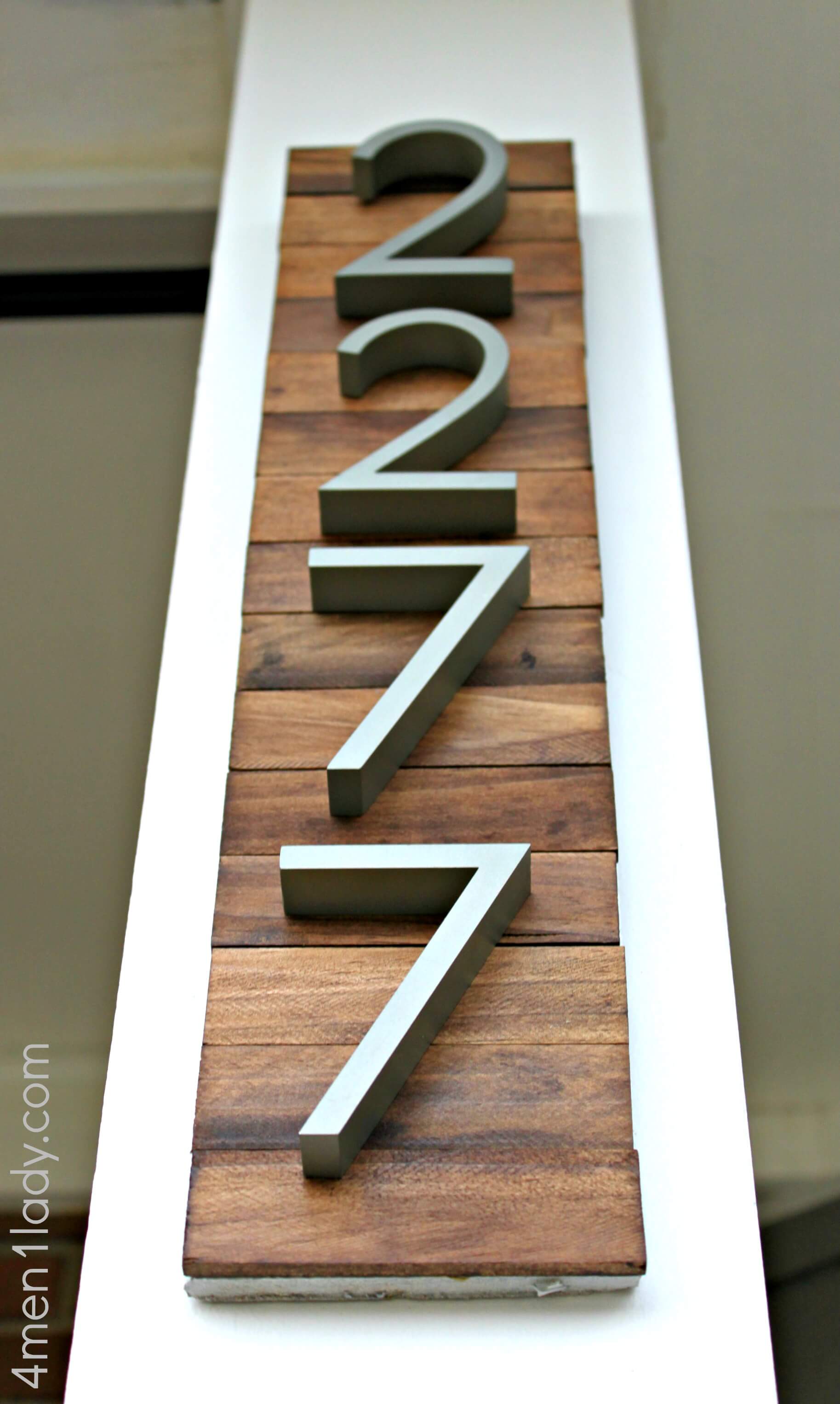 42. Delightfully Contrasting Designs and Colors on Stone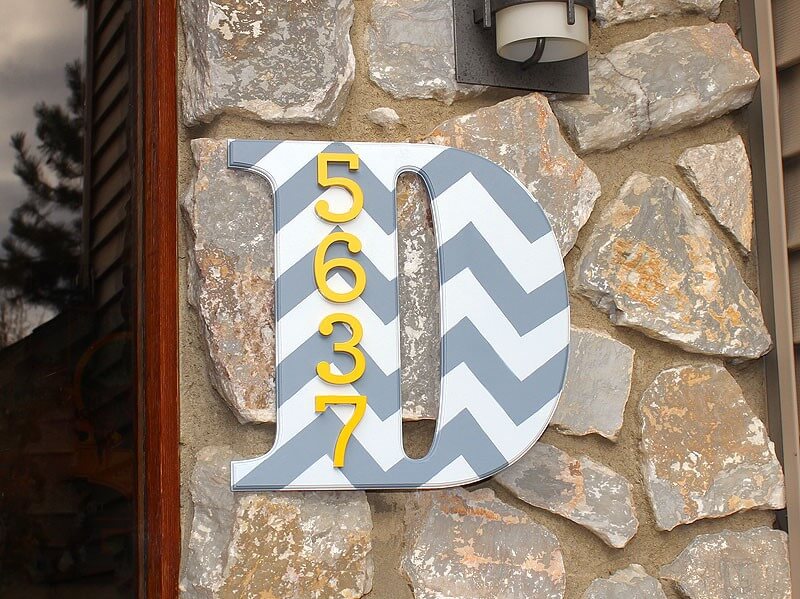 43. Simple Creative House Number Ideas with Screws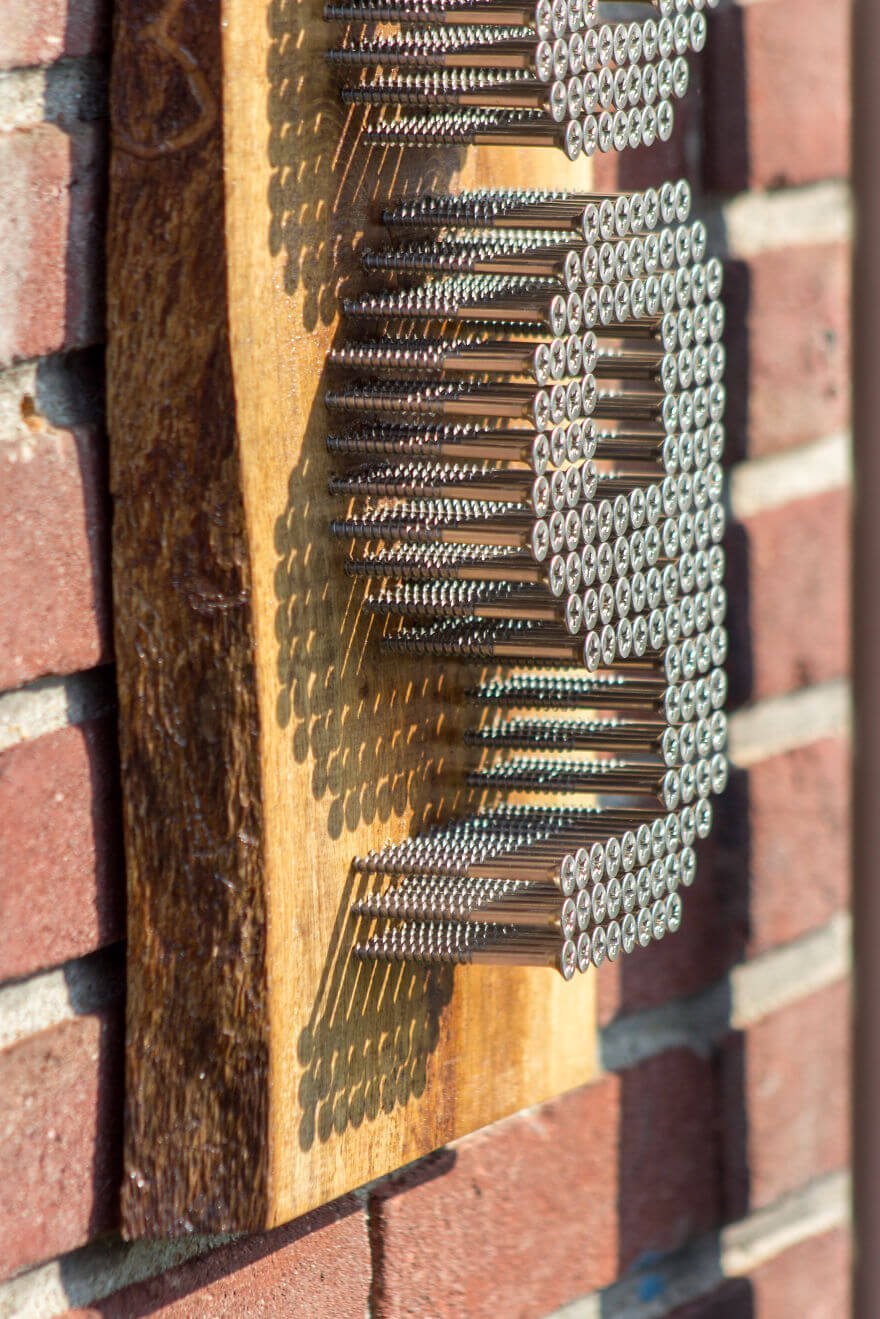 44. Illuminated Raised Planter Posts for your Driveway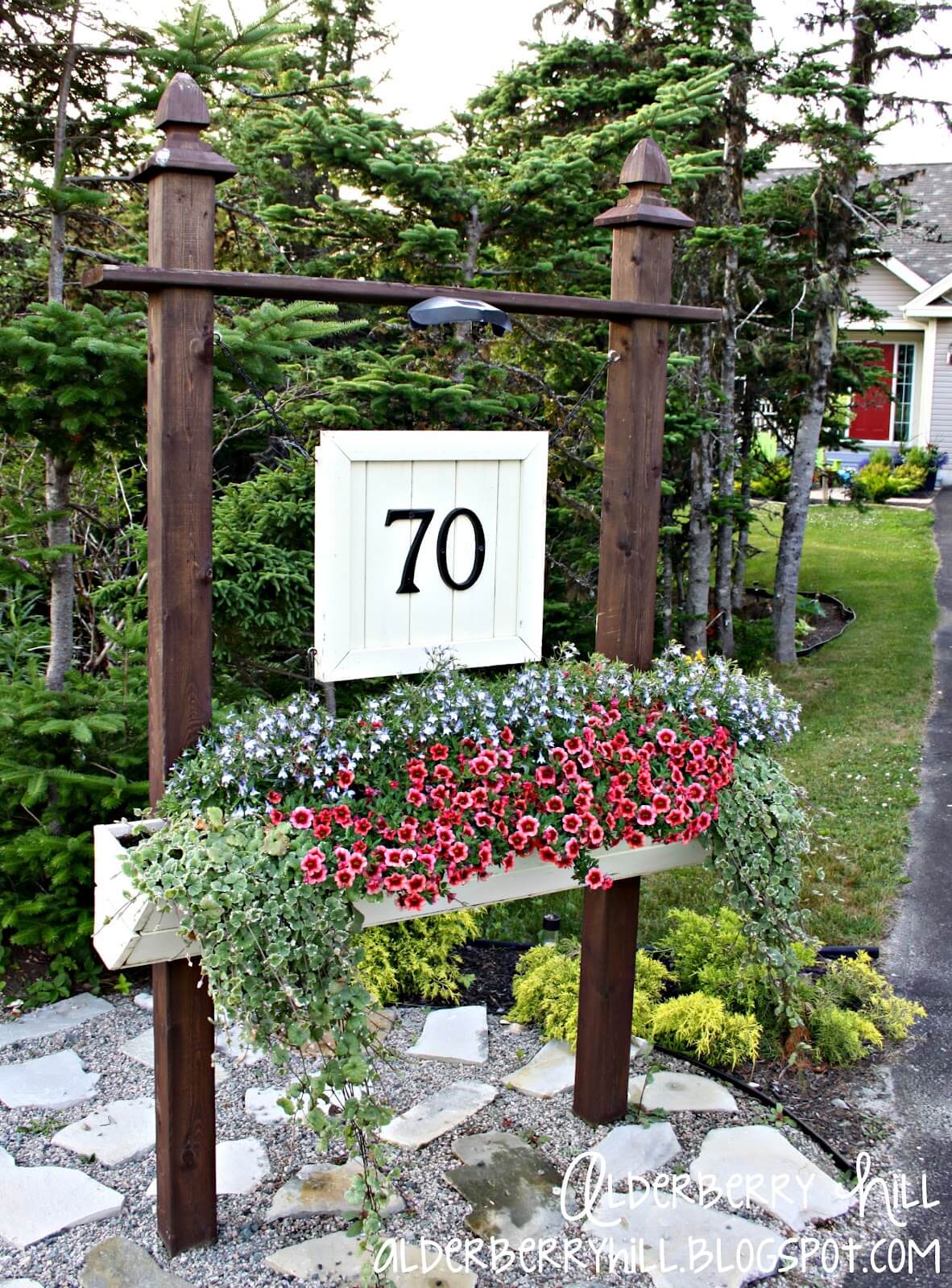 45. House Number Burned into Log Cross Sections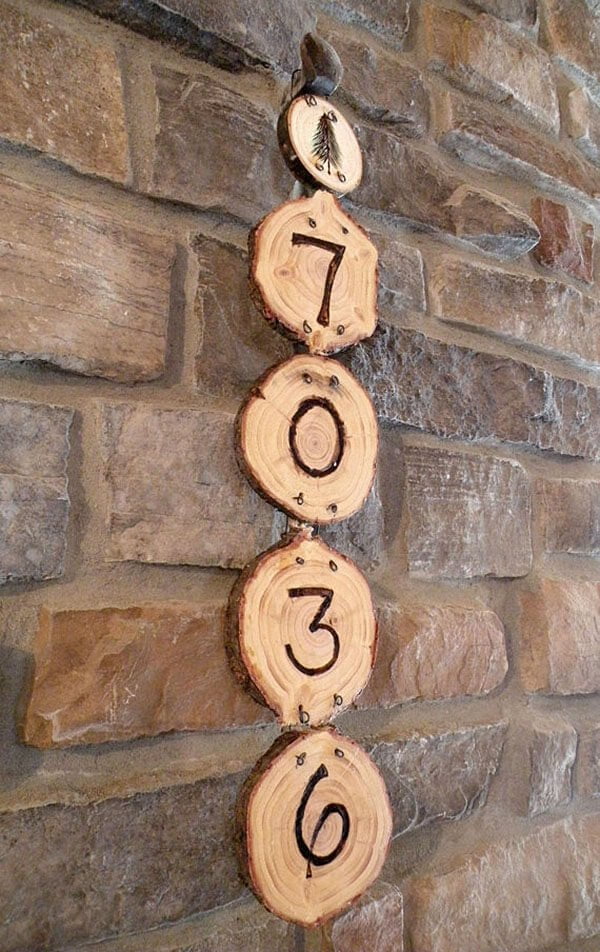 46. A Patch of Grass on Off-White Siding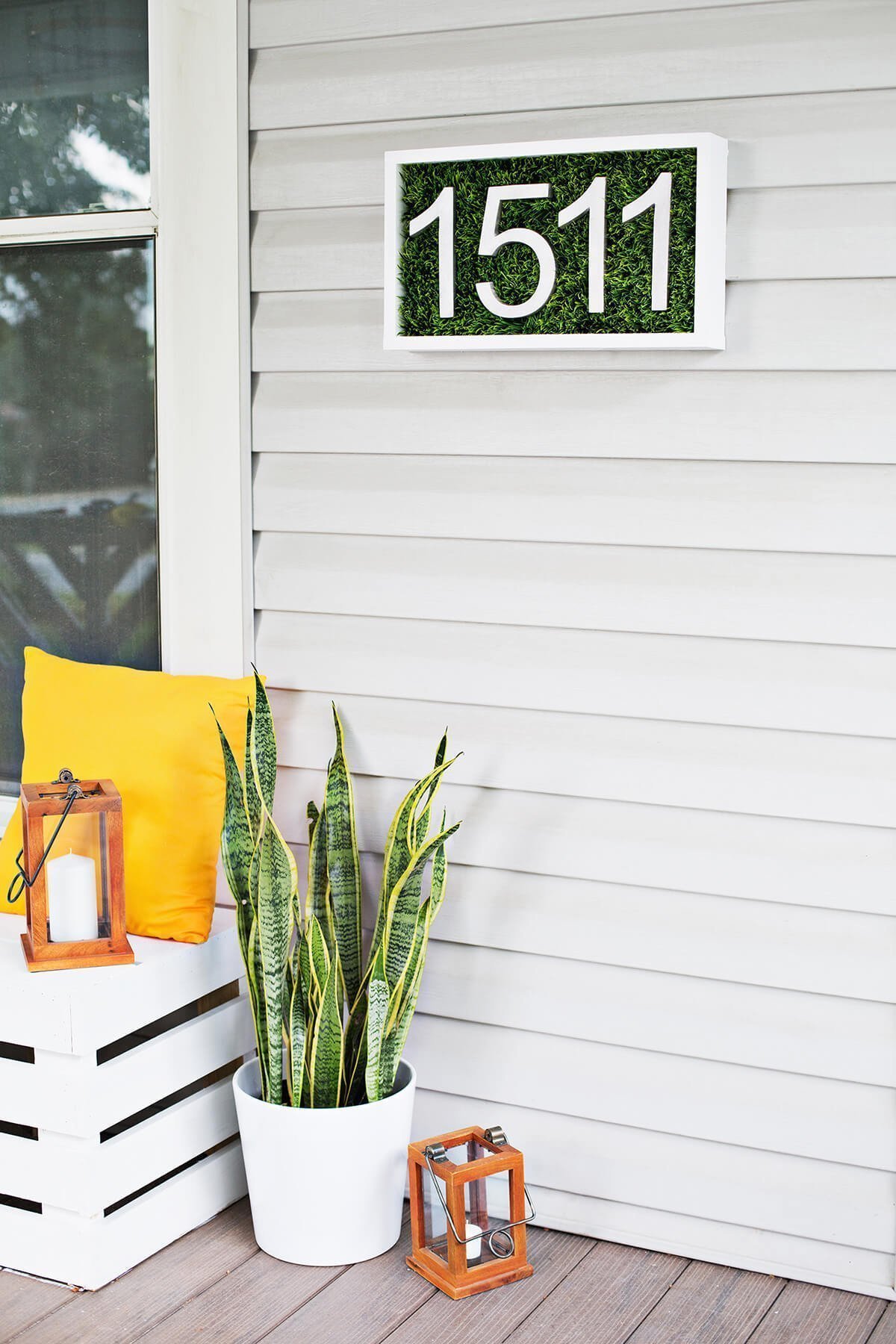 47. A Hanging Floral Arrangement with Milk Jugs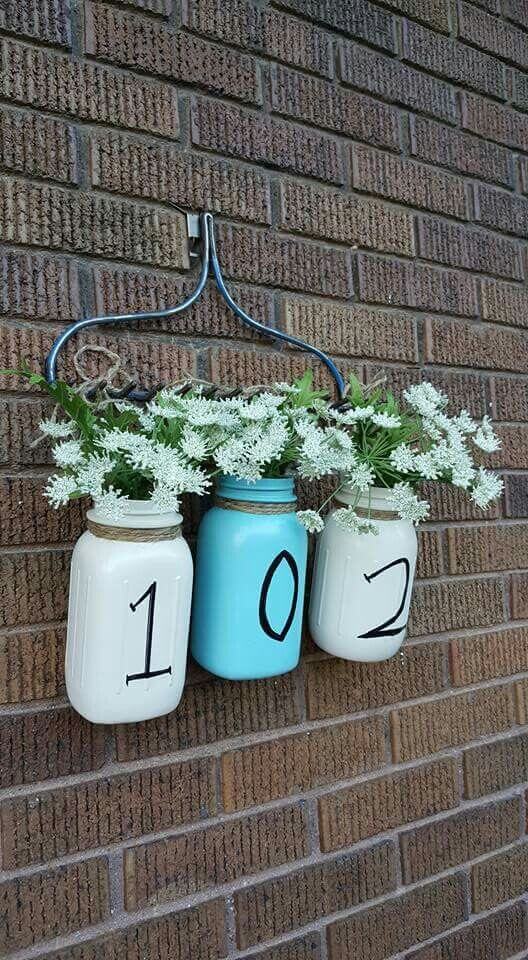 48. A Small Distinguished Planter for your Home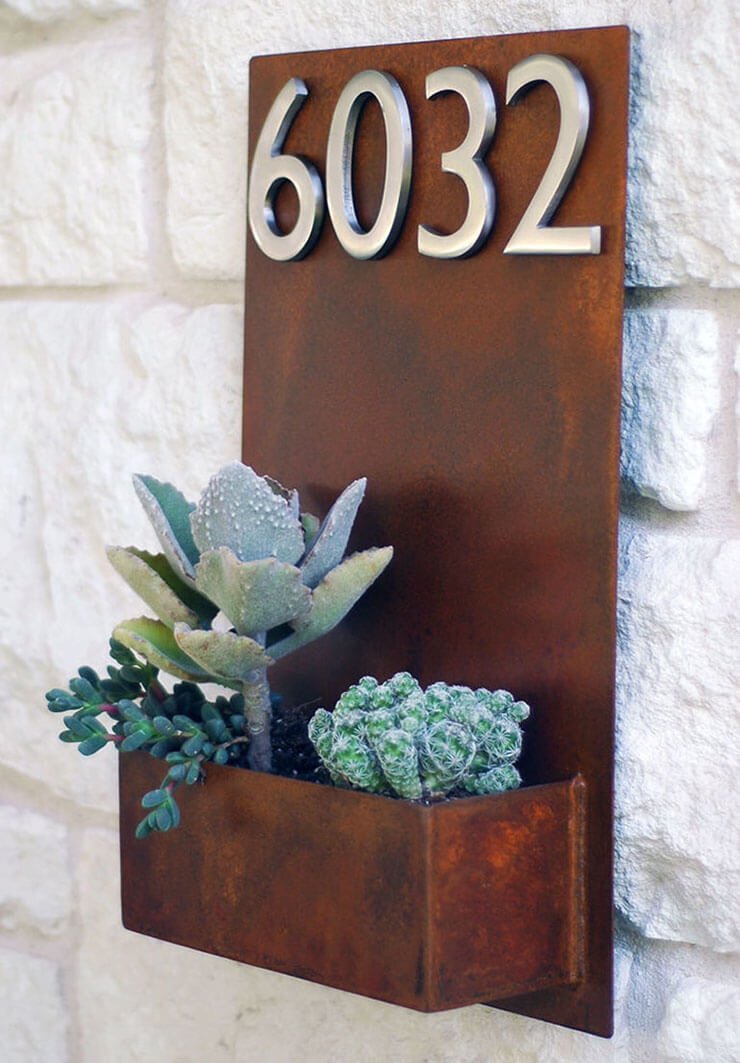 49. Stone Mailbox Post with a Red Flowerbed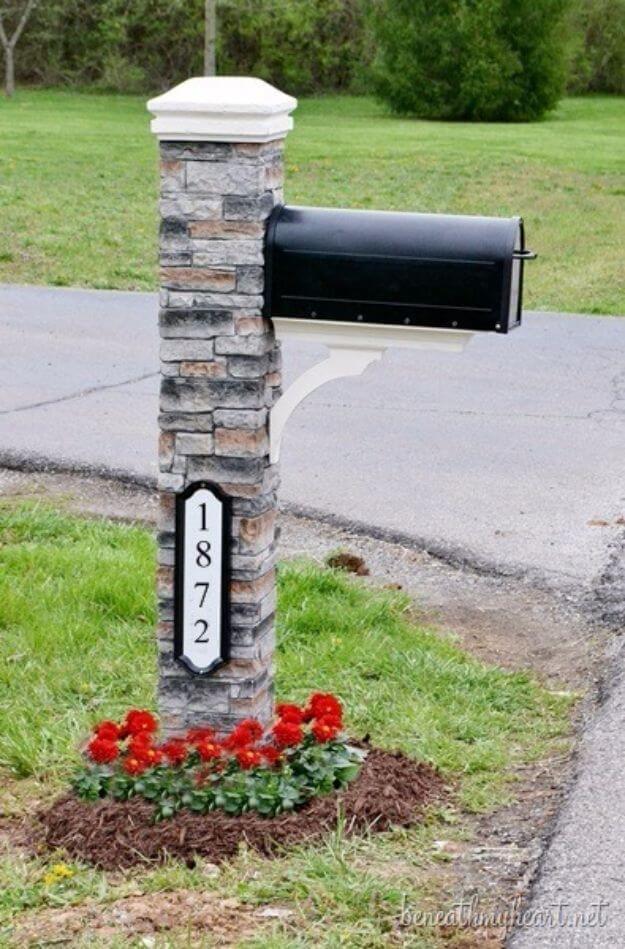 50. A Hanging Address Plaque with Bright Coloration

51. House Number Stenciled onto a Sidewalk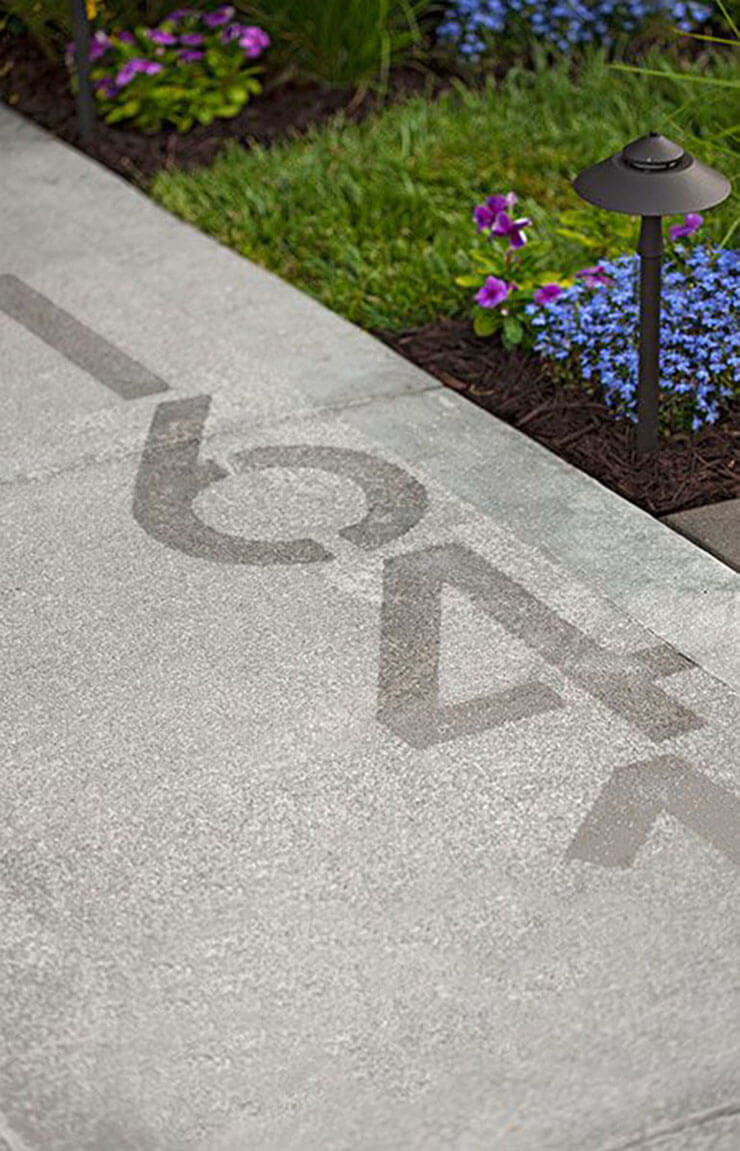 52. Rustic Branch with a Hanging Fish Display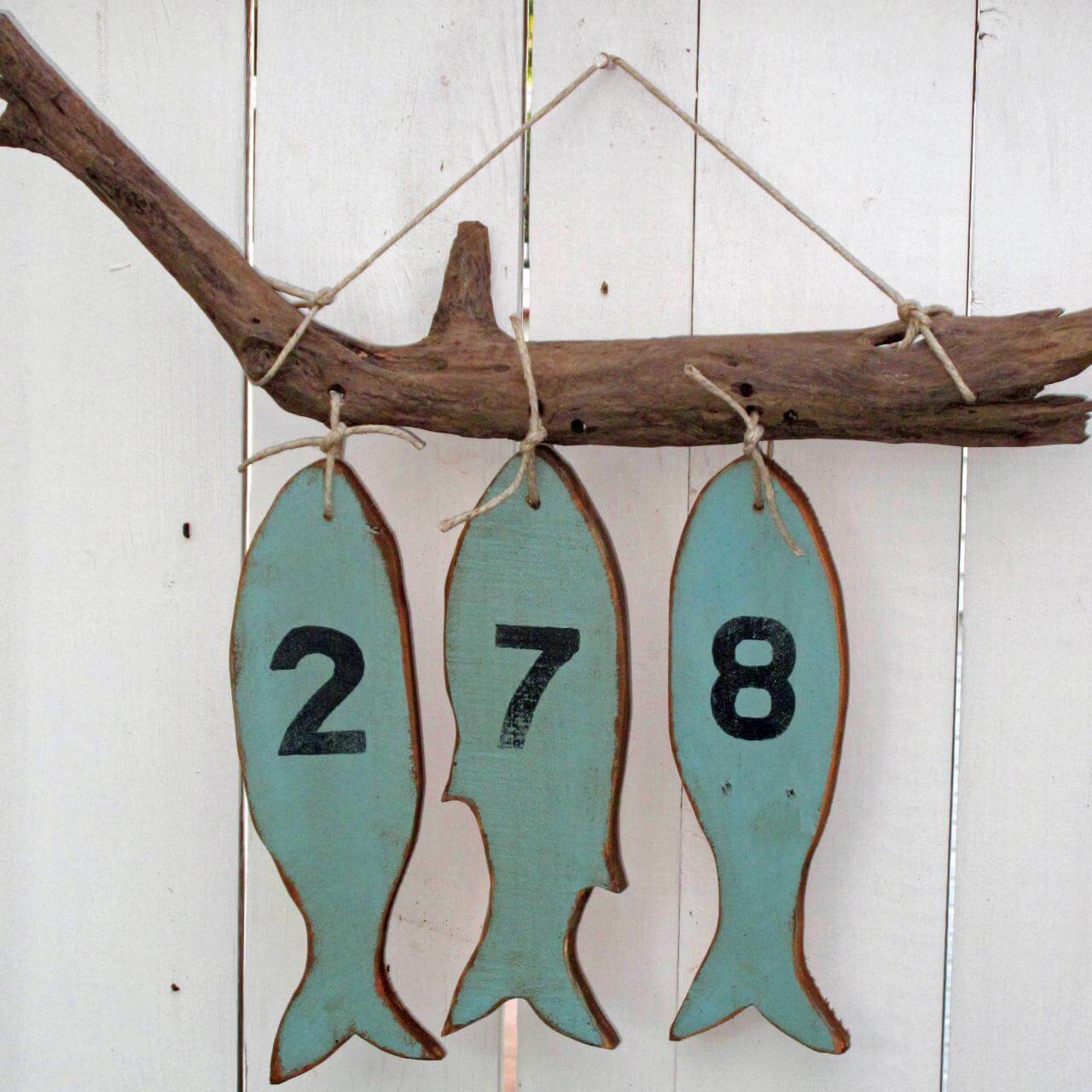 53. Milk Jug Display to House Wet Umbrellas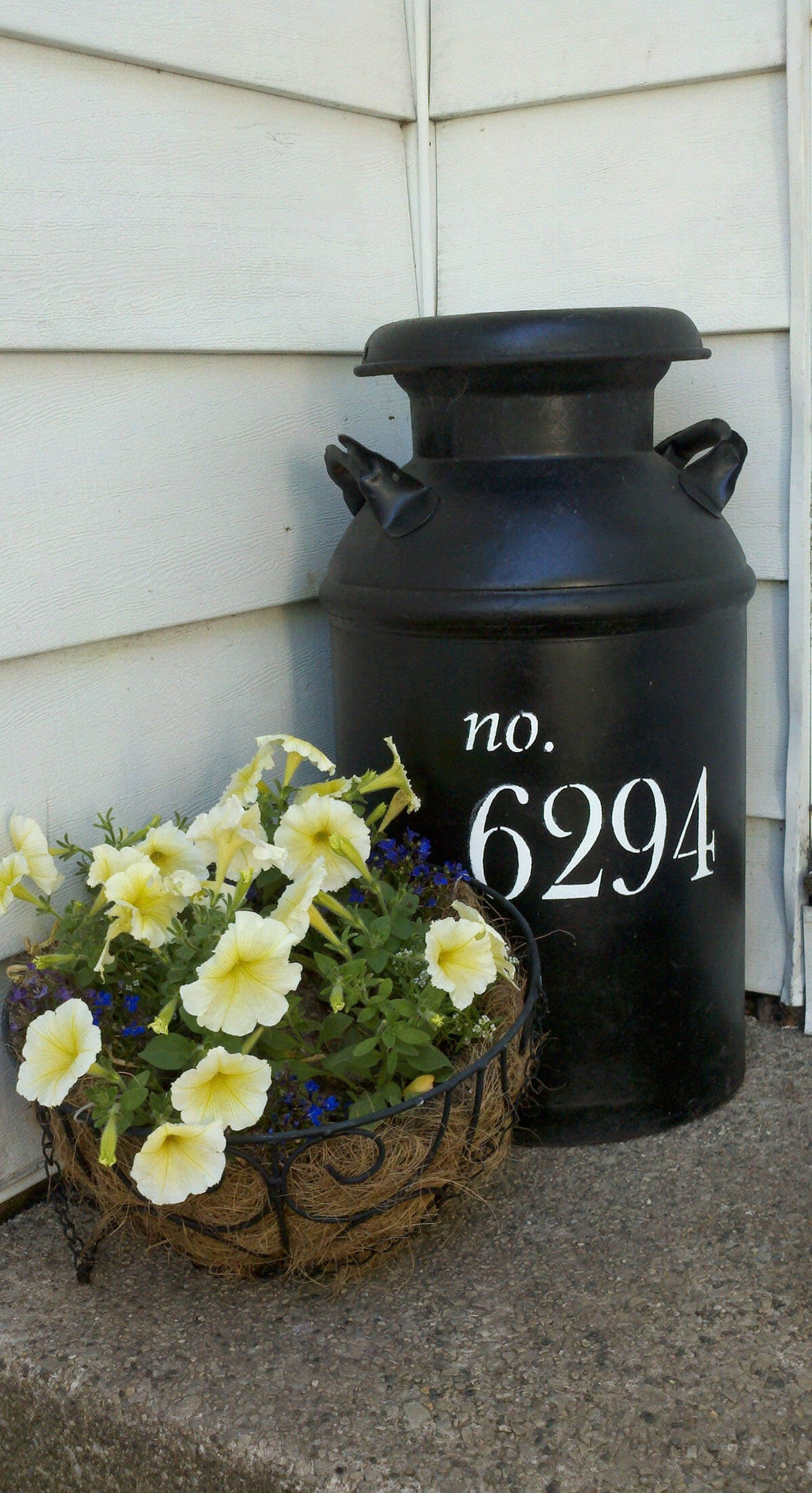 54. Unique House Number Ideas Using Glass Bottles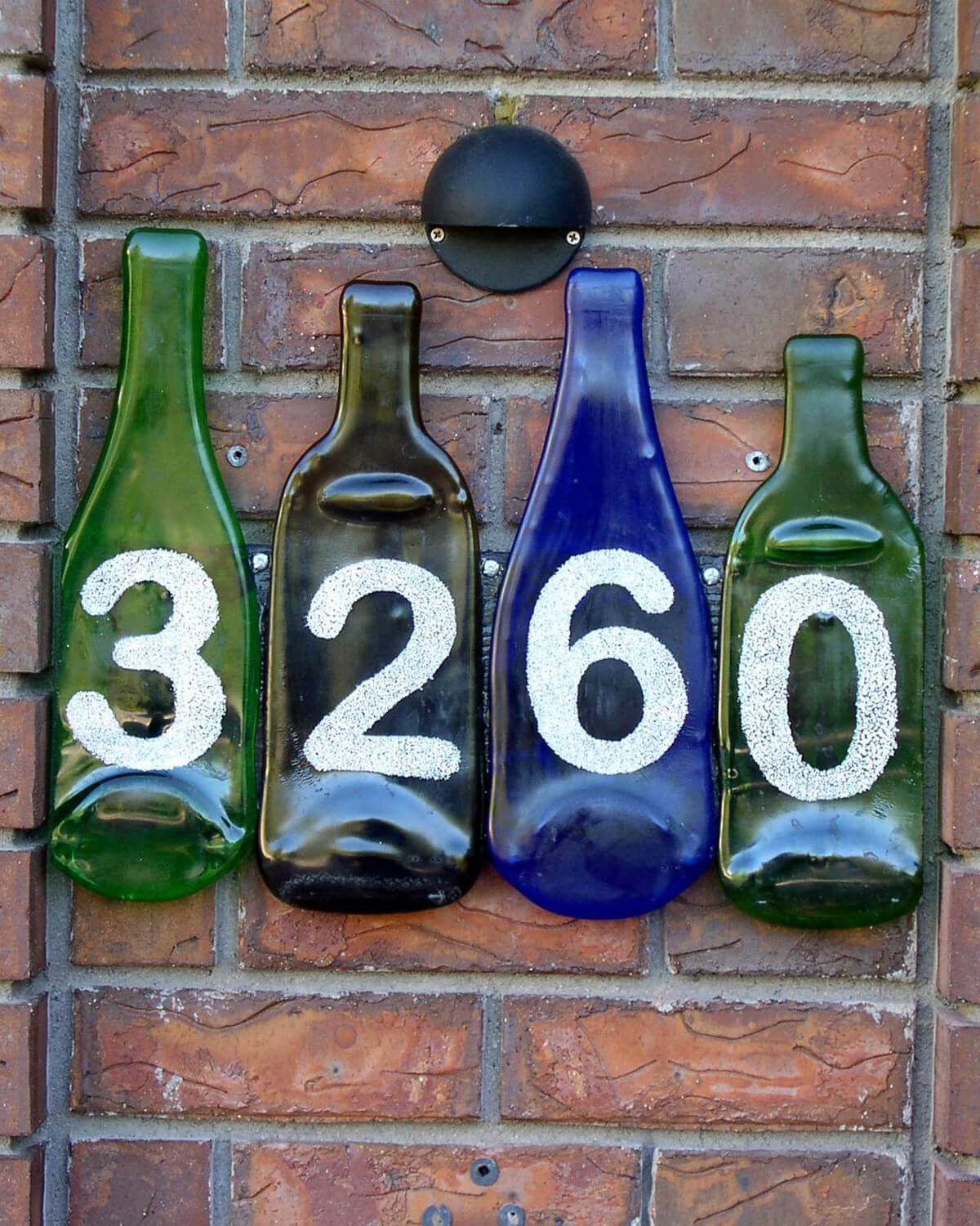 55. House Number with a Backlit Effect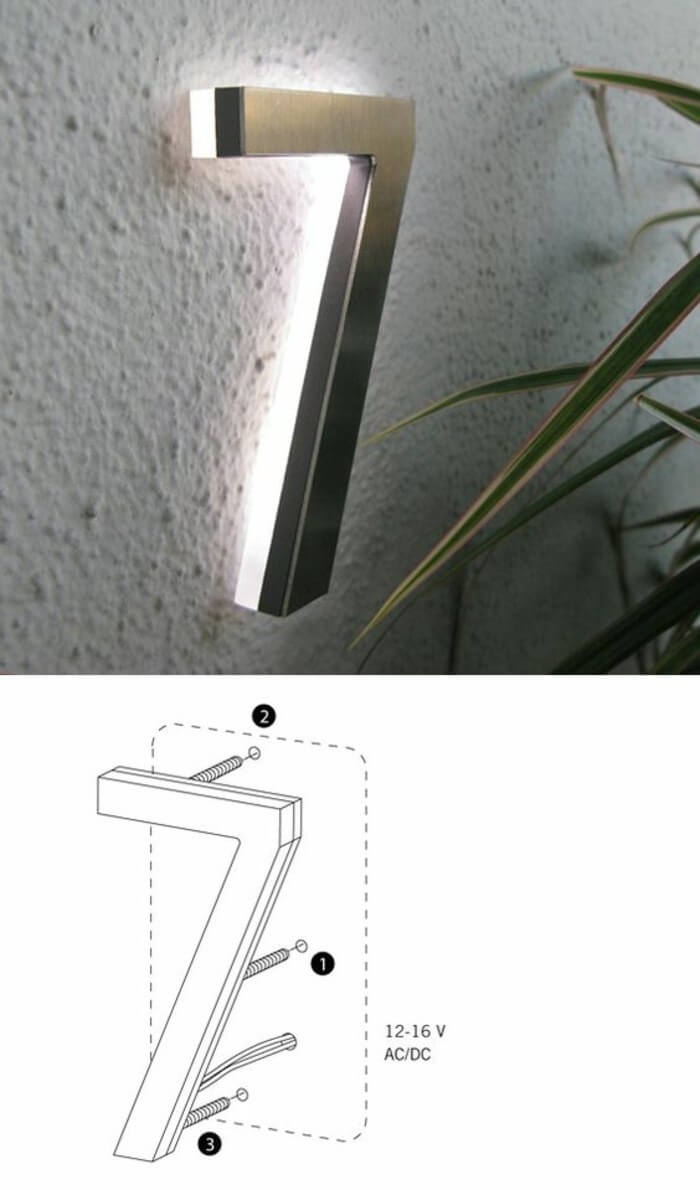 56. House Number Sign Hanging from a Tree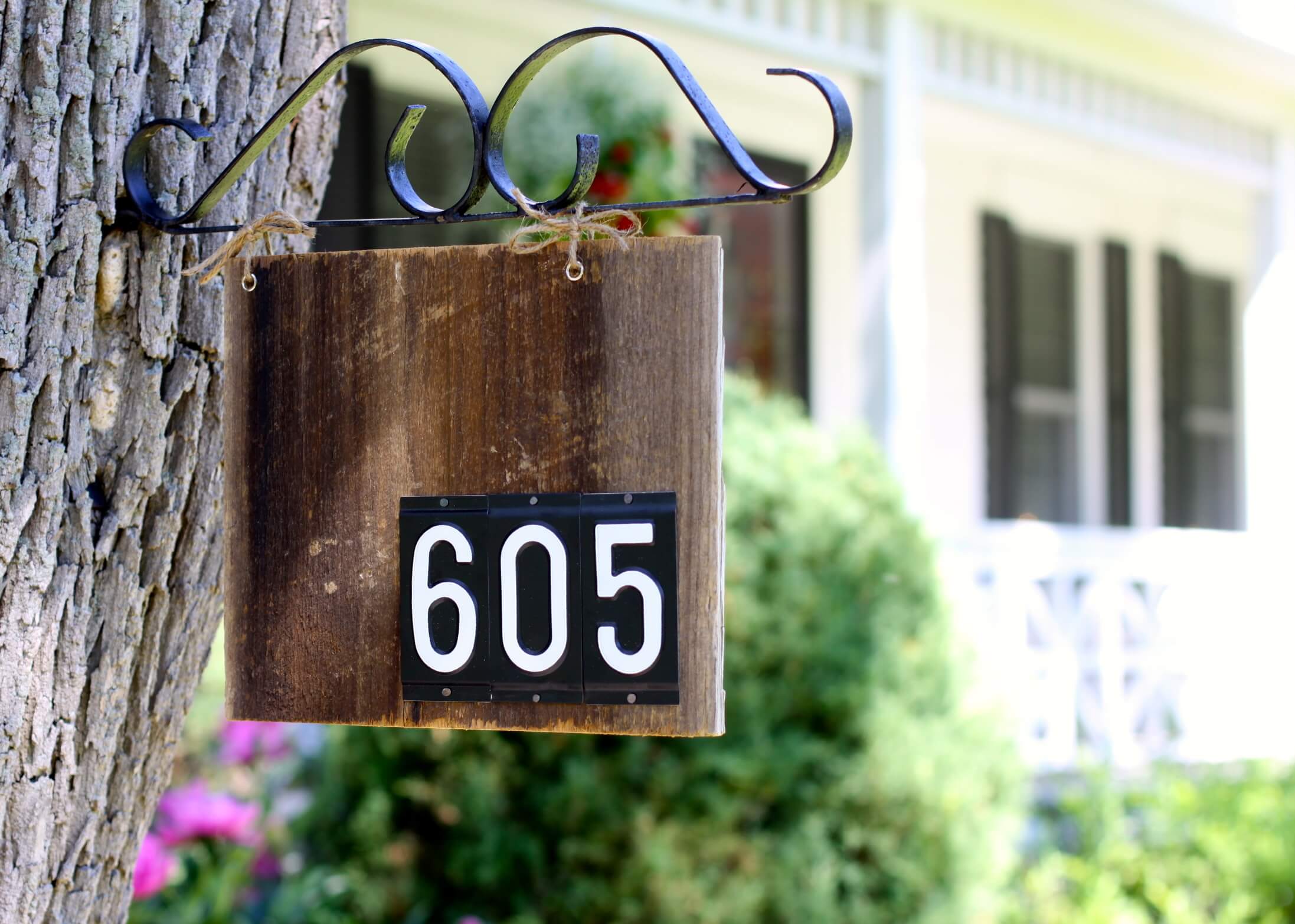 57. Moss Encrusted Numbers on a Log Wall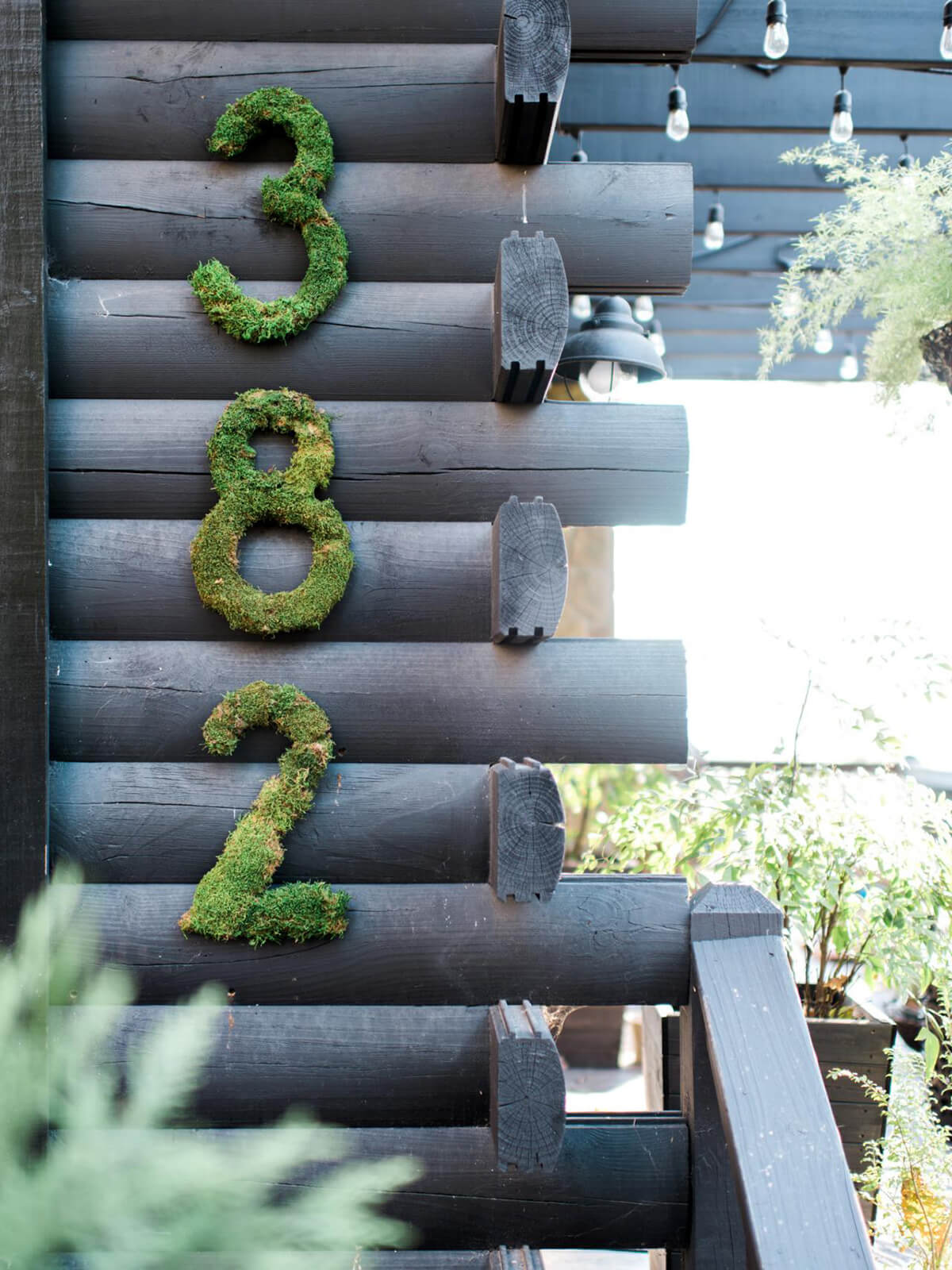 58. Large Number Outline On a Wooden Door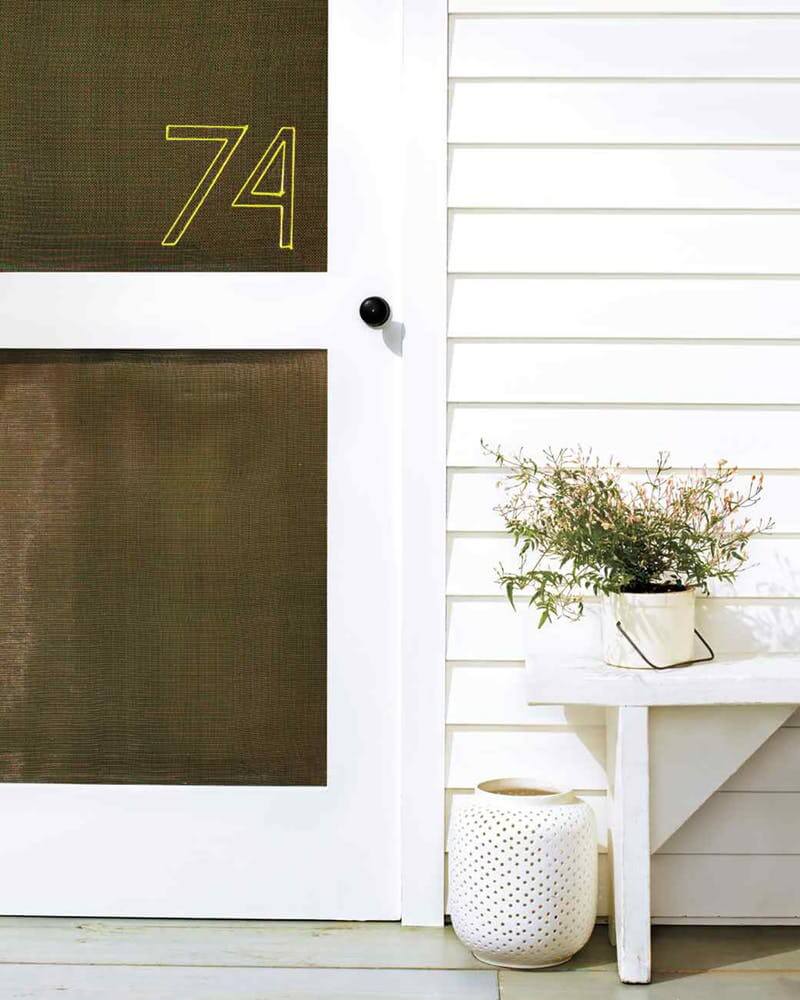 59. Stone Display in a Front Yard Garden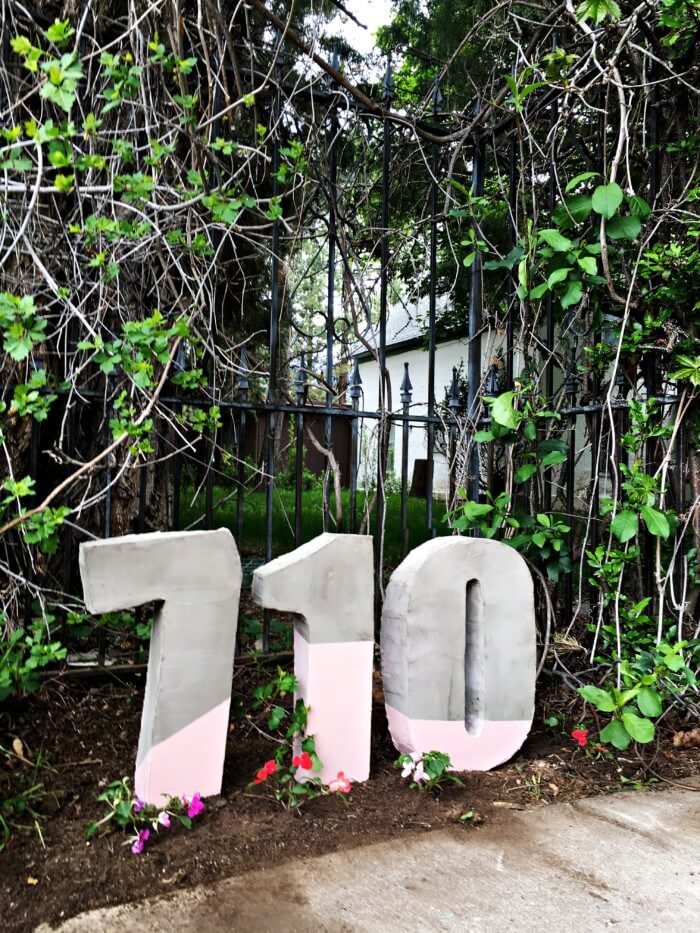 60. Subtle House Number for a Dark Front Door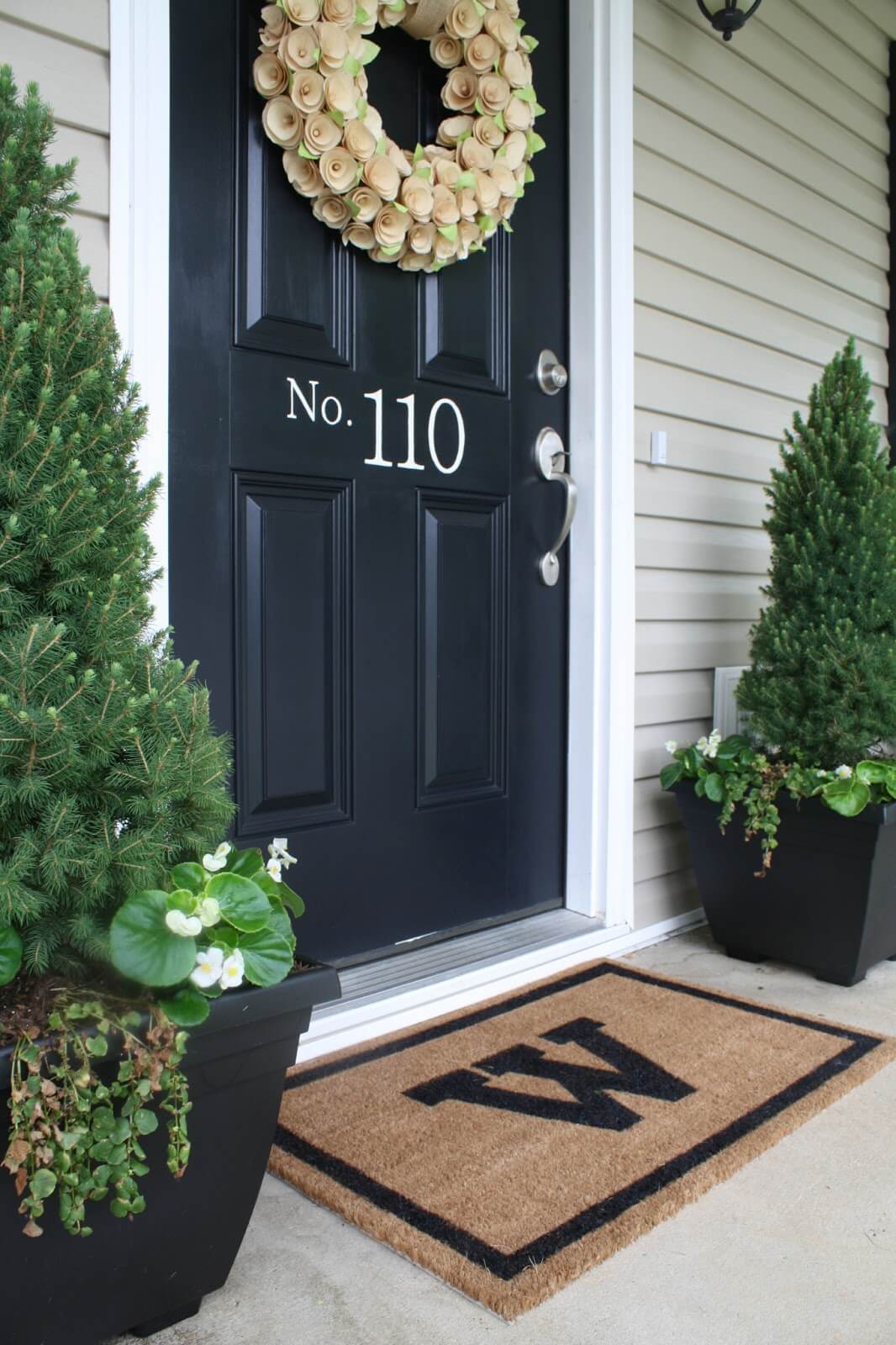 61. A Teal Colored Oar to Add Pop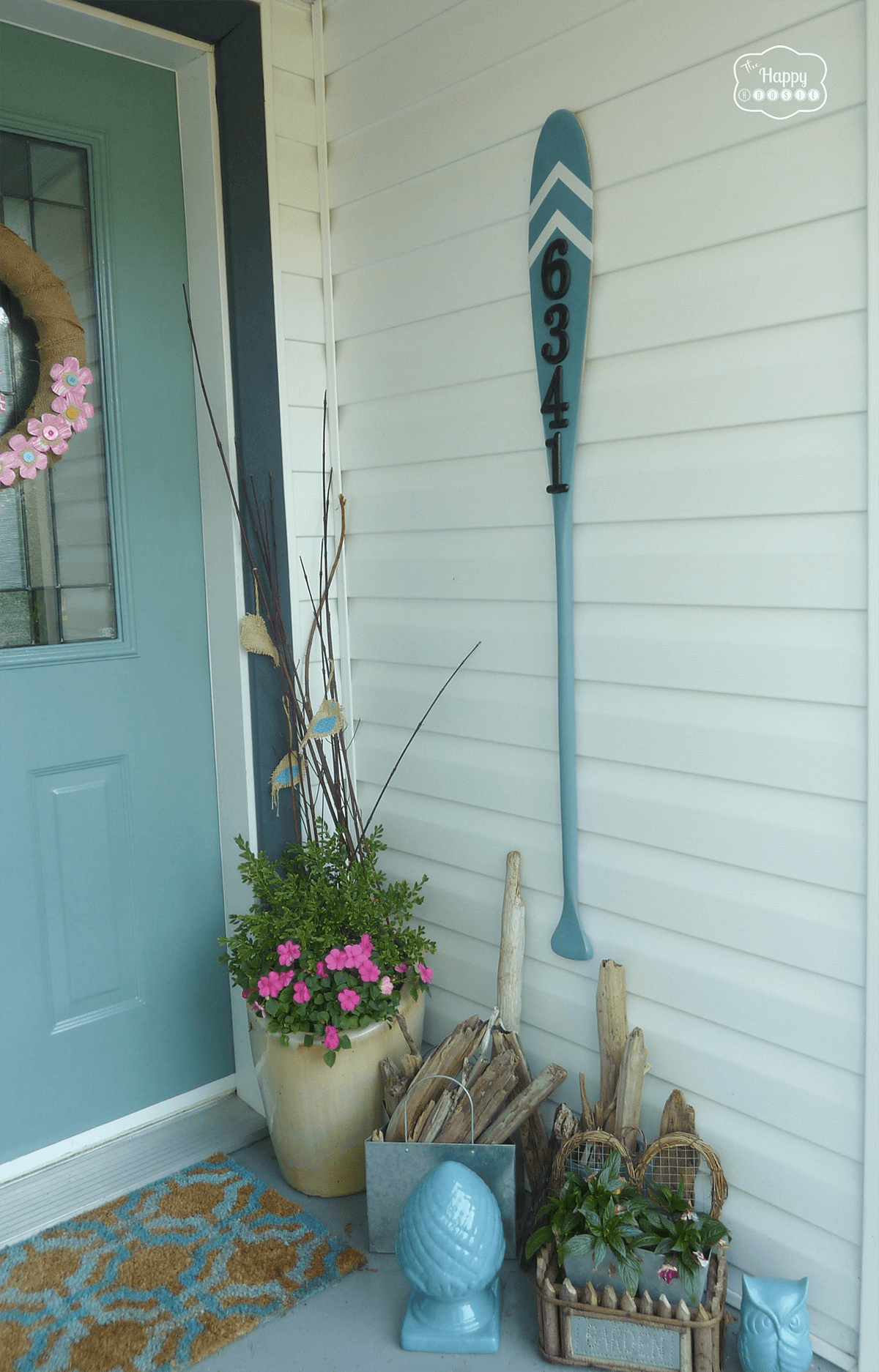 62. Mason Jar Planter on Log Cross Section