Room #33: Afternoon in Marrakesh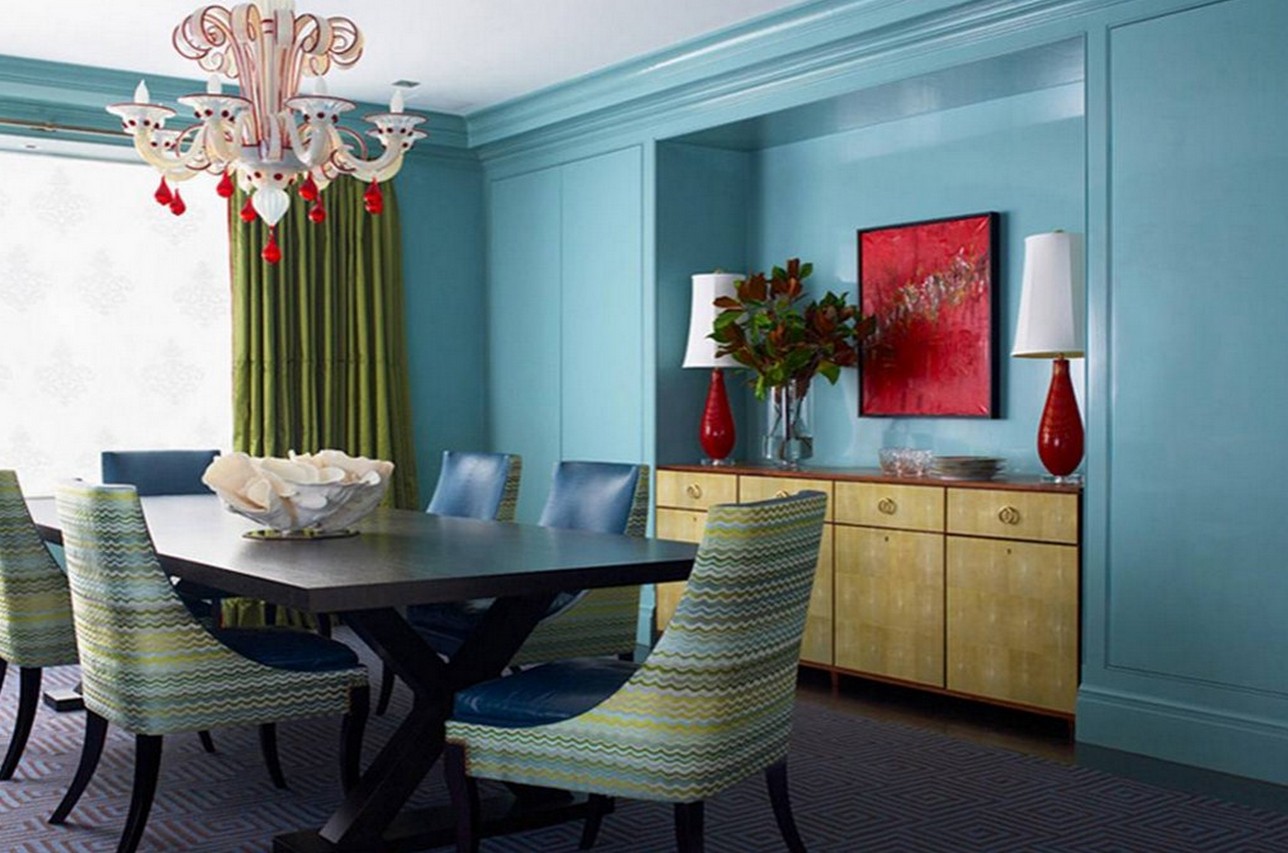 An X marks the spot on a treasure map that takes you to unexpected surprises, so why shouldn't the legs on this table offer you an equal thrill? Rainbows could take a lesson from a room so saturated in blues, a sultan's palace may come to mind. Do those red baubles hanging from the chandelier intentionally mimic lamp bases on the buffet inset into the wall? That designer touch gives this room its character, which is why the chairs don't try to compete, making them ideal upholstered seats for this room. Even a sultan would take note of that unexpected green drape. After all, what happens in the harem, stays in the harem!
Room #34: Southwest Sunset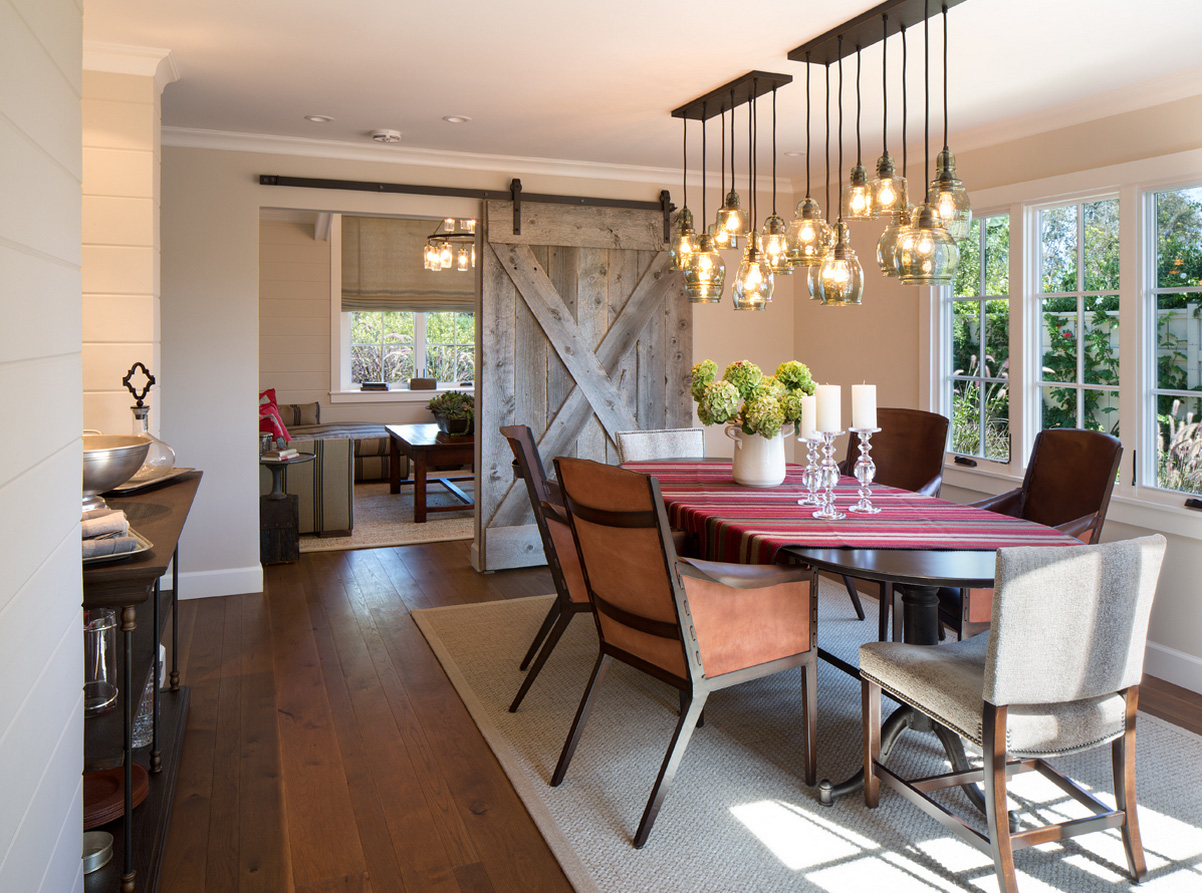 Easy living just got easier courtesy of a room that's so laid back and casual, guests will feel they've never left home. Cream walls showcase rugged wood flooring, a feature that would be the star of this room if that huge barn door didn't dominate that wall. The oval dining room table sprawls across an understated rug that's big enough to accommodate four chairs with a western flair and two extras for unexpected guests. There's something romantic about pendulum lights shining down on a thick, striped table runner reminiscent of a Mexican serape. If you have a feeling that steak's on the menu here, you're probably right.
Room #35: A Taste of Provence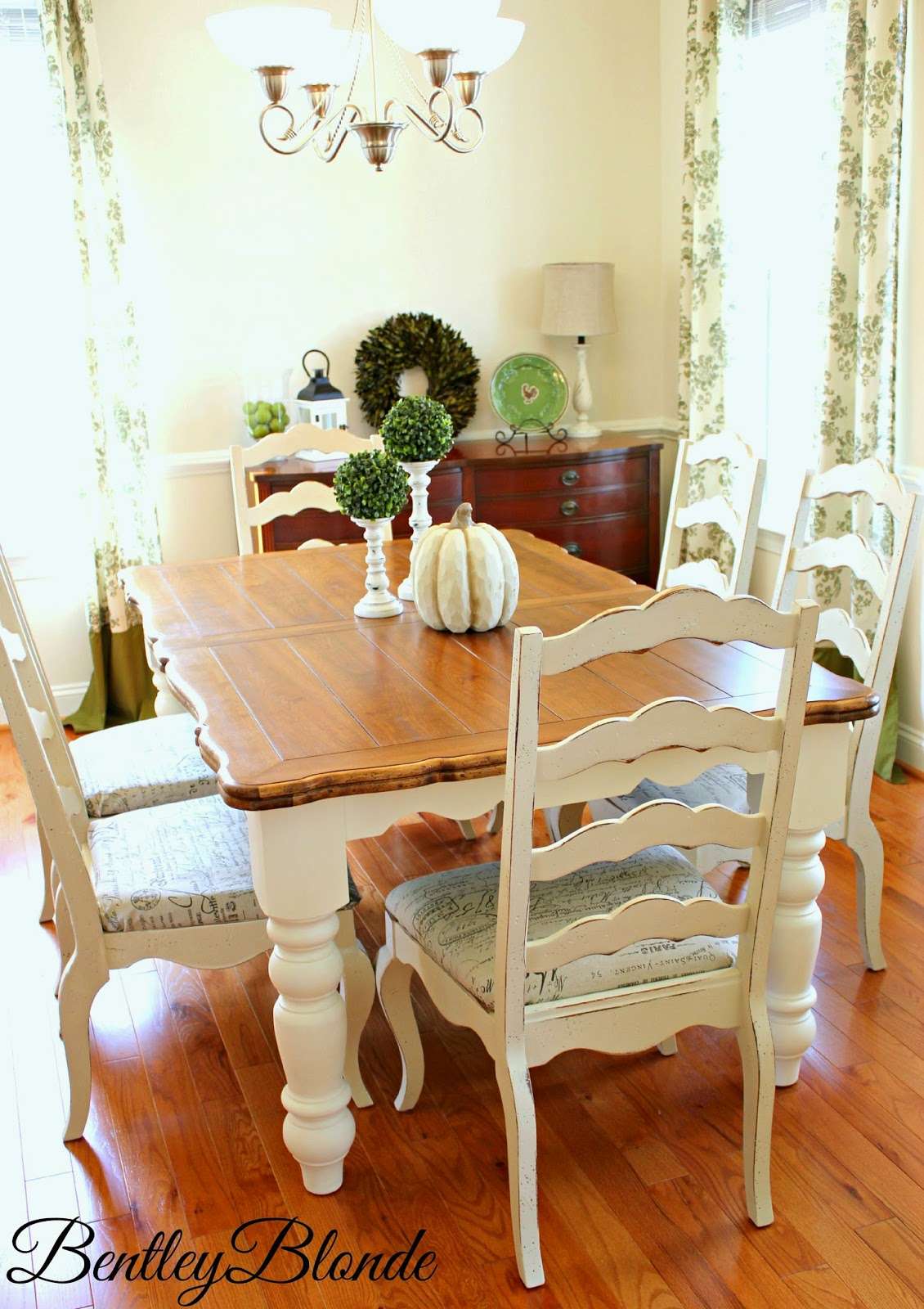 If you have no trouble imagining yourself living in Southern France, this petite dining area is going to capture your heart immediately. The warm wood tabletop appears to have been glazed with honey and it's perfectly suited to the cream-colored base atop finely turned legs. You won't have to persuade guests to linger over coffee and croissants once seated on ladder-back chairs, atop cushioned seats patterned with ornate script. All it takes is a touch of green to suggest lush gardens outside. Is the dark period buffet out of place? Hardly. This room's harmony depends upon an eclectic mix of woods to make the room feel timeless.
Room #36: Art for the Heart
Is this the board room at a cutting-edge tech company or a place to share lunch that's decorated by someone who knows her way around a color palette? That's for you to decide. What a clever way to make vibrant chair seats in a wild array of hues stand out: paint everything else white and the canvas of this room is primed. What does this Danish-inspired setting say about the mood of a room that relies upon the energy of mixing colors like orange, grape, lemon, lime, blueberry and apples together to emulate a fruit salad-bright ensemble of pieces? Probably this: the formal chandelier adds a witty touch to a room that begs to be enjoyed 24/7.
Room #37: Close-Knit Gathering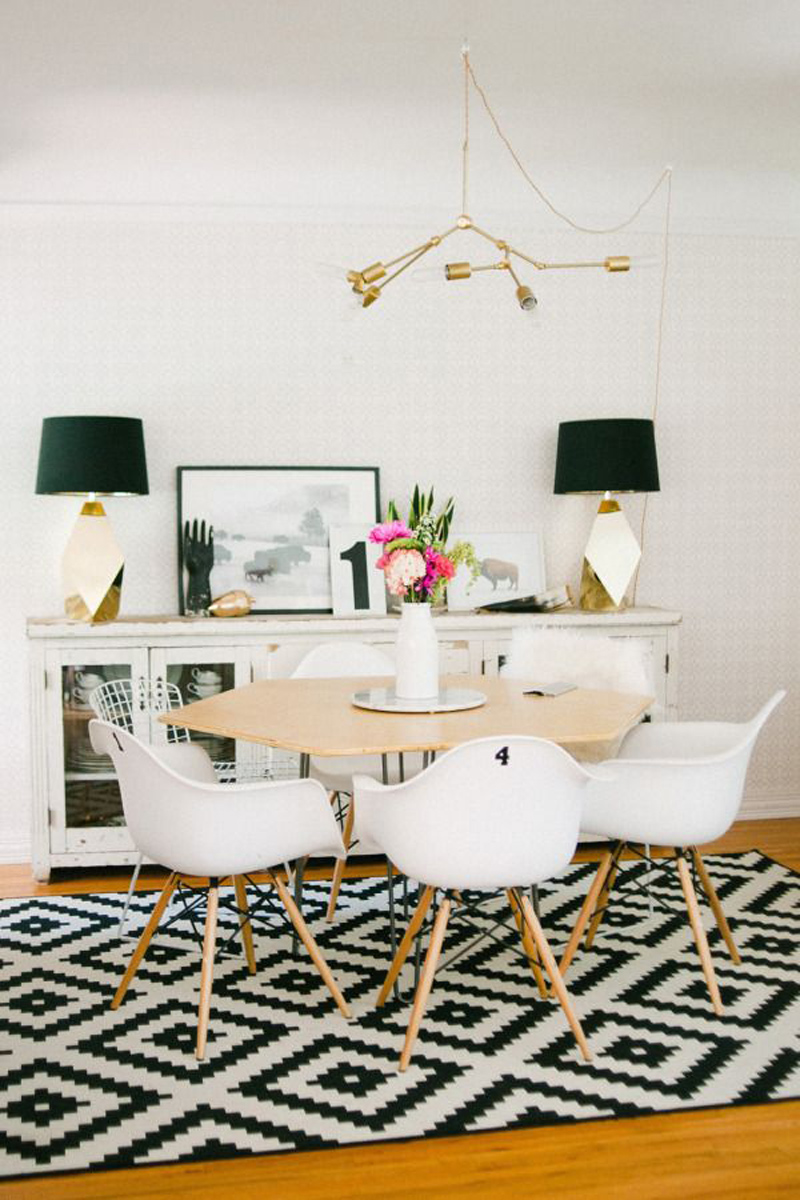 Anyone fascinated with tiny details that produce big décor statements will likely notice black numbers on backs of these molded chairs first, but the creative surprise it at the center of this mix of dining room furniture: an unusual hexagon top that gives every diner defined space at the table. Charm doesn't stop at the seats; check out chair legs reminiscent of knitting needles artfully braced with metal "yarn" that makes this no ordinary dining room arrangement. The glass-front cabinet filled with crockery and serving pieces overlooks a rug that appears to have been crafted using those knitting needles. There's plenty of light to set the mood and a mysterious #1 perched between the lamps that knits everything together beautifully. What's your favorite number?
Room #38: Touches of Glamour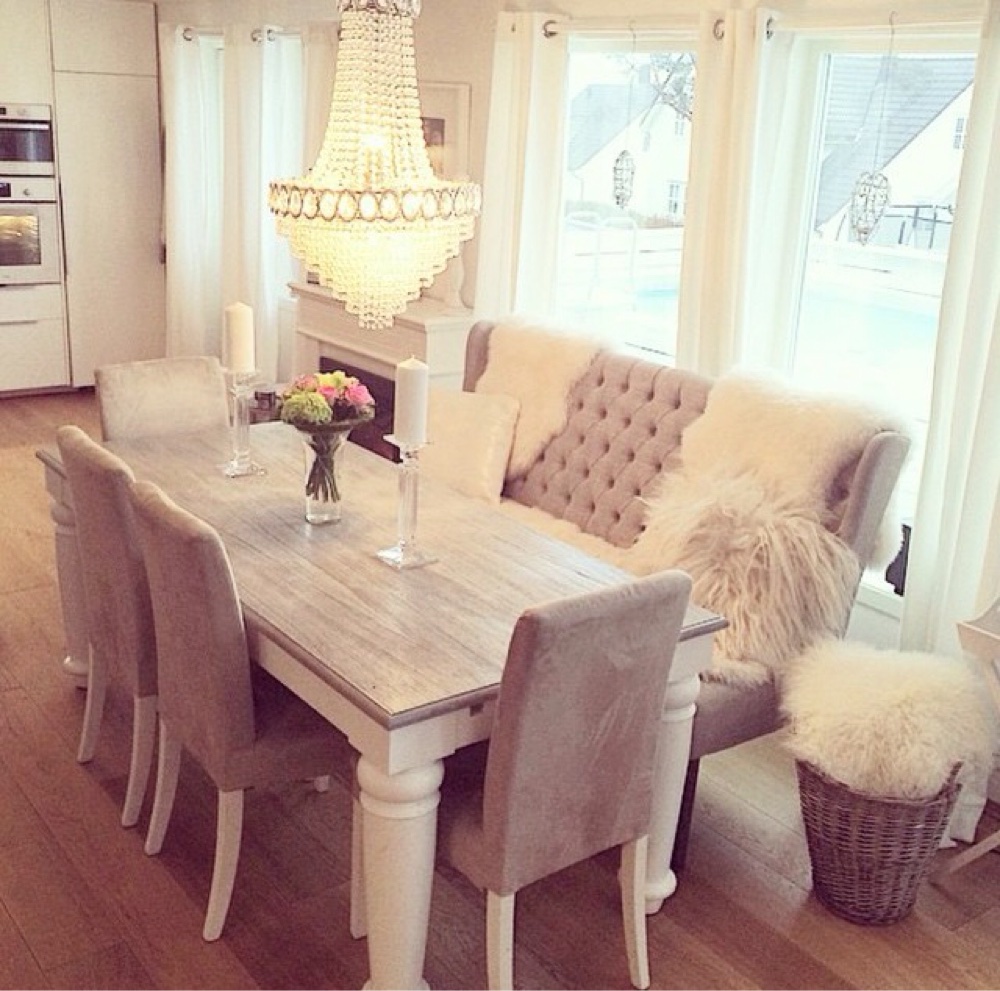 When a dining room idea requires a designer to deal with kitchen proximity, only the cleverest would think to use glamorous furnishings, yet that's exactly what this fearless innovator did when preparing this collection of furnishings for installation. Parsons chairs, upholstered in tawny camel suede-like textiles, add comfortable touches leading to long meals and great conversation, but it's the settee-style bench that sets this room's tone. There's a harmonious blending of tabletop and upholstery that contrasts nicely with white chair and table legs. A chandelier, bedazzled with reflective crystals, is so attention-getting, diners forget the kitchen's only steps away and that's the key to this room. With or without decorative sheepskins, this area is seductive!
Room #39: Midnight Mystery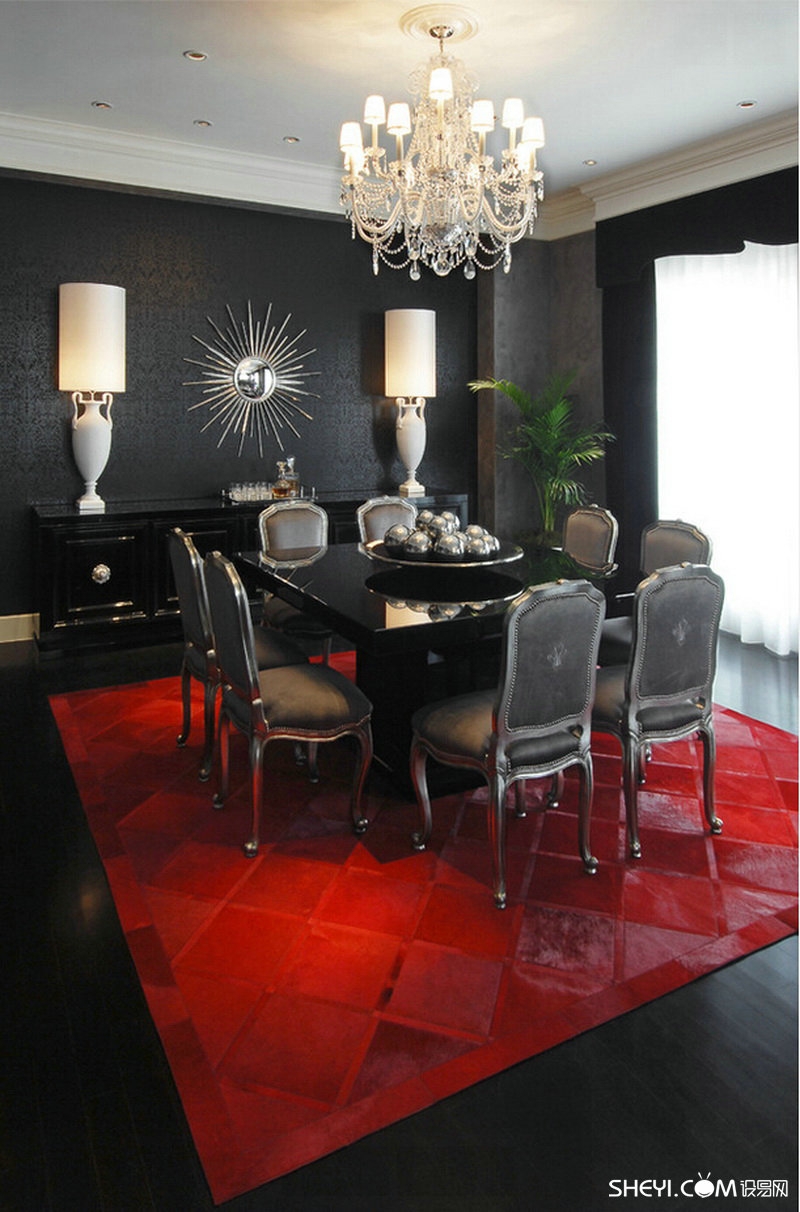 Ask yourself this question: would this dining room idea, reminiscent of a Poirot mystery story, be quite so attention-grabbing if the red tile-patterned floor cloth was eliminated? It would—but that's where this design's ingenuity lies: Replace the cloth with teal, yellow or white and give the room an entirely new look. No need to buy new furnishings; this dining room set works with too many decorating schemes that easily mix ebony wood on chair frames, the lacquered black buffet and the gorgeous square table that's ideal for solving mysteries over a long leisurely supper. Even Agatha Christie would approve of the lavish chandelier that's bold enough to shine a light on this mystery's solution.
Room #40: A Study in Simplicity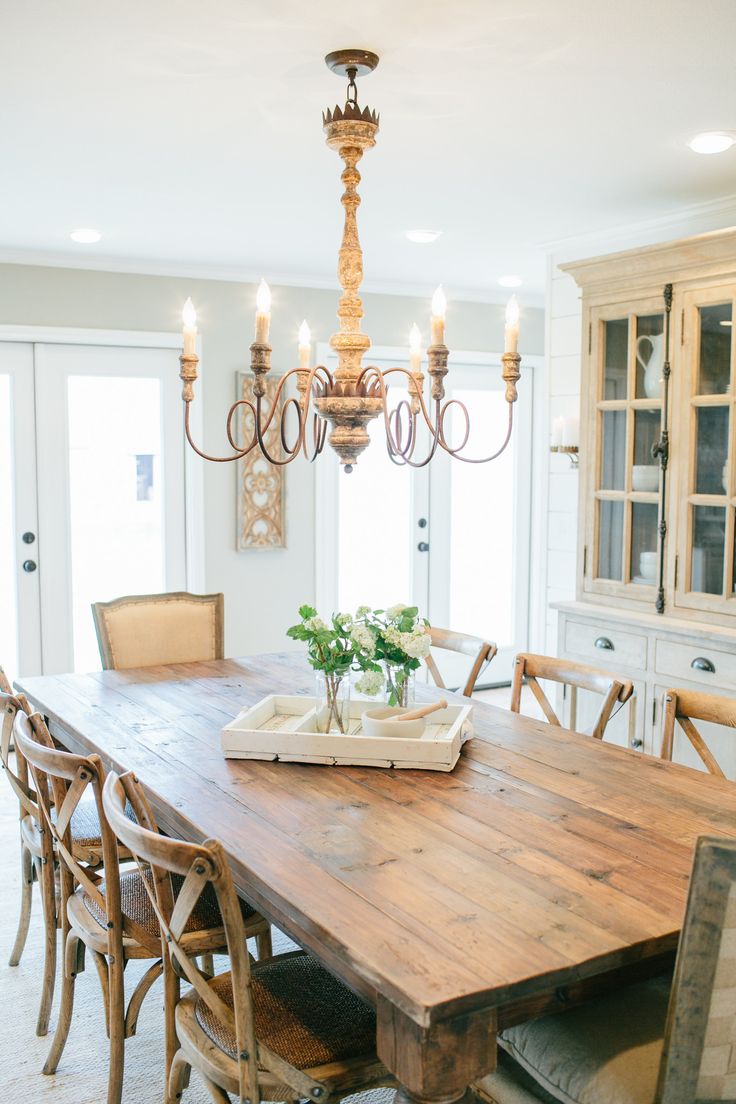 There's a special place in heaven for those who appreciate the wonder of wood and that is clearly reflected in this dining room idea. What genius paired a table that appears to have been lifted from old farmhouse walls and set upon sturdy, imposing, post-style legs with chairs so intricately fabricated, they could easily be studies in architectural design? Thanks to a chandelier fit for a Swedish palace, appreciating every inch of detail in those intricately crafted chairs–plus the two upholstered ones at either end—comes easy to the discerning eye. Who says simplicity can't be strikingly beautiful? This room proves it.
Room #41: Dine in the Clouds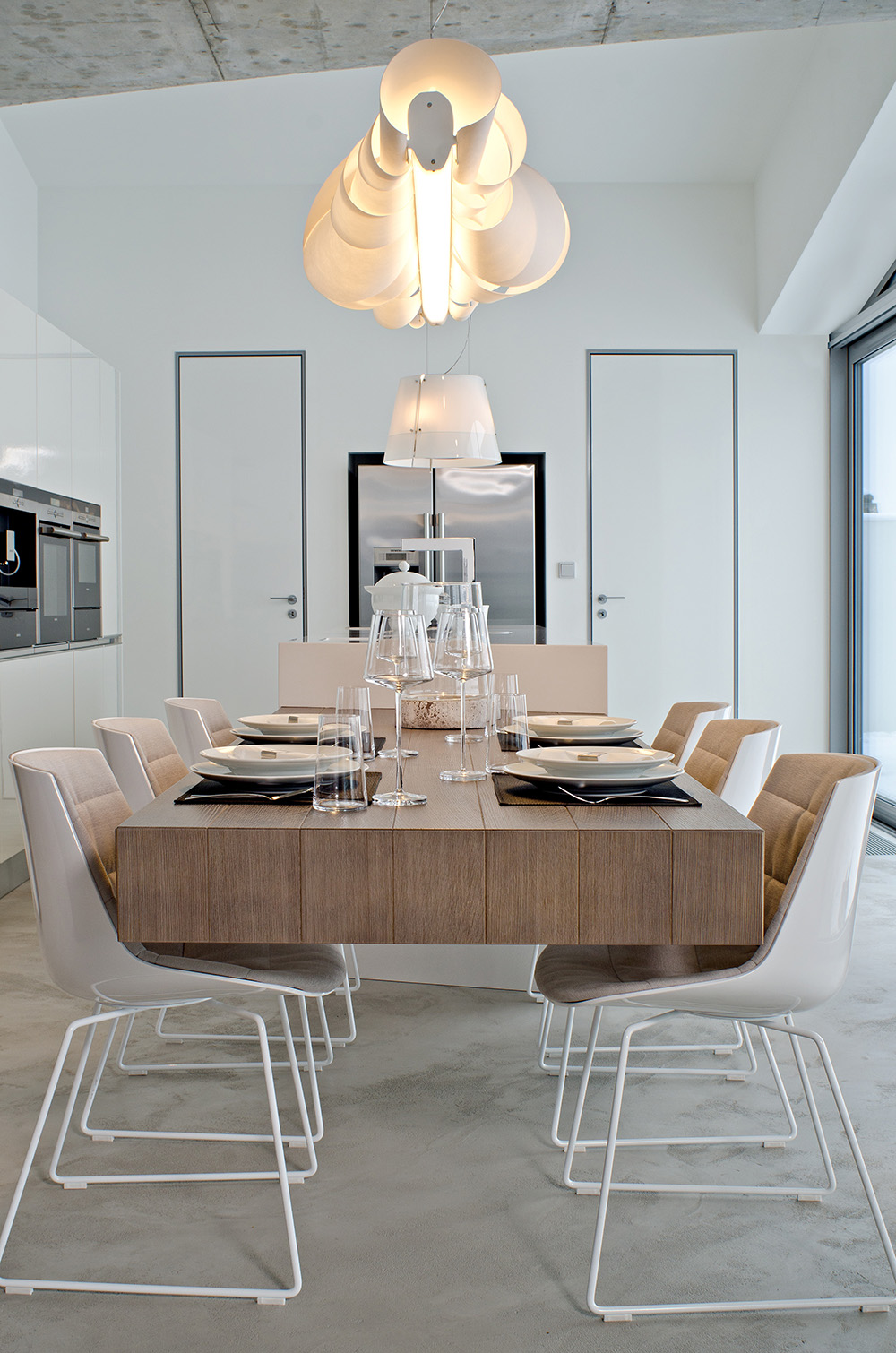 The cluster of clouds hanging over this dining room furniture may shine a light on the setting below, but the real treasure found in this room is the thick wood table that seems to float in mid-air, giving diners' legs obstacle-free seating. In fact, a crafty panel allows this mirage of a floating table to levitate effortlessly forward, while cradle-worthy chairs with lacquered white backs and earth-colored seats anchor the room. Take a peek at the floor and ceiling to appreciate optical illusions that pervades this room; especially those tall, skinny doors at the back of the room. Who knows what's behind them?
More dining room inspiration on the next page…