What's a nursery without one of the best DIY baby mobile ideas included as part of the decor? Mobiles have been the go-to crib accessory for years and now with all of the incredible homemade natural baby mobile ideas and materials available, creating your custom look has never been easier. No matter what color scheme or theme your little one is going to sleep in, you'll be certain to find the exact match in the handmade baby mobile idea department. Baby mobiles give your baby a nice focal point as he or she learns the art of putting oneself to sleep. Even though mobiles serve this purpose, they can do double duty by offering a beautifully decorative element to your nursery design.
19 Best DIY Baby Mobile Ideas for a Stylish Nursery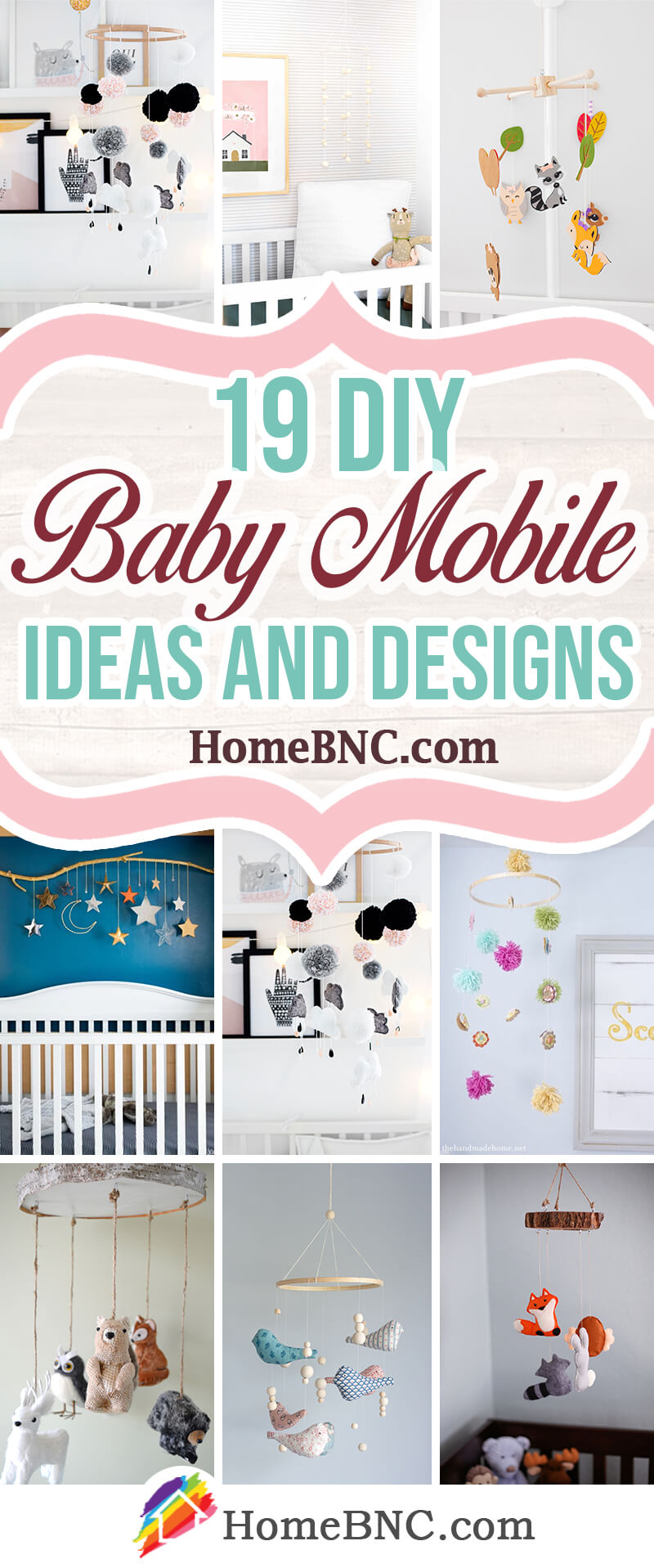 And mobiles need not be limited to a baby's room. Some of these designs speak volumes to an older crowd of children. The school-age crowd would enjoy the notion of creating a homemade natural baby mobile in their own way so it can be displayed in their rooms too. A fun nature hunt provides an extra layer of fun as kids can get some fresh air and exercise while searching for sticks and rocks that can be used for their next mobile crafting idea. Some popular themes for DIY baby mobiles include woodland critters and modern design. Felt friends and wooden cut-outs are the most featured and work very well. In addition to their cute factor, these supplies can be repurposed into characters for a felt board and puzzle.
Choosing tiles that provide high contrast will aid in stimulating the young infant's mind. Black and white are classic colors that do this while also giving a modern and contemporary flair. No matter in which room you choose to display your mobile or which version you select to create, these homemade ideas are a great place to get started!
1. Starry Night Branch Baby Mobile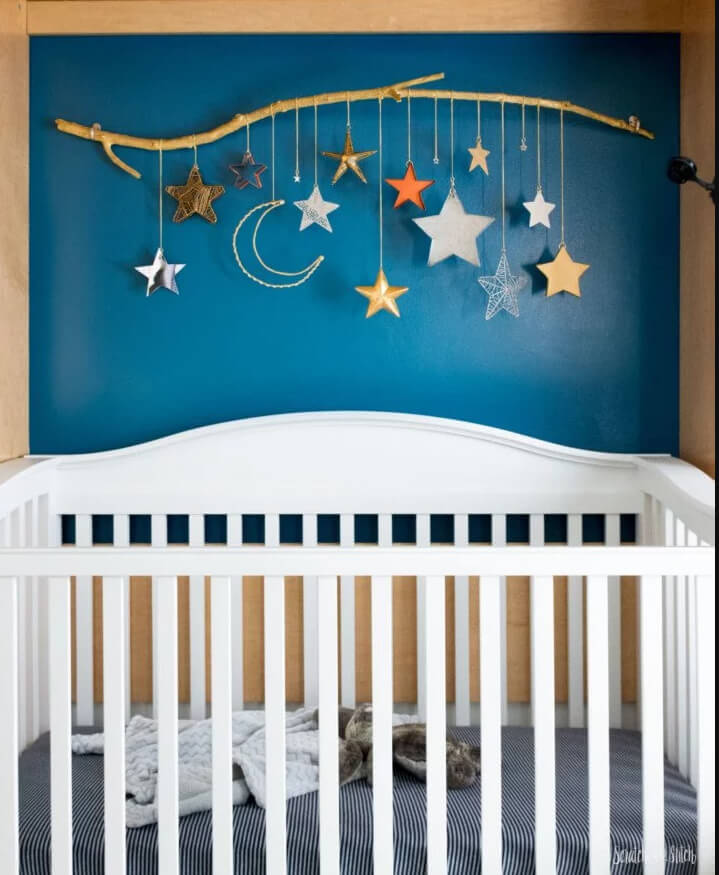 Bring some of nature's beauty onto the scene in your baby's nursery with this homemade natural baby mobile. All of the gorgeous stars create a unique collection that is gorgeously displayed hanging from a spray-painted tree branch. When curating this collection of stars, aim to include as much variety as possible. Specifically look for a variety of sizes, textures, and colors. As they say, variety is the spice of life and in terms of this starry night mobile, it makes it one of the best DIY baby mobile ideas you'll find. Such a natural design works for either gender so even if you choose not to find out, this mobile will be the perfect fit for your baby's nursery.
2. Rainy Day Gray and Pink Baby Mobile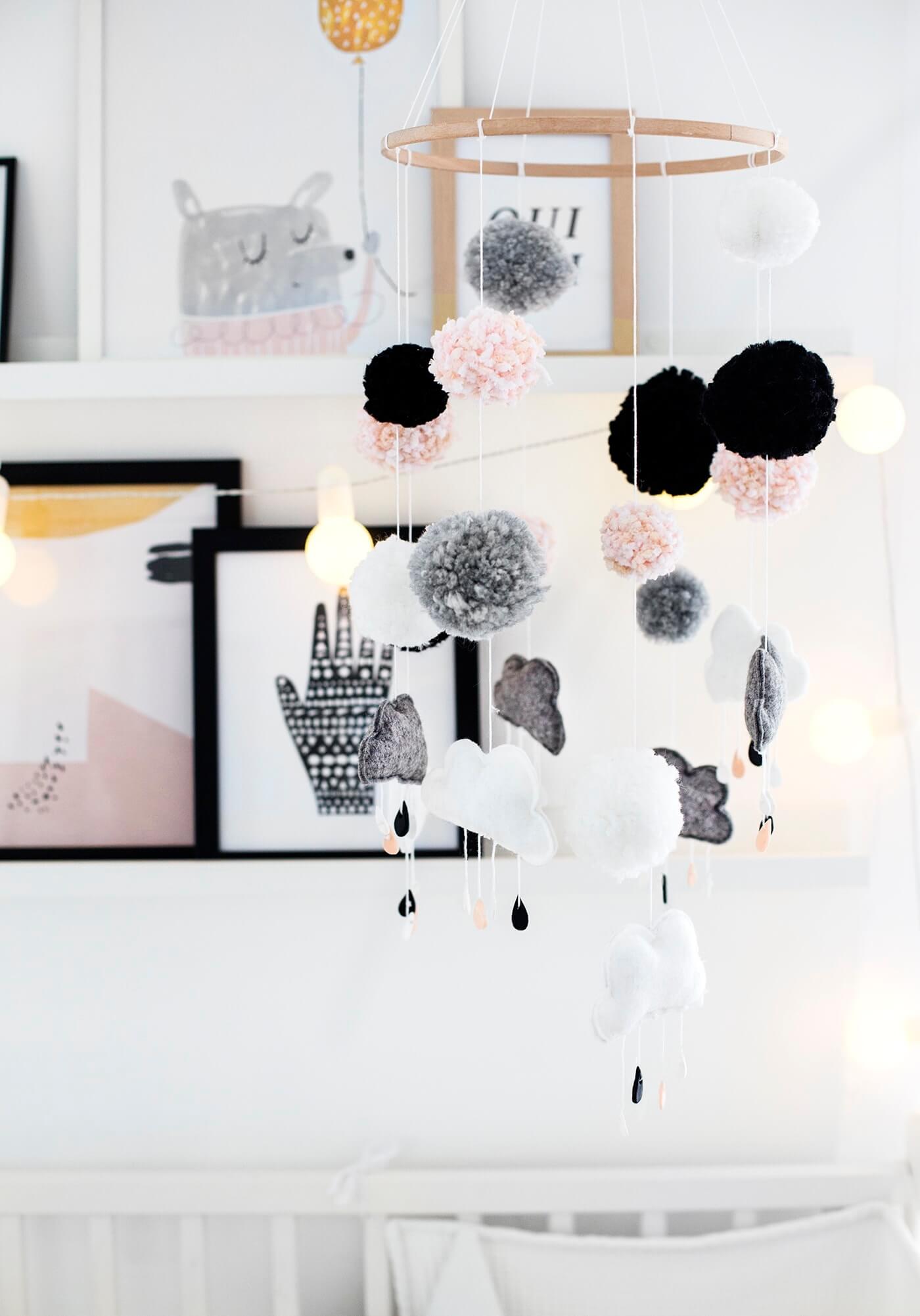 Rainy days often give the ideal atmosphere for a good, well-deserved nap. Keep this thought in mind as you hang this cute and cuddly rainy day mobile over your baby's crib. The plush clouds and uber soft pom poms are the perfect touches for creating this lovely and charming DIY baby mobile. Most modern design and minimalistic decor are the right backgrounds for this creation. Soft pinks look incredible as accents for this white, black, and gray design. Tiny water droplets leaking from the clouds are a fun and unique touch as well.
3. Sweet Slumber Felted Wool Ball Baby Mobile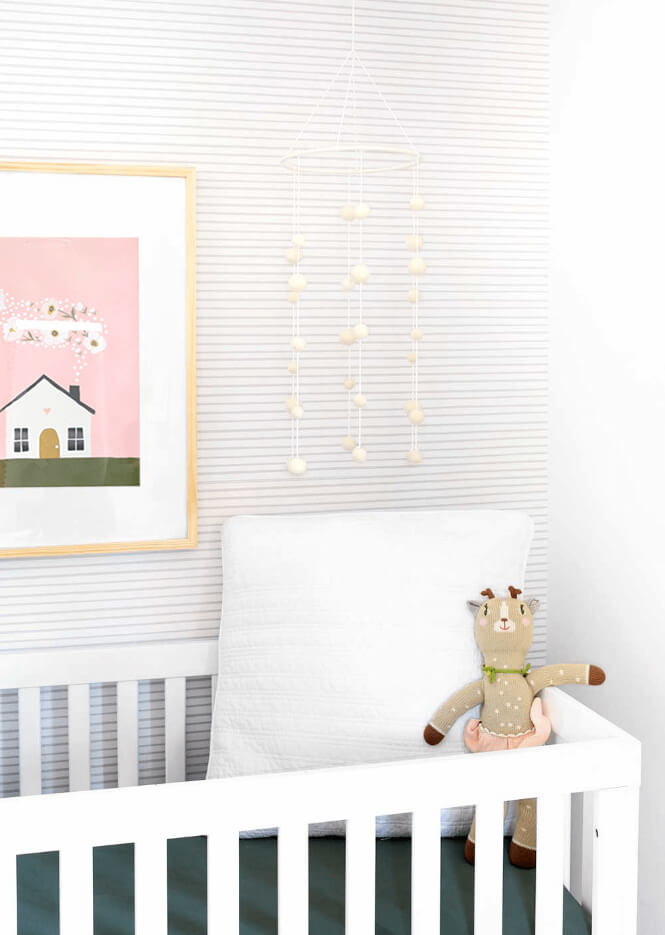 Decorating the nursery is one of the highlights of nesting. And most expecting parents enjoy this short, but sweet season. Sometimes the hardest part of the entire process is sticking with a budget. If you feel me, then check out this crafty DIY version of a modern baby mobile. A gold metal hoop holds it all together as the soft and delicate felted wool balls cascade down and keeps the baby's interest. This specific version is crafted using soft creamy tones for a neutral and more modern effect, but you could customize the balls to any color palette your heart desires.
4. Felt Friends Woodland Nursery Mobile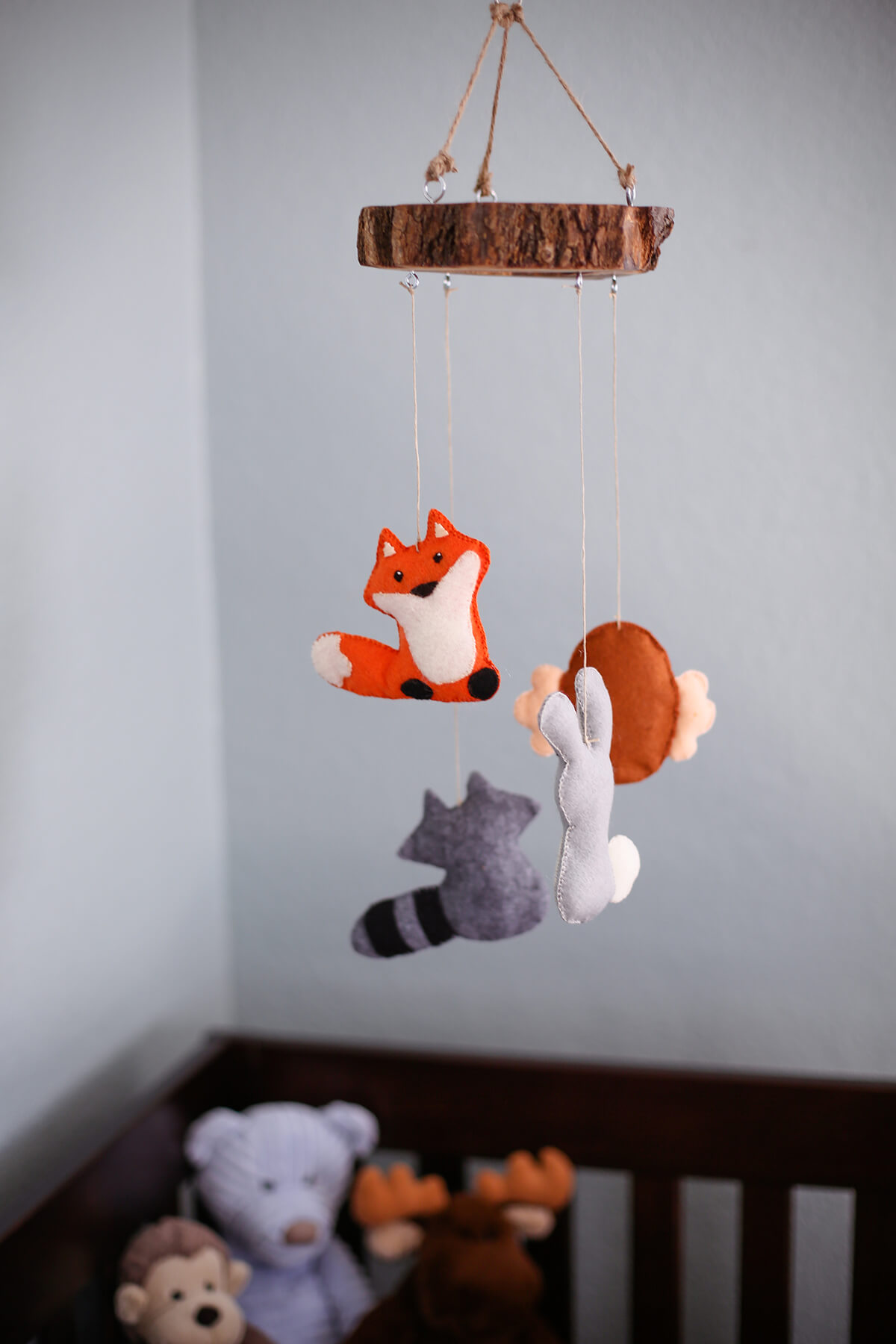 Cute and cuddly is what you'll find hanging from this charming woodland friends' baby mobile. It works perfectly with a rustic or nature-filled design. Using felt as the material for the critters makes the look of the mobile more baby-friendly with its extra softness. There's a great contrast with these soft plushies too when they are hanging from a rustic wood slice. Tie in the wood look by including other wood pieces in the room like a small table or rocking chair.
5. Colorful and Cute Felt Woodland Friends Mobile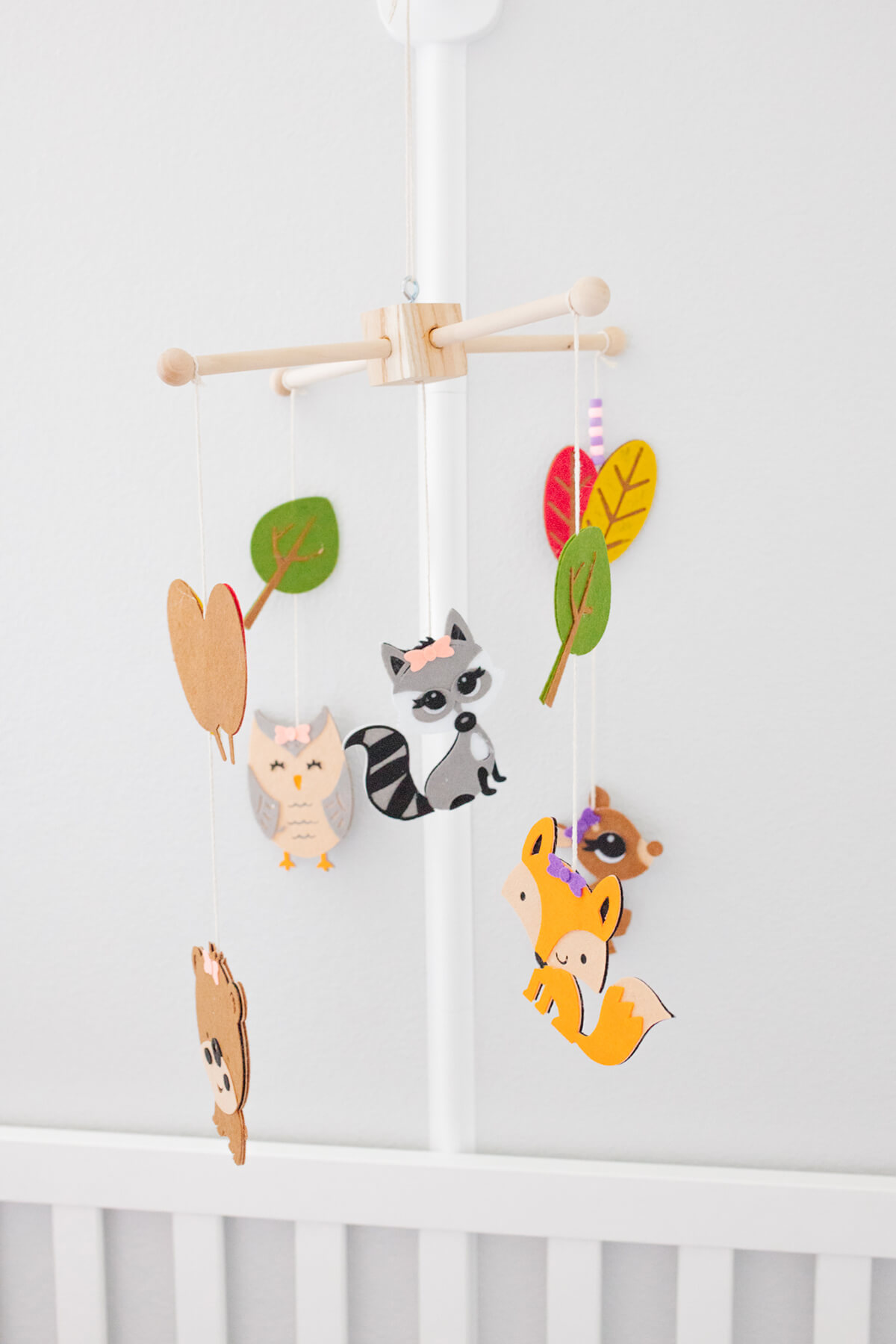 Layering looks incredible when it's used to create these charming and cute felt woodland friends. Layering the pieces adds so much beauty to these critters giving them depth in their design. Suspended from a natural wooden base, the theme of the woods continues. After the baby no longer uses a mobile, the felt friends can transition into a fun playtime activity on a felt board. Be sure to include a variety of animals in your project. A friendly fox and a grizzly bear appear harmless crafted in their cute felt goodness. Add some felt leaves and twigs to make it feel more like a friendly forest above your baby's head.
6. Adorable Neutral Colored Paper Airplane Mobile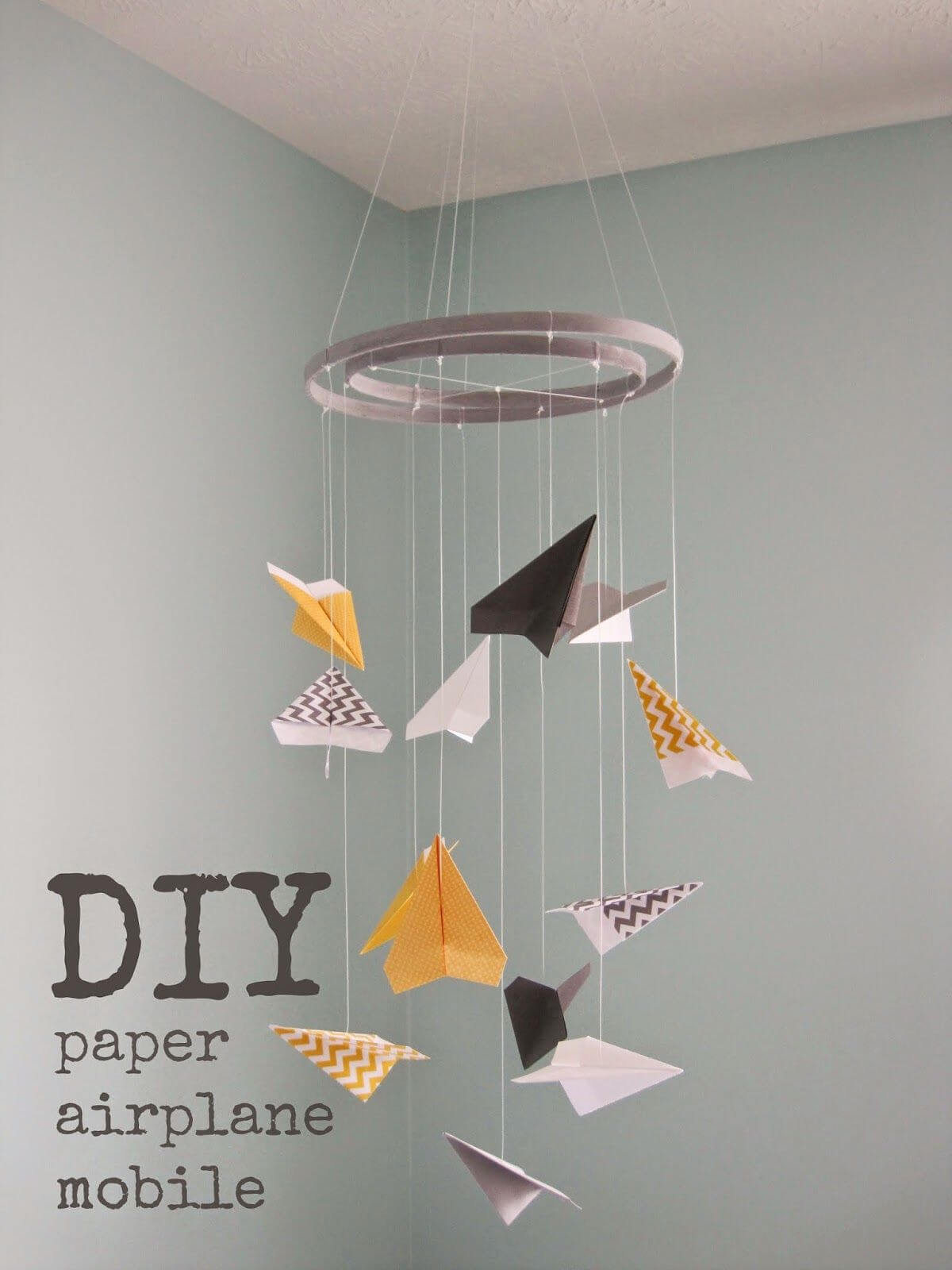 Paper airplanes provide such a carefree and nostalgic vibe that blends effortlessly into a nursery. Considering their design, they even look incredible when they spin, able to capture your child's attention right away. This neutral color scheme works well too so that it fits in with any decorative style.
7. Pom Pom and Flower Button Decorative Mobile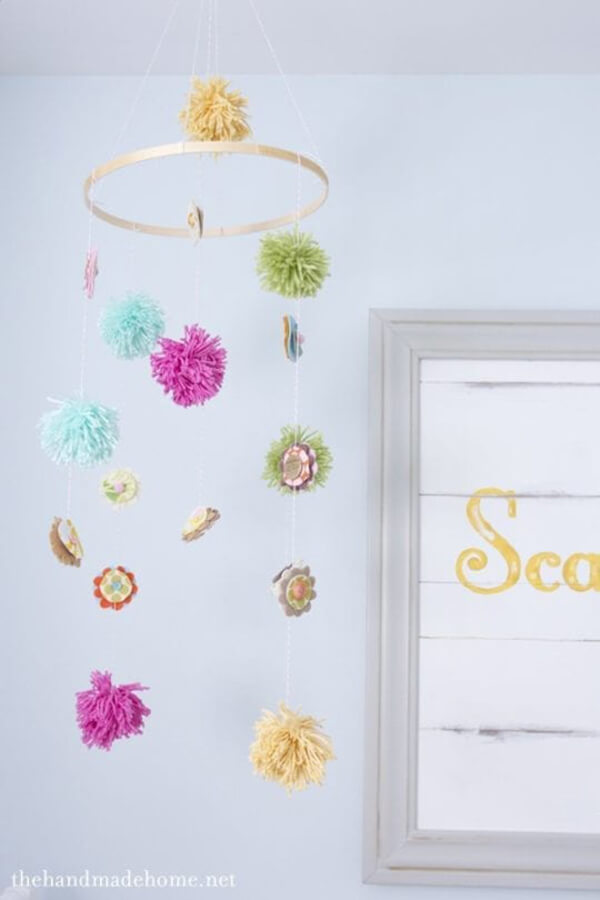 Now appearing in locations other than the nursery is the incredibly cool and creative mobile. Soft yarn pom-poms add such fun and soft charm and can be created in any color your heart desires. Suspended from the mobile base, these colorful and plush poms are set off with shabby chic flowers. At the center of each of these fabrics, flowers is a button to give more texture and charm. A child of any age would enjoy this crafty creation as a fun afternoon project that can be hung overhead in his/her bedroom.
8. Cute Critters DIY Baby Mobile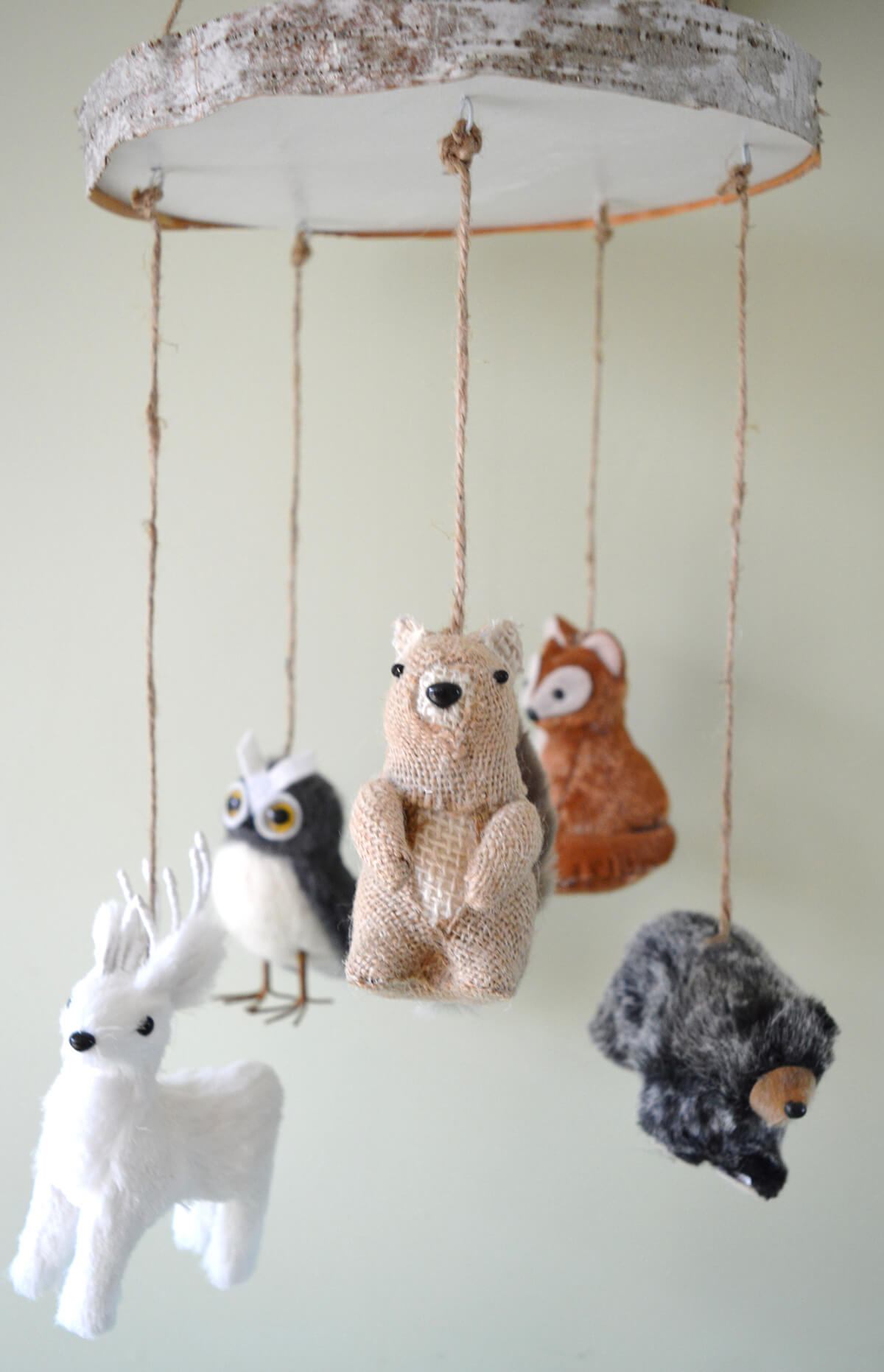 Some of the cutest and cuddliest creatures come together to form this adorable baby mobile. Any nature lover or outdoor enthusiast will appreciate the simplistic beauty of these animals. Suspended from some rustic string, the accent of birch wrapping further adds to the natural elements of this beautiful creation. Find your favorite woodland friends to include when making your very own version of this cute craft. Not only does it become the focal point of a baby's nursery, but it also makes a nice party decoration for a birthday celebration.
9. Birds and Beads Baby Mobile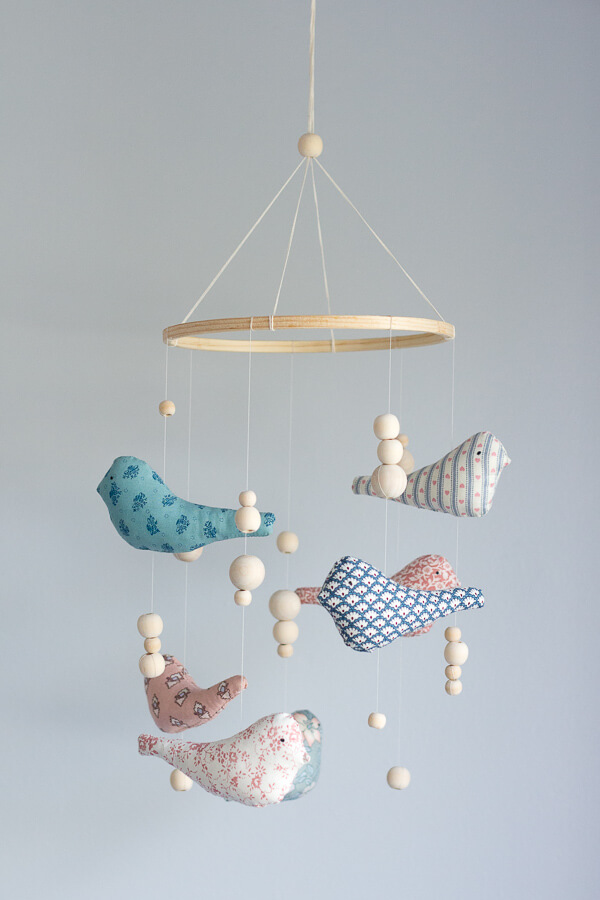 Soft and serene, this handmade baby mobile idea features darling birds and is accented with natural wooden beads. The combination of the soft stuffed birds with the wooden beads creates a great contrast of interest and style. Choose patterns of fabric to tie in with the motif of your nursery design. For a bolder look, you may choose to paint some or all of the wooden beads and the embroidery ring hanger. Keeping all of the birds in the same shape and size adds a professional touch while the personal choice of fabric used gives it a custom look.
10. Vintage Colored Wooden Bead Baby Mobile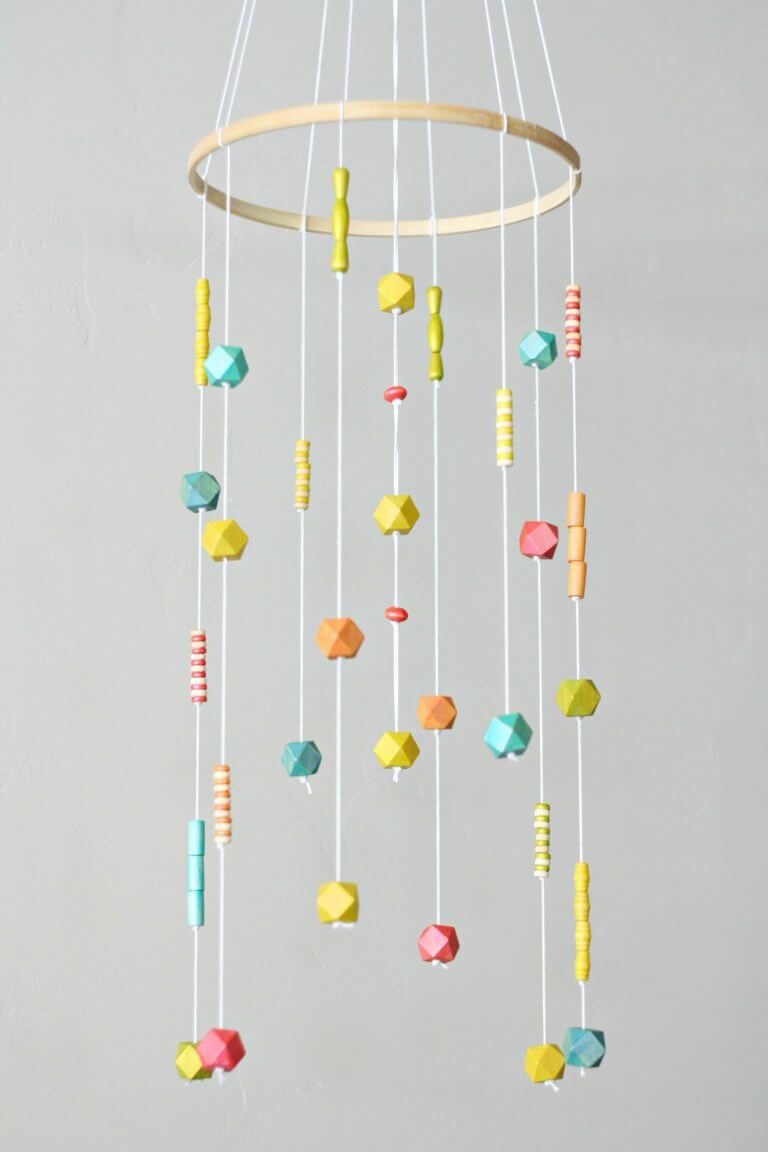 Sometimes creating a nursery vision in your head creates more problems when you can't find the decorative touches to bring it to life. Don't worry about that because creating a baby mobile that perfectly matches your cool nursery design is as simple as an afternoon DIY project. Some twine and a hoop establish the base for this baby mobile while wooden beads and paint do all the decorating. Choose a paint that speaks to you like the vintage-looking finish of the ones pictured. These colors exude a lived-in and loved beauty that is anything but outdated.
11. Baby Mobile Cards High Contrast Design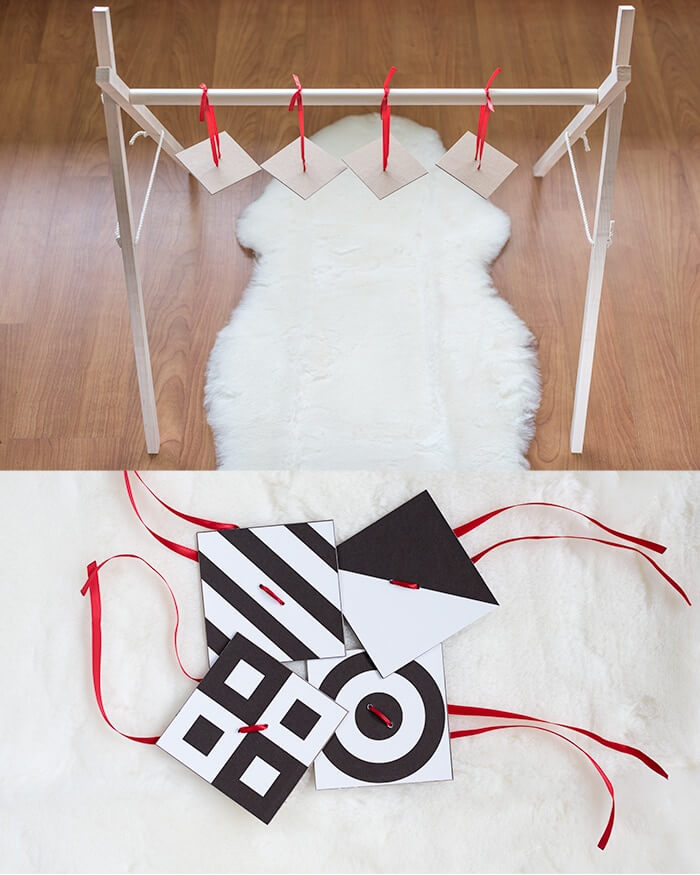 Watching a baby grow is one of life's greatest blessings. Live in the moment and enjoy the little things as the baby begins to engage with the world around him/her. For the young newborn, high contrast colors are the way to go. The stark contrast from black to white offers the optical illusion most preferred by your tiniest family member. Create your own baby mobile for him/her with these interesting and cool patterned cards. Space them out across a bar for your little one to enjoy.
12. Twisted Triangle and Twig Baby Mobile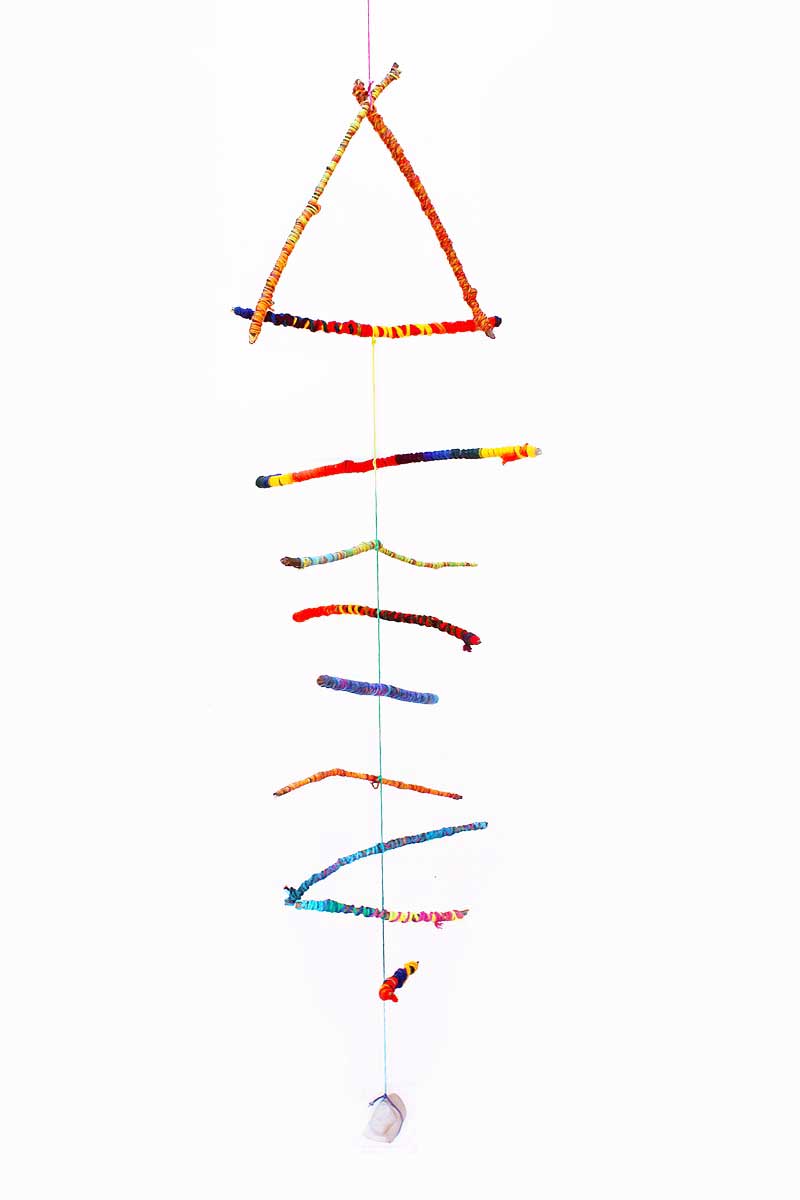 Add some abstract artistic flair to the baby's nursery with this creatively twisted triangle and twig mobile. The construction of this easy DIY becomes an educational lesson for older children while providing the youngest family member with some colorful visually stimulating room decor. Choose twigs of varying lengths for more interest and wrap multicolored string for the most colorful design. The weight you choose can be simple like an ordinary rock or you may choose to paint it, as to jazz it up a bit.
13. Circle Sensation DIY Paper Ombre Mobile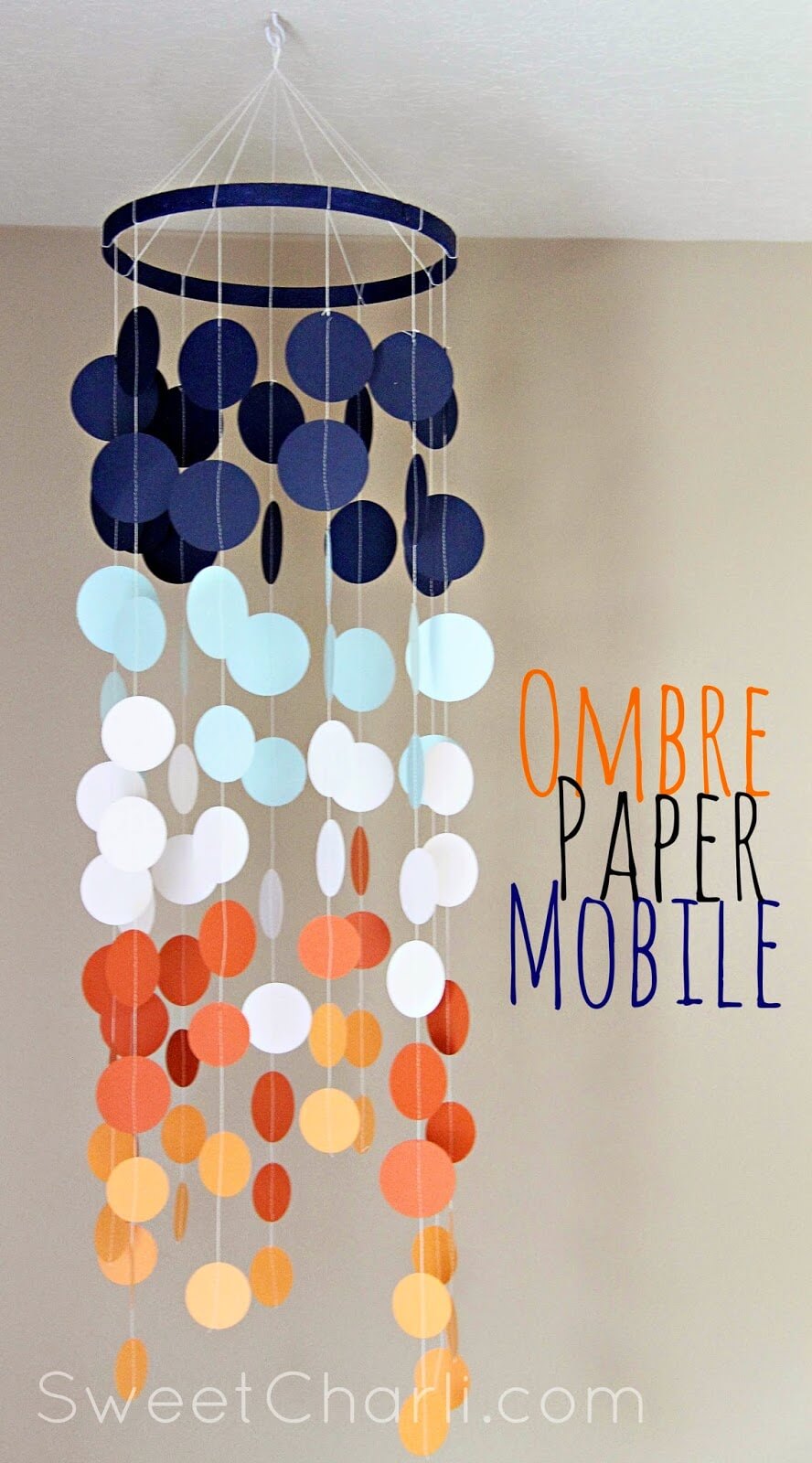 Circles unite in this stunning paper mobile. It makes a fabulous accent choice for a teen's bedroom, baby's nursery, or home office space. Put your own personal touch on it by selecting an ombre waterfall of your favorite colors. In the one pictured, blues transition to oranges as they vertically fall in a suspended mobile design. Choosing white as the central color makes the ombre transition much smoother. The look and feel of this DIY paper mobile creation seem like an idea taken from a magazine. Hang this in the corner of a room to soften up the space or place it directly over the baby's crib.
14. DIY Rainbow Ribbons Baby Mobile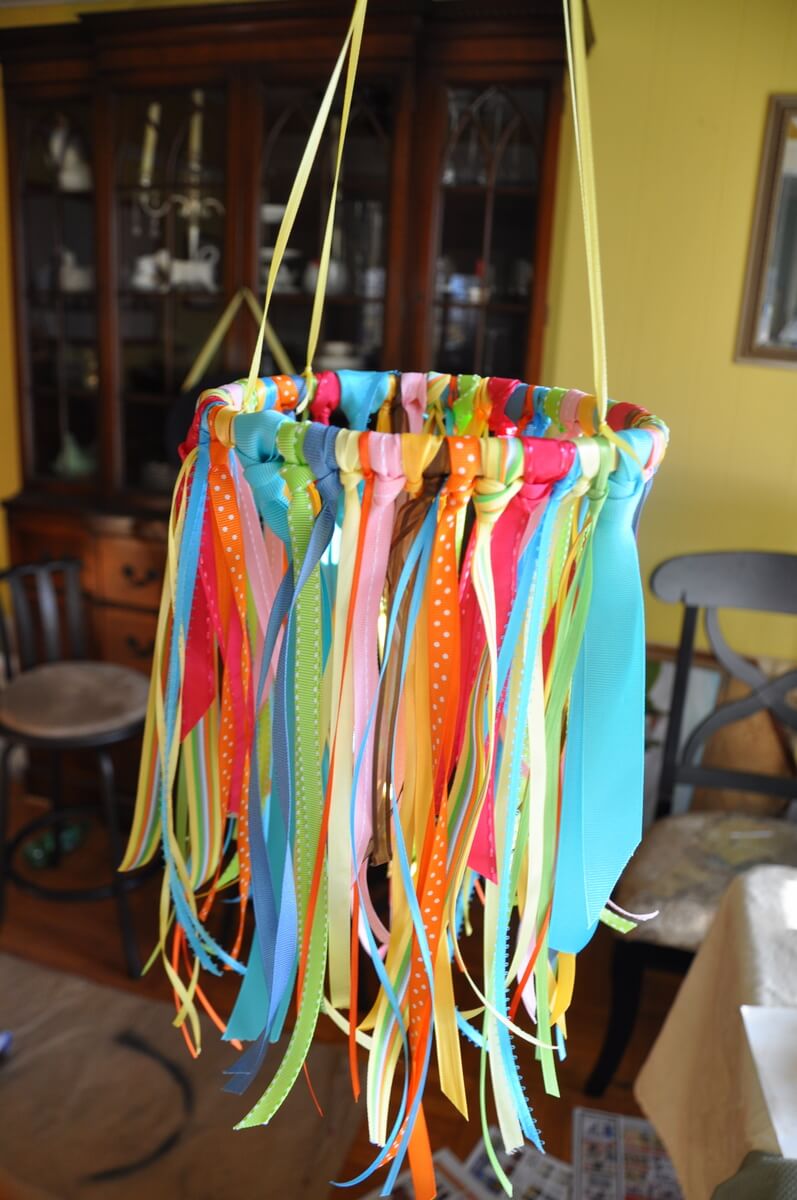 Add lots of color and loads of fun to your baby's nursery with this simple baby mobile. There are so many amazing ribbon colors and patterns from which to choose that you'll find limiting yourself the most difficult aspect of this entire project. Begin with a basic ring or hoop and begin simply knotting one ribbon at a time. As you make your way around the ring, the mobile will begin to take shape and come to life. The sheen provided by the satin ribbon adds a smooth elegance too. Mix it up with plain, polka dots, and stripes for extra awesomeness.
15. Modern Gold and Gray Feather Mobile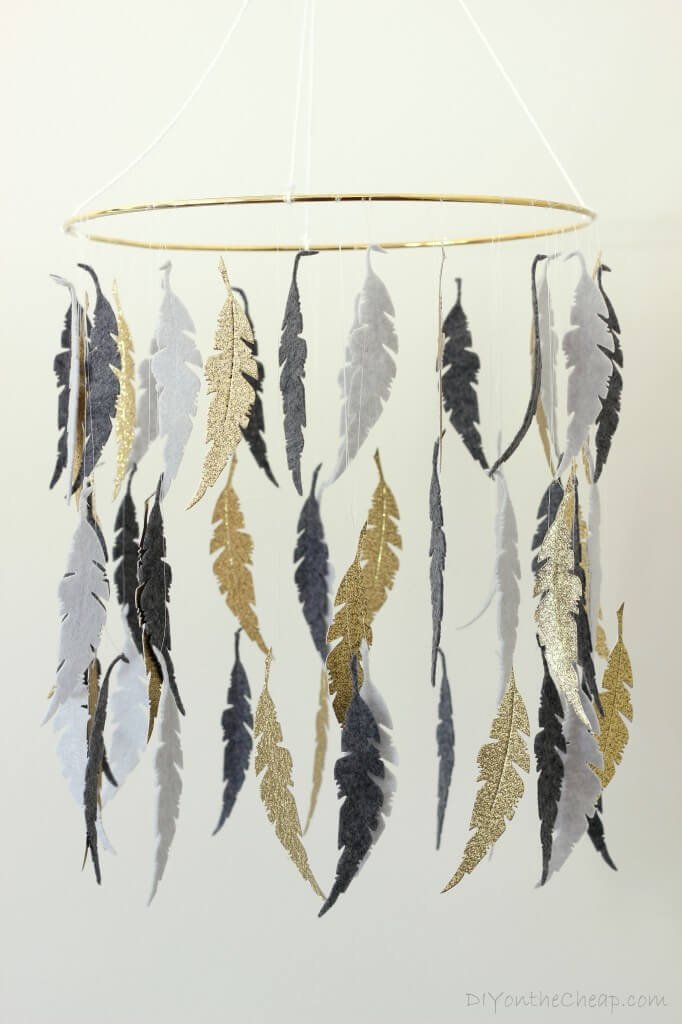 Your baby's mobile doesn't have to be built on primary colors and toys. In today's world of design, you can have your cake and eat it too, so to speak! Create a custom mobile for your baby's nursery that has your style, yet also offers a visually entertaining decoration for your little one. This feather creation makes that happen. A collection of feathers adds a bohemian vibe and modern appeal. Choosing gray and white as the base, the entire display looks incredible with the accent of a few golden glittered ones.
16. DIY Mini Chandelier Paperclip Mobile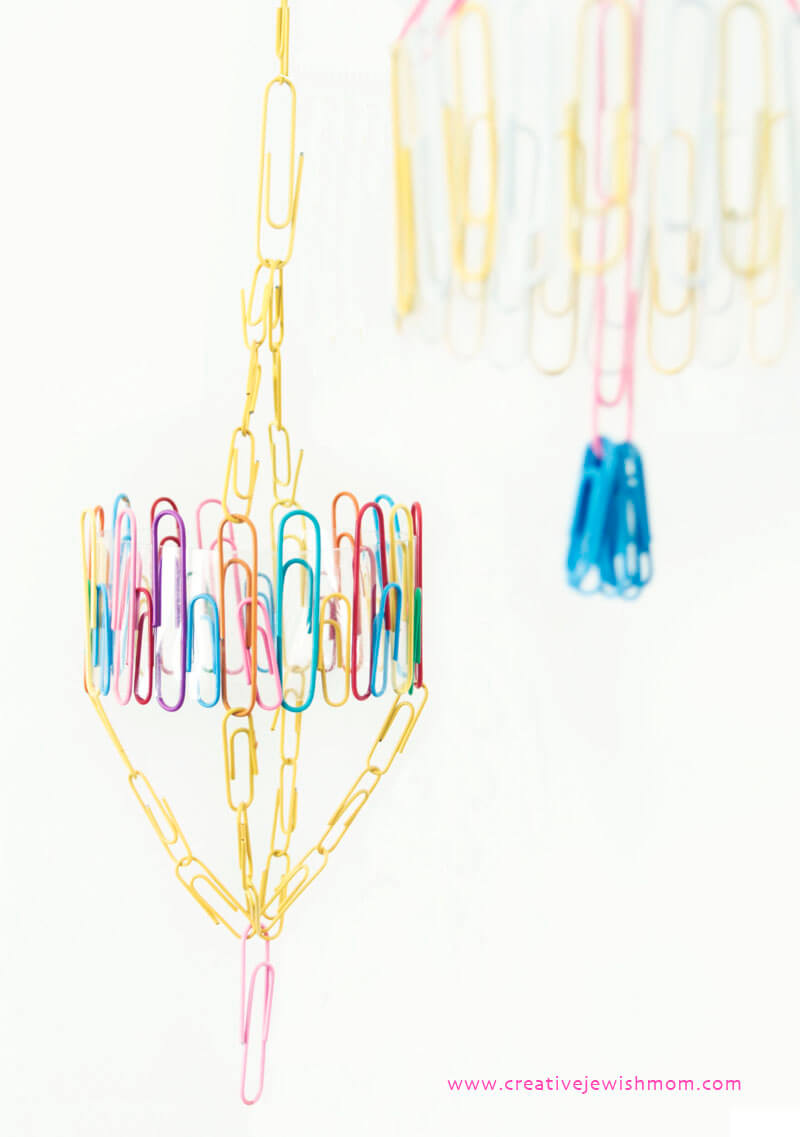 If your teenage daughter seems overly bored on a rainy day, may I suggest this fun and colorful DIY mini chandelier paperclip project? Let her creativity run wild as she chooses a color combination and pattern to create this interesting and unique miniature mobile. Along with a friend, she can customize this chandelier to her liking and use it as amazing decorations around her room. These paperclip mobiles would make fun party decorations at a work-related party like a retirement celebration.
17. Dark DIY Paper Crane Mobile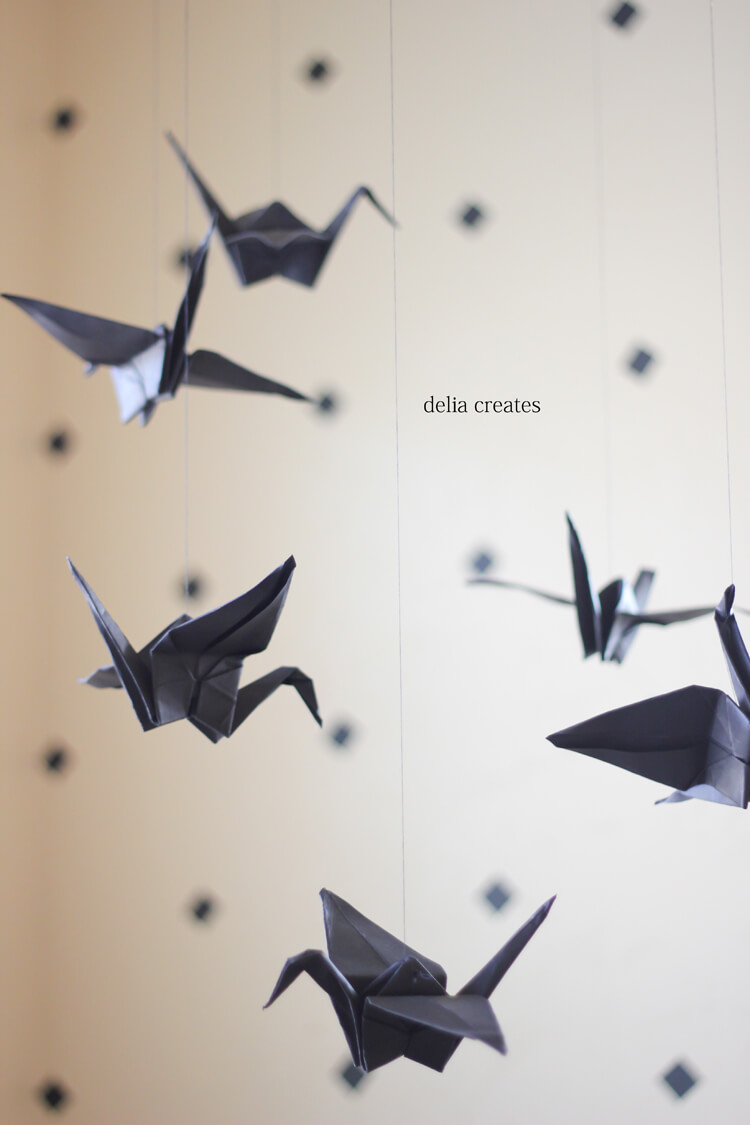 Origami is at its finest when used to create such awesome projects like this crane mobile. Obviously, this paper crane mobile would be a cool design to include within a modern contemporary nursery; however, it would also look amazing jazzing up a corner nook in your living room. Suspended at varying levels, these cranes are on display so you can enjoy them from nearly any angle. Host a fun origami-themed party and let the crafting begin!
18. Create Your Own Woodland Creatures Baby Mobile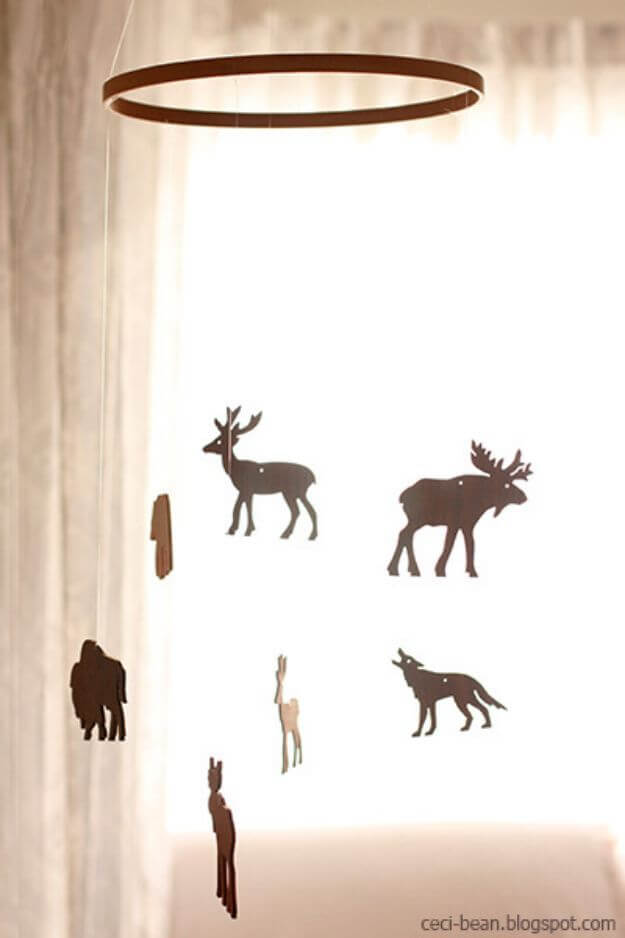 Choose a mobile for your baby that will both captivate him/her as well as look stylish in your curated nursery. No need for a boring baby mobile when you can craft your very own custom creation. For a modern woodland creature-inspired look, check out this incredibly cool wooden animal cut-out project. These seven animals hang over the baby's head dangling from a wooden ring. Using clear strings further adds to the style and modern look of the piece. As the baby grows, the pieces of this mobile can easily be turned into a puzzle for an exploring toddler to enjoy.
19. I Heart Hot Air Balloons Mobile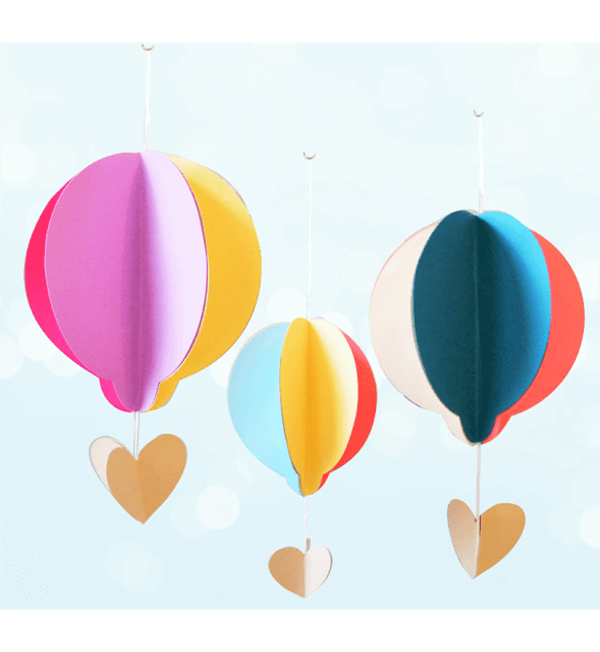 Decorate your next celebration with the classic beauty of hot air balloons. These 3D works of art are gorgeous ways to accessorize your party scene. Choose the color combination you love or design them with all the colors in the rainbow. These paper versions are fun handmade baby mobile ideas too that work equally well in either a girl or boy nursery. Lift up, up, and away as you release your cares and enjoy the ride. Using a hot air balloon theme is a cool path to take.
Create an Amazing Nursery with the Best DIY Baby Mobile Ideas
There's a point in every pregnant mama's life when the overwhelming desire to nest kicks in. And it typically comes in like a lion and rears its head with intensity. Use this ferocious energy to create the gorgeous nursery of your dreams. A wonderful way to start is with a handmade mobile. Generally, a mobile ties the entire room together as it's routinely a focal point. Begin your design with this in mind. If you crave the great outdoors, consider a woodland creatures nursery motif filled with cute critters, leaves, and sticks. You can create one with soft and colorful felt animals or use a more modern and rustic look with wooden cut-outs.
Of course, there is always the simplistic beauty and feminine allure of ribbons. A simple ribbon mobile adds a nice touch and as much color as you choose. Pom poms, paper clips, and painted beads are another fun route to go. Travel along the road to fun with lively vintage hues that work with your minimalist retro style. Black and white tiles give a high contrast inclusion to the room for stimulating morning floor time fun for your baby. Ribbon fasteners allow personalized positioning so these can be used on the car seat, activity gym, or as a crib mobile.
Paper crafts make amazing mobile creations too from ombre to origami. Paper circles cascade from one color to another for a modern and contemporary design that feels mature enough for any room of the home. Crane origami provides a grown-up feel as well that could be the ideal accent for your cozy reading nook. The next time you're decorating a nursery, or any room, check out all of the wonderful ways to feature a DIY mobile project as one of your favorite focal pieces.