Nursery ideas are something so many parents dream about as part of getting ready to welcome a baby. From choosing the furniture and color scheme to finding that most important of comfy chairs for late night feedings and cuddles, there are so many choices out there that it can be overwhelming for new parents.
How do you make a cozy nursery?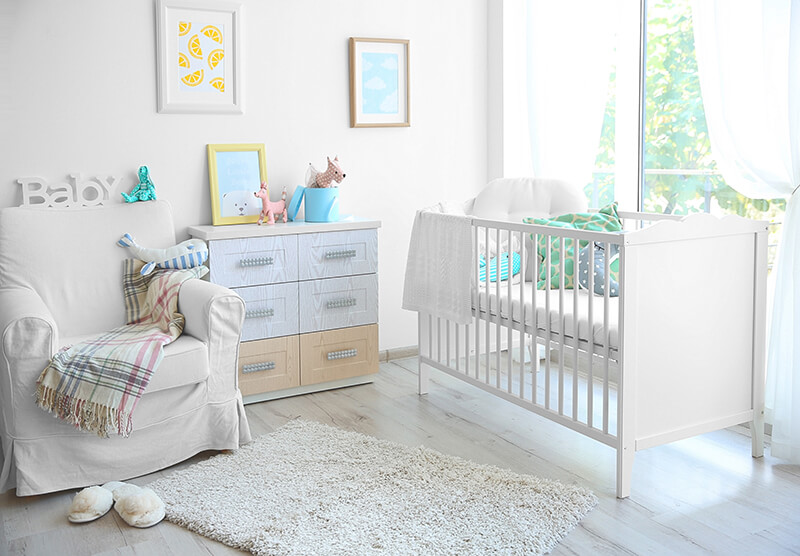 Image credit: © Africa Studio
Creating a cozy nursery is a delightful project that combines functionality with comfort. Here are some charming nursery ideas to inspire you:
Soft, warm colors: Opt for gentle, soothing hues. Think pastel blues, soft pinks, or warm beiges. These colors create a serene atmosphere, perfect for a baby's room.
Comfortable seating: A cozy armchair or rocking chair is a must. This is not just for the baby but also for you, offering a comfortable spot for feeding, reading, or cuddling.
Plush textures: Add layers of comfort with soft rugs, plush blankets, and cuddly toys. These textures not only feel good but also add warmth to the room.
Nature-inspired elements: Bring in a touch of nature with wooden furniture, a plant or two, and woodland nursery decorations. This creates a calming, grounded environment.
Effective lighting: Use a combination of lighting options. A dimmable ceiling light for general illumination, soft lampshades for a warm glow, and perhaps a fun nightlight.
Ample storage: Keep the room tidy and functional with smart storage solutions. Shelves, baskets, and drawers help organize toys, clothes, and essentials.
Personal touches: Decorate with items that have sentimental value or personal significance. This could be handmade decor, family heirlooms, or personalized art.
Safe and secure: Above all, safety comes first. Ensure all furniture and decor are baby-proof and non-toxic.
What is the best color to paint a nursery?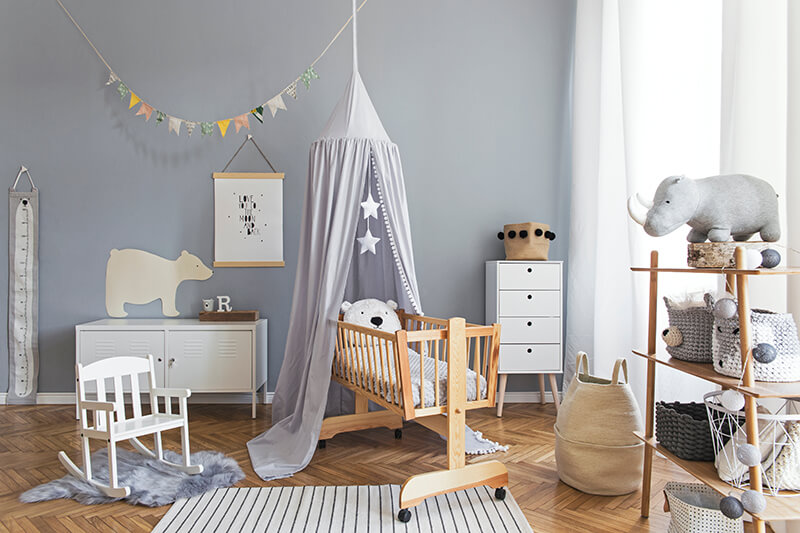 Image credit: © FollowTheFlow
Choosing the perfect color for a nursery is both an exciting and thoughtful process. It's about creating a nurturing and stimulating environment for your little one. Here are five top color options and why they're great choices:
Soft Pink
Evokes warmth and comfort, perfect for creating a soothing atmosphere.
Associated with nurturing and love, it's often a traditional choice for girls but works well in gender-neutral designs too.
Sky Blue
A calming and serene color, it can help to create a peaceful sleeping environment.
Reminiscent of the sky, it encourages a sense of openness and tranquility.
Mint Green
A refreshing and calming hue, ideal for a gender-neutral nursery.
Promotes relaxation and is believed to aid in concentration and learning as the child grows.
Butter Yellow
A cheerful and uplifting color, it can brighten the room without being too overpowering.
Stimulates the senses and promotes happiness, making it a great choice for an engaging nursery environment.
Lavender
A unique blend of calm and stimulation, lavender is known for its relaxing properties.
It's a versatile color that pairs well with various nursery themes and decorations.
Each of these colors offers a distinct mood and atmosphere, ensuring that the nursery is a welcoming and enjoyable space for both you and your baby. The key is to choose a color that resonates with your personal style and the ambiance you wish to create. Remember, the nursery is a special place where countless memories will be made!
68 Charming Nursery Room Ideas for Your Little Ones
1. Animals and Pinks are Little Girl Faves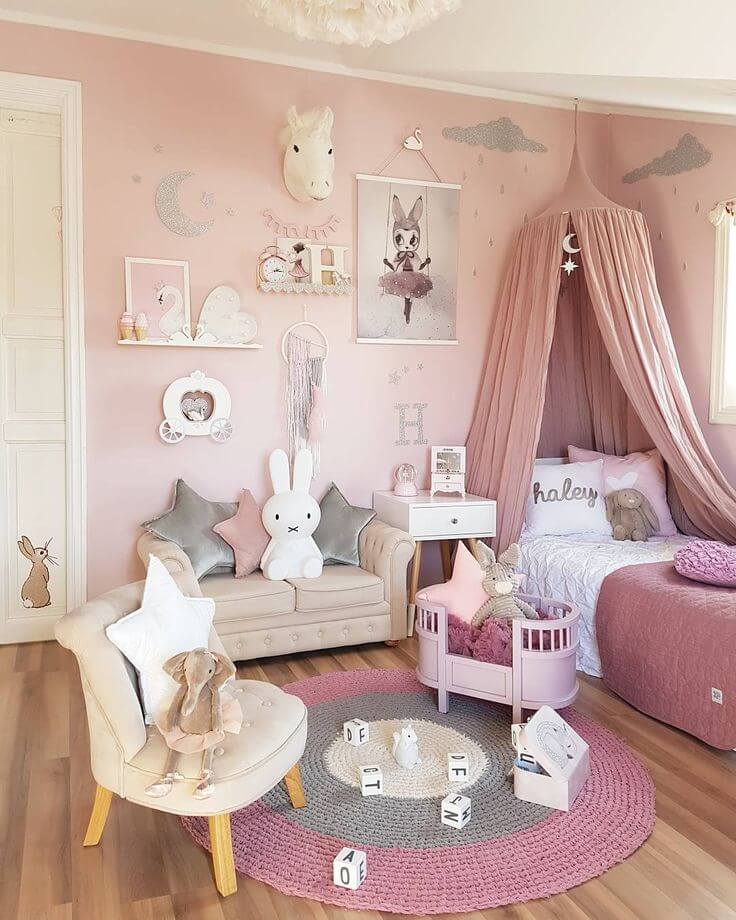 2. Modern and Tasteful Blues and Grey Chevrons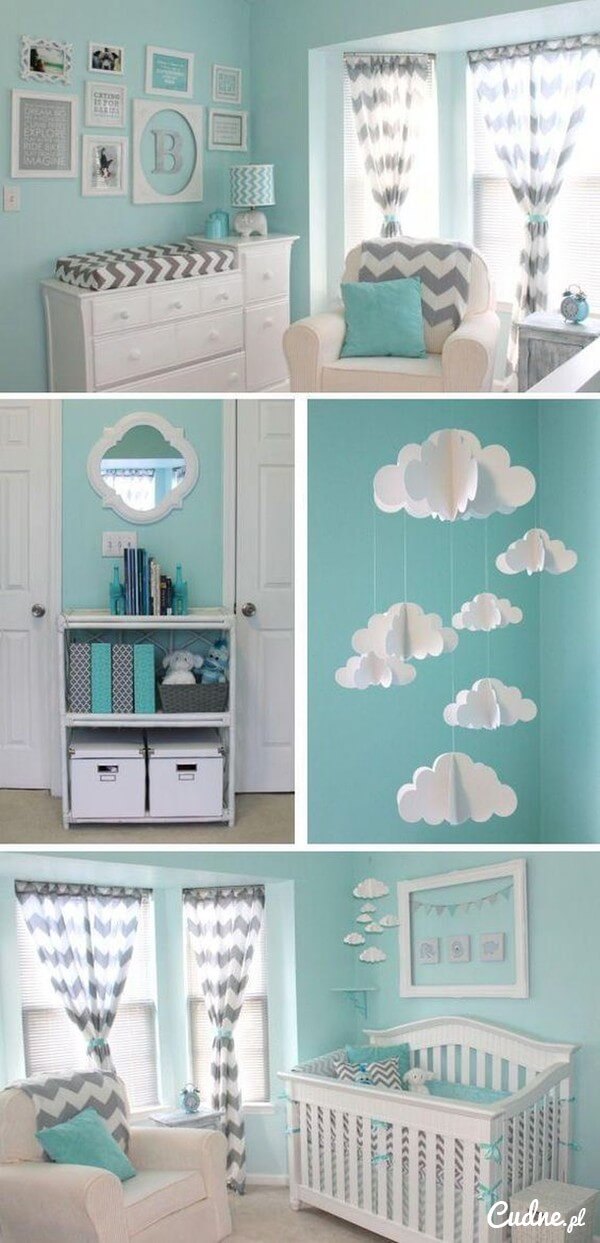 3. Textures Add Interest to Soft and Soothing Neutrals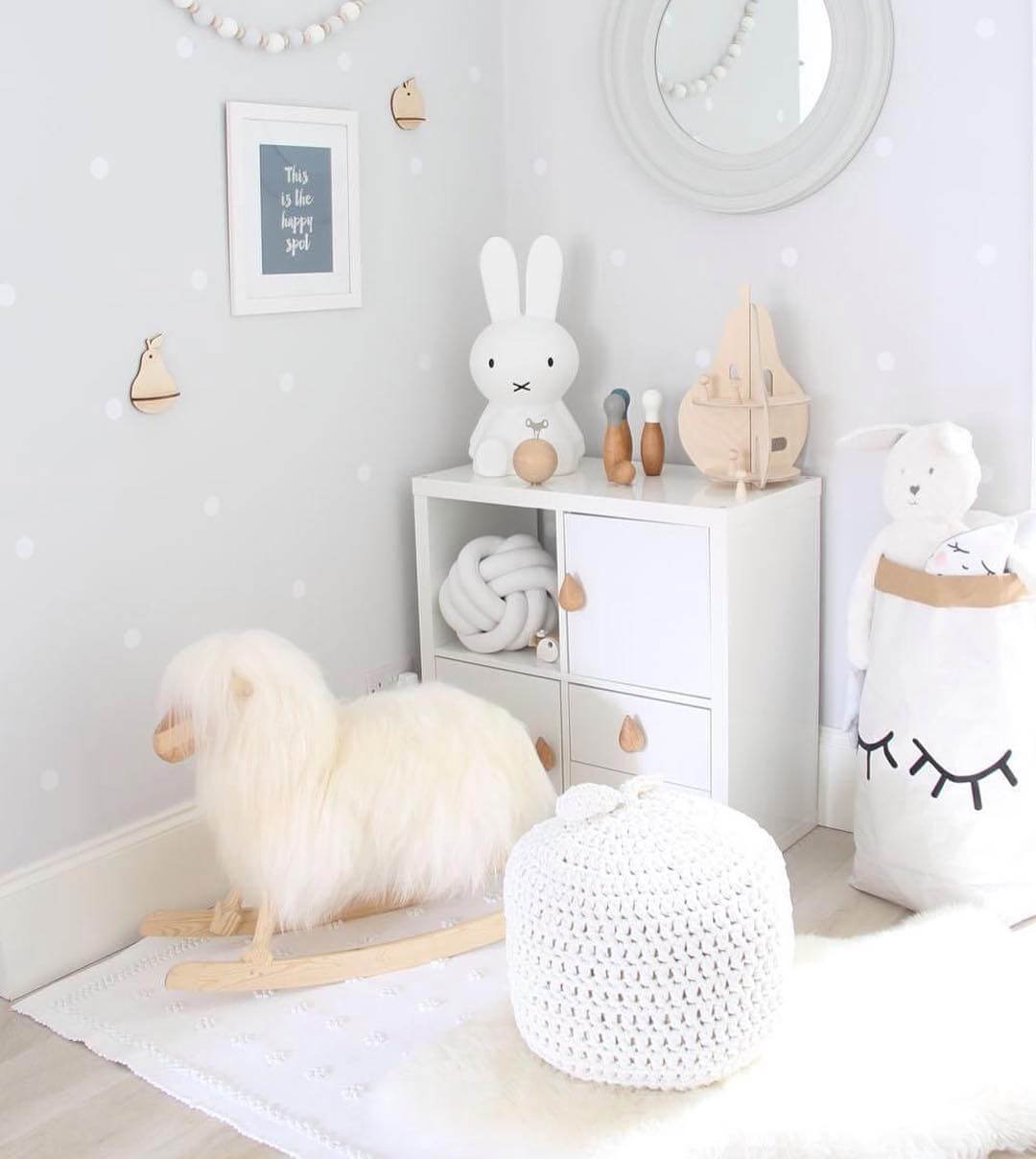 4. Sweet Curio Displays Hold Baby Keepsakes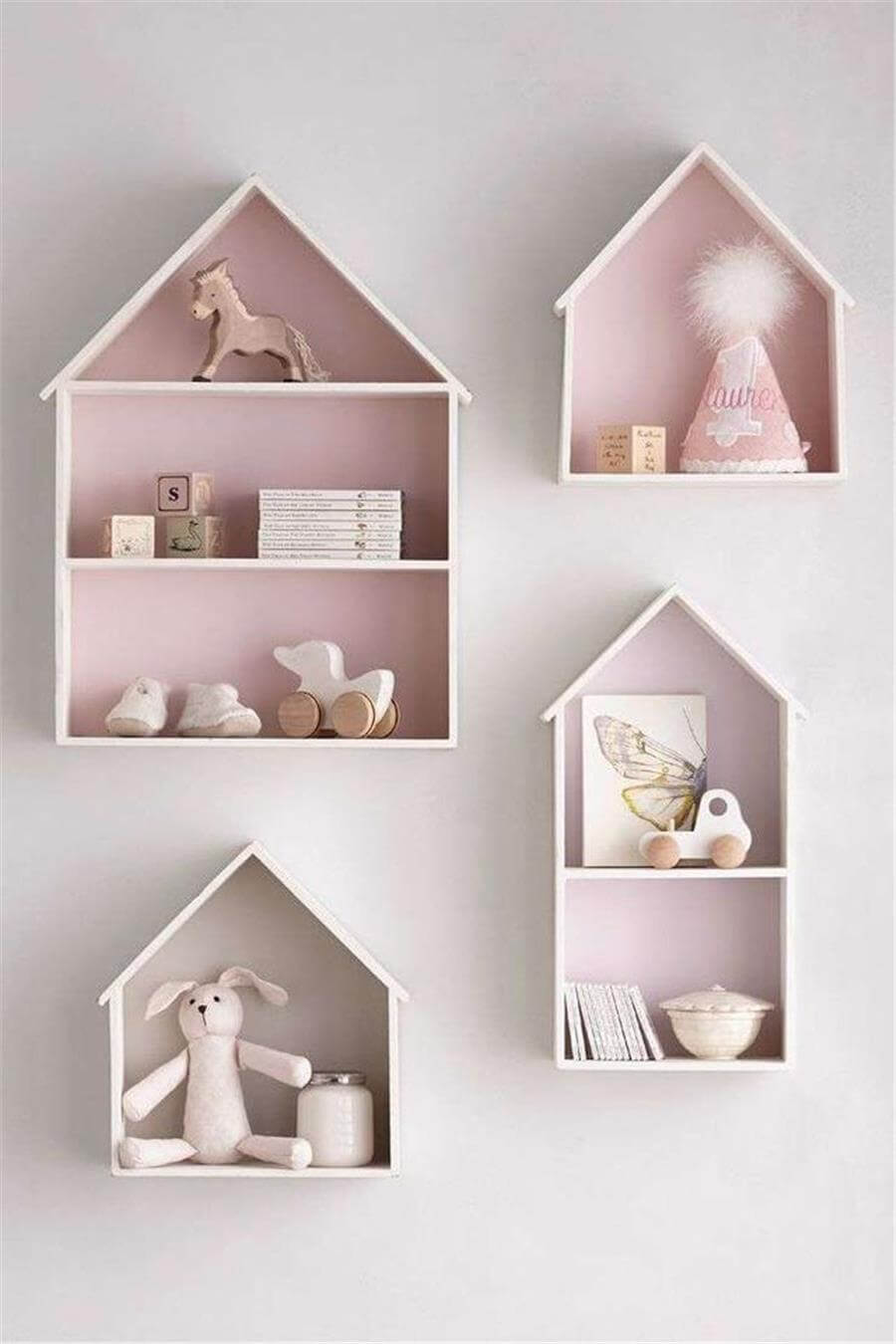 5. Soften Night Lights Inside a Net Canopy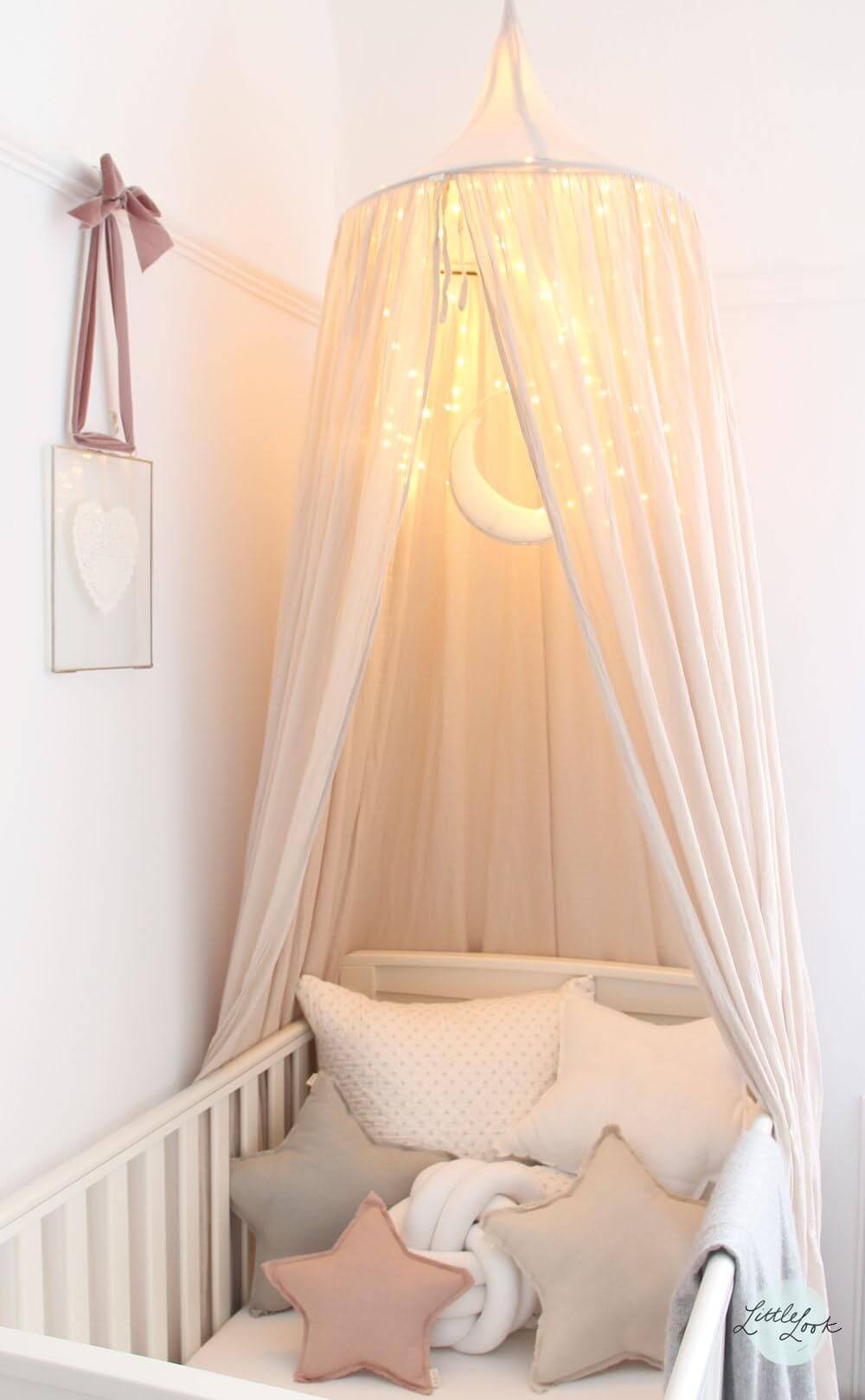 6. Shabby Chic Works In the Nursery Too

7. Pink Gets an Update With Gray Accents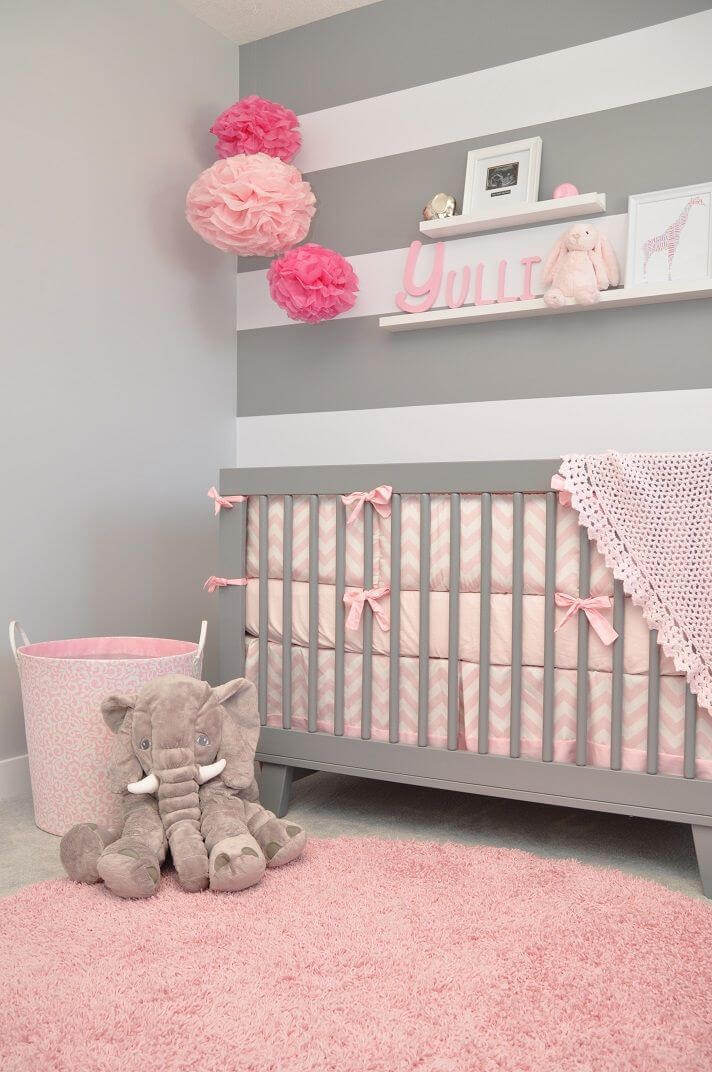 8. Artsy Newborn Photos Add Pop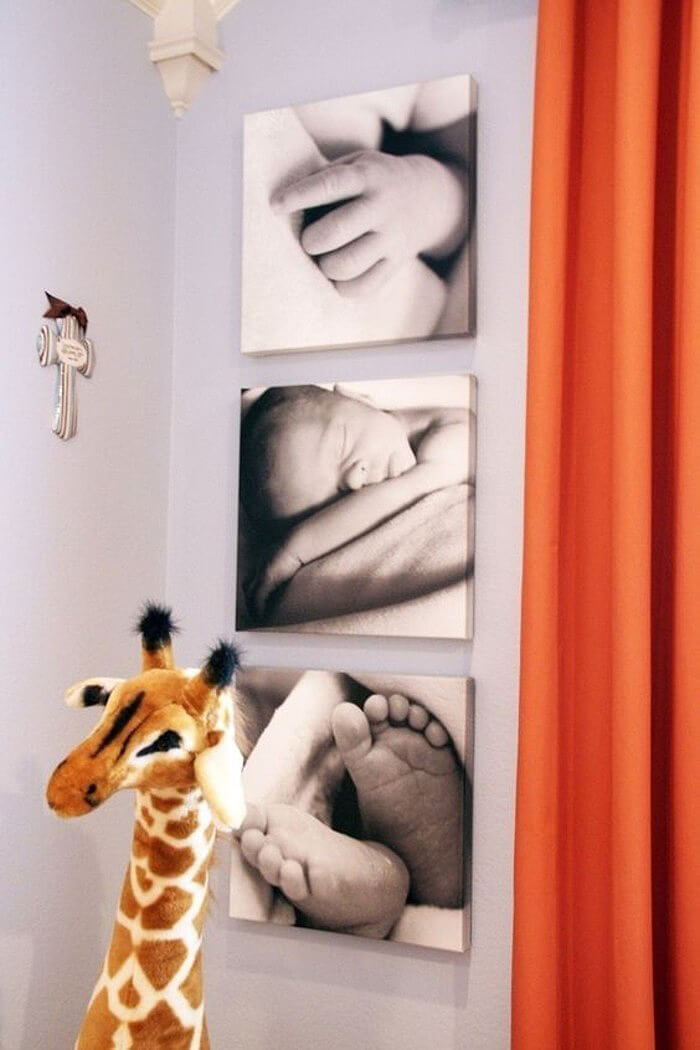 9. Use Chalkboard Paint For Years of Fun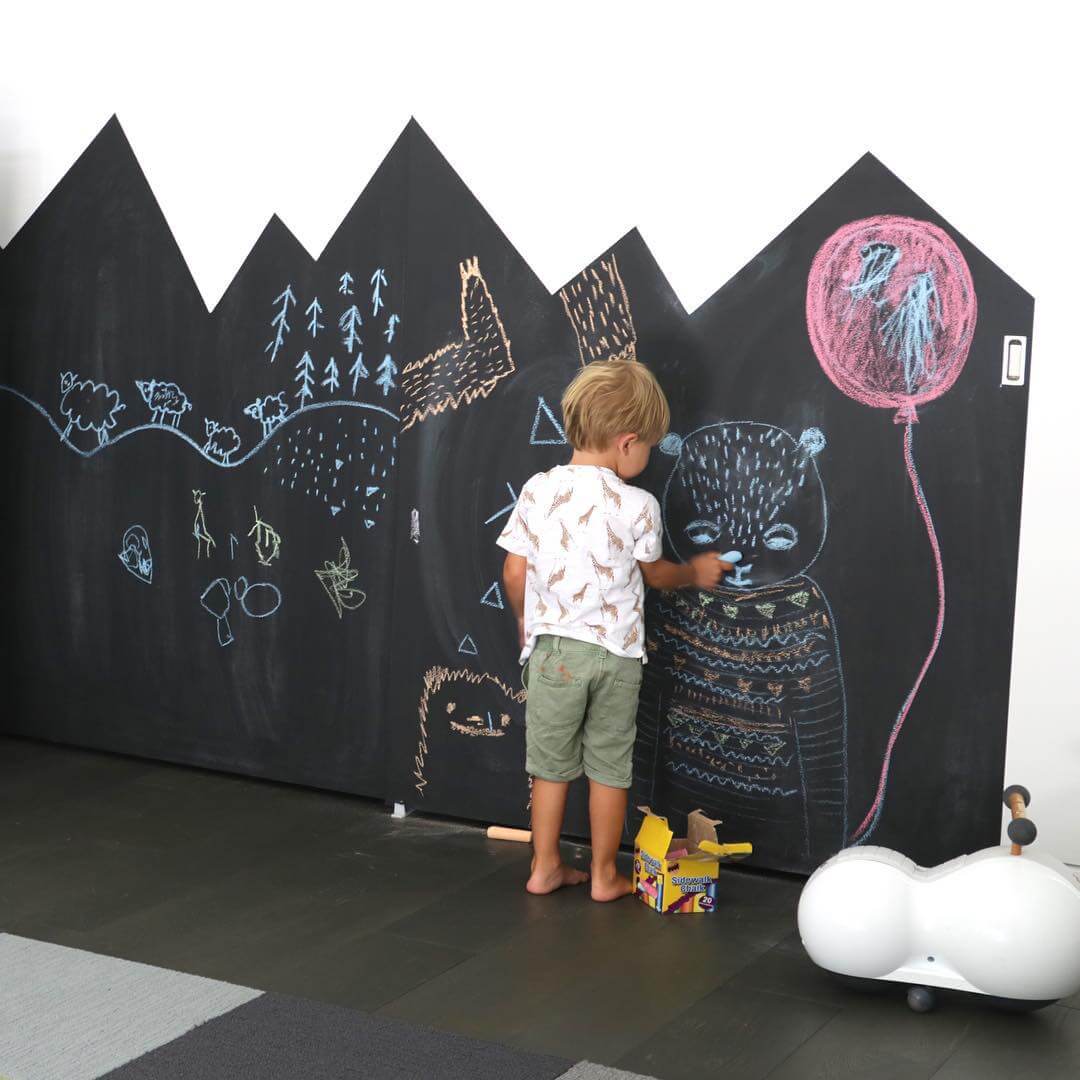 10. Trade Little Boy Blue for Yellow and Gray

11. Basic Black and White is Very Now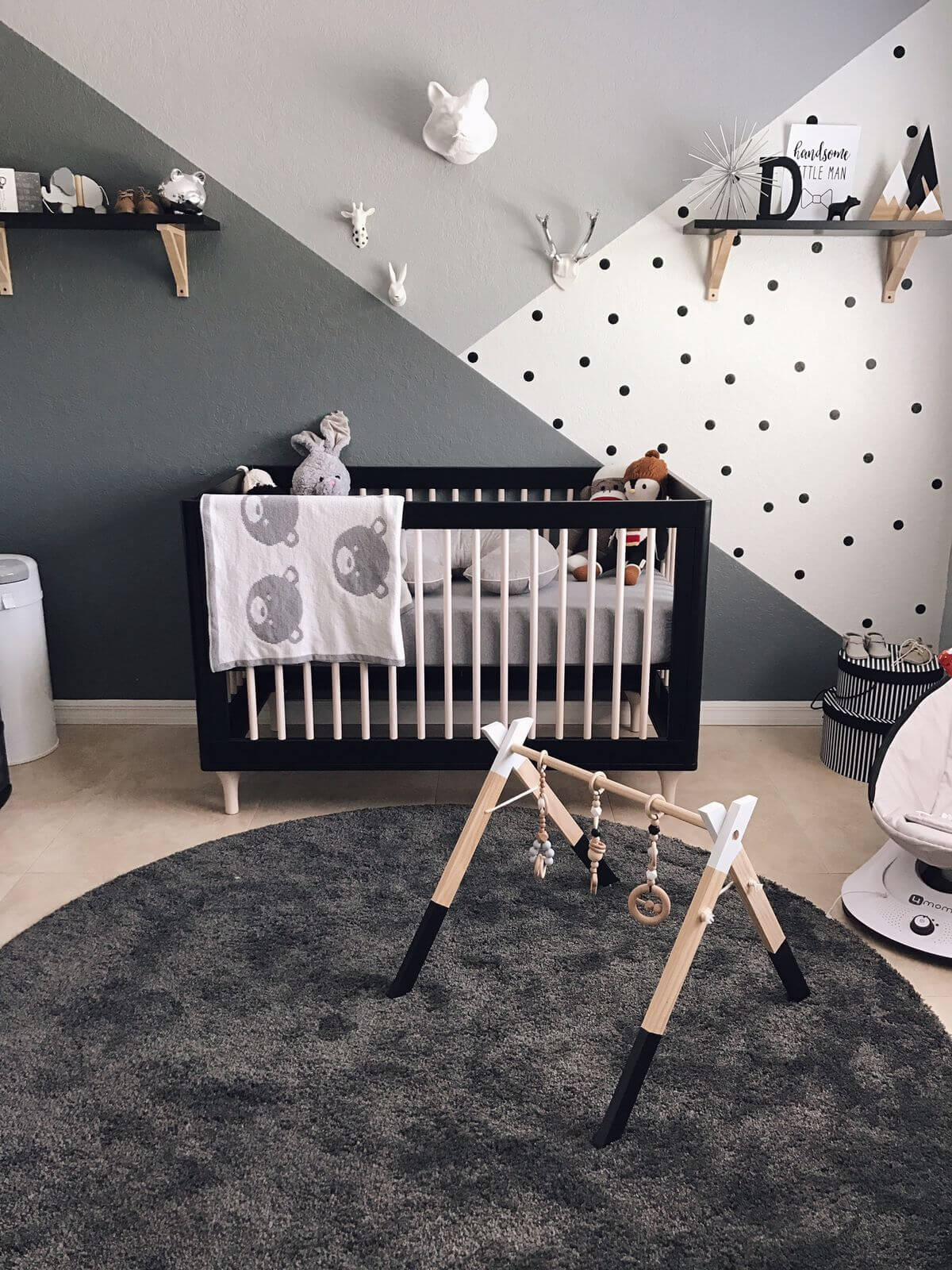 12. Outdoor Adventure Theme with Whimsical Wigwam Playhouse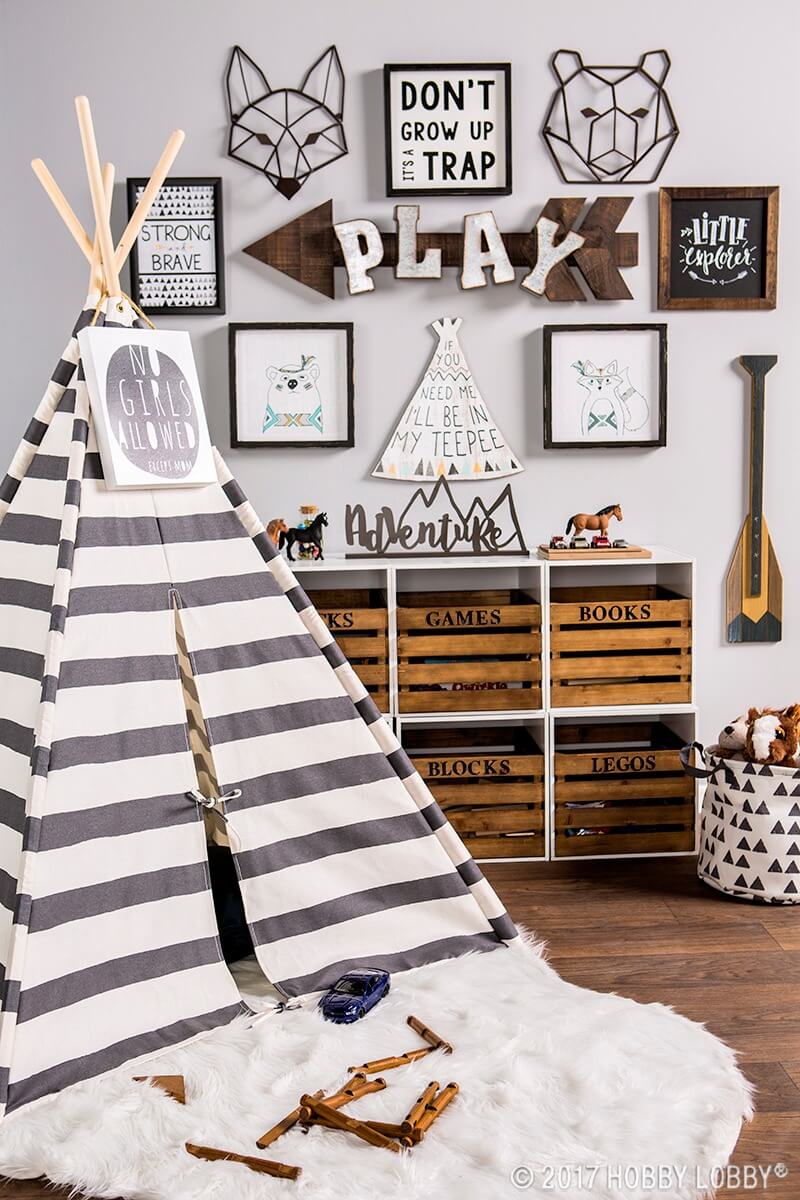 13. Bubble Bath Pinks and Creams Are Classic Baby Girl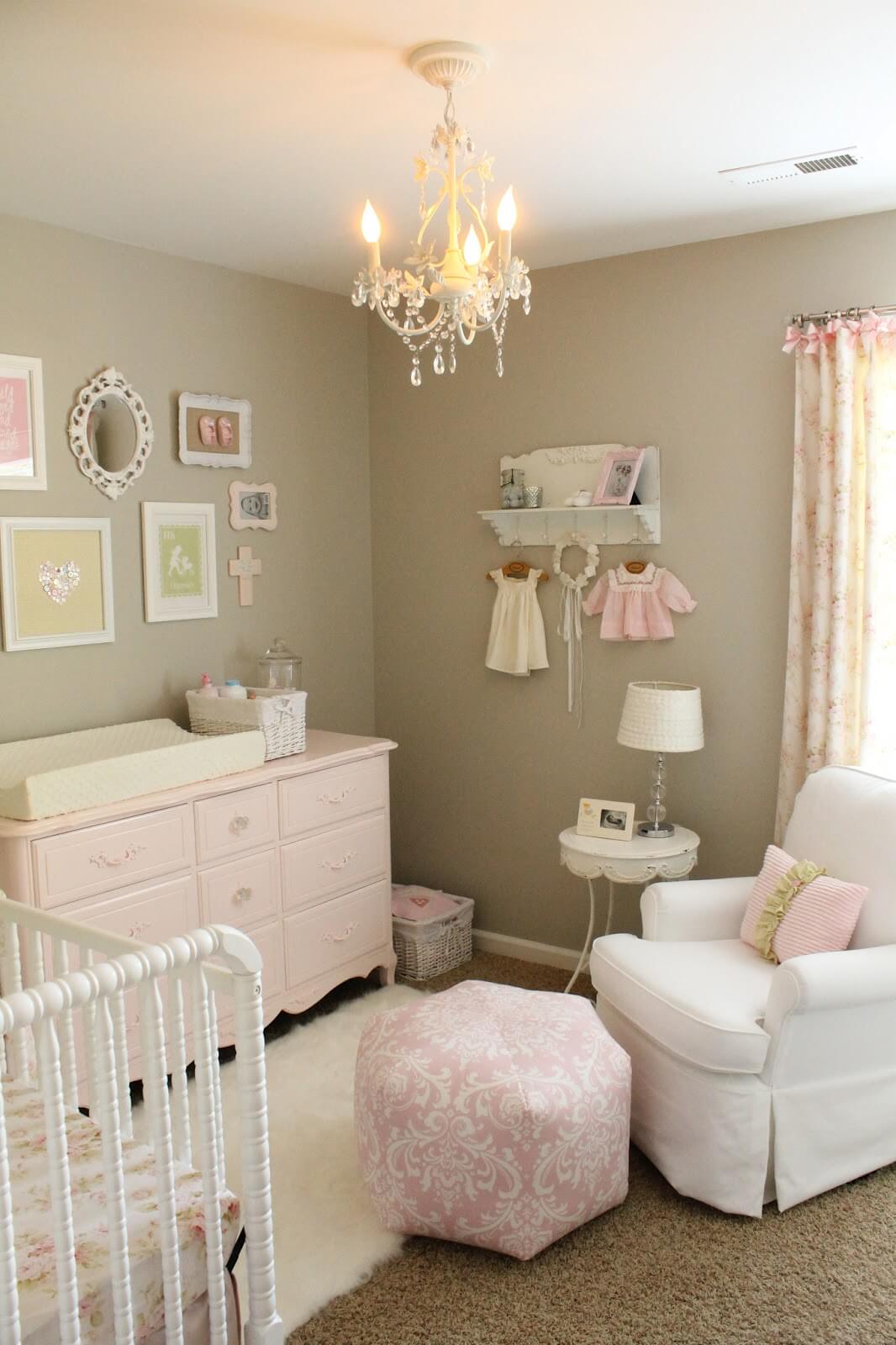 14. Nurseries Don't Have to Be Juvenile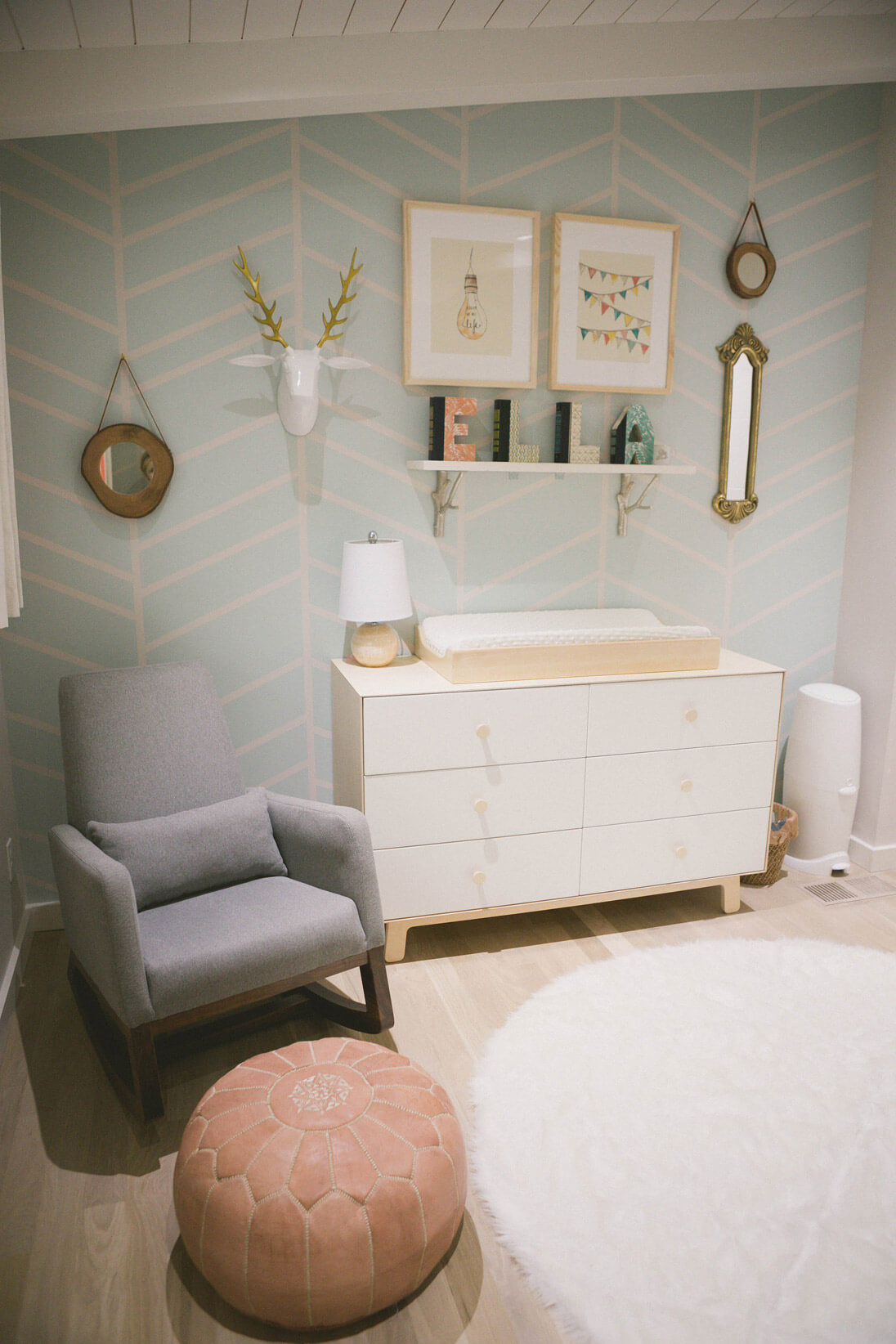 15. Monogrammed Wall Art Gets a Bold Update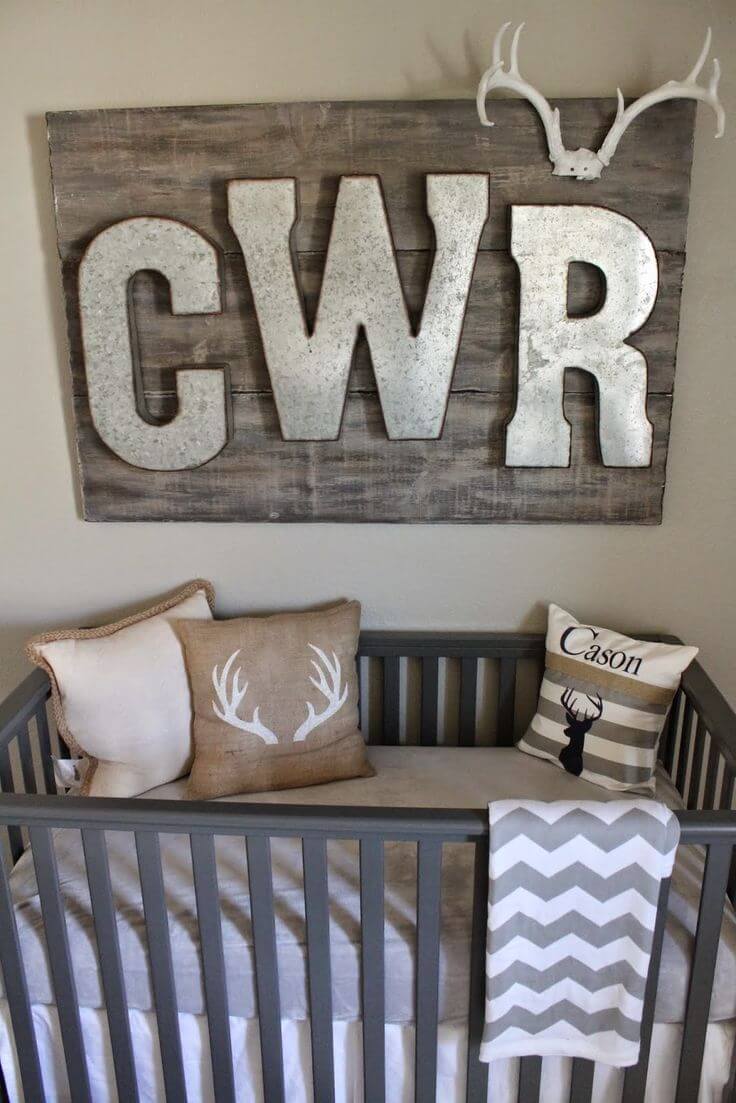 16. Confetti and Gold Accent an Eclectic Nursery Look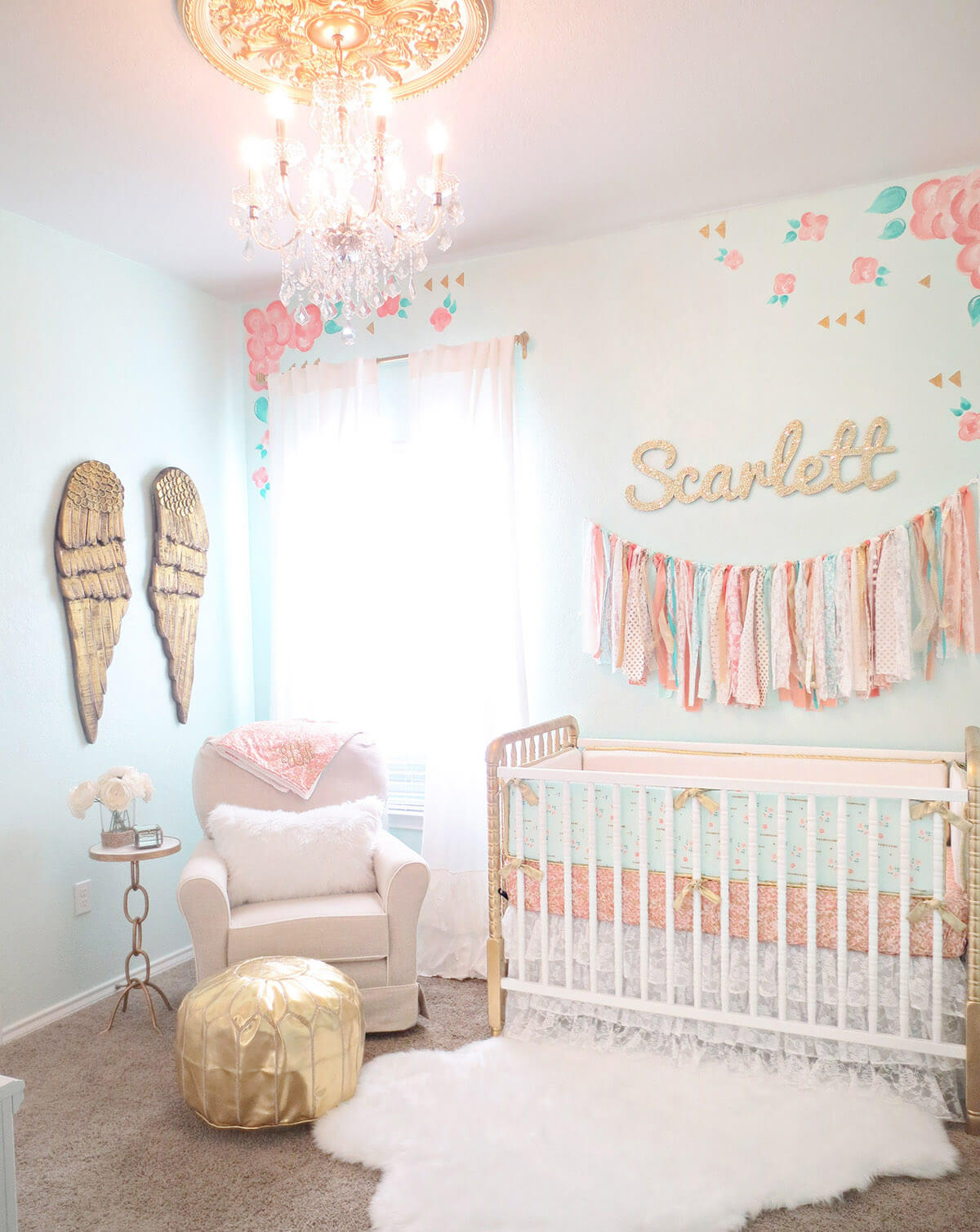 17. Bring the Outdoors Inside With a Larger-than-Life Mural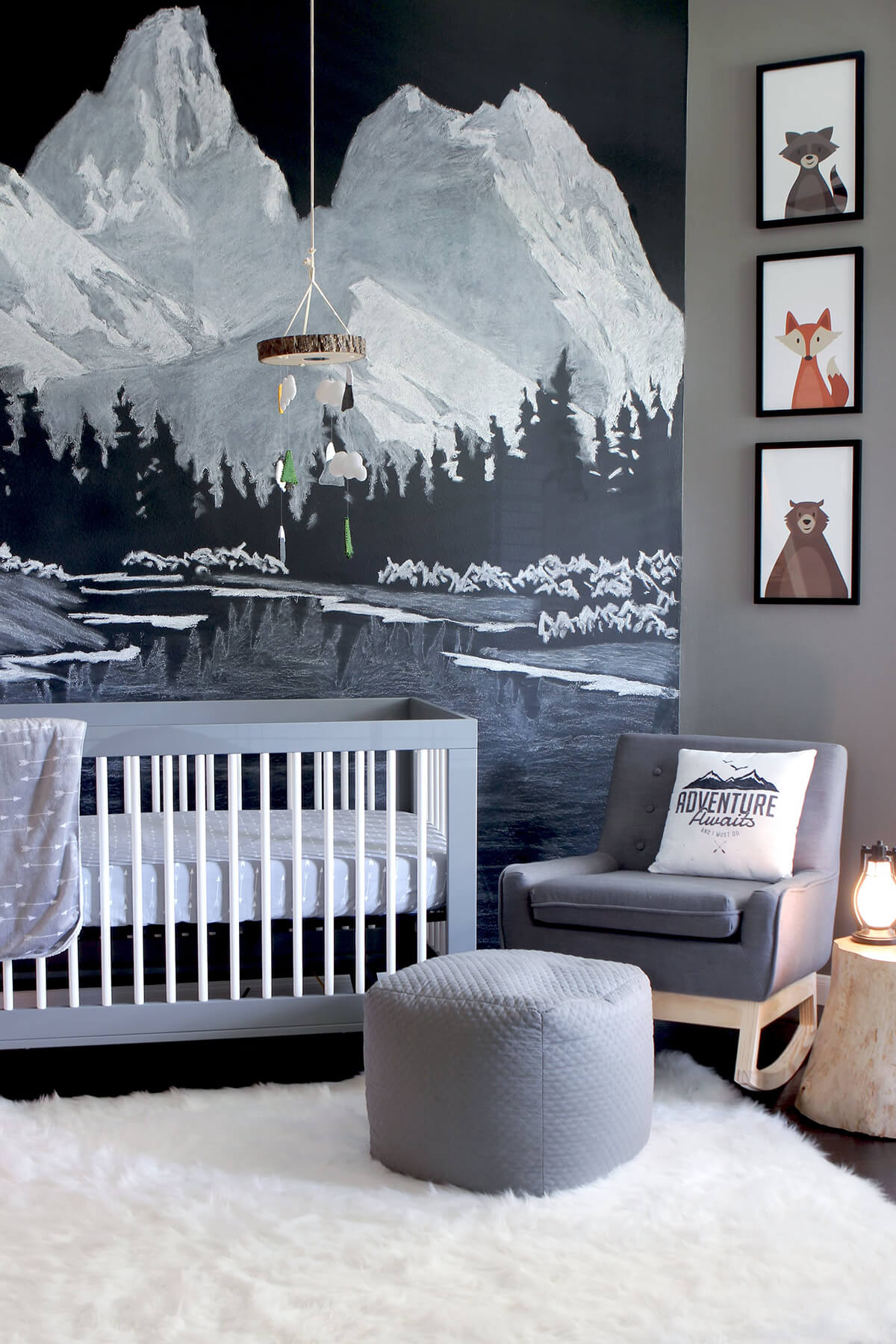 18. Baby Bunnies Just Got Way Cooler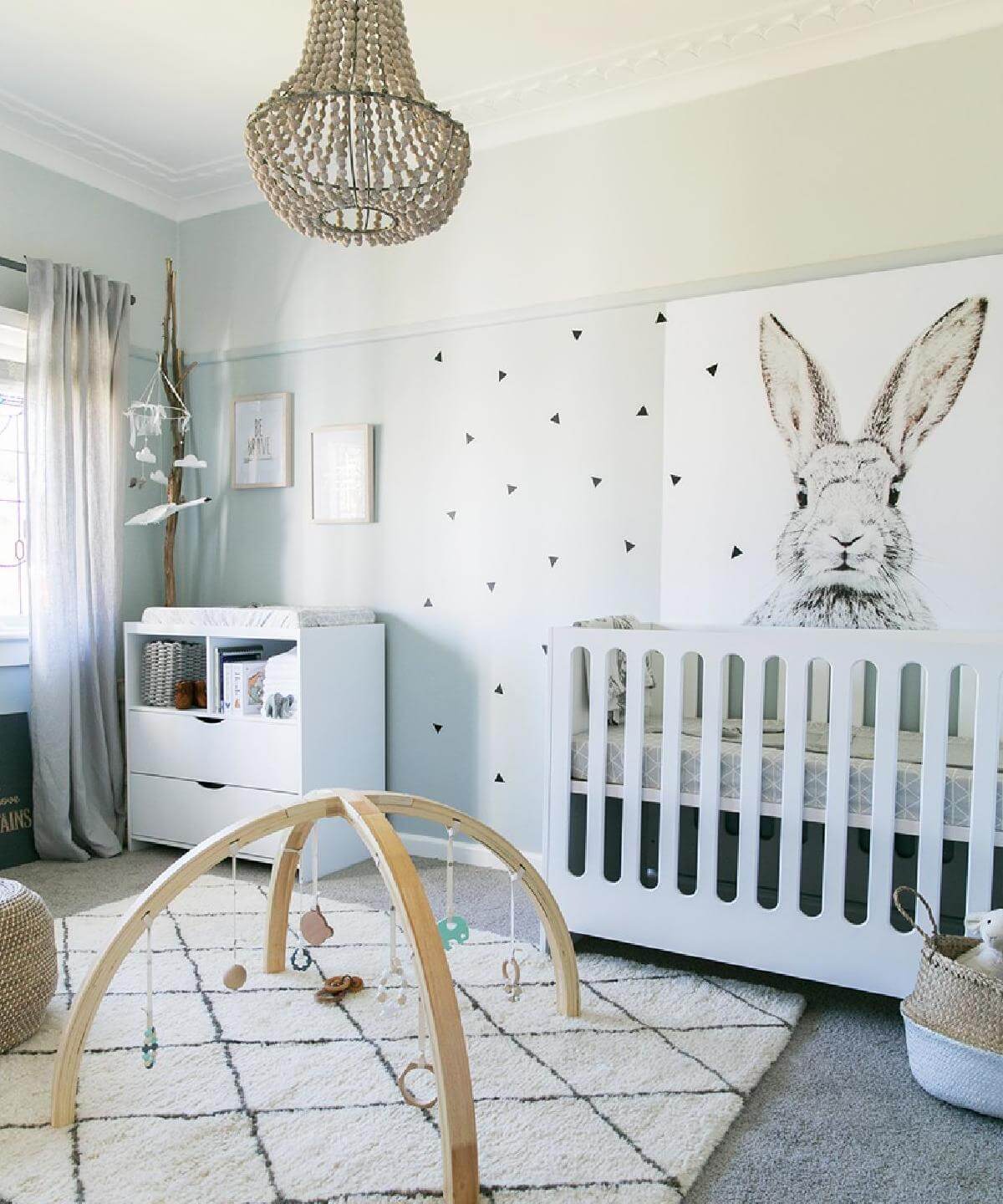 19. Not All Nurseries are Just For Baby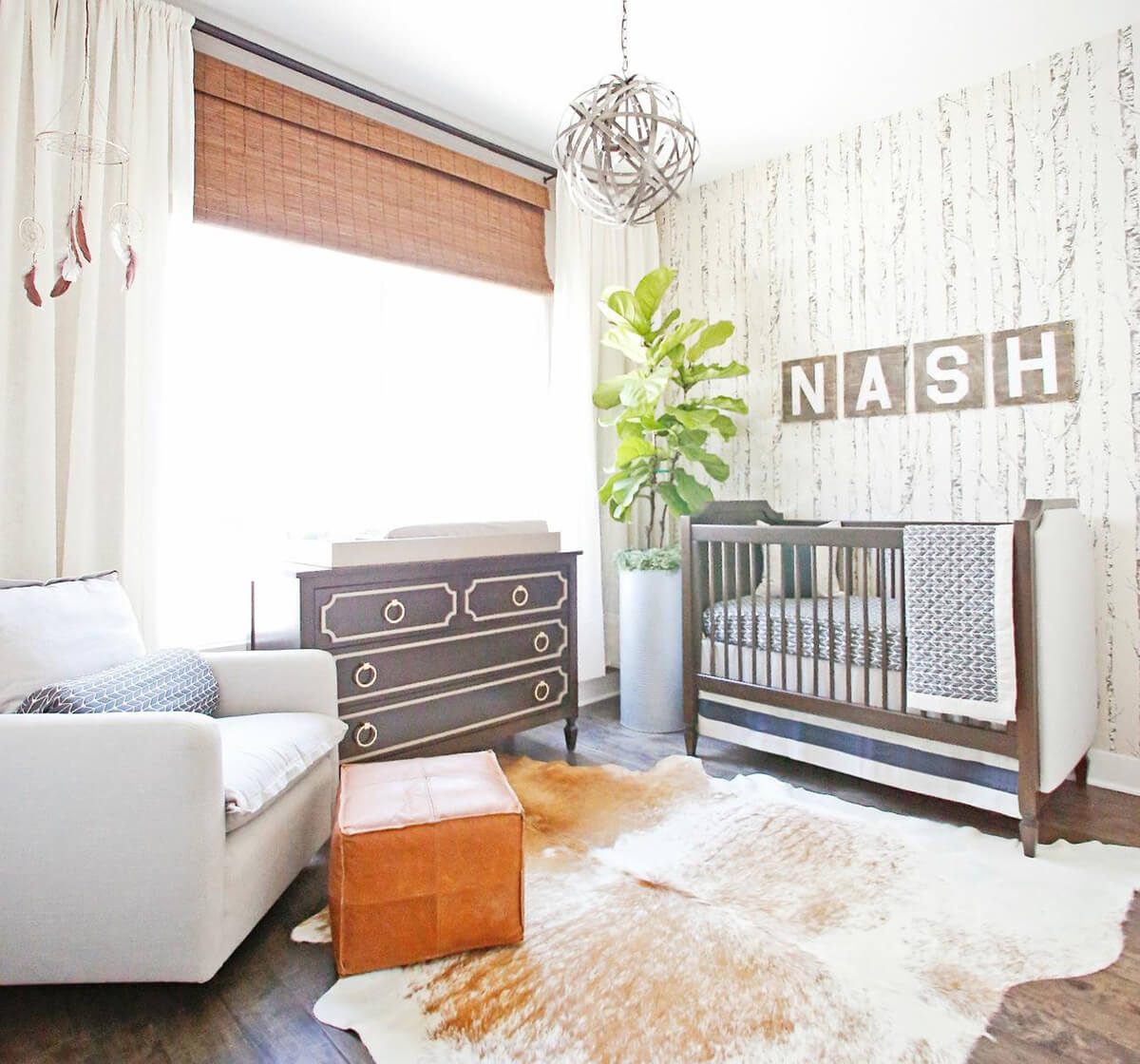 20. Consider Wall Coverings that Grow with Baby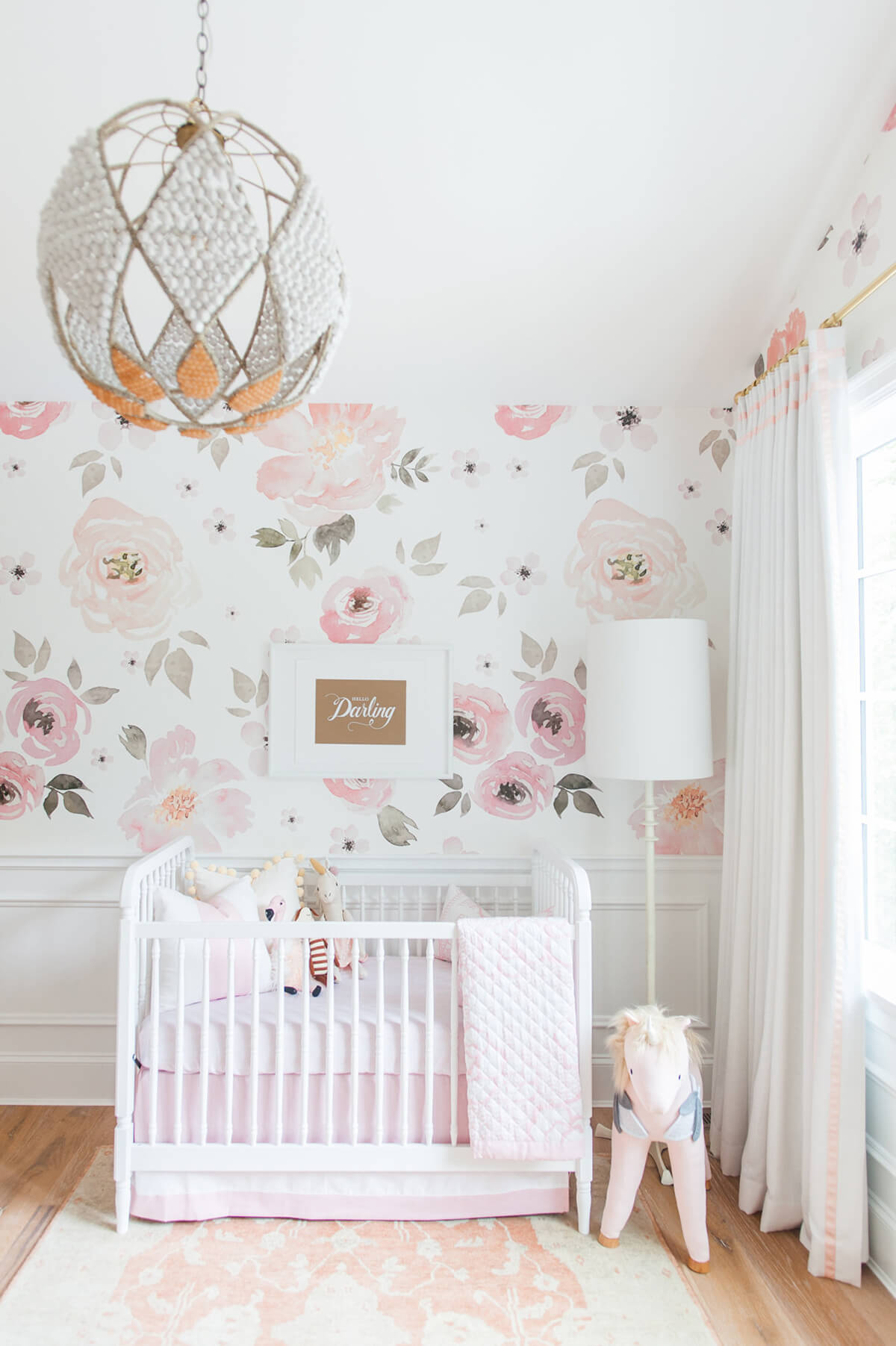 21. Bold Colors and Geometric Shapes for Wow-Factor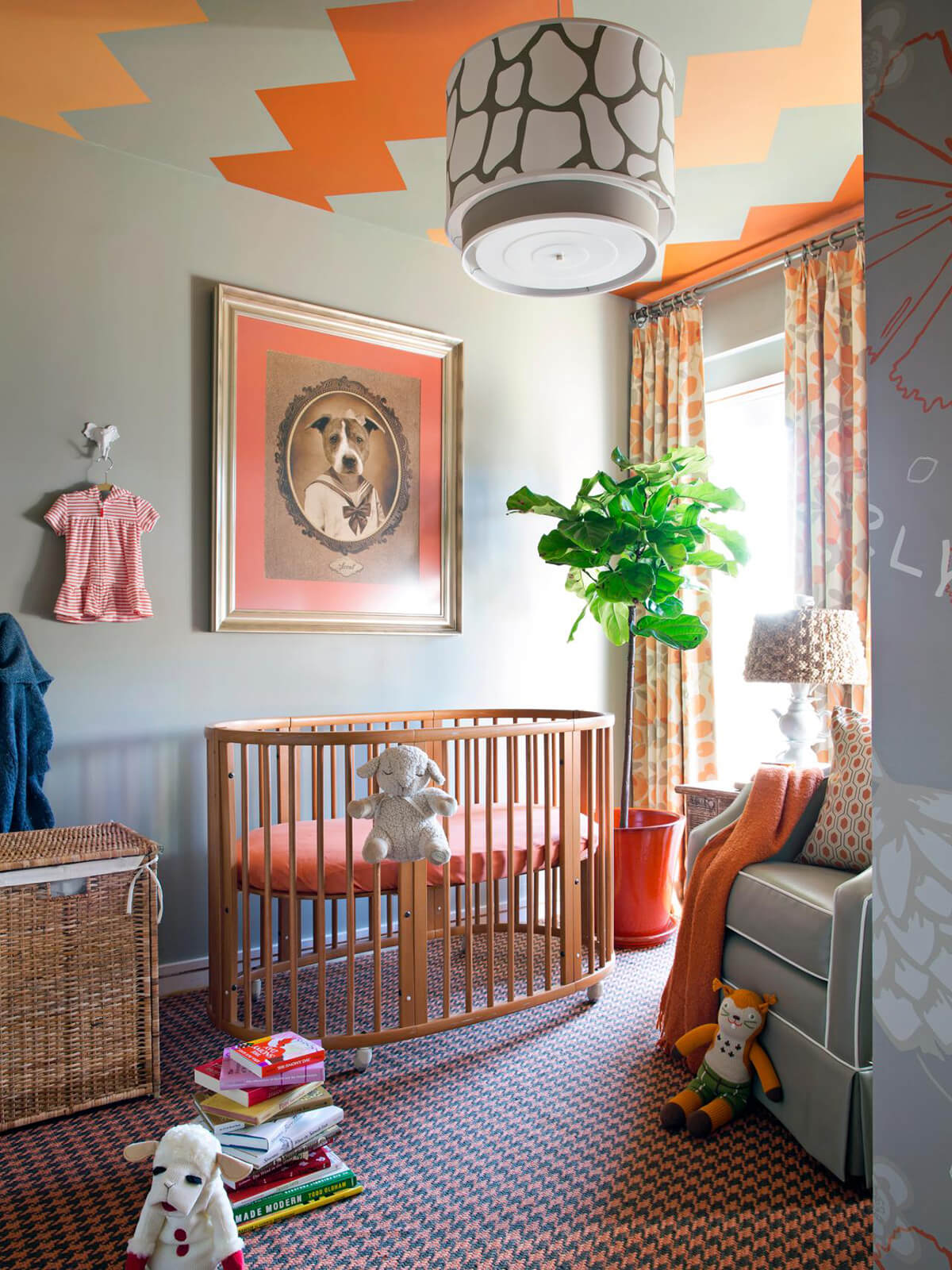 22. DIY Letters in Custom Colors for Nursery Wall Décor

23. Neutrals and Pastels Comfort and Soothe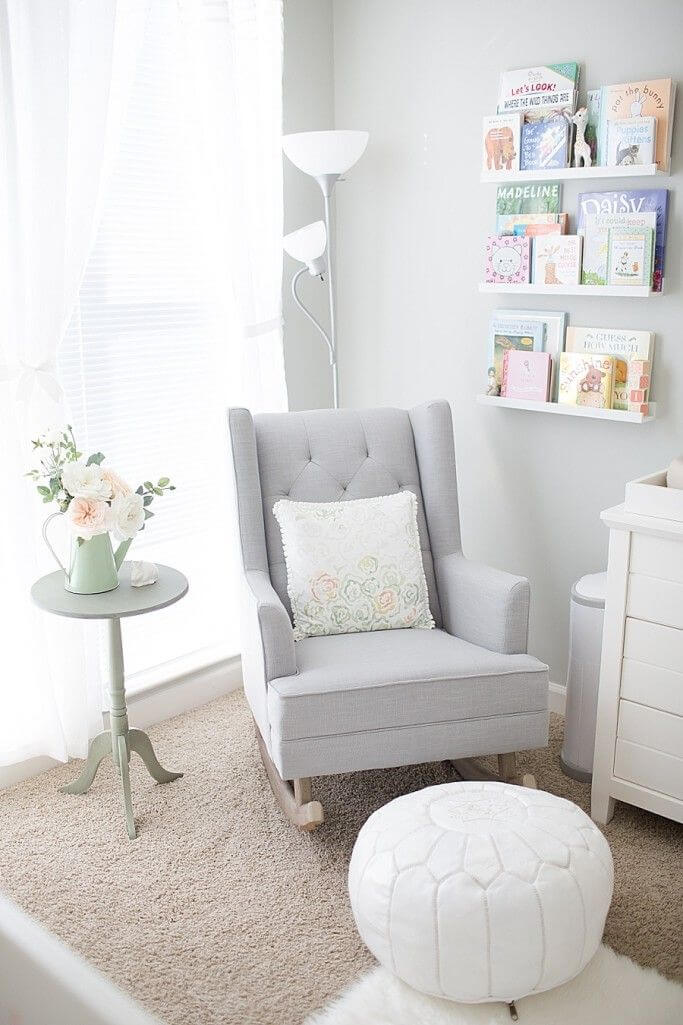 24. Creative Wall Art To Commemorate Birth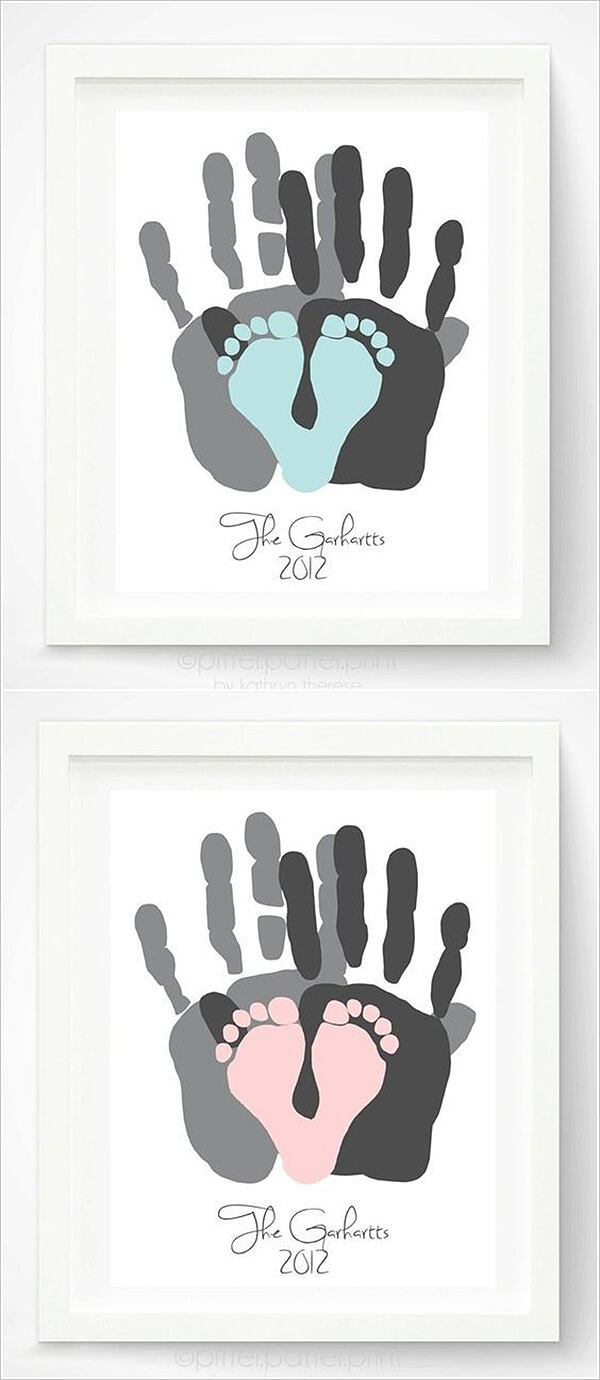 25. Alphabet Wall Art in Complementary Designs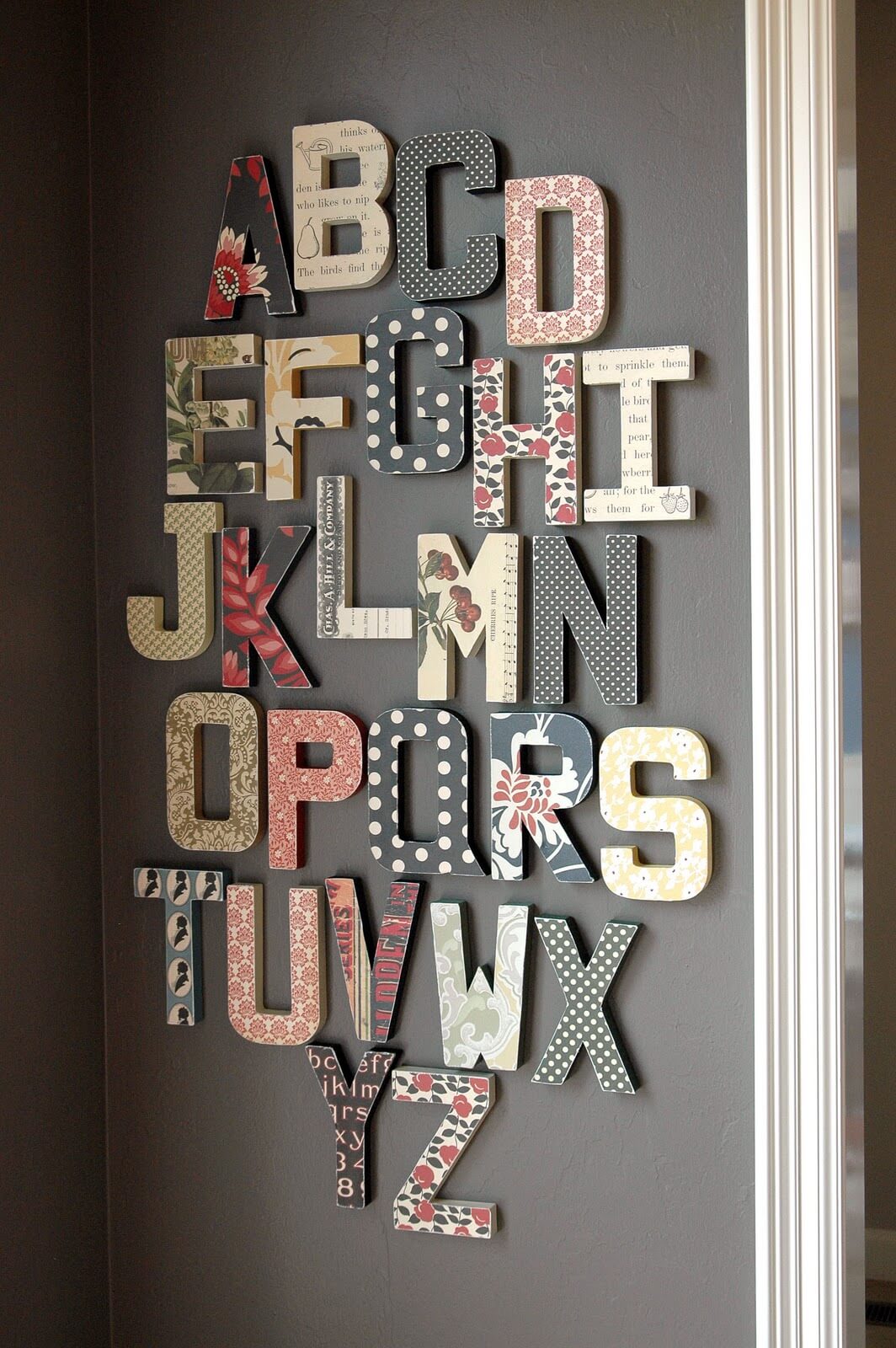 26. Watch Them Grow Over The Years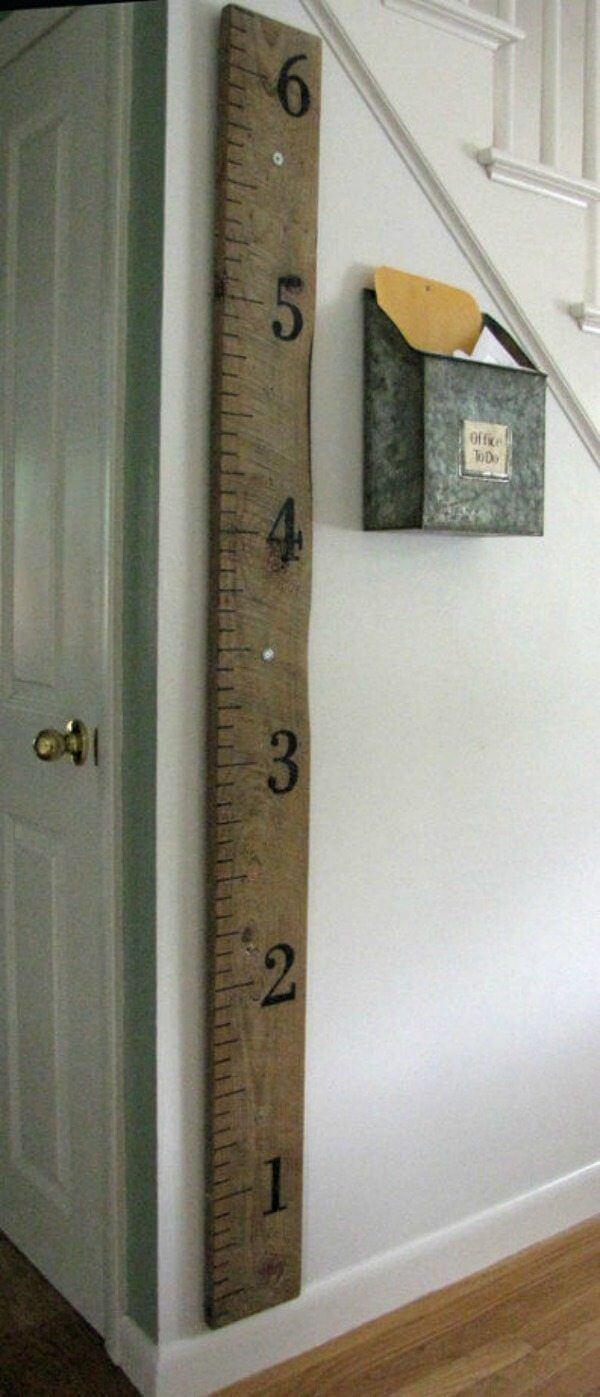 27. Your Little One Will Love Hanging Up Coats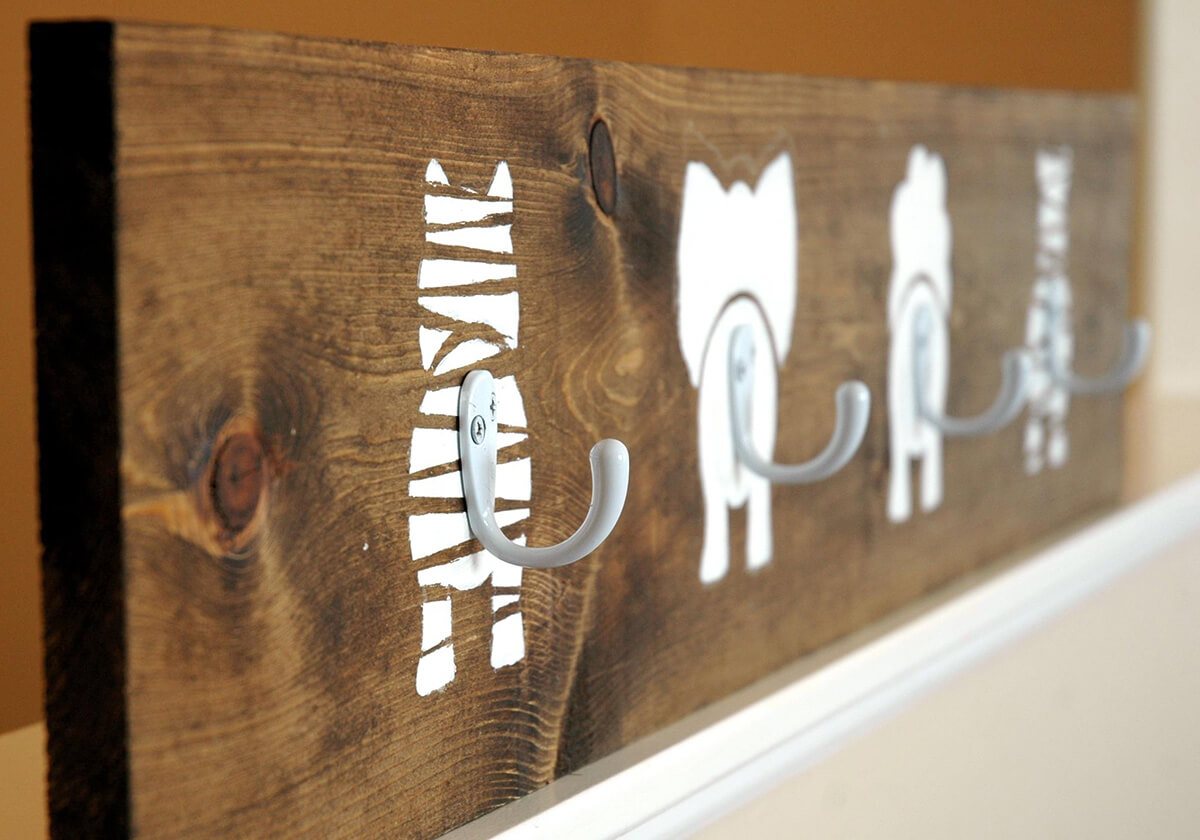 28. Add a Pretty Chandelier for Nursery Chic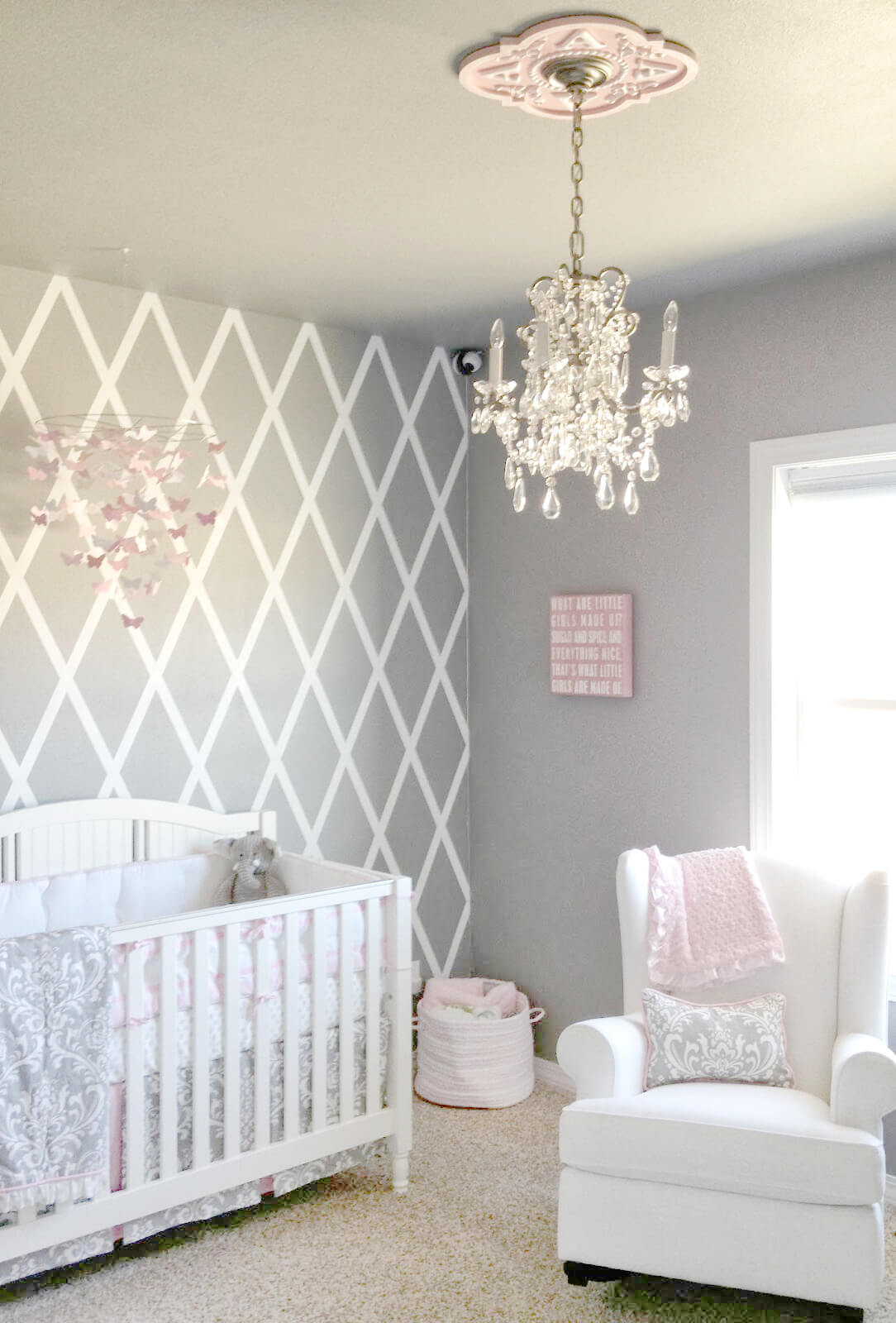 29. Ultrasound Wall Art Tells A Stylish Story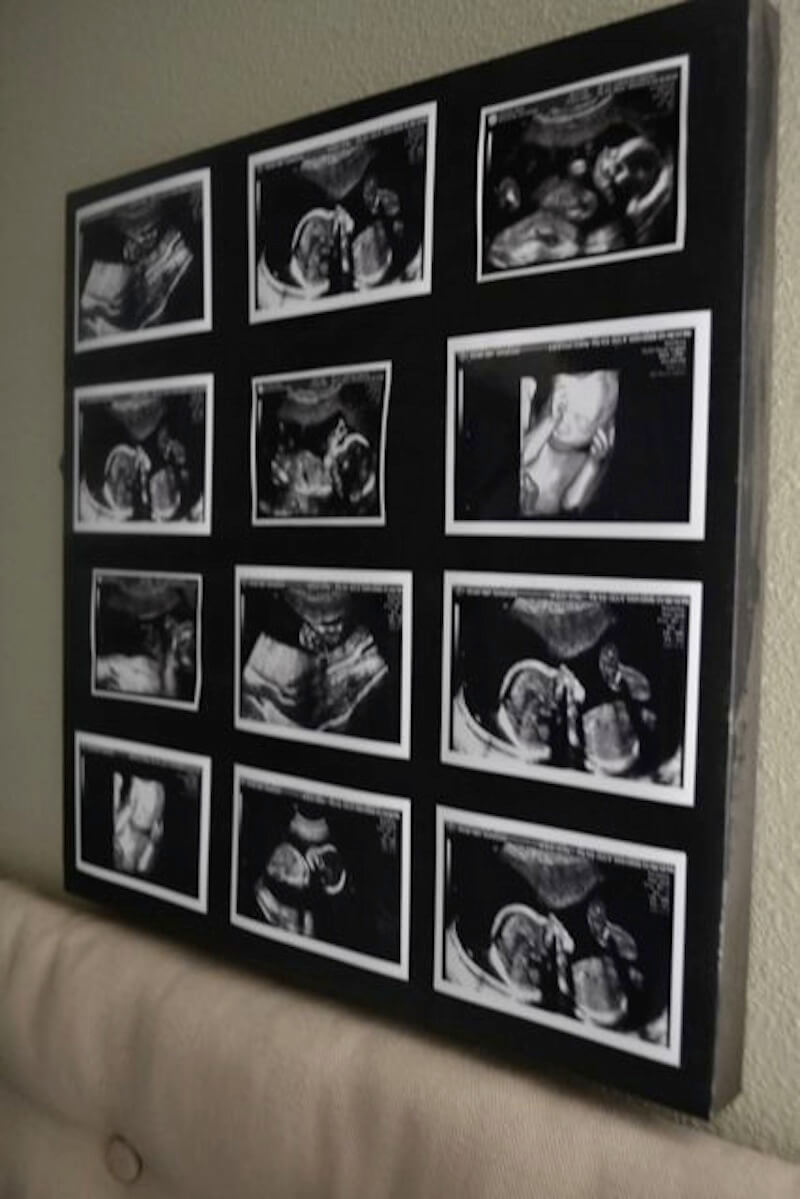 30. Blue, Grey, and Wood Tones for a Subtle Nautical Feel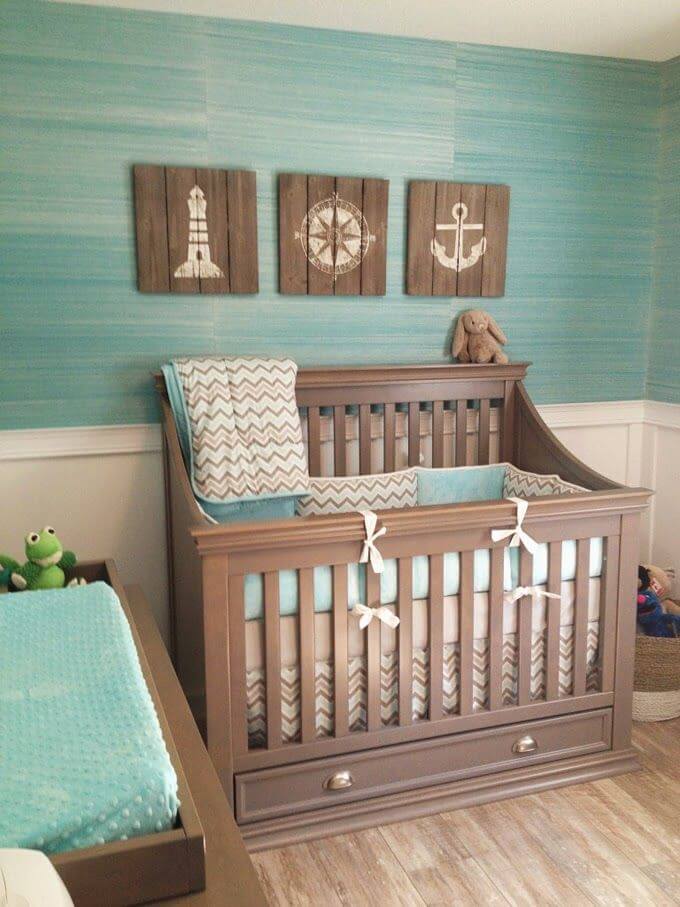 31. Baskets Do Double Duty for Style and Storage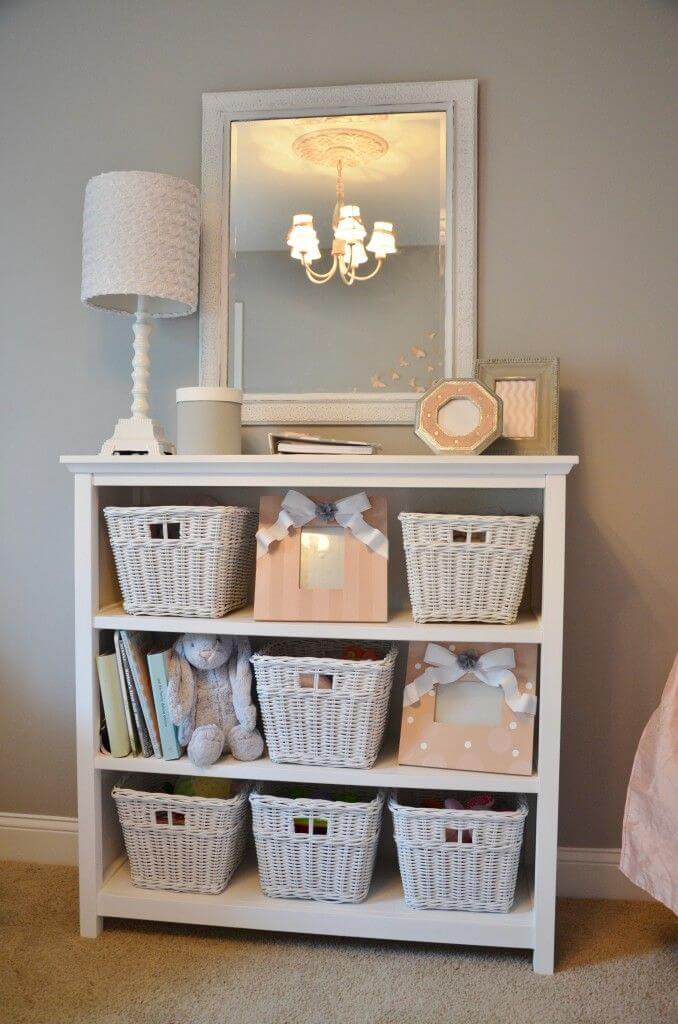 32. Gray is the New Addition to Nursery Color Palettes

33. Turn Keepsakes into Art with Shadowbox Framing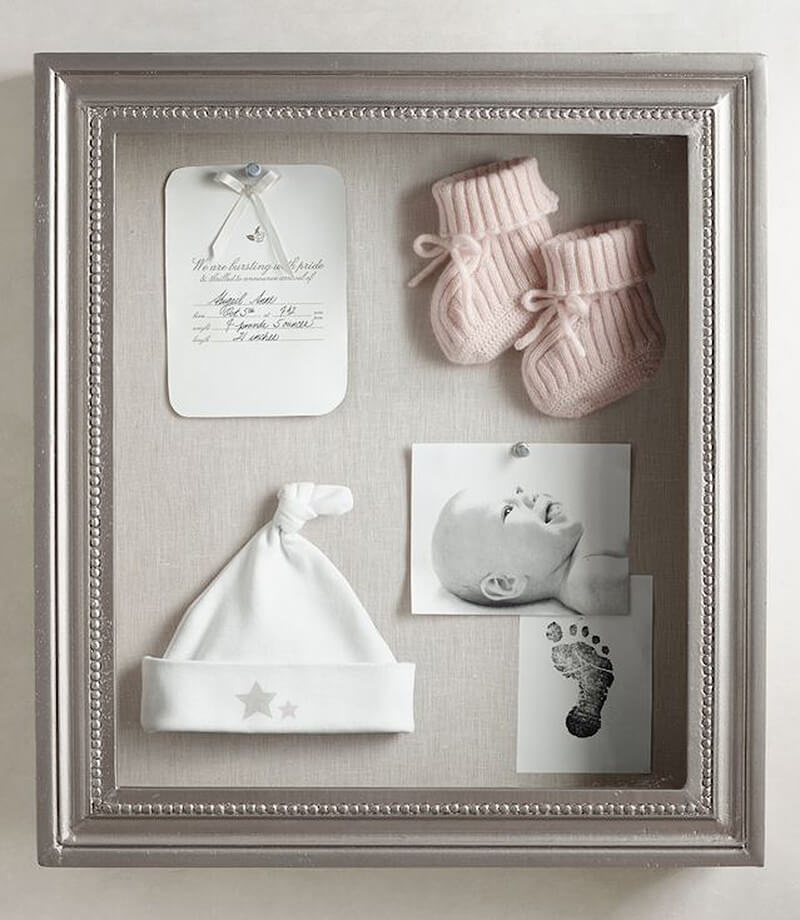 34. Simple Wood Tones and Neutrals are Clean and Inviting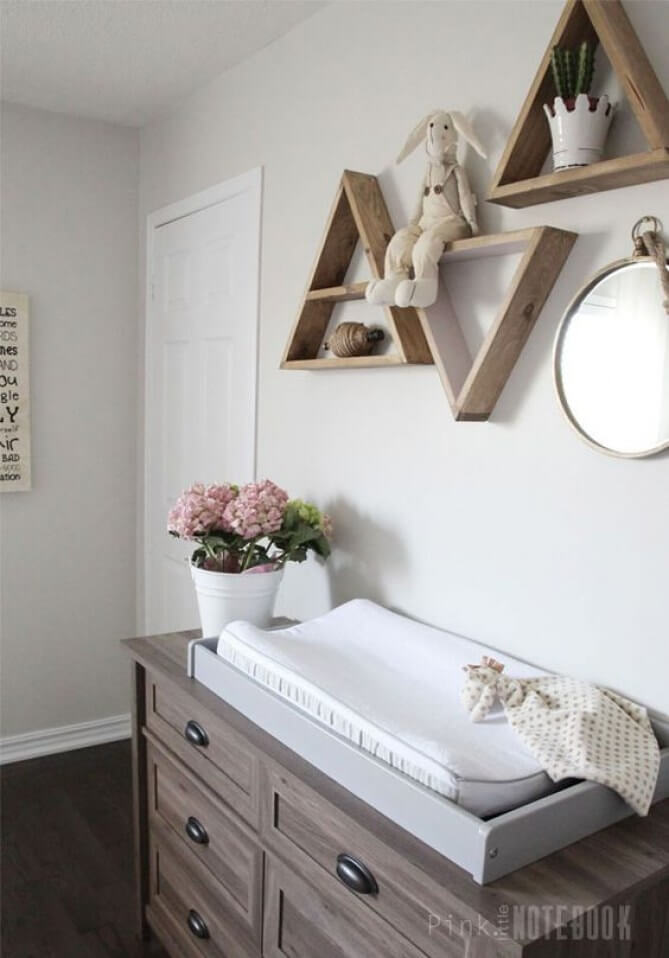 35. A Pop of Color Makes a Bold Statement among Neutrals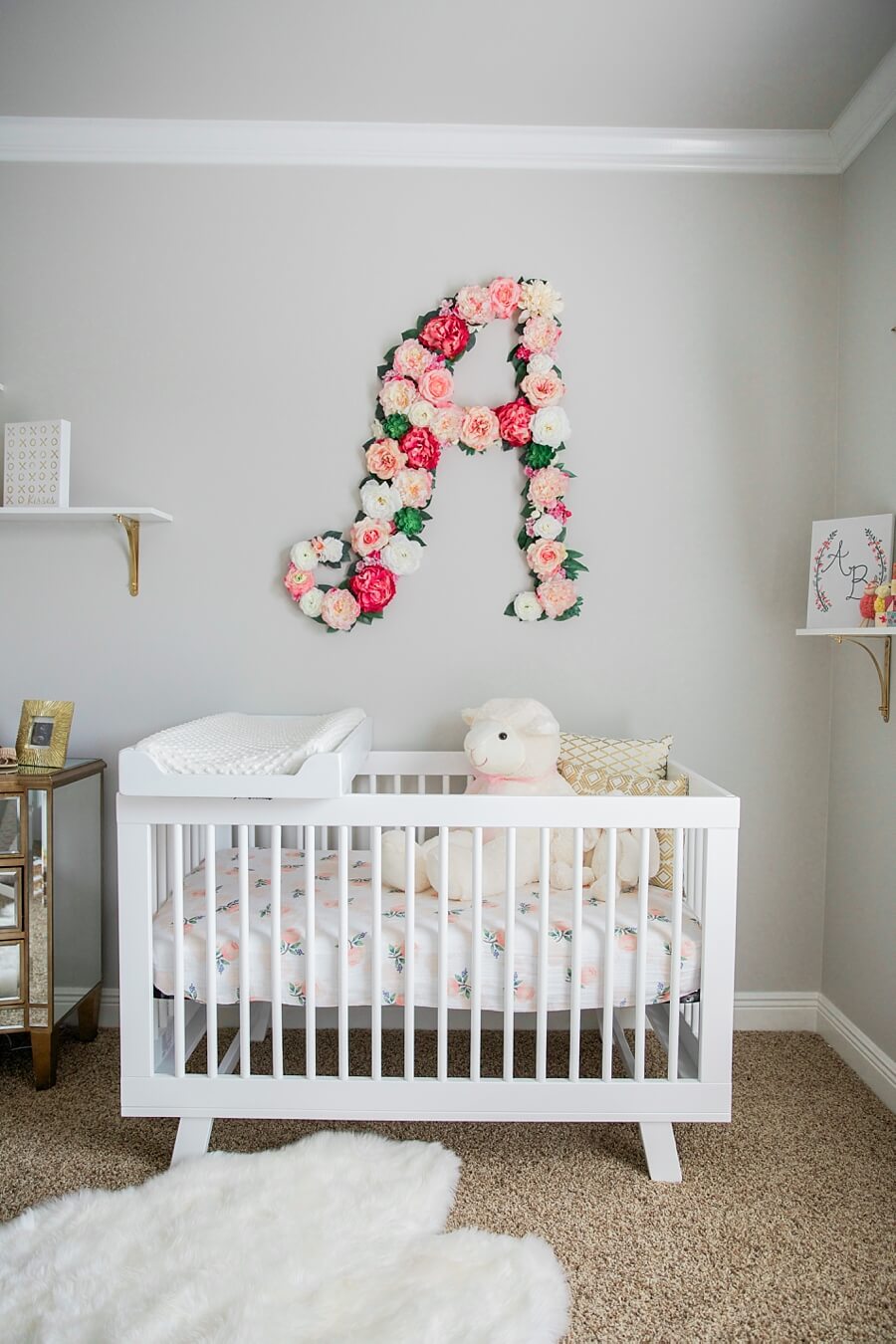 36. Scandi-inspired Nursery Color and Décor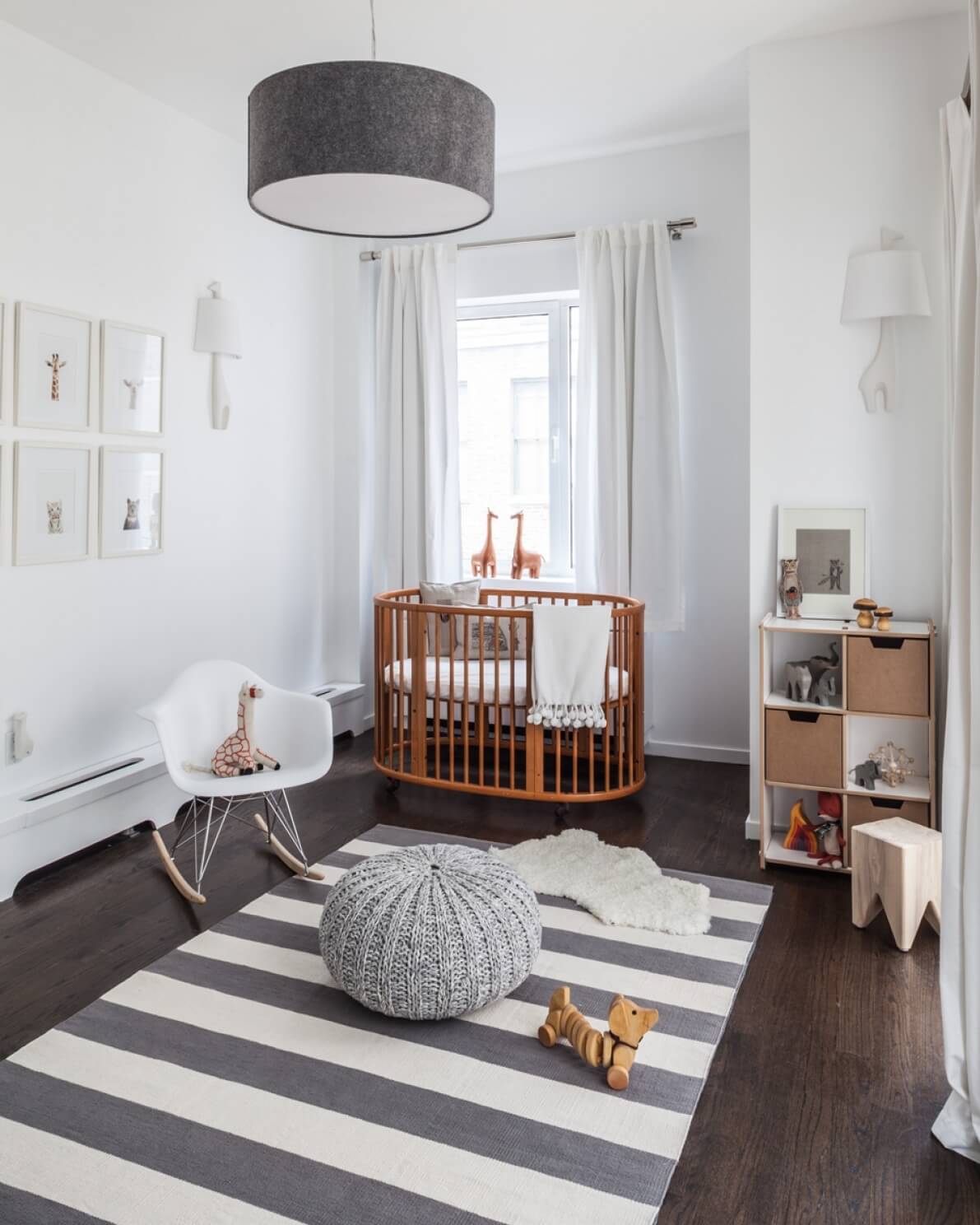 37. Soft Pinks and Eclectic Art For Nursery Whimsy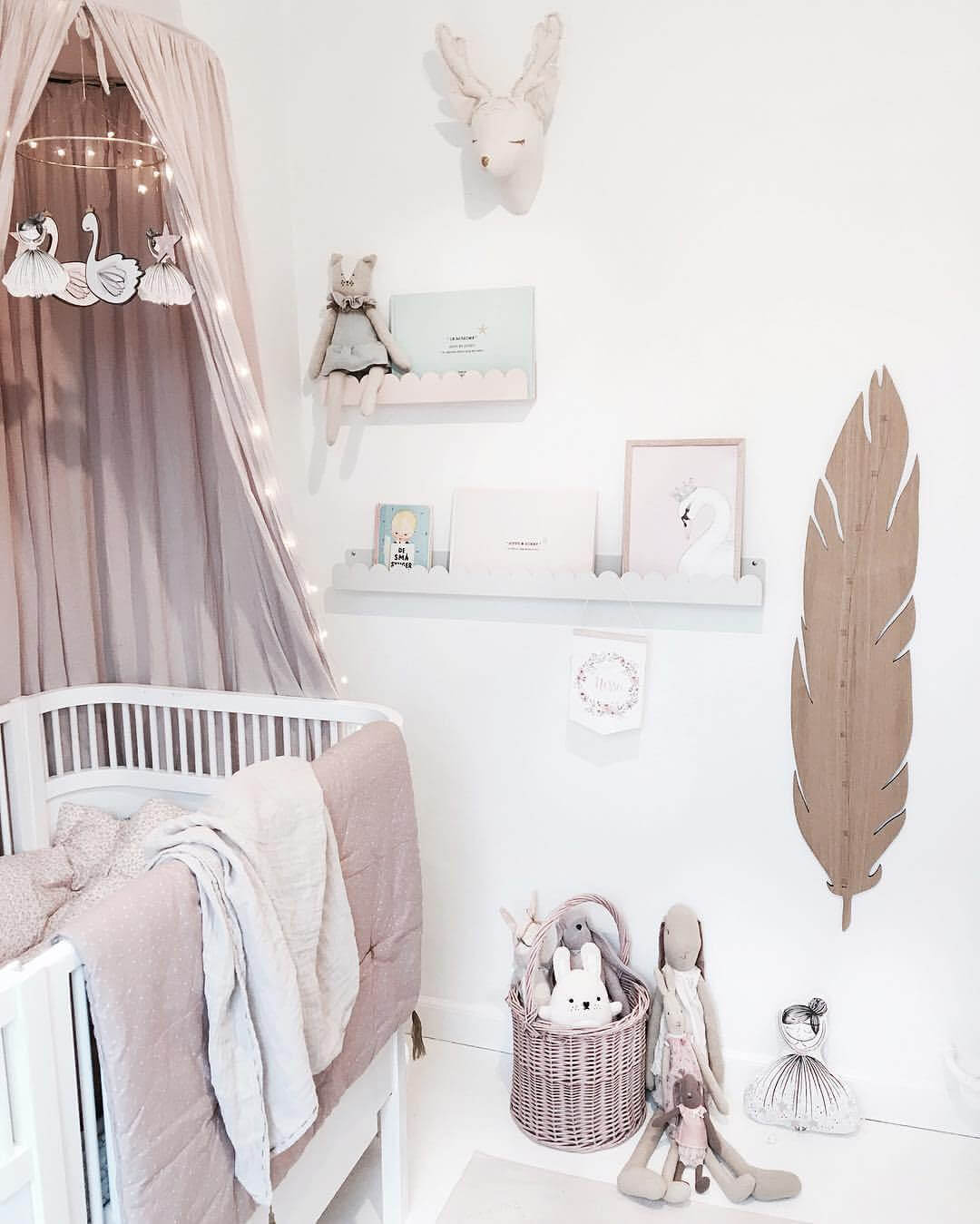 38. Crocheted Monkeys are a Sweet Touch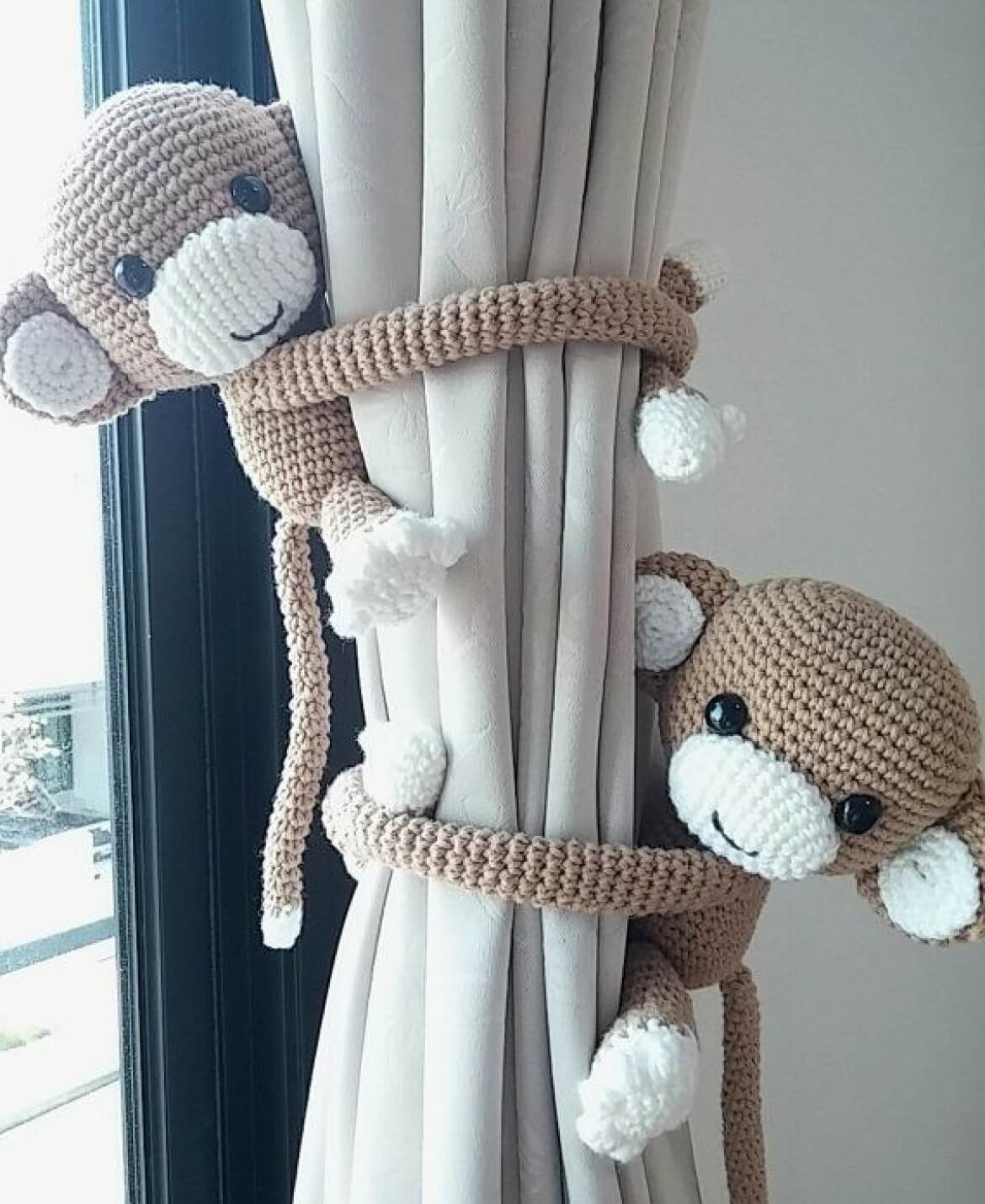 39. Neutrals and Rustic Décor Translated for the Nursery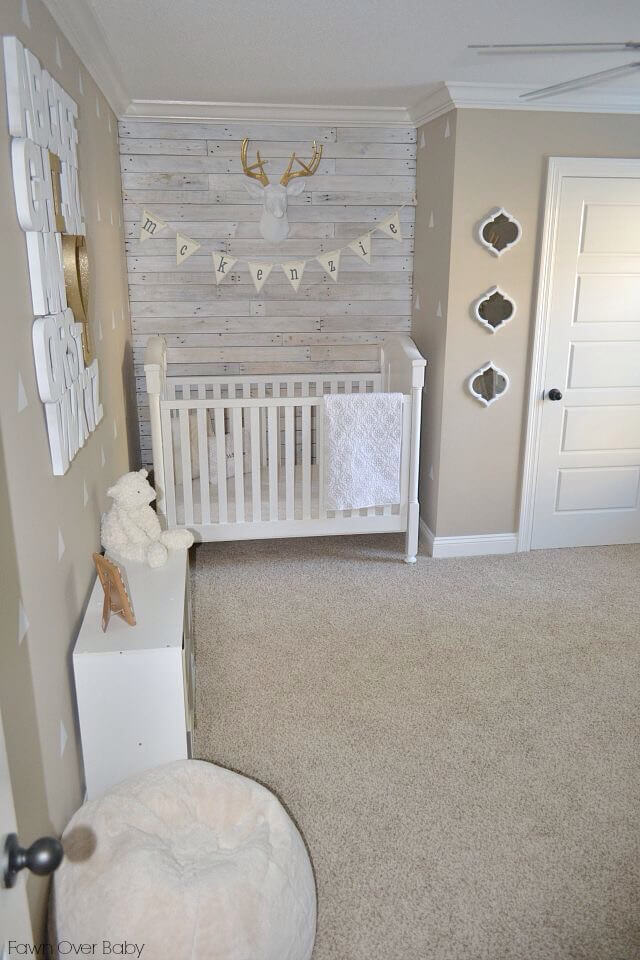 40. Bold Lighting and Accent Wall for Nursery Wow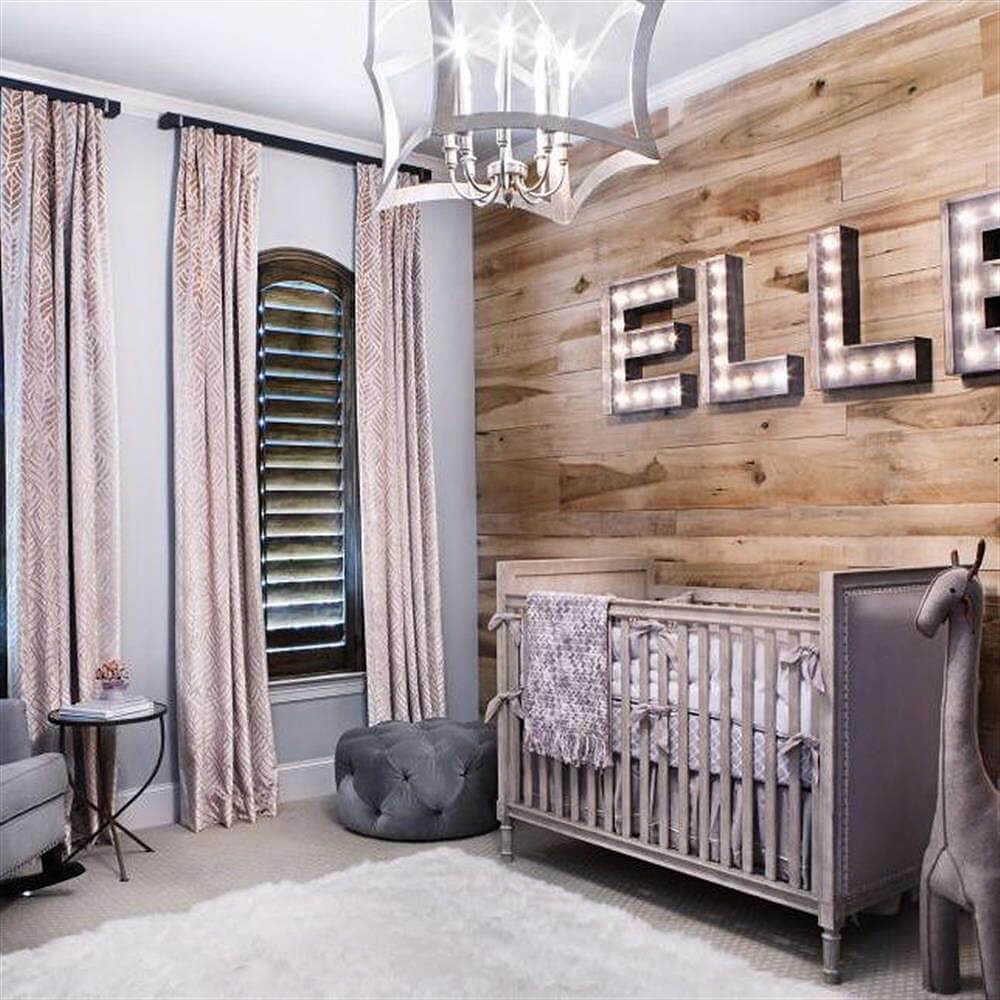 41. Wood Accent Walls Make a Modern Statement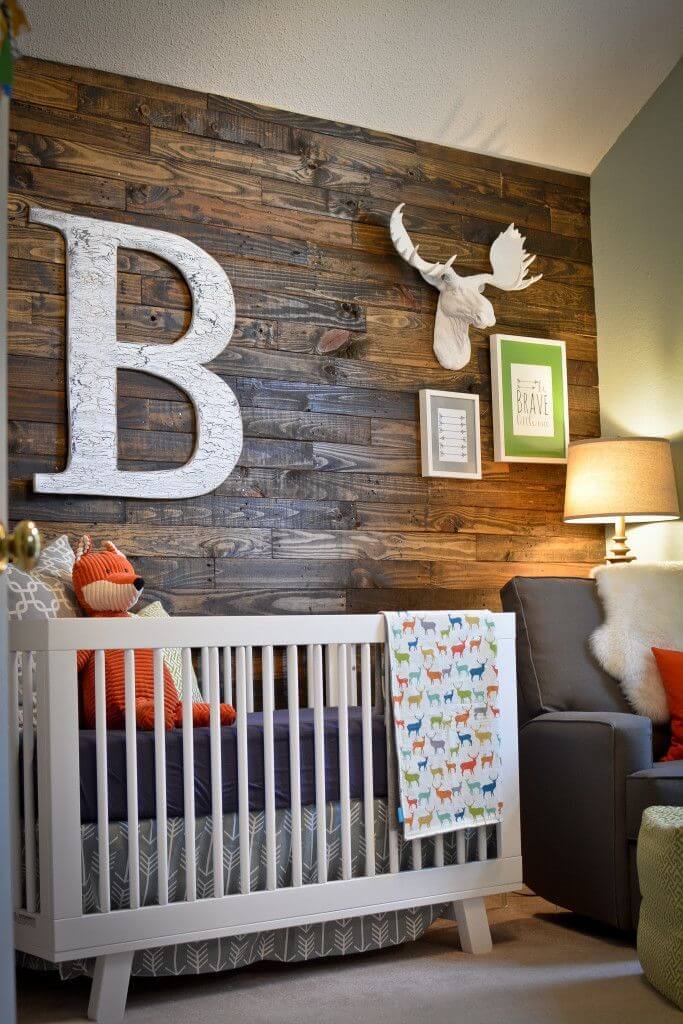 42. Rust Cloud decor, Cloud Nursery decor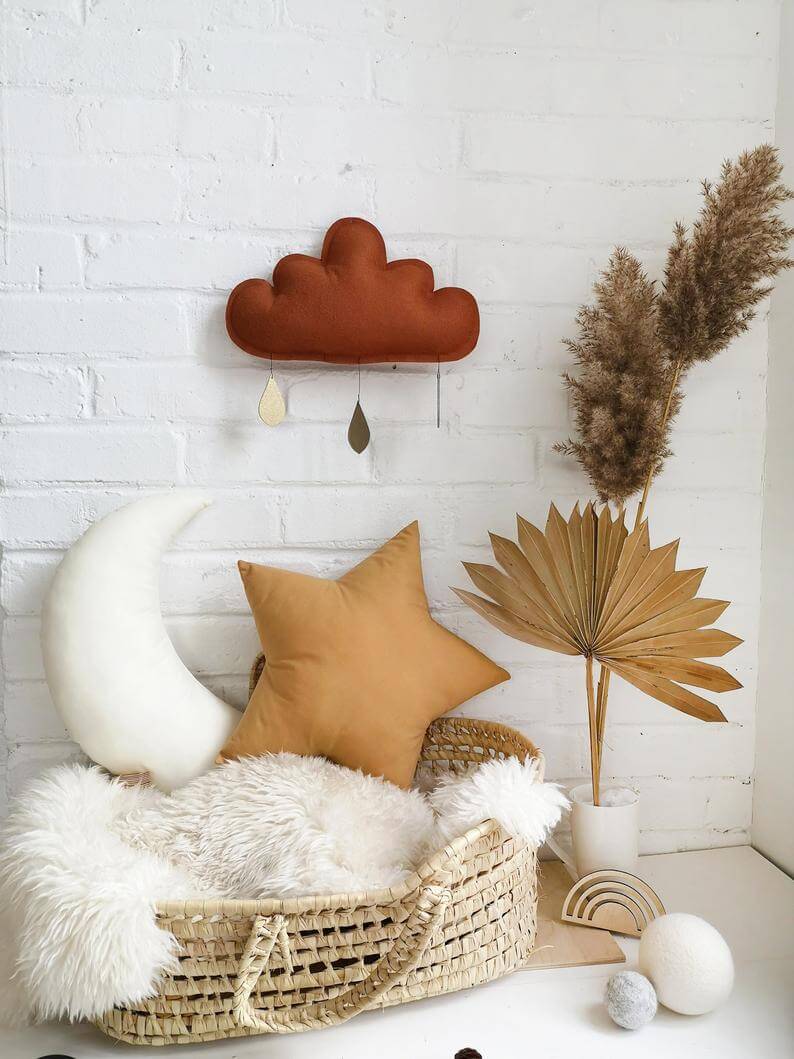 Show your little one you are over the moon with this beautiful natural take on moon and stars themed-nursery decor. The warm, golden hue of the stuffed star perfectly complements the snowy moon and rust-colored cloud, all sure to create a crave-worthy nursery. The cloud's raindrops will enchant your little one as they sway and move in the breeze. A natural basket completes the look, filled to the brim with a soft-as-silk fluffy blanket that will be used for years to come.
43. Let Your Little Lion Sleep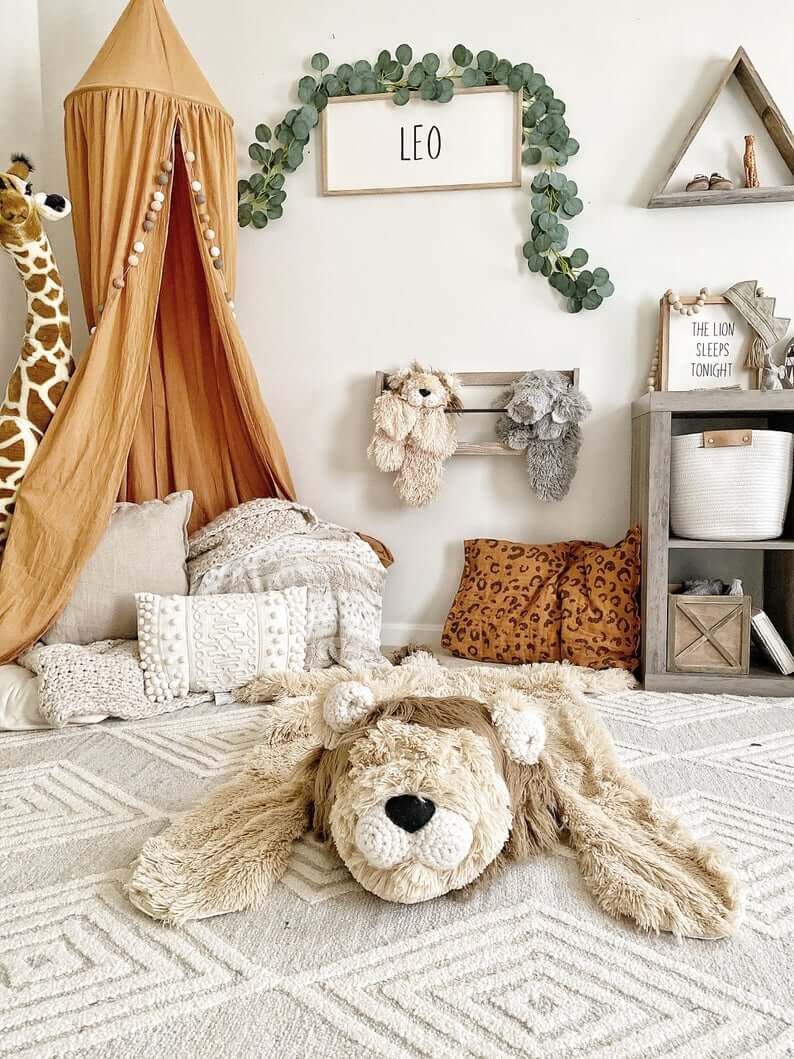 For a fresh take on bringing the animal kingdom to a nursery, choose softer colors and natural tones to create a wild kingdom your little lion or lioness will love. A ceiling-hanging circular tent creates a cozy reading nook when paired with soft lounging pillows. A floor cuddling bear paired with a tall stuffed giraffe toy continues the theme, and fluffy animal toys complete the animal theme. Toss in an animal-printed floor pillow and a soft play crown to extend the animal theme.
44. Woodland Nightlight to Sooth Your Newborn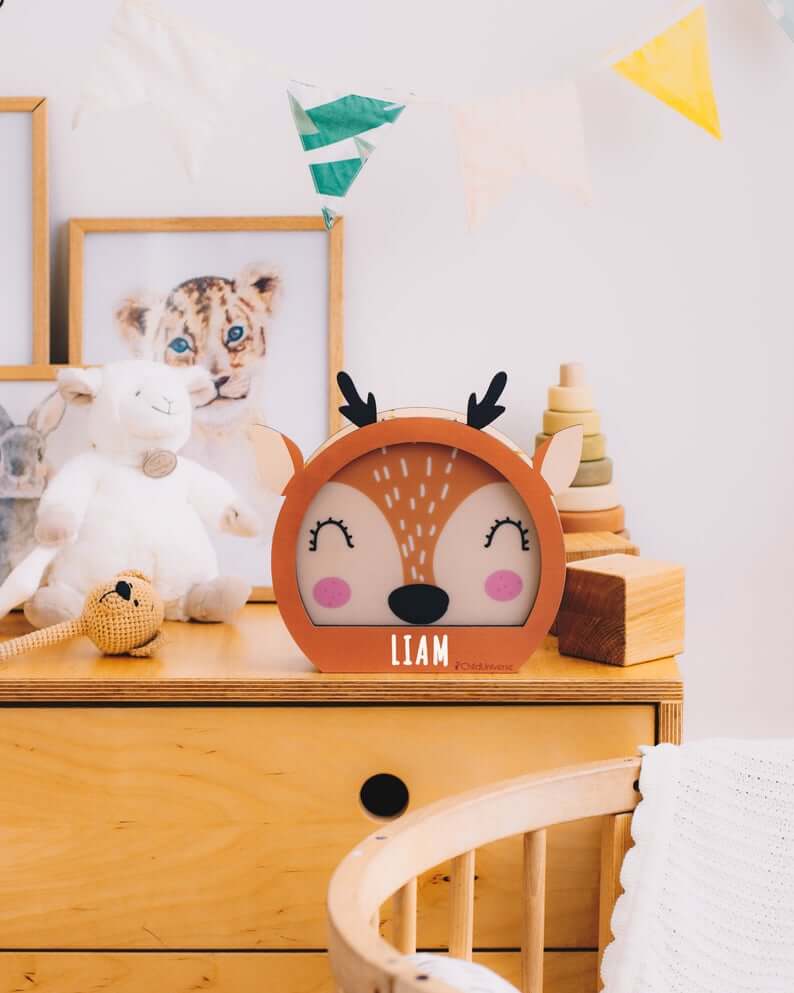 Light up the night for your baby in a woodland-themed nursery. With a wooden, baby deer night light creating a comforting mood, the presence of gentle woodland creatures will be adored by your little one. Young faces of restful animals create a calming effect for a newborn nursery. Pairing such loveable animals as baby lambs, lion cubs, and baby bunnies will establish a peaceful retreat full of faces that your baby will love to gaze at over and over.
45. Open Storage for Little Hands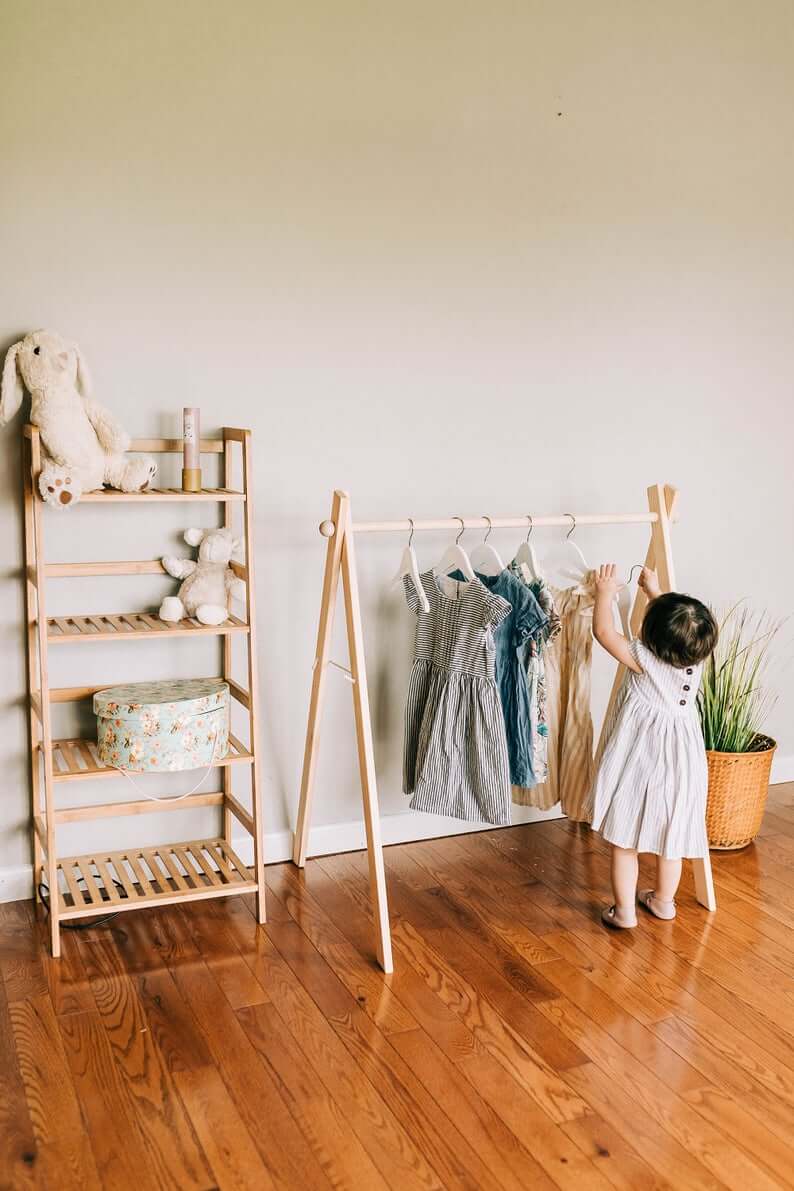 When natural-toned wood and open storage come together, a pint-sized princess will love the instant access granted in this beautifully appointed but simple room. Featuring natural wood tones on an open shelving unit, this space is perfect for storing larger toys or containers in an easy-to-reach location. Paired with a child-sized closet rod resting on a natural, lightweight A-frame next to the shelf, this open concept closet space is sure to be a hit.
46. Baby Boho Meets Modern Natural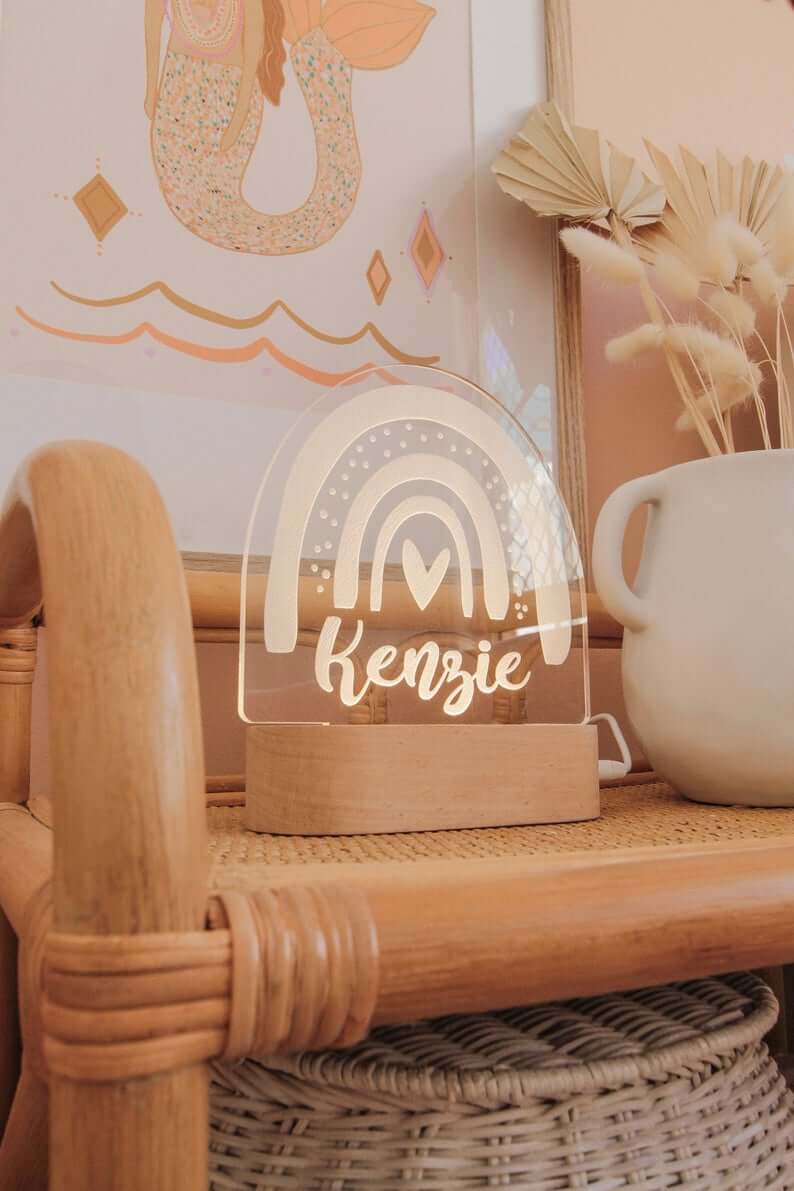 Put your little one's name in lights, nightlights that is. Accent a boho-themed room with the rainbow decor in an unexpected location like a personalized nightlight. Paired with a bamboo shelf, the nursery takes on a natural, relaxed feel. Wicker baskets and a snowy neutral vase and a wispy flower complete the boho look.
47. Enchanting Corner Display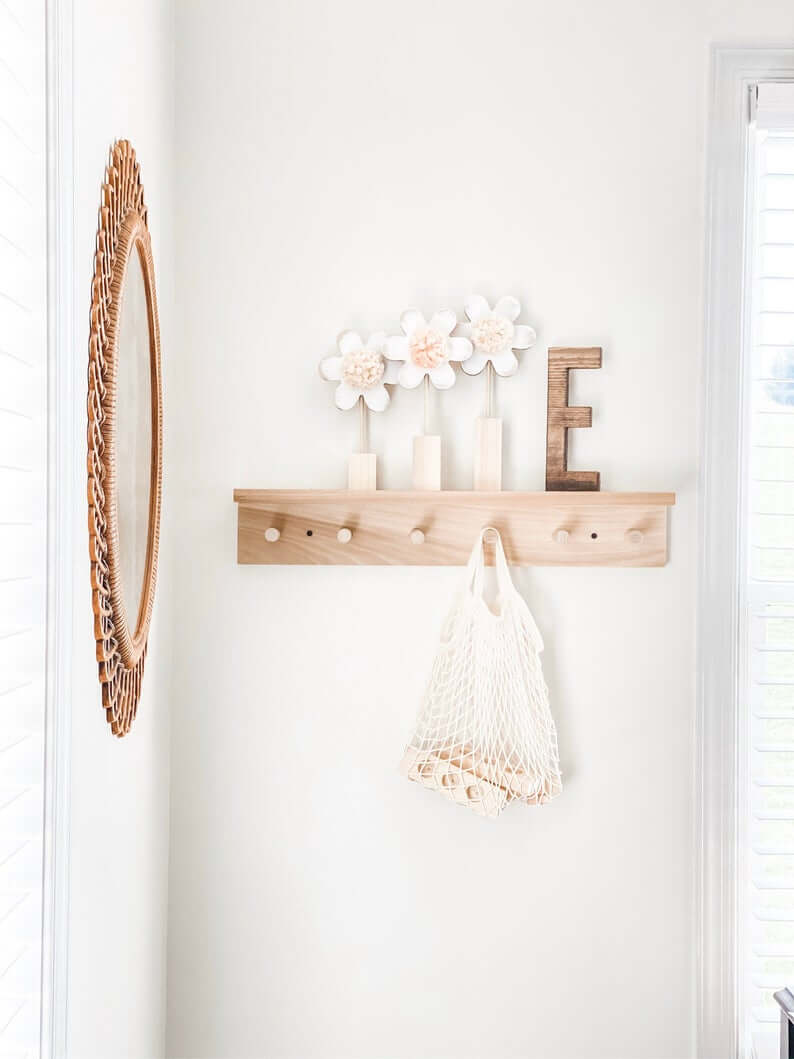 Corners can be dark and boring, but not with this light wood shelf and mirror combo. An open-weave frame gives this circular mirror a wow factor, reflecting light and bringing the character to this tiny space. Added in is a natural-finish shelf with hanging pegs, perfect to showcase a newly learned initial or trio of charming wooden flowers to look at or play with later. Complete the ensemble by hanging a catch-all bag full of current blocks or toys, providing an out-of-the-way storage solution that looks just as smart.
48. Updated but Timeless Golden Rose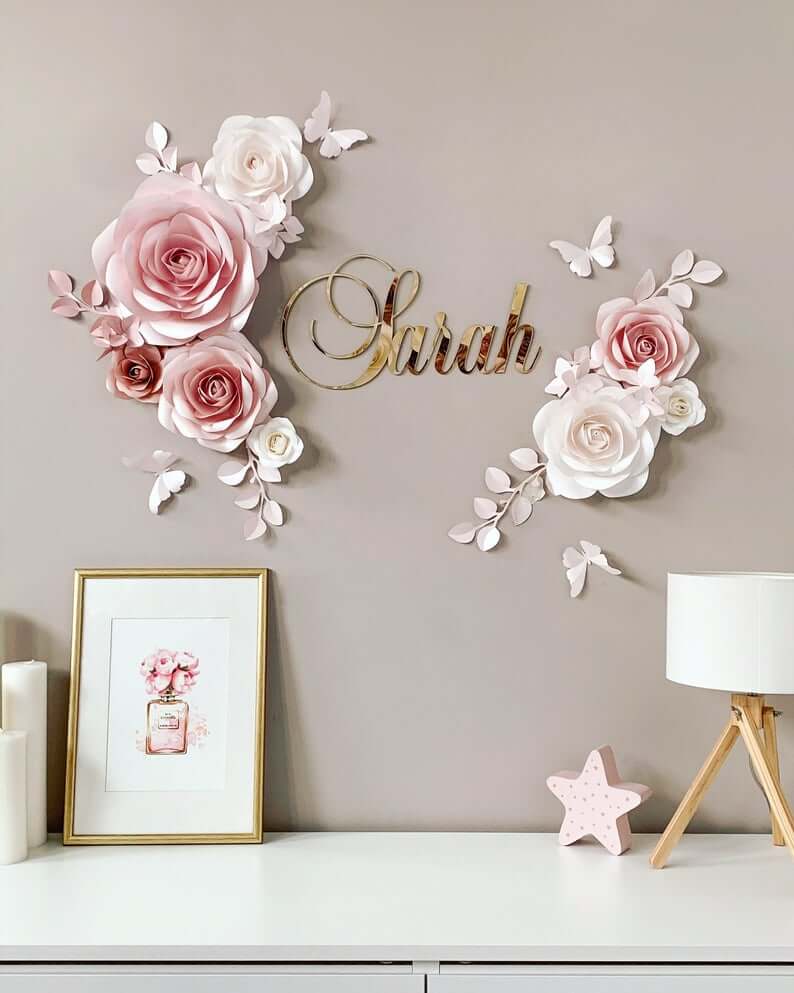 Accenting your baby's nursery with rose and gold decor assures enduring style. Reflecting baby's name in a metallic script font in a bright gold adds shimmer above the changing table. Out of reach but beautifully framing, using wooden roses of varying sizes and fluttery butterflies to surround the name provides a lovely multi-dimensional accent that baby will love to gaze at. Complete the look with a timeless rose-themed print, a petite natural wood lamp, and a tiny star in complementary blush tones.
49. Double Up on Muted Colors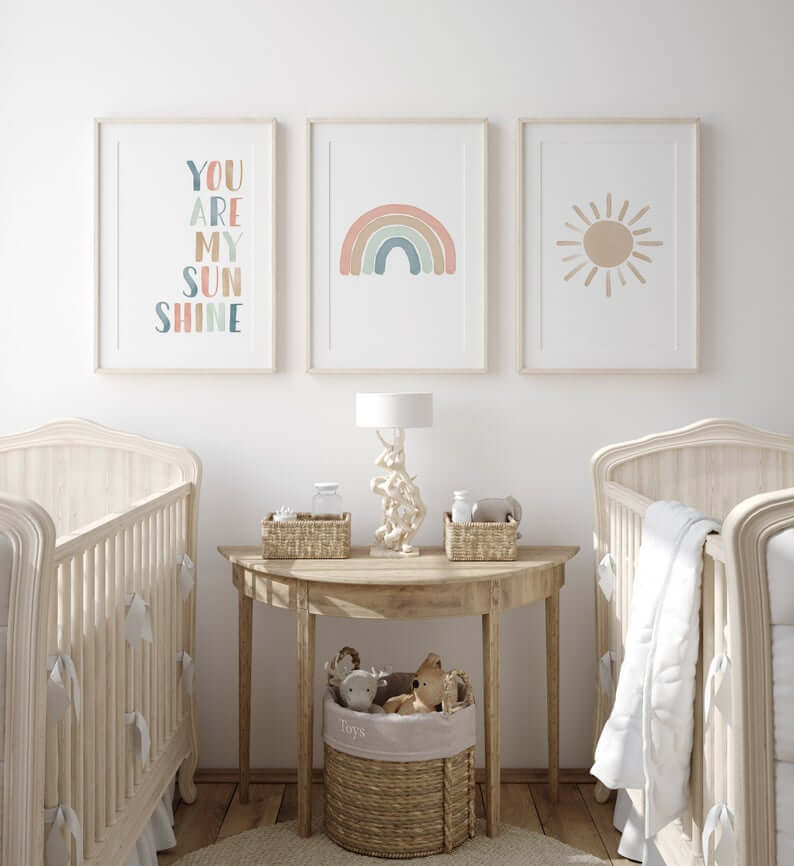 Creating a twin nursery can be daunting, but not when the artwork and color scheme take center stage. Frame the decor with matching light wood cribs, headboard to the wall. Fill with crisp white classic bedding. One nightstand can do double-duty between the cribs, holding a needed lamp and twin baskets for baby essentials. Combine this table with a larger, natural fiber basket for larger baby necessities. Added in is a pop of muted color with a trio of prints to balance the pairs elsewhere in the room and provide gender-neutral accents to the nursery.
50. Going Natural Nursery Accents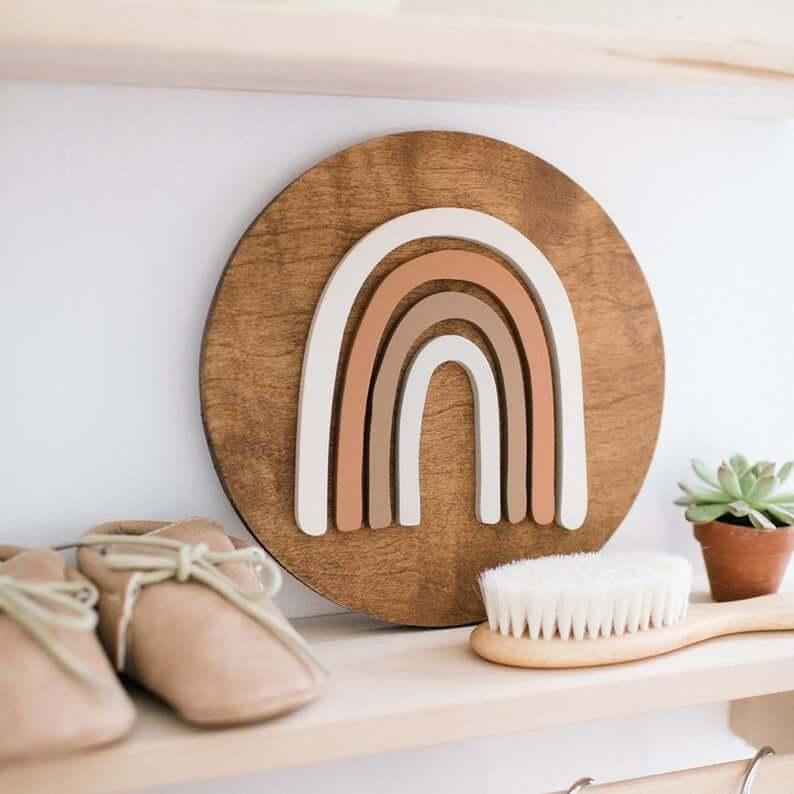 Rainbows are the perfect symbol of newness for a nursery, but their bright color can be too bold. Instead, this terracotta and creme rainbow illustrates a new way to utilize this iconic symbol in a nursery. Perfect for boys and girls in neutral tones, the accompanying accents of a terracotta pot with a succulent and a tiny set of baby slippers create a soothing shelf scene for any nursery. Add in the practical hairbrush to this landscape, and it becomes almost a piece of art itself.
51. Dotty Little Llama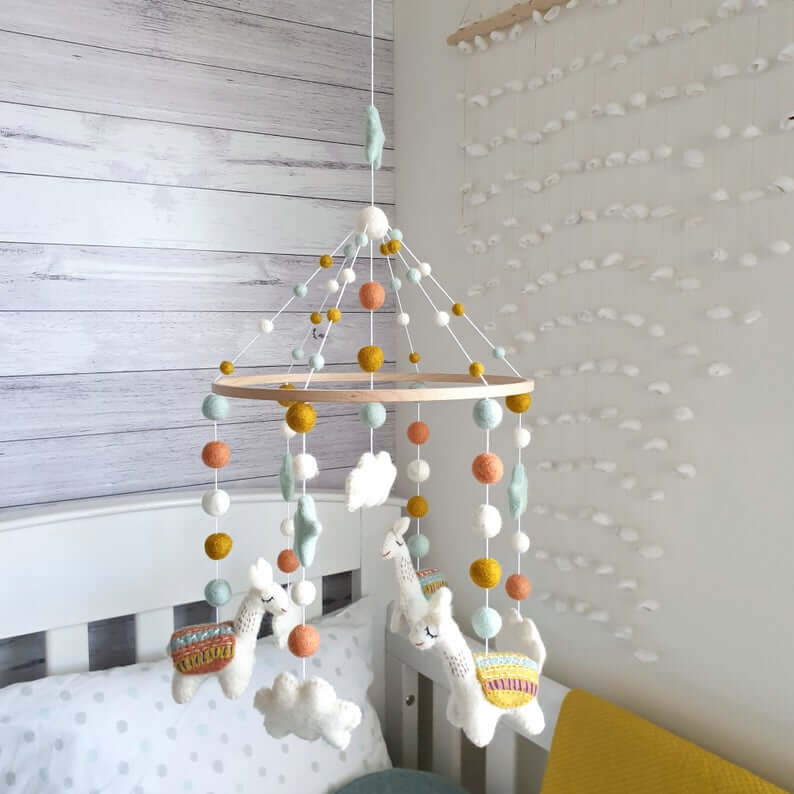 If you love the idea of tiny dots in the nursery but want a modern take, this wall-hanging, mobile, and sheet combination are a perfect choice. Petite white shells accent a wall hanging, mimicking the grey polka-dotted sheets below. A muted tone felted-wool mobile festooned with llamas, clouds, stars, and colored spheres will keep the baby entertained while adding whimsical charm overhead. Highlighting the mobile, a weathered grey wood wall behind the crib creates maximum contrast.
52. Let Your Nursery Be Inspired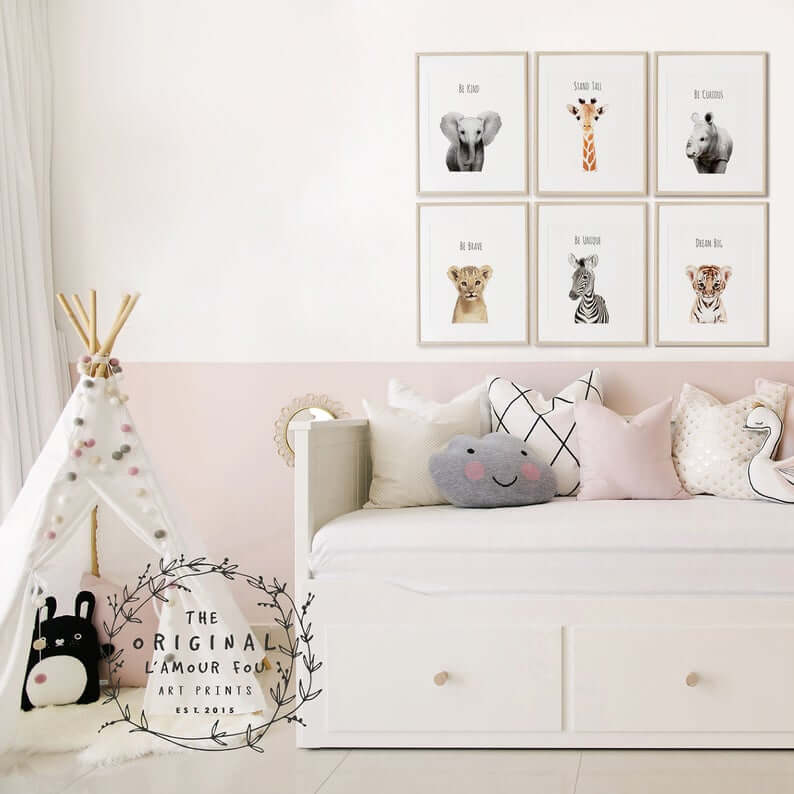 When every inch counts, carve out a cozy reading corner inside of a smaller-scale teepee with a comfy pillow for lounging. An included snuggle buddy animal in the teepee connects the animal theme of the nursery decor prints used in a large grouping above the day bed. The whole room is completed in white tones with thin black accent lines on the pillows and inspiring "Be" animal prints. Including even more animal pillows showcasing a minimalistic sketch, feel highlights the welcoming feel along with a toddler-height mirror in classic metallic tones with an unfussy open-weave frame.
53. Pairing Newborns and Toddlers with Terracotta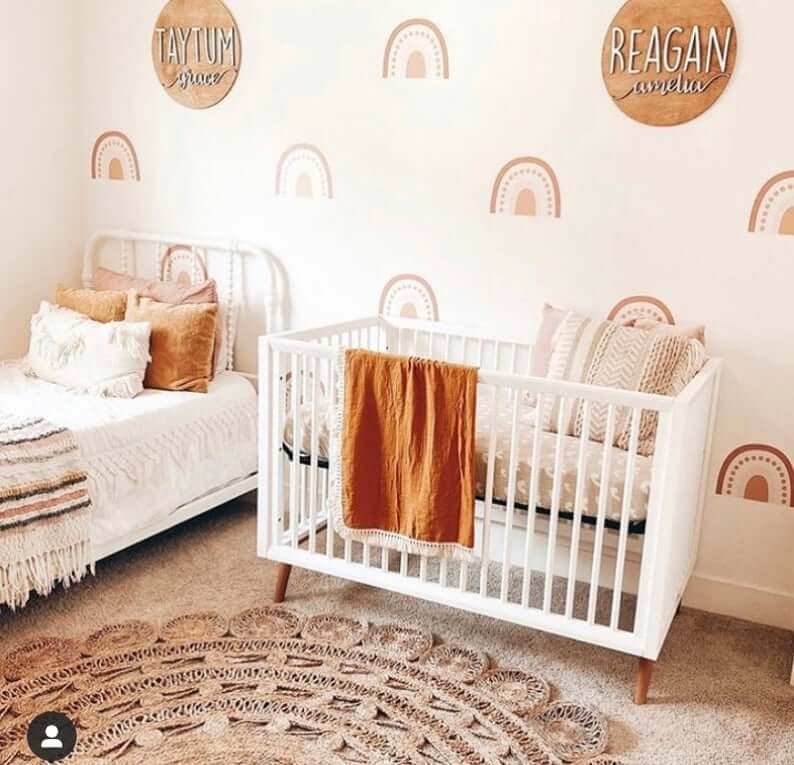 When a crib and a toddler bed share space, the colors and shapes tie the room together. This combination of rounded shapes paired with crème and warm terracotta colors keeps this room tranquil without being overwhelming. A sparse rainbow wallpaper is a calming accent to the large circular floor rug. Round name signs complete the wall decor, designating each sibling's space within the room. Finish up with natural, casual bedding in matching cremes and terracotta tones with fringed edges and textural finishes.
54. Modern Yet Beautiful Baby Swings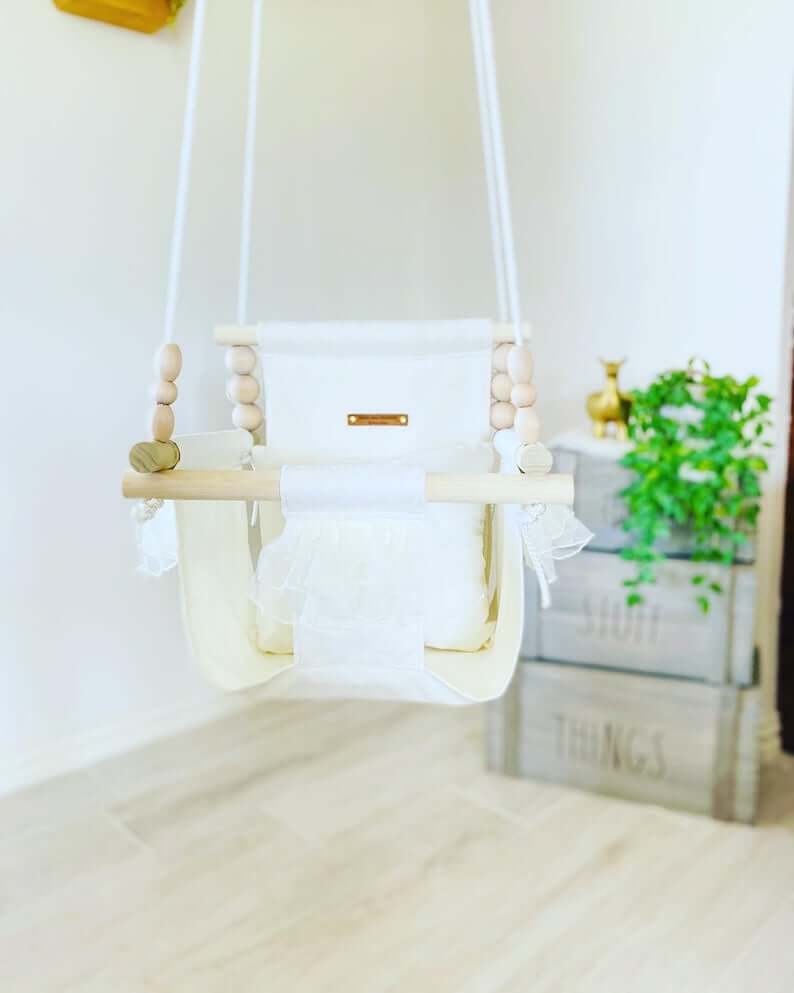 Who says baby swings have to be boring, brightly colored plastic? This gorgeous natural wood swing cuddles your little one with soft fabric seating accented with sweet tiny, ruffles. Enchant baby with sliding the wooden balls near the hand rests, and her head will be safely cradled in the high back of the swing. Accent the room with a bit of greenery and a cheerful animal statuette to create a peaceful vignette.
55. Bold Colors in Boys Woodland Theme Nursery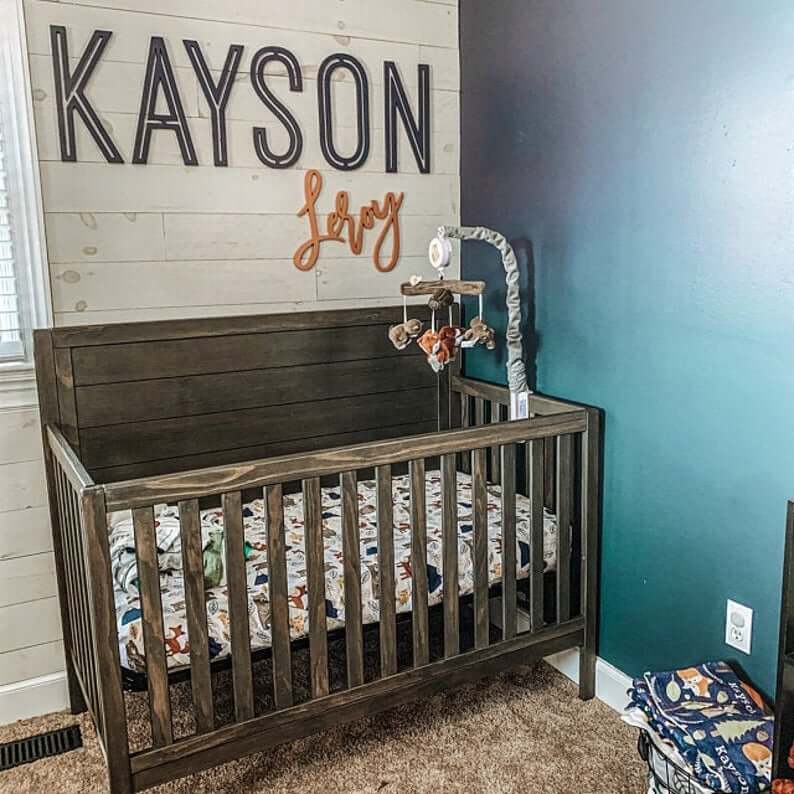 Use a bold, deep teal accent wall to create an unexpected complementary color with woodland prints. This dark wood crib pops off the connecting light wood plant and darker painted wall, creating a perfectly framed location for dual name signs overhead. Sweet woodland animals grace the bedding and the matching mobile, while simple blankets and matching linens create a complete look for a little boy.
56. Simplicity in Toy Color Schemes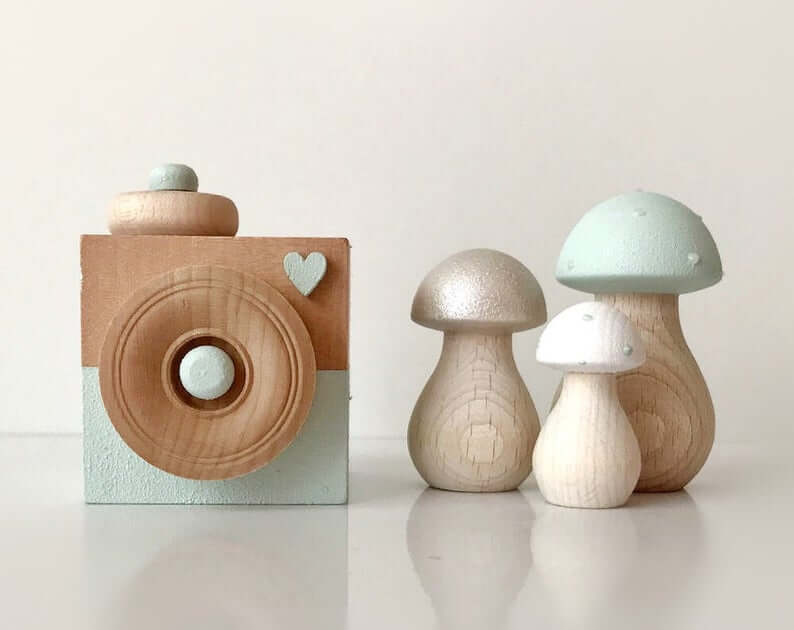 Simple, classic wooden toy accents get a redo with this Instagram-style wooden camera paired with a trio of miniature mushrooms. Instead of natural wood alone, each toy is accented with a palette of light green, shimmery tan, and white. These toys take on a modern look without spoiling the natural effect of the wood and its classic shapes. Baby will be able to play with these toys, but they also do double-duty as nursery decor when put away.
57. Puzzling Out Baby Names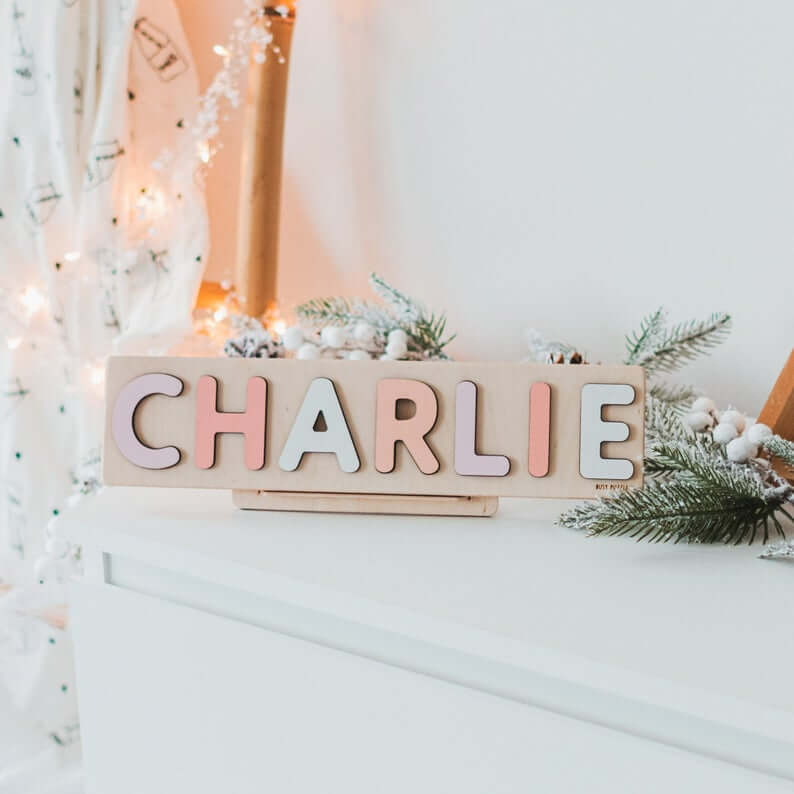 Create a one-of-a-kind puzzle of your little one's name in the perfect colors to match their nursery. Not only will the completed puzzle showcase their own name, but later on it will become a favorite toy as the baby learns to remove and replace the letters to recreate the spelling of their name. Set upon a base, this name puzzle is a perfect addition to a dresser or shelf in the nursery, and it can coordinate with your decor perfectly or create a pop of color in a neutral room.
58. Nursery Decor Ready for Blast Off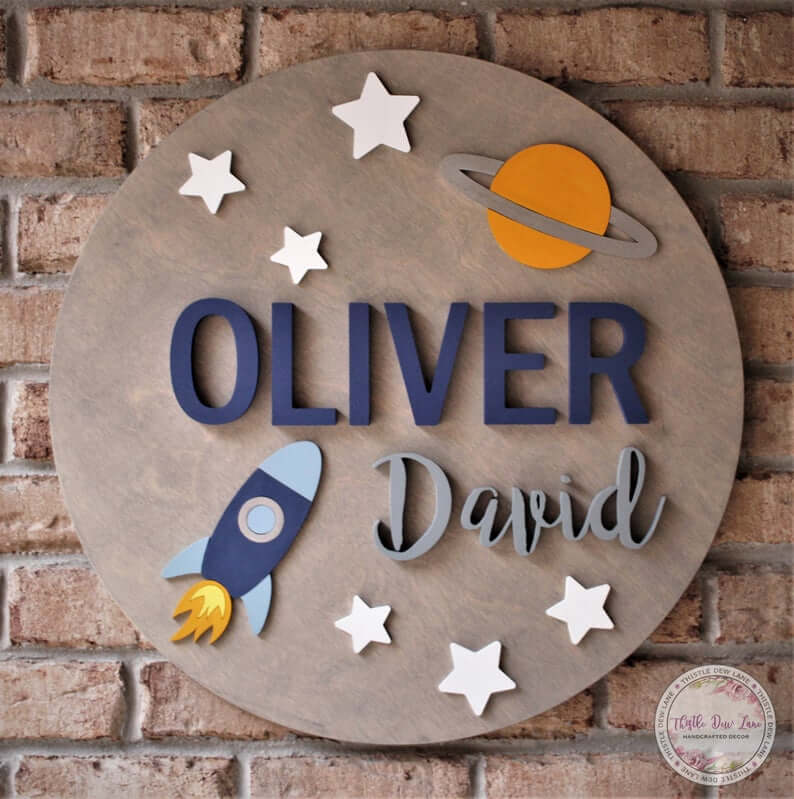 Send your nursery theme to outer space and back with a rocket ship name sign for your little one. The dark wooden circle is the perfect backdrop to host names alongside a ringed planet, stars, and rocket ship. The rich, dark tones of the name and sign backdrop contrast with the flames blasting the rocket and the Jupiter-like planet-encircling the prominent names on the sign.
59. Reaching for the Heavens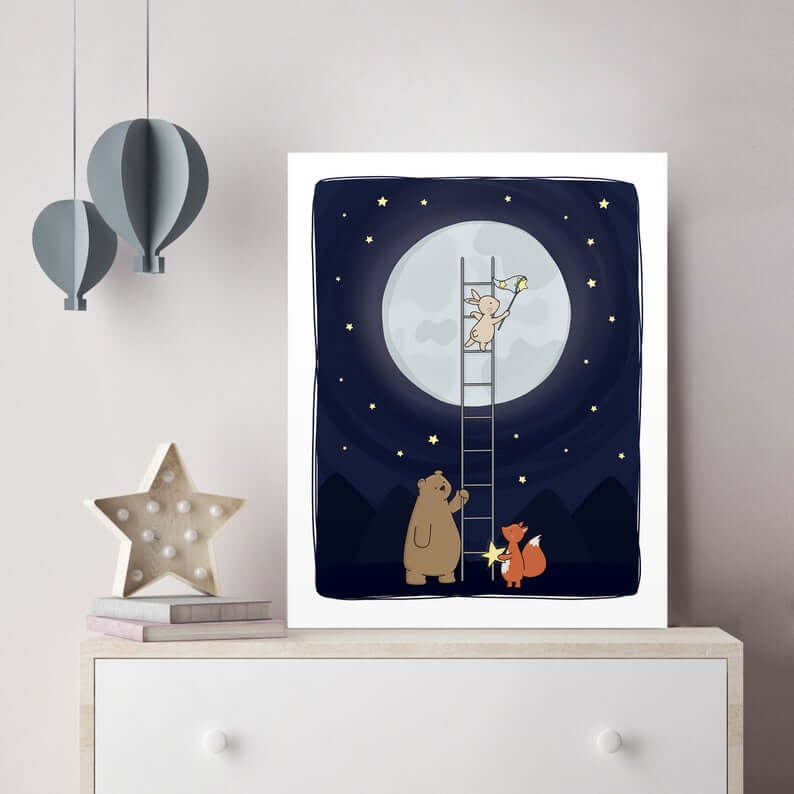 Looking up into the night sky, full of stars and wonder, little ones can share their amazement with sweet woodland creatures in this nursery tableau. An imaginative moon and stars print takes center stage, envisioning friendly animals placing the stars cooperatively into the evening sky. To continue your baby's dreams of the magical sky, a pearl-studded fallen star is situated nearby while a duo of hot air balloons hangs above to complete this enchanting dresser top scene.
60. Whimsical Rainbows Reflecting a Cheerful Space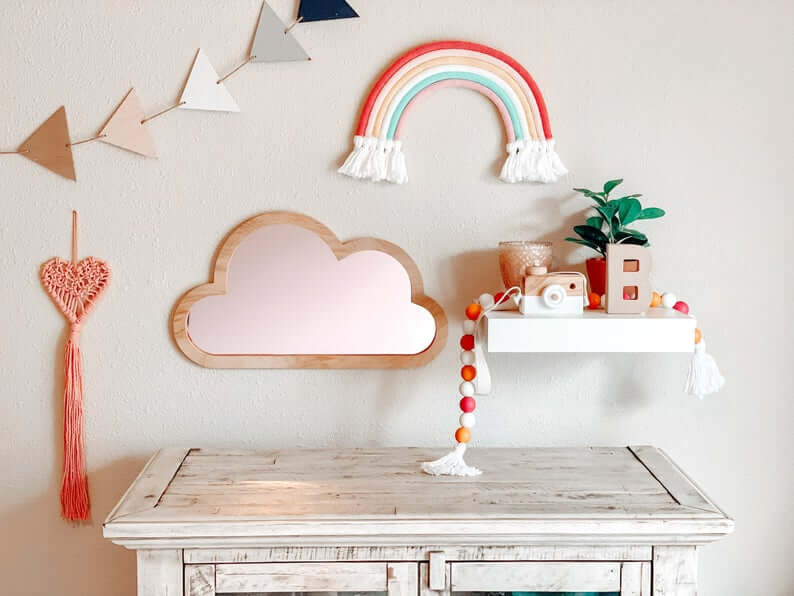 In matching muted tones of blush, tangerine, shimmery metallics, and natural tones, a mix of fabrics and finishes combine to create a sunny wall with charm to spare. A fabric rainbow provides slices of color while a shimmery cloud is anything but gloomy. Smart colored beads mimic the rainbow, while a boho-style arrow provides an unexpected flow above. Finish off this look with a tiny green succulent and an initial or meaningful letter on the adjacent shelf for a polished look.
61. Busy Board for Baby Boy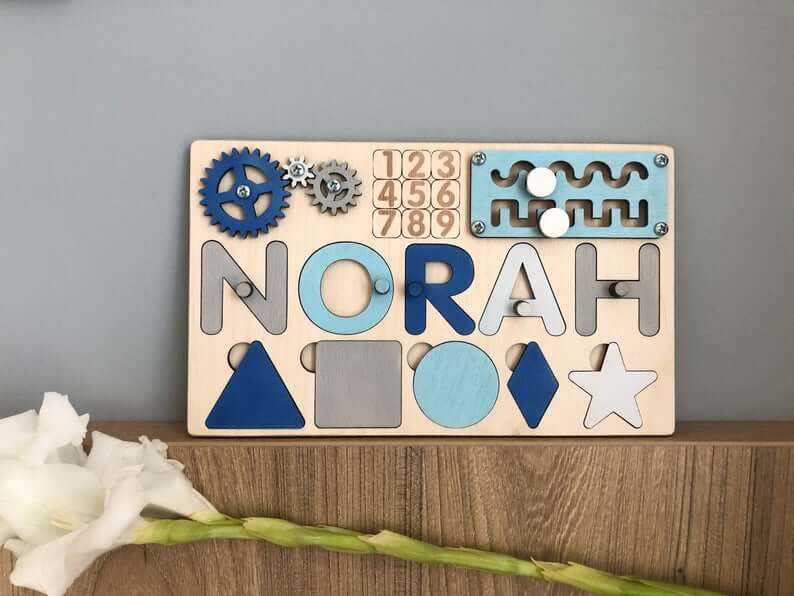 Create a busy toy and name sign all in one for your little one's nursery. Sitting on the shelf, this wooden marvel is visually interesting with the strong contrast between the light wood and darker toned activities and letters. But this sign is also a busy toy that provides puzzle play and busy movements for tiny hands as well. Baby will love learning shapes, numbers, and colors alongside their own name, as well as playing with the rotating gears and moving maze adorned with easy grip wooden handles.
62. Love You to the Moon and Back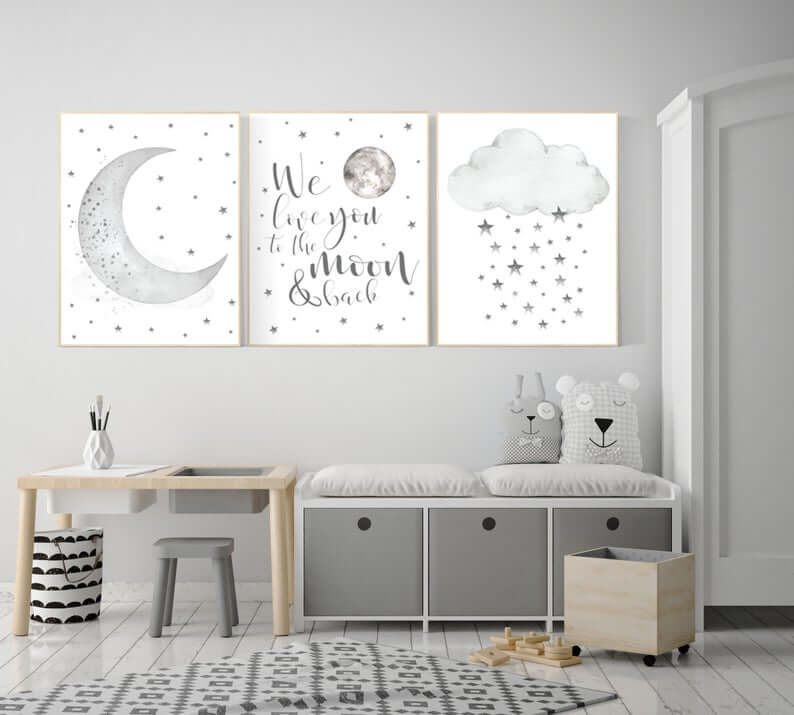 Take whimsical moon and star decor to a different dimension with a tonal take on this beloved nursery theme. Hues of grey, white, and natural wood set a relaxed feel while the oversized moon and star prints provide the perfect background for a comfy storage bench, stool, and practical play table. Loveable animal pillows decorate the bench but pinch-hit as floor seating for active toddlers. Rolling storage bins paired with soft-sided baskets provide needed storage, while table-top kid-friendly vases hold crafting tools.
63. Modern Boho Baby Style Sign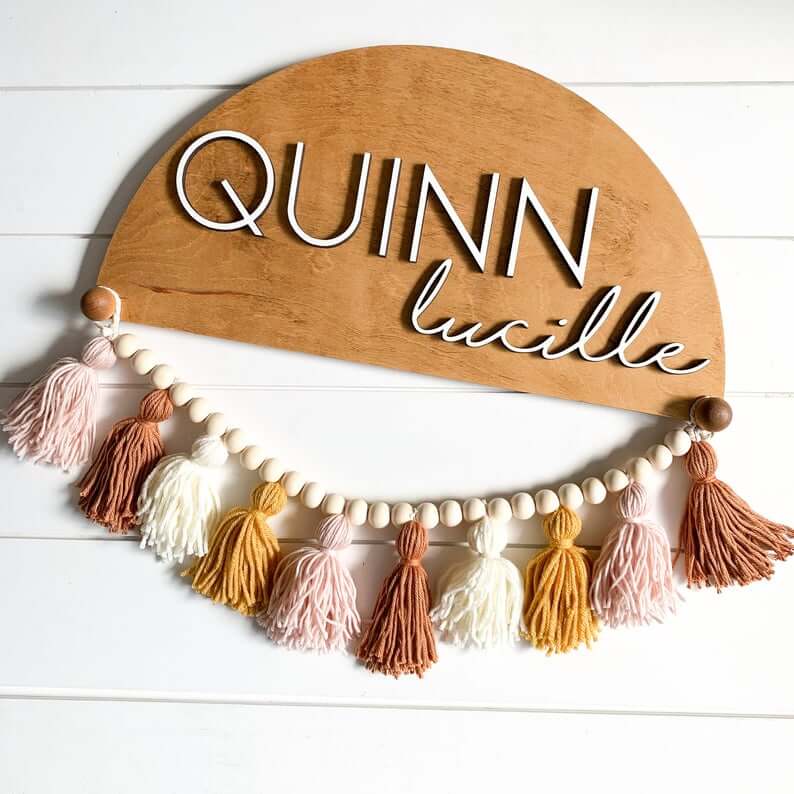 If you love the textural feel of wooden beads and pompoms, put them on your baby's name sign for a fresh take on modern boho style. A half-circle-shaped sign sports gorgeous wooden letters in the script and bold print fonts in creamy white overlaid the glossy wooden base. This sign's wooden nobs are situated in the corners, perfect for joining the ends of the wood bead garland with alternating colorful pompoms. Perfect for accenting a wall with your baby's name or even a meaningful saying.
64. Gorgeous and Generously Sized Storage Solutions
Easy to get to translucent buckets rest on wooden runners in this light wood storage case. With a smooth-finished top and beautifully styled labels noting toy organization, the corner of a nursery will have plenty of storage both in these buckets as well as on top of the unit. Styled with timeless wooden toys for both play and decor, this storage unit and adjacent wooden kitchen playset will enchant your little one's imagination with endless creative opportunities. The timeless wood finishes mean the kitchenette and storage areas will grow with your nursery decor.
65. Bring in the Colors of the Rainbow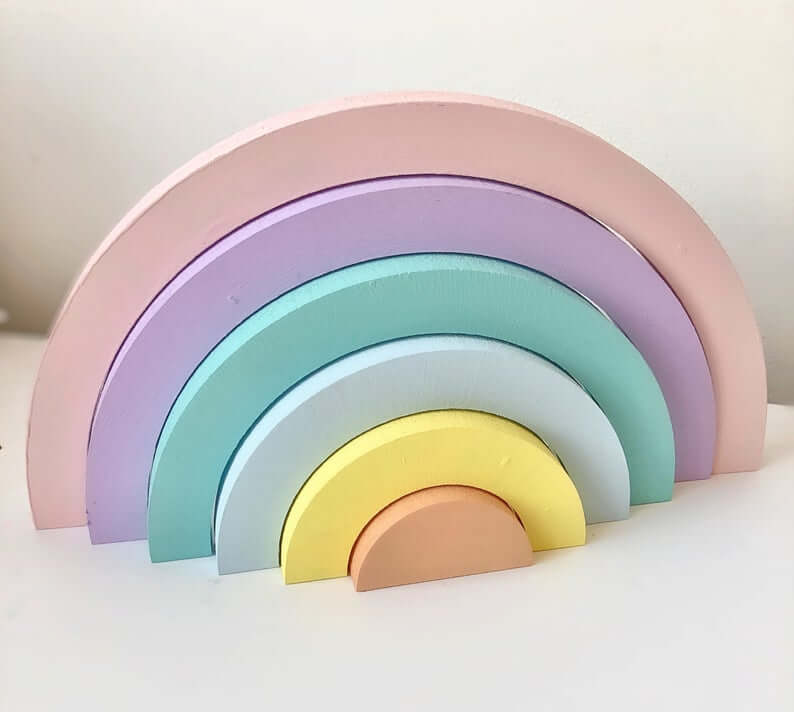 Perfect for a pop of color in any nursery, this wooden rainbow is a cheerful addition to a shelf or tabletop. With separate slices of color, the depth of the rainbow can be adjusted to create a flat or more dimensional accent for your room. The wooden pieces are hand-painted and provide a muted but charming twist to the traditional brighter rainbow colors. Perfect for little girls or boys, this freestanding rainbow can be paired with other decor or used alone as a bright touch in the nursery.
66. Over the Moon Rustic Nursery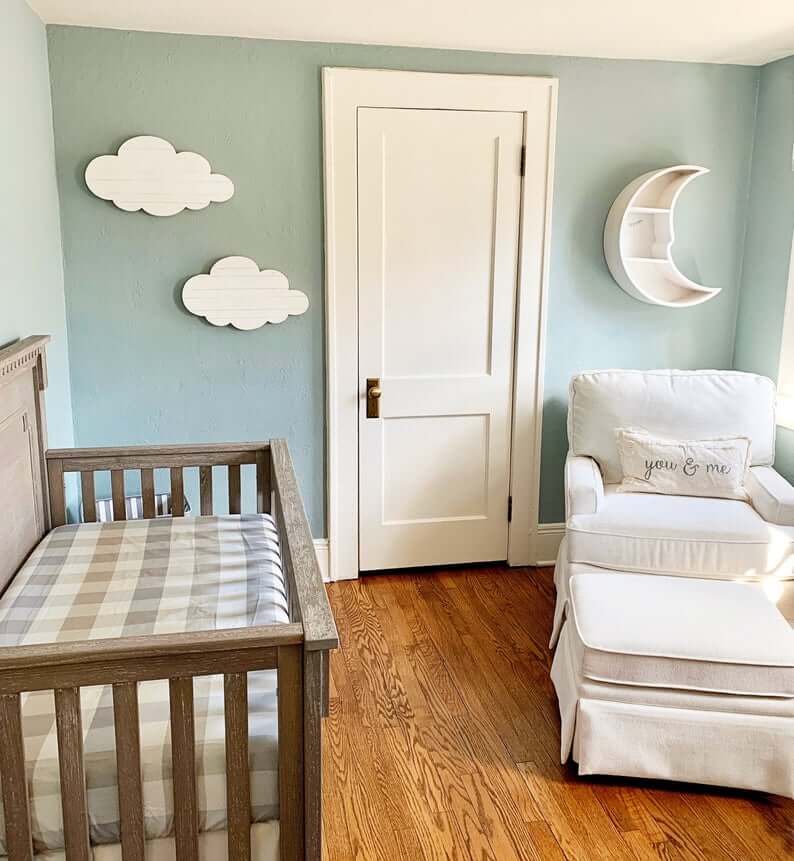 Styling a smaller nursery is easy when the wall color is part of the design element. This inviting nursery's greenish-blue walls are the perfect backdrop for an oversized soft white moon shelf and coordinating clouds. Matching the off-white tones, an oversized chair and ottoman provide mom and baby comfy seating, and a darling pillow confirms the pairing. A rustic, weathered crib is dressed in an oversized buffalo-check sheet, reflecting the wall hue and the wood tones in the crib and the flooring.
67. Reimagining a Mobile for the Nursery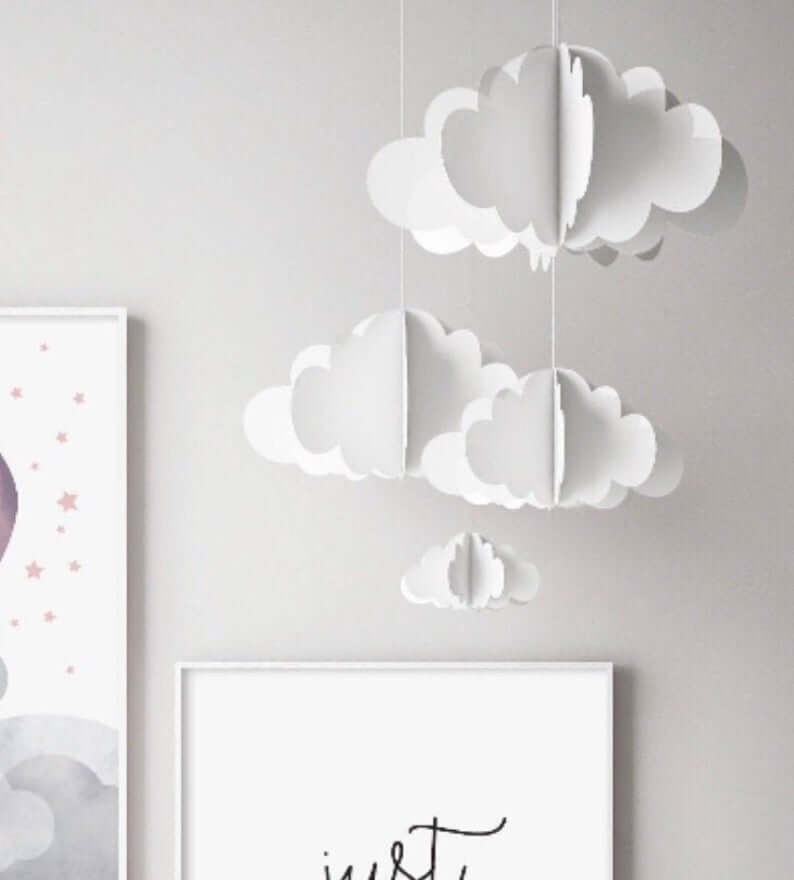 Mobiles or hanging decor above a baby's head provide stimulation and movement to keep the baby interested in the world around them. Instead of choosing bright colors or babyish patterns, this grouping of white clouds provides a whisp of cloudlike shapes to enchant the baby. Styled of sturdy cardstock hanging from nearly invisible threading, they will spin and move with a slight breeze. Their unusual 3-D style adds a unique style to any corner of the nursery or above the baby's crib or changing station.
68. Artful Still Life for the Nursery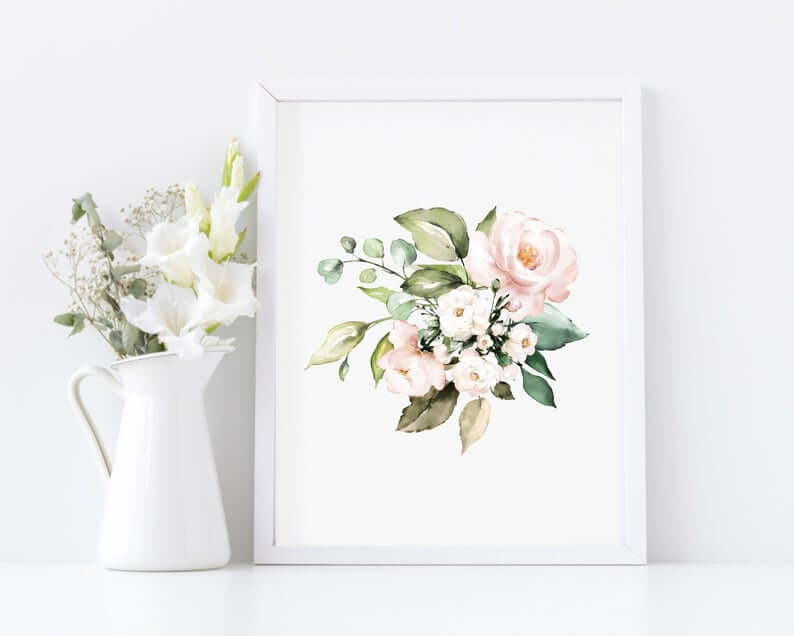 Baby is never too young to appreciate the pairing of art and coordinating floral displays. This simple white pitcher of gladiolas and greenery pairs perfectly with a white framed watercolor picture. With subtle tones of pink, white, and green, this grouping would look stunning on a shelf in the nursery while adding a touch of romantic floral decor to any neutral or light-colored room.