Embracing exploration with the best woodland nursery ideas might be easier than you imagine. Although a woodland theme might sound restrictive at first, it encompasses a wide variety of styles, elements, and colors. From rich brown and green palettes to bright blue and orange hues, there are lots of options when it comes to bringing a woodland theme to a nursery. If you start with an idea you love, the resulting room will tug at your heartstrings.
21 Adventurous Ways to Bring the Best Woodland Nursery Ideas into Your Home

The first step to building an immersive woodland nursery is to figure out what "woodland" means to you. When you think about forests, do you think about cute, cuddly foxes or camping under the stars? Woodland decor often includes natural elements such as mountains, trees, leaves, stars, and clouds. You can choose to use any of these as a focal point or primary woodland theme. Alternatively, they can be used to help build an outdoor-like ambiance. Next, comes animal choice. Many woodland nursery ideas incorporate foxes, bears, squirrels, rabbits, hedgehogs, owls, deer, and any other creature you might see outside. Figure out which animals resonate most with you and your little one, and fill your space with them.
If you are having trouble deciding which animals are perfect for your nursery, think about location. An alpine mountain forest might include wolves, elk, bears, and squirrels. Move into the heartland for forests dominated by deer, foxes, and raccoons. For a unique forest-themed nursery, consider going further afield. Decorate an Asian-inspired bamboo forest with giant pandas and red foxes. Maybe the Australian bush can provide the adventure your little one is yearning for. Many of the ideas listed below can be modified to fit into your design. All it takes is a little creativity and the ability to visualize the possibilities.
1. Camping Under the Stars Bed Canopy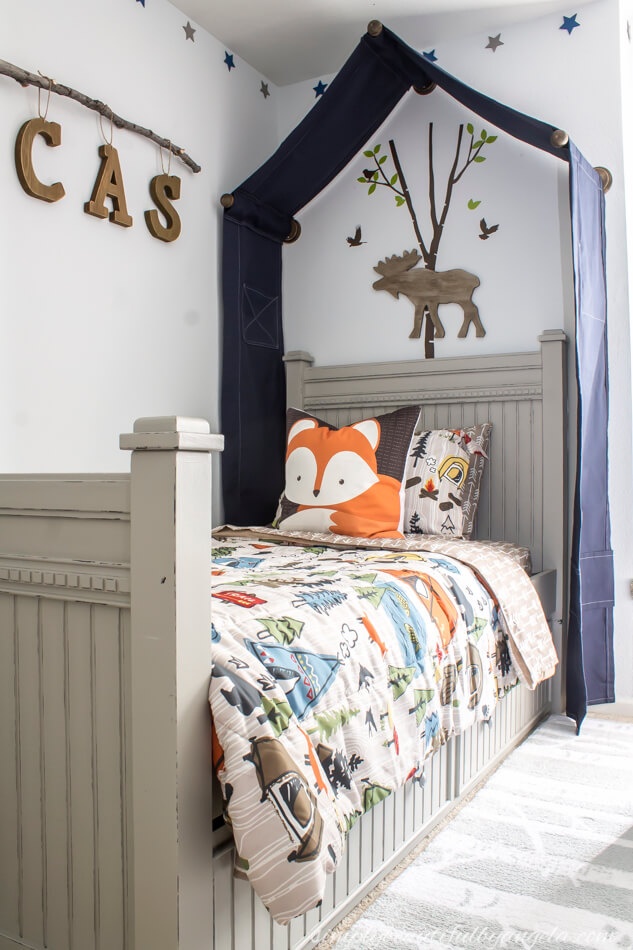 When it is time to transform your little one's room from forest themed nursery to a bedroom, a camping theme can ease the transition. By adding a tent canopy over the bed and a border of small stars, this bedroom feels like an outdoor adventure instead of an animal-dominated nursery. However, you do not need to use the canopy over the bed to cultivate this campground effect. Imagine using a canopy to define a reading nook or small play area. To complete the look, incorporate woodsy accents and cute wildlife. For a glamping vibe, add some sparkly sequins to your canopy.
2. Mobile Featuring Moon and Stars Mélange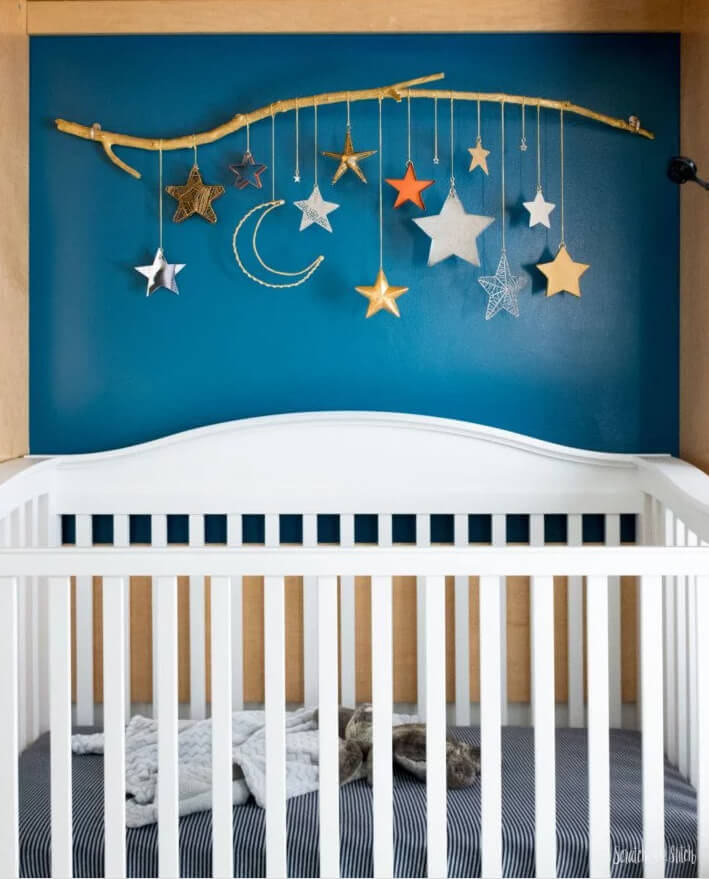 vThis decor idea is so simple yet so exquisite. Suspended from a metallic branch, these moon and stars are the perfect accents to underscore a woodland theme in a nursery. This mobile transcends ambiance and becomes a conversation piece. If different colors are used, it can even become a tool to teach baby color names. The beauty of this idea is how easy it is to make your own. Play into a rustic feel by using wood stars exclusively. For a glamping feel, only invite sparkly stars to the party. Because it can double as wall art, this mobile can easily age with your child.
3. Woodland Theme in a Vibrant Palette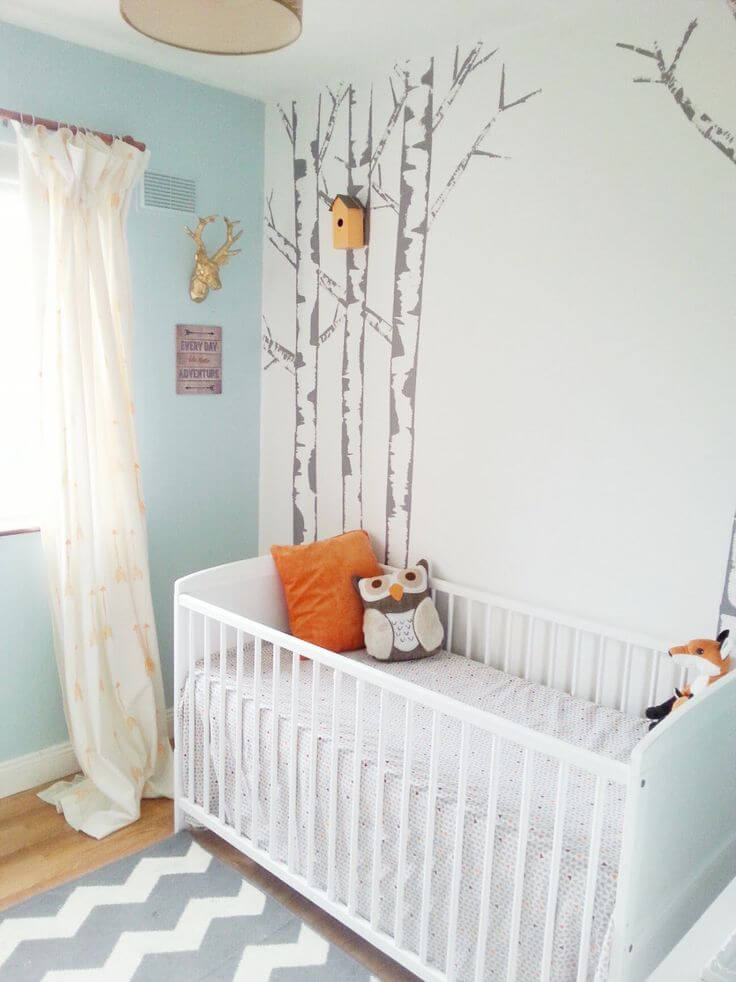 As this image shows, you do not need to stick with beige neutrals, greens, and browns to build a beautiful woodland themed nursery. By incorporating some woodland creatures, birch tree decals, and a birdhouse, this bedroom gives a woodland feel without being too rustic. A bright blue wall gives the impression of a clear blue sky while the bright orange accents offer the perfect counterbalance. Gray and white work together to cultivate a soothing space, but you could add some warmth by switching out gray for brown. If you love to decorate in bright colors, draw inspiration from this tutorial and follow your heart.
4. Slumbering Bear Felt Laundry Hamper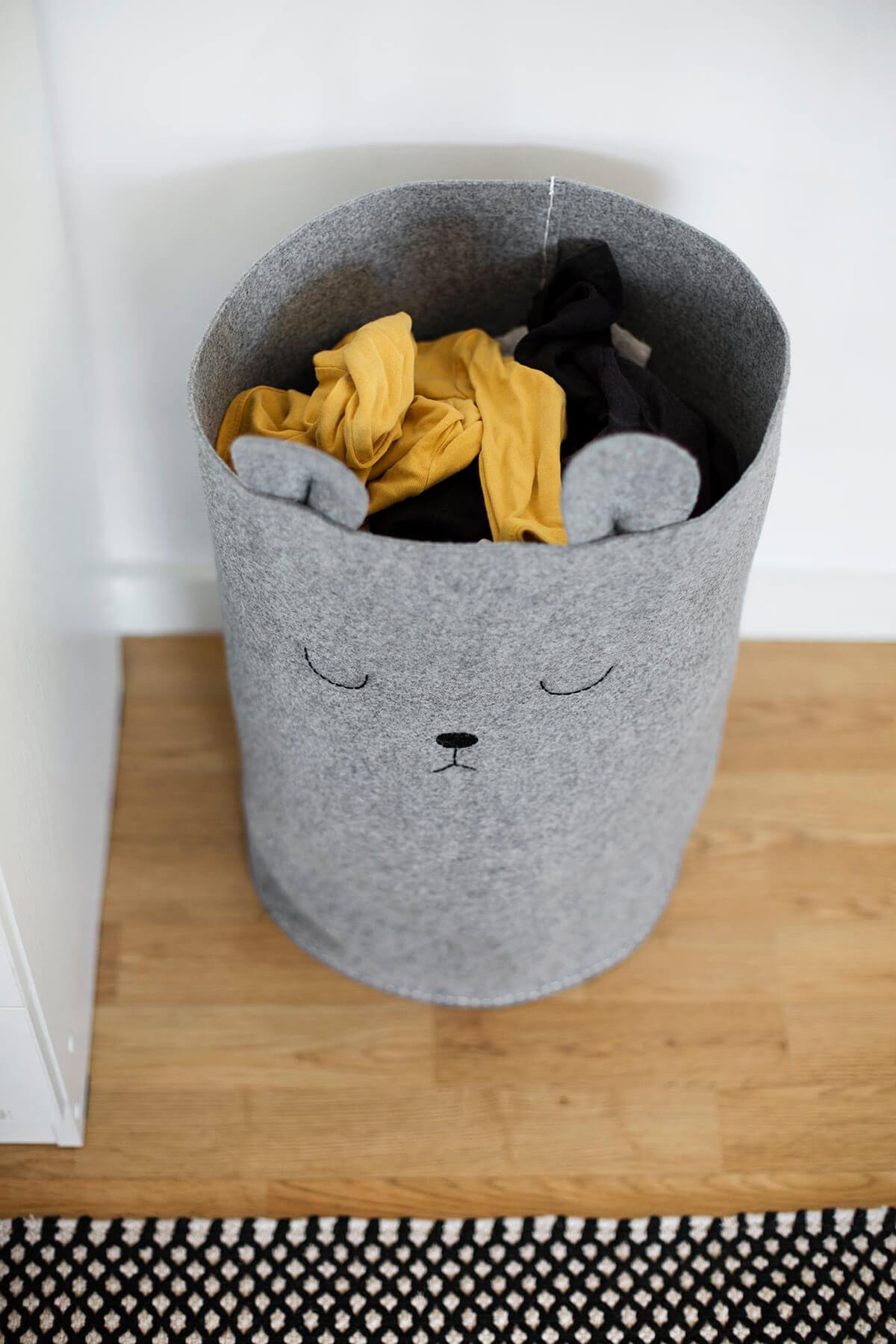 No matter how often you run laundry, babies seem to generate more soiled clothes instantly. To buy a little time, build an adorable laundry hamper like the one shown here. Although this hamper showcases a cozy gray bear, you can harness your creativity to create your little one's favorite woodland creature. To create a fox for your woodland wonderland, apply layers of red and white felt to your hamper. Experiment with other colors and designs for different animals. However, you do not have to stop at using this hamper for dirty laundry. Imagine a different beastie to contain your little one's folded blankets or favorite toys.
5. Wooden Signpost Leading to Adventure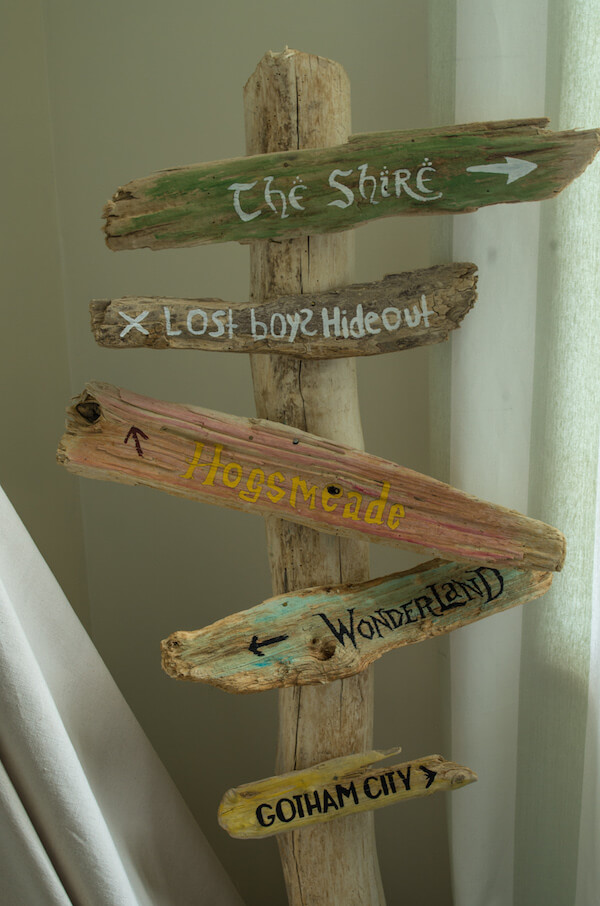 When you choose a woodland themed nursery, you are not limited to cute creatures and woodsy accents. Use a signpost like this to introduce your little one to your favorite fictional worlds. To prevent splinters, you will want to make sure that all surfaces are sanded to a smooth finish. A freestanding log might not be safe in all nurseries, but you could harness this idea to create your own signpost to fantastical places. If you are artistically gifted, you could even paint a signpost directly on the nursery wall. Include as many or as few destinations as you desire.
6. Forest Themed Nursery with Shiplap Wainscoting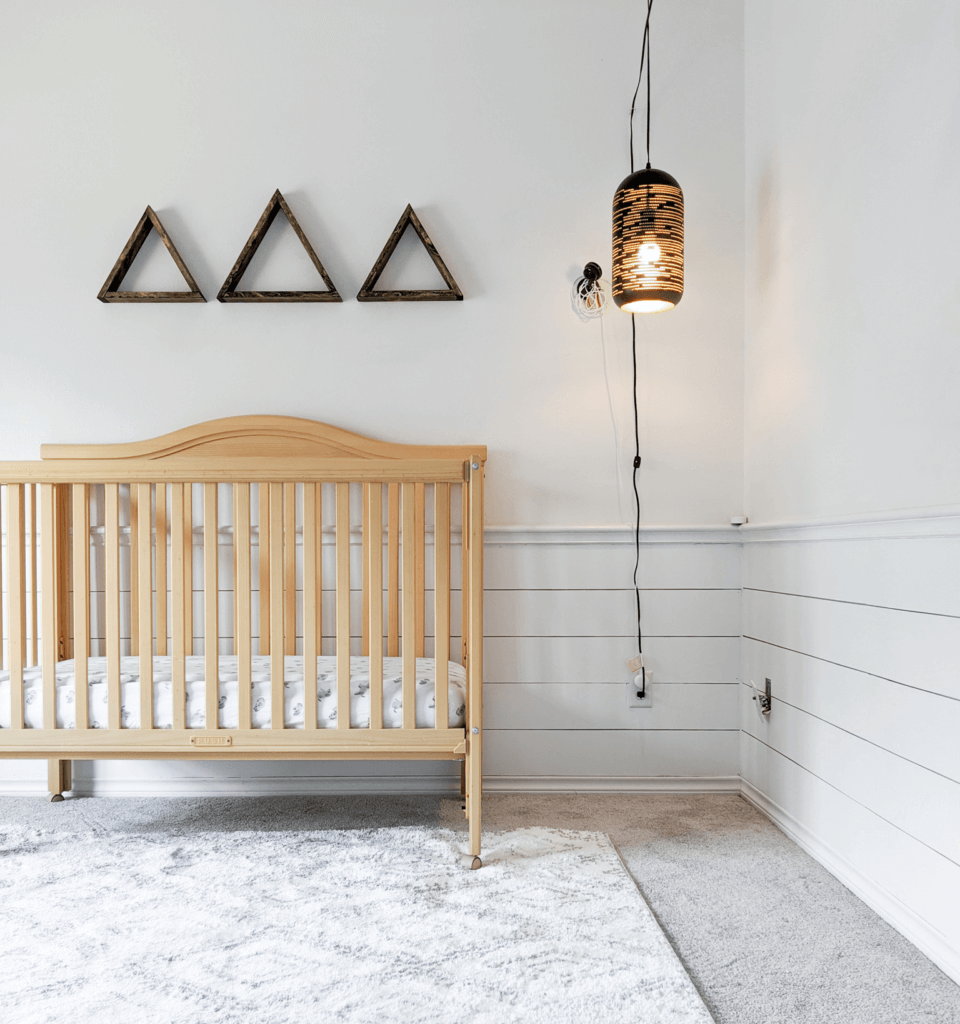 White-painted shiplap wainscoting really is the perfect material. It adds the same detail and interest in a nursery as in a big kid's bedroom. When the age of nurseries has ended, the shiplap will still hold decorating appeal. Because shiplap wainscoting holds its value, it is a worthy project to spend a little time and energy pursuing. Pair it with your favorite woodland decor, and you will have achieved an inviting nursery. Draw inspiration from this image and incorporate some moody lighting for some fun effects. For a more Scandinavian feel, skip the white paint and let the wooden shiplap shine.
7. Easy Cloth Animal Silhouette Wall Art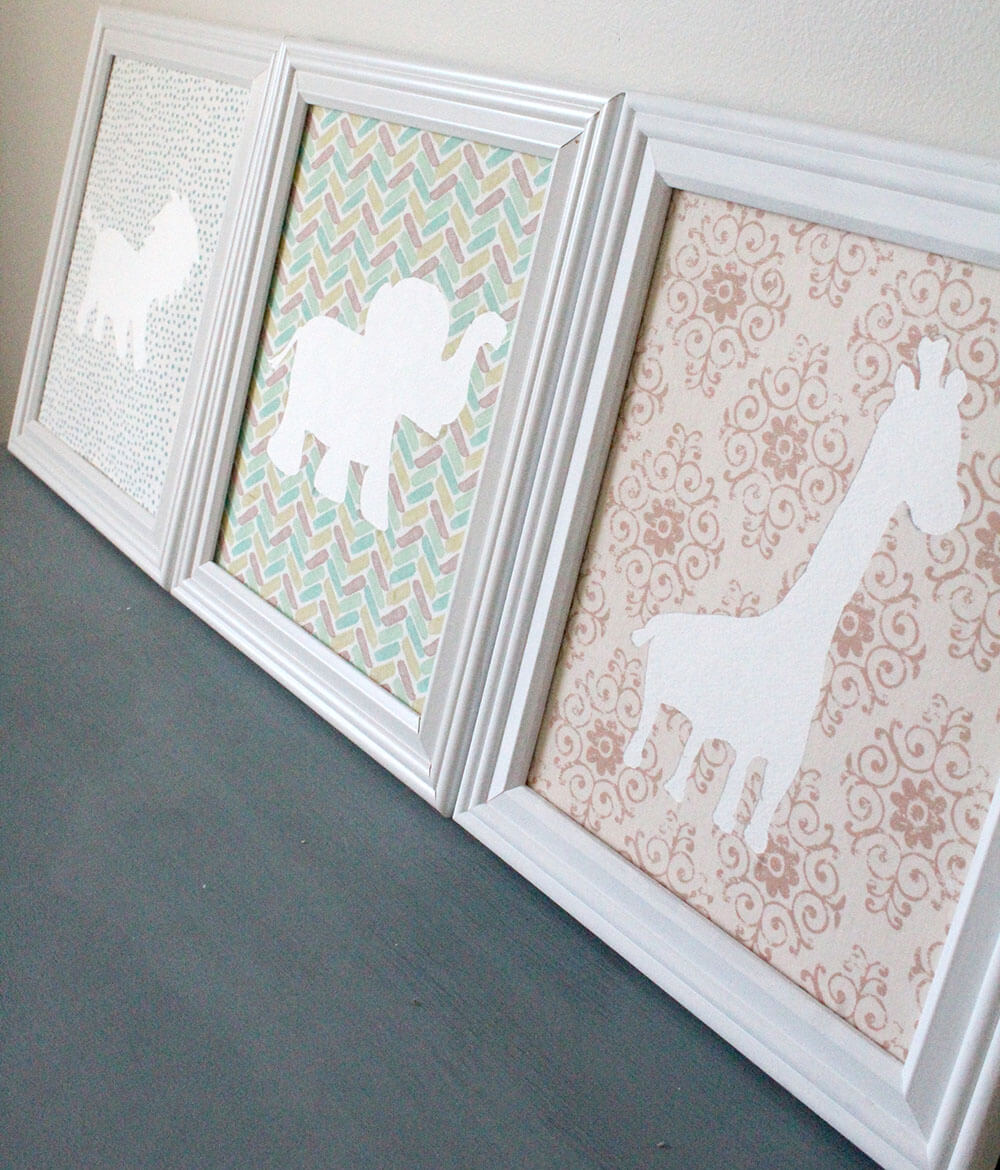 On the endless quest to decorate in different textures and colors, patterned cloth unlocks endless possibilities. The hardest part is picking which animal silhouettes work the best for your forest themed nursery. To cultivate continuity, one approach would be to use different silhouettes of the same animal. Of course, featuring many different animals will lead to woodland bursting with wildlife. Material choice is where you can really unleash your creativity. Although it may not show fine details as clearly, you could use burlap to give your nursery a rustic vibe. Give your woodland nursery a glamorous upgrade by using a sensual material like crushed velvet.
8. Woodland Creatures with Gold Crowns Wall Art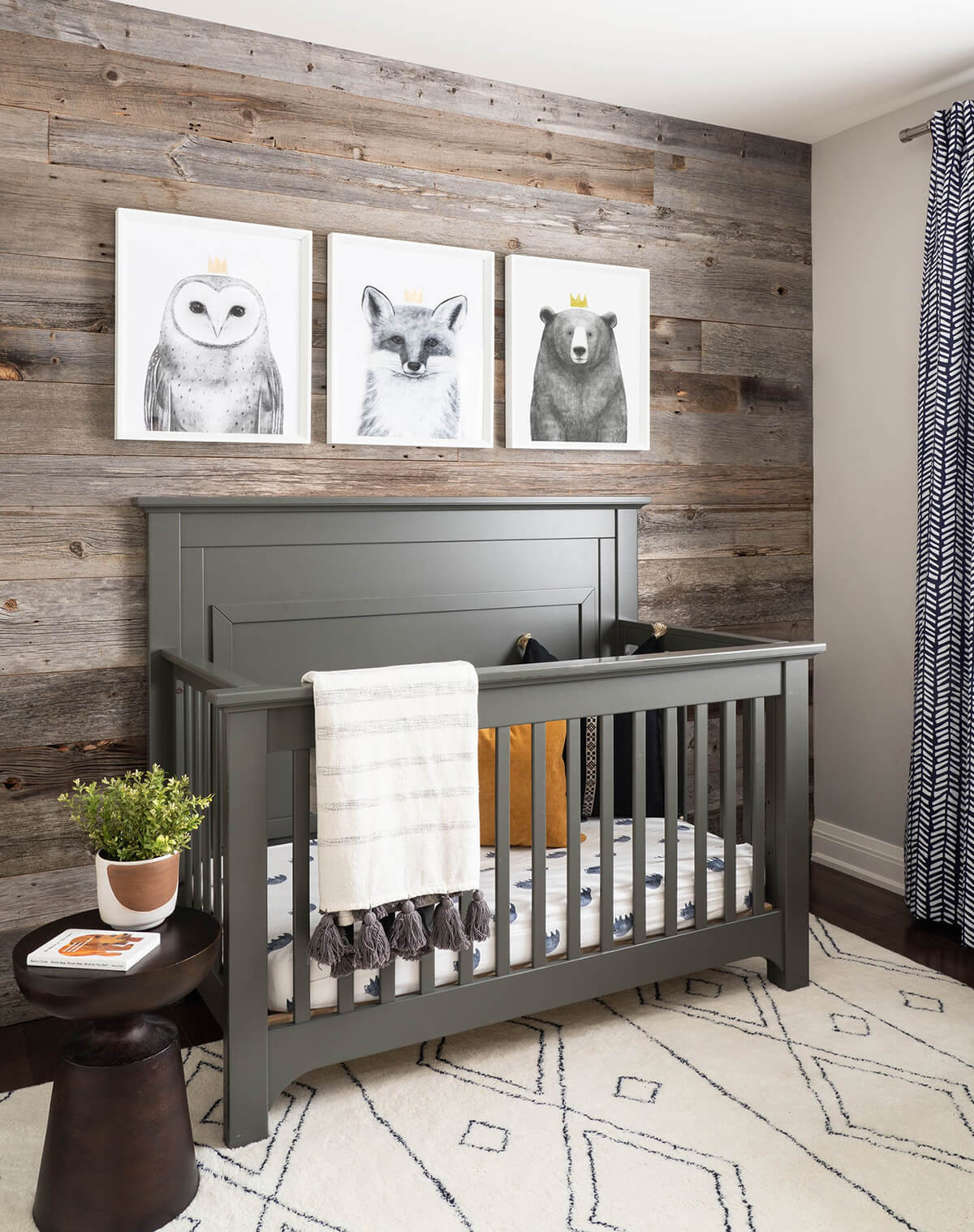 Gilded golden crowns elevate the forest themed nursery to glamorous new heights. An artistic style gives this wall art a soft romance. No matter what your nursery palette is, the soft grays, gentle blacks, and crisp whites in these pieces of wall art will blend seamlessly. To complete the opulent theme, scatter your space with glittering gold accents. Alternatively, if your nursery is filled with gray wood tones, the wall art's gray hues underscore a sense of elegance and sophistication. Hang these gold and gray animals together for the gallery effect shown here or individually as a glorious focal point.
9. Fuzzy Grizzly Mounted on a Plaque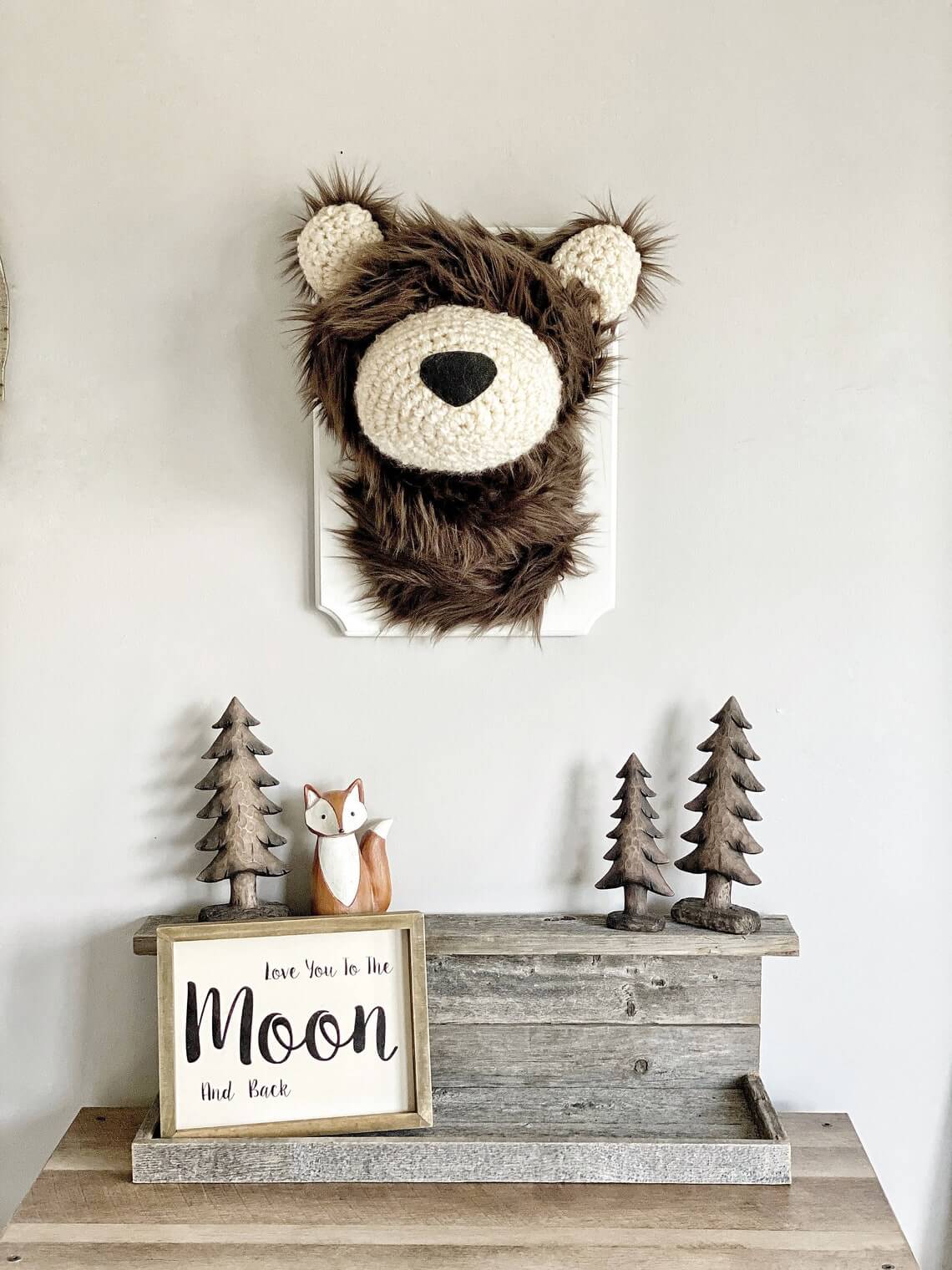 With a flop of fuzzy brown fur and a crocheted muzzle, this kid-friendly play on taxidermy is one of the best woodland nursery ideas. Although this image shows the bear mounted on a white plaque, you can request a plaque painted in any color that will work in your space. Another option you have is whether to include eyes or not. For a more realistic effect, opt for eyes. Skip the eyes to achieve a stylized effect as shown in this image. Display your bear on its own as a focal point or pair it with another wall decor for a fresh take on a gallery wall.
10. Set of Six Baby Animal Photographs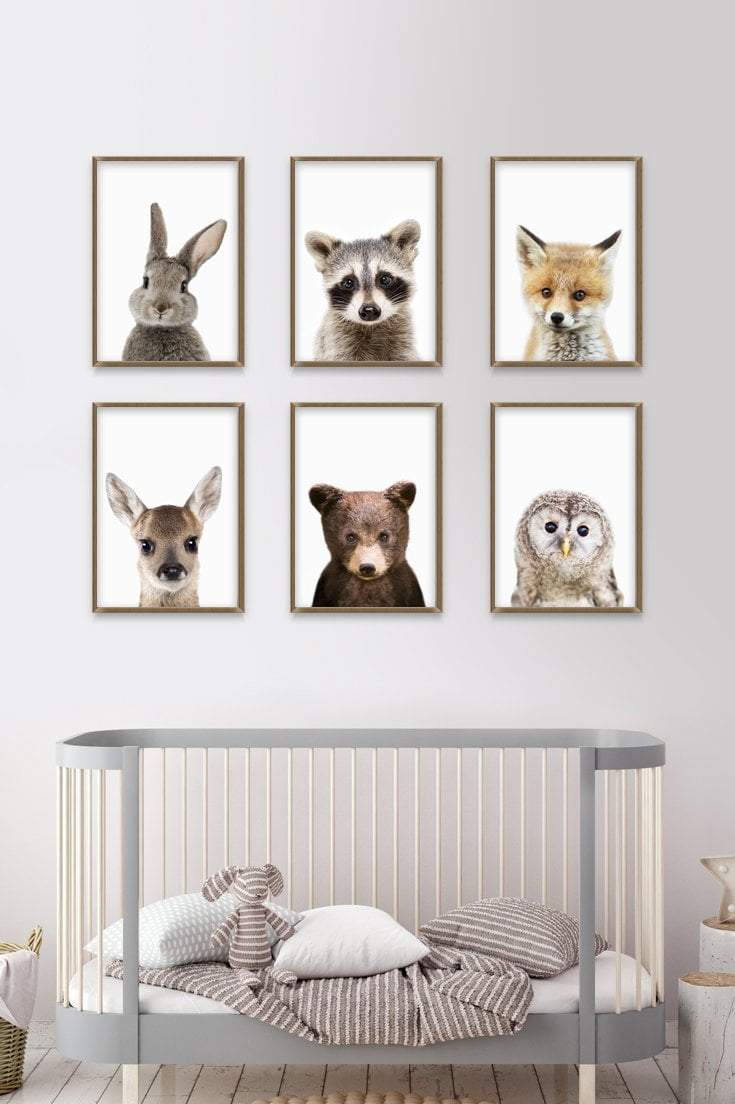 If you are not sure what your little one's favorite forest animal is yet, this is the wall art set for you. Because six of the most popular woodland animals are included, these photographs will make a splash in your decor. The cool white background in each of these animal portraits makes them a breeze to pair with other design elements. When you hang them together, you achieve a wall filled with baby cuteness. However, if your space only has room for a few at a time, you could switch them out the same way you do with another seasonal decor.
11. Crocheted Gray Fox Toy Basket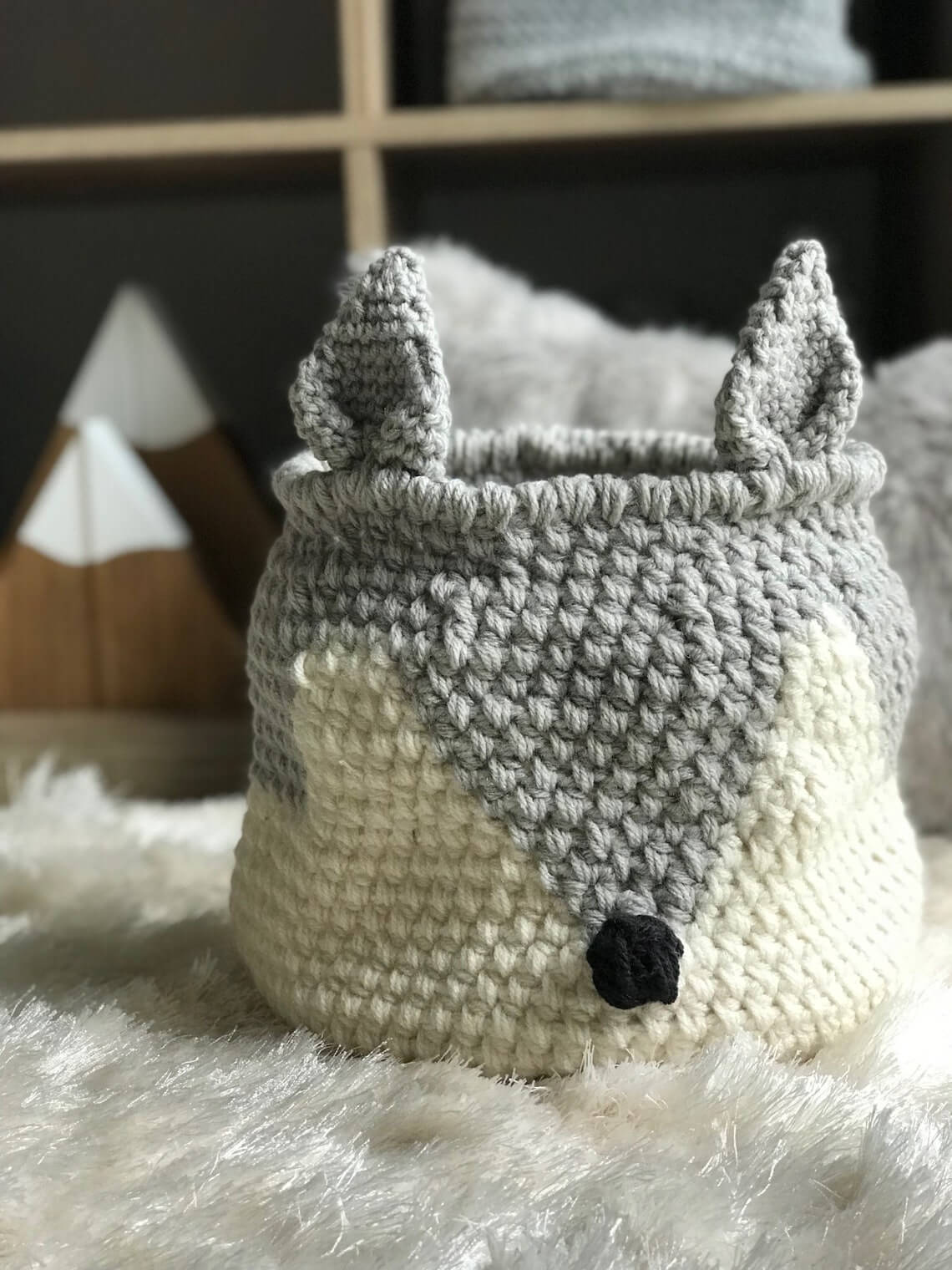 Soft puffs of yarn make the perfect texture for curious fingers. Your little one may even have fun putting toys away in this adorable toy basket. This crocheted gray fox features a slouchy structure that will fill your woodland themed nursery with happy hygge vibes. Emphasize that feeling of comfort by using this fun gray fox to hold extra blankets. Be aware that, as a piece of crocheted artwork, it will be floppy until it is filled. Although it is sold as a gray fox, this toy basket could double as a wolf if you pair it with alpine-type forest decor.
12. Luxurious Fawn Crib Bedding Set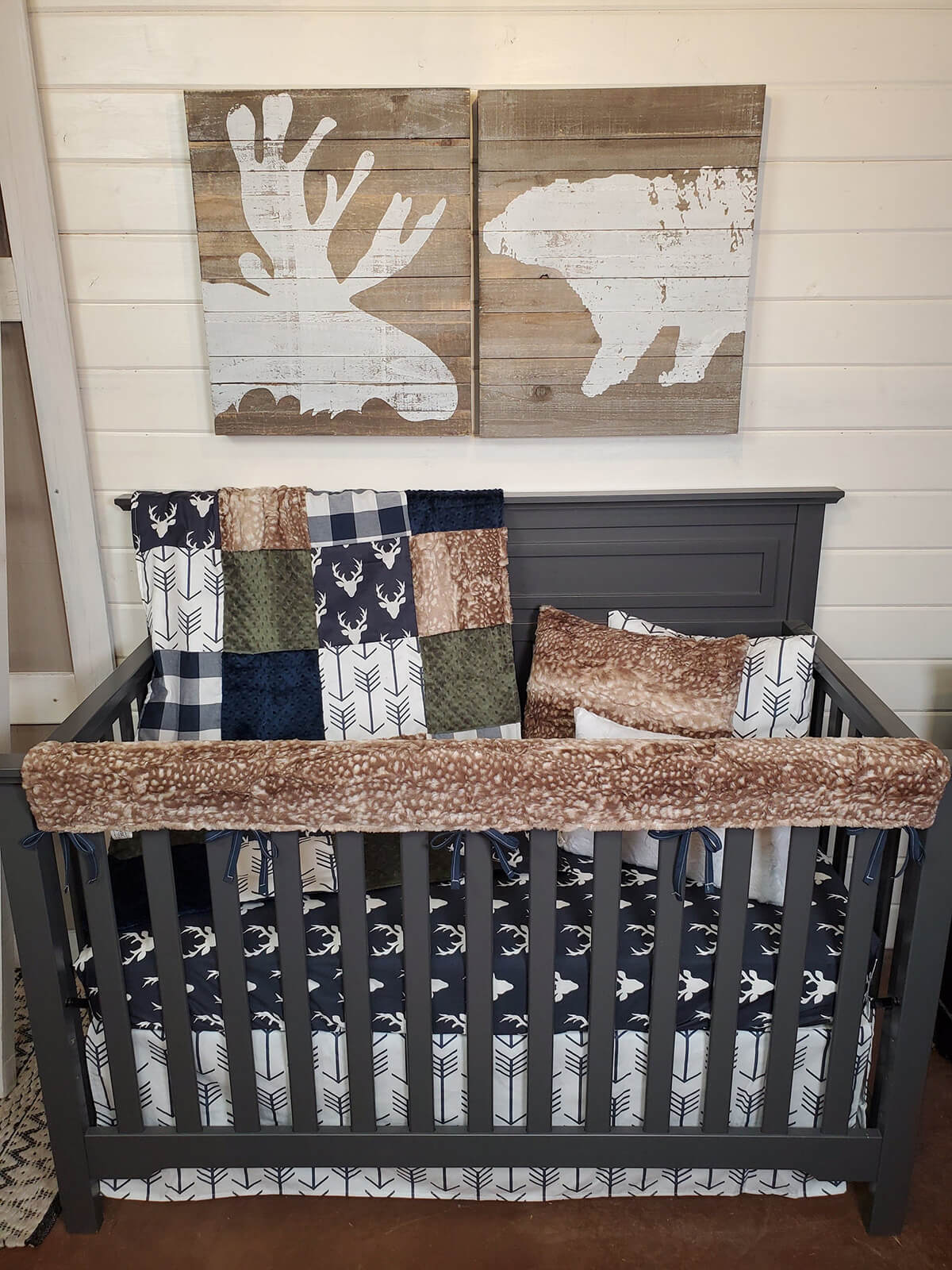 No nursery is complete without a crib bedding set, and this stunning collection offers countless decor possibilities. An arrow motif on the crib skirt encourages exploration while the buck pattern on the crib sheet ties the whole set together. As impressive as these components are, the star of this show is the fawn-patterned material. The blanket and pillows bring the cool navy blues, invigorating whites, and warm browns together in one cohesive bundle. To promote safe sleep, be sure to place the pillows and blanket outside of the crib. Use them in other parts of the nursery to emphasize graceful woodland beauty.
13. Set of Four Whitewashed Wood Signs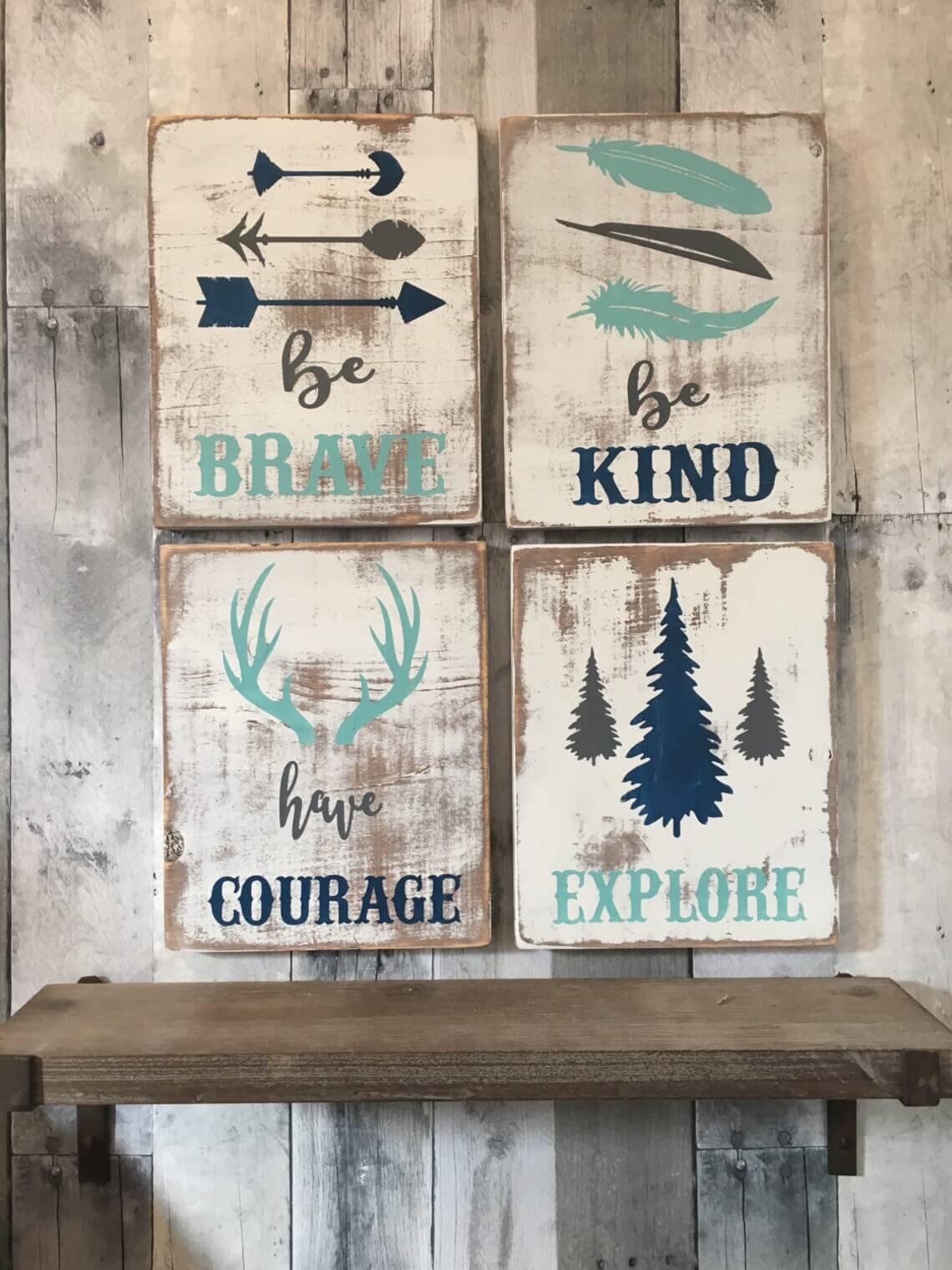 Let wood's untamed nature shine in your nursery with these four blue-accented signs. A whitewashed finish allows plenty of the wood's natural character and plenty of rustic flairs. Words on the signs are depicted in loose cursive and an antique-inspired font to help your nursery feel connected to the rest of a modern farmhouse home. With gray in addition to two shades of blue in the palette, these signs will also tie into a large variety of nursery decor. Because this shop takes custom requests, you can change any of the elements on the signs to fit your unique space.
14. Playful Bear Fabric Wall Decal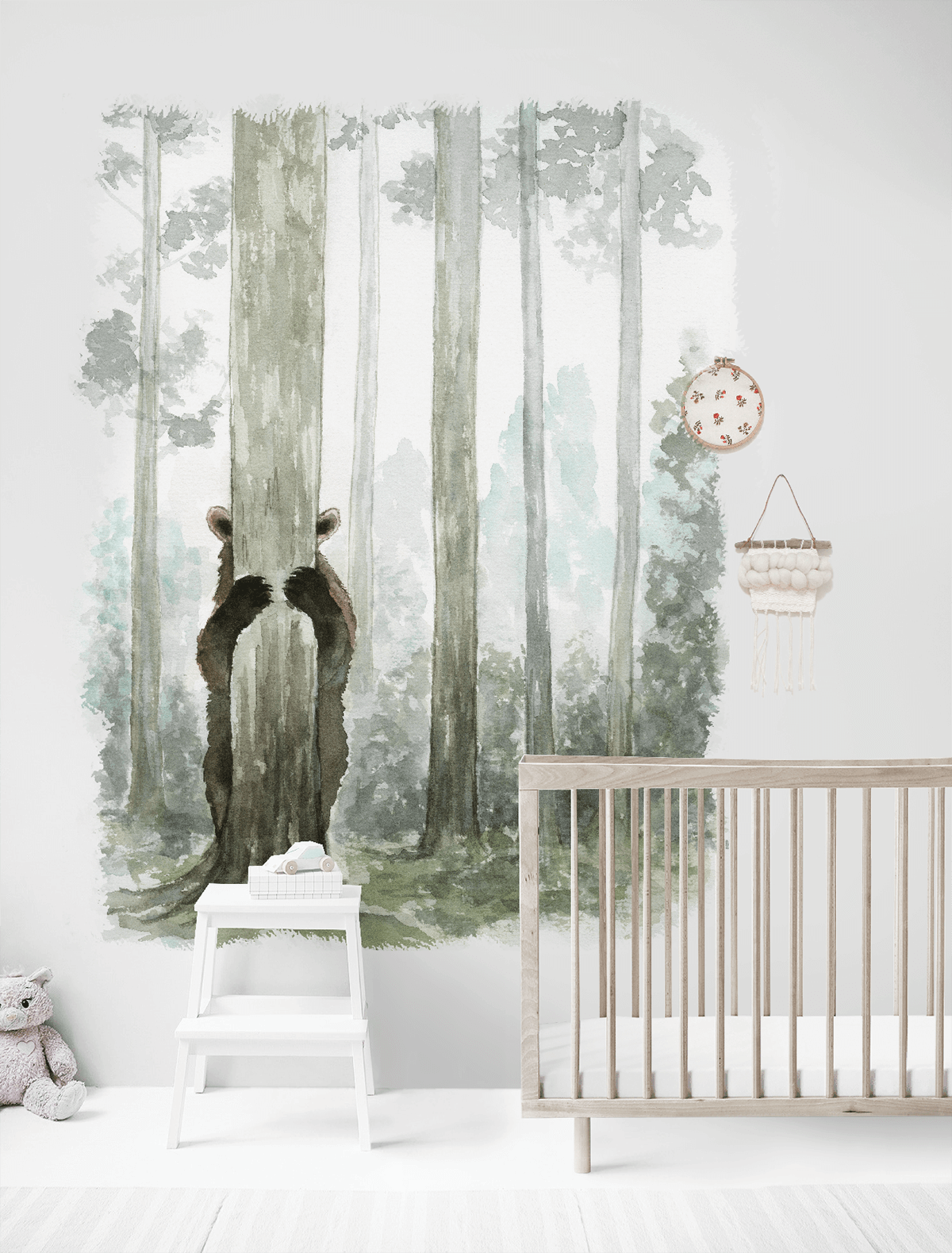 Consisting of two removable panels, this fabric wall decal is everything you need to make your nursery feel like woodland without damaging your walls. If you do not love where it is at first, you can always take it down and put it somewhere else. While the soft watercolor style will infuse your nursery with soothing tranquility, the bear-playing peek-a-boo will add some fun energy. How you frame this decal with your furniture will determine how dominant it is in your decor. To use it as a focal point in your space, avoid placing furniture in front of it.
15. Peel and Stick Birch Tree Wallpaper
Like a real forest, the best way to build an immersive woodland themed nursery is to include lots of woodsy details in layers. When you cover a wall in this birch tree wallpaper, you transform a blank wall into a cohesive part of your decor. Whether you are renting or just enjoy switching up the decor regularly, this wallpaper is perfect because it is easy to apply and easy to remove. However, this birch tree wallpaper is quite versatile because it can comfortably fit with a wide variety of themes and color palettes. Pair with any color, and you have achieved woodland nursery nirvana.
16. Brown and Green Felt Mobile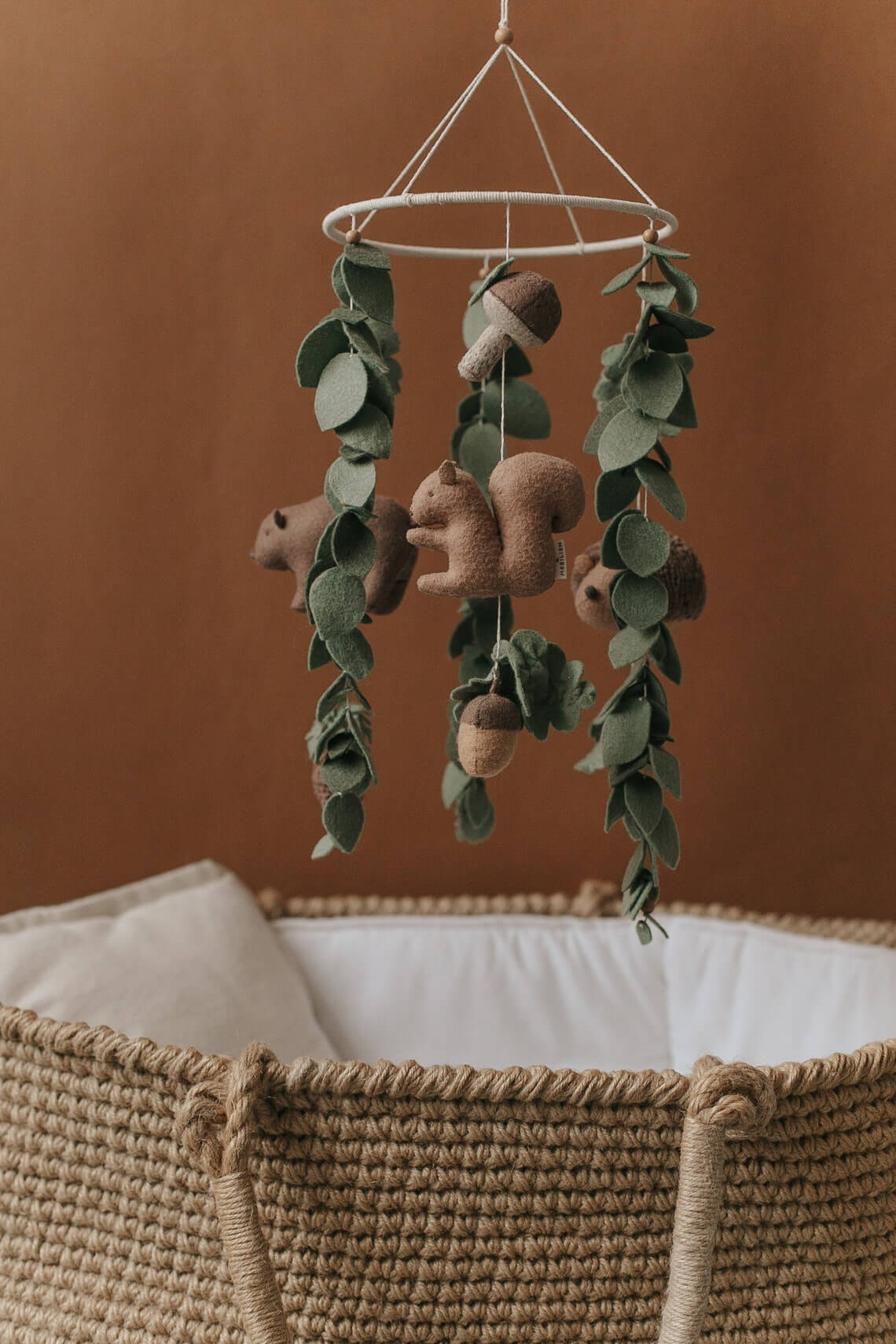 To build a woodland theme in a nursery, it is important to remember that forests offer more than cute creatures. A forest is filled with elements like leaves, acorns, mushrooms, and pinecones. Loaded with layers of lush green leaves and soft brown accents, this mobile is a great way to incorporate those forest elements into your nursery. To balance all the soft felt, this mobile also features smooth wooden beads that can easily create cohesiveness with other wood bead decor. If the particular shades of green and brown shown here do not work with your color palette, this shop can craft one in custom colors.
17. Rustic Hickory Twig Candle Sconce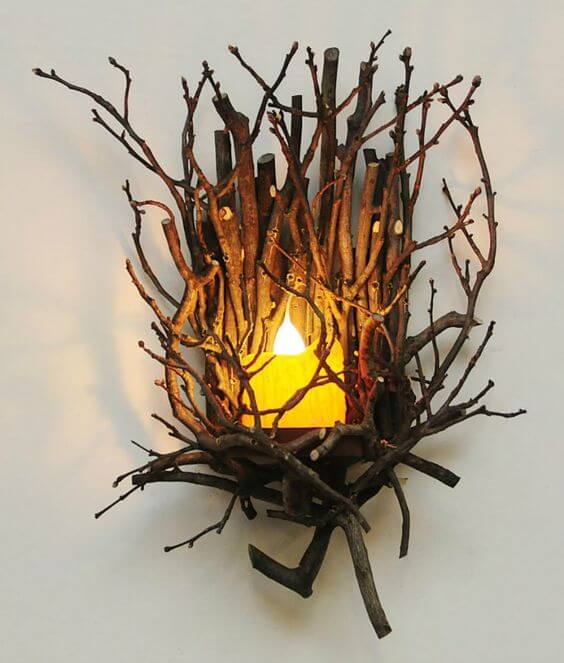 One of the best woodland nursery ideas is to incorporate a little wild in your space. With this candle sconce, you can achieve that wilderness ambiance. A spray of hickory twigs cradles an electric pillar candle. The candle features a hand-dipped glass bulb that is shaped like a flame. Depending on your needs, this sconce can either be plugged into an electrical outlet or hardwired into the wall. This way, you can enjoy all the warmth of a candle flame with none of the safety risks. What better way is there to develop a woodland space than to bring the woods inside?
18. Handmade Mushroom Baskets with Lids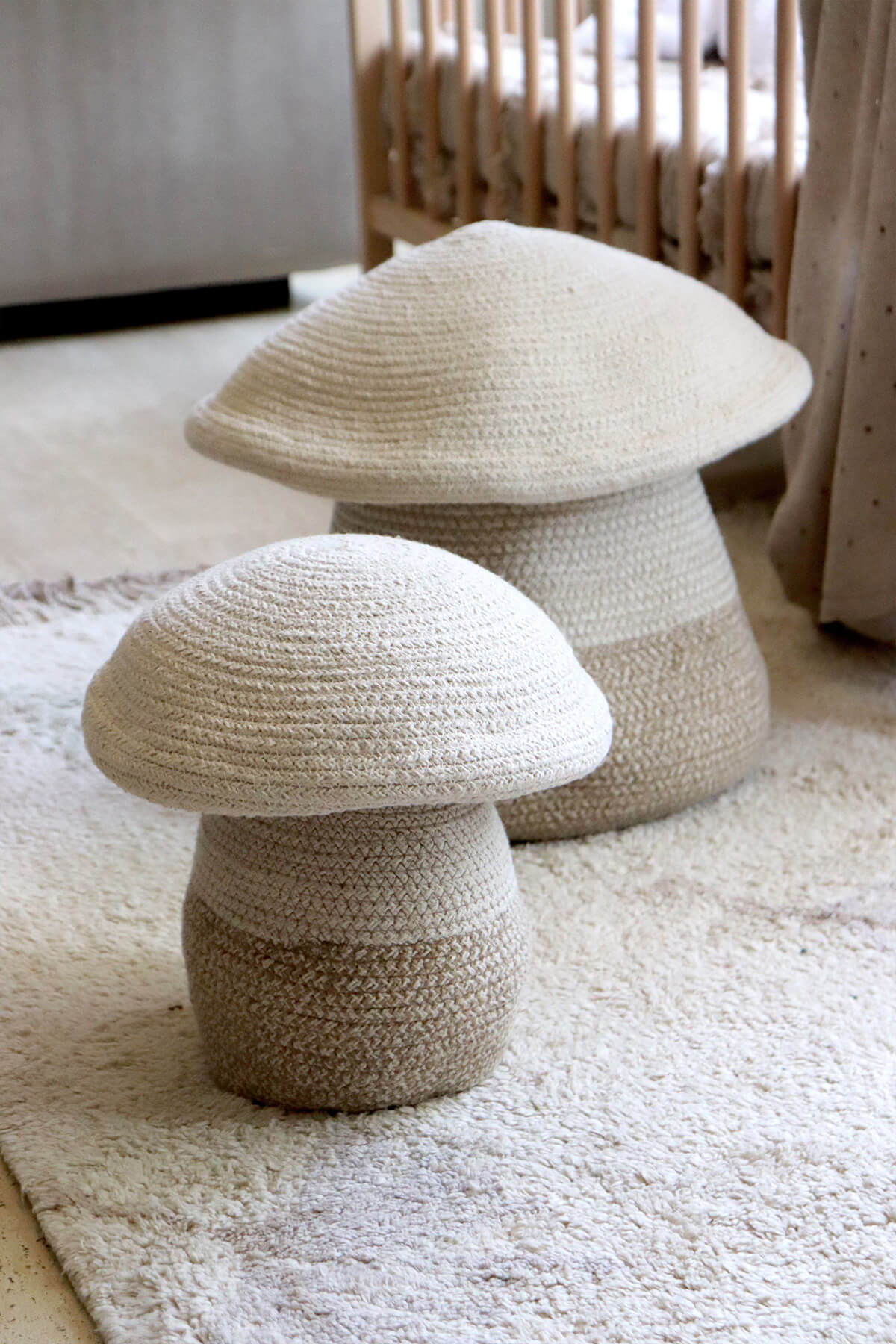 Finding enough storage space in a nursery is a never-ending battle. With these unique mushroom-shaped baskets, you can cut down on clutter while staying true to your nursery's woodland theme. Because each is handmade from natural cotton, you can enjoy peace of mind that they are safe for little ones to handle regularly. Like all handmade items, each mushroom will feature a unique shape. Choosing decor that pulls double duty is one of the best ways to save space in a smaller nursery. With their beautiful beige coloring, these unique mushroom baskets will fit perfectly anywhere neutral shades are welcome.
19. Australiana Bassinet Sheet & Changing Pad Cover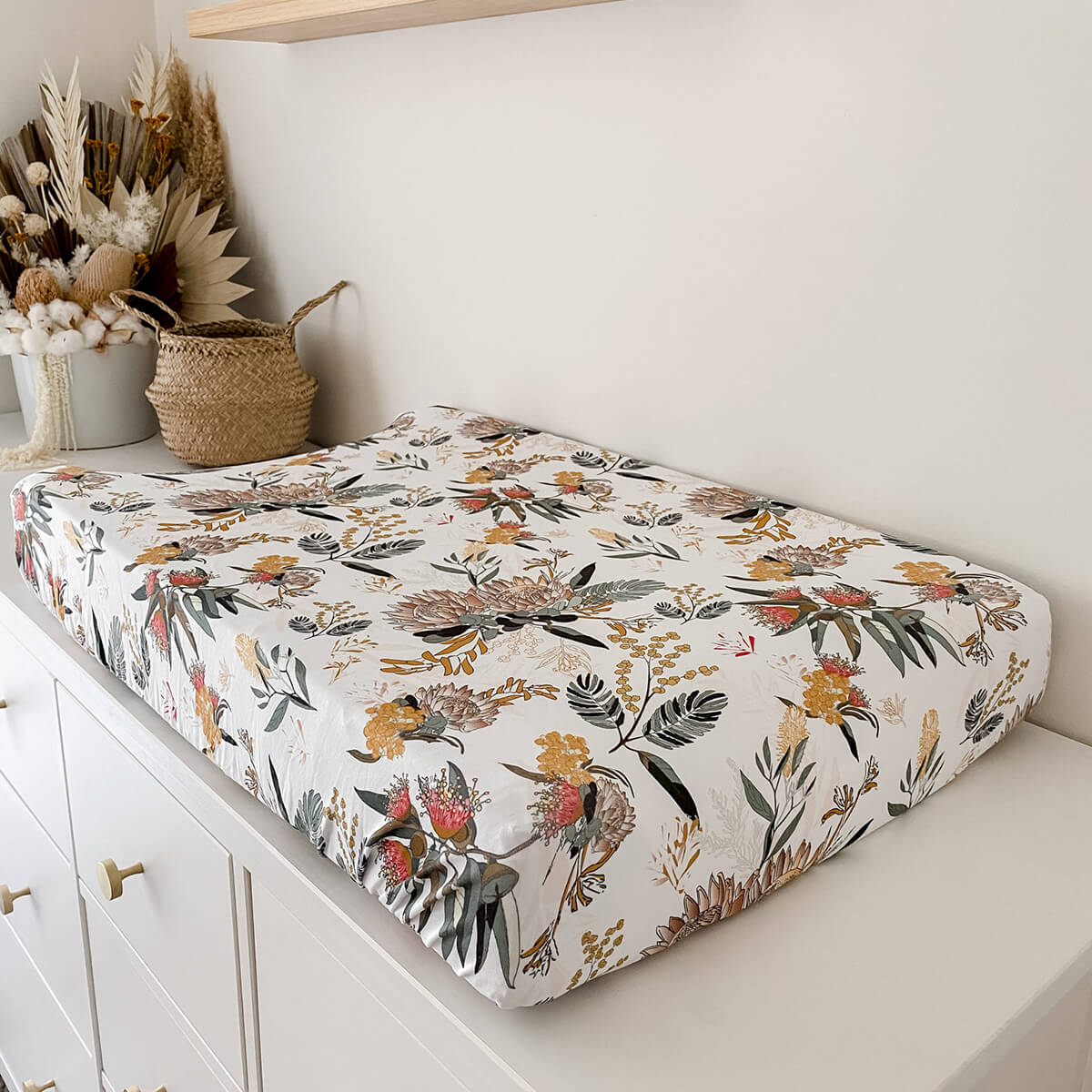 Who says that you have to use botanical elements from the same continent? Designed in Australia, this bassinet sheet and changing pad cover support biodiversity in your nursery. Contrasting cool mint and rich forest green provides dimension while flowers in varying shades of pink and goldenrod add some fun color. Depending on your needs, this sheet fits snuggly on a changing pad or around an oval bassinet mattress. Wherever you use it, the vintage-inspired pattern will add gravitas as well as an easy-to-clean surface. When it inevitably needs to be washed, all you will need to do is throw it in the washer.
20. Elk Wallpaper Mural for a Focal Wall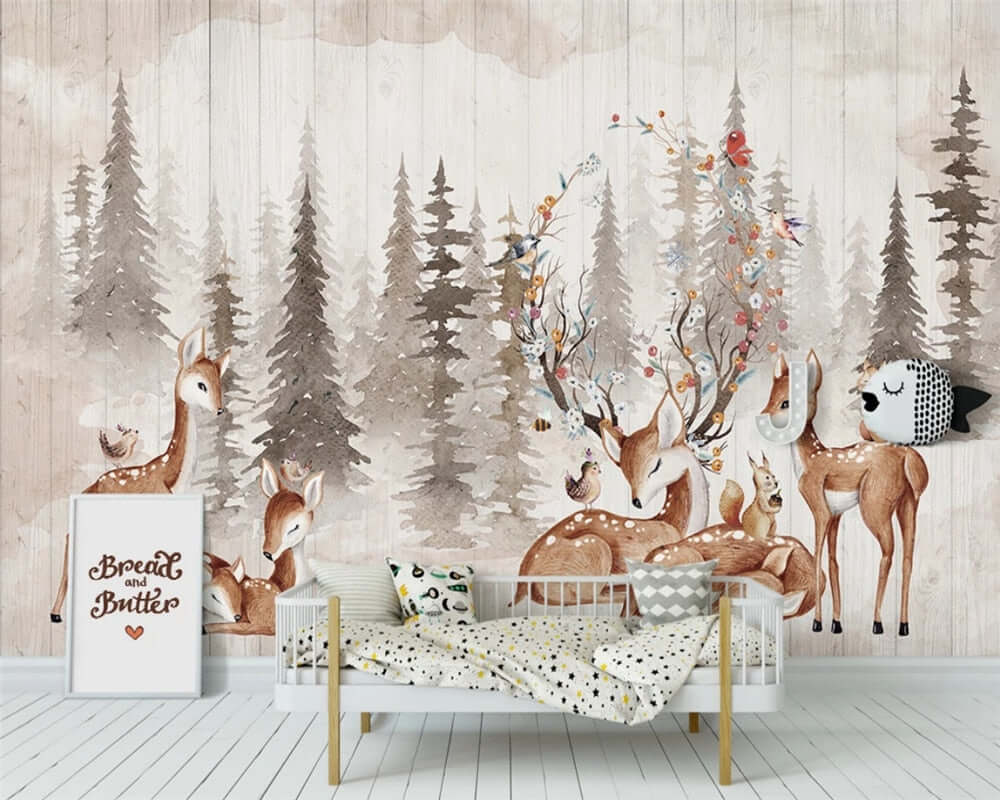 The best woodland nursery ideas are easy to pair with this artistic elk wallpaper. Because this high-quality wallpaper is custom-printed to your order, you do not need to worry about it fitting your wall. After hanging, your little one's nursery will feature an immersive focal wall. A soft, vintage-inspired artistic style keeps it friendly enough for a nursery while the muted palette elevates it to even the most sophisticated standards. By changing up your furniture and another decor, you can emphasize different parts of the scene. Will the elk peek around a chair or be visible in all their glory?
21. Dreamy Felt Mountain Range Garland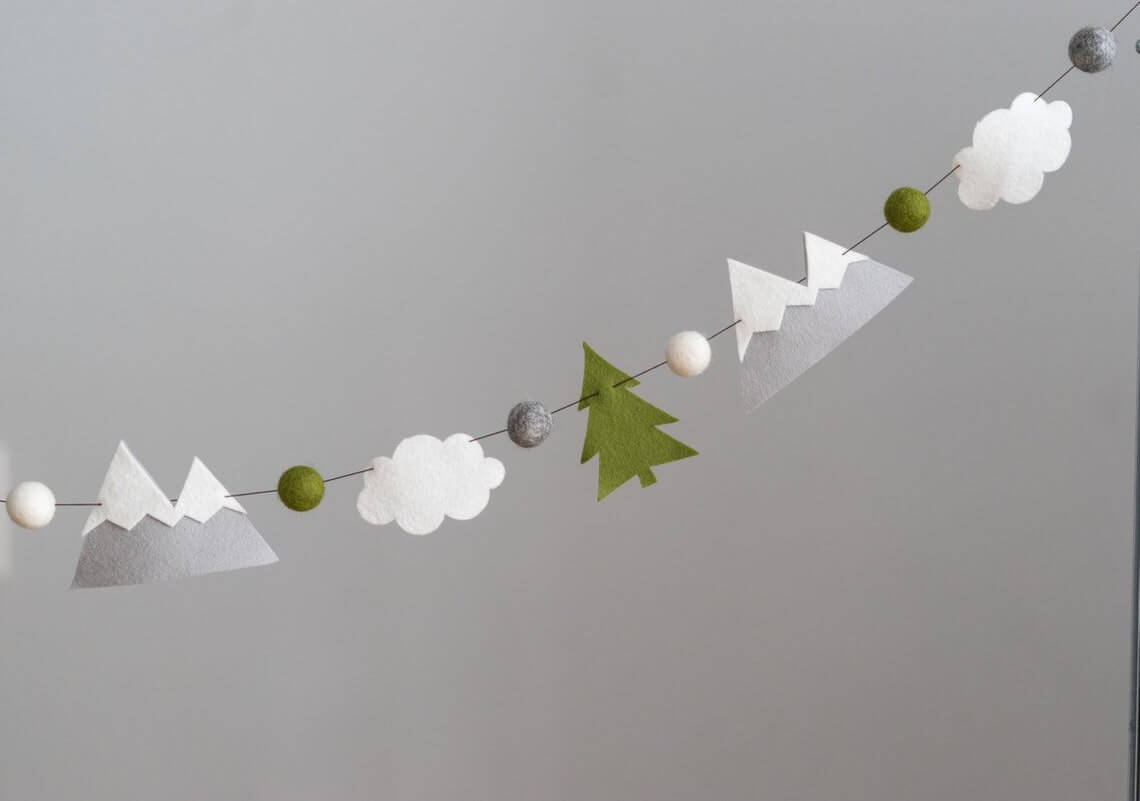 Garlands are another layer to fill unused space and give a room an immersive feel. Featuring clouds, evergreen trees, mountain ranges, and coordinating felt balls, this garland is a great way to soften your forest themed nursery. Snow-covered peaks hint at an alpine spin on the traditional forest theme. Embrace that adventure feeling by decorating your space with wolves and grizzly bears. Should you prefer a more southwest feel, this shop also sells a garland that features cacti instead of evergreen trees. Use this garland to give your space a feeling of motion as well as a sense of adventure.
The Top 21 Best Woodland Nursery Ideas for Little Explorers
With the best woodland nursery ideas, you can explore untamed designs and discover new horizons. Begin by identifying forest-like ideas that resonate with you and your design style. Can you see your little one playing among foxes and hedgehogs or moons and stars? Refine those preferences until you have a space that you and your little one will love spending time in together.
Like any room designed for children, safety should be considered as you create your design. Little adventurers love to explore the world around them, which means lots of tugging, pulling, and general wear and tear on your decor. If an element of your design is not being able to withstand that attention, you will want to make sure it is secured out of the child's reach. In addition, blankets, pillows, and toys should be kept outside of the crib to promote safe sleep.
However, safety does not have to be restrictive. To prevent tripping hazards, make sure to include cute storage containers in your design. As you saw above, there are some absolutely adorable storage solutions for your woodland-themed space. Spending time with a little one is magical, and the room you do that it will always hold a special place in your heart.