The best personalized home decor ideas can be some of the most thoughtful gifts for weddings, new homes, promotions, and countless other occasions. Thanks to Etsy and other online retailers, handmade and fully customizable personalized home decor ideas are easy to find. Whether the person you're shopping for is an avid cook, enjoys displaying family memories, or is simply creative, there is certainly a gift for them that isn't just thoughtful, but unforgettable.
29 Home Decorations that are Full of Charm and Personality

Items for the kitchen, bedroom, on-the-go, and work make it possible to remind our loved ones that we are with them in spirit all the time. Be as generic or as specific as you want by adding a quote, monograms, or even photographs to these beautiful keepsake items. Custom gifts can be witty, funny, emotionally touching, romantic, or simply show our loved ones that we truly see them. Custom-engraved items blend this personal touch with utility, turning everyday objects into invaluable heirlooms. Our top picks for personalized home decor ideas make it easy for you and your loved ones to remember occasions, events, and most of all, each other.
Custom gifts offer an amazing basic product that can easily be modified with names, dates, and other text. However, buying from a small business, such as a creator on Etsy, has even more perks. More often than not, Etsy sellers are willing to create an entirely unique product or change a design. It is always worth it to ask, which is one of many reasons that we love Etsy and its diverse artists.
1. Custom Laser-Cut Quote Wall Art Words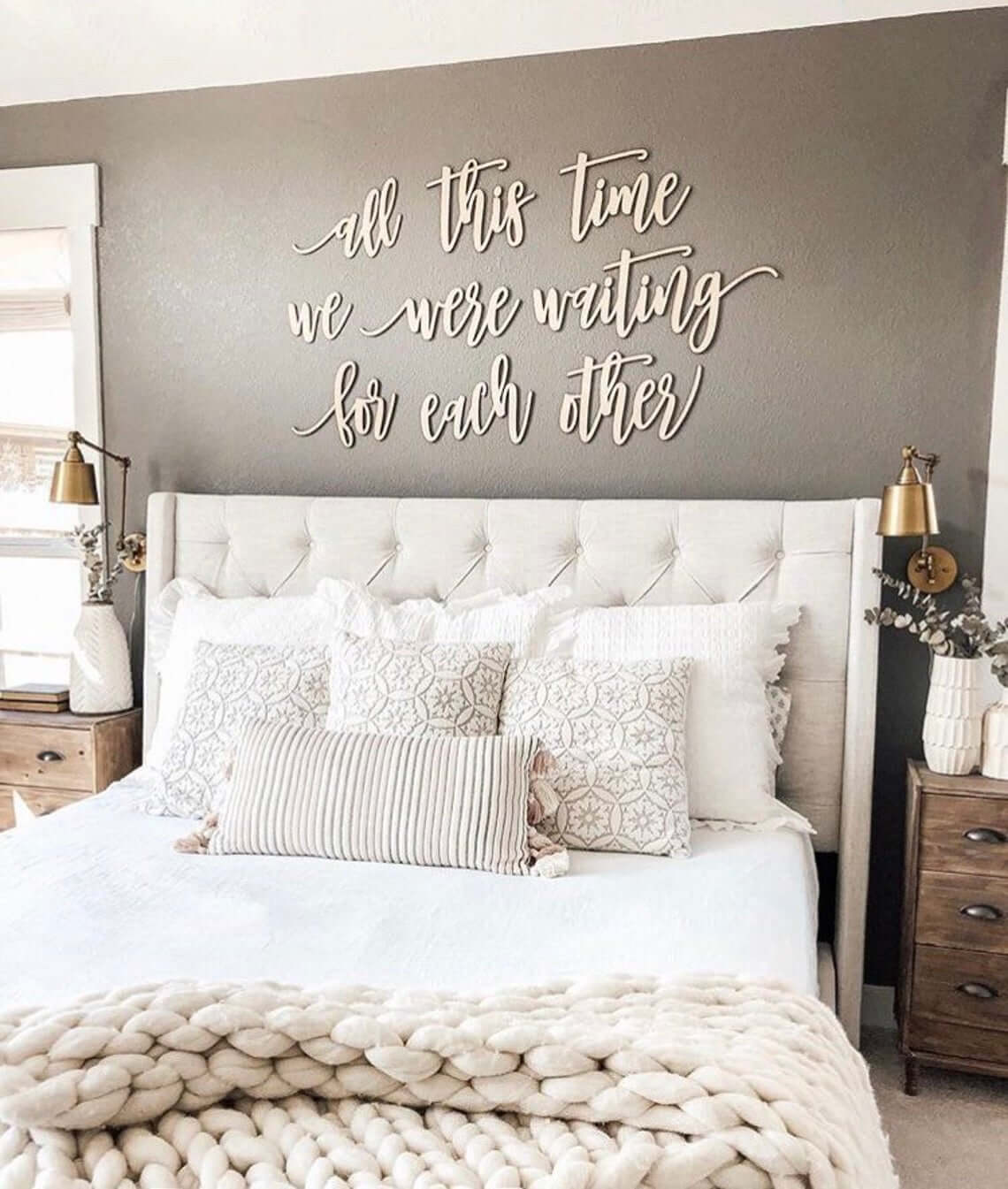 Write any phrase in these beautiful, laser-cut cursive letters. Unlike the other laser-cut statement pieces on this list, this wall art is a perfect silhouette of the letters. When ordering, keep in mind that the size is determined by the width of your phrase. From there, you can order however many lines of text you need. The letters come in unpainted natural wood or can be painted matte black at an additional cost, but unpainted letters can be treated with any paint or stain. Be sure to message the seller with what font to use; the default font is a loopy and casual cursive called "Mustache." People have used these intricate letters to brighten up bare walls, share a favorite book quote near a personal library, or share inspiration in everyday spaces.
2. Custom Stamped Decorative Vintage Book Stack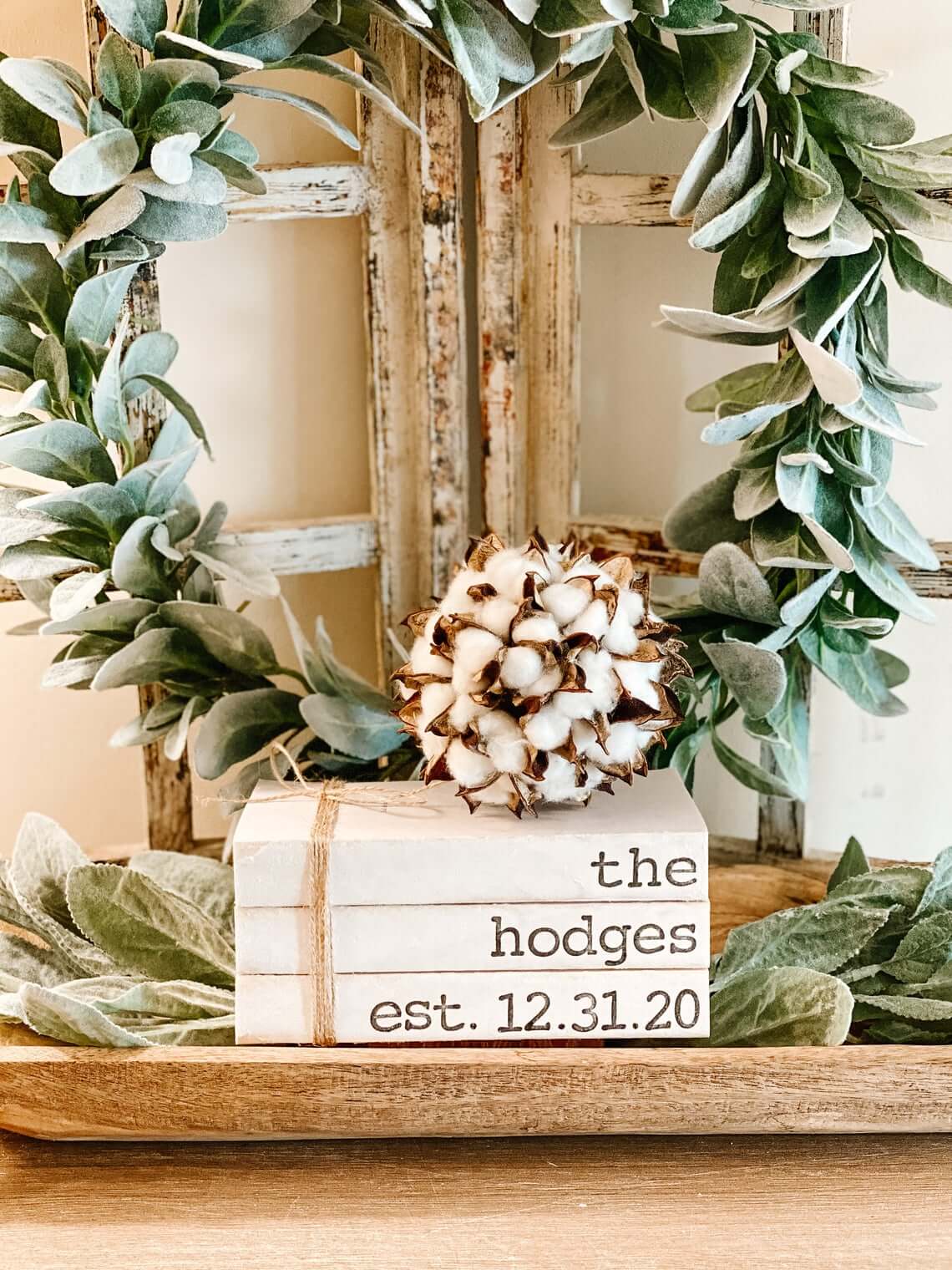 There is something magical about a stack of old books, which is part of why they have so much appeal as decor items. However, it is rare that decor inspired by books is actually made from antique and vintage books. With covers removed, the white spine of these books is a perfect place to display any text you like. A stack of books can display the names of the whole family! As your family grows, another new book can always be added. These beautiful little bundles can be bound together with twine for a fairytale feel, and they look amazing displayed on any mantle or bookshelf.
3. Nautical Family Name "Beach House" Coasters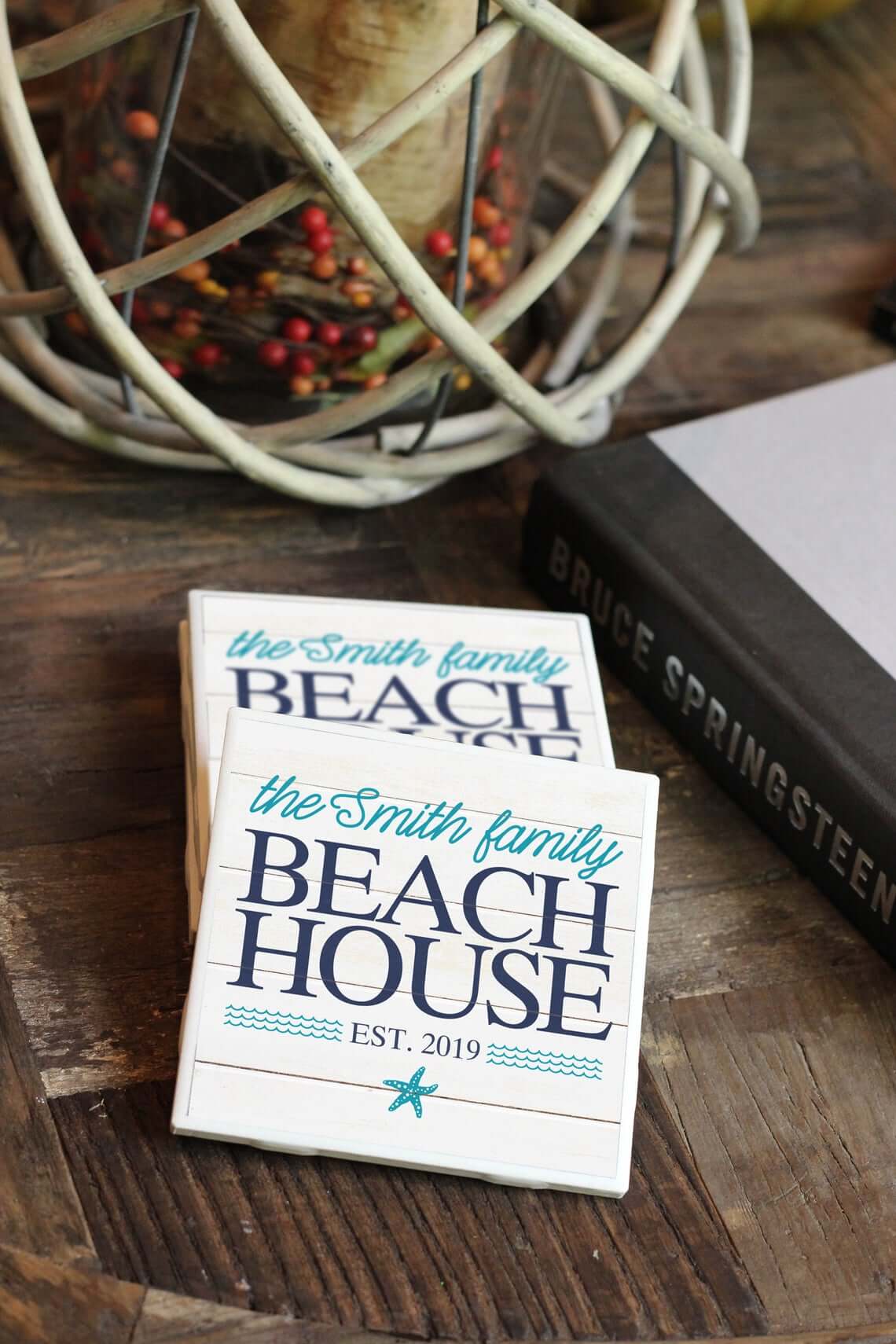 Any house can be a beach house with this nautical flair. Whether you actually live on the coast or just want to keep the feeling alive throughout the winter, you can keep your surfaces ring-free with these summery coasters. These adorable square coasters are waterproof and crafted from ceramic on the cork. Personalize with a family or couple's names, and get those margaritas going. Each set includes four 4″ x 4″ coasters and is available in pastel blue or white.
4. Keepsake Handwritten Recipe Engrave Cutting Board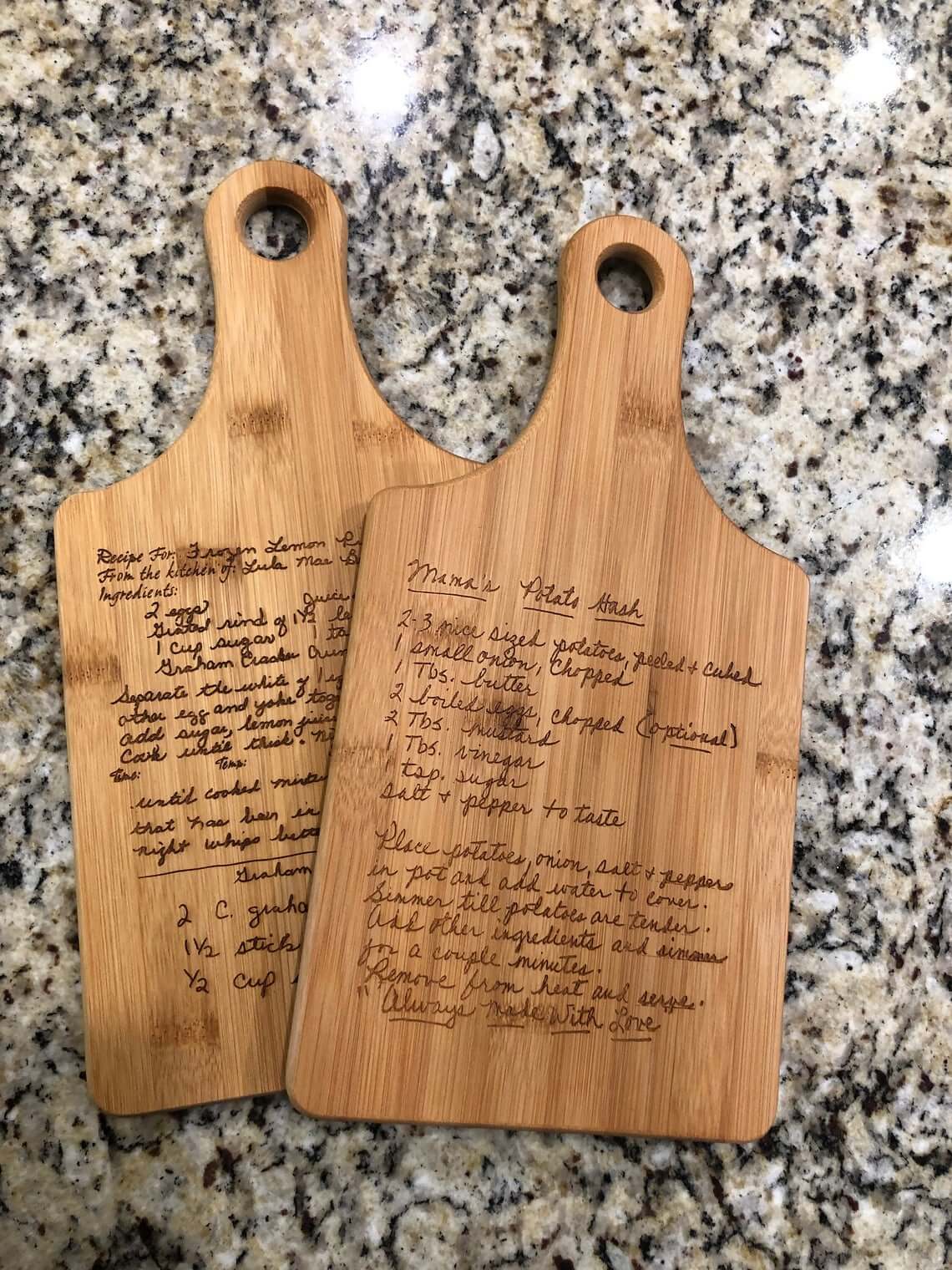 Want to immortalize Grandma's handwritten pizza dough recipe from 1948? Fighting with your sister over who is the rightful heir to Mom's apple pie recipe? Argue no more. This decorative kitchen accessory is the perfect gift for yourself or anyone in your family. The laser engraving options available with this piece are completely customizable. This precious wooden piece is a beautiful way to share and immortalize handwritten recipes and notes from someone who has passed away.
Just send an image of a handwritten recipe, and it can be engraved onto one of these handcrafted bamboo boards. Choose from a full-scale rectangular cutting board, a small paddleboard, or a heart shape. Both the rectangle and paddle are equipped for hanging with a handle hole. Because the heart does not have a hole, it is less obviously a cutting board, and could easily be displayed in other rooms of the house, permanently displaying the handwriting of someone you miss. Don't have a handwritten recipe? No problem! You can also customize with your logo, a drawing, or have the design team help you create something great.
5. Personalized Wine Glass Caddy Memento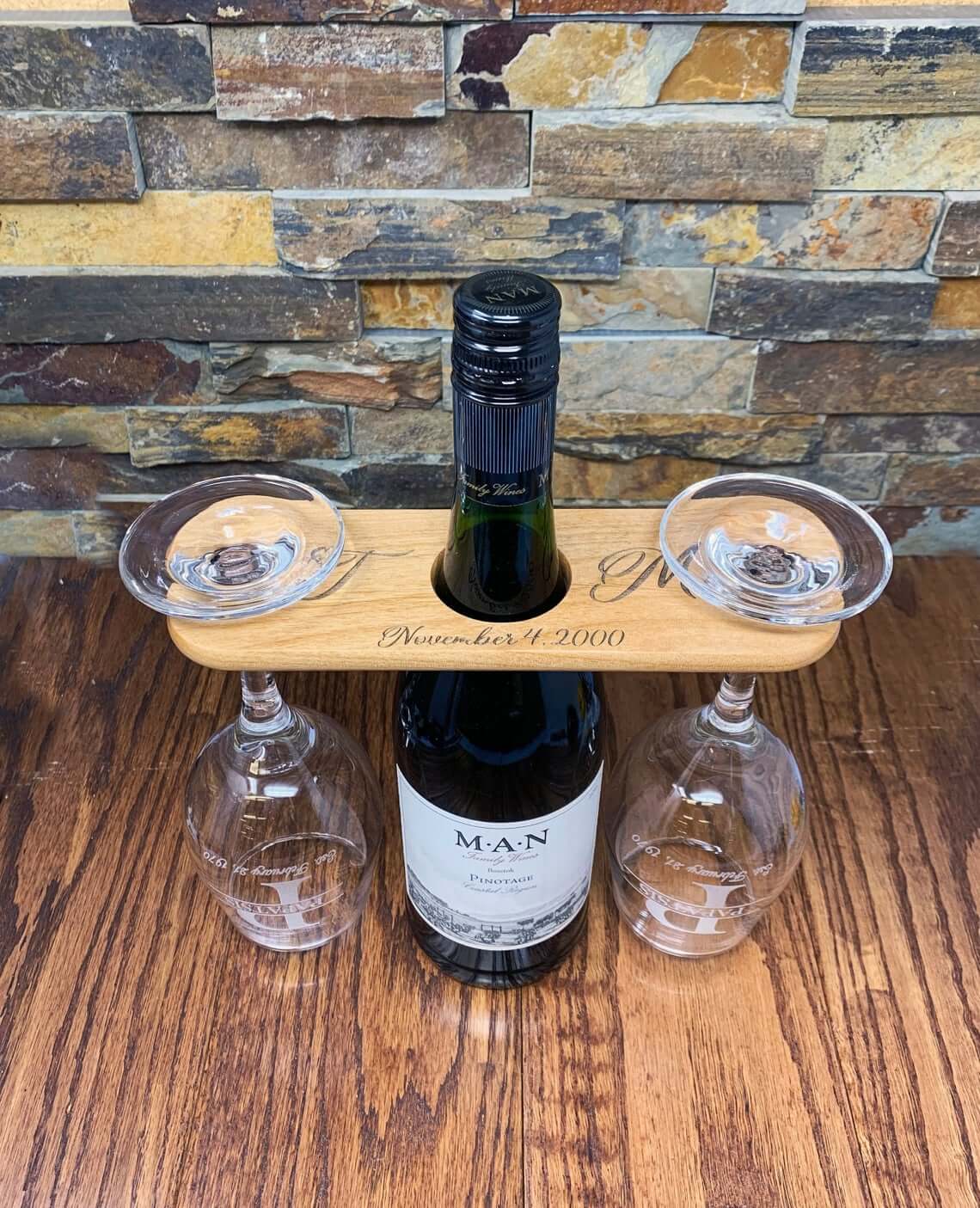 This romantic piece is an excellent way to do something thoughtful on a budget. It is able to carry a bottle of wine and two beautiful goblets. Despite its small size, there is space for two initials and a dateline, and options include a graceful cursive as well as a bold block font. In either natural alder or walnut, this piece is a super cute goodie for bridesmaids, whether a bottle is included or not.
6. Embroidered Linen Tissue Box Cover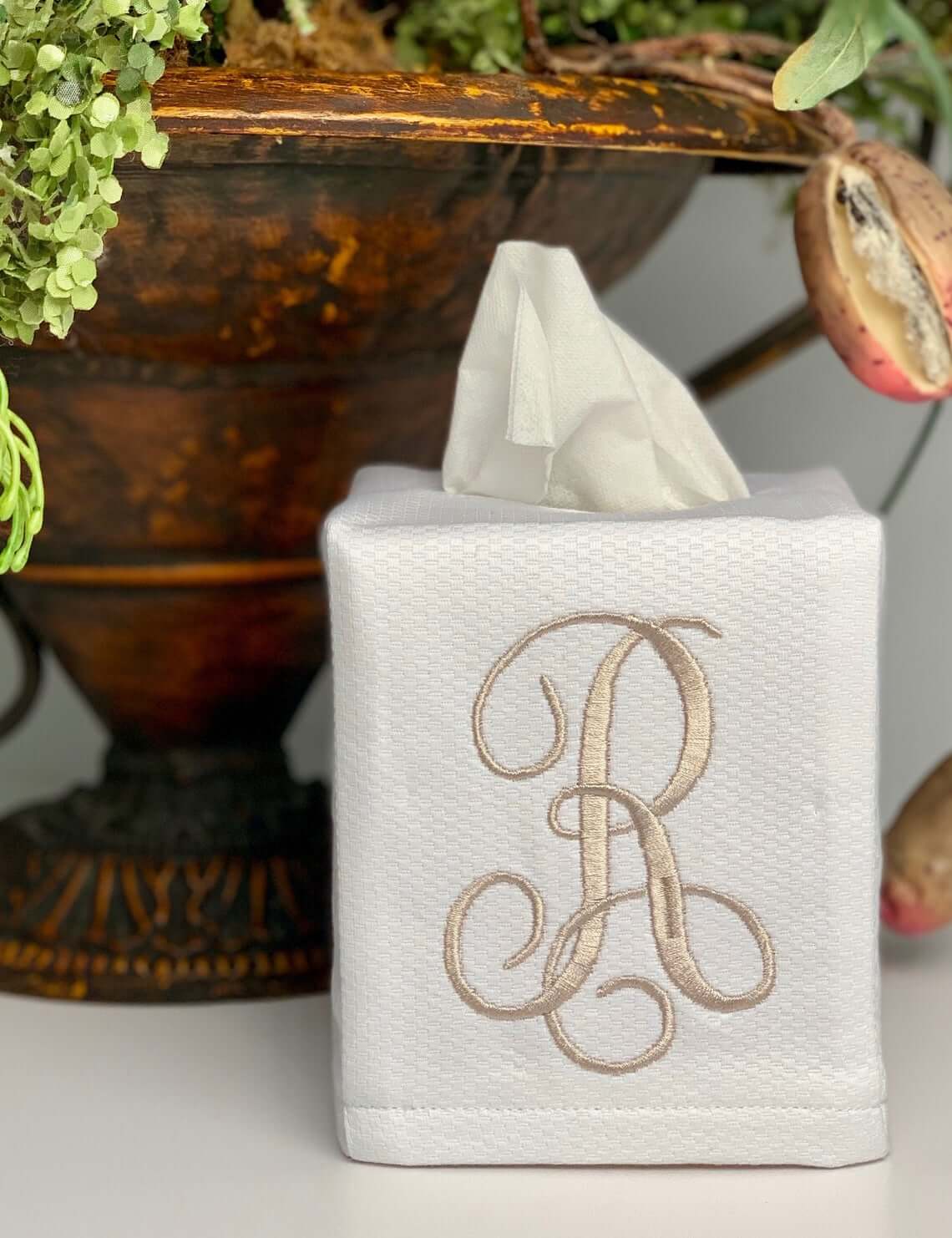 Tissue boxes can be unsightly. For the otherwise beautifully bedazzled bathroom, a tissue box bedecked with embellished initials is only appropriate. In clean white or natural linen, these fabric covers beat ugly tissue box art and dated hardcovers. They fit over any small square tissue box. Make this adorable bathroom accent your own with completely custom options! Choose from 45 thread colors, 26 beautiful designs for initials, and 29 options for monograms. Because the embroidery options include so many classic designs, it is easy to match with the monogrammed pieces you already have.
7. Engraved Wooden Bedside EDC "Dump Tray"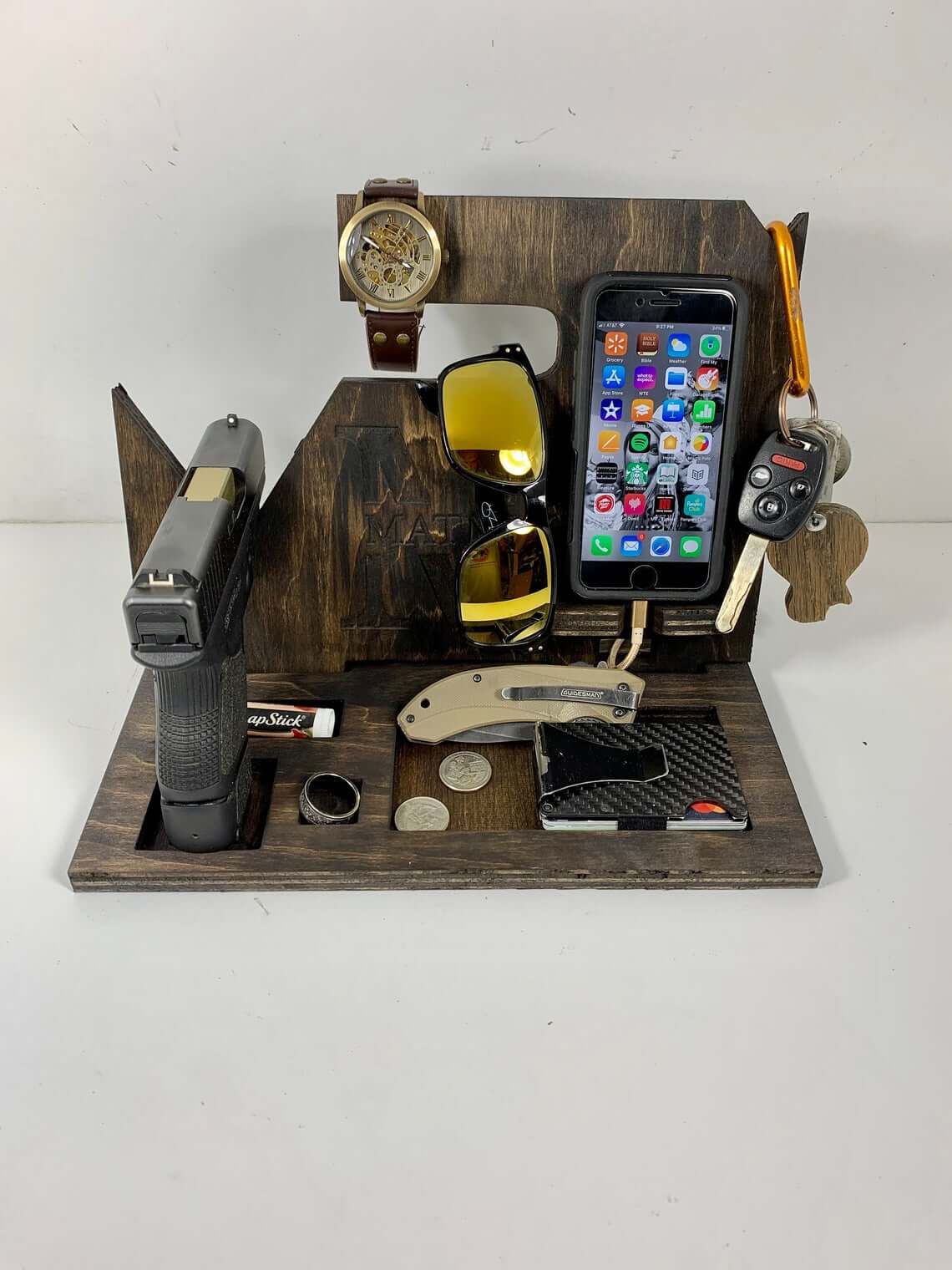 For the person who has everything except for a place to keep it all, this organizing station for every gadget and pocket item can be a real lifesaver. If you know someone who likes to dump out their pockets on their bedside table every night, this "dump tray" can help them keep it tidy. It includes a docking station for your phone as well as your pistol, and wells for everything from chapstick to rings, your wallet, pens, and pocket change. A rack at the top offers a great spot to hang watches and bracelets. With sixteen stain colors to choose from and optional laser engraving, this unforgettable piece can be made into something that is truly one-of-a-kind. You may not be able to make them neater, but at least you can contain the chaos in this sophisticated bedside organizer.
8. Personalized Wooden Candle Holder for Three Votives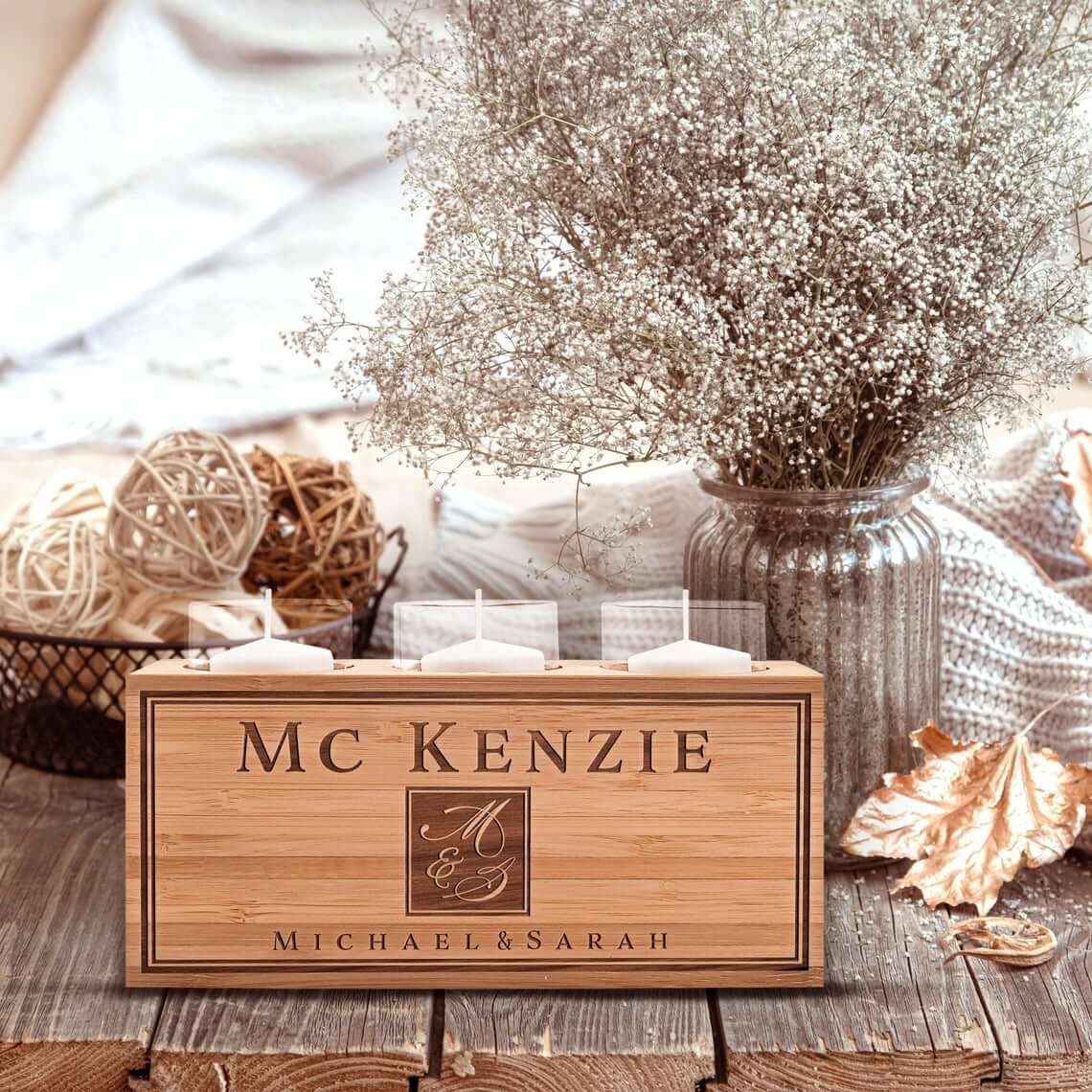 This keepsake candle holder combines minimalism with calligraphic embellishment. It measures 8″ x 3.5″ x 2.5″ and can hold three standard-size votive candle jars. The base of the candle holder features clean lines and crisp, natural wood. Choose from eight beautiful laser engraving designs to feature your customization. It's important to note that all eight designs are very geared toward wedding anniversaries, including space for the names of the couple and the wedding date. The glass votive holders are provided at no additional charge, but candles are not included.
9. Put Everyone's Name on This Throw Pillow Case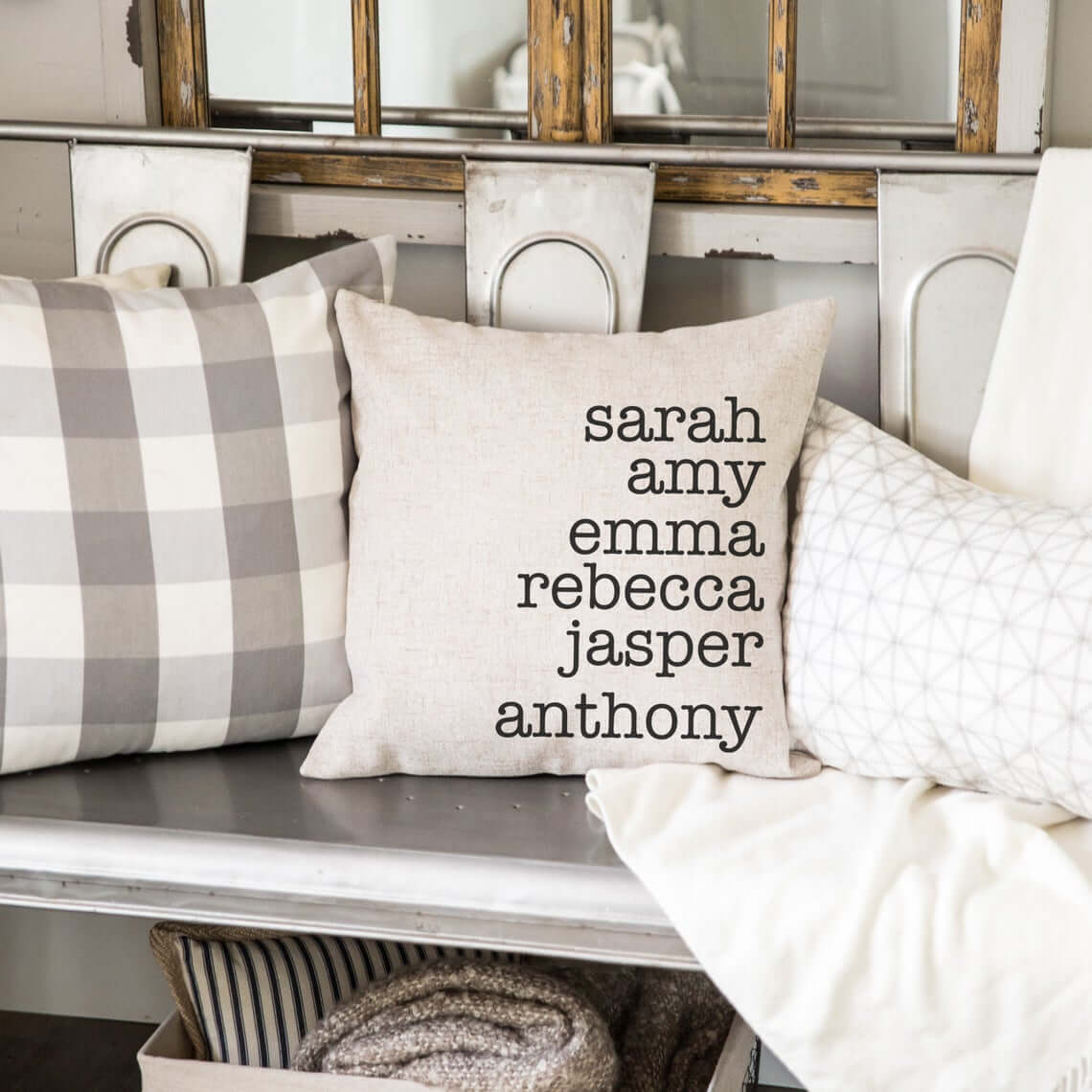 This understated pillowcase is a great way to personalize for someone who likes simple decor. Create a custom throw pillow listing the names of everyone in the family! Choose from three eye-catching fonts. There is no limit to how many lines of text can be printed, but the size of the text will become smaller as more lines are added. Printed on breathable, 100% cotton faux linen, this pillowcase will fit any 18″ x 18″ square pillow. The pillow insert is not included.
10. Personalized Nautical Life Ring Decoration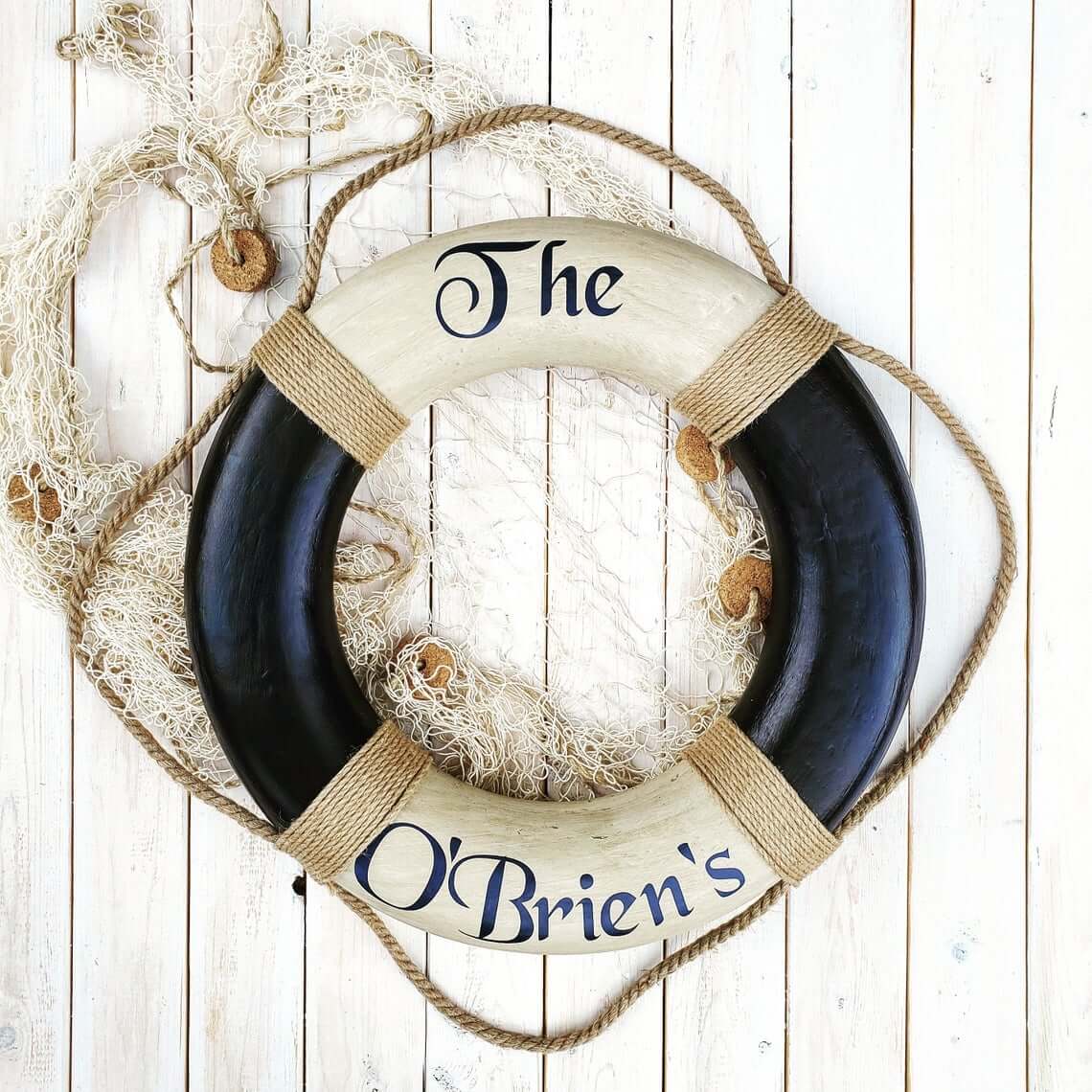 This adorable old-fashioned life preserver decoration would make perfect decor for a beach wedding and is a perfect custom gift for the seafaring couple on your list. The life preserver has beautiful bands of off-white and navy blue and two spaces for short lines of text. The core of the life ring is Styrofoam, but it is hand-stitched with nautical roping. As this is just a decoration and not a functional life preserver, it is recommended that the item be sprayed with Scotchguard or a similar protective covering for display outdoors.
11. Vintage Truck Farmhouse Tabletop Sign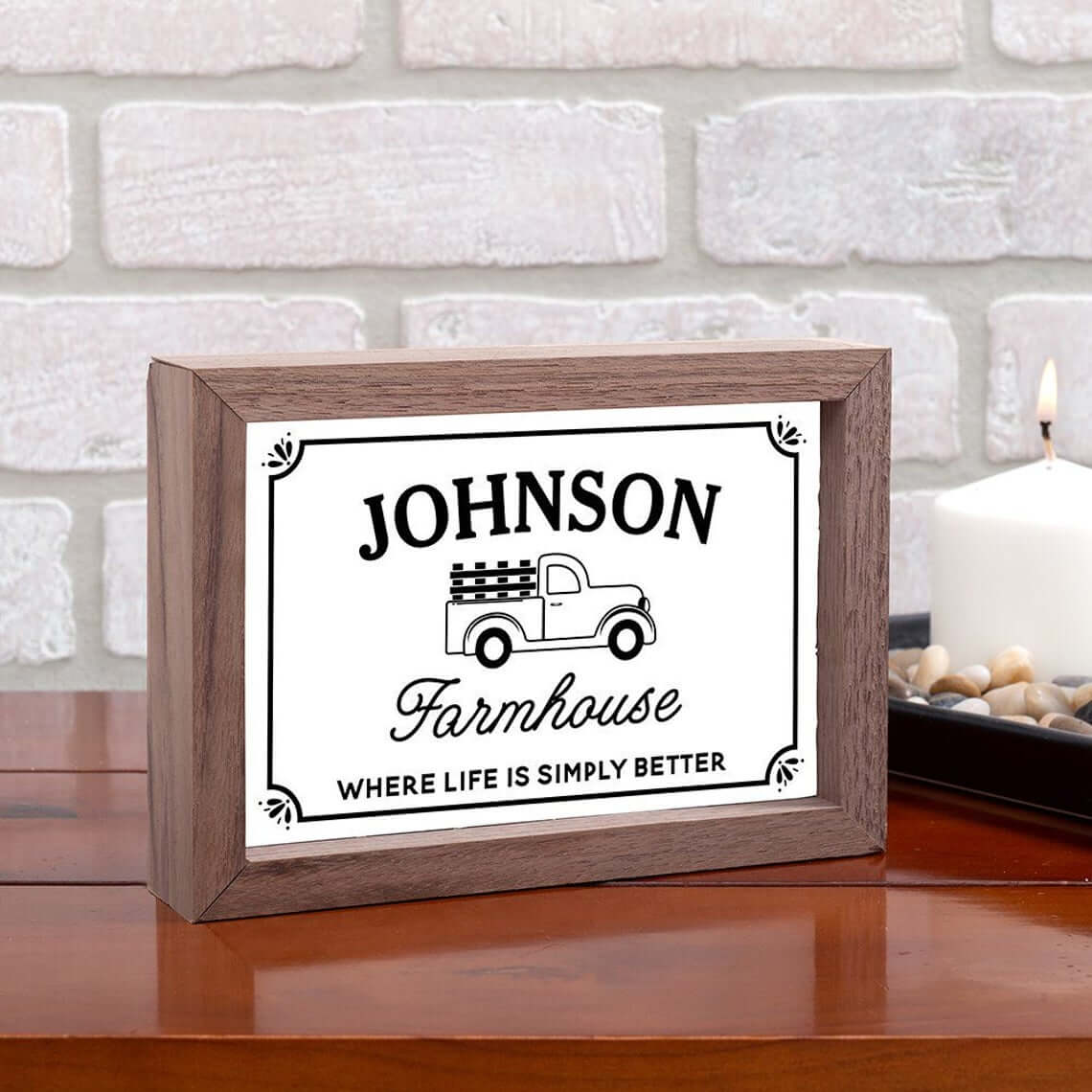 A smaller statement to bring in that personal touch, this adorable sign is a sweet way to bring up nostalgic feelings of a childhood in the country. The printed graphic of an antique pickup truck takes center stage, surrounded by the words "(Your Name) Farmhouse: Where Life Is Simply Better." Add any last name up to twenty characters, including spaces. This endearing little piece measures 5.88″ x 3.75″, and features a rustic wood frame. Three color combinations for the image are available, including white with black text, gray with white text, and teal with white text.
12. Full-Color Photo Blanket for Adults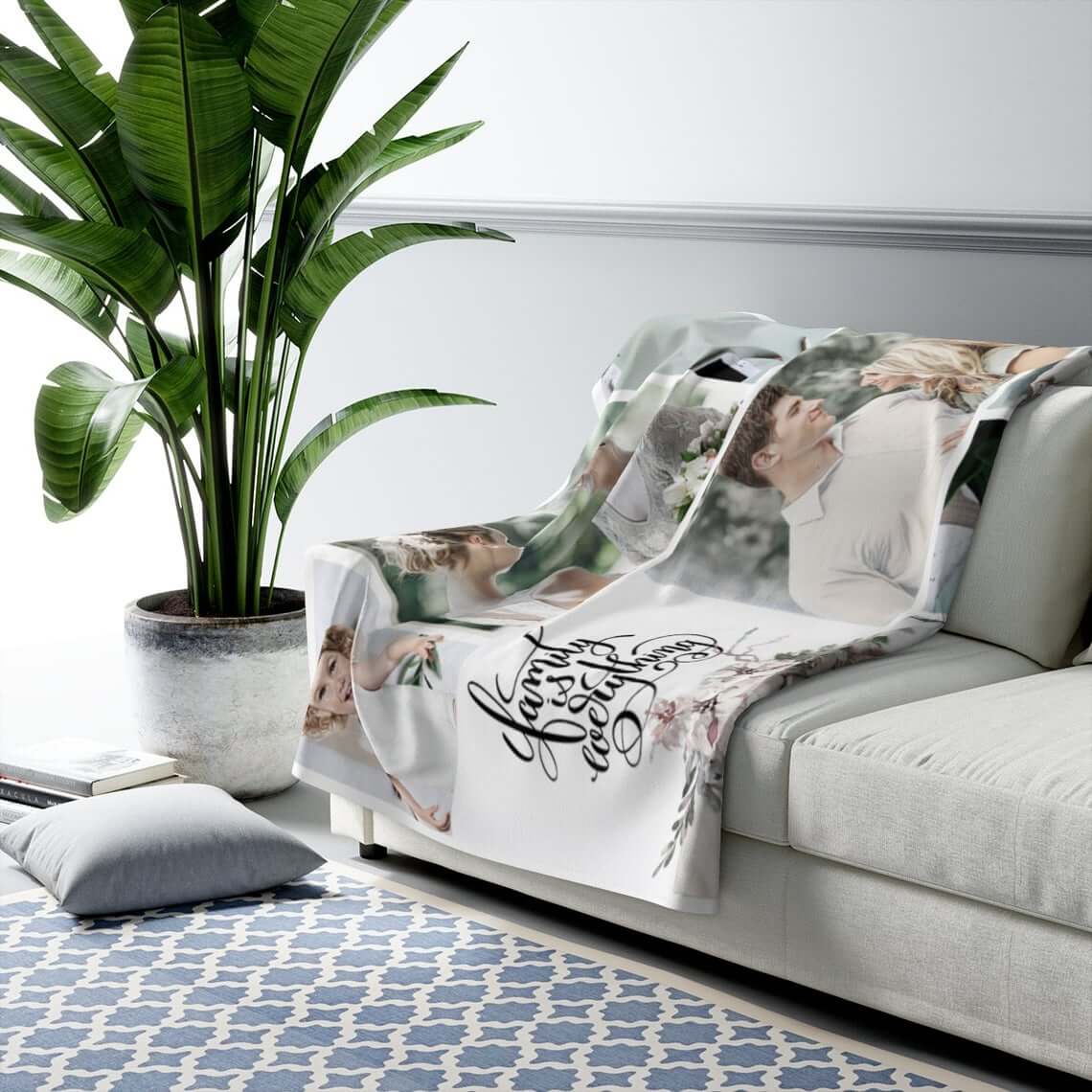 Memorialize any big day by turning your favorite photo collage into a blanket. An Etsy bestseller, this keepsake is a precious way to be reminded of family and friends. Showcase up to nine images on the printable polyester side, and snuggle in close underneath the plush underside. However, the images are completely custom, so adding text, artwork, or other embellishments is just as easy! The blanket is large enough for use by adults, but could also make a great gift for a child.
13. Personalized Wood Key Hanger and Family Sign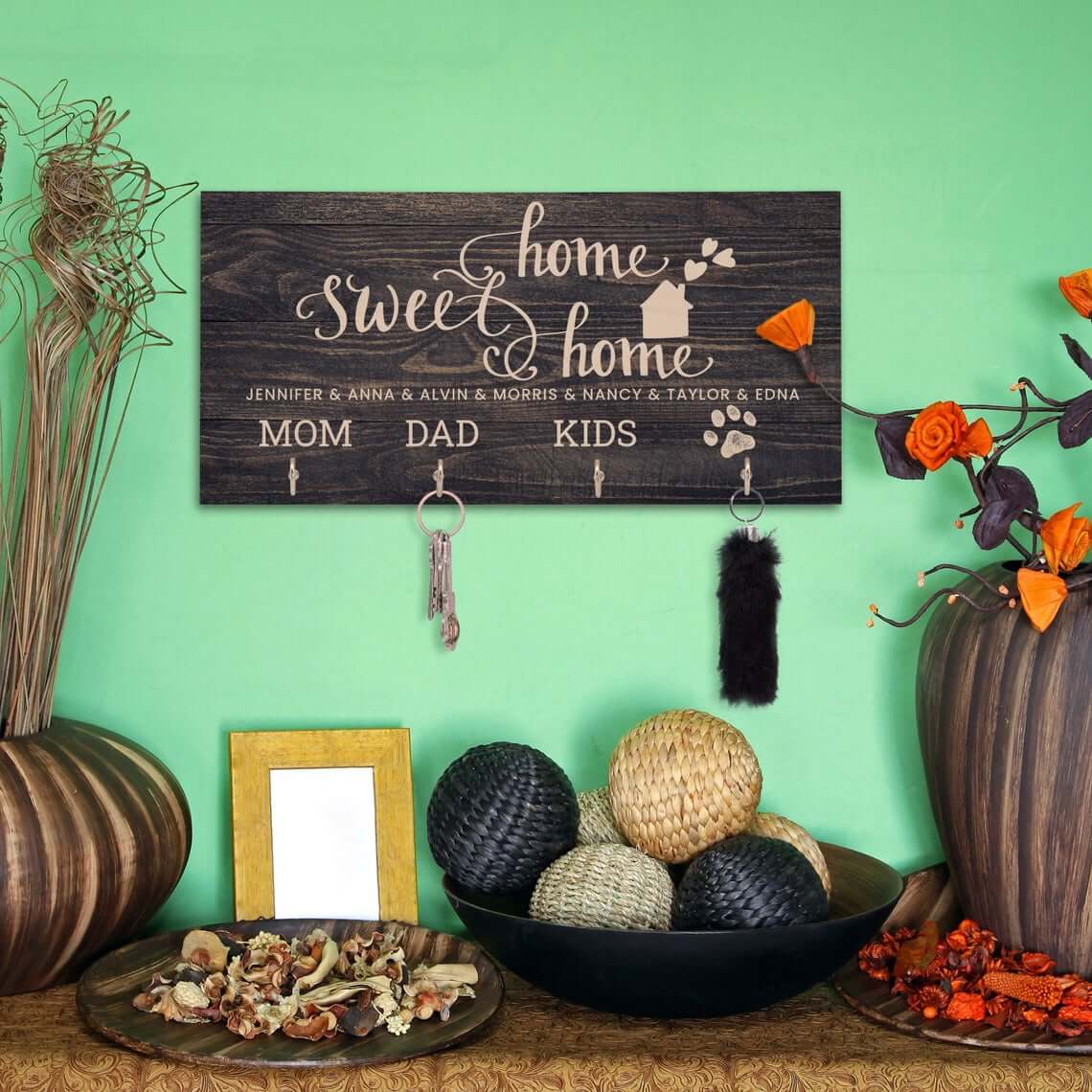 We all know that person who is constantly losing their keys. Maybe we are that person. No matter who it is in your home, this unique key hanger is a perfect way to prevent future key losses while commemorating your favorite moments. Boasting a simple wood plank with a natural stain, the key holder offers four key hooks. Ten customizable designs are available, featuring simple patterns, as well as both cursive and serif fonts.
14. Rustic "Beauteous Barrel" Personalized Wine Cellar Sign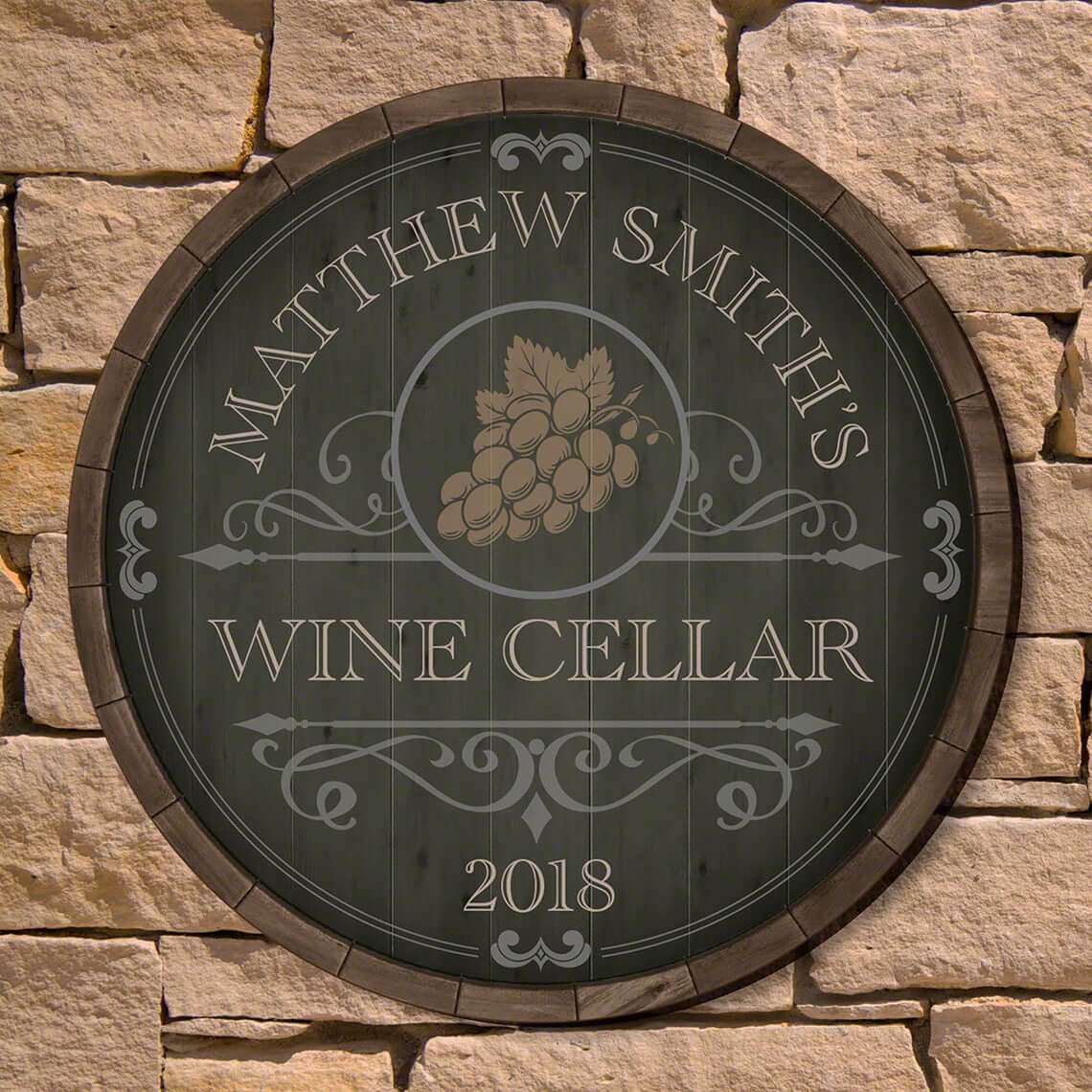 This unique, rustic conversation piece will bring old-world charm into any wine lover's home. It is styled after the end of a wine barrel and offers two lines of fully customizable text, as well as a year. It makes an excellent personalized sign for a wine cellar, but can also be customized to commemorate a wedding or other anniversary. Like a fine wine, your marriage will get better and better with time! Available in two adorable colors–merlot and chardonnay–this cool personalized home decor gift is certainly from a rare vintage.
15. Write Any Message on This Slate Clock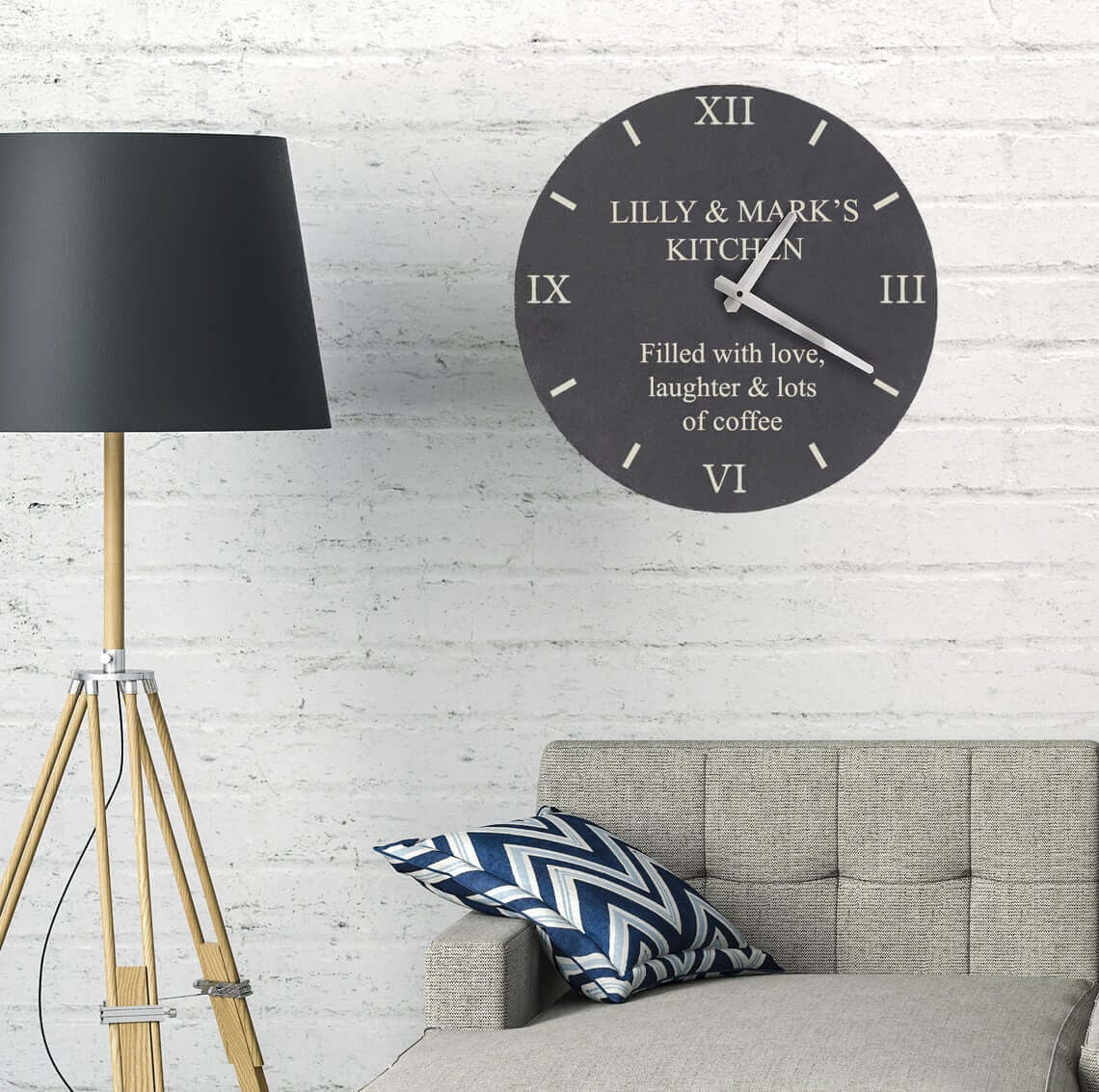 Even if everyone in the house can tell the time on their cell phone, clocks are beautiful accent pieces. Their automatic movement throughout the day almost makes them feel almost alive. This large, minimalist clock is handcrafted from a natural, dark gray slate, blending the outdoors and indoors in a magical way. Simple in its design, the clock is frameless and uses Roman numerals for only 3, 6, 9, and 12. The seller, Spoken Gifts, provides clear instructions on how to enter personalization requests so that what gets engraved is exactly your vision. Raving reviewers have given this clock as a gift for weddings and housewarmings. Its artistic look and astonishingly low cost make it a fun choice for a clock installation for multiple time zones. The clock face measures 24 cm. (about 9.5 inches) in diameter and is easy to set the time from the back.
16. "Love California" Custom Handwritten Message Candle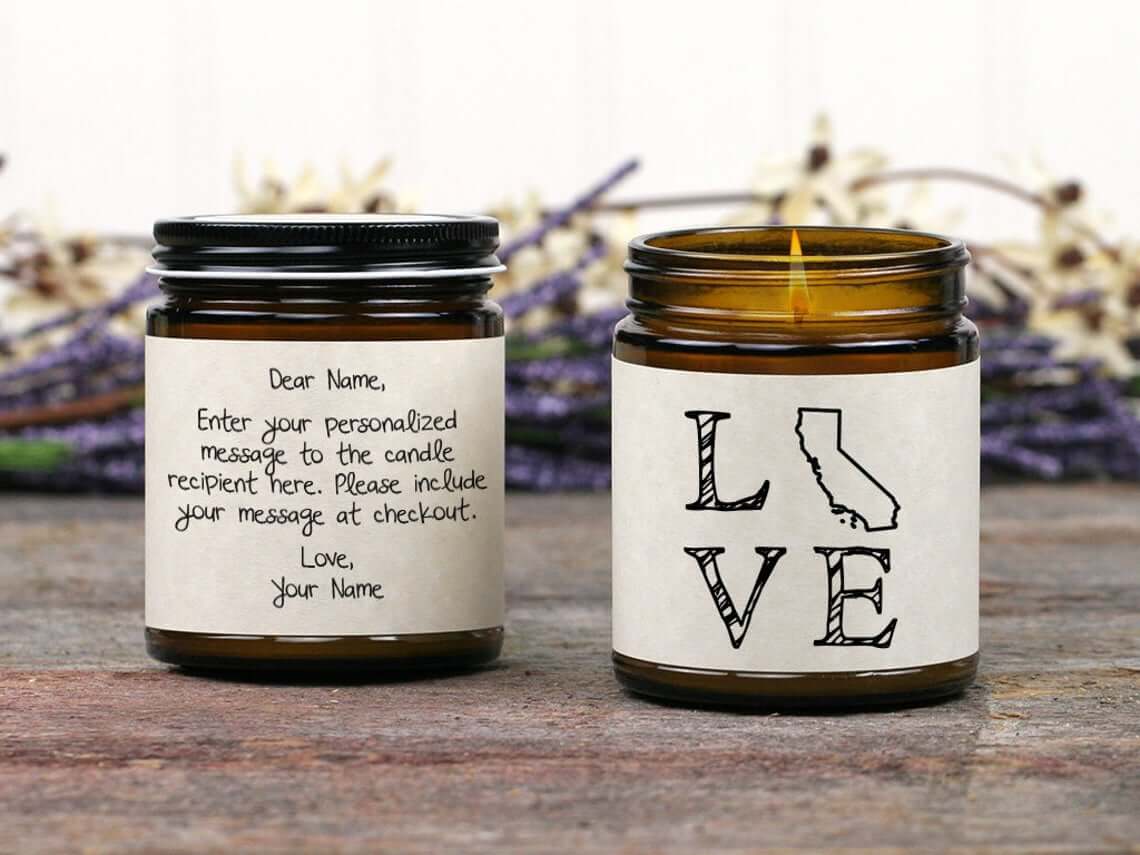 Who says the state love is only for New York? This item is an extremely popular seller on Etsy, and its fans are raving. With its adorable "love" graphic featuring the state silhouette of California on the front, the back offers space for a fully custom handwritten note to anyone. Although most people purchase this candle as a gift, we're still counting on it as if it was a gift to ourselves! Use the space on the back to write down some personal affirmations, and enjoy the candle when you are focusing on getting centered in your favorite state. The antique brown apothecary jar votive holds a generously sized candle. Choose from any of the 52 natural scents that customers agree are absolutely amazing. Each 8 oz. candle is hand-poured and made to order from soy blend wax.
17. "New Home, New Adventures, New Memories" Sign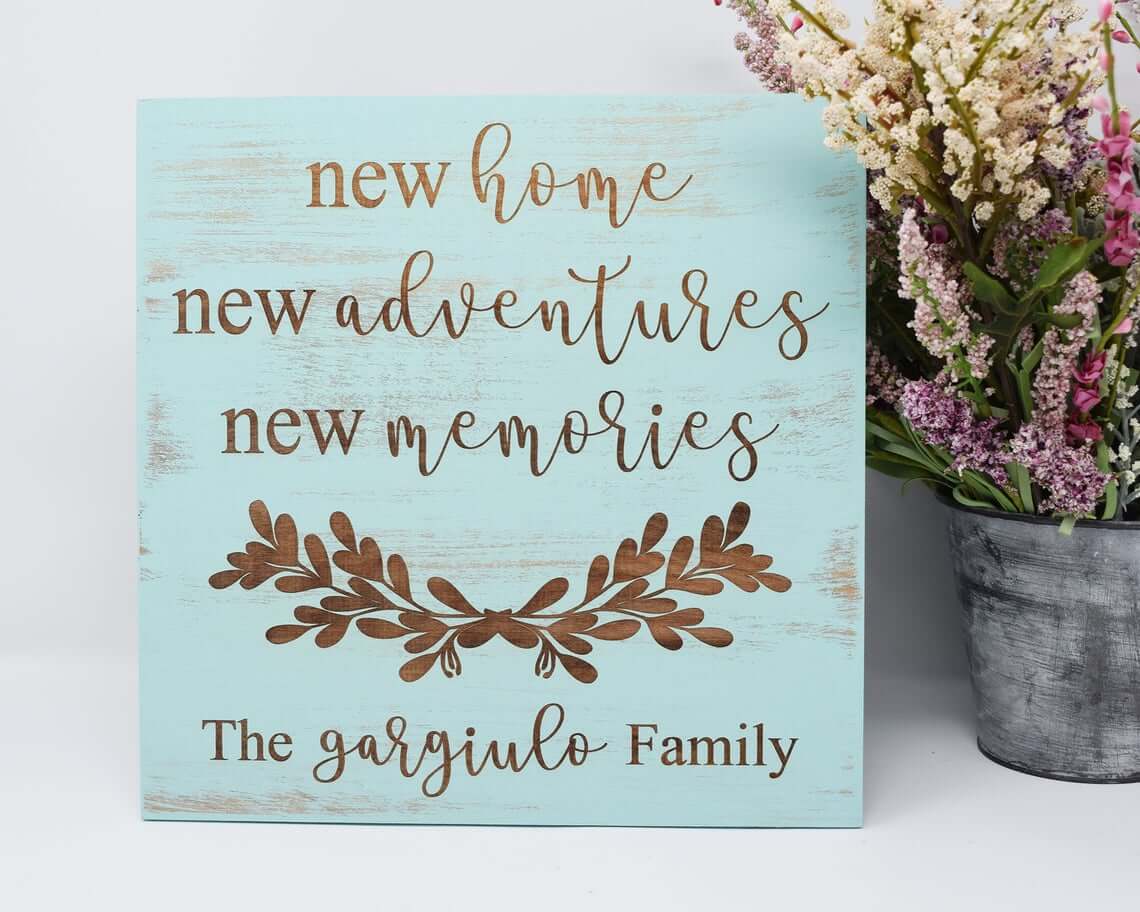 Showcase your high hopes for their next chapter with "New Home, New Adventures, New Memories." This adorable laser-engraved wooden sign is a great way to christen your loved ones' new dwelling and mark the occasion of their big move. Emblazoned with fond hopes for the next chapter in their life, you can customize this piece with names and your choice of 24 distressed pastel washes. An excellent idea for a personalized home decor gift, this thoughtful piece comes in seven sizes and is available as either a plank or in a shadowbox trim.
18. Wooden Nursery Baby Name Art Sign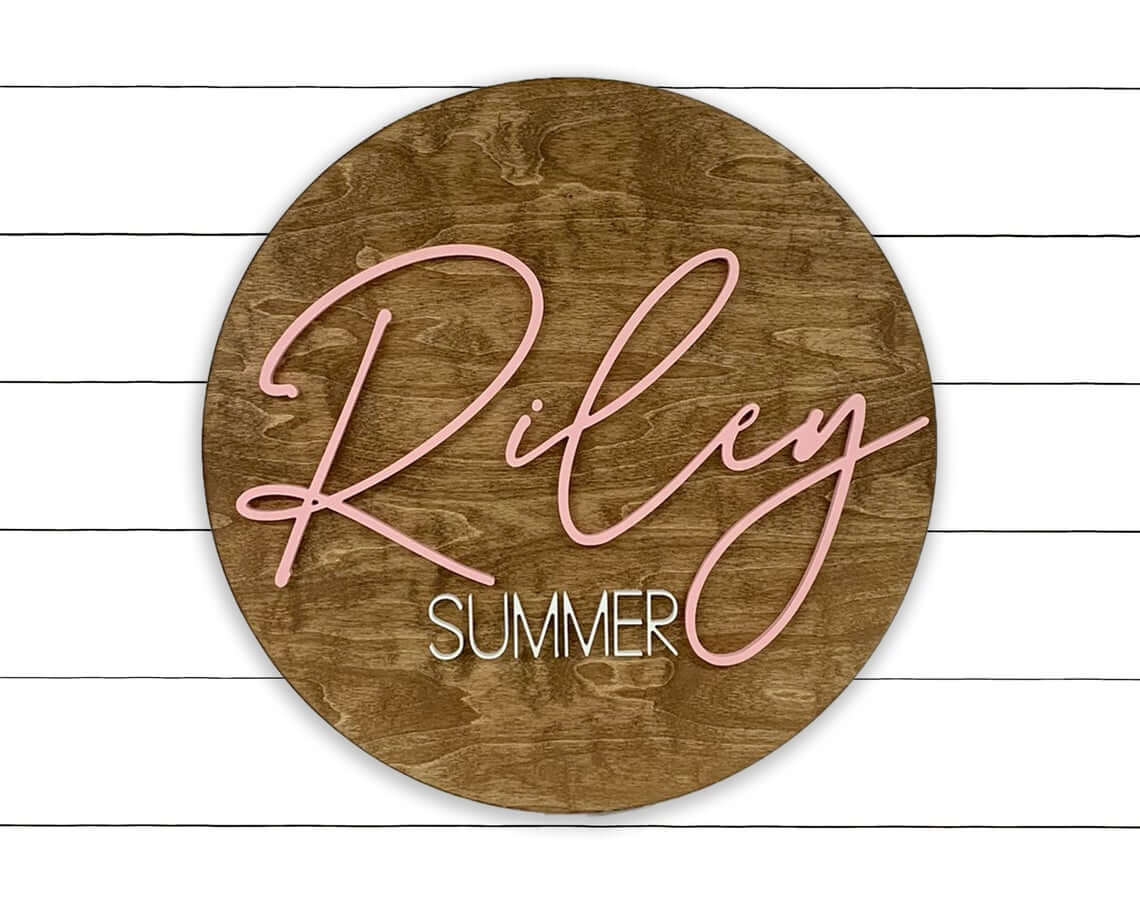 This beautiful handmade wall art featuring the newborn's name is sure to delight any new parent. The circular plaque includes two lines of text: a large, embellished line for the baby's first name, and a smaller line of text for their middle name. Gone are the days of being limited to pink and blue with sixteen stain and paint choices for the background, 73 text colors, and 62 beautiful fonts (although a dramatic display cursive is recommended for the first name). With the modern option, shadow around the text is available at no additional cost. This beautiful handcrafted item will be a treasured piece that will follow your baby from their nursery to their big-kid bedroom, and make them feel special for years to come.
19. "Home Sweet Home" Pineapple Housewarming Cutting Board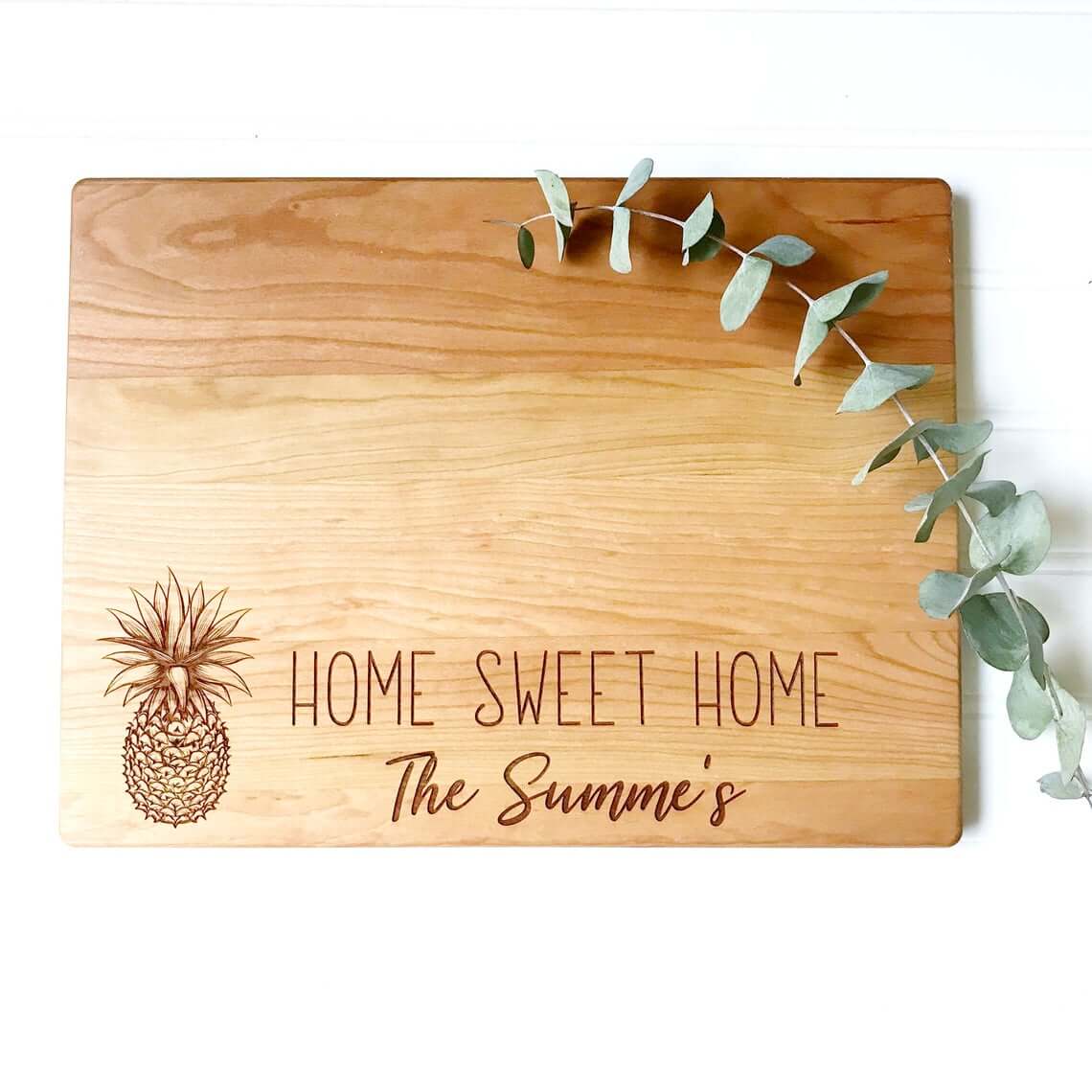 Did you know that pineapple is the traditional symbol of housewarming? In colonial America, pineapples were traditionally given to newlyweds upon moving into their new homes. Ever since they have been used as a symbol of both housewarming and hospitality. This beautiful piece is a great gift for a new friend's housewarming or a client's successful close on a home.
Unlike some custom-engraved cutting boards, the engraving on this handcrafted wooden board is relegated to the bottom, leaving lots of space for cutting without the risk of scratching up the custom art. Crafted from gorgeous hardwood cherry, this solid wood cutting board comes in two sizes. Customize with any name you like under the message "home sweet home. Not feeling the pineapple? Milk and Honey Luxuries can engrave any message.
20. Digital New Home Neighborhood Map Print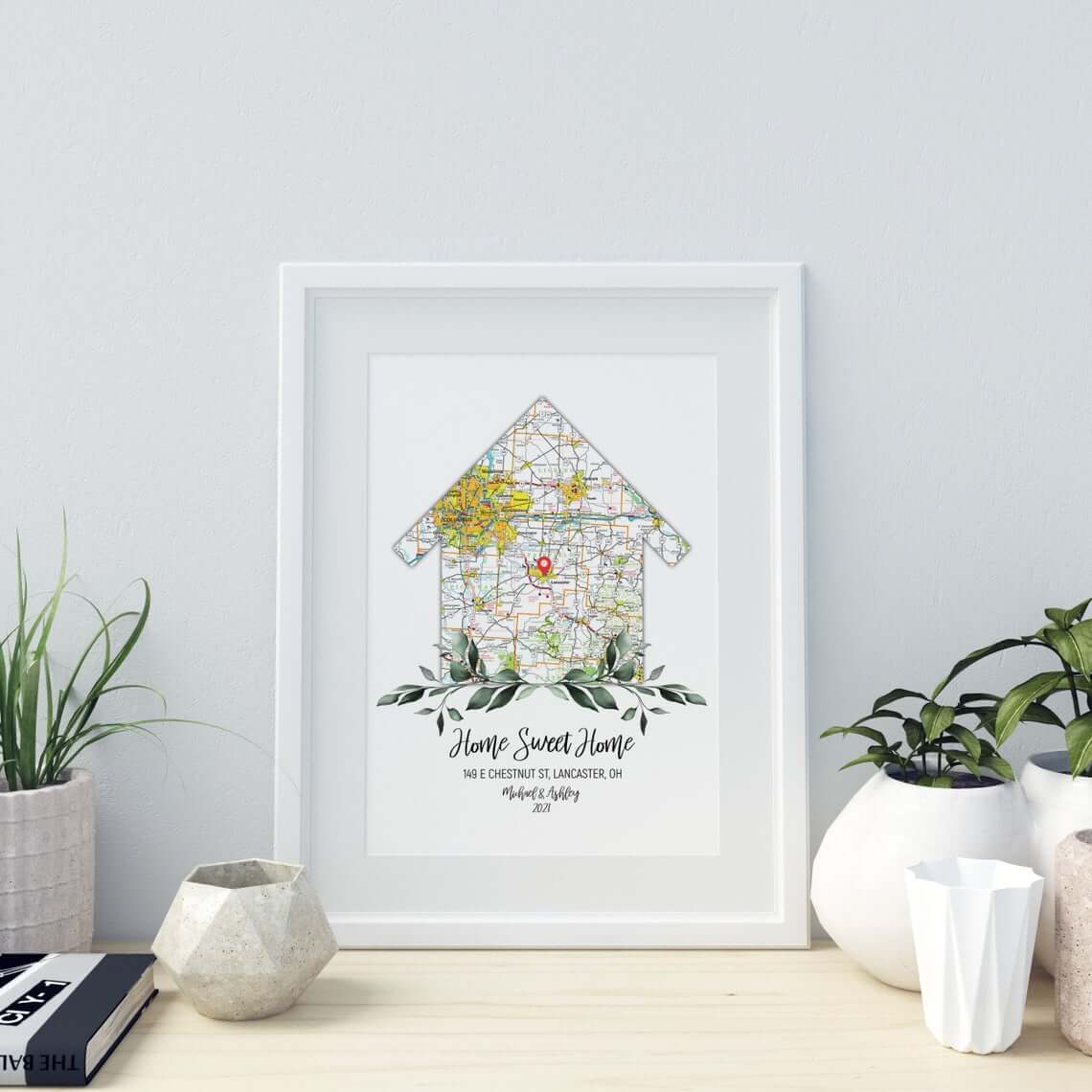 This 8″ x 10″ digital art piece features a map of your new neighborhood in the silhouette of a house, with your new address at the center. Commemorate the housewarming of your favorite newlyweds with this adorable piece, with their names and new address at the bottom. This piece is an absolute must-have for the GPS, GIS, and digital mapping aficionado in your life, and the bespoke quality of it makes it a truly unforgettable gift. The digital download option ensures your piece will arrive as soon as the shop owner confirms payment, and can be printed on any home or office printer that is convenient for you. Choose your own frame to protect your adorable print, and voila! You have a memorable customized gift in record time.
21. Personalized Doormat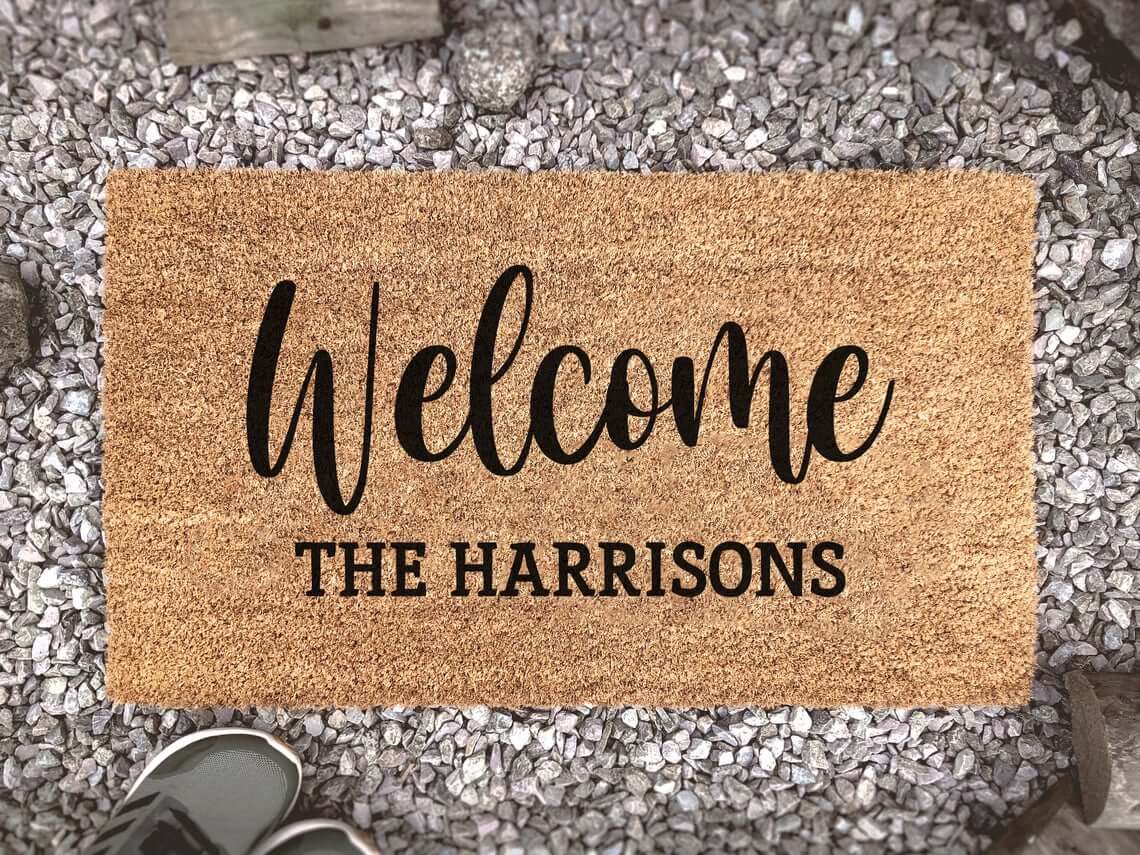 What is that one thing that every homeowner needs (or needs to replace) but never remembers to buy for themselves? If you said, "A doormat," we agree with you. This high-quality and reasonably priced doormat is a failproof gift. It is available in three sizes and is crafted from natural coconut fibers on PVC backing. The UV printing ensures that your custom greeting will be able to withstand the elements. Your family name, the name of your business, or simply, "Off with your shoes!" are great custom messages to include under the traditional "Welcome."
22. Large Farmstead Stretched-Canvas Headboard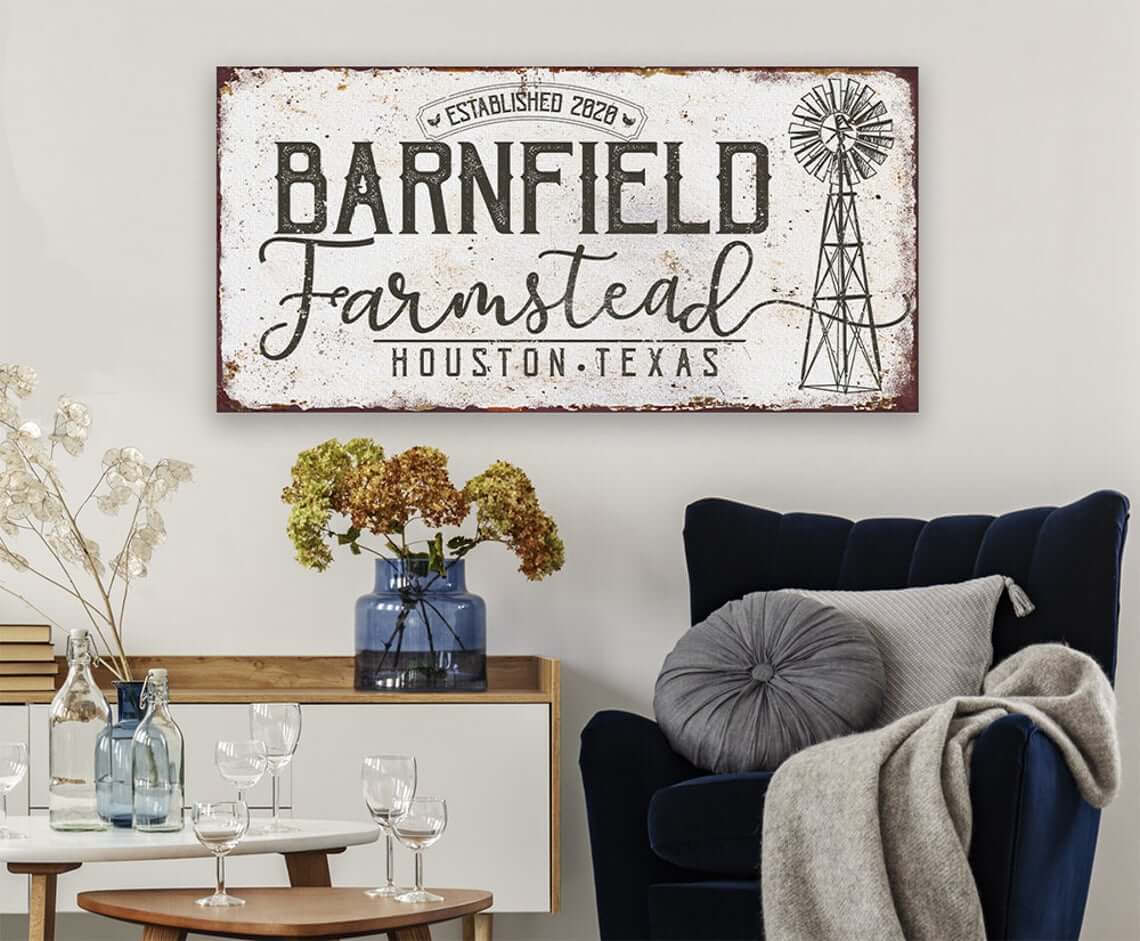 This old country-style sign is a fun way to add nostalgia and warmth to your family space. The distressed design, which features chickens and an old farm windmill, offers several places for customization: the "established line," the name, and the city and state. Customer reviewers have used the piece as a headboard as well as an art piece in such shared living spaces as the kitchen and living room. Flexible options for a stretched canvas, either framed or unframed, are available, and the customized design can even be ordered as a digital download for you to create your own print.
23. Say Anything with Scrabble Wall Tiles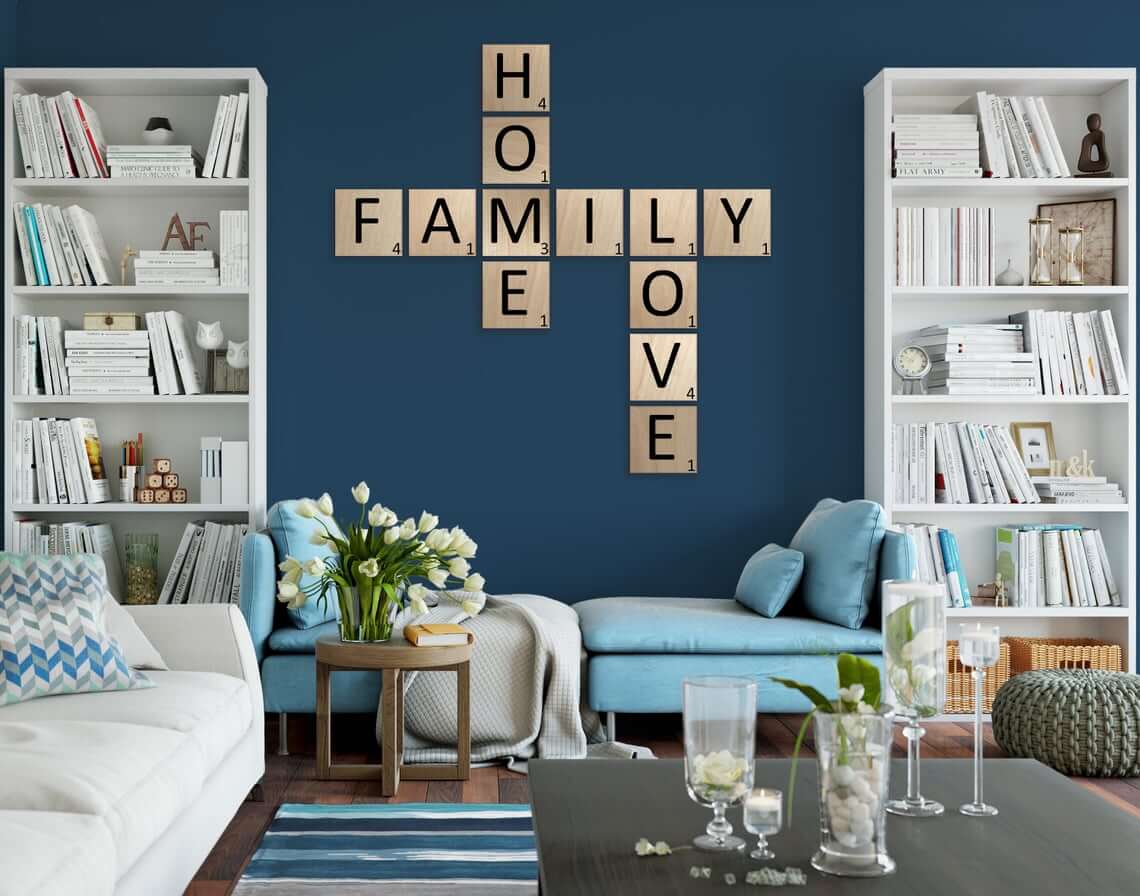 The family that plays together stays together. Does your family stay close by playing board games? Showcase each family member's name in a cool and unique wall art piece made of giant Scrabble pieces. Unlike a real game of Scrabble, the letters are sold individually, so you can purchase exactly the letters you need to make an unforgettable and unique display. Don't want to do names? No problem, any words can be chosen to make a Scrabble wall art statement. The pieces come in two sizes and four natural stains.
24. Acrylic Floral Name Plate for Desk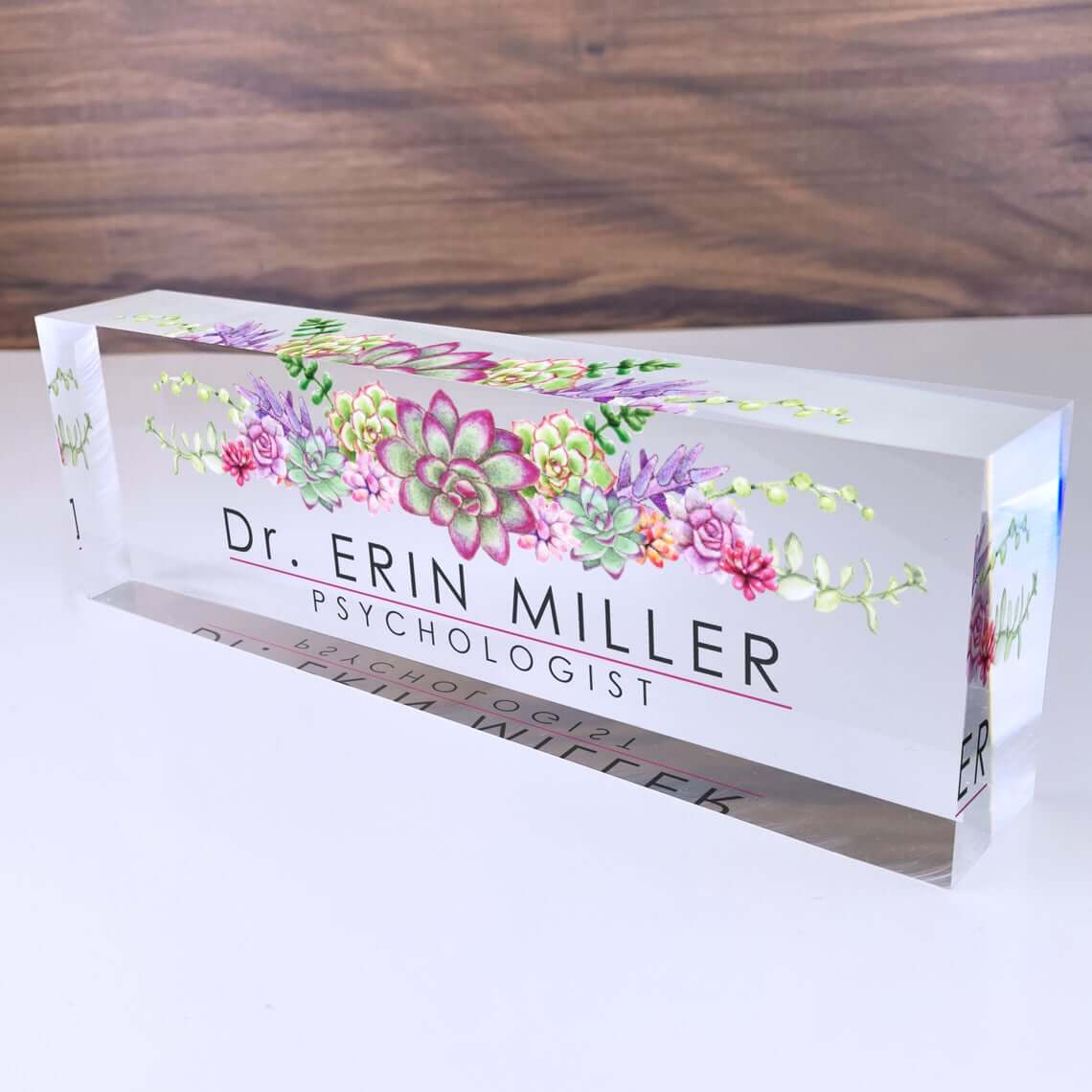 This fresh, clean, and contemporary piece is sure to brighten up any office. Each nameplate is crafted from crisp, clear acrylic measuring 8″ x 2.5″ x 1.5″. Because the item is printed with UV ink on the back of the transparent block, it has a three-dimensional effect that can add pop to any workspace, and each face of the nameplate boasts prismatic reflections of the artwork inside. Though you can choose from five vibrant succulents, rose, and zinnia patterns, Art Blox Shop accepts requests for modifications to the designs. One satisfied Etsy reviewer, a vet tech, purchased the succulent nameplate for her supervisor, and the seller was able to add a cat to the design! Any name, job title, or date can be included in the customization of this design, which comes in several clean black fonts. This bright, reflective piece is an excellent gift for a teacher or a congratulatory gift for work promotions and supportive supervisors.
25. Watercolor Painting of Your New Home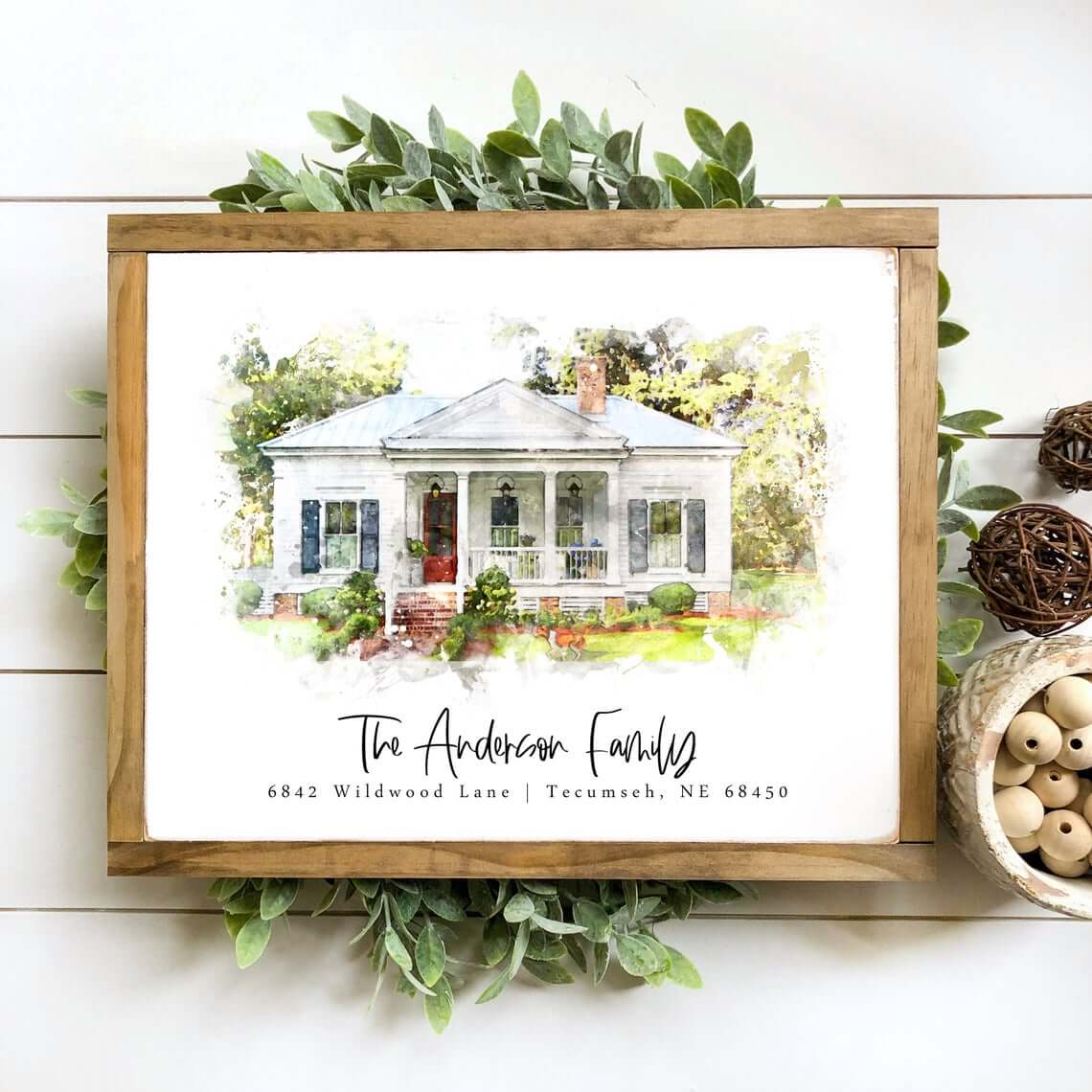 Okay, this is adorable–and we can't lie, it is also kind of amazing. Turn your new house into a gorgeous impressionistic watercolor painting, and then have that painting printed on a memorable plaque! It is astonishingly easy–and affordable–to have this done. The finished piece can then be turned into a gorgeous wooden sign with a customized name and address, or it can be sent directly to you as a digital download. The digital download option eliminates some of the wait time and allows you to get your home watercolor immortalized on any printable surface. People who have ordered this on Etsy have bought it for themselves or given it as gifts to friends. Even one real estate agent has a plaque made for each client when she closes with them on a new home!
26. Personalized Laser-Engraved Charcuterie Planks and Beer Flights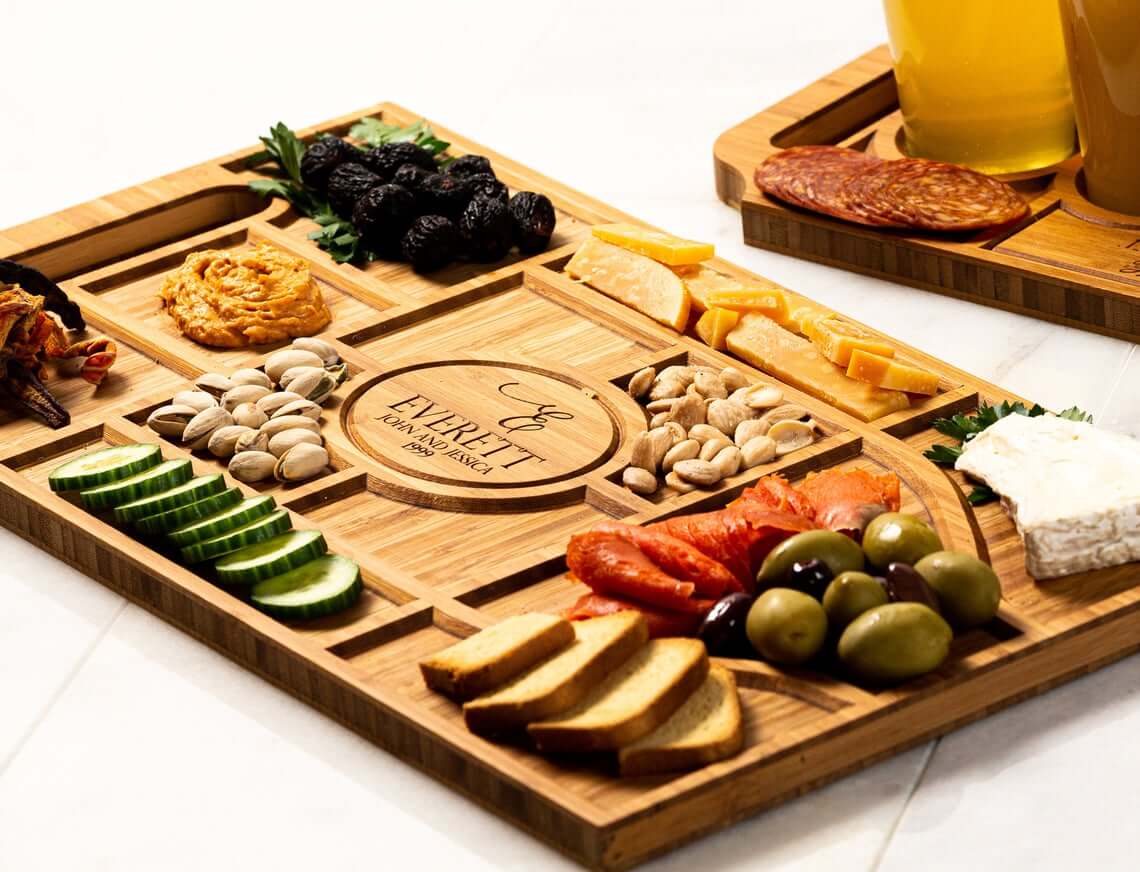 Bringing treasured family memories into the items we use around celebration times is a fantastic way to remind ourselves of what is important in life. This beautiful handcrafted charcuterie board comes in four sizes and three colors. Choose from ten unique engraving styles. A family name, special anniversary, or even a company logo can be included in this wonderful personalized home decor gift.
With gorgeous beer flights to match in three size options, these personalized home decor ideas are better together. The beer flights are available in both full size and taster options.
27. 30% Off Silk Embroidered Monogrammed Pillow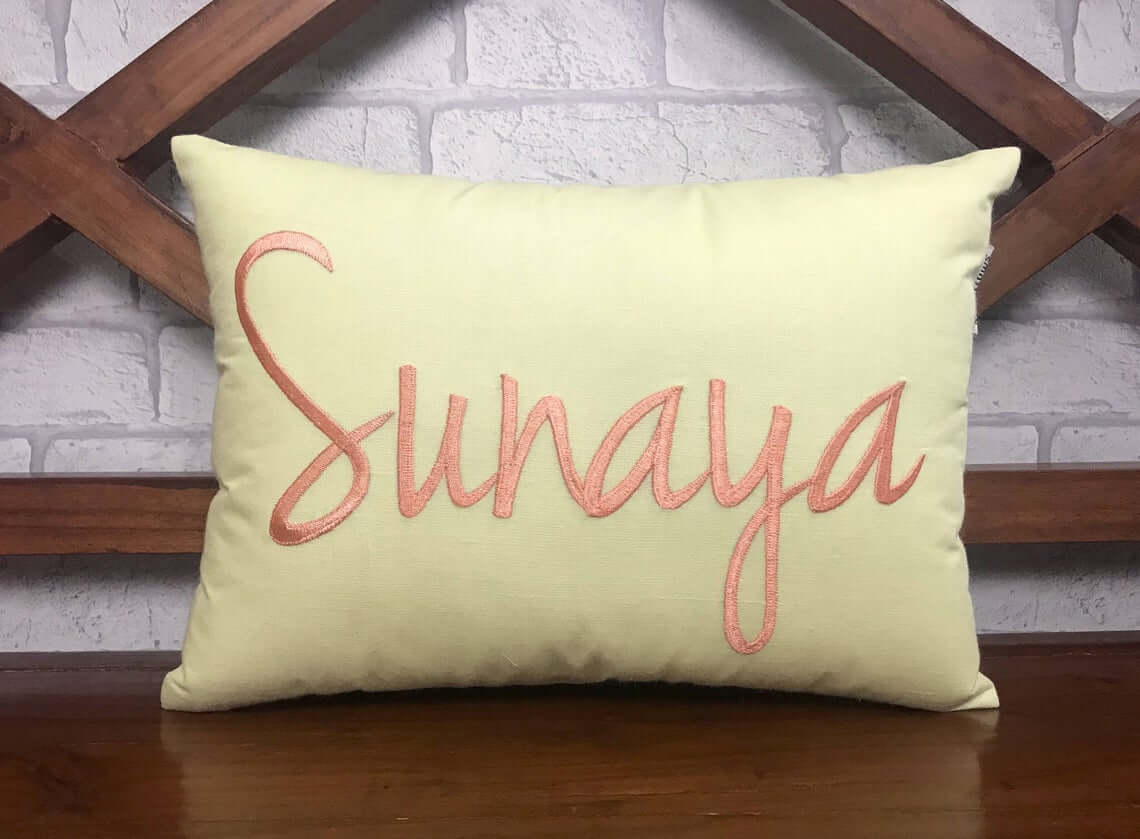 At 30% off, this is another great option for personalized home decor ideas on a budget. The classic initial and monogramming options allow full personalization. A great wedding gift, this adorable accent pillow may be the first thing a bride owns that is emblazoned with her new initials. The sheen of the silk thread embroidery against clean white linen is luxurious yet simple and is sure to go with any bedroom or living room decor.
28. "Bless This Home" Personalized Wood Family Plaque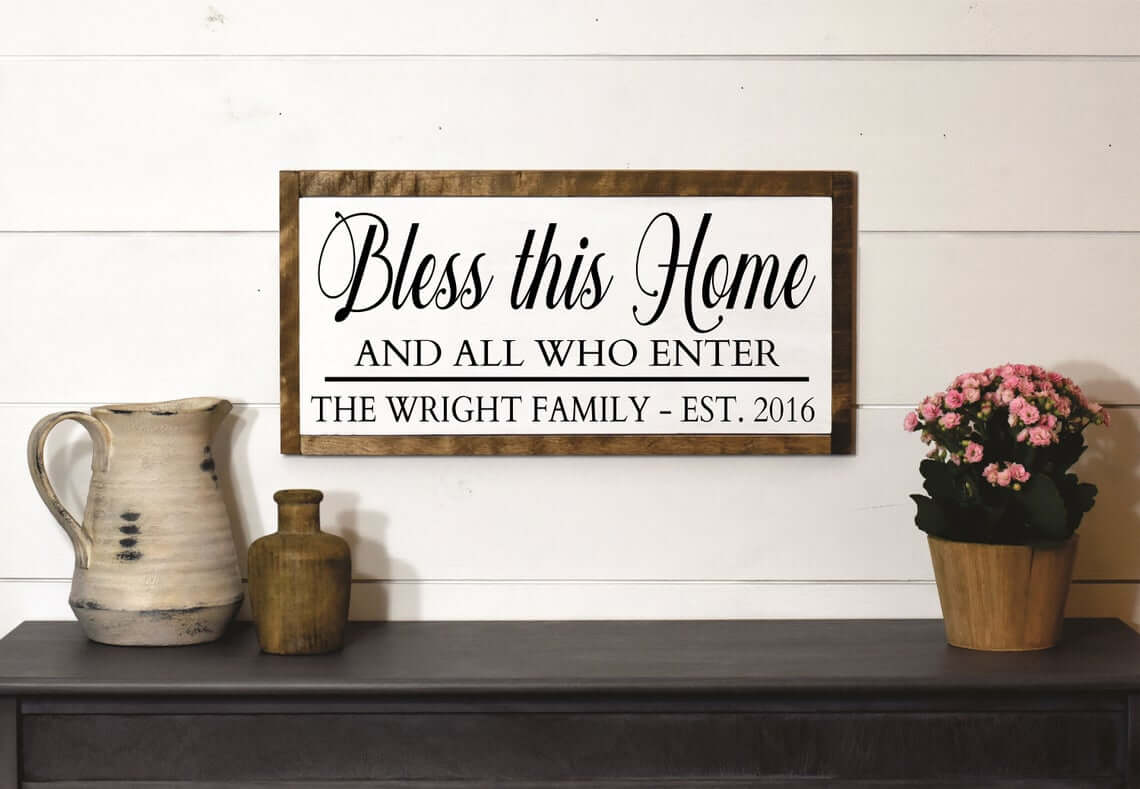 This perfect personalized home decor gift is so much more unique than a welcome mat. Offer well wishes to all who enter your home while memorializing life's most beautiful moments with this perfect homage to your family. This cool and completely handcrafted wooden sign features bold, beautiful black hand lettering on a simple field of matte white. Choose from three stain options for the wooden frame. The plaque is available in five sizes and has a depth from the wall of about one inch.
29. Wood and Acrylic Office Name Plate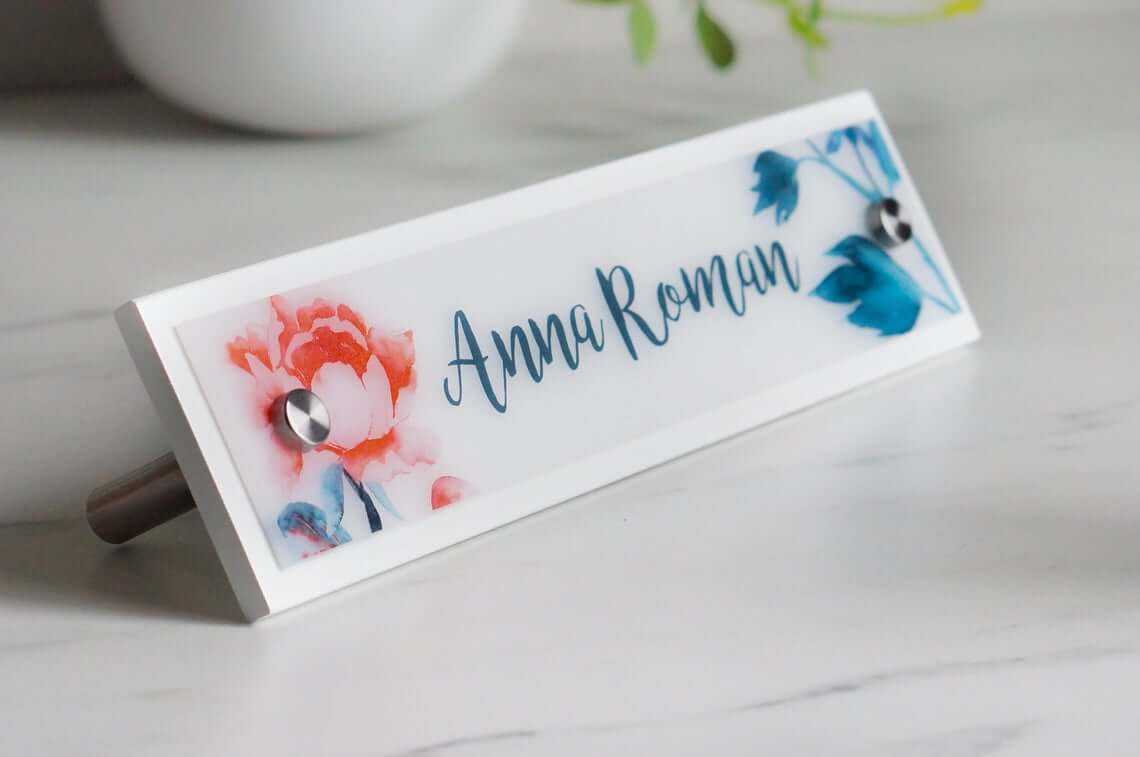 In your choice of five wood stains and elegant (and shatter-resistant!) frosted acrylic, this fresh and feminine nameplate is so much better than the boring wood-paneling one your favorite coworker probably already has. Make her feel like she is adulting at the next level with this beautiful and contemporary desk nameplate. Choose from 34 captivating fonts and 30 vivid colors for her name and position title. Embellish with the optional floral "flourish" of your choice, and you have a beautiful, empowering, and affordable gift. The nameplate measures 10″ x 2.5″, making it slightly larger than a traditional nameplate and ensuring that no visitors to the office miss out on its exquisite detail. Our favorite perk: if you want to order one for everyone in the office, Garo Signs offers great savings on bulk orders.
Personalize Your Home with these 29 Lovely Home Decoration Items
Personalized home decor ideas stand the test of time. Whether intended as a gift or as decoration in your own home, these highly personal items are sure to become treasured family heirlooms. Thanks to the internet and talented craftspeople on Etsy, custom gift giving has never been easier. There is truly a cool and unique handmade item for everyone, and complimentary personalization just makes it even better. From kitchen to the bedroom, home to office, and child to adult, everyone feels special with custom engraved items, keepsakes emblazoned with important dates, or inside jokes. The thoughtfulness of these cherished items will be remembered for a lifetime, and with the high quality of all the items on our list, they will surely be passed down through the generations.