Backsplashes are a place where form can meet function or simply add a bit of personality to your kitchen. Backsplashes keep your walls safe from water damage, yes; but have you considered them as a possible place to store kitchen essentials or perhaps as a family message hub? Alternatively, you could use the space to show a bit of personal flair with a showpiece pattern of your own design or an unexpected texture. Our DIY backsplash ideas will give you some inspiration for all of these possibilities.
25+ Effortless DIY Backsplash Ideas to Update Your Kitchen

Because they have a smaller square footage than wall or floor space, people generally find they are a quick and inexpensive kitchen feature to update. The smaller space also means you can be creative and go for something bold without overwhelming your kitchen. Better yet, when and if your choice becomes dated, you can quickly and painlessly switch it out again.
In today's world where home improvement projects are so accessible due to blogs, DIY television programs, and YouTube tutorials, these DIY backsplash ideas are definitely doable for amateurs. If your kitchen needs a pick-me-up, consider an update to your backsplash.
1. Pretty Beadboard for a Clean Rustic Look

Beadboard is clean, fresh, and easily installed with nails. It's a great option for beach houses, shabby chic homes, and modern minimalist kitchens. It comes in a few different colors and can even be painted. Natural wood grain and white are popular colors because they are neutral and can be left as is or used as a foundation for bolder decor, like vibrant accent walls and islands.
2. Airstone for a Fast and Easy Luxe Look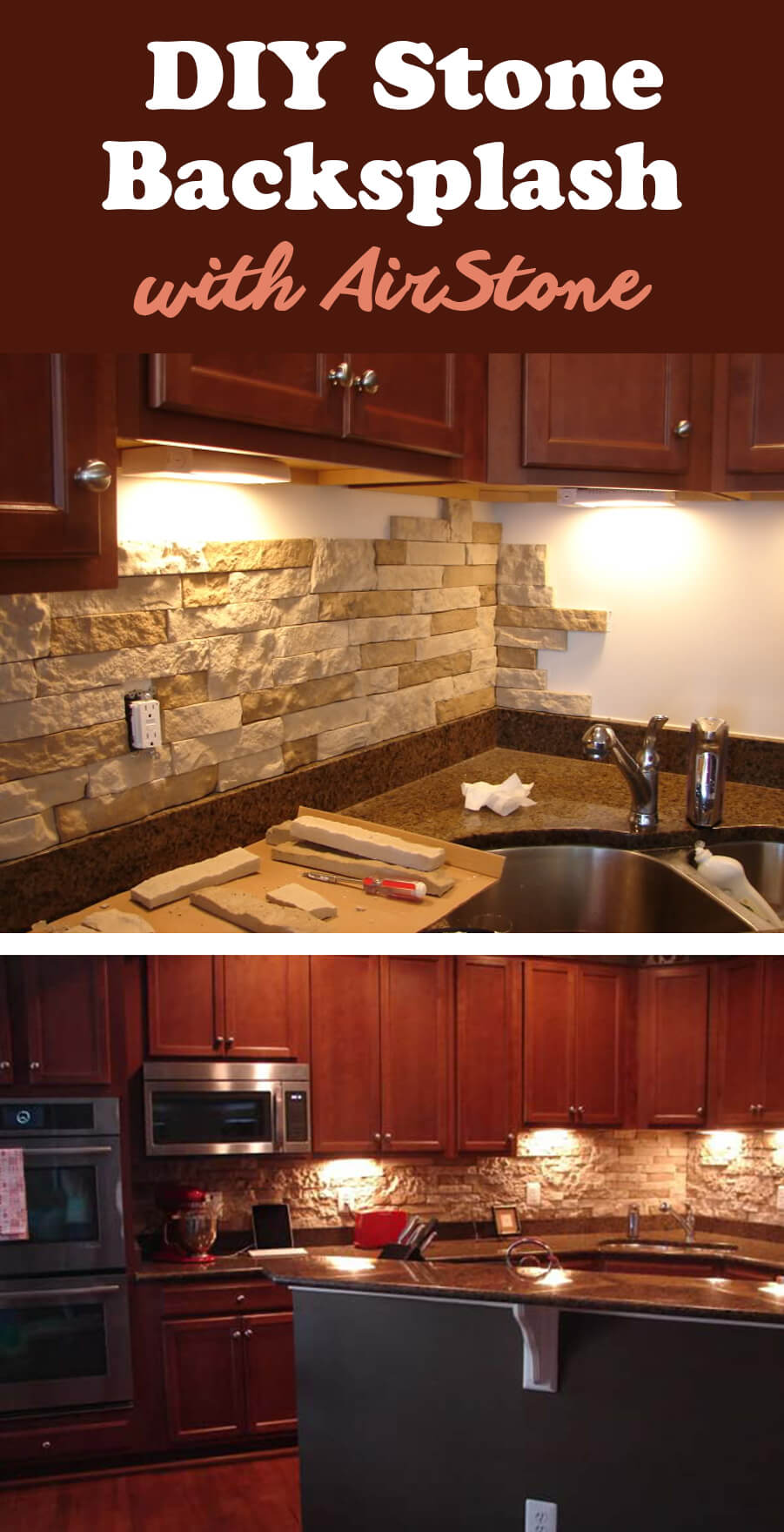 Natural stone bricks are purposefully mismatched and textured for an earthy look that can create a zen atmosphere or paired with dark woods that convey expensive taste. Because stone bricks are so durable and can be used in a big variety of different kitchen designs, it is one of the most popular picks. Installing stone requires the same tools and techniques as installing tile, but the payoff for all that hard work is huge.
3. Rethink Laminate Wood for the Kitchen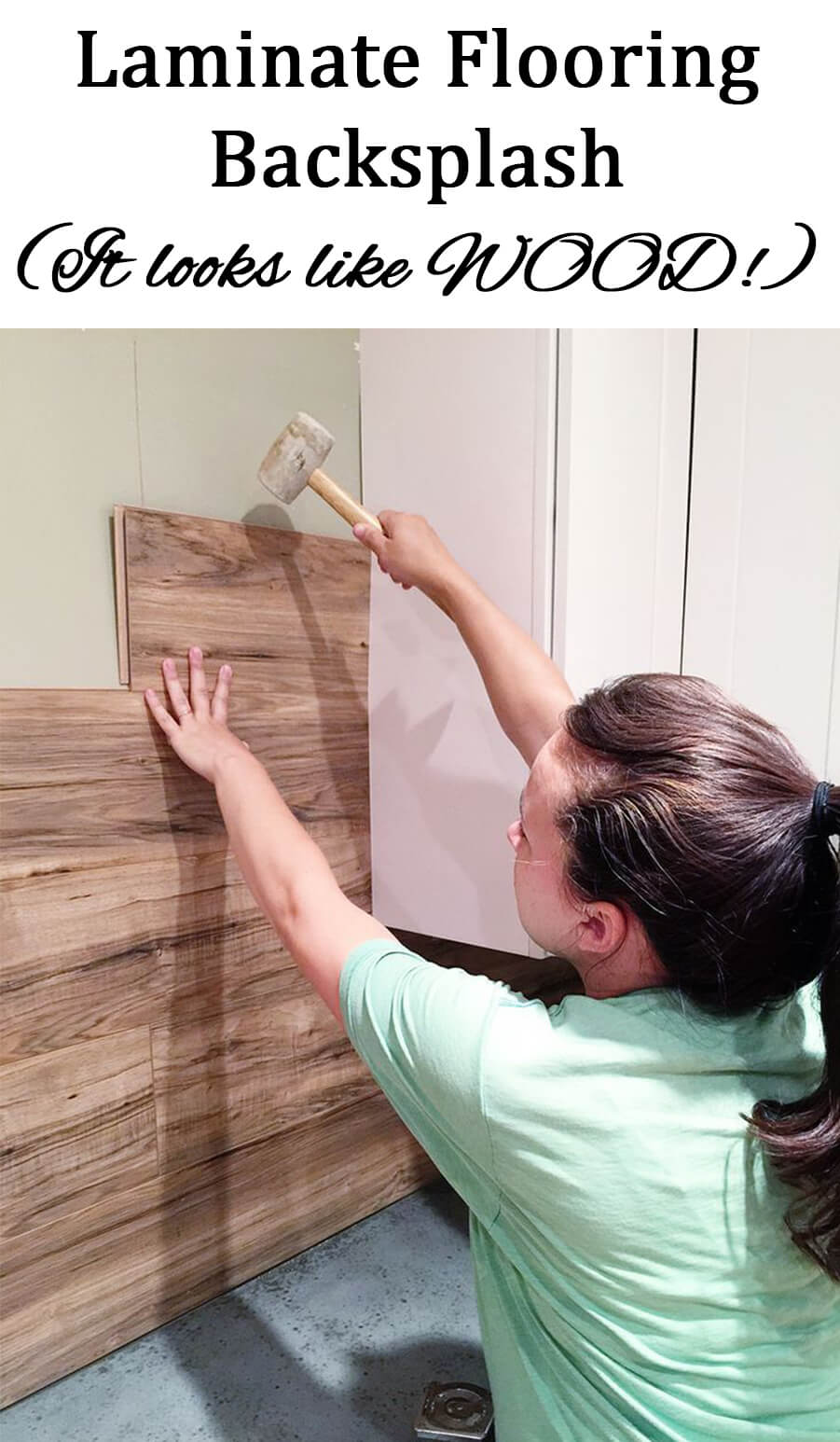 For the imaginative types, materials for flooring can be used just as easily on a kitchen wall as a backsplash. One example of this creativity is wood laminate flooring. It can be hammered in and stuck to the wall like you would on the floor, and it gives a natural wood grain look in the kitchen. Warm gold tones go extremely well with natural wood grains, and it also works for a log cabin atmosphere.
4. Blue Tile and White Cabinetry is a Classic Pairing

Tiles don't just come in small neutral-colored squares anymore. For bold designers, tiles are now sold in many different shapes and colors. One of the biggest trends this year in kitchen design is exotic colors paired with calming neutrals. This would be the perfect time to pick an unusual-shaped tile in a bold hue.
5. Tiny Tile Backsplashes Can be Deceptively Simple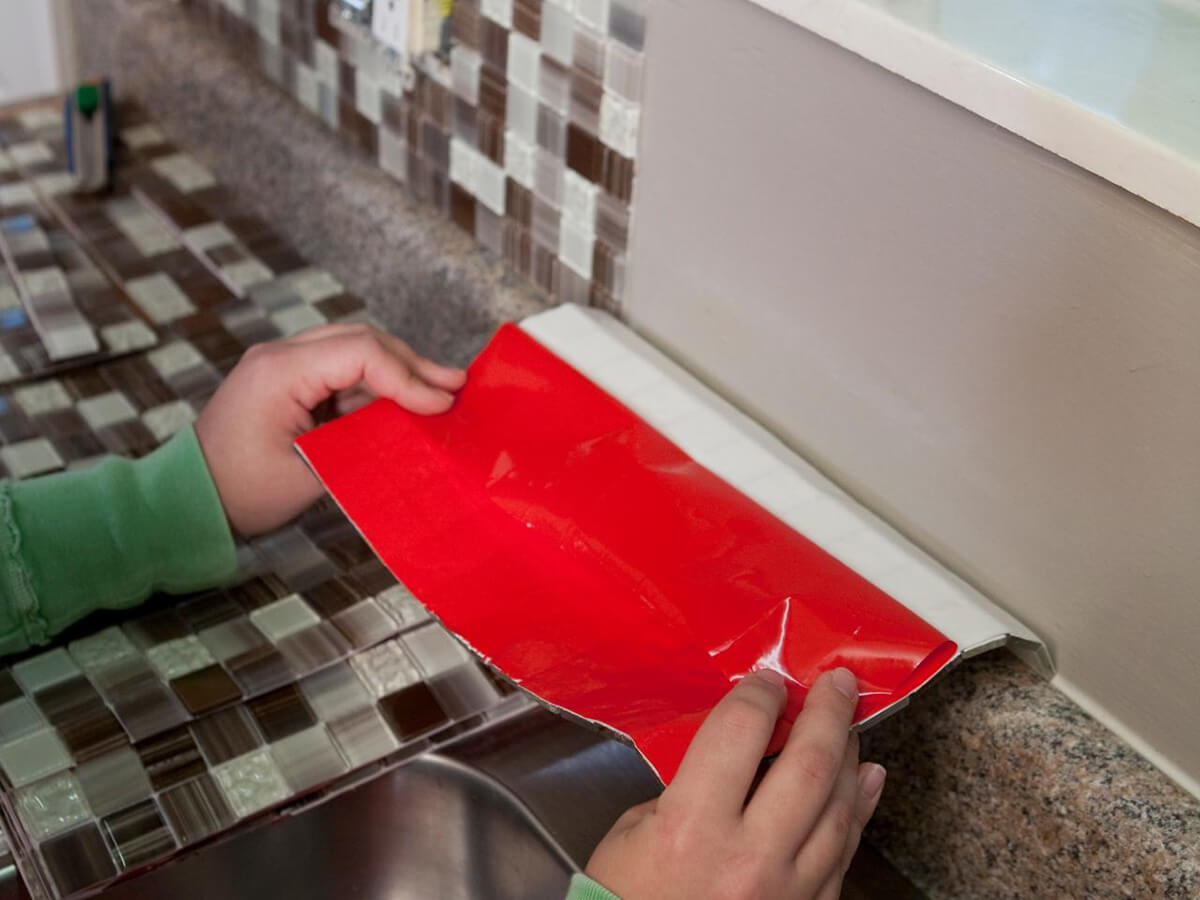 If a miniature is your thing, the good news is that tiny one-inch by one-inch tiles don't have to be applied individually. Now they are sold in rows on panels that can be applied in bulk to save time. The best part is that they are available in solid colors and mismatched varieties depending on your style.
6. Adhesive Tile Segments make Backsplash Installation Easy

Anyone who has experience with tile knows that installing them is a lot of work that can be time-consuming and messy. With this in mind, manufacturers came up with a solution for those who don't have the tile talent. Some varieties have an adhesive backing that is stuck to the wall easily. This makes installation even easier than before and you still get the sophisticated and modern look. If they must be removed later, that step is easy as well!
8. A Clever Way to Use Those Corks
The sky is the limit with creative kitchen backsplashes and some homeowners make use of unusual materials like decorative corks to their advantage! Sticking the corks to the walls would not only be easy but inexpensive, and they look great in a modern kitchen. It would also be fabulous for wine lovers who had an equally impressive wine cellar.
9. Metal Tile is Modern and Bright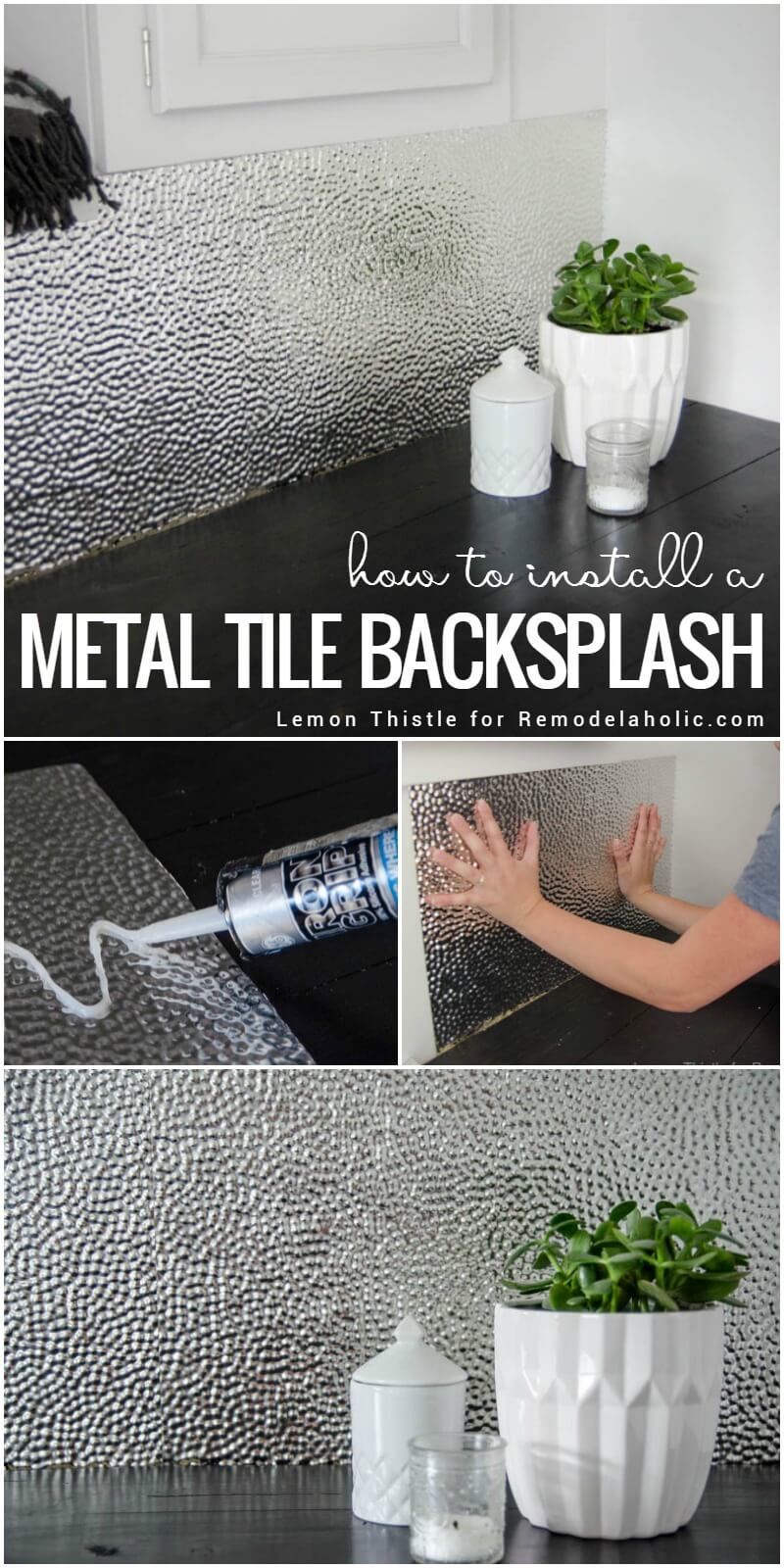 Some daring homeowners are all about making their kitchen modern and shiny with a textured metal backsplash. The metal panels stick to the wall with a simple adhesive and contribute to the amazing industrial look or a sleek minimalist kitchen. Metal panels are not only beautiful, they are easy to clean too!
10. Wood Shims in Pretty Designs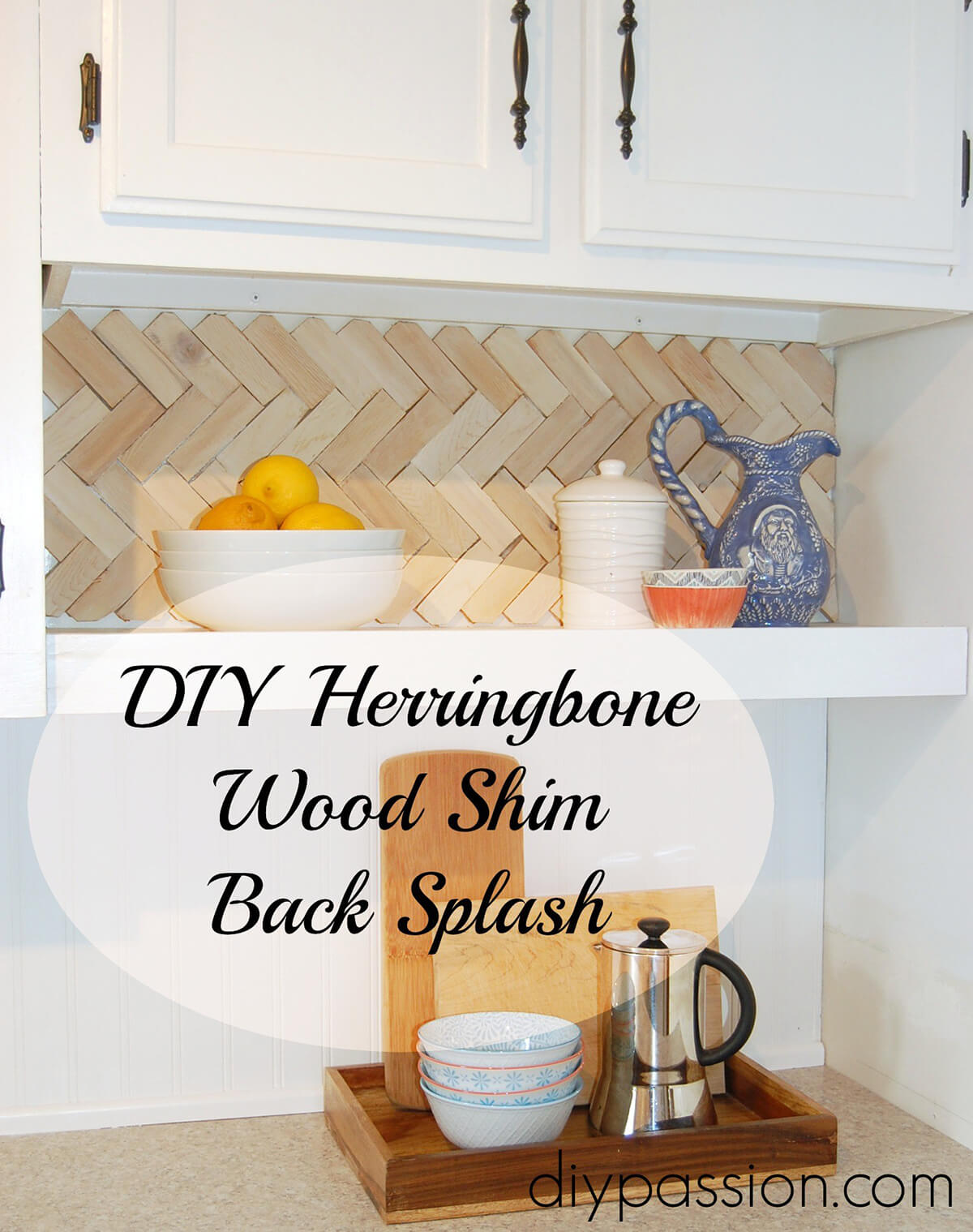 Some creative genius out there looked at the unfinished wood shims and thought to make a kitchen backsplash and we owe them thanks. Not only are shims inexpensive, you can get them from recycled projects and they may have been discarded if you weren't using them, so they are a recycler's dream. The natural wood creates a homey feel that pairs well with white paint. Shims can also be stained or painted any color, making this one of the most versatile materials.
12. Floor Planks Can Do Double Duty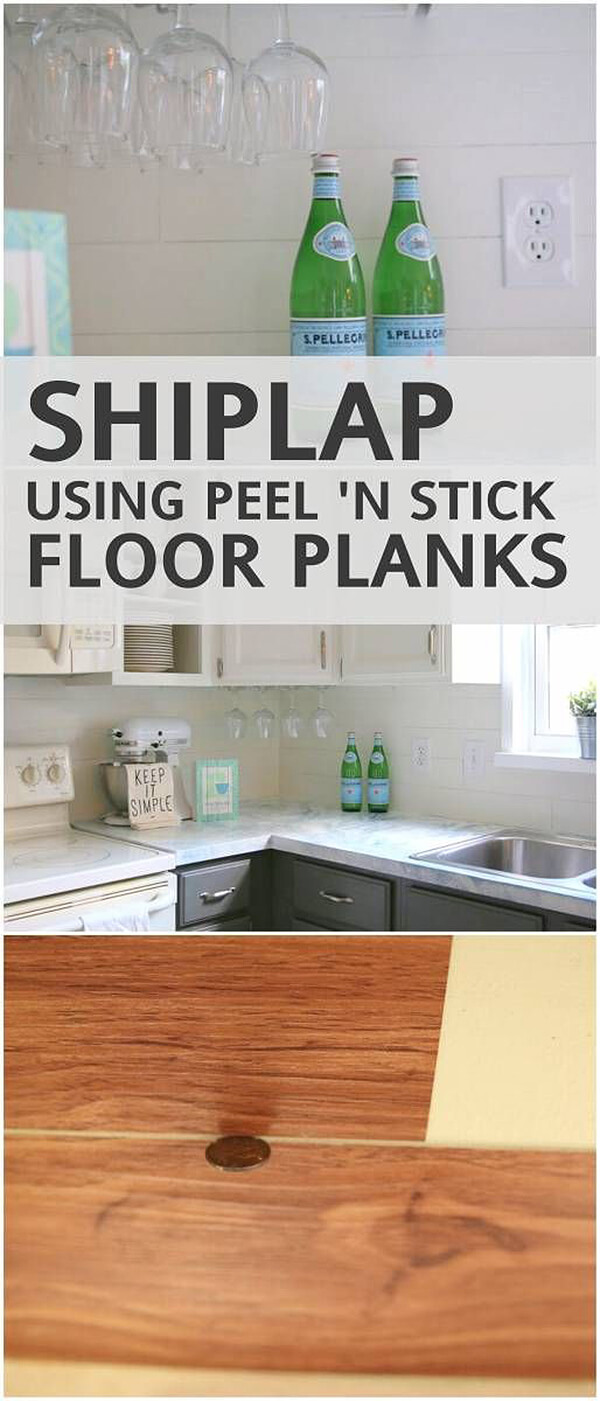 Have you ever wanted wood paneling but had no idea where to start or just couldn't afford it? Peel and stick wood floor panels are not only gorgeous, but they are easy to install on a kitchen backsplash. For the most part, they are attached horizontally along the wall just like they would on the floor to give the kitchen a natural wood look. It comes in many different colors, from white to deep ash to suit any personality.
13. Glossy Brick Blocks For Quick Cleanup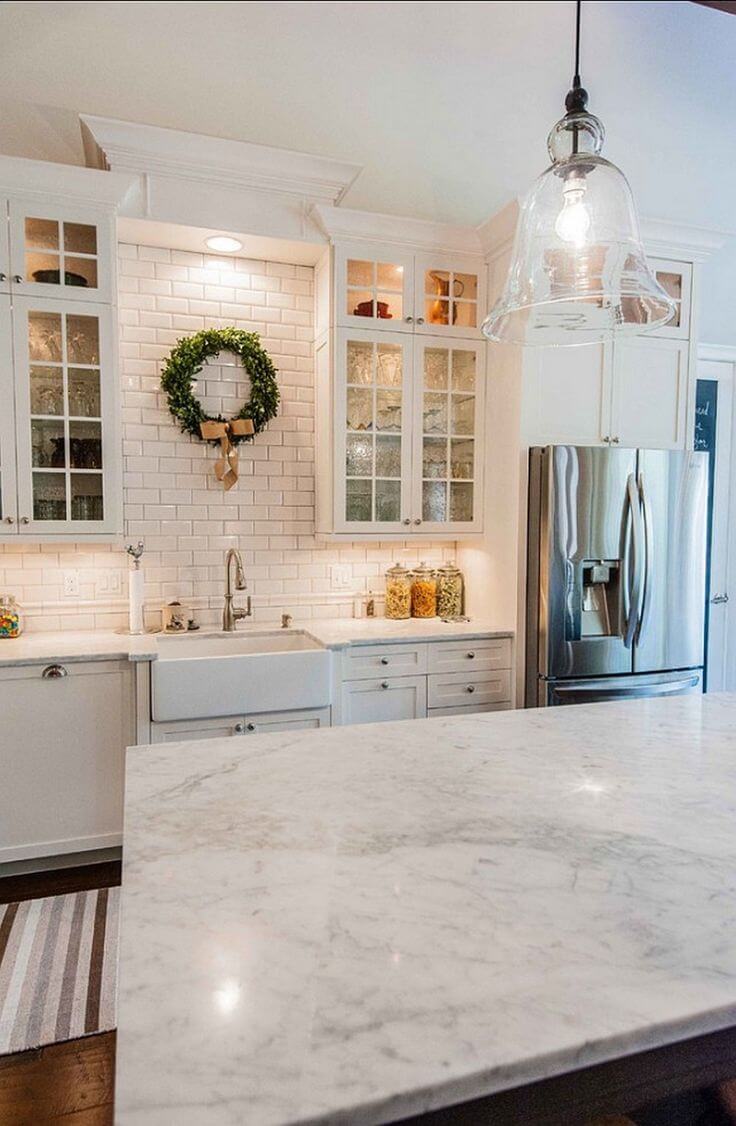 A timeless classic of the tile world is white and glossy squares, and for good reason. They are easy to clean and create a fresh look in the kitchen. White and other light colors give the illusion of bigger space, so light-colored tiles are perfect for those with small kitchens that would like to make them look a little roomier.
14. Peel and Stick Bricks are Easy and Stylish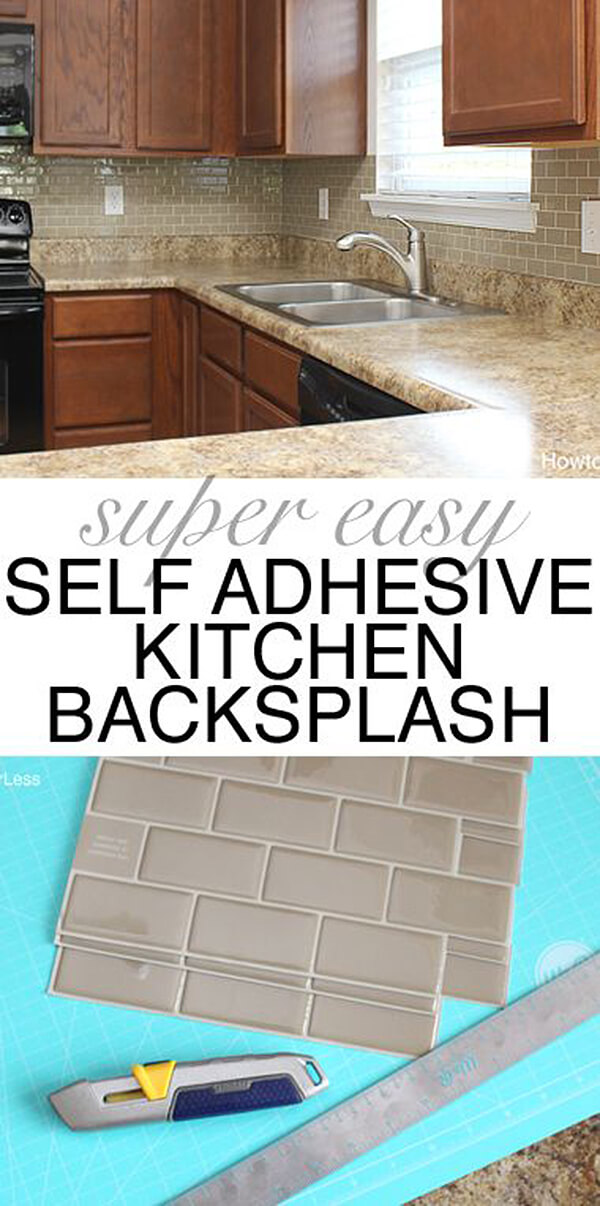 There are peel and stick tile bricks that still have that easy-cleaning feature but are much easier to install than regular tiles. They come in a huge variety of colors and sizes for any kitchen design. You can even trim pieces off with a razor knife to fit it around outlets and fixtures.
15. Customize Your Mosaic Backsplash with Your Color Scheme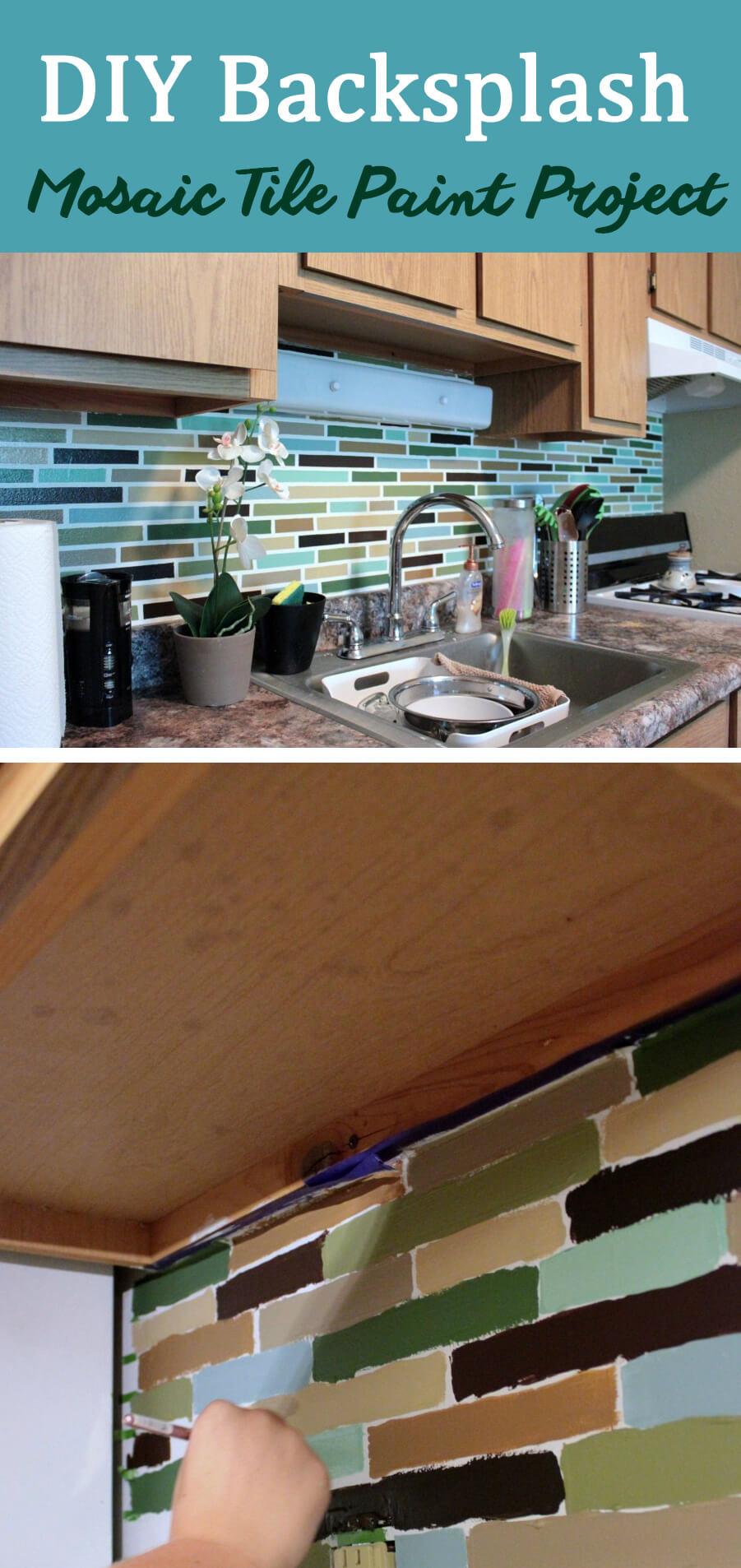 If you really love mosaic tiles but can't find a color scheme or size that fits your style, there is an incredible option available with just a little paint and prep work. Taping off squares to act as your tile sections and then painting the squares will ensure that you get the color and size you desire. Not only is it easy and personalized, it is very affordable.
16. DIY Brick is Easy Even Without Peel and Stick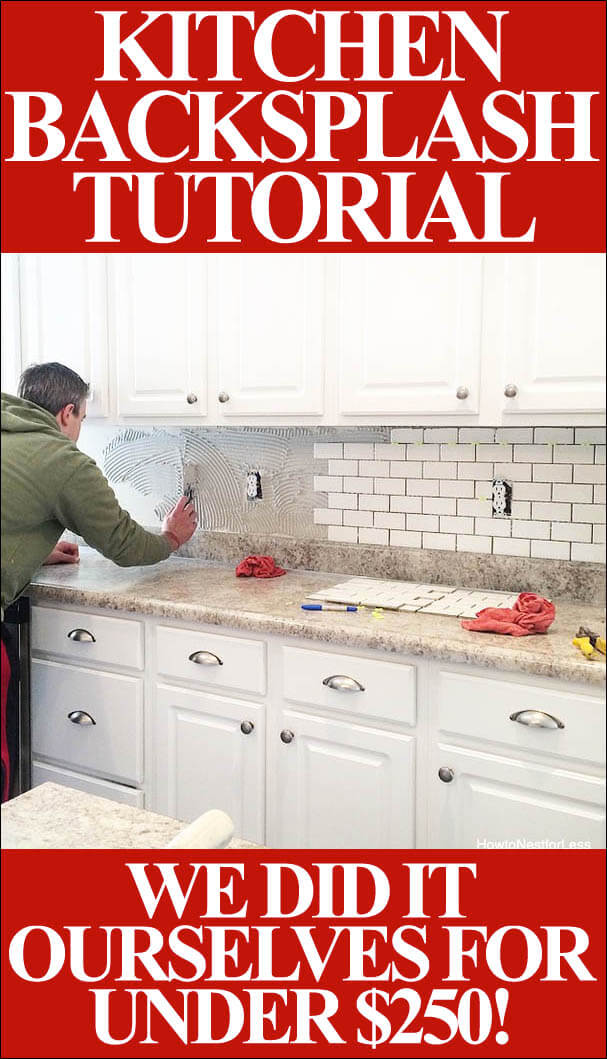 If a homeowner wants brick but isn't interested in peel and stick options, there are still brick panels available that you can install the old fashioned way. But sticking and grouting tile isn't as hard as you think; the instructions are easy to follow and takes only an afternoon or two to complete. The results are long-lasting and durable too!
17. Choose Pallet Wood for a Unique Rustic Backsplash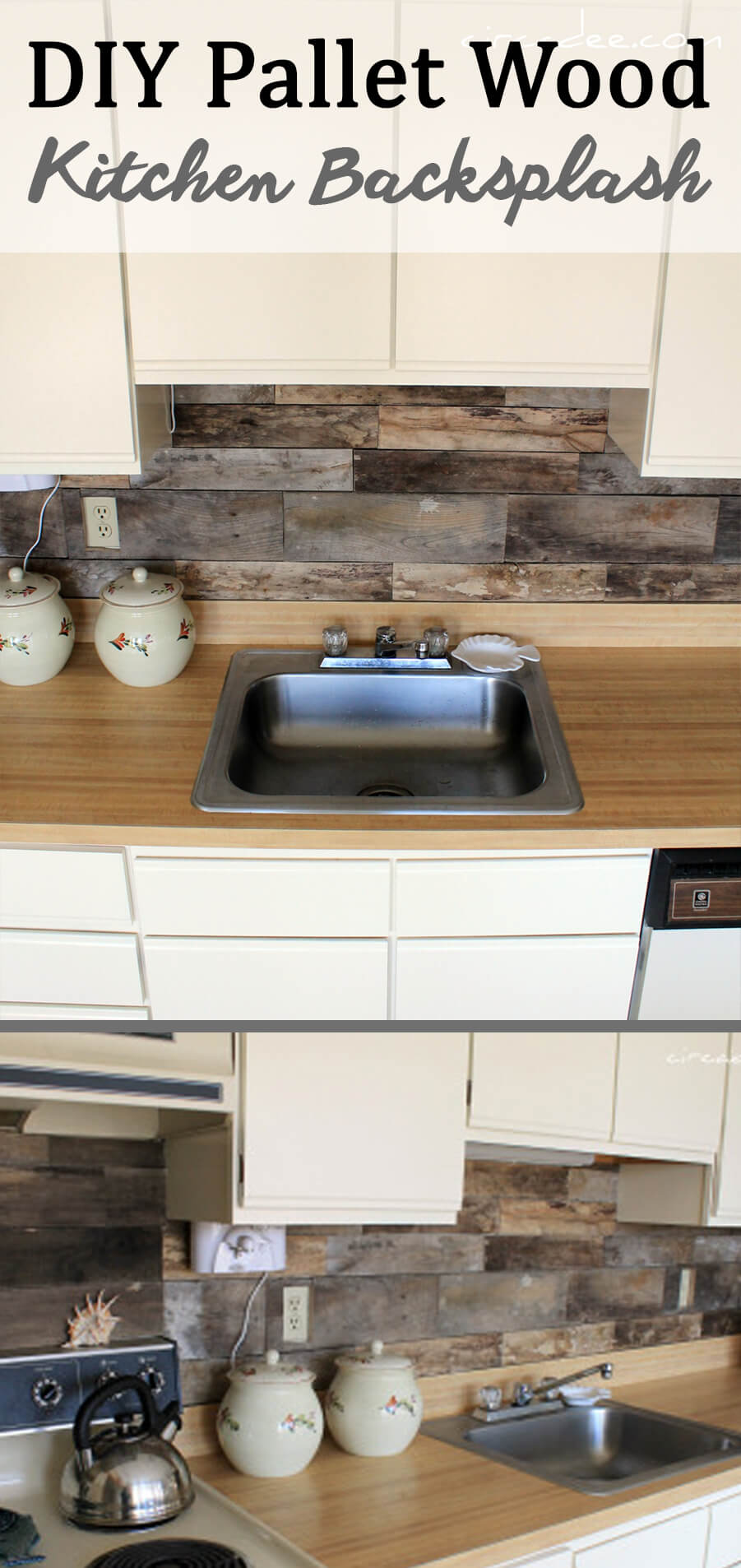 For the recycling-conscious and vintage-loving homeowner, pallet wood can be an amazing option for creative backsplashes. It looks rustic as well as cozy and goes great in a cottage and shabby chic kitchens. The wood is easily installed and wood pallets are easy to get, sometimes for free!
18. This Retro Tin Tile Backsplash is Unexpectedly Cool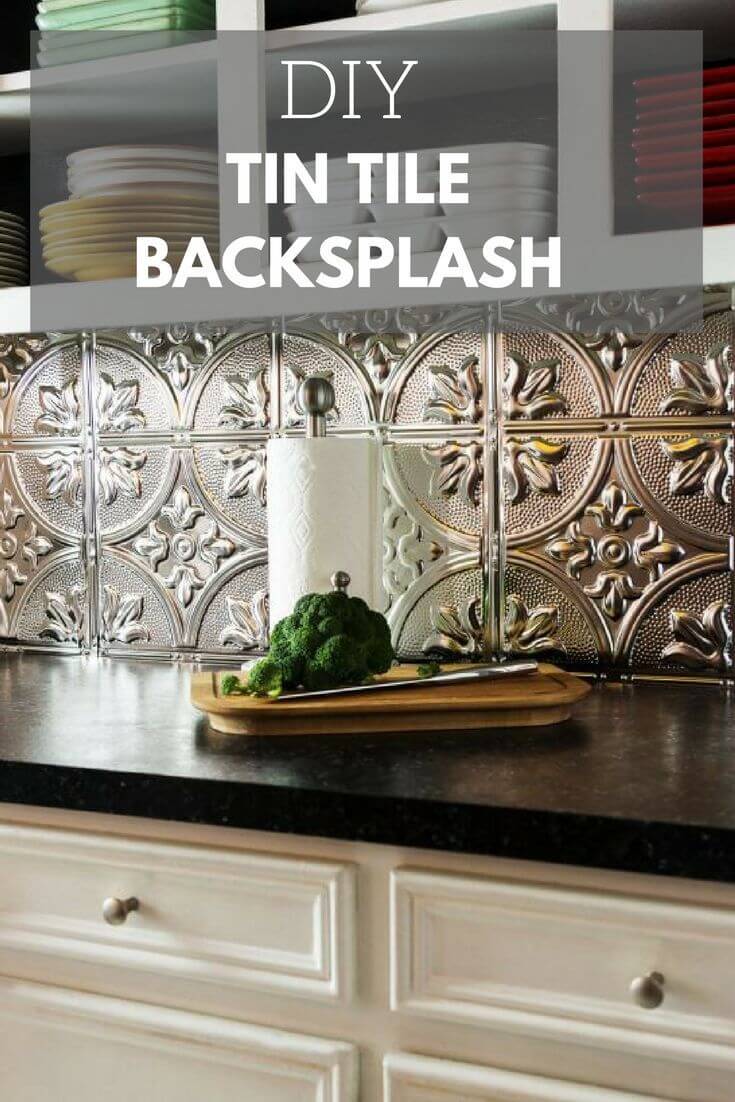 For the truly adventurous homeowner, tin textured tile can be one of the coolest options out there. It comes in squares and has texture and shine, and is easy to clean. The best part is that it is relatively versatile despite being such a unique material. It goes in minimalist, modern and industrial kitchens, but the only limit is your imagination.
19. Customize a Blank Vinyl Backsplash Canvas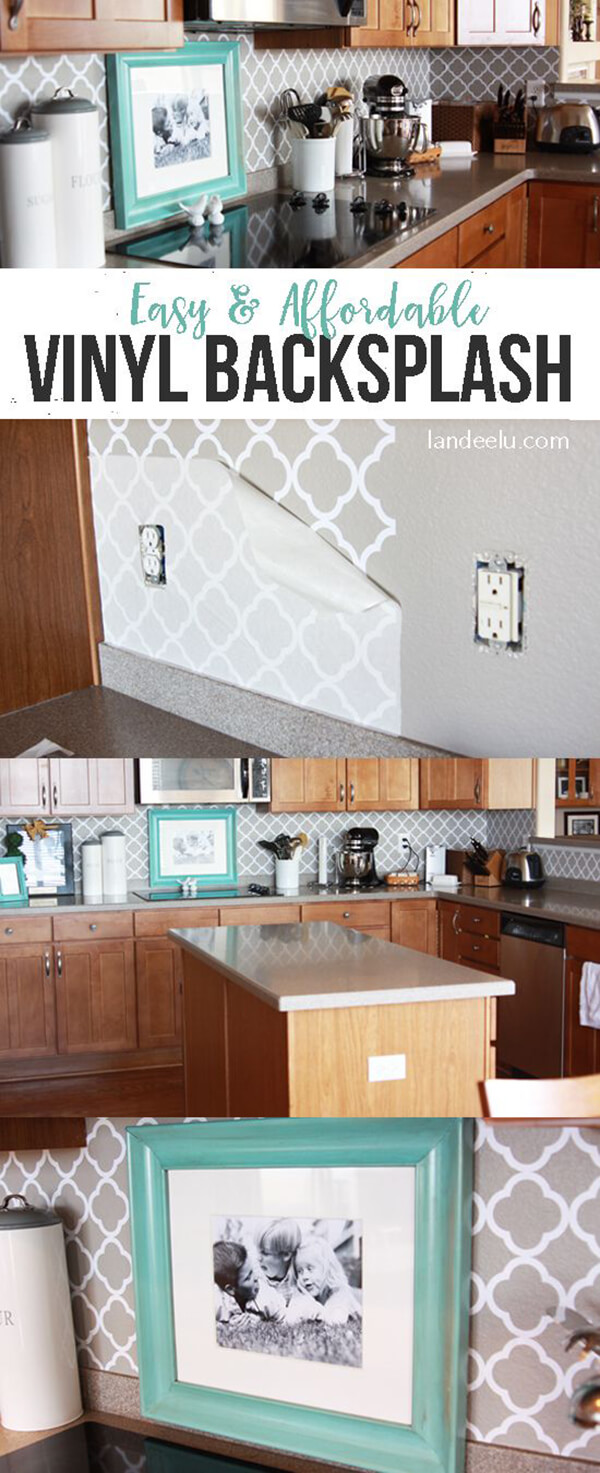 The stick-on tattoo of the kitchen world is vinyl, but it definitely won't rub off after a few days! It is incredibly easy to install and comes in a wide array of colors and patterns. Many types of vinyl are designed for kitchen walls and are easy to find and inexpensive to buy. The patterns are perfectly straight and look clean and professional, so you don't have to worry about a job looking amateurish.
20. Vinyl: Not Just For the Kitchen Floor Anymore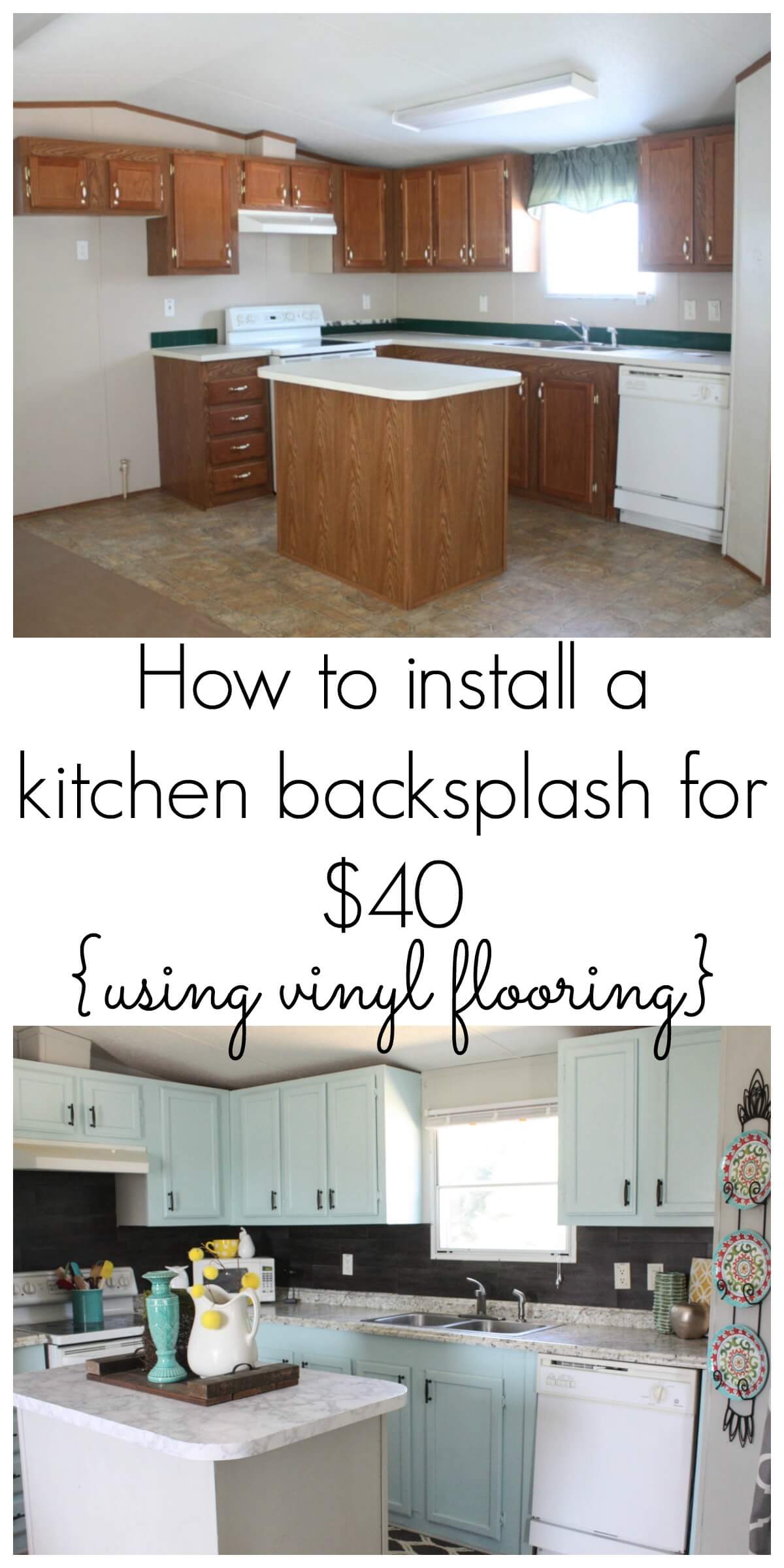 Speaking of vinyl, the flooring variety of vinyl can be used for kitchen walls too. Just because it is marketed for the floor doesn't mean it won't stick to a backsplash area. If you are looking for a wood vinyl look or an interesting pattern that is only available in flooring, don't be afraid to apply it to the backsplash. Floors get way more wear and tear than a kitchen wall, so a material designed for flooring will last a long time if applied on the backsplash.
21. Backsplash Doubles as Family Message Board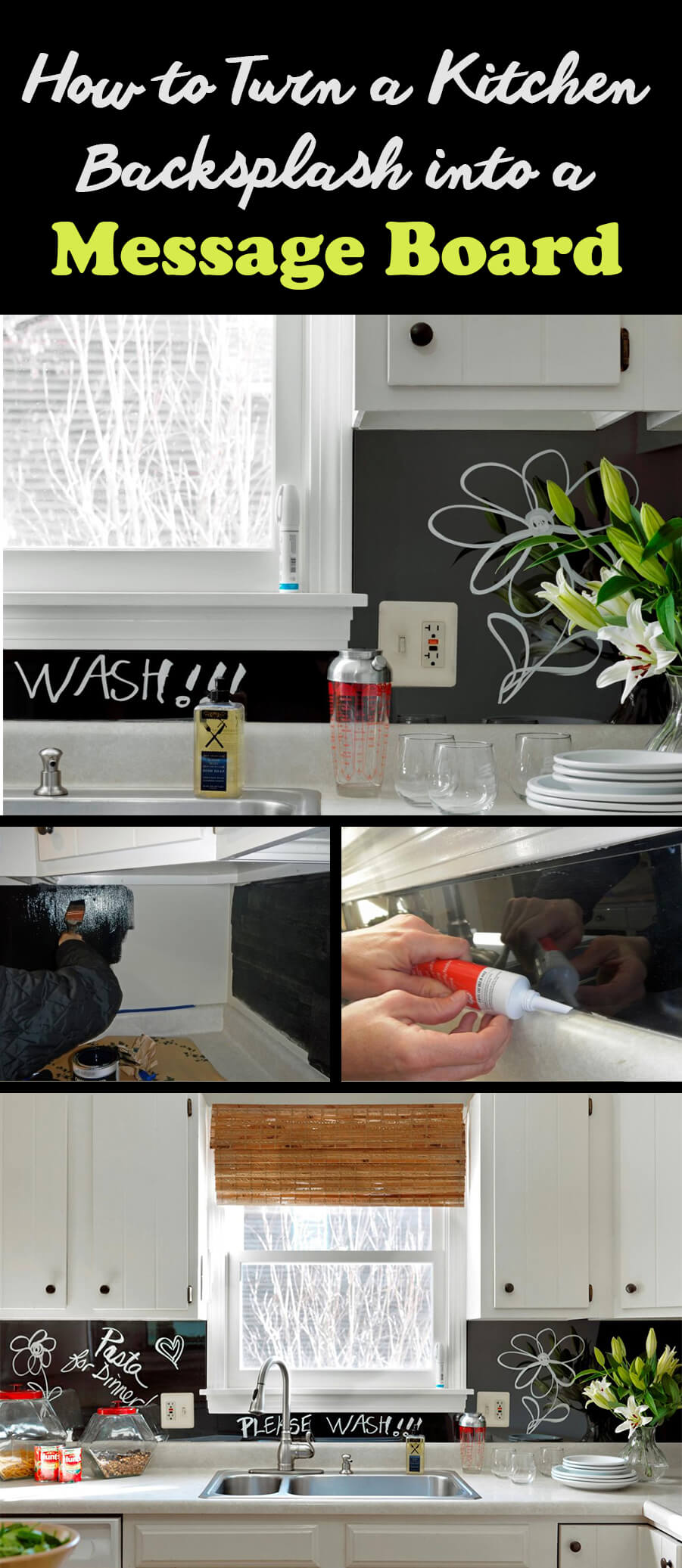 Chalkboard paint is one of the most ingenious inventions in home decoration and can be used for a huge number of DIY projects. For those who have small children, like to leave notes or just forget their grocery list unless they write it down, having a chalkboard backsplash may be the option for them. It is inexpensive, easy to paint on, and is fun to use for chronic writers and doodlers in the house.
22. DIY Backsplash Ideas Often Feature Flooring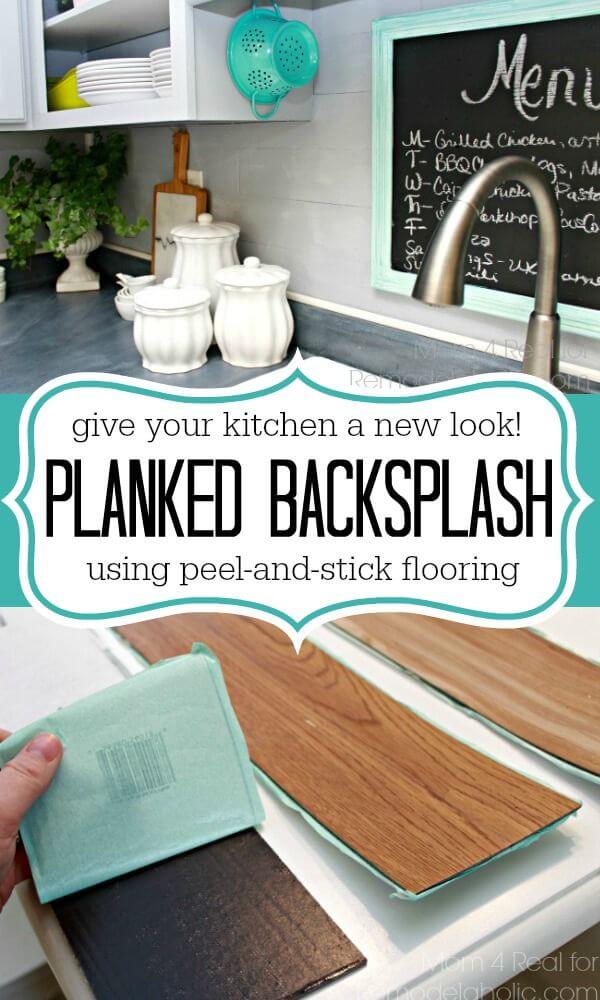 Don't be afraid to choose a flooring product for your kitchen backsplash. Sometimes patterns and options that you desire are only available in a flooring product, whether it is tiles, peel, and stick, or vinyl. The materials will work just as well on a kitchen wall and look just as amazing.
23. DIY Doesn't Have to Look Amateur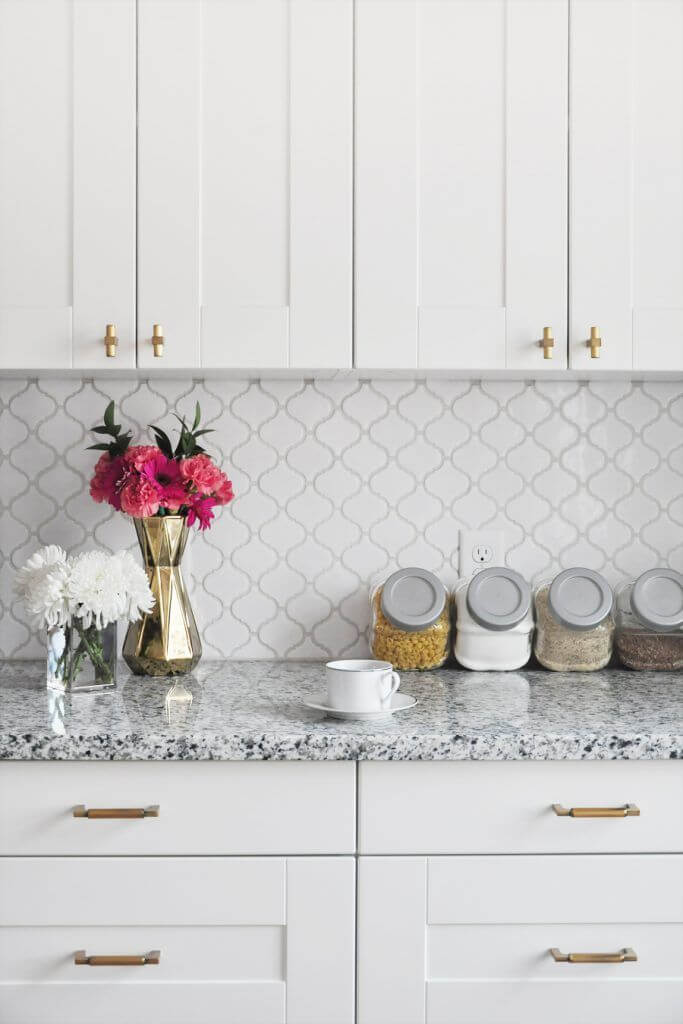 Doing a job yourself doesn't mean that the backsplash will look amateur or unprofessional. As long as you take your time and use the right materials, the result will look just as good as if a contractor did the job. Really review your options and don't be afraid to try something that's a bit intimidating. Take it slow and make your kitchen into a dream!
24. Pegboard is a Clever Space-Saver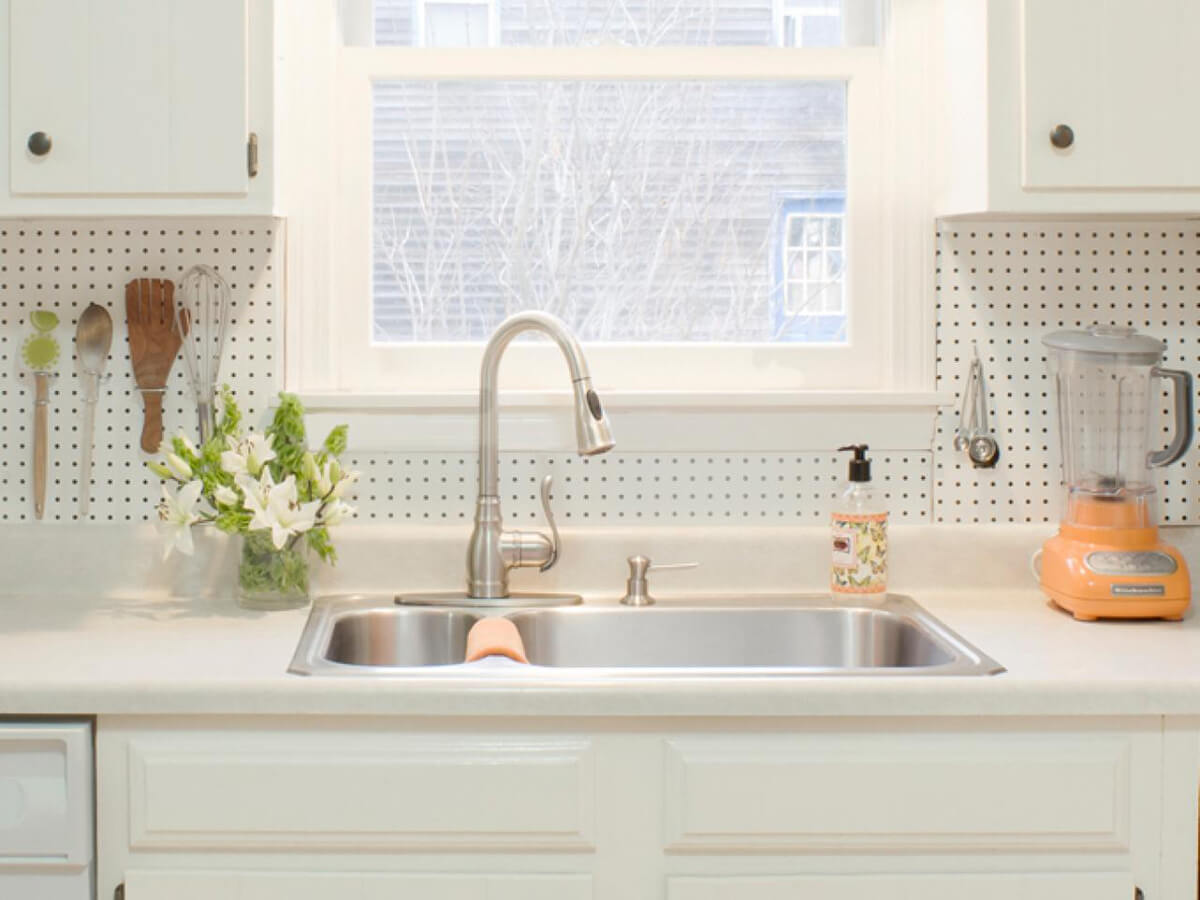 Garages and workspaces aren't the only spots in the house where pegboard can be useful. Guys use that stuff to hang up their tools and it's an incredibly smart space-saver that can be extended to the kitchen. Pegboard is easily nailed to the wall and looks almost like polka-dotted patterns. You can then hang utensils and other kitchen items on the backsplash to save precious space.
25. DIY Caulking is a Breeze with Tutorials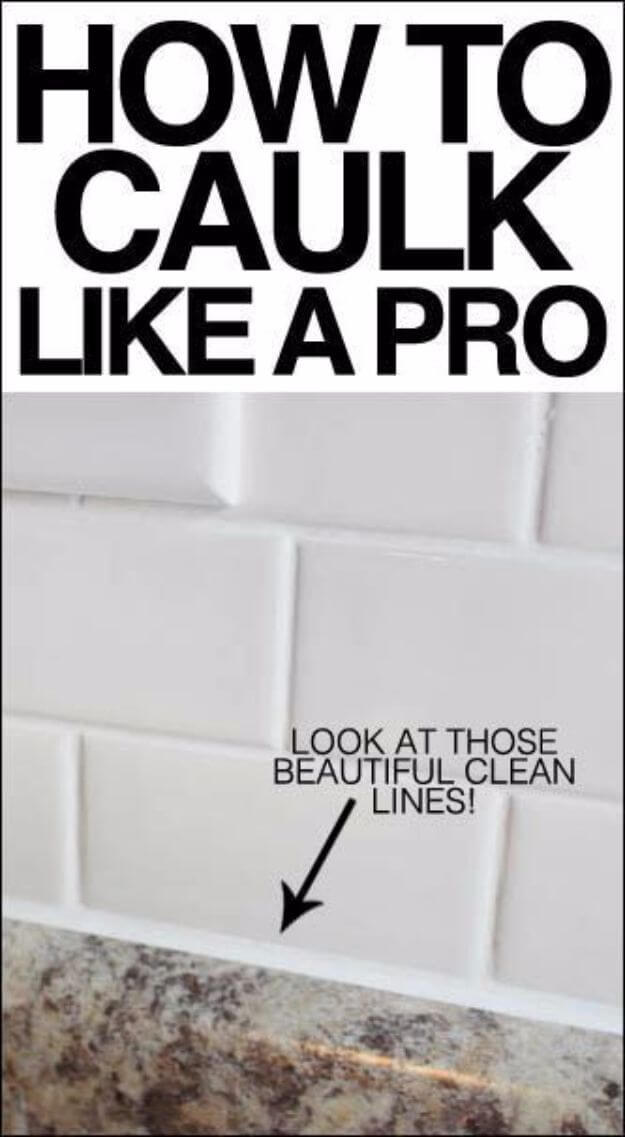 If you are tackling a tile project, you will inevitably run into the caulking stage near the end. Caulking can be an intimidating step, as it can be messy, but everyone wants a clean look. Check out some tutorials to help you get clean grout lines, and take a look at some of the specialized tools that can help you too.
26. Stunning Stone Backsplash for Kitchen Zen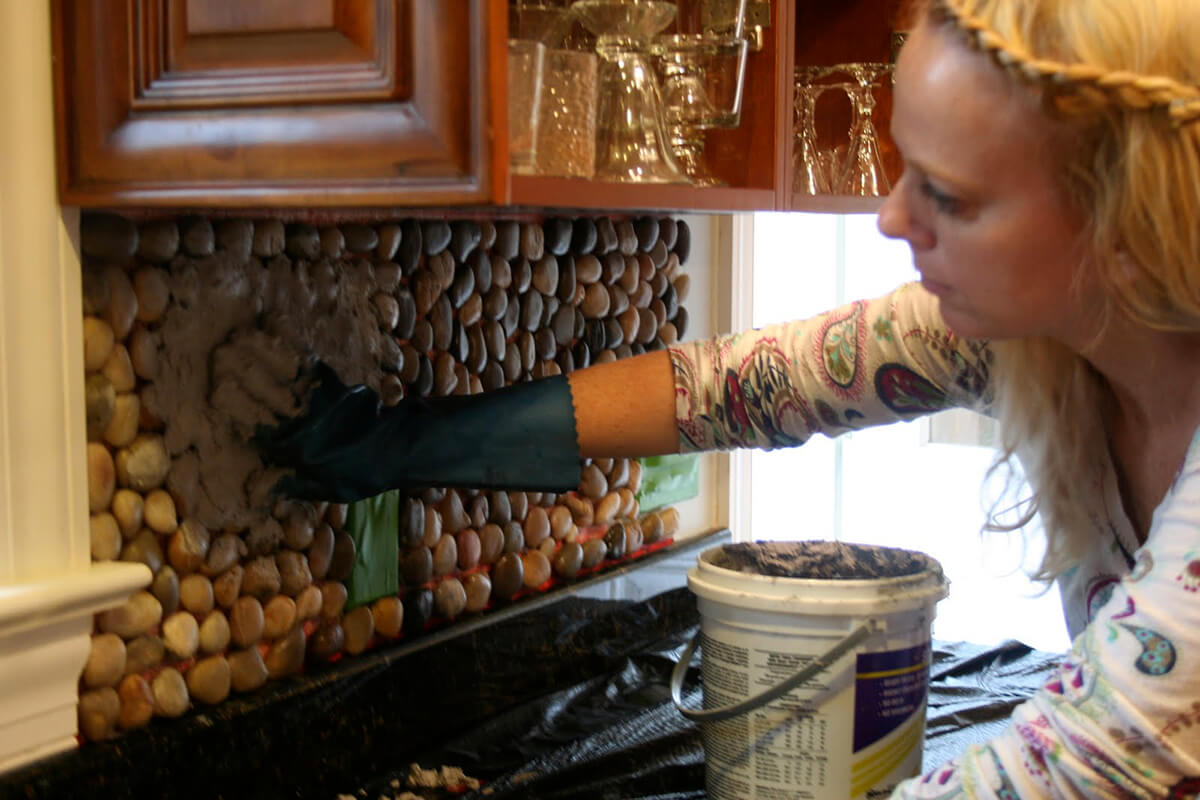 Bricks aren't the only backsplash you can make out of natural stone. It also comes in river rock and slab varieties for different looks. River rocks are great for a relaxing atmosphere, while slabs and bricks give off a more expensive vibe. All stone looks are different and depend on the personality of the owner and kitchen, but they're all beautiful.
27. Endless Inexpensive Options with Vinyl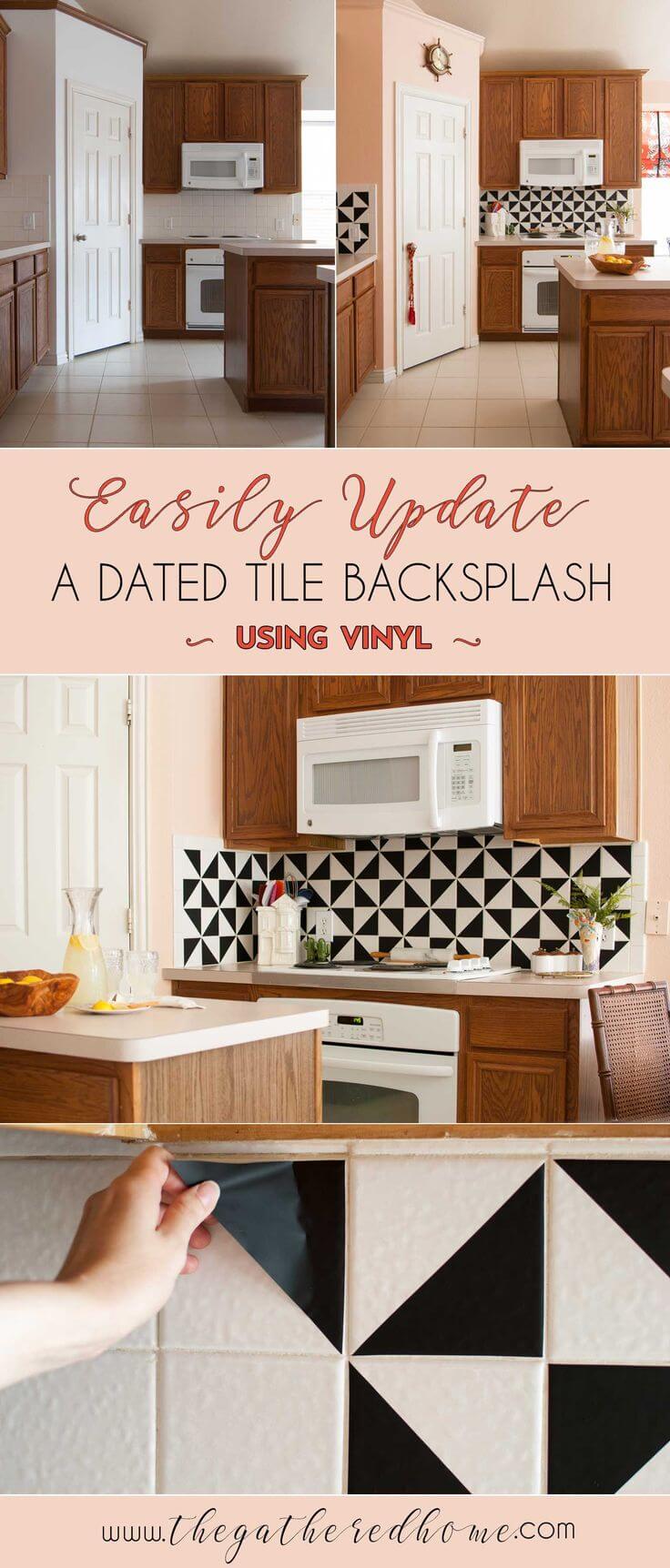 For those with a vivid imagination and a flair for creativity, vinyl is a friend. Not only can you apply vinyl to a bare wall in any pattern, but vinyl can also be applied to existing tile to update the pattern and change the look completely. It is an inexpensive way to change the whole kitchen and small samples will help you decide what you would like most.