When it comes to backyard décor, there are a many numbers of projects and ideas that you can incorporate to make your backyard inviting and similar to those magazine and TV backyards that everyone covets. Since the backyard is a place where many people go to sit, you truly do want to create a backyard that is inviting and comfortable for yourself and guests. One of the biggest staples in modern backyard décor is concrete, and some people love getting down and dirty with a few DIY backyard concrete projects of their own.
45+ Incredible DIY Backyard Concrete Projects for a Charming and Unique Outdoor Space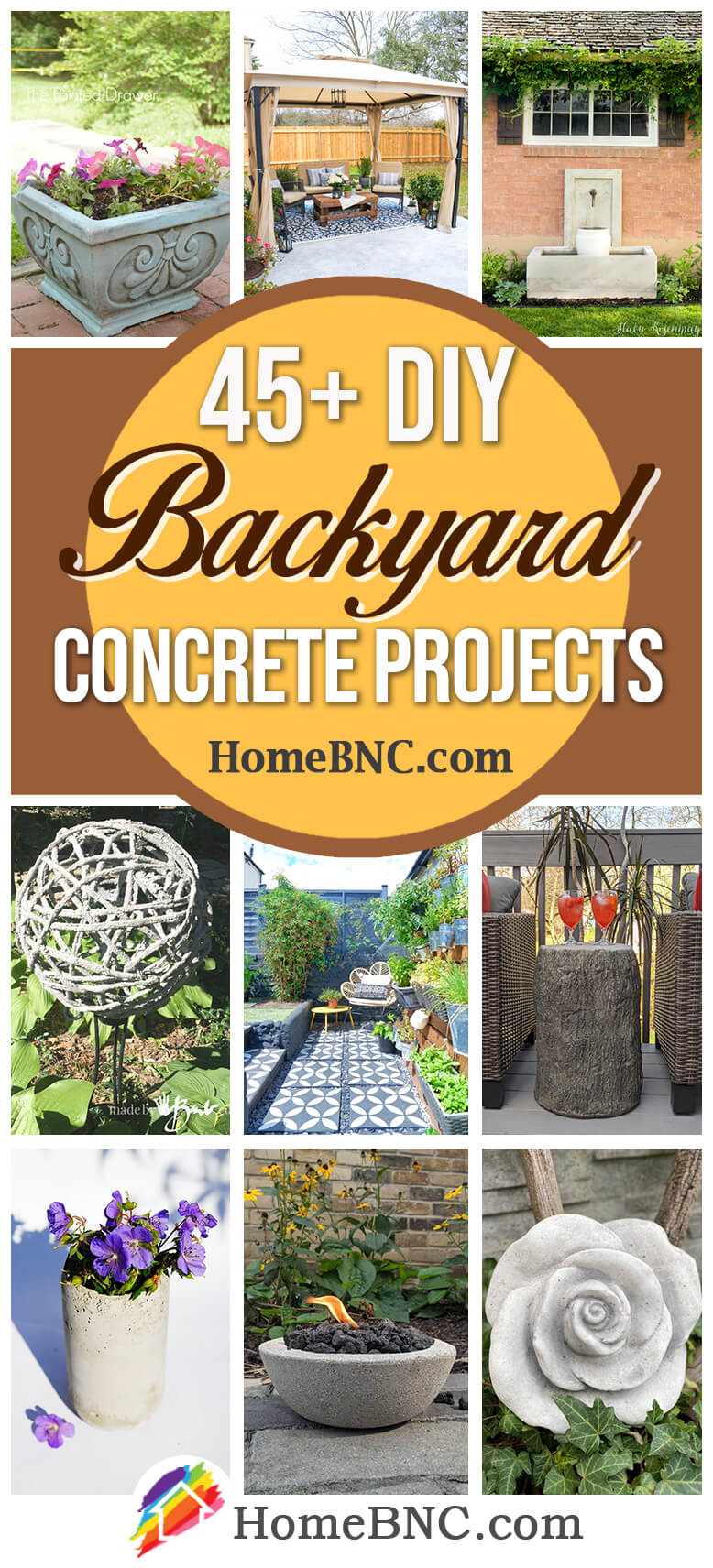 Even still, some people just don't know how to create sculptures from concrete. However, there are many people simply do not know that much about concrete like how to mix it, how to pour it, or how long to let it set up before it's dry. Believe it not, concrete is easy to use, and it makes for a fun DIY project in your spare time. The next time you are trying to vamp up your backyard, you can try a few of the DIY backyard concrete projects below. From plant holders to stepping stones to benches, there is an unlimited number of ways you can use the beauty and simplicity of concrete to give your backyard a rustic garden feel without overdoing it. Trying out a few of these DIY backyard concrete projects is a great weekend adventure that will help you make your backyard feel warm and welcoming. The best part is that each project is relatively easy but looked both creative and beautiful no matter what your garden décor is already.
1. Bold and Black Painted Concrete Patio Tiles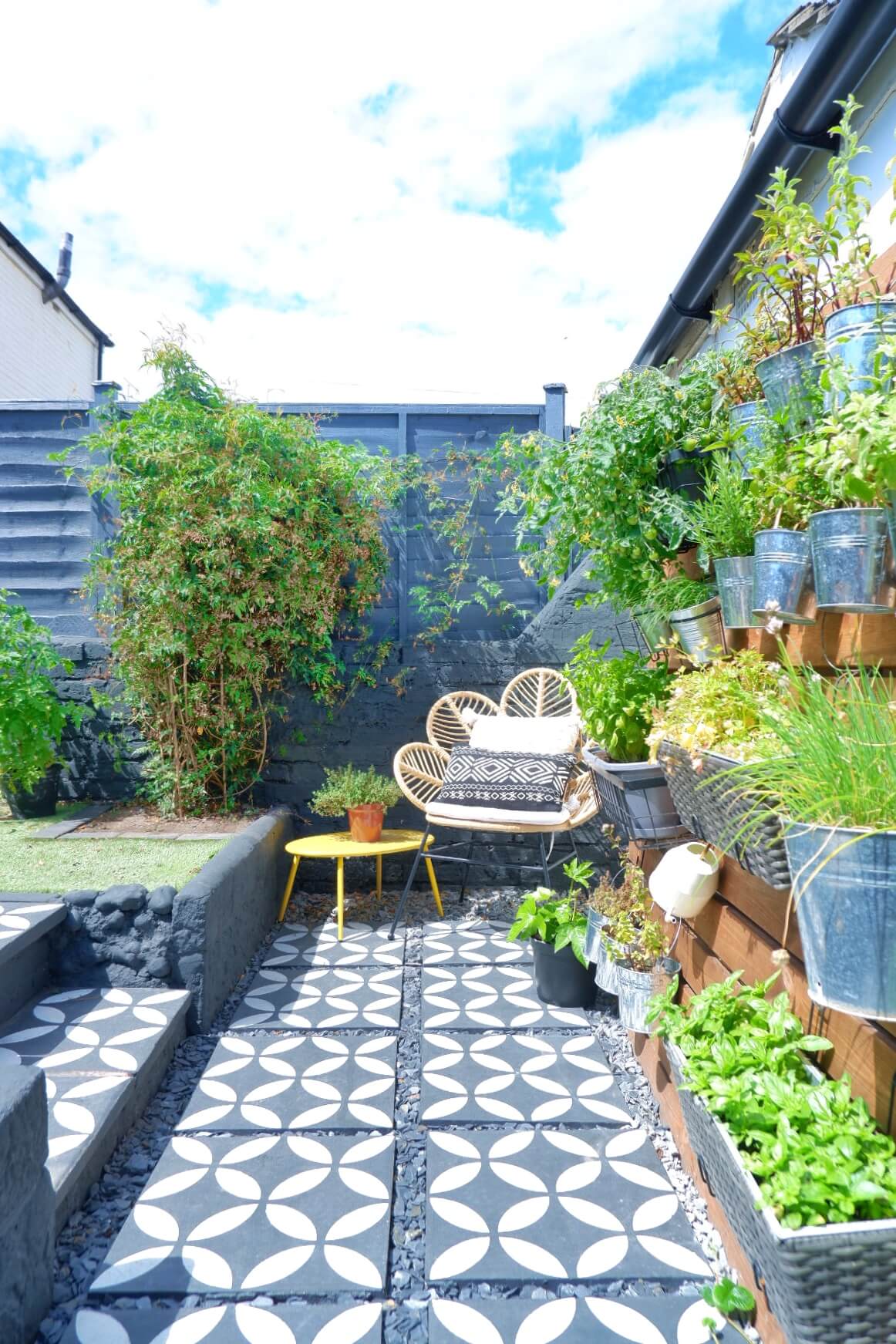 Feast your eyes upon these gorgeous concrete tiles! Using a simple pattern, this motif works in almost any decor and is just enough contrast with the black to make them pop. Create a focused outdoor workspace for all of your garden supplies and potted plants and tie the look into the rest of the backyard deck with tiles that lead the way to this spot. Picking fresh herbs never looked so fun!
2. DIY Mosaic Concrete Garden Letters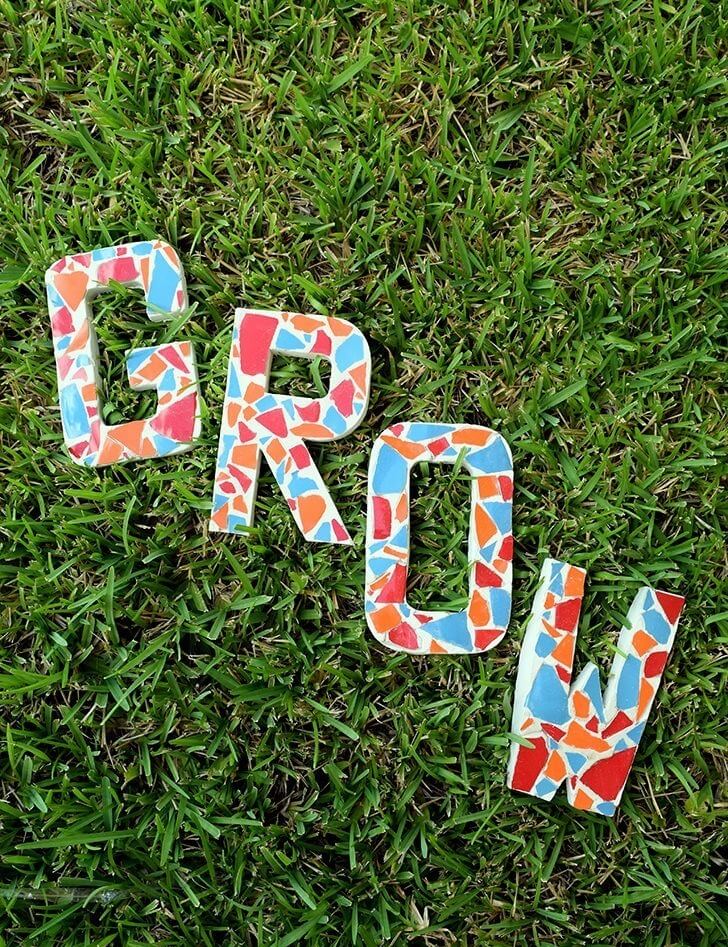 Help your garden grow with these gorgeous mosaic concrete letters. Arrange them in your favorite flower bed to spell out any fun or fiesty word to perk up the green atmosphere. Choose your favorite color combos to make your mosaic pop among your pretty petal pals.
3. Black Metal Freestanding Pergola Perfect for Patios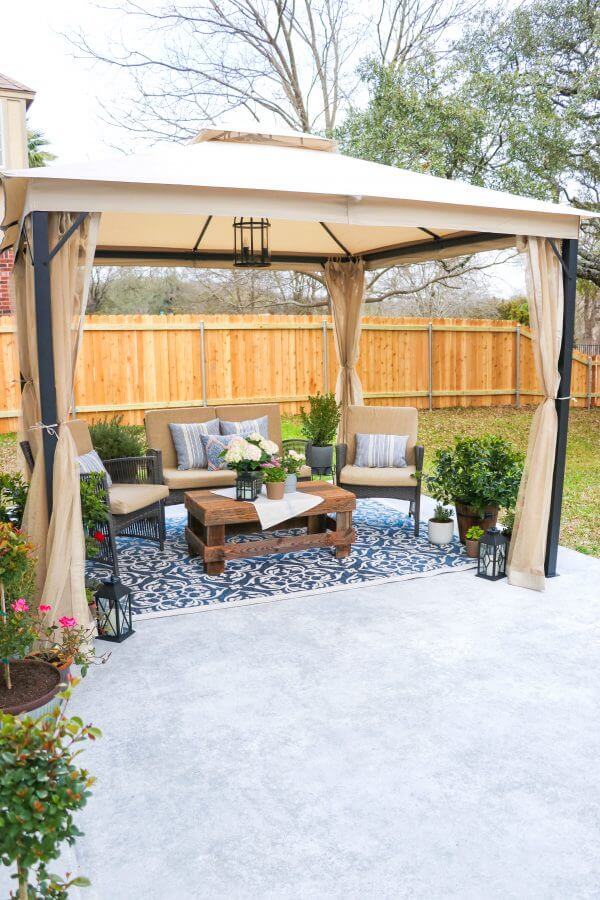 Ever wonder how to bring some life into that concrete slab you call a patio? It's simple with this freestanding black metal pergola. Easy to assemble and a great fit in almost any backyard, this pergola gives you the freedom of creating a secluded retreat or designated living space in the comfort of your own outdoor space. Add a few seating options complete with lush pillows and you're ready to entertain the neighbors or enjoy your morning coffee as the birds sing "good morning" to you.
4. Elegant Outdoor Fleur-De-Lis Concrete Planter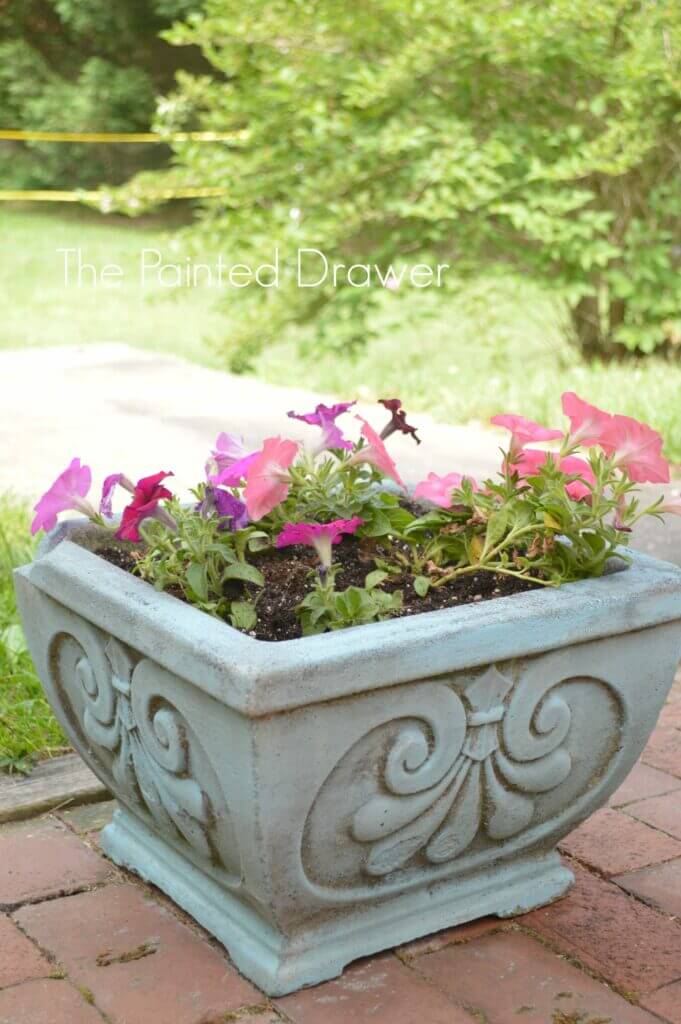 If you need a place to plant some annuals, consider a few of these elegant concrete planters that feature a beautiful fleur-de-lis pattern on each side. Low to the ground, these planters are the perfect size for showcasing your pansies to welcome spring! And as the temperatures rise, change up the look with some pretty inpatients or other brightly colored petals of your choice. These planters are perfect for placing on each side of your garage or patio door.
5. Natural and Rustic Concrete Cylinder Vase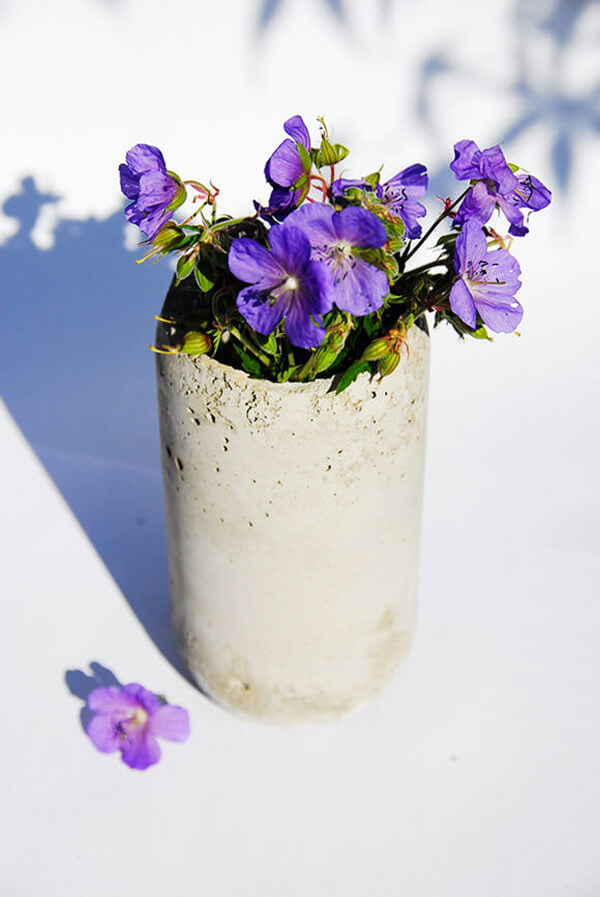 Forget the traditional glass vases and create this amazing concrete cylinder that is the ideal choice for an outdoor flower vase. It's full of character with its crevices that naturally occur in the concrete curing process. With a simple design and practical material, this outdoor vase would look great on top of your picnic table and side table where you can rest your cool lemonade below the lovely flowers it holds.
6. Backyard Oasis Concrete Watering Hole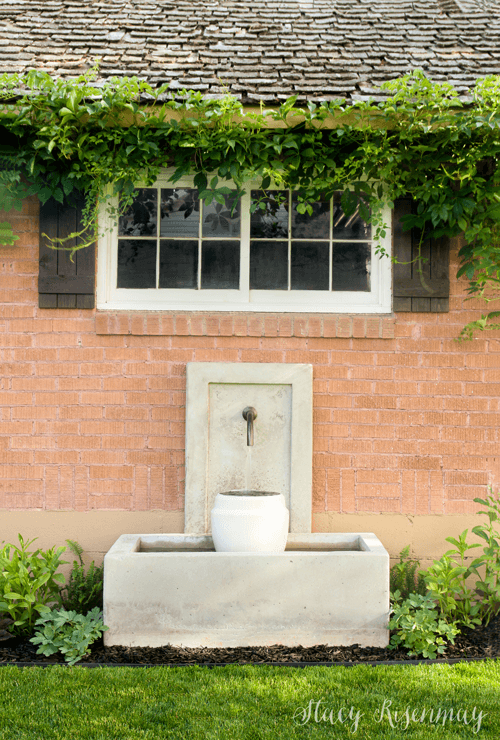 Mix a little bit of modern with a whole lot of purpose when you create this stunning concrete water basin. Your work in the garden just got a lot more fun while your supply center has taken on a nice upgrade. The clean lines of this concrete water basin add some style to your backyard, no matter if you're pulling weeds or relaxing in the hammock.
7. Hand Painted Faux Rug on Concrete Patio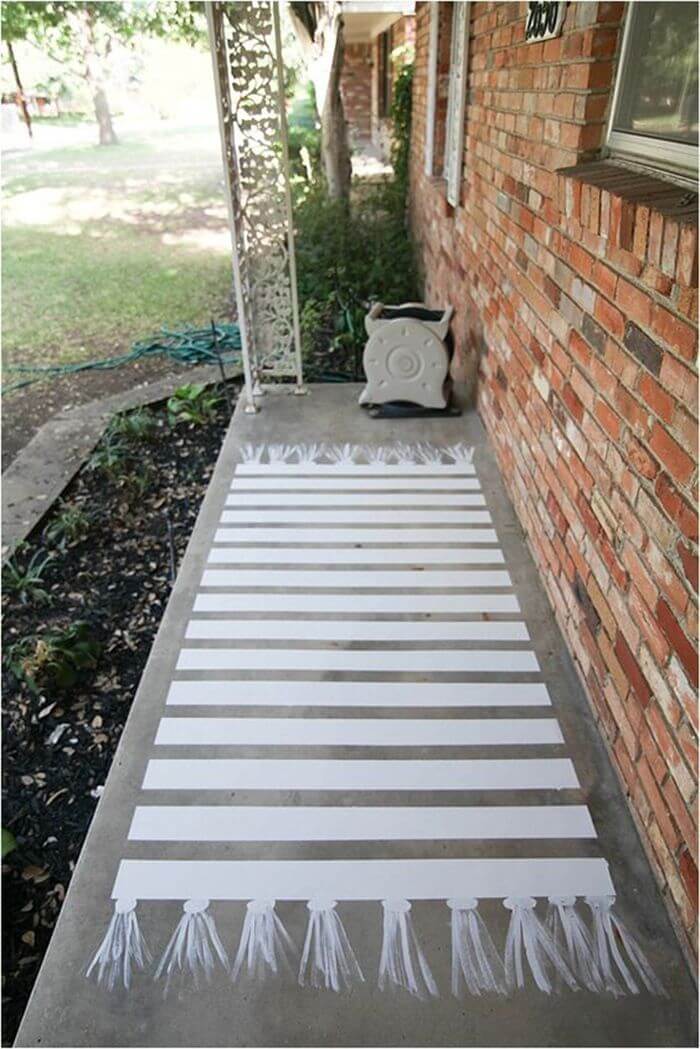 Give your plain and boring front porch a cheap and quick update with a little stroke of the paintbrush. The sky's the limit in terms of which design and style of rug you choose, as well as which colors you want. Maybe keeping it simple with a striped white rug is what you need, or perhaps you want to go bold with lots of colors and a richer pattern. Find some stencils or create your own to design the look you want and incorporate the colors that showcase your personality best.
8. Slithering Through the Garden Concrete Edging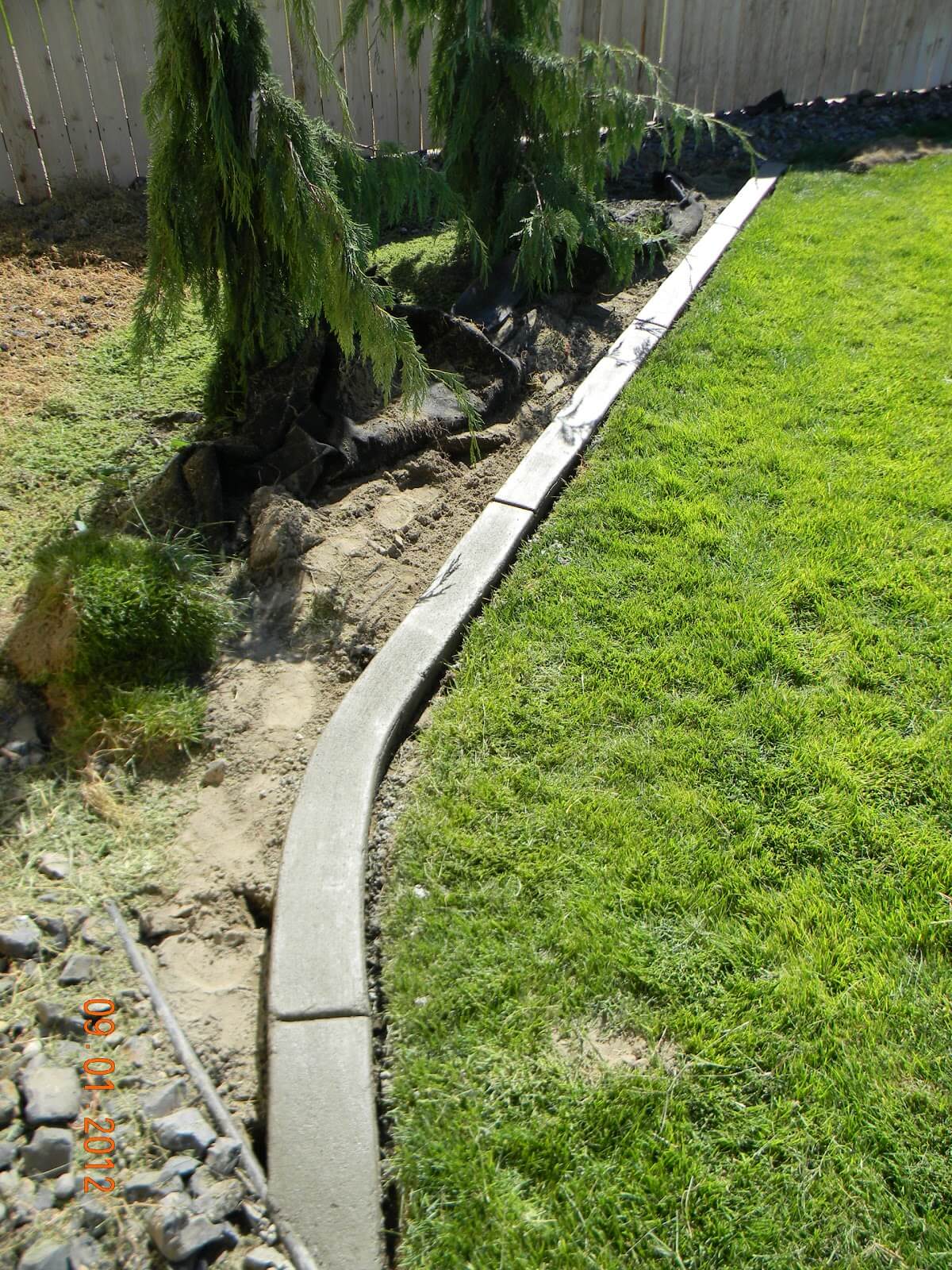 Continue the modern look and feel of your home as the changing of the seasons welcomes more outdoor living. The sleek and slim look of this concrete edging is the perfect means of maintaining your flower beds without sacrificing style. Achieving a custom look is effortless with these concrete pieces that work together in a manner as simple as kid-friendly building blocks. Wrap this slithering beauty all around your house to keep mulch in and away from your mower.
9. Interesting and Intertwining Concrete Sphere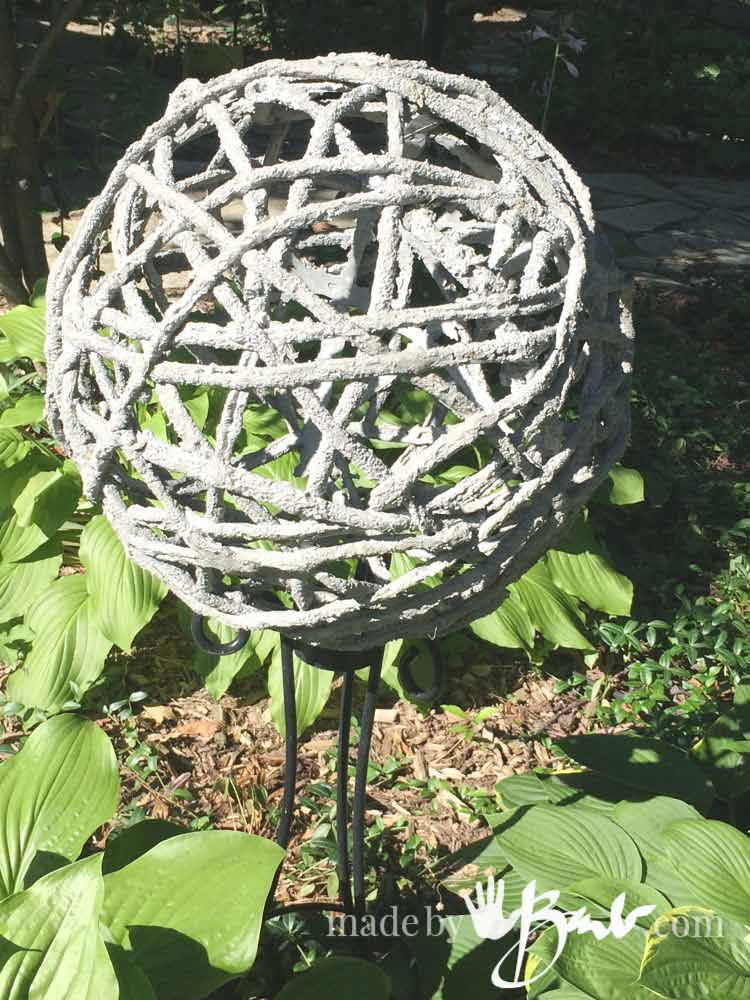 Incorporate a piece of modern art to highlight your outdoor garden with this concrete strand sphere. The pieces delicately weave into an intertwining inoculation of perfection. It makes such a delightful detour from the shiny, iridescent balls commonly found in the garden scene. Let your personality fill the garden with this modern twist on a lawn ornament.
10. Sleek and Slender Concrete Bars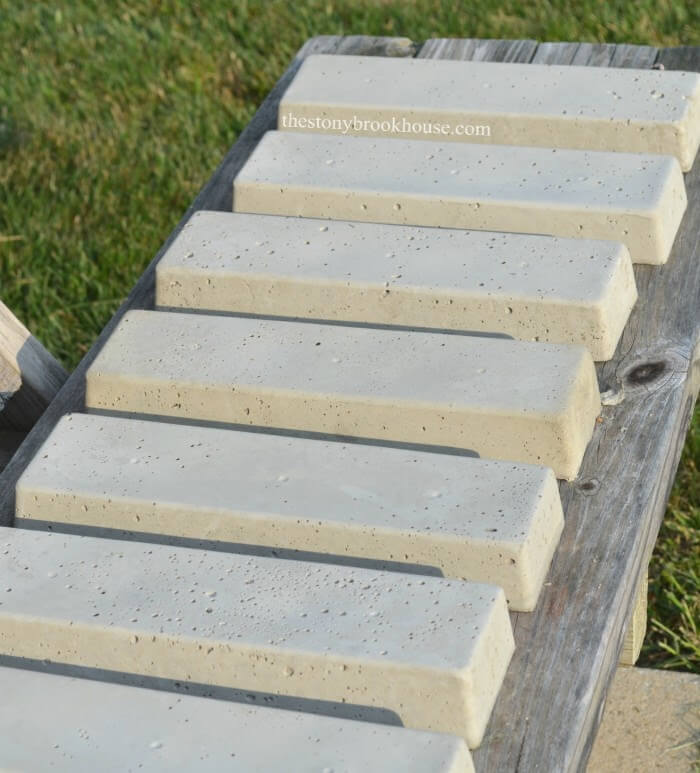 Check out these multi-purpose concrete bars that work in almost any part of your garden. Use them to line a flower bed or secure them as the foundation for your favorite potted pretties. They work as interesting accent pieces within a flower bed space too. Place them at the edge of a porch to keep things from rolling off while keeping your space looking clean and crisp.
11. Spectacular Scrolled Stamped Concrete Tile Blocks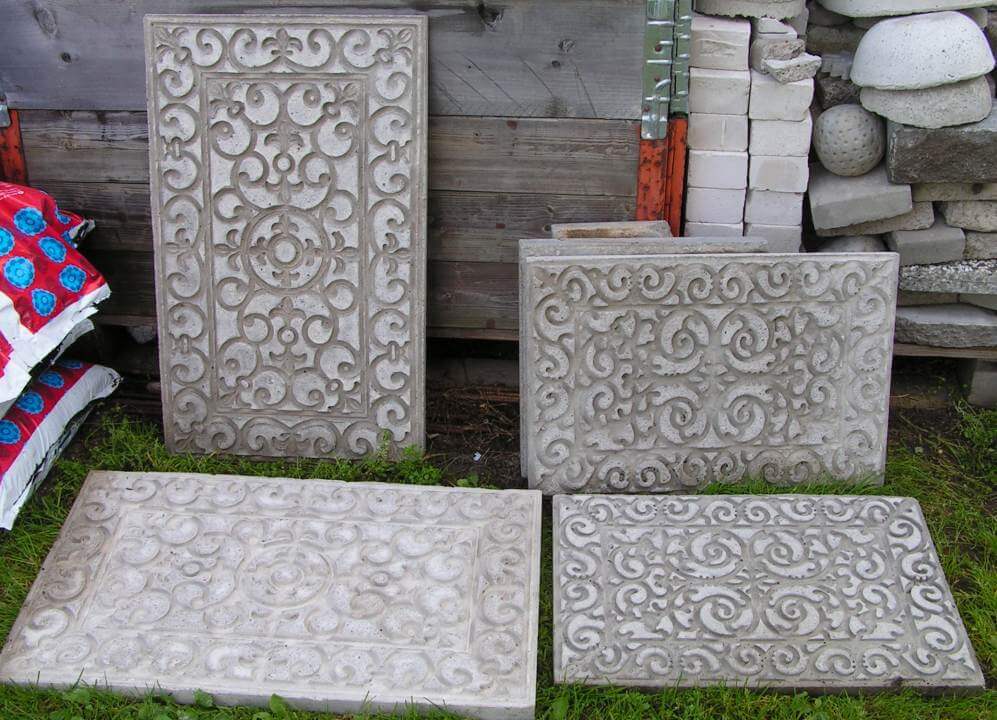 Your stepping stone game just got an upgrade with this spectacular use of stamped concrete. Masterfully designed in this elegant scroll pattern, each piece showcases detailed embellishments throughout the rectangular tile unit. Line several to form a path from your patio to your garden, from your driveway to your porch, or arrange a small spot to form your outdoor dining space for your table and chairs.
12. Decorative Nature-Loving Concrete Mushroom Garden Art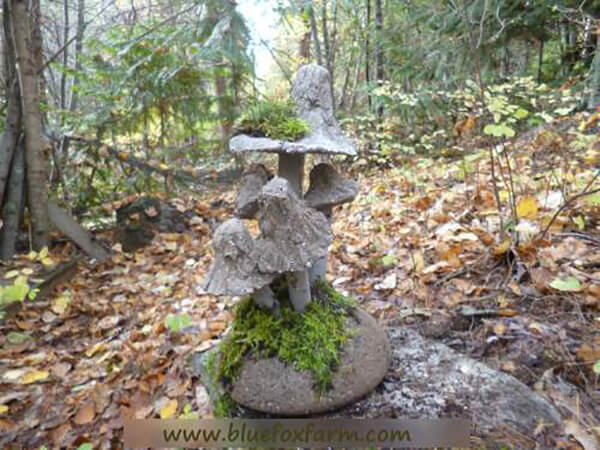 Need a fun addition to the garden or a clever place to grow some moss? Look no further than this adorable concrete mushroom family. In a variety of sizes, these mushrooms stick together to create this darling nature-loving piece of art. Place it in your flower bed or under a shady tree and you'll reap the benefits of its beauty whether it's covered in moss or not.
13. Charming Industrial Block and Board Outdoor Bench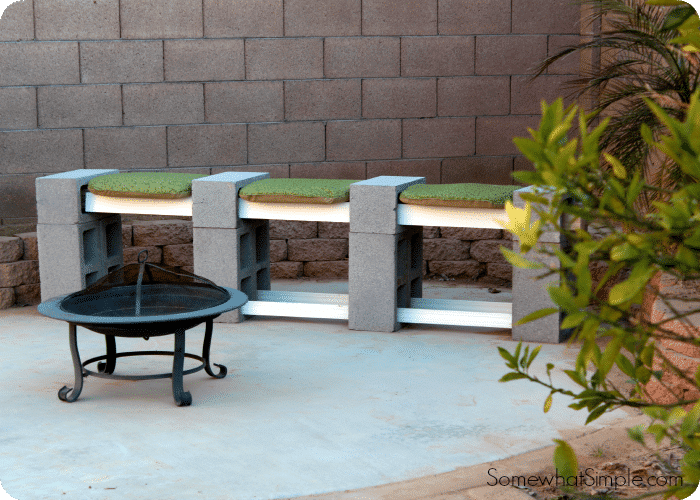 Provide plenty of outdoor seating for your backyard barbecues this summer by adding this super simple outdoor bench. It offers clean lines from easy-to-find materials which creates a practical seating area. Below each seat, there is built-in space for storage that keeps your items off the ground as well. Your guests won't feel cramped as there is plenty of elbow room in between each of the three seats. Having connected seating encourages conversations and people to get to know each other better as they are gently nudged to be near one another.
14. Contemporary and Chic Concrete Cube Planter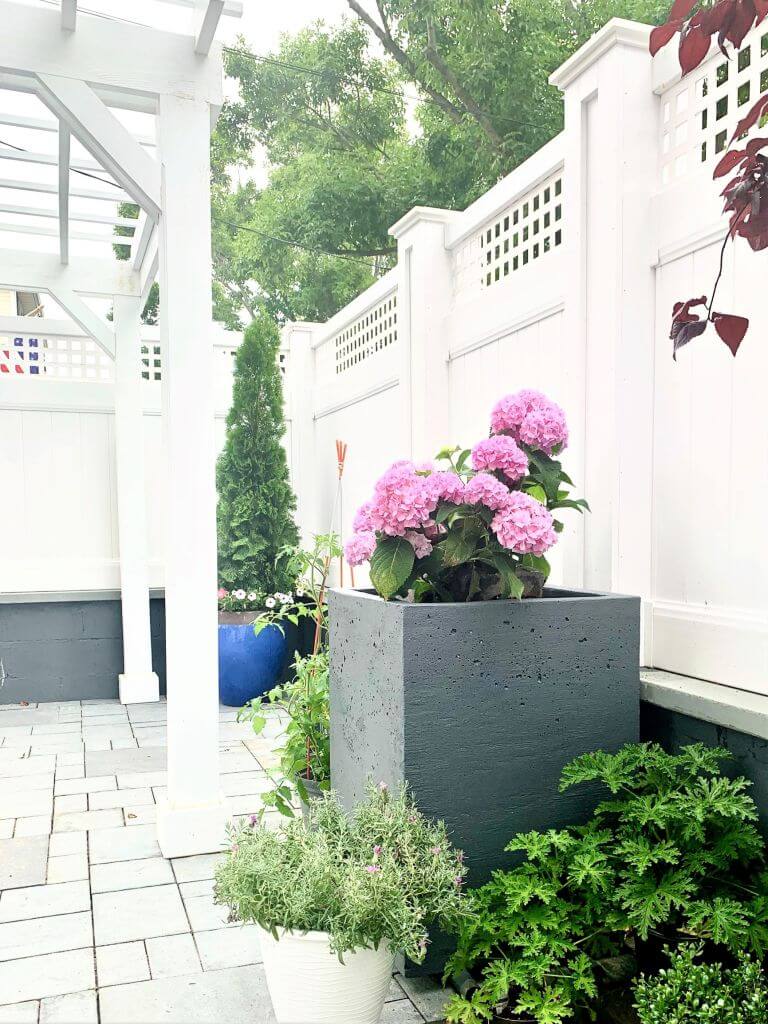 Add some style and visual interest to your back patio with this contemporary concrete cube planter. It's a perfect size for holding whatever plant you pick to jazz up your outdoor living space. From hydrangeas or climbing roses to a hearty tomato plant, this concrete planter is a great choice. The modern design and simplistic beauty of the cube also add character and charm to your gardening haven for flowers and vegetables.
15. Think Outside the Box Paver Planter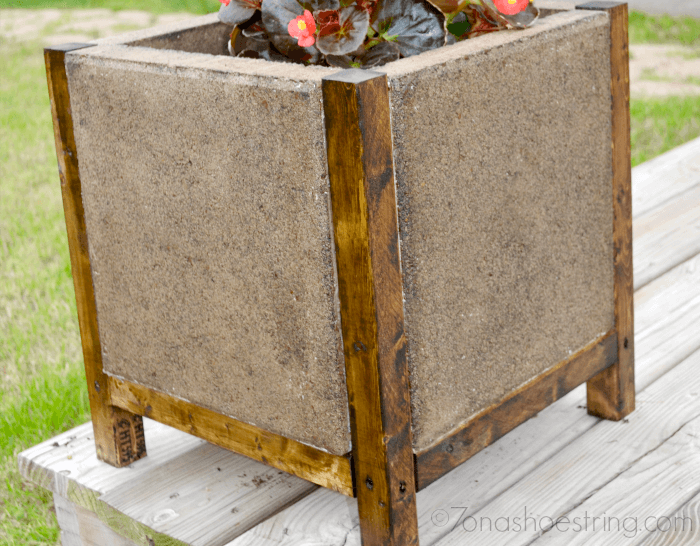 Check out this new spin on a traditional concrete paver. With a little wood and four pavers, you'll be able to create an original planter for your porch or patio space. Combining these two textures is a design-must as it promotes harmony in its unison of smooth wood and rustic concrete. This dynamic duo makes a great look for the corner of your front porch, outlining your garage doors, or placed around your pool area. You can't go wrong as this paver planter works in any outdoor space.
16. Cute Concrete Critter Bunny Garden Decor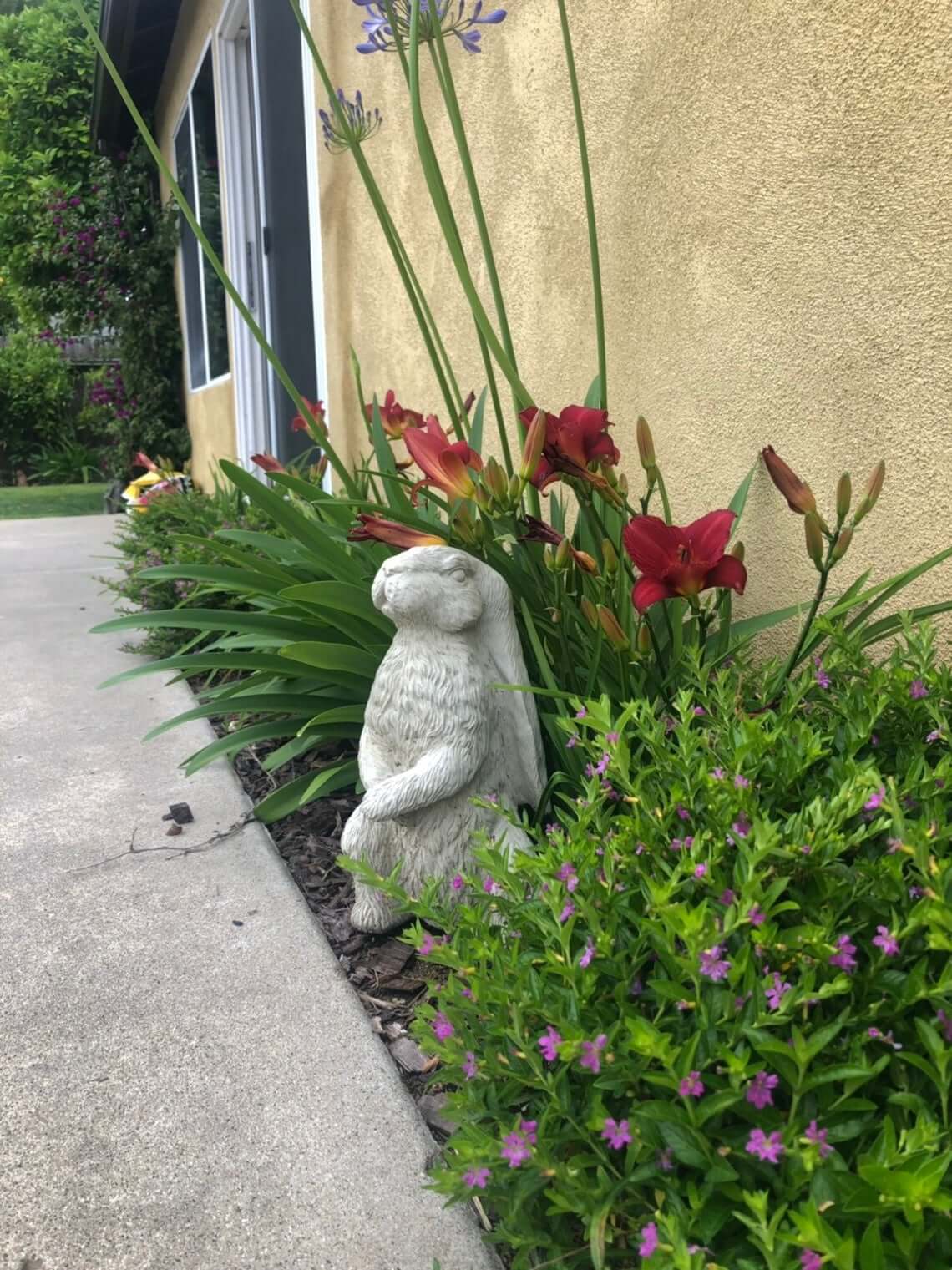 Welcome Easter and let this cute critter stay for the season within your budding flower bed. This rabbit statue is the perfect addition to your plants and looks so cute with its relaxed ears as it seems to be relishing the fresh air. Stand it beside your front door to welcome guests or allow it to hang out within the beauty of your garden. This cute concrete critter is a great gift for Mother's Day or as an end-of-the-year teacher gift.
17. Faux Wood Stump Concrete Side Table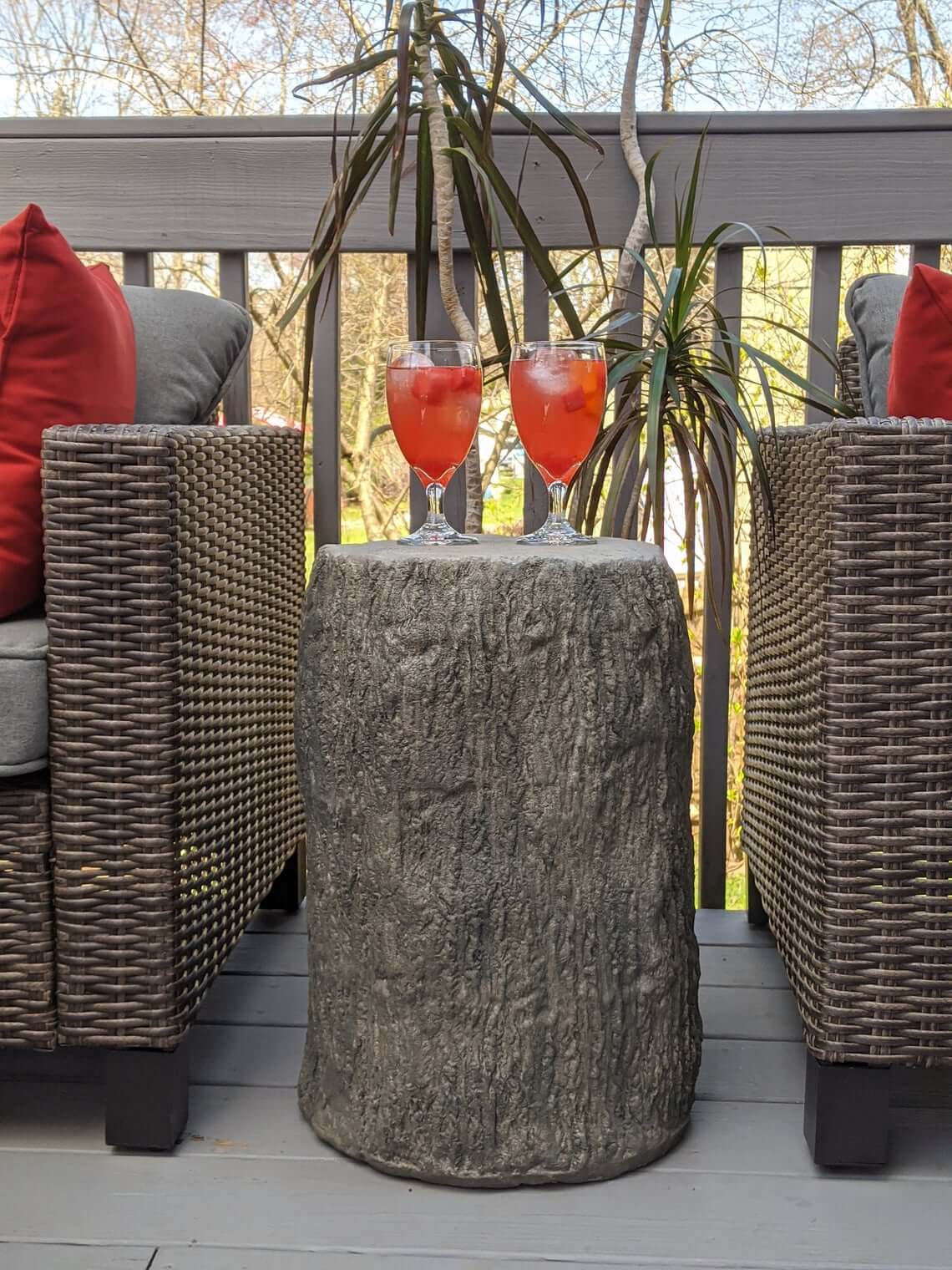 Everyone is always looking for a place to rest their drink, so make this fun table a part of your outdoor dining function. Created to resemble a texturally-rich wood stump from the forest, this concrete version looks amazing and showcases the brilliant richness of the lines of bark just like the real one. It's just the right size to fit in between a couple of your seating groupings, yet looks amazing all alone on the opposite side of your patio.
18. Table Top Concrete Fire Bowl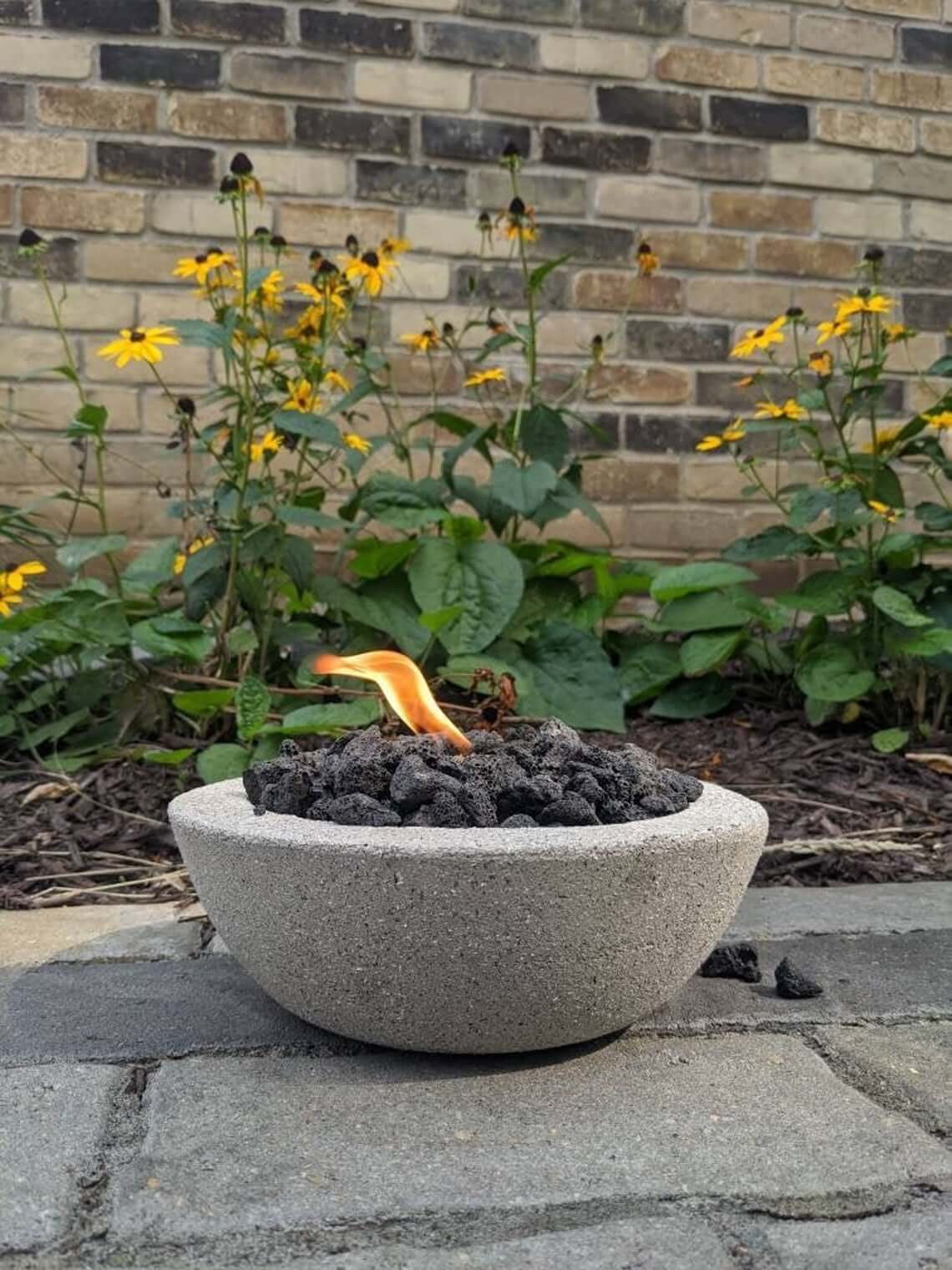 Whether you wish to add some style or warmth to your outdoor setting is up to you, but this concrete fire bowl accomplishes both! Its small size allows it to fit perfectly on any tabletop while its function provides a warm glow to everyone. Choose rocks to fill it that embody your favorite color or decor. From gorgeous and bright blue glass to traditional black charcoal, the choice is yours in creating a tabletop fire bowl that's perfect for your patio.
19. Nautical and Modern Concrete Anchor with Rope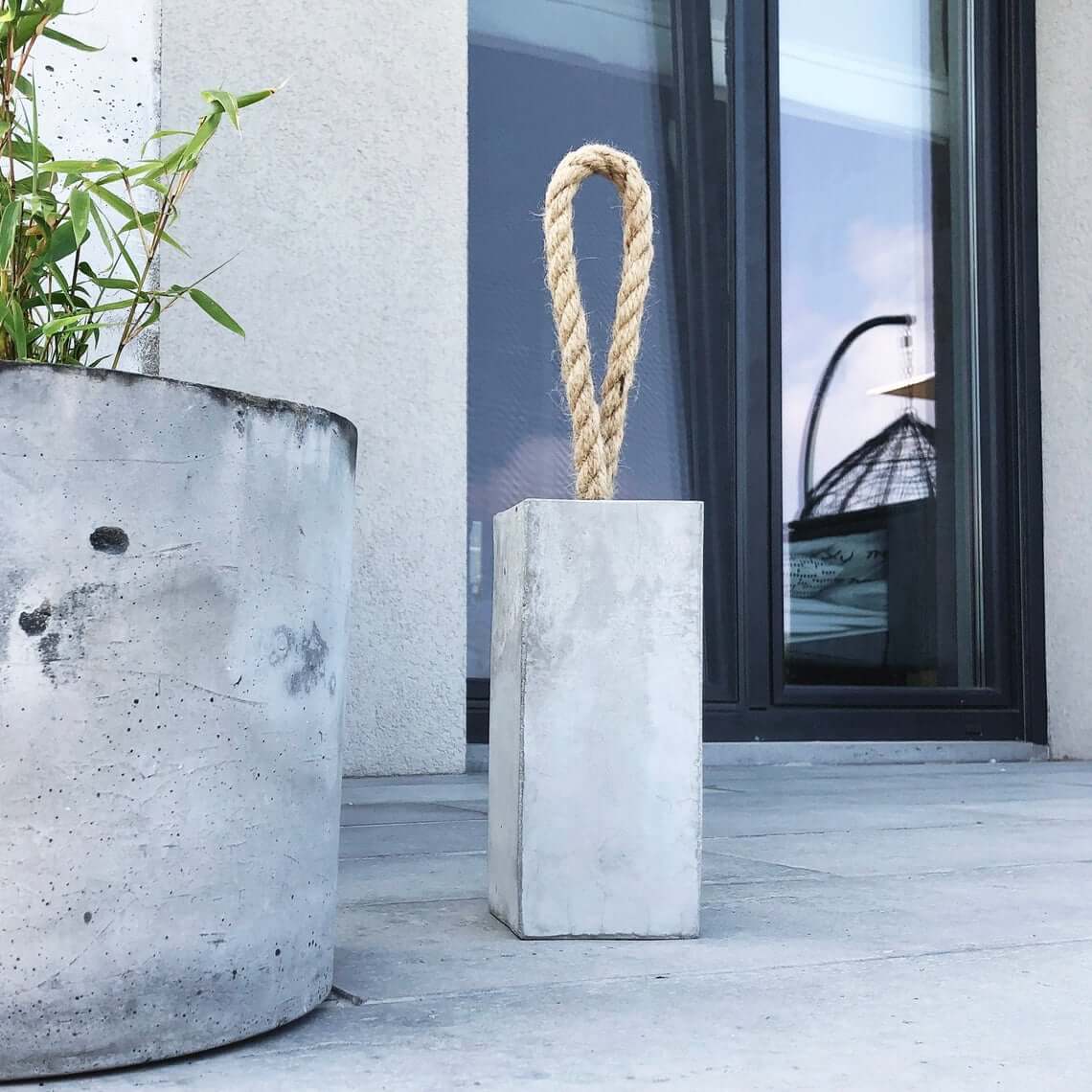 Accessorizing your garden or front porch doesn't mean you need to stick to traditional items. This interesting and unique concrete anchor is crafted in a lean cube giving it a much-loved modern vibe. Its contemporary design is further enjoyed with its thick rope at the top making it easy to move. Rest it at the top of your steps or secure it near the mailbox or pool for an added visual interest in your outdoor decor.
20. Oblong Concrete Fire Feature for Front Porch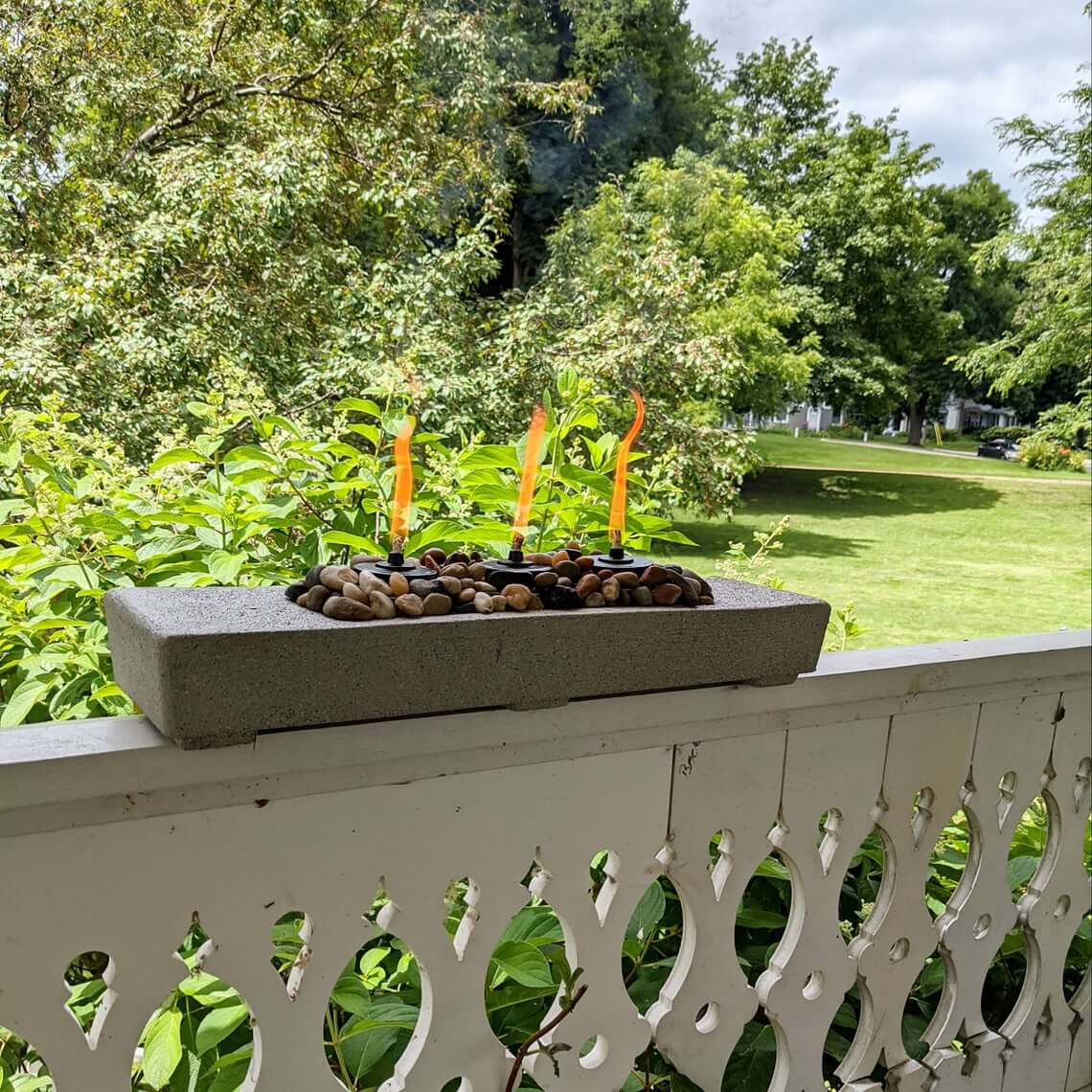 Capitalize on one of the most forgotten places to jazz up your front porch- namely on top of your railing. This interesting oblong concrete version features a trio of torches set amid some pretty pebbles to add some interest to your curb appeal. Light up the night while you stay comfortable on your front porch and watch the fireflies dance in your front yard.
21. Beautiful Budding Concrete Rose Blossom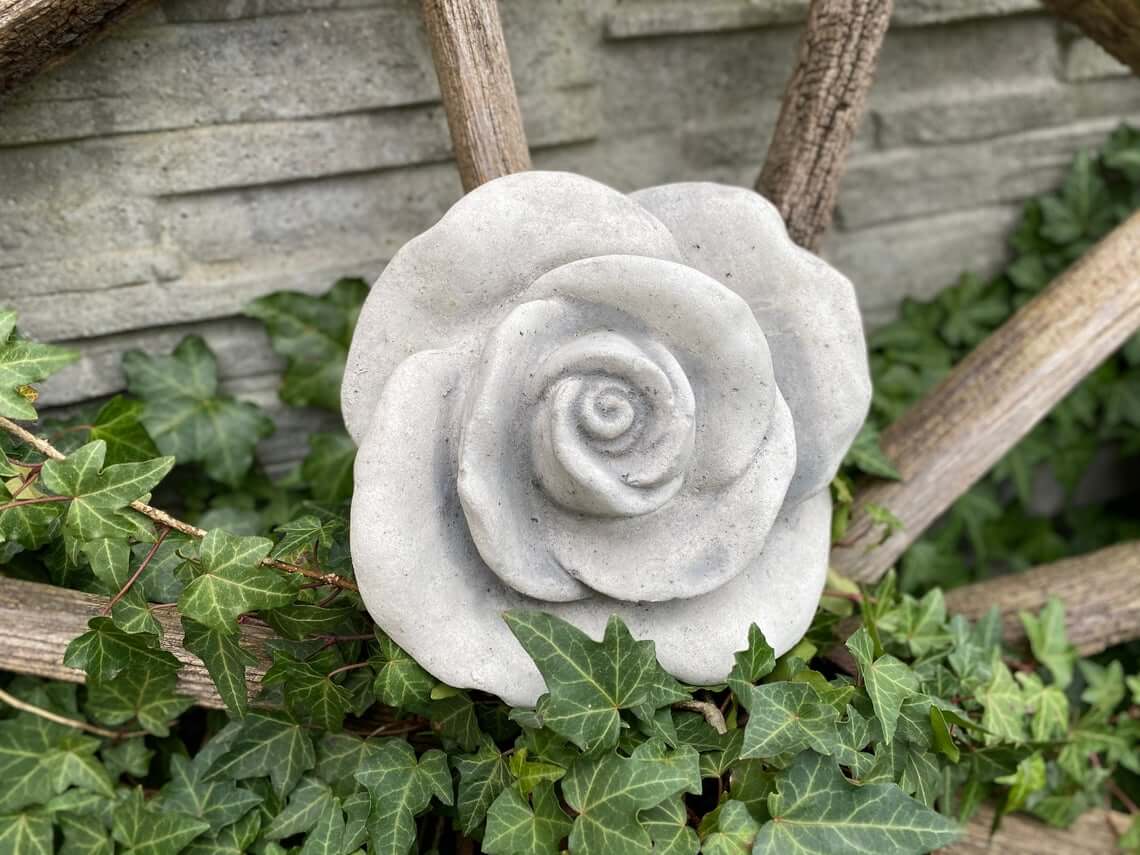 No need to water or feed this beautiful blossom. Constructed in a larger-than-life-size, this budding beauty showcases the lush opening of the rose petals in all of their pretty splendor. Position it near your front porch for all to see or nestle it in the center of your rose garden to highlight this much-loved flower species. This flower will look fabulous in your yard all year long!
22. Outdoor Garden Circular Concrete Fire Pit Basin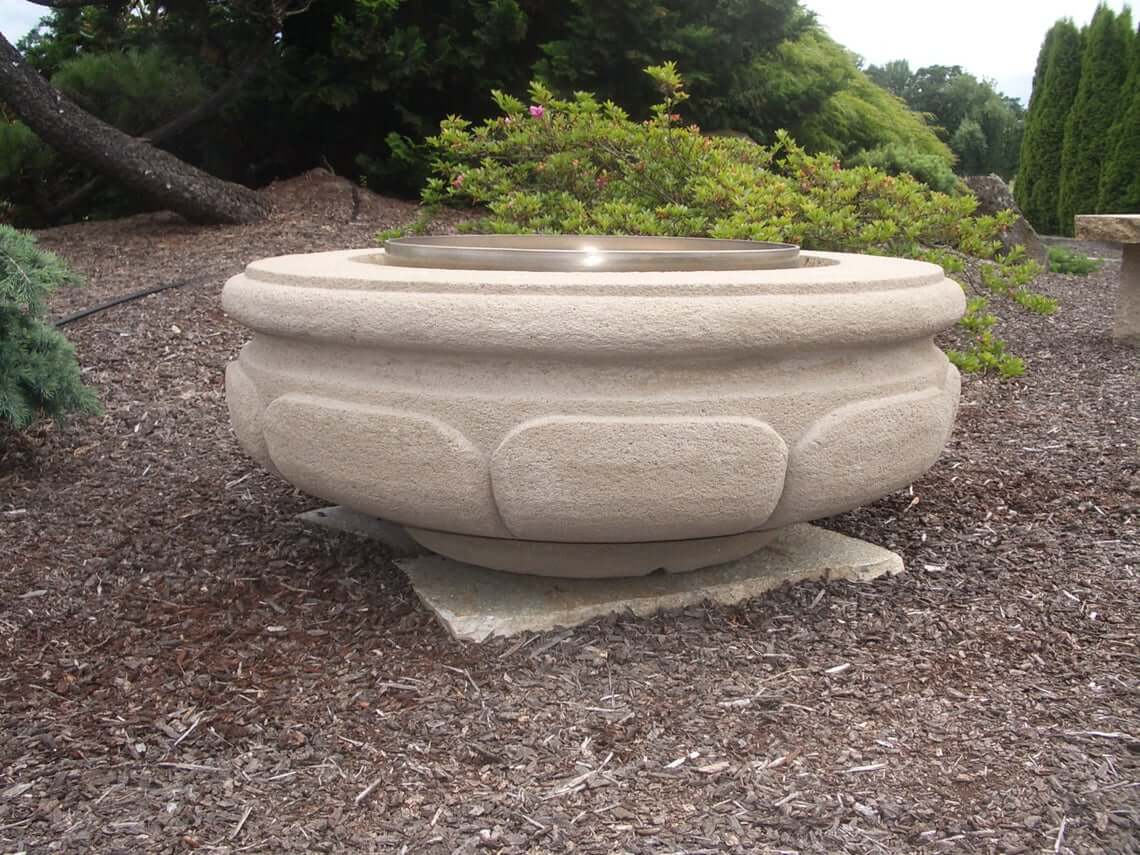 Change up the look of your backyard with a concrete fire pit basin. This lovely version incorporates a slight detail in its design with a simple pattern to add interest. You'll enjoy the warmth it offers on chilly evenings as well as the beauty it provides during the day. It would also make a fabulous planter for any of your annual budding beauties.
23. DIY Concrete Candle Motive for the Backyard

24. Mini DIY Backyard Concrete Planters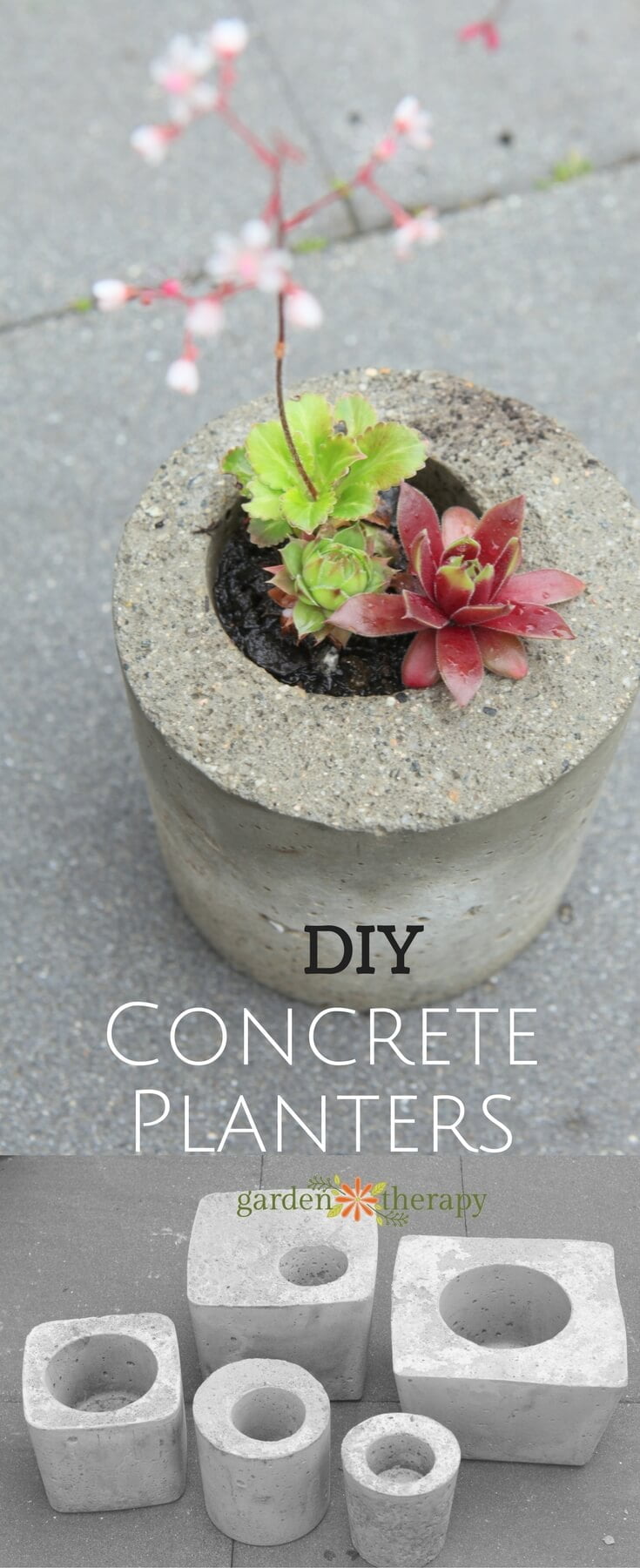 25. Backyard DIY Concrete Garden Balls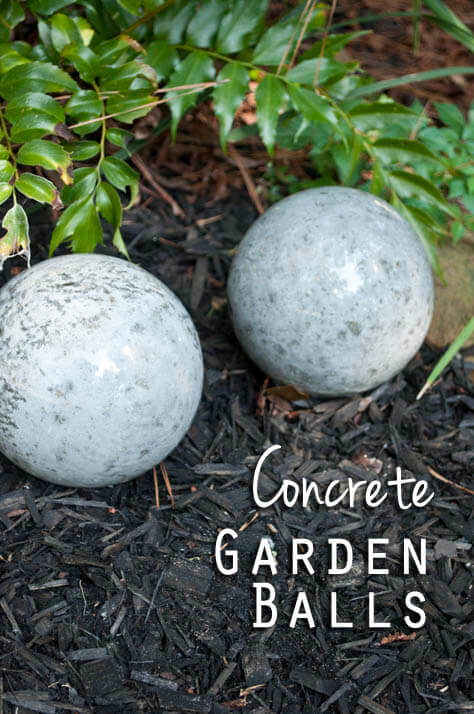 26. Concrete Garden Stepping Stone DIY Project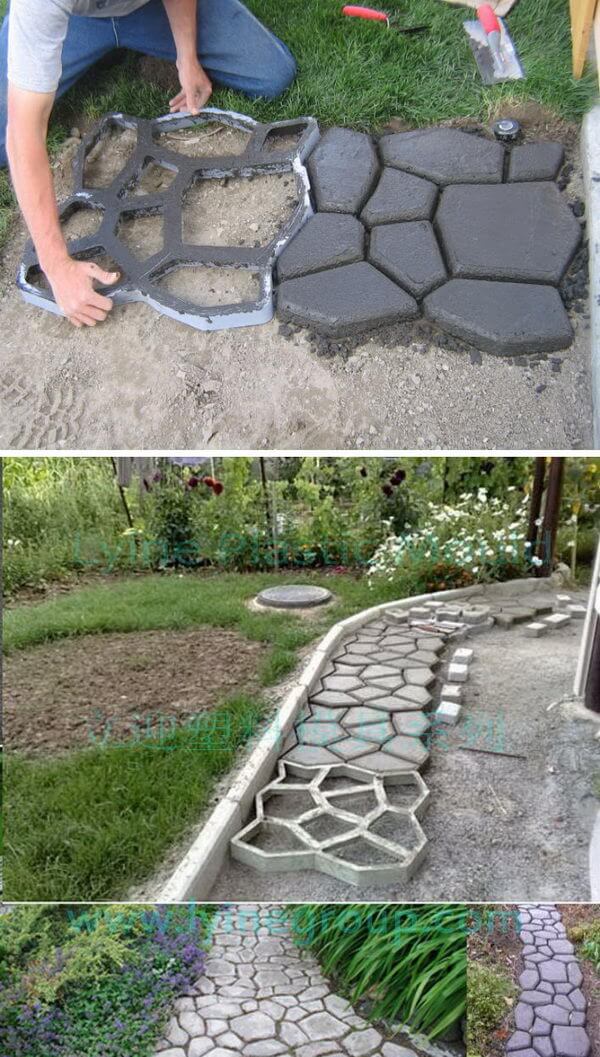 27. Unique Backyard Concrete Flower Pot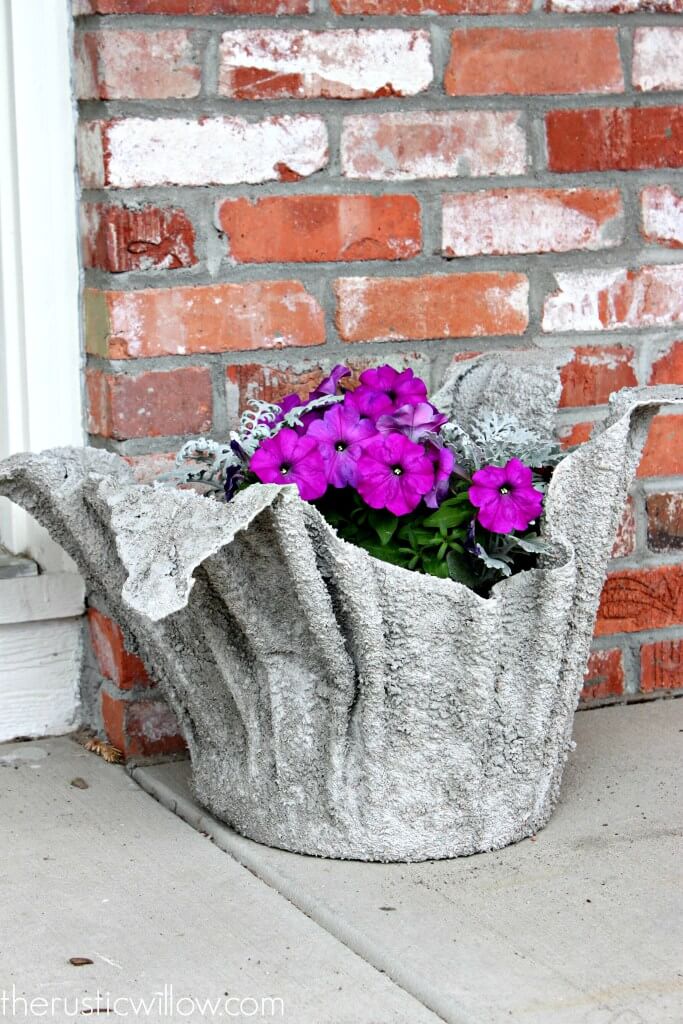 28. Concrete Candle Motive with Mandala Design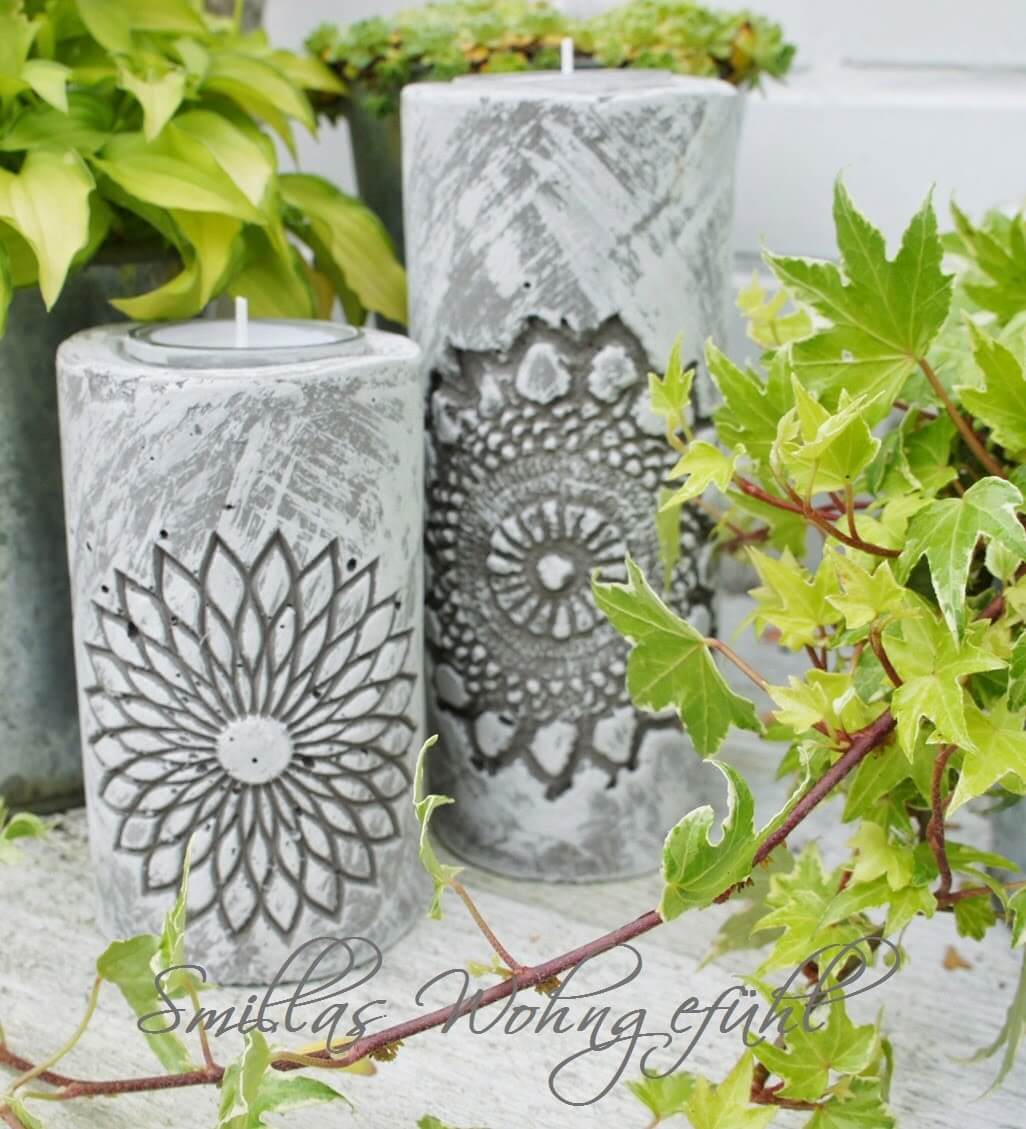 29. Backyard Concrete Fire Bowl DIY Project
30. Ornate Garden Stepping Stone Concrete and Glass
31. Festive Pumpkin Concrete Garden Globe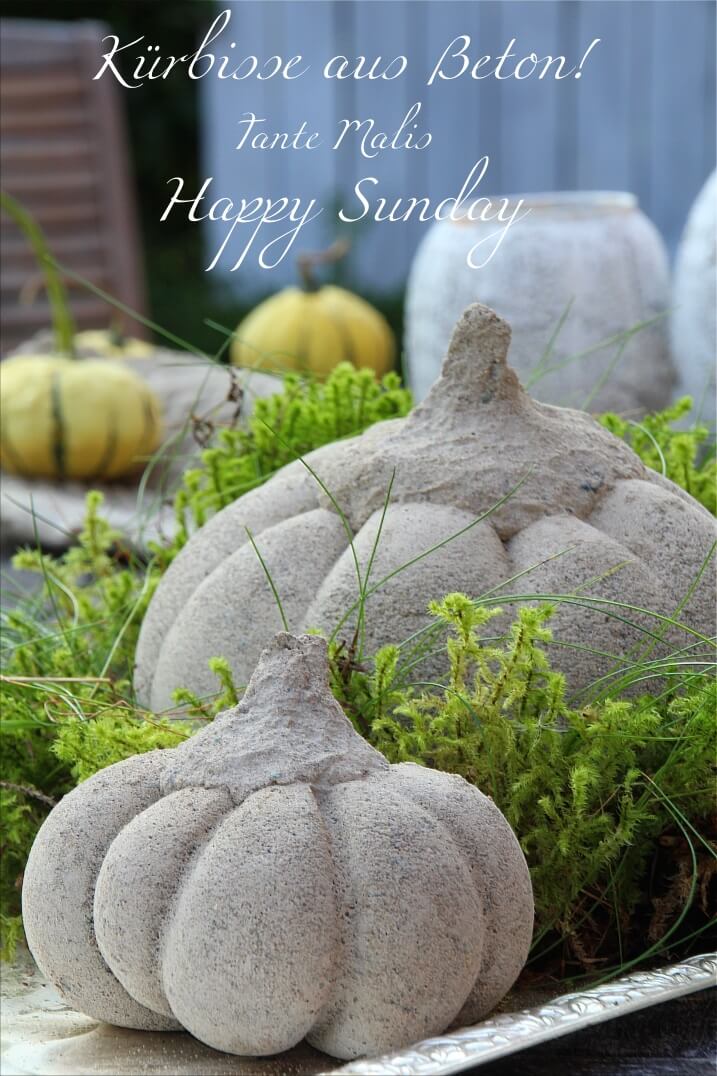 32. Unique Backyard Concrete Face Sculpture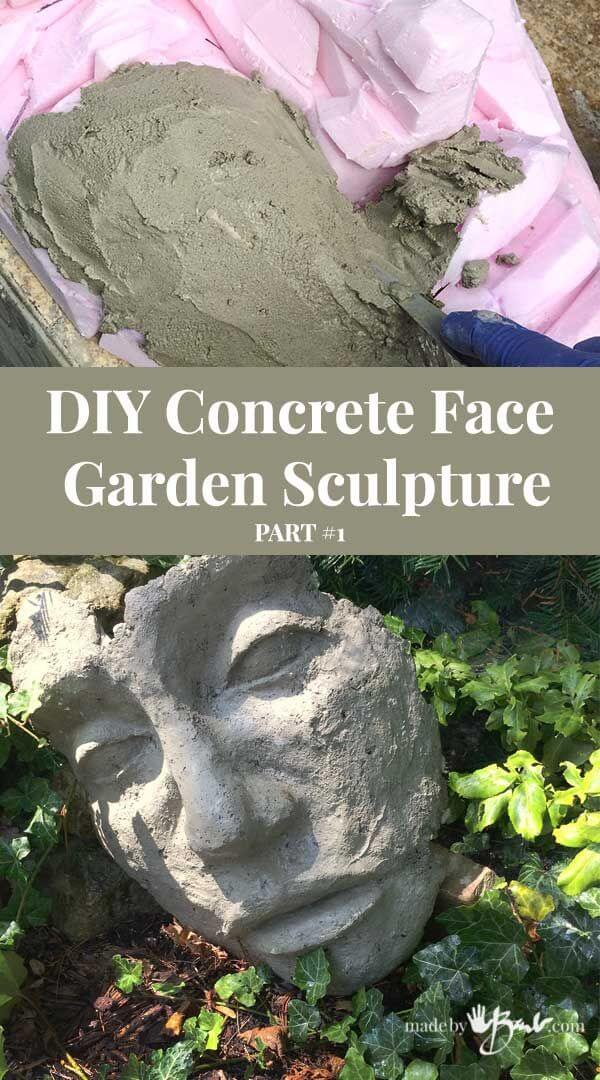 33. Rustic DIY Concrete Garden Bench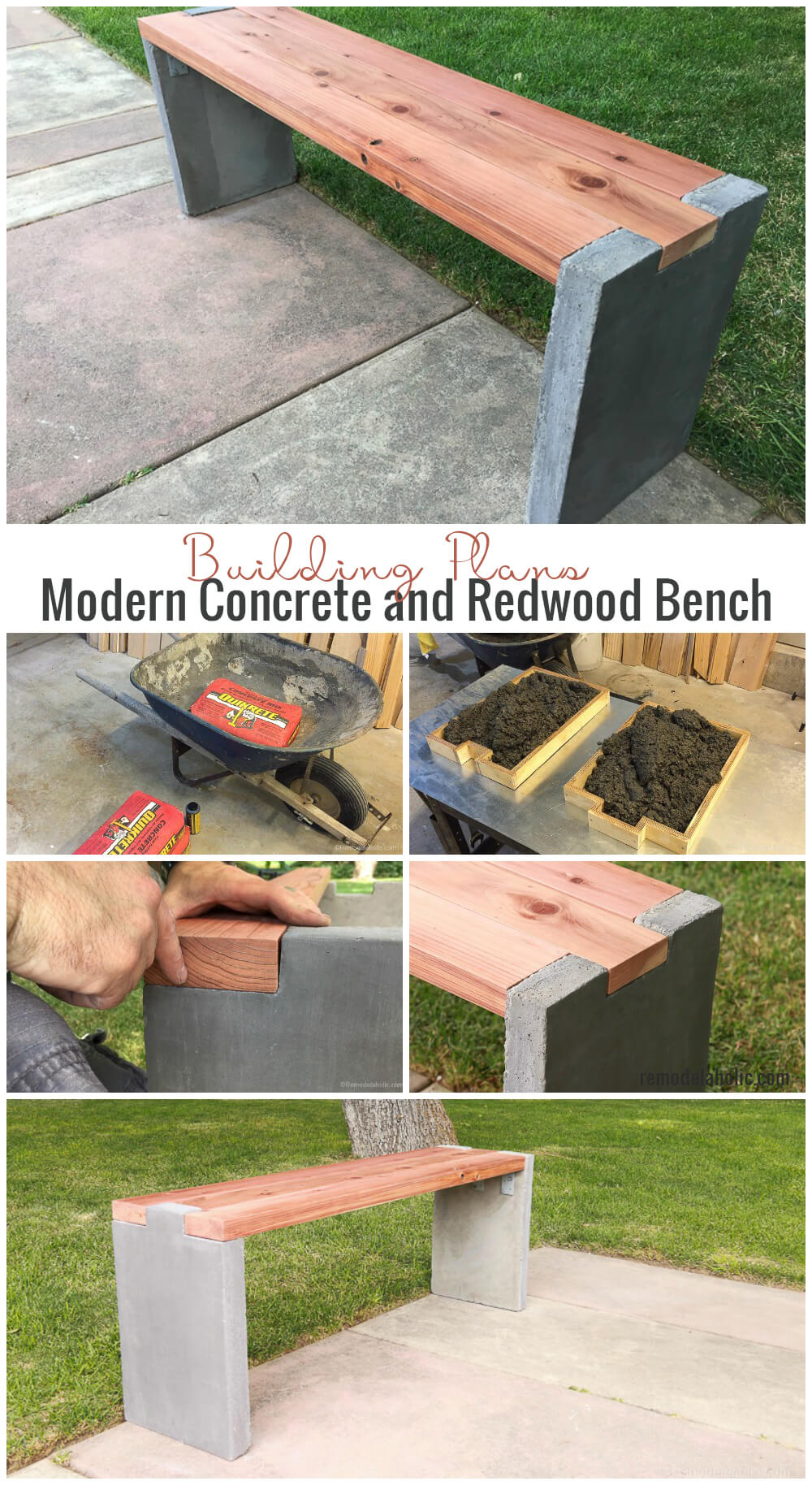 34. Concrete Garden Tree Stand for String Lights

35. Modern Concrete and Wood Planter DIY Project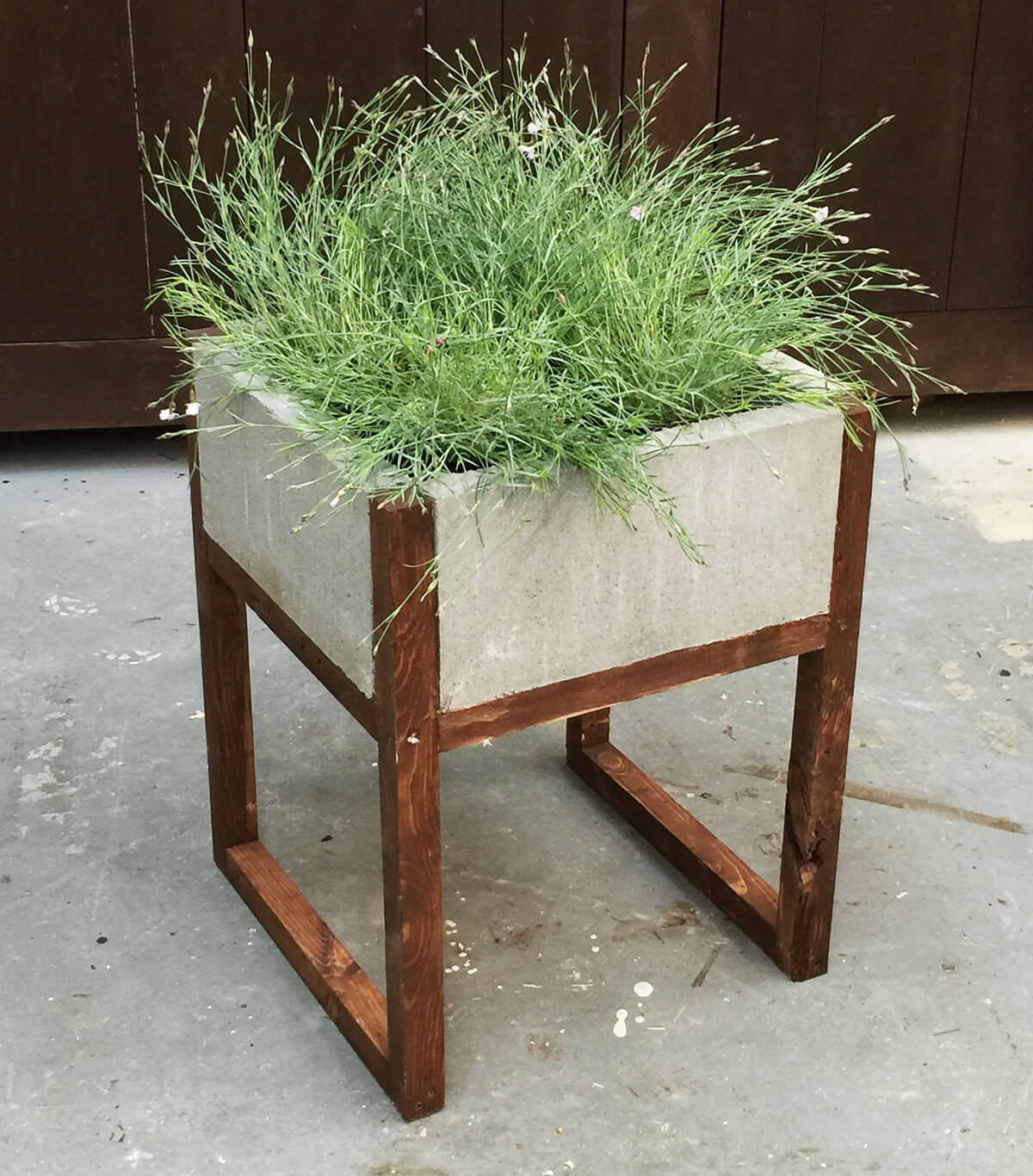 36. Unique and Modern Concrete Plant Stand Table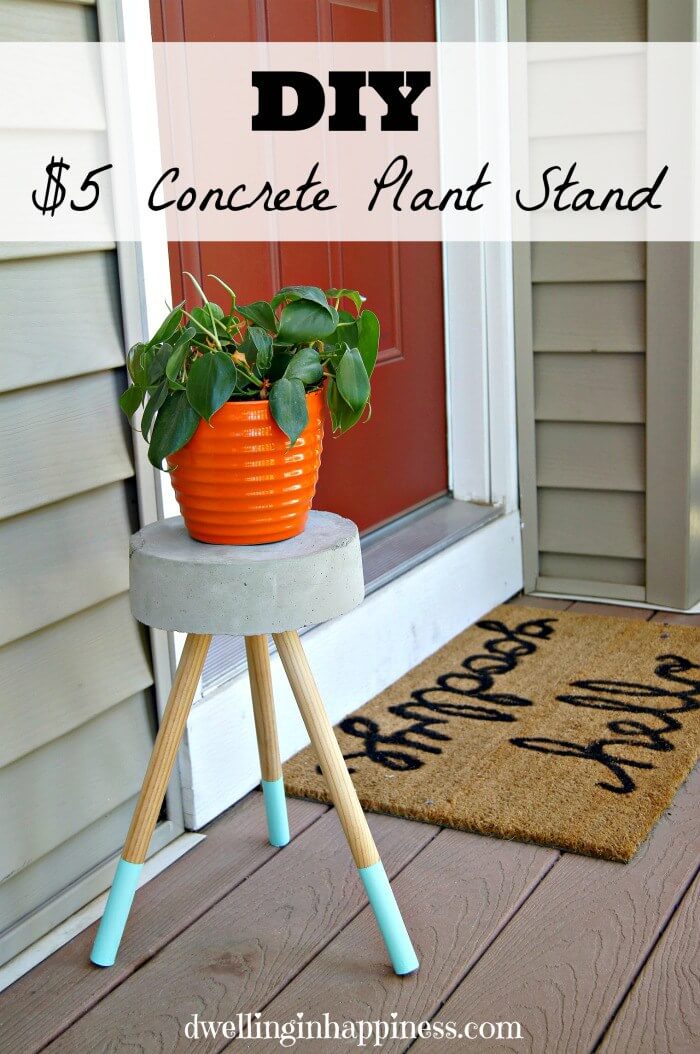 37. DIY Concrete Garden Holder and Globe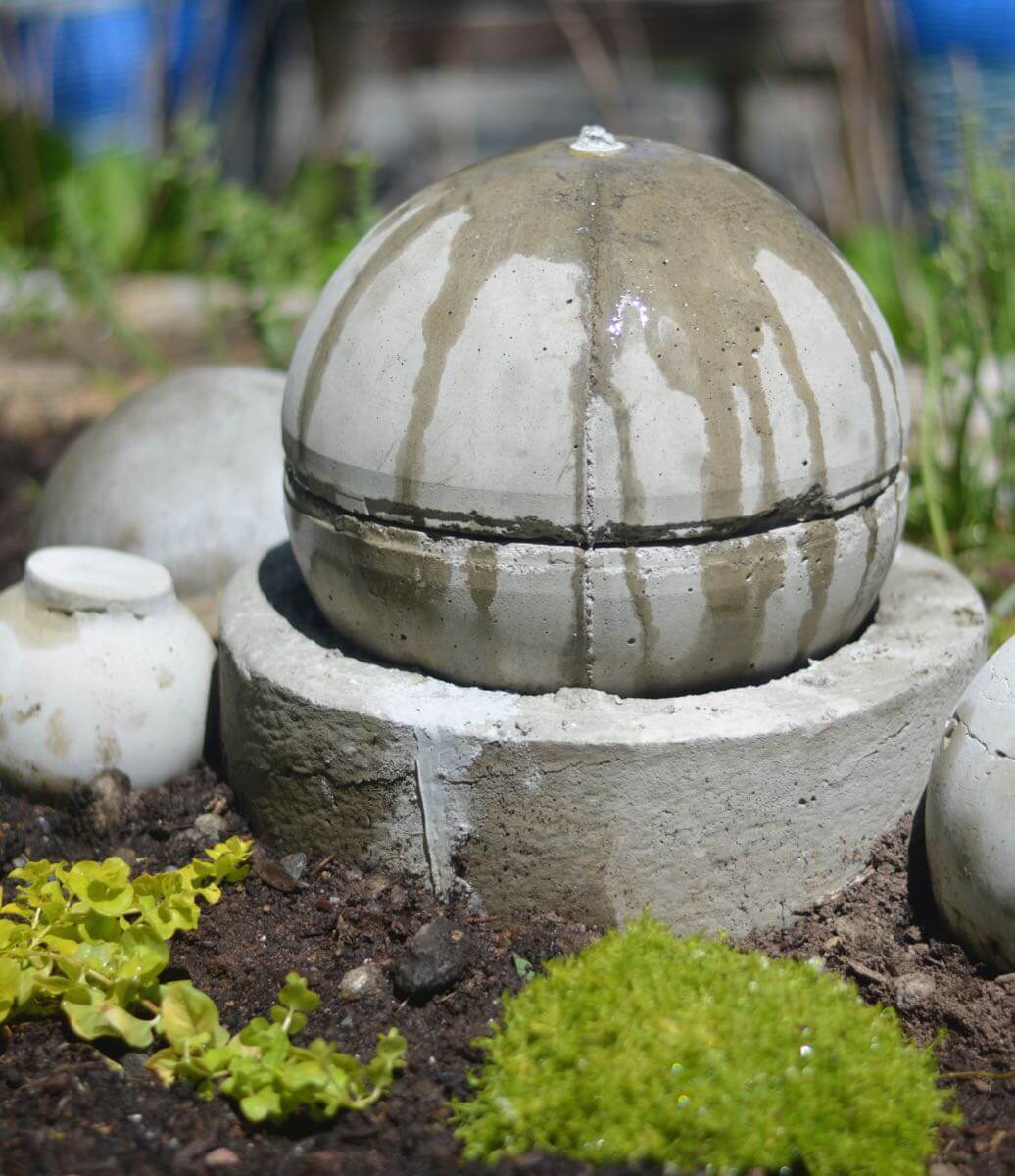 38. Concrete Door Stopper Backyard DIY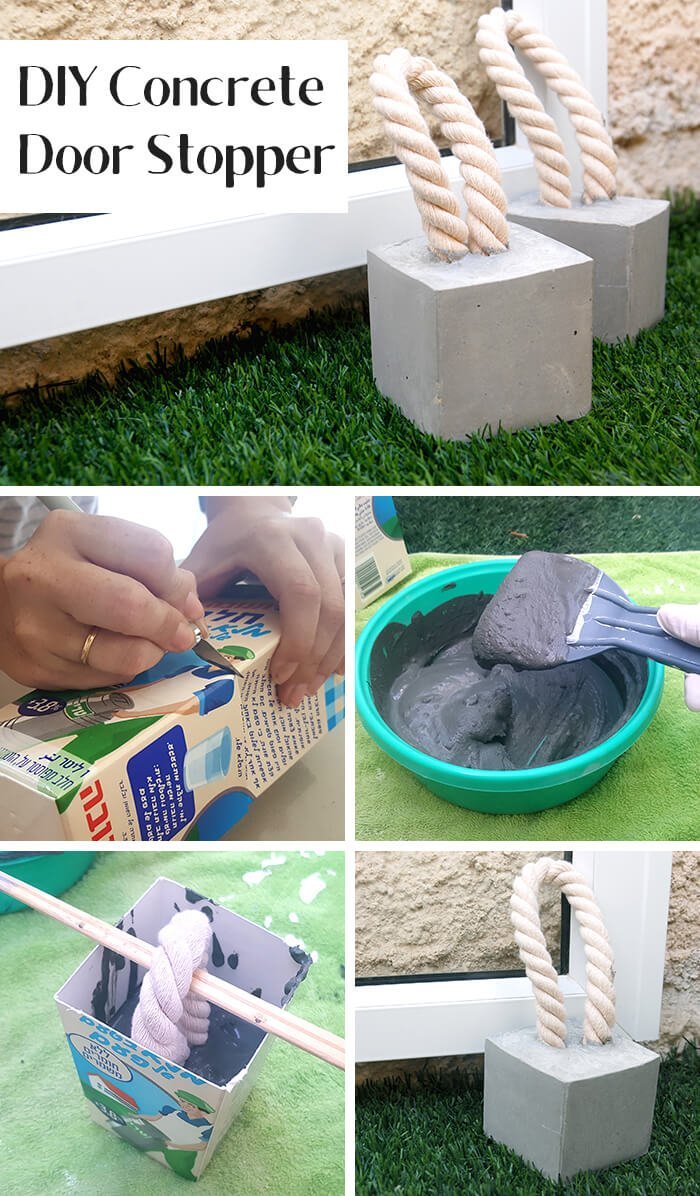 39. DIY Concrete Garden House Numbers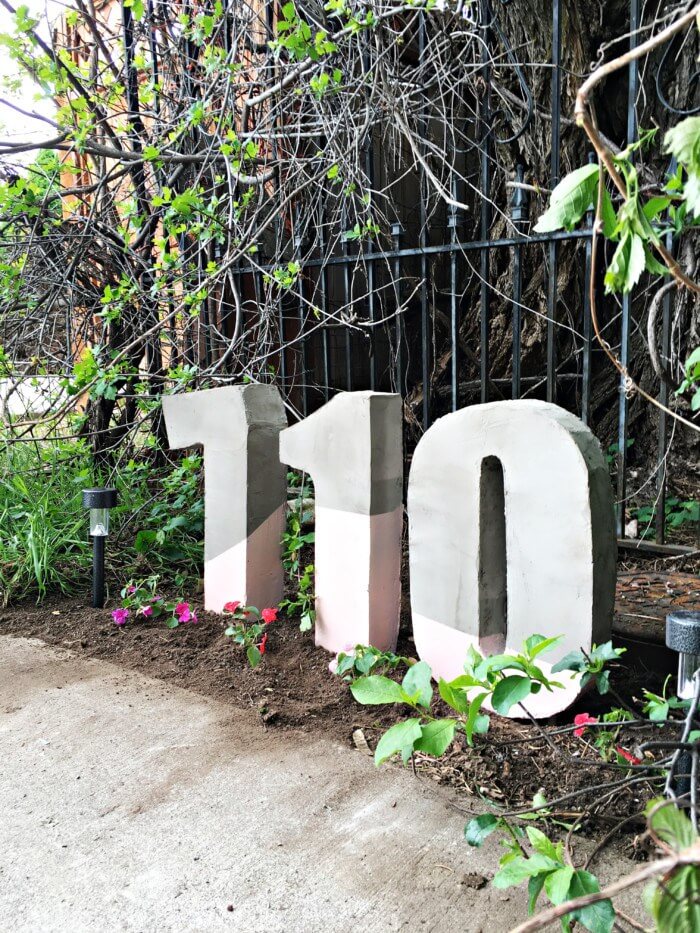 40. DIY Backyard Concrete Drink Cooler Project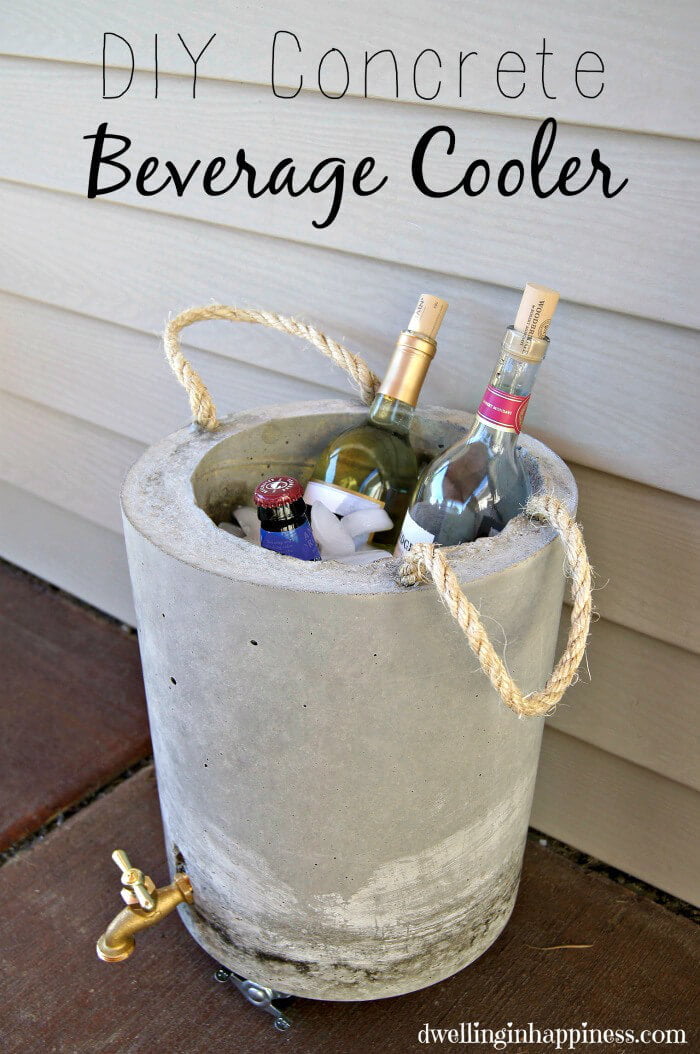 41. Ornate Concrete Stepping Stone with Flowers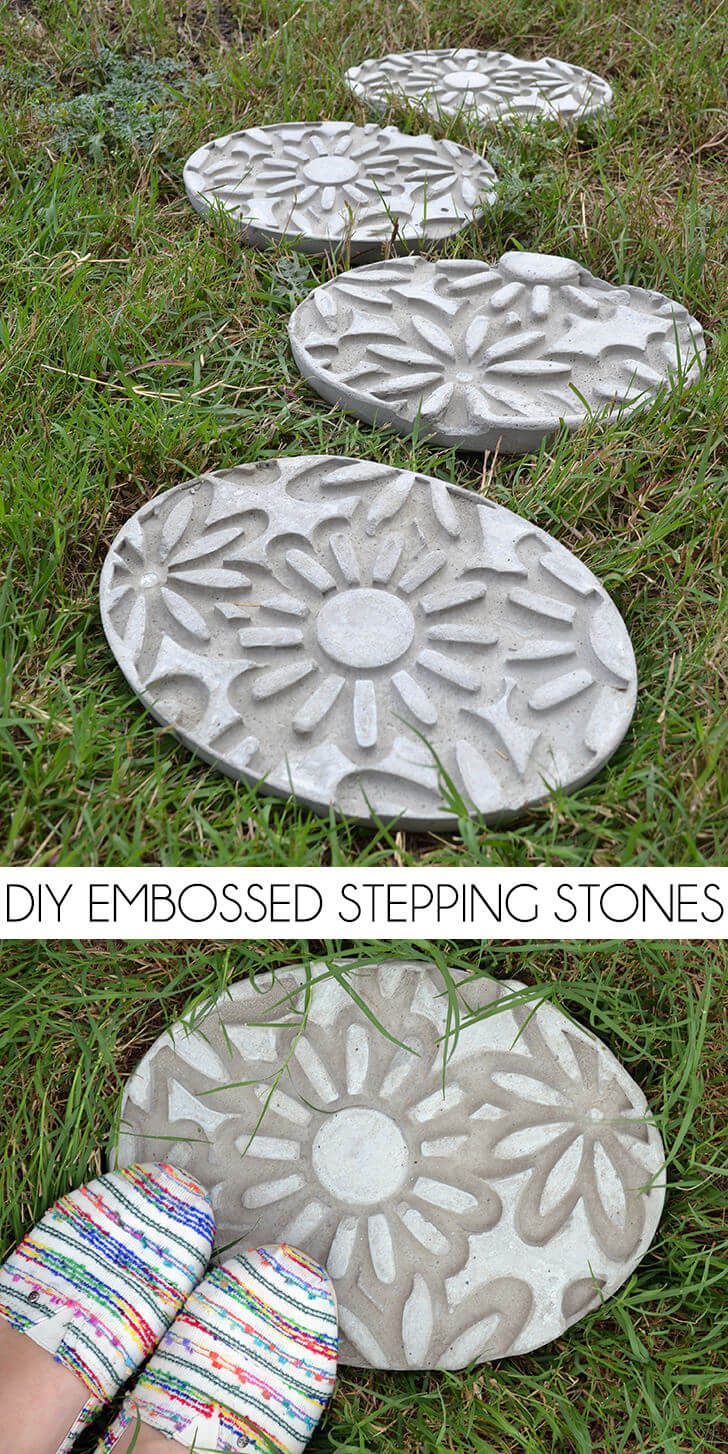 42. DIY X-Brace Concrete and Wood Backyard Table
43. Unique DIY Flower Window Stand

44. DIY Large Backyard Planters with Concrete
45. Simple DIY Backyard Concrete Fire Pit
46. Small DIY Flower Pot from Concrete
47. Customized Initial Concrete Planter DIY Project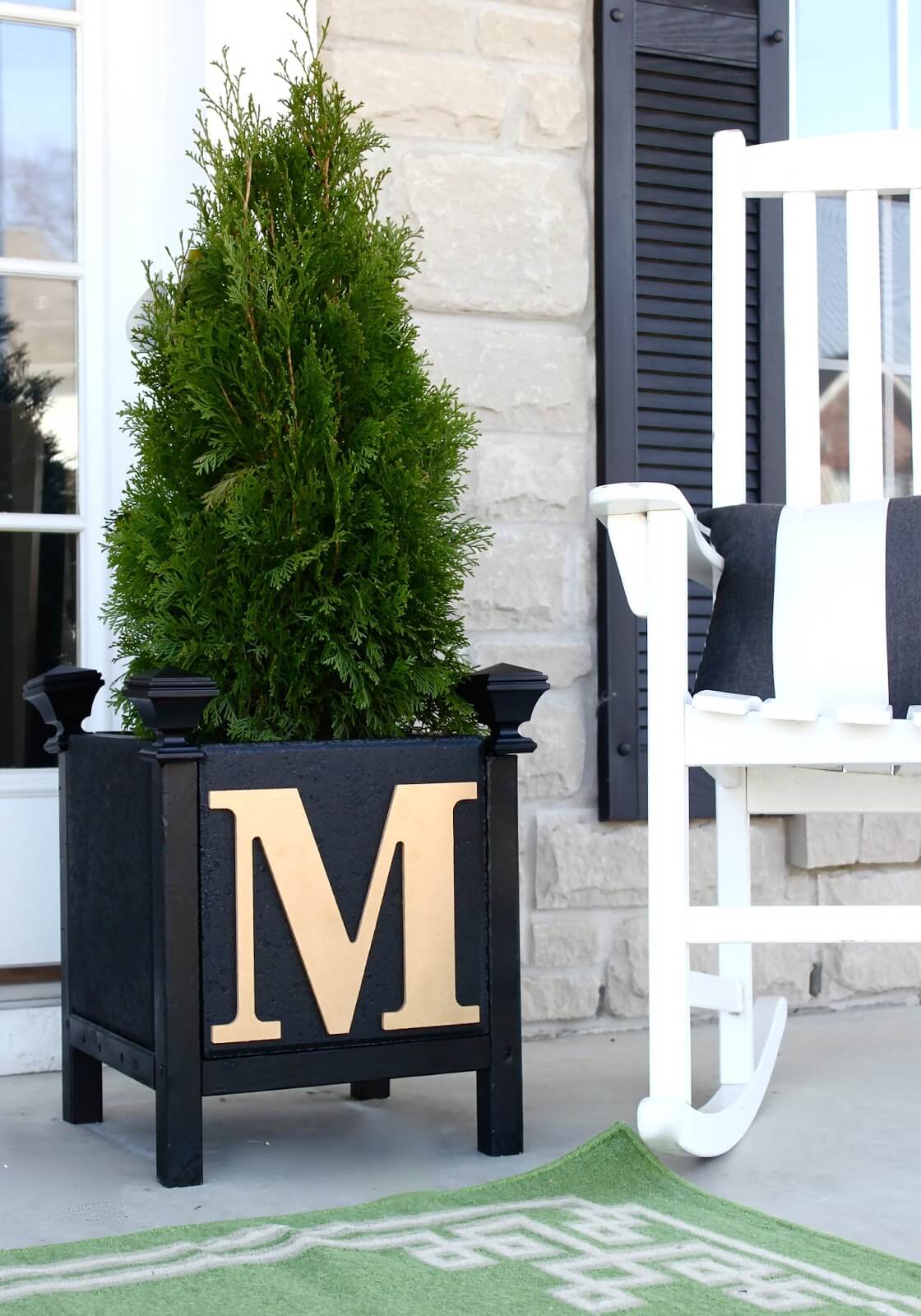 48. Detailed Concrete Garden Stepping Stone
49. Elegant Concrete Bench and Child Sculpture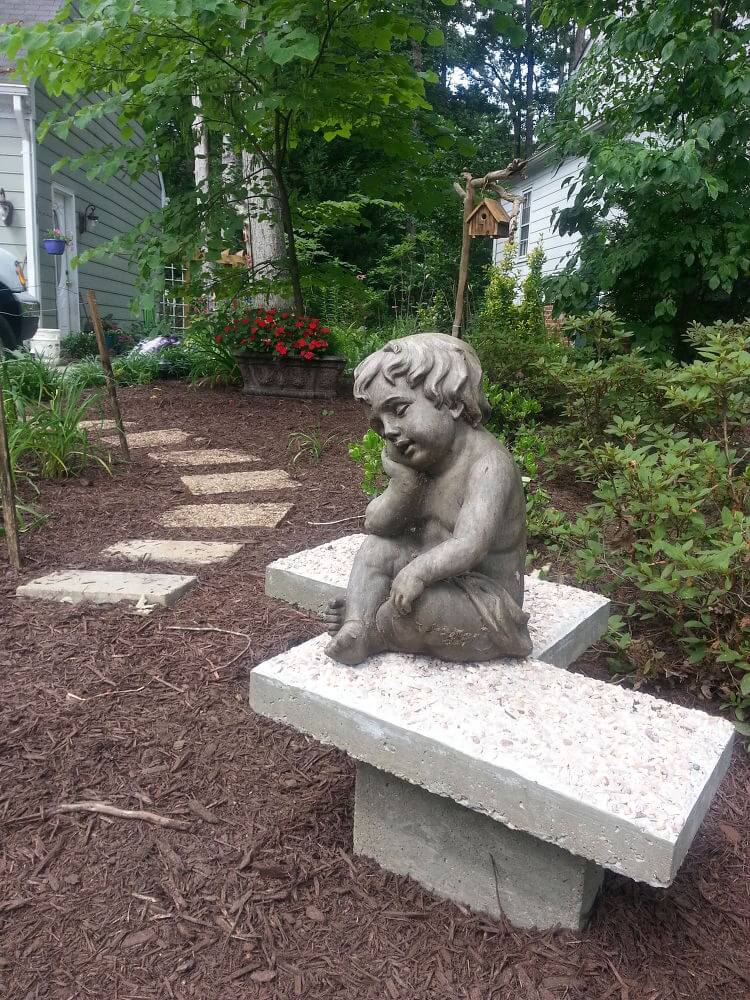 50. DIY Concrete Garden Edging Project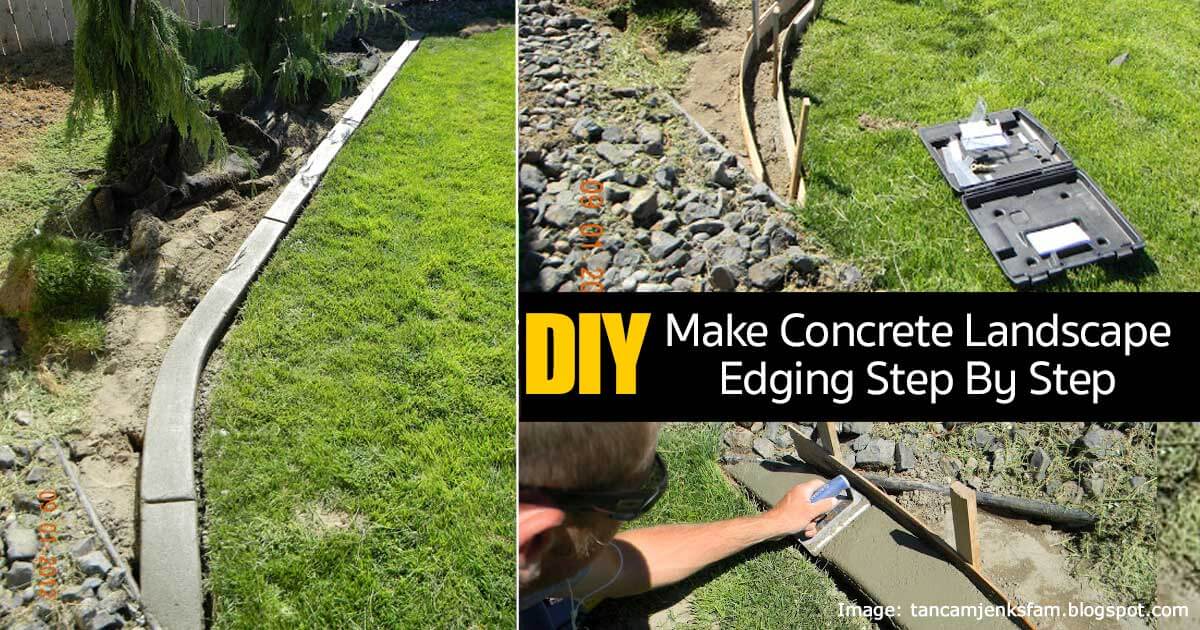 51. Leaf Imprinted Concrete Stepping Stones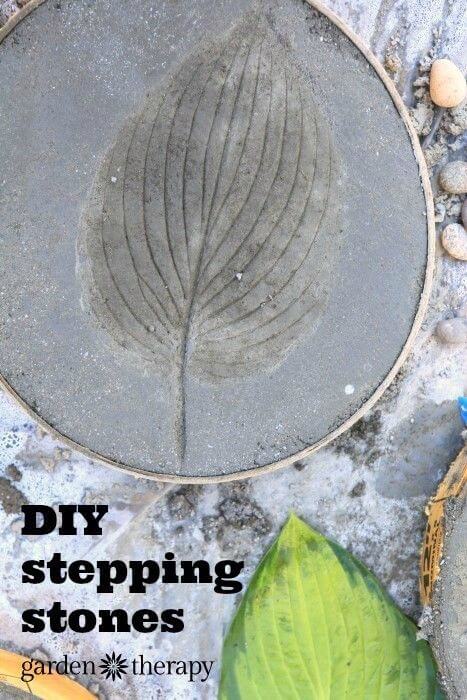 52. Mosaic Concrete Garden Mushroom DIY Project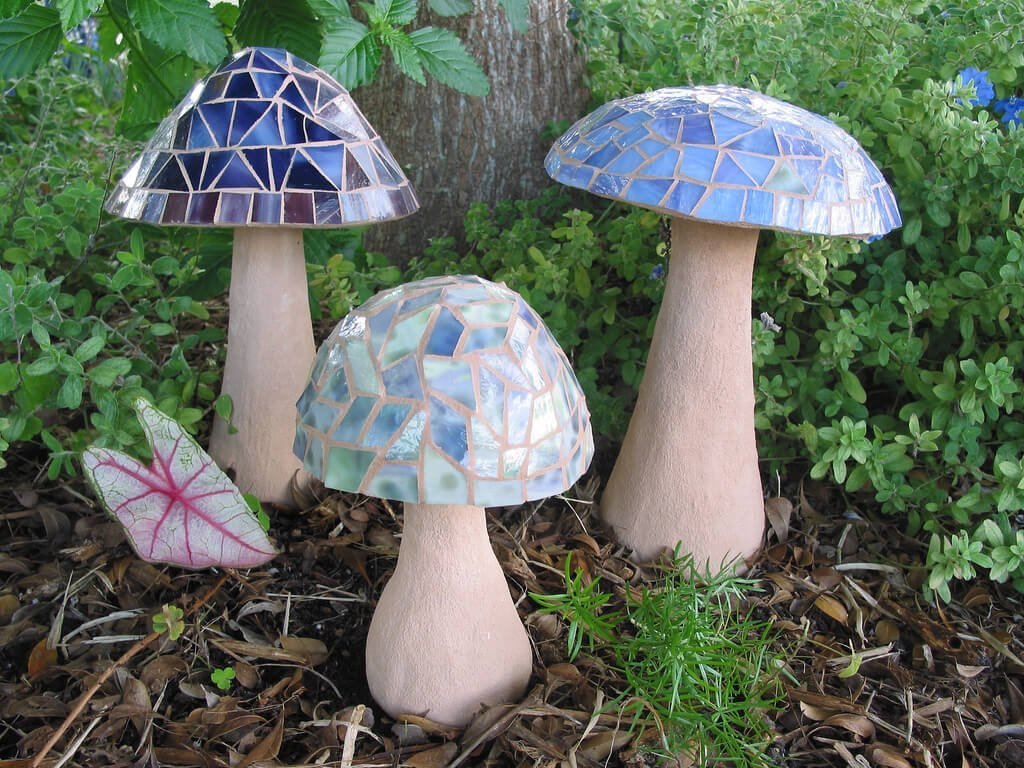 53. Cute and Small DIY Concrete Planter with Smile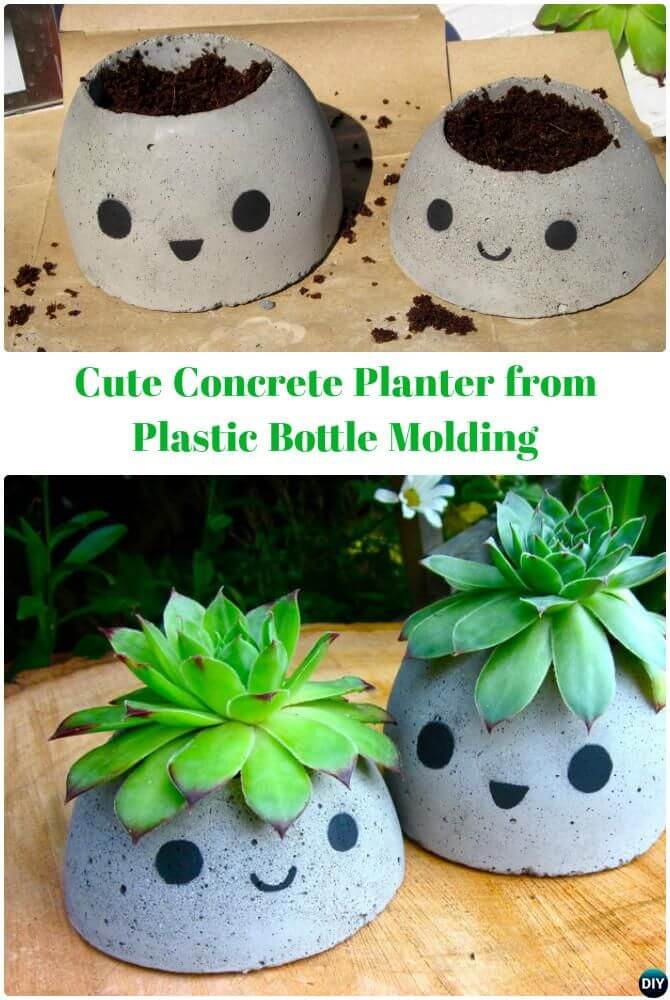 54. Large Concrete Planter Fairy Garden DIY
Our Favorite Outdoor Decor Sculptures to buy on Amazon