With the best DIY balloon decorations in hand, you can transform any party décor into a creative masterpiece. There's something about balloons that can put a smile on anyone's face. From children to adults, there has never been an age limit on who can enjoy them. That is what makes them such a fun decorating tool when it comes to parties. But did you know there are many ways to actually decorate with them rather than just placing simple balloons into a room to float around? In fact, there are plenty of balloon designs that will instantly capture attention and further help sell the theme you're boasting about for your party.
23 Fun DIY Balloon Decorations for Your Next Get Together

Hang balloons up like a sign or go for the always appreciated balloon arch. Or consider creating incredible balloon centerpieces to spruce up your table decorations. You can even take plain balloons and transform them into a glittery masterpiece that will make anyone excited. There is no real limit to what you can do with balloon decorations, so why not let your creativity and expression run wild when the time comes? You can even find a way for balloons to breathe more color into the room or opt for more neutral coloring such as white and black to build a certain vibe to the room instead. Either way has the potential to work out beautifully.
We do understand just how overwhelming it all can be though as you try to decide just how balloons will play into your specific party and design. Well, you don't need to worry as we've compiled a list of our favorite best handmade balloon craft ideas. These should hopefully spark some inspiration within you so that you are ready to make your party the best it can be.
1. Floating Rainbow Balloon Arch Garland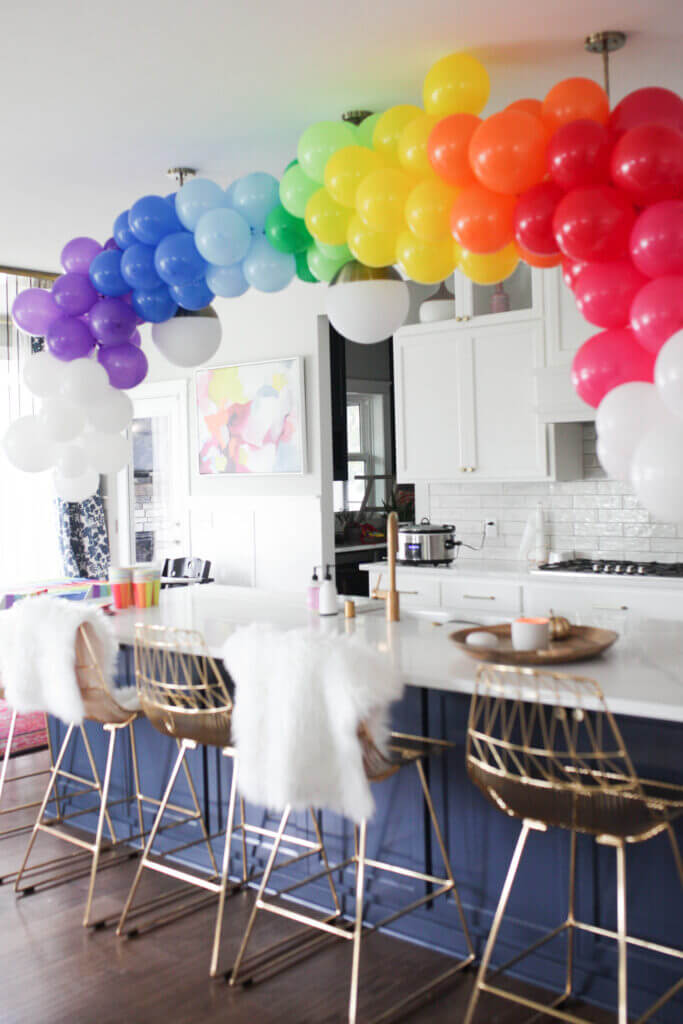 If you are in need of a more classic way to decorate a party with balloons, you can't go wrong with a balloon arch. However, there is a fun way to put a spin to your standard arch by instead creating a balloon arch garland design. This style makes it almost appear as though the balloons are truly floating on air, and at the same time, everything remains exactly where it should be. It is this appearance that makes opting for the rainbow color layout a perfect choice. It manages to quickly capture the eye and cause anyone to stop and stare in awe at your stunning floating colorful arch.
2. Oversized Balloon Foam Marquee Number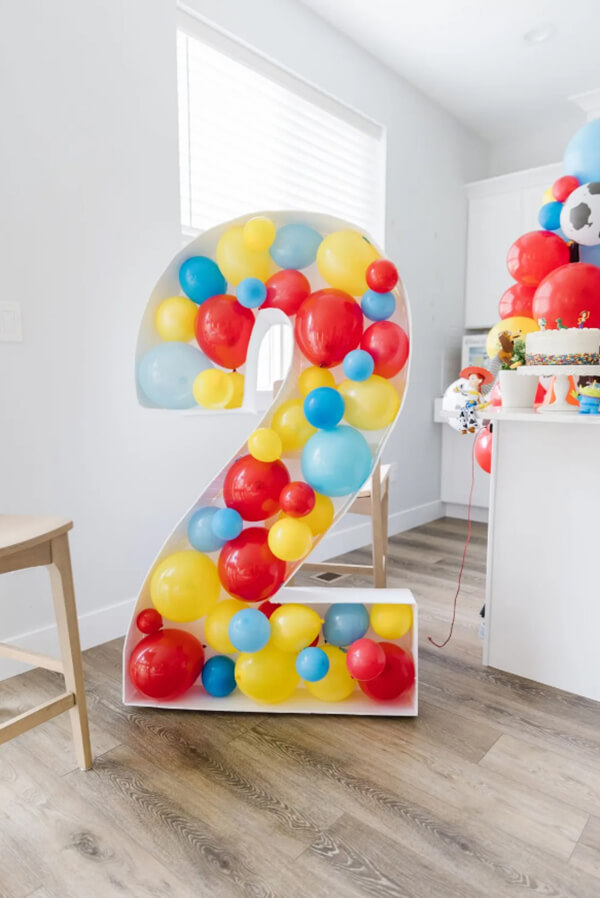 When it comes to celebrations, foam marquee letters are always a popular choice. They are loud, bold, and make an instant statement to everyone coming into the party. So, why not fill up this giant number with colorful balloons? This makes everything that much more vibrant and appealing. Although this can work for any gathering, these balloon-filled foam marque numbers are absolutely great for a child's birthday party. Any kid would love walking in to see their age proudly put on display. Using balloons of various sizes gives the piece a lot of movement.
3. Pretty DIY Floral Balloon Arch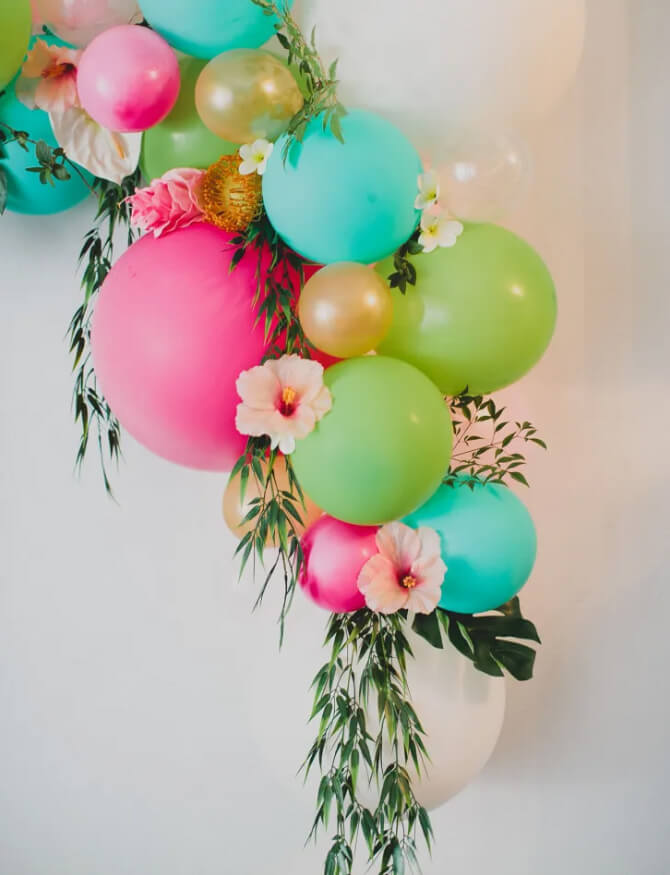 A party without a single theme can benefit from an attractive arch such as this one. This balloon arch successfully uses a variety of colors that still all match one another. It's uniformed without being one-dimensional. This allows the balloons to pair well with the artificial flowers and greenery. This winds up looking more like some unique hanging vine that's sure to impress your guests. Also, it helps when you decide to go for balloons of different sizes. Balancing out the small and larger ones throughout the arch further helps provide this design with some beneficial contrast much like the varied colors do.
4. Festive DIY Balloon Christmas Tree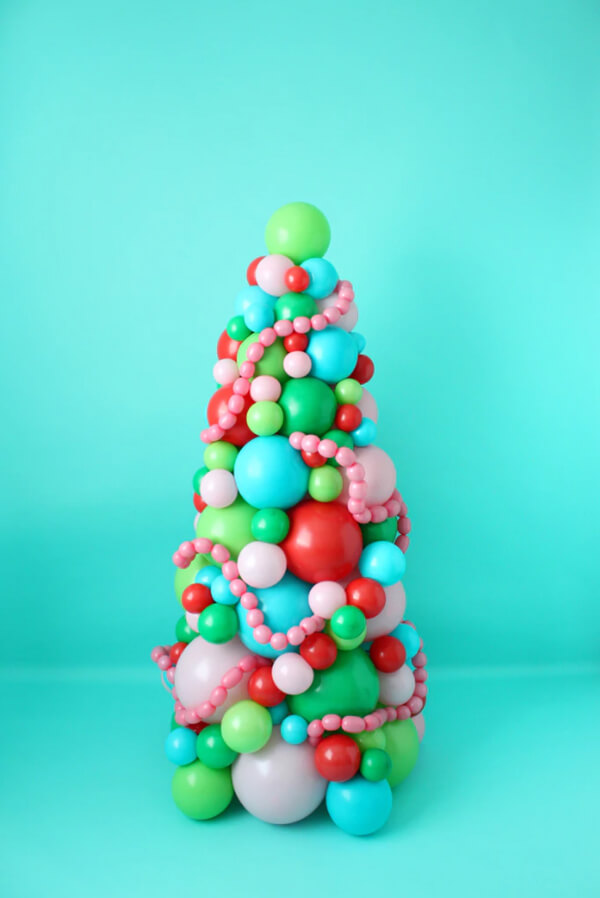 Maybe you don't have the means to get a traditional Christmas tree, real or artificial. Or perhaps you want something fresh and creative in your home to accompany your tree. If this is the case, then consider building an awesome DIY balloon Christmas tree. It has all the elements a holiday needs. The balloons, of various sizes, are all brightly colored. Many of them are the traditional Christmas colors, but the added lighter shades give the entire thing more contrast and diversity. Using tinier balloons as garland just brings it all together even more. This is a unique way to decorate other areas of your home for holidays like bedrooms.
5. Balloon Ice Cream Cone Design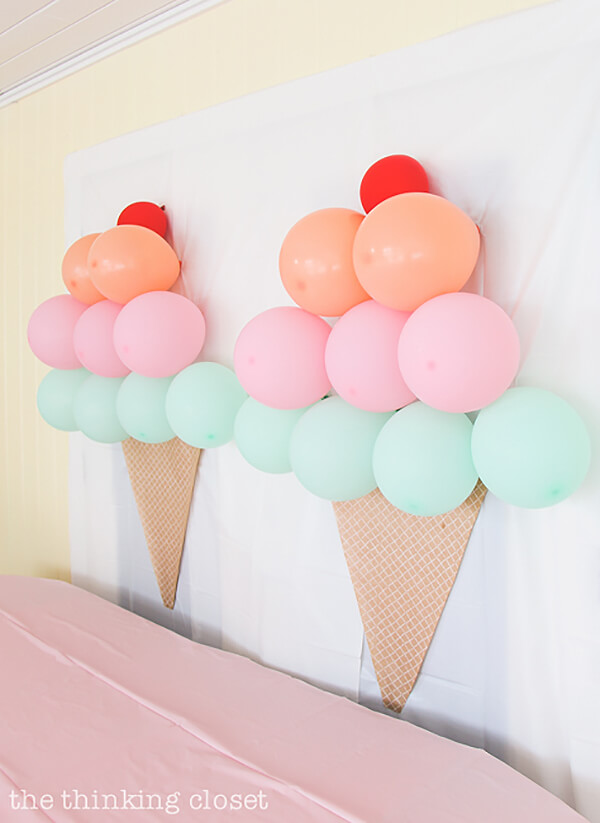 Having an ice cream-themed party? Then such a sweet and exciting party deserves just as amazing decorations. This is where your handmade balloon craft ideas come into play. Choose whatever colors fit the theme of your party, and it's time to set up your faux ice cream cones. These work as such cool backdrops for the cake and present area of the party as well as to pose for fun pictures. You can make numerous of these too to fill up every corner of the party with some beautiful balloon ice cream cone decorations.
6. Incredible Pokémon-themed Balloon Decorations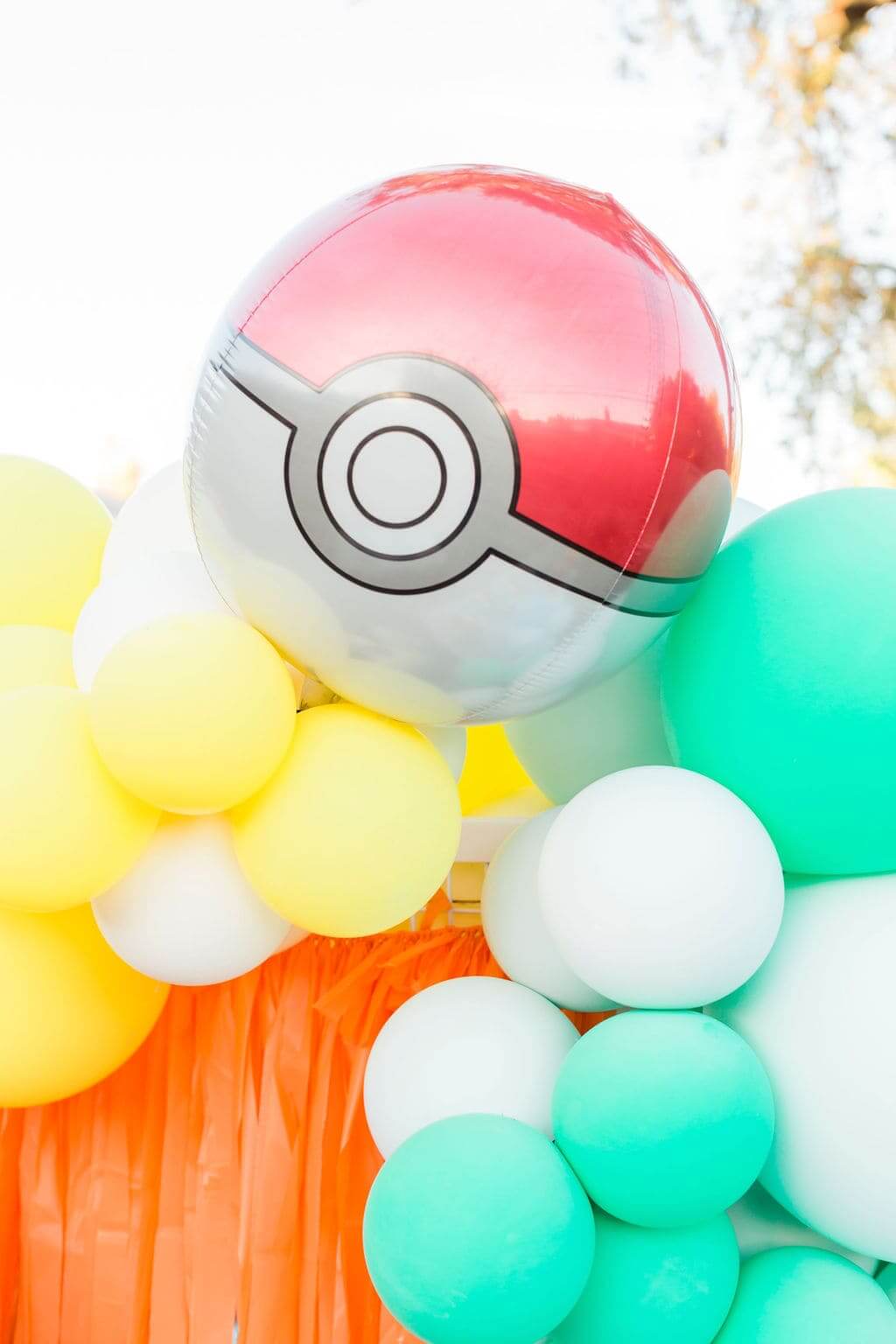 Any Pokémon fan would love a themed party where everything reminded them of their favorite thing, including the balloons. This fun homemade balloon home decor is fitting for a thrilling little birthday party. Fans will instantly recognize the Pokéballs. Beyond that, the extra balloons help the themed ones stand out even more. This allows you to stick to a certain color theme as well so that everything better fits in with the rest of the party's décor. These are such an incredible size too, further ensuring that they stand tall over your other decorations.
7. Shiny Birthday Balloons and Garland Design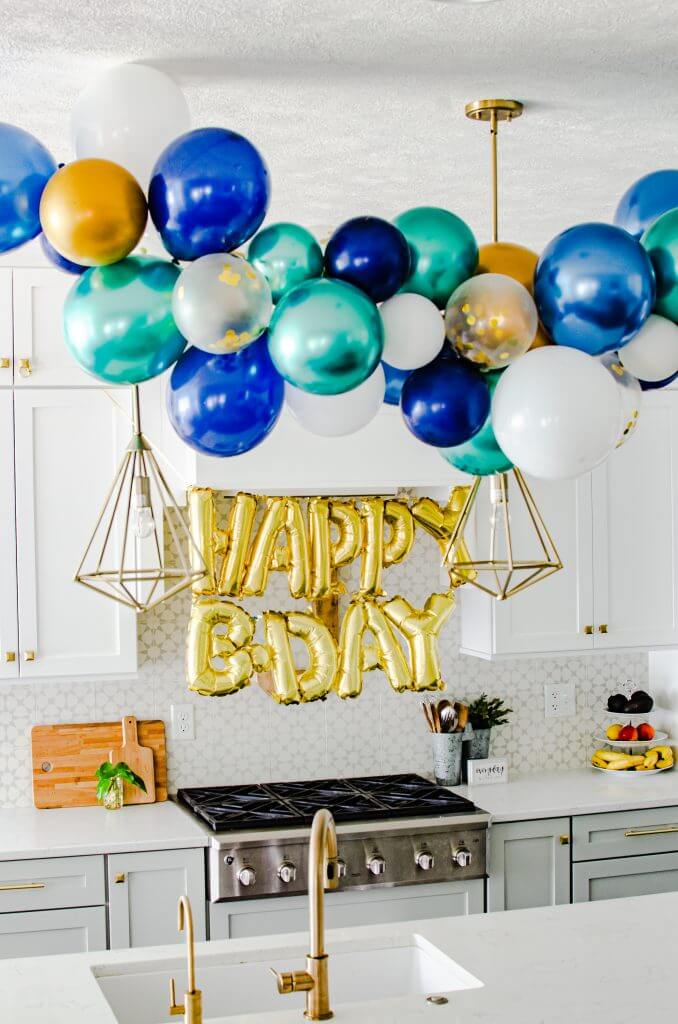 Celebrate a loved one's birthday (or your own) with this balloon garland design. The balloons all have an interesting shine to them, and along with the coloring choice, the balloon garland you create has a stylish and chic flair. This garland layout is perfect to hang up in the archway or anywhere else in the room. Even the clear balloons with confetti inside can give this garland more of a fashionable kick. You can round it all off by adding in some balloon lettering to spell out a name or simply "happy birthday".
8. DIY Graduation Balloon Yearbook Superlatives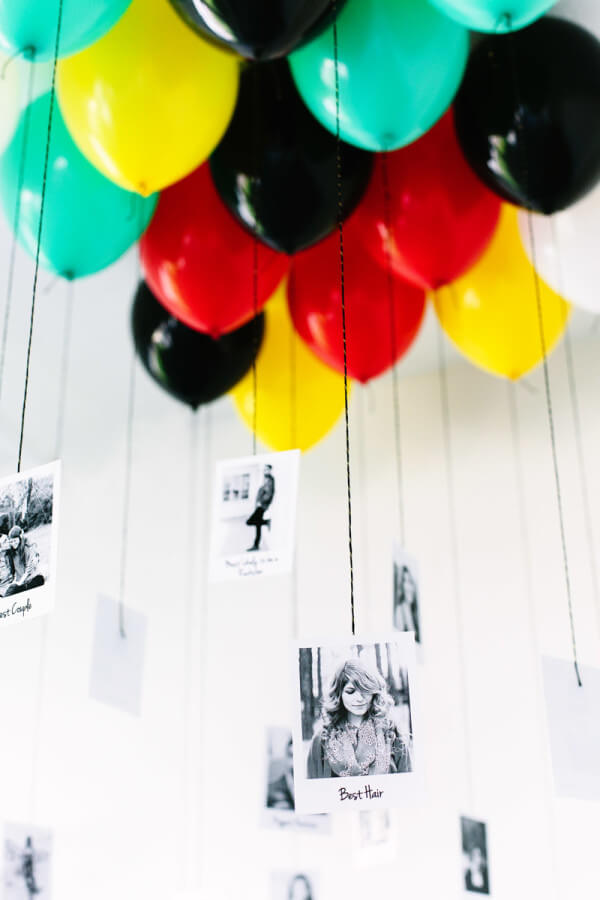 It's time for a graduation party, so let's pull out those photographs. Those yearbook superlatives certainly come in handy in this case. The Polaroid photographs are a lovely touch to otherwise simple balloons. They hang effortlessly, and in the black and white style, stand out all the same. These are a wonderful way to celebrate the graduate. Best of all, this works out well whether for a high school graduate or a college grad. Add on your own superlatives to each photograph too, highlighting what you feel is "best" for your loved one.
9. Amazing DIY Cactus Balloon Décor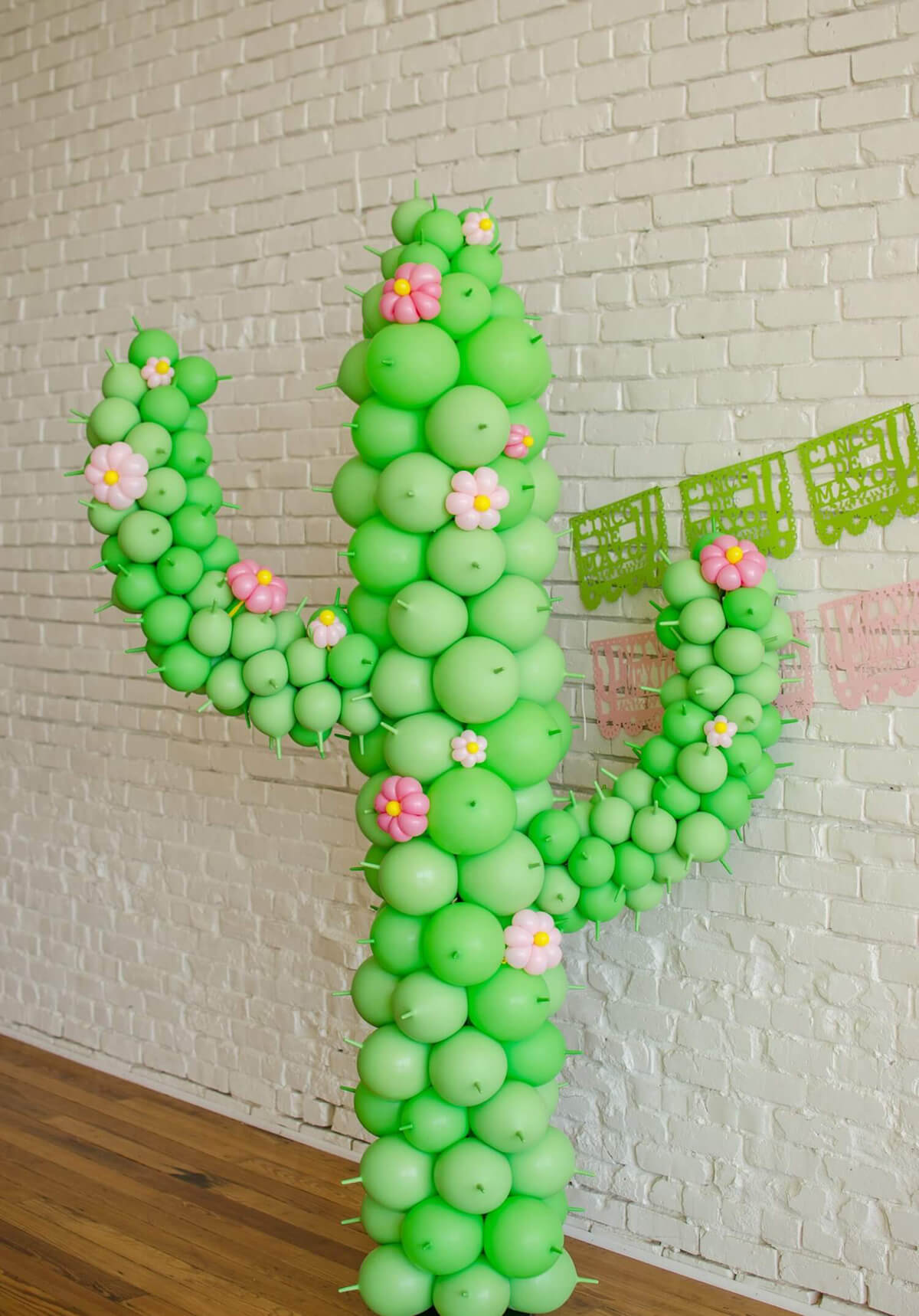 Are you planning a festive get-together like a Cinco de Mayo celebration? If so, then you have to check out this adorable cactus balloon design. The cactus stands tall and proud, instantly taking anyone's attention from the moment your guests walk into the room. Using bright green balloons gives the cactus more of a pop, and the ends sticking out certainly pull off the illusion of it really being a sharp cactus. This is among the most creative and artistic homemade balloon home decor projects, especially considering the use of the pink balloon flowers all over the cactus.
10. Beautiful Glitter Dripped DIY Balloons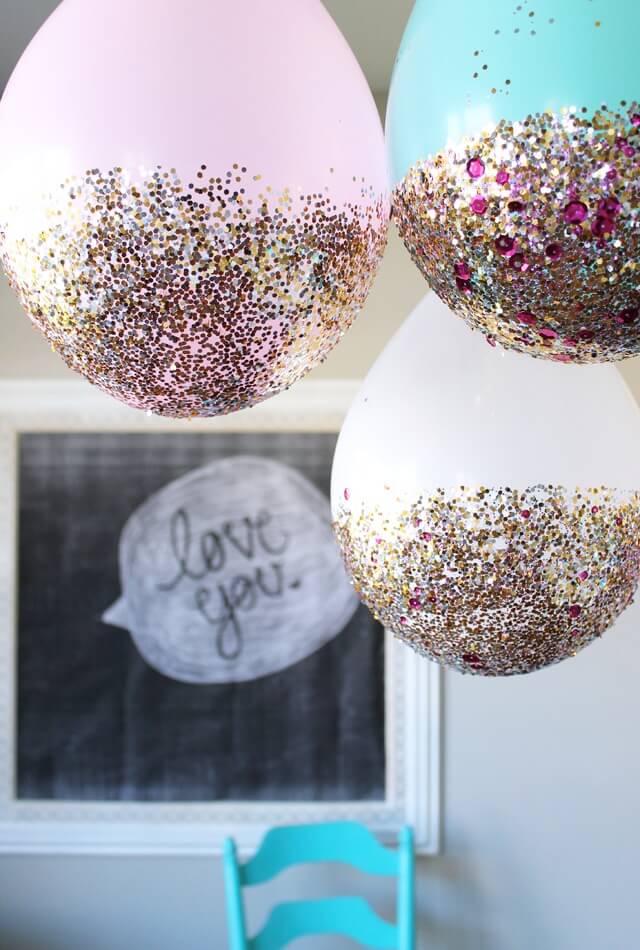 Many of us adore all-things glitter. A good reason to decorate with it is that you can use it for a variety of themes. Any type of elegant-leaning party can benefit from some glitter, more so for children than anything else. Add in some balloons, and you can easily delight them. The drip design style is a creative way to decorate alone, and with glitter, it can elevate even the plainest-looking balloon. Consider going for multi-colored glitter too. This makes the balloons pop even more while also giving them a cohesive appearance.
11. Ferocious DIY Balloon Dinosaur Design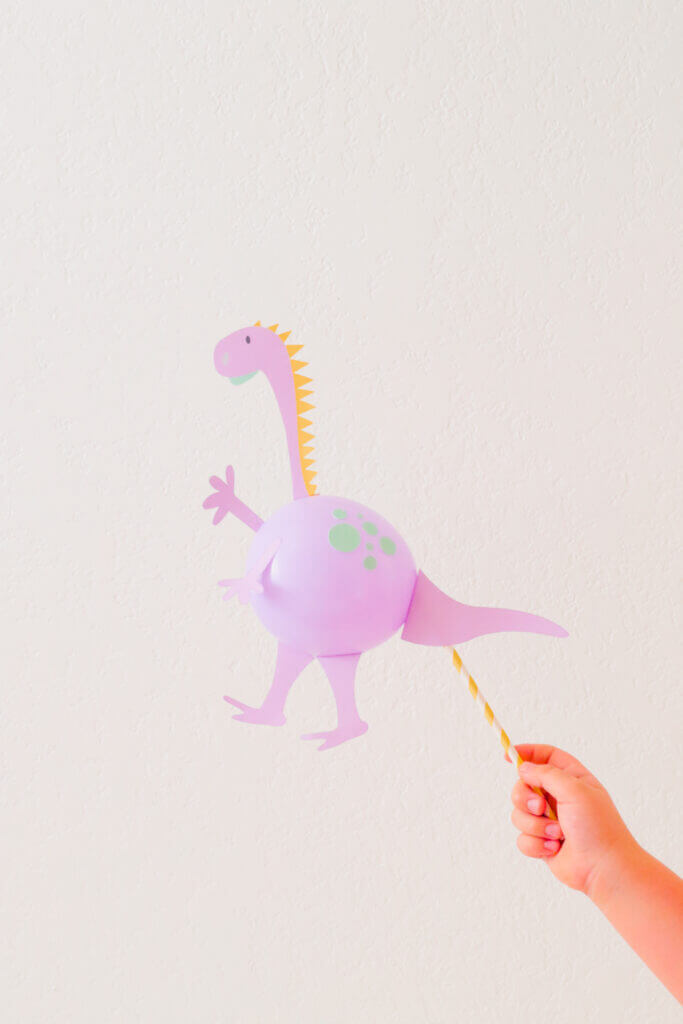 Need something that is ferociously cute? How about this incredible DIY balloon dinosaur? It is a charming and sweet way to show off a love of dinosaurs. You can go for any color to create a variety of animals. With the right printouts to go along with this, you can create all of your favorite dinos and lovingly show them off as you use them to adorn the room. These are an excellent way to add some unique décor to a birthday party. Furthermore, these DIY balloon dinosaurs can also fit in at a themed baby shower, especially a gender-neutral one.
12. Sweet and Smiling Bumblebee Balloons
Throwing a bee-themed baby shower or party? Then these DIY bumblebee balloons are a must-have. These are a wonderful way to take typical yellow balloons and give them an overhaul. You can create different faces for these bumblebees as they all can give an overall happy vibe. They are a charming way to add some much-appreciated brightness to any party. It's a good way to celebrate a kid's birthday or the future delivery of a new bundle of joy.
13. DIY Balloon Flower Number Design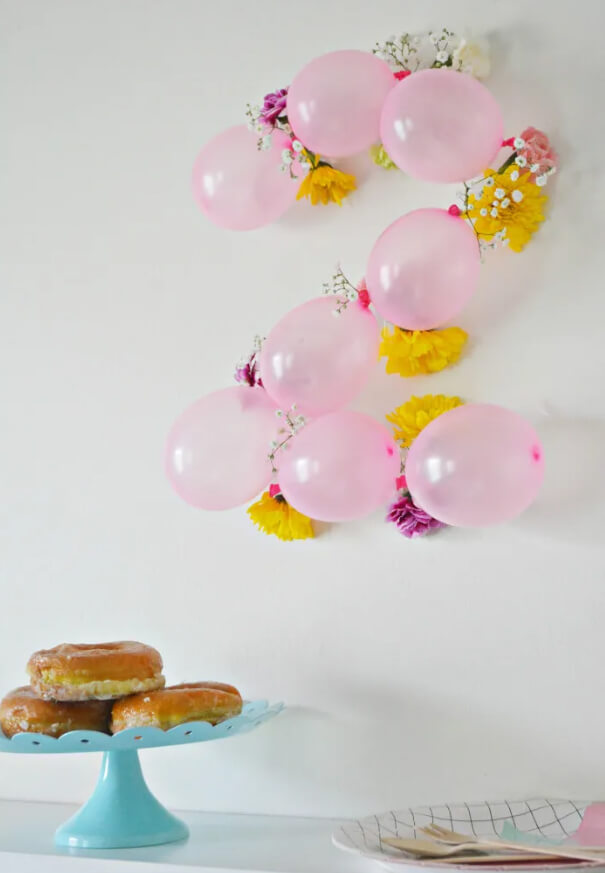 It never hurts to decorate a birthday party with the age of the recipient, especially with toddlers and kids. This takes that number decorating down a more unique path. The balloons are a single color tone, but they work perfectly with the rest of the design. It's the use of flowers that complement the balloons no matter the colors you decide on. The flowers offer that distinctive flavor that transforms this number into gorgeous wall décor. You can even go with different flowers and colors too so that you can build up some more versatility within this balloon number.
14. Fun DIY Balloon Table Centerpieces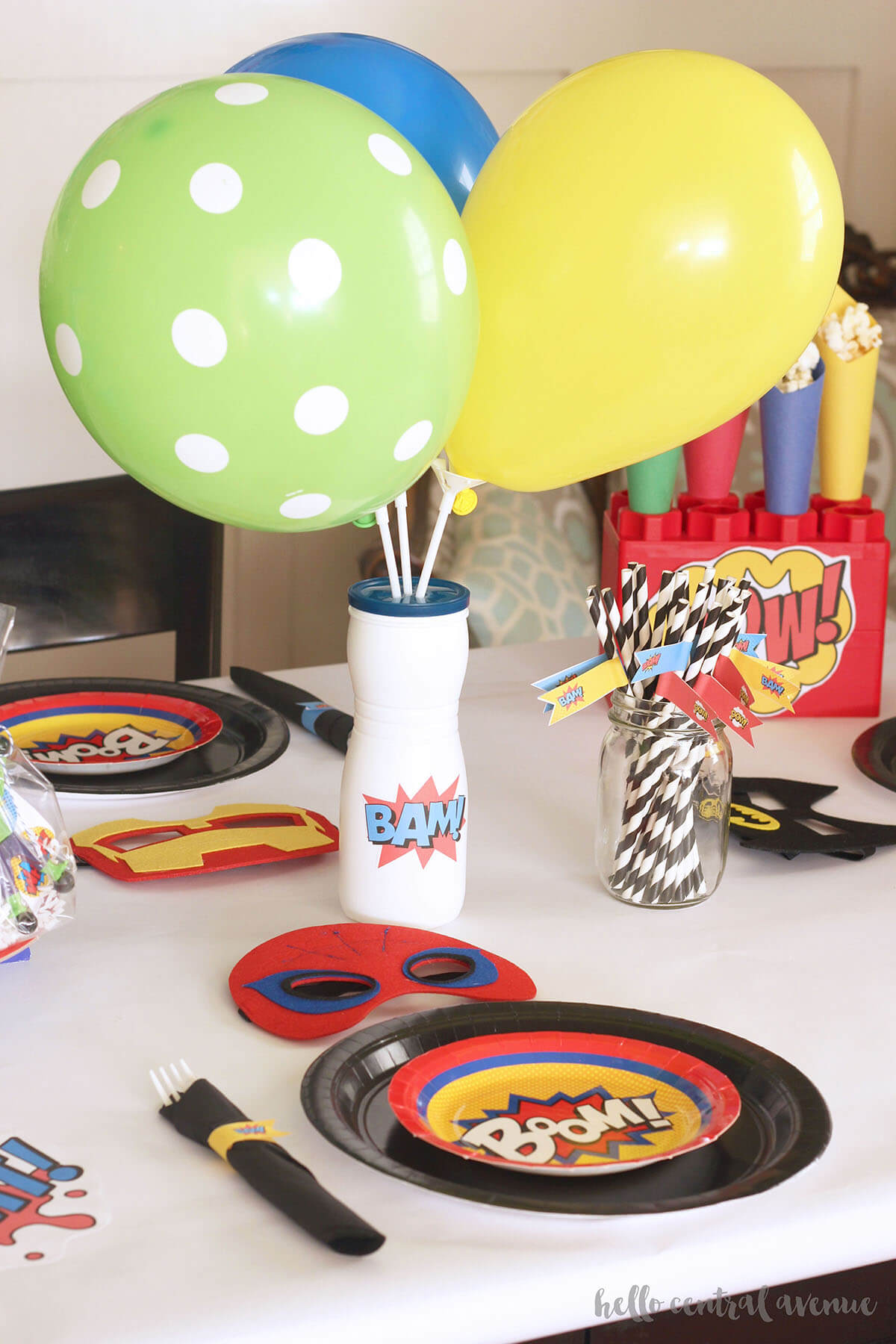 What's a party with a bunch of tables without some great centerpieces to round out the décor? Rather than buy some premade ones, you can build your own balloon centerpieces. It's an affordable and easy project to tackle, and you can make some customized décor to better fit the theme of your party. With the use of old containers, this can even turn into an upcycling project too as you give new life to something that would have typically been thrown away. Just stick in some multicolored balloons and you're left with some well-made and attention-grabbing centerpieces.
15. Adorable Paper Balloon Farm Animals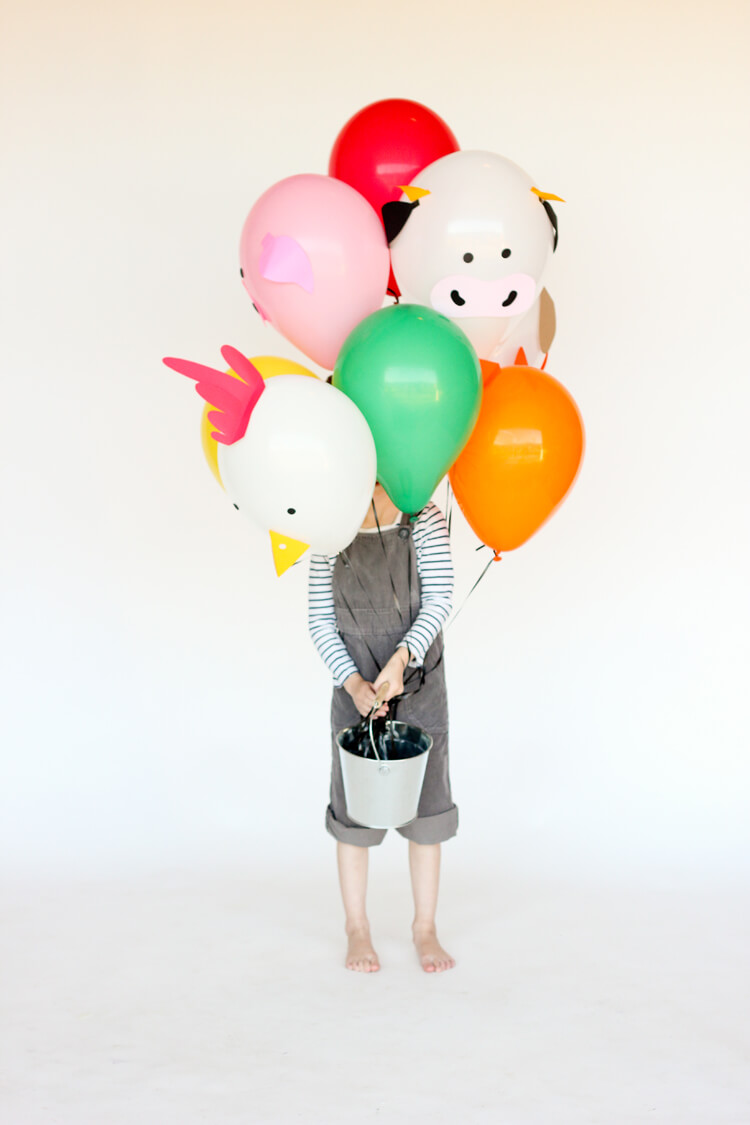 Do you have a farm animal lover in your life? If so, then they'll certainly appreciate these too-cute farm animal balloons. This project shows just how far a little bit of creativity and some paper designs can take you. Additionally, this highlights how much you can completely transform your average, blank balloon. It takes something simple and elevates it into something more artistic just by placing kid-friendly faces on it. These work out wonderfully for any themed party. Hang them individually all around or string them up together to create an adorable farm animal bundle.
16. Cute Balloon Menu Layout Décor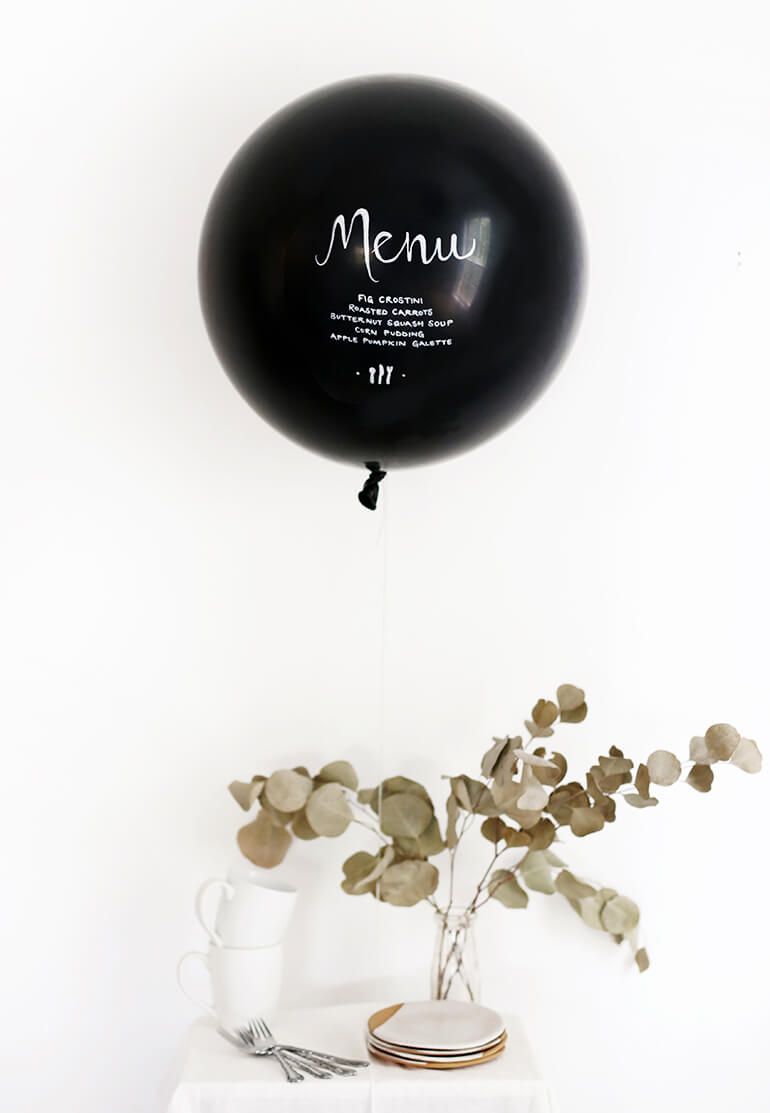 Do you have a get-together planned around the table? Whether this be brunch or a dinner party, you can always benefit from an interesting way to show off the menu to your guests. One of these ways is with a balloon. This is more on the minimalistic side in terms of the best DIY balloon decorations. The use of a black balloon really helps the menu writing in white pop. This way, everyone can read just fine what you plan to offer them to eat. Create as many of these as you wish for the main course and dessert too.
17. Unique DIY Colorful Balloon Centerpiece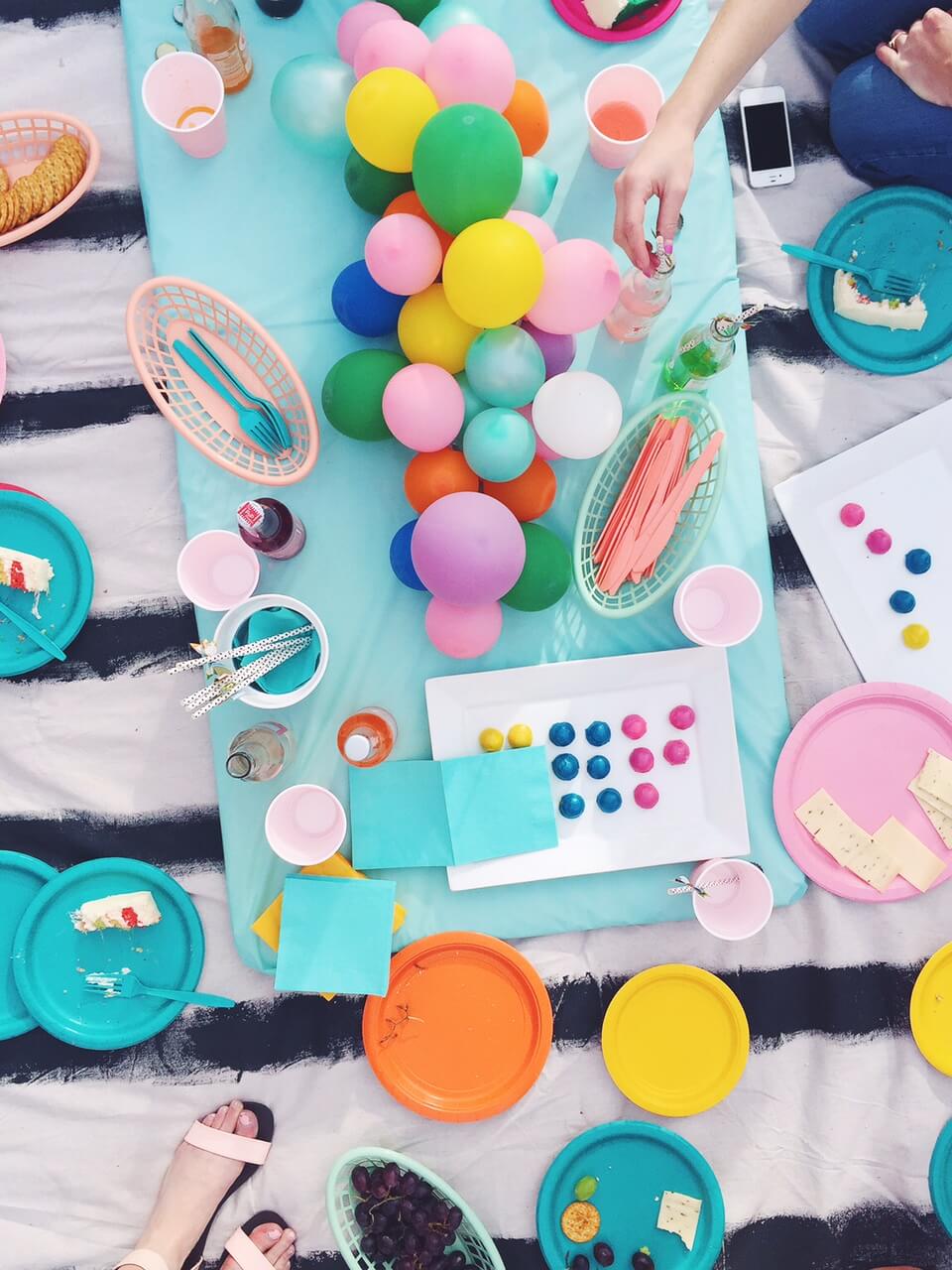 Having an outdoor get-together like a party or even just a BBQ? Well, you can liven up the decorations with this epic balloon centerpiece. This combines such a large variety of balloons, offering a handful of different colors as well as balloons of various sizes. By doing so, you are able to create a bold centerpiece to adorn any table. This is an effortless way to provide some splashes of color to your décor. It's also an incredible way to decorate a party for the spring or summer thanks to the colors used.
18. Cute Balloon Snowman Seasonal Garland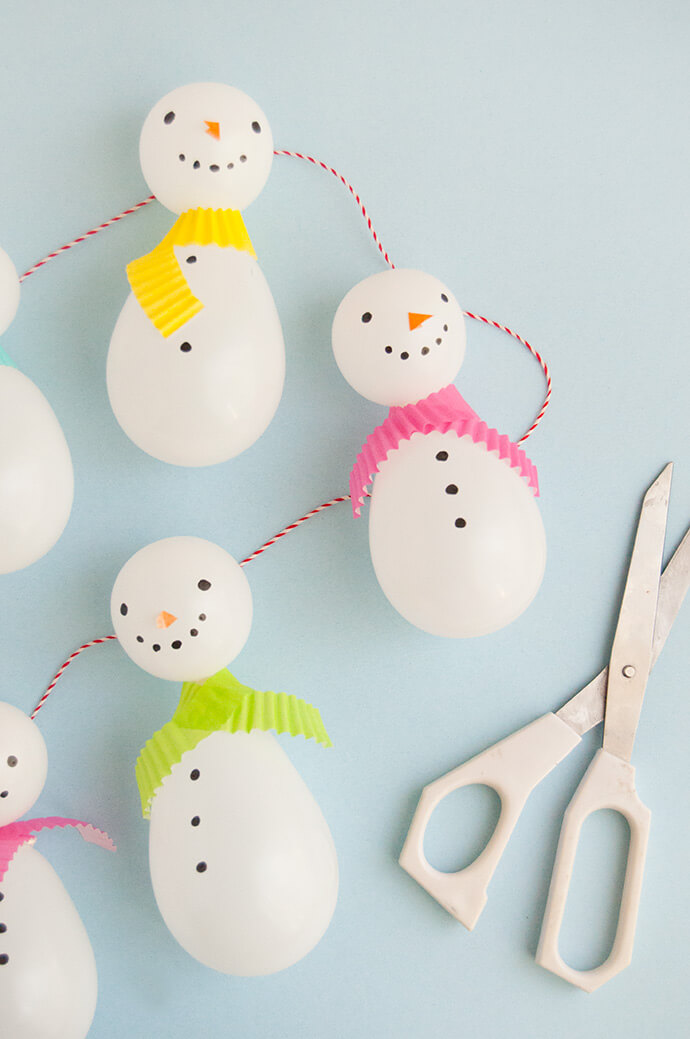 If you need some seasonal decorations, the garland is always a good go-to option. Now, with the right balloon design, you can make your garland look even more creative and enjoyable. These cute little snowmen design gives a new meaning to decorating for the winter and holiday season. This is even a fun project to do with the kids, letting them create their own outfits and adorable faces on their individual snowmen. A project such as this is so creative and cool that you can make numerous of them and string the garland up all around the home.
19. Beautiful Balloon and Floral Backdrop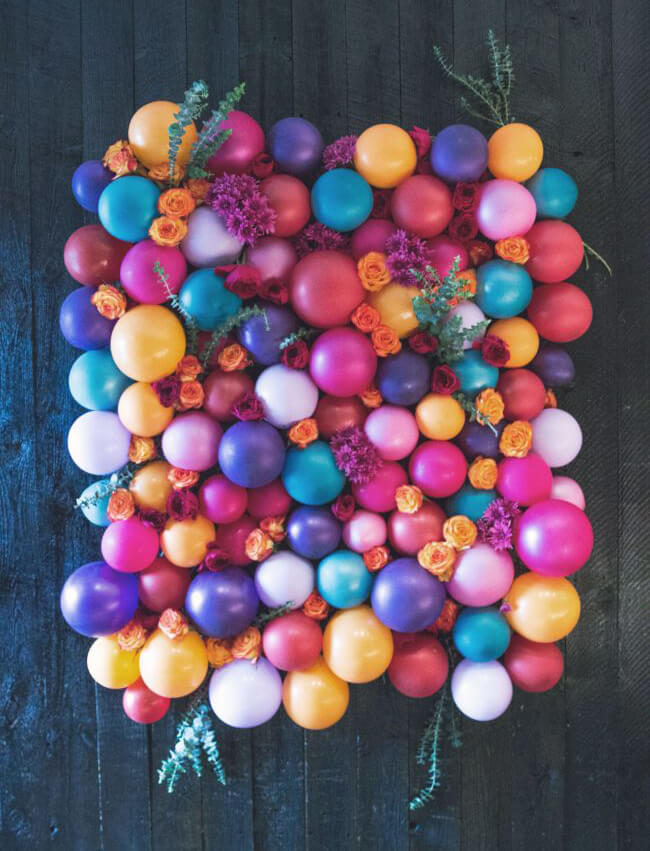 This floral balloon backdrop is an incredible way to decorate with some handmade balloon crafts while also making something that is more mature. It can fit in well with an adult-based get-together that has a hint of being formal while still being entertaining and fun. The balloon colors are plenty versatile, and they are vibrant enough without being overly bright. They blend effortlessly along with the small flowers used in the background. When blended together, everything functions as one, giving you a stunning backdrop to sit near or take pictures at for your next party.
20. Oversized Vibrant Balloon Garland Décor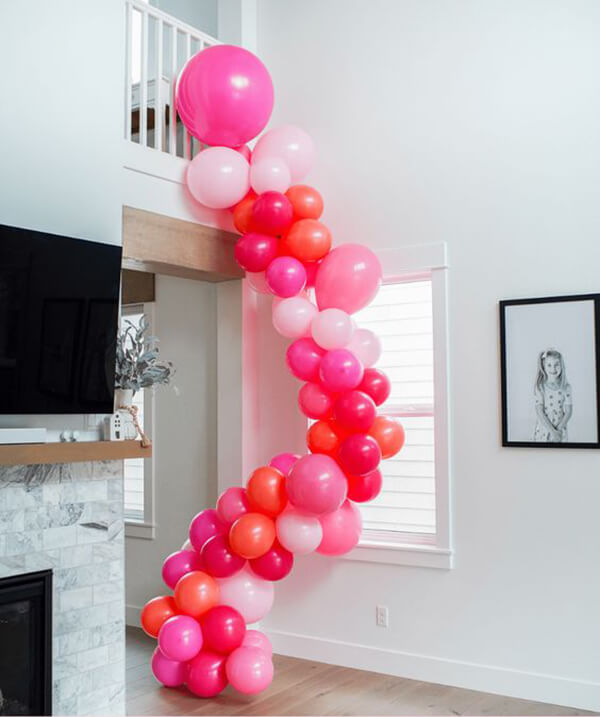 The gift or cake table at a party can always benefit from some extra decorations. You can get just what you need by creating some stunning balloon garland to hang up. This DIY project is quite the undertaking since the balloons and the garland are rather large. Such a size makes an instant impression though. Plus, you can choose large and even larger balloons to use for the garland. This ensures that the piece won't turn static and uninteresting. Instead, it remains appealing and easily encourages people to come near where you set it up, which is why it is a wonderful choice for the gift table.
21. Great DIY Balloon Planets Design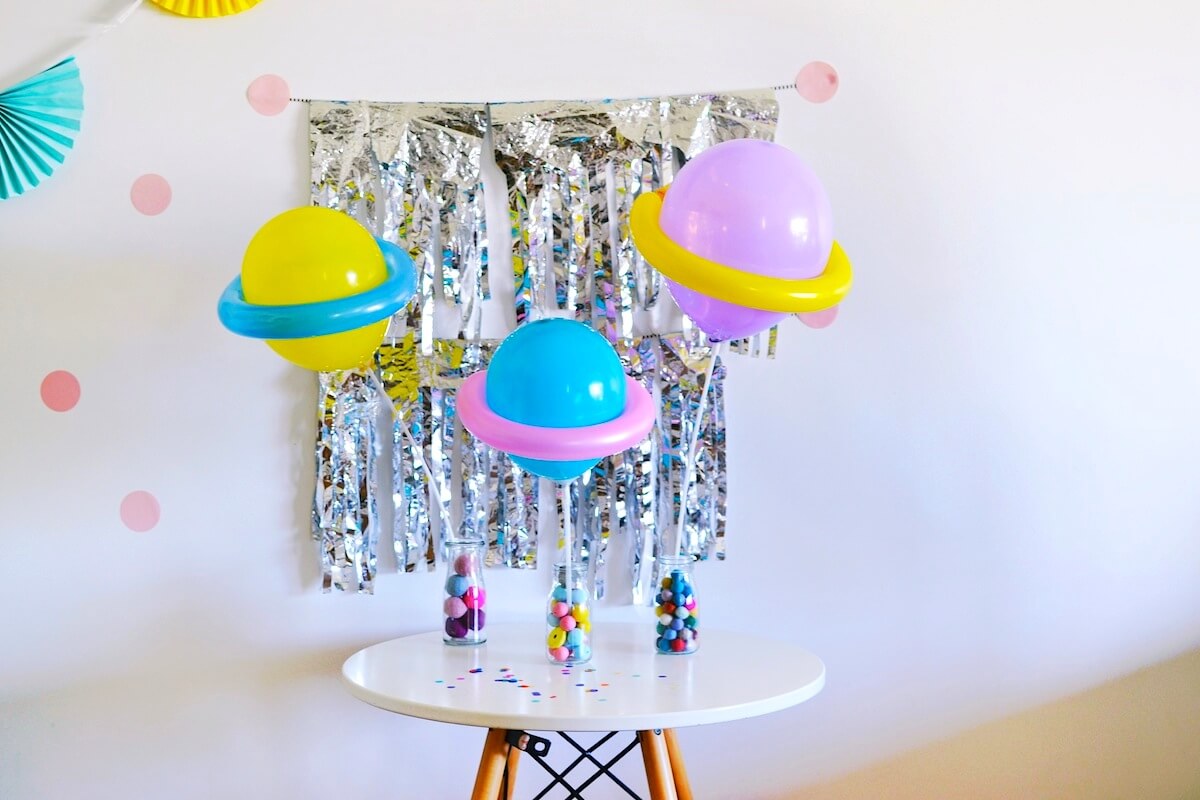 Planets are an amazing party theme thanks to how versatile they are. These work out for Star Wars fans, Toy Story and Buzz Lightyear fans, and kids who just enjoy the solar system. Well, a fun DIY project can take decorating with a planet theme to a new level. It looks rather simple too as you combine a round balloon with a long balloon. Although this project makes the same-looking planet, you can easily give them some diversity with the colors you decide to choose. You can opt for some incredible colors too, mixing, and matching to make something that is more creative.
22. Adorable Mini Balloon Flower Centerpieces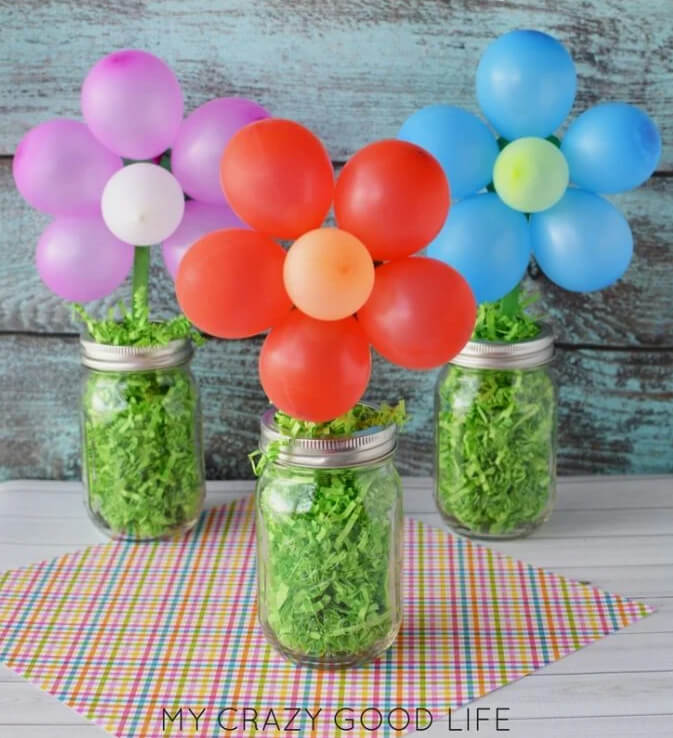 For your springtime or summertime party, you need the right colorful decorations to fit in with the season and the happy mood. These little balloons are a great size to help you create such compelling flowers. There are numerous color themes you can use too that fit in with the seasonal theme. Sticking them in jars with some faux grass makes it all come together. You can place these along every guest table at your party, allowing them to make for wonderful décor for your backyard BBQ or a seasonal birthday party.
23. Valentine's Day Glitter Dipped Balloons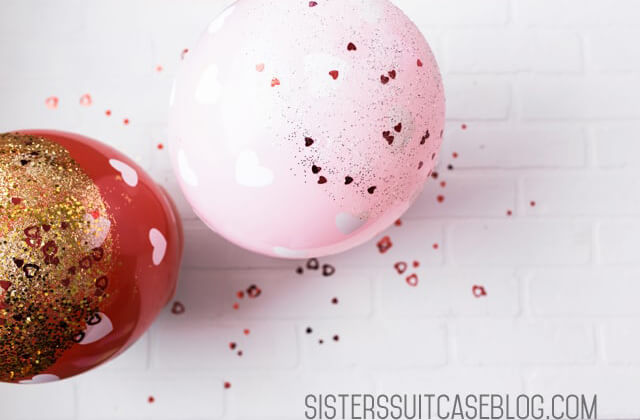 Glitter-dipped balloons are attractive on their own but add in a holiday slant, and you can create some sweet party décor. The glitter makes the balloons shine perfectly fine. Yet in this case, you add in some festive Valentine's Day coloring. This makes all the difference. Not only do you use balloons meant for the holiday, but you can also get some heart shapes to add in with the glitter design. This isn't just cute, but it is also a very fun project to get the kids to do with you.
23 Stunning Homemade Balloon Home Decor Ideas for Creative Party Décor
Balloons are fun to decorate with no matter your age or the type of party you're throwing. Have a graduation party to plan for high school or college-age? DIY balloon crafts can add some spice to an otherwise more mature-slanting party. Or maybe you need some glitter-themed and stylish décor to go along with a fantastical child's party? The right balloon crafts can also help with that.
Not only can you use some DIY balloon designs for any party, but you can also do whatever you put your mind to. You can create an epic balloon arch, or you can make some distinctive floating balloons with special designs on the strings. Perhaps you want a giant marquee number to celebrate a birthday milestone, or maybe you simply want to make some cool character designs like animal faces with balloons? No matter what you want, there's a project for it. And if you don't know what you want to do with your party décor just yet, the list of our favorite best DIY balloon decorations should give you some idea about what project to do.