Filled with character and texture, the best DIY basket ideas are a great way to express your inner style. Whether you love the look of natural fibers or prefer a splash of audacious color, there are ways to incorporate your energy into these projects. Your basket's silhouette will determine how it fits into your space and interacts with your other décor elements. What material you choose not only determines how your baskets will look and feel, but also how sturdy they are.
25 Inspiring Ways to Save Space with the Best DIY Basket Ideas

Often, color is the first component you notice about a decoration. Baskets are no exception. From choosing different materials to a variety of dyes, there are several ways to incorporate your color choices into your project. To capture the classic basket's timeless charm, choose undyed natural fibers. Paint, dyes, and fabric wrapping are ways to incorporate more color into your projects. If you are not sure about permanently changing your basket's color, try adding embellishments like tassels, pom-poms, wooden beads, or fabric trim.
Material choice is another way you can infuse your décor with personality. From patterned fabrics to contact paper, you have several options. Of course, the material also determines how sturdy your basket will be. What you plan to store inside your basket will determine which materials are right for your project. Heavy-duty baskets will require ingredients like rope, cardboard, and additional reinforcements. If you plan on storing only lightweight items inside your baskets, explore materials like yarn, fabric, felt, and no-sew rope ideas.
Beyond color and material, your basket's silhouette determines how it will appear in your aesthetic. While square-shaped baskets offer a crisp accent, round baskets are a fantastic way to soften a space. Whether the walls slope inwards or outwards will change how your basket fits in your space. Although it can be easy to get caught up in crafting the "perfect" basket, it is more important to enjoy unleashing your creativity.
1. The Best DIY Basket Ideas: Bowl-Shaped Rope Baskets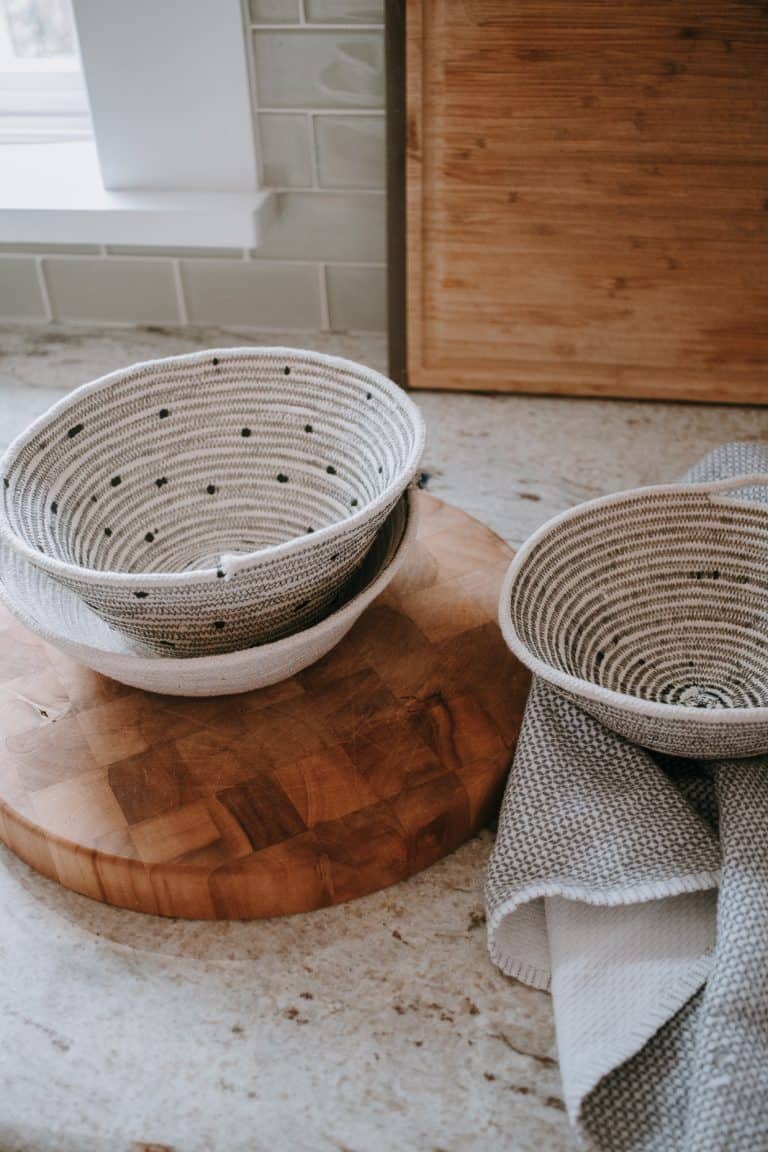 With only white clothesline and a contrasting color of thread in your sewing machine, you can create these gorgeous nesting baskets. The small, random spots give these baskets so much character by only switching between zig-zag settings on your sewing machine. With a little effort, you could switch thread colors for some truly unique bowls. Stick with muted neutrals, and your baskets will look tailor-made for a Scandinavian space. For glamorous baskets, experiment with holographic thread. Try trimming the top with tassels, pom-poms, or heavier rope.
2. Square Felt Basket with Subtle Woven Pattern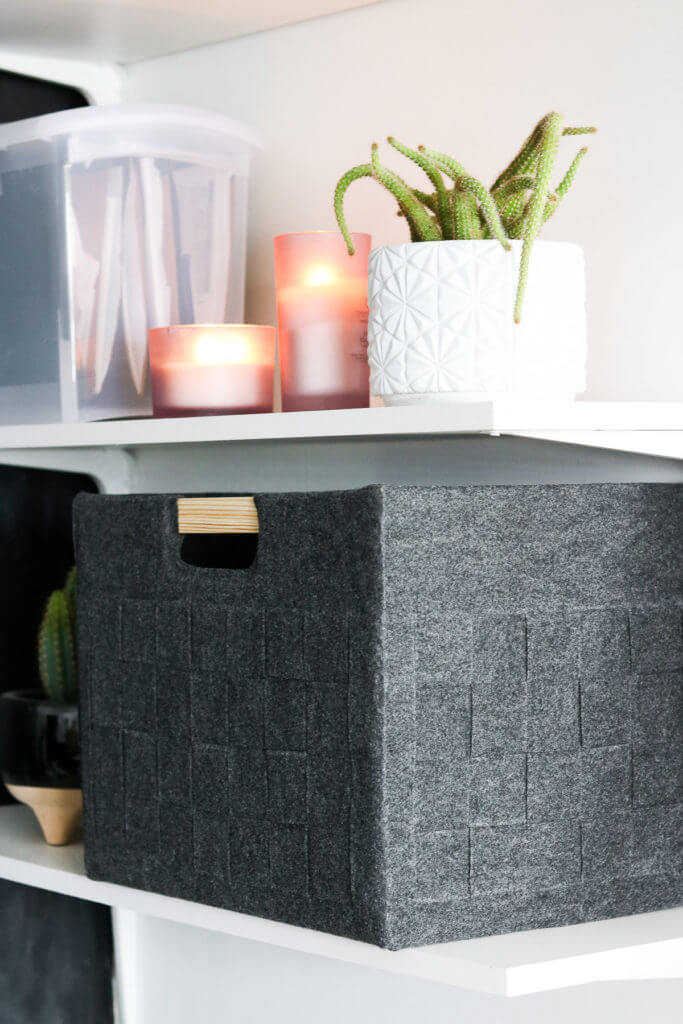 With minimal fuss, cool gray felt offers a luxurious and inviting texture to any space. The woven detail adds just enough visual interest to keep this svelte basket interesting without trying to steal the show. Handles fashioned from paint sticks offer additional functionality. Because a heavy-duty cardboard box serves as the base, you can store a wide variety of items inside your sophisticated woven basket. However, because felt snags on items with rough surfaces, you may need a non-felt lining for your basket's interior.
3. Oversized No-Sew Handmade Basket Ideas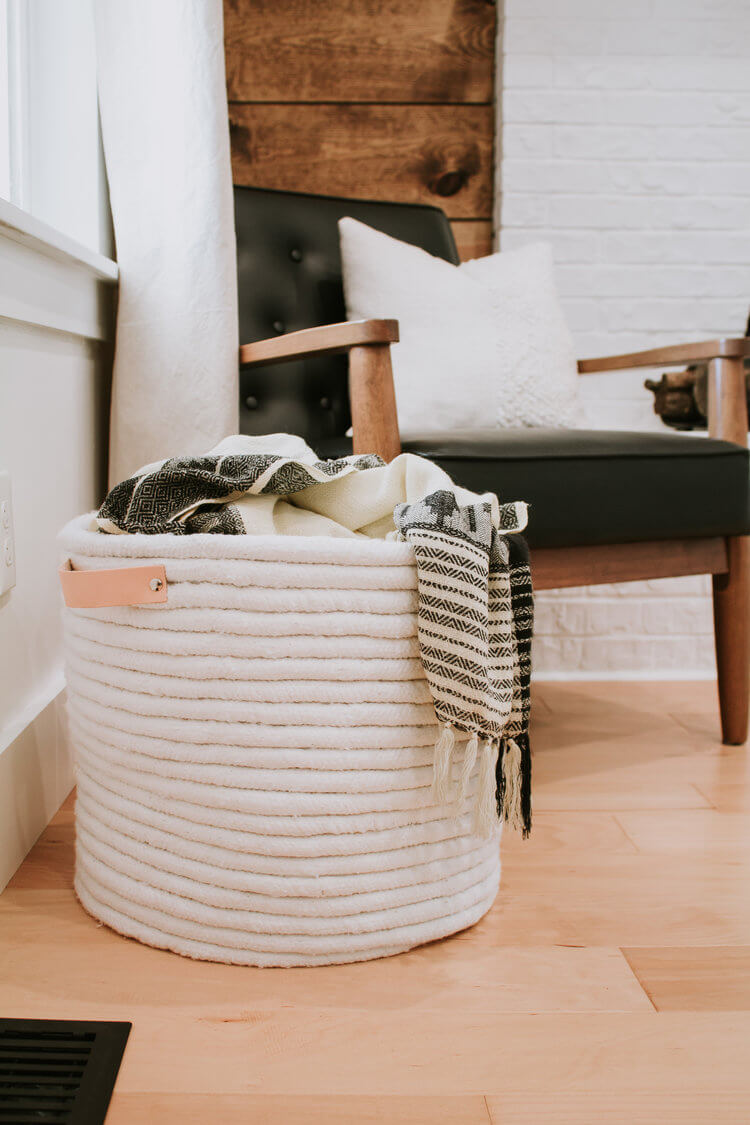 Made from white cotton piping with a garbage pail as a template, this oversized rope basket is an attractive way to store blankets, pillows, towels, or anything lightweight you would like to have within arm's reach. If treated gently, these no-sew baskets can last several years. Of course, sewing the cotton piping together will result in a sturdier project. A few ways to personalize this basket include dyeing the piping, experimenting with different handle materials, and using different templates for a variety of basket shapes.
4. 30-Minute Floppy Fabric Basket Project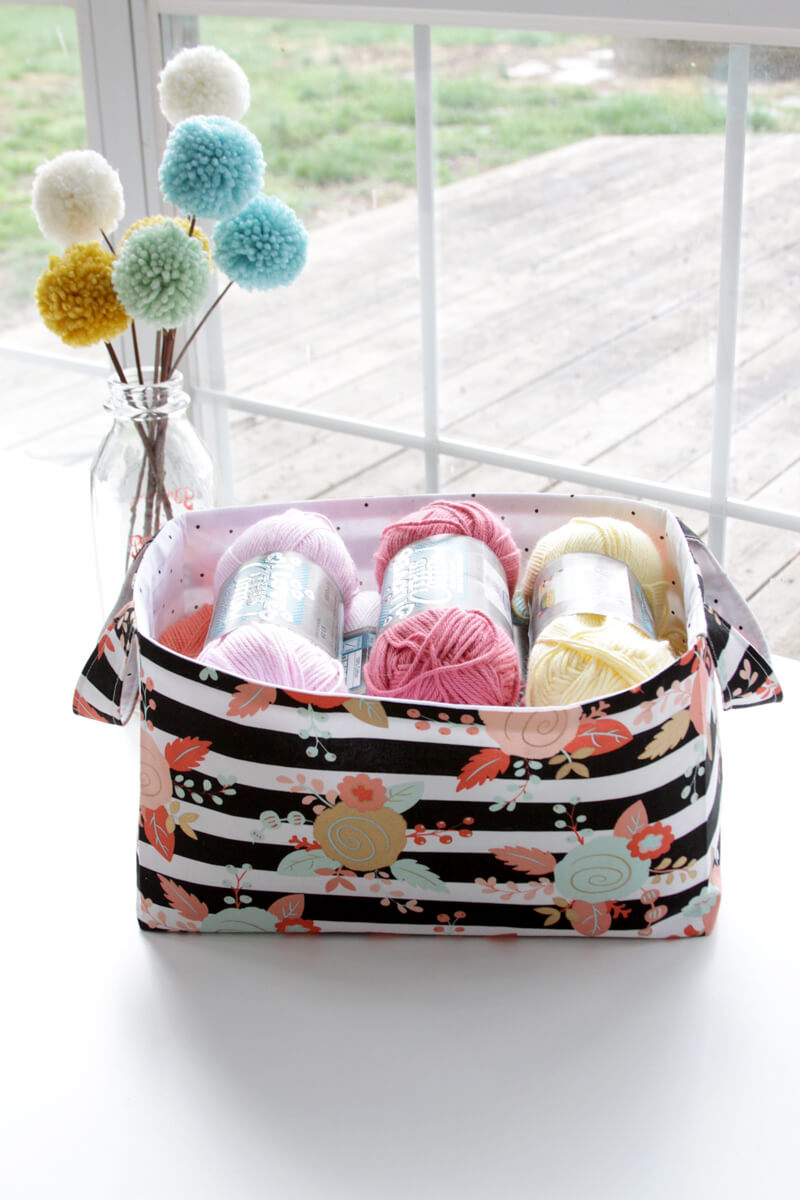 Even those new to the textile arts will find this basket a fun first sewing project. This basket features one fabric pattern on the outside, a different material as an inside liner, and a heavy-duty interface layer in between to give the basket its structure. While this example features handles made from the same materials, you could jazz it up with a different material such as leather. Because they come together so quickly, this is an excellent pattern to use when making a set of adorable baskets.
5. Faux Metal Handmade Basket Ideas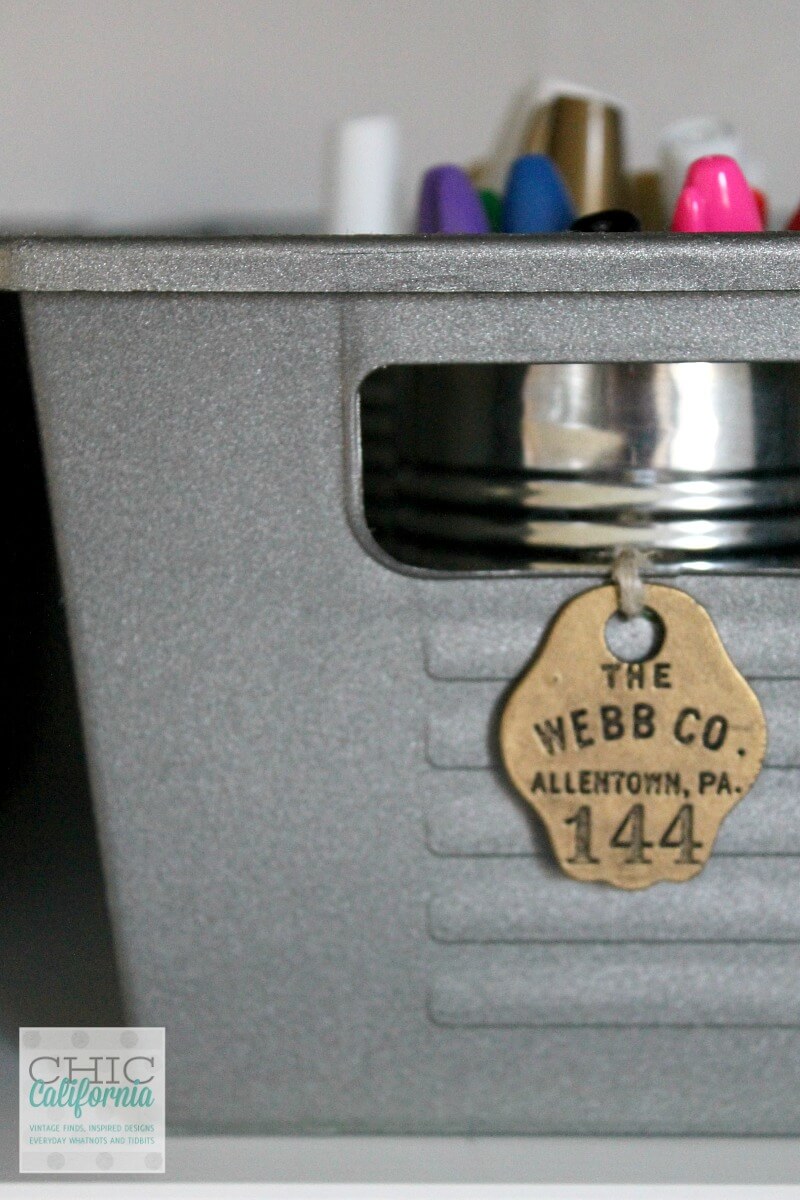 While the word "baskets" may bring natural woven materials to mind, it is entirely possible to craft baskets in cool metallic tones. This tutorial explains how to transform inexpensive plastic organizers into vintage locker-inspired containers. To achieve a similar effect, choose plastic bins with louvered details like the ones shown here. As the finishing touch, a stamped metal tag provides the perfect place for a label to imbue your shelves with a sense of order. Organize the basket's contents with tin cans to emphasize the metallic aesthetic.
6. Rainbow-Swathed Rope Coil Baskets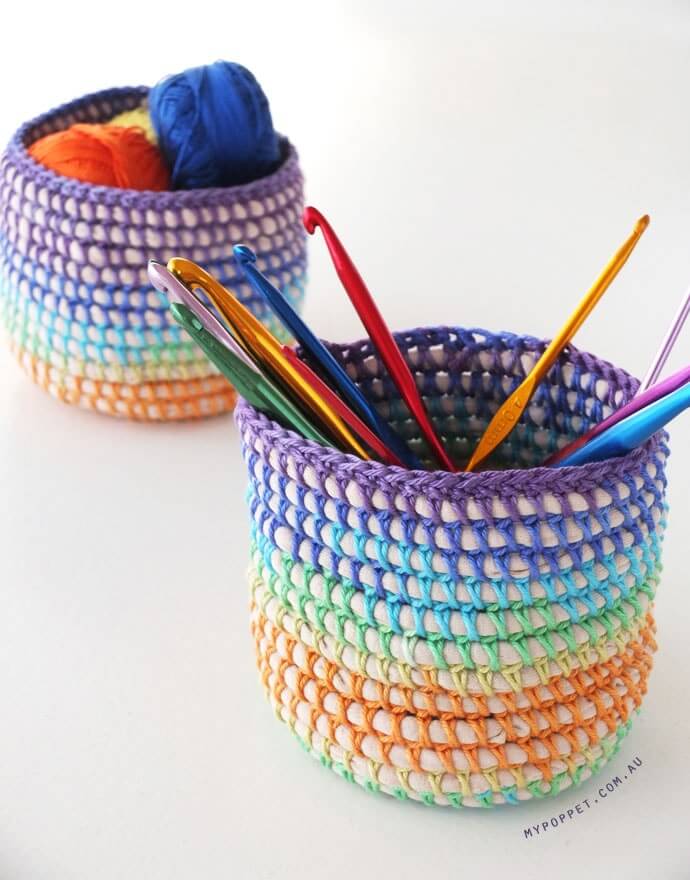 Gradated rainbow thread gives this basket an ambiance nothing short of magical. Of course, this technique could be used with non-gradated yarn as well. To achieve the effect shown in this image, all you need to do is crochet the yarn around the rope to form the basket. Because of the looser structure, this basket will be a little floppier than other options, which, depending on your needs, might work out better. They offer the perfect balance of rigidity and softness to make the small organizers shown here.
7. Dip-Dyeing a Handmade Clothesline Basket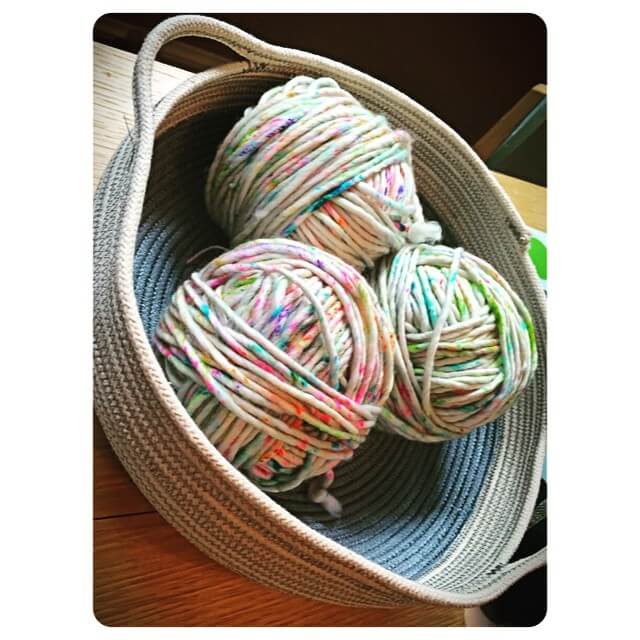 As you choose your basket's color palette, you can choose one color of thread for the inside and another, via your sewing machine's bobbin thread, for the outside. This basket coordinates the thread color with the dye color, but that is a design decision for you to make. Beyond the bold block of color, one of the advantages of dip-dying your basket is that the thread color will fade into the clothesline. If you prefer the higher-contrast look, dye your clothesline before assembling your basket.
8. Weaving Your Own Easter Basket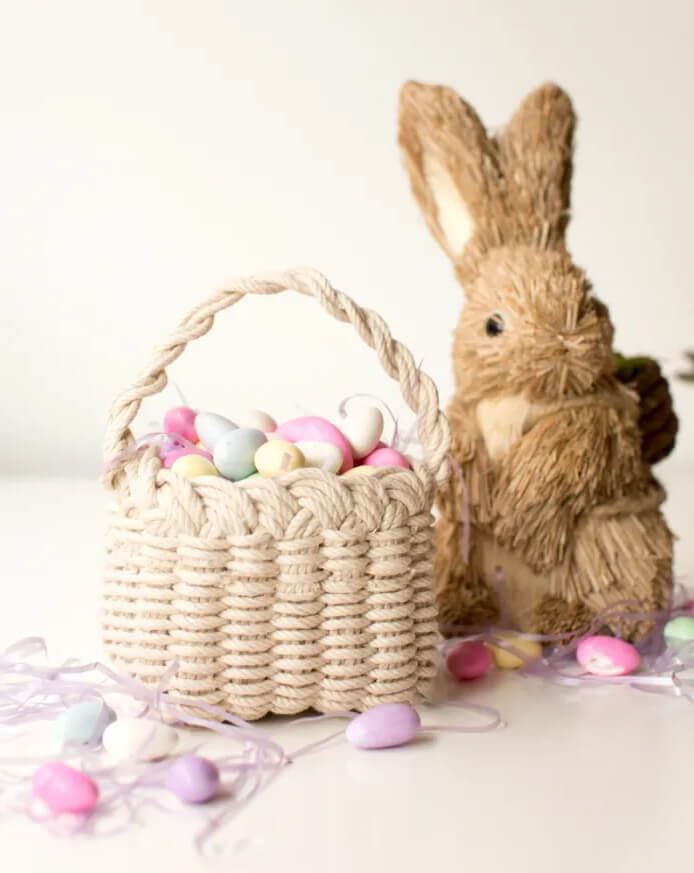 Weaving a basket from scratch might sound intimidating, but, with this tutorial, it is definitely doable. Part of what makes this project so manageable is its small size. Of course, if you are an experienced weaver, you can scale the pattern up to make a larger basket. Dress your hand-woven Easter basket up with bows, buttons, and anything else that speaks to your spirit. Although this basket is styled with Easter trappings, it is a classic way to display your decorations throughout the year.
9. Using Bright Colors to Rejuvenate Your Baskets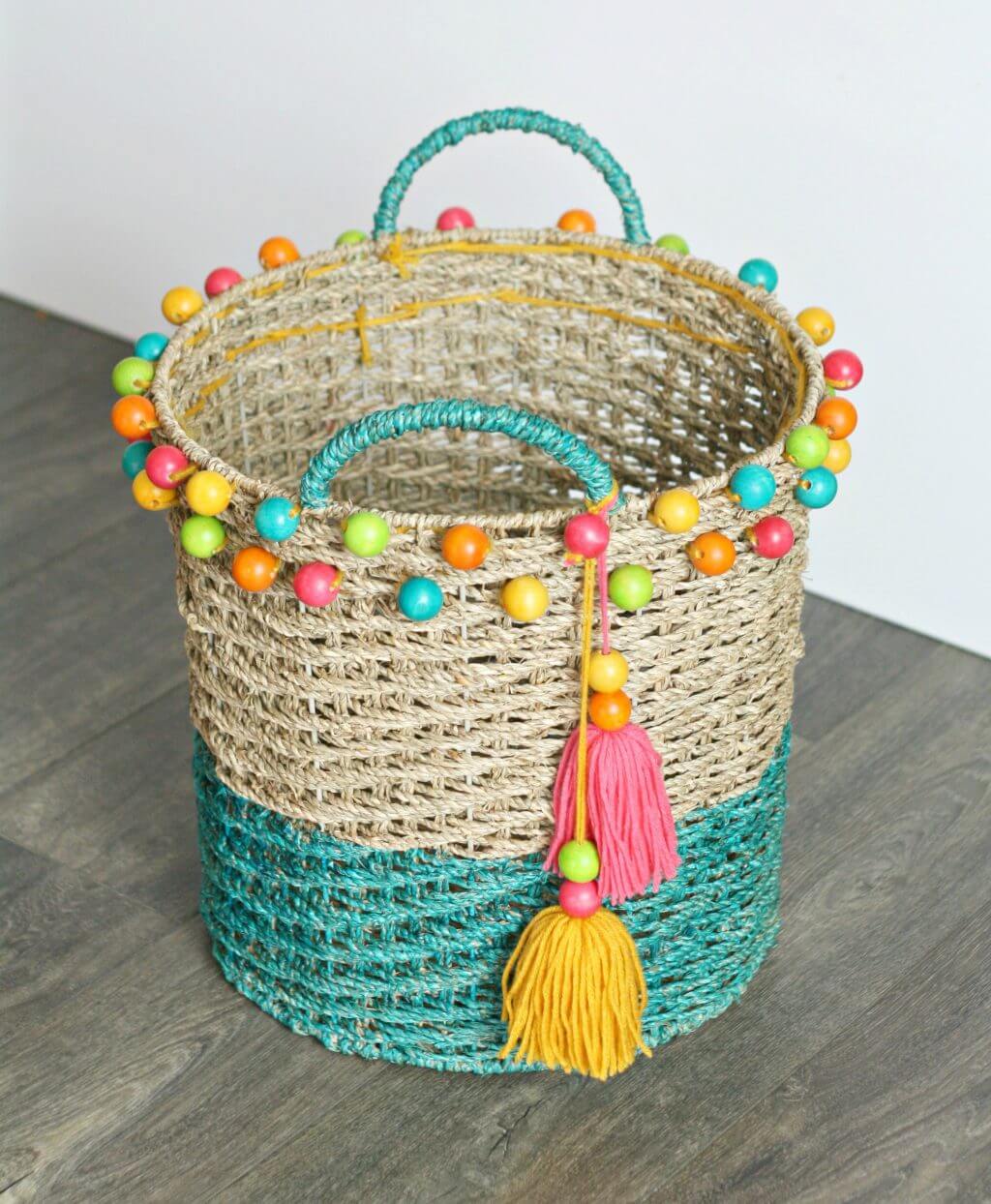 While a plain basket exudes classic charm, it is sometimes necessary to spice up your look. Colorful wooden beads and pom-poms work together to transform a dull basket into a joyful decoration. They are attached with yarn so you can easily switch them as the seasons change. Fiber dye is the secret behind the turquoise accents. Because fiber dye is applied with a brush, you control exactly where the color goes. If solid blocks of color are too simple, try using stencils or freehanding decorative designs.
10. Quick and Easy Cardboard Box Makeover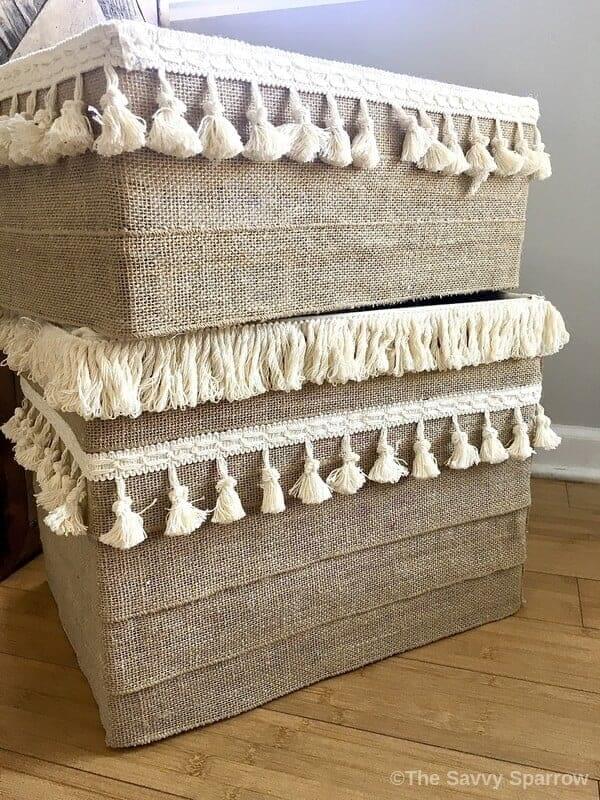 With this single simple project, you can keep two areas of your space free of clutter: your recycling bin and your floor. Storing your possessions in old cardboard boxes might sound inelegant, but, with the right trimming, can be both stylish and practical. This tutorial uses a tightly-woven burlap ribbon in combination with Bohemian tassels, but there is a great deal of room for creativity. Because these boxes are easy to customize, try making organizer baskets that coordinate with all your favorite seasonal decor.
11. Upgrading a Rope Basket with Wrapped Fabric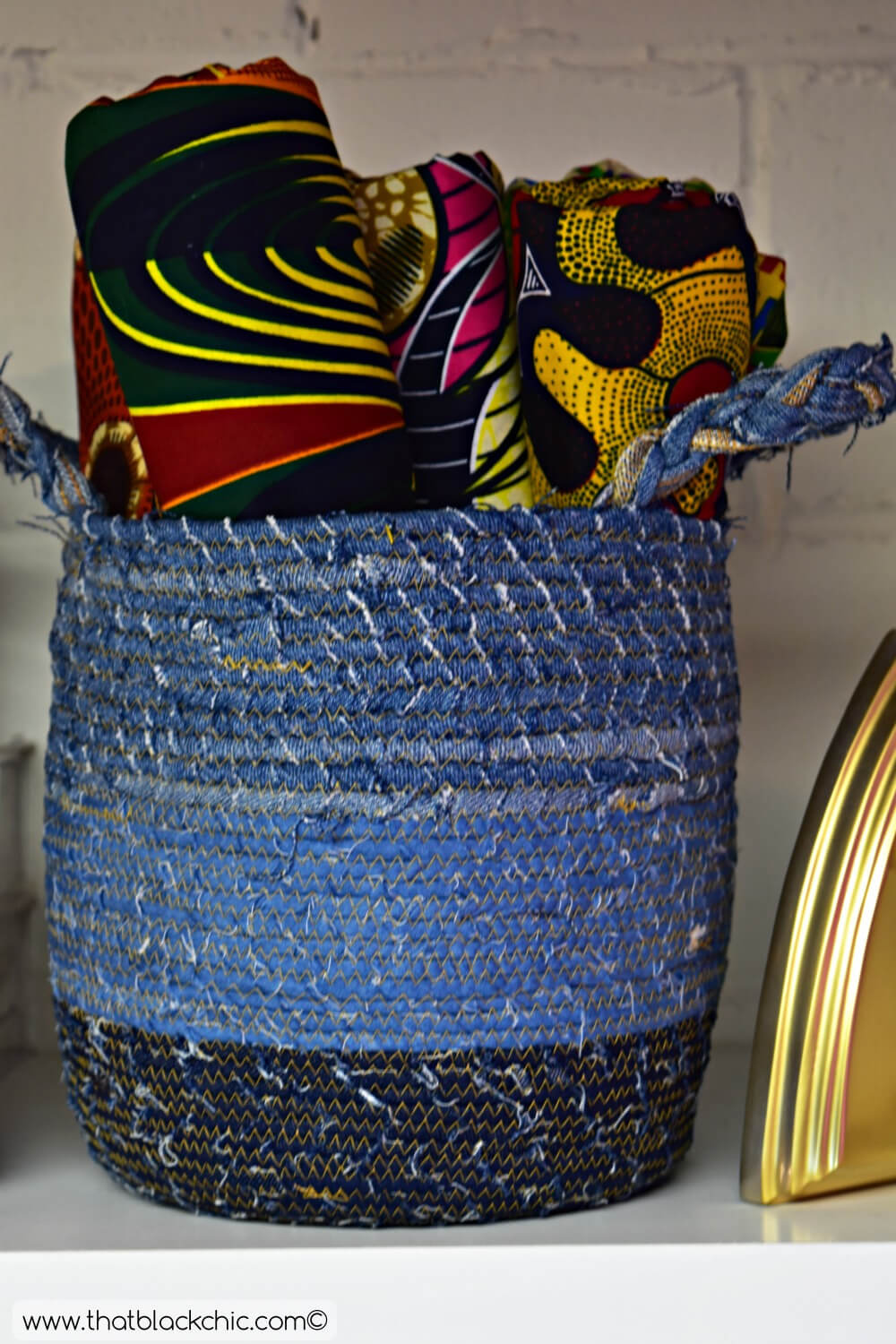 If your space calls for something a little bolder than white clothesline, fabric wrapping is a great way to add some color to your rope basket. This basket showcases an attractive range of denim, but you can use any cloth in your stash. Using the darkest fabric at the basket's bottom will help anchor the project. Once the fabric is wrapped, a zig-zag stitch holds the coils together. In this image, that zig-zag stitching is a bright yellow that contrasts against the deep denim blue.
12. Denim and Twine Upcycled Box Basket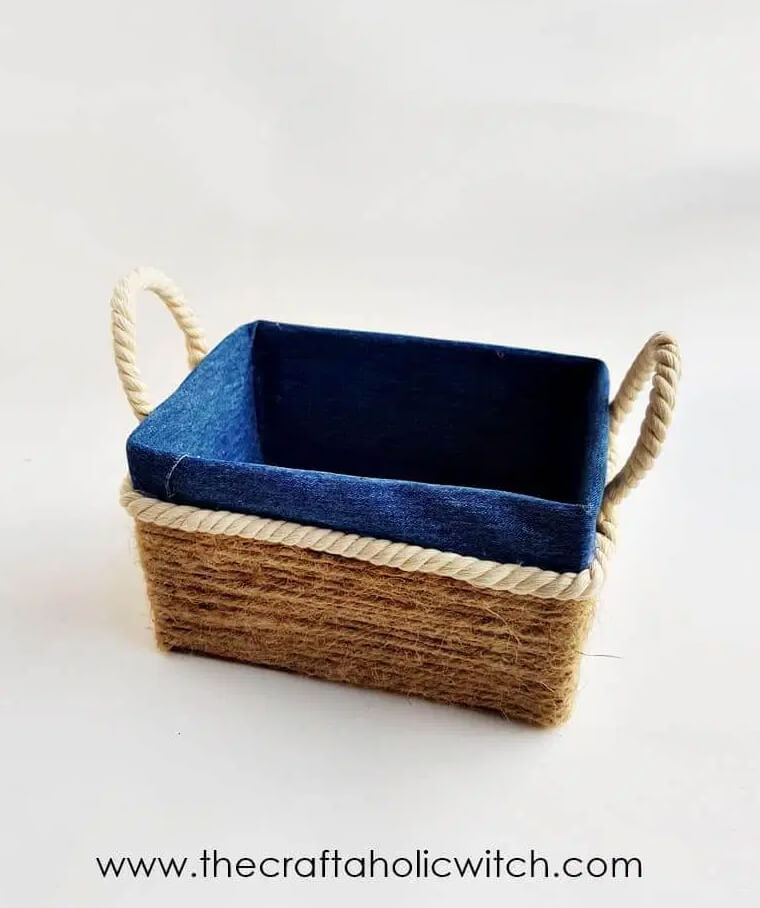 If you have cardboard boxes to spare, this is one of the best DIY basket ideas. For a basket that exudes rugged rustic vibes, try using scrap denim, jute twine, and heavy white rope. What sets this basket apart is the bold transition from fabric to twine. If the chunky rope is not your style, switch it out for a strip of patterned material, ribbon, or any sort of fabric trimming. Imbue your basket with elegant chic by including a layer of lace over the denim.
13. Upgrading Your Baskets with Coordinating Tassels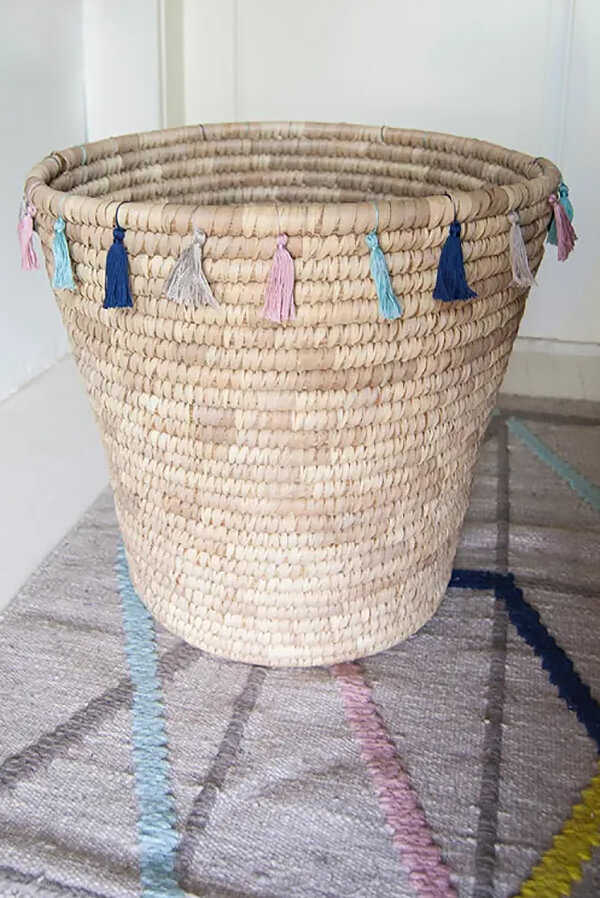 Attaching tassels to your basket collection is an easy way to cultivate effortless coordination. All you have to do is find or make tassels in colors that already live in your space. This example uses a rug as a chromatic guide, but you could use wallpaper, curtains, or anything colorful in your home. When you are ready to redecorate, changing out tassels is quick and easy. Of course, you do not need to stick with tassels – this strategy can be used with any type of embellishment.
14. Creating Your Own No-Sew Decorative Rope Tote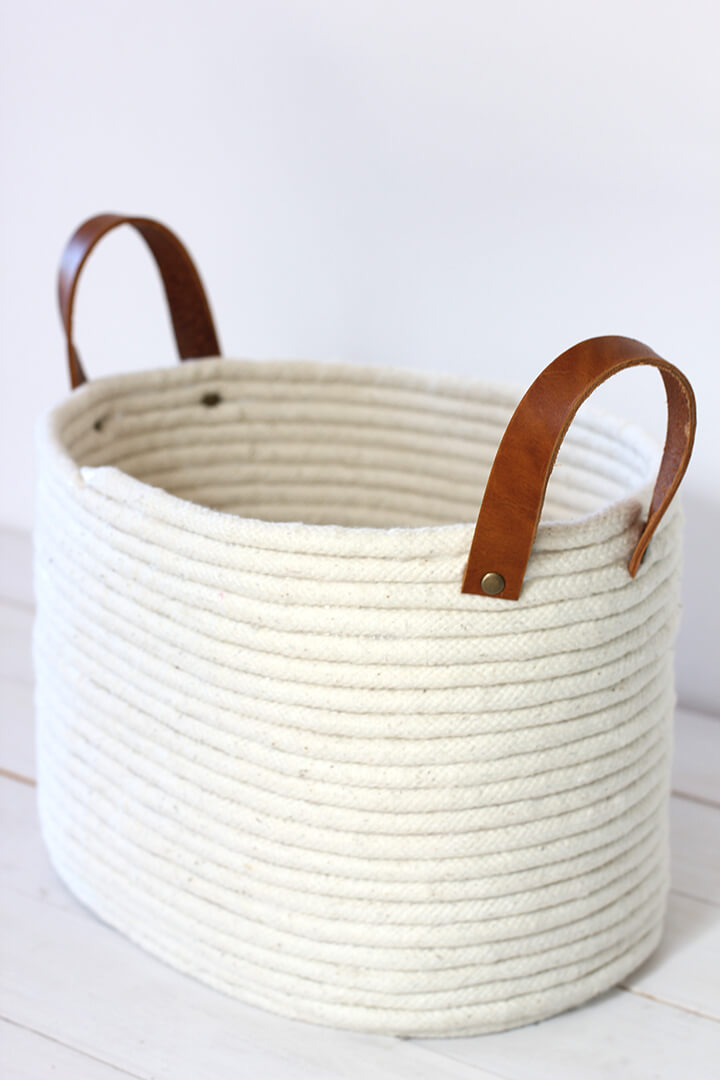 Naturally-colored fibers and rich brown leather are a great way to add warmth to a space. This basket features cotton piping, but you could use different varieties of rope to express your style. If you need a rope organizer with a heavy-duty weight capacity, glue the rope directly onto a sturdy container. Although this example is simple bordering on minimalist, there are plenty of ways to add a little pizzazz to your decorative rope basket. From sequins to embroidery, the possibilities for personalization are endless.
15. Upcycling Cardboard Boxes into Homemade Baskets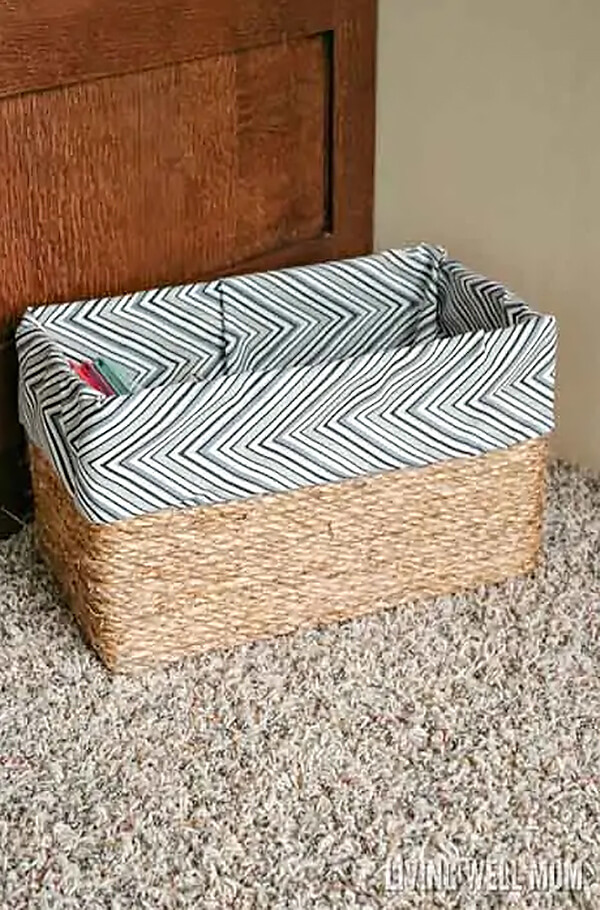 Coordinating your storage with your décor is a cinch with this simple strategy. Pair your favorite patterned cloth with rope for a storage solution that is both budget-friendly and beautiful. While switching up the fabric will have an impact on the basket's feel, the rope influences this basket's ambiance. Go for a larger gauge brown-toned rope for a more rugged, earthy feel. Alternatively, using a smaller rope size or even twine can offer a sophisticated twist. Experiment with different rope colors until you get the perfect look.
16. Dying Clothesline for a Unique Basket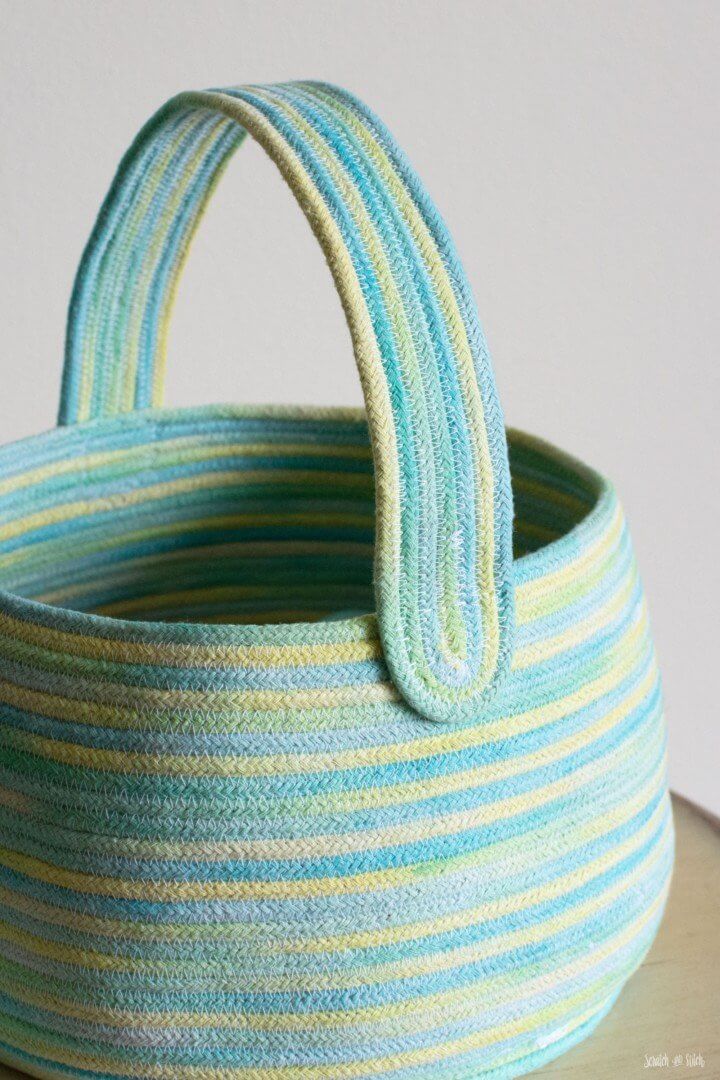 Give yourself the gift of an utterly one-of-a-kind basket with cotton clothesline, fabric dye, and a little help from a zig-zag stitch. This tutorial uses pastel yellow and blue dye for a soft effect perfect for springtime, but you can use any fabric dye that will work with cotton. Dye all the clothesline a single color for a solid basket or divide it into thirds for the swirling effect shown here. The pot-like shape with a handle makes this basket ideal for kids' toys.
17. Building a Woven Basket the Easy Way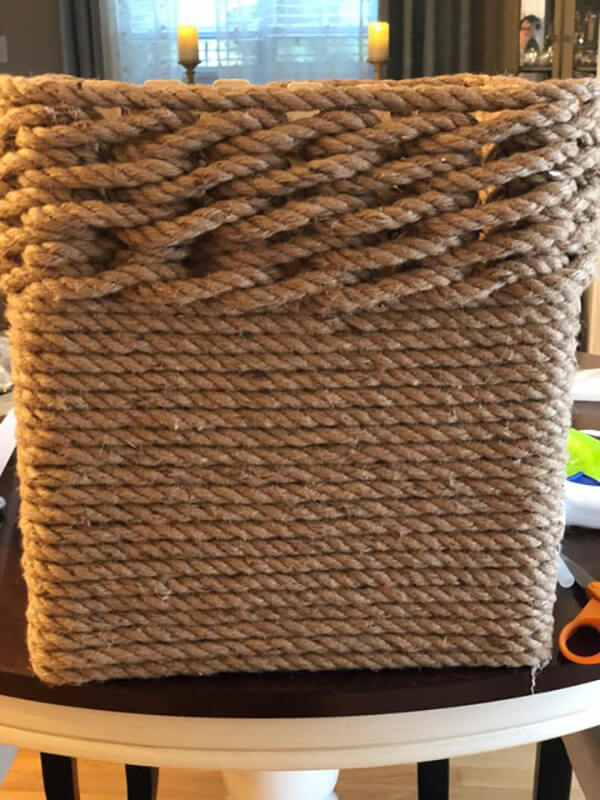 Weaving a basket solely from jute takes time and patience to master. Luckily, this tutorial shows how you can whip up an extravagant woven basket within a few hours. With a cardboard box for a base and paint sticks as guides for the weaving, this technique is scalable for any project size. If you would like to make a petite basket, try using popsicle sticks and a lighter gauge of twine. Add a fabric liner, and your homemade baskets will be ready for action.
18. Crocheting Fun Floppy Homemade Baskets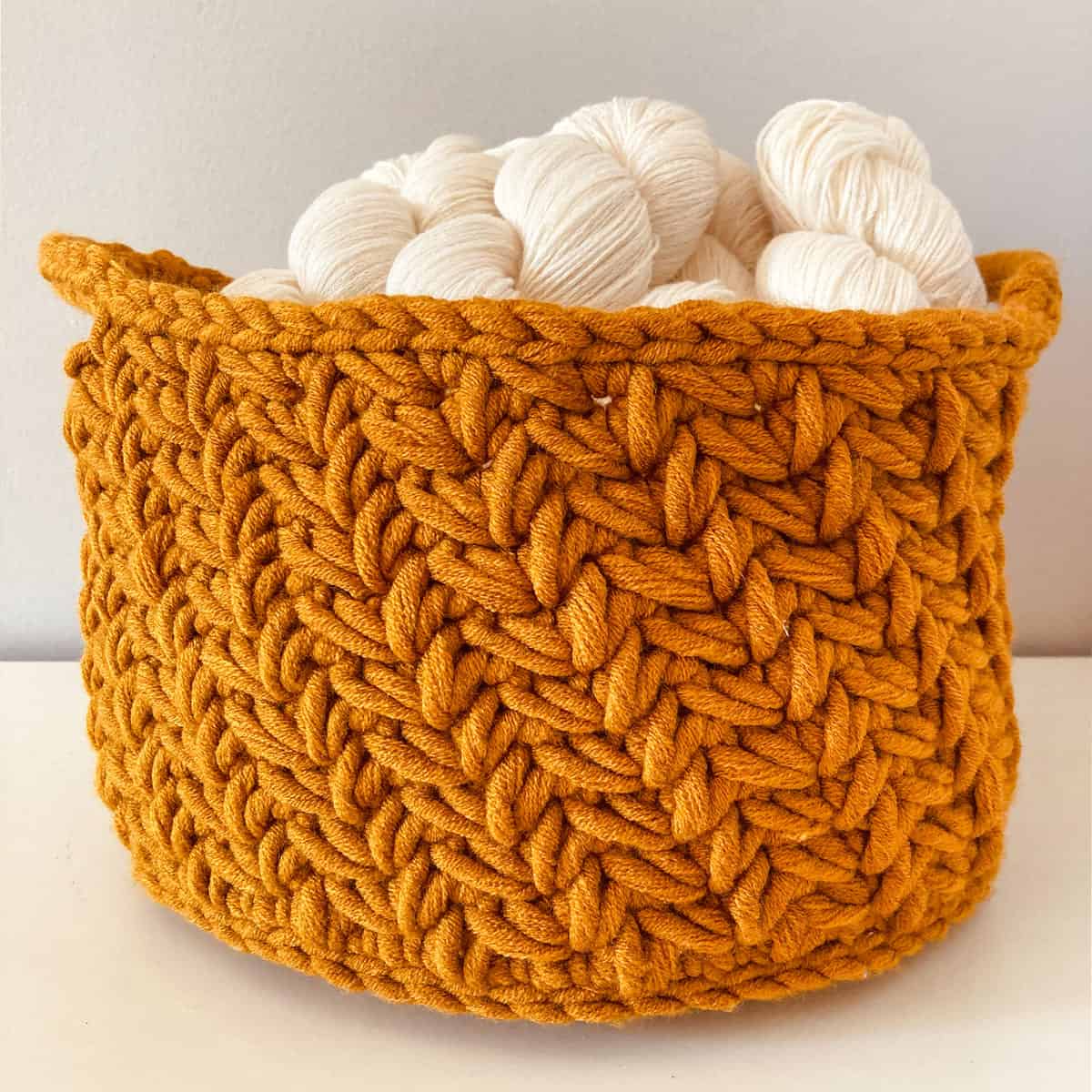 Break out your favorite bulky yarn and you can crochet your own elaborate storage basket. Although this pattern looks as if it was knitted, it is actually relatively easy to crochet. Because this stitch is a modified single crochet, this project is doable even for new crocheters. With a 34-inch diameter, your basket will be large enough to hold all kinds of items. Of course, because it is woven yarn, it is best used to store lightweight items like blankets, pillows, or the yarn shown here.
19. How to Crochet a Sturdy Basket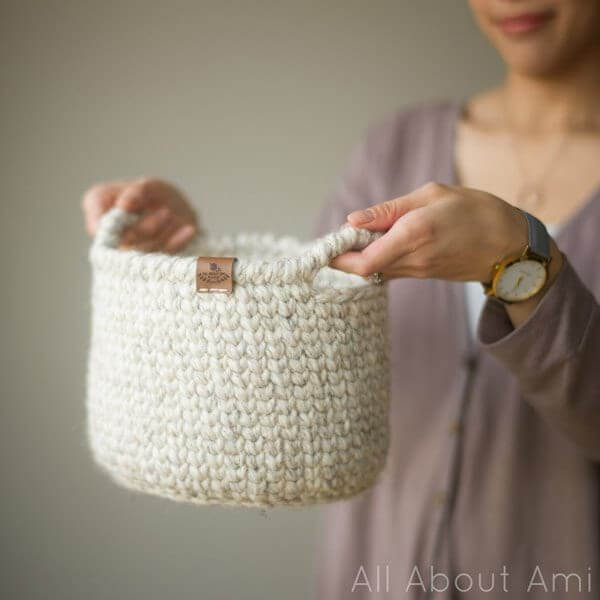 Crocheting a basket is a way to infuse your space with intricate texture and inviting hygge vibes. This stitch results in attractive vertical lines that appear to be stacked hearts. To achieve a basket with sides sturdy enough to support itself, you will need to crochet with two strands of bulky yarn at once. The easiest way to personalize this project is to adjust the color to suit your décor. To take this basket to the next level, try sewing needle-felted appliques to the sides.
20. Using Stripes for Bold Basket Designs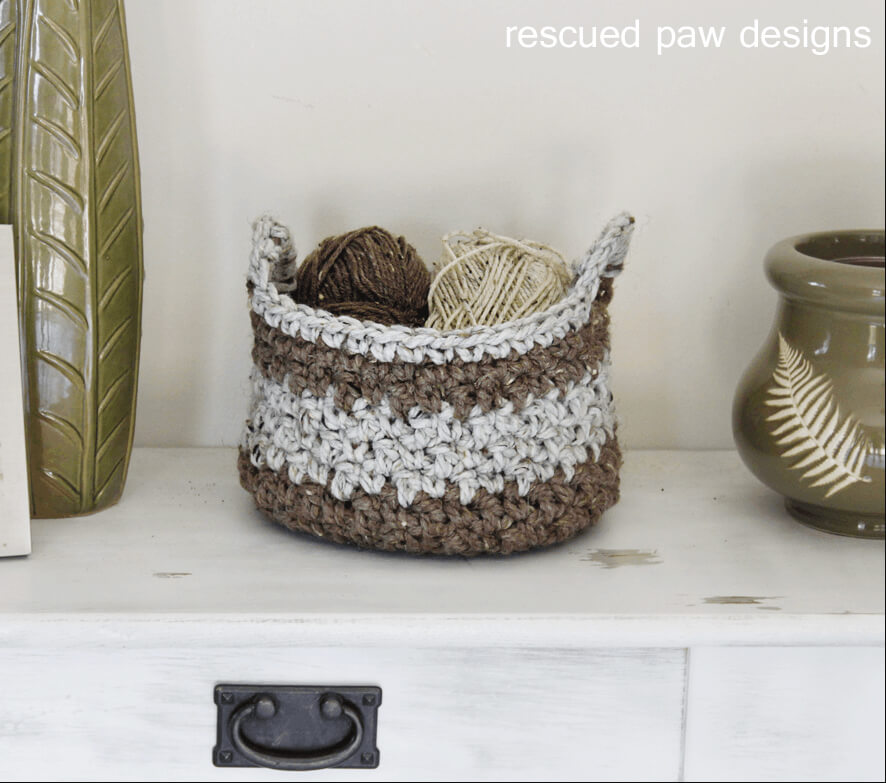 While you could crochet this basket in a single color of yarn, the two colors shown here will energize a space. This example uses inviting neutral colors, but any color combination could look intriguing. Choosing chunky yarn and keeping the tension tight as you crochet are the tricks to getting your crocheted basket to stand up on its own. This tutorial takes one skein of bulky yarn for each color. However, if you would like an even sturdier basket, try crocheting with two skeins of yarn at once.
21. Best Practices to Make Coiled Rope Baskets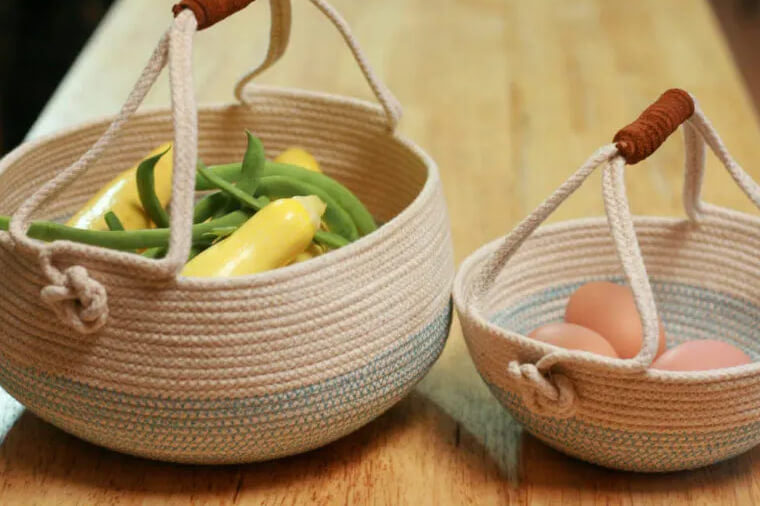 Soft textures, attractive silhouette options, and endless color customization are just a few reasons to love coiled rope baskets. While this tutorial includes several tips to help your handmade basket ideas come to life, the most important piece of advice is to have fun. Maybe, for you, that means finding a new way to add handles to your creations. Whether you have fun discovering ways to dye rope or incorporating other materials into your basket designs, this is a way to take your creativity to its limits.
22. Burlap Basket with Bohemian Vibes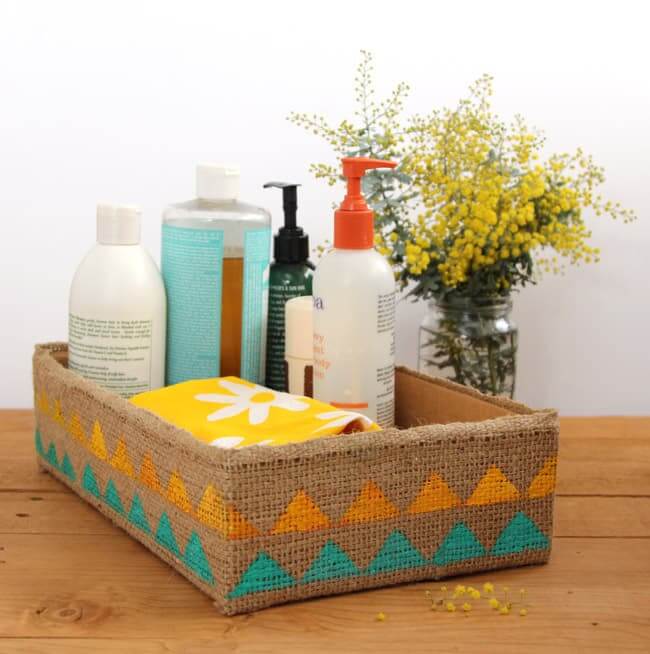 Embrace the unfinished edges with this upcycled box tutorial. If you prefer a finished look, simply wrap the burlap over the side and apply a dash of glue. Of course, the brightly-colored shapes steal the show. To achieve similar success, all you need are stencils and a paint color that harmonizes with your space. Emphasize the Bohemian feel by adding pom-pom trim. For a more sophisticated basket, use linen and experiment with more elaborate stencils. This stencil technique can even be used to personalize your basket with a monogram.
23. Custom Liners for All Your Baskets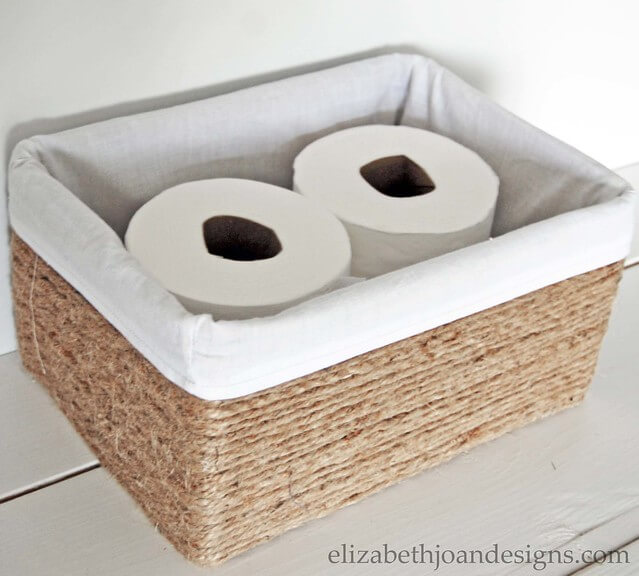 Fabric liners not only help protect your basket but also provide a stunning counterpoint to the natural woven texture. The white muslin shown here would look fantastic in a farmhouse space. From polka dots to floral patterns, you could use any fabric that resonates with you. Each liner requires five fabric panels, so you could choose five distinct patterns to achieve maximalist bliss. Because these liners are not permanently attached, you can give your baskets a festive upgrade with a new liner for each holiday.
24. Cotton Rope and Crochet Yarn Basket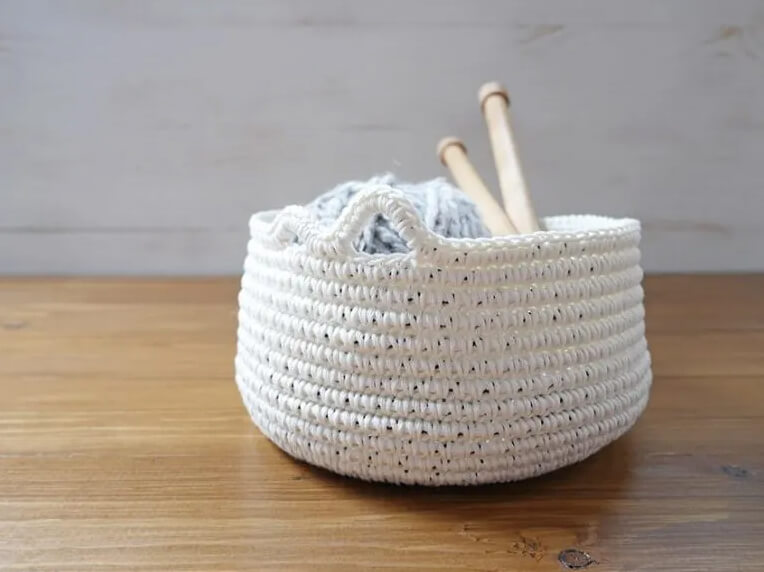 By combining rope and crochet, you get the best of both techniques. Rope lends this basket impressive volume and its defining structure. Crocheting binds the basket together and imparts a delicious texture. A swooping top row gives this basket a modern vibe, but you could use any handle material that looks good in your space. When it comes to color, there are two components you can play with: the rope and the yarn. Have fun figuring out which combination gives you the perfect ambiance for your needs.
25. Maximizing Functionality with Wooden Knobs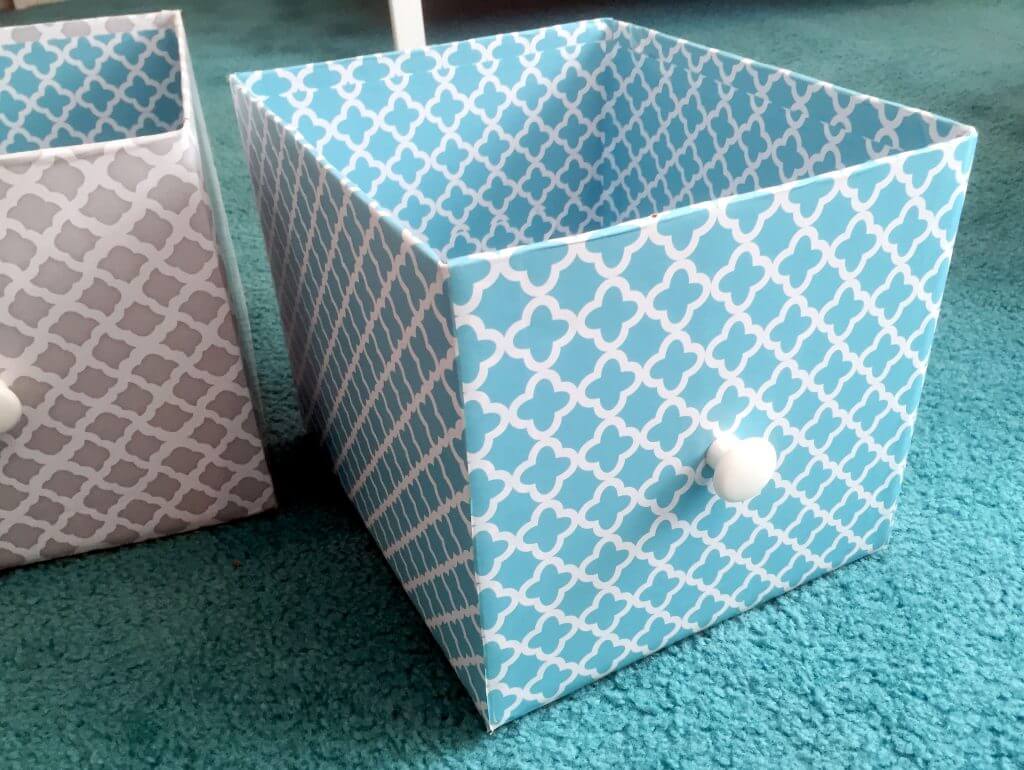 If you are planning to use your storage baskets like drawers, a wooden knob can make your life much easier. Depending on what knob you choose, this small step also gives your project a delightful finish. To provide an easy-to-clean surface, this tutorial recommends using contact paper instead of fabric. Like fabric, there are nearly endless contact paper design options. To give your basket a more traditional woven feel, glue twine or rope along the outside. Colorful contact paper on the inside will achieve an enchanting contrast.
25 of the Best DIY Basket Ideas to Make for Yourself and Family
There is no such thing as too many baskets, and these 25 ideas are perfect for experimenting with your style. Small baskets are great for storing writing utensils, candy, crochet hooks, or any miscellaneous crafting materials. Larger baskets are ideal for blankets, books, spare material, pillows, yarn, or anything else you might need to store. With so many potential uses for baskets, there always seems to be a reason to make another one. Best of all, many of these baskets are incredibly easy to make.
If you find yourself planning to make more baskets than can possibly fit in your home, there is no need to worry. Homemade baskets make fantastic gifts. Fill your newly-made basket with items for a baby shower, housewarming, spa day, sweet treats, or anything that your friends and family would enjoy receiving. From crochet projects to weaving felt, there are several basket-making techniques on offer. If you fell in love with handmade basket ideas in a medium you are not used to working in, this is an excellent opportunity to explore a new crafting style. Do not be afraid to be bold and try something outside of your comfort zone. This can mean experimenting with a fresh color scheme or implementing materials you have never used before.