Bathrooms are often some of the smallest and busiest spaces in our homes, so it's easy for them to get cluttered and disorganized. When you're trying to get yourself or your family ready in the morning, that clutter can really get your day off to a rough start. Thankfully, it doesn't require a pricey remodel or brand new fixtures to take back your space! Just about every bathroom is only a few do it yourself projects away from a cleaner, more organized look.
50+ Easy DIY Bathroom Storage Projects You Can Make this Weekend

First, take a moment to decide what kind of storage you need most. Are extra towels taking up too much shelf space, or has your nail polish collection grown until it's taking over the counter? What items are being stored in the bathroom, like kids' bath toys, or cleaning products, that might make sense in another location? Once you know what kind of storage you need, play to your strengths. If you're handy with power tools, consider adding built-in shelves to take advantage of wasted wall space, or adding extra towel racks to hang handy storage baskets. If a smaller update is more your speed, try adding pipe brackets to the inside of a cupboard door to hold hair styling tools or drawer-organizing dividers to keep makeup and nail polish corralled.
In such a small space, you won't need to make big changes (or spend big money) to see big improvements. Need more inspiration for your bathroom makeover? Check out these 50+ DIY bathroom storage and organizing ideas that will turn your cluttered space into a relaxing getaway.
1. Modern Man's Wooden Shaving Caddy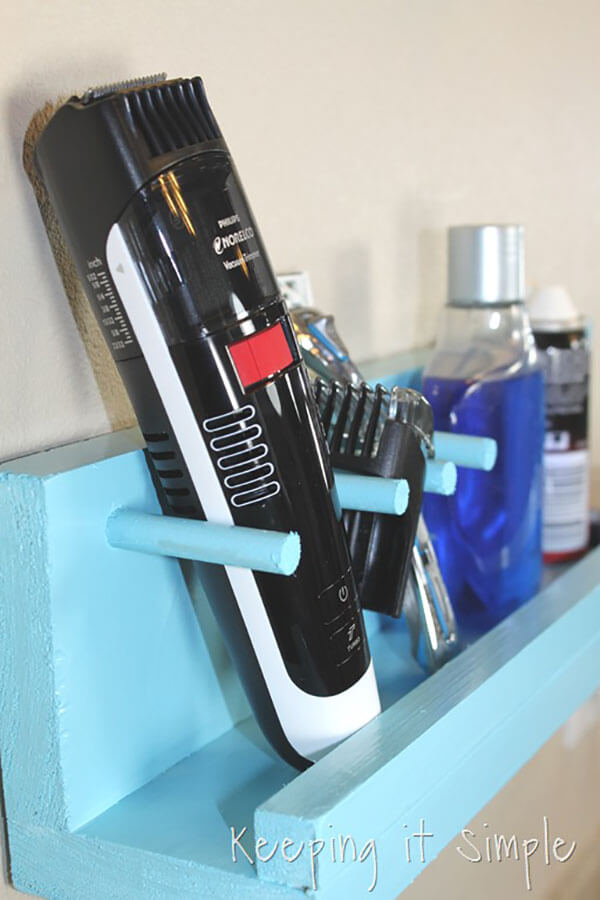 Knowing where your essential tools are is half the battle and this amazing wooden shaving caddy conveniently holds all of your must-have shaving gizmos and gadgets. From an electric razor to your bottle of aftershave, this slim-designed wooden creation easily displays your items in a user-friendly hub that's within your fingertips in the bathroom.
2. Metal Bath House Decorative Shelf Box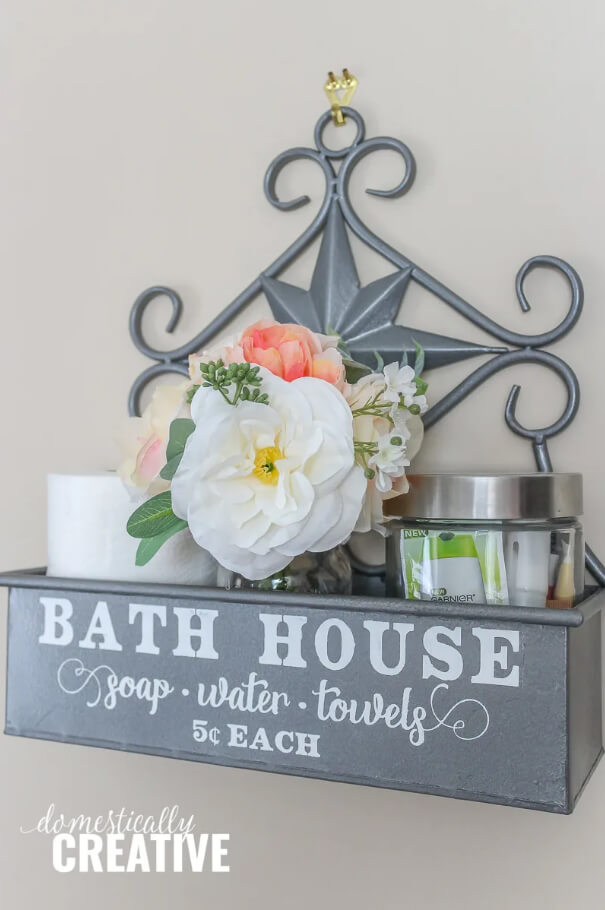 Add some fun with function in this decorative shelf box for your bathroom. It adds a certain nostalgia to the room with its 5 cent soap, water, and towels signage. Crafted in a small size, this box can hold a few items like a spare roll of toilet paper along with a couple of decorative pieces or jars of cotton balls. Using it in your bathroom allows you to free up a little more counter space by using this decorative, yet functional bin on the wall.
3. Rustic Red Barn Wood 5 Drawer Organizer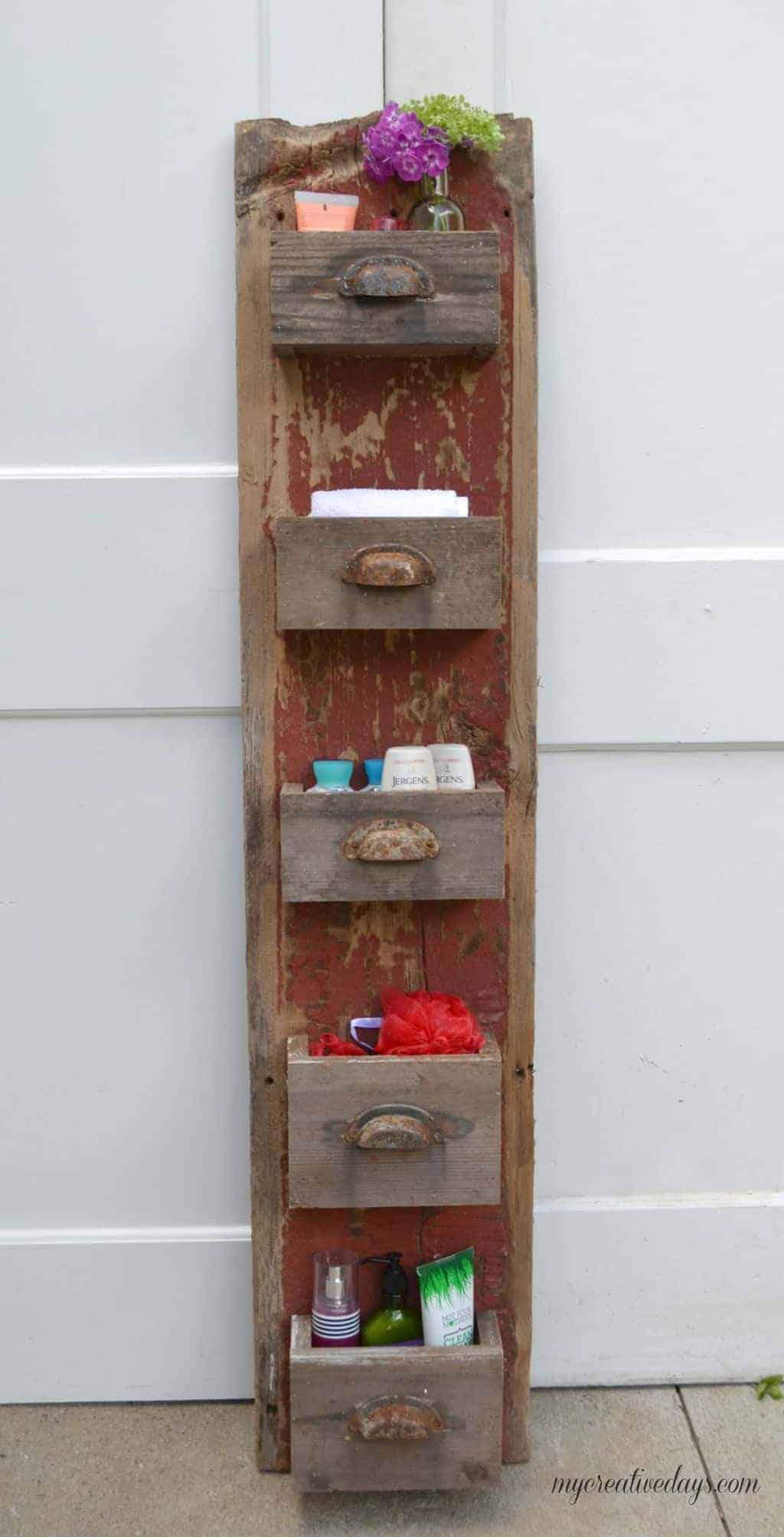 Grab some old boards and a few metal drawer pulls to create this rustic and repurposed vertical organizer. With its vertical design, it can fit into almost any sized bathroom. The small set of five drawers give you easy access to your go-to items like lotions, body washes, brushes, and more. Prop this up on the floor or hang it on the wall to make finding your everyday items a little easier.
4. Modern Industrial Pipe Bathroom Shelf and Rack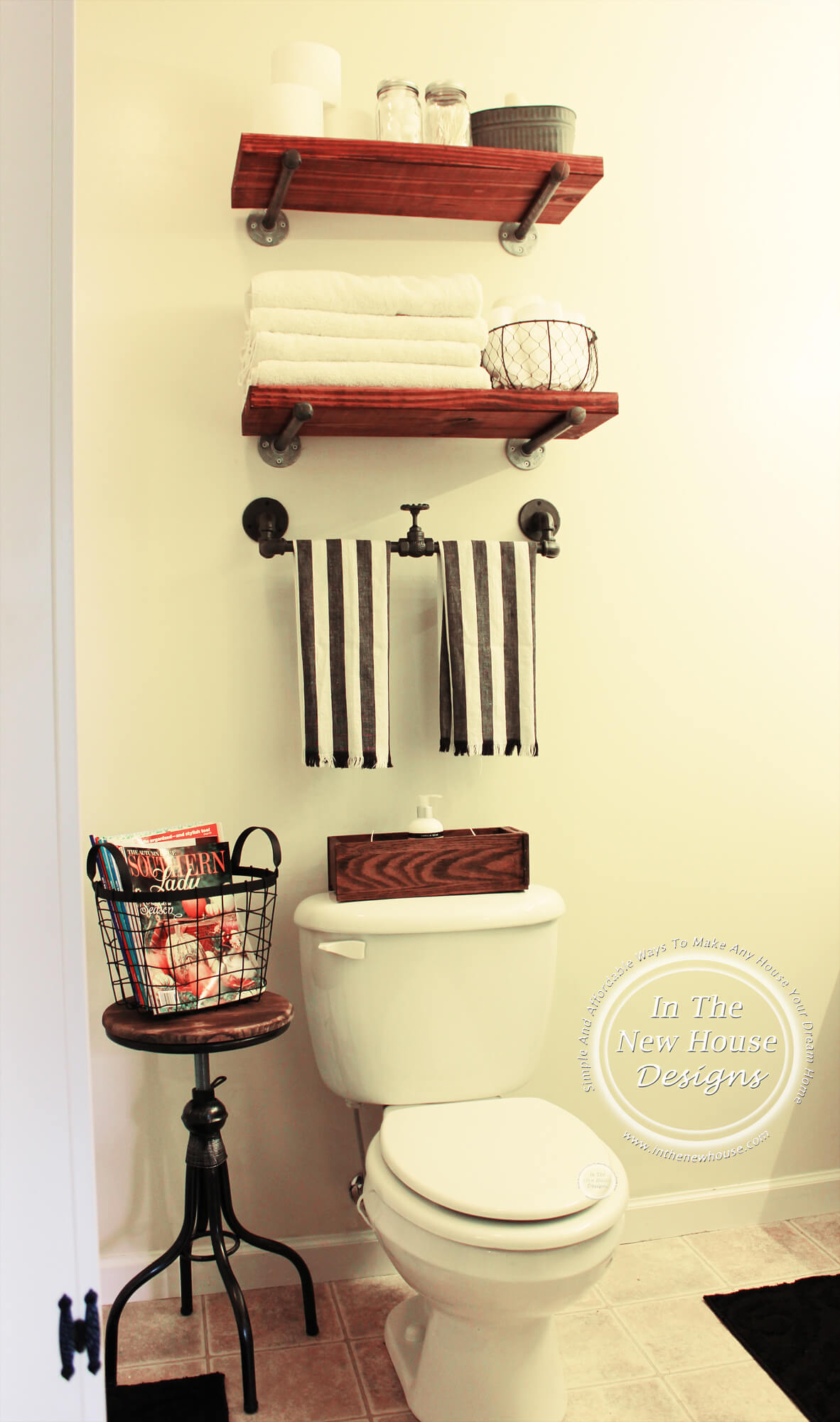 What better way to hang your towel and store the extras than with this contemporary storage system featuring industrial pipes. Don't waste any space as you utilize the wall above your toilet to hang these masterful creations. The design freshens up almost any decor with its urban edge. Adding a couple of wooden shelves further incorporates some style into your storage system.
5. Mesh Metal Bin for Hair Dryer Storage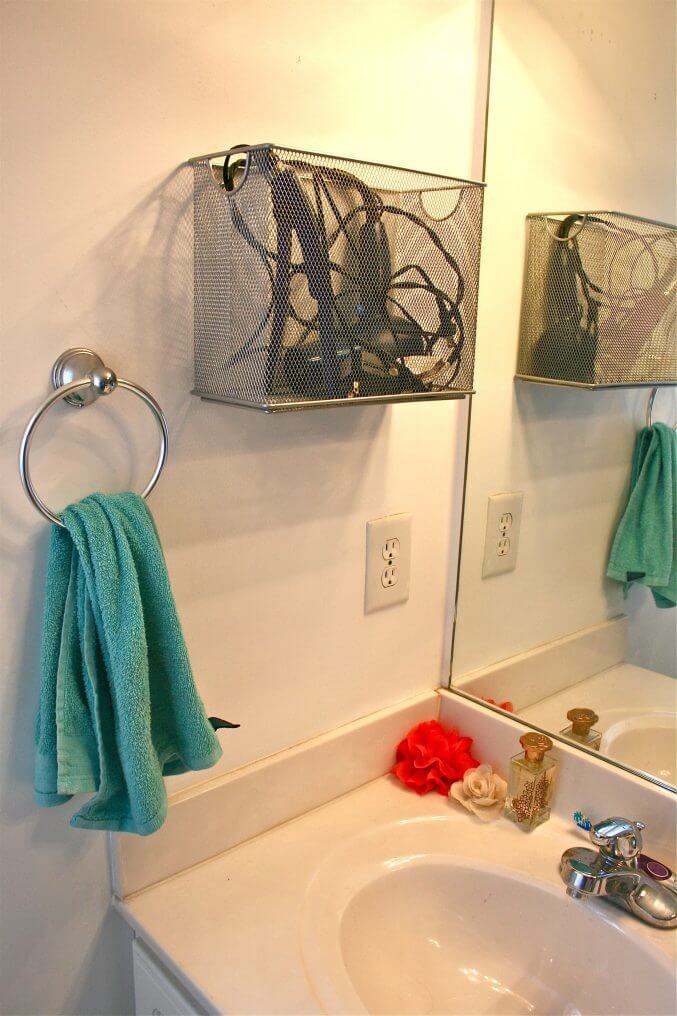 Keep your hairdryer on-hand and its cord out-of-the-way with this stylish and contemporary mesh metal bin. Hanging on a side wall in your bathroom, this bin not only keeps your hairdryer handy but also allows it to breathe easily to cool down after each use with its mesh design. There's even enough room to store your flat iron or curling wand as well.
6. Shabby Chic Three Shutters Double Shelf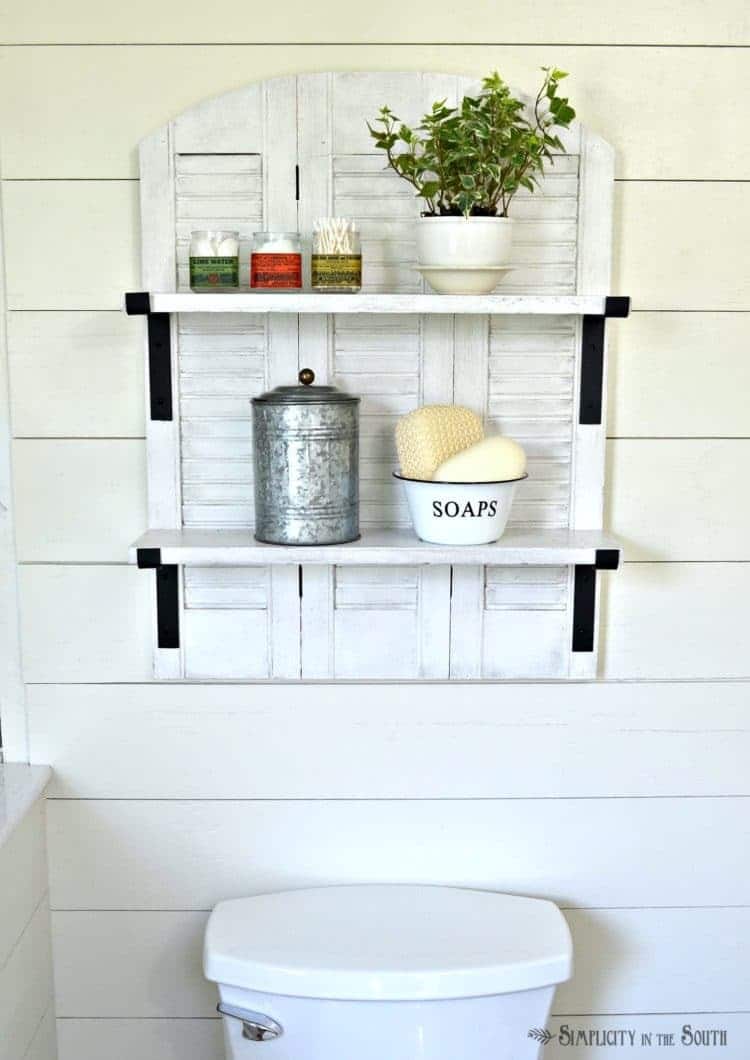 Add some character and charm along with your storage and organization in your bathroom with this shabby chic shutter shelf. The backing is formed from a trio of shutters in a vintage white finish that holds a two-shelf system for displaying your essentials and decorative pieces in a friendly way. Arrange a plant or candle to enhance the atmosphere or dedicate a space to some personal hygiene items in tiny baskets and bins.
7. Rectangular Natural Jute String Bathroom Basket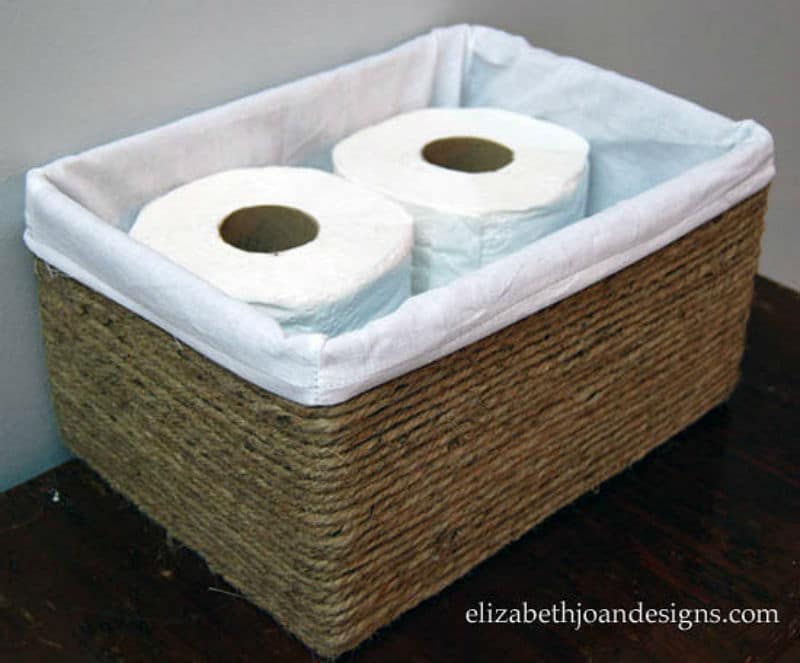 Rounded off with a plain, white fabric liner, this jute basket is a top choice for your bathroom organization! Crafted in a traditional rectangular shape, this basket is an easy way to display extra rolls of toilet paper so no one runs out. It's large enough to sit on the floor, yet small enough to be placed on the back of the toilet or on a shelf. The natural element of the jute adds some nice texture to your room too.
8. Natural Wood Shelf with Black Towel Holder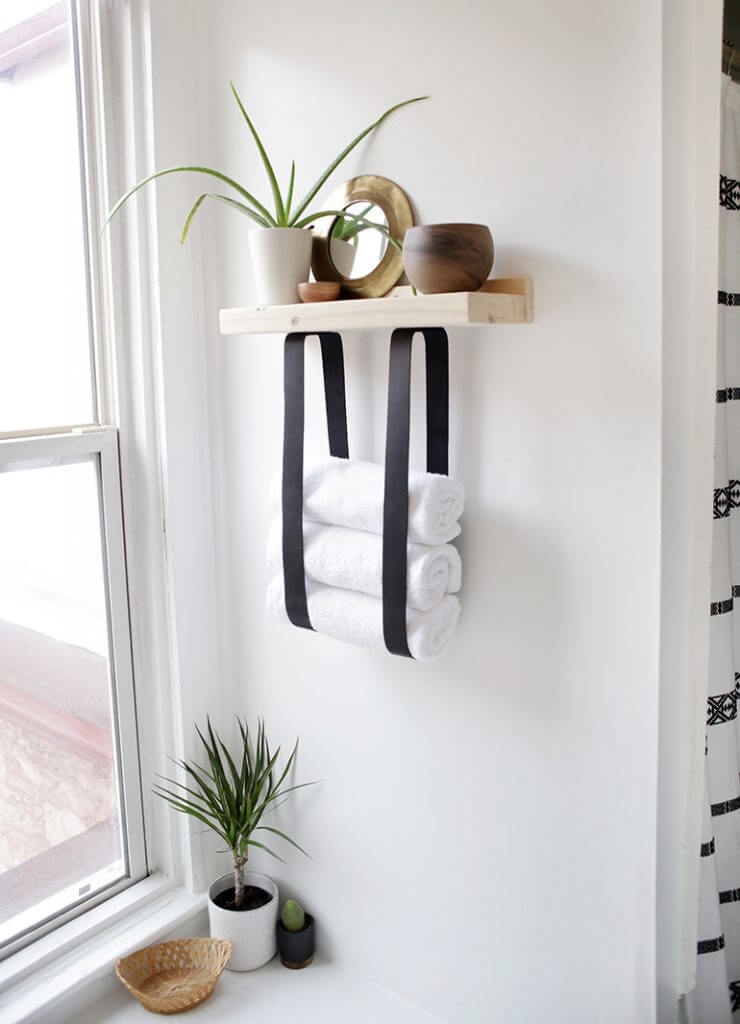 Clean and simple describes this plain and modern towel holder and shelf. The top features a natural wood piece that is used as a shelf to hold a set of black loops which create a useful place to store your extra towels. Placed near a window, this shelf is a perfect plant perch and still has enough room for some small storage bins and decorative pieces to make your bathroom more like an extension of your style.
9. Curtain Rod and Plastic Bin Tub Storage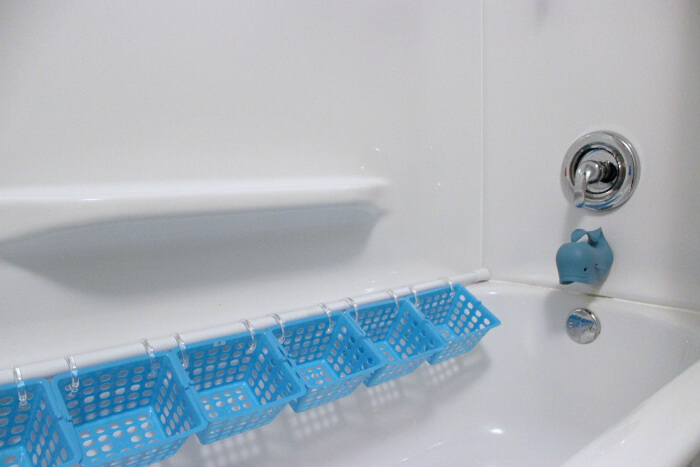 Make a splash at bath time with this cute storage bin solution! It easily fits into any sized tub as it uses an adjustable curtain rod to hold a colorful lineup of plastic bins for storing all of your bath time essentials. With the cut-out circles, water easily drains to eliminate mold and mildew issues. Keep bath toys or loofahs and body wash within reach to maximize your time in the tub!
10. Two-Tone White and Natural Belly Basket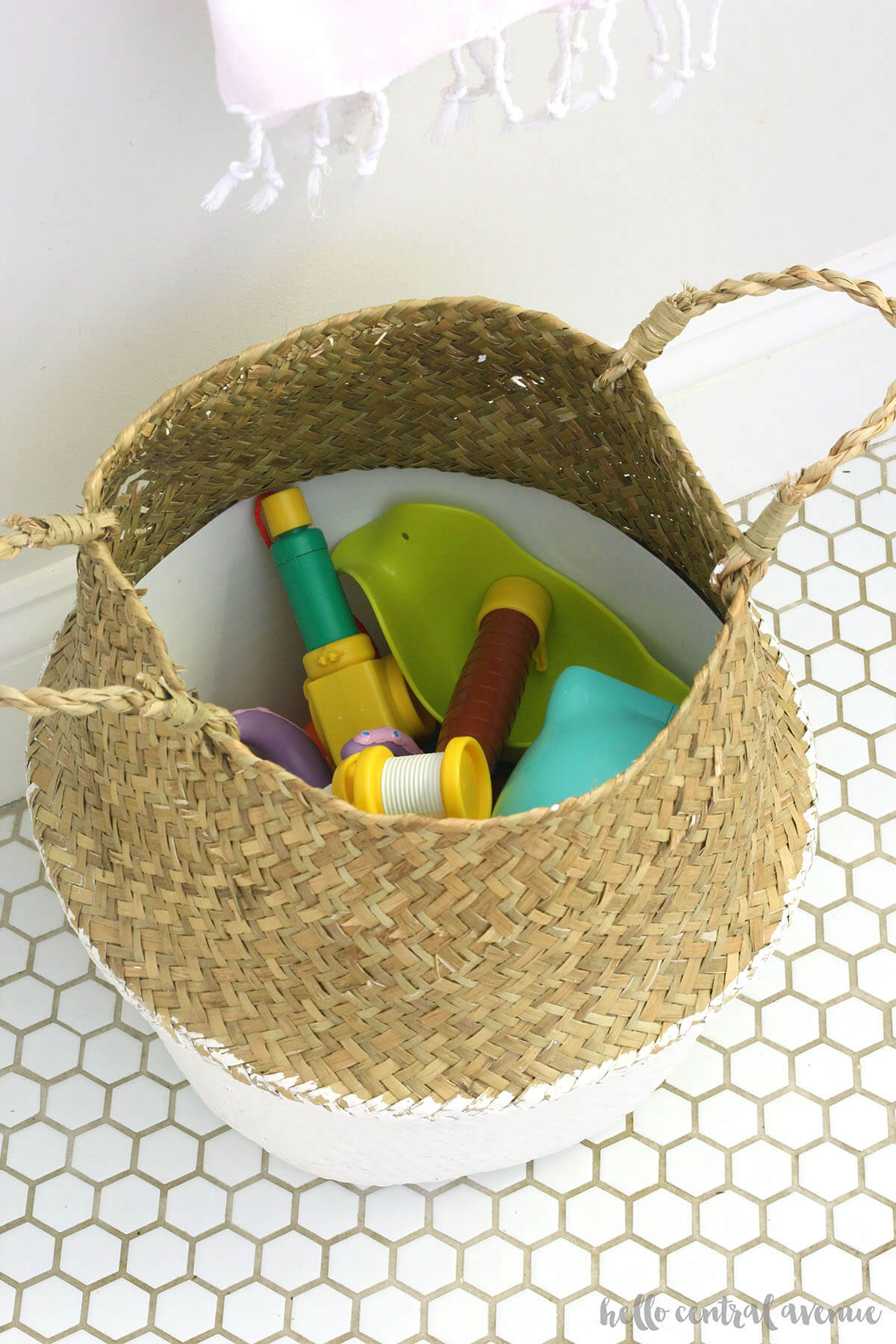 Every basket lover needs a belly basket and what better addition to your home than this two-toned version? Its striking silhouette makes it a must-have basket style and its handles make it so very versatile. Place it in your bathroom to add a convenient hub for plastic bath toys to call home. Or you may choose to roll up some bath towels for use in your guest bath.
11. Personalized Plastic Toothbrush Cups for Cabinet Door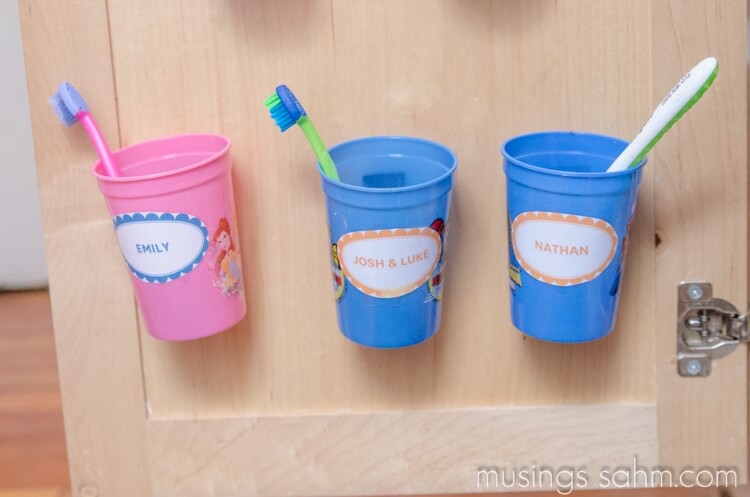 Keep your kids' teeth looking pristine with their own fun way of organizing their personal toothbrushes and pastes in these plastic cups. Mounted onto the inside of your cabinet door, these personalized cups make brushing their teeth more fun. Label each one to avoid confusion and keep them off the countertop where germs abound.
12. Metal Mesh Wash Cloth Filing System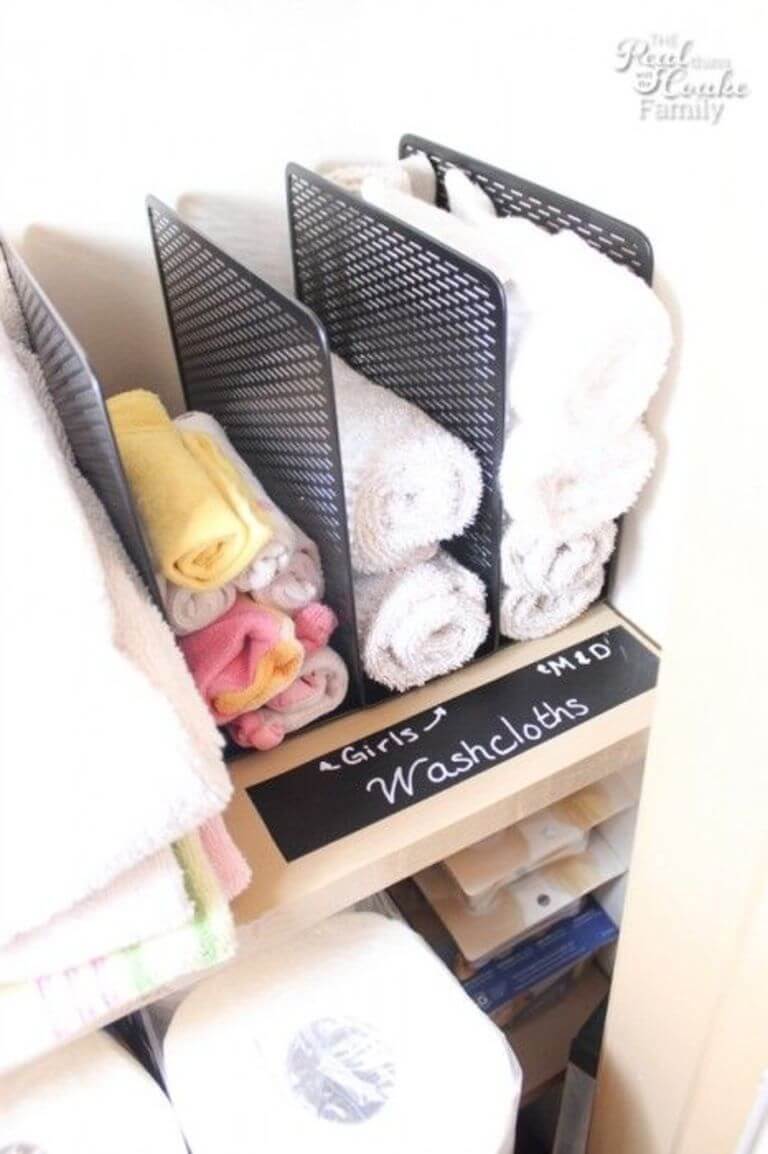 Give the adults and kids a designated space for stashing their washcloths with this repurposed metal mesh filing system. Forget the home office and bring this simple storage solution into the bathroom so you can easily separate your washcloths from your children's. Its slim design makes it a great fit even in a small space as it serves up the storage you need.
13. Charming and Cute Hexagon Cosmetic Tray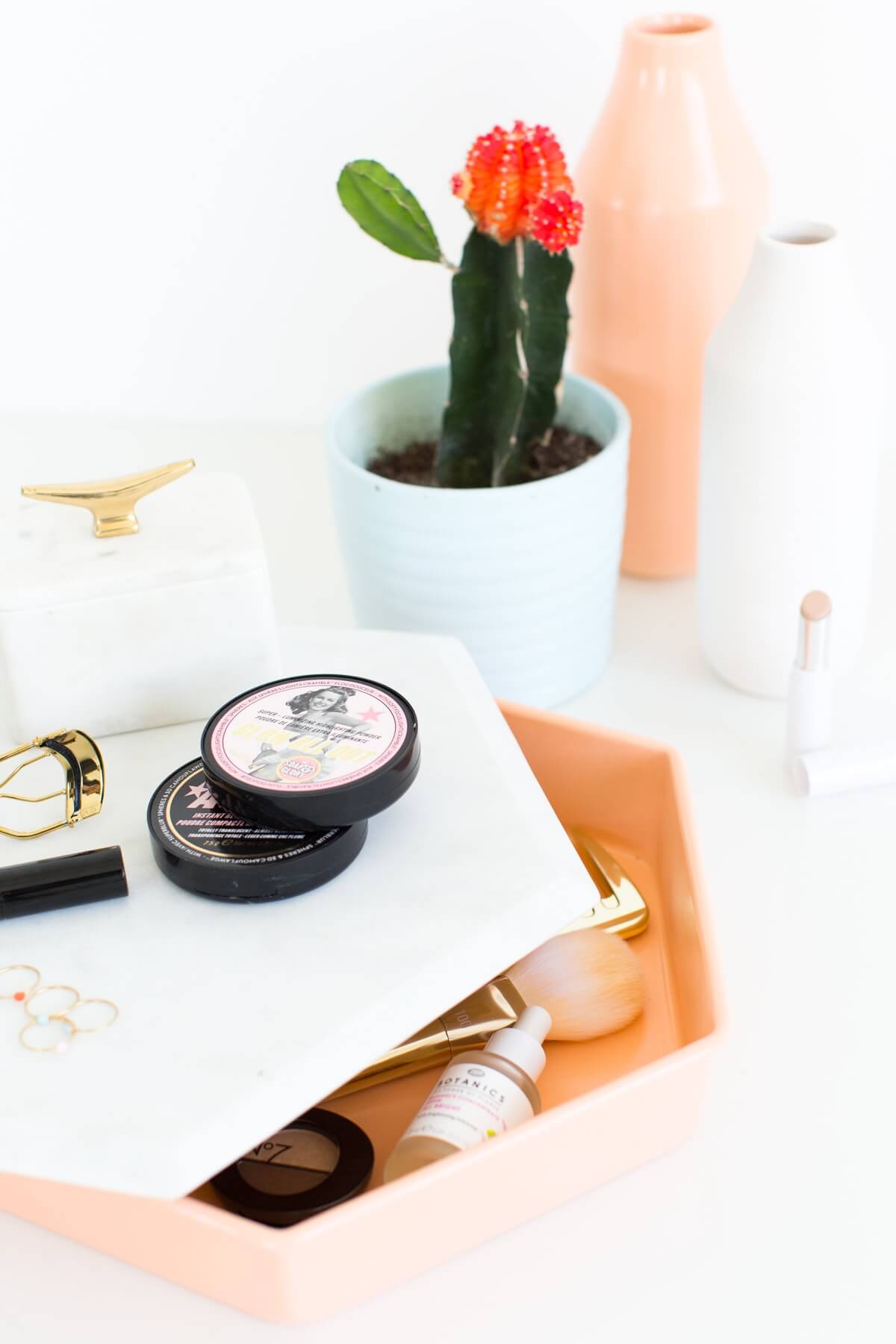 Give your favorite feminine beautifying products a decorative place to call home with this hexagon cosmetic tray. Topped with a lid, you can have your essentials handy without displaying them on the counter for the whole world to see. The hexagon design adds interest and style to your headquarters for looking your best.
14. Modern Dark Wooden Bar Towel Holder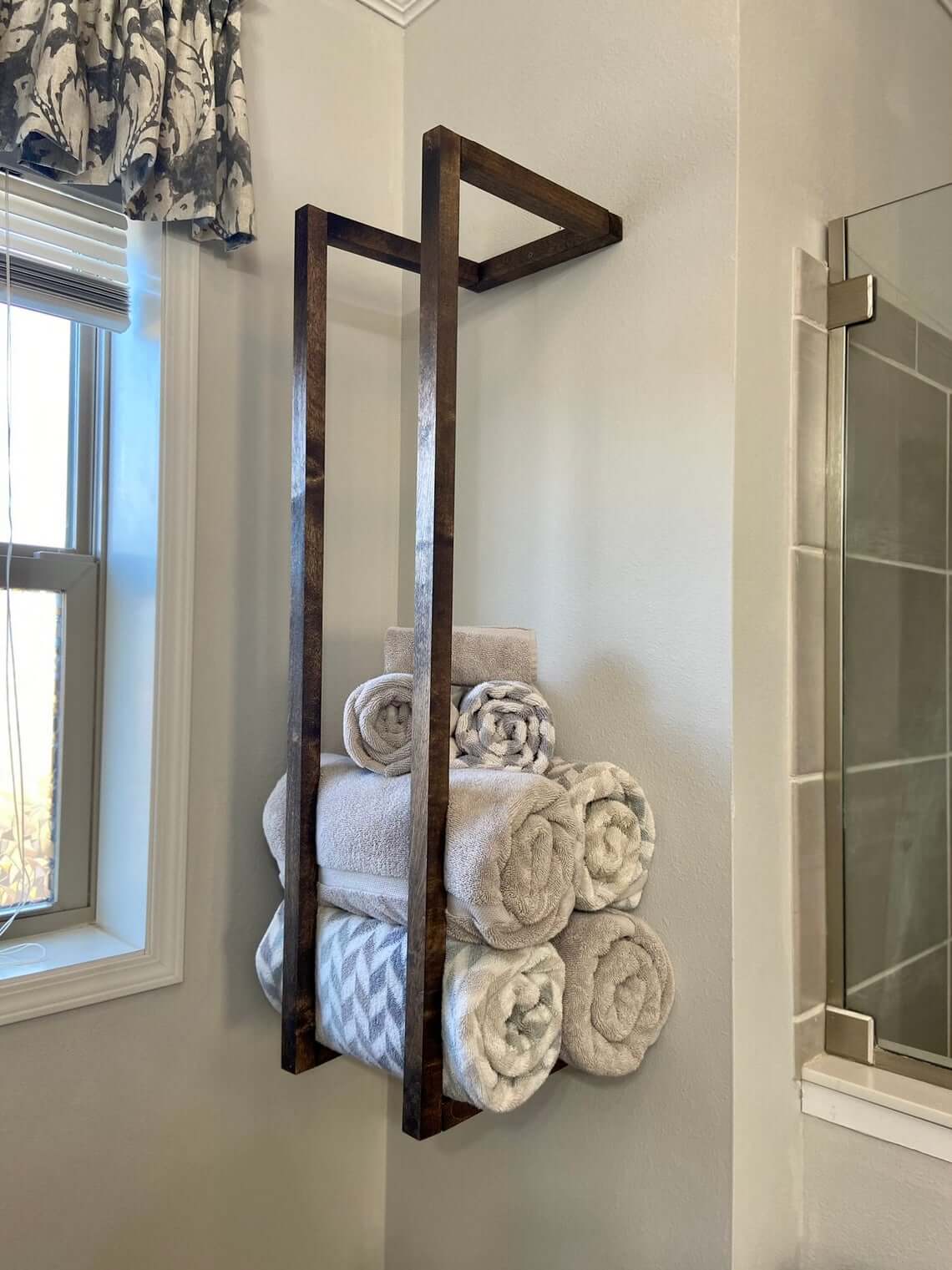 What's not to love about this ultra-hip and modern towel holder? Forget the traditional shelves, this wooden bar system is not only super useful as it holds a lot of towels but also very stylish with its clean lines and rich brown finish. Make a bold statement in your organization with this amazing and easy DIY towel storage system.
15. Vertical Sea Glass Blue Hanging Jar Shelf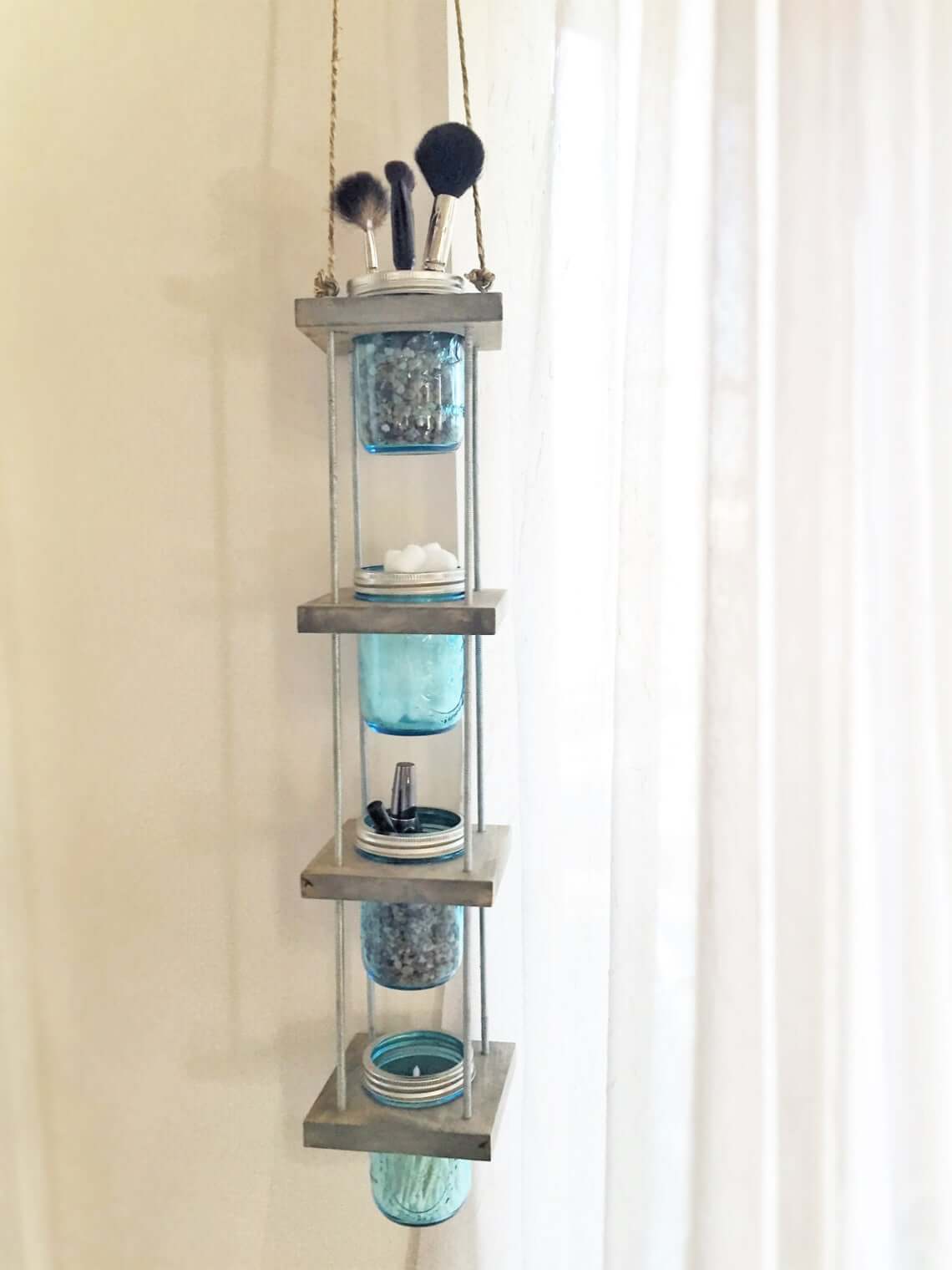 These gorgeous sea glass blue mason jars make an amazing display of home organization. As they give each shelf a place to hold essential items, these jars add function and style while taking up minimal room. Position them in the corner of your bathroom to allow them to be close at hand while staying out of the way to meet your needs.
16. Crafty and Cute White Wooden Bathroom Shelf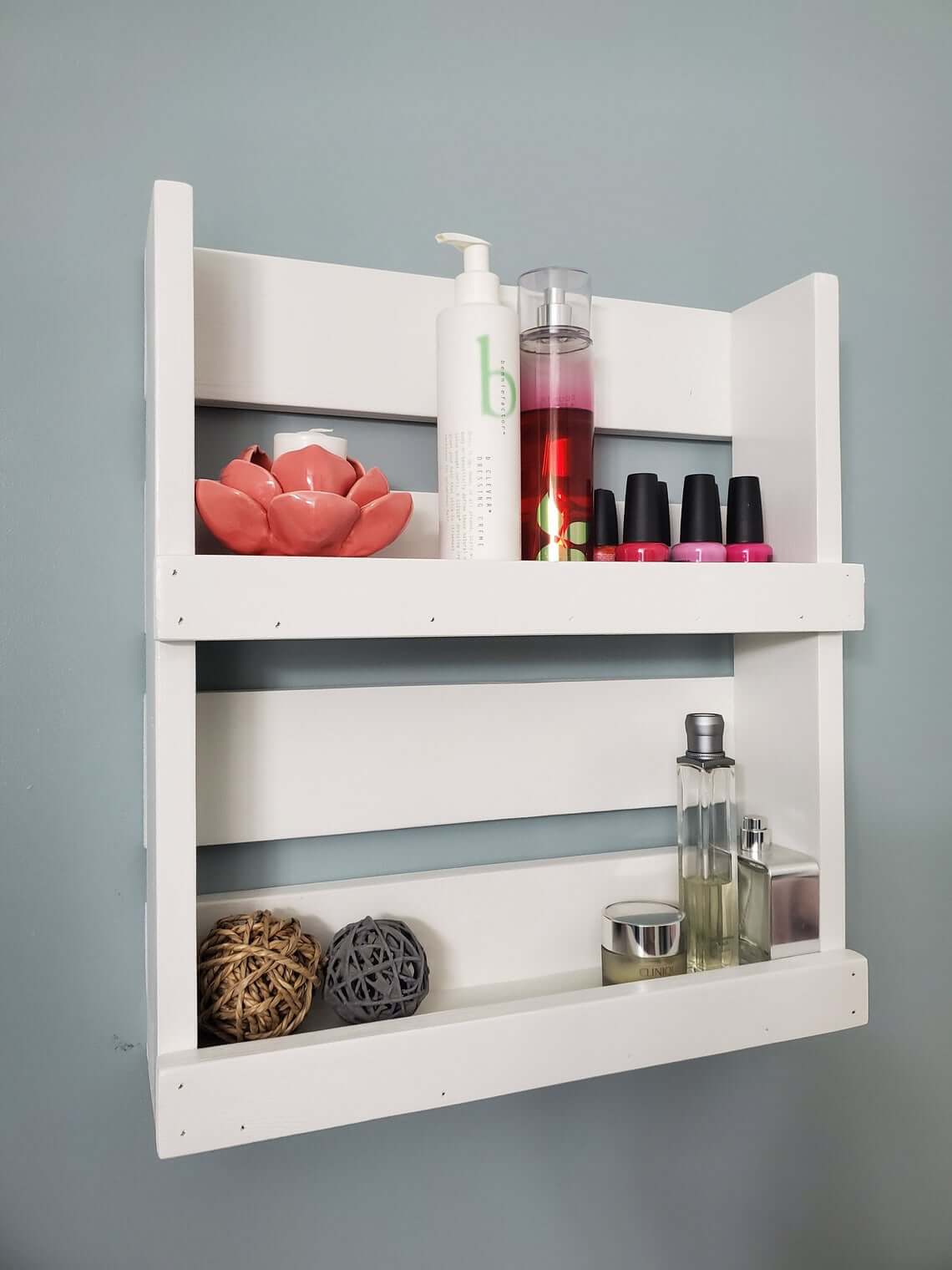 Manage your next home manicure with this easy-to-display nail polish shelf. Fill both rows with all of your favorite colors or keep the bottom one available for perfumes and lotions. Every lady will delight in being able to see all of her polishes on display so she can choose the shade that speaks to her mood for that day.
17. The Girly Girl's Go-To Make-Up Organization Station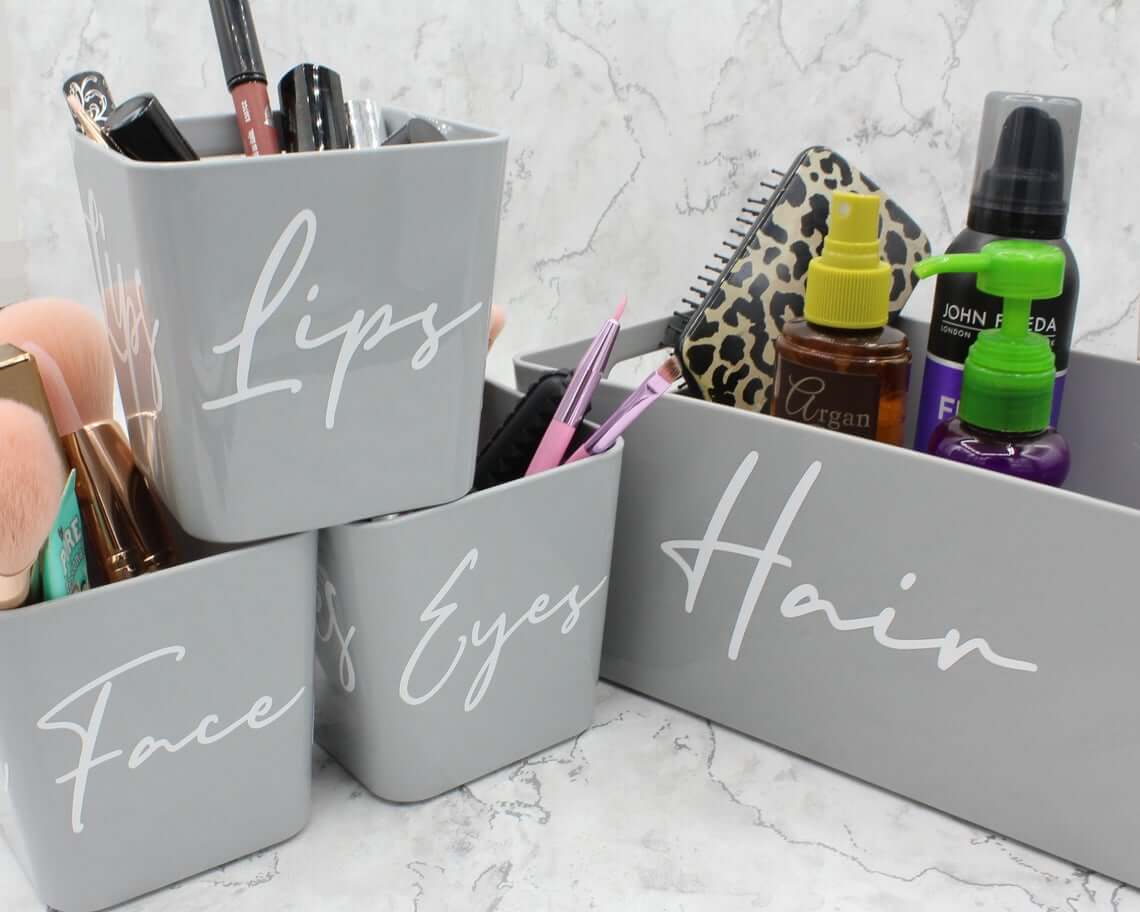 The modern design and color palette of this organization station are the perfect collaboration for today's modern girly girl! Complete with a place to store everything in her necessary beautifying arsenal, this gray and white system conveniently stores and labels all items to cut down on the time it takes to get out the door in the morning.
18. Personal Spa at Home Bamboo Bath Tray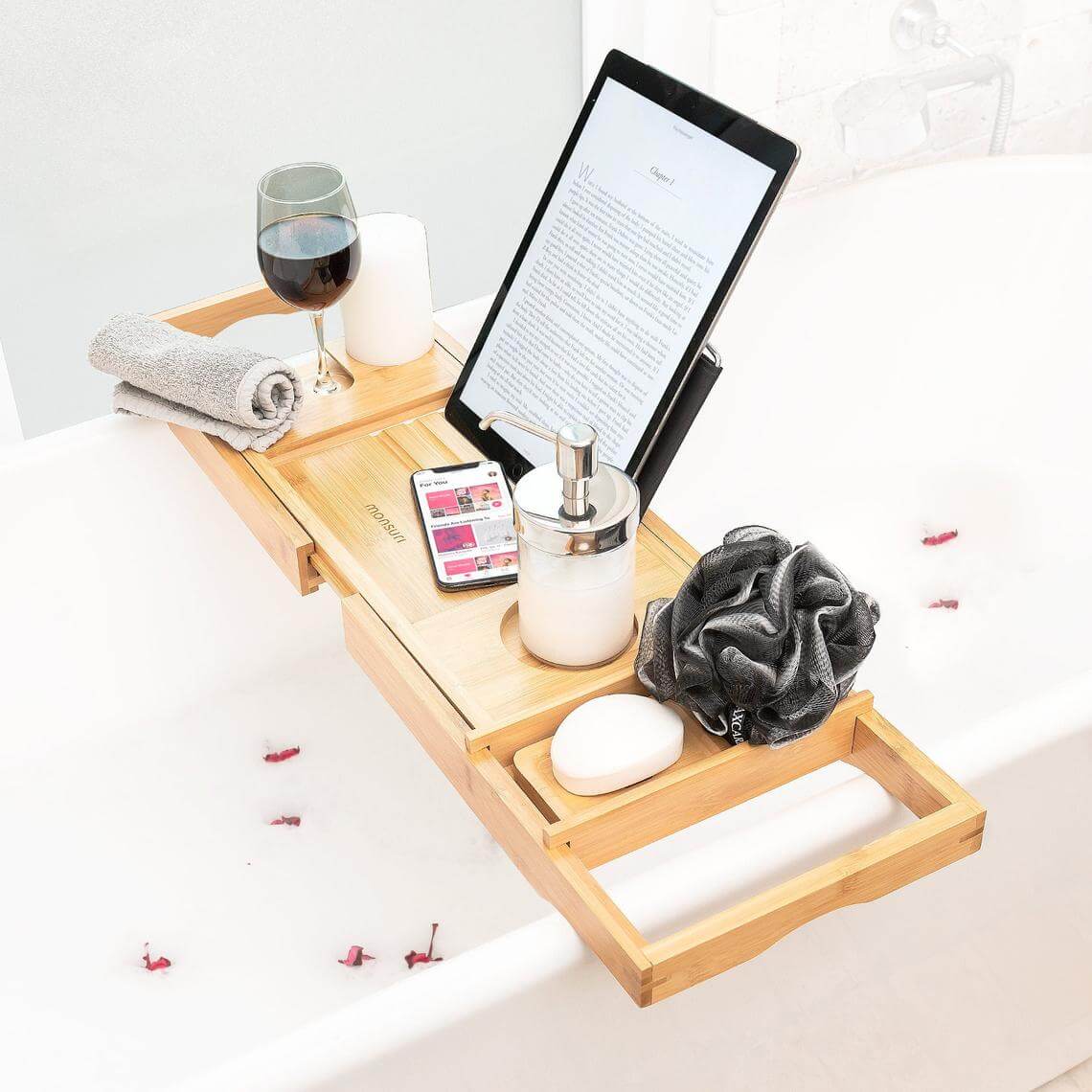 Indulge in the tranquility and peace of a spa experience in the privacy of your own bath. This adjustable bath tray fits any bathtub as it stretches across to provide you with a hub for your spa day essentials. From a wine glass rest to a candle holder, you can customize what you need to find your inner peace at home.
19. Hanging Rope and Ladder Shower Shelf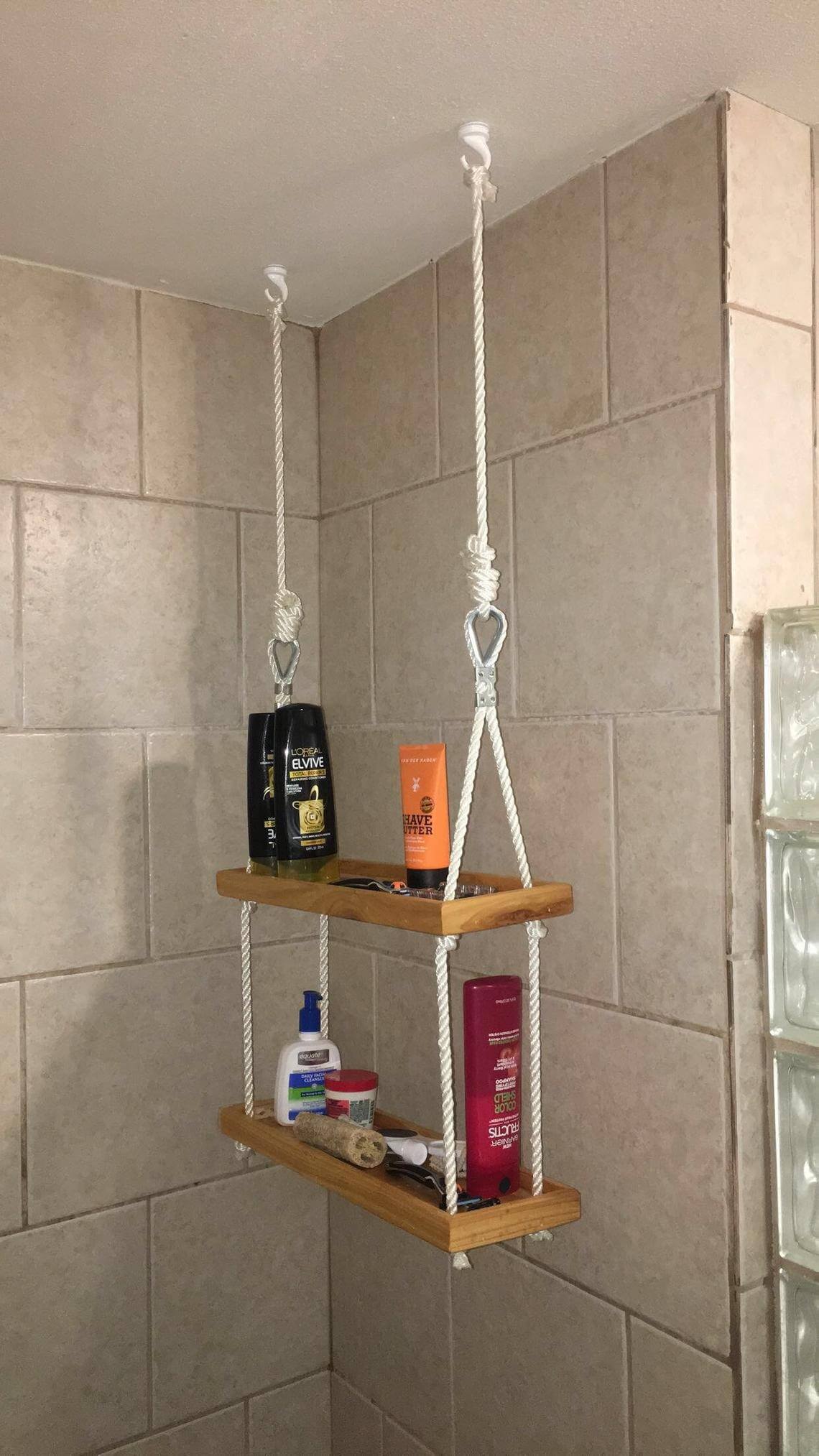 Keep all of the items in your shower arsenal within reach and off the floor with this amazing hanging shower ladder shelf. Suspended from the ceiling, this two-tiered shelf gives you all of the storage you need for bath bars and body washes to fit with your shampoos and conditioners. At eye level, these items are easy to find and grab to make your time in the shower more efficient.
20. Charming Turquoise Mason Jar and Hook Organizer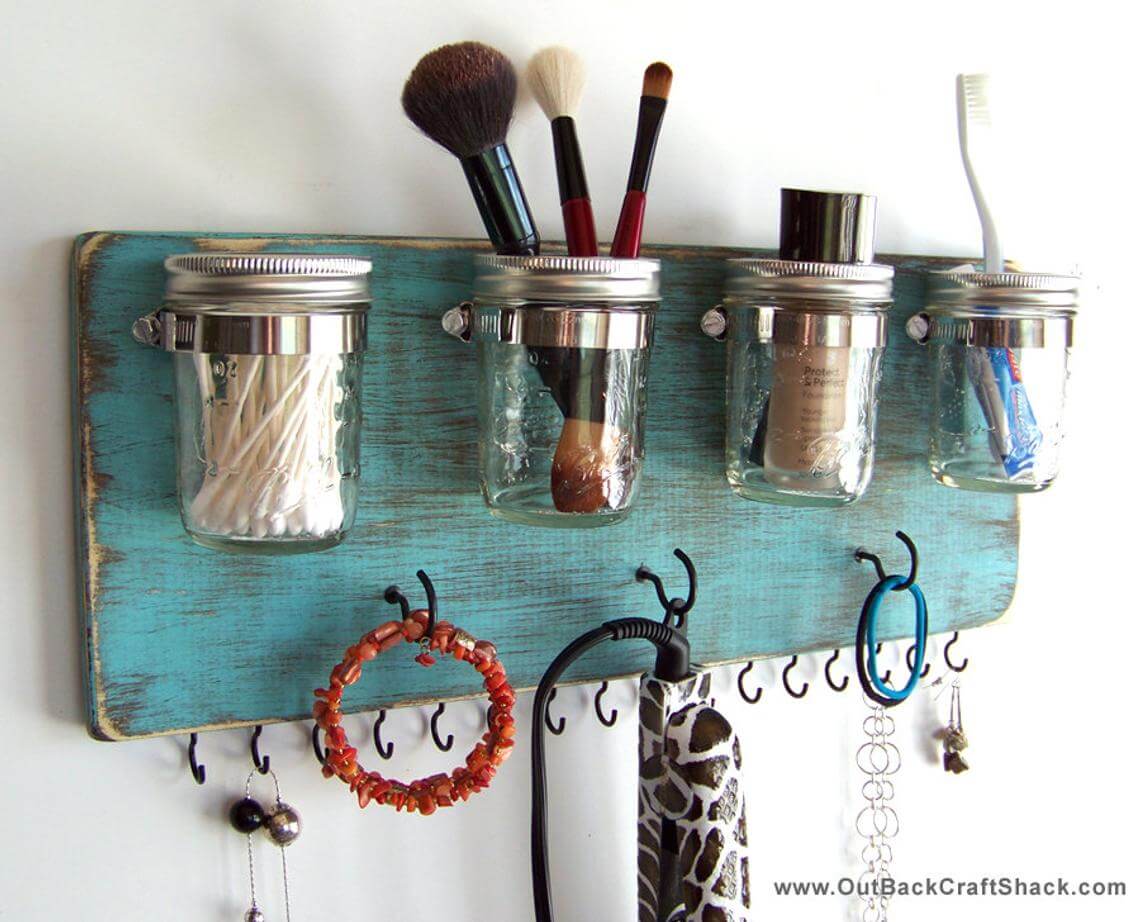 Add a pop of color and splash of style into your bathroom organization system with this jar and hook wall decor. The clear mason jars are the perfect place to stash your cotton balls, toothbrushes, and make-up tools while freeing up your counter space. The hooks below provide you with ample space to hold your curling wands, flat irons, and even your favorite everyday jewelry pieces.
21. Modern Copper Razor and Toothbrush Holders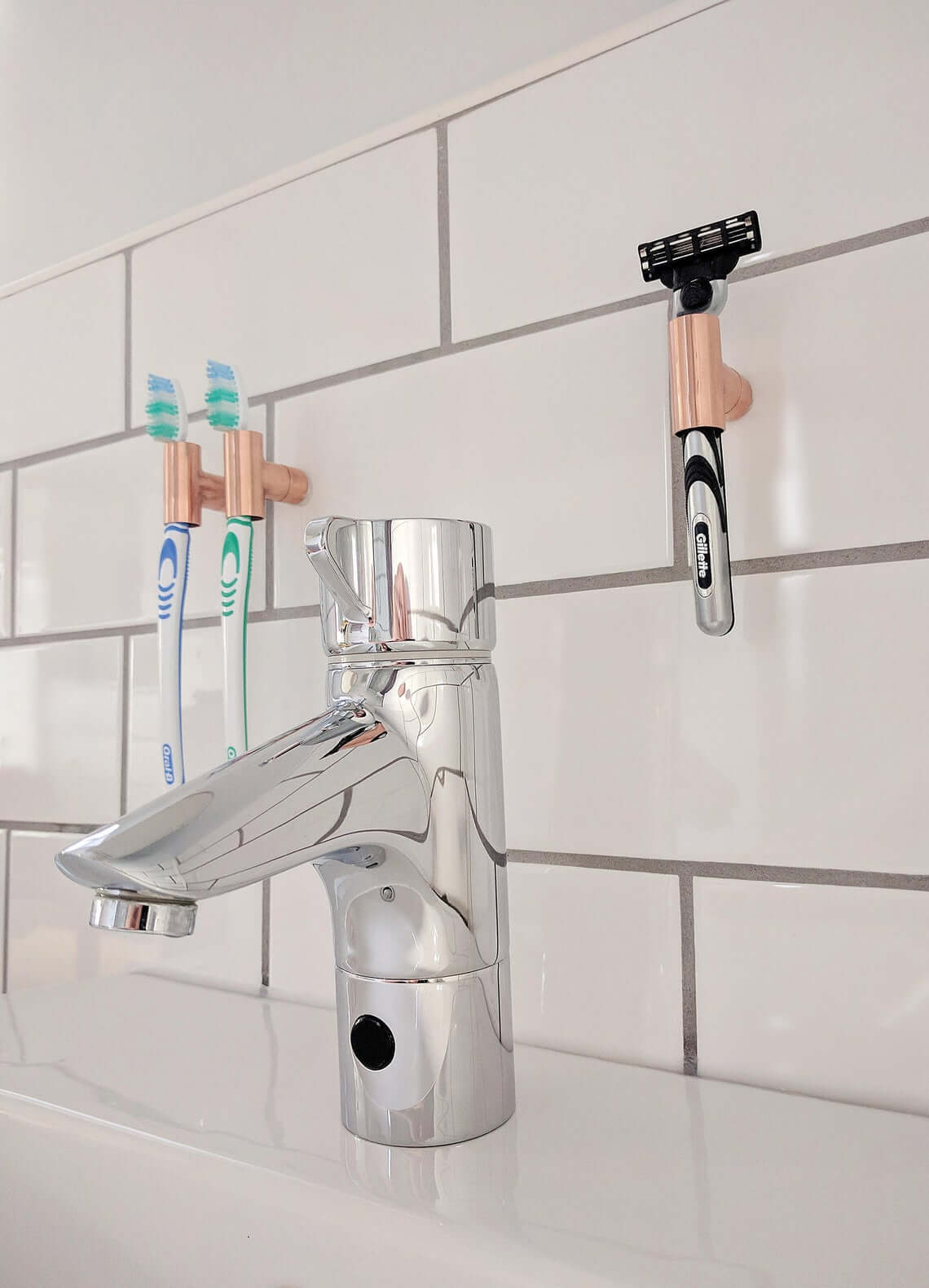 Take a look at these sleek and modern ways to house your razor and toothbrushes! The area around your sink just got a well-deserved upgrade and embraces a new modern vibe with the sheen of these sleek copper holders. Their slim and stylish design looks amazing in almost any decor and quickly gives your bathroom a cheap update.
22. Cheeky Bathroom Humor Organizer Boxes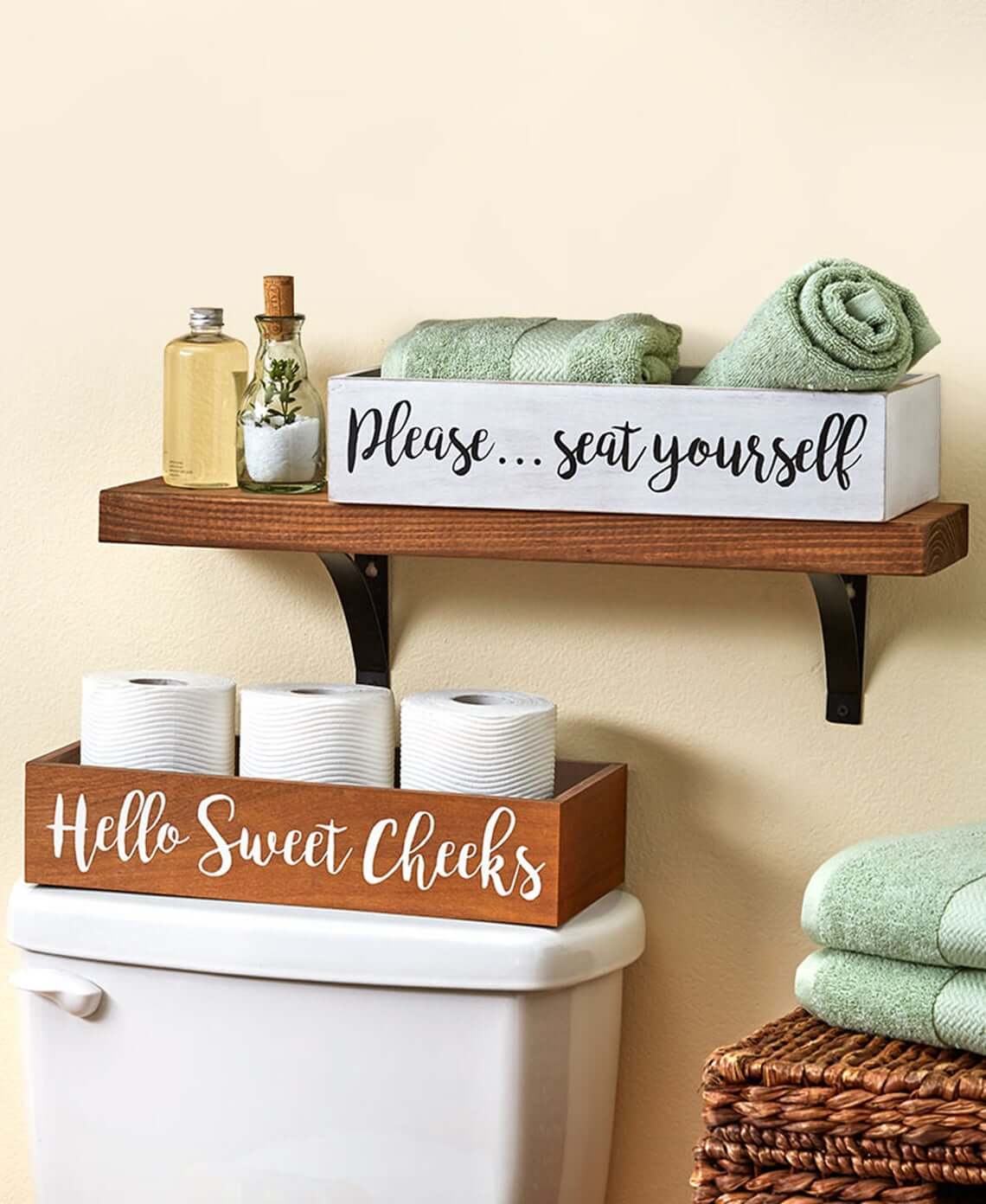 This set of two organizer boxes brings a little humor onto the bathroom scene with their funny phrases. Store some spare rolls of toilet paper in the "Hello Sweet Cheeks" box to bring a smile to the one lucky enough to be given the job of changing the roll. They easily fit on top of the toilet itself or on a nearby shelf to hold extra washcloths, jewelry pieces, and bottles of fragrances.
23. Double-Sided Canvas Totes Bathroom Storage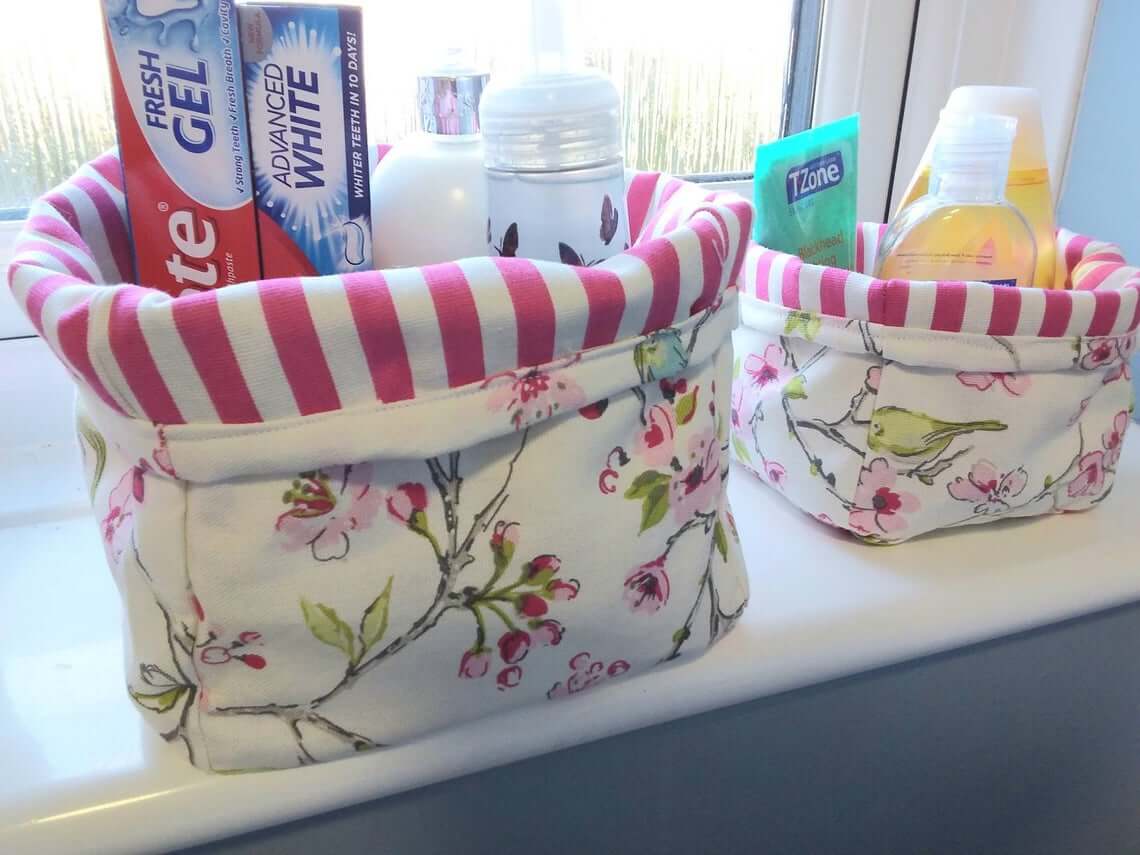 Add a pop of pink into your bathroom with these cute patterned canvas totes. Created in a double-sided canvas, you can reverse them as often as you like to change up the motif. And since they are canvas, you can throw them in the wash too. They make an easy-to-use hair hub for all of your brushes, wands, and sprays or a face washing station for cleansing and purifying at the beginning and end of each day.
24. Repurposed Glass Jar Organizers for Bathroom Essentials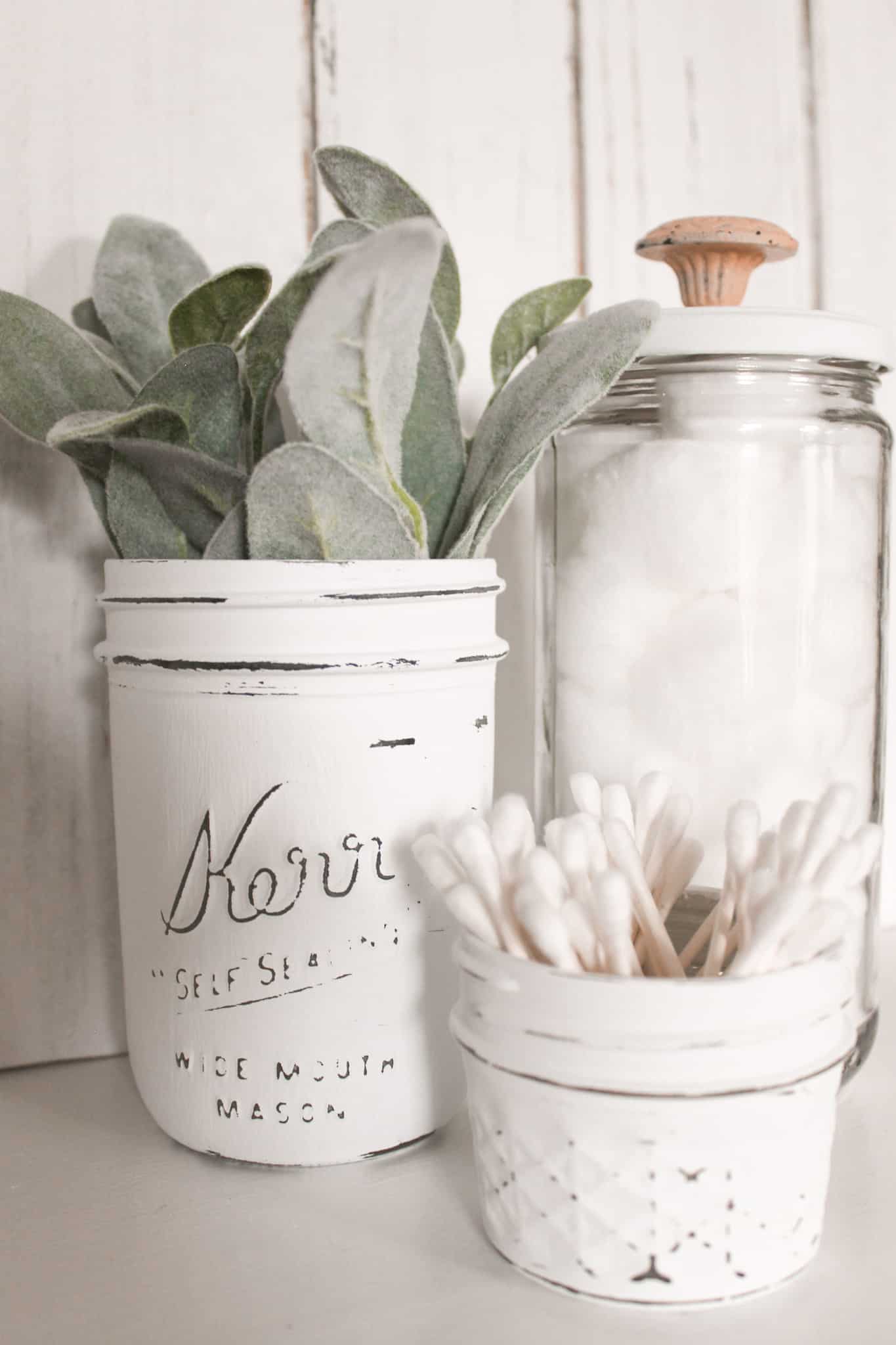 Splash some white paint into a small textured glass jar and mason jar to make some cute and creative ways to organize your q-tips and cotton balls. One can even serve as a decorative jar for some eucalyptus leaves or hairbrushes. Nestled in the corner of your counter, this trio of glass jars is a great way to organize your bathroom without sacrificing style.
25. Over-the-Door Storage Shelf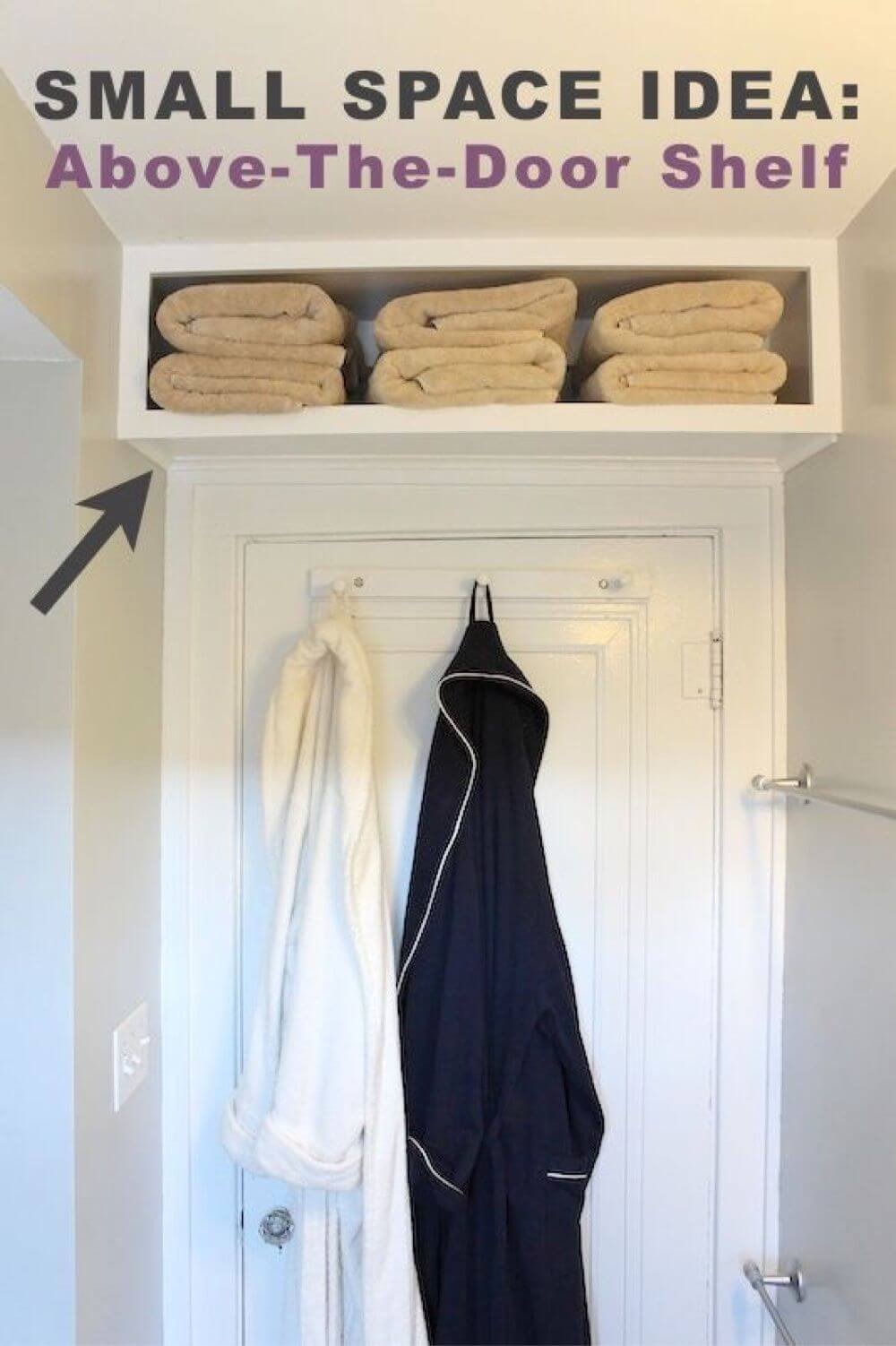 26. Quick and Easy Styling Tool Holsters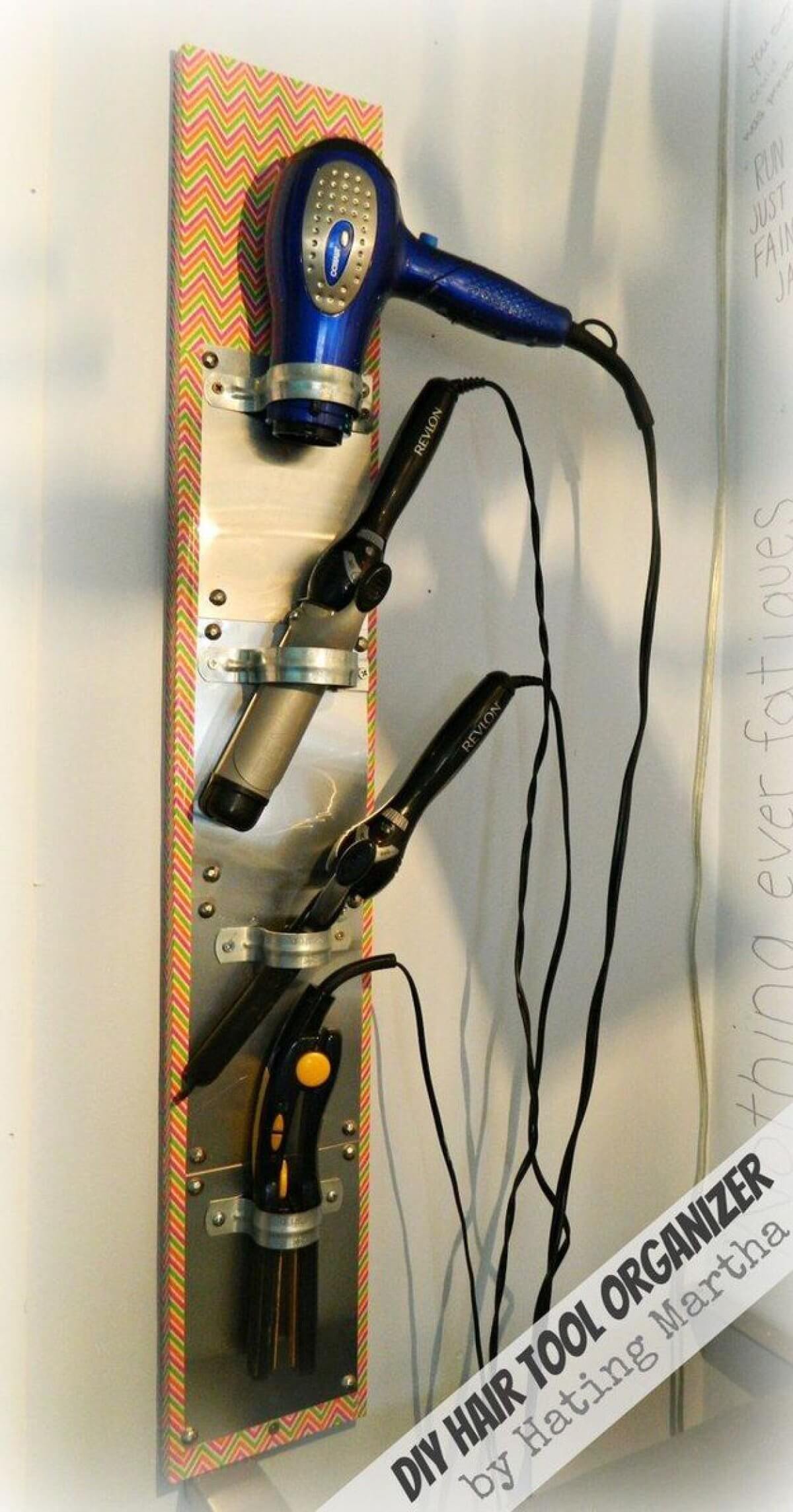 27. Cottage Chic Earring and Bracelet Displays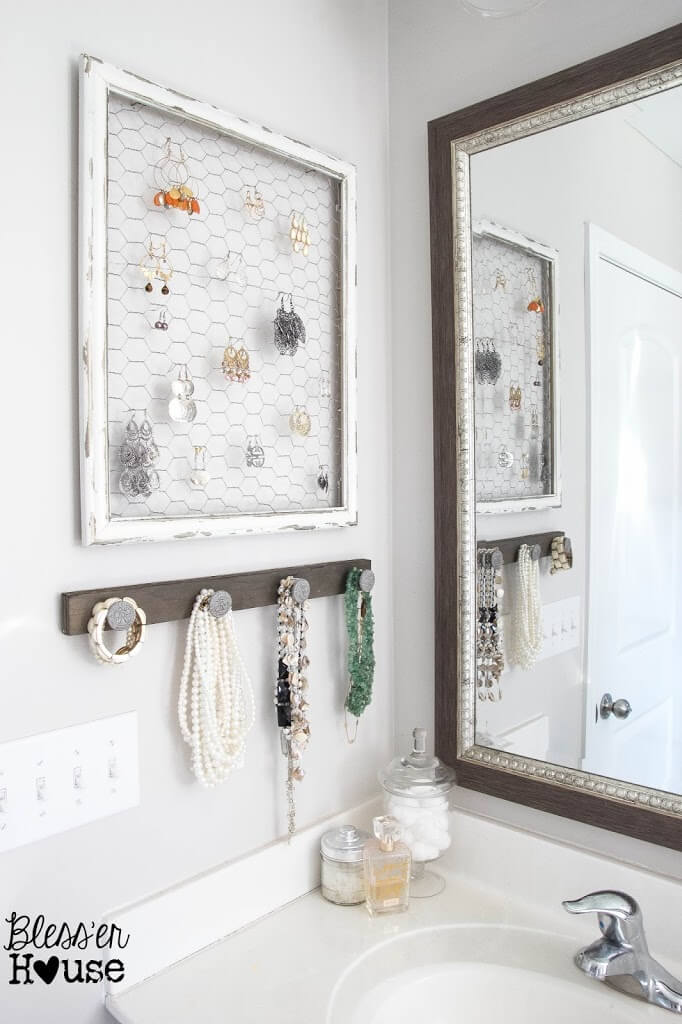 28. Upcycled Copper Cup Makeup Brush Organizers

29. Triple Tiered Vanity Organizing Caddy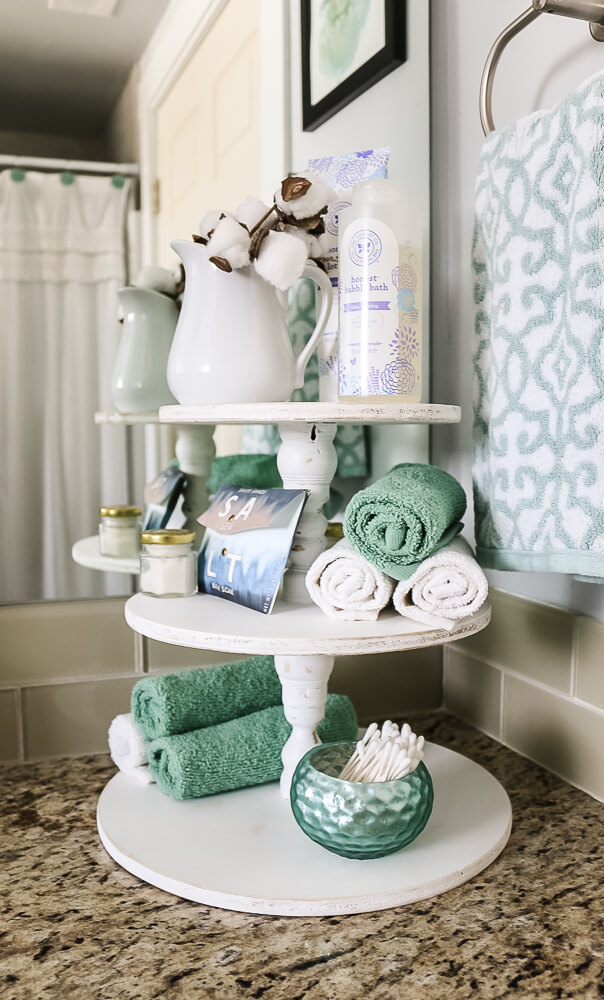 30. Low Profile Shelves for DIY Bathroom Storage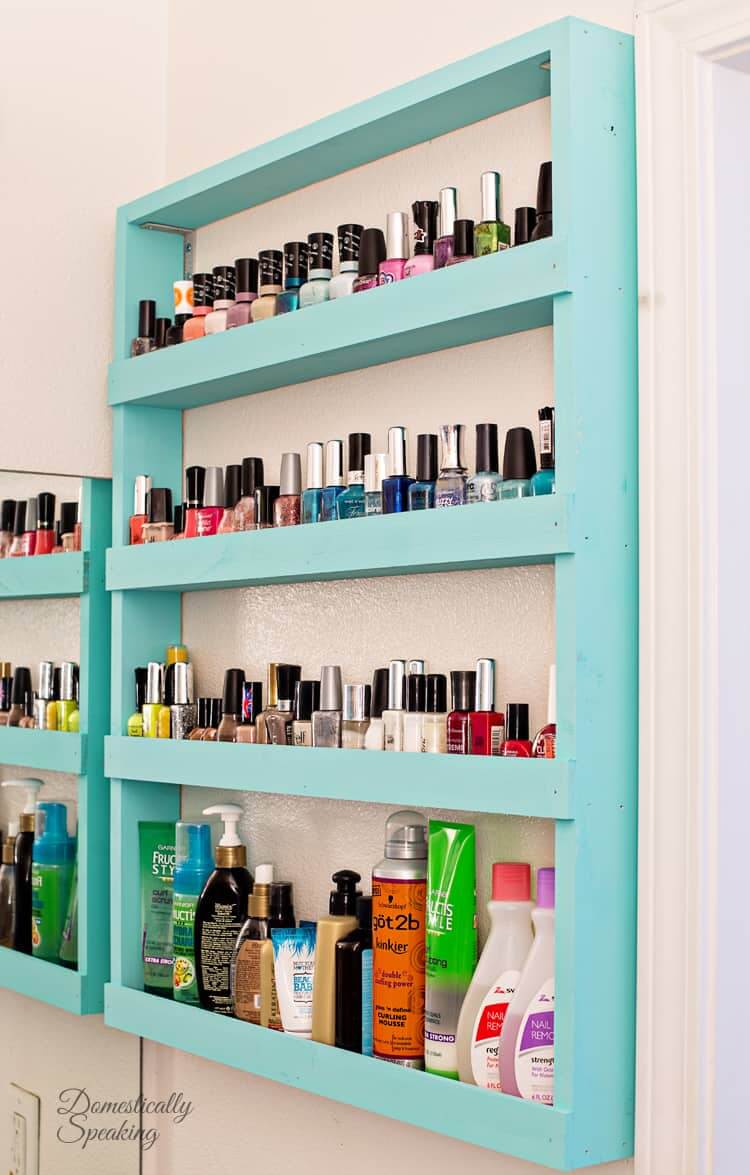 31. Hanging Towel Rack Basket Organizers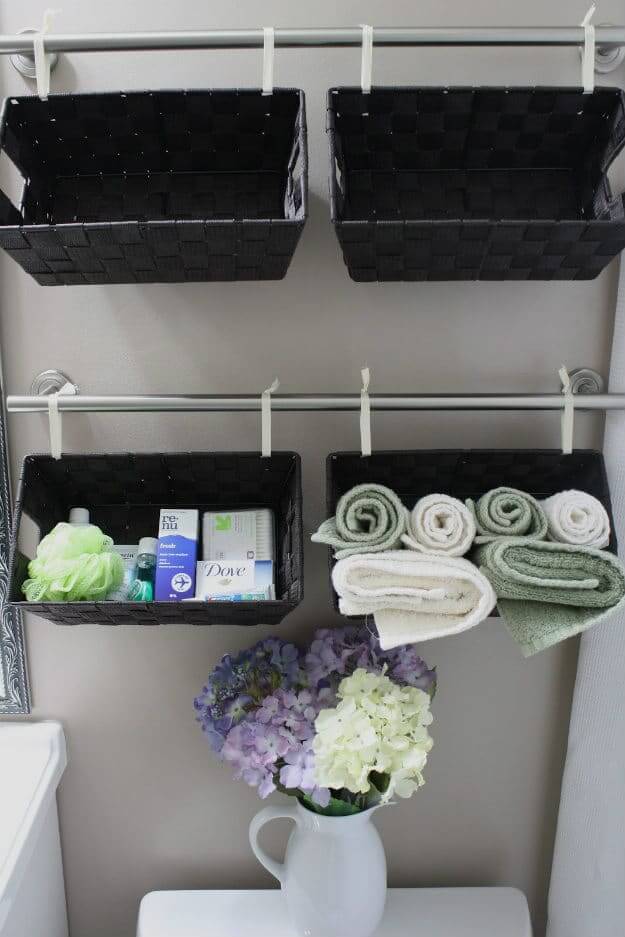 32. Whitewashed Storage Shelving Unit from Wooden Crates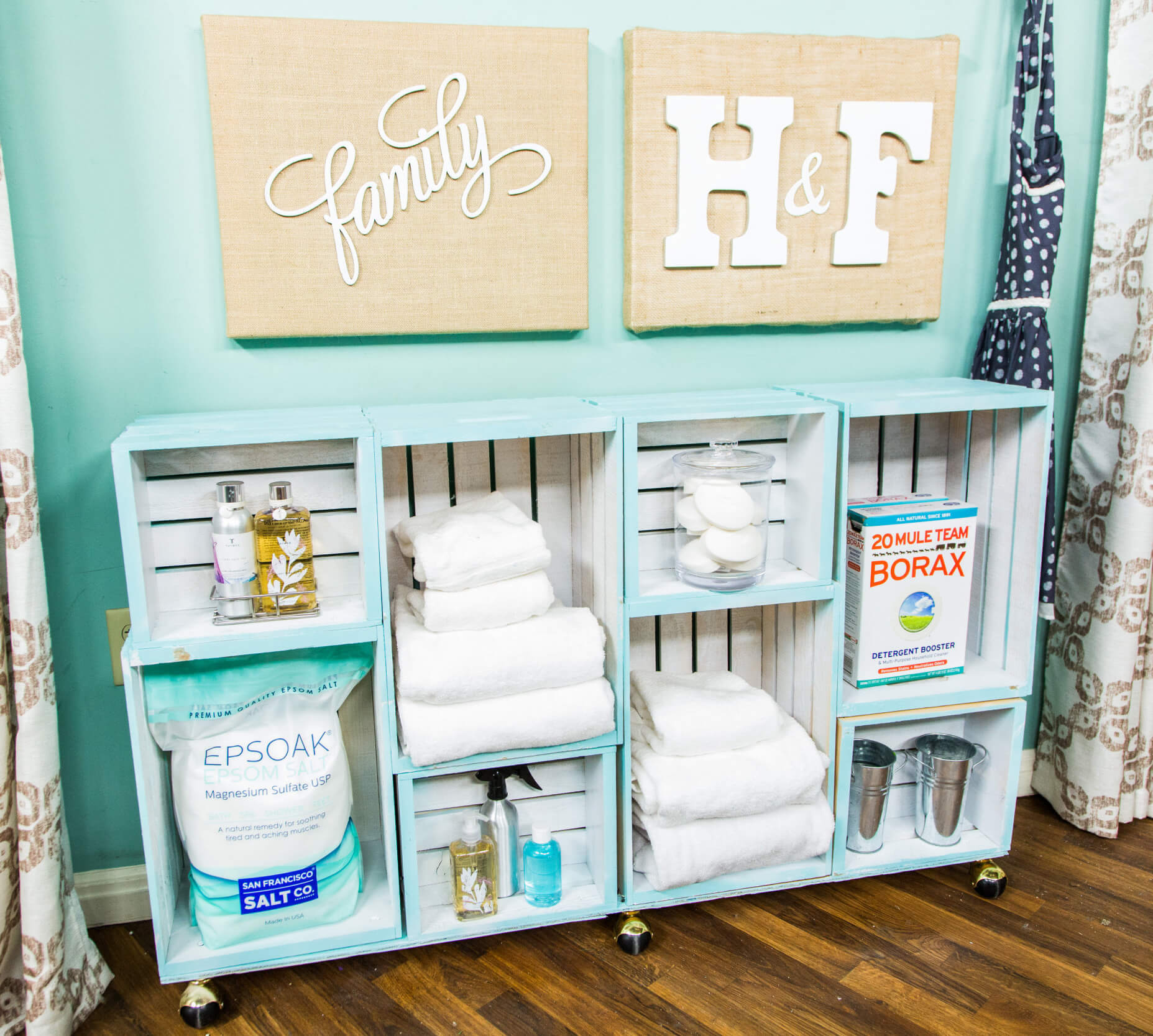 33. Easy to Clean Magnetic Toothbrush Strip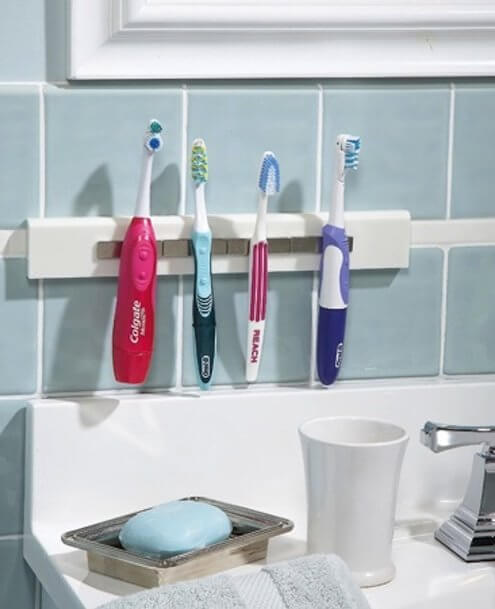 34. DIY Recessed Medicine Cabinet with Artwork Door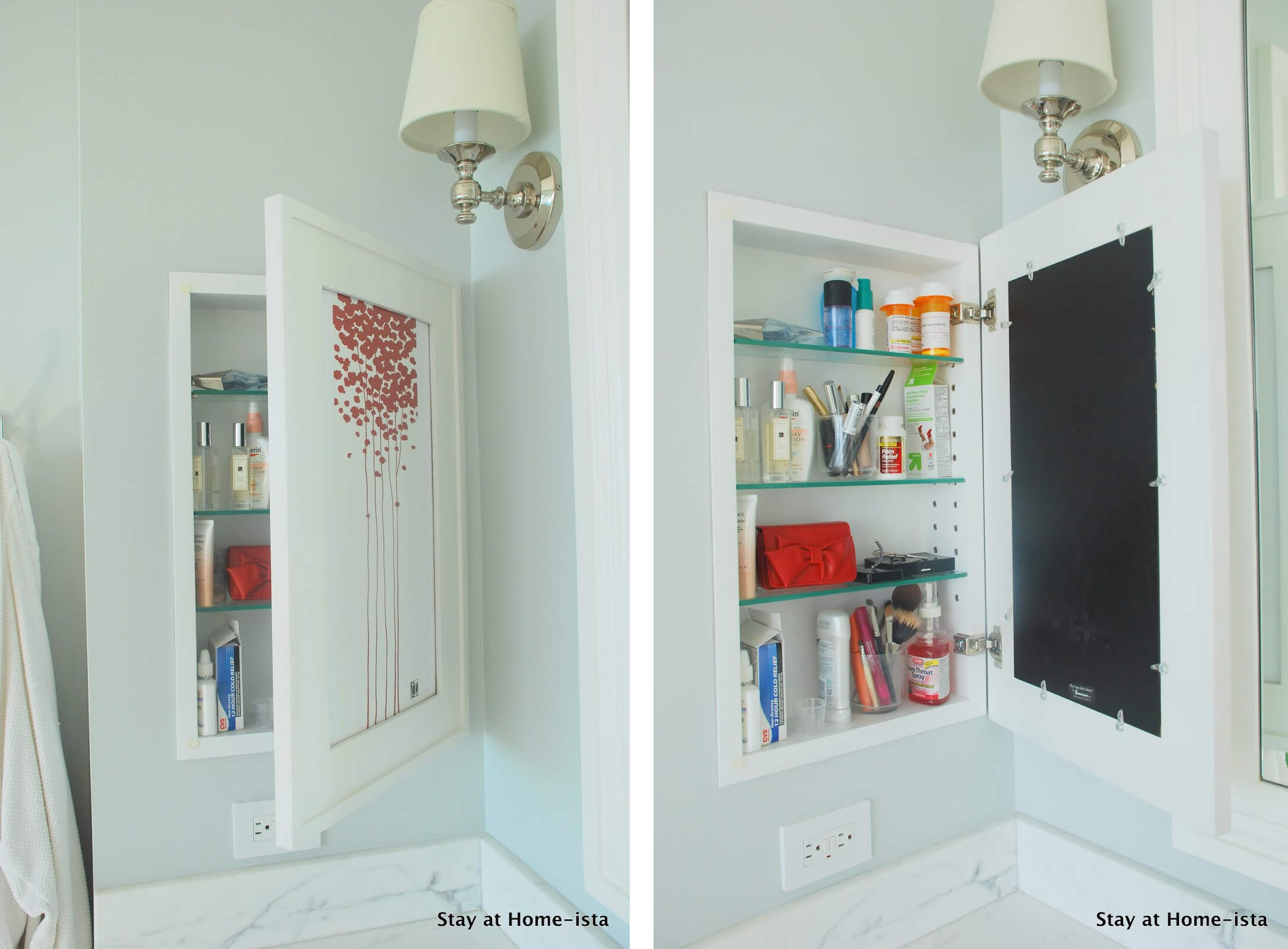 35. Spa-Style Glass Toiletry Holders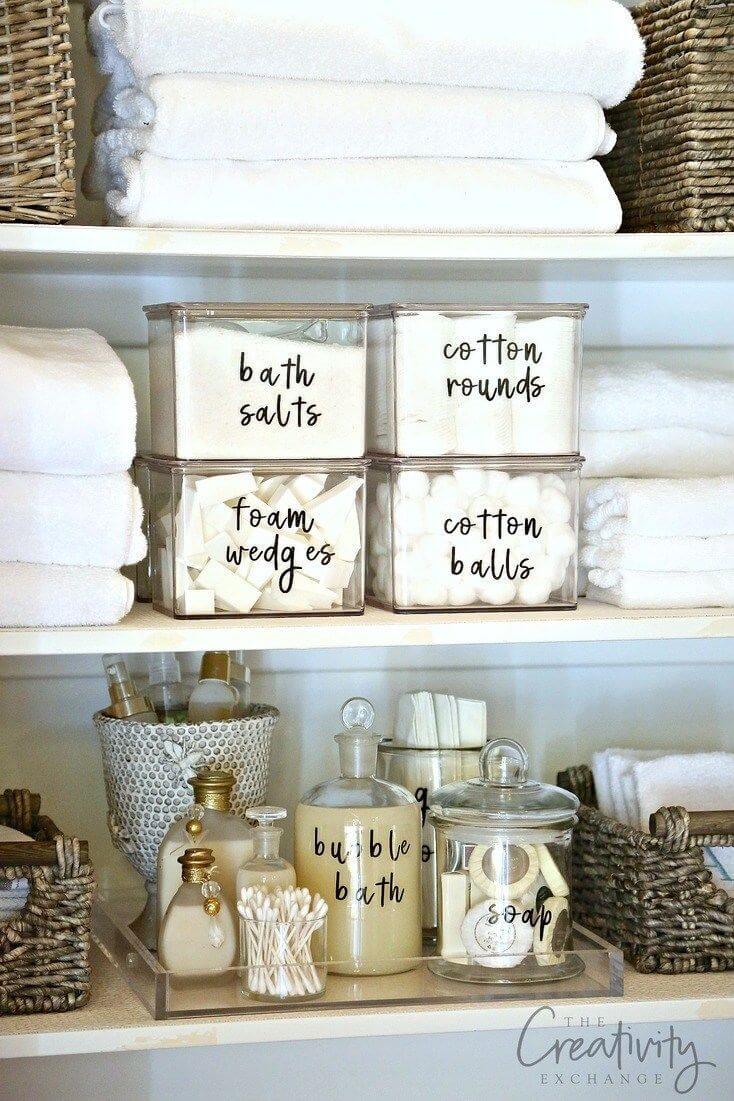 36. Rope Mounted Hanging DIY Bathroom Organizing Shelves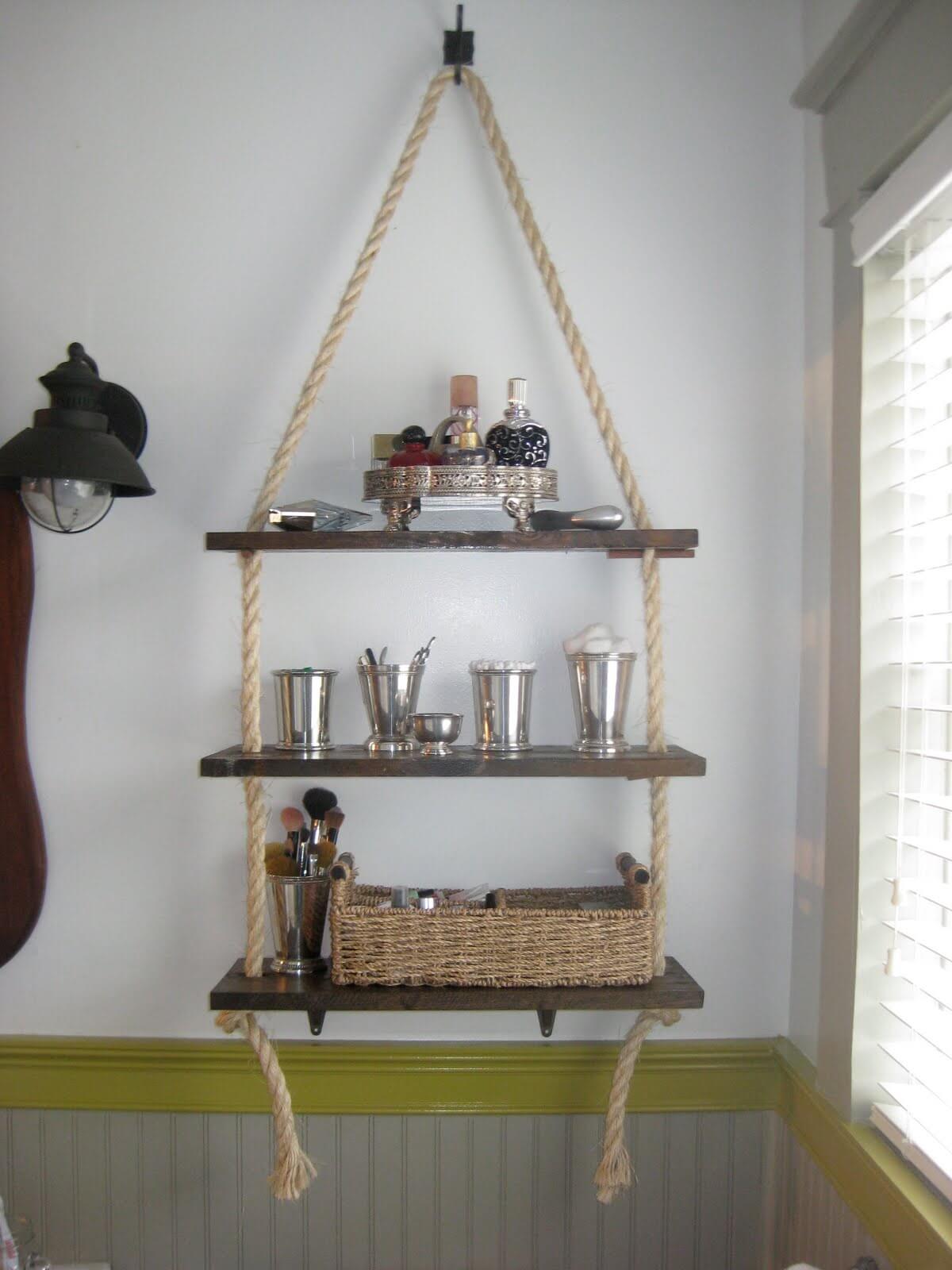 37. Window-Box Inspired Wall Storage Bins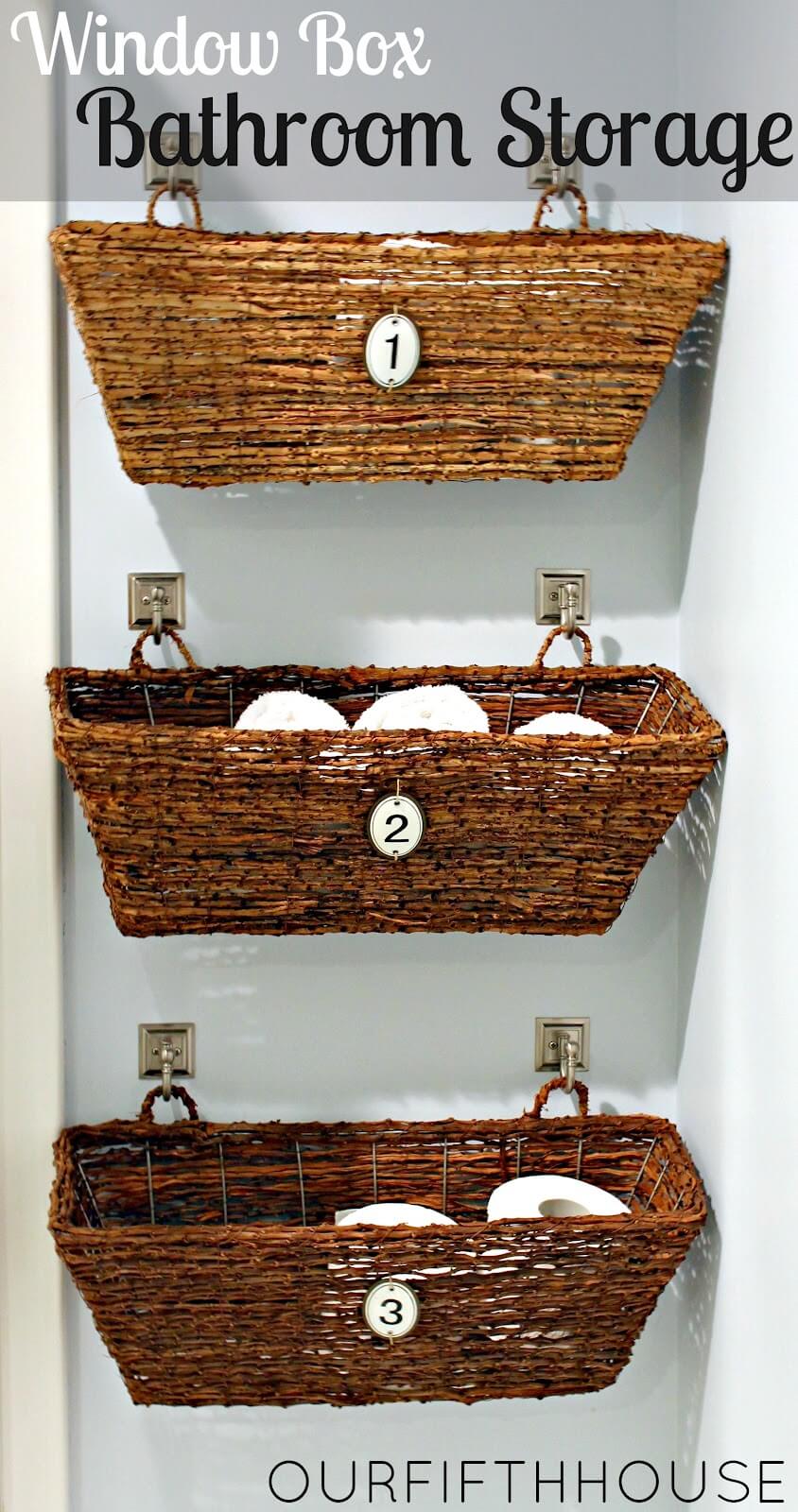 38. Five Dollar Drawer Organizing Makeover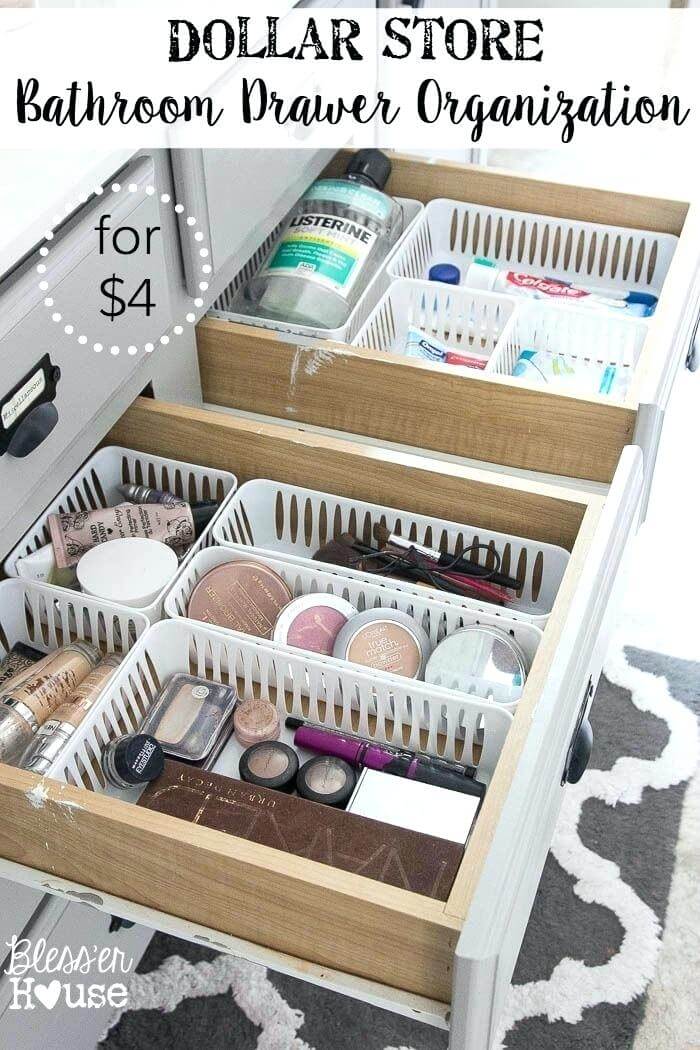 39. Combination Towel Rack and Storage Shelf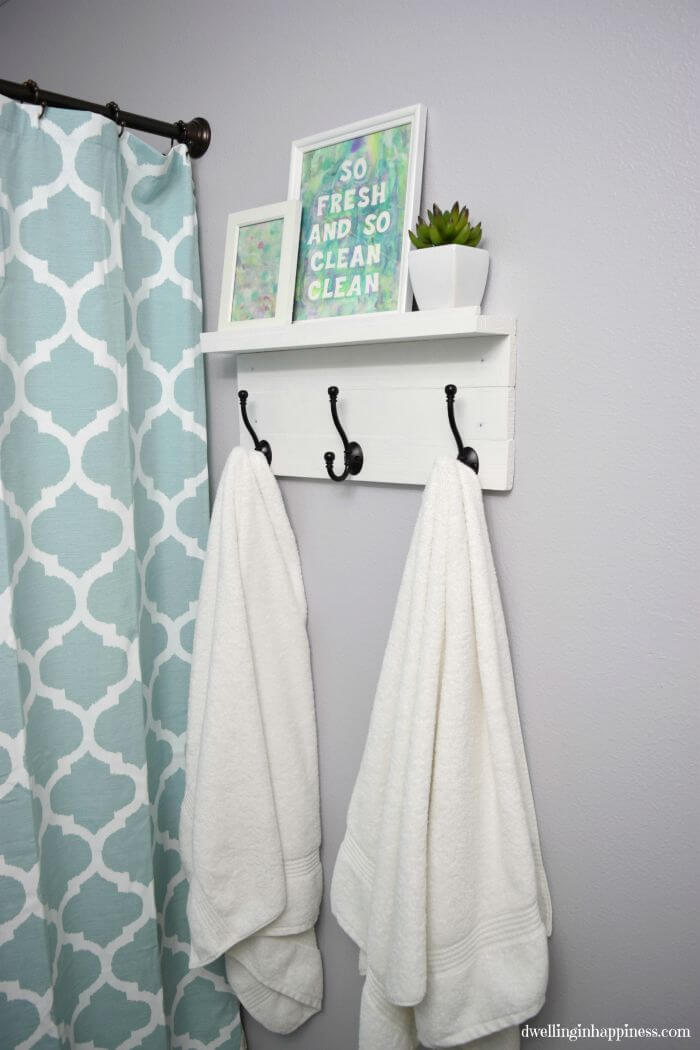 40. Glam-Tastic Makeup Brush Storage Tray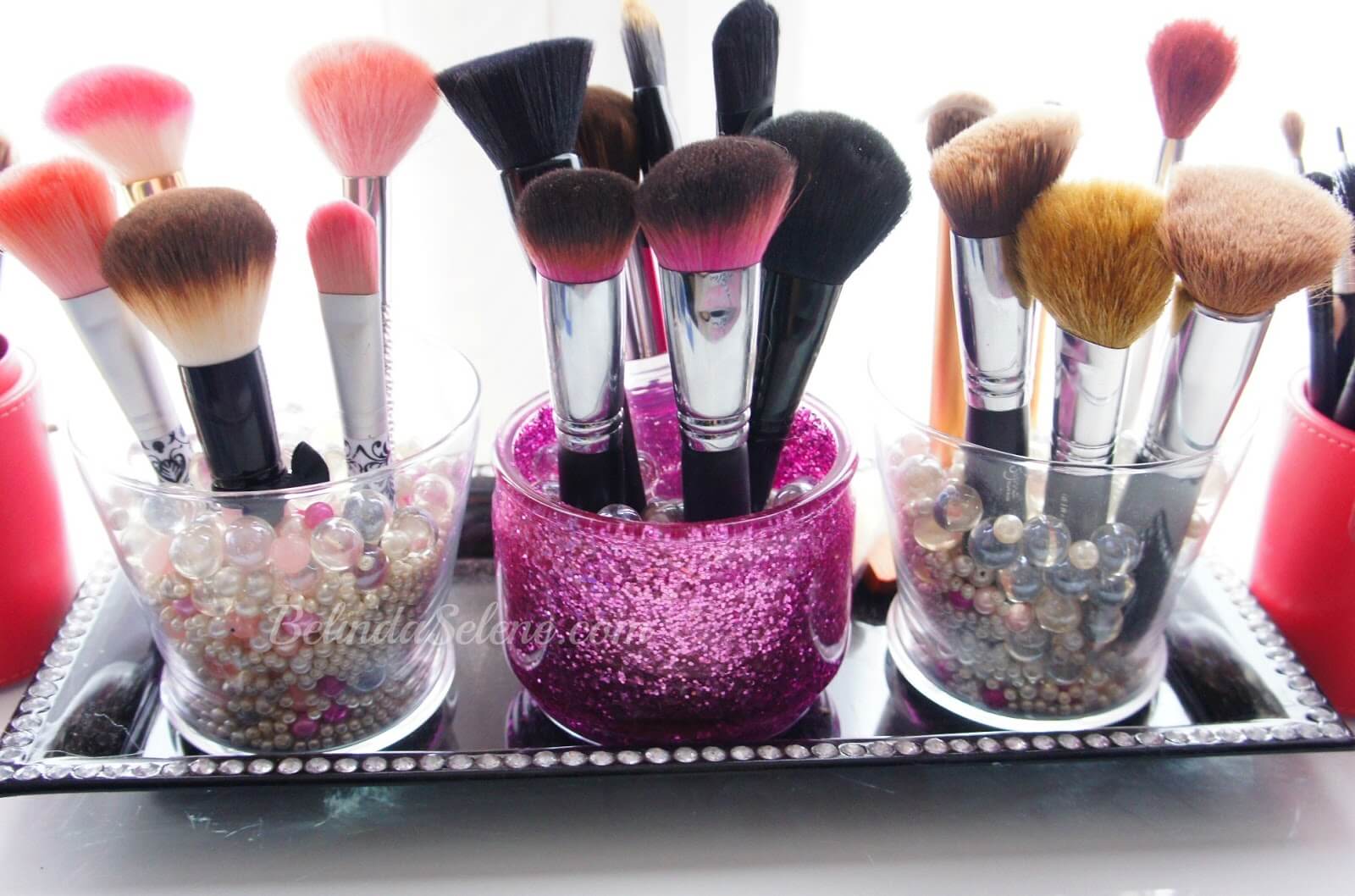 41. Mason Jar Toiletry Organizers with Chalkboard Labels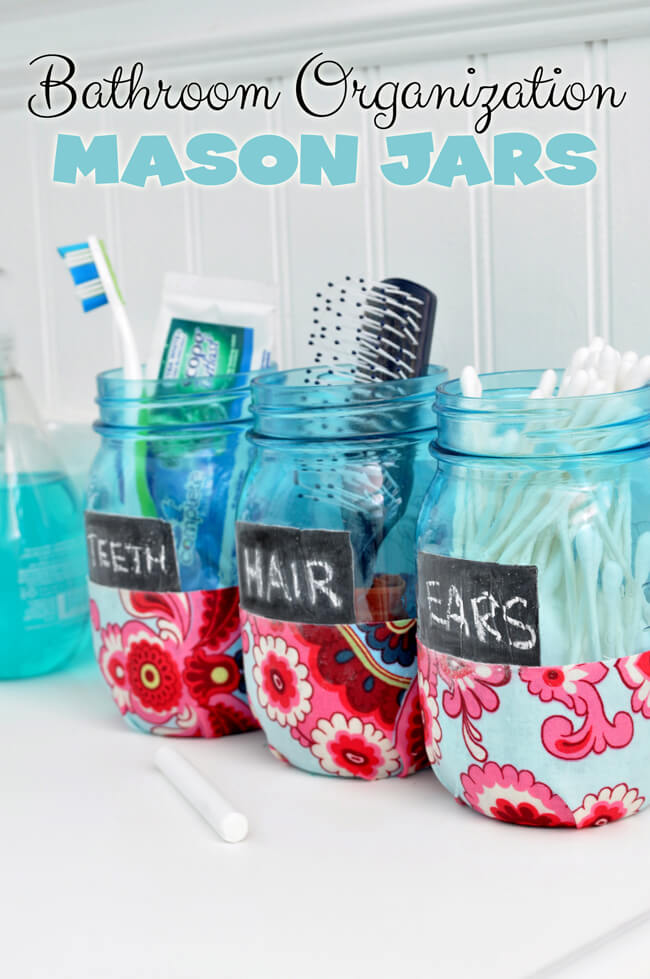 42. Rolling Towel Shelving Unit from Wooden Crates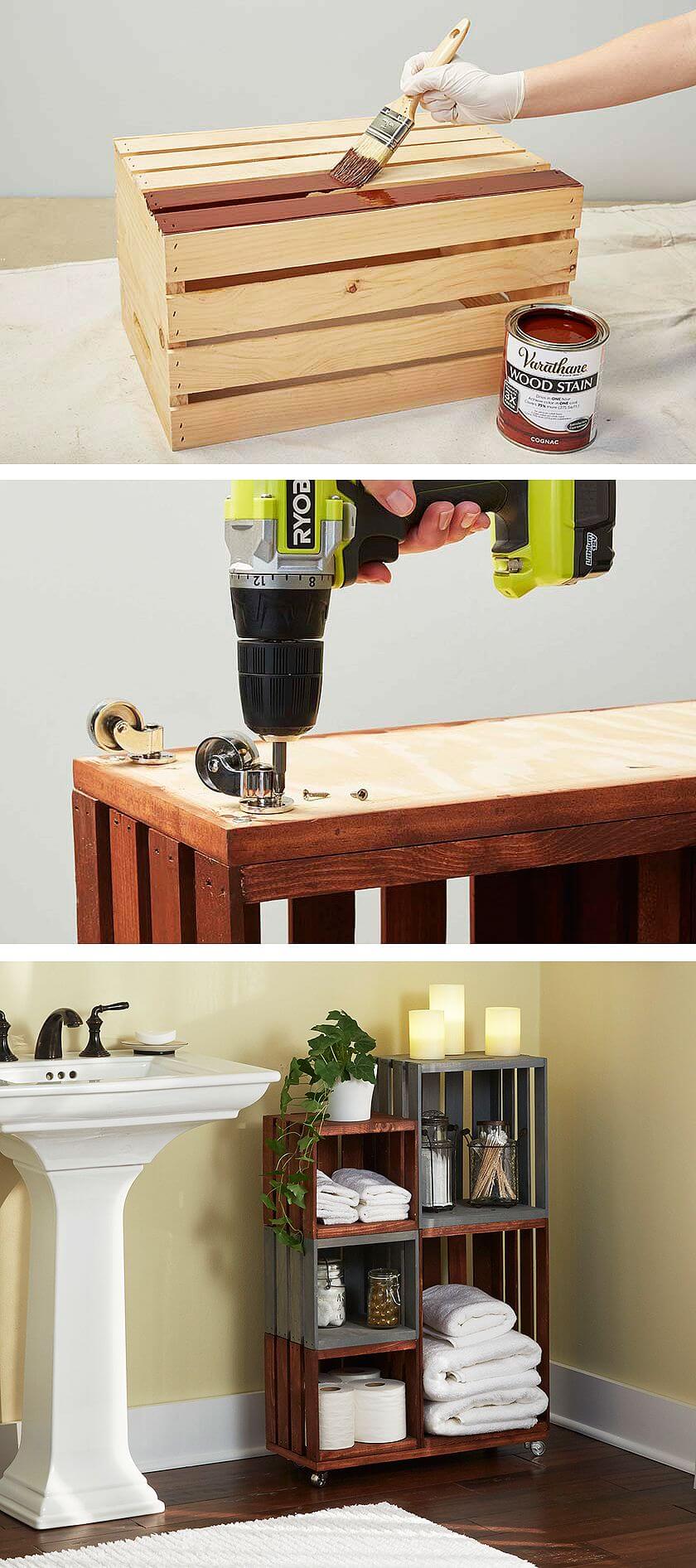 43. Upcycled Candles Jars Turned Vanity Canisters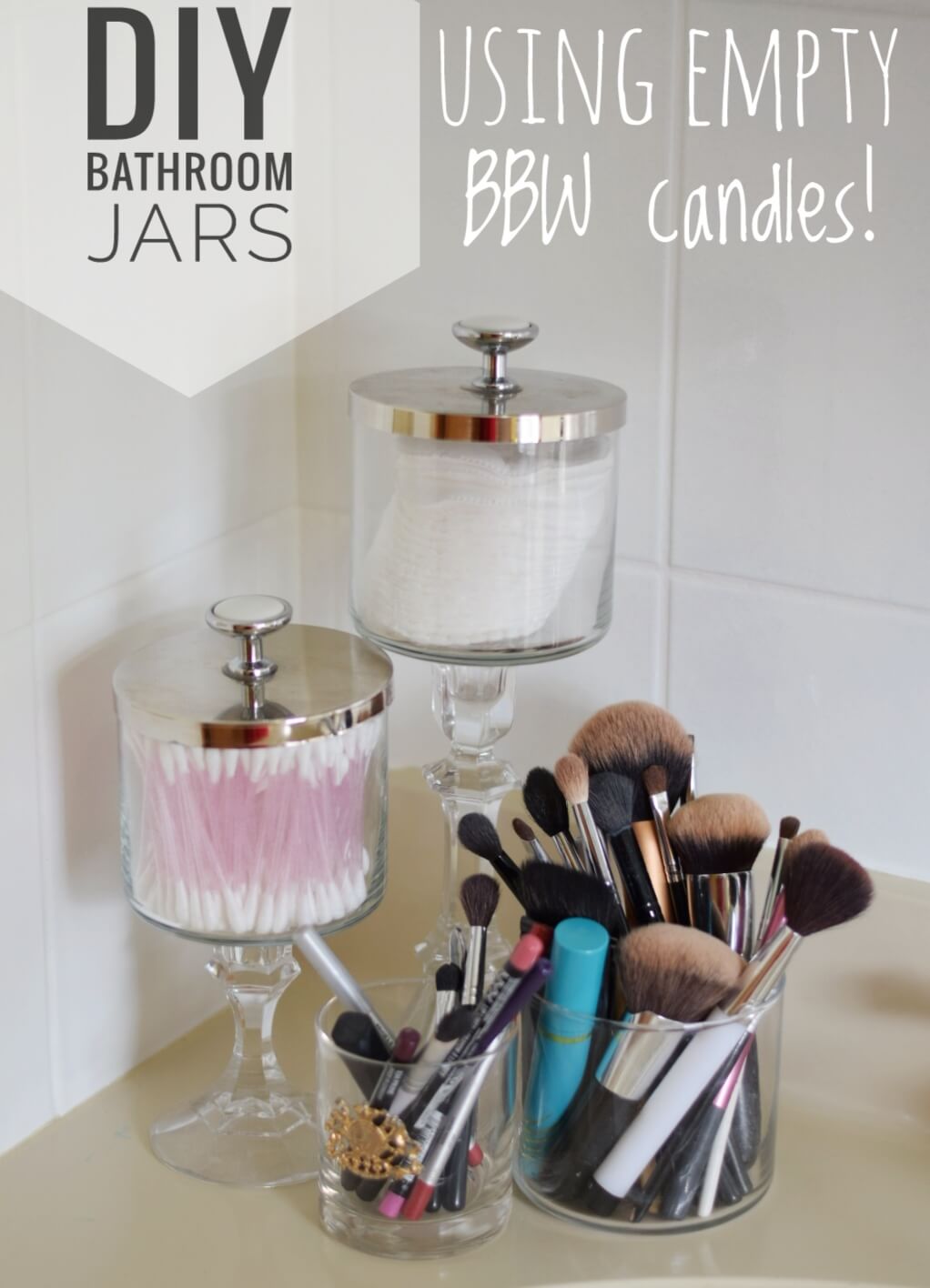 44. DIY Industrial-Style Bathroom Shelving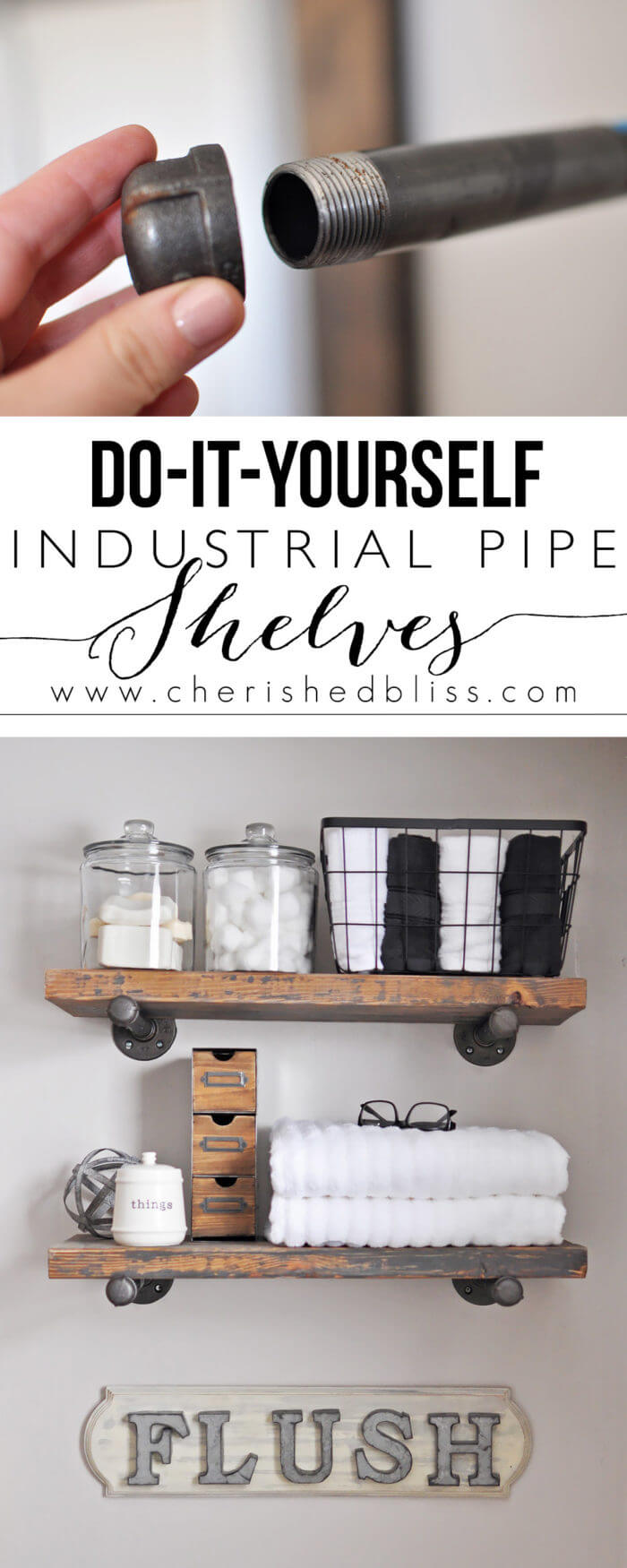 45. Hidden Velcro Storage Cup System

46. Nautical-Inspired Stained Wood Shelving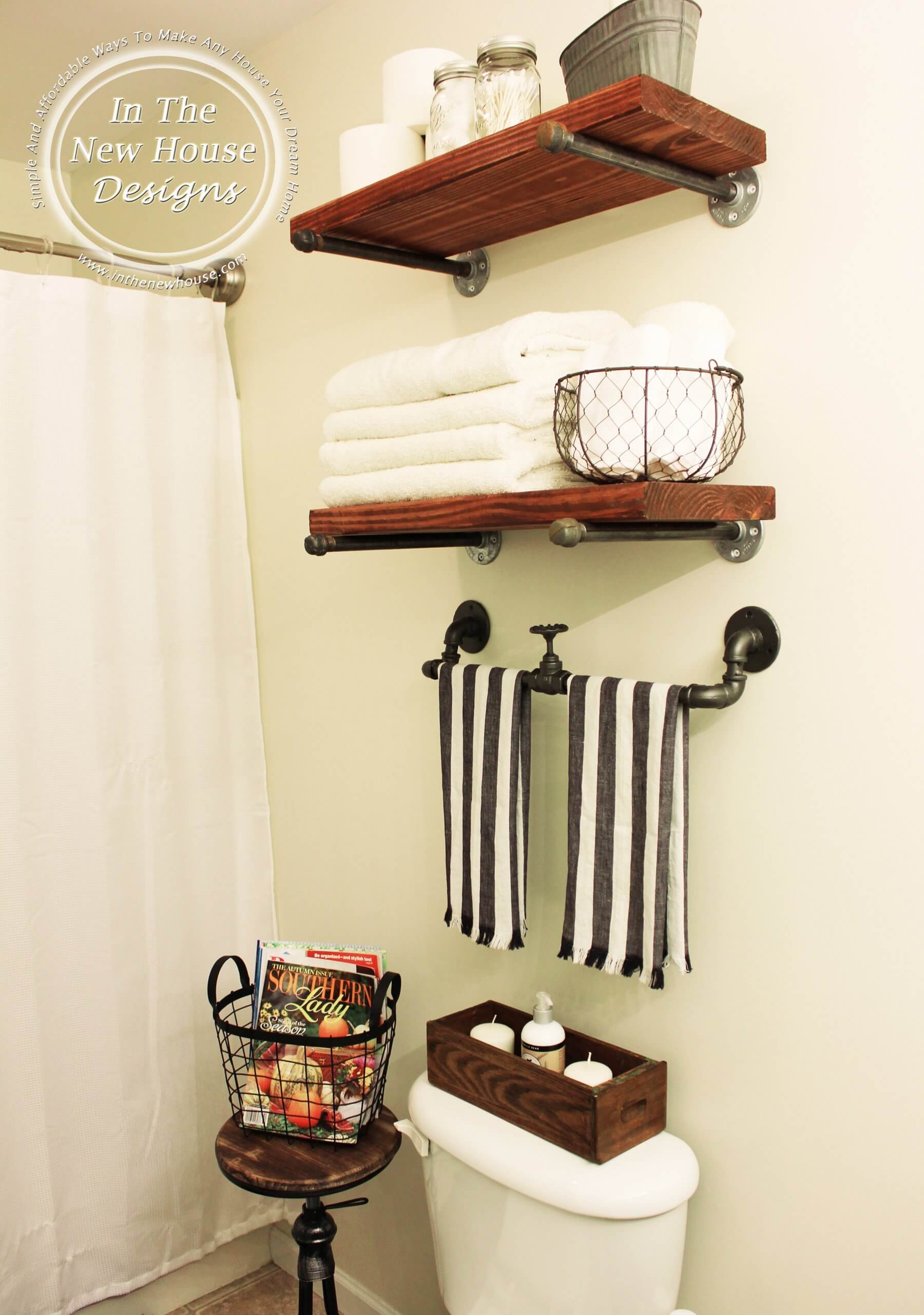 47. Tiered Hanging Storage Buckets—Perfect for Kids

48. Color Coordinated Bathroom Organizing Bins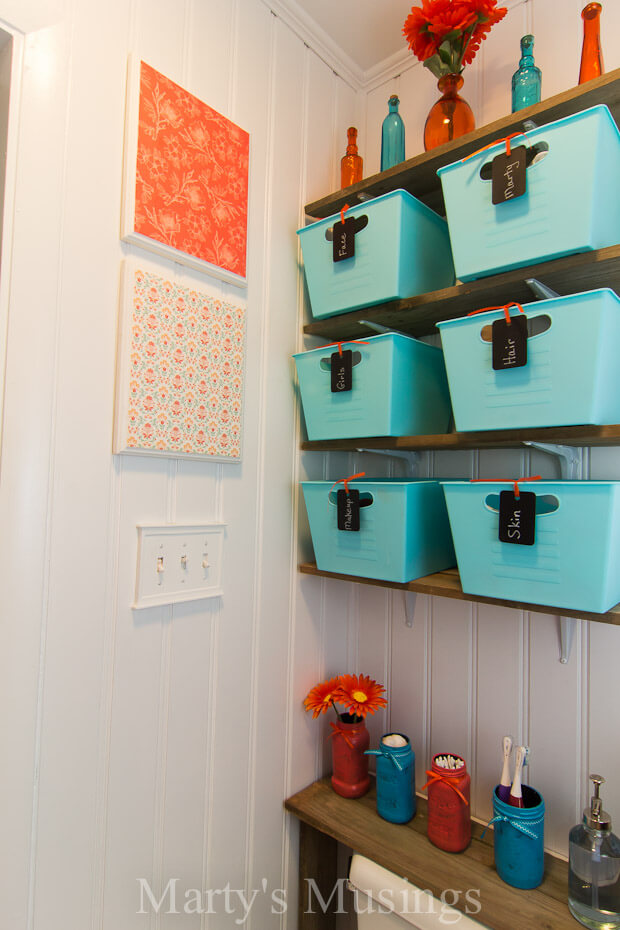 49. Repurposed Mini-Shelf Set from Vintage Drawers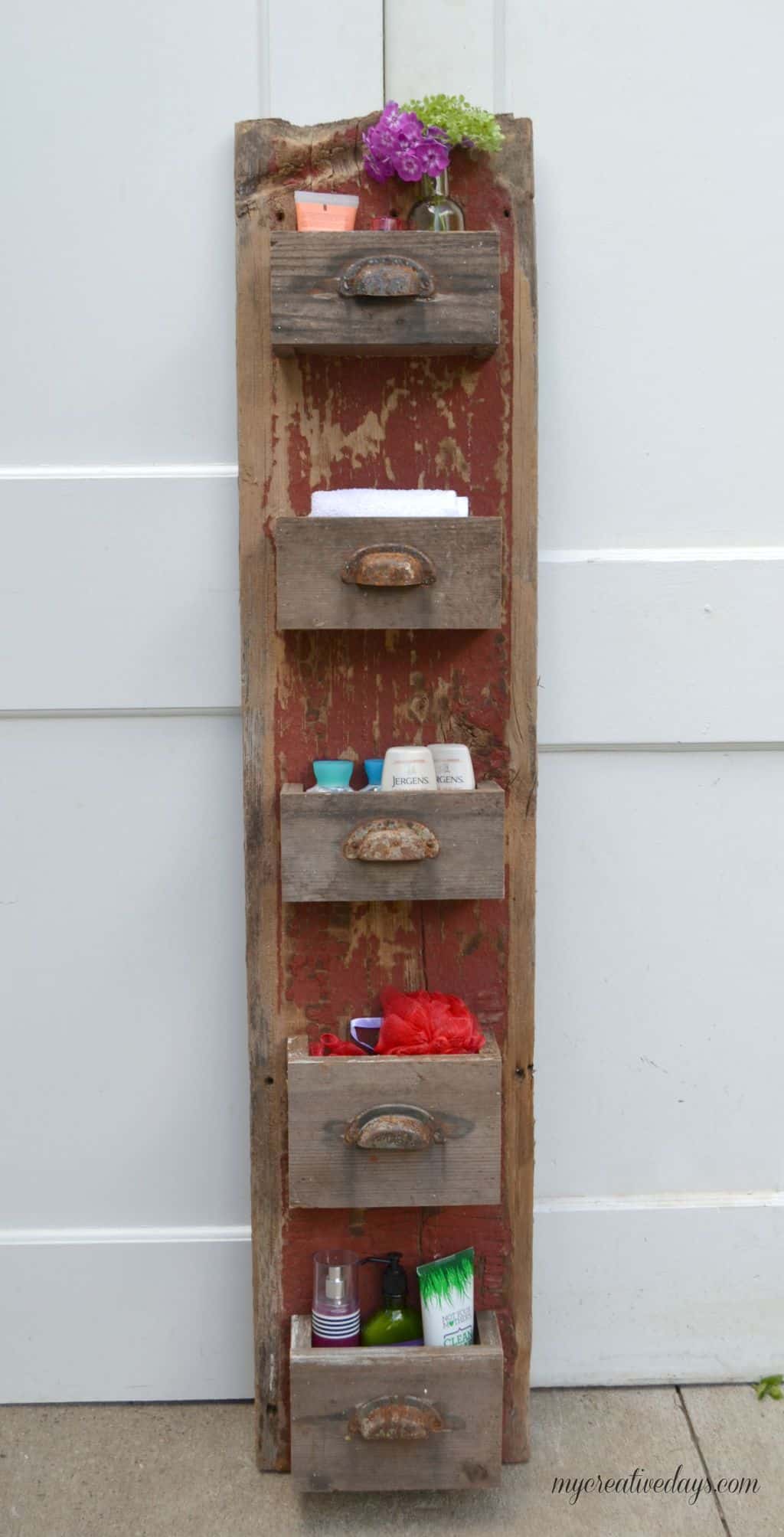 50. Spa-Style Bath Tray with Rustic Finish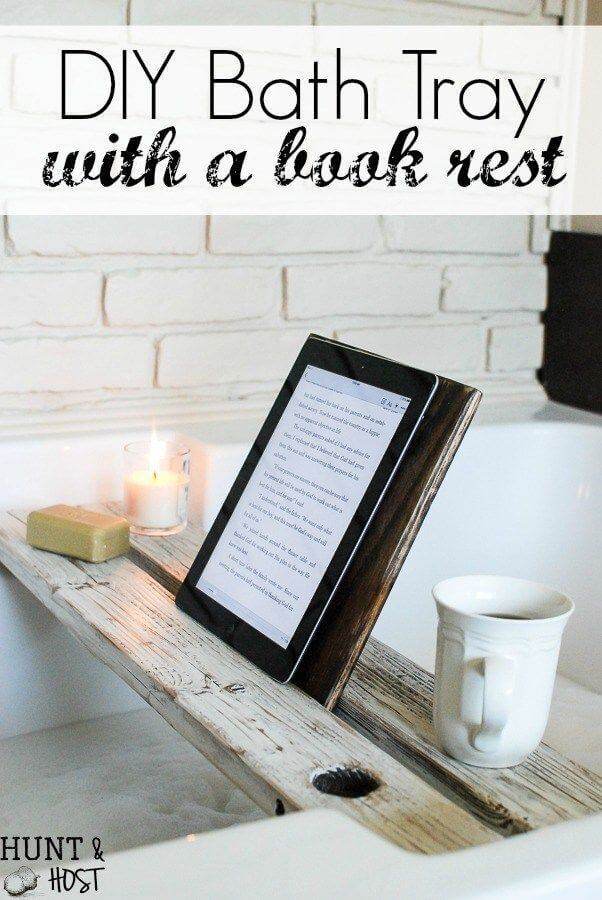 51. Narrow Sink-Side Toilet Paper Caddy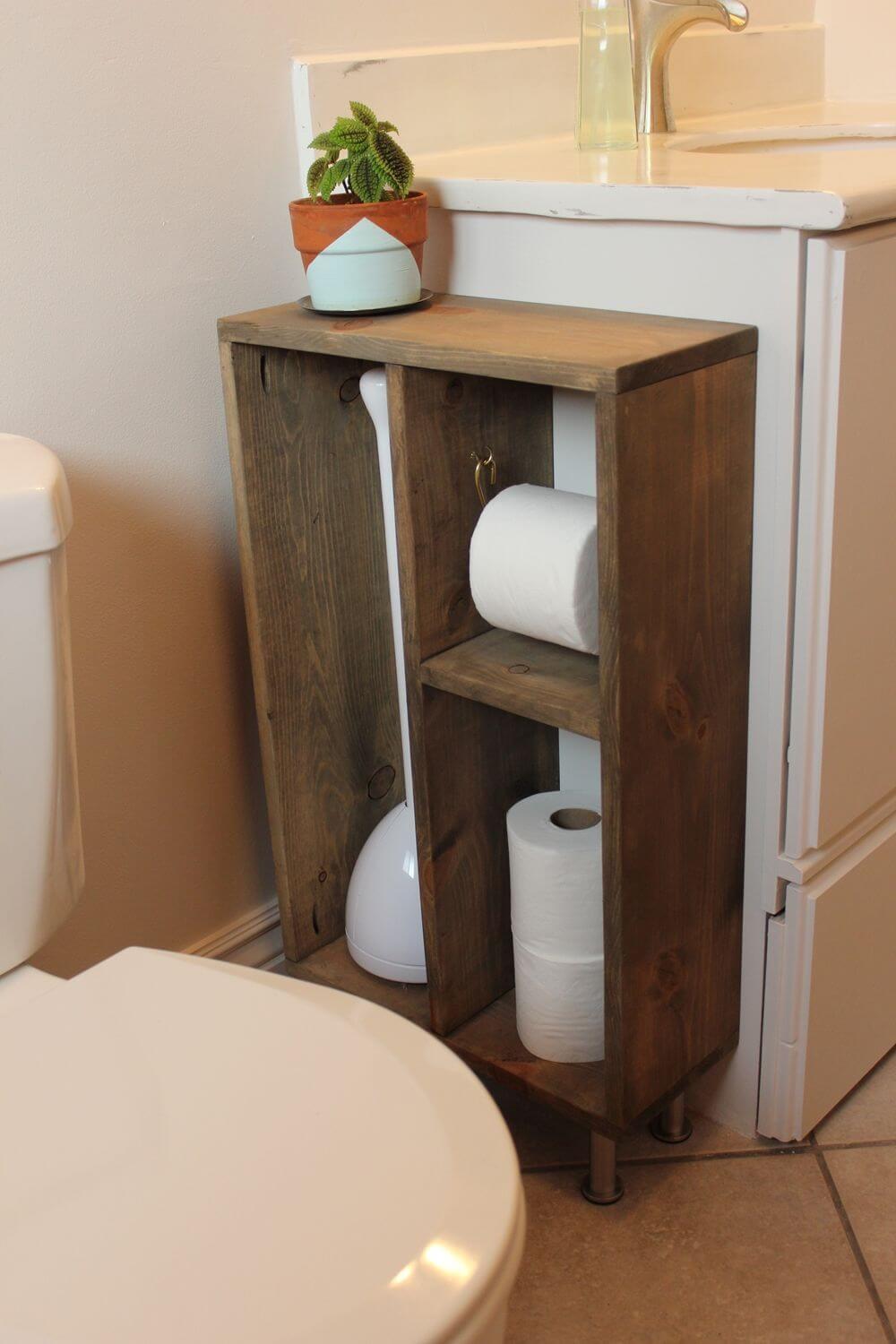 52. Quick and Easy Bath Toy Organizer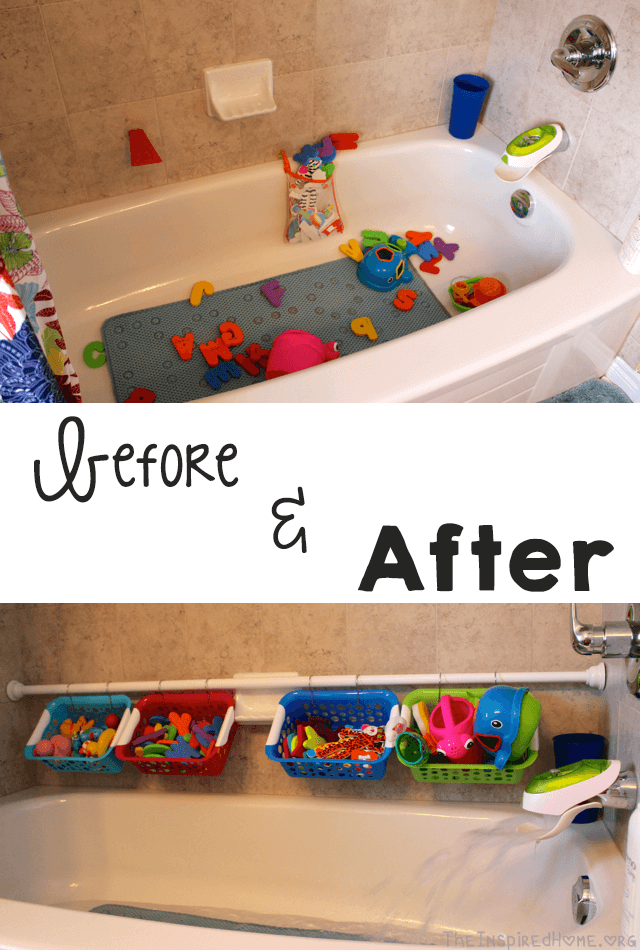 53. Complete Medicine Cabinet Organization Makeover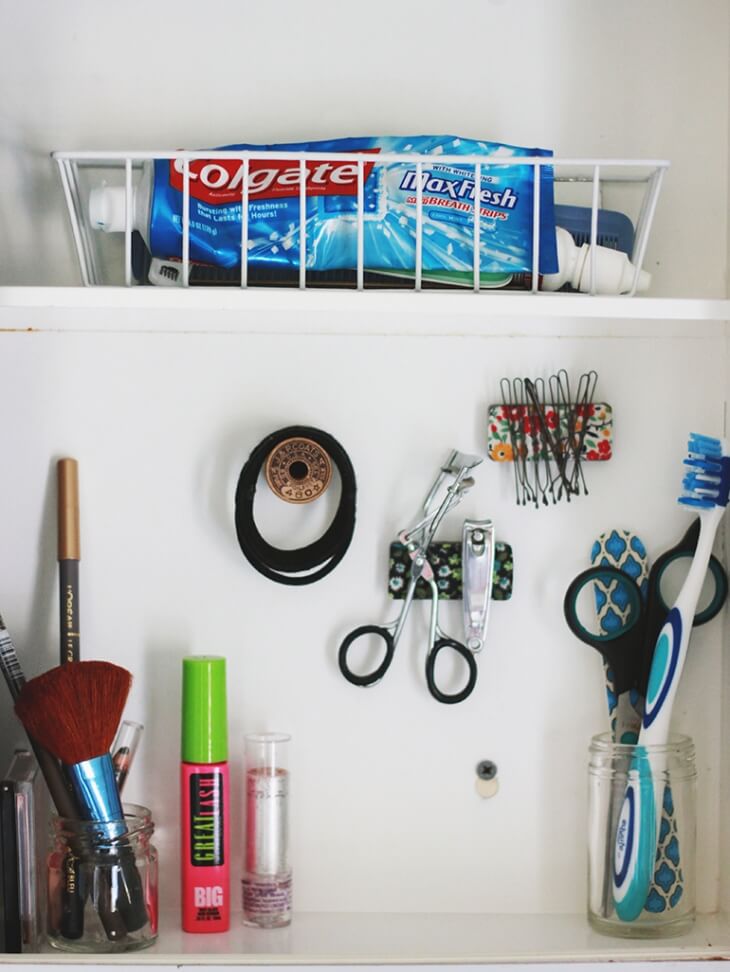 54. Custom Painted Mason Jar Toothbrush Storage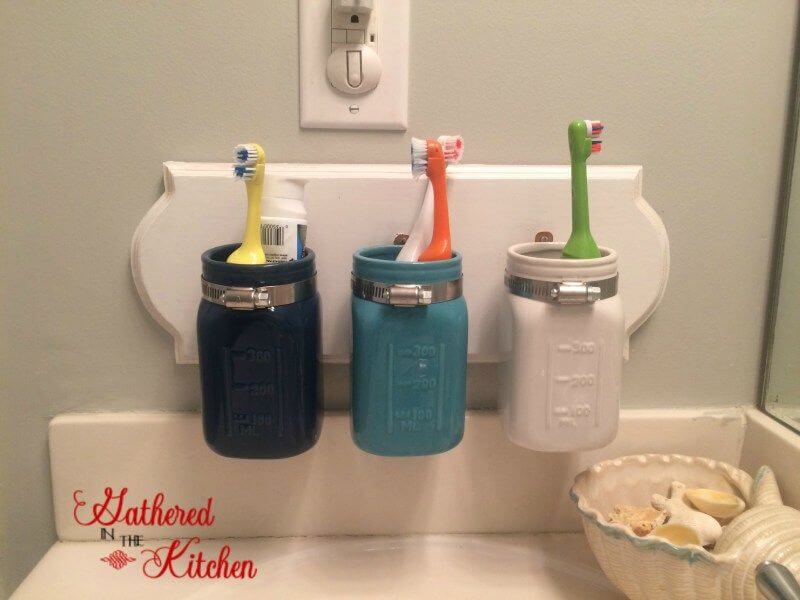 55. Built-in Linen and Supply Closet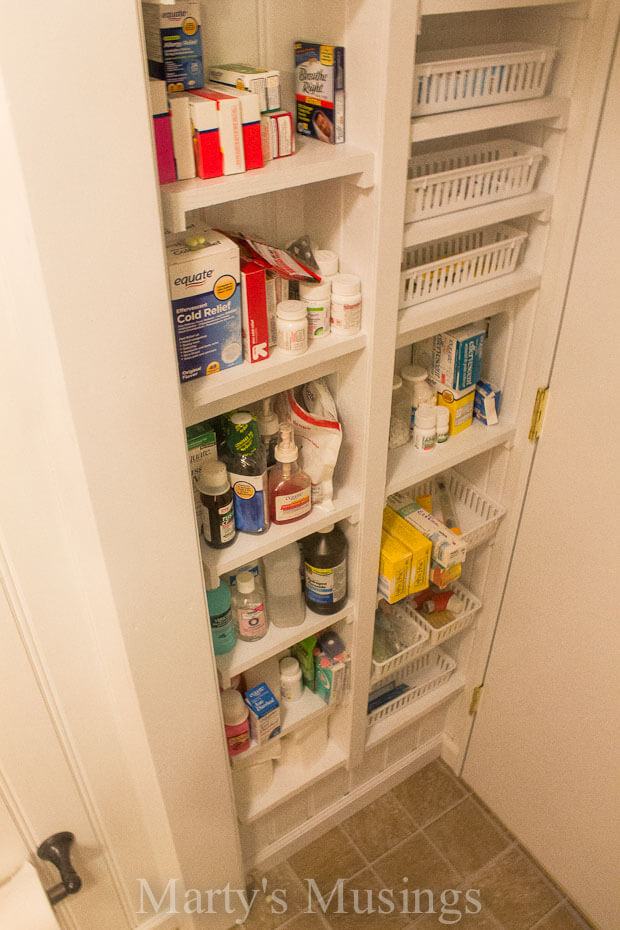 56. Under-Sink Organizing Drawer Unit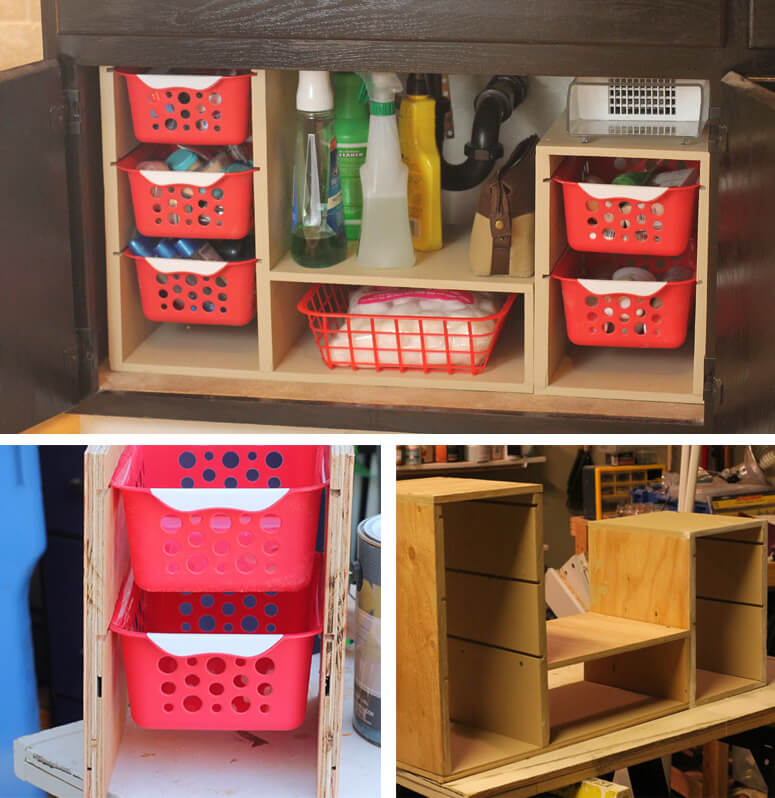 57. Matching His and Hers Towel Hooks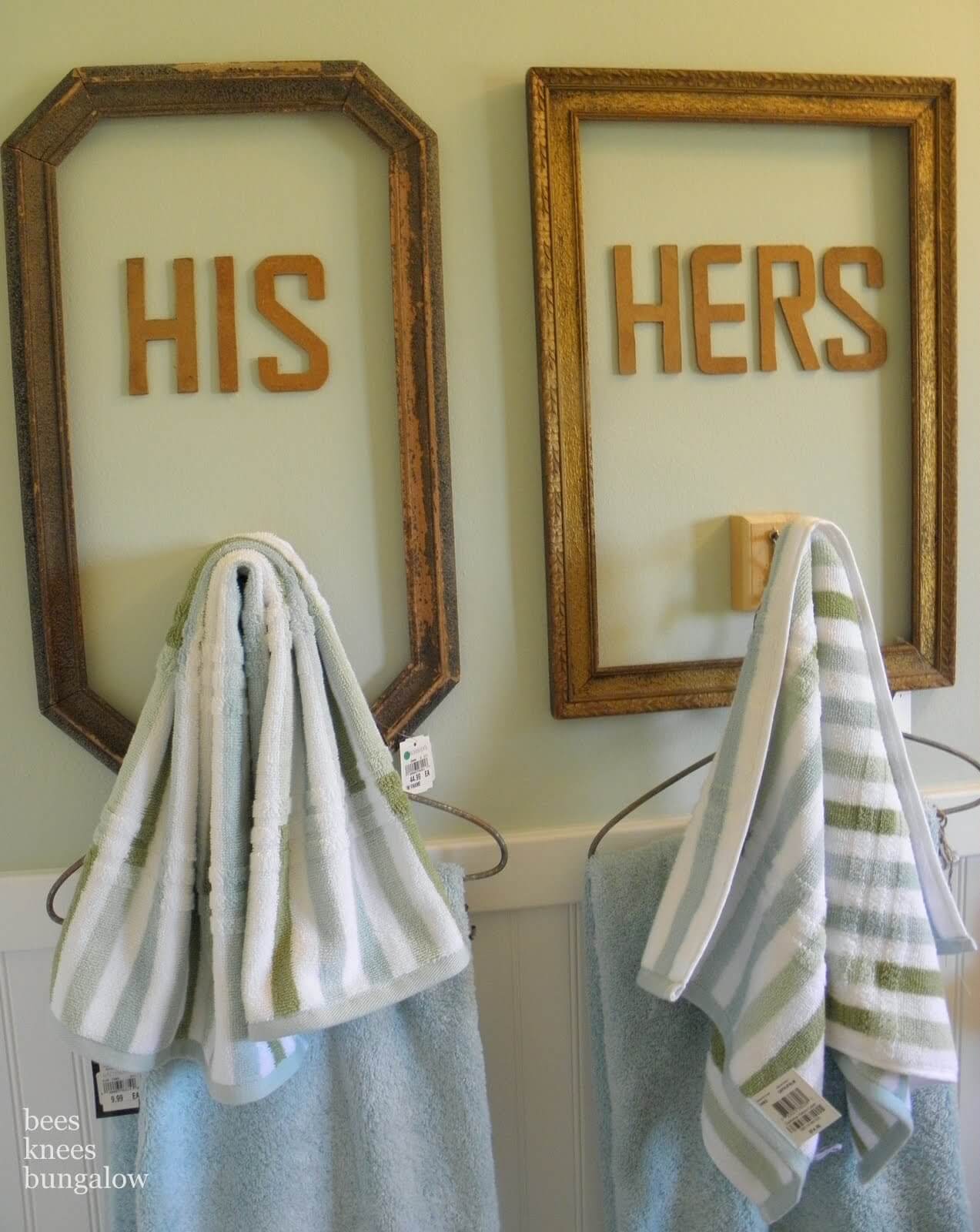 58. Upcycled Curtain Tie Backs to Towel Hooks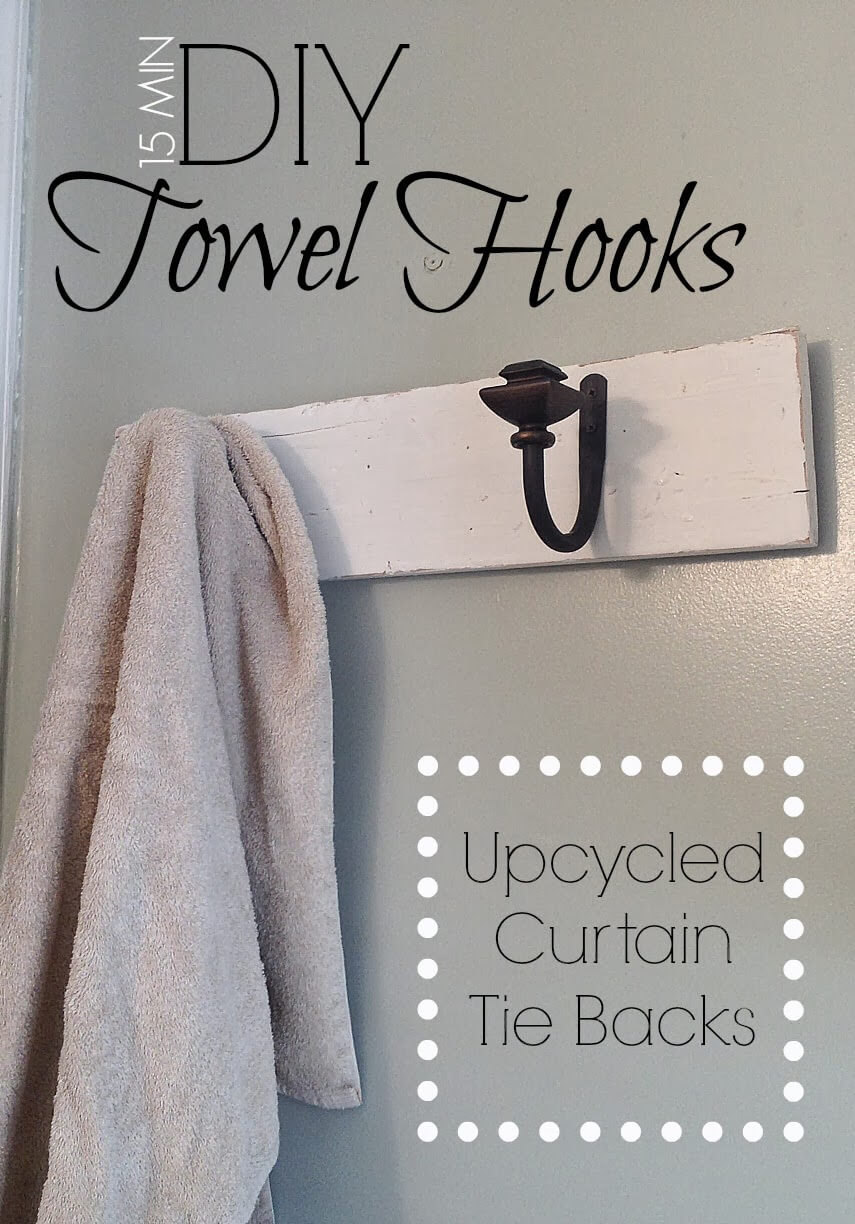 59. Magnetic Strip Organizers for Tiny Bathroom Essentials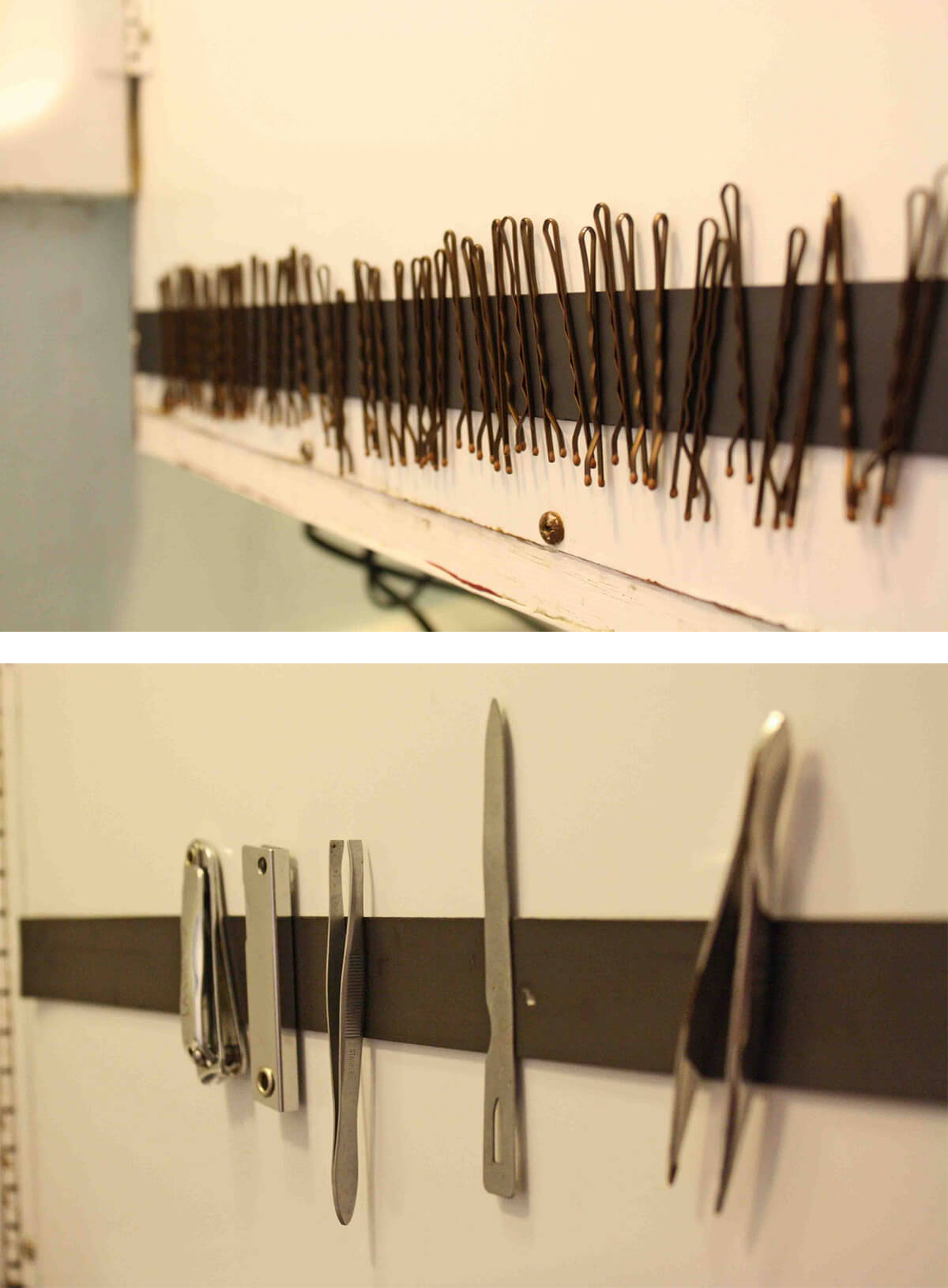 60. Rustic DIY Sisal Rope Towel Tote

61. Hidden Hair Styling Vanity Compartment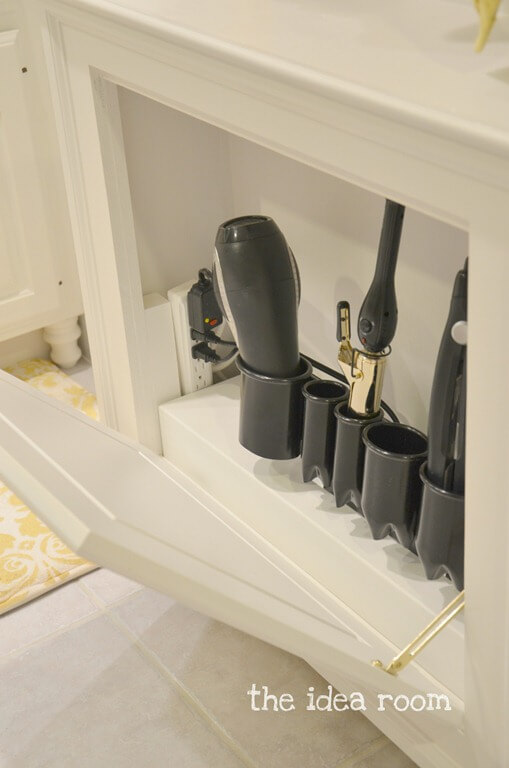 62. The Sports Fan's Chalkboard Painted Bathroom Organizer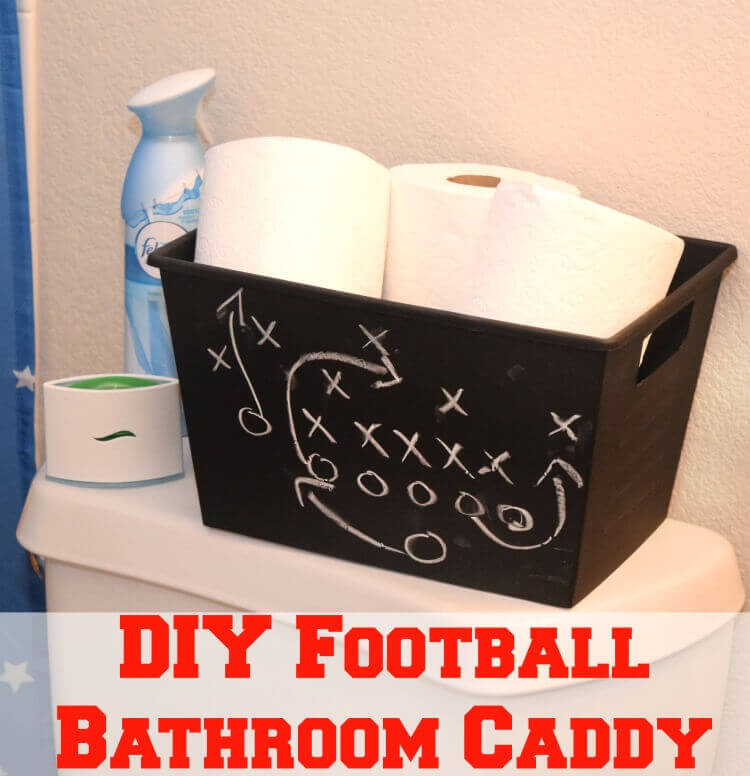 Our Favorite Farmhouse Storage Items to buy on Amazon