Give your birthday experience some fresh inspiration with these 17 best DIY birthday calendar ideas. There is no better way to get hands-on with your birthday reminders. With the following birthday calendar ideas, you are sure to get a good dose of well-researched, tried, and tested inspiration to heighten the emotional side of your birthday celebrations.
Tackling these creative projects by yourself from concept to completion is not only fun but also affords you a legitimate sense of mind, body, and wallet satisfaction second to none. That is to say, getting creative around your birthdays at home, keeps your stress levels down while improving your mood, helps you learn new skills, keeps you close to family fondness, helps you save money, and boosts your sense of activity. Everyone treasures their birthday and desires a special treat on that very occasion. While you may have gifted your special ones with cards, cakes, presents, and even special surprises before, nothing beats helping them keep track of their birthdays without the risk of forgetfulness.
16 Stunning Ways to Enrich Your Handmade Birthday Calendars Artistically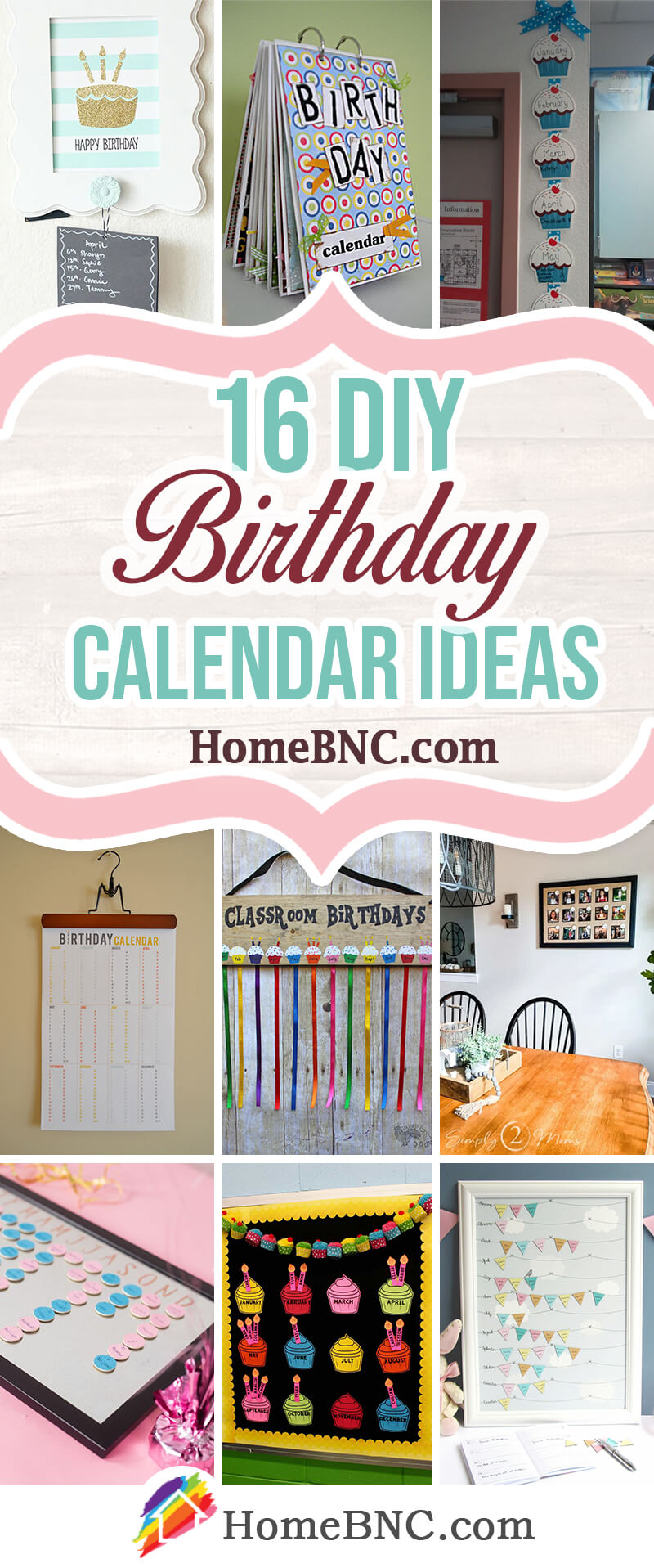 Whether to a close friend, colleague, or family member, handmade birthday calendars arouse the most excitement as birthday gifts. Their unique versatility effortlessly gets to the heart of one's emotions without detracting from function. That means a handcrafted birthday calendar can serve as both a reminder and a decorative masterpiece around the home or office. The multiplicity of design styles and inspiration makes it easy to double up the role of such calendars.
Want to experience such bliss in your birthday experience? Explore the creativity and fun woven into the following 17 homemade birthday calendar templates. Your loved ones will be glad you stumbled upon this eye-opening post!
1. A Glittering Cake Gets a Birthday Frame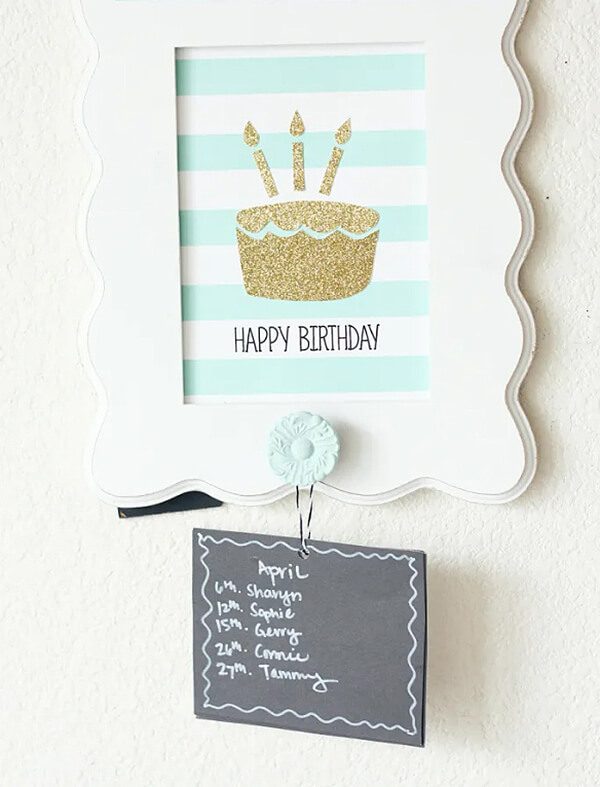 Want a unique birthday calendar but scared to get your hands dirty with scattered paint mess? Well, how about a cool printable alternative? With "easy" as its middle name, simply get ahold of all the design requisites, including a printer, flat-surfaced picture frame, glitter paper, and a printable birthday cake, among other design essentials. With the perfect contrasting backdrop, your glittering cake gift pops with elegance without detracting the view from a shouting "HAPPY BIRTHDAY" statement. The endearing sentiments then usher an enchanting flowery accent eloquently showcasing the birthday month engraved on a contrasting card. Sing along to the birthday tunes as the card dangles.
2. Mouth-watering Cupcake-inspired Birthday Calendars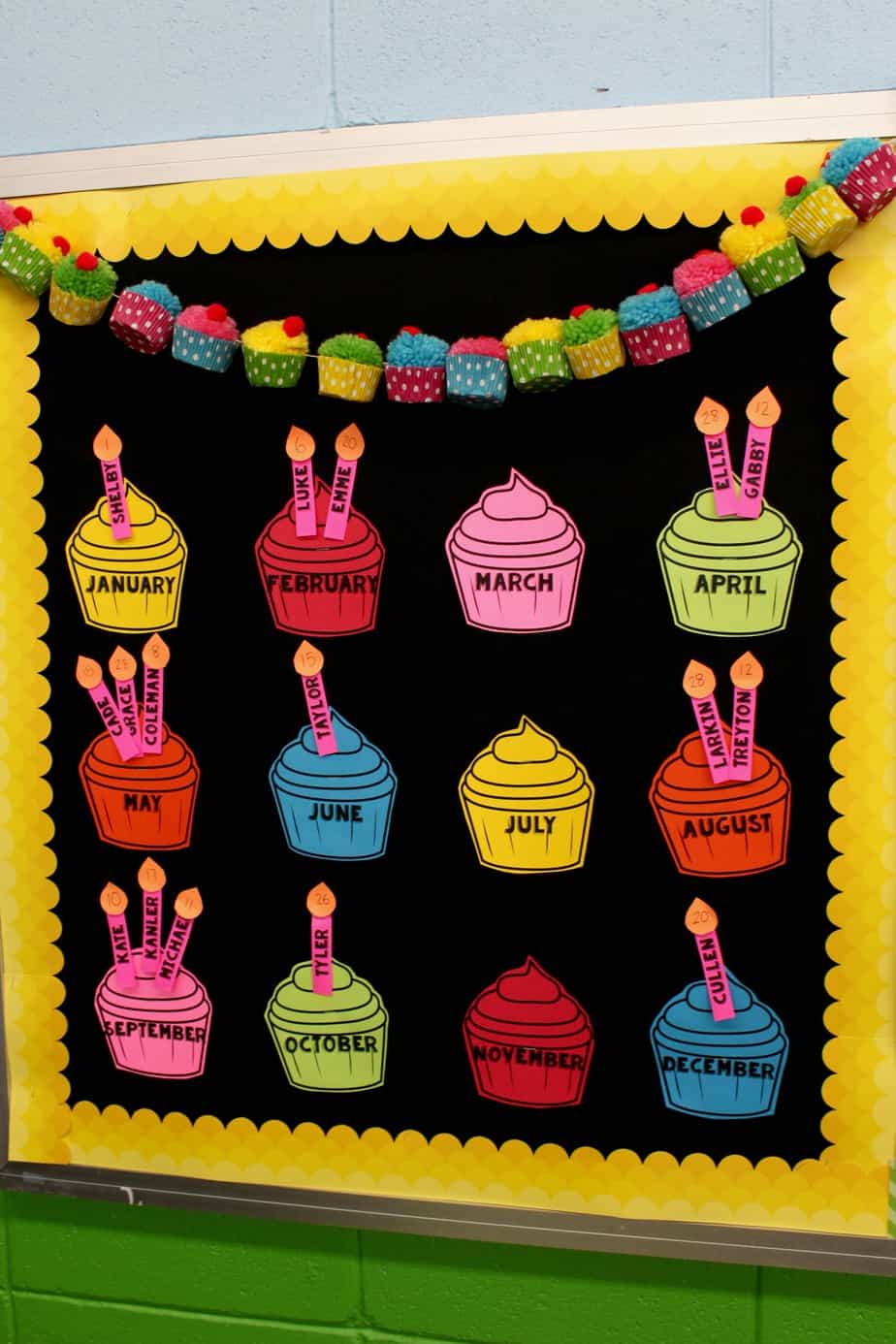 What could you possibly accomplish with stringed pom-pom cupcakes? Probably not much. However, for a DIY creative, colorful artistic cupcakes make the most decorative sense for a stunning birthday calendar. With the pom-poms creating a decorative top lining, the underlying birthday board cleverly mimics another set of artistically imprinted cupcakes. Topping each cake (representing specific calendar months) is a colored cut-out card strip proudly bearing the birthday name. Further, the name strips are crowned with a cute contrasting candle flame indicating the birthday date to paint the illusion of a real, tasteful birthday. The cakes stunningly pop out of the dark background, not to mention the enticing border frame.
3. Making Artful Birthdays a Reality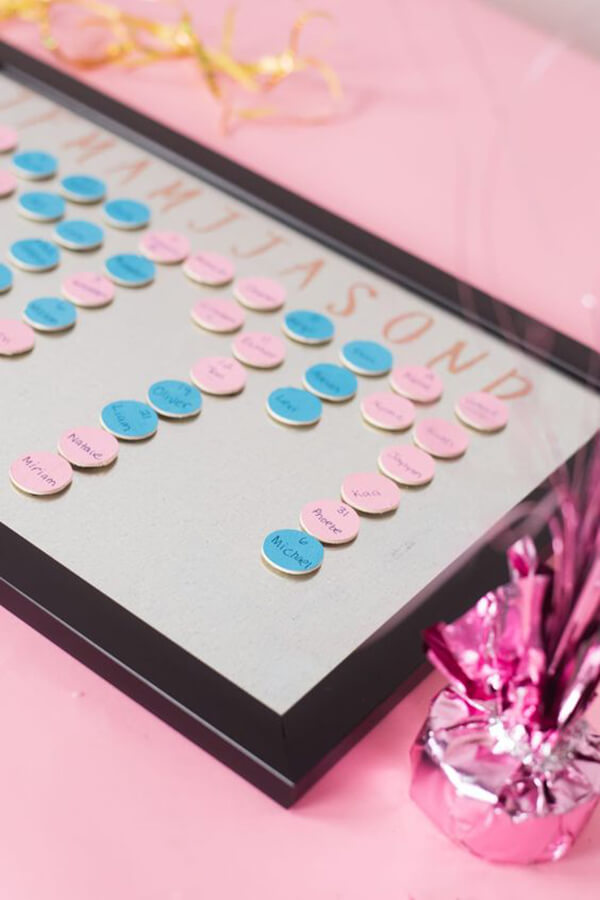 While you may have interacted with the best DIY birthday calendar ideas, nothing quite thrills like magnetic birthday calendars. Such calendars have a blissful way of magnetizing all your birthdays to your mind to keep you from skipping any special occasions. As your family circle grows, you need a birthday memory aid that's super easy to update, and with a magnetic calendar, you never go wrong. If wood calendars prove little static, magnetic ones will effortlessly keep up with your family additions without sounding overly cluttered. All you need is a sizeable magnetic frame, little round pieces to pen the details, and the rest depends on how well you let the colors play out.
4. Dangle Your Birthdays Back to Mind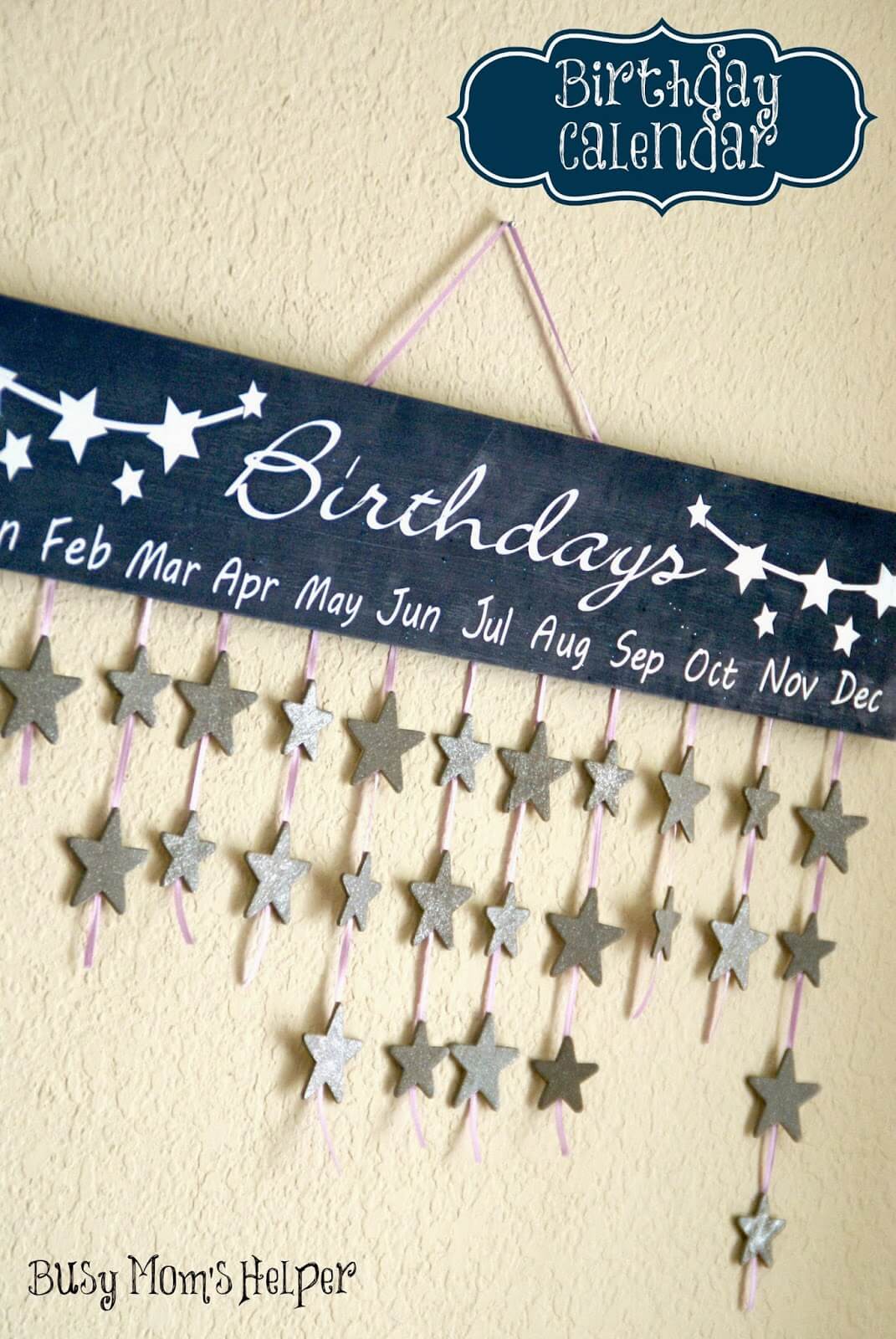 What beats the best DIY birthday calendar ideas that are quick to implement, budget-friendly, and 100% customizable? Try this one out and watch your creativity grow wings of luck in the process. Custom-design a simple, plain board with your choicest color coupled with a shouting birthday statement. Layering the board's bottom with the 12 birthday months makes your memory effortless while introducing more letter accents. Each month drops down a list of birthday names and dates to memorialize. As your busy thoughts race, the stars lazily dangle, and boom, there goes another birthday to brighten your day!
5. Colorful Canvas Birthday Display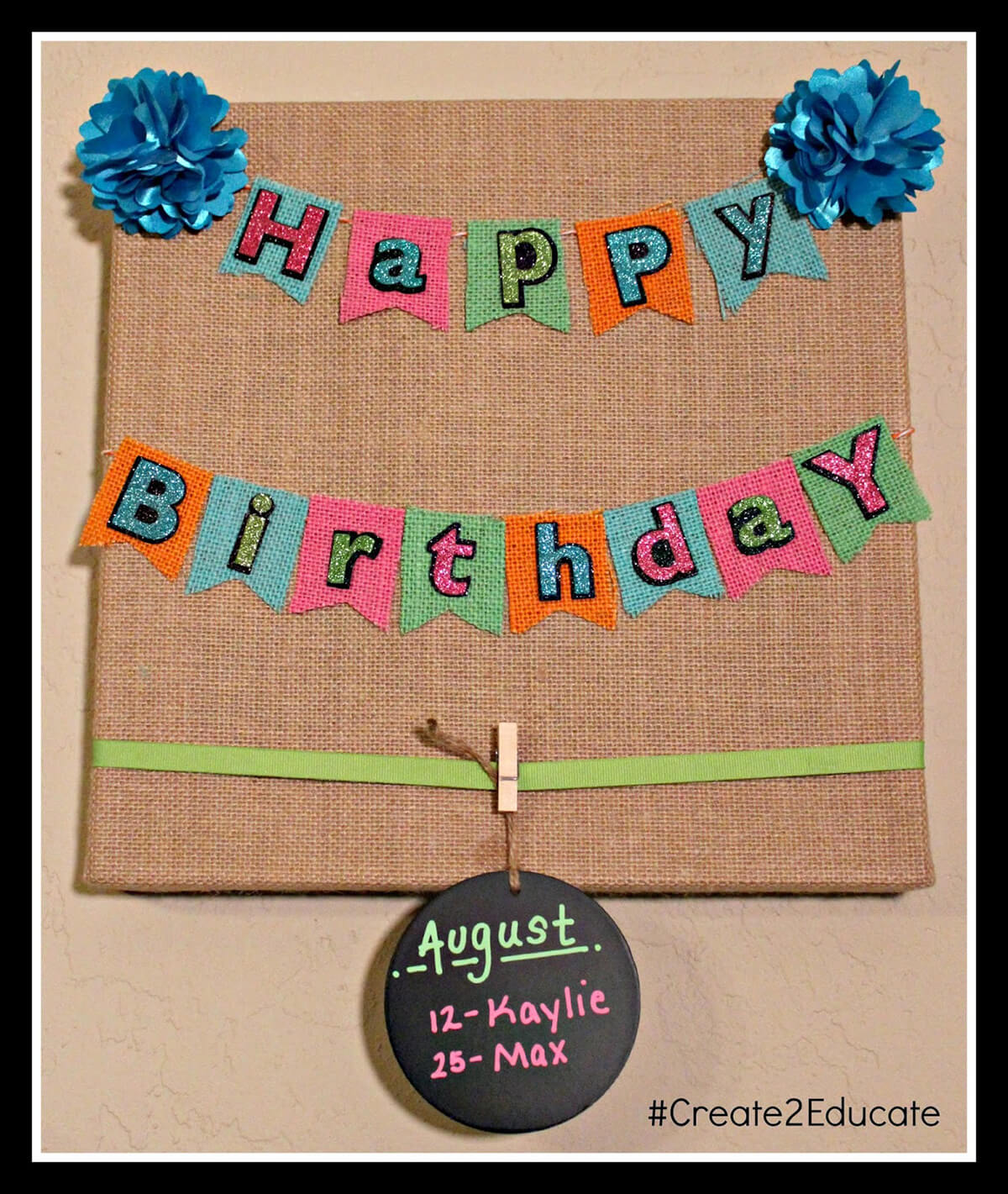 Step away from the boring handmade birthday calendars and try out something a little heart-warming. How about a charming birthday display framed in a canvas burlap? Lay your plain canvas burlap on your worktop and start getting creative with a unique blend of glittery letters, chalkboard circles, and fancy silky flowers as embellishments. Add colorful swatches brightly spelling out the main celebration of the day with cheerfully colorful flowers elevating elegance. Conclude the birthday statement with a contrasting ribbon and a chalkboard circle detailing the birthday name, month, and date. The clever multiplicity of colors is sure to mark a colorful birthday.
6. Cool Handcrafted Birthday Board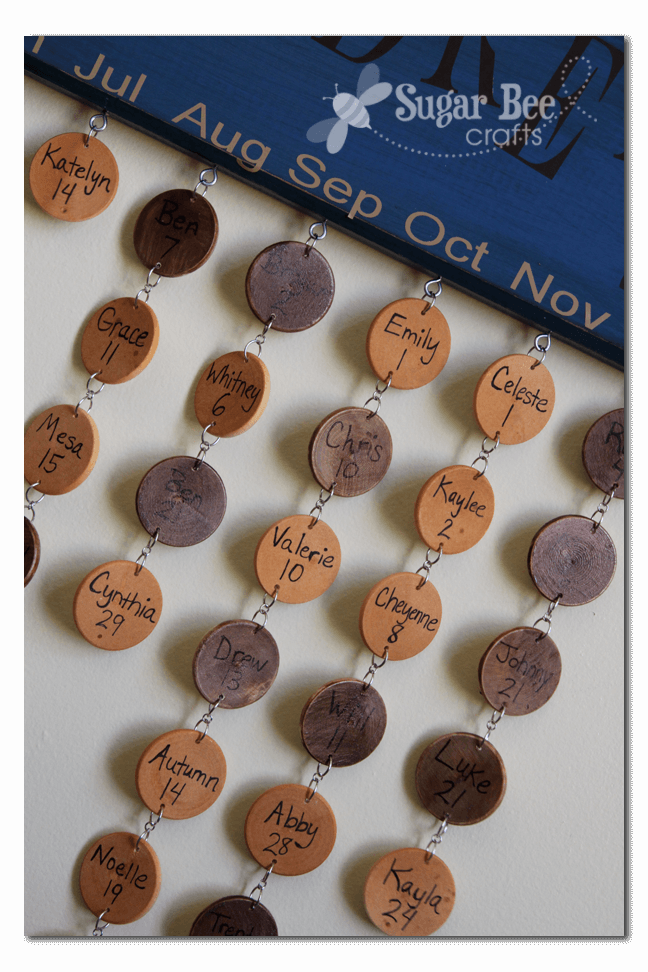 Looking for some crafty inspiration to artistically memorize all your birthdays? Crafting your own birthday board is the perfect route to take. Before discarding that board, consider all the creative things that could come out of it. Think of an elegantly designed birthday calendar. Paint the board to your liking, not forgetting to add a strong "birthday" headline and all the birthday months. Wood-stained tiny wooden discs are a great complement to the contrasting board. Proudly showcase birthday names and dates backed by the choicest blend of favorite colors. Let the crafty pieces dangle as you take in the special birthday memory!
7. Birthdays Bundled in Postcards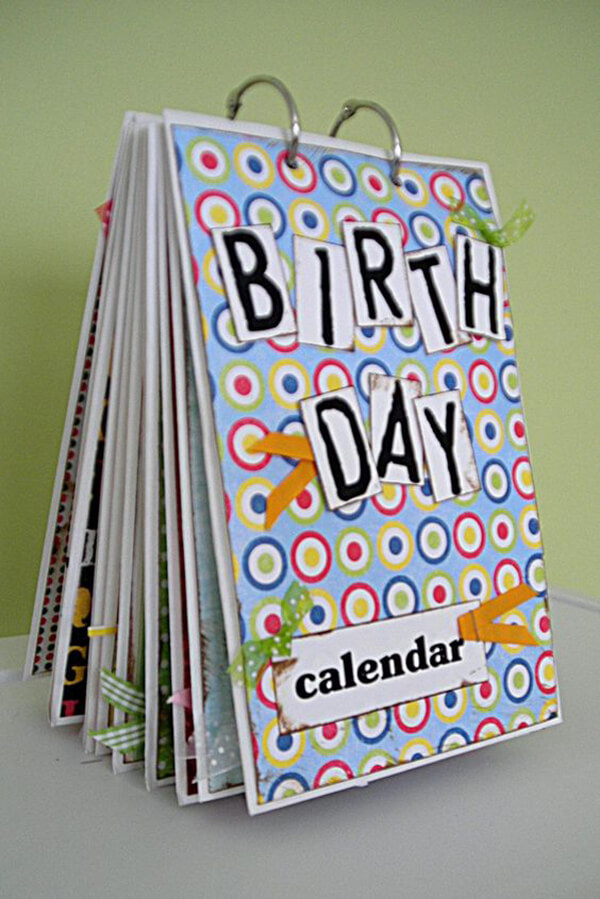 You might want to try out this homemade birthday calendar template if you often struggle to memorize multiple birthdays. It all starts with turning free postcards into an alluring bundle of birthday cards, depending on the birthday count you want to keep track of. Write something nice on the cards, affix a forever stamp (if you want to), and arrange them by birthday month. Bundle your cards together using recycled clip hinges and set them atop your worktop or vanity top to avoid instances of belated birthdays. Resembling a cute photo album, add as many notes, photos, and decorations to the bundle as your love evolves.
8. Wall Hanging Cum Birthday Calendar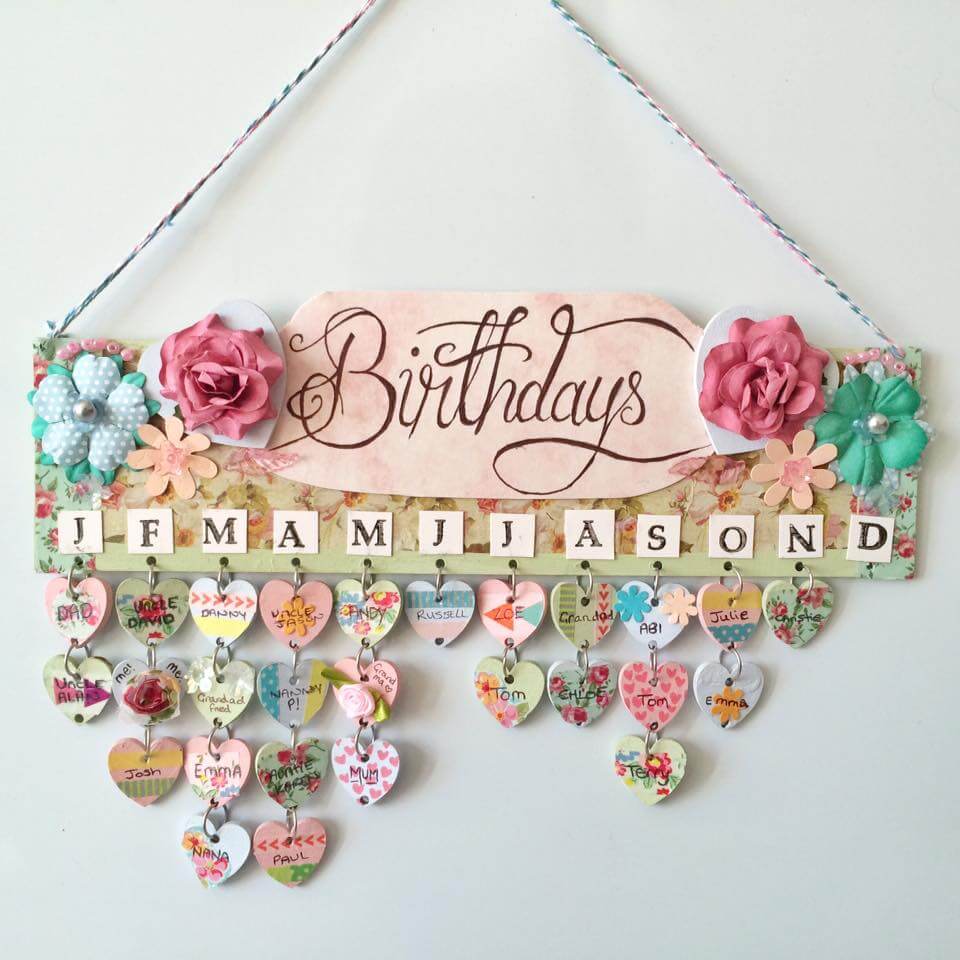 If your quest for handmade birthday calendars leads you to this magnificent piece of art, heightening your birthday experience becomes a sure thing. At the core lies a wooden plaque bearing 12 tiny holes to occupy the 12 calendar months. The artistic design is further accentuated by assorted decorative wooden hearts, metal rings, and a gorgeous header card to spruce up elegance. As you paint the wooden hearts to add diverse stylistic statements, complement the impressive outfit with a charming floral look using flower papers. Your loved ones' names and birth dates go on the hearts, and the rest of the aesthetic display is up to your wits. Get on it!
9. A Birthday Board Turned Wall Decor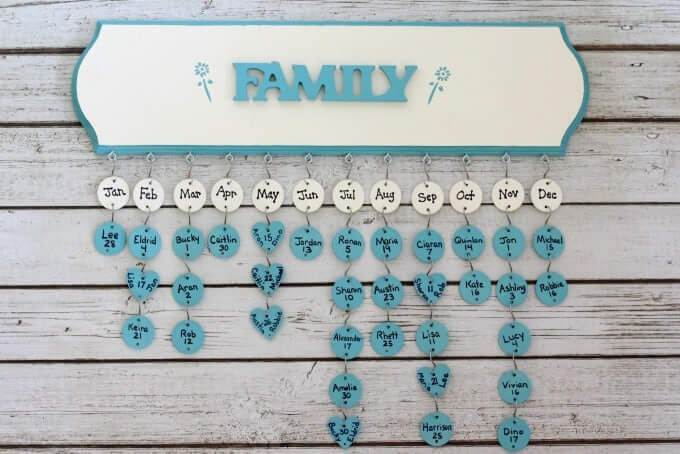 Armed with a neat set of hearts, circles, S-hooks, a wooden board, acrylic paint, and an assortment of other creative paraphernalia, a charming birthday board instantly comes to life. This is the kind of birthday surprise you want to gift your stubborn friend, colleague, or relative who claims to have had everything already. Not only is the simple, artistic wooden board a naturally-interesting gift but also a remarkably inexpensive addition to your wall décor. With a crown of endearing wooden letters fondly coupled with soothingly underhanging circles and hearts, family birthdays become an event to yearn for deeply! Mix and match the right colors and let the textured backdrop present the shout-outs!
10. An Elegant Birthday Calendar from Family Photos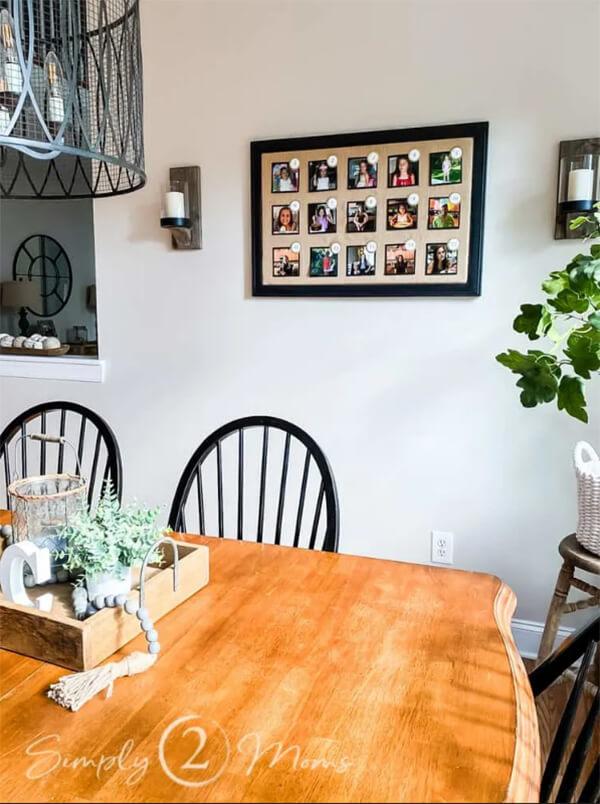 Turn a pleasant family photo display into a birthday reminder for your special ones. The duality aspect of this special reminder translates to a beautiful home and a celebratory atmosphere. Think of it as charting out a photo journey of your loved ones' birthdays. If you are the type that captures every stage of your child's life, for instance, this DIY calendar idea becomes the perfect fit for your birthday calendar. Preserve each birthday memory with a special photo, trim the photos accordingly, and attach them to a calendar board with each birthday stage detailing the age with an extra tag. With a dark backdrop, your growing child will love it!
11. A Birthday Calendar in a Ribbon Display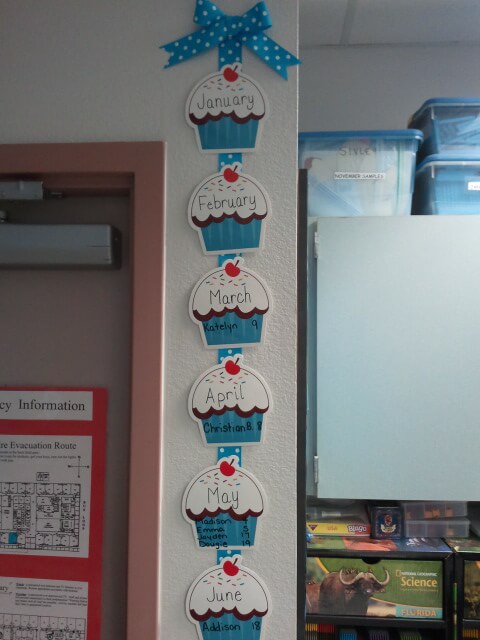 The fierce quest for the best DIY birthday calendar ideas keeps the creativity wheel constantly reinventing itself. This right here is a fancy one, all bundled up in a stunning ribbon. The graceful ribbon boasts a dotted knot at the helm, which in turn ushers a soothing strip neatly accented with intermittent cupcakes. To add color to elegance, the cupcakes proudly showcase a red strawberry at the tip, symbolically raining down calendar months. Sitting below the cupcake's hat, the blue section is reserved for the special birthday name along with the date. For enduring birthday memory, hang it vertically.
12. Memory-aiding Birthday Calendar for Multiple Occasions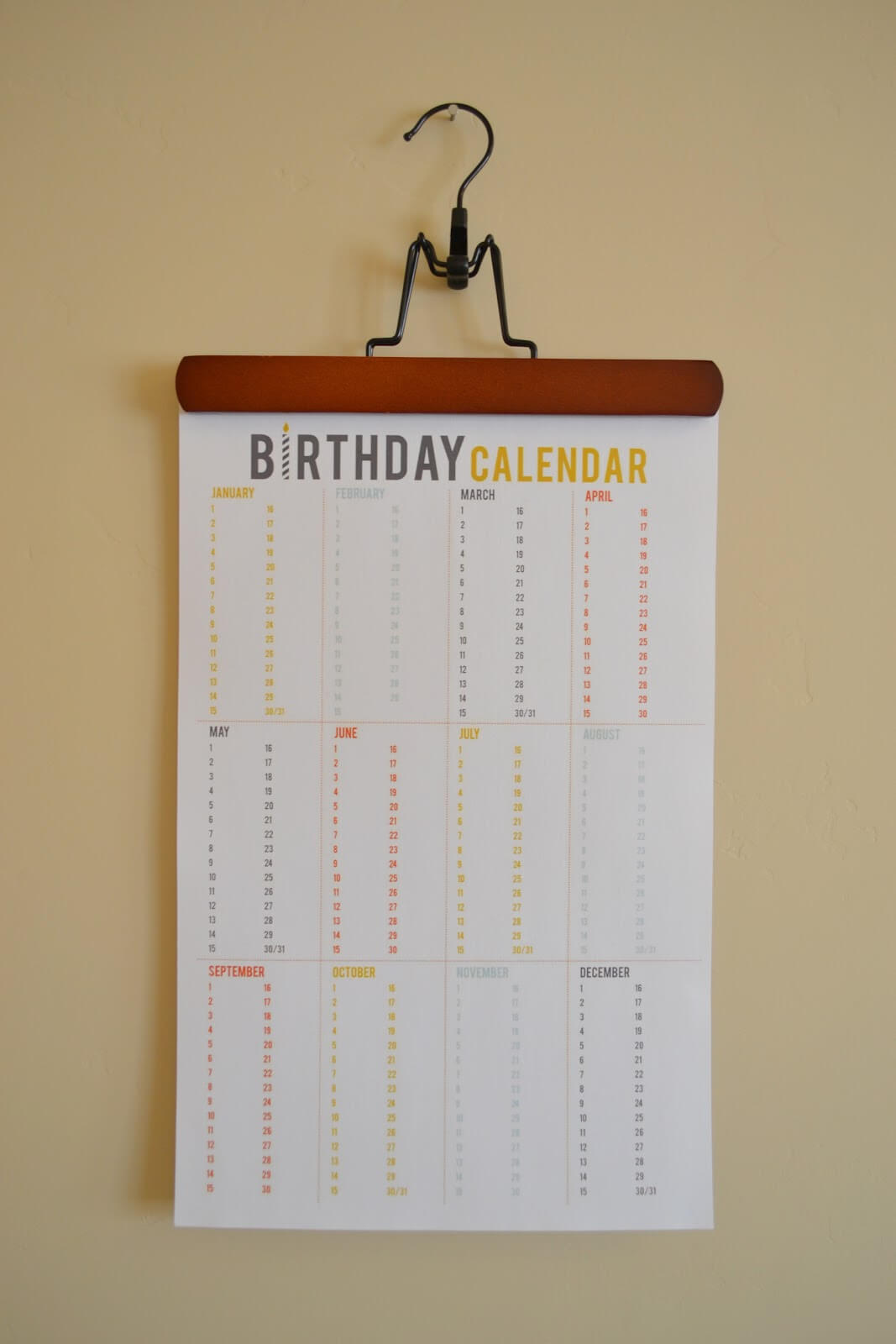 How do you aid your memory to keep tabs on multiple birthdays? Well, simply look for a fancy way of putting everything on the same front page! What better way to do that than with this perfect printable birthday calendar? Without the hassle of cutting, trimming, sewing, or painting, you simply organize all your intimate birthdays on a single printable calendar. Neatly showcasing months and dates, the calendar is sizable enough to trigger your memory and emotions at a glance. Hang on the wall with accompanying wooden or wire accents, the calendar is sure to boost interior visual interest!
13. Bundle All Your Birthdays Together Artistically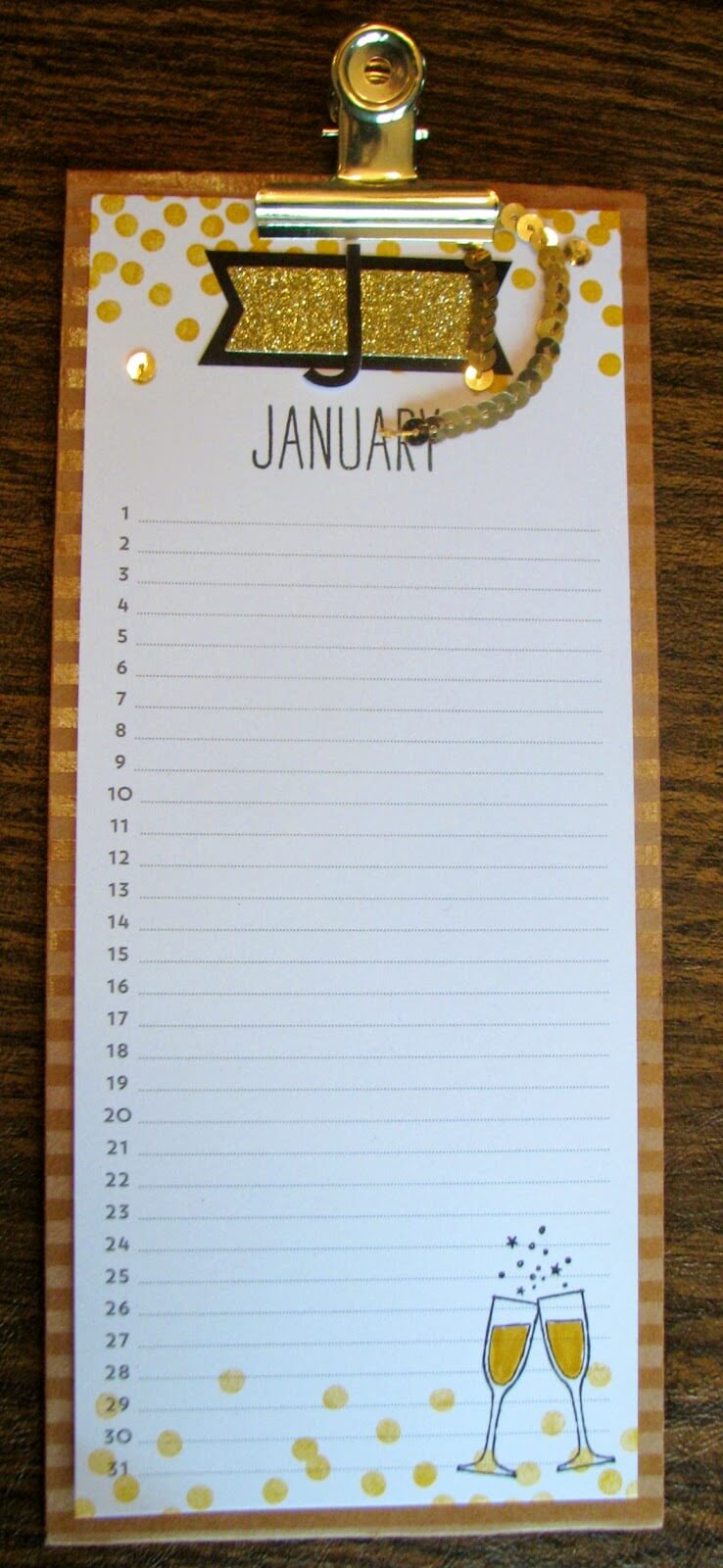 One of the best DIY birthday calendar ideas, this custom birthday calendar never ceases to impress. Crafted from endearing homemade cards and a cute combination of decorative stamps, a birthday reminder will hit you as a glamorous occasion. Each card represents a particular calendar month and affords you endless liberty to customize your emotions and sentiments. Whether you are the flowery type or the wine glass type, the diverse color stamps instantly elevate the joy of customization. The cards are neatly ruled to cater to all the calendar days while beautifully encapsulated within diverse senses of art. To spice up the backdrop further, a gold-accented clip board makes the perfect complement.
14. Classroom Birthdays Made Easier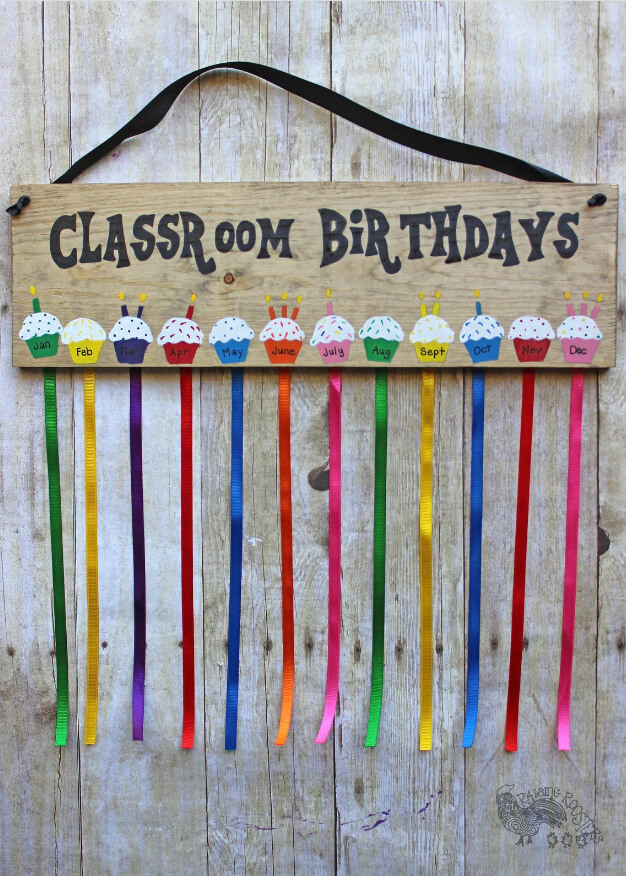 Struggling to keep accurate track of your classroom birthdays? With this simple birthday chart, you can put all your struggles to rest. In addition to updating student birthdays, this artful masterpiece instantly elevates your classroom décor without setting aside an extra budget. Armed with pine wood, acrylic paint, stain, and a few ribbons, getting creative with your classroom birthdays has never been easier. A clever blend of style and function, the birthday calendar elegantly flows from a rustic wooden board, artistically suspending multi-colored ribbons boasting cupcake crowns. Each ribbon represents a calendar month on which you can clip a clothespin bearing student names and birth dates. Way to spruce up that classroom experience!
15. Personalize Your Birthday Like an Artist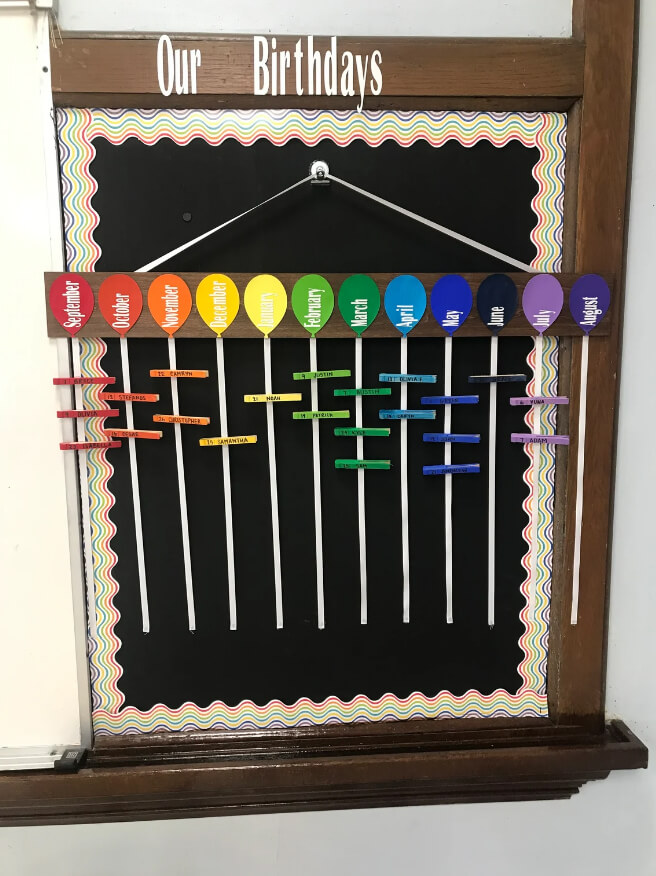 Did you know you can accessorize your birthday memories without eroding birthday pleasures? Yes, with this clever, artful DIY birthday board, an artistic birthday celebration instantly comes to life. A thick wooden frame makes the first bold statement bearing the "birthday" headline. Bordering the frame is an interior frame accented with multi-colored streams forming a smooth loop. The colorful display further ushers a neat black background detailing silk ribbons running from the top and cutting through graphic calendar months. The white ribbons are neatly complemented with contrasting clothespins bearing customized birthday names and dates. What's more, the ribbons are long enough to accommodate more birthdays.
16. A Rustic Family Birthday Reminder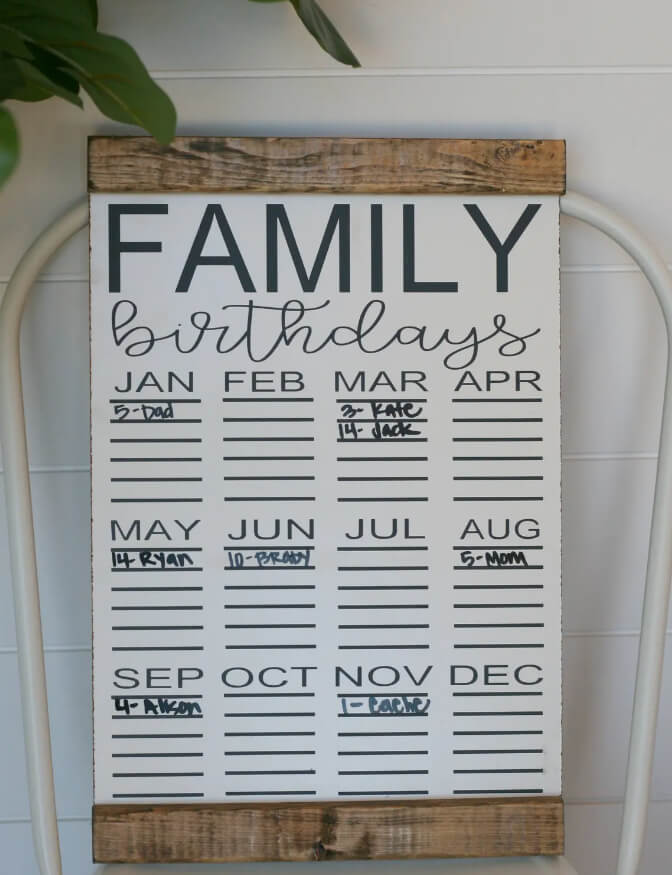 Simplicity always stands out, even for special occasions like birthdays. That's why you might want to check out this down-to-earth yet magnificent family birthday board. Handmade simply from wood and vinyl, tracking your grandchildren's birthdays becomes breezier than journaling. The white dry-erase board is neatly encapsulated within two horizontal wooden frames bearing vivid frames for an irresistible rustic flair. A bold "family" statement starts the flow of artistic texts, including calendar months and square rules for feeding your family reminders. With such a wall hanging, what could escape your mind!
16 of The Best DIY Birthday Calendar Ideas to Gift Your Loved Ones
The sentimental value of a birthday cannot be overstated. Celebrating your loved ones' birthdays shows them you are ever thinking about them. Consequently, they feel valued and treasured by you. Ultimately, this not only strengthens your special bond but also enhances positive experiences between you and your special ones. Celebrating their birthdays is also a passionate way to solidify your reputation.
If a birthday is that important in the lives of others, you might want to make the celebration feel more special than routine. That's where a homemade birthday calendar template comes in. Whether for specially marking your friend's, colleague's, or relative's birthday, handmade birthday calendars are a great starting point. However, to fully personalize the birthday experience, you should only consider the best DIY birthday calendar ideas. Fortunately for you, from the above in-depth review, you will be spoilt for choice on the perfect fit for your upcoming birthdays.
Whether you are looking to accurately track a few birthdays or ever-growing multifaceted ones, you will hardly miss an ideal birthday calendar idea to try out. Depending on how much you want to stretch your imagination or simplify your birthday tracking, plenty of enduring solutions are at your disposal. From rustic wall hangings, collaged family photos, ribbon calendar displays, and canvas burlaps to magnetic birthday boards, birthdays no longer have to be dull for anyone!