With a vibrant burst of life, the best DIY butterfly decorations can help transform your space into a cheerful place to spend time. Like any type of décor, there are a few different ways to approach butterfly crafts. There are two general categories of butterfly décor: projects that feature butterfly silhouettes that celebrate what butterflies represent and those which showcase realistic butterflies. Incorporating butterflies in your décor can mean that you resonate with feelings of triumph, growth, and joy. Of course, you do not need any abstract reasons to make butterfly decorations because they are absolutely beautiful in their own right. Homemade butterfly decor ideas are perfect for any woodland-themed space including nurseries and bedrooms.
16 DIY Butterfly Decorations to Add Fluttering Fairytale Friends to Your Space

Often, color is the first choice you will make when crafting butterfly creations. For the magical illusion of butterflies perching upon your décor, making realistic butterflies is the only way to go. However, if you prefer the idea of butterflies and prefer to harness what they represent, using a solid-colored silhouette captures the butterfly's elegance in your decor. If you prefer subtle detail to bright colors, you can use watercolors or tea staining for a softer refined effect. Any approach can look fantastic in a variety of décor schemes, so it really depends on the look you would like to achieve.
From burlap to lace, you customize your butterflies with the materials you decide to use. For simple yet sophisticated Scandinavian-style butterflies, using single-toned cardstock might be the best route. Decorate your butterfly's wings with seashells for chic coastal charm. Antique buttons affixed to your butterfly bodies are a fantastic way to give each butterfly a distinct personality. Because butterflies are so versatile, they are a fantastic choice for adding magic to any space.
1. Butterfly Christmas Ornaments Straight from a Storybook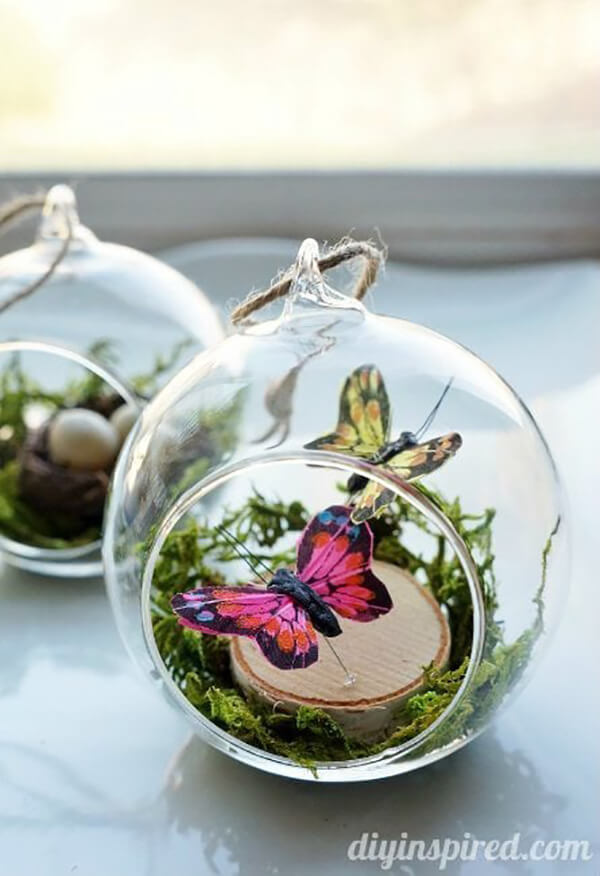 Like many of the best DIY butterfly decorations, these ornaments are great for year-round display. For those who long for spring in winter's depths, these butterfly ornaments are just right for spicing up holiday decor. Glass orbs filled with moss, wood, and butterflies can imbue your space with a fairyland feel. If realistic butterflies do not fit into your decor, spray-painting them in a complementing color is an option to build your own slice of wonderland. If your nursery's handmade butterfly decoration ideas include a mobile that is out of the baby's reach, these ornaments make a unique and magical addition.
2. Butterflies and Burlap Wreath with Vintage Flair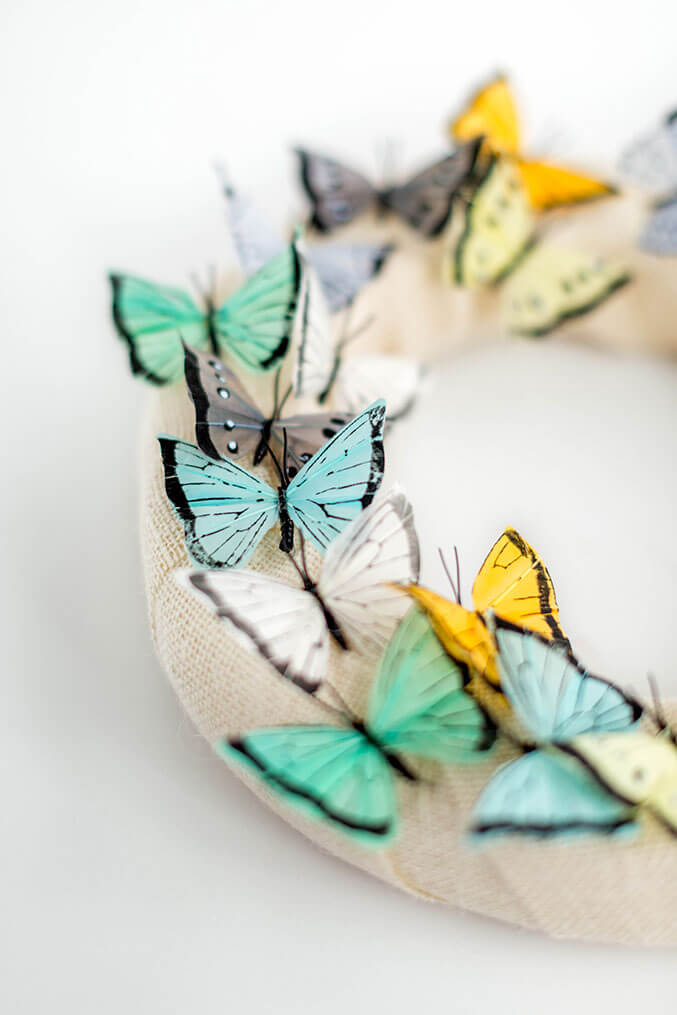 Burlap and soft pastels are the perfect combinations for welcoming spring. The angular wing shapes, black butterfly details, and palette choice mimic a vintage illustration. You can use feather butterflies like the ones shown in this tutorial or make your own from paper. For more dimensions, add a variety of sizes. By positioning all the butterflies in the same direction, you create a visual flow and a sense of motion. If you arrange the butterflies from light to dark, you can emphasize this motion with an ombré effect. However, if you prefer the whimsical, place your butterflies in any direction.
3. Tie-Dye Butterfly Using Paper Transfer Technique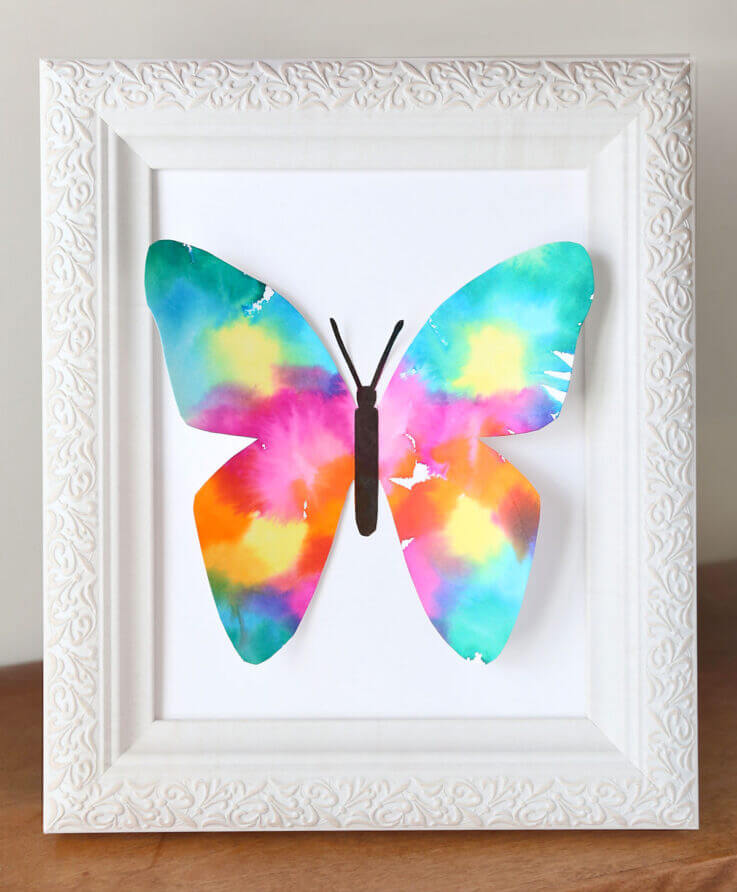 Perfect for crafting with kids of all ages, this tie-dye butterfly is fun and easy. The marbled effect is courtesy of bleeding tissue paper and will not work with standard tissue paper. However, if you are looking for a fast craft with materials you have on hand, this tutorial is easy to modify. Cut colored paper into smaller pieces and glue it to cardstock to create a mosaic-style butterfly. Watercolor paints are also a way to achieve the soft color blends you see in this image. Depending on your style, you can jazz up your butterfly with antique buttons or sequins.
4. Wire Whisk and Lace Butterfly Transformation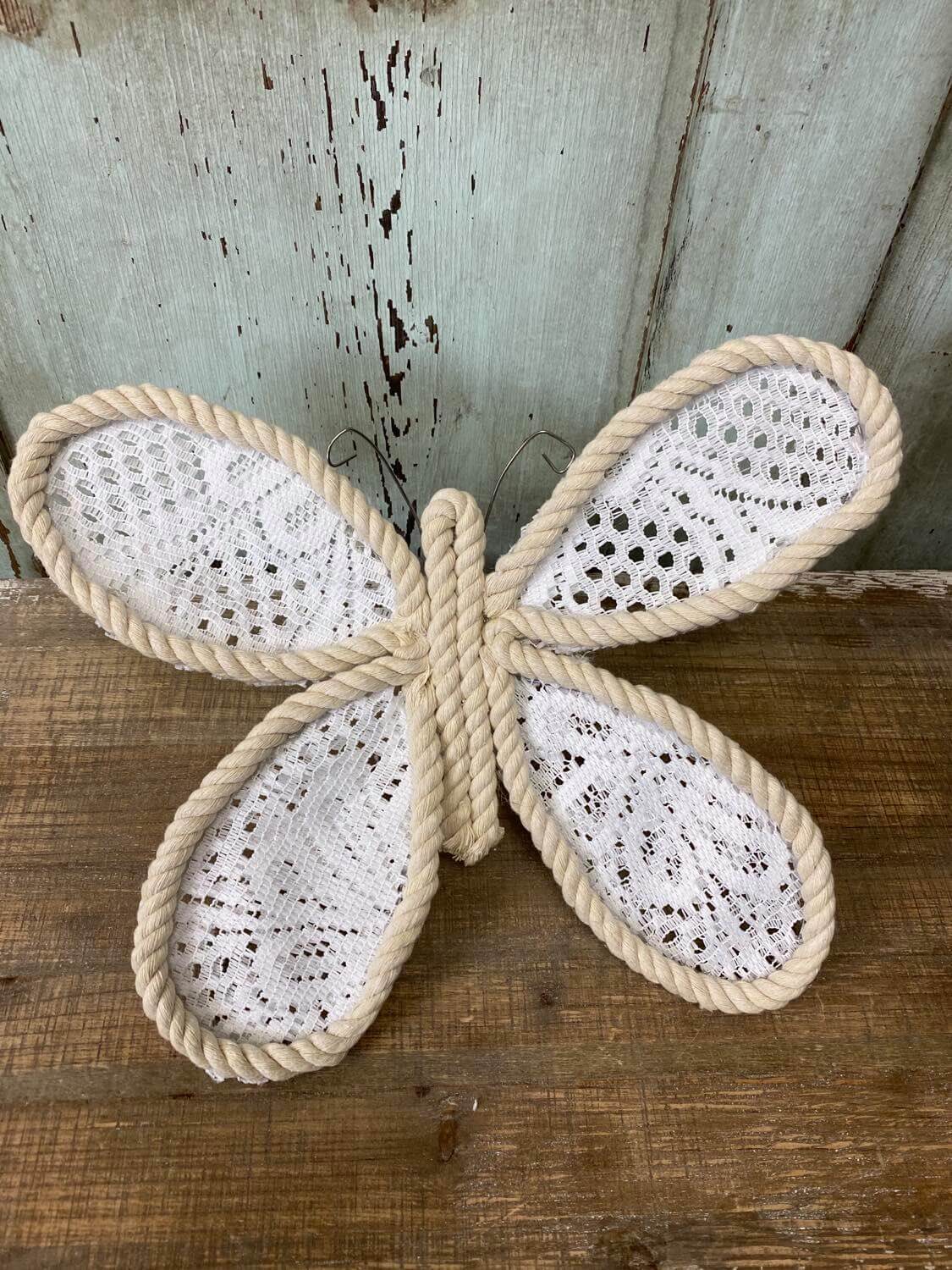 With a glue gun, material scraps, rope, and a wire whisk, you can whip up your own batch of beautiful butterflies. Rope and lace perfectly combine dreamy romance with rustic practicality, but you can use whichever fabric fits your fancy. Create your own flock of butterflies by using varying whisk sizes and materials. Imagine decking out a nursery or bedroom with these whimsical decorations! If using a more substantial fabric than lace, you could embellish your butterflies with rhinestones, sequins, beads, or glitter. If the rope does not fit into your décor, you could experiment with a heavy gauge yarn instead.
5. Delightful Dual-Layer Paper Butterfly Wreath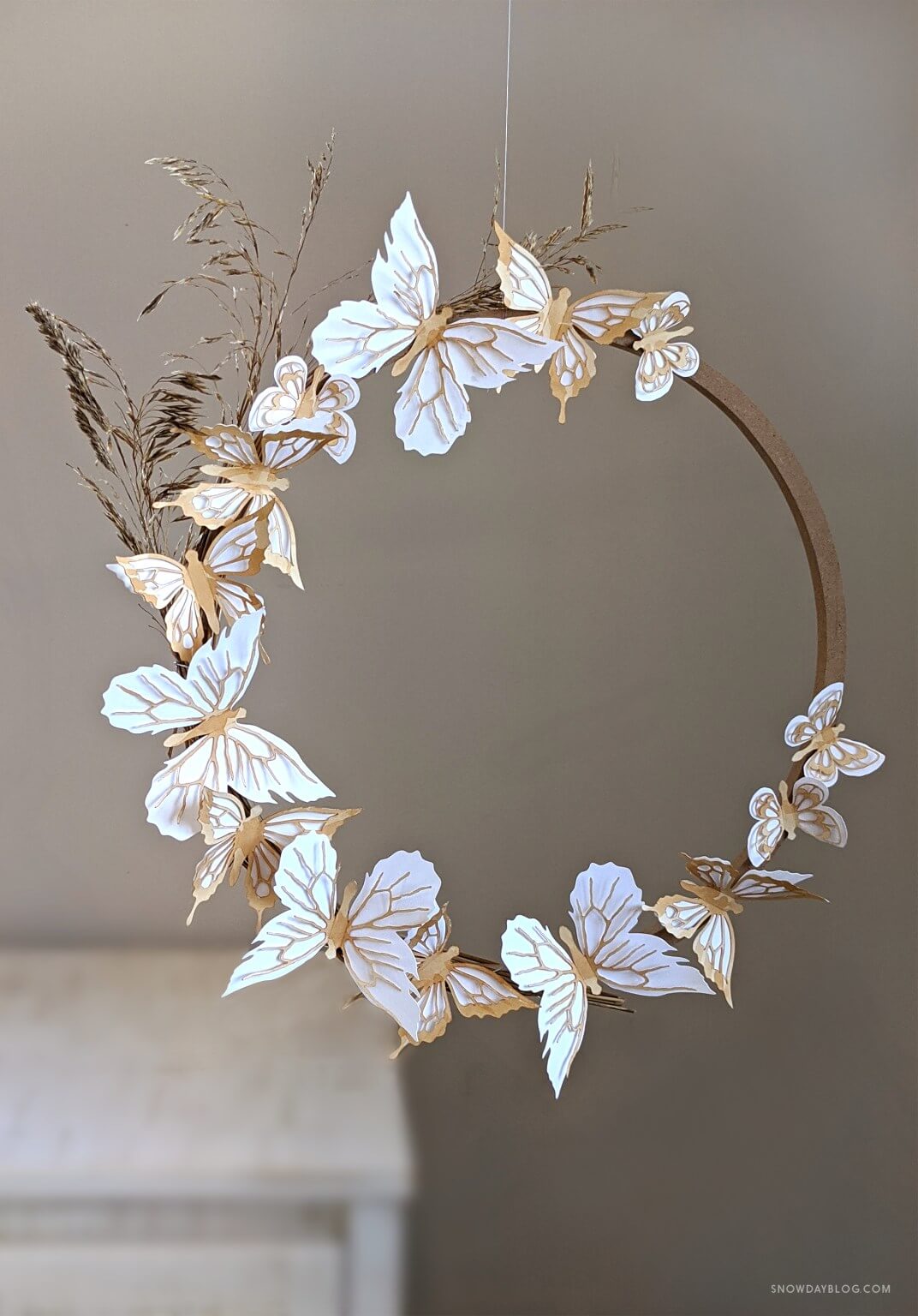 To make these two-toned charmers, you need a cutting machine and paper. With a little time and patience, you can design and cut your own butterflies if you do not have a cutting machine. For a vintage effect, this tutorial shows you how to make your own tea-stained paper. If you do not have the composure for staining with tea, you could always use colored paper. When you choose your palette, remember that contrast counts. Using a paper with a subtle marbled design would be one way to add a dash of dimension to these eye-catching homemade butterfly decor ideas.
6. Colorful Butterfly Framed Picture Art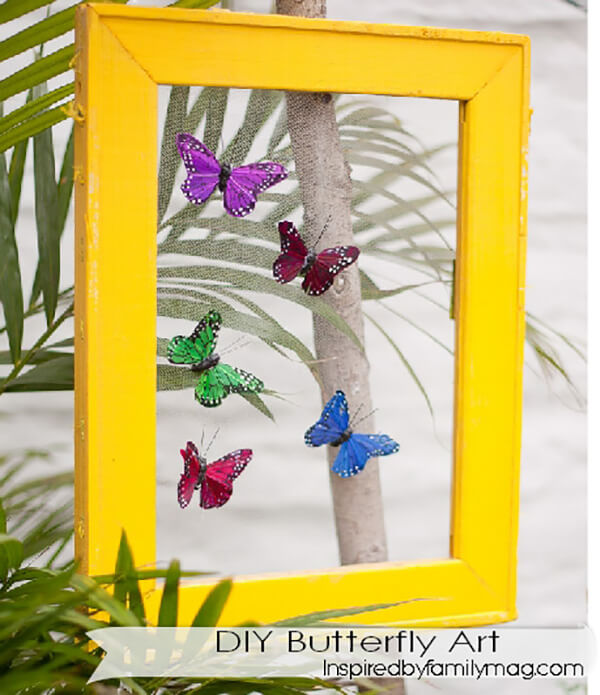 Decorating with such vivid and bright colors can help any area in your home snag attention, and this butterfly art is perfect for the job at hand. The frame alone is more than appealing, and it can help blend this work of art along with anything else in the room that matches it. As for the butterflies inside, going the multicolor route is useful too, since it allows you to freely decorate with other matching colors too in the room.
7. Vellum Moths and Butterflies Decorative Light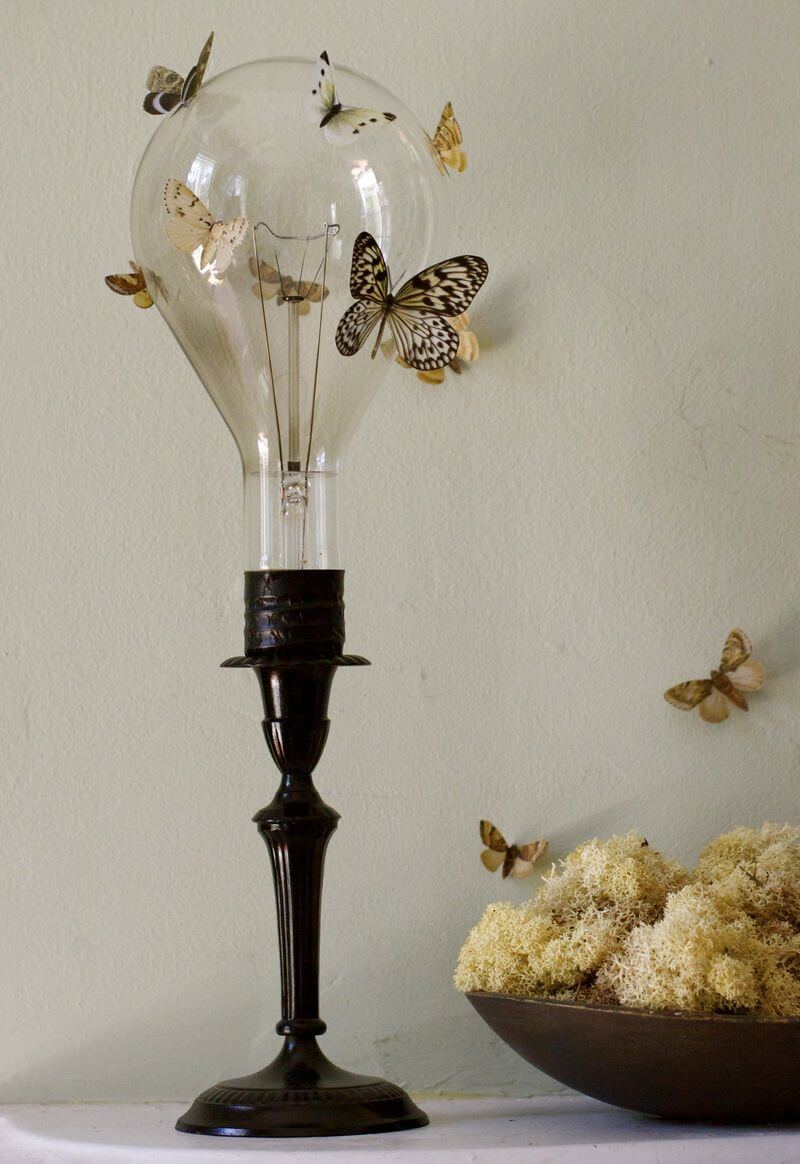 Using vellum, these moths and butterflies quickly come to life. They have a lovely 3D quality to them with incredible realism that, at first glance, it's easy to mistake them for the real thing. This is further aided with just how they are set up on the light fixture. Speaking of the light, it has a nice industrial quality to it to give the decoration a classic feel. It won't be out of place when used in a home that relies on a vintage theme, and the candlestick the light is attached to further helps to sell this point.
8. Fairyland Adventure Butterfly Lamp Rehabilitation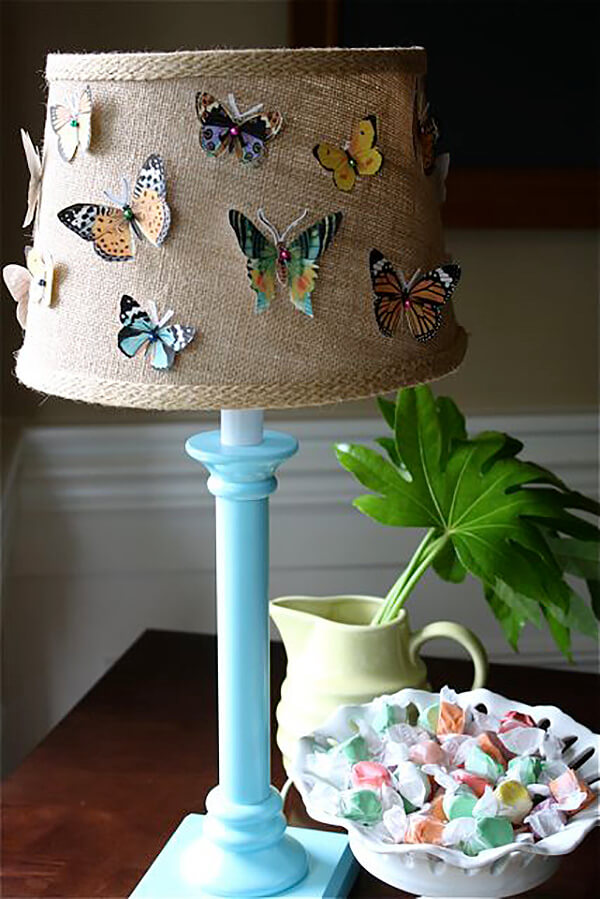 Give your space an instant facelift with some great new lighting. With a little spray paint and some free printable butterflies, you can create your own fairyland adventure. Although this tutorial uses realistic butterfly printable templates, you could go with solid cardstock for a more mature stylized feeling. Because straight pins are keeping the butterflies on the lampshade, you can move them around as it suits your space. For a little more dazzle and mystery, you could glue antique buttons on the pinheads. Of course, depending on the lamp and lampshade in question, this project may be a fire hazard.
9. Easy and Unique Butterfly Book Bottles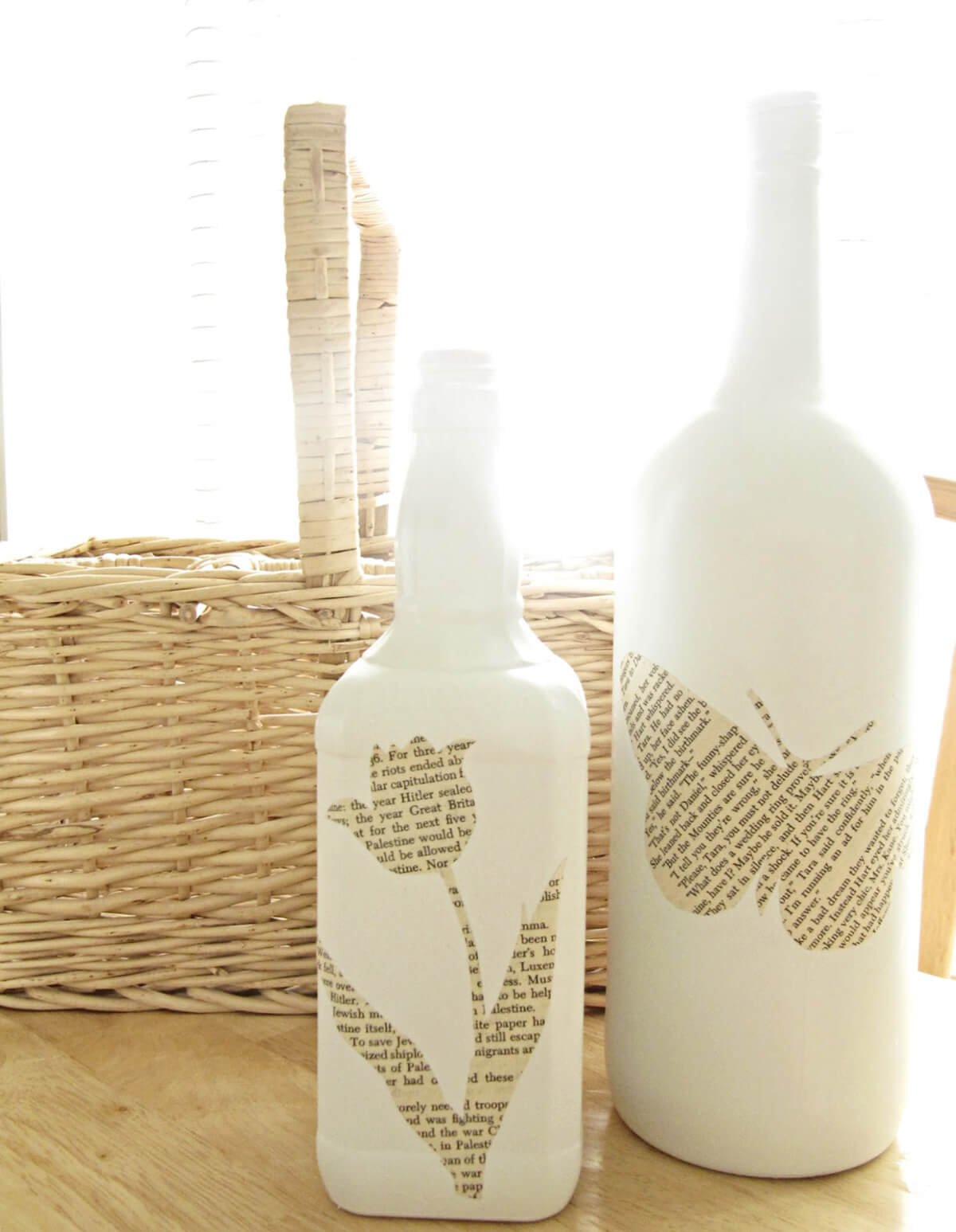 For anyone with old bottles and books, this butterfly craft is a quick way to refresh a space. All you need to make these laid-back centerpieces are some spray paint, adhesive, and an old book page. Of course, anything paper will make a fetching silhouette. Showcase a love of music by using old sheet music or a passion for travel by using an old map. You can even preserve a newspaper clipping of an important event like a birth announcement with these handmade butterfly decoration ideas. Before you begin, it is important to make sure nothing unpleasant is on the page.
10. Recycled Aluminum Can Butterfly Wind Chimes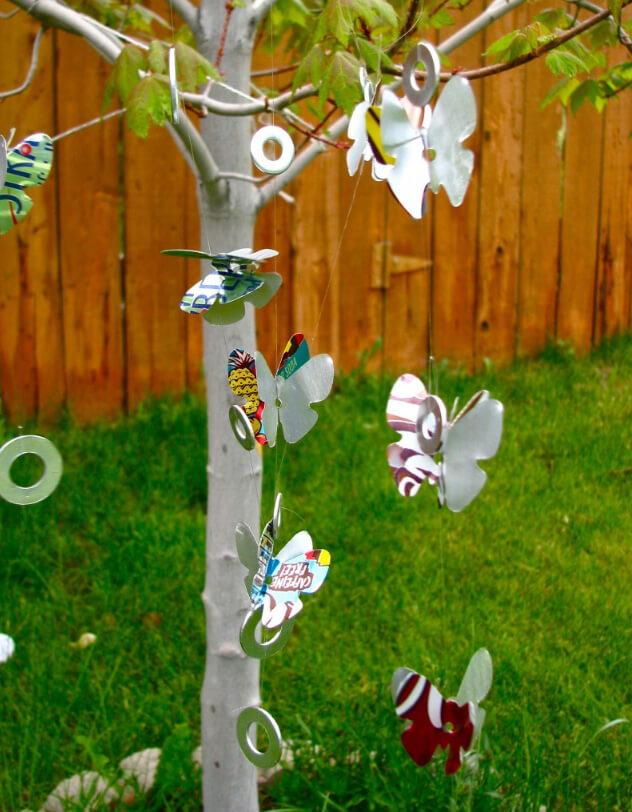 Reflective and futuristic, these shiny wind chimes are a fantastic addition to outdoor décor. If cool metallic sparkle is not suited to your space, you spray paint your butterflies. Clear thread adds to the illusion that these are fanciful butterflies dwelling in your landscape. Because they are both visually and audibly stimulating, they are some of the best DIY butterfly decorations. If you have a variety of butterfly punches, you can create a few different butterflies to flutter about your yard. In addition to looking and sounding great, reflective wind chimes are great for gardeners because they scare away birds and squirrels.
11. Unique Butterfly Board Old Calendar Craft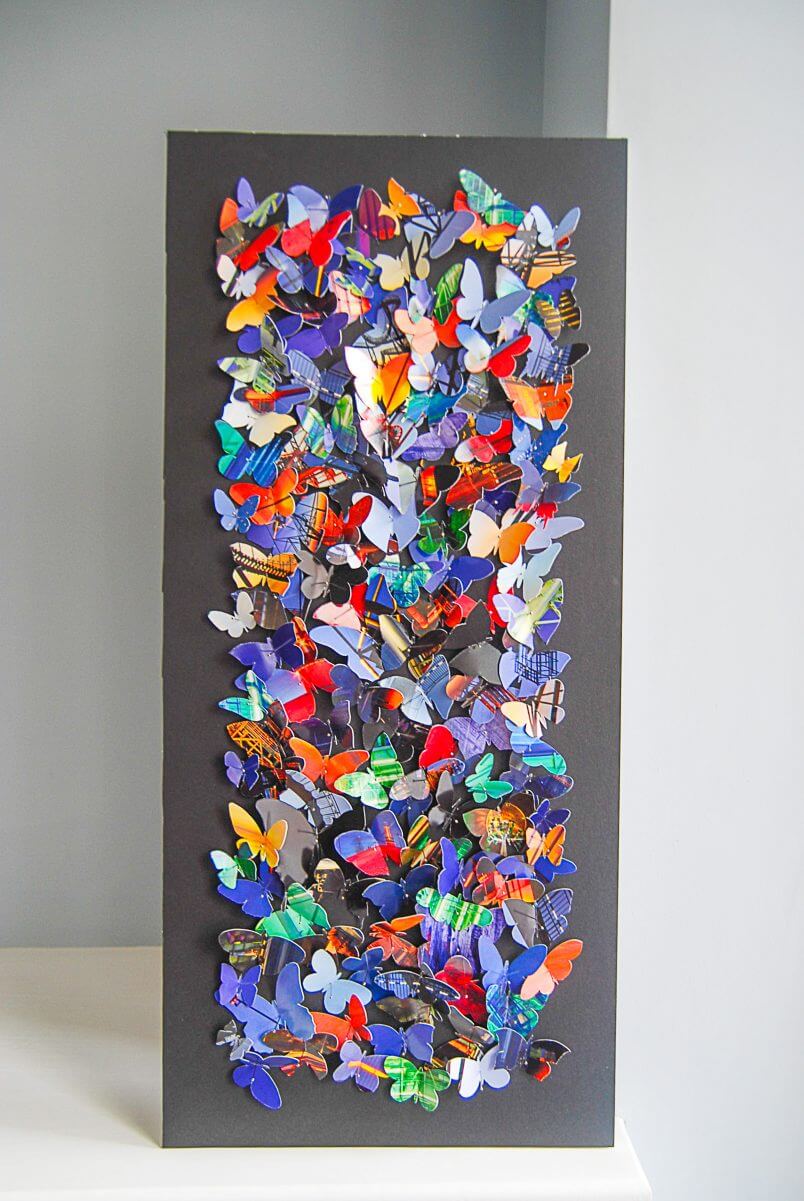 With this vibrant board of butterflies, you can add an explosion of color to your space. While this tutorial uses old calendars, you can use any semi-rigid paper. Imagine using Christmas cards from years past to make a holiday butterfly board. Another idea could be to use magazine covers, old gift bags, birthday cards, or maps. In fact, you can print anything you desire on cardstock to achieve this effect. As you design your butterfly board, keep the palette in mind. Will your butterfly board energize a room with bright vibrant hues or add a tranquil ambiance with cool colors?
12. 15-Minute Multicolor Monarch Butterfly Springtime Wreath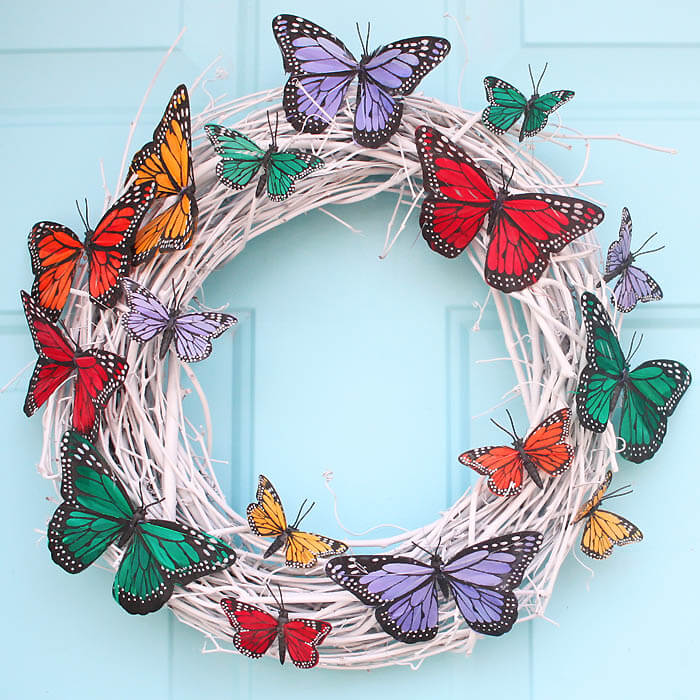 To craft this joyful wreath, you will need to find these feathery beauties at your nearest craft store. Because the butterflies have wires attached, you will not even need glue. Spray paint the wreath from white makes the butterflies pop and gives a refreshing spring ambiance. If you are decorating with butterflies in the dead of winter, you can add a little magic with a metallic silver topcoat. If you already have a wreath, imagine the possibilities for these butterflies in all the best DIY butterfly decorations. Build a storybook ambiance by placing a few throughout your wall art décor.
13. Pastel Polka Dot & Paint Chip Butterfly Wreath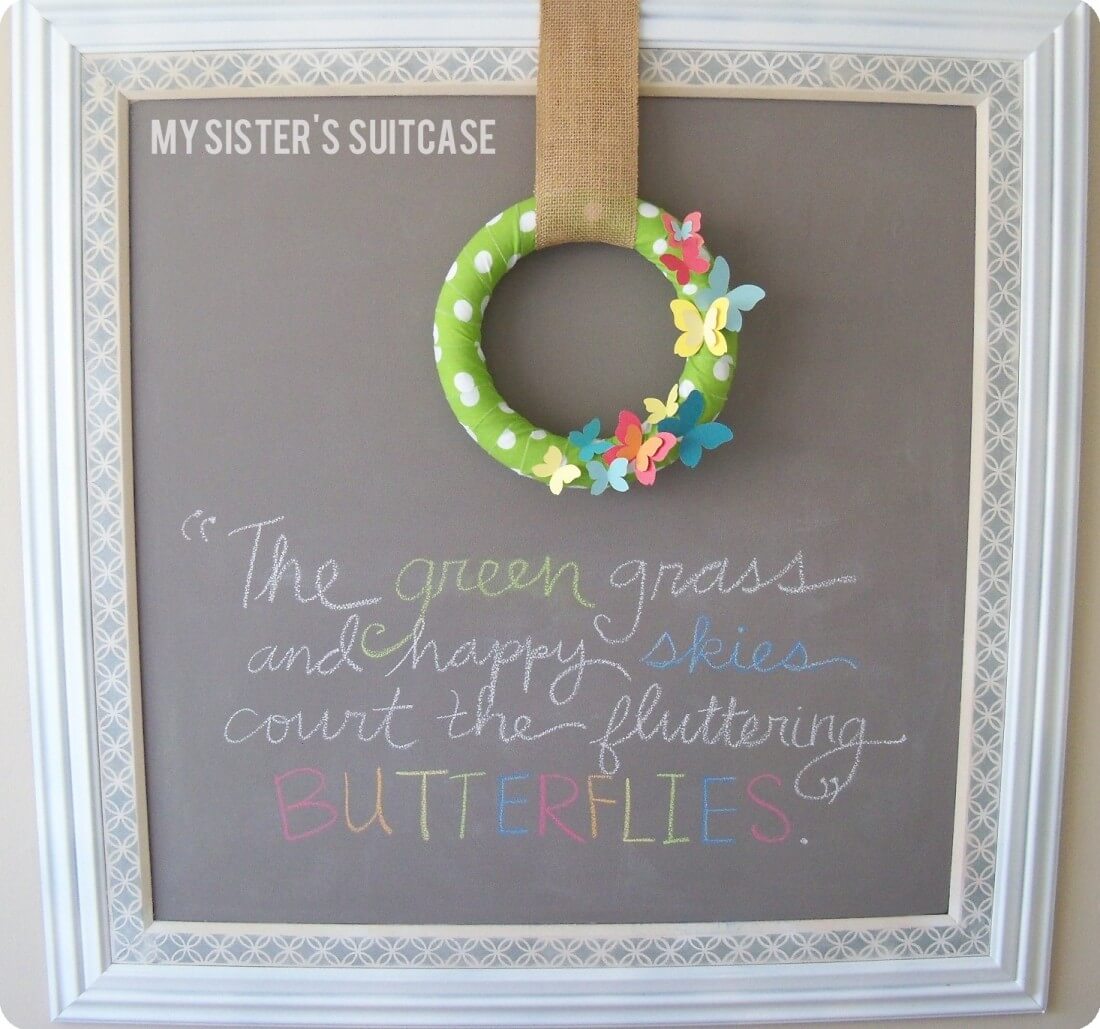 One of the best DIY butterfly decorations for celebrating springtime splendor, this cheerful wreath is pure polka dot perfection. Of course, you can use whichever fabric works with your space. For a rustic effect, use a vine-type wreath form instead of the cloth-covered foam wreath form. Although the variety of paint chips on this example is refreshing, using one color or just a few for a slow fade would achieve a more refined vibe. If you are artistically talented, you could paint butterfly patterns on the paint chips. For a simpler way to achieve graphic butterflies, try using scrapbook paper.
14. Flock of Butterflies Woodland Wonderland Wreath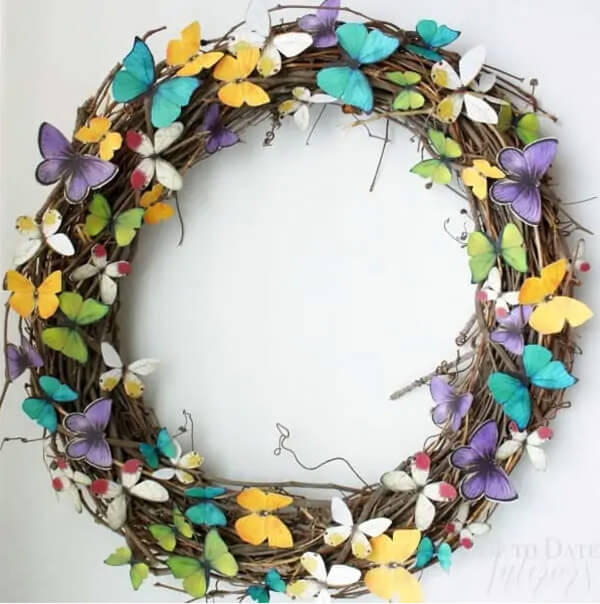 Realistic butterflies perched on a grapevine wreath give the illusion that you have your very own flock of resident butterflies. These handmade butterfly decoration ideas are perfect for inviting front doors, woodland-themed nurseries, or magical bedrooms. For a butterfly garden, add an artificial flower or five. To give your wreath some whimsical magic, brush some glitter varnish onto the wreath form. Alternatively, you can scale up the feeling of fantasy by spray-painting your wreath form with a metallic hue. The printable butterfly pattern has so much potential for use in other décor projects and can help your space feel cohesive.
15. Kid-Friendly Paper Lantern Homemade Butterfly Decor Idea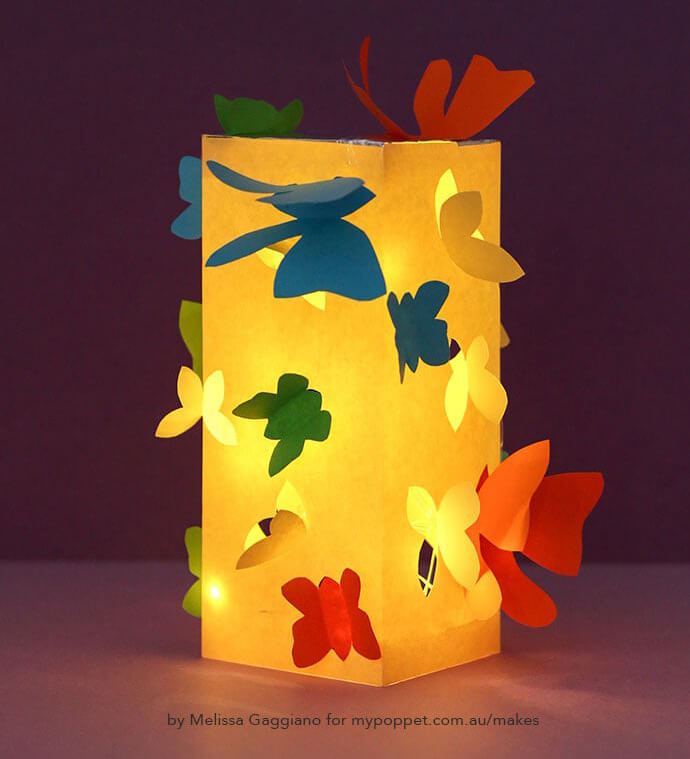 Like butterflies, paper lanterns can create a soft and magical ambiance. Although the lantern pictured features butterflies in varying colors, you can create a Scandinavian effect by using only white or cream. Experimenting with patterned paper could yield some picture-worthy results. Solid-colored butterfly silhouettes offer a stylized, minimalist effect, but you could add patterns, glitter, or sequins to the butterfly wings to cultivate an artistic ambiance. When crafting with kids, supplying markers to color the wing patterns might yield some interesting and amusing results. Because this lantern is made from paper, you are restricted to using only battery-powered light sources.
16. Pillowcase Featuring Fluttering Felt Butterflies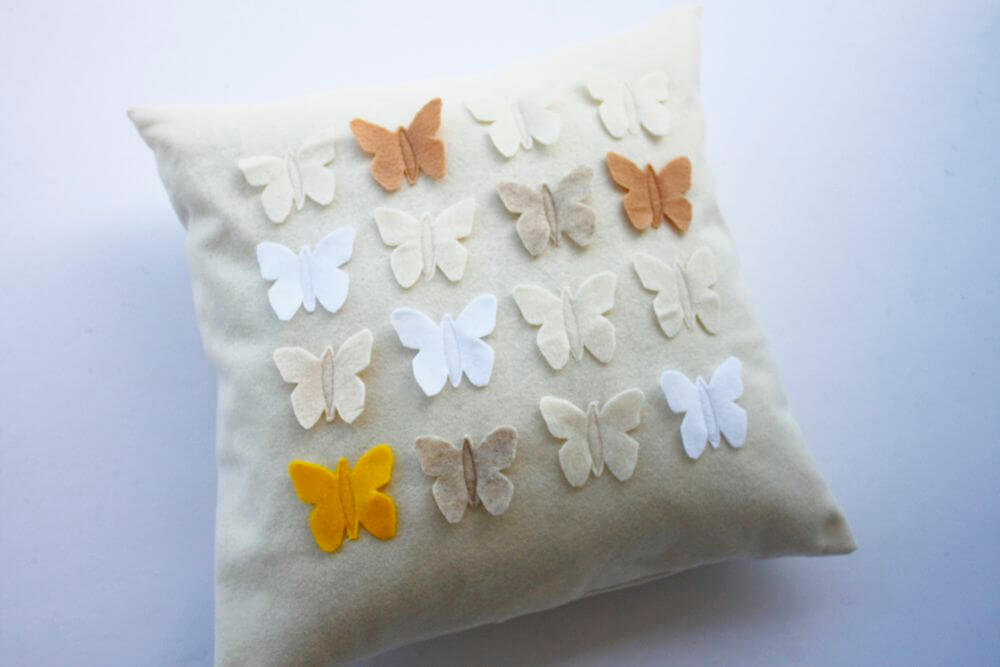 Bring your décor to life with this easy-to-make butterfly pillowcase. In fact, the hardest part will be deciding among all the fabric and felt combinations. Harness the power of hygge with soft neutrals. For a farmhouse look, imagine using a buffalo plaid pillowcase with white butterflies. Give your space a cool coastal ambiance with a white pillowcase and butterflies in blue hues. While this project uses a calmly ordered square pattern, you could try arranging your butterflies in different shapes like circles or hearts to achieve different effects. Add a pop or two of unexpected color to brighten your space.
16 of the Most Charming Ways to Make the Best DIY Butterfly Decorations
Because you are the one crafting these delicate delights, you control what kind of magic your butterflies will contribute to a space. Realistic butterflies can make it feel as if fairytales have come to life in your décor while stylized solid-hued butterflies add graceful elegance and smile to a space. If you have small people in your life, the butterfly décor will take on an entirely new kind of magic. Make a butterfly craft or three with them to see where their creativity will take them – you might be amused and surprised by the results!
Butterflies can hold a variety of meanings, and, if it would fit in your space, you can incorporate these meanings into your décor. As the harbingers of spring, butterflies can represent metamorphosis, growth, triumph, joy, or perhaps something entirely different. With a little extra effort, you can imbue your butterflies with a deeper meaning beyond simple visual appeal. Pair your butterfly with a plaque that reads "inspire," "rejoice," "create," or any word that reflects what butterflies mean to you. There are no wrong ways to make a butterfly, so let your imagination run wild as you bring your handmade butterfly decoration ideas to life.