Taking your celebration to the next level is easy with the best DIY cake stand ideas to show off your careful planning and preparation. For food, everyone knows the dessert table is where it's at, and spending some extra time making it look just as special as it is should be a priority in your planning. For starters, think vertically. Oftentimes the cakes, cookies, and candies are all lined up on top of the table and continue a seemingly never-ending trail of treats. Elevate your tablescape by giving the tabletop some breathing room with cake stands.
22 DIY Cake Stand Ideas that are Budget-friendly and Stylish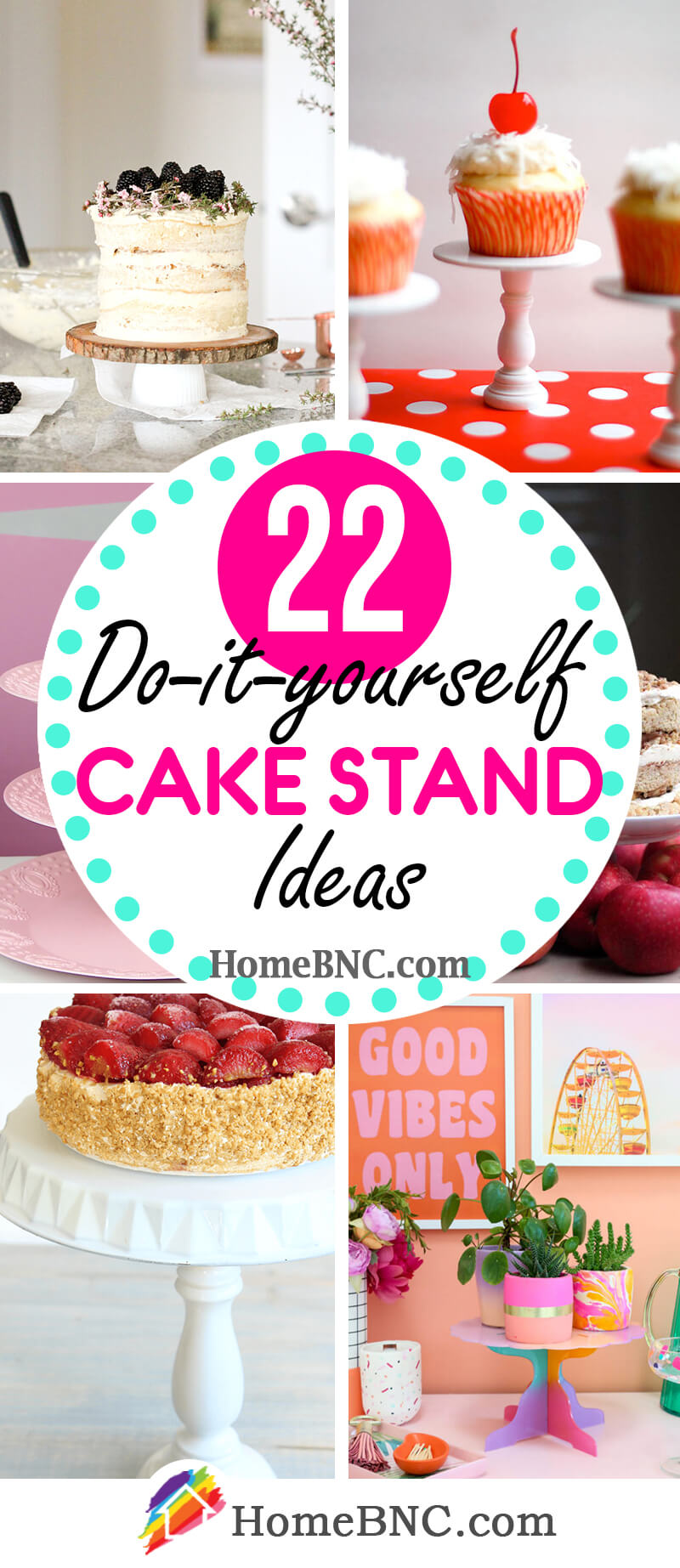 These stands can be a single plated design to feature one cake on its own, or you may choose to use tiered trays that pack a lot of power. Tiered trays are great ideas for displaying cookies, candies, and cupcakes. And depending on your menu, it would probably be a good idea to include both styles of stands. Another plus about using cake stands is how easy they are to create. Not only are they quick and cheap, but since you are an artist you can choose the look you love. For a more natural and rustic design, it's a great choice to use wood. If you need something fancy and elegant, crystal or glass is always in good taste.
For everyday use, you can search thrift stores to find unique styles with a vintage or world-traveling feel. Of course, there's always the option of classic white for using on your kitchen island to highlight a dessert of the week for the family. Classic white is nearly the ideal choice regardless of the occasion as it can be dressed up as needed. So if you are planning any parties in the near future, let me suggest investing in a cake stand or two. Even if your event is low-key and cozy, adding a cake stand makes it feel a little more special. Here is a nice assortment of 22 of the best DIY cake stand ideas to assist you.
1. Rustic Modern Wood Round Cake Plate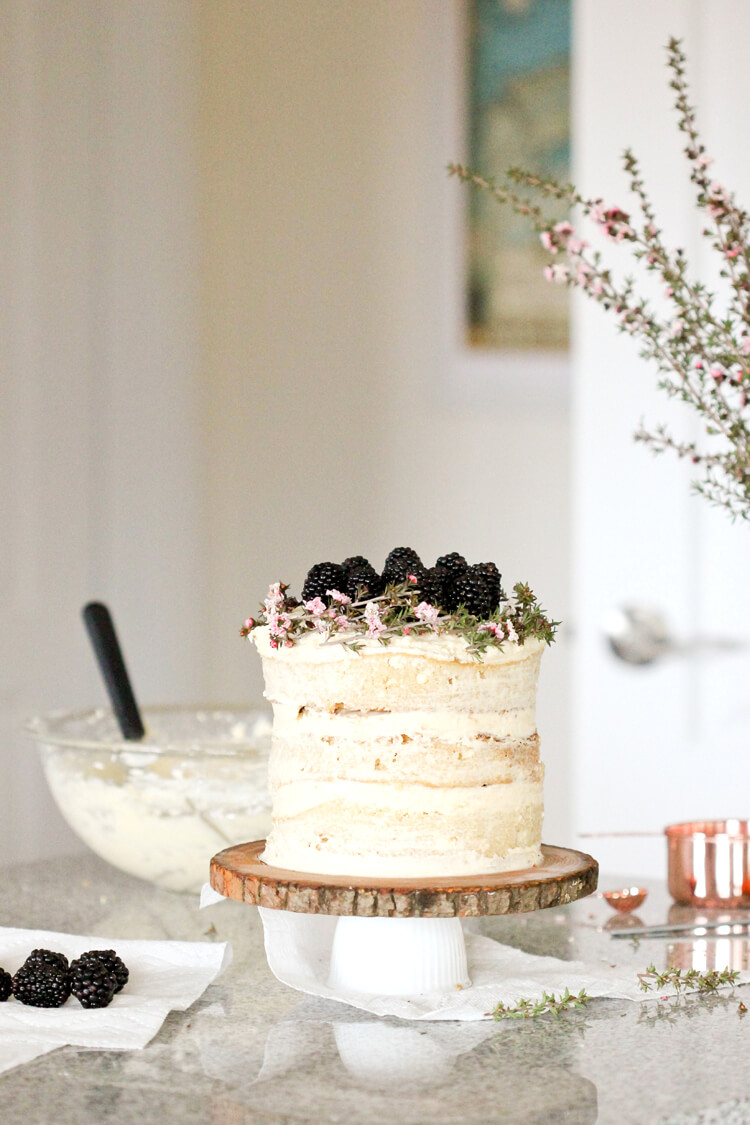 Combine your love for modern design and rustic charm as you create this simple wood slice cake plate. Using a wood round and a ramekin, you'll love the ease and elegance this quick project provides. Create several of these to use for displays during a wedding reception. They are sure to become the unique and cool decorations you need. Choose wood rounds in a variety of sizes to add more appeal. From cupcakes to donuts and all the baked goods in between, this handmade cake stand idea is the way to show off your spread!
2. Psychedelic Color Explosion Acrylic Cake Stand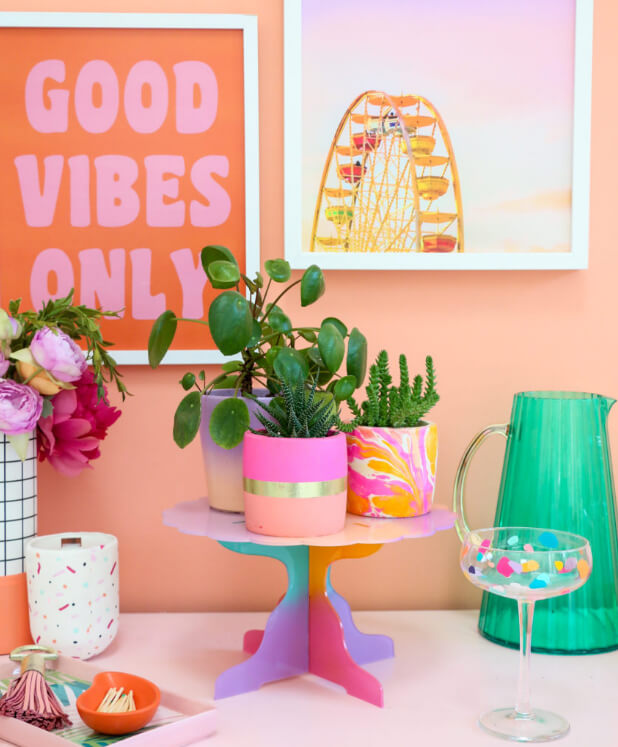 Infuse some color into your party scene with this psychedelic color explosion acrylic cake stand. Feature the birthday cake for the guest of honor or a grouping of special items for everyone to see. The elevation of the stand draws the necessary attention to the item you choose to feature. For a fun addition to any party, use this colorful and custom acrylic cake stand to add some personality to the cake table. This handmade cake stand idea is a great choice for a teenage girl's birthday, bridal shower, or modern reception.
3. Dessert First Wood Slice Cake Stand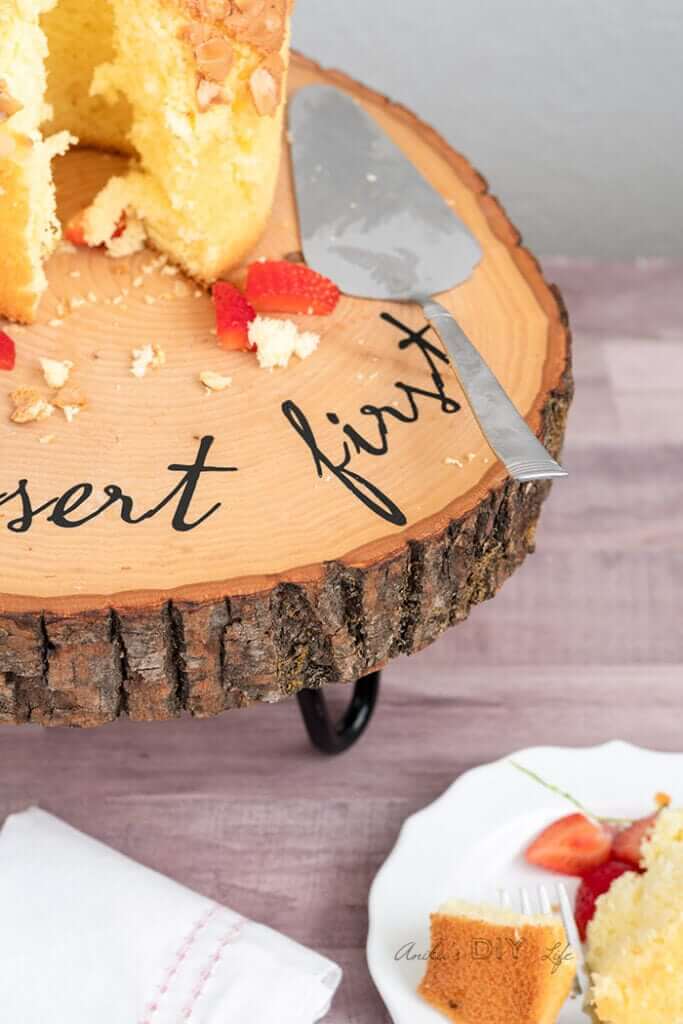 Who doesn't cherish the thought of indulging in dessert first? I know my thoughts at a party always center around the dessert table. Share your love of sweets with a dessert first cake stand. Infused with rustic charm, this sweet cake stand utilizes a wood slice as the plate for holding your featured cake. With the addition of the sweet sentiment, this personalized homemade cake stand is a great choice for a hostess gift that you leave behind after everyone has enjoyed the cake you baked for the special party.
4. Smooth and Sleek Pastel Cake Stand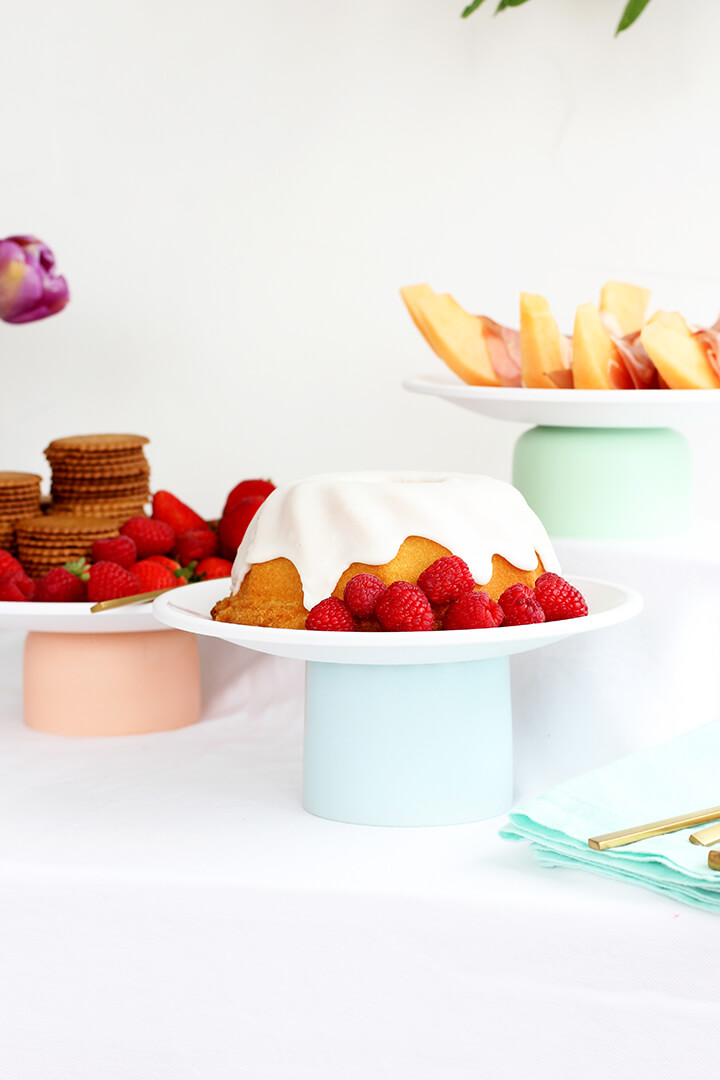 Finding a kitchen staple that speaks to you can take your creativity to the next level. These lovely ramekins that feature sleek and smooth sides in gorgeous pastel hues are fully functional on their own yet also offer a cool base for a homemade cake stand. All you need is a clean slate, aka a plate, and some adhesive to create this simple project. Choosing a colorful base under the crisp white plate adds a soft pop of color and enhances your food display. Customize it to your liking by selecting ramekin colors and finishes that perfectly complement your display.
5. DIY Bowl and Saucer Domed Cupcake Stand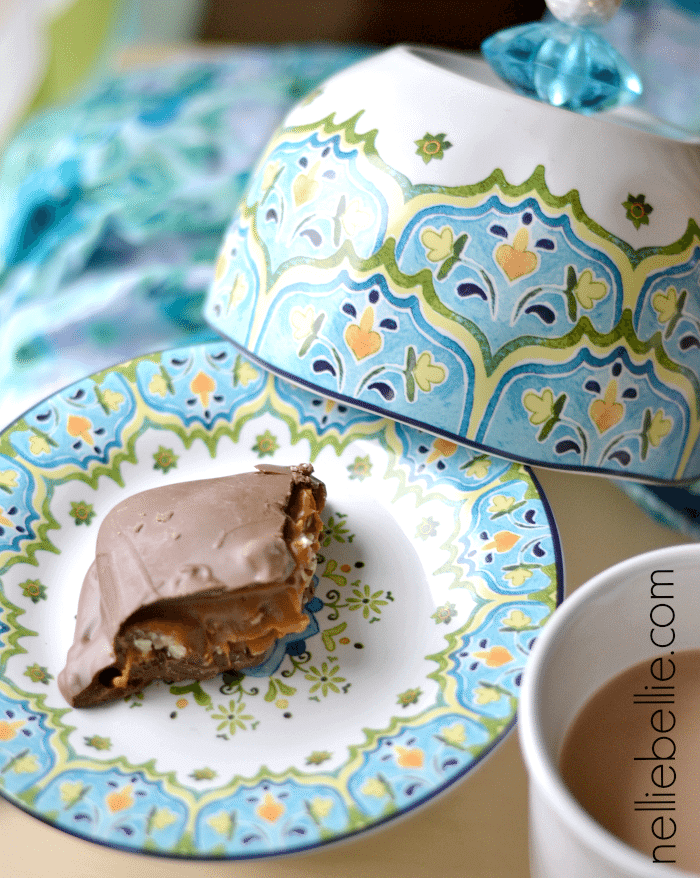 Personalization is at its finest when you make each guest feel special. Create this atmosphere with cupcake stands at each place setting. Choose a saucer and cup that's customized to the likes of each guest for uniqueness or use a consistent color palette to make a uniform display. Either way, each guest will enjoy their very own personal and elegant featured cupcake. Check out clearance bins and thrift stores for unique finds for your pottery pieces for a cool and fun touch.
6. Marvelous DIY Miniature Cupcake Stand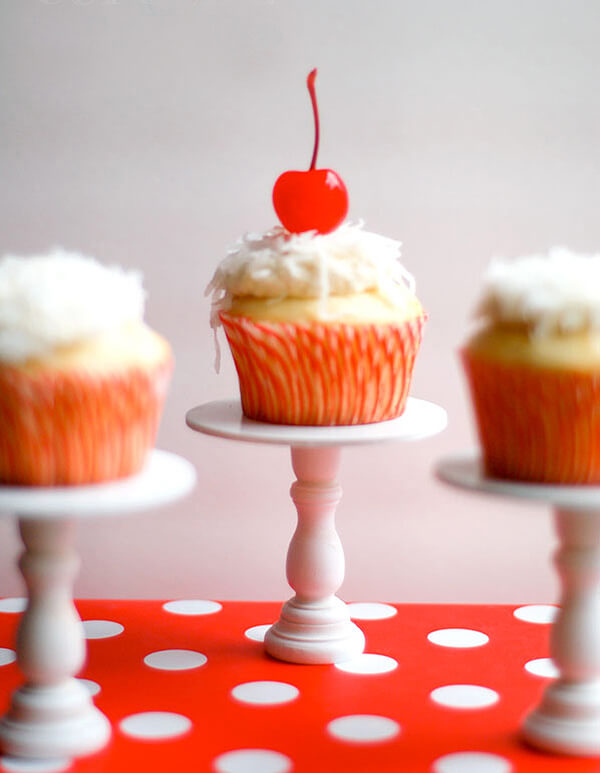 Next to the grand cake stands you'll find this close companion, namely the cupcake stand. With just enough tabletop space for one cupcake, this dainty delicacy makes a strong impression on your party guests as one is situated in each place setting. Continue the personalized charm by including a name card on a flag inserted into the cupcake to make it easy for guests to find their reserved seats. The look and feel of personal space for each guest add to the wow factor of your event by making each and everyone feel special.
7. Styling Your Cakes with DIY Cake Stands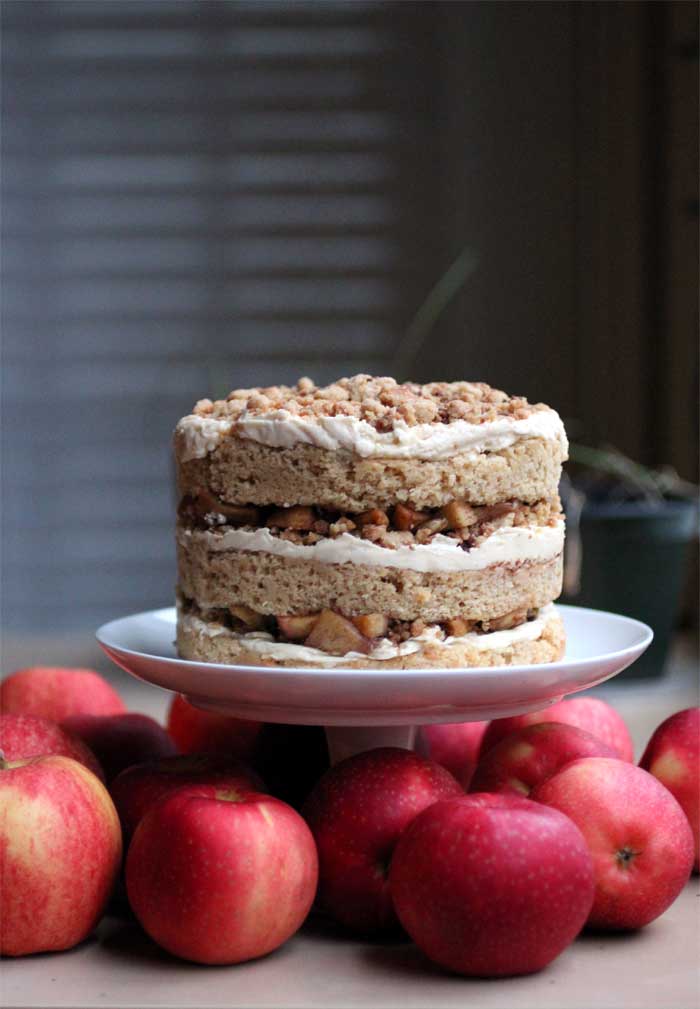 Two practical supplies are all it takes to give your scrumptious baked goods a place to call home. Everyone will revel with delight as they enter the kitchen to find a lavish dessert set above the counter on this elegant cake throne. Grab a plate and a candlestick holder to make one that's personalized to your particular tastes. Maybe you want a glass version for a special event or perhaps a clean white plate makes more sense for everyday enjoyment. Whatever the case, using these two houseware essentials quickly creates the cake display you need.
8. Rustic Wood Stump DIY Cake Stand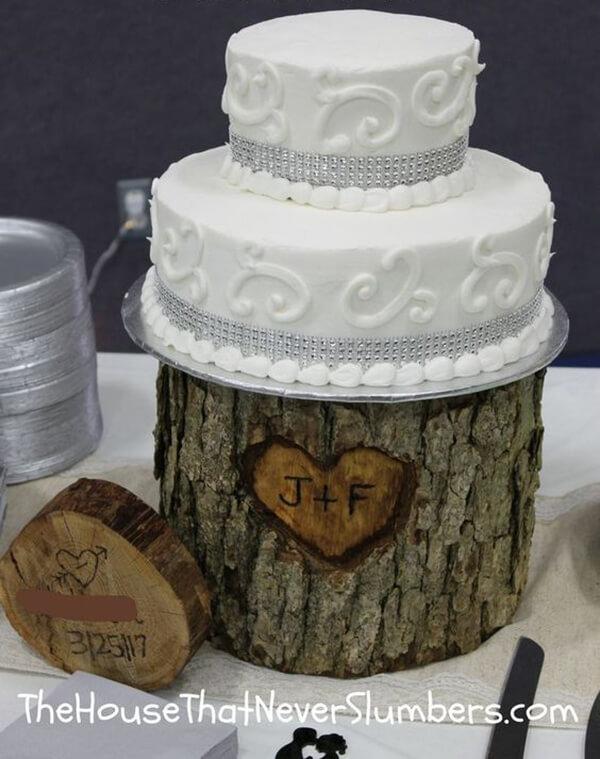 Lots of texture and tons of character are present in this rustic DIY cake stand. For the outdoorsman or nature lover within, this cake display is the way to go! With a little careful crafting, you can carve out a heart and burn in the initials or names of the married couple. Continue the rustic wood theme by using smaller versions as centerpieces for the reception tables. They can be topped with a candle that's surrounded by flowers, petals, or candies.
9. DIY Tiered Cake Pan Stand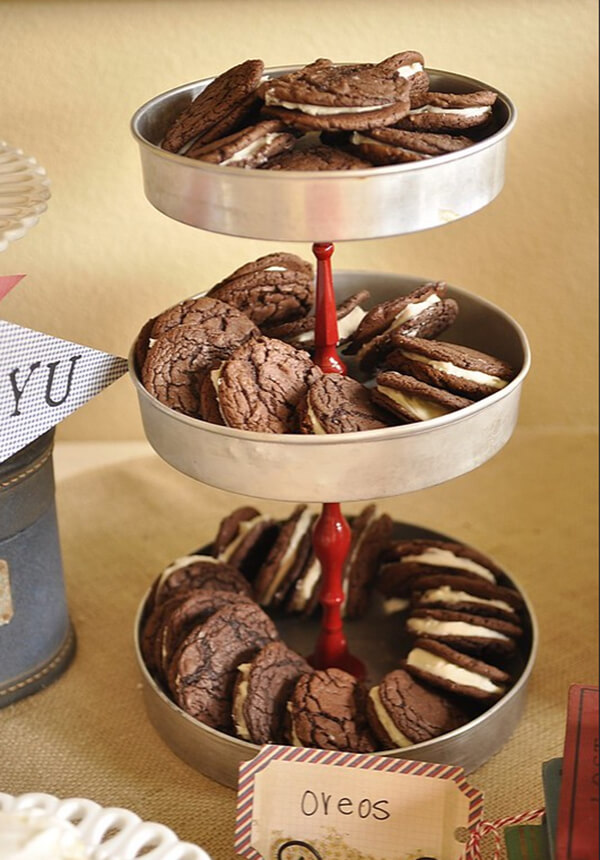 With three metal cake pans and a couple of candlesticks, it's amazing what you can create. This cool cake stand is simple and easy to make, plus it doesn't cost much! Three cake pans in descending sizes are used. Try searching your consignment or second-hand stores for a really cheap option. Select your favorite decorating color to spray paint the candlesticks. It's always fun to have a bold pop of color between the silver metal tiers. Hosting a cookie swap is one way to feature this DIY cake pan stand. It also works just as well as a decorating tiered display for sprucing up your home each season.
10. Wonderfully Wired Metal Cake Stand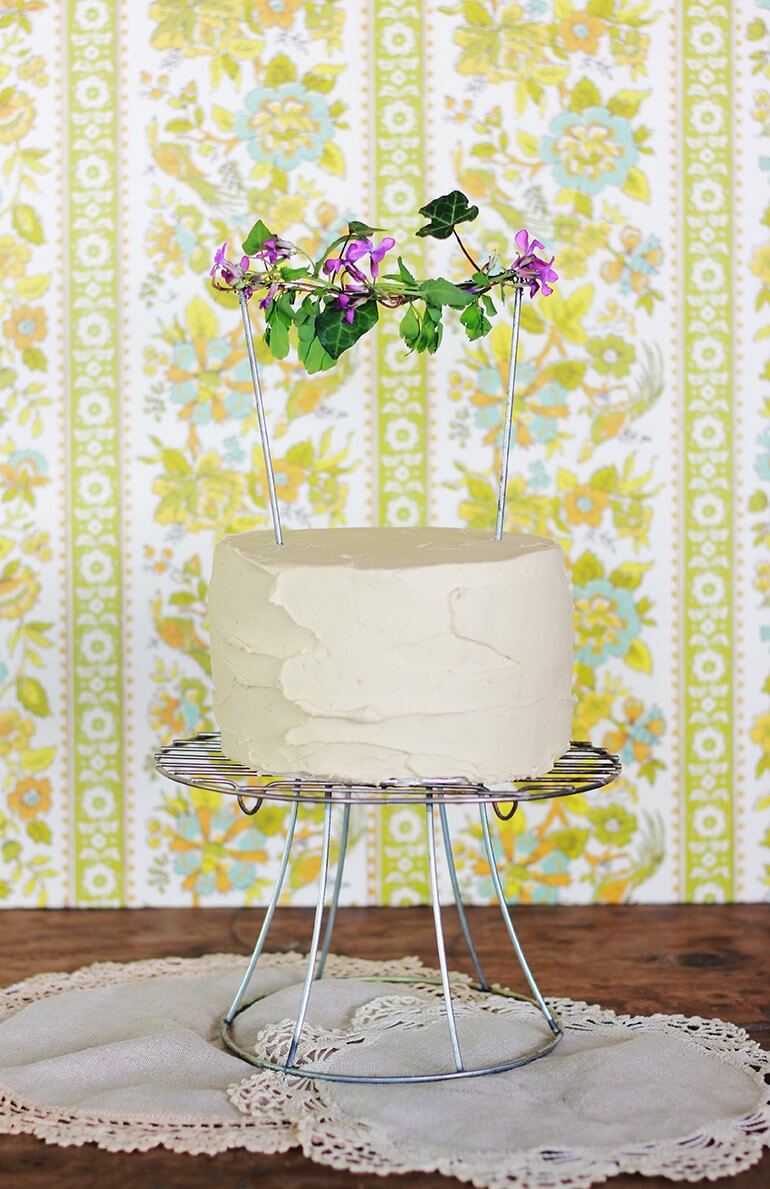 If you're searching for a cake stand that's anything but ordinary, be sure to check out this metal wire creation. Crafted from a small lampshade frame and a cooling rack, this ingenious design presents a unique and cool way to show off your cake. The result of this handmade cake stand idea is a more industrial vibe for your party display. Depending upon your specific tastes, you may choose to include a cake plate on top to add more depth and drama to your display.
11. Scalloped Black Plate and Gold Cake Stand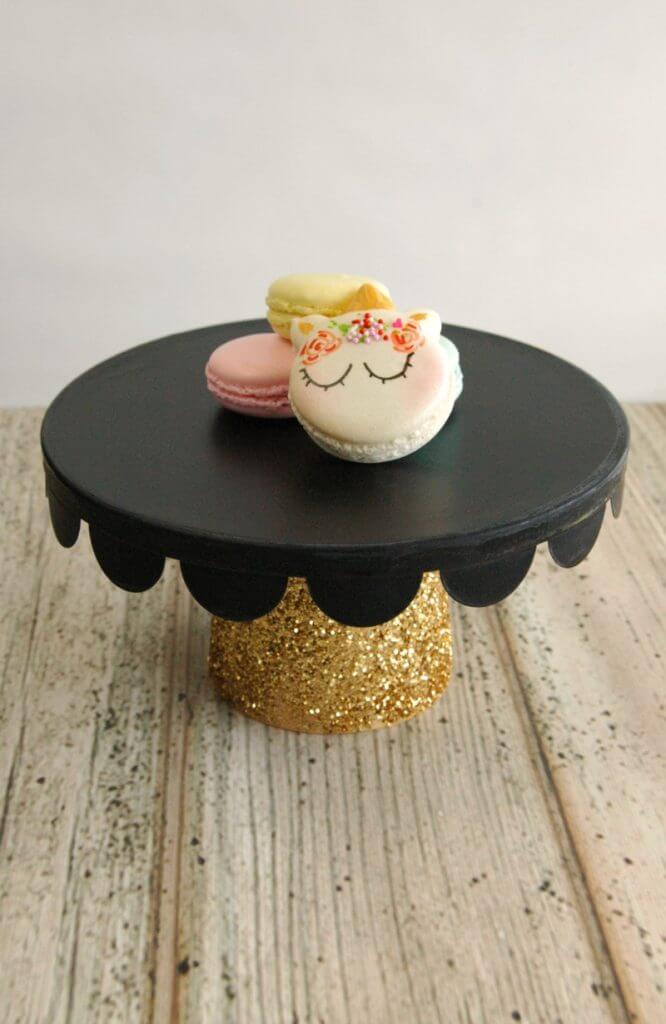 Classic black and glittery gold combine for a gorgeous cake stand to help you celebrate your next big event. The scalloped edges of the cake plate add character and charm as you design the perfect vignette for your dessert table extravaganza. For the base, the stand is finished in a gold color and coated in sparkly glitter. Hitting the big 4-0 or going "over the hill" would be even more festive with the addition of this sparkly gold and black cake stand. Place the honoree's cake on top and let the fun begin!
12. Glamorous Mirrored Cake Stand Tiered Tray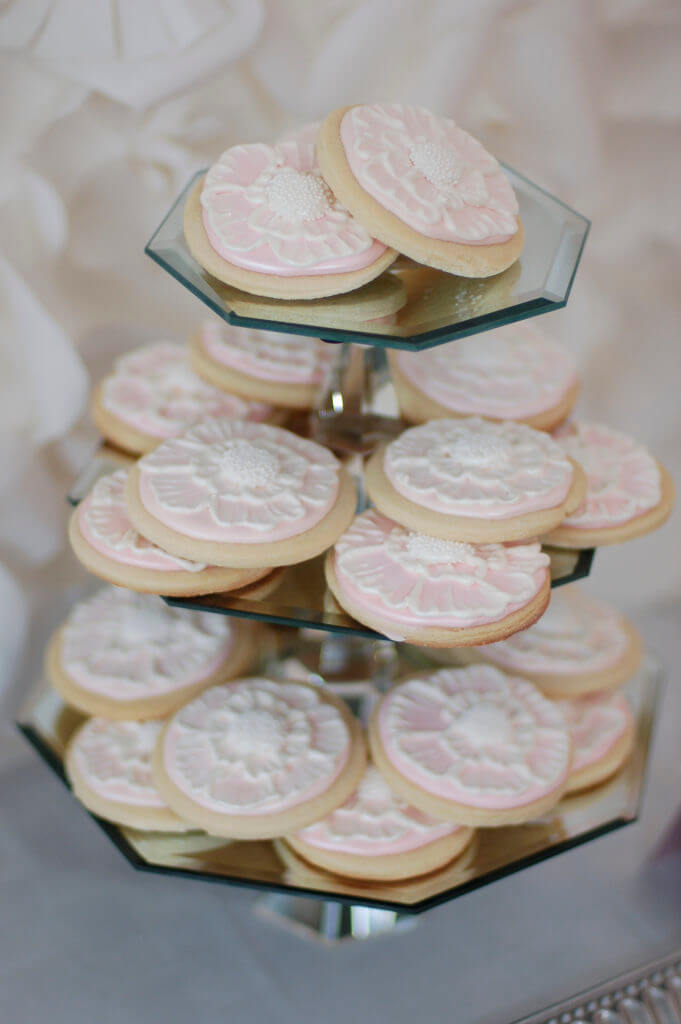 Octagon mirrors in several sizes provide the perfect ingredients for creating this glam mirrored cake stand-tiered tray. Using candlesticks as bases, this tiered tray not only adds height but lots of style to your next dessert spread. Arrange your tasty brownies, cookies, or candies on this delicate tray to provide extra table space for maximizing the number of sweets your table can hold. Use this to honor a retiree or graduate as the sophistication and style of this display coordinate with the achievement of the guest of honor.
13. White Delight Simple DIY Cake Stand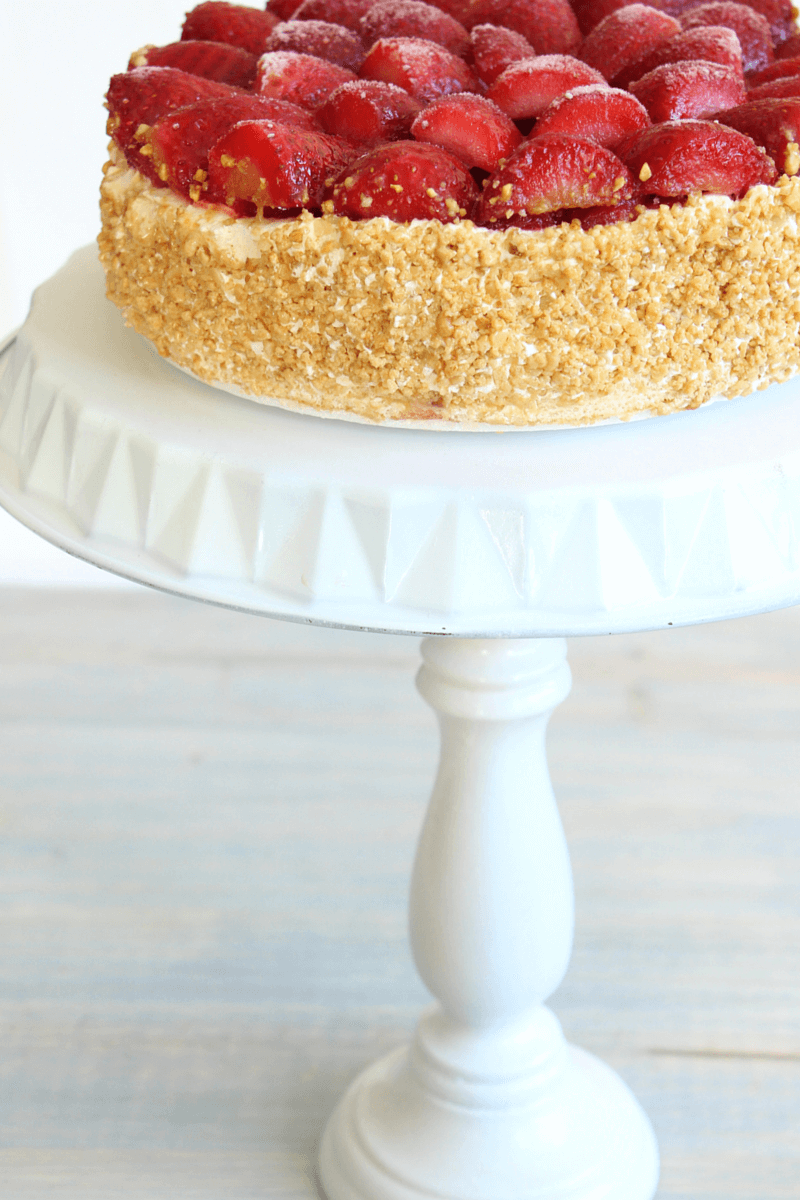 Here's a project perfect for the lowest level of do-it-yourselfers! Created with two simple supplies, this white cake stand can be used in so many ways. The candlestick holder makes an amazing base while the inverted pie pan transforms into the perfect plate for showing off your cake. Use this homemade cake stand for family dinners, birthday parties, or special dinners with friends. Its simplicity makes it extremely versatile in its use for a plethora of party purposes. Plain white generally blends into any color palette while it also can stand out when grouped in a monochromatic neutral scheme.
14. Two-Tiered DIY Polka Dot Cupcake Tray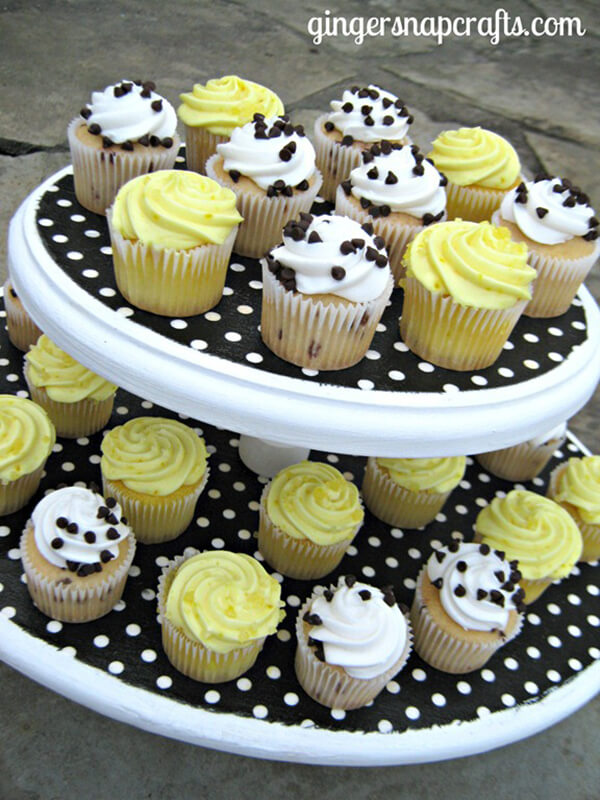 Paint and Mod Podge can quickly become your new best friends. Keep them nearby for ease in your next DIY project. Two wooden plates transform into the tiers needed in creating this charming polka dot cupcake stand. A fresh coat of white paint preps the plates, then the polka dot fabric adds the right decorative touch! Sealed in Mod Podge, this amazing two-tiered cupcake stand is ready for use and easy to clean.
15. Give Me Some Sugar DIY Cake Plate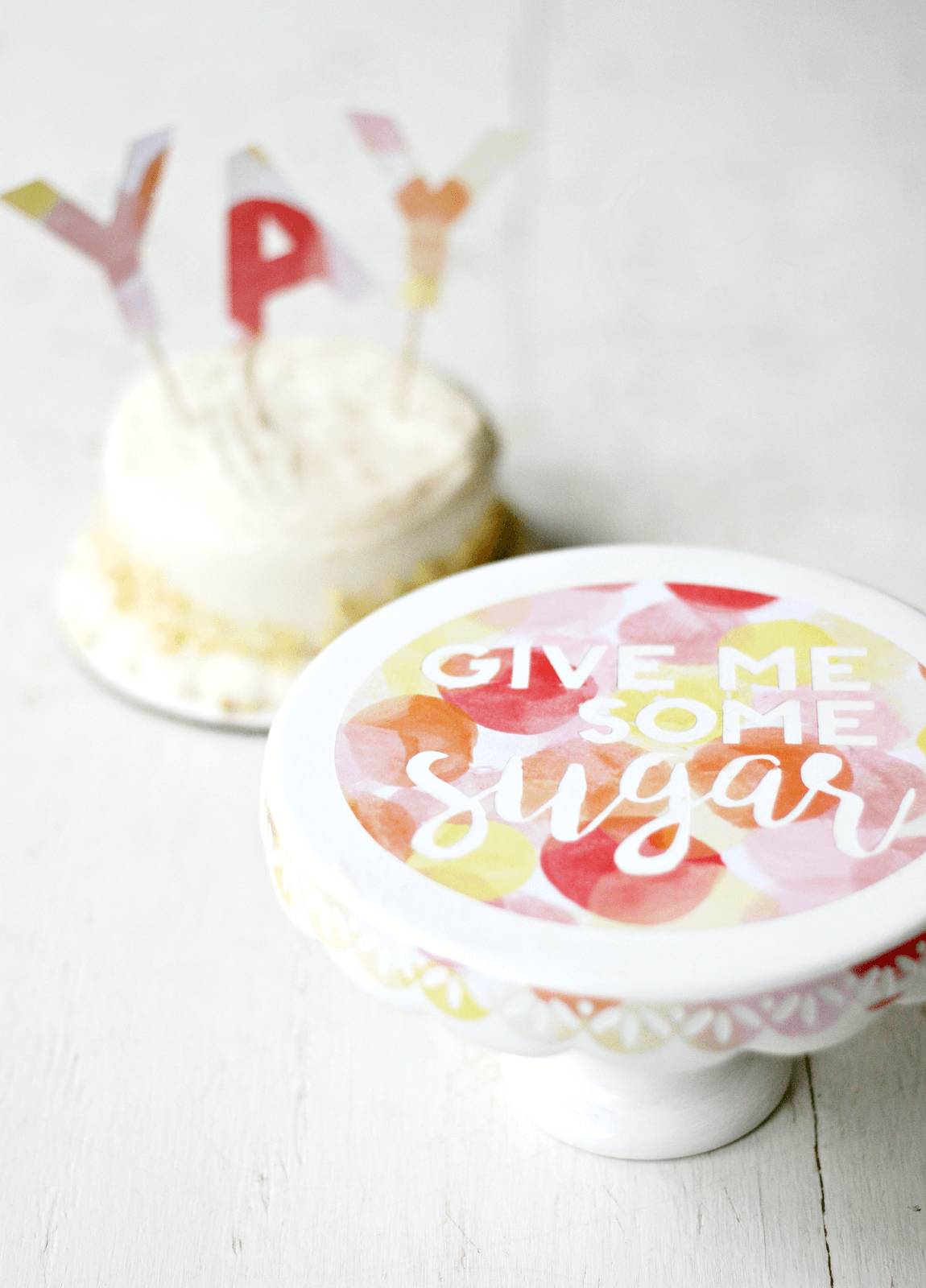 Cakes are traditionally a common dessert of choice when celebrating a special event. From birthday cakes to graduation cakes, the featured dessert is notably a delicious and moist frosted cake. Up the ante and make the cake even more special with a custom cake plate. Use it to display the cake at your next celebration or include it as part of the gift when you bake a cake for someone else. Since you can choose any paper you wish to apply to the plate, you can coat your cake plate with your own personality. Or, you may wish to make a plate that coordinates with a party theme to tie the entire look together.
16. Fancy Tea Shop Inspired Cake Stand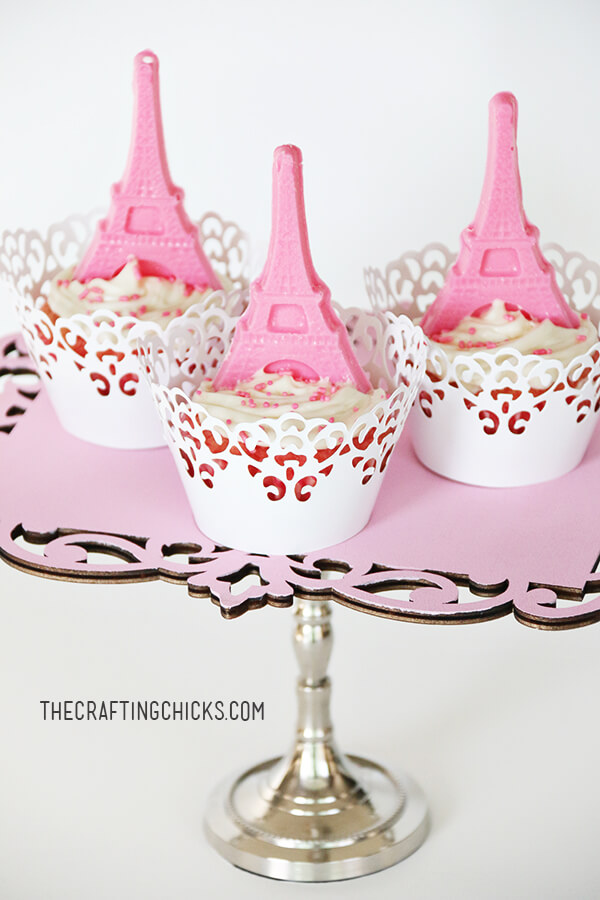 Lovely and lacey comes to mind with this cake stand that embraces the finer things and delicate details found in a fancy bakery. All around the edging, this cake stand boasts a lace detail in the tiny intricate cut-outs. Finished off with a coating of pastel pink or teal, this cake stand is everything you hoped it would be. A classic silver base gives it a polished look for extra elegance. Create several of these in different heights and sizes to meet your dessert-loving needs. Their style and grace will add a touch of class to your next festive gathering.
17. Sparkly Crystal Knob Dome Handle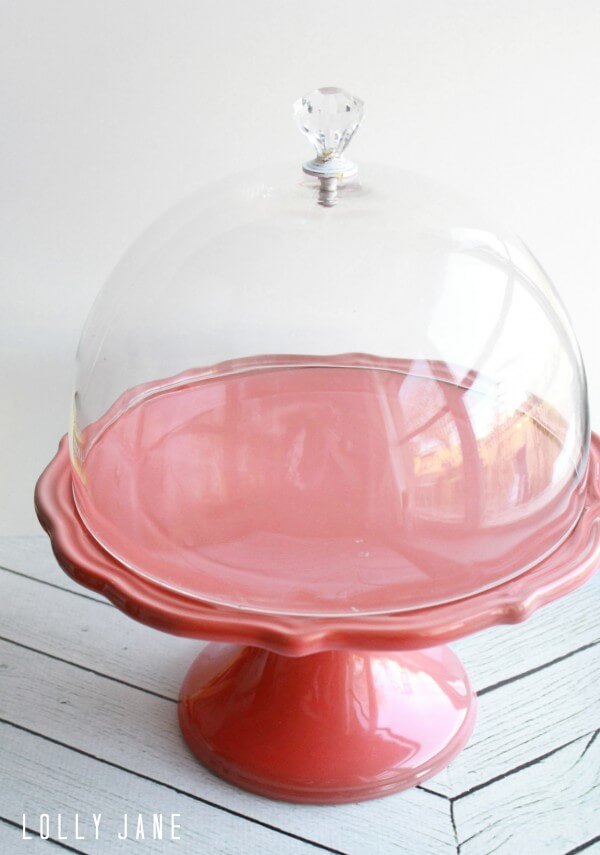 Cake stands are taken to the next level of elegance when a glass dome is included. There's something magical that happens as your sugared treasure rests beneath the safety and solitude of a sleek and smooth globe of glass. You can easily enhance the beauty of the dome by updating the handle. A boring silver knob gets a quick and simple makeover when you switch it out for a crystal drawer pull. Using a crystal knob ties in with the clear beauty of the glass dome so simply. Consider this fast update on your glass dome and let the compliments pour in at your next big party.
18. Gold and White Vintage Plate Cake Stand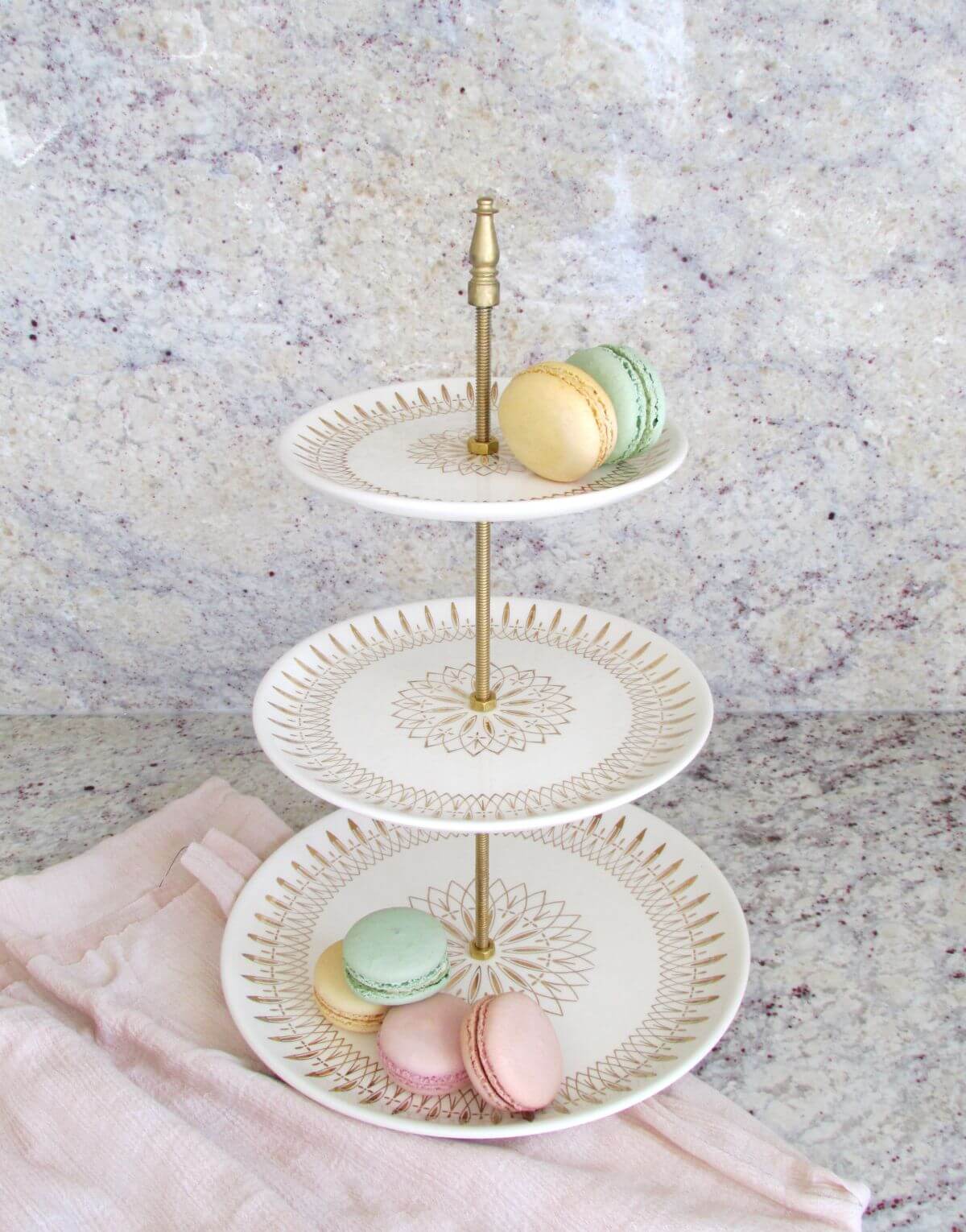 Classic and timeless, the lovely gold designs on these vintage plates make this cake stand come to life. So elegant and full of grace, this tiered cake stand makes a great addition to your next fancy celebration. From graduations to weddings, this gold-tiered tray makes the most of your situation. It gives you extra display space with its vertical beauty. Continue the look by incorporating gold accents throughout your party scene.
19. Pretty Pink Unicorn Tiered Cake Stand Display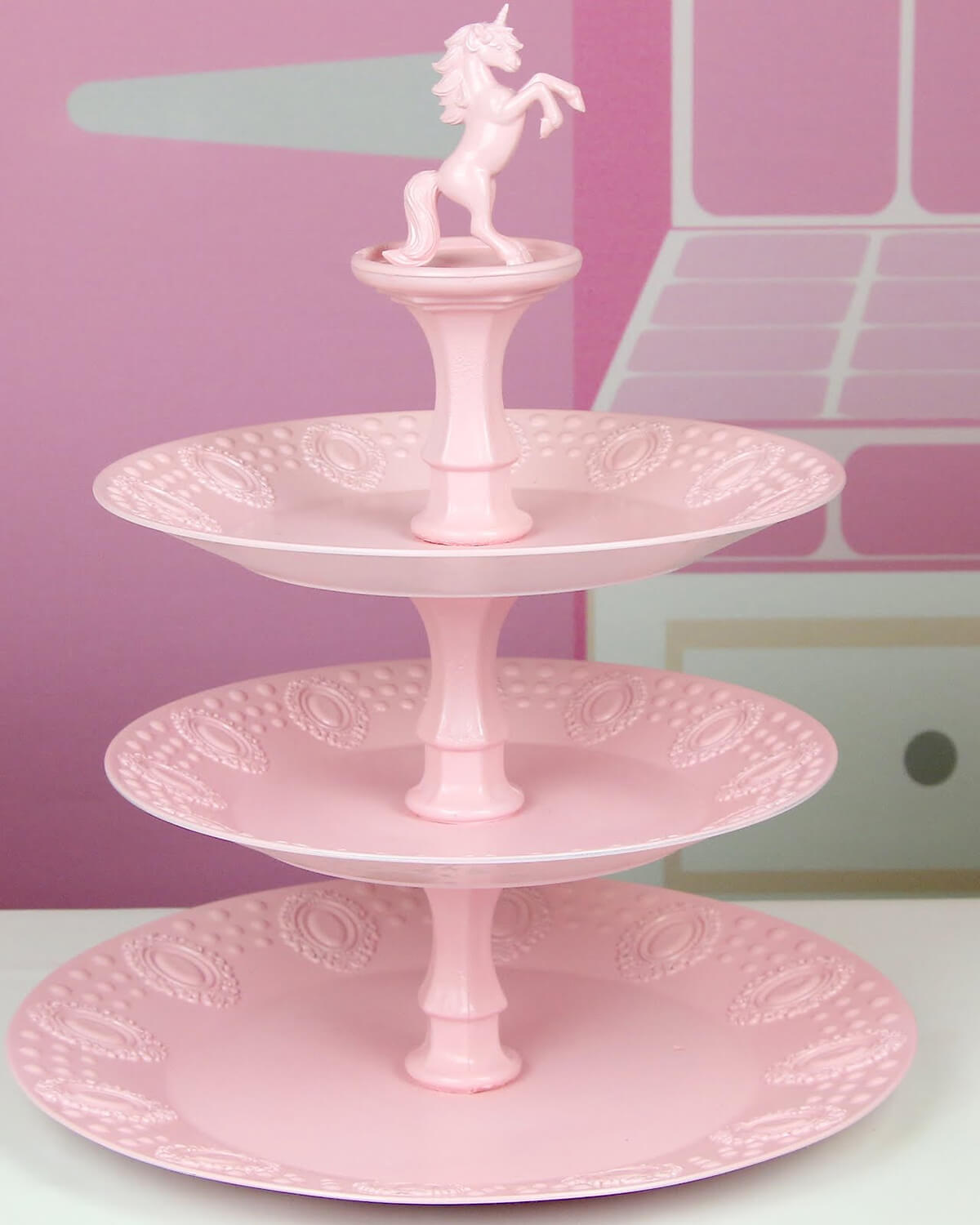 Gather the girls and feast upon a tiered tray of your favorite sweets! Fill each tray to the brim with truffles, macarons, cupcakes, cookies, and candy to celebrate your special sweetie. Every young girl loves unicorns so be sure to include them in her next big celebration. Host her first slumber party or plan her perfect tea party with this three-tiered unicorn cake stand as the center of your food tablescape. This cute tray would also be ideal for a cupcake or cookie decorating station where each girl could customize her very own goodie.
20. Plate and Paint Cheap DIY Cake Stand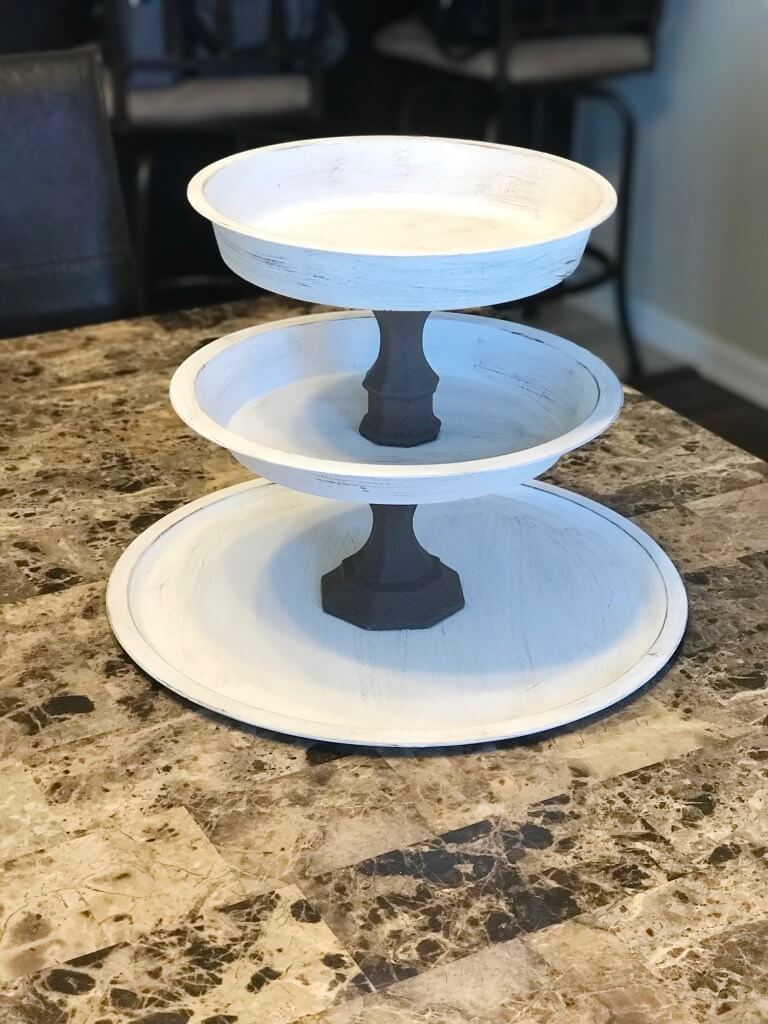 Even on a tight budget, you can add a trendy tiered tray to your home. They provide such a neat and tidy place for seasonal decor and also give such a nice setting for creating a dessert tower. To achieve this Dollar Store creation, you'll need a couple of pie pans and one pizza pan, two candlesticks, along with some paint and glue. The ease of creating this is as amazing as the bang for your buck! Each tier offers a nice space to meet all of your needs. For desserts, start with the smaller ones on top and work your way down to the larger and heavier varieties.
21. Glass Dish Three-Tiered Cupcake Stand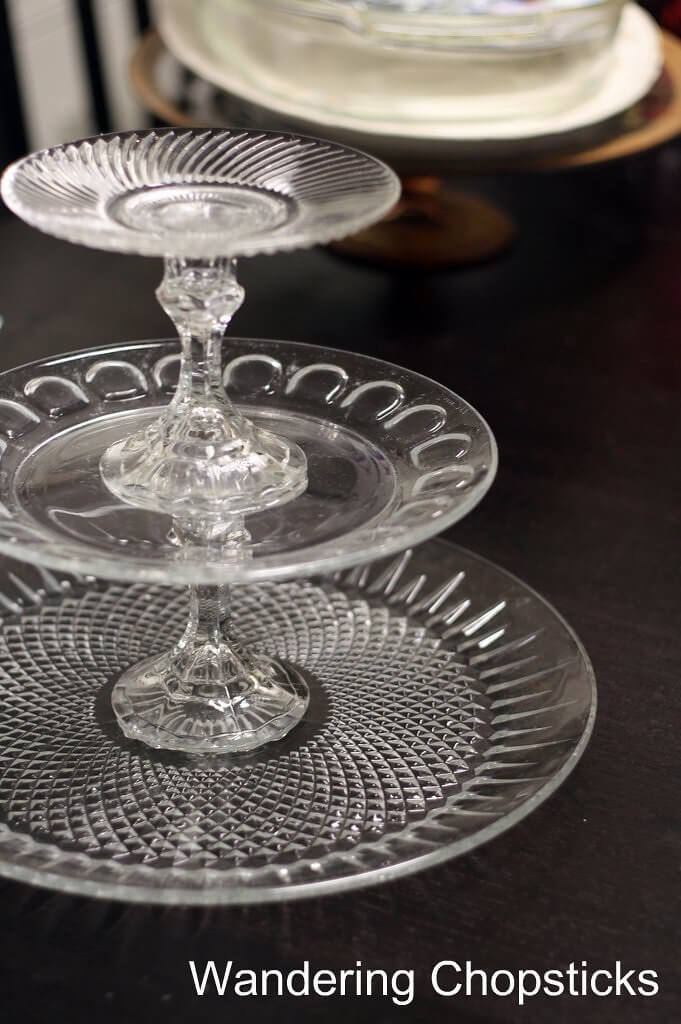 Setting up a dessert spread for a special event takes a bit of careful planning. First, you want to include baked goods that will appeal to nearly the entire crowd, and secondly, you want to display them in a celebratory fashion. Using cake and cupcake stands makes the display a lot easier. Another bonus you will discover with these stands is how simple they are to create. Customize your own tiered or single plate stand to feature your cakes and cupcakes to amaze your guests.
22. Simple Upcycled Wooden Cake Stand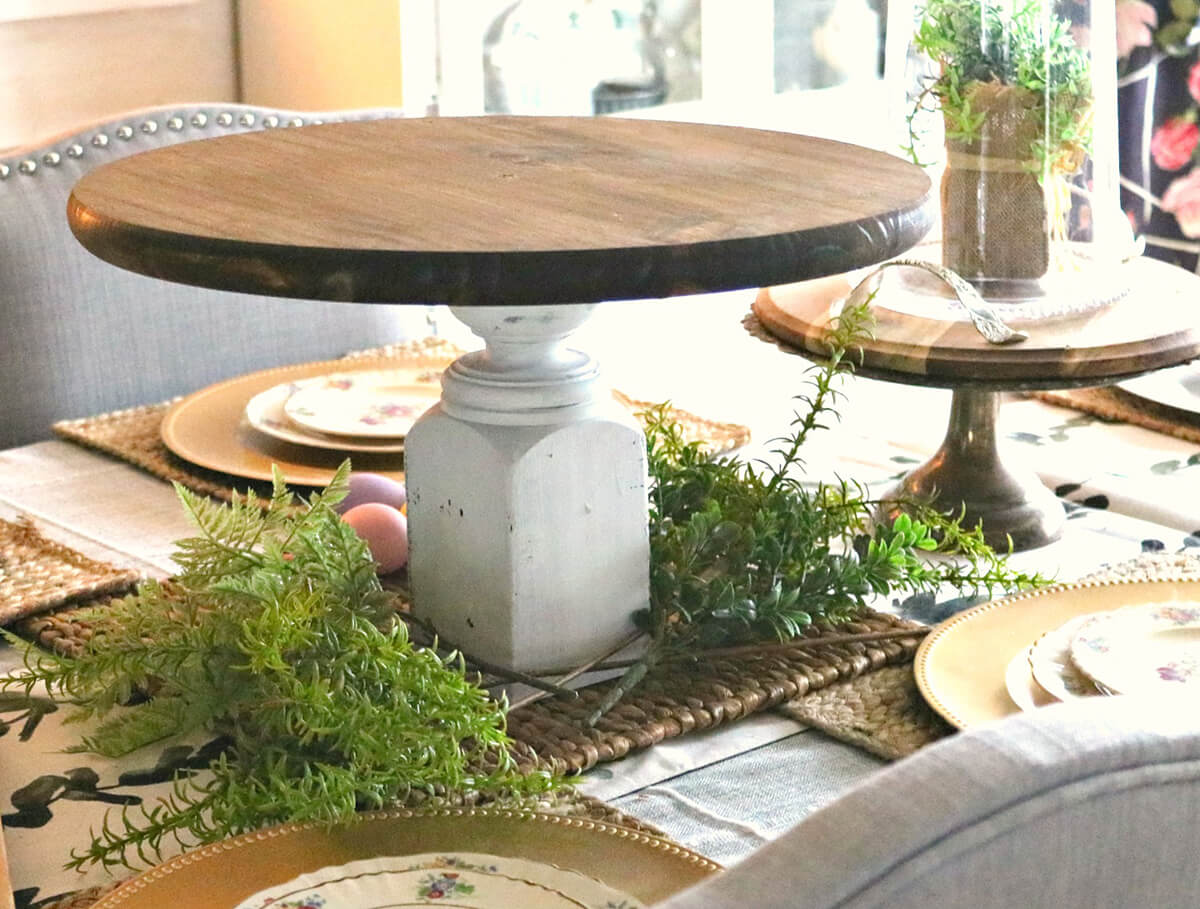 There's no need to buy a cake stand when you can just make one out of recycled material instead. This is a great way to upcycle something while showing off your skills and creativity. What you are left within the end is something that is reliable for use time and time again. Additionally, this is even helpful if you need something to decorate the table with like a centerpiece since it looks wonderful on its own. The design has a lovely farmhouse quality to it as well, making it fit in a room with that particular style. With the recycled material, it can even have a pleasant, weathered look to it.
22 Creative and Crafty DIY Cake Stand Ideas
Coming home at the end of a long day (or week) is a lot easier when you are greeted by your favorite treat. And featuring this delicacy on a cake stand makes it stand out for the true uplifting gift it is. Take a few minutes to put together an everyday cake stand that blends into your existing kitchen decor. It will be useful while also providing a nice decorative element to the room. You can use mismatched pieces of china or repurpose some glass serving plates to make your custom creation.
For use at an event like a bridal shower, retirement celebration, or birthday party, consider featuring both a single and tiered cake stand. These varieties cover all the bases in terms of setting out your tasty treats for everyone to enjoy. Even if your event is infused with rustic charm, there are fabulous wood options to give your celebration the laid-back and natural look you love. Consider all the other mediums available as well. Metal pie pans also add a lot of character and style that can be dressed up or down depending upon your needs.
Domes with pretty handles are another way to make a statement in your dessert table decor. Using a glass dome adds so much visual interest and elegance that everyone is certain to notice. If you already have a dome, try updating the handle on top with a nice crystal version that's easy to find at your local hardware store. With so many awesome styles and options from which to choose, planning your next party is going to be more fun with the help of these incredible DIY cake stand ideas.