Using the best DIY canvas art ideas can be a great way to add some personality to your home! It is also a great hobby to enjoy and one that will bring you satisfaction when completed! Canvas art is a cool way to express your creativity and share it with your friends and family. Creating your own art is also a great way to ensure you get what you want! Purchasing art is fine for home décor, especially if you find something you love.
The 21 Best DIY Canvas Art Ideas for Budget-friendly and Charming Home Decor

However, creating your masterpiece is the best way to produce meaningful art that truly expresses who you are and the mood that you want your house to reflect. This type of art is very popular! After some practice, you can turn your hobby into a business and share your work with others! Some of the best DIY canvas art ideas come from those who start for themselves. The ideas are limitless. You can create anywhere from the most sophisticated to rustic piece to suit all kinds of people and homes. Also, because of the quality of the materials used, you can guarantee that your art will last for a very long time. This art is something that is fairly easy to learn how to do. If you are someone who loves creativity and wants to express yourself through artwork, canvas art is the hobby for you!
1. Blue, Black and White Marbled Canvases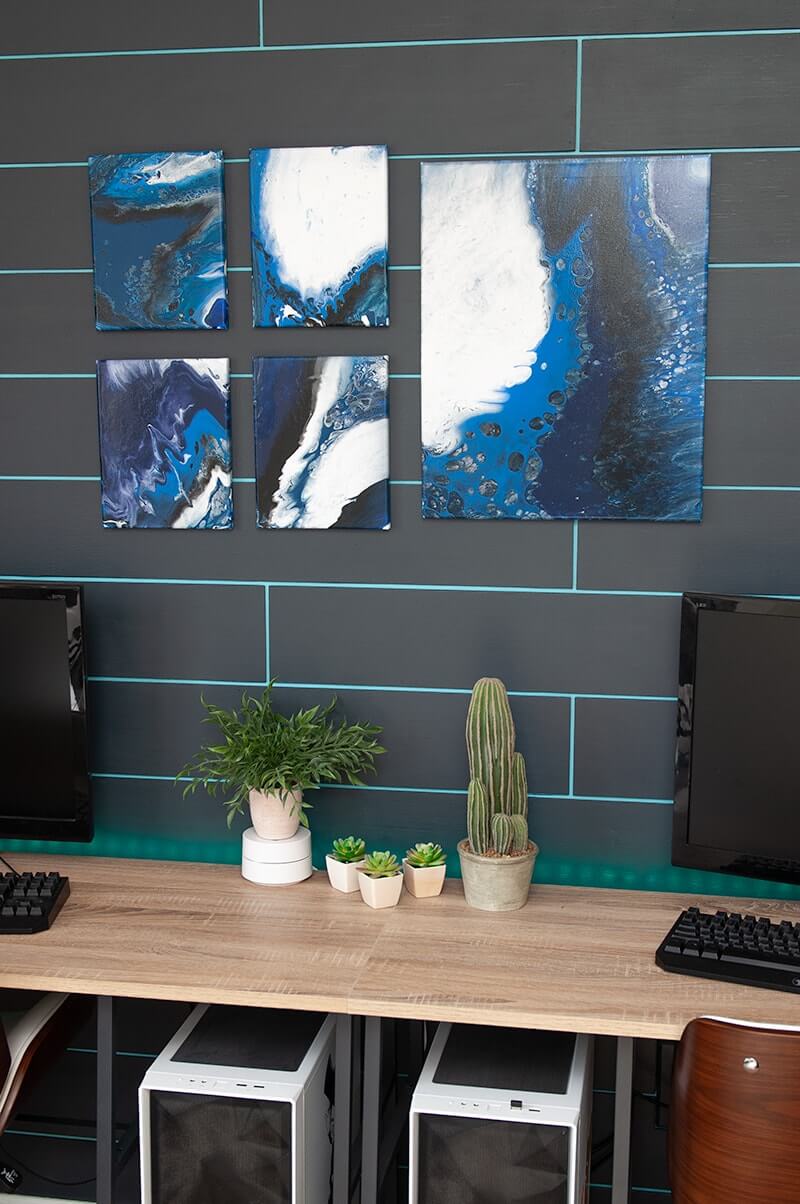 Elegant homes are full of handmade canvas art projects such as this marble array. On the right is a large canvas featuring black blue and white colors marbled together. On the left is the same size canvas but split into four sections. Not one canvas is the same.
2. Pink and Blue Background Flower Canvas Arrangement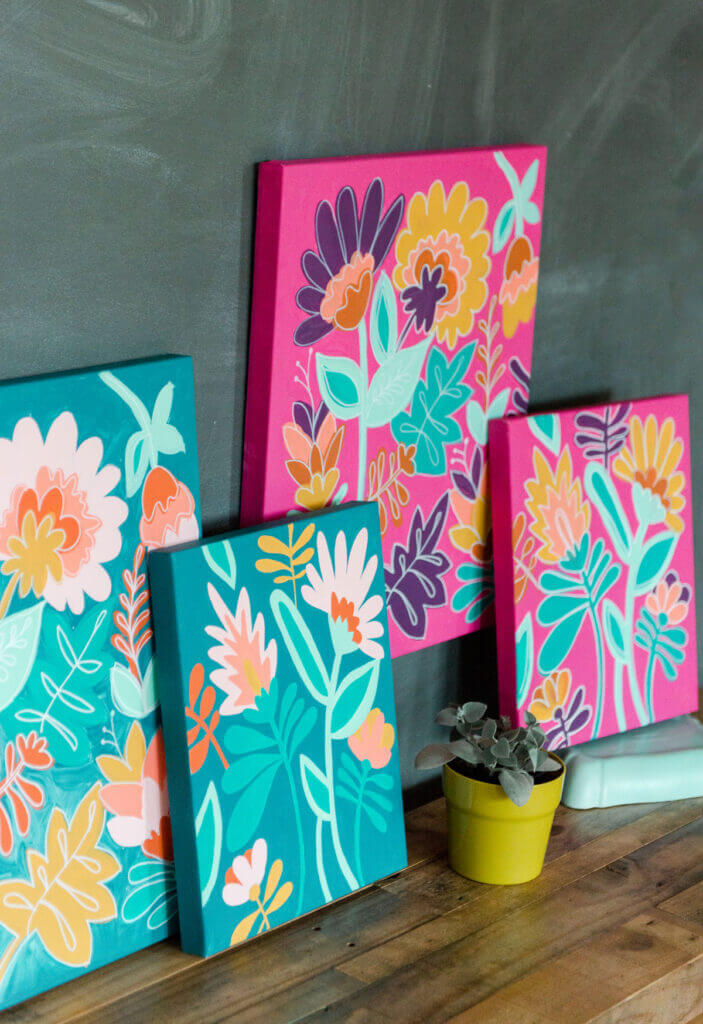 Each of these has the same kinds of flowers but are still each so different. The different shades of blue on the left side bring out the flowers in a special way. The blue colors on the pink canvases do the same. Some of the handmade canvas art projects come from flowers!
3. White Textured Canvas with Tan Background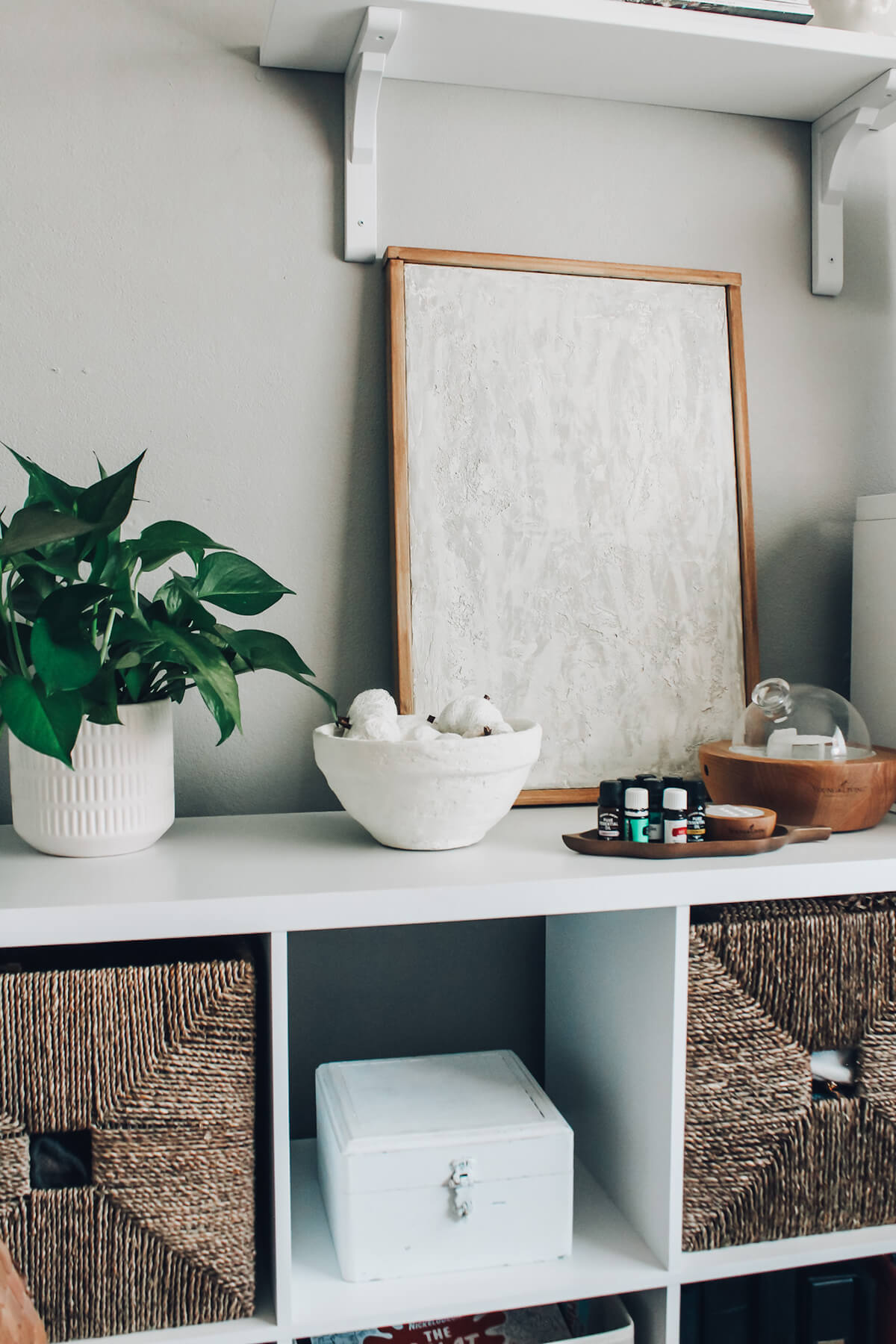 This rustic piece of homemade canvas decor complements its' wooden frame. The textured canvas with white and tannish colors gives it a look that is 3-D. The frame also matches the color of the bowl to its' right and the tray that the paints are being kept on.
4. White Oak Trees with Light Blue Background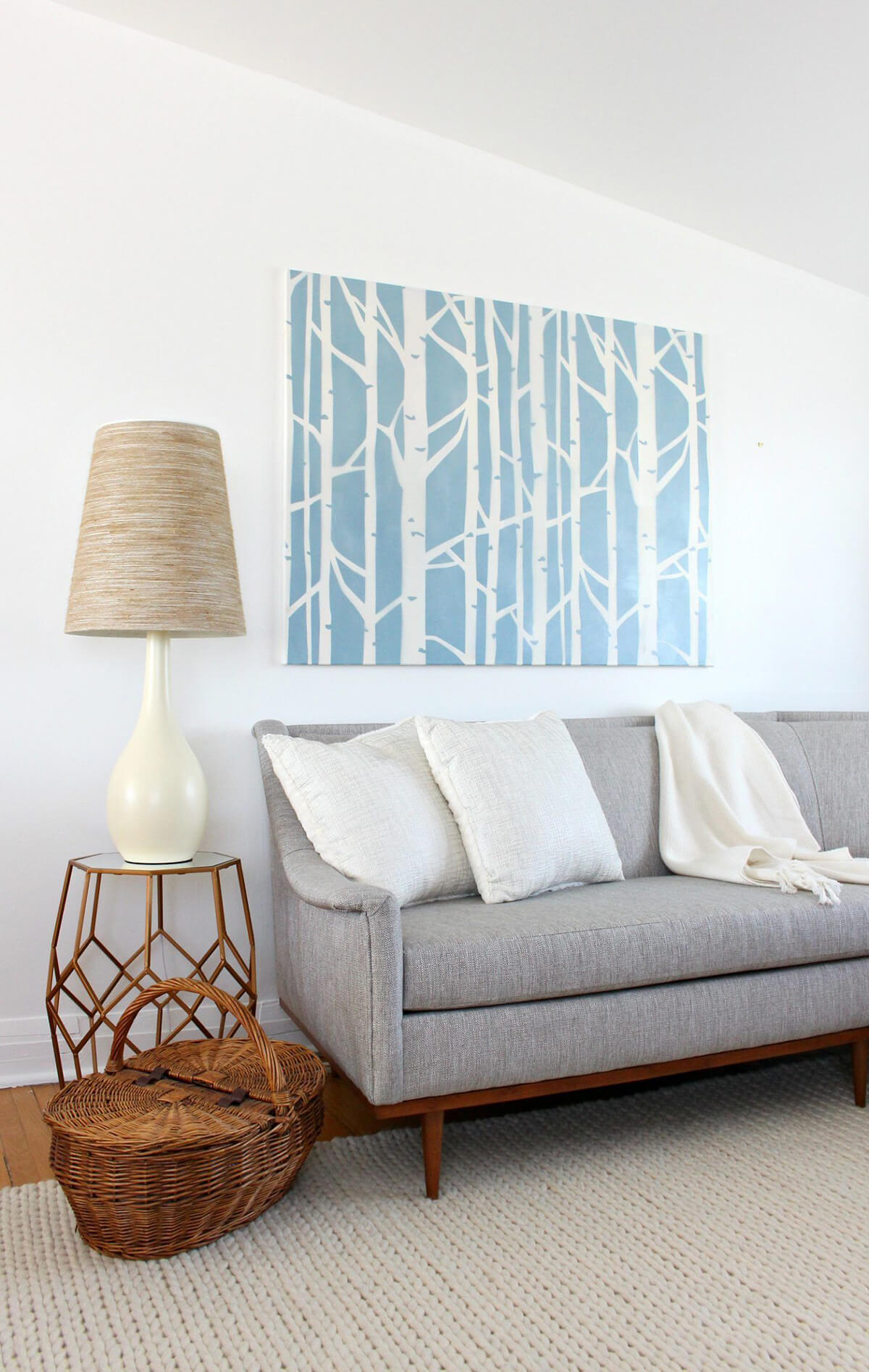 Simple and beautiful, this winter themed homemade piece features skinny white oak trees. The light blue background gives off the winter effect. Also, the limbs do not have any leaves which makes it feel as though the weather is cold!
5. Black and White Wall Canvas Arrangement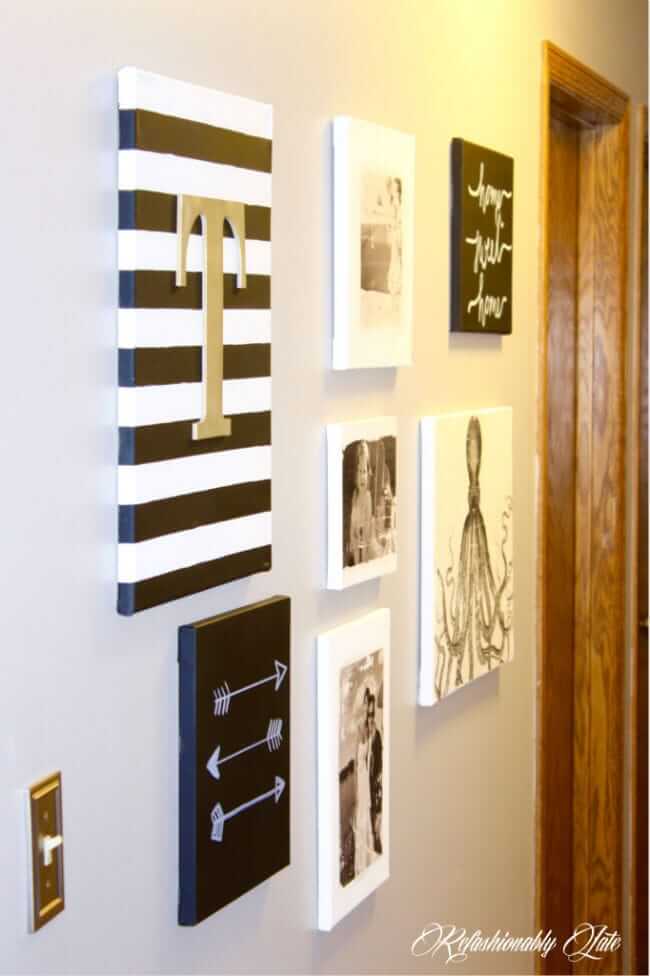 Each canvas on this wall is different but favor each other so well. This arrangement brings out the personality of this home and emphasizes the love they have for their family. The black and white theme makes this cluster stand out even more.
6. Blank Tan Canvases with Golden Frames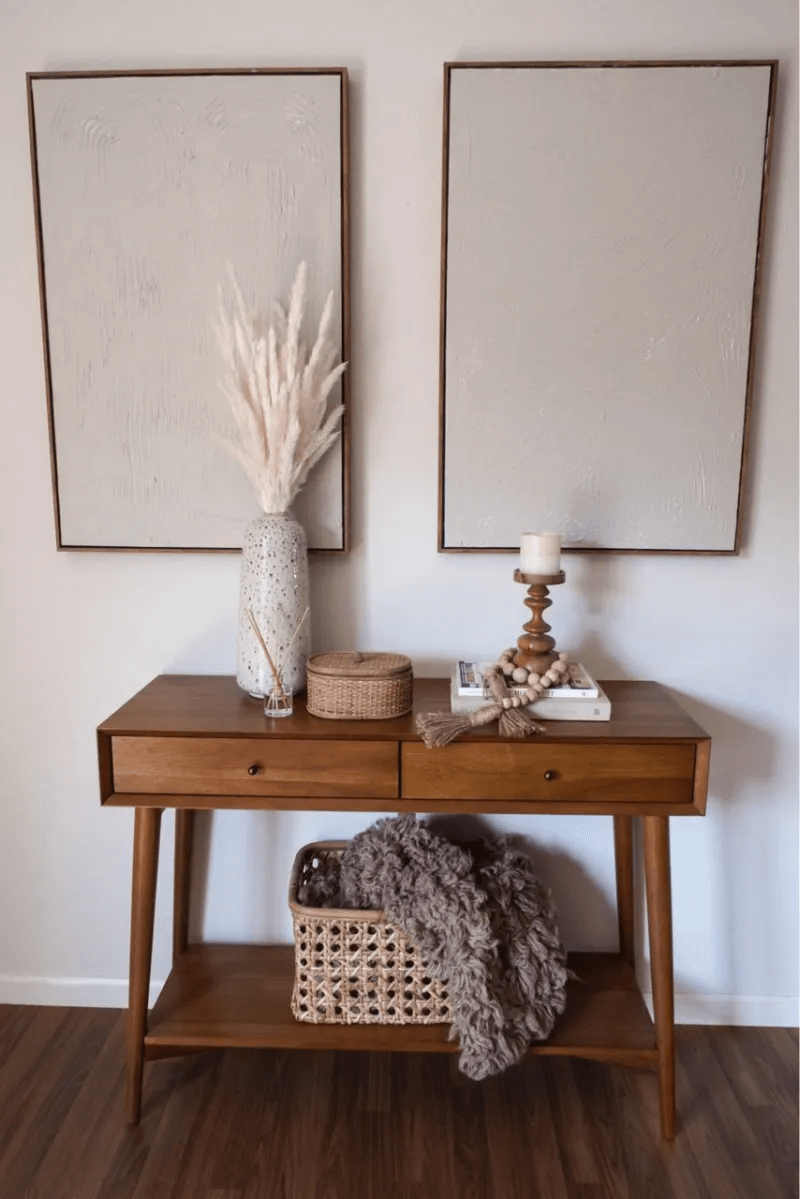 This living room or hallway arrangement of furniture and art make this home feel cozy. The canvases in the background complement the furniture as well as the tabletop decorations as they all have a light color theme.
7. Yellow Stripes, Blue Flowers and Yellow Bubbles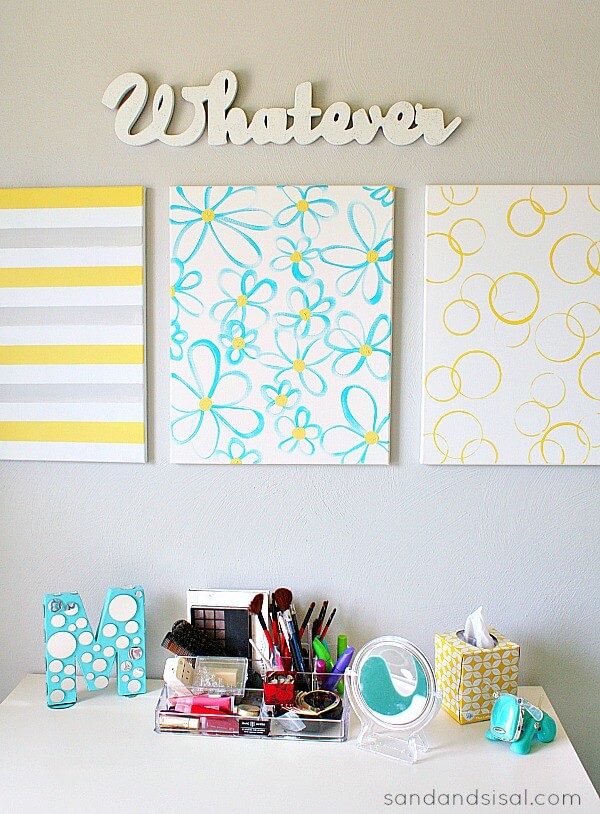 The first is lined with horizontal stripes of yellow, white and gray. The second features a white background with big and small blue flowers with yellow in the middle. The third has clusters of yellow bubbles.
8. Light and Dark Blue Camouflaged Canvas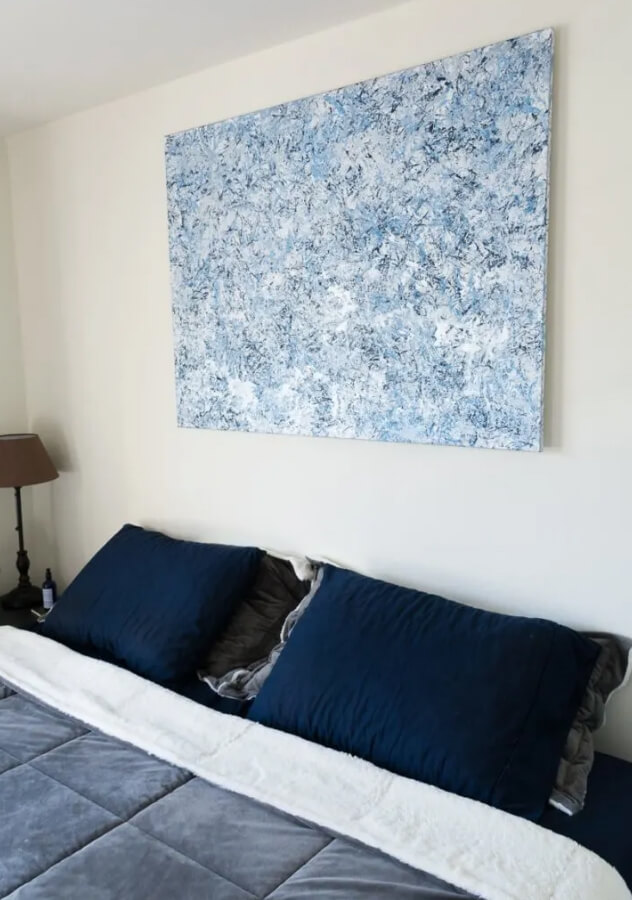 This unique piece was made with small and skinny strokes of light blue and dark blue colors. On the white canvas background, the mixture of these colors creates a beautiful blue camouflage effect.
9. Green, Red, Brown, Blue and Yellow Shapes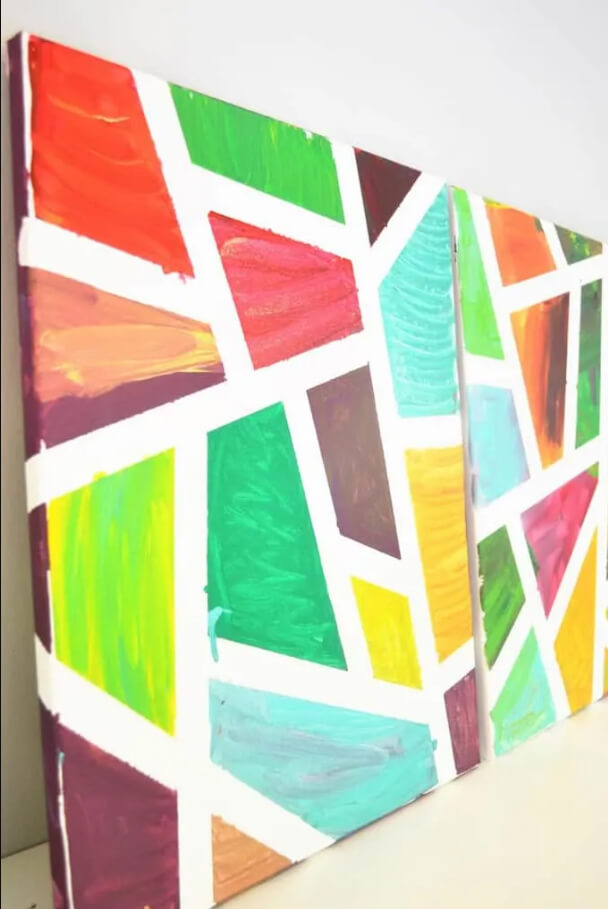 These candy-colored shapes are bright and fun. All of the rectangle-triangular shapes are painted with multiple colors and not one is the same as another. Each unique shape can be viewed as having its' own story and meaning.
10. Three Simple Lavender Stems with Teal Background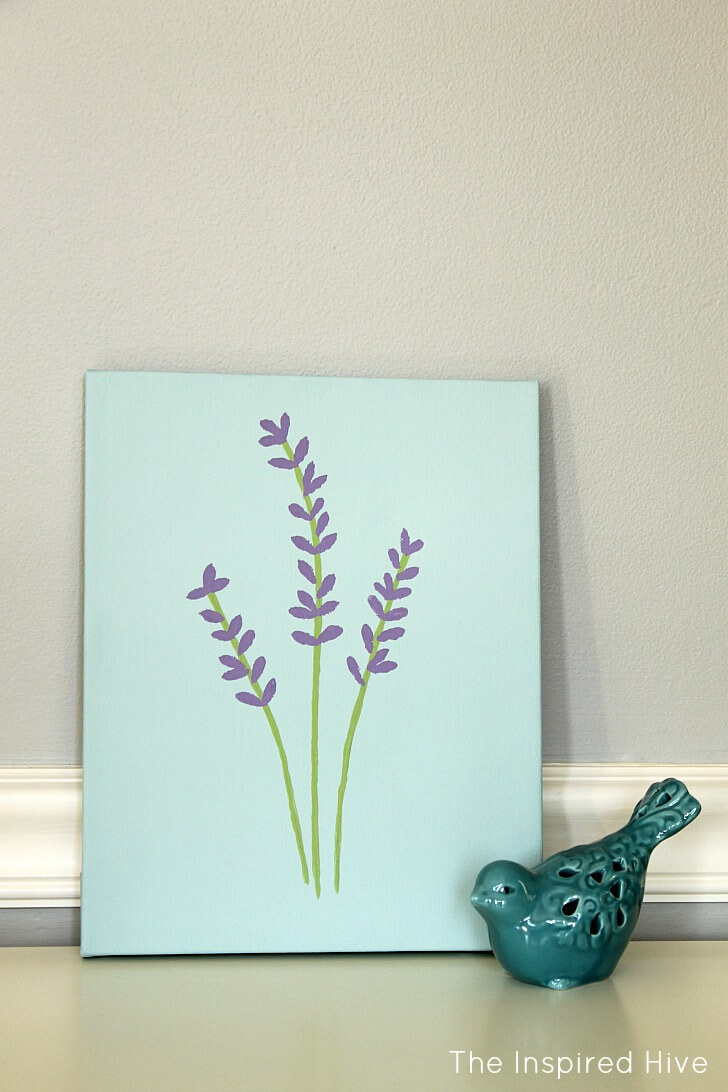 This piece of art is so simple and so elegant. The teal background complements the darker blue figurine of a bird to the right. These dainty stems of lavender can have so many meanings such as each one symbolizing a family member.
11. Rust Colored Triangles with White Background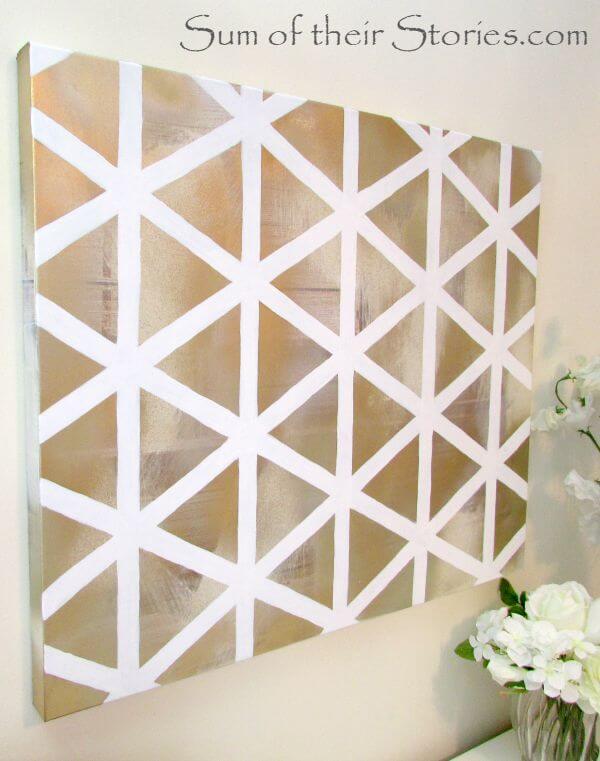 This frameless canvas features symmetrical sized triangles fitting into one another in vertical lines across the piece. The white background brings out the rust/copper colors in each triangle that is unique from the next.
12. Blue and White Faded Canvas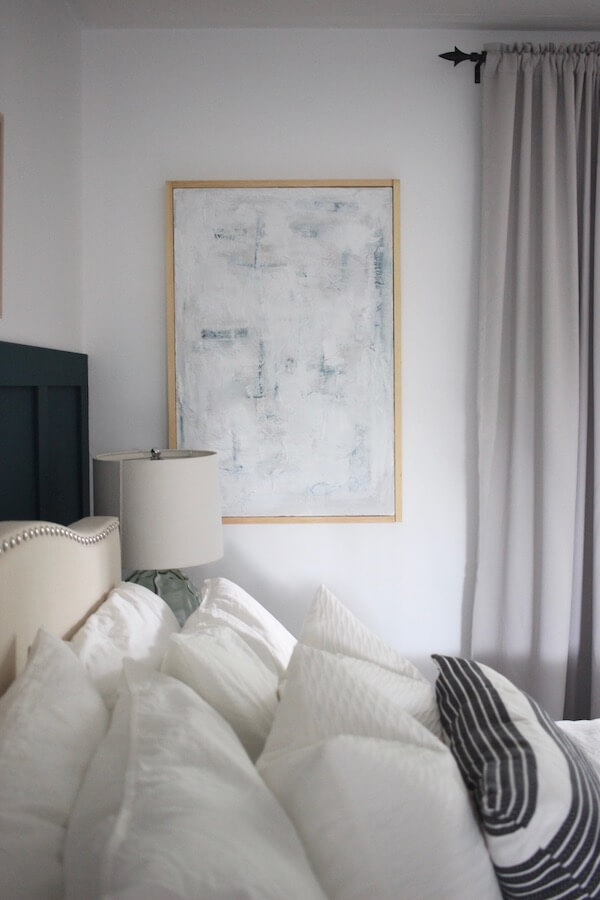 This simple piece of homemade canvas decor is perfect for an equally simple setting. Elegant and clean, this canvas complements its' thin wooden frame and white wall. The light blue colors blend well with the white background as though it is water-colored.
13. Dark Blue Strokes of Different Sizes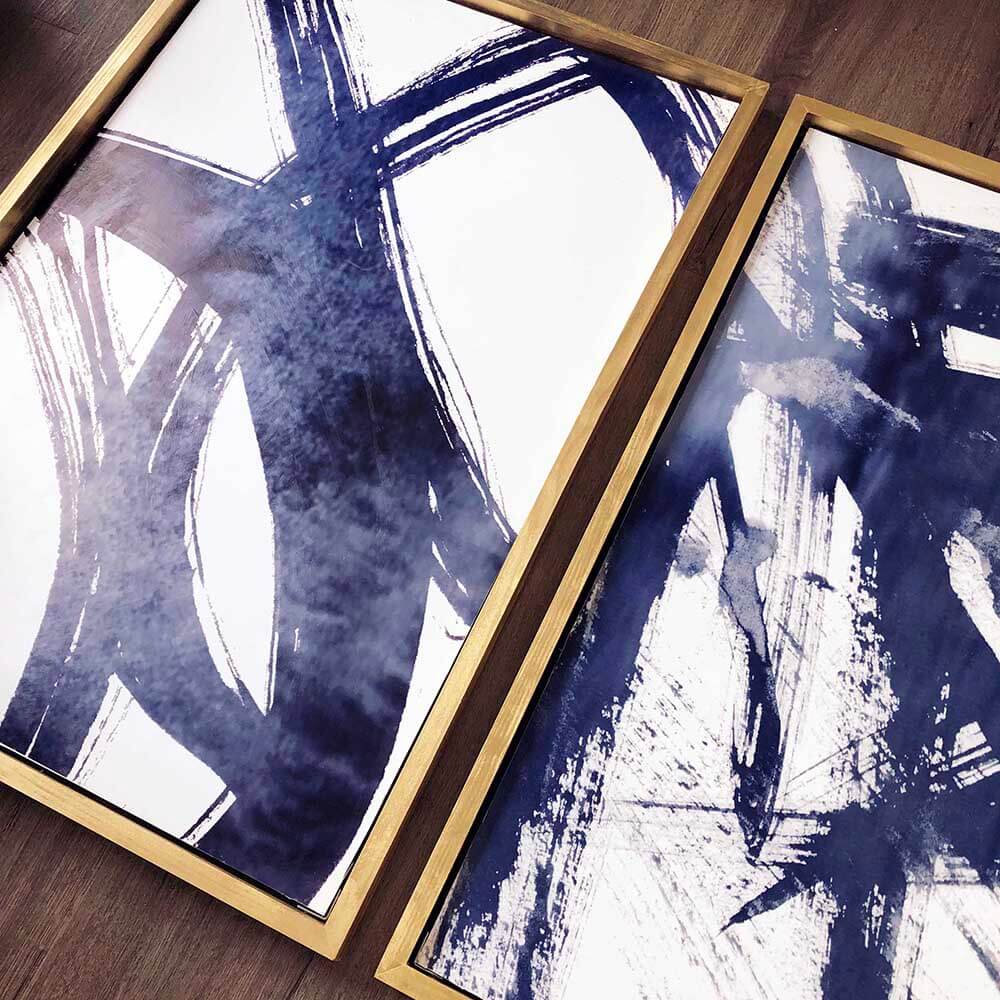 This abstract piece of art features two canvases. The first has uneven brush strokes in dark blue with a white background. The second is more abstract as the lines are more frantically painted. These are some of the best DIY canvas art ideas!
14. Blue Farm Truck Full of Flowers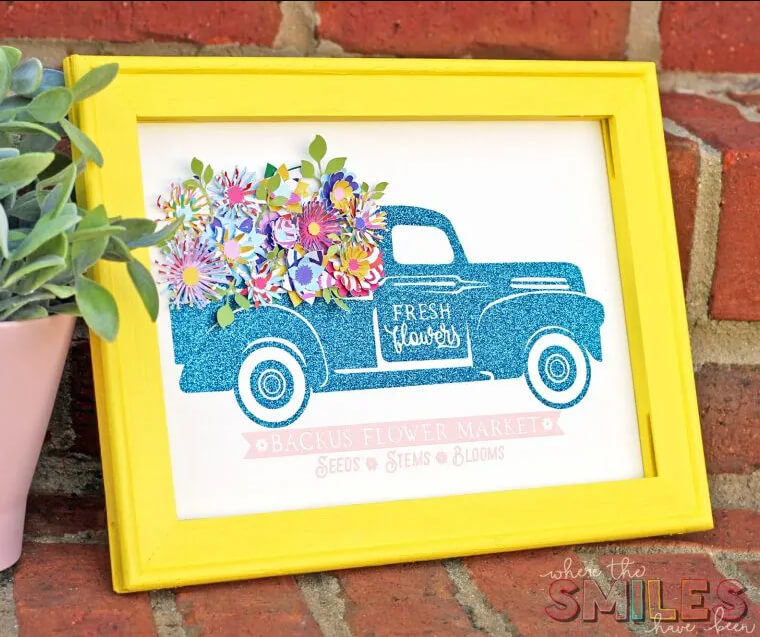 This is a cool piece for a country-style home. The sparkly blue farm truck has a bed full of flowers and is also a great advertisement piece for a flower nursery.
15. Corner Watermelon Slice with Blue Background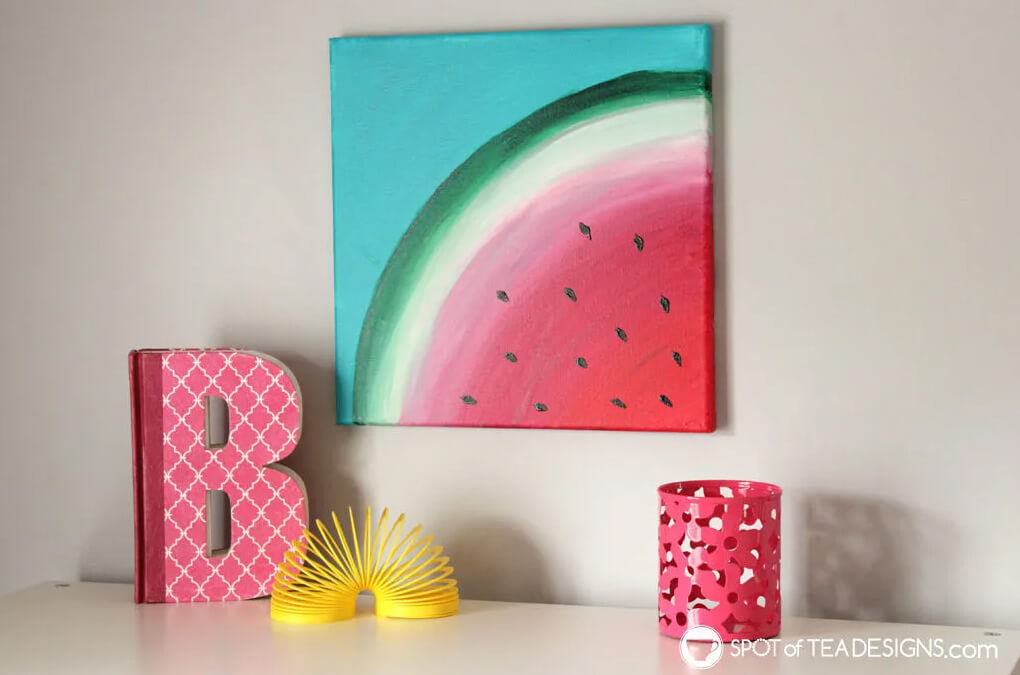 Perfect for a beach house, this canvas features a watermelon slice that covers over half of the area. The green color blends well into a pink and then right into the juicy part of the fruit! The blue background can be portrayed as the blue beach sky! Some of the best DIY canvas art ideas come from food!
16. Initialed Photo Cutouts of Children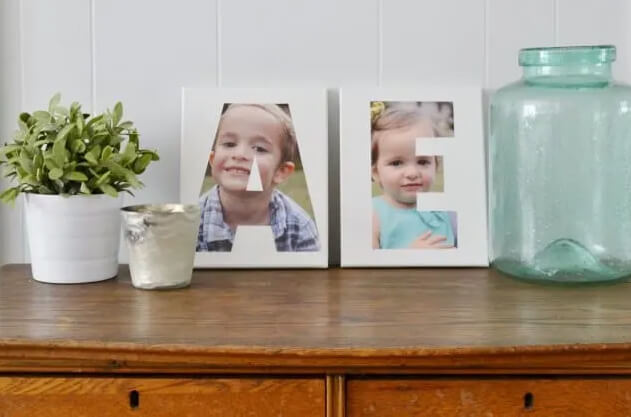 These children's photos were printed and cut out in the shape of the first letter of their first names. This is a great idea for a wall piece or small mantle canvas featuring your children's photos.
17. Brown Sandy Hills with Pink Sunset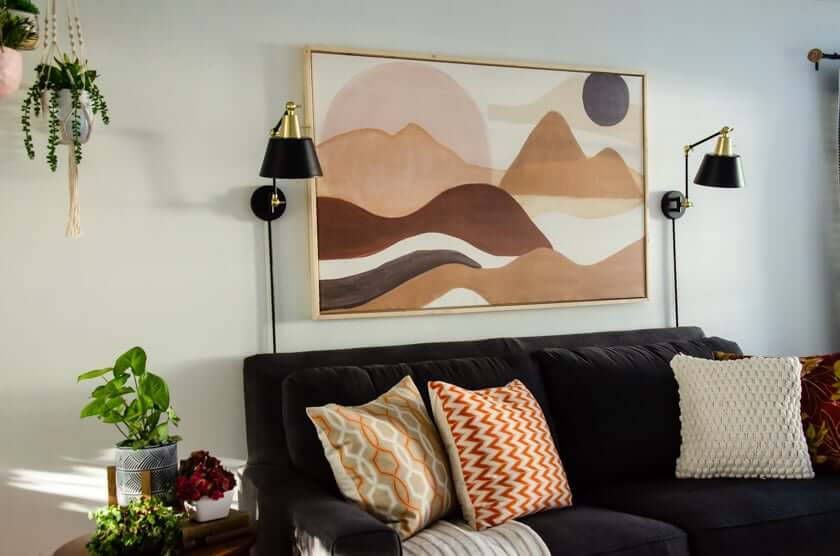 This large rectangular canvas takes you to brown sandy dunes on a dry summer day. The different colored hills give off a warm and homey feeling. The pink sunset in the back is seen as the dark moon on the right rises.
18. Yellow Flowers with Black and White Photo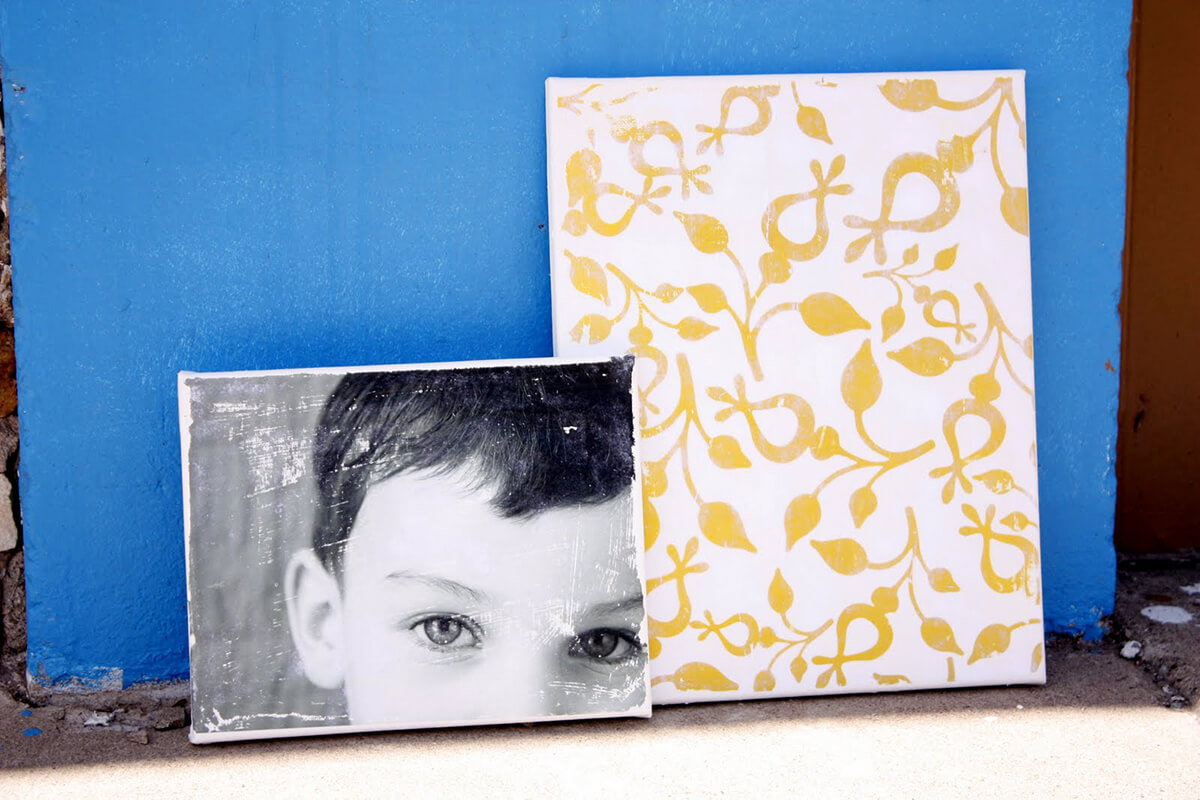 The distressed appearance of the black and white partial photo of the boy gives this art an ominous vibe. To complement it, you have another canvas that is white with yellow or golden abstract flowers. The larger blue canvas in the back makes both of the front pieces pop out in color.
19. Black, Blue, Gray and White Abstract Shapes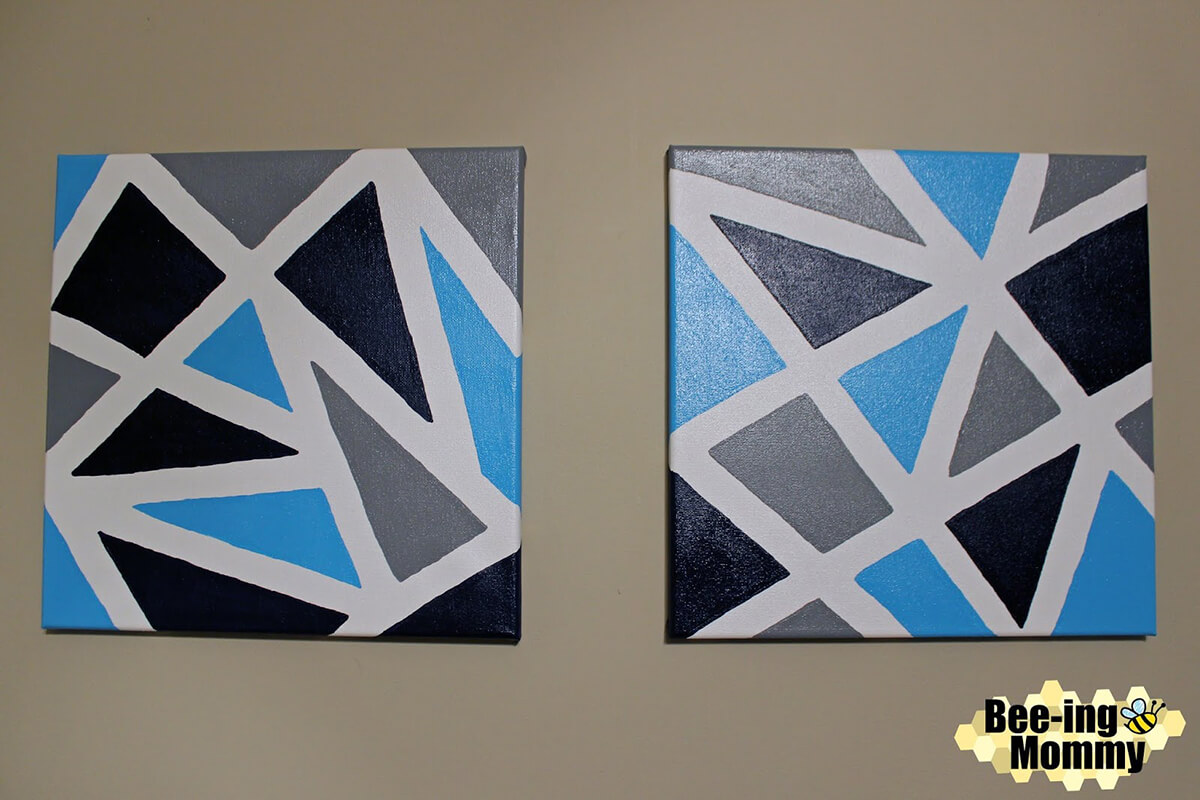 These two handmade canvas art projects complement one another perfectly! The white background stands out between the different colored shapes. Each color of gray, black and blue each has shapes similar to a triangle and a rectangle.
20. Black and White Full Moon with Rippled Waters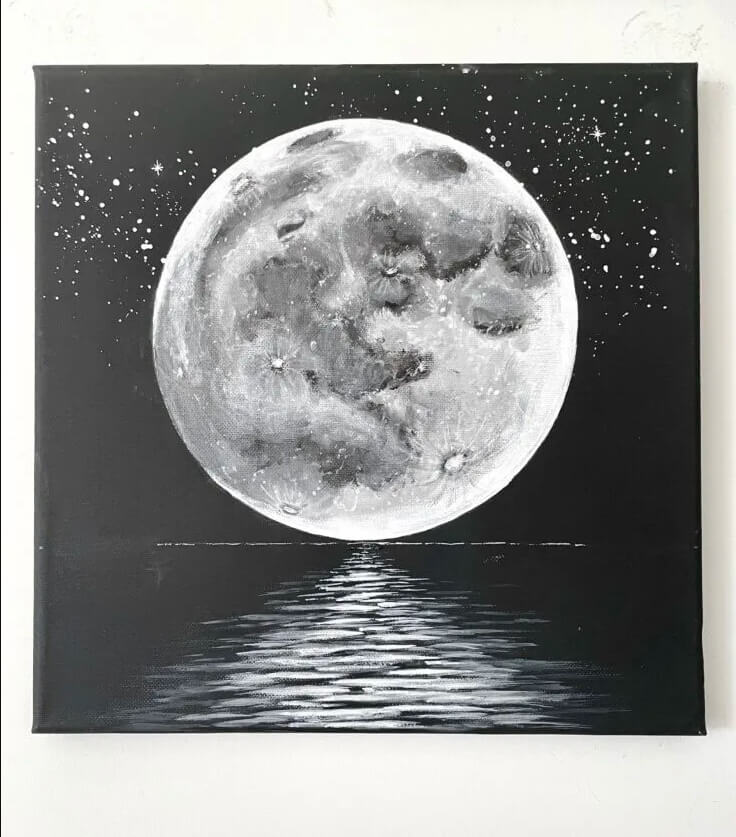 This is a beautiful black and white piece featuring a large moon with craters and galaxy of stars behind. The moon is shedding light on the rippled waters in front of it as far as the eye can see.
21. Marriage Photo Canvas with Meaningful Quote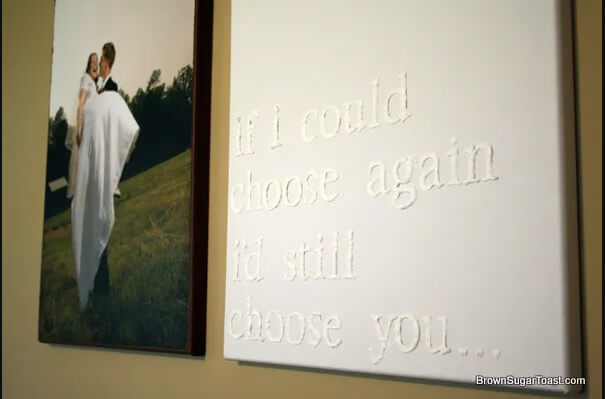 This married couple turned their precious wedding photo into a canvas that will last forever. Alongside it is a quote that says "if I could choose again I'd still chose you…" What better way to remember that day forever?
21 Best DIY Canvas Art Ideas for Personalized Living
As you can see, the options are limitless. Each piece of art is handcrafted and unique to any other piece out there! Your home can be full of your own artwork showcasing what is most important to you and your family! Canvas art goes well with any type of furniture arrangements and home color schemes. Some of the best DIY canvas art ideas come from sites such as Pinterest and Facebook. If you are uncertain as to whether or not this hobby is for you, there is no harm in trying! Inspiration can be found all over the internet and even within your own life!