If you're thinking about adding a little curb appeal to your home, consider creating gorgeous DIY garden concrete projects. Cement isn't just a traditional building material. It can also be used to create many incredible crafts that can instantly transform the look of the exterior of your home. Some projects can be as simple as creating a vase to house your flowers in, while others can be as unique as pavers or statues for garden décor.
17 of the Most Amazing DIY Garden Cement Projects that Add Curb Appeal

DIY cement planters and garden decorations are so on trend right now and are an easy way to beautify your space. The possibilities are endless when thinking about all the gorgeous things you can create with cement. There's something so unique and special about creating your own garden décor. Theirs a charm that comes from the contrast between the concrete material itself and adding in flowers and other natural elements.
Making your own DIY cement planters can be easier than you think. You can use several things as molds like an empty water bottle, large container or can or even recycled cardboard. For the concrete mix, you'll need sand, water and cement. You'll also want a bucket, water and a stick for stirring. Ready to see some of the most amazing DIY concrete planter ideas and decorations that will enhance your curb appeal? Here are a few projects for inspiration:
1. Concrete Pumpkin for Fall Décor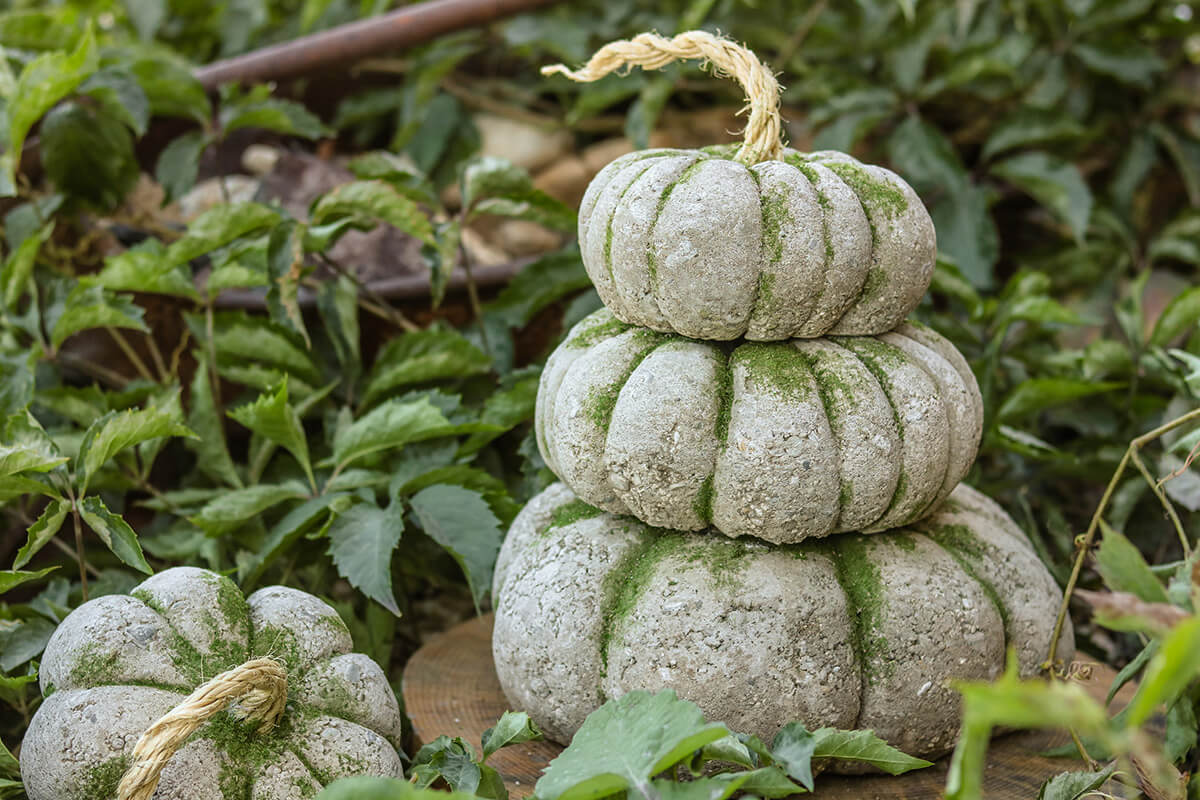 From pumpkins, scarecrows and corn husks, there are a variety of things you can use to decorate your home for fall. Pumpkins are a known fall staple when decorating your home, but don't the let the complicated look of these concrete pumpkins fool you. These stacked pumpkins are really quite simple to make. They are sure to add a little charm to any area of your home.
2. Concrete Beverage Cooler for Hot Summer Days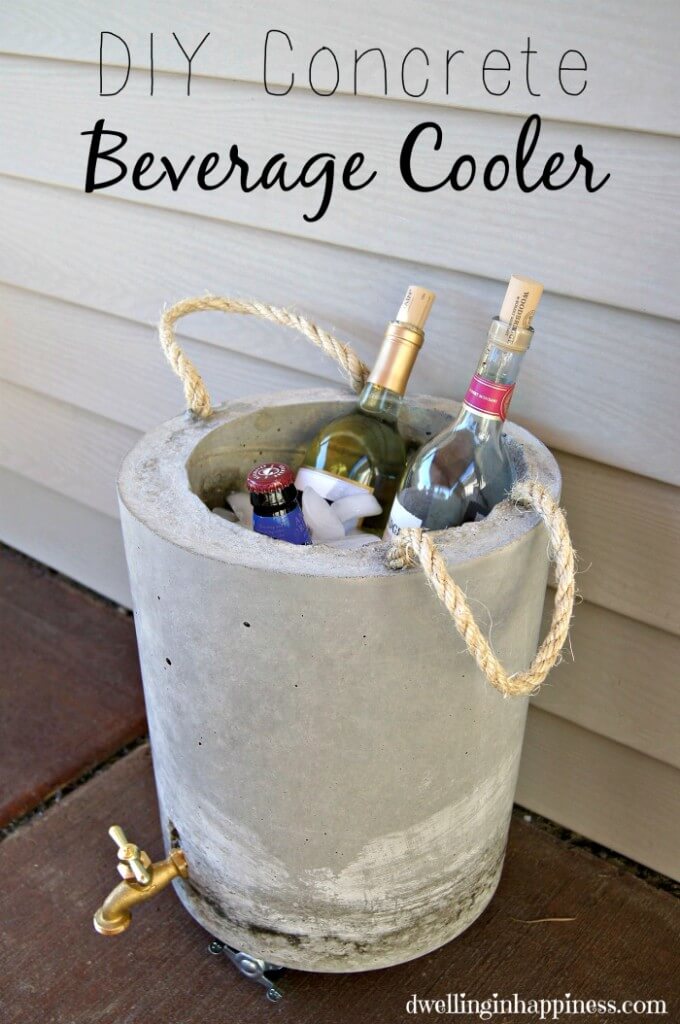 This unique concrete beverage cooler can also double as a planter during the off-season. During those hot summer days, fill this concrete cooler with ice and place your favorite drinks inside to keep them cool. It's such an industrial chic piece that will be a total hit at your next outdoor event. During the cooler months, fill it with seasonal flowers for a beautiful garden planter you can use all year around.
3. Trendy Concrete Garden Orb Décor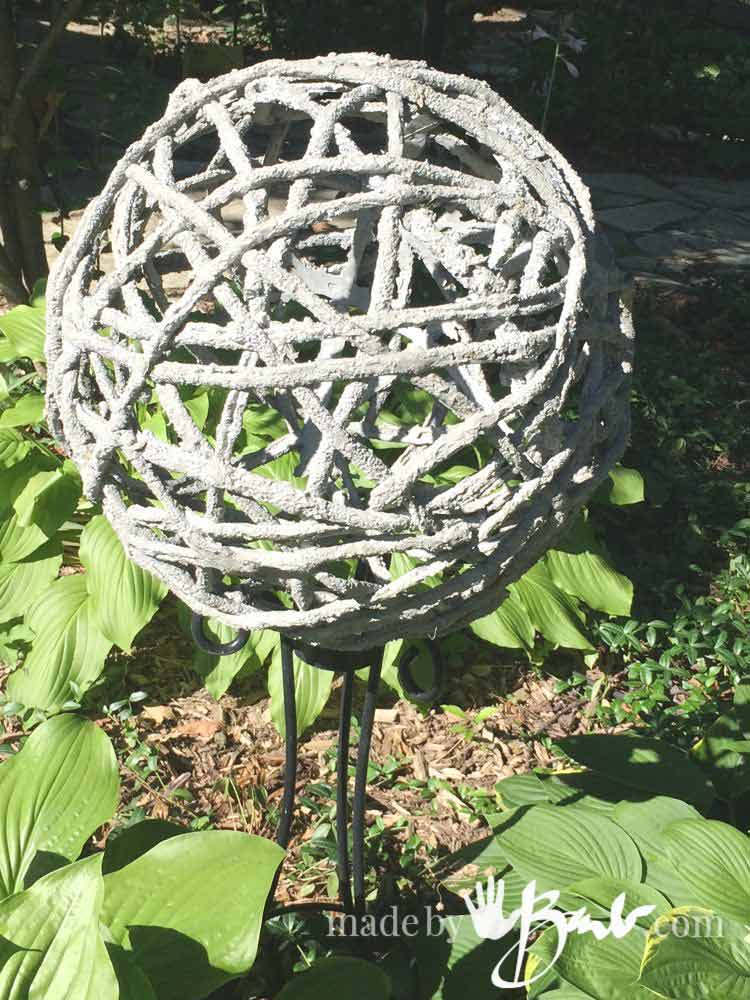 Everyone loves those trendy garden ornaments, but they often come with a pretty hefty price tag. These concrete garden orbs can be a cost-effective way to achieve the same stylish look for less. The best part about these unique garden accessories is that you can leave them out all year around. Think of all the different places you could put these beauties on display.
4. Chevron Inspired Cement Garden Bench Project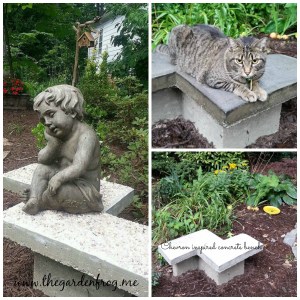 Concrete benches give off such a strong, durable look that's literally knock-over proof! This concrete bench would make a great addition to any yard. It's a unique style that will last for years and years. The chevron cut-out is trendy and versatile. It's such a beautiful way to style your outdoor space.
5. Concrete Garden Globes to Enhance Your Outdoor Space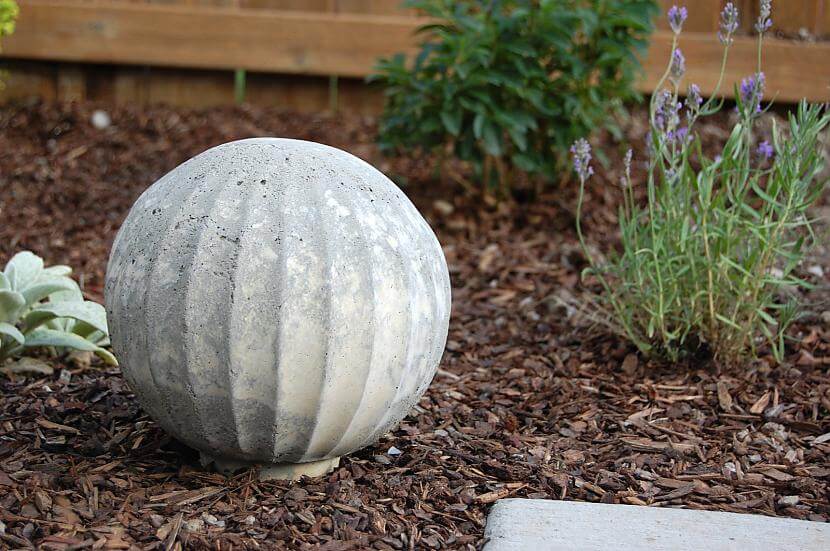 These creative concrete garden globes are the ideal accessory to enhance your outdoor space. The textures and styles you can create and customize are endless. You can place them in your garden, on your porch for a decorative piece, or even inside your home on a shelf, table or mantle.
6. Beautiful DIY Cement Planter Stand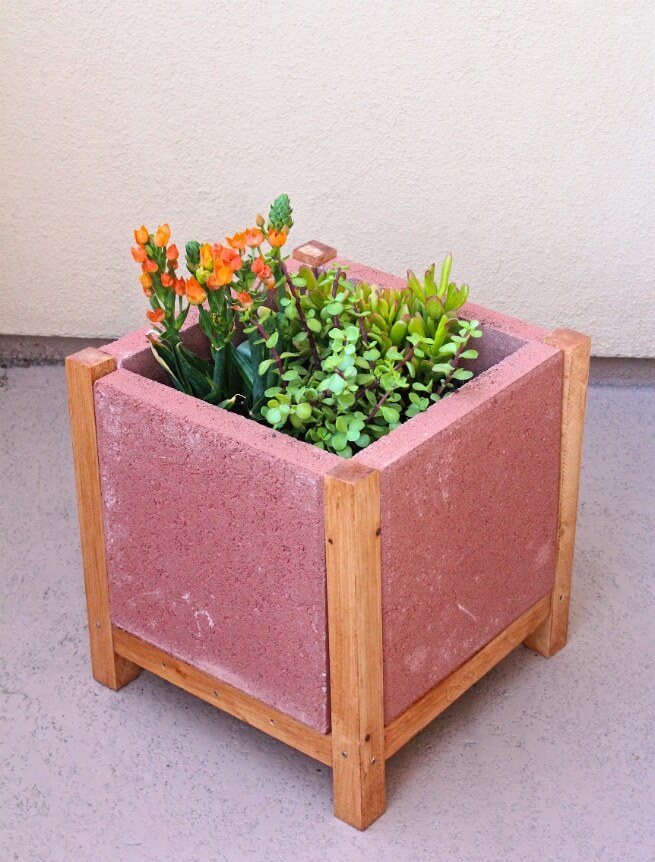 Planter boxes have become a stylish trend in outdoor décor lately, so why not create a mini garden box made from pavers and wood. This is a great piece to personalize since you can paint the wood any color you wish to fit your existing décor and style. The concrete pavers give it an industrial finish and is a trendy way to show off your beautiful flowers.
7. Creative Concrete Yard Word Art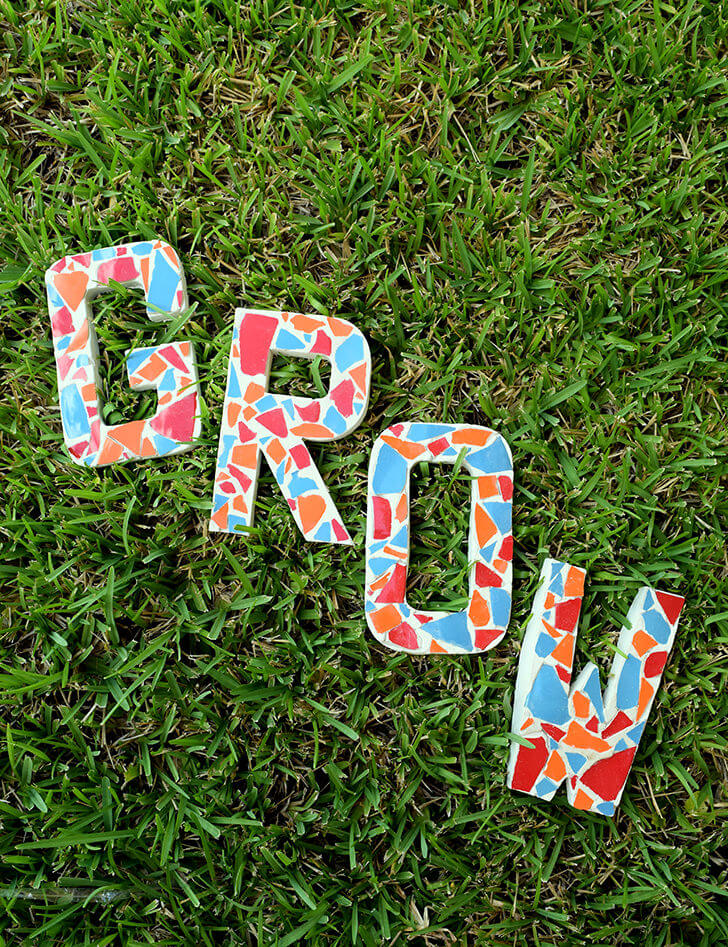 This creative concrete word art is a new take on rock painting for garden décor. It's such a beautiful way to personalize your garden and add a bit of whimsical beauty to your space. These would be perfect for accent pieces or stepping stones. Spell out your family's name, your favorite motivational word or whatever you please… the possibilities are endless.
8. Unique Rhubarb Leaf Casting with Concrete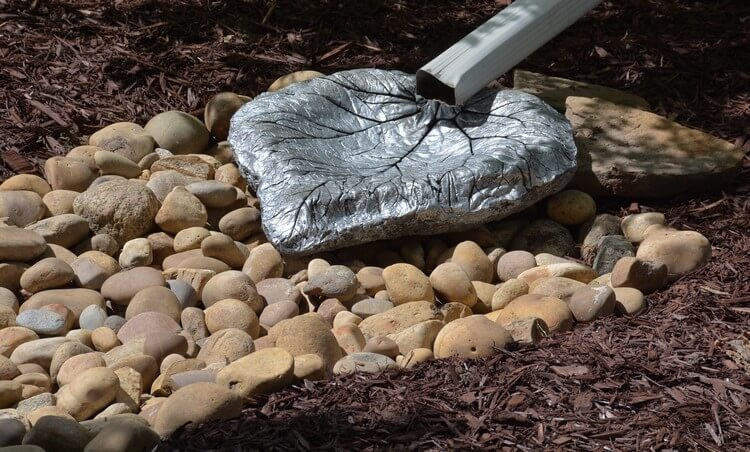 Did you ever make fun leaf impressions as a child? Whether you used a leaf, paper and crayons or went all out with cement, it was such a fun DIY for all ages. This giant rhubarb leaf was the perfect natural object to cast with concrete. Paint it any color you choose and lay it out for display in your garden or other outdoor space.
9. Create a Cobble Stone Pathway with Concrete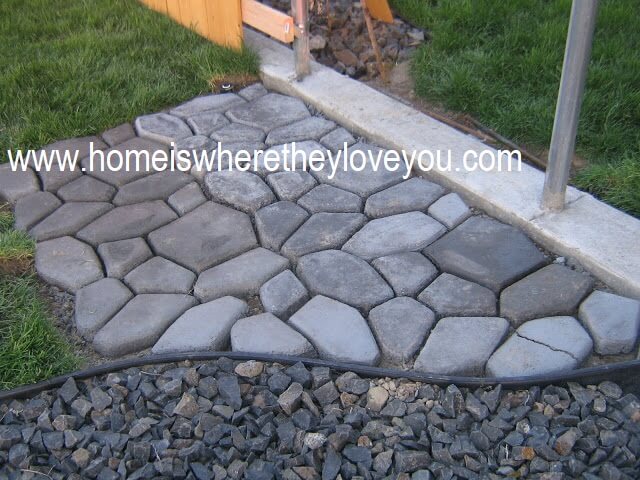 Cobble stone paths have a historic look that is perfect for any landscaping improvements. You can create your own cobble stone path with a variety of materials, but this one uses framing and concrete for an easy DIY. This would make such a cute pathway to your outdoor garden area or a walkway from the front of your house to the back.
10. Concrete Garden Fountain Perfect for a Patio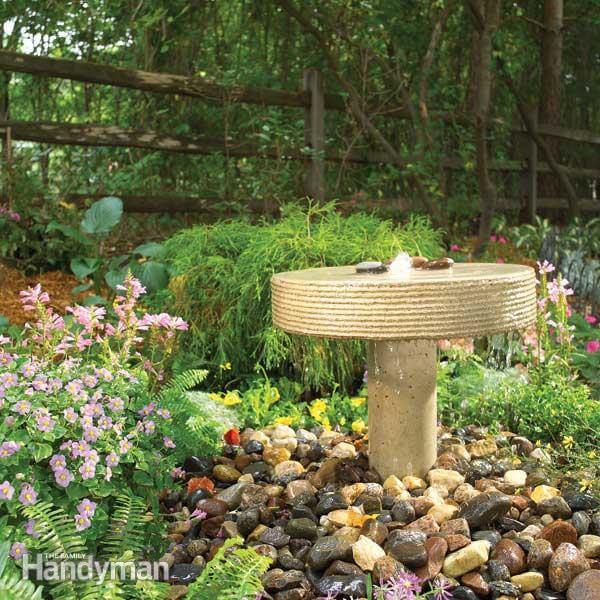 Outdoor water features like this stunning concrete garden fountain creates a calming and relaxing environment. Picture this fountain right on your patio, listening to the sounds of the trickling water while you sit back and enjoy a good book. This garden fountain not only looks impressive but is also easy to maintain with its sturdy foundation and durable concrete base.
11. Super Clever DIY Cement Project with Hands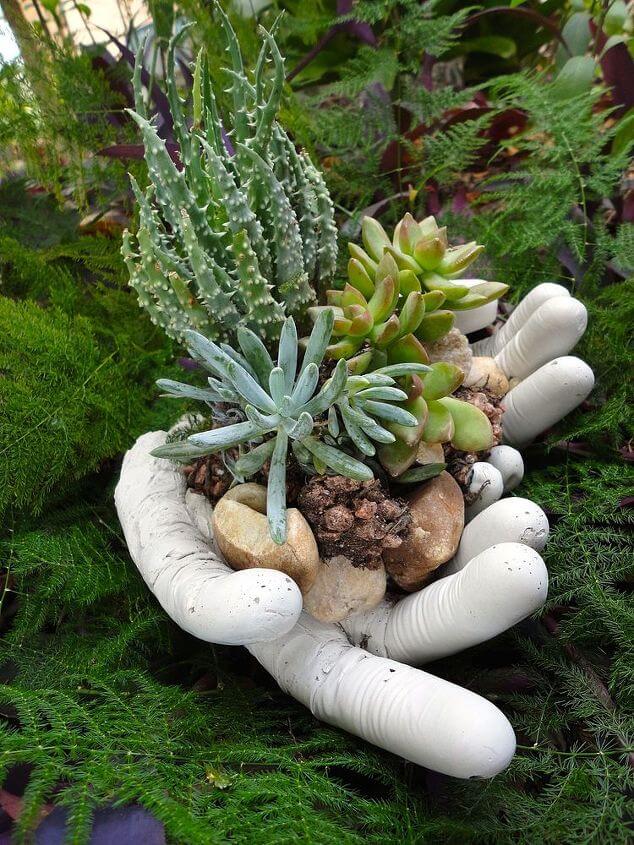 This is such a fun addition to your outdoor garden area. With just a few materials, you can make these clever concrete planter hands in no time. These hands could also serve a variety of purposes. Use them to hold succulents or other flowers or even your keys and other small accessories.
12. Concrete Fountain or Bird Bath with Leaf Imprints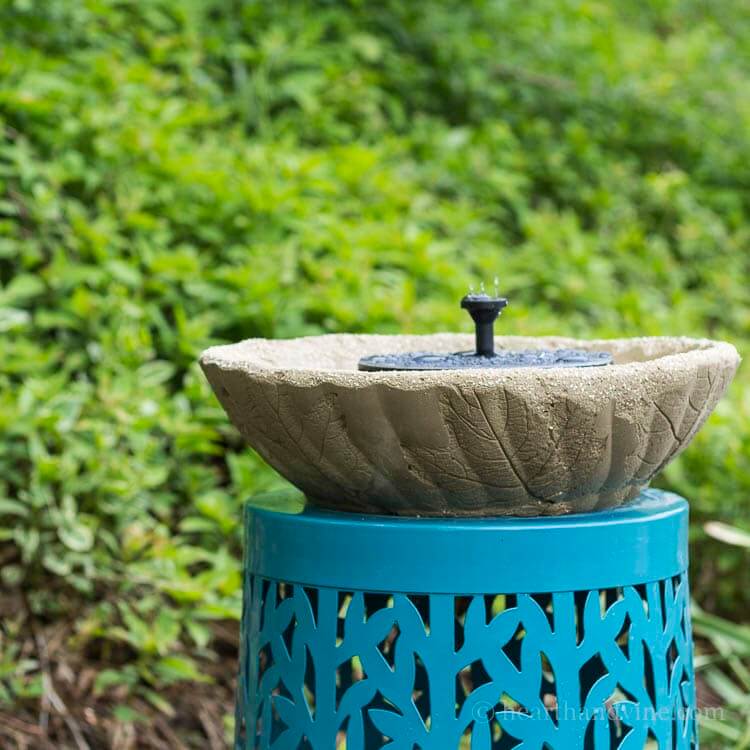 Create a calming and relaxing environment with this fountain that could also serve as a bird bath. The leaf imprints on the concrete fixture adds a creative touch and really ties in the whole nature scene quite well. What a wonderful way to relax in your backyard hearing the sound of water and bird watching to pass the time.
13. Fun and Easy DIY Concrete Planter Vases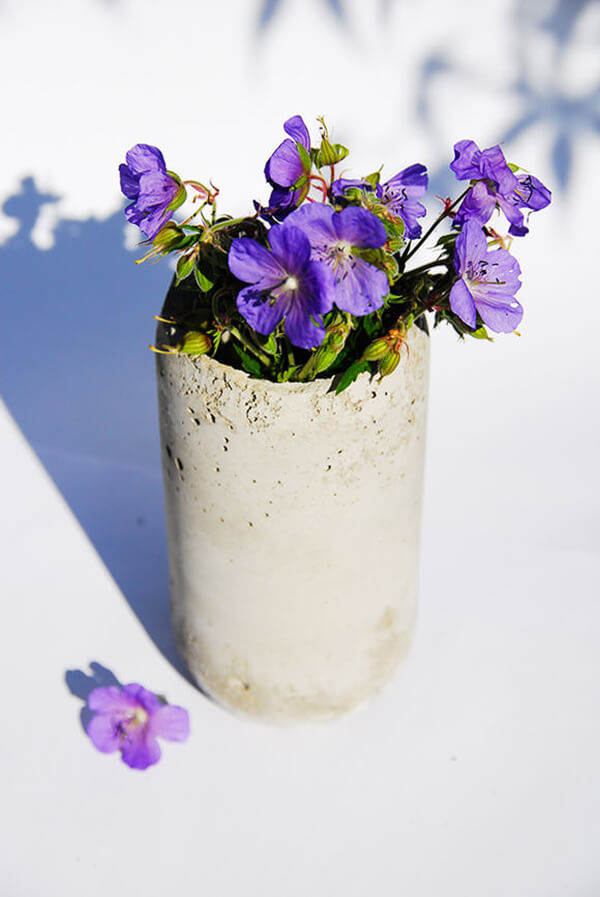 These versatile and creative concrete planter vases can be made in under 30 minutes! With a few materials you most likely already have around the house and concrete mix, you can create your own stylish DIY cement planters with ease. These would look great on display in pairs in varying heights and sizes.
14. Make Your Own Garden Millstones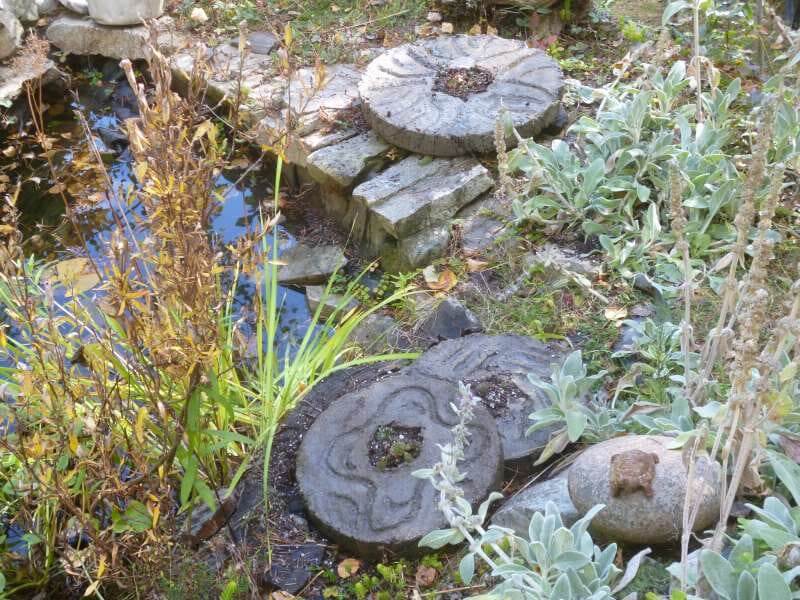 Millstones were once used for grinding wheat and other grains. They have an antique look that also makes the perfect accessory to your outdoor space. You can make your own garden millstone out of cement and molds. You can get creative with this product keeping the cement smooth or making imprints for a style all your own.
15. Build Your Own Outdoor Tables with Concrete Pavers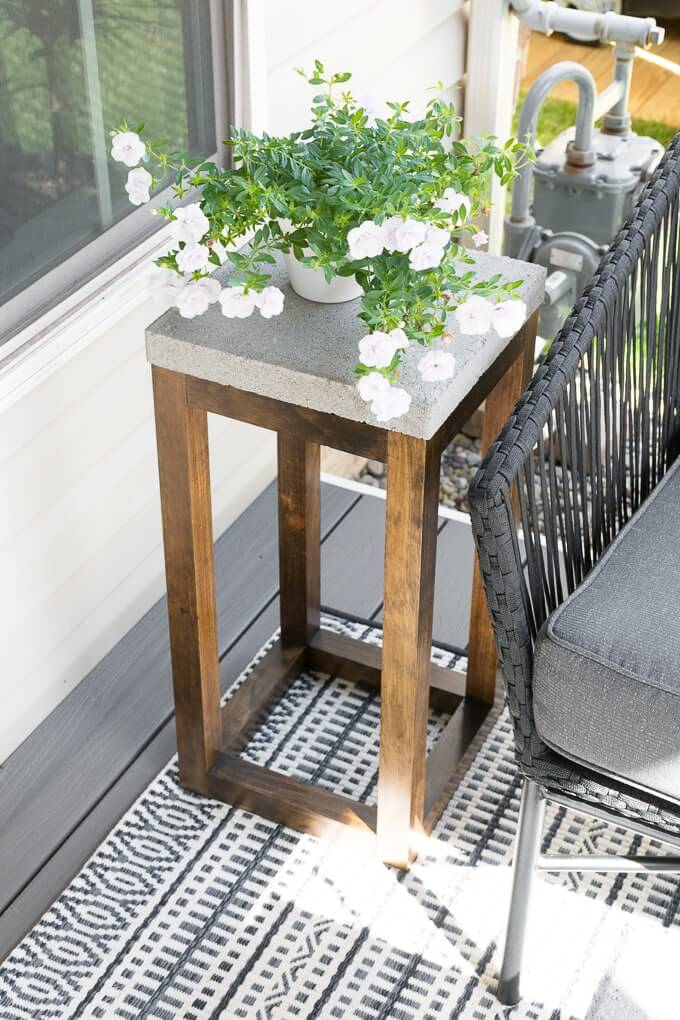 Let's face it, outdoor furniture can be pricey. Building your own is an easy way to save money and create beautiful pieces that are special and tell a story. Build your table any height you'd like and paint the wood any color you choose. Top it with a basic concrete paver and your table is ready for outdoor entertaining.
16. Upcycle a Rubber Doormat into a Concrete Masterpiece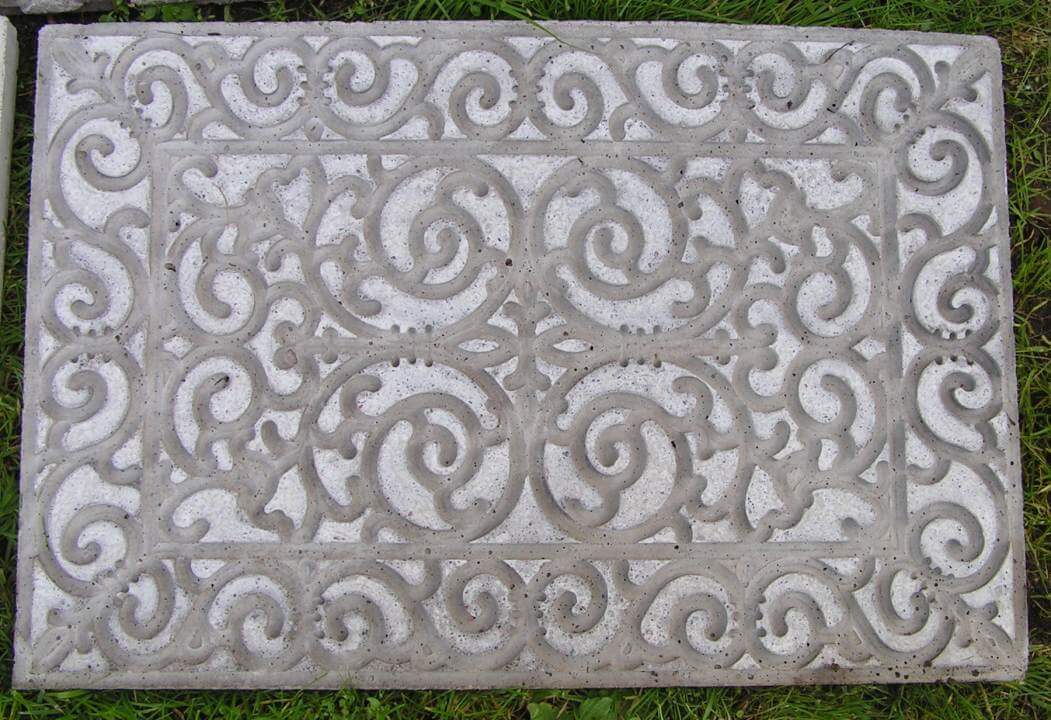 If you have an old rubber doormat that you're looking to upgrade to a beautiful, concrete masterpiece, you'll want to consider this DIY option. Use your rubber doormat as a frame and concrete to pour inside. With a few other tools, you'll soon have a stunning (and sturdy) masterpiece that you can use as stepping stones to enhance your outdoor space.
17. DIY Concrete Planter Vase for Outdoor Décor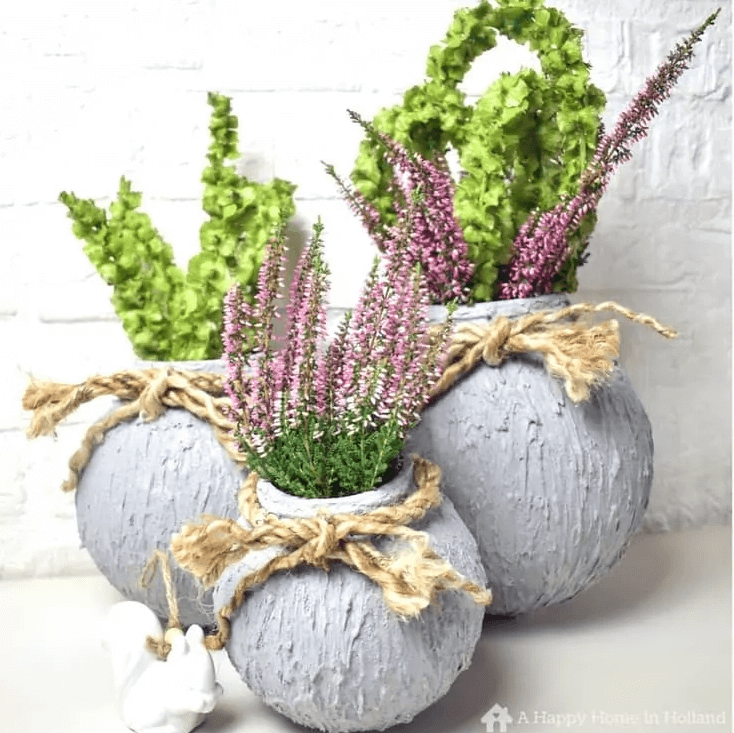 Unlike the traditional tall planter vase, this unique concrete ball vase is the perfect accessory for your home. Display all kinds of greenery from succulent, flowers, ferns and more inside your new unique cement ball vase. Place them in your garden, on an end table with your outdoor furniture, or even displayed on the front porch for added curb appeal.
Our Favorite Outdoor Decorations to buy on Amazon