We've collected some of the best DIY cheerful porch decor ideas to help you design your front porch this season. Each of these charming porch scenes is full of bright colors, thoughtful accents, and brilliant floral blooms. Porch swings make an excellent place to relax and rock the afternoon away. Make sure yours is equipped with a fun throw pillow that has a bold pattern or image. You can also try leaning back into a classic wicker chair; pay attention to the color and material of your seats and match those tones in the rest of your design. Regardless of your choice in porch seating, place a tall bistro table nearby so that you have somewhere to set your favorite summer beverage.
24 DIY Cheerful Porch Decor Ideas You Must Try this Season

Many of these porch scenes feature upcycled items that have been reimagined with a coat of paint or whitewash. Use pale tones to help these items blend into your decor, or paint them in a bold color to grab interest and attention. Classic desks and dressers can easily become the base for your next exciting floral display.
This summer sees a strong black and white theme. Try painting your porch in these neutral yet contrasting shades; you can also find pillows, throw blankets, and rugs with exciting black and white patterns. If you choose to use these busy designs, complement them with simple furniture and colorful accessories. The easiest way to add color to your porch is with a few of your favorite potted plants. Find bright or decorative planters to bring the greenery into your existing design. Choose white flowers for a classic cheerful look, or go with colorful blossoms that match your porch accessories.
Fruity and citrus motifs are another great way to announce that summer is here. These fun images inspire you to use bright and warm shades of pink, orange, and yellow. Try theming your porch around strawberries, watermelons, lemons, or another delicious summer treat. Celebrate the success of your design by mixing a large pitcher of tangy strawberry lemonade. The summer months tend to go by quickly; create a porch environment where you'll want to spend as much time as possible. There's nothing quite like enjoying the summer sunshine in a light and a comfortable outdoor chair. Don't forget to include extra seats so that friends and family can join in your relaxation.
1. Sweet and Simple Watermelon Welcome Mat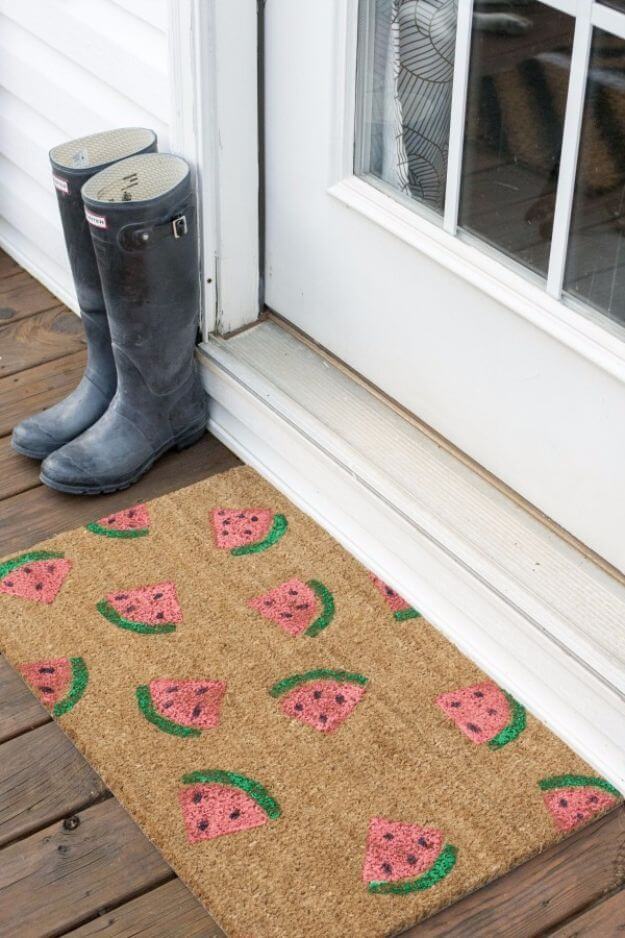 This hand-printed mat is an adorable way to announce that summer is here. The watermelon slices are bright and playful against the organic color of the welcome mat. The simplicity of this design is the secret to its success; the watermelon slices provide plenty of interest without overwhelming the viewer. Display this mat on its own, or accentuate the pink and green with matching porch furniture and accessories. If watermelon isn't your favorite fruit, try designing with oranges, flowers, or other summer-themed motifs. The simple pattern and rough surface will help catch the mud, sand, and other messes that summer tends to create.
2. Bright and Cheerful Hand-Painted Porch Sign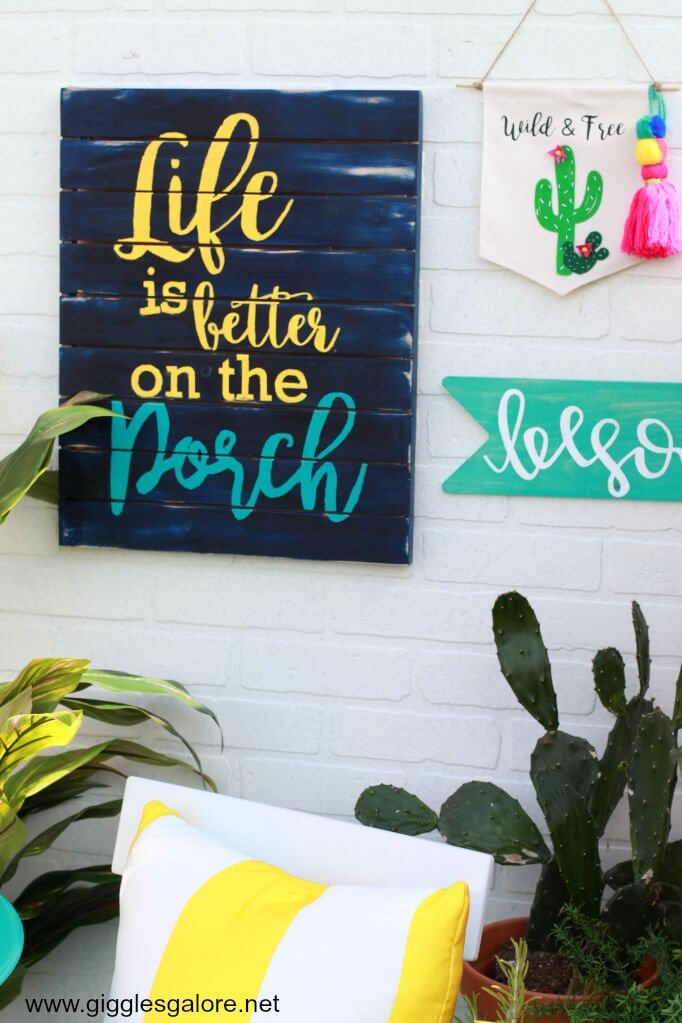 This porch sign expresses the artist's love of their favorite hangout space. Notice the combination of print and cursive lettering to create a great piece of visual word art. The bright yellow text stands out against the dark background and really makes the words pop. The rough, hand-painted look of the sign gives it a distinct DIY charm that you could never find in a store. Cool teal, sunshine yellow, and classic navy are distinctly summery colors that are complemented by the other pieces of porch decor. Your sign might announce your love for porches, summer, family, or your beautiful home.
3. Lemon Yellow Summer Welcome Mat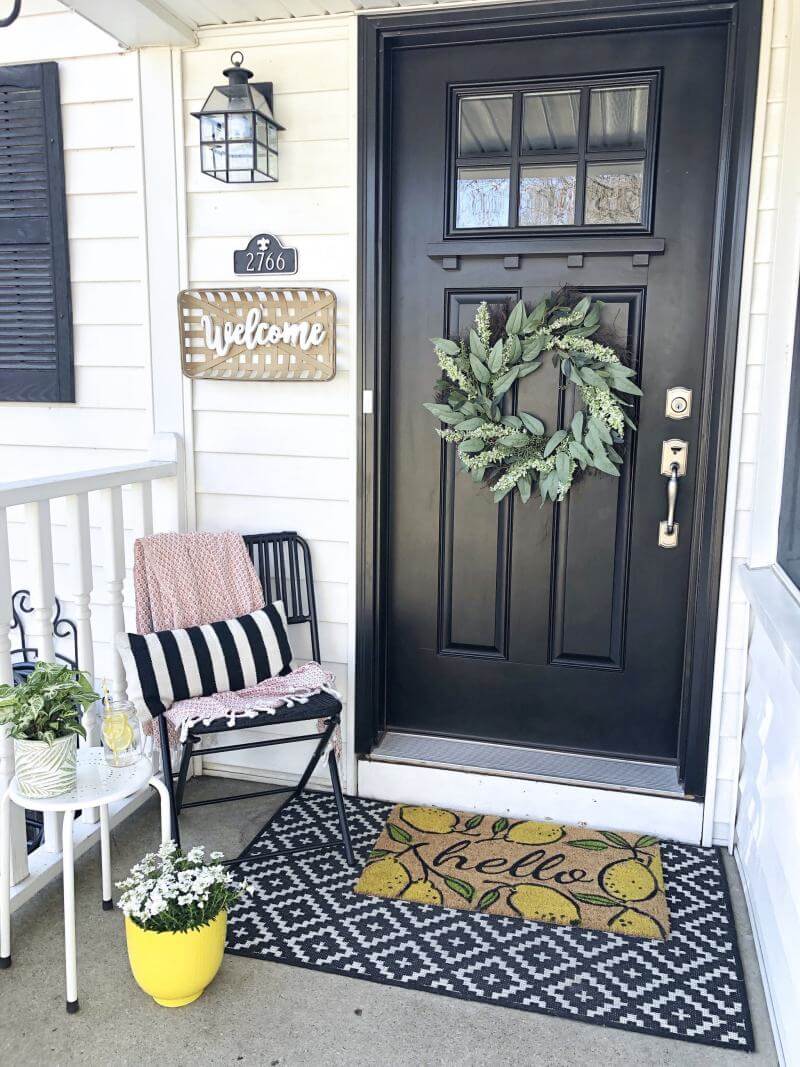 Summer is a great time for sunshine and lemonade. This porch design makes the most out of a tiny space with cute furniture and bright accent pieces. Notice that two welcome mats are layered on top of each other; the black and white rug matches the painted door, while the lemons on the mat work with the bright yellow flower pot. The design takes multiple small elements and ties them together with common colors and themes. This beautiful little space is the perfect place to sit back with a tall glass of something cold, fruity, and sweet.
4. Colorful and Decorative Zoned Summer Seating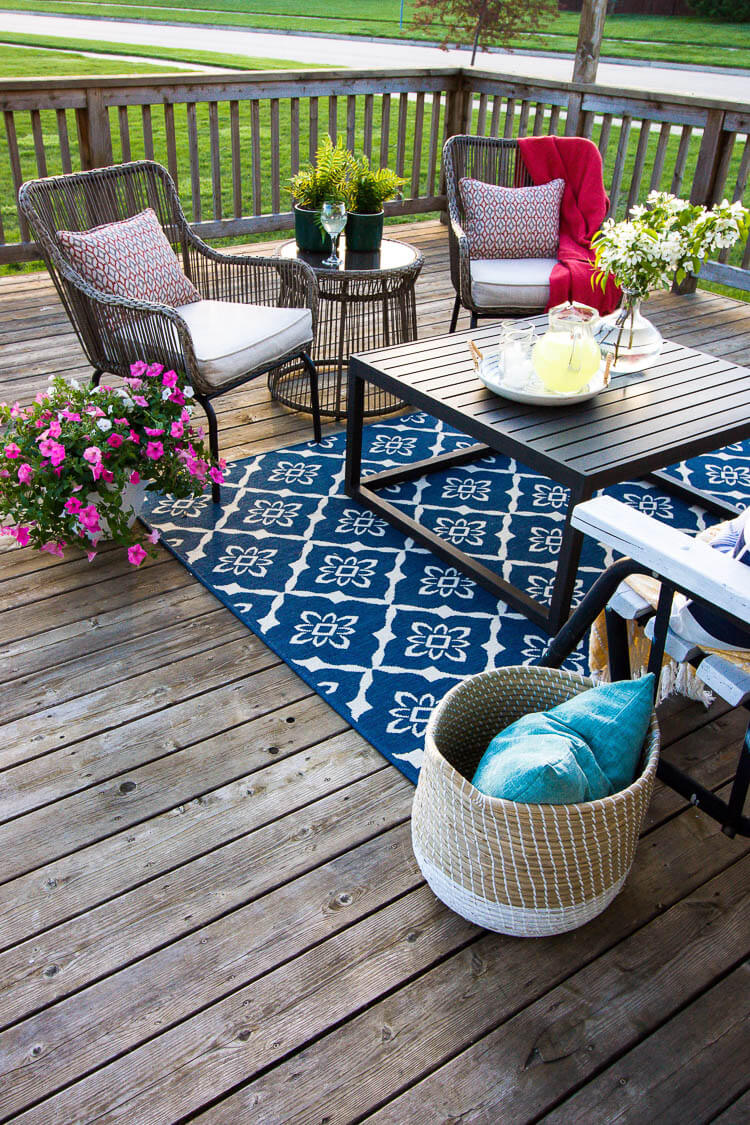 This beautiful blue rug separates a comfortable seating zone from the rest of the deck. Cheerful wicker chairs and a matching side table look like a great place to hide from the summer heat. The decorative pillows showcase a red and blue pattern that fits with the rug and the bright red throw blanket. This seating area floats in the center of the deck, away from the troubles of life and the heat of the season. To complete the feeling of a summer oasis, several well-tended flowers have been carefully placed across this scene.
5. Charming Headboard Back Porch Swing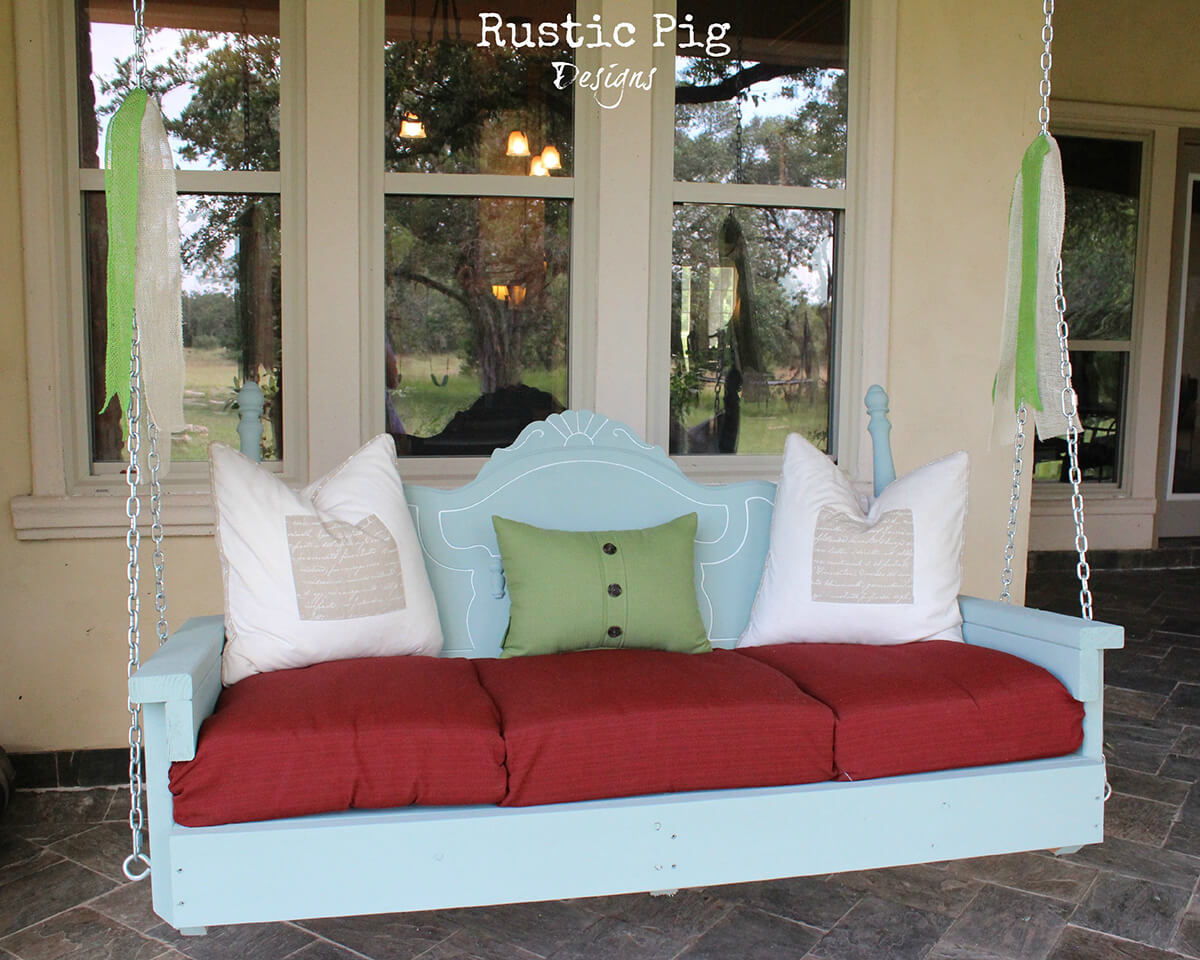 Can you believe that this clever porch swing used to be a headboard? The delicate woodwork has been given new life with this charming and playful design. Notice the white accents that really highlight the ornamental engravings on this piece; matching white ribbons pull out the color and add to the airy aesthetic. The pale paint job makes an excellent backdrop for the rich colors of the cushions and decorations. This swing would be a great place to sit back and rock away a warm summer evening with a good book and a tall glass of water.
6. Sweet Summertime Pink Door with Quip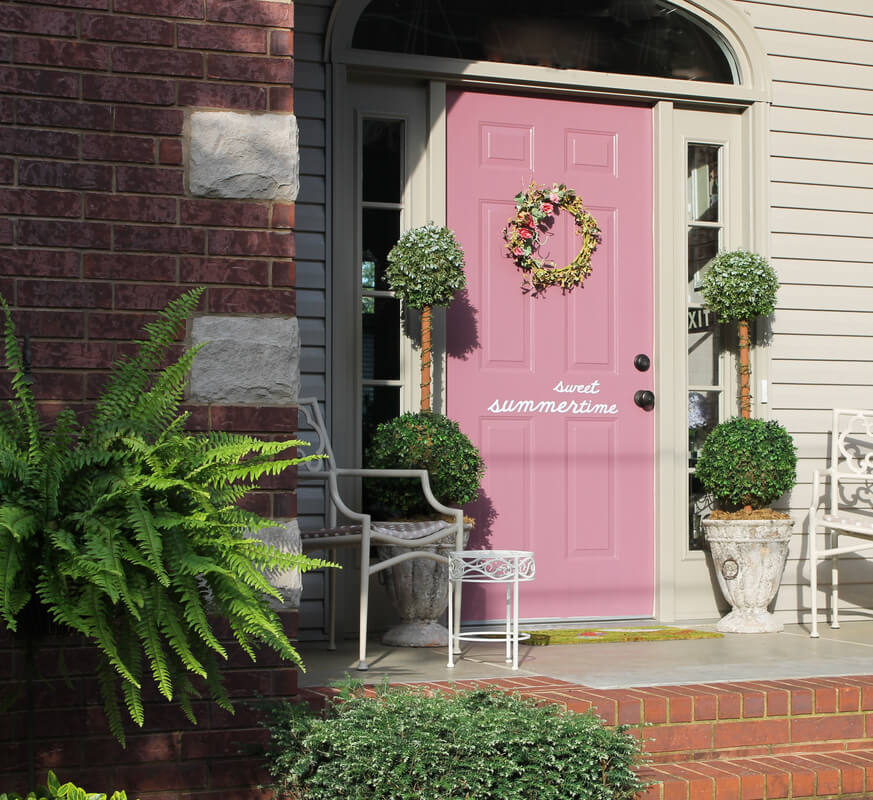 Your front door is the focal point of your porch. This playful shade of pink brings to mind flowers, butterflies, and other warm-weather delights. The bright white quip lets anyone walking by join in the seasonal celebration. Matching white furniture helps complete the airy and delicate summer scene. This door would look great on its own, but the pink floral wreath and the two tall, framing plants really bring the entire design together. This kind of front door design encourages you to treat yourself to something summery, sweet, and delicious.
7. Black and Gray Numbered Front Steps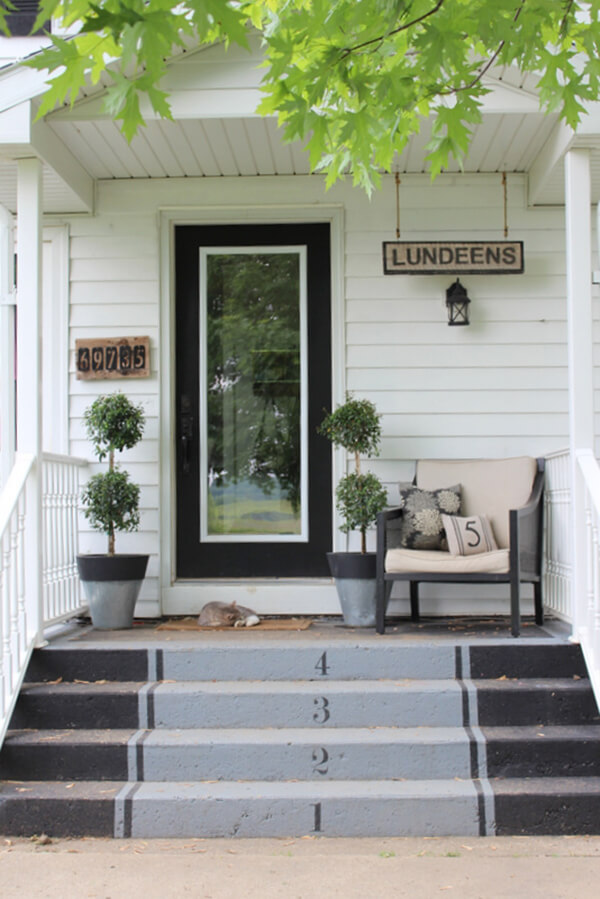 Do you ever count the steps on your way up the stairs? These steps have already been counted with an adorable custom paint job. The contrasting shades of black and gray have completely reinvigorated the previously boring concrete. The numbers lead your eye up the stairs to a set of sweet plants, a comfortable chair, and a cheeky pillow emblazoned with the number five. The door has been painted in a matching color to create a cohesive effect; the planters also have a large black stripe across the top. This design proves that even neutral tones can be used to add interest and contrast to a visual space.
8. Simple and Charming Handmade Rope Rug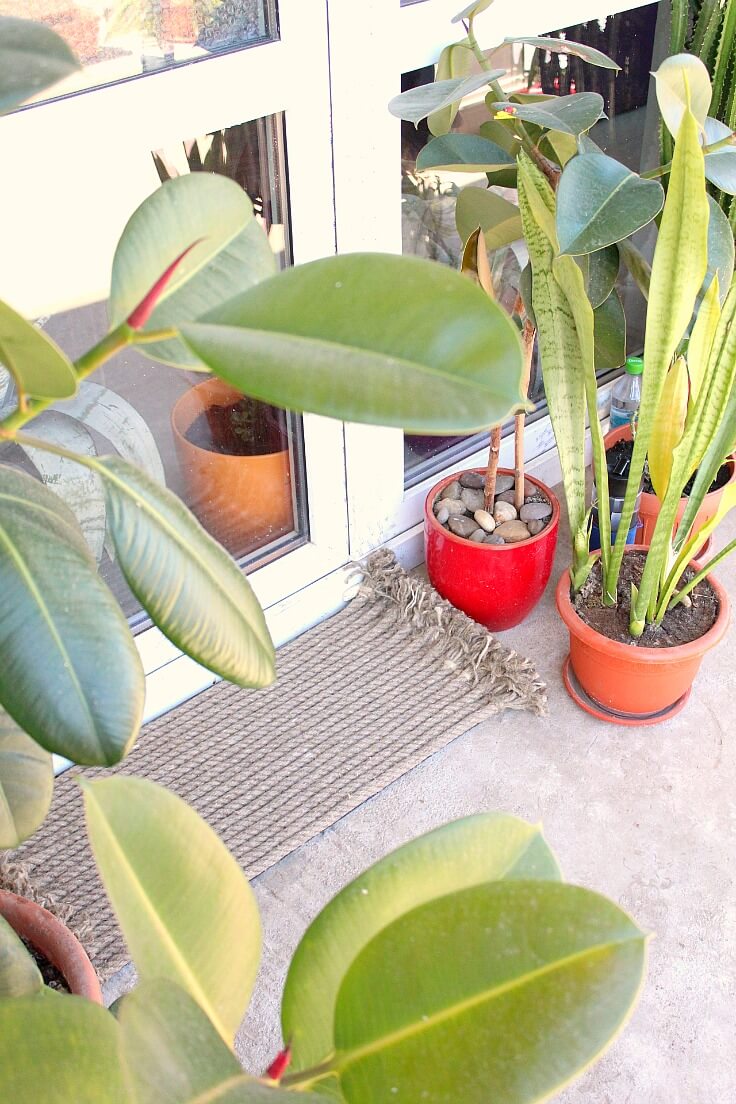 Something about rough-spun rope just fits perfectly with the summer aesthetic; it makes you think of ships, docks, and rope swings over the lake. This welcome mat is simple but absolutely charming. The frayed rope edges have become a cheerful tassel that helps the rug stand out from the natural color of the deck. The organic color of the twine looks great next to the healthy potted plants. This welcome mat is unusually slim and creates a strong line that leads your eyes to the brightly colored planters. This kind of accessory would look amazing with a nautical or tropical porch theme.
9. Creative Upcycled Porch Beverage Station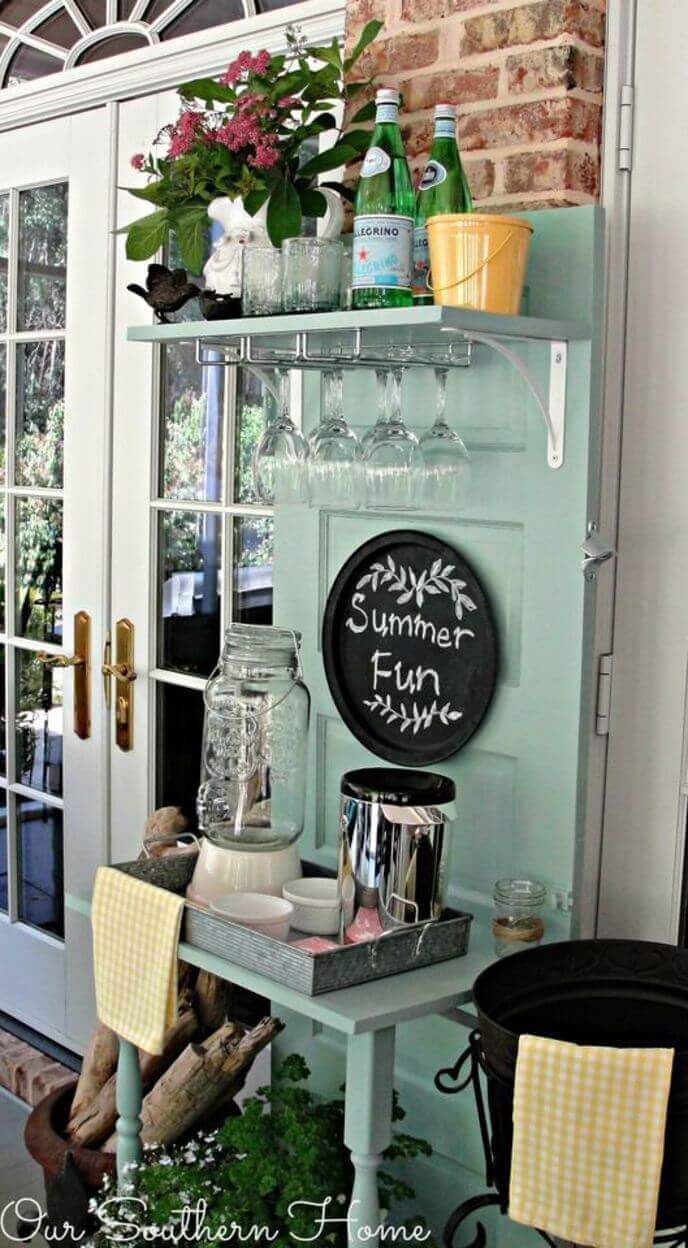 Cool drinks turn any summer day into a mini vacation. This creative beverage station has everything you need to enjoy a glass of sweet tea, lemonade, or wine without heading back inside. An upcycled door has been used as the base for this project. Wineglasses hang from the underside of the attached shelf; when not in use, they reflect light and add to the charming aesthetic. The cleverly placed chalkboard is a great place to write a cheerful quip or to remind the kids about something important. The seafoam paint job gives the entire design a calm and refreshing appearance.
10. Cute and Clever Victorian Garden Bench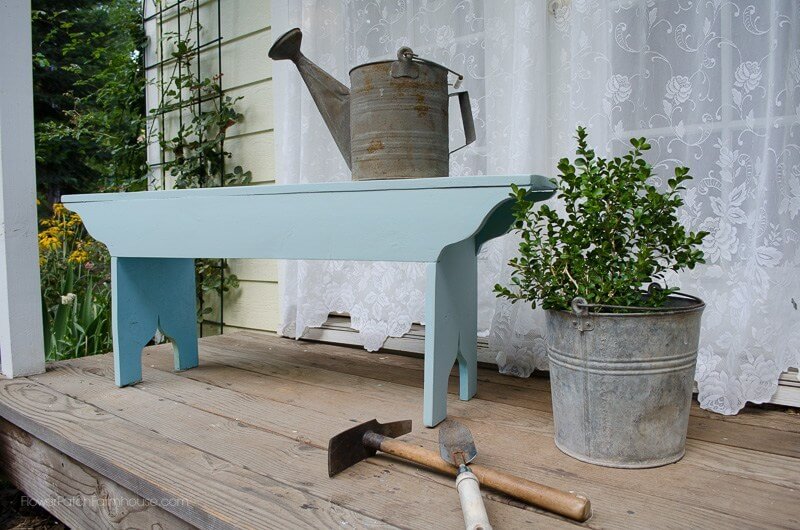 This handmade garden bench shows how much impact shape has on design. The curving bench feet create a delicate, almost petal-like silhouette. Light blue paint brings the color of the sky down next to the beautiful green plants, and the white curtain adds a breezy and cloudy effect. The owner of this porch clearly loves to garden, as evidenced by the well-loved tools and cheerful classic watering can. This bench would be a great place to set a row of potted plants or summer decorations. A simple metal planter completes this classical Victorian style that has been brought into the modern day.
11. Cheerful Citrus Summer Porch Sign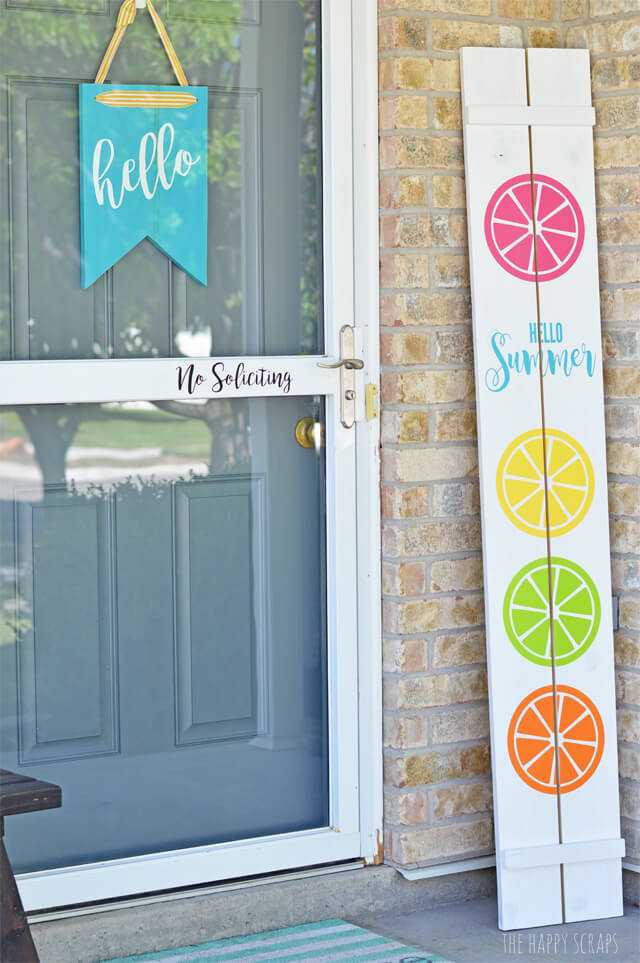 Corners are a great place to set a vibrant decoration. This tall porch sign uses a simple design to communicate a boisterous and joyful message. The bright white paint matches the trim on the glass door; in turn, the letters on this sign match the background of the sign that hangs on the door and the stripes on the welcome mat. Colorful citrus slices add excitement to this porch decoration and make a great opportunity to match with other accessories. Notice that matching fonts on both signs help ties these two decorations together into a single united theme.
12. Hanging Macrame Mason Jar Planter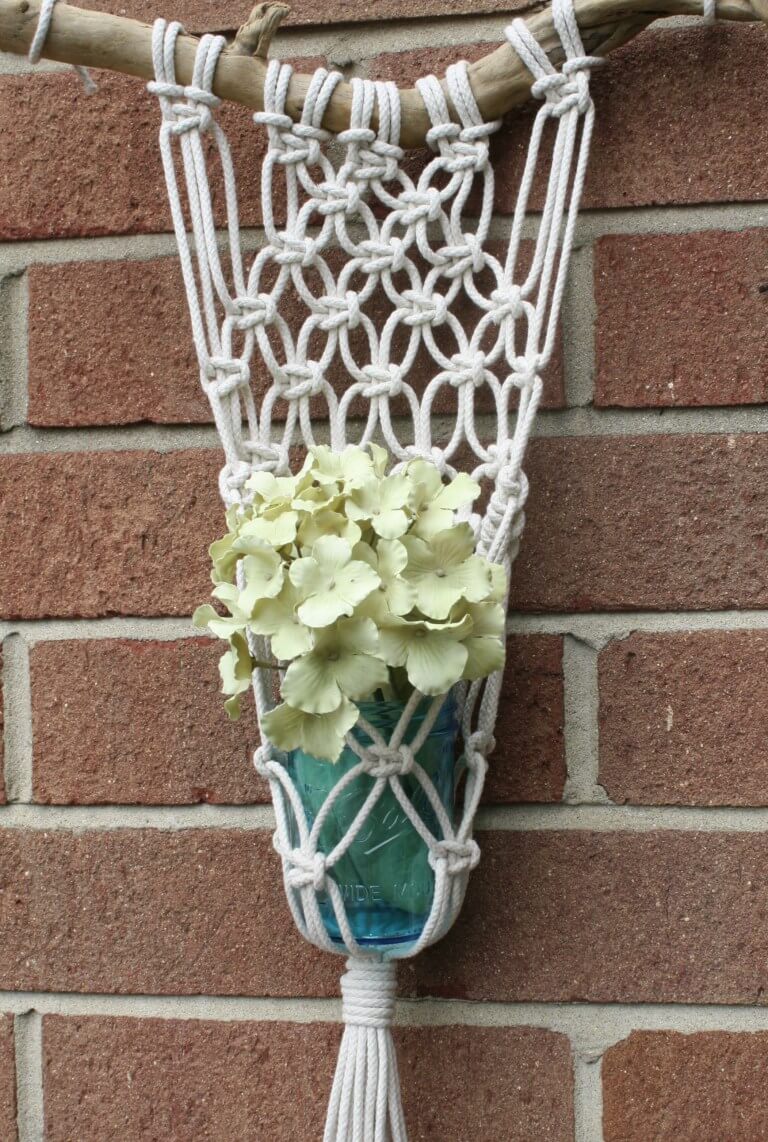 This beautiful hanging planter is a lovely way to display your favorite summer blooms. Soft white macrame rope holds a soft blue mason jar in suspension over a classic brick wall. A twisted piece of driftwood brings the feeling of a cool, winding river into the theme. The large section between the mason jar and the driftwood support displays the talented knotwork that ties this piece together. This holder could be used for a tended planter or simply as a way to display fresh-cut blooms. Although the white rope looks exceptional here, consider using your favorite bright summer color to really emphasize the spirit of the season.
13. Elegant Renovated Chandelier Hummingbird Feeder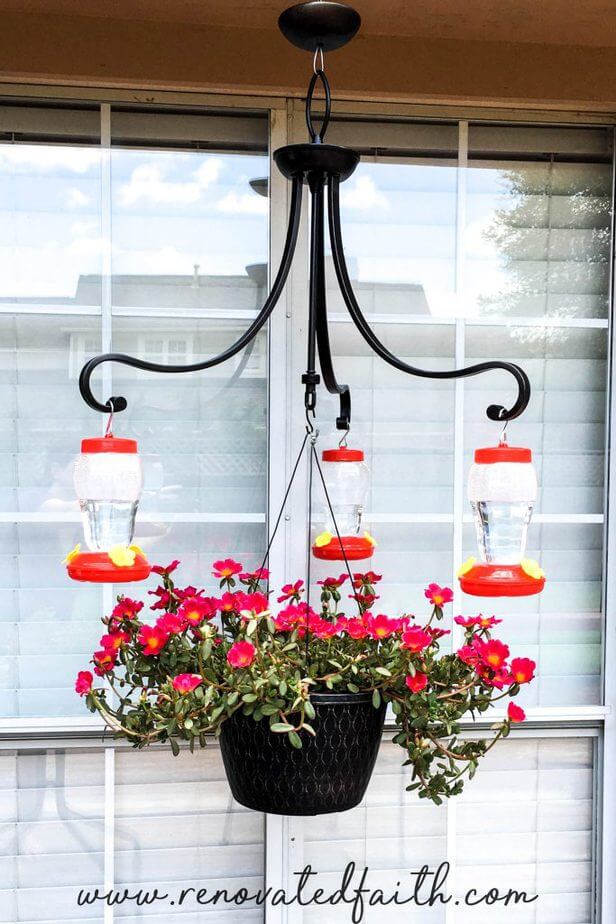 Birds are extremely active in the summer months, and one of the joys of having a porch is the chance to watch them. This gorgeous hummingbird feeder was actually made from a reclaimed chandelier. The flowing metalwork has been repurposed to hold three small feeders. A hanging flower basket adorns the center and provides a place for hummingbirds to land. This chandelier is an ornament all on its own, but the presence of hummingbirds makes for a truly beautiful sight. A decoration like this would provide countless hours of peaceful porch sitting and bird watching all summer long.
14. Tranquil Homemade Rocking Porch Swing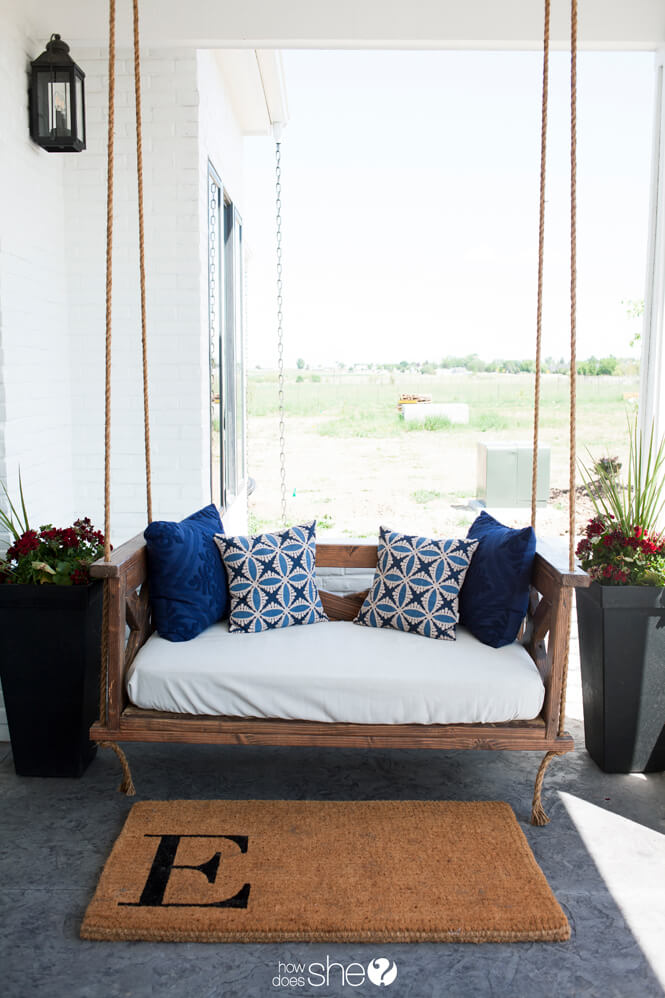 What better place to hide away than on this shady porch swing? The combination of fresh linen and natural wood makes a great backdrop for the sapphire cushions that lean casually against the backboard. A cozy mat sits on the ground to provide a place for feet to rest. Two tall planters full of ruby flowers promote a sense of elegance and refinement. This breezy, farm-inspired scene looks like a relaxing place to enjoy the view of the surrounding countryside.
15. Whitewashed and Rustic Decorative Floral Display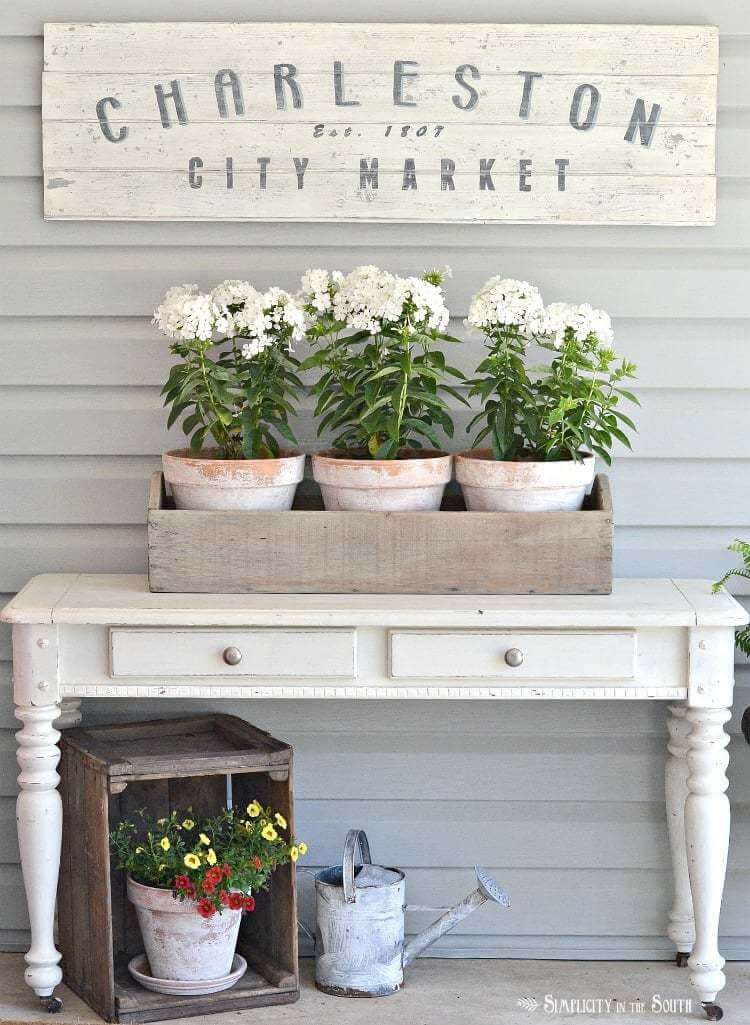 This cheerful porch design feels like it's up in the clouds. Whitewash has been used to decorate both the desk and the planters to create a strong sense of visual continuity. A classic market sign hanging on the wall brings a rustic and wistful tone. Gorgeous white flowers adorn the top of the desk while colorful blooms peek out from underneath it. Notice the strong sense of horizontal movement from the desk, the painted planks of the sign, and the slats on the wall; this makes the slight angle of a crate-turned-cubby even more visually appealing.
16. Lavender and Wicker Porch with Hanging Lantern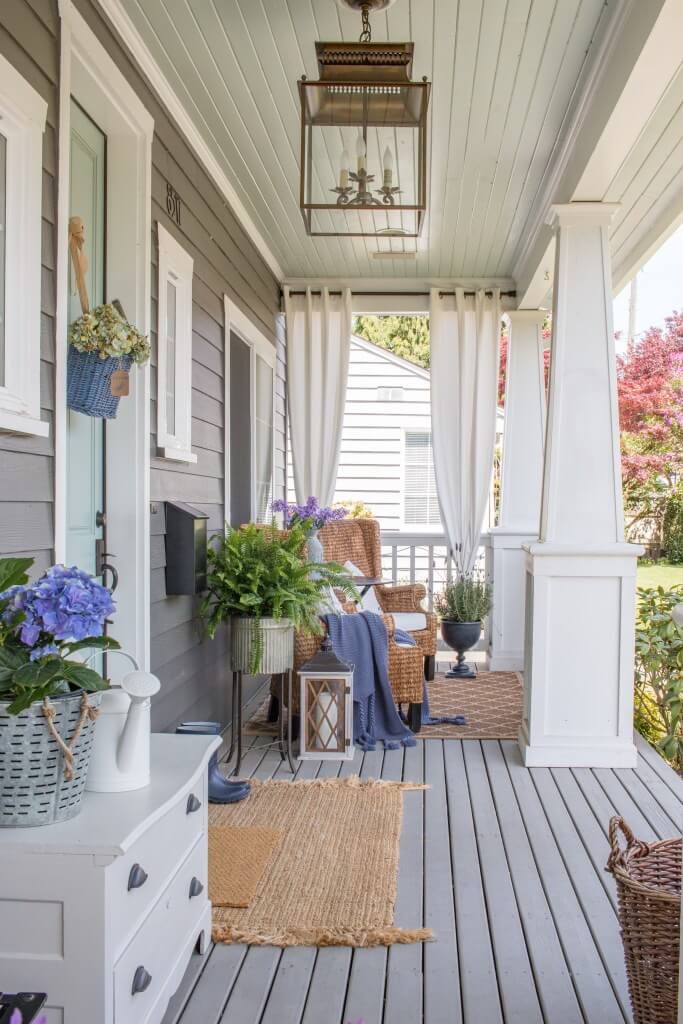 This porch design uses a clever combination of texture and color to create an enchanting aesthetic. Shades of lavender and periwinkle are present in the decorations, the flowers, and the casual throw blanket. Wicker chairs and baskets go perfectly with a soft rope mat and an earthy porch rug. In the daytime, sunlight plays off the white pillars and curtains to create a light and airy space. At night, the large hanging chandelier illuminates the space while a small candle lantern provides a comforting glow. This breezy and cozy space is perfect for a mellow summer evening.
17. Bright and Playful Patterened Oilcloth Bunting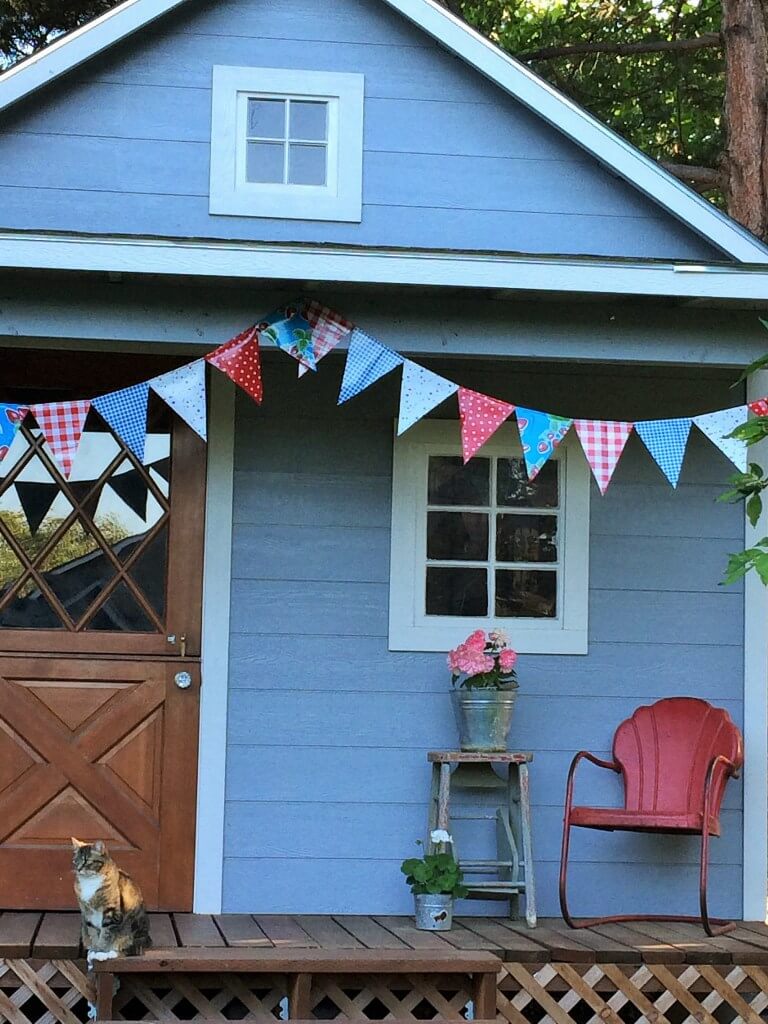 The shades of red, white, and blue in this cheerful garland are decidedly summery. Each fluttering triangle has a different playful pattern; some feature strawberries or stars, while others are done in blue or red gingham. These colors are mirrored by the rich blue paint of the house and the deep red of the rocking chair. Tin planters add to the classic and rustic appearance of this calm porch scene. The best part of this bunting is that it's made of waterproof oilcloth; the kids can play in the sprinkler all summer long without damaging the porch decorations.
18. Sunny Stripes in Black and White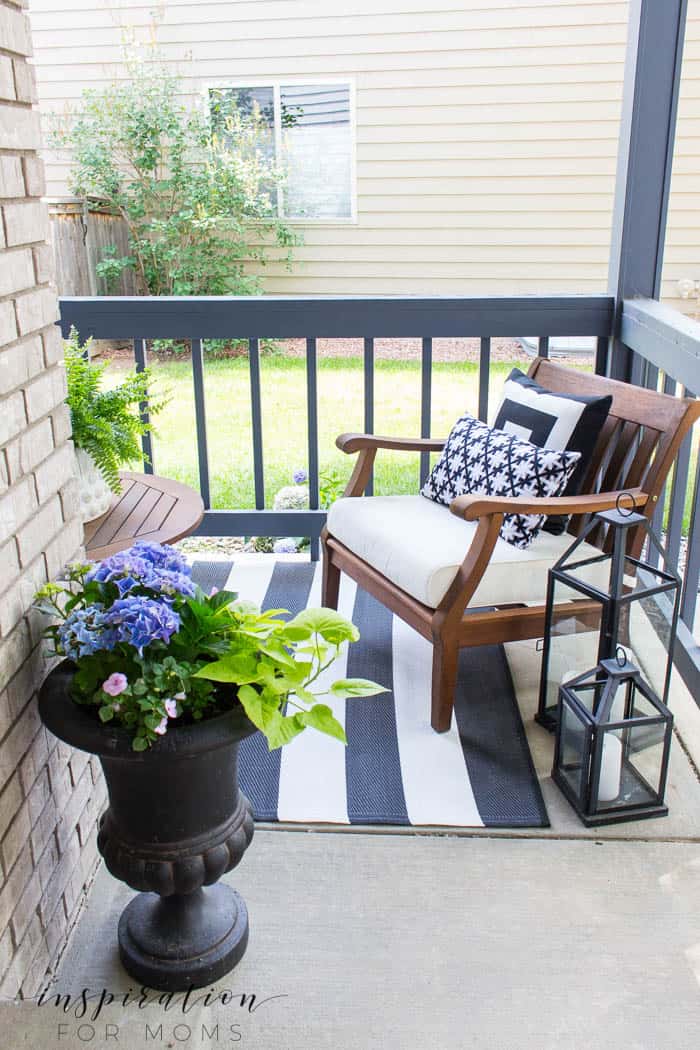 The black and white stripes of this rug line up almost perfectly with the spaces in the porch railing. The result is a smooth and sunny visual effect. Black and white throw pillows and matching black lanterns help accentuate the theme; even the planter is in a matching shade of white. The color in this scene is taken from the vibrant plants and grassy yard. The warm wooden chair stands out against this contrasting backdrop and looks exceptionally inviting. Something about these bold stripes and patterns suggests a beachy and joyful summer afternoon.
19. Cute Cubby Crate Porchside Shelves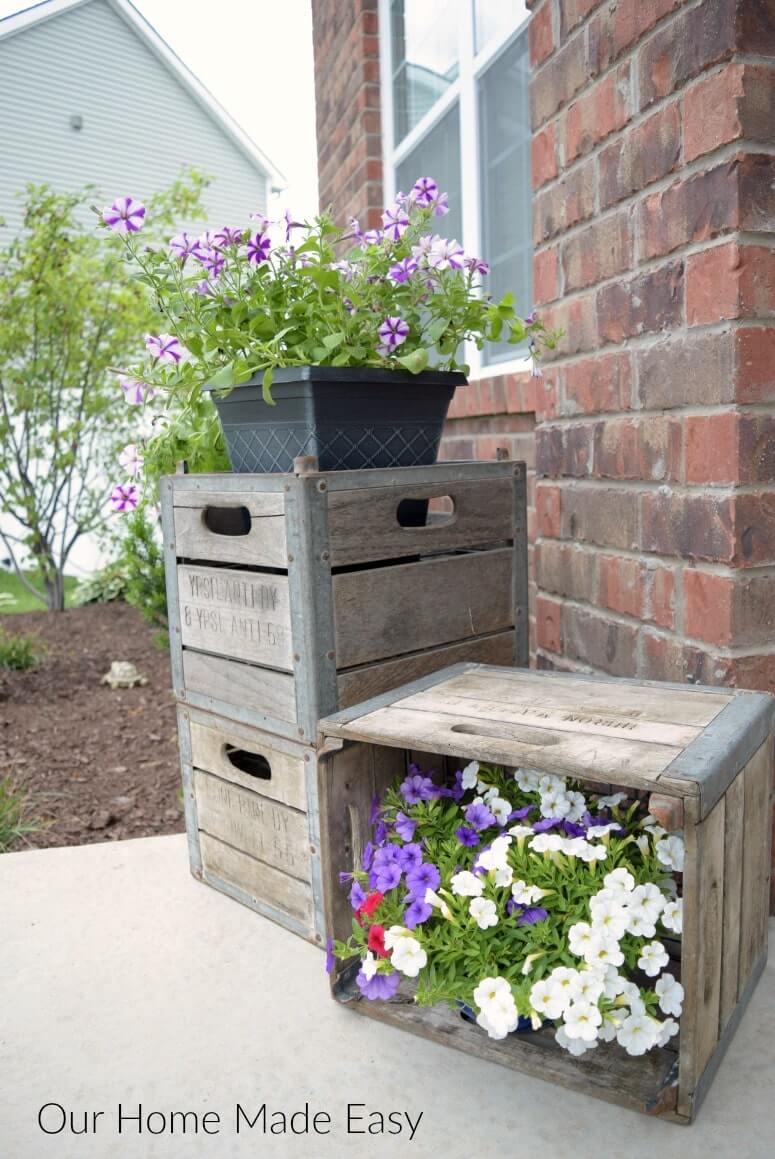 The crate-as-cubby is a porch decor classic that works for any season of the year. The three crates in this particular set are printed with an old shipping logo for even more classic and sentimental charm. The weathered texture of the wood makes a nice neutral backdrop for the bright and brilliant floral blooms. The metal brackets would look excellent next to a tin planter or decoration. These crates have been placed at an angle against the wall to make the space feel more open and inviting. You could use a similar set of cubbies to hold lanterns, decorative pillows, and other porch-sitting necessities.
20. Brilliant Pink Matching Porch Setup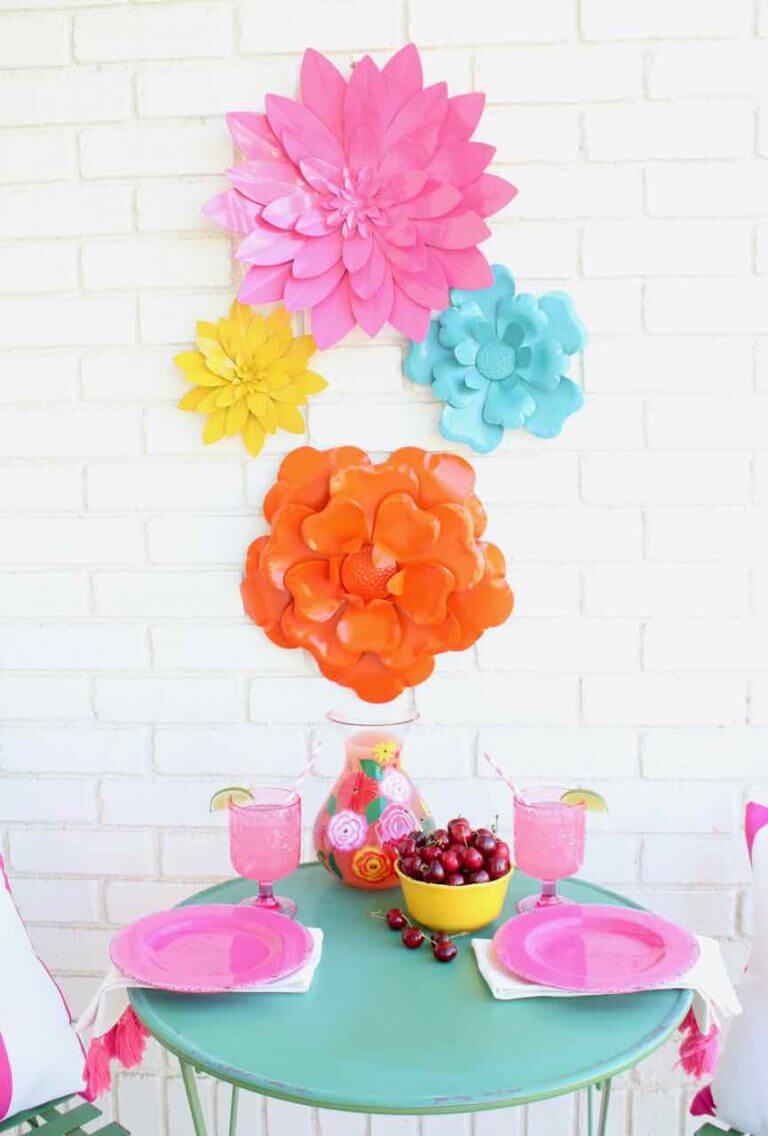 Brilliant blooms and pink dishes make this scene unavoidably summery. The ceramic flowers hanging on the wall are exciting and attention-grabbing. Pink throw pillows, napkins, plates, and glasses pull the theme together; a bowl of cherries and a pitcher of juice on the table give this porch a decidedly refreshing feel. Against these bright and colorful decorations, the green table almost looks like a leaf plant supporting the entire blossoming structure.
21. Repurposed Hanging Triple Succulent Planter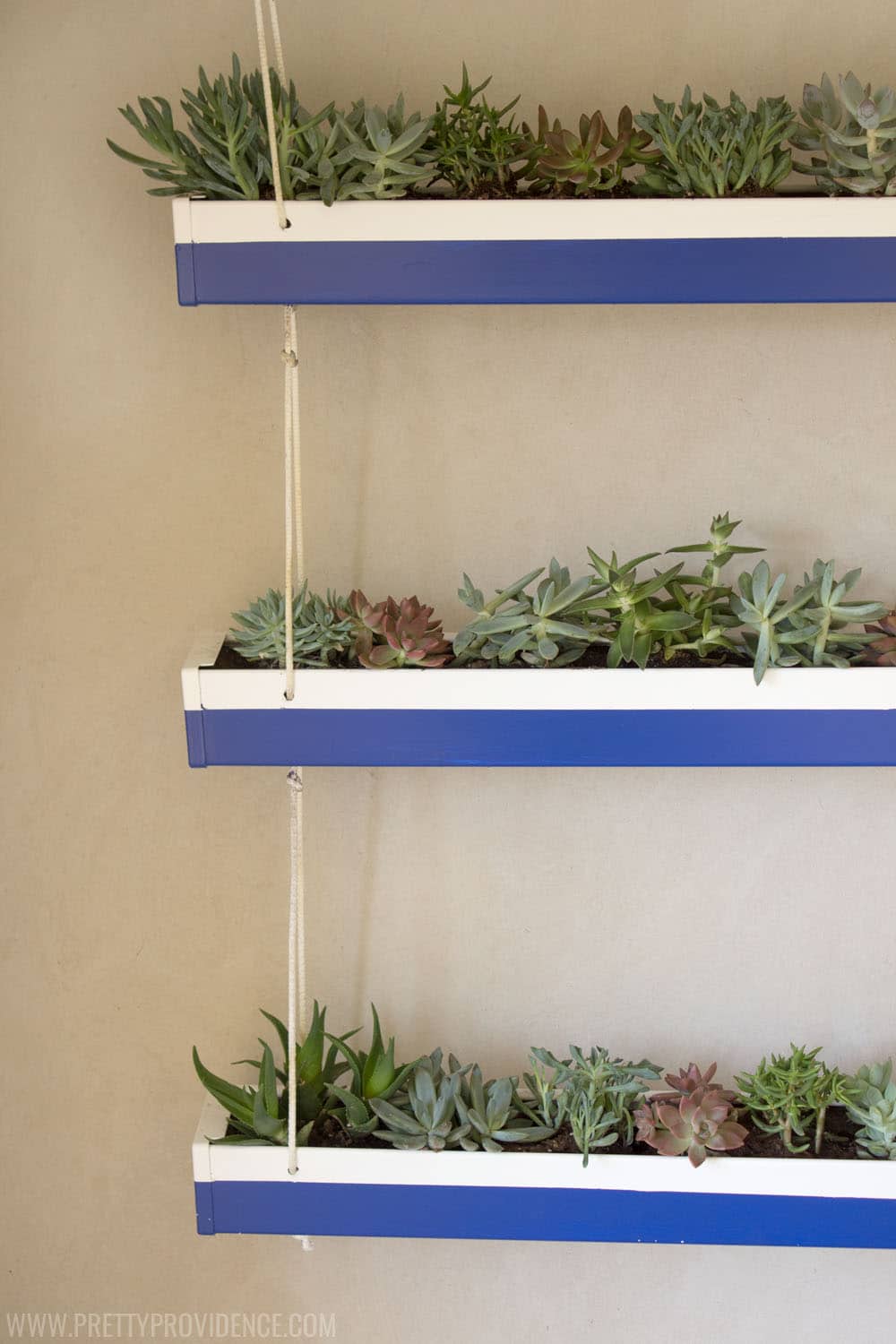 Nautical colors instantly announce a summer theme; the blue and white stripes on these planters are no exception. These hanging planters are actually made from upcycled rain gutters. A little twine suspends them from the ceiling to create a unique decorative silhouette. These planters are shallow, and although there might not be enough space for flowers, there is plenty of room for rows of lively succulents to take root. These gorgeous plants will thrive in the summer heat; when the weather cools down, the hanging planter can be moved indoors to keep the plants alive until next year.
22. Bright and Abstract Outdoor Hanging Wall Art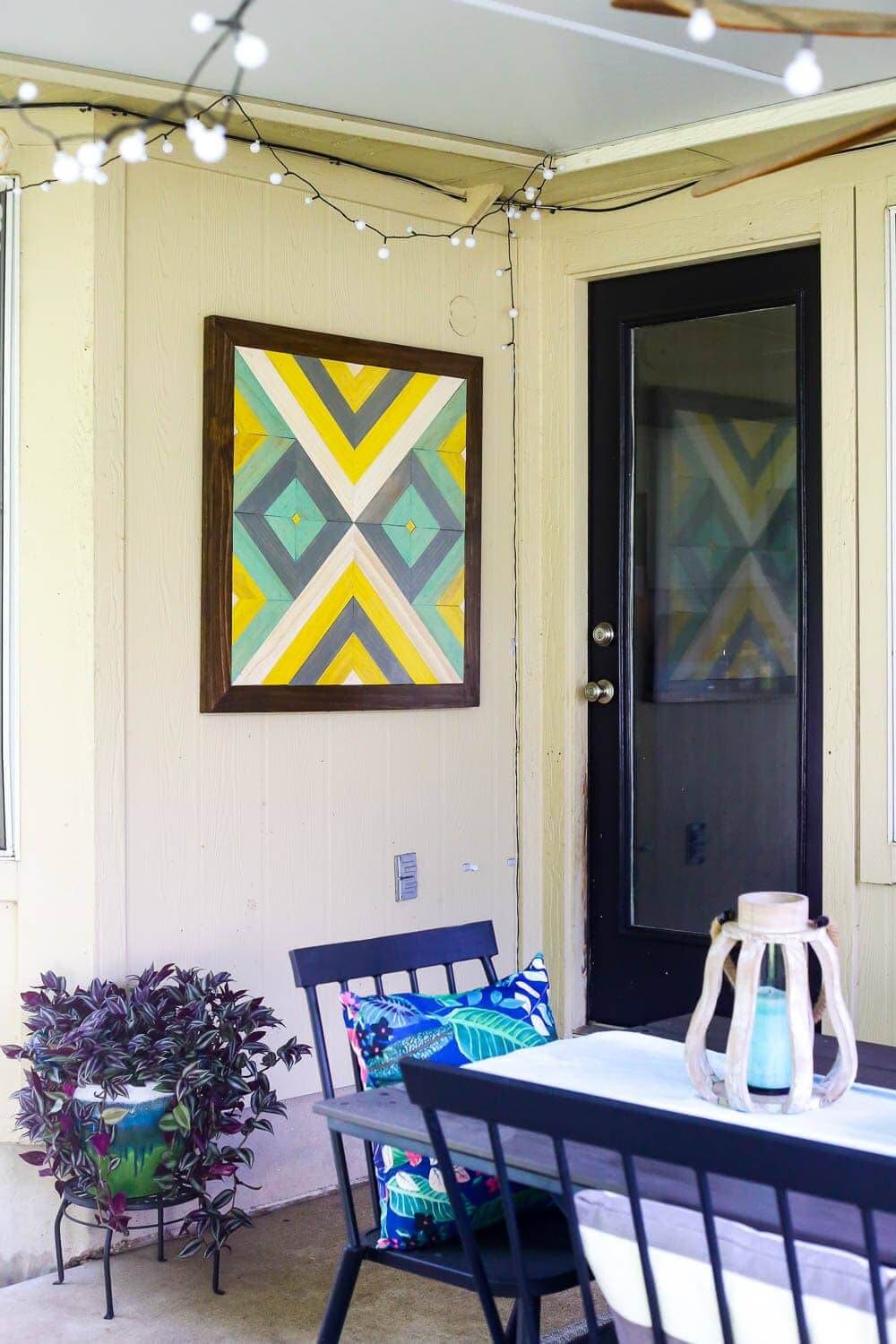 This gorgeous piece of wall art isn't a painting; it's actually a geometric wooden mural. Each colorful block adds line and texture to the design. The bright yellows are accompanied by watery shades of seafoam and navy blue. The blue tones are mimicked in the porch furniture and the purple leaves of the plant; in a sea of cool colors, the warm wall art immediately stands out. A string of lights hung along the ceiling creates an ambient sense of comfort and hospitality. The glass door reflects the wall art for an extra bit of color and shine.
23. Soft Hanging Outdoor Hammock Chair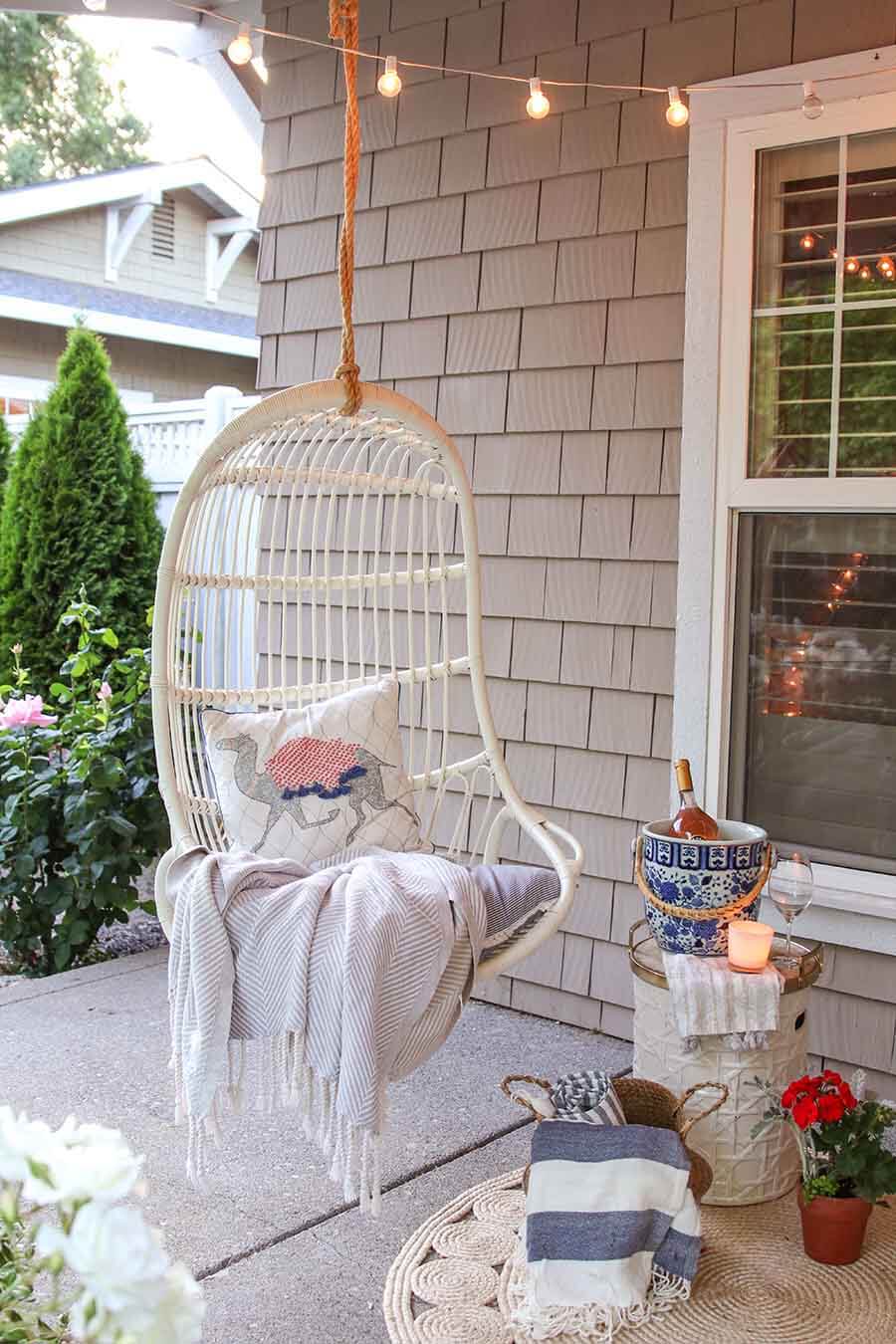 This swinging chair looks like a great place to take an afternoon nap. The airy, hammock-style design will stay cool on even the hottest day. The entire chair hangs from a single rope like a cocoon swaying in the summer breeze. String lights and a nearby bottle of wine encourage a relaxed and joyful atmosphere. The woven circular rug offers an interesting but muted visual effect that goes well with the round table and the curve of the chair. The camel on the throw pillow is a fun and personal touch; consider using your own iconic motif to create a similarly thematic scene.
24. Pink Monstera Plant Printed Doormat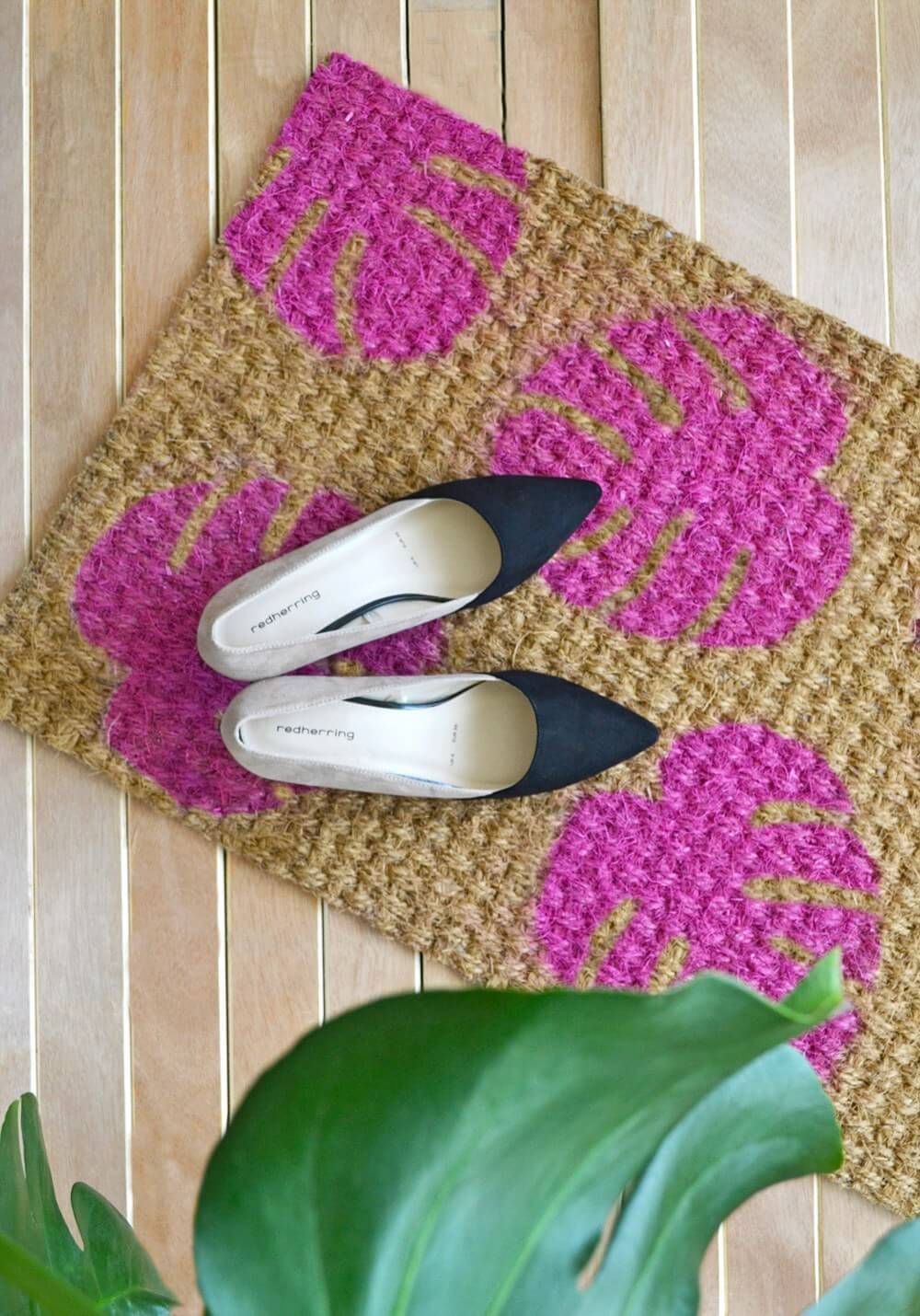 This woven doormat is printed with a design that mimics the leaves from a tropical Monstera plant. The plant itself peeks in from the edge of the image; together, plant and tribute make an adorable and fashionable display. In the summer months, this cheerful kind of pattern suggests playful days and exhausted but relaxing evenings. This shade of hot pink is both bold and feminine and speaks strongly of the owner's personality. Try using the brightest version of your favorite color for a similarly exciting porch accessory.
A summer porch design is all about creating a relaxing and inviting scene. Make a pleasant place to sit with your friends and family by including plenty of comfortable chairs and soft throw pillows. Use string lights and lanterns to foster an evening atmosphere; sit back and watch the sun go down on yet another peaceful summer day.
Summer designs all use bright colors and bold patterns. Whitewash makes a great base for any creative DIY cheerful porch decor ideas; use the light background to showcase your favorite colorful images and motifs. Remember to match colors between your rugs, throw pillows, flowers, and other porch accessories. Use a combination of subtle tones and brilliant accents to create a sense of visual continuity.
Always make sure to include a table for cold beverages; it is summer, after all. A decorative ice chest will let you pour another glass without needing to go back inside. Choose glassware that matches your theme for a truly cultivated look. Summer decor lets you combine appearance with utility to create your perfect outdoor environment.
Ultimately, choose porch decorations that are both beautiful and sentimental. Some of the best moments happen while sitting on the porch; as you decorate, think about the backdrop you are creating for those treasured family memories.
Our Favorite Front Door Flower Pots to buy on Amazon