Now that spring is in full bloom and summer is just around the corner, there's no better way to take in the sun than on a bespoke porch swing. Porch swings have played a cherished part in idyllic Americana, and now more than ever even the stylishly discerning are making room for these classic pieces.
Gorgeous Porches: 21 Summery DIY Swing Bed Ideas

Unlike many larger design fixtures, you don't need to break the bank to enjoy your own bit of nouveau nostalgia; there's a variety of charmingly chic DIY hanging porch beds and how-to guides at your fingertips. Whatever your space and personal style, a hanging swing is a perfect addition to your home.
Listed below are 21 fabulous porch swing ideas, ranging from rustic to effortlessly elegant. Utilizing materials such as antique doors, headboards, and even wooden crates, these porch swings are as unique as you are and sure to stop guests alike in their tracks. Whichever design you ultimately choose, break out the lemonade pitcher and prepare to relax the updated old-timey way.
1. Funky Nantucket Colorful Porch Swing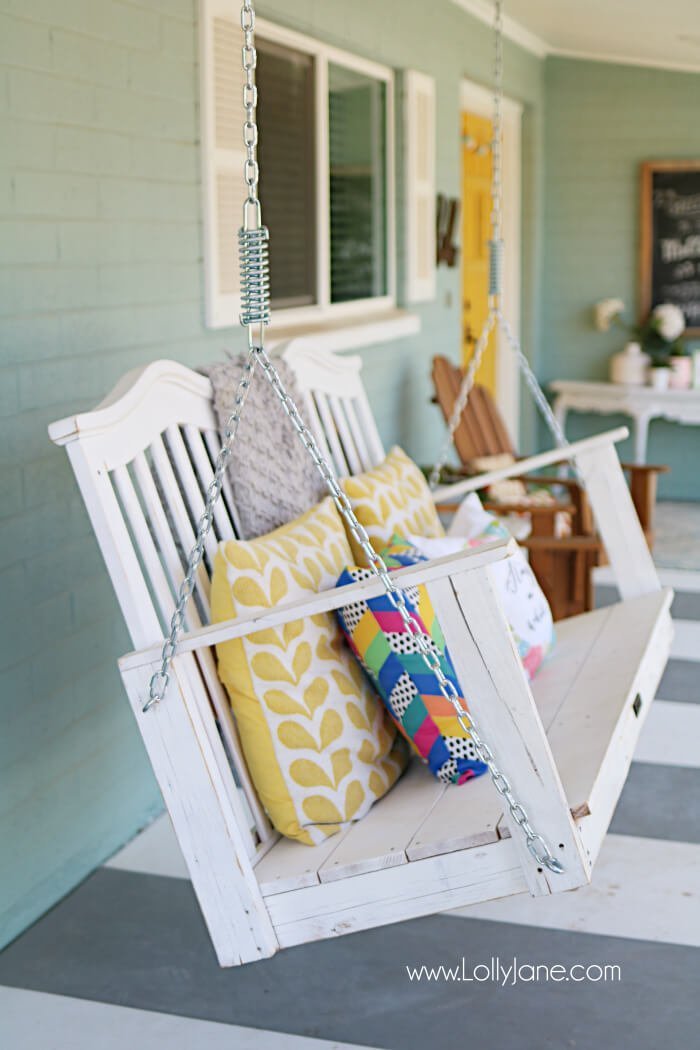 This beautiful distressed creative porch swing is made with an old baby crib. The arms are fashioned with two by fours and the white paint was sanded down to create a beautiful and chic place to relax. A small decal from the original crib was painted black and is mounted on the form of the seat for a beautiful typographic accent.
2. Bora Bora Canopied Porch Swing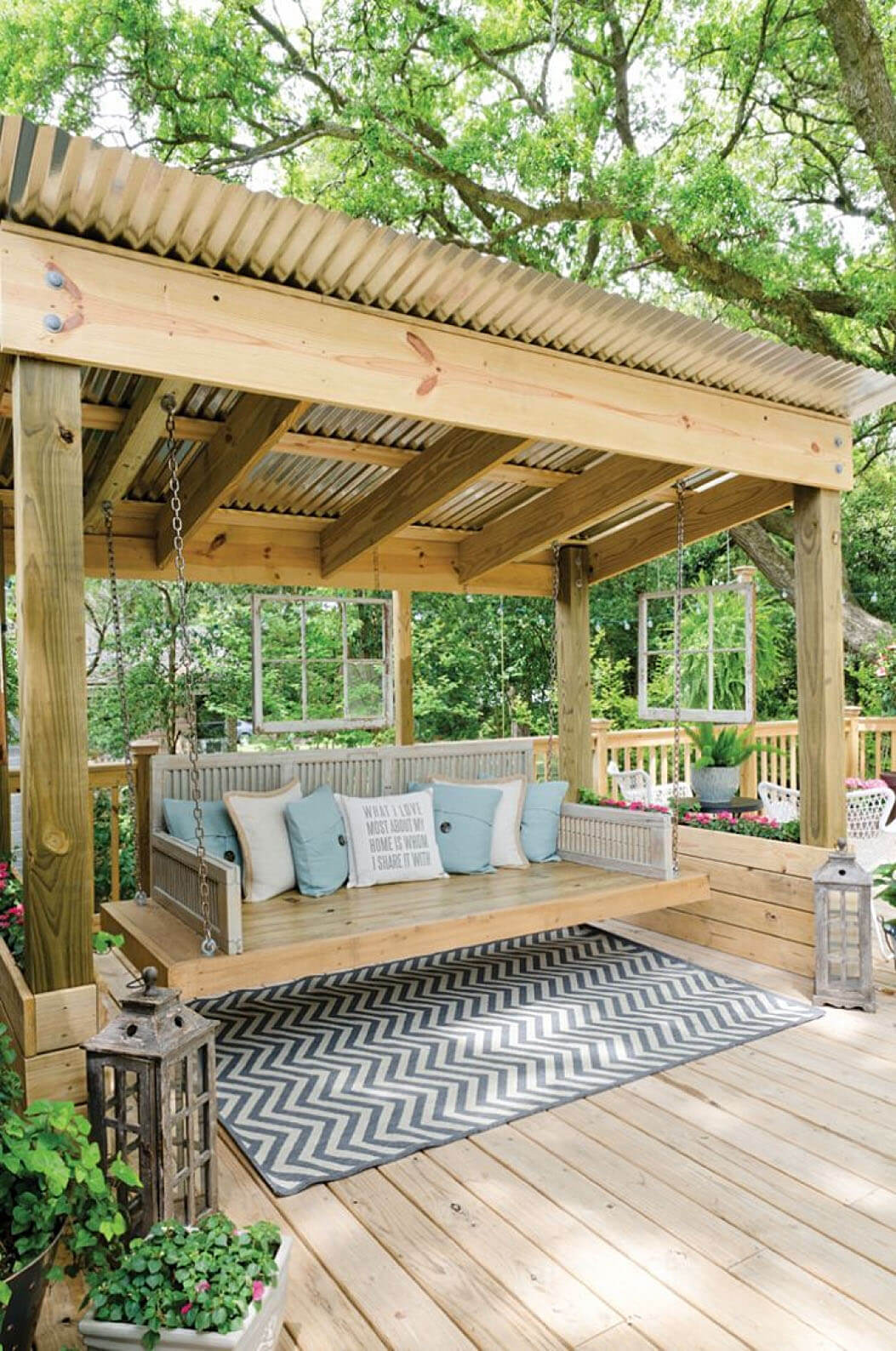 The creative look of this project is crafted with the use of repurposed antique windows. The base was constructed with carriage bolts and deck boards from a small sketch on a napkin. This swing is fantastic because the blend of materials that create this beautifully textured piece is easy to style and transform with decorative pillows.
3. Free-Swinging Seashell Style Porch Swing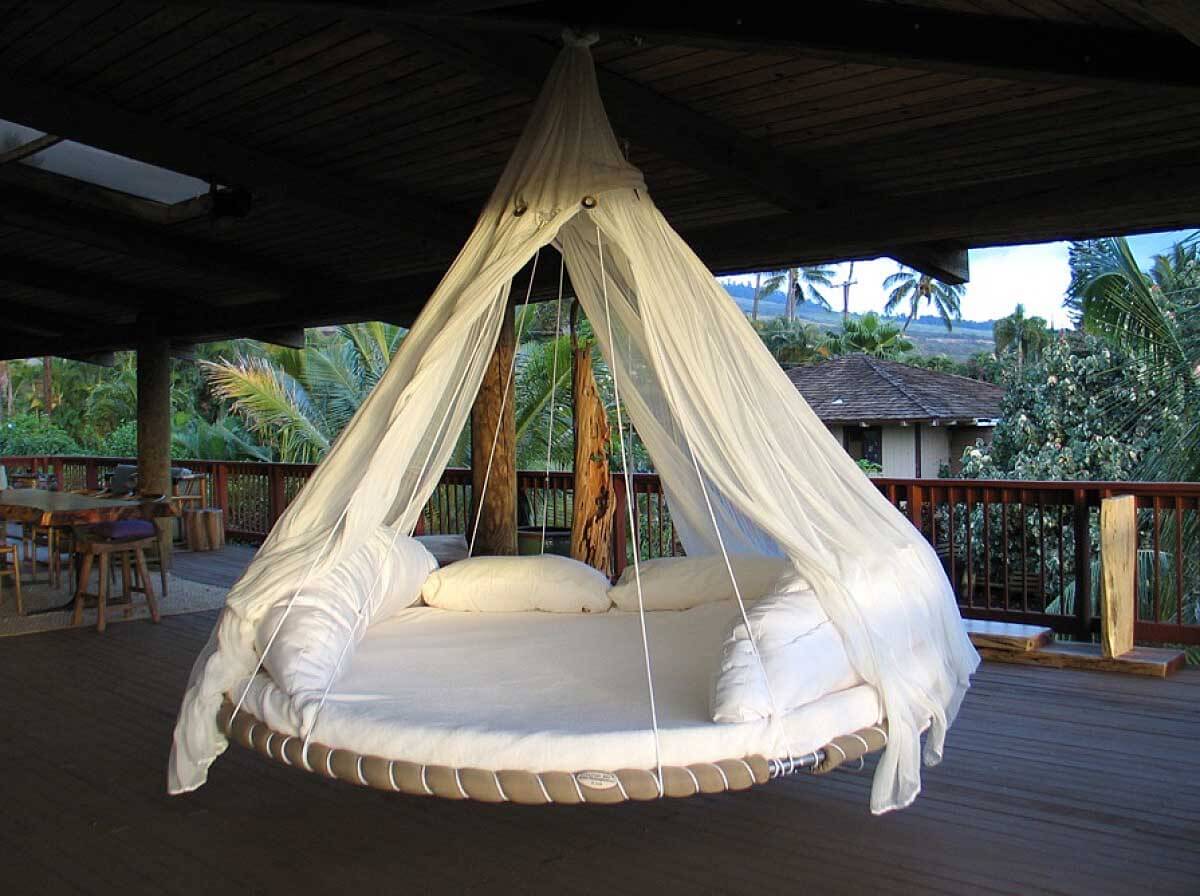 This unique round porch swing is a hanging oasis of relaxation and fun. The fabric adorns the hanging structures and is attached at the top with grommets. This creative porch swing is great for a vacation home or to transform a gazebo that could use a creative refresh.
4. Azores Blue Cushioned Porch Swing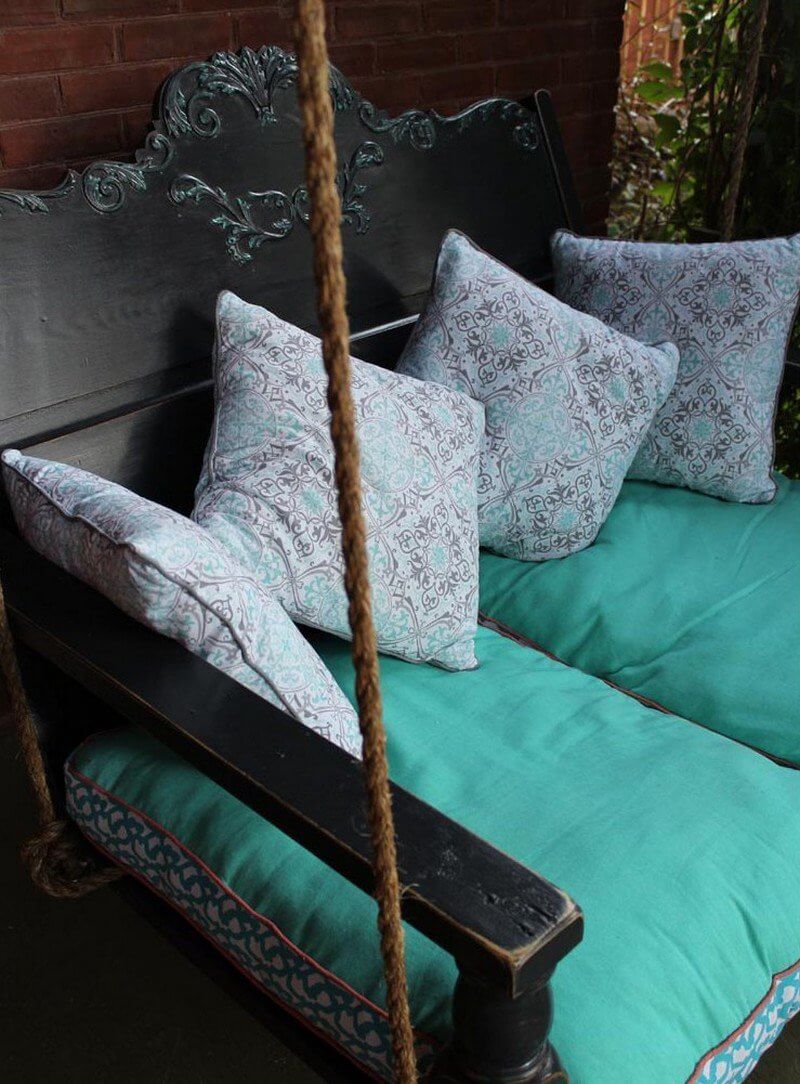 A wonderful repurposing idea for a retired bed frame, this do-it-yourself porch swing utilizes a vintage floral headboard coupled with boat rope for a great place to create sentimental times. An intimate take on a traditional porch swing, the romantic curves show off the history of the headboard so it is perfect for a distressed paint job.
5. Easy Breezy DIY Porch Swing Bed Ideas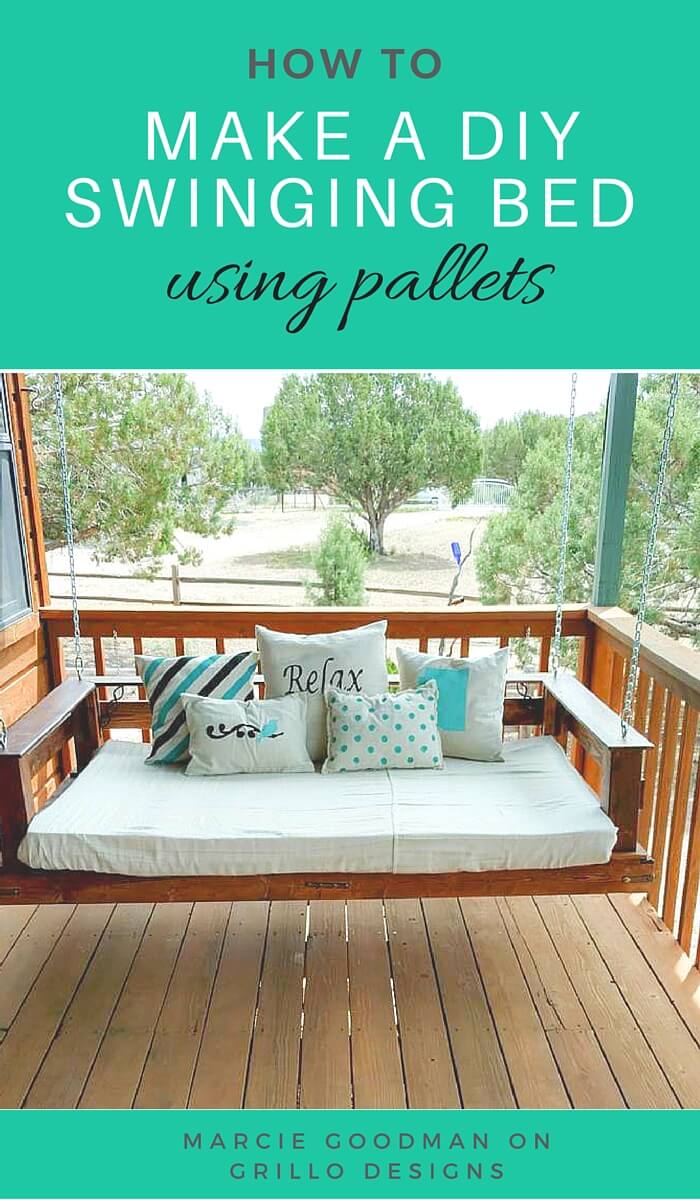 The great feature of this porch swing project is the attention to the wood treatment. Notice that the wood is sealed and cured to support the shapes and angles. A great simple accent for any front or back porch, this swing design is very versatile and easy to customize to compliment your current seating area.
6. Country Style Sweetheart Swing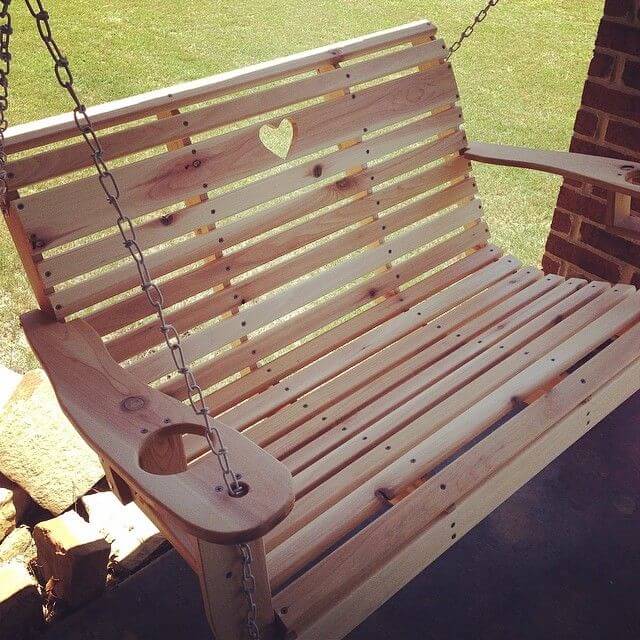 The country-style sweetheart swing is super easy to construct and requires only a jigsaw and a drill. Carriage bolts and S-hooks help support a chain. You could add a cushion and pillows but we like this porch swing raw because the real accent is in the creative personalization on the back support.
7. Portland Summer Porch Rope Swing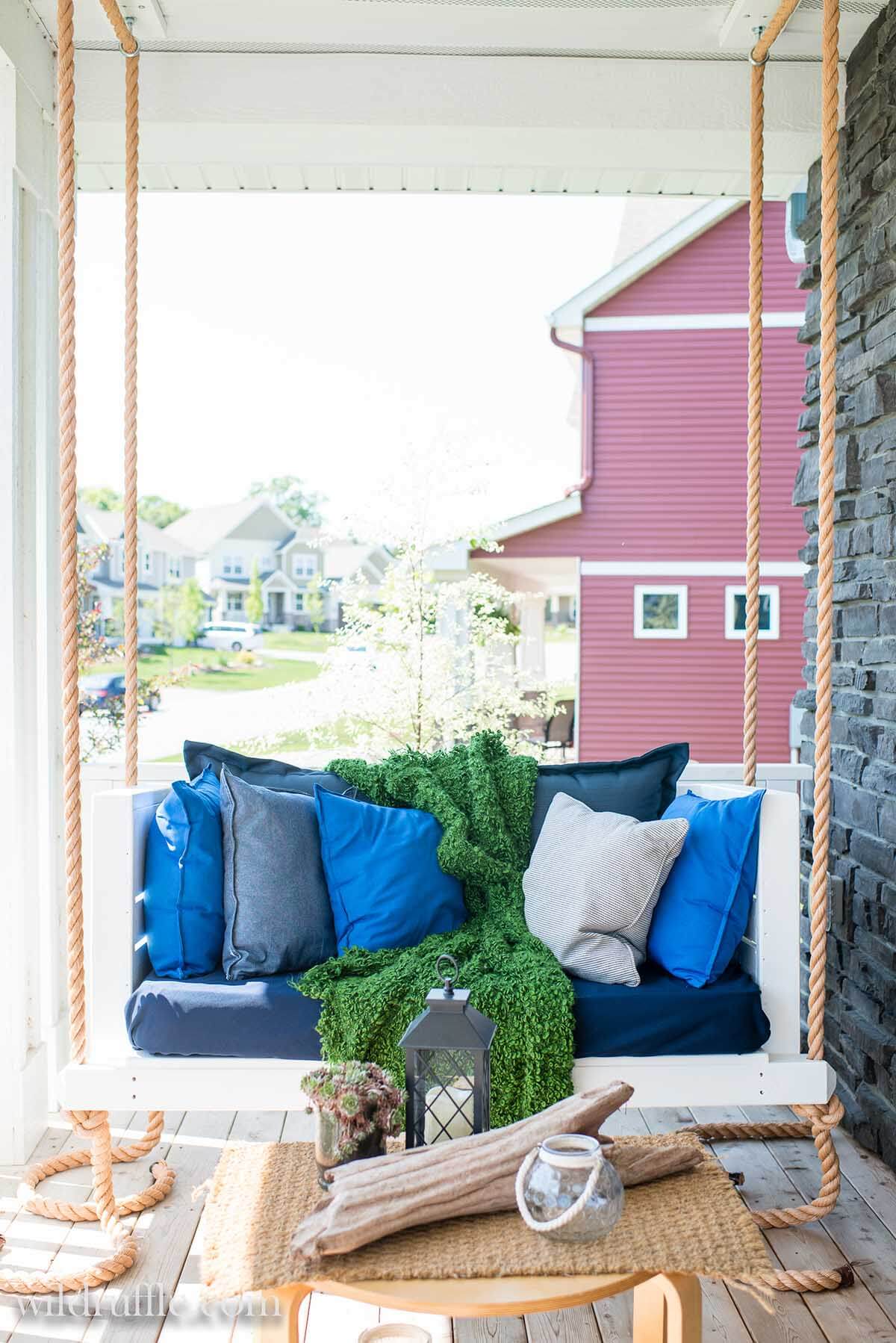 The best part of this porch swing is the way the strong rope is mounted at the top. This swing is great for heavy bodies because the top mount creates a square structure that equals the surface area of the swing itself. Fantastic for a nautical theme or minimalist decor, the beautiful rope is the star of this swing.
8. Charming Repurposed Headboard Swing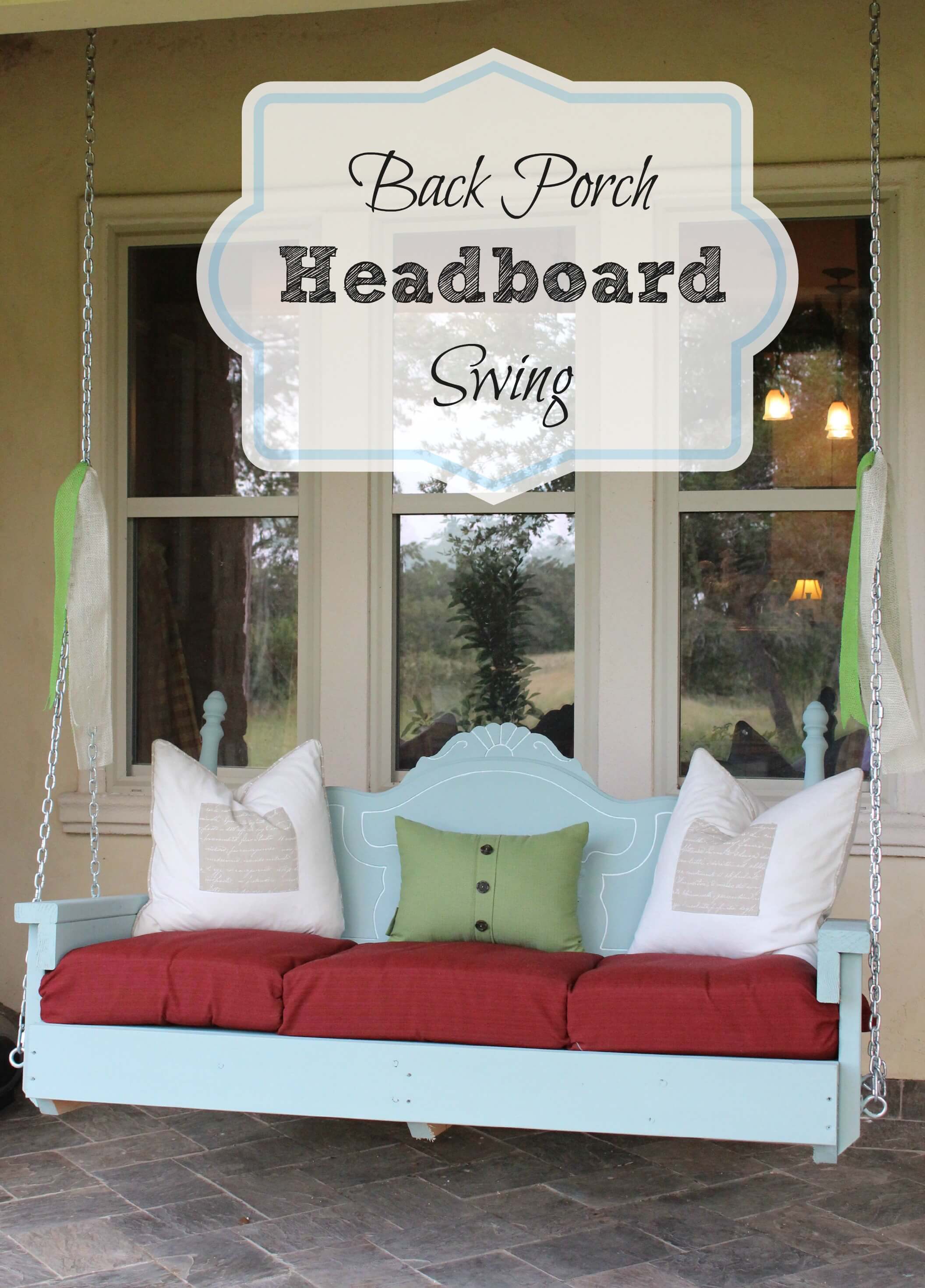 Headboards always make great up-cycle projects because the woodwork lends itself to repurposing style. This swing's past life featured a simple and illustrative relief pattern in the wood. Featured for versatility in design, the original headboard construction creates a warm and personal statement swing and can be repainted to suit any style.
9. Garden Party Arbor Style Porch Swing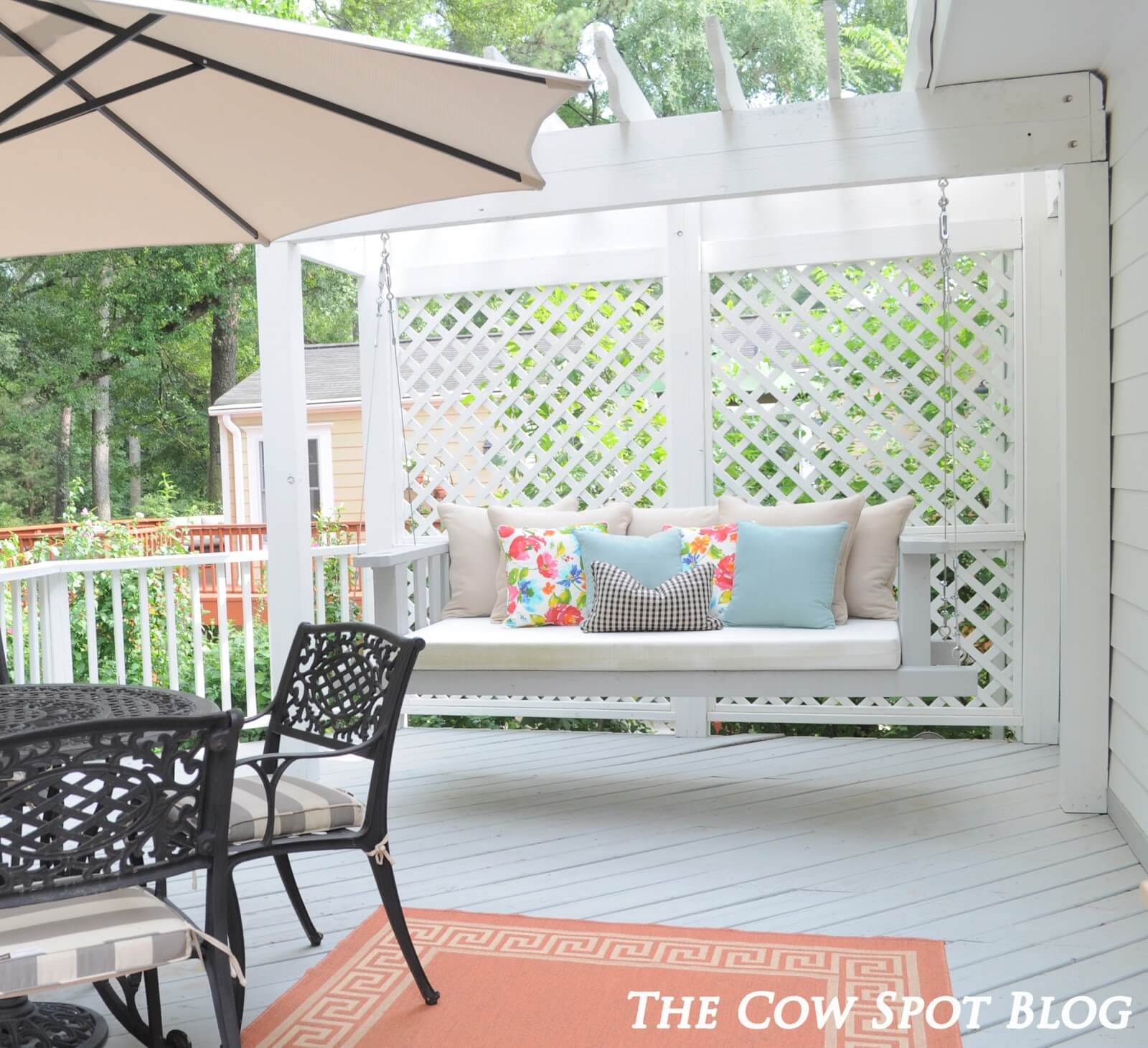 This porch swing project features a v-shape cable structure for its top mounting. Simple four-by-four wood columns stick out from each side to help carry the weight of this swing and future guests. Balance in structure is the driving force of the design. This swing bed is a wonderful and supportive design for any area that might welcome visitors to relax side by side.
10. Beautiful/Buildable Wooden Porch Swing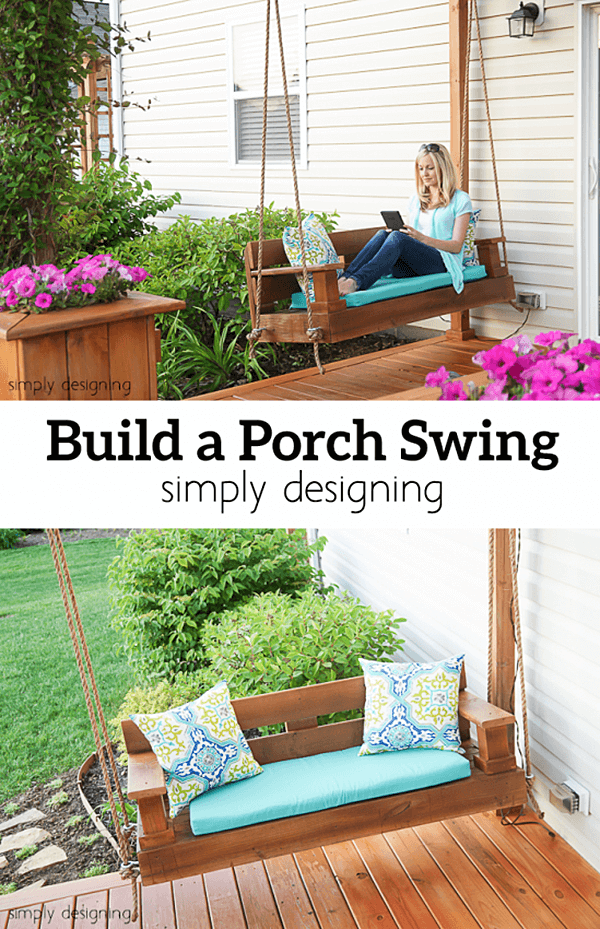 An easy-to-build porch swing was inspired here by the beautifully stained backyard deck that supports it. By up-cycling wood that was used on the patio, it was a no-brainer to create a look and feel that creates unity within the outdoor space. A 3D furniture plan in SketchUp was used for the seat design and the swing is anchored by a rope that is mounted by eye bolts to bring it all together.
11. Sweet Dreams Hanging Day Bed Swing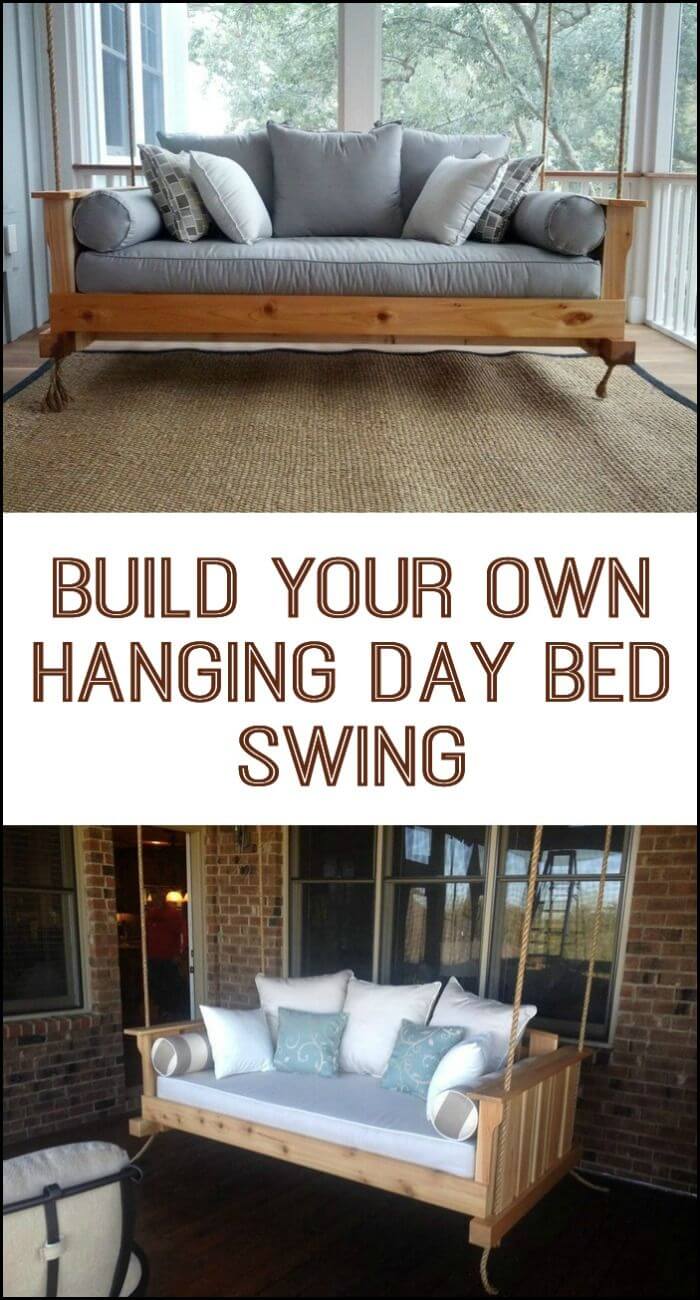 As the name implies, this hanging day bed was built to support sleeping body weight. Using wood clamps and a router, this design is an easy weekend project and it is recommended for creatives with access to wood-working tools. Stainless steel chains hold the day bed tight to a tree or patio ceiling so as to create a classic swing that welcomes relaxation and sweet outdoor dreams.
12. Picket Fences Free-Form Swing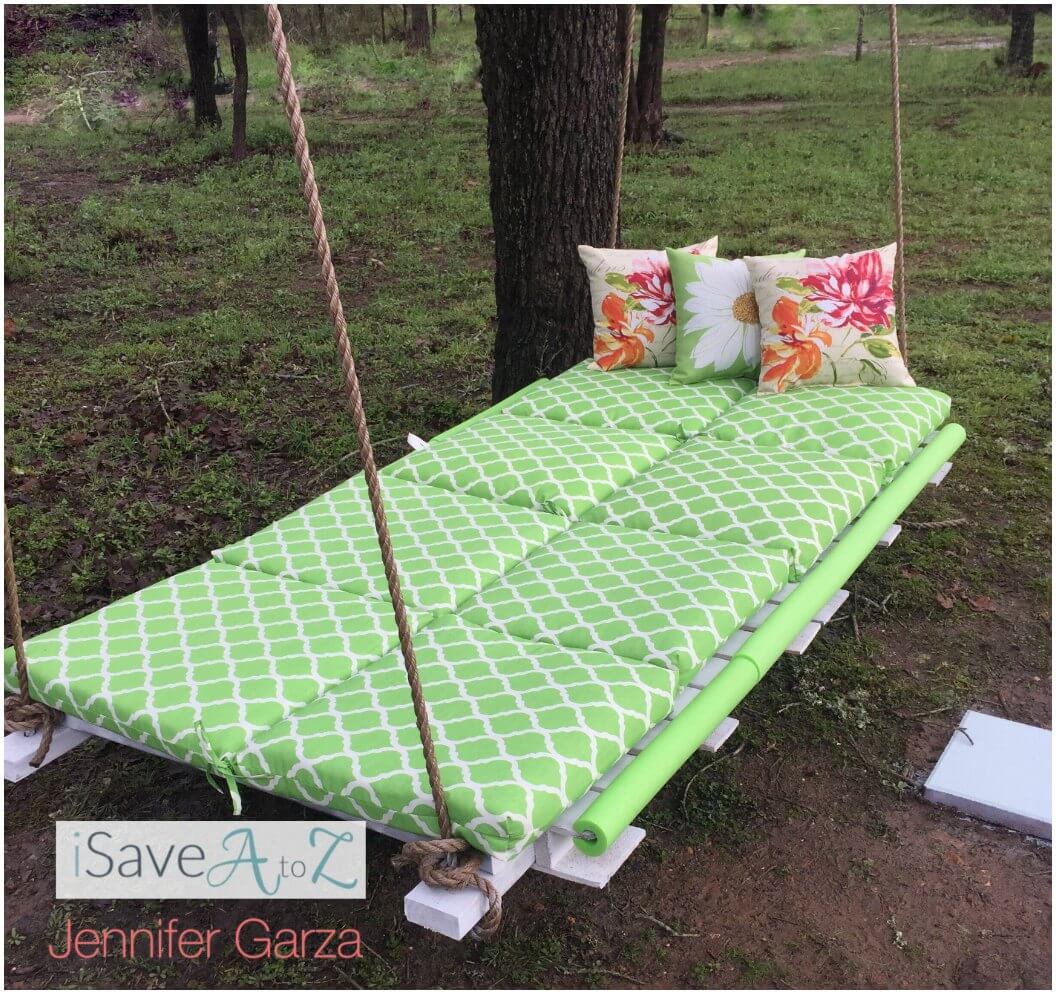 A creative minimalist approach to a hanging swing, this free-form design creates a lovely place to share a relaxed swinging bench. Designed with recycled wooden palettes, the slats were cured from any splinters or rotten wood with a pressure washing treatment. This is a lovely project for families with multiple children or adults who like to entertain because the wide-open seating area is simply inviting.
13. Tree For Two Lover's Swing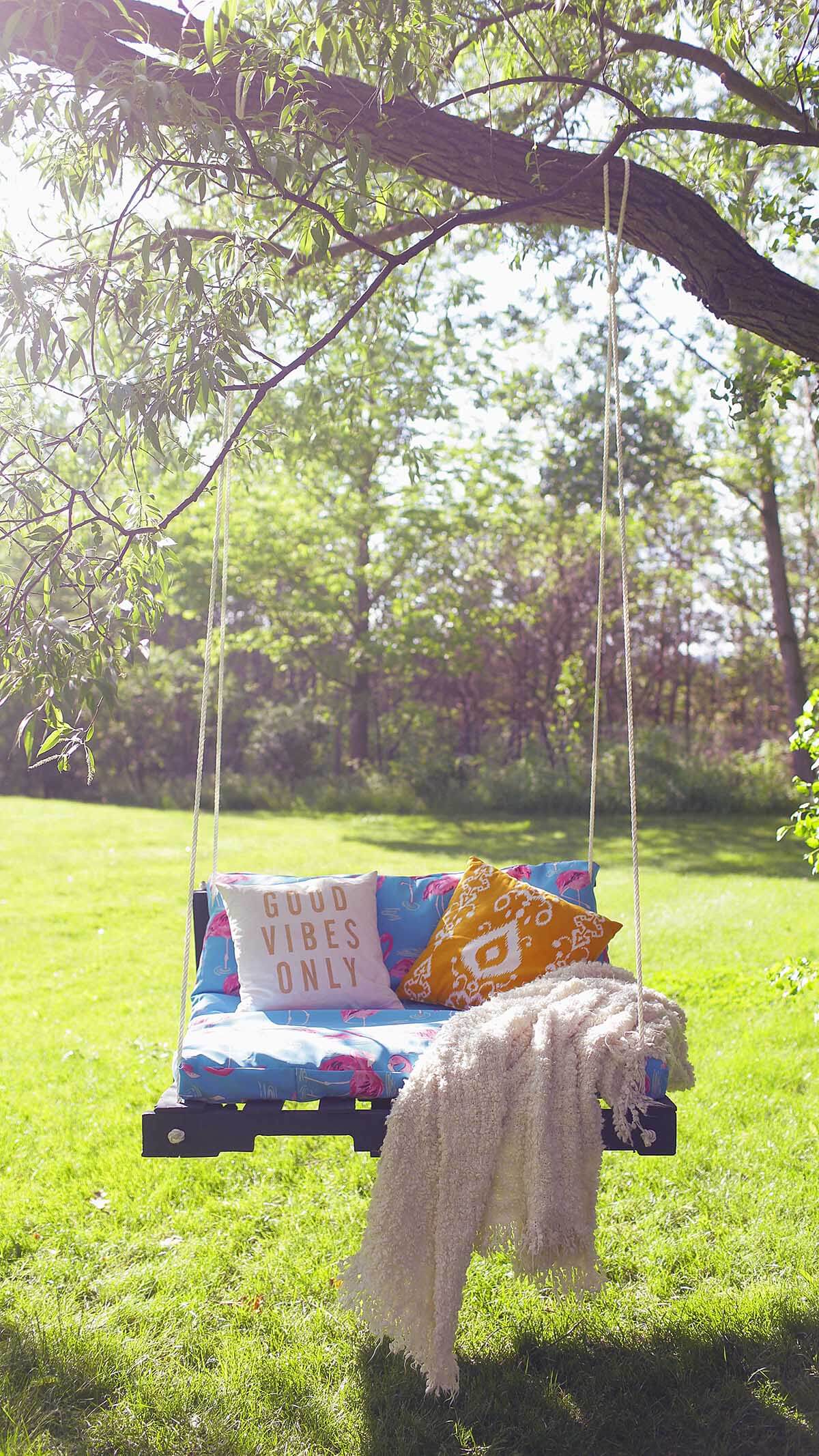 This very traditional hanging swing features a rope that is secured at the top of the tree. The beauty of the rope knots at the bottom helps the swing move back and forth with ease. A classic take on a wooden tree swing, the surface area was measured and a pillow cushion was sewn to create a cozy nook for conversation, reading, or for entertaining outdoors.
14. Gimme Shelter Platform Day Bed Swing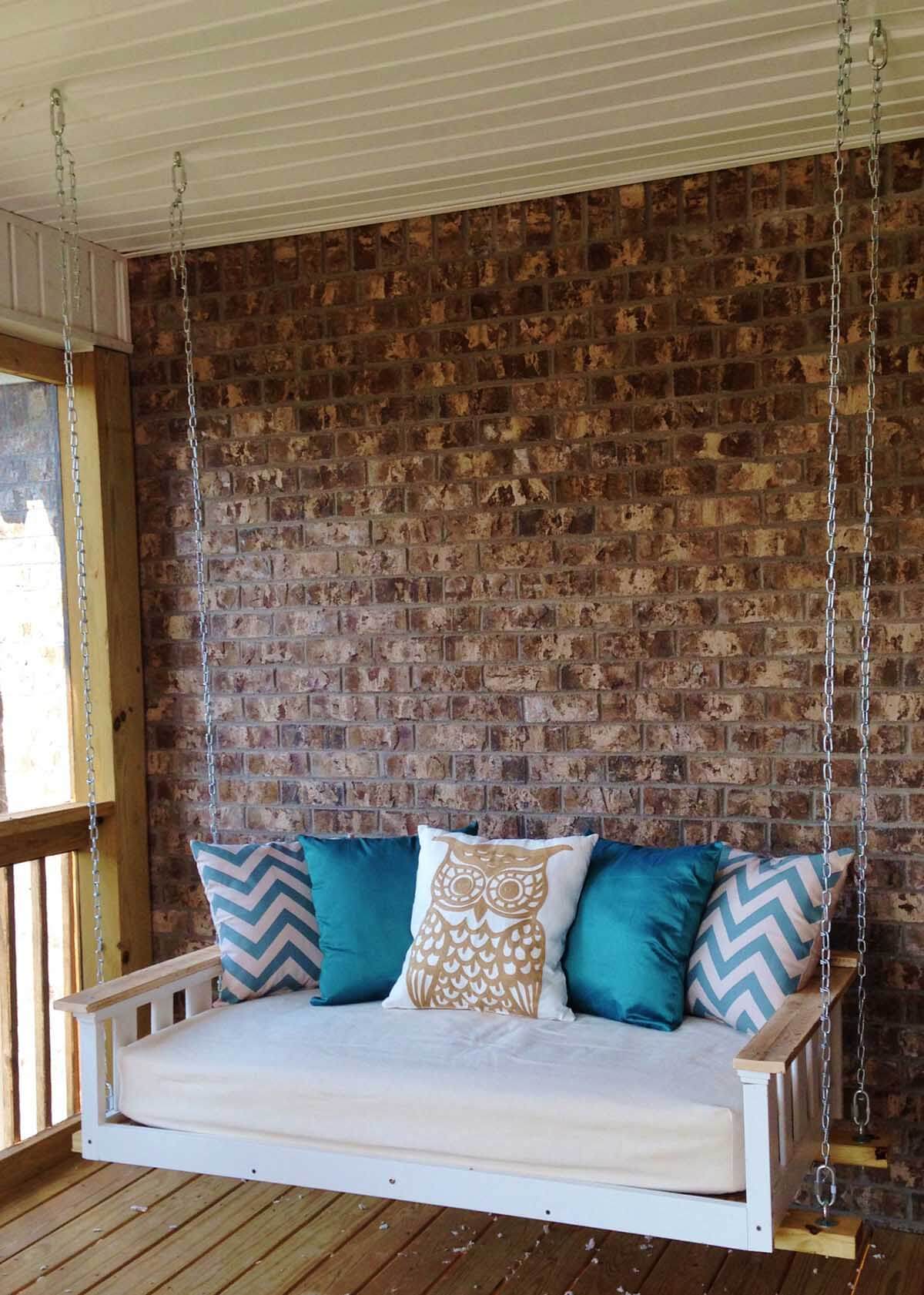 A beautiful platform day bed swing is perfect to share with visitors as a resting place because it holds a small mattress that sits perfectly inside the supporting seat. The sides were crafted with upcycled wood and repurposed to support the back and bottom structures. To help support body weight, the base's arms were extended at all four corners to hold the chain anchors mounted from top to bottom of the swing.
15. Colonial Cape Cod Porch Swing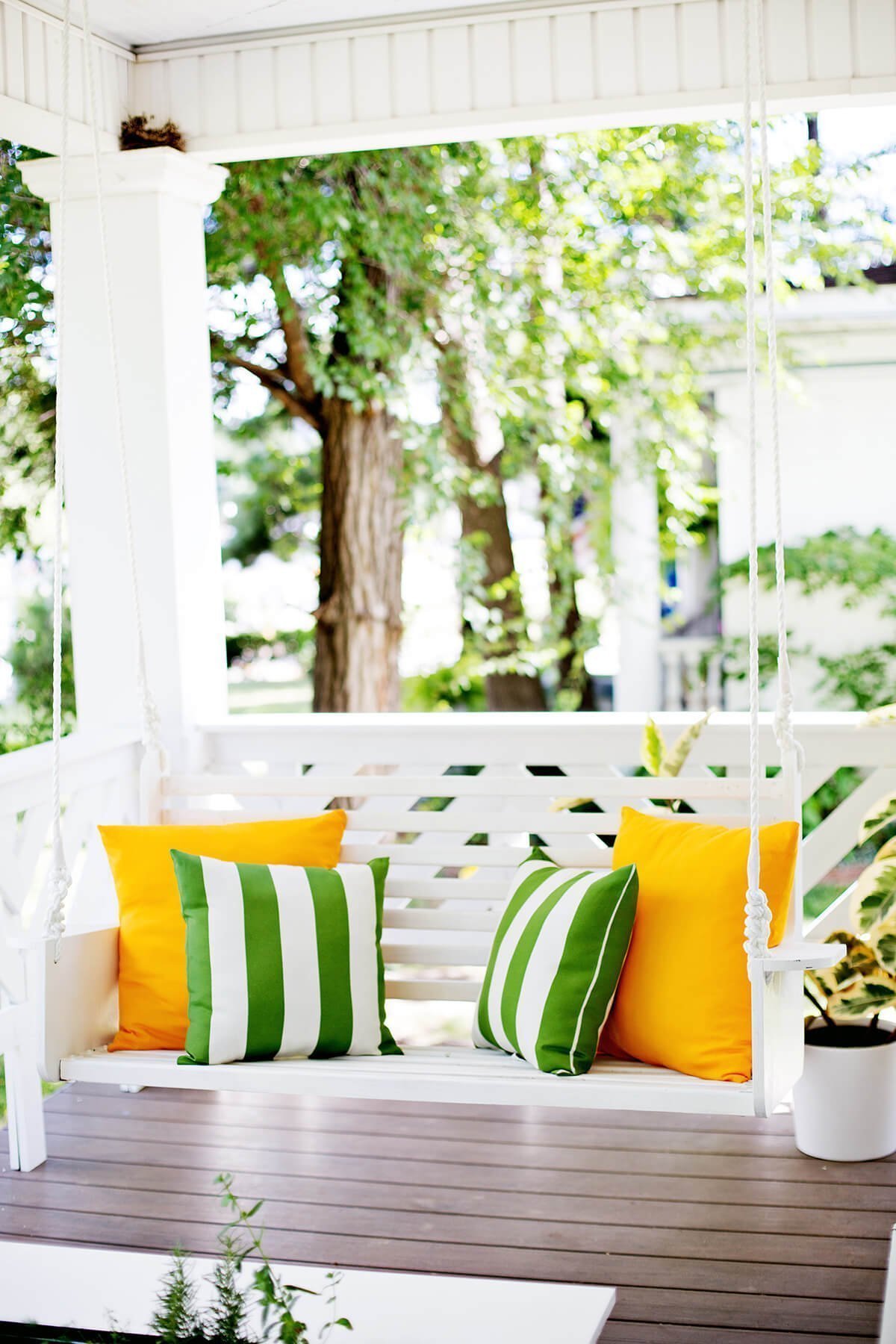 Simplicity is the best thing about this swing. Access to wood shop tools is necessary for this DIY porch swing project. A jigsaw, a table saw, a miter saw and a circular saw are among some of the tools that were used to create this beauty. A true work of art, this swing bench was painted clean and a white nylon rope creates a striking monochrome aesthetic.
16. Door Into Summer Repurposed Swing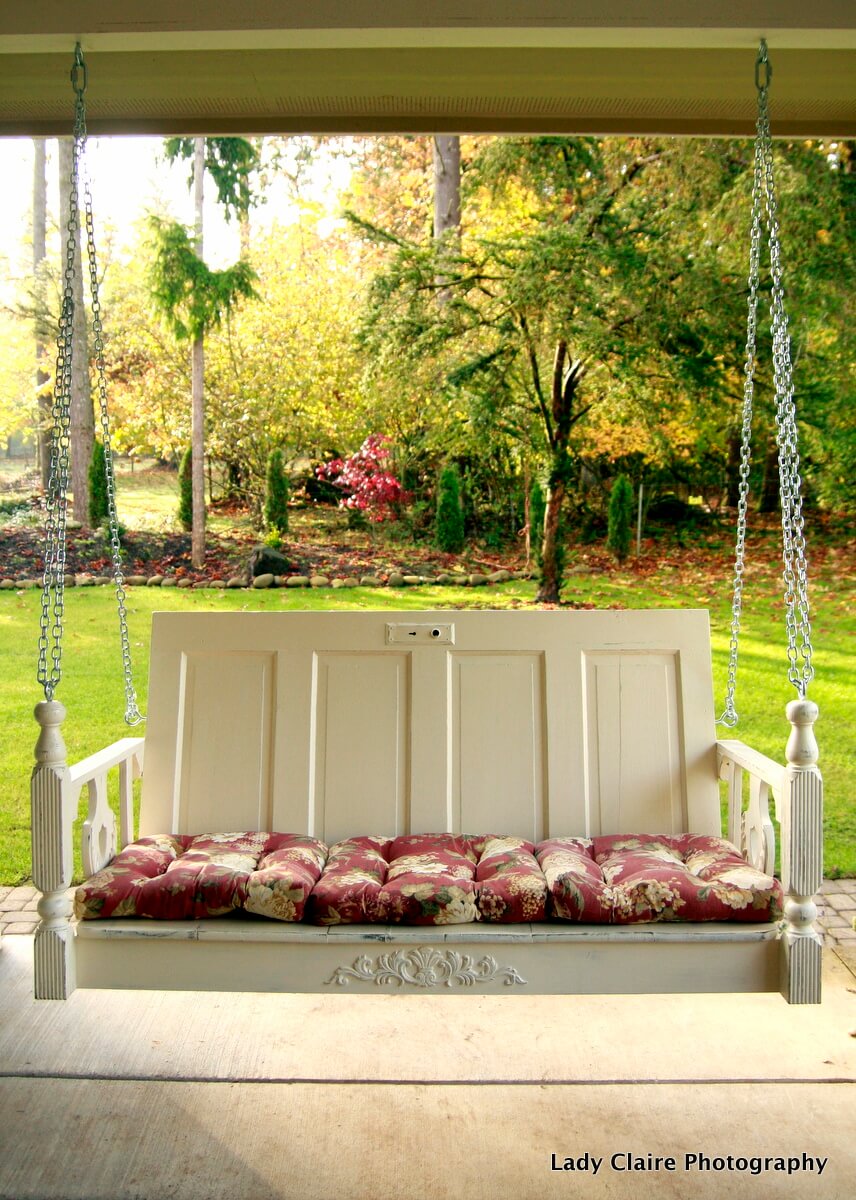 We favor this gorgeous swing with unique and delicate accents because it transforms an old door into a lovely seat for two or three people. The arms used to be the table legs and the overall preservation of antique woodwork is simply wonderful. This one-of-a-kind repurposed swing is a great example of selected craftsmanship that is worthy of its second life.
17. Stripped Paint-Your-Own Wooden Swing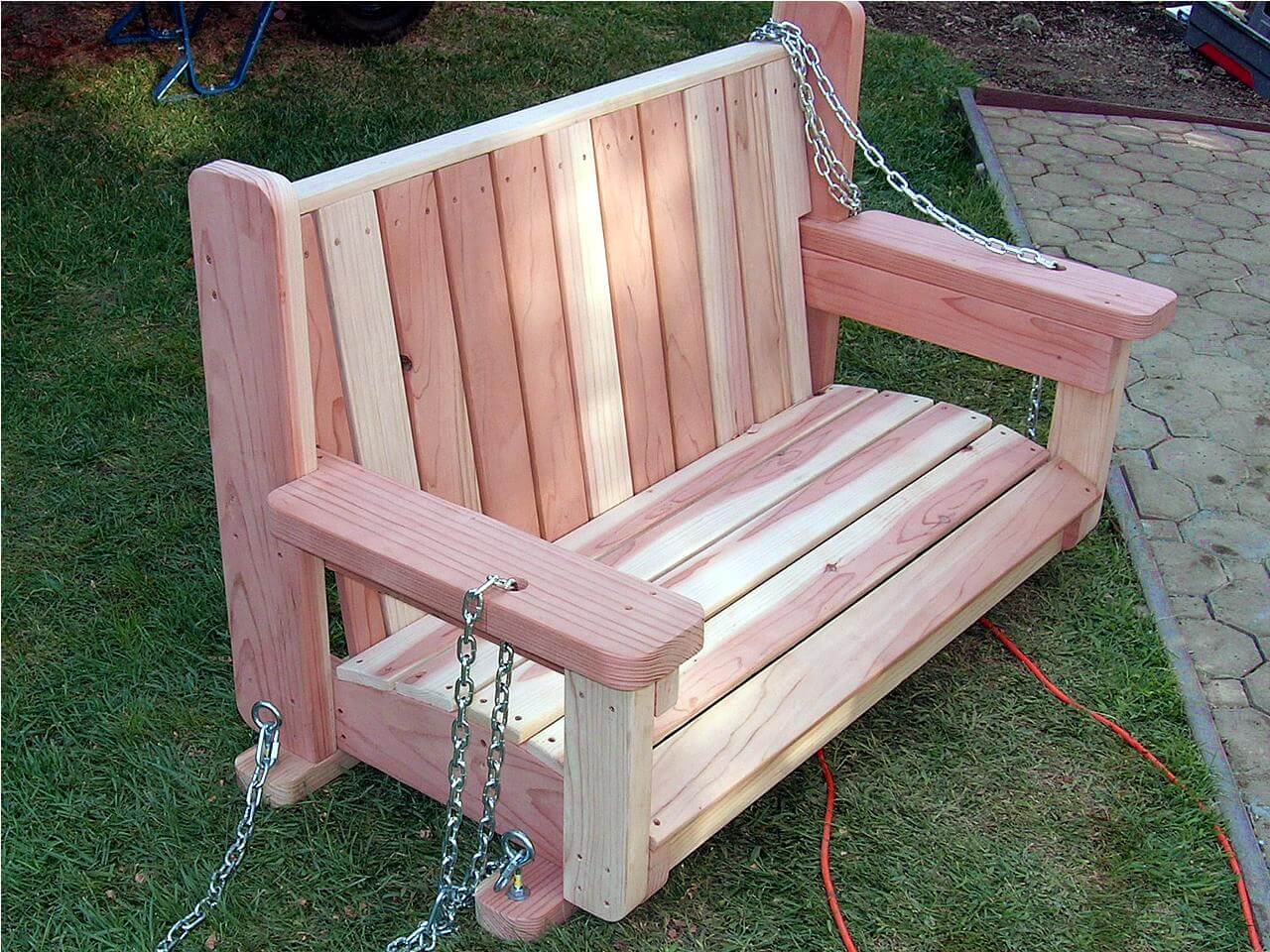 The juxtaposition of neighboring wood forms allows the beauty of wood grains to create a striped pattern in this swing. Mounted close to each other, the chair is very supportive and the width of the wood creates a strong seat base. Made to withstand the weather and time, this solid construction is great for growing children or any family that aims to create a swing that will stand the test of time.
18. Country Time Wide-Seated Swing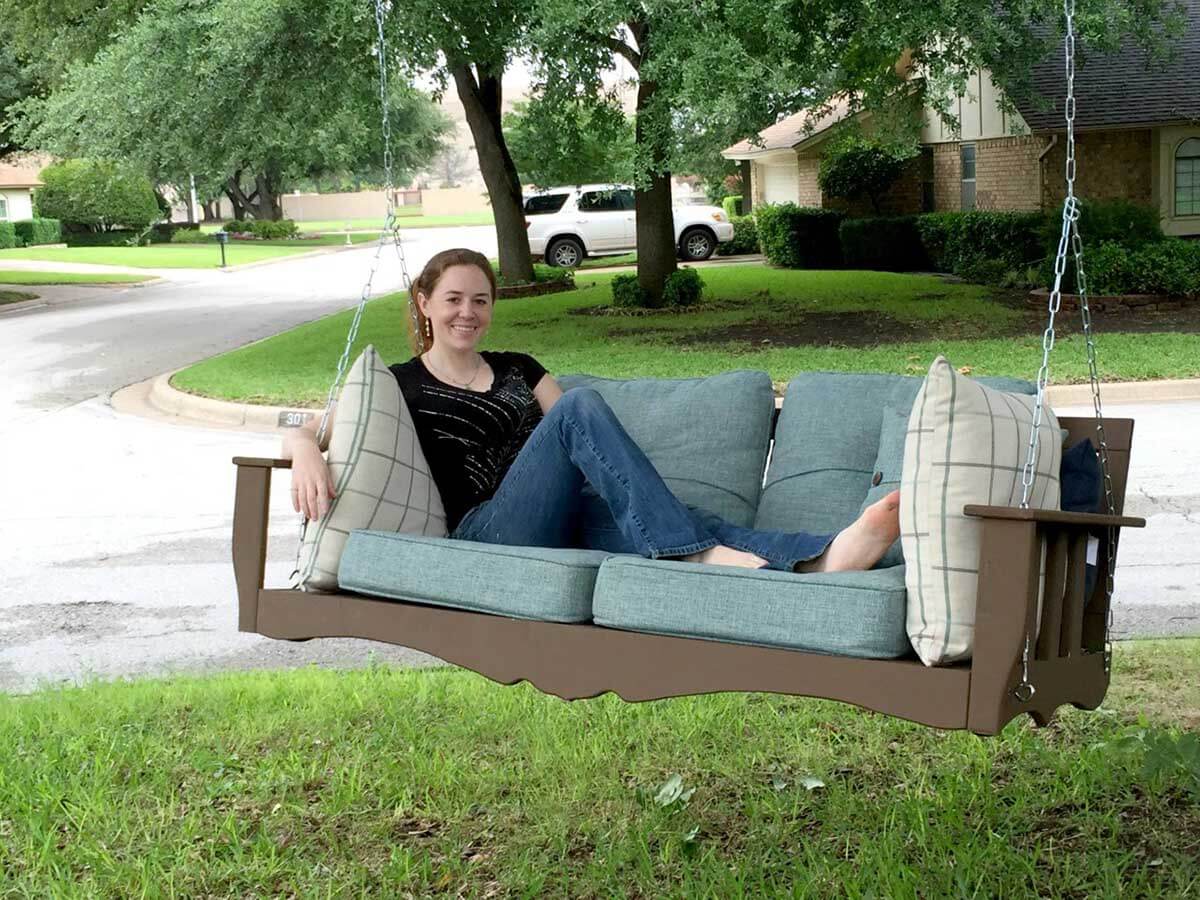 This swing was constructed to be double wide compared to many of the other swings previously shown here. Designed for a larger person or someone with long legs, this seat was made with both durability and comfort in mind. Adorned with thick outdoor cushions, this swing is great for a country porch, outside of a workshop, or any outdoor relaxation area.
19. Beach Hut Handwoven Porch Swing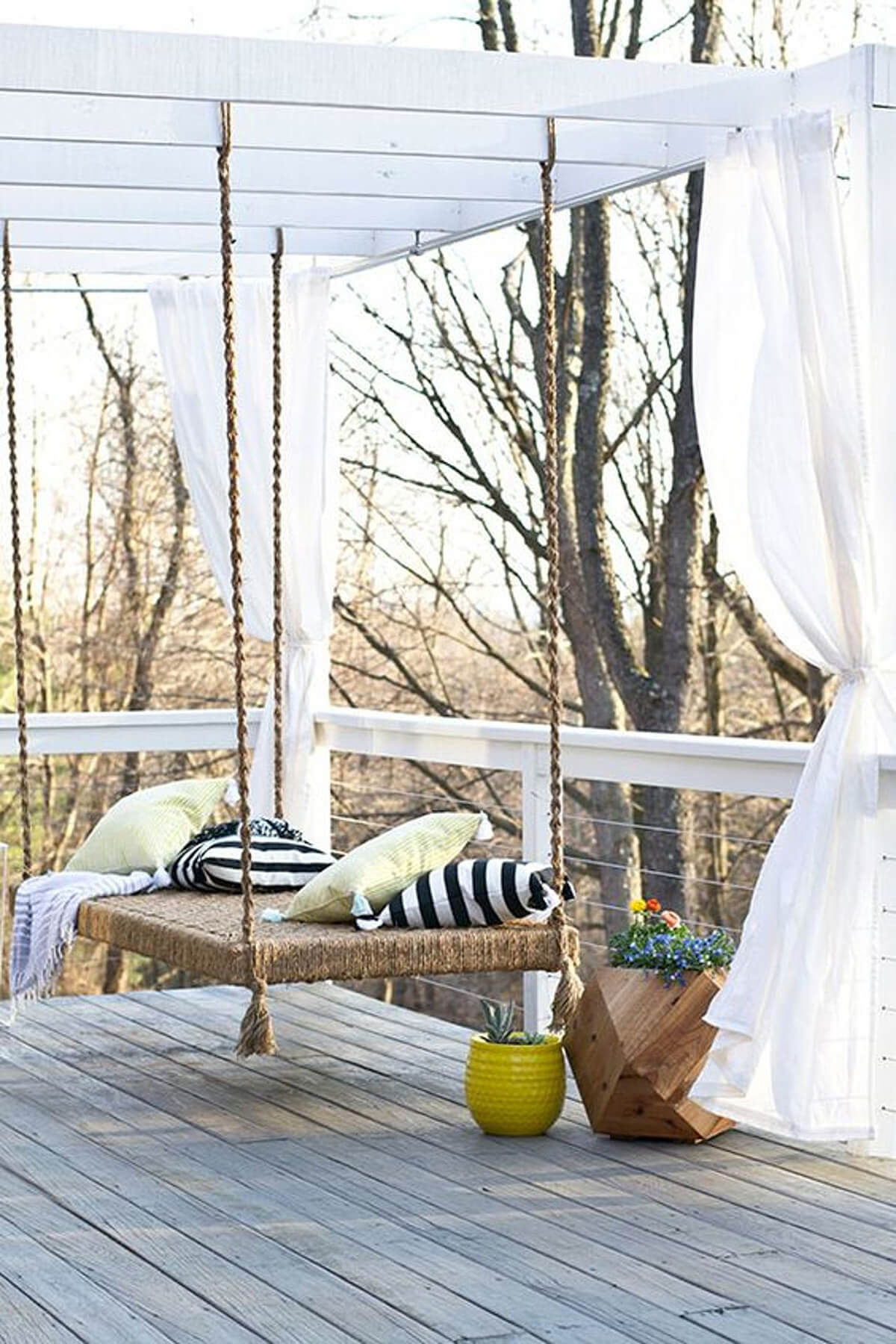 It is easy to appreciate the modern design of this creation. The look and feel of the beach hut porch swing lend itself to working as a statement piece in whatever environment where it will live. While traditional woodwork is underneath, the hand-rendered rope texture sets off the simplicity of the hanging structures from all four corners to the top. Four individual hand knots mount the base independently for a breath-taking swing that is sure to create memories for a lifetime.
20. Assembly-Chic DIY Wooden Porch Swing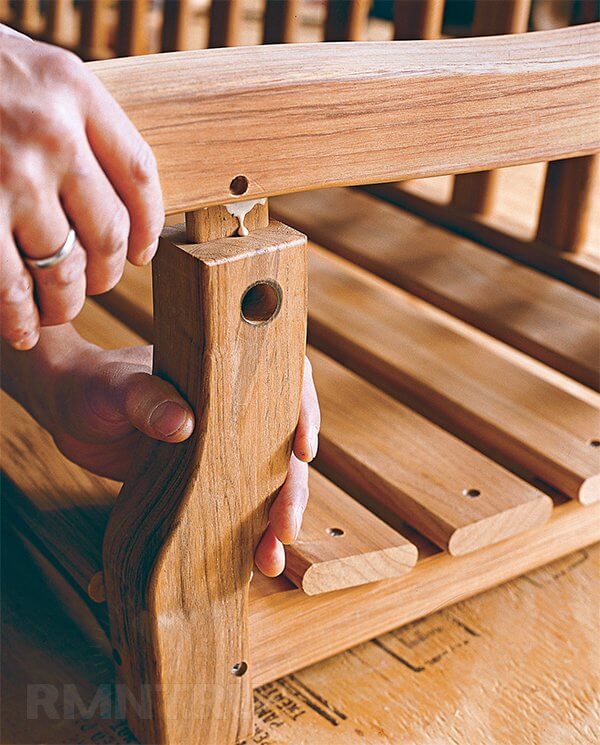 This porch swing kit comes complete with woodwork that is ready-made for your personal assembly. If you don't have access to a woodshed but might still enjoy creating a swing on your own, this boxed project might be the best choice for you. The final construction is supported with a drill and mounting screws to create a very personal porch swing that you can sand and oil for a classic aesthetic.
21. Rustic Repurposed Wooden Crate Swing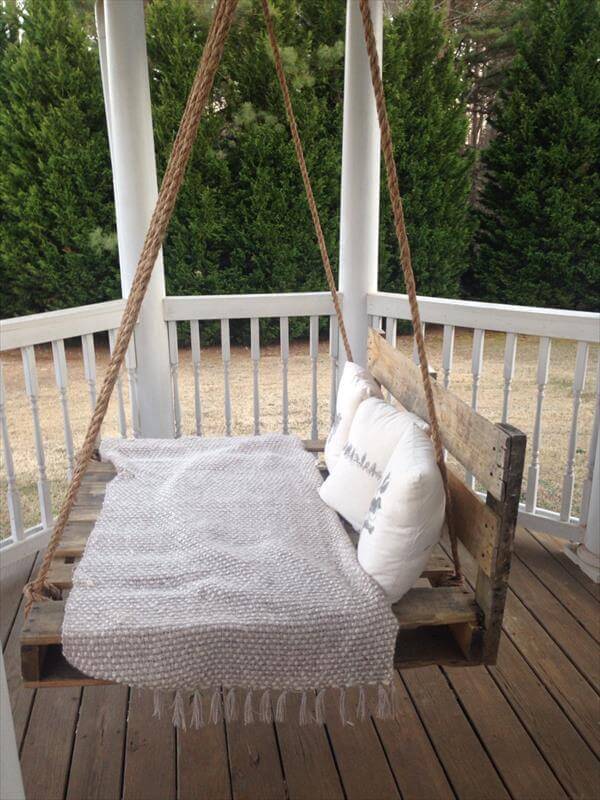 A beautiful repurposed wood project, the swing shown here with a rustic vibe has been handcrafted from recycled wood crates. We like the width of this swing and how the breezy and relaxed low back support invites body types of all sizes. Once complete, we think you'll agree that there's something quite breath-taking about the organic wood pieces and raw rope materials juxtaposed to fresh linen and white paint.
Our Favorite Outdoor Decorations to buy on Amazon