A beautifully decorated porch is a gateway to the home and a place of relaxation and comfort. That's why having porch decorations that reflect the style and personality of a homeowner is so very important. The porch is not only the first part of the home a guest sees, it's also a living illustration of the homeowner's true self; their heart, their soul, their style.
Here are some porch decoration ideas that are sure to inspire some winning decorative projects: we hope these gorgeous designs will inspire and delight you.
Make a Stunning First Impression with This 30 Amazing Porch Decoration Ideas

1. This Setting Combines Potted Plants with Rustic Furnishings to Create an "Outdoor" Living Room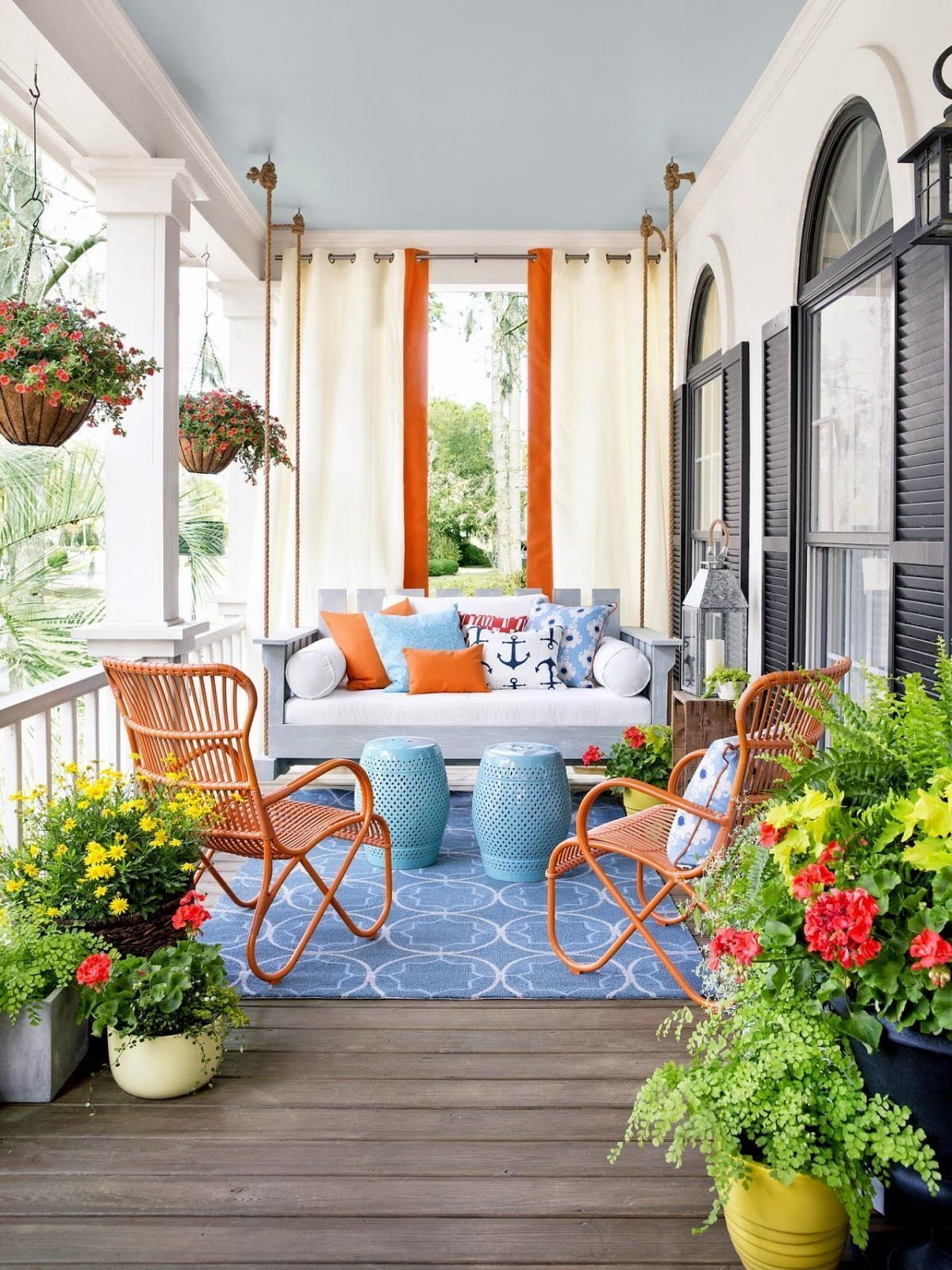 Bring the indoors outdoors with porch designs that create a comfortable, functional living space. Use a simple area rug to define the space, creating an instant conversation area. For seating, use heaps of pillows to turn a stately porch swing into cushy outdoor sofa, making it a luxurious place to relax and unwind. Bright sunlight invites bold pops of color–contrasting periwinkle and orange tied together with a neutral grey–but if a little more shade is called for, simple canvas drapes will keep things cool on those sweltering afternoons. Round out your porch decor with mix-and-match planters filled with geraniums, ferns, and begonias.
2. Vibrant Florals Set Against Dark Wood Planters Creates Wonderful Texture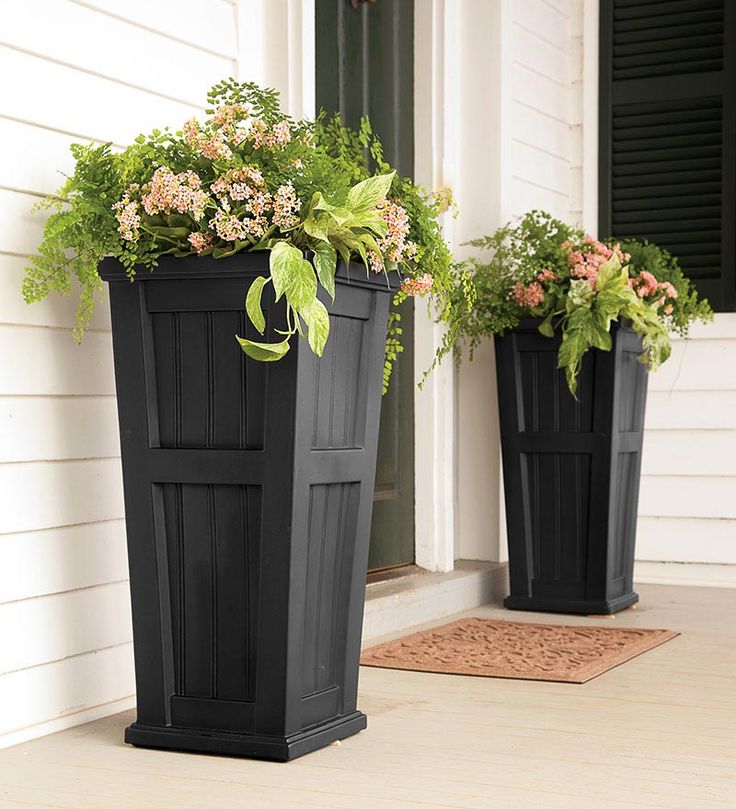 Source: The original source is not available anymore.
For stately and elegant porch decoration ideas, look no further than the humble planter. A pair of tall urns framing the door makes a statement without being overwhelming or difficult to maintain. To keep expenses down, choose planters made from composite plastics or resin rather than wood. These will be lighter and easier to maintain, though they may need to be replaced after several years of use. When choosing plants, keep the color scheme simple. A variety of ferns, philodendron, and other greenery provide textural interest, while clusters of soft pink blossoms add a touch of contrast.
3. Vivid Red Flowers Play Against Country White and Rustic Wood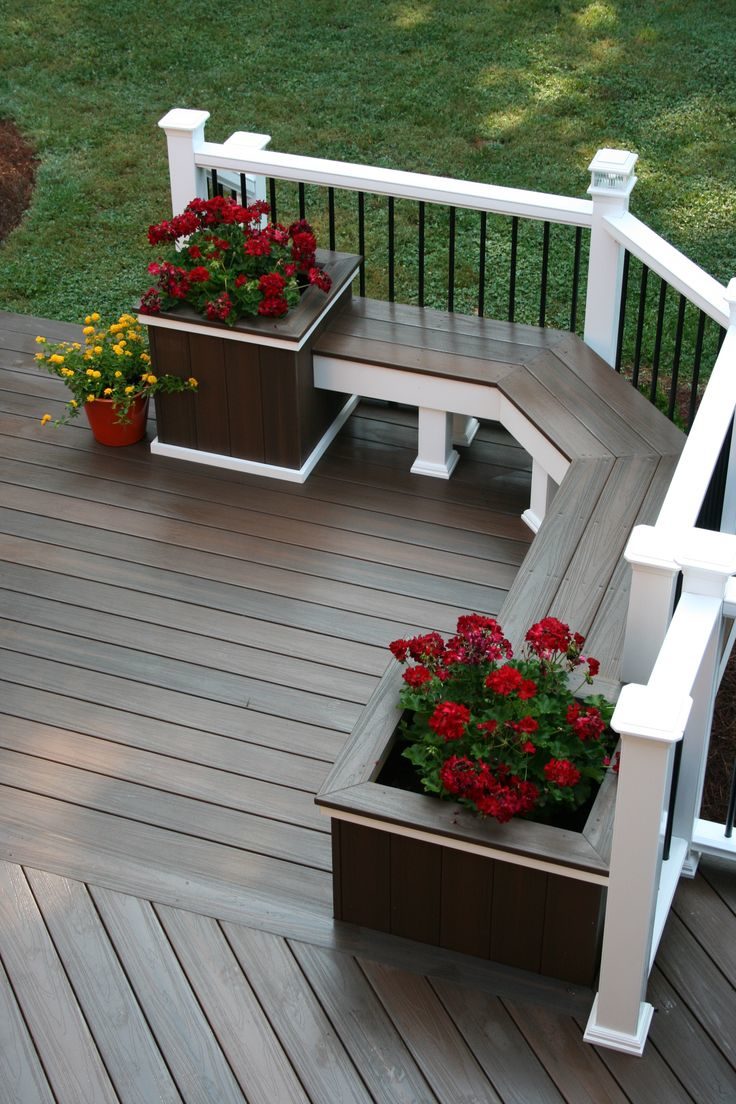 Source: The original source is not available anymore.
If you love to entertain, an outdoor deck is the perfect space for summer get-togethers. This large deck creates interest and defines different areas by varying the direction of the deck planks. With any raised deck, a railing is a must to prevent accidental falls; bright white corner posts and top rails paired with wrought iron balusters make this railing a design feature as much as a safety feature. Built-in benches provide an easy way to accommodate guests without the hassle of dragging out extra furniture. Capping off the ends of the bench with exuberant geranium planters make porch decorating a cinch.
4. Fun, Funny Rough-hewn Porch Decorations Have a Playful and Welcoming Appeal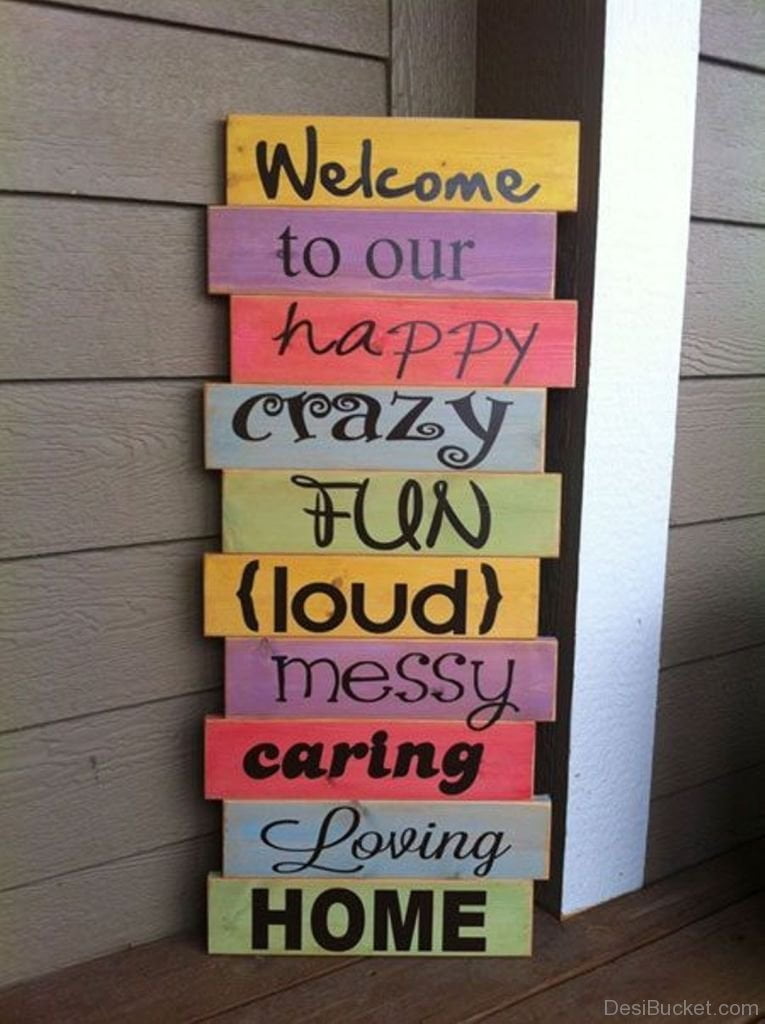 Source: desibucket.com
Porch decorating doesn't need to be over the top. Sometimes the right piece is all you need to make a statement, That's exactly the case with this unique signpost. What better way to welcome guests? With a variety of bright colors, this sign stands out against the house's neutral colored siding, but gently distressed paint keeps it from looking over the top. For fans of DIY, a sign like this is an easy at-home project that even the kids can help with. Use stencils or stick-on vinyl lettering for that hand-lettered look without the calligraphy lessons.
5. Beige Tile and Light Wood Show Off the Beauty Of Neutrals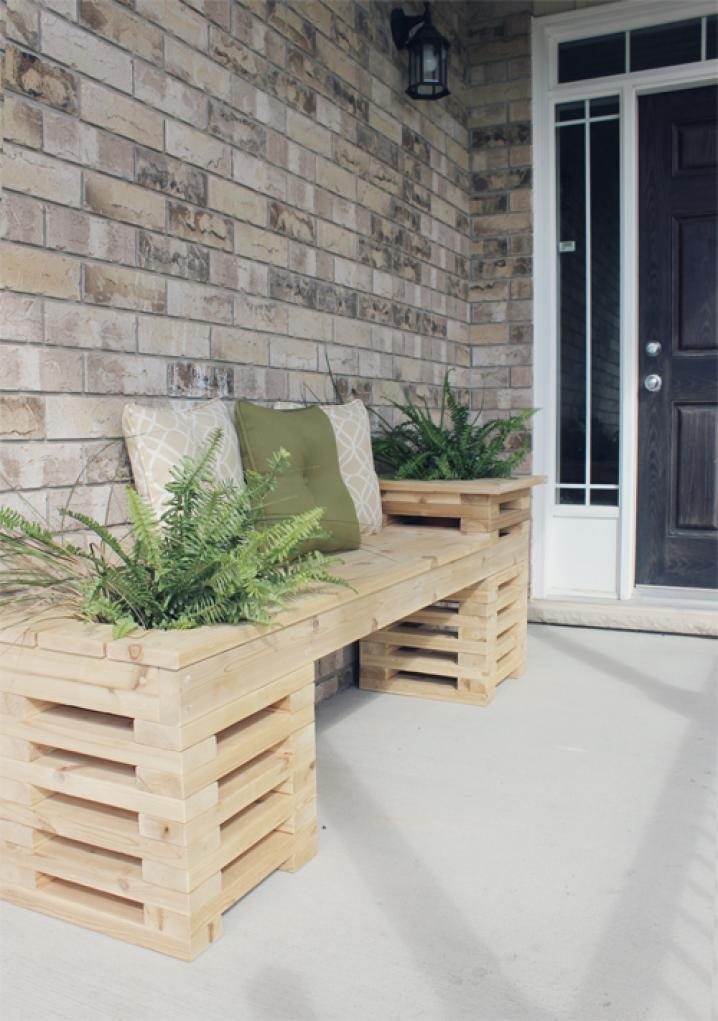 Source: The original source is not available anymore.
For porch decoration ideas that are both simple and chic, look no further than this planter bench. Believe it or not, it's made from stacked 2×4 boards, anchored at the corners to keep them from toppling over. With the stone-colored brick behind it and a concrete porch beneath, the natural honey color of the wood provides a subtle warmth to what might otherwise be a stark space. A stack of earth toned pillows and lush ferns spilling from the planters add color and softness to counterbalance the blocky shapes of the bench and bricks.
6. Dark Pottery and Rustic Wood Show Off The Natural Beauty of These Florals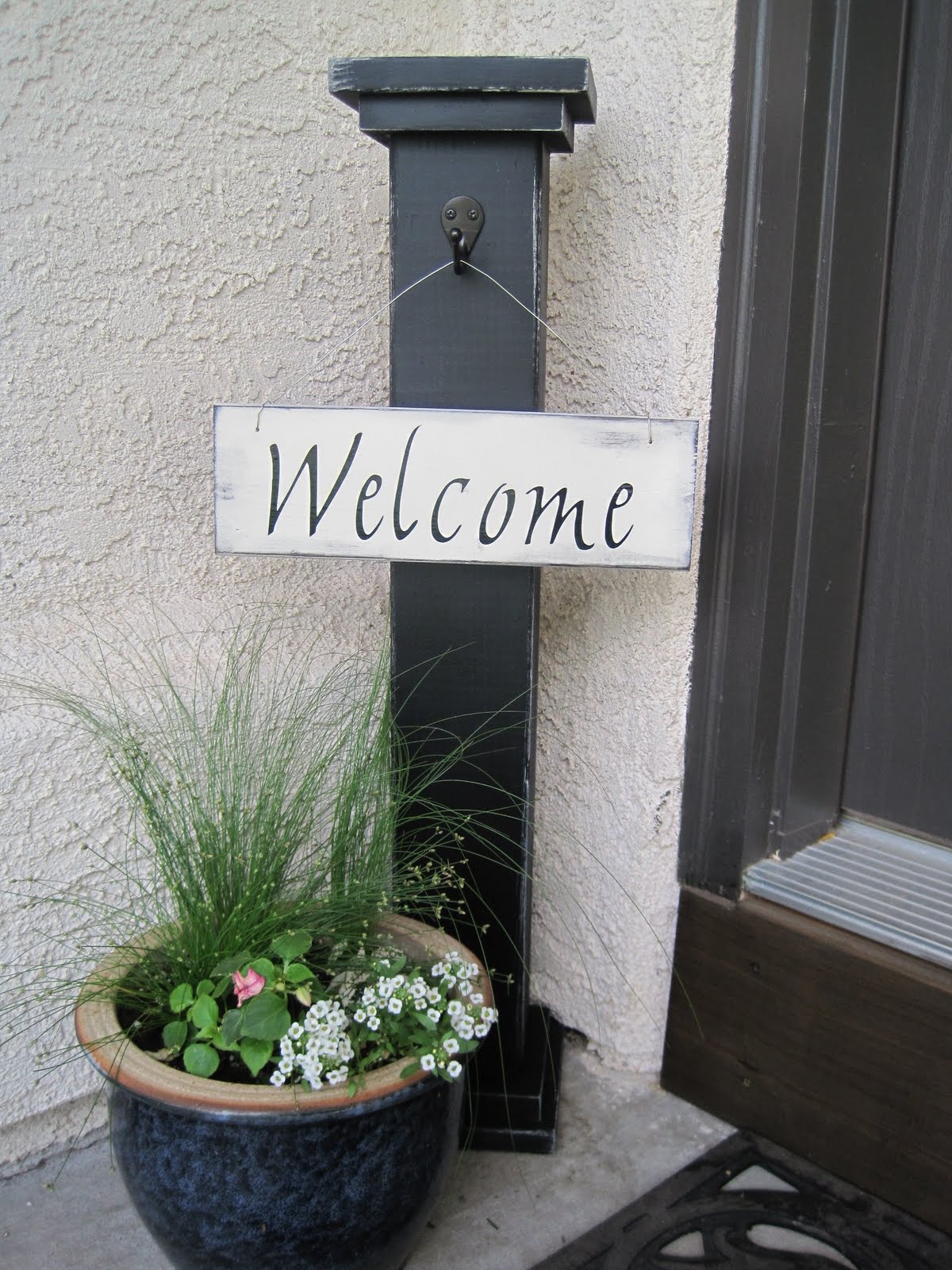 For small spaces, look for porch decor that's similarly small in scale. Large decorations and furniture, in addition to taking up extra space, have a tendency to make small spaces look even smaller and more crowded. Instead, opt for unobtrusive items. A sturdy square post tucked beside the door serves as a spot to hang a hand painted welcoming sign. This is an easy item to change out with the seasons–hang a plastic jack-o-lantern at Halloween, or a festive wreath for the holidays. Instead of tall urns or bulky planters, a simple ceramic pot with a selection of petite blooms brings life to the space without crowding into the walkway.
7. Terra Cotta Pots and Bright Green Plants Create a Playful Welcome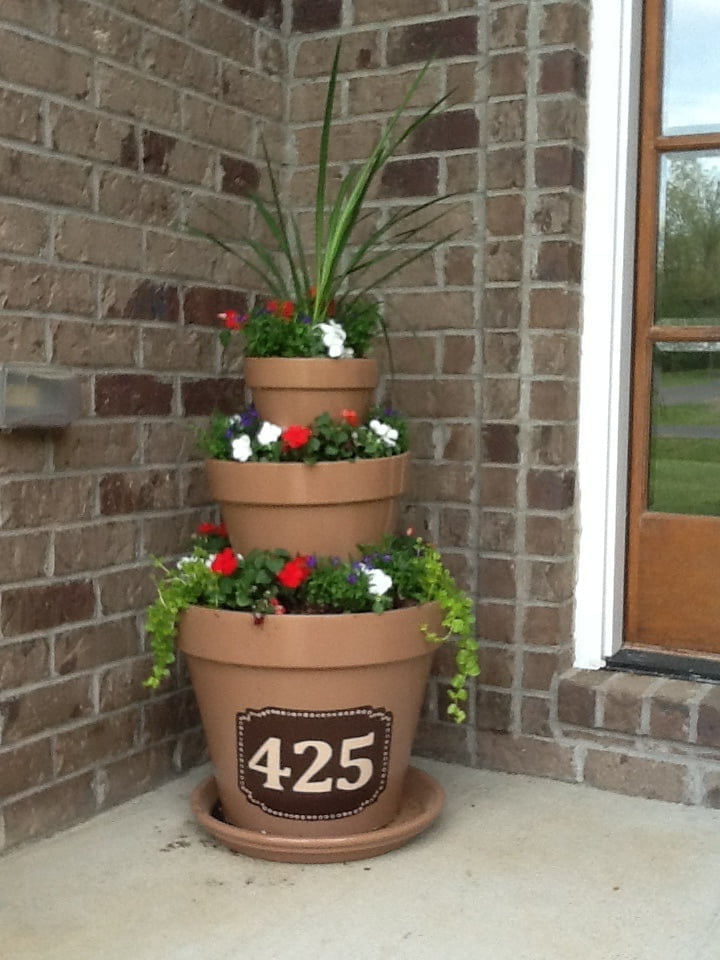 Take your porch decoration ideas to the next level–literally–with tiered planters. This DIY version uses terra cotta pots in three different sizes to add height as well as color for visual interest. Not only does it liven up the porch with layers of bright blossoms and foliage, it even provides a convenient place to display your house number. When planning your planters, make sure to take into account how much light your porch gets during the day. Shade loving ferns, begonias, and impatiens will do well under covered porches, while open decks are better for flowers that like full sun, such as geraniums, petunias, and daisies.
8. The Country Charm of This Porch Decoration is Irresistible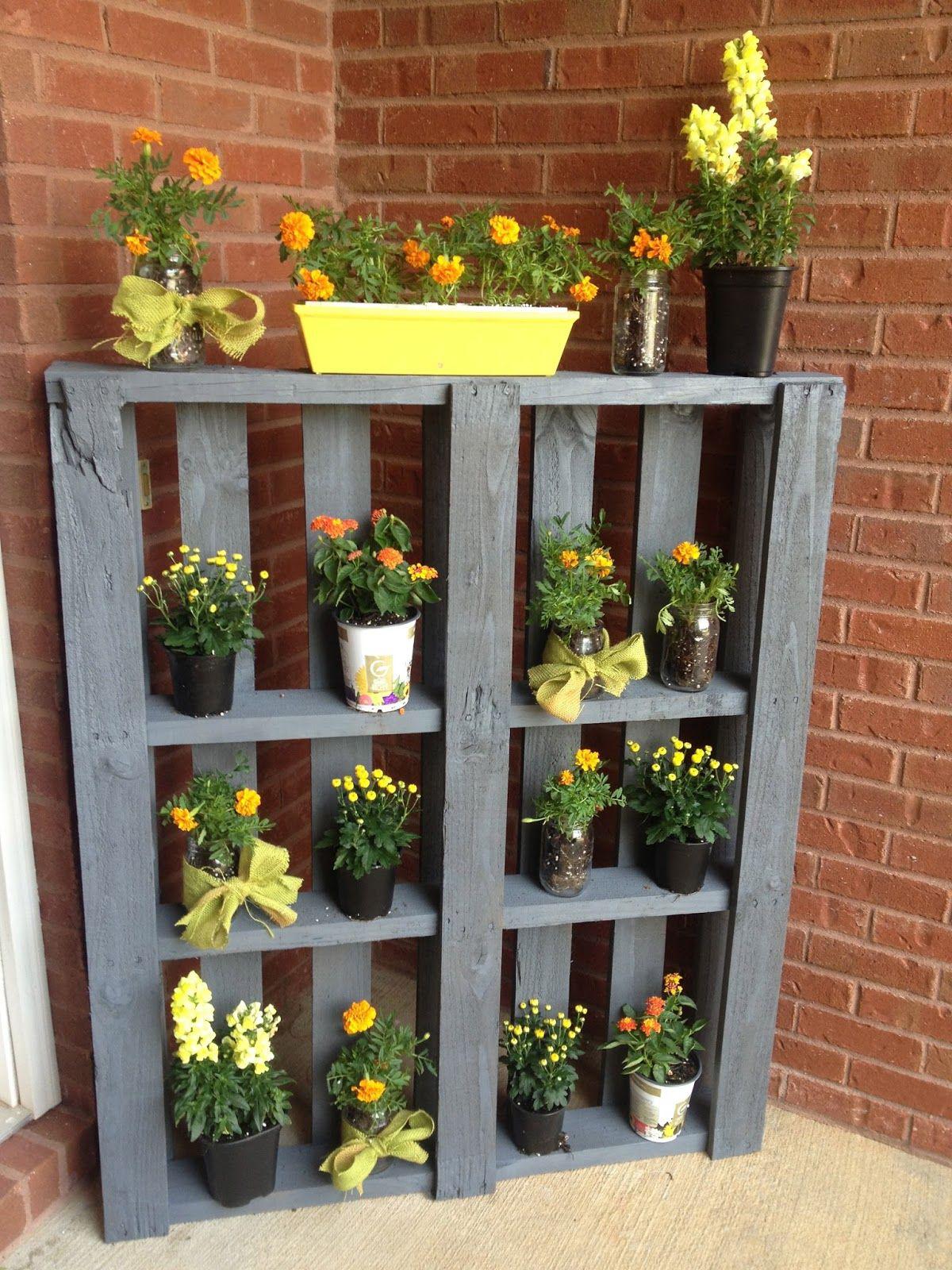 Source: The original source is not available anymore.
Upcycled, reclaimed, repurposed–whatever you may call it, what one person sees as junk, another sees as the missing element in their porch designs. Here, an old shipping pallet transforms an empty corner into a cheerful vertical garden, perfect for making the most of a small porch. Tipped on its side, the pallet's inner support braces become shelves to hold clusters of mini-planters made from empty jars and other recycled containers. With it's coat of dusky blue paint, the pallet creates a perfect backdrop for the vibrantly golden snapdragons, marigolds, and other blooms that make up this color-coordinated garden.
9. Natural Wood and a Hand Crafted Sign Let the Florals Burst Forth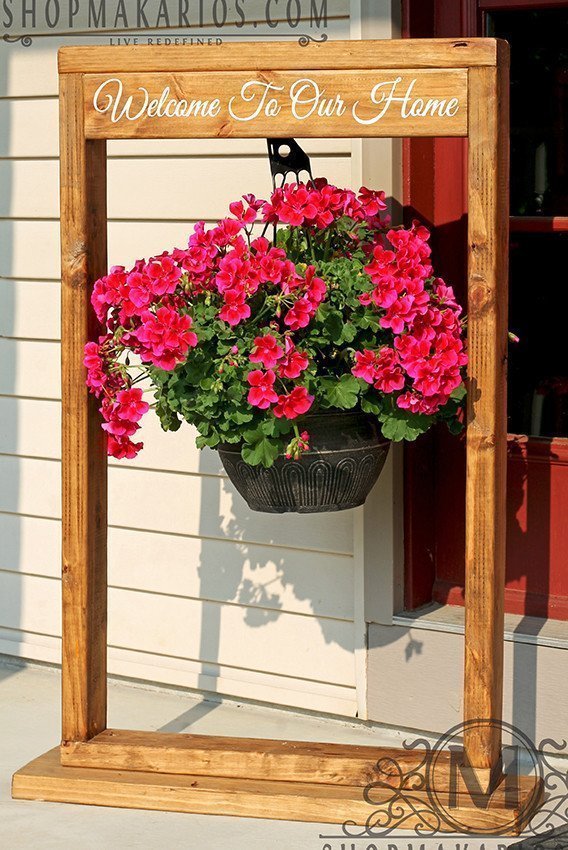 With a welcome like this, your guests can't help but be impressed. A free-standing wooden frame combines the personable greetings of a welcome sign with the exuberant blooms of a hanging geranium planter. Unlike shepherd's hooks or wall-mounted brackets, this plant stand can easily be moved from one location to another, making it simple to change up your porch decoration ideas throughout the season, or add a little extra decor to outdoor get togethers. If you opt to DIY a stand like this, be certain your corners are perfectly square, otherwise the weight of the hanging basket may cause the stand to tip over.
10. These Repurposed Log Seats are the Definition Of Charm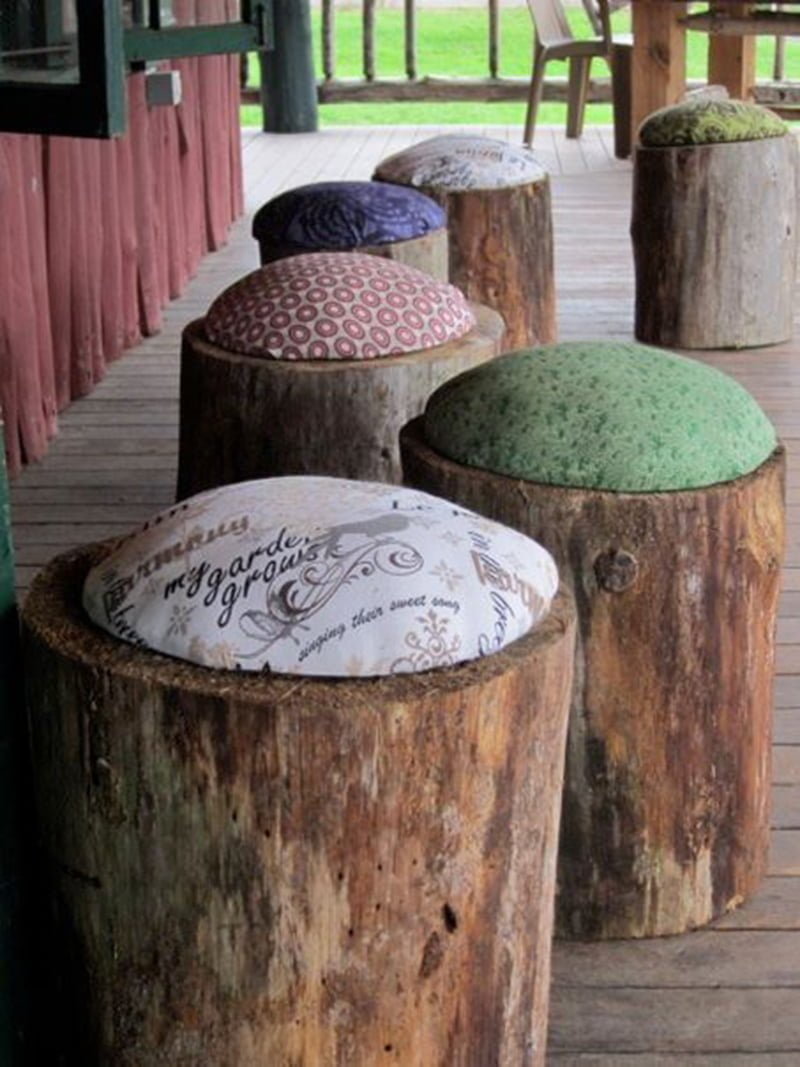 If your style tends toward the rustic, or if you happen to heat your home with wood, these adorable stools might be the perfect outdoor seating solution. They're easy to DIY, with the help of just one powertool: a chainsaw. Made from lengths of old logs and capped off by dainty domed cushions, these stools are a great option for a summer cabin or vacation home. Though the logs themselves are solid, heavy design elements, the whimsical mix-and-match cushions adds a touch of lightness and playfulness, as well as some much needed padding. .After all, who says rustic can't be comfortable?
11. An Antique Porch Decoration Idea that Welcomes Visitors with Style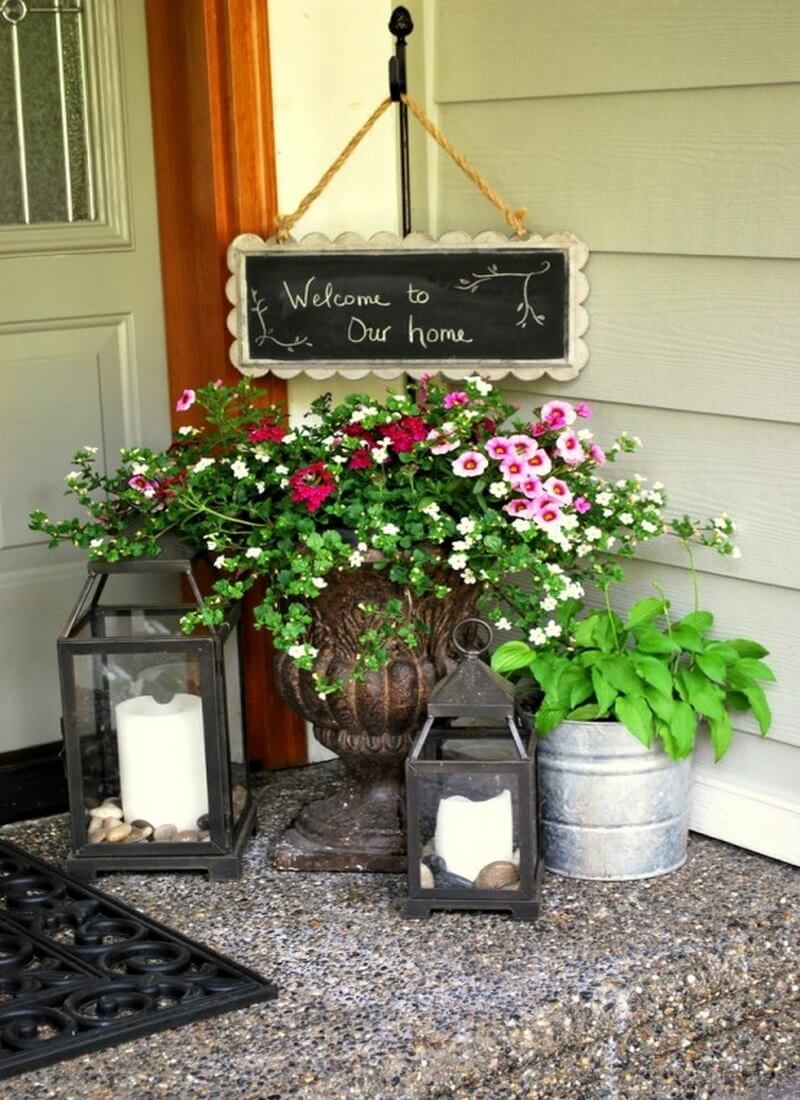 One way to add design interest to your porch designs is by grouping elements along a theme. The theme can be quite subtle; this display of planters and lanterns gets its cohesiveness through its rustic metallic color scheme. Even the doormat plays on old-fashioned wrought-iron designs, but because the shades and textures are all a little different, the design is inviting and homey. A chalkboard welcome sign is a perfect way to greet guests as they arrive. For special events, add a little mood lighting with candles in the lanterns. If you don't want to worry about a potential fire hazard, use battery-operated pillar candles for the look of flame without the risk.
12. A Hint of The Middle-east Makes for an Irresistible Outdoor Setting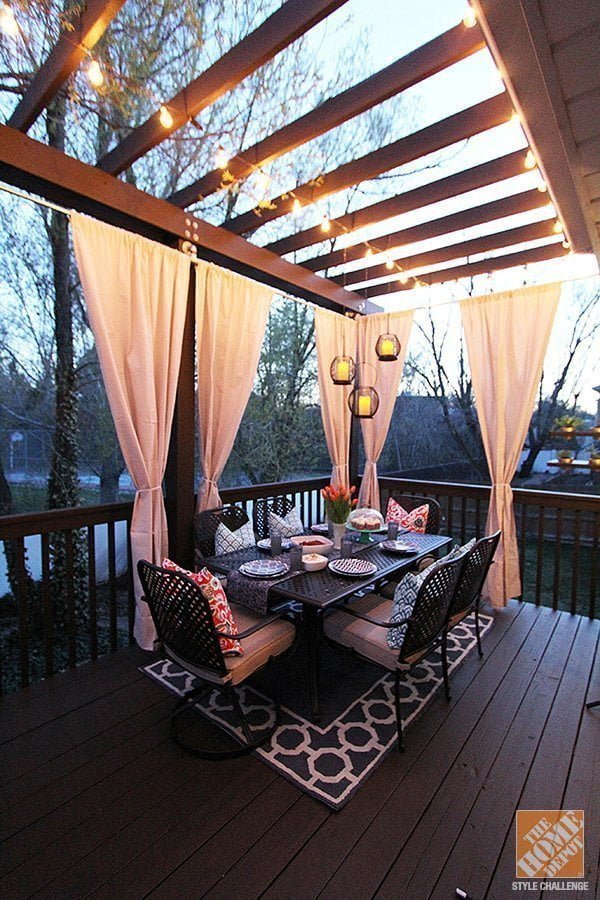 A few simple porch decoration ideas can really take a bland deck into an exotic getaway. Hanging drapery immediately turns the outdoor space into a room with a view, while an area rug defines space for a dining set that perfectly matches the dark metal finish of the porch rail. The pergola beams overhead make a perfect anchor for the outdoor equivalent of pendant lights–hanging candleholders suspended directly over the dining table. Strands of retro-style outdoor lights add extra illumination to your get-togethers, and with comfy cushioned seating, the scene is set for an evening to remember.
13. Antique White Pieces Show Off a Potted Herb Garden Beautifully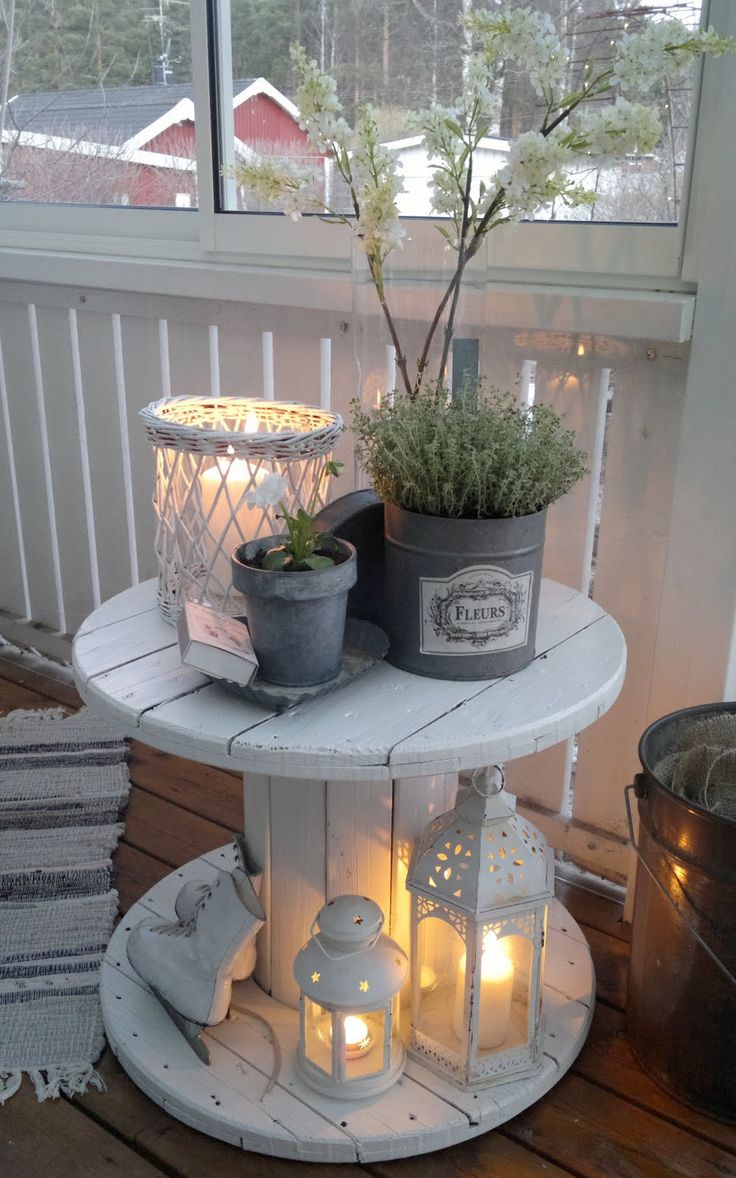 Playing with light in outdoor spaces isn't as easy as swapping your drapes for sheer curtains or choosing a new light fixture, but there are still ways to completely change the mood of your porch simply by using light. This sunporch goes from a functional living room by day to a relaxing evening retreat just by lighting clusters of plain white candles. The monochromatic color scheme helps bounce back more light, creating a homey glow that transforms the space. The scent of herbs in mismatched galvanized planters completes the atmosphere.
14. An Old Fashioned Welcome Sign Does the Trick Beautifully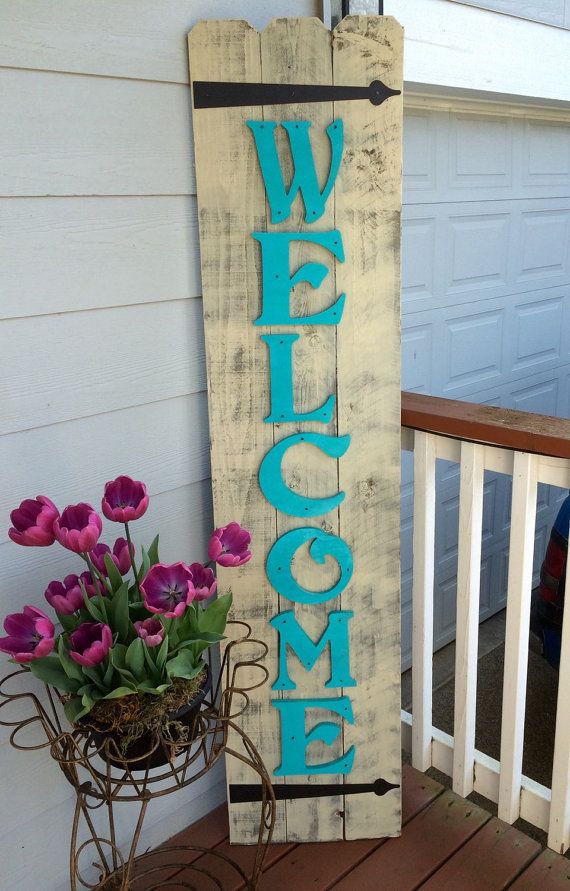 Bold statements don't require bold budgets! There are plenty of porch decoration ideas for those looking to spruce up their space without breaking the bank, like this cheery welcome sign made from fence pickets. Rustic distressed paint disguises any imperfections in the wood, so if you're removing an old fence on your property, consider saving a few boards for a quick weekend DIY project. For the lettering, choose a bright, contrasting color, like this vibrant turquoise. Salvaged wrought-iron door straps add a cottage-chic style that carries over into the exuberant tulip planter and completes the look.
15. Subtle Pastels Work Wonderfully with This Wicker Setting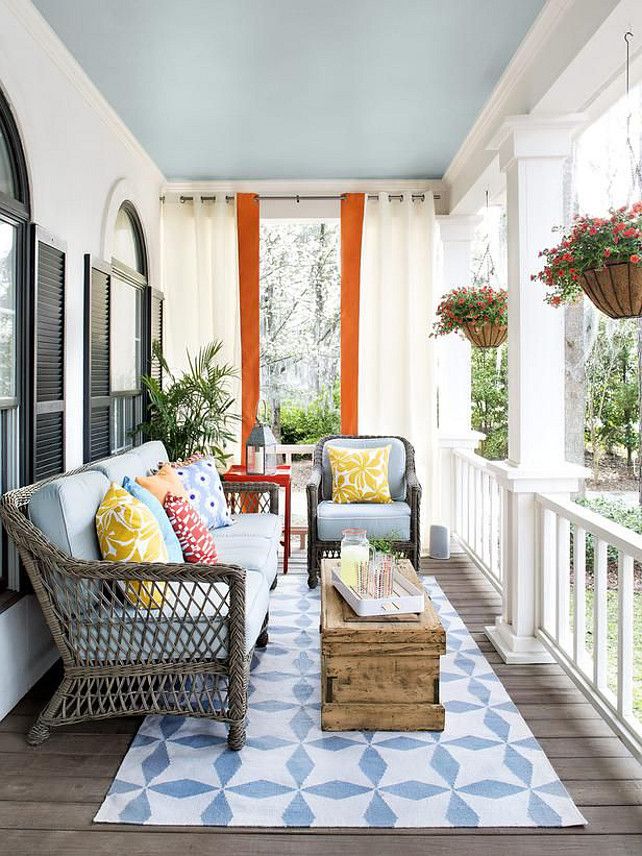 Source: The original source is not available anymore.
Create an outdoor living room with just a few comfortable pieces of furniture. Define the space with an outdoor rug, arranging the seating to form a relaxing and inviting conversation area. The sky-blue color palette with pops of bold orange, red, and gold, plays well with the house's black and white color scheme, and echoes the blue-painted ceiling of the porch itself. An old packing crate makes a perfect spot to rest a pitcher full of lemonade, while floor to ceiling drapes keep that late afternoon sun from getting too hot. Finish off the look with touches of greenery: Hanging baskets and planters liven up the space.
16. The Subtle Glow of Candles Lights Up These Wood Plant Holders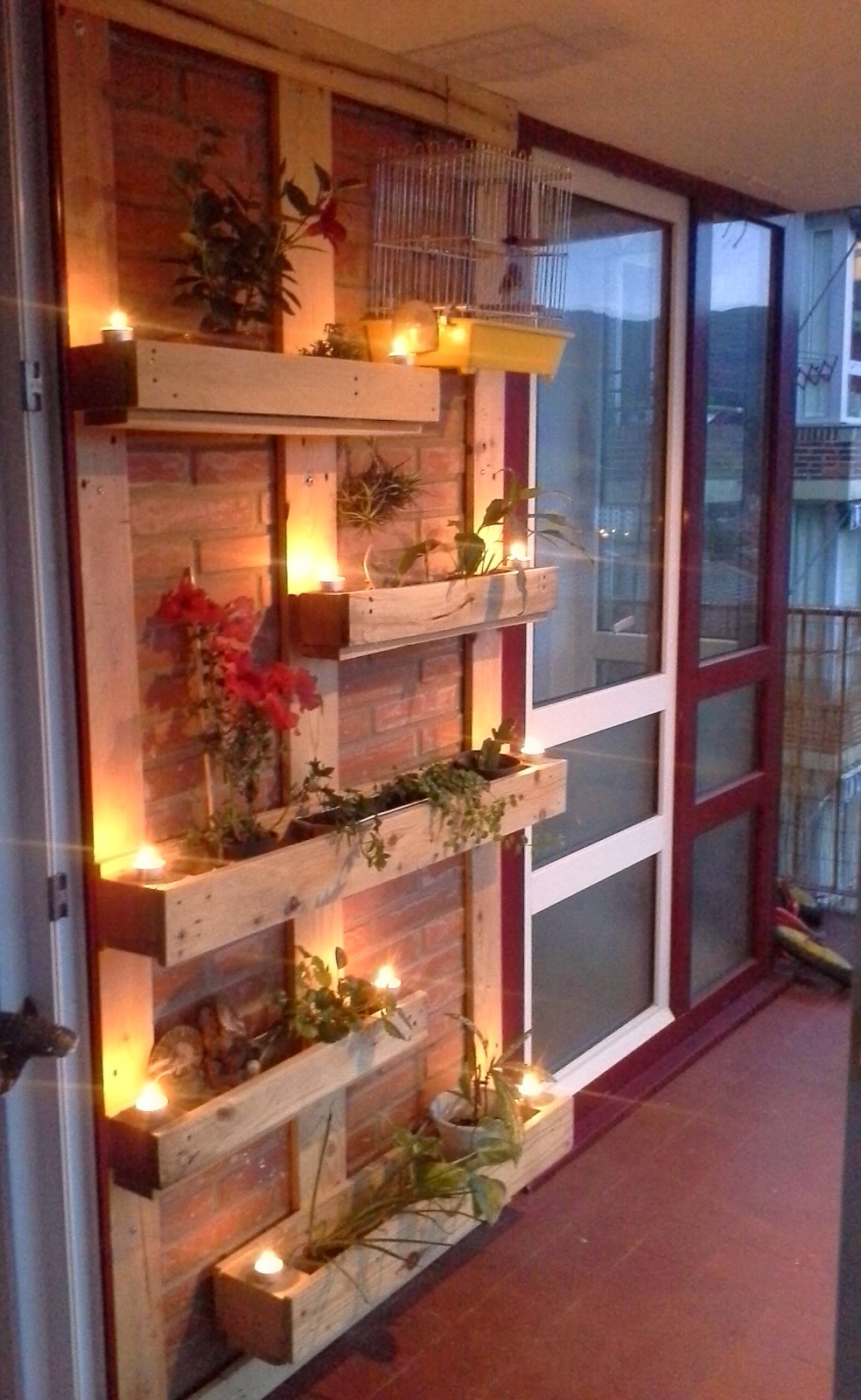 When your space is limited, take your porch decorating vertical! A brick accent wall framed out in rosy cedar boards is the perfect spot for a series of hanging planters. Choose long, narrow boxes to keep the greenery tight to the wall and out of the way to maximize your entertaining space. For a little extra ambiance, tuck votive candles in amongst the plants. Make sure the votive holders are large enough to completely shield the flame from nearby leaves, or use flameless lights to ensure there's no risk of setting your elegant accent wall ablaze!
17. Bold Black Against Vibrant Red Makes for an Amazing Welcome
Source: The original source is not available anymore.
When your home has a bold color palette, such as this denim blue stucco and contrasting bright red door, your porch decor has to follow suit. This tiered planter adds the height interest of a large urn without the corresponding price tag. Filled with multicolored blooms and vibrant foliage, the plantings play well with both color and texture. The black ceramic pots help the colors of the blooms stand out, even against the bold colors of the house itself. With such a fun and lively porch decorating scheme, this is a home sweet home indeed!
18. This Quaintly Charming Welcome Sign is Utterly Irresistible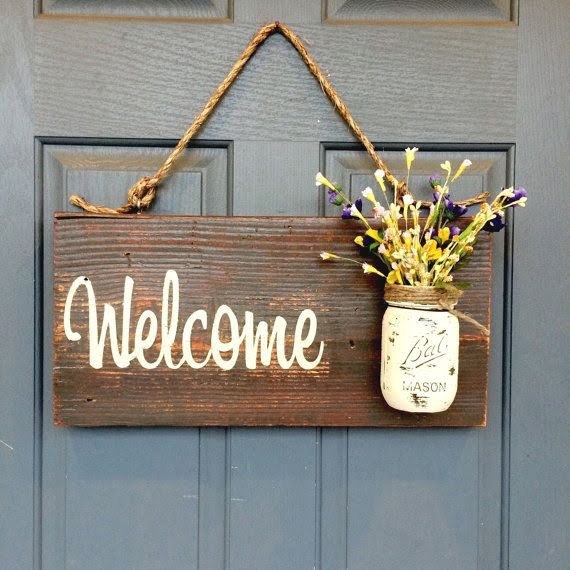 Source: The original source is not available anymore.
If your porch is particularly small, or just consists of a front step, there's no need to despair. Sometimes the simplest (and smallest!) porch decoration ideas are the best ones. A hand-painted welcome sign is an easy element that immediately adds your sense of style to a space and sets the tone for anyone about to enter your home. This version, made from a dark-stained board, adds a Mason jar vase filled with delicate wildflowers. Swap out the blooms for evergreen boughs or berry-covered branches, and your everyday welcome sign doubles as holiday decor!
19. This Delightful Welcome Tableau has a Farmhouse Feel That's Elegant Too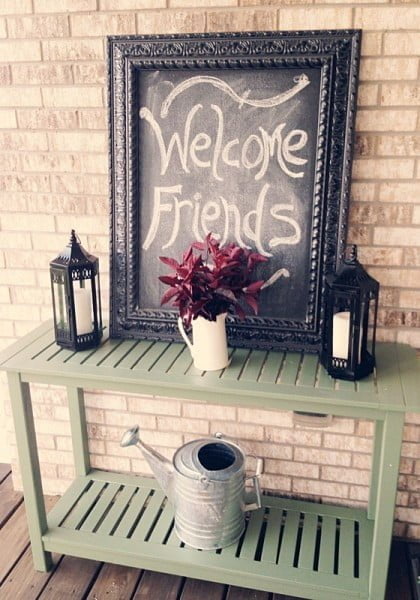 Source: The original source is not available anymore.
Most houses have a hall table just inside the door, but there's no reason you can't have one outside as well! Having extra table space close at hand can be a blessing when you're entertaining, whether you need extra space for your dinner buffet, or just want a spot for guests to set their drinks. This version uses an old planting bench, cleaned up and repainted, and makes for a great outdoor piece. Use an elaborate frame to glam up a simple chalkboard, and add a greeting to your guests. A collection of lanterns and vintage watering cans completes the display.
20. Beautiful Wood Planters Show Off a Vibrant Floral Display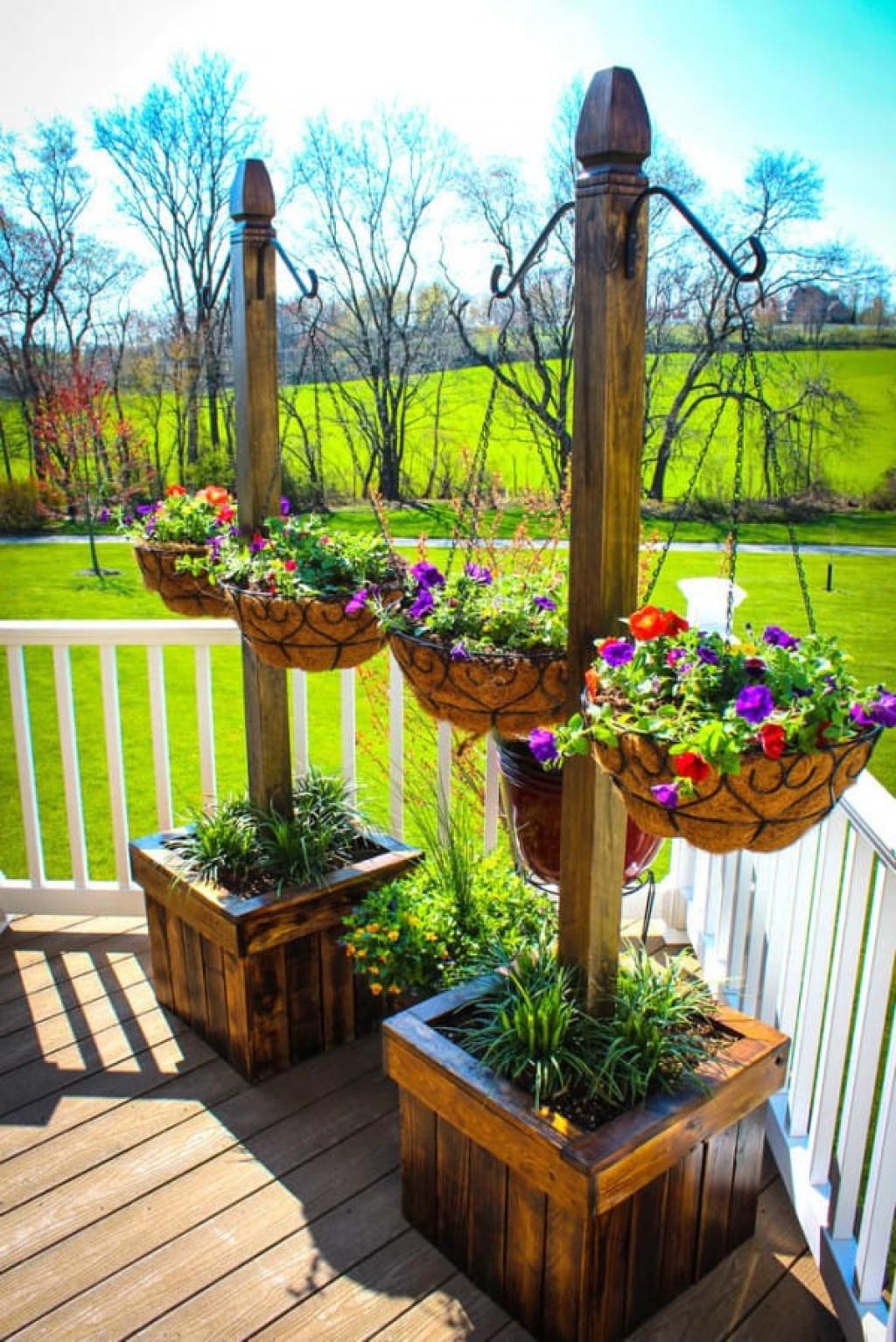 Source: The original source is not available anymore.
Wide open, sunny decks are a great place to lounge with a good book or gather with friends and family. The only problem is that with no pillars or columns to give height to your porch decorating, sometimes the design can fall flat. These planter boxes offer the perfect solution. Not only do they offer space in the lower planter for lush greenery and vibrant blooms, the central post supports a pair of hanging baskets for even more color and texture. Keep in mind that on a sunny deck, these planters, especially the hanging baskets, will need frequent watering to keep them looking their best.
21. This White Wood Backdrop Lets the Details Pop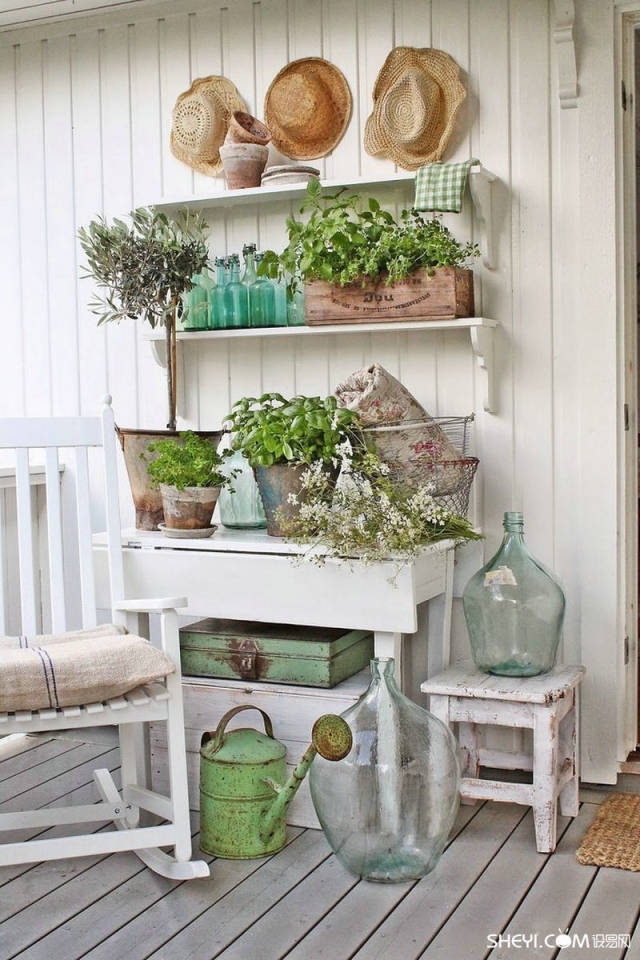 Source: sheyi.com
A clean white design serves as a blank canvas for cottage-style porch decorating. A flour-sack cushion adds comfort to a vintage rocking chair (painted white, of course!), making it the perfect seat for an afternoon spent admiring the gardens. A collection of blue glass bottles and vases provides a gentle wash of color, while more vibrant shades come from herbs planted in clay pots and wooden planters. Old-fashioned gardening accessories, like worn-out straw hats and rusting watering cans, get a second life as design elements. A woven sisal doormat keeps the garden soil outdoors where it belongs!
22. Artful Flowers and Bright Pillows Make for a Warm Welcome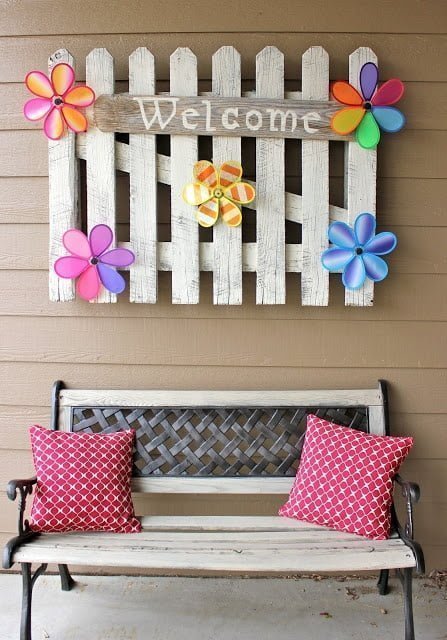 While most porch decorating ideas focus on making outdoor spaces extensions of the indoors, sometimes it's nice to focus on outdoor elements. This porch design makes use of lawn elements as its basis. A picket-fence gate makes a joyful wall hanging when decorated with windblown whirligigs shaped like bright flowers and a hand lettered welcome sign. Below, a cushioned bench creates an inviting place to sit and stay a while. Keep in mind that hanging heavy elements from exterior walls can damage your siding if done improperly, so make sure your wall hangings are securely anchored using proper hardware.
23. Subtle Porch Decorations Here Tell The Tale, Beautifully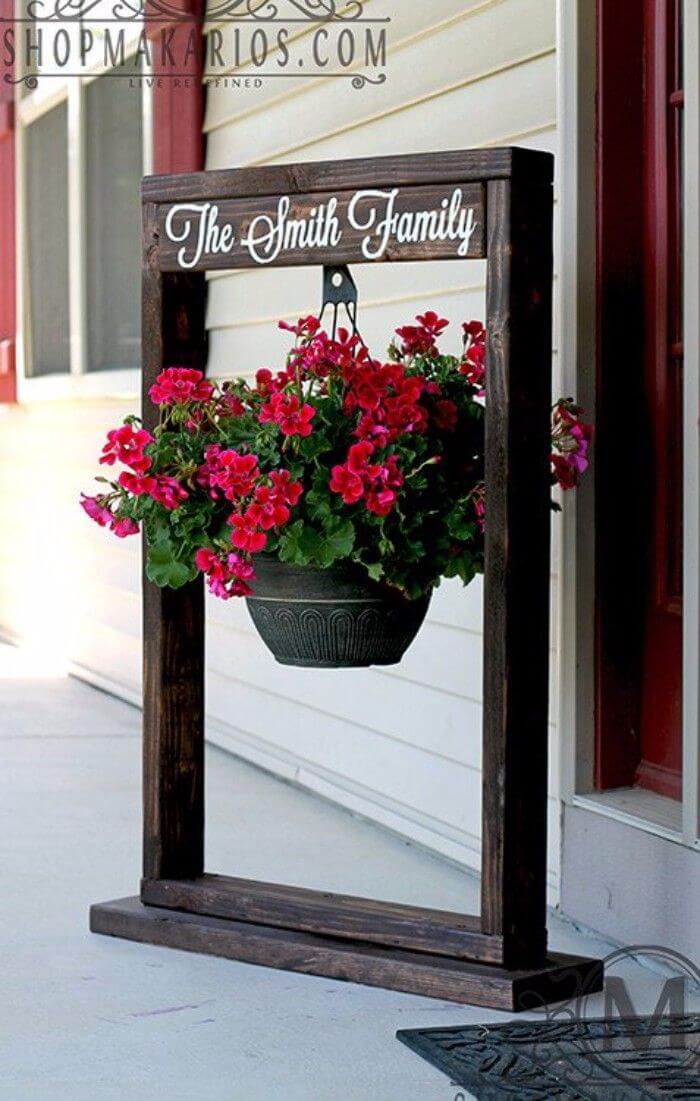 With elegant brick and stonework to contend with, your porch decor should be suitably refined, but not overly formal. Planters are always a good way to go, especially greenery-based versions focused on the textures and colors of foliage rather than bright floral arrangements. Classic ivy planters look best when hanging, to show off the trailing vines, but it can be a challenge to install brackets into brick and and stone walls. This hanging planter avoids the problem by using a simple frame stand. The dark stained wood and decorative knob give it an heirloom feel to match the design of the house.
24. Bright Reds and Blues Make for a Gorgeous Floral Setting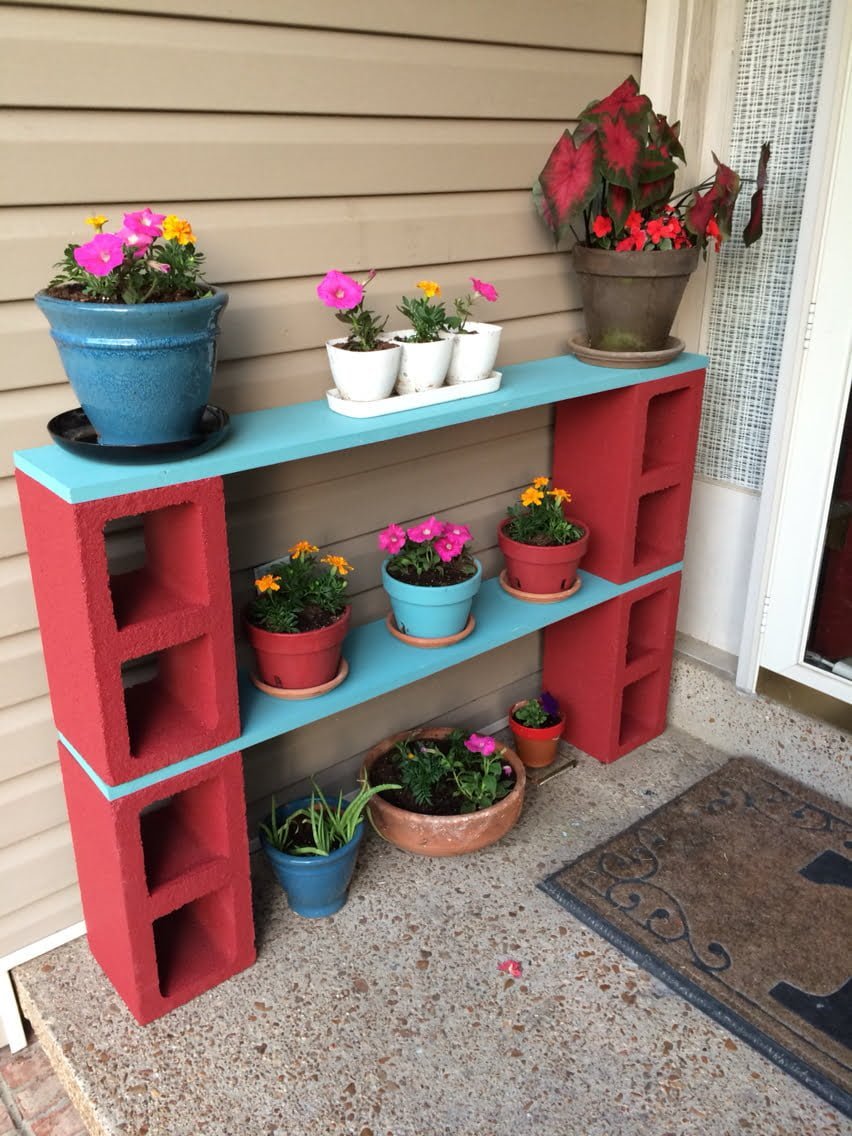 If your collection of planters is starting to take over the porch, coral them with simple shelves made of cinder blocks and planks. For a modern pop of color, paint both blocks and planks in bold shades that contrast with one another. Bright vincas, coleus, and begonias in a variety of mismatched containers round out the colorful display that'll kick your porch decorating up a notch. Avoid stacking these shelves more than two high; since they're not anchored, heavy falling cinder blocks could be a hazard with taller arrangements.
25. A Dark Blue Door Provides a Wonderful Contrast to a Green Planter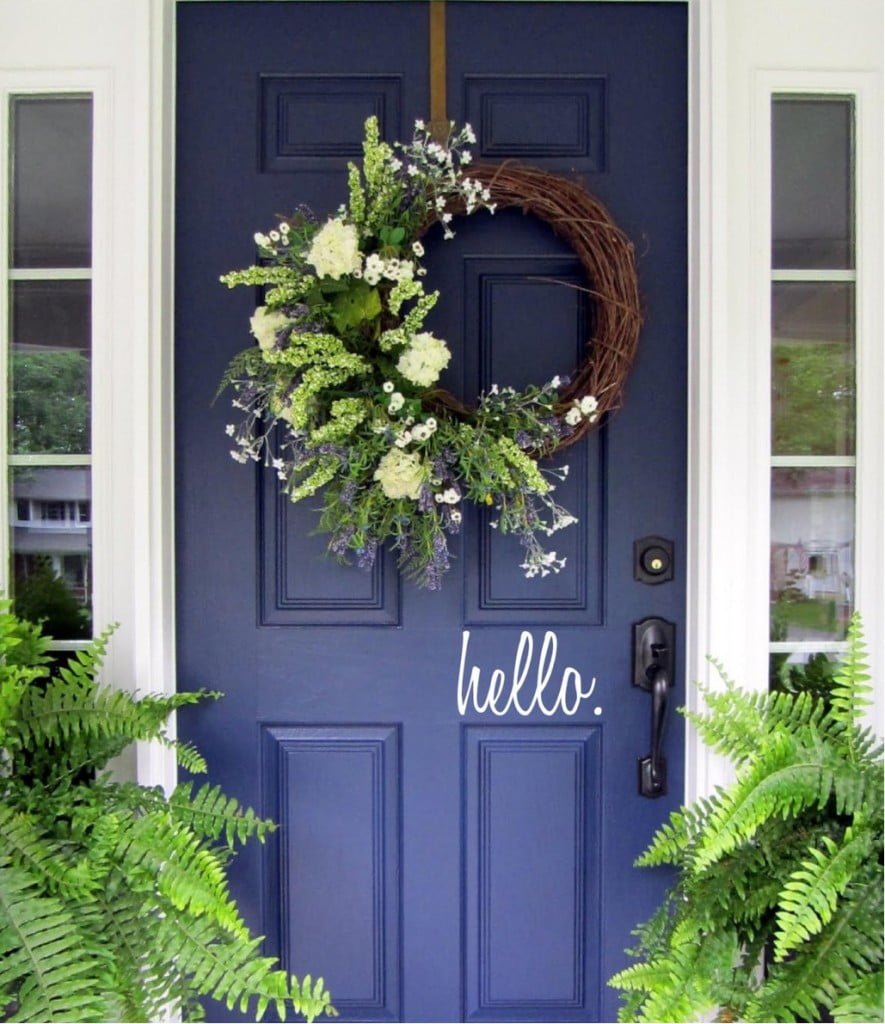 Source: The original source is not available anymore.
Boston ferns are the perfect plant for covered porches. The diffuse light of these spaces is exactly what they require to grow and thrive. Beyond watering, they require very little in the way of care and maintenance, and yet their elegant cascading fronds always manage to look manicured and well-tended. Use tall urns or planters for ferns to showcase their draping growth habit, or hang them beneath the overhang of the roof. Paired with a gorgeous floral wreath on the front door, you'll find yourself spending more time on the porch just to enjoy them!
26. A Cozy Hammock Welcomes and Offers Ease and Relaxation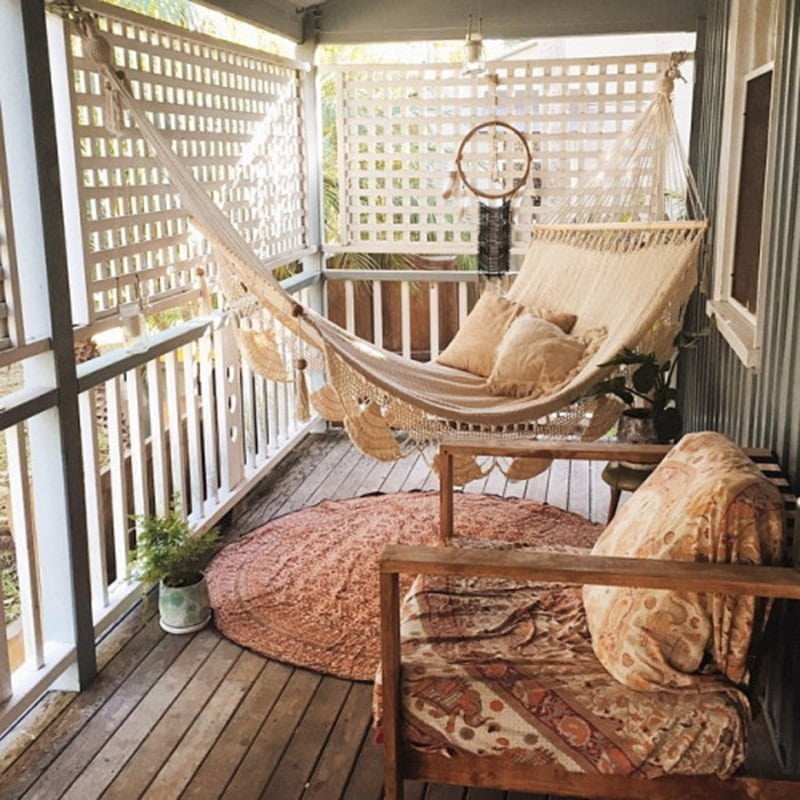 Source: The original source is not available anymore.
Porch decorating just got boho-chic with this luxurious retreat. Lattice provides privacy and shade while a fringed hammock makes for a great place to relax and unwind after a long and stressful day. Make sure it's properly anchored to sturdy walls or posts. A vintage circular area rugs adds to the exotic feel of the space, as do the bold printed fabrics wrapped around the chair cushions for an extra pop of color. To bring a little life into the space, add mismatched planters filled with shade-loving plants, then prepare to relax in your own personal oasis.
27. White Wicker With Bright Pillows are Perfect in This Cape Cod Style Setting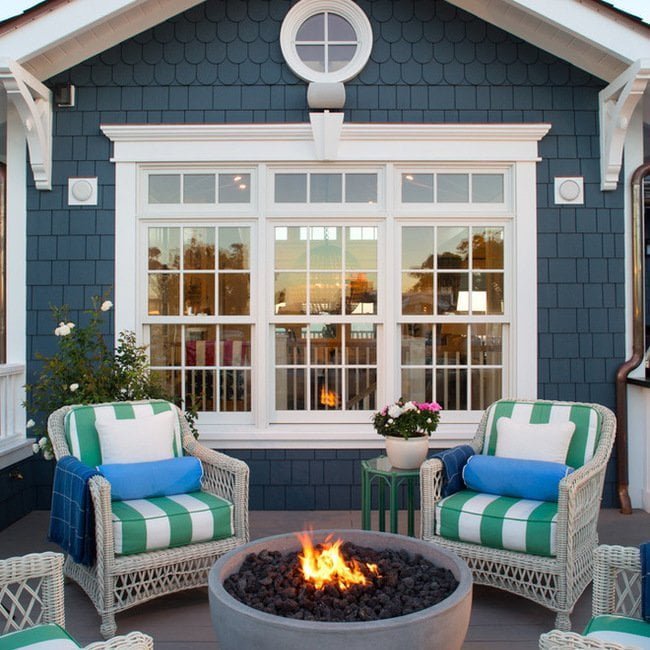 When it comes to porch decoration ideas, the fire feature has to be one of the best. What better way to enjoy an evening with your friends or family than gathered around the fire, enjoying drinks or toasting marshmallows. This beachy design makes excellent use of a cozy space to create a seating area with cushy padded chairs, color coordinated side tables, and, of course, a central gas-powered fire feature in a concrete urn. If you have gas lines in your home, you can have a feature like this installed to run directly from them; otherwise, refillable propane canisters are an easy alternative.
28. White Planters and a Wood Rocker Let the Red Door Pop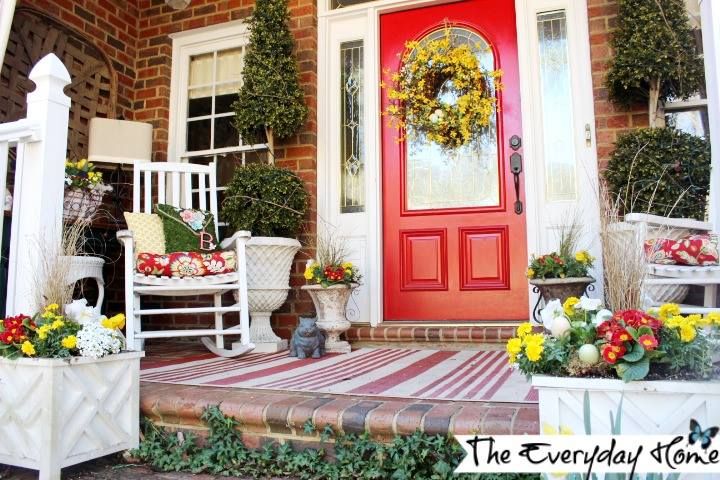 Who says you can't make bold use of color in your porch decorating? This unusual combination of deep evergreen, bold firetruck red, and sunny yellow is eye-catching and charming. Drawing on the colors of the house itself, most of the brightness in this porch decor actually comes from plantings: white urns and boxes showcase blooms in white, yellow, and red, while a forsythia wreath on the door echoes the overall color scheme. A white rocking chair provides seating, while the cushions, of course, tie in with the quirky and unique design aesthetic.
29. Blue Pillows Perfectly Coordinate With a Cool Blue Door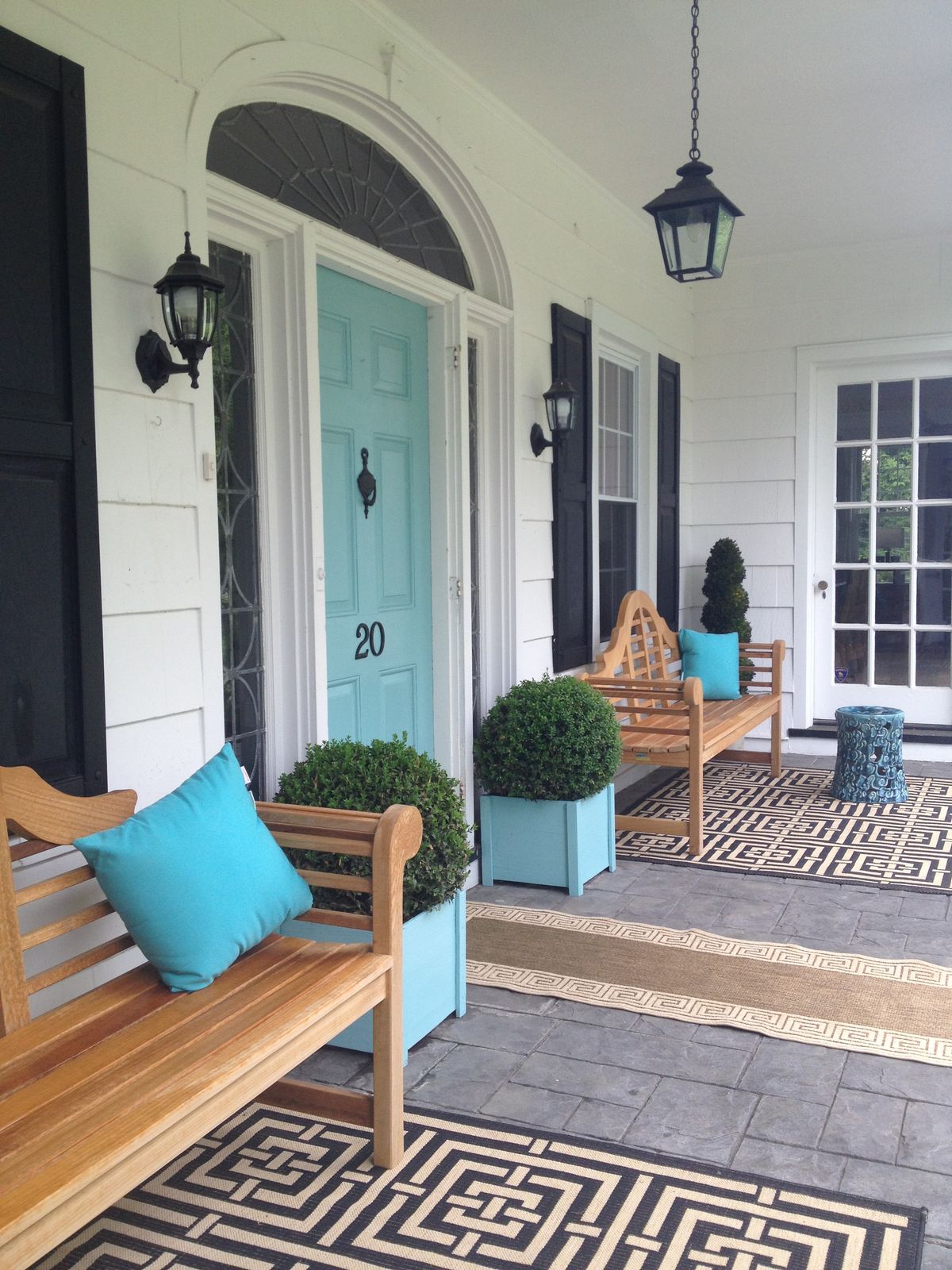 If you're looking for minimalist porch decoration ideas with simplistic elegance, this design fits the bill! Perfect for ocean- or lake-side porch designs, this porch decor draws on its design inspiration from the color of the front door. The design rests on a navy and turquoise color scheme with sandy accents in the form of raw wood benches and patterned area rugs, all of which plays well with the clean lines and black and white colors of the house itself. The planters keep it simple with geometric evergreen topiaries that add interest without overwhelming the look.
30. Vivid Red, White and Blue Makes a Wonderfully Patriotic Statement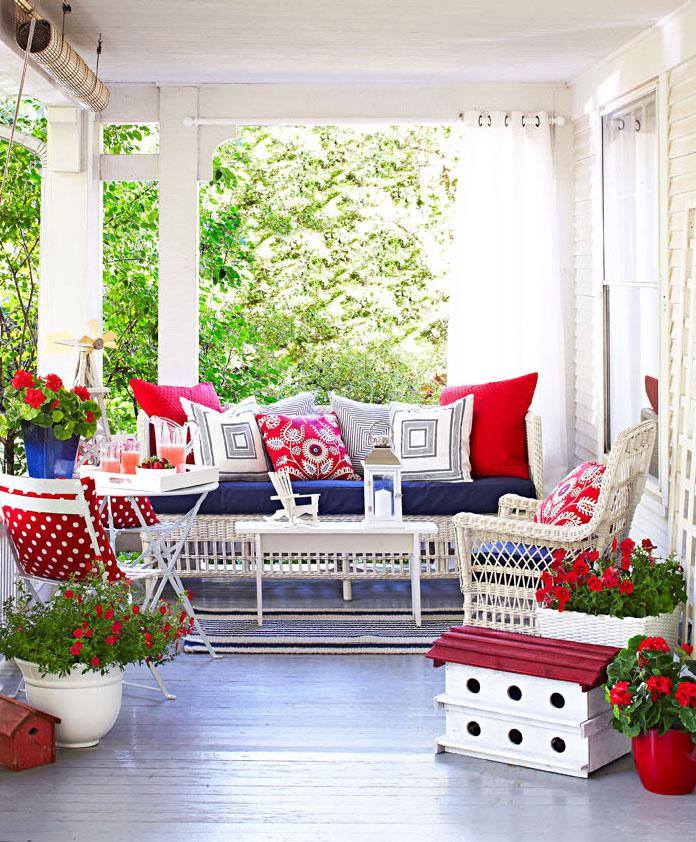 Red, white, and blue are a classic color combination for the summer, harkening back to the days sailor dresses and festive bunting at the town ice-cream social. There's nothing old-fashioned about this porch decorating scheme, however. Bold geometric prints add modern flair to sofa and chair cushions that frame a comfortable conversation space. Monochromatic white furniture lets the accessories be the stars of the show, highlighting the bold colors of geraniums and begonias in brightly colored planters, and birdhouses add a touch of summery whimsy.
30 Unforgettable Porch Designs
Whether you're making over a deck for entertaining, creating a green oasis filled with plants and flowers, or just looking to welcome friends and family to your humble abode, porch decorating is the way to do it. Remember to draw on your existing features for inspiration. If you love the color of your front door, or have a favorite set of patio furniture, make them the anchor point in your design and build from there, choosing accessories and decorations to coordinate.
Play with lighting by adding strands of bistro-style porch lights or clusters of lanterns. Don't be afraid to bring traditionally indoor elements, like rugs and drapery, into your outdoor designs. Keep function in mind as well. If you love to entertain, make sure there's plenty of seating and table space for your get-togethers. If you're trying to create a private space to relax and unwind, use lattices or drapery to keep prying eyes from your sanctuary. With so many different porch designs out there, it can be a challenge to find the exact porch decoration ideas that suit your style, budget, and space, but with these top thirty ideas to work from, you're sure to find a design that's uniquely you.