Check out some of the best DIY Christmas ball ornaments to add to your Christmas collection this year. You'll be amazed at the large variety and easy instructions for creating these magical spheres for your holiday. People of all ages will enjoy joining in on the crafting, as well as receiving them as special, handmade gifts.
32 Festive and Fun Choices for the Best DIY Christmas Ball Ornaments

First, consider hosting an ornament exchange. Gather all of your family or friends together for a wonderful new Christmas tradition. Feast on Christmas cookies, eggnog, and any special holiday treats you enjoy as you set the stage for a remarkable event. This low-key and laid-back party will be an ideal way to kick off the holiday season! Ask each guest to bring 10-20 (depending on the total number of guests) of an ornament they love to share with everyone.
By the end of the night, everyone will have an interesting collection of ornaments that showcase their loved ones' personalities. And the most important part is engaging everyone with your ornament-making activity. Choose one of the fantastic options below for everyone to work on together. Now everyone will be included in this Christmas ornament-making tradition and go home to a tree filled with memories and love.
Or, if hosting a large gathering isn't your speed, make it a small and quaint project that you tackle with your own kids. Maybe this would be a must-do activity for the first day of Christmas break from school. Keeping them busy when school's not in session can be challenging, so be prepared by stocking up on these cheap supplies so they can craft until their little hearts are content!
Of course, there is always the option of creating these on your own. You set the pace and work in a quiet, peaceful atmosphere. With the freedom of working alone, you can create all of the personalized handmade gifts for family, friends, and teachers. They will be pleasantly surprised by your lovely, handmade present.
From paint and pretty glitter to scrap fabric and dried flowers, there is no wrong ingredient for creating these handmade holiday balls. Check out 30 of these wonderful works of art for inspiration for your Christmas tree this year.
1. Vintage Looking Embroidery Hoop Christmas Ornament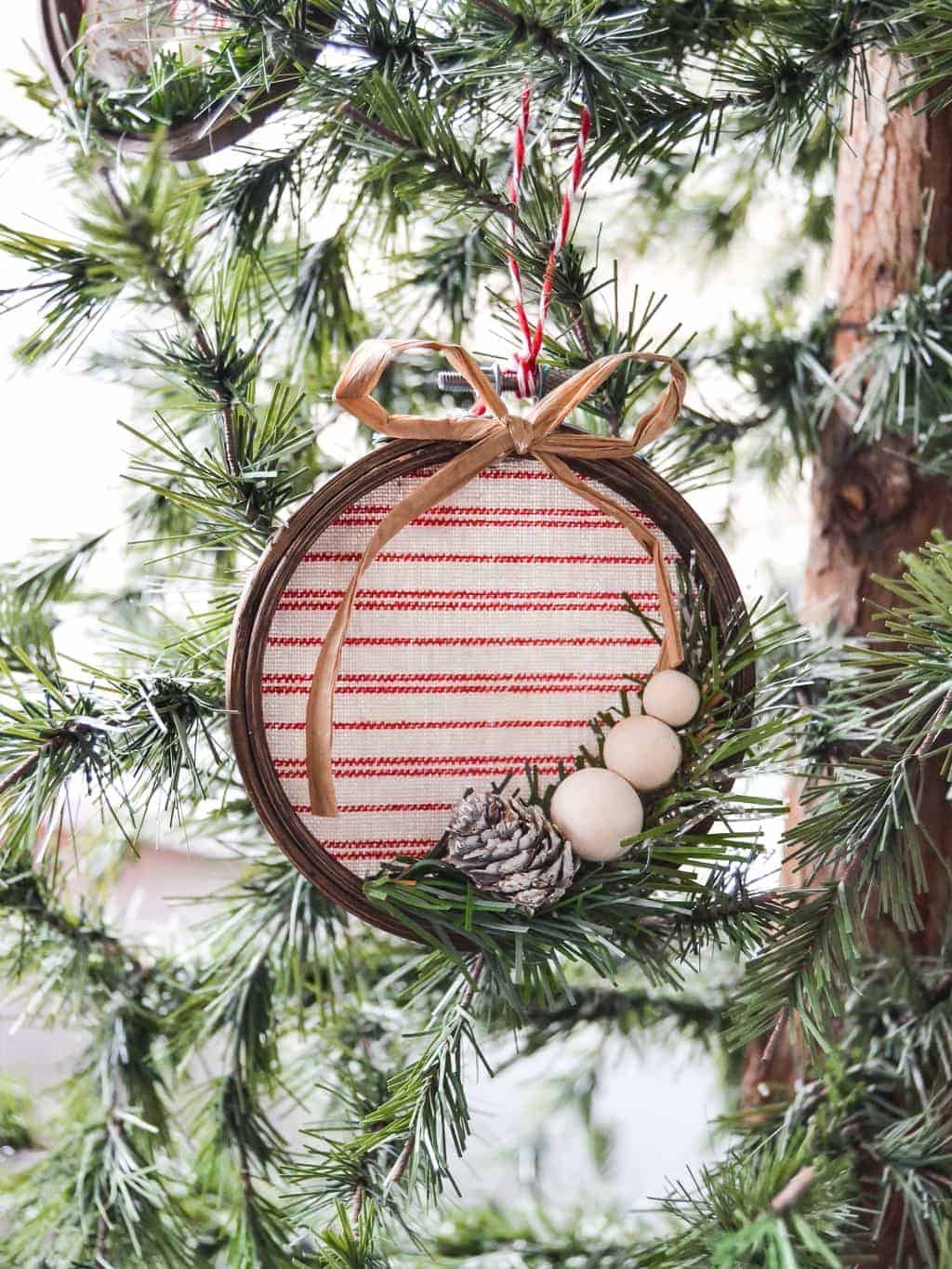 Give a nod to Christmases of old with this darling little embroidery hoop Christmas ornament. With a backing of creamy, vintage white along with red stripes, this creation is further embellished with a trio of small wooden balls and an adorable miniature pinecone. Everything about this cool Christmas ornament screams winter. If you're a crafting guru, you could always add a name to the fabric backing to personalize it for family and friends. Hanging on the tree is a great option; however, it would also make a cute name tag for a gift as well.
2. Perfect Pastel and Glitter Vintage Style Ornaments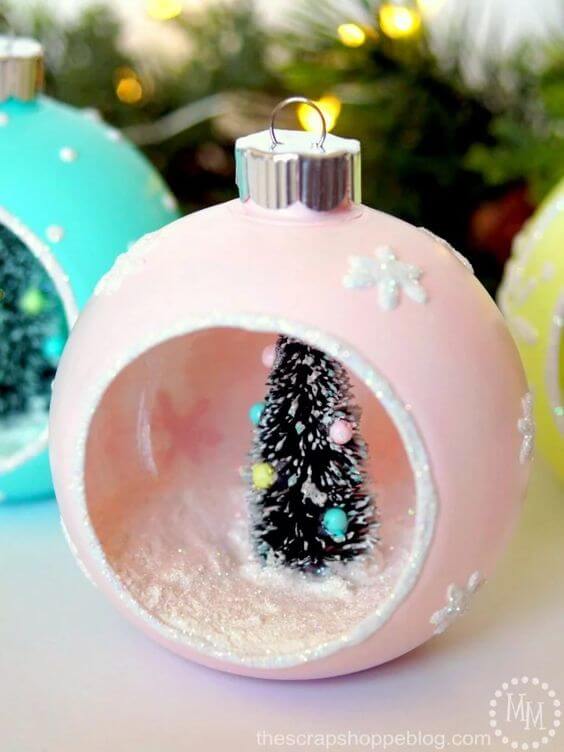 Grab a pack of clear ornaments with an opening at your local craft store so you can embark on this dreamy blast from the past for your Christmas tree. Using three soft and stylish matte colors, you'll achieve the pretty pop of color for your nostalgic atmosphere this December. On the interior, the brush bottle tiny evergreen takes centerstage setting amid a blanket of freshly fallen snow. The entire decoration is finished off with a glitter-trimmed opening and snowflake designs on the sides and back.
3. Peppermint Hot Cocoa Glass Globe Ornament
Nothing warms the heart during the holidays like a nice cup of hot chocolate! Spice it up with some festive red and white peppermint pieces and you're ready to make a unique and cozy glass globe ornament that's perfect for Christmastime. Complete with hot chocolate powder, miniature marshmallows, and peppermint pieces, these DIY ornament balls are a great gift for teachers, neighbors, and your favorite hairstylist or mail carrier. Add it to a gift basket complete with a hot chocolate kit featuring a generous mug, comfy blanket, and a good book for a wonderful gift idea.
4. DIY Disney Princess Inspired Christmas Ornament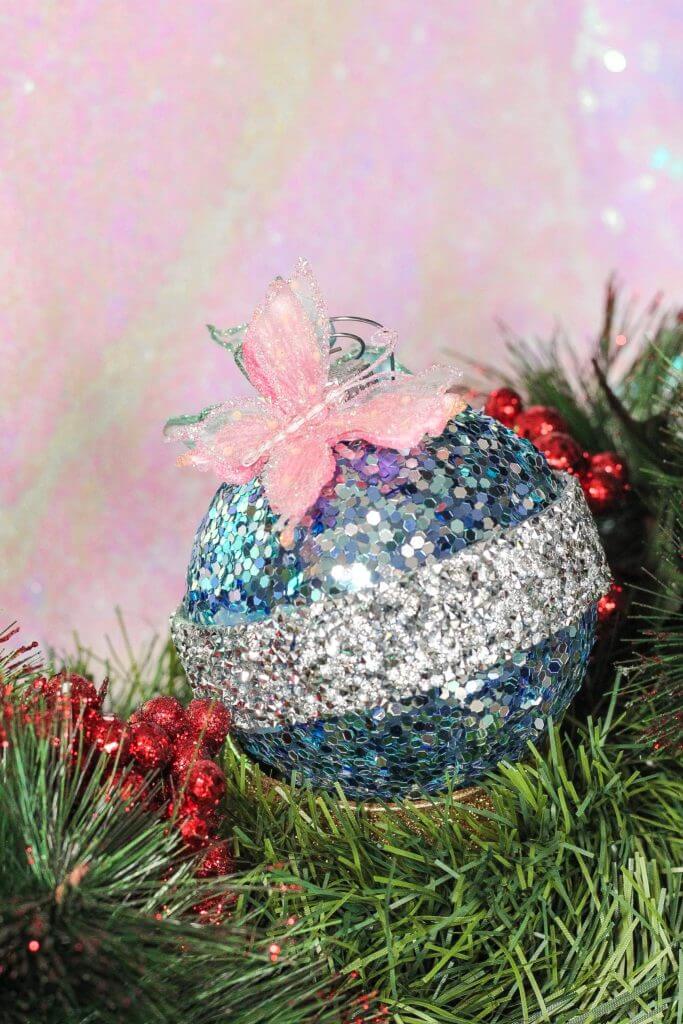 Bring your favorite Disney princess into your Christmas decorating mix with this amazing homemade Christmas ball ornament. Gussied up for this special holiday season, this tree ornament is wrapped with all things girly. Lots of glitter and pretty color choices spark all the interest you need. Themed and thrilling, your most beloved princess are brought to life in another form as a cute and glittery tree ornament. Let your creative juices flow as you incorporate some of the princess's accessories into the look from a snowflake for Elsa to a fork for Ariel. Make it a game to see if all your friends can guess the princess who inspired the homemade Christmas ball.
5. Time-Saving Temporary Tattoo DIY Ornaments
Save some time and money as you create these cute temporary tattoo Christmas ornaments. From frilly florals to simple sayings, your finished creation will exude a hand-painted look. No need to worry if your hand isn't that steady because you allow the temporary tattoo to do all the work. Kids will enjoy this easy craft as a fun activity while they are preparing for the arrival of Santa.
6. Dried and Jute Rustic Boho Christmas Balls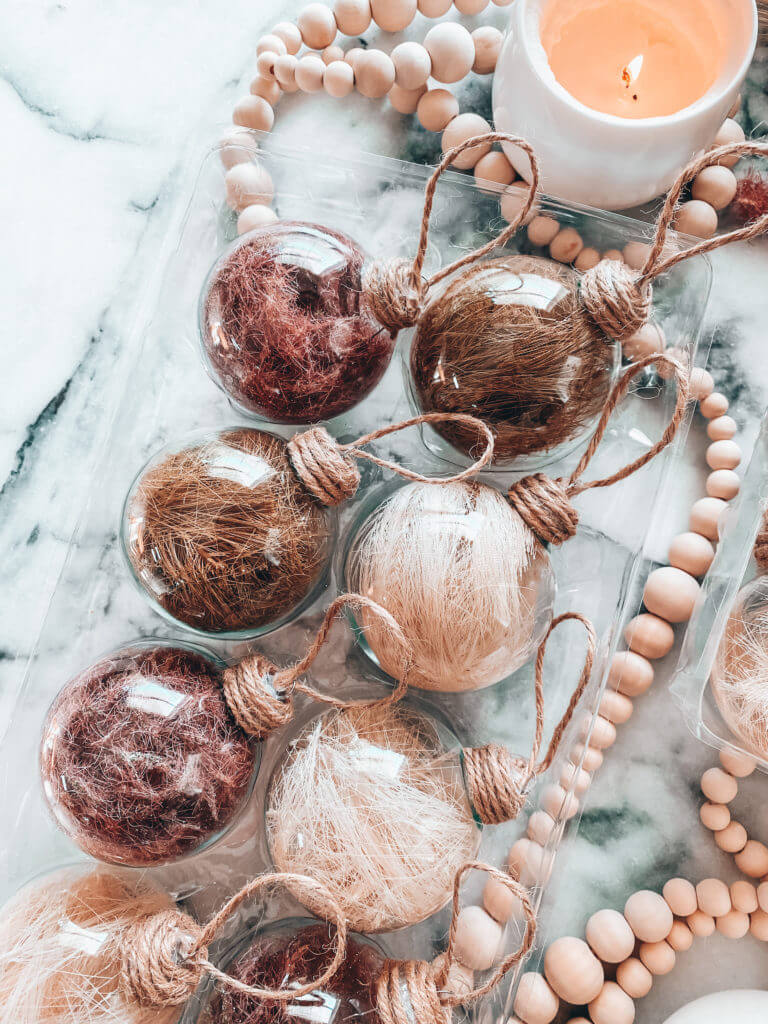 Add some custom Christmas ornaments to your tree with a little rustic flair. Wrapped and tied at the top with some simple jute string, these custom creations are perfect for adding texture and style to your tree. Inside, bunches of dried flowers and grains add so much texture. Truly this look is a modern take on the popular primitive decor of the 1990's era. Bring your home up-to-date by including this rustic bohemian look into your home. It works well on a Christmas tree, but also looks fabulous on a decorative tree that you choose to leave on display year-round.
7. DIY Decoupage Santa's Christmas Eve Sleigh Ride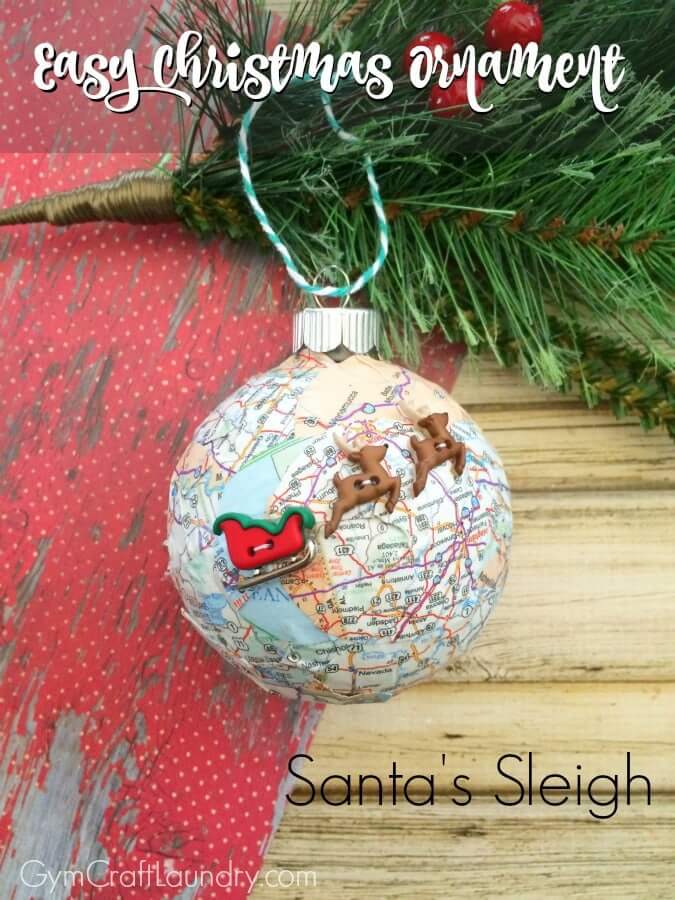 As the jolly old elf travels the world, pay homage with this darling DIY decoupage ornament ball. Featuring a cute sleigh and reindeer pair, this map-covered Christmas ornament will be a favorite with kids of all ages. It's a great idea for a world-class traveler who has everything or for the amateur Christmas collector. Add this to the Christmas tree and have fun relocating it for the kids to find as they anxiously await the arrival of Santa in his sleigh.
8. Gold Accent Joy to the World Ornament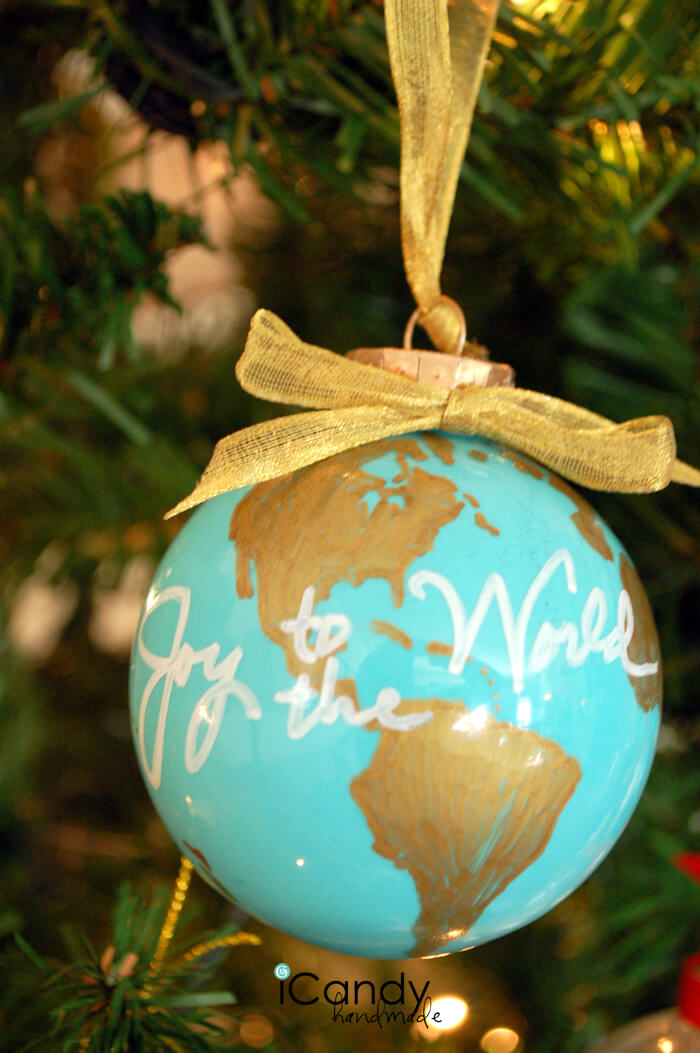 Check out the cool combination of teal and gold in this amazing Joy to the World ornament. It will add such a tranquil feeling to your busy Christmas tree with its soothing and sparkly color scheme. There are so many incredible ways to transform plain plastic bulbs into fabulous ornaments and this is just another way to do that! Consider gifting this to any Christmas collector as well as a friend who loves to travel or your personal travel agent. It would be the perfect way to begin a themed tree showcasing Christmas customs from around the world.
9. Custom Gold Hand Lettered Christmas Ornament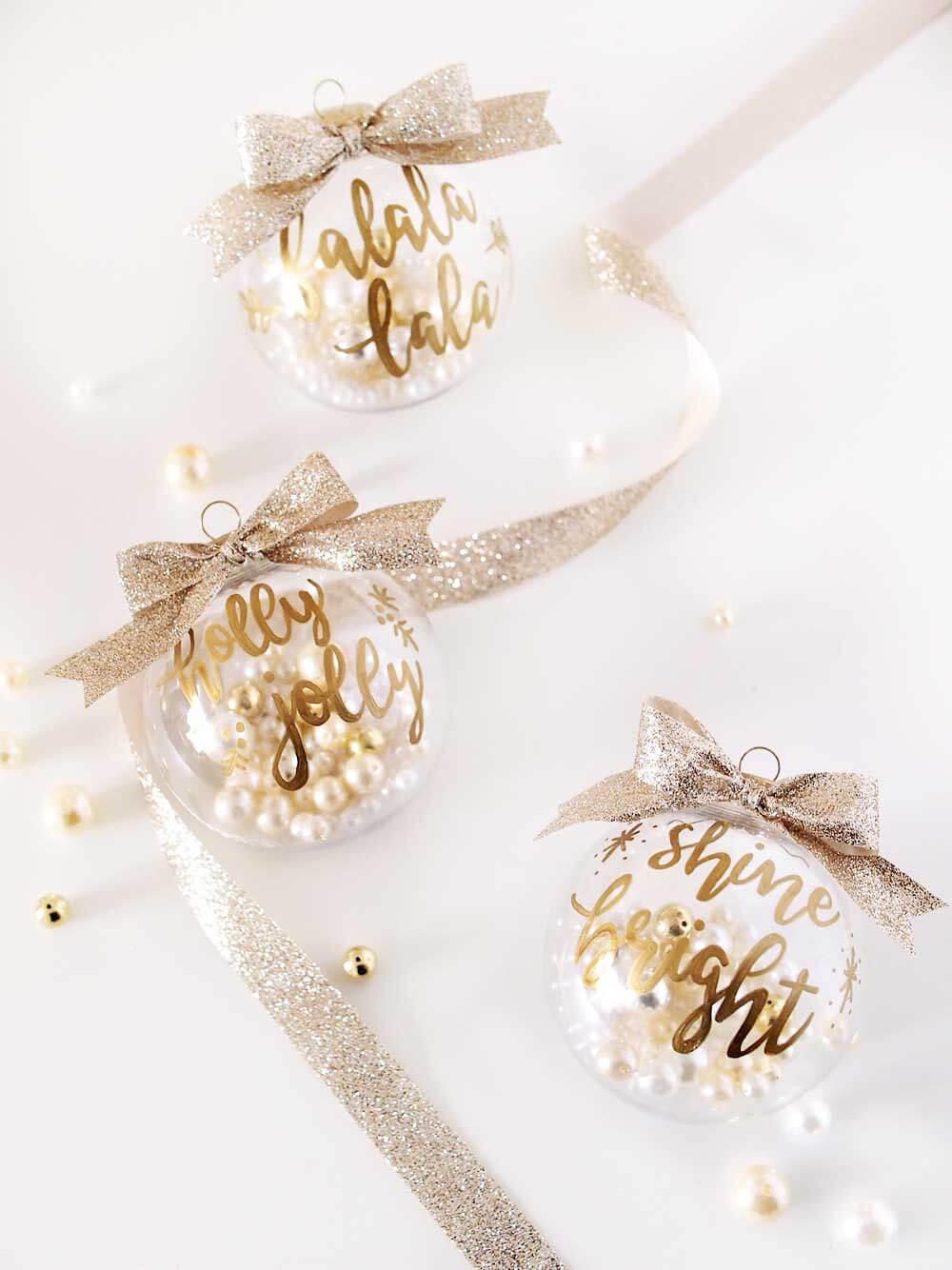 For some spectacular DIY ornament balls, you can use your steady hand to apply some custom gold lettering to bring your vision to life on these clear plastic ornaments. Fill them up with some soft and creamy pearls so the gold will really pop while maintaining a consistent color palette for a personal winter wonderland. From holiday songs to festive messages, you choose the wording and let the lettering begin. If you want something more personal, inscript a name or special date to give a personalized and heartfelt gift to someone you love.
10. Wooden Photo DIY Christmas Ornament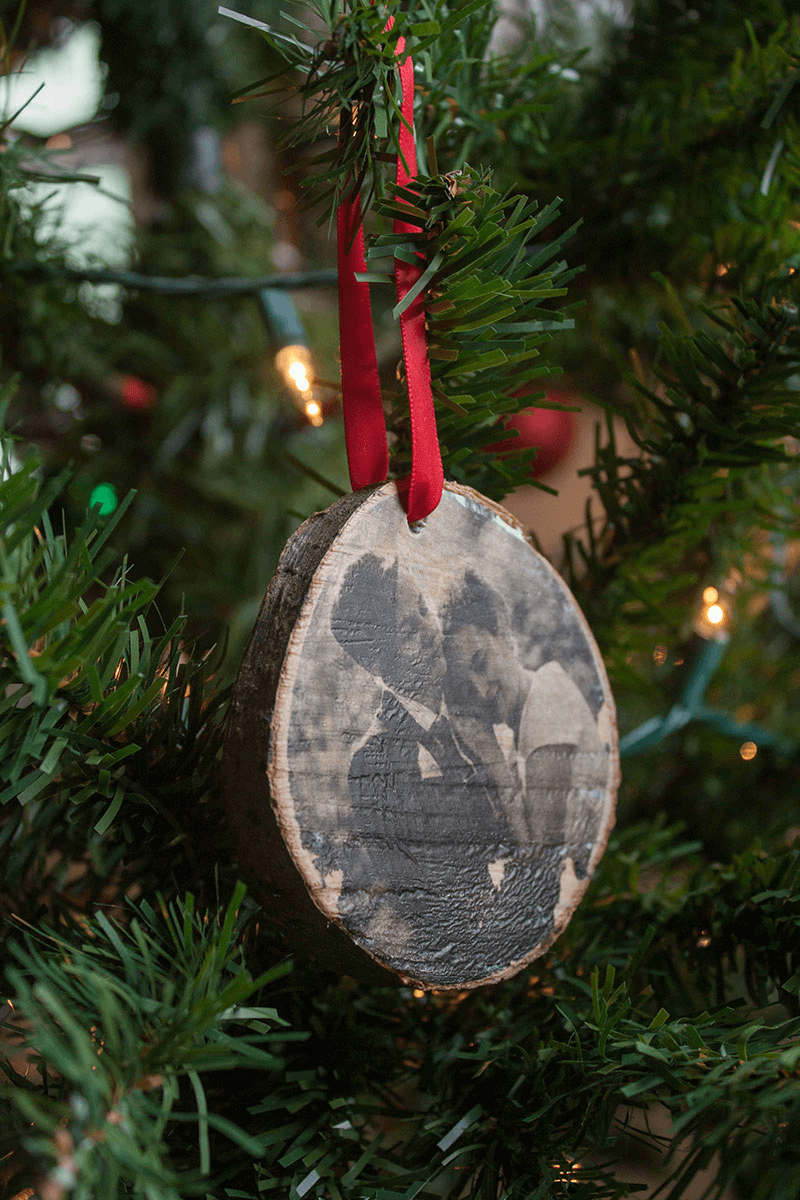 With only a few budget-friendly supplies, you can boast a gorgeous and heartfelt photo decoration for your tree. This makes an amazing gift as well since you can choose any photograph you wish to apply onto the wooden disc foundation. The wooden background adds a nice, rustic touch making it a cool choice for any cabin dweller. Give one to the grandparents with everyone's baby pictures, including theirs. Enjoying a girl's weekend getaway would be a good time to throw in this fun activity that doubles as a few gifts checked off your list!
11. Indigo and White Marbled Christmas Ornaments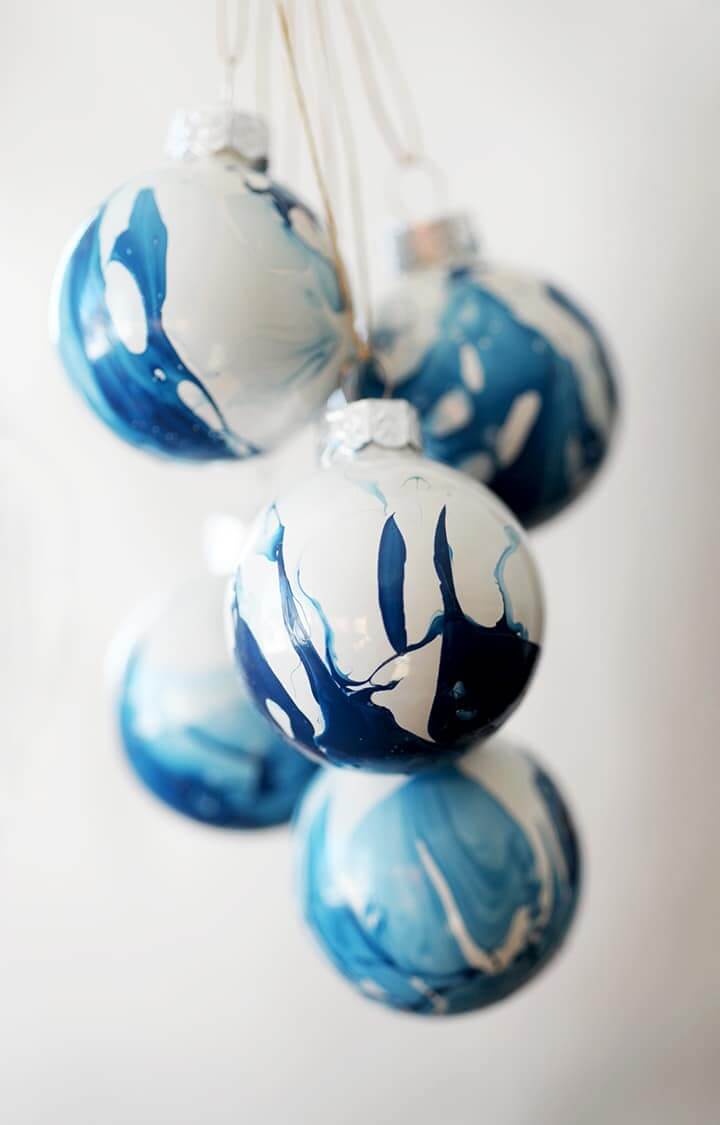 Stay on budget, but don't tell anyone as you include these gorgeous designer-looking marbled ornaments on your Christmas tree. With the help of some deep, dark blue nail polish, this project couldn't be easier on the wallet or for the DIY underachiever. Not only will the result be a top-notch modern ornament that looks anything but handmade, you'll have fun sharing this project with a child, neighbor, or friend. Another fun fact is how no two will be the same so it makes a unique creation each and every time.
12. Kid-Friendly Chalkboard Painted Christmas Ornament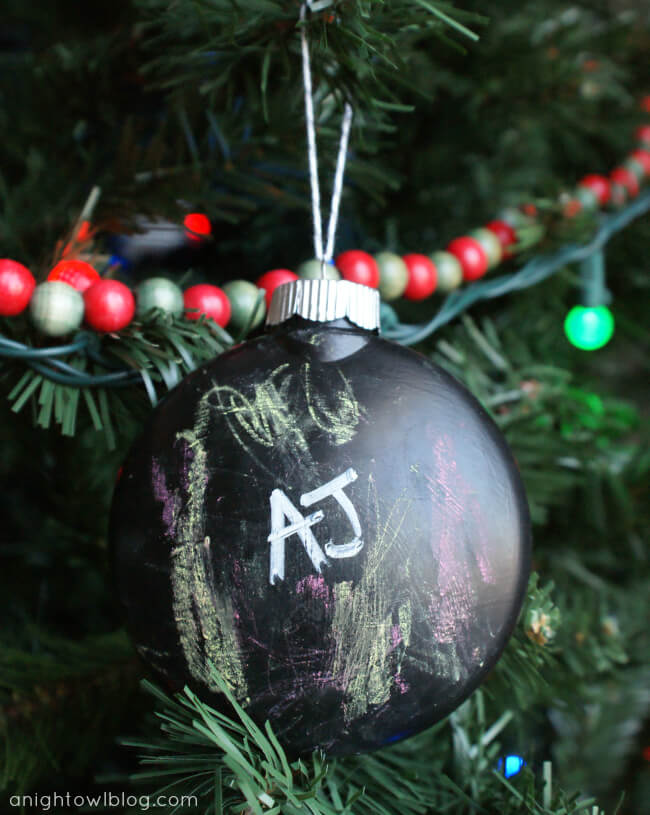 Here's a kid-friendly Christmas craft idea that even includes the preschool crowd. It's a fantastic activity for the entire cousin crew to enjoy while they all get together at grandma's house for Christmas. Keeping them busy is easy with a blackboard chalk-coated plastic ornament. After it's dry, their name is written with a marker before they complete their artistic masterpiece. With their choice of colored chalk, they can decorate or scribble until their heart's content. This makes a great way to add some sentimental savor to grandma's tree or it can be a fun addition to their own tree at home.
13. Glittery and Green Grinch Christmas Ornament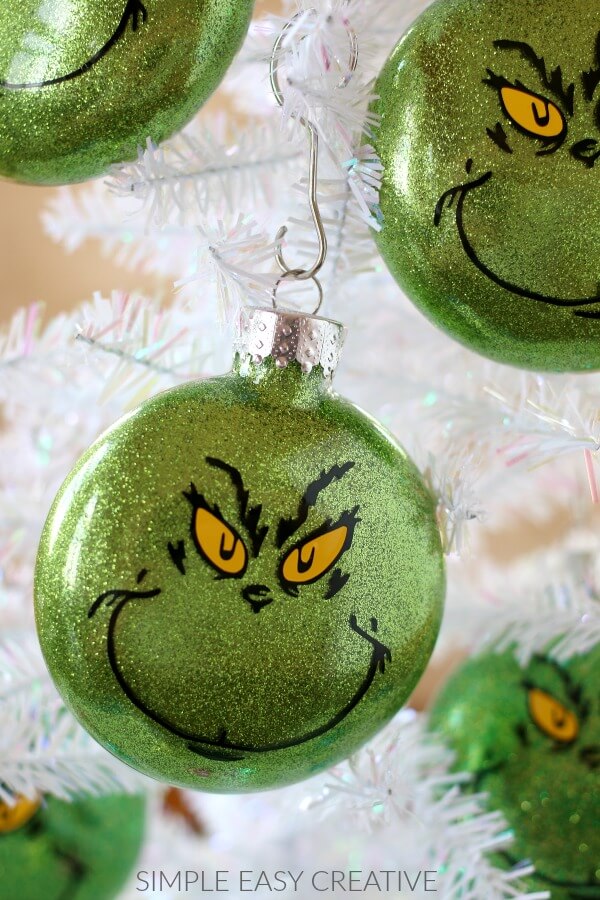 Host a spectacular kick-off for the Christmas season with a showing of this iconic film along with a simple and spectacular green glitter Grinch ornament. Everyone loves this Dr. Seuss character, especially at Christmastime, so create a party where your family and friends of all ages will enjoy themselves. Throw in some movie-themed snacks and encourage everyone to dress up as a Who. A table set up with this glittery Grinch craft is an amazing take-and-make favor for all in attendance. With his famous smirk and yellow eyes, the green glitter will show off his personality in a most lovely Christmas ornament way.
14. Styrofoam Snowball Snowman Christmas Ornament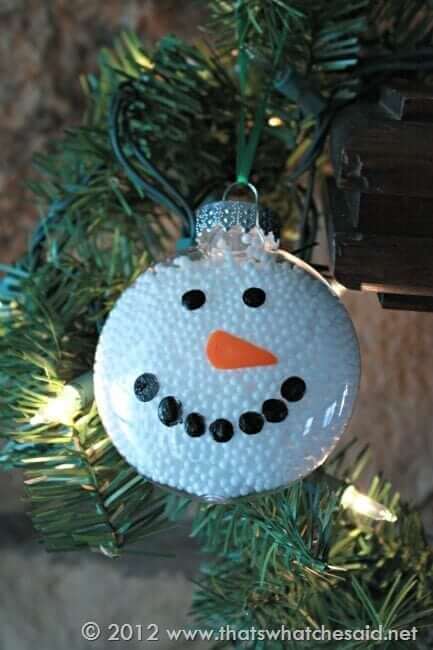 Who doesn't adore the season of winter's round and jolly mascot? Snowmen have captured the hearts of young and old since they emerged as the icon of the winter landscape. They've entered our hearts as we've welcomed them into our homes through decor and clothing. Filled with tiny styrofoam balls, this snowman head makes the perfect choice for a snowman enthusiast or young child. Paint the nose and eyes in a more cartoonish fashion to resemble Olaf or Frosty depending upon your little one's preference. Add this cold weather friend to your tree or use it as a gift tag for your favorite child's gift.
15. Cheap and Easy DIY Christmas Pudding Ornaments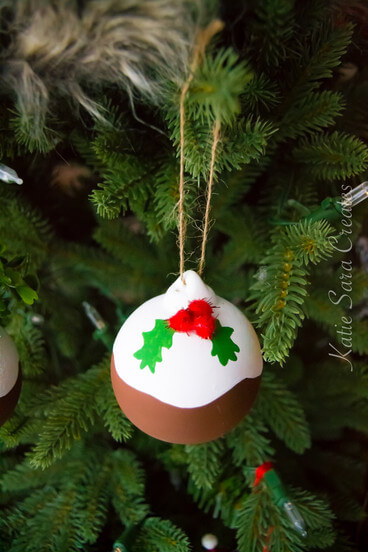 A quick trip to the dollar store will have your shopping bag filled with everything you need to create these adorable Christmas pudding ornaments. The chocolate-colored bottom looks creamy enough to eat! At the top, you decide how to finish them off with either lively or simple greenery. How cute it would be to have a themed tree of Christmas sweets and this darling pudding ball would be the perfect place to start! You could even place a few real treats throughout for kids and guests of all ages to enjoy!
16. Shabby Chic Fabric Scrap Christmas Ornament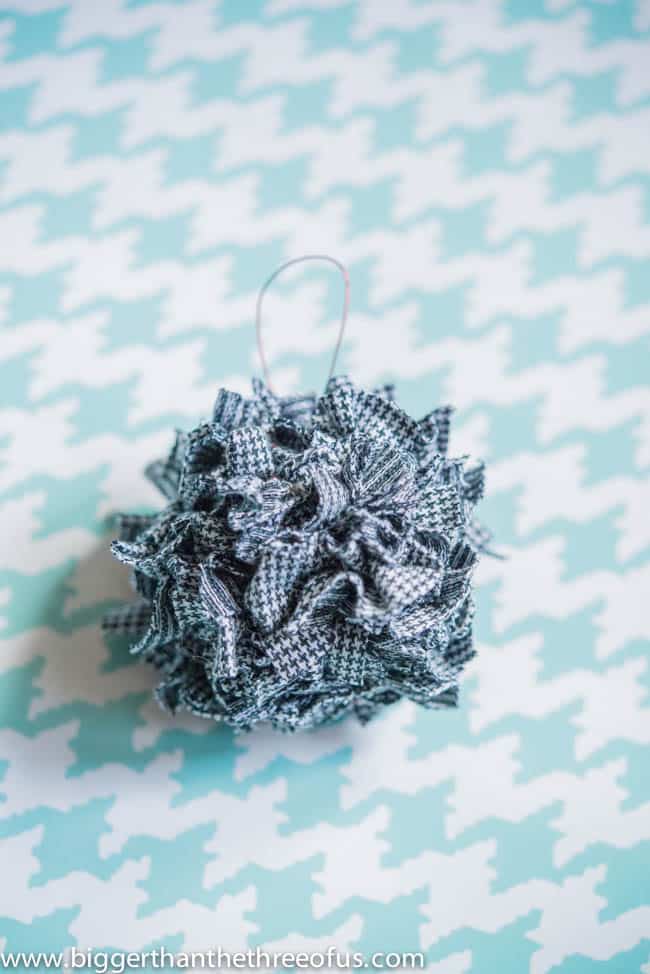 Looking for a way to make use of all those leftover tiny pieces of fabric? Look no further! Take those pieces of material that you absolutely love and show them off on your Christmas tree as fabric scrap ornaments. You could coordinate with existing throw pillows or quilts to really tie the look together. This would be a simple DIY for kids and adults alike. Forget the hook, and you could use these as decorative balls resting in a dish, basket, or bin. Change them up each season to bring a fresh burst of seasonal color to your home.
17. Colorful String Yarn Art Christmas Balls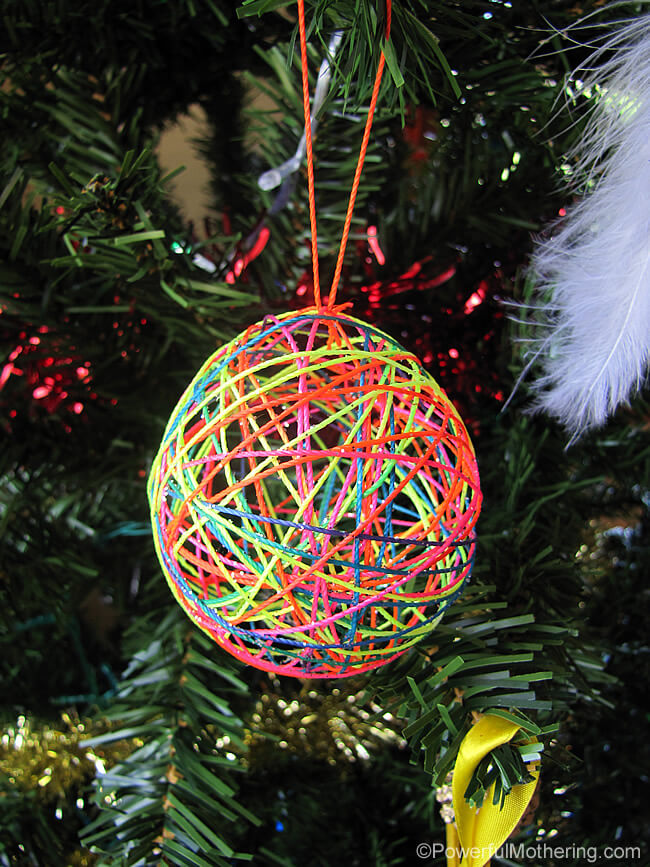 Grab the kids for a fun activity that will add so much color and excitement to your Christmas tree this holiday season! Choose some bright and lively yarn and/or string to really be the bold splash of color against your green Christmas tree. The project is easy enough for preschoolers, but loads of fun for teens too! These would be amazing as party decorations as well. Simply string them up to form some festive garland and you'll be ready to party in style for the next family birthday or New Year.
18. Creative Kintsugi Inspired DIY Christmas Balls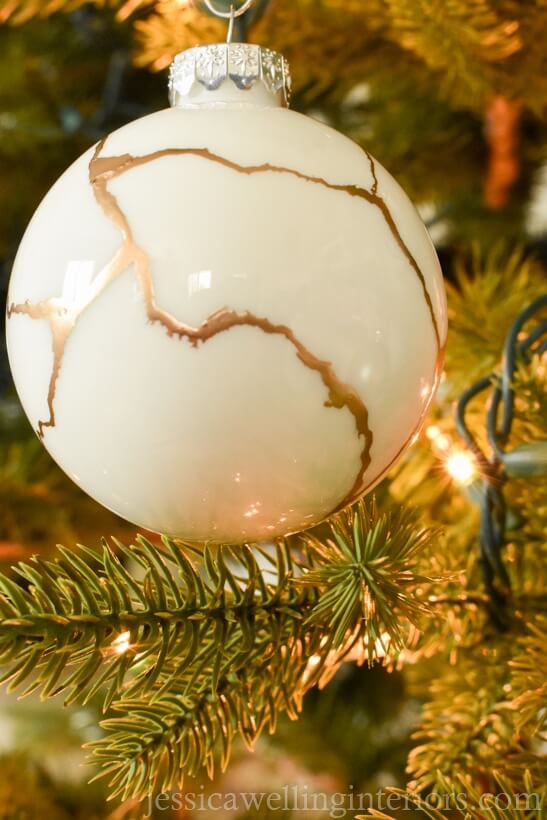 Forgo the mess of broken glass and enjoy the simplistic beauty of these kintsugi-inspired Christmas balls. All you need is a set of glass bulb ornaments and a little gold leaf paint. Let the brush glide down the sphere as it replicates the look of the popular Japanese mending of broken objects with these gorgeous golden lines. Of course, these kintsugi bulbs will really highlight all of the other golden accents around your room so they will effortlessly blend in with your modern decor. Using a metallic color as an accent is a great way to add some elegance to an everyday space.
19. Santa Suit Plastic Filled Ornament Creation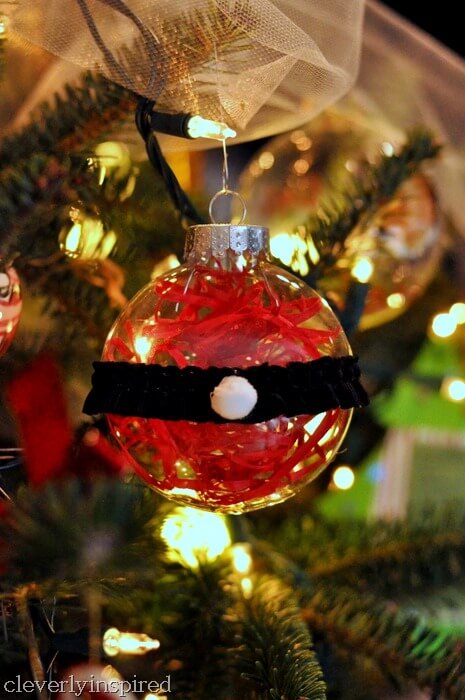 Fill up your clear plastic globe ornament with some red confetti or strips of paper to achieve a bright and bold red foundation for this Santa suit ornament. A black ribbon wrapped around the outside creates his belt and the buckle is complete using a white pom-pom. For the avid Santa Claus collector, this is a great gift idea that can be used to decorate the Christmas tree or added to a Santa-themed wreath for the front door. Use some large plastic ornaments to create a version for hanging on the front porch for some spectacular Christmas curb appeal.
20. Pixie Dust Fairytale Tree Ornament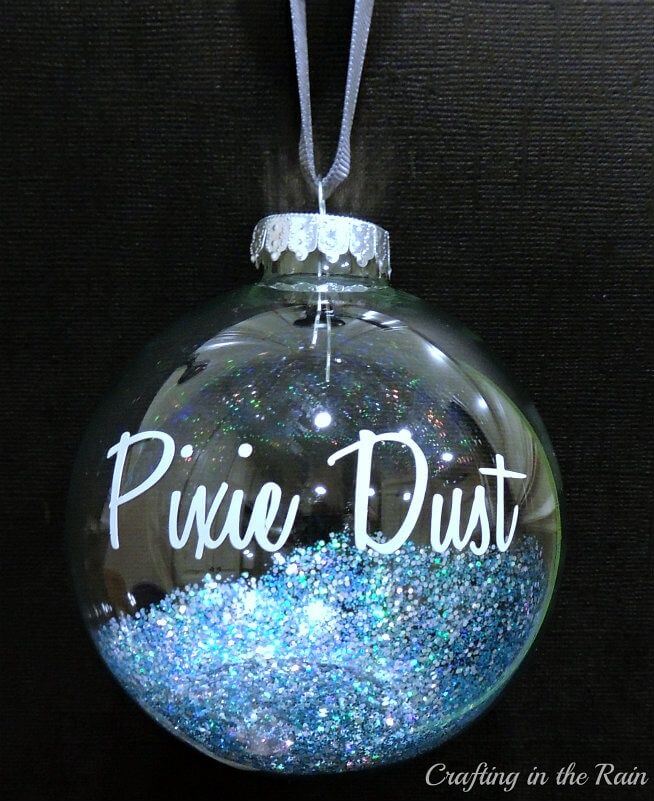 There is not much more fantastical and awe-inspiring than pixie dust. The mere thought of it can delight many people whether children or adults (or the kid inside of us all). You can bring some of this magical joy to your Christmas decorations by creating this simple, yet powerful, tree ornament. A plain glass ornament goes a long way into creating this whimsical item, and you can use stencils, letter stickers, or anything else you can think of to write the words on the ornament. Additionally, you can opt for any colored glitter you'd like that fits best with your personal preference or the decorations you already have on your tree.
21. Chic Paint Pen DIY Ornaments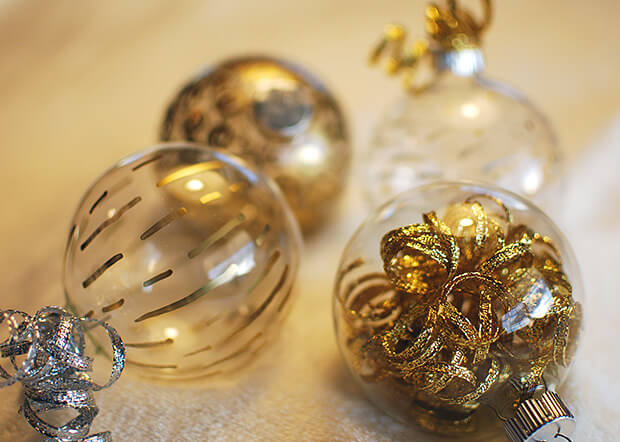 Silver and gold always make for a nice route to go down when building up your Christmas style. The colors easily highlight the enchanting feel the holiday has, and the complement one another well enough that these DIY ornaments will fit right in with anything else you may buy to hang on the tree. With oil-based paint pens, you can personalize your ornaments with ease, creating designs unique to you and your family so that your tree truly feels like it is a part of your home. You can let your imagination go wild in this case, making uniform designs or allowing for each ornament to be as distinctive as a snowflake.
22. Unique Paper Mache Winter Ball Ornaments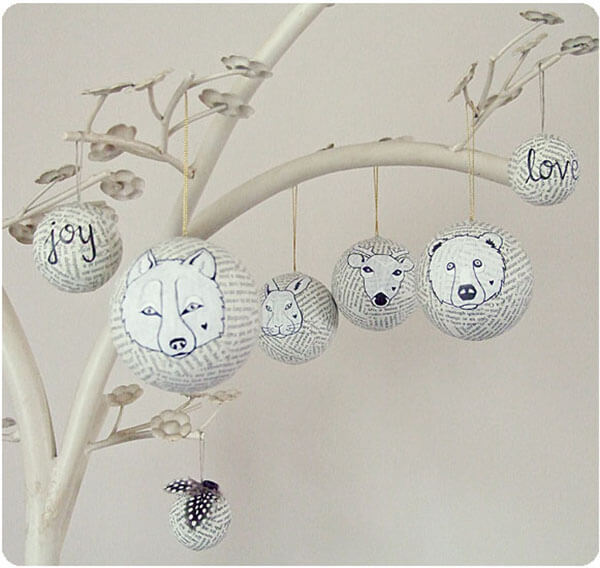 Bring your creative side to life with these interesting and resourceful paper mache ornaments. Using pages of an old book, you can create magnificent Christmas decorations while giving a new purpose to that old book you've had lying around for years. Using a specialty pen, you can customize your creations with words in exquisite lettering or apply a cute animal face as well. Make an entire collection of these ornaments to hang on a special tree. Allow holiday guests to pick one as a favor to take home when the festivities come to an end.
23. DIY Christmas Snow Globe Ornament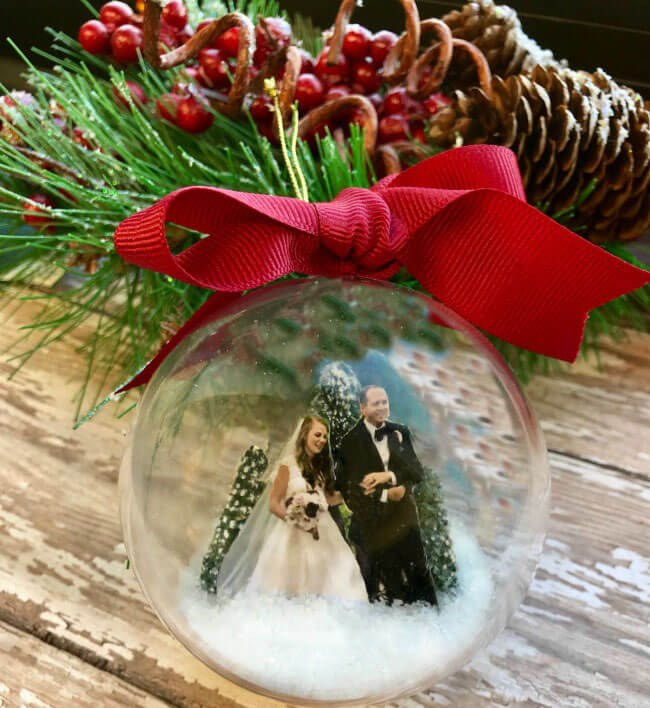 Instead of housing a large collection of actual snow globes, create some miniature versions for new ornaments on your Christmas tree. You'll be able to include the entire family tree on your own Christmas tree with these incredible snow globe designs. Give one to the newlyweds in the family to celebrate their first Christmas as a married couple. Give another to your child's teacher as a special memento from the school year. These custom snow globes featuring your favorite people will be a hit with everyone from young to old!
24. Snowflake Winter Wonderland DIY Christmas Ornament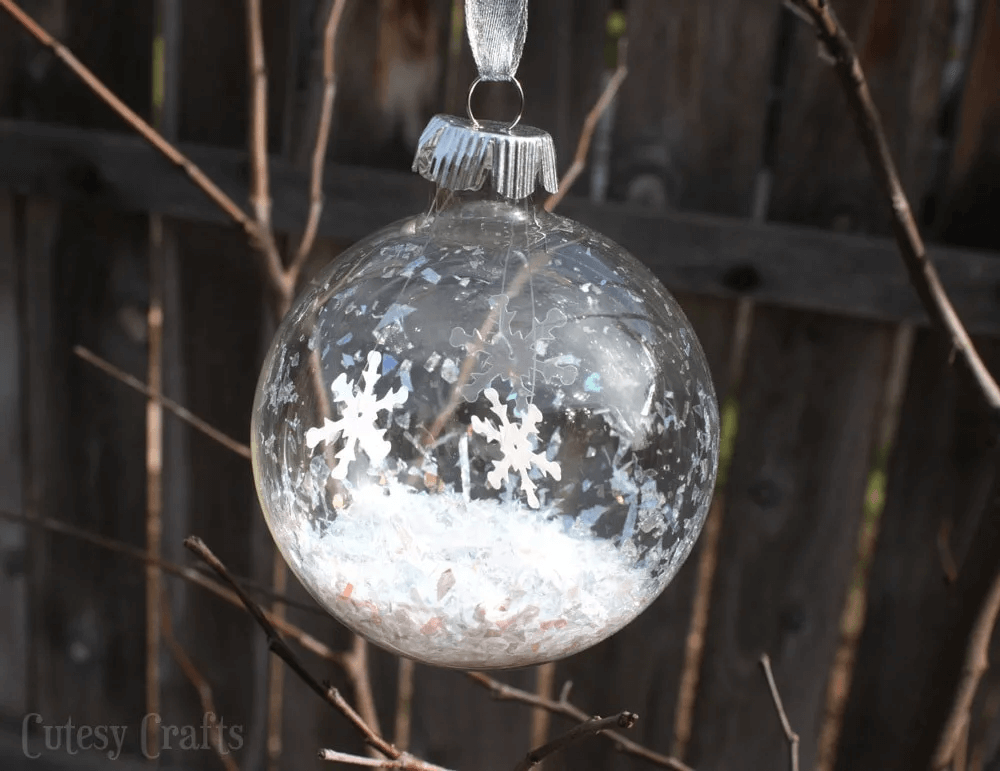 Every Christmas tree needs a glass ornament so why not create this winter wonderland snow globe for yours? Filled with fake snow, this clear globe will be sure to dazzle your decorating scene. Using some iridescent snowflake confetti pieces, that are held in place by some clear fishing line, is a perfect way to create the look of freshly fallen snow. No matter what motif your Christmas tree displays, this snowflake winter wonderland snow globe ornament will be a welcomed addition!
25. Magical Mouse DIY Disney Christmas Ornaments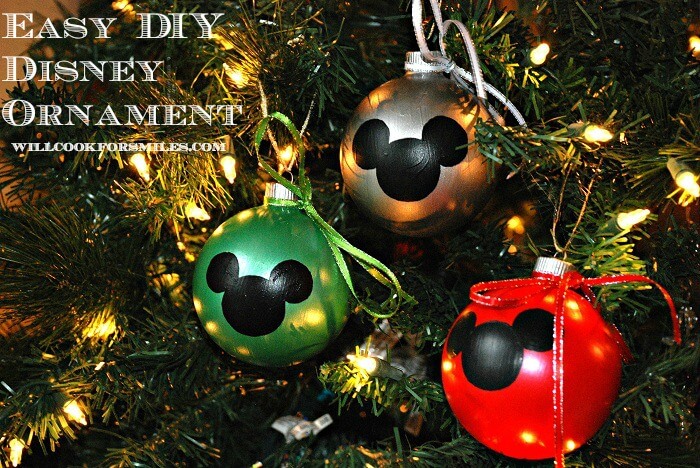 Add some Disney magic to your tree this year with these DIY ornament balls in classic Christmas colors. The iconic outline of these black ears will look awesome on any Christmas tree, but incredible on a themed tree of this brand. Including these on a tree with some of the most widely recognized characters in figure form is a great idea and to finish it off, you'll need to top the tree with a pair of ears. Host a girl party to create these homemade Christmas ball tree decorations that will brighten up and increase the joy for the holiday season. Even a group of young girls will enjoy this ornament-making party and throw in a classic Disney movie and popcorn to make it a night they'll never forget!
26. Monochromatic Clear Globe Custom Christmas Ornaments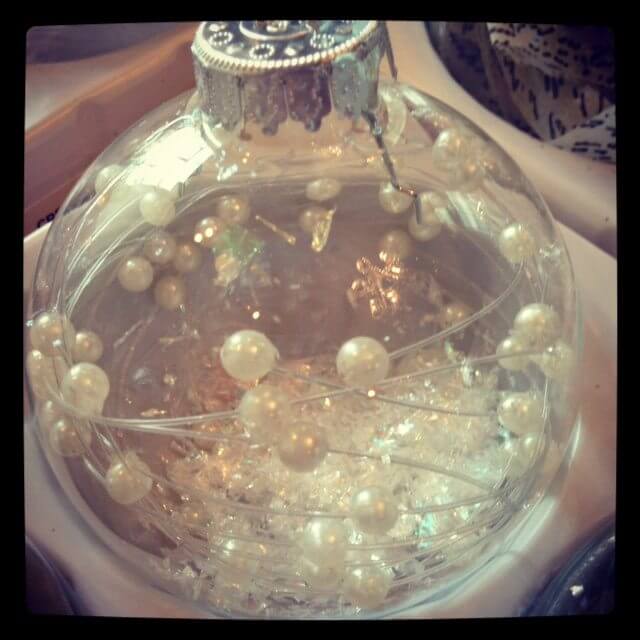 From feathers and flowers to glitter and glitz, you can dream up the coolest collection of Christmas ornaments that are as unique and pretty as you! Get your girly-girl on with some pretty petals, delicate pearls, glistening feathers, or metallic garland to fill up the inside for some of the best DIY Christmas ball ornaments for your crafting pleasure. Adding a touch of silver alongside a white palette is the perfect companion as it stays within the color scheme while infusing some sparkle and festive flair.
27. Perfect Teacher Gift Christmas Ornament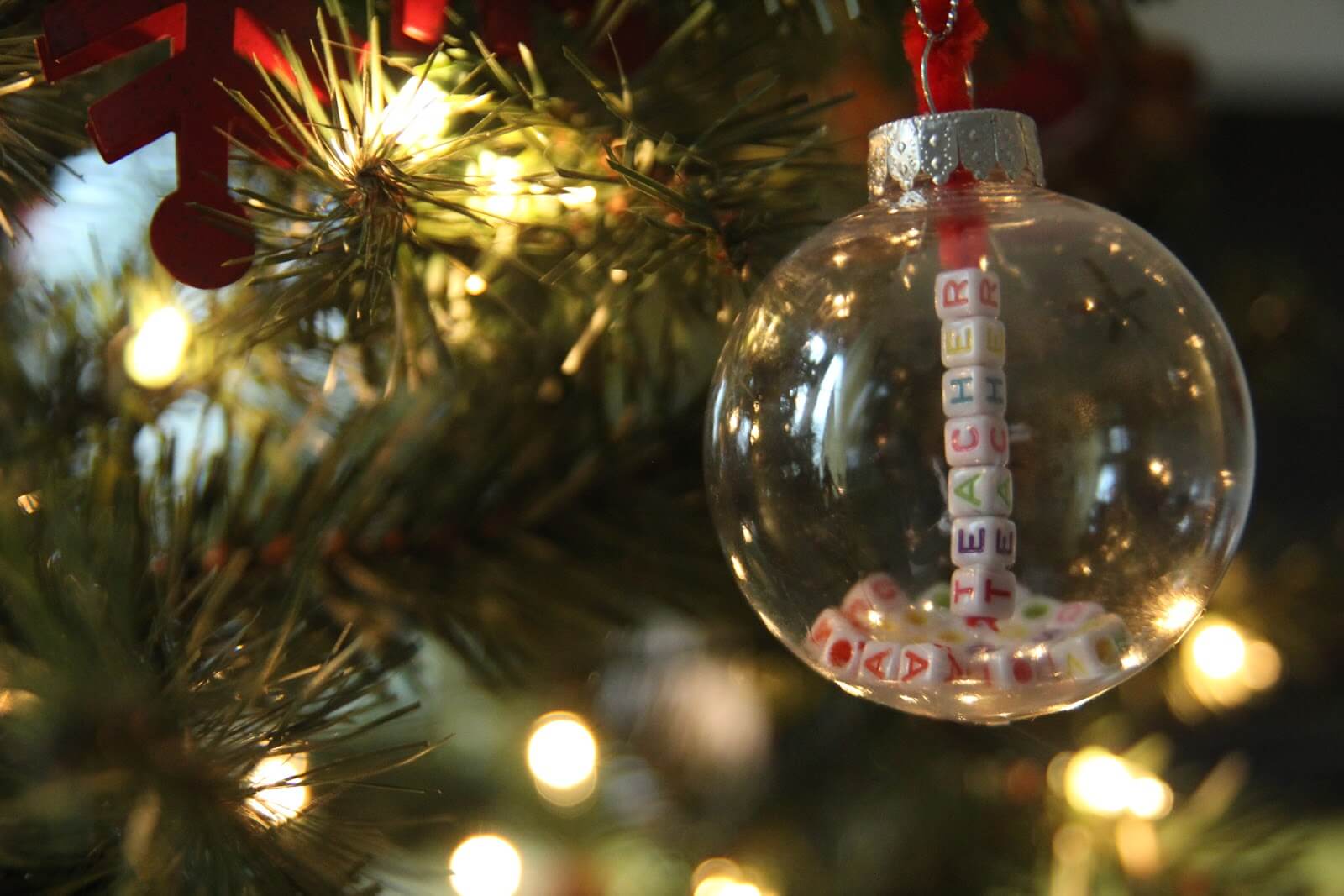 Deciding what to give your child's teacher is often stressful since you want to show your appreciation, but don't always have the budget for something expensive. Here's the trick- go with a homemade gift. At Christmas, it's the perfect time to get crafty, and creating a personalized ornament is sure to be a hit! The teacher can hang it on his/her classroom tree or the one he/she has at home. You could feature the word "teacher" or spell out their complete name. With a ribbon tied around the top, teacher gift-giving just got a little easier this year!
28. Shiny and Sparkly DIY Mickey Mouse Ornaments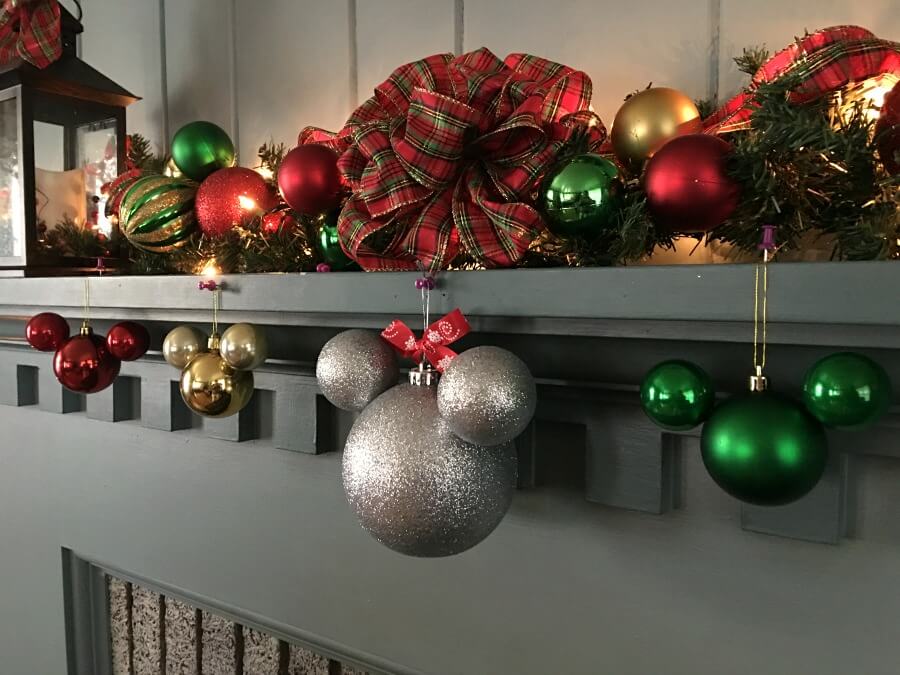 Different-sized traditional ornaments easily transform into the famous mouse ears known worldwide. Choose shiny or sparkly to add just the right amount of glitz to your holiday scene with these darling Disney-inspired Christmas ornaments. Whether hanging on a tree or mantel, these icons are the ideal gift for the ultimate Disney fan in your circle. Host an ornament exchange and set up a station for making this popular decoration choice. Gifting this any time of year would be a fun way to surprise someone special with a trip to the most wonderful place on earth!
29. Crafty and Creamy Gold Leaf Christmas Ornaments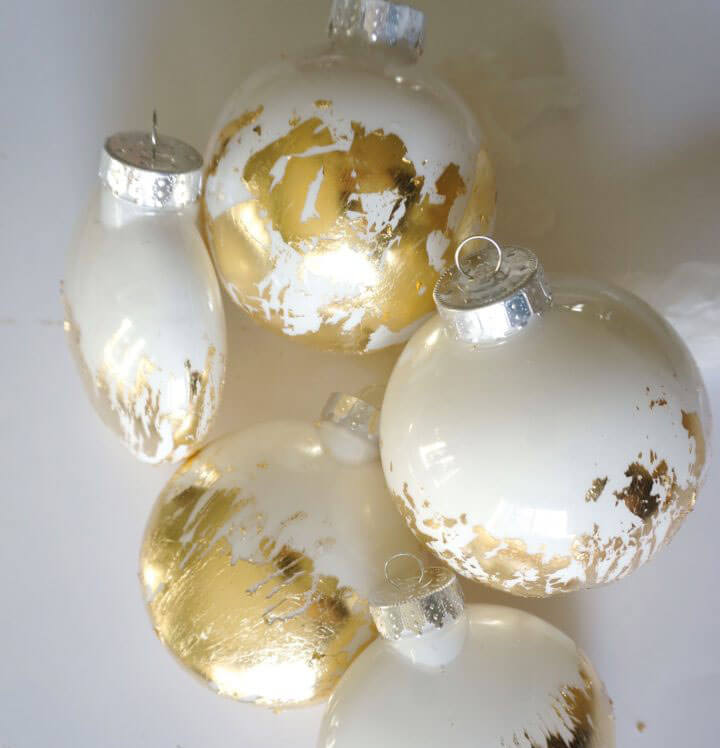 Put on the Ritz with these glitzy and glamorous gold leaf creations. They will be the ideal incorporation into your all-white Christmas decor scene. With a flicker of gold around them, these ornaments will add sparkle as they reflect some of the clear twinkling lights on your tree. Even a flocked tree looks amazing embellished with a set of these golden beauties. Since no two will be alike, their unique personalities will shine through as they dazzle your Christmas tree this year.
30. DIY Personalized Picture Christmas Ornament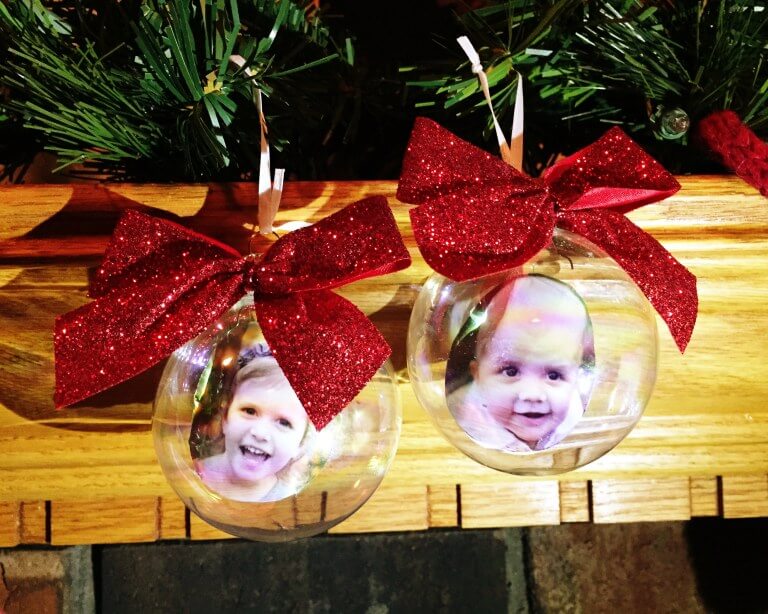 Sometimes it's hard to decide what to buy for older folks who have it all and don't want anything. Here's one way to give them a gift that they'll love. So many choices come to mind for the picture that lies inside. Maybe a copy of an old and cherished photo from their childhood or an up-to-date picture of their grandchildren. There might even be a favorite vacation destination that you could capture in a shot that would also fit inside. Whatever you choose, this custom Christmas photo ornament will be treasured for years to come!
31. Glitter and Glue Embellished Plastic Ornaments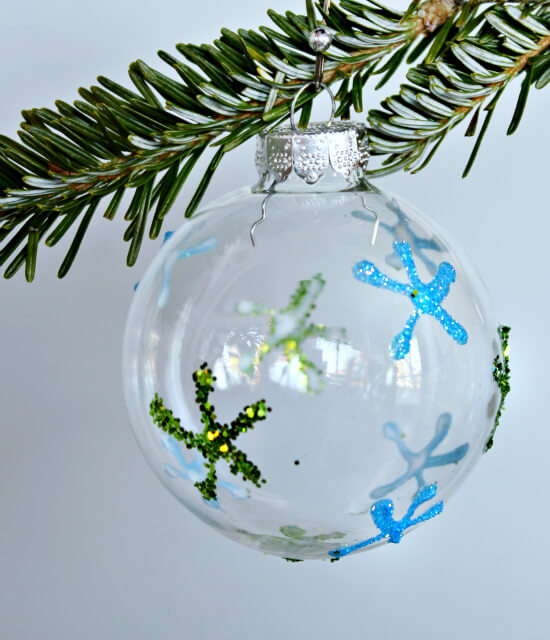 Create a custom creation with some clear plastic ornaments and your imagination. The sky's the limit in terms of style, theme, or look for which you are going. The driving force behind your inspiration can be creating an heirloom ornament you recall from childhood or simply desiring a custom design for your modern tree. Select the shape or name of your choice to inscribe onto the exterior of your ornament, then apply glitter to really make it come to life! Match it to your existing Christmas color palette for an over-the-top designer look.
32. Pretty Polycrylic Glitter Glass Ornaments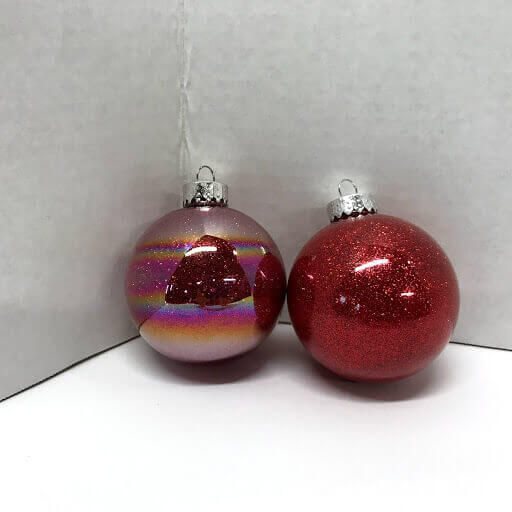 Get a blast from the past when you add these glitter glass ornaments to your tree. You'll be searching for the silver icicles your grandmother used that completely covered her tree. Choose a bright and lively festive red or go for the gold for some metallic sparkle. Your twinkle lights will really shine as they wrap around your tree and highlight these amazing and easy DIY glitter glass ornaments.
32 Beautiful and the Charming DIY Christmas Ball Ornaments
So when it's time to give a special gift or decorate your own Christmas tree, these 30 thrifty ornaments make it easy. From low-cost supplies that are easy to find to cherished pictures that come to life, there is an amazing ornament for you!
Consider the custom ornament. No two are alike and these custom choices range from marble swirls to photographs. Deep and dark blue nail polish will amaze you as it slides over the curves of the ornament creating a unique and cool marble effect. Or you might want to show off a favorite photo as you display it on the inside of a clear globe.
When you can't find exactly what you're searching for, there's usually a way to make it yourself. These vintage-inspired Christmas ornaments are no exception. Painted in matte pastel, the opening is glitter lined, and looking inside to the tiny holiday tree takes you back to yesteryear.
For those with a sweet tooth, a chocolate pudding bulb will satisfy! Looking good enough to eat, this pudding treat makes a great addition to your evergreen tree.
Don't forget about the faces of the season as you indulge in ornaments representing your favorites. A green and glittery Grinch grabs your attention, while a simple Santa suit is a more subtle look. Lots of tiny styrofoam balls work their magic on the inside of your ornament to make your snowman come alive!
No matter which handmade Christmas ornament tickles your fancy, creating them is near as fun as decorating with them or giving them as gifts. Remember to show your appreciation to your child's teacher, mail carrier, and hairstylist when you get to work creating these Christmas ornaments. Everyone on your list will be thrilled to receive one of these darling treasures to enjoy for years to come.