This holiday season, give those you love a personalized gift when you use the best DIY Christmas gifts ideas as inspiration. When that time of the year rolls by, it is normal to feel trepidation over gift-giving. Some people are not exactly clear on what they want, while some might not want you to spend too much on them. In these cases, you can always give a gift from the heart to always remind them of you, and the best way to do that is with DIY Christmas presents.
Stunning Custom Christmas Presents to Push your Creativity

Handmade presents are a wonderful way to showcase just how much you care about loved ones. Or perhaps you need something for neighbors, teachers, or other people in your life to make them smile this holiday season? Homemade presents are also a fun time for you to stretch your artistic skills and explore your creativity to the fullest. Plus, they are even more affordable means of spreading the holiday cheer in a way that is still meaningful and appreciated. So, when it comes to these types of presents, where do you even begin?
Well, you can always put your crocheting skills to the test and create a Christmas-themed throw blanket. Or perhaps you know someone who adores candles and needs a personalized candle holder? Maybe snow globes are more your thing or even a unique ornament for people to hang up on their Christmas trees? There are near-endless possibilities before you, so you can enjoy a wreath of DIY projects.
If you find yourself lacking ideas, we have more than a dozen available for you to explore. Our favorite homemade Christmas gifts should give you enough inspiration to gather the resources you need to create stunning, personalized presents for the people in your life. So, check out the list to discover what may interest you.
1. DIY Handmade Christmas Blanket Present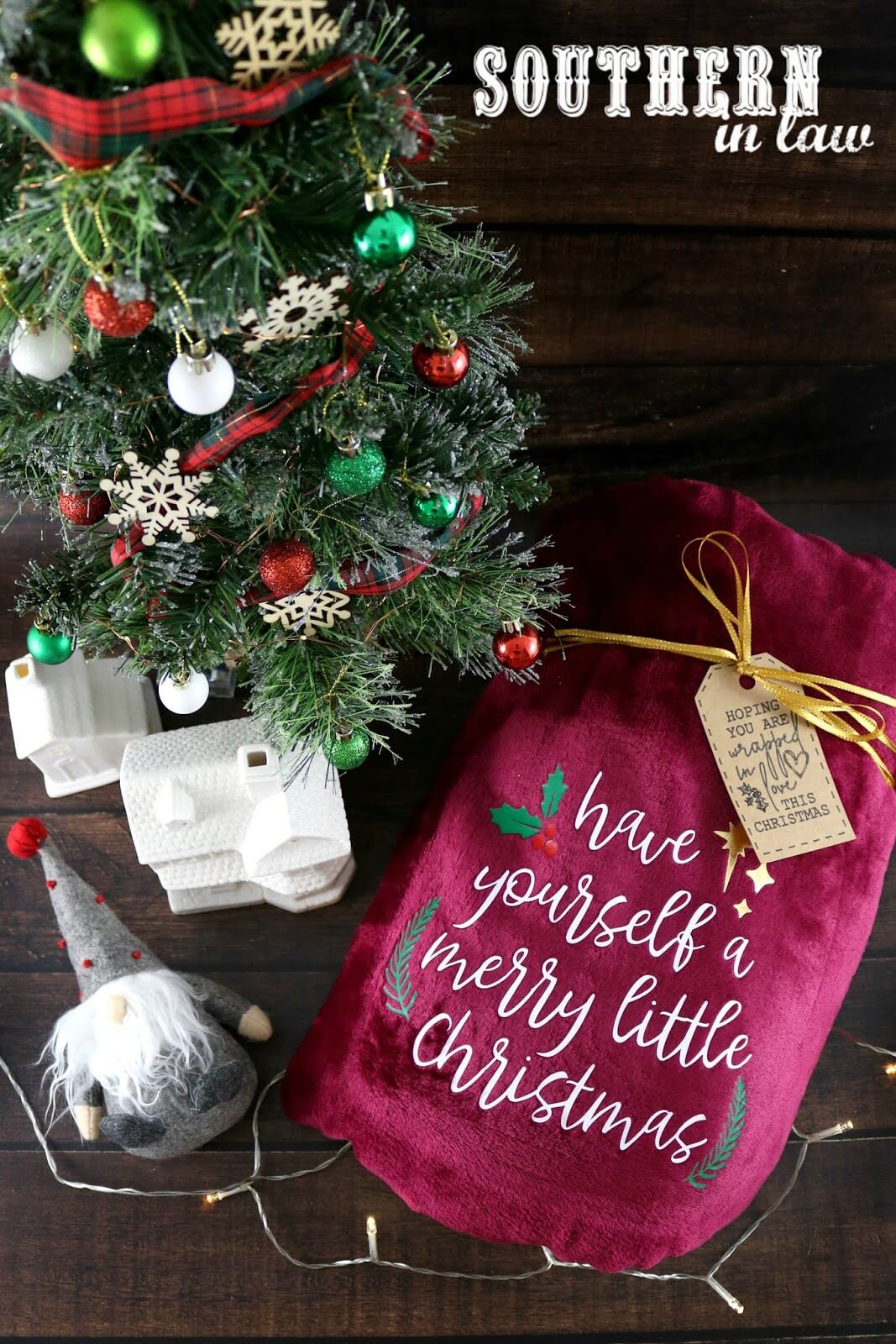 An affordable and fun way to gift loved ones this season is with a personalized Christmas blanket. Best of all, you don't have to make the blanket. Simply buy one and use it as a base for whatever Christmas-themed design you have in mind to iron on. There is so much freedom in design with a DIY project like this as you can completely customize it according to the loved one you are giving it. This can give someone a more unique gift that they can cherish every holiday season.
2. Cute Handmade Pinecone Gnome Gift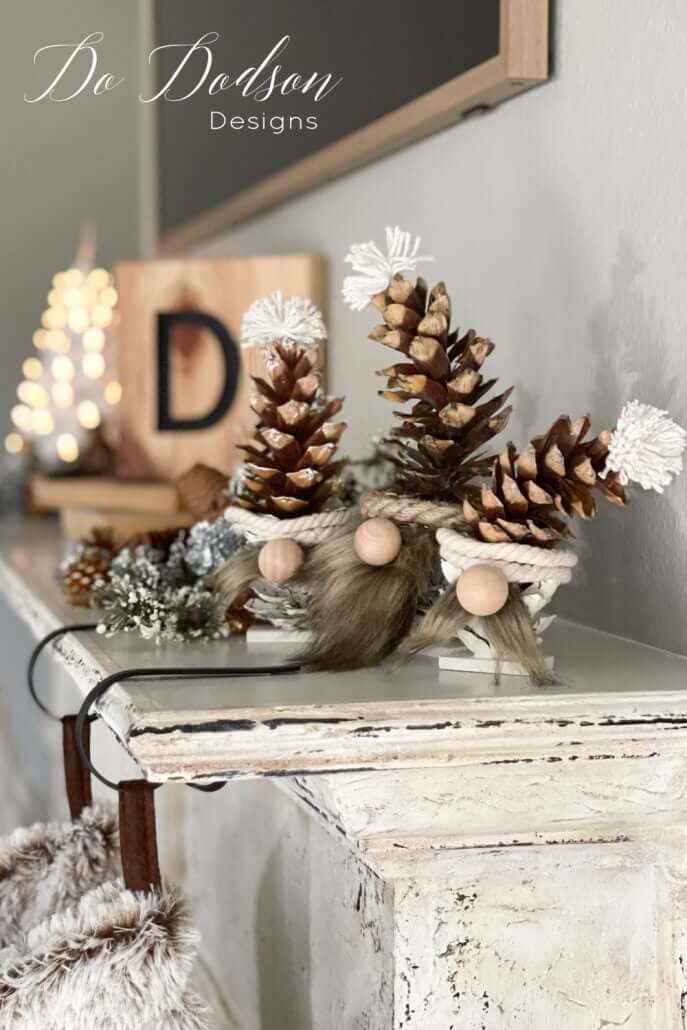 You can't go wrong when you decorate with gnomes, more so around the holidays. If you know of someone in need of decorative, yet distinctive, gnomes, gift them some. The pinecones work well at making it seem as though the gnomes have large hats. They are also excellent at giving this décor some texture and contrast. Meanwhile, the faux fur is fitting for the insane beards that gnomes have. You can give this off as a set if you want to help loved ones add to their home décor.
3. Adorable Snow Globe Lid Mason Jars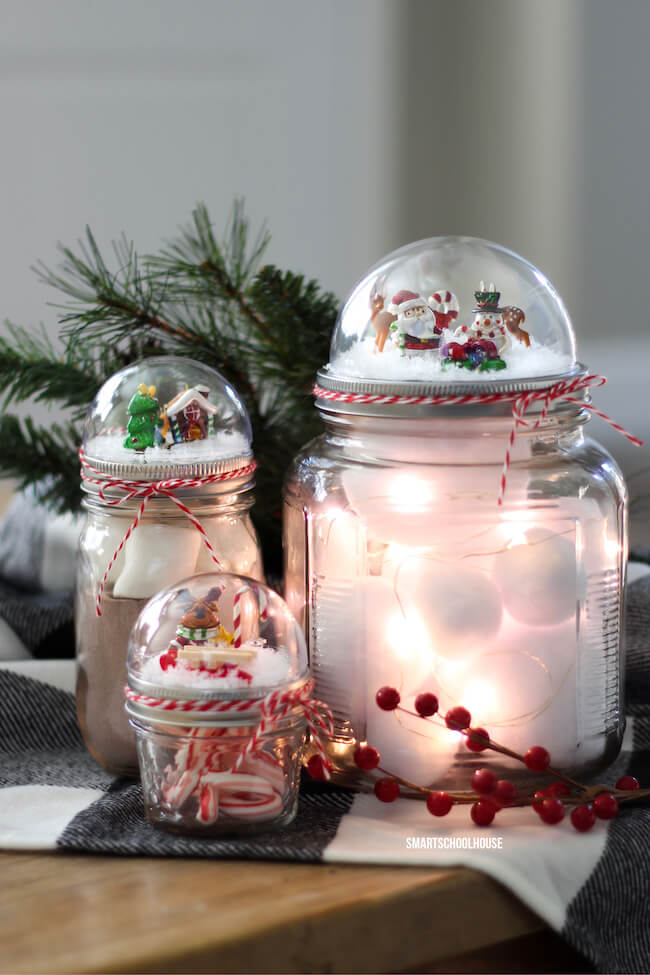 Who doesn't love a cute mason jar gift? What makes them such cool presents is that you can put just about anything inside of them. Decorate them with beautiful fairy lights or add in some hot chocolate mix with marshmallows fitting for the cold season. You can even drop in some holiday-themed candies inside the jar. The handmade snow globe on top of the lid allows this gift to stand out, even more, giving them a decorative touch no matter what is placed inside. You can make several of these and create a distinct and stunning wintery scene with the various snow globes.
4. DIY Hot Cocoa Gift Set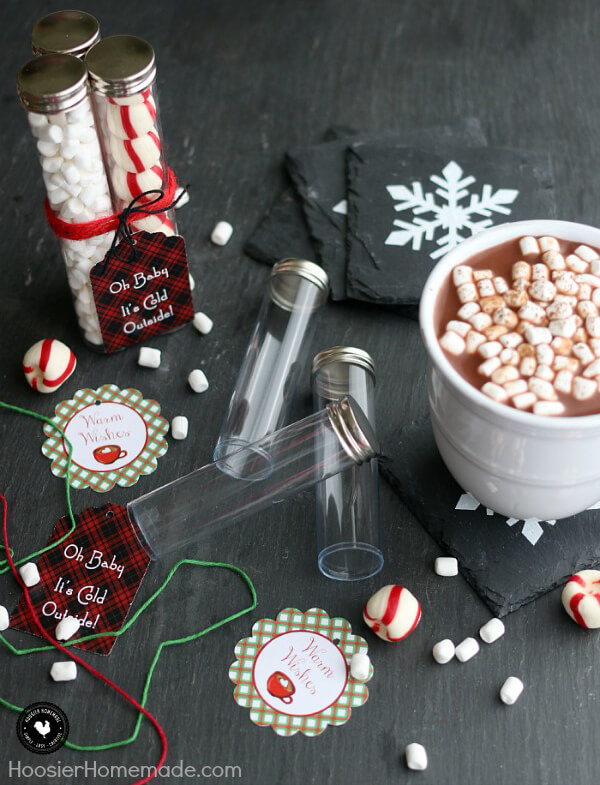 Hot chocolate lovers will rejoice at this delicious gift set. It is a charming and sweet way to show how much you appreciate someone, and it gives them something delectable to look forward to at home. Fill the tubes up with anything that will make hot cocoa even better. From mini marshmallows to peppermint, the possibilities are endless. Don't forget the cocoa, of course. Wrap things up with a sweet bow or tag to round out the gift set. These are ideal for small-scale Christmas presents that you can pass out with ease if you need to put together gifts that are welcoming yet simple.
5. Handmade Oatmeal Cinnamon Soap Bar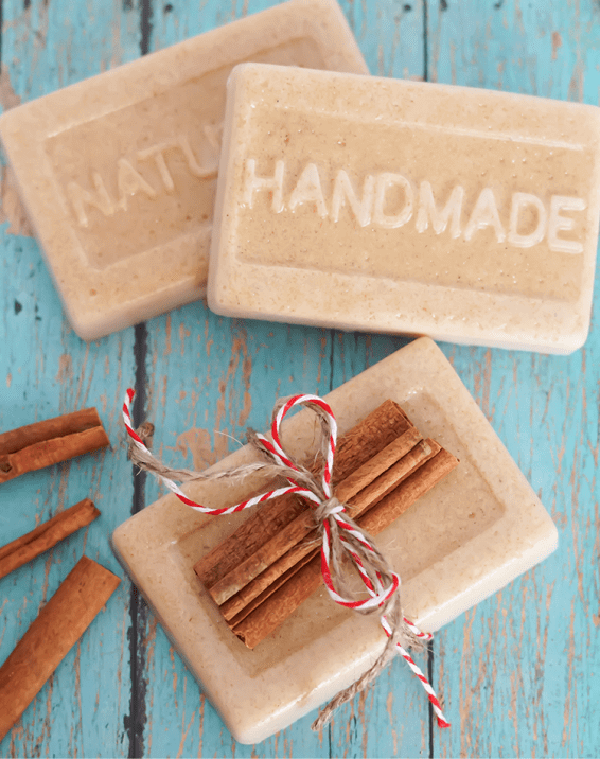 A common gift practice no matter the occasion is to share something that smells good. From candles to perfumes and colognes, aroma-based items are a hot commodity. But it all starts in the bathroom, and with that said, a soap bar makes for an excellent aroma gift. Handmade soaps are not as difficult as they sound with soap molds and the right ingredients at your disposal. Focus on the smell you want as well. For holiday-centric scents, consider the likes of cinnamon as it pairs well with the season. You can always tie the soap with a little bow or even a gift bag if you'd like.
6. DIY Pinecone Fire Starter Gift Set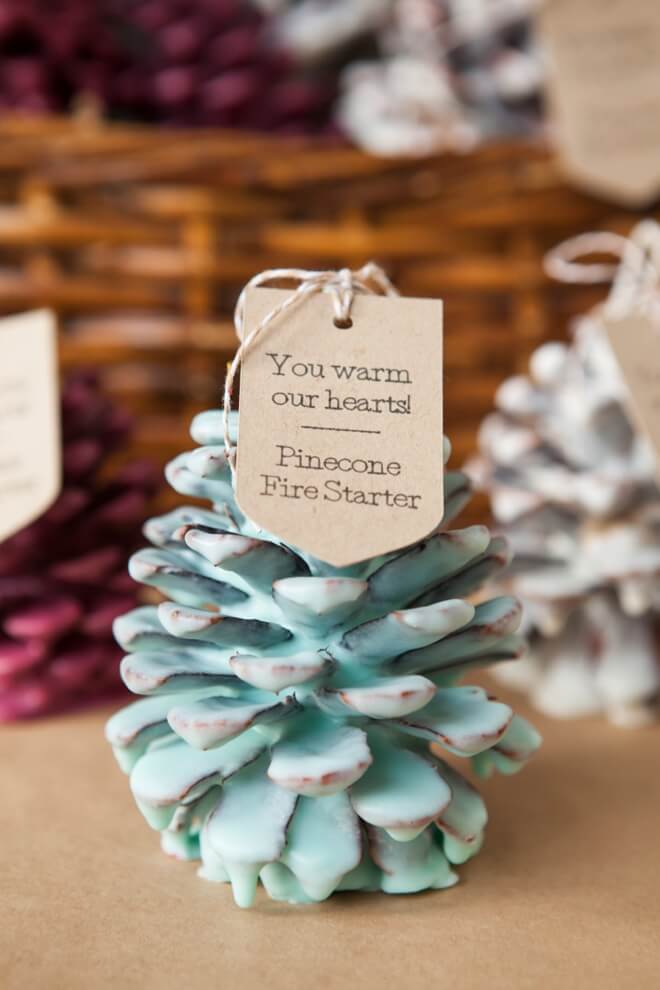 Not much beats hanging around the fire on a chilly winter night. To keep those flames going strong, a pinecone fire starter set is a handy item to have around. That is why anyone would appreciate such a homemade present. The pinecones look charming and rustic with a lovely paint job applied. Set them up in a basket and they work as a decorative pieces all on their own. They have a superb winter-like aroma too which makes them ideal for a seasonal gift. Don't be surprised though when people decide to leave these in the gift basket you sent them in thanks to how pretty they are.
7. Holiday Cookie Mix Gift Sack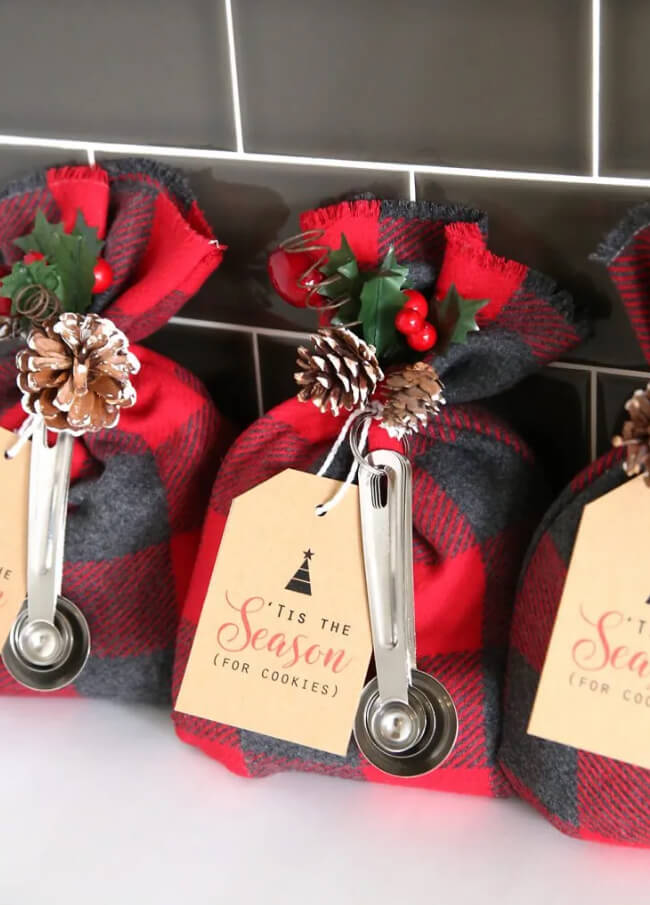 Baking cookies is always an exciting way to celebrate the holiday season. That's why a cookie mix gift set like this is one of the best DIY Christmas gifts you can give away. Create a mix yourself or find your favorite store-bought mix to use for the sacks. You can add a decorative touch to the sacks to give them a more holiday vibe like faux greenery fitting for the season. All that's needed is the final touch like a gift tag or even some measuring spoons. You can leave loved ones totally prepared to bake the perfect holiday cookie.
8. Stunning Decorative Christmas Tree Pillows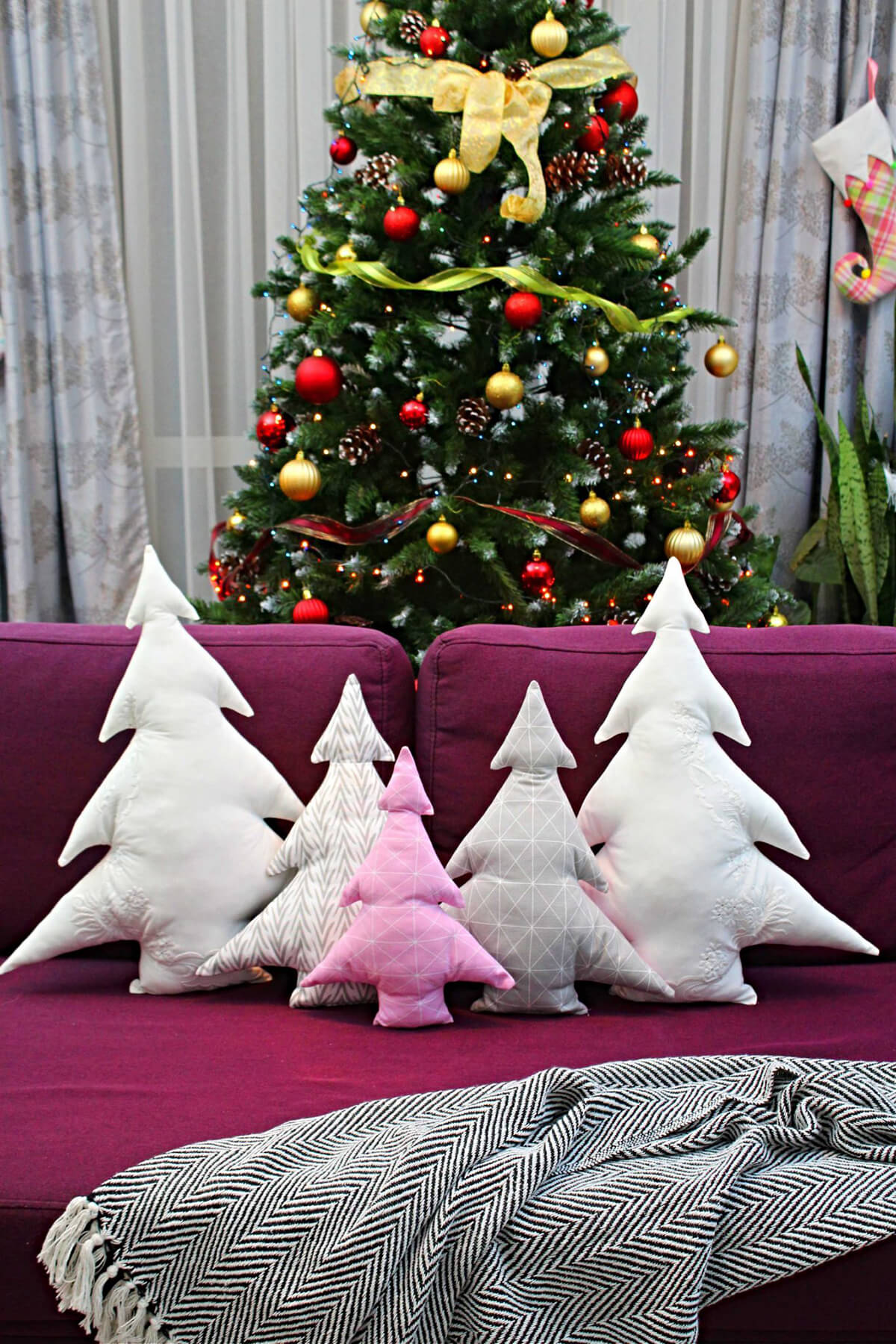 When someone is looking to decorate their living room, sometimes the only thing that is missing are some throw pillows. You can resolve that dilemma with these remarkable DIY Christmas presents. These pillows have a charming look of Christmas trees. It is a shape that is an instant attention-grabber in the best of ways. You can make them vary in terms of size too. This is a nice way to add some flow to the decorative throw pillows. If you aren't interested in giving these off to your peers, these can always make for wonderful handmade Christmas gifts for kids.
9. Chalk Painted Heart Candle Holder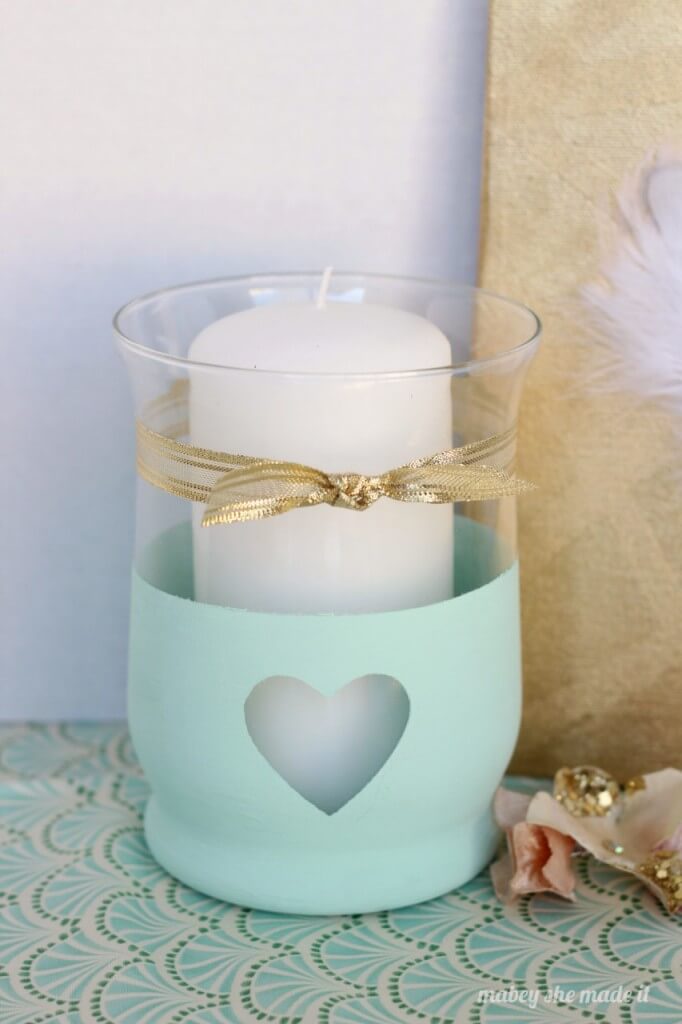 Candle holders can make for ideal DIY Christmas presents thanks to how useful they are year-round. Combine with some chalk paint, and you can create stunning designs that will capture anyone's attention. Chalk paint is fun enough as it gives off a pastel-like look that is vibrant and bright. The adorable addition of a heart design helps to sell your personality and affection. It is a simple gift, but a thoughtful one that they can use year-round to house candles that fit with other seasons. It is also the perfect way to elevate the décor in a room with something that is functional and looks good.
10. Thoughtful Mason Jar Gift Design
Mason jars are always a cool way to give gifts. You can do plenty with them, giving you incredible amounts of freedom in how you decorate or what you fill it up with. The only limitation is the size of the jar you go for. Personalize these gifts depending on the person you want to give this too. Mason jars can fill it up with anything like hot chocolate mixes for those who adore the beverage, or something spa-related for someone who is need of some pampering like with nail polish. It helps to add some holiday-like décor to the jar such as tiny ornaments and Christmas-themed stickers.
11. DIY Snow Globe Photo Ornaments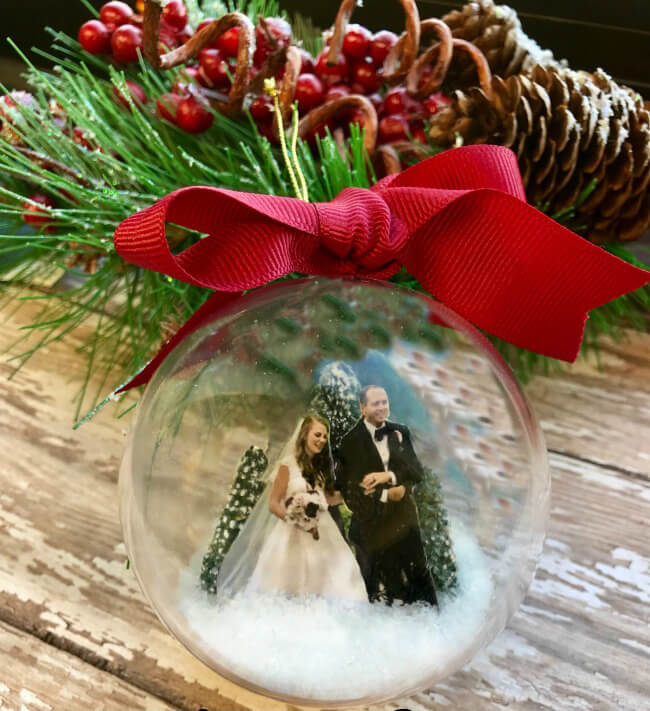 Handmade ornaments offer a different touch to a Christmas tree. They stand out effortlessly, and they are a cute way to explore your creativity. With this DIY project, you can give loved ones a picture with a distinctive frame to it rather than a traditional one. This time, the frame is the ornament. It is a wonderful shape to work with, and the small image is perfectly elevated thanks to the snow globe appearance of the ornament. It gives any photo a more wintery vibe that is suitable for the holiday season. So, make a few of these photo snow globe ornaments to pass around to the people in your life.
12. Memorable Picture Frame Luminaries Gift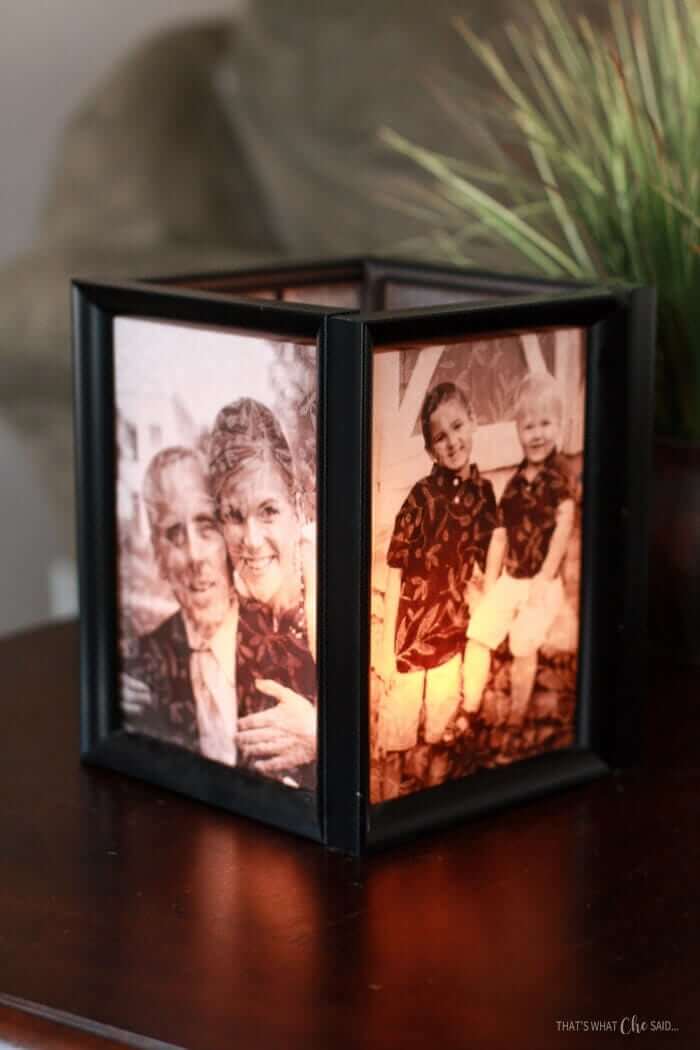 Light up memories with these captivating picture frame luminaries. They make for heartfelt Christmas presents to friends and loved ones, illuminating their favorite captured memories. It is an affordable craft project for you as well, and the results are something that appear store-bought rather than handmade. Thanks to the affordability of them, you can make several of these creations to give out. They can use any candle inside to light up the pictures and leave behind a pleasing aroma in the home. It is the perfect way to gift something memorable and long lasting.
13. Beautiful Crochet Santa Blanket Gift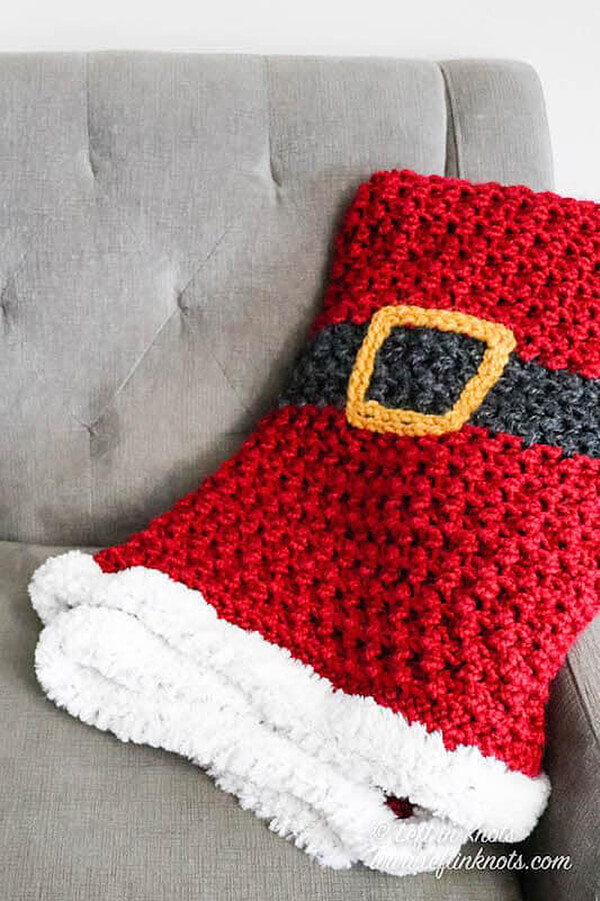 A blanket always makes for a great gift thanks to how often it will be used. This throw blanket design has a wonderful Santa-themed coloring style to it. It is rounded off with a faux fur border that emphasizes its Christmas feel. The completed piece has a classic look about it that allows the blanket to stand out when used in a room among your other holiday décor. Best of all, you don't even need to add the buckle addition if you want to create something that can be used year-round instead of just for the holiday season.
14. Fun Candy Cane Reindeer Craft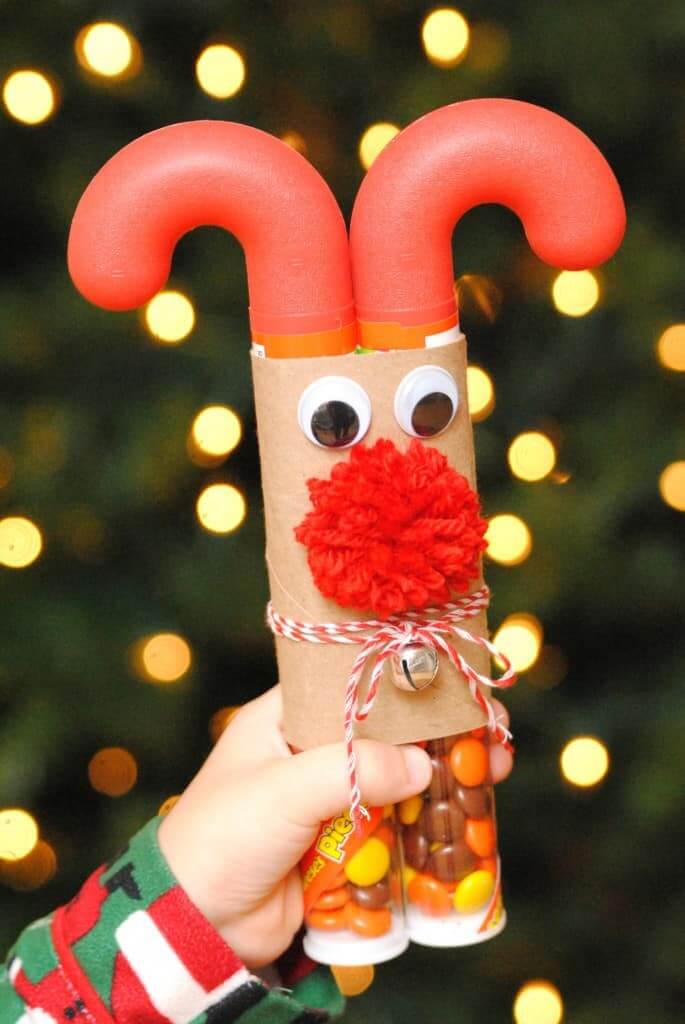 Interested in crafting a homemade Christmas gift with the whole family? Well, you can with this simple DIY project. Suitable for a child to help you with (or to gift to a child), this candy cane reindeer craft relies on the always plastic, candy-filled candy canes. They are the only solid base you need to build off of, and with the right additions, you can give off the illusion of a reindeer with antlers. This sits high among the best DIY Christmas gifts for anyone who has a bit of a sweet tooth.
15. Reindeer Styled Hot Cocoa Cones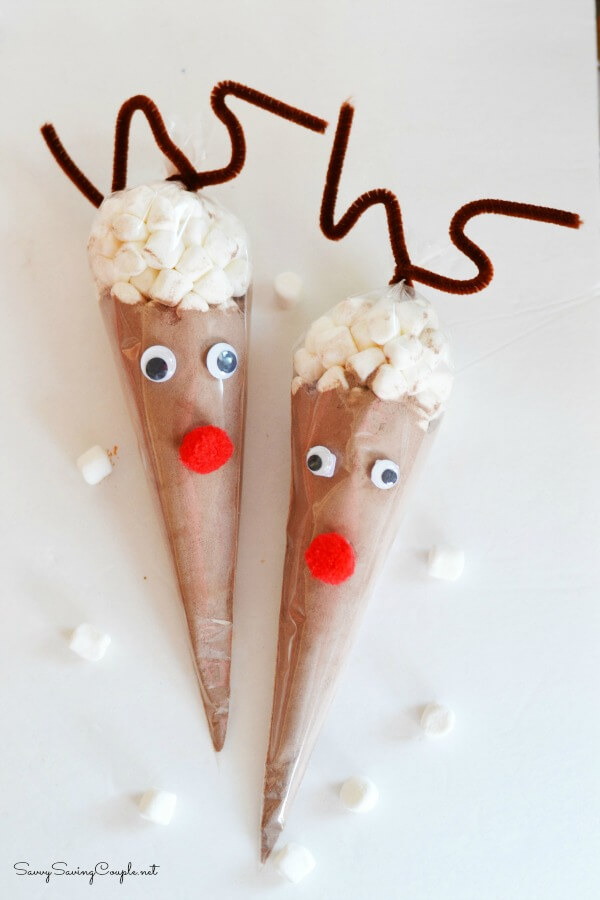 Reindeer fits seamlessly with the holidays. You can use them as a theme with your next homemade Christmas gifts. In this project, you can create something edible to give to loved ones and friends. This makes for an especially cute gift for kids to enjoy. As a bonus, it's simple and quick to make. The brown from the cocoa effortlessly helps sell the idea of a reindeer. Just add on some eyes and "antlers", and you have yourself a hot cocoa reindeer. The red nose is an adorable touch that will get anyone singing Christmas songs.
16. Mini Bar Mason Jar Gift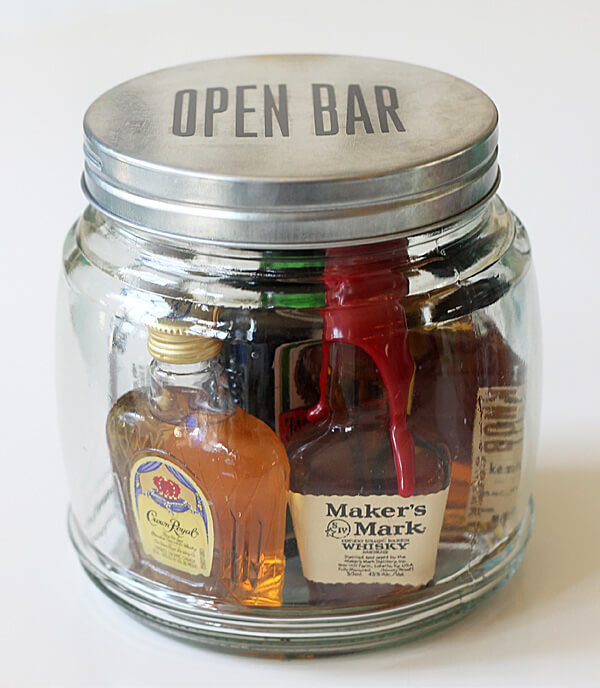 Know someone who appreciates a good alcoholic drink every now and then? Then set them up well with this mini bar mason jar gift set. There are many sweet mini alcoholic beverages that you can buy to fit into a mason jar sized of your choosing. You can apply vinyl lettering to the top of the lid to customize the jar. This allows you to send a Christmas gift that is even more personal. Best of all, a handmade gift like this is one of the more fun and exciting ways you can celebrate your feelings toward your friends and family.
17. Chocolate Chip Cookie Mix in a Jar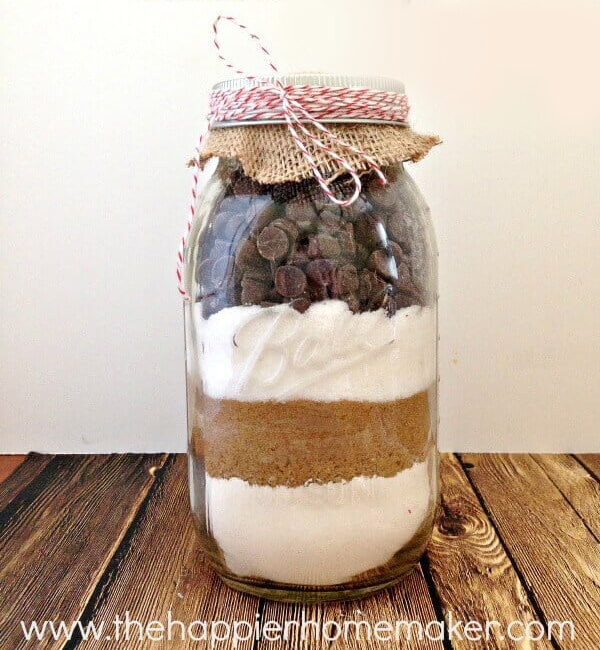 Get yourself a mason jar and fill it to the brim with something that your loved ones will enjoy creating in their homes. Chocolate chip cookies are a crowd-pleaser for a reason. These gifts are ideal for Christmas time too, especially for those who want to leave some cookies out for Santa. Fill the mason jar up with everything someone could possibly need to make the best chocolate chip cookies imaginable. It is certainly a functional present, but it also has a beautiful visual thanks to the see-through nature of the jar. You can always add even more decorative items to it like a bow or some string to tie around the lid.
18. Stove Top Potpourri in a Jar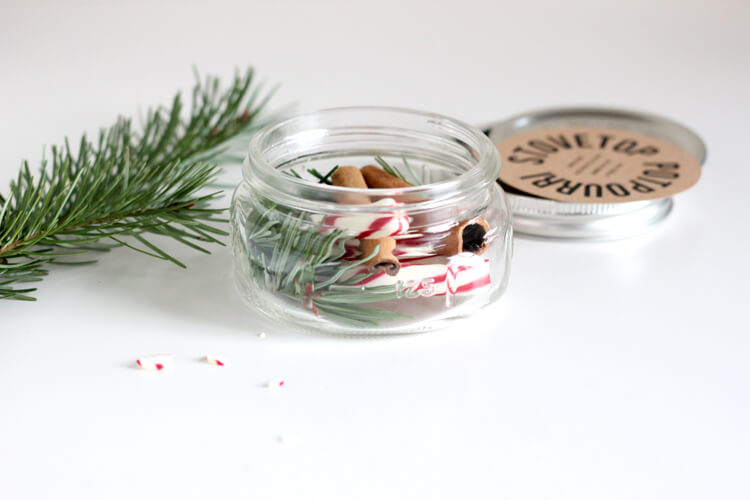 Nothing beats having a pleasing and intoxicating holiday aroma wafting around the home. What better gift than to give someone in your life than this stovetop potpourri? It has all the right items to make any area feel like Christmas from the moment you inhale the fragrance roaming free. Making a few of these Christmas presents will delight anyone as they can ensure their home consistently smells like this. Even before using it, the jar design itself is a perfect addition to the holiday décor. They may even be tempted to leave this sitting out to enjoy the vibrant colors before deciding to use it.
19. Cozy Tied Fleece Blanket Gift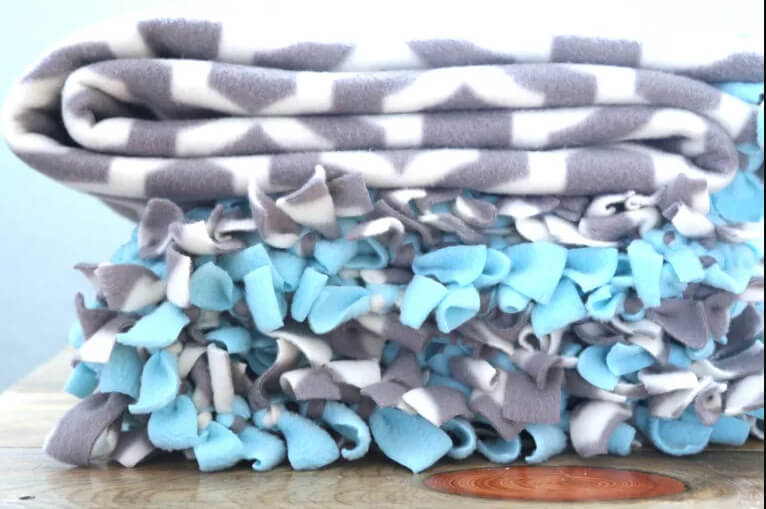 Enjoy exploring your creativity when you tackle this tied fleece blanket project. You can create homemade Christmas gifts that loved ones can use time and time again anytime it gets chilly outside. These are such fun blankets to work on as you can combine a multitude of color patterns to personalize the blanket to whoever you are giving the gift to. Make them large to accommodate adults and older children, or opt for a smaller blanket if giving this to children or toddlers. An excellent thing about a tied fleece blanket is that it is suitable for anyone.
Best DIY Christmas Gifts to Share this Holiday
It's always possible to buy a gift that's from the heart, but it can feel even better when you give away homemade Christmas gifts instead. You may feel as though you don't have the time, money, or creative skills. However, there are several ways you can go about handling this that handmade gifts become a more affordable and fun way to celebrate the season. Many of these are incredibly easy to learn too so the gifts can work out well for beginners.
There are many DIY Christmas gift projects that are great for the whole family to take part in too. You can make gifts for loved ones, friends, and neighbors. For the parents out there, perhaps a homemade present is a nice way to celebrate your child's favorite teacher. Because there is plenty of ways you can go about creating a present, it isn't a surprise if you don't know where to begin. That is why we hope our list of our favorite Christmas presents made at home will give you some idea.