'Tis the season for creating a warm, welcoming atmosphere no matter how frightful the weather is outside. One of the best ways to create holiday ambiance is with strings of warm yellow or blue-white Christmas lights, indoors and out. Christmas lights decoration doesn't have to be a huge undertaking a la Danny Devito in "Deck the Halls." DIY Christmas crafts and decorations are getting more popular (and more chic) every year, and putting together a lights display is a great way to bond with loved ones or enjoy some creative time to yourself.
50 Creative Christmas Lights Decorations You Can DIY

And, since we can't all be Etsy and Pinterest geniuses, check out these 50 decor ideas to inspire your own Christmas decor adventure.
1. A Tree Full of Stars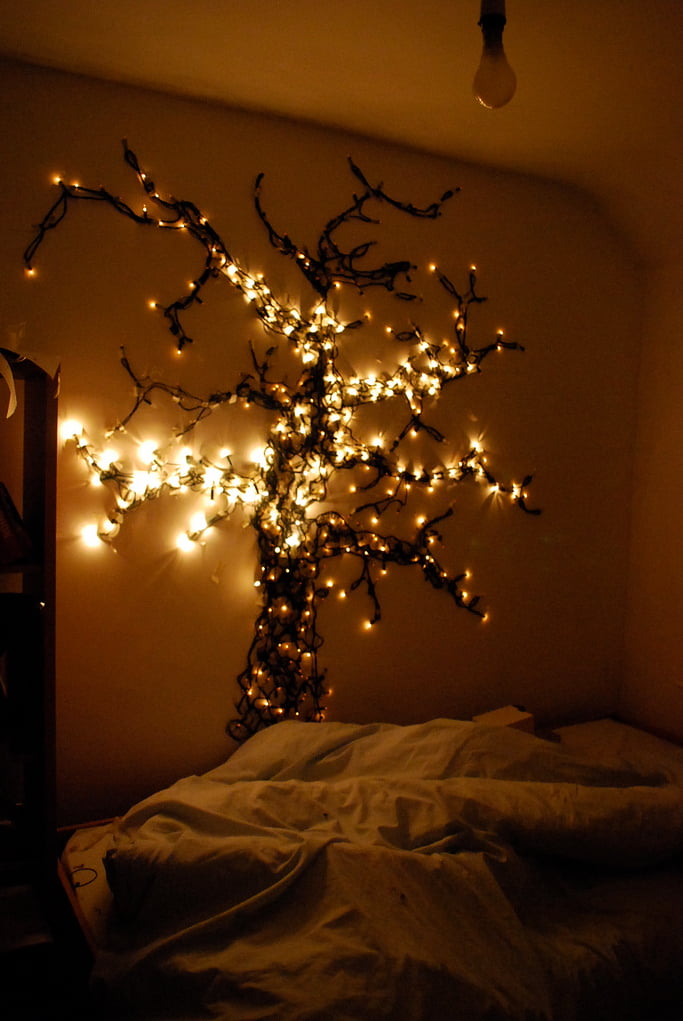 If you miss green trees and growing things, creating an indoor plant sculpture might help you get through the winter. This DIY Christmas project utilizes the dark wire of the string of lights to form the trunk and branches of the tree. Notice that the lights aren't evenly distributed and the branches aren't perfectly symmetrical, lending it a natural, organic feel. Set up a Christmas lights tree in the living room and turn down other light sources for a gentle glow. This project seems like it would work best if you have a place to hide the plug "tail" out of sight and lots of empty wall to work with.
2. Evergreen Stair Railing Garland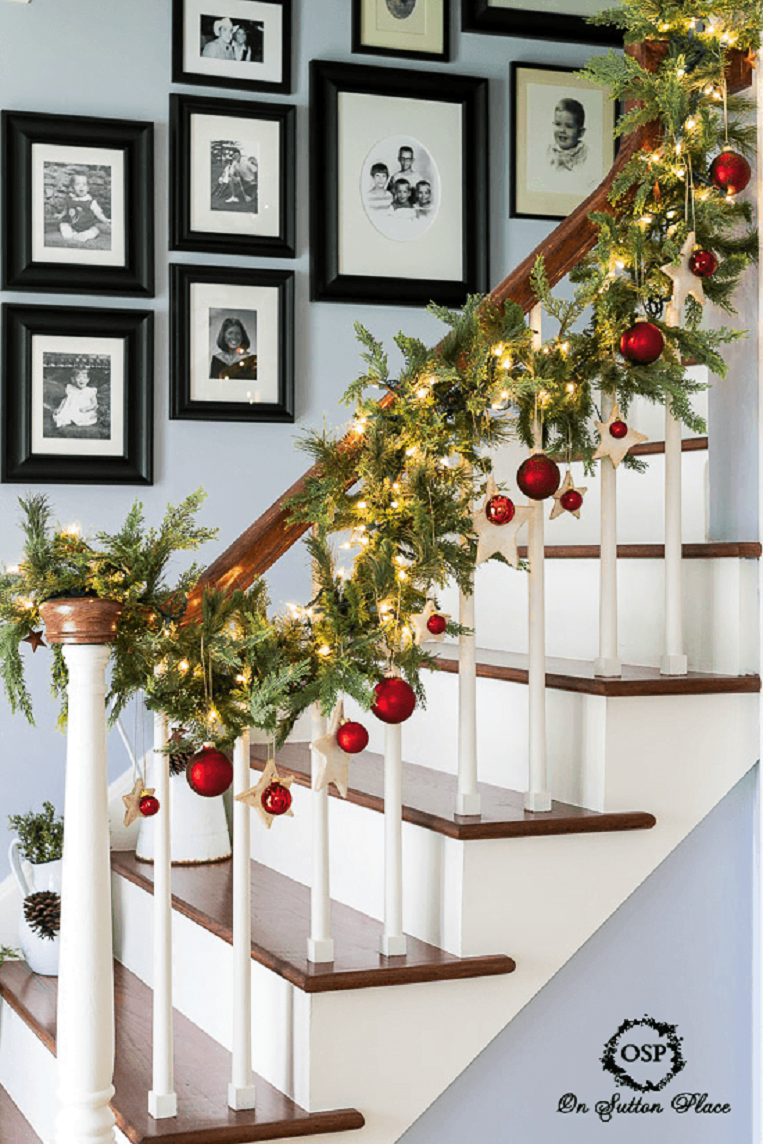 Evergreen boughs and Christmas lights go hand in hand. Using fake evergreen garlands is probably easier, but you could always stick a few real branches and pine cones in to give it that fresh pine scent. Weave Christmas lights in with the boughs, distributing them evenly, and hang the ornaments after setting it up on the stairs to avoid tangling. A matching ornament scent looks nice, but you could also use the garland as an opportunity to display a mix of handmade ornaments or dangle tiny gift boxes from it with string if you're feeling especially crafty.
4. Floating Hoop Lights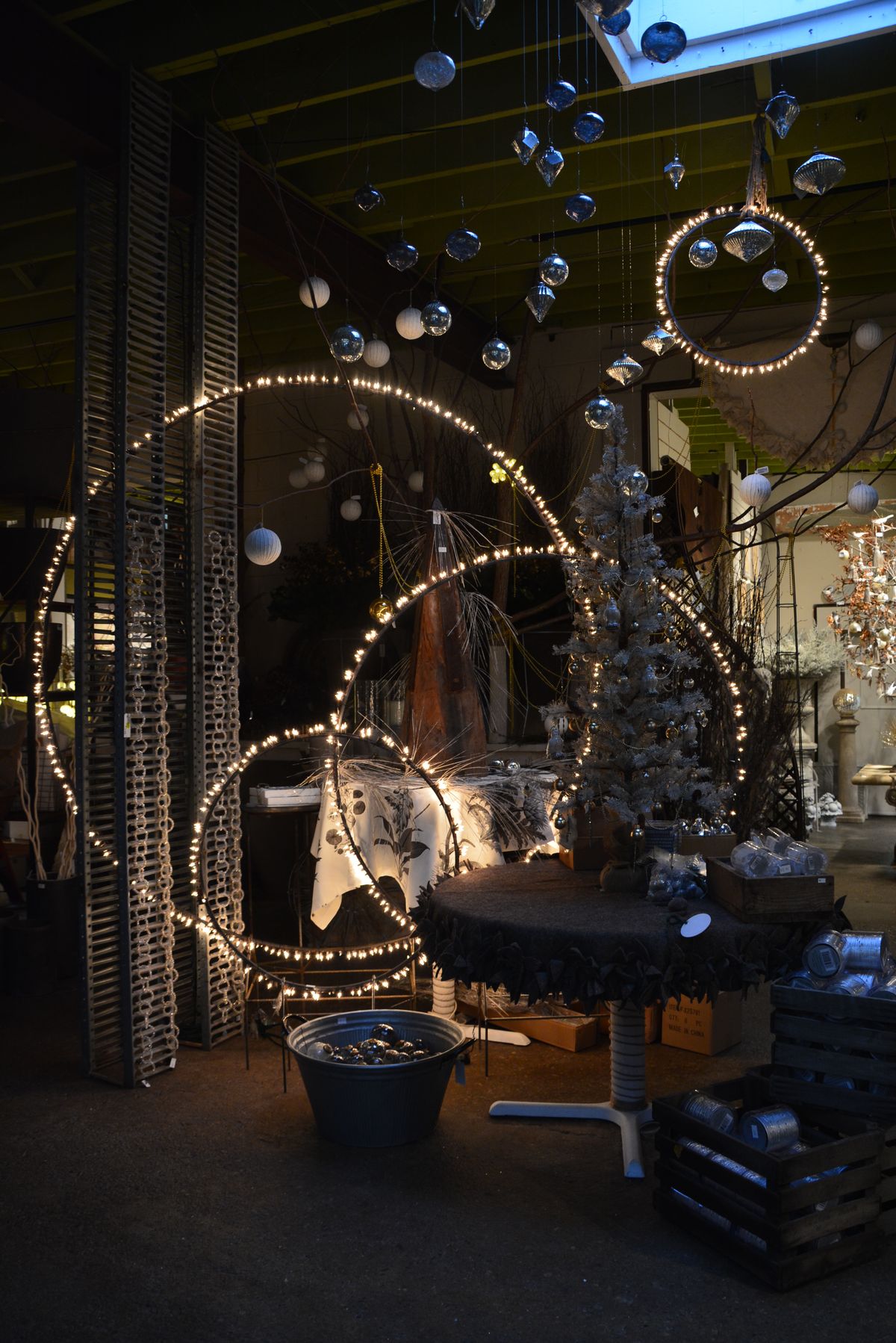 This modern Christmas lights decoration requires some empty space to pull off, but it's certainly worth it. Try wrapping hula hoops or cross stitch hoops, or make your own out of wire for an indoor midair sculpture. The different sizes add visual interest. You can create a mobile out of fishing line or string with ornaments, snowflakes, or tiny reindeer for bonus points, too.
5. Rustic Chic Burlap Garland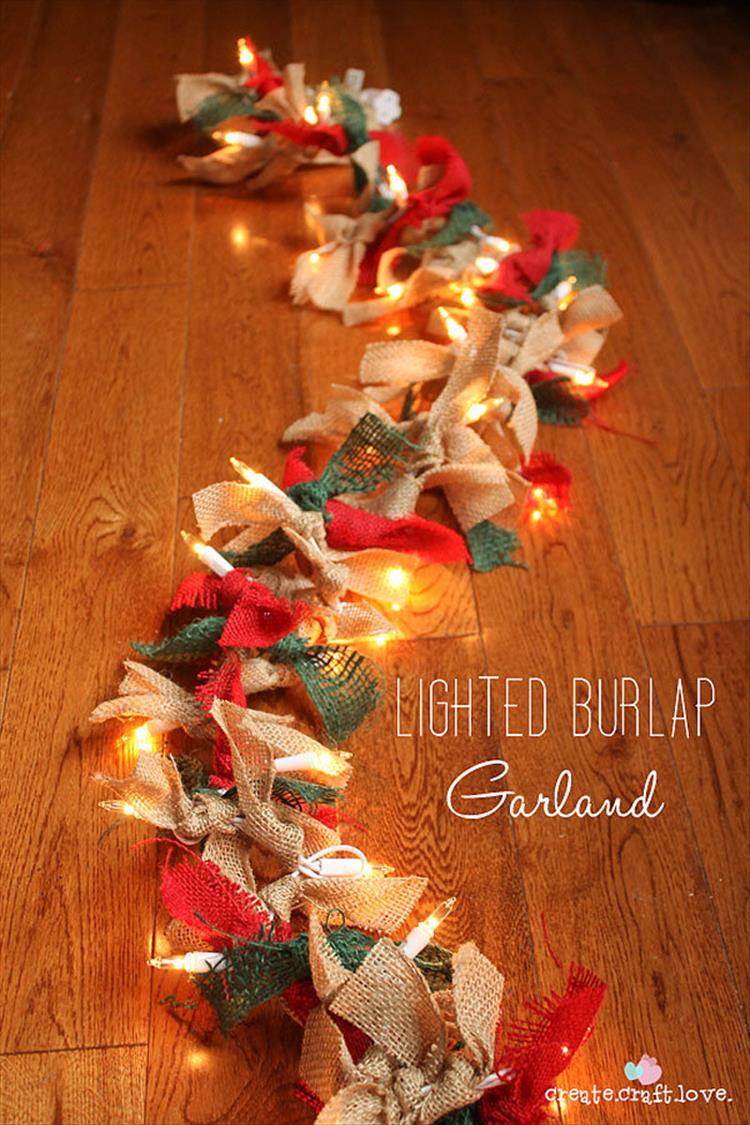 If you love galvanized steel, vintage photo frames, and dreaming about someday incorporating a barn door into your home decorating, this lighted burlap garland is probably for you. It's simple, but decoration with Christmas lights doesn't have to be a hard, sweaty process. The burlap ribbon has a nice texture that contrasts with the lights. For a more year-round decoration, skip the red and green ribbon for all-natural burlap. Or use all green as a replacement for fake evergreen. You can also accessorize with velvet bows, popcorn strings, or bells.
6. Ornament Lantern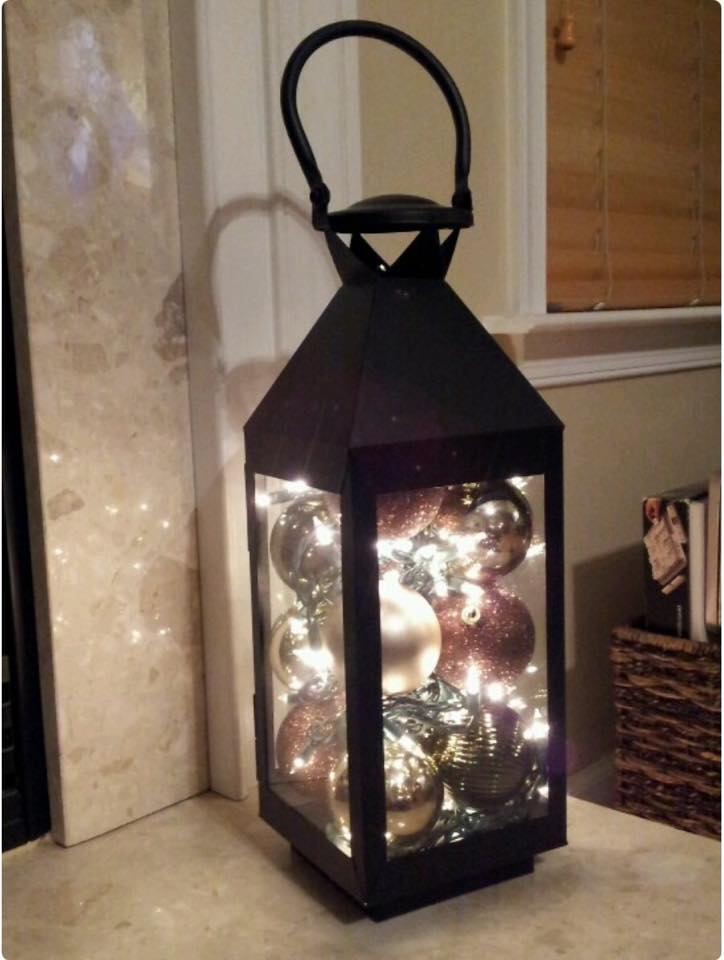 Take the mason jar lights one step further by adding ornaments. Set it by the front door to welcome guests, or use it as an indoor lighting source. Using different ornament sizes and shapes could make a unique centerpiece. This Christmas lights decorating idea is elegant and eye-catching, and it's simple to make. Of course, if you don't have an excess of ornaments lying around to donate to a project like this, using pine cones or fake snowballs is an alternative. In a room with a darker color scheme, a white or light-colored lantern would look very striking.
7. Evergreen and Tiny Stars on a Tiered Tray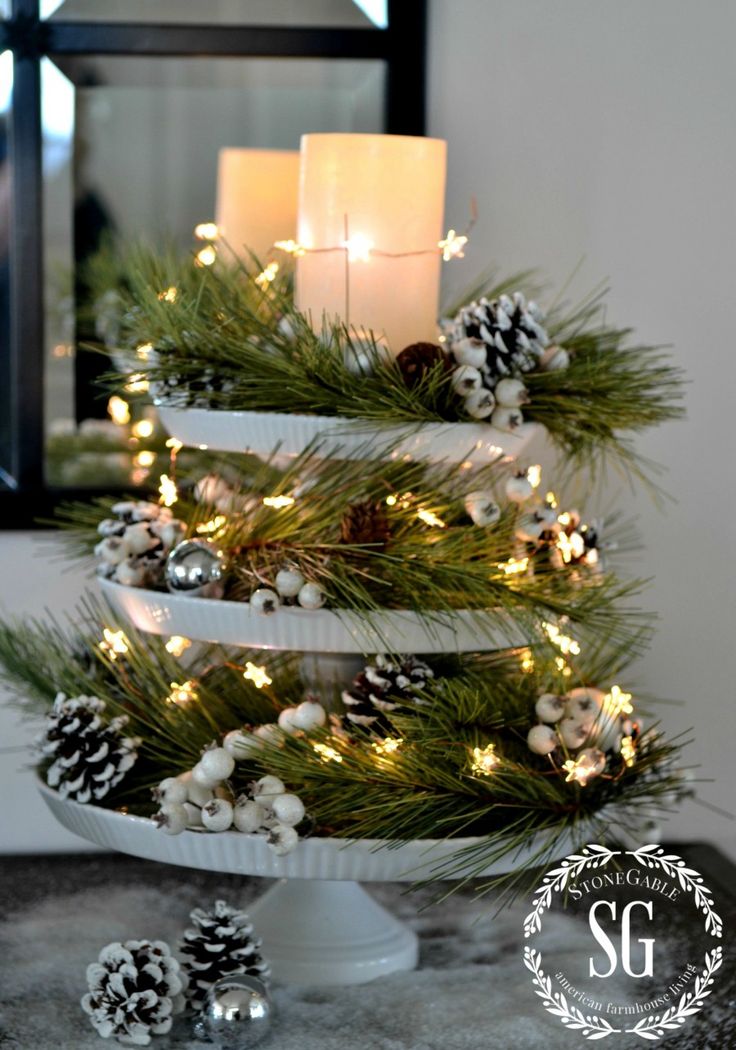 For an attractive centerpiece, make your own tiered stand with cake trays or pull out Grandma's dessert display. The simple color scheme is what makes this display so pretty: notice the white berries and pine cones, the green pine branches, and the yellow lights and candle. The silver and red ornaments mixed in add contrast. Sometimes you need a Christmas lights decoration that's free-standing and with low potential for mess. The rims of each tier help contain the needles and loose ornaments, and the lights can be used to literally tie everything together, too.
8. String Light Frame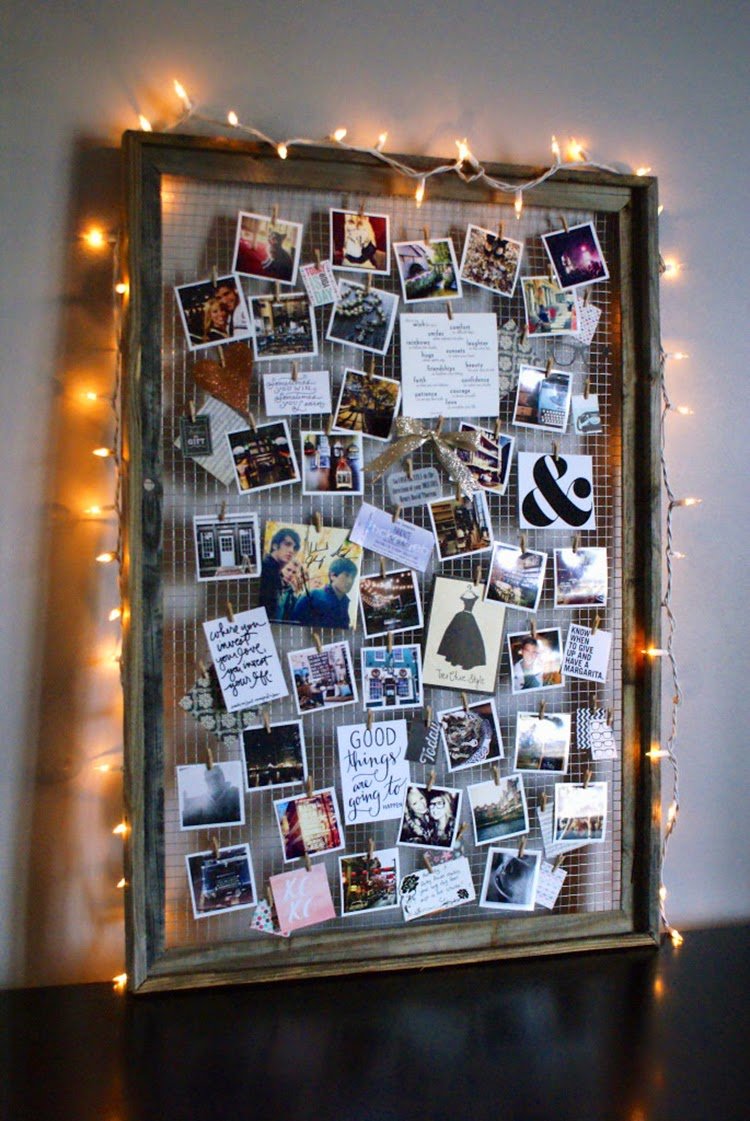 Making a string photo board like this is a whole DIY project in itself, but you can use Christmas lights to draw the eye to holiday photos or other displays. Using lights in this way is great if you're limited on space but still want to show holiday cheer. Whether you have rustic wooden frames or modern metal ones, they'll look good with lights on. With a board like this, it would be interesting to weave the lights in and out of the strings and around the photos or run a few strands across the back of the open frame.
9. Gorgeous Snowman Wreath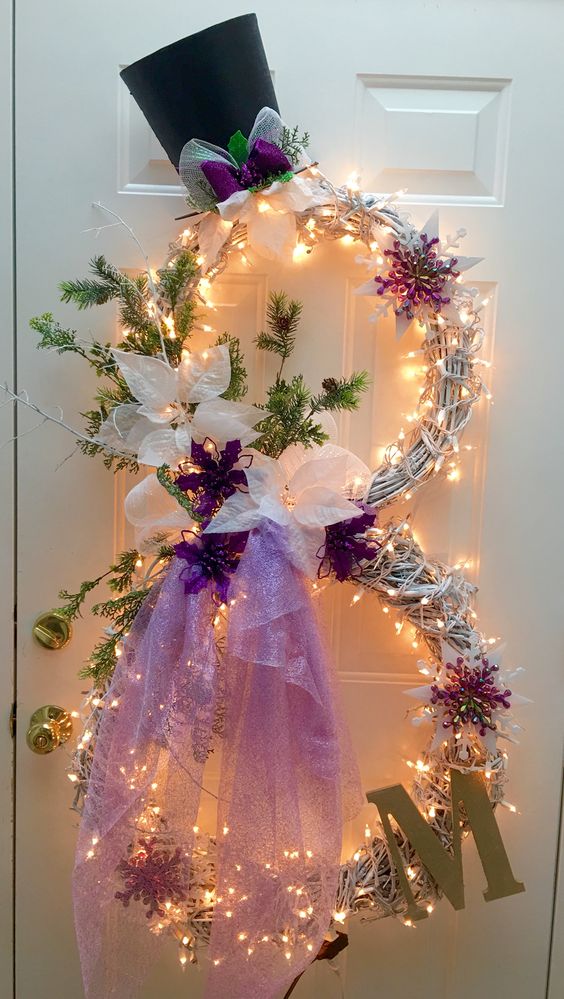 Do red and green ever seem too… garish? Create a feminine touch with this elegant (monogrammed!) snowman wreath. The way the gauze overlays the lights on the wreath is truly beautiful. The white poinsettia flowers, purple snowflakes, and pine boughs make this undeniably Christmassy without hurting your eyes. This particular snowman has been personalized with an initial, making it a lovely gift or door marker. The purple and green are vibrant but used sparingly, so they aren't overwhelming.
10. Wrapped Globe Lights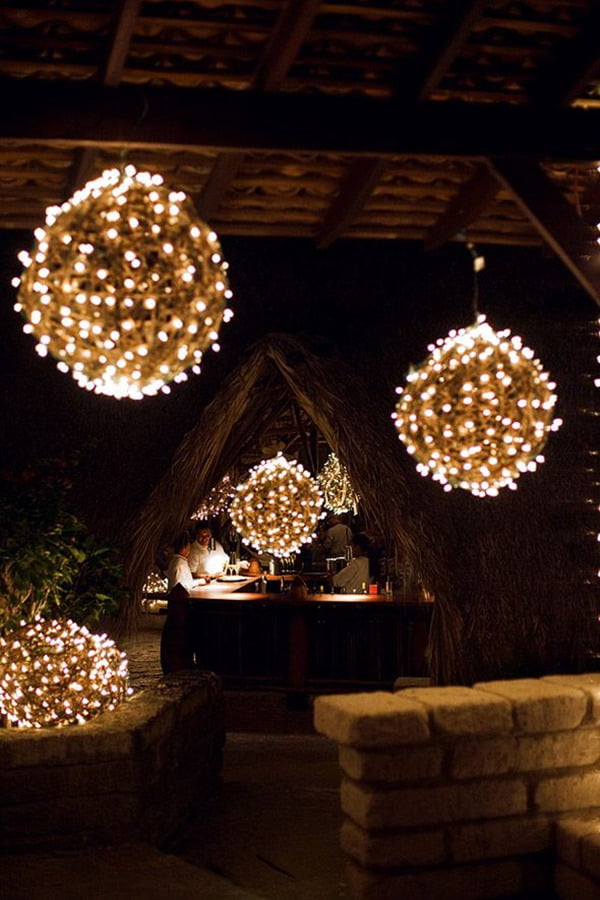 Another Christmas lights decorating idea that will be hard to take down at the end of the season, these globe lights look especially interesting because you can see through them in places. The round lights are elegant, but different bulb shapes can change the entire impact of the Christmas decor. You could size down with tiny fairy light strings, or wrap the globes more loosely with bigger bulbs. Icicle lights would create trailing droplets from each globe. Some decorations are beautiful without even trying, and this is one of them.
11. Fairy Light Vases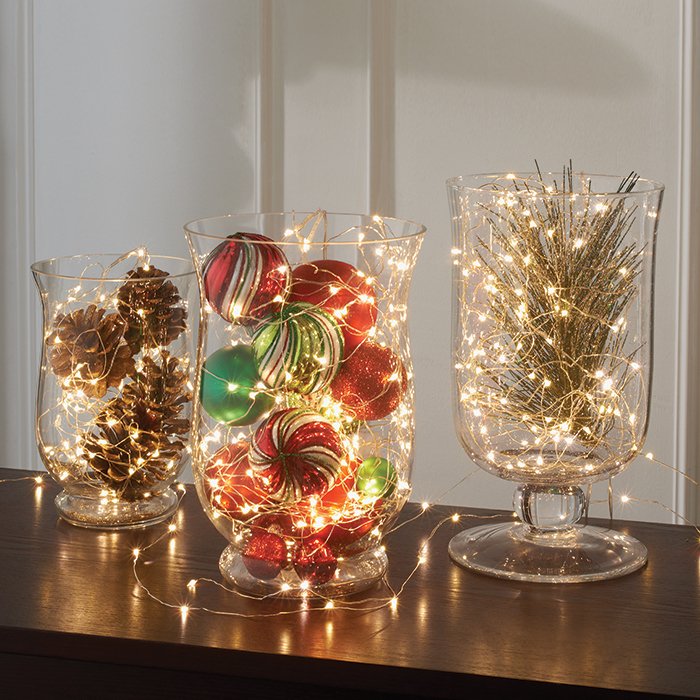 Tiny, delicate fairy lights add a creative touch of whimsy to the vases, and the mix of vase fillers is interesting, too (but optional—you could always stick with ornaments or pinecones, not both). These lights are amazing for vase filler and tabletop decor projects like these because the trailing wire tails don't look clunky or unfinished. In the vases, the fairy lights become a dense, glowing net around the objects inside. The slim wire size and the spacing between the lights make their "tails" unobtrusive. But if you want to conceal them anyway, a pine bough or a bit of tinsel should help.
12. String Lights and Chinese Lanterns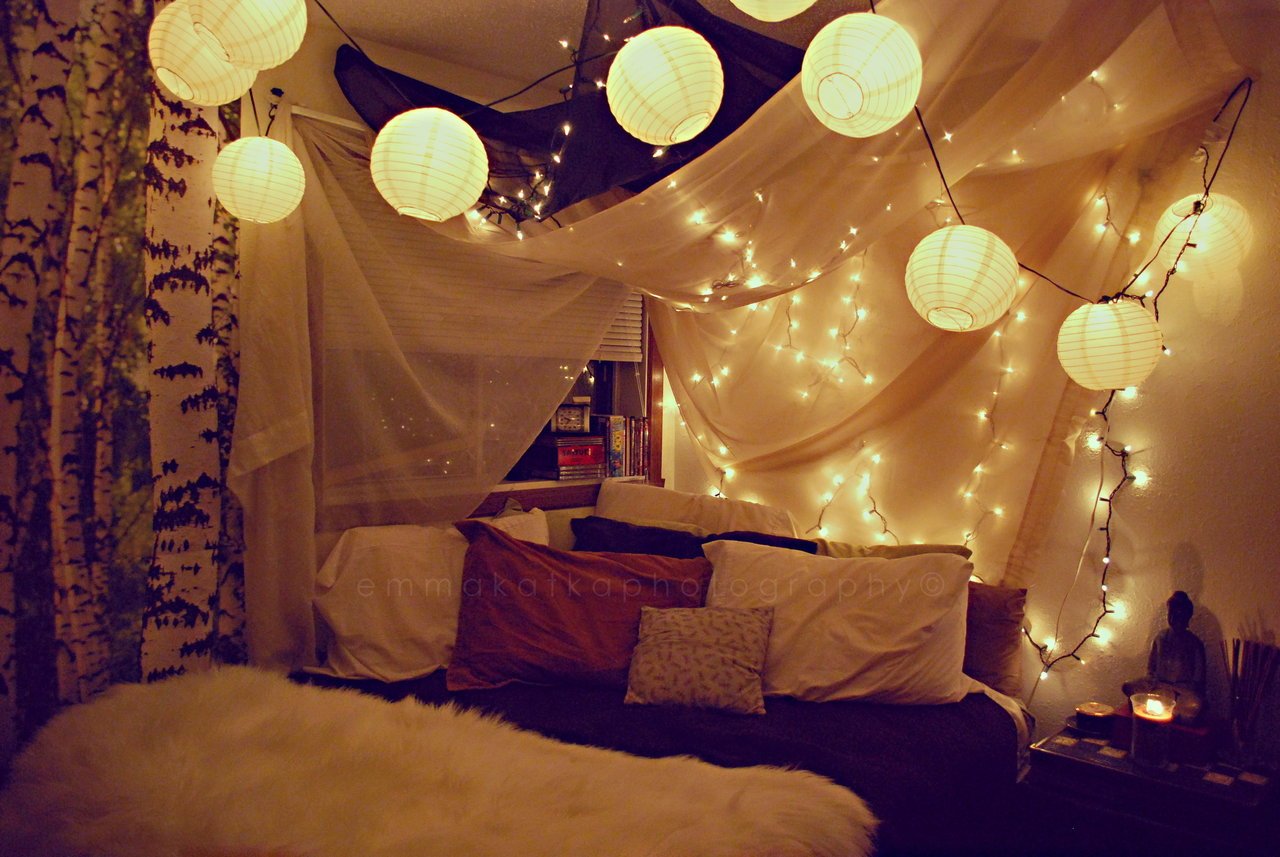 Though the two types of lights have very different shapes and sizes, they work in harmony. Why? Because they use the same bulb color, and because the string lights are draped to appear to be a similar density as the Chinese lanterns. Of course, the gauzy canopy is a nice touch, too. Try out this style in a reading nook or cozy corner, or make an impromptu blanket fort to really enjoy them. Here the lights create different frames and boundaries around the bedroom. You can also try replacing the lanterns with a garland of snowflakes or ribbon.
13. String Lights Headboard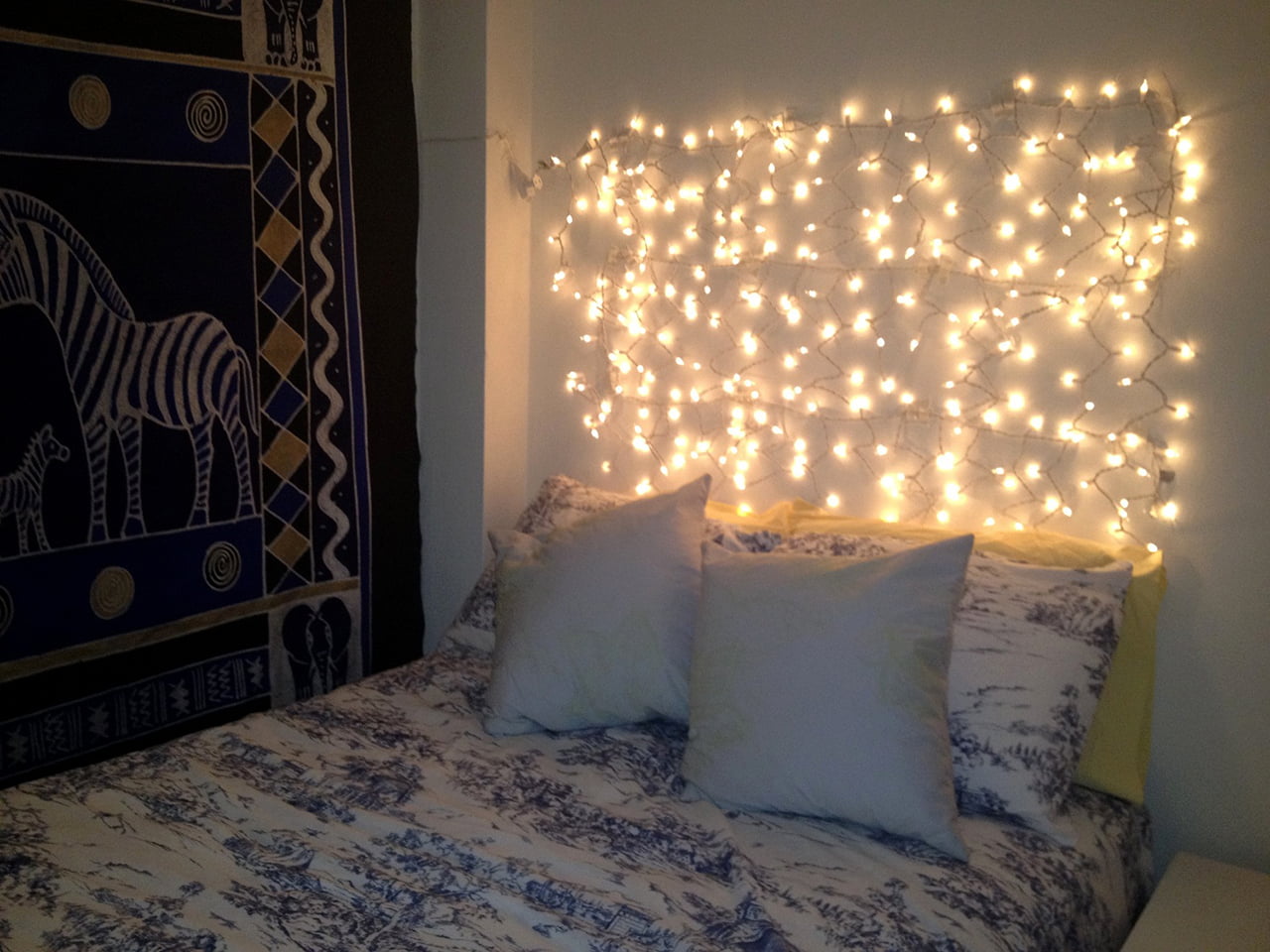 If you have limited floor space in your bedroom, this project might be useful long after Christmas is over. The Christmas lights are woven in just enough to fill the space without becoming too structured. Weave them densely enough, and you won't need a bedside lamp! The white wires would look interesting against a darker wall color, too, as would variations in the light bulb sizes.
14. Glowing Birdcage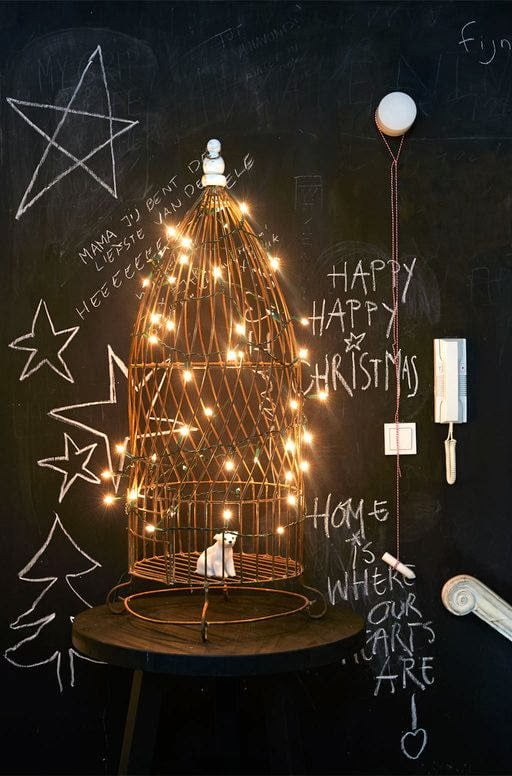 Display your cutest figurines in a craft birdcage wrapped in Christmas lights. Or take a note from the vases and lanterns and put a few pine cones or ornaments into the cage. Since craft birdcages have become more popular in home decor, you can use it year-round, not just for the holidays. The actual Christmas lights decoration here is very minimal but looks impressive against the dark background. White light wires would look best against a white birdcage or light background. Play around with using more or fewer lights for the best effect.
More DIY Christmas lights decoration ideas on the next page…