15. "Joyful" Fireplace Mantle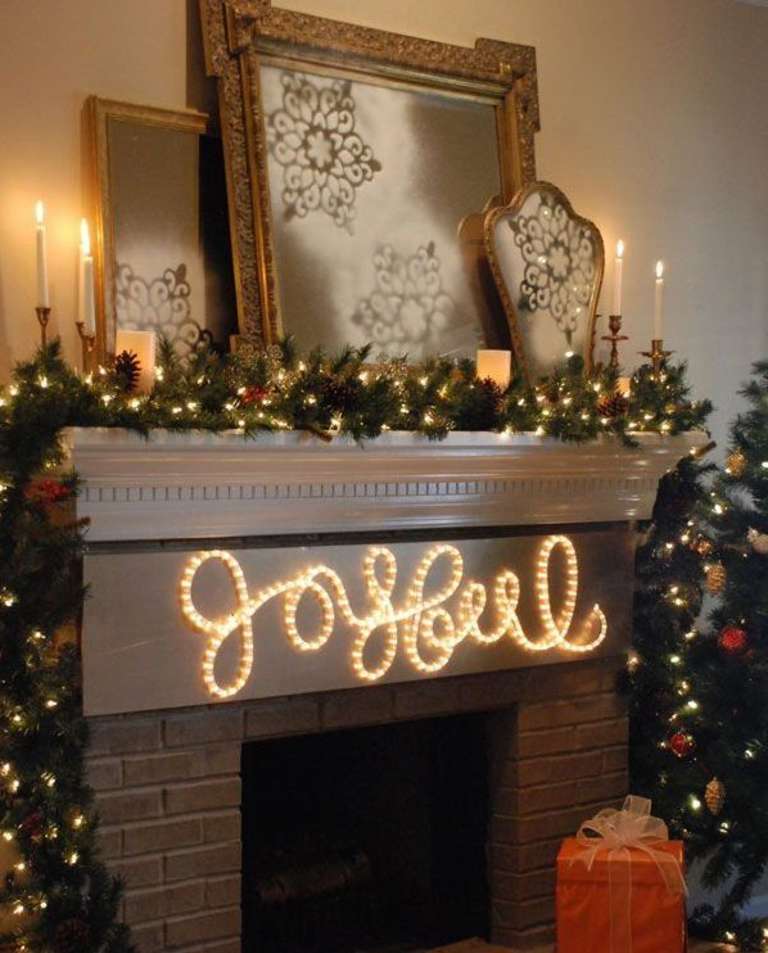 You don't need a fireplace to properly enjoy Christmas, but it sure does help. Write a Christmassy word in string lights over the threshold, over the stairs, or beside the dining room table to remind visitors that Christmas is the best. It's a simple Christmas lights decoration that will still look very impressive (if it's legible). Note how the garland of evergreen and lights provide a frame without taking away from the "Joyful" centerpiece. Leaving space around the sign makes it the main event.
16. Adorable Tiny Campfire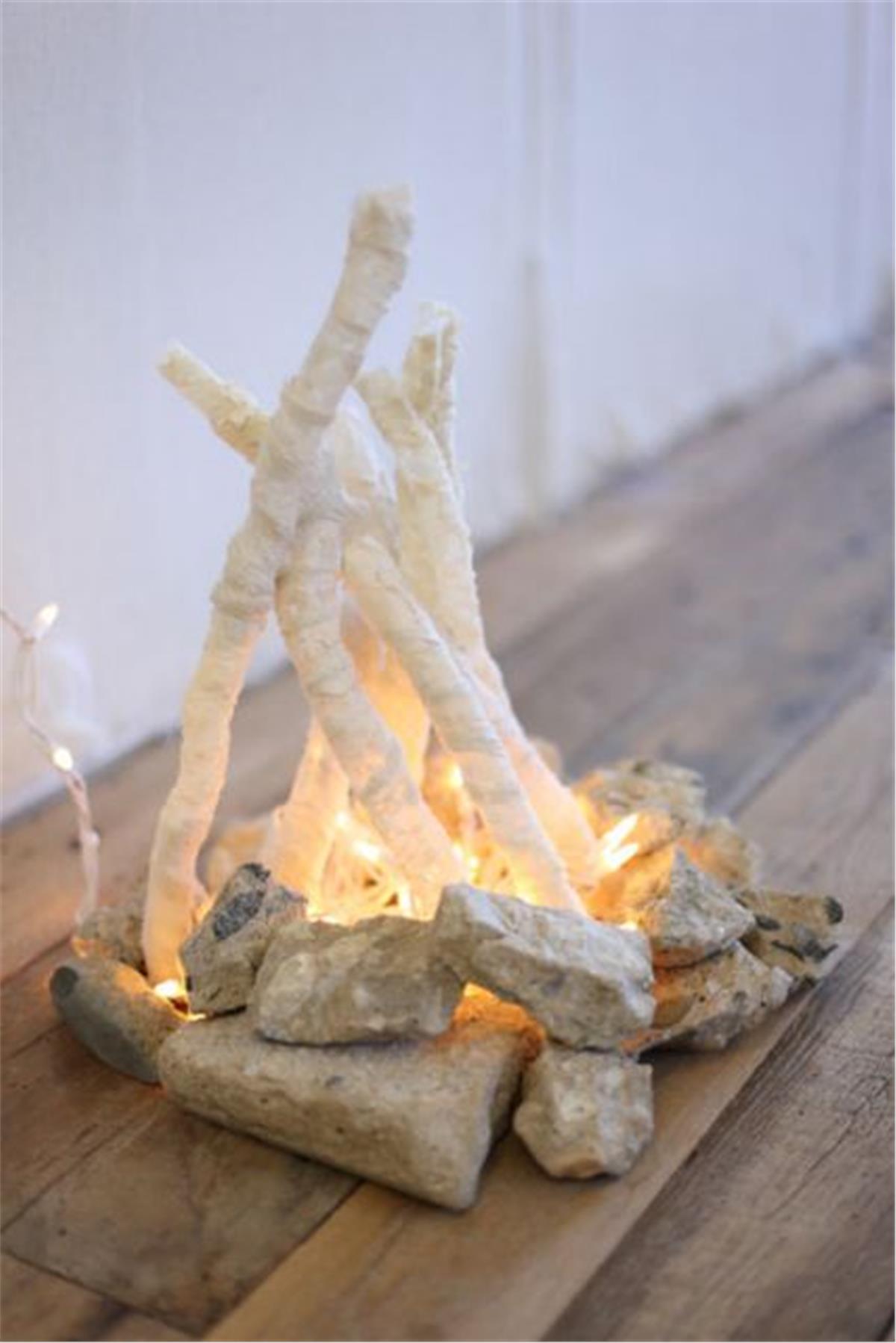 Maybe it's a campfire, or maybe it's an abstract Christmas tree. Either way, this DIY Christmas project is easy, inexpensive, and still manages to look good. Take out your trusty string lights, spray paint some branches white, and dig up some rocks. Using different colors, like painting the branches silver instead of white, might make this more Christmas-themed. If you can't have a real fireplace, this cute faux campfire might make you feel better, even if you can't roast chestnuts over it. You can also bust this project out for rainy days and make (microwave) s'mores.
17. DIY Christmas Shadow Box Display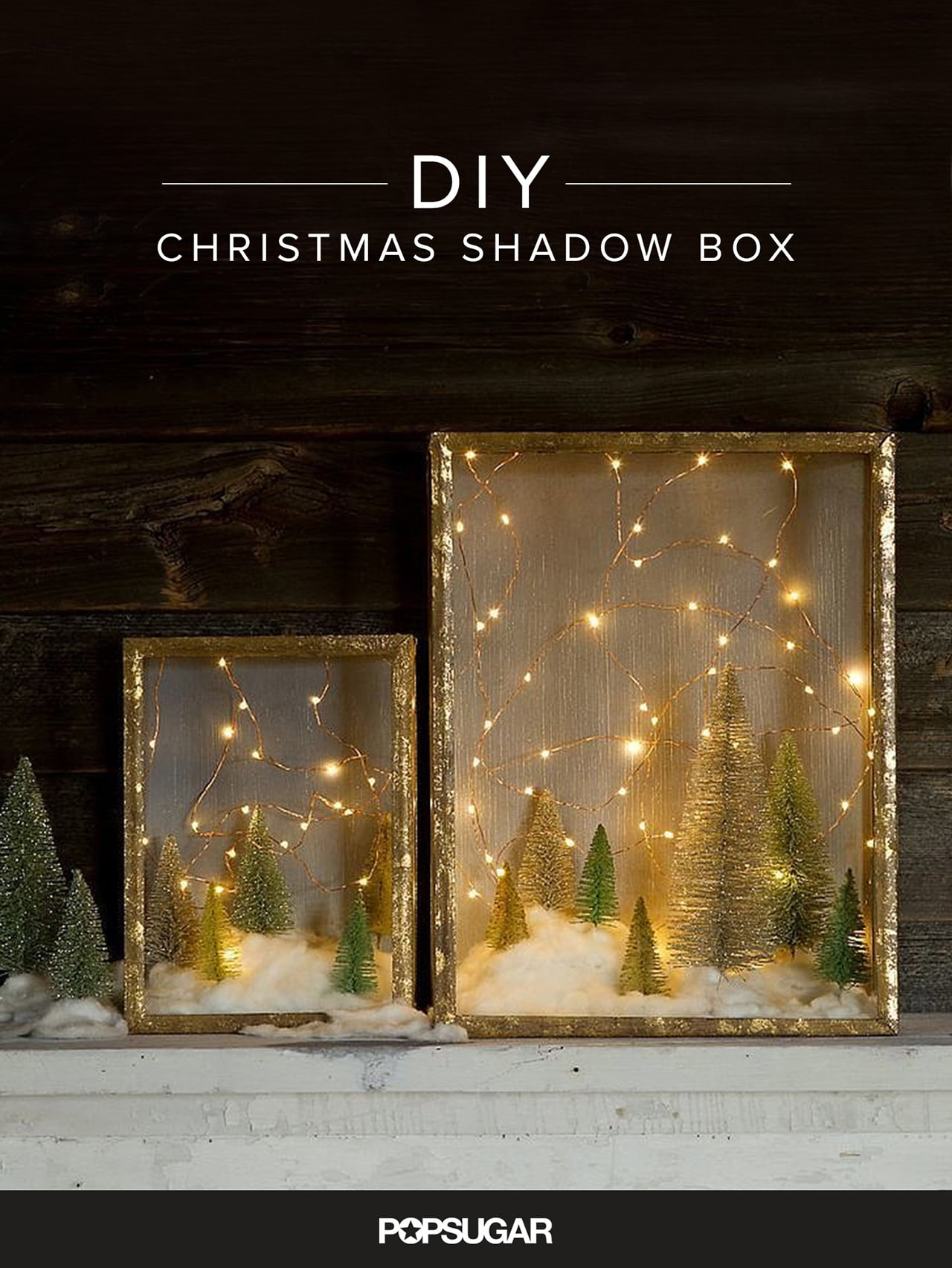 Lightly paint a shallow wooden drawer or crate, fill with fake snow and tiny trees, and string with posable fairy lights for a rustic, traditional Christmas lights decoration. These little decorations can look perfectly contained or like they're growing out of their frames. The old wood gives the shadow boxes a shabby chic element that the lights balance out. It's a super cute project that's great for limited spaces. Part of the reason this looks so well-designed is because of its simplicity and dark background, keeping the eye focused within the clean lines of the boxes.
18. Basket of Glowing Ornaments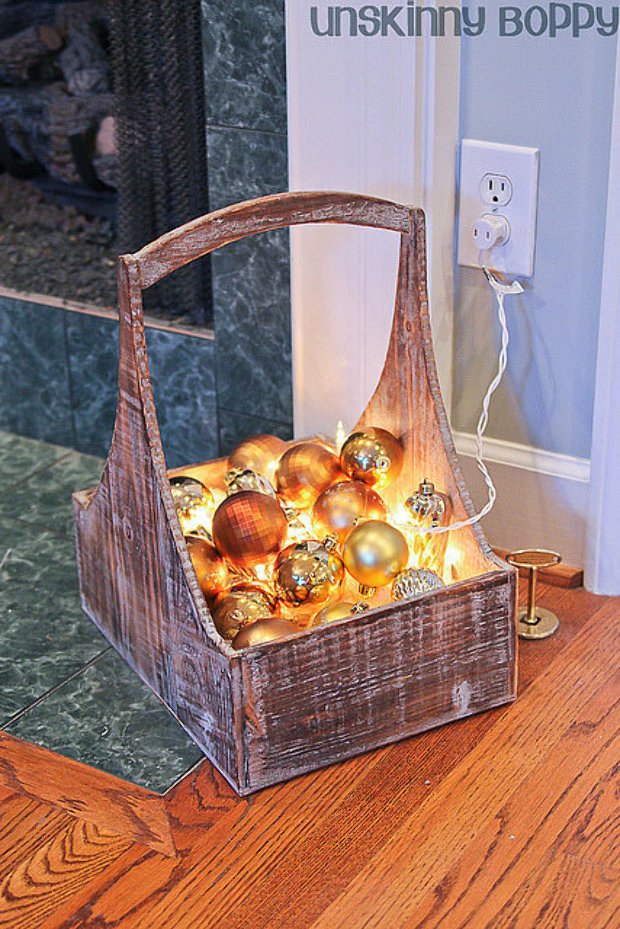 The unvarnished wood contrasts so well with the shiny new ornaments piled inside. Avoid the cord tail by using battery-powered lights, or use a taller container or other objects to obscure it. The ornaments look almost magical! Using a wicker basket might allow the light to shine through a little more, too, or incorporate a metallic bin for extra shine. Surround it with evergreen boughs to show it off even further.
19. Planter Wreath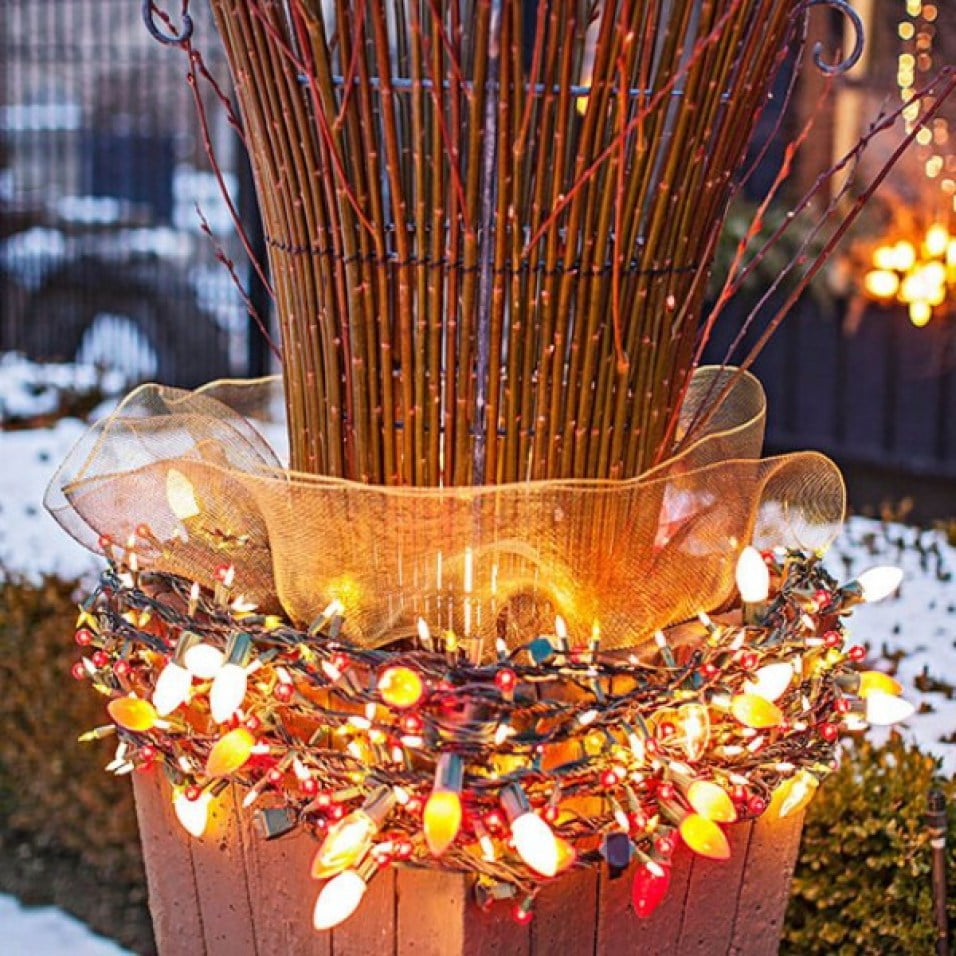 The thickly wrapped strings of different lights make a cool texture, and the way the ribbon diffuses the light makes it even more interesting. Even though the soil is frozen, you can still "plant" red and brown twig branches in your empty planters. Imagine two of these planters on either side of your front door or leading the way up the walk—nice, right? This planter wreath would also work well with poinsettias or potted baby Christmas trees.
20. Rustic Wine Bottle Chandelier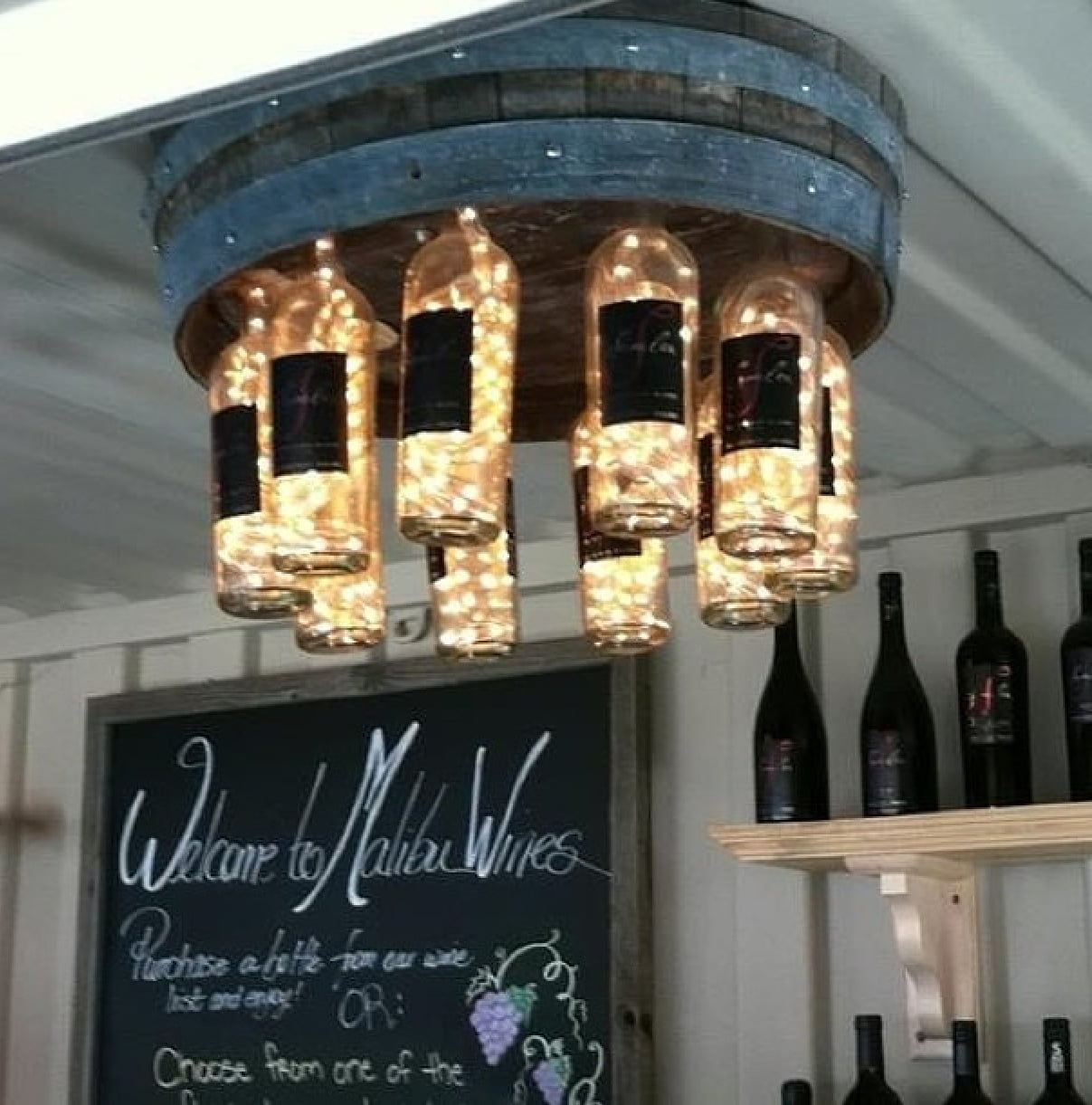 Okay, this definitely wouldn't be easy to replicate, but wow, is it beautiful! It's hard to beat that vintage wine barrel top and perfect arrangement of wine bottles. You could also work with a vintage wagon wheel or spinning wheel for a similar look. If you're a confident carpenter or know someone who is, this would make an impressive lighting system all year round. Drape with multi-colored Christmas lights and hang some mistletoe or holly to give it that holiday feel.
21. LED Coffee Table Decoration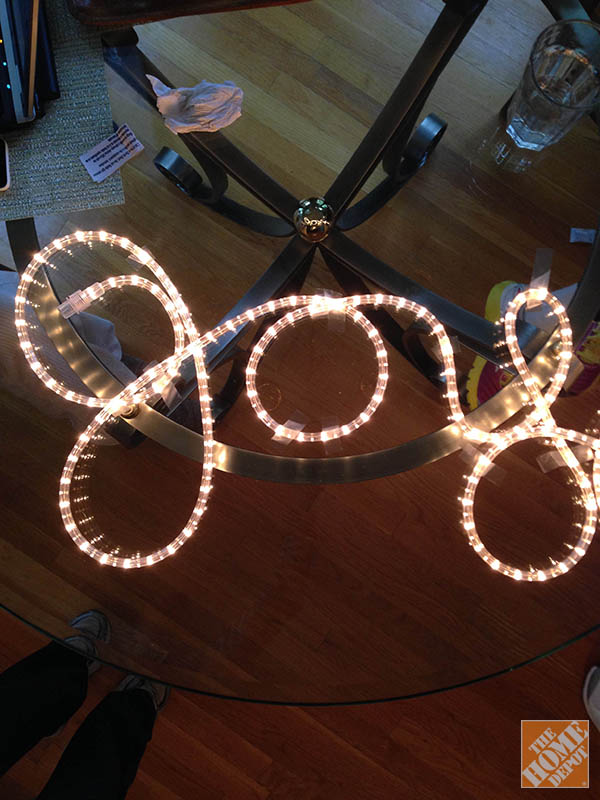 Glass tables need Christmas lights decorations, too. You can celebrate the holidays in a more minimalist fashion, or incorporate this idea into other Christmas decor. Using the underside of a table isn't a common choice, but keeps the decor there out of harm's way. You could also wrap the table legs in Christmas lights for extra glow. Setting the lights behind glass would also look nice in a photo frame or mirror.
22. Miniature Mirror Chandelier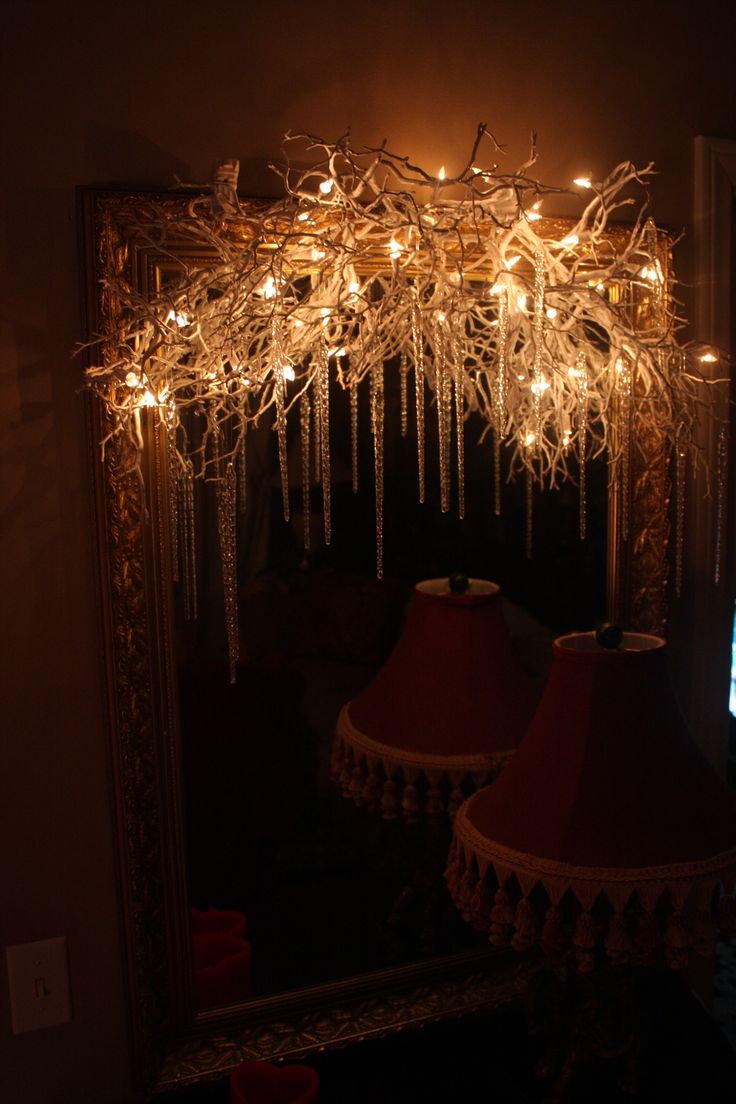 A combination of branches, Christmas lights, and icicle ornaments might make you feel like the winter wonderland outside your window has come inside without telling you. Mirrors and lights can be a very potent combination. Here you can see the mirror's gilt frame thrown into shadow by the lights and the icicle ornaments in the reflection. It's a very natural-looking tangle that probably had to be placed with precision. Even the uneven way the icicles hang contributes to the overall impression of a natural scene. What other materials can you think of?
23. DIY Faux Pillar Candles

Candles are a classic part of Christmas decor, but sometimes it's better to go flame-free for the holiday season. By filling a translucent plastic bottle with Christmas lights and wrapping it in layers of cut paper, you get all of the warm glow without the fire. Use a clear plastic bottle for best results, and try different papers and cutouts to see their effects. Get ambitious and cut out a season's greeting or reindeer antlers, or rim each faux pillar with tinsel or evergreen. Mix with other decor ideas to make a full and non-flammable holiday display.
More DIY Christmas lights design ideas on the next page…