33. Christmas Light Mini Clouds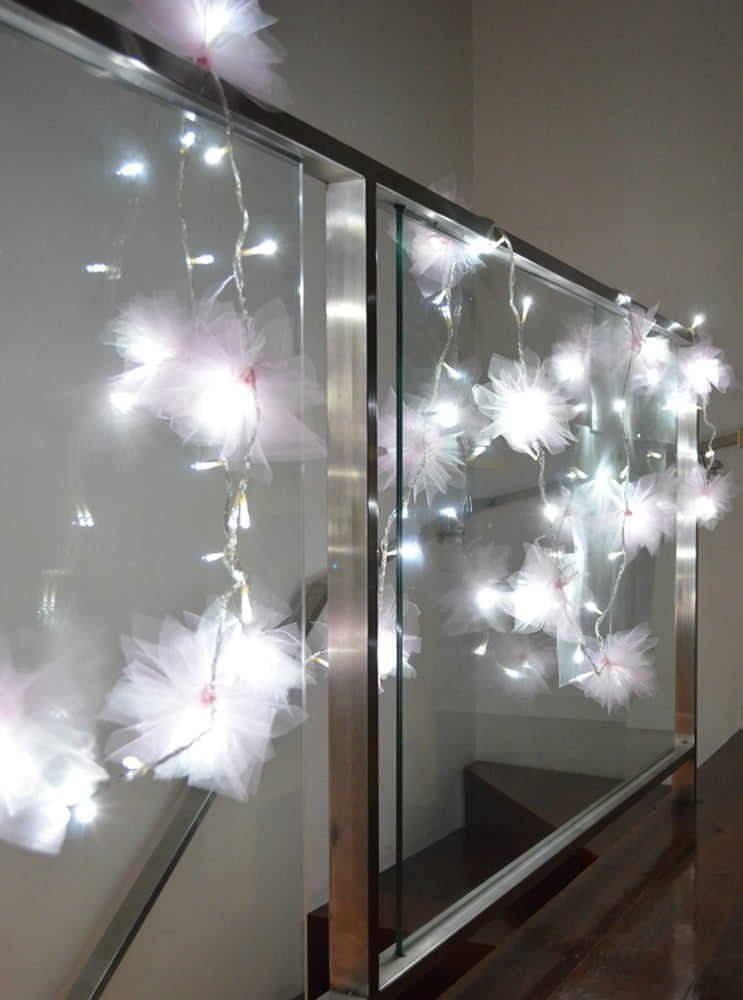 Delicate draped lights use the glass stair railing to their advantage. Wrapping every other light or so keeps the string from looking too "cluttered" with tulle fabric. The tulle softens and disperses the light to create a lovely impression, reminiscent of flowers or tiny clouds. You could also use red, green, or metallic fabric and mix this in with other decor ideas, like the Corner Christmas Display. This garland is so simple but magical at the same time. This is also a nice option for people who prefer minimalist or modern Christmas lights decorating. For a little more intensity, wrap or layer the Christmas lights with strings of beads or tinsel.
34. Branch Wreath with Blue Lights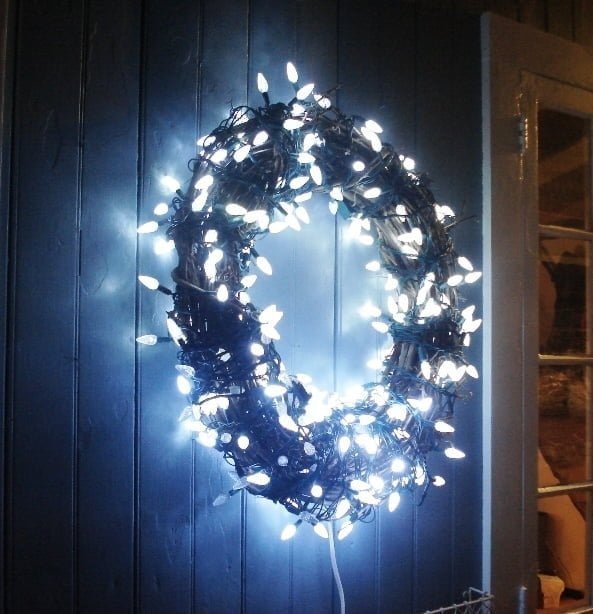 Sometimes those bright blue Christmas lights can be a little hard on the eyes, but using the twigs and branches of the wreath as a backdrop softens them up and adds dimension. It is a welcoming beacon, perfect for hanging on or beside the front door or over the threshold. The simple design means it is easy to set up and not too cheesy, for the more reserved Christmas decorators. You could also use yellow lights for a softer display, but the blue lights make the wreath look like it's tangled with stars. Plus, it makes a great porch light beacon on dark and stormy nights.
35. Outdoor Front Stoop Christmas Lights Display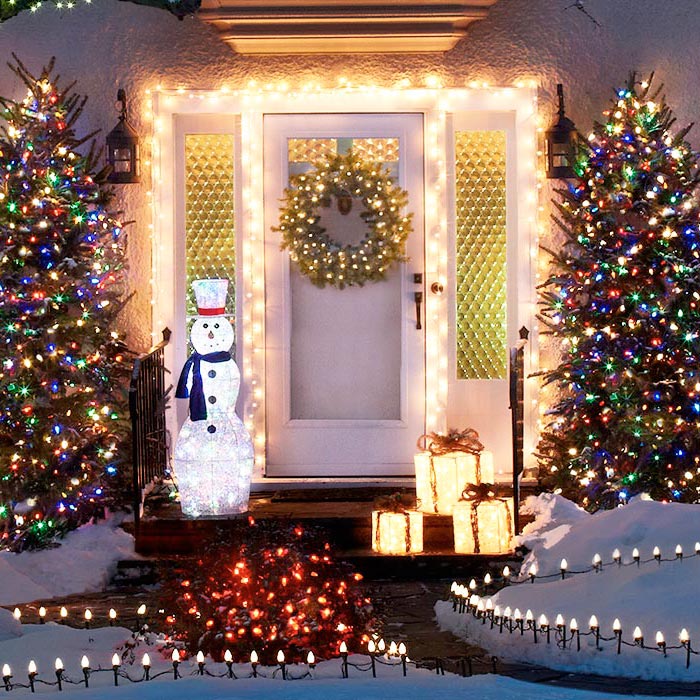 If you've been wanting to go all-out this whole time, try this display on for size. The two trees wrapped in lights frame the door, which literally glows with all of the lights surrounding it. The light-up presents and the snowman are cute additions, too. The other interesting Christmas decor is the lights lining the pathway to the door. It looks a little time-consuming to set up but certainly has a gorgeous effect. Mix and match these decor ideas to create your own perfect entrance and put visitors in awe of your decorating abilities. Just make sure you don't trip the breaker!
36. White Birdcage with Flower Lights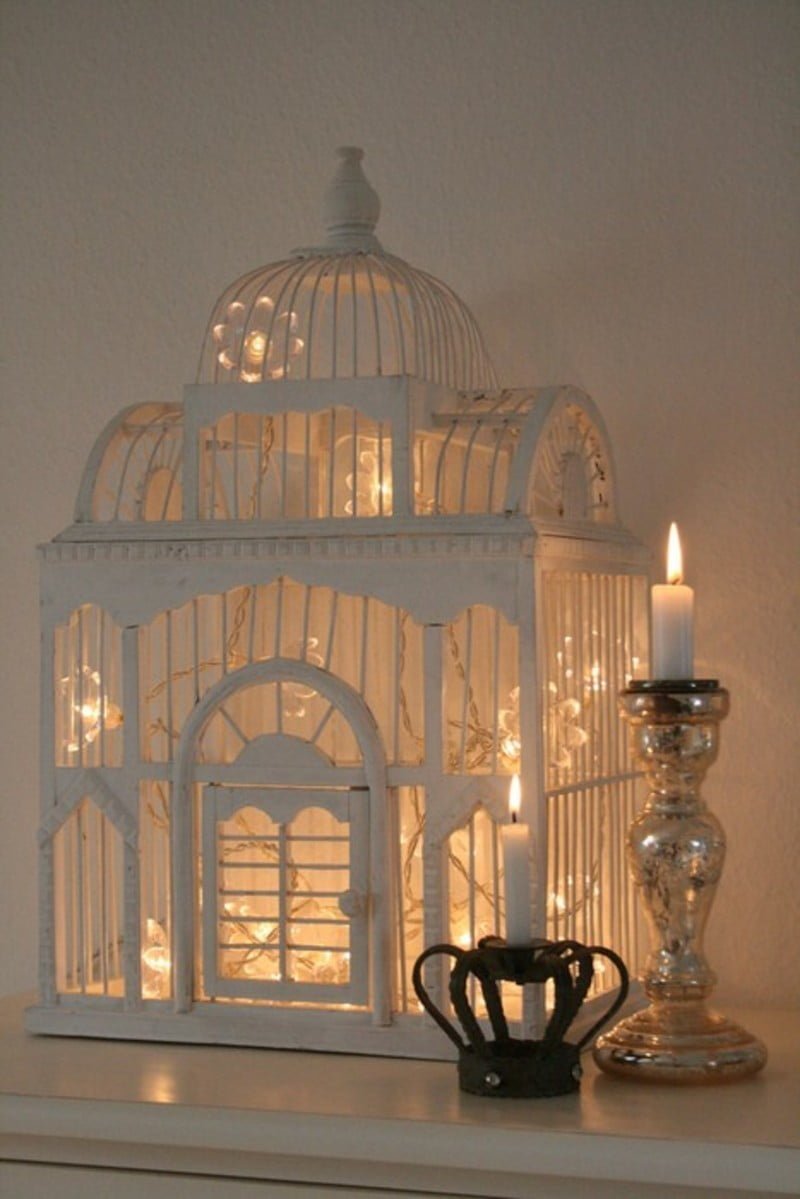 Flanked by candles in unique holders, the lines of this simple white birdcage cut up the flower-shaped lights inside in a pretty way. You could also place a few figurines or some potpourri inside, or surround the cage with pine boughs and fake snow. The flowering Christmas lights are gorgeous. They're concentrated at the base of the birdcage, but a few appear higher up and at the top, providing visual balance. This is an interesting fixture whether it's alone or mixed in with other decor ideas.
37. Tree Branch with Hanging Lights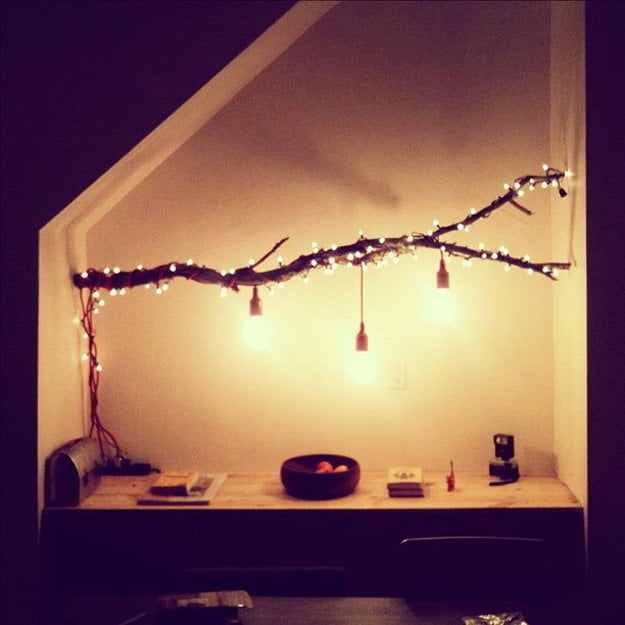 It seems like a difficult task to find the perfect branch for this Christmas lights decoration, but it definitely pays off. The three hanging bulbs in the center make this a more practical and permanent lighting fixture, but you could also replace them with hanging icicle ornaments or icicle Christmas lights. The branch works as a lovely focal point, making the space below it an ideal spot for another display. The only downside is that the branch setup needs to be near a discrete power outlet to look its best.
38. Bed Frame Lights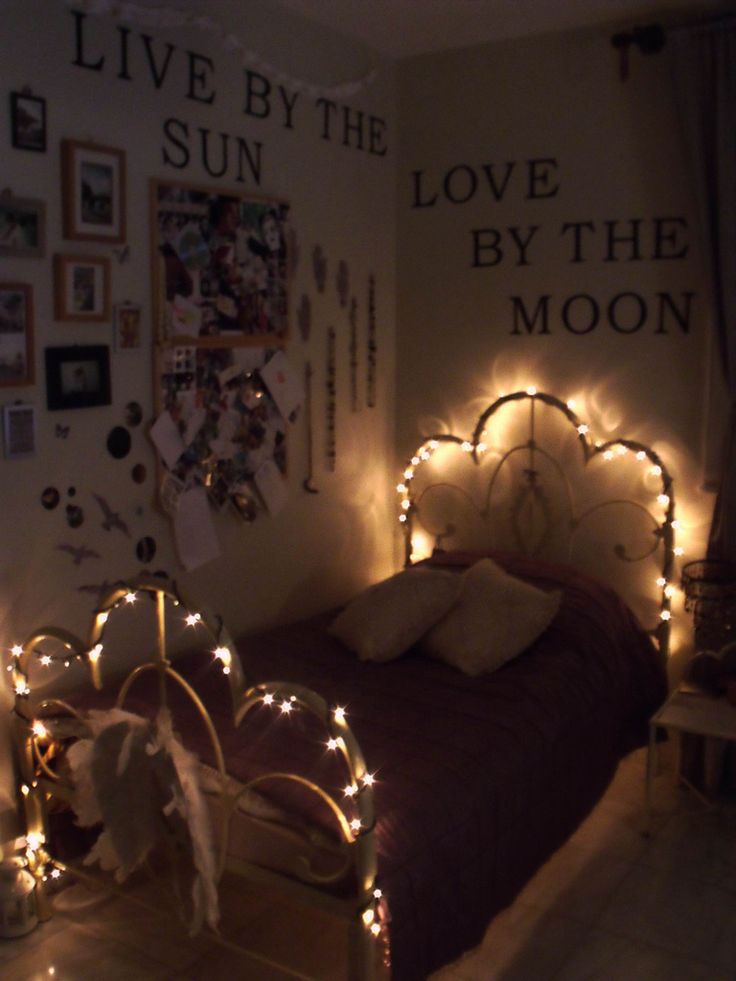 This bedroom decor would also work for any sort of open framing, like stair railings or some kinds of chair. Since the bed is set in the corner, it's easy to hide the cords for a neat design. The process of weaving in the Christmas lights doesn't have to be elaborate: the interesting shape of the bed frame keep this from looking boring or uninspired, but your personal taste might demand more lights. This kind of Christmas lights decoration would work well with patio furniture, too.
39. Ornamental Shelf with Evergreen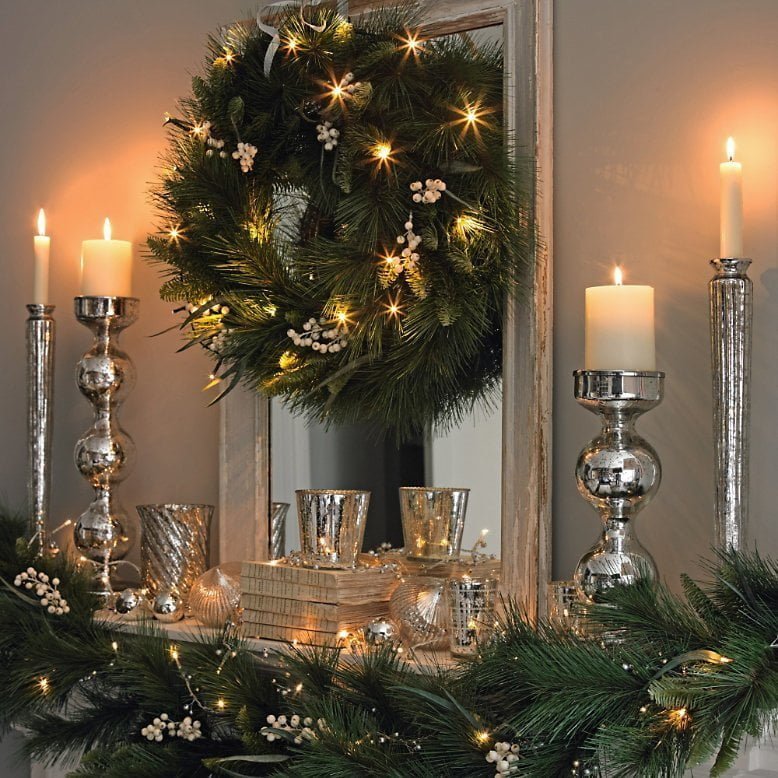 A good way to utilize an ornamental mirror is to surround it with reflective decorations and lights. The reflected light will make the room seem bigger and brighter. Decor ideas like this look great over a fireplace, but can also work with bookshelves and curio cabinets. The simple color choices, with a focus on the green of the evergreen boughs and the silver of the candle holders, keeps this decoration looking refined. The Christmas lights add a touch of extra light to the pine boughs that would otherwise be lost. If real fire isn't a good option, realistic fake candles or more Christmas lights are easy solutions.
40. Cute Christmas Card Display with Christmas Lights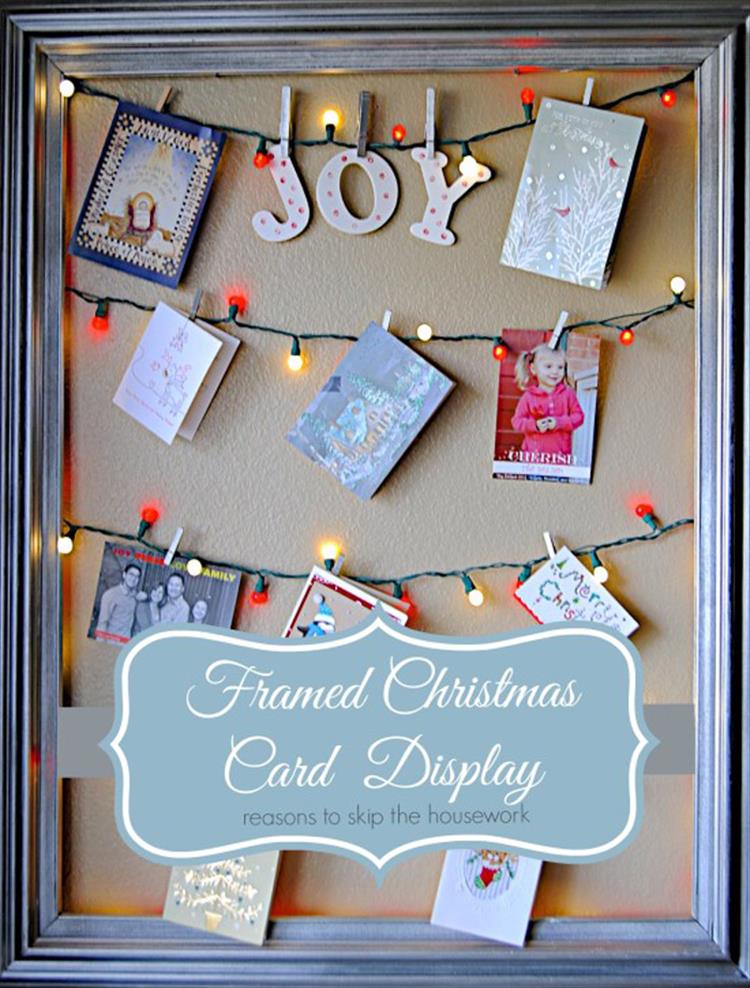 Tired of your counters and refrigerators being covered with Seasons' Greetings and well-wishes? When horizontal space is at a premium and your fridge face is cluttered enough as it is, a framed "clothesline" style display is a nice way to show off your Christmas cards without creating more clutter. You can even replace the Christmas light strings with hemp or yarn to continue using the frame during the rest of the year. These lights are cute but don't get in the way—their soft glow and spacing keep the focus on what's really important: the cards and photos. Another crafting possibility is to use a framed corkboard or magnetic board to pin cards and photos while running lights around the outside. This is such a sweet way to keep loved ones in mind during the holidays and display cherished memories.
41. Rustic Chic Christmas Tree Canvas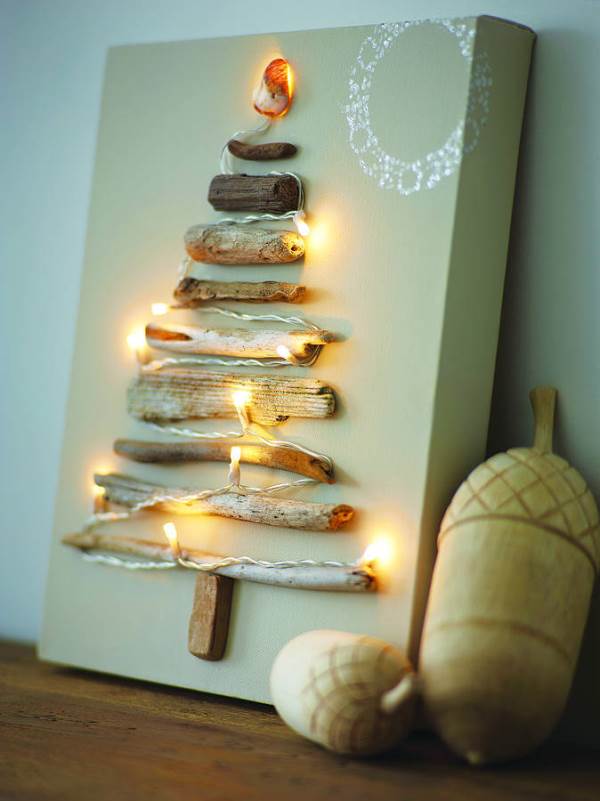 Using raw materials straight from nature is inexpensive, but can look as good as a professional art piece with the right design. Note how the pieces of wood fall within a small color range for the most part while varying in thickness and overall shape. With a little hot glue, you've got a masterpiece! The tiny lights are the finishing touch. They warm up the canvas and give the wood more dimension by creating shadows. They also provide a contrast to the otherwise muted colors. You can experiment with different wood materials (or use something else entirely) and backgrounds to achieve your desired effect. This Christmas wall canvas DIY project can be customized to the room it will be displayed in, which is another perk.
More DIY Christmas lights décor ideas on the next page…