42. Paper Cup Lights Garland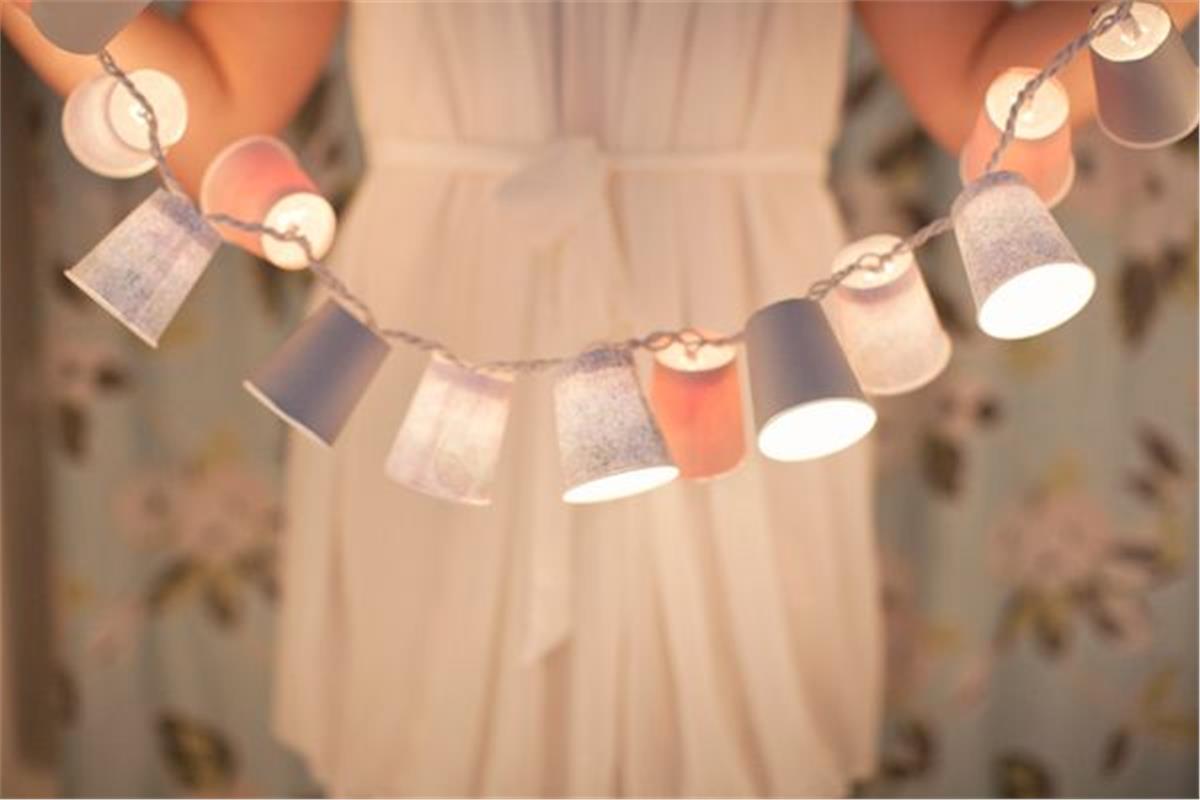 Need a light fixture and low on cash? Never fear. This glowing garland utilizes paper cups to diffuse the light of the Christmas light string. Whether you want to create a soft evening ambiance or party atmosphere affects what kind of cup will work best. In the photo, the cups obviously come from one or two similar packs. The muted colors and limited designs keep the garland from looking too garish or from not diffusing enough light. Using cups that are too dense or opaque won't give the desired effect. Use Christmassy shades of red, green, white, or metallics. Another option is to use simple cups and then dress the garland up with holly or strings of beads or popcorn.
43. DIY Wire Christmas Tree Lawn Sculpture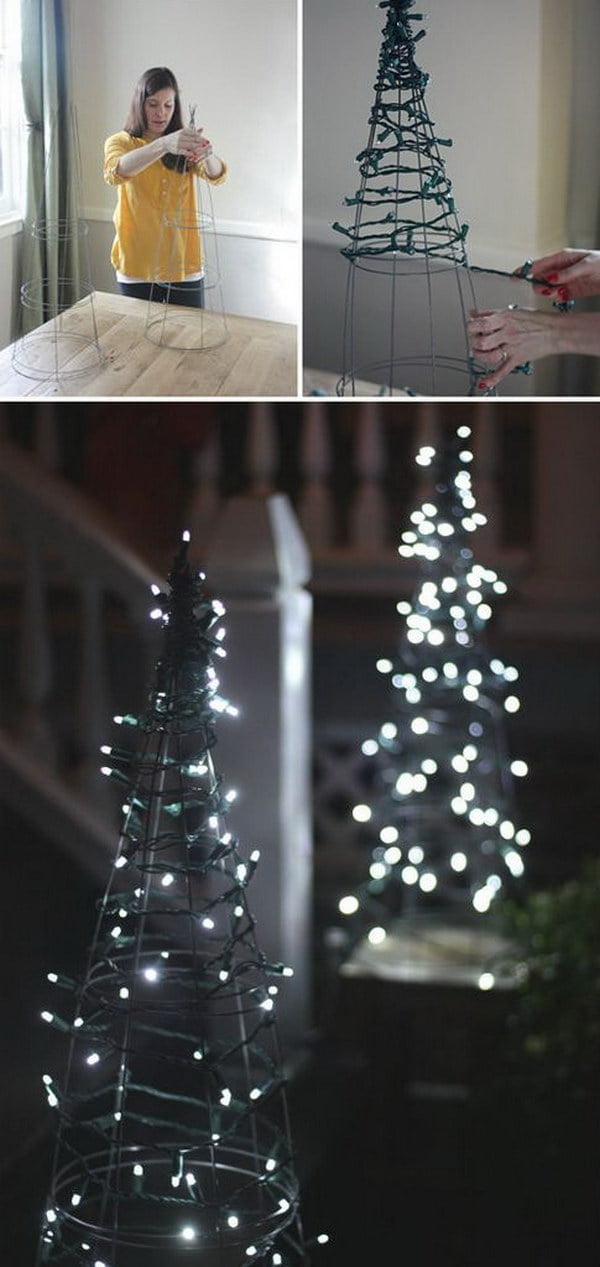 It's as simple as buying or DIYing a wire tomato cage (if you're already a gardener, you might be making them yourself out of concrete reinforcement wire mesh). Wrap it in lights with green wire for a minimalist tree, or with white wire lights to imply freshly fallen snow. Using wire mesh means you can play with the size of the tree sculpture, but tomato cages are easier since they are pre-shaped into a cylinder. Just turn the cage upside down and secure the three or four stakes into a point. Tomato cages are also usually galvanized so they won't rust, unlike wire mesh. Make sure to secure your tree sculptures somehow if you live in an area with winter winds.
44. DIY Light-Up Snowman Ribbon Sculpture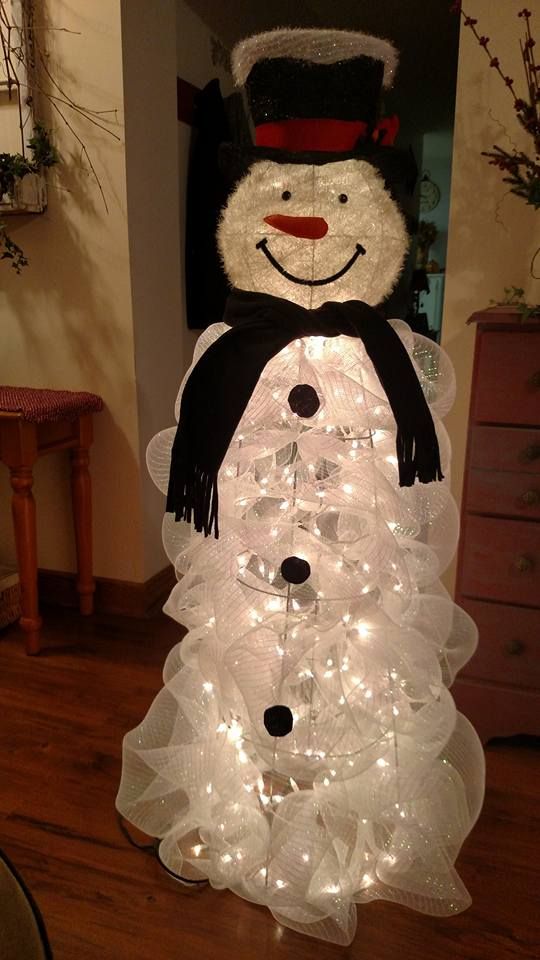 This project provides great DIY ideas for a Christmas snowman project. Check out the wire frame base—it looks similar to wire cages used for garden plants. Wrap the wire frame in Christmas lights, then loosely layer shimmery translucent ribbon to taste. It's a nice way to transform an outdoor display into an indoor piece without breaking the bank. The ribbons create volume, but their translucency combined with the lights keep the sculpture from looking "dense," so it seems to take up less space than it does. Have a lot of ribbon lying around? For a fun challenge, try making a snowman head and accessories out of ribbon, too.
45. Wooden Spinning Wheel Wrapped in Lights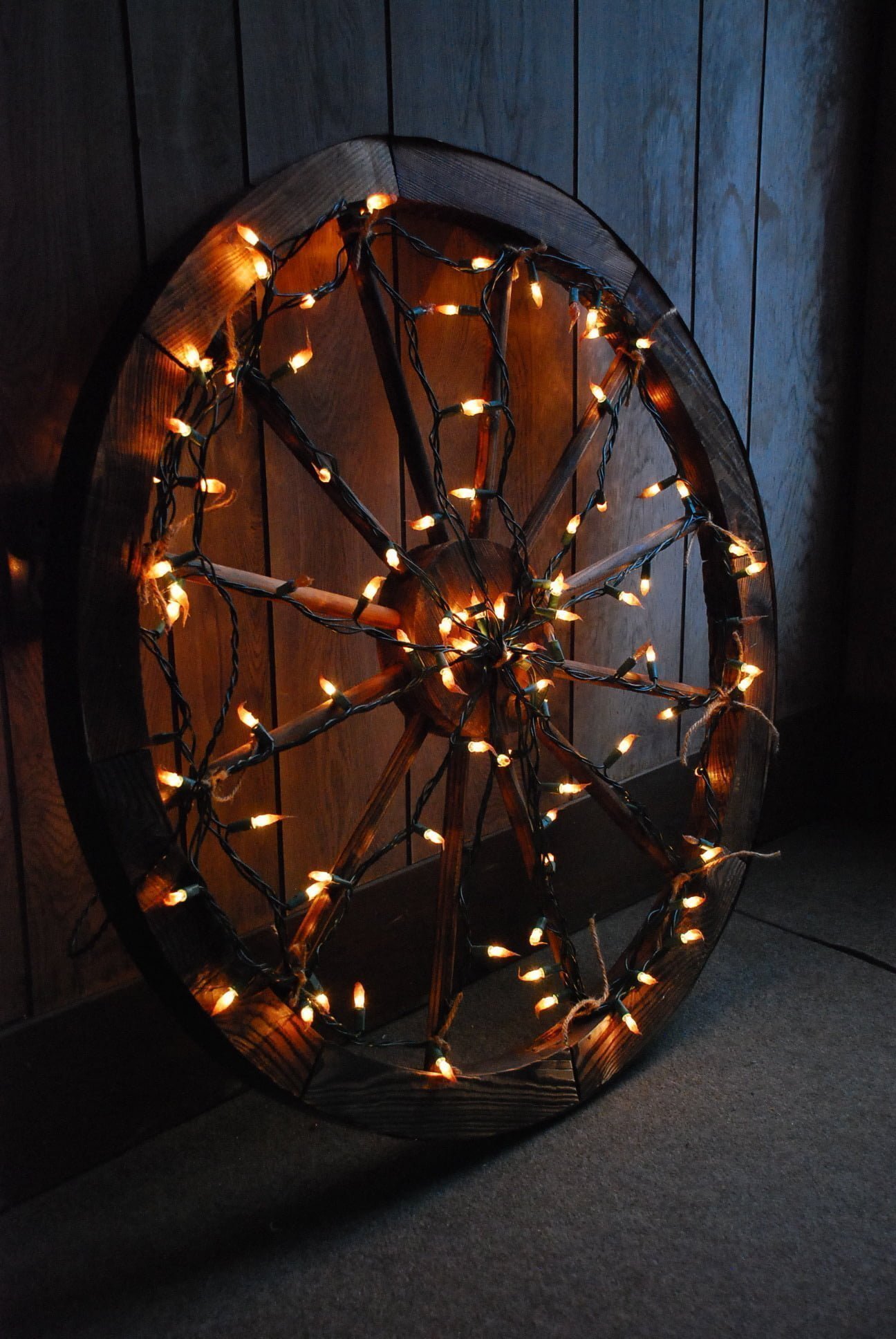 Whether you collect antiques or "junk," any of it can be dressed up for the holidays. Drag a few of your interestingly shaped pieces out of the garage or basement and decorate them with Christmas lights. In this case, the spokes of the wheel provide an interesting framework for the lights. Take it indoors to light up a corner or a shelf, or arrange it outside to show off your porch or walkway. Using the lights with green wire looks great here because it blends well with the darker color of the wood.
47. White Wonderland Bedroom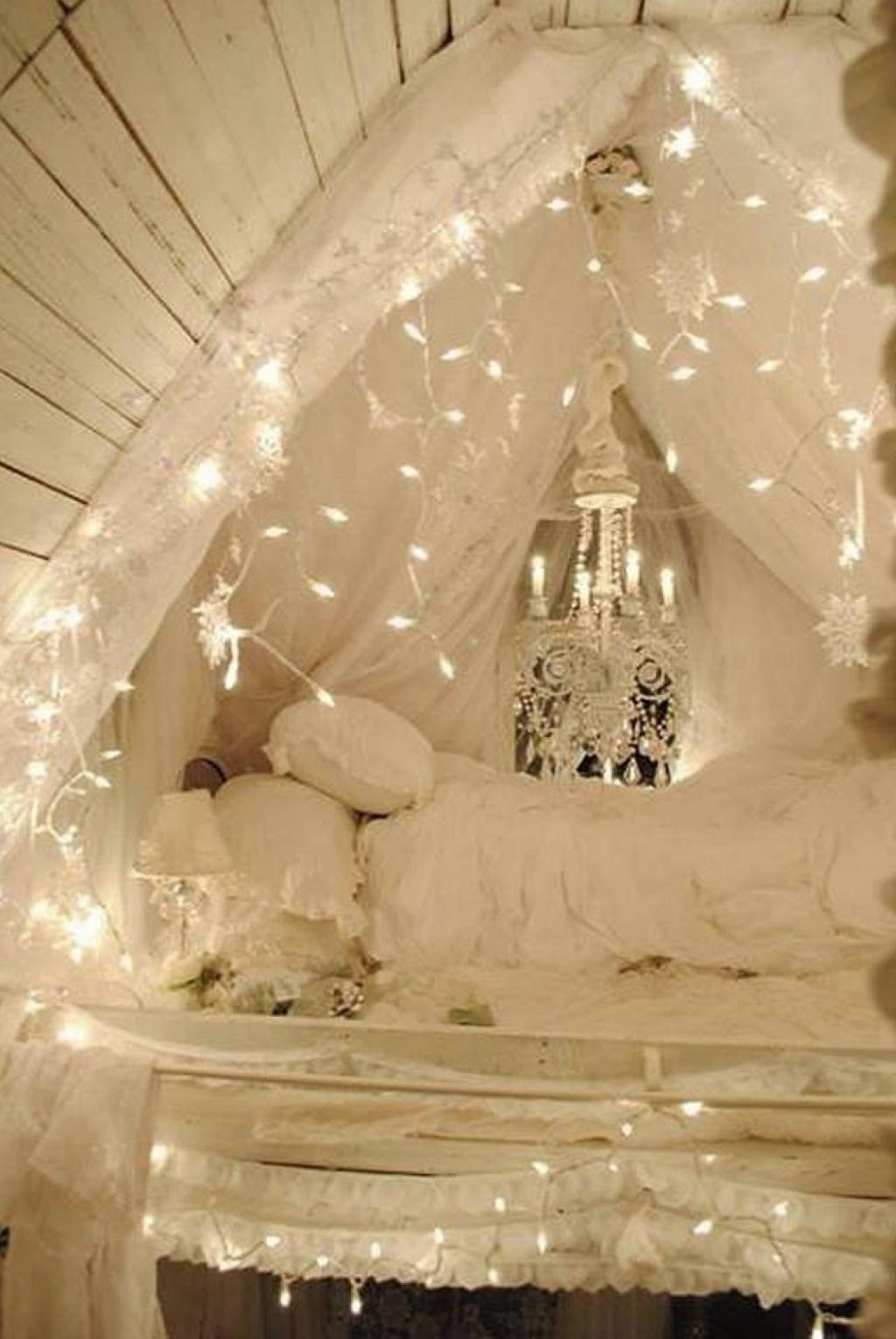 White on white looks just gorgeous in this variety of textures and delicate, lacey shapes. The icicle lights show off the different textures of the fabrics. Though this photo is set in a bedroom, you could work it into any household nook. Drape the icicle lights around curtains or use them as "curtains" themselves to divide a space. The white wire and lights look great here, but green wire might suit a darker or more rustic color scheme. Experiment with the effects of multi-color lights, too!
48. Simple DIY Chandelier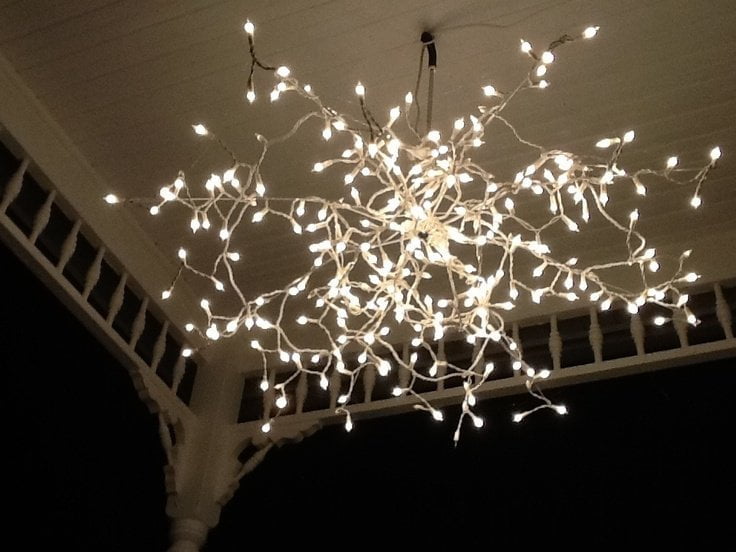 A wire frame provides the perfect framework for this simple creative chandelier. The controlled chaos of the crisscrossing lights is a cool approach to a basic project. The lights stay concentrated around the center and extend outwards without look spidery. And since the wire frame matches the Christmas lights wire, the frame almost disappears. Remember, Christmas lights decorating doesn't have to be hard to look good. Upcycle an old umbrella frame or bicycle wheel into a cool statement piece.
49. Christmas Lights Photo Collage Frame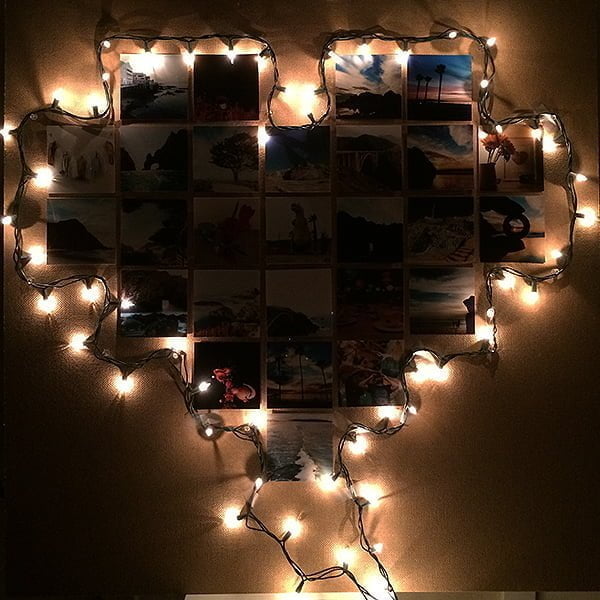 Create an easy DIY photo frame with Christmas lights. The neatly arranged photos almost look like an art installation. The lights stick to the angles of the collage shape, which must have taken some dedication to set up. This is a cute way to show off holiday cards and photos. More complex shapes, like a star or a Christmas tree, along with a mix of photo sizes, could make a very cool decoration. Keeping the photos and other media close together is the key to achieving a cohesive shape.
50. Adorable Wall Christmas Tree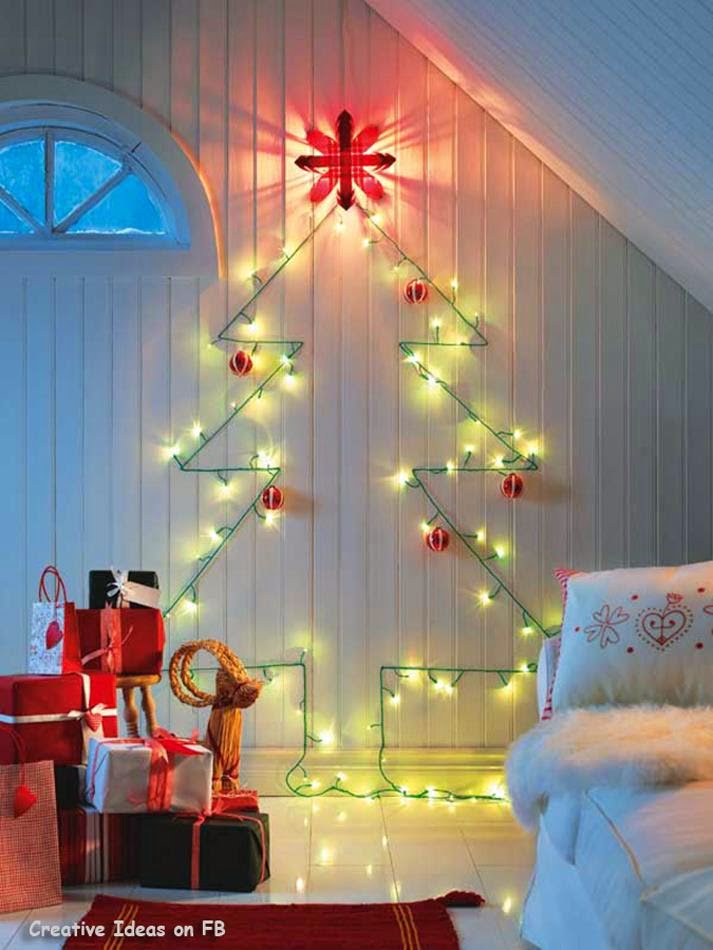 If you want to avoid bringing shedding needles and dribbles of pine sap into your home, try sculpting a Christmas tree with Christmas lights on your wall instead. It's a kid-friendly, pet-friendly, and budget-friendly solution. Setting up the green wire lights against the white wall makes a nice contrast. If you want to fill in that empty space, it's time to bust out the bead strings and tinsel. This Christmas tree doesn't need to be watered or cleaned up after, so it's the perfect Christmas lights decoration for people with busy lives.
Top 50 Creative Christmas Lights Decorations Inspo
These Christmas lights decorations can be made to suit a range of tastes, from cheesy to rustic to elegant. For the lover of Christmas and all things red and green, to the toned-down modern celebrator, there's a decoration out there for you. Some of them are easy to throw together, while others require more time and dedication. Regardless, the goal is to look intentional and at least a little polished, which is something you can accomplish with these decor ideas. Though minimalist designs are on the rise, you don't have to give in if you love gaudy decorations. Wreaths, giant bows, and tinsel are still in style. Hopefully, these ideas will also inspire other interior decorating designs that will keep going year-round, making your home warmer and more welcoming than ever before.