24. Lyrical Table Runner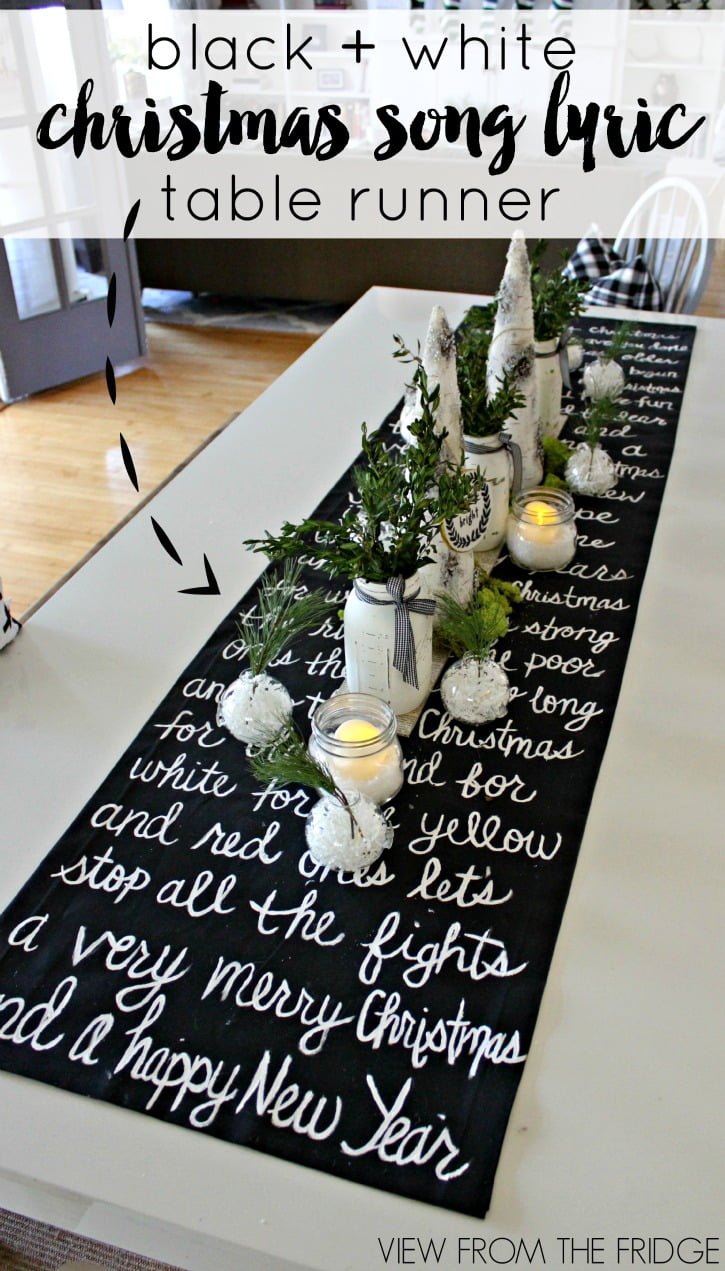 Want the freedom to personalize your Christmas table decor?! This table runner allows you to say what you want on a day-to-day basis by changing the words with the simple swipe of a damp cloth and works great with paint markers or normal chalk. This decor idea allows you to add a personal touch of the words you'd like to say for a low cost. Students, young adults and anyone looking to save a bit of money this holiday season while still remaining classy should seek this idea out. Did we mention that you'll have extra money for presents for your loved ones? Spice up the table runner with white painted mason jars and add some fresh greens for a delightful glow.
25. Forest of Treats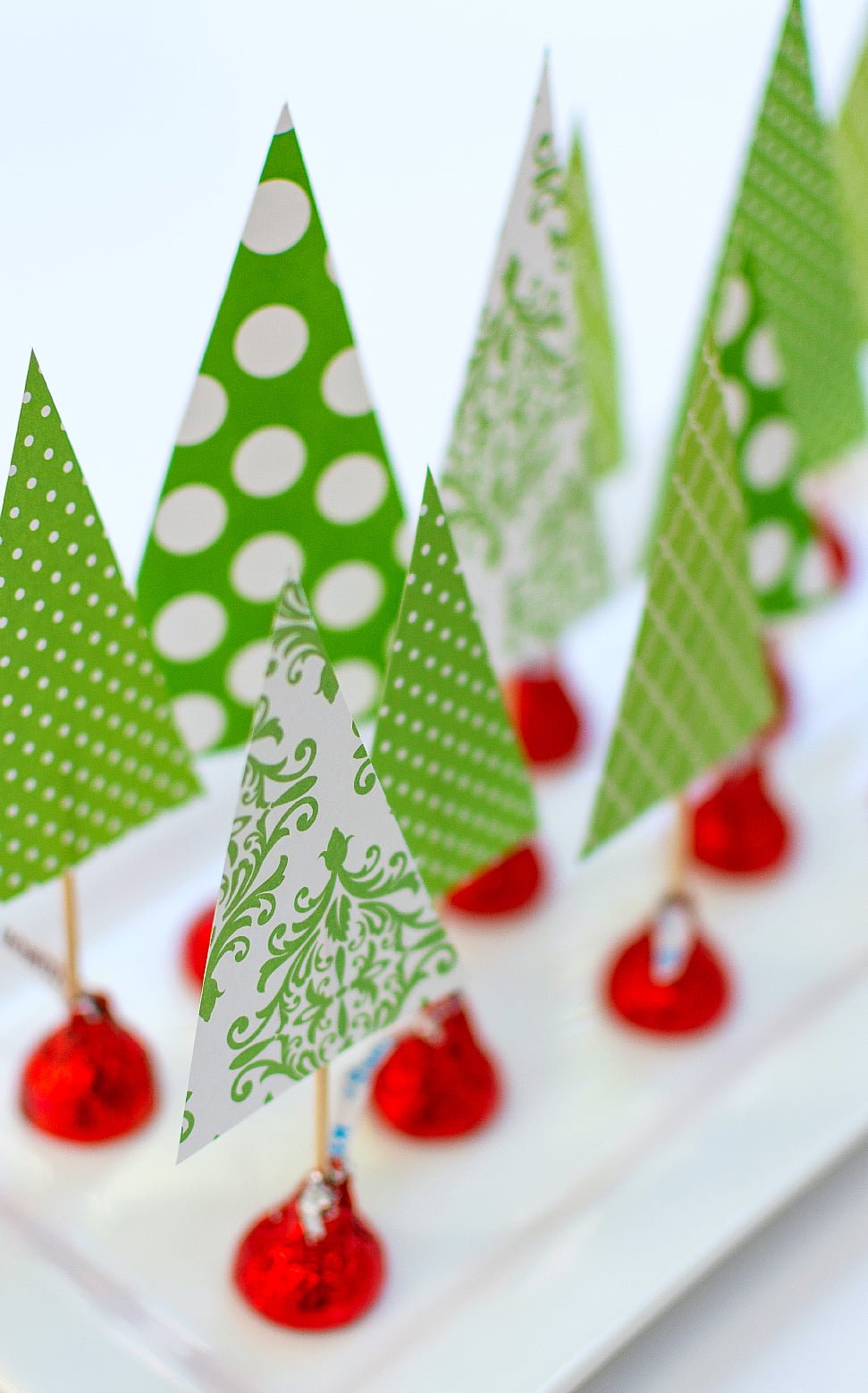 Do you have leftover wrapping paper scraps from last year? Don't throw them out! Save them and cut them into little triangles while watching your favorite Christmas movie. Glue a toothpick onto the back, stick it into the top of a red wrapped hershey kiss and call it a sweet forest of treats. These are great as party favors or as a simple appetizer before or after the meal. This is one for the whole family; the kids will definitely love it and will have fun making it. You may want to buy a few extra kisses; we're sure they'll be sneaking some.
26. Red and White Cheer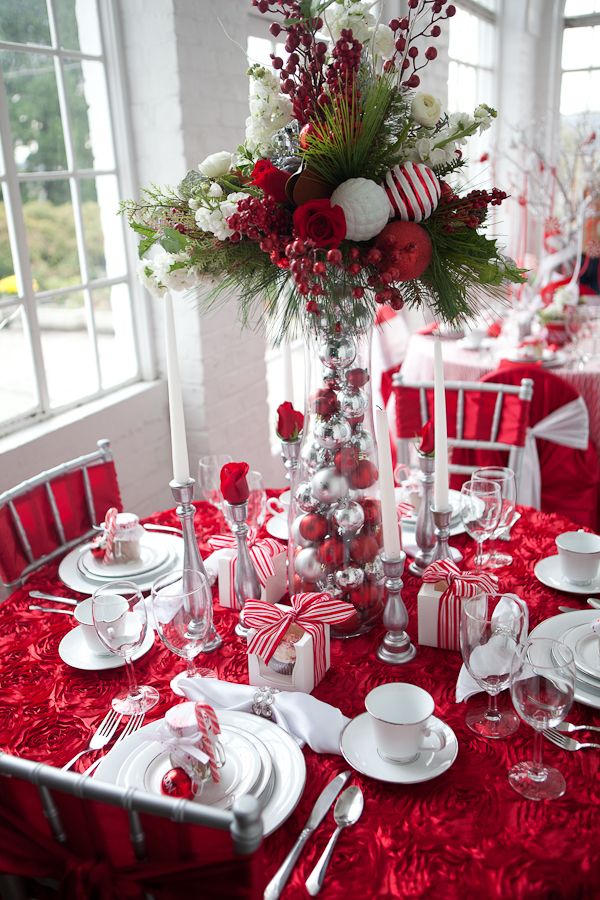 Tired of changing up the decorations from Christmas to New Year's Eve? This shiny, classy and sparkly red and white theme makes it easy to keep the same decor for both holidays without having to stress about changing it or taking the time to do so. This tall and slender glass vase full of red and silver ornaments fits perfectly for both occasions and looks really nice. Create a joyful and energetic atmosphere with different textures of fresh greens, sparkly ornaments and fresh sprigs of cranberries.
27. Birch Bosque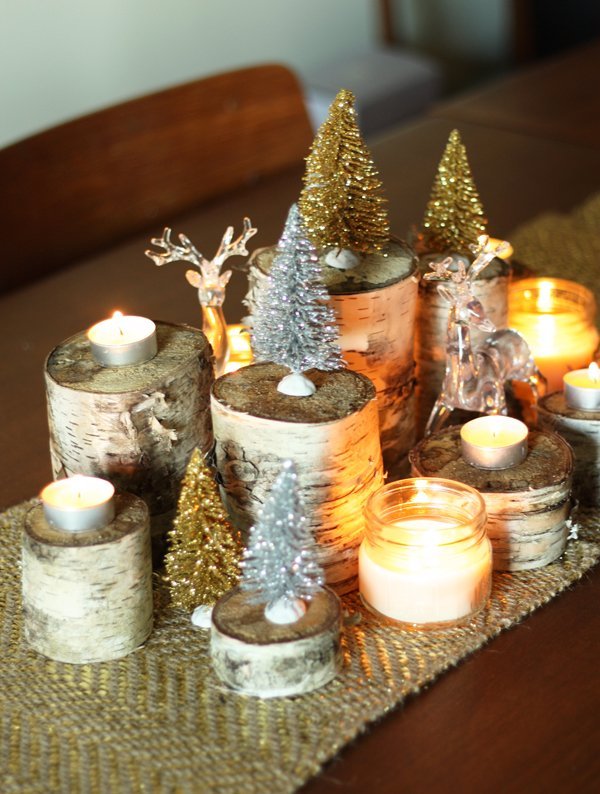 Around November birch trees will start falling in the forest and they'll be asking you to collect them and put them to good use. Instead of letting them lay dormant on the forest floor, collect them and saw them into small pieces and use them as the bases for this miniature table forest. Little trees, as well as tea lights, are available for purchase at nearly every craft store and complete this Christmas table decoration. Of course, a forest wouldn't be complete without reindeer; go in search of reindeer figurines and hide them between the trees.
28. Frosted Forest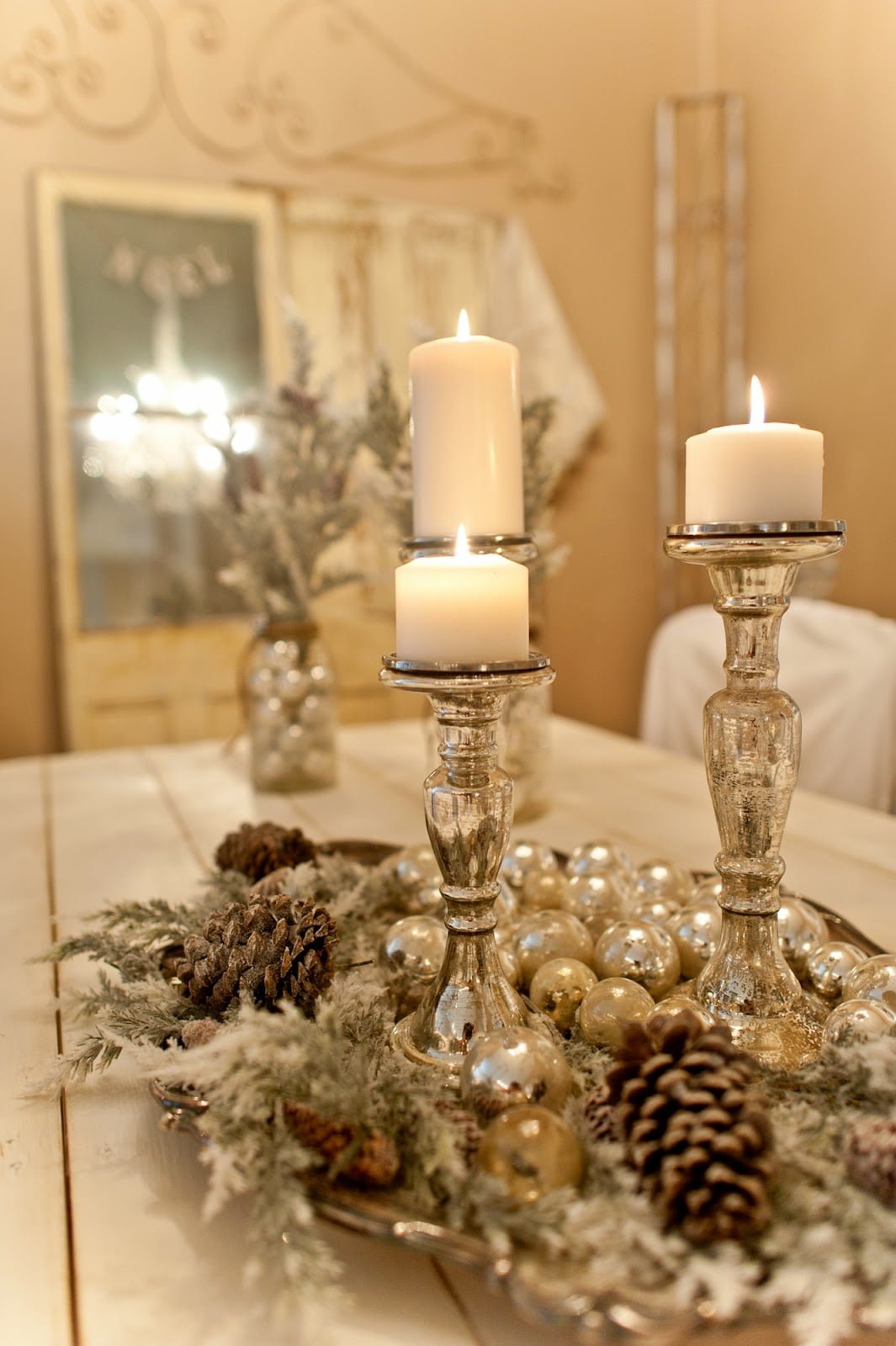 Silvers, whites, crystals and glossy pinecones. This fresh and fashionable DIY Christmas decor is great for the holiday season and will last you through the New Year. Instead of serving up that turkey on a silver platter, plate out some silver ornaments and natural elements of nature to create a fresh atmosphere. Three different levels of candles create a nice texture and add a variety of different dimensions. The table will be enjoyed by all ages and guests as it is appreciated for its simple and elegant beauty.
29. Oh Tannenbaum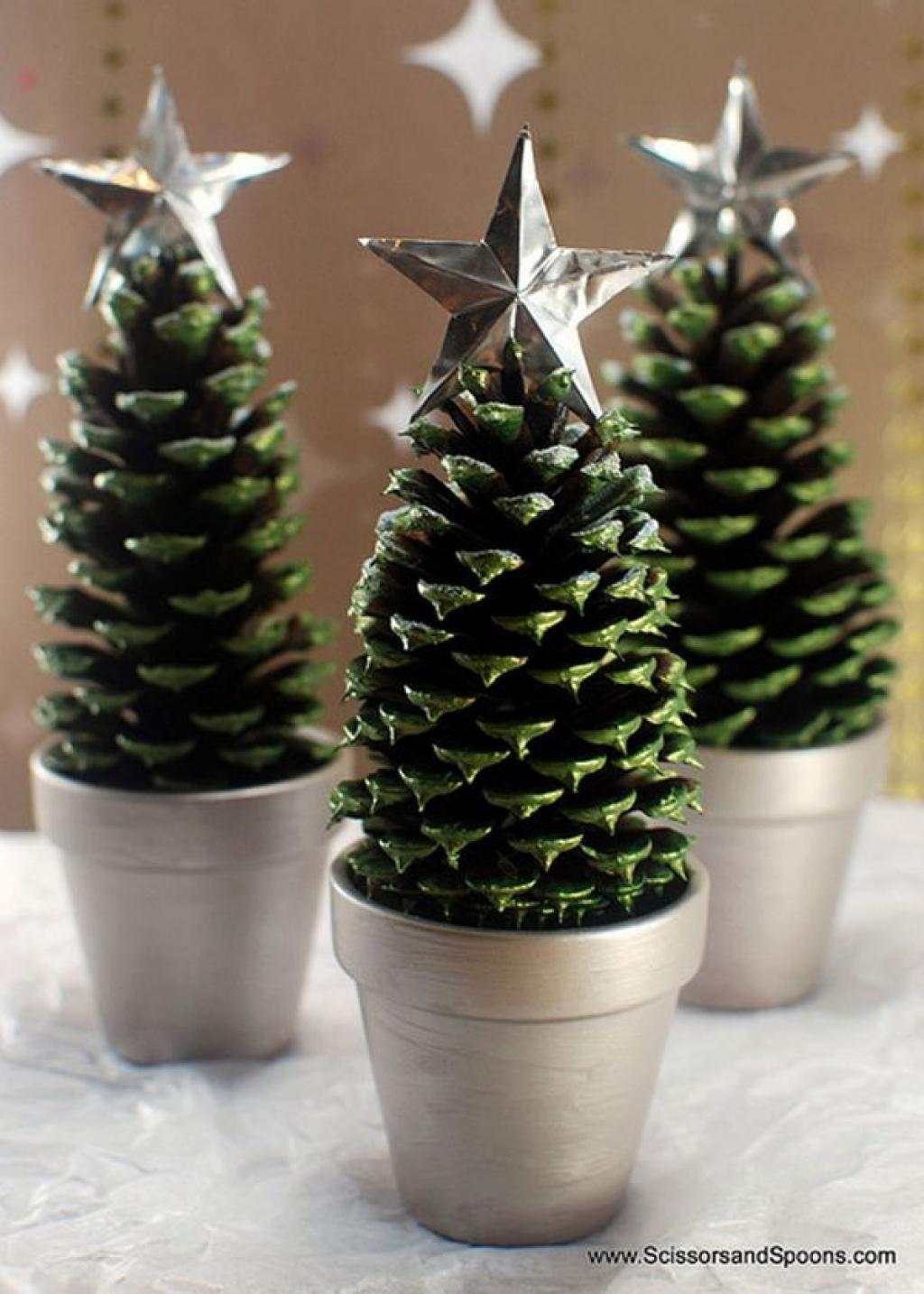 This is a great DIY Christmas craft for younger kiddos who want to help out with Christmas decorating in some special way. Spray painting pinecones (in the backyard) is super fun for them. It's also a great family activity to gather everyone together at such a busy time. When the holiday rush is stressing you out, take some time for this family activity and create little trees together. These will also make some really great and simple gifts as they are affordable. Add an extra spark by putting little rhinestones or sticky gemstones on the pine cone leaves.
30. Painted Leaf Napkin Holders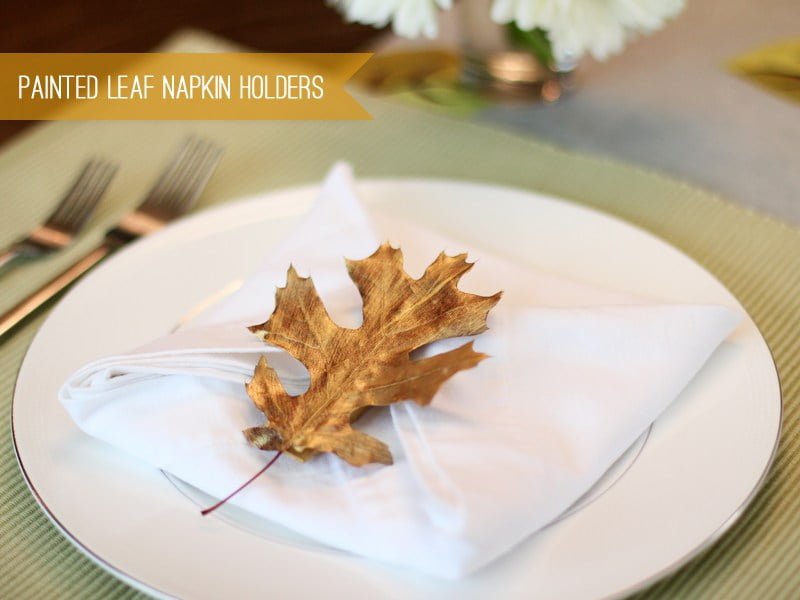 Looking for a way to sneak in a little bit of peace and quiet this holiday season? Send the kids out to the woods in search of their favorite leaves and then give them a can of gold spray paint while you enjoy a hot cup of cocoa. The beauty of this DIY Christmas place setting is in it's sheer simplicity. You don't need a lot to make something beautiful. A little goes a long way.
31. Christmas Tree Cutlery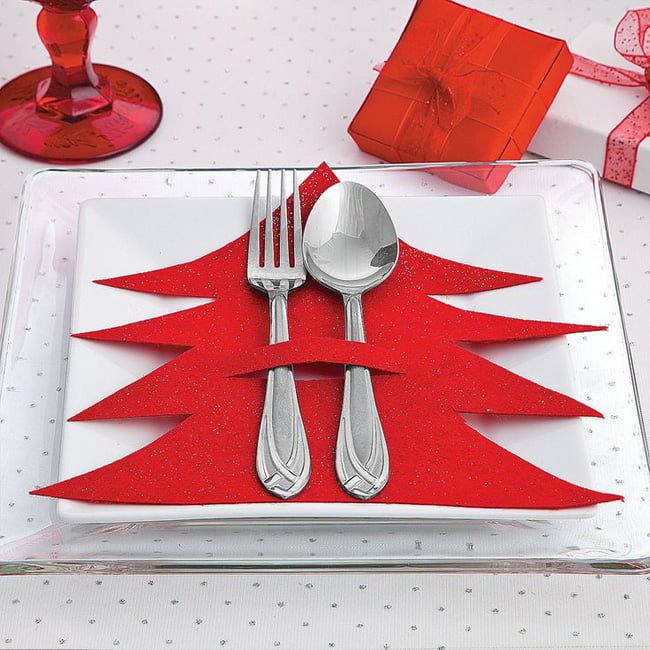 Cheer up that Chinaware with these fun Christmas tree cutouts. Something more heavy weight and wrinkle proof will work best here. We know that felt is a bit throwback right now, but it could be your best option. Go a bit more rustic and use burlap for the tree cut outs or spice it up with some silver sparkles.
32. Elongated Table Wreath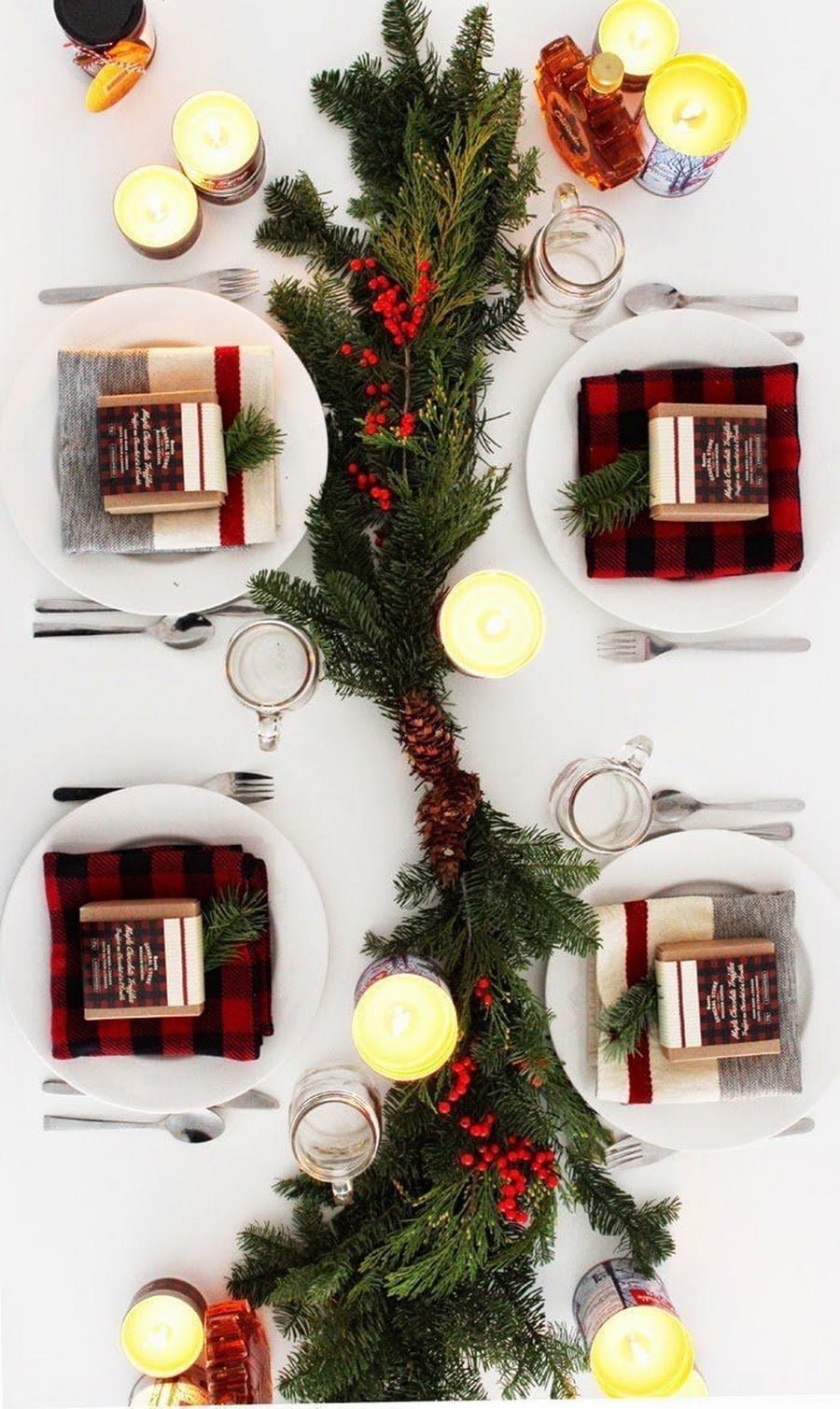 Who said Christmas wreaths had to be circular? This elongated table wreath is a great way to stretch out the greens and allow it to span the entire length of your table. From a bird's eye view this looks like a Christmas tree on a table with all of the warm yellow candles glowing at the tips of the branches. Add a bit more intention with cloth napkins instead of paper ones and put a few nice mints or handmade chocolate bars on top of a sweet finish.
More DIY Christmas table decorations on the next page…