33. A Quirky Christmas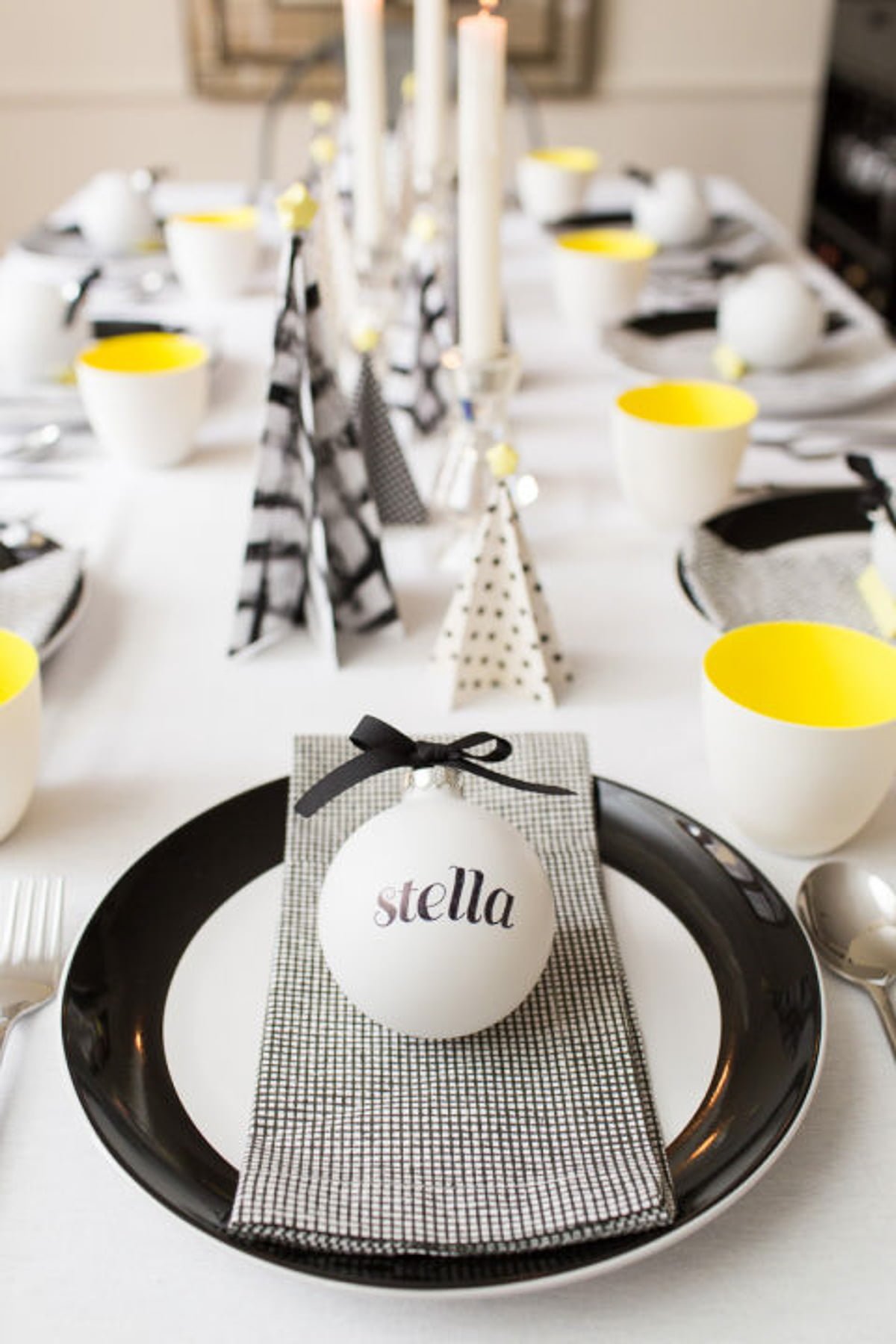 This is a trendy and slightly minimalistic type of Christmas. Blacks and whites make a bold statement and the only "color" that comes to the eyes is a big of Van Gogh's yellow from the infamous Starry Night. Christmas is a season for hope and yellows should shine bright like diamonds. Polka dots, stripes, plaid napkins and solid yellow insides of tiny white tea cups ties this all into a few bright stars sitting a top the paper origami trees.
34. Mason Jars on Ice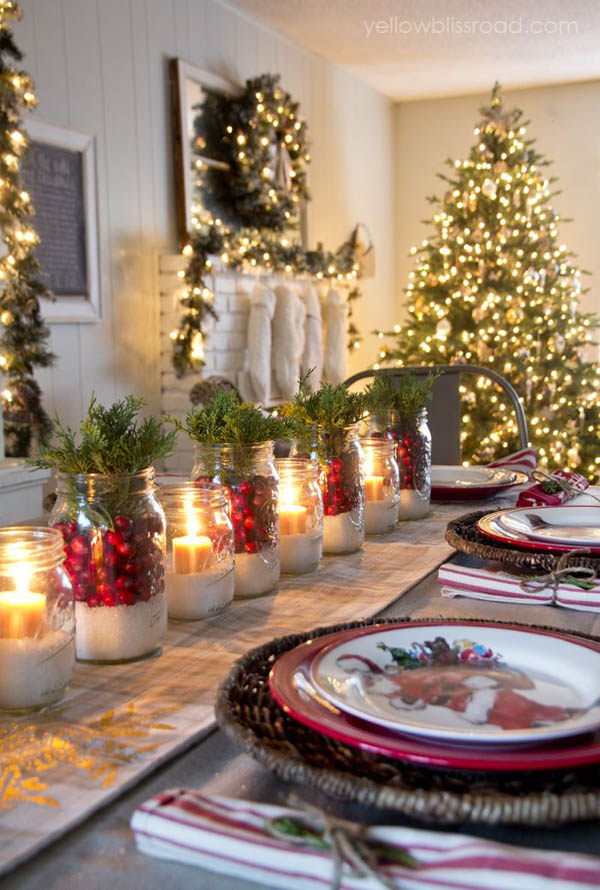 Mason jars will never get old. Their simple beauty allows you to dive into an endless amount of DIY Christmas projects. And this one, we think, is especially charming. Fill up the bottom of the jars with sugar for some Christmas sparkle and alternate what you put on top of them by adding small cream colored tea light votives and fresh red cranberries. The finish touch for everything fresh about Christmas usually comes with a handful of greens.
35. Dine Out In the Forest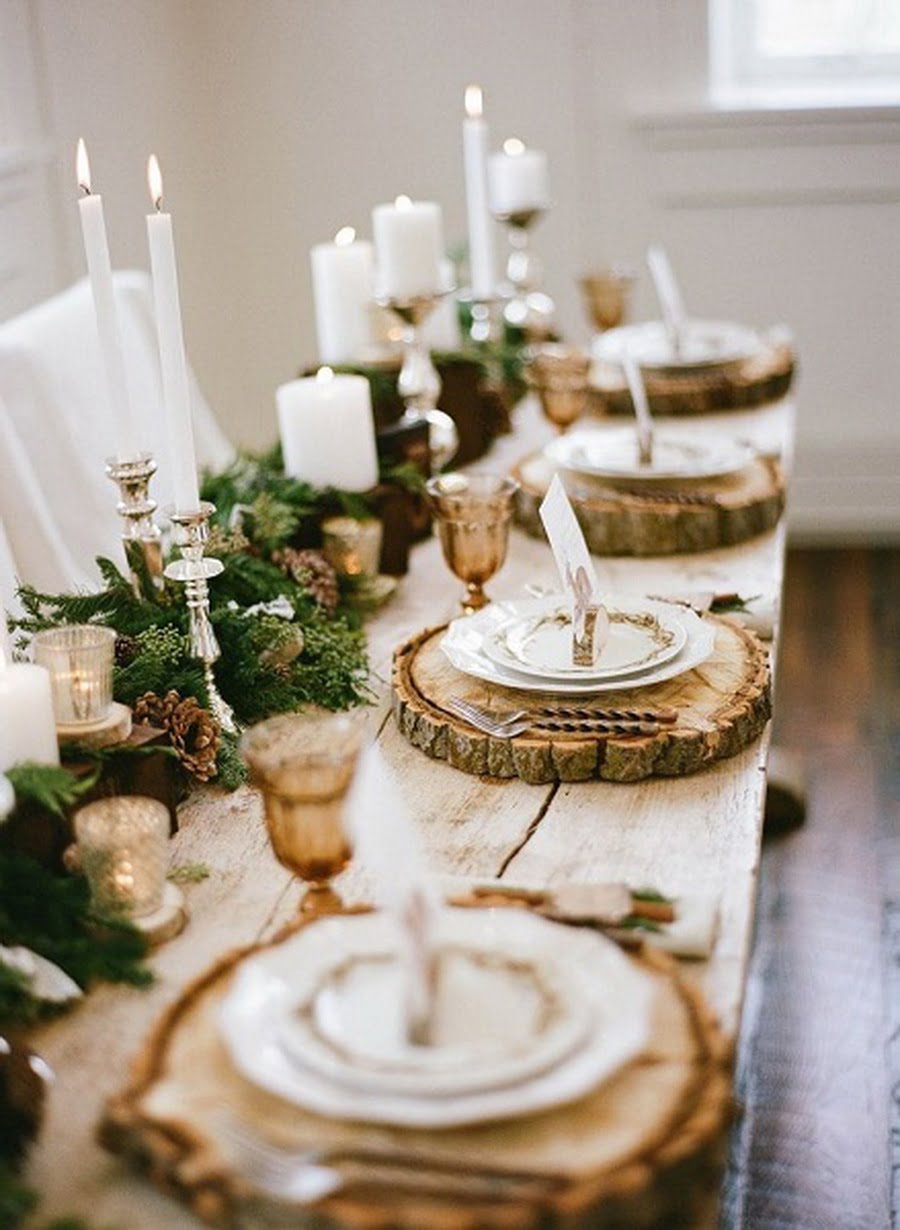 Who said placemats had to be cloth or paper or plastic for that matter? Place mats can be rustic slices of wood for a lumberjack and old school feel for your special holiday party or your Christmas Eve dinner. Run the length of the table with a long line of greens adding in some pinecones and tall white candles for a sharp and breathtaking contrast. This Christmas table decoration will make you feel like you are the royal guest at King Arthur's table if you add some golden chalices for a special bottle of wine.
36. Candied Apples for Christmas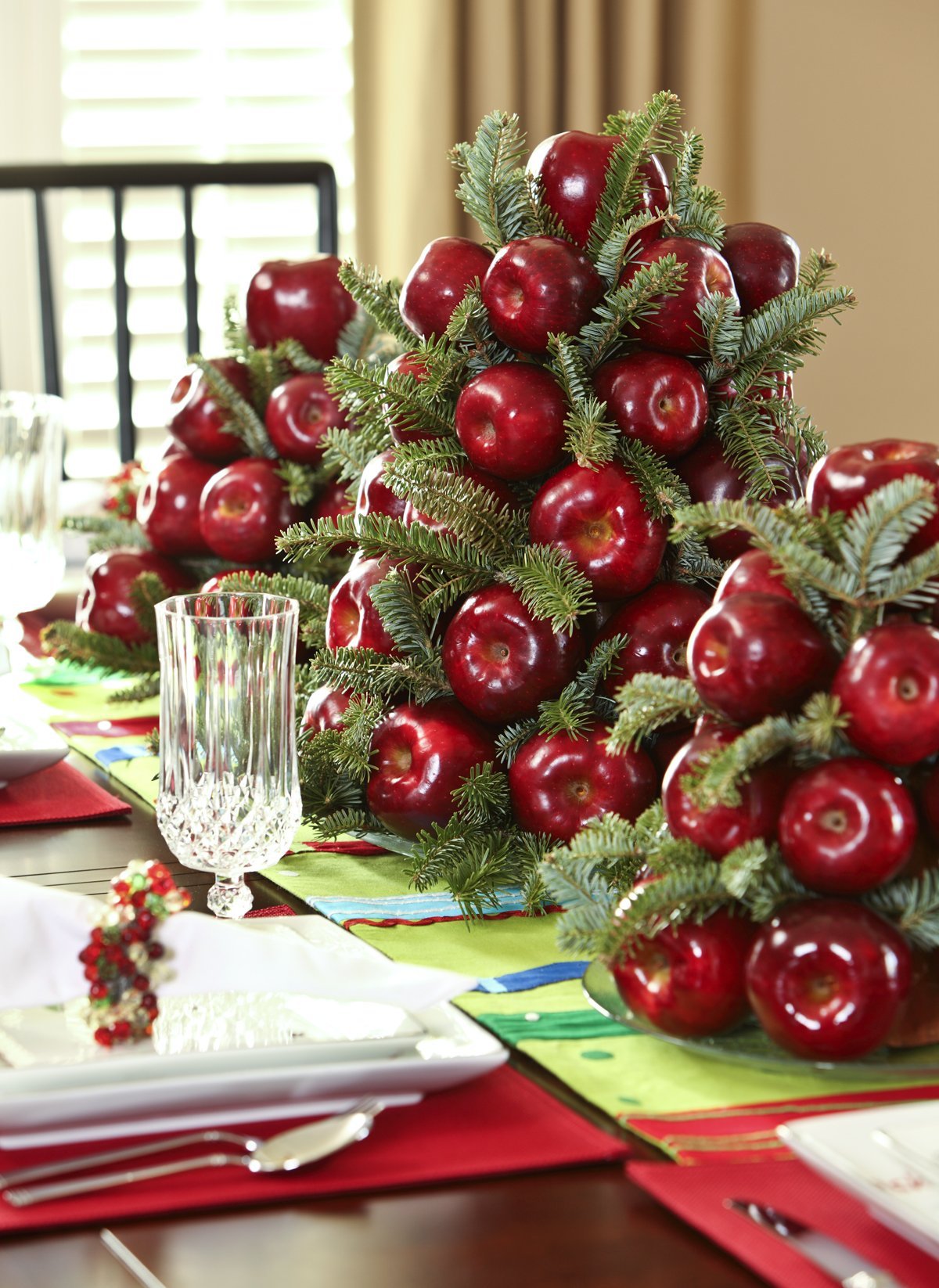 Here's a great Christmas table decorating idea. Buying a bushel of apples and some pine tree branches for an alternative take on your holiday Christmas tree. In addition to those two main ingredients you'll need: glue, patience, some geometric brilliance and a styrofoam centerpiece to hold it all together. This piece looks best is sets of three with the center piece being larger than the others.
37. Bling, Bling Christmas!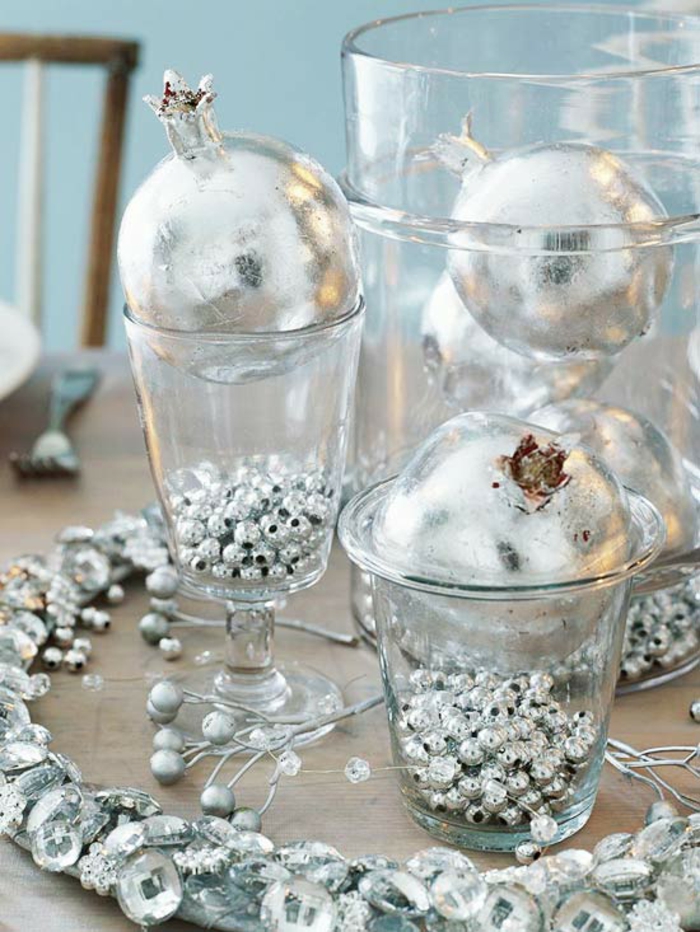 Get out the jewels, deck the halls and put on some glitter. This table is high class and glitzy, sporting glassy stones and sexy silvers that make for an elegant and icy Christmas. There's nothing really "warm" about this Christmas look. This Christmas table decorating idea is fairly simple in that you can use any variety and shape of glass bowl to hold your balance of big and small silver ornaments. Loop a strand of glimmer around the whole thing and sprinkle a few diamonds (fake ones, of course!) around the table for an added touch of brilliance.
38. Holiday Fountain of Elegance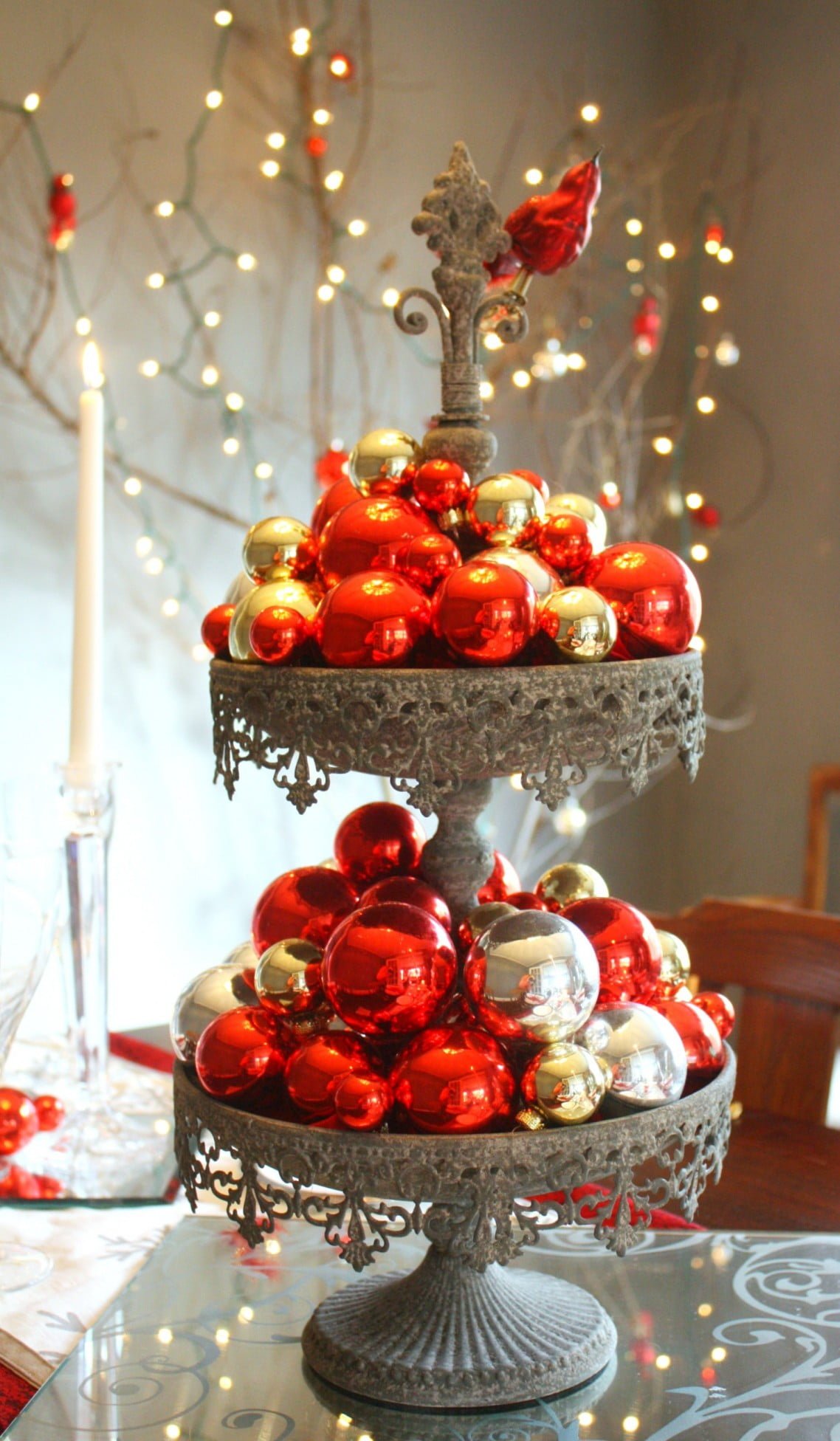 This Christmas table decorating idea has a lot going for it. In the foreground we have a 2 tier tray that makes us wonder if we're at a wedding or in the middle of a 16th century square with a water fountain. A hard silver tray is contrasted with glassy ornaments of gold and red with a small red bird perched on top, drawing our attention to the back of the room where we've got lights and tree branches or more birds perched on them. Don't forget the long, elegant candles! If you're looking for an entire living room look for the holidays, this could be it.
39. Arctic and Urban Wonderland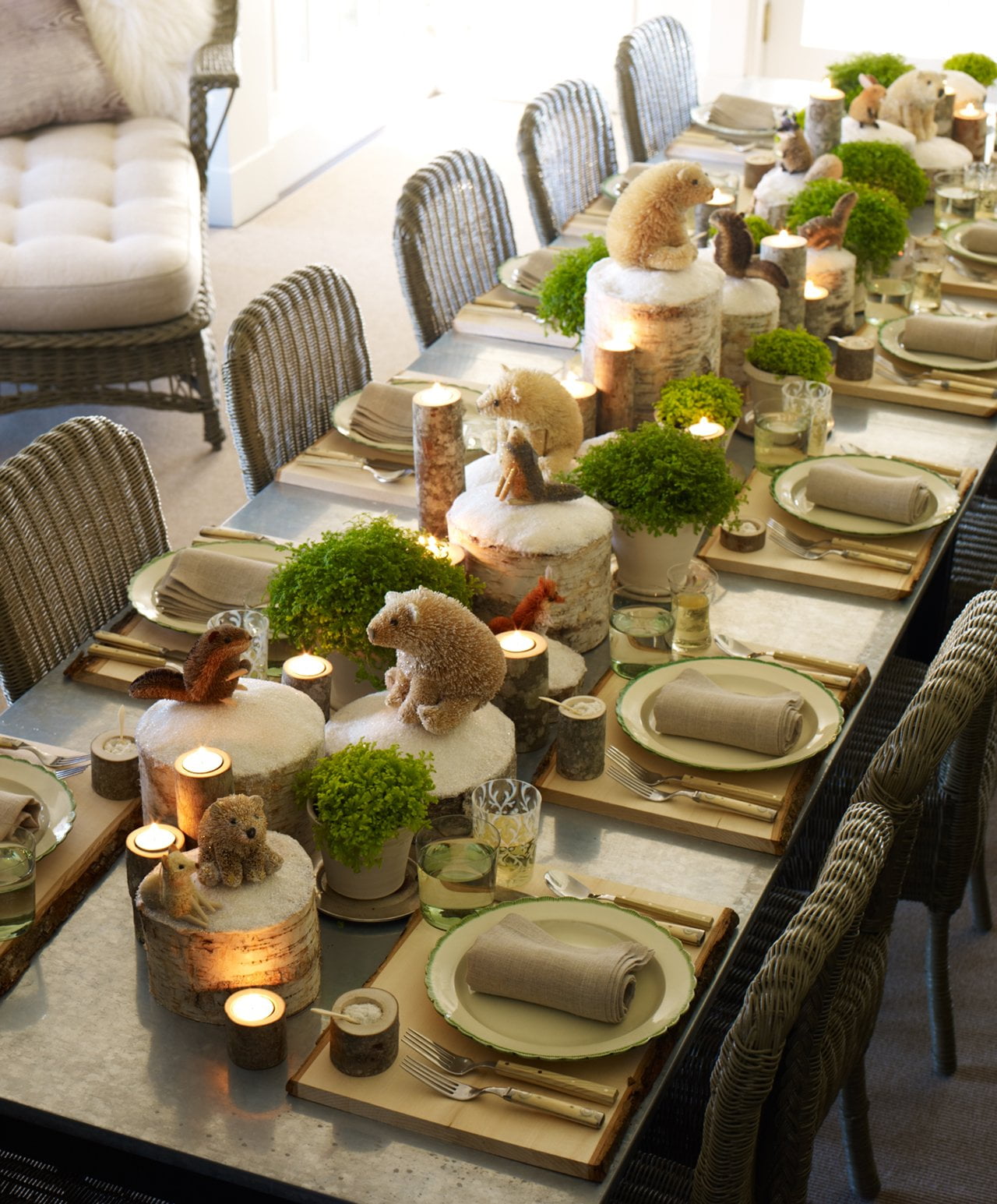 This arctic and urban wonderland is cute and charming. Little squirrels, polar bears and Christmas fox figurines decorate the tops of different sized birch tree rounds. Small candles sit at the base of the rounds to illuminate them from below and some urban plants are potted in close proximity for a contrasting crisp and clean look that actually complements the display really well. This centerpiece takes a pyramid shape starting smaller at the ends and building to bigger at the center.
40. Holiday Pop!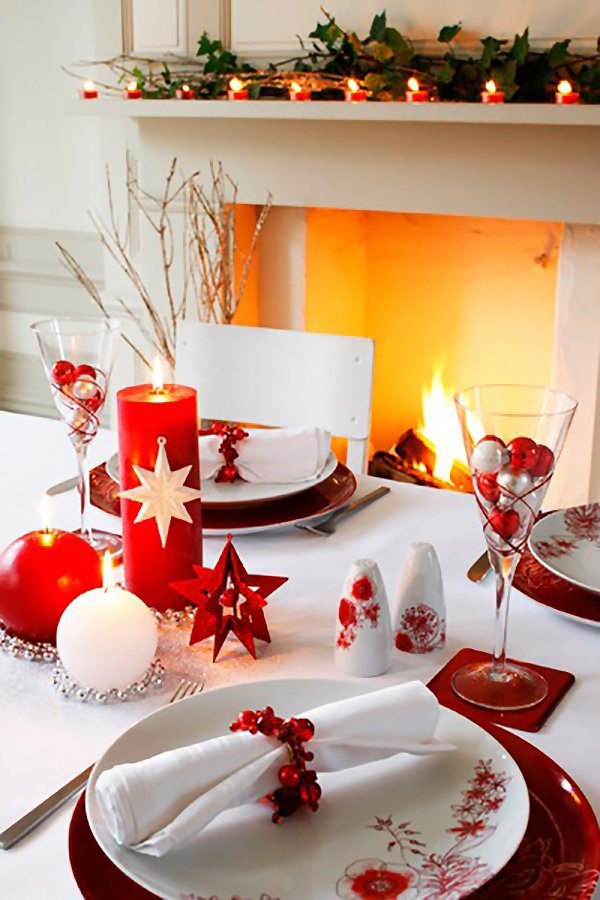 This DIY Christmas table setting works precisely because it's got so many different things going for it: gentle and delicate flower inscriptions on Chinaware, bright and bold star-shaped cutouts and a fireplace mantel full of ivy, holly and candles creating a warm glow. This picture is proof that you don't need to go out and buy a lot of "stuff" to make your holiday decor happen. Use what you have and be creative with it.
41. Who Took the Candles?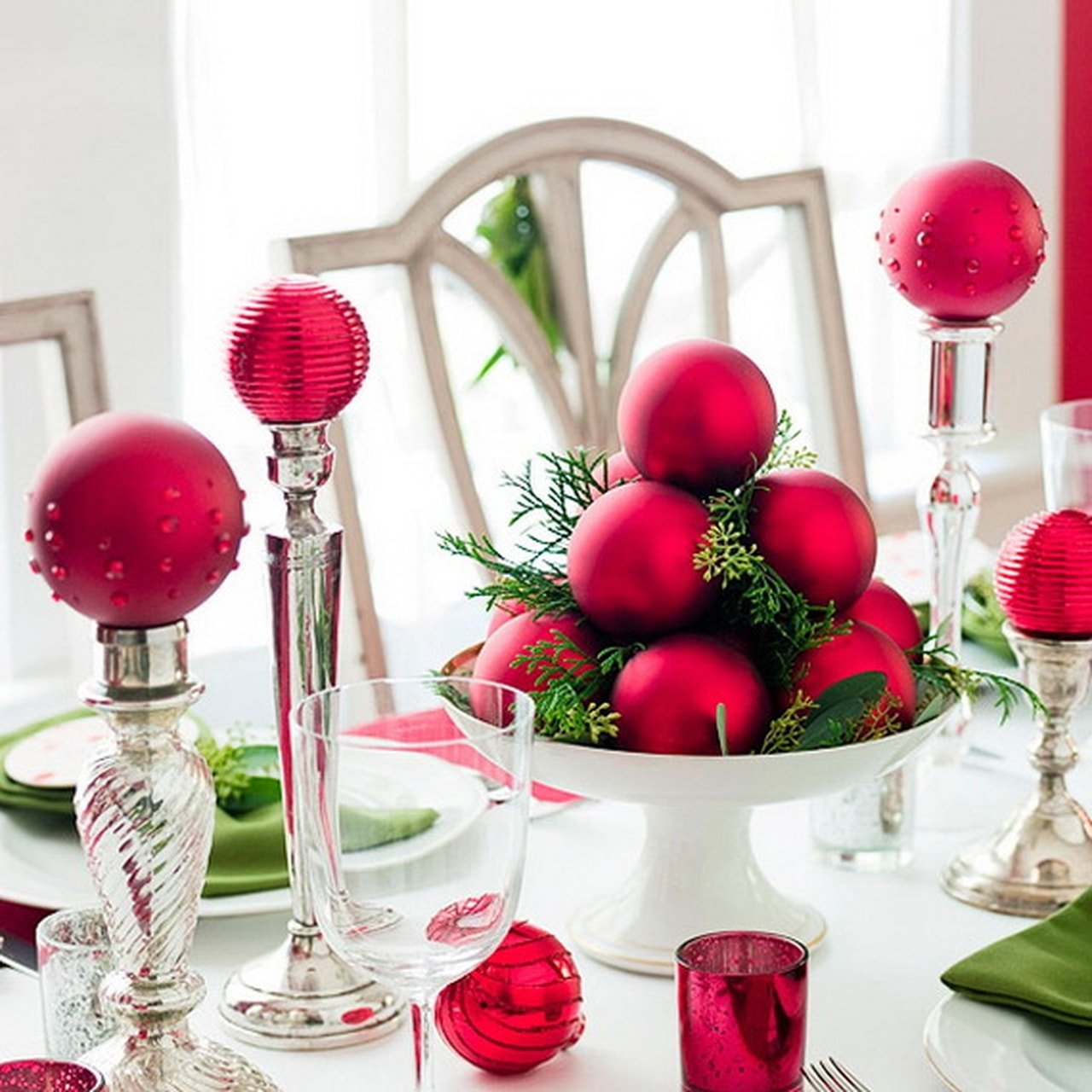 Swap the candles for giant ornaments. Why not?! This holiday decorating idea is super fun and is the perfect balance of creative and classy for any holiday brunch when you won't need the warm glow of actual candles and you have enough natural light coming your way. When night falls, swap out the ornaments for candles and use it again. But don't forget the matching bowl of red ornaments to match the candle toppers. This table setting only works well when it all works together.
More DIY Christmas table décor ideas on the next page…