With so many different approaches, it can be hard to narrow down the best DIY Christmas tree garland ideas to the right one for your space. For most Christmas trees, the garland is a way to cultivate a cohesive visual flow. They can be as simple as a wired ribbon or as complicated as miniature smiling snowmen. A simple garland is great for adding ambiance without stealing the show while more impressive garlands can be the sole focal point. Whether you decide to deck your house in miles of garland or keep it contained on your tree, the perfect garland for your space lives on this list.
21 Unique DIY Christmas Tree Garland Ideas That You Will Have a Blast Crafting

Christmas crafts are a fun tradition as well as a fantastic way to spend chilly winter afternoons. Making a new Christmas garland every year can be a cherished family tradition. Alternatively, a handmade garland sturdy enough to last for years can be an heirloom to pass down to kids and grandkids. If you have a hard time deciding which garland to try making first, why not try more than one? You can use the garland beyond Christmas for other celebrations like birthdays, baby showers, anniversaries, and even parties for other holidays if you are selective about the color palette and garland design.
One of the best parts of crafting your own garland is finding ways to personalize them to your holiday decor. At first glance, some of the examples might seem like they will not blend with your space. Try to imagine them with different materials, colors, or textures to fit your decor better. Because you are using your time, skills, and creativity, making your own garland imbues it with a special sort of love. Some of the most beautiful aspects of handmade decor are the beloved memories, small imperfections, and moments of triumph when everything lines up correctly.
1. Easy Christmas Hymn Flag Garland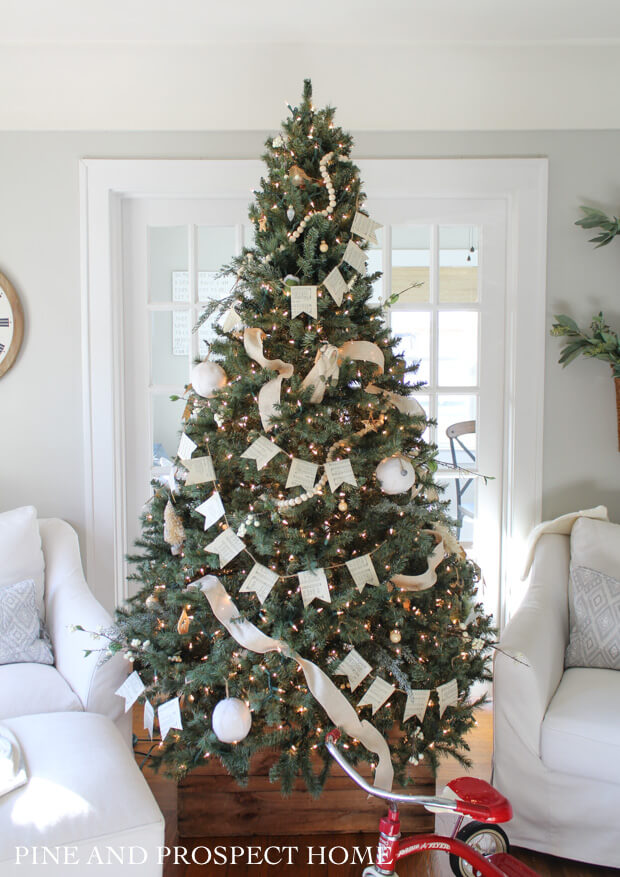 If you have an old hymnal lying around, you can make this garland in less than an hour. For those who do not, you can print out your favorite Christmas songs and use them to make your own Christmas song banner garland. Combining paper and twine is a very cool, neutral combination that will blend seamlessly in most Christmas decor palettes. For more color, try using acrylic yarn. While unfinished paper and twine create a natural ambiance, you could add some glitter to elevate the Christmas magic. One way to create an utterly unique decoration would be to switch out the music for printed-out pictures of your loved ones.
2. Artificial Popcorn Garland Made from Spray Insulation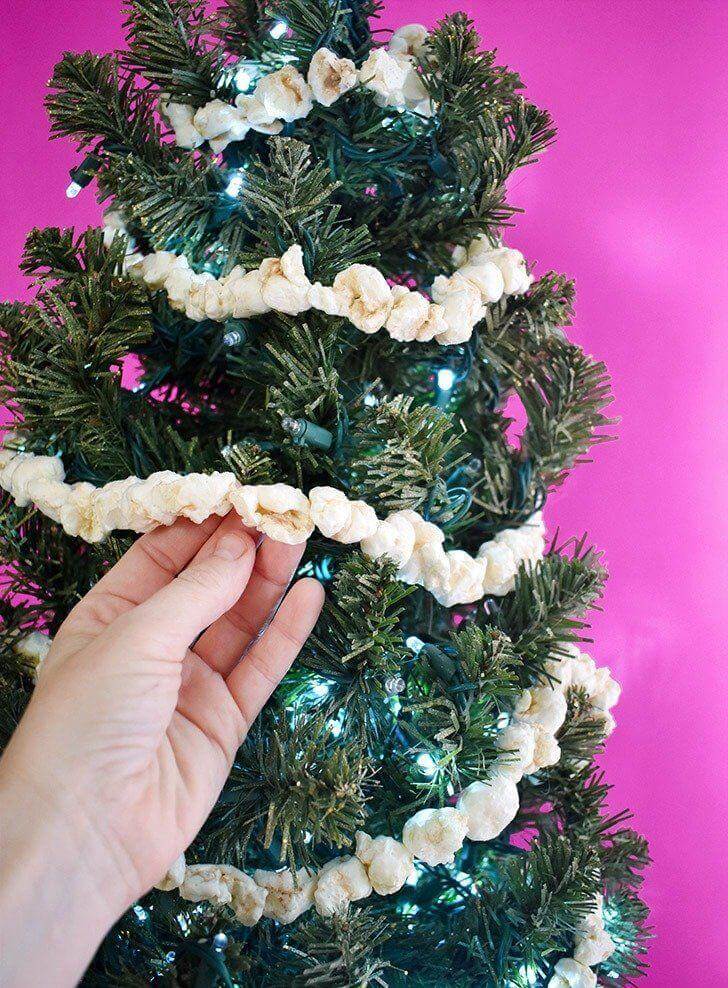 If you have ever made a garland from real popcorn, you know how frustrating it can be. By using spray foam insulation, you can create perfect popcorn kernels that are much easier to string onto a garland. However, you need to make sure to read the spray foam insulation's label to make sure you have the proper protective equipment. If you are willing to wear gloves and possibly a mask for the short time it takes to make and string the garland, you will have a sturdy "popcorn" garland that will last for years. Because this project does involve handling potentially hazardous materials, it is not a good idea to make with kids.
3. Satisfyingly Sweeping Swoops of Swirling Ribbon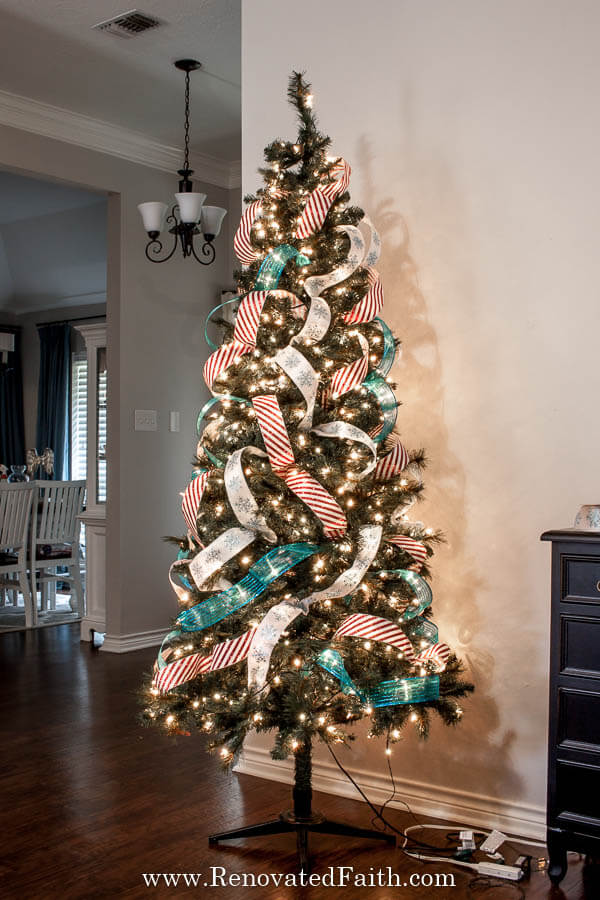 Adding ribbon to your tree can be a time-consuming chore. This tutorial shares one simple shortcut that will save you so much time while preserving the opulence of a Christmas tree bedecked in ribbons. Using short sections of wired ribbon will lead to a cohesive, professional look without the hassle of trying to adjust a long ribbon. You can use any wired ribbon that is between two and four inches in width to achieve this effect. However, when planning where your ribbon will go, try to visualize how one long ribbon would look. Otherwise, you will have an overwhelmingly messy Christmas tree.
4. No-Sew Crocheted Paper-Style Christmas Garland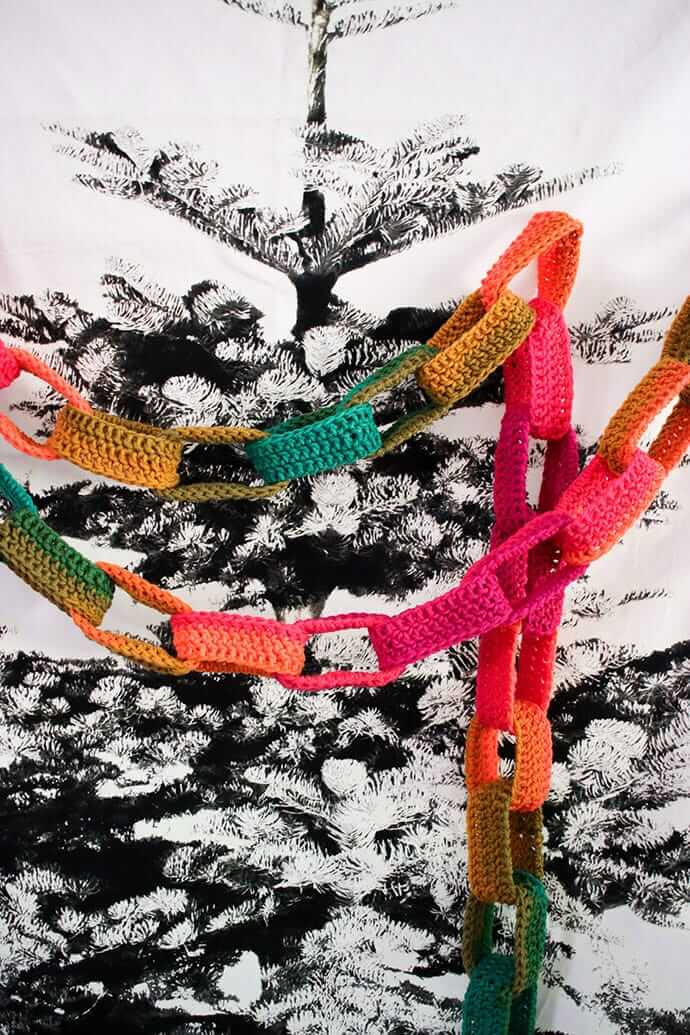 Imagine all the fun of making a paper chain garland with all the longevity of yarn. This example uses a color-changing yarn to achieve an ombré effect, but you could use whichever yarn will look good in your space. A chunky chenille-type yarn would achieve a delicious layer of hygge. For an eclectic effect, try mixing different yarns and materials. If you use a versatile color like white, this paper chain style garland transcends Christmas and would be perfect to decorate for birthday parties, bridal showers, and baby showers. Regardless of which yarn you choose, adding a new link every year could become a cherished family tradition.
5. Santa's Gift Sack Christmas Countdown Garland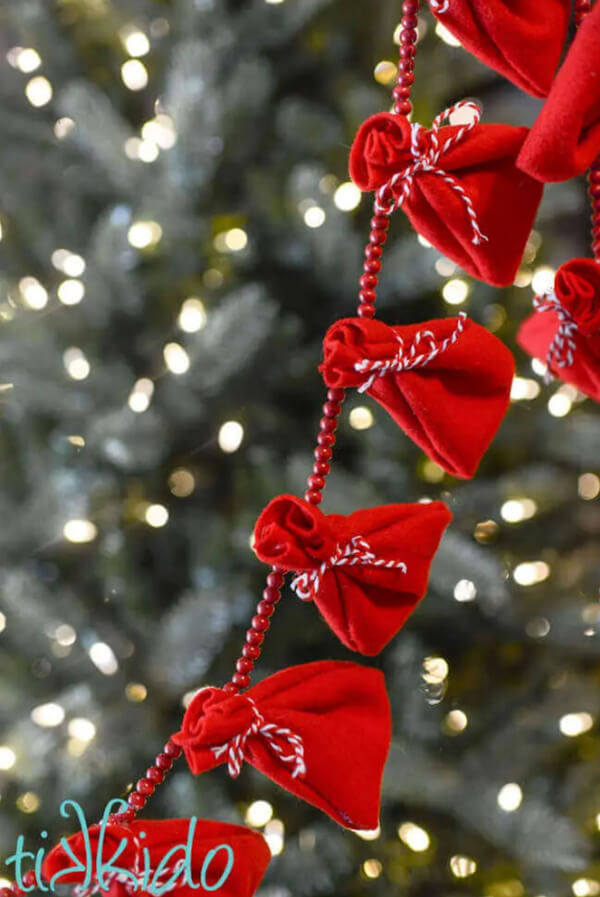 While this garland looks absolutely adorable as it is, each felt bag includes an activity or a treat to help countdown to Christmas. Although the bags' contents listed in the tutorial are geared for kids, it would be easy to spice it up with some festive adult activities. Beyond the fun memories, this garland is gorgeous for gazing at as well. The wooden beads add dimension and some fun geometry, but you could use whatever you have on hand. If you are an intermediate crafter and want to add some additional glamor, you could try adding rhinestones or sequins to the felt bags.
6. Cool Winter Gnome Garland Idea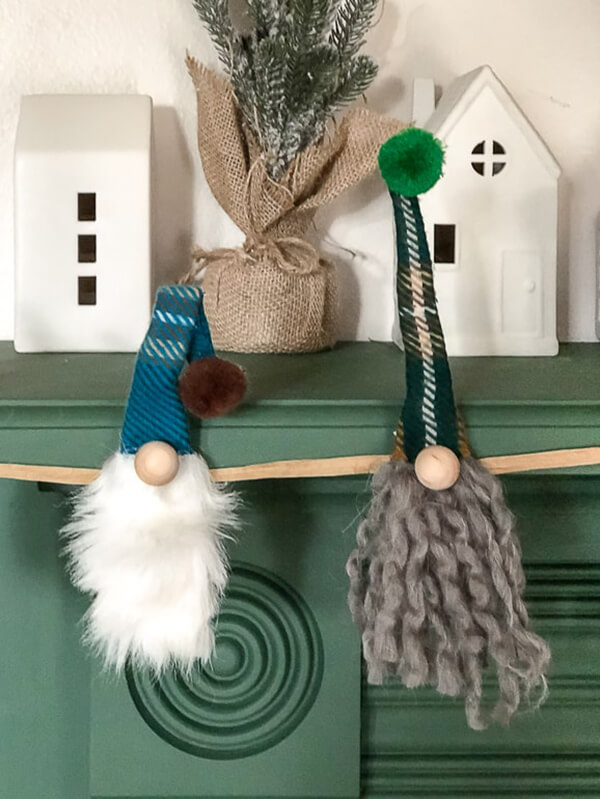 Made from a thrift store scarf and a few other crafting items, this gnome garland is sure to steal the show. If you use a plaid scarf like the one in this tutorial, you will be able to create a variety of complementary gnome hats. For a softer gnome appearance, try using a pom-pom instead of a wooden knob for a nose. To make a Santa gnome garland, you can follow the tutorial and use the trim from a thrift store Santa hat for the beard and a red scarf to make the hat. As far as handmade Christmas garland decor, these lovable little gnomes are sure to shine.
7. Scandinavian Scalloped Wood Bead Garland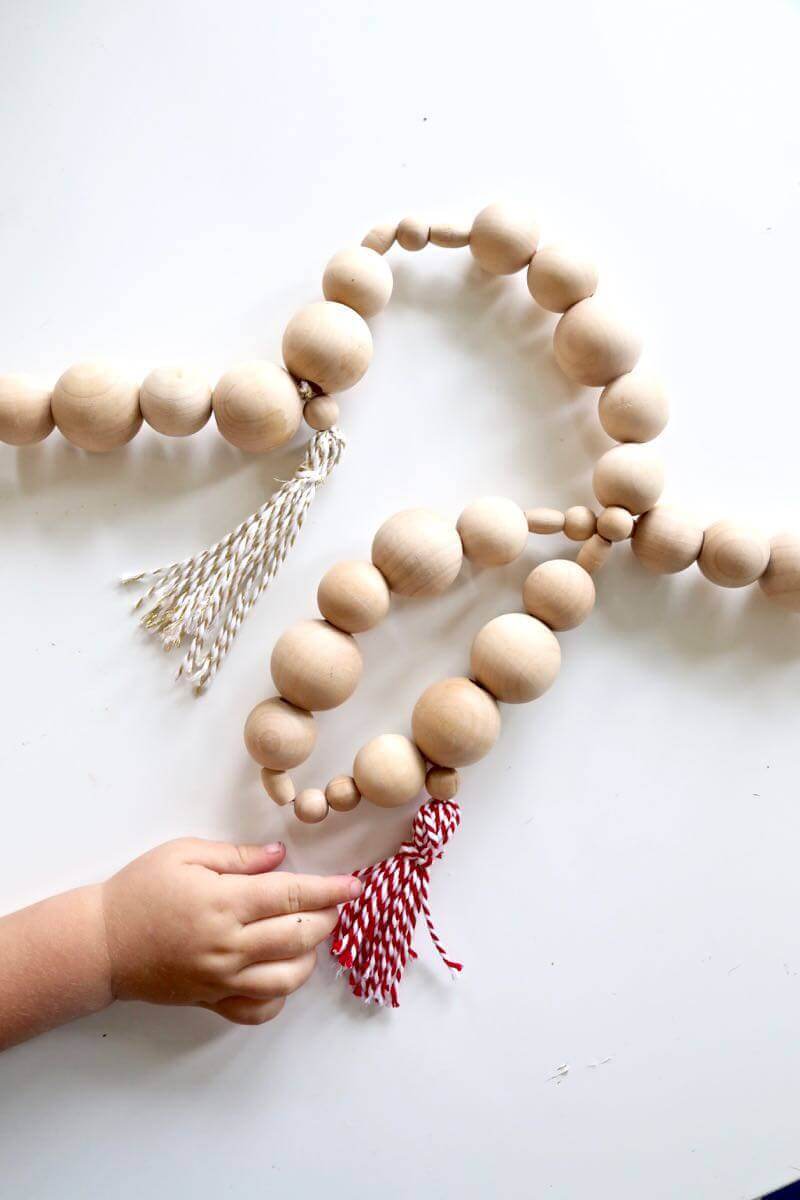 By using wood beads with a natural finish, you will have a beautifully Scandinavian Christmas garland. While this example uses a random order of bead sizes to mimic nature, you could be more deliberate to create an ordered pattern. The scalloped design gives these garlands an opulent Jes ne se quoi that is perfectly balanced with the natural ruggedness of unfinished wood. This is one of the best DIY Christmas tree garland ideas for helping other decorations shine without stealing their glory. To tailor this tutorial for a farmhouse space, you can give the wood beads a coat of distressed white paint.
8. Snowball Homemade Garland on Tree Idea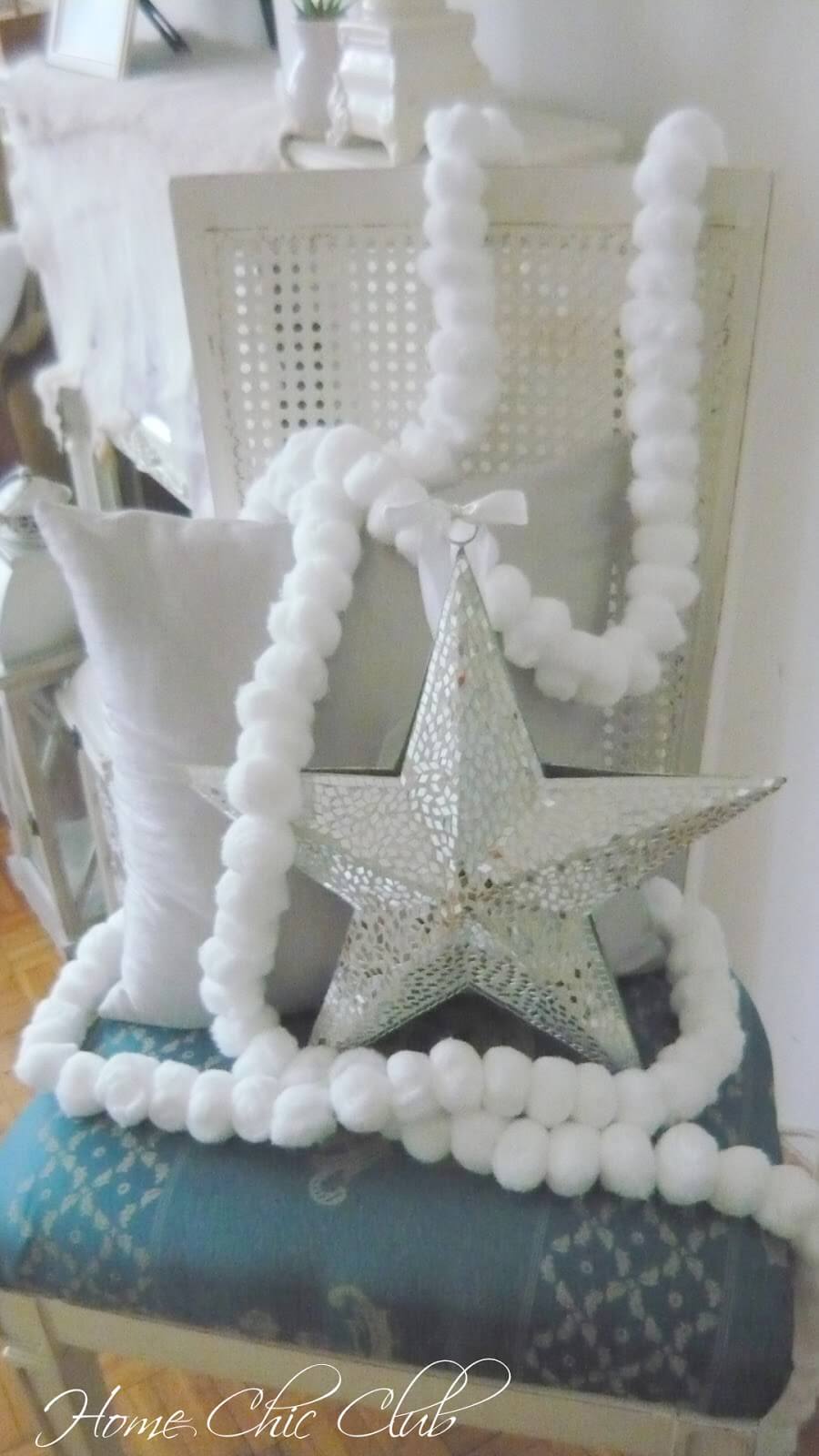 By pushing white cotton snowballs close together, you create the fun illusion of a snowball garland. Best of all, these garlands are made in only half an hour using everyday common cotton balls and embroidery thread. While building some dimensions, adding different sizes of white pom-poms will also draw attention to this garland. To cultivate an understated Bohemian effect, you could switch out every tenth cotton ball with a colorful pom-pom. If you space the cotton balls out a little, you could add some jingle bells for some extra Christmas cheer. Should you craft it as shown, this is one of the best DIY Christmas tree garland ideas because it can stay on display throughout the winter season.
9. Sweet and Charming Ombre Tree Garland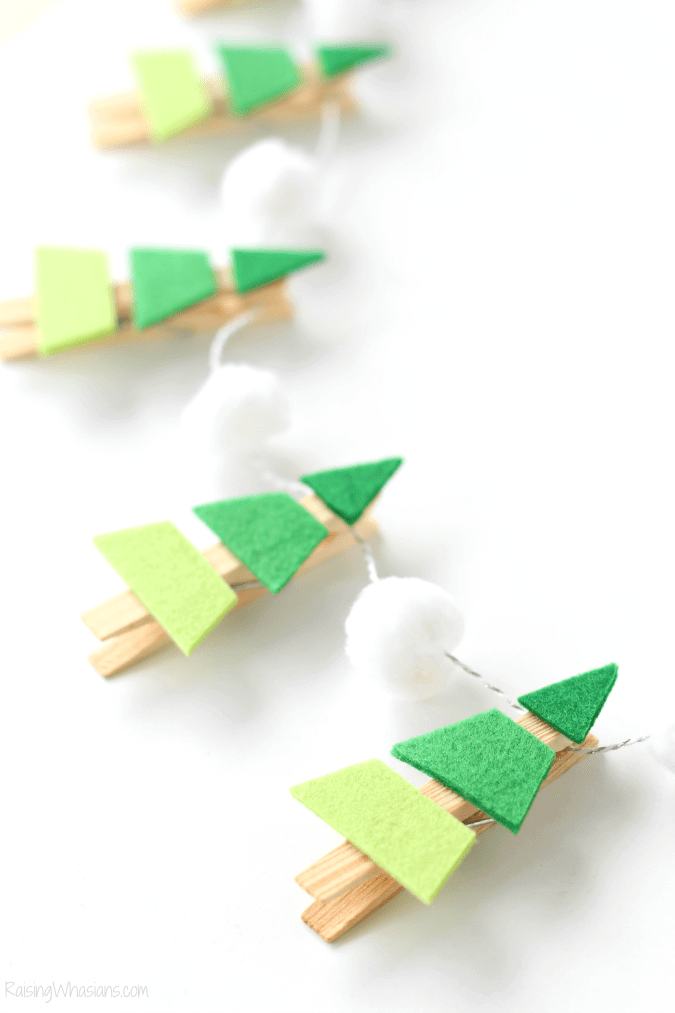 In terms of home crafts, the whole family can do this holiday season, this ombre Christmas tree garland can be a great choice. It does tremendously well at taking simple items like clothespins and felt and elevating them into something remarkable. The clothespins provide an easy shape to work with when applying the strips of felt. Also, the felt being cut in different sizes helps nail down the look of a traditional Christmas tree. Then there's the case of the felt being different shades of green. This layout helps the trees to stand out, especially once the garland is applied to your actual Christmas tree.
10. Beautiful Ruffled Burlap Christmas Tree Garland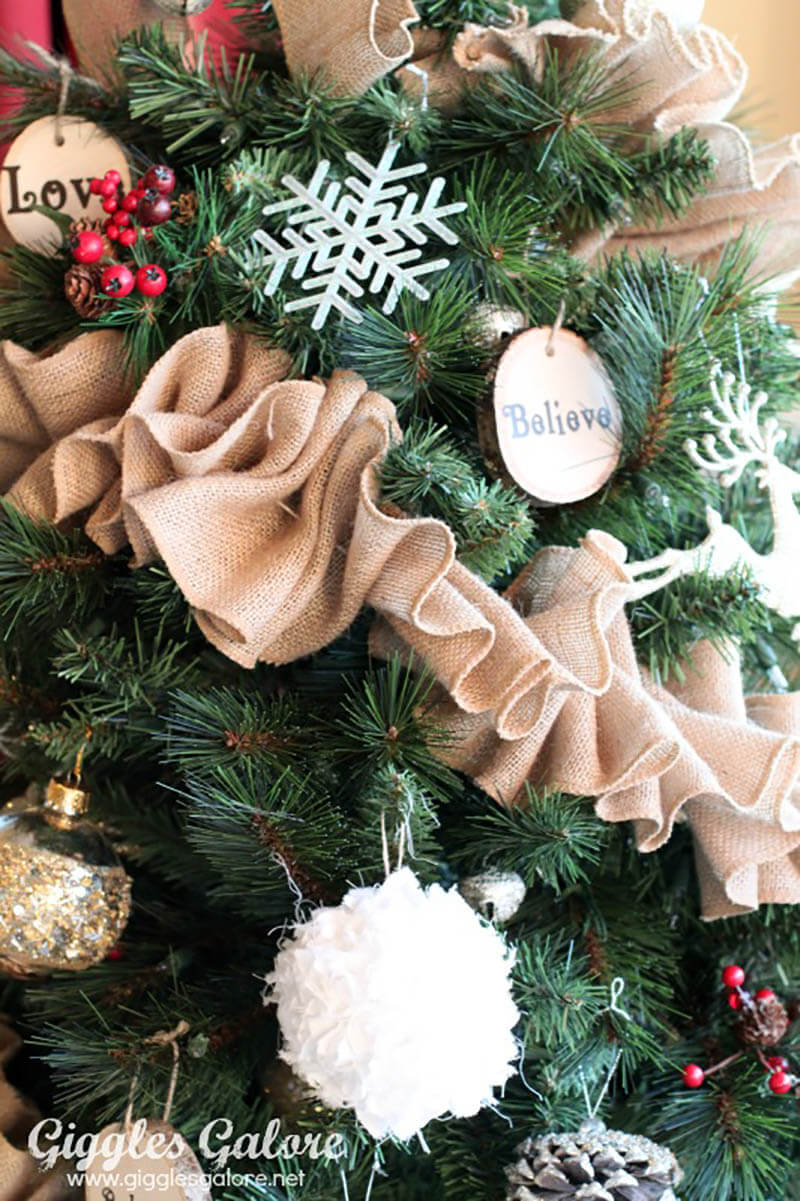 Burlap is the go-to item when it comes to decorating in a country style. When used as garland, it can help bring in the decorations on your tree without detracting from anything. This is largely due to how the burlap is used. It is given a lovely ruffled look that lets the material come across with a hint of elegance. Additionally, it just looks good against a Christmas tree surrounded by lights and other ornaments. If you want it to be really fluffy, then multiple rolls of burlap come in handy. They can even help your tree appear fuller and livelier.
11. Cool Thread Spool Button Garland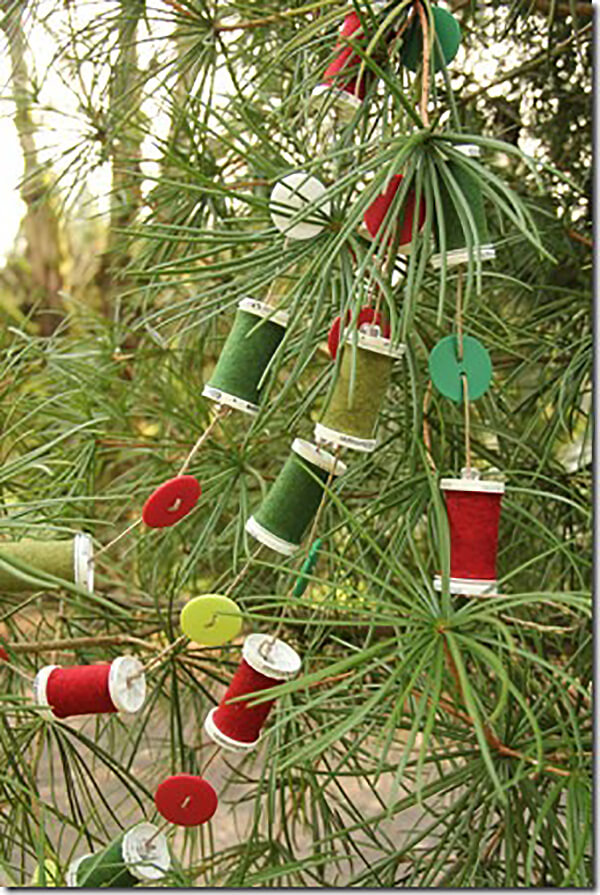 When using garland around the Christmas tree, it sometimes calls for some out-there and unique material. This is seen with this amazing thread spool button garland. When all the thread is used up, the thread spool still comes in handy in terms of homemade decorations. The felt wrapped around them provide both texture and a nice pop of color. This is further helped by the large and colorful buttons that weave in between the thread spools on the jute string. Toss this across a Christmas tree to get anyone who visits your house interested in taking a closer look.
12. Stunning Nativity Wood Chip Garland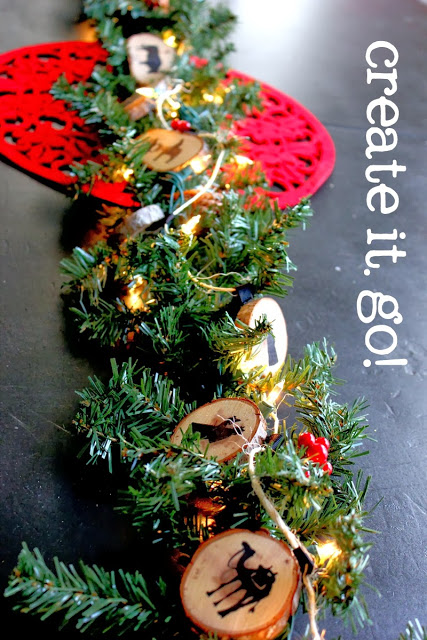 Wood chips have this incredible rustic and comforting look about them that it's no surprise they make for the perfect homemade garland material. There is a good size to these wood chips too that lets them leave their impact without overwhelming your Christmas tree. Best of all, the wood chips offer plenty of space for decorations on their surfaces. As is the case with this nativity wood chip design. With the right stencil, you can place just about anything on these wood chips from traditional sayings to recognizable figures. It is a fun way to bring some nativity joy into your décor without going the usual figurine route.
13. "Merry Christmas" Banner Tree Garland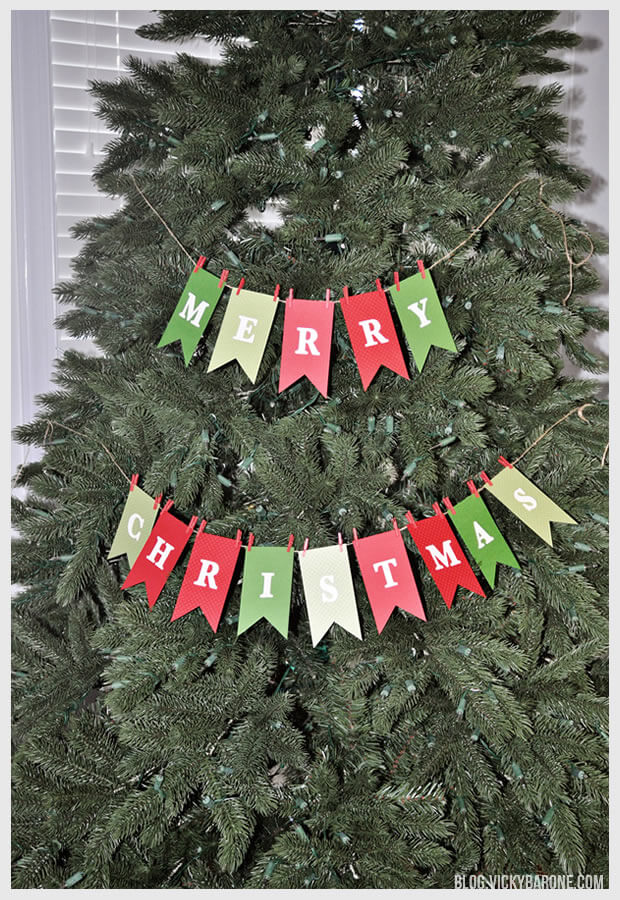 Banners have this fun quality to them, and when used in this way, they can make the holidays seem even more exciting. As a Christmas tree already houses plenty of decorations, this banner garland can help bring it all in. The "Merry Christmas" saying on individual strips makes this garland more attention-grabbing as well. There is some good use of multiple colors with this piece too. By not sticking with a single color, the banner garland has a sense of movement and better shows off the individual letters spelling out the words.
14. DIY Tassel Mini Christmas Trees Garland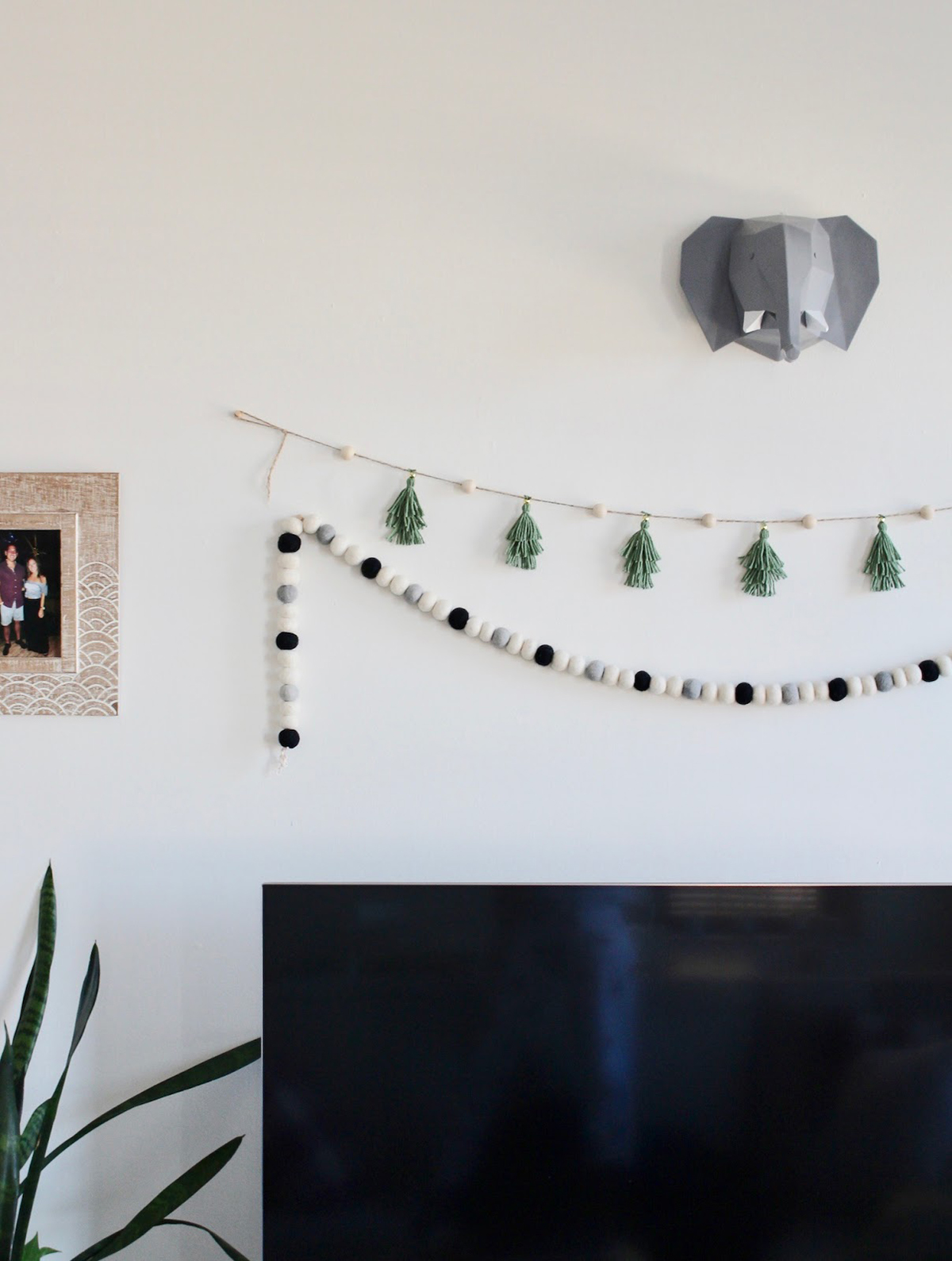 Why not decorate your Christmas tree with even more miniature Christmas trees? This garland puts yarn to good use to create the traditional tree design with a unique spin to it. There are wooden beads in between the trees as well, and these beads work to provide the garland with some contrast. They are especially noticeable once you wrap the garland around the tree. Even the yarn trees on the garland stand out as they are off-green compared to the typical Christmas tree. There's also a nice touch of gold on the top of the mini trees that give this some more style.
15. Rustic Farmhouse Style Pinecone Garland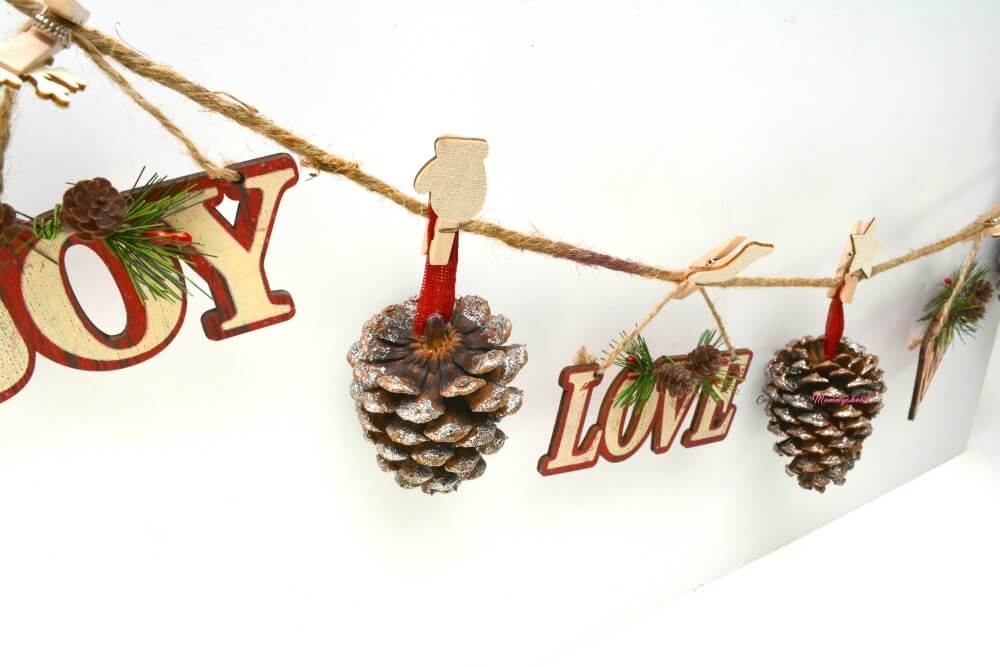 When you're looking for ways to add a bit of a rural feel to your Christmas tree, then the likes of a pinecone garland can come into use. The use of pinecones alone gives the garland a more outdoorsy feel. At the same time, pinecones are commonly used when it comes to seasonal decorations, so the garland won't look out of place when strung around a Christmas tree. The pinecones are even spruced up a bit with silver glitter paint. This makes them look as though they were just pulled out of fresh, sparkling snow. The addition of other vintage ornaments helps to complete this rustic garland.
16. Snowy Pinecone Handmade Christmas Garland Decor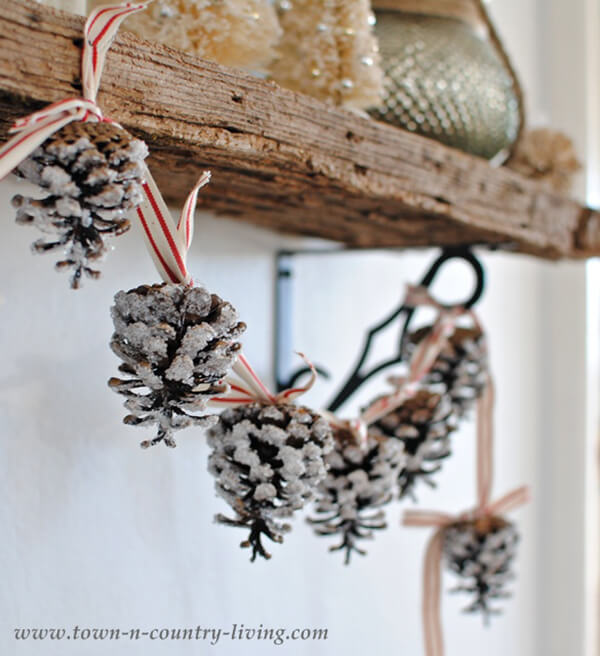 Depending on which ribbon you choose for your handmade pinecone garland, you can leave this garland up throughout the winter season. Instead of using flocking or artificial snow, this tutorial relies on glue and Epsom salt. To capture winter's delicate beauty, the Epsom salt adds a captivating crystalline effect. This tutorial is rather ingenious as it uses a separate ribbon to attach each pinecone to the garland. Because of this strategy, you can adjust this garland to fit the location instead of adjusting the location to fit the garland. It also means that you can hang the garland in a different place each year.
17. Unique Fragrant Garland Formed From Botanicals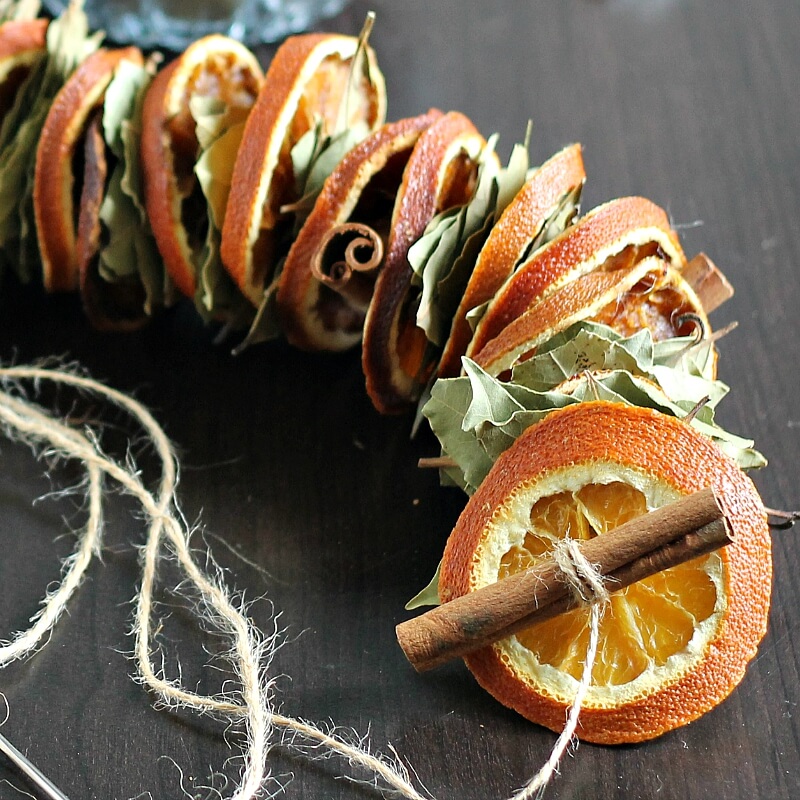 The best DIY Christmas tree garland ideas include all the senses, and this garland invites holiday aromas to the party. Along with the savory scent of bay leaves, this garland combines the classic combination of oranges and cinnamon to create a true olfactory feast. With pops of orange and green balanced by the brown cinnamon, this garland is a fantastic way to incorporate a natural feel into your space. For a little more color variation, you could add dried apple slices. If you store it in an airtight bag when not on display, you can reuse this garland for as long as 10 years.
18. Musical Flowers Homemade Garland on Tree Idea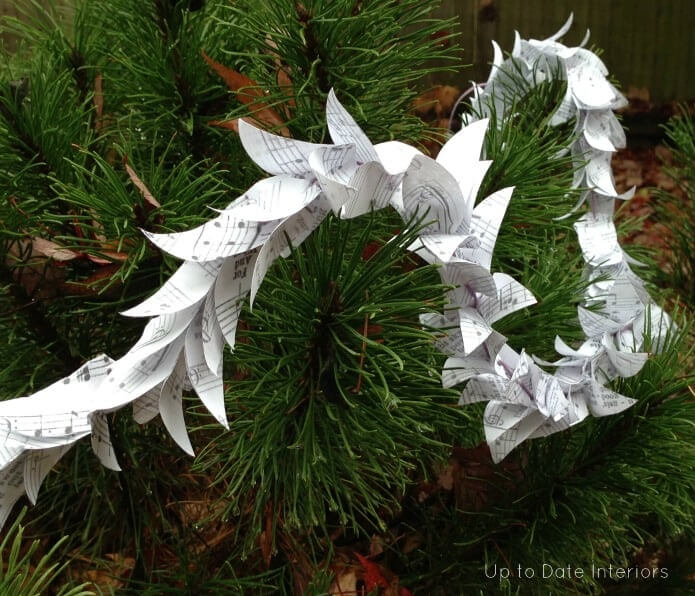 Perfect for any music lover's Christmas decor, these flowers made from sheet music are elegant as well as easy to make. This tutorial can produce delightfully sophisticated results with any paper or cardstock. Imagine turning this garland into an old book craft to showcase a love of literature. For an angel feather effect, you could use plain white paper and dust the edges with glitter. Although this garland might get squished in storage, it is a fun handmade Christmas garland decor idea that is great for building memories. You might even start a new garland-making tradition every holiday season.
19. Miniature Pom-Pom Garland in Candy Cane Colors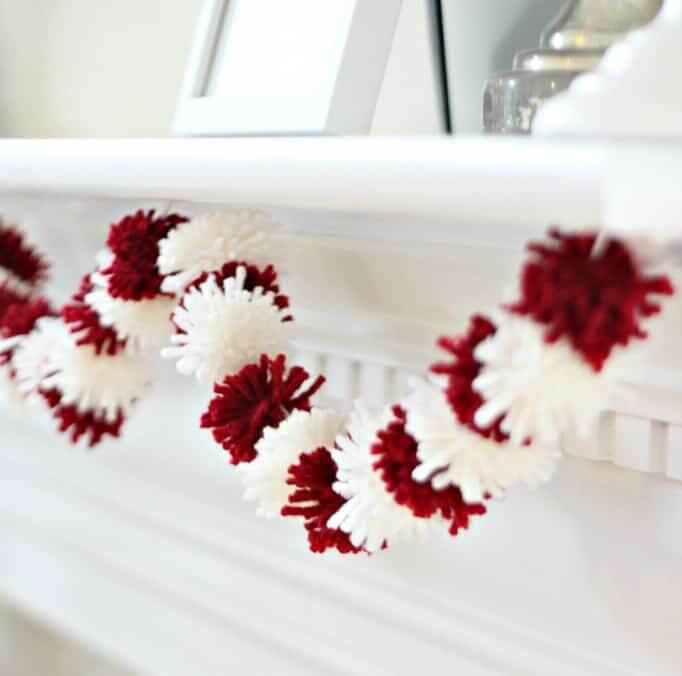 Without stealing the spotlight, rich red and cool white can spice up a space and can direct attention to your focal point. Balls of fluffy yarn are a great way to add some romantic whimsy to a Christmas tree. For beginner-level crafters, this tutorial shows the easy way to make yarn pom-poms. Experimenting with different types of yarn will yield a world of possible results. By using different sizes of forks, you can explore different sized pom-poms in your homemade garland on tree idea. With a palette of red and white, you can also use this garland for other holidays like Valentine's Day and Independence Day.
20. Paper Snowman with Scarf Wire Garland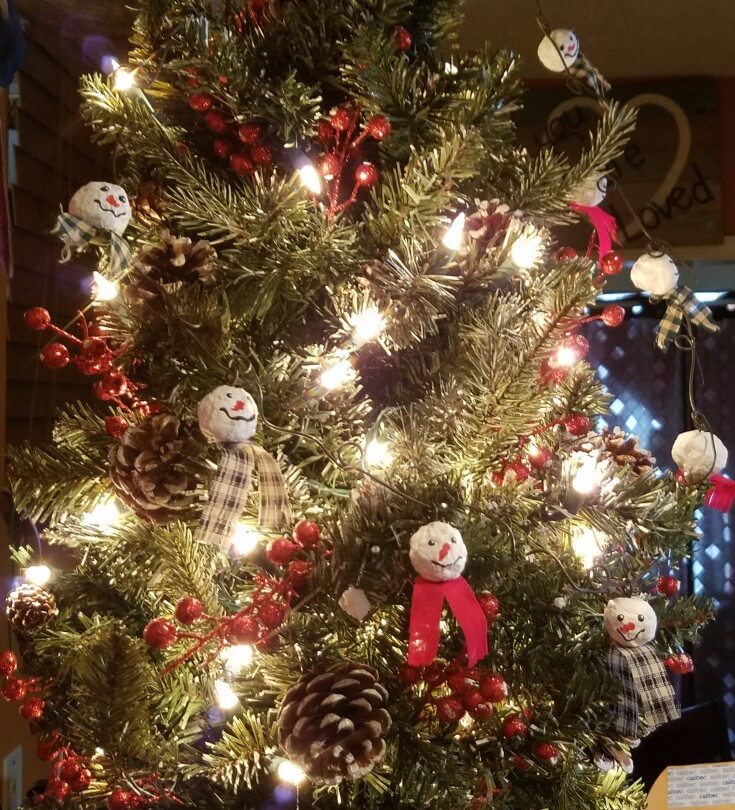 Cheerful frosty faces are the perfect way to greet the holiday season. As well as being easy to draw on, white paper beads capture snow's magical texture. A cozy scarf can be made from any material or, for extra snuggly vibes, can be crocheted or knitted. Because the garland is mounted on the annealed wire, you have a great deal of control over how these snowmen hang. This means they can be a fun addition to your tree, a welcoming Christmas wreath, or anywhere in your decor that calls for bigger smiles and a little extra joy.
21. Soft Stars Cozy Christmas Garland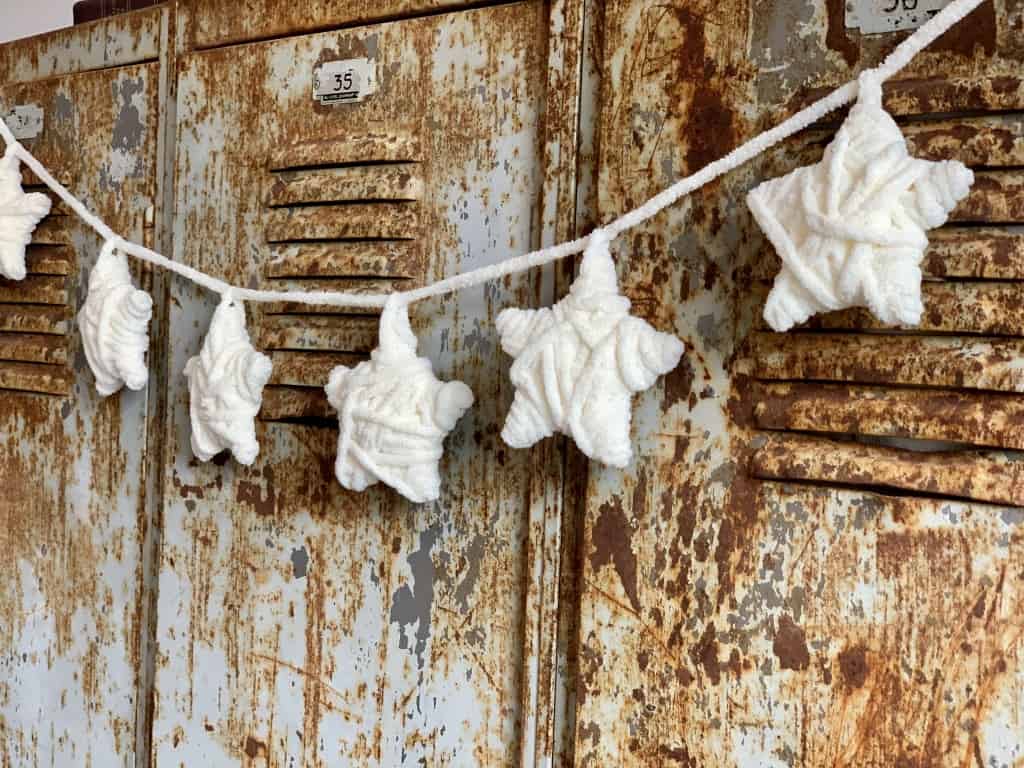 To craft these stars, all you will need are your favorite cozy yarn, a glue gun, and wooden stars. Of course, you can use any wooden shape as the base. Although the garland might be a little less sturdy, you might even be able to use cardboard as a base. If you prefer jollier jingle in your life, you could hot glue some jingle bells to your garland. For a unique rustic garland, you could use natural-colored twine instead of yarn. Because you can make these with kids, friends, or easily on your own, this is one of the best DIY Christmas tree garland ideas.
21 Cheerful DIY Christmas Tree Garland Ideas Perfect for Creating an Inviting Holiday Ambiance
Beyond color and material, a few other things to keep in mind when choosing which garland to make are garland length and size. Where you plan to hang your garland will change how long it needs to be – a large tree will need a long garland while a mantle may need a shorter one. To maximize your space, you will also want to think about scale. On a miniature Christmas tree, normal-sized pom-poms might seem whimsically ridiculous. Of course, if that is the look you are trying to achieve, there is absolutely nothing wrong with creating landscapes filled with fun surprises!
Regardless of your level of crafting confidence or which garland you start with; you can look forward to a fun-filled project. Instead of focusing on crafting a flawless garland, remember to smile and to treasure the laughter when things do not go exactly as planned. However, these guides are easy to follow so those moments of minor catastrophe can be avoided. Let the crafting adventures commence!