Deck the halls with boughs of holly will soon be playing on the radio, along with many more Christmas songs. It is time to think about your holiday decor ideas and make a plan. Garlands are a perfect way to deck your halls, or wall, or mantles, or entry ways, or any number of things in your home. Please do not only think of a garland as just those cheap sparkly things.
Deck the halls with DIY Garlands

1. Classically Welcoming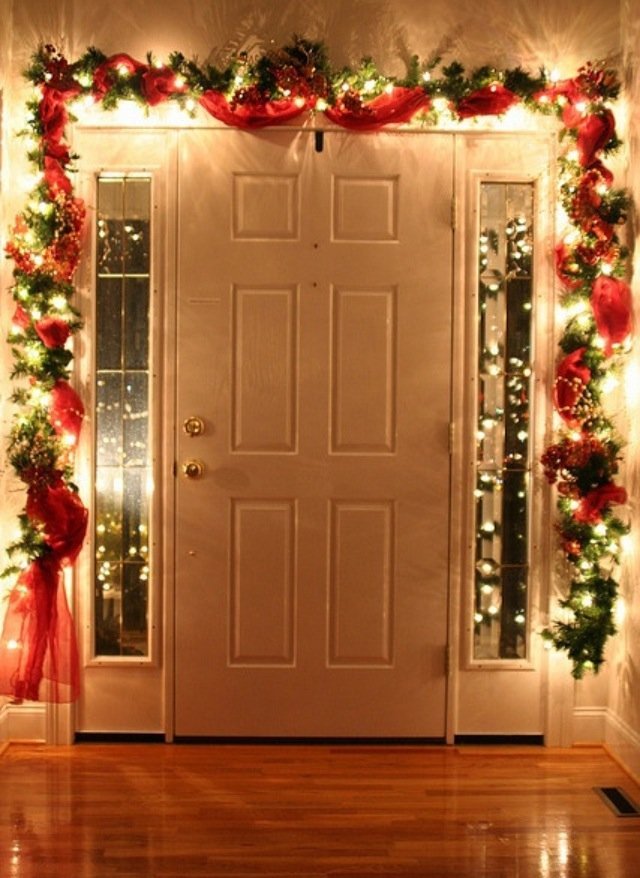 DIY Project Details: flickr.com
A Christmas garland decoration of pine branches, real or artificial, draped with red ribbon and highlighted with white fairy lights, is a classically beautiful and charming way to welcome holiday guests. Keeping this DIY Christmas decor simple is the trick. A few creative touches to enhance the green and red are all you need, such as a few clusters of pearl beads and a couple sparkly bows. The fairy lights add the warm and comfort of candle lighting without the danger of open fire. This classy garland is a simple and elegant Christmas decor idea that will add holiday spirit to any setting.
2. Country Charm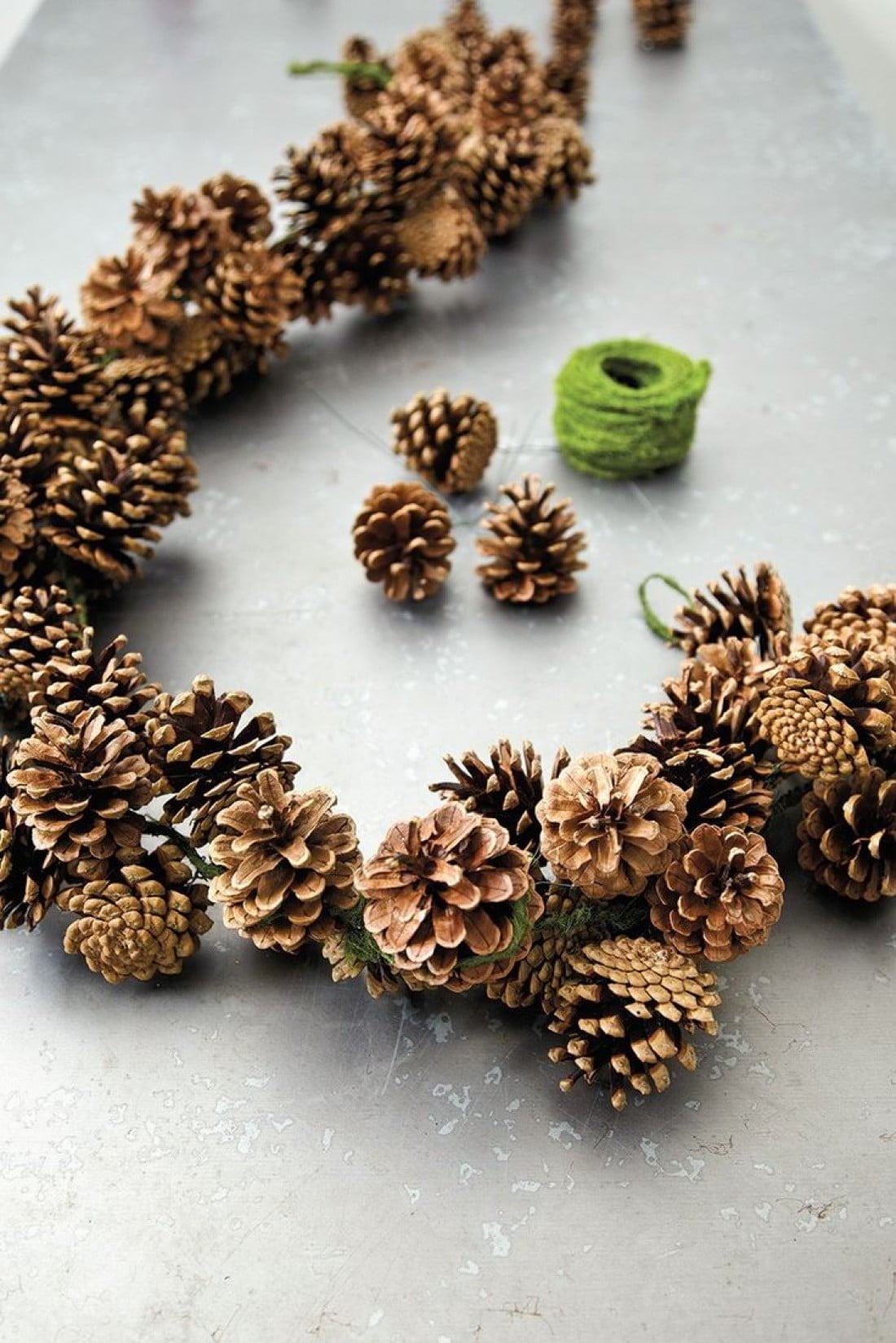 DIY Project Details: howtodecorate.com
Creative decorating with a pine cone DIY Christmas garland adds country charm to your holiday gatherings. This DIY Christmas project gives you many creative options. Small or large pine cones, or a combination of both will create many beautiful Christmas garland decoration possibilities. Changing the string or ribbon the pine cones are tied to can completely change the look. This Christmas decor will fit in any space need because the pine cones can be strung on any size string and wound around any shape your imagination can come up with. Pine cones give a pleasing rustic country charm to your Christmas decor.
3. Fun and Simple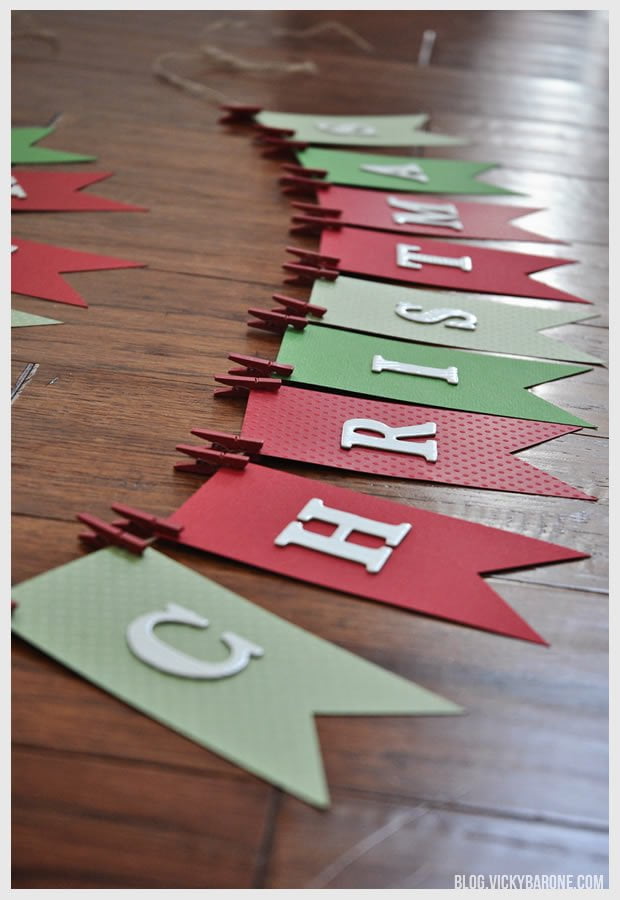 DIY Project Details: blog.vickybarone.com
This fun and simple Christmas garland decorating idea wishes your family and guests a Merry Christmas. With five simple materials, red and green paper, adhesive letters, scissors, mini clothes pins, and twine, you can create this fun and delightful message garland. This garland is perfect for bring holiday cheer to a class room, bulletin board, or any open wall. The back ground colors can be coordinated to complement any decor ideas. The lettering and color scheme also can be customized to celebrate any occasion not just Christmas. That makes this decor idea an attractive decoration for Christmas or any time of the year.
4. Creative Crocheting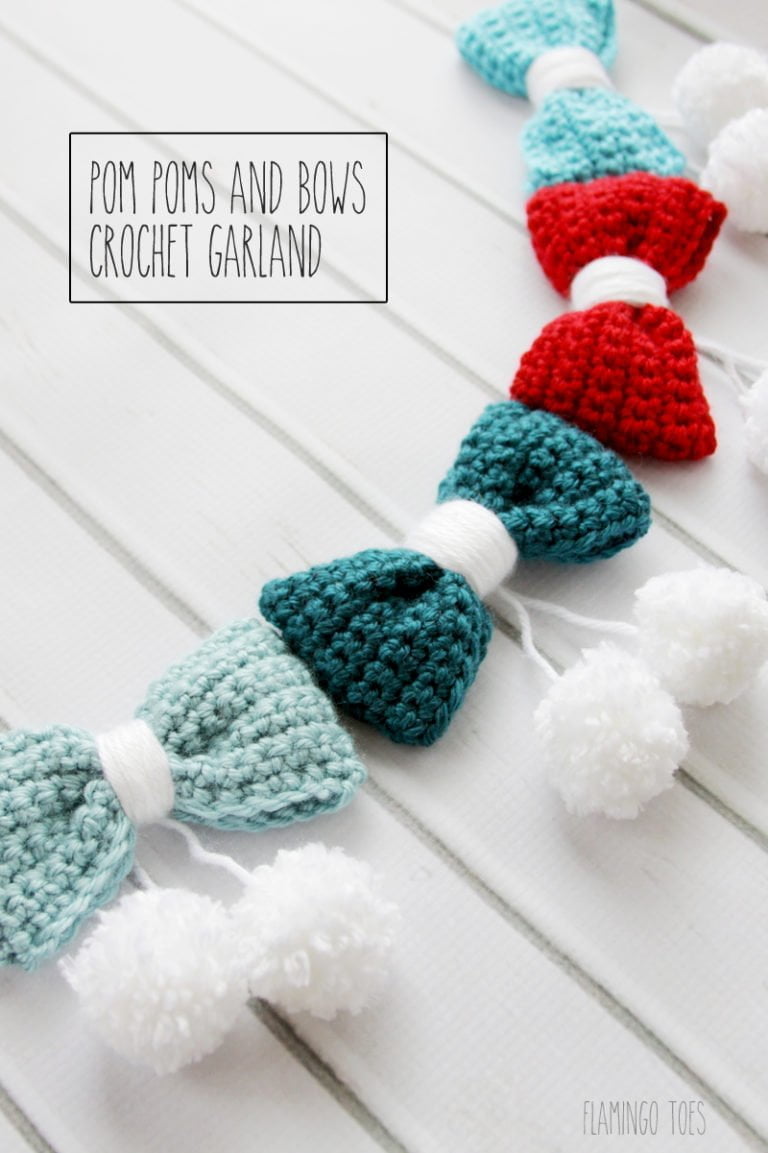 DIY Project Details: flamingotoes.com
Christmas garland decorating for the yarn loving crocheter makes this DIY Christmas project a perfect fit. A chain made of brightly colored yarn bows tied with pompoms is a beautiful addition to any holiday decor ideas. This Christmas garland decoration requires some skill in crocheting to make, although it is an easy project for those who know the basics of crocheting. It is shown in blues and red with white pompoms, but any colors that fit in with your decor ideas will work ideally.. This is another project that is not restricted to only the holidays. It can be made in any color to decorate for any occasion. But for the crocheter, it is a fun holiday project.
5. Holiday Spice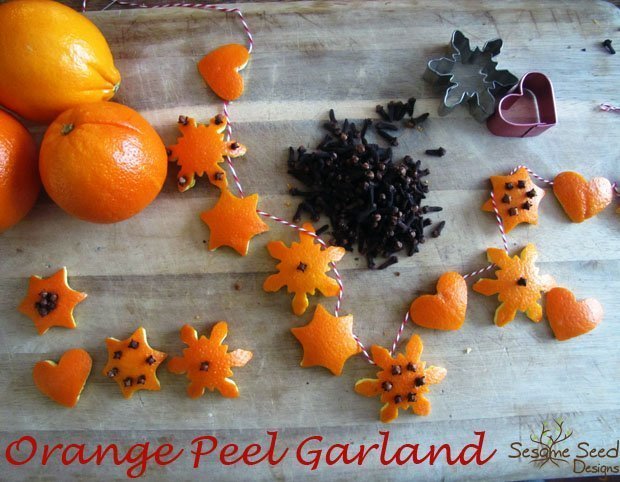 DIY Project Details: sesameseeddesigns.com
Christmas garland decorating just got deliciously fragrant. Who knew that orange peels studded with cloves and strung would make such a lovely holiday garland? This creative decor idea uses orange peels cut with cookie cutters to create holiday charm. Any shape cookie cutter will work, so the designs are only limited by your imagination and the available cookie cutters. Accenting the orange peel cutouts with cloves fills the room with a delicious holiday spice smell. Other citrus fruit peels would work as well and would add more delicious accents to the holiday fragrance. Combining this holiday spice garland with fairy lights would be another option for you DIY Christmas decorating.
6. Golden Holiday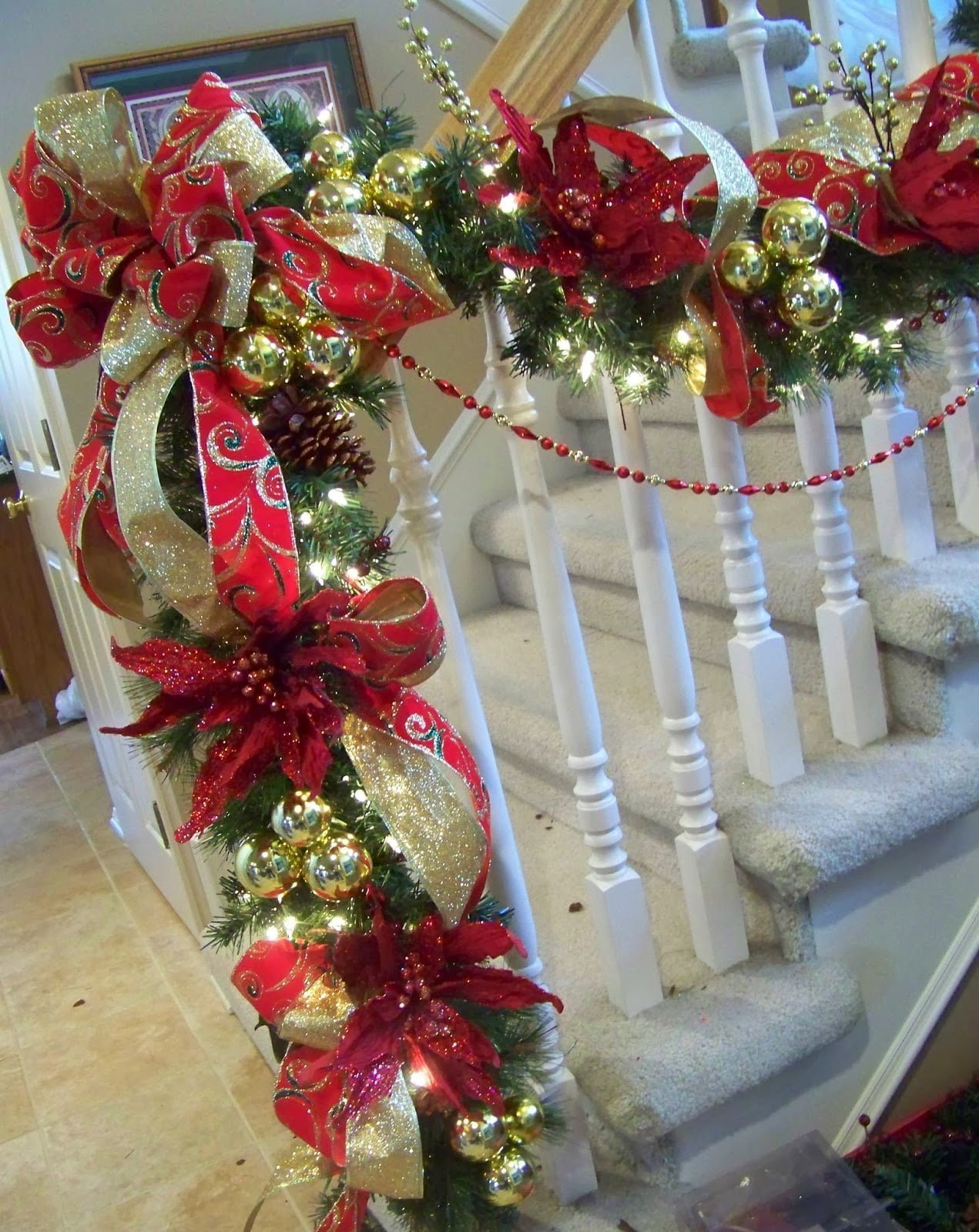 DIY Project Details: creativelessonsfrommyheart.blogspot.com
This richly golden twist on the classic pine boughs garland is an elegantly gorgeous Christmas garland decoration. Its base is the classic pine boughs with pine cones that are laced throughout with twinkling white fairly lights. Then rich over sized red and gold ribbon bows are add to begin creating the holiday decor. Clusters of gold Christmas bulbs reflect the light from the fairly lights multiplying the twinkling. Deep red poinsettias covered in glitter and used to tie the details together. Then if that isn't enough richness, a string of elegant red and gold beads are draped among the splendor. The whole effect creates a stunning richly golden holiday decor.
7. Paper Lights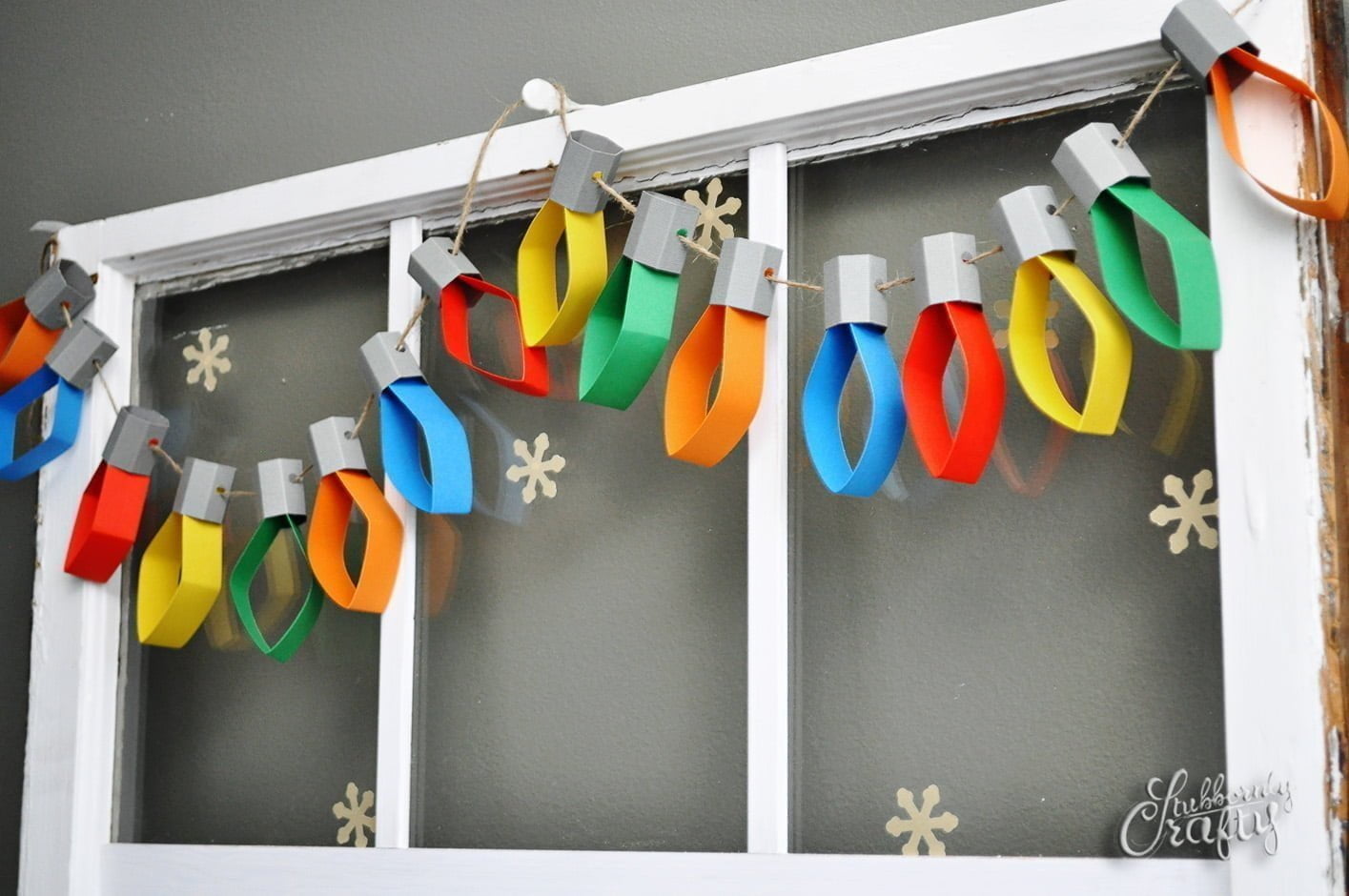 DIY Project Details: stubbornlycrafty.com
Christmas garland decoration projects that are fun for the whole family help to bring everyone together during the holiday season. Many children have extra time off during the holiday season. This kid friendly DIY Christmas paper project is a fun and easy way to keep them entertained. Stunning brightly colored string of Christmas lights are made gluing folded paper and then using a hole punch to string them for a festive holiday garland. The color possibilities are endless. This holiday decor idea gives the children a creative project they can be involved in and create a beautiful holiday garland that is a fun addition to your holiday decor.
8. Charmingly Rustic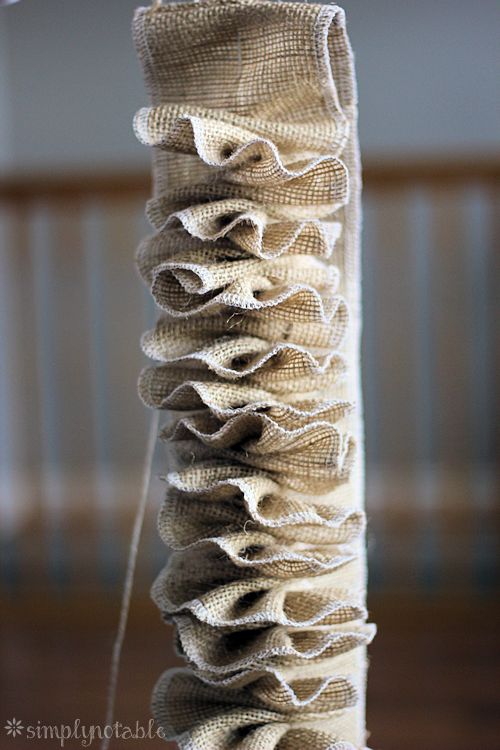 DIY Project Details: simplynotable.com
If rustic and natural is your style, this Christmas garland decorating project is just right for you. The charmingly rustic style of this garland is made from gathering long strips of burlap fabric into ruffles. It takes a rough course fabric and turns it into lovely ruffles that drape wonderfully. The light brown or tan color of the burlap stands out nice from the green of pine boughs without appearing unnatural. Hanging this one of a kind burlap garland on your tree creates a unique rustic look that you'll love. Its perfect for cozy country or rustic cabin style decor idea.
9. Baker's Delight

DIY Project Details: hellowonderful.co
This baked Christmas garland decorating project is a delightfully tasty treat. This twist on a holiday classic, the gingerbread man, makes for a fun and unique DIY decorating idea. It uses letter cookie cutters to cut personalized holiday messages out of gingerbread dough. Once the cut out messages a properly bake, they are strung on festive twine or cording to create a one of a kind garland that are a baker's delight. This project the whole family can enjoy creating together. Parents will need to over see the mixing and baking but the children love to be involve in the cutting out and the stringing.
10. String of Pearls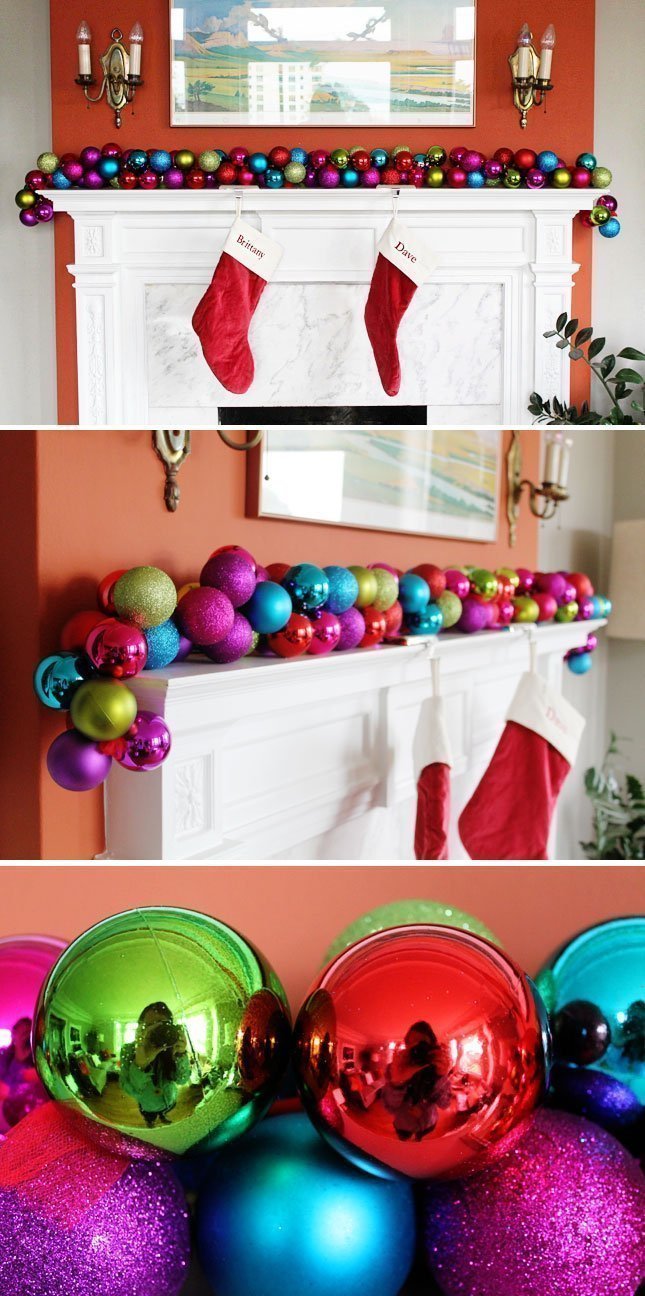 DIY Project Details: brit.co
Do you have extra holiday ornament bulbs you don't know what to do with? Or do you see the brightly colored sets of ornament bulbs in the stores and fall in love? If you do this DIY Christmas garland is for you. This takes all of those stunning ornament bulbs and strings them on a ribbon so they look like a string of brightly colored pearls. This garland can be wrapped around a tree for a breathtaking look or draped over the mantel to add lots of color. Each string can be customized in length and color to create a unique look that is a gorgeous addition to your holiday decor.
11. Paper Snowmen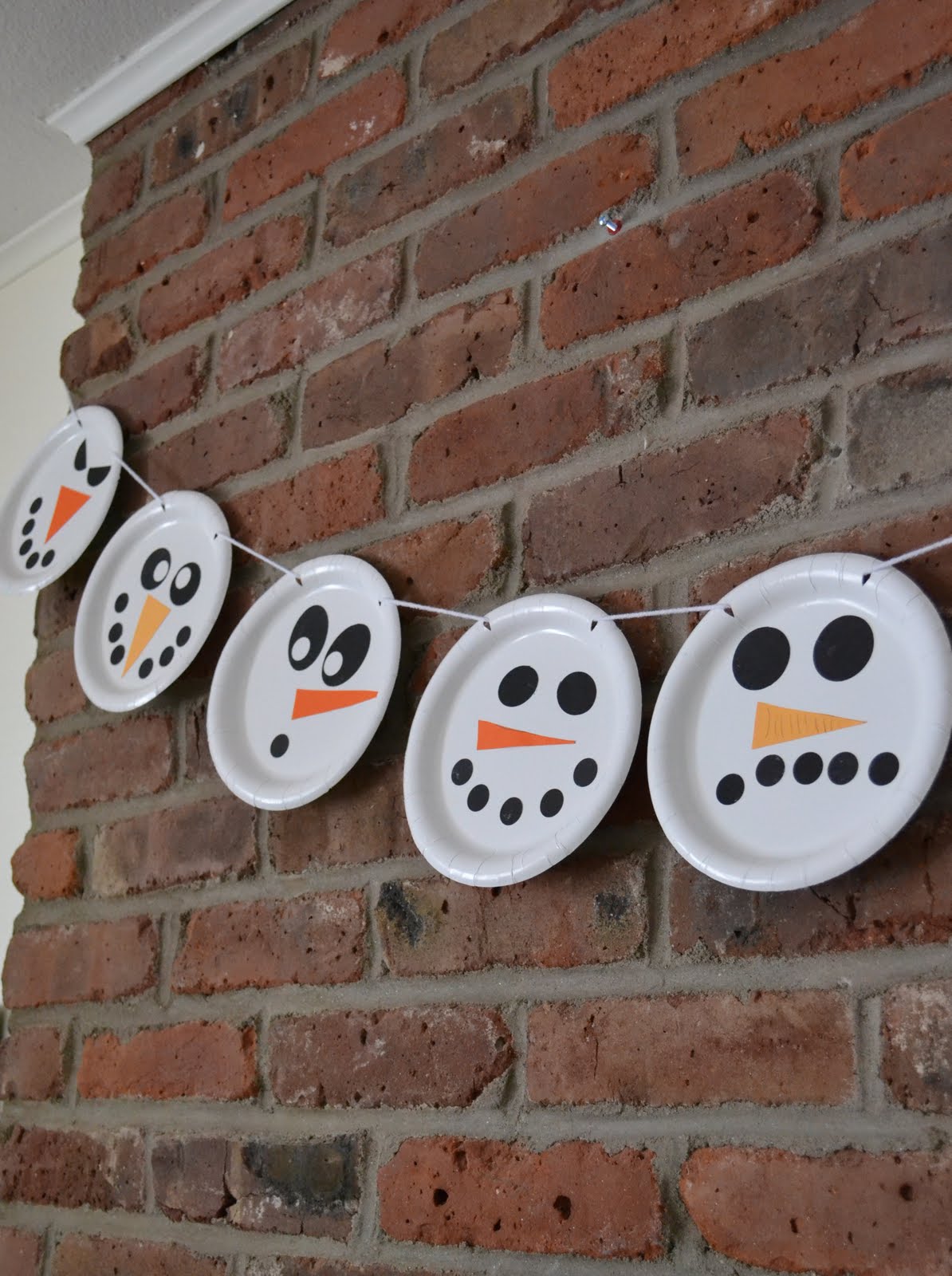 DIY Project Details: 1pureheart.blogspot.com
Kid friendly Christmas decor ideas are a get way to keep the children occupied on their winter breaks and help them feel involve in decorating the house for the holidays. This paper plate snowmen garland is the perfect project for children of any age. It is simple and easy enough that even a toddler can glue a face on. For the older children, they can make more complicated faces. Once the faces are all done and the glue is dry the snowmen heads are strung on string or twine and can be hung to add to the holiday fun. Only be careful you don't hang them to near the fire, you don't want them to melt.
12. Fun Felt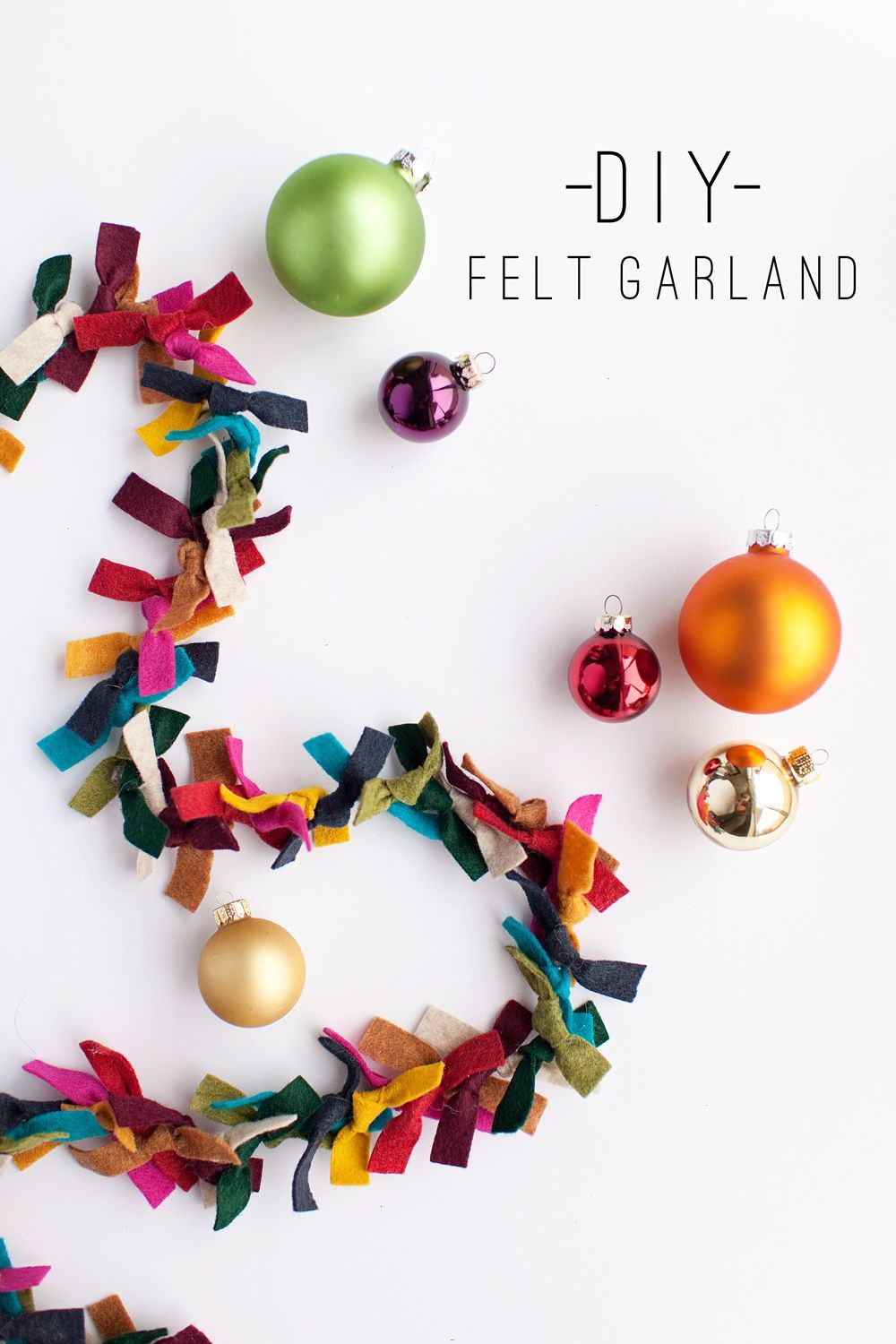 DIY Project Details: tellloveandparty.com
This fun and easy decor idea is made out of felt strips tied to yarn. Actually, anything will due instead of yarn. Sting, twine or anything you have available will work. You start with small strips of various colored felt and then you simply tie them to yarn to create this fun and attractive felt garland. Nothing about this project is difficult but it is time consuming. This project is perfect for a bad weather day, when you just want to be in doors. Pop in a movie and tie away. Any color combination can be used to create a one of a kind holiday decoration.
13. Candy Land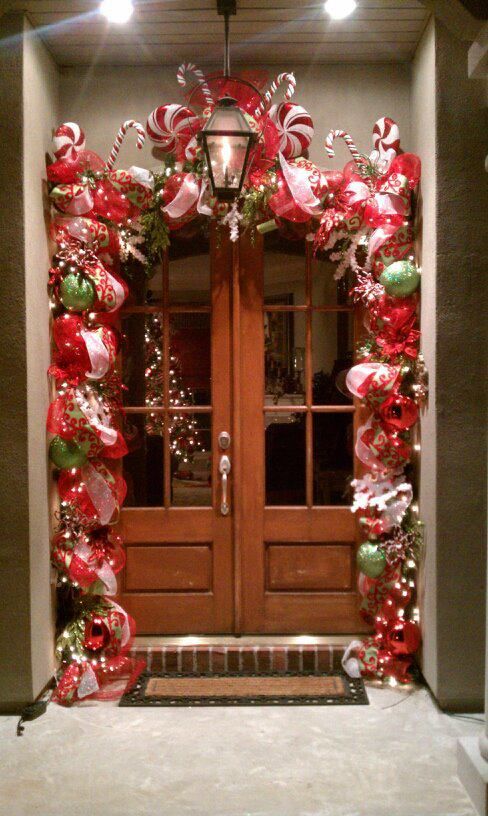 DIY Project Details: br.pinterest.com
Over sized Christmas ornament bulbs and candy canes, give this garland the feeling of candy land or being at the North Pole where an elf might stick his head around the corner at any minute. This Christmas garland decorating idea is tied together with three different wide ribbons, all in red and white to carry on the colors of the candy canes. There are also large white snowflakes to enhance the magical feel. A few sprigs of pine are add to give an interesting contrast and are complemented by the light green ornament bulbs. The lovely red and green garland gives a fun and welcoming appeal.
14. Paper Holly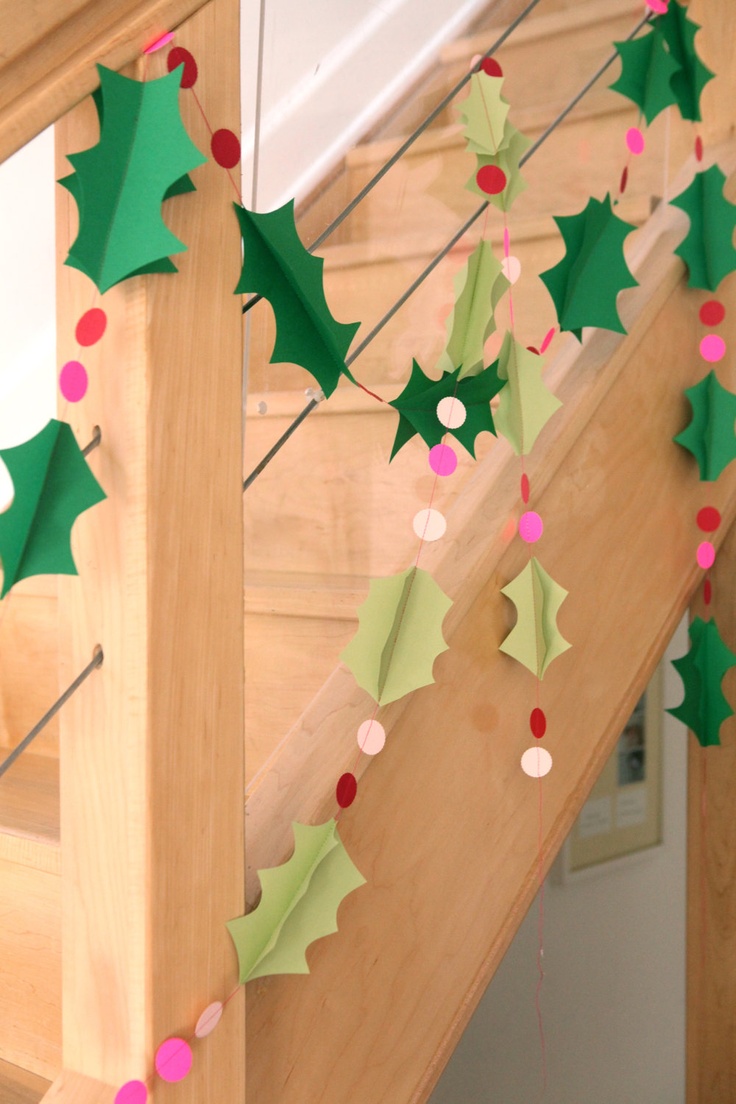 Source: The original source is not available anymore.
Christmas garland decorations can be charming and simple like this one that is holly made out of paper. All you need is green and red paper, some festive red and with yarn or string, glue and scissors. By cutting leaf shapes out of the green paper and circles or berries out of the red and gluing them to the yarn, you create a simply charming garland. This paper garland project is one your children will love to help with. It would look beautiful hung for a stair railing, around a bulletin board or picture, or wrapped around the Christmas tree. Any where you hang it; it is a charming addition to your Christmas decor.
Our Favorite Christmas Decorations to Buy on Amazon

15. Birch Bark Beauty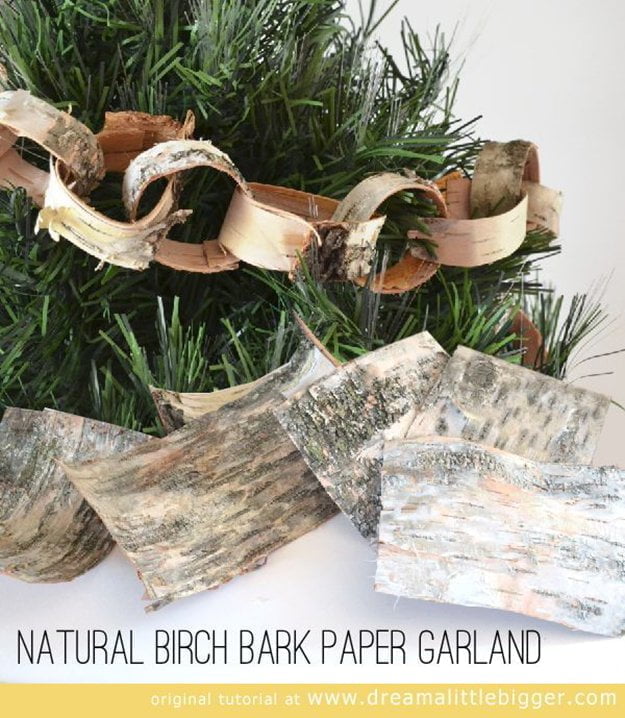 DIY Project Details: dreamalittlebigger.com
Do you remember the paper chains we use to make in elementary school out of construction paper and glue sticks or staples? The decor idea is the grown up version of those. It uses strips of birch bark instead of construction paper. The birch bark creates a lovely natural look the complements a country style Christmas decor. The white and black of the birch bark gives the impression on snow on the bark, which is ideal for the Christmas season. It can be use anywhere in your home that you would hang a garland. This birch bark beauty is an easy project that will add country charm to your holiday decorations.
16. Simply Classic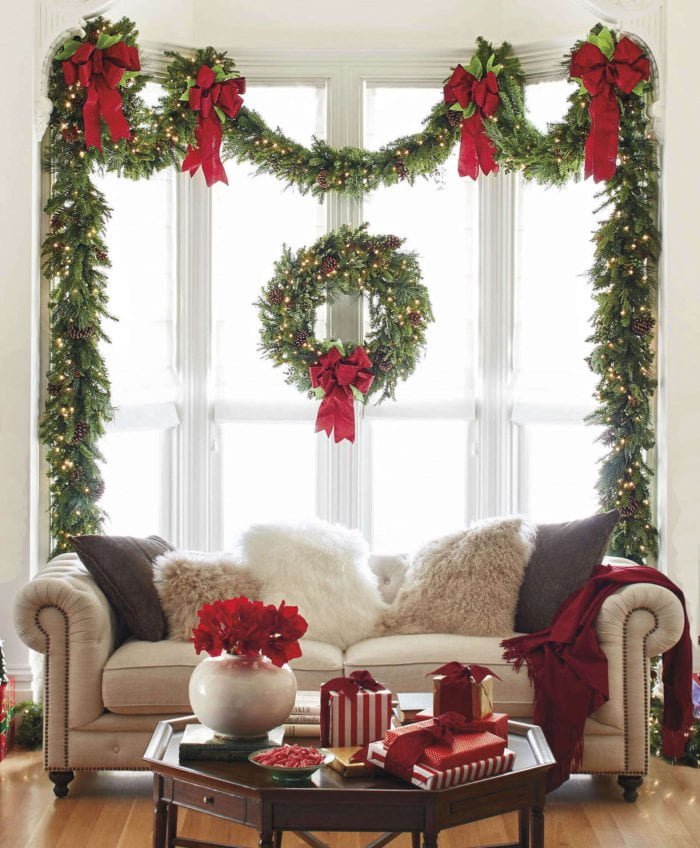 DIY Project Details: matthewgleason.com
Simply classic decor ideas of using balsam pine garland with large red bows and white fairy lights is one that endures the test of time. This decor idea is one that is simply Christmas. Balsam pine wreath decorated with the same elements is a great way to spread the style throughout your home. The smell of balsam pine in the air will bring you back to your childhood memories of Christmas. Fresh balsam pine always has the best smell, but if you don't like the mess of real pine needles all over, essential oils can be used to recreate the smell.
17. Gold Sparkle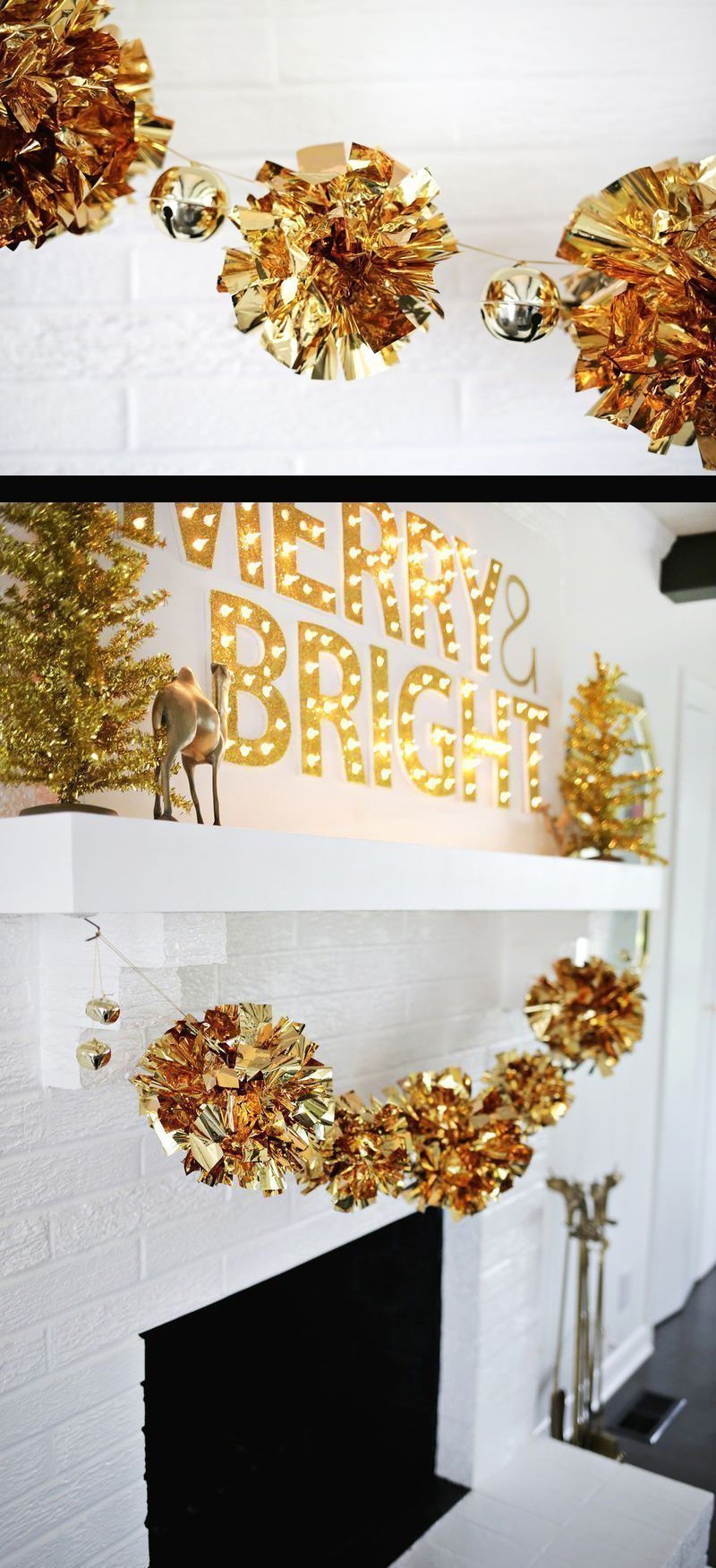 DIY Project Details: shelterness.com
The twinkling shine of Christmas fairly lights are reflected around the whole room off this golden sparkling holiday garland. It creates a comforting warmth that invites holiday joy and cheer that is the goal of all holiday gatherings. The pompoms made out of shiny gold Mylar are strung together to create this gleaming bright garland. It may be a simple and easy project to construct but it makes a stunningly bright addition to your holiday decor ideas. Your guests will admire the beauty and brightness, and will be dying to know where you bought it. Then it will be your choice if you tell them your secrets of how to make it or leave them wondering what designer store you purchased it at.
18. Candy Cane Twist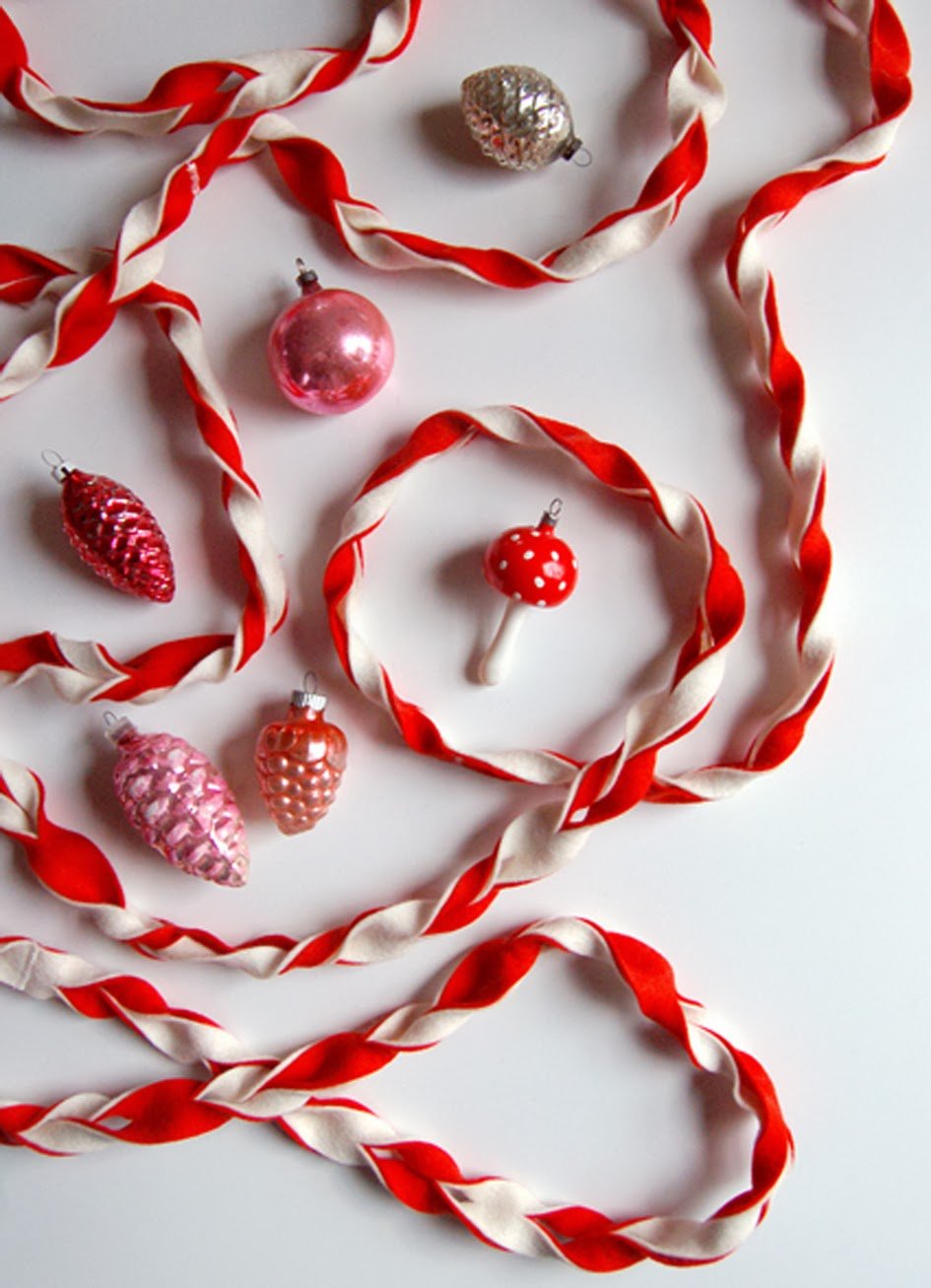 DIY Project Details: stylemotivation.com
Christmas decor ideas that include the classic red and white strip patterns of the candy cane are a holiday tradition that goes back generations. This holiday garland is a twist on the traditional candy cane spiraling strips. Strips of red and white felt are laid together and twisted to create a delightful holiday decoration. This decoration is a thin garland that would be prefect to accent the Christmas tree or be combined with lights and/or another garland such as the classic balsam pine. The red and white twisted strips would be a lovely contrast to the various greens of the balsam pine.
19. Sugarplums and Pine Cones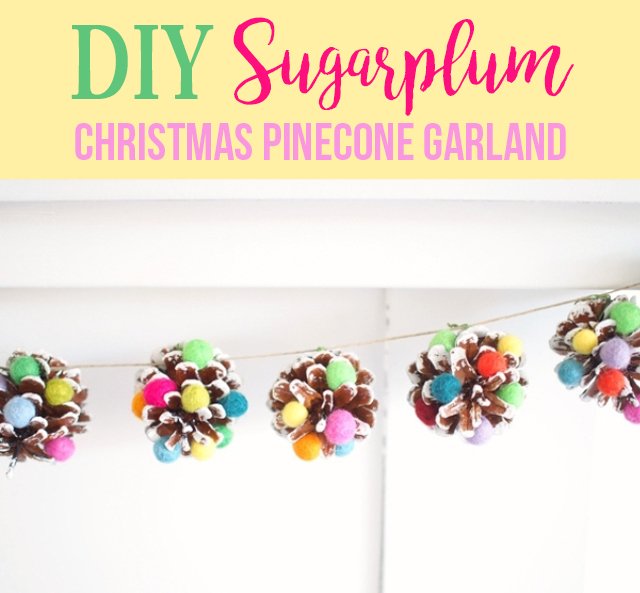 DIY Project Details: shelterness.com
This playful and sweet garland can be used to add fun and whimsy to your Christmas decor. The pine cones' outer edges are lightly brushed with white paint to create the winter illusion of being softly frosted with snow. Then a few brightly colored felt balls are hot glued to each of the pine cones to represent the holiday tradition of sugarplums. Finally, the playfully decorated pine cones are strung together on a piece rustic twine to produce a fun and charming Christmas garland decoration. Children and those young of heart will be dazzled by this charming pine cone decoration.
20. Polka Dot Christmas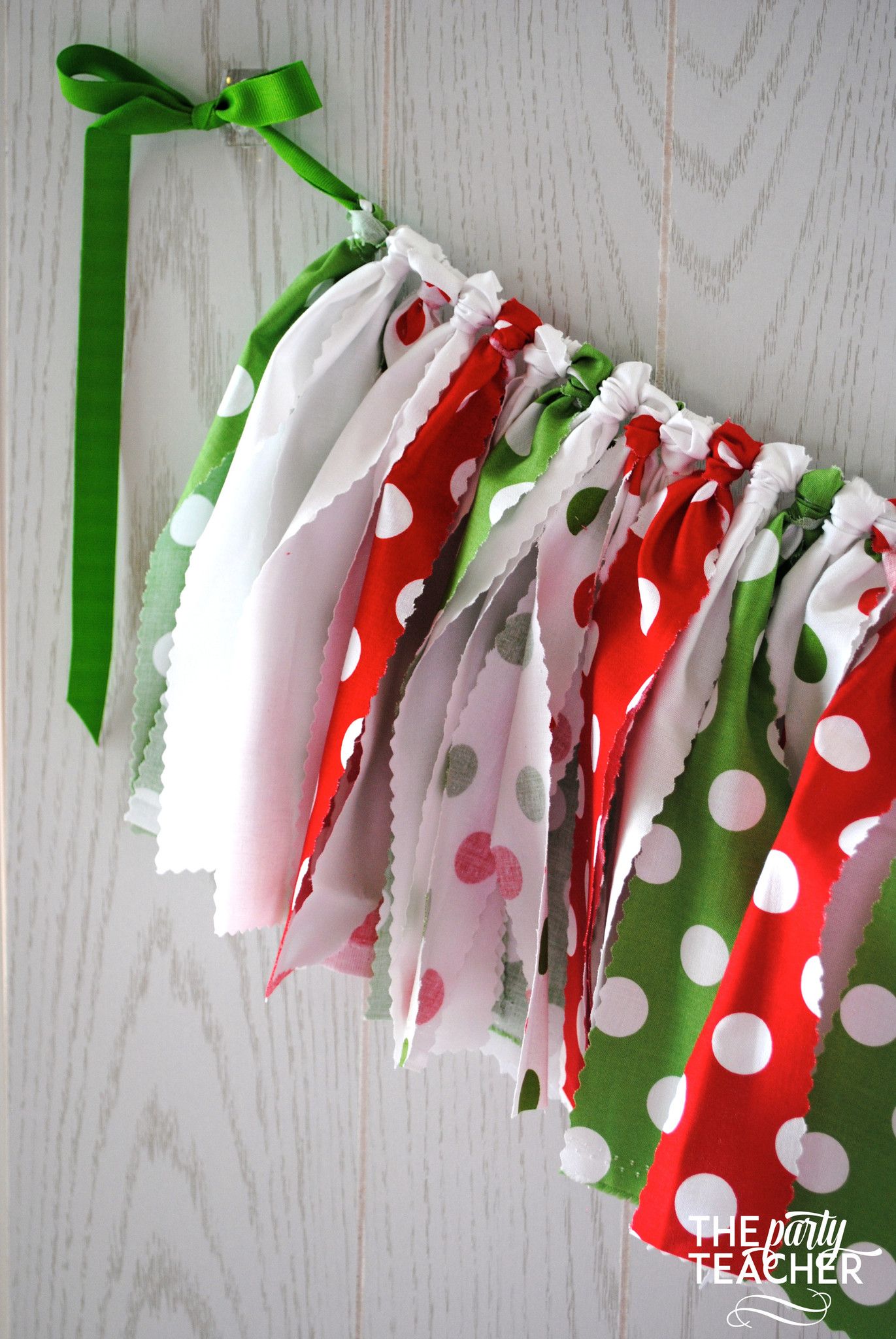 DIY Project Details: shop.thepartyteacher.com
This fun and festive Christmas garland is a great addition to your holiday party decor. Three lighthearted polka dot fabric in the tradition red and green of Christmas accented with white and one fabric of solid white are cut into strips and tied around a length of green silken ribbon. The edges of the polka dotted and solid fabrics are cut with pinking shears to give the strips an interesting textured look. Various other fabrics can be used to create a different look other than the polka dots. Using different colors this garland could be made to fit into any party decor year around.
21. Candy Cane Delight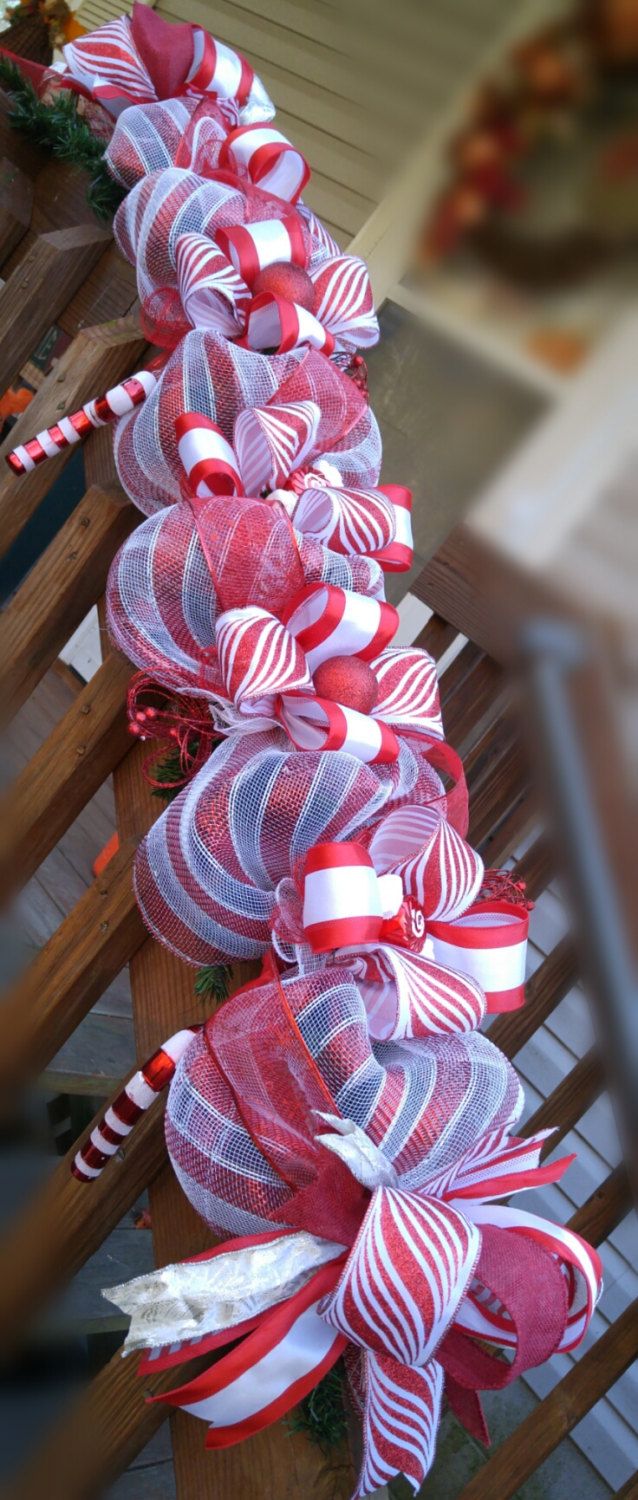 DIY Project Details: pinterest.com
This delightful burst of vivid candy cane stripped color makes for a delightful Christmas garland decorating idea. This garland uses two enchanting sheer red and white wide ribbon with wire edges tied in many bows. The wire in the edges of the ribbon help the ruffled bows hold their shape. And two slightly narrower, solid and shimmering red and white ribbons tied in bows on top of the sheer ribbon bows to create this delightful garland. The candy cane ribbon garland is a great decoration for the top of mantel piece or along the top of a railing.
22. Nature Beauty

Source: The original source is not available anymore.
The natural glossy green of these waxy leaves brings the beauty of the outdoors inside. The natural waxiness of these magnolia leaves make the deep green shine and helps to persevere the leaves so they last longer in your indoor arrangement. This leafy splendor is a charming nature addition to your holiday home decor ideas. And what better or cheaper place to find your crafting supplies but in your own back yard. In the more northern climates where magnolias do not grow, pine sprigs may make a nice alternative. Another option could be going to your local florist for holly leaves, which would make a lovely holiday appeal.
23. Felt Cut Outs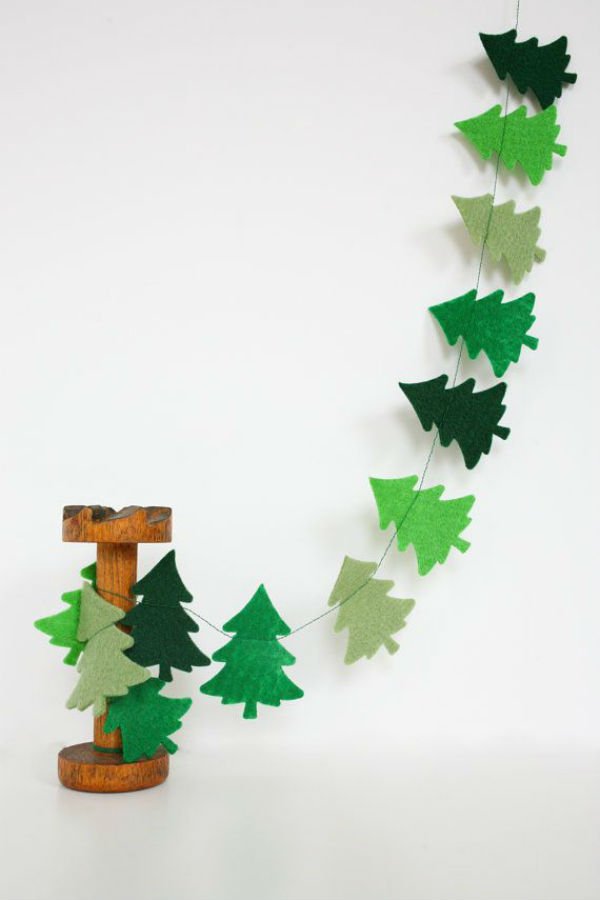 DIY Project Details: pinterest.com
Multiple shades of green felt make this chain garland a charming Christmas accent for your home decor. Its simplicity gives it a childlike elegance. The garland's simplicity also makes it easy enough to create that even a beginner crafter will have no problems making it. The simple style is made from multiple different shades of green felt cut into a uniform tree shape. The cut out trees are then strung or glued on a green string. Using a stencil will keep the cut outs uniform. If you do not have a stencil a cookie cutter will work just as well. For a bit of variety, try making the same chain garland out of other shapes and colors.
24. Christmas Cheer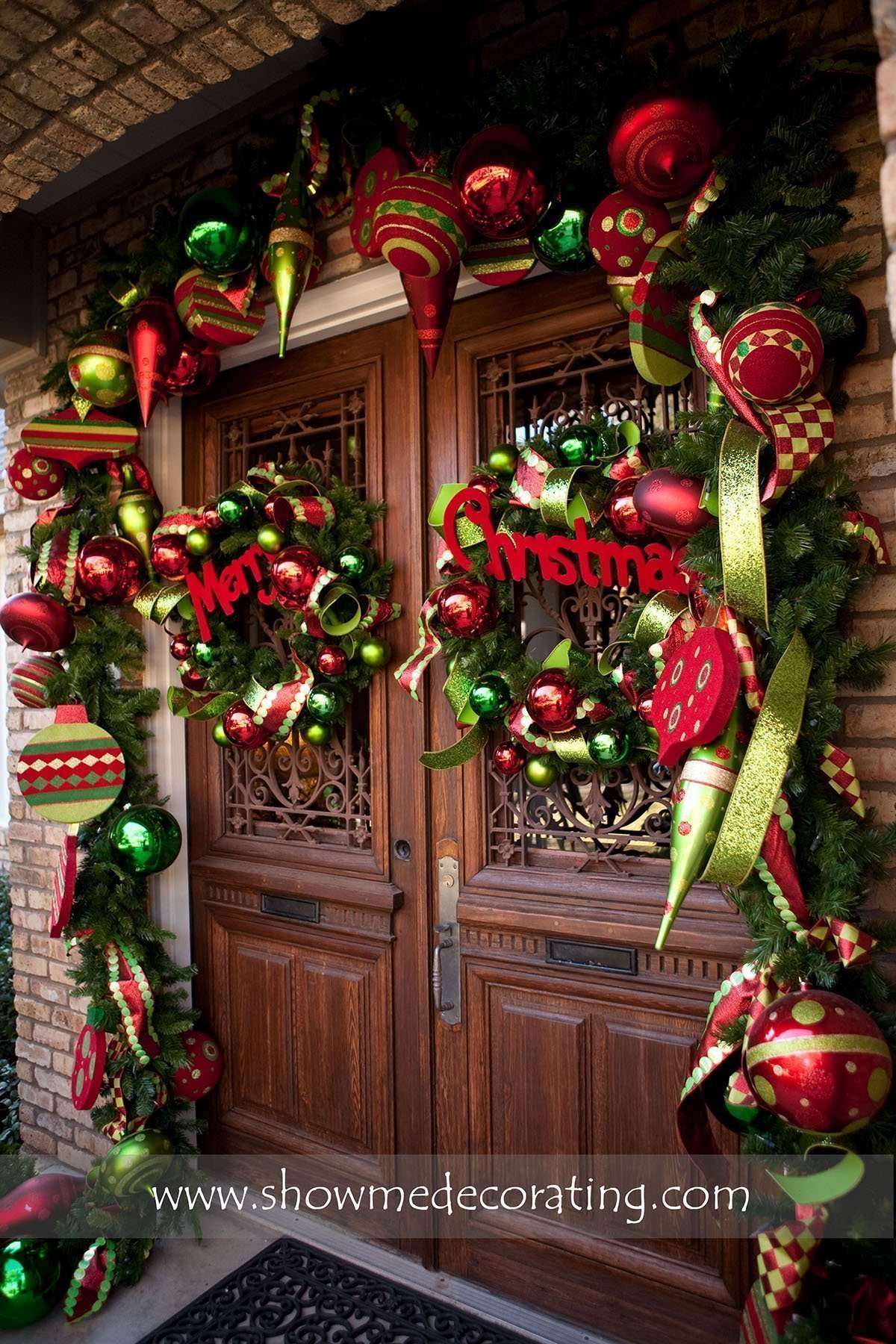 DIY Project Details: showmedecorating.com
Christmas Cheer radiates from this vivid, joyous holiday garland. This garland uses the traditional pine boughs as its base. Brightly colored green and red Christmas ornament bulbs, both round and tapered, shine and glitter among the rich dark green of the pine boughs. Wooden cut out mimic the shapes and colors of the other bulbs while adding edges for more interesting shapes for the eye to take in. A wide vivid red ribbon trimmed with over sized bight green sequins and a sparkling bight green glitter ribbon are loosely wound throughout the colorful chaos to tie the cheerful garland together.
25. Paper Lanterns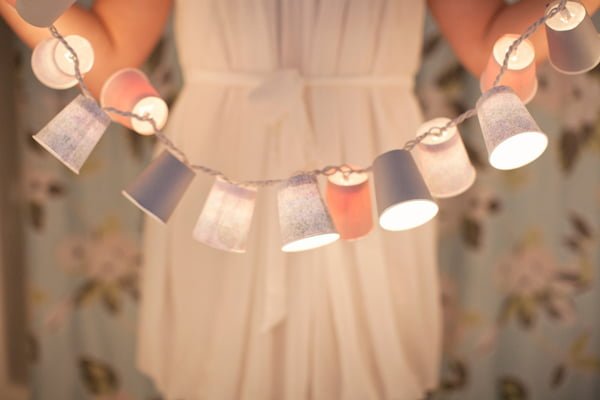 Source: The original source is not available anymore.
The warm soft light of a paper lantern is given off by this garland. The base of this garland is a plain string of white fairly lights with a white cord. Small plan white Dixie Cups are covered in beautiful decorative papers. Some are solid colored and others are prints. A "X" shaped cut is placed in the bottom of each Dixie cup so the paper cup can be slid over a fair light. This creates a sort of lampshade for each tiny light. The light shines through the color and printed papers on the cups to generate variances in the glow.
26. Naturally Fresh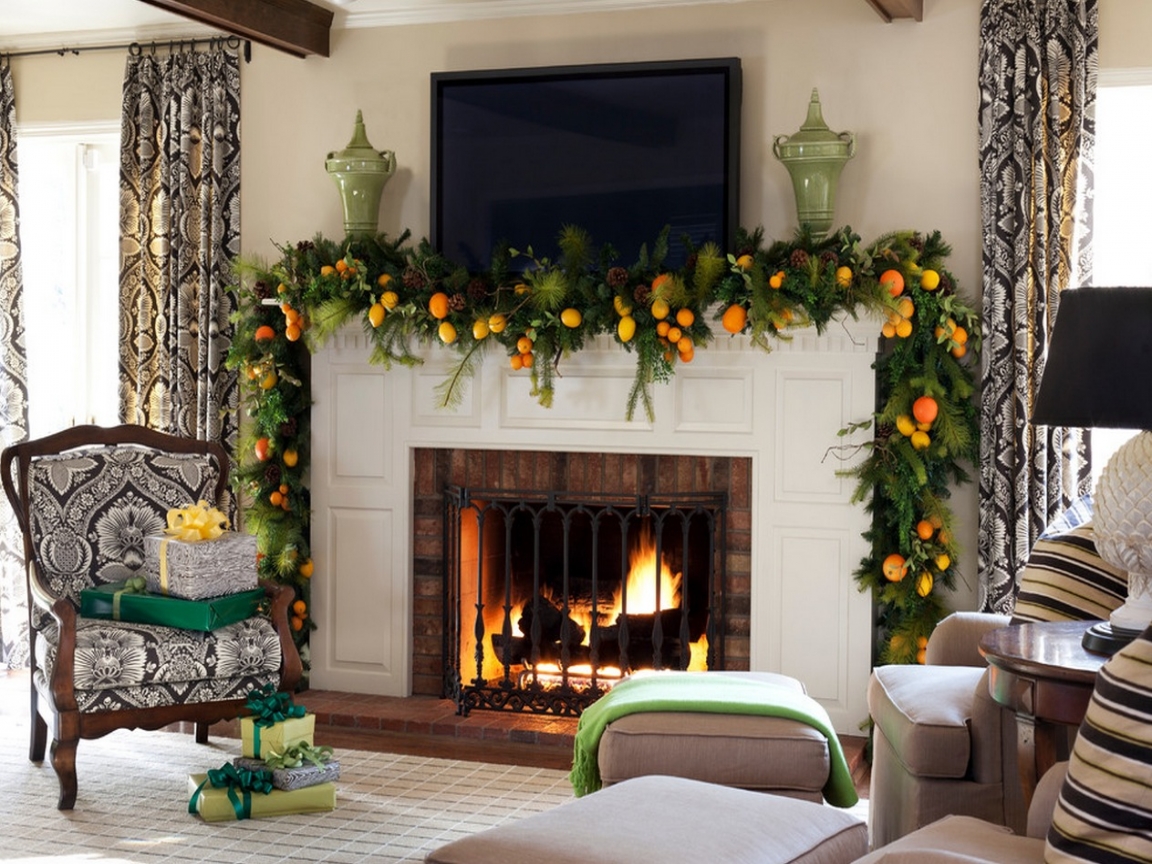 DIY Project Details: elledecor.com
Various kinds of pine and fir tree boughs are used together to creatively produce a lovely texted look as the base of this garland. Then in place of the more traditional accent decoration of Christmas ornament bulbs, different types of citrus fruits are used. The citrus fruits add a fresh clean look and scent to rich look and smell of pine and fir boughs. This garland is not only pleasing to the eye but it also keeps the room smelling fresh and pleasantly scented with the holiday spirit. This is a great way to keep your Christmas garland decorating completely natural.
27. Twinkling Burlap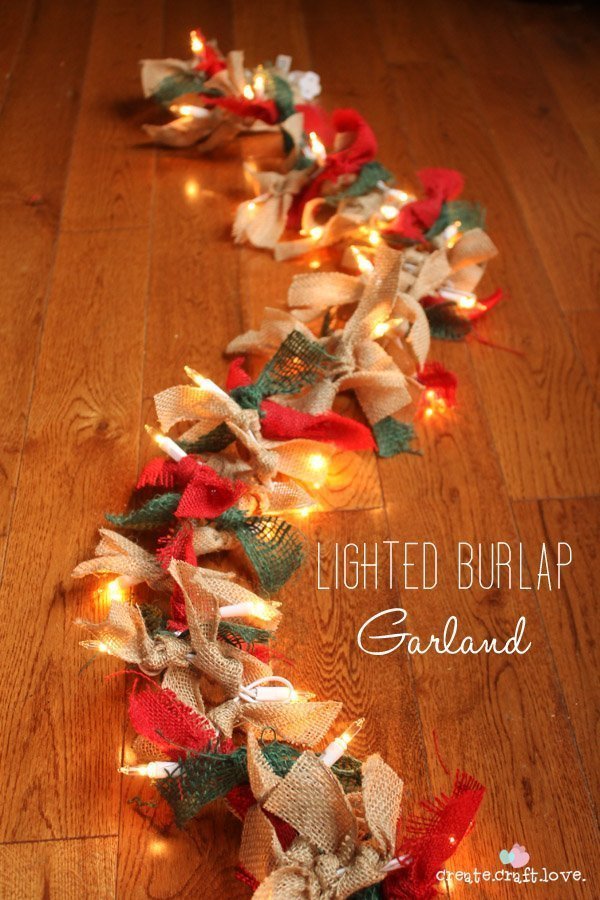 DIY Project Details: createcraftlove.com
The neutral color of the burlap strips are softly highlighted by the twinkle of fairly light producing an enchanting country garland. This garland uses natural, red, and green burlap cut into strips that are then tied around the cord of a string of white fairy lights. This is a simple and easy project to make but it is time consuming. So sit back with a nice cup of tea or coffee put a movie on and tie all of the little strips. The results are worth the time that is invested. It will create a amazing one of a kind Christmas garland decoration.
28. Cookies and Sugarplums
Source: The original source is not available anymore.
Visions of sugarplums danced in their heads and in this playful garland as well. Sugarplums along side of cookies and candy canes make this a garland of tasty treats. The cookies and candy canes are slightly stuffed felt cut outs that are stitched together. The sugarplums are brightly colored felt balls. All of the felt treats are strung to hang down from one long cord and are accented with ribbon bows. This is a fun garland that would be a great decoration for a kitchen where the baking is done or over the table where tasty treats are set out for a party.
30. Lighted Houses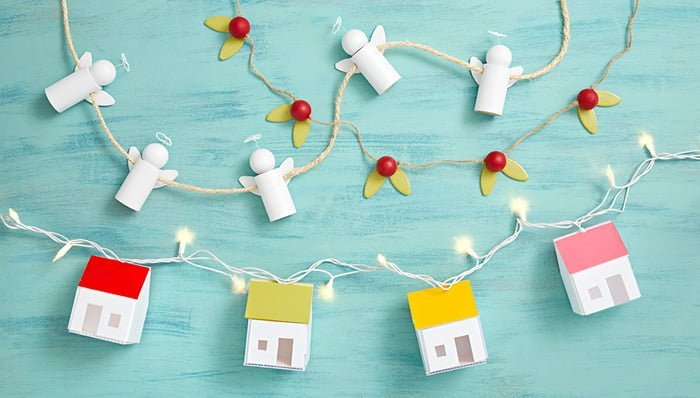 DIY Project Details: lowes.com
These cute little lighted houses strung between fairly lights are a lighthearted addition to the family's Christmas tree or a charming sight hanging in a window. These little houses are made of corrugated plastic with the roofs painted bright colors. Small holes are cut into the roofs to allow the little houses to slide over a fair light, creating the illusion that the lights are on inside of the house. The houses are only slid over every third fairy light to give the houses plenty of room to hang freely and so the light can illuminate the brightly painted roofs.
31. Brilliant Beads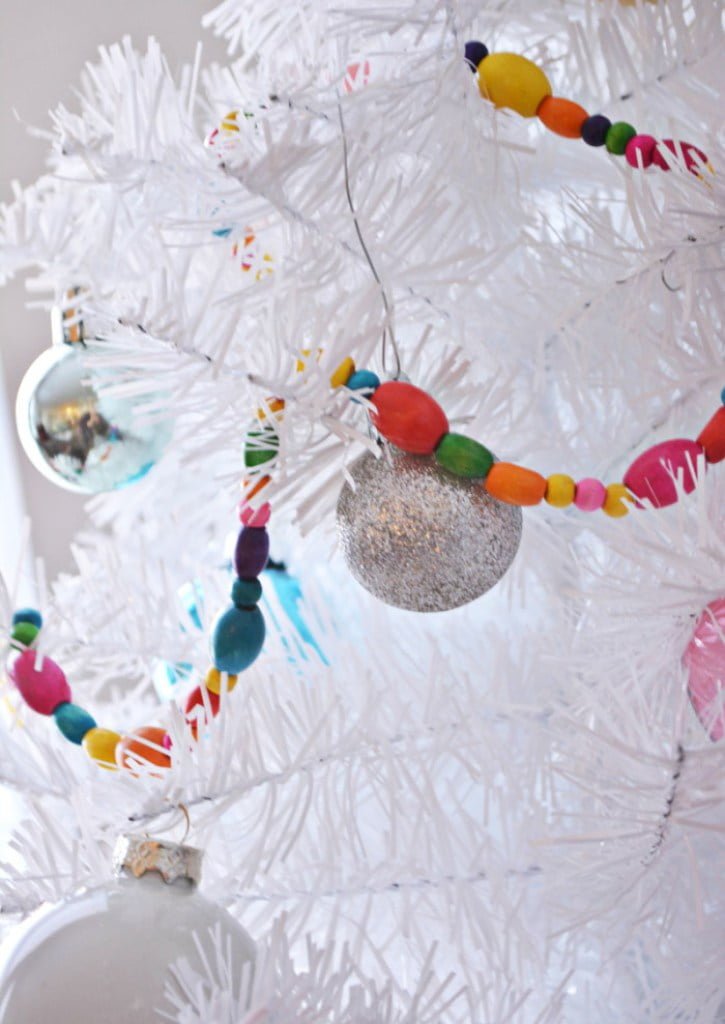 DIY Project Details: pinterest.com
Brilliantly colored wooden beads strung together make a straightforward Christmas garland decoration. This garland is just the right fit for the creative DIY Christmas crafter. Wooden beads of any shape and size can be painted in any number of colors and designs, glitter can even be added. The endless options means there are endless possibilities of how this garland can turn out. It's completely up to you. The wonderful part of this project is that it is still easy enough that the children will enjoy helping. These brilliant beads would look gorgeous decorating a Christmas tree or wound throughout a balsam pine garland.
32. White Leaves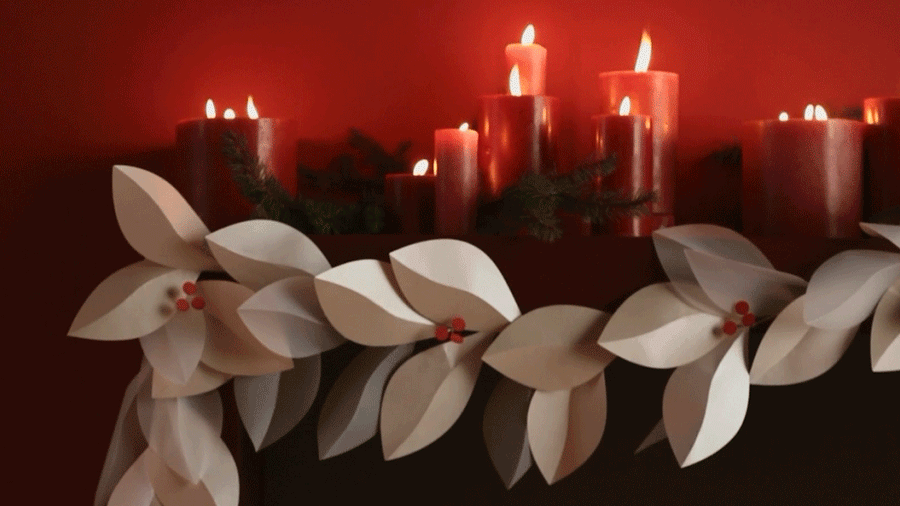 DIY Project Details: bhg.com
Stunning white leaves cascade over the edge of the mantel after flowing gently across it. These pristine white leaves will remain that way because they will never wilt, ever. They will never wilt because they are made of paper. More precisely, they are cut out of card stock and vellum using a template as a guide. Then the leaf cut outs are gently folded down the middle to give depth. Each neatly cut and folded leaf is hot glued to a string. As a final touch, red dots made with a hole punch are glued on as accenting berries.
33. Peppermint Chain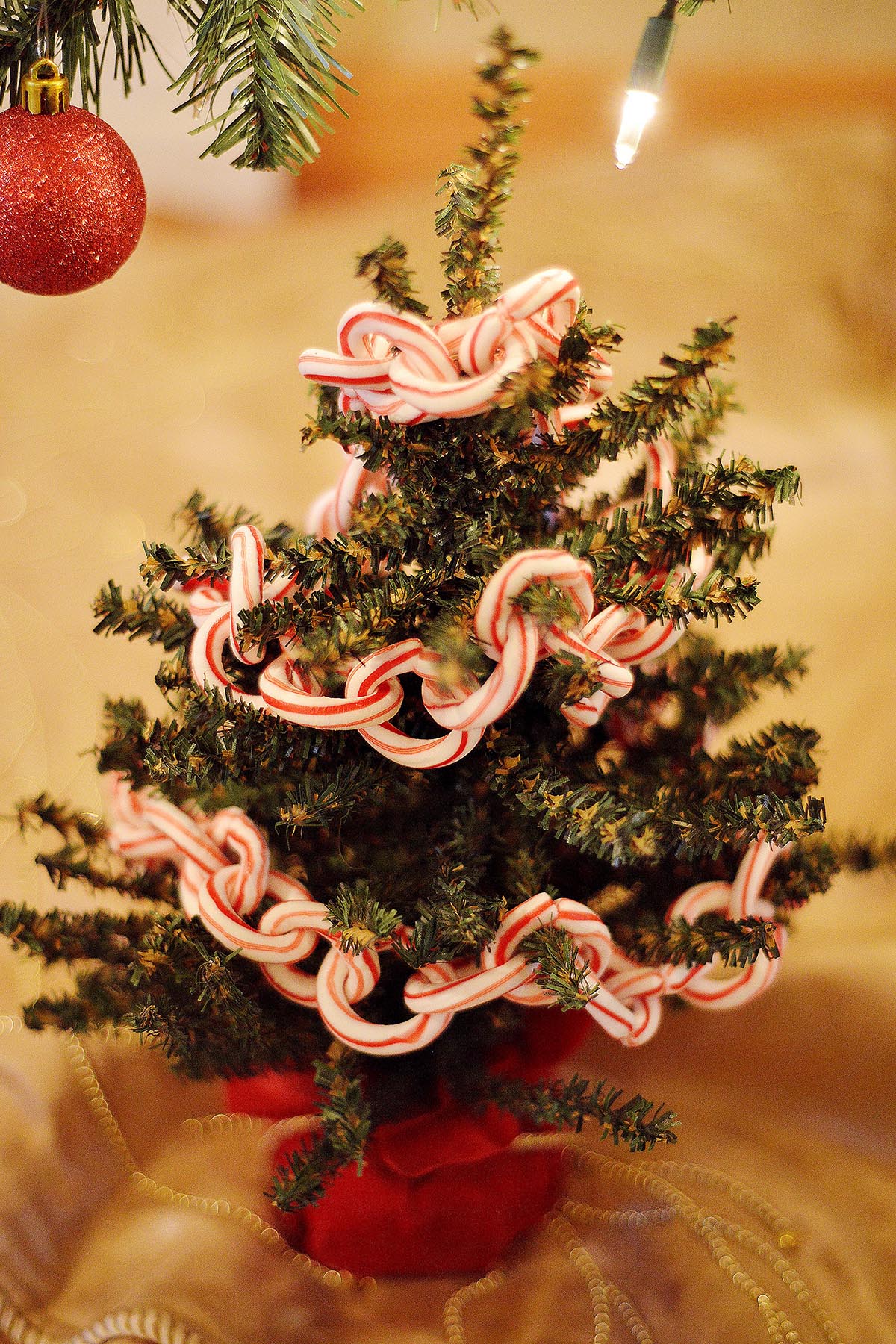 Source: The original source is not available anymore.
The Classic red and white strips of the candy cane are curved into a chain to create a pretty and tasty Christmas garland decoration. Be advised, this project maybe a challenge. Patients and precision are required to get it right. Mini candy canes are slightly heated in the oven enough to make them pliable. If they are heated too much they melt and if too little they will crack and break. Once at the right temperature, they are curved into the "C" shape of the chain. The red a white chain makes a pretty Christmas tree decoration. This holiday decor idea is not only pretty to look at, its also a tasty peppermint treat.
34. Bags of Christmas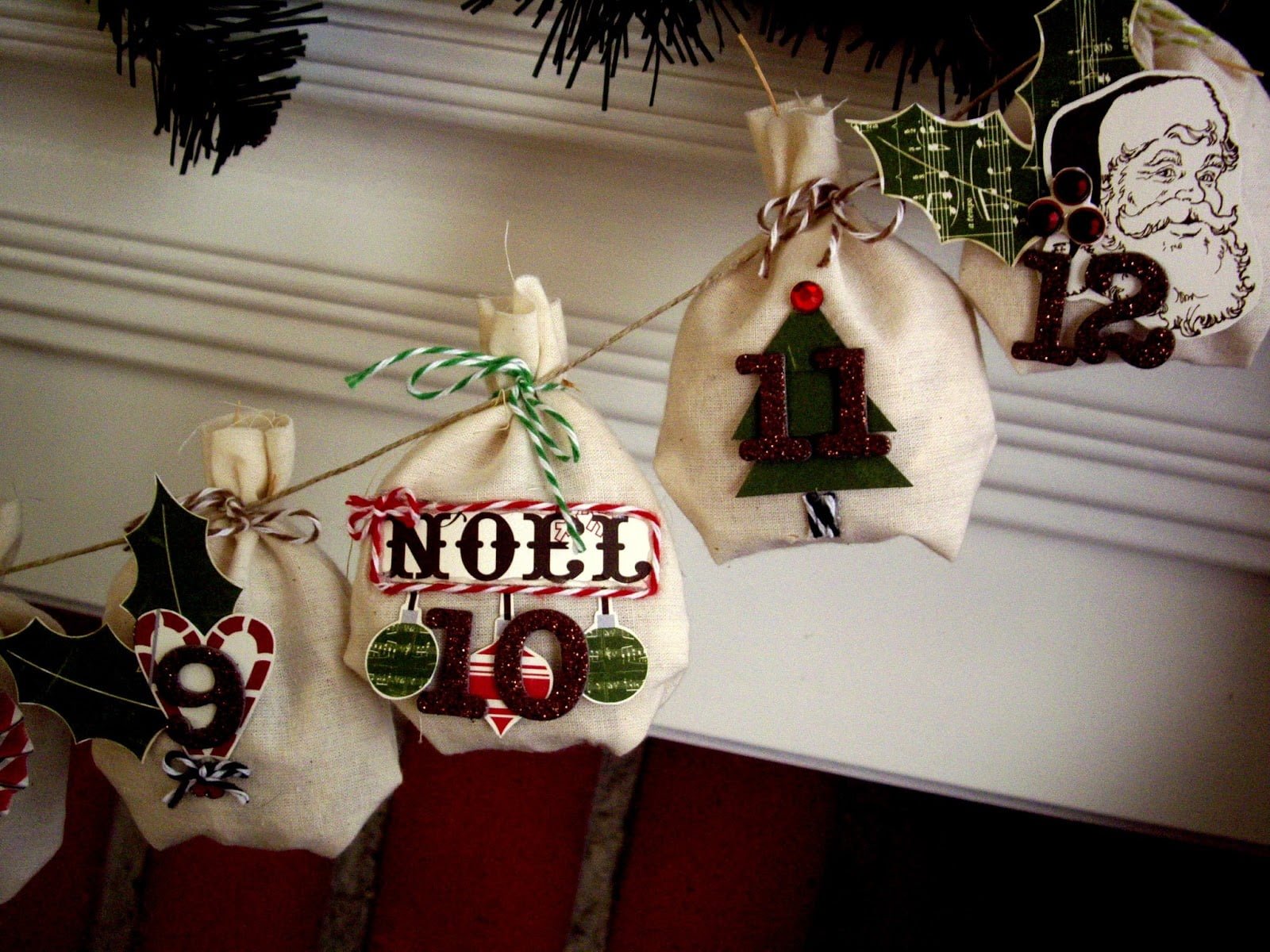 Source: The original source is not available anymore.
Adorable little cloth bags tied with bows are hung from a string that makes a Christmas garland decorating idea that is full of spirit and fun. Each little bag is decorated differently but incorporating some of the same elements so they are all long like they belong together. Pre-made scrap booking holiday decoration adorn the little bags along with several different decorative cords and twines are used as highlights. The adorable little bags are slightly stuffed to give the impression of being filled with tiny Christmas gifts. This garland of little bag would be perfect for decorating a wall or to hang on the Christmas tree.
35. Polka Dots On A String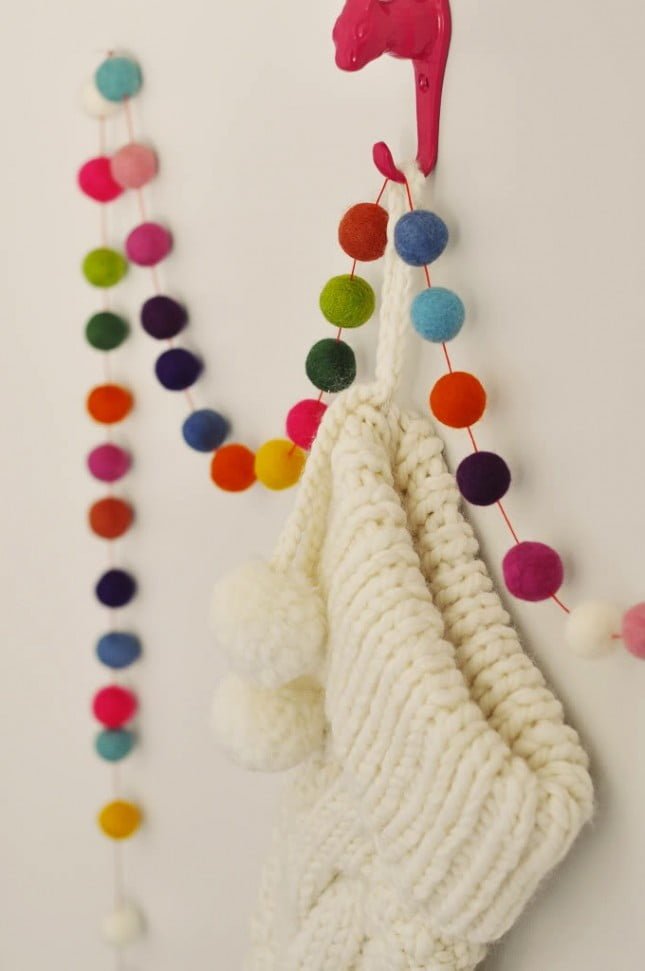 DIY Project Details: mysparkle.blogspot.com
Cheerfully colored polka dots on a string make a playful and fun decor idea. Felt balls, either bought pre-made or homemade, in multiple bright colors are threaded on a brightly colored string. If you can use a needle and thread, you can make this Christmas garland decoration. These cheery polka dots can be hung by themselves or in combination with white fairy light to create a brightly colored warm glow. Try all white felt balls in combination with colored fairly lights for a slightly different effect. This garland will add a splash of color to the Christmas tree but they also would be a lovely decoration for a child's room.
36. Glittering Diamonds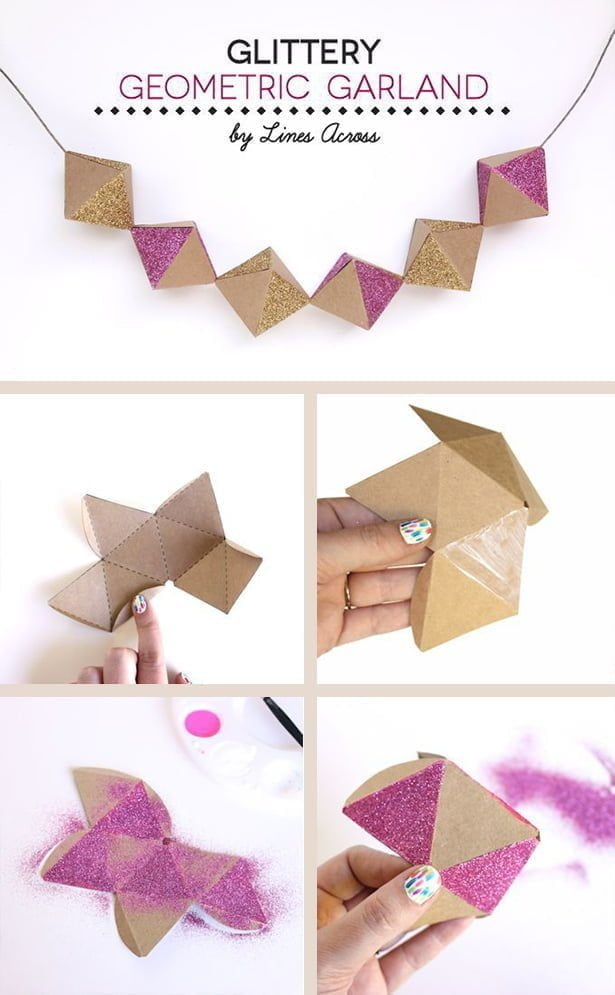 DIY Project Details: linesacross.com
Three dimensional paper diamonds are strung on twine and alternating sides of the paper diamonds are decorated with glider to create a unique sparkling decoration. Card stock and a template are used to make the paper diamonds. A dab of glue holds the folded paper in place. Then alternating sides of the diamonds are brushed with glue and dusted with glitter. These glittering diamonds can be used for nearly any occasion. They would add a lovely spark to a Christmas tree or anywhere you would hang a garland. By changing the color combinations of the paper and glitter these three dimensional paper diamonds can fit in nearly any decor.
37. Soft and Comforting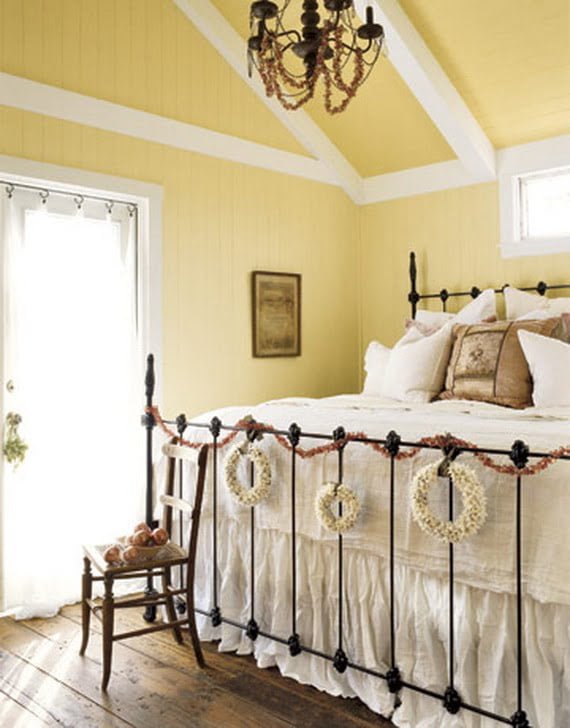 DIY Project Details: boredart.com
This DIY Christmas garland creates a warm, soft, and comforting feeling. Fabric pieces gathered around a central cord with the ends sticking out creates the illusion of many flower heads packed closely together. The fabric ends creates a gorgeous texture that makes you want to reach out and touch it. This garland could be made of any color or print of fabric to match your decor style. In this case it is made of fabric to match the bedding. To be use as a Christmas garland decoration, red and green fabrics possibly with white accents could be used. This is a garland that could be used in any setting.
38. Scandinavian Tradition
DIY Project Details: thehousethatlarsbuilt.com
This Scandinavian traditional garland uses varying shades of white to cream beads in various shapes and sizes interspaced with wooden sticks in the shape of a three dimensional diamonds. For families with Scandinavian ancestry, this is a simple and easy way to celebrate your heritage. This garland may also give you the chances to share your family history with your children. The light colors of this garland stand out nicely against the rich deep green of a Christmas tree or on a pine and fir bough garland. This garland has a gentle and natural look that makes a great decor idea for a traditional and old fashioned Christmas.
39. Old fashion Christmas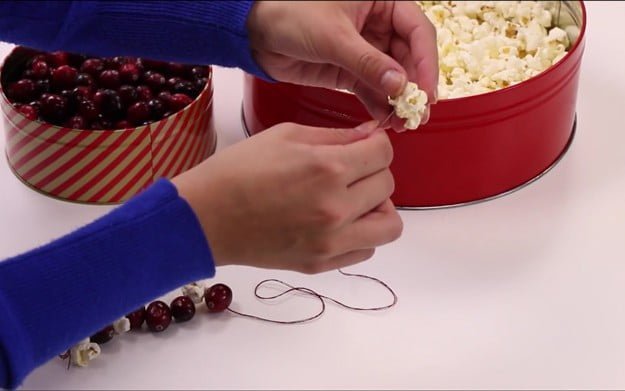 Source: The original source is not available anymore.
Deep red cranberries and fluffy white popcorn strung together is a holiday tradition that goes back many generations. This Christmas garland decoration reminds you of sitting with your grandparents in front of the fireplace making this popcorn and cranberry garland. All you need is a heavy needle and some strong tread or fishing line and start string the cranberries and popcorn. Any order and combination of the red and white make shift beads will do. This garland is ideal for a country style Christmas decor. Make this a Christmas tradition for your children and for generations to come.
40. Elegant Paper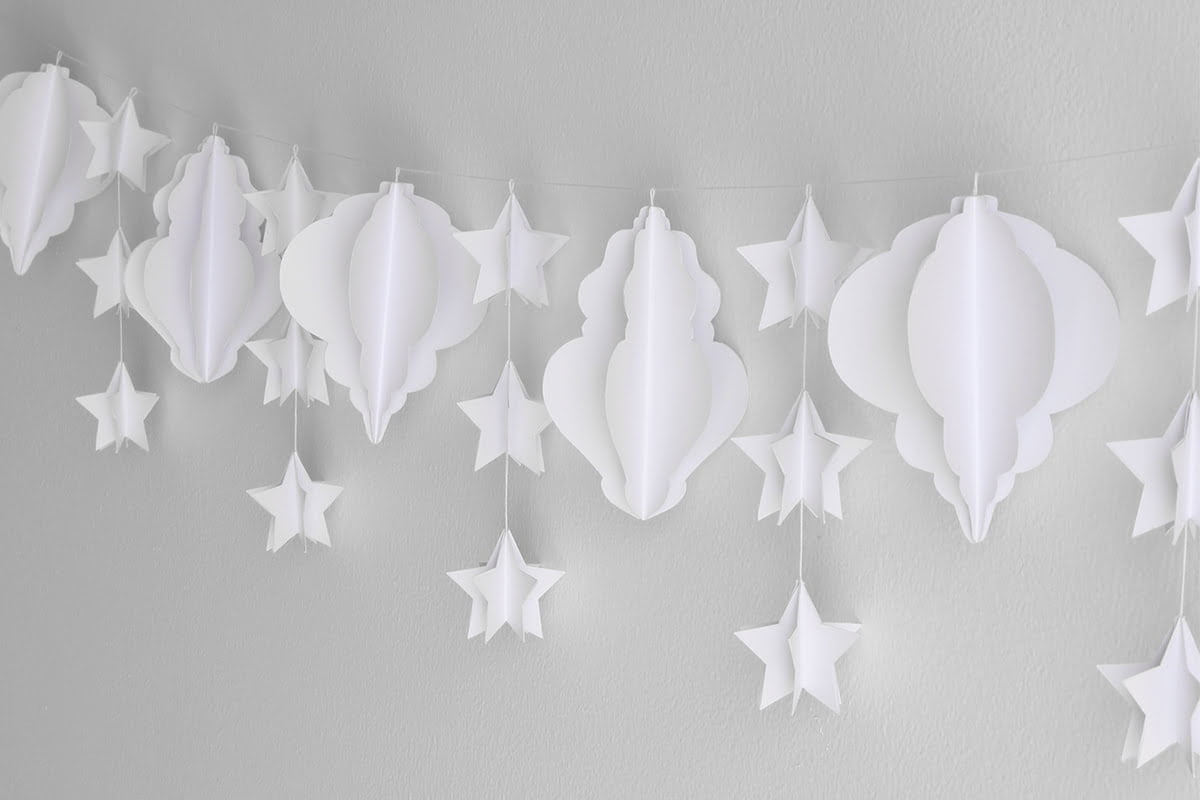 Source: The original source is not available anymore.
If your holiday decorating style is simple and elegant this beautiful paper garland will fit right in to your decor ideas. Its made in a similar way to the cut out snowflakes you made when you were a kid except your cutting large pieces out to make solid decorations instead of small pieces to make lacy flakes. Start with crisp white paper folded in half and cut out the design. Then glue four of the cut outs together with a string to hang it from, in the middle to create a three dimensional shape. The all white look of this garland lends itself to an elegant design. The shape and design options are endless. Colored paper can be used to give a more vibrant look to this elegant paper garland.
41. Harmonious Chaos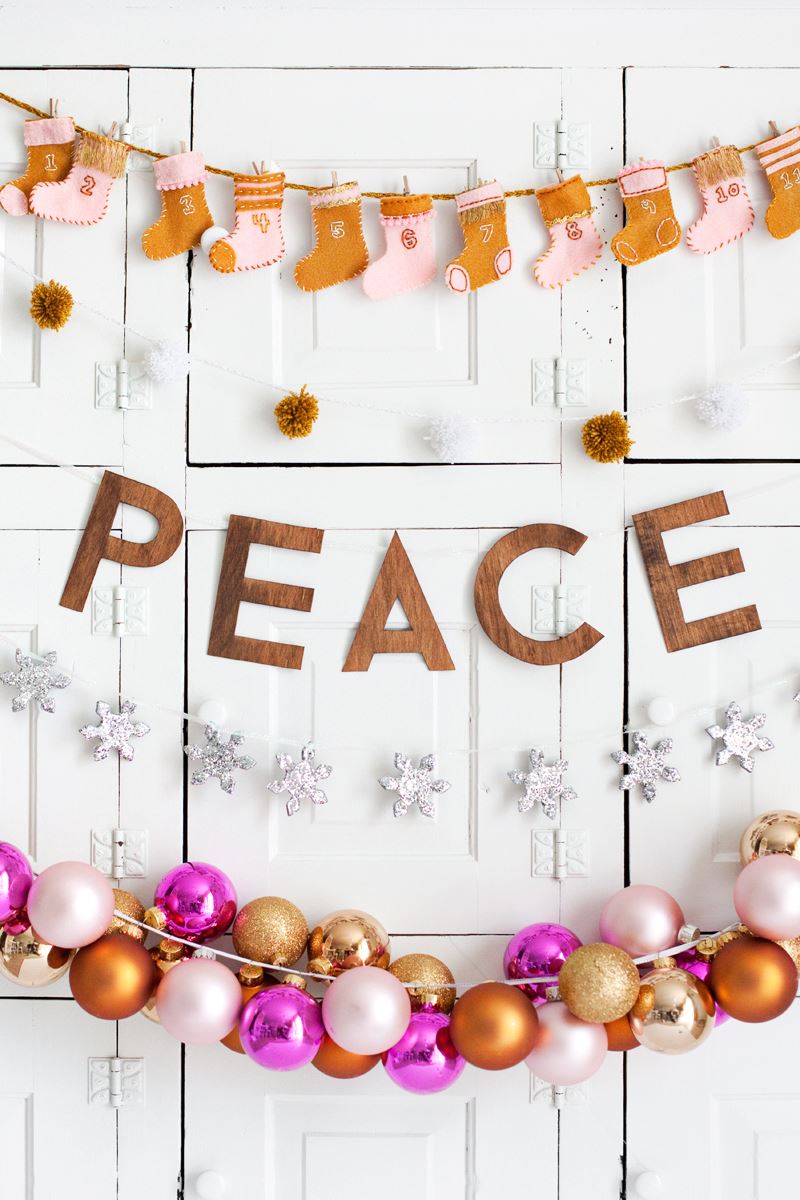 Source: The original source is not available anymore.
Chaos of color and texture is brought together harmoniously in this Christmas garland decorating combination. Five different garlands are used together to make this look. At the top, felt stockings hang in shades of white, orange, and brown. Next, is a simple string of white and brown yarn pompoms. In the middle, are large letters spelling out "Peace" in a lovely wood grain. Just below that, silver sparkling snowflakes dangle. At the bottom, hangs a string of pearl style garland containing orange, white, gold, and purple Christmas ornament bulbs. The colors used throughout all five garlands complement and tie the chaos of the variety of the different styles of garland.
42. Simple Style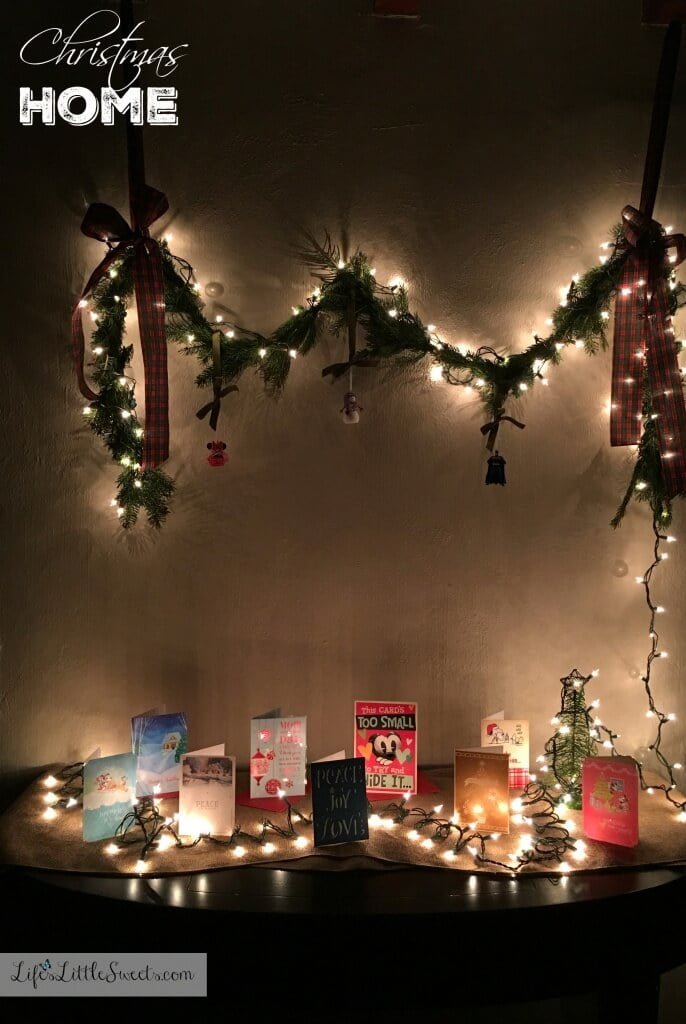 DIY Project Details: lifeslittlesweets.com
Christmas garland decorating is easier than you think with this simple style garland. A pine bough is the base of this decoration. It is tied in three places with red plaid ribbons. The two lowest points of the pine garland and the center point under the middle bow are hung three playful and cute Christmas ornaments. Twinkling white fairy lights are wound throughout the pine boughs with the extra long end pooled on the table set beneath the garland. This design creates an ideal setting to display holiday cards or use the table to hold snacks for a holiday party.
43. Scrapbooking Garland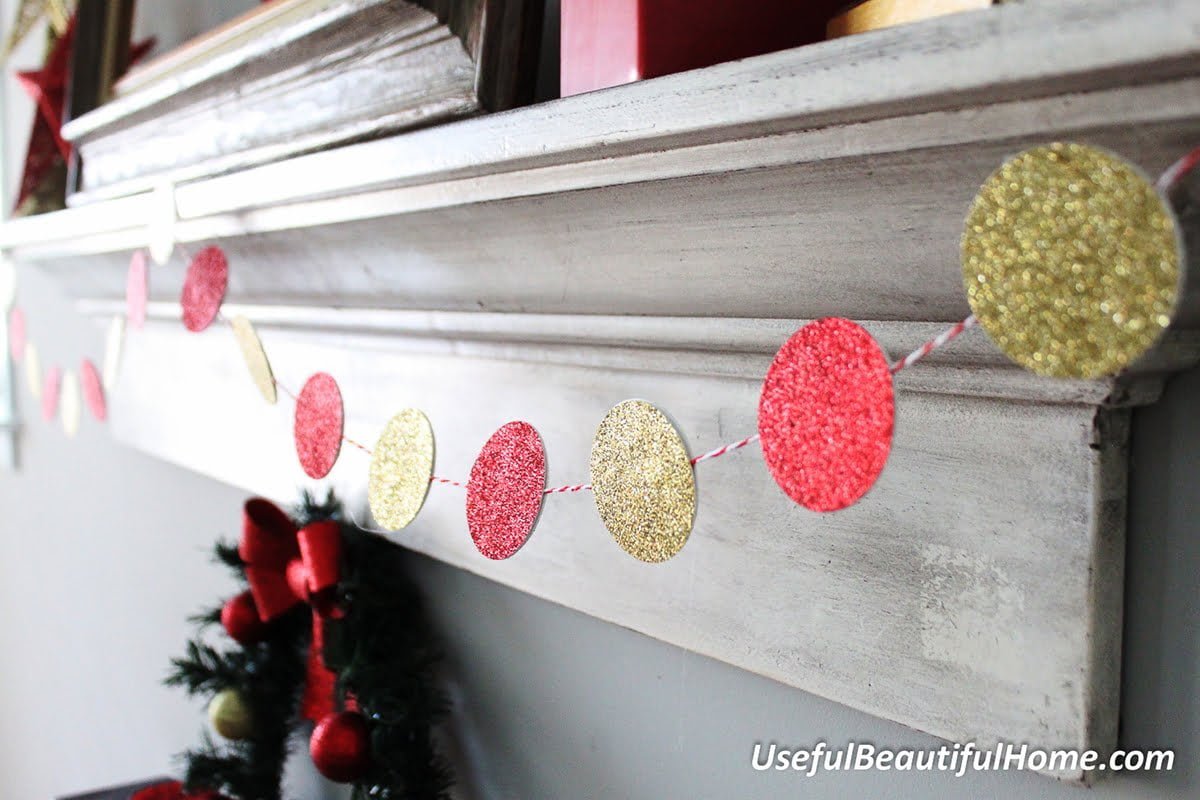 DIY Project Details: usefulbeautifulhome.com
Red and gold paper circles shimmer and shine hung from a red and white string under the mantel piece. This is a scrapbookers Christmas garland decorating style. It uses red and gold shimmering and sparkling scrapbook paper. Then using a hole punch or drawing with a template and cutting out with scissors, cut circles out of the sparkling paper. Two of the circles are glued back to back with the red and white string running through the middle of them making sure to leave equal spaces between each set of circles creating a beautiful splash of color with this simple and easy scrapbooking garland.
44. Gingerbread Joy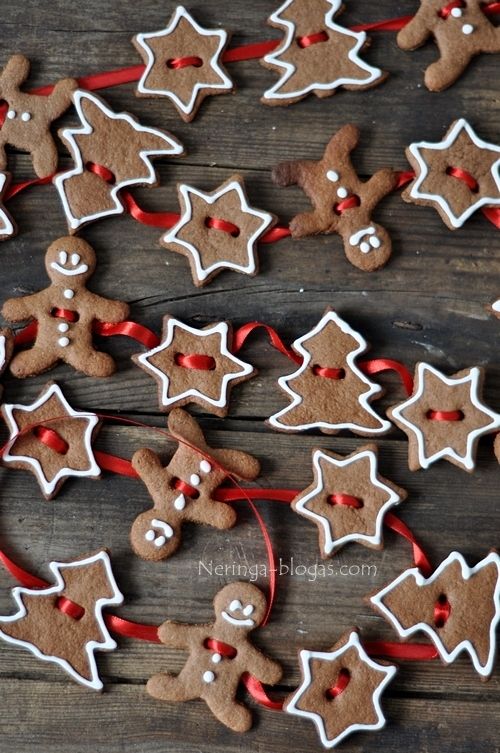 DIY Project Details: neringa-blogas.com
Joy radiates from these adorable gingerbread men and cut-out cookies. From the sweet frosting smiles of the gingerbread men to the lovely red ribbon they are strung on, this Christmas garland decorating idea that proclaims joy and comfort. It's charming gingerbread men and cut out cookies has two holes pierced in it before baking so that the red ribbon can be threaded through it like a buttonhole. After baking, each cookie is then decorated with a white frosting trim. This white accent helps the dark brown cookie and the red ribbon to pop out more. This joyous gingerbread garland is a baker's dream and a Christmas classic.
45. Jingle All The Way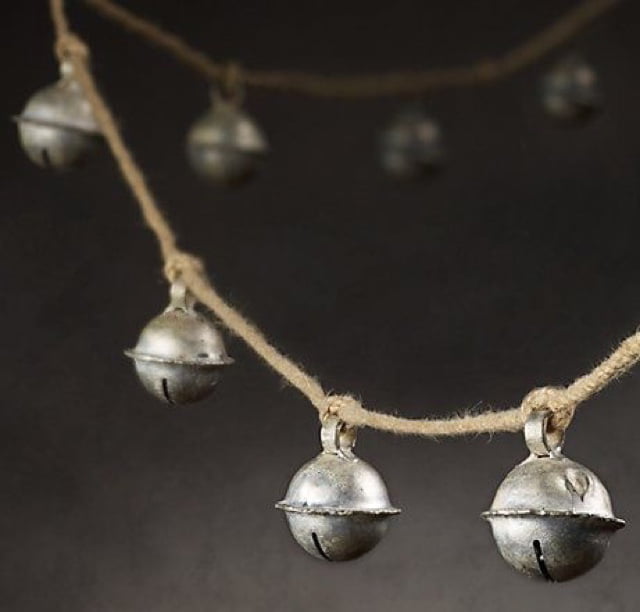 Source: The original source is not available anymore.
The bright and cheerful tinkling of jingle bells will have young and old alike thinking of Santa's sleigh. Rustic pewter bells are hung from a rough peace of twine to create this Christmas garland decoration. Hang this garland on your tree, around a door or window, from your mantel place, or anywhere you like and it will have your decor jingling all the way. When a breeze catches it or a door opens the soft tinkling of the jingle bells will add cheer to your holidays. This jingle bell garland is the perfect Style to fit in with a comfortable country or shabby chic decor ideas.
46. Pretty in Pink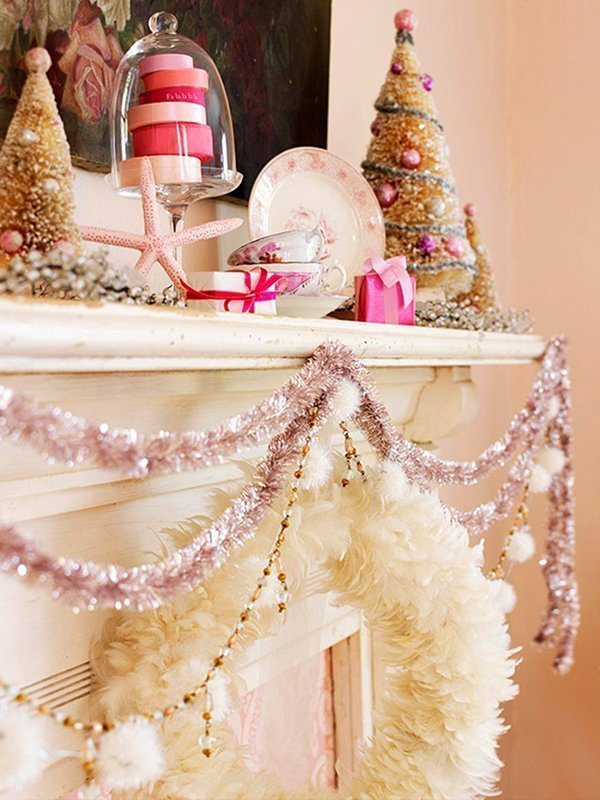 Source: The original source is not available anymore.
Two pretty sparkling pink tensile garlands ascended with a string of gold and clear crystal beads and a sting of fluffy sparkling white pompoms hanging in echoing drapes, each a bit lower than the last garland. This fun and and feminine Christmas garland decoration as a splash of nontraditional color to your holiday decor. The unique pink color makes a fashion statement your friends will envy. And it's easy to make. All the garlands are pre-made store bought items. The creativity comes in, in how you use them together. It is a great shabby chic decor style.
47. Bulbs and Bows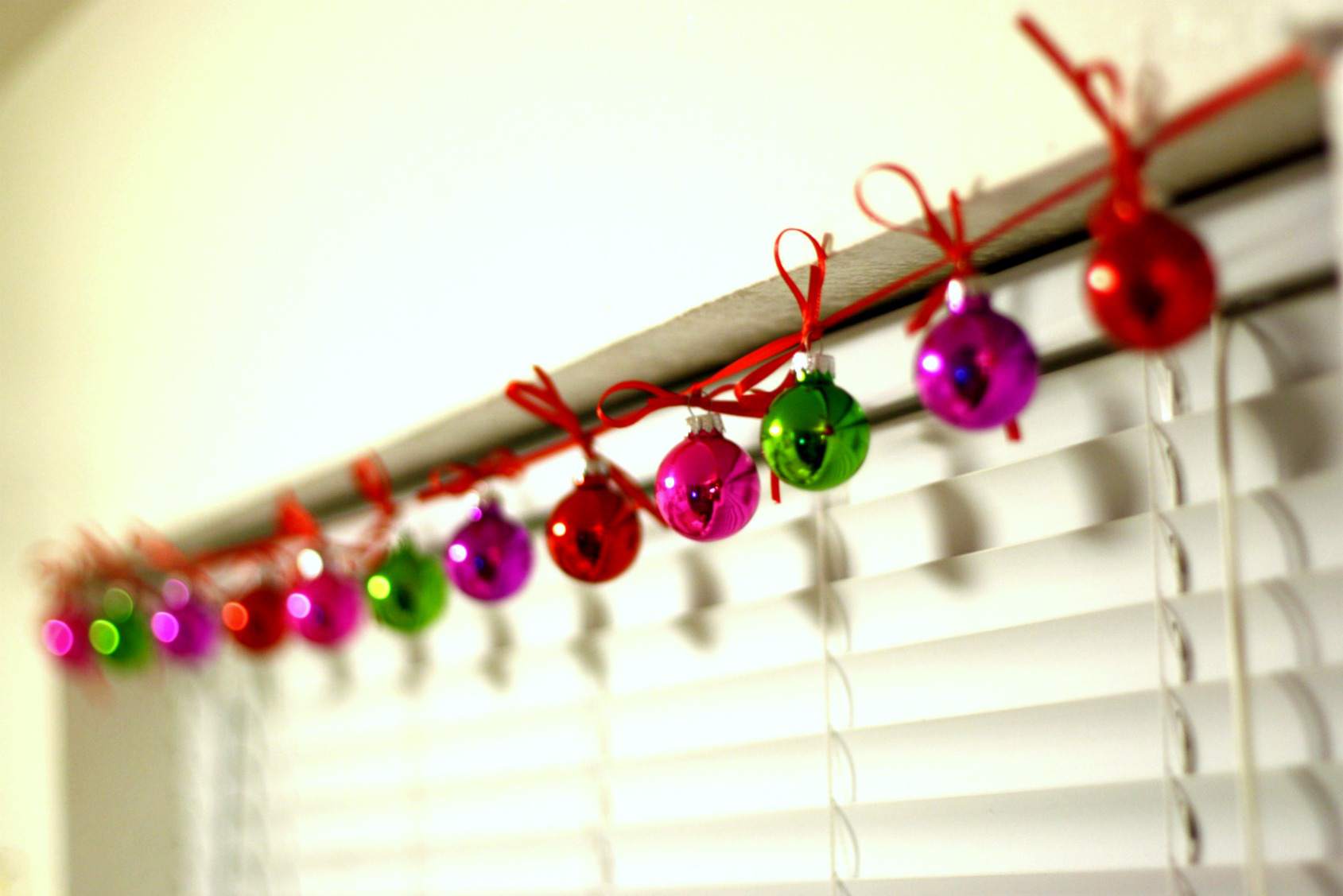 DIY Project Details: lacelebracion.com
Do you ever have extra holiday ornament bulbs left laying around that you wish you knew what to do with? This DIY Christmas garland is a perfect way to put those ornament bulbs to good use. The brightly colored bulbs are tied to a red ribbon with little red bows. The ornament bulbs are evenly spaced and hung in a repeating pattern of color. This project is simple and easy enough that the whole family can help. With the easy charm of these ornament bulbs and pretty red bows this garland will become a new Christmas classic.
48. Orange Spice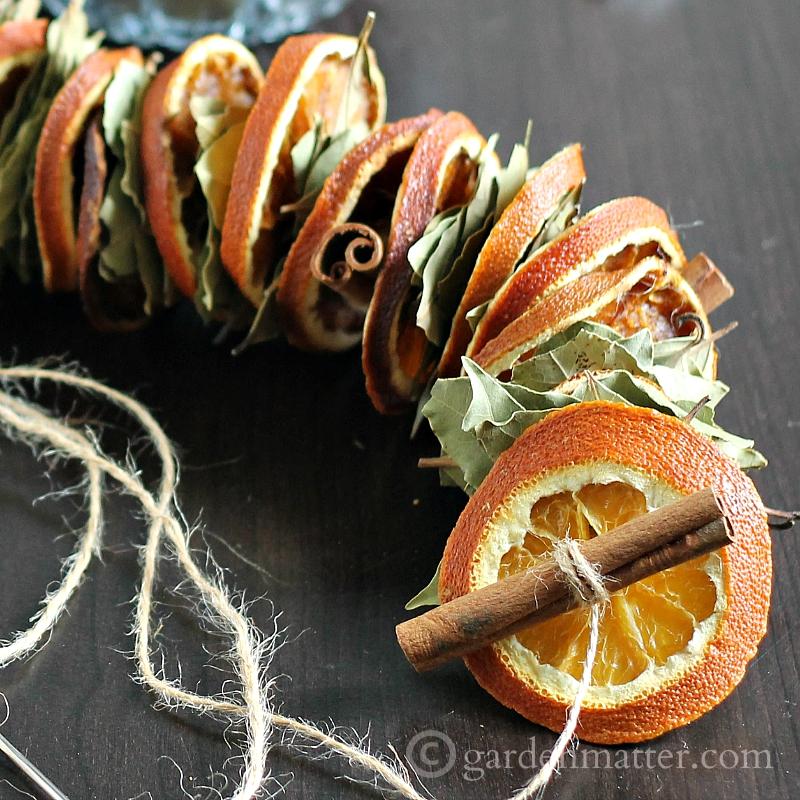 DIY Project Details: gardenmatter.com
This naturally lovely Christmas garland decoration is just as pleasantly smelling as it is to look at. Dried orange slices, whole bay leaves, and cinnamon sticks are strung together on a sturdy piece of twine. This project is a bit more time consuming then some of the others. The orange slices are baked in the oven for 4 hours and then are left out to finish drying overnight before they can be strung together with the other ingredients. The oranges need to be completely dry so they don't rot. The end result is well worth the time. This orange spice garland is a natural beauty.
49. Wonderful Wood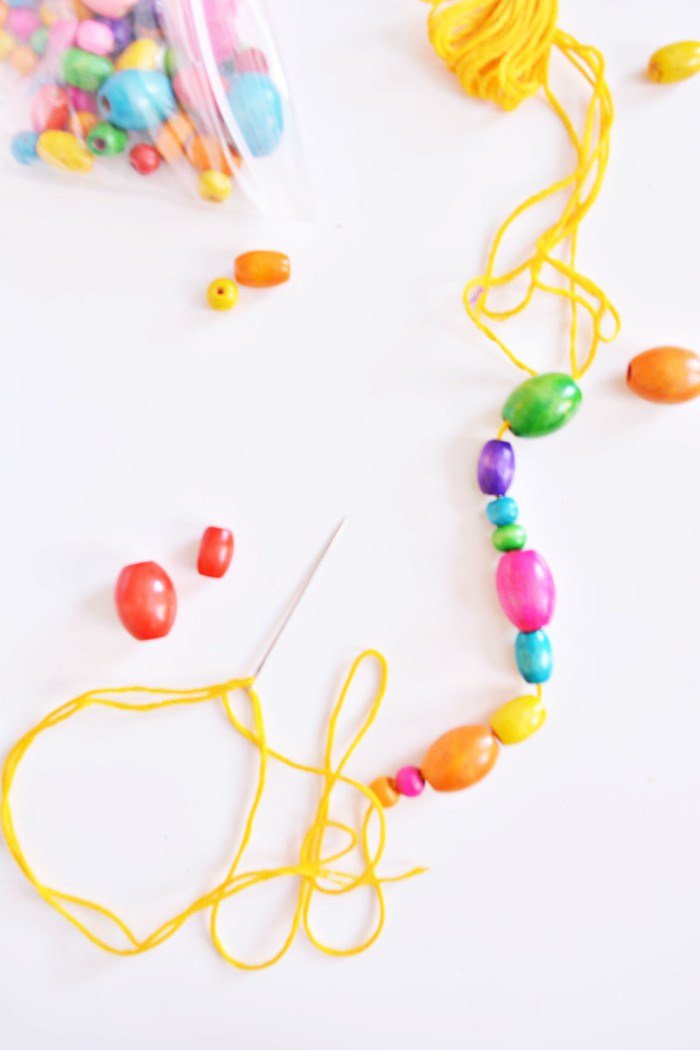 DIY Project Details: ajoyfulriot.com
Whether they are a riot of colors or subtle shades of wood grain, wooden beads make a lovely holiday decoration. A string of multi-sized wooden beads is a fun and easy way to enhance your decor. Brilliantly bright multiple colored beads add a splash of fun. Red and green alternating beads with a contrasting natural wood bead are a more traditional Christmas garland. The possibilities of color combinations are endless. This project is easy; all that is requires is that you thread the beads onto a string. A garland of wooden beads makes for a DIY Christmas project that is fun and easy.
50. Two of a Kind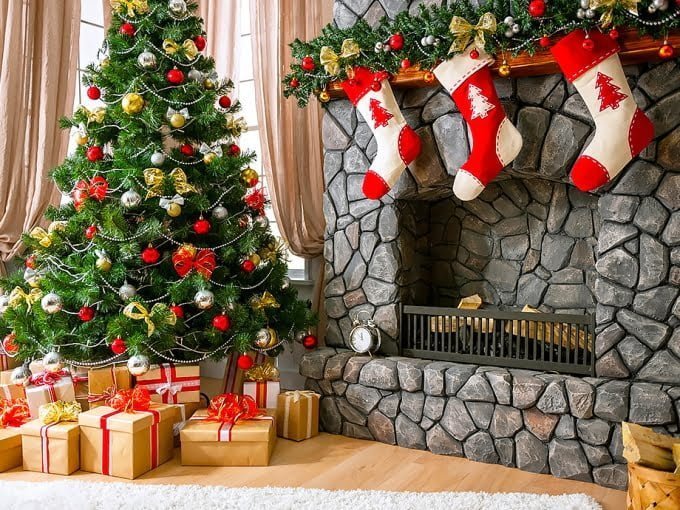 DIY Project Details: founterior.com
You have your lovely evergreen Christmas tree perfectly decorated with strings of beads, matching ornament bulbs, and ruffle bows. Now what to do with your mantel? That's an easy answer. Drape it in evergreen garland, the same kind as your tree. And decorate to match your perfect Christmas tree. Make your mantel and your Christmas tree two of a kind. Of course there will be some differences, such as your tree topper and the stockings hung from your mantel, but the matching elements will complete the whole look of the room. You can also carry the decorating style over into any other garlands you have, to tie all of your holiday decor together.