Deck the halls with boughs of holly will soon be playing on the radio, along with many more Christmas songs. It is time to think about your holiday decor ideas and make a plan. Garlands are a perfect way to deck your halls, or wall, or mantles, or entry ways, or any number of things in your home. Please do not only think of a garland as just those cheap sparkly things.
Deck the halls with DIY Garlands

1. Classically Welcoming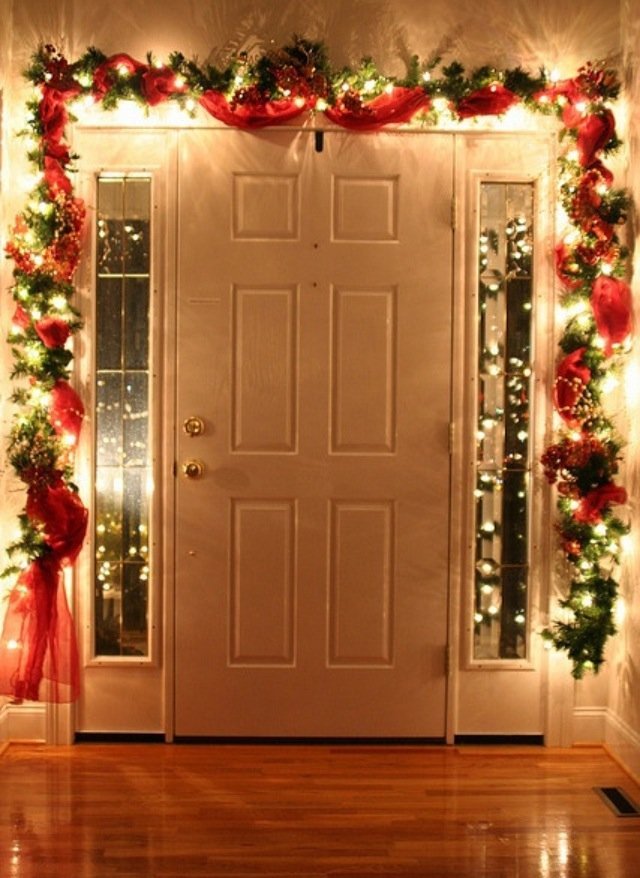 DIY Project Details: flickr.com
A Christmas garland decoration of pine branches, real or artificial, draped with red ribbon and highlighted with white fairy lights, is a classically beautiful and charming way to welcome holiday guests. Keeping this DIY Christmas decor simple is the trick. A few creative touches to enhance the green and red are all you need, such as a few clusters of pearl beads and a couple sparkly bows. The fairy lights add the warm and comfort of candle lighting without the danger of open fire. This classy garland is a simple and elegant Christmas decor idea that will add holiday spirit to any setting.
2. Country Charm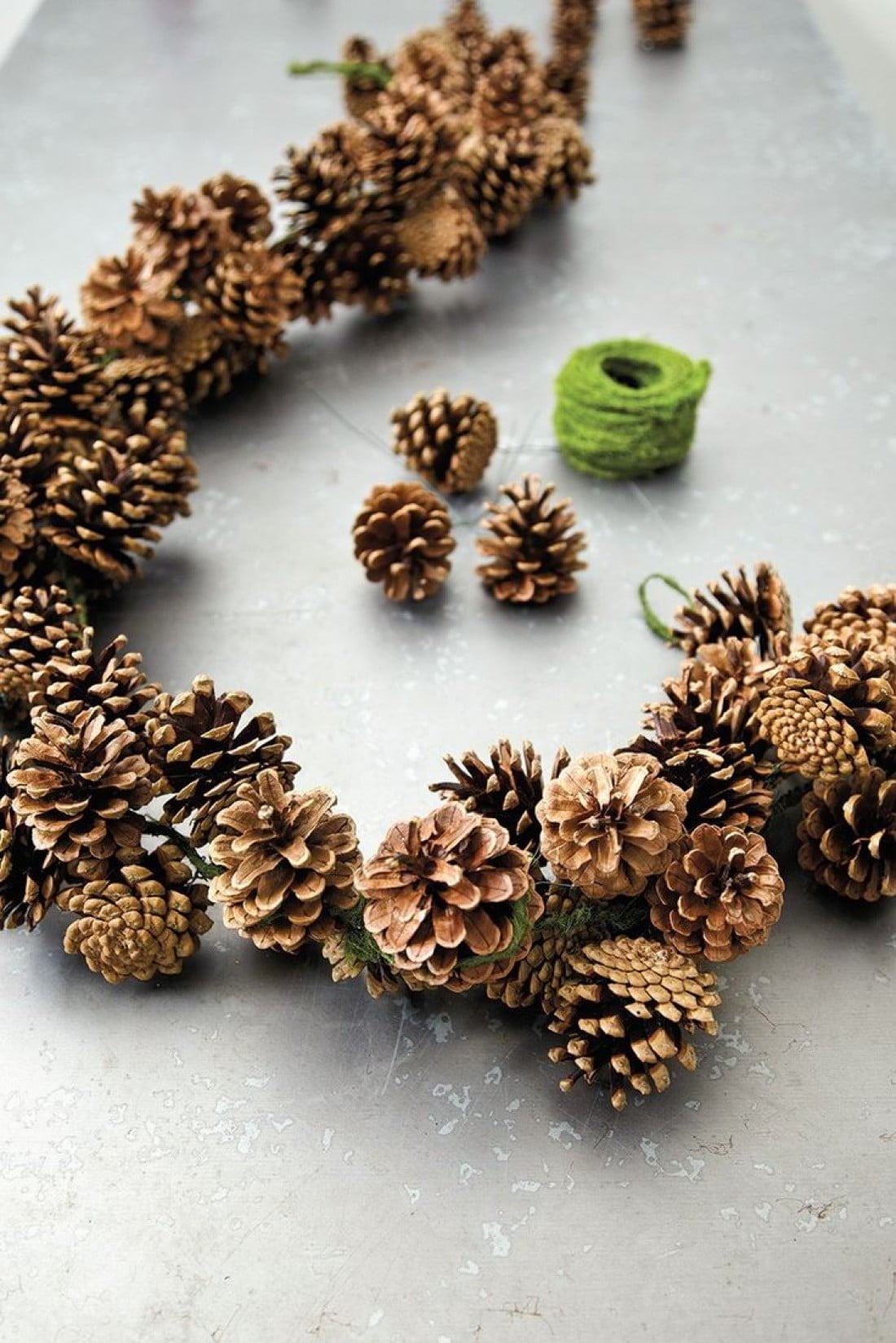 DIY Project Details: howtodecorate.com
Creative decorating with a pine cone DIY Christmas garland adds country charm to your holiday gatherings. This DIY Christmas project gives you many creative options. Small or large pine cones, or a combination of both will create many beautiful Christmas garland decoration possibilities. Changing the string or ribbon the pine cones are tied to can completely change the look. This Christmas decor will fit in any space need because the pine cones can be strung on any size string and wound around any shape your imagination can come up with. Pine cones give a pleasing rustic country charm to your Christmas decor.
3. Fun and Simple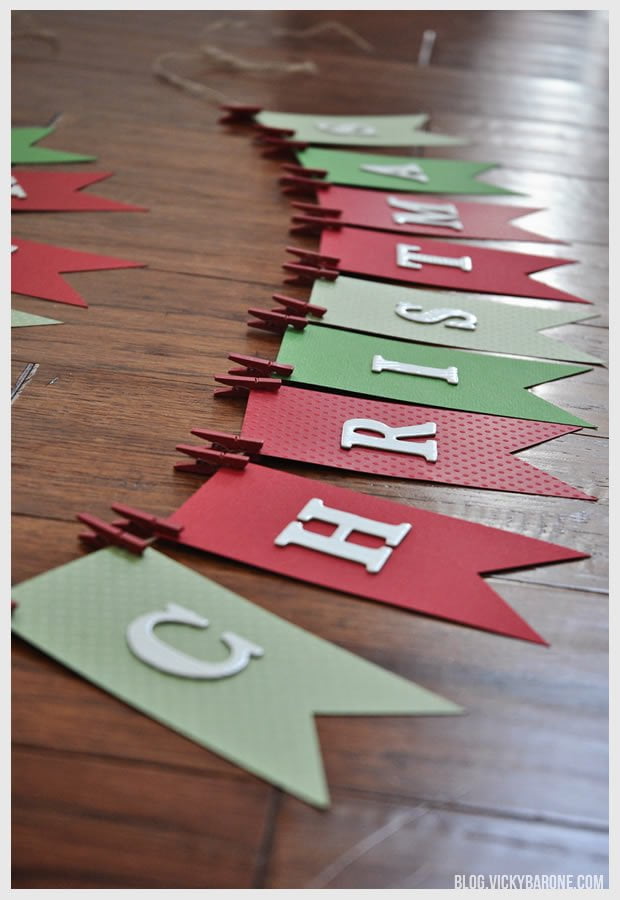 DIY Project Details: blog.vickybarone.com
This fun and simple Christmas garland decorating idea wishes your family and guests a Merry Christmas. With five simple materials, red and green paper, adhesive letters, scissors, mini clothes pins, and twine, you can create this fun and delightful message garland. This garland is perfect for bring holiday cheer to a class room, bulletin board, or any open wall. The back ground colors can be coordinated to complement any decor ideas. The lettering and color scheme also can be customized to celebrate any occasion not just Christmas. That makes this decor idea an attractive decoration for Christmas or any time of the year.
4. Creative Crocheting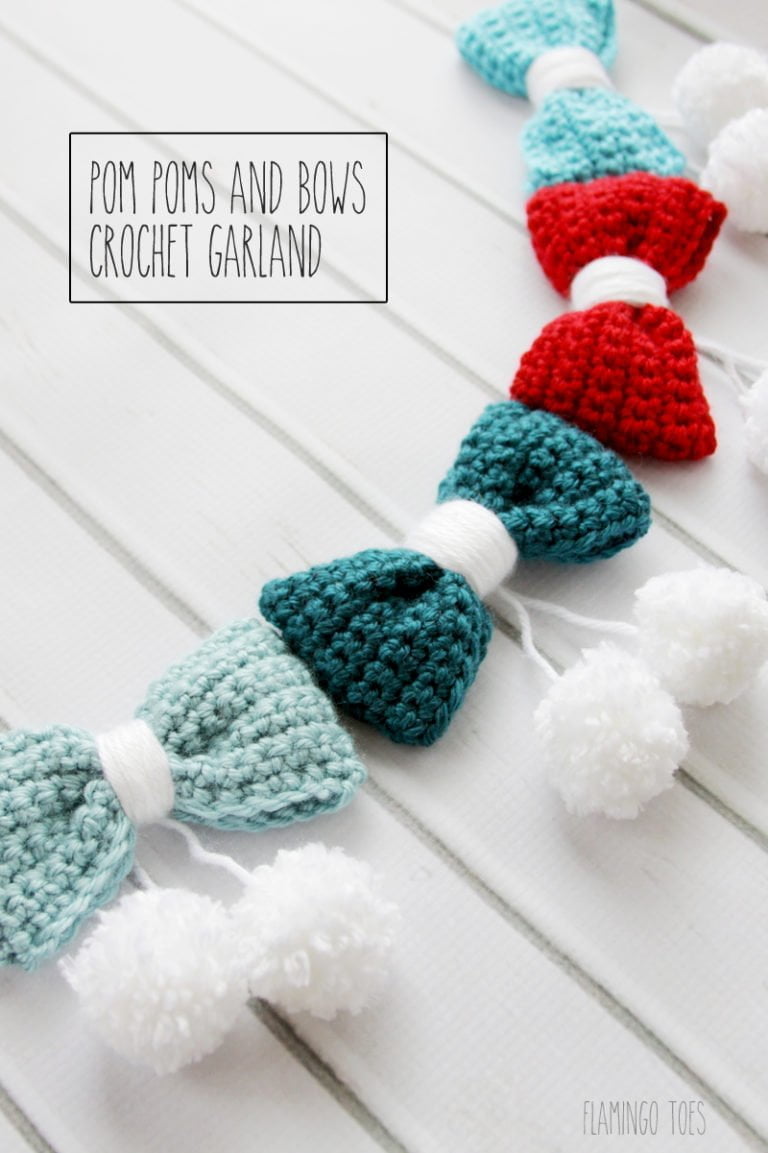 DIY Project Details: flamingotoes.com
Christmas garland decorating for the yarn loving crocheter makes this DIY Christmas project a perfect fit. A chain made of brightly colored yarn bows tied with pompoms is a beautiful addition to any holiday decor ideas. This Christmas garland decoration requires some skill in crocheting to make, although it is an easy project for those who know the basics of crocheting. It is shown in blues and red with white pompoms, but any colors that fit in with your decor ideas will work ideally.. This is another project that is not restricted to only the holidays. It can be made in any color to decorate for any occasion. But for the crocheter, it is a fun holiday project.
5. Holiday Spice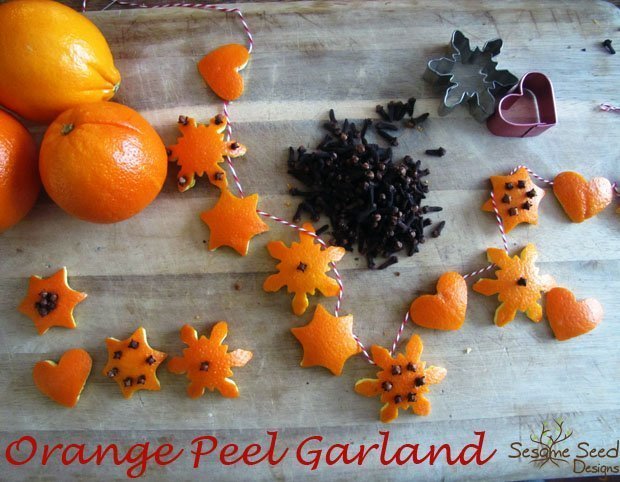 DIY Project Details: sesameseeddesigns.com
Christmas garland decorating just got deliciously fragrant. Who knew that orange peels studded with cloves and strung would make such a lovely holiday garland? This creative decor idea uses orange peels cut with cookie cutters to create holiday charm. Any shape cookie cutter will work, so the designs are only limited by your imagination and the available cookie cutters. Accenting the orange peel cutouts with cloves fills the room with a delicious holiday spice smell. Other citrus fruit peels would work as well and would add more delicious accents to the holiday fragrance. Combining this holiday spice garland with fairy lights would be another option for you DIY Christmas decorating.
6. Golden Holiday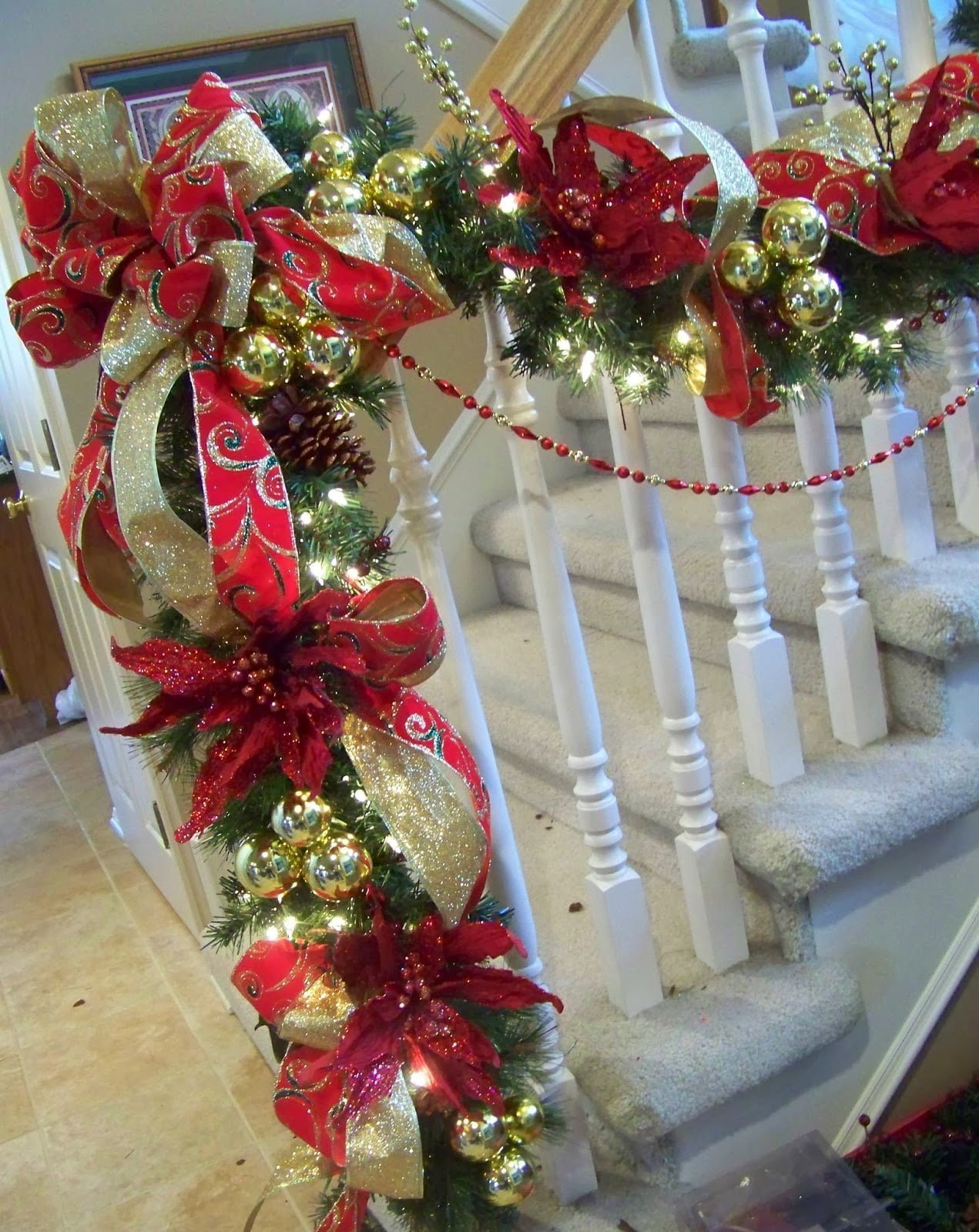 DIY Project Details: creativelessonsfrommyheart.blogspot.com
This richly golden twist on the classic pine boughs garland is an elegantly gorgeous Christmas garland decoration. Its base is the classic pine boughs with pine cones that are laced throughout with twinkling white fairly lights. Then rich over sized red and gold ribbon bows are add to begin creating the holiday decor. Clusters of gold Christmas bulbs reflect the light from the fairly lights multiplying the twinkling. Deep red poinsettias covered in glitter and used to tie the details together. Then if that isn't enough richness, a string of elegant red and gold beads are draped among the splendor. The whole effect creates a stunning richly golden holiday decor.
7. Paper Lights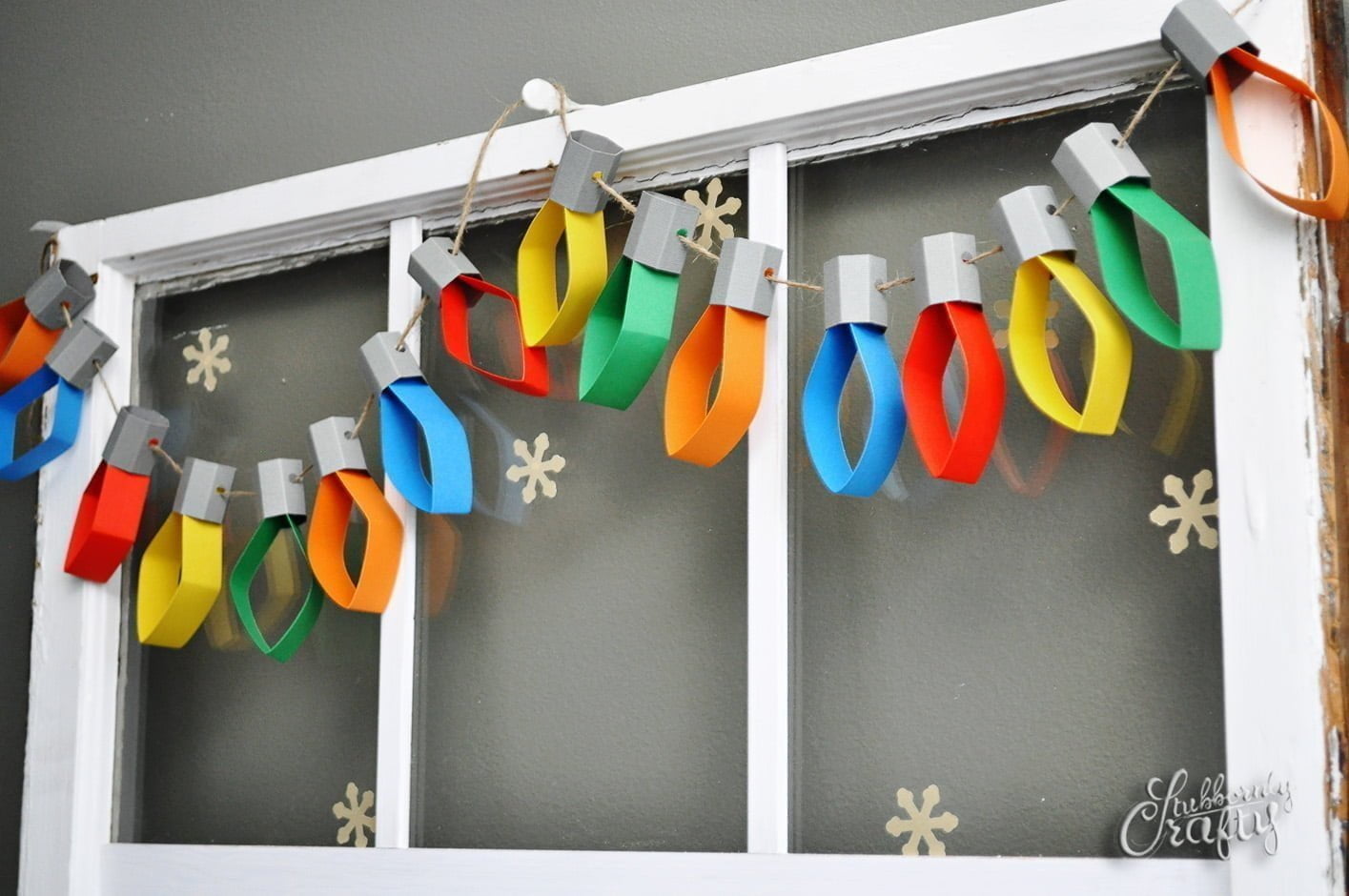 DIY Project Details: stubbornlycrafty.com
Christmas garland decoration projects that are fun for the whole family help to bring everyone together during the holiday season. Many children have extra time off during the holiday season. This kid friendly DIY Christmas paper project is a fun and easy way to keep them entertained. Stunning brightly colored string of Christmas lights are made gluing folded paper and then using a hole punch to string them for a festive holiday garland. The color possibilities are endless. This holiday decor idea gives the children a creative project they can be involved in and create a beautiful holiday garland that is a fun addition to your holiday decor.
8. Charmingly Rustic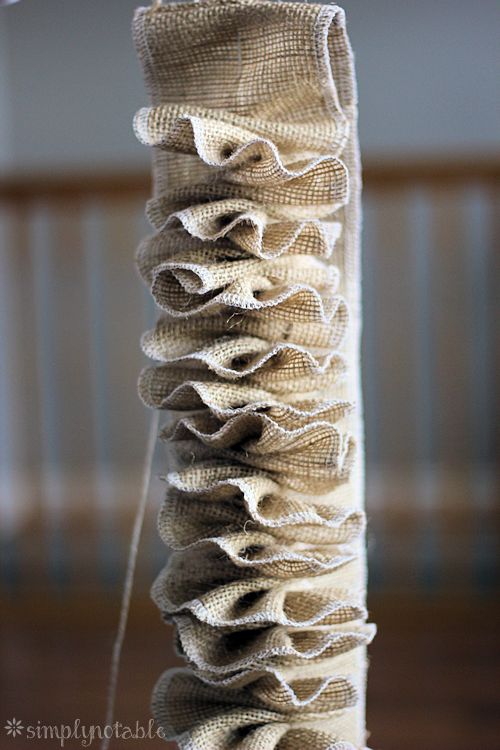 DIY Project Details: simplynotable.com
If rustic and natural is your style, this Christmas garland decorating project is just right for you. The charmingly rustic style of this garland is made from gathering long strips of burlap fabric into ruffles. It takes a rough course fabric and turns it into lovely ruffles that drape wonderfully. The light brown or tan color of the burlap stands out nice from the green of pine boughs without appearing unnatural. Hanging this one of a kind burlap garland on your tree creates a unique rustic look that you'll love. Its perfect for cozy country or rustic cabin style decor idea.
9. Baker's Delight

DIY Project Details: hellowonderful.co
This baked Christmas garland decorating project is a delightfully tasty treat. This twist on a holiday classic, the gingerbread man, makes for a fun and unique DIY decorating idea. It uses letter cookie cutters to cut personalized holiday messages out of gingerbread dough. Once the cut out messages a properly bake, they are strung on festive twine or cording to create a one of a kind garland that are a baker's delight. This project the whole family can enjoy creating together. Parents will need to over see the mixing and baking but the children love to be involve in the cutting out and the stringing.
10. String of Pearls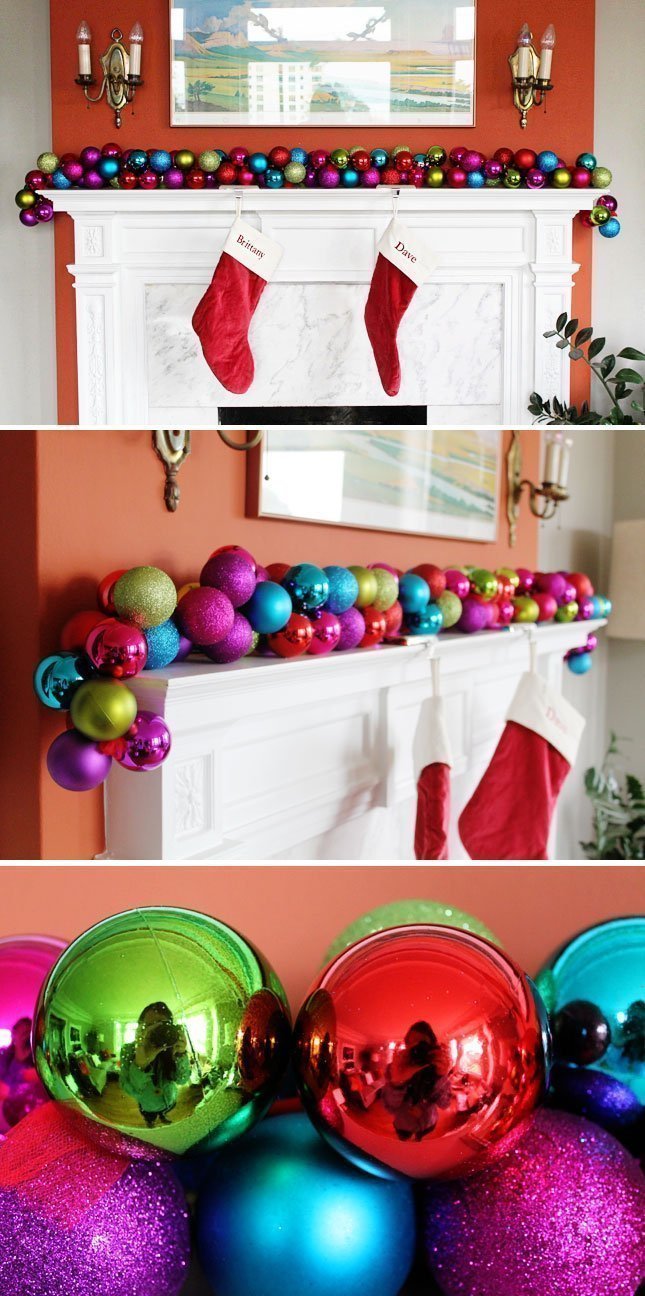 DIY Project Details: brit.co
Do you have extra holiday ornament bulbs you don't know what to do with? Or do you see the brightly colored sets of ornament bulbs in the stores and fall in love? If you do this DIY Christmas garland is for you. This takes all of those stunning ornament bulbs and strings them on a ribbon so they look like a string of brightly colored pearls. This garland can be wrapped around a tree for a breathtaking look or draped over the mantel to add lots of color. Each string can be customized in length and color to create a unique look that is a gorgeous addition to your holiday decor.
11. Paper Snowmen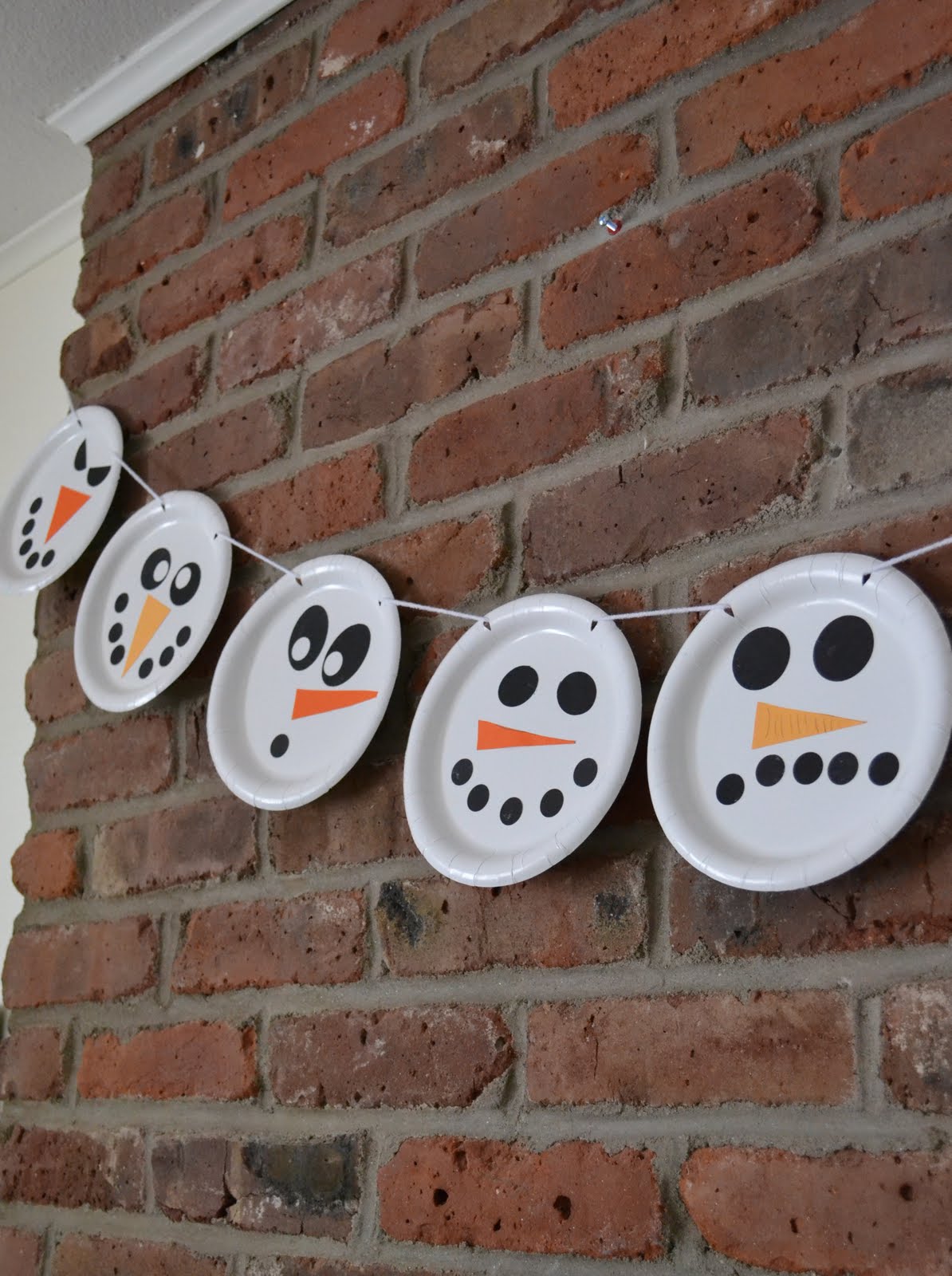 DIY Project Details: 1pureheart.blogspot.com
Kid friendly Christmas decor ideas are a get way to keep the children occupied on their winter breaks and help them feel involve in decorating the house for the holidays. This paper plate snowmen garland is the perfect project for children of any age. It is simple and easy enough that even a toddler can glue a face on. For the older children, they can make more complicated faces. Once the faces are all done and the glue is dry the snowmen heads are strung on string or twine and can be hung to add to the holiday fun. Only be careful you don't hang them to near the fire, you don't want them to melt.
12. Fun Felt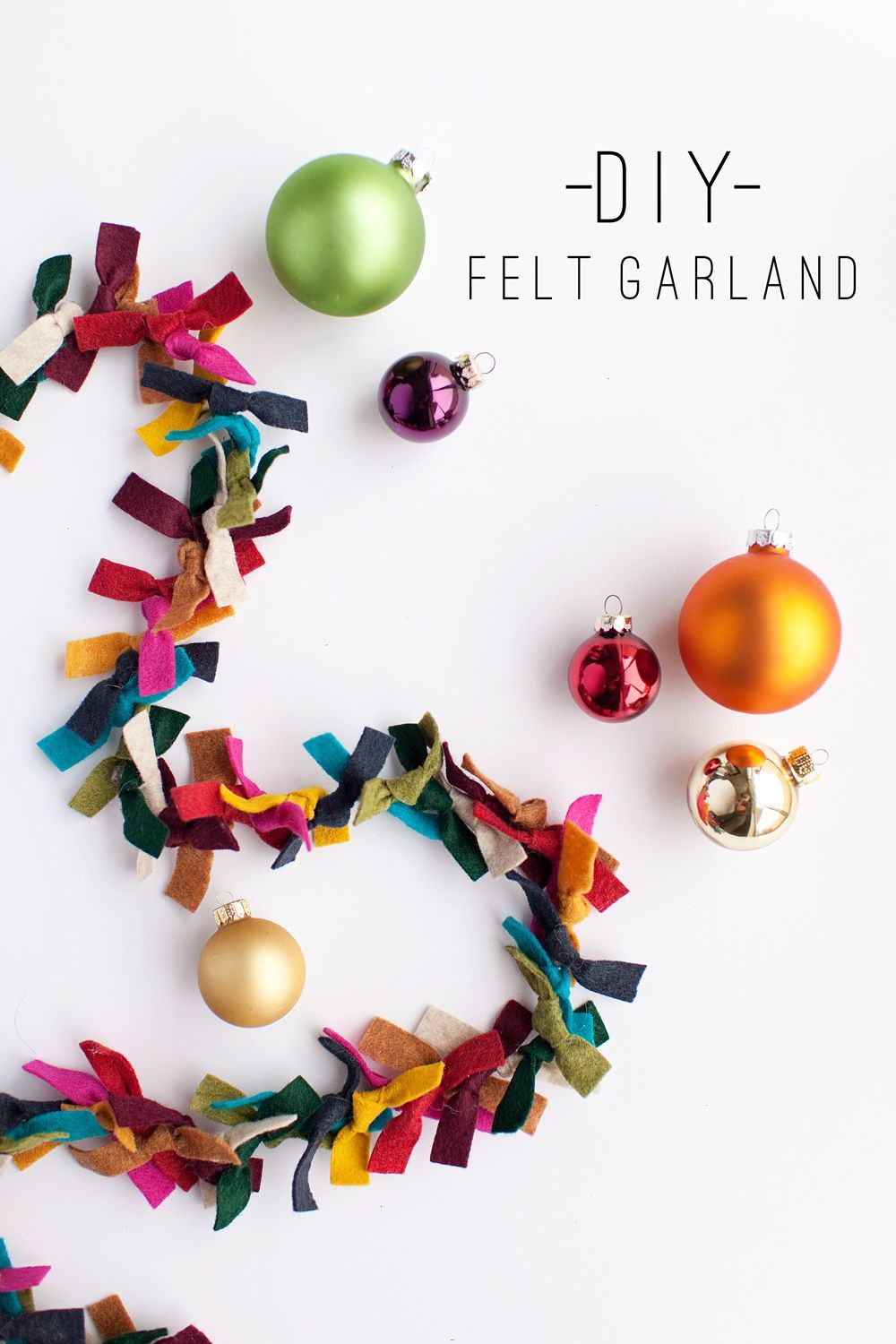 DIY Project Details: tellloveandparty.com
This fun and easy decor idea is made out of felt strips tied to yarn. Actually, anything will due instead of yarn. Sting, twine or anything you have available will work. You start with small strips of various colored felt and then you simply tie them to yarn to create this fun and attractive felt garland. Nothing about this project is difficult but it is time consuming. This project is perfect for a bad weather day, when you just want to be in doors. Pop in a movie and tie away. Any color combination can be used to create a one of a kind holiday decoration.
13. Candy Land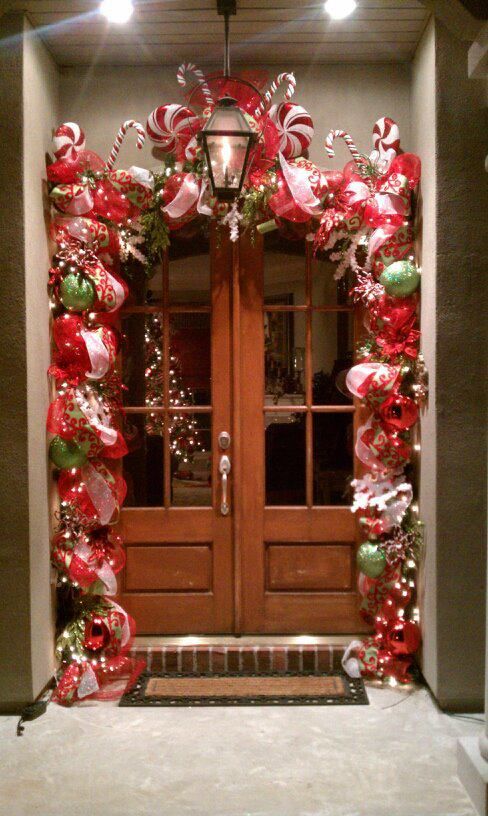 DIY Project Details: br.pinterest.com
Over sized Christmas ornament bulbs and candy canes, give this garland the feeling of candy land or being at the North Pole where an elf might stick his head around the corner at any minute. This Christmas garland decorating idea is tied together with three different wide ribbons, all in red and white to carry on the colors of the candy canes. There are also large white snowflakes to enhance the magical feel. A few sprigs of pine are add to give an interesting contrast and are complemented by the light green ornament bulbs. The lovely red and green garland gives a fun and welcoming appeal.
14. Paper Holly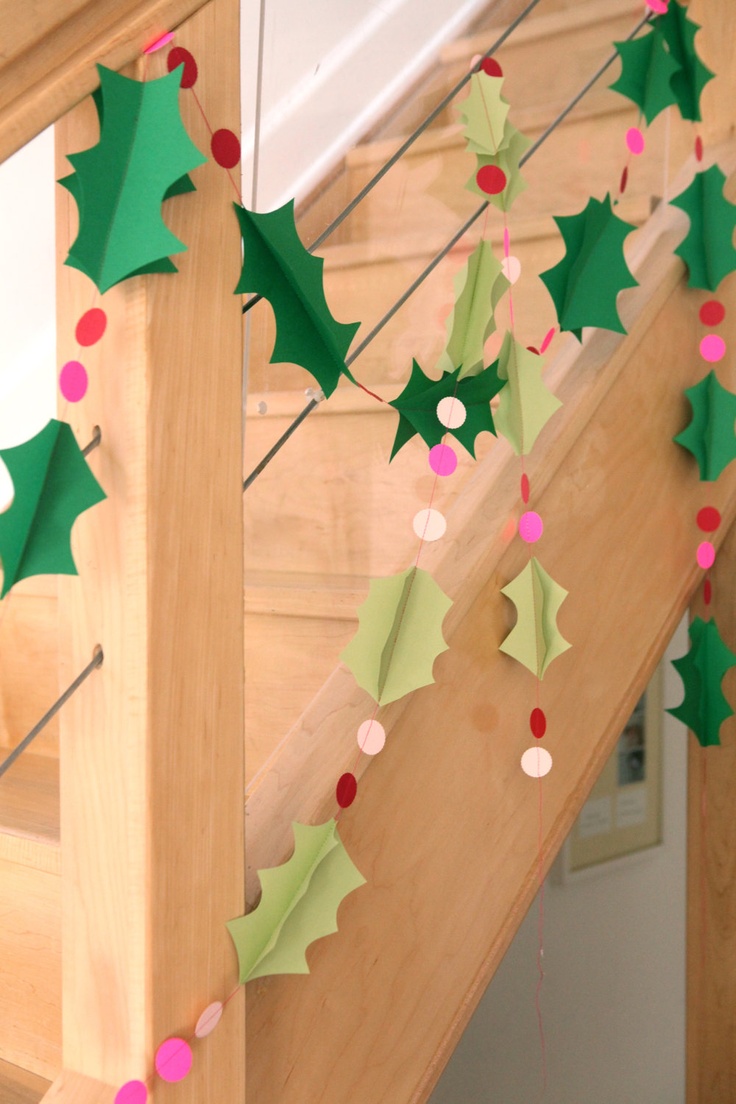 DIY Project Details: projetos.habitissimo.com.br
Christmas garland decorations can be charming and simple like this one that is holly made out of paper. All you need is green and red paper, some festive red and with yarn or string, glue and scissors. By cutting leaf shapes out of the green paper and circles or berries out of the red and gluing them to the yarn, you create a simply charming garland. This paper garland project is one your children will love to help with. It would look beautiful hung for a stair railing, around a bulletin board or picture, or wrapped around the Christmas tree. Any where you hang it; it is a charming addition to your Christmas decor.
Our Favorite Christmas Decorations to Buy on Amazon

More DIY Christmas garland decorating ideas on the next page…