The best DIY coin craft ideas are a way to take something as ubiquitous as coins and transform them into an uncommonly unique design feature. Before getting too deep in the planning process, consider your project scope. Do you plan on an impressive penny wall, or are you looking forward to a smaller project like a small key charm? Of course, once you start making handmade coin crafts, it might be difficult to stop.
14 of the Best DIY Coin Craft Ideas to Transform Your Decor

Whether you want to show off coins from your latest international adventure or create a stunning feature wall, handmade coin crafts transform the mundane into something truly magnificent. While many of these projects take a great deal of time and effort, some are easy enough to complete in a single afternoon. The beautiful part about making your own decor is that you can personalize it to your space.
This is especially true if you are renting or live somewhere where it is impractical to make permanent changes – many of these coin craft ideas can be modified for a less permanent application. Even if you choose to use a single type of coin in your project, there is a wide variety of color variations. New coins provide a little sparkle and a flashy finish to your project. Coins that have been in circulation are often darker and might include unique patinas. Using a mixture of new and old coins can create simple patterns and add dimension to your homemade coin craft decor.
Which coins you choose not only change the cost of the project but exude different ambiances. As the most affordable option, pennies offer a warm glow that is perfect for a welcoming feeling. Silver-colored coins like nickels, dimes, quarters, and foreign currency can be more expensive, but provide a cool ambiance ideal for a soothing sanctuary.
1. Easy White Vase Homemade Coin Craft Decor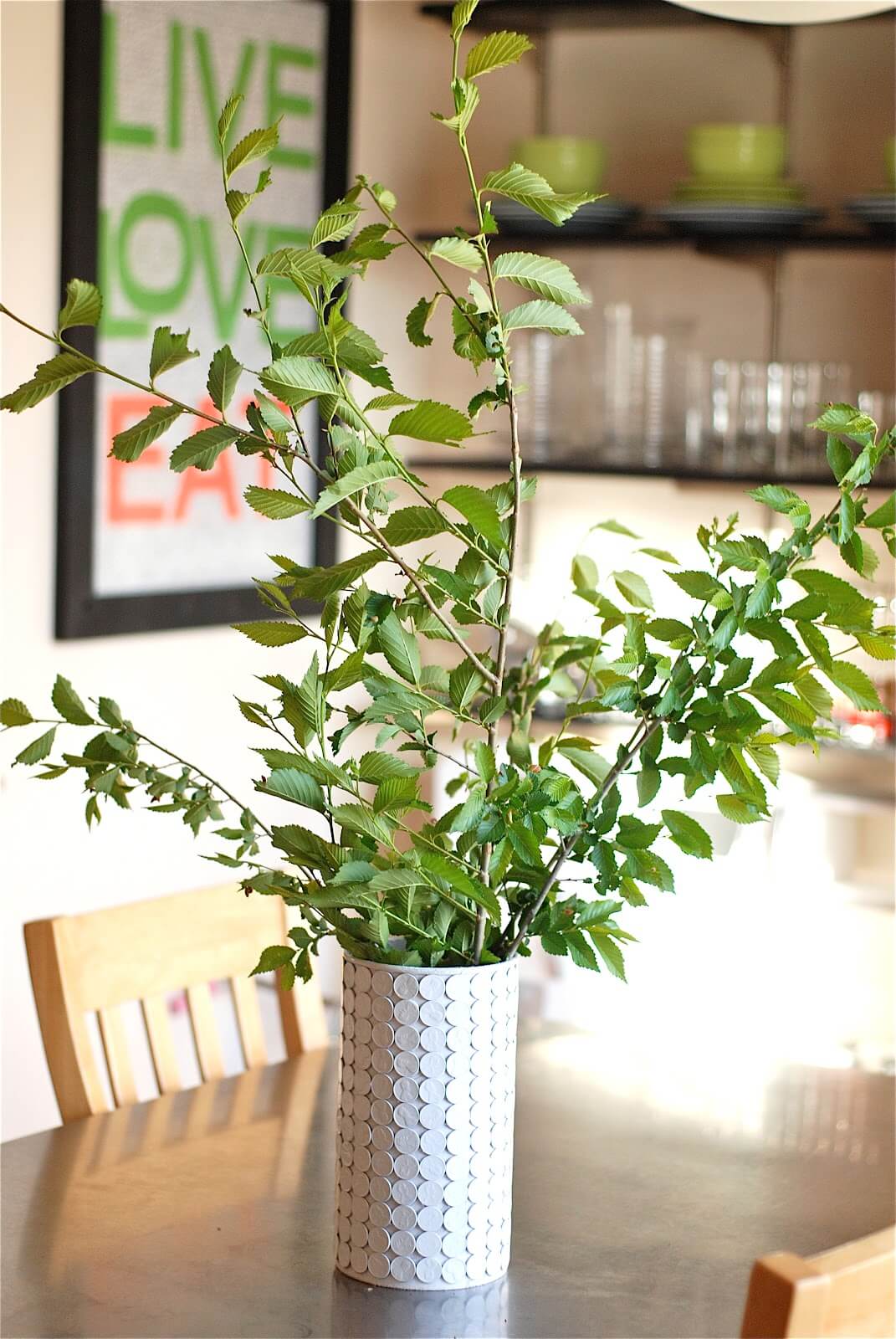 If you prefer a little subtlety in your decor, consider giving your penny creation a coat of spray paint. While this example uses white, you could pick any color. The beauty of this technique is that while the flashy copper color is covered, the subtle details remain. To achieve a unified effect, place all your coins as either heads or tails, and orient them the same way. Inverted Abraham Lincolns might be disconcerting, so you will want to make sure that all the coins used are right-side-up. Overall, this vase is easy to make and offers a play on simple geometry filled with intriguing details.
2. Creative Stars & Snowflake Penny Backsplash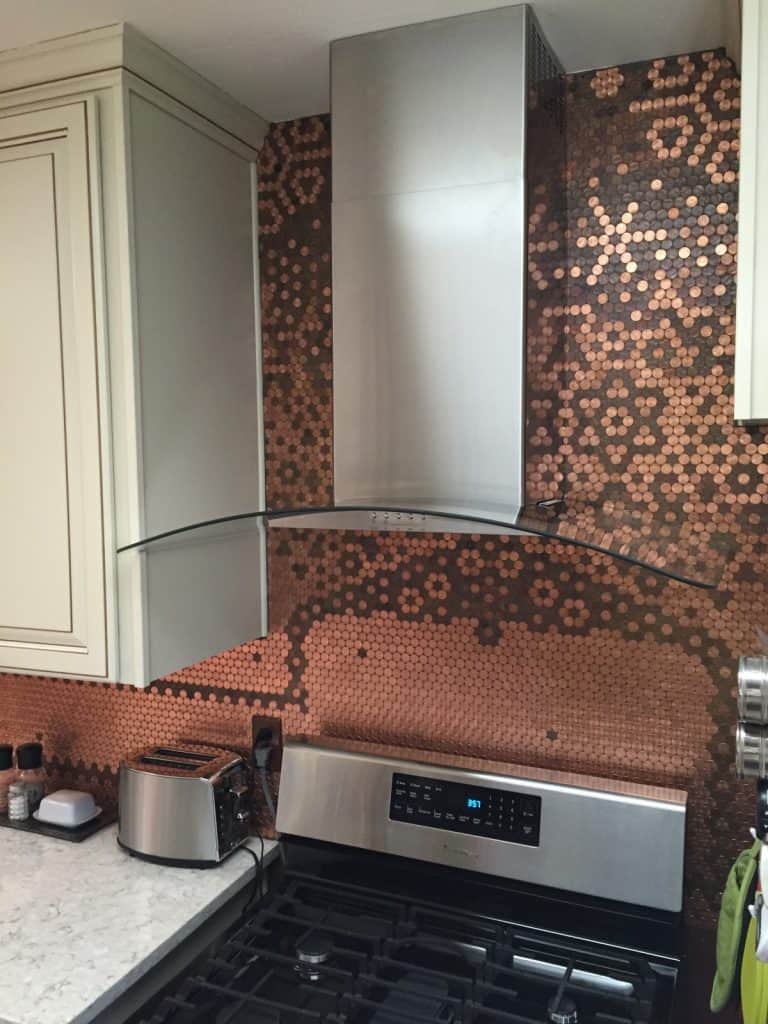 Showcase your artistic side with this imaginative copper backsplash. A mixture of shiny new coins and circulated pennies makes it possible to achieve mysterious patterns. Although the top shows a structured geometric pattern, the pennies evolve to become snowflakes, stars, and finally a pleasant counterpoint to the glass oven hood. To personalize a backsplash to your space, choose your own motifs. One of the first decisions you will need to make is whether or not your backsplash will be symmetrical. Although this backsplash is generally symmetrical, there are a few pops of intriguing asymmetry that give the design an organic energy.
3. Kid-Friendly Craft: Coin Collection Wall Art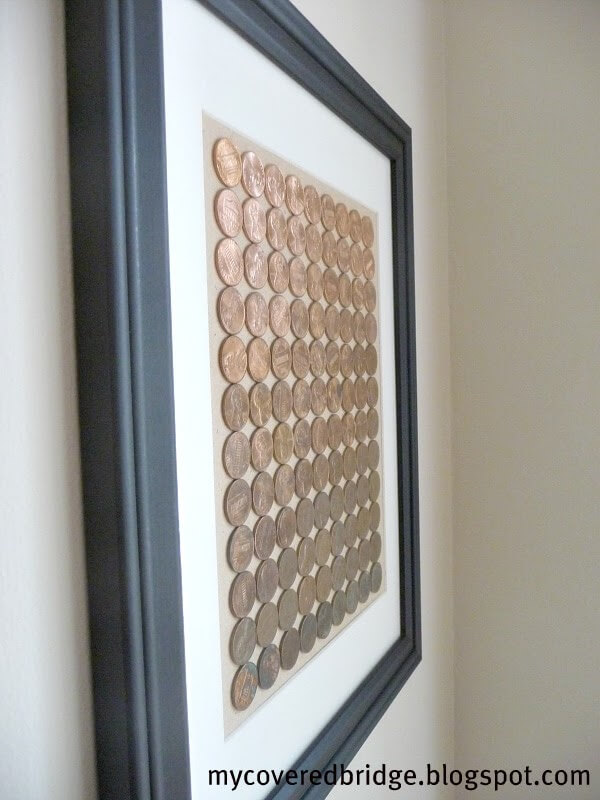 All there is to this project is organizing coins, gluing them to a backing, and placing them inside the frame. Depending on maturity, kids can collect, organize, and glue the coins. While this collection is displayed with an artistic ombre pattern, you can arrange your coins to be anything from a geometric design to a monogram letter. This technique is perfect even for picture frames with broken glass. Instead of being limited to a single layer of coins, you can install additional layers of coins for three-dimensional artwork. Make this project according to the tutorial directions to enjoy an article of sophisticated wall art decor.
4. Penny Countertop Trimmed with Rustic Cedar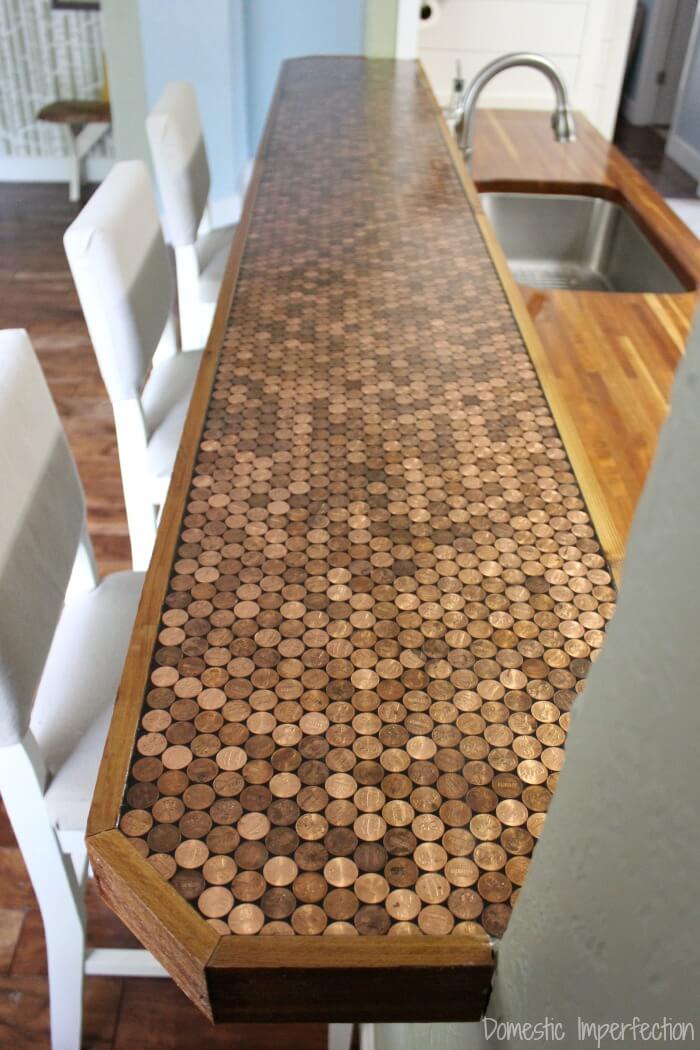 As well as providing a unique focal point, copper countertops help a kitchen feel warmly welcoming. If you prefer cool tones in your kitchen, pick a silver-colored coin like nickels or dimes. While it might be tempting to polish all your coins to a mirror-like shine, remember that a little color variation cultivates dimension and enhances character. The wood trim is perfect for rustic-themed spaces. If your space is more modern, experiment with alternate trims or painted wood. From a practical perspective, this countertop is durable, waterproof, and easy to clean. Because it explains common pitfalls, this tutorial is a great guide to epoxy-based handmade coin crafts.
5. Showcase International Coins in a Framed Display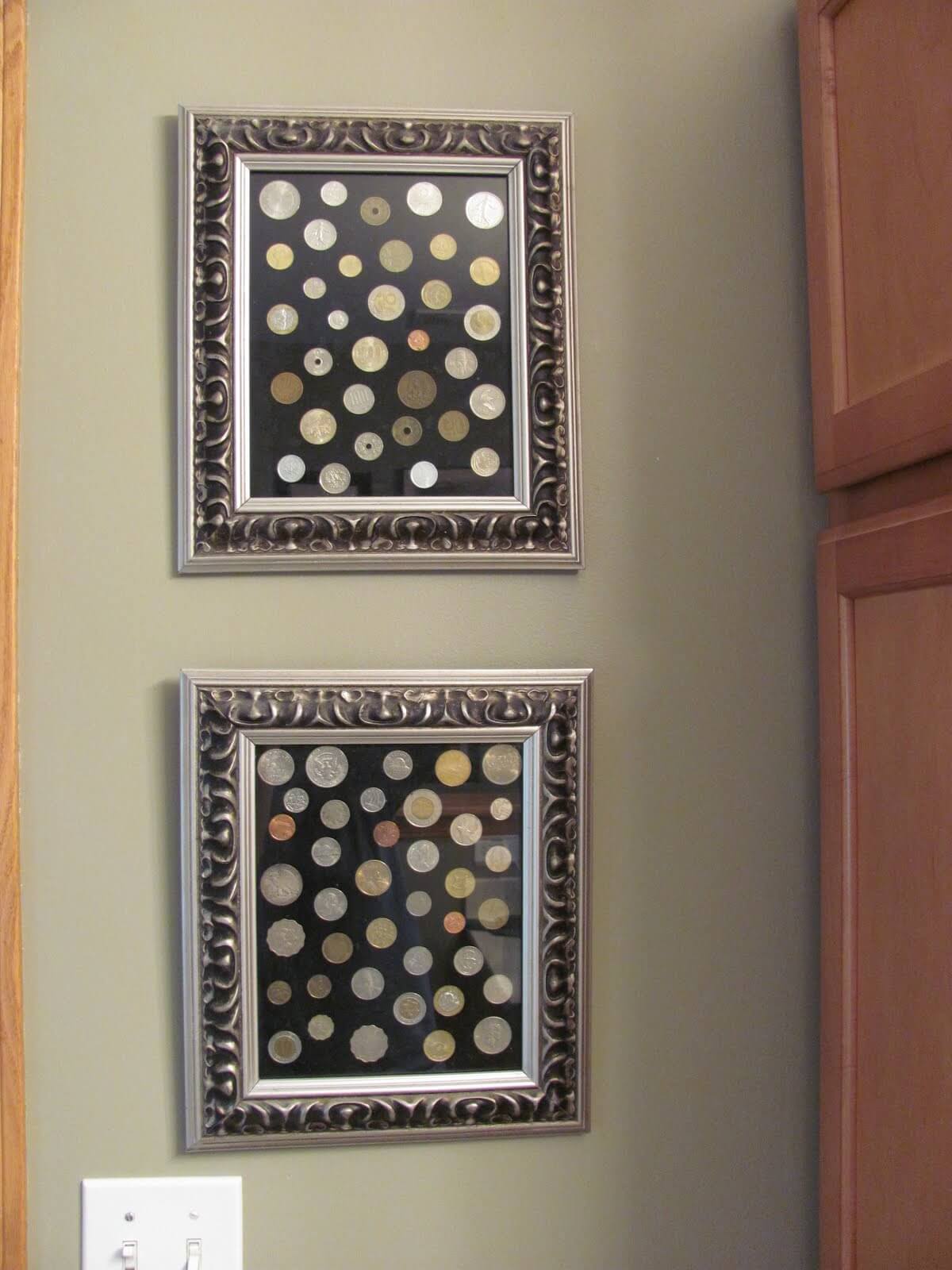 If you have a passion for international travel, you probably have a stash of coins from the places you have visited. Why not let them shine in a simple frame? For a themed display, pair the framed coin collection with maps, photographs, or other souvenirs from the places you have visited. Even if you do not travel internationally, you can display quarters from the different states you have visited next to a map of the United States. This example catches the eye because the black backdrop contrasts with the coins and the frames feature elegant silver accents.
6. Conversation-Starting Seafoam Side Table Topped with Pennies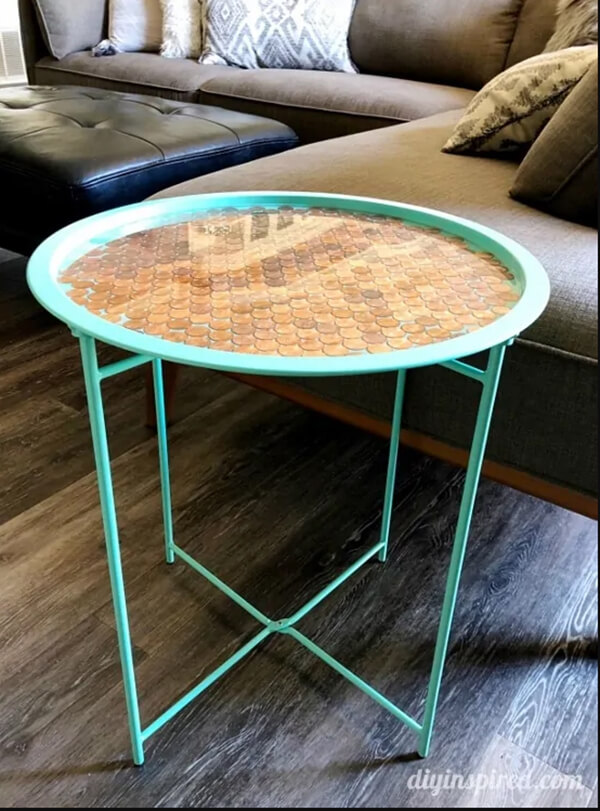 Sometimes, the best DIY coin craft ideas happen when you elevate the furniture you already own. By adding a sparkling copper accent to this seafoam table, it naturally draws the eye and acts as a conversation piece. While this tutorial shows how to clean pennies so that each showcases a consistent shiny character, you could skip this step to use darker pennies to create simple patterns. Unlike other techniques, the pennies are sealed with resin and almost look underwater. If you do not have a foldable table handy, look around your home to see what furniture is compatible with a coin upgrade.
7. Tiling a Wall with Pennies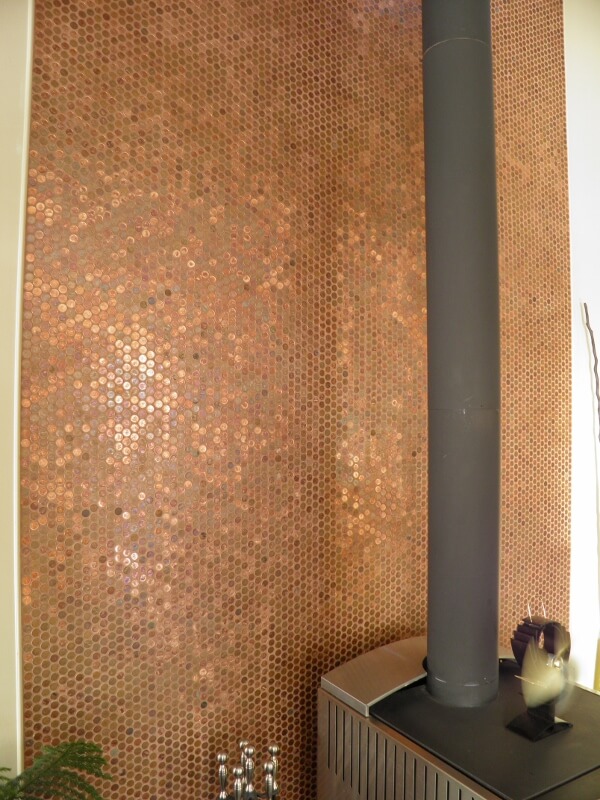 Using pennies to tile a 16-foot wall seems like an ambitious project, but it might be easier than you think. This tutorial shows how using fiberglass can make the dream of a coin wall come true. With this many pennies, the overall effect is breathtaking. If your penny wall is located opposite a window, sunshine will strike the coins to an enchanting effect. While this homemade coin craft decor is a serious commitment, it pays off in a jaw-dropping display that will last for years to come. Of course, a coin wall is a permanent focal point and will change the flow of your room.
8. Stunning "Heads Up" Penny Shower Floor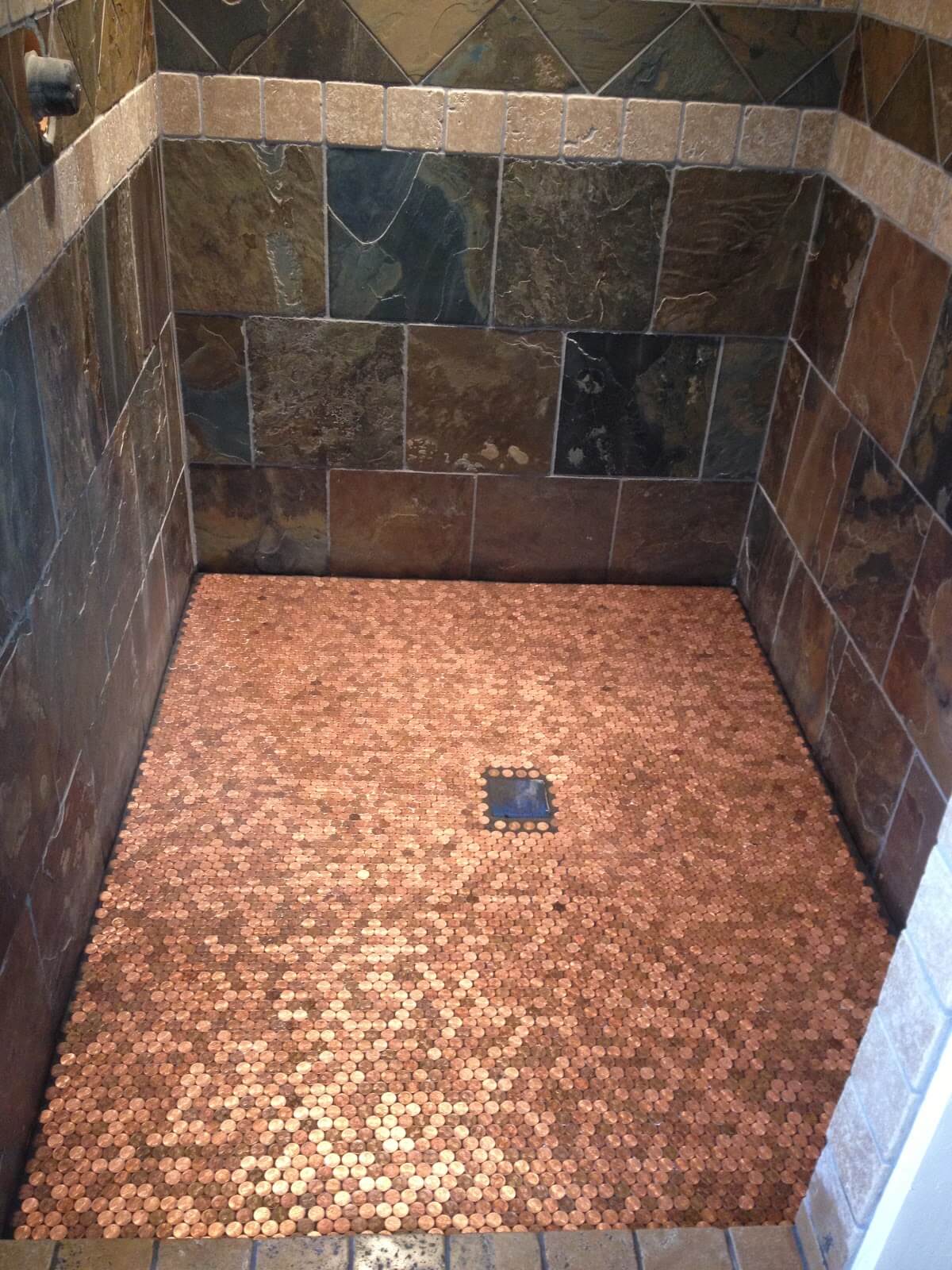 Because this floor is bright and reflective, it keeps the dark shower walls from feeling claustrophobic. If you prefer soothing silver hardware, you might want to use silver-hued coins. However, this will exponentially increase the cost of your project. This shower is a generous 20 square feet and required about 50 dollars worth of pennies. Each penny is individually placed heads-up, but you could choose whichever orientation suits your schedule and your style. Black grout helps the coins pop. To keep the floor from being a slipping hazard, the final layer of epoxy features an additive designed to increase grip.
9. Using Stamped Pennies as Charms and Beyond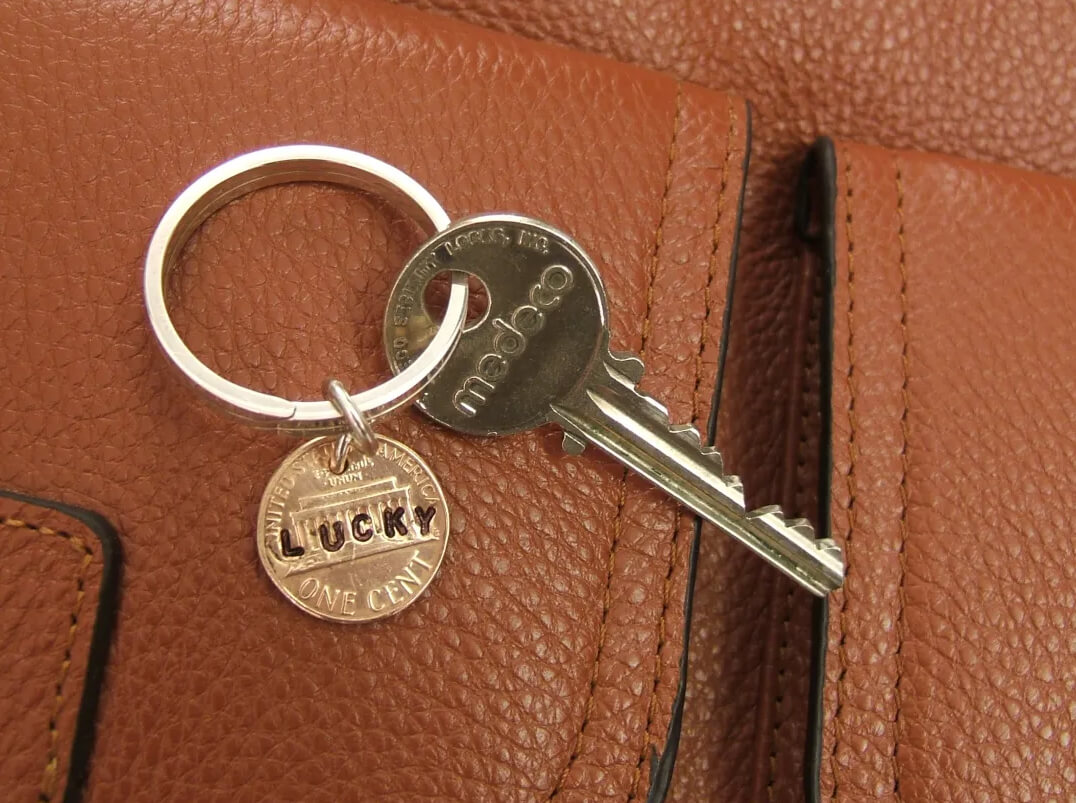 With a set of steel letter stamps, you can transform any coin in your possession into something truly unique. To make the lettering more noticeable, this tutorial recommends using a black permanent marker in the indentations. If you like a little maximalism, experiment with different colors. Imagine the possibilities. Create personalized pennies as gift tags, key charms, Christmas ornaments, or anything in between to create an effect nothing short of magical. You can use stamped coins to give any of the other ideas on this list a splash of your personality. With all this potential, this is one of the best DIY coin craft ideas.
10. Easy Picture Frame Handmade Coin Crafts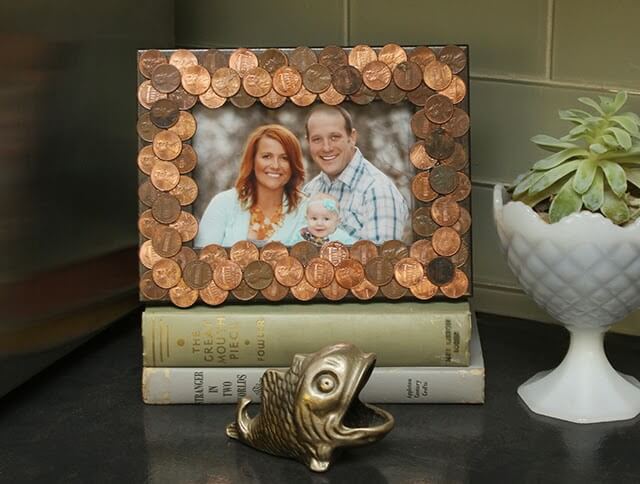 Adding coins to a picture frame is a fantastic way to add a little sparkle to your memories. As well as covering up the original frame, using multiple layers of coins cultivates dimension. Although this example uses pennies for a warm copper finish, you could easily use any type of coin for this frame. Imagine using shiny coins at one of the top corners that gradually fade to dark, worn coins at the opposite bottom corner. Another way to take this technique to the next level would be to use shiny coins for one layer and more venerable coins for the next layer.
11. Give Your Birdhouse a Unique Upgrade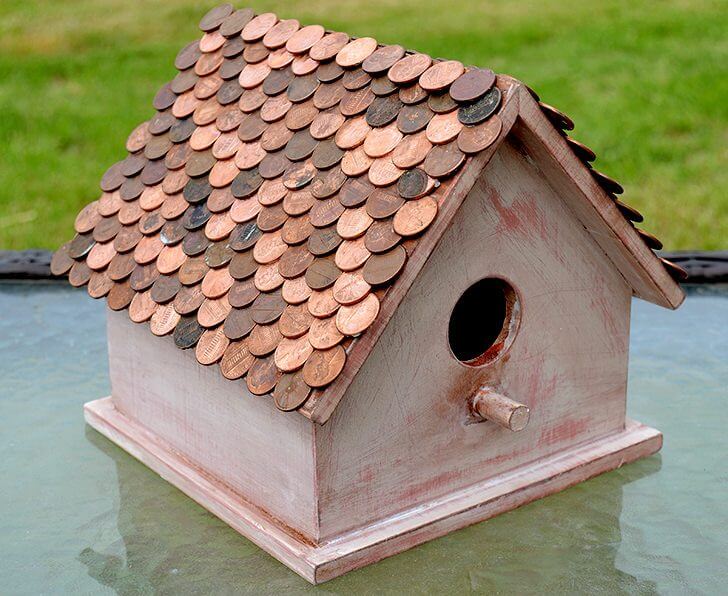 Although unexpected, a birdhouse is an excellent candidate for a homemade coin craft decor makeover. Pennies are durable enough to stand up to the elements. However, unless you seal them, they will oxidize and acquire a green patina. If your style tends to the rustic, the natural green patina is a welcome development. As you place your pennies, remember to allow them to overhang the roof's edge to develop an attractive scalloped edge. The best part about this project is that if you do not want to use it outdoors, it can make a stunning piece of home decor.
12. Bracelet Crafted from Seven Pennies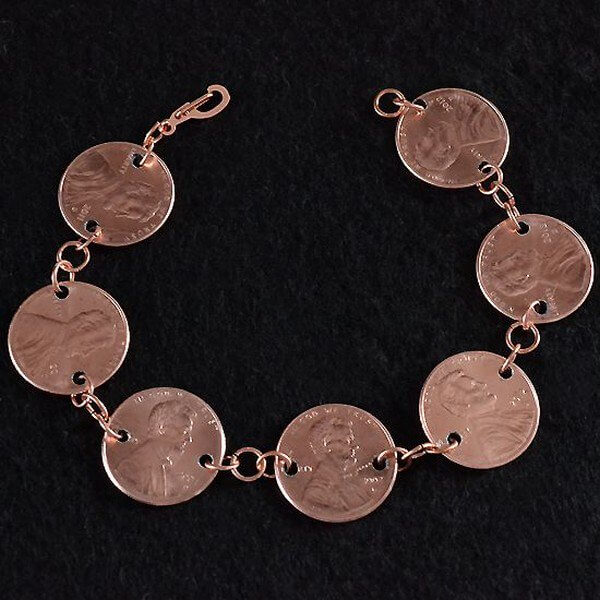 If you do not have thousands of pennies on hand to make a massive project, this is a great craft to explore. To make a bracelet that is meaningful as well as beautiful, find pennies with mint dates specific to your life. Those could include birth dates, anniversary dates, or any other important event. Do not be afraid to integrate beads or other embellishments if desired. These bracelets also make fantastic gifts. Mix and match the warm copper with cool silver for a pleasantly eclectic effect. If you have special edition pennies or foreign currency, this idea is easy, beautiful, and lots of fun to create.
13. Unique Penny Desk with a Shiny Finish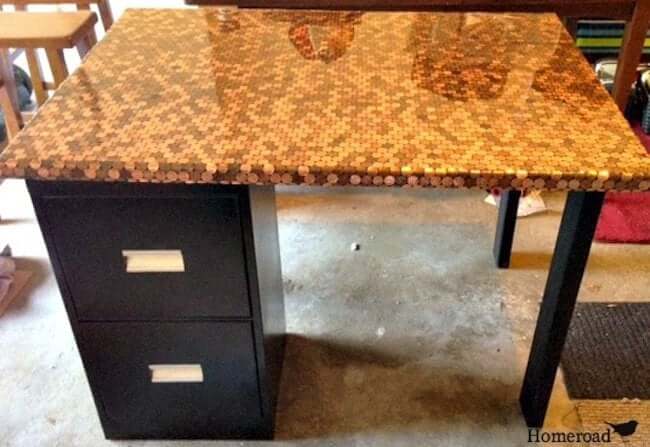 This desk is one of the best DIY coin craft ideas to take your work-from-home setup to the next level. A black, white, and copper palette keeps the look sophisticated, but you could take the colors anywhere. Although no discernable pattern is picked out, the effect is soothing and textural. To keep the desk ergonomic, the pennies along the edge have been bent to mimic the wood's contour. By shearing pennies in half at the edge of the board, this desk maintains a cleanly crisp appearance. Three coats of epoxy create a finish that is silky, smooth, and shiny.
14. Using Pennies to Finish a Built-In Desk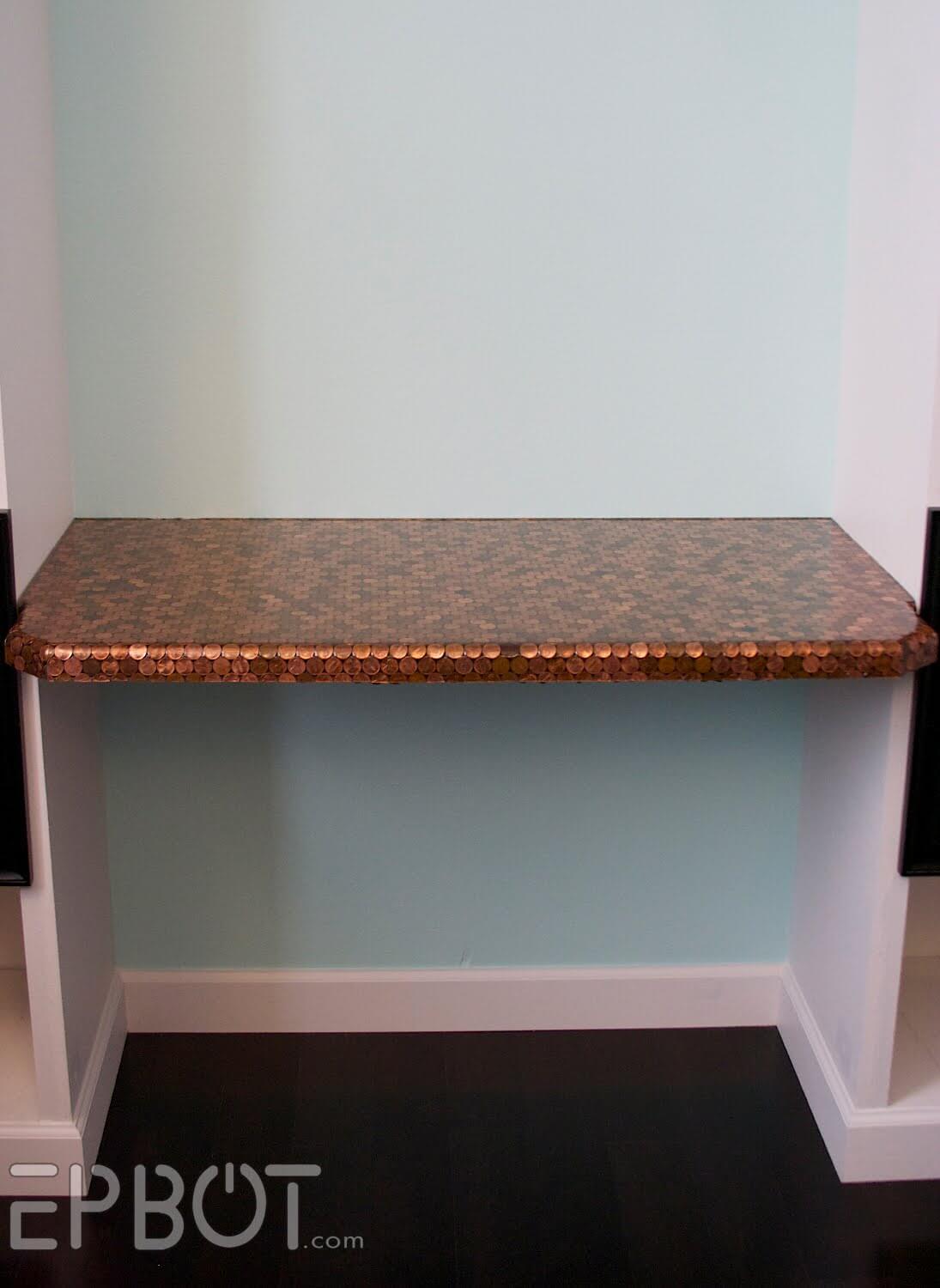 Giving a desk a copper finish might sound expensive, but this technique only uses about 20 dollars worth of pennies. The base is inexpensive plywood painted black. Although no distinctive patterns are picked out in the pennies, they are arranged to look artfully random. To maximize the contrast, about half of the pennies were polished. Epoxy finishes the look. Although this is a built-in desk, this technique can be used on nearly any flat surface. Imagine creating penny-coated shelves, countertops, or even a dining table. If you place your newly coin-covered furniture near a window, sunlight will add a new dimension to your space.
14 Ways to Use the Best DIY Coin Craft Ideas to Achieve a One-In-A-Million Sparkle
Beyond the visual elements of homemade coin craft decor, there are some practical aspects to consider. Adding a sealer like polyurethane or epoxy will give your project waterproof durability. If you have a flooring project in mind, you may want to include a gripping additive to prevent slipping hazards.
Making your own homemade coin craft decor means that you can mix and match these techniques to create the perfect look for your space. Once your project is complete, you will have a conversation piece that shines shamelessly and sparks interest. Because handmade coin crafts are so easy and affordable to make, it is hard to stop with just one.
Inspiration: Are you ready to see how a few simple coins can elevate your space? With the best DIY coin craft ideas, you will never look at coins the same way again. From the small and straightforward to the impressive and intricate, there are projects the right size for anyone to tackle. Click to discover the possibilities and find the perfect project for your home.