We discovered some of the best DIY toddler bed ideas that will delight young children into wanting to go to bed.
Transitioning from a crib to a toddler bed is not always a seamless experience. Some kids may have a difficult time leaving something that they have grown so attached to since their crib is something consistent in their lives. So, it is best to make the process as easy as possible for them by giving them something they will enjoy being in. That is where unique toddler beds come into play. They are a way to get tots interested in their new sleeping arrangement, and the more comfortable they feel, the more likely they'll stay in bed without a fuss.
25 Best DIY Toddler Bed Ideas to Make Bedtime Fun

Some cool toddler beds act like loft beds to give tots room to play and sleep. Other beds offer fun designs as they are shaped like a house, a vehicle, or even a castle. These are just a few of the amazing ways that a personalized toddler bed can ease the growing pains of this transitional period. Also, many of them sit either on the floor or very close to the floor so that it's simple for them to climb in and out.
We took the liberties of finding toddler beds that you can either build yourself or ones that are handmade by other talented individuals. All of these DIY beds stand out for their incredible reasons, so we hope you find something that is fitting for your toddler's wants and needs.
So, let's not waste any more time and dive into our top 25 best DIY toddler bed ideas that young children are sure to love.
1. Adorable Whimsical Toddler House Bed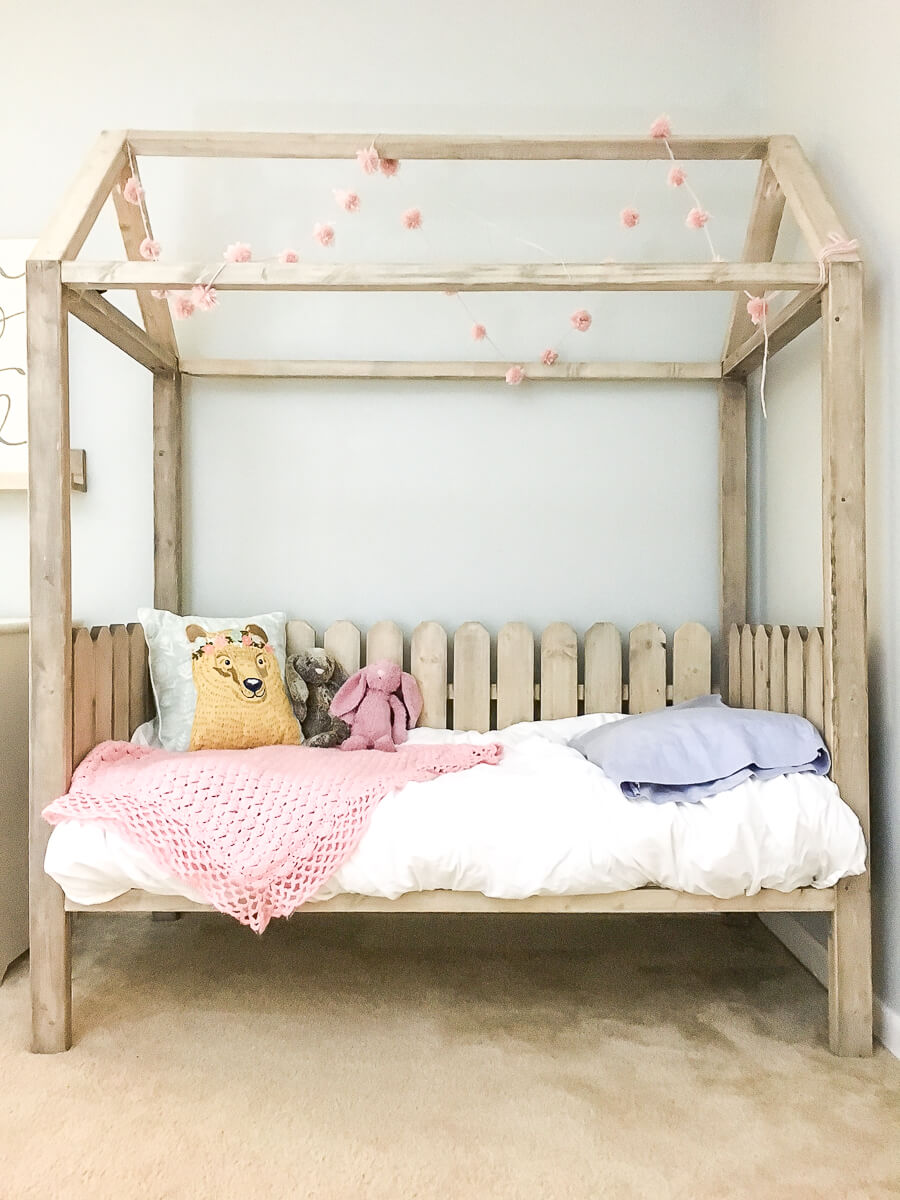 If you want a way to add some rustic, farmhouse-like décor to a young child's room yet still make it appealing for them, this toddler house bed is a wonderful way to go about that. There is a good deal of whimsical attached to the design as well as a nice open feel that gives tots a little bit of freedom while still keeping them safe with the fence design around the majority of the bed. Also, the "roof" of the house bed is a great area to add some hanging décor like string lights to further cement the fantastical feel of it all.
2. Floor Based Bohemian Style House Bed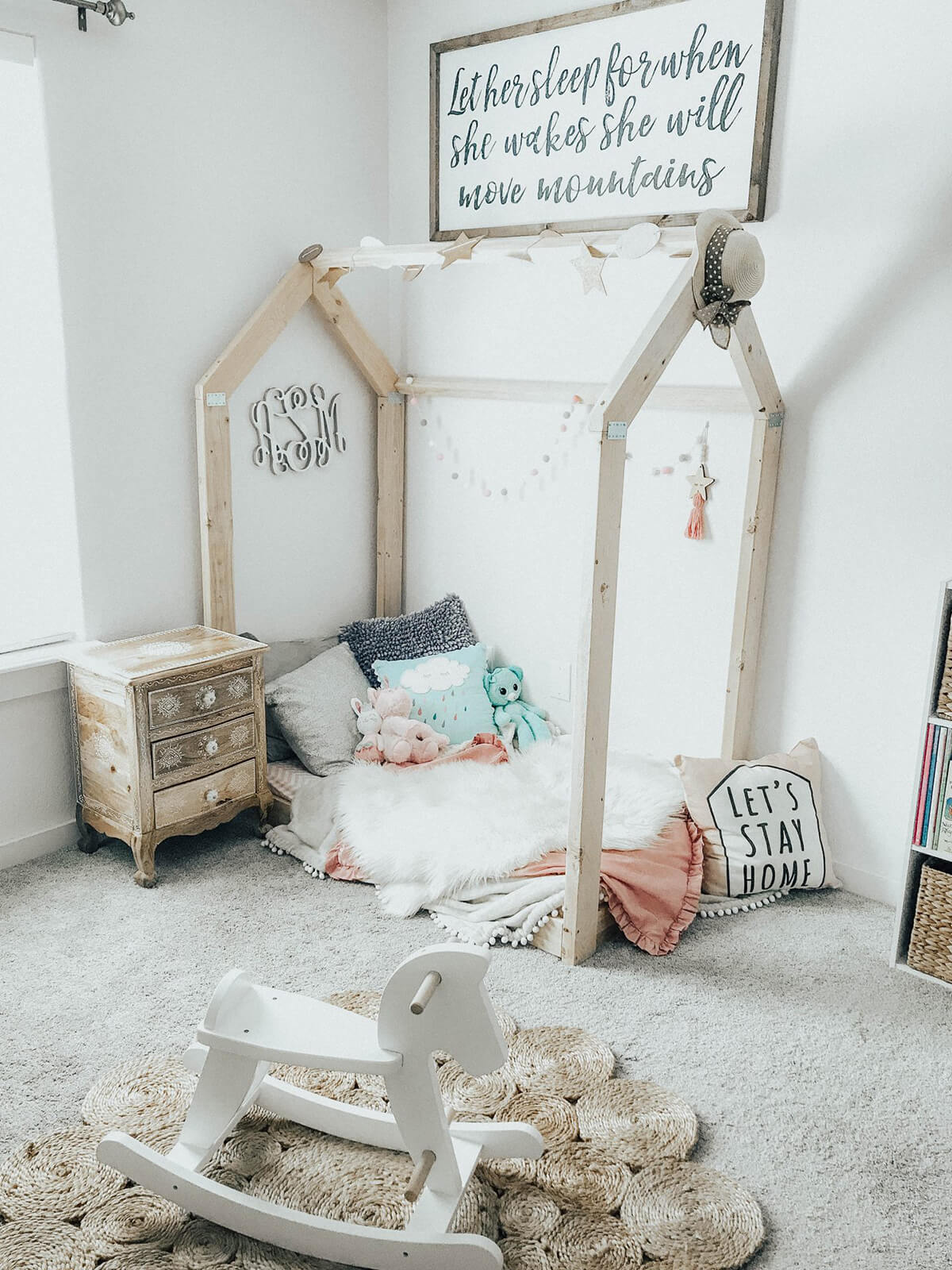 A house bed is always an awesome idea to help transition tots from cribs to big kid beds without it being too jarring or uncomfortable. With this specific bed, it has a bright, welcoming feel. There is plenty of space to use to add different décor like hanging items and string lights to serve as night lights. It is even open all the way around so, depending on how you set it up, kids can easily get into the bed at multiple angles. There is no risk of them falling out from a certain height either since the bed portion is directly against the floor.
3. Wooden Jeep Floor Toddler Bed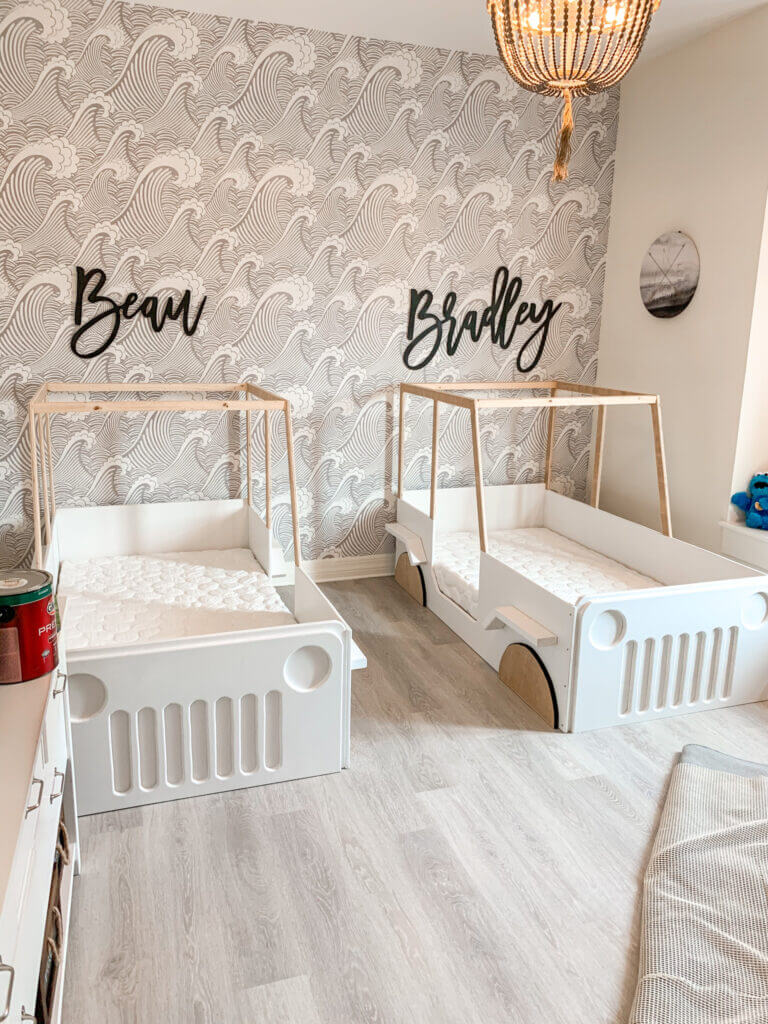 As far as cool toddler beds go, this one boldly stands out. There are many car-themed beds on the market, but building one makes it truly unique. It even gives you room to personalize it for your child if desired. There is a good amount of space for tots to relax and play around in which might make them more compelled to want to go and sleep in their bed. With it being on the floor, it is easier for tots to climb in and out without parental assistance too. There is still enough of a raised side to keep them safe if they are particularly wild sleepers.
4. Incredible Rustic Cabin Toddler Bed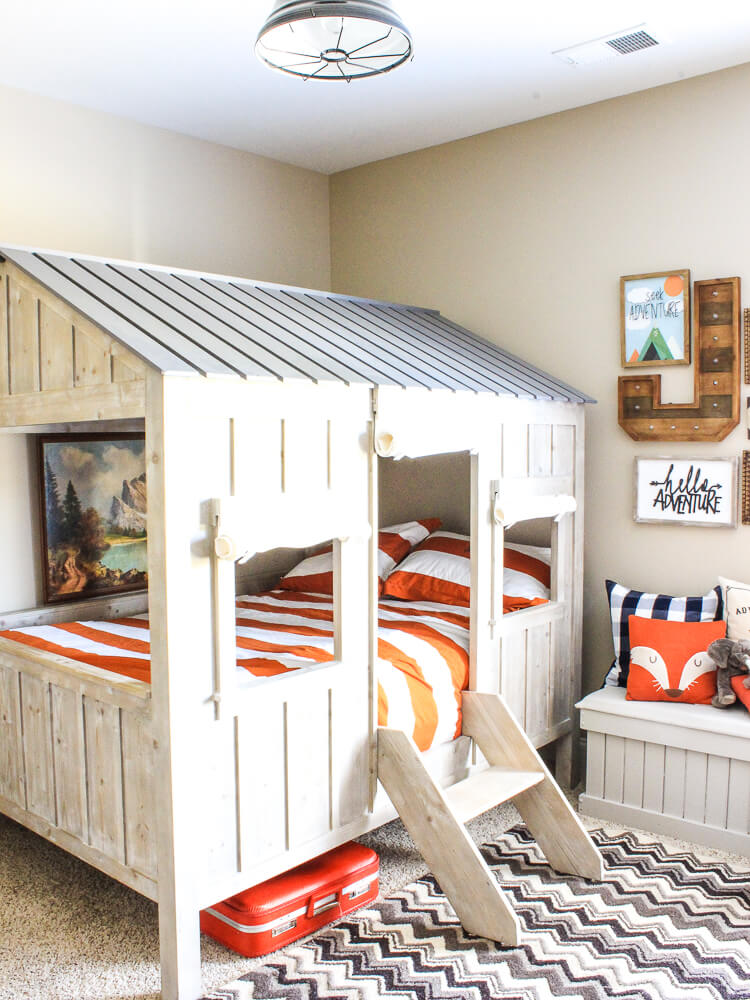 Some of the best DIY toddler bed ideas focus on the overall décor and feel of the room when designing the bed, which is exactly the case with this rustic cabin bed. It is perfect for a room that focuses more on a natural or wood-like décor theme such as using animals. There are cool windows for kids to peek out of, and there is even a fun, small step ladder to use to climb up into the bed. It is still close to the ground so kids don't have to climb too much. Alongside that, the cabin serves as guard rails too in a sense as it does well at blocking kids from rolling out of bed.
5. Over the Bed Indoor Playground Loft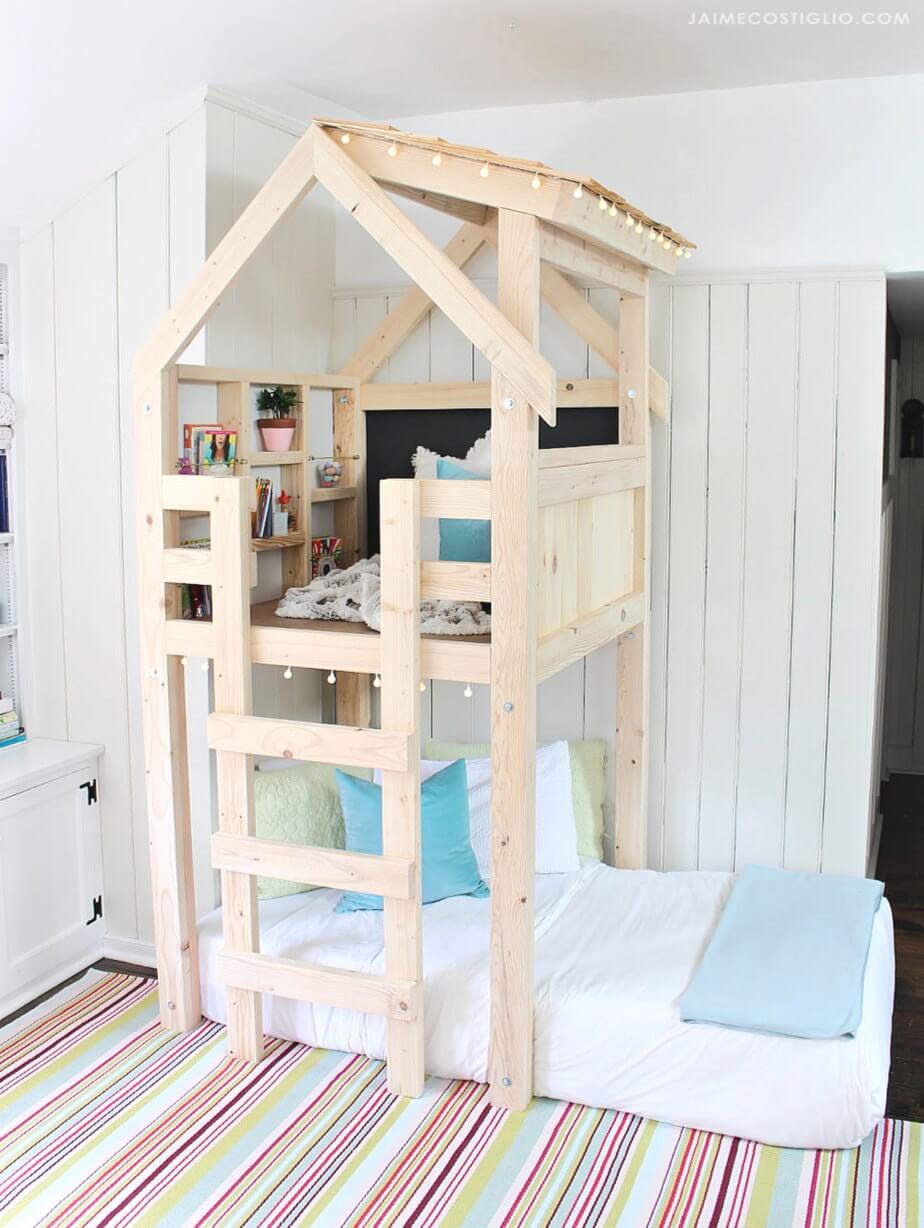 It doesn't have to be hard to get toddlers to sleep in their beds when you have something as fun and amazing as a playground loft. Although it may look like much at first glance, it is a simple DIY project that gives kids something exciting and safe. The bed itself is directly against the floor, so the risk of falling out in their sleep is gone. It's insanely easy for them to climb into it too. The fun part comes in at the loft design. There is a small ladder that tots can use to ascend into their little nook where they can stash anything from their favorite toys to extra pillows and blankets.
6. Teepee Inspired Toddler Bed Head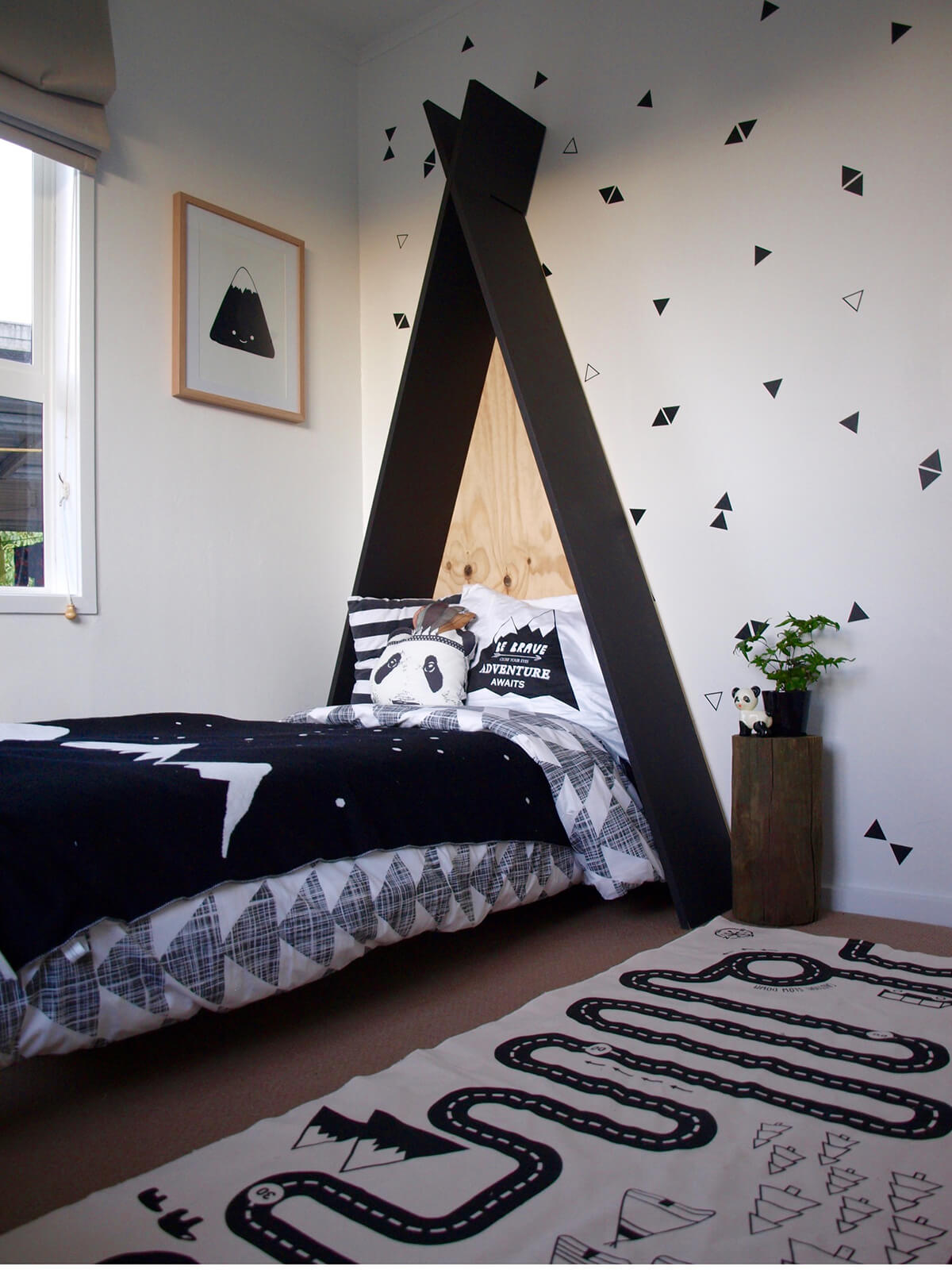 If you're looking out for a cheap toddler bed idea, then take a look at this awesome teepee-inspired bed head. There is no bed frame to work with concerning this project, so you can honestly use any frame you wish. The bedhead is where all the magic happens at. All it takes is a few pieces of painted wood to make something that resembles a teepee. With it serving as the head of the bed, it can bring forth pleasant thoughts of camping every time a child gets into bed. It is also a great addition to any room that has a similar theme.
7. Sleek Boho Styled Toddler Bunk Bed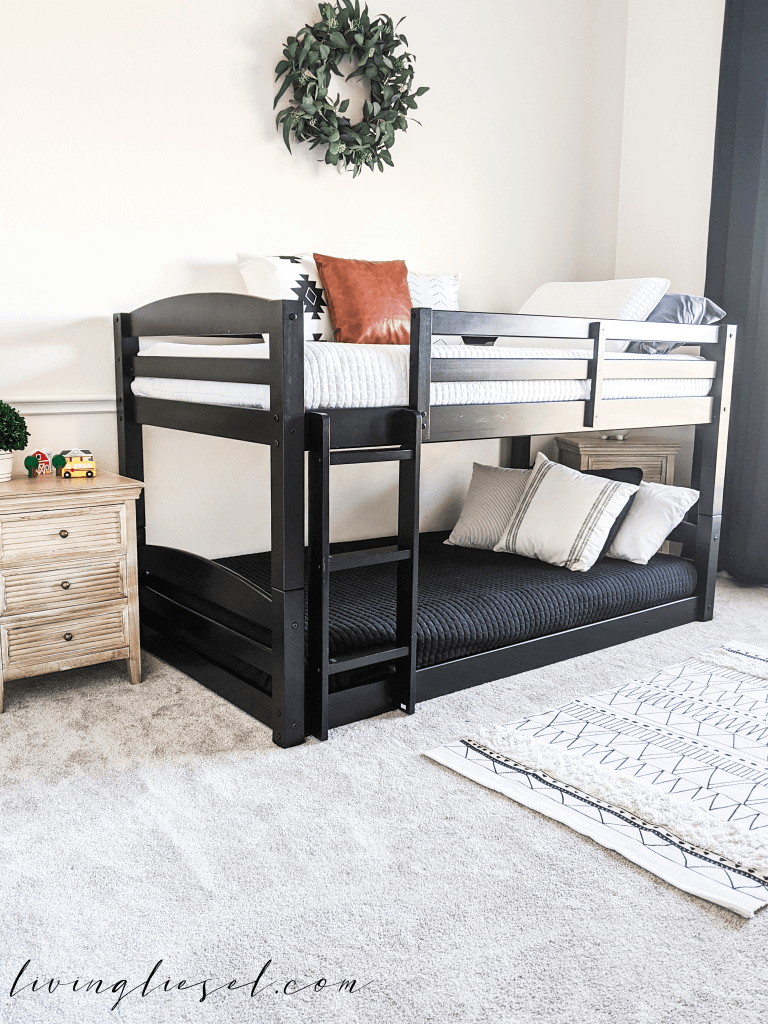 There are many ways to make bunk beds trendy these days, and this boho-styled one is both unique and simple. The bottom bed sits on the floor for safety and ease-of-use for little ones. Meanwhile, it only takes a few climbs to reach the top so that it isn't too high for tots to climb up to. With an extended guard rail built into the bed, it is just as safe as the bottom ones. This can be a cool idea to use for siblings, twins, or simply to have as a spare guest bed for those upcoming sleepover days.
8. Bright and Cheerful Loft Bed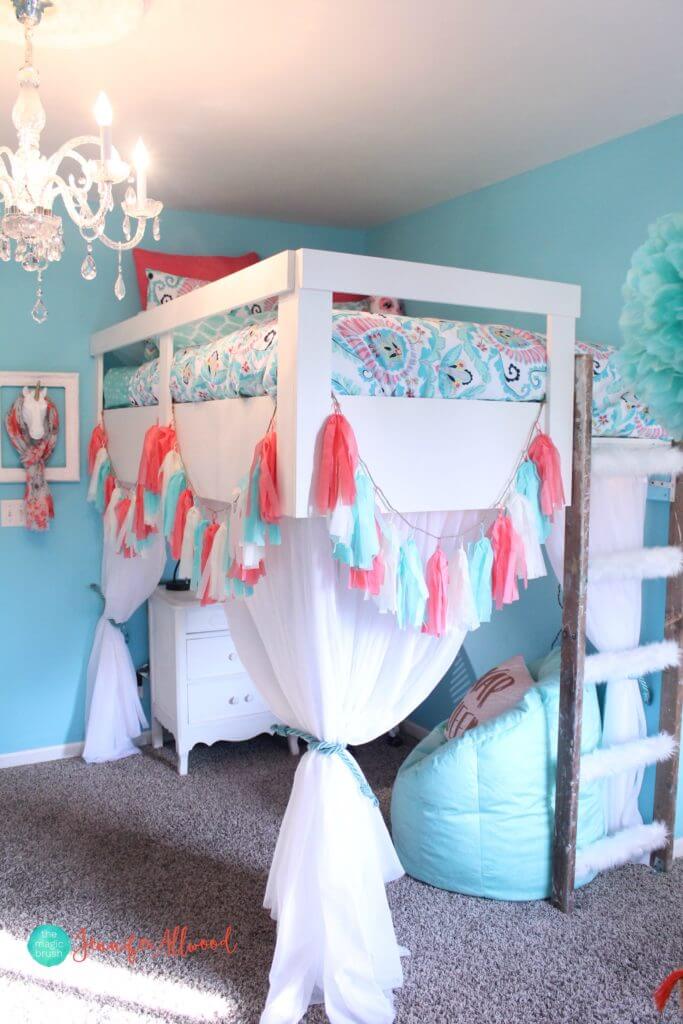 Loft beds are always fun and versatile since kids can sleep and play with them. It can even be used as a space-saver style in a room where space is an issue. In this case, the loft bed design is cheery and inviting. It is wonderfully secure so kids can rest easy on top. Also, adding some fur to the ladder not only helps it to further stand out, but it is softer to the touch so tots won't have any issues climbing up and down regularly. Feel free to add more décor around the bed as the large frame design offers room to throw on hanging items.
9. Modern Wood Cabin Toddler House Bed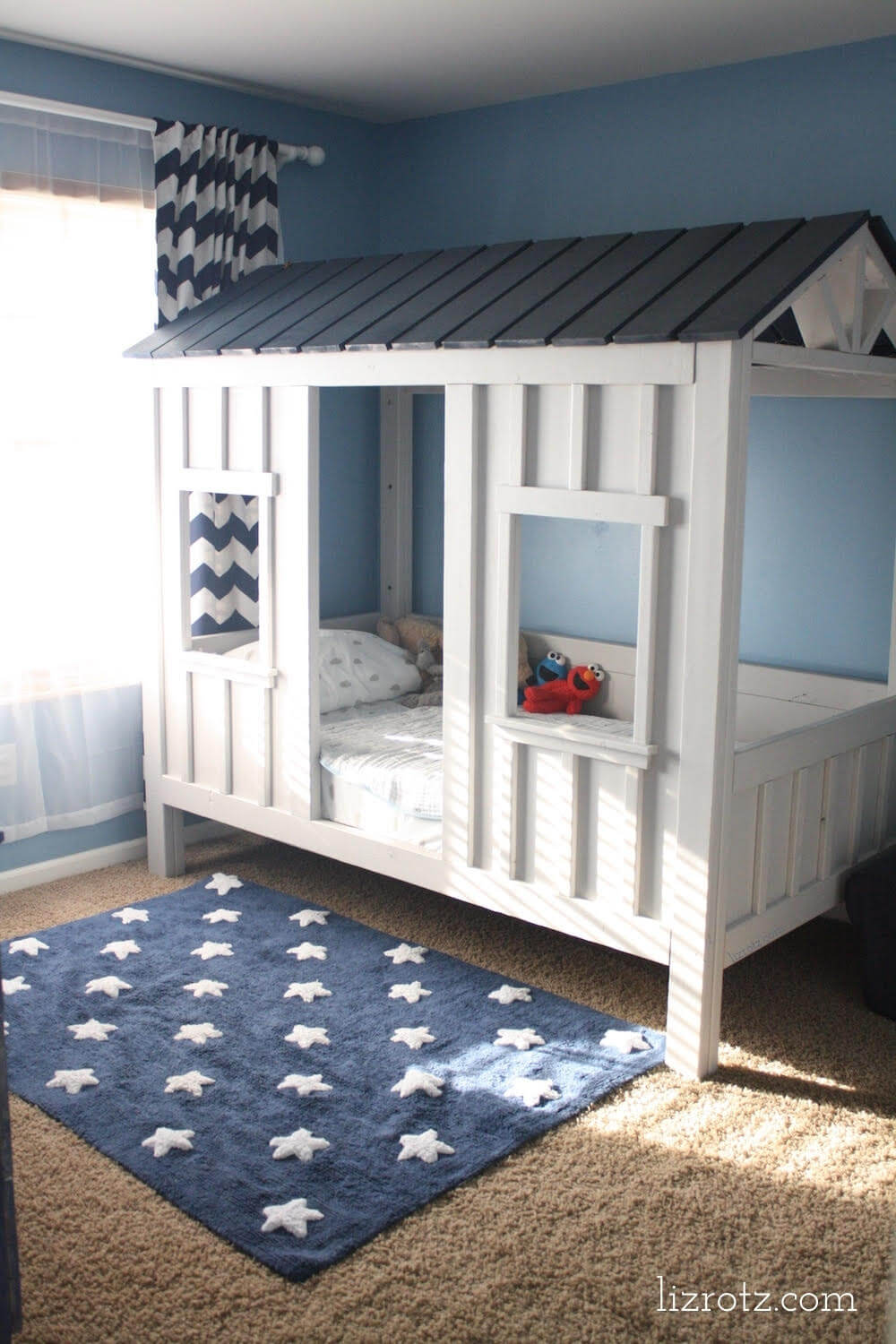 House beds continue to be a popular choice for many toddler bed designs. This one takes an interesting approach to it as it is more modernized and less rustic like some other designs are. It works out well in a room that wants to be brighter with lighter color tones. White is an excellent choice to help the bed make more of a statement, and that also allows you to paint the roof any color to match with the rest of the room's décor. The same goes with whatever bed set your toddler wants to use since white works with anything.
11. Sweet Teepee Toddler Floor Bed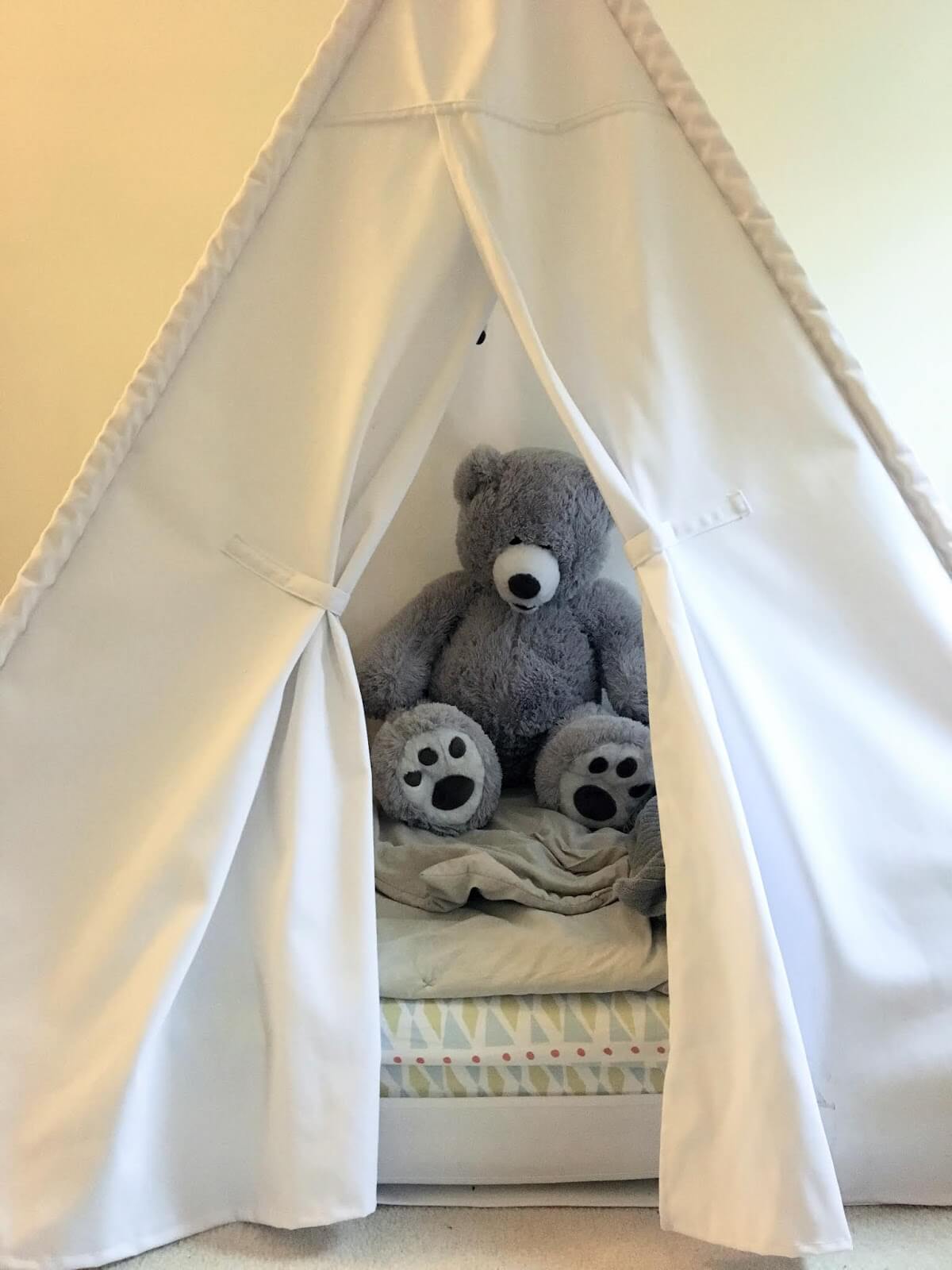 What kid doesn't enjoy a fun tent to sleep in? Instead of making a tent, however, you can transform their bed into a teepee and have them eager to jump in every night. It is among the best DIY toddler bed ideas that give tots a sense of freedom since the teepee design makes them feel like they have their own space. The teepee surrounds the entire bed too so there is a true sense of camping with this design. Additionally, the bed sits on the floor so it's always safe for them to roll around freely in their sleep.
12. Cute Princess Style Toddler Daybed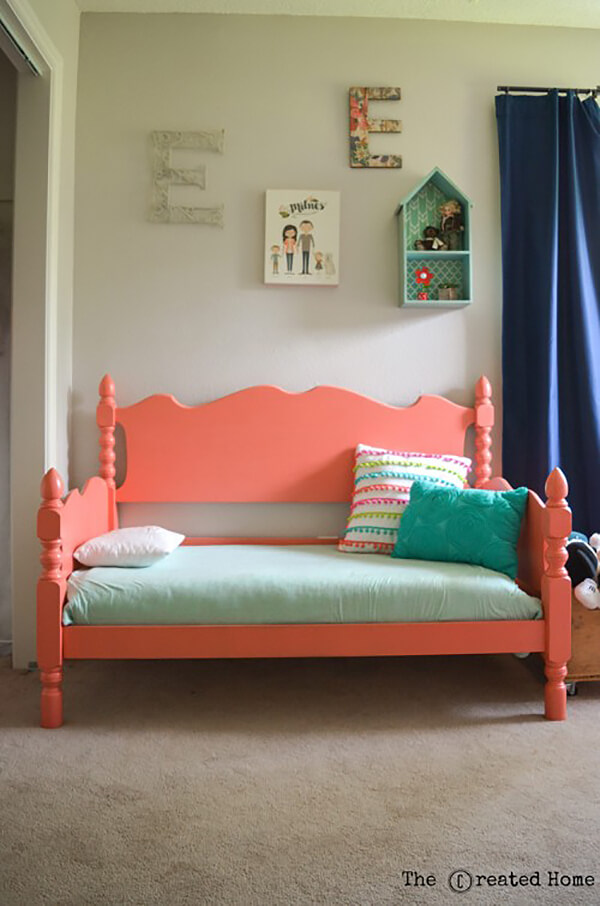 A wonderful way to combine a toddler bed with a daybed is with this cute princess-like design. It takes some traditional, yet elegant, bed frames and headboard and transforms them into something more unique. The design makes it feel like something out of a princess movie too, more so based on the paint you decide to use for it. It can be a great way to give off that fantasy vibe and fit into a room with the same theme without breaking the bank. Push it up against the wall and it serves as a nice daybed where tots can hang out all day long.
13. Large Shack Loft Toddler Bed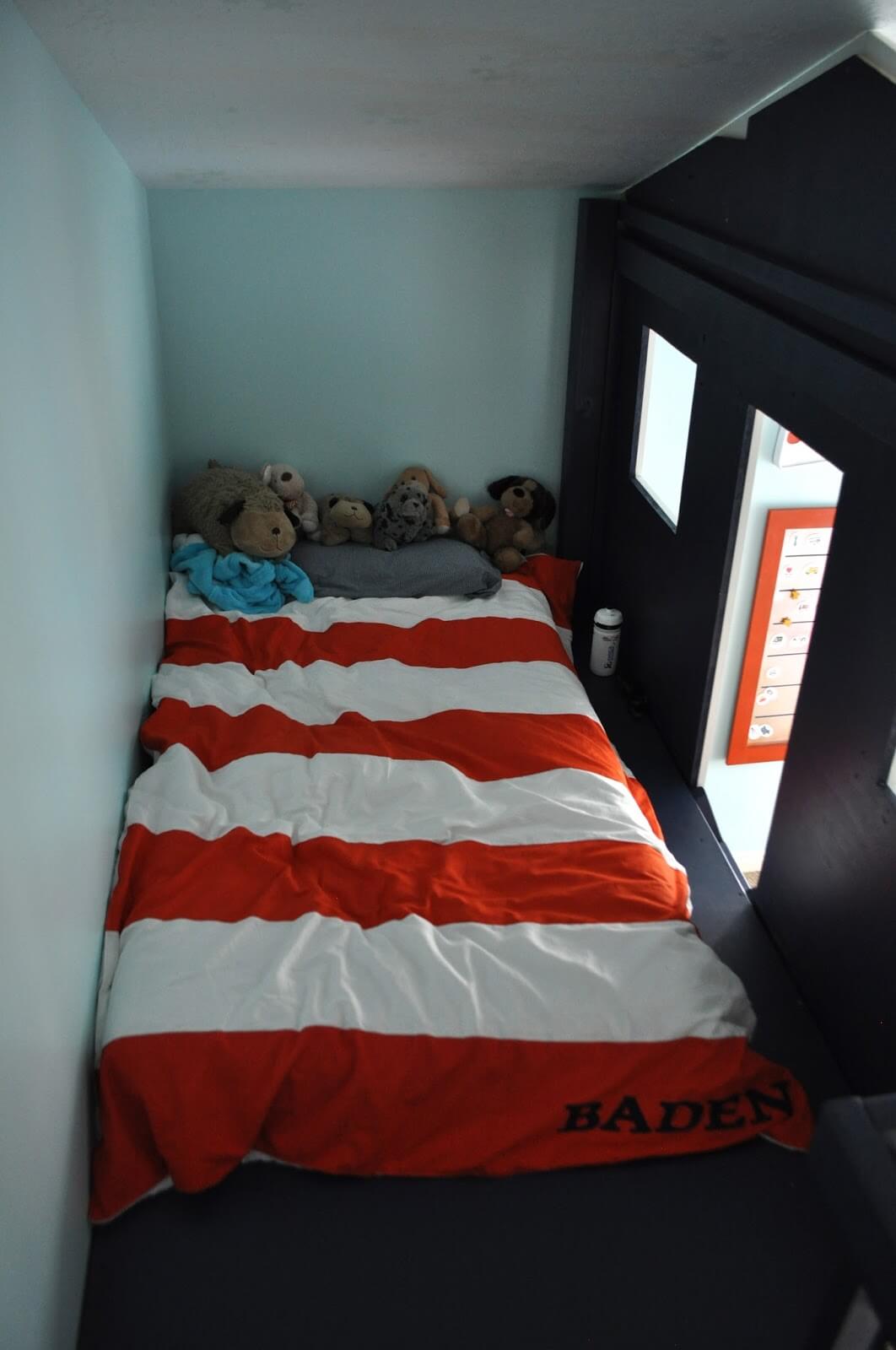 There are many cool toddler beds out there, but this loft one will excite any child while potentially making it that much tougher to fall asleep for all the right reasons. It starts as a well-made traditional loft bed with a large house or shack-like design in the front that kids climb up into. From there, it takes on a new life as there's an additional ladder that leads to another loft section where kids can place various items there to hang out with. It's a fun way to create a little bit more space for tots while still not taking up too much room.
14. Gorgeous Painted Toddler Bed Headboard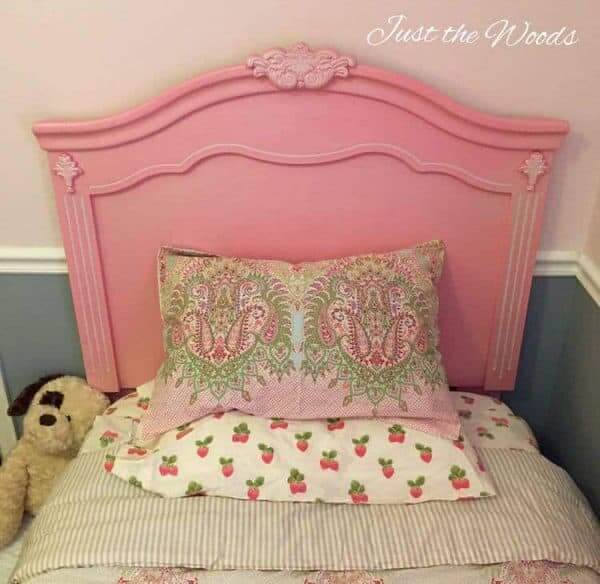 Oftentimes, a cheap toddler bed DIY project focuses more on certain areas like a headboard. This remains true with this fun painting project. Simply find an elegant-like headboard and breathe new life into it. It can be a perfect way to spruce up any toddler room and make them feel like a big kid. This is also wonderfully versatile since you can paint according to their desires or what their room already looks like. For instance, a bright pink style will probably work out well in a doll-like or princess-like room.
15. Upcycled Crib Wooden Toddler Bed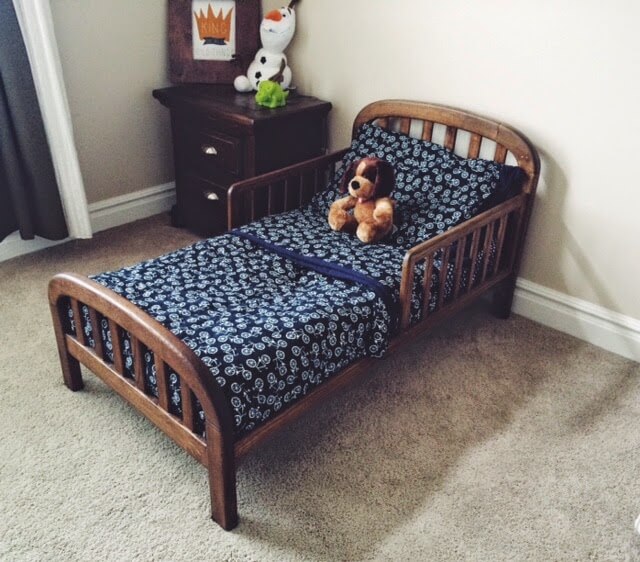 There are indeed many convertible cribs out there, but they can be rather costly. Why not make one yourself by converting an old crib into a usable toddler bed? The crib design will determine if you need any other hardware to go along with the project. However, many older cribs should have everything you need to create a low-profile toddler bed. There are enough pieces to even make simple guardrails on either side of the bed too for extra safety. Add on a great finish, and this upcycled old crib looks like a brand new toddler bed.
16. Cool Rustic Toddler Pallet Bed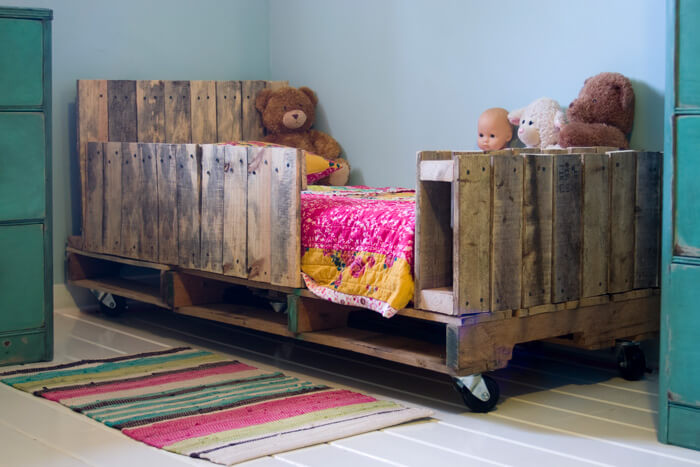 Are you interested in making something more distinctive for your toddler to use as a bed? Then take a look at this pallet bed. It's different compared to most DIY beds, but that makes it cooler in the end. This is also another good cheap toddler bed idea since pallets are readily available at numerous places for little cost or free. The side rails are tall enough to add a good level of safety, and it can even come across resembling a fort to make it fun for tots to jump in and play during the day. The wheels add a nice touch to make it stand out even more.
17. Awesome Playhouse Wooden Toddler Loft Bed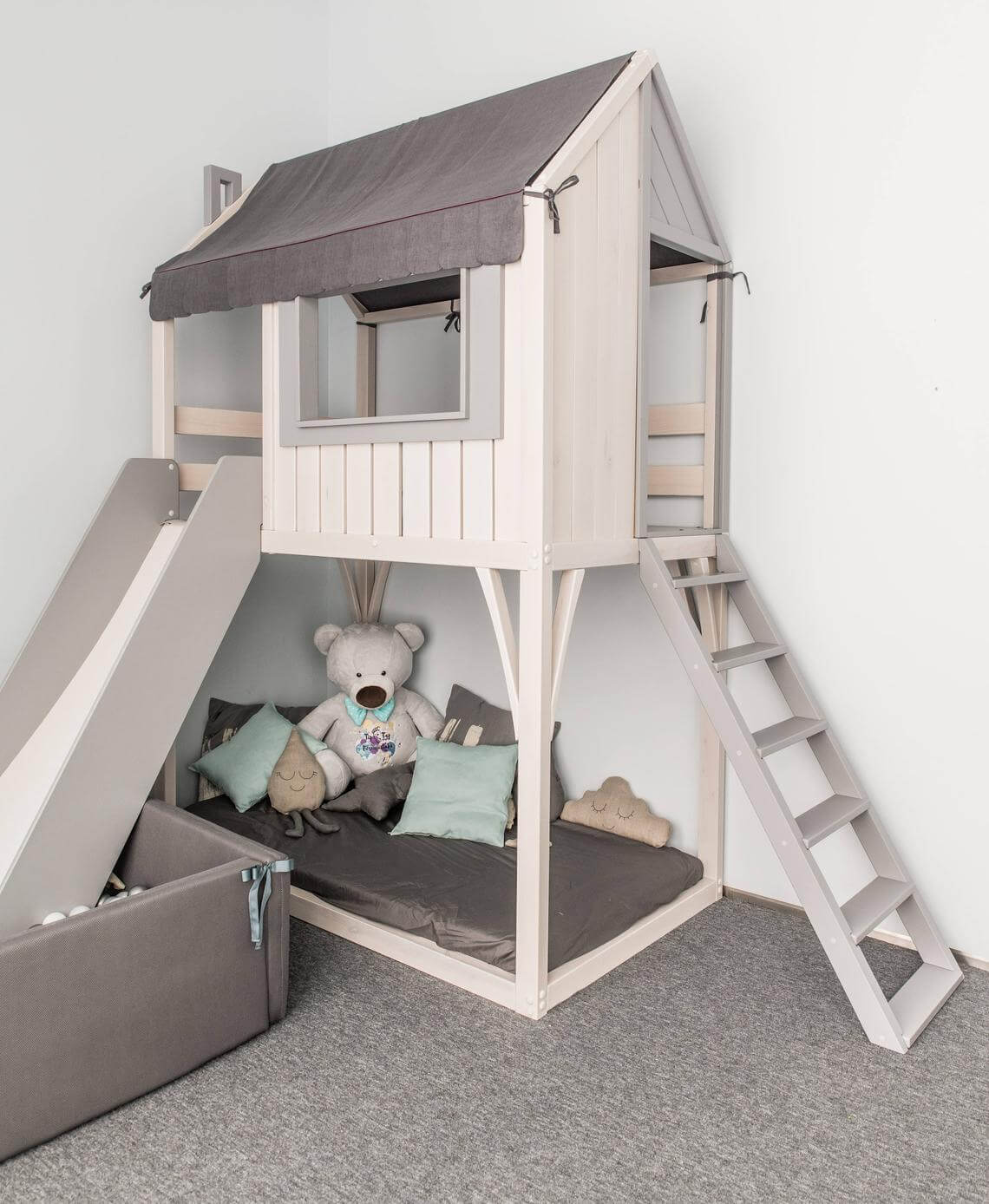 This beautiful handmade wooden loft bed is a nice way to liven up a toddler room. The bottom sits well on the floor so kids won't fall out. Meanwhile, the top part has a fun roof and enough room for playtime as kids can throw in numerous toys or use it as a lounge area with some large pillows and blankets. There is always a ladder attached that stands at an angle so it may be easier for tots to climb up. However, you do have the option to purchase this loft bed with a slide if you want your toddler to have an extra bit of fun in their room to truly make it a playground-like bed.
18. Amazing Farmhouse Style Chunky Teepee Bed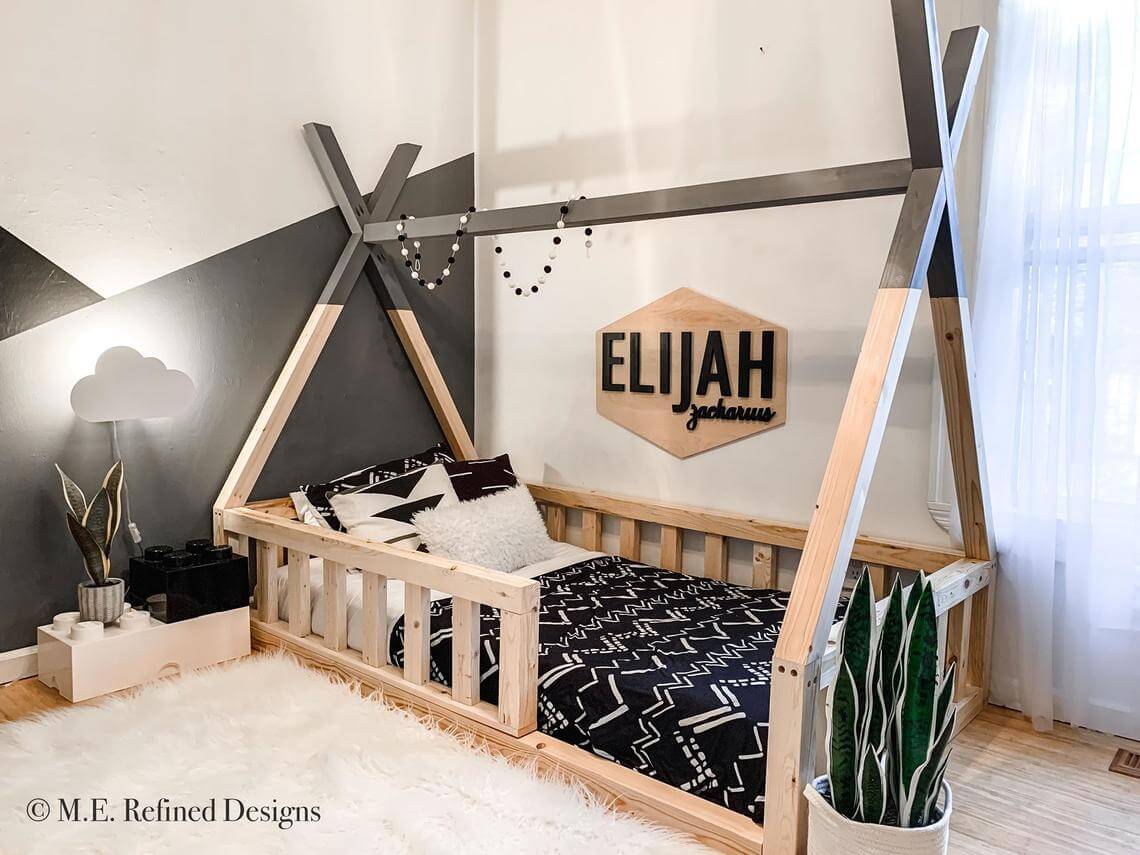 Teepee beds remain an all-time favorite for many families thanks to the natural-like feel they have. This is a wide-open design that is immediately eye-catching. The bed is against the floor, but there is still a side guardrail. However, the guardrail is removable so parents can use it or not depending on how their child sleeps. There is a bit of customizing available with this fun bed as you can request to have the top tip part of the teepee painted a specific color. With this option, it is easy to allow the bed to better blend into the décor of the room or whatever bed set you're going to use with it.
19. Construction Theme Bulldozer Bed Plans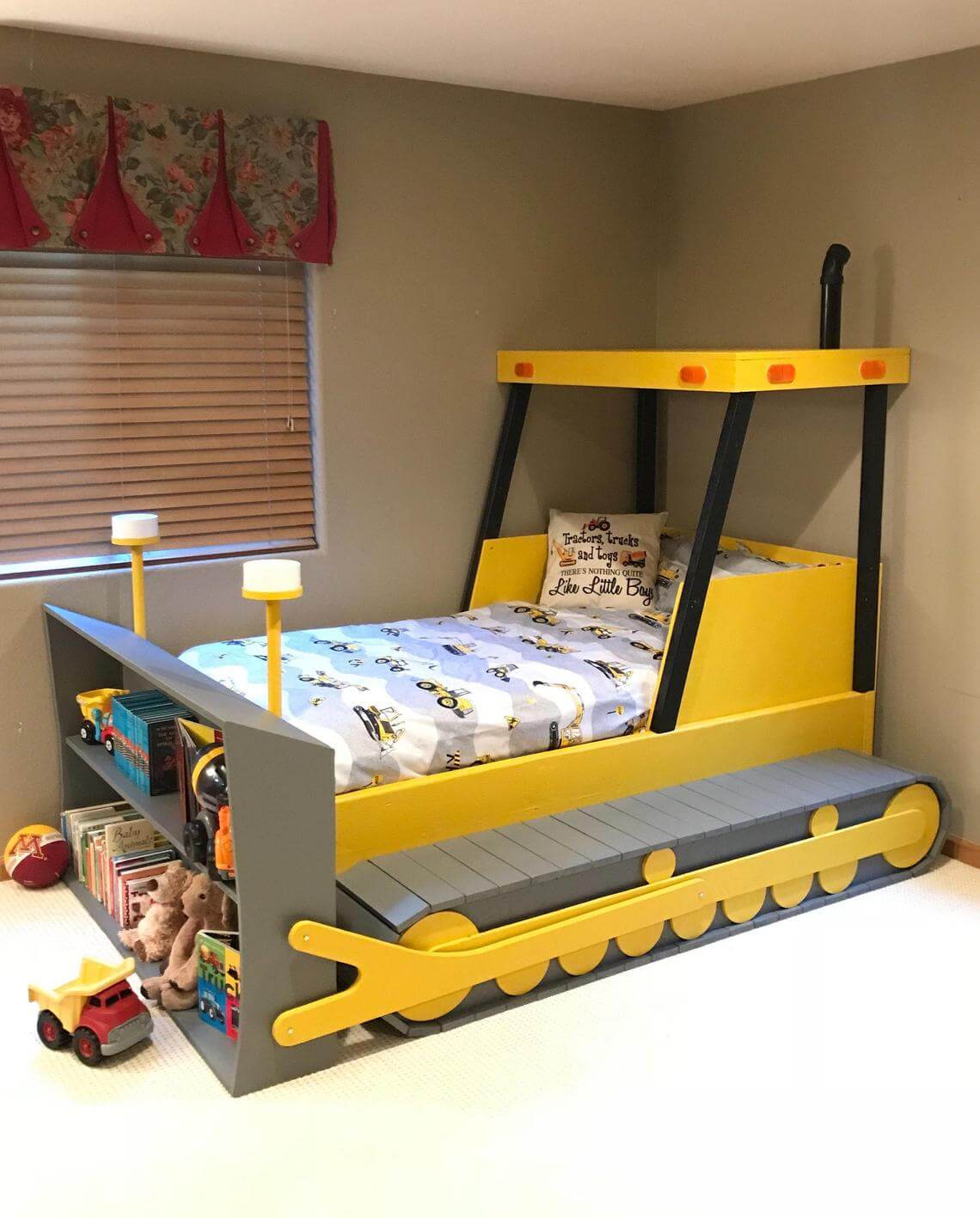 Do you have a toddler that just adores all-things construction and you (or someone you know) have great woodworking skills? Well, delight kids with this amazing bulldozer bed plan layout. The plans you'll get here have incredible amounts of detail to help get you through each step so that the result will be a wonderful bulldozer bed that will excite any kid who has a love of construction vehicles. The side "wheels" are wonderful to help tots climb up into the bed, while the end of the bed doubles as a bookshelf on the other side to make it a space-saving design too.
20. Faux Farmhouse Playhouse Loft Bed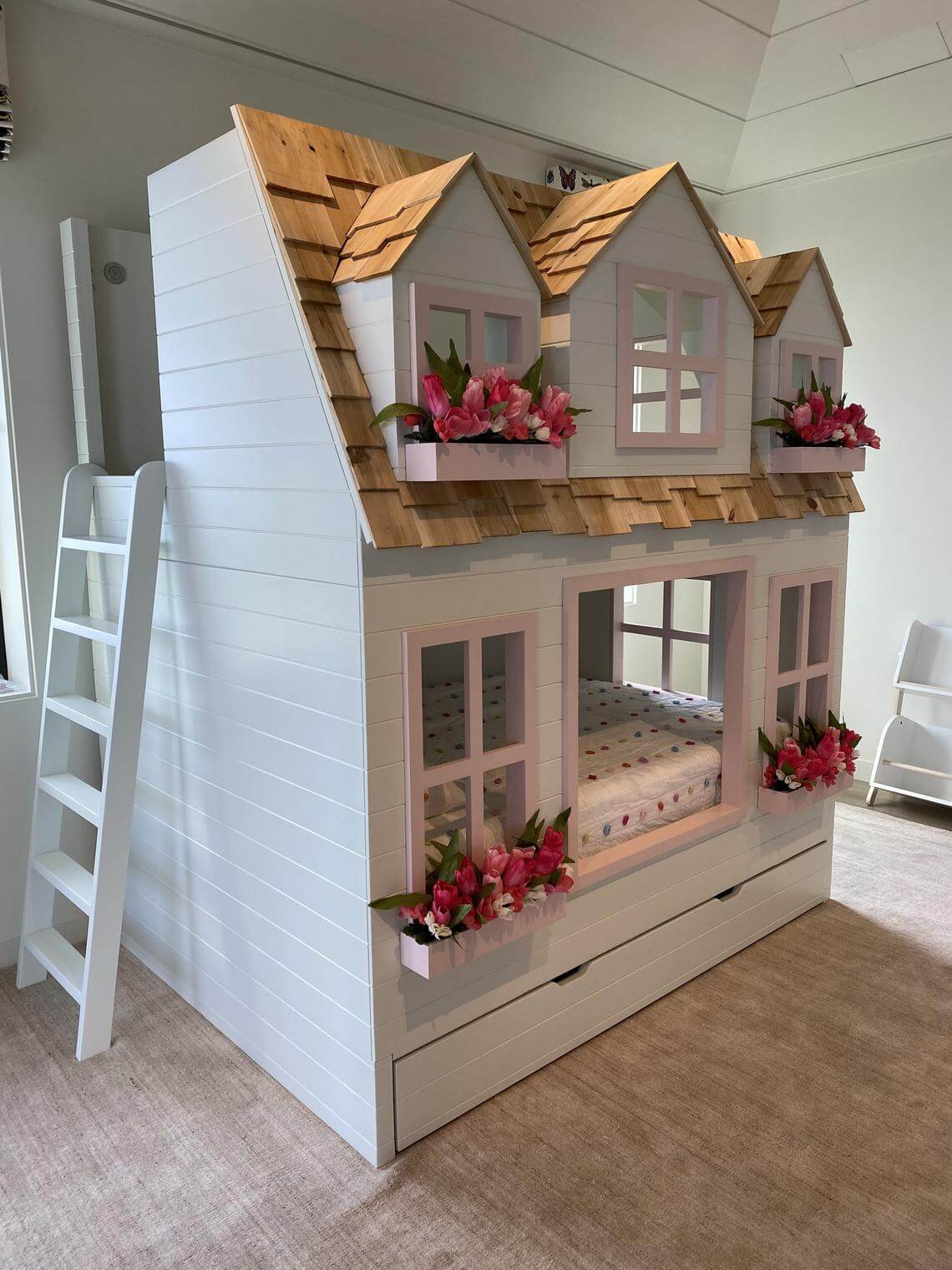 This remarkable handmade loft bed will immediately attract any child and make them feel like they're a big kid. The outside does well at resembling a farmhouse, and there are so many designs that you can choose from so you can get something that your child will personally enjoy the most. There are several upgrades to make to the loft bed too such as adding LED lights, a slide tower with storage shelves, a storage staircase, under-bed storage, and more. You can even customize the greenery in the pots around the outside of the "house". This proudly stands out among cool toddler beds that make the transitioning process easier.
21. Pretty Floral Decal Designs for KURA Bed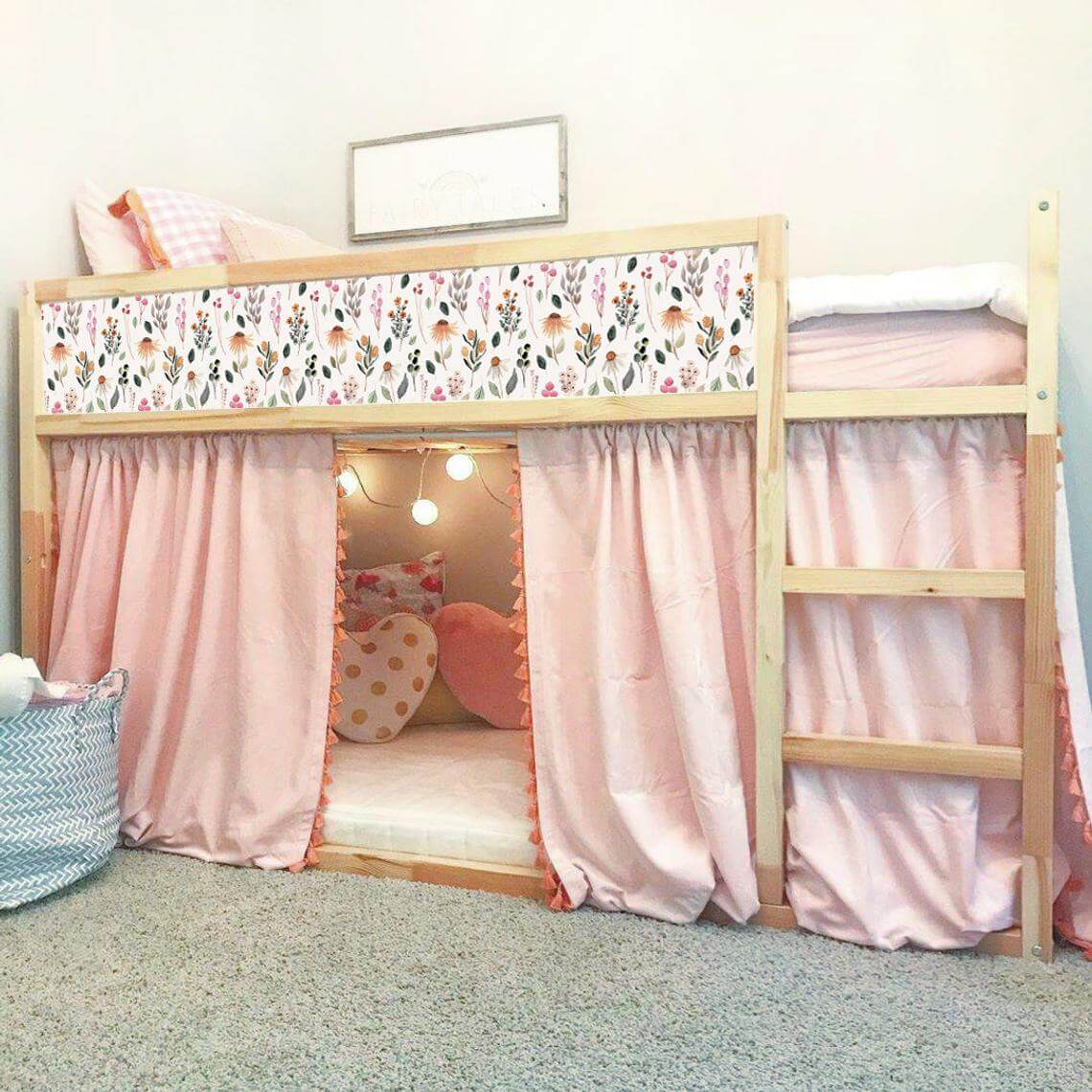 This floral decal design set can make a common, albeit a bit boring IKEA bed into something that is far more attractive and appealing to toddlers. They are handmade and created from safe and removable vinyl material so that it's okay if tots start to pick away at it. At the same time, it isn't easy to remove so there's no worry about them constantly peeling it off. They are also waterproof so if something ever spills, it's easy to clean them without taking them off. All you have to do is peel and stick, and in no time, tots have a bed that looks a lot more fun to sleep in.
22. Bold Fairytale Castle Bed Plans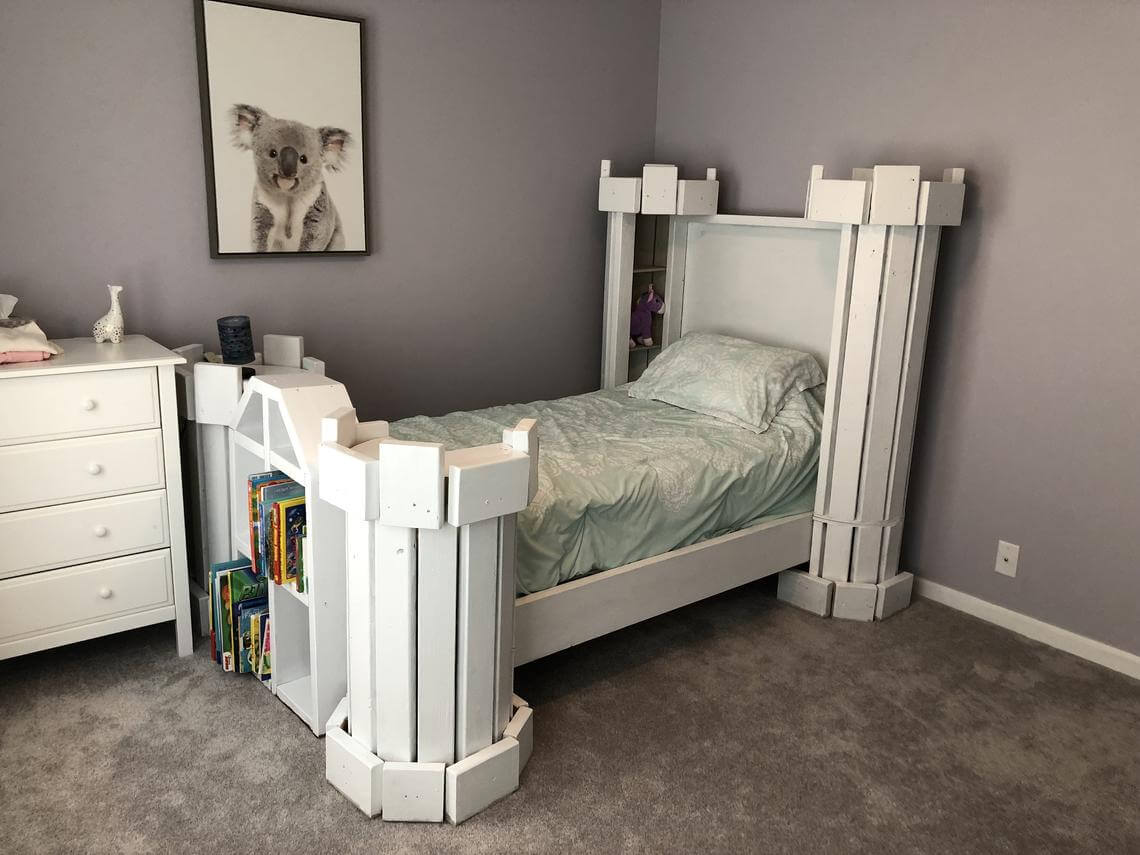 If you are handy, or you know someone who is, consider going for these castle bed plans. They are perfect for a room that's befitting a prince or princess. This plan has step-by-step directions and a list of materials needed to complete the castle bed. There are cool secret shelves inside the turrets on either side, and there is a wonderful bookshelf or small toy storage area at the end for your little prince or princess to use and gain immediate access to their favorite things. What is so fun about this is that you can still paint it any color your child likes to make it more theirs.
23. Handmade Teepee Montessori Toddler Bed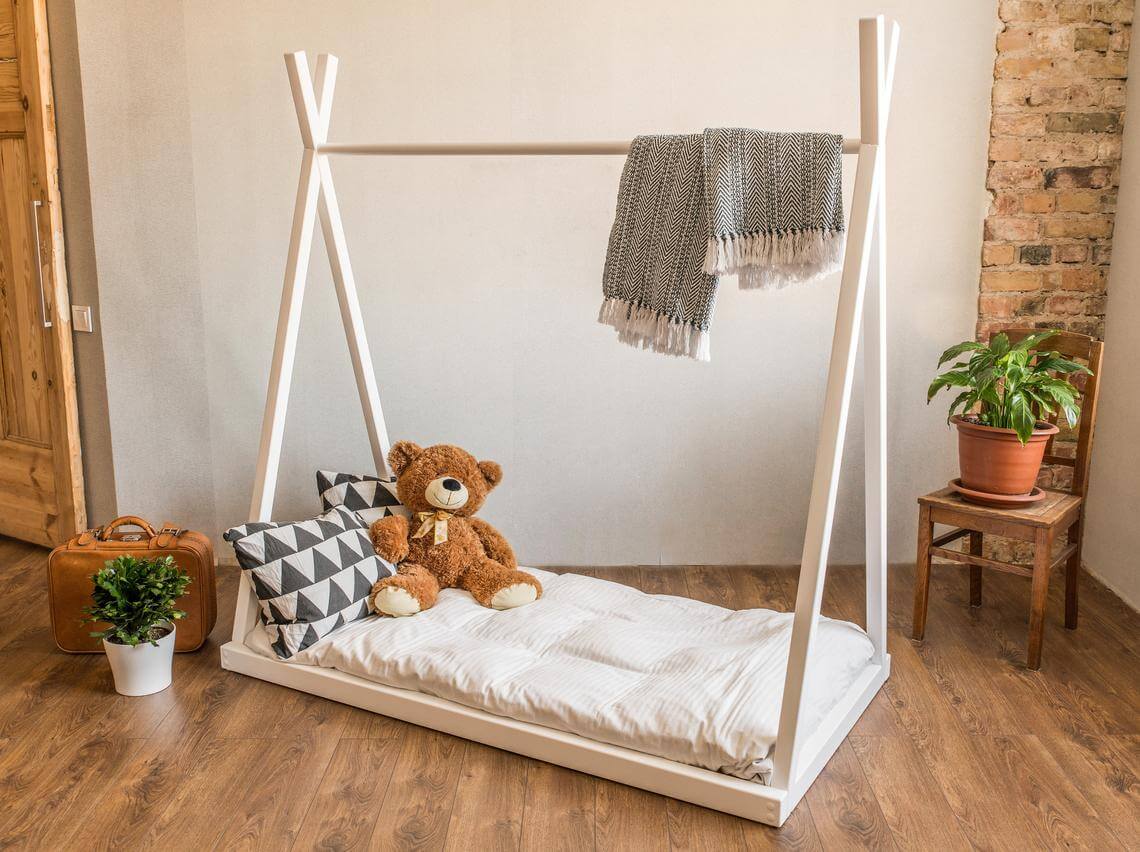 The beloved teepee bed trend stays alive with this beautifully simplistic toddler bed. It features the use of quality pine wood to create a stable and stunning bed that reaches the floor so tots won't harm themselves if they roll out. This is completely open on either side too so you have the option of putting it against the wall or leaving both sides available for little ones to crawl in and out of. The teepee layout is straightforward and appealing as the top bar still gives room to add anything that can be hung from an extra small blanket to a string of lights.
24. Large Sized Castle Bed Plans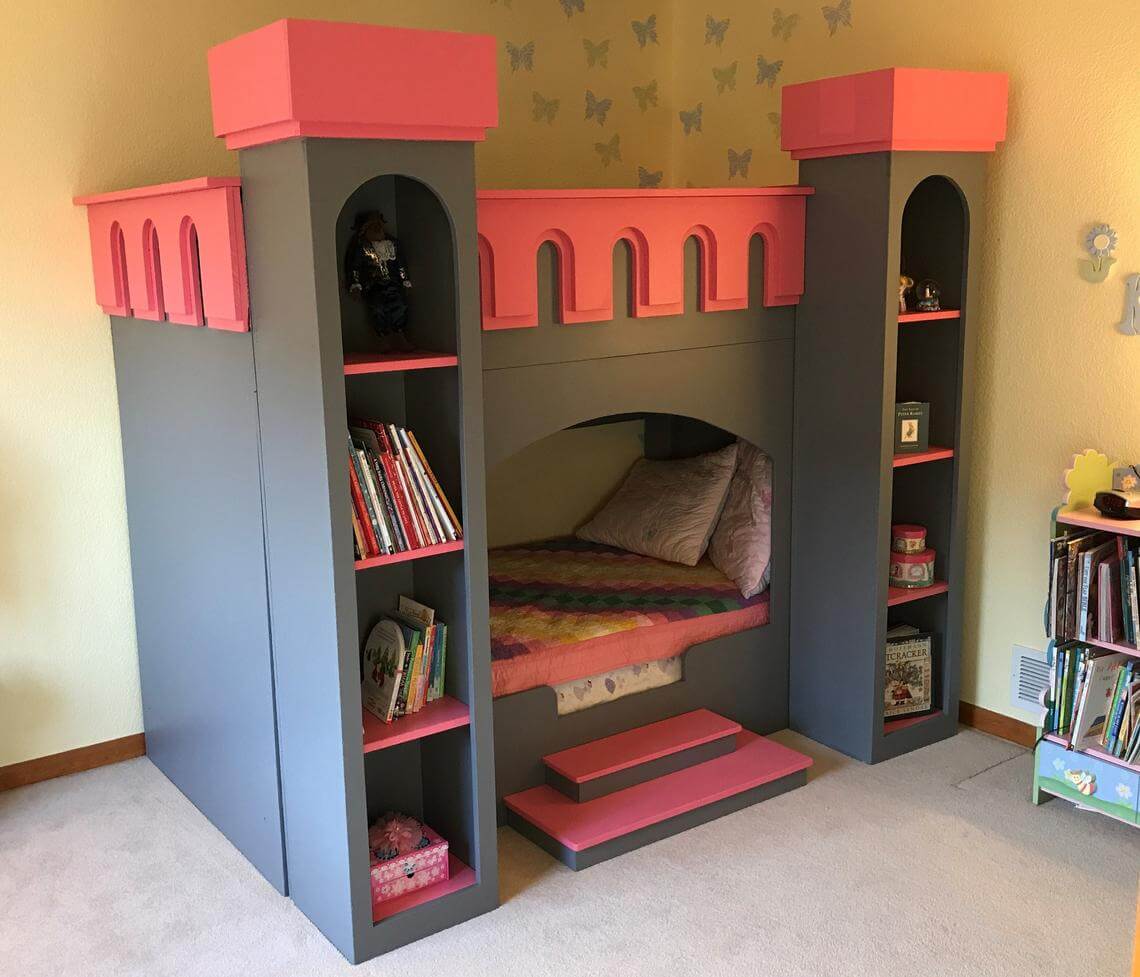 Create a true castle for your tot with this castle bed plan. It can transport them back to medieval times with its bold layout. Of course, you can color the trim any way you'd like so that it fits with your child's desires or the current theme of their bedroom. There are only a couple of steps to walk into the bed too, so it is remarkably easy for them to use. Also, the two towers on either side are good places to hold books and small trinkets or toys so they can grab them before they get into bed.
25. Farm Style Tractor Bed Plans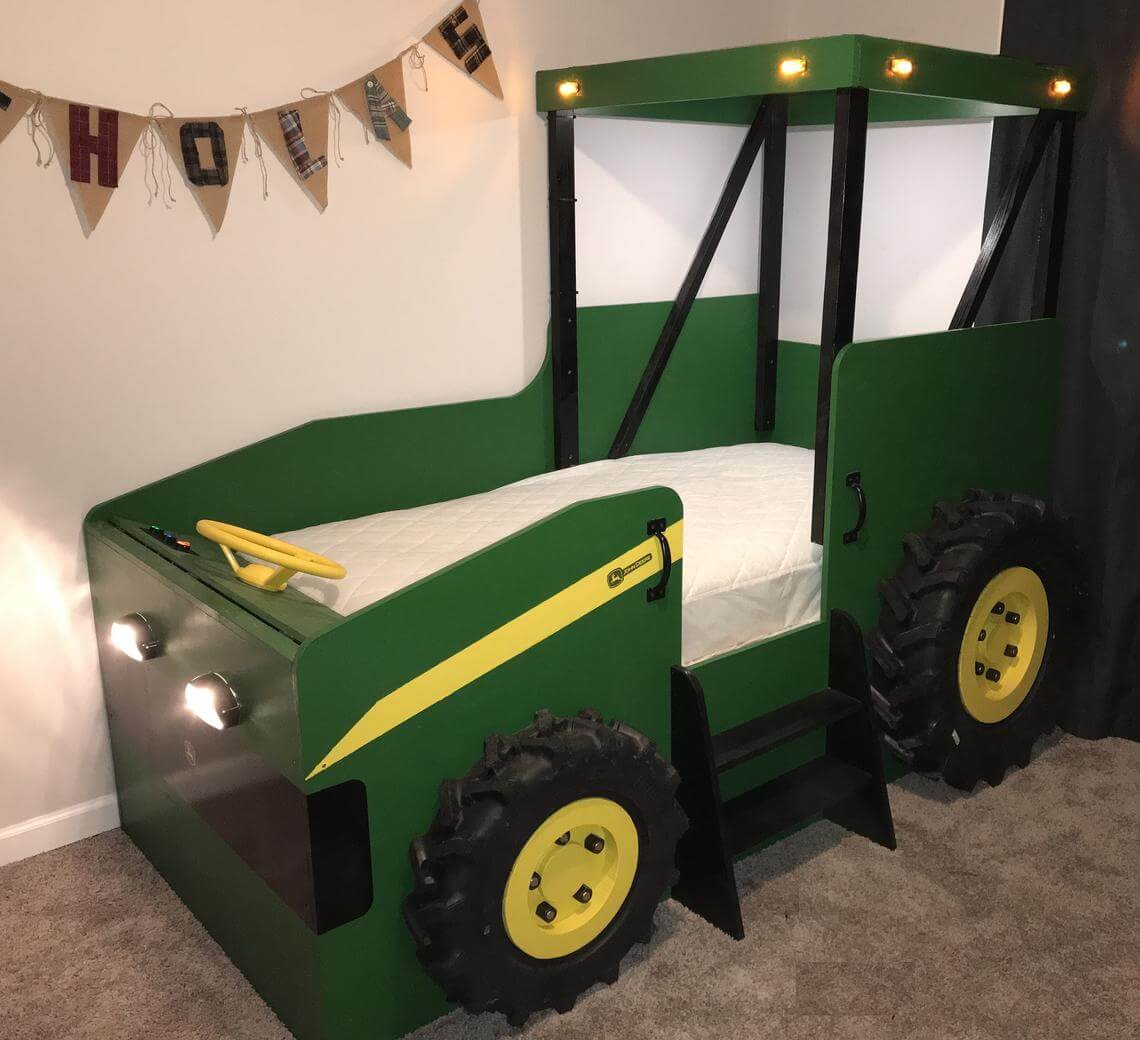 For the kids that love vehicles, this tractor bed plan is a perfect choice to decorate their room with. It features the classic design of a tractor too so that it may even resemble some of their favorite toys. There are cool light functions to build into the bed too from the headlights to the ones that beam down on them while they lie in the bed, giving the room pleasant ambient lighting to use as a night light. There is even a fun wheel at the end of the bed so they can roleplay during the day. Consider painting it any way you'd like to personalize the build.
25 Best DIY Toddler Bed Ideas to Inspire You
There are many cool toddler beds that you can design or others have built that stand out among common ones found in the stores. These are awesome ideas as they work as great transitional beds to teach kids how fun it can be to move on from the crib and into a big kid sleeping environment instead. At the same time, it doesn't detract from their age as the beds are fun and offer various distinctive feels such as being a loft bed or having a cool vehicle frame.
Feel free to tackle any of these DIY projects or check out the incredible handmade beds to elevate your tot's room into something even more special and exciting.