With the best DIY craft tables and desks ideas, you can make certain that all your work is done well and with some style.
Crafting can be such an enriching hobby or job in which you get to stretch out your creativity skills. What you can do is almost limitless, in fact, which is one of the many reasons that so many people get into this type of art. At the same time, with such an array of routes to go down, it also means that crafters may have different needs when it comes to their setup. Just how much space do you need for all your supplies? Alongside that, how big do the storage space and work area need to be? Some people may benefit from less room, more so if you are designing something to fit into a more minimalistic style, while others may have all the space in the world.
Best DIY Craft Tables and Desks to Customize Your Art Room

Also, are you interested in something that is merely functional or something that has a bit of flair? It's just as easy to find a simple and effective workspace desk as it is to find one that won't look out of place with the rest of the décor in your home. These are just a few of the aspects to keep in mind when you are deciding on the perfect crafting area. Additionally, these are also why it can be far more useful to create your workspace rather than simply use one you find from the store as-is.
Building a crafting space or even elevating one that is already there is a great way to go about getting the exact design fitting for your needs. Even better, a homemade desk or table is one of the best ways to show off just how creative you can get. If you don't know where to start, check out these incredible DIY designs to get started on your personalized crafting workstation.
1. Trendy Wall-Mounted Craft Desk Solution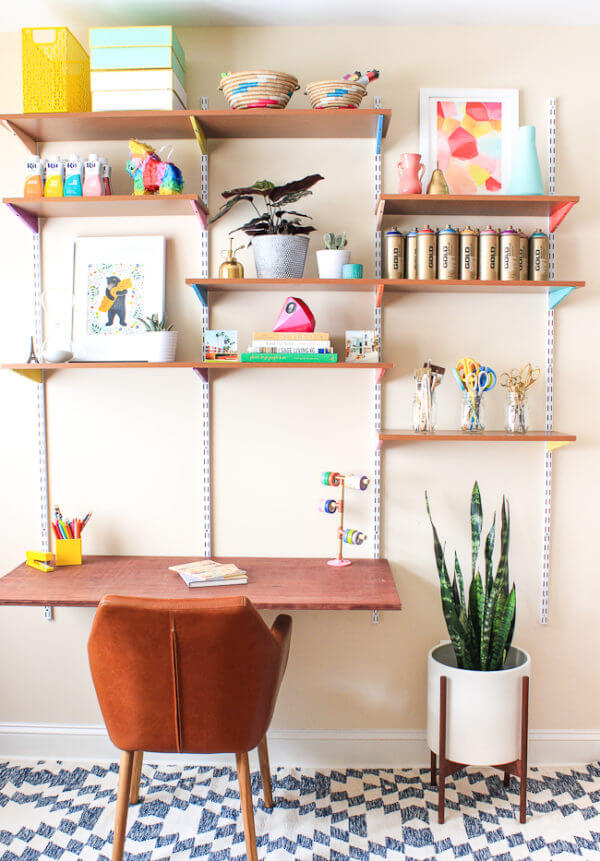 As you are weighing your options on building your crafting workspace, a good route to go down is to have something that oozes creativity and style. This is a welcoming and unique craft desk solution that makes use of open wall space to make something that looks trendy and fun. There is a comfortable number of shelves that serve as storage spaces for all your crafting tools. Meanwhile, you wind up saving far more space since you are utilizing the vertical sections in your room instead. Even when you are not using the desk, it is certainly a piece of work to be admired.
2. Simple and Compact Concrete Crafting Station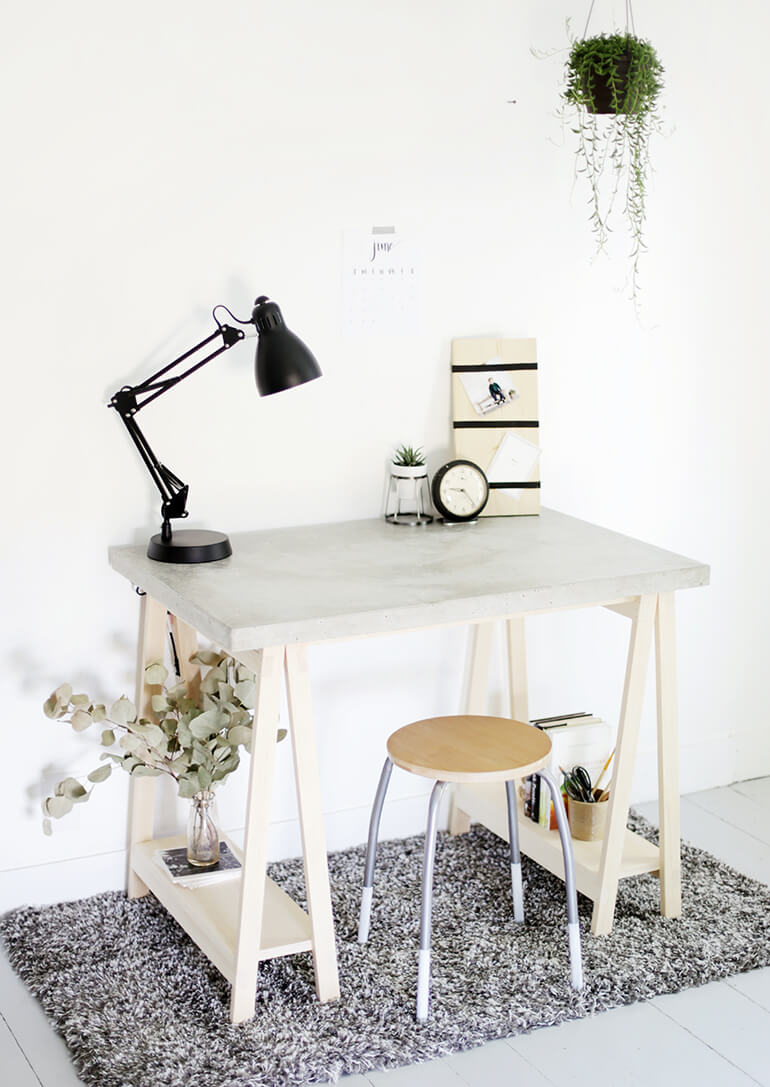 Are you in need of something that is more modern and minimalistic? Then this concrete crafting station is great as it hits everything you want. The smaller, space-saving design makes it useful for those more intricate crafts that don't require a lot of room. It also ensures you can tuck the desk off to the side or in a corner without it feeling cramped or uncomfortable to work at. The smooth concrete top also offers something more unique and interesting. Another fun aspect about this design is that it works for both adults and older kids who may want a crafting area too.
3. Double Style Crafting Work Desk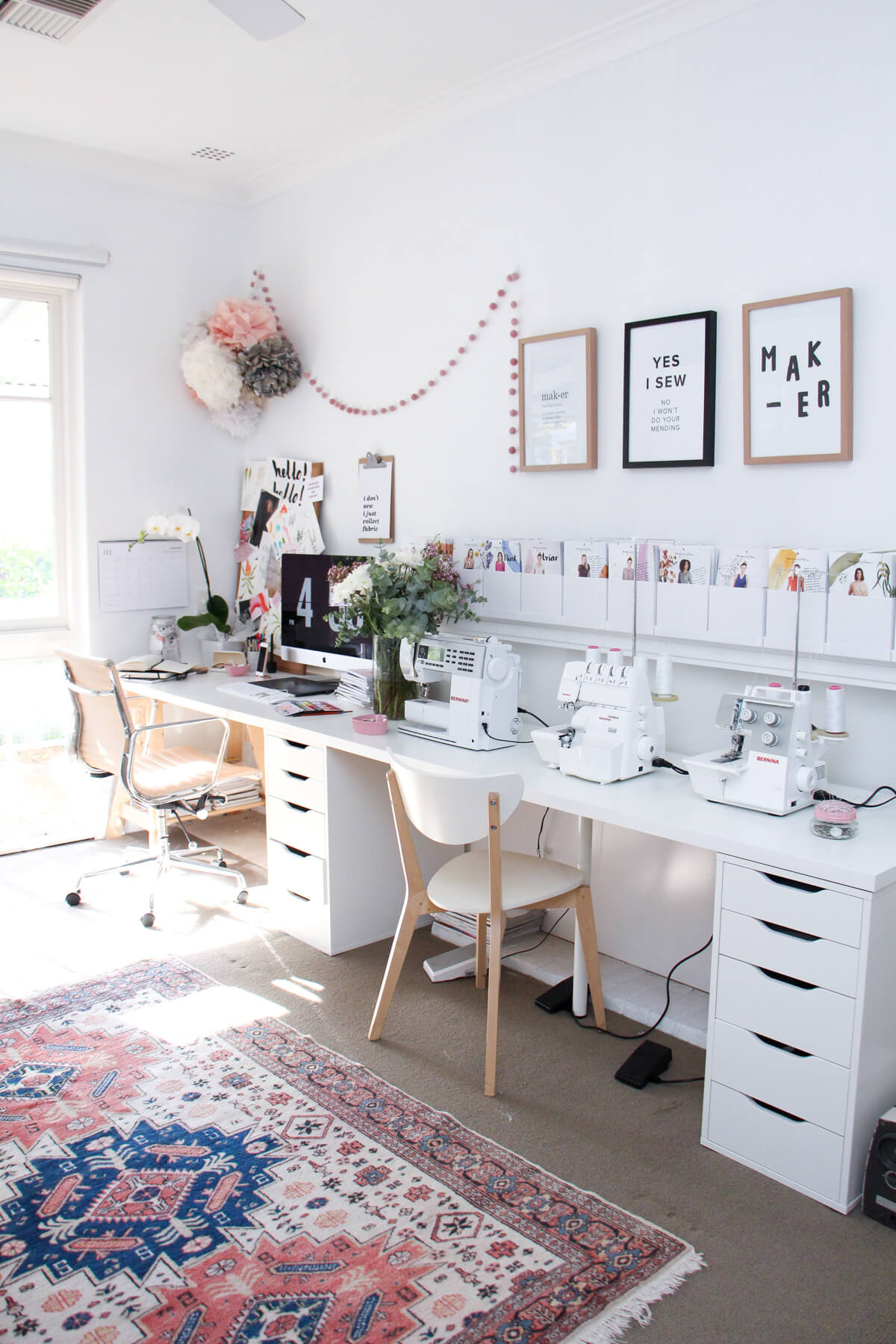 So, you live in a household where more than one person is interested in homemade crafts. You don't have to create two different desks when you can instead opt for this twin-styled crafting station. It is wonderfully long, bright, and clean-looking that it works as pleasing décor as well as it is a functional space to handle all your crafts. The drawers offer a healthy amount of storage too so that all your tools are right within reach. Of course, this type of desk isn't just useful for two people as it can instead be used to house different crafting stations so you can move from place to place as needed to handle specific tasks.
4. Budget IKEA Craft Table Hack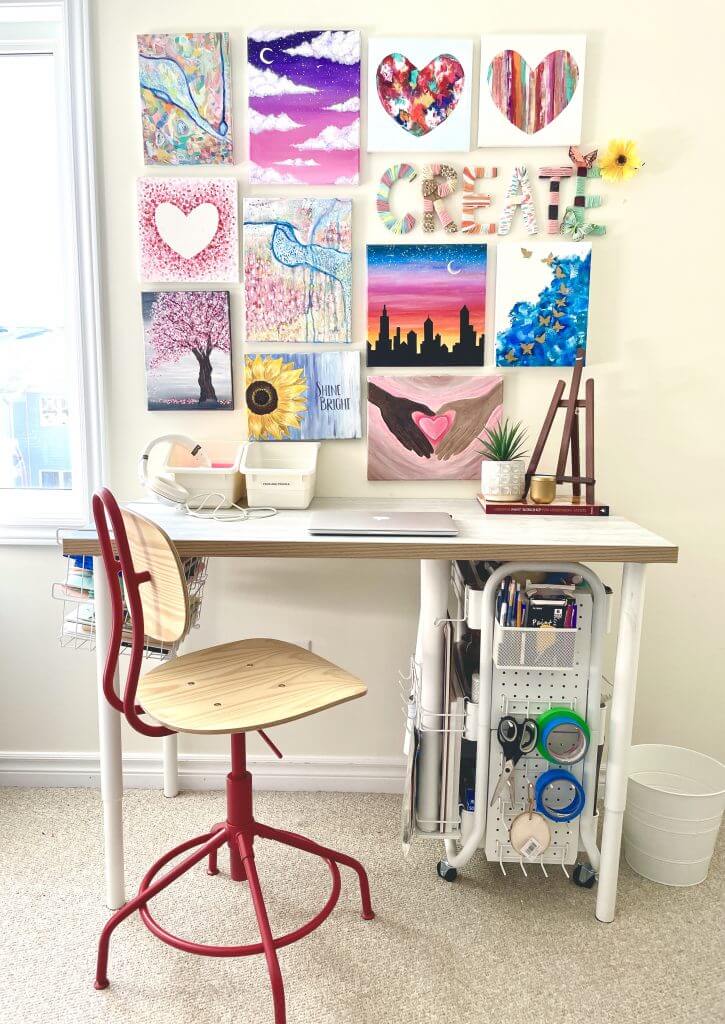 Stick to a lower budget while also creating a simple and great crafting table with this design. This table isn't too tall as it is about counter-height, giving you ample space to stand or sit and work as you see fit. The table is also a good product to use in different rooms throughout the house as it is compact and easy to push to the wall to save on space. There is just enough storage off to the side that makes this desk great for smaller crafting projects. Lastly, this can also work well as a starter table if you are just getting more into the joys of homemade craft projects.
5. Colorful Kid-Sized Crafting Station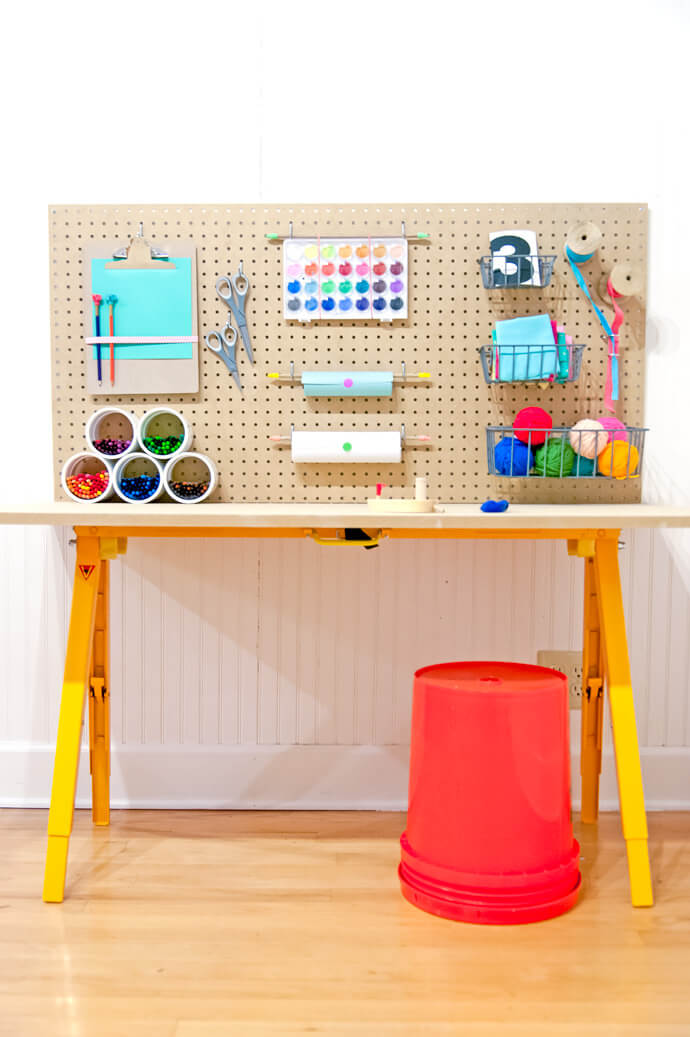 Crafting is not just regulated to adults. Kids naturally make crafts, and it all just isn't about completing school projects either. Making a space just for children is vital to further encouraging them to embrace their creative side while also helping them feel just like a parent who may have their own crafting space as well. This specific homemade desk is just colorful enough to instantly grab and keep a kid's attention too. The storage is helpful without being overly complicated so that children can find and reach exactly what they are looking for. Furthermore, this desk is a nice way to help kids develop organization skills.
6. Ikea Hack Art Studio Crafter's Table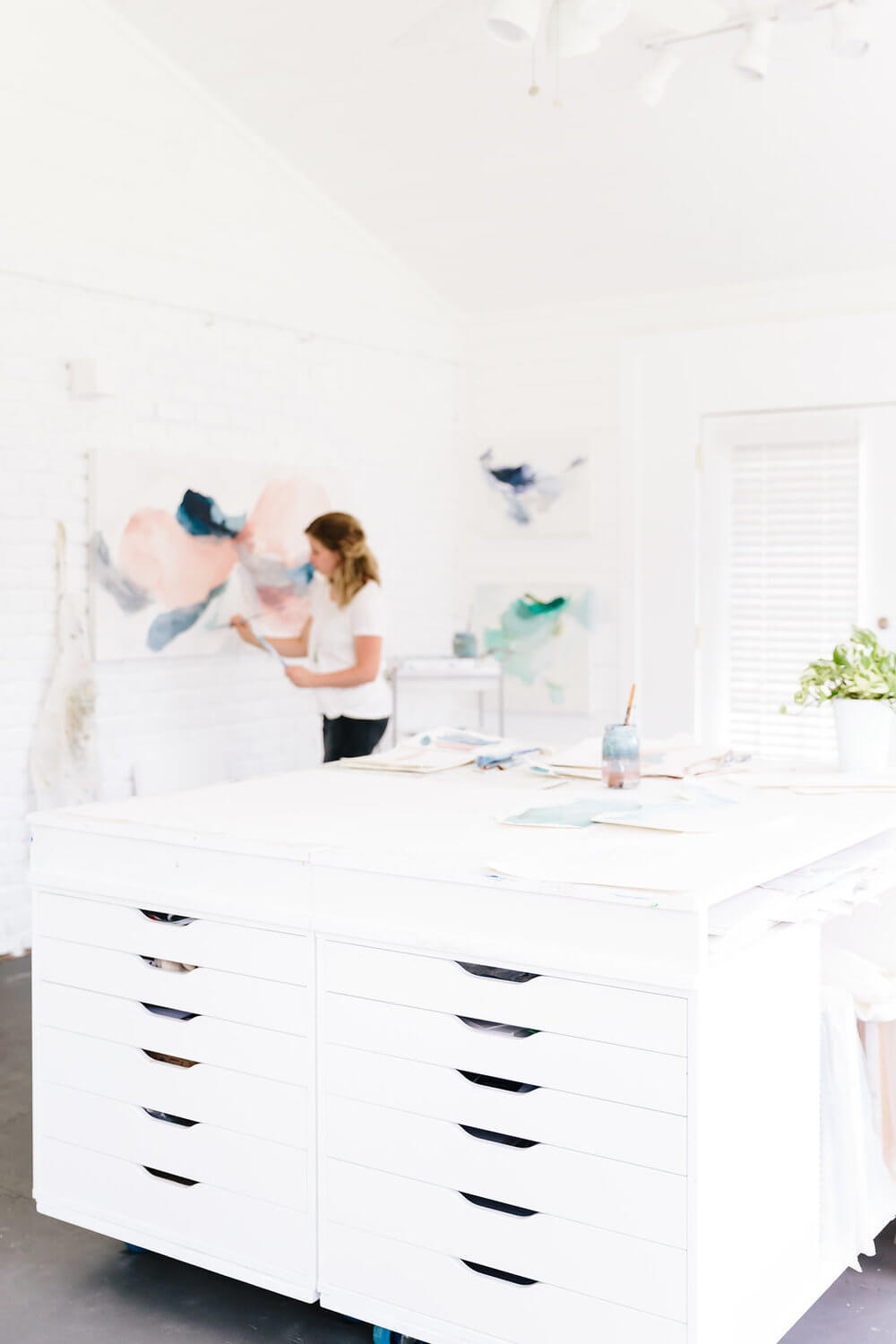 Organize and arrange all of your art supplies in one convenient space with plenty of room to get to work on top with this incredible Ikea art studio center. Using slim drawers, open compartments, and cabinets with doors, this art studio center has all the shapes and sizes of storage needed to keep your paints and canvases within reach. Set on casters, this large artistic island can be moved around the room for added convenience. Having all of your artist's tools together will ultimately make for more productive and efficient use of your time as you channel your inner creative genius.
7. Craft Lover's Dream Cube Homemade Desk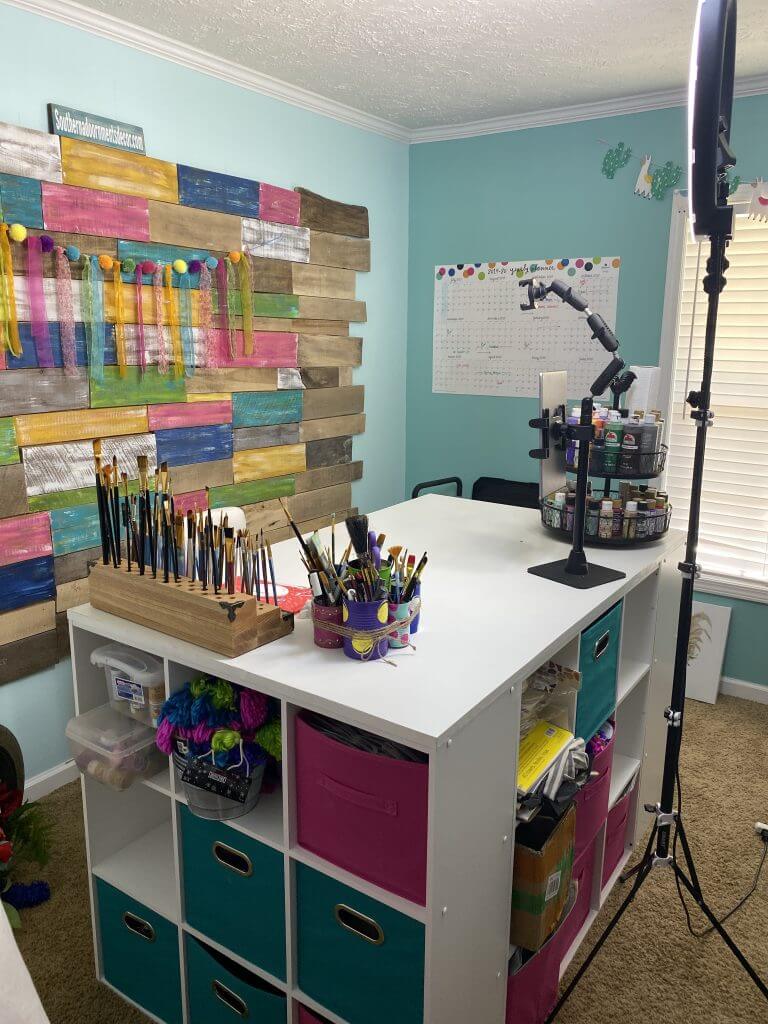 Set your sights on one of the easiest and best DIY craft tables and desks created from closet storage cubes. Each storage cube can fit a foldable fabric cube to add color and additional organization to your personal items. This crafty creation is a great workspace for your budding artist offering all of the tabletop space for drafting and drawing. Below each cubby, choose a foldable fabric bin for easy storage. Color coordinate with your room decor or use a color-coding system to easily find your essential supplies.
8. Counter Height Wooden Cutting Table on Wheels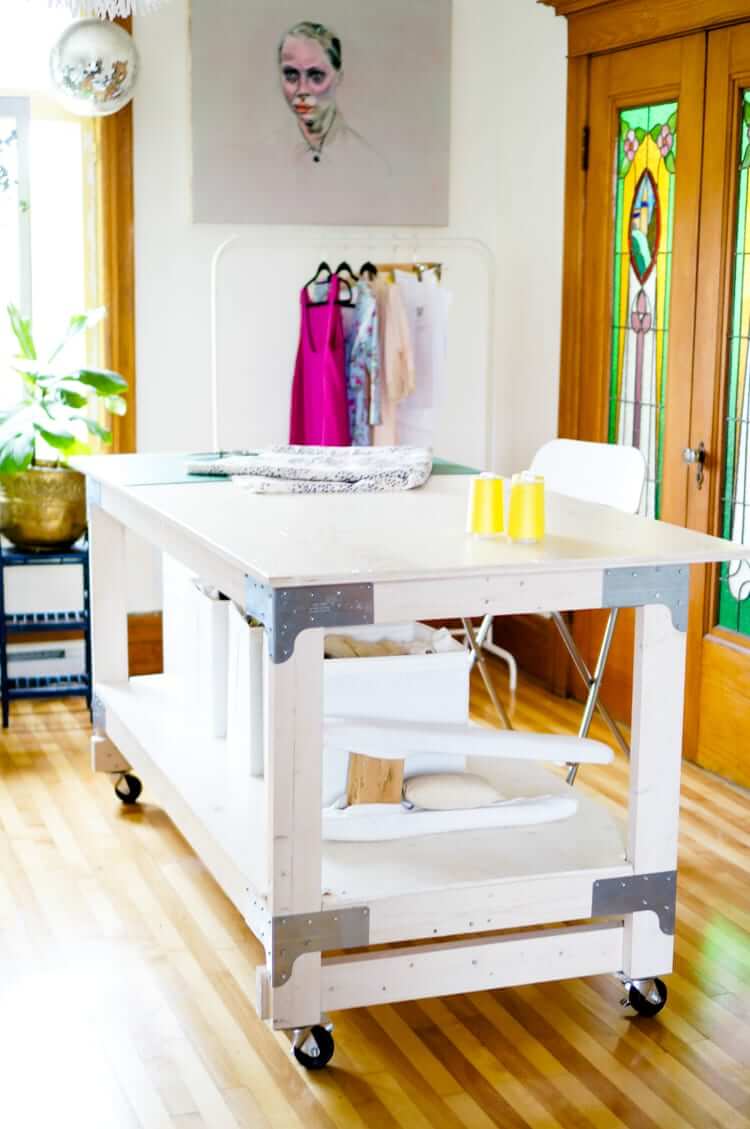 Give your back a break and enjoy cutting for your sewing projects like never before with a cutting table that truly meets your needs. The tabletop is positioned at counter height to make using it much less stressful on your back while the large platform gives you all the space needed to spread out your material. Below, you'll discover a large shelf with plenty of room to store all of your leftover materials, as well as ones for future use. The inclusion of wheels, on this beast of a cutting table, makes moving it around a lot easier.
9. Just Right Wheeled Crafting Center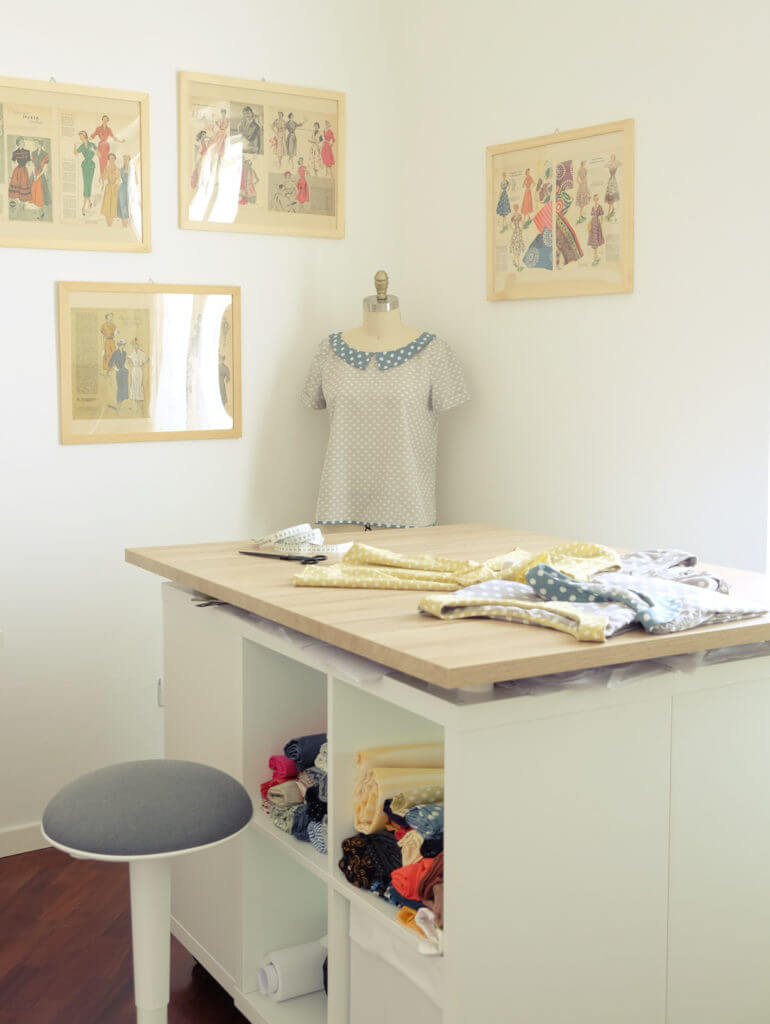 If you're short on space but have big crafting needs, this small craft center is the perfect fit! Featuring twelve openings for maximum storage, this crafting island makes a great option for almost any room of your home. Its wheeled design allows for versatile function as it can also be used in the kitchen or in the closet. Stowaway all of your items in the cubbies below the counter to free up all the space for spreading out your project on top. From art supplies to sewing essentials, this craft center has everything with an easy-to-navigate mobile design.
10. Storage Galore Craft Room Table with Cubbies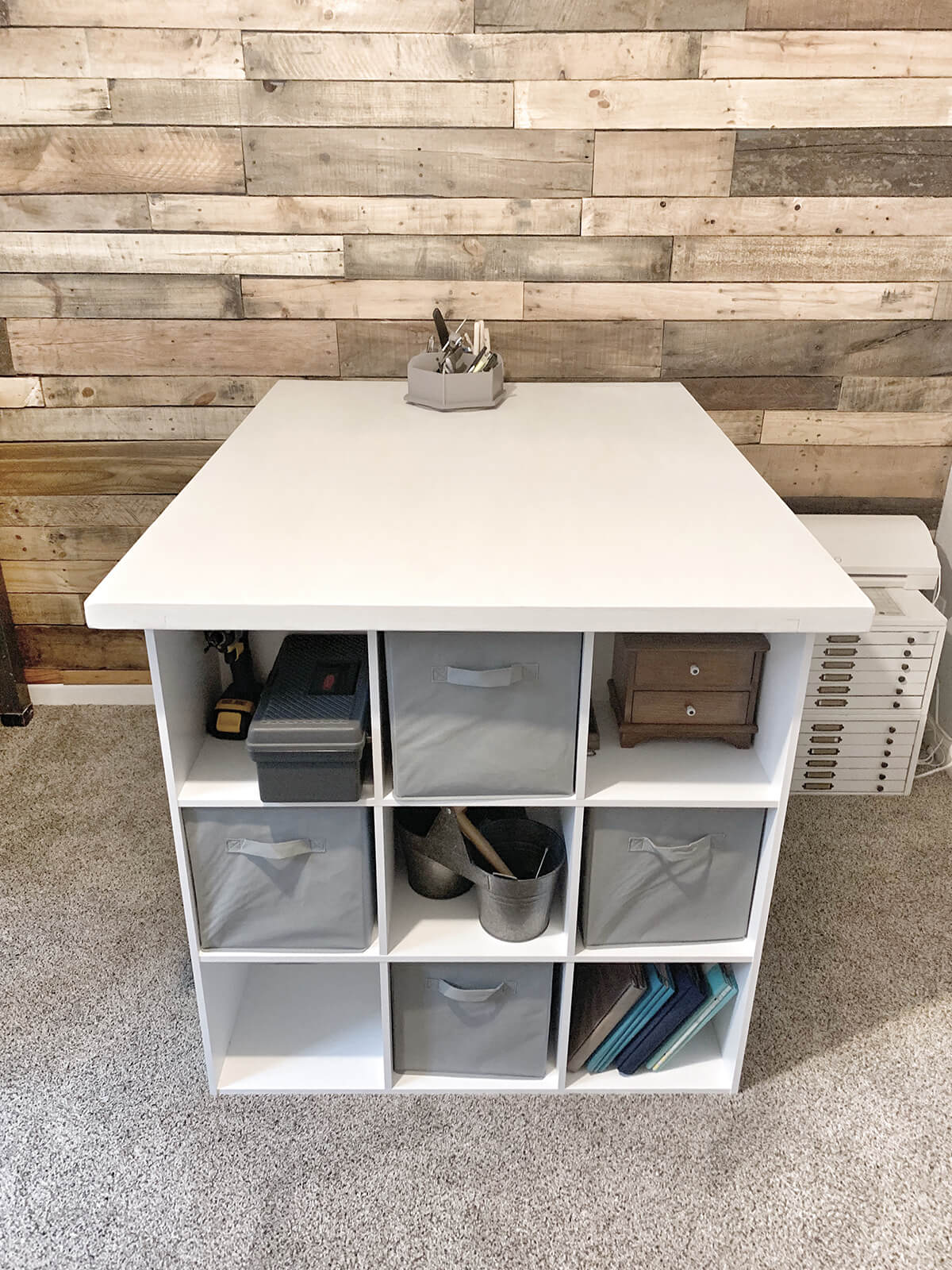 Two nine-bin cubby cabinets transform into this amazing DIY craft table with storage in a quick weekend warrior project. Honestly, the shopping will take longer than assembly when you roll up your sleeves to create this amazing craft table for your personal recreational space at home. The open bins make it easy to see all of your supplies and access them as well. On top, the counter is large enough to arrange all of your supplies to make the most of your precious crafting time. This table can be positioned in the center of the room so you can work around all sides, or slid up against a wall to take up minimal space.
11. DIY Cube Base Wooden Top Craft Table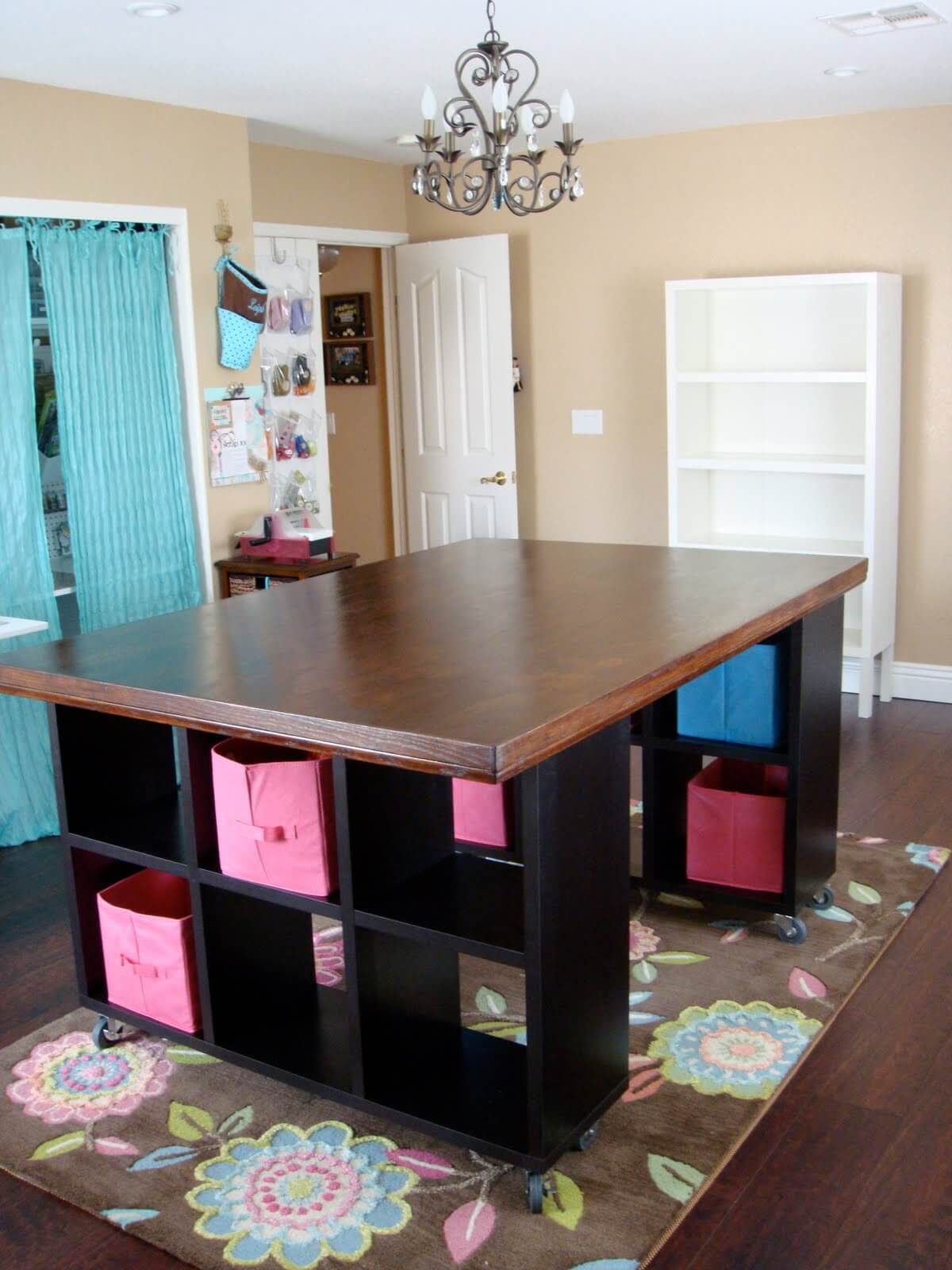 A little elbow grease can go a long way in creating this magnificent wooden topped craft table. It makes transitioning your spare room into a crafter's heaven as easy as pie. Each end features a six square opening cabinet unit that makes storing and grabbing your supplies a cinch! Include some foldable fabric bins to add some bold splashes of color to tie into the decor too. With a rich stain, the wood grains on the top will make this a welcomed furniture addition to your home. Using a large-sized top makes for the easier crafting of large projects. It's a perfect place for making cards, paintings, and even special school projects as well as everyday homework assignments.
12. Crafty Cutting Table with Bulk Batting Storage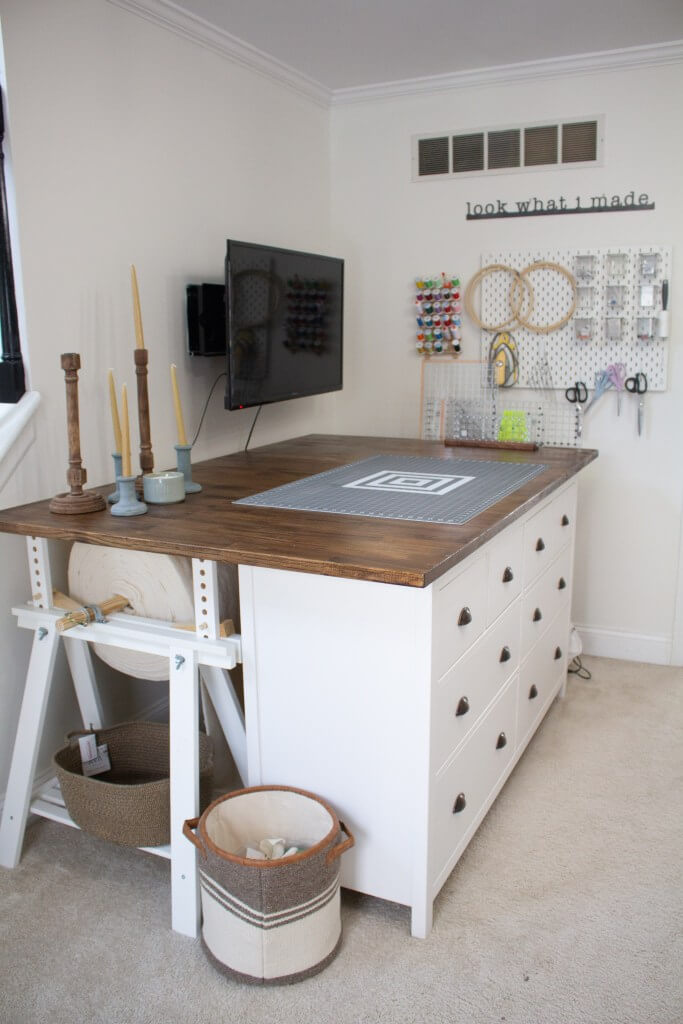 Think outside the box and imagine a new purpose for a dresser that traditionally resides in the bedroom. This creative use of a dresser transformed into a cutting table delivers on so many levels. The vast amount of drawers for storage, along with the large tabletop, offers a perfect spot to cut all of your sewing materials. Perhaps the most impressive feature is the hidden hideout for bulk batting to be stowed away. No more carrying this oversized beast back and forth from workspace to storage space.
13. Custom DIY Craft Table with Storage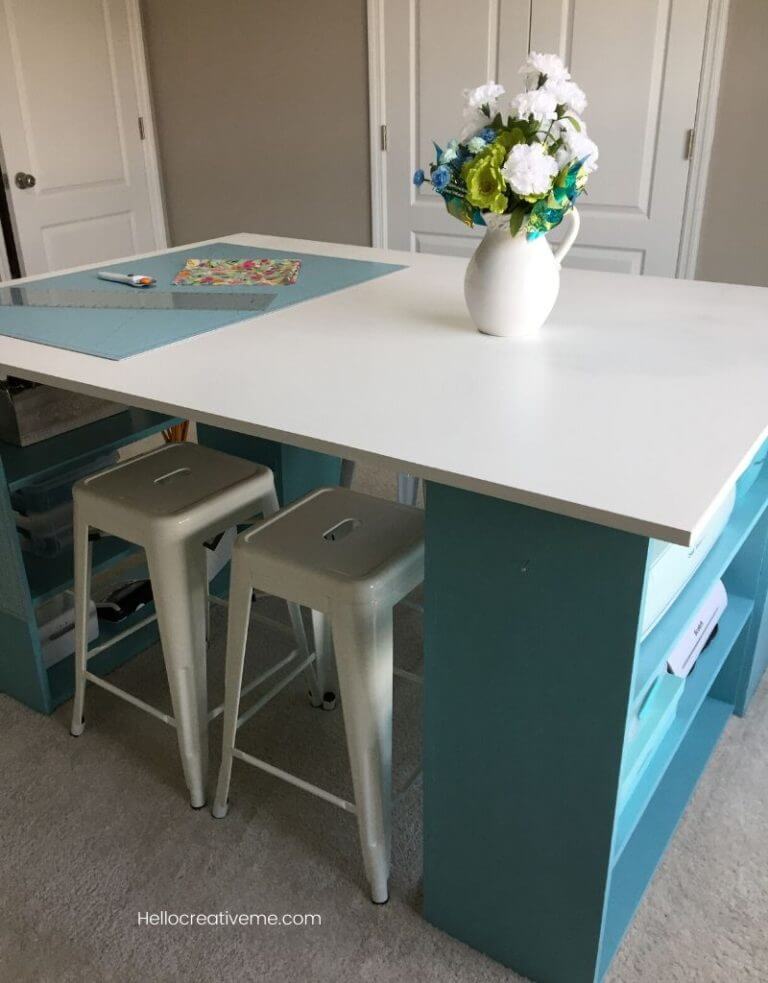 When in need of a crafting center, create a space that's tailored to your needs. From sewing to gluing, this amazing unit is one of the best DIY craft tables and desks to meet your needs. Decide on the size you'll need and then plan for constructing your foundational shelving units. The smooth birch plywood tabletop makes a great surface for delicate fabric materials and provides plenty of room for spreading out and cutting pieces as needed. In the end, smaller cabinet cubes are great for grandkids' fun art supplies as well. And for seating, some handy stools that slide underneath make the best and most convenient choice.
14. Storage Galore Clever DIY Ikea Craft Table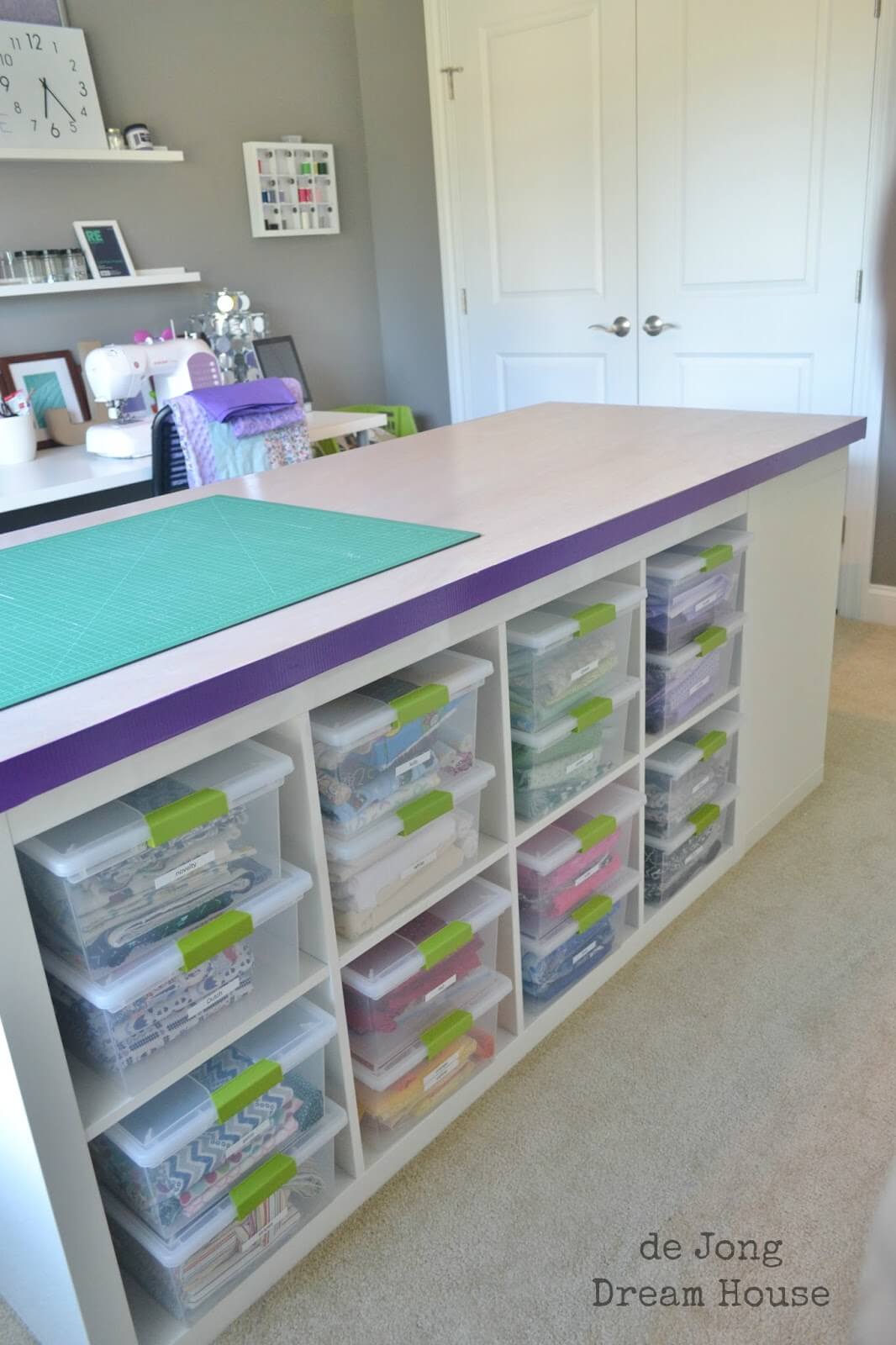 Create this homemade crafter's desk space complete with tons of storage below with a quick trip to Ikea. Make it all happen by placing as many expedite as your space allows to create this storage solution. It's a popular choice for a craft room, but it would be a smart storage center for a large walk-in closet too. Fill up the cubes with clear plastic containers to easily find what you need or display purses, shoes, and larger blankets. Cleverly using a door as the tabletop, this DIY craft table with storage is an easy project that offers the potential of answering your organizational dilemmas.
15. Seamstress Dream Spectacular Sewing Center Craft Table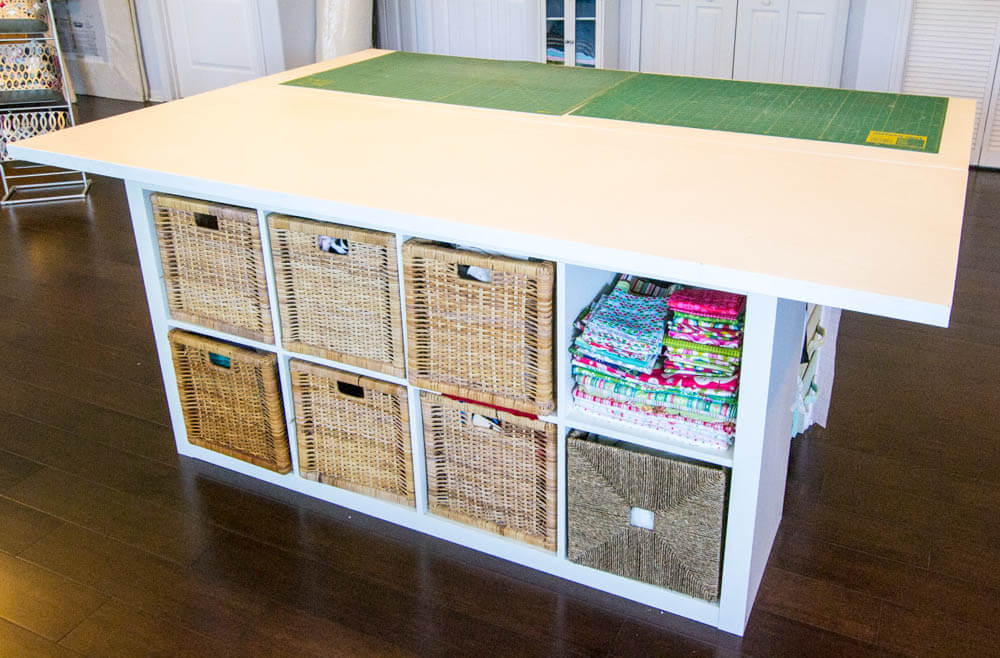 Get a move on making those sewing projects you've been saving for a later date with this incredible sewing center craft table. The extra-large tabletop makes for the perfect fabric cutting station while the bins below make keeping each project's supplies neatly together. Just pull out the basket bin that holds your current project and begin. Not only does this spectacular sewing center have all the storage and space you need; it also looks amazing as part of your craft room furniture.
16. Sophisticated DIY Craft Table Design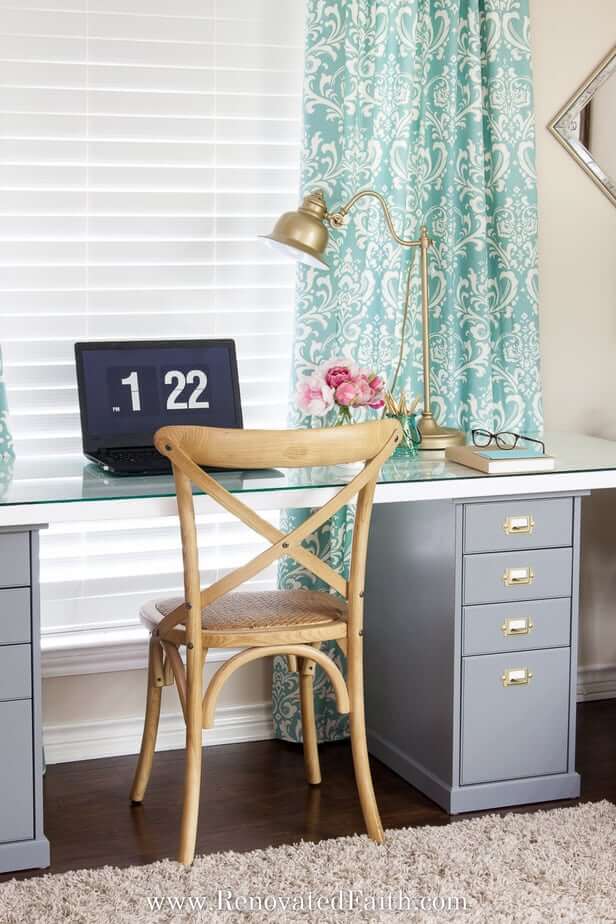 This is yet another DIY IKEA craft table that uses a piece of furniture from the famed company as a durable and functional base. In this case, it transforms the Klimpen towers into much-needed storage space for all your crafting tools. What is so nice about this design is that it looks far more complicated than it actually is, and the result is a contemporary, sophisticated crafting desk that almost looks too nice to work at. Also, this doubles as an upcycling project since the tabletop is an old, used door that you can paint however you'd like to fit your décor.
17. DIY Industrial Crafting Work Table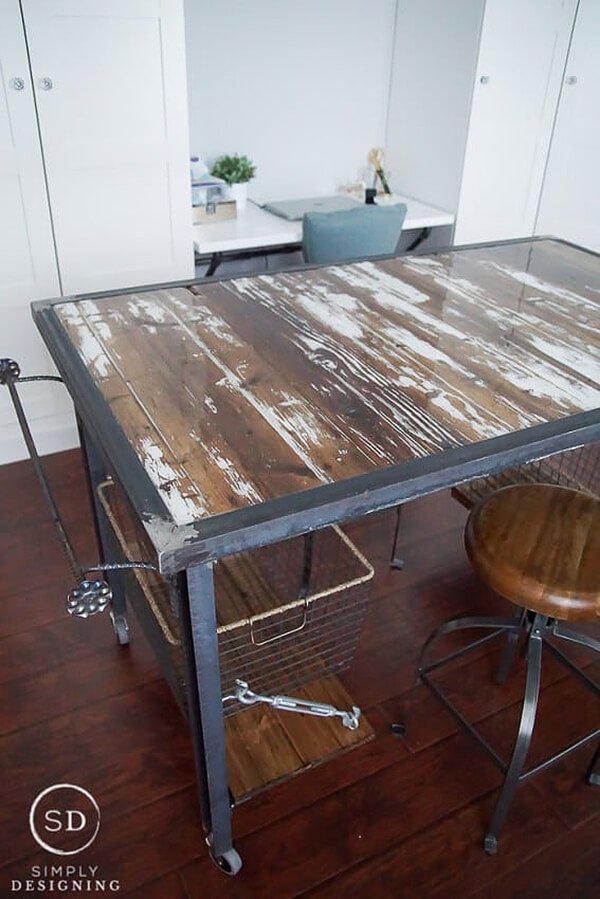 Nothing may feel quite as good as building a crafting table that aligns with a certain theme as this industrial table does. This features all the functionality you need from a crafting table from the storage underneath to the wheels at the bottom so you can set it up as needed without difficulty. It is the overall style though that helps this make an impact as it just simply looks cool. There is a dark, vintage-like design to it all aided by the interesting wire baskets at the bottom for storage. This is a nice way to highlight your creativity and let your workstation stand out as much as your crafts.
18. DIY Craft Table with Hidden Storage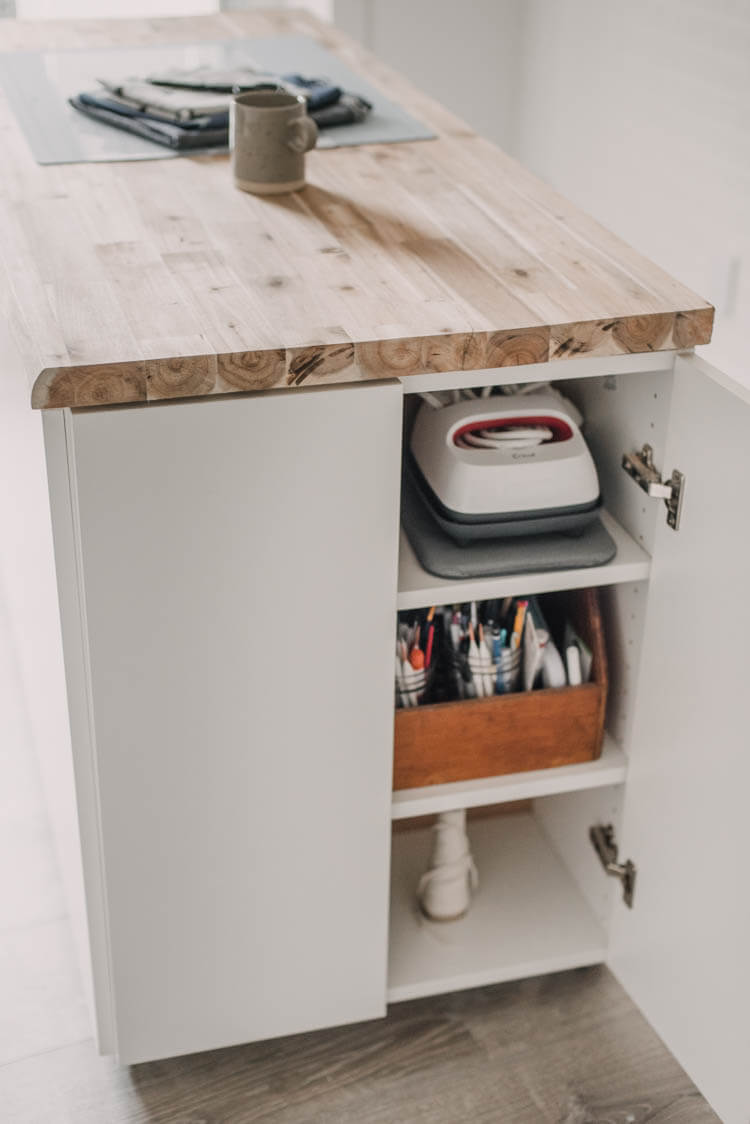 Sometimes, you don't want all your crafting tools out on display, and there's nothing wrong with that. This craft table offers you a way to have all your storage needs without it being so obvious. To be honest, at a glance, this table can look like any other desk. It's useful for blending in easily with the rest of your décor if you happen to have your crafting station in a room that has other purposes like an office or family room. There are still the much-needed wheels attached to the desk, making the crafting table even more convenient over time.
19. IKEA Alex Storage Crafting Unit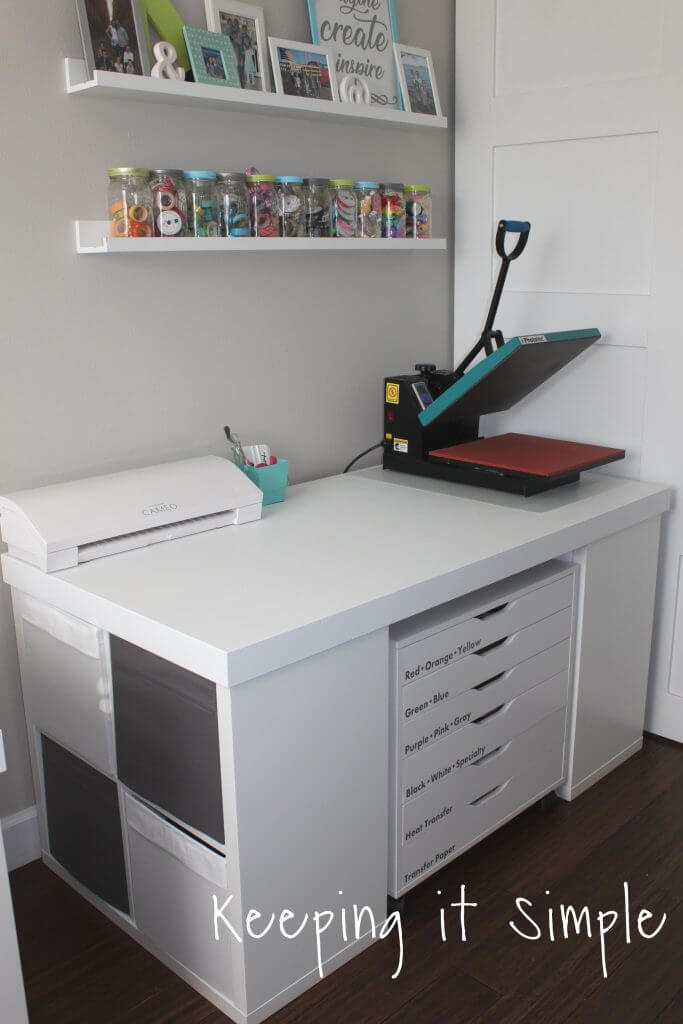 IKEA furniture doesn't just serve as a wonderful jumping point to building your own customized crafting desks. Depending on the product you get, it can simply work as an overall storage solution as is the case with this project. It is not much you actually do to this storage unit either, so it is a good task to take on if you aren't used to completing DIY projects. If you want, you can always add a new paint job to it so that it better fits with your workspace. Of course, some labeling never hurts so that you can know right away where everything is.
20. Great Built-In Small Space Crafting Desk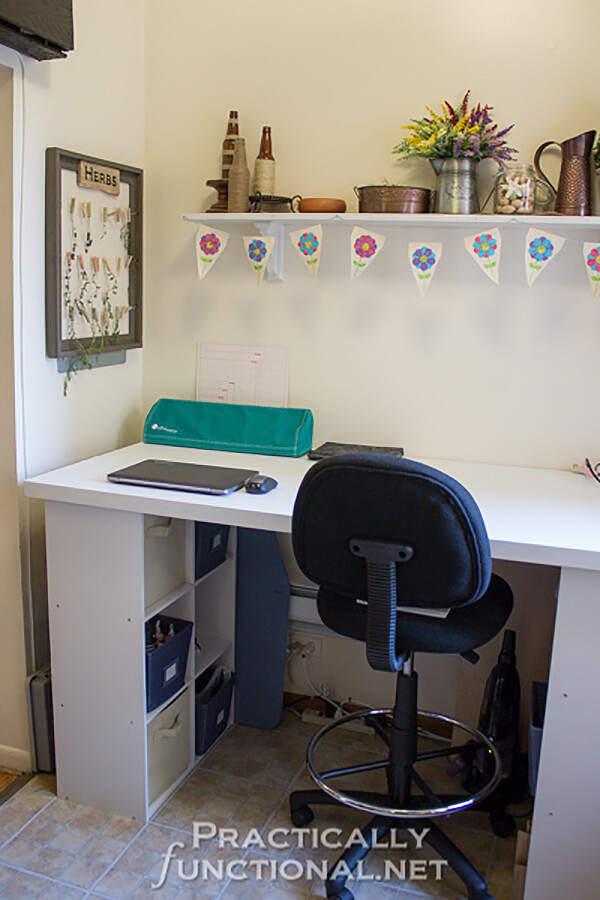 For all of you out there who are regulated off to a side of an otherwise used room in your home, this design may be perfect for you. It is a built-in desk that takes up a much smaller footprint than a desk that you can perhaps move around. At the same time, this is just as useful as any other design. There is more than enough tabletop space, and if you decide to drill a hole in it, you can easily adapt the desk to better suit your needs by pulling through electrical cords. This homemade desk is a wonderful way for you to keep everything perfectly organized so that you can focus purely on the crafts.
21. IKEA Rast Crafting Desk Hack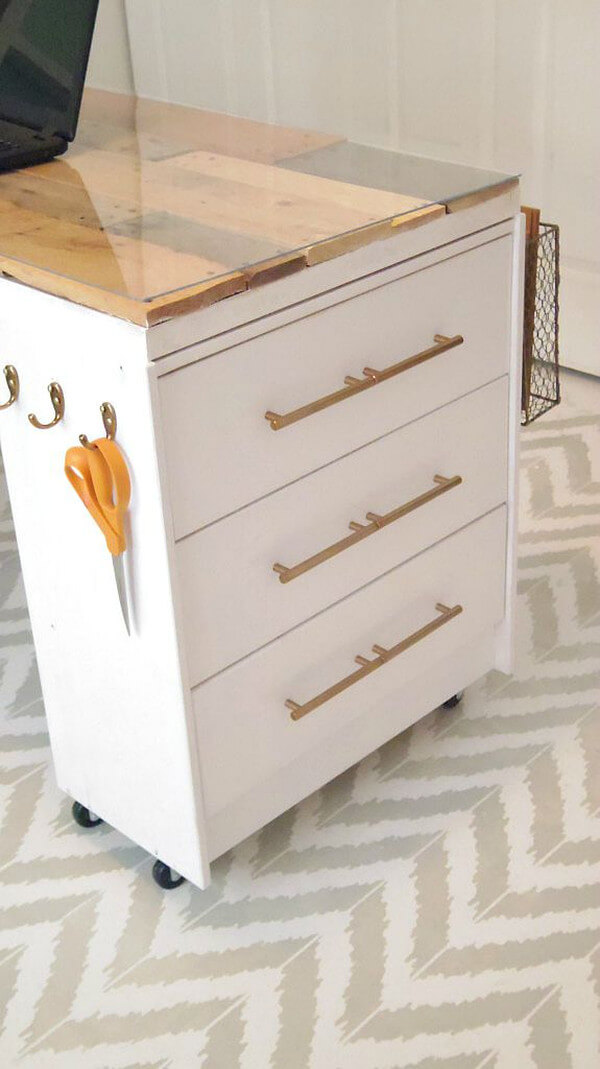 With this DIY IKEA craft table hack, you will be unable to recognize the original product by the end. This project can take a lot of work, but it is all worth it when you are sitting at a crafting desk that is unique and exciting to work at. The desk can elevate your hobby, making it feel more like a fun job than anything else. It is also a good addition if you happen to have an entire room dedicated to your crafts. There is a nice modern feel to the desk as well, and of course, thanks to the wheels, you can move this around anytime you need to.
22. Oversized Storage Friendly Crafting Table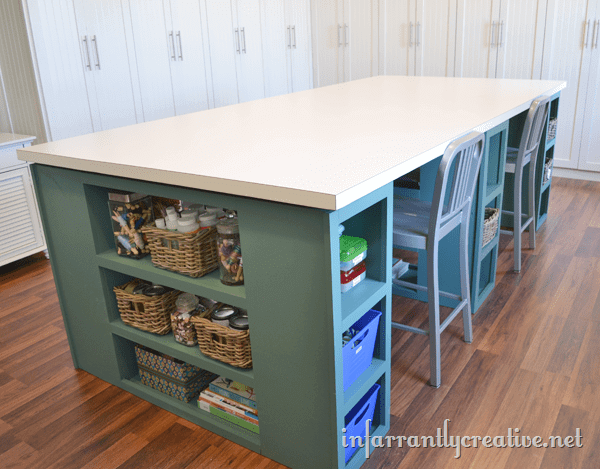 On the notion of building a DIY craft table with storage options, there is no going wrong with this particular design. With its oversized build, it is obviously more fitting inside a spacious crafting room or even in a frequently used room like a kitchen as it is versatile. There is plenty of storage space among this design that goes all the way around and even in the middle. If you opt for that middle space, it can be useful if you have kids that wish to craft along with you as the storage section is easier for them to get to. This is also a fixed design too, making this crafting table an incredible permanent fixture in your home.
23. Budget-Friendly Tall Crafting Desk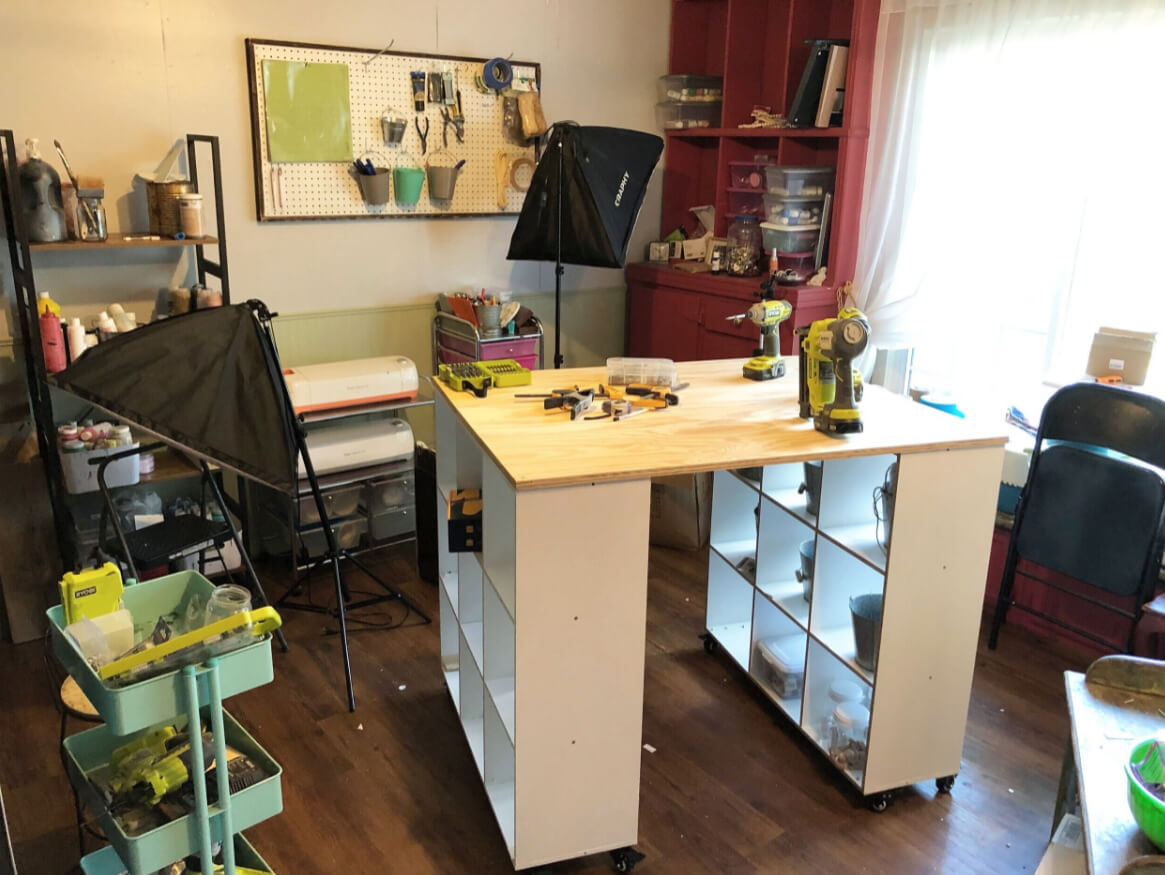 You don't need a ridiculously high budget to create an awesome workstation, and this project is proof of that. It is as straightforward as things go, foregoing any fancy bells and whistles for the sake of incredible functionality. With a tall design, you are easily able to work while standing or sitting, making it stress-free to use. There is even the bonus of the desk having wheels at the bottom so that you can freely move it around as needed too. To round it all out, this is a helpful DIY craft table with storage options that are plentiful, giving you room to stash all your gear without spending too much money on the build.
24. Cool Custom Craft Table with Shelves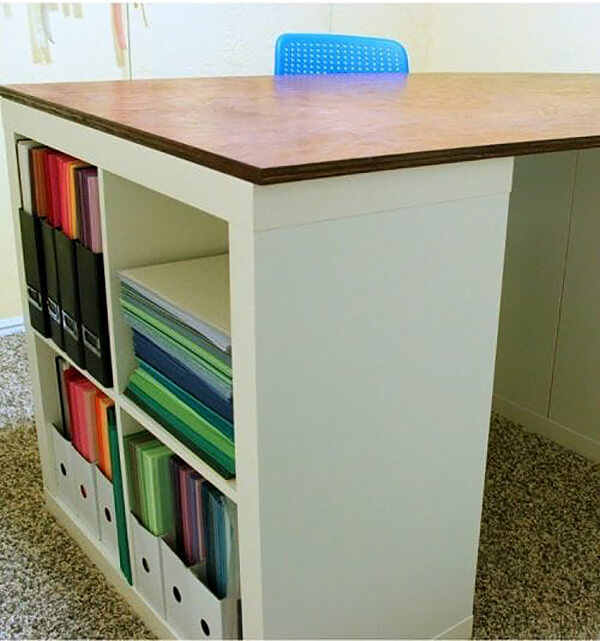 Organize your crafting space with an awesome custom table that works well and looks good in a room with any type of décor. You don't have to start this project completely from scratch either if you opt to use IKEA furniture like bookcases as a base. A DIY IKEA craft table is the ultimate setup when it comes to creating a reliable workstation that is attention-grabbing. There is still more than enough room to personalize this by staining the wooden tabletop and even painting the shelves if you wish. The shelves themselves also offer a healthy amount of storage for all your crafting goodies.
25. IKEA Kallax Crafting Table Hack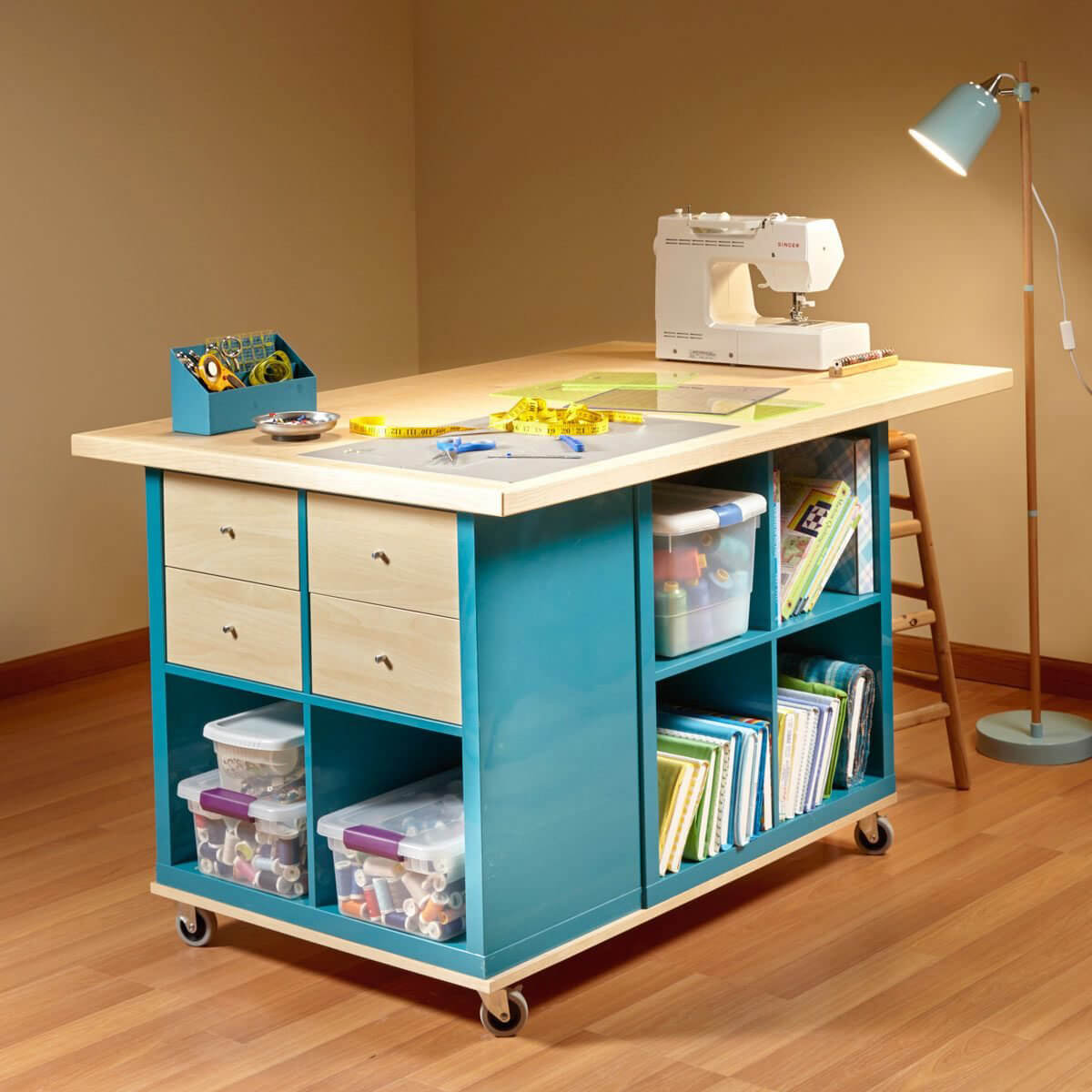 With some more ready-to-assemble furniture from IKEA, you are able to get an effective crafting desk without spending too much on building it. Much of your focus goes on creating a spacious tabletop so that you have all the room you need to work on your crafts no matter what they are. Meanwhile, the IKEA furniture comes into play when you need to organize everything. This makes this specific design one of the best DIY craft tables with storage options in which you upgrade an already built piece of furniture, transforming it into something that is worth far more to you.
25 Best DIY Craft Tables and Desks for Your Next Home Project
Whether crafting is simply a hobby or a source of income, it is helpful to have your own space to do your projects comfortably. There are a few things to keep in mind when making a place for your work, however. Do you have an entire room at your disposal? Or perhaps is your crafting space within another used room in your home such as the corner in the living room? Where you set up will largely determine how you can set up. Thankfully, the best DIY craft tables and desks ideas should help you come up with a plan of action.
We ensured that these ideas have a good amount of versatility too so that you can weigh your options. There is everything from compact, space-saving desks to full-blown, oversized crafting tables. The best thing about these ideas is that they are all projects you can complete at home with a little bit of DIY knowledge. Creating a custom desk or table allows you far more freedom to make exactly what you need from the amount of tabletop room to the storage options. So, we hope that you find these ideas illuminating so that you can get to building the craft space of your dreams.