With the best DIY crochet decor ideas, you can show off your creativity to anyone who visits. There is something that is just fun about combining crochet with home decor. It is a way to express yourself, to create unique designs so that you can build a more distinctive style. Best of all, it's a versatile method. There's no single style or theme that crochet leans toward, so you can use it to decorate any style in your home. Use it to create something whimsical, modern, vintage, etc. You can set up your creation in any room in your home too without it seeming out of place.
Fun Handmade Crochet Home Decor Projects that will Make Your Home Uniquely Charming

So, what do you want to accomplish with your craft? Are you in need to fill up some empty wall space with some interesting crochet art? There are a few ways you can approach that from creating a specific piece out of the material or using it as a frame for some other art or a mirror. Or maybe you want to take a different approach and make functional decor? Some handmade crochet home decor items include soft pillows and even storage containers.
There are many roads you can travel down, and we understand how difficult it can be at times to decide. To help you, we found dozens of cool crochet home crafting projects for you to check out. We aimed for a versatile collection so that everyone can find something that is most suitable for individual style and needs.
1. Granny Square Garland Crochet Pattern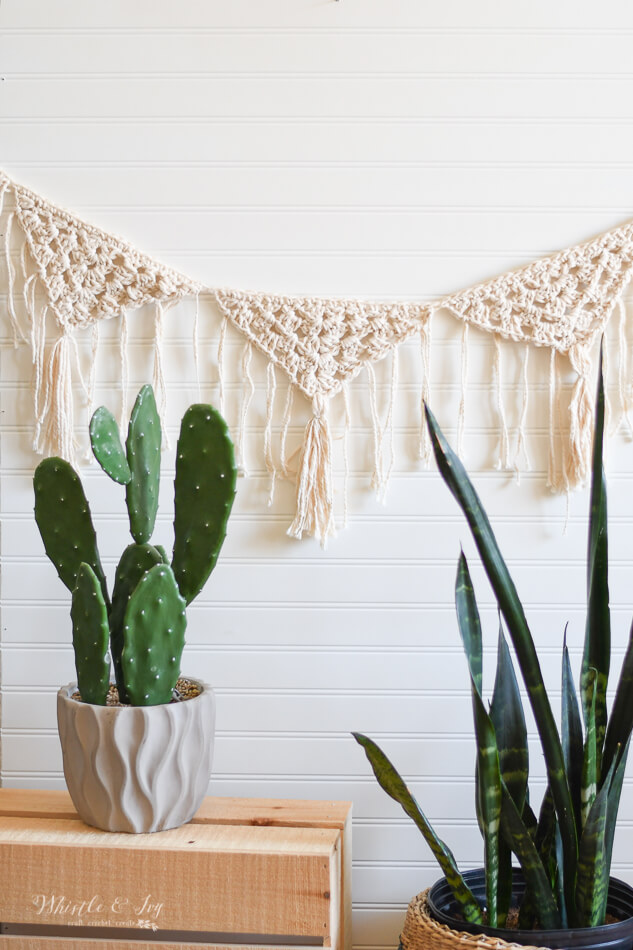 Garland is a pleasing way to add some decor to some of those empty spaces around your home such as a fireplace mantle. You can even use it to highlight another decorative item you have on the wall. Regardless of where you hang it, you can create some awesome garland by crocheting. The granny square design is also a nice touch too. Thanks to the material used, this winds up having a nice boho theme to it as well, so this can be a great garland to hang up in a room that features that style. It still works out well in a modern home too.
2. Simple Crocheted Storage Basket Design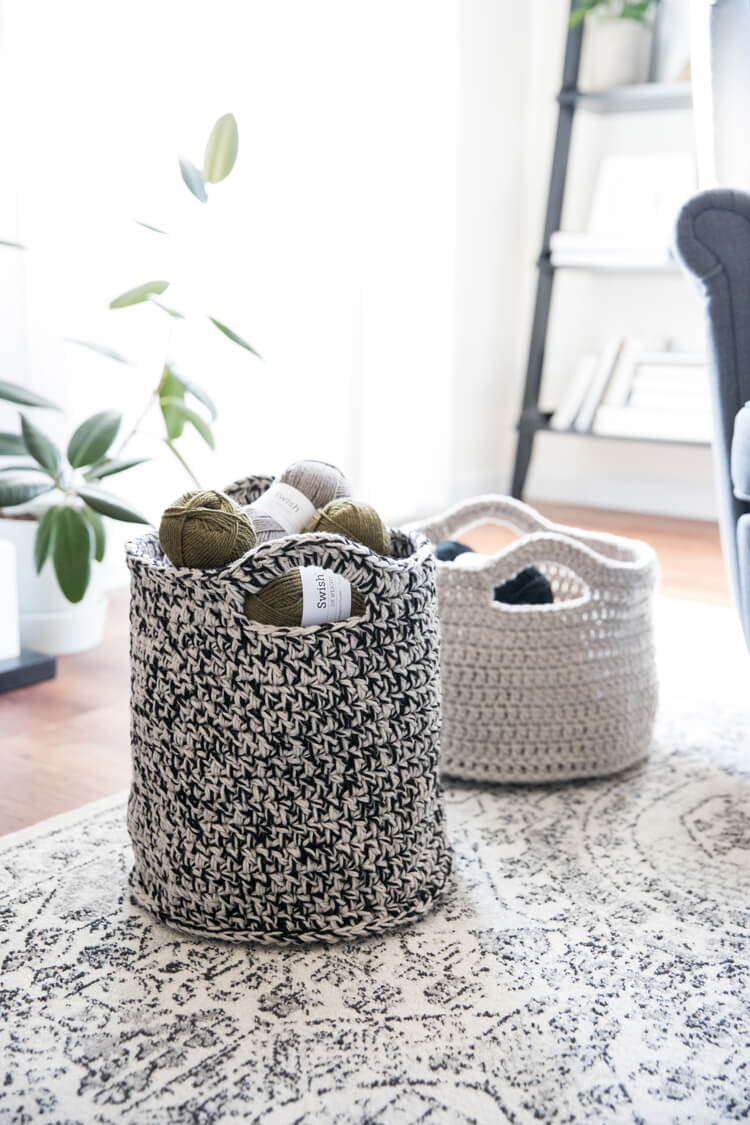 Soft storage baskets are always nice to use in the living room, bedroom, or a nursery. They are just the right size to hold blankets or soft toys like stuffed animals. You don't have to buy any seeing as you can simply make them yourself by crocheting, freeing you to design the basket in any color style or pattern that you wish. This can help you match up with the room theme at hand, more so if you are using it in a child's room. Once you get the hang of things (if this is your first project), you can make more than enough to suit the needs of everyone in your household.
3. Adorable DIY Makeup Crochet Pouches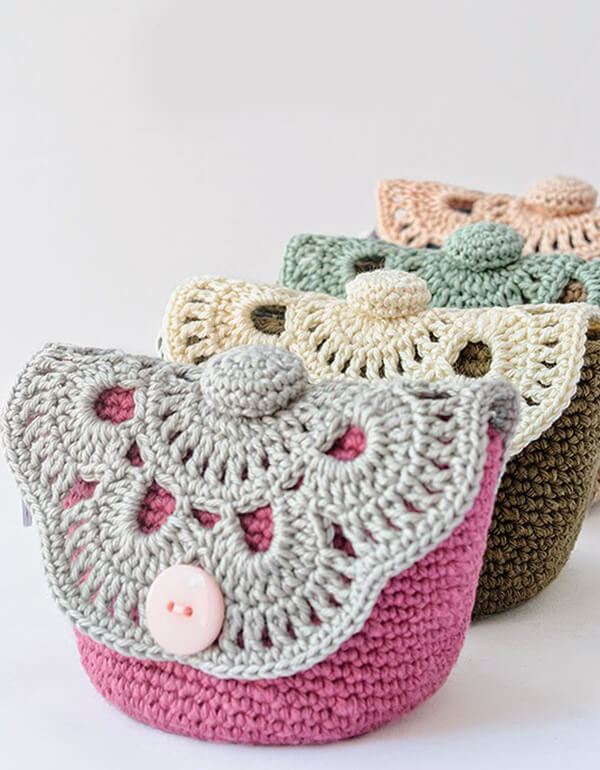 Some of the best DIY crochet decor ideas are unexpected as in the case with these makeup pouches. It's easy to just toss your makeup in any bag, but with this crocheting project, you can take that a step further by giving your makeup a stylish home instead. What is so cool about this is that they work well at decorating your home whether in the bathroom or your bedroom, and they can work equally as good if you use these pouches in your purse when you go out. They are just the right size too so they can be a space-saving option if you need to organize some of your smaller makeup accessories.
4. Pattern Crochet Dahlia Lampshade Design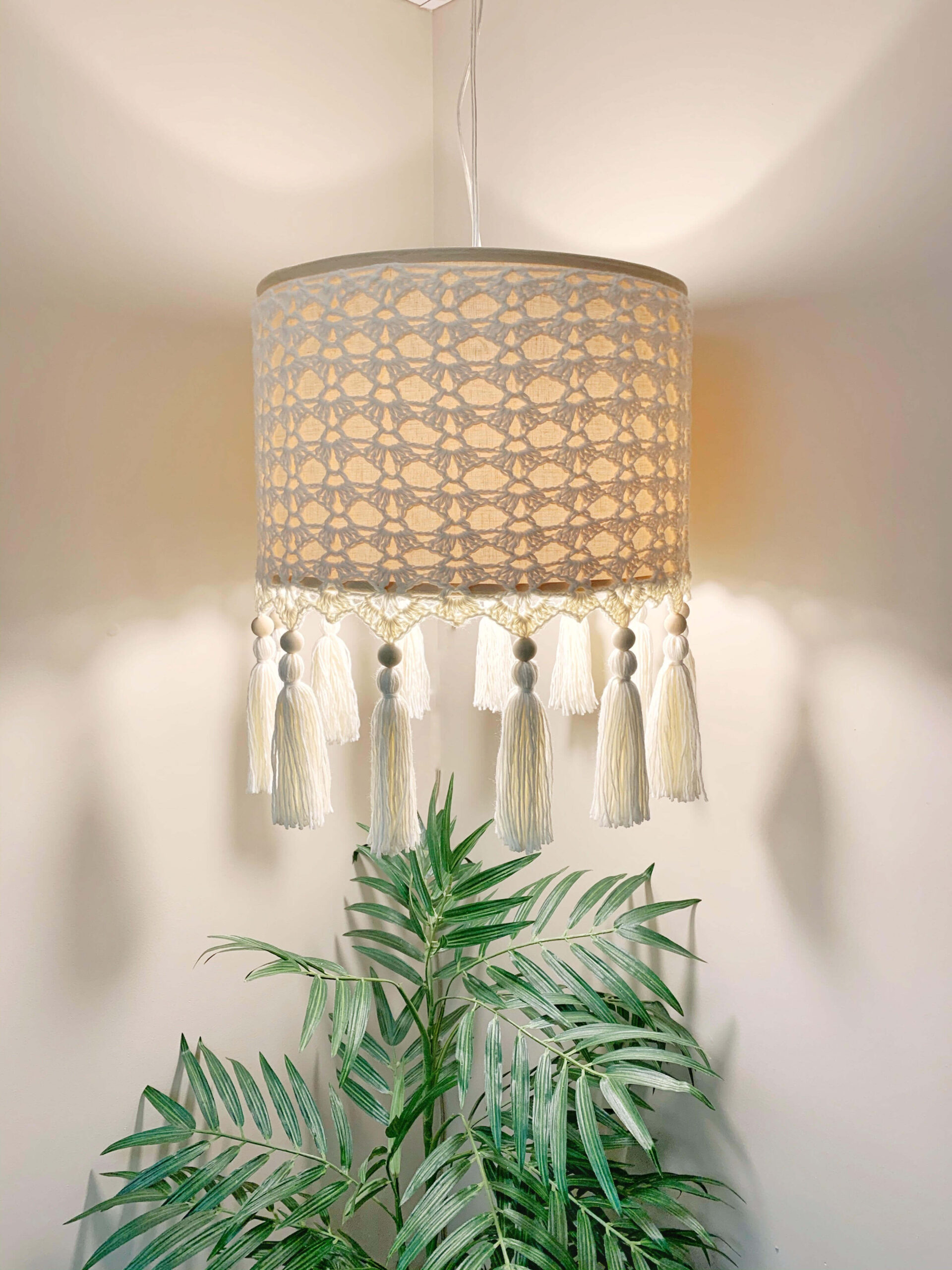 If you're having trouble finding that perfect lampshade for your stylish lamp, you can always make one for yourself. This has a gorgeous and artistic pattern along with it that will elevate any lamp you have, making it look more creative in the end. The tassels are a nice added touch to it as well as it gives the lamp even more life. Depending on the lampshade you have underneath, this can have a remarkably different appearance with the light on and off, allowing you room to change up the atmosphere you give off at any time during the day.
5. Crochet Cabled Patterned Throw Pillow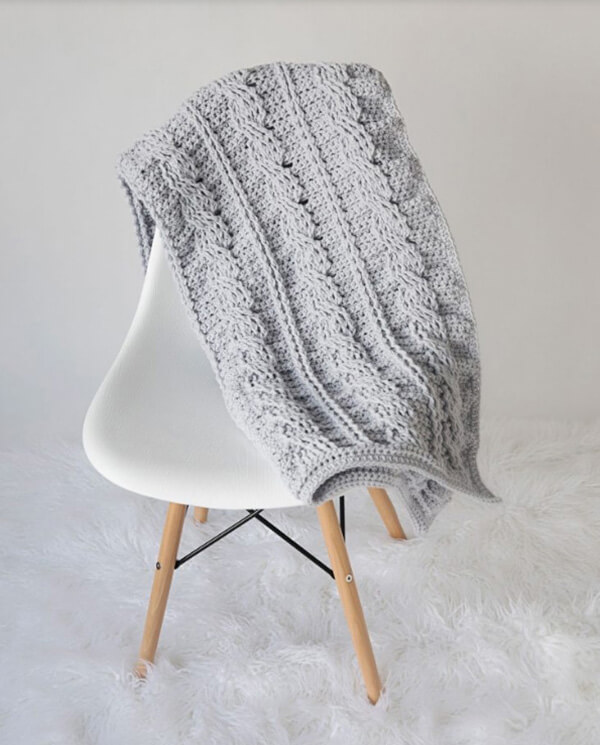 One of the best ways you can spruce up your space is with throw pillows, and they work remarkably well whether you use them in a living room or in the bedroom. So, why not combine that with crocheting? With it, you can create an interesting pillow cover that has fun chunky cables for its design pattern. This makes the pillow appear far more eye-catching, and it even looks store-bought rather than something you created at home. This is easy to design too to work with any color scheme you need so that it best fits in with your decorative style.
6. Crocheted Pattern Plant Pot Cover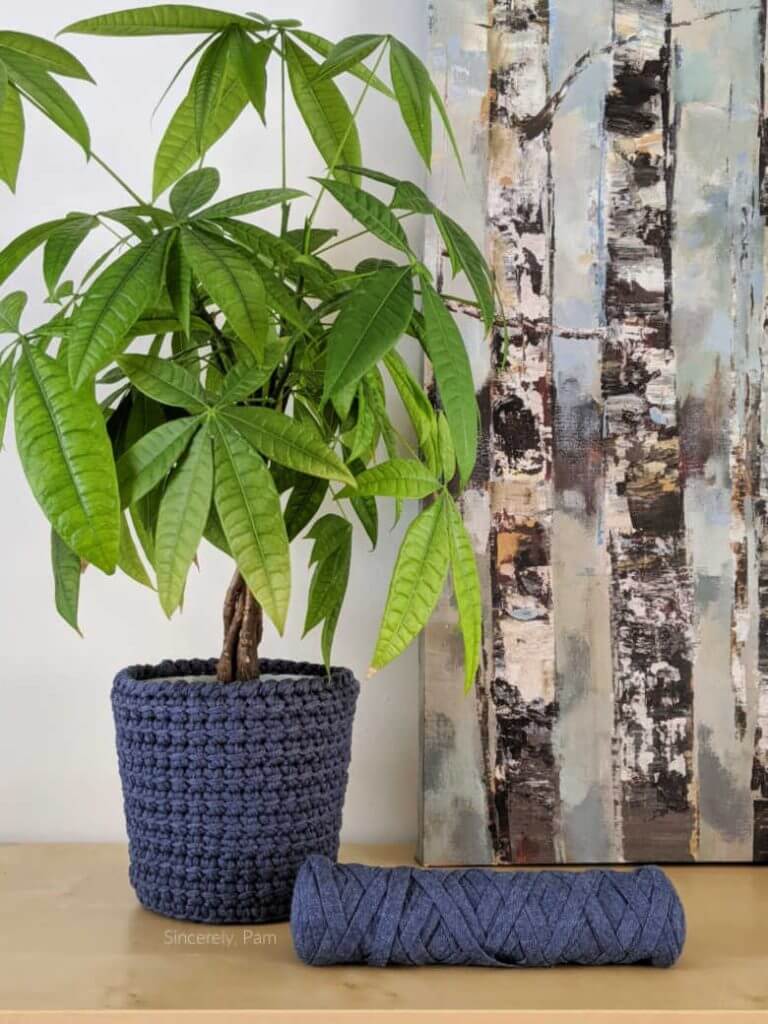 There are many things around your home craving some extra bit of decor, and your plants are one of them. Although there are some good-looking pots for plants, but you can elevate them with a little bit of crocheting. This way, you can come up with a design that fits in with your particular style, letting you express yourself even more with your plants. Plus, your plants deserve a nice home to live in. Feel free to create many of these covers for all your potted plants so that you can add more splashes of color to the room.
7. Creative Handmade Crocheted Kitchen Towel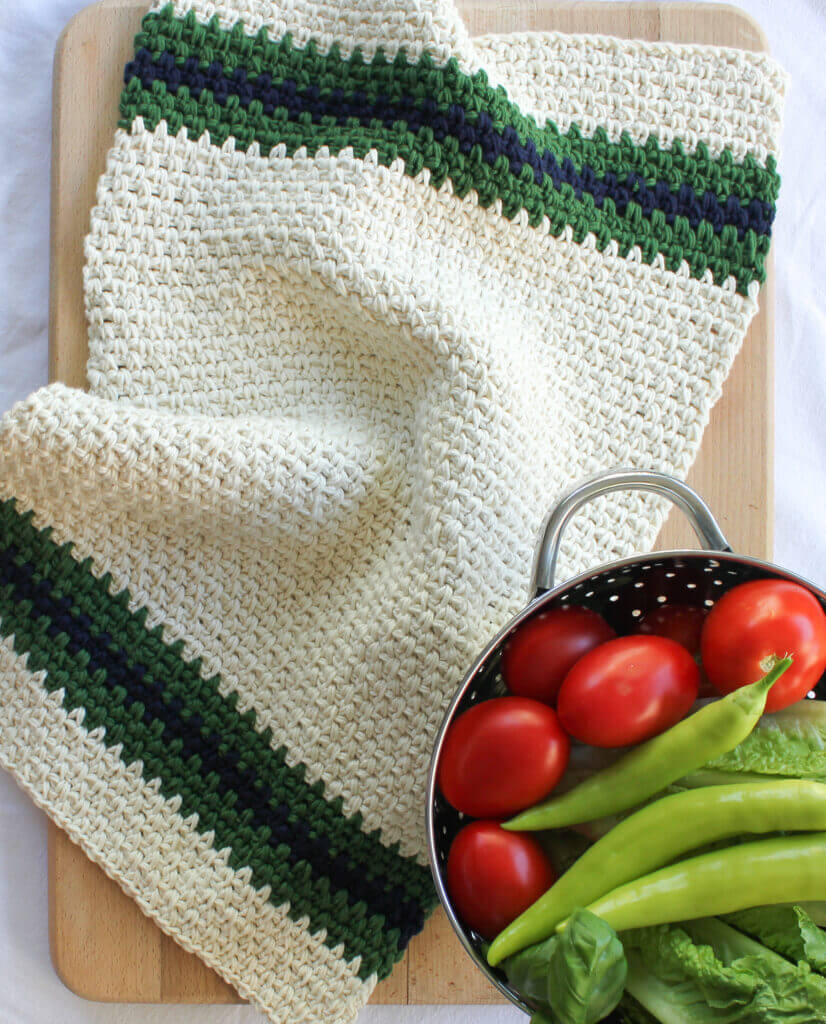 Your kitchen can always use a bit of love in the decorating department, and you can easily accomplish this with towels. Handmade crochet towels, to be precise. This has such a nice farmhouse feel to it that it can readily upgrade your kitchen if you add a few to use as just decoration. You can come up with any pattern that you feel best suits your specific design theme as well as it's remarkably simple to blend these handmade creations with almost any style. Don't be afraid to use these as gifts too as they make for such lovely, personal presents for any occasion.
8. Crocheted Wall Hanging Patterned Art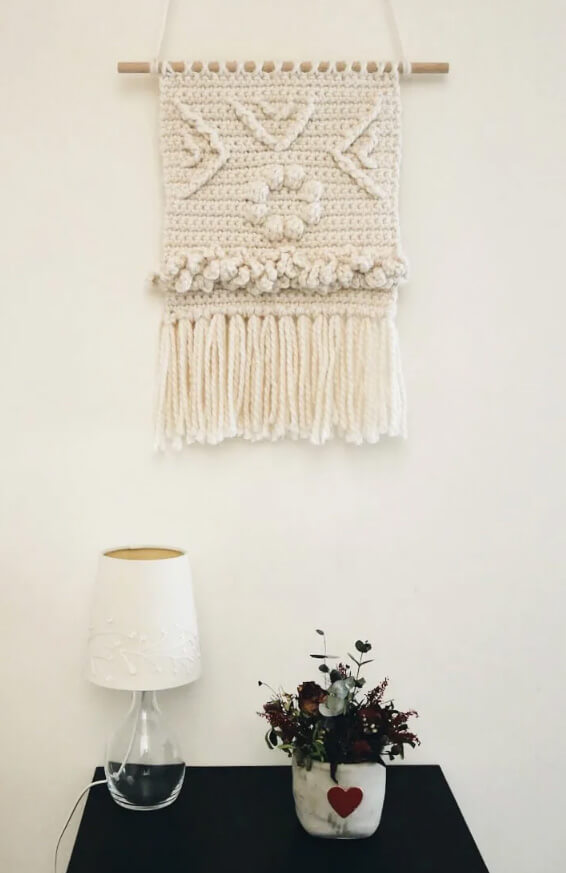 Wall hangings are beautiful when you want to decorate your bare walls, but you don't have to buy one when you can make an incredible one by crocheting. This is among the best DIY crochet decor ideas that can completely change the feel in a room. You can create such a fun pattern on this too that can lean more toward one sort of style over another, creating any theme you want such as contemporary, vintage, farmhouse, etc. The frills at the end truly help to sell the piece, adding just a hint more flair to the piece to make it look even more artistic.
9. Gorgeous Patterned Crocheted Farmhouse Pillow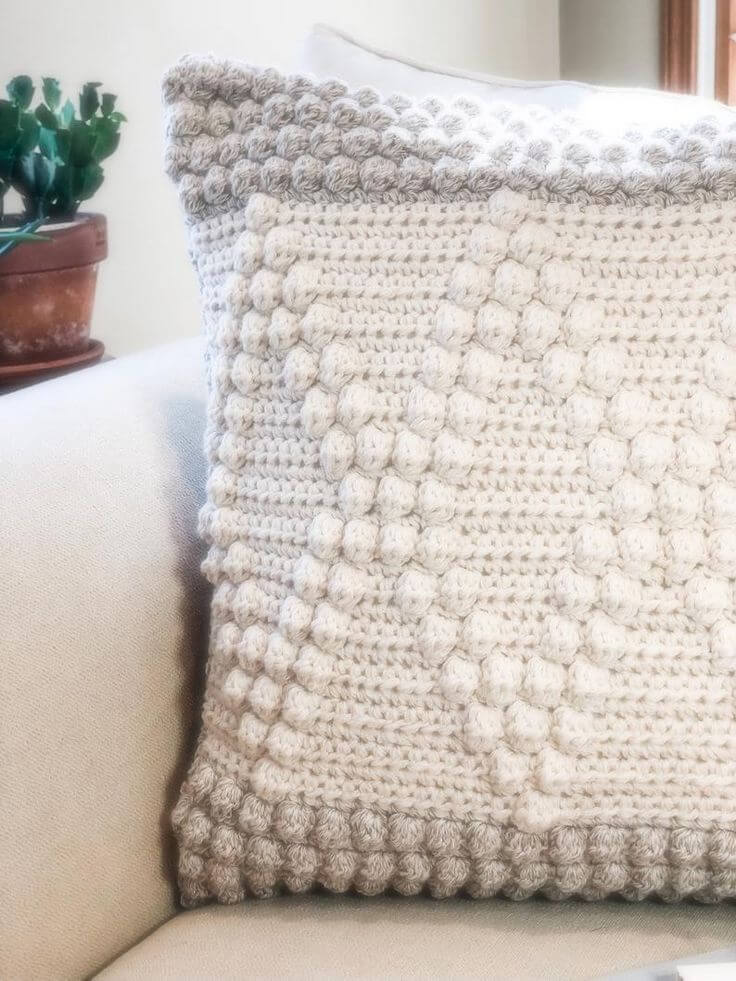 Farmhouse style has such a relaxing feel to it, but you can add some more creativity to this theme with this crocheted throw pillow design. There is a nice pattern to this that gives it more personality while being attention-grabbing too. You can even aim for the multi-colored approach by focusing on different shades of the same color. This way, it sticks with your specific theme, managing to catch the eye without overpowering everything else around it. You're left with such a nice pillow that looks incredible in your living room on a chair or couch, or even in your bedroom.
10. Beautiful Crocheted Pattern Moses Basket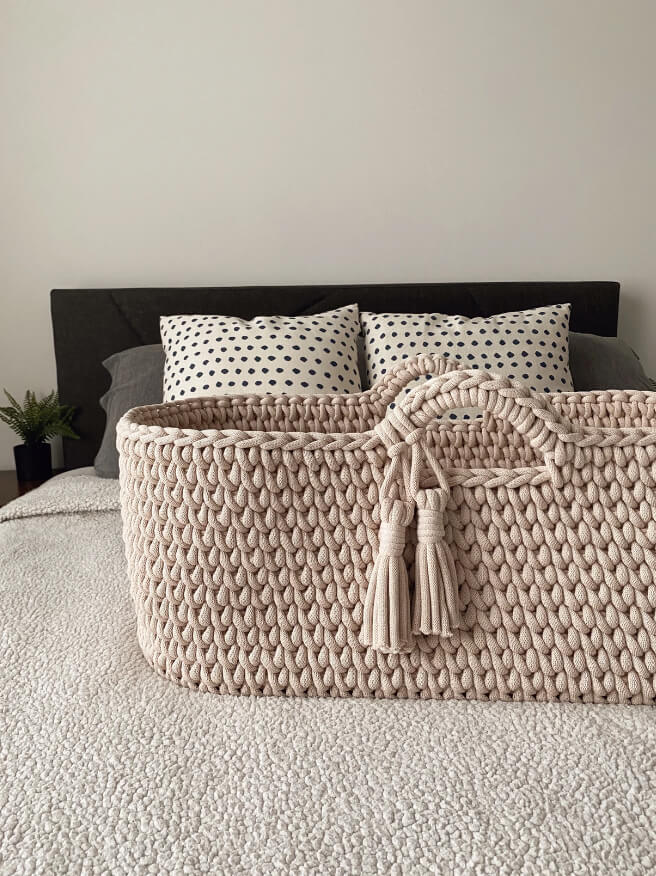 Moses baskets are always nice to use whether you need a photoshoot, storage, etc. They can even serve as a basis for a gift basket that friends and family will love. You can build your own with this lovely, crocheted design. There is an elegant simplicity to this basket that makes it so comforting to look at. This even stands on its own as a decorative piece whether you decide to put something in it or not. There's no limit to where you can use this as too, so you can show off your beautiful creation in almost any room throughout the house.
11. Patterned Crochet Picture Frame Design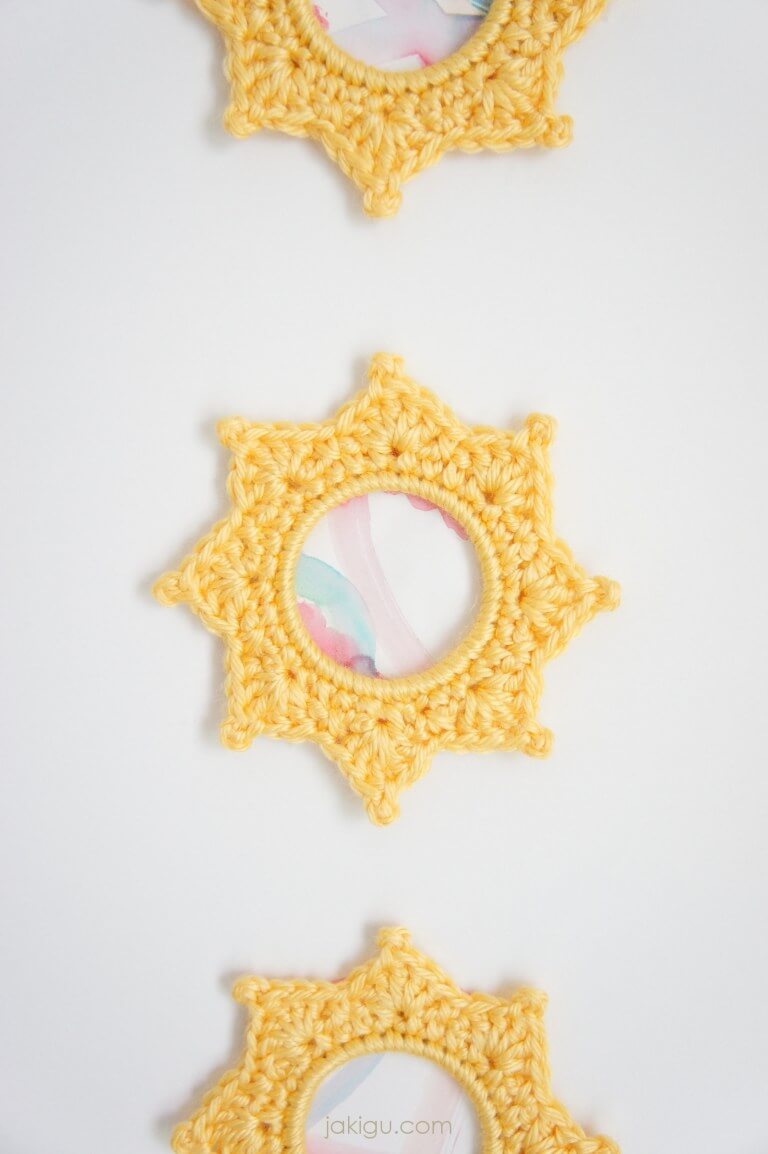 No longer will you have to have simple picture frames on your wall that don't quite fit with your personality or the decorative style you're trying to show off. Instead, you can pull out your crocheting skills to make this awesome crochet picture frame. It is bright and vibrantly colored, able to easily catch the eye of all your guests. This is also a wonderful way to highlight some of your favorite fun pictures as the frame serves to enhance what's there. You can make a few of these small frames as well, lining them on the wall to create a specific pattern.
12. Crochet Mini Heart Design Gifts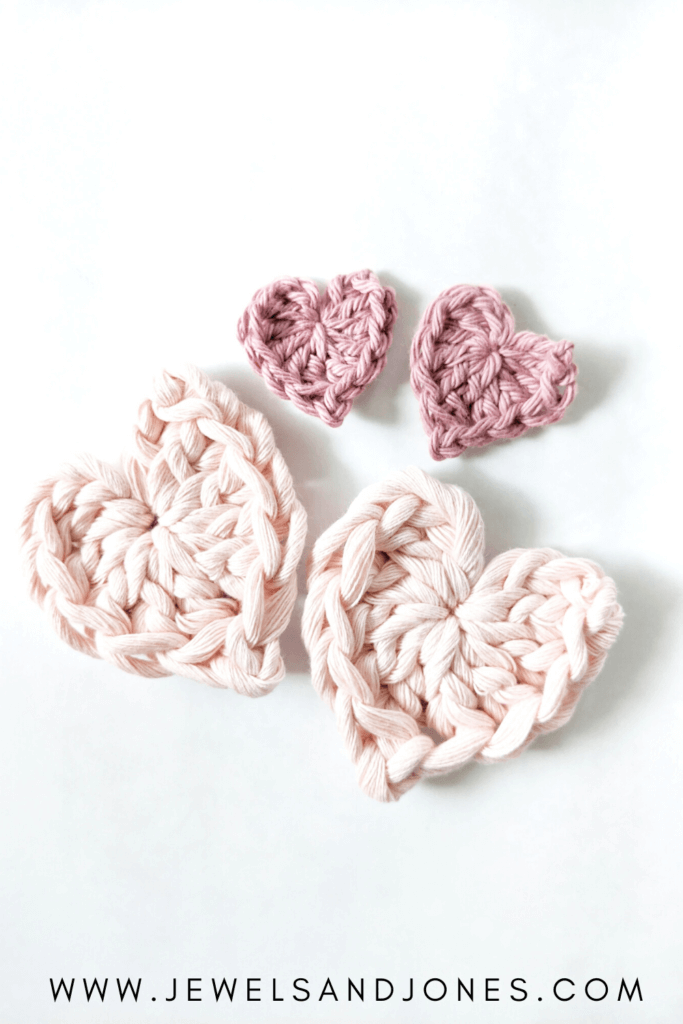 Are you looking to create some distinctive gifts or smaller accent items to add to your setup? These mini hearts are a great choice for that. With their size, they are a nice way for you to play around with crocheting if you don't do much of it too. Besides that, there is a nice balance between simplicity and elegance with these hearts. They look straightforward at a glance, but on closer inspection, you'll notice the beautiful patterned design within them that gives them a more decorative flair. You can add these to a larger decorative piece you have in any room, or just use them to spice up a gift.
13. Ocean's Breath Wall Hanging Crochet Art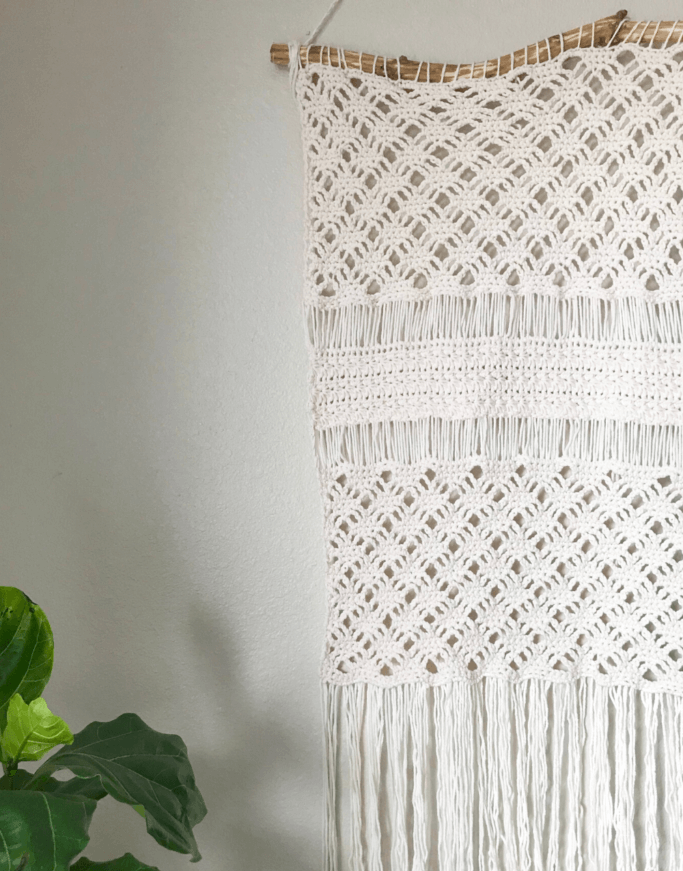 Wall hanging art designed with crochet work offers a way for you to highlight your personality in any room. This one can invoke feelings of the ocean and beach, making it useful in a nautical themed room or even a boho styled room. It is relaxing, beautiful, and simple all at once. The style works well on its own too if you don't want to hang it up alongside anything else you have in the room. It manages to decorate the walls just fine on its own.
14. Fun Crochet Pyramid Doorstop Design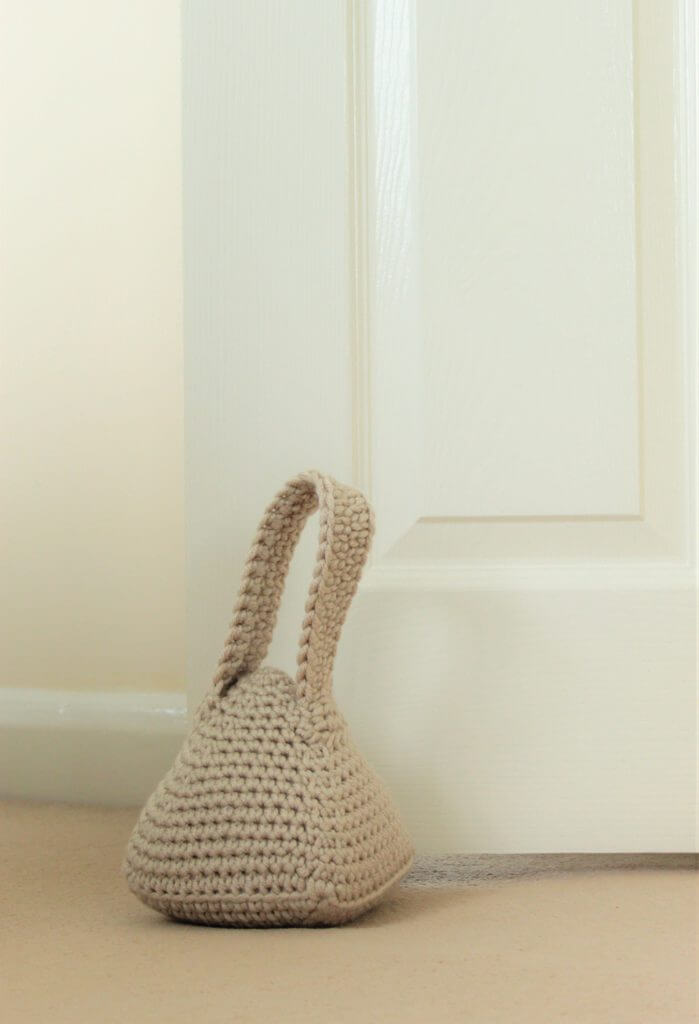 Did you know that a doorstop doesn't have to look so plain? Well, whip out your crocheting tool as you can create a nicer doorstop that you won't want to hide away. Instead, you can use this as both a doorstop and as decoration in any room that you need to (or want to) use it in. This is such a stylish piece that can fit in with various decorative themes as well, so you can feel more comfortable using this in any room without taking away from any of the other decorative items you have.
15. Incredible Crochet Round Rug Pattern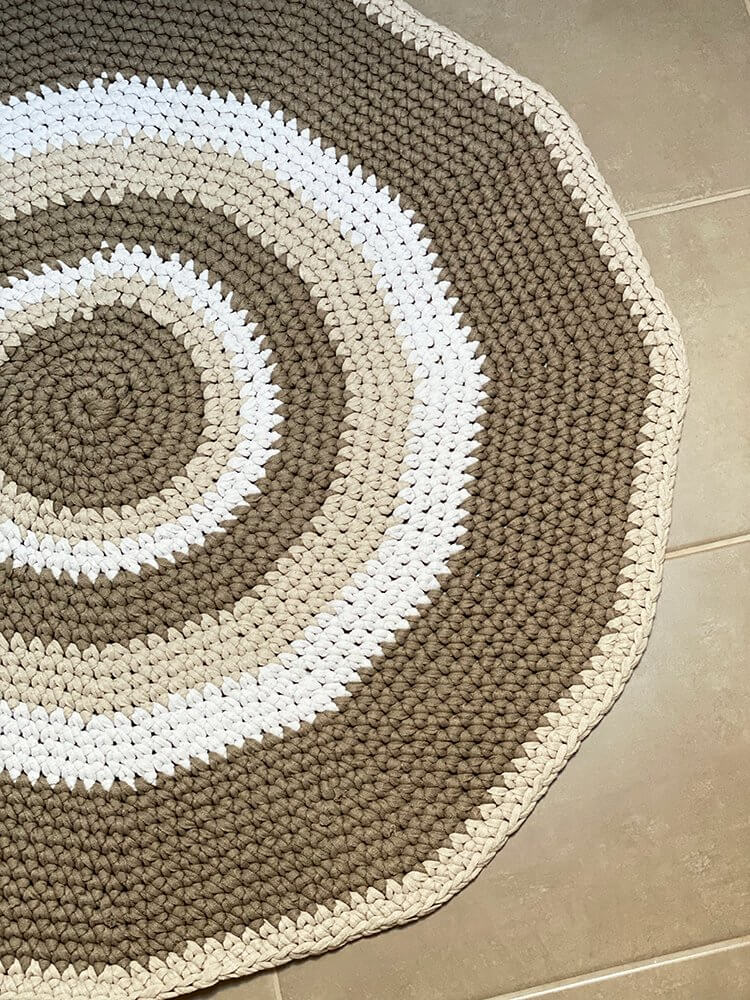 Rugs are a fun way to decorate your home and add some texture and detail to your floor, more so if you have hard floors. Crocheting is one of the ways you can create a rug that is interesting and unique. This project allows you to build a beautiful pattern too that gives the rug a sense of flow, compelling anyone who enters the room it's in to stop and admire it. It is simple too to use any combination of colors that most suits the theme you have in the room. This rug works well with any style too from modern to nautical.
16. Cute Crochet Cat Paw Chair Socks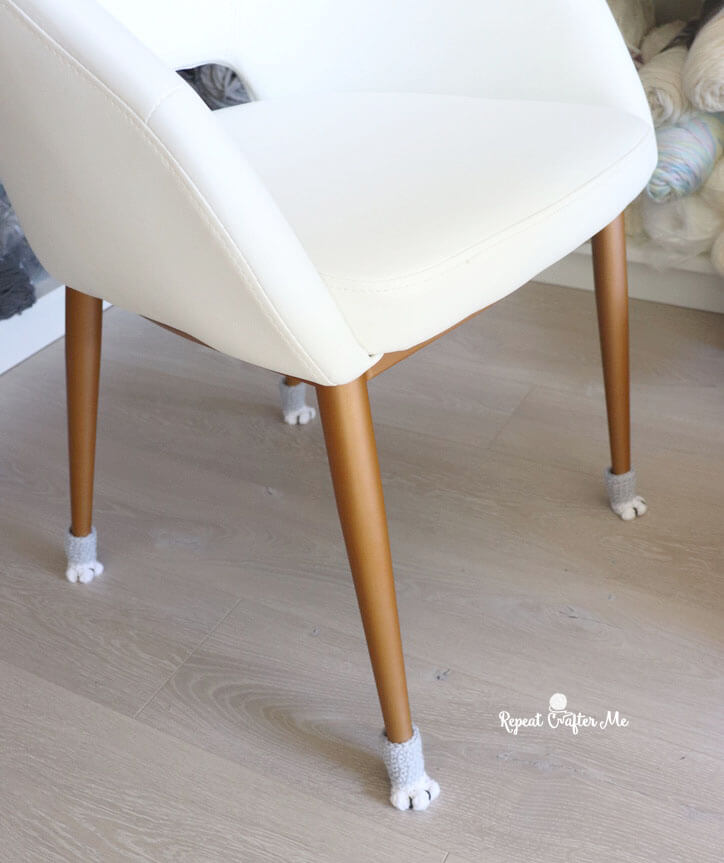 Got yourself a nice chair and some nice hard floors? Well, you wouldn't want to scratch them up, so chair socks become useful, if not necessary. But you don't have to settle for basic when you can create your own chair socks with crocheting. This project excels at helping you push your creativity too as you can make adorable cat paws that act as chair socks. It's a perfect way to show off your sillier, more whimsical side through your home decorations. If not for yourself, then it can make for the perfect gift for the kid in your life who loves all things kittens.
17. Modern Style Bramble Hanging Basket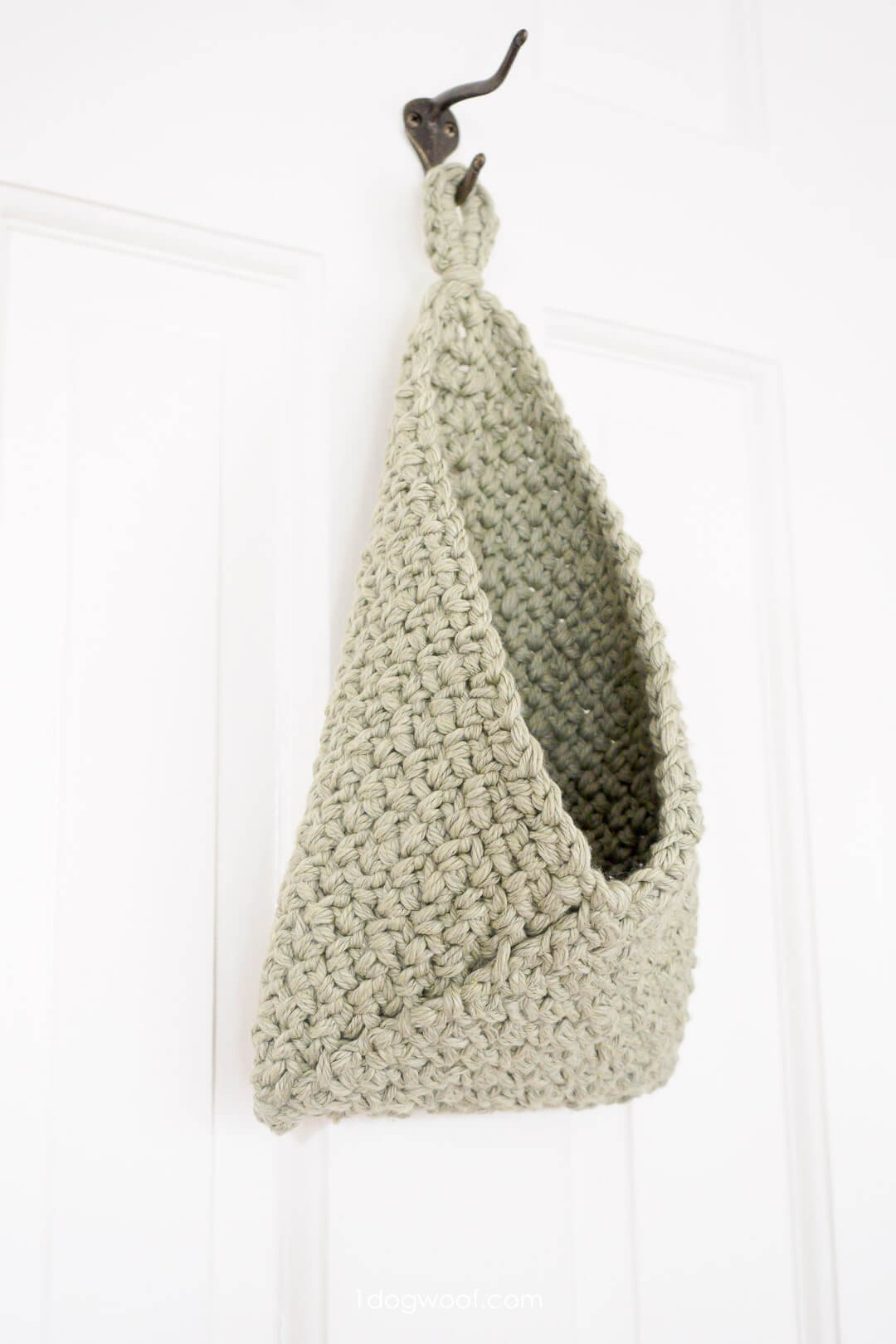 Are you ready to do some cleaning and organizing? Well, you can do it in style with this great bramble basket. It's a project that is friendly for beginners too so that you can pick this up quickly even if it's your first crocheting for the home project. In fact, you can make a few of these if you're in need of more storage space while also building a personalized decorative theme in your home. These can hang up well too, freeing up floor space and giving your walls some more life to them at the same time. It is a wonderful way to use crocheting to create that functional decor.
18. Rubber Hot Water Bottle Crocheted Covering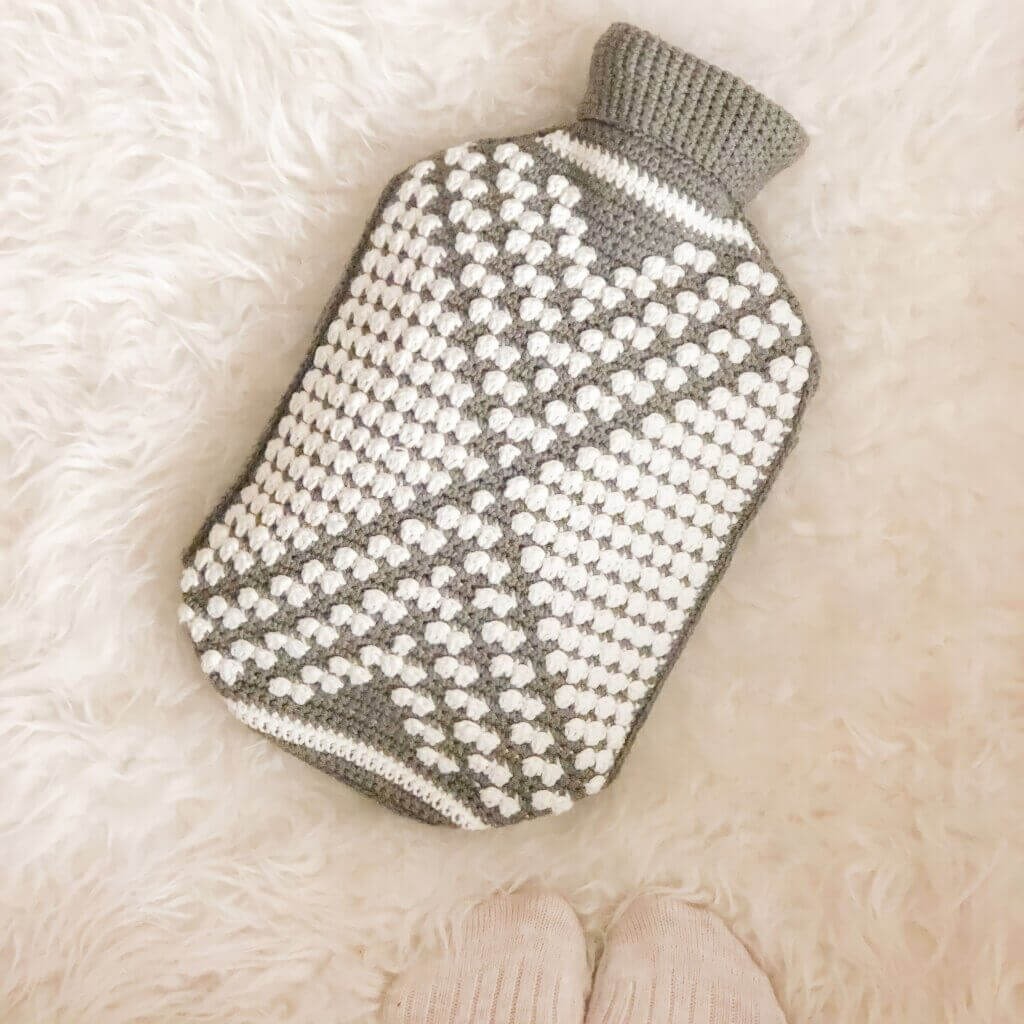 Many of us know just how useful those rubber hot water bottles are to handle aches and pains. But sometimes, you don't just want one of them lying around as they don't exactly look so appealing. If you want to leave yours out so that it can work as something decorative as well as something useful, then you can benefit from a crocheted cover. It is a different way to approach crocheting for the home too as this water bottle is not the first thing that comes to mind. However, once you do it, you may never envision a rubber hot water bottle without such an interesting cover on it again.
19. Patterned Farmhouse Crocheted Throw Pillow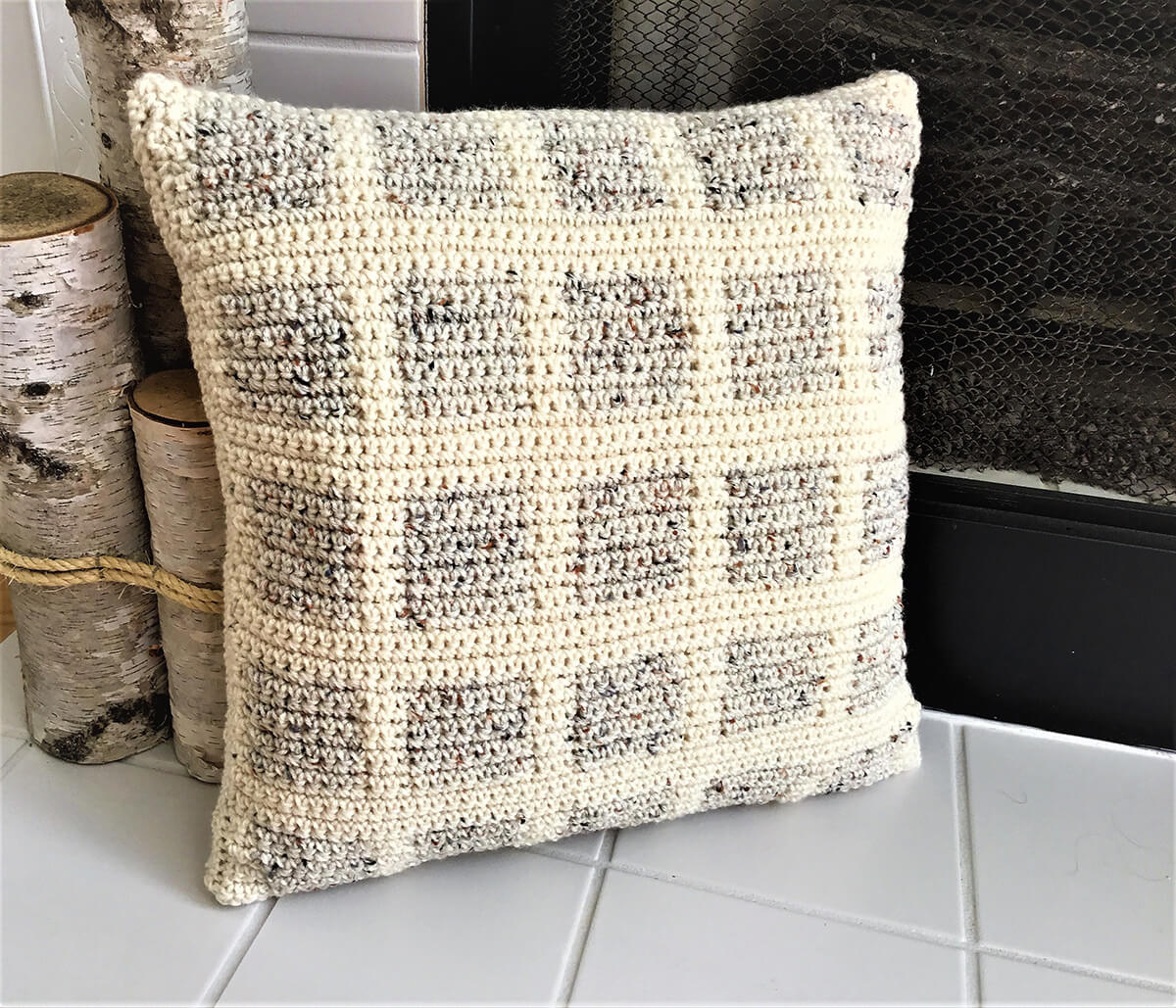 There is something so rich about farmhouse styled decorations because of how well they can work alongside other styles. Take this crocheted pillow, for example. The pattern on it is simple, understated, and powerful that it makes for a compelling and eye-catching decoration on your couch or chair. Depending on how large a pillow you need it for, it can work with other decorative set pieces you have lying around as well such as a rustic, farmhouse setting near the fireplace. The colors balance well too so that this can blend even easier with different themes you have in the room the pillow will be in.
20. Decorative Crochet Floor Pouf Design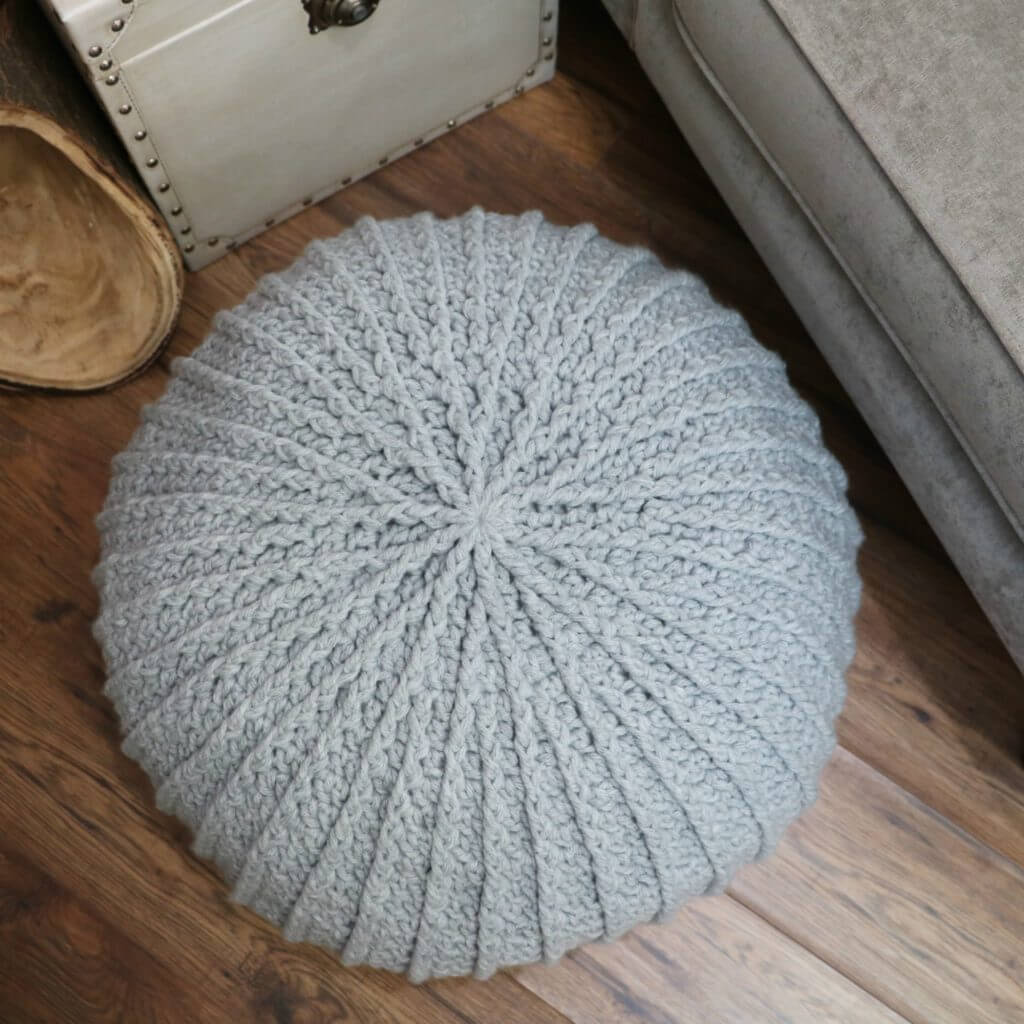 A floor pouf is a good way to add a hint of more style to your home without creating anything too large or space-consuming. It is also a fun way to make more handmade crochet home decor that works in various rooms such as the family room or the bedroom. In fact, any place you have a chair can benefit from a floor pouf for you to put your feet up. You may not want to use them right away though as they just look far too pretty to disrupt. This lets them work just as well for pure decor to change up how you style your room.
21. Cell Phone Timeout Crocheted Hand Towel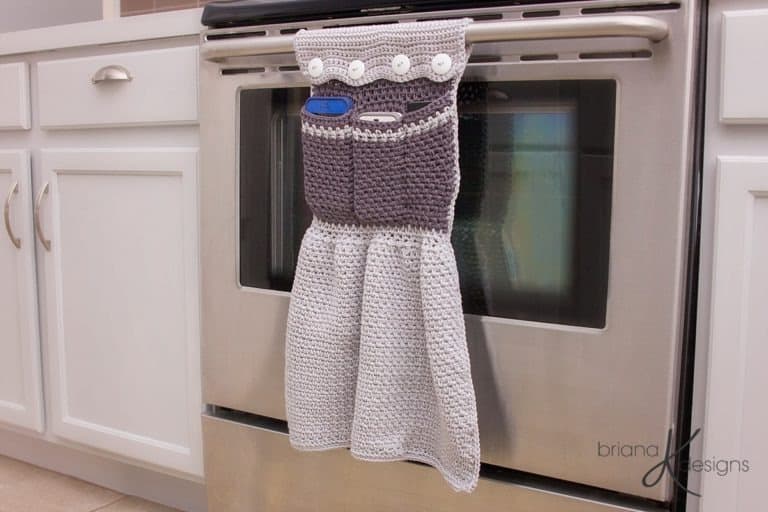 Who knew that crocheting for the home could be useful when it comes to timeout punishments? Well, this hand towel is just about perfect for it. Not only does the towel look incredible hanging in your kitchen, but it is useful if you have children or teens in the home. The pockets fit cell phones rather well, allowing you to just slip one in whenever the kids in your home need a break from the screens. Alternatively, you can always create this crocheted hand towel for yourself. It's a good way to hang up your phone while cooking or cleaning if you don't have pockets, keeping the phone within reach while safe.
22. Cool Crocheted Cube Storage Bin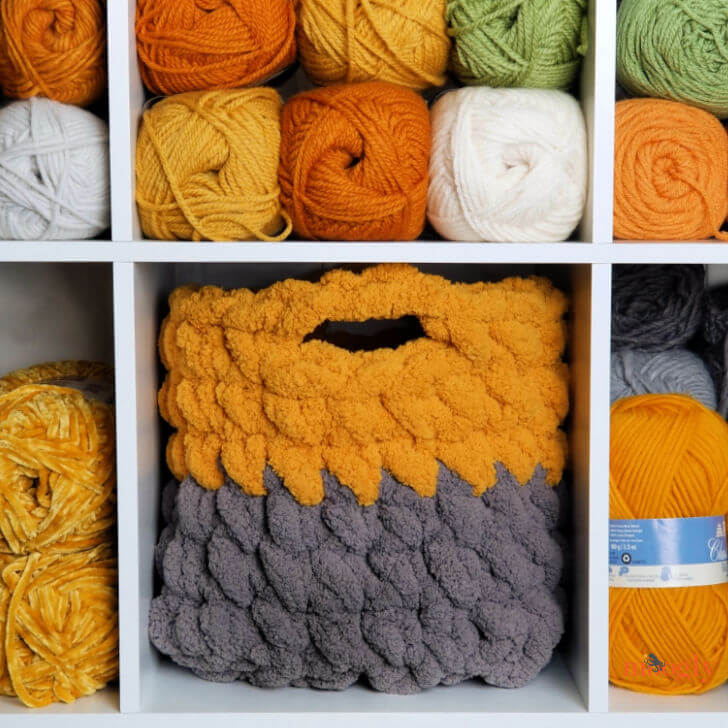 Cube storage is a wonderful way to organize anything from clothes to toys. So, you can hop on the trend by creating some awesome crocheted storage bins for your cube organizer. This is soft, cushy, and simply fun to build and use. Plus, this makes it easier to make bins in the style of your room rather than trying to track a specific color down. Or you can go further and make it multi-color. It is a nice craft project to take on when you want to really express yourself. Also, this cube will make for good decorative storage in your craft room.
23. Cute Rainy Day Crochet Wall Art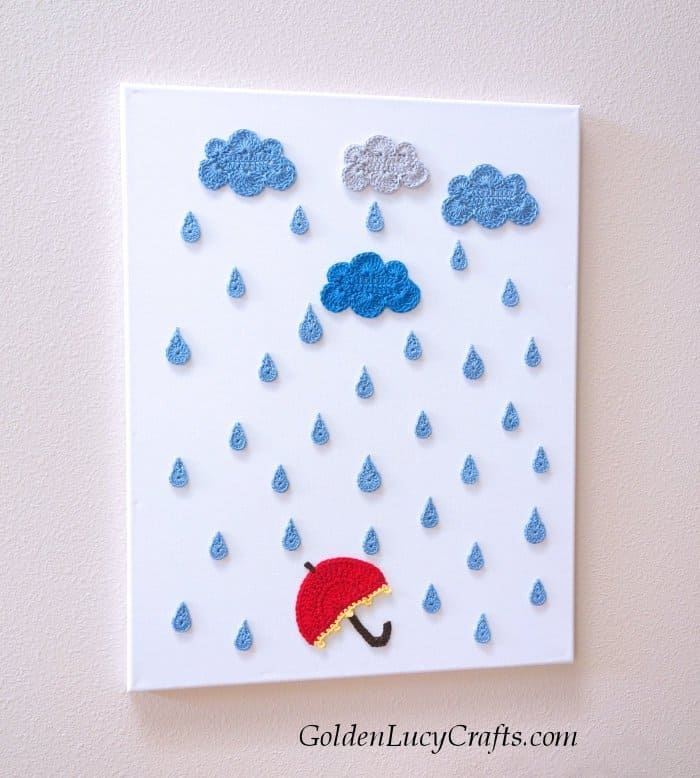 You can make some distinctive wall art using crocheting that will urge any guest to want one for themselves. Consider this rainy day wall art for inspiration. It looks simple when you first look at it, but this has a nice whimsical feel to it. There is good space to it that encourages you to look at the entire piece from top to bottom. More so, this can add the right amount of decor to a children's room or even a nursery that has such a natural theme.
23 DIY Crochet Decor Ideas for a that are Both Stylish and Cozy
Decorating using crochet work is a fun way to spruce up your home a bit. There are many ways you can approach it from daring works of wall art, to incredible storage bins small and large. You can show off your handiwork in just about any room throughout your home too, giving you more than enough freedom to push your creativity to new levels with various projects.
It is our hope that this list of some of the best DIY crochet decor ideas that you discover something worth pursuing or at least gain enough inspiration to start your project. Feel free to use crocheting alongside any sort of style from boho theme, to modern themes, and even to some farmhouse designs. This sort of artwork is versatile enough to work alongside anything else you may already have.